Hi everyone. This is going to be a fresh TR about yet another of my flash visits to the UK (2 and a half days in total this time), the second of this kind in the last 6 months. The first one (ORD-JFK-EDI-CDG-ORD) can be seen here:
A Transatlantic Flash-trip To EDI (pics!)
(by
WideBodyroga
Feb 20 2009 in Trip Reports)
This time the purpose of the trip was to attend my sister's graduation from UCLan in Preston, Lancs. Even though I was not planning to be there for the event, two weeks before it was meant to take place I decided that I had to go. I found a reasonable deal with BA and AA (ORD-LHR-MAN with BA and MAN-ORD with AA) so I decided to book. Given that I was not planning on visiting home this summer it was a good opportunity to see my sister and mom in the UK.
Living in Hyde Park it is always a challenge to get to ORD. Depending on how much I have to carry I sometimes use the OMEGA Airport shuttle (which however has become very unreliable) or I simply take the No6 bus to downtown and from there the CTA blue line to ORD. Often enough I also end up getting a lift from someone. This time it was a combination of the latter two, getting a lift all the way to Irving Park blue line stop and from there I continued on the CTA for a few stops until ORD. Before that, I could not resist a stop at Chinatown to have some of my favorite Wonton Soup with BBQ Pork at the Great Wall restaurant. The place doesn't look all that great from the outside (...or the inside for that matter) but the food is exceptional.
View from inside the CTA train on my way to ORD
July 11 2009
BA
ORD-LHR
B 747-436
G-CIVJ
Once in the terminal building, I wasted no time, took the little train to the international terminal and got to a still pretty short line at the check in. I had already printed my boarding passes so I simply had to drop off my bags. Even though I am a window man (for obvious reasons, like every A-nutter) I have started to appreciate isle seats, especially on long-hauls, but only on routes that I have already done, and especially when traveling to Europe, where the window shutters have to remain closed for most of the flight. An isle seat it was for me then, which gave me the flexibility of movement but had the downside of giving me nothing to lean against when asleep, or having to be potentially woken up by my seatmate if he/she wished to get up.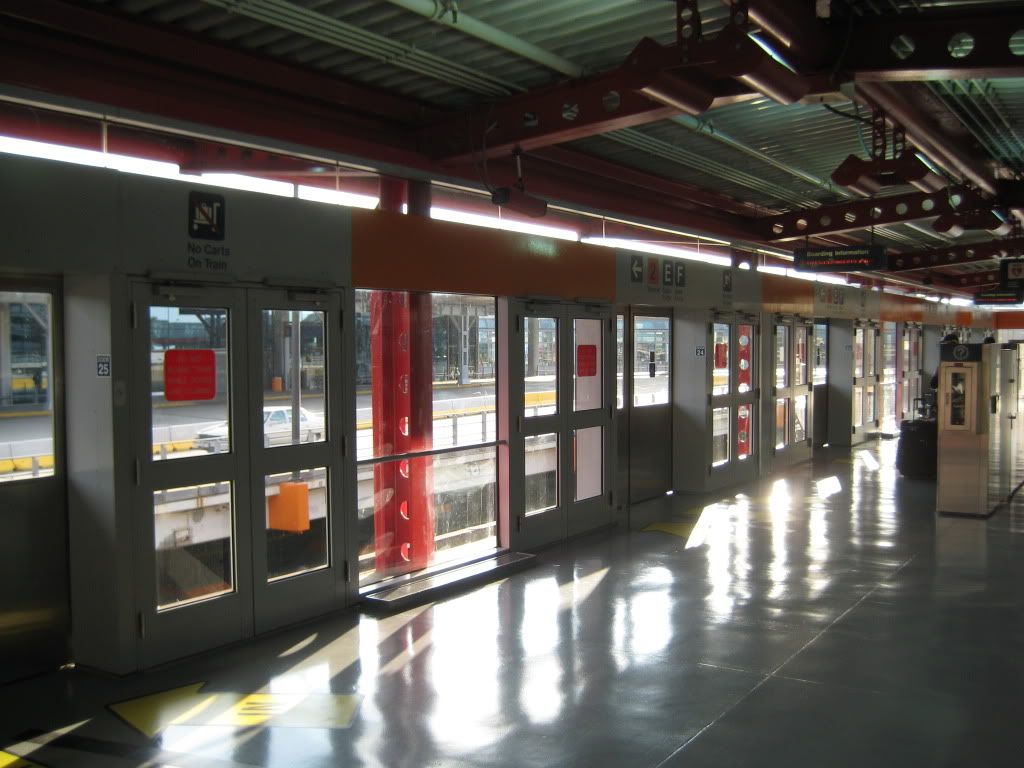 Waiting for the inter-terminal train to take me to the International terminal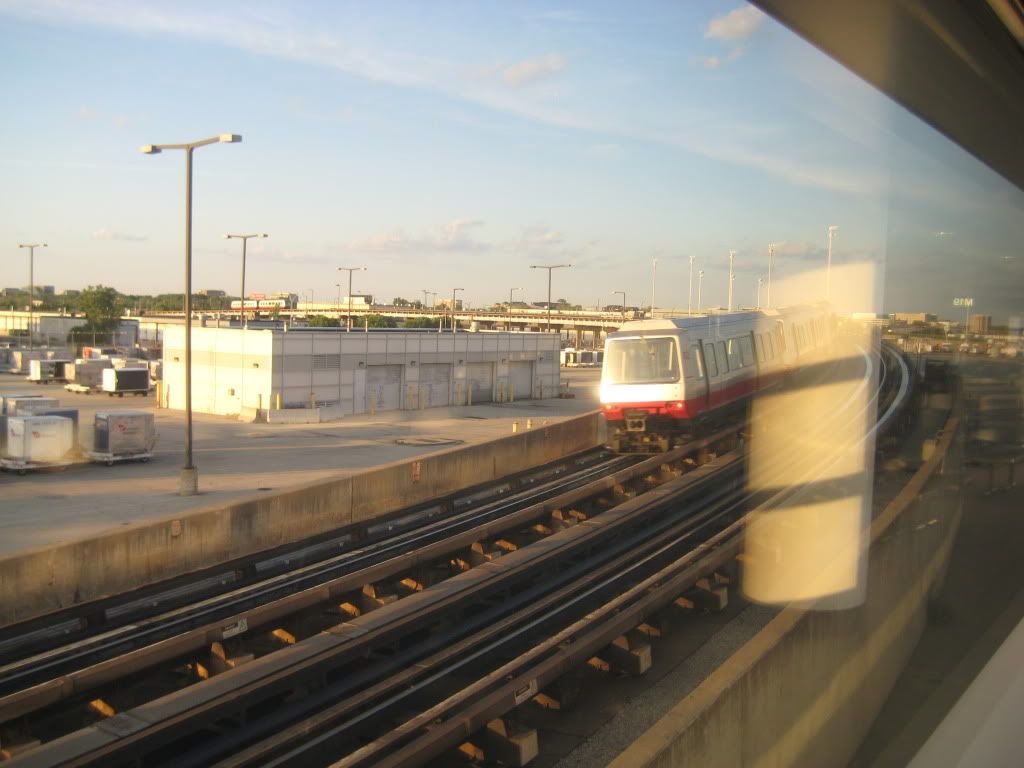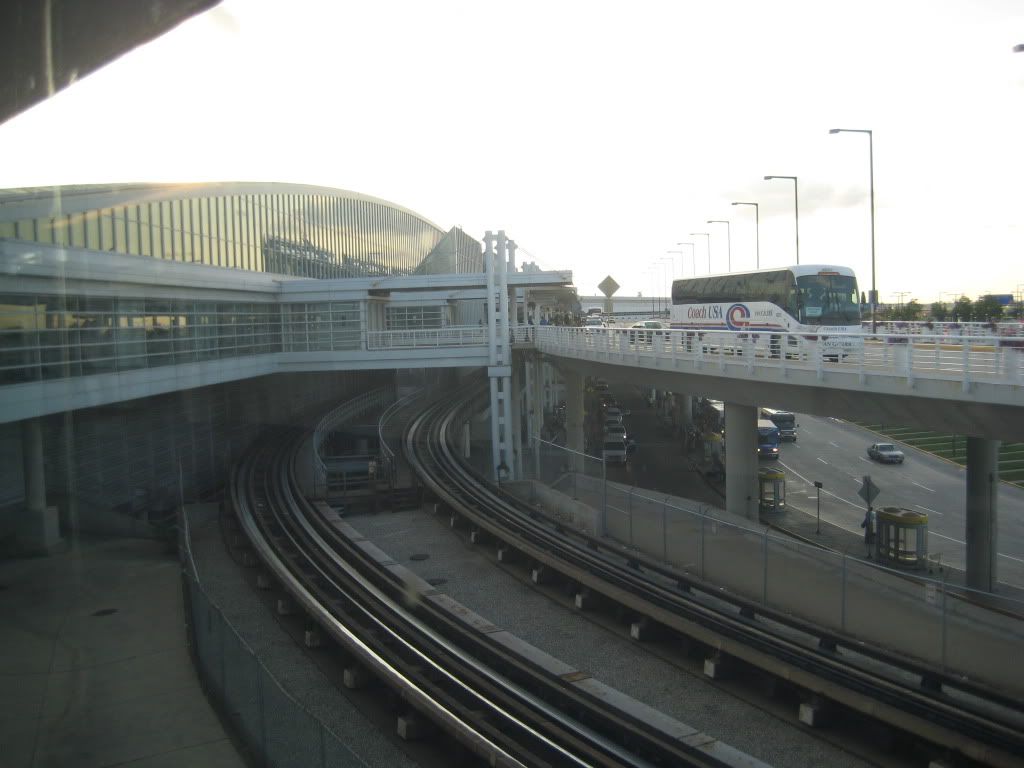 Inter-terminal train
After doing some shopping, I went through security, which took no more than 2 minutes and proceeded to the gates. Other international traffic included a LH, a THY, a LO, a SAS, an OZ, a MX and a RJ. I was hoping to get a good look at our 747 but unfortunately because of the configuration of our gate it was impossible to see anything but the nose.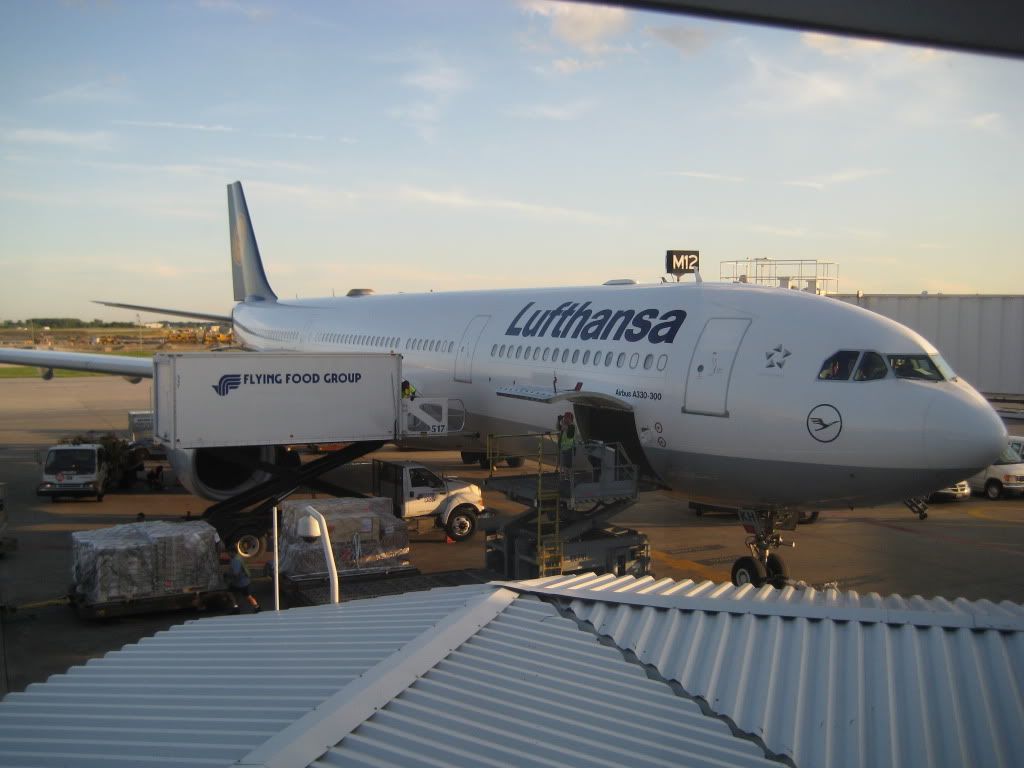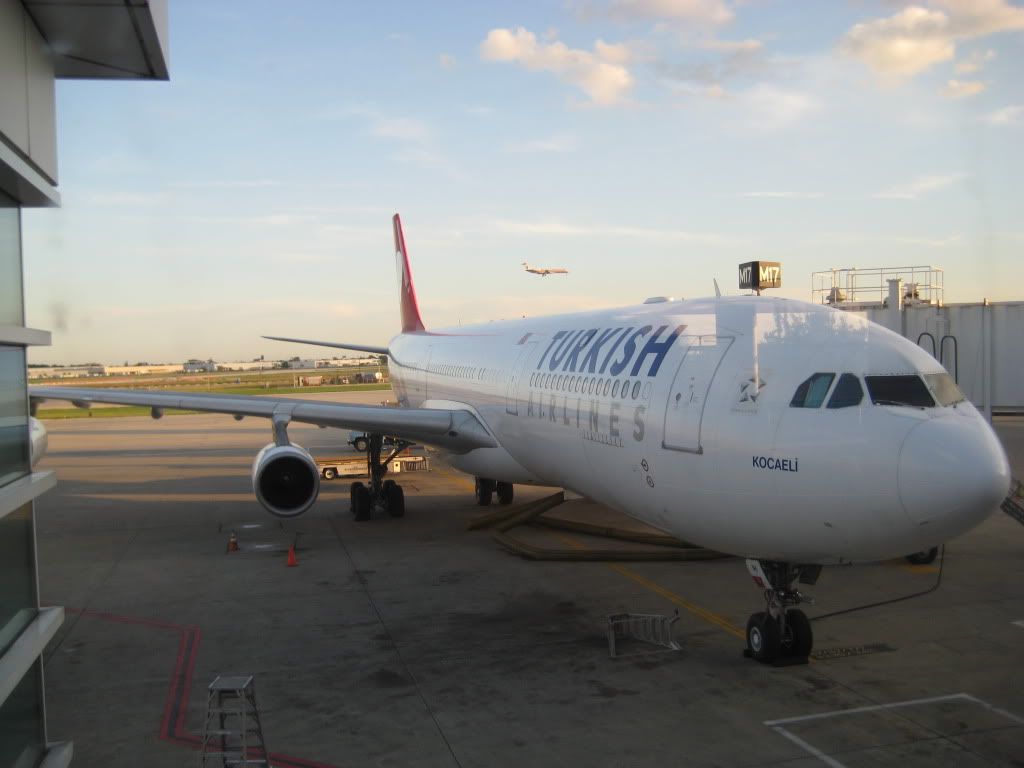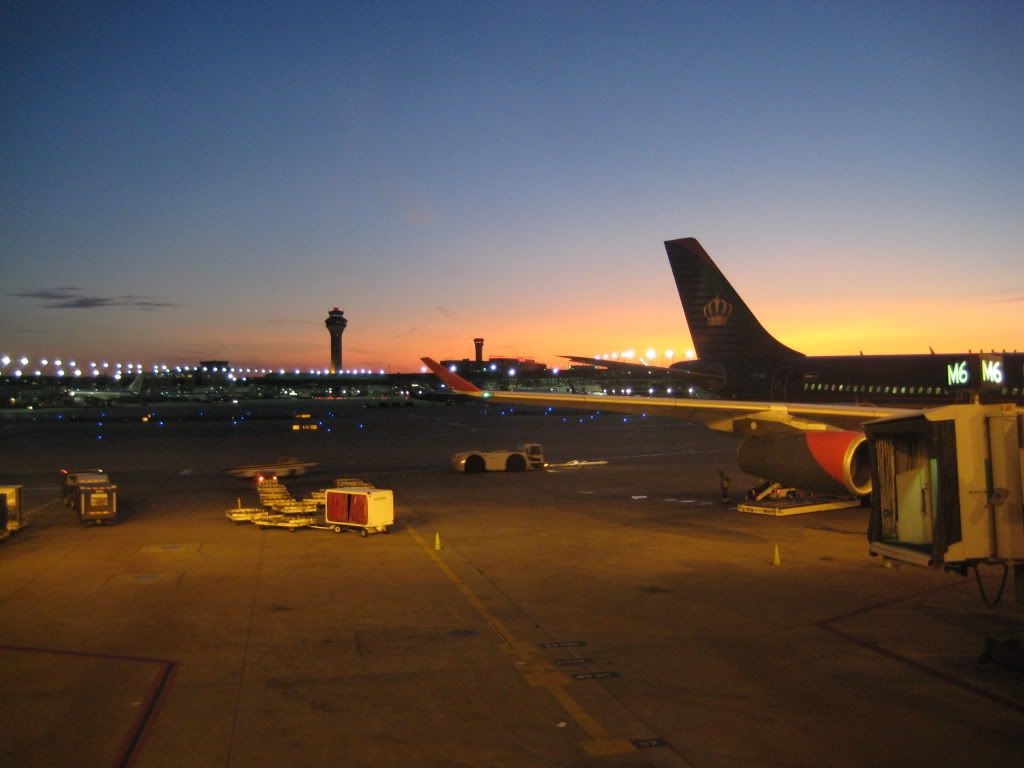 Some of the international traffic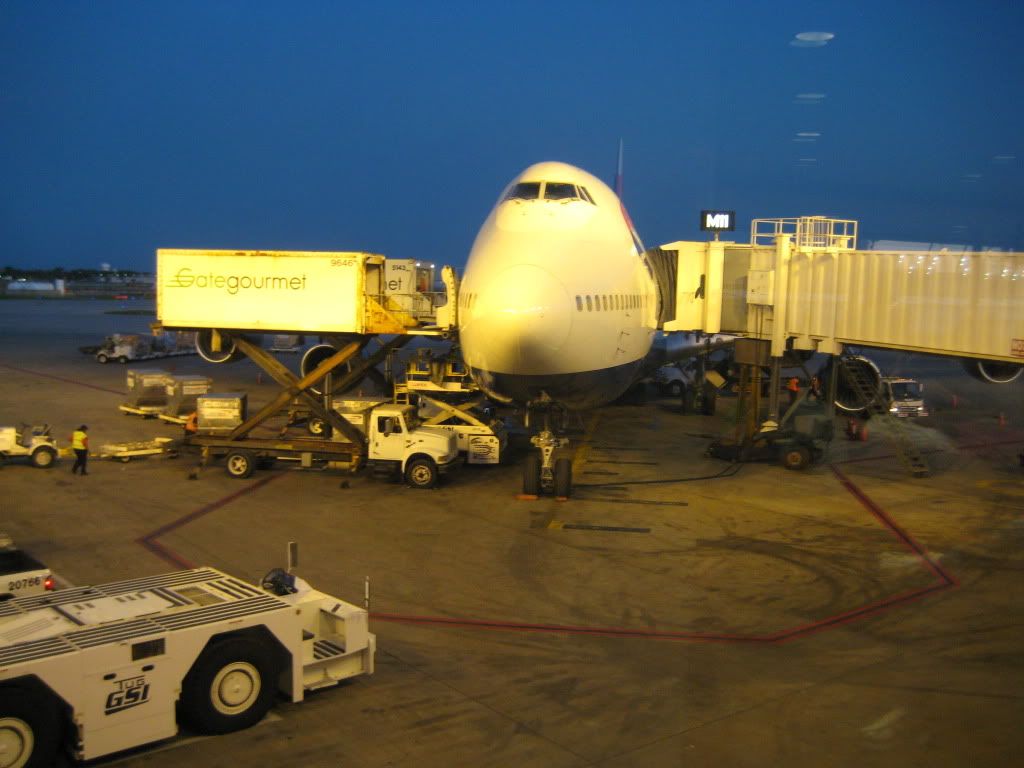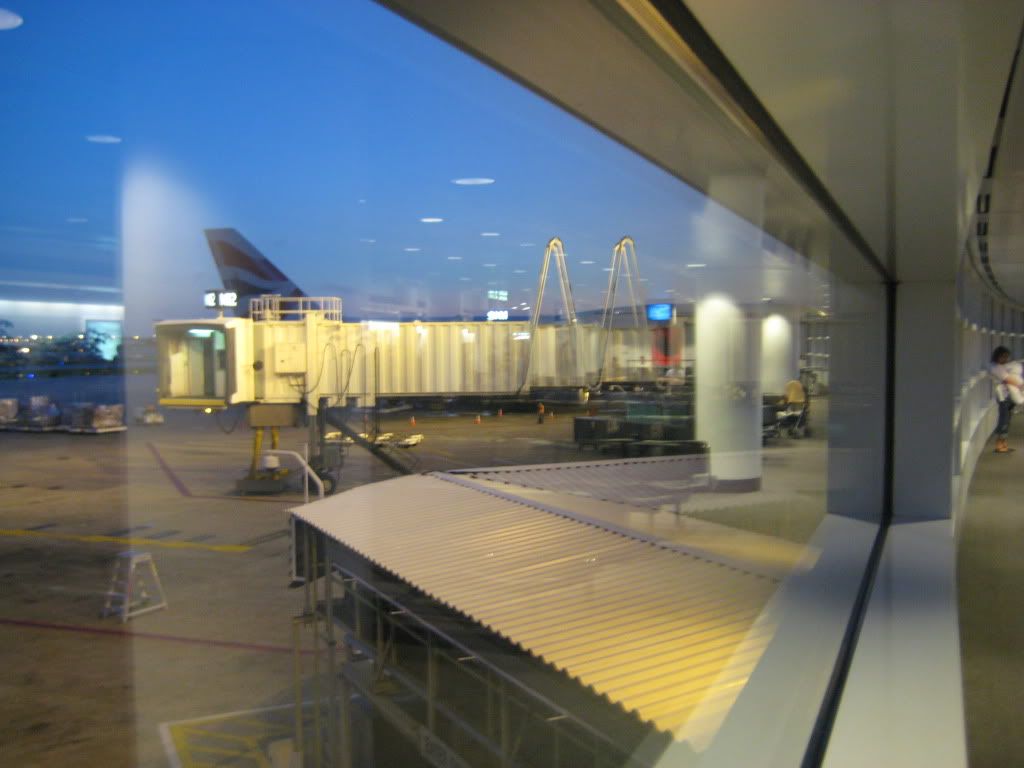 My ride
After boarding I sat next to an old couple from Wisconsin who were traveling to Europe for the first time and they both seemed extremely impressed by the size and features of the 747. They also seemed very pleased and surprised to find out that they will be served a meal (and a snack) and that they could watch movies on a personal screen, all free of charge... That's what happens when you are used to fly only within the US
. I took up the role of a guide, explaining a few things to them and also advising them on their trip, which was meant to include visits to London, Paris, Amsterdam, Vienna and Rome. They seemed very enthusiastic about it and I was very happy for them.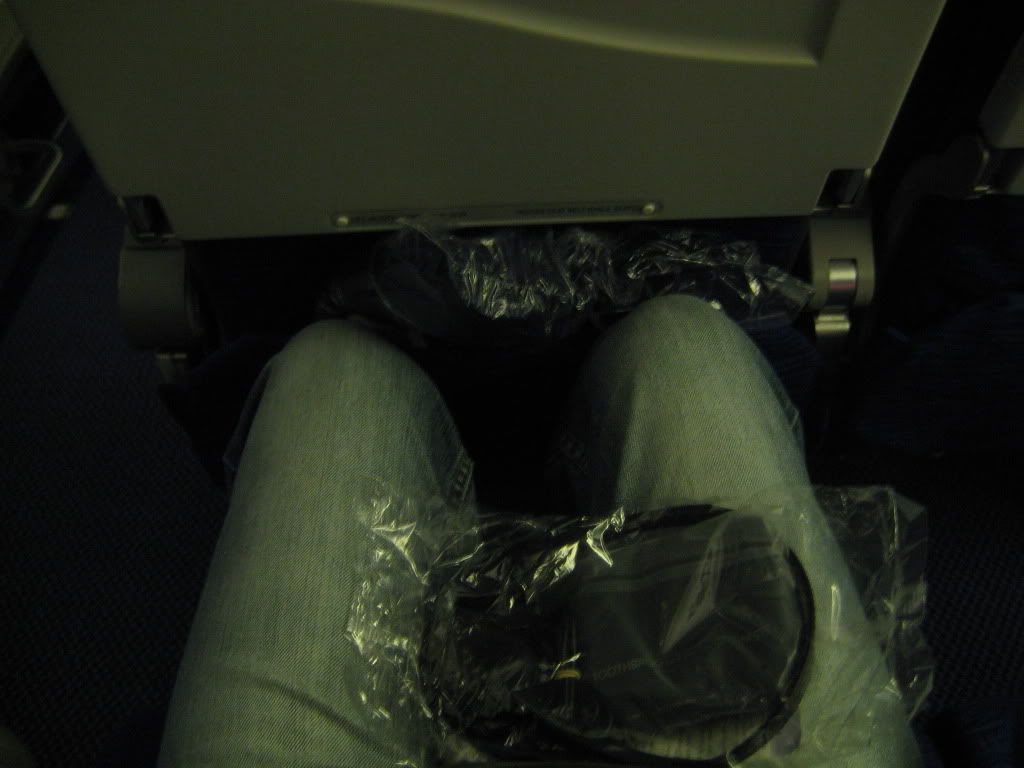 Seat Pitch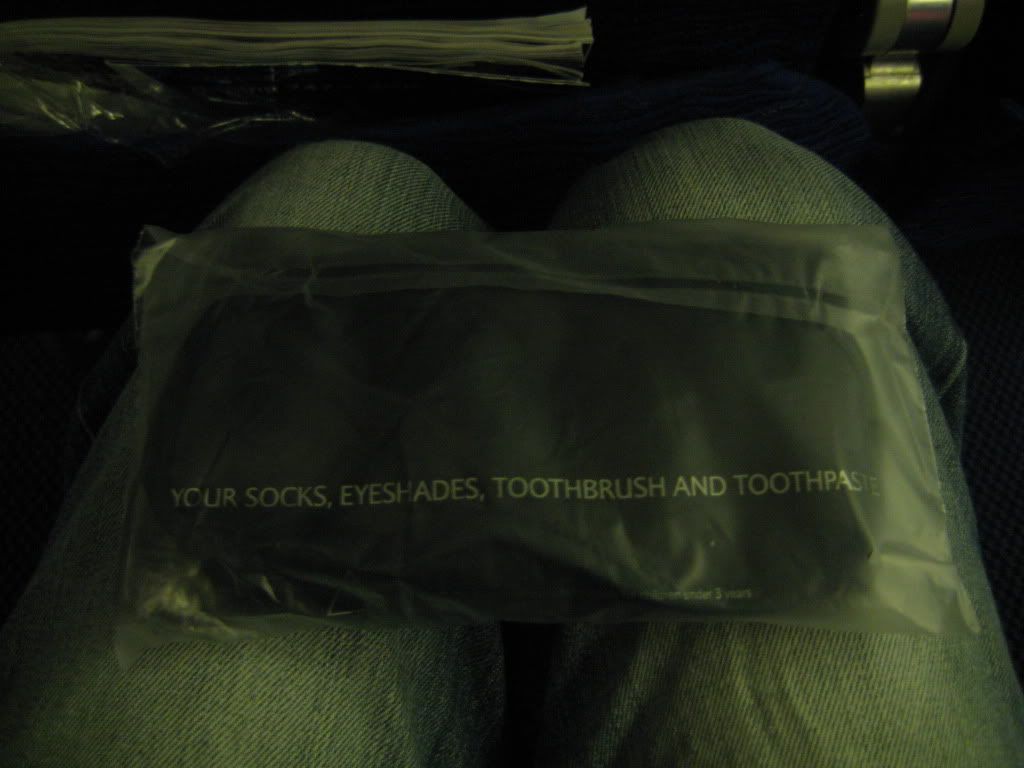 Amenity kit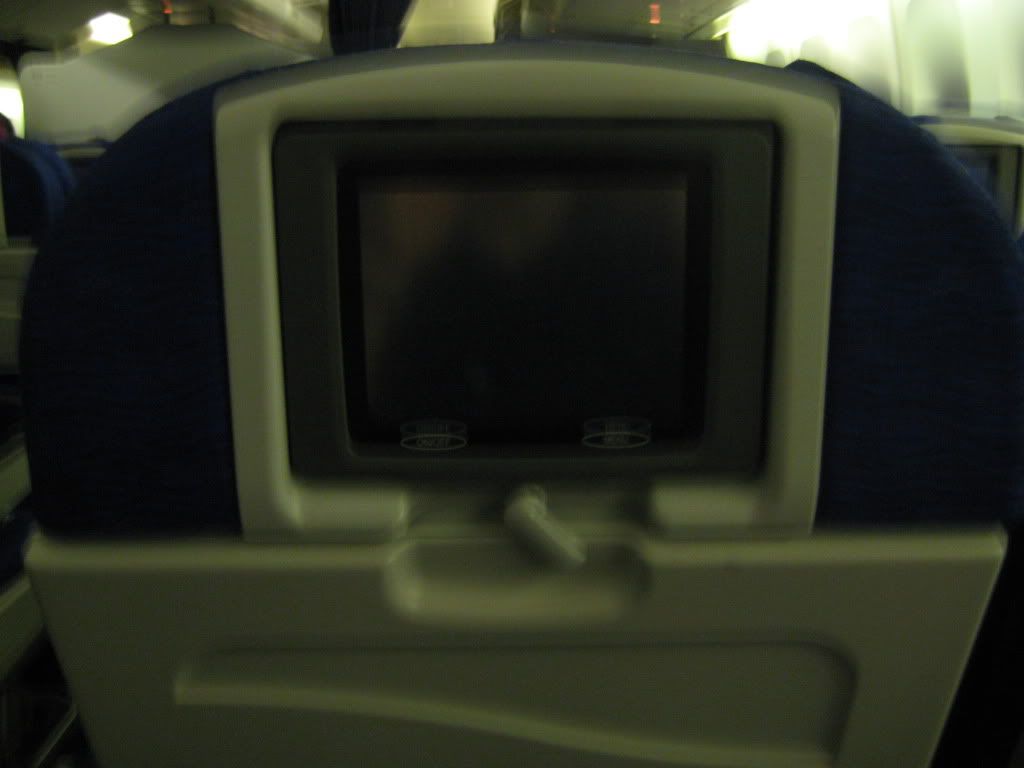 IFE Screen
Cabin view
BA had given us their usual amenity kit (socks, toothbrush, toothpaste and eye covers), a blanket and a pillow. The crew was very friendly throughout the flight and soon after take-off (which was fairly noisy I must say, the cabin was shaking and the overhead compartments were making a loud noise in the process) we were served a tasty hot meal that included a beef and rice dish, a lettuce, tomato and mozzarella salad, and a chocolate fudge cake. Seat pitch wasn't too bad, but of course the person in front of me decided to fully recline so I had to sit sideways anyway.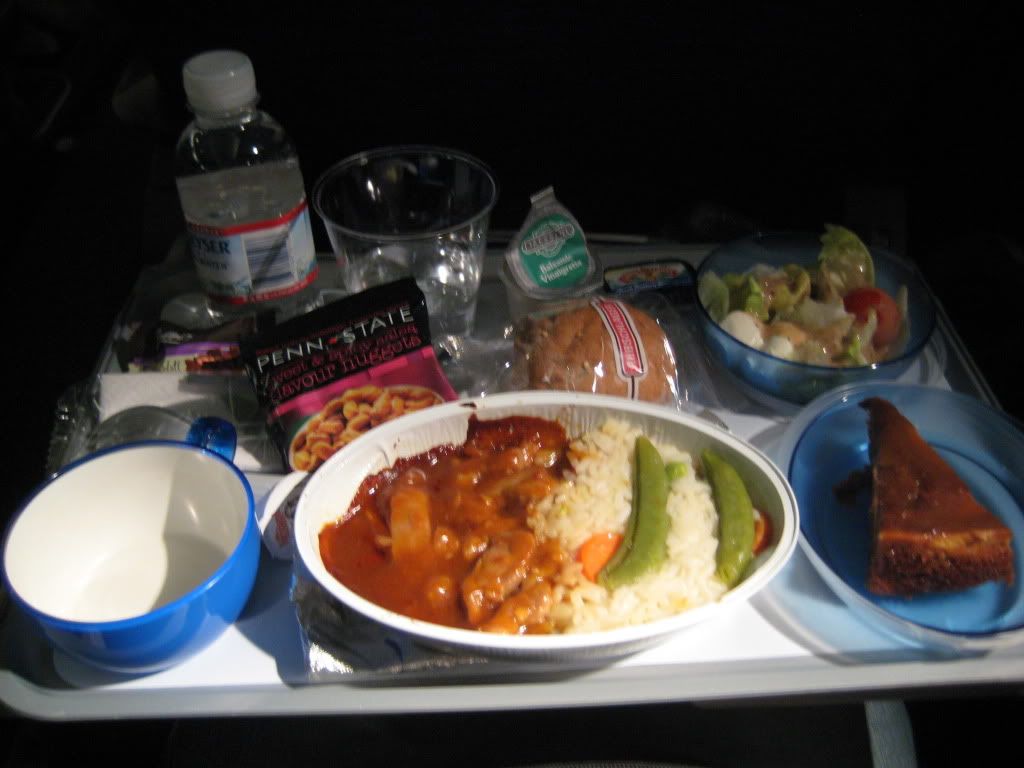 Meal Service
The flight was full with Indian passengers who were connecting to flights to the subcontinent at LHR. The choice of movie features was endless and I can only compare it to the AF one on my CDG-ATL trip in my previous Trans-A flash trip. After a couple of movies I fell asleep and woke up just in time for breakfast, which consisted of a Danish pastry (it was nice but cold) and some orange juice.
Breafkfast
Much to the delight of my co-passengers the pilot circled above downtown London before making his final approach, thus providing them the opportunity to enjoy the city from above. Landing was a bit bumpy and after a relatively short taxiing we made it to our stand. I was surprised to find out that we had not stopped at a gate and that, instead, we were going to be transferred to Terminal 5 by buses. As a result the process of getting us off the aircraft was excruciatingly slow as for some reason there was a big delay between the loading of one bus and the arrival of the next. The whole process (after the doors opened) may have taken up to 20 mins and there were many more passengers left on the plane after the bus I got on departed. The ride to T5 took a good 5 mins and once there I had less than an hour for my connecting flight to MAN. I didn't know what to expect at immigration and security so I made sure I did not waste too much time. Eventually, immigration turned out to be fairly quick and so did the security check so I had a bit of time to have a look around my gate which looked very nice and modern (unlike most of the other LHR terminals).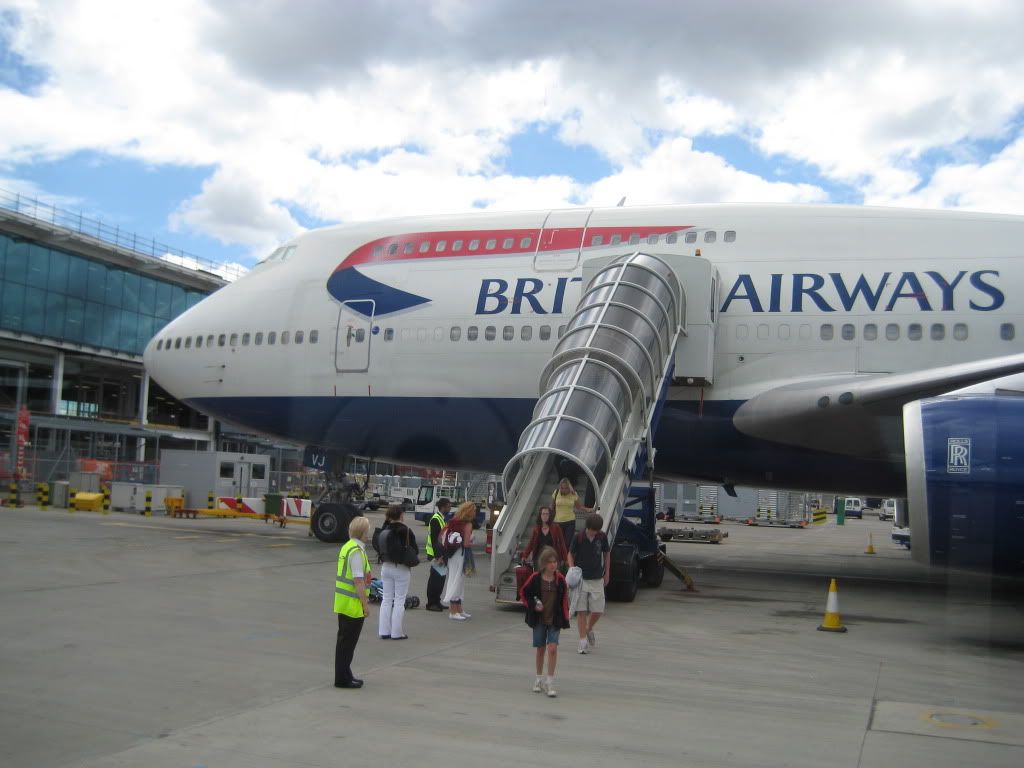 Deboarding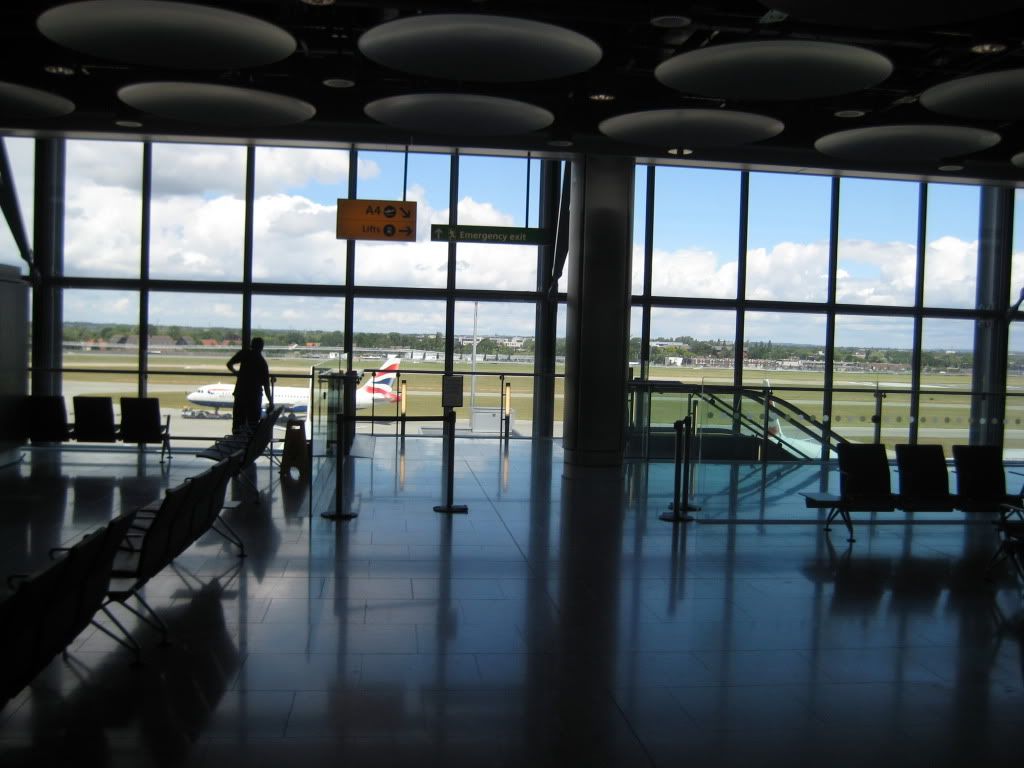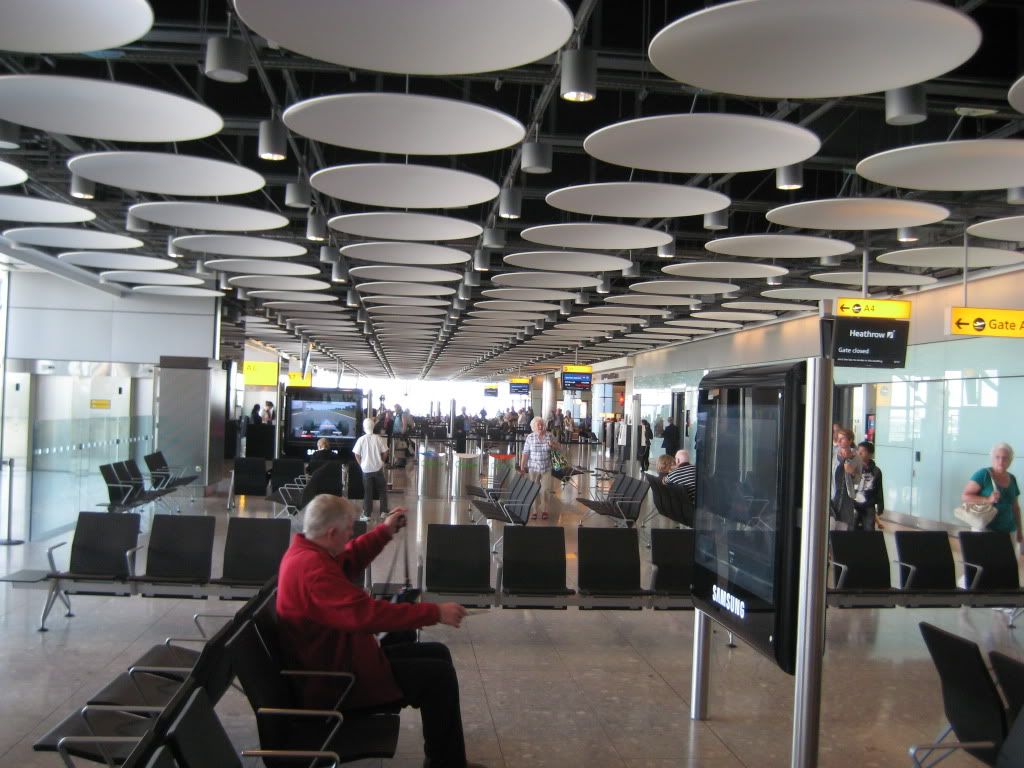 T5 views
July 12 2009
BA
LHR-MAN
A319
Registration: ???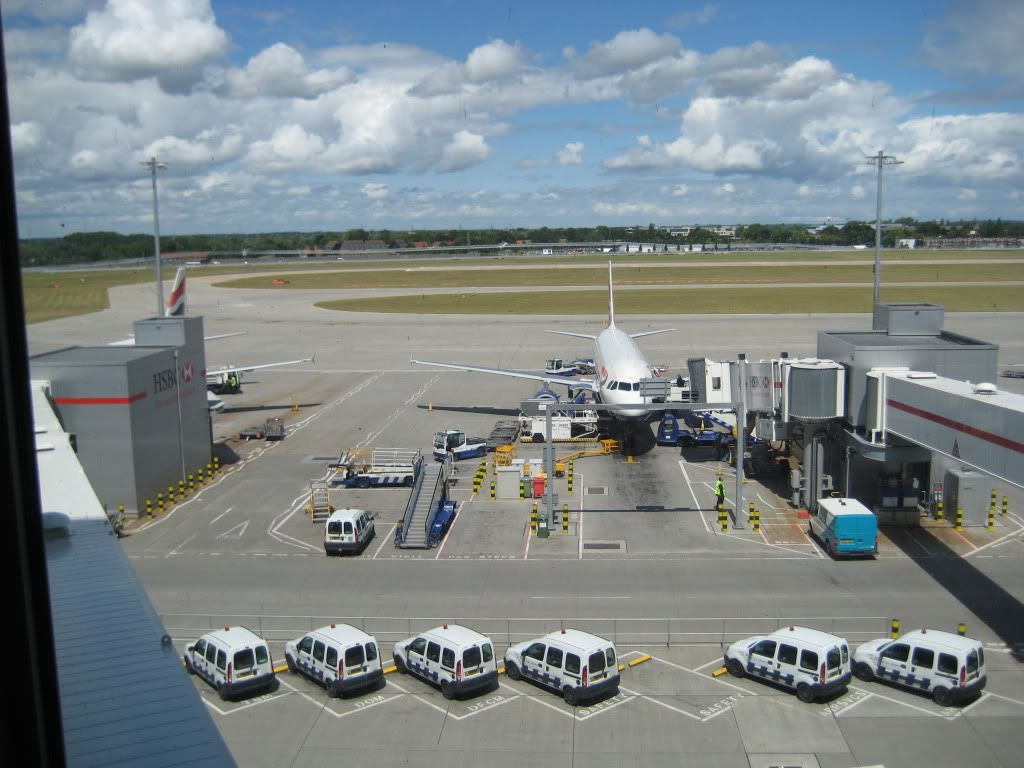 The aircraft that would take me to MAN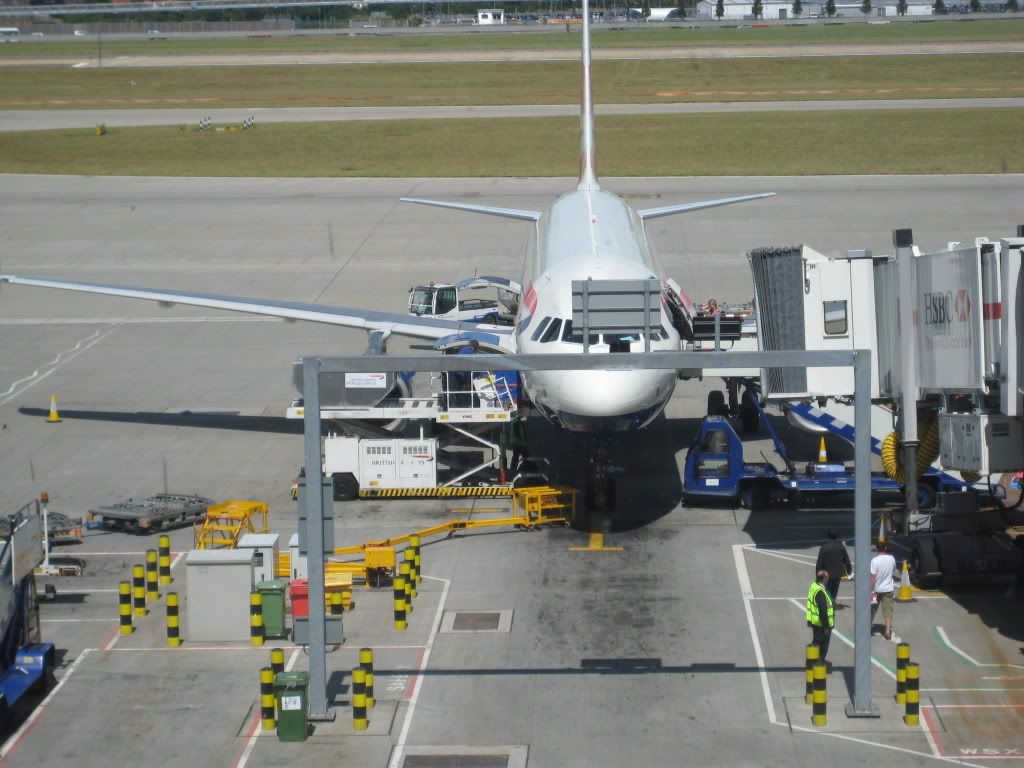 ...and a close-up.
Boarding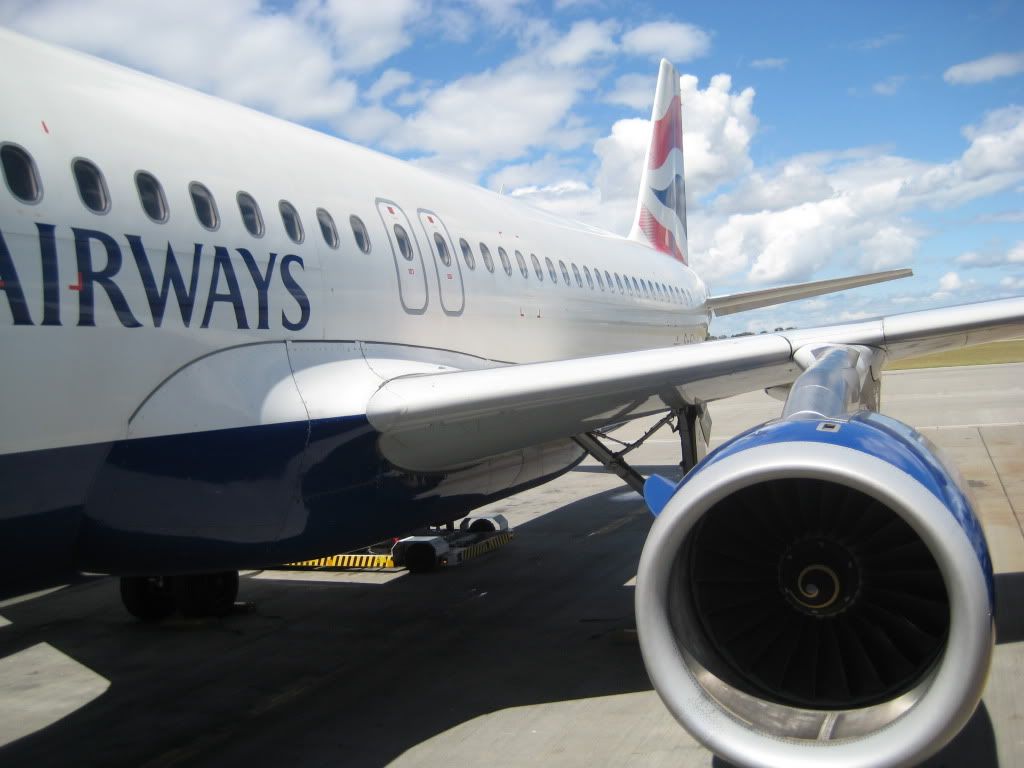 On the stairs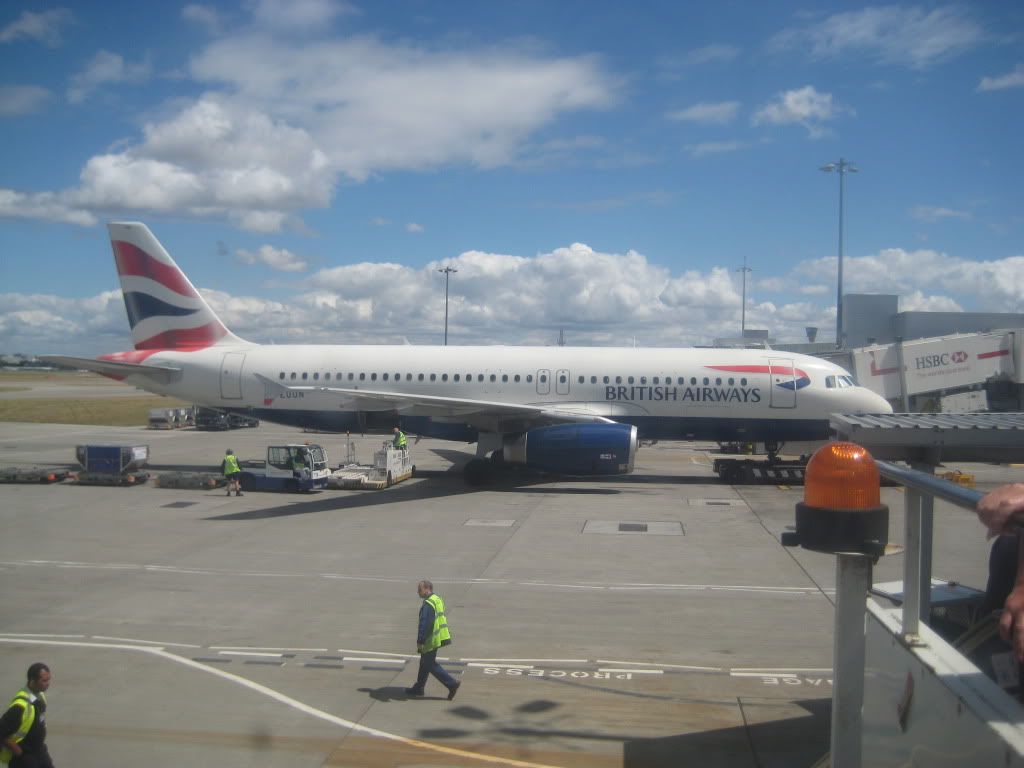 Our neighbor at the stand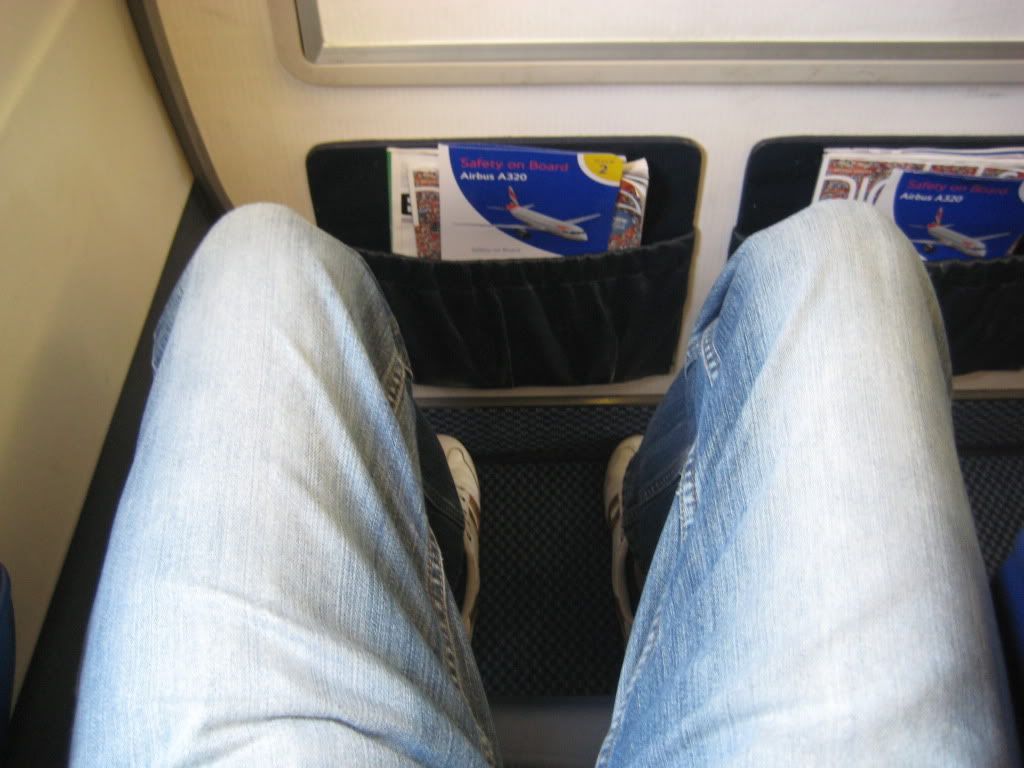 Seat pitch
I had chosen seat A1 for this flight so despite its short length I was looking forward to not having anyone in a seat in front of me. Unfortunately I did not get hardly any photos during the flight as a FA insisted that I gave him my fannypack (yes, I do wear one when traveling, don't judge me) where I was keeping my camera because it would have prevented me from taking the brace position should it been necessary. Nonetheless I took this photo after it was handed back to me once we reached the gate.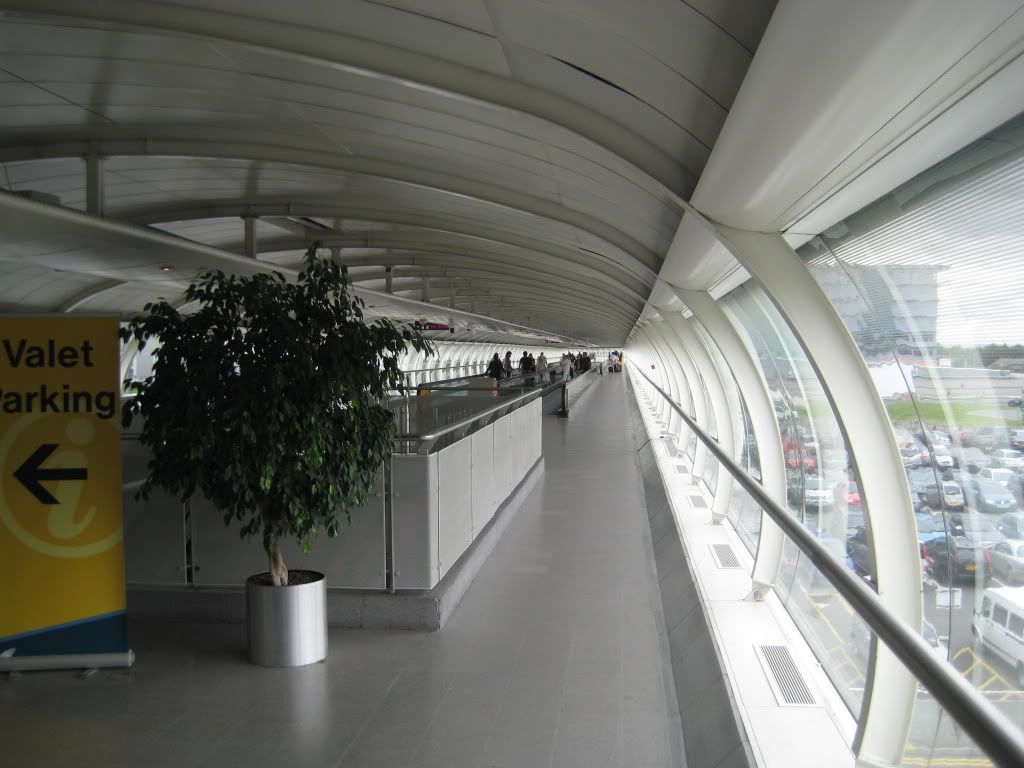 Skylink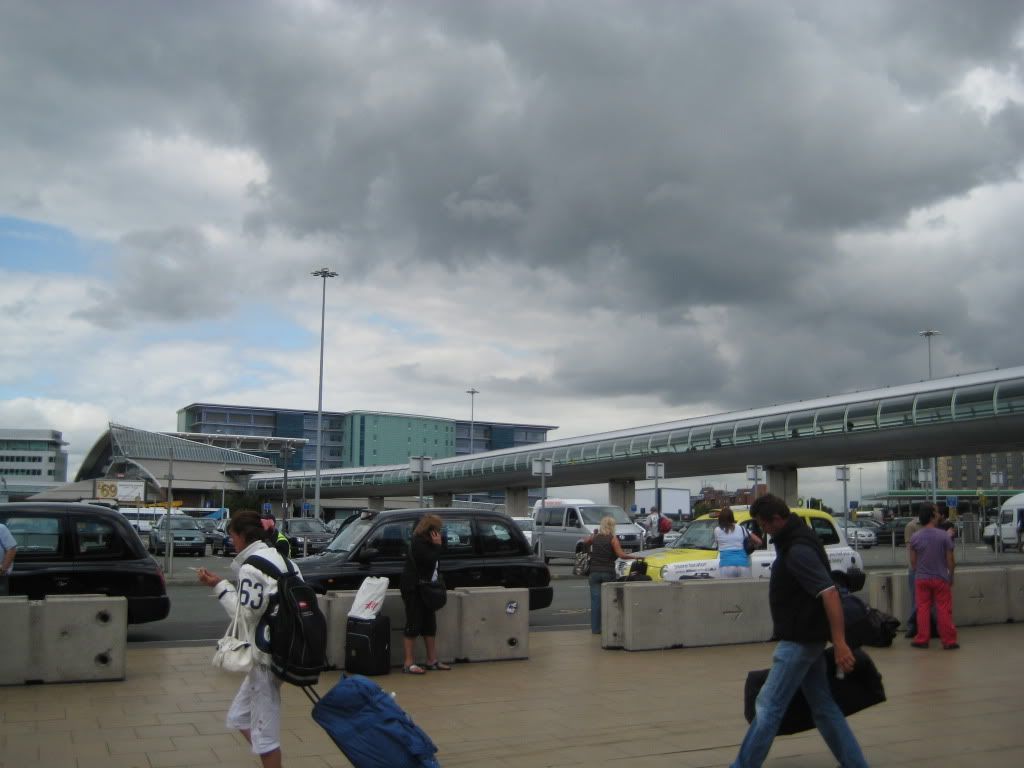 Skylink from outside
The plan was to meet my sister and my mom at MAN, but they were to arrive there two hours later than me, so I made my way to T1 (I had landed in T3) and sat down to listen to some music and read. Once their LH flight from Munich landed it took them no more than 15 minutes to collect their luggage and meet me at the arrivals area. We made our way to the train station and hoped to a train to Preston where we would spend the next couple of days at Holiday Inn.
The Manchester Hilton as seen from inside our train.
The two and a half days went by really fast. Graduation was lovely and everyone enjoyed it. After a short cab ride to the station we took the direct train to MAN and an hour later we were there. I was flying out of T3 again, while my mom and sister out of T1 so we split at the station, checked in for our flights and then I walked back to T1 to spend some more time with them.
A couple of photos from Preston: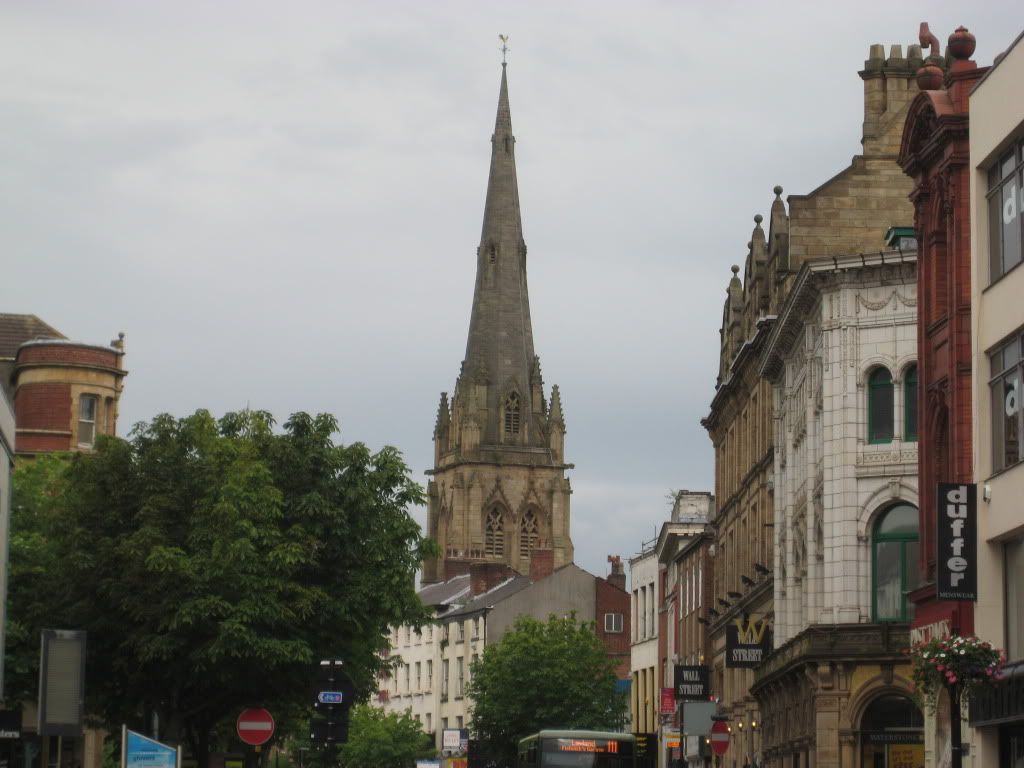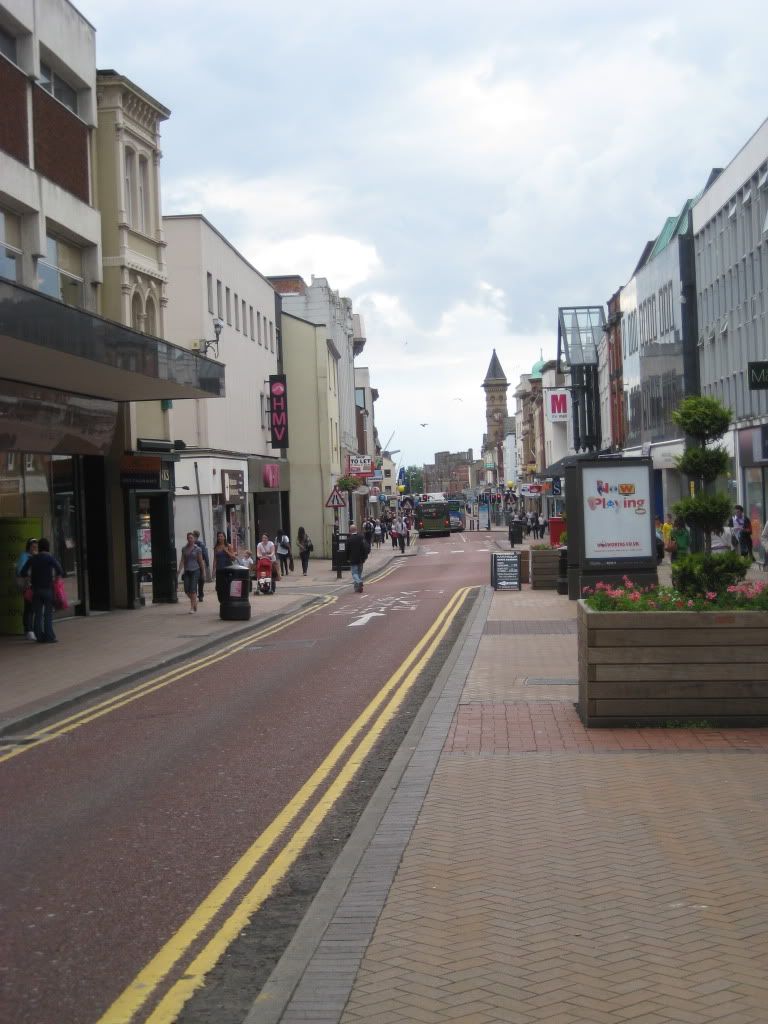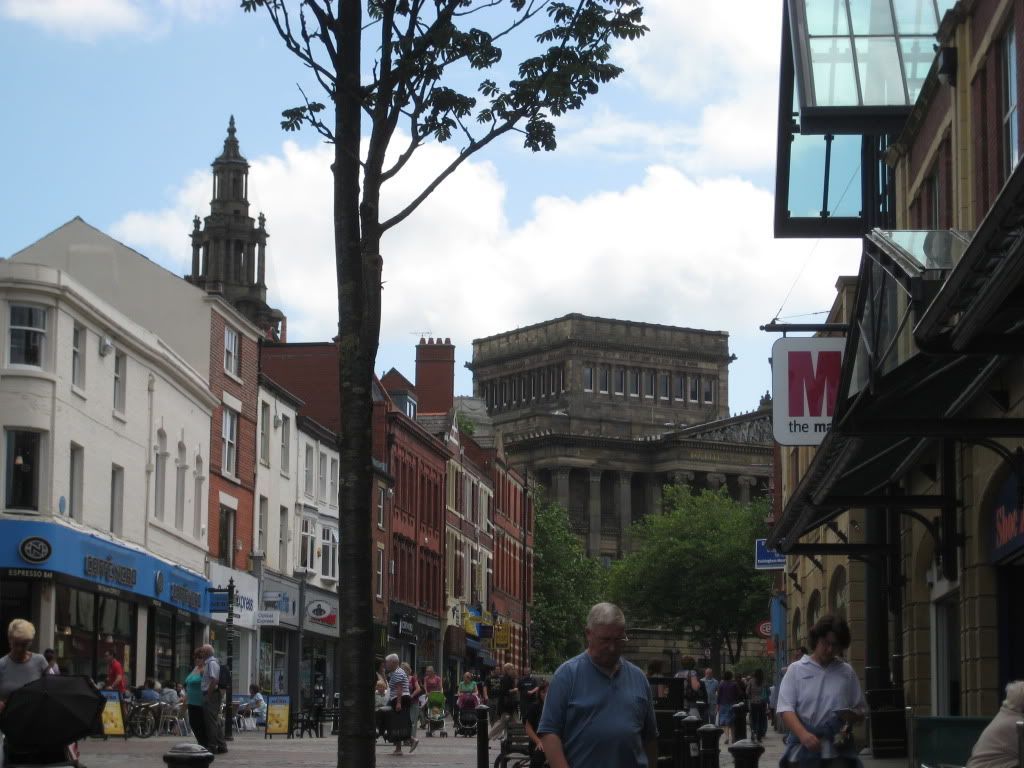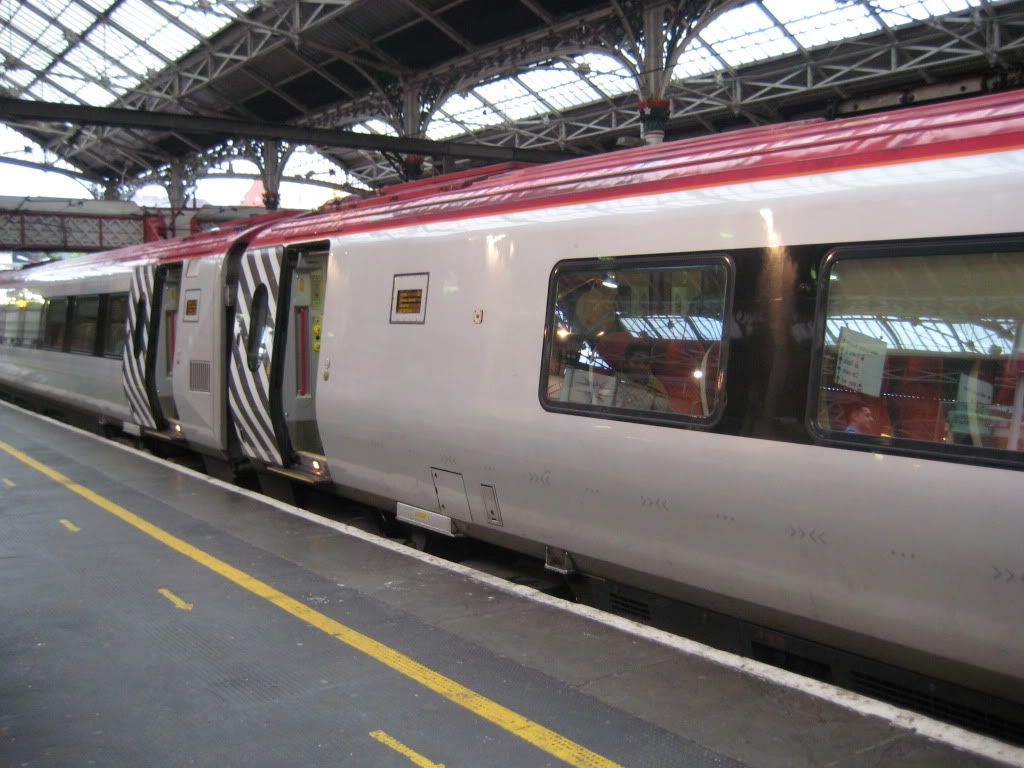 A Virgin train at Preston station while waiting for our ride to MAN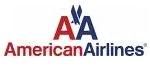 July 15
AA
MAN-ORD
B767-300
N379AA
For my check in there was a security screening which was probably the lengthiest I have ever experienced. The guy however was super polite and he would even joke with me. While checking in (for some reason I was not allowed to check in online the night before) I asked for an isle seat and I was in fact given an exit row one which was very welcomed. Following security, I did some quick duty free shopping and headed for my gate. I was boarding with Group 5 so I hanged around for a bit before it was time to get on board.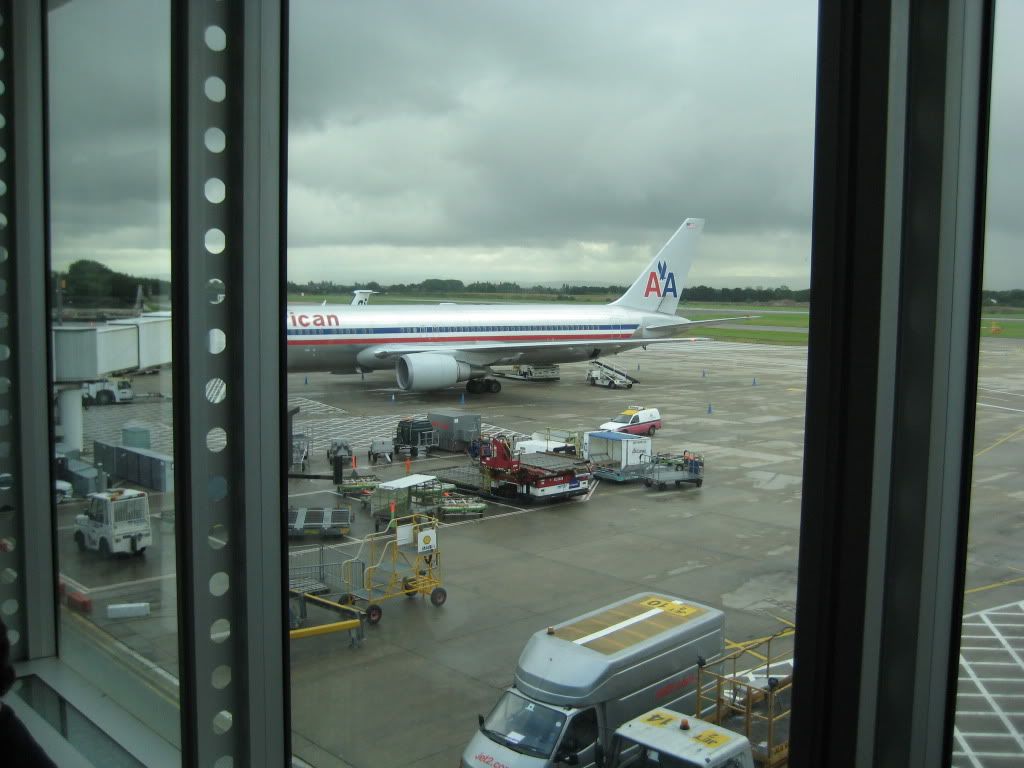 Our plane at gate 55 (coincidence?).
On my previous flights with AA to/from Europe (namely LHR, BRU and FCO) the 767 had personal TVs so I was expecting the same to be the case now but to my disappointment there were only overhead screens. I guess there aren't many (if any) direct flights out of MAN for ORD so good IFE is not necessary for this route to attract passengers. The movies to be shown were Journey to the Center of the Earth and Inkheart (Both staring Brendan Fraser ). The quality of the sound through the headphones was atrocious and I could hardly hear anything (the actors sounded like Darth Vader) so I chose to listen to music on my mp3 player and read instead. The crew for our cabin were all male in their 40's and very helpful even if somewhat less formal than one is used to. I personally liked that.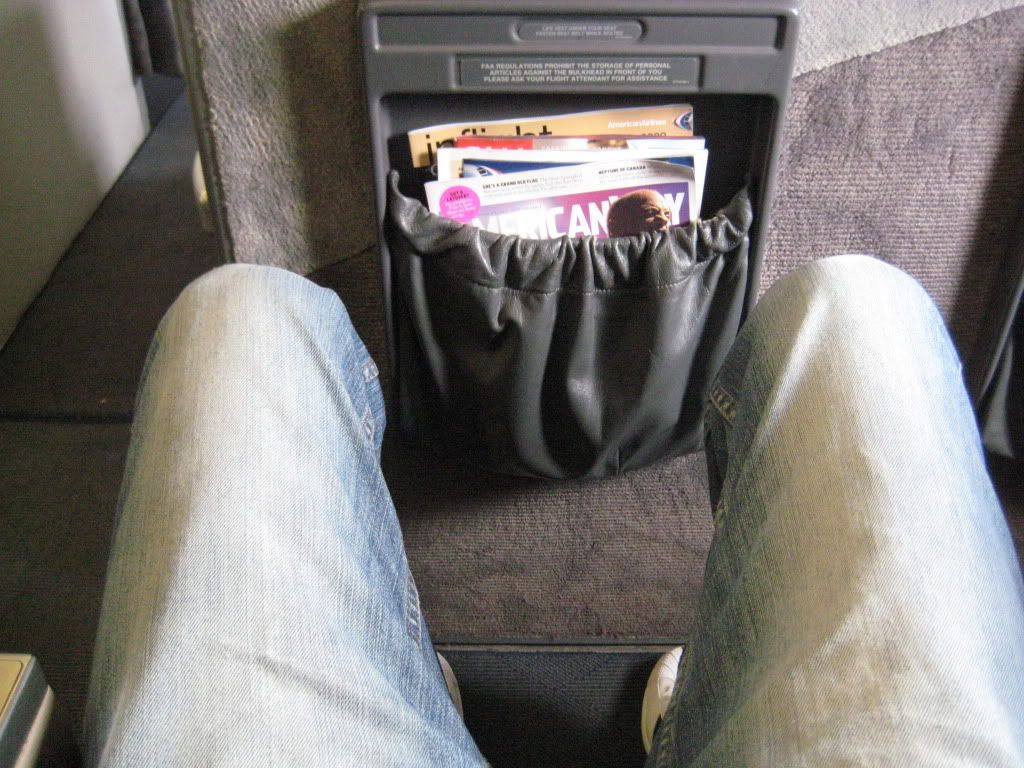 Seat pitch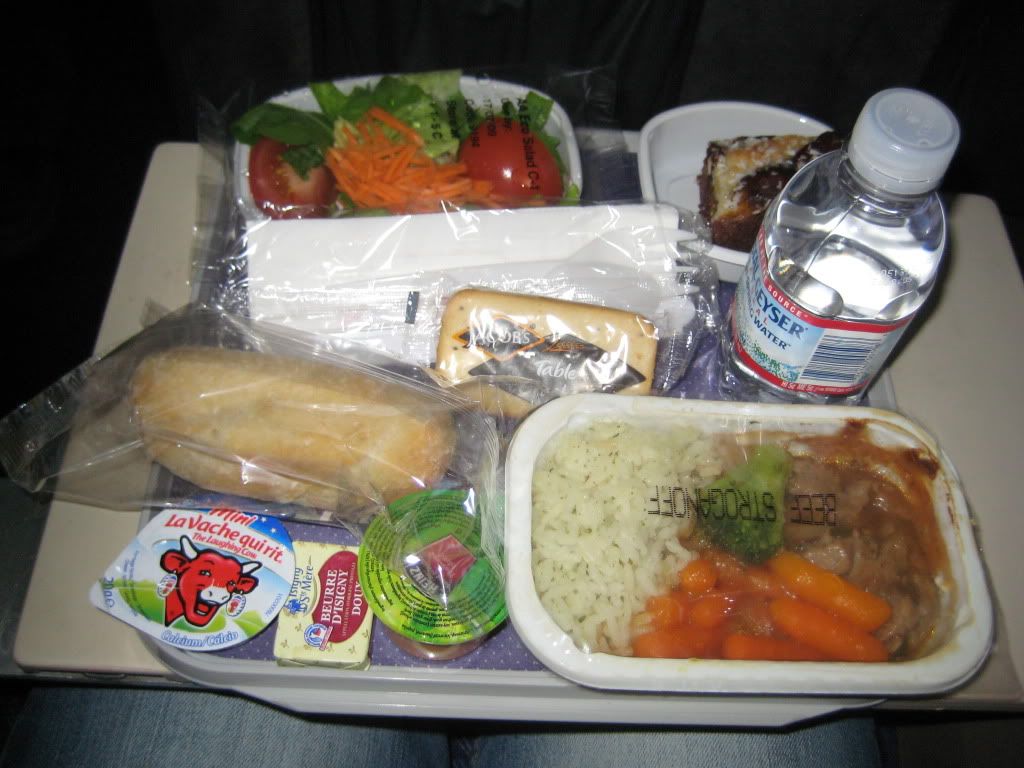 Meal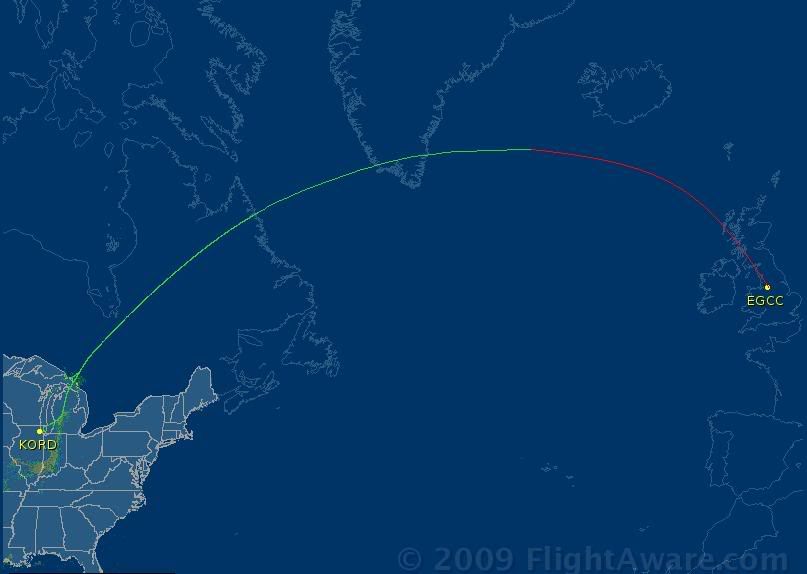 Our route according to Flightaware (green line). The reddish line is a reconstruction based on the information provided by the pilot.
We were served a nice Beef Stroganoff (the other choice was pasta of some kind), a salad with a Thousand Island sauce and some awesome chocolate-y/apricot-y cake. It was rather cold in the cabin and some people were asking for duvets (!) in addition to the blankets that were already provided. I got some sleep and once more woke up shortly before the snack service. This time it was a small pizza, some grapes and a couple of Scottish shortbread pieces. Our route took us south of Iceland, just over the south tip of Greenland and over Canada before reaching Michigan where according to our pilot we would start our descend. Landing was smooth and the taxing to the terminal much shorter than I am sued to in ORD. I wanted to beat the 5pm traffic so once more I wasted no time and proceeded to immigration where it took me some 20-25 mins to go through. My bag was already waiting for me so I got onto the inter-terminal train, made my way to the CTA blue line stop and went downtown from where I got the No6 bus to back home. From landing to my front door it took me just 2.5 hours which must be a record, especially when considering that I did it on public transport.
Overall I have to say that I was pleased with both airlines, even though the BA product was overall superior, but one has to bear in mind that the ORD-LHR route should not be compared to a MAN-ORD one. Given however that I have flown with AA to LHR (and other popular destinations in Europe, all of them recently) I have to say that BA offers a better service.
Thank you for reading. I'd love to hear your comments.