Here's the third part of my trip report from Moldova and Ukraine from June 2009. It's been a while since I posted the previous part - it's the holiday time and I was pretty much offline for a week enjoying the sun in Spain. I'll try to get the rest posted a little faster. This report picks up straight from the previous part left - at Timisoara airport.
Disclaimer
: I'm not sure of the proper transliteration for some of the Ukrainian names - they use the cyrillic alphabet after all. For me "Kyiv" still doesn't feel right after getting used to the city being called "Kiev" for years. But I'm sure everybody can understand which places I'm talking about - if not then drop me a message and check the airport codes - these should be pretty unambiguous after all.
Timisoara Airport
It's still too early for the check in to open, so I use the Wifi connection some more. When check in opens I go to get a "Delivery at Aircraft" tag for my rollaboard - for the Saab I'll need it. The friendly guy gives me this without any problems. Then I spend an hour at the landside bar drinking some beers, reading and people watching. A steady stream of Carpat Air planes is arriving from their European flights. Other visitors are LH CityLine from MUC, Tarom from OTP and a delayed W6 flight to CIA. Around 45 minutes before departure I decide to go through passport control and security check to the international airside waiting hall. There are 5 gates here, no jetways, a duty-free shop, bar and a news agent/souvenir shop. All the prices in the shops are in Euros - and are 2-3 times higher than in the city. Fortunately the bar retains its prices in Lei and these are not inflated at all - so I grab another beer and spend the reminder of my Lei to a tip for the girl who seems to be genuinely surprised by this gallant act.
TSR-LWO
V3835
Saab 2000 YR-SBB
Seat 17A
15.13 - 16.14
Boarding is called at 15.00 and is of course another bus job. Most of the people in the queue seem to be carrying Ukrainian passports. There aren't too many passengers, I count less than 30 in the bus - thus the bus speeds off in no time. The V3 afternoon departure wave is about to start and I count a total of 10 Saab 2000s and all the three Fokker 100s in the apron - for somebody collecting registrations a single visit to TSR at the right time could yield the entire fleet of one airline - not bad.
Impressive lineup of Saabs:
Once more: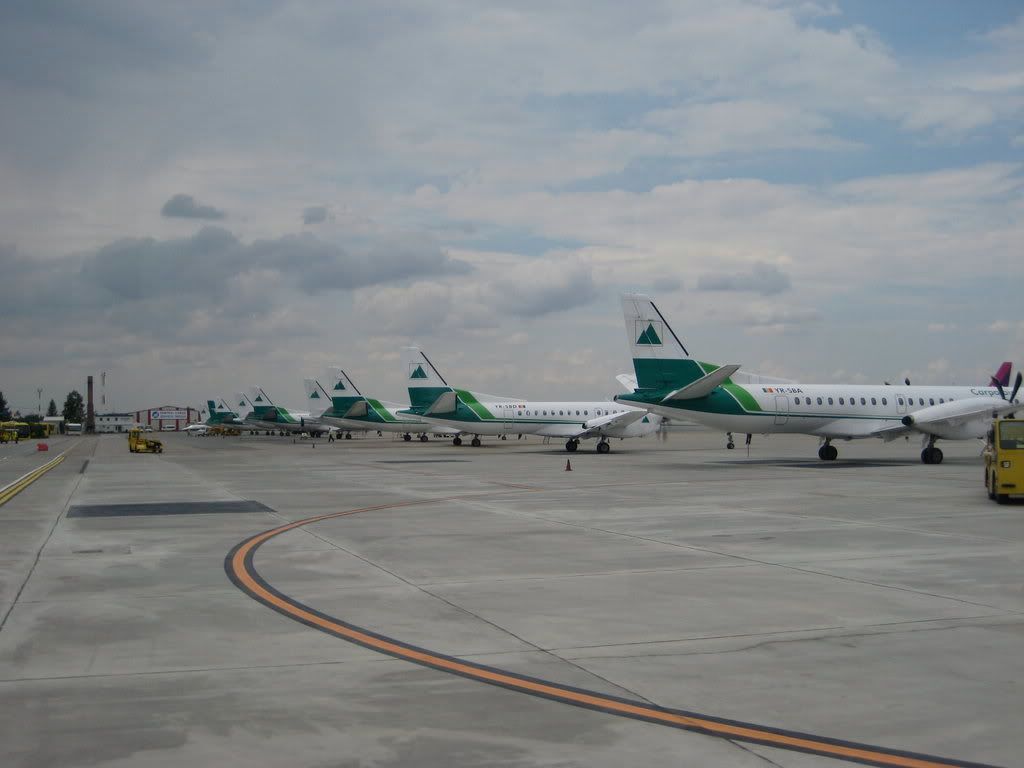 My plane from this morning: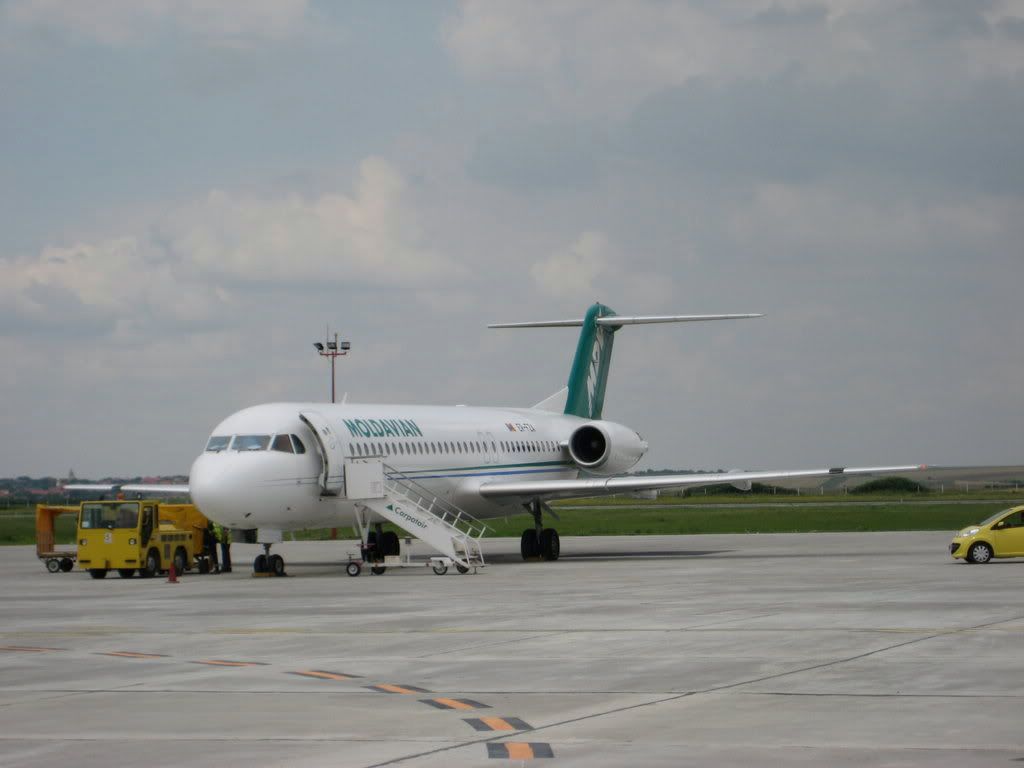 We pull off in front of YR-SBB, the second oldest Saab 2000 in the CarpatAir fleet. These Saabs look very smart:
I drop the rollaboard at the foot of the stairs and board using the Saab's integral stairs. Most of the passengers are seated in the front or middle, my seat 17A being in the second to last row. The seats are blue leather, quite comfortable actually.
Cabin view: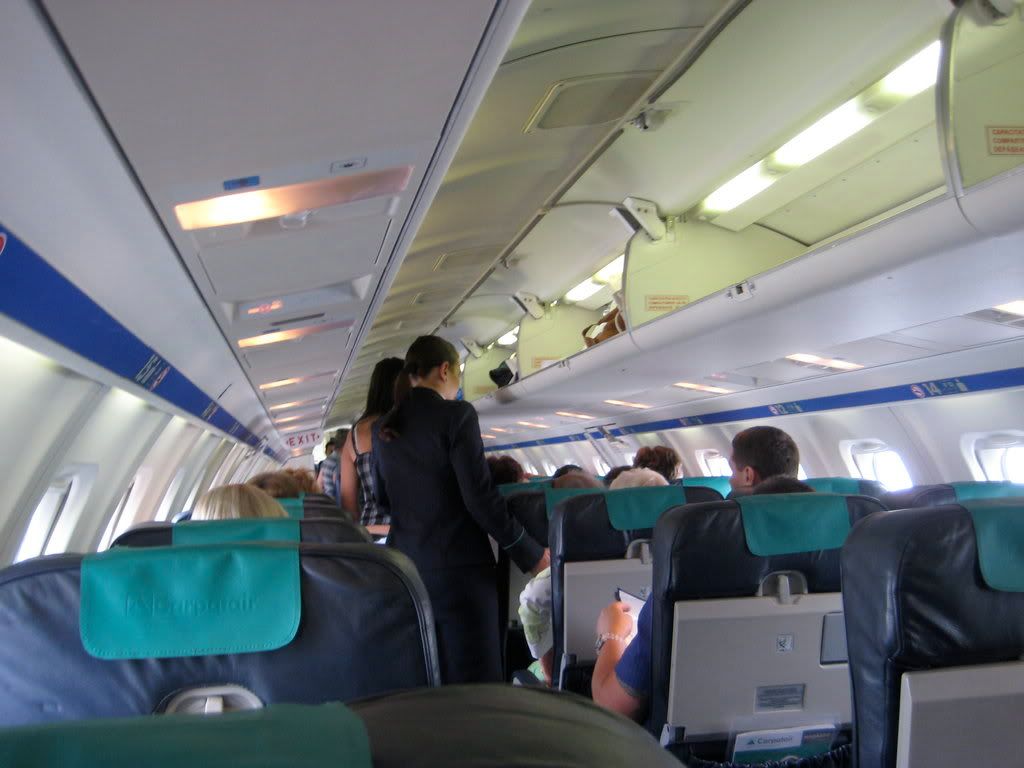 Interestingly enough across the aisle from me there is a young nun (Catholic I presume?) in full nun's outfit. There are two pretty female FAs aboard - it's only later when I realize that the other one is actually Ukrainian and the other one Romanian as I overhear them conversating in English. Flight time is announced as 1 hour exactly.
We depart pretty much on time, taxi very fast to the end of the runway 11 and actually enter the active before the FAs have finished the safety presentation. So we sit there for another 3-4 minutes while they finish the script, secure the cabin once more and rang the captain, eager to go. Immediately we start accelerating very fast, and due to the runway being far from optimal condition it is very bumpy for a while. However we rotate pretty soon, smoothing our ride. Soon after a left turn follows to point us at a northernly heading towards west Ukraine and Lviv. It is still rather cloudy, so there are only spots of ground visible every now and then - not very good for photography.
TSR from above: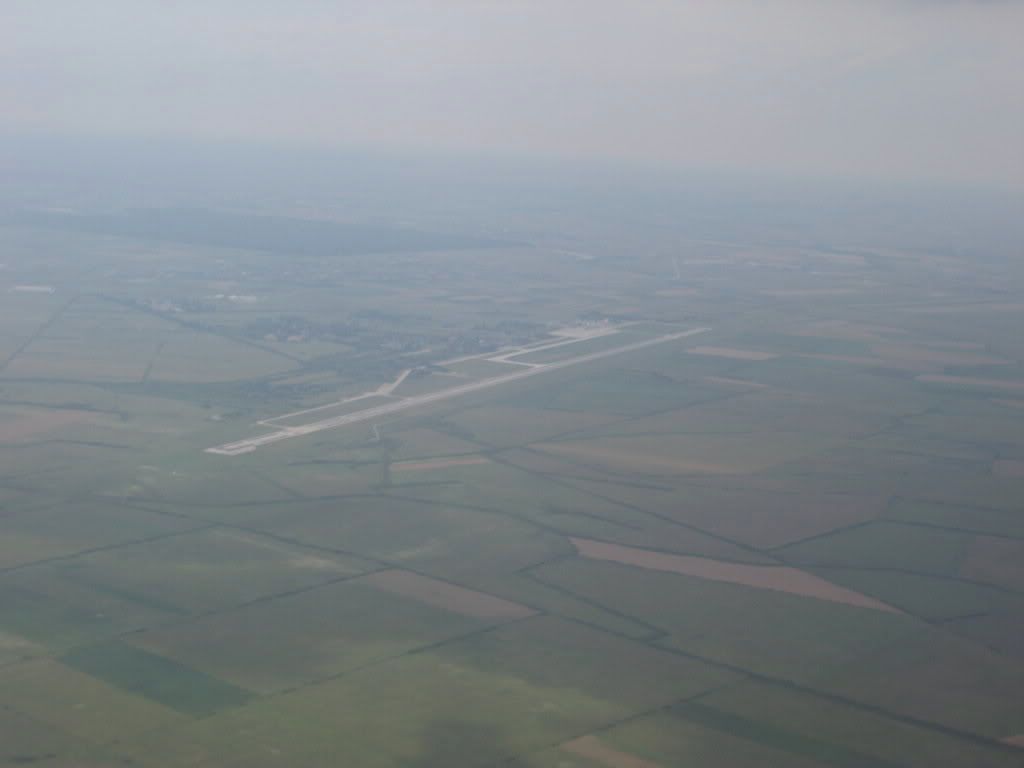 Farmland: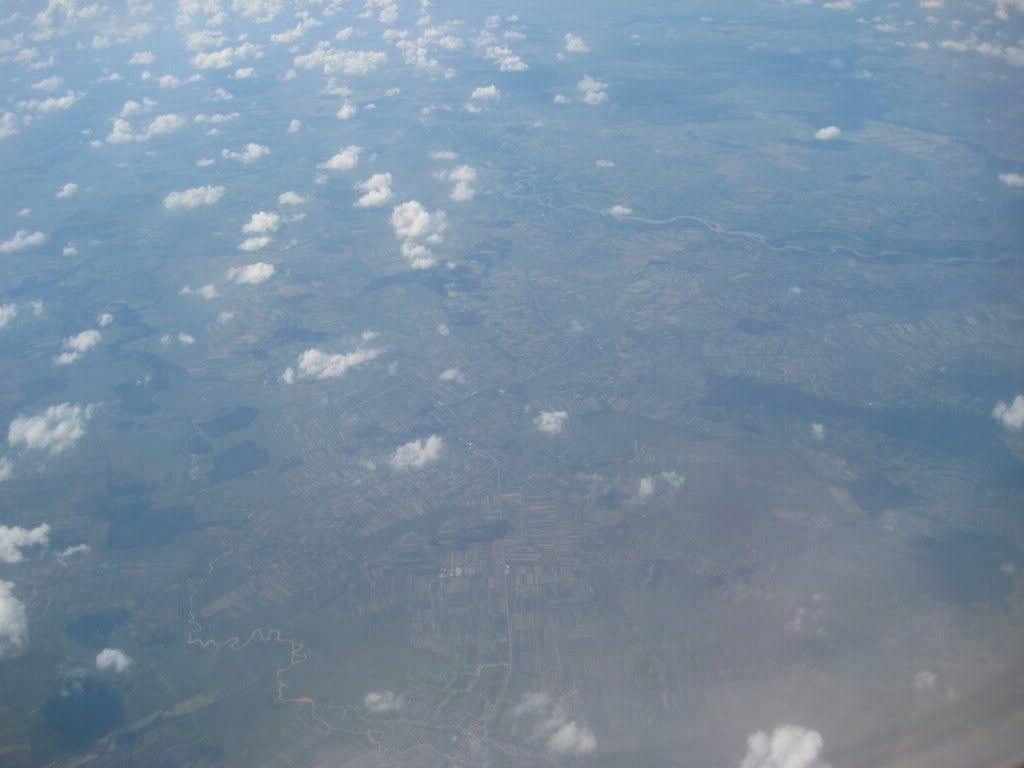 Some traces of the Carpathian foothills: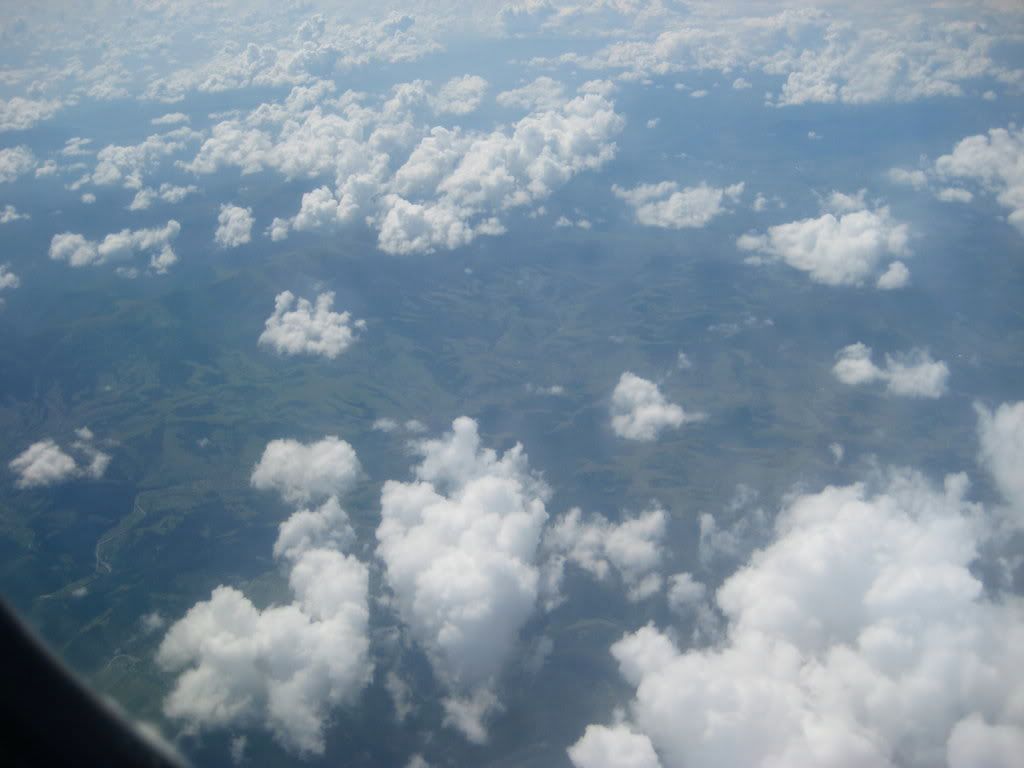 Service soon starts, with a snack bag that contains a huge (and I mean it!) sandwhich, which is quite delicious actually and far superior to the Moldavian Airlines offering from the morning. There's also a piece of chocolate, this time branded as Carpat Air. Coffee, tea, water and juices are offered next.
After the snack offering Ukrainian immigration forms are distributed to the ones that need it. I have problems suppressing my laughter after I read some of the English translations in the form - "summame" instead of "surname" etc. Seriously - this is the first impression a visitor usually gets about your country, so how about spending some money on a qualified translator to at least get the spelling right? It's a bit hard to decode what should go into what field, so I try my best.
This is another quick flight, and soon after finishing with the form we already start our descent, some minutes later the seat belt sign is switched off with the captain announcing 15 minutes to landing and it being 23 degrees in Lviv. It's still cloudy, but the cloudbase is quite high, so after we break that there are some great views of the countryside and the suburbs of Lviv. Unfortunately the other FA is sitting on the seat behind me for the landing and after I snap a few photos she tells me to put the camera away in such a tone that I have no option but to oblige. Unfortunately I'm also on the wrong side of the plane as we approach runway 11 - the right hand side is presented with some great views over the city centre and the concrete blocks surrounding it.
The only approach picture I could manage: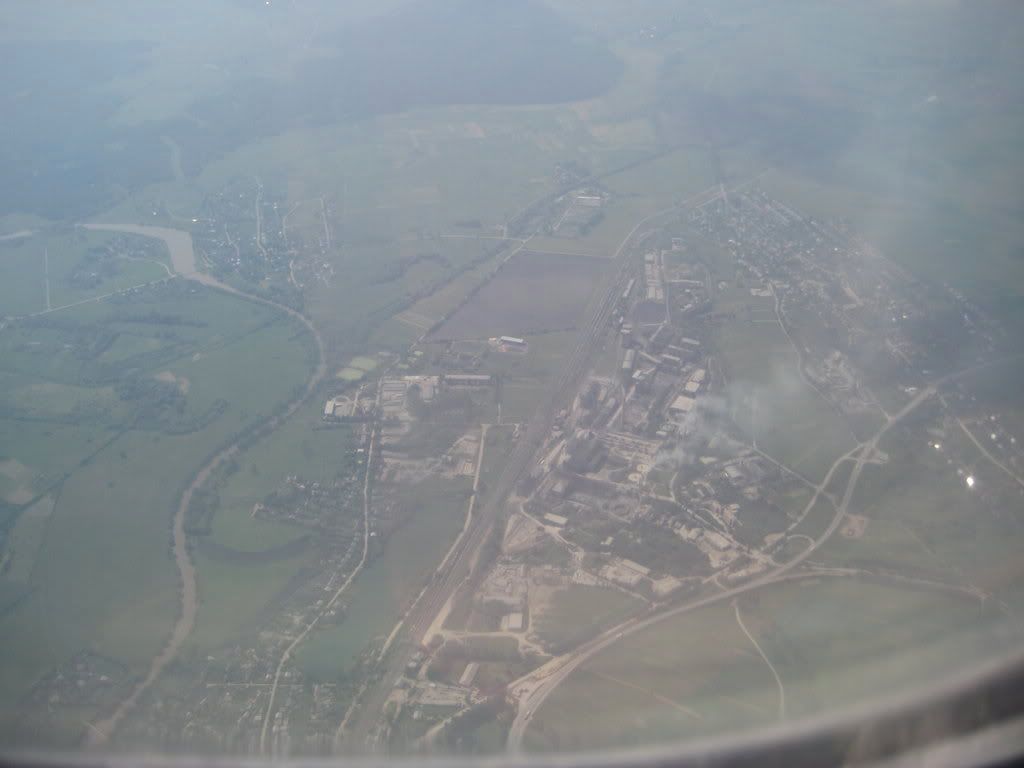 We touch down hard and taxi fast to an almost empty apron. There's a parked Wind Rose AN-24 and an OS Dash-8 just departing for VIE. As soon as we stop an unmarked, grey CRJ-200 UR-RUS taxies past. This actually turned out to be operated by ISD Avia as a private charter flight - the registration sure is interesting and had me thinking of some oligarchs and shady businessmen...!
Deboarding to a bus, after I collect my rollaboard from the ground handlers. There's a stern looking military guy in camos with a large dog that looks like he means business, so I keep my camera well hidden. Some of the officials are wearing breath masks - a rather intimidating and alien sight! The bus ride takes maybe 20 seconds across the empty apron to an impressive-looking terminal. We are then packed to the arrival hall and form an improptu queue for immigration. Another official with a breath mask is on the lookout for foreigners with the immigration cards and spots me. It takes a couple of attempts to get the card right (oh, "Recipient/host" actually means your hotel address?) but eventually she is satisfied and I am allowed to rejoin the queue. The actual immigration process is qute fast but the girl (without a mask this time!) asks me some weird questions. When asked to present a ticket out of Ukraine I dutifully hand over my WizzAir confirmation email printout which causes some suspicion and "You contact WizzAir in Finland?" - I am puzzled about this unexpected question so ask some clarification but she doesn't really understand me and I just decide to play along and confirm with "Yes". Finally I am admitted into the country.
There's no exchange counter anywhere but luckily there's an ATM at the corner of the main hall so I am able to withdraw some grivnas to pay for the taxi ride to the city. Outside there are the usual taxi touts, this time I end up with an older guy with whom I communicate in pigdin German. He has first some trouble understanding where to go, but luckily I printed out a cheat sheet with the hotel's name and address in both Russian and Ukrainian which seems to help. The taxi ride takes around 25 minutes due to some heavy rush hour traffic - in the end the guy pulls the old "no change" trick on me and rather than going inside the hotel to break my bill I just give him a big tip. This is very much appreciated and in the end he actually shakes my hand - I don't think any taxi driver ever did that to me before!
L'viv
Last time I was in Ukraine was way back when it was still called the Ukrainian Soviet Socialistic Republic, so it's been a while and things definitely have changed.
My hotel is "Eurohotel L'viv" - actually a rather nice and modern "business class hotel" (as they themselves put it). Well, at 109 USD per night it is also the most expensive hotel of this trip so it better be! It is conveniently located a 15-minute walk away from the old town. The only problem I have is with the sound proofing - my room is next to the elevator and throughout the night there are lots of noises from people coming and going.
L'viv serves as a nice, gentle introduction to Ukraine for me. It reminds me a lot of Polish cities, Krakow in particular (before the proliferation of LCCs and stag and hen parties, that is!) - which is of course explained by its history. The old town is a very pleasant place to walk around with a lot of outdoor terraces and restaurants, bustling with people enjoying the sunny weather. Most of them seem to be locals, I don't see many tourists around.
Main square: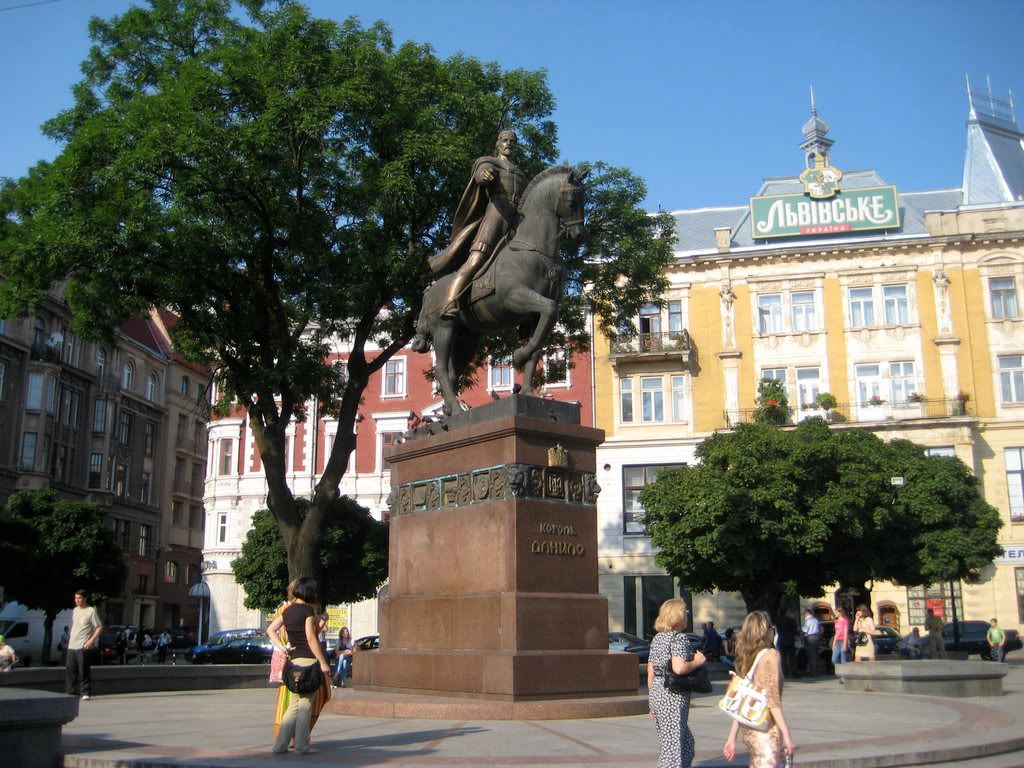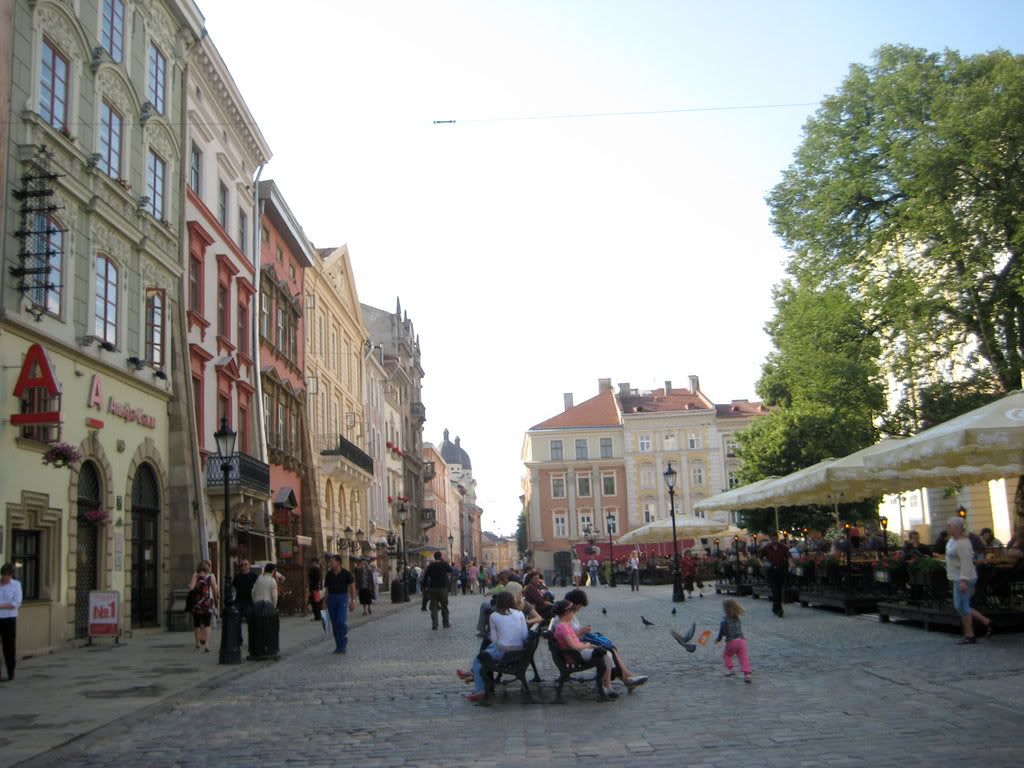 I certainly didn't expect to see this here: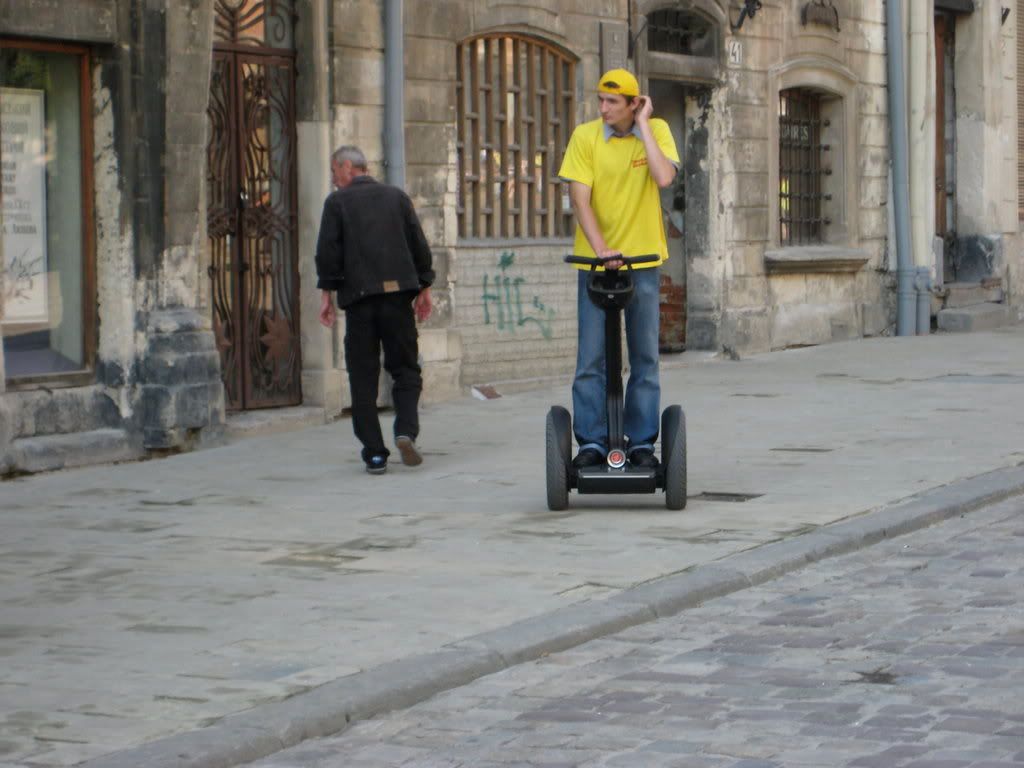 Don't drink and drive - not even trams: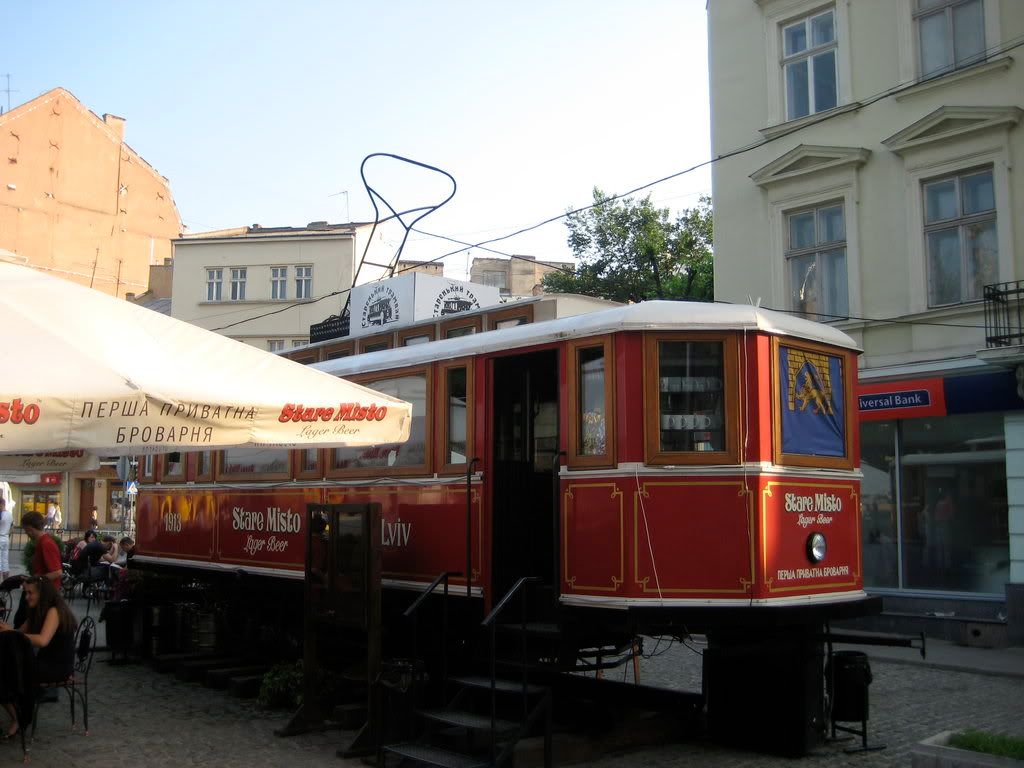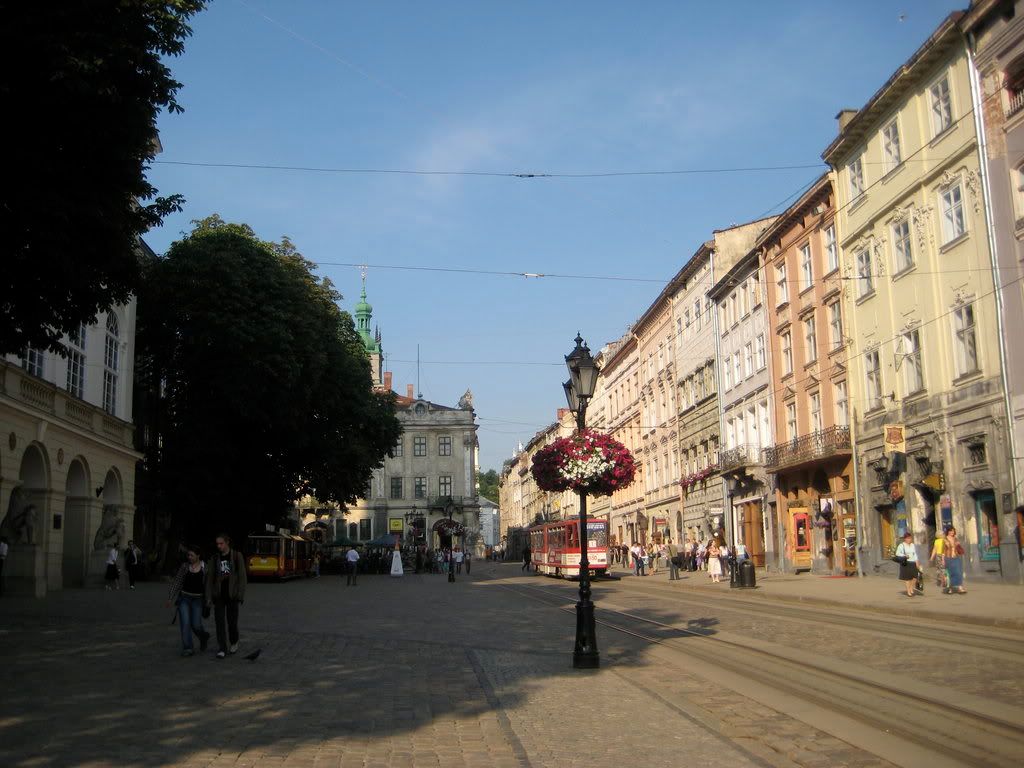 25.6.2009
Another early morning start, luckily not as early as the day before. For once I actually was sensible and took it easy the night before so a 6.15 checkout doesn't hurt me too much. I have the hotel desk to call me a taxi which turns out to be a tiny Lada Samara. It's actually so cramped that I cannot sit upright at the back seat and the quick 10 minute ride through the deserted early morning streets is rather uncomfortable. The approach to the airport is very beautiful, with a wide, tree-lined boulevard ending at the nice-looking (if tiny) terminal building.
Inside check-in is in full swing, so I join the queue to the single counter. Some of the fellow Ukrainian passengers seem to be carrying A4-sized official looking documents and present these when asked for a passport - I guess there are no official ID cards in Ukraine? Security doesn't seem to be tight at all - I actually beep but the guy there just looks at me and judges that I'm not a threat and allows me through. Next stop is the deprature lounge which actually is the same room that doubled as the immigration waiting room the last night. There seem to be a quite decent load of passengers this morning, so the lounge is quickly packed and seating is in short supply. If (or actually when!) the major LCCs start flying here the airport needs to do some serious expanding.
The waiting area is very basic, with the only faclities being a couple of toilets - there's not even a coffee shop. Fortunately a couple of hot (like most Ukrainian young women tend to be!) dead-heading UIA flight attendants provide eye candy. They are looking very smart at their white, yellow and blue uniforms, based on the Ukrainian national colors. After a longish wait we finally board a bus which gets packed with the people. This doesn't stop the agents from cramming an old babushka (grandmother to all westeners) in a wheelchair into the heaving mass of people - that doesn't look safe at all.
LWO-KBP
PS33
B737-500 UR-GAW
Seat 11A
8.00 - 8.53
I paid only 21 USD for this flight. UIA seems to be doing its best to drive WizzAir Ukraine who also fly this route out of business. This was the cheapest flight on this trip and great value for money, obviously.
The plane is equipped with old style large blue leather seats - quite comfortable actually but legroom is a bit lacking: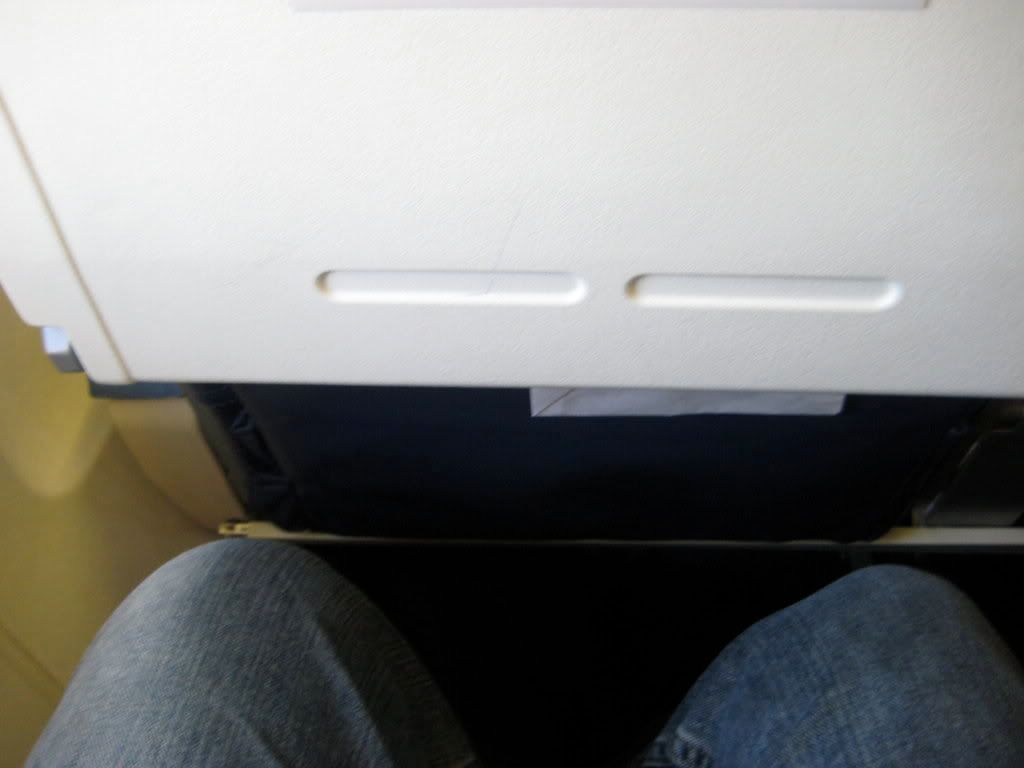 There are three rows of business class in 2-2 configuration - the seats look like the standard first class seats on American carriers. Interestingly the dead-heading FAs are seated on the emergency exit row - I doubt these petite girls could lift the heavy door if things hit the fan. They look like lifting the two apples that must constitute a substantial part of their daily diet is already a huge burden on them! Newspapers are offered before departure - my request for "something in English" yields an utterly boring half-Ukrainian half-English business magazine.
We depart bang on schedule and taxi slowly to runway 29. On the way I spot some interesting planes - UR-RUS is still here, together with some Yaks, and IL-76 and AN-24s: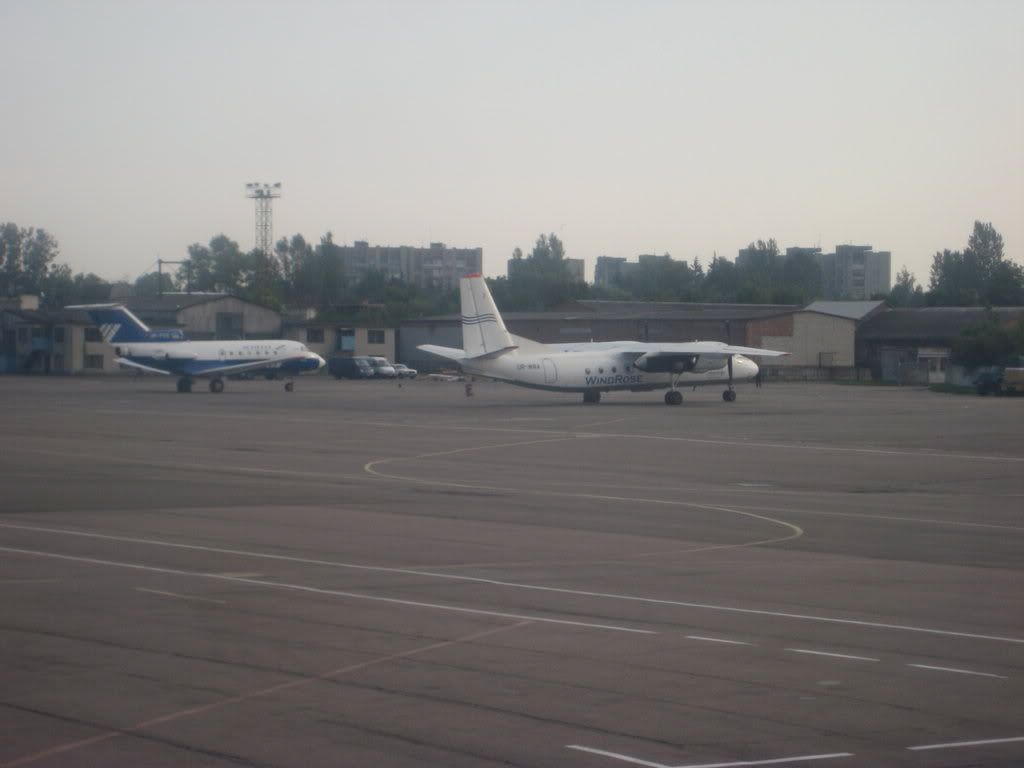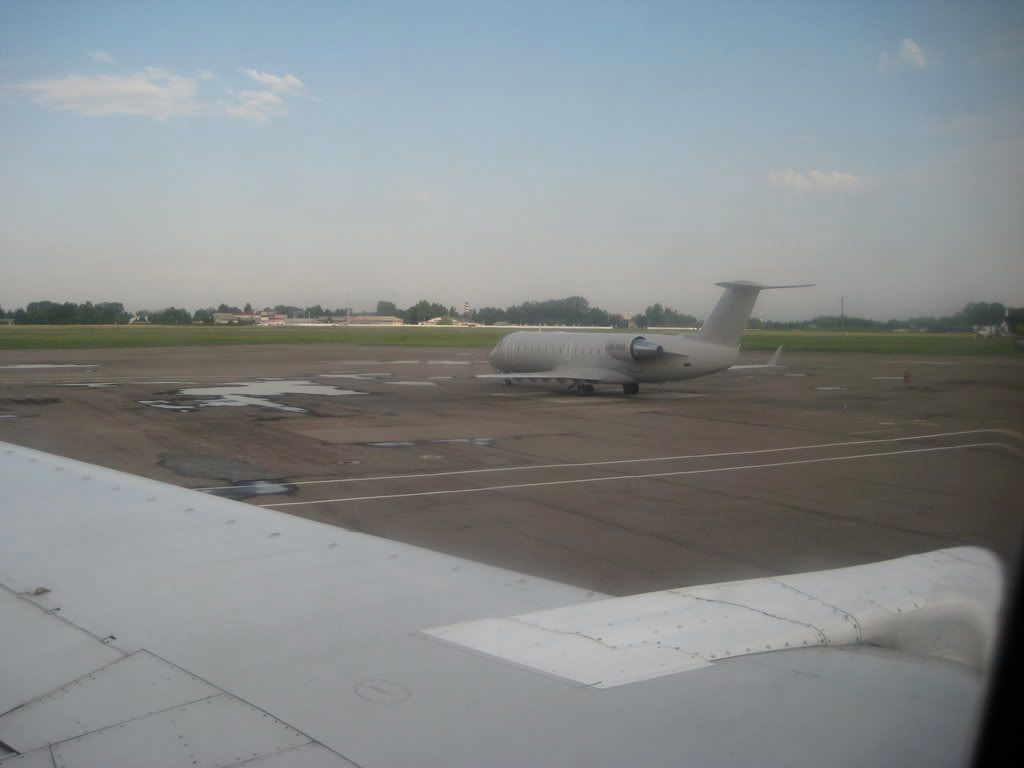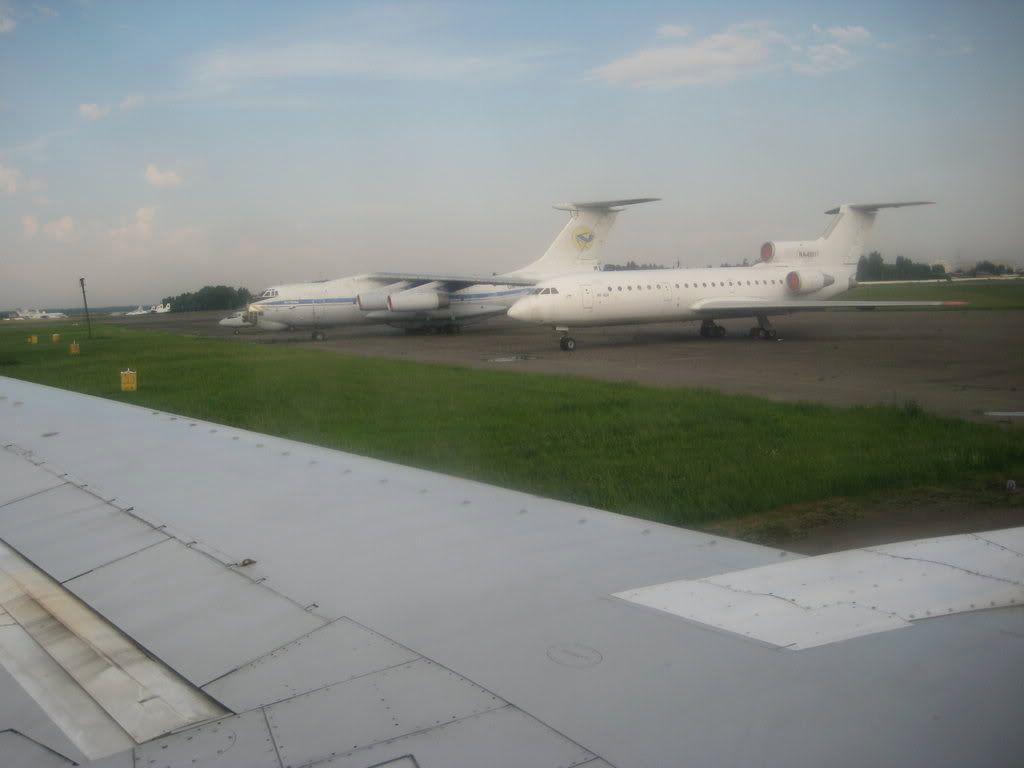 On the other side of the runway there appears to be a large boneyard with lots of rusting Tupolevs and other Soviet planes. A very powerful takeoff takes us to the skies, followed by a left turn to point us east towards Kyiv. There are some clouds causing some chop on the ascent, but once we clear the clouds the ride smoothes. Flight time is announced as 1 hour.
Soviet-style housing blocks: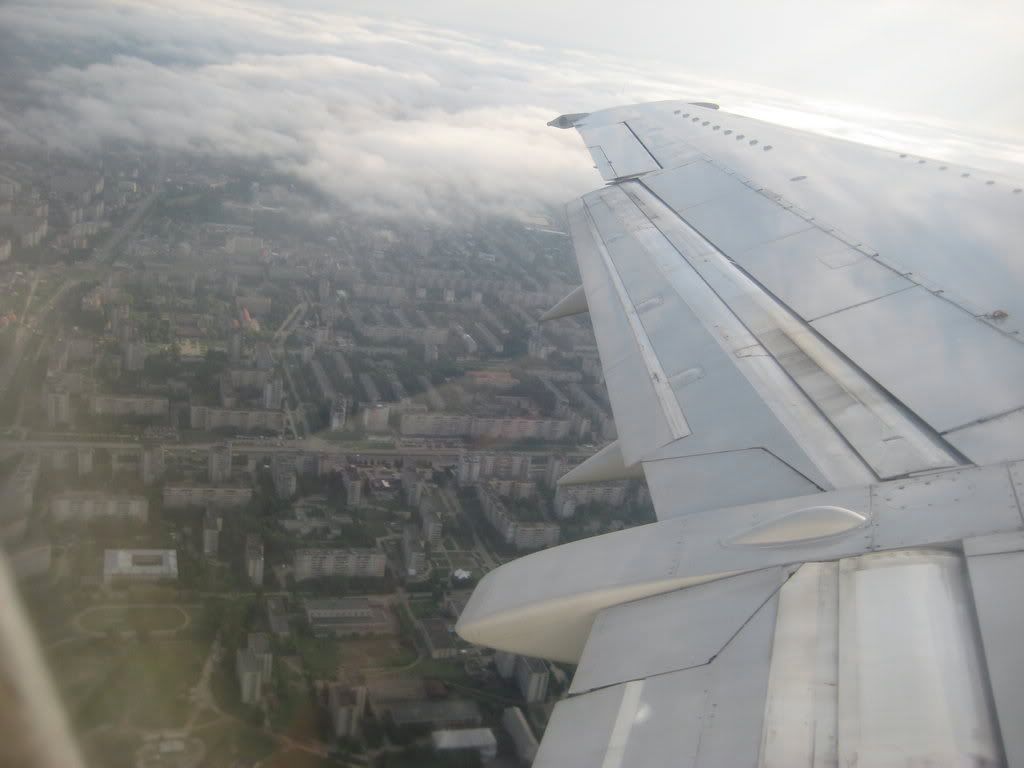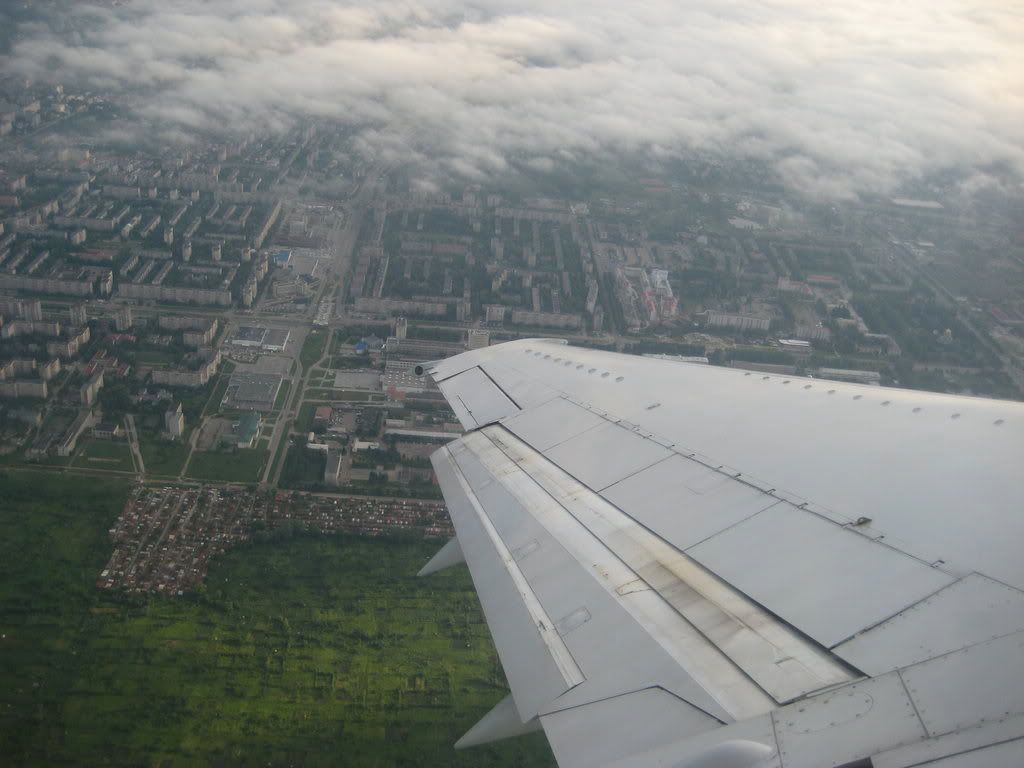 Soon enough the FAs start distributing huge plastic snack boxes. Unfortunately these are mostly air inside - consisting of a cheese/ham roll, a chocolatey sweet roll and a coffee cup. Coffee/tea and juices are offered as well. The rolls aren't half bad actually and fill the gap left by me missing breakfast just fine. The coffee, however, is just vile.
Once trash is colledted we are already on descent towards Boryspil and I spot the impressive skyline of Kyiv in the distance, rising majestically from the surrounding farmland and forests. We overfly the mighty Dniepr river and make a left turn towards runway 36L of KBP.
Approaching Dniepr: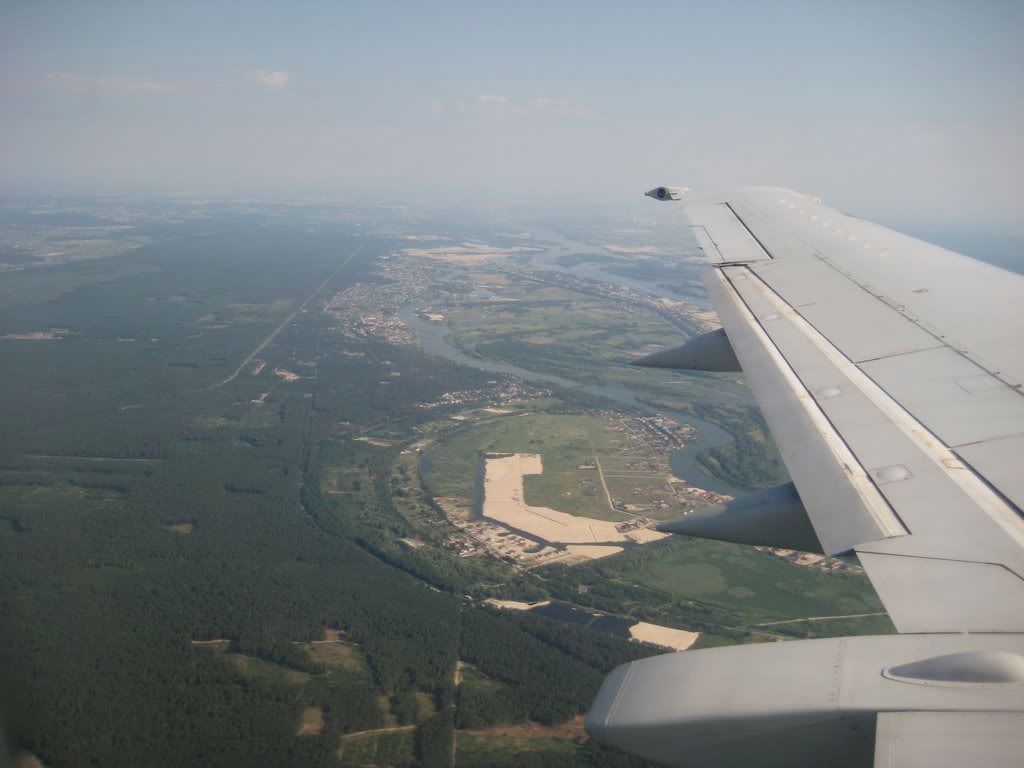 Nice string of houses: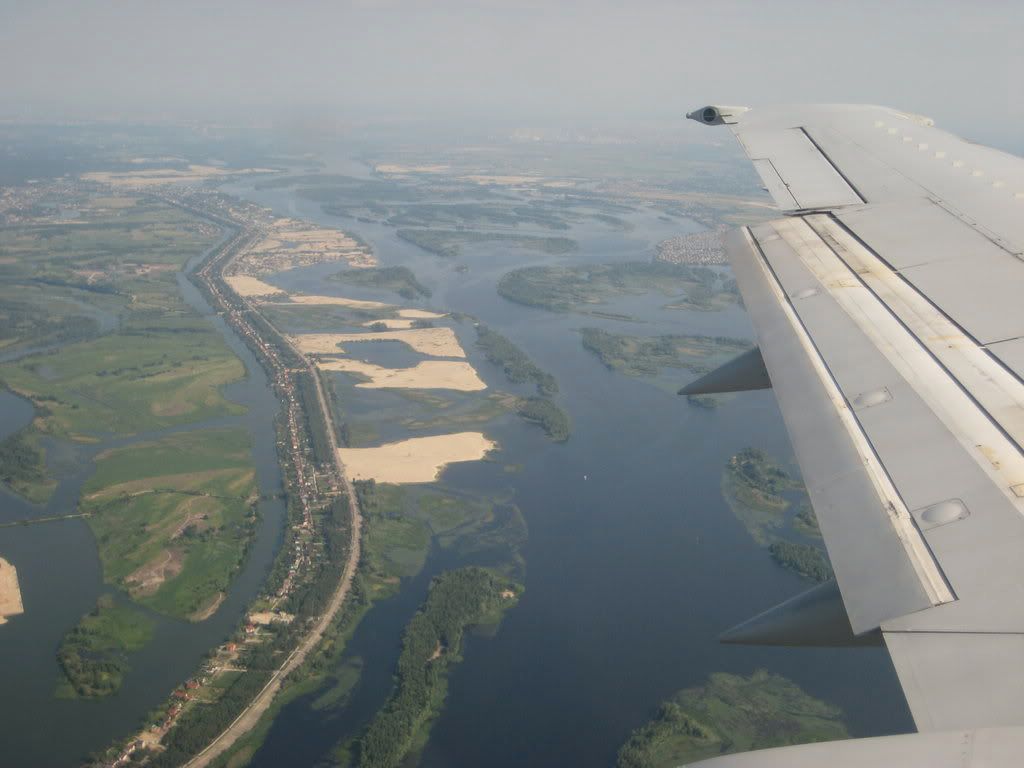 Hmm, not sure what this is: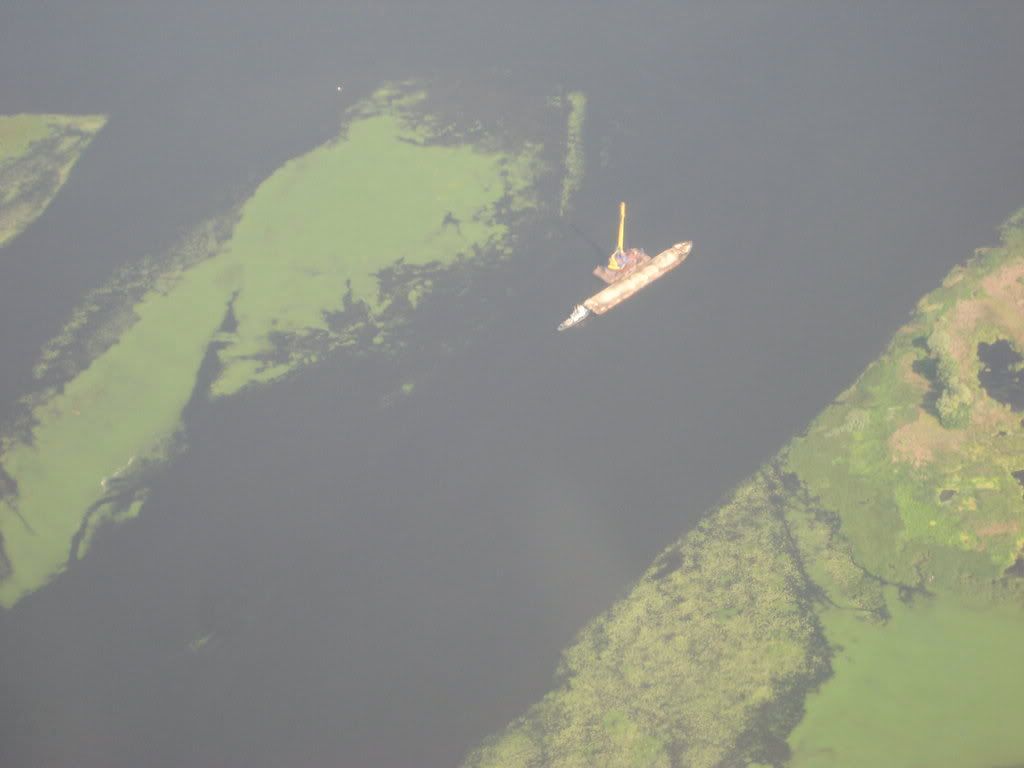 Kyiv city in the distance: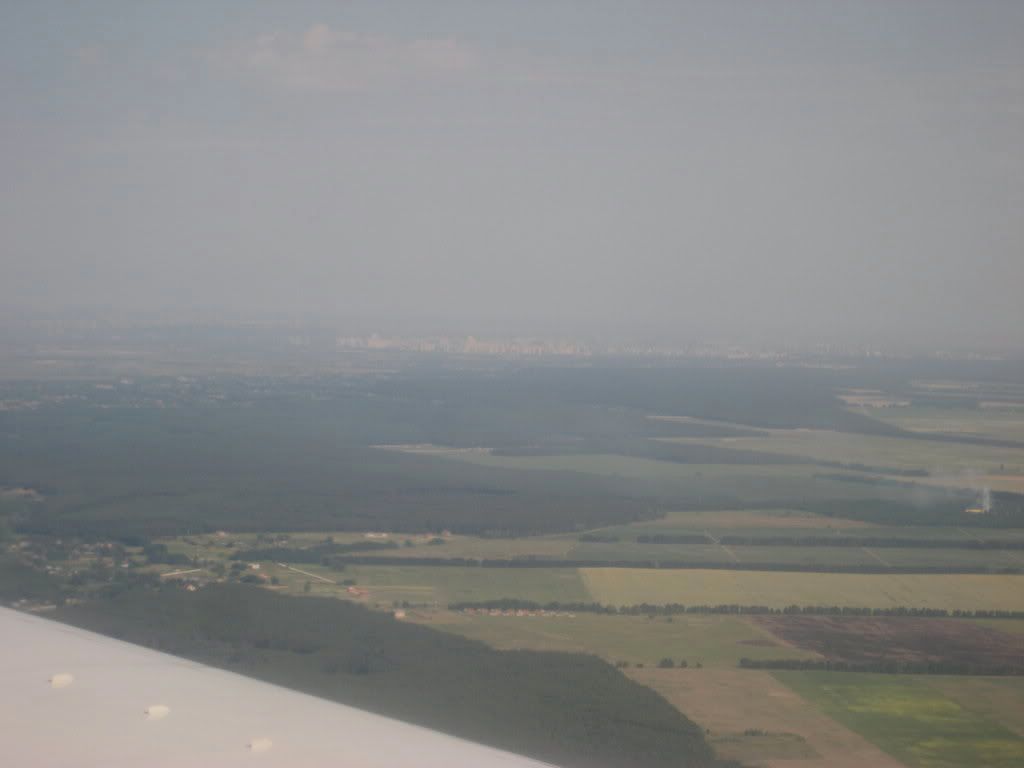 After a smooth landing very heavy reverse thrust is applied - the captain apparently doesn't feel like saving the engines some wear today.
We taxi on the apron but hold short of our parking position. This doesn't prevent half the pax from getting up and opening the overhead bins only to be told in stern tones to sit down over the PA. After a minute or so we resume moving, taxing past a real beauty - the world's only An-148 in revenue service:
Cabin shot at deboarding: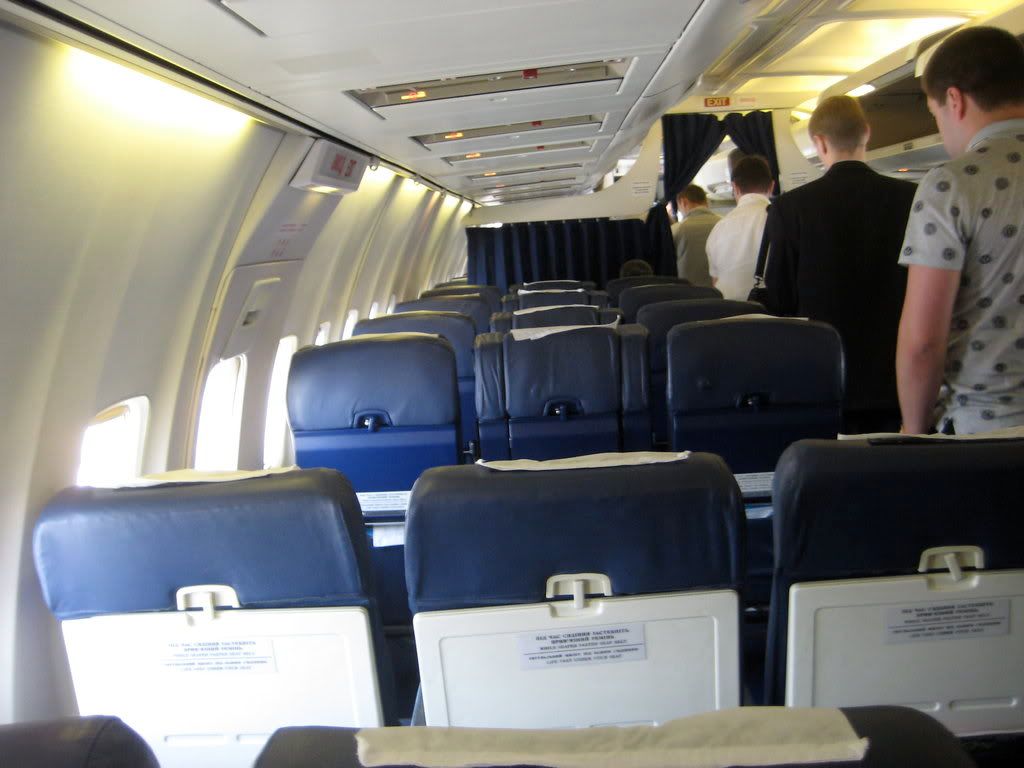 Another bus deboarding, first they try to cram the poor granny in the wheelchair into the same bus as we wait but somebody actually seems to be using their brain today and they radio for another car and the bus leaves. It's a quick ride across a couple of aprons to the domestic arrivals, passing a number of interesting and rather rare (in the West) airlines like DonbassAero, Dnieproavia and Motor Sich Airlines.
Boryspil airport
The domestic terminal is tiny - this is a the capital of a nation of almost 50 million people with over 5.5 million inhabitants in the city after all. Air travel definitely hasn't proliferated to the masses here, that's for sure. Conveniently the domestic arrivals dump you right next to the check in counters, where check in for my AeroSvit flight to Odessa is in full swing. When I booked the flight it was originally operated by a boring 737, but at some point I noticed it was downgraded to an An-24, operated by Lugansk Airlines. Something which I was very happy and at the same time a bit worried about! I confirm with the check in agent that it is still an Antonov, and she acknowledges this. I wouldn't have minded flying on the 148, but oh well, that's for another day. I didn't make note of my seat at this point - something that will come back to haunt me in due time!
Weather at Odessa is expected to be over 30 degrees and sunny, so I nip into the toilet with a horrible urine smell to change into shorts. Then it's a small adventure trying to find the left luggage facility - the ladies at the information counter don't speak a word of English and there are no signs. Luckily some younger agents at the WizzAir ticket counter do speak the language, and direct me outside between the domestic and international terminal. Relieved of my bag it's time to grab a refreshing beer at the outside cafeteria as it is already rather hot.
Some 45 minutes before departure I re-enter the terminal and clear security. The airside is tiny, consisting of 3 or 4 bus gates, some benches and a small cafe bar. I purchase a soft drink and sit down next to some Americans. We start talking about travel, Ukraine etc. - it's nice to have some people who you actually understand pefectly to talk with! They are on quite a tour of Europe, consisting of Iceland, Estonia, Latvia, Lithuania, Ukraine, Romania, Bulgaria etc. Too bad they only transitted at HEL and didn't properly visit Finland. The guys are a bit worried when I tell them about the plane being an Ukrainian model instead of a Boeing.
Our scheduled departure time comes and goes with no announcement. Finally some 10 minutes after the original departure time a bus pulls to our gate and we drive out to the plane. At this point I realize that I've been assigned seat 1A, the famous no-legroom row PlymSpotter so kindly warned me about. The bus is pretty packed so I'm afraid that I'll have to stick to this seat. Soon enough we pull in front of An-24 UR-46677.
KBP-ODS
VV1
AN-24 UR-46677
Seat 1A
10.51 - 12.15
Boarding is interesting - to avoid tail strikes only one or two passengers are allowed to board at once using the rear stairs. All this is supervised by the captain who nods to the agent when people should be allowed on board. He doesn't seem to understand English, so I make a nodding gesture imitating a tailstrike with my hand at him and he nods in approval. A couple of Japanese tourists are taking lots of photographs of each other (what else?) in front of the funny plane from all possible angles, and nobody seems to object so I snap a few as well: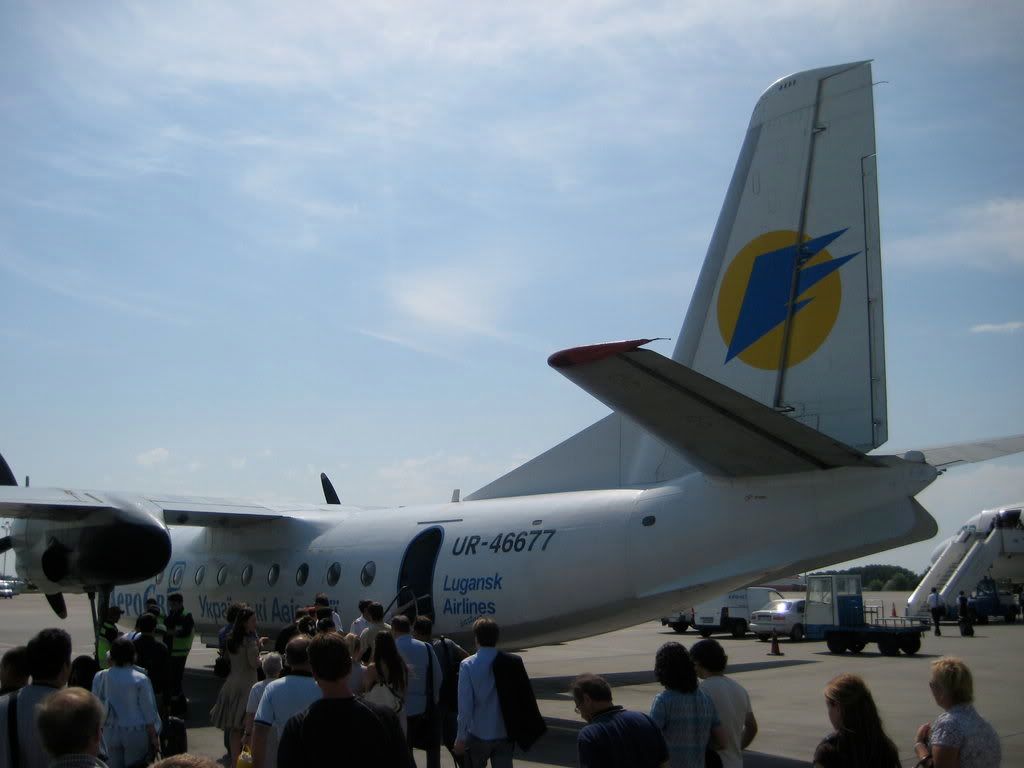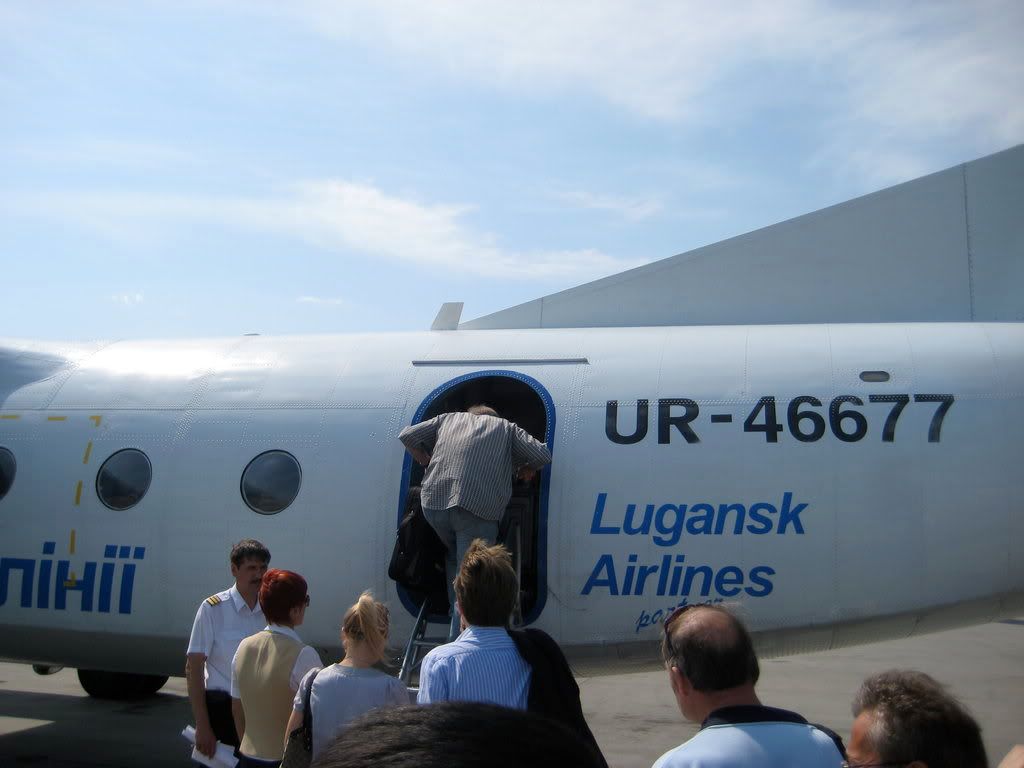 Not something you want to see when you just flew in on this plane: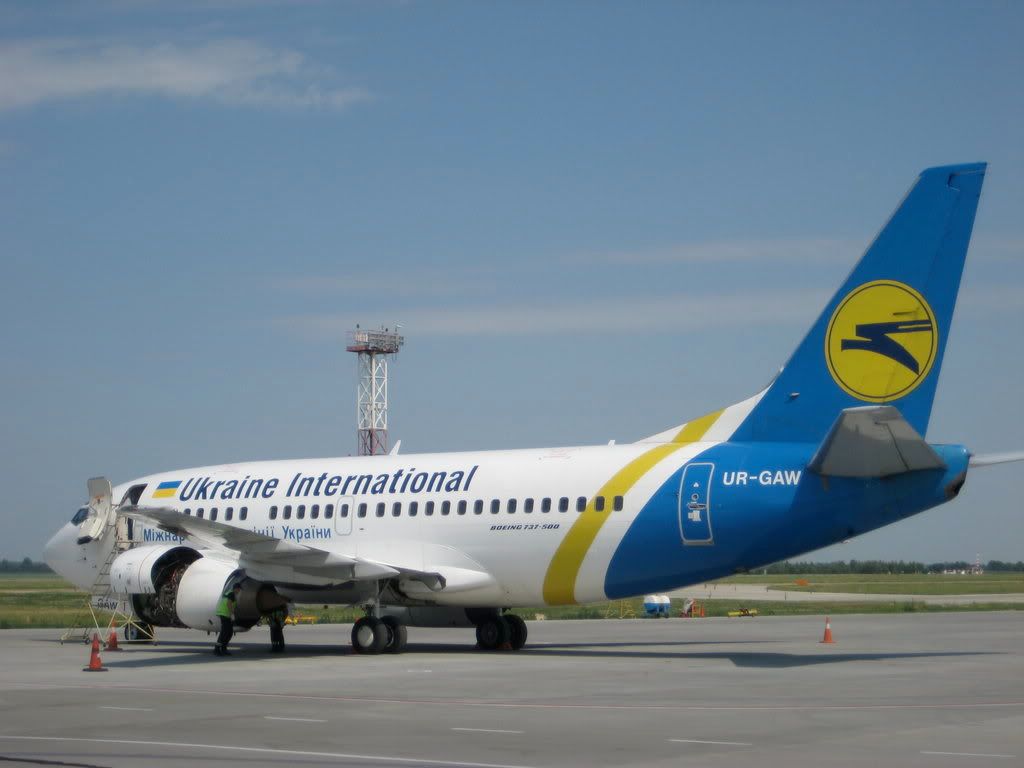 One more shot of the beauty: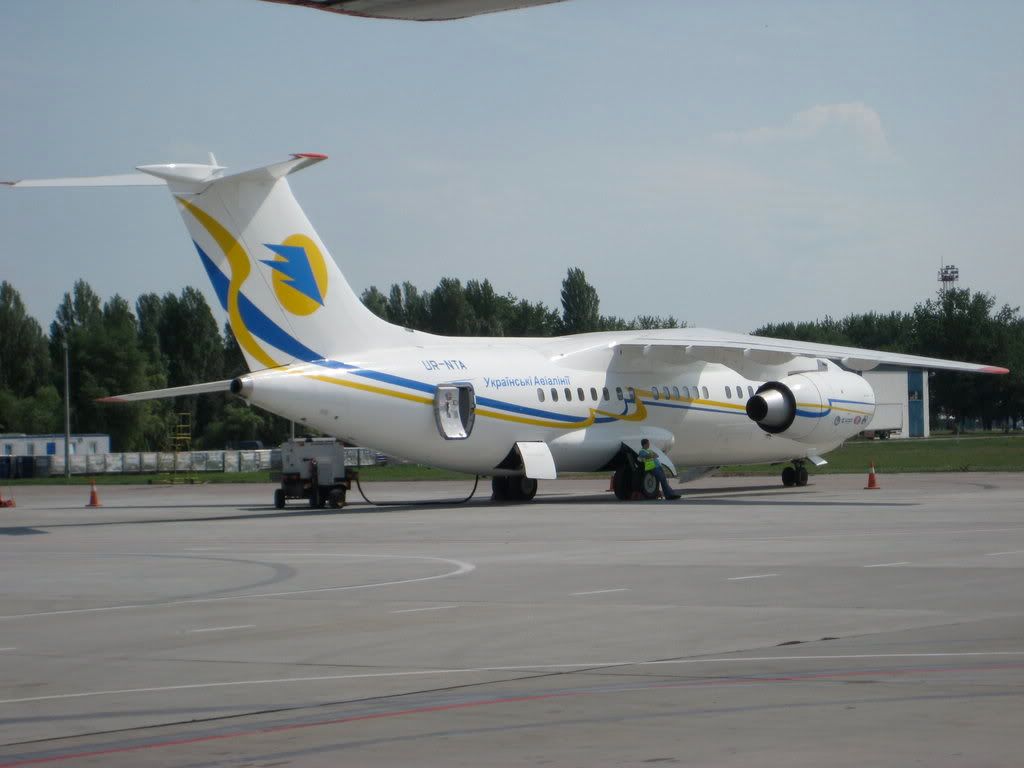 Inside the cabin is from another era. The inside walls are covered in plywood and instead of window shades the windows have regular fabric curtains that wouldn't have looked out of place at my late grandmother's house. Seating is 2-2 with very worn fabric seats with AeroSvit headrest covers. The last two rows are separated from the rest of the cabin with a plywood bulkhead wall that has small, non-rectractable table built-in. I wonder if this is the business class - but proceed forward to the proletariat class. Seat 1A has about 2 inches of legroom, but amazingly I am able to squeeze in there even though this qualifies as the most uncomfortable airline seat I've ever sat. There's an Italian guy sitting next to me and he's even taller than me although a lot skinnier, but he doesn't really seem to mind the crampedness. Unfortunately I don't see any spear seats - so I'll just have to endure this. Passenger mix is around 50/50 foreigners and Ukrainians, with some Italians, the loud (what else?) Americans and some Japanese.
A bad cabin shot: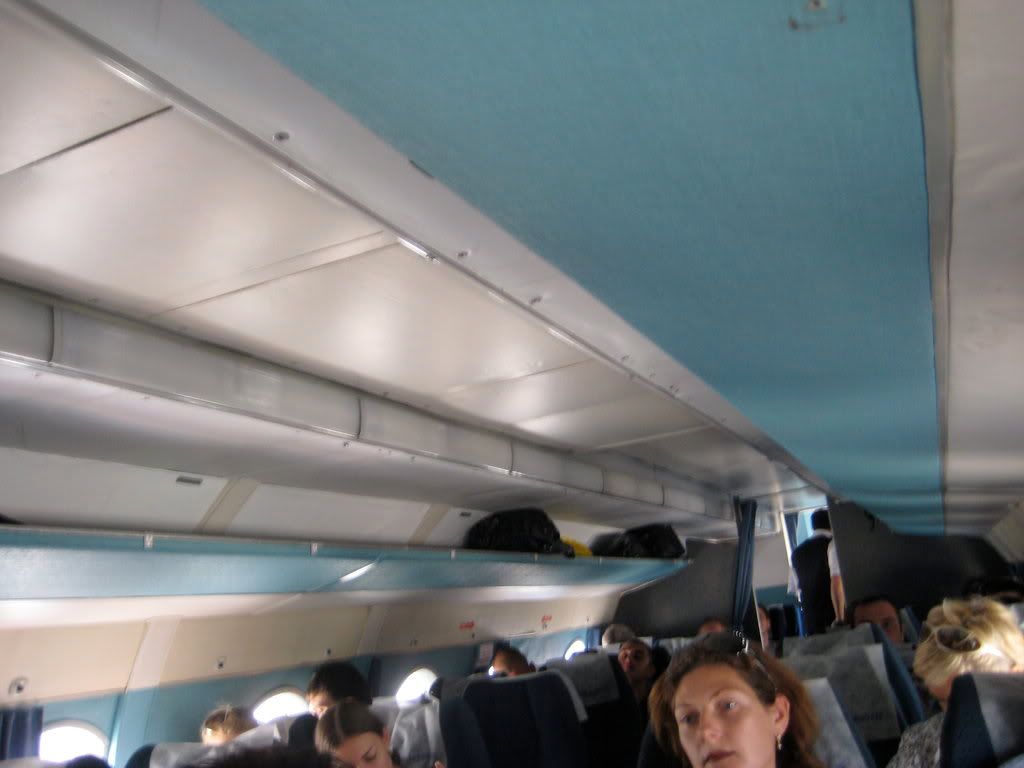 All cabin announcements are only made in Russian and Ukrainian - no English, even though the male steward does speak decent English. We depart around 31 minutes late. The captain (I never saw any FO around, is there one on these planes or is it just the captain flying?) seems to be determined to catch up on the schedule as he taxies somewhere halfway down 36L with amazing speed - this is surely the fastest taxi I've ever seen. At take off all sense of speed is lost, however, as the climb performance of this plane seems to be far inferior to even an A340. It feels like we're struggling for every feet of altitude we gain.
Main highway into Kyiv: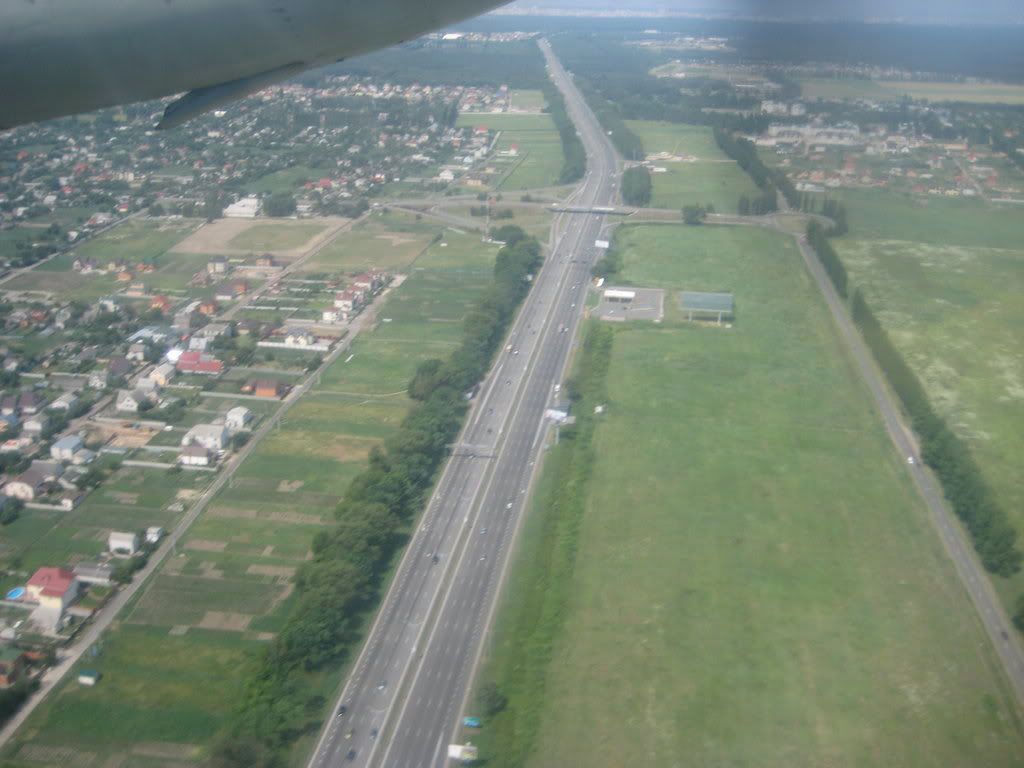 After take off it's a slow and gentle right hand turn that takes us over the city of Boryspil next to the airport and onwards to the south.
City of Boryspil: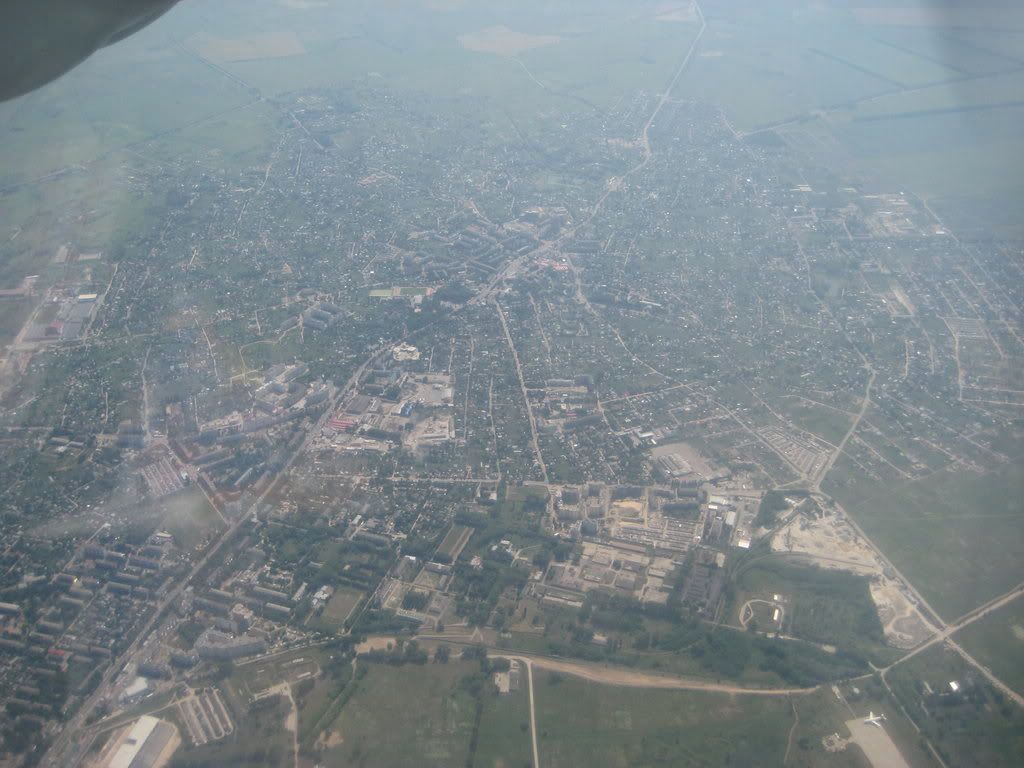 After crossing the Dniepr the scenery gets boring quickly with huge swathes of farmland speckled with the occasional village, highway or railway and not much else. The plane makes some not very reassuring noises - the wing is directly above seat rows 1 and 2 and most of the noise comes from overhead. I guess it could be the hydraulics or fuel being pumped from the wing tanks but it does make me feel a bit uneasy. Some of the other passengers comment on this as well. Service is minimal at a cup of water.
Despite the seat I actually doze for a while, helped with the vibration and monotonous drone of the engines. Consequently, I wake up when the drone changes after 1h10mins in the air, signaling our descent. An announcement is made, again not in English but I actually understand enough Russian to make out that it is 30 degrees in Odessa and we should be landing there in 15 minutes. On approach the monotonous landscape turns more interesting with the signs of human life and urban sprawl around Odessa.
Took me a while to nail this one down - apparently it's the (former) military air base of Buyalik-Blaegoevo (Буялык. Ангары), located some 50 kilometers north of Odessa.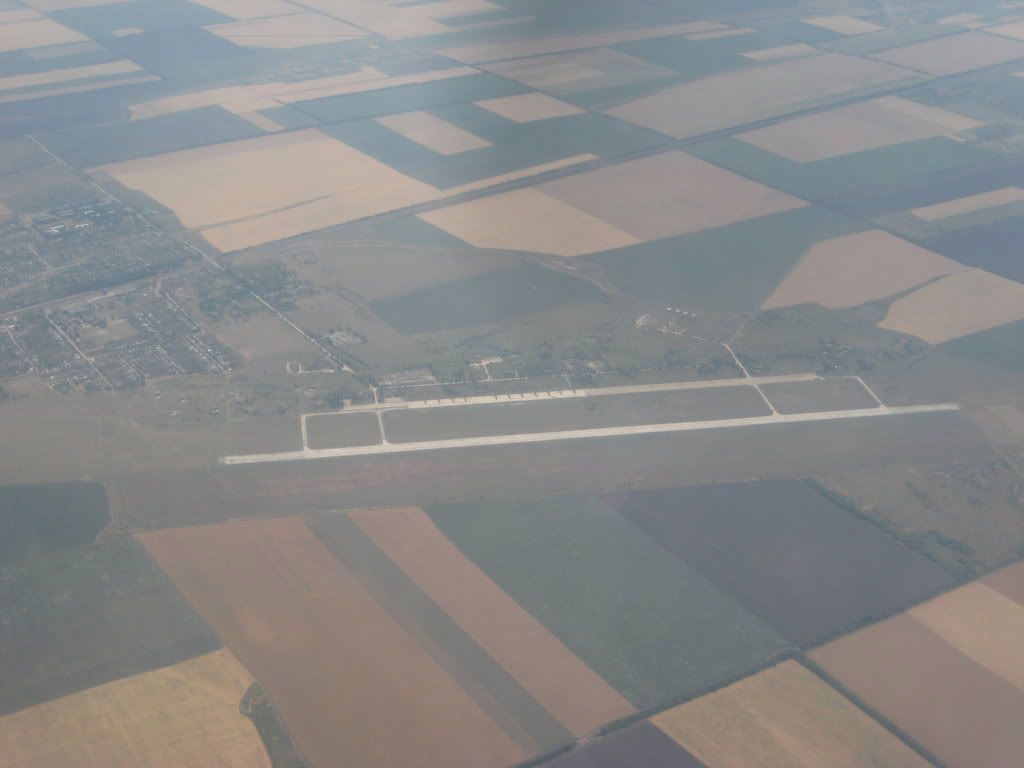 At finals I'm lucky to sit on the left hand side as we are landing on runway 16 and I'm presented with great views over downtown Odessa and the Black Sea beyond it.
Khadzhibeyskiy liman with Kuyalnik liman in the background - never knew "liman" is a geographical term!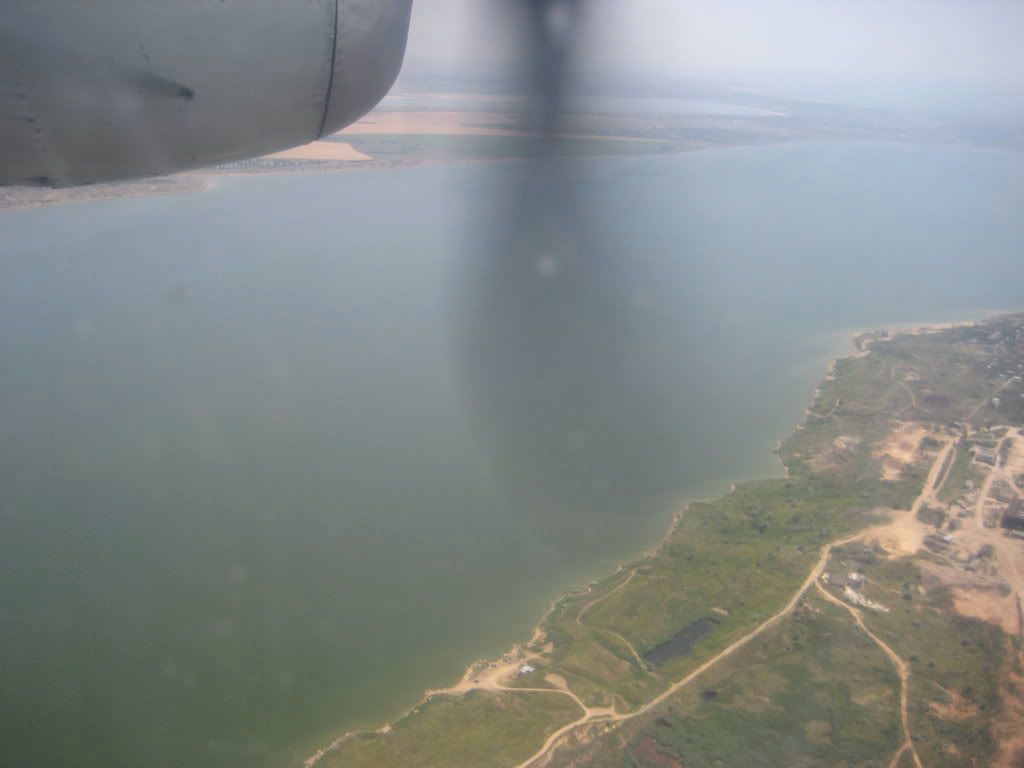 Urban sprawl, Ukrainian style:
Trains:
Lots of houses with the city and black sea in the distance: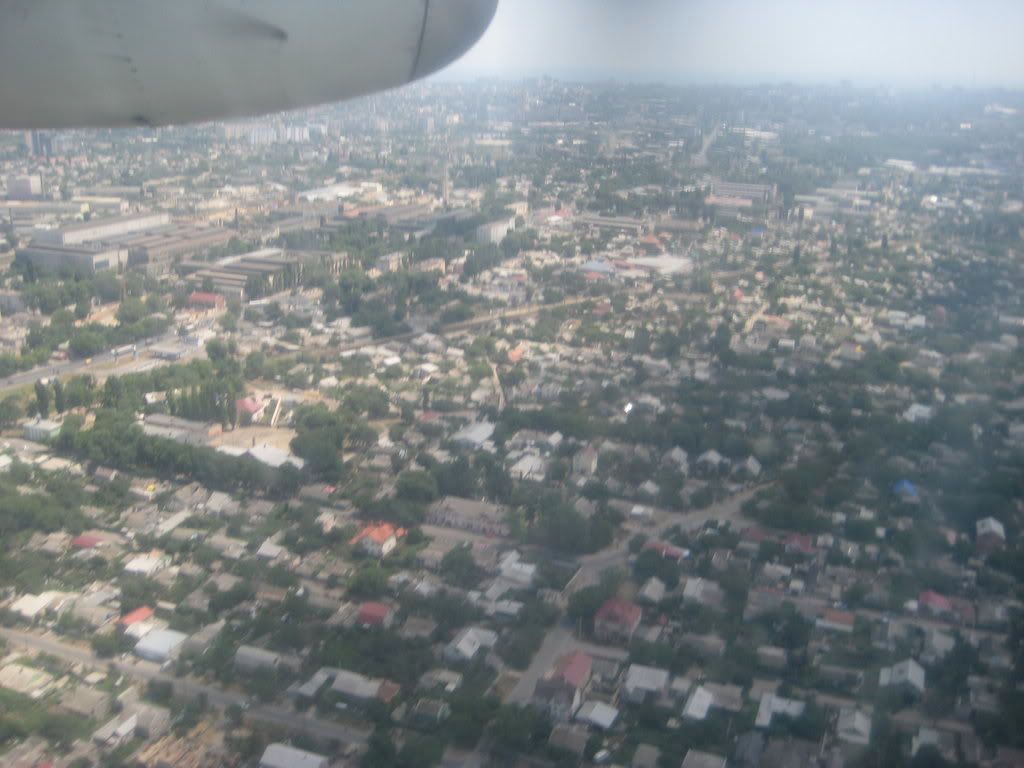 Almost there, notice the traffic jam:
We touch down after 1h25mins of flying and taxi quickly to the apron. A TransAero 737 from Moscow lands after us. On the apron there's a DonbassAero A320 and a Dnieproavia ERJ-145. Further down on the cargo apron there's an IL-76 that's sporting something that represents the Iraqi flag on the tail - anybody know anything about this? Some cabin shots:
The door in the forward bulkhead leading to the baggage compartment and the cockpit: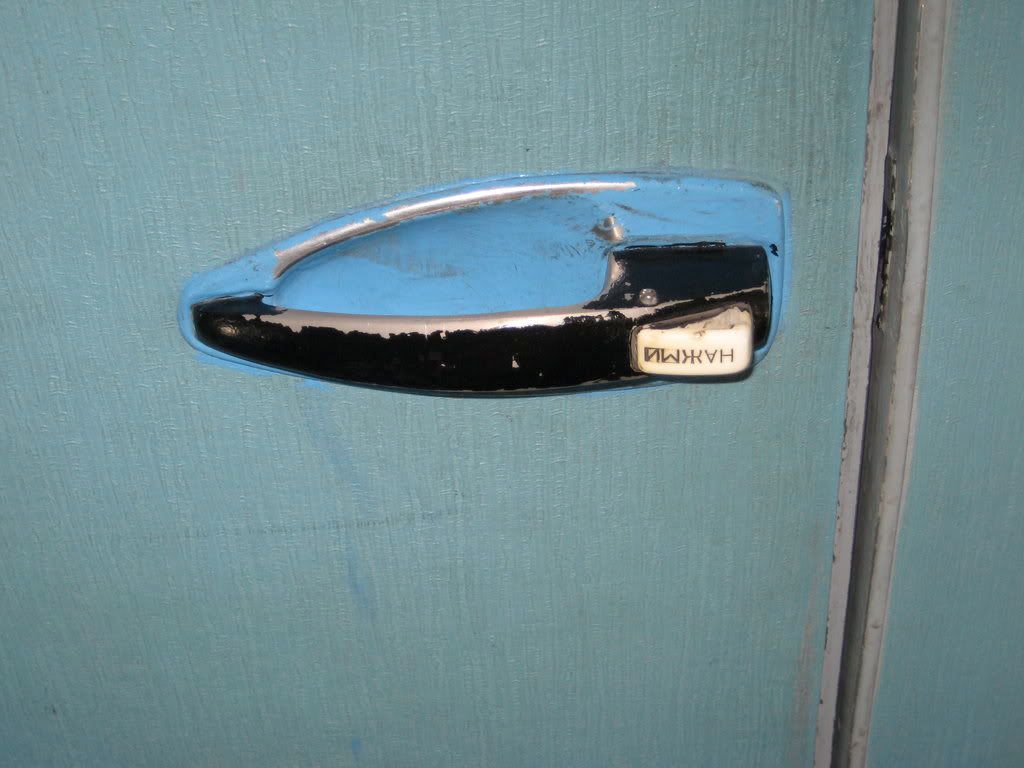 The most uncomfortable airliner seats ever: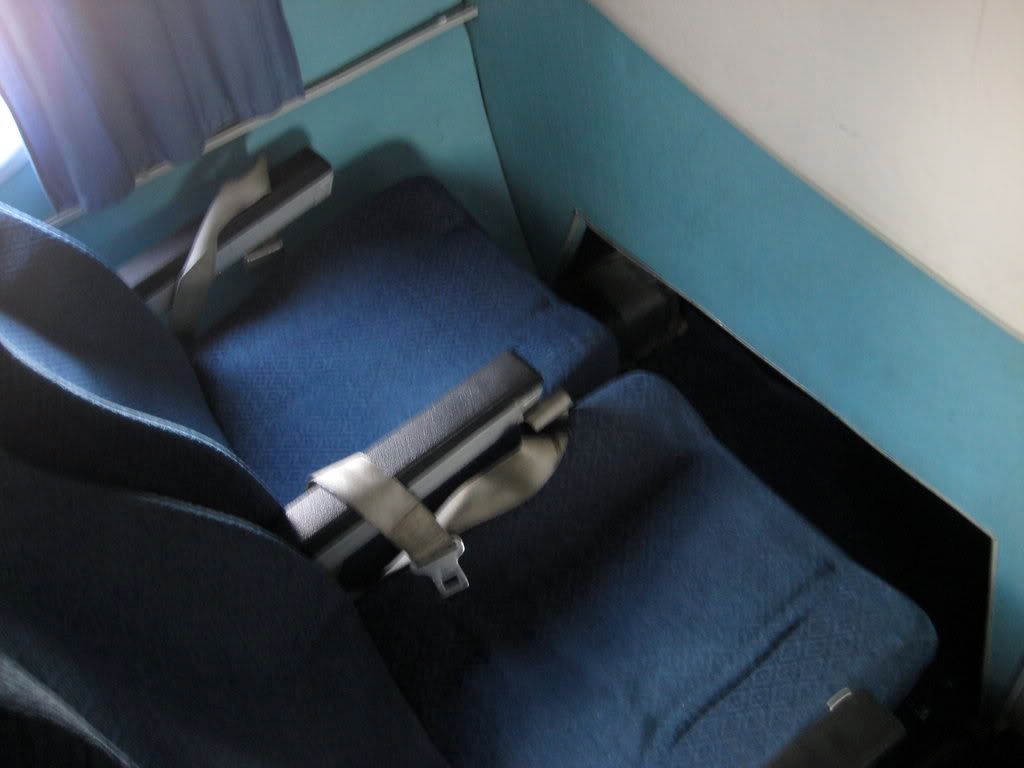 Cabin: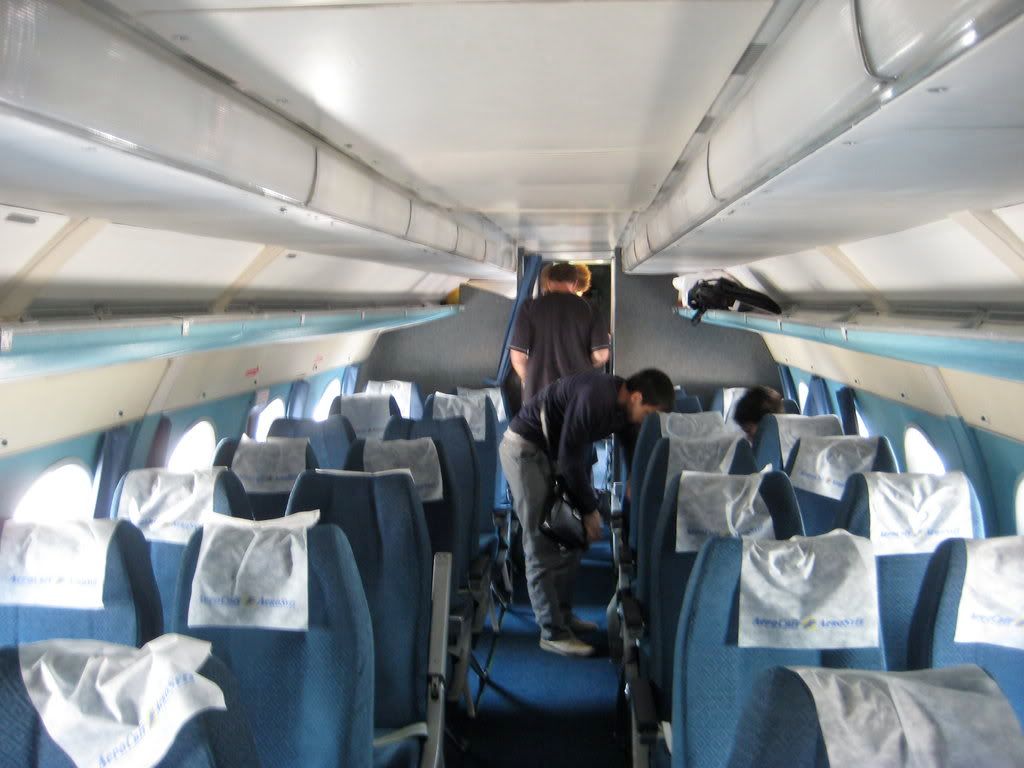 On deboarding the hot air feels like a definite blast on my face, but there's a subtle yet definite smell of the sea and salt there, which is very nice.
As in most regional Ukrainian airports the bus dumps us outside next to a gate that leads to the front yard of the airport. Baggage carts are waiting for people to grab their luggage. Outside the gate the obligatory taxi touts are waiting - I am actually able to bargain a decent fare this time from the third driver I haggle with. In the end I actually end in a not too old Toyota with the Italian guy who was sitting next to me... The Ukrainian driver even speaks some words of English so we do the basic communication thingy.
Odessa
Odessa is Catharine the Great's dream come true. She wanted to build "St. Petersburg of the South" on the Black Sea - with the hidden agenda of acting as a center for the Russification of Ukraine as well. People from all around Europe were invited to settle down here and make it prosperous - there are strong historical ties to Italy and France for example. Today it's a bustling city of over a million people and Ukrainian's most important sea port, also known as a center for shady Mafia business (which seems to be in full swing today as well - I've never seen so many Porsche Cayennes, big-ass Lexuses and BMWs in one city!) and a popular vacation destination with lots of white beaches and outrageous nightlife. Kinda like Blackpool, only that the attractions aren't tacky and the weather isn't crap most of the time!
The city seems to be in a constant state of gridlock from the tons of cars on the streets, but after 40 minutes or so I'm dropped off on top of the Potemkin Stairs (or "ladder" as the driver called it), the city's most famous sight. I spend around 4 hours walking around, snapping pictures, enjoying the sun, eating an overpriced (an English menu usually means you pay extra) but very good Italian lunch, finding the world's only (to my knowledge) Irish pub that doesn't serve Guinness and just having fun. Odessa feels a very international place, there are lots of Americans and some other nationalities around. This is definitely a city that deserves a longer visit, and would actually make for a nice, way different and cheap beach vacation for somebody bored at the mass tourism on the popular vacation hotspots. Let's see if I can talk my wife into something different than the usual Med next summer...
Odessa passenger harbor from the Potemkin stairs: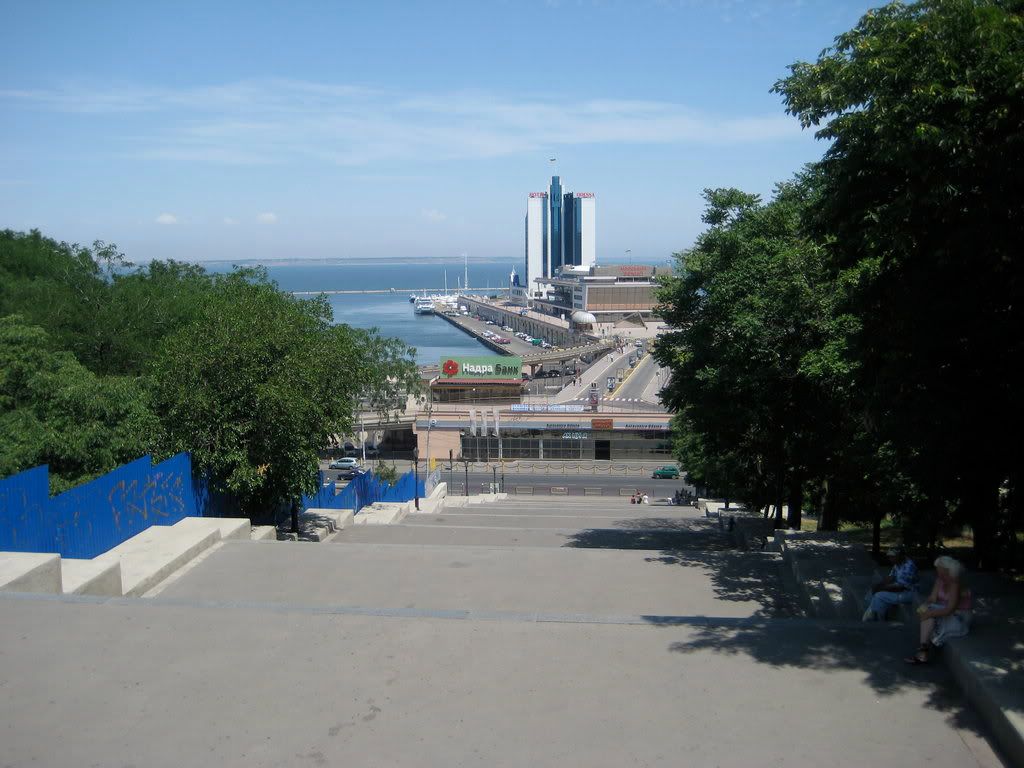 Harbor cranes:
The Potemkin stairs, from the perspective they are intended to be seen: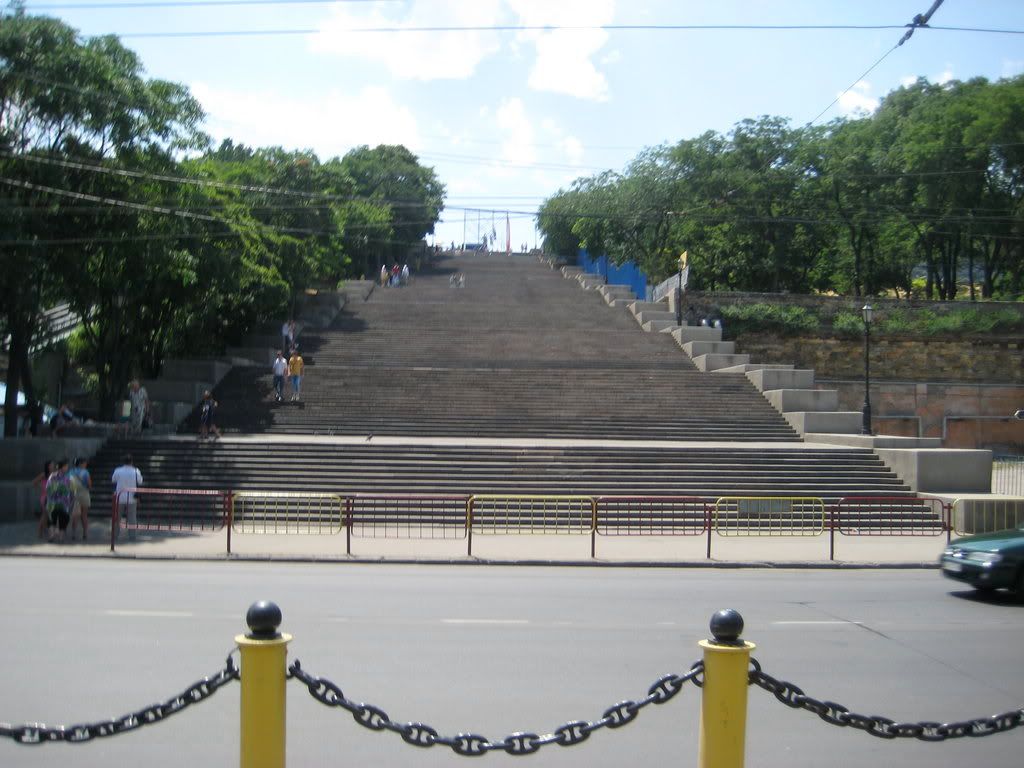 Opera house: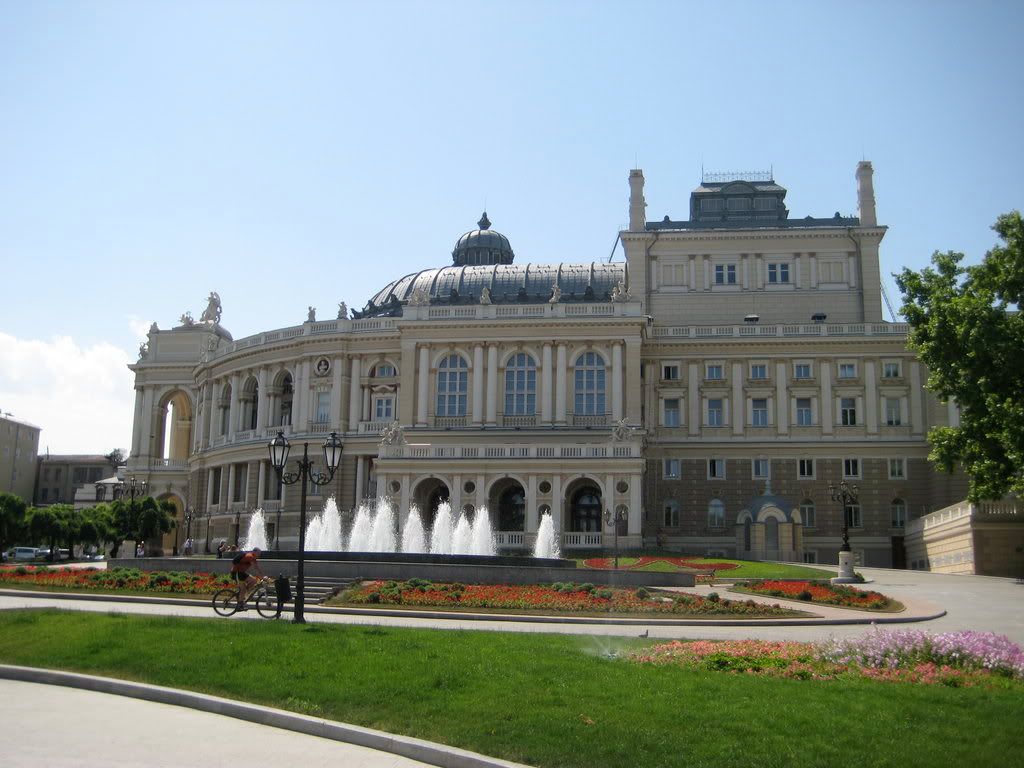 Apparently this is big business in Ukraine, I passed many of these adverts: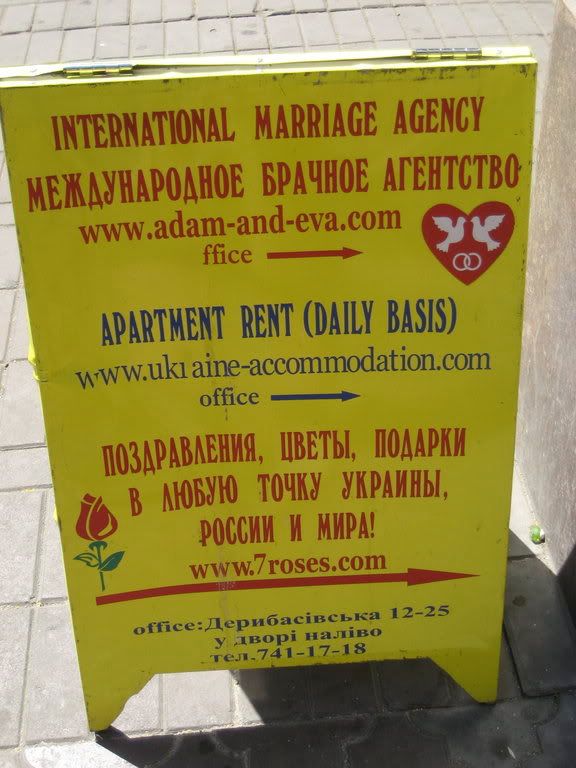 The very pleasant pedestrian street in the city centre: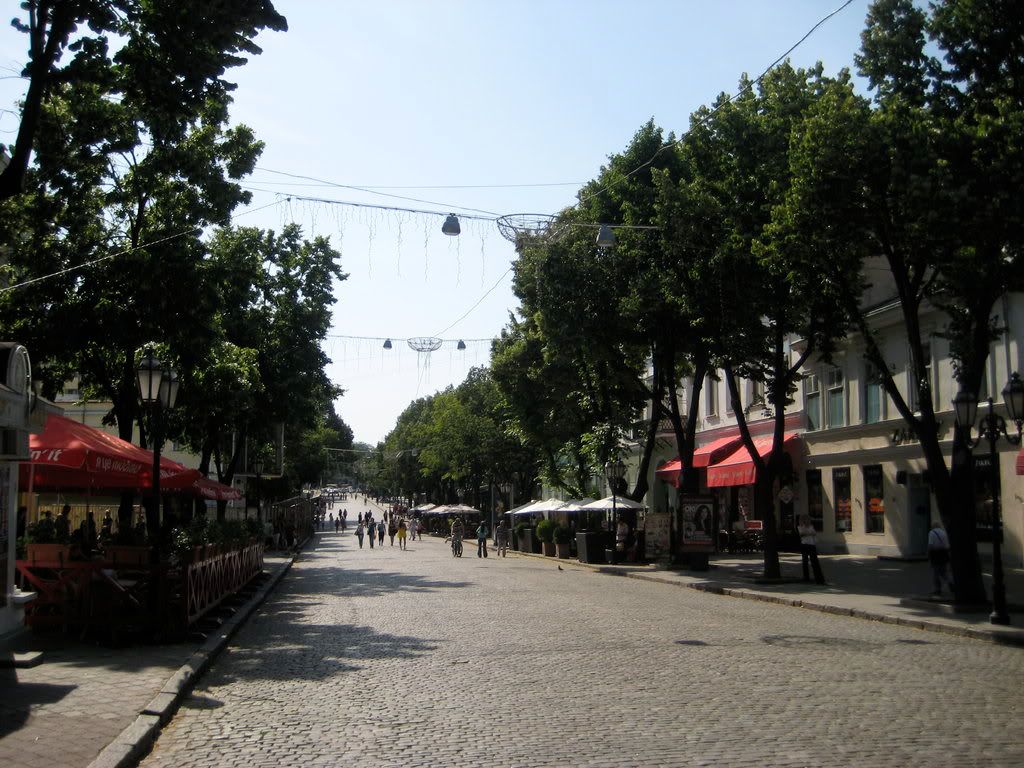 Too soon it's time to hop on a taxi and negotiate an even cheaper price. The way back is much faster, either the rush hour has passed or the driver knows some secret routes. Once again the approach to the airport is though a grand, tree-lined boulevard with the terminal that resembles a mansion growing on you as you get nearer.
Airport: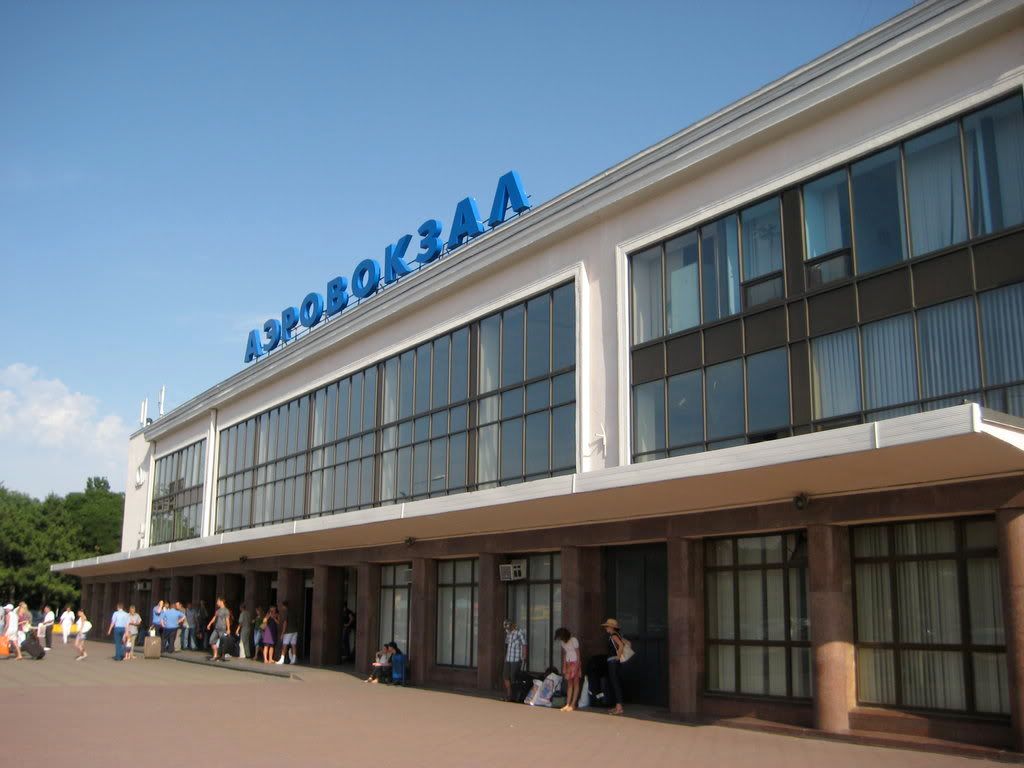 Check in is not yet open, so it's time for some more beer. Once it opens, the whole process is reversed from normal check in, you first pass through the security check before queuing for the actual counter. Then it's off to a small departure lounge once again with toilets being the only facilities here. Luckily we are scheduled on an ERJ-145 so it doesn't get too cramped. I can imagine it would be standing room only for a fully loaded 737, though!
I strike a conversation with a sun-scorched British guy checking in after me, who turns out to be in the pig-breeding business (there is such business?!) visiting rural pig farms in godforsaken places around Ukraine, Russia, Belarus etc. We actually have a rather nice chat and it turns out we are staying at the same hotel in Kyiv and I talk him into sharing his pre-arranged ride with me.
KBP-ODS
Z6363
ERJ-145 UR-DNQ
Seat 13A
18.45 - 19.42
Booking Ukrainian domestic flights is actually quite an adventure. The smaller carriers like this Dnieproavia don't have any online booking facilities and even the web site is a flashback to the early times of the web. Fortunately all the domestic carriers seem to codeshare quite liberally on each others flights, so I was able to book this flight on the PS codeshare from PS's website. At 93 USD it was decent value for money.
Boarding is called around 15 minutes before scheduled departure, of course another bus job. We drive to UR-DNQ - she actually looks very smart in the Dnieproavia livery: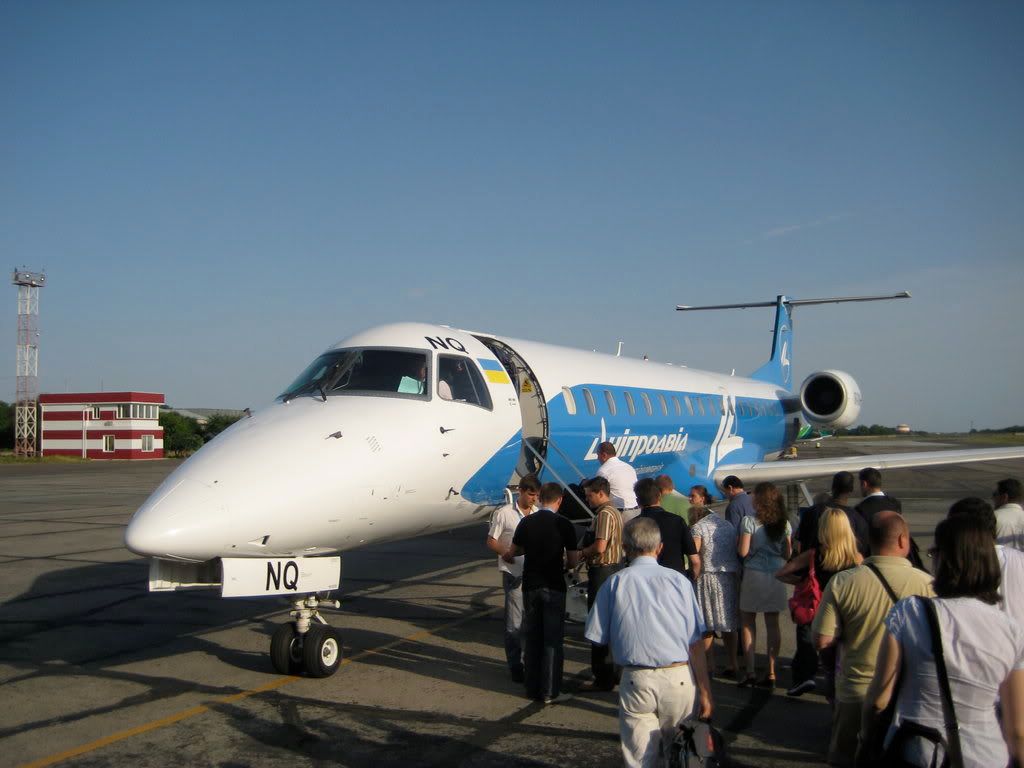 I think the leather seats are the original BA ones (all the Z6 ERJs are ex-FlyBe which makes them ex-BA Regional as well). Seat pitch is okayish.
Cabin shot, that's John the pig breeder's head: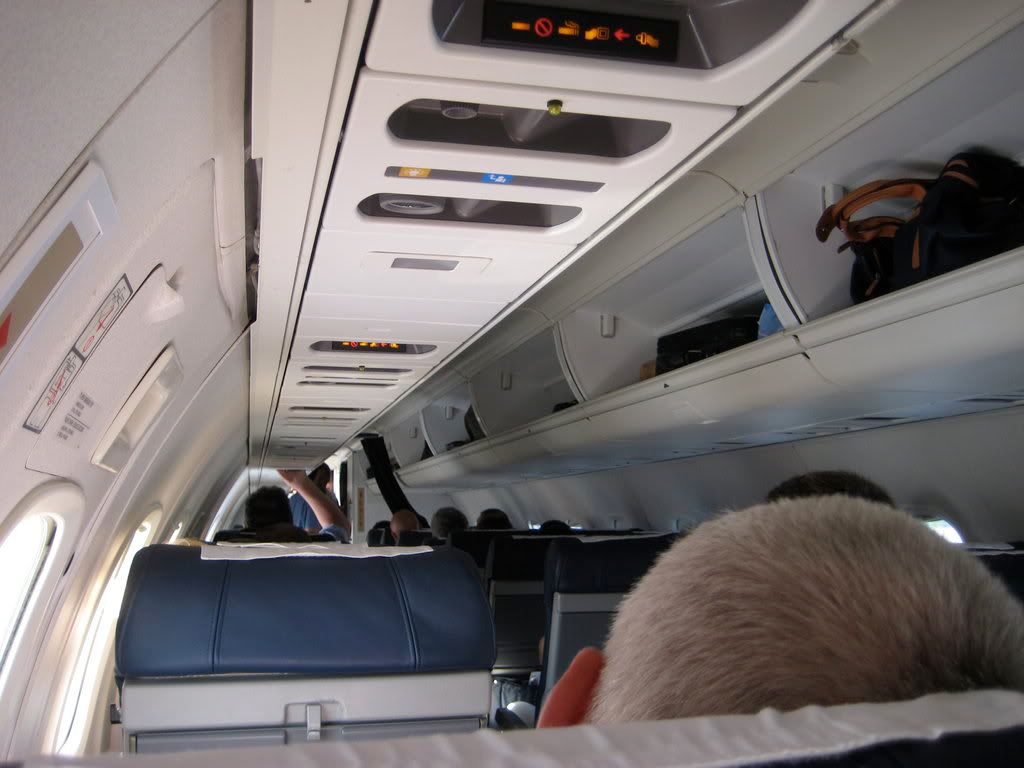 There are two male stewards onboard. Flight time is announced as 45 minutes. The flight appears to be mostly full in both economy and business.
We depart on time, taxi along a very bumpy apron to runway 16 and promptly take off. The runway here is even worse than at TSR and I'm afraid we will hit a large pothole and tipple, but fortunately we shoot to the sky like a rocket. We fly a bit over the Black Sea until making a lazy left hand turn towards the north. There are some great views of the southern suburbs of Odessa at departure, but as soon as we gain some altitude the heat haze obscures most of the views.
Entering the desperate-for-a-resurfacing runway: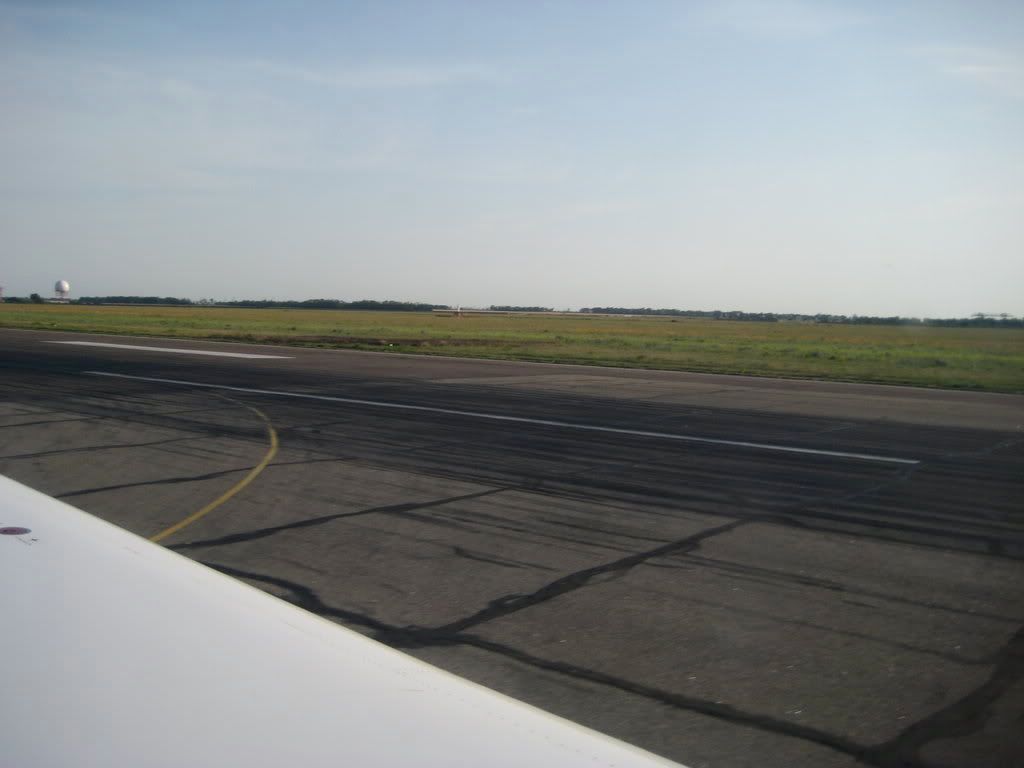 Rotate: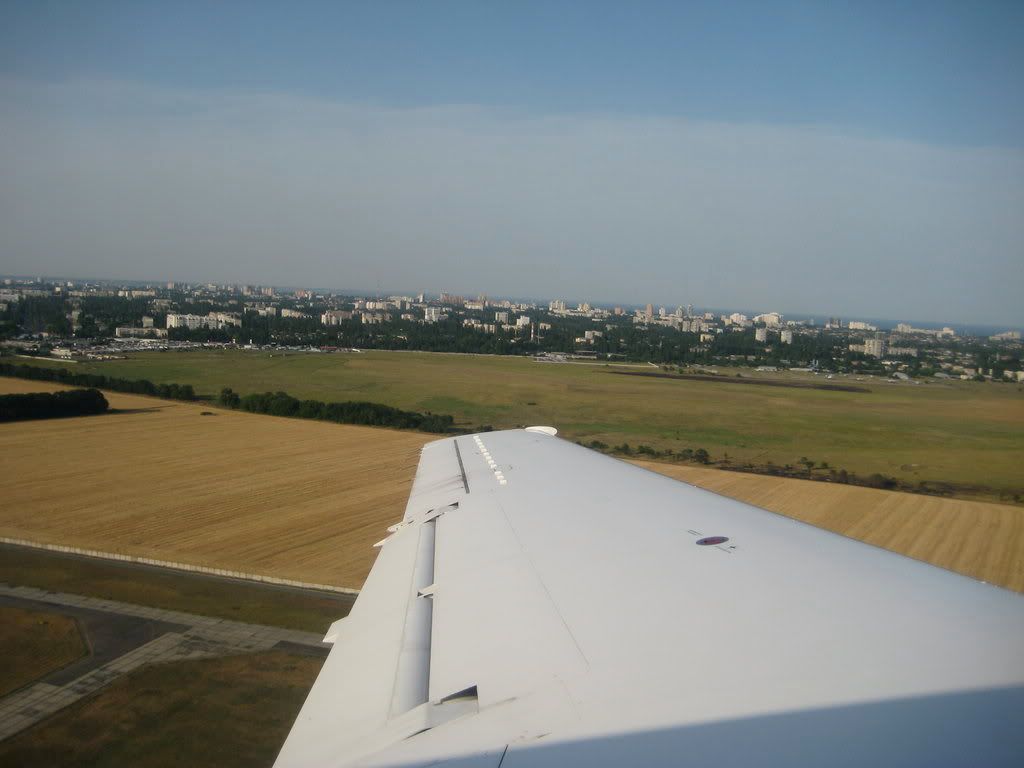 Odessa has its fair share of the concrete apartment blocks as well: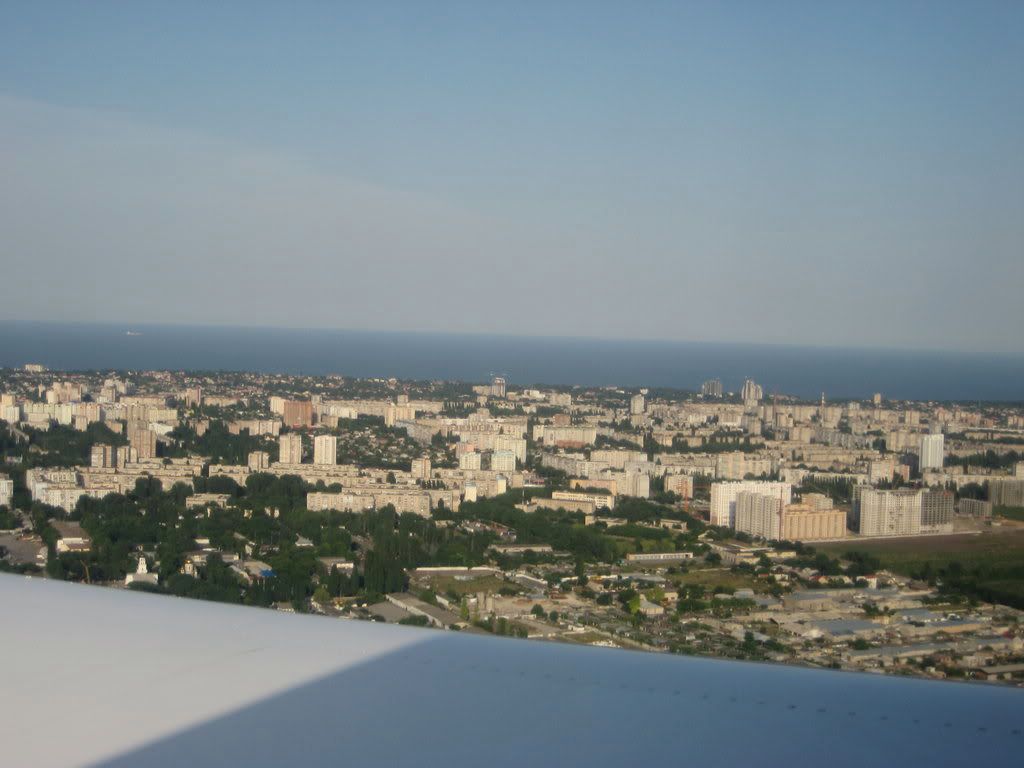 The Black Sea: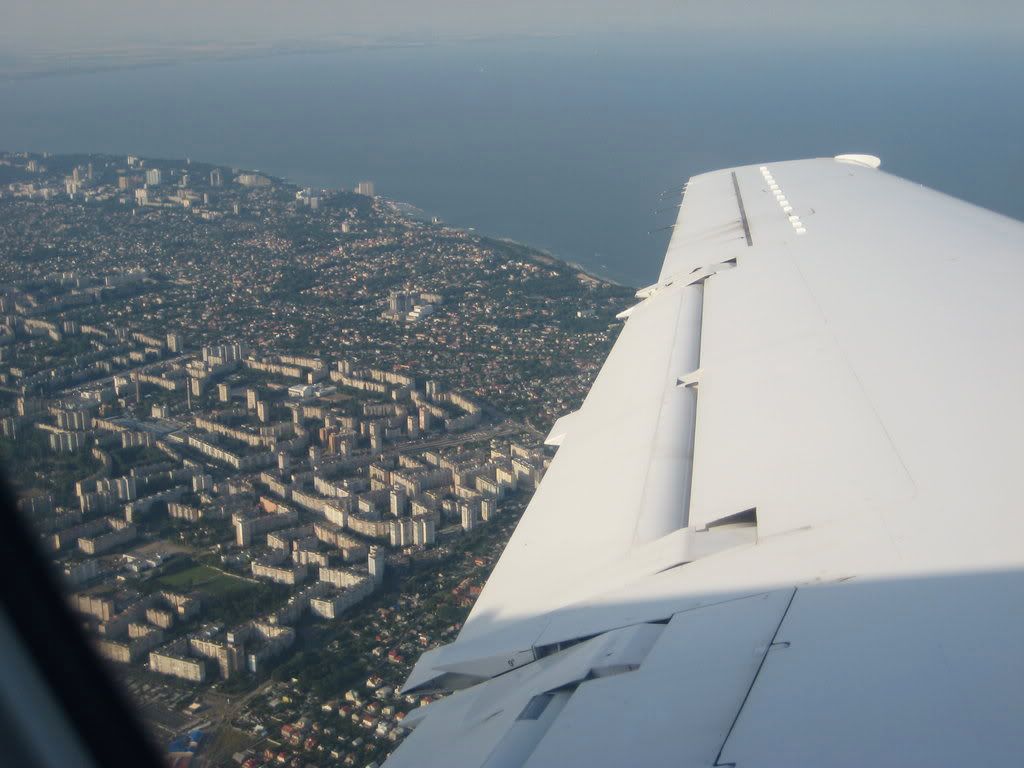 Turning towards the north: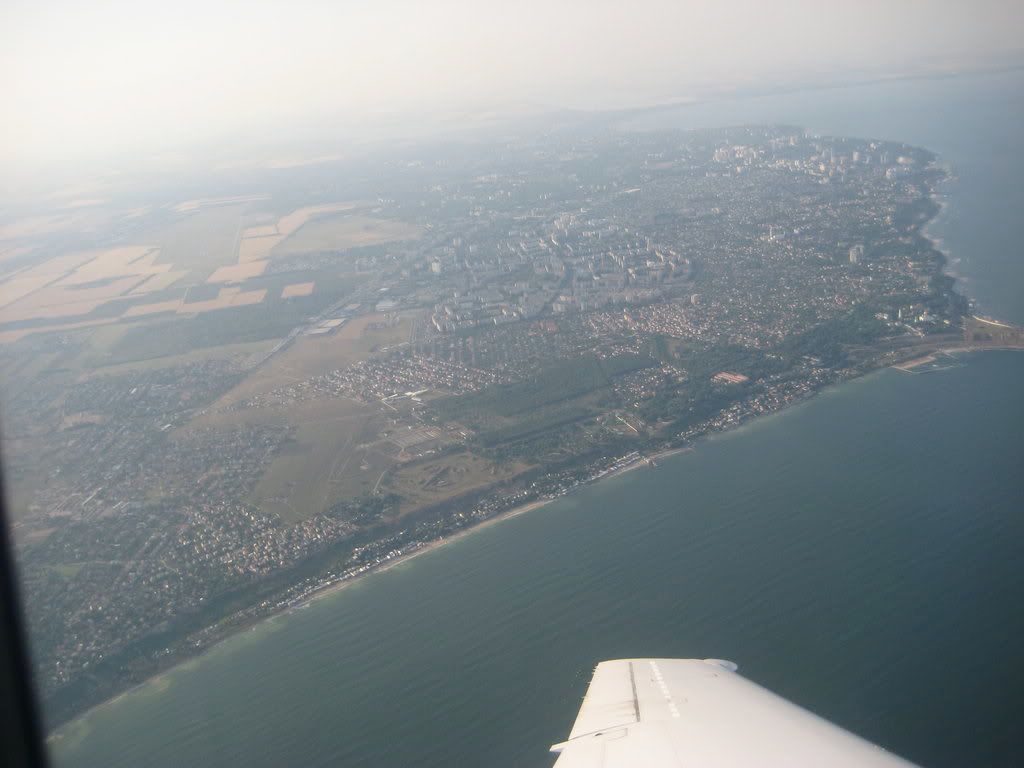 25 minutes after departure the captain announces that we are flying at 9000 meters with an airspeed of 900 km/h and we are 25 minutes out of KBP. This was actually the only announcement any of the Ukrainian captains did on my flights. The crew do a drinks run in economy.
Once we get nearer to KBP the sky on our right front starts to darken and show unmistakeable signs of a storm front. Sure enough there are some chops and I tihnk I spot some lightning in the distance as well. We seem to navigate our way around most of the storm as we make some abrupt turns. After the worst of the storm has passed the Dniepr once again comes to view and our descent is announced. Either we are asked to slow down to facilitate the traffic flow or there's a last minute runway switch as we make some weird S-turns during the approach, until finally landing smoothly on 36R.
The Dniepr, once again: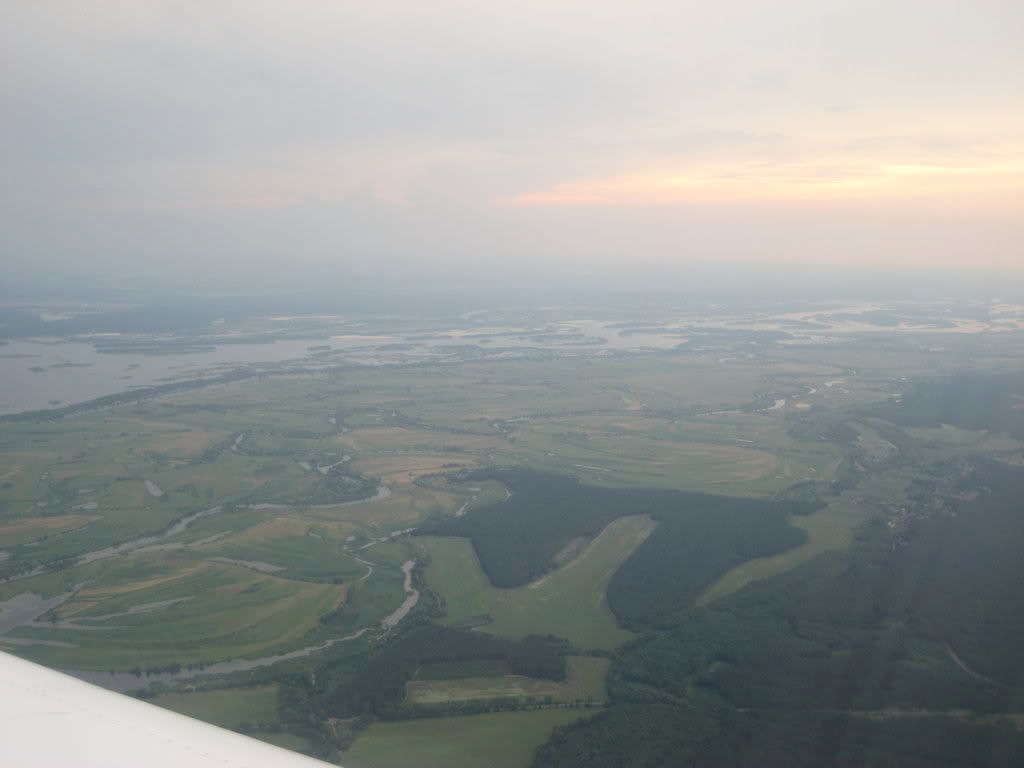 Almost there: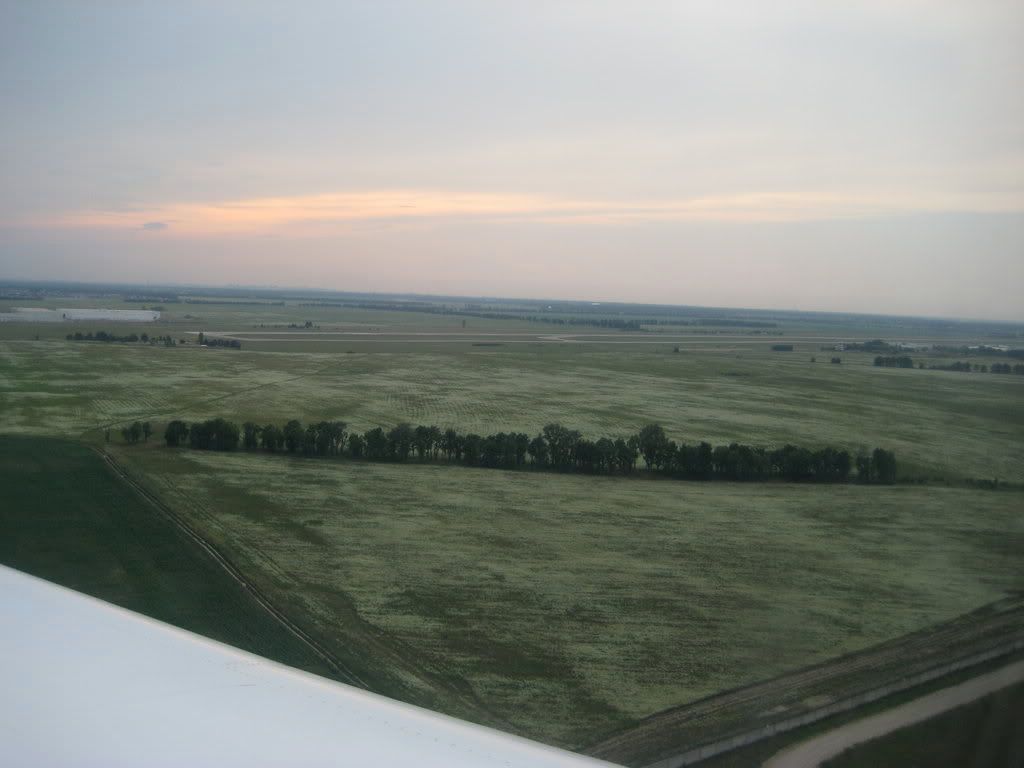 Breaking hard, there's an AZ A321 occupying one of the two jetways of the international terminal: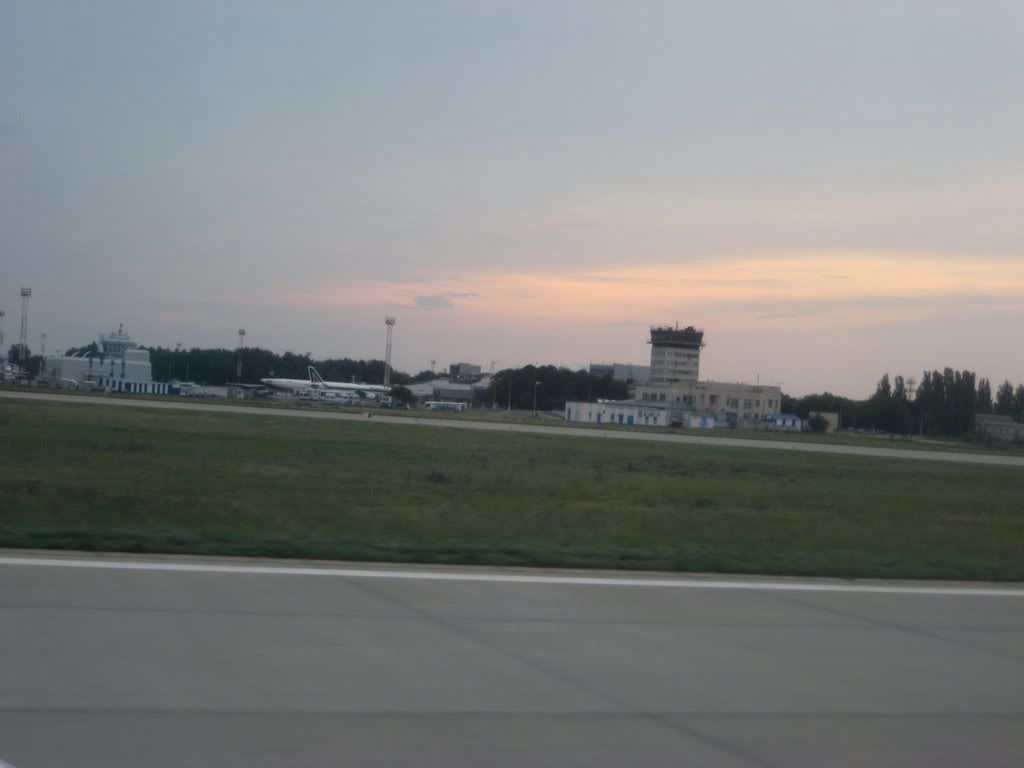 We taxi to the apron in front of the terminal building: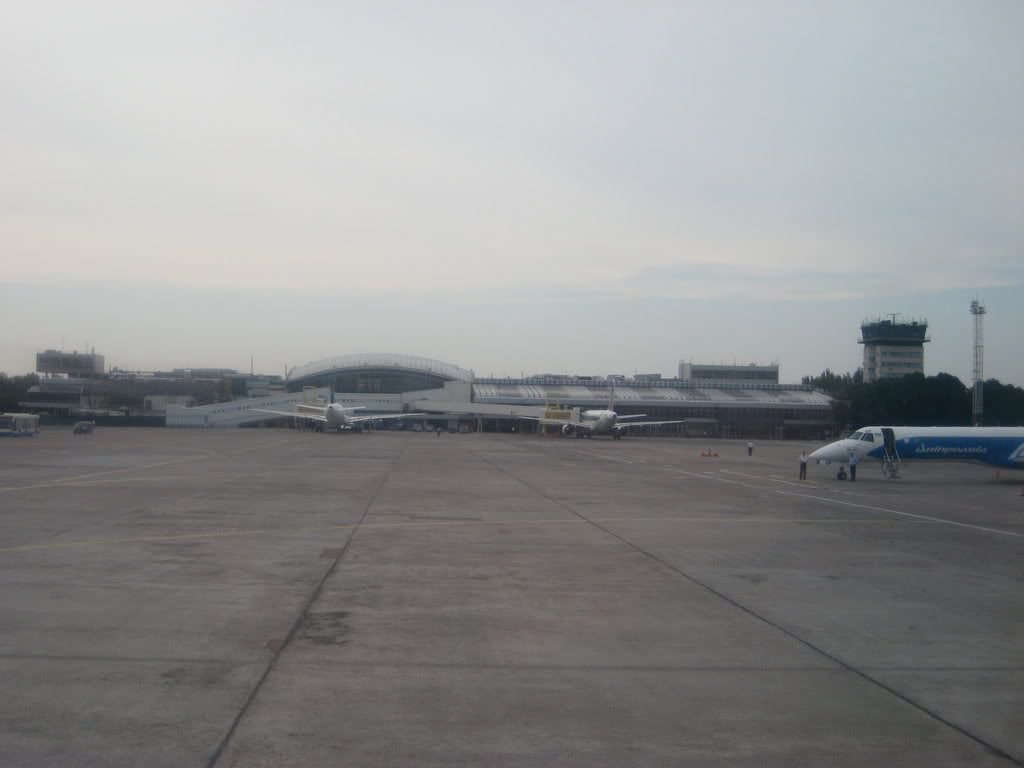 ...and stop next to sister ship UR-DNF: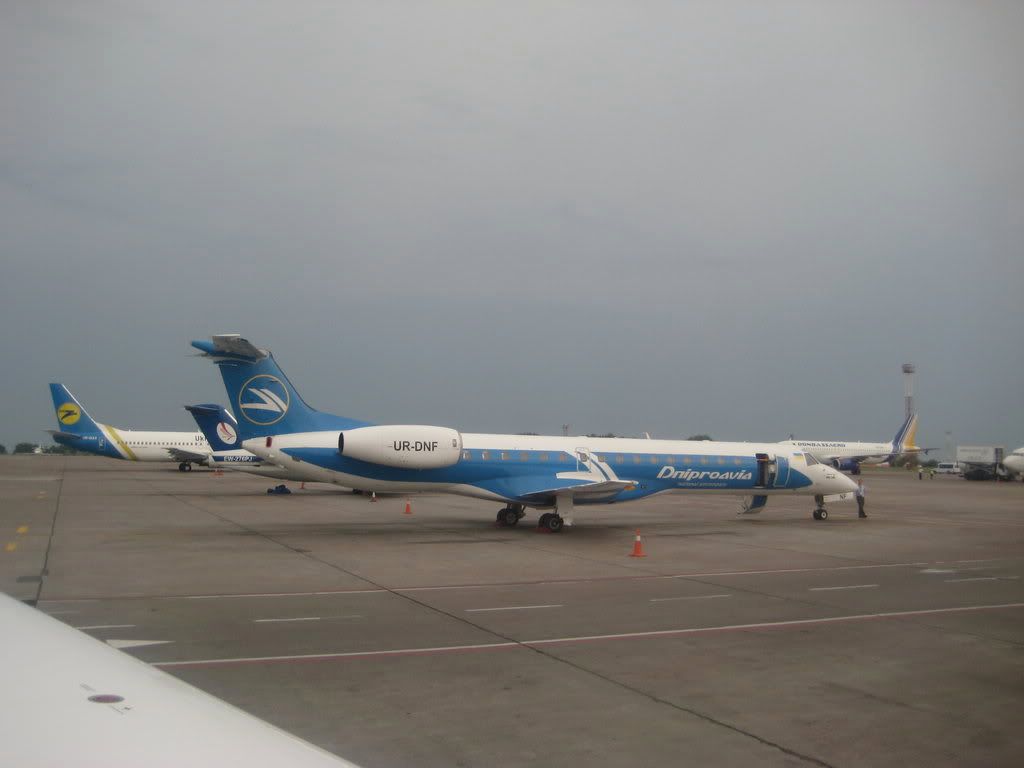 Another interesting visitor is a BelAir CRJ-200: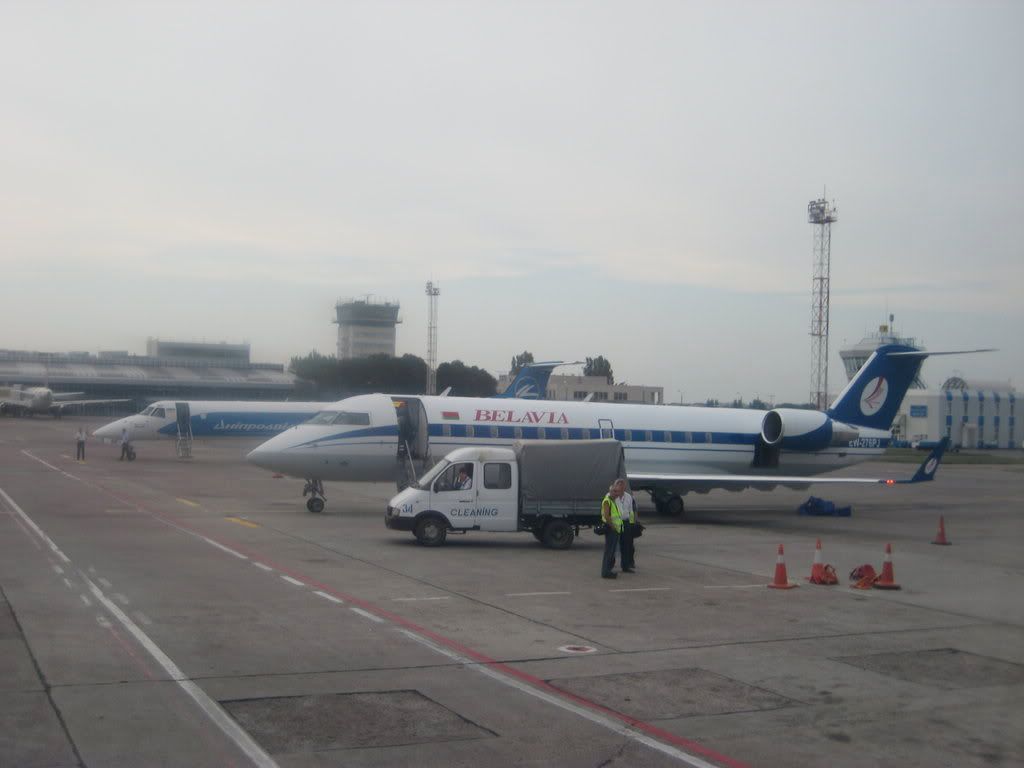 We must have had a VIP person in business class as a special "VIP Service" van drives up to the stairs and an older guy in a suit disembarks from our plane and hops in. After this a regular bus takes us lowlifes to the familiar domestic arrival facility.
I grab my bag from the storage and join John the Englishman in search for his driver. The driver is very confused about me being introduced as "a friend" - he keeps asking "A very good friend?" and I somehow get the impression he thinks I'm some sort of one night stand for my host. Unfortunately his English is not really good enough for me to explain that I don't really play in that team at all...
The approach into Kyiv from Borispol by car is quite scenic actually. First you are driving on an 8-lane highway in the middle of a dense forest, then all of sudden you emerge from the forest, with the end of the metro line in sight. Then the highway is surrounded by an impressive number of old Soviet-style and some newer high rise apartment buildings. Soon the lush green hilly terrain on the left (west) bank of the Dniper housing the city centre becomes visible, the gold domes of the orthodox churches glimmering in the sun, the huge titanium Rodina Mat statue glistering as well - and all this mixed with the impressive Dniepr river below you when driving on the bridge. I'm sold on this city on this initial sight!
Soon we pull uphill in front of another colossal Soviet-era hotel, the Hotel Rus. My host has some prearranged business so he cannot accept my offer for some drinks to thank for the ride - so we bid farewell and part ways.
This concludes part 3. Part 4 will cover some impressions on Kyiv and the flights KBP-DTM and DUS-HEL.