Hello,
I'm pretty new to a.net so this will be my first trip report on here. I once lived west of Cleveland, Ohio and I've been back there to visit friends a couple times since. This summer my choice of travel was going to be Delta Air Lines with their new seasonal service from Zurich to New York JFK. I was pretty excited to try out the 757 on a trans atlantic flight. My intended routing was ZRH-JFK-CLE-JFK-ZRH.
I checked in online the day before my flight and saw that the flight was even overbooked. Not too bad for a new flight (service just started in June). The next day I took the train to Zurich and dropped my luggage at the counter. Passed my way through boarding card check quickly and headed to the Airside centre at ZRH.
I love it here everytime I fly out of Zurich
I then took the SkyMetro over to Dock E, passed security of the part of the dock dedicated to the US flights. At gate E27, the plane that was going to fly me to JFK was already there.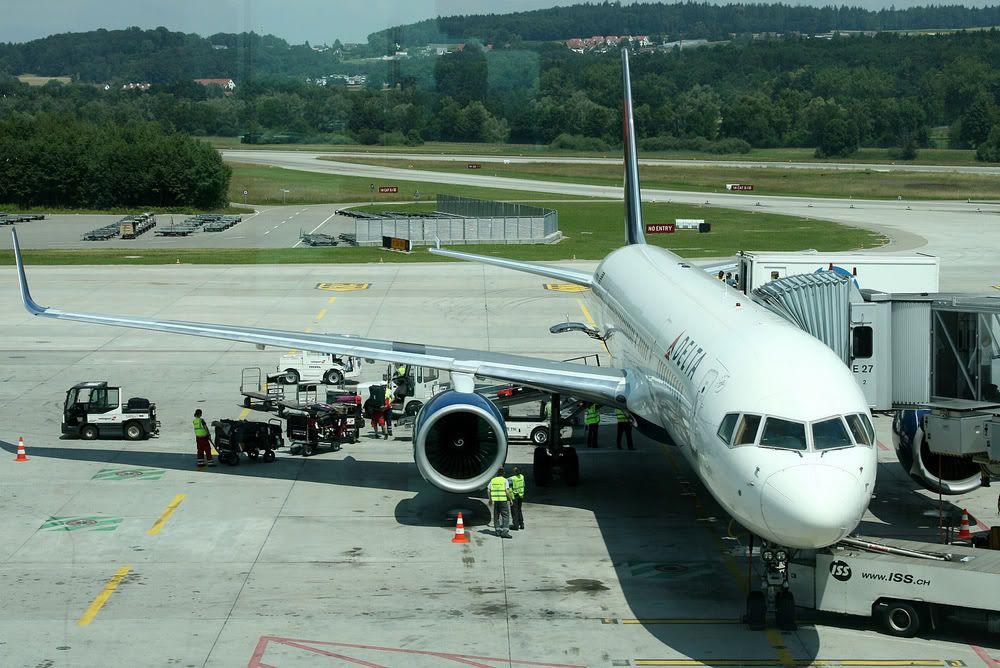 Delta Airlines DL 207
July 2, 2009
Zurich ZRH - New York JFK
Gate E27
ETD: 14:40 MESZ ATD: 14:45
ETA: 17:30 EDT ATA: 17:00
Boeing 757-231 N721TW
Seat 34A, Load 100%
View Large
View Medium


Photo © Darren Wilson
Flightaware Track
Took a quick picture as I was entering the plane through the jetway
We were pushed back and taxied to Rwy 16 for departure
Shortly after a very steep (as usual with the 757) takeoff we made a sharp turn to the left, giving me a great view of Zurich airport in the early afternoon.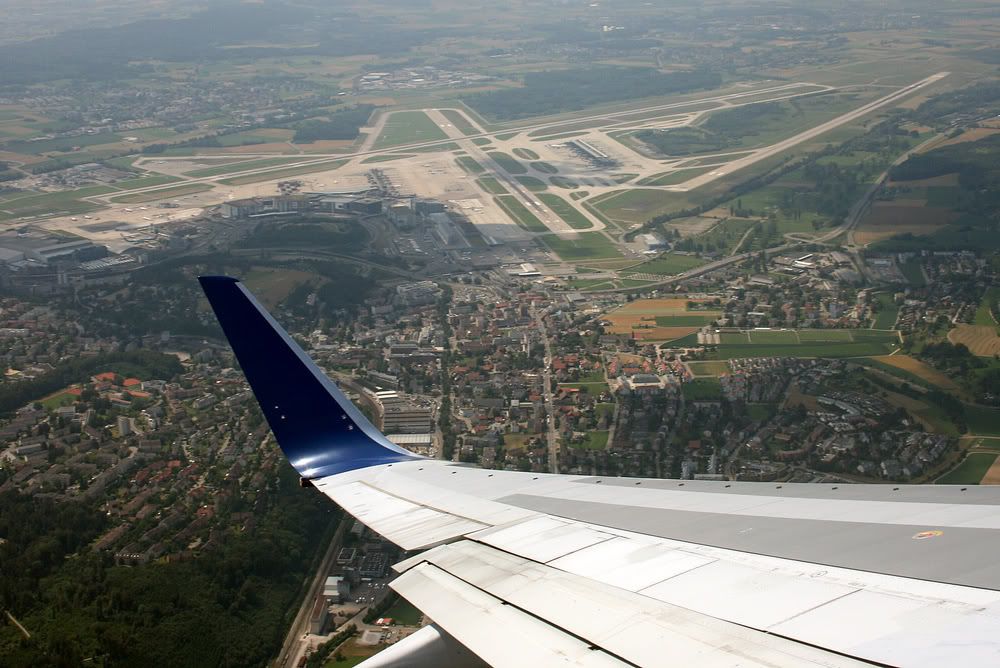 After some announcements were made by the captain and the flight attendant who did the announcements in German I checked out the IFE of this ETOPS 757. I have to give a thumbs up to Delta for that system. There was a wide range of pretty new movies available and also a lot of short shows like comedy, documentary and lifestyle. I chose to watch ''I love you man'' which I found quite amusing.
About an hour into the flight the meals were served. I was given the choice of either chicken or ravioli. I opted for the ravioli which were pretty tasty, even though the meal looks like every other airline meal.
The Delta crew was very caring and friendly throughout the flight. They went around multiple times to serve beverages. I presume the 757 is not an easy aircraft for the crew to work on on a longhaul fligth due to its 3-3 layout but this crew seemed to me very experienced and doing its best to make the flight a pleasure for every passenger.
The flight passed by quickly and the captain even made the announcement that we were going to arrive in JFK early. I was happy about this since I had worried a little bit about my connection time of only 2 hours in JFK.
During our decent to Runway 22L at Kennedy airport
After we landed in New York we were given the information that at that time all of the international arrival gates at Terminal 3 were occupied. So after about 15 minutes of holding we deboarded onto a mobile lounge and we were driven to the immigration facilities. Immigration was easy and I picked up my luggage about 90 minutes before my flight to Cleveland was boarding. But as I was going to drop my luggage for the connecting flight I was informed that due to incoming bad weather and the bad performance of the Canadair regio jets in bad weather all of the Delta Connection flights this evening were going to be cancelled. It put me in a very bad situation as I had no choice but to spend the night at cramped JFK airport. The lady I asked to rebook me through Detroit, Atlanta or even Minneapolis was quite rude and just told me that I was given no hotel room because the cancellation was due to weather issues (but then again, it was for RJs only so actually still Deltas fault, all other flights out of JFK were operating). I wasn't even confirmed for the next flight to Cleveland the next morning, only stand by because all the flights were overbooked (why do airlines still overbook during peak season?).
She only told me to hang out at Terminal 4 rather than spending the night at this abysmal facility of Terminal 2/3. So I met this guy who was in the same situation as I was coming from Manchester going to Detroit and we kinda watched each others luggage while being able to catch at least one to two hours of sleep. The facilities of Terminal 4 were actually pretty nice, the building was bright lit and there were many shops and restaurants in the non-secure area.
The next morning I made sure to check in as early as possible to be on top of the stand by list.
Picture of the really bad check in area of terminal 2. Delta really should look into building some new facilities like AAs terminal 8 or terminal 5.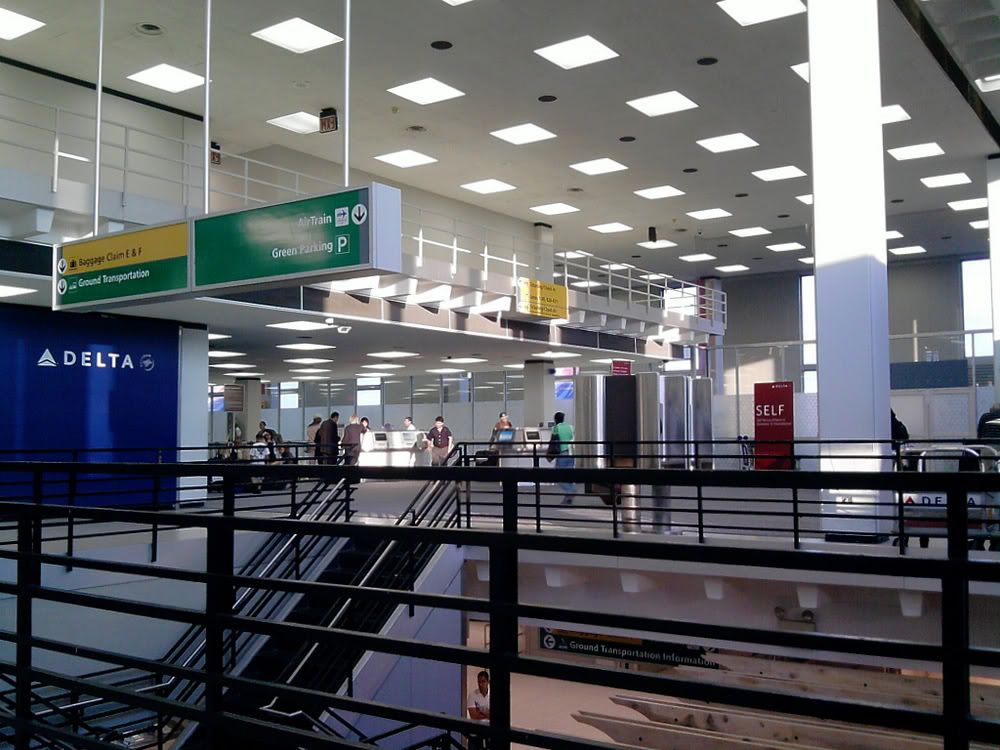 But I was to be disappointed because the flight on an CRJ100 was again completely booked. Many passengers coming from international flights that were booked on the cancelled flight the night before were furious that Delta didn't do more for us. I was worried if I could even make it to Cleveland that day because one Delta agent told me that all 3 flights were full for the day. So I was looking for other solutions, called a friend in Ohio and asked him if he would be able to pick me up down in Columbus (about 2 hours south). He agreed so I managed to get a confirmed seat on a Delta flight to Columbus leaving out of LaGuardia.
Delta even offered to pay for ground transportation to LGA. Unfortunately I waited for 45 minutes and the ride over there still hadn't showed up. Not wanting to risk my flight to CMH I took a cab that drove me to the Delta terminal in LGA within about 25 minutes. I made my way through check in and the crowded security lines to gate 2. I also had some Burger King and took some pictures with my cell phone camera (didn't feel like getting out my dslr).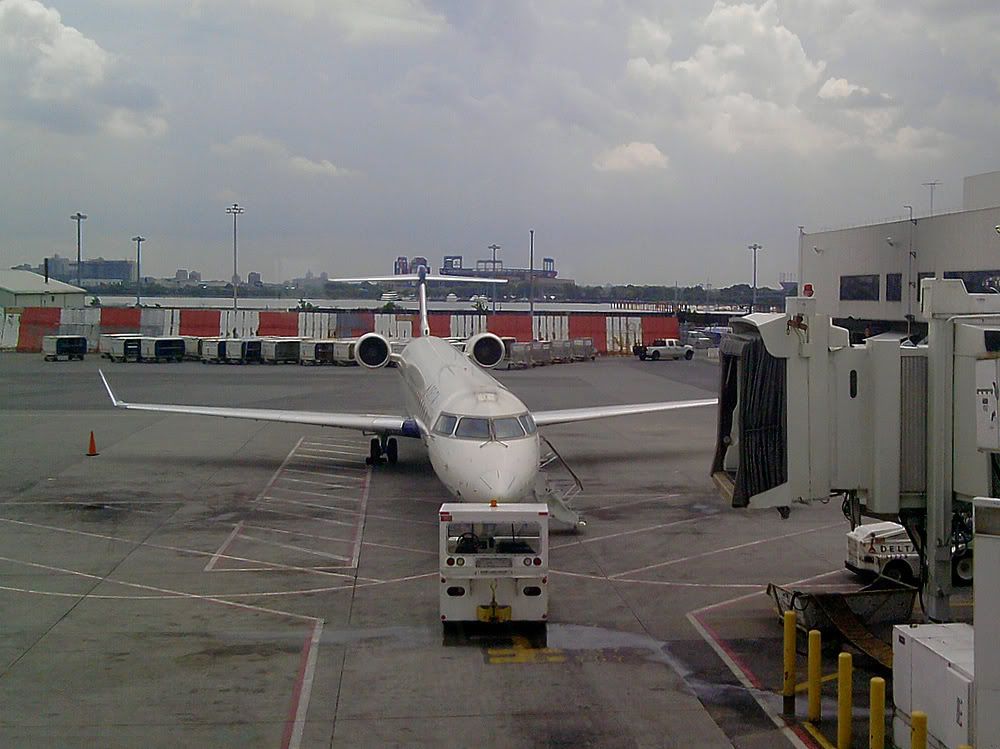 My plane to Columbus, N810JQ Shuttle America (no pics on a.net)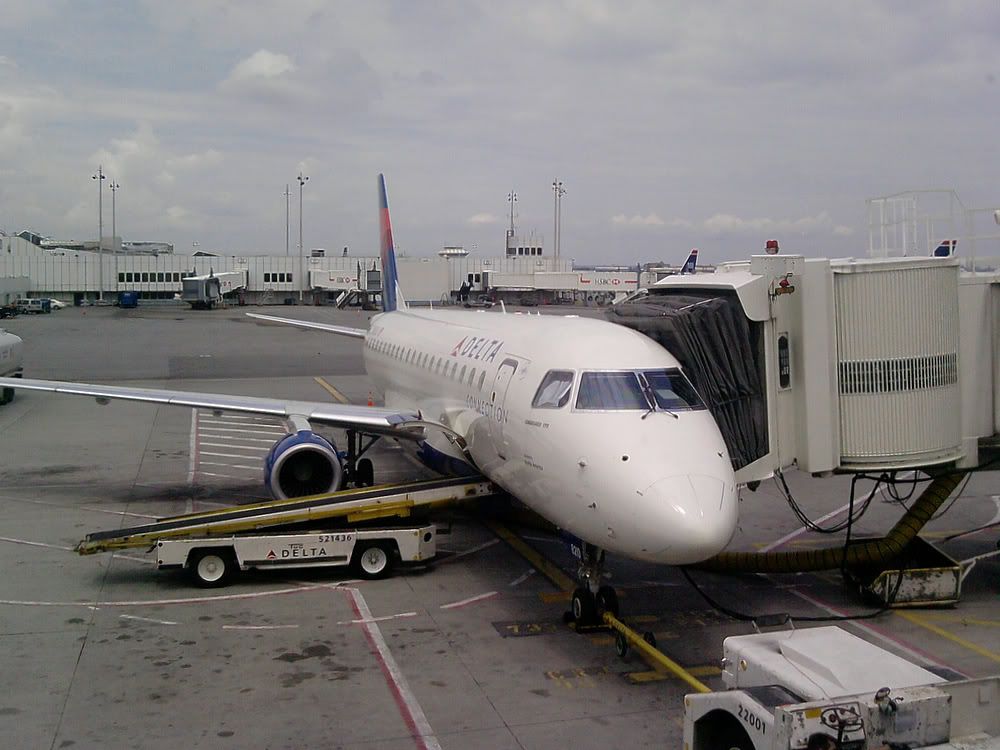 Delta Air Lines DL 5947 opt. by Shuttle America
July 3, 2009
New York LGA - Columbus CMH
Gate 2, Delta Terminal
ETD 12:35 ATD 13:00
ETA 14:20 ATA 14:20
Embraer 175, N810JQ
Seat 7C, Load 50%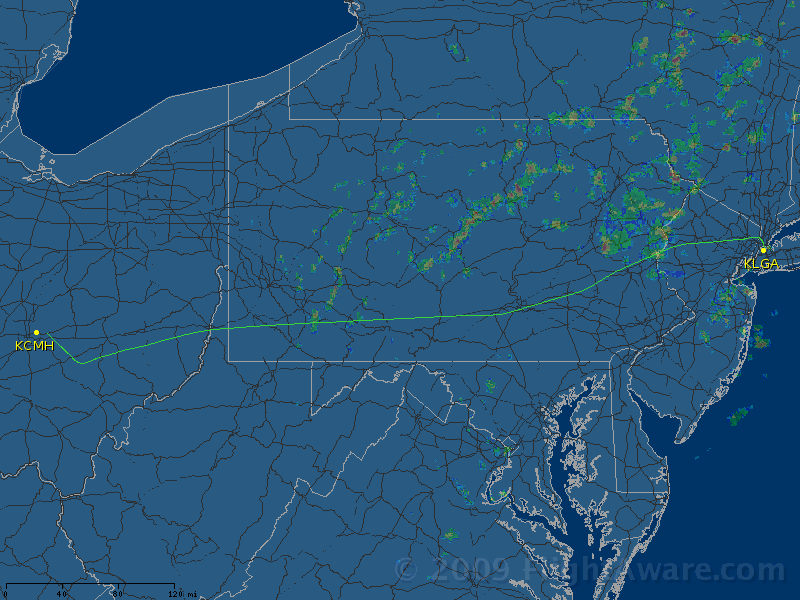 I was glad to finally get on a flight out of New York. So I didn't even care much not getting a window seat. The flight crew was very nice too. It was cool to have some younger and actually hot flight attendants on a US airline flight
After landing in Columbus I made sure to take a picture of the modern flight desk of this E-jet
The next two weeks I spent in Northern Ohio mainly visiting friends and just having a good summer time
Some pictures of Lake Erie and a trip to Kelleys Island: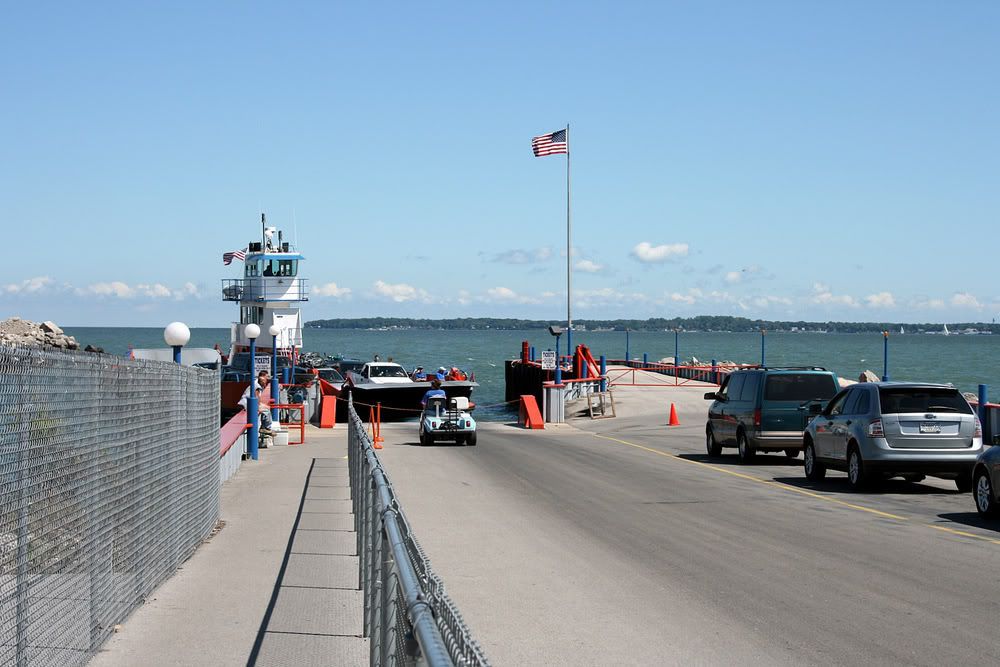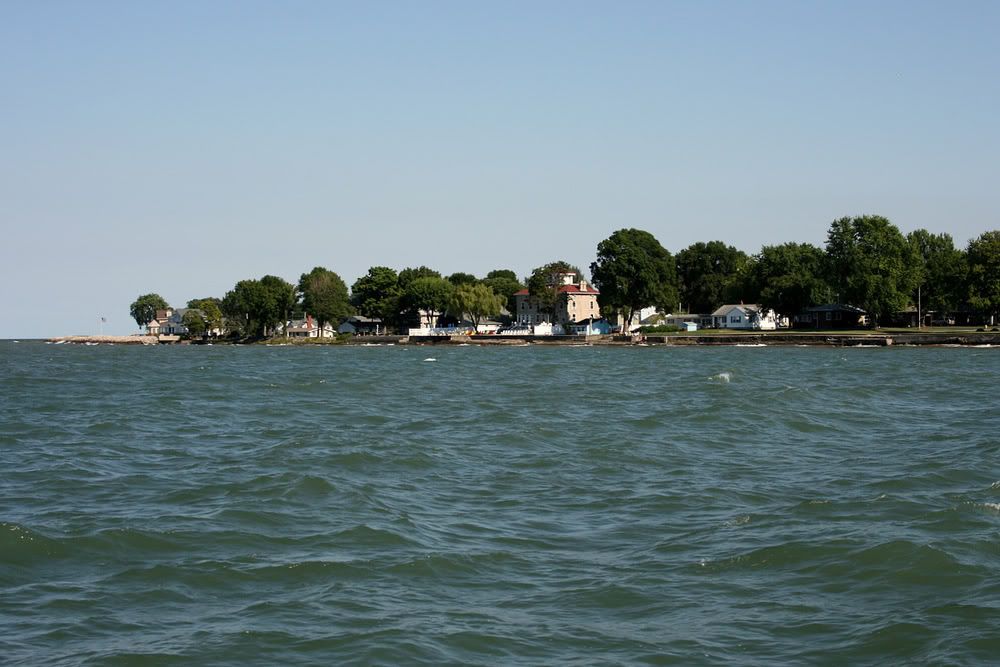 When my stay in Ohio was over I was taken to the airport by a friend on monday afternoon. I was just praying for everything to go alright on my flights back because I didn't want to go through all this trouble again.
I checked in at Delta desk at Hopkins Airport and passed security quickly. I didn't take too many pictures but I think this gives a good indication of what airline rules CLE
Also a little view of an empty Concourse A, American Eagle CRJ 700 to DFW just pushed back moments ago
Around an hour before departure this CRJ100 arrived that was going to take me to JFK that day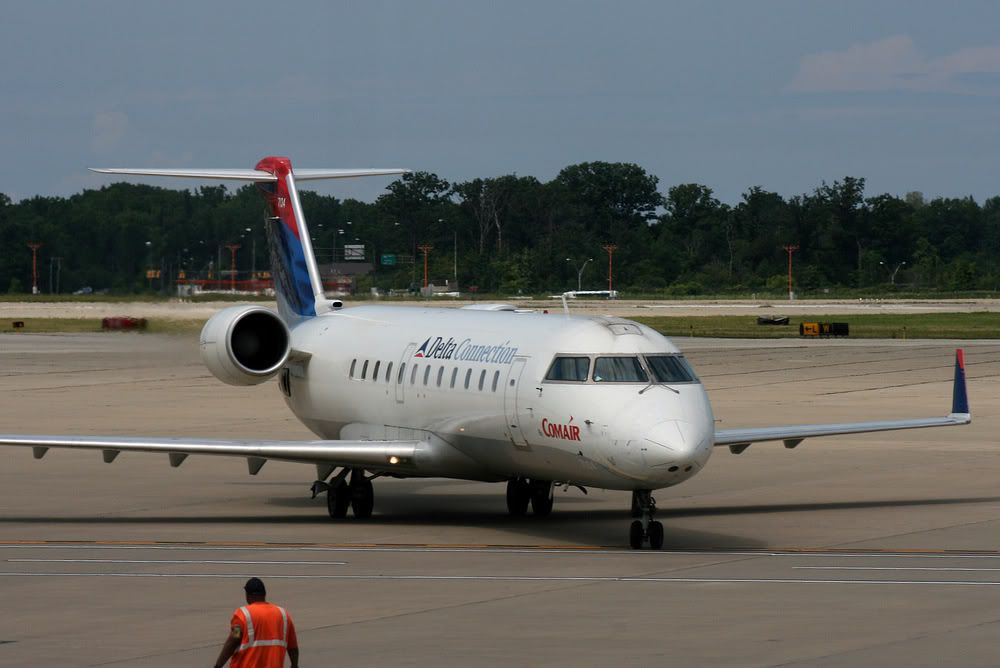 Delta Air Lines DL 6460 opt. by Comair
July 20, 2009
Cleveland Hopkins CLE - New York JFK
Gate C3
ETD 16:00 ATD 16:10
ETA 17:50 ATA 17:30
Canadair RJ 100, N967CA
Seat 12B, Load 100%
View Large
View Medium


Photo © Jason Bisson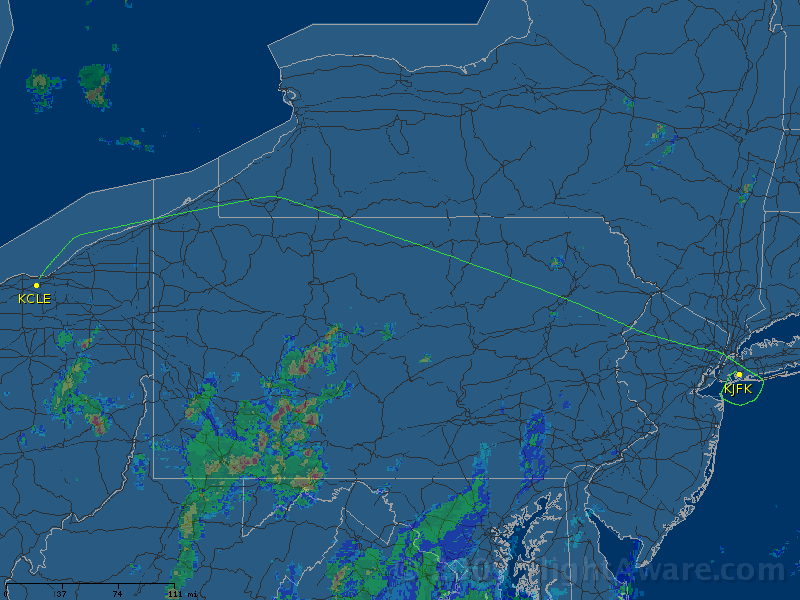 I was seated on 10A, but as I saw the very scratched window that made any good pics impossible I gave up my seat to a family that was happy to sit all together on this short flight. I've never liked the CRJ because it is so small and you can barely turn around in the rest room. This time at least the flight attendant was very nice and handed out a big load of snacks to everyone. After a climb to 29'000 ft and about a 40 minute cruise we descended for approach on Rwy 13L. We made it to the gate quickly and as we deboarded I asked for another cockpit picture
I entered Terminal 2 and walked around to check out gate 27 from where my fligth to Zurich was going to depart in 4 hours. I had a hard time finding a place to sit because at around 6PM the building was so crowded. There are so many flights that depart out of this little building but I found the worst how they board about 4 regional flights at a time through one door.
I took some pictures through the window facing T1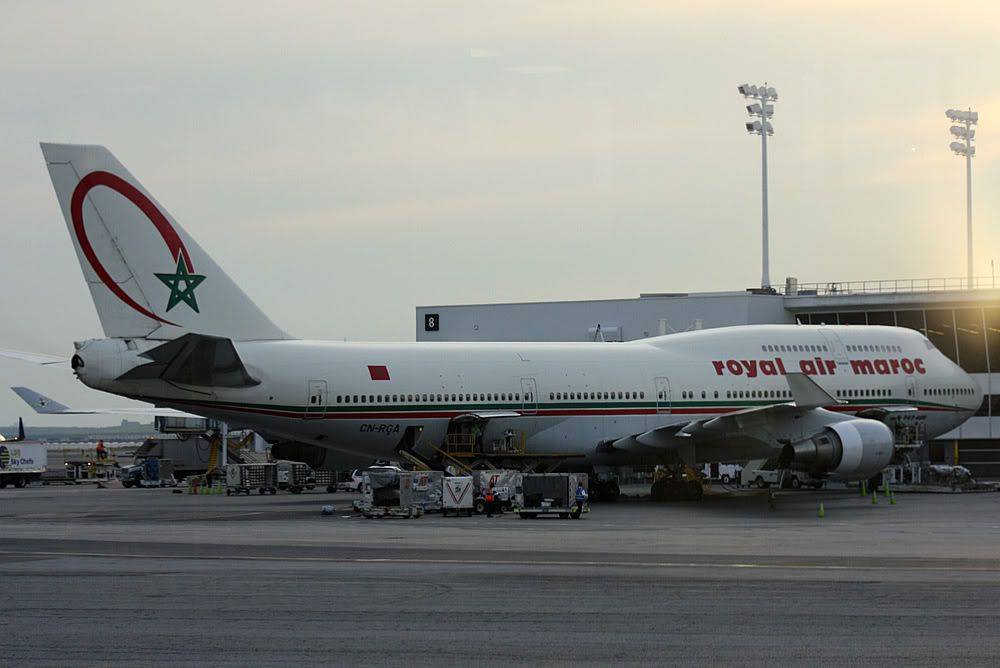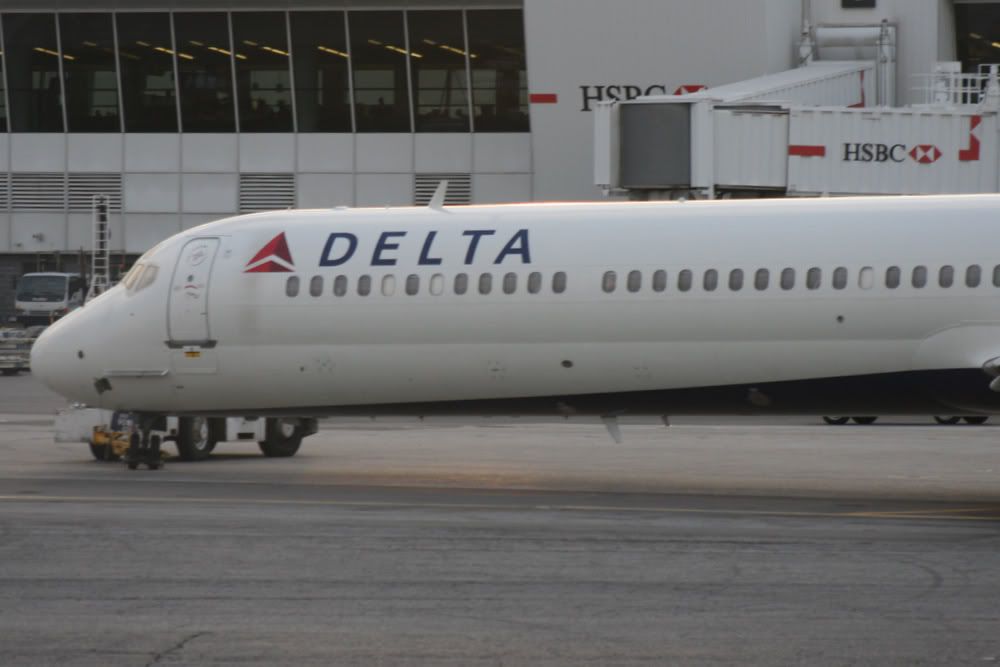 I was getting hungry and got some fast food from Wendys (their new spicy chicken is very delicious). As I went back to the waiting area for flight 206 to ZRH I saw that our flight would not leave until midnight. An agent shortly after made the announcement that due to bad weather in Orlando our plane would arrive late from MCO. Again, a unpleasant surprise during my DL trip. At least this time the plane would make it with me on board. The 757 was pulled to the gate at about 10:40PM (departure time was 10:00PM) and boarding started about 40 minutes later.
Delta Air Lines DL 206
July 20, 2009
Cleveland Hopkins CLE - New York JFK
Gate 27, Terminal 2
ETD 22:00 EDT ATD 23:50
ETA 12:40 MESZ ATA 12:55
Boeing 757-2Q8 N707TW
Seat 41F, Load 100%
View Large
View Medium


Photo © Jid Webb
We departed off Rwy 13R into the dark sky at about five minutes before midnight. I have almost no pictures from this flight as it was night and pictures would have turned out blurry.
Meal service started an hour after takeoff with a choice of chicken or pasta. This time I chose the bbq chicken served with mashed potatoes and mixed vegetables. It was ok for an airline meal. Again the crew was very good, they all seemed quite passionate about working for Delta and did everyting to ensure a nice flight. I then turned to sleep for a couple of hours. When I woke up the captain made the announcement that due to strong tail winds we would make it to ZRH almost on time. The flight was blocked for 8h40 but actual flight time was only 6h55. I was happy about that.
The f/as went around handing out a small breakfast with an egg muffin, a banana and orange juice. I expected a bit more for a breakfast after a 6 hour flight (flew AF, LX, KL and LH before on transatlantic and always got a full breakfast). About 40 before landing we started our descend and I took some pictures over french airspace: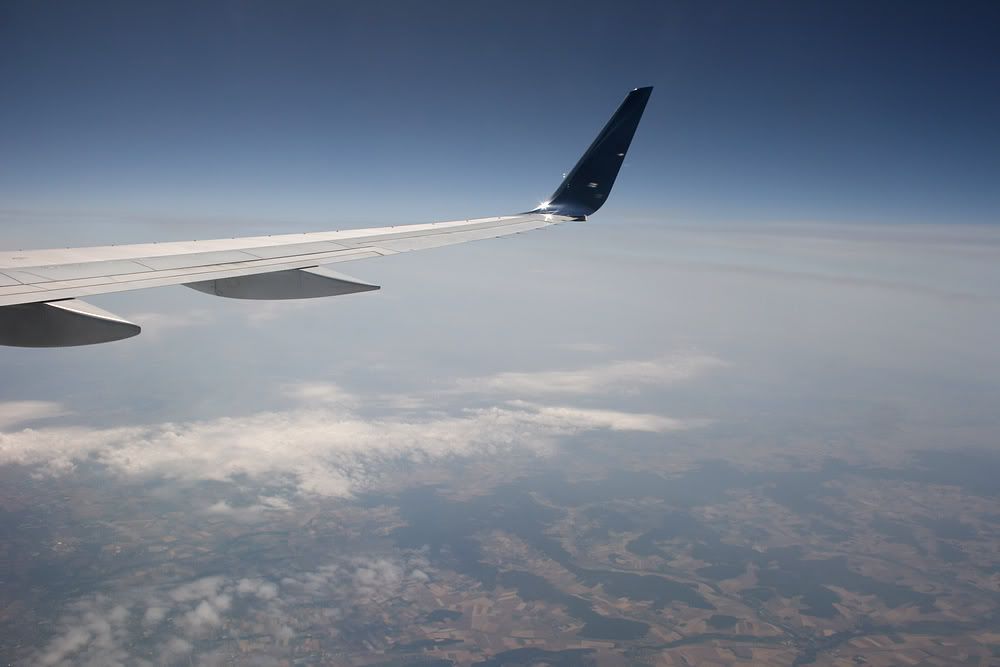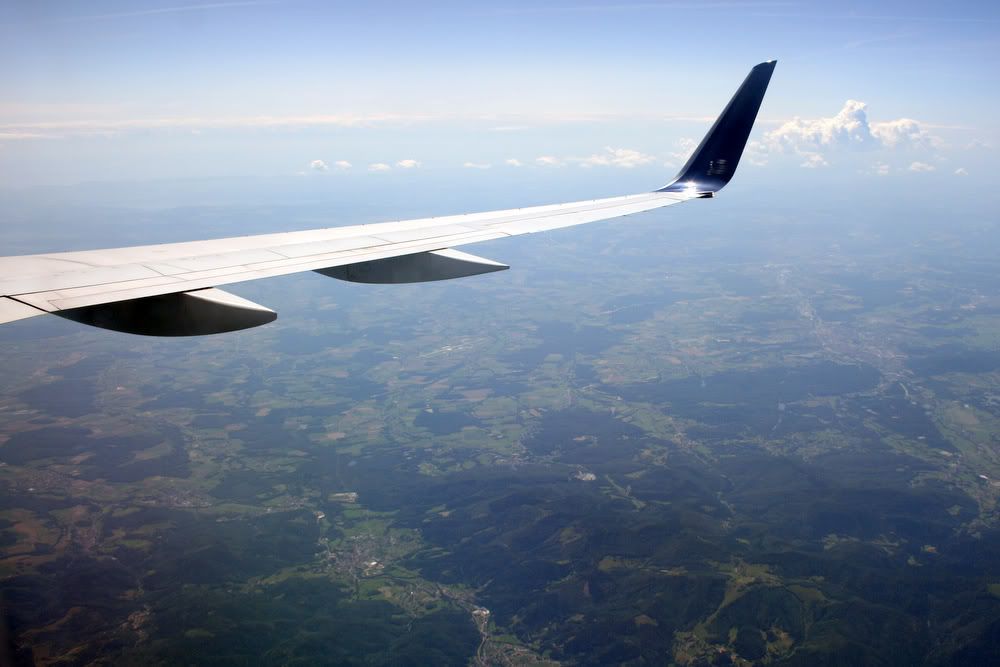 Flying over Basle Airport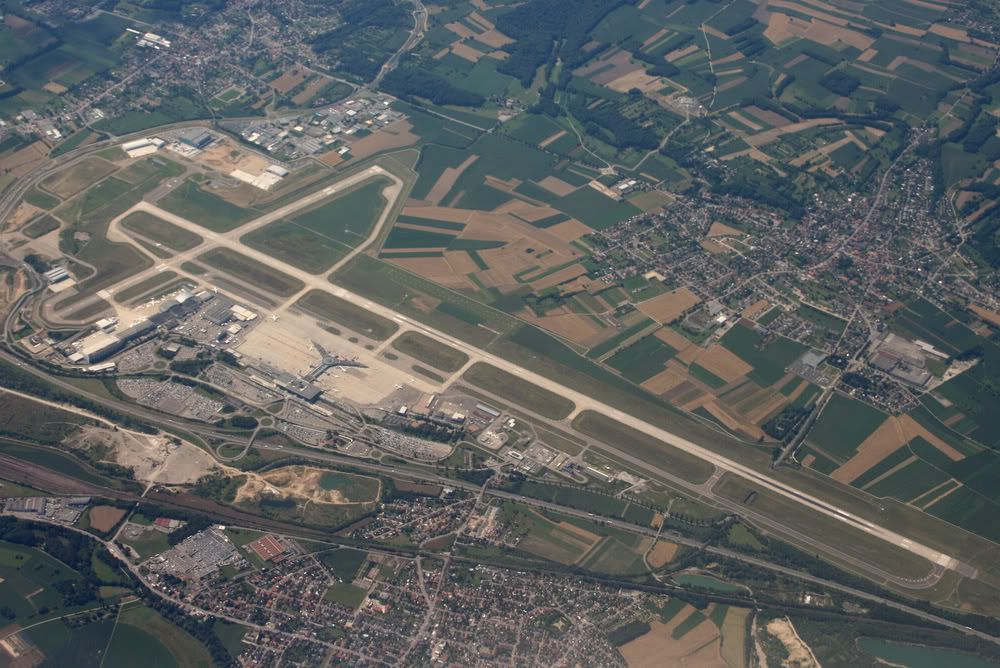 The city of Basle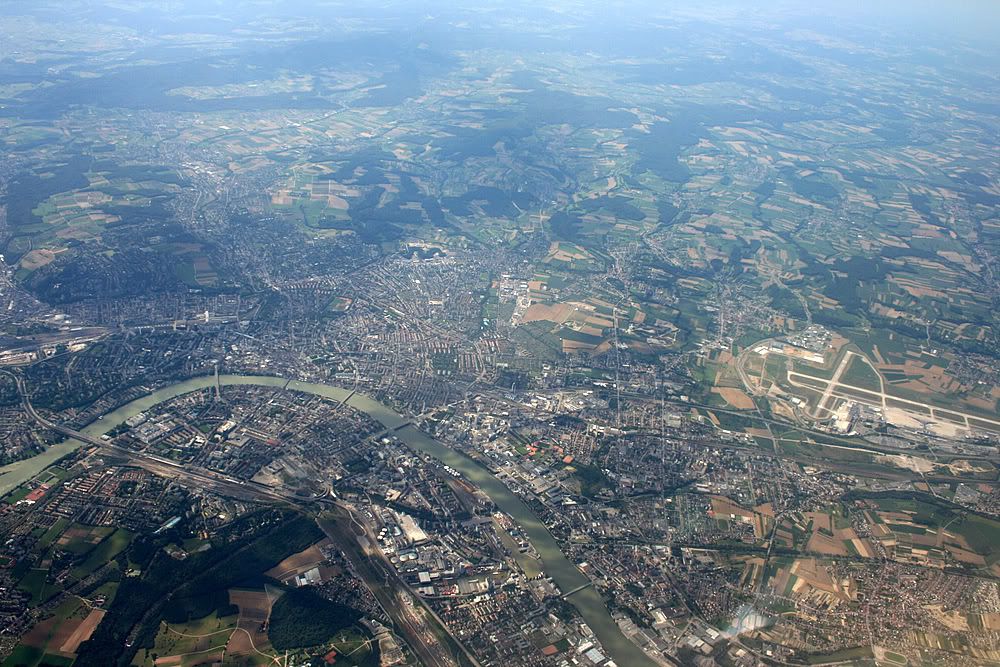 Seconds before landing on Rwy 14 in ZRH, a very smooth landing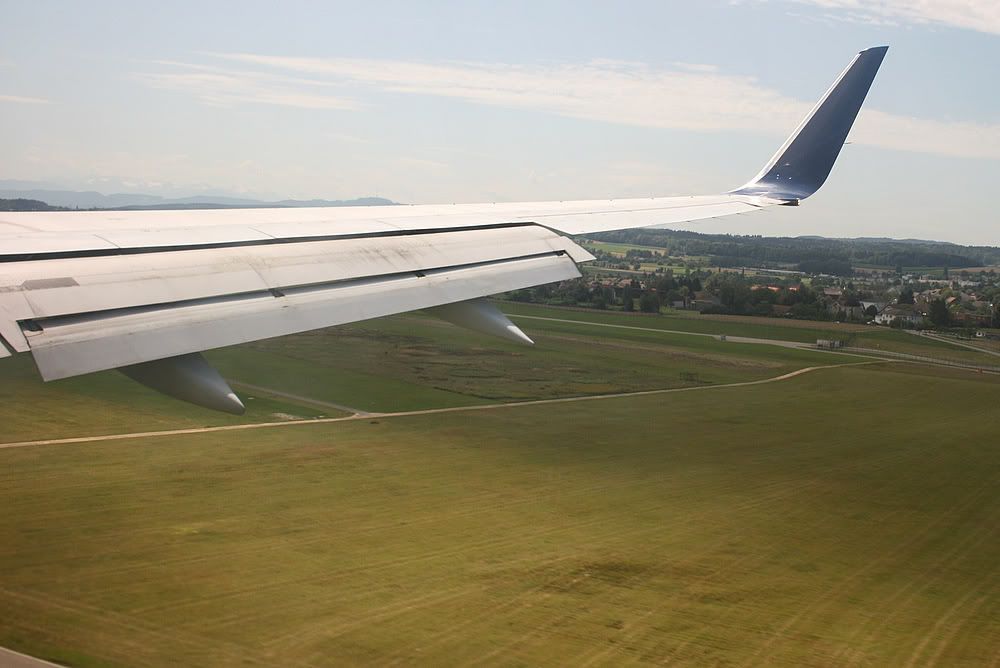 On the taxiway waiting to pull in to gate E27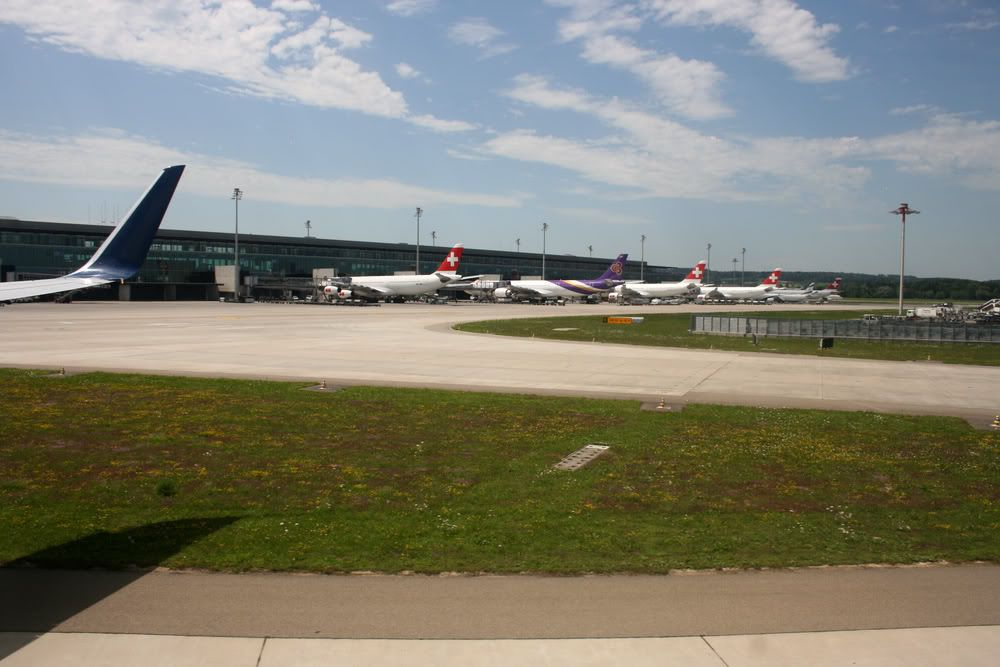 I went down to the skymetro waiting area and took the nice little metro over to the arrival area. Passed swiss immigration in like 10 seconds
and about 20 minutes after arrival I got my luggage and headed to the train station for my train back to the city of Biel (in the canton of Berne
).
After my first flights on Delta (before been on AA, US, UA, CO) I give their flight employees a lot of credit. All my flights were with very nice flight attendants and the captains always made sure to inform passengers whenever needed. However their hub at JFK is a big minus, it is very outdated and has a lot of delays. It would be ideal for connecting anywhere in the US and Delta has many flights out of JFK. So I hope they really do something to improve their JFK hub for passengers.
I would love to fly on their 757 product transatlantic again because I think their IFE is one of the best that you can get across the pond. I hope they bring back this seasonal service to Zurich again next summer (service ends in Sept). High loads on my flights and from others that flew this route might be a good indication this flight still pays off for Delta even though it brings the flights from ZRH to the NYC area to a total of 6 daily.
I hope you enjoyed my trip report. I'm happy for any feedback and tipps for improvements