Hello,
Last weekend, I flew to Prague, on the Hungarian Low cost airline
Wizz Air
which itself had recently celebrated its 5th Birthday. Now carying more than 18 million passengers a year, the airline has gone from strength to strength, and recently opened a new (2 aircraft) base in Prague, Czech Republic - to serve Liverpool and Oslo (Torp).
I decided to book a trip from Liverpool, to Prague, and see what I could make of this airline. Indeed, I booked the trip 2 weeks prior to departure, and paid £29 for the rtn ticket, including all taxes and charges. What follows, is my story from this trip.....
July 16th 2009 - Outbound.
My day started at 06:50, when I suddenly woke up. Why? Well the answer was simple - I had set my alarm for 05:00, but when it sounded, I switched it off and went back to sleep, oops!! Now the reason for me getting up at 05:00 in the first instance, was so that I could catch the 06:00 train from Hull to Liverpool. So, as you can now guess, I had missed that train by 50 mins, plus the 06:35 departure too, so the next service I could catch now was due to leave at 07:33 - to Manchester - so I had to rush around in order to hopefully catch that train.
Thankfully I was successful in my quest, and off to Manchester I went, arriving at 09:35. After a mad dash to platform 14 at Manchester Piccadilly, I made my way to a connecting train for Oxford Road, and from there I boarded a train to Liverpool South Parkway.
Arriving at South Parkway, I boarded a bus to Liverpool airport, which took about 12 minutes to complete the trip. I eventually arrived at the airport just before 11:30, and my flight was scheduled to depart at 12:50. The flight was scheduled as LPL dep 12:50, PRG arr 15:55 (all times local).
Check in was a breeze! A very cute woman from "Servisair" did the honours, asking me the usual "did you pack this yourself" etc, before tagging my bag with a PRG label, then sending it away on the baggage belt. I paid £8 for the privilege of taking 1 hold bag with me, which I guess wasn't too bad to be honest.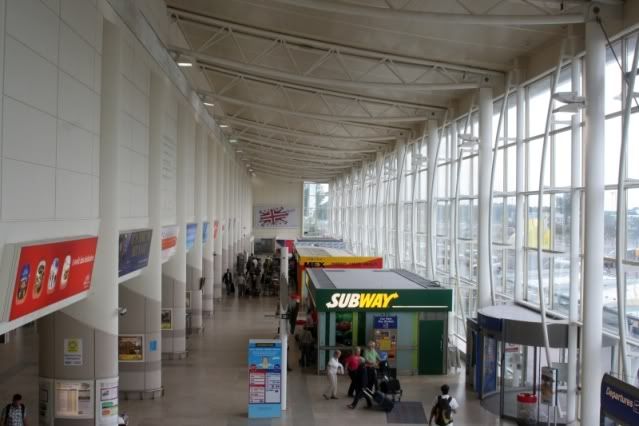 Huge crowd for the Easyjet check in area.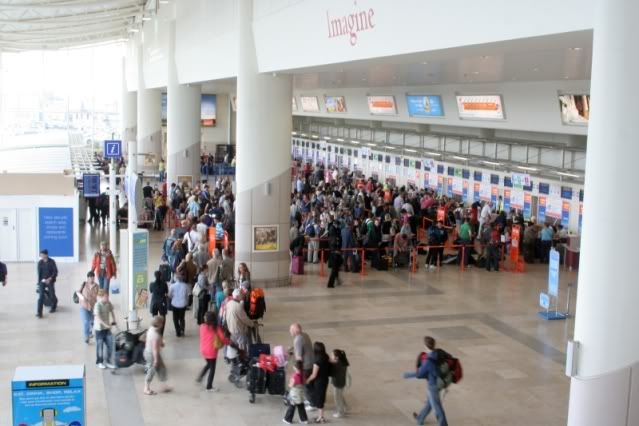 I then went upstairs to find a huge line for security, in fact one of the longest lines I have ever seen. Because I had only 30 mins until boarding, I decided I was not going to wait around, and made my way to the "Fast Lane", where I purchased a £3 ticket which basically got me to the front of the line, and almost straight past security. This was my first trip thru LPL and to be honest I didn't really know what to expect, but one thing I can for sure write is that it needs more security staff, and soon. If it hadn't been for the fast lane, there is no doubt that I would have missed my flight!
Arriving at the gate, I saw my aircraft arrive and took a picture - it was an Airbus A320 (HA-LPL) - apparently a brand new A320 to the Wizz fleet. At exactly 12:10, we commenced boarding. Basically, we went down the stairs to the tarmac, and simply boarded at either the front or rear door of the Aircraft, whatever door you chose.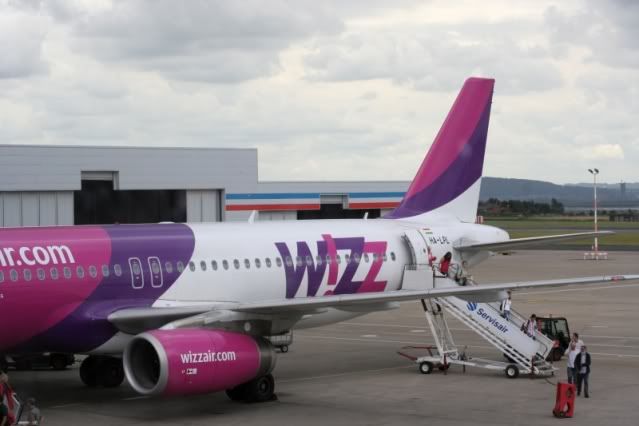 There is no assigned seating on Wizz Air, so it is first come first seated, so to speak. The F/As on this flight were absolutely gorgeous! I thought VS had some nice ones, but hey these girls were all Czech (recruited for the base at PRG) so all was good so far
Upon boarding, I chose seat 8F, which was a window just ahead of the wing. The aircraft was indeed "new", and has the new Airbus A320 interior as well. I managed to get settled in, and make myself comfortable in my seat.
View from 8F
Just before the doors closed, a flight attendant approached me (I was sat alone) and asked "Sir, do you speak English?". I replied with a positive "Yes" and the F/A asked if I wouldn't mind moving (for free) to an over-wing exit row seat, as it needed to be occupied for Take-off and landing. I immediately moved (to 12F) and welcomed the huge amount of extra legroom that this gave me. I was given a quick briefing on the emergency exit procedure, then left alone to get settled in, again!
View from 12F
New Interior (Walls, PCU's, etc)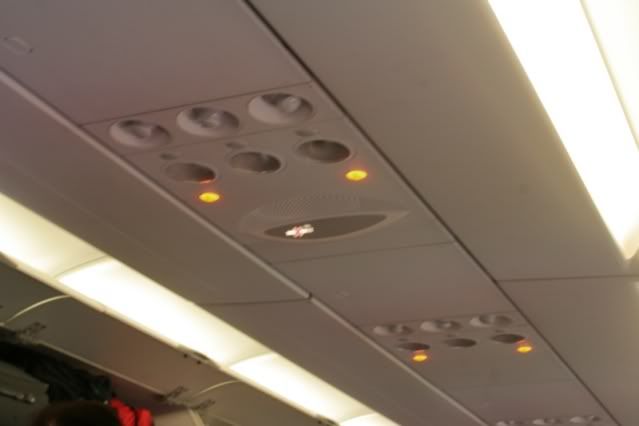 The load on this aircraft was 160 people, which made it nearly full in fact. Also, with this being only the 3rd flight on the route (it started a few days before), I thought to myself that this was indeed a very good load for a new service. We pushed from the gate on time at 12:48, and after a very quick taxi to runway 27, during which we received the safety briefing/demo, we took off at 12:55. Our flight time was announced as being 1hr 40 mins, versus the block time of 2hrs 5 mins, so we would land in PRG early, all being well. Service commenced about 15 mins after take-off, and consisted of a buy on board menu, which nearly everyone purhased food or drink from.
I purchased a Ham Sandwich, Cappuccino, Twix and Pringles - all for a total of 10 Euros. In fact, not too bad for "BoB" prices.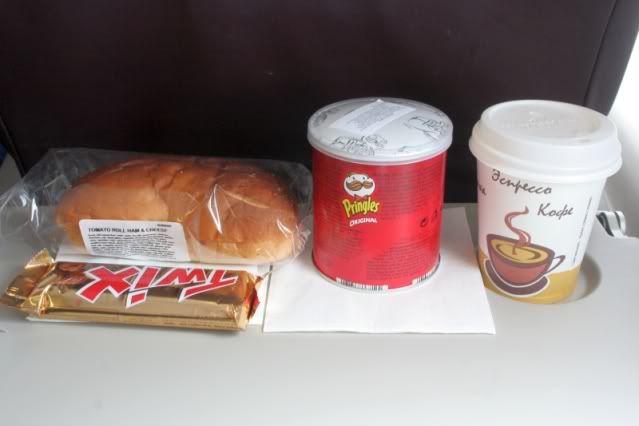 The rest of the flight was pretty much normal, and I enjoyed listening to my ipod.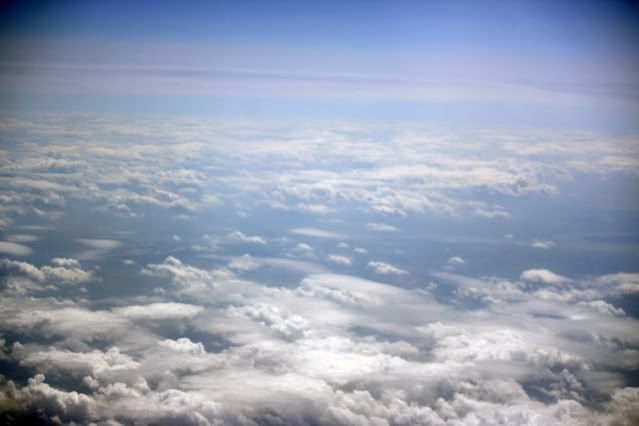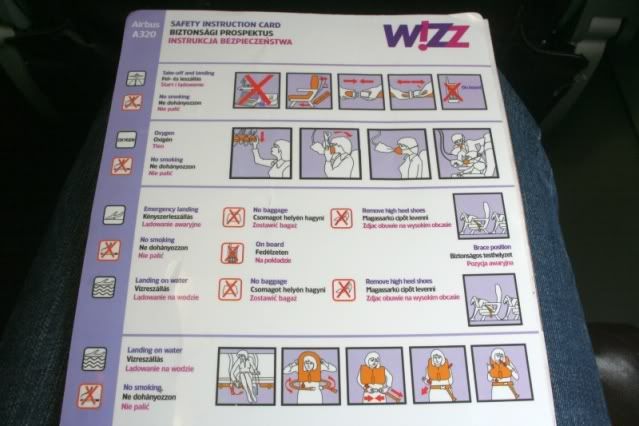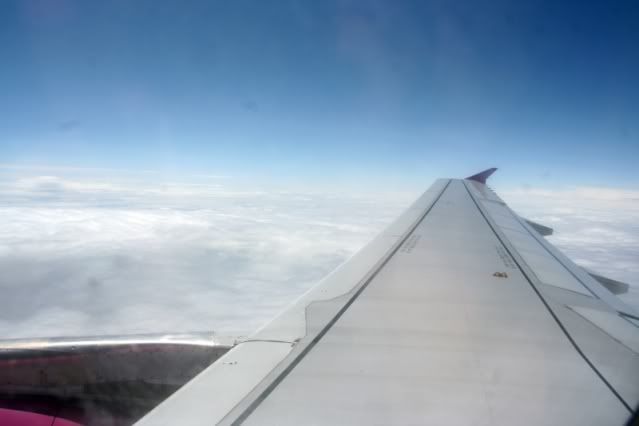 We commenced our decent into PRG at about 14:15 UK time (15:15 local), and landed at 14:40, then took a bus to the terminal. It took me 30 minutes to leave the aircraft, enter the terminal, clear passport control, baggage claim and customs. Not bad at all in fact, compared to some airports I had flown to in the past. Indeed this was my first trip
by air
to PRG - I had been 2 times before, but by Train.
Prague Landing Video
http://www.youtube.com/watch?v=2Zxls41Uev4
Some pictures after arrival into PRG......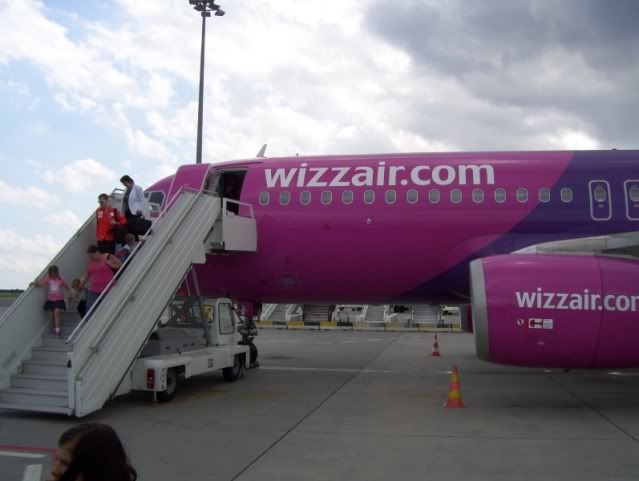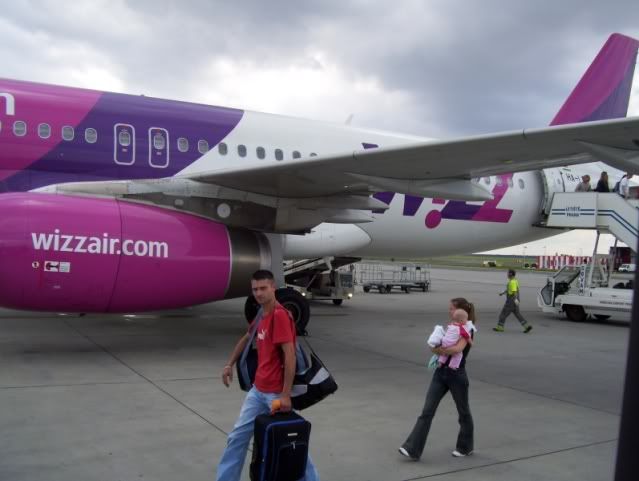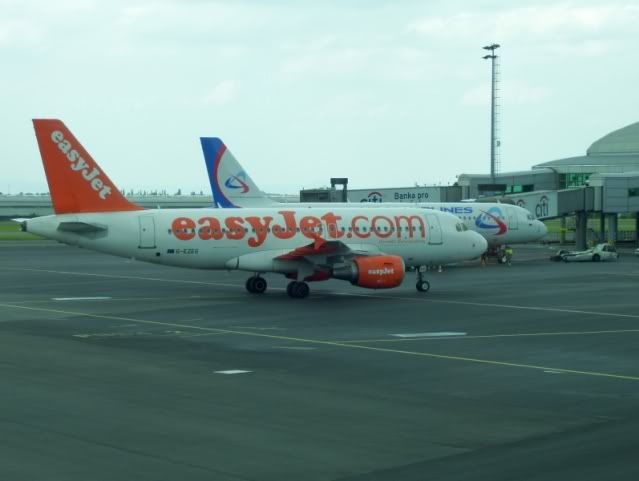 That's all for the first part of the report.