Hello all! It's my first TR, and I'm excited to be a part of airliners.net. I've been reading the trip reports for a long time, and I had pictures and stories from trips, but now I decided to "cowboy up" and share one. It's from October of 2008, but hopefully it will pass muster with the more seasoned folks.
I'm a teacher in Oakland, and I had a few days off in October. My school at the time had "Teacher's Day" in the calendar, which was pretty much a free day off. My family lives outside Baltimore, and my brother is police officer out there. Also, I have a 3 year old nephew whom I absolutely adore, and I wanted to see him and give him a toy truck (as he LOVES trucks...but he's warming up to planes like his uncle
). I went looking for fares, and they were hella expensive from SFO to BWI. So, I had always wanted to try JetBlue, as my fiancee's sister flies B6 from JFK to OAK. I went looking for fares to IAD, and found a $339 round trip ticket. When I saw that fare, I hit "purchase" and went looking for a toy truck.
17 OCT 08
JetBlue Flight 302
OAK-IAD
Depart 2:00pm
Arrive 9:57pm
I had my fiancee drive me to OAK from our bungalow in Alameda. We only live 5-7 minutes from OAK, which is incredibly convenient. A trip to SFO takes about 35-40 minutes, plus $4 fare across the Bay Bridge or San Mateo Bridge. Plus, there are usually better flights on WN to BWI from Oakland International, so it's pretty nice. For a bonus, our apartment is under the RWY 29 departure track, so I get to crain my neck up and see the daily departures.
OAK has been undergoing some renovations to modernize and compete with the bigger SFO and sleeker SJC. I had checked in online, so I bypassed the lax hired security outside and went straight to security.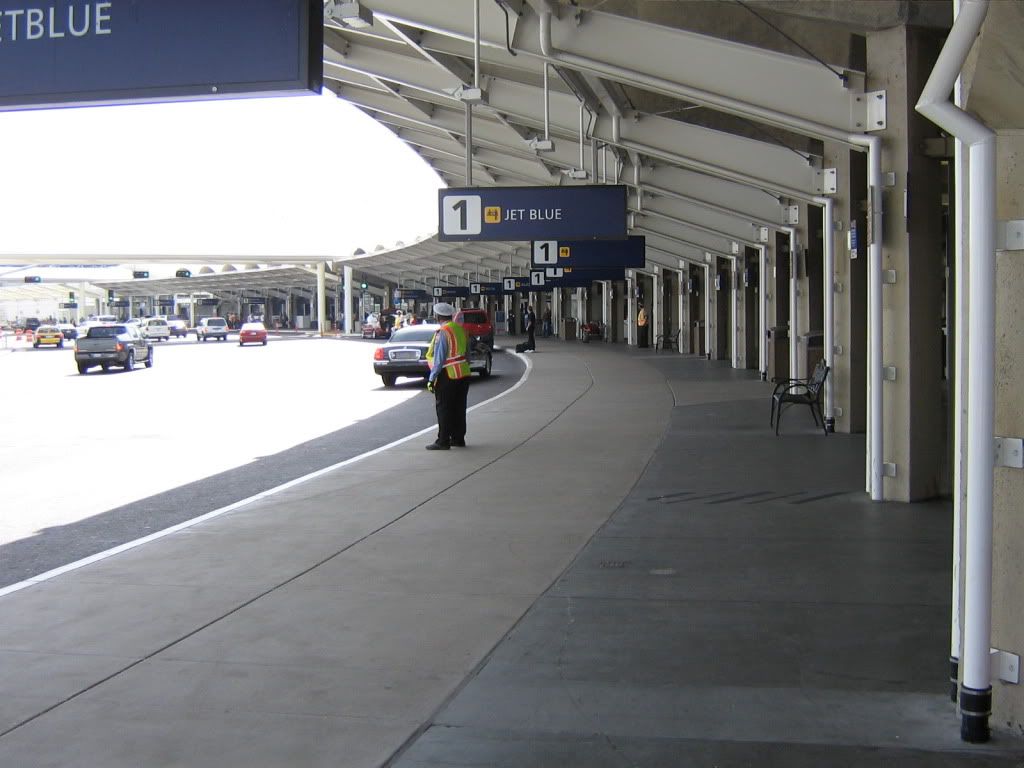 Outside of OAK
B6 and UA check in counters
Security was a breeze, and after picking up a Chicken Caesar Salad and a SF Chronicle, I proceeded to my gate. Terminal 1 was a construction zone, so I was ducking scaffolding and drywall shavings. Terminal 2 (where WN is located) deserved a tour, so I stopped to take some pics of their operations.
Some WN action
Closeup WN action...love those 737's!
I walked back to Terminal 1 and tried to catch some sights. However, with a hidden view of a SkyWest CRJ, the only great view I had was of my bird to Dulles. Sorry, no reg.
The ride to DC
Closeup of that Airbus beauty
I sat for a while and watched the ramp activity. It made me long for the days when I was working the ramp at MSP, uploading, downloading, and pushing birds back for an on-time departure. Soon, boarding began and I took my seat in 5A. I upgraded to the extra legroom portion, not knowing how JetBlue's normal legroom spacing was. My seat was worth the extra $30.
Nice legroom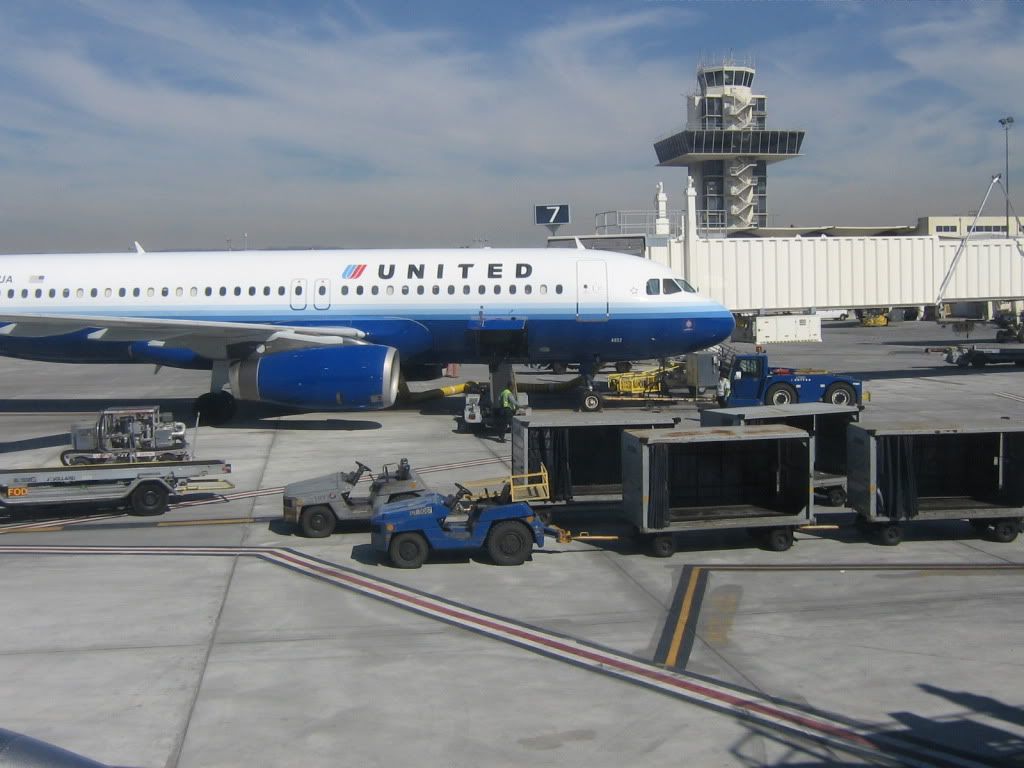 View from my seat
A family across the aisle asked if they could sit together, so being a nice guy I changed my seat to 5F. I still had the legroom and view, so I couldn't complain.
View from 5F
We pushed back, and followed a US A320 to RWY 29 for takeoff. Once we got off the ground, the views were stunning! I was so glad I changed my seat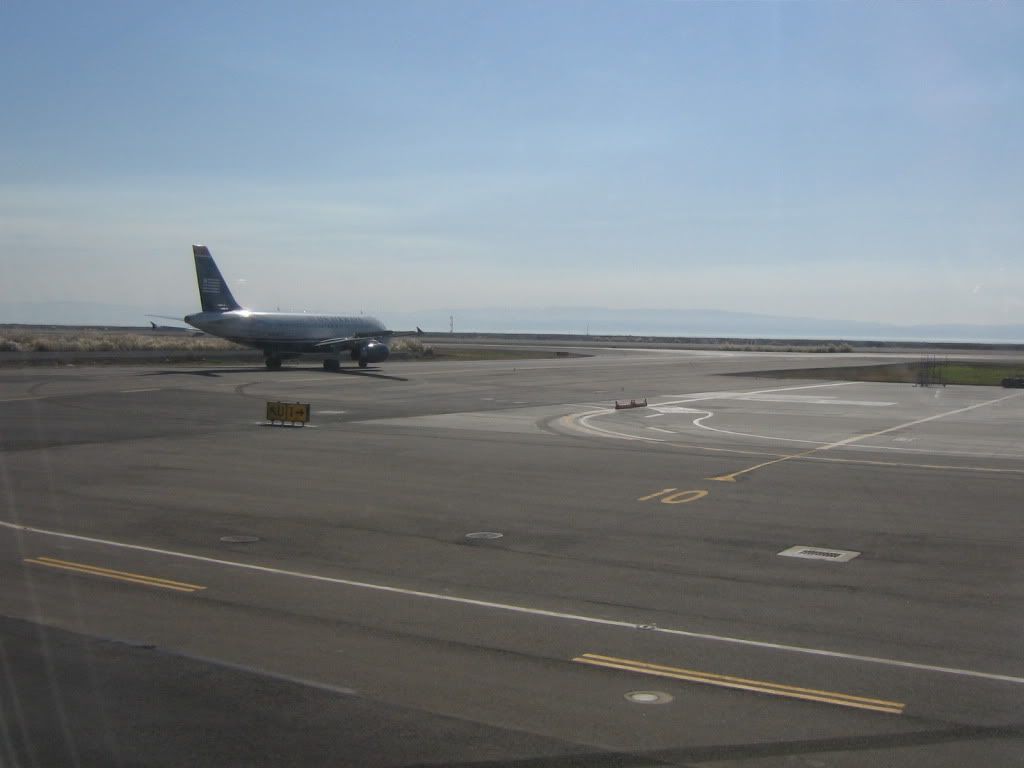 Lineup...soooo busy here at OAK!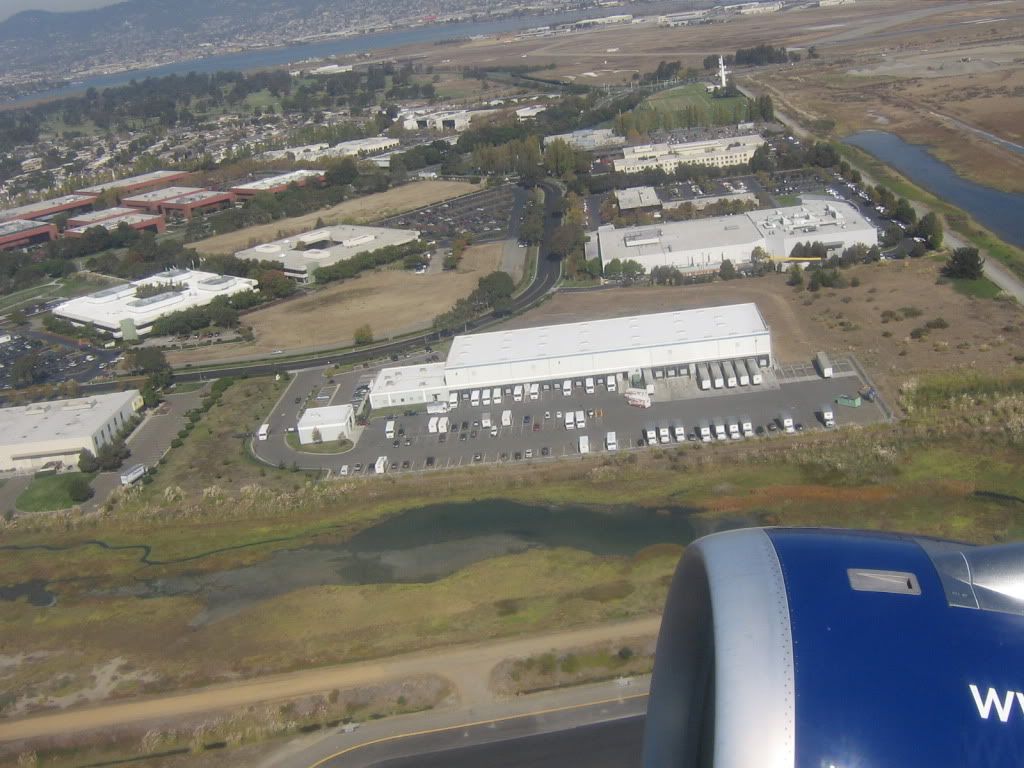 Rotation...Oakland Raiders facility at top right of picture
View of East Oakland and Fruitvale District
Alameda Marina...somewhere is my apartment
Downtown Oakland and Port of Oakland
More of Downtown Oakland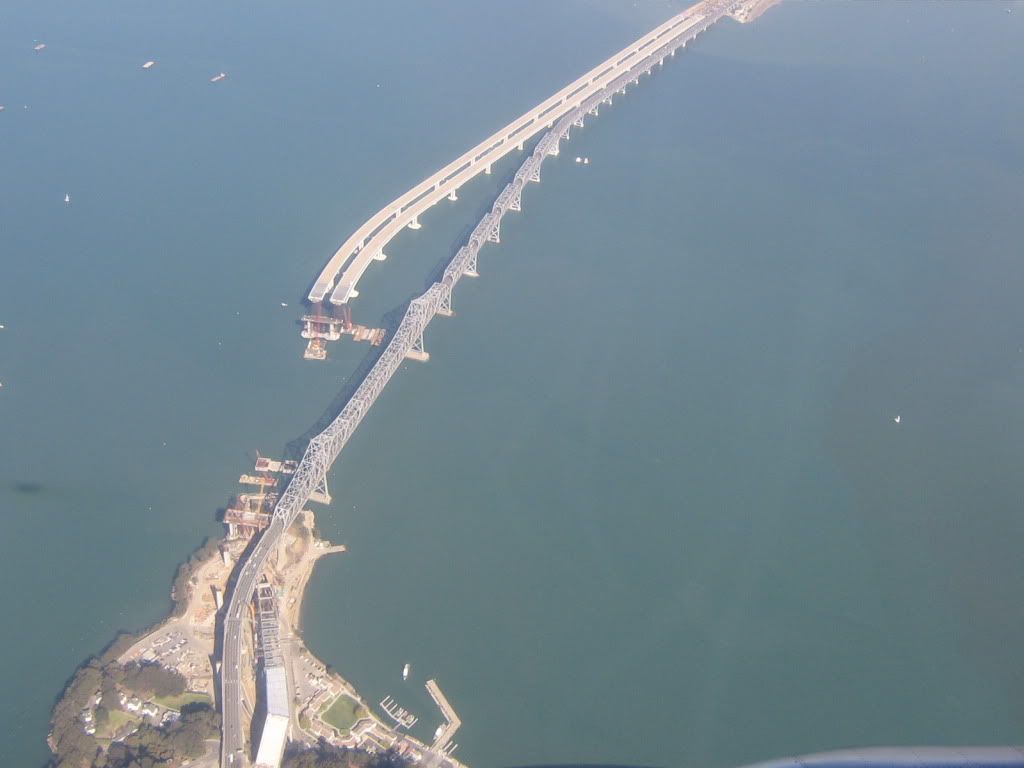 Old and new spans of Bay Bridge
Emeryville Marina, Bay Bridge Toll Plaza, and the old Oakland Army Base
Once we reached a cruising altitude (which was smooth as silk the ENTIRE way to IAD), I settled into my seat and DirecTV. I thoroughly enjoyed the Dunkin' Donuts coffee and Terra Cotta Blue Potato Chips (which my nephew thought looked weird). I snapped this photo before "Countdown with Keith Olbermann" started...this is why I love flying and aviation so much!
Just beautiful
After "Countdown", I took a little nap and watched the moving Google map to see where we were. Our track took us over Reno, Denver, Wichita, Louisville, Charleston WV, then direct into IAD. I didn't get any pictures, as my camera stinks at night time photos. However, I did get a few of the IAD checkin at night as I was leaving.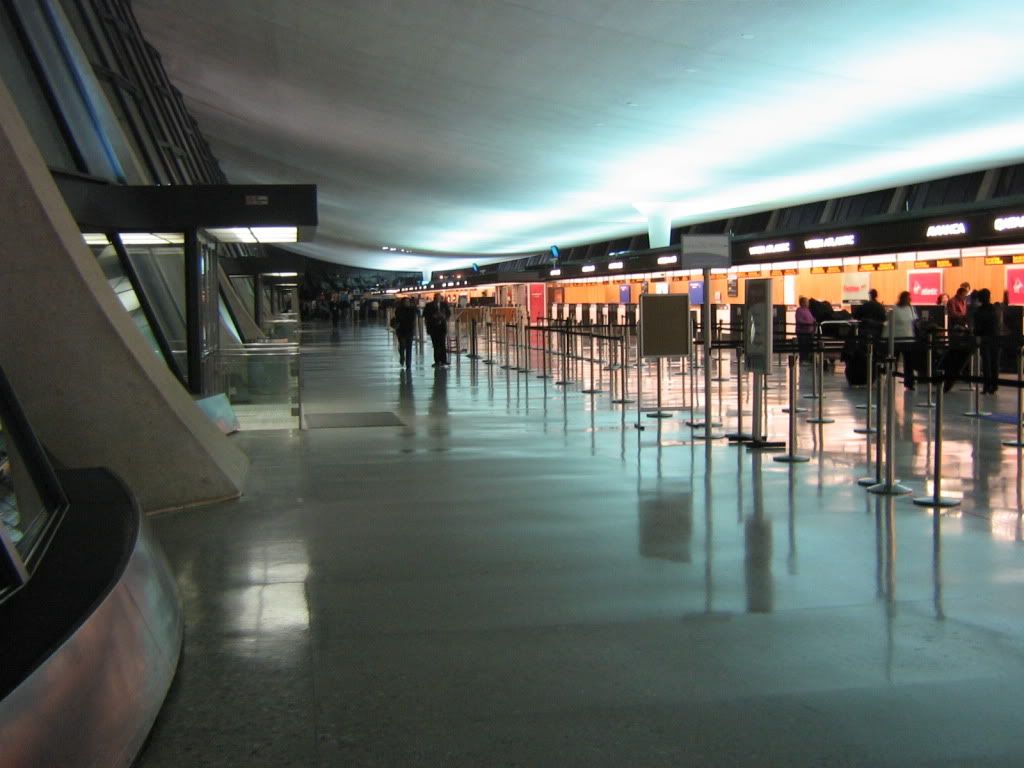 I got home, slept, and the next morning I was awaken by the stomping of little feet and screams for me to "GET UP!" and "COME ON!" to play. Also, he loves donuts, as I bought 3 glazed donuts from Dunkin' Donuts and he immediately inhaled one. I got him a blue pickup truck that he still adores to this day. As a token of his appreciation, he gave me his stomach flu he was fighting. Here's a picture of him goofing off for the camera.
Here's the little nephew
I hope you enjoyed my first adventure with TR's. I'll be back with another for my upcoming trip OAK-DEN-DSM-SLC-OAK. Take care!