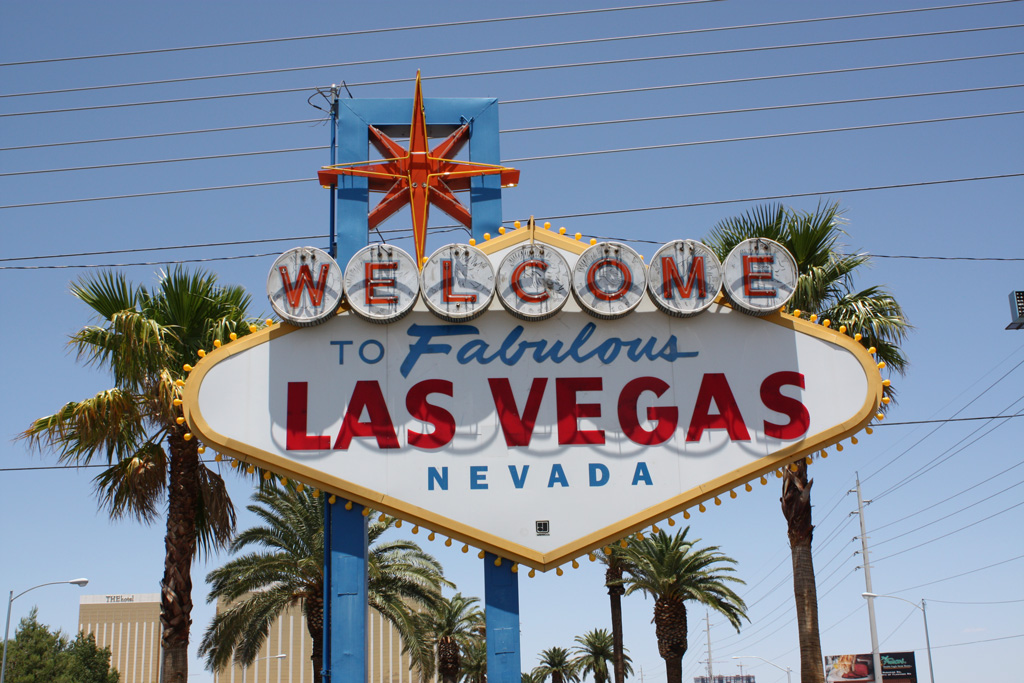 Background
BA had a superb mileage redemption offer at the back end of 2008, basically 50% off of all mileage required, with offers like this, you just have to travel!
The question was where to.................................
NYC was hot on the list (always will be) as was DXB but we opted for Las Vegas, Mrs BA319131 has not been before, the weather would be good in July (when we planned to go) so we booked a short trip.
At time of booked there were just the 2 of us, these days we have Fred, our 7 month old basset hound. Since we were going away we had to find a good home for Fred, kennels were not an option, he is too much of a peoples person, he would hate being stuck in a cage without company all day. Thankfully we found a company specialising in looking after dogs when the owners go on holiday, Fred to would get a holiday of his own with some nice people.
Fred was picked up at 9am, our pick-up was at 11am.
Fred relaxing before his pick-up
Our pick-up:-
The ride to the airport was easy, no real traffic issues at this time of day, some 30m minutes later we were pulling up outside T5.
Somebody looks happy to be going away.......
09.07.09 BA289 747-436 G-BNLW 62A Club World
1st Flight on this aircraft & 18th 747 Flight
SCH DEP 14:35 SCH ARR 17:20
ACT DEP 14:34 ACT ARR
View Large
View Medium


Photo © Flyoverfred
View Large
View Medium


Photo © Florian Kondziela
Heading inside scanned the passports and out popped the boarding passes, then to the Club World bag drop area before heading through security.
Security was pretty quick though I'm sure there were fewer people in the regular lines than the priority lane!
Security done it was off to the South Galleries.
Travel money had been pre-paid and was awaiting us at the Travelex outlet in the lounge entrance, money in pocket a quick stop to book MrsBA319131 into Elemis Spa for a massage.
One in the lounge we managed to find a couple if window seats, I got snacks and drinks, MrsBA319131 when shopping...............
Here are a few lounge shots:-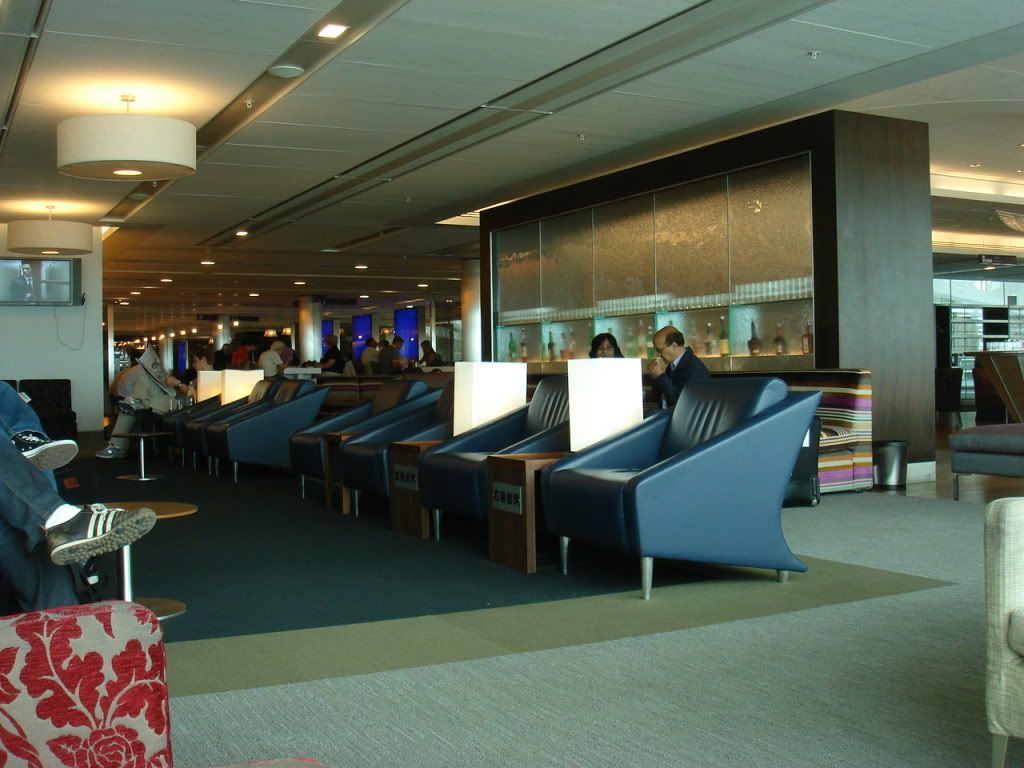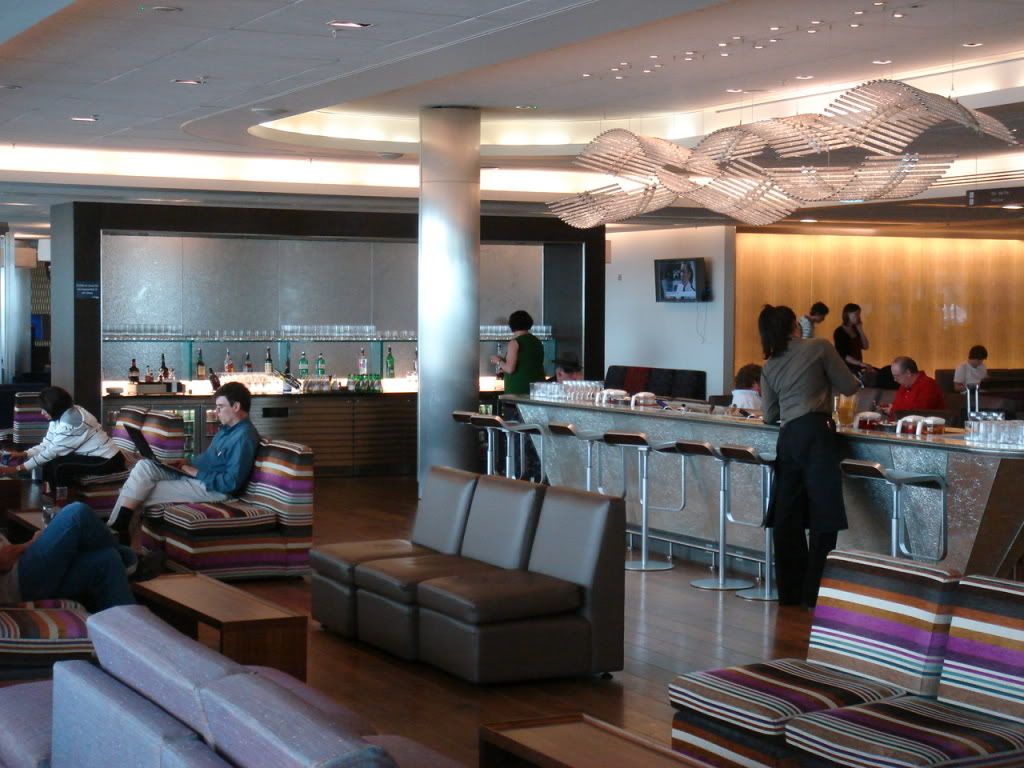 Snacks & drinks:-
Around 13:30 the FID showed gate open
so we collected our stuff and took a slow walk to the gate.
For those unaware, the A10 gates are bussing gates on the lower level, ours going out of A10a.
This was a full flight today, not sure why they decided it was better to bus a full 747 rather than an A319 flight on a domestic service?
The gate area was a complete shambles, people all over, no orderly queues and an apparent lack of busses.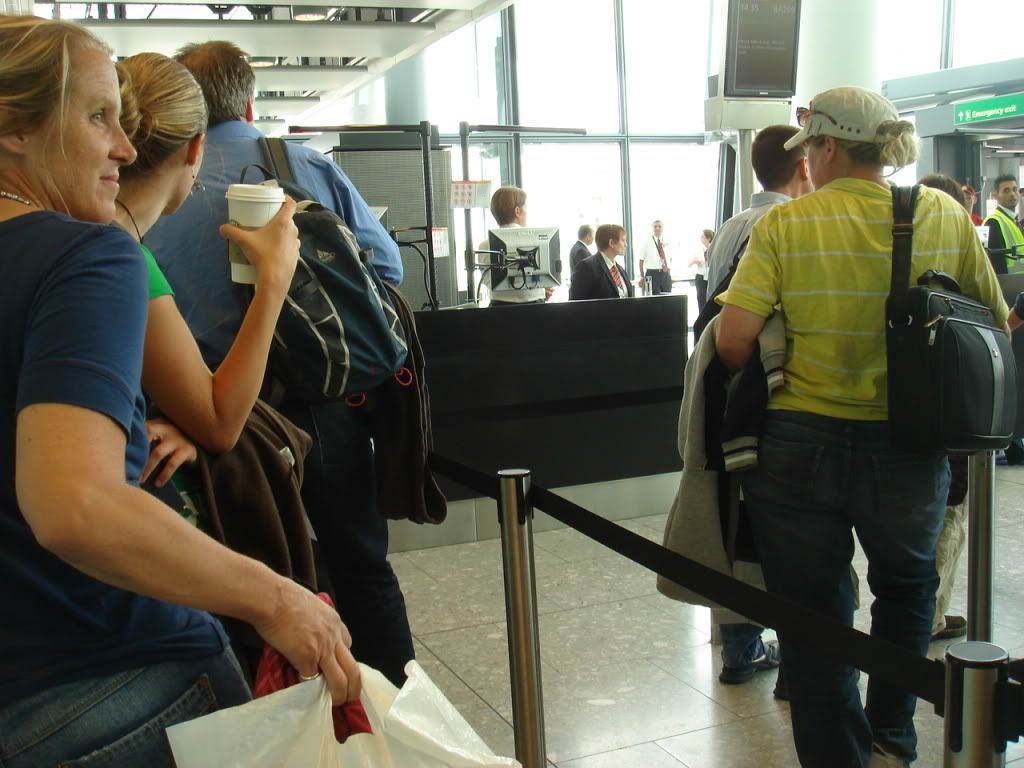 The area lacked any signage for First, Business etc so everybody was scrummed up together, really very poor, whilst being annoyed myself, I'd be really annoyed if I was a fully paid up First Class passenger, this is not what you expect.
Anyway, we finally got on a bus, here are a few pictures en route to the plane:-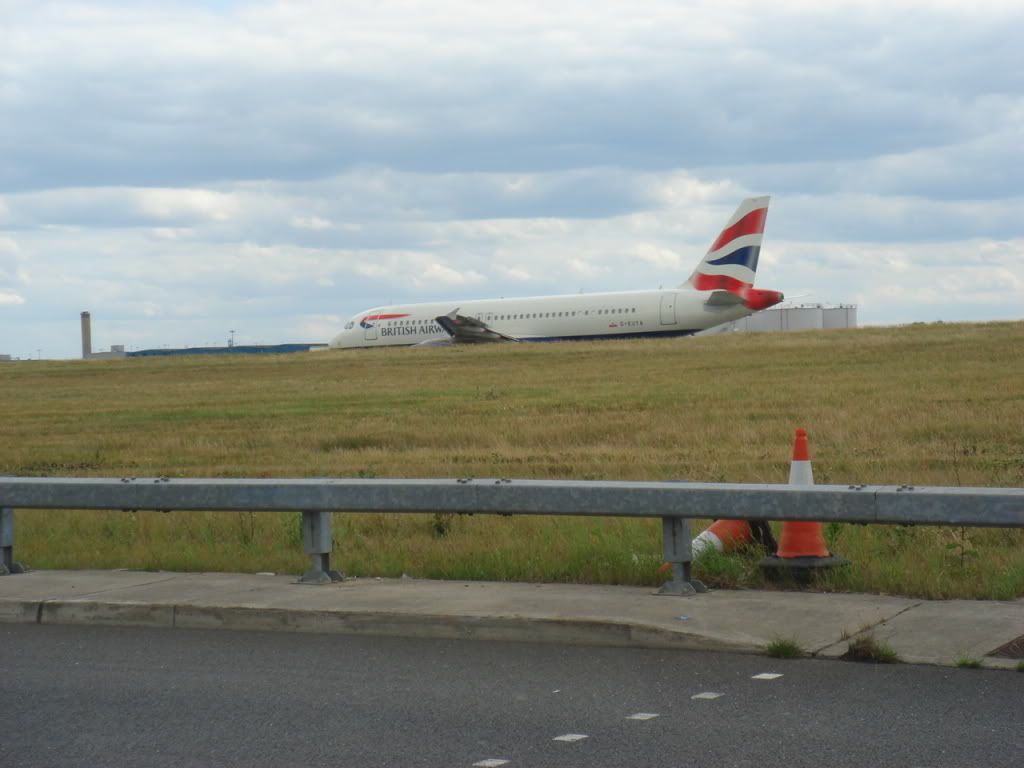 Our plane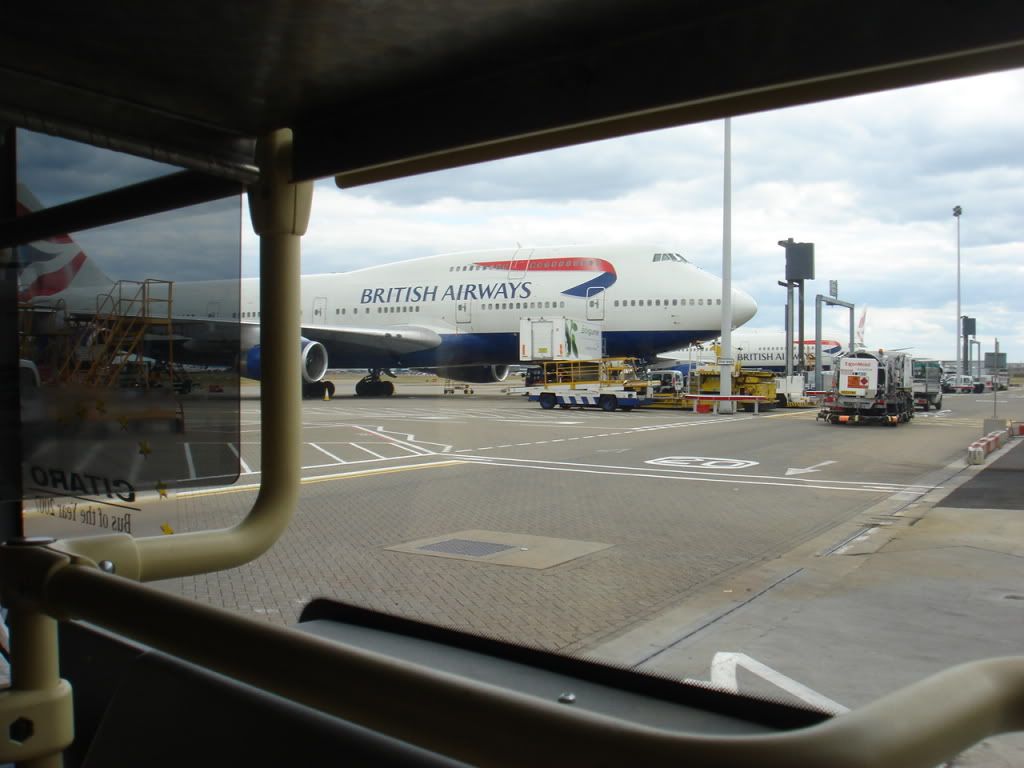 Going up the steps, best picture I could get
We were aboard around 14:20 and headed upstairs to our seats.
Stowed stuff I might need, saves getting it out of the overhead in flight.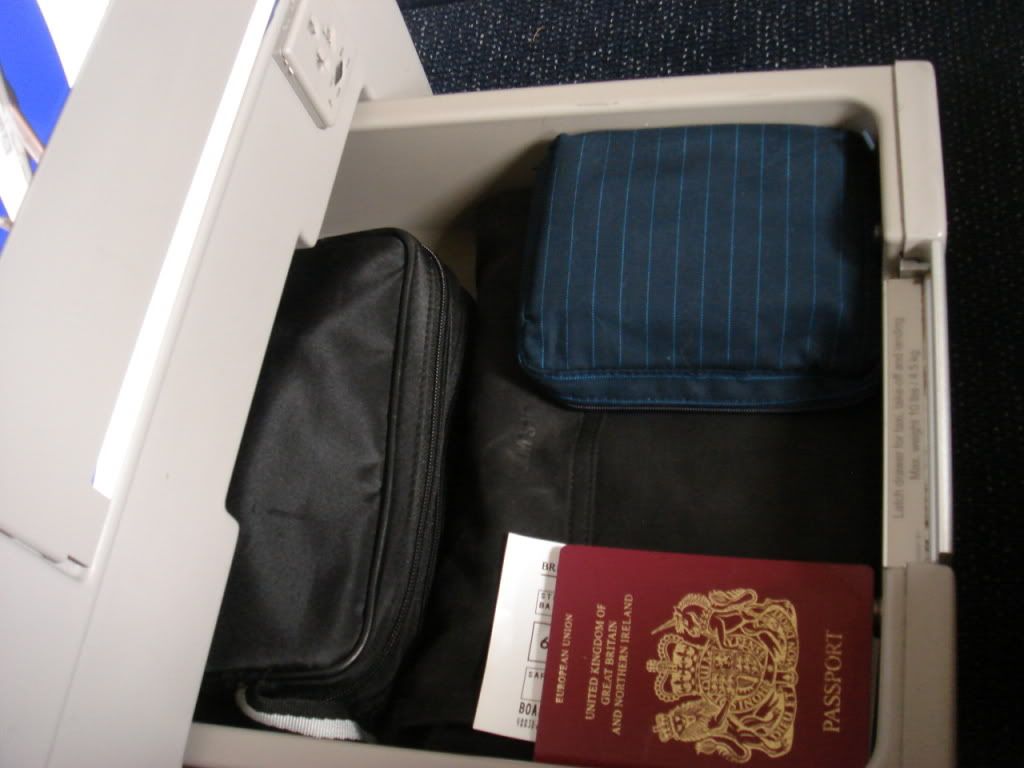 What's outside?
No sooner seated than champagne, OJ & water offerings were made by one of our 2 FAs.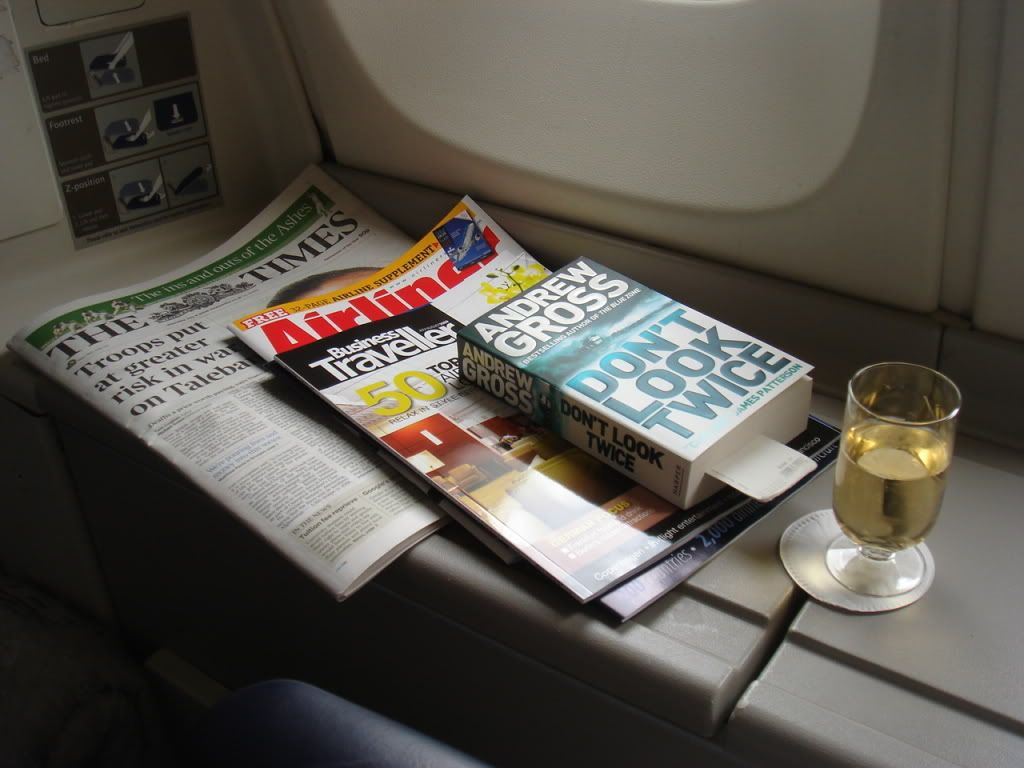 Push back occurred 1 minute ahead of schedule. Not long after the safety demo was complete the front office advised we had an engine problem and engineers were on the way to have a look.
During the wait Bailey & Colin came round with drinks, took more champers, it's ok, I'm on vacation!
View outside my window
After 2 glasses the front office came over the PA to advise the plane was broken, we would taxi to remote stand and return to the terminal whilst an alternate plane could be sourced, repairs to this one would take quite some time! Bailey re-appeared and offered more champagne, I think she thought we might need some!
The Captain and CSD both made announcements about the problem, both sounded very apologetic about the problem and expressed their hope that a replacement aircraft could be sourced quickly so they would be able to travel with us. I thought these were nice touches by the crew.
Busses soon appeared and we returned to the terminal.
Here is a picture of the offending engine:-
Plane from the bus
Nobody on the bus was griping about the delay, perhaps because of the way it had been handled so far?
Back to the terminal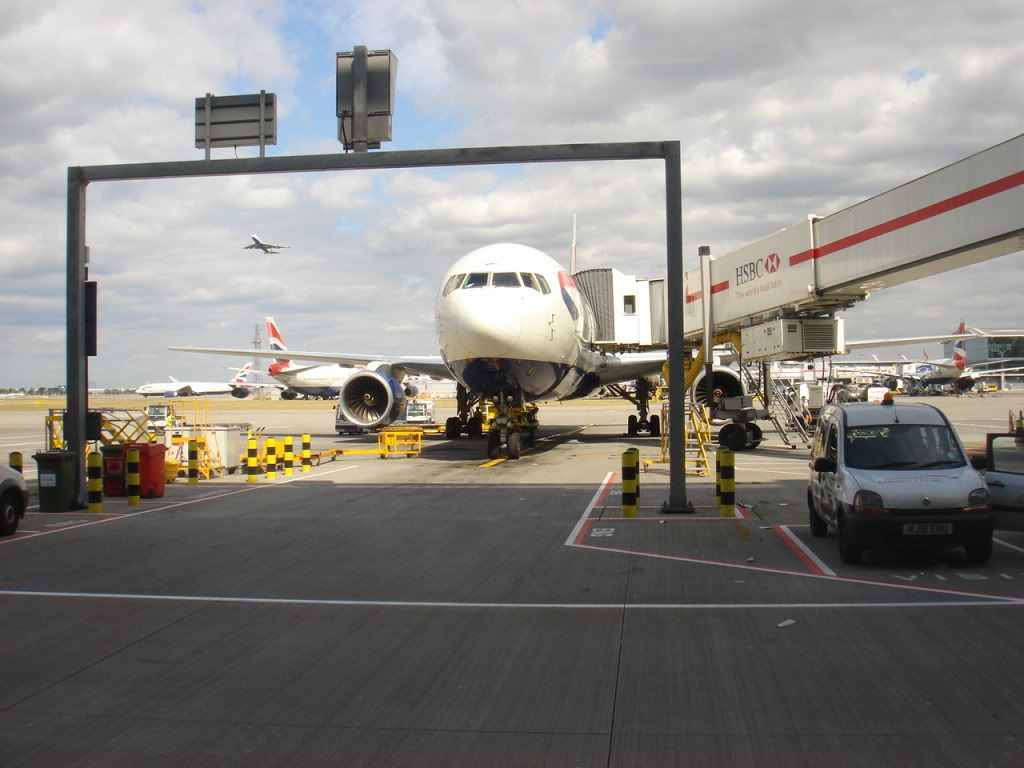 Passengers had been advised to go to the customer services desk in the arrivals area for food/drink vouchers, we headed back to the lounge and stopped by the lounge ticket desk to let them know we were back!
Found some more window seats, since we were likely to be here a few hours, time for more food & drinks:-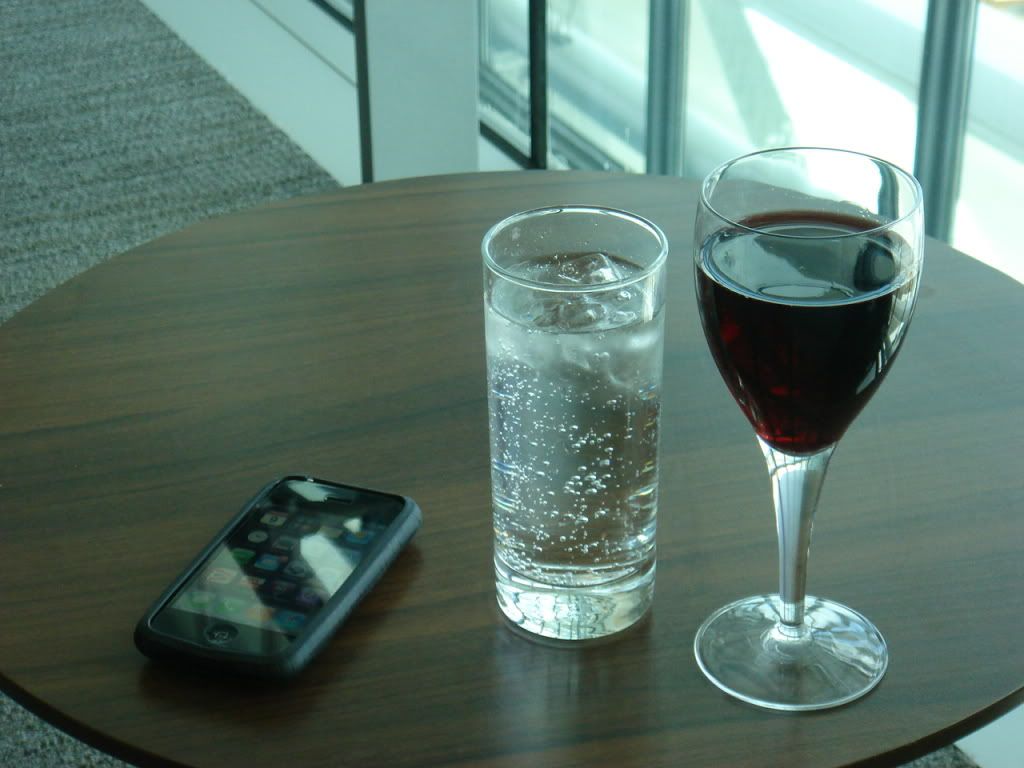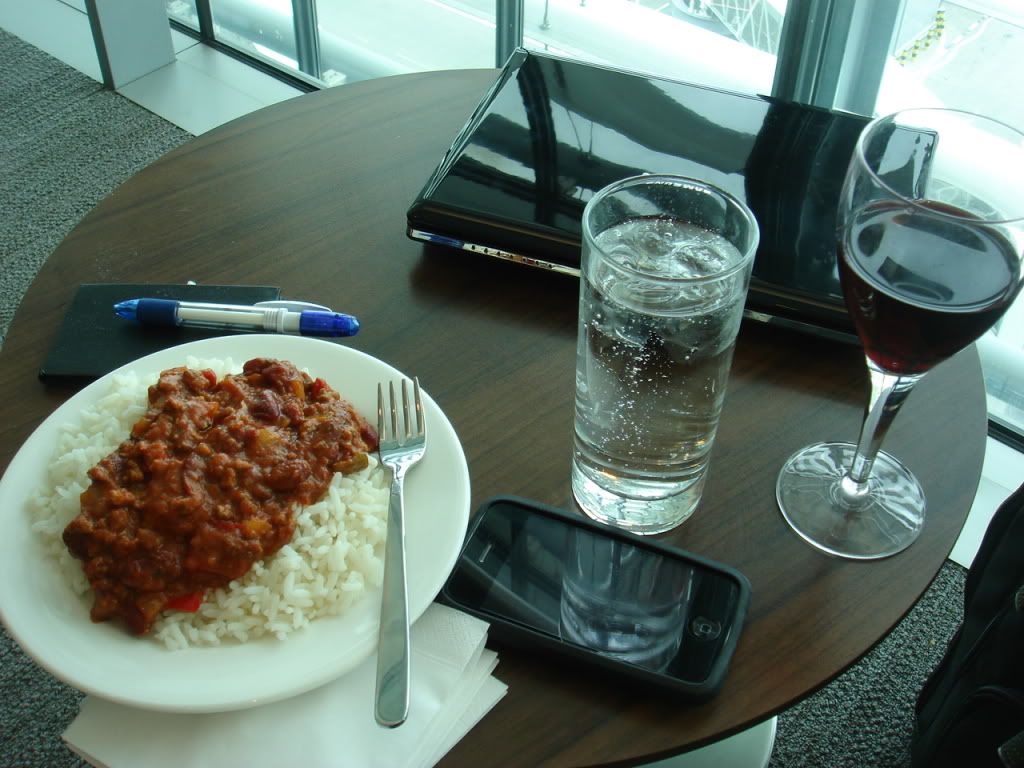 Flight 289 finally re-appeared on the departure board, new departure time of 18:45.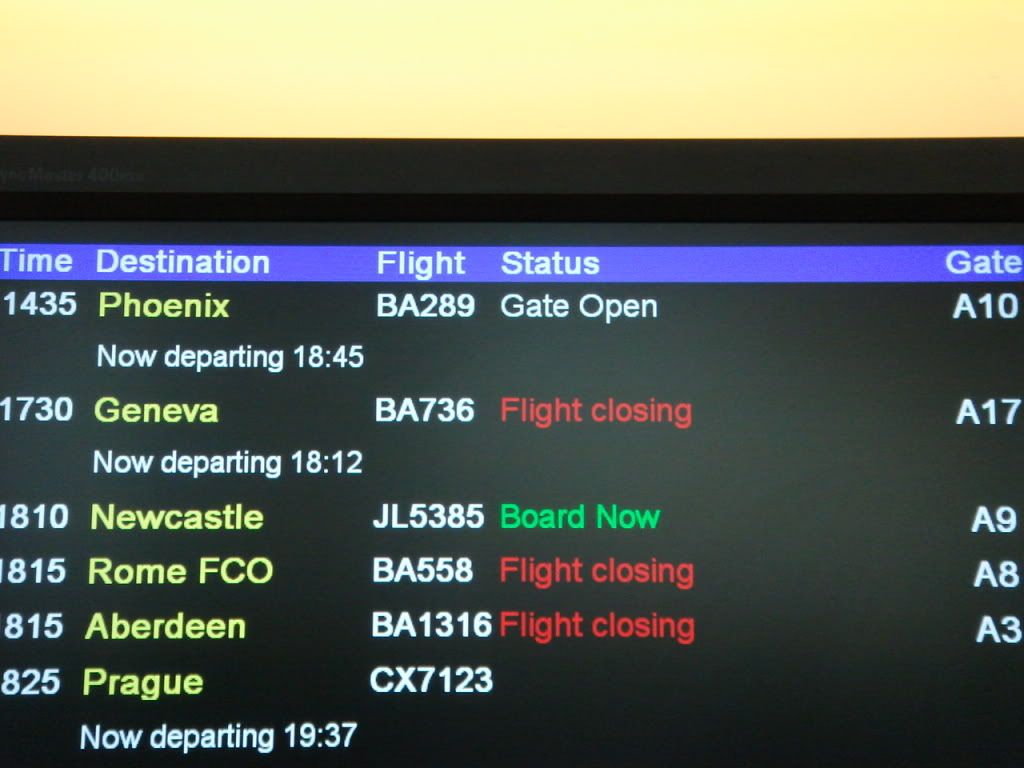 Our connection was toast, there was no chance of reaching Vegas that night, Mrs BA319131 booked a hotel close to PHX so we at least had a bed when we arrived. I decided not to worry about re-booking the US Airways flight until we got to PHX, what would be would be, worry about it then.
During our lounge wait we had a good chat with the people sat in the seats behind, they too were on our flight, real nice people, had a good laugh with them. They lived in the Phoenix area so no worry of a missed connection.
We left the lounge about 17:45 for the flight, boarding was again from A10 & started around 18:00, there seemed to be more busses this time.
The bus pulled up by G-BNLL, this was our new bird to PHX:-
09.07.09 BA289 747-436 G-BNLL 62A Club World
1st Flight on this aircraft & 18th 747 Flight
SCH DEP 14:35 SCH ARR 17:20
ACT DEP 18:41 ACT ARR 21:15
View Large
View Medium


Photo © Allan Huse
View Large
View Medium


Photo © Frank Schaefer
View Large
View Medium


Photo © Frank Schaefer
At the main door we were greeted by the same crew as before, they all seemed in pretty good spirits and pleased to see us all again, really nice.
Colin & Bailey were ready with the OJ & water on the top deck, the champagne was still chilling!
It seemed quite jovial upstairs, I guess we were all pleased to be back on a plane and heading off soon.
There is our broken bird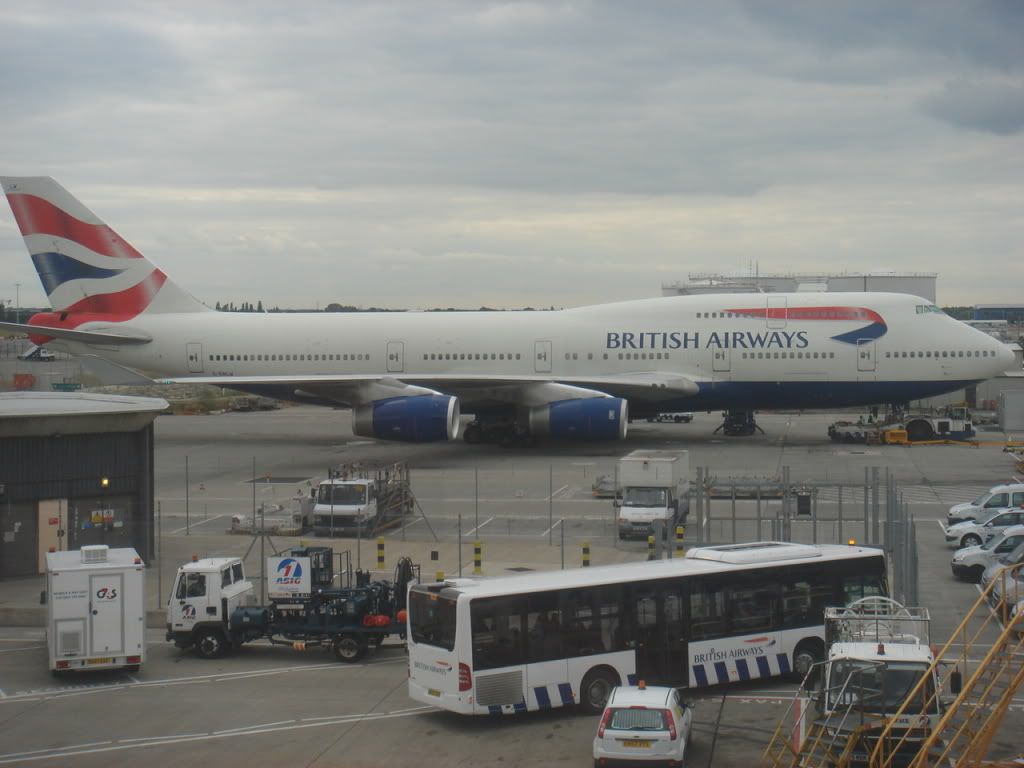 Pushback occurred 4 minutes ahead of the revised departure time, safety demo played again as the plane slowly headed out to 09L for departure.
No queue for departure at this time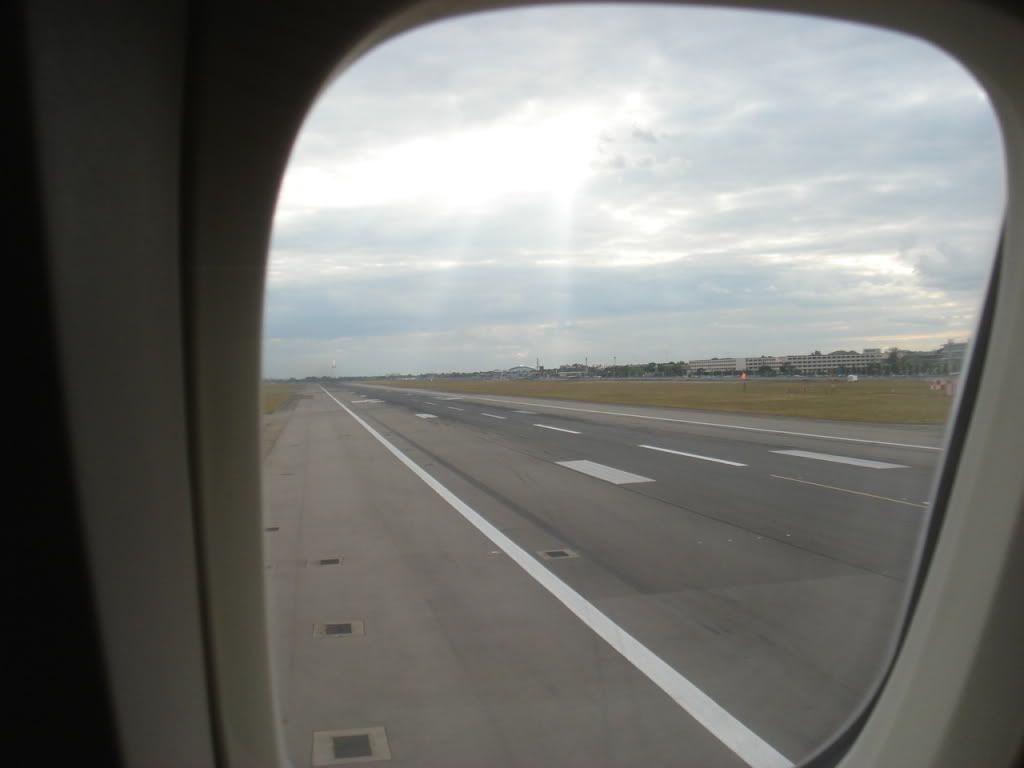 wheels up & 19:02.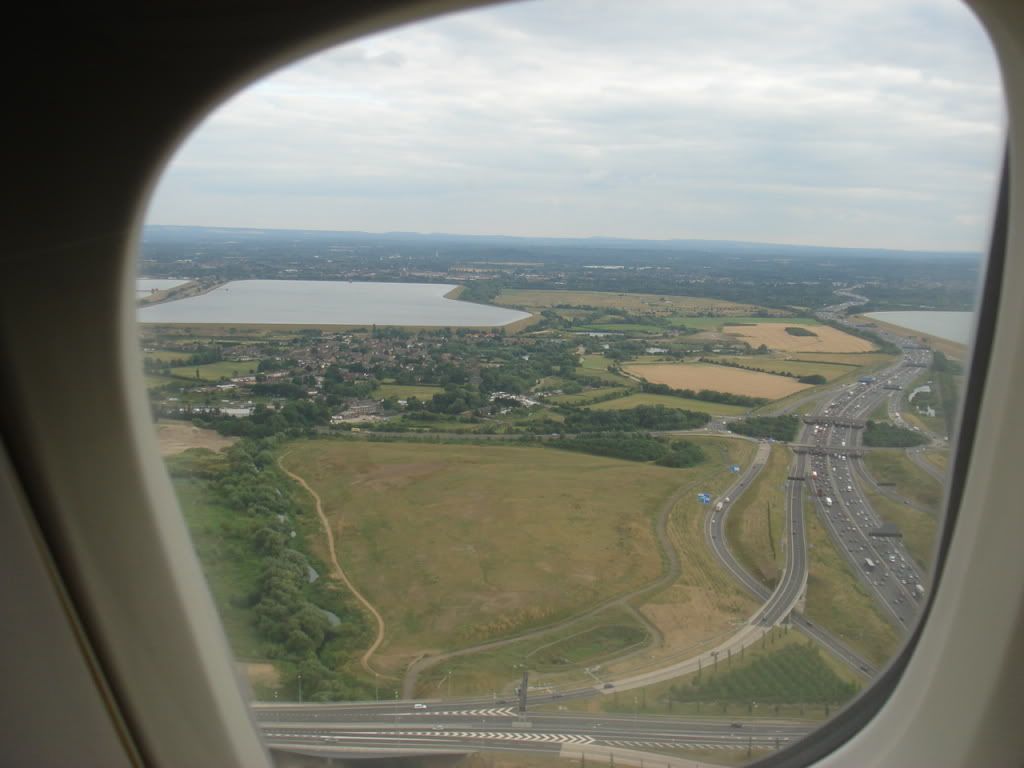 12 minutes into the flight menus were distributed, seems during the plane change not enough had been loaded so we had to share,later I had to ask for amenity kits as they had not been distributed, again appears not enough had been loaded to they were issued on a request basis.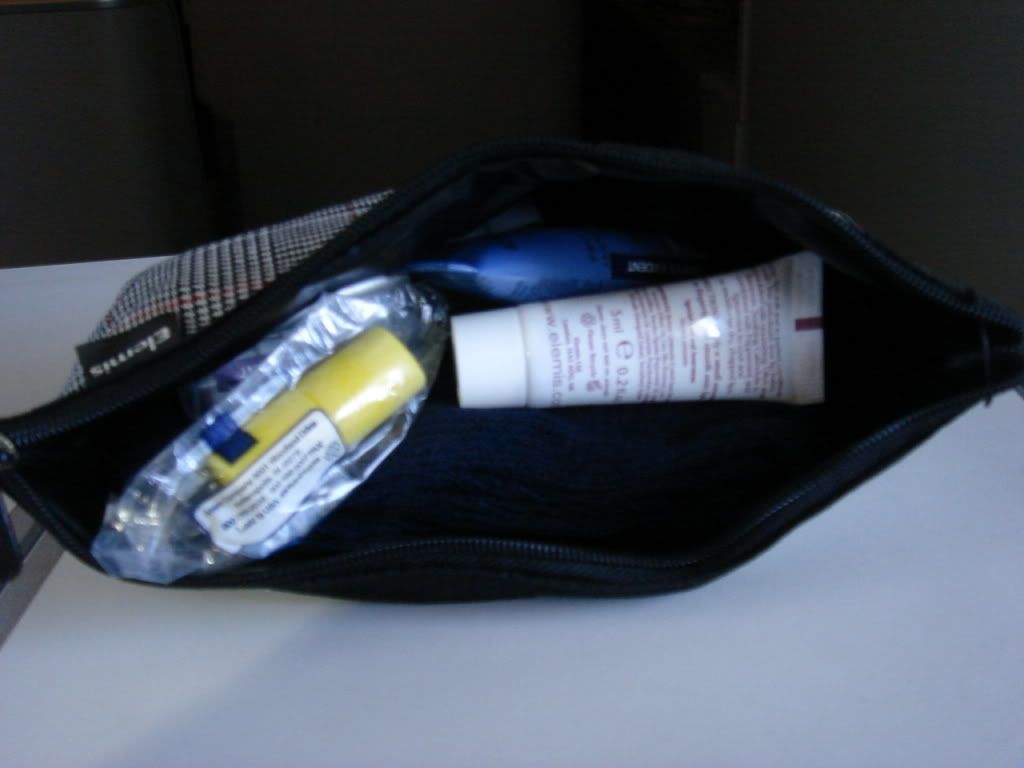 Drinks service started 20 minutes into the flight, along with the standard packet of nuts, I decided to stick to the champagne, trying not to mix the drink types too much today.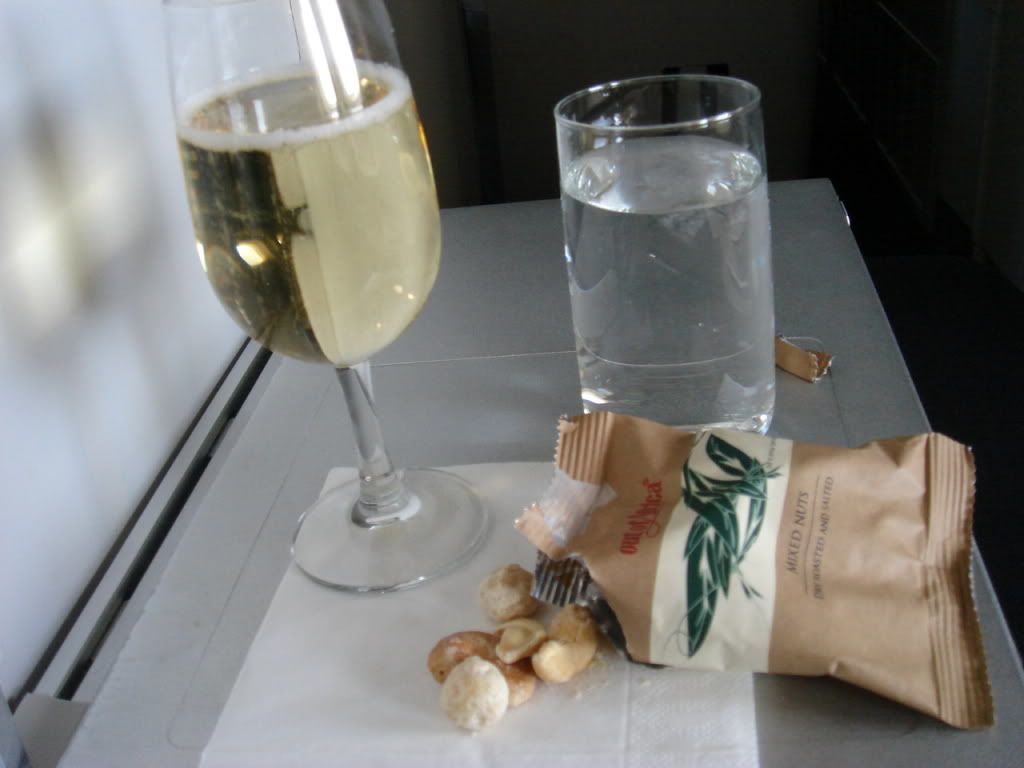 The main meal service started quite quickly, I think the crew decided to expedite the service to allow more sleep time, good move.
The starter was a choice of Potted crab with spelt bread or Pea Jelly with Parmesan shortbread, I took the latter, was ok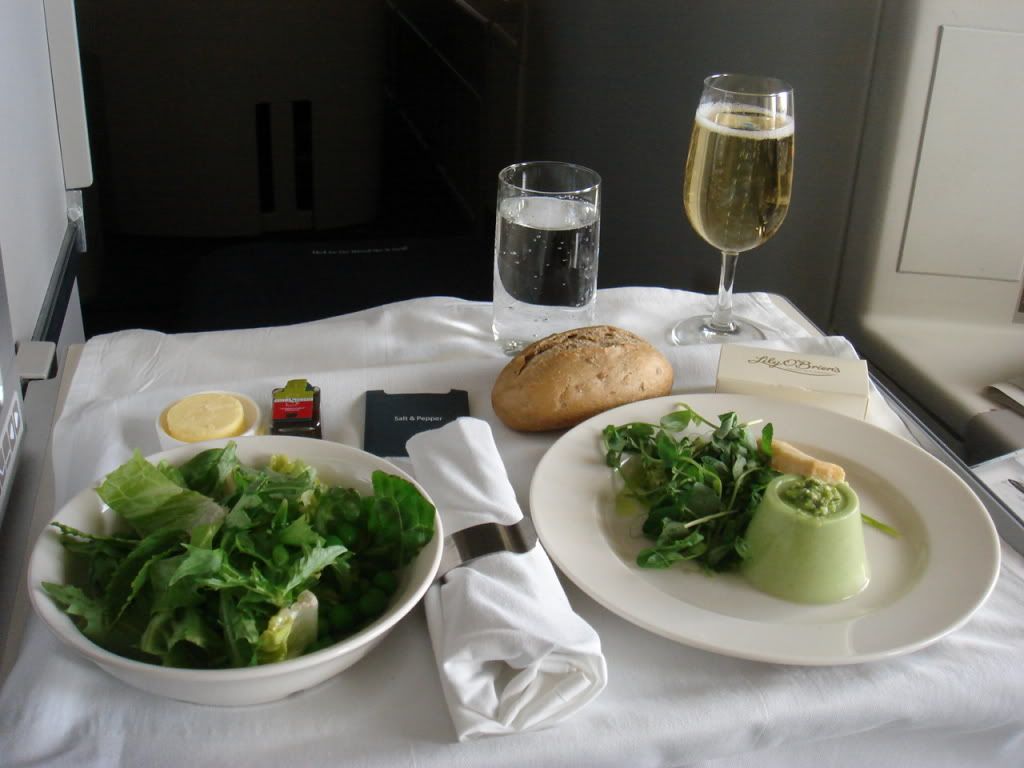 Mains were a choice of Cass Titcombes lamb stew, Duck confit, Haddock or a chilled main of smoked chicken.
I took the duck, nice but the lamb was better, tried the wifes.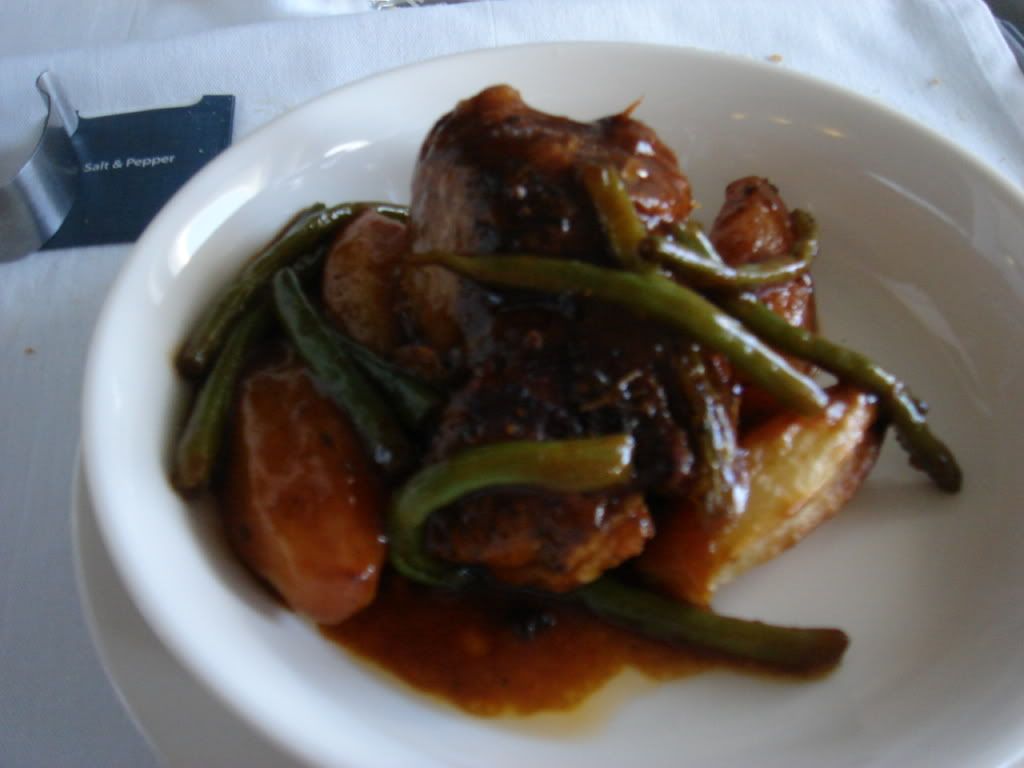 Desert was lovely! - Strawberry & vanilla delice with pistachio creme anglasie.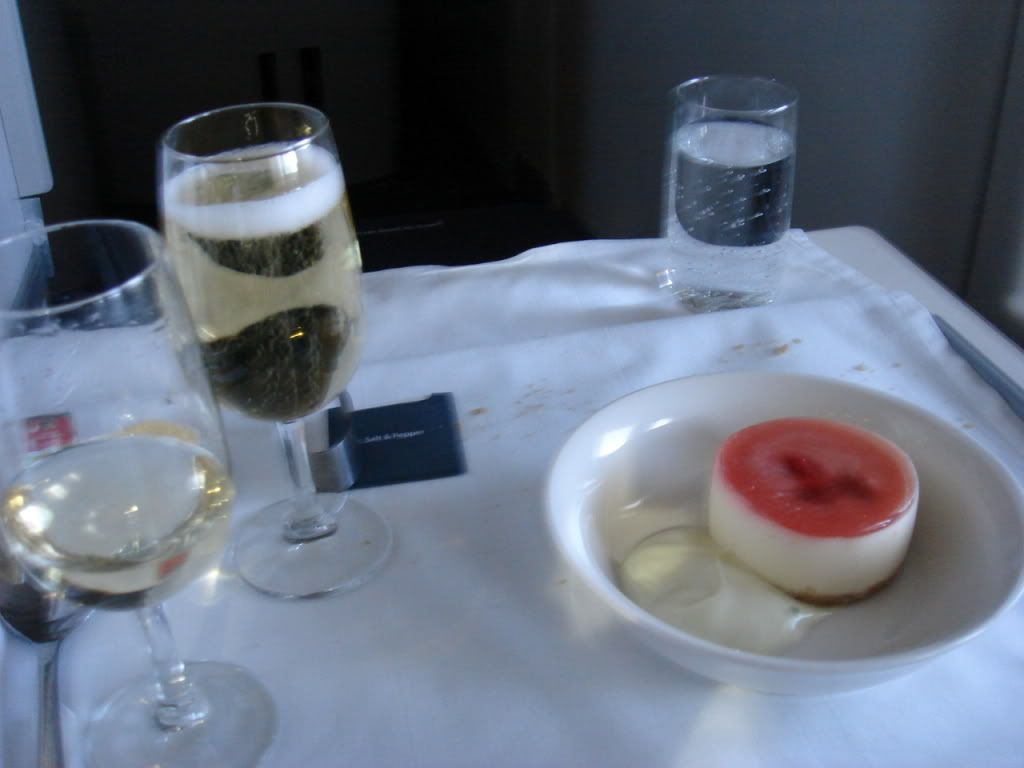 Cheese - not mine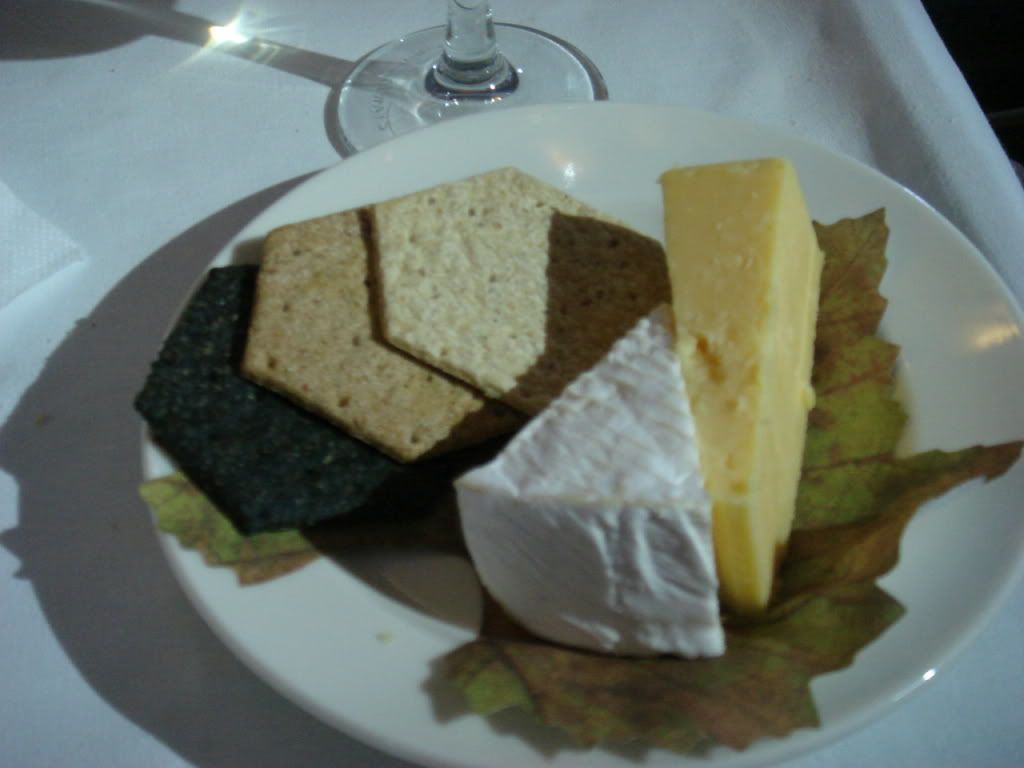 After the tea/coffee service, the lights were dimmed, I went for a quick walk around the plane before sitting down with the i-phone for some music.
Economy
CW Lower deck
I think the long day and rather large quantities of wine & champers had taken their toll, I slept pretty much all the way through the flight, just waking once for a drink
Seat controls in the dark cabin, I really like this picture.
The pre arrival snack, this was served about 1 hour 40 prior to arrival, salad or sandwich.
I took the salad, I find them nice and refreshing after a long flight.
After the plates were cleared we had about 20 minutes or so until the cabin was secured for arrival, as usual, everybody needs the toilet!
Descent and nothing much to see other than lights from below, difficult to make anything out.
Wheels touched down at 21:15 after 10 hours 13 in the air. A short taxi to the gate followed.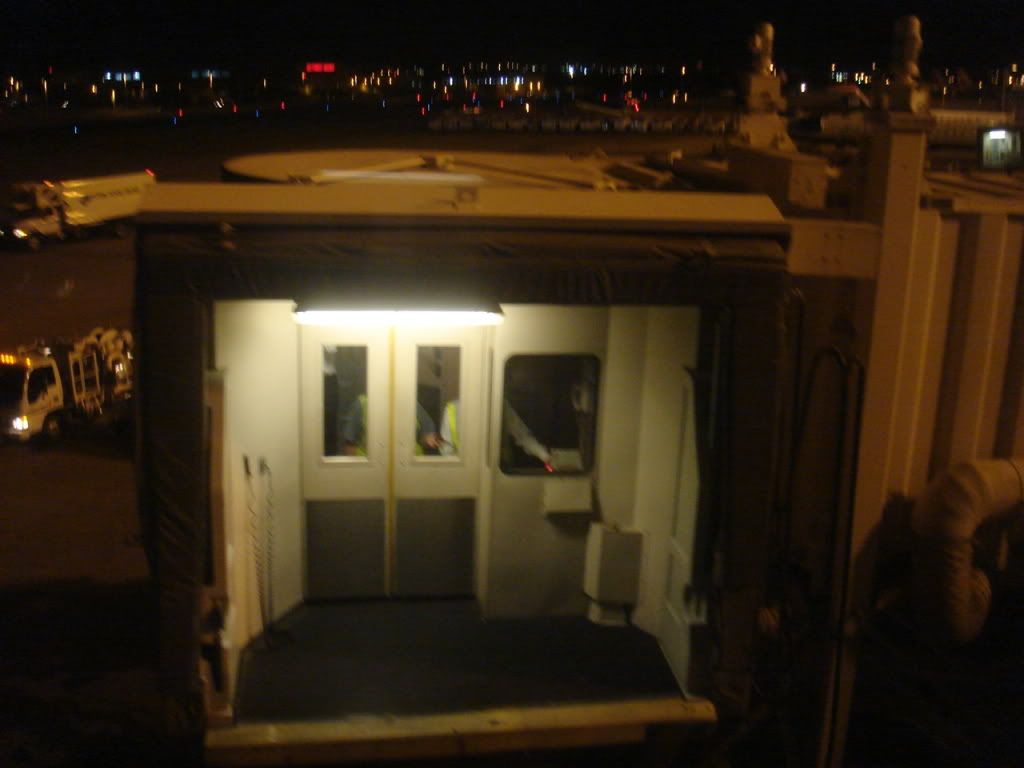 We were the last to leave the upper deck
had a quick chat with Bailey thanking her for a great flight before leaving the plane for immigration.
Despite leaving the upper deck last and many other passengers having left ahead of us, we were very early in line for immigration. There were 2 agents open aliens, we were 3rd in line for the second agent, this would later prove to be a result.
We stood for a long time before an announcement was made there were computer problems, it basically said we would wait in line until the computers came back up.
Of the 2 agents serving us aliens, only the lady in our line appeared to by trying to get the system up or finding some way of getting us all moving.
The 3 agents serving US nations were by now all finished, they all sat and did nothing or chatting with one another, they certainly did not appear interested in looking for a way to help out the aliens.
After about an hour they resorted to a back-up method, basically the old system where they just look at you, your passport, ask a couple of questions then stamp you through, been a while since that happened!
It was lucky we were so close to the front of the line, goodness knows how long the last in line would have stood for before they were cleared!
The baggage carousel was a nightmare, bags everywhere and it had backed up too, this because the only people to have claimed bags were the American passengers, pretty much everybody else was still stuck in immigration. Thankfully I found our 2 bags quite quickly.
Once past customs it was off to find a US Airways ticket desk, which we did quite easily.
Given the time of night there were no queues and we got served pretty much straight away. I explained the issue and the agent re-booked us on the second flight next day, the first was full. I had fully expected to pay a re-booking fee, especially as it was not US Airways fault we had missed the flight, but no, she did it FOC, way to go US!
I know lots of people have issues with US Airways, i've still to have a bad experience with them, can't fault them really, they do what you expect and sometimes more.
Re-ticked we went to the hotel, it had been a long day!
View from the hotel in the morning, lovely day!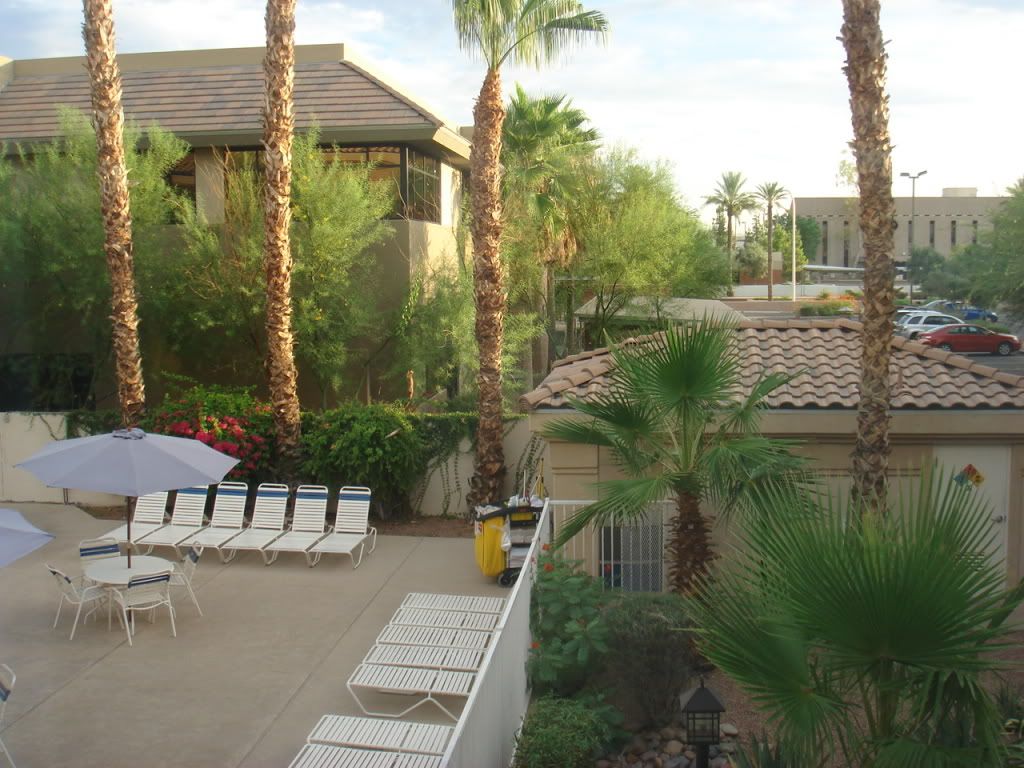 10.07.09 US395 737-3G7 N155AW 11A Economy
2nd Flight on this aircraft & 80th 737 Flight, 30th -300 model
SCH DEP 08:59 SCH ARR 10:15
ACT DEP 08:52 ACT ARR 10:12
View Large
View Medium


Photo © Yauhen Patsel
View Large
View Medium


Photo © Manas Barooah
View Large
View Medium


Photo © James Richard Covington
The hotel shuttle bus left at just after 7am, arriving at the airport about 15-20 minutes later, as the shuttle approached the kerb I remarked how big the check-in line looked, it was snaking back outside the terminal doors and along the pavement, it was reassuring to discover this was the Southwest line!
The US check bag check line was pretty big too, however it moved very quickly, plenty of agents assisting those not used to self service check-in with bags. $30 lighter from the checked bag fees we headed up to departures.
A couple of pictures along the way:-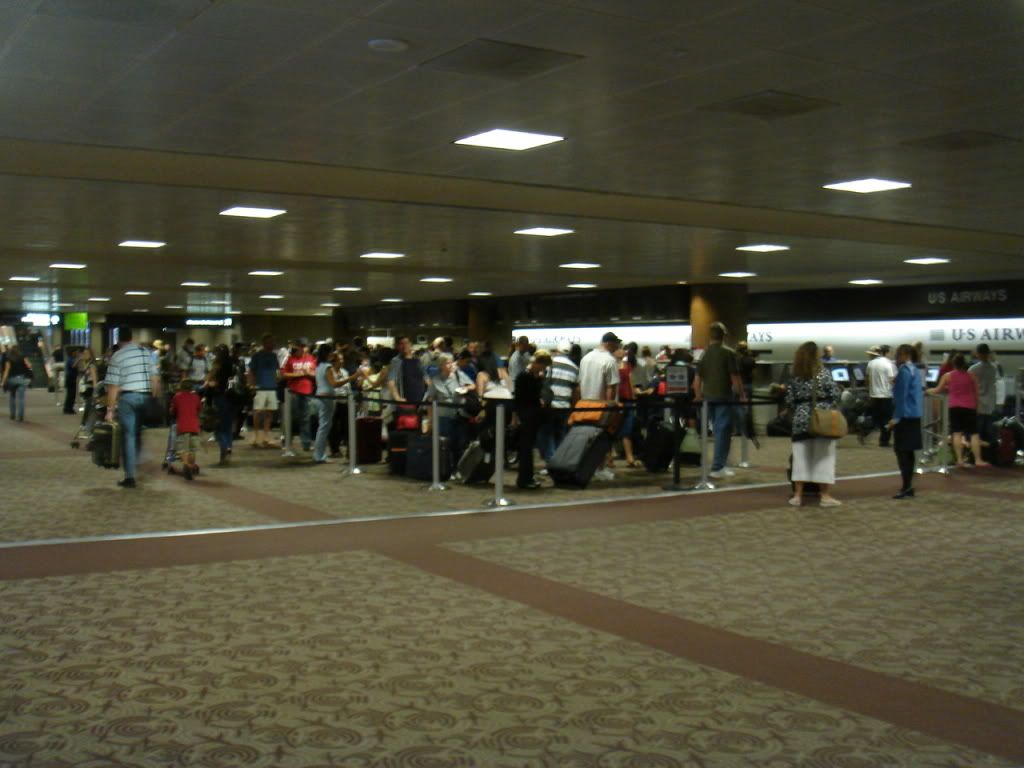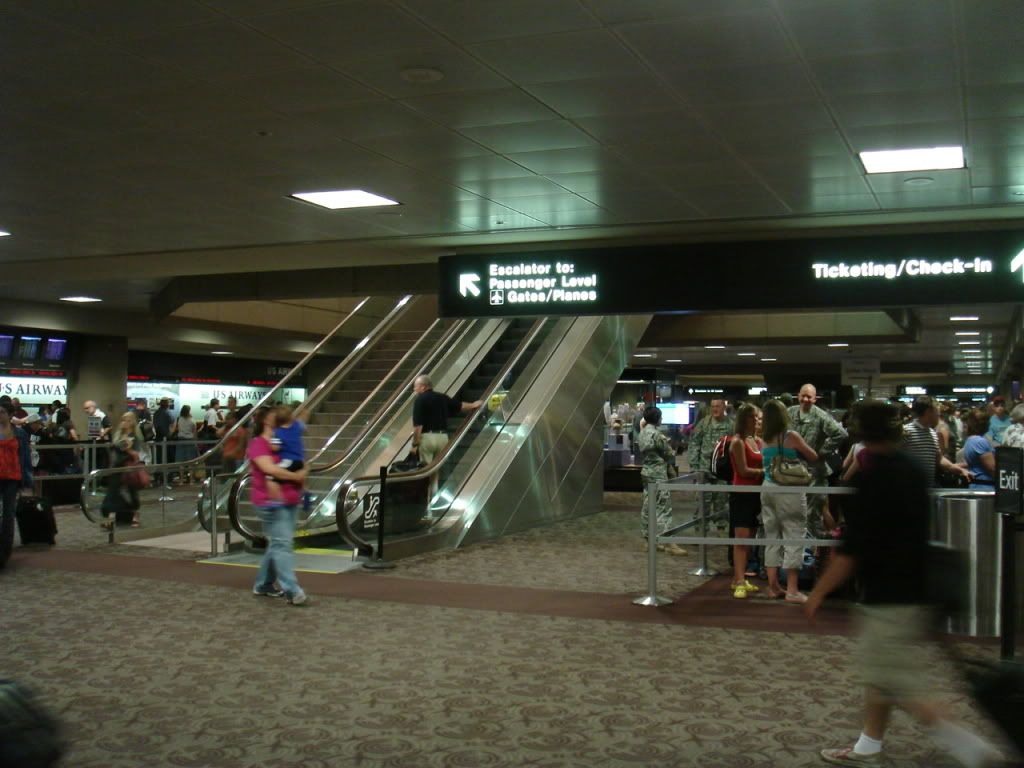 The security line was huge, but again moved quickly, we must have been in line for just over 5 minutes if that.
Finally airside and secure, a quick visit to the gate to see the plane, here it is:-
Our seats were B & C somewhere on the plane, last night I was just happy to get a seat, even more so not to have to pay a change fee, however this morning I needed my usual window seat so headed to the podium, asked the question to the gate agent, she said no problem, we snagged 11 A & B, emergency exit seats, what a result!
Feeling happy we headed off to Starbucks for a coffee to while away the last hour before departure.
Boarding calls started about 20 minutes prior to departure in the usual order, we were in group 2 and were one of the first on when called.
Greeted at the door by a FA and headed down to our seats.
The plane is still fitted out with the old HP fabrics, looks like the same as my last flight on this bird back in 1994.
The flight filled right up, never saw an empty seat.
View from my seat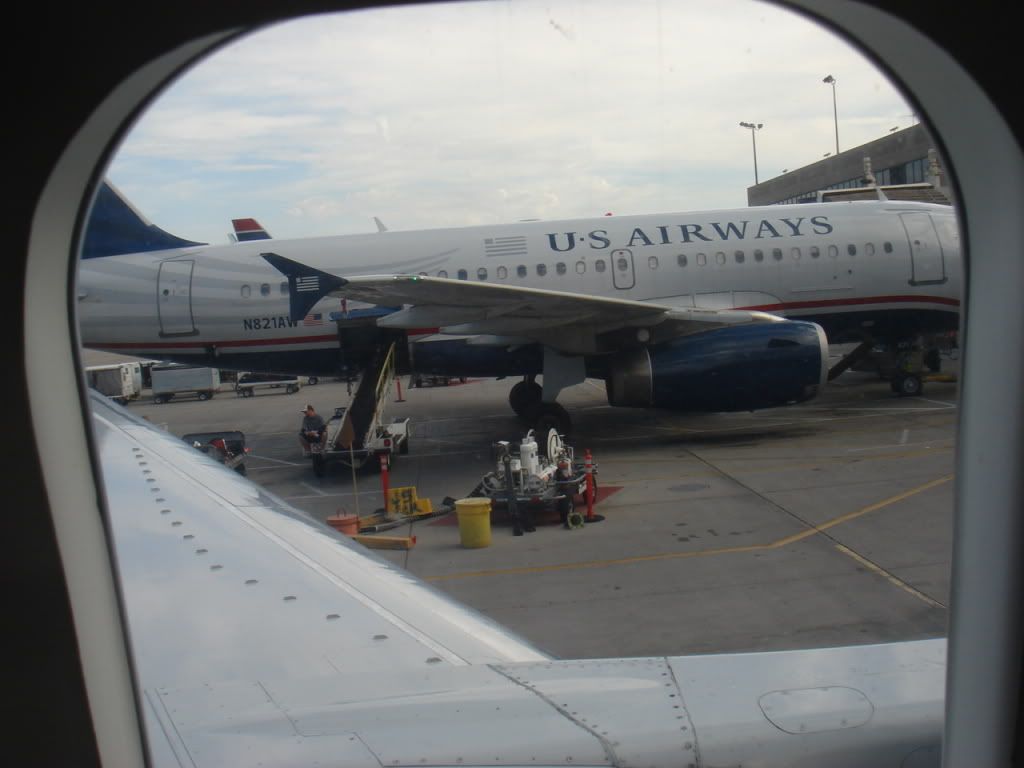 Push back occurred 7 minutes ahead of schedule, and we began our slow taxi out to the active for our departure on 7L.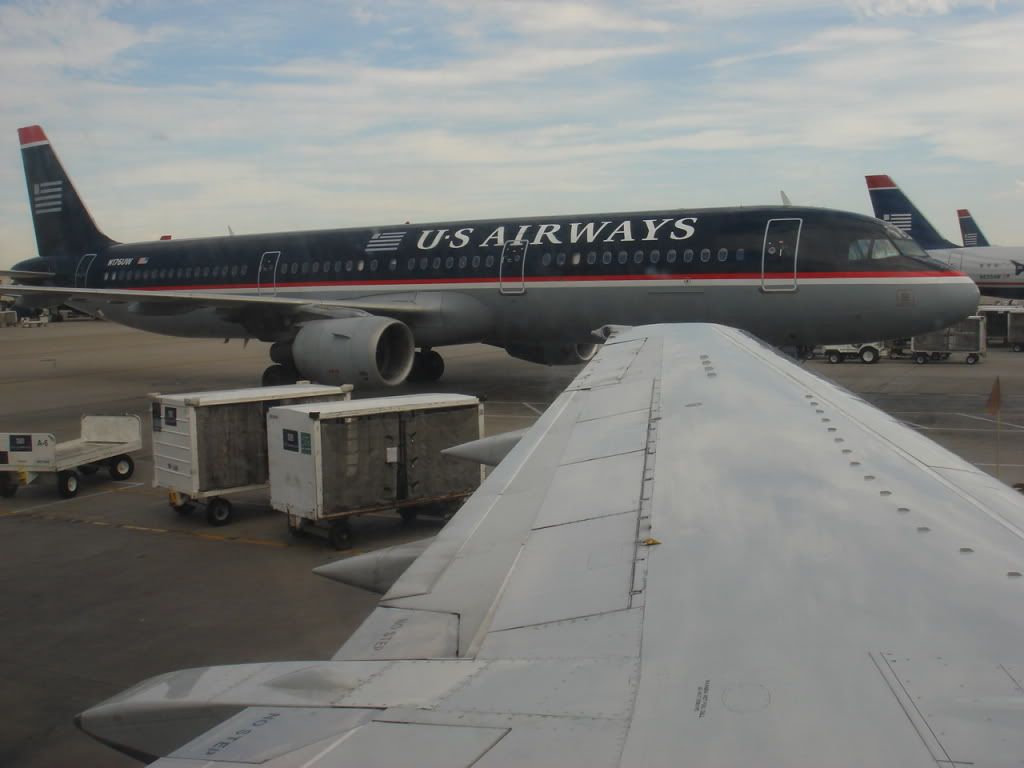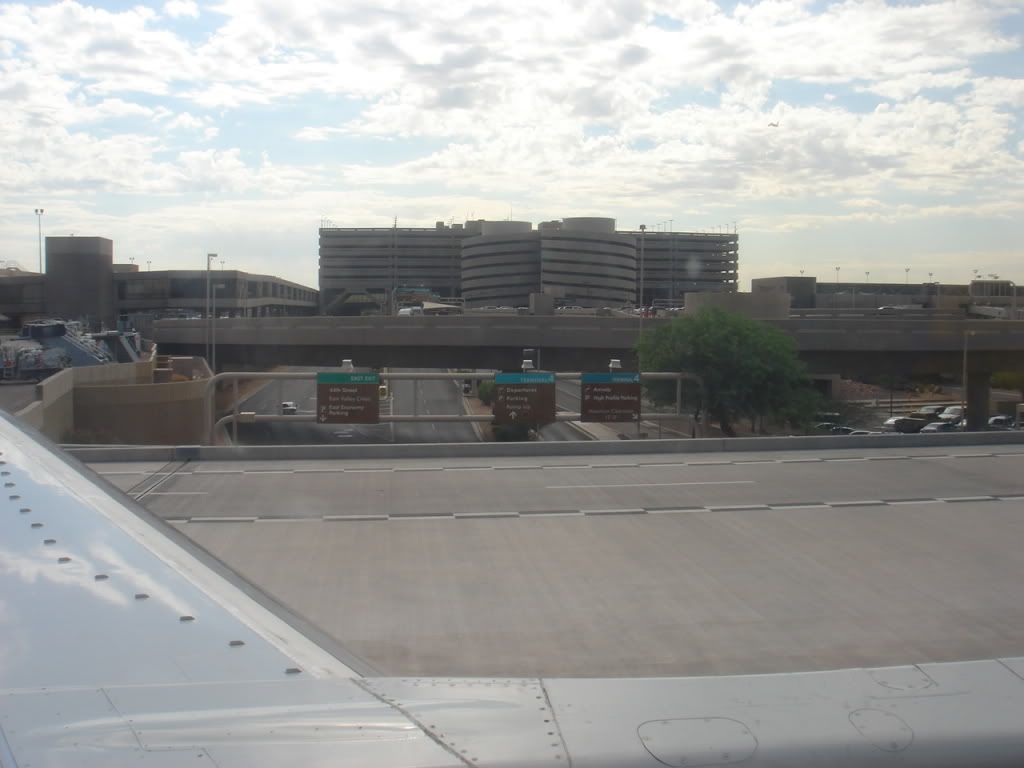 Quite a busy line up this morning, some 15 or so in line:-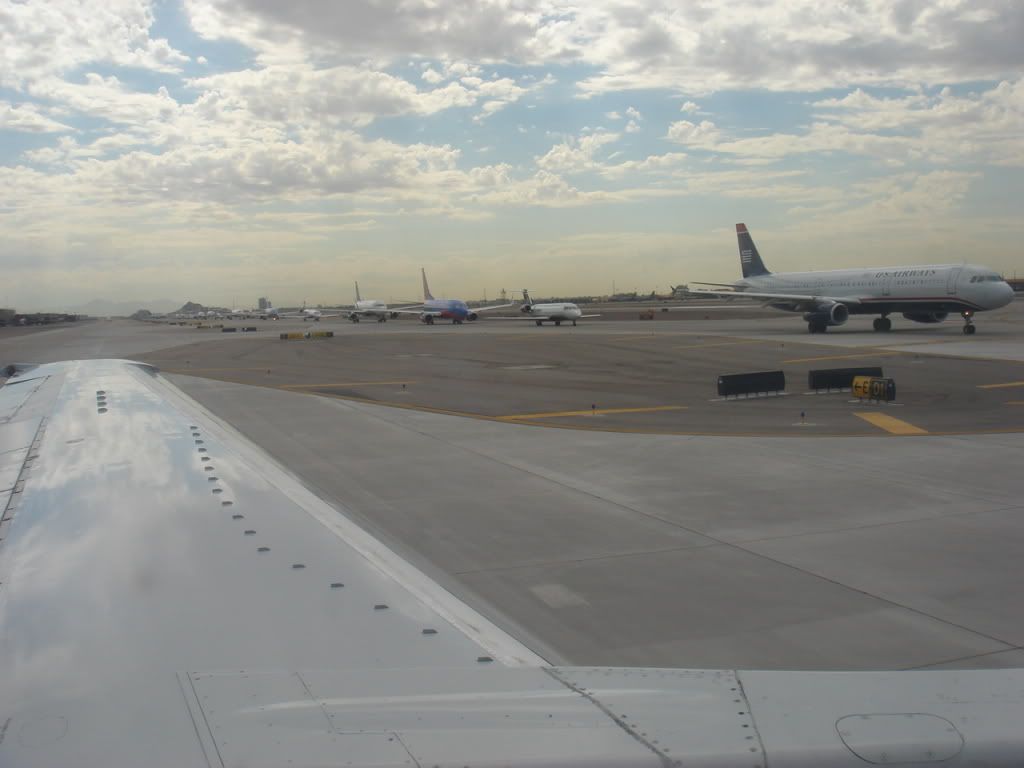 Finally it was our turn, wheels up @ 09:26.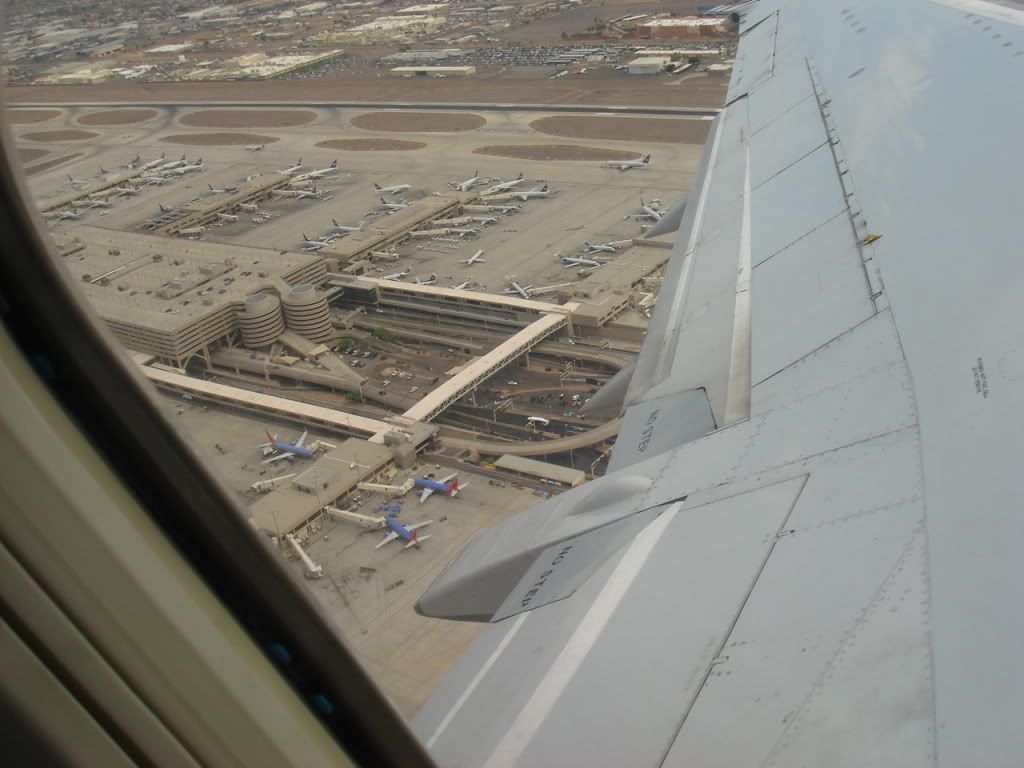 In-fight BOB info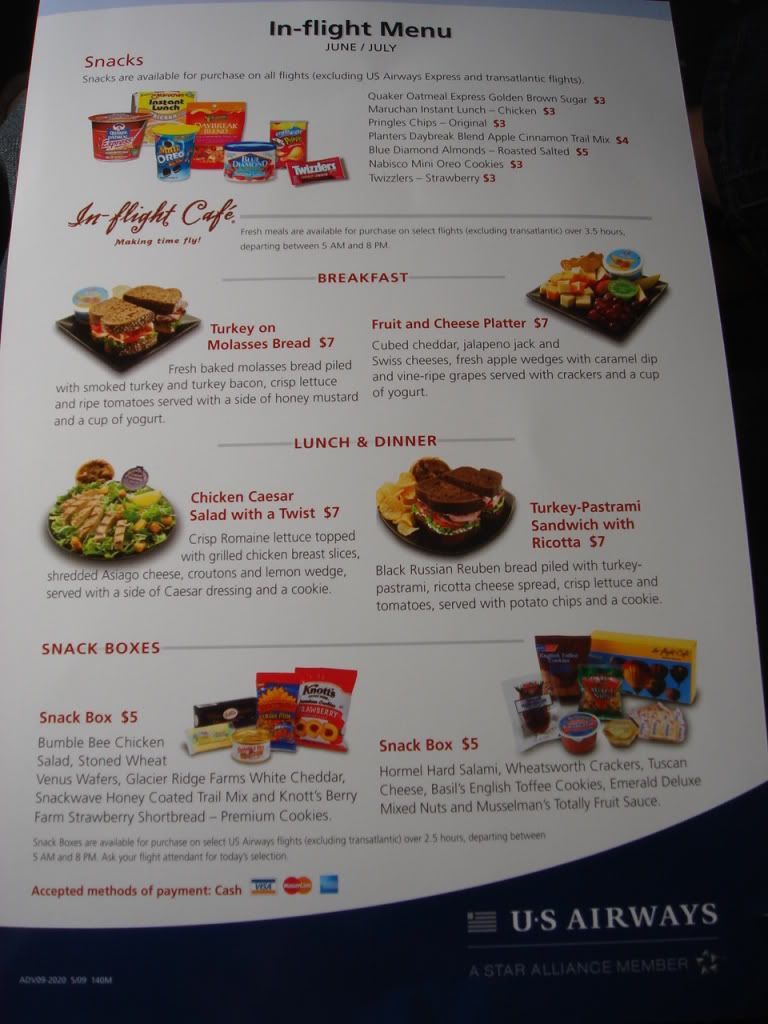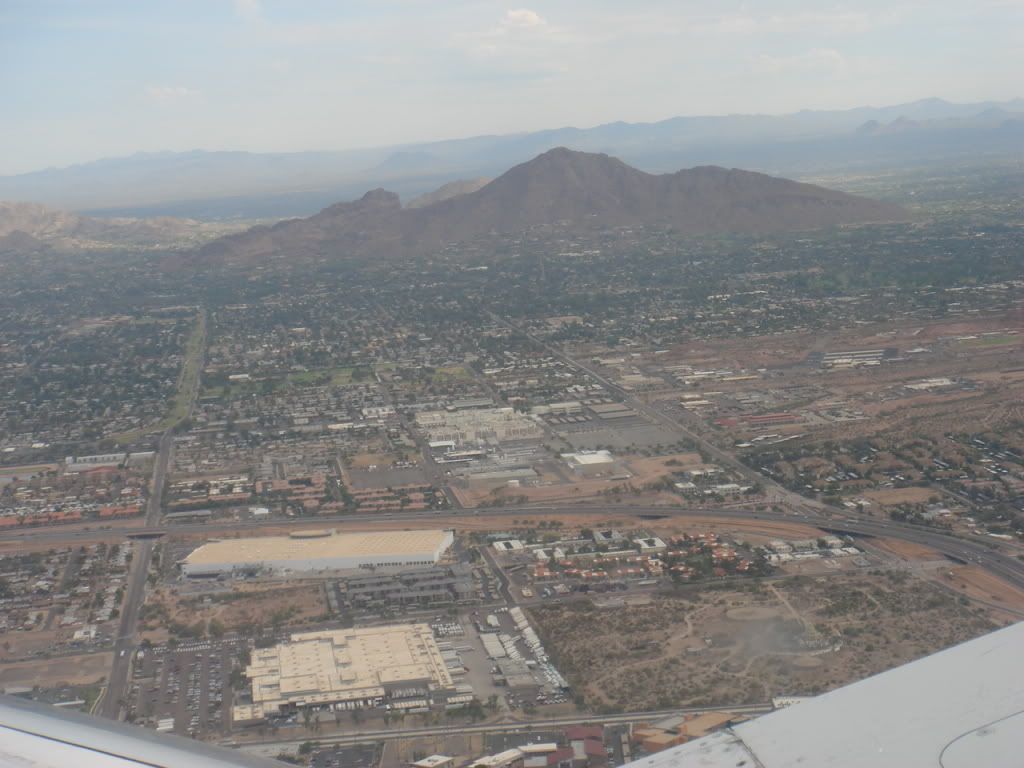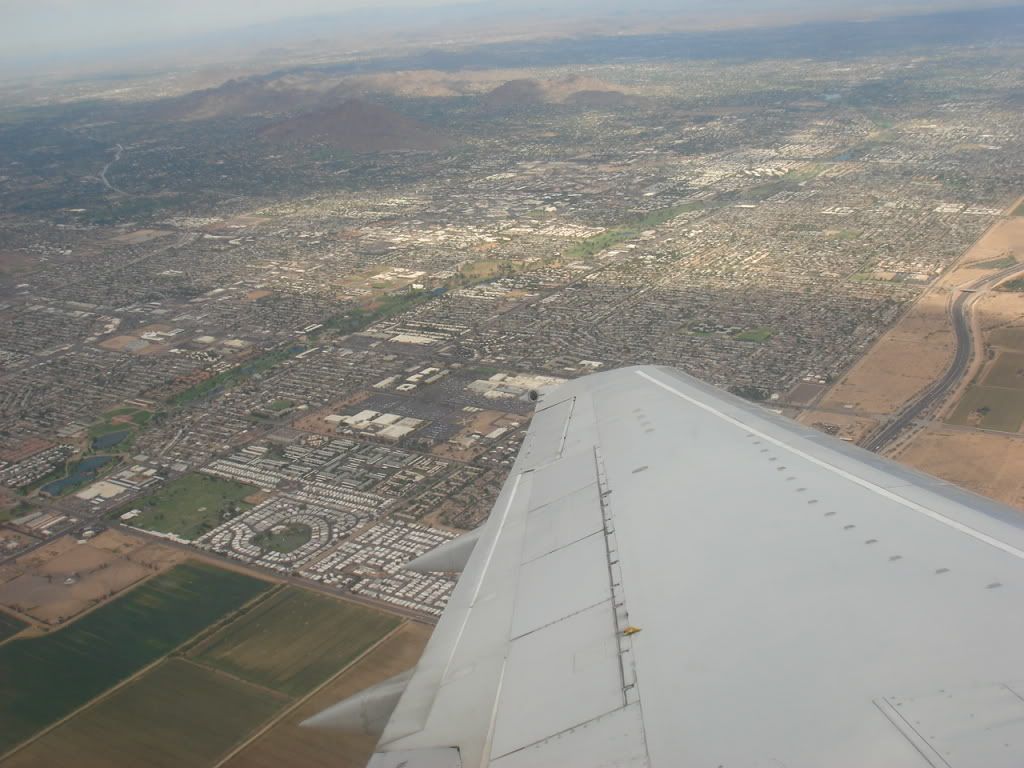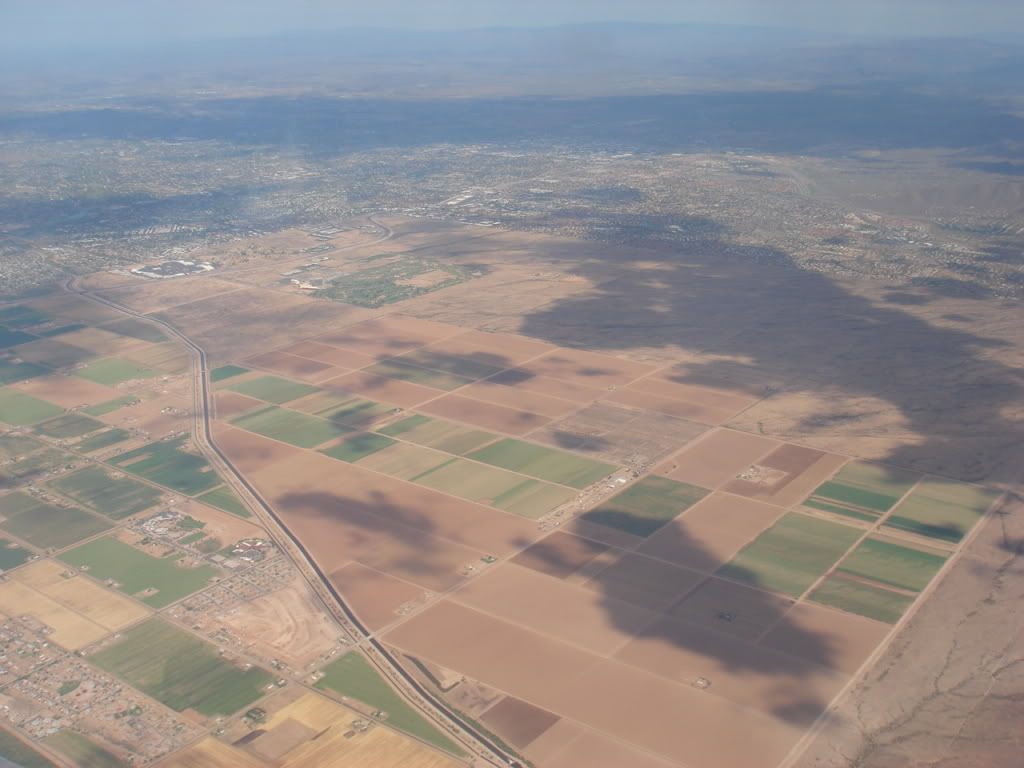 Inflight service commenced at some point, the cart was positioned in the isle at our row with a crew member each side working their sections of the cabin, not seen this done before, a new thing @ US?
I took a ginger ale and for those who have a thing about it, no I did not get the can - note both tray tables needed some attention!
The whole flight was uneventful, as expected.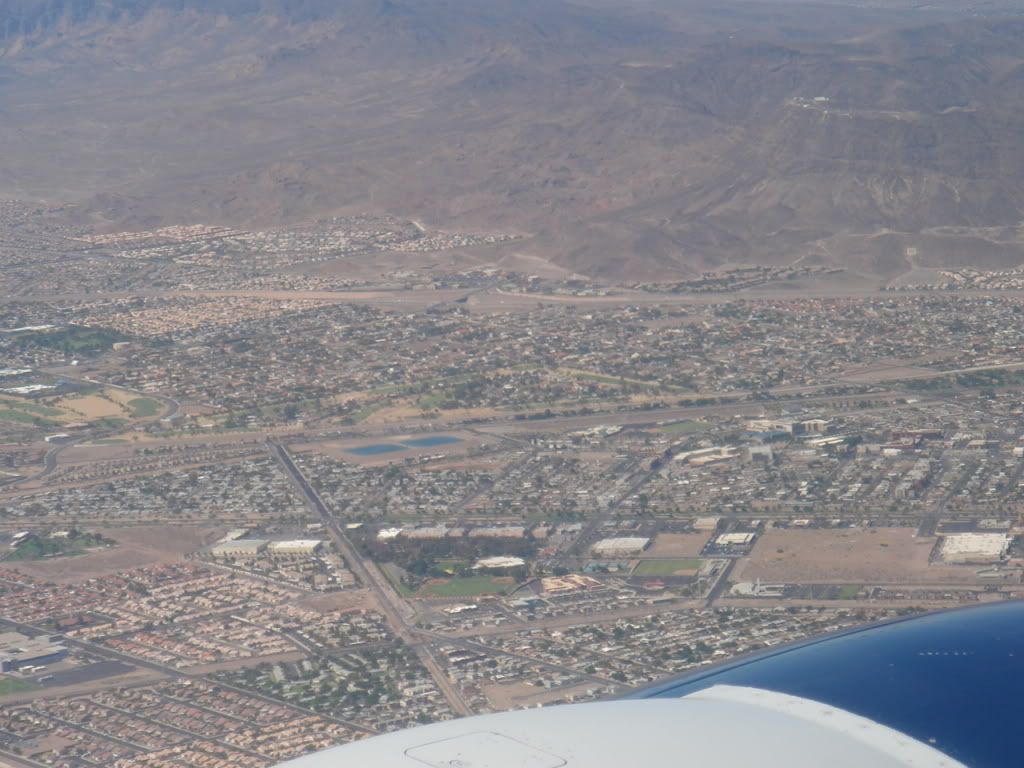 Approach began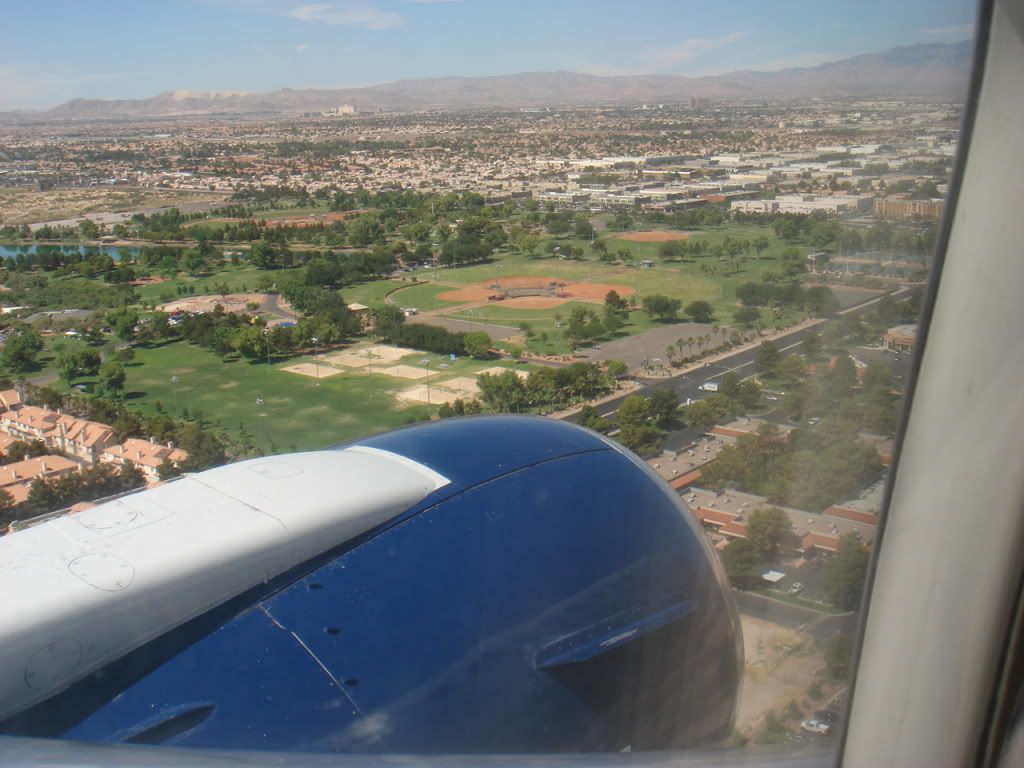 touchdown on 25R (I think) @ 10:12.
We had arrived, only 14 hours late!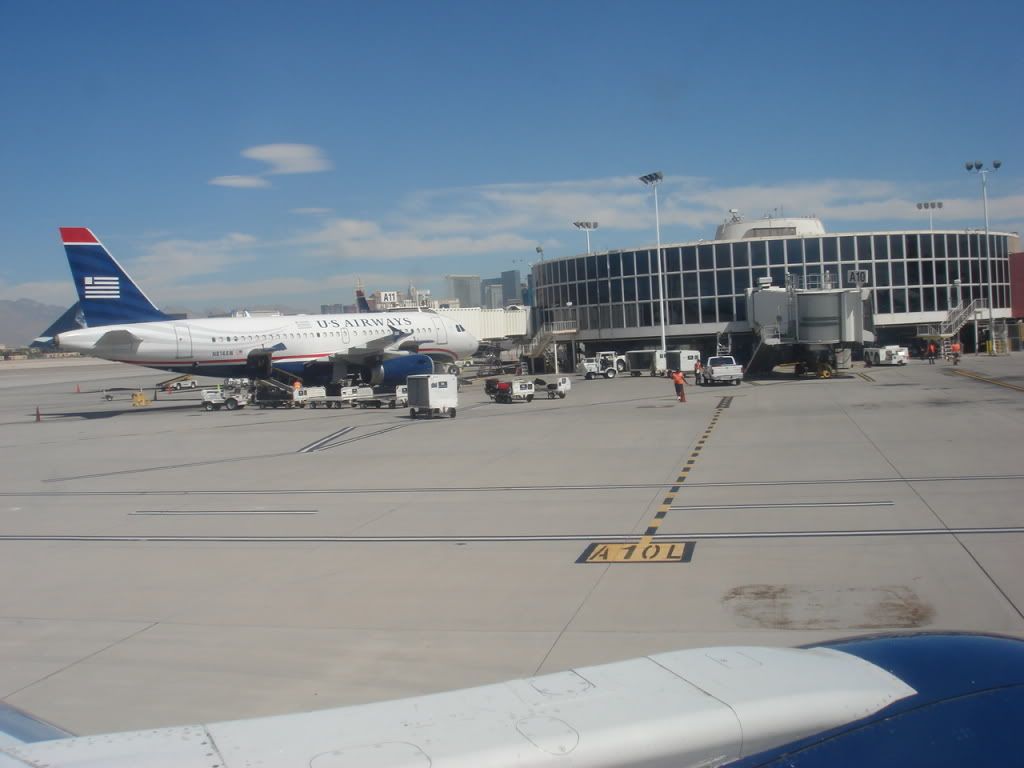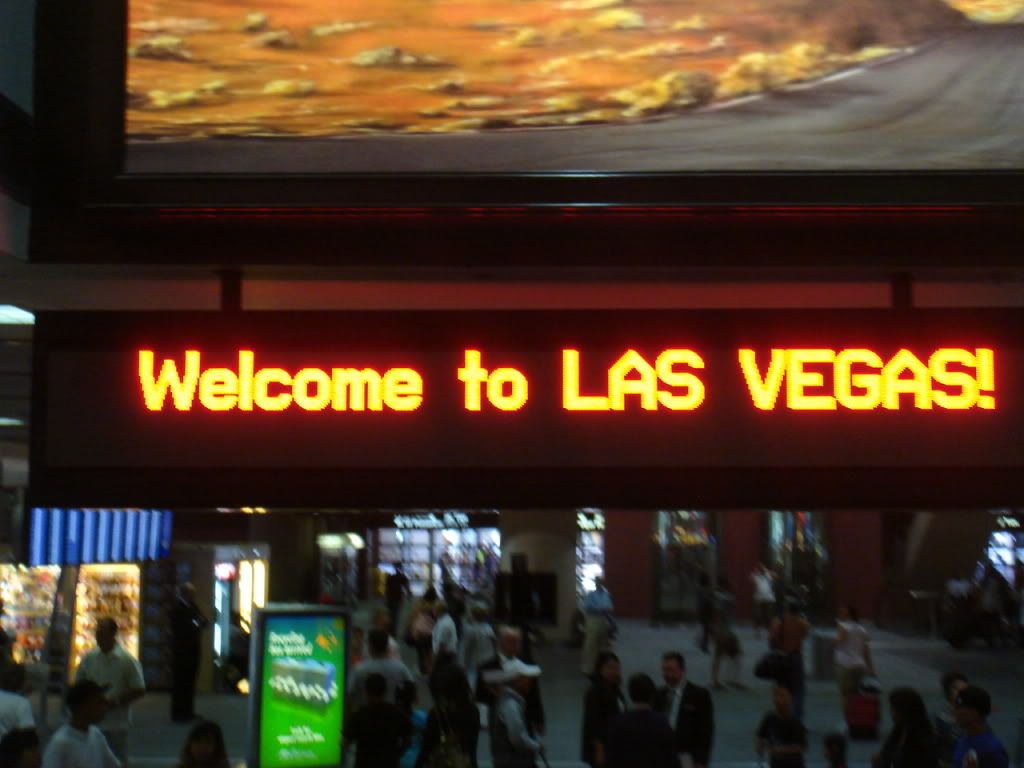 Baggage came out quickly, grabbed a cab and headed to the hotel
Finally got it posted, taken a while, not helped either by A.NET problems with posting pictures, what a nightmare!
Hope you enjoyed part 1, sorry for the lack of menu pictures, forgot to take any
Feel free to drop an comments or questions.
Kind Regards
Mark
Notes:-
Thanks to pachd.com for use of the opening picture.
All other pictures belong to me and may not be used or reproduced without my prior approval - somebody has been using my images from my EK A380 TR without my approval.