Here's the final part of the Ukraine and Moldova trip report.
Introduction
The last part left me at home in Vantaa, Finland. However the rest of the family was still on the old stomping grounds in Kuopio, so that's where I'm eventually headed as well.
The obvious way to get there would be to take one of the around 10 direct daily flights from the nearby HEL airport. This is in fact what I planned to do and had actually booked another 39 EUR ticket on the evening KF flight. However another opportunity surfaced, as Air Baltic - an airline with an increasing focus on flying between various airports in Finland and Riga decided to combine their KUO-RIX and TMP-RIX routes into a single RIX-TMP-KUO-TMP-RIX route. They were also selling tickets for the TMP-KUO-TMP legs for 40 EUR one way all-in. One of my projects is to fly every single domestic route operated in Finland and the introduction of this route meant that I needed to log it anyway, so the decision was a no-brainer. I wrote off the KF ticket and booked another one on BT from TMP to put my route coverage at 100% again (mind you that there are a number of routes that I've only flown on one direction, this one included). Most of the people would probably regard this as quite mad, but I'm sure this board is full of sympathizers!
29.6.2009
After a long and lazy lie-in most of the day was spent doing the regular post-trip stuff of laundry, sorting through mail, catching up on the Internet etc. To get to Tampere I booked myself an e-ticket over the Internet on the VR (State Railways of Finland) Pendolino high-speed train departing from my local Tikkurila train station at 16.56, with a travel time of just 1h10mins. A year previously I'd probably just flown to Tampere on the 39 EUR el cheapo FC tickets, but due to some commercial arrangements with Finnair these are no longer available at this price point. A shame, since these 20 minute flights were great fun.
My Pendolino arriving at the Tikkurila train station:
The train ride is very comfortable, even though my original "PC seat" (but it still seems to work fine with my Mac, though!) was occupied by a young couple with lots of stuff, but as the train wasn't too full I just grabbed another seat. I can easily see why most people actually prefer these trains to flying short distances domestically - the seats are great, with better legroom than your regular airline seat, regular power ports (so no need for any adapters) on every seat and of course the comforts of a restaurant car at your disposal. At around 200 km/h they are fast enough as well. Pretty much the only thing missing is wireless Internet access, but I'm sure this is planned already. The only problem is that the Pendolino trains are made in Italy, and they have all kinds of technical problems dealing with the cold, harsh and often snow-rich Finnish winters. Fortunately it's summer time now, so we arrive in Tampere right on schedule. I was surprised that the train didn't actually make any stops along the way.
Tampere
Tampere is Finland's second city. It's the largest inland city in the Nordics with around 200 000 people. Tampere is the cradle of industrialization in Finland which has earned it the nick name of "Manchester of Finland", thanks to its location on a narrow isthmus between two large lakes and a fast-flowing rapid running though the middle of the city. It was around this rapid that the first factory was established by (surprisingly) a Scot, James Finlayson in 1823. Nowadays the heavy industry doesn't play such a big role any more, but there is still plenty of industry around the region. Today Tampere is known for its two large universities and as a center for high tech industry built around the technical university.
Tampere is also RyanAir's only destination in Finland - refreshingly they actually don't call it "Helsinki (Tampere)" airport but just "Tampere". Currently they operate flights to STN, BRE, HHN, RIX, DUB and BGY.
For whatever reason I like this city a lot. It feels much down-to-earth than the capital region of Finland where I live, no doubt partly helped by the much more human scale of things. I have around one and half hours before I'll need to catch the bus to the airport, so I stroll down the city's main artery, the busy Hämeenkatu street to the banks of the Tammerkoski rapids. The weather is just great, with sunshine and around 30 degrees, so I can't resist having a beer or three at the numerous outdoor terraces around here.
The Tammerkoski rapids with the old red brick factory buildings now reinvented as shopping, dining and cultural complexes:
Lazing in the sun on the banks of the stream:
The Hämeensilta bridge over the Tammerkoski:
Too soon it's time to walk to the main market square, doubling also as the main local bus station and catching the number 61 bus to the neighboring town of Pirkkala where the TMP airport is located. The bus ride takes almost half an hour and I spend time chatting with a nice young girl traveling to STN with RyanAir with just a Lidl shopping bag as her only luggage - I think this is the ultimate in cheapness
. It turns out she actually lives in London (despite being a Finn) so traveling light is understandable.
Pulling up to the airport I'm surprised to see a DAT ATR-42 sitting in the apron. This is obviously operated for the KF TMP-ARN route, but I thought they still had a deal with Air Express flying a Saab 2000 on the route.
Tampere Airport
At the airport we bid goodbyes, she (and all the other people in the bus!) leaves to the "low-cost" terminal 2 a few hundred meters away that used to be the cargo terminal some years ago: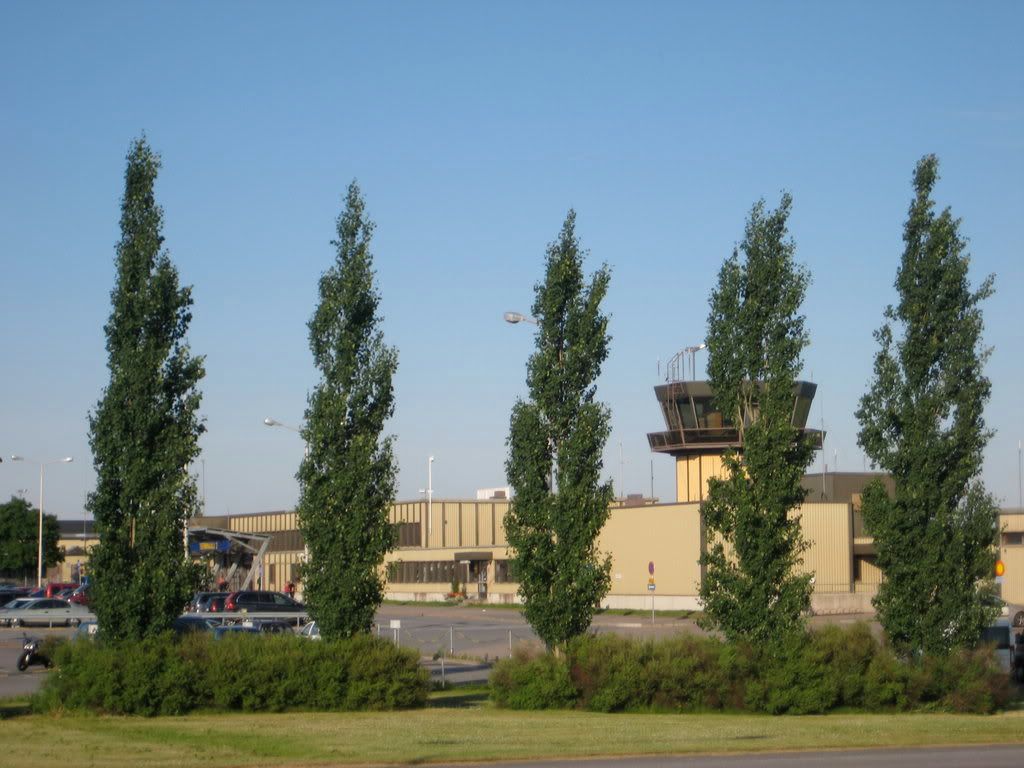 I enter the terminal 1 for proper airlines:
At check in I ask the lady "Am I completely wrong in assuming that I'm the only person flying from Tampere to Kuopio today?" and she confirms with a chuckle that this is indeed the case. I inquire about the route and it turns out that there actually have been a handful of people flying just this sector, with a record of four passengers at one time! She gives me the seat 4A but says that she's actually unable to see what seats are occupied for the continuation sector, so I tell her that if I need to sit on somebody's lap I hope it'll be a cute girl which nets me another chuckle.
Formalities done it's time to go outside to enjoy the evening sun. There is a sitting area between the two terminals with a nice view of the runway and apron - sadly there's a chain link fence making photography a bit hard. I watch the DAT ATR departing for ARN:
...and a little bit later the FR flight from RIX coming in: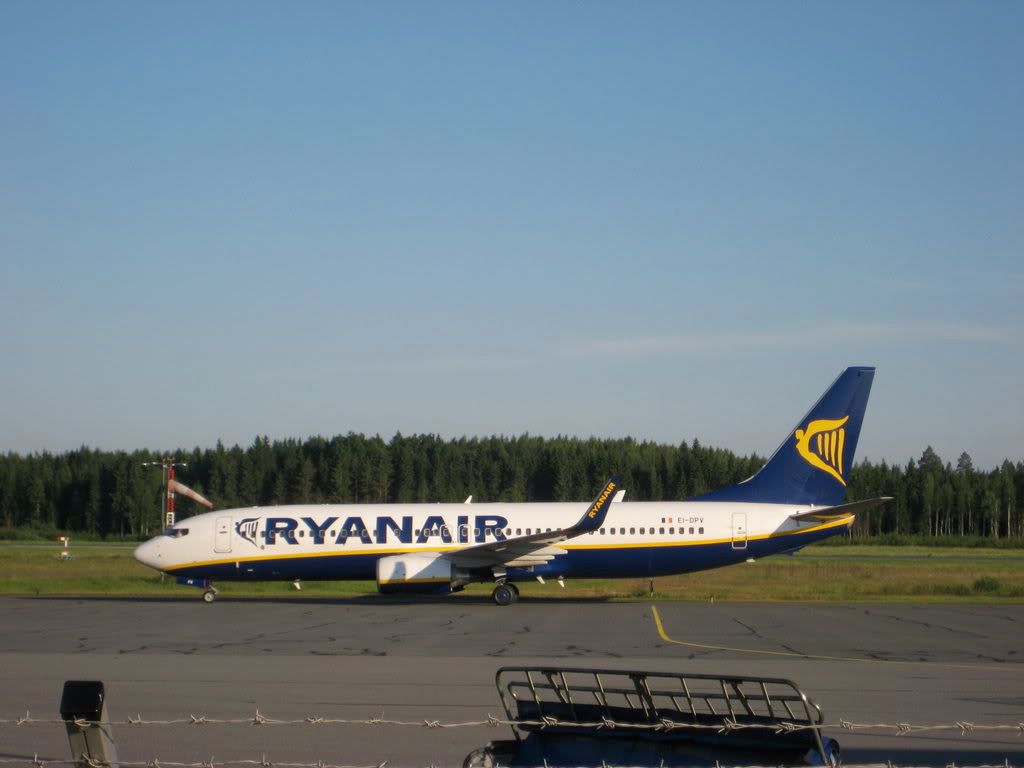 There's also some general aviation traffic with a Cessna doing a few touch and gos.
Half an hour before the original departure time I decide to go airside, telling the security guys that "since you want to go home anyway I'll be nice and early"
which they appreciate. Of course the departure lounge is deserted with nobody else around: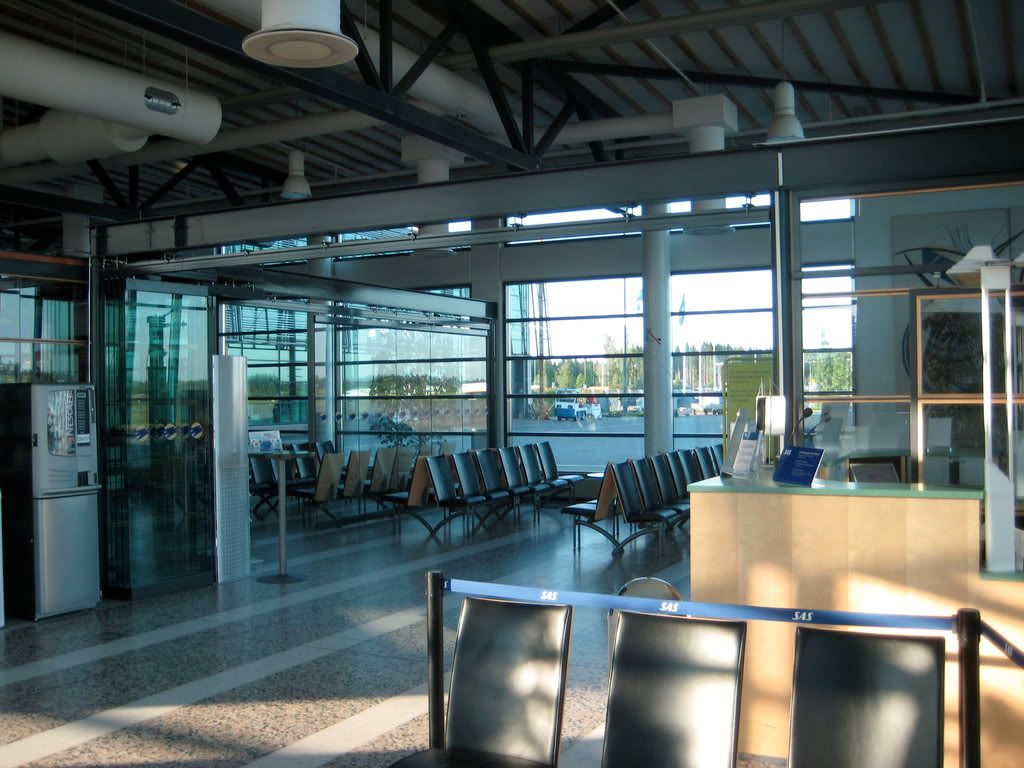 The gate agent arrives some time later and we have a small chat - she confirms that all the KF ARN flights are now operated by DAT on ATRs - news to me. She also confirms that the inbound plane is delayed a little bit. I grab some newspapers left over from the KF departure from the gate after confirming with her that she doesn't mind this act of boldness.
I watch the FR 738 depart back to RIX: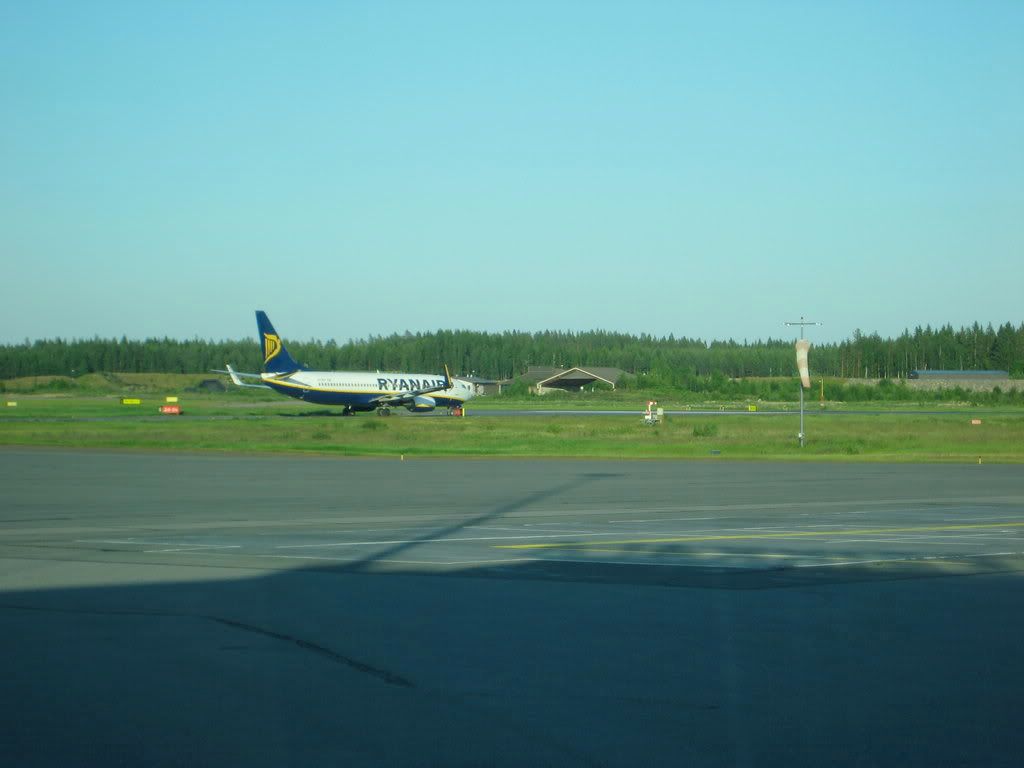 ...and around 21.05 our BT Fokker lands from the same place: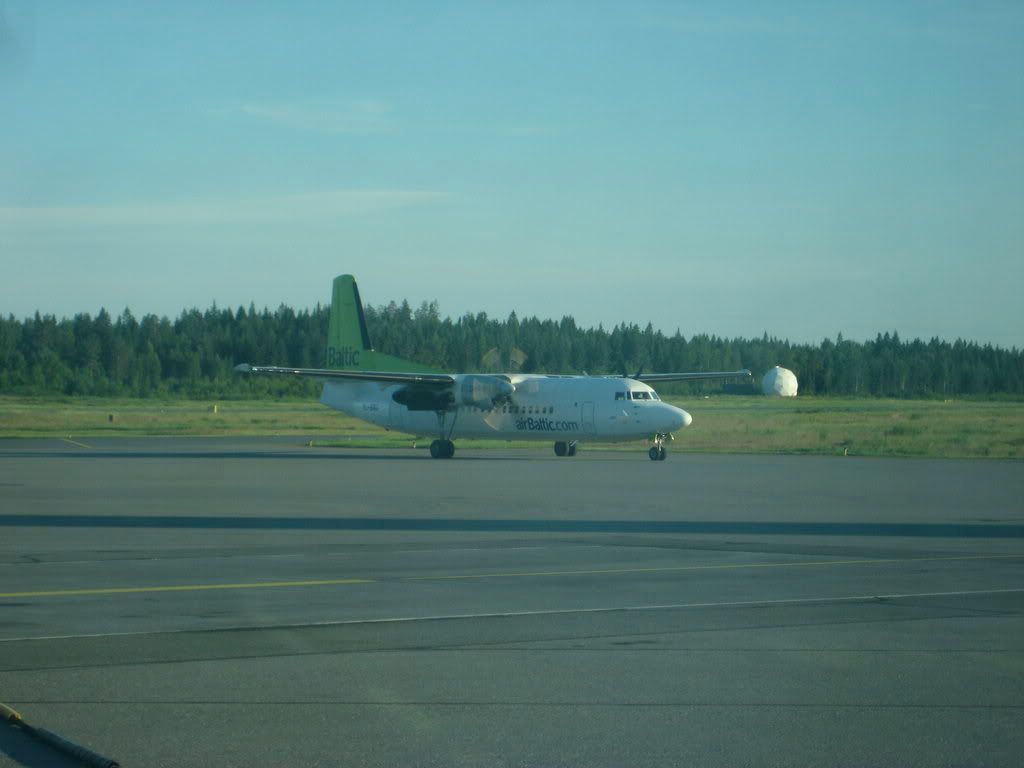 Sadly it's another reg already in my log - this will be my 4th flight on YL-BAU. Around 15 people deboard - and surprisingly a fuel truck pulls up to refuel the plane. Is fuel really cheaper in TMP than in RIX or why are they doing this? Right after the refueling is finished the gate agent opens the door and wishes me a good flight.
TMP-KUO
BT1355
F50 YL-BAU
Seat 4A
21.32- 22.19
Short walk across the apron and onboard. Another musky smell greets me - this is definitely the trademark of these BT Fokkers. Fortunately 4A or B doesn't have anybody sitting there, unfortunately not even a hot Latvian girl (of which there are a few prime examples a few rows back) so I sit down by myself. Load appears to be around 50%. We sit a long time with no explanations whatsoever from the FAs or the flight deck until the doors are closed and engines started. The flight time is announced as 50 minutes.
We depart from runway 06 at, 17 minutes after the schedule.
Terminal 1 in the foreground:
Terminal 2 or "Ryanland". Notice the amount of parked cars, many of which actually carry Russian plates: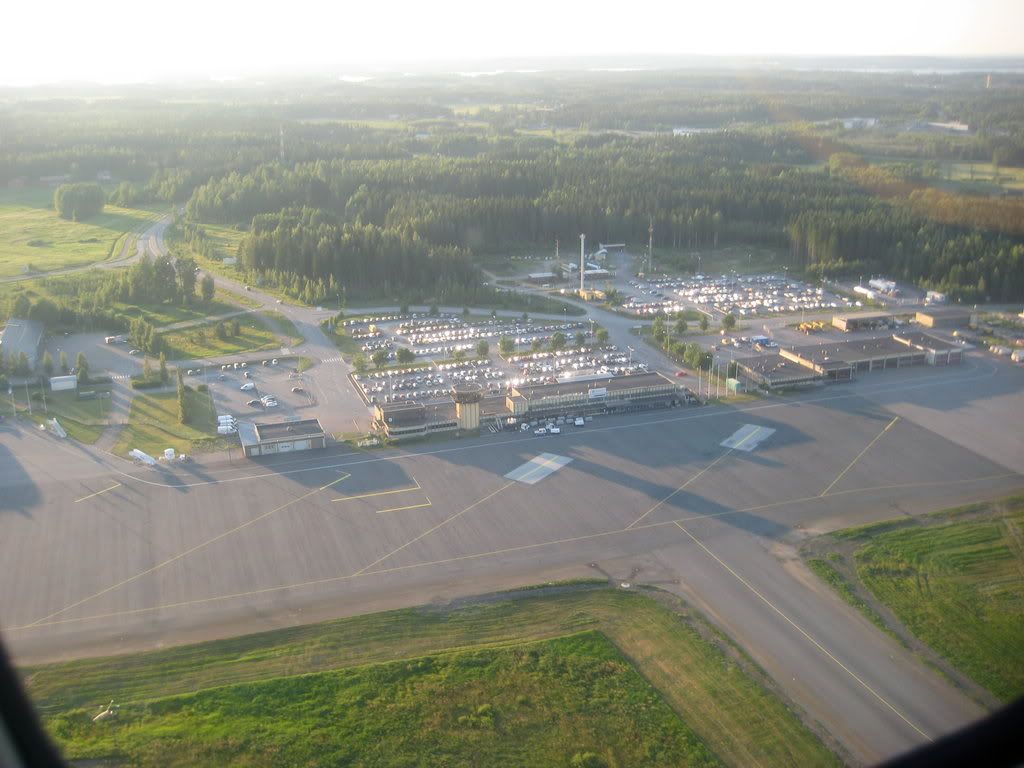 Climbing out there are great views over the city of Tampere - the stream and the narrow isthmus are clearly visible in this picture: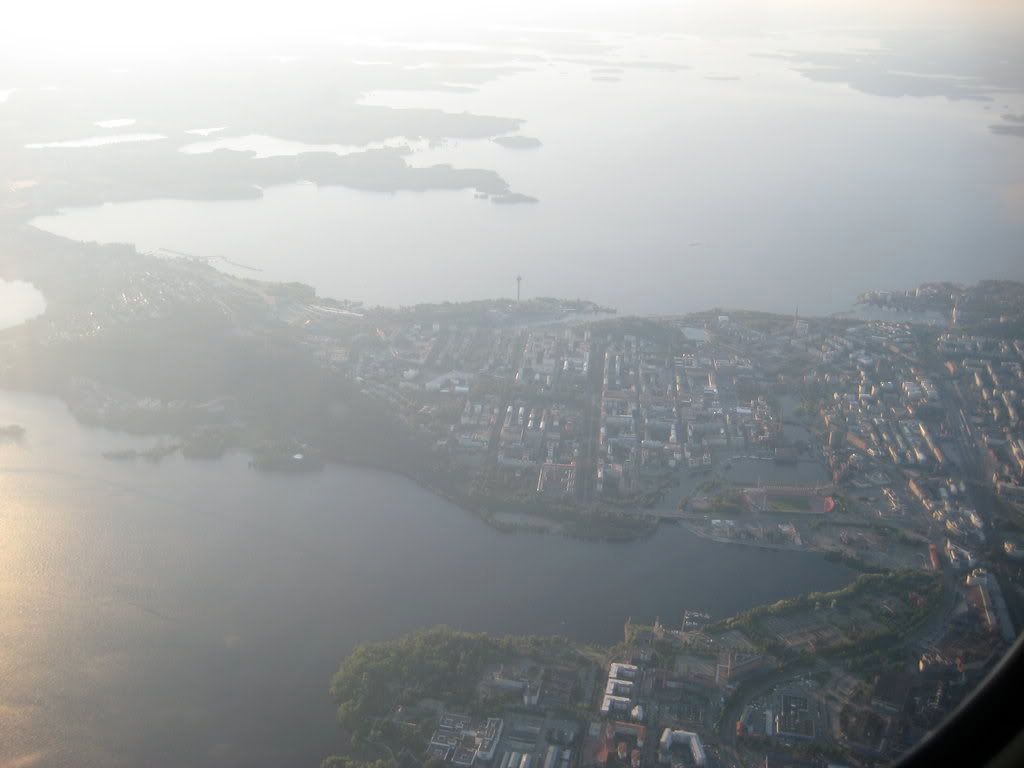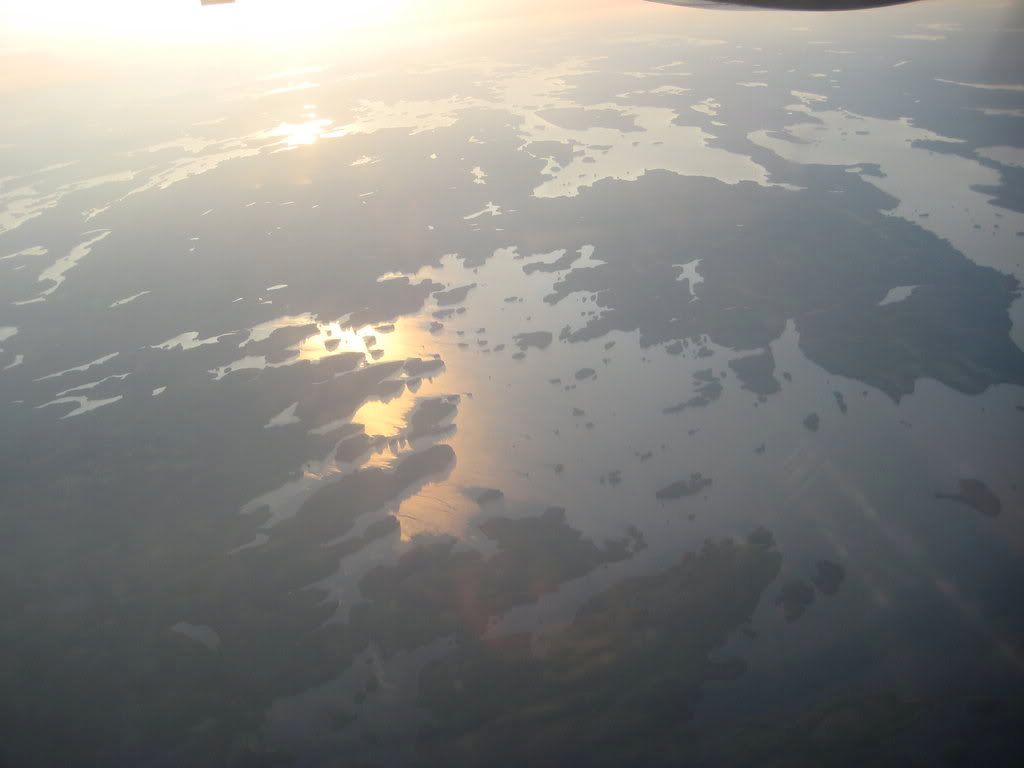 Service consists of the standard BT "regional" service (I think they have this on flights less than 200 miles or so in distance) - free drinks including coffee, tea, juices, water and soft drinks. No BOB on these short flights. At 21.55 the captain comes on, announcing our speed as 450 kilometers per hour and altitude as 5500 meters. At the time I'm able to make out the city of Jyväskylä below us, with the airport of Tikkakoski (JYV) visible as well:
5 minutes later we already start descending and the captain announces 20 minutes of flight time remaining and it only being 14 degrees in KUO. Again I'm happy to be on the left side of the plane as we do the usual approach for runway 33, affording me great views over my beautiful but oh-so-boring hometown.
The city centre, surrounded by lakes:
I like this shot of the sun going down over lake Kallavesi:
Almost there:
We touch down on 33, taxi to the apron and stop.
Bye, YL-BAU, we'll see again, I'm sure of it:
Short walk takes me to the terminal and with hand luggage only I'm sitting in a taxi to my parent's place just a minute later.
Conclusions
This sure was a great trip. Two new interesting countries, a number of new airports, routes and airlines and even one new aircraft type for me. As always it would've been great to stay longer in some of these destinations - but that's the age old problem of not having enough free time and trying to balance it with exploring and tourist stuff plus my endless desire for flying and experiencing new things on that sector.
Some opinions on the new things on this trip:
CarpatAir is a cute little airline. They operate an impressive hub operation at TSR with interesting planes - those Saabs are getting rarer and rarer in Europe. Catering ex-KIV was quite a disaster, but the huge sandwich ex-TSR more than made up for that (and judging by PlymSpotter's report this seems to be the standard offering). All crews were very friendly, the Saab very comfortable, the Fokker a little less so - definitely showing its age. The flights weren't exactly cheap at around 170 EUR for the KIV-TSR-LWO, but then again this is an oddball route with no real competition so all things considered this was still decent value for money.
My sample of one flight each on PS, VV, Z6 and WU is obviously not enough to judge these airlines - but my opinion on all of them is quite similar: they get you from point A to B on time and safely. Service-wise PS wins here as it is the only airline that offered anything to eat - all the others were beverage-only (even though WU is supposed to sell you snacks as well...). Don't be fooled by the promise of "full-service carrier" versus LCC on Ukrainian domestic flights - apart from checked in luggage allowance "full service" gets you very little. Luckily thanks to the intense competition you can score some amazing fares. VV (or Lugansk Airlines in this case) obviously had the most interesting equipment - the little scary An-24. WU had the most comfortable one - the A320 was quite new and in great condition.
Moldova was a fun little country - it felt like a poorer but more fun little cousin of Romania. I think Chisinau would be great for an extended weekend which would allow one to make an excursion to the one of the numerous wineries scattered around the country which apparently are the country's biggest tourist attraction (if you don't count Transdniestr...). Anyway I have a feeling that anything longer than 3-4 days and you'd be struggling for things to do and getting bored.
Ukraine was really amazing. All the three cities I visited were completely different from each other, each offering a distinct look into modern Ukraine. This is a country that's getting more western by the minute (even though there are people in the absurd game of Ukrainian politics calling for reintroduction of visas and a more closed society in the interests of nationalism - pure b/s if you ask me in today's open, globalized world) so go now! There are lots of interesting places to visit, things to see and do and experience. And life is still very cheap here. Most people won't speak any English - but don't let that put you off. An open attitude and some smiles will do wonders, as does knowing how to read the Cyrillic alphabet and a few words of Russian - my 15 or so words came in very handy! I'd definitely like to go back soon enough to explore the rest of the country, especially the industrial heartland to the East and of course to catch a flight on that most elusive of birds, the An-148!
Thanks for reading this long and winding report! New adventures are on their way as well - I should have another report about some regional Baltic flying up later this week.