Hi everyone,
As promised here is the first Turkish Airlines Boeing 777-300ER Business Class trip report. The F class of this aircraft, on the same route, was previously covered by OA260. A few months ago, I decided to burn of some FF miles and there couldn't be any better way of doing it so on this route and on this aircraft. The trip cost me 25,000 miles and around 200 TRL (around €100) in taxes. The main purpose of this trip was actually to have the opportunity to fly this aircraft. As usual, my friends and colleagues had difficulty understanding me
I work for an international hotel chain so accommodation was also free of charge. So this would become an affordable weekend trip (or so I thought until I was reminded how expensive London was). As usual, there will be more photos in this report than words. I am using a standard digital camera so the picture and video quality is not the best. Be warned…
I woke up rather early in the morning (04:30 AM) as I hadn't packed yet. After packing and having my morning coffee, I left home at 06:00 and arrived at IST at around 06:40. IST has a dedicated entrance for C/F class passengers as well as TK Elite/Elite Plus members. The airport is extremely crowded at this time of the day so this was a relief. After clearing first security line, I headed straight to the C class check in desks. There was a dedicated check in desk for TLV and LHR C class passengers and within 5 minutes, I was already checked in. I then bought a cup of coffee and enjoyed a few smokes outside before I passed through passport control. IST is unfortunately a smoke-free airport now
TK also has a separate passport control line for C/F class passengers. At the queue, I met a couple who was staying in our hotel for the past week. It turned out that we would be on the same flight. After chatting to them for a while for some 10 minutes, I cleared the passport control and headed to the duty free shops to buy some smokes and gifts for my friend in London. A pack of Marlboro Ultra Lights cost around € 2 in IST whereas in London, it costs around €8-9. I didn't even bother going to the lounge as boarding was to start very soon. When I arrived at the gate, almost everyone had boarded so without waiting for long, I cleared the second security line too and headed for the plane.
22 May 2009
Route: IST- LHR
Airline: Turkish Airlines (TK) operated by Jet Airways
Flight: TK 1779
Aircraft: Boeing 777-300ER (TC-JEE, named "Karadeniz")
Seat: 10 K
STD: 08:00
ATD: 08:30
STA:10:05
ATA:10:04
Flight Length: 3:30 (announced)
At the bridge, I took the following pictures through dirty glass. I was only now getting excited about the idea that I would be spending the next 3-4 hours on this baby.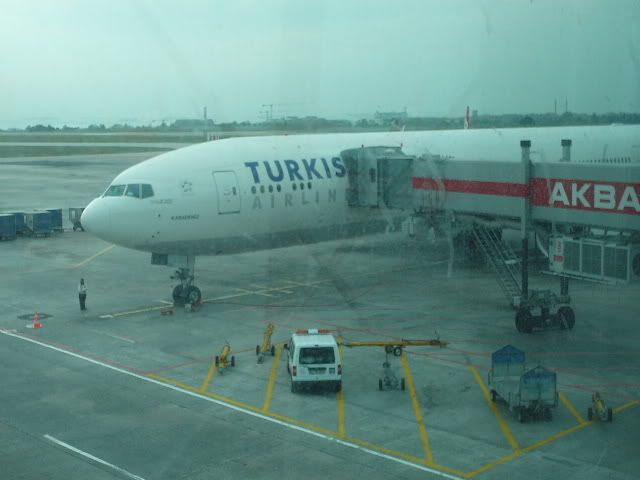 At the door, I was greeted by 2 friendly F/A's. The Turkish purser of the flight and an Indian F/A. They pointed me to my corridor. As I was walking to my seat, I saw a friend of mine who was working on this flight. I used to work for TK as an F/A many many years ago so I was surprised we remembered each other
She would be working in business class so we chatted a lot during the flight.
I immediately fell in love with the aircraft when I saw the elegant Herringbone design in the C class. It looked very attractive and the seats couldn't be more comfortable. I found out that there are a few drawbacks of the design though. First of all, if you enjoy taking pictures out of the window like me, you are likely to have a neck ache at the end of the flight as you constantly have to twist your neck to shoot. Secondly, it is perfect when you are traveling alone but if you have a partner, you hardly see each other. The seating was 1-2-1. When traveling with someone, I suggest you get a window and an aisle seat as this is the best way to interact with each other. If you chose to go in the middle, you will only see each other's faces through a small hole between the seats
We pushed back about 20 minutes late and took off exactly at 08:30. It was quite cloudy in IST that morning so we had a few bumps during climb but nothing too serious. Here are a few shots during taxi, take off and initial climb as well as the very poor quality take off video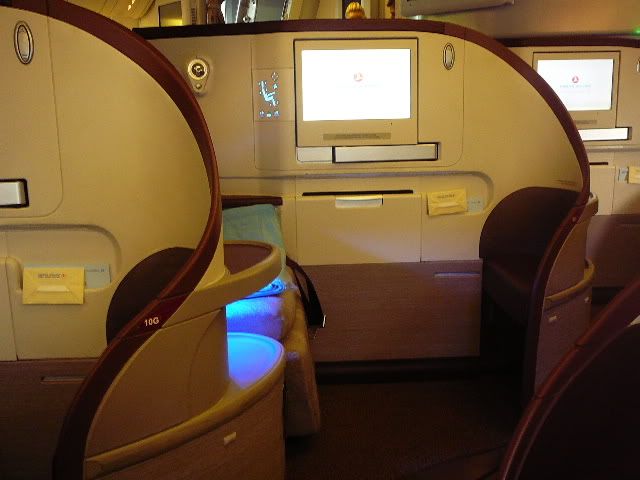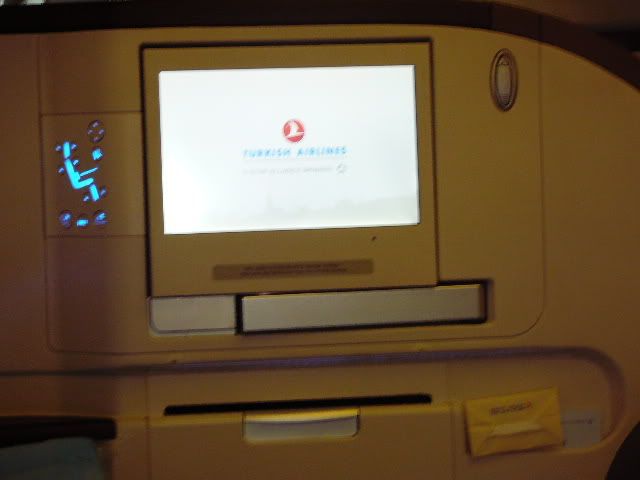 The compulsory seat pitch shot
The menu shot....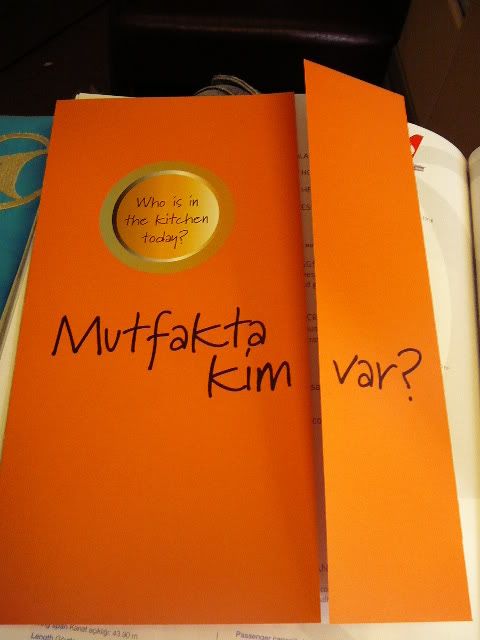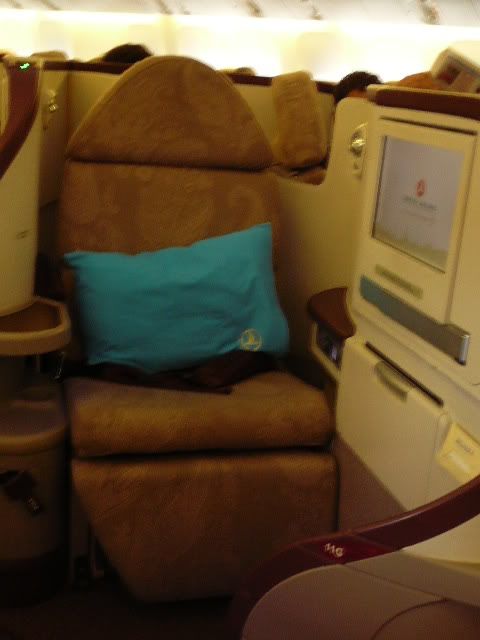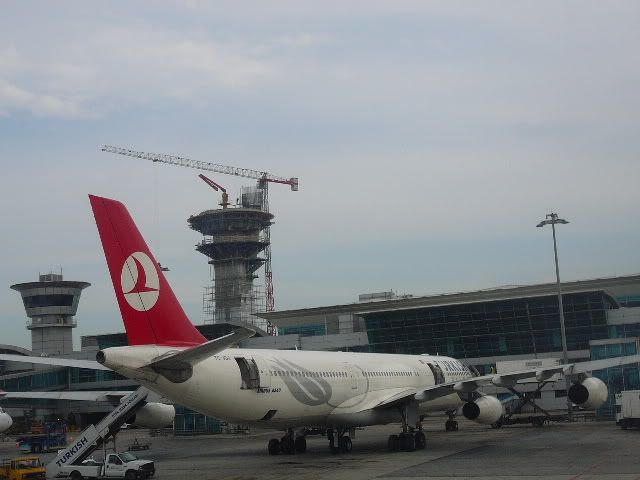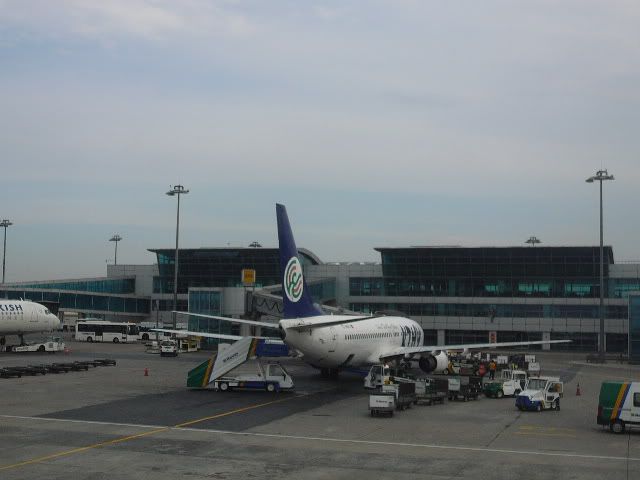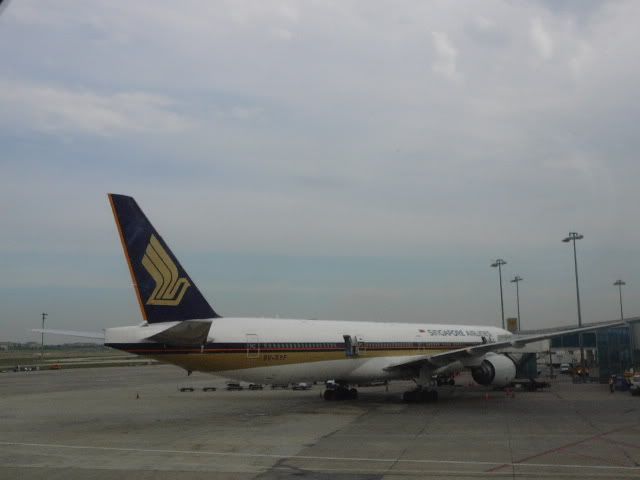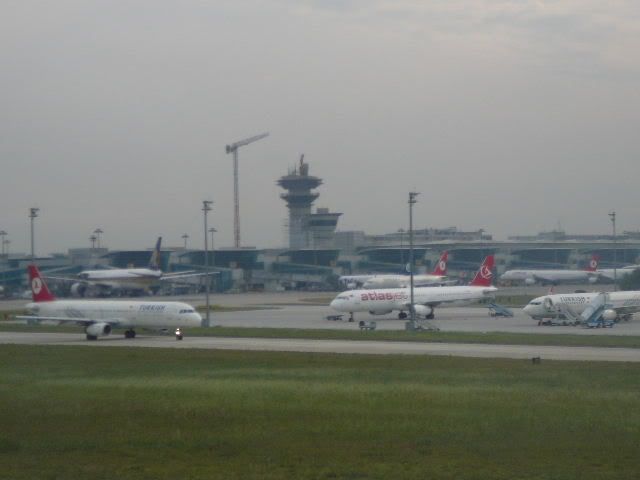 The poor quality take off video:
http://www.youtube.com/watch?v=GyMe9wuzgak
Soon after take off, the crew started the breakfast service. As this was a morning flight, no drinks were offered before breakfast. Food was delicious as always on TK. And it always tastes better when you have more room to eat and have a large PTV in front of you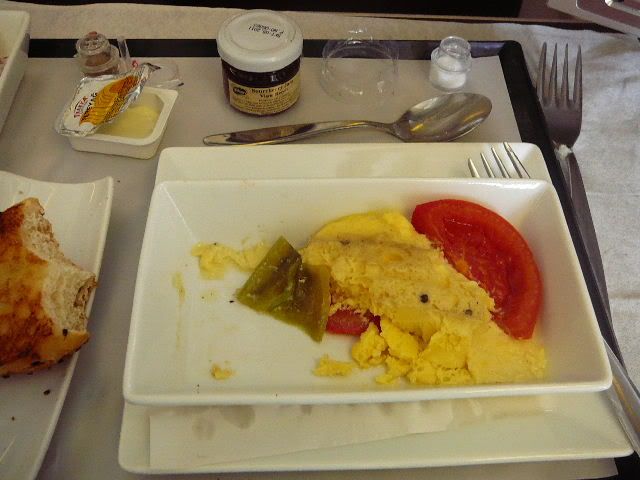 For the rest of the flights, I was mostly in the galley chatting with the F/As. We chatted about the 777, about new routes, how things have changed since I quit etc… If I hadn't quit, I would be a cabin chief in 737/320s and would be making about twice more money than I am making now
Not to mention the other perks such as free flights and so...
There was only 1 guy in F class. I paid a visit and took some pictures. Flying C or F is not that big a deal on such a short flight, but I guess it would make a bid difference on long haul. Both the C and the F seats are just perfect for sleeping. Here are a few shots of the F cabin: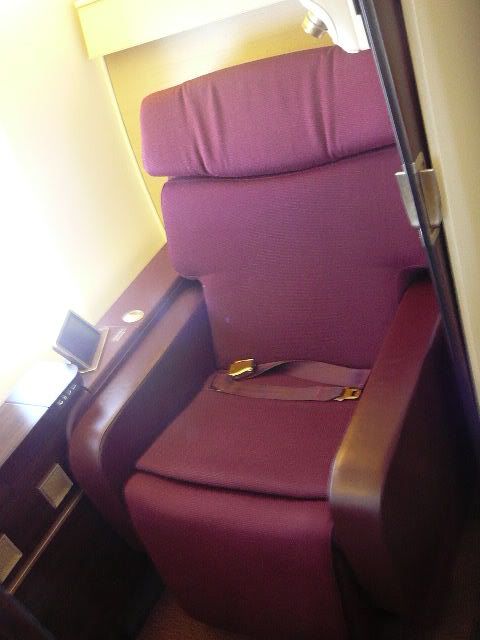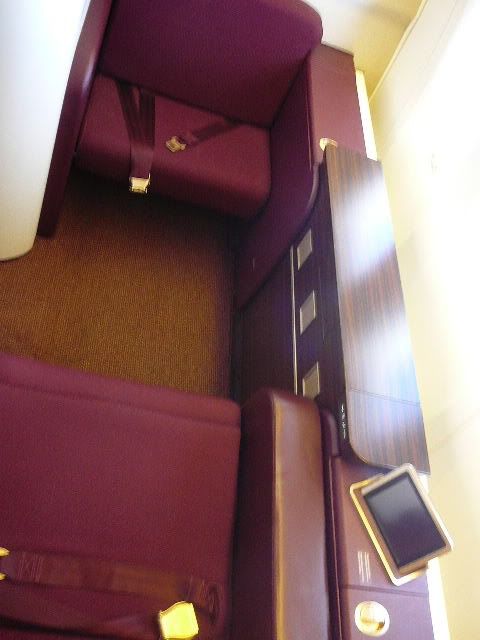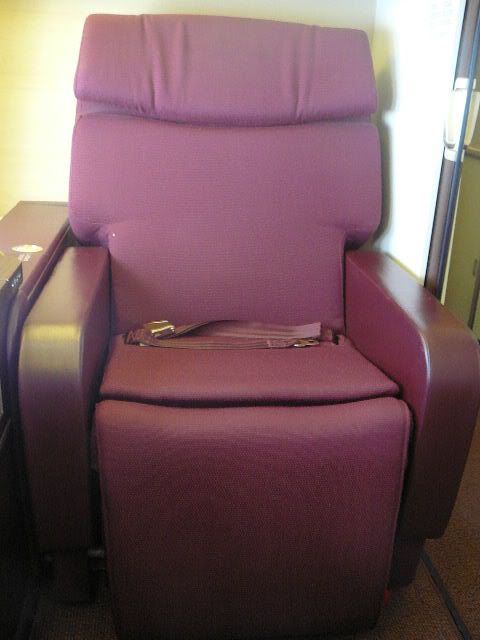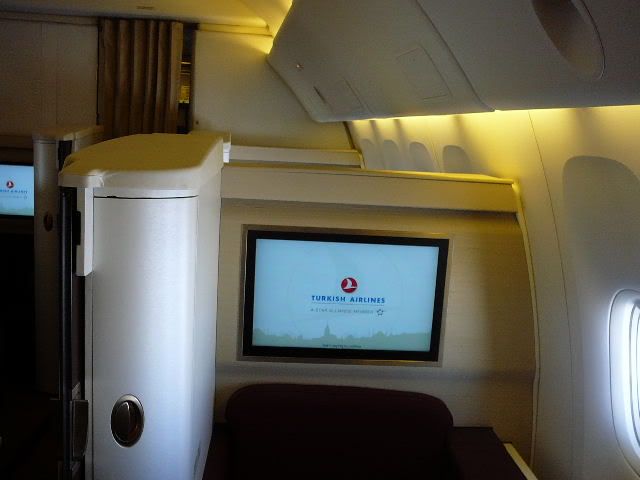 Cheesy I know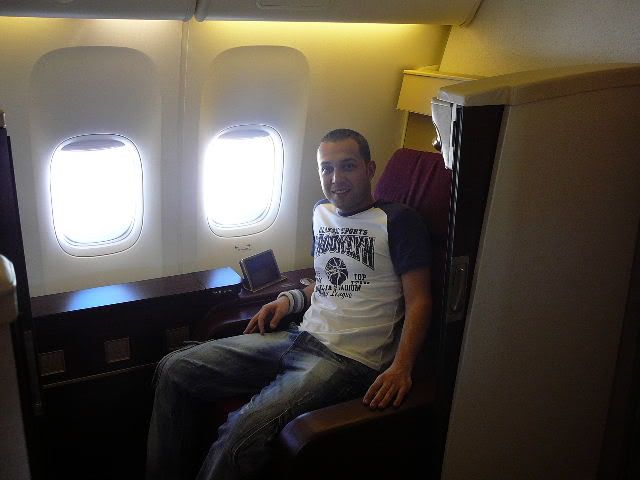 After having a long chat with the crew and taking more photos (I am keeping the C and Y class shot for the return), it was time for landing… I was hoping to fly over central London and TK didn't disappoint me once again
Here are some lovely shots of approach and a video of landing: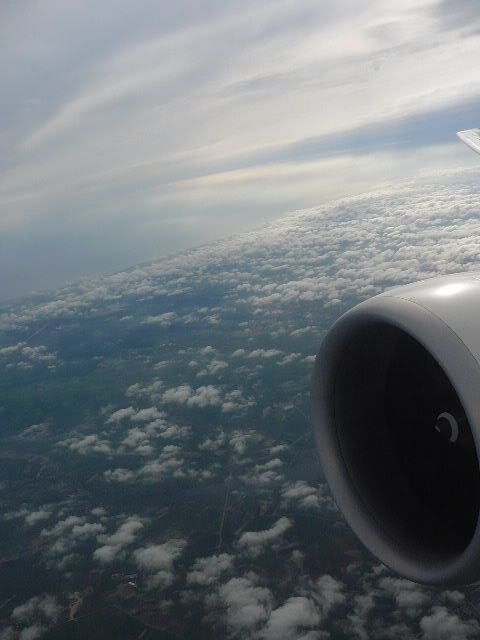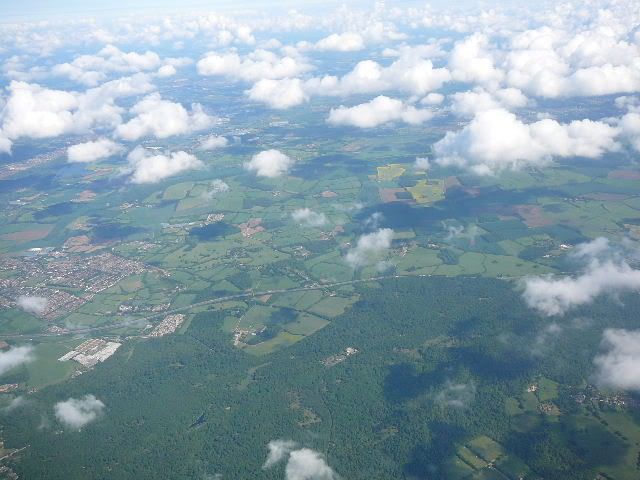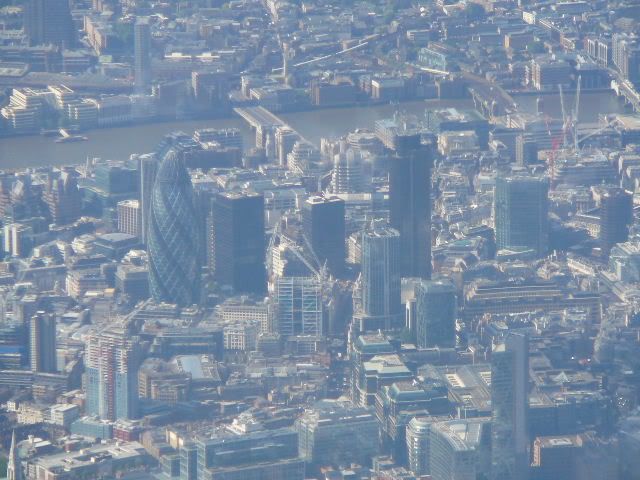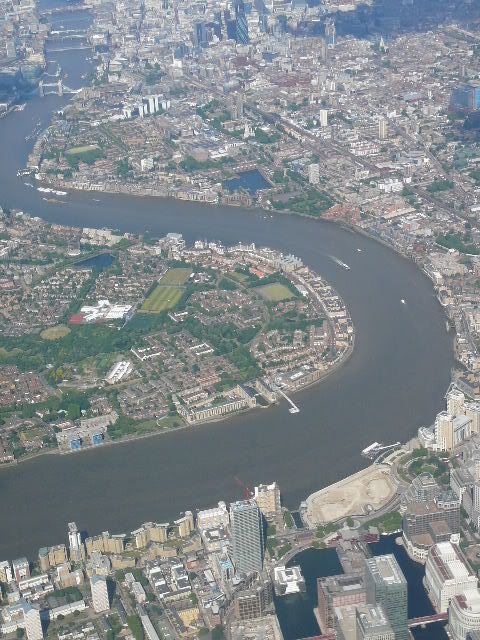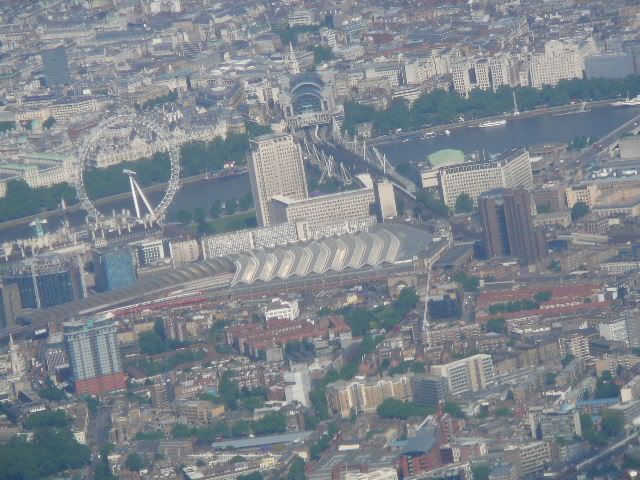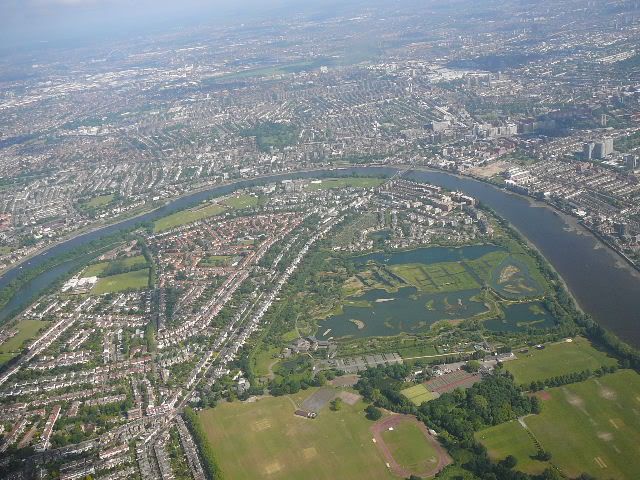 http://www.youtube.com/watch?v=1q9xw_yVrU4&feature=related
A few shots of action in LHR after landing: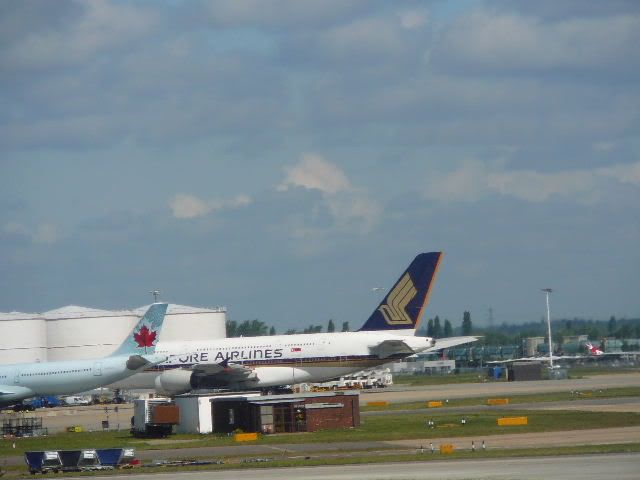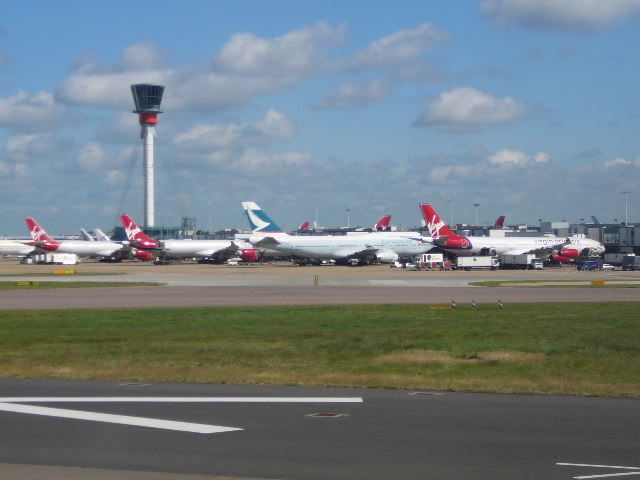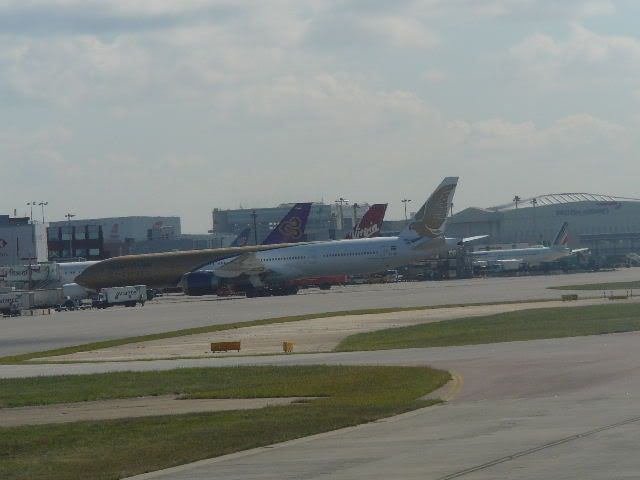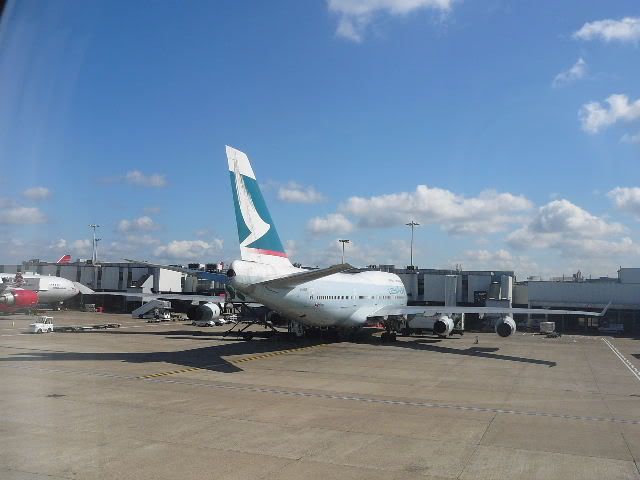 I spent 3 wonderful days in London… I hadn't been to the city since 2005 so it was nice to be back… I met my friend who has been living there for over a year now and she took me to places she discovered. Soon, it was time to go back home and start working the very same day
25 May 2009
Route: LHR - IST
Airline: Turkish Airlines (TK) operated by Jet Airways
Flight: TK 1980
Aircraft: Boeing 777-300ER (TC-JEF, named "Marmara")
Seat: 10 K
STD: 11:25
ATD: 12:25
STA:17:20
ATA:17:27
Flight Length: 3:00 (announced)
I arrived at LHR with plenty of time to spare so I could enjoy the lounge and take some ramp shots. Check in was smooth as usual and I picked the same seat as it offered good views. I then headed for the lounge. If I remember correctly, TK uses the SAS Lounge in Terminal 4. Nothing spectacular but quite nice and it offered very good views of the ramp and one of the runways which was in use that day.
LHR action once more: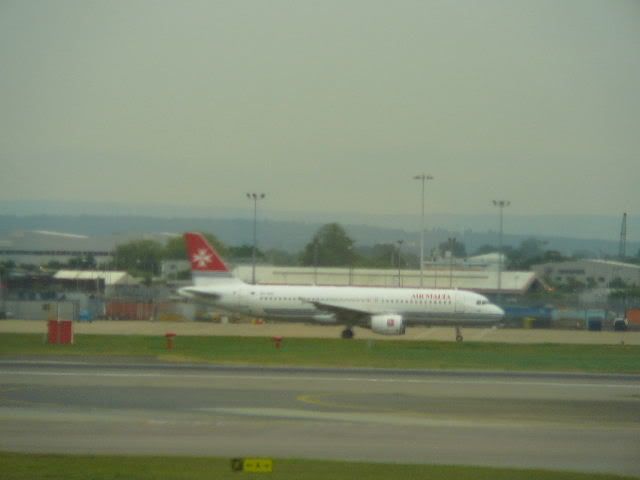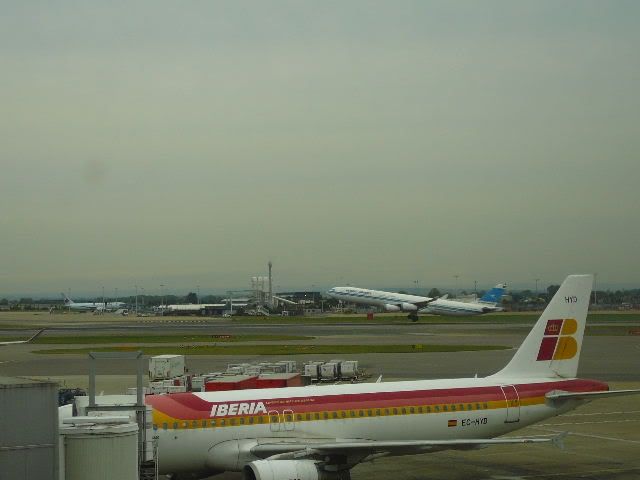 We boarded more or less on time but took off a bit late due to heavy traffic in LHR. No surprise right?
A few more shots before take off: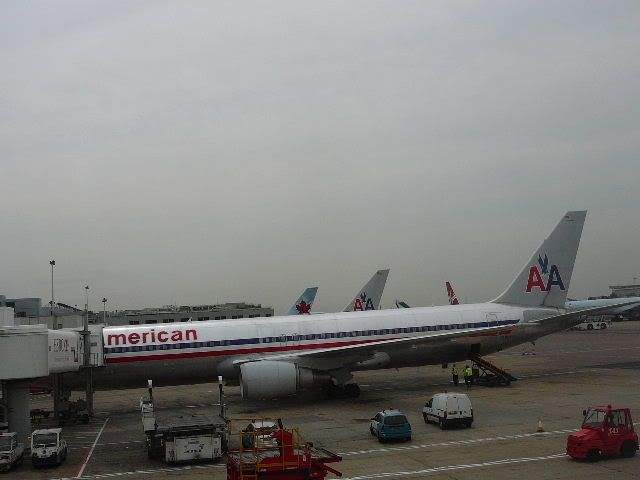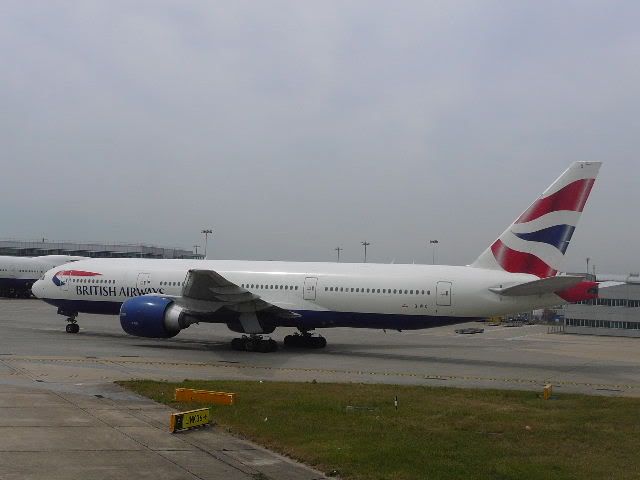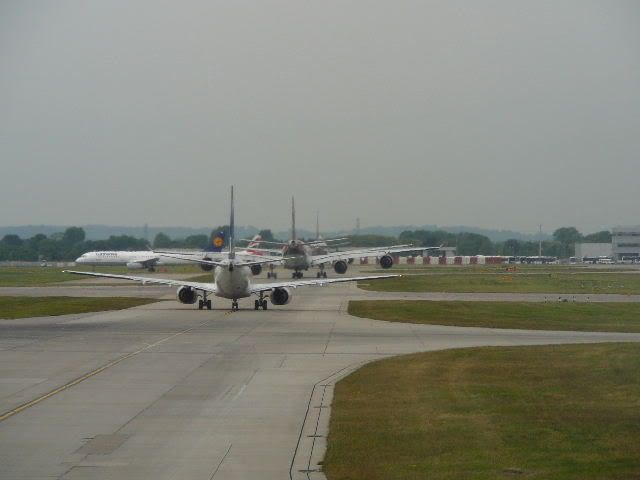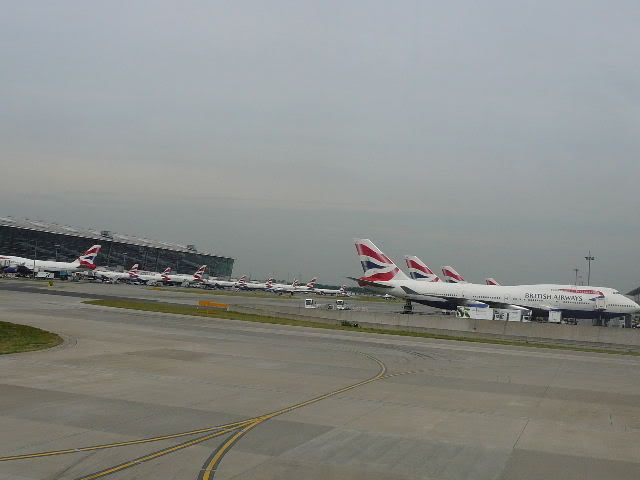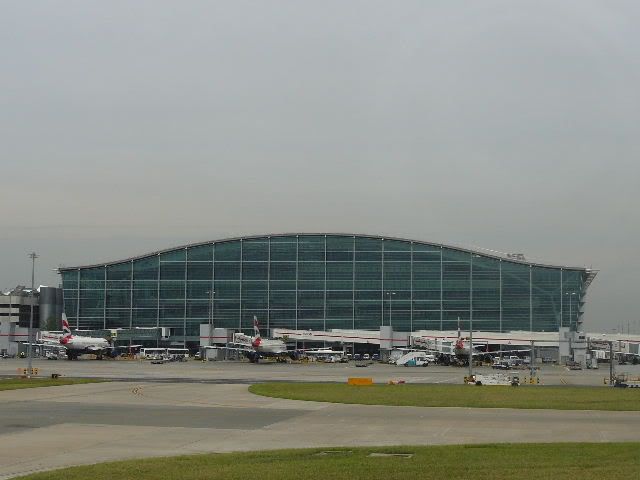 And the take off video:
http://www.youtube.com/watch?v=7zfZeTJoFhk
A few more shots after take off: Not as spectacular as our landing though…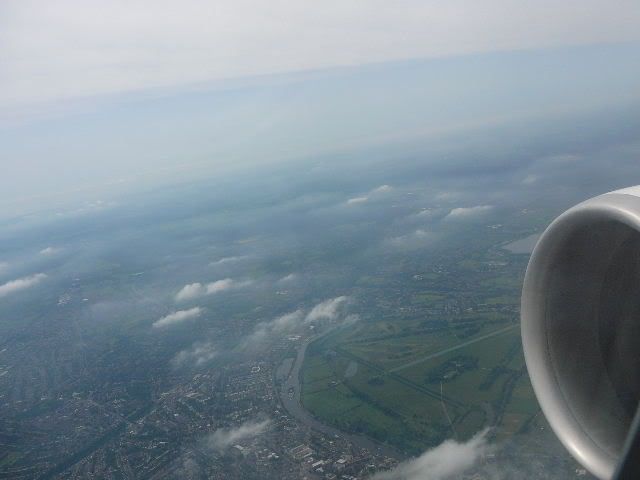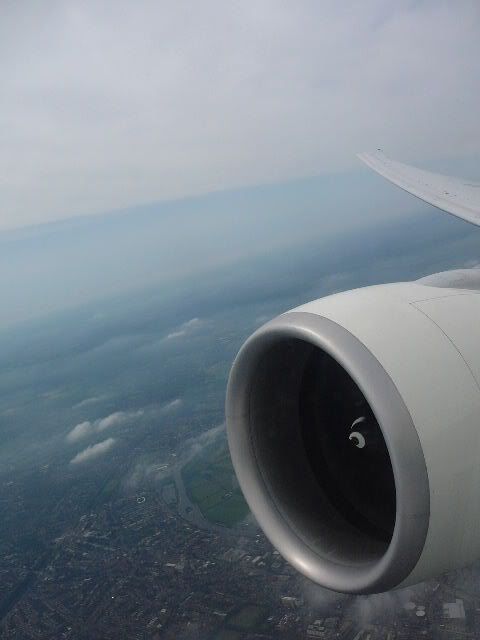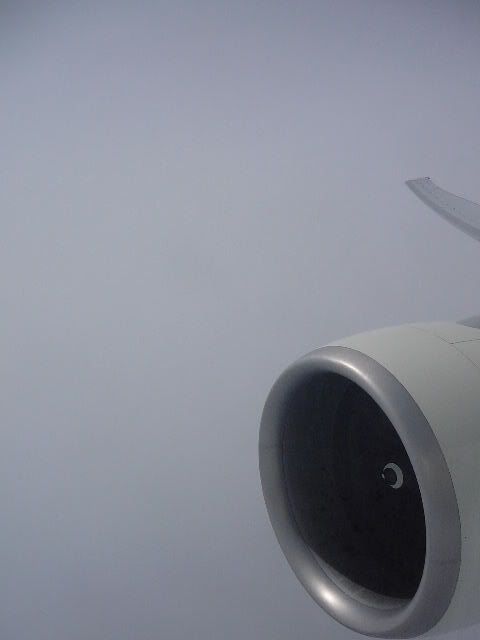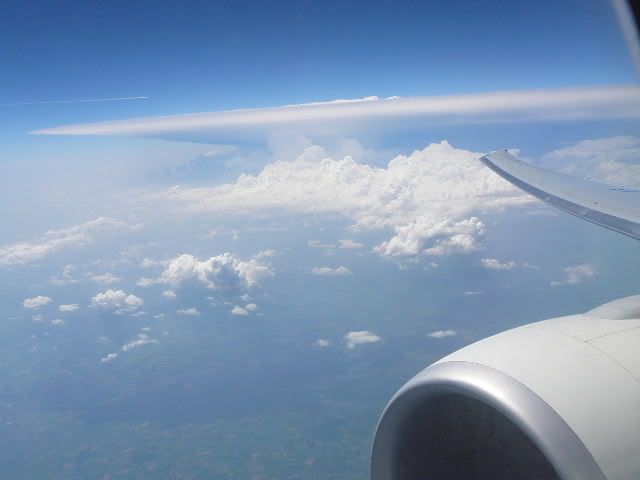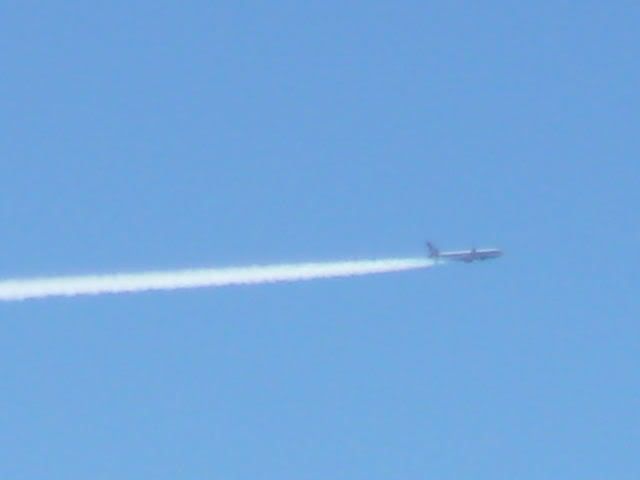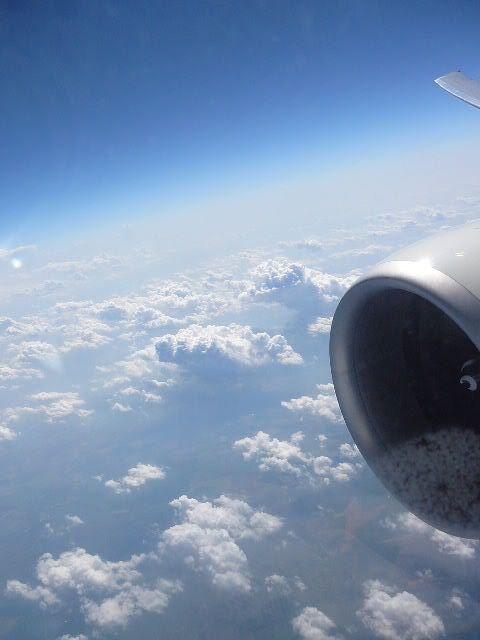 Lunch was served about 30 minutes after take off. I only took a picture of the started though...
Once again, the same F/A on my outbound flight was on this flight so we chatted a lot…So it was a fun flight after all.
Here are some photos of the seat, IFE and C cabin: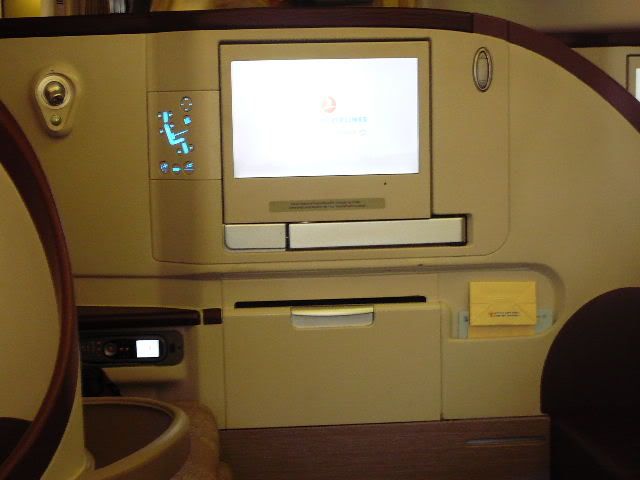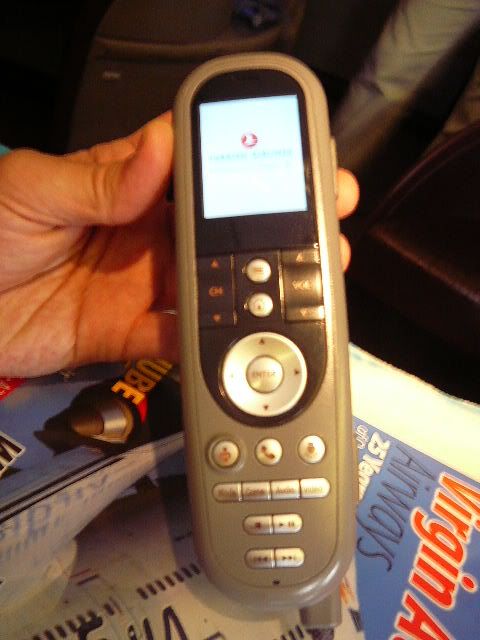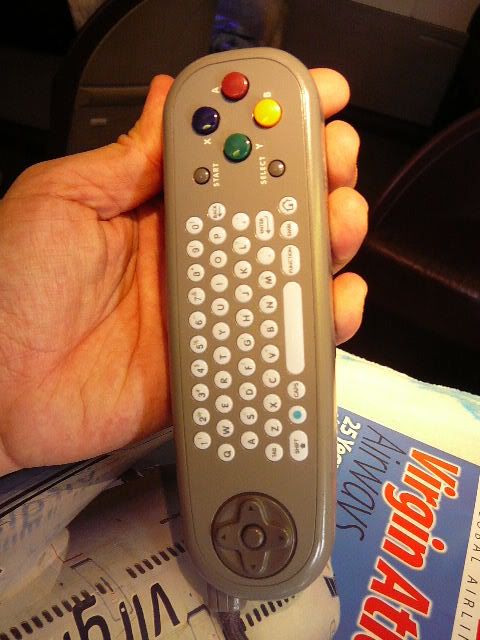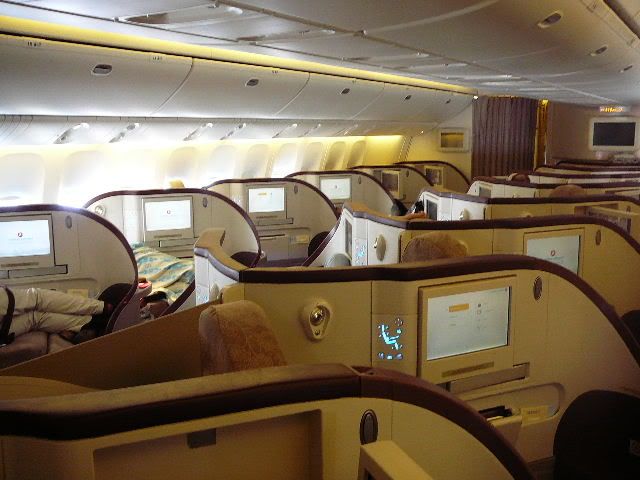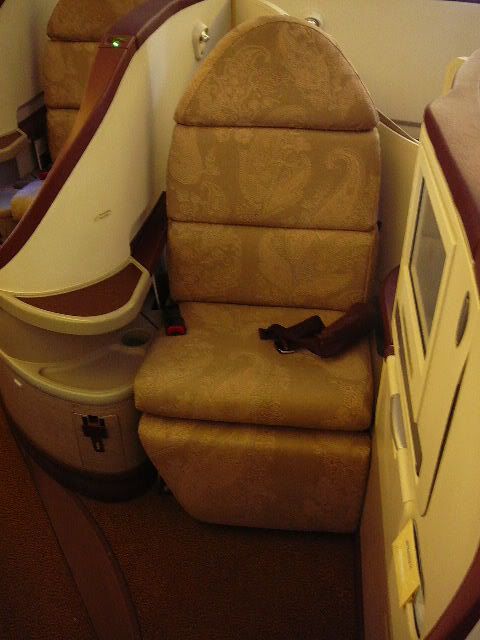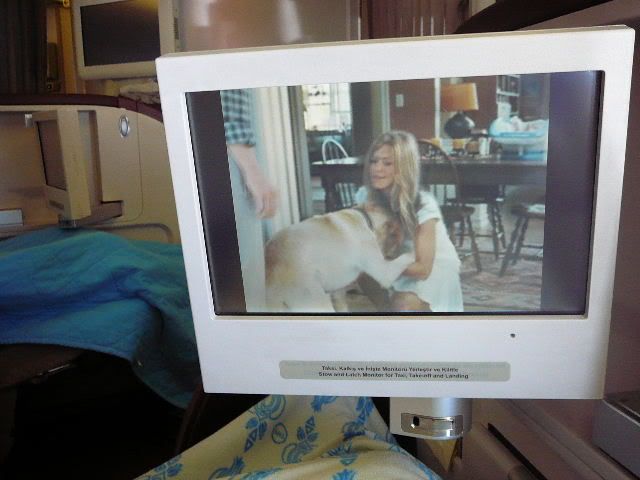 The obligatory lavatory shot
And on to the Y class. It looked really spacious. I could very well survive ant flight in this cabin. Seat pitch was very generous and the TV screens were very large…
Soon, it was time to land in lovely IST. A few shots of approach: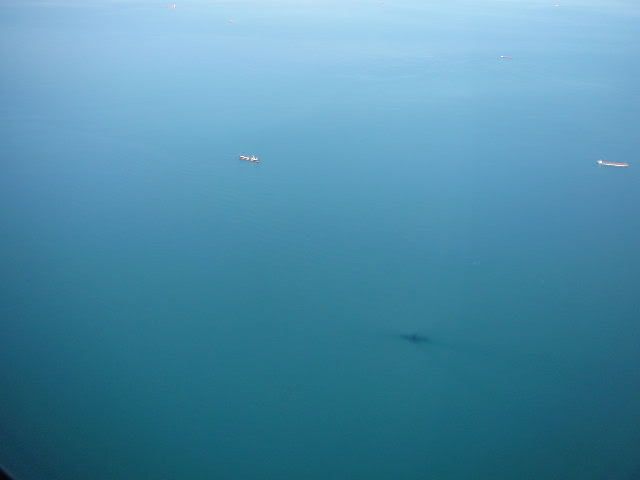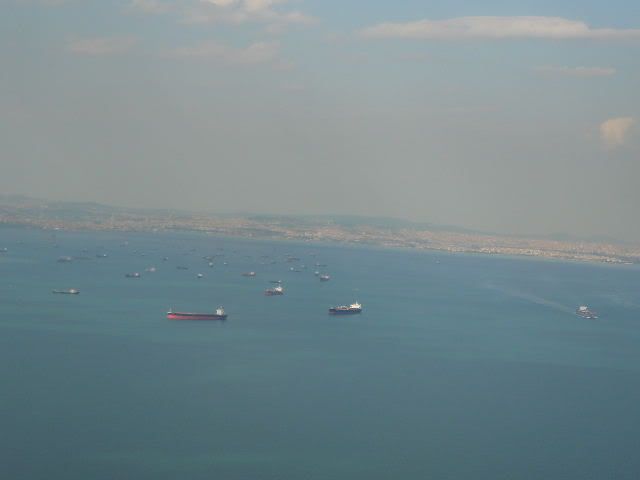 And the landing video:
http://www.youtube.com/watch?v=vvGcOdGqSsw
A few more shots of IST after landing: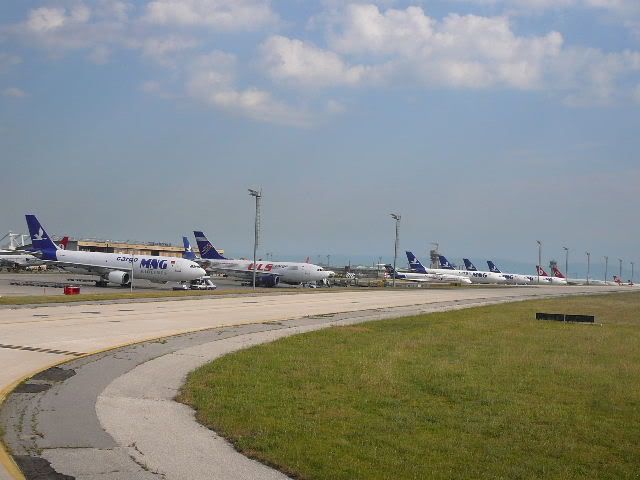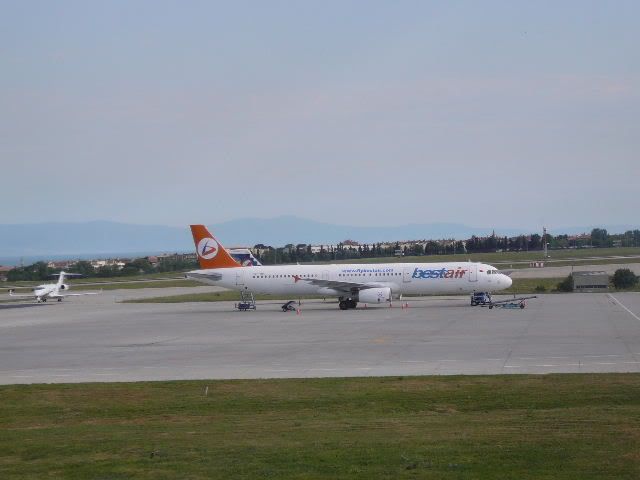 I have no idea what she was doing there. Delivery flight perhaps?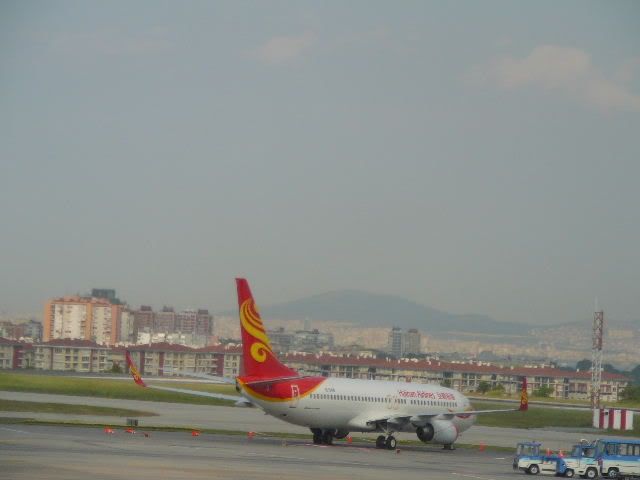 Overall, I had 2 very good flights. Despite much criticism, TK still remains as my favorite airline for good reasons. Food is always good on TK and the aircraft are always clean and well maintained. The new 777 is a fantastic aircraft. Cabins are very spacious and comfortable. Although with the arrival of the new 777s, there will no longer be any F but Business, Premium Eco and Eco which in my opinion will be much more suited for TK. I don't think their F product sells very well… The fact that they swap aircraft very often doesn't help either…
That's all folks… I hope you enjoyed this TR. I once again apologize once more for the quality of the photos and the videos… Now I need time and motivation to write my next TR (IST-FRA-SPU-MUC-IST on Lufthansa and Croatian)
Regards...