A cliché, is a saying, expression, idea, or element of an artistic work which has been overused to the point of losing its original meaning or effect, rendering it a stereotype, especially when at some earlier time it was considered meaningful or novel. The term is frequently used in modern culture for an action or idea which is expected or predictable, based on a prior event. It is likely to be used pejoratively. A cliché may sometimes be used in a work of fiction for comedic effect.
Imagine a fairytale, or perhaps your typical Hollywood movie, where each scene is perfectly designed, and produced in an attempt to get a specific point across the audience. One where each scene describes the utmost perfect setting that harbors the very feelings, emotions, sadness, or happiness that this author is trying to portray. Each person is fitted with a specific personality, each name is selected to describe the character, and every look is designed to match the mood. Nothing comes unplanned for.
This is what Singapore Airlines is about. No matter what you try to look out for, or how hard you do it, you will not find a flaw. The desired ending of this movie is to keep the customer raving till the day of death. As such, this airline's management, the author of this story, has perfectly created a setting of unmatched service elements that entail the perfect looking females, the best hardware, and in-flight service that is simply spotless. Predictably, almost every movie has a happy ending, and the same goes for this airline.
What can possibly go wrong at Singapore Airlines? Perhaps the logo on your champagne tumbler may not be facing you, but that is the absolute worst it can get to! Even that, supposedly happens on the rarest of occasions!
These are the facts, and also the views of the public ….
The following is my view of Singapore Airlines …
Welcome To My 16th Trip Report,
This TR will cover my flight on Singapore Airlines from Singapore to Abu Dhabi, in Business Class.
This is my third and last portion of my trip to Sydney and Singapore. It was unfortunately time to head back home to Abu Dhabi, and after having a great time in both Sydney and Singapore, I was dreading the thoughts of work piling up on my desk the following week. However, I still had the return flight back home to look forward to.
Flight selection in this case did not involve anything more than your basic research because I simply must try Singapore Airlines. Etihad was my other option, but the timings did not match. So a ticket on SQ in Economy Class was booked.
Friday April 24th 2009
I was dropped off at Changi Terminal 2 by Ryanair!!! At 8:40am. It was perfect timing as he had to be at work, and I wanted the entire day to spend at Changi roaming aimlessly to the eye of the general public. Having lots of time to kill, there was no rush to check-in, so I walked around and explored.
Curbside At Changi Terminal 2
Control Tower View
Airlines Operating From Terminal 2 At SIN
By 9:10am, I proceeded inside the terminal for check-in. Although not Changi's newest terminal, T2 was very modern looking, spacey, and so spotless! Why can't older terminals look this good anywhere else?
Departures Area
FIDS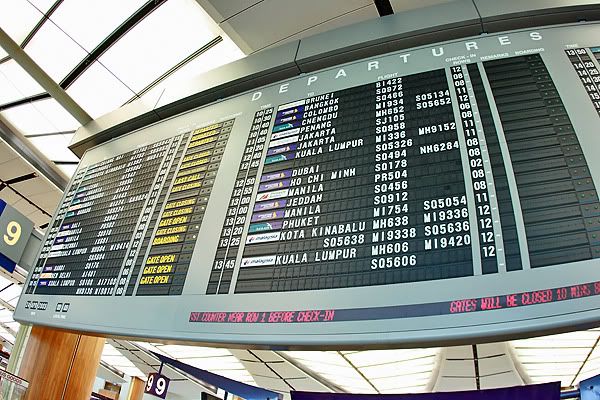 I arrived at the check-in counters and had only one person ahead of me in queue to check-in.
Check-In Desks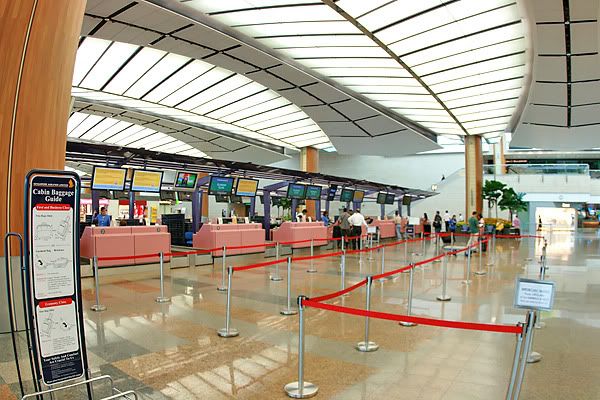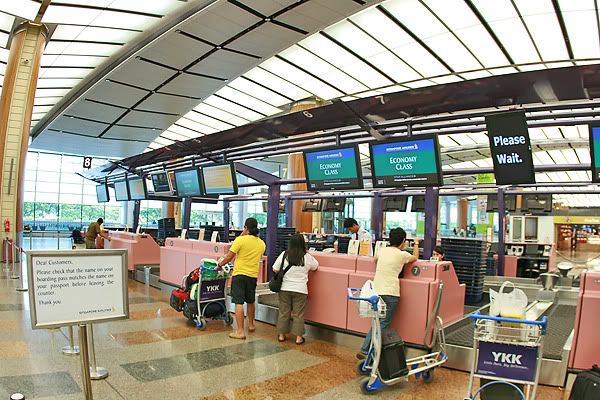 Seeing me stand in line behind only one person, a ground staff immediately approached me.
"Good morning sir, I can take you to the next counter over there to check-in so you won't stand in line. Please follow me to the Internet check-in counter"
How brilliant is that? You will not experience something like this in
any
other airport in the world!
I approached the friendly check-in agent, who in practically a blink of an eye checked me in. During that split second, I requested a window seat, only to discover that the flight was overbooked, and that all window seats had been taken. In fact, the only seats available were middle seats.
I was still in my holiday mood, and that means spending a little extra $$ on flying experiences can sometimes happen. So I asked to pay for an upgrade if possible. She immediately checked on her system and informed me that it was possible, however it must be done at the ticketing office located close-by in the terminal. Fortunately though, I did receive my Economy Class boarding pass for now, and my suitcase was tagged to AUH and taken care of, and all I had to do was show the agent at the ticketing office my luggage tag.
Economy Class Boarding Pass
At the ticketing office, I was immediately attended to, and within 15 minutes, my ticket was reissued, I paid the difference in fare, got my luggage tag number linked to my new ticket, and the agent had gone to and returned from an adjacent counter to check me in and issue my boarding pass.
Business Class Boarding Pass
I was done by 9:55am, and decided to take the SkyTrain to Terminal 3, and experience I was dreaming of before this.
Signage
Shopping Area Landside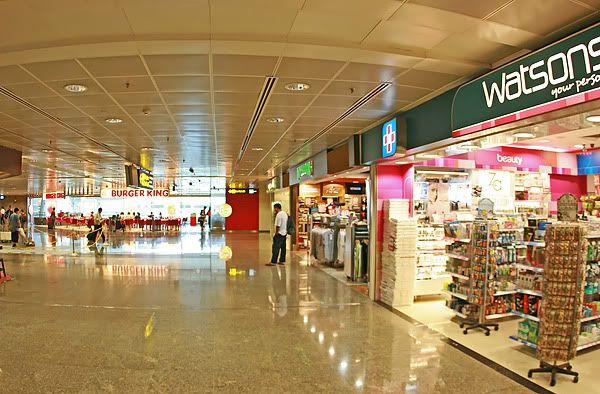 SkyTrain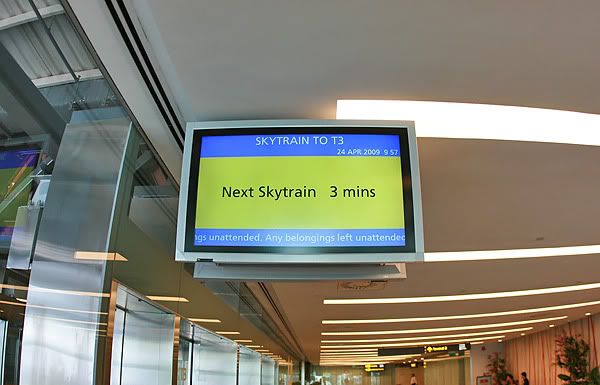 The moment you step off the train, you begin to gradually see traces of Terminal 3's fascinating design. The dramatic art-deco industrial style is so pleasing to the eye, and at the same time it is so effective that it creates a natural lighting effect that makes you feel like you are right under the sun in clear blue skies. Of course, this dramatic décor is perfectly balanced out by the subtle brown earth tones mixed with black that spot the entire space. I can't say more, but let the pictures speak for themselves.
Airside At Changi Terminal 3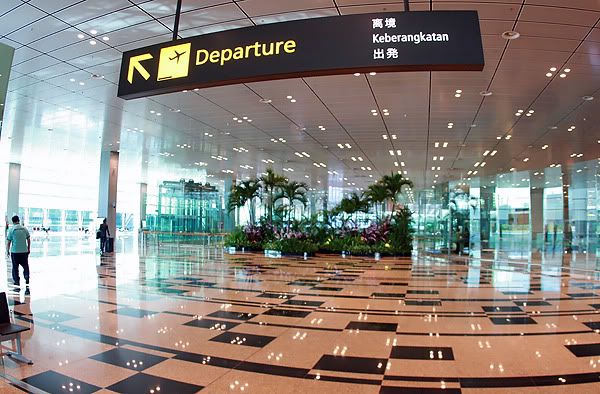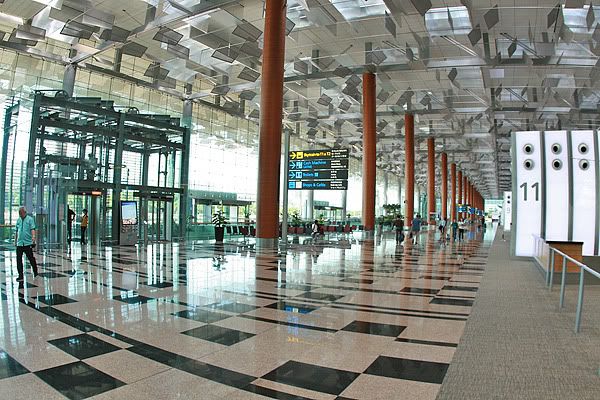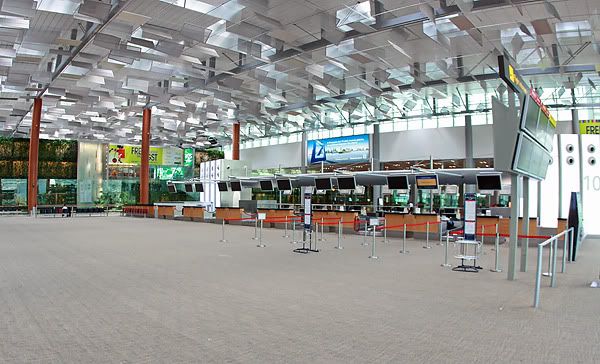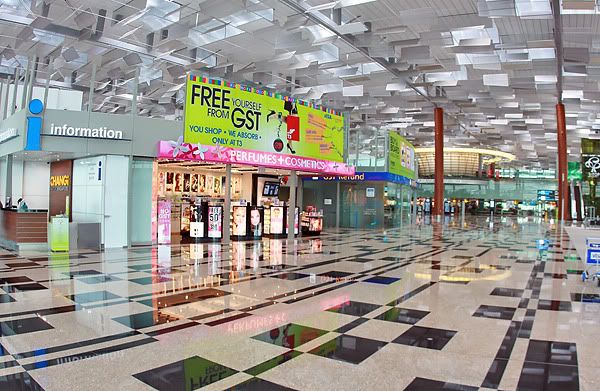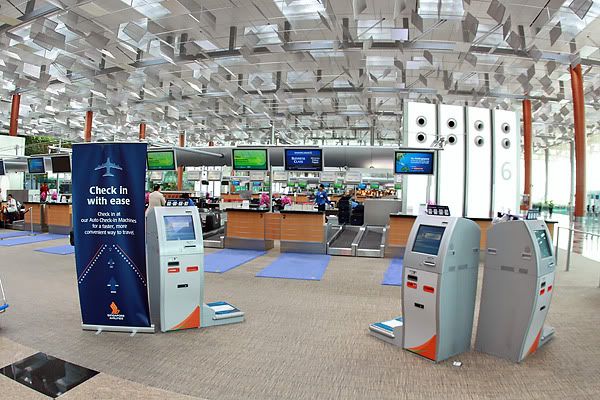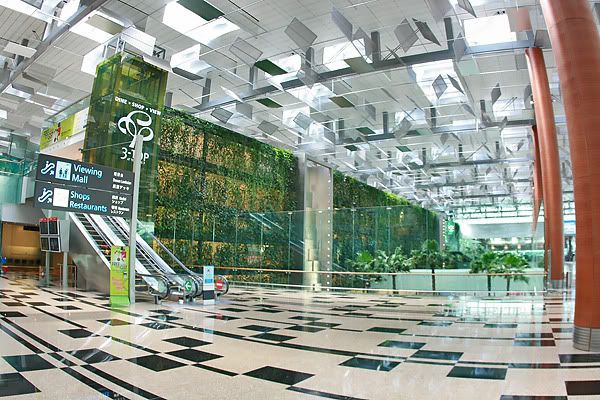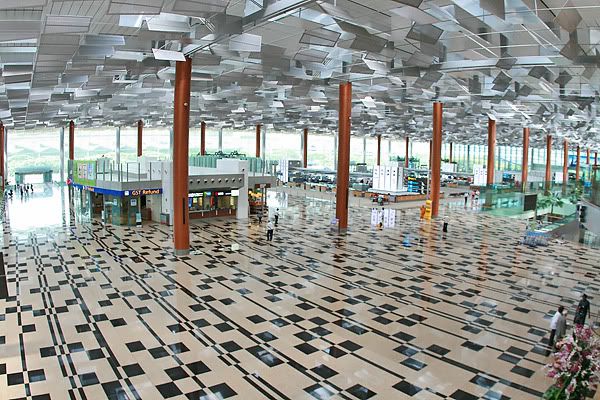 Proceeding One Level Up At T3
Oh How I Wish I was On This Longest Flight In The World!
T3 Curbside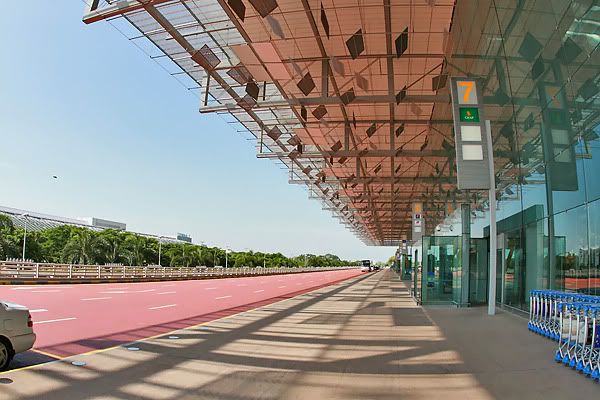 By 10:20am, I headed back to Terminal 2. Arriving at 10:35am, I proceeded straight to immigration, and by 10:40am I was airside. Having visited Terminal 3 now, I do notice a huge difference. However Terminal 2 still does have so much to offer.
Terminal 2 Airside
Changi Is Famed For It's Mini Gardens
I opted to head to the Silver Kris Lounge first for a quick meal. By 10:45am I arrived at the lounge where an agent walked up to me at the entrance to check my boarding pass and welcome me inside.
"Good morning Mr. Hawi"
"Good morning"
"So you are traveling to Abu Dhabi today is it?"
"Yes I am"
"Please take note of the boarding time as there are no announcements in the lounge"
Silver Kris Lounge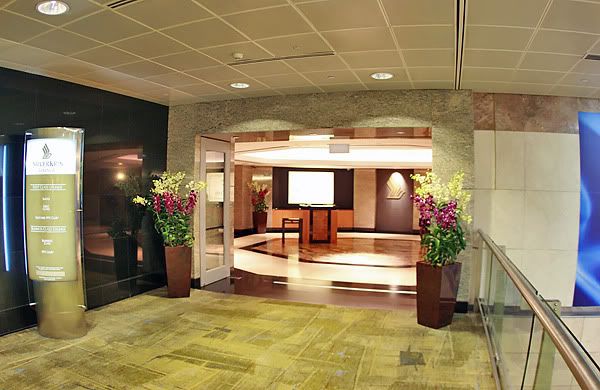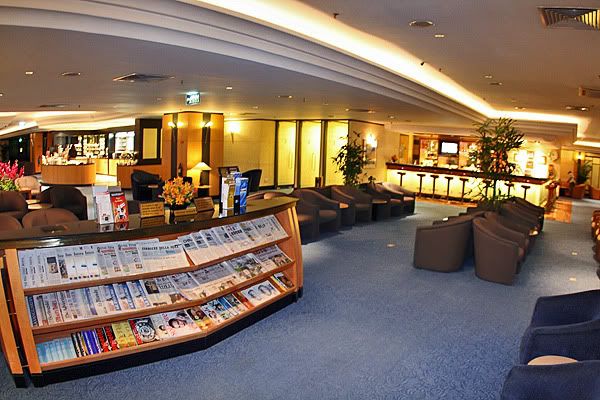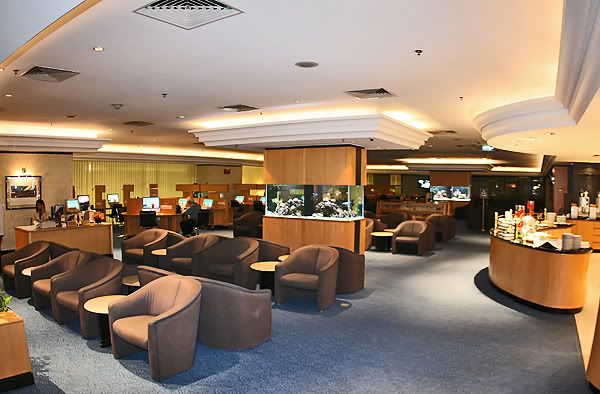 Food Offerings At The Lounge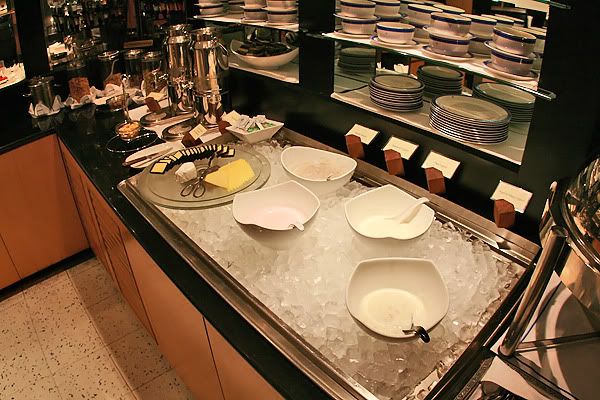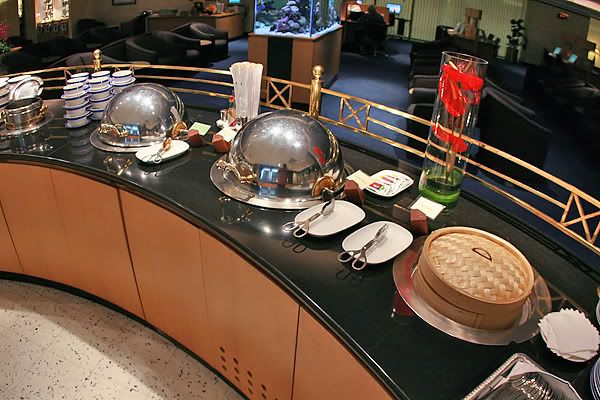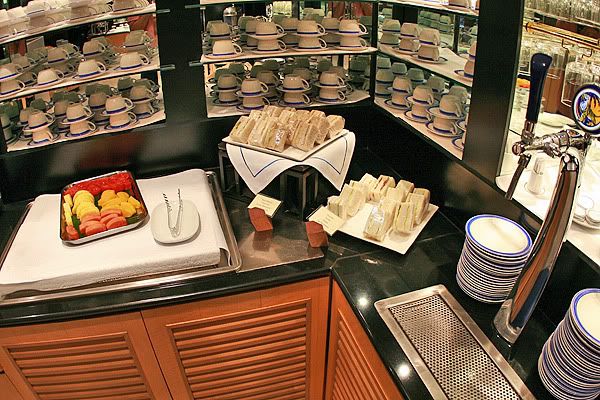 My Plate
The lounge itself was showing its age and does not even come close to the Pier at HKG. Nevertheless it was still comfortable. The food was quite tasty, however the selection was poor, compared to Etihad's and Emirates' premium lounges.
After a quick tasty bite to eat, I headed back out to the terminal to walk around a little more.
FIDS Located Near The Lounge
More Airside Pictures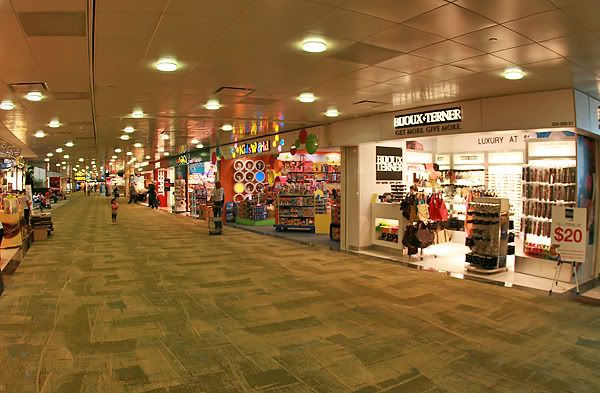 Notice The Gym Located Upstairs!!!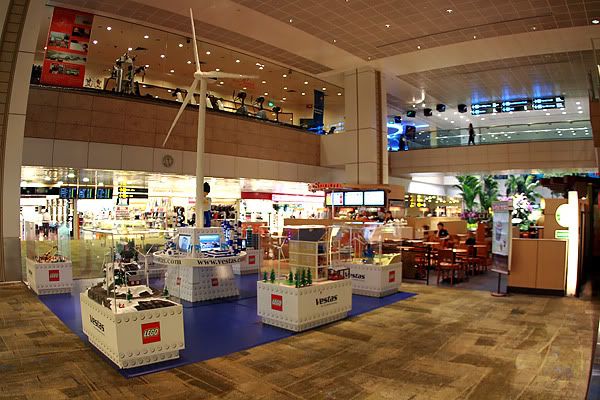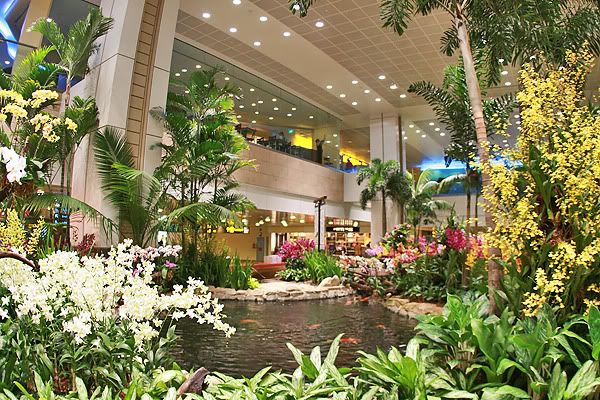 By 11:55am, I headed towards the gate and once I arrived, I found a queue already piling up to go inside the holding area. The flight did in fact seem full, and it was mostly religious traffic making their ways to Jeddah, where this flight continues after its intermediate stop at Abu Dhabi.
The Saudi market is a top priority for most Asian carriers like SQ and CX, and possibly in the near future TG, who desperately want more access to this ever-so restricted pro-SV market.
On My Way To The Gate
At Gate F40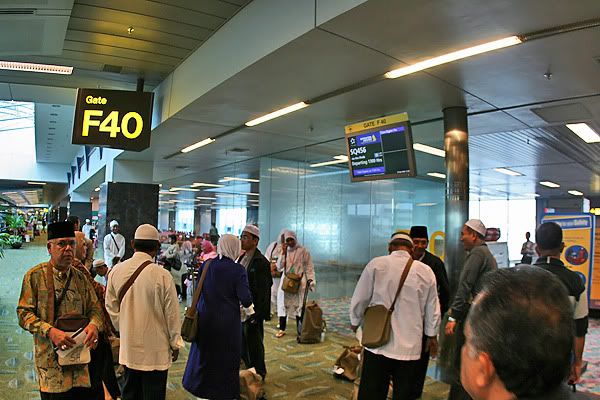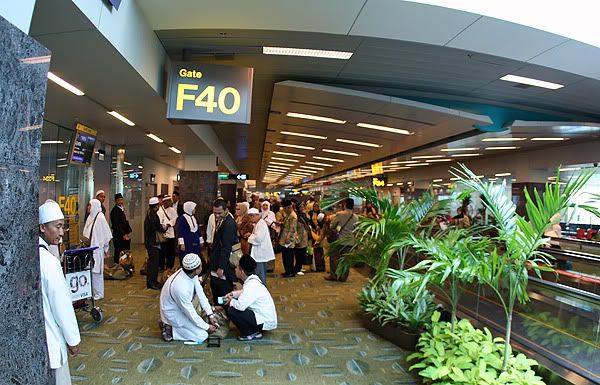 I stood in queue for the security check before arriving at the holding area at 12:05am.
My Aircraft That Will Take Me To Abu Dhabi (9V-SRJ)
In Queue For Security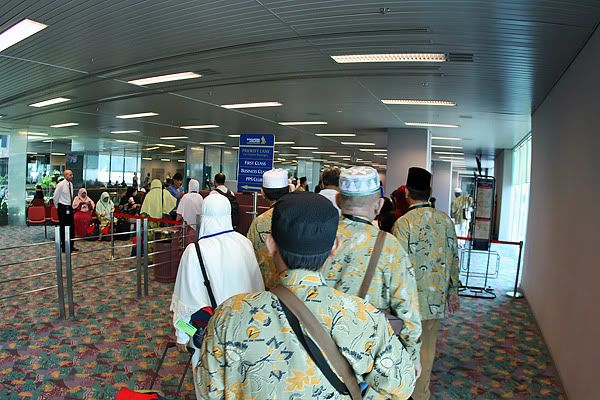 Inside The Holding Area
At 12:25pm a pre-boarding announcement was made calling for all passengers that require assistance to board the aircraft, in addition to Premium and elite status FFP's. I got up from my seat, gathered my belongings and proceeded towards the gate, and through the aerobridge before arriving at Door 1L of the aircraft.
Walking To The Gate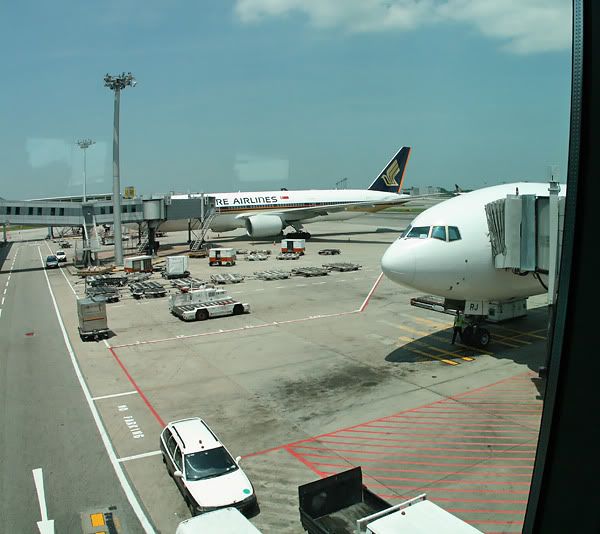 Inside The Aerobridge
Two male cabin crew, one of them being the lead steward or the equivalent of a purser, were standing at the door welcoming passengers on board.
"Welcome on board Mr. Hawi, right this way"
"Thanks"
"My pleasure, enjoy your flight"
By 12:30pm I was on board.
CONTINUED BELOW