Assalam aleikoum,
This trip report will cover 5 domestic flights I took in Uzbekistan at the beginning of the summer. Uzbekistan Airways is quite an exotic airline: their passenger fleet is comprised of a mix of Western and USSR-made aicraft, including Boeing 757s and 767s, Airbus A310s, Avro RJ85s, Antonov 24s, Tupolev 154s, Yakovlev 40, and Ilyushin 114.
Here's my itinerary:
Tashkent - Samarkand, Airbus A310
Termiz - Tashkent, IL114
Tashkent - Nukus, Tu154
Urgench - Boukhara, Avro RJ85
Boukhara - Tashkent, An24
I booked my tickets from France, which was much more complicated than I expected. Although HY domestic flights show up on websites such as expedia.fr or thomascook.fr, they cannot be booked online. You have to deal with an accreditted Uzbekistan Airways travel agency.
The main purpose of my trip to Uzbekistan was to discover the wonferful cities of Samarkand, Khiva and Bukhara. In 2 weeks, I also has time to go "off the beaten path" and take a trip to the South of the country, to Shakhrisabz, Boysun and Termez. I also visited Moynaq, a desolated city which used to be a prosperous harbour on the Aral seashores, and Tashkent, the capital of Uzbekistan. The other purpose was to fly on Russian jets, which are getting harder and harder to find nowadays.
I'll let the pics speak for themselves as I'm too lazy to write too many comments. I apologize in advance for the bad quality of the pictures, but Uzbekistan Airways has a "no photo" policy, and it's also forbidden to take pictures in Uzbek airports.
Flight 1
28th June 2009
Route: Tashkent (TAS) - Samarkand (SKD).
Flight number: HY1317
Aircraft type: A310-300 named "Fergana"
Registration: UK-31002
Scheduled departure time: 6:40am
Scheduled arrival time: 7:30am
My Aeroflot flight from Moscow had landed in Tashkent the same morning at 3:25am. It took me 1h30 to go through the immigration and customs procedures. There are 2 terminals at Tashkent airport: a modern and clean one for international flights, and a shabby soviet-looking one for domestic flights.
I tried to find the check-in counter for my flight, but the electronic board which was supposed to display flight destinations was broken. In went to the only counter behind which a man was standing, and I received my boarding pass. Even though a seat number is printed on the card, Uzbekistan Airways has a "free seating" policy on domestic flights.
I waited a while in the boarding lounge. Boarding was completed in no time as the load on this flight was very light. Tashkent to Samarkand is not a long distance, and most people prefer to take the bus or a shared taxi between those two cities. The reason why they operate such a big aircraft once weekly on this route is simple: it is in fact a positionning flight, as the A310 is then supposed to fly from Samarkand to Moscow.
I was welcomed on board by a Russian-looking flight attendant. The was no smile to be seen on this flight... HY's A310 are in a tri-class configuration, but the difference between F and J seats looked marginal. Most of the F seats were occupied by HY pilots reading manuals, while some HY flight attendants in full uniform were sleeping in the J seats. I took a window seat, and soon after a f/a came with a tray of drinks (sparkling water, Coke or orange juice). It's the first time I was offered drinks while we were still on the ground. I know it happens in F and J classes, but I always fly in coach. I took an orange juice, my glass was promptly collected, the doors closed, and off we went.
TV sets were lowered for the safety demo, but for some reason the crew didn't turn them on. There was no manual safety demo, only an audio recording.
There was no drink service inflight, as we got it on the ground. No snack was served either.
The flight was quite short, and we landed in Samarkand a few minutes ahead of schedule.
The domestic terminal at Tashkent Airport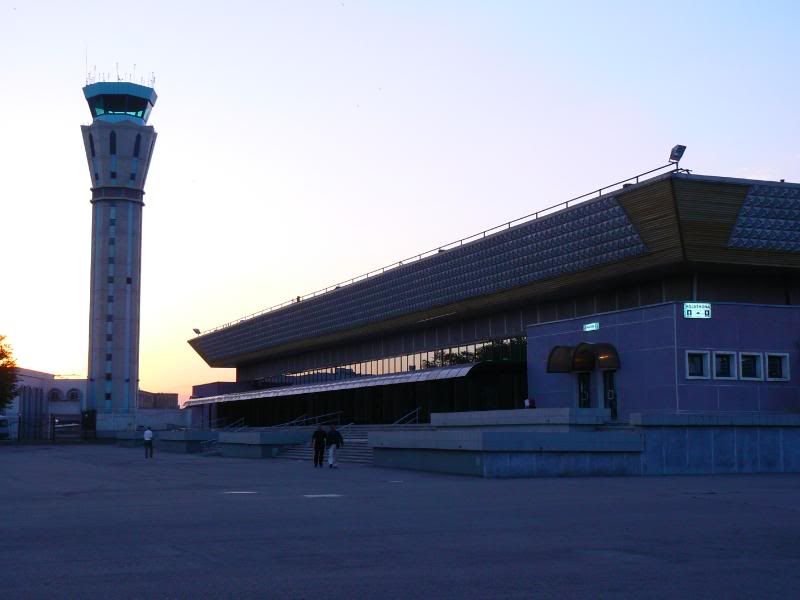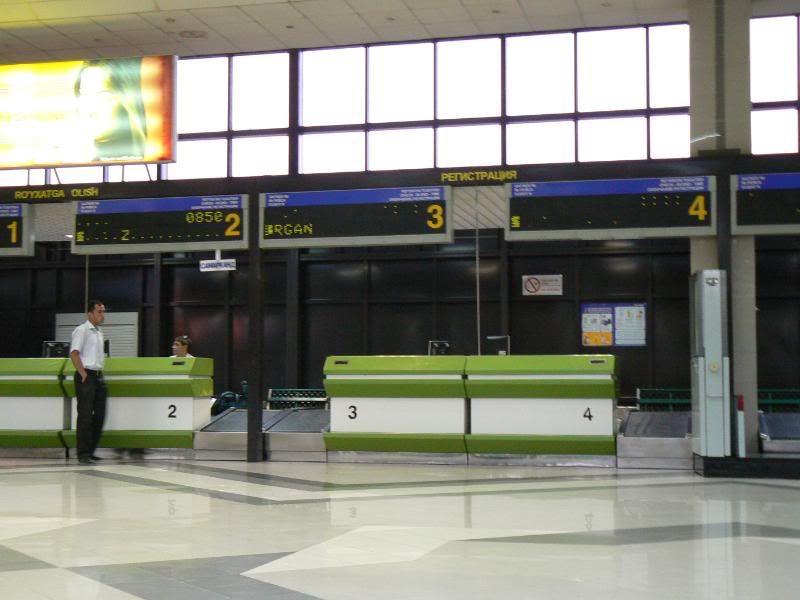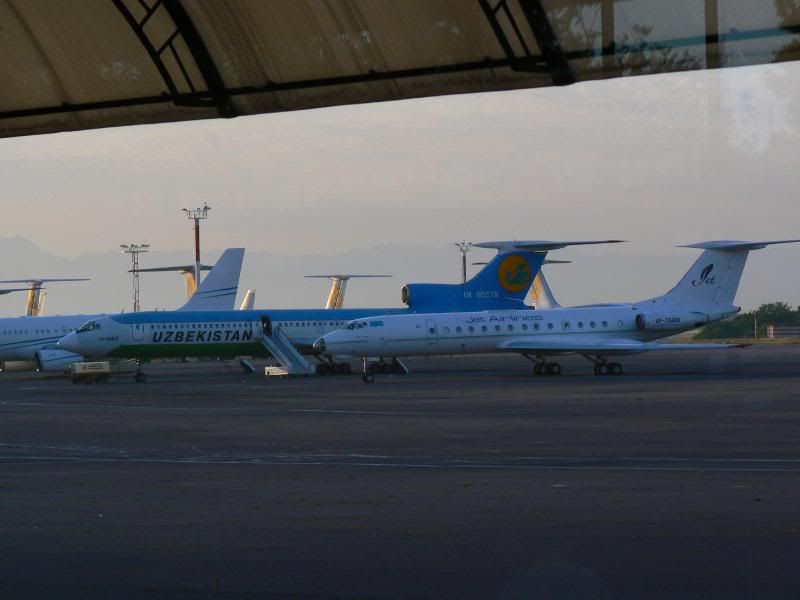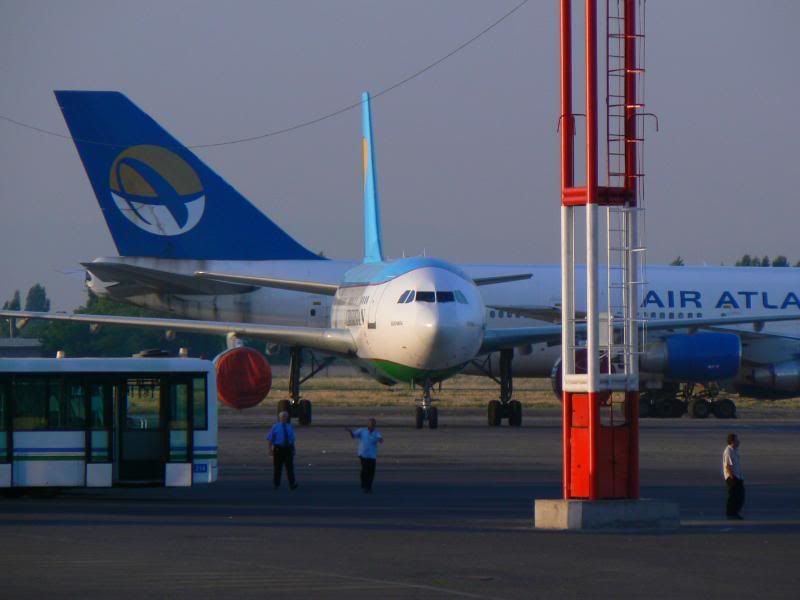 Good luck ??? what a nice slogan for an airline !!!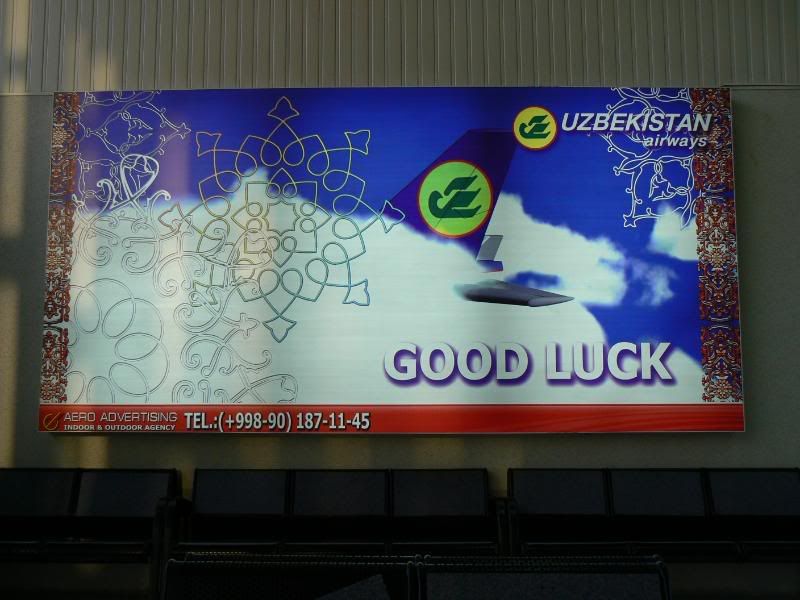 The coolest airport bus ever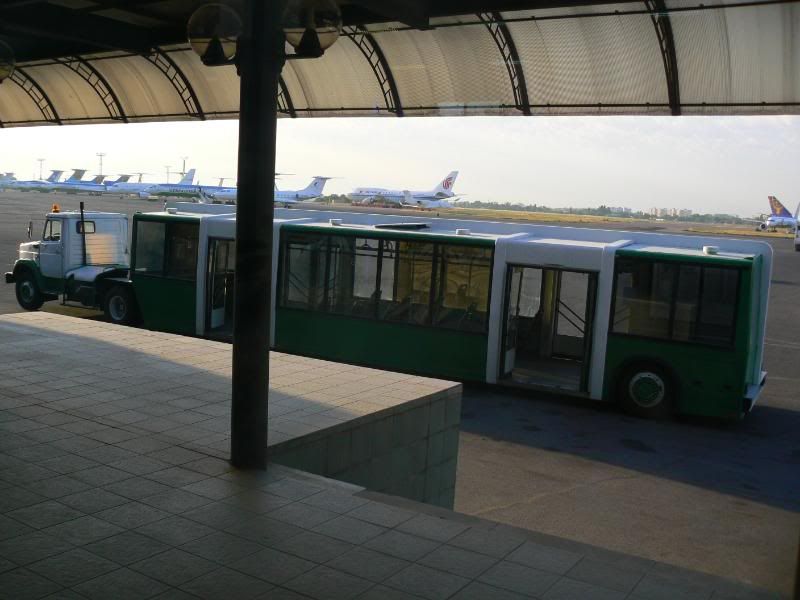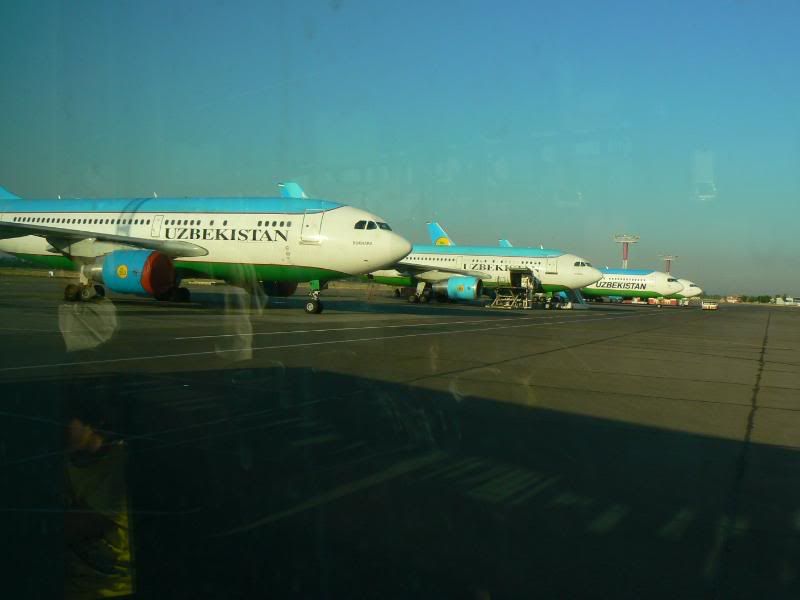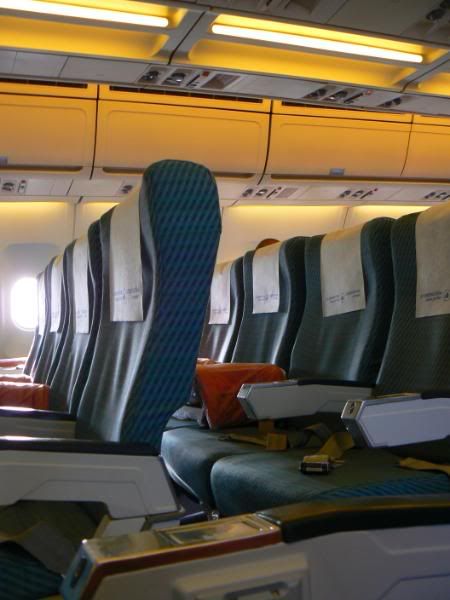 A blanket for the passengers who will board in Samarkand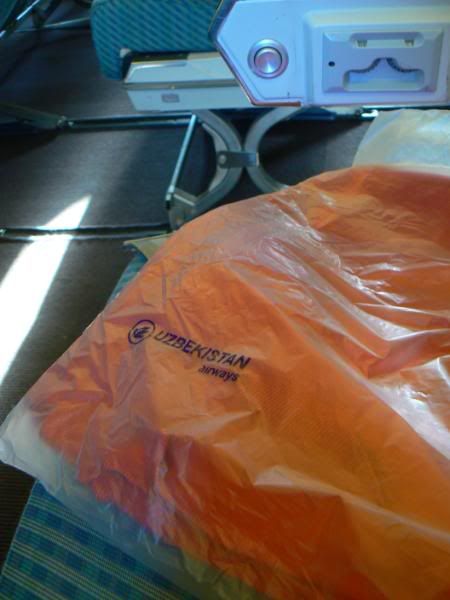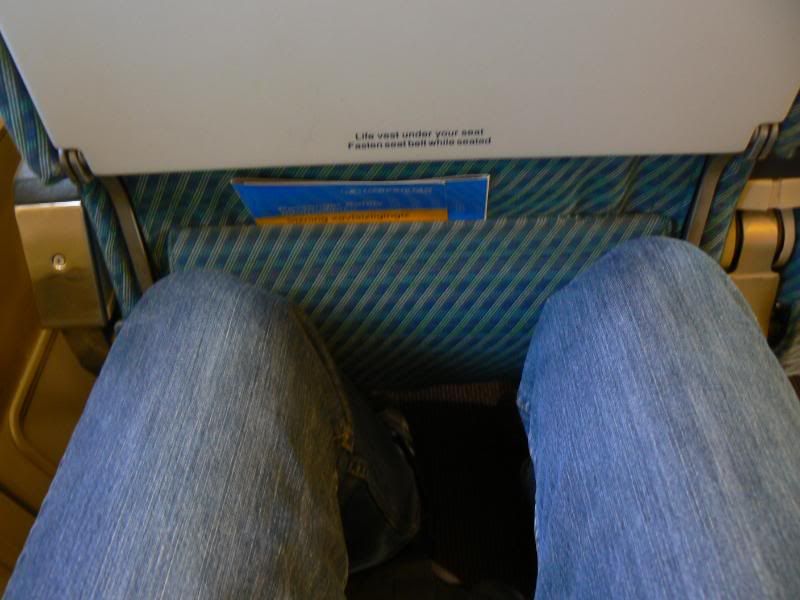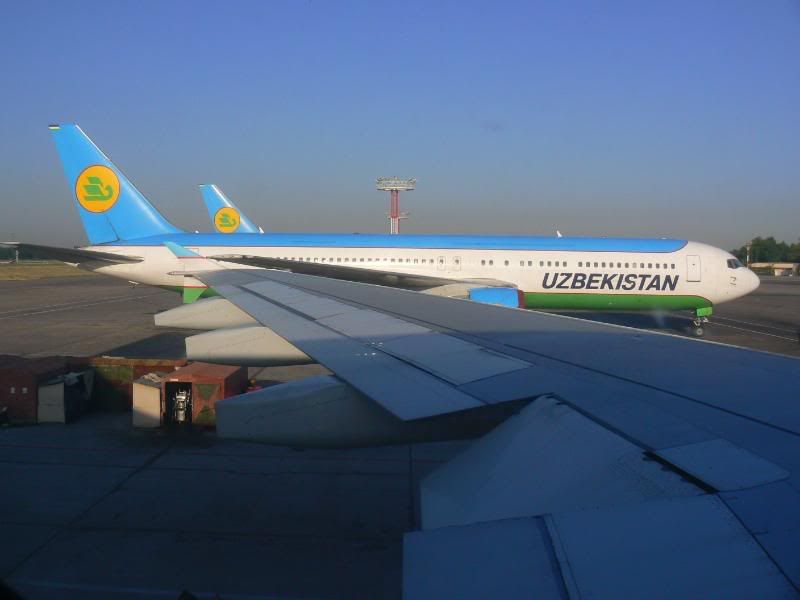 Before take-off drink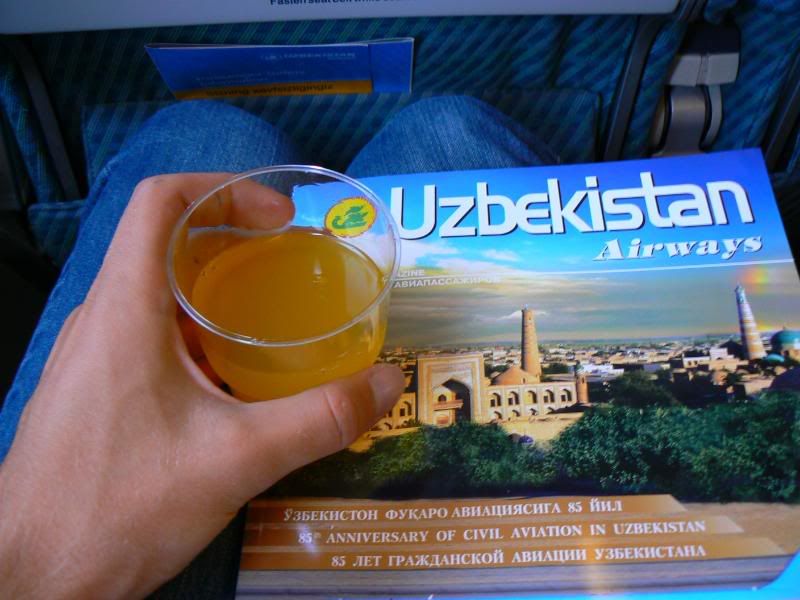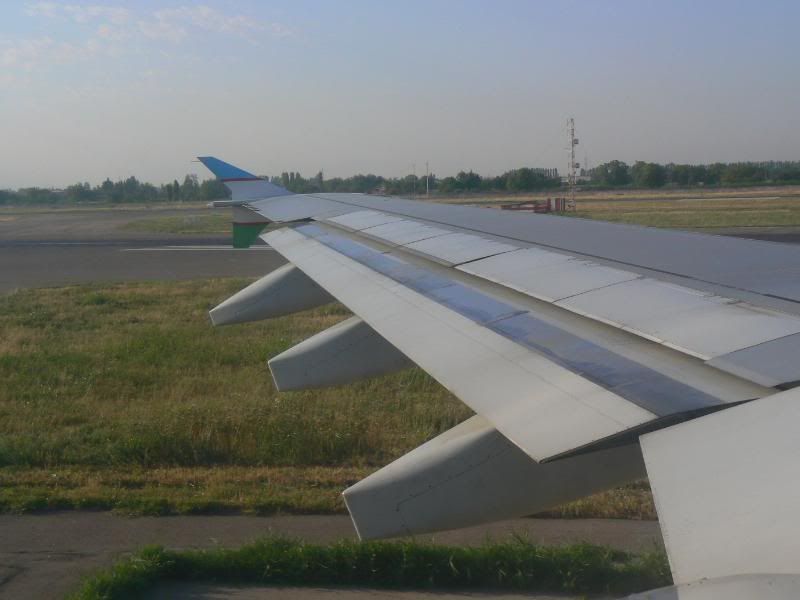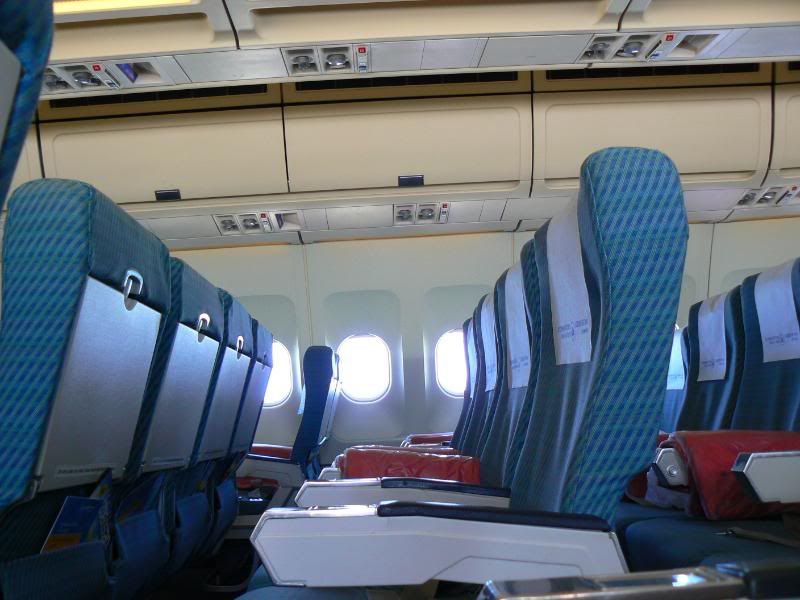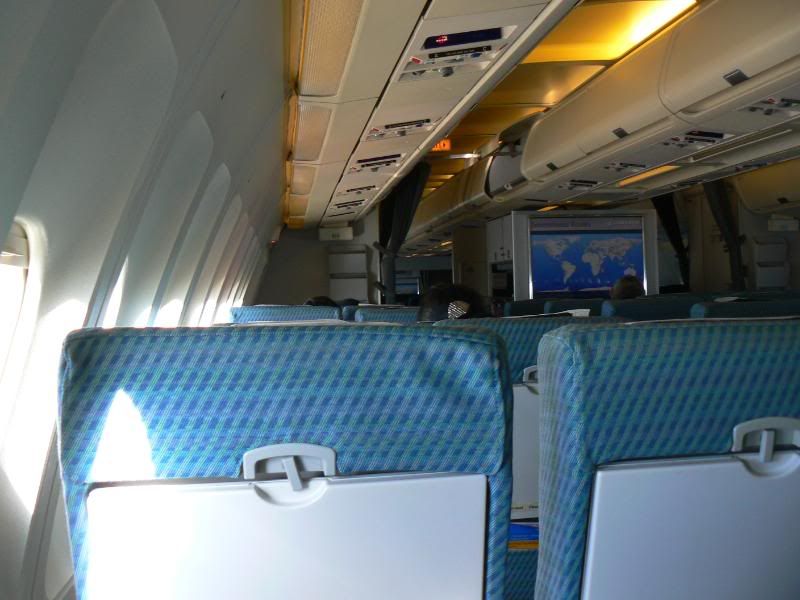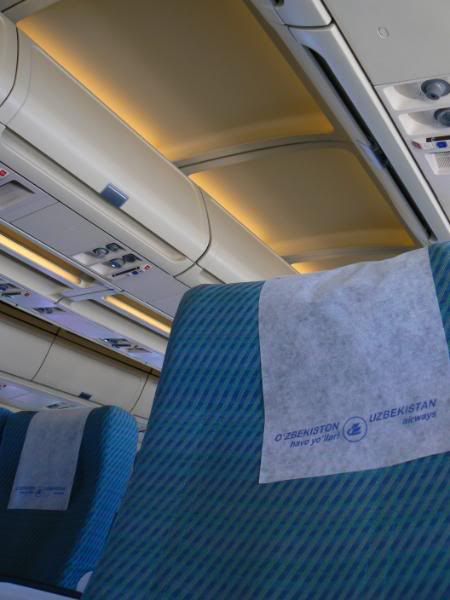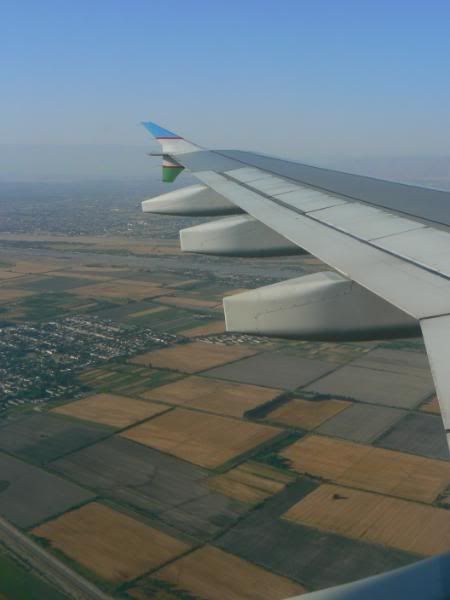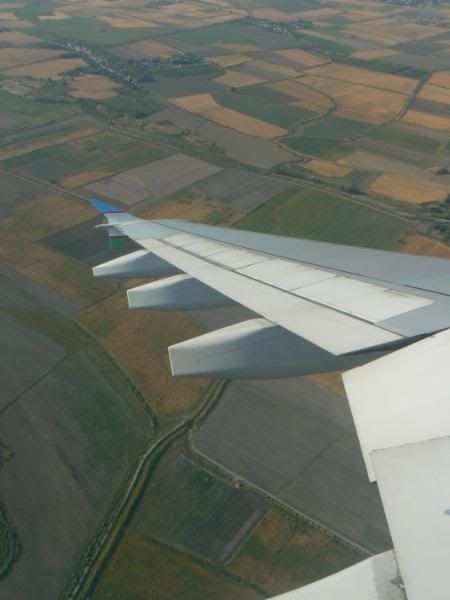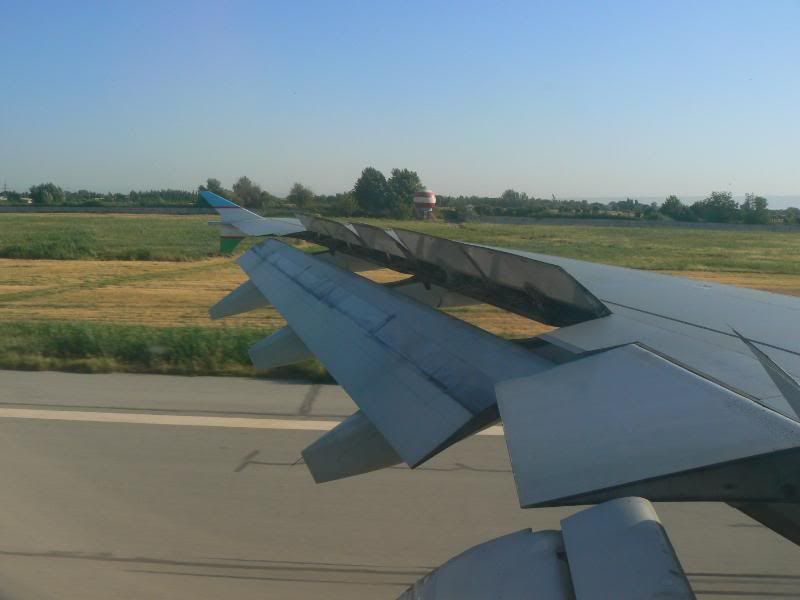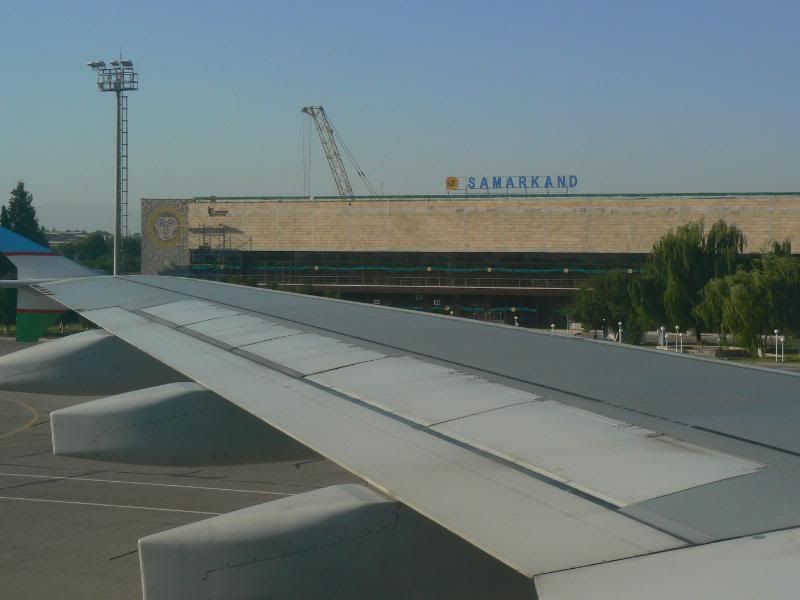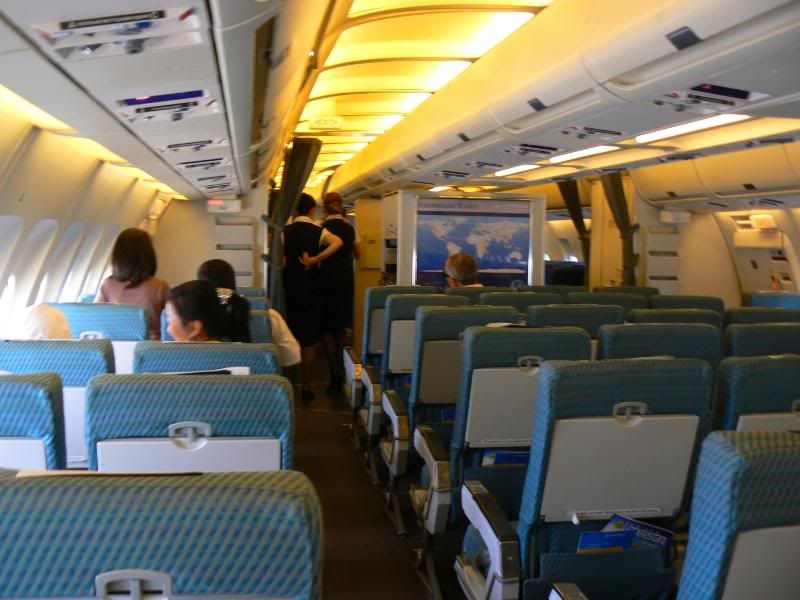 Flight 2
5th July 2009
Route: Termiz (TMZ) - Tashkent (SKD).
Flight number: HY1152
Aircraft type: IL114-100
Registration: UK-91106
Scheduled departure time: 12:05
Scheduled arrival time: 13:50
First time on an IL114, first time on a Russian jet !
I expected to fly on a YAK40, but eventually an IL114 showed up at the gate. I was a bit disappointed, but as long as I was going to fly on a Russian jet, it was fine.
Termiz is Uzbekistan's southernmost city, located right at the border with Afghanistan. HY received its first IL114 in 2003. According to what's written in the inflight magazine, those birds were made in Uzbekistan under licence from Ilyushin. Even though it's a recent plane, the cabin was already quite worn-out. The quality of the cabin fittings is definitely not the same as that of Western airliners.
The safety demonstration was performed in Ozbek and English. Most of the seats were occupied this time, and after the door was closed we made our way to the active runway. The IL114 is very noisy from inside, but I didn't care as I was extremly excited to fly on something that felt so different than a Dash 8 or an ATR.
A few minutes after we reached our cruise level, we were offered a choice of drink (sparkling water, Coke or orange juice). Once again, it seemed the crew was never taught how to smile.
Termiz Airport terminal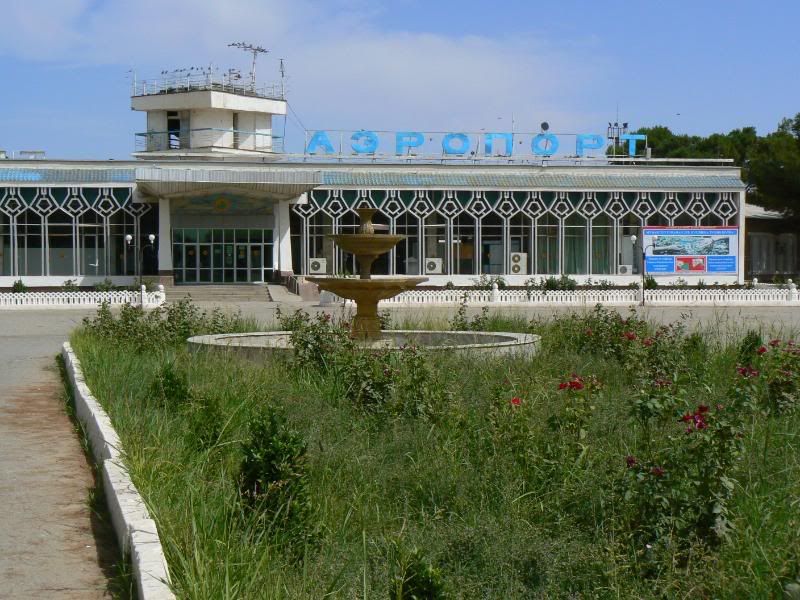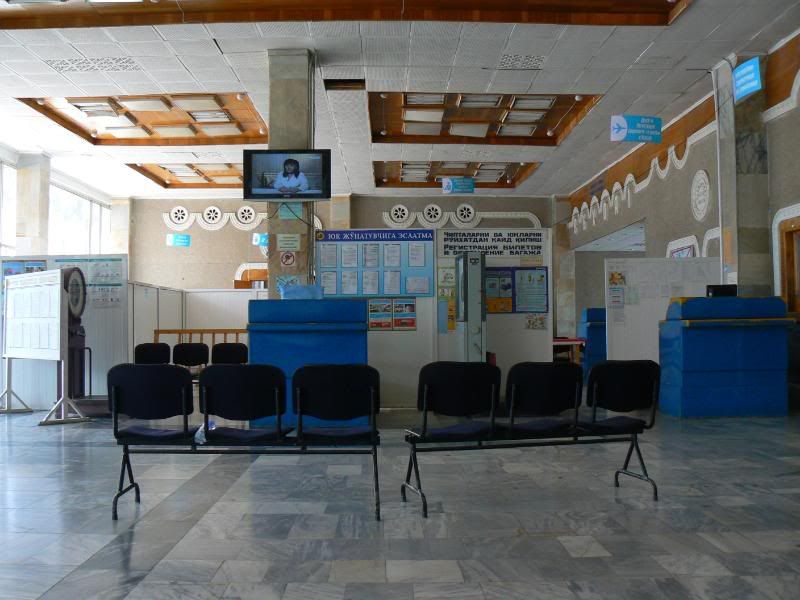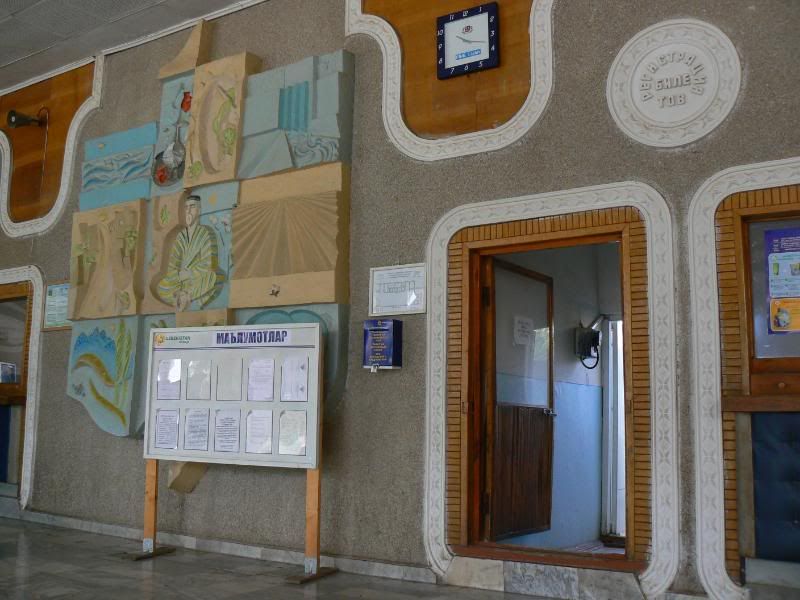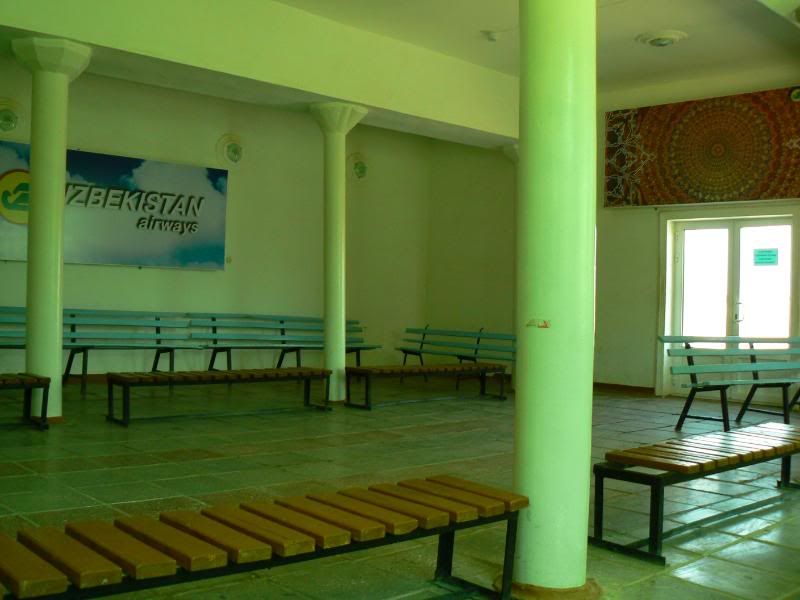 Walking a long way to our plane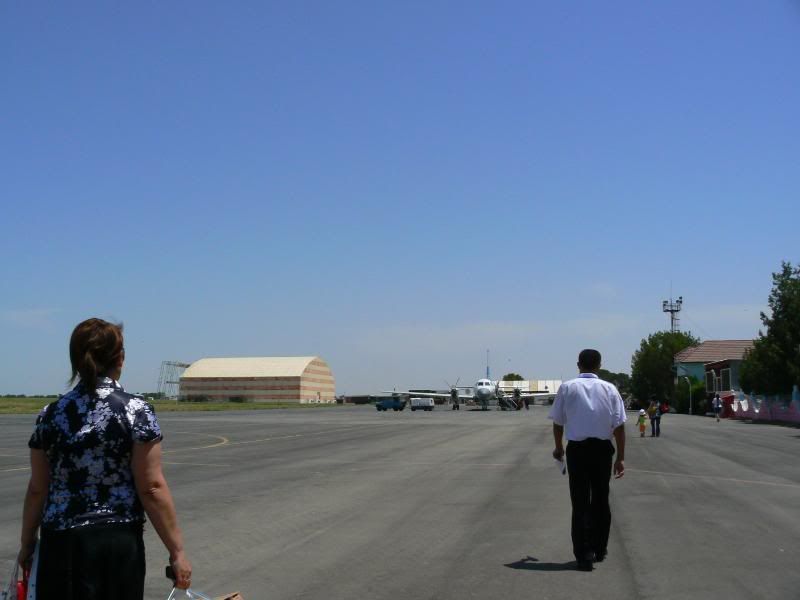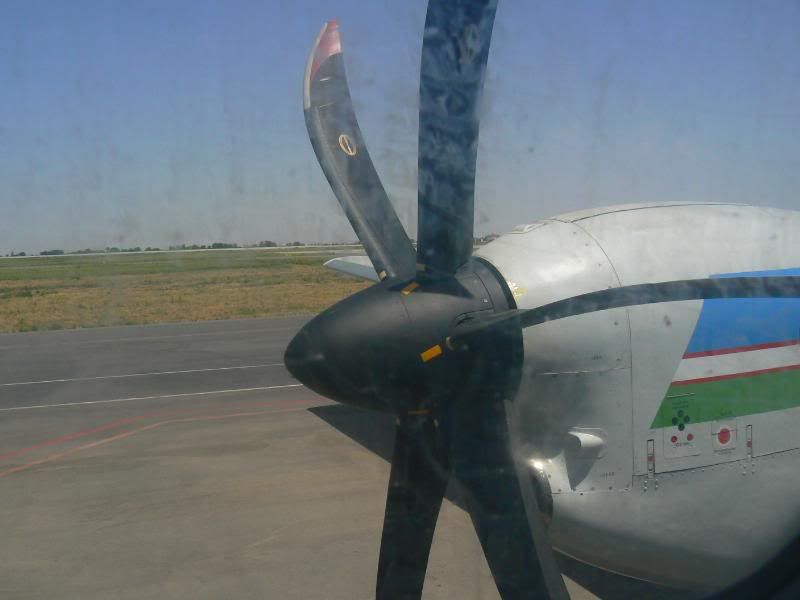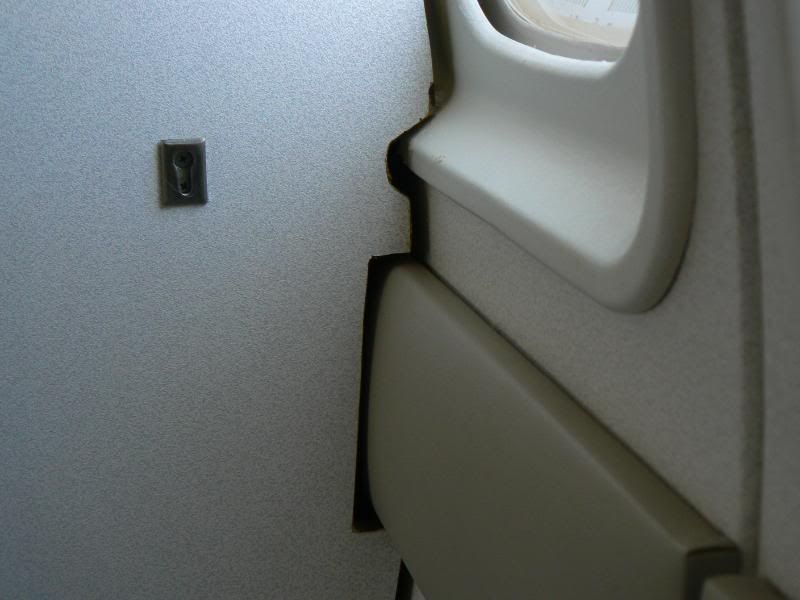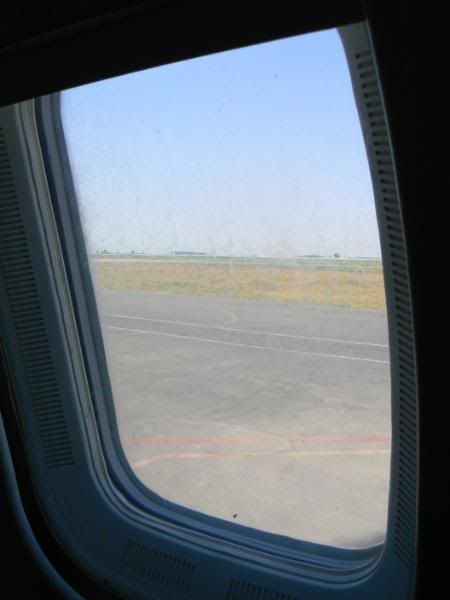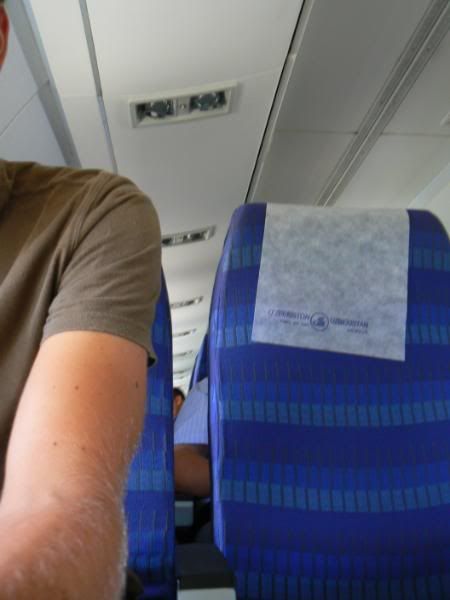 Poor quality of the cabin fittings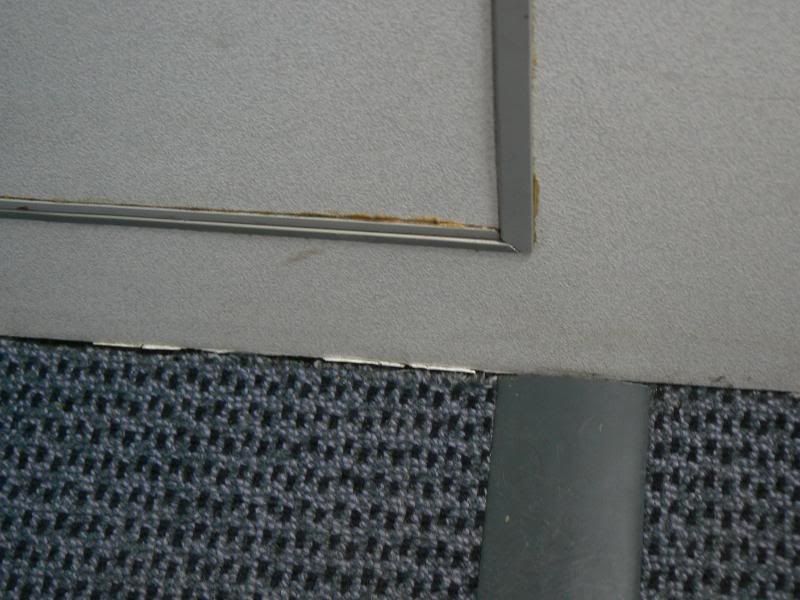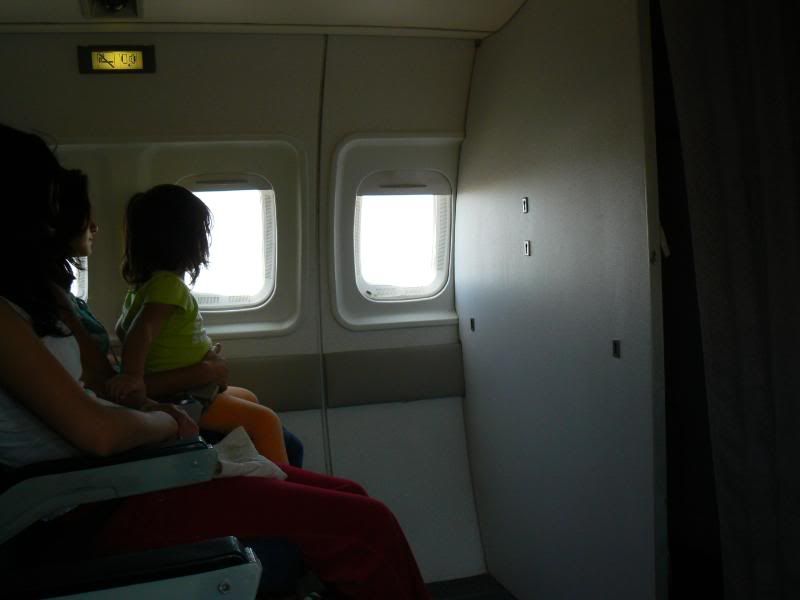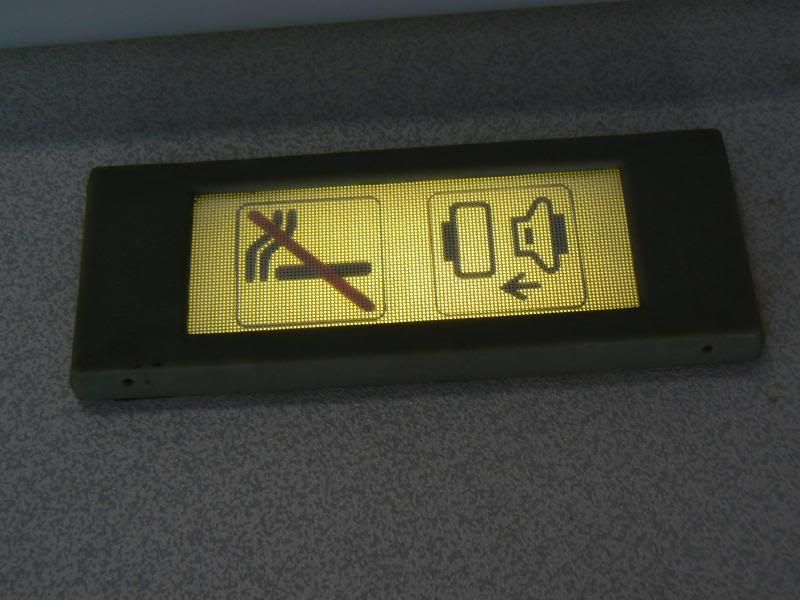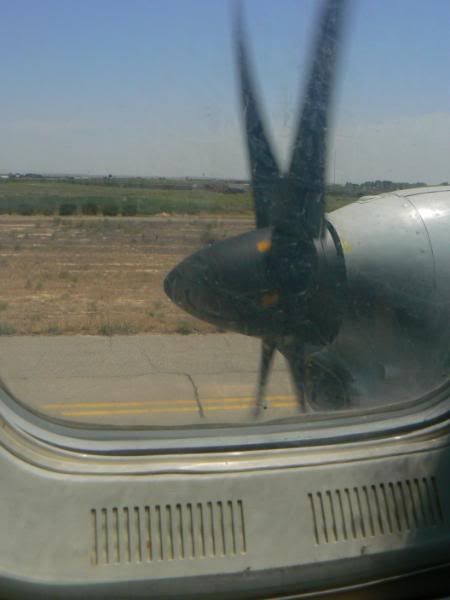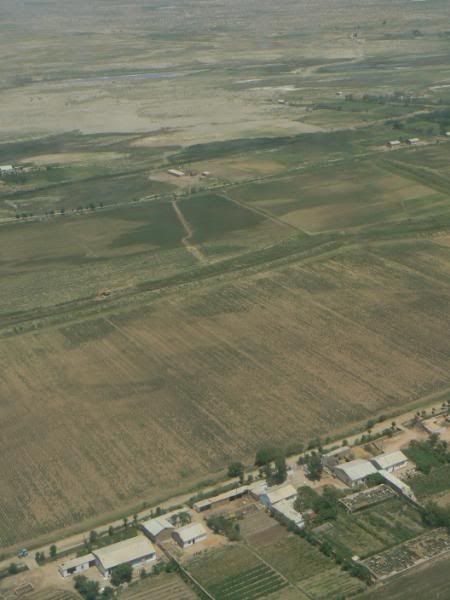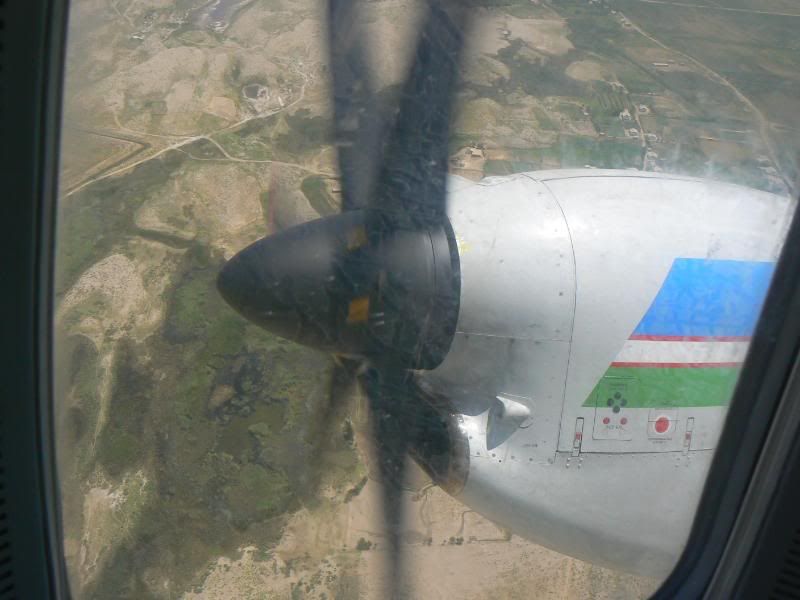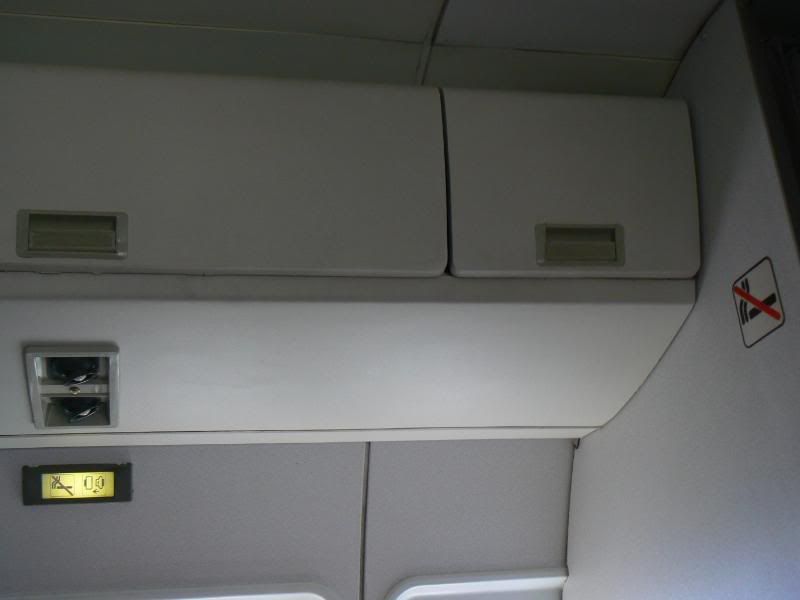 Lots of small surprises in the window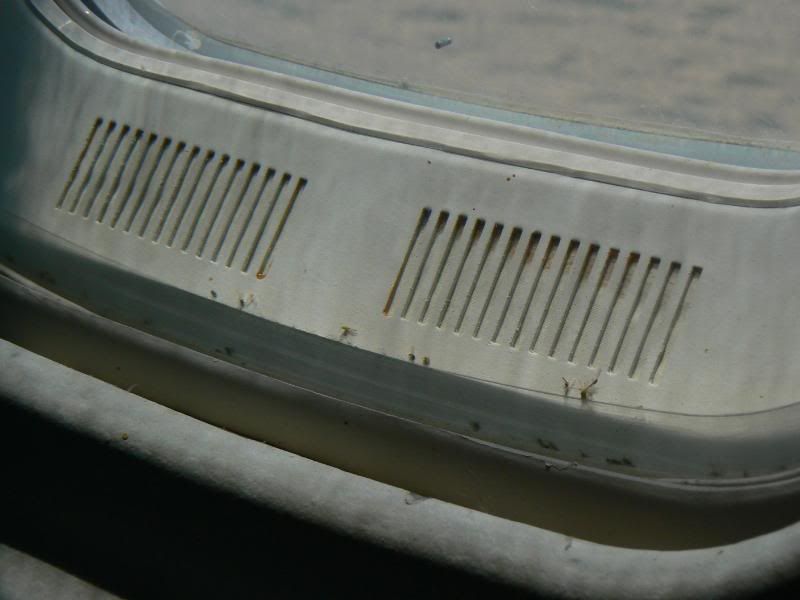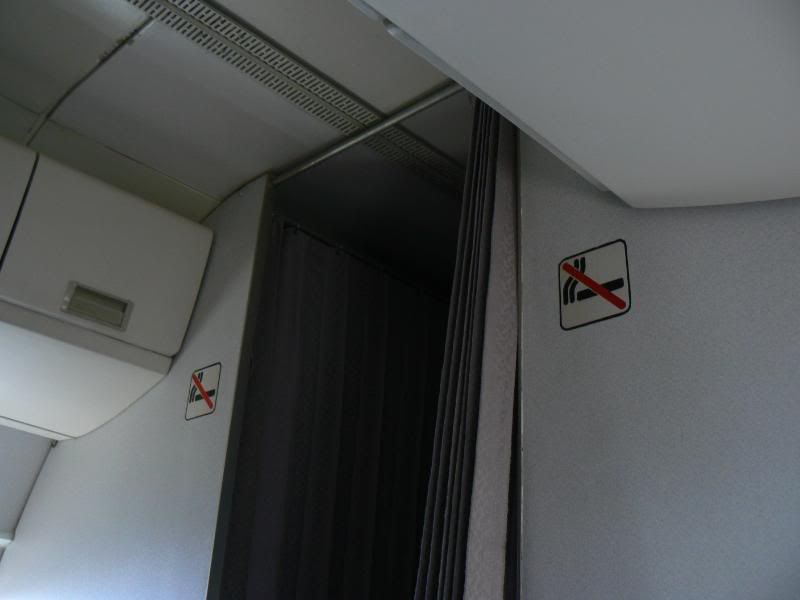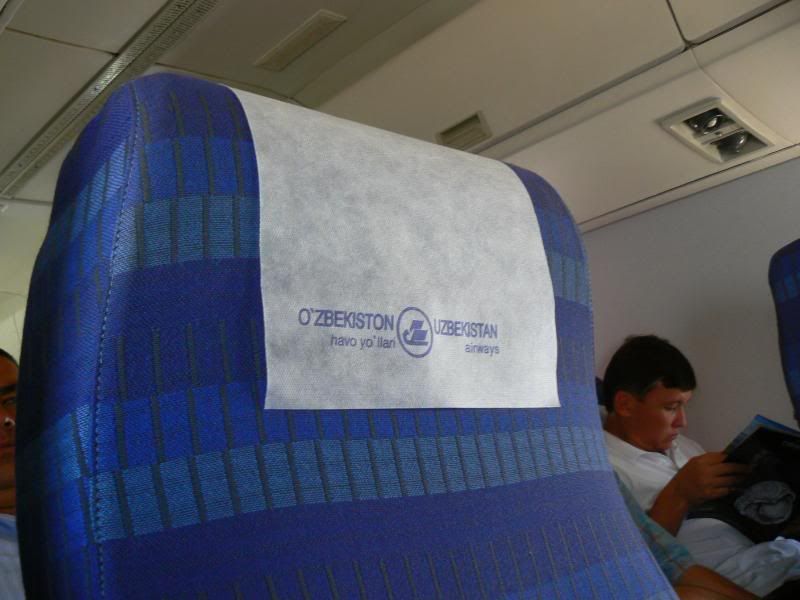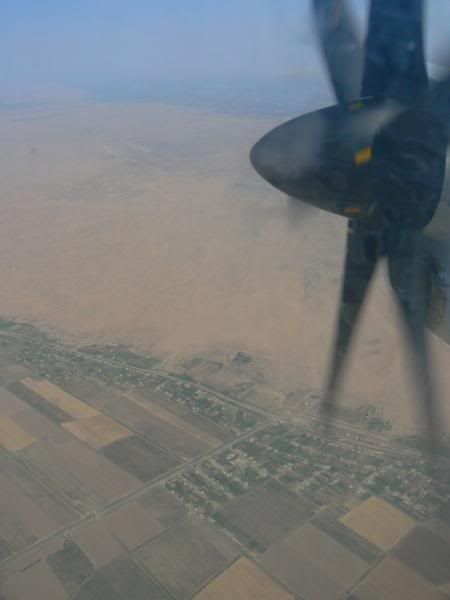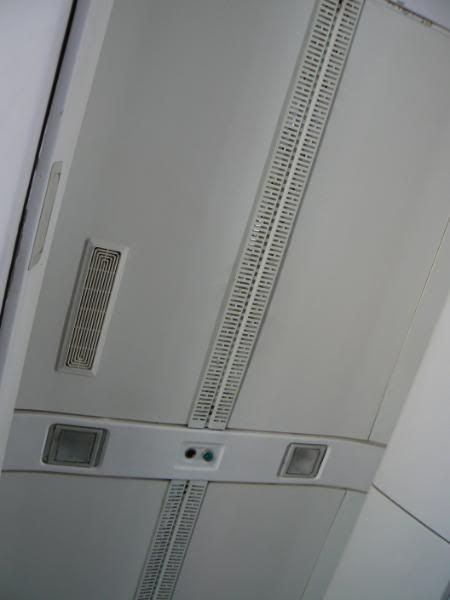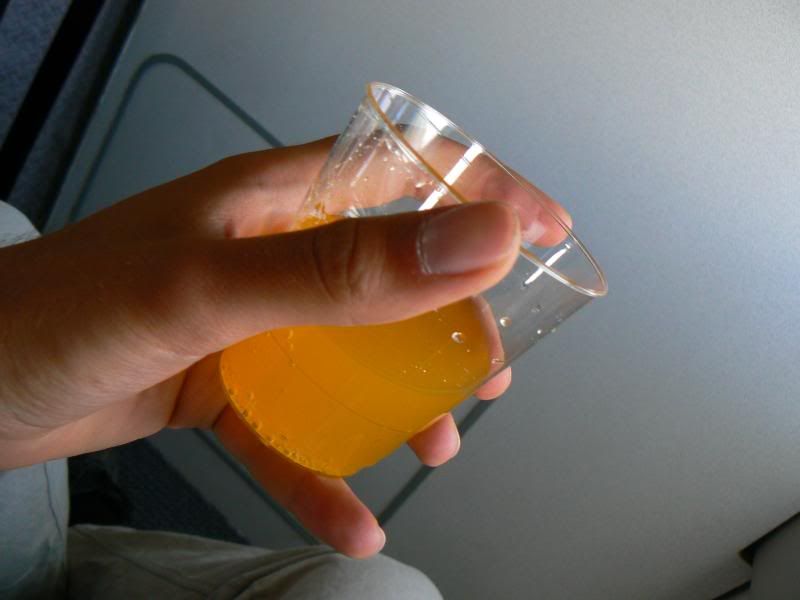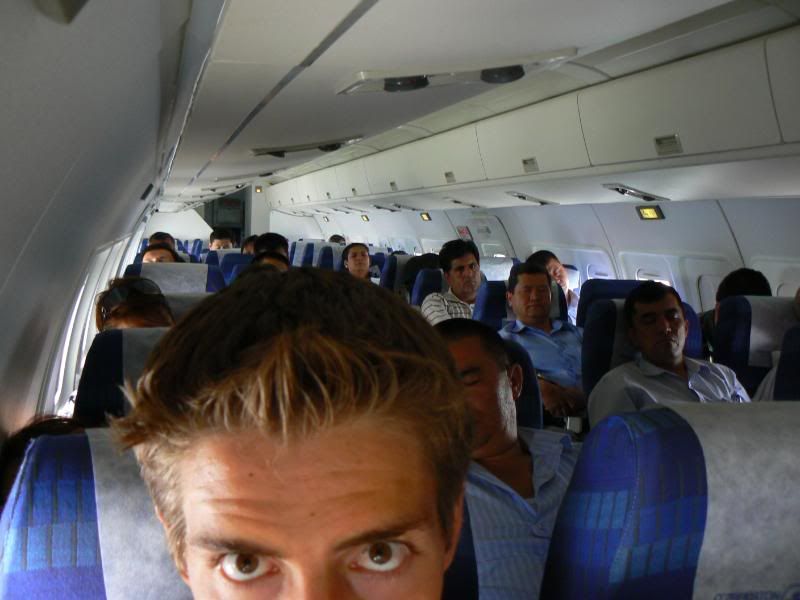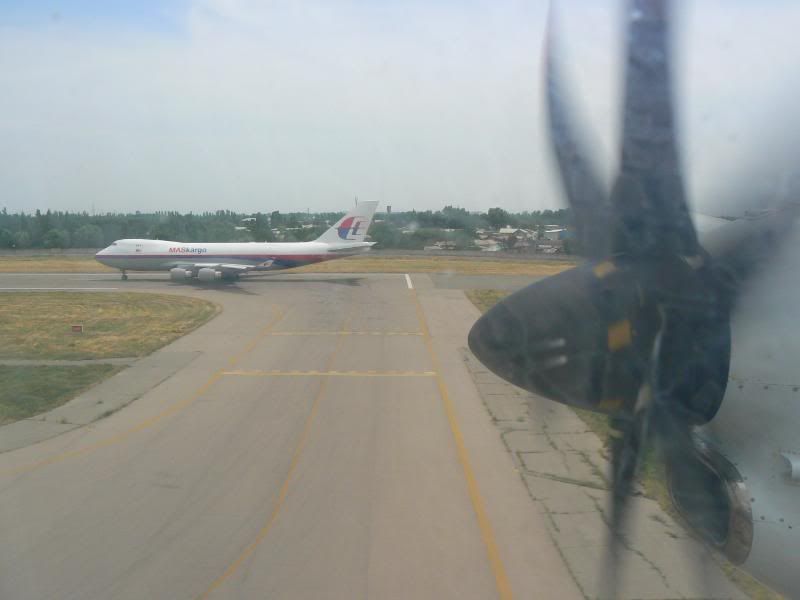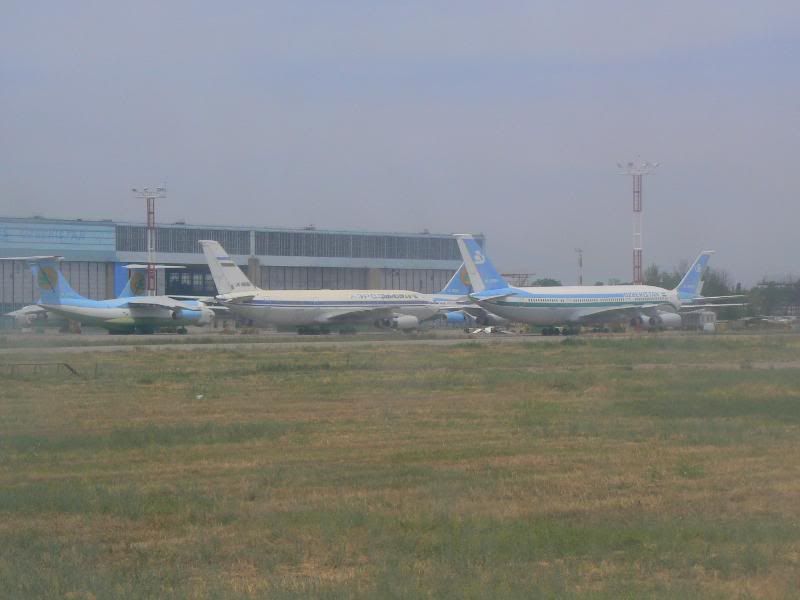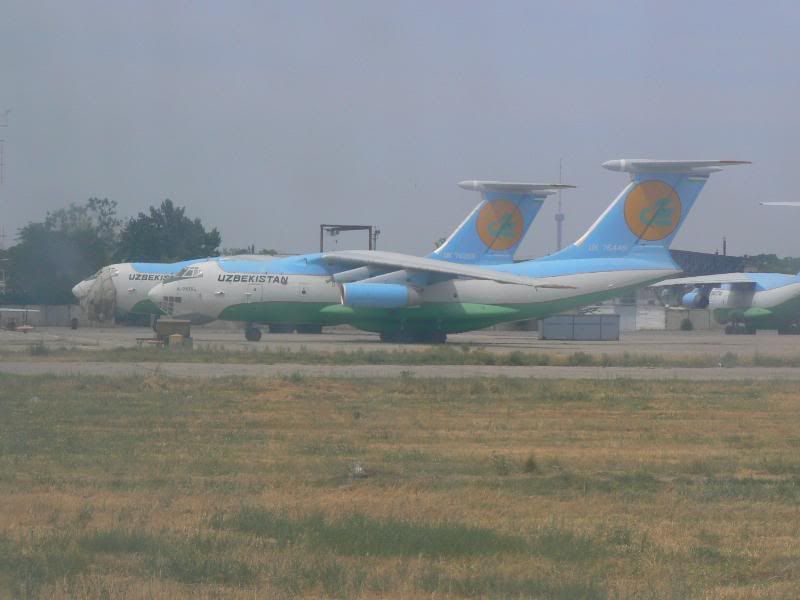 This is the plane I would take to Nukus a few hours later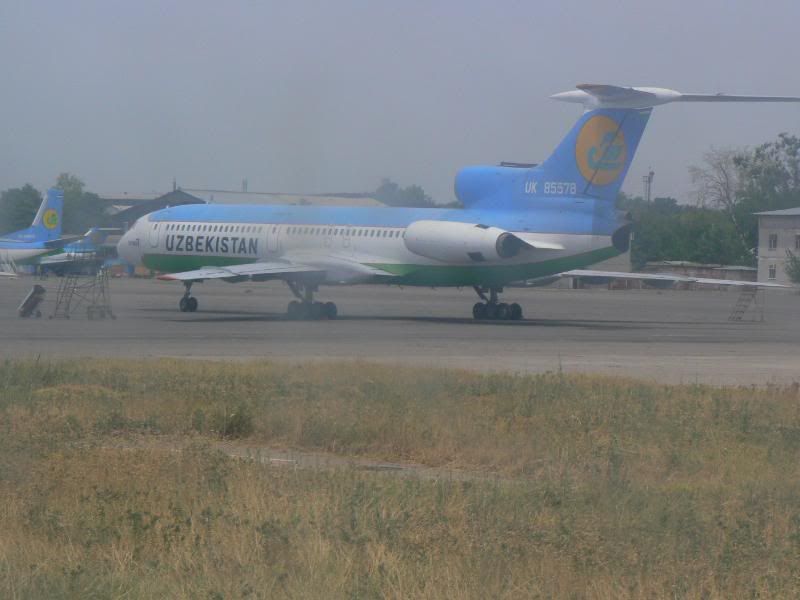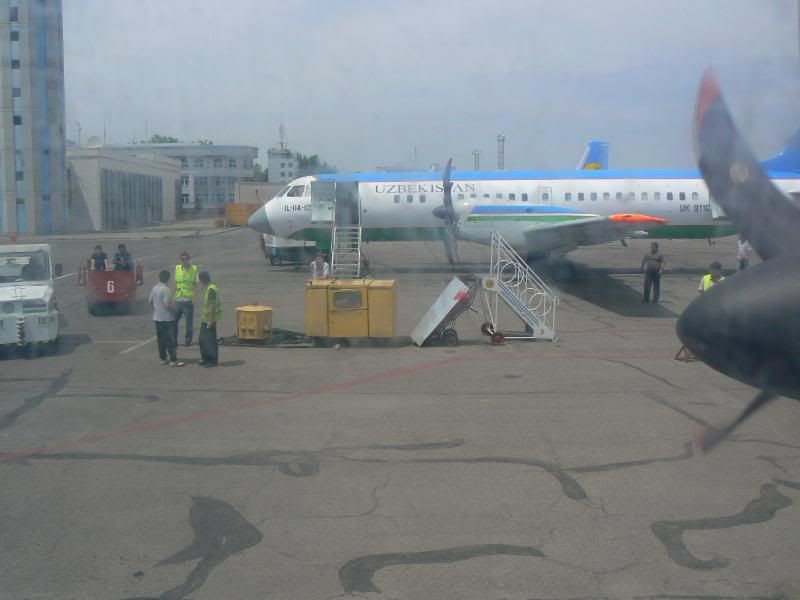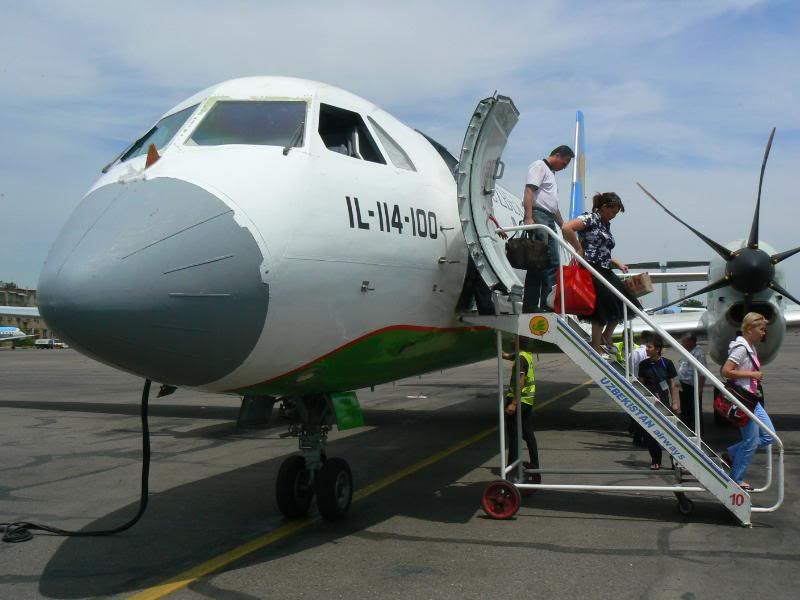 Flight 3
5th July 2009
Route: Tashkent (TAS) - Nukus (NCU).
Flight number: HY1007
Aircraft type: TU-154B
Registration: UK-85578
Scheduled departure time: 17:30
Scheduled arrival time: 19:05
First time on a Tu-154 !
It's impossible to transfer directly from one domestic flight to another, so I had to gather my checked luggage from my flight from Termiz, and check it in again for my flight to Nukus. I spent a few hours waiting at a cyber-coffee near the domestic terminal. After getting in the boarding lounge, I tried to take a few pics of the tarmac but a policeman came and made me delete the pictures.
That flight was full, and boarding was a real mess. There are no jetways at the domestic terminal, so passengers are always bussed to their plane. When we arrived at the bottom of the stairs, first class passengers were called first, which means coach passengers at to wait for 10mn under the burning Uzbek sun. At least, it was for me an opportunity to admire the trijet I was about to fly in. The aircraft looked really worn-out. The paint was peeling-off, and it looked like it had been painted over 3 other layers of paint. To be honnest, I'm never afraid when I get on a plane, but the state of that one was not reassuring. The cabin looked really, really old. It was like going back in time. I was in heaven, it brought back the excitement of flying after all those flights on clean-looking but boring A320s and B737NGs.
Anyway, I finally took a window seat and waited for the boarding process to be completed. Once again, most flight attendants looked Russian, and none of them ever smiled. There was absolutely no announcement in English on that one. Not a single one. The safety demonstration was performed in Ozbek and, maybe, Russian. But no English.
This flight in a Tu-154 was one of the highlights of my trip. I love the distinctive shape of this beast. It's so noisy, it feels so powerful. Halfway through the flight, we were offered a choice of...guess what...sparkling water, Coke or orange juice.
We landed in Nukus on time after having flown over the Kyzyl Kum desert.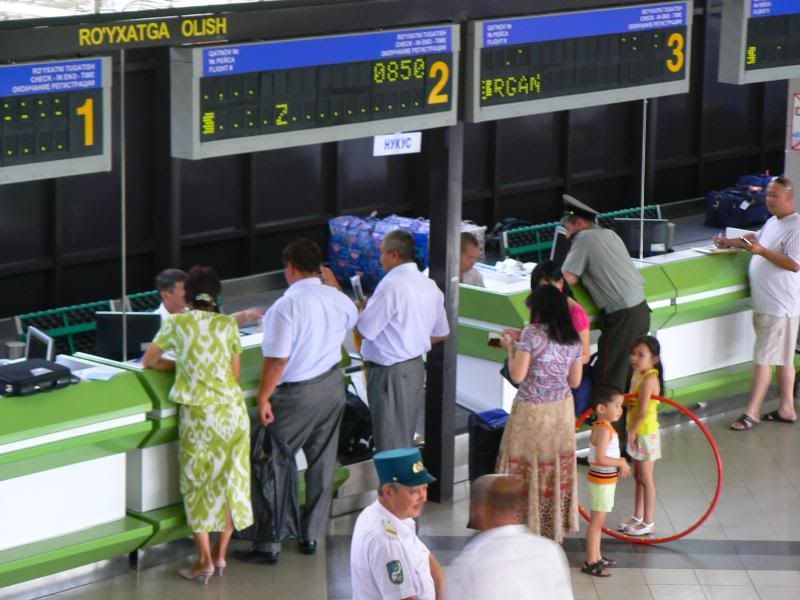 Some views of the apron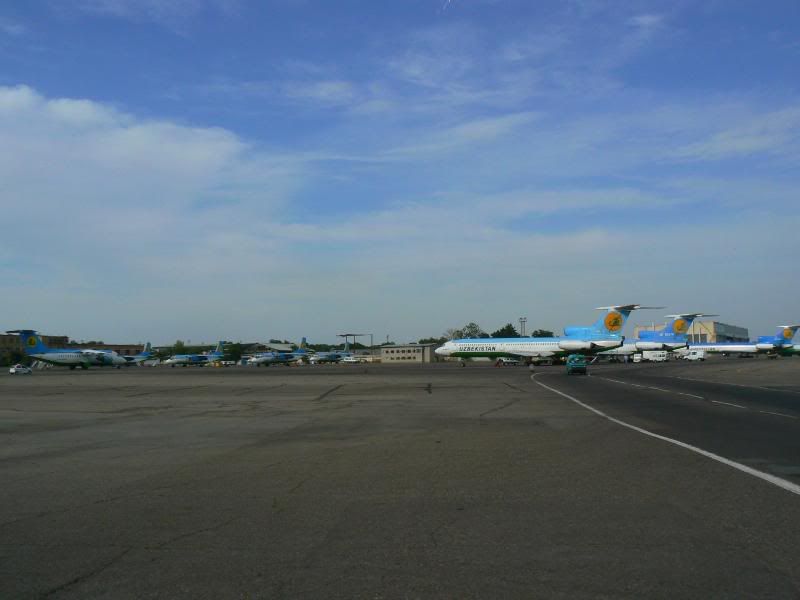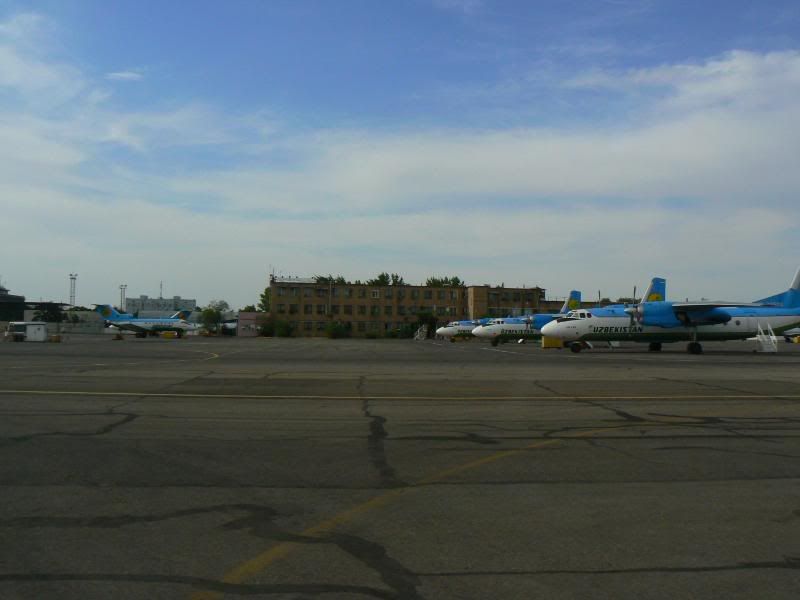 Waiting for boarding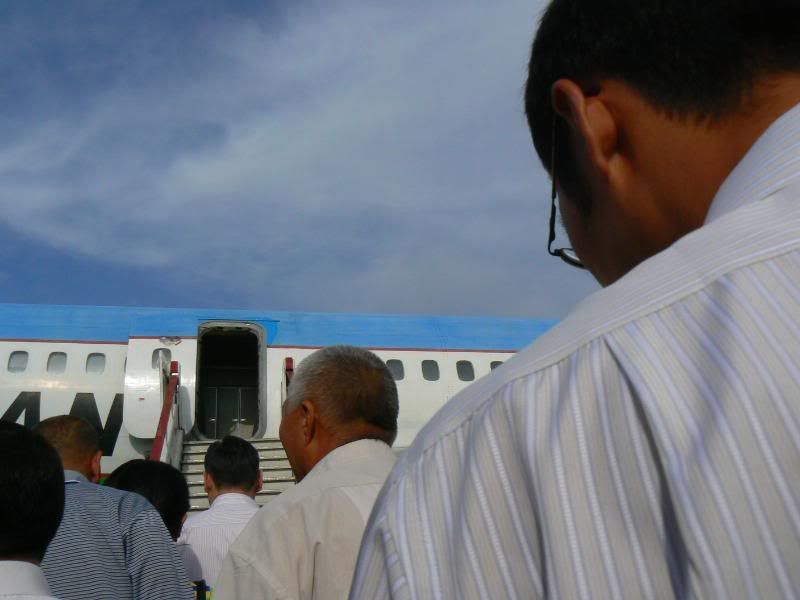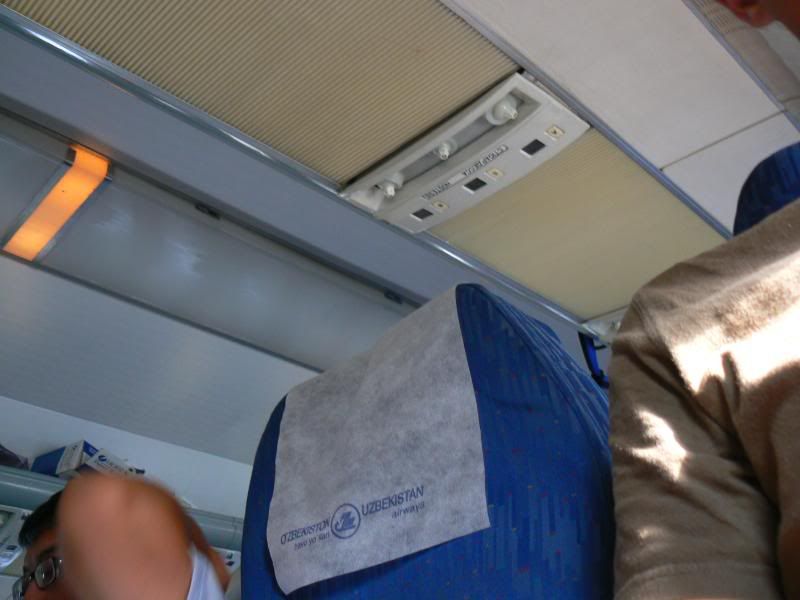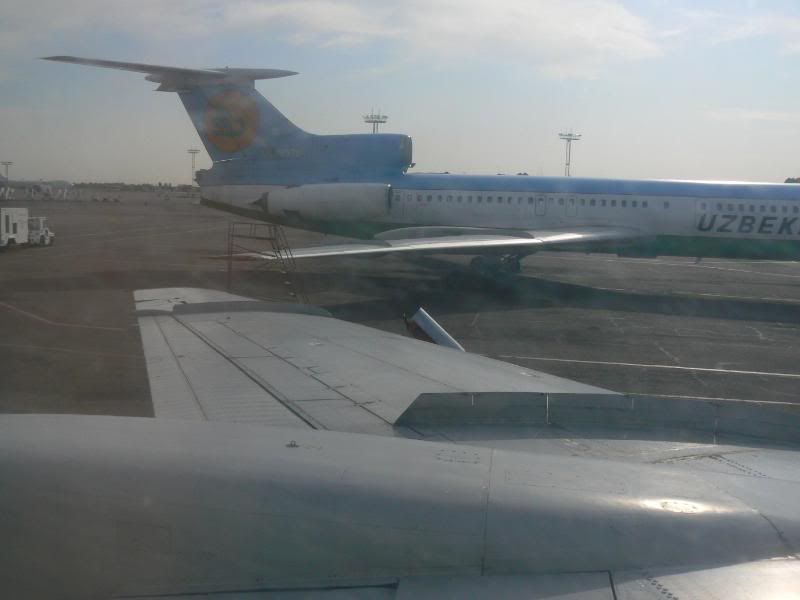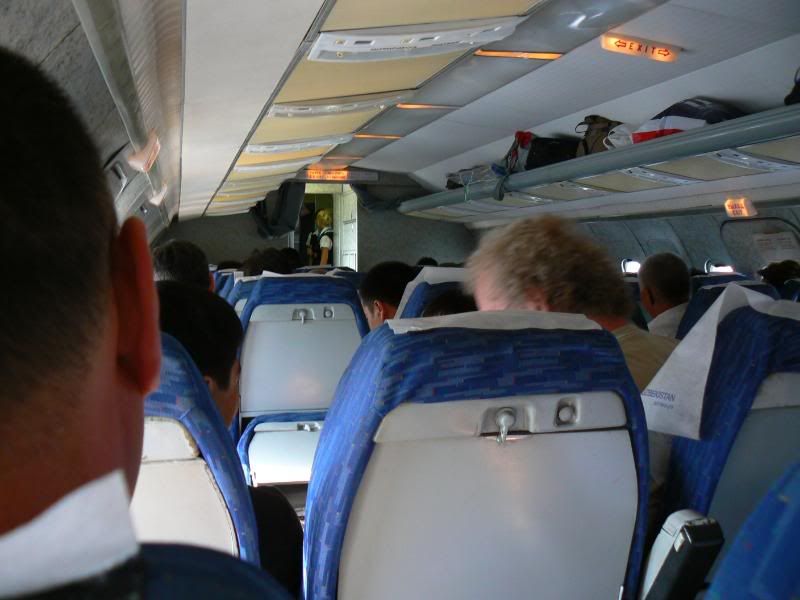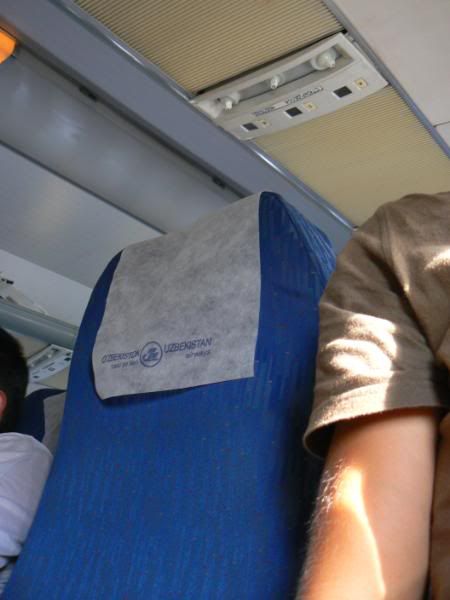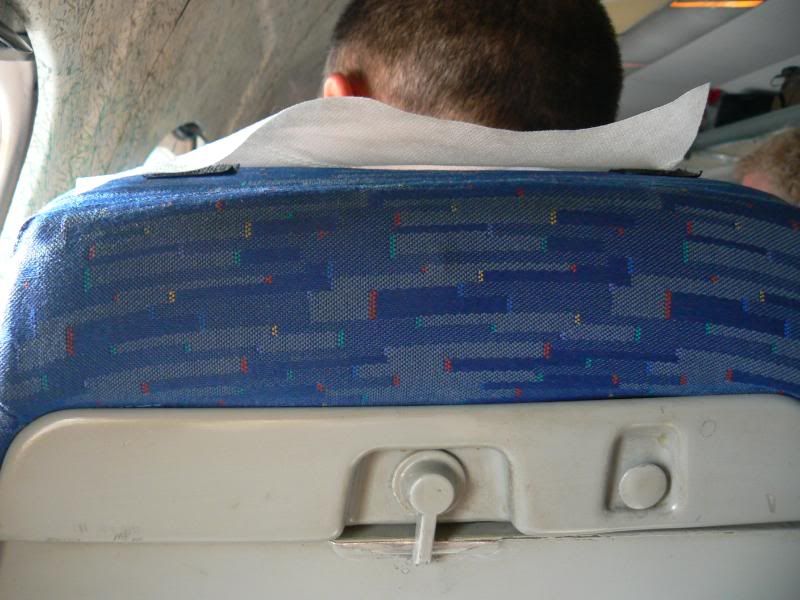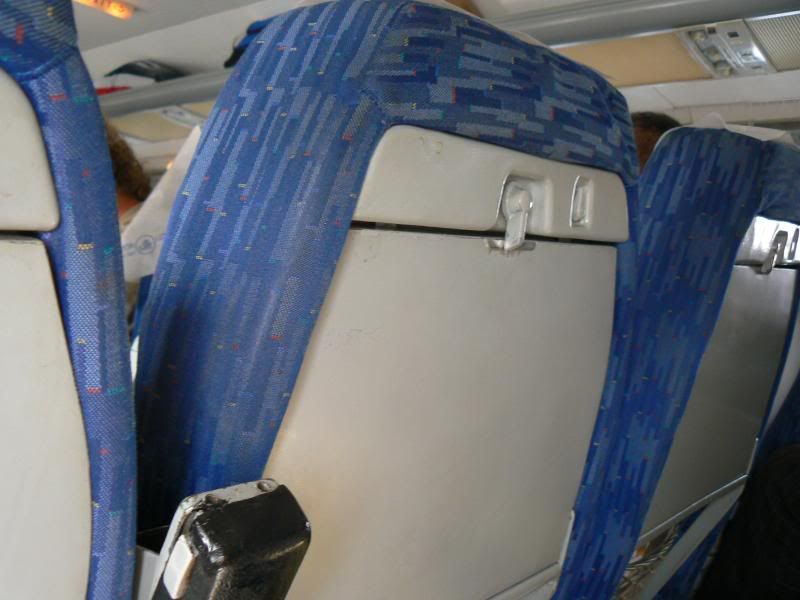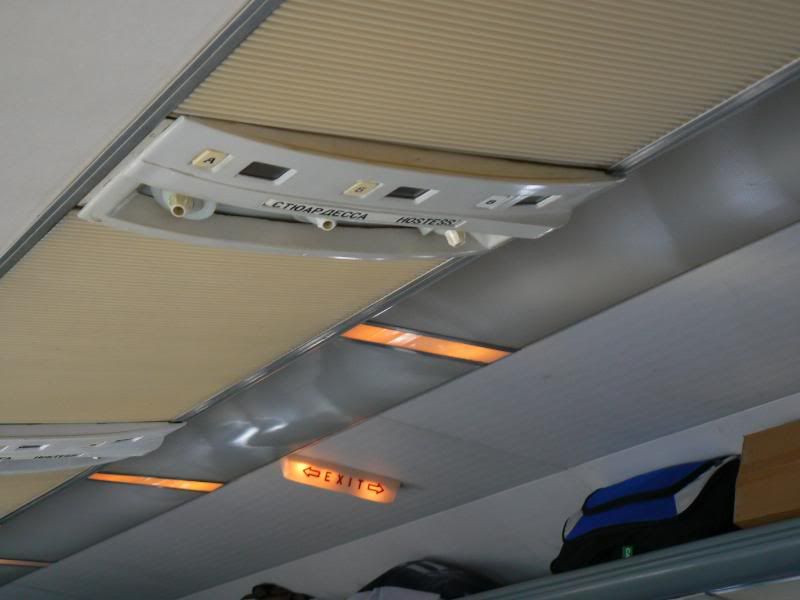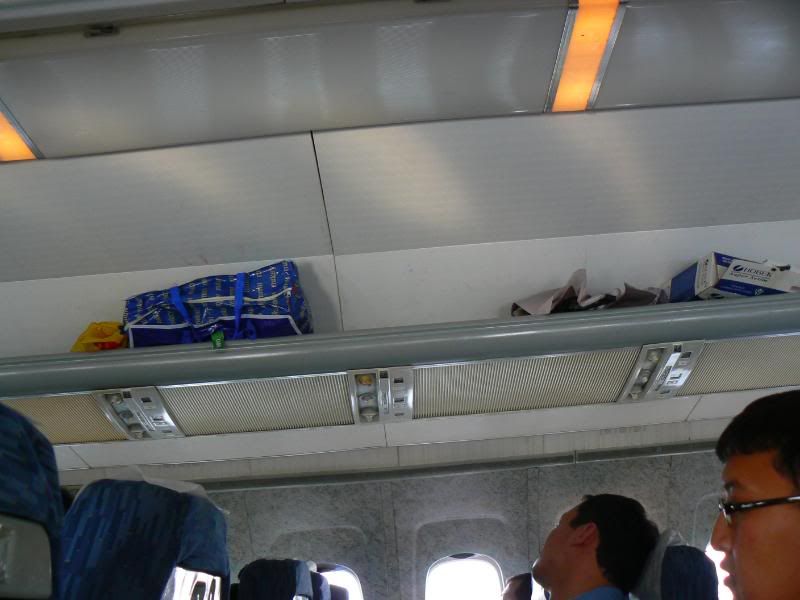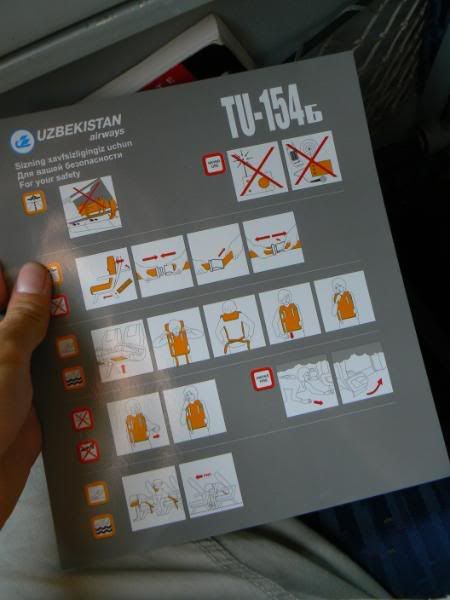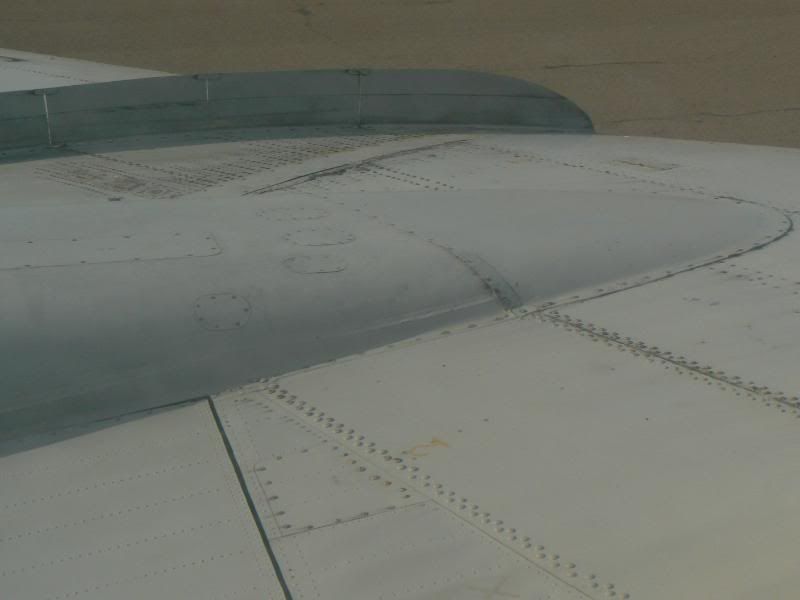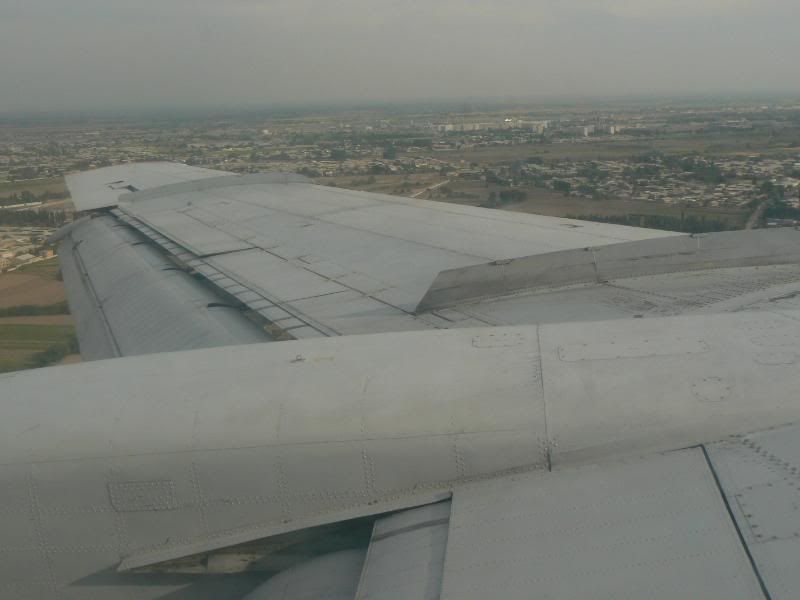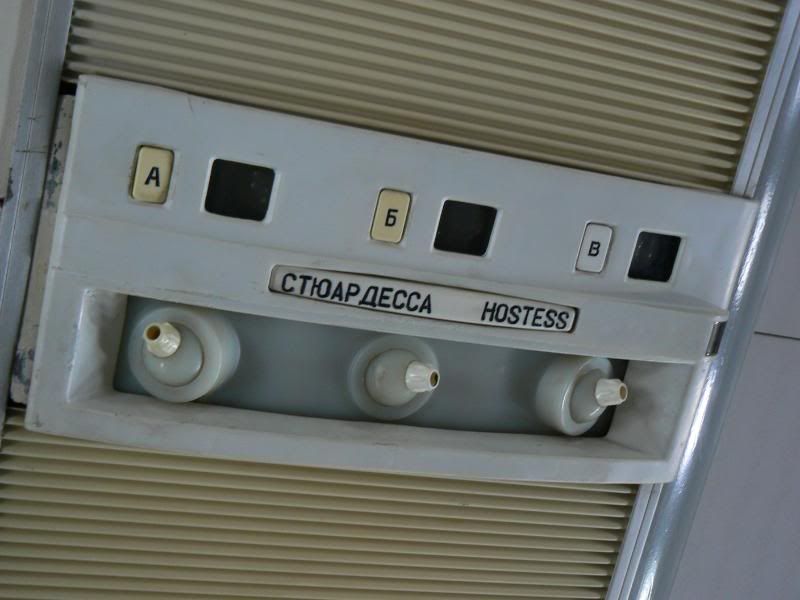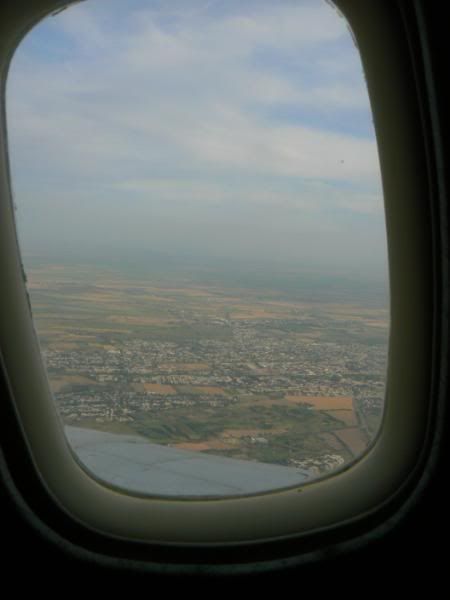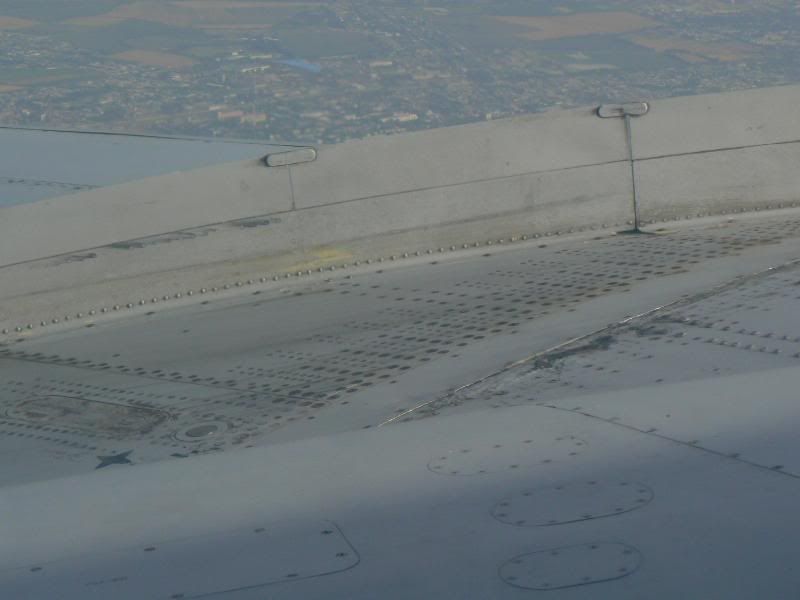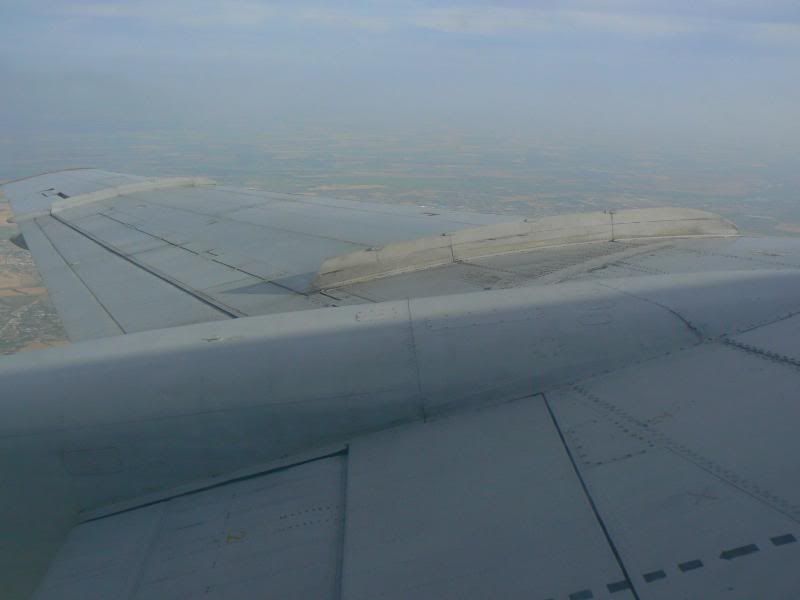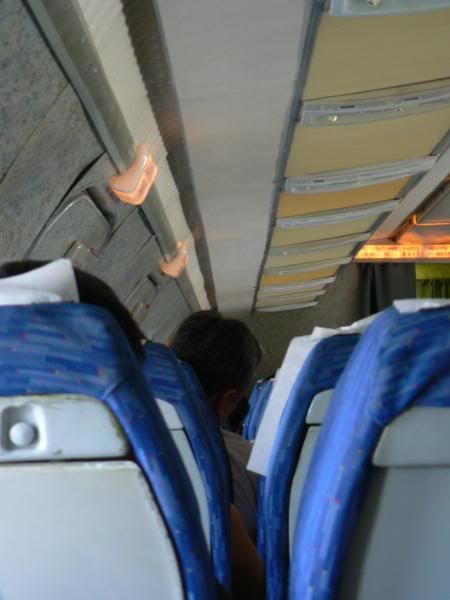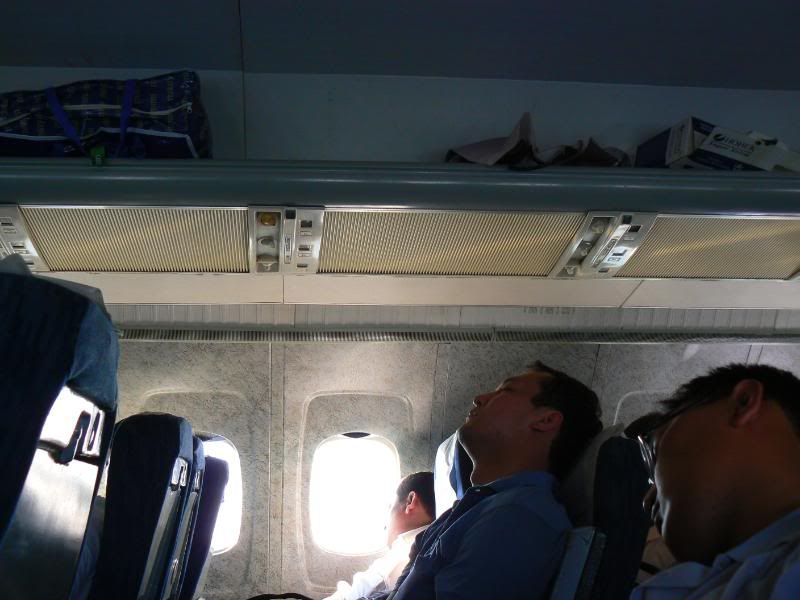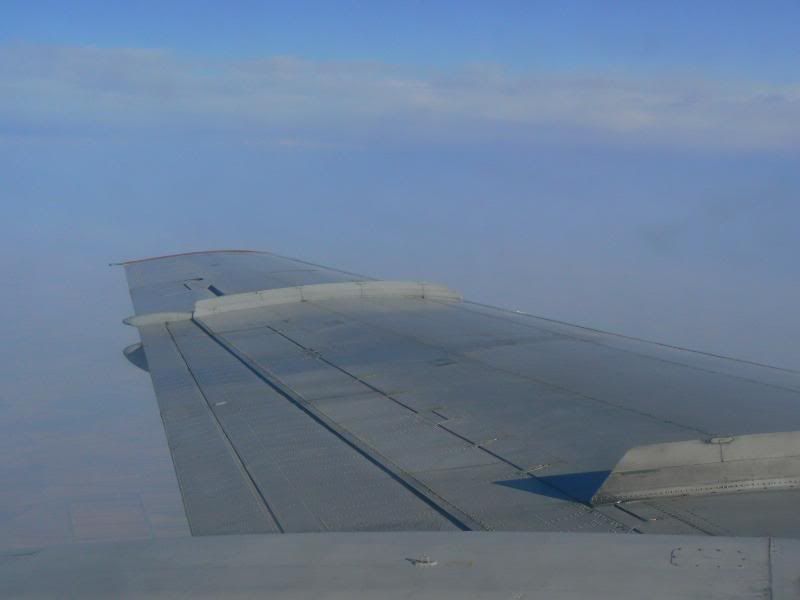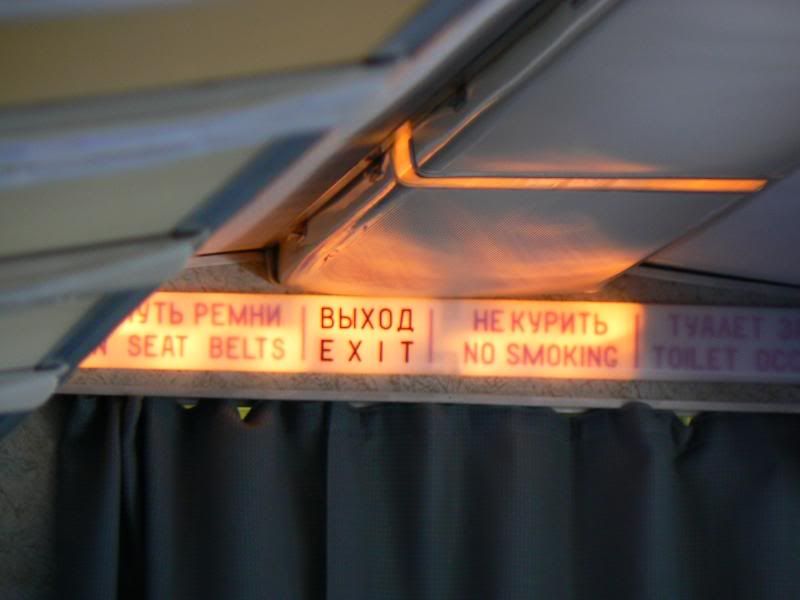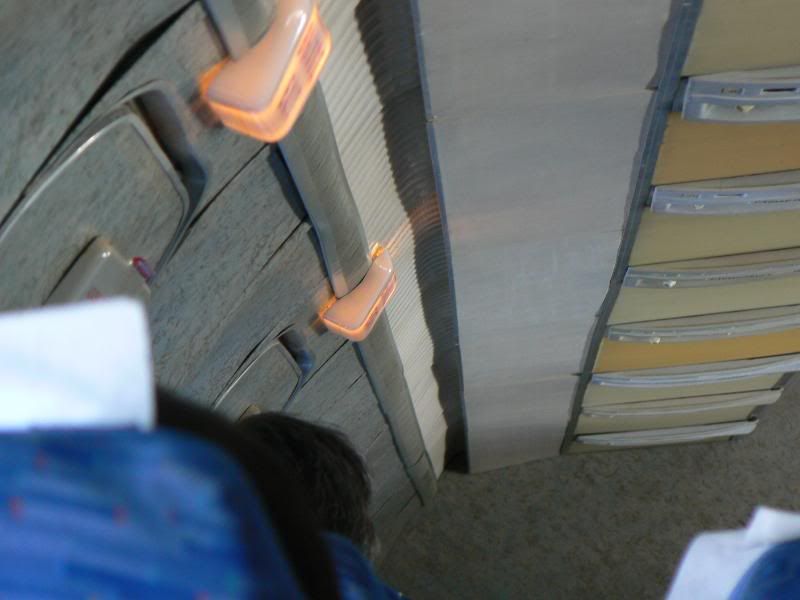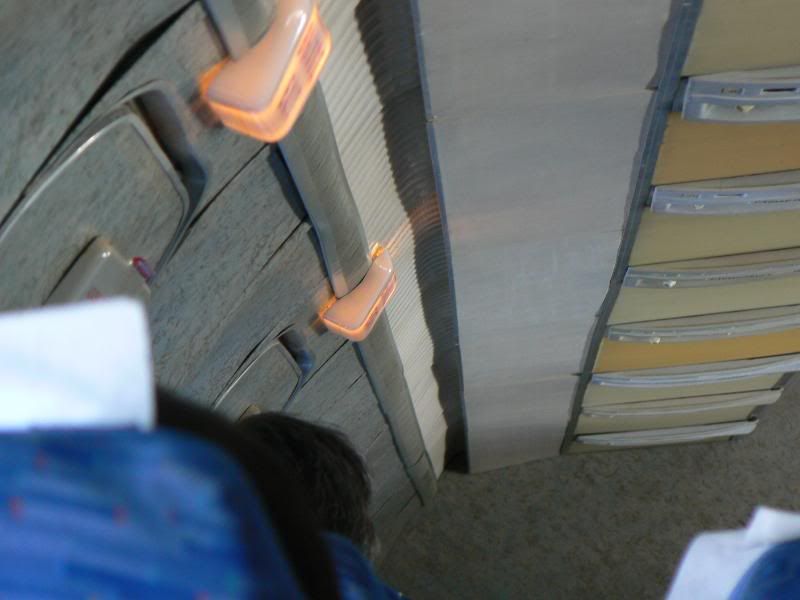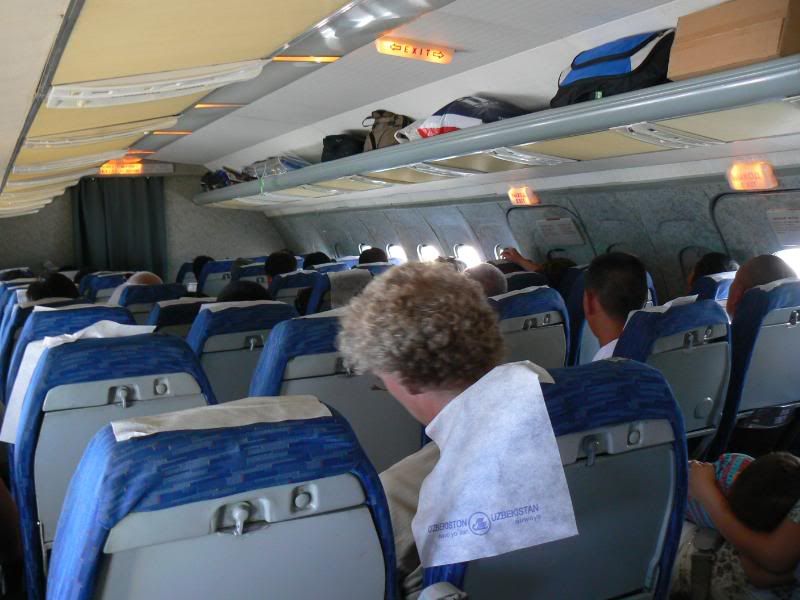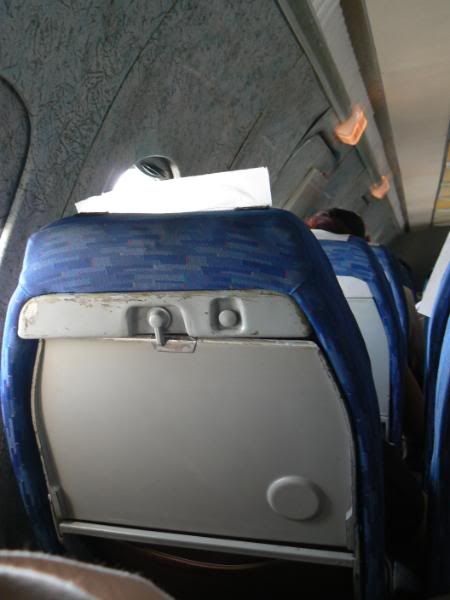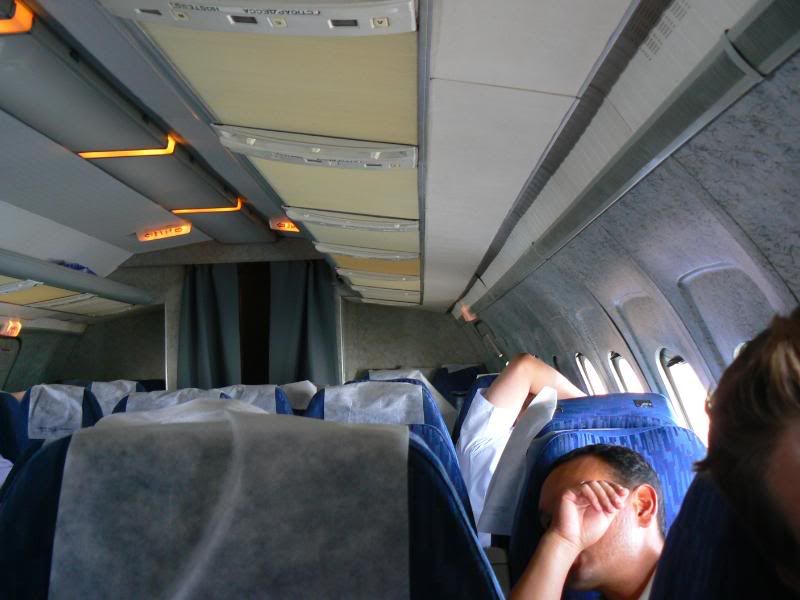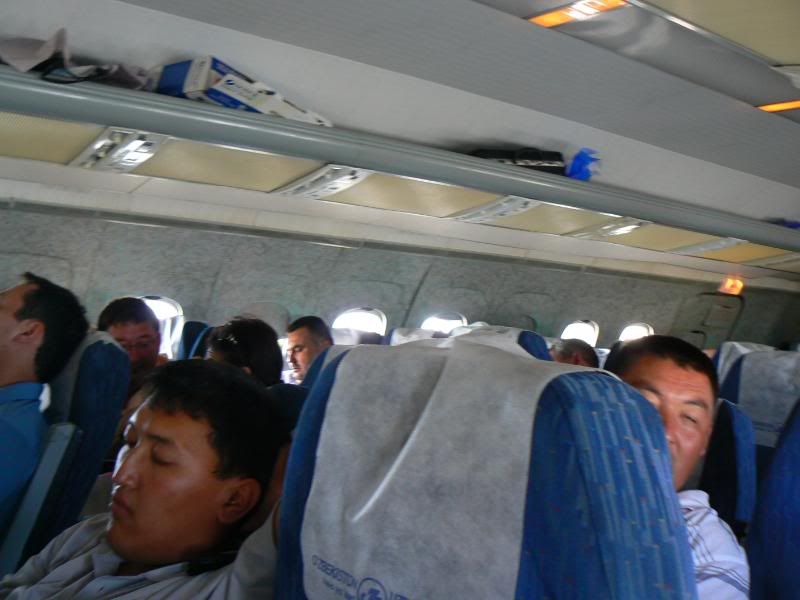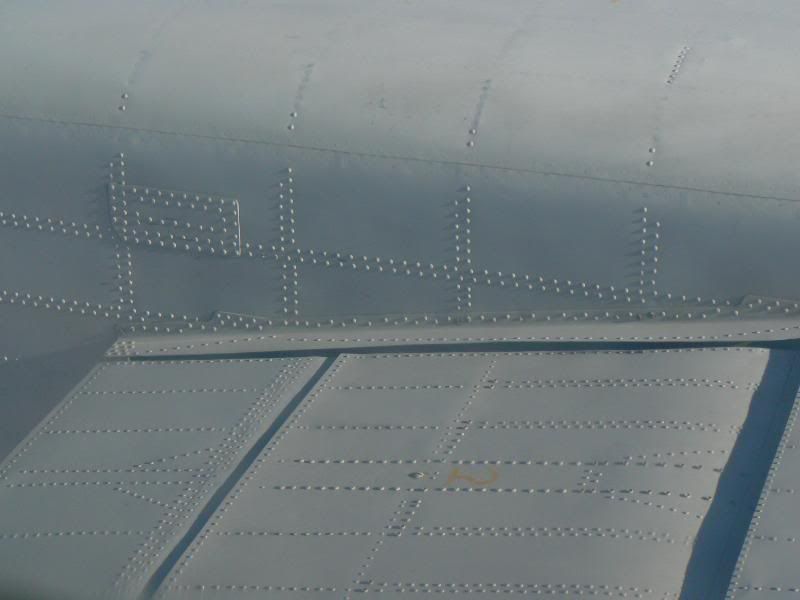 Overflying the Kyzyl Kum desert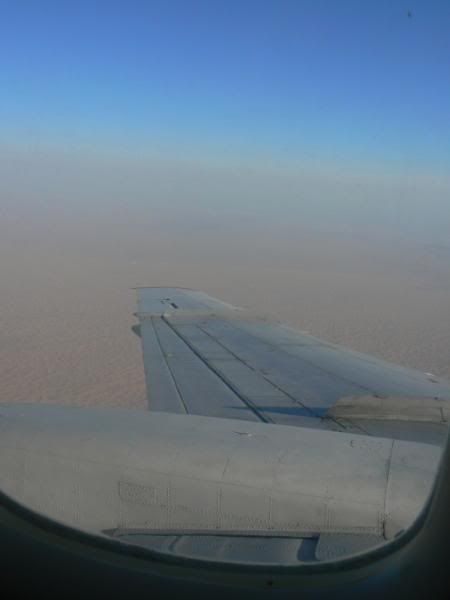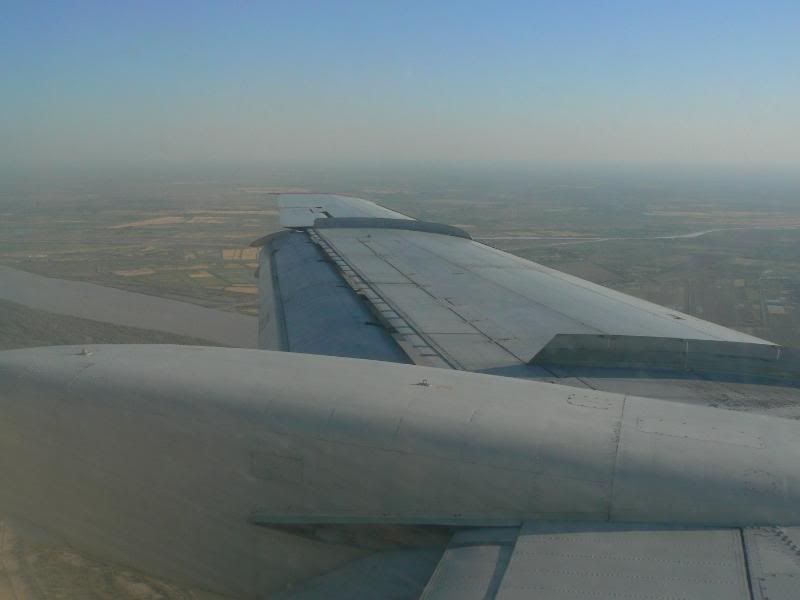 The distinctive shadow of the TU154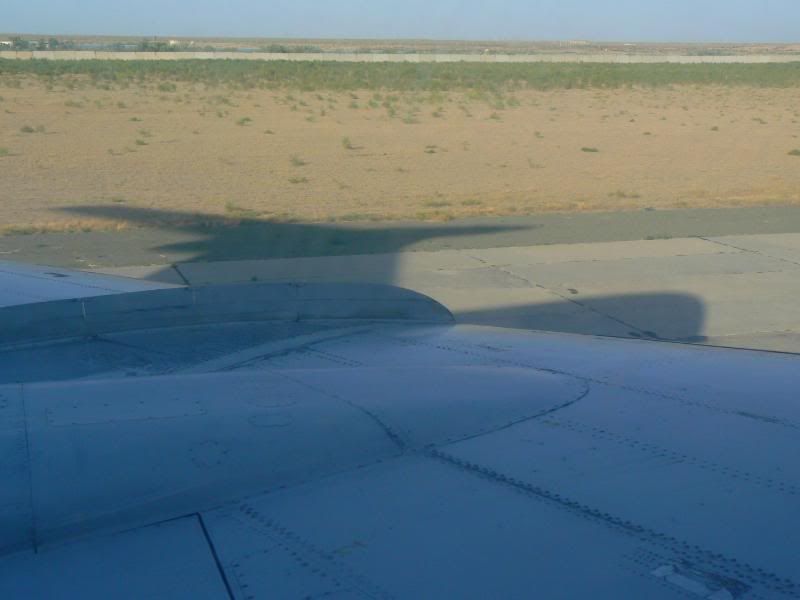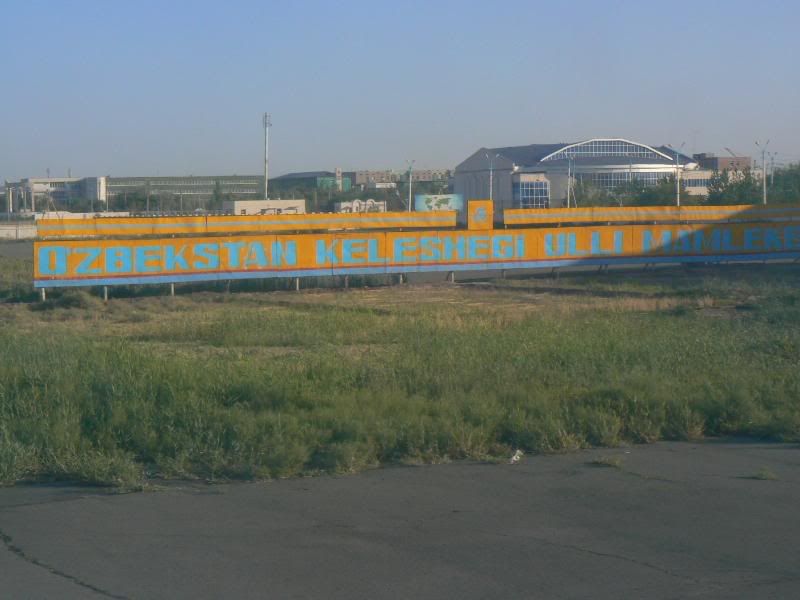 This is a particularity of Russian jets: the seatback can recline forward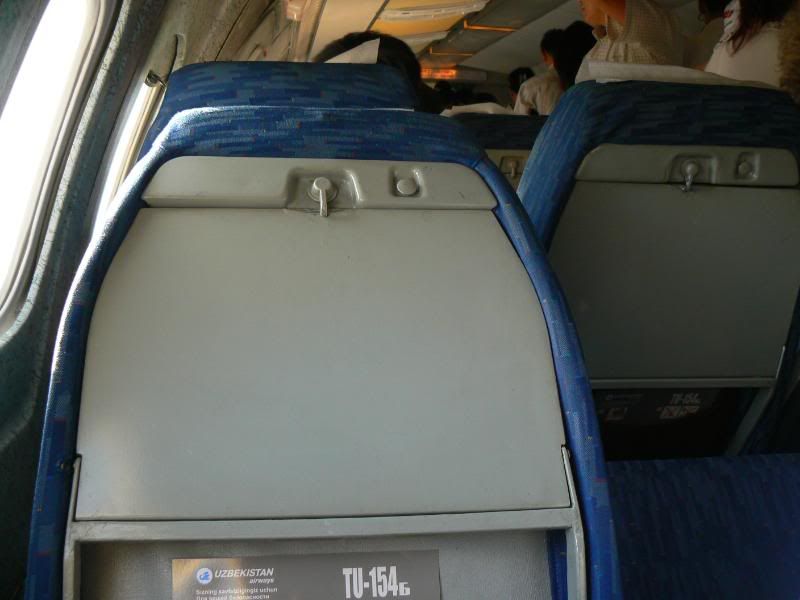 Flight 4
9th July 2009
Route: Urgench (UGC) - Bukhara (BHK).
Flight number: HY1058
Aircraft type: Avro RJ85
Registration: UK-80003
Scheduled departure time: 20:40
Scheduled arrival time: 21:40
Urgench is a city near Khiva. The cabin of the Avro was immaculate. It looks like the Western aircraft in the HY fleet are better-maintained than the Russian ones. For the first time, an Uzbekistan Airways f/a smiled at me ! There's nothing much to tell about that uneventful flight. We got the usual midflight drink service with sparkling water, orange juice or Coke. Only a few passengers, including me, disembarked in Bukhara as the flight was continuing to Tashkent.
Walking towards the Avro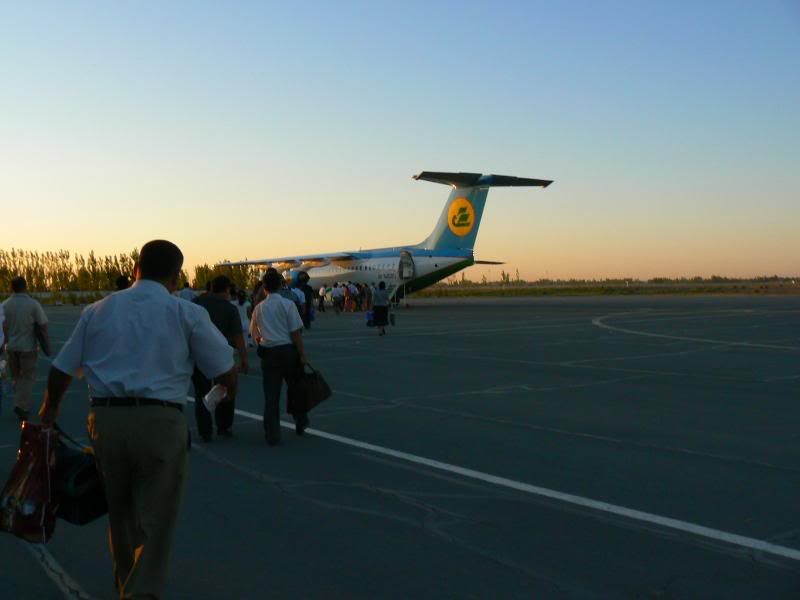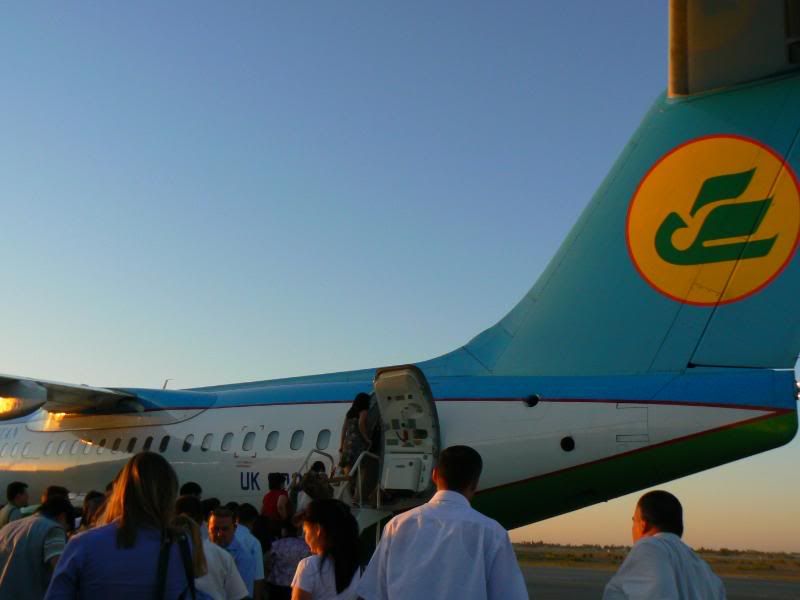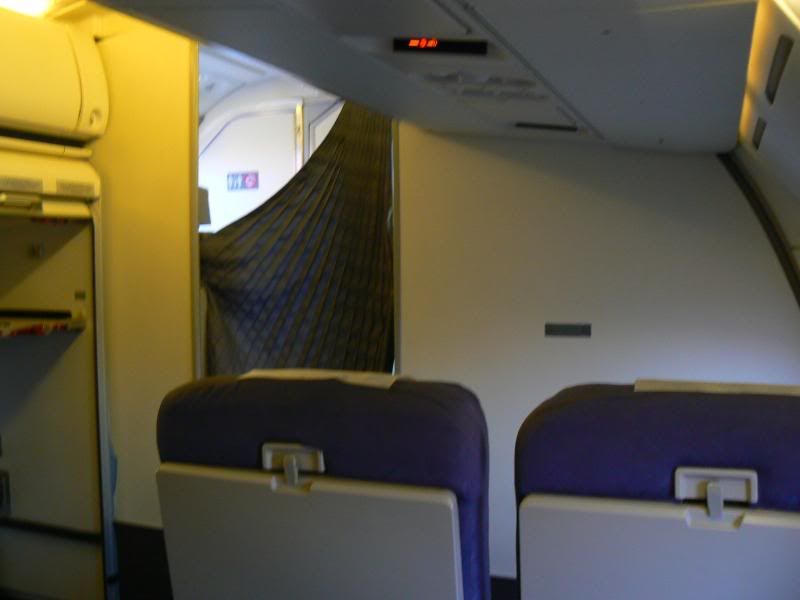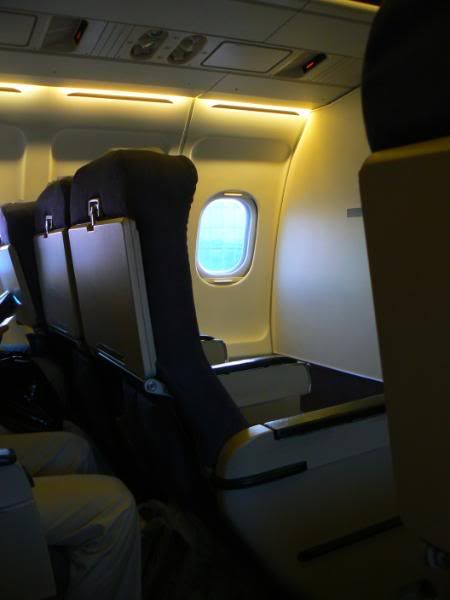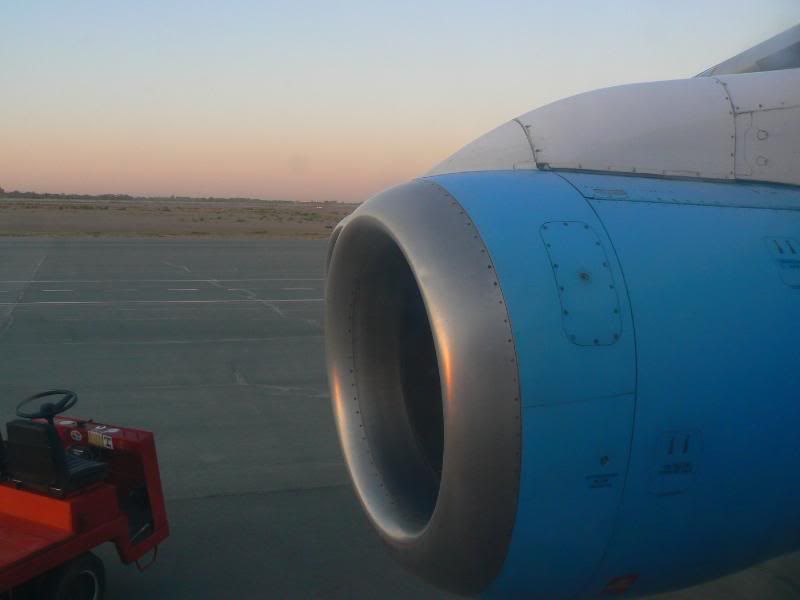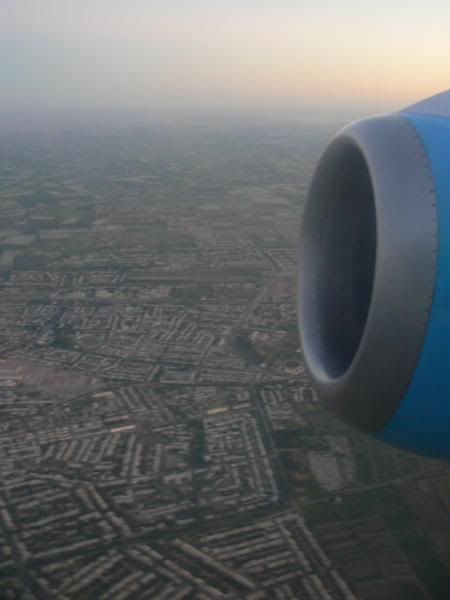 Disembarking in Bukhara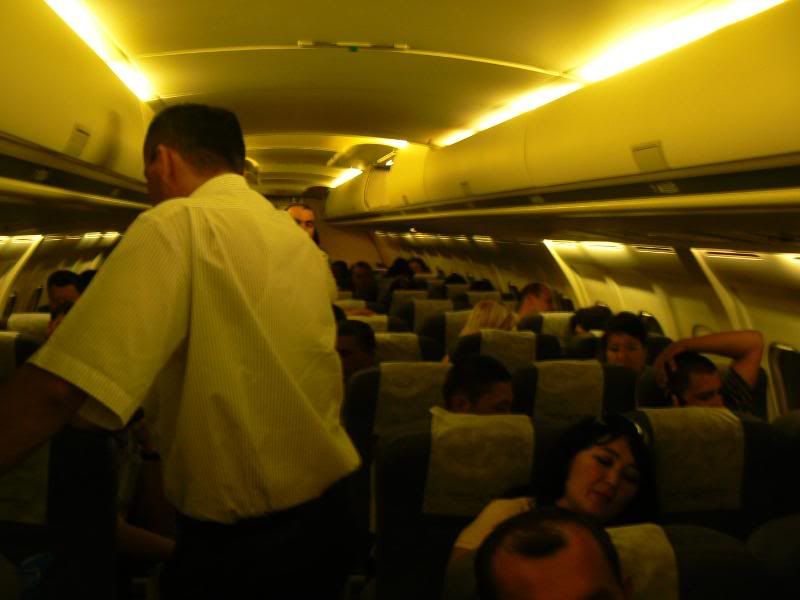 Flight 5
13th July 2009
Route: Bukhara (BHK) - Tashkent (TAS).
Flight number: HY1322
Aircraft type: An-24
Registration: UK-46658
Scheduled departure time: 9:55am
Scheduled arrival time: 11:25am
An-24, oh joy ! It's hard to know the age of that plane, but I guess it was made in the 60s or 70s. The cabin looked quite old, and made for a unique experience. It was boiling hot inside: there are no air vents, and most passengers were using their safety cards as a fan. The 2 f/as on board were more friendly that most of the other HY f/as I had seen on my previous trips. The flight was uneventful, and we got the usual drink round.
Boarding lounge in Bukhara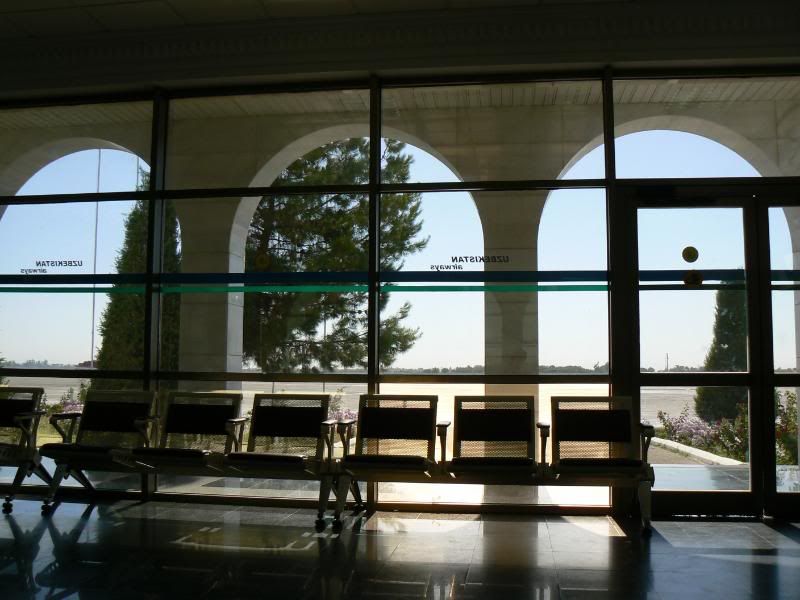 My ride for today !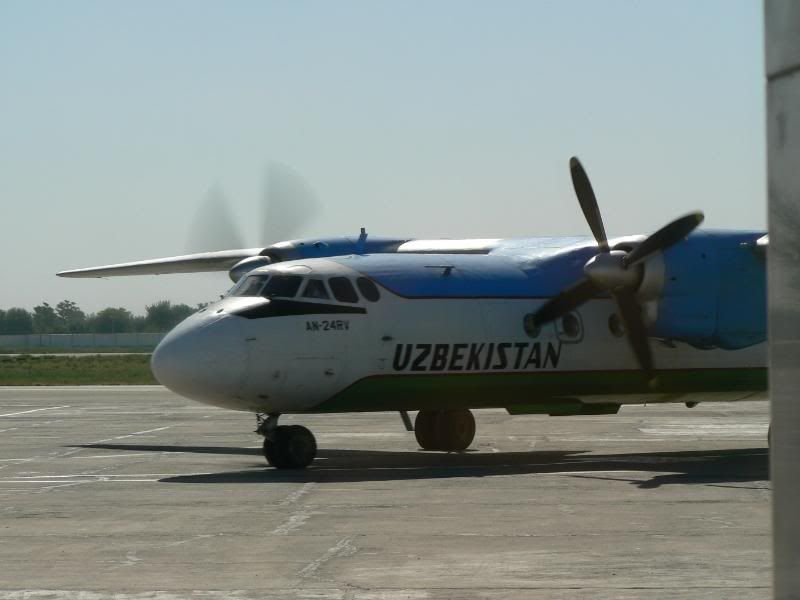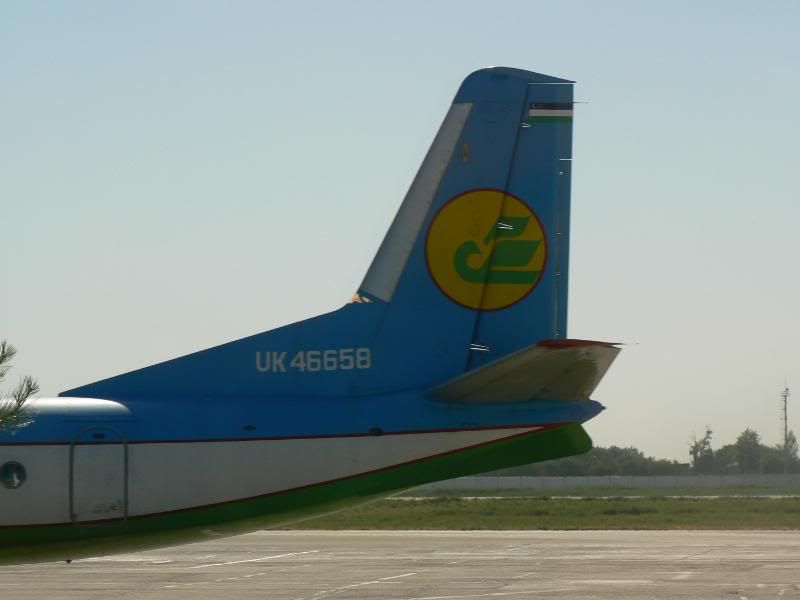 Hand-written boarding pass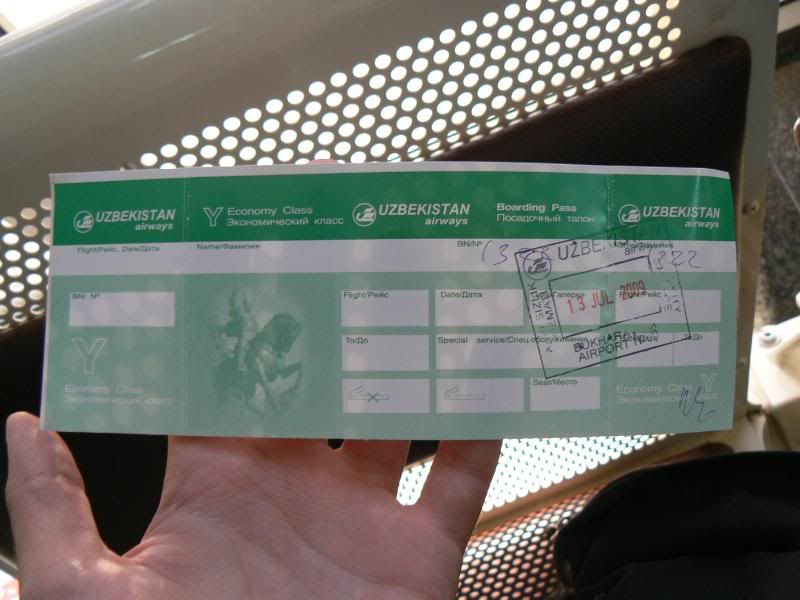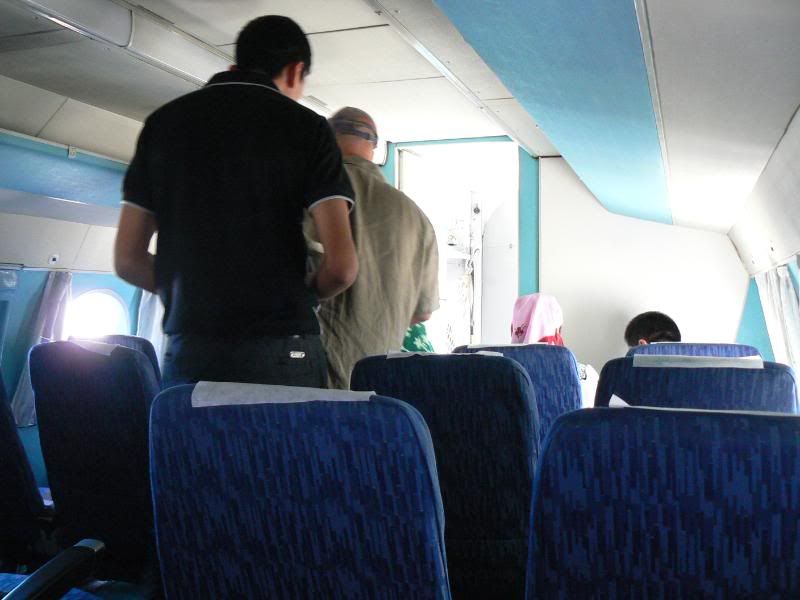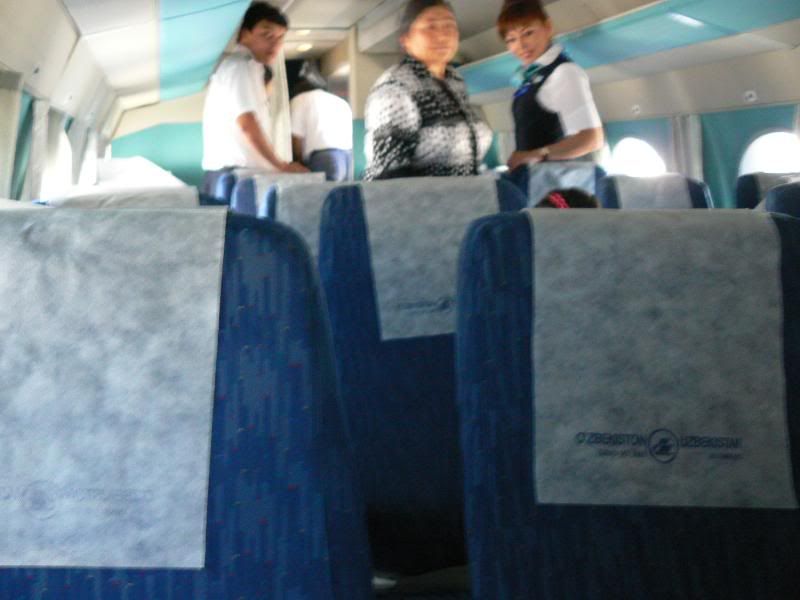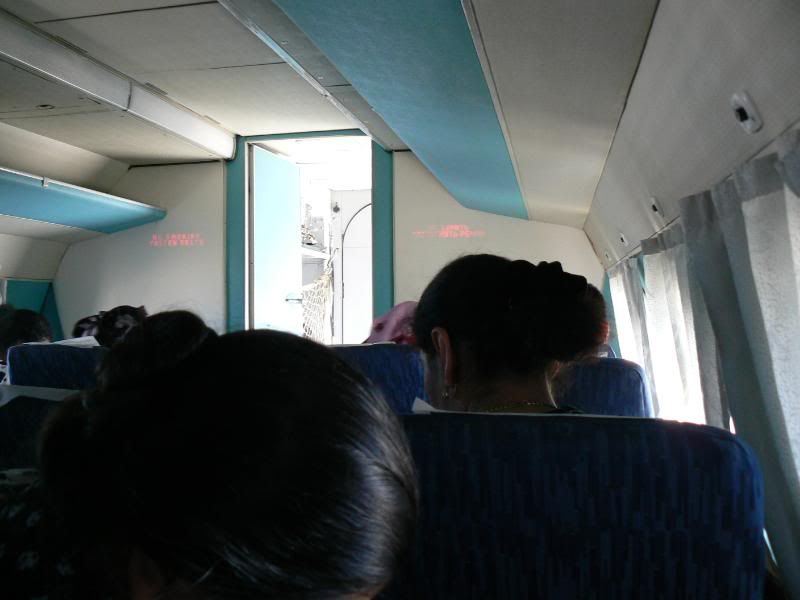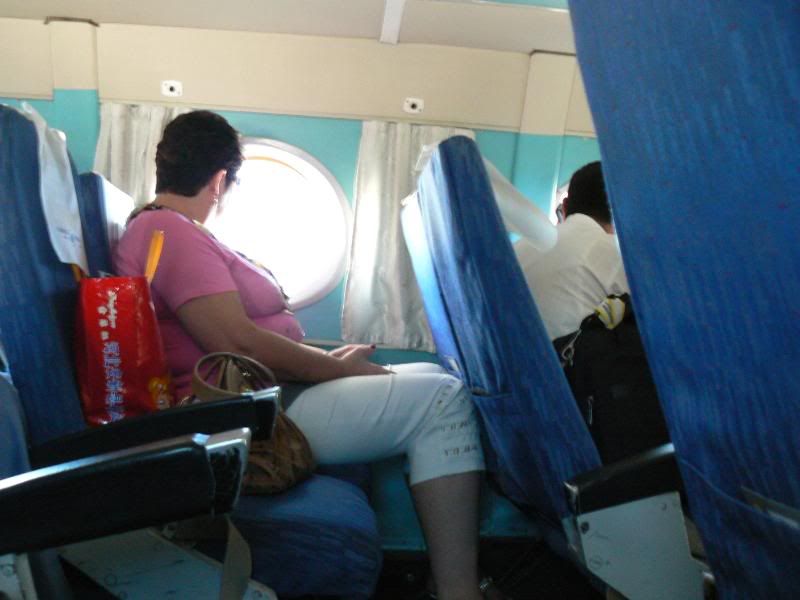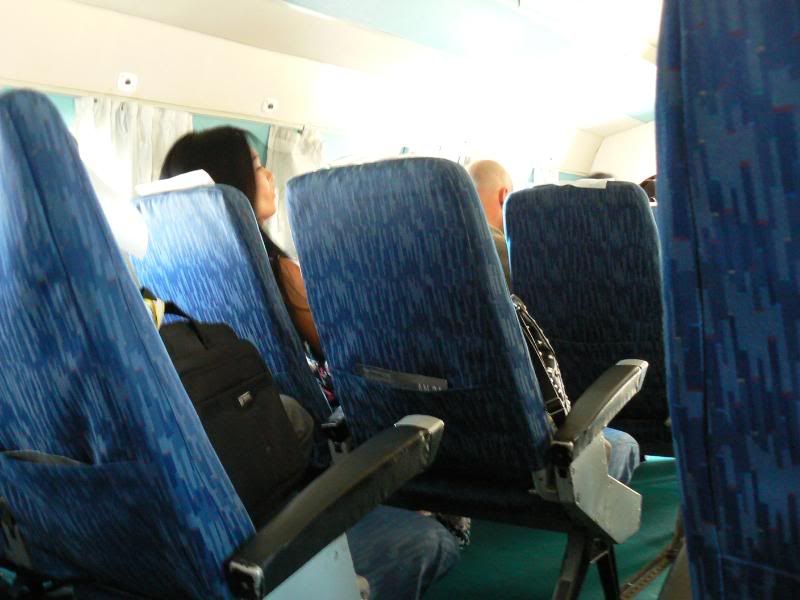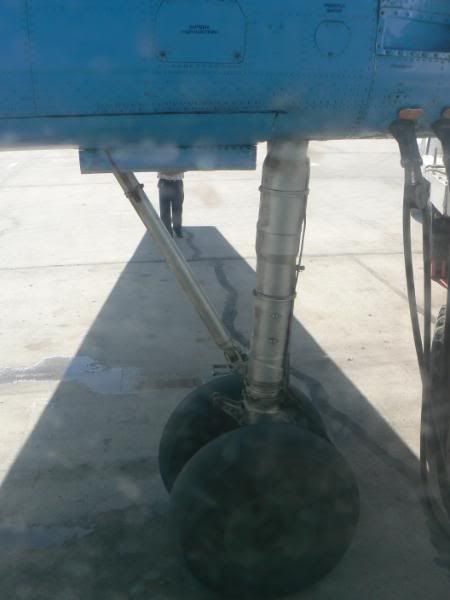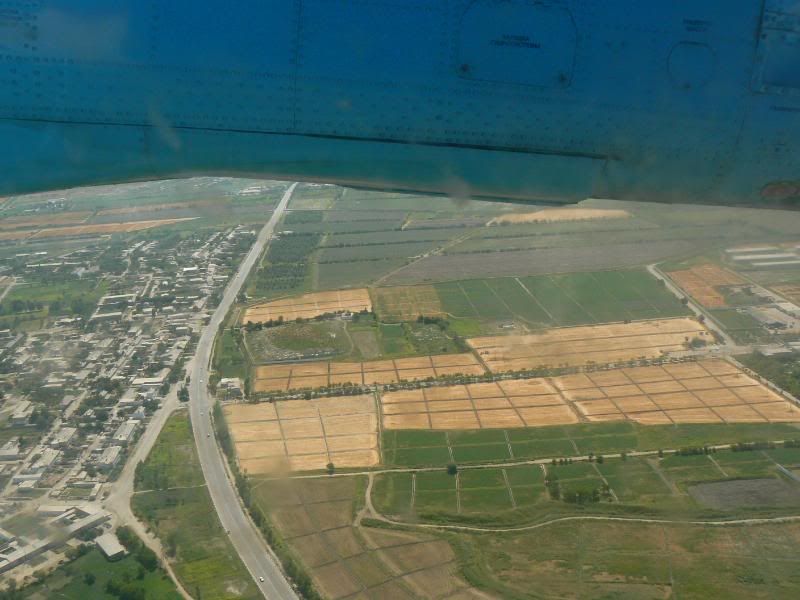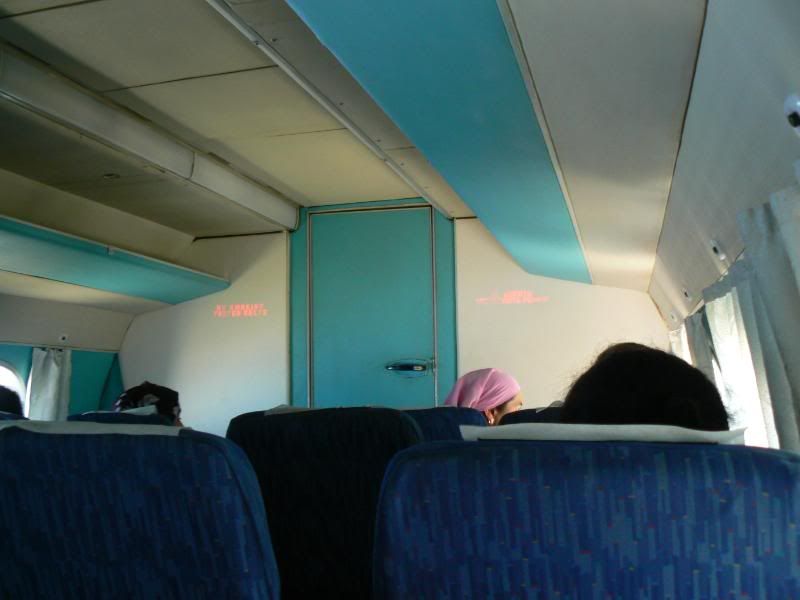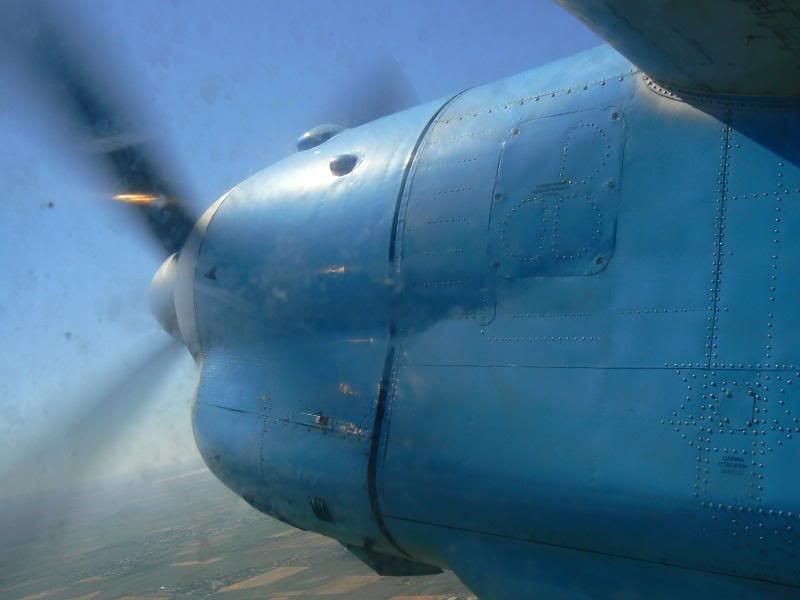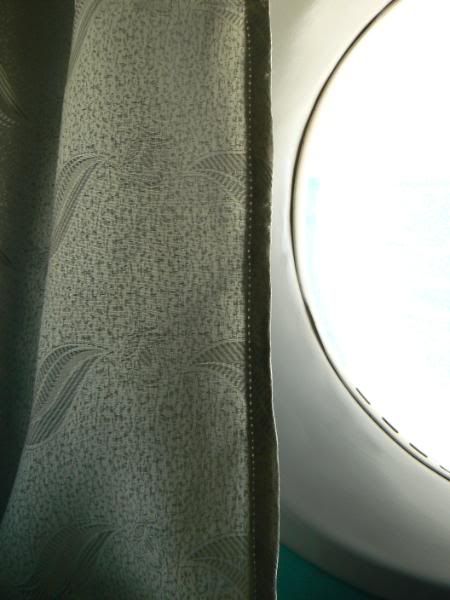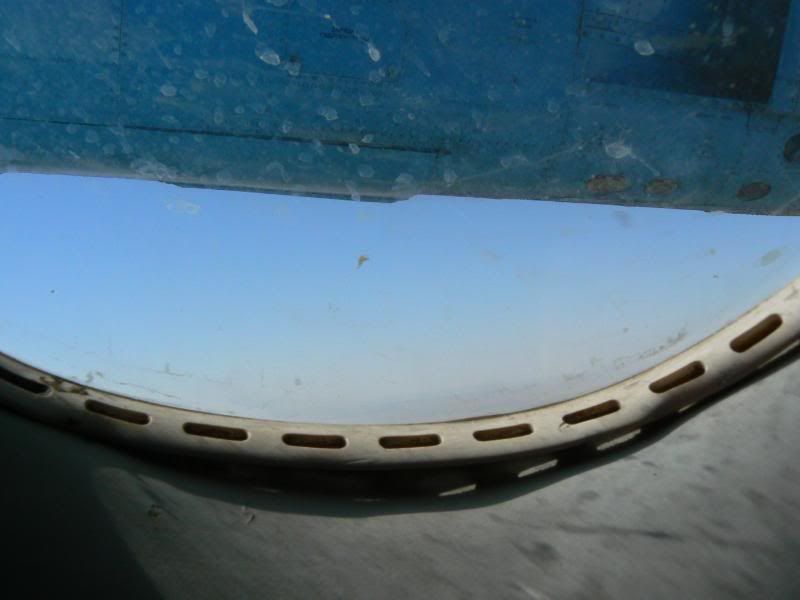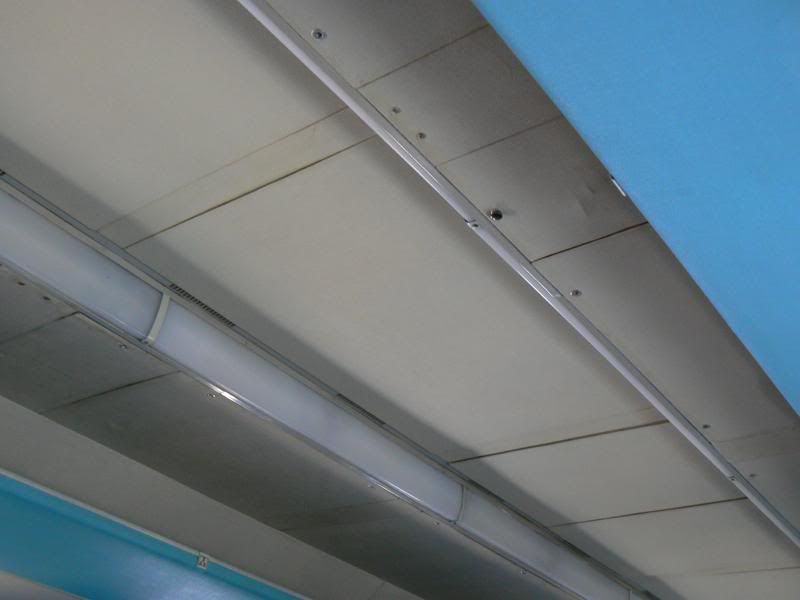 A lucky stowaway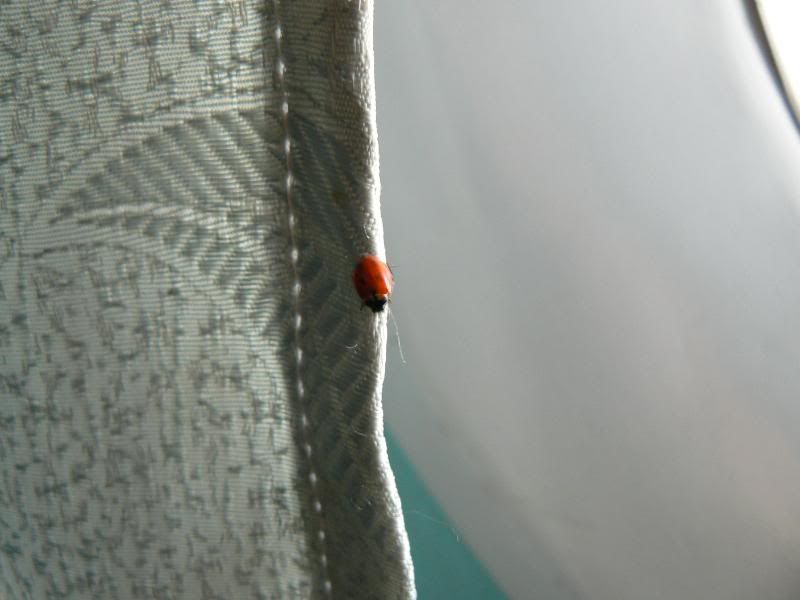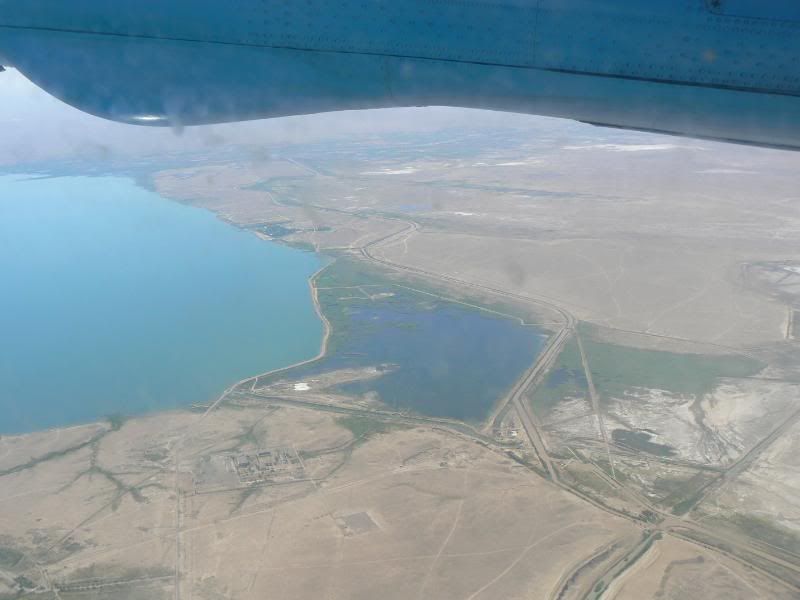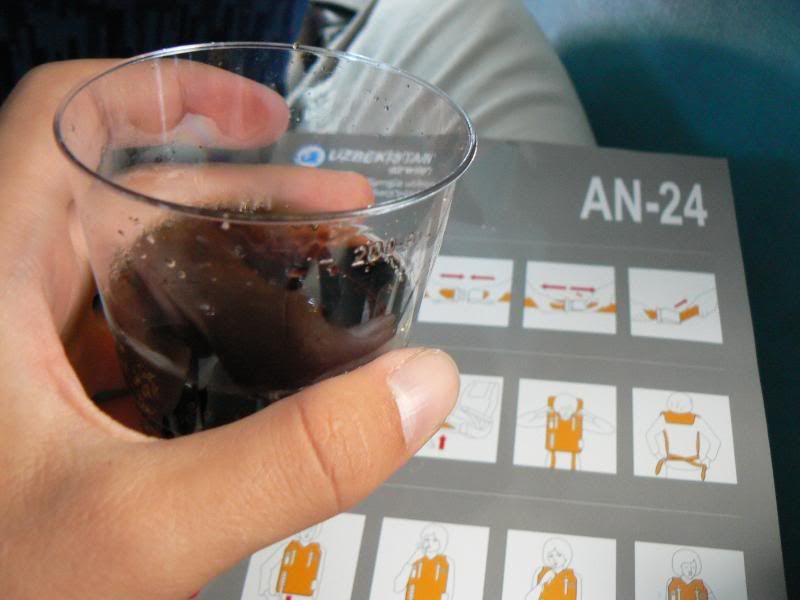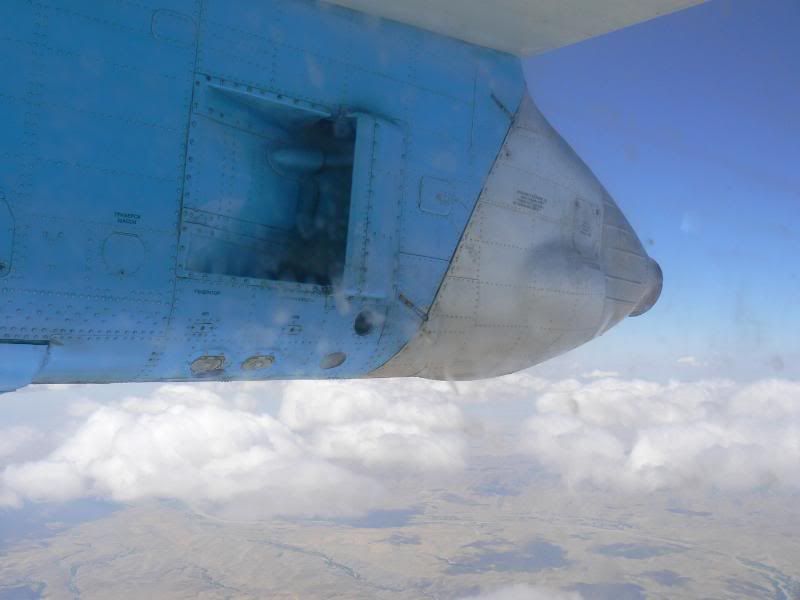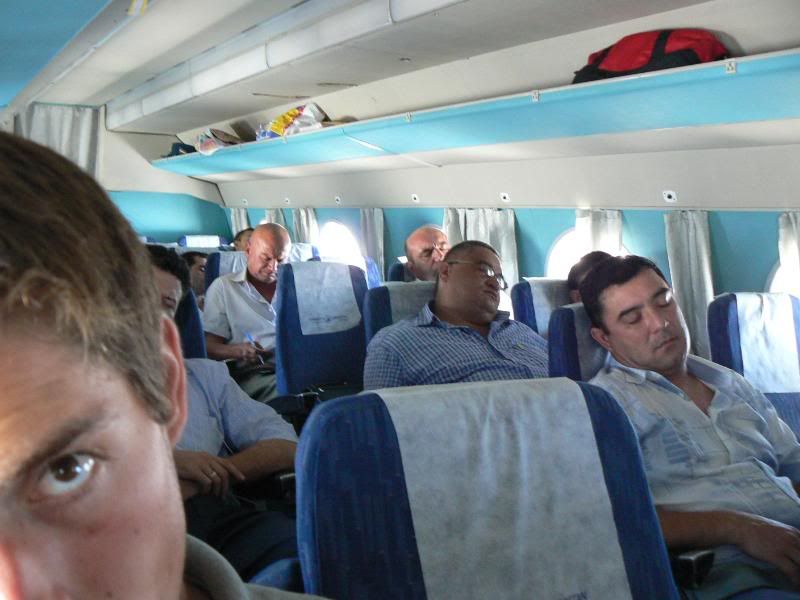 Approaching TAS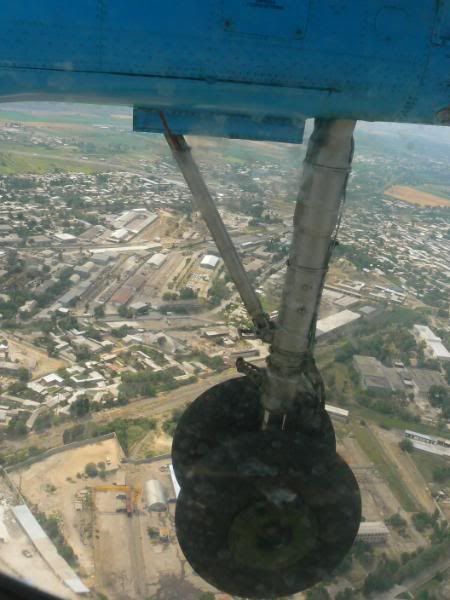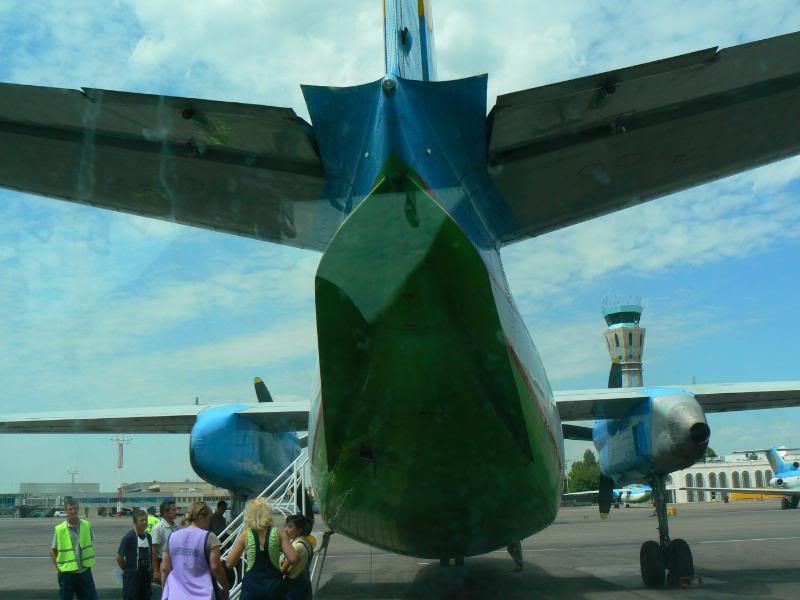 CONCLUSION
I expected my flights with HY to be "exotic", and I was not disappointed. I'm in love with Russian jets now, I wish to go back to Central Asia soon in order to fly on them again before it's too late. It seems that HY is in the process of joining Skyteam...I don't see that happening soon, unless they revamp their domestic operations. It's unacceptable not to have announcements in English on a safety standpoint. And they should hire f/as who are more friendly.
Anyways, I spent an amazing 2 weeks in Uzbekistan, and I encourage anyone to go there !