Snow escape: KKN-OSL-FRA on SAS and Norwegian
Hei, dear readers
and welcome to the last and final part of my travels around Norway.
The other parts are covered here:
SAS And Faroe Atlantic Airways: FRA-CPH-SVG
(by
FLIEGER67
Jun 27 2009 in Trip Reports)
Norwegian´s Logo-Jet And SAS: SVG-OSL-TRD-BOO
(by
FLIEGER67
Jul 2 2009 in Trip Reports)
Wideroe Lofoten Scenic Flights: Five Legs To TOS
(by
FLIEGER67
Jul 8 2009 in Trip Reports)
My Arctic Experience: SAS To Svalbard/Longyearbyen
(by
FLIEGER67
Jul 12 2009 in Trip Reports)
Above The Iceberg's From Svalbard To TOS On SAS
(by
FLIEGER67
Jul 16 2009 in Trip Reports)
The Polar Coastal Rider: Seven Legs To Kirkenes
(by
FLIEGER67
Jul 23 2009 in Trip Reports)
Let´s compare the two major players at norways domestic market with the flights to OSL and further to FRA.
Friday, 05.06.2009
KKN (Kirkenes-Hoybuktmoen) Snow showers, Temperature 3 degrees
OSL (Oslo-Gardermoen) Light clouds, Temperature 13 degrees
Duration: Two hours, five minutes announced
Two hours actual

Service DY 227 operated by Norwegian Air Shuttle
Scheduled: 12.00 // 14.10
Actual: 12.15 // 14.15
Gate: 21 Seat: 22F
Load factor: 100%
Fare: 79,30 EUR
Well, Kirkenes waved me good-bye with some, shudder, snow flakes that Friday morning.
It seems now that it´s time to head for southern skies.
The local bus was ontime and picked me up bound for the airport.
Some technical difficulties on the way with that rather old example, but finally we made it to the airport.
Immediatelly after you enter the door to the small terminal you see two lines, one for SK and the other for all pax on DY.
The line was not that long, but it needs some ten minutes till I was in front.
A young girl working at the desk.
Let´s follow the conversation:
Me: "Hello, one bag to OSL and if its possible a window seat in the last row".
No comment, no eye-contact, just a boarding pass thrown on the desk with a midde seat in row 11 IIRC.
Me: "Sorry, no more windows available?".
No comment, no eye-contact, typing on the computer, another boarding pass thrown on the desk.
She: Next.
Oh well, how I miss these self service kiosks where you exactly know what to expect!.
Further on to security, a huge number of retired couples also on travel, mainly from Germany but also from Switzerland and Austria.
So some time to wait till they cleared it.
Two flights bound for OSL short behind the other and some regional Wideroe services on the screen.
Wideroe on the apron: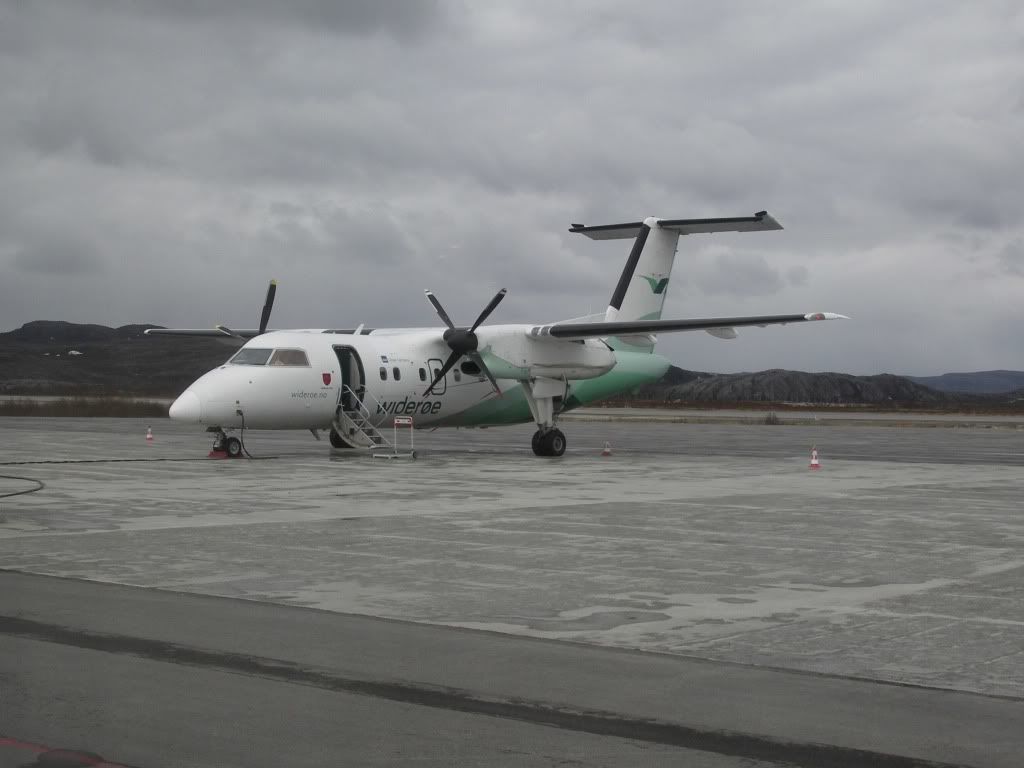 Another one:
The board: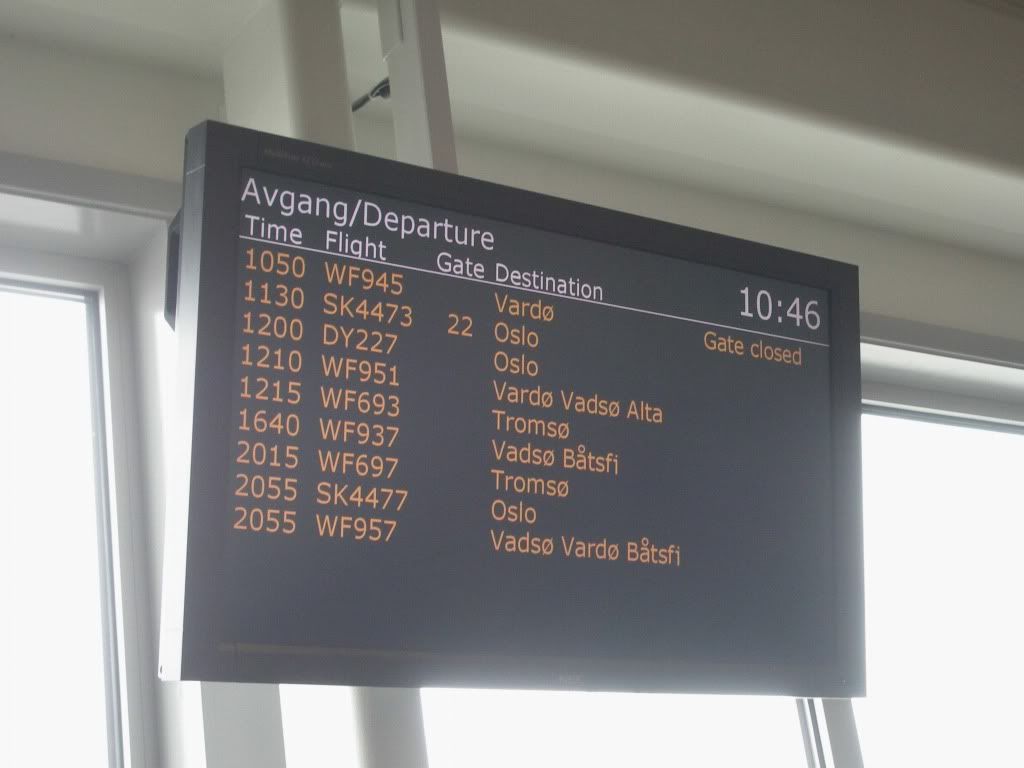 Wideroe ready to go: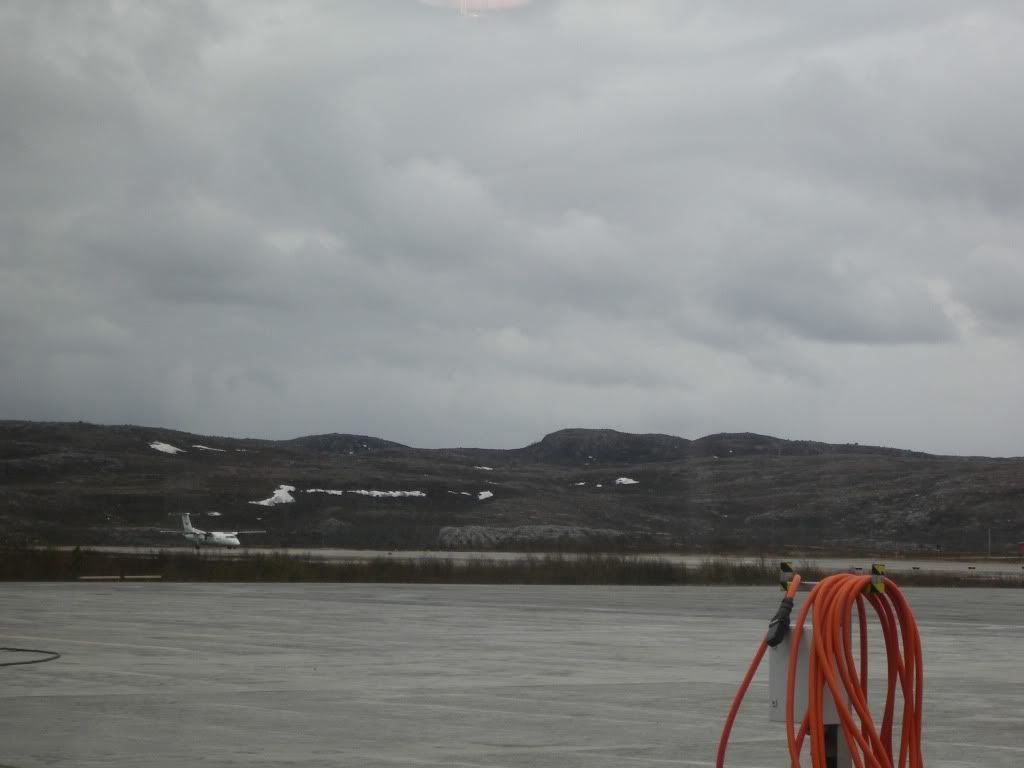 Departure: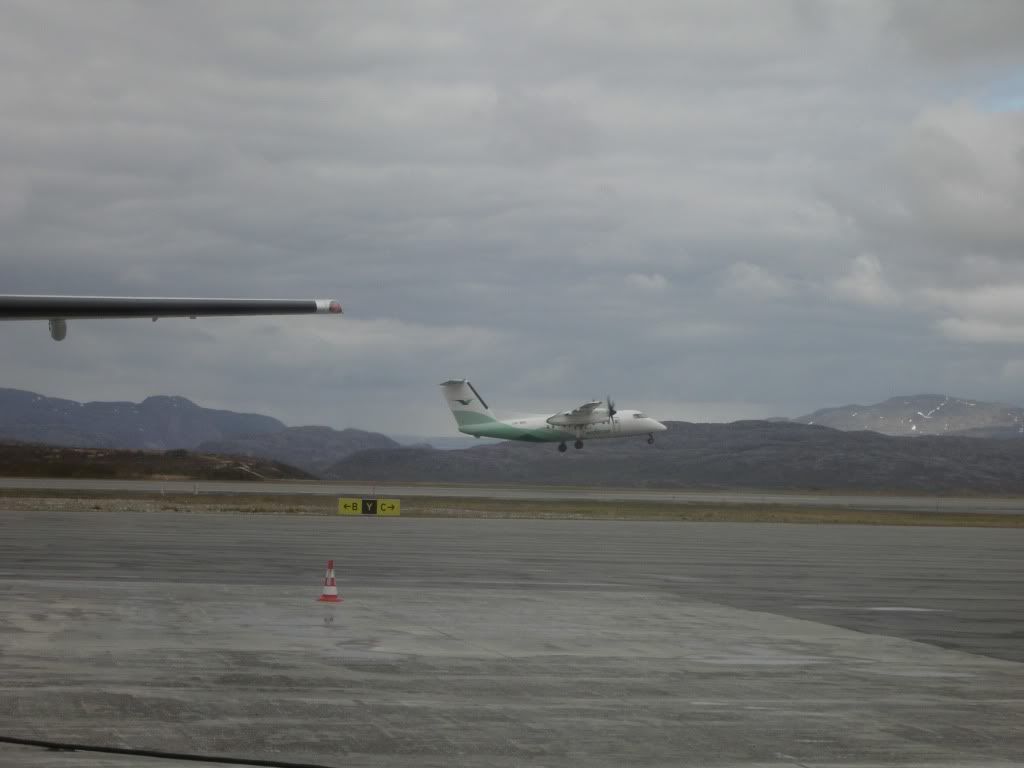 SK was earlier scheduled and arrived also first.
SK on finals: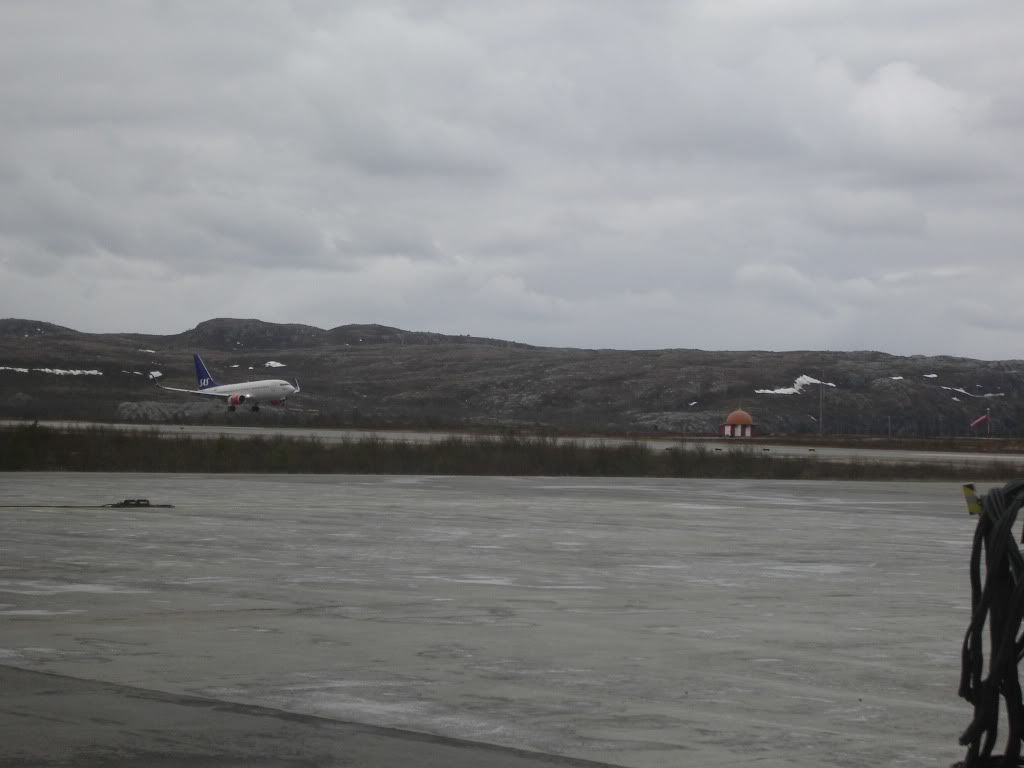 Slowing down:
Short thereafter my plane, also inbound from OSL touched down.
My machine:
On the runway: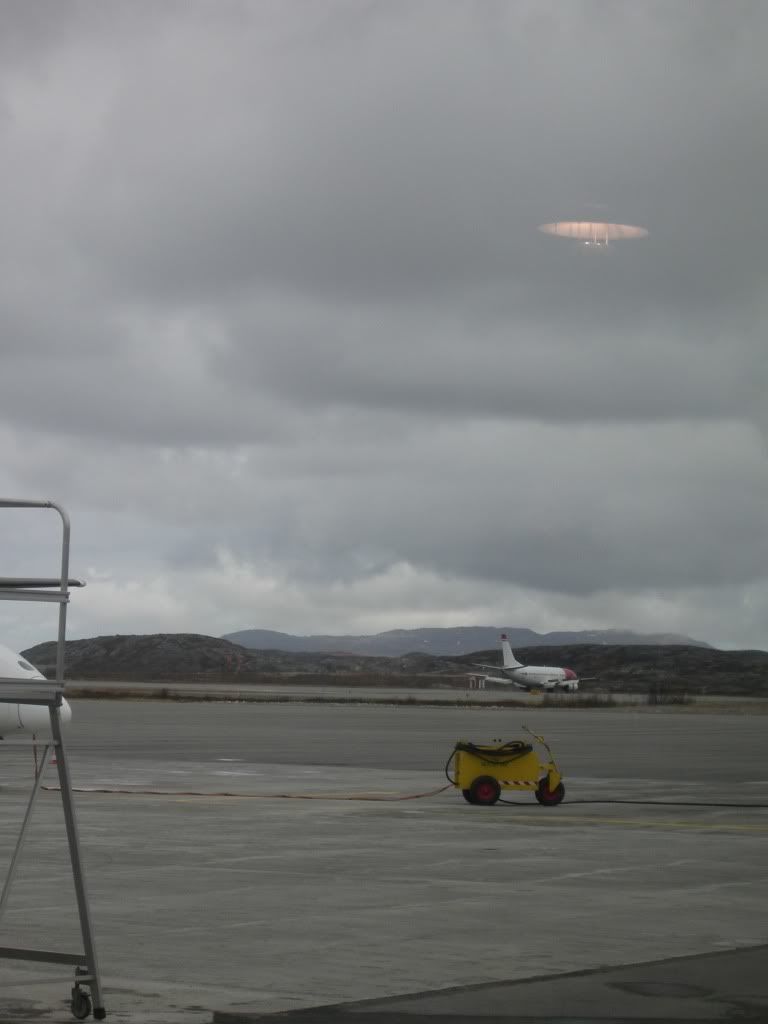 Taxi:
Closer:
To the parking position:
Again: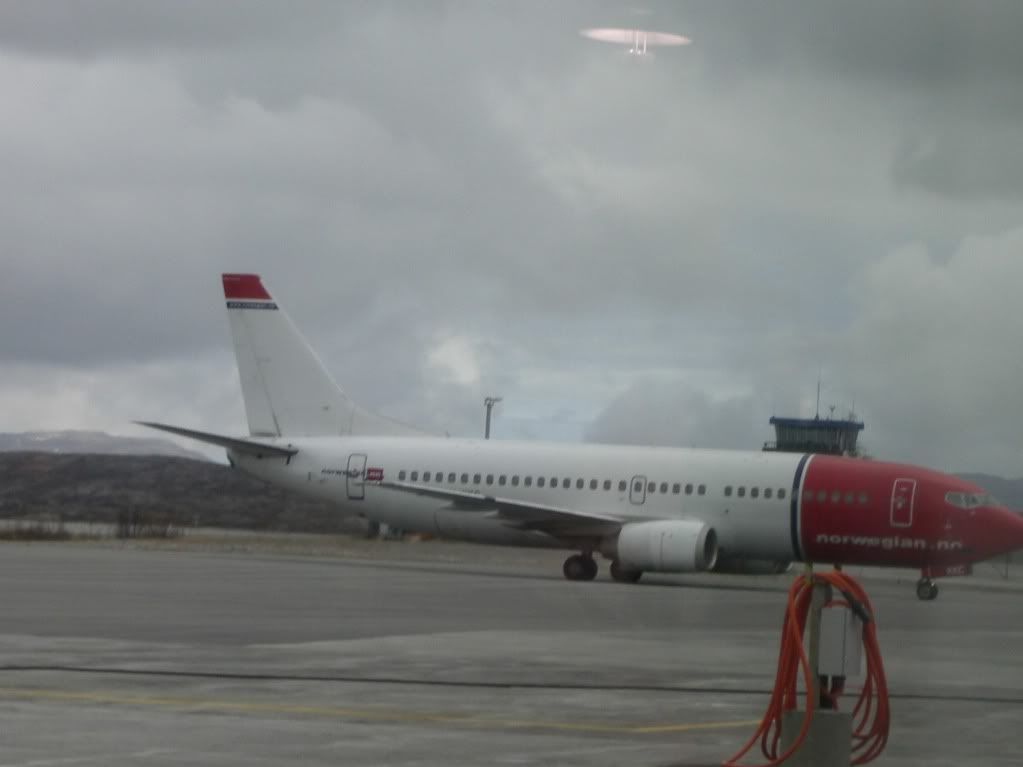 It was LN-KKL, a classic 737-300 delivered at 25.05.1993 to Air Malta and in service with Norwegian since 30.11.2006.
Another one of the total 28 733´s in Norwegians fleet.
Leg no. 37 for me on type and once more a new reg for my log.
And another Wideroe example: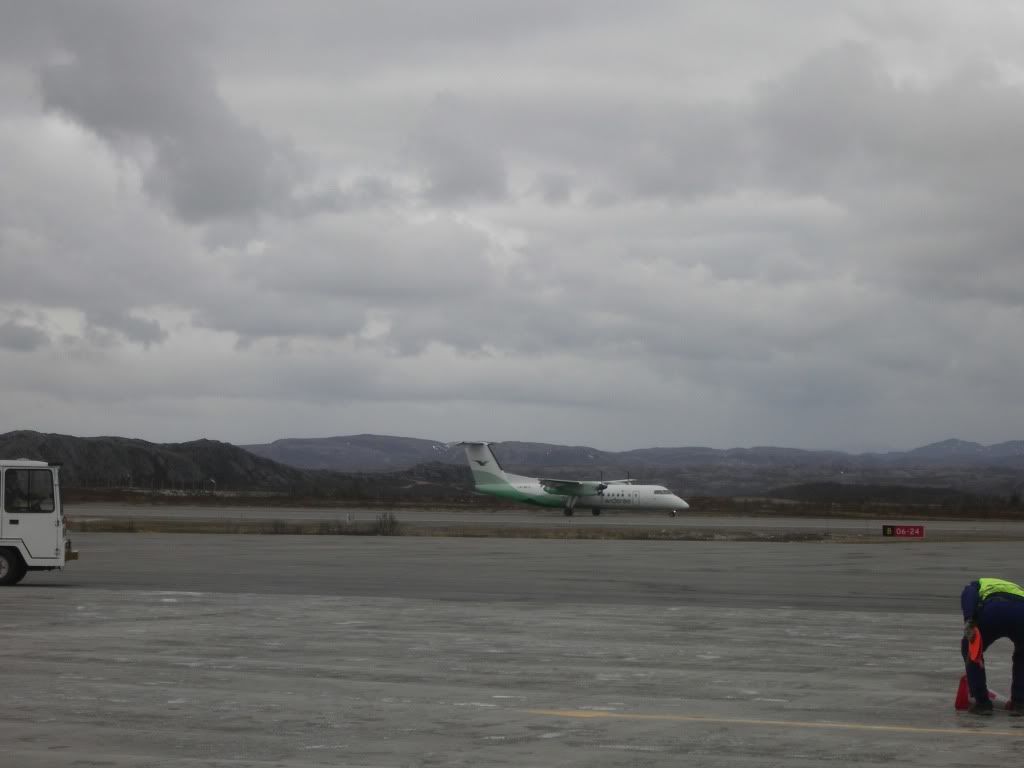 Now boarding: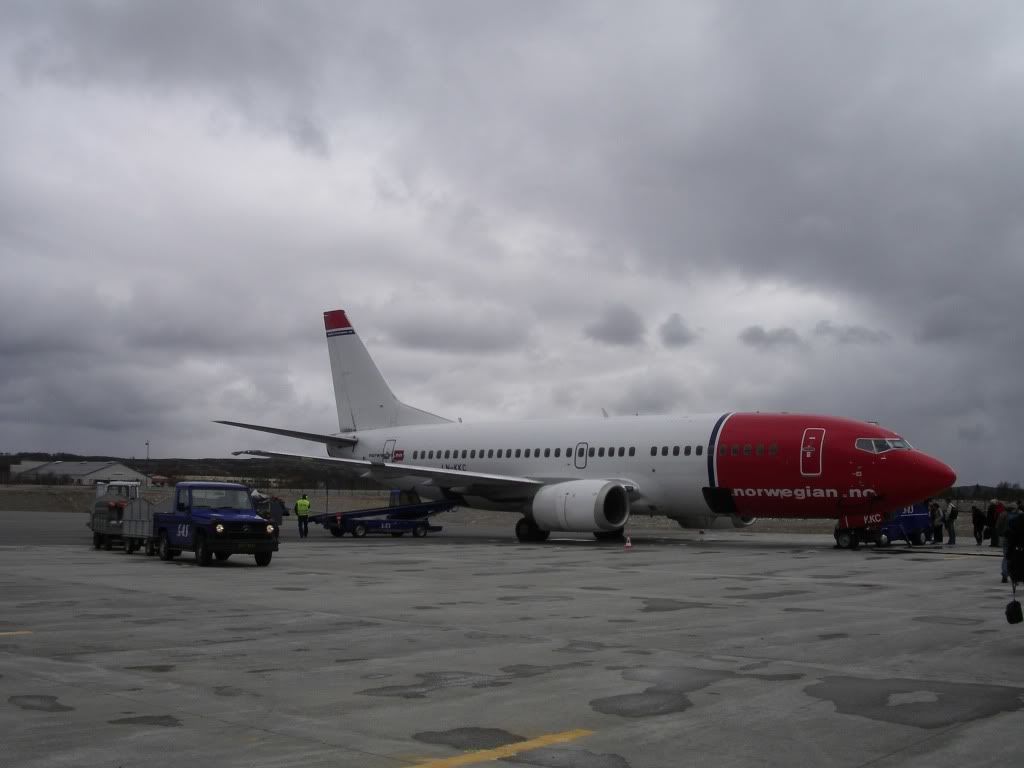 Closer: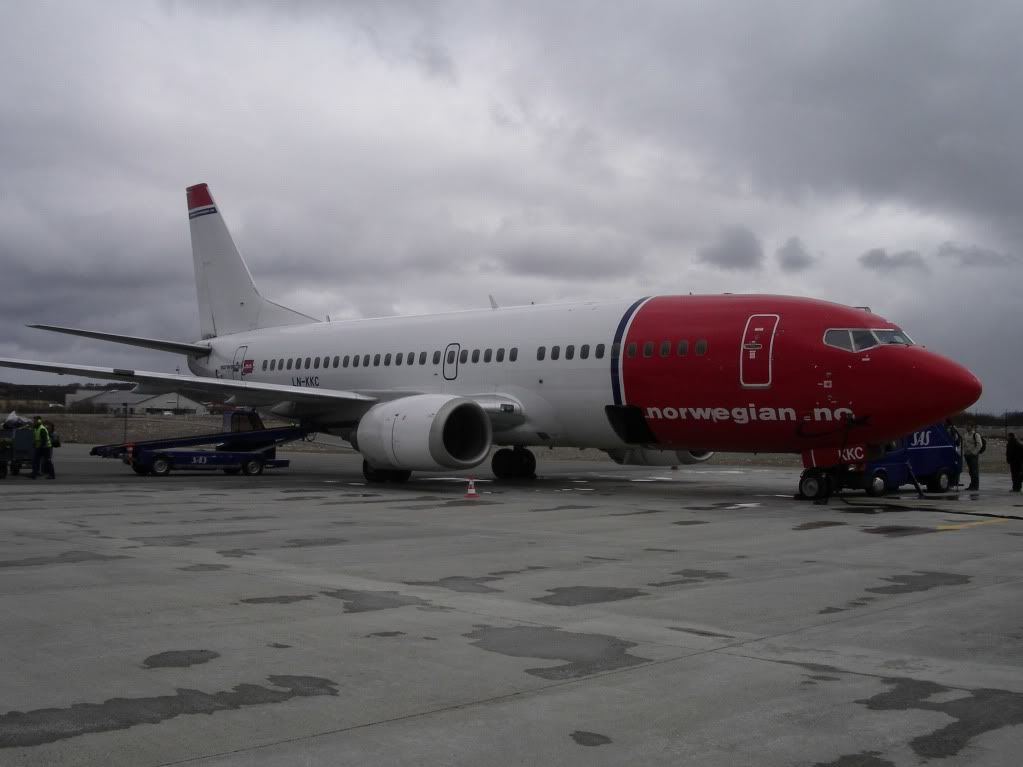 Close up:
Boarding started shortly, self service to the plane.
A rather cold wind and some snowflakes again showed me that its time to board quickly.
I was one of the last pax on the plane after doing some pictures and that seat selection was not the best this time.
No problem with the heavy people as long as they dont try to sit beneath me or better half on my seat.
There was a heavy girl travelling with her father, he´s waiting in the aisle, the girl was on the aisle and middle seat.
She needs some time to go up and let me pass to my seat.
It was nearly impossible to bring the armrest down between her and her father.
And her better end occupies also part´s of my seat.
Well, with Norwegian not known as the airline with the largest legroom it was not that comfortable feeling all around.
The cabin fitted with dark blue leather seats, clean so far.
One friendly male FA, which I´ve asked for another seat, but impossible with a 100% load in the end and also two friendly female FA´s on that machine.
To departures:
On the run:
Kirkenes:
Departure from the 2115 meter runway 06 in direction Finland, Ivalo, Sweden, Kiruna, Gällivare, Östersund and finally Norway, Lillehammer.
Flight level 36000 feet. No comment from the Pilot, but very detailed informations inflight in a friendly way from the really talkactive FO.
Once again during approach. It seem´s he likes his job.
BOB service as usual on Norwegian.
Leaving northern Norway: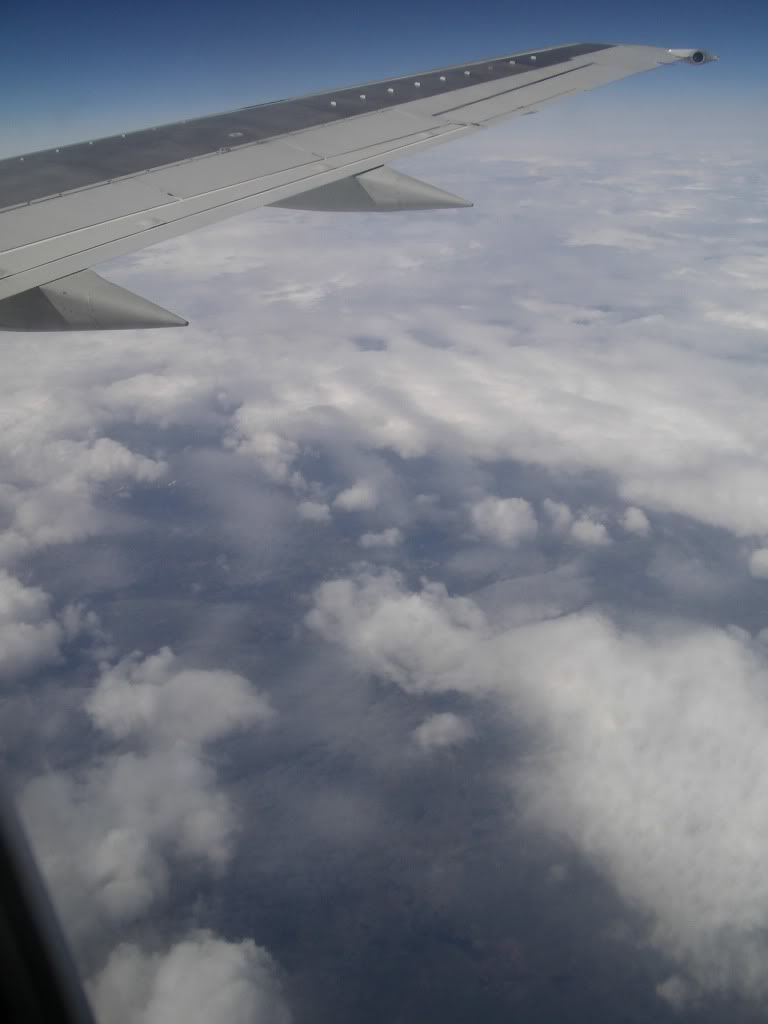 Heavy clouds: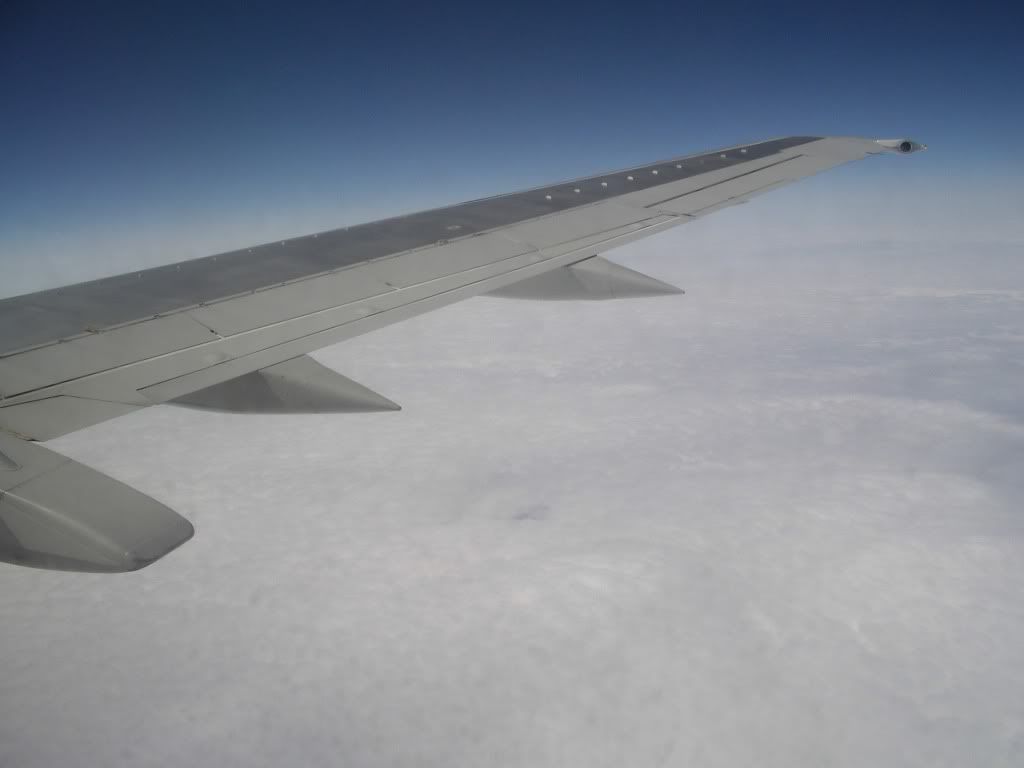 Only partial views: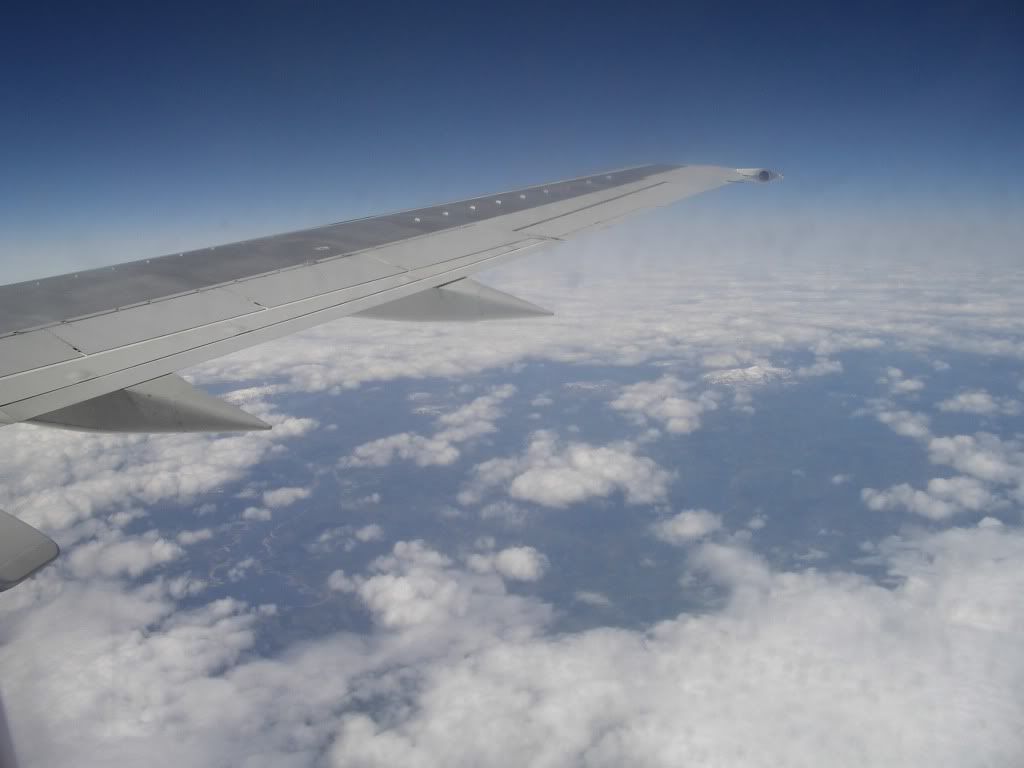 Touchdown in much warmer climate than the last days on OSL´s 2950 meter runway 01R and parked on the apron.
The FO was on the stairway at the planes door during deboarding and greeted his pax.
I told him my impressions about his style and we had a short chat about todays flying, Norwegian and else.
Real nice staff here on Norwegian.
Just arrived: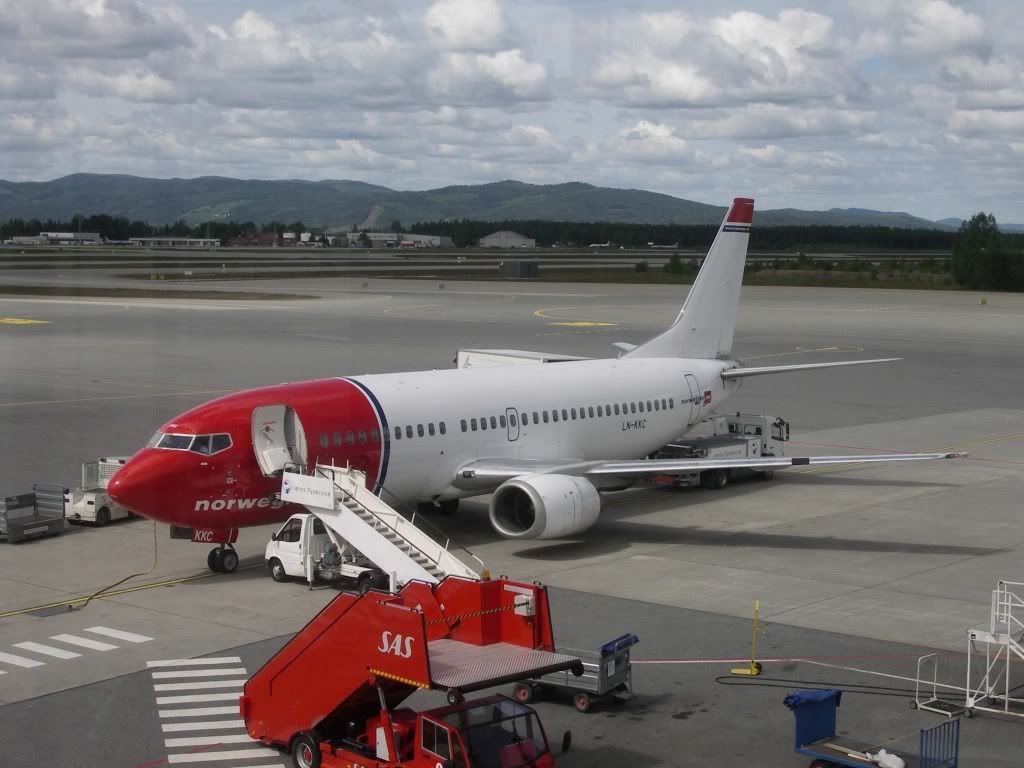 Some minutes to wait for my bag and up the stairs for the next check-in procedure.
Friday, 05.06.2009
OSL (Oslo-Gardermoen) Partly cloudy, Temperature 15 degrees
FRA (Frankfurt-Rhein-Main) Partly cloudy, Temperature 16 degrees
Duration: 1 hour, 50 minutes announced
2 hours actual

Service SK 4757 operated by SAS Scandinavian Airlines
Scheduled: 16.45 // 18.50
Actual: 17.00 // 19.00
Gate: 41 Seat: 18D
Load factor: 100%
Fare: 100.-- EUR
The kiosk´s worked well, but the seat availibility wasn´t that well.
No windows on the screen and only one last aisle around 1 hour 45 minutes prior to departure.
That´s why I dont like Friday flying, the weekday with usually the best load factors all around.
Fixed the aisle, labeled my bag and on the way to bag drop off.
The nice girl there searched again, but finally 100% load and no way for a better seat. How bad.
Some ten minutes at security and once more in OSL´s gate area.
I´ve decided to walk a bit around, lots of planes and pax here.
Nice KL machine:
Once more: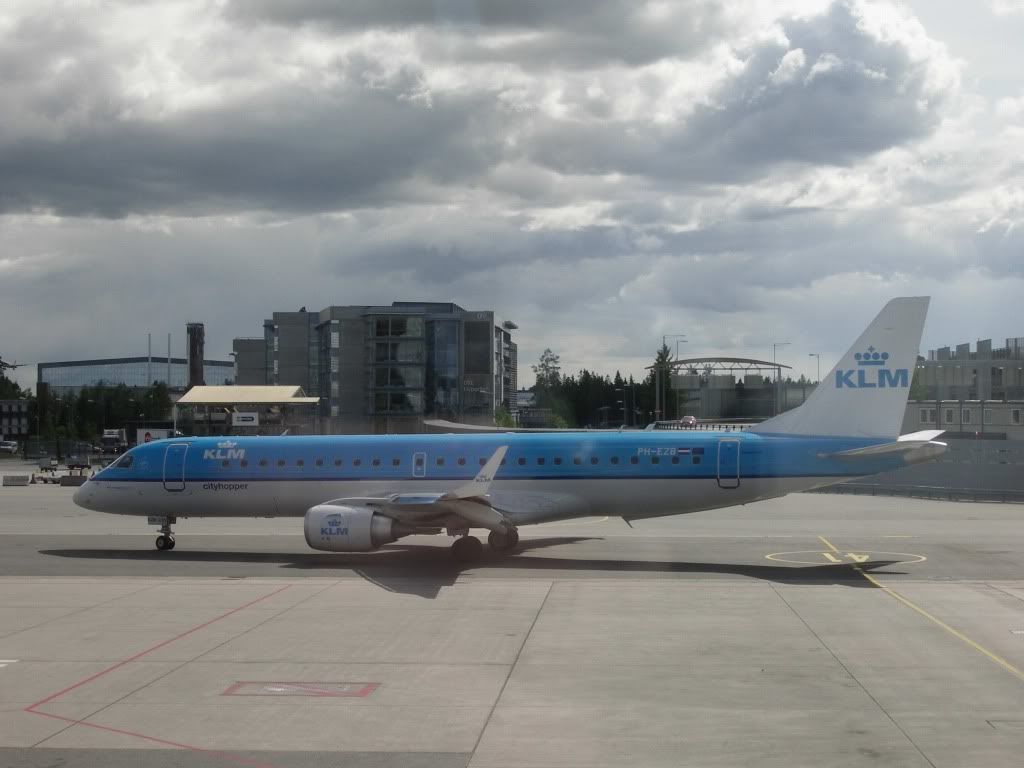 My machine:
At the gate: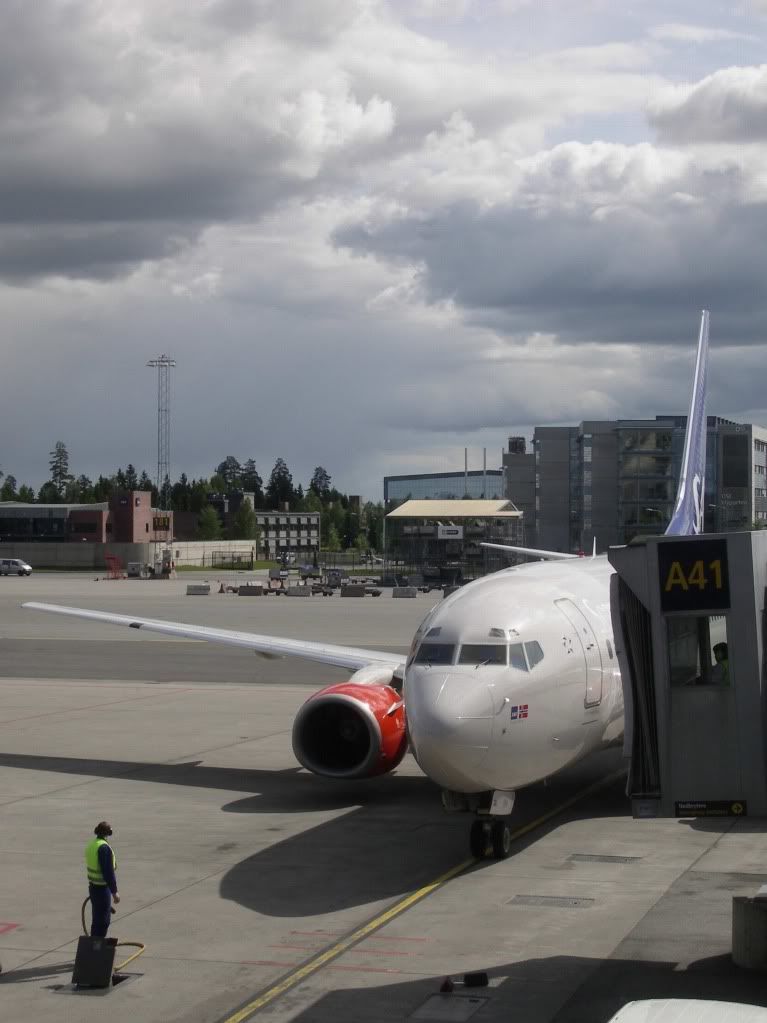 Once more: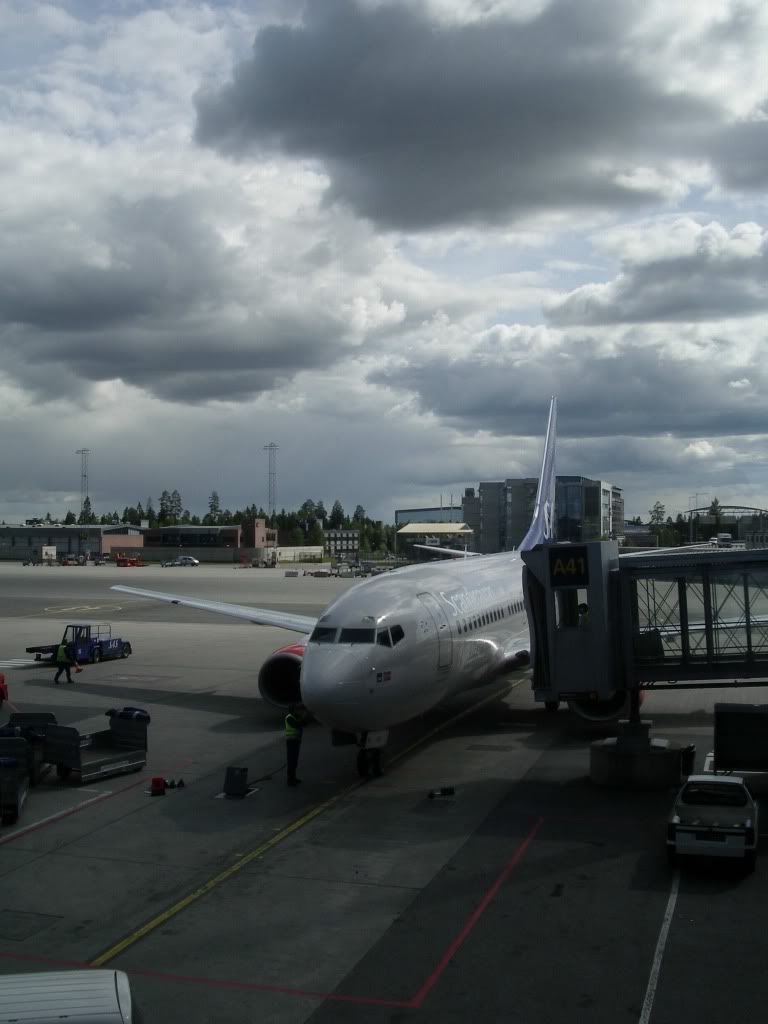 Finally my plane arrived some minutes late and parked at the gate.
LN-RNN, a 737-700 was delivered to SK at 20.10.2000, one of the 17 examples in the fleet.
It´s named "Borkny Viking".
Leg no. 22 on type for me and something new for my log.
Some more special livery: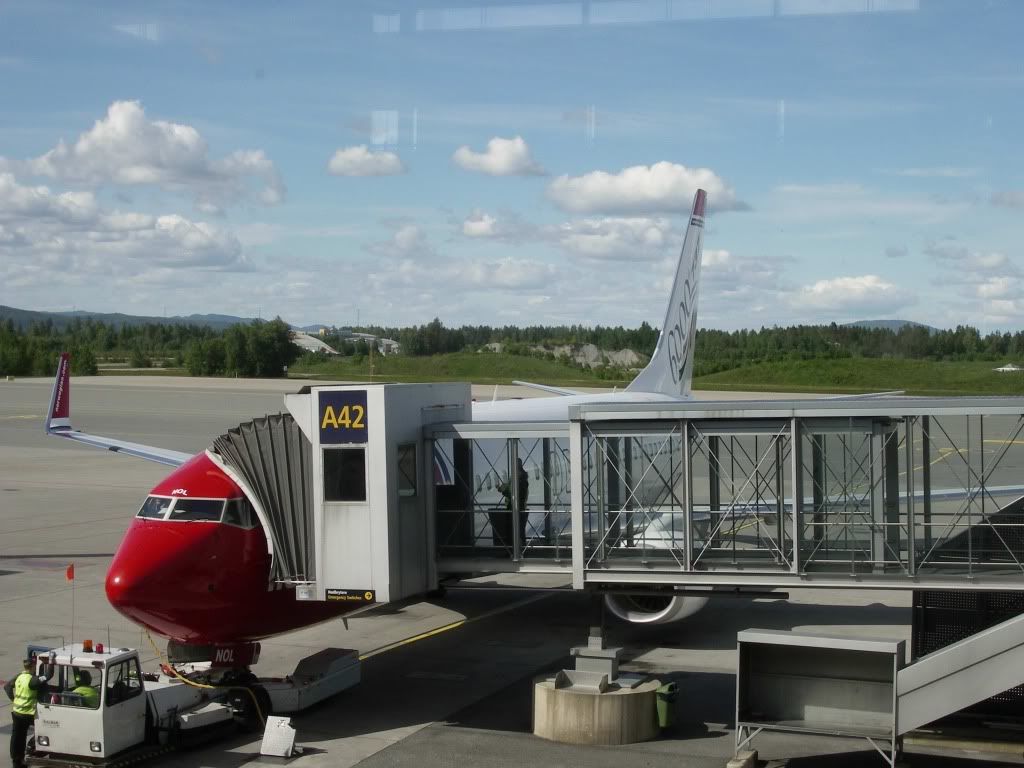 Also here: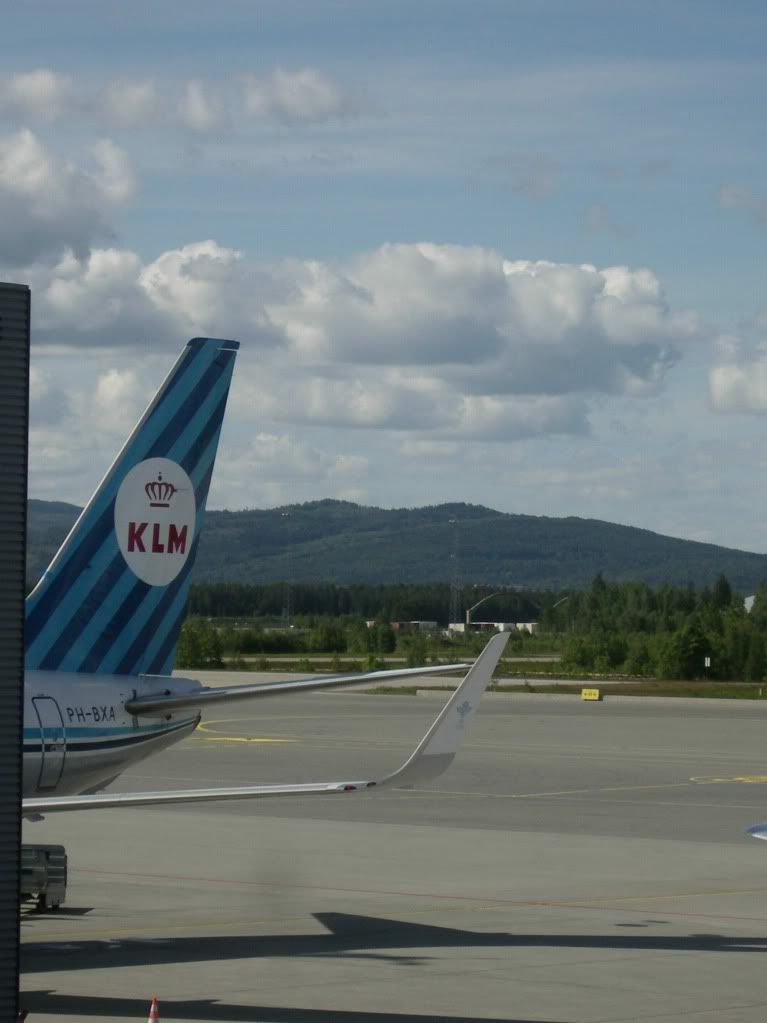 Boarding:
And also some minutes late boarding started.
Three experienced female FA´s on this service. The cabin fitted with dark blue fabric seats, legroom and wide ok so far.
Cockpit crew was from scandinavia. The pilot during boarding with detailed informations and also some background about the delay.
The scheduled cabin crew for this flight was delayed with another plane and so they changed it and we had to wait till they arrived.
Departure finally from the 3600 meters runway 01L in direction HAM and further directly to FRA.
The male pax in the window seat read his magazine for the whole duration.
Ok, some views out there, but neither when the co-pilot announced a nive view above HAM nor during approach he used his window.
And me, sitting in the aisle and want to view outside, no way!.
Flightlevel 34.000 feet. Also here buy on board service.
Arrival on FRA´s 4000 meter runway 07L only ten minutes late and a rather long way to taxi till the apron in front off T2.
Bus service to the terminal, not bad during good weather, you know!.
Deboarding:
Once more: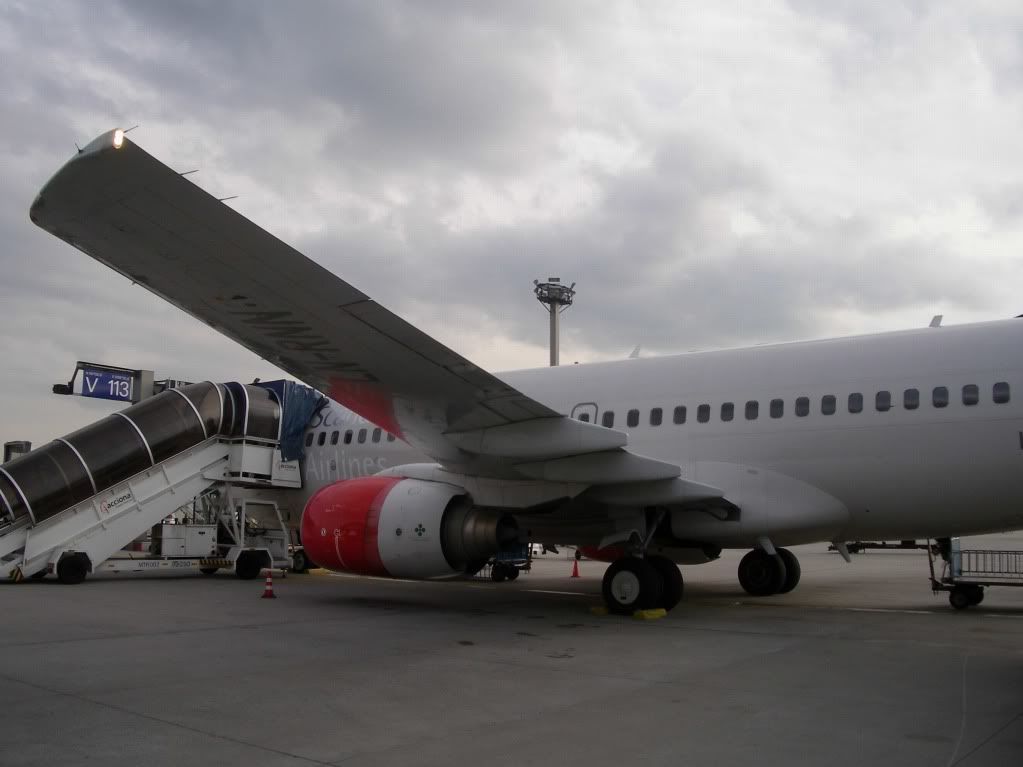 FRA apron:
And again:
The usual longer wait for my bag at FRA, called the Tourcare shuttle and driving homebound.
So, two more legs done.
DY with, once again real friendly staff, fare acceptable, not the great experience comfortwise, but ok so far.
SK with a good load, staff ok, fare ok between two major airports but, I need a window!.
The next story will be a ride from STR to Smaland/Sweden on a rare machine in middle Europe.
Coming up soon.
Comments welcome,
Markus (FLIEGER67)