Hello once again...I promised another trip report, and I shall deliver. This report is detailing a quick trip my fiancee and I took to visit my grandparents in Iowa earlier this week to celebrate their 50th wedding anniversary. We also spent time up in Ames at Iowa State University (where I did my bachelor's and Master's, and my fiancee did her graduate work as well...it's where we met!) and met up with some old friends. We had spent weeks to find a decent fare into DSM, to no avail. We even tried to find fares into MSP, but adding up rental car costs only made a decision to fly into DSM simpler. Thanks to Orbitz and their price awareness e-mails, we found a pretty good fare for under $350 per person out of OAK. So, after a phone call to my grandmother to tell her the good news, we bought the tickets and got ready to leave the boring world of Oakland for the lively sights and sounds of IOWA!!!
Sunday, July 26
OAK-DEN
UA 740
0600-0925
A320 (N488UA)
Since we had an incredibly early departure, we drove to the Oakland long-term parking lot, took a shuttle, and were through security by 4:45am. At this ungodly hour, my fiancee was pretty tired, so the first thing she did was hit the Starbucks and get her vanilla latte. Since I was on UA, I decided to get my Starbucks coffee for free on the plane. We sat down at gate 10 and waited for general boarding. Prior to that, I walked around Terminal 1 to see the sights. However, the only sights had "DANGER CONSTRUCTION" on them, as the terminal was still under construction. Also, since it was very dark outside, the only plane I could easily make out was our bird. At 5:30am, we began boarding and took our seats in 25A and 25B. As the sun was rising, I took a picture out of my window.
Half-shot of US Nevada-themed aircraft
Terminal 2 with SW action
After pushback, we headed off to runway 29, and as soon as we turned on the active runway we rocketed off towards Denver. The view was crummy as soon as we got above the low-lying marine layer.
Rotation off RWY 29
Above the marine layer...spotting the San Francisco Peninsula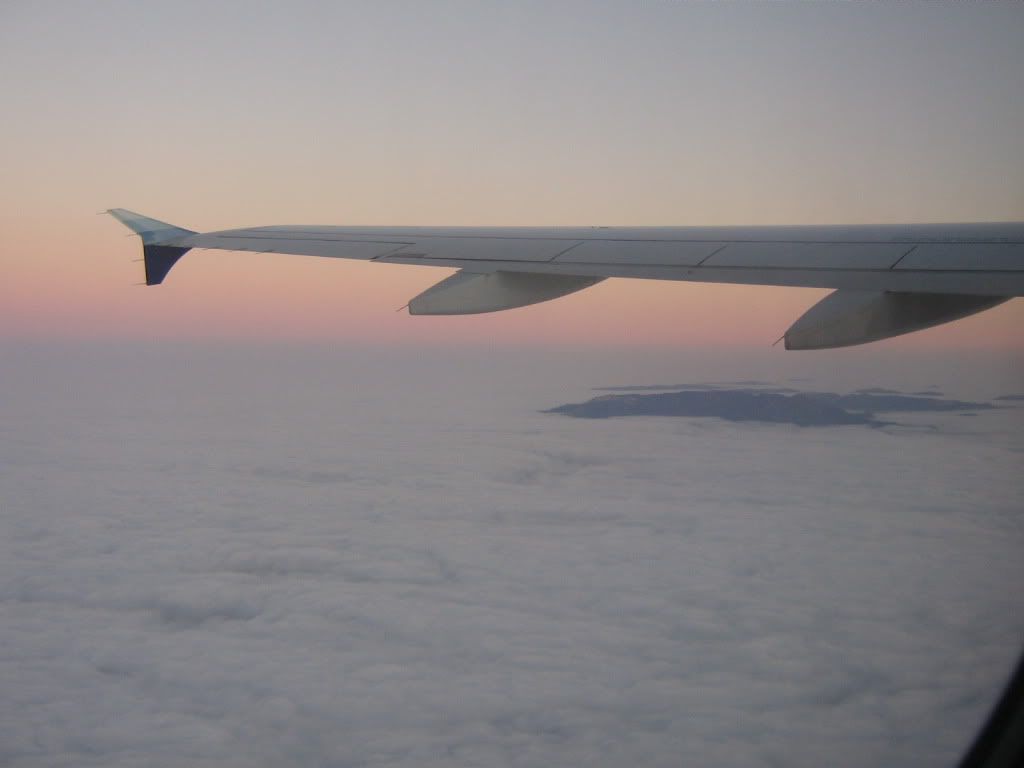 Possibly Point Richmond after making a right turn from takeoff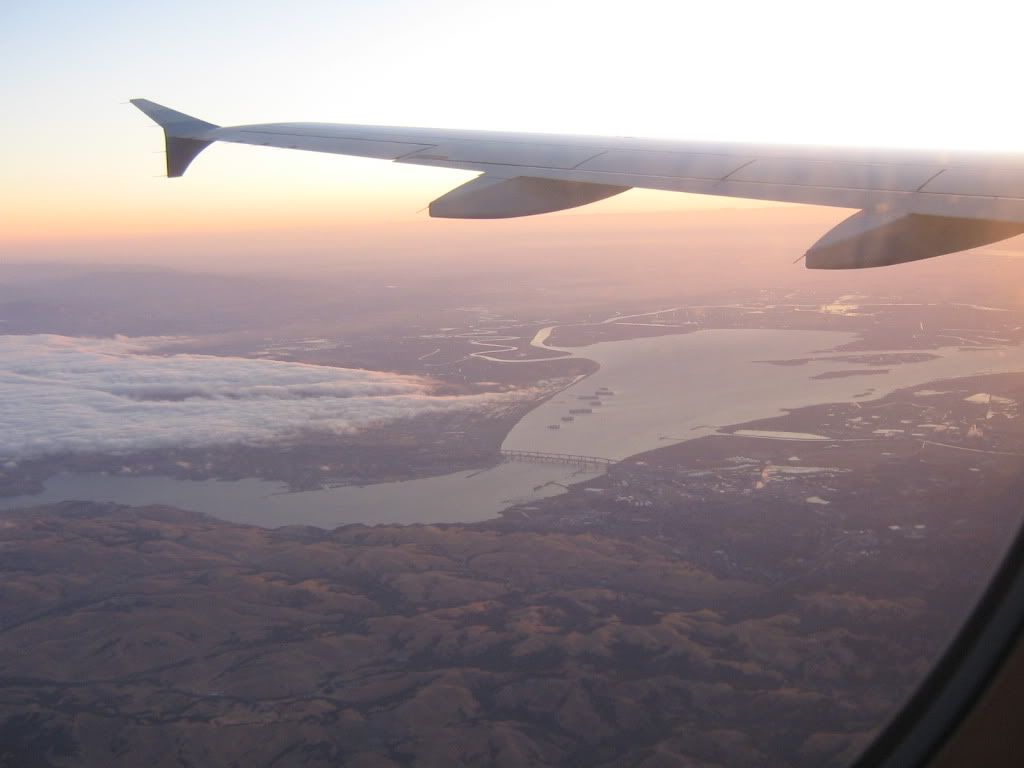 Suisun Bay and the Military Sealift Command storage area
Once we got off the ground, I tuned into Channel 9 and listened to the early morning departure chatter. There were a few UA birds, one CO and one DL, as well as a FedEx bird heading out of Sacramento. Coffee and drinks were served, and I settled into a cup of coffee, my book on the parallel lives of Fredrick Douglass and Abraham Lincoln, and some Tribe Called Quest on my iTouch.
A way to relax on a smooth flight
After 2 hours of smooth travel at 35000 ft, we began a gradual descent into Denver. The cloud cover increased over the Rocky Mountains, and when we broke through I captured a pretty good overview of DEN.
A nice view after breaking through the clouds
We were cleared to land on RWY 34R, so we continued on a southerly track at around 10000 ft, then made a left turn to return north and intersect the ILS approach to 34R. We were on the ground in 5-10 minutes.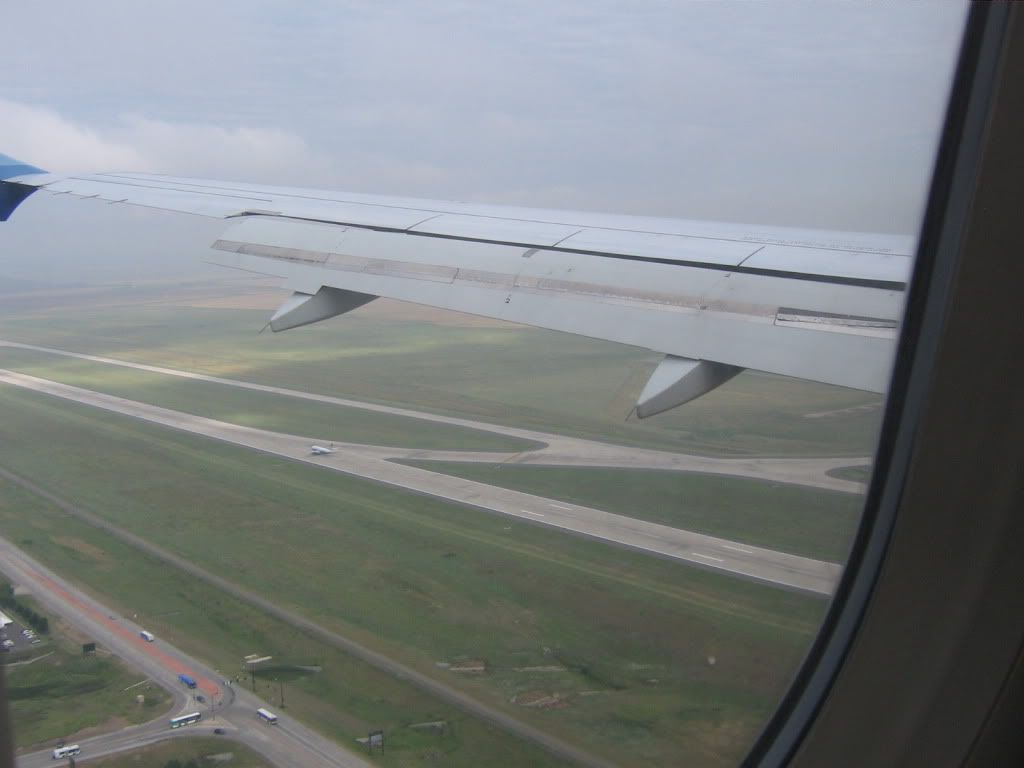 Over 7-25...spot the UA A320 on the takeoff roll.
Landing with nice spoiler action
We taxied to our gate B47, and we ran to make our connecting flight
UA 6064 (operated by SkyWest)
DEN-DSM
1009-1249
CR7
Since we ran to our gate, I didn't get any good shots of DEN or of our plane. However, standing at our gate was non other than...country singer Trace Adkins!!!!! I remember seeing his picture on a billboard in the Central Valley, and my fiancee had an idea who he was, but I let him be and get on his plane. Once I told my grandfather who I saw, he commented "It has to be a rough tour for him to fly commercial. " Maybe he liked UA's product, I don't know. My fiancee and I took our seats 17C and 17D, and sat in for our flight. My fiancee was tired, so she wanted the window seat to lean on and take a nap. After takeoff from 34R, we turned east towards Nebraska and eventually DSM. The flight was uneventful, and I even had time to chat with one of the flight attendants. She is from outside Cedar Rapids, and I told her I had family in Rhinebeck (just outside Cedar Falls). She knew where I was talking about, and even said she had been to their football games with her kids. Small world! After a fairly smooth flight at 35000 ft, we descended and landed onto RWY 5 for a smooth landing. We parked at gate A2 and headed off to get my rental car and off to see a very happy set of grandparents. I snapped this picture of a soon to be remodeled DSM...bout time in my opinion!
Lots of work to do...but it's for the better (Concourse A shown here)
After a day in Des Moines, my fiancee and I headed to Ames and ISU. I hadn't been back in a few years, but much of campus hadn't changed. The only development in Ames was the Super Wal-Mart being built...such a big development for a growing Ames!
Me outside Marston Hall, the main engineering building. Spent 5 years of my life in that building!
I stopped by the Dr. George Washington Carver statue and paid my respects. He is ISU's famous alum, and the namesake of the scholarship program which brought me to ISU. Then my fiancee and I stopped by the Campanile and snuck a kiss...doing so will make us true to each other forever (or as legend has it).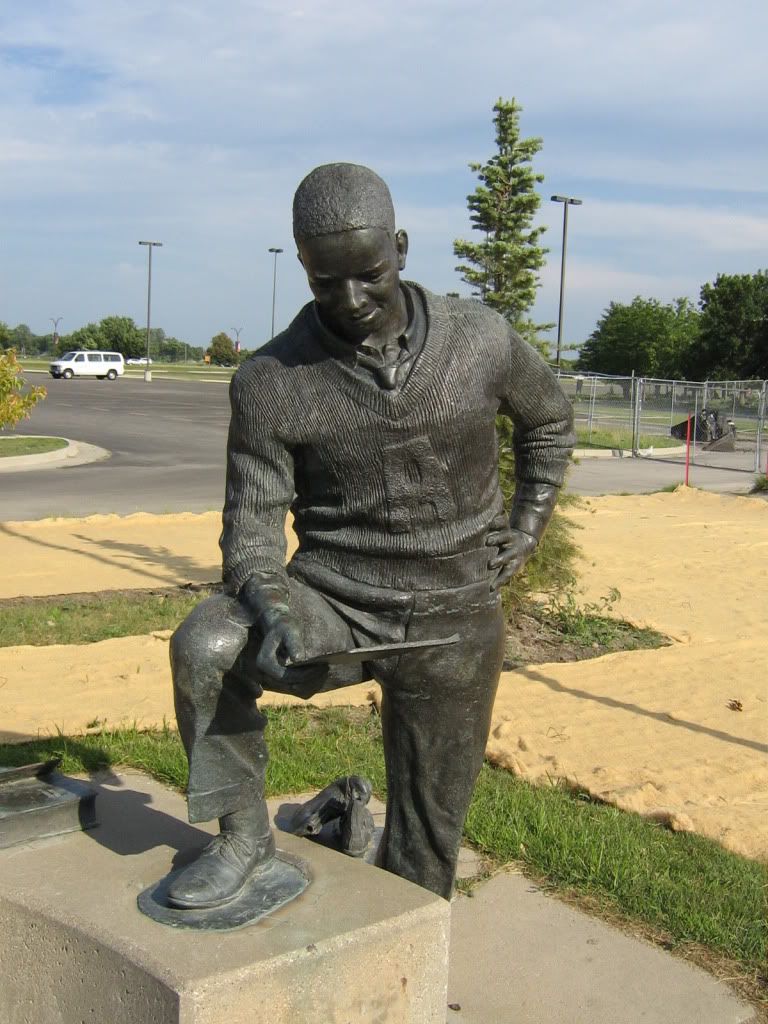 Jack Trice...ISU's first African American athlete and the only ISU athlete to die in competition
Being a football fan (and hoping to get back to the ISU-Iowa game in September), I stopped by Jack Trice Stadium and saw the new renovations. The new ISU logo looks great, and the new concourse additions will make watching ISU football much better. GO STATE!!! BEAT IOWA!!!
South side of Jack Trice Stadium
After another day of hanging out with my grandparents and meeting with other family, my fiancee and I packed up for our trip back to OAK.
Wednesday, July 29
DL 5726 (operated by Mesaba)
DSM-SLC
0605-0755
CR9
I dropped off our crappy rental car at the Enterprise lot, and proceeded to check in. We had to get our seats at the gate, which changed from C3 to C1. As my fiancee went to get our seats, I took this quick picture of the morning crowd at DSM.
I walked around Concourse C, and saw the great numbers of CRJs left RON. I knew DSM and other medium sized cities get lots of RJs, but damn there were a lot. I wonder if the ramp rats at DSM like working on CRJs all day. I remember working on CRJs at MSP and grew tired of the very loud APU and heat exhaust blast whenever I did my walk-arounds. After my stroll, we boarded the jet and took our seats 20A and 20B. The view stunk...only for the scratches on the window. Don't believe me? Just look at the following pictures. We did take off RWY 31 into a clear, beautiful Iowa sky.
Morning view from a scratched window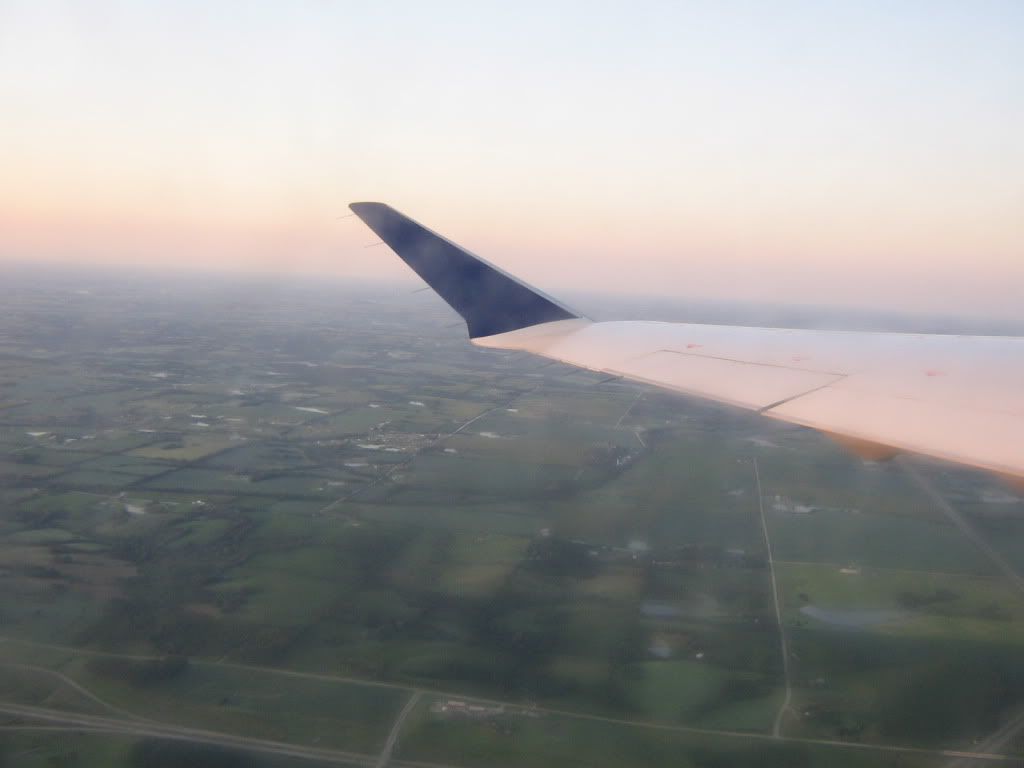 Beauiful sight after rotation.
We cruised at various altitudes to gain smooth air, which got bumpy after passing OMA. I just put the camera away and enjoyed my Biscoff cookies and Mesaba-brewed coffee. Pretty good, in my opinion! We cruised for another two hours before a smooth descent and landing on RWY 16R in SLC. A quick taxi into gate C10, and I was in SLC for the first time!
DL 1117
SLC-OAK
1108-1213
MD-90 (N907DA)
I had only been to Salt Lake City once, driving through from St. Paul to San Francisco. I had a friend in grad school who said it was a nice town (she went to U of Utah), but if I had more time I would have done some sightseeing. Since I was in SLC, I did my sighseeing here!
Loading up the B767 for the next leg
DL 737 ready for a trip to LAS
DL at gate C4 heading to PHL
I got my mother-in-law a fridge magnet of Utah (her favorite collector's item), some quick breakfast and a Salt Lake Tribune, and relaxed until boarding was called. I got this picture prior to boarding.
Our bird at C2
We took our seats in 18A and 18B and waited for pushback. After we pushback, we got an unusual request from the flight attendants. Apparently someone from the previous flight left their obo case in the overhead bin. Some folks pointed toward a series of bins, and the long lost obo was found and placed in the crew storage to be reunited to its rightful owner after the turnaround flight back to SLC. We taxied to 34L, and I saw this gorgeous 757 with livery supporting a cure for breast cancer.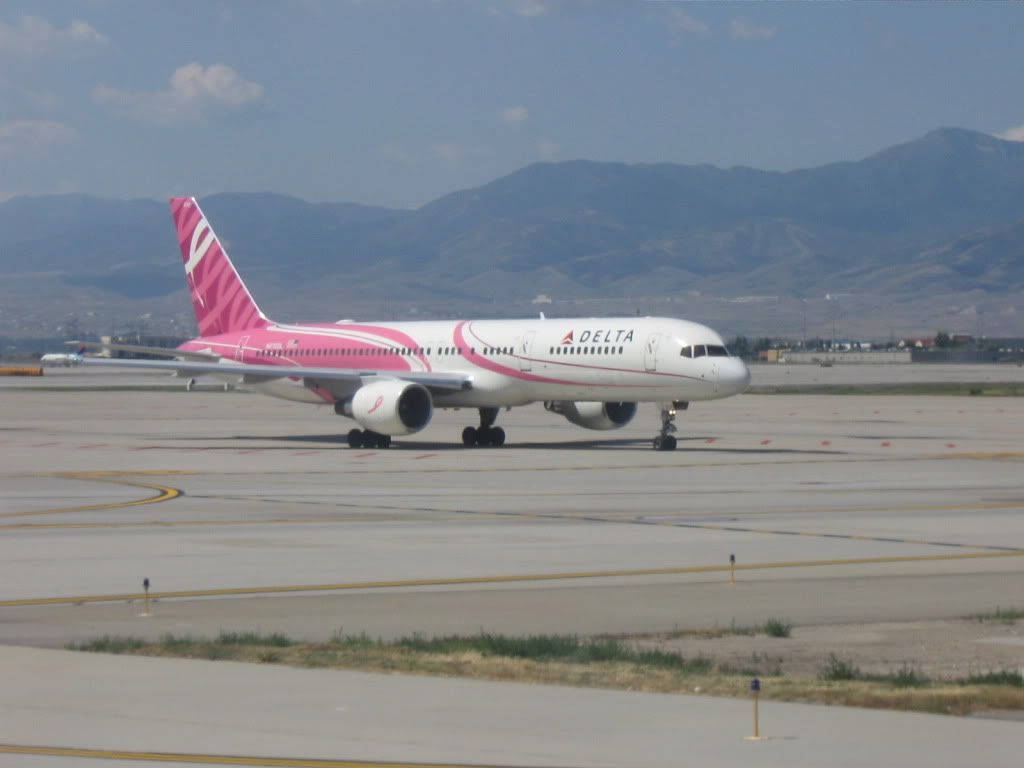 Delta's way to get people to help find a cure...a well worthy cause!
After turning on to 34L, we lifted off and got a great view of the Great Salt Lake...sure is worthy of its name!
By this time, I was pretty tired, so I settled into an episode of "The Wire" on my iTouch, and a ginger ale kept my mouth from getting dry. We flew over Reno and south Sacramento, then turned towards Dublin/Pleasanton (easily distinguished by the BART endspur and the Altamonte Pass), and flew over the San Mateo Bridge for a smooth arrival into RWY 29 into OAK.
At the bridge...on finals for 29
Touchdown...back into Oaktown
We parked at gate 9, and I snuck this quick picture of a B6 bird on pushback.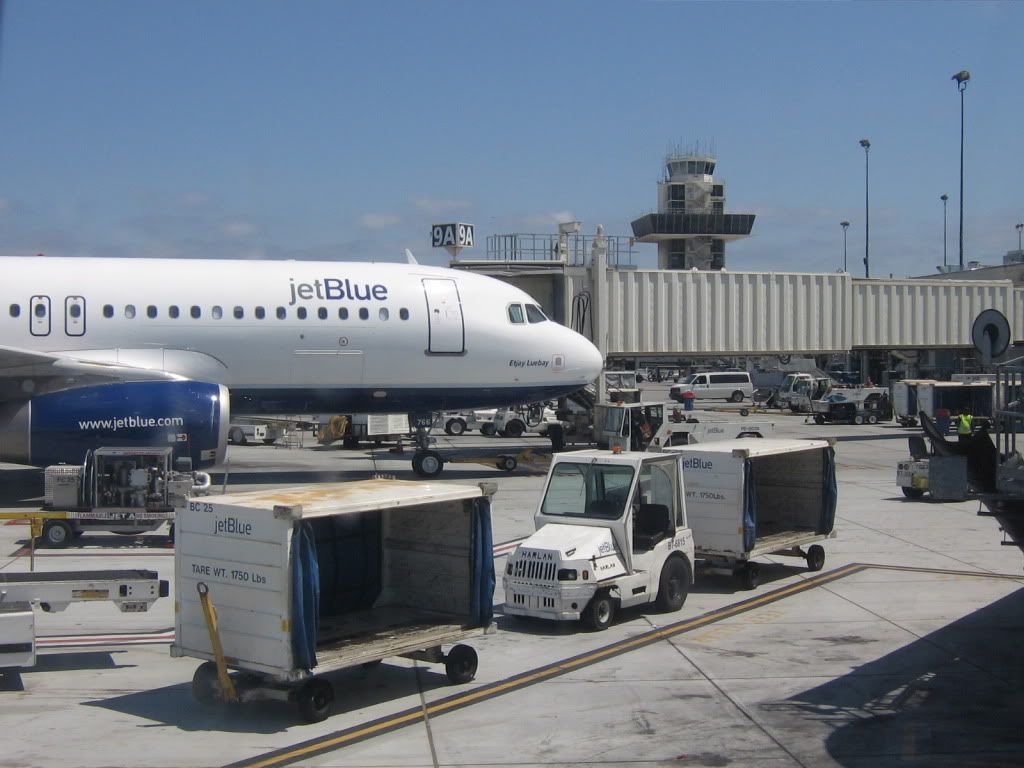 After deplaning, a quick drive back to my apartment ensued, and a long nap prior to my yoga class was a must. I hoped you liked this long TR, and I hope to contribute to another report soon!