Feedback always appreciated.
Trip Report: 080
Flight Category: J-ILR (See Report End)
Date: 17 Jun-09 (See Report End)
SDT/SAT/Dur/Delay: 2000/0600+1/19:30 hrs
Flight:
Air India AI 101
, 816+7318 = 8133 miles
Routing: CCU-DEL-JFK
Aircraft: 319/77L
Seat: Business "Executive" Class, 1A/8K
I > Background:
If there was an Indian visa ever given for attending marriage ceremonies, I would have applied. Over the past three years, all my business work in India has meant that I have developed a strong network of Indian friends. Interestingly, they all seem to be getting married and I was invited to yet another wedding in India. Since my work schedule had been crazy, I had to take the fastest way to India. Working on client site in NYC meant my options were limited to Continental and Air India. With ticket prices being slightly cheaper, because AI had MUCH better onward connection to CCU, and because I don't like CO's psuedo-wannabee-flat bed, I decided to try Air India once again and see if it was as good as my trip in Y in March 2008. Read
report
.
There has been a few reports on Air India of late including one in J class. All of them has been positive except one. This is the second report on AI's DEL-JFK flight in J … however, as a "bonus"; I give you the first J report of erstwhile Indian Airlines. AI 101 operates as a through flight from CCU with change of gauge at DEL and I was excited as the #1 flight I have ever reviewed was on this sector in Y class.
II > Pre-Flight:
a) Before Airport:
Air India is the "flag" carrier of India. It is one of the pioneering airlines in the world and was considered amongst the best for overall service until the mid 1980s. Service standards deteriorated throughout the 1990s and 2000, and the airline garnered a particularly nasty reputation for unreliable service. With the opening up of Indian aviation industry, there is a renewed commitment to improve AI and to establish itself once again as a premier airline. A new fleet order, merging with Indian Airlines, a well liked rebranding, new nonstops, and a Star Alliance designation by 2009 are all steps towards that direction. However, holding it back are horrible financials, a service culture stooped in political conundrums, and a reputation that will take some time to improve.
Ticketing was done on Air India's website (www.airindia.in). While I was able to utilize the booking engine to chose the desired flights and have them e-ticketed, it was not seamless and not user friendly. It is disappointing given that India is such an IT superpower. Anyways, seat selection could be done on the website and so I called their U.S. toll free number and was able to get my desired seats without problem.
b) At Airport:
As Air India operates this flight as AI 101 from CCU to JFK via DEL, I had to check-in at the "international terminal" at CCU. Now, CCU's "domestic terminal" is rather passable. However, I find their international terminal to be pretty rudimentary with customer service levels generally poor (only MAA is worse in India). After my ticket being scrutinized (as at all Indian airports), I was able to go to the counter where a grumpy man (VERY much stereotypical of a government employee ANYWHERE in the world, and very reminiscent of the immigration officers at VIE) "greeted" me. It soon became apparent that he was more interested in chatting with his colleagues than helping me and after 15 minutes of waiting, I politely asked him if "anything was wrong". He did not bother to respond and 5 minutes later handed me 2 boarding passes. When asked if I could change my seat on the DEL-JFK segment he promptly responded "all sold out". Whatever. I knew he was lying and did not bother to question him. I mean, how does one know that it was "all sold out" without looking at the screen. Uugh. Since I was high from the wedding, I decided to let go and move on. Finally, after reminding him for the lounge passes, I thanked him for the tremendous work he had done and moved on. Since the flight is tagged as a through connection, immigration was done at CCU. Here I found a rather nice immigration chap where the interaction was as follows:
Immi Dude: "Mr. Alex, I see you have been visiting us quite often".
Me: "Yes. Lots of friends and lots of weddings".
Immi Dude: "Aah. So have you found one to get married to for yourself".
Me: "Haha. No. Why does every Indian want me married?"
Immi Dude: "Because, we all want you to be happy".
Me: "Haha. Well, I am happy and have another great time in your country."
Immi Dude: "I am glad. You definitely are using that visa well. Maybe they give you a passport".
Haha. What a nice chap! So after more pleasantries exchanged and more shaking of the head (sooo cute Indian way), he bid me farewall and I made my way to the "lounge". Now, this "lounge" has to be the 2nd most lame lounge I have been to in my life (after of course, the new Cairo T3 where "lounge" means a coupon to eat a set tray of crap at a fast food place); it was basically one small waiting area. I mean the only "lounge" I have seen close to being this small is the Lufthansa lounge @ Boston. To be fair, I was the only one at the "lounge" and the attendant went out of his way. That was MUCH better than the crap LH lounge at Boston where I have NEVER managed to actually sit down.
Boarding was called 40 minutes prior and was relatively fast and while there was some pushing and shoving, it was still a gentle version of "ILBST". Entering a mellow J class, I got a warm greeting from the crew and offer of assistance with my bags. The crew looked genuinely welcoming. J load of 50%; Y load was 100%. On the DEL-JFK segment, J load was 60%, Y load was 100%.
Airport - External:
(Kolkata Airport)
Check-in:
(Check-in)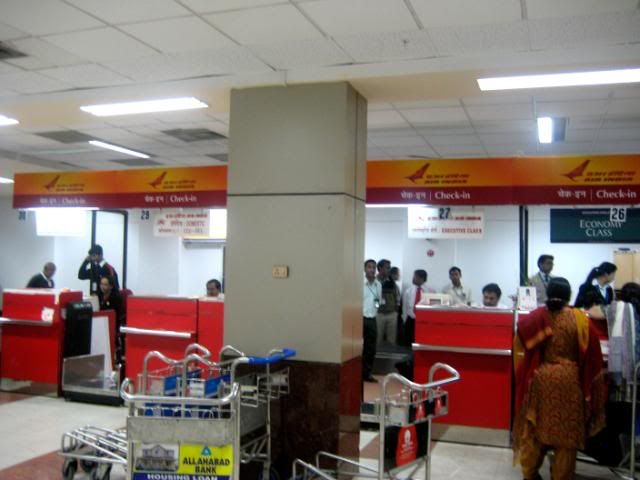 Airport - Internal:
(Internal)
(FIDS – weird display as our flight was on time)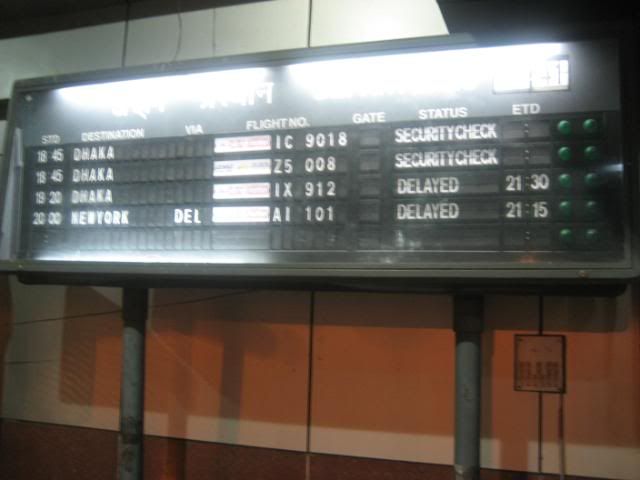 (Post Security @ DEL)
Scenes of the tarmac:
NONE
Lounge
(CCU's "lounge")
(DEL)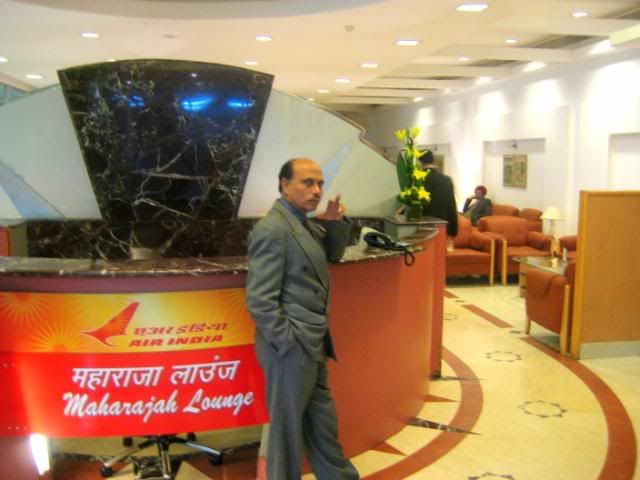 Boarding:
III> In-Flight:
a) Service Schedule + Impressions:
An impressive service schedule. On the CCU-DEL leg, pre-take off, coconut water/lemon water/water service and distribution of newspapers and magazines. Post-take off, head phones are menus are distributed (more on that later), hot towels, beverage and dinner service. Prior to landing at Delhi, cold towels.
At Delhi, J class passengers are bused in a separate bus to the airport and escorted to the lounge. The lounge here is MUCH better with computer terminals, booze, shower, et al. After an hour, we are escorted to the gate for the 77L service to JFK. On the DEL-JFK another great welcome at the door with awesome crews.
Upon embarkation at Delhi, the assorted juices (coconut, lemon, mango) run along with water and distribution of menu. After take-off from Delhi, headphones are distributed, along with pyjamas, and slippers. Amenity kits distributed shortly thereafter. Service commences with a beverage service, followed by dinner. Prior to landing, a breakfast service. Drink runs throughout out the flight.
Oh one thing I absolutely love ... and increasingly rare on Business class worldwide is that after dinner, the crew comes and does a "turn-down" service and tucks you in. Along with the pyjamas they give you onboard, a very rare thing these days in J.
b) Aircraft + Seats:
Air India's 77L were delivered factory fresh and contrary to Karan's report, my aircraft still smelt and looked new. The interior is spotless and well-maintained and the alternating yellow, orange, and red seat shades are extremely pleasant to the eye. The bathrooms were well stocked throughout the flight and was clean even after the 12 hour flight to JFK.
Air India's 319 was also well-maintained – though the interiors could do with some color. It felt like being on any generic 319 and did not have the motif that I am usually accustomed to on Air India.
On the 319, F class is at 2-2 configuration with generous pitch for a domestic flight. The seats have above industry recline, come with foot and headrests.
The full-flat seat that Air India has is a delight and is definitely one of the best J class seats out there. It reclines to being full-flat and has MUCH more space than the constrained Herringbone seats. In fact, the only seat that I would rate better is probably Etihad's J seat (I have not used SQ's new J). The orange seats within an off-white motifed environment and set against mood lighting made the cabin an extremely welcoming environment and prepared you for a soothing flight. Having flowers in the bulkhead enhancing the classy feeling of the cabin. The seats themselves are made of cloth and are nothing special in seating position. However, the moment you recline it to full 180, it truly shines! The "bed" created by the seat is truly flat and incredibly nice. Not only do you get a fully-flat feeling, the folds are minimized and small ensuring there are not too many "bumps" as one dozes off. I have a hard time sleeping on planes and I was able to manage a solid 8 hours with zero interruption. Pretty impressive. Accentuating the great sleeper seats is the ability to be comfortable in several positions, and rather decent legroom. Finally, the seat itself is ergonomically designed with ample storage space and all that. Last word is about the well maintained bathrooms – complimented by sufficient products. Overall, the seat was super conducive to dozing off. It does not provide the same level of privacy as Etihad's excellent J seats … but then again, the seats are better maintained and not having minor "technical issues" like many of my recent Etihad's J seats.
Aircraft:
(77L – photo courtesy: Royal S King)
Views from Aircraft:
(CCU)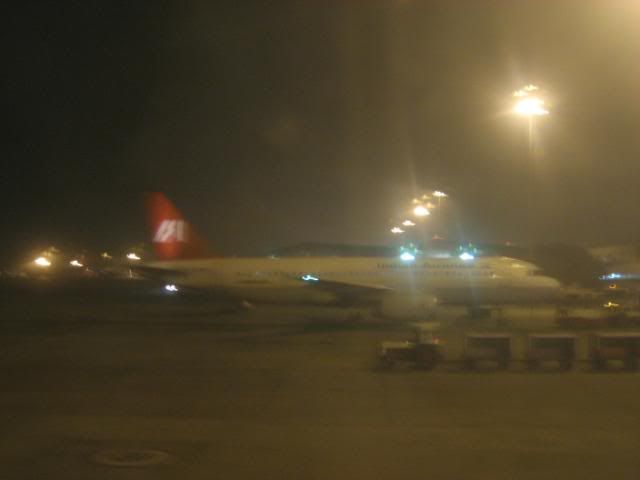 (DEL)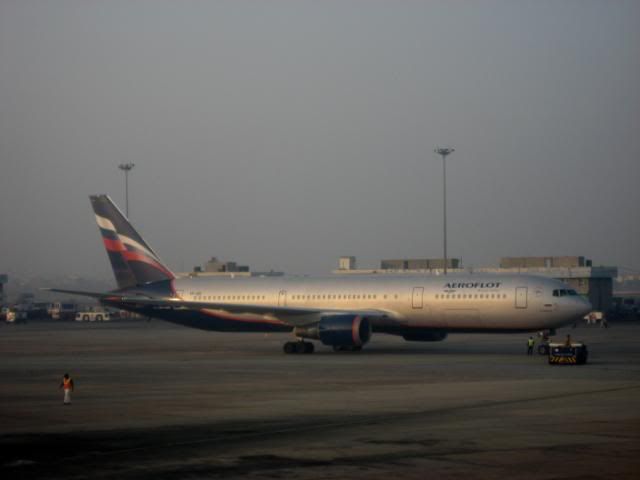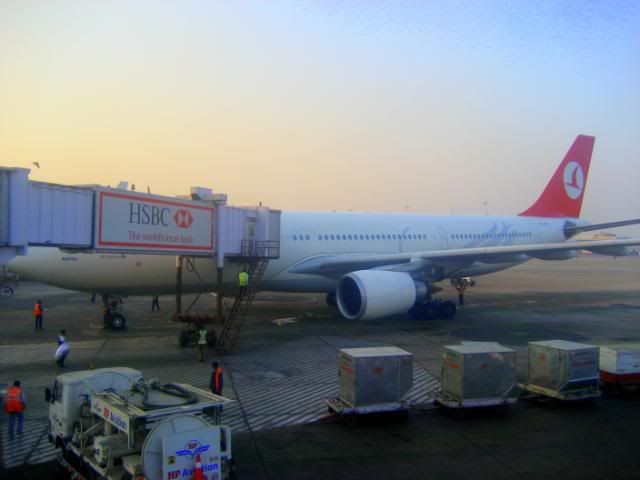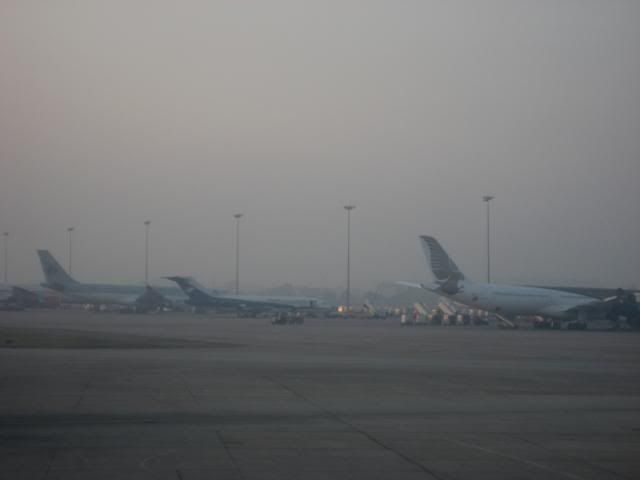 (En route)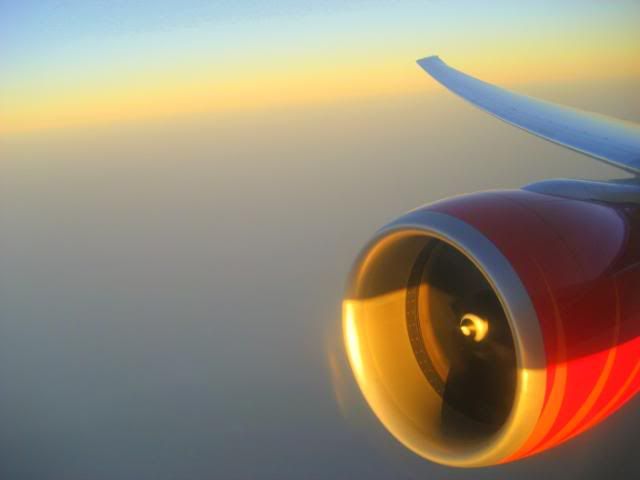 General Seat Views + Seat Legroom
(AI 319)
(AI 77L)
(Controls)
(Power)
Seat Recline + Angle View:
(319 recline)
(Bed Position – with turndown service)
Cabin:
(319)
(77L)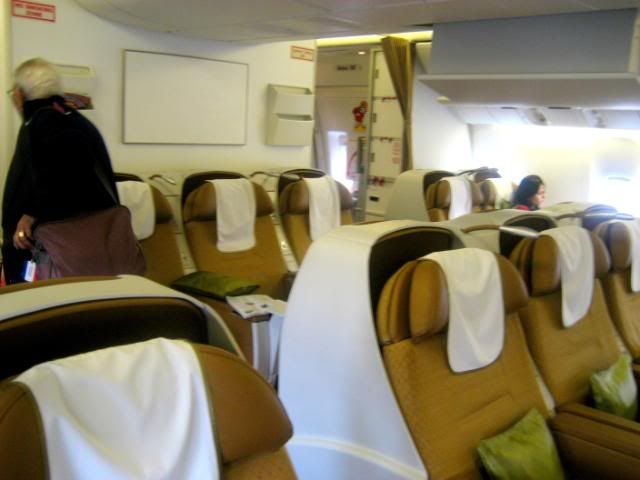 (Bathroom Amenities)
c) Meal + Beverage:
Meal service on flights on airlines from India have never disappointed me and this flight was no exception.
On the domestic leg
, we were welcomed with a choice of beverages and I helped myself to the natural coconut water. Absolutely delicious stuff. After menus were distributed, I chose the non-vegetarian option which start with a delicious traditional soup (Indian A.Netters, please tell me what it is ... absolutely yummy) and a very Indian salad. Again, something I have never had. I had to pinch myself and remind that on a flight less than 900 mile, I was receiving a full-entree served on bone china. It was rice served with a type of chicken curry and a spinach and corn preparation. All of it was excellent and something you'd find in a restaurant. To finish off, we had the option of western or Indian dessert. I chose the later and it was a sweet milk based thing ... again, no idea what it is called. Very delicious! After the service finished, tea or cafe were offered.
On the international leg
, we were welcomed with a choice of juices and I helped myself to the natural coconut water (which along with "sweet lime" juice I have become addicted to from India). Again, absolutely delicious stuff. Post menus distribution and orders being taken, service commenced with a beverage and things to nibble at. Warm almonds and a selection of Indian snacks (a tad too spicey for me) were given out with my Johny Walker Black on the rocks. For those of us who wanted the "express" service to sleep, food was brought in 2 servings – this was actually really nice instead of the "tray" service I get from AI on daytime flights. The "eat when you want" was done really well ... classy like Qatar and British; not like Etihad! I skipped the soup and was given a salad plate (which actually was disappointing – including the presentation), but was then compensated by a
really
good Chicken korma and potato curry. Again, complete 5-star restaurant fare. Accompanying these dishes were a good selection of bread (western and Indian), box of chocolates, and a really yummy chocolate cake. There were also all the typical condiments one finds accompanying Indian food at a restaurant. Beverage service throughout the meal was overly generous and I had the FA remind me on several occasions that "Alex, you're glass is empty"! Seriously, awesome.
Between the dinner and the breakfast service, a very generous snack service was offered. It included a collection of sandwiches to chose from, Indian samosas, fruit salad, and an Indian or Western dessert. Additionally, one could walk up to the galley and chose a selection of drinks from the bar ... or, you could be me ... and just basically have the FA top me off as they did one of their myraid of alcohol and water runs.
Prior to landing a breakfast serviced commenced and again there were some excellent choices including the sausage/omelette combination which I had and was amazed at how delicious it was! Included in the meal was bread, more fruit salad, and another desert. By the way, (side note), Indians have SERIOUS sweet-teeth! I have never seen a group of people eat as much dessert as these people do. Can someone please send me how you stay thin?! Also with breakfast was a collection of juices available ... all freshly squeezed.
(CCU-DEL; take-off drink)
(Dinner)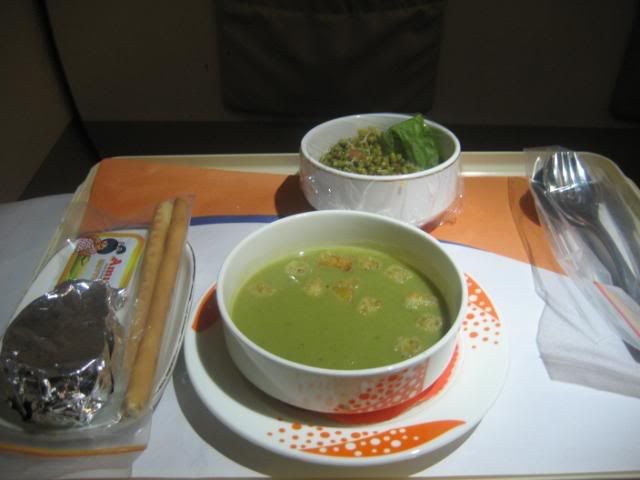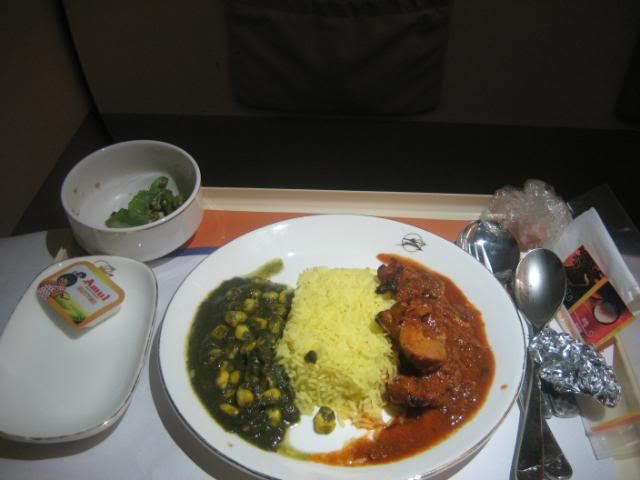 (Tea w/headphones)
(DEL-JFK; take-off drink)
(Menu)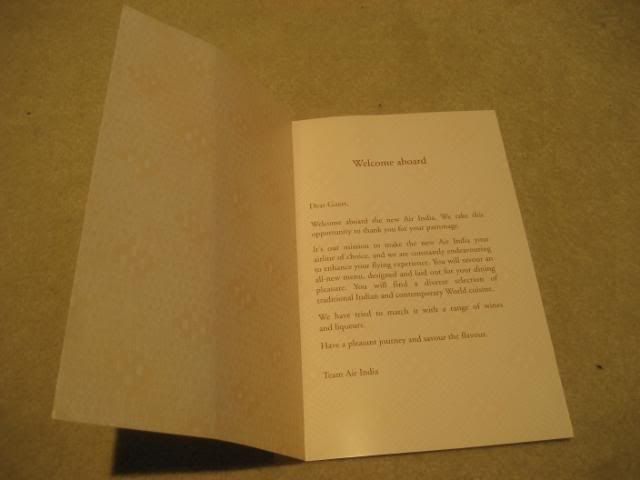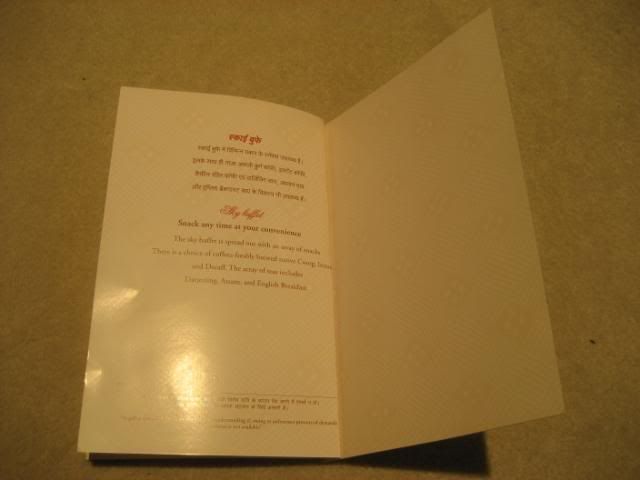 (Pre-dinner service)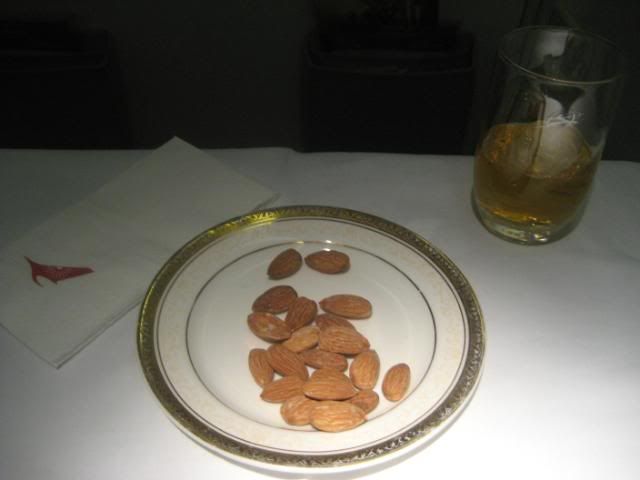 (Dinner)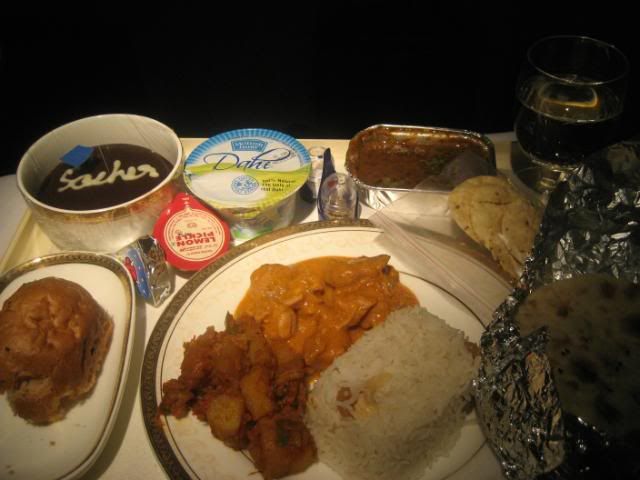 (Between meal ... meal)
(Snack Bar)
(Breakfast)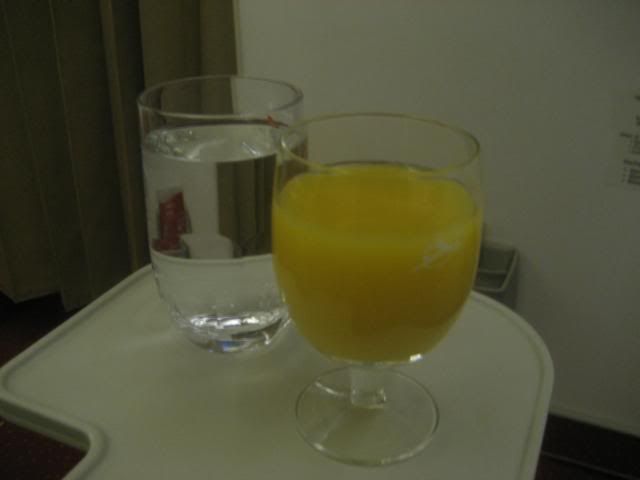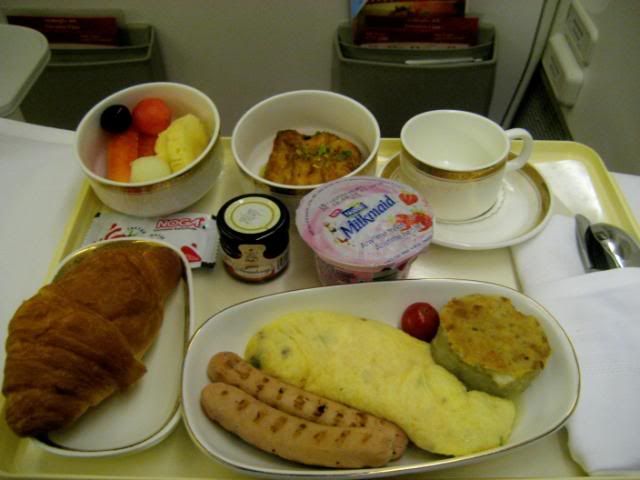 d) Inflight Entertainment:
Absolutely delightful. Seriously people, I am increasingly becoming an AI convert. Their IFE system once again kept me entertained. Featuring a fully touch screen system, it offers over 1000 hours of entertainment including a seriously wide choice of movies (over 36 quality English movies), games, great forward and rear cameras, and messaging, etc. Even more appealing is the Bose noise-cancelling headsets you get. A good in-flight magazine and you really have no reason to complain about the standard of service.
(319)
(77L)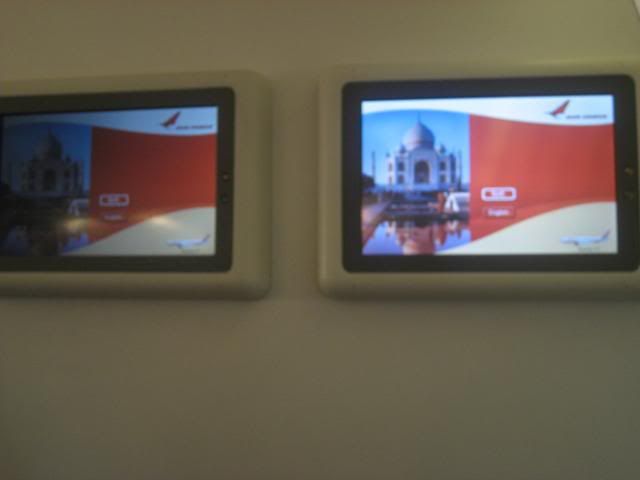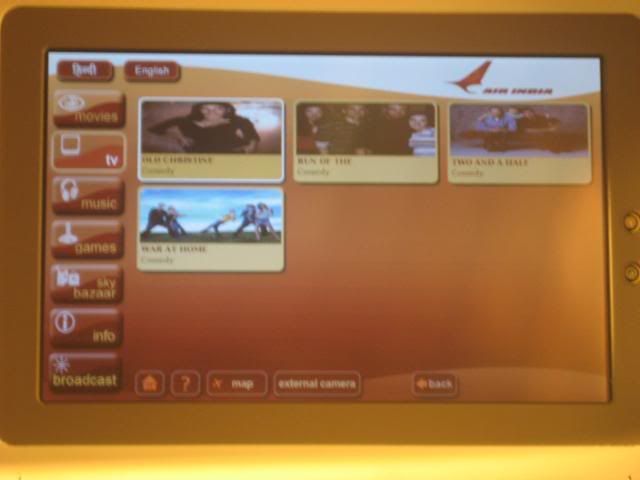 (Classy headsets by Bose)
("In-flight magazines", Boarding Passes, etc.)
(Magazine tray)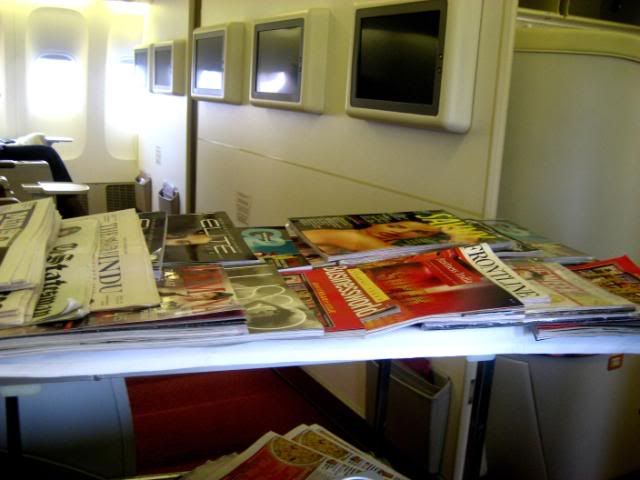 e) Crew:
Again, the highlight of my Air India experience! And again, what an absolutely delightful crew! On a macro level, loved their pro-active smiles, welcoming on board, help with the luggage, water runs, prompt response to call buttons (oh, and let me tell you, Indians are demanding … hehe), and caring questions such as, "how was the meal sir?" or at the end of the flight asking people, "how was the service?" and "please fill out our survey." Moreover, I am convinced that the crew were out there to make you drunk! They would not stop filling my beverage and kept everyone in good spirits ... including this very upper-East side IBanker who thought she owned the aircraft. Constant chatting and using first names always go a long way in breaking the ice and establishing a rapport.
Then there was once again an incredible personal experience that I must highlight. During the flight, my random photo-taking had caught the attention of the lead purser with whom I had a delightful conversation. It went something along these lines:
Purser: "Mr. Alex, you like to take a lot of photos."
Me: "Oh yes, I love flying and like to remember the service."
Purser: "So what do you think of AI?"
Me: "Generally great – ground service needs to be improved."
Then, general banter and an amazing inside-idea of how they are being brave and that they would overcome the current financial crisis. Mr. Purser had no patience for government intervention and thought that performance based promotions must be adhered to. He then went on talking about new routes, his life with AI (30 years) etc. Somehow our conversation went on to collecting airline souvenirs. And, this is how the rest of the conversation went:
Purser: "Mr. Alex, it seems you really do love airlines. You know, I will see what I can dig up at home and send to you. If you don't mind, you can give me your address and I'll see what I can do".
Now, I am someone who truly believes in "you live once" and take chances with life. So I gave him my address and did not think much.
3 weeks later, I had a beautiful Air India hand-fan from the 1960s delivered to my address in Venezuela!!! See the pictures. It was gorgeous! It came with a note, "keep flying us during these hard times". I almost had tears! I have never met a crew member who has gone so much above and beyond their call of duty. Mr. Ashok, you're an angel and why I love flying.
I have flown over 3,000 flights in my 30 years, and this AI man was like no other. Absolute delight, personal service that came from the heart.
IV> Post-Flight:
Landing at JFK was remarkably smooth and I cleared immigration very quickly. Unfortunately, my luggage did not come through. After an amazing flight, I was brought back down to earth by the AI's horrible outsourced ground agency. They were rude and incompetent and did not understand their contractual obligation to deliver my bag to Venezuela. Worse, the station manager (who is also the 2nd in line at their NYC operation) was equally rude and condescending. He first refused to deliver my bag to CCS and after several heated exchanges and a good telling-off on their contract of carriage, I was able to have my bag routed to CCS. I got it 5 days later. I recognize bags do go missing ... but the attitude I got (especially from the JFK duty manager) was beyond belief.
(JFK – my first sighting of a 380 in EK colors)
V> Impressions + Scores:
If you have read this report, you can very well understand my overall impression of AI. On the flight part, Air India was again almost flawless. I know one of the fellow A.Netters had a poor experience … but this report confirms the overall positive reviews AI has got around here. Seats, IFE, food, beverage were all top class. The presence of a nice amenity kit, stationary, pyjamas in J, turn-down service, etc. were nice additional touches. Topping it off, again, an amazing set of crew on both legs of the flight.
The purser was just the kind of person who reminds you of the joys of flying. Seriously, who would take the time to send a fan across the world?!
Having said all the positive things, one cannot ignore the shoddy product on the ground. A great airline is made up of consistent product from the moment you book to the time you reach home. It seems that ground personnel have not caught up with this idea of the "new Air India". Check-in staff at CCU were just rude. Worse, the attitude of the duty manager at JFK left a lot to be desired. Both left a lingering taste in my mouth and why this AI flight could not get perfect scores in the Premium Class review section.
I thought my first "amazing" experience with Air India might have been an one-off. However, consistently, I keep on finding liking Air India and her staff. Perhaps I have been lucky, but I seem to have got exemplary service from AI crew. Of course, one can encounter a flight like fellow A.Netter Karan had. But, I think AI is great. If it manages to survive this dark financial period, it is poised to regain its glory. Not only will I fly AI, it will be my preferred choice … at least on all sectors of the 77L, and when its competitors are airlines such as CO nonstop.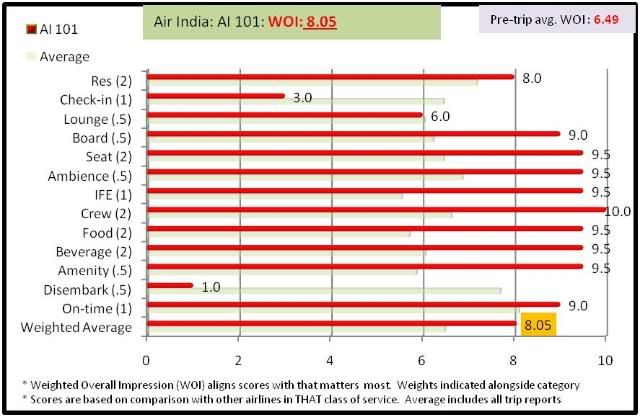 VI> Other Trip Reports:
PREMIUM:
8.64:
Turkish Airlines (59): JFK-IST: 11/2008
8.61:
Air Canada (49): YYZ-SCL: 06/2008
8.54:
Turkish Airlines (77): GRU-DKR-IST: 04/2009
8.30:
Jet Airways (74): KWI-BOM: 04/2009
8.23:
United Airlines (72): SFO-SYD: 03/2009
8.11:
Aeroflot (33): MOW-DEL: 09/2007
8.05: Air India (80): CCU-DEL-JFK: 06/2009
8.04:
Korean Air (40): NRT-ICN: 10/2007
8.02:
Delta Airlines (24): JFK-CDG: 08/2007
7.46:
LAN (55): YYZ-JFK: 09/2008
7.82:
Singapore Airlines (06): EWR-SIN: 09/2006
7.14:
Swiss (52): SCL-GRU: 06/2008
7.11:
Austrian (79): VIE-JFK: 06/2009
7.02:
Qatar (68): DOH-JFK: 01/2009
6.96:
Etihad (61): JFK-AUH: 12/2008
6.93:
Delta Airlines (18): SEA-JFK: 11/2006
6.84:
ConViasa (65): CCS-DAM: 01/2009
6.81:
Air Canada (17): ICN-YYZ: 10/2006
6.70:
KLM (32): EBB-AMS: 08/2007
6.36:
Privatair (60): MUC-BOS: 12/2008
6.25:
Korean Air (45): NAN-ICN: 10/2007
6.11:
TAP Portugal (53): GRU-OPO: 06/2008
6.00:
Gulf Air (75): BOM-BAH: 04/2009
5.75:
Singapore Airlines (16): CCU-SIN: 10/2006
5.64:
NorthWest (46): ICN-NRT-SEA: 10/2007
5.39:
LOT (54): WAW-JFK: 06/2008
5.21:
Egypt Air (73): CAI-IST: 02/2009
5.07:
TACA (66): JFK-SAP: 01/2009
4.42:
Air France: CDG-JNB (25): 08/2007
ECONOMY: Long + Medium:
9.26:
Air India (48): JFK-DEL: 02/2008
7.38:
Avianca (01): BOG-LIM: 07/2006
7.07:
Sri Lankan (62): KWI-CMB: 12/2008
6.41:
American Airlines (58): LHR-BOS: 11/2008
6.41:
Avianca (78): JFK-BOG: 05/2009
6.26:
Jet Blue (21): CUN-JFK: 02/2007
6.06:
Air Canada (04): YYZ-YVR: 09/2006
5.89:
USA 3000 (19): PUJ-BDL: 01/2007
5.85:
Spanair (69): MAD-LPA: 02/2009
5.79:
Air New Zealand (42): RAR-NAN: 10/2007
5.46:
TAP Air Portugal (23): OSL-LIS: 05/2007
5.19:
Air Europa (70): LPA-MAD: 02/2009
5.16:
Iberia (71): MAD-BOS: 02/2009
ECONOMY: Short
8.56:
Paramount Airways (38): BLR-MAA: 09/2007
8.56:
Kingfisher (64): HYD-CCU: 12/2008
8.24:
Kingfisher (14): IXA-GAU: 10/2006
7.87:
Indian (34): BOM-MAA: 09/2007
7.72:
Alliance Air (13): CCU-IXA: 10/2006
7.57:
Indian Airlines (10): DEL-CCU: 09/2006
7.23:
West Jet (03): YYC-YVR: 09/2006
7.15:
JetLite (37): BOM-GOI: 09/2007
6.70:
Spice Jet (09): CCU-DEL: 09/2006
6.63:
Air Fiji (44): NAN-SUV: 10/2007
6.63:
Jazeera (67): DAM-KWI: 01/2009
6.58:
Air Tran (02): EWR-MDW: 08/2006
6.48:
Air India Express (63): CMB-MAA: 12/2008
6.44:
CO Micronesia (39): ROR-YAP: 10/2007
6.41:
Pacific Sun (43): NAN-SUV: 10/2007
6.37:
Skybus (47): SWF-CMH: 02/2008
6.33:
Kenya Airways (29): NBO-BJM: 08/2007
6.33:
Sky Europe (56): LTN-BTS: 10/2008
6.31:
Indigo (15): GAU-CCU: 10/2006
6.31:
easyJet (57): BUD-LTN: 11/2008
6.22:
Air Link Swazi (28): MTS-JNB: 08/2007
6.22:
Air India (36): HYD-BOM: 09/2007
6.13:
Adam Air (07): SIN-CGK: 09/2006
6.13:
Air Rarotonga (41): RAR-AIT: 10/2007
6.00:
Transairways (27): INH-MPM: 08/2007
5.95:
Air Canada (05): ALB-YYZ: 09/2006
5.85:
SAS Norge (22): OSL-AES: 05/2007
5.81:
LAM Mozambique (26): JNB-MPM: 08/2007
5.69:
Air Deccan (12): IXZ-CCU: 10/2006
5.67:
Rwanda Air Exp (30): KGL-NBO: 08/2007
5.11:
Aero Republica (76): BOG-CCS: 04/2009
5.07:
Go Air (35): MAA-HYD: 09/2007
5.00:
Sky Airline (51): IQQ-SCL: 06/2008
4.96:
Valuair (08): CGK-SIN: 09/2006
4.78:
Air Comet Chile (50): SCL-IQQ: 06/2008
4.74:
Fly 540 (31): MYD-LAU: 08/2007
4.33:
Viva Aerobus (20): ELP-MTY: 02/2007
4.11:
Air Sahara (11): CCU-BOM: 09/2006
(Note on Codes: Y – Economy, J – Business, F – First :: I/D – International/Domestic :: SR/MR/LR – Short/Medium/Long Haul)
(Note on Date: Dates are modified to be +/- 3 days from actual flight date to not reveal actual flight pattern)
VII> Other Pictures:
(A great amenity kit)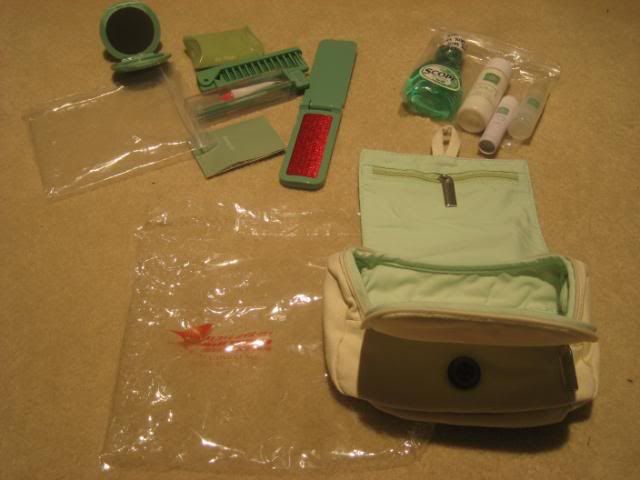 (Pyjama's and slippers)
(Stationary … and the 1960's fan the purser sent me … absolutely amazing!)