Introduction
I used to be a big fan of Scandinavian Airlines (SAS/SK). Around 2002 to 2004 they were my primary carrier that I always preferred and tried to book most of my flights with them. If that wasn't possible, I would prefer other Star Alliance carriers over other alliances. SAS was a great airline with good service, friendly staff both on the ground and air etc. They won me over already on my first flight with them by giving me an op up to Business on an overbooked CPH-HEL flight. Of course I was (and still am) a member of their Eurobonus frequent flyer program, which had some excellent features - mainly the 12 000 point intra-Scandinavian awards, which made it possible to book some impressive itineraries for 12K points as long as you stayed within Finland, Norway, Sweden and Denmark. For example HEL-CPH-OSL-(TOS)-LYR-(TOS)-OSL-ARN-HEL could be had for this point amount as long as there was award availability, of course. That's some serious flying for not many points! I've spent many nice days flying around Scandinavia, especially Norway with these deals.
Fast forward to year 2004 and SK started to loose it. Competition from LCCs, industrial action (this is one of the most unionized airlines in business) etc. started bringing the airline down and business wasn't so good any more. In their brilliant minds the management staff decided that "If you can't beat 'em, join 'em" and started ruining the inflight product by downgrading regular economy into "LCC economy" - where nothing's free anymore and introducing a third class of service on board, calling it "economy flexible" which is basically what old economy used to be like except that it costs far more. Business class stayed pretty much intact. The final insult was draconian cuts to the earning of Eurobonus points on cheap fares, which was cut to 25% of the normal economy amount - which really doesn't make it worthwhile. The only good thing about these changes was that the age-old business model based on low fares requiring a Saturday-night stay (or a minimum stay) to milk the business travelers was abolished and all fares became one-way. Too bad they weren't cheap at all!
Further confusion was added by splitting the company into three distinct business units for Denmark, Sweden and Norway (plus intercontinental as a separate one), each of which had quite a lot of freedom on deciding how to run their own business. This lead to the fact that you'd have a little different in-flight service depending on which of the units operated your flights, things like free breakfast on Swedish domestic routes, free coffee and tea on Norwegian domestic routes, nothing free ever on flights operated by SAS Denmark etc. At some point they also renamed "Economy flexible" to "Economy extra" class to match the intercontinental offering. The service concept was also harmonized a little bit, I think now all the SK flights feature free coffee and tea, but everything else should be paid for - apart from the Swedish breakfast offering still remaining. Confusing? You bet.
Anyway this caused me to start avoiding my favorite airline, booking more and more travel on various competitors and even LCCs that had started to sprung up even in Finland. From that moment on I'd fly SK if it fit my plans and my budget, but nothing more. I still retained my Eurobonus account as that is the only FFP I could credit my numerous Air Baltic flights to (and certain flaws in the system resulted in a lot of extra points being credited as well for el cheapo fares - something that still happens to this day!) and the 12K point awards were still good value. SAS even introduced something called "Point Bargains" where they would offer a 50% discount on certain routes every month. Again due to a weird way in which this discount was calculated you could actually fly much further for a lower point amount. Another huge advantage was also the fact that Eurobonus didn't charge the fuel surcharges on award tickets.
This summer SK had a Point Bargain for 50% off all intra-Scandinavian travel and I had some spare points lying around - so what better use for them than to book a daytrip somewhere. Availability was an issue as was the real crappy SK website (yeah, they still live in the early days of the Internet, award booking forces you to use Internet Explorer for example which for somebody running Mac is a bit challenging) that makes it extra hard to book anything. Anyway after enough hours of trying I managed to book a decent itinerary: HEL-ARN-TRD-(BOO)-TOS-ARN-HEL on a single day. Economy extra on the outbound legs to TOS and regular economy back. The TRD-TOS flight would also be making a stop in Bodø (BOO), which would be a new airport for me, yay! All this for 7500 points and 52 EUR in airport charges - not too bad.
This would be a trip of pure flying, no time to leave any of the airports for city visits, which suited me fine.
31.7.2009
Normal morning routine for a not-too-early flight: wake up around 6.00, shower, breakfast, catch a bus at 7.15 to the airport and arrive there around 7.35. Check in queues look horrendous, but having done online check in the day before I just waltz through the (surprisingly) completely empty security point. I have just enough time to grab a coffee to go from the coffee shop and my obligatory (for flying) bottle of water when the displays are already announcing "Go to gate".
From the OLCI seat map I know this would be one of the leased CityJet Avros, either OH-SAQ or OH-SAR as the seat configuration was 3-3 as opposed to the normal KF 3-2. Too bad I see OH-SAQ waiting at the gate - as I've flown on this one already twice but never on OH-SAR. Oh well, gives one the excuse to book more flights to try to log the evasive bird
. Boarding starts just as I arrive at the gate, and being bold but subtle I manage to bypass most of the queue that had already formed there.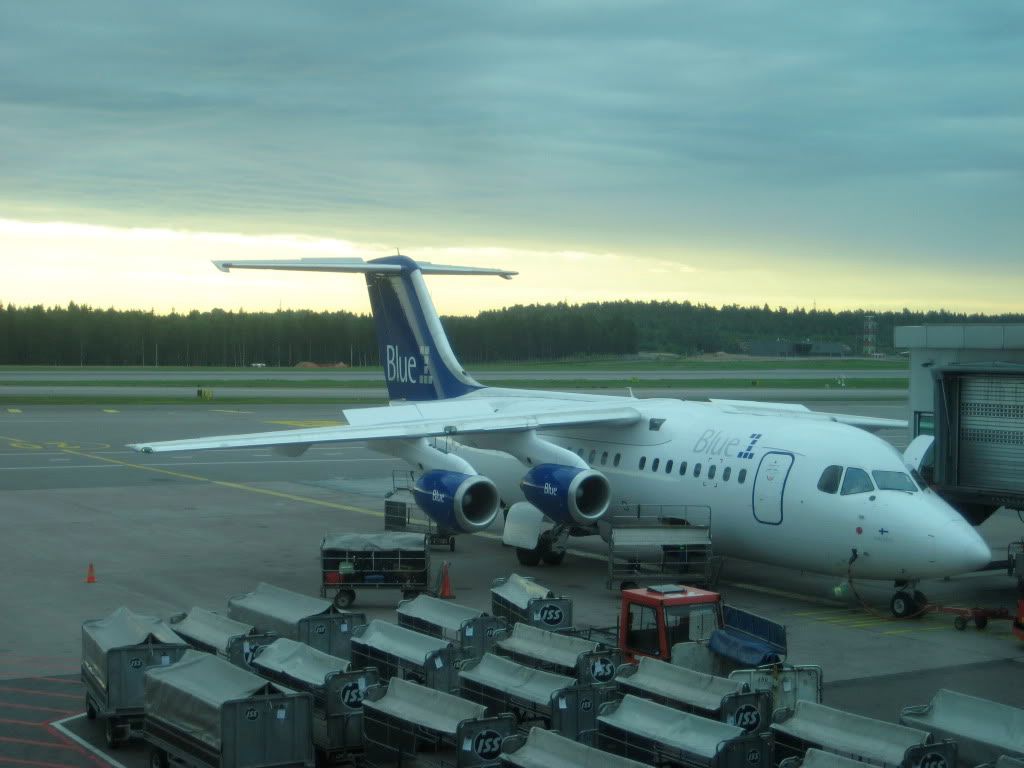 HEL-ARN
KF425
ARJ-85 OH-SAQ "Inarijärvi"
Seat 2A
7.57 - 7.48
Friendly crew welcomes us on board. There are 3 rows of Economy Extra on today's flight and I had selected 2A mainly due to legroom as row 1 features only two seats so at least I could stretch my legs a bit.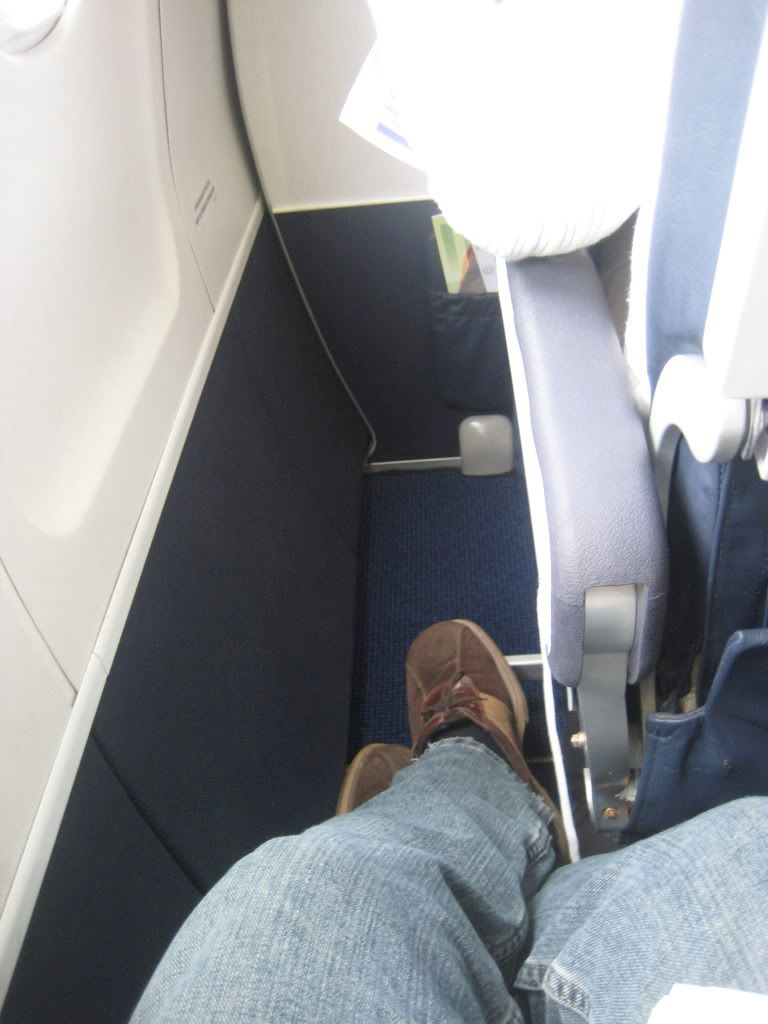 The CityJet leather seats (complete with a CJ logo) are very uncomfortable as a six-abreast configuration is just too narrow for the Avro, and today's flight is completely full in both classes which makes it worrse. Especially considering that this is the premium class on KF (no business class any more). They should really block the middle seat in economy extra.
Flight time is announced as 45 minutes by our female FO. Departure 3 minutes early, 8 minutes taxi to 22R tailing an AY A320 on its way to ARN as well and a rather long take off roll follows - the full load means that were are pretty heavy. Some nice views of the capital region on climb out.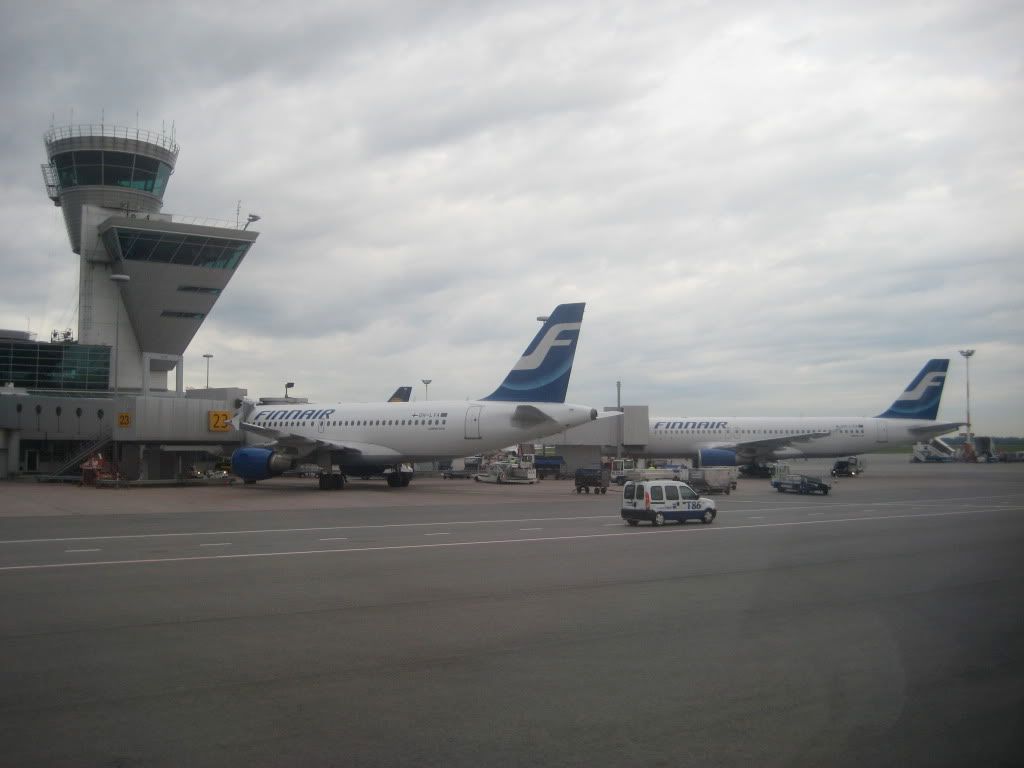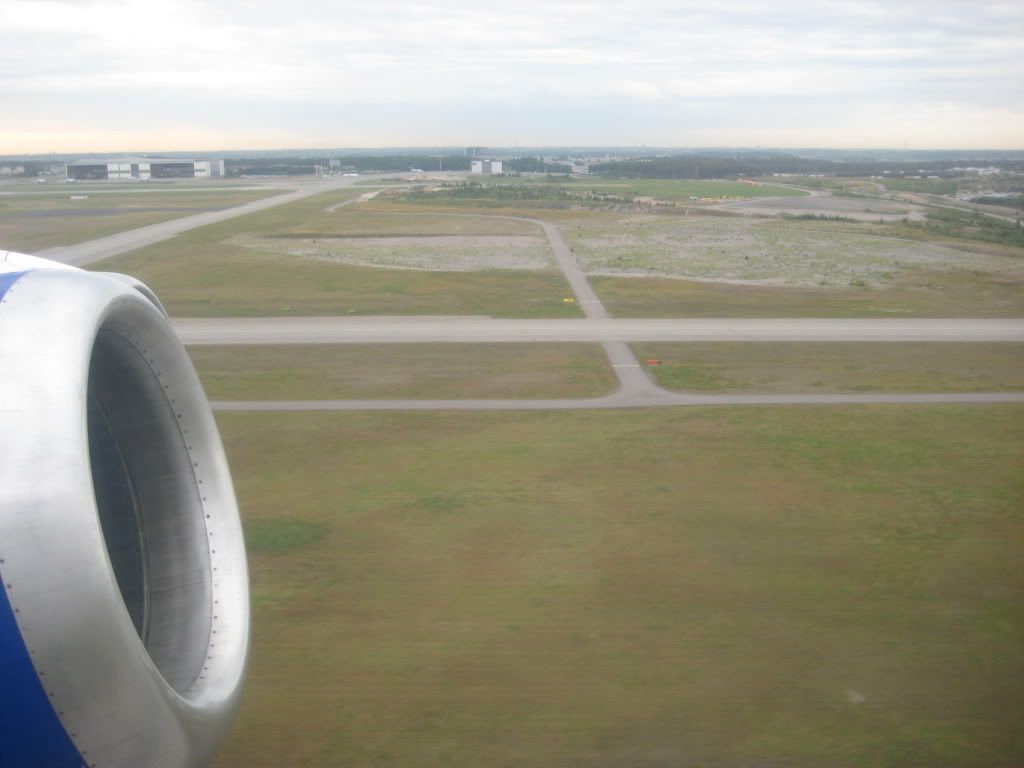 I like this shot of the Avro engines: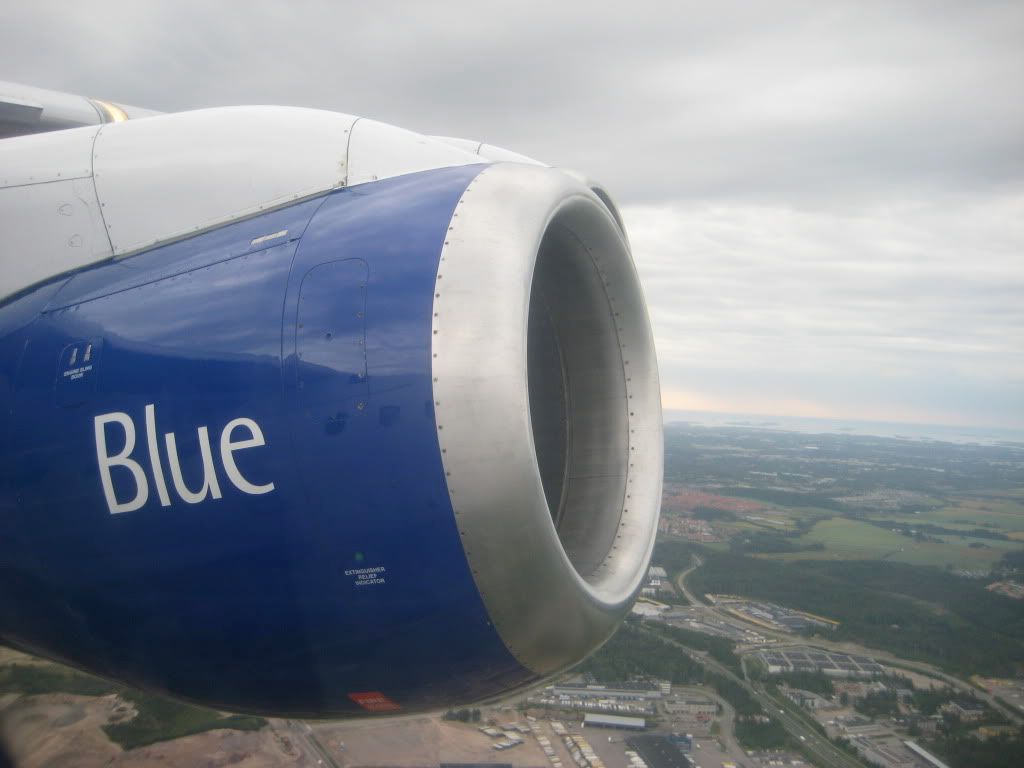 Espoo, the large lake is Lake Bodom, infamous for some brutal murders committed in 1960 and not solved to this date: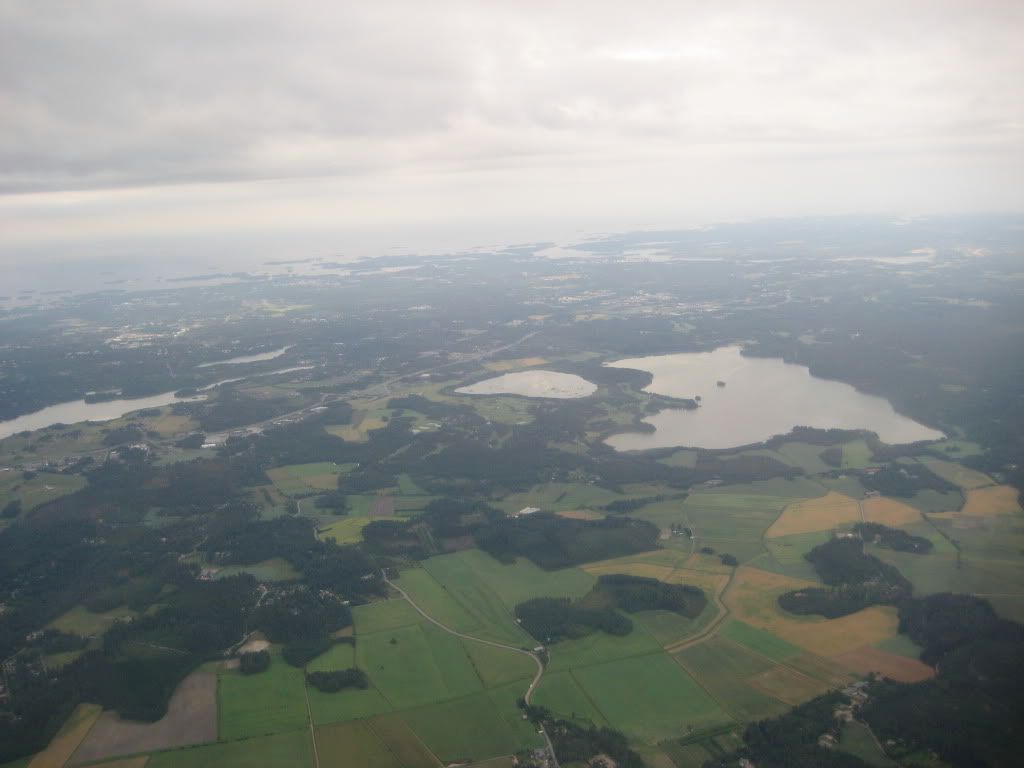 As soon as the seat belt sign is switched off we are served a cold breakfast. This is a decent offering consisting of an open bread roll with cheese, salad and ham, yogurt and orange juice: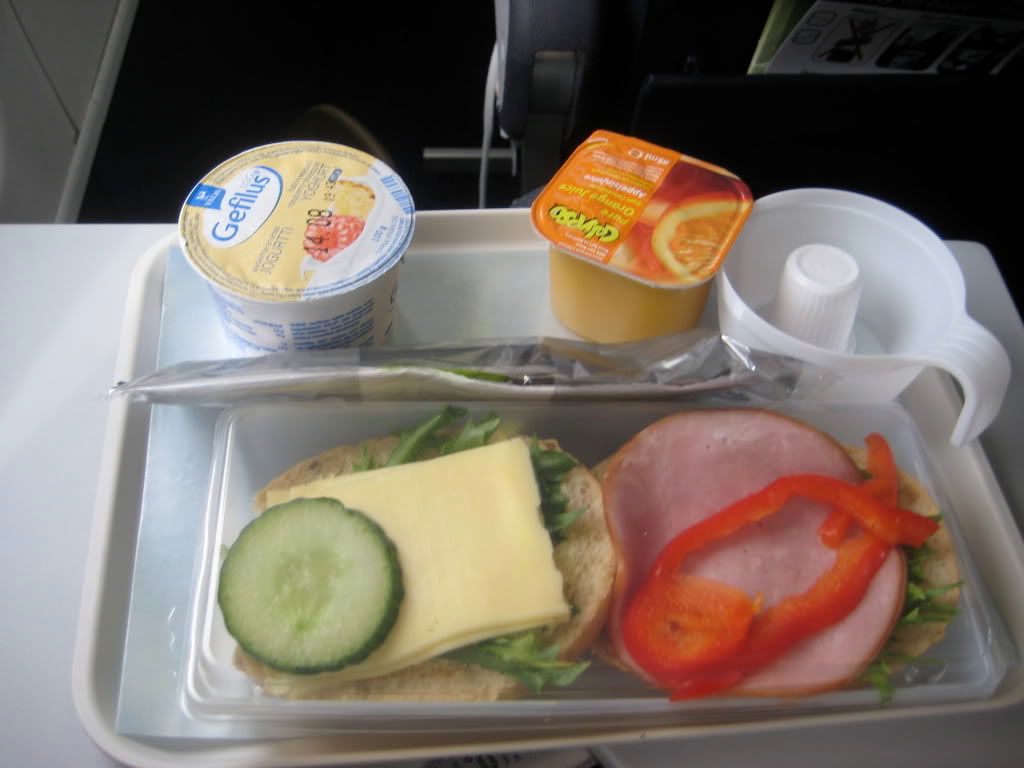 Too bad this is something that was served in economy on this route some years ago when business class would've gotten a full hot breakfast. Coffee and tea are offered, but I ask for champagne instead (this is a premium class, after all!). Well, I get server a bottle of bubbly, but champagne it ain't - just some sparkling wine (still French, though). No apologies or explanations are offered by the FA. The stuff tastes vile, and a look at the BOB menu confirms that this same plonk is offered for sale in economy (on longer flights, only coffee/tea on these short flights in eco) for 4.50 EUR. This is not very good in my book - the same thing happened to me on HEL-CPH in May, although then they actually had some champagne to start with but a rowdy Norwegian party drank all of that stuff during the first 20 minutes of the flight
.
It may sound like I'm complaining like a spoiled brat - but the fact is that if you have a premium class and your usual service offerings include champagne, then just serving some sub-standard sparkling wine with no apologies or anything is bad customer service.
Oh well, it's a quick flight so in no time at all we are descending over the beautiful Stockholm archipelago towards Arlanda: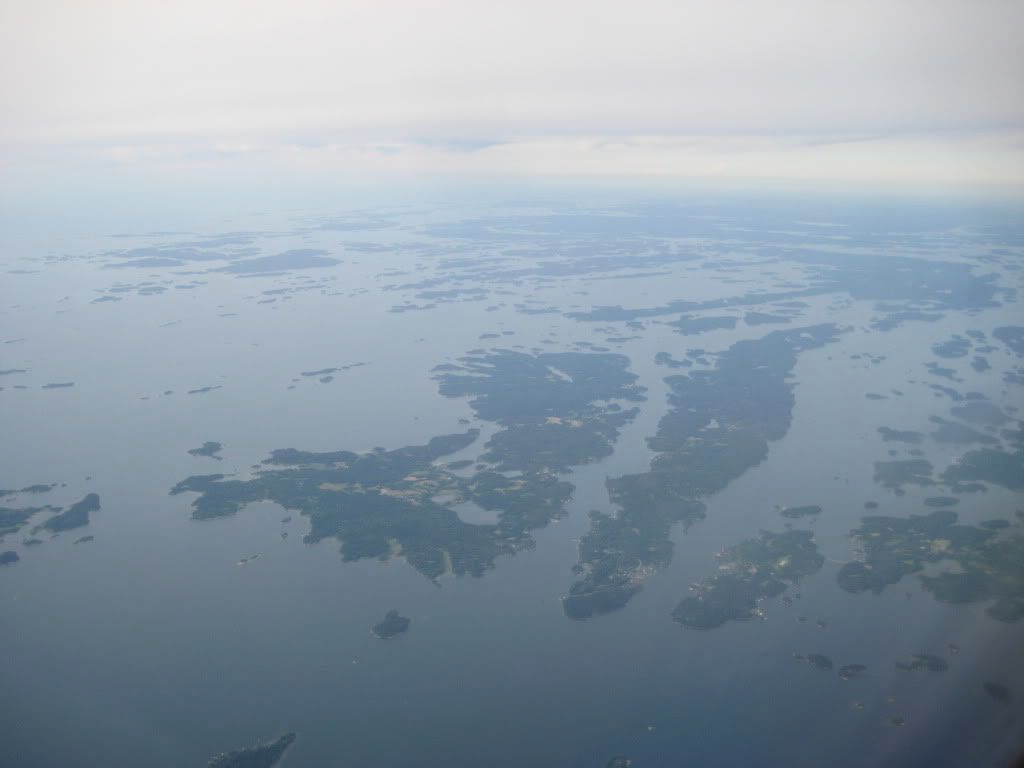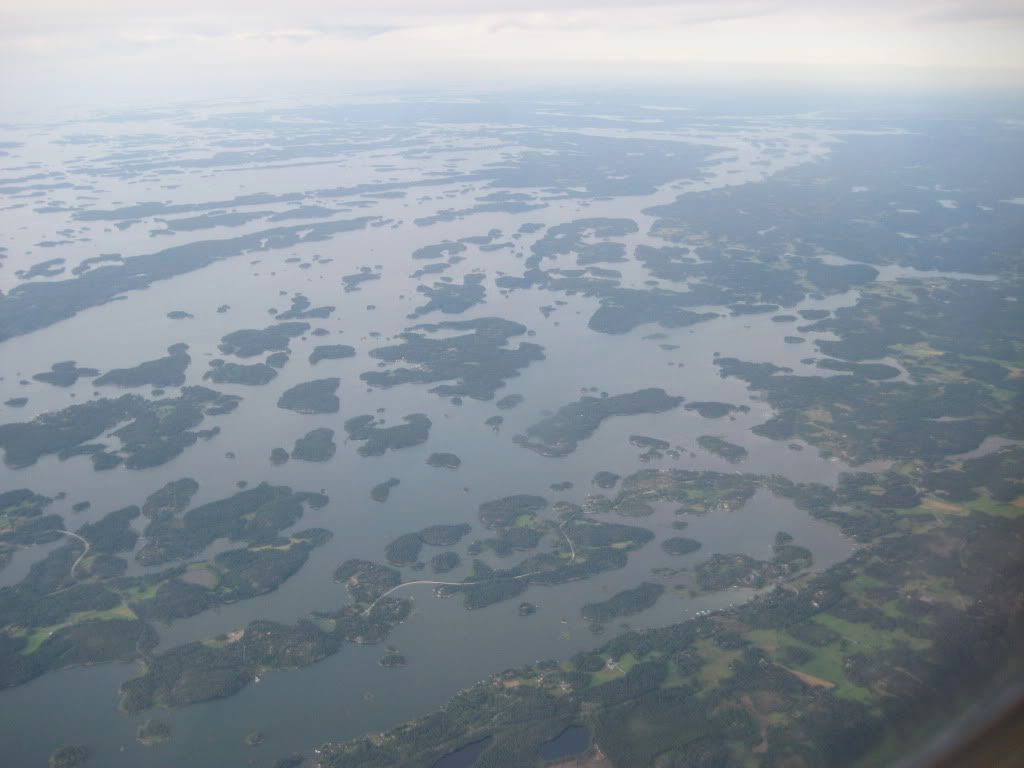 It looks like we are going straight in for a runway 26 approach, and this is exactly what happens. It is always a bit weird to be arriving before you actually departed your origin, but that's what time differences do to you.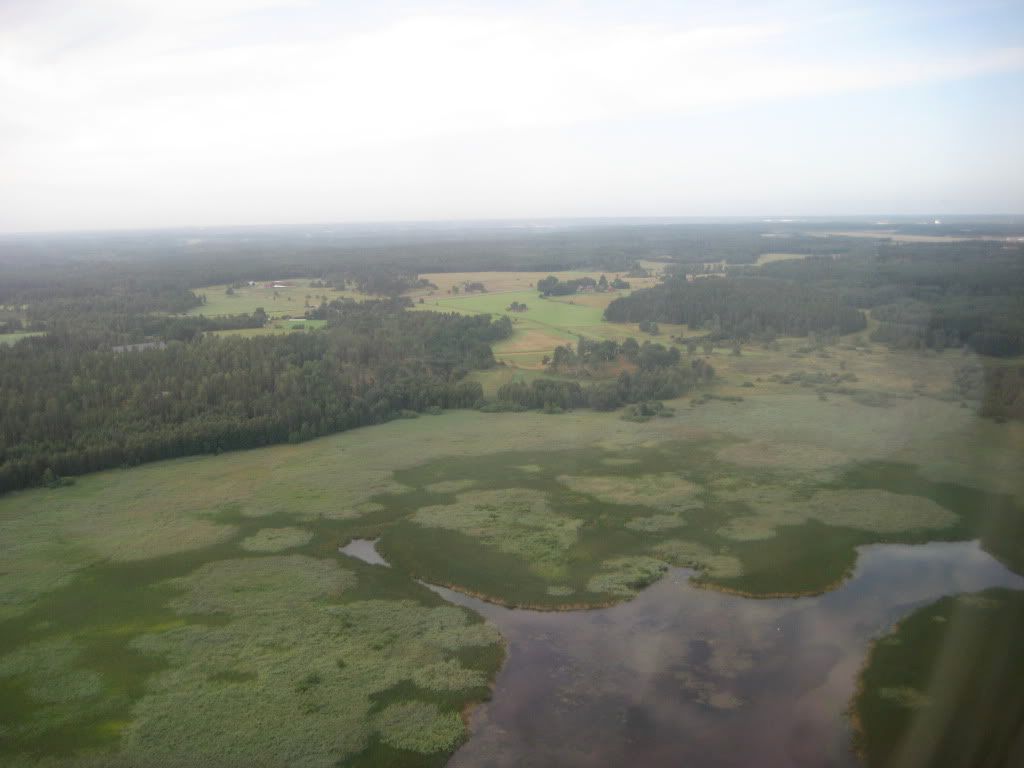 Some abandoned Sterling 737s: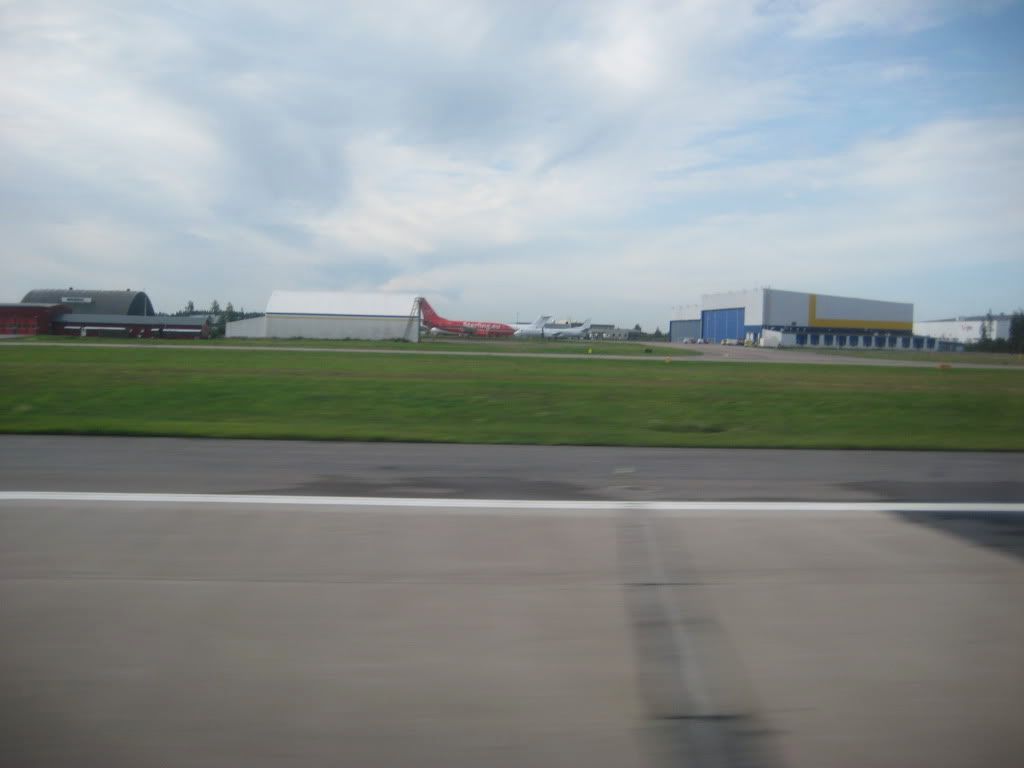 The newest pier of T5 with SK long haul to EWR and ORD: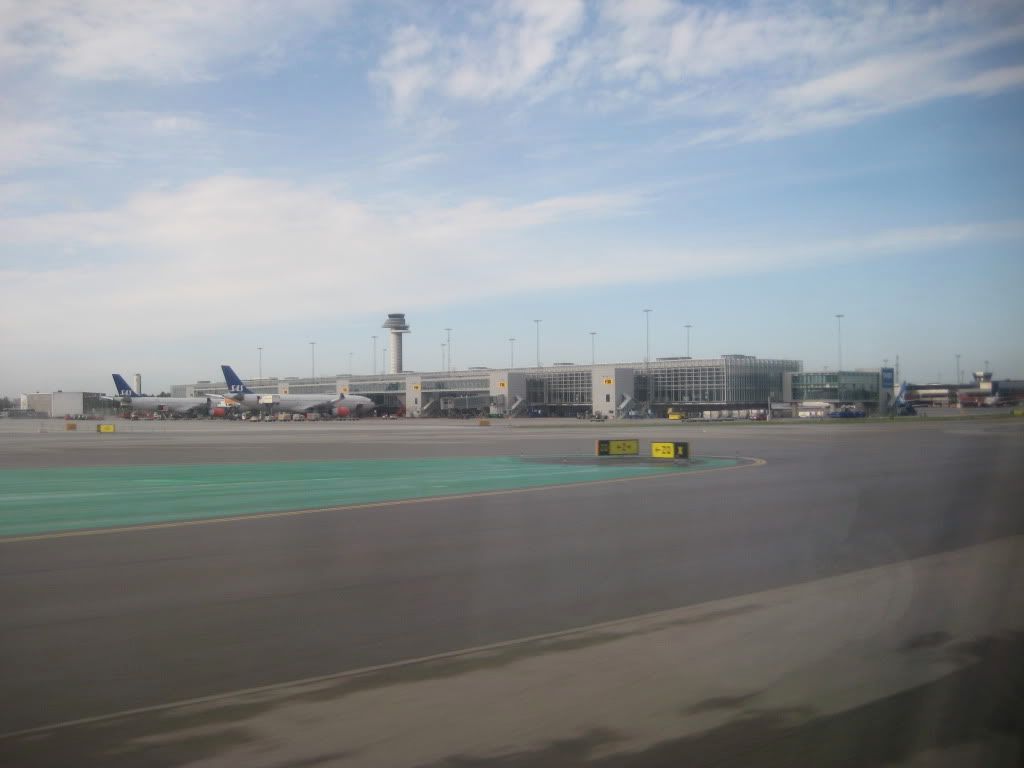 Arlanda airport, take 1
Landing on 26 is actually rather nice as it takes you very close to T5, so taxi is fast. We pass this beauty on the way: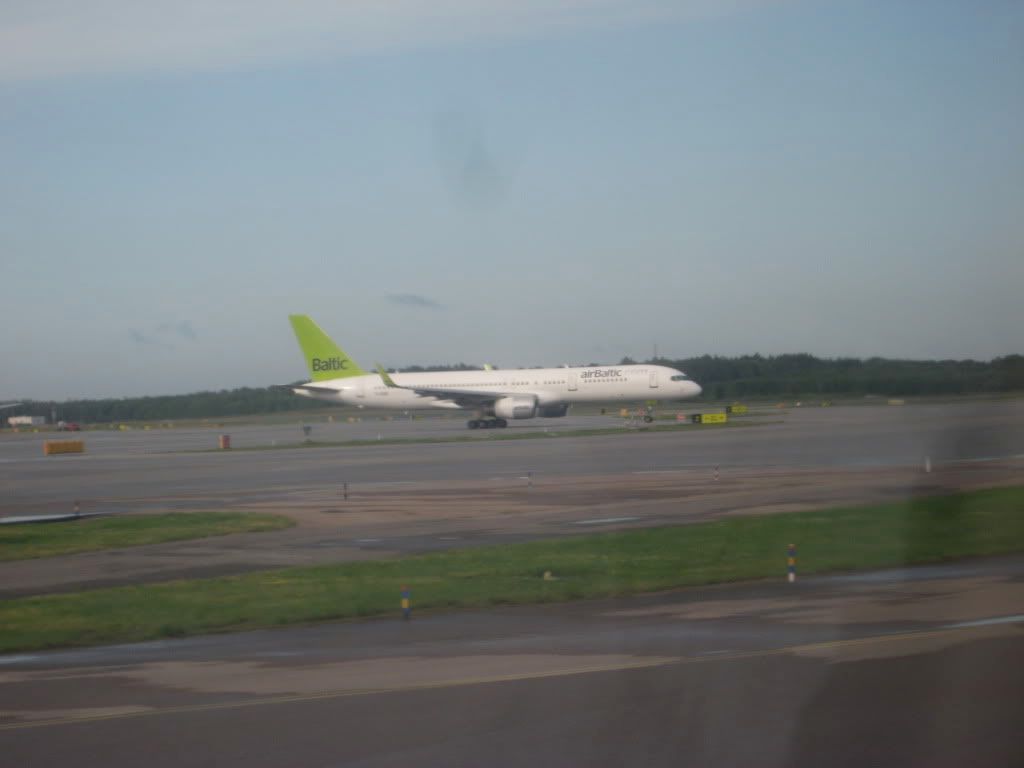 Once more, isn't that just lovely: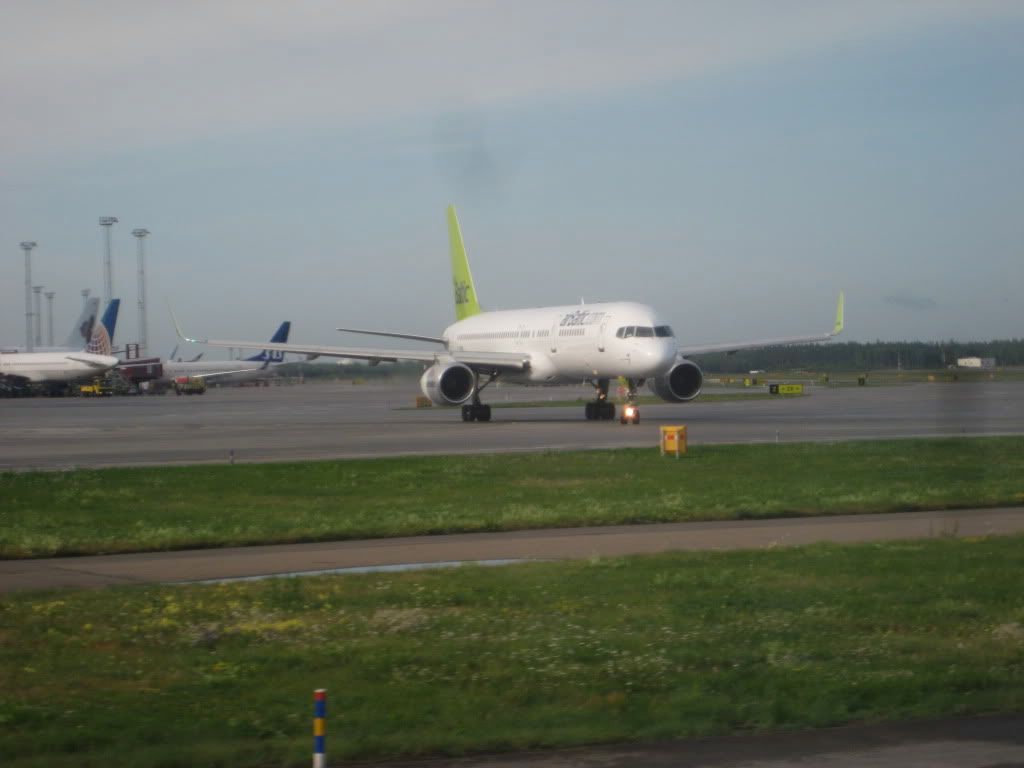 We dock at the usual KF gate 9 and disembark. I have around one and half hours, and decide to kill the time by making a quick walk around the two older piers of T5. There are some nice visitors around:
JK Airbus to MAD: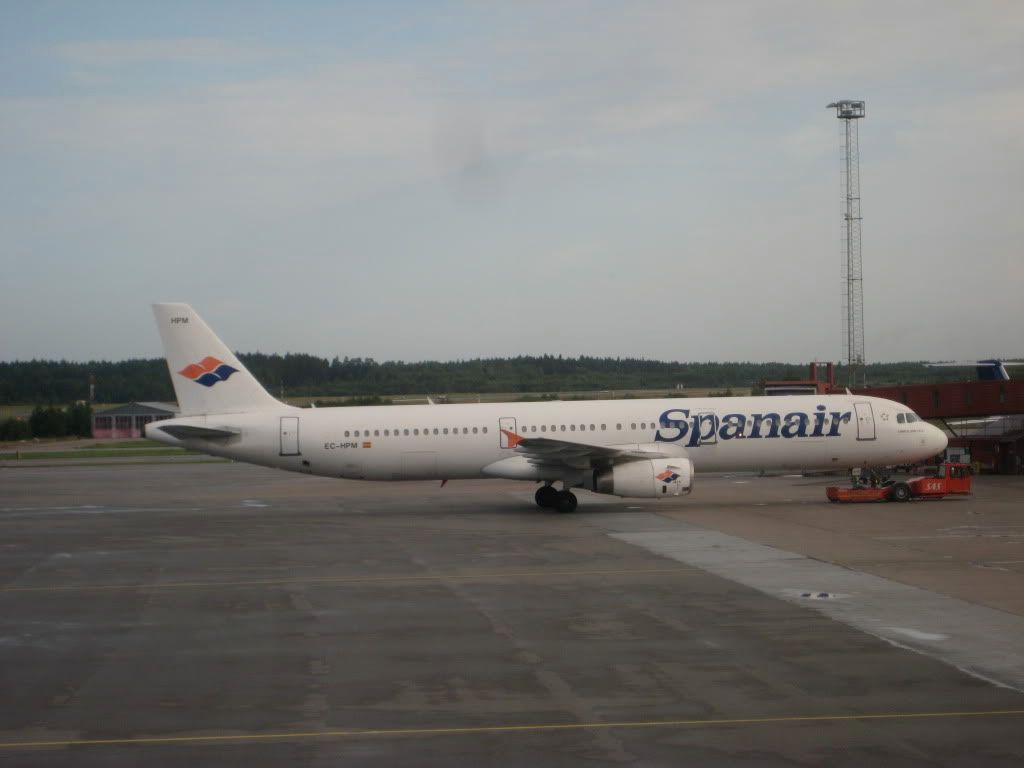 CO 757 to EWR: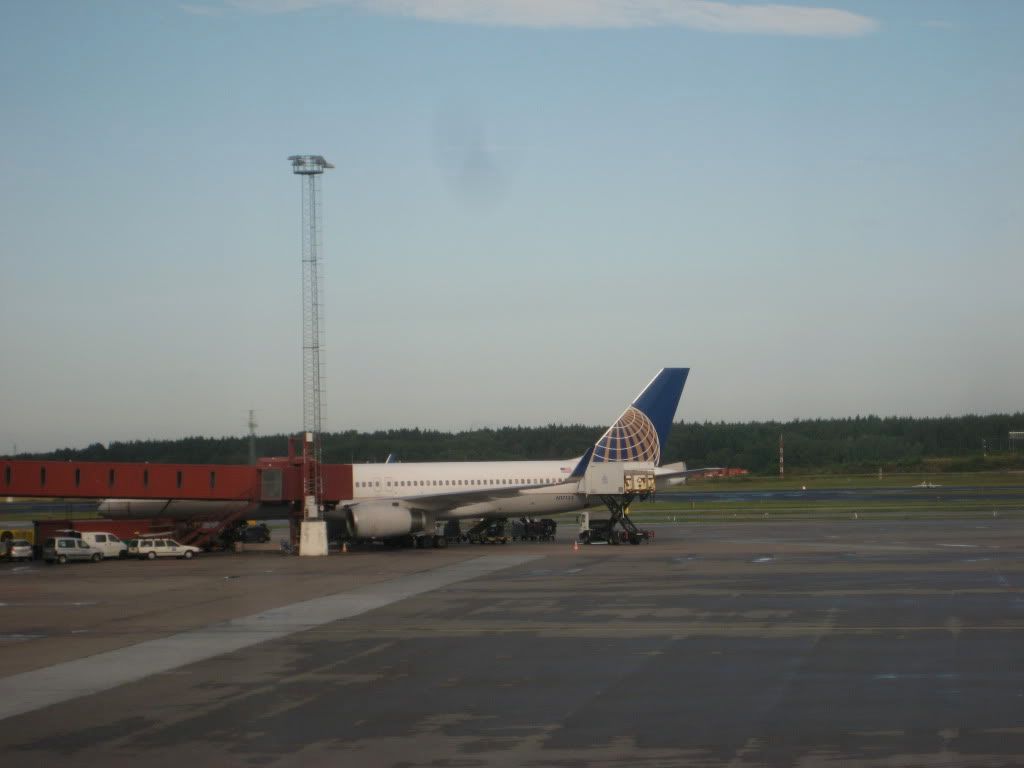 The CRJ-900 looks very smart in the SK livery: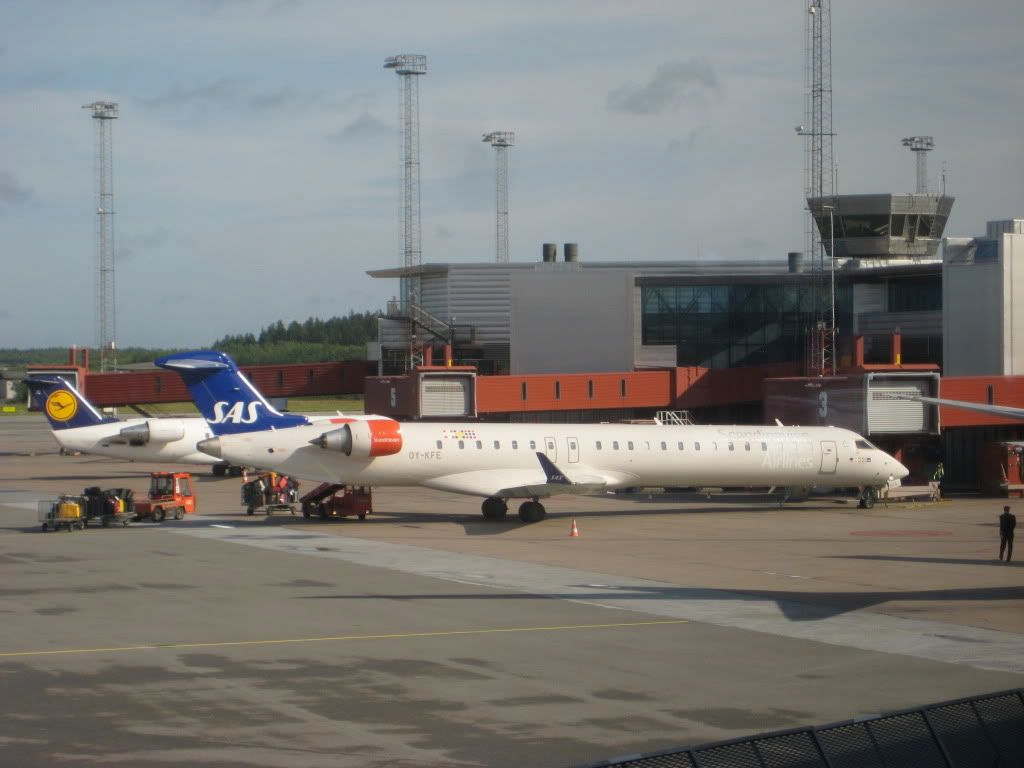 That's what I call a delay: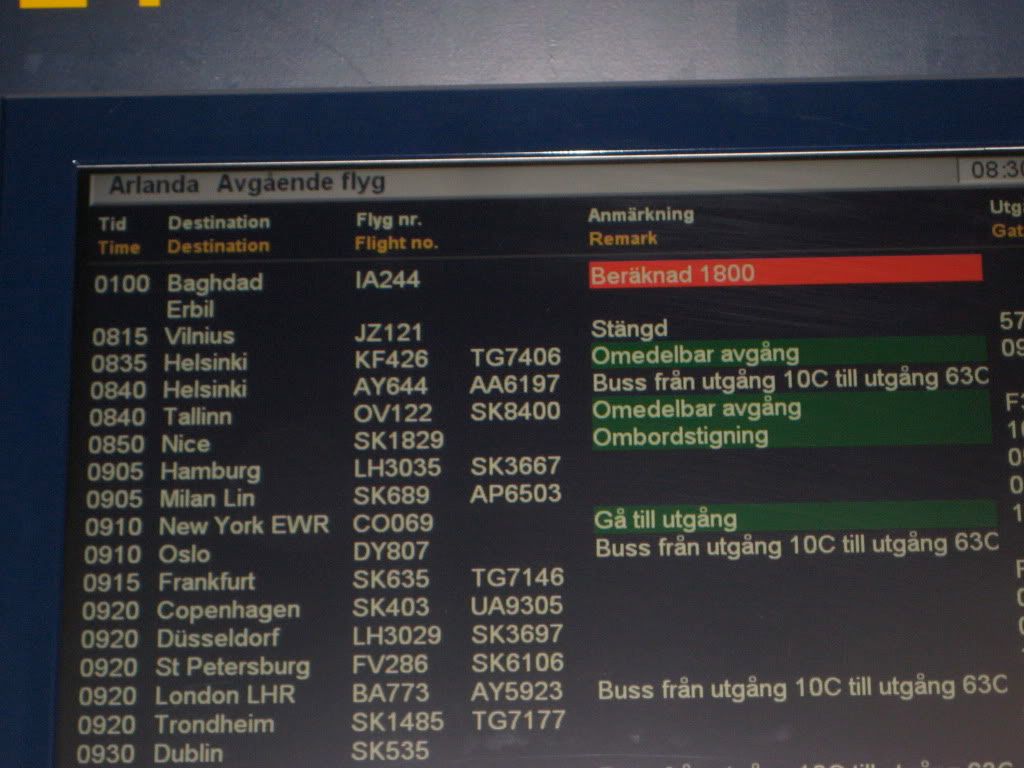 When my departure time gets nearer I make my way to gate 1 where boarding has just started for the next flight. Here's a shot of Ramveig Viking, a new entry for my log today: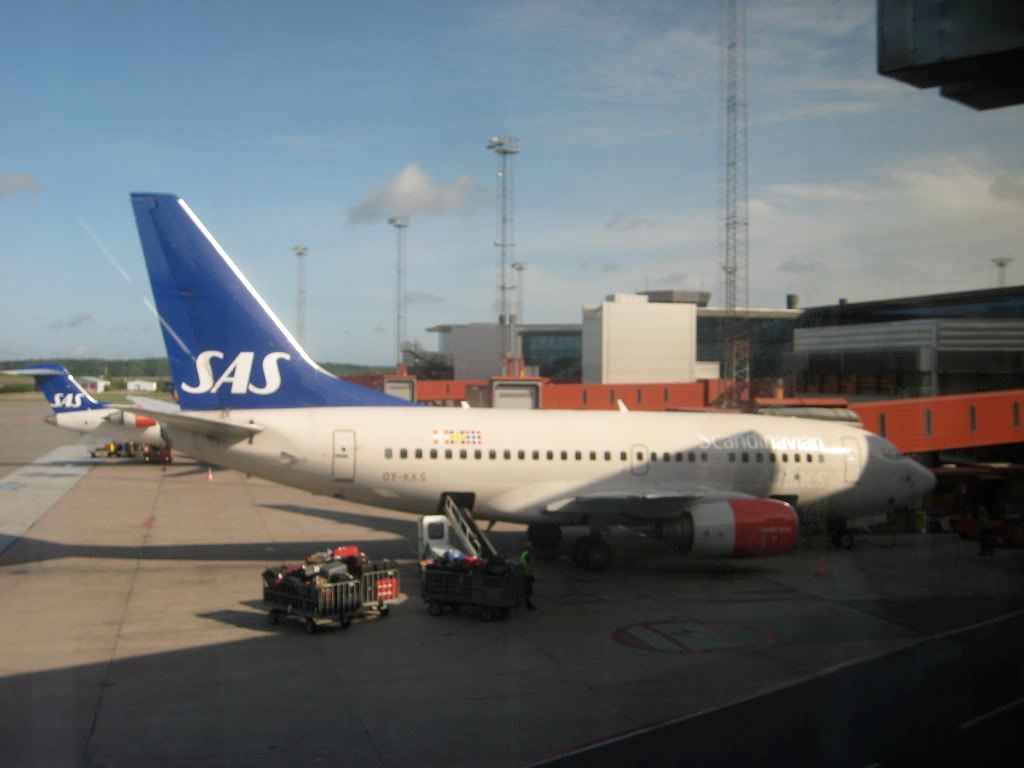 ARN-TRD
SK1485
B737-600 "Ramveig Viking"
Seat 1A
9.20 - 10.25
As is the case very often with SK, two elderly FAs welcome me onboard. Leg room on the bulkhead row 1 is good: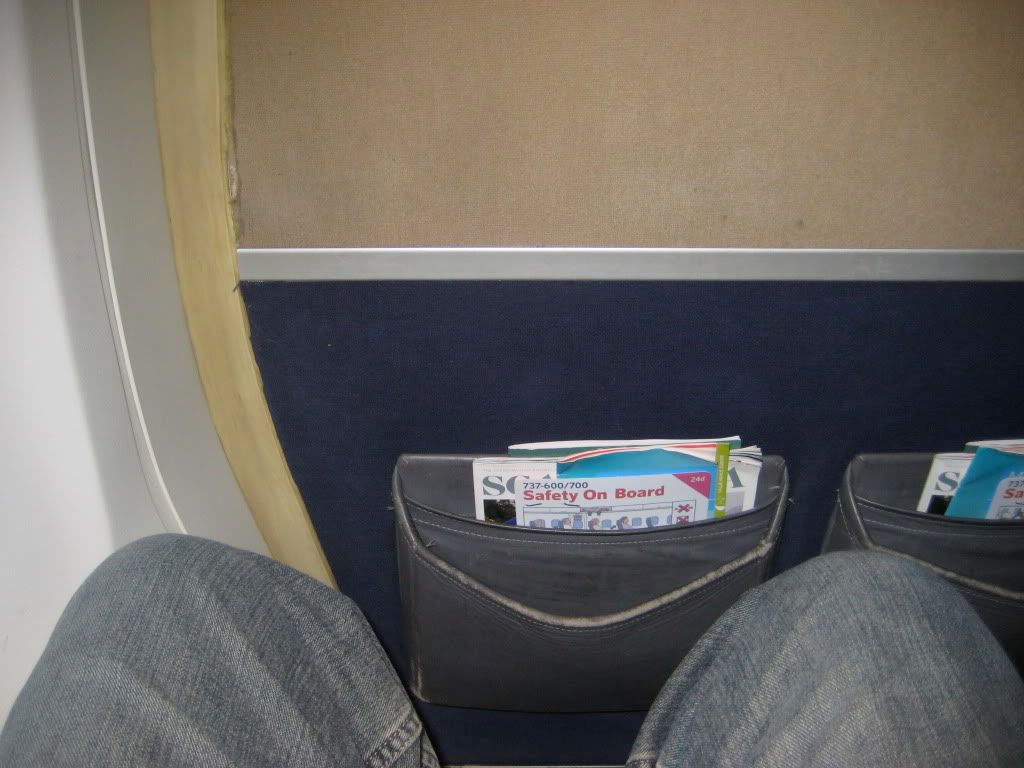 Passengers just keep pouring in and in the end the load in economy seems to be 100%. There are 4 rows of economy extra, with only a few empty seats - luckily including both ones next to me. Flight time is announced as 55 minutes. We push back right in time, but taxi to the far runway 19L takes a good 10 minutes. Then it's up, followed by a long right hand turn to point us northwest towards TRD.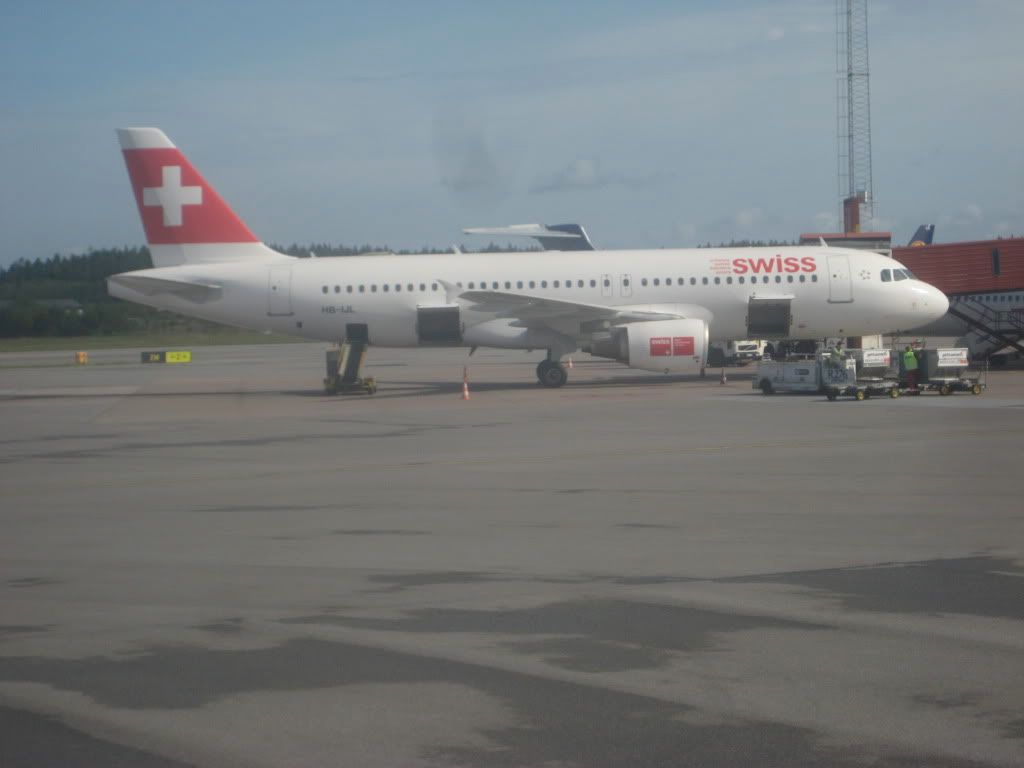 Service is yet another breakfast - I tell the FA that this would be my third breakfast today - she rolls her eyes and asks "Where have you been?!". I explain and she just smiles and tells that it's anyway good for me. The offering today is another yogurt, orange juice and cold cuts: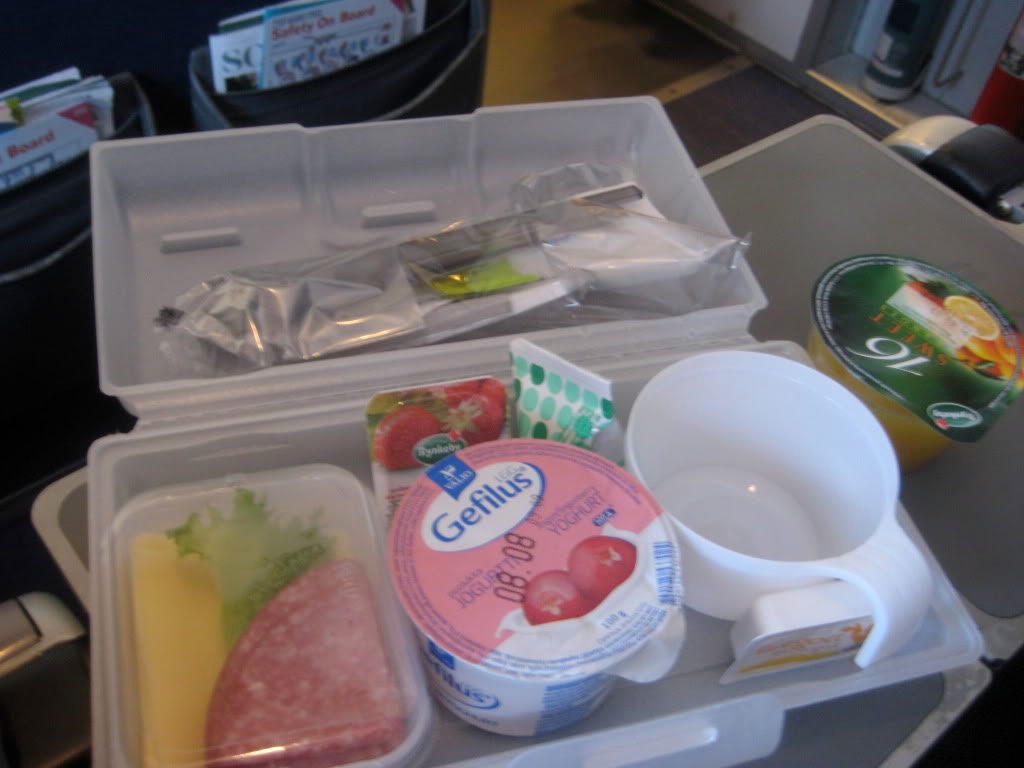 Warm bread is offered separately from a basket. Once again this is something that would've been featured in economy in the not too distant past. This time my quest for champagne is successful, with a bottle of the standard SK Nicolas Feuillatte being offered.
Success, finally. I know I read weird books: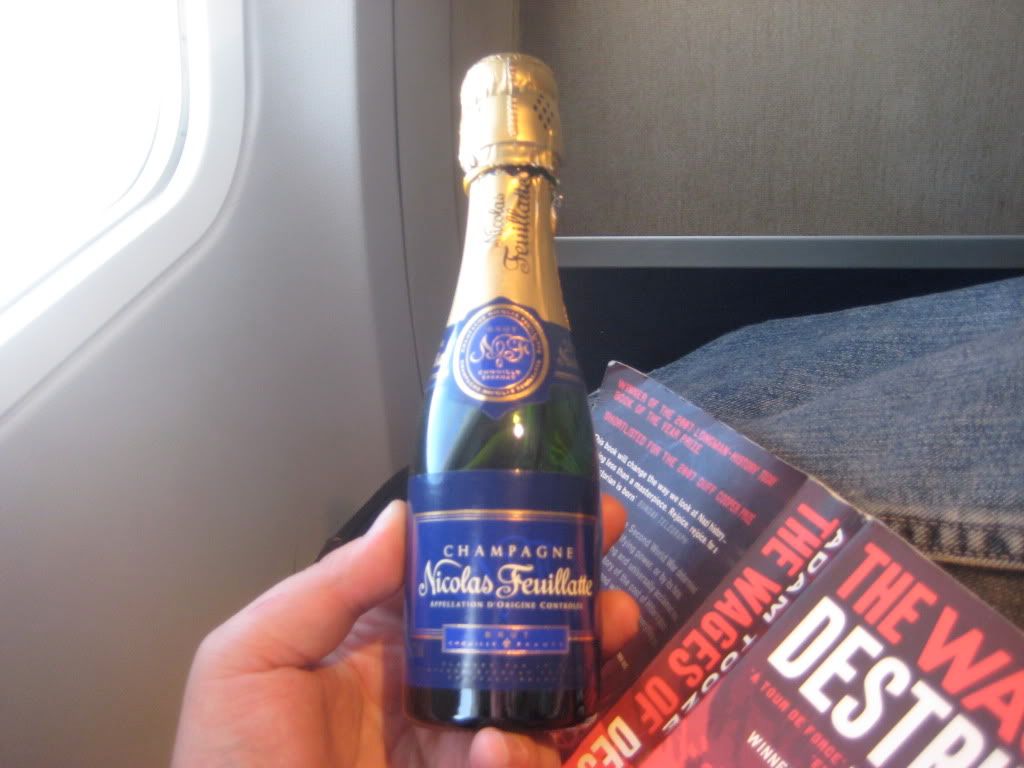 Just as I'm downing my first sip the captain comes on and announces that we have just reached our cruising altitude, are flying above BLE and have another 35 minutes of flight time remaining. TRD weather is partly cloudy with some strong winds from the southwest.
Most of the scenery is clouded over, so no good photo opportunities. Instead I ask for another champagne, which takes some time but is delivered with a friendly smile.
Soon we start descending and once we break the clouds we are somewhere over the southwestern suburbs or Trondheim.
Looks like Norway: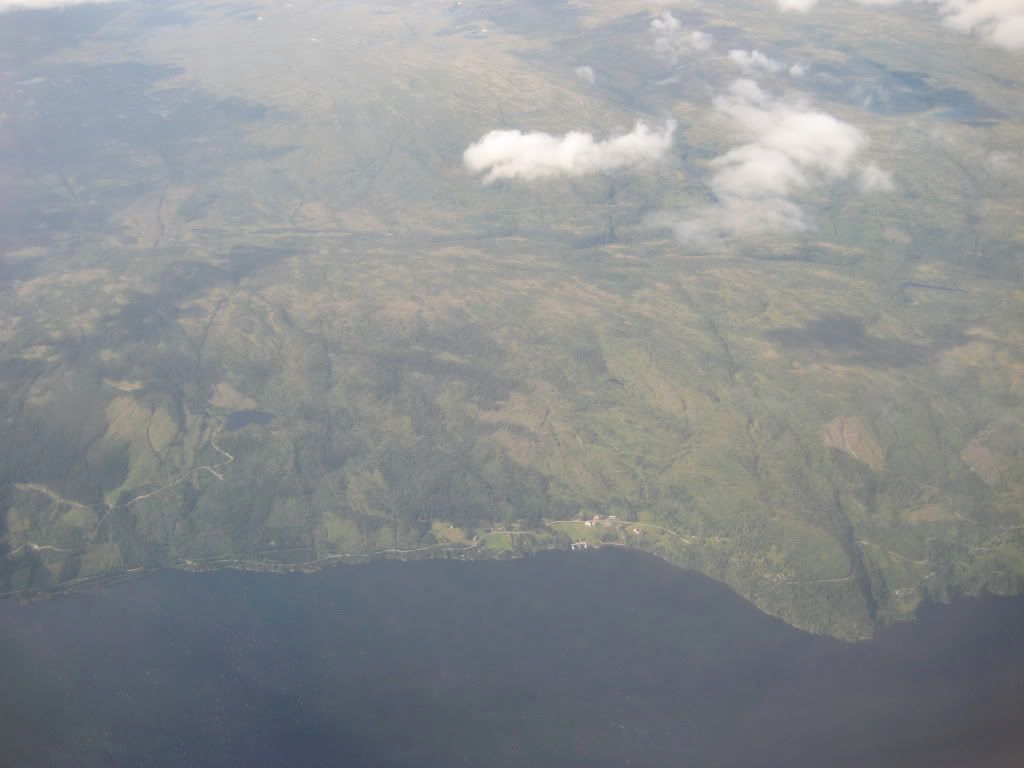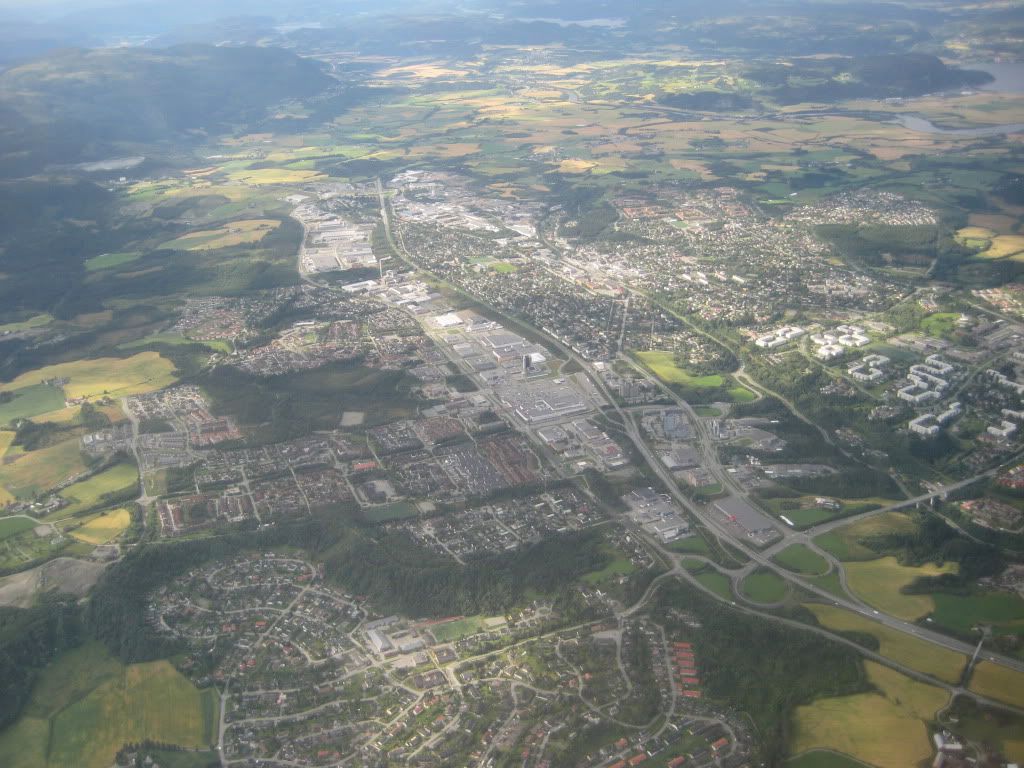 Ski jumping, anybody?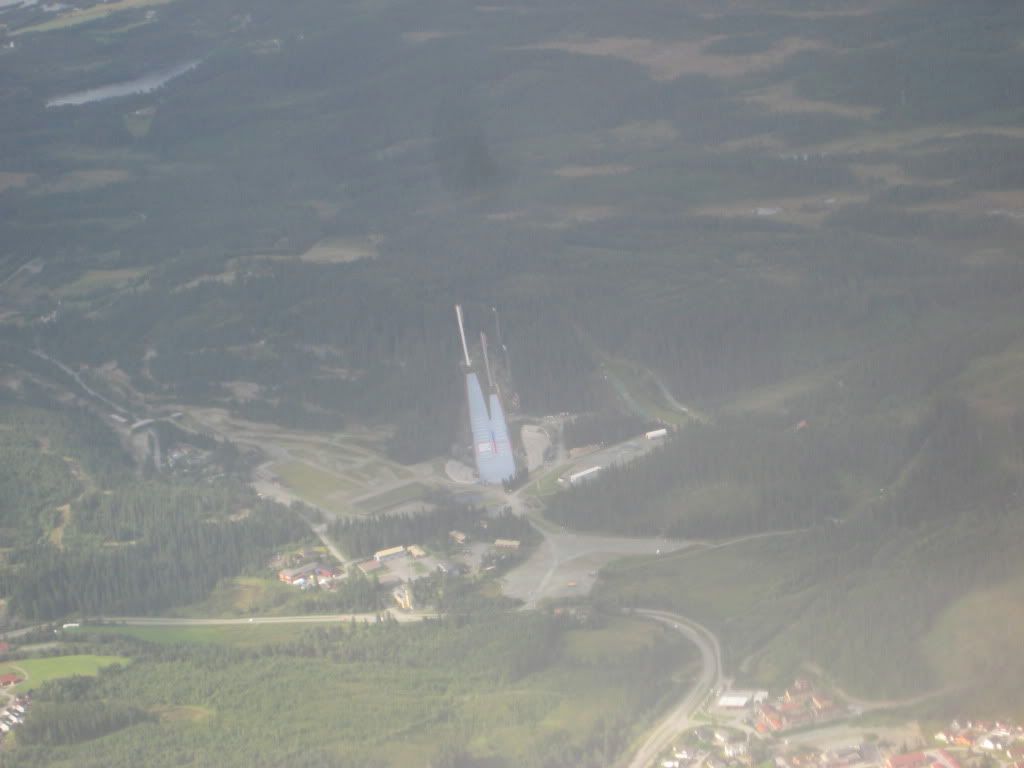 Approach takes us northwards from here, over the Trondheimsfjorden where we make a right turn to line up on runway 09 of Vaernes airport. It definitely is very windy as the plane is shaking and you can feel that the captain has to do some work to keep the plane lined up. Views on final approach are great: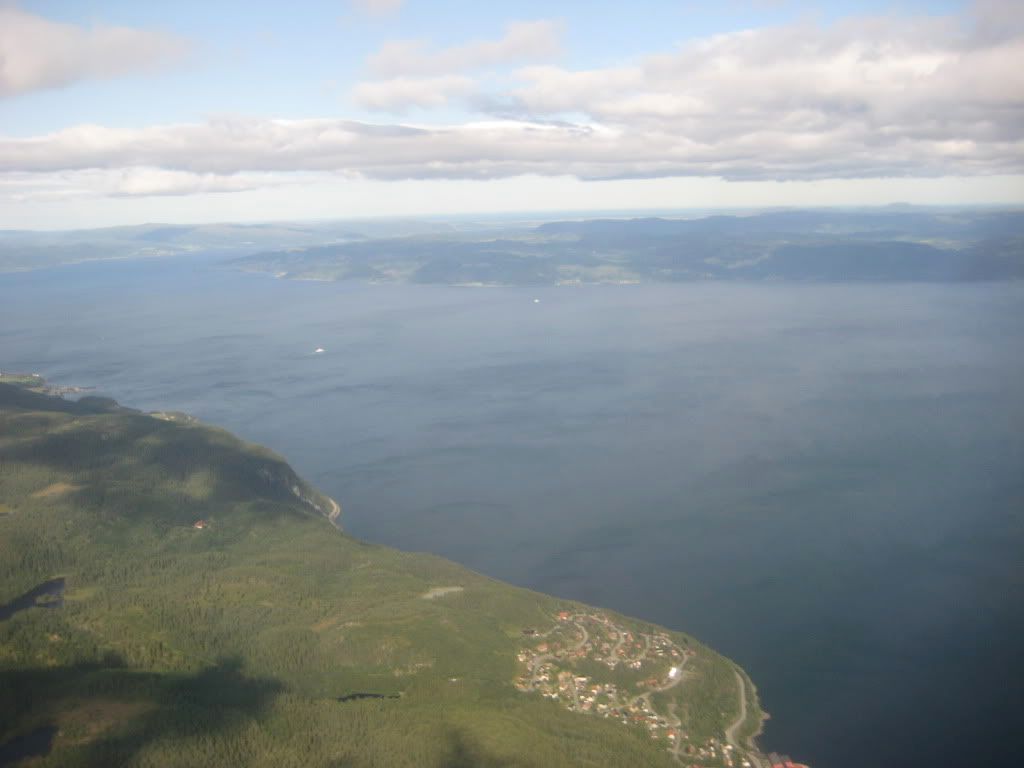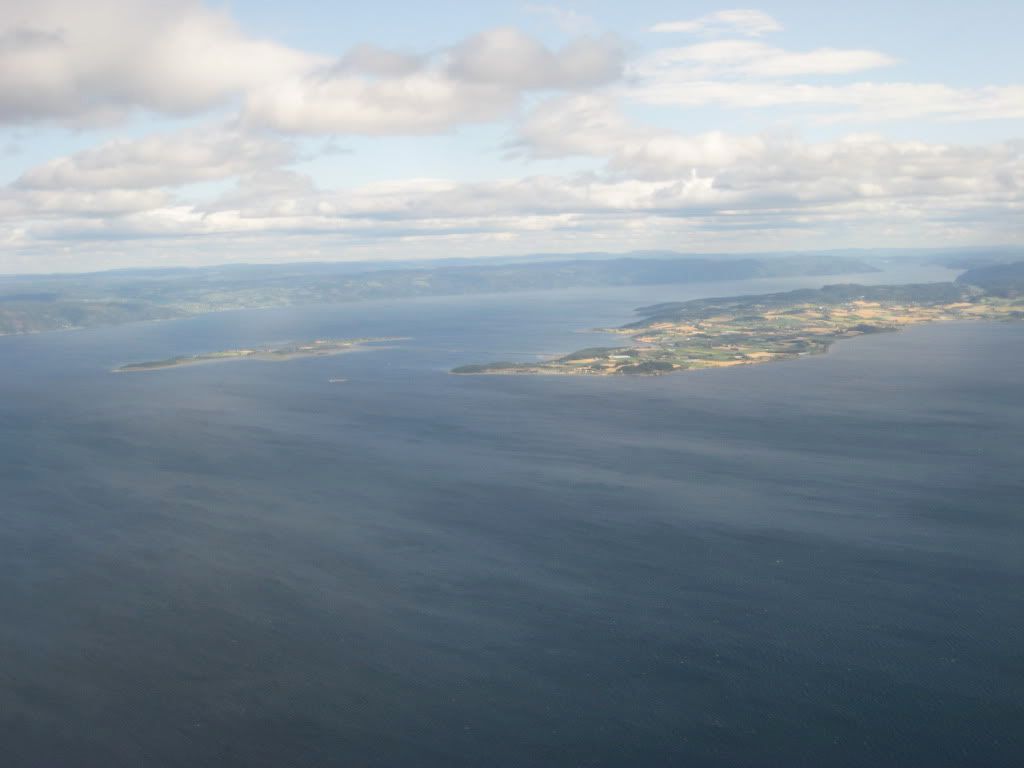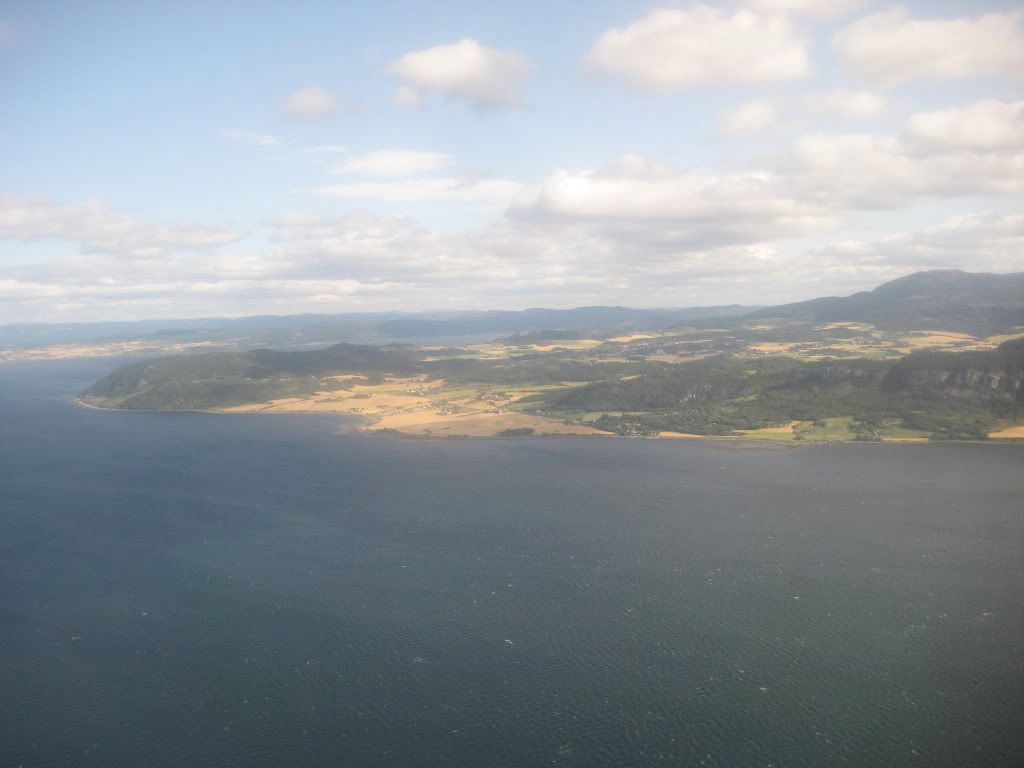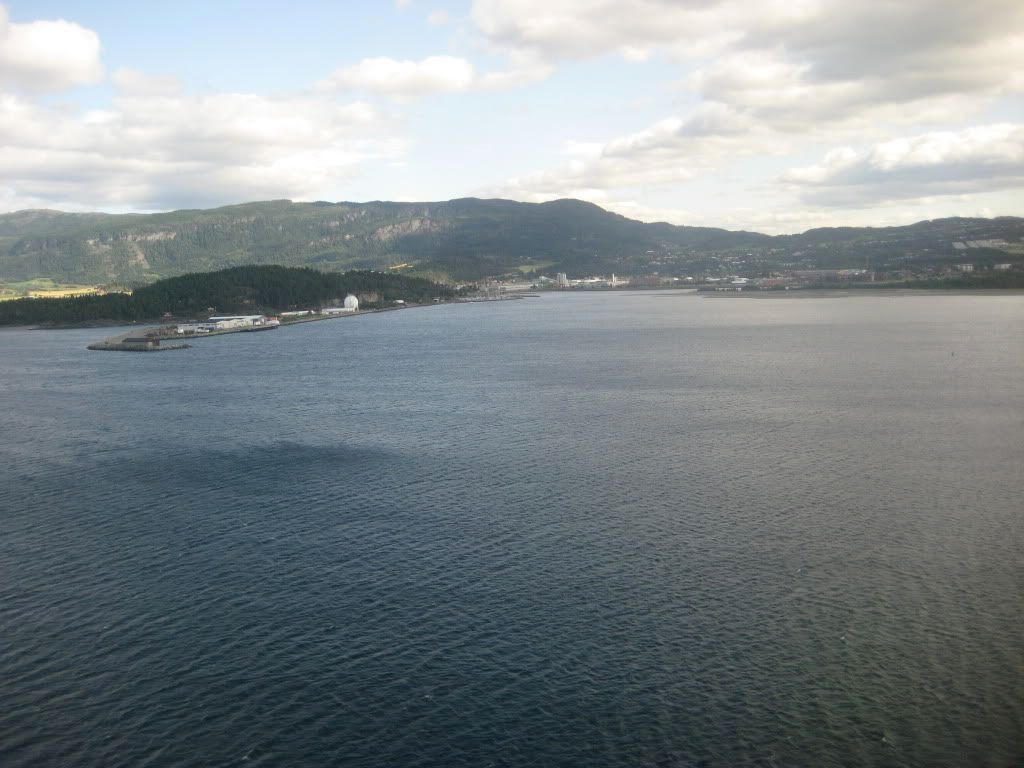 Heavy landing and breaking action, quick taxi to the apron and deboarding via stairs. The elderly couple in front of me has some trouble figuring out where to go, but I overtake them and lead the posse to the arrivals door where an airport employee is already waiting.
Trondheim airport
International departures and arrivals are housed in a separate terminal annex a couple of hundred meters from the main terminal. There doesn't appear to be a way to make the international to domestic transfer completely on airside (the opposite can be done, I've done it once), so I exit the baggage claim hall, walk to the main terminal area, take an escalator upstairs and step outside for a moment to dump my unfinished bottle of water (bummer) before proceeding through security. They have a problem with my belt, and despite my objections that it is very hard to remove being a bit oversized they refuse to wand me (as happened at HEL in the morning) and I have to strip it off which takes some time.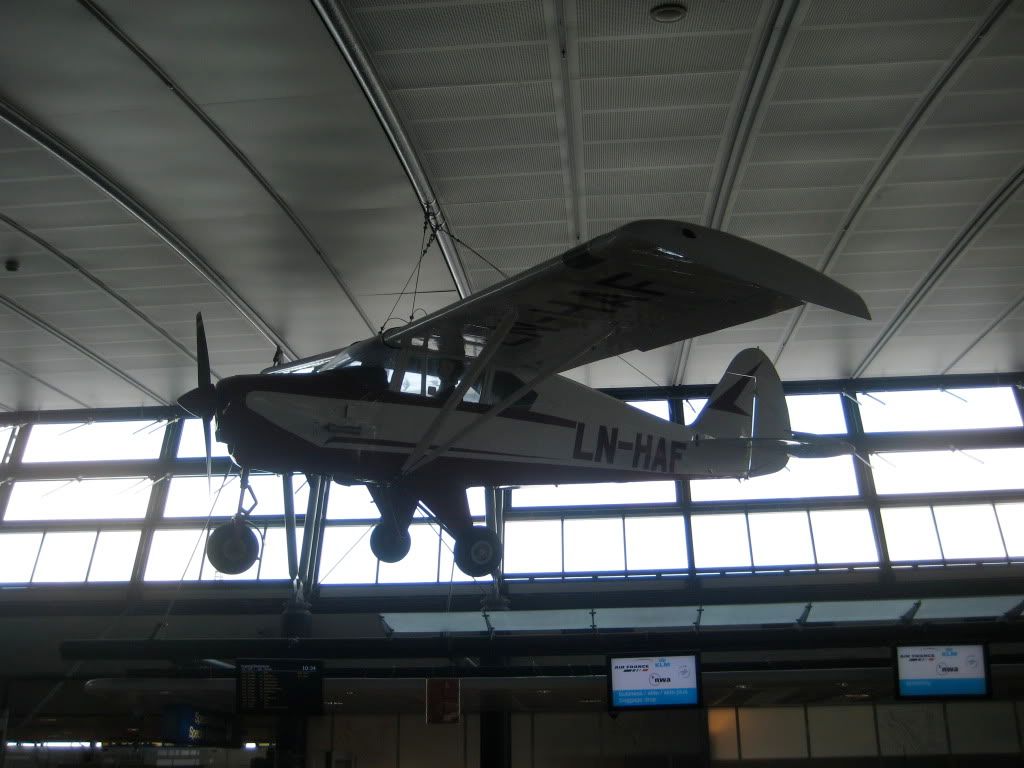 My flight is already showing "Go to gate" but I decide to grab a quick hot dog from the convenience store to help me make it all the way to ARN where I'm planning to have the next substantial meal of the day. Once again I'm impressed by the fluent American English spoken by the teenage guy serving me, down to American-style smalltalk and expressions. Boarding starts while I'm sitting at a cafe table next to the gate and wolfing down my catch. I earn some good karma by finding a plastic bag with an intact Norwegian souvenir book (complete with a receipt) at my table and bringing it to the counter.
Then it's time to board. Norway has a funny regulation where you are only needed to prove your identity while boarding if you have checked luggage. At most (all?) Norwegian airports you can now do this by using your fingerprint - i.e. you provide your fingerprint when you check in your luggage and again at the gate while boarding so they can match you. Any luggage not matching will be offloaded from the plane. Because of this the girl at the gate asks me whether I checked in any luggage, but since my answer is "Nej" she doesn't ask for any ID and let's me board.
Today's plane has the funny registration of LN-BUG, hopefully there won't be too many on this flight. Another new reg for me.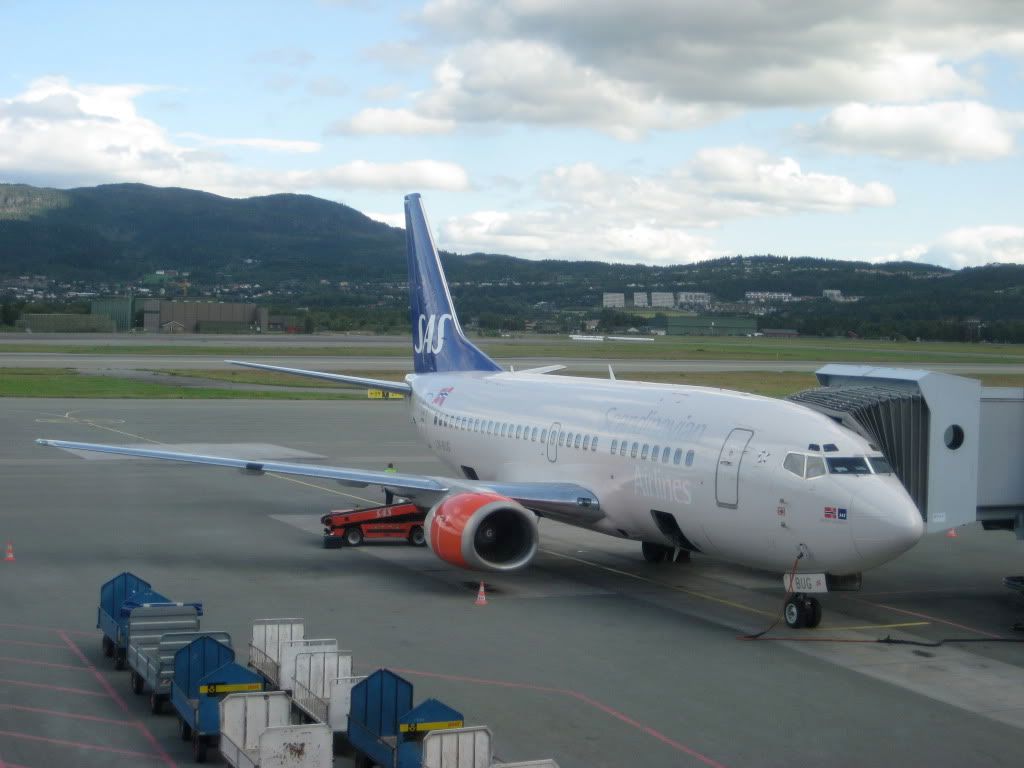 TRD-BOO
SK4558
B737-500 LN-BUG "Øystein Haraldsson"
Seat 10F
11.08 - 11.57
This (as all the 737 classics at SAS fleet) is an ex-BU bird, and features the BU cloth seats. Leg room at the second exit row window is unlimited as row 9 has is missing the window seats. The bad part of this is a lack of storage space for my stuff as this is a full flight and the middle seat next to me is occupied as well, so I have to keep my book, notebooks, IPod etc. all in my lap. Some carriers have a side pocket on the wall to put stuff to, this would be appreciated here as well. The comes to tell us on the exit rows that in the case of things going bad we shouldn't throw the exit door out, instead of keeping it in the cabin. That's the first time I've heard this, usually the instructions direct you to throw it away. We joke a bit about this with the American and Norwegian guys around me.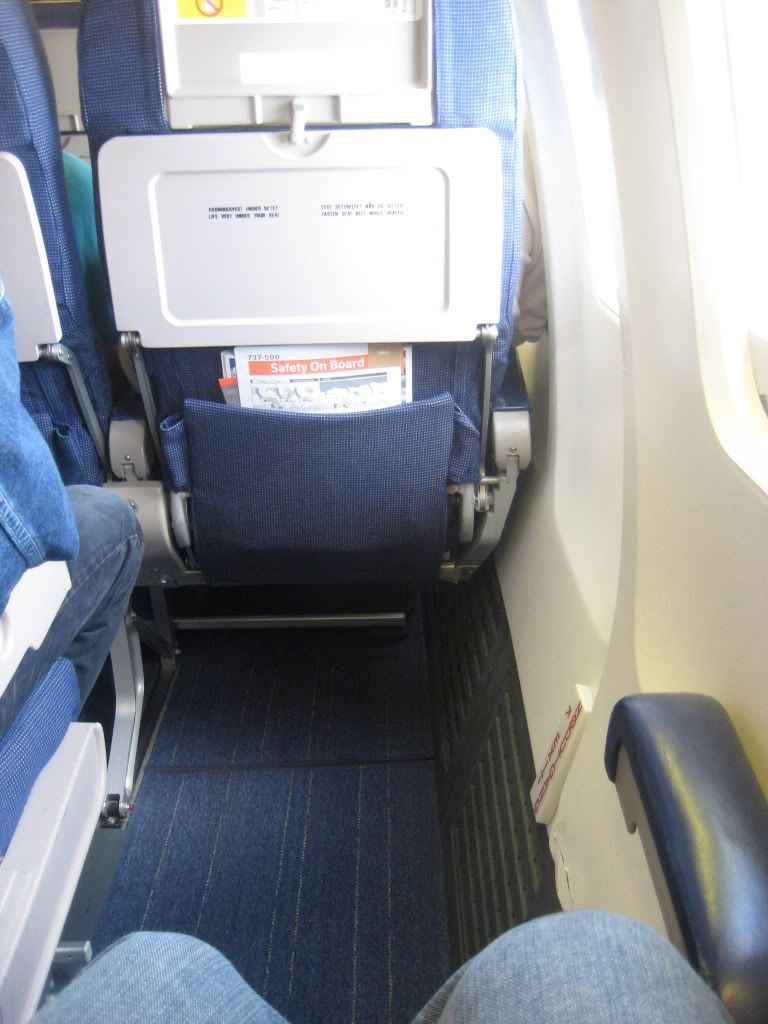 During boarding the Norwegian captain welcomes us on board, announcing a flight time of 45 minutes with good weather conditions further north. We depart pretty much on time, taxi to runway 09 for a powerful take off towards the east. Right after becoming airborne we make a left turn towards the north and soon after clouds obscure any views of the ground.
Bye TRD and these sister planes:
Taxiing to the active. A railway runs underneath the whole airport, with a stop serving the airport as well: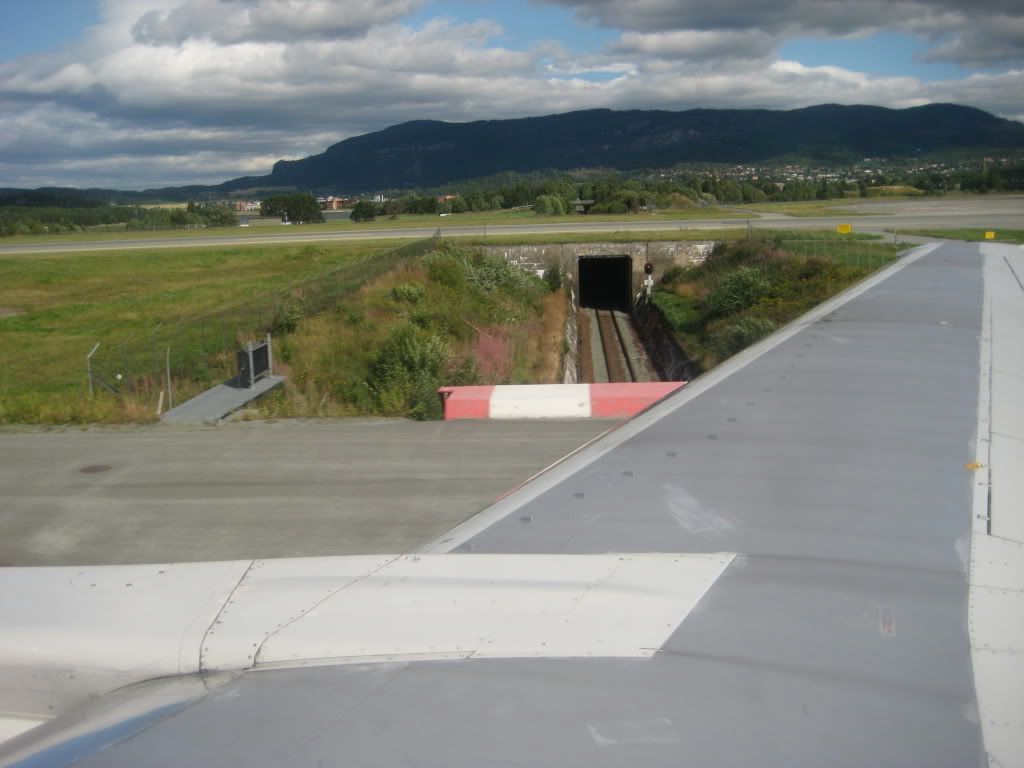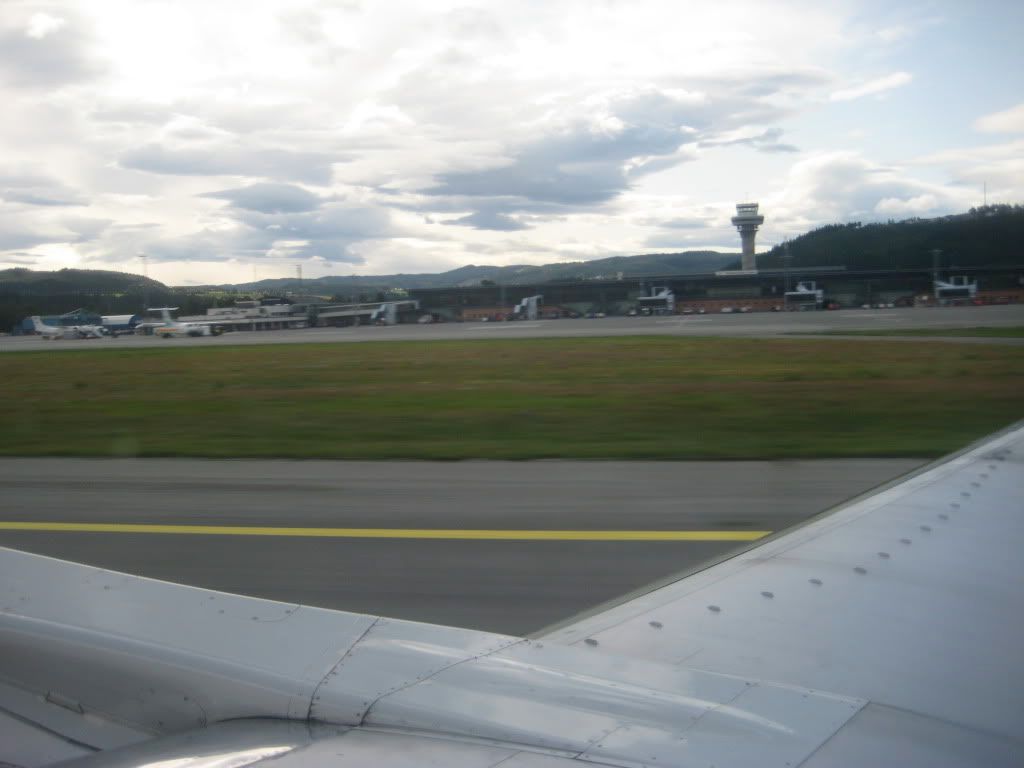 Service is free tea or coffee and BOB for other drinks. Yes, even though I have an economy extra ticket, there's no economy extra on domestic Norwegian flights. Whee. I decide to pass.
A quick flight, and we start our descent towards Bodø quite early - I guess we will do the full CDA as traffic shouldn't be an issue here. After we break the clouds there are some magnificent views of the rugged mountains and coastline: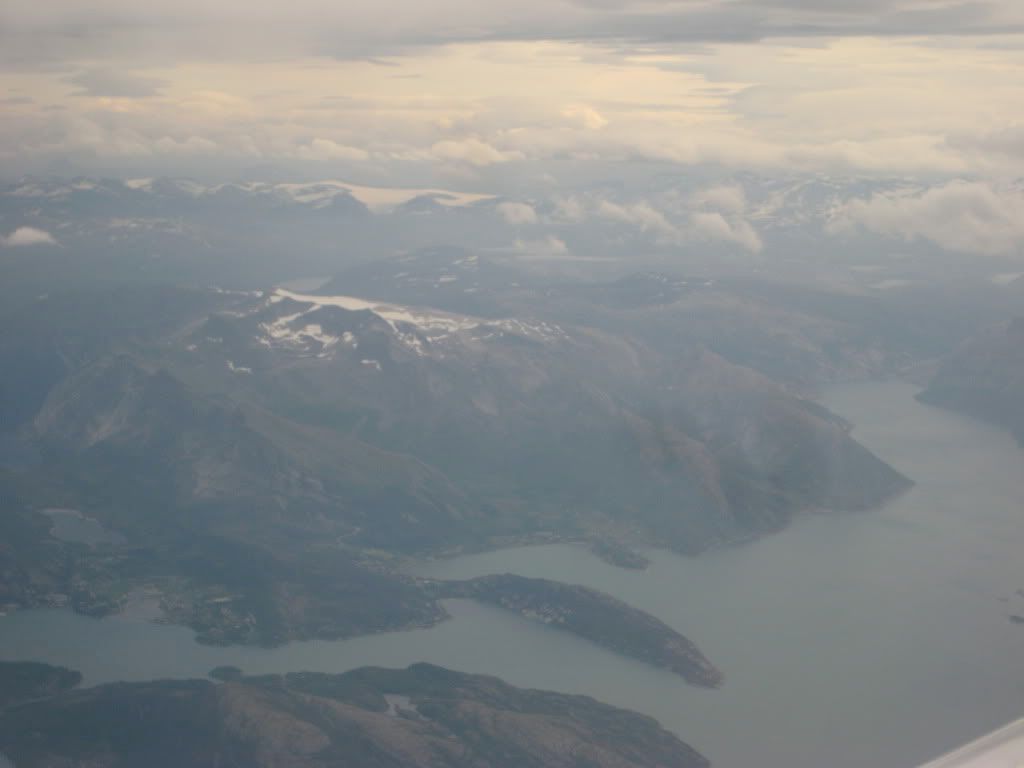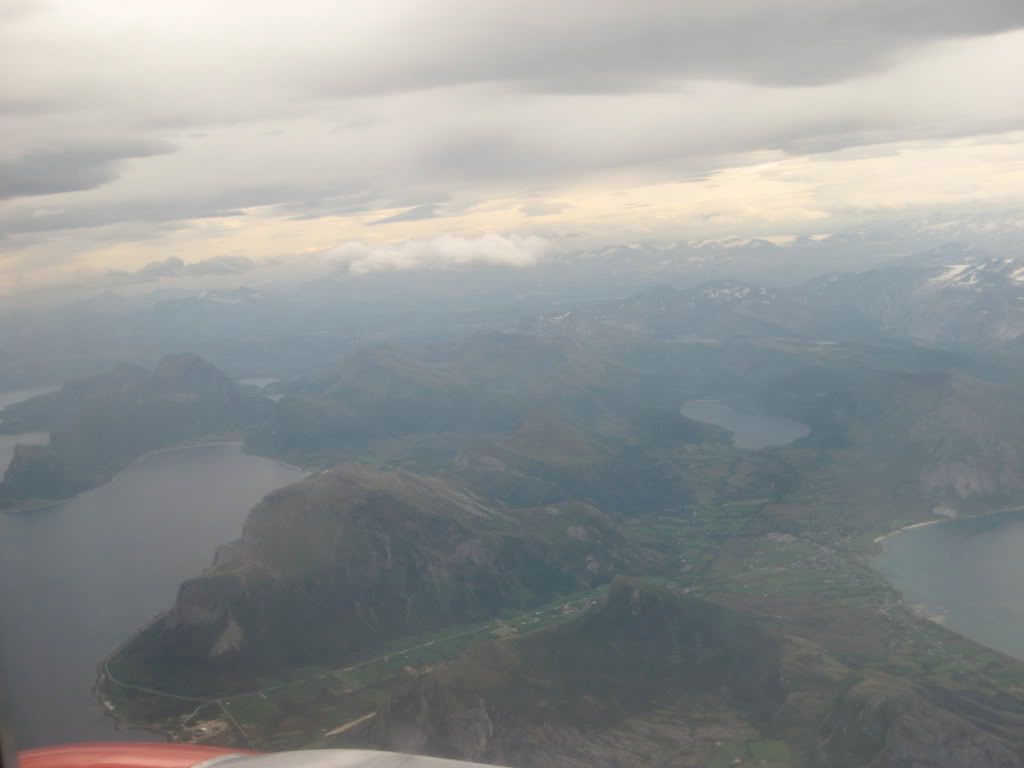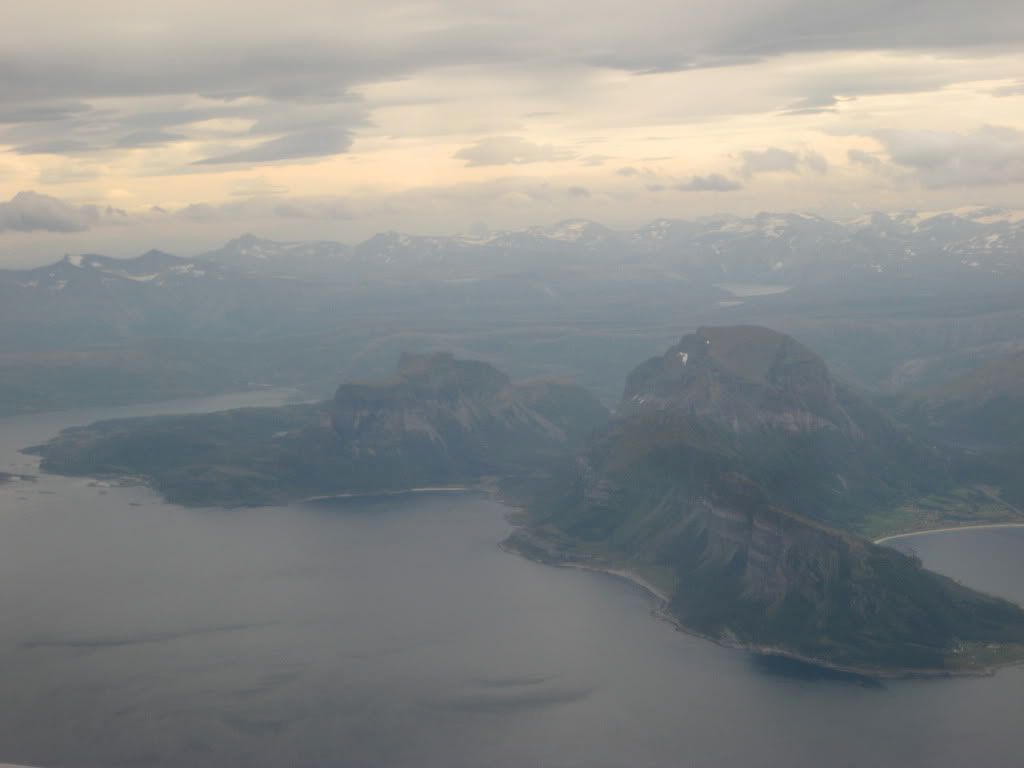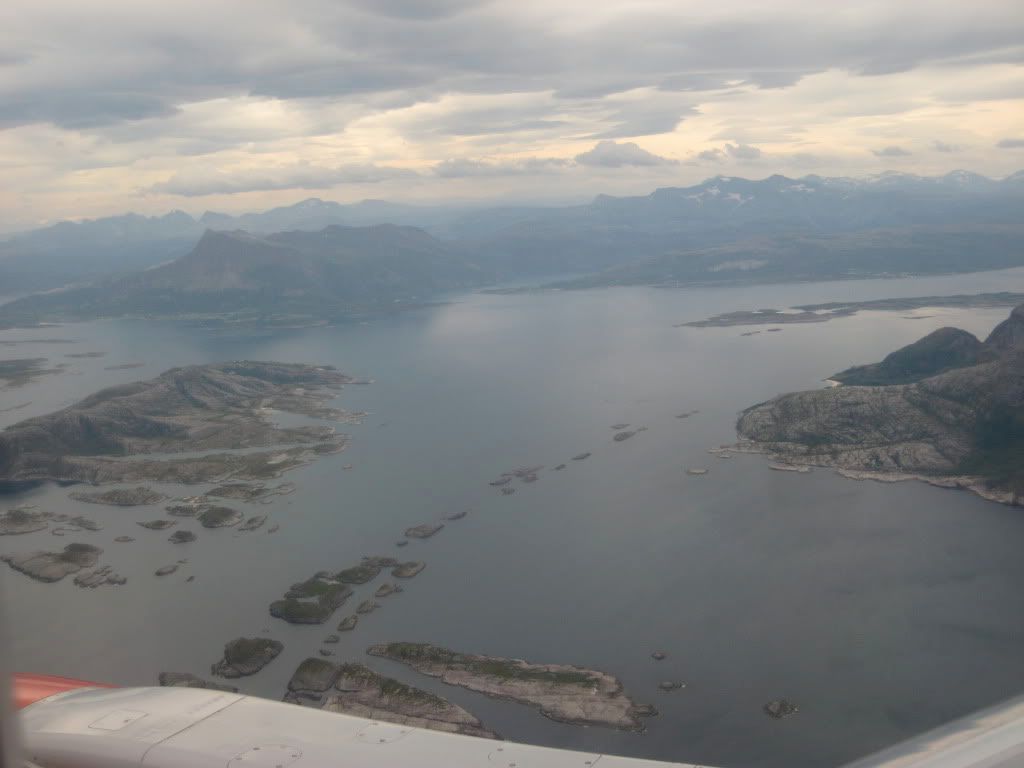 Are we going to land in water?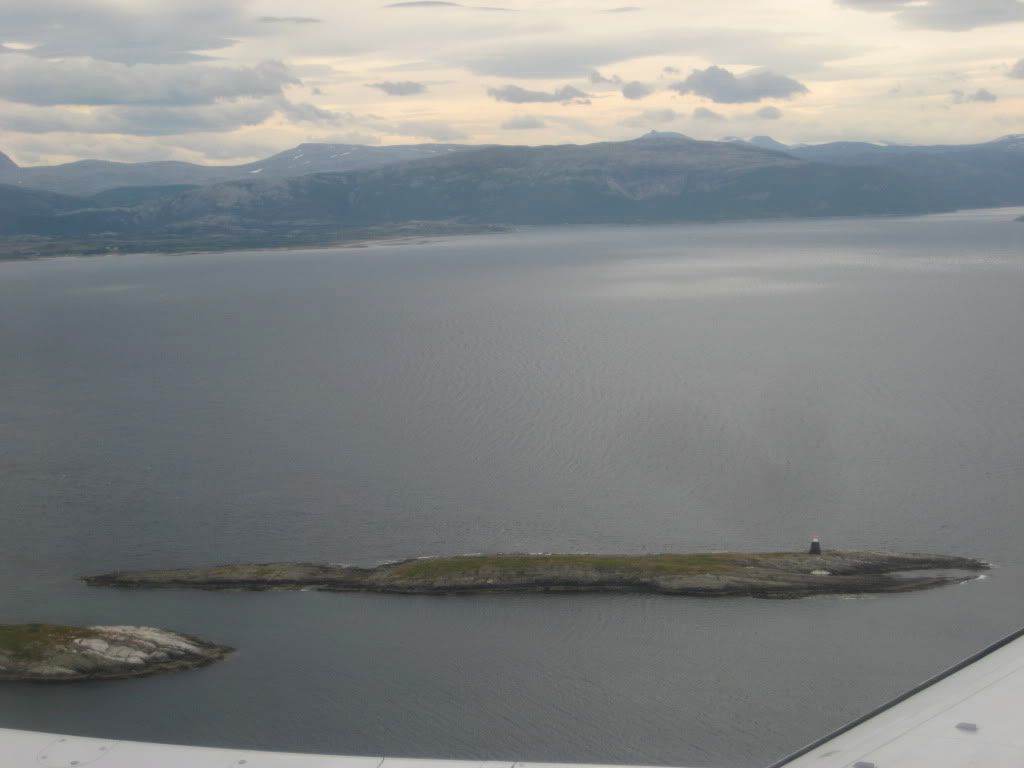 Interestingly the FAs don't care about us snapping pictures and me having my IPod on until touch down, even though they definitely see it and the normal announcement about turning off electronics is made.
The official name of Bodø airport is "Bodø Main Air Station" - it is the primary base for the Norwegian Air Force (and thus Nato) in Northern Norway, half of its jet fighters being based here. As a testimony to that we pass a number of hard shelters just before touch down: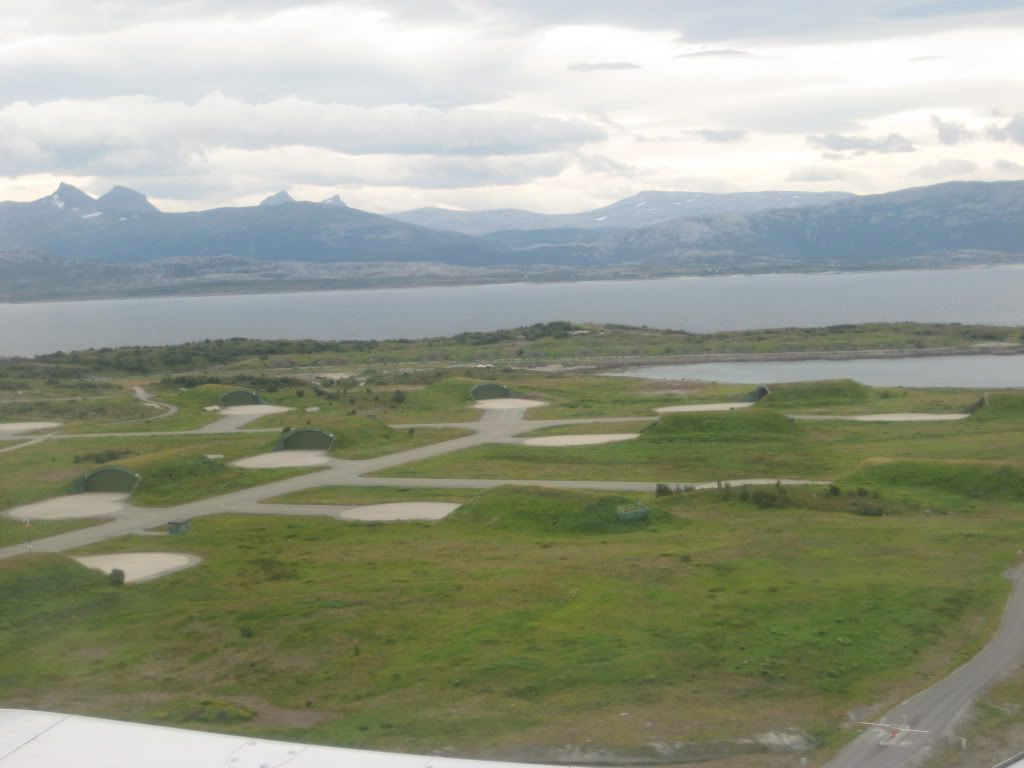 Touching down on slowing runway 07 we pass a number of F16s being refuelled. As soon as we vacate the runway a pair enters and takes off, what an amazing sight: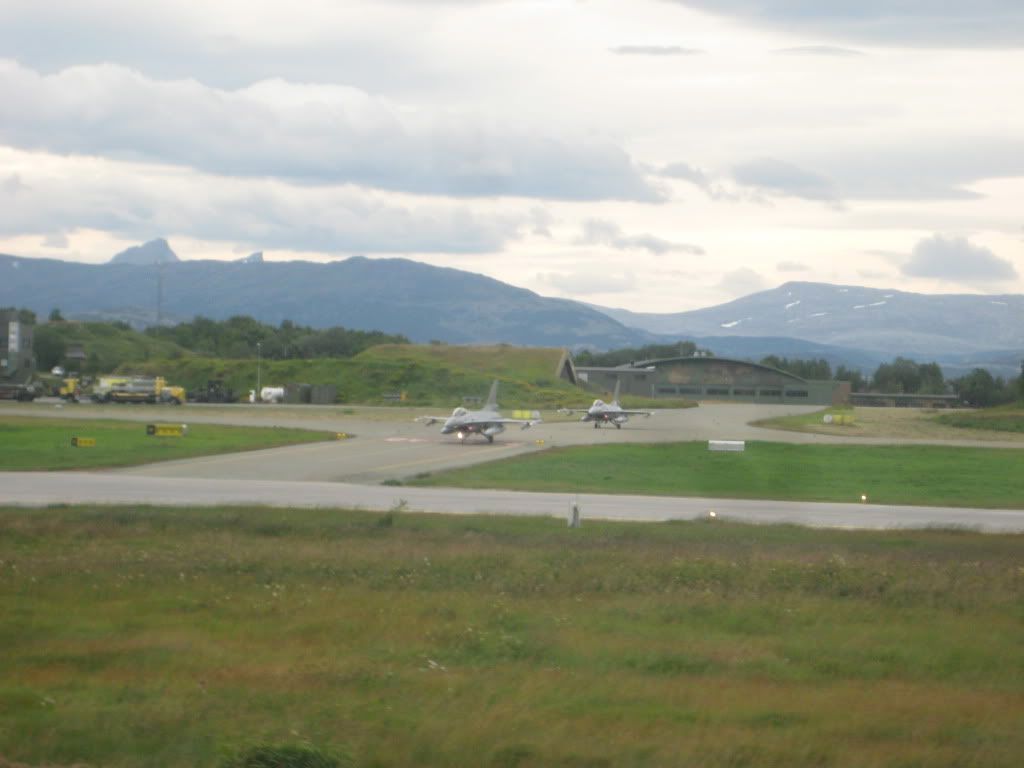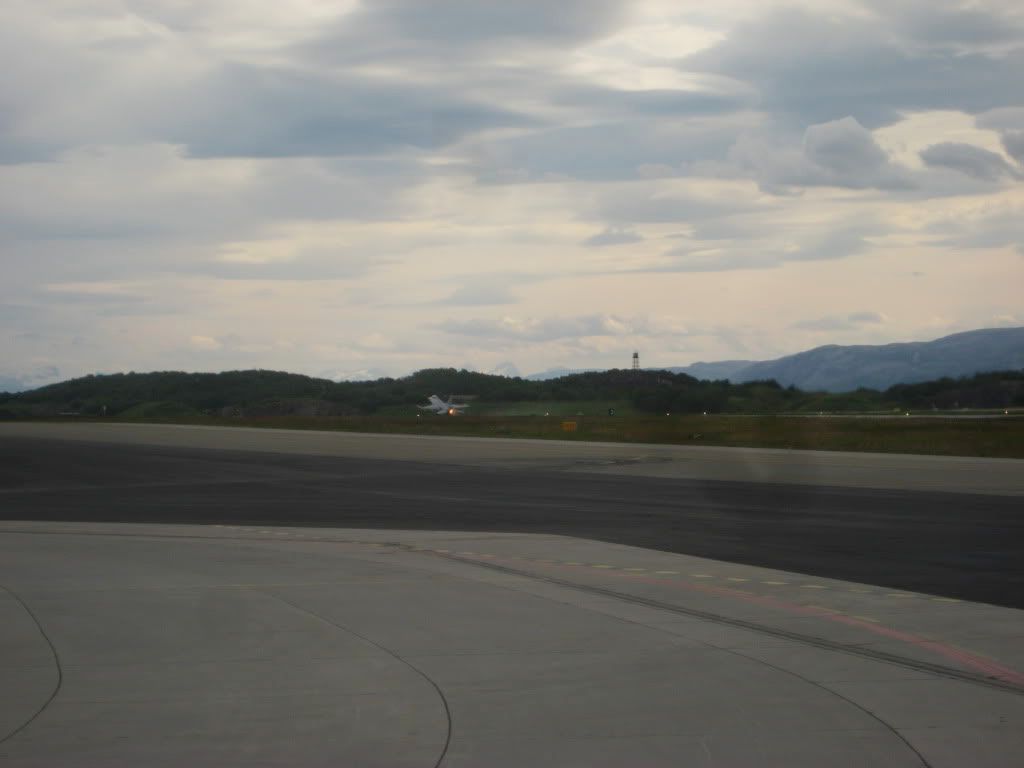 We stop next to a WF Dash 8-100.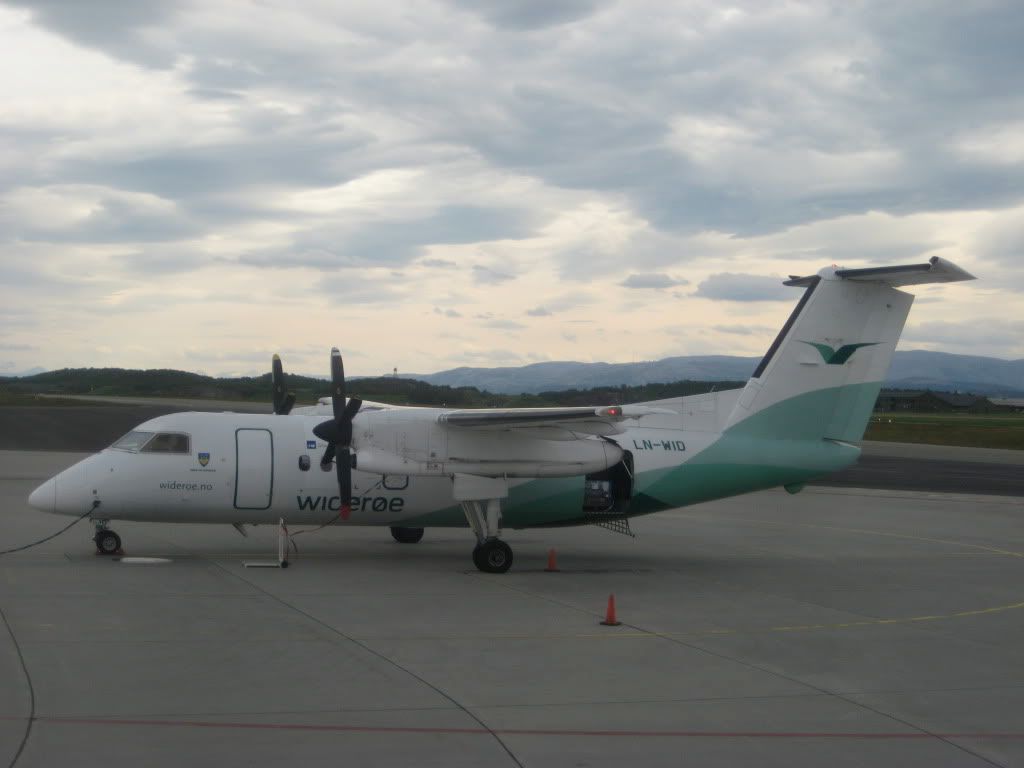 An announcement is made that passengers continuing to TOS should sit tight. Around 90% of the pax deboard here. I decide to pay the lavatory a visit, but as soon as I reach the rear galley they make an announcement that the plane will be refueled (why?) and the toilets will be locked for the duration of this, so I have a small chat with the nice female FAs instead. There should be 75 passengers for the next leg, so I have a good chance of scoring an empty middle seat next to me. Soon enough the refueling is finished, I get to do my business and have to navigate upstream to my seat as passengers have already started boarding.
BOO-TOS
SK4558
B737-500 LN-BUG "Øystein Haraldsson"
Seat 10F
12.20 - 12.59
The middle seat indeed stays empty, which is good. During boarding a WF Dash 8-400 arrives from TRF: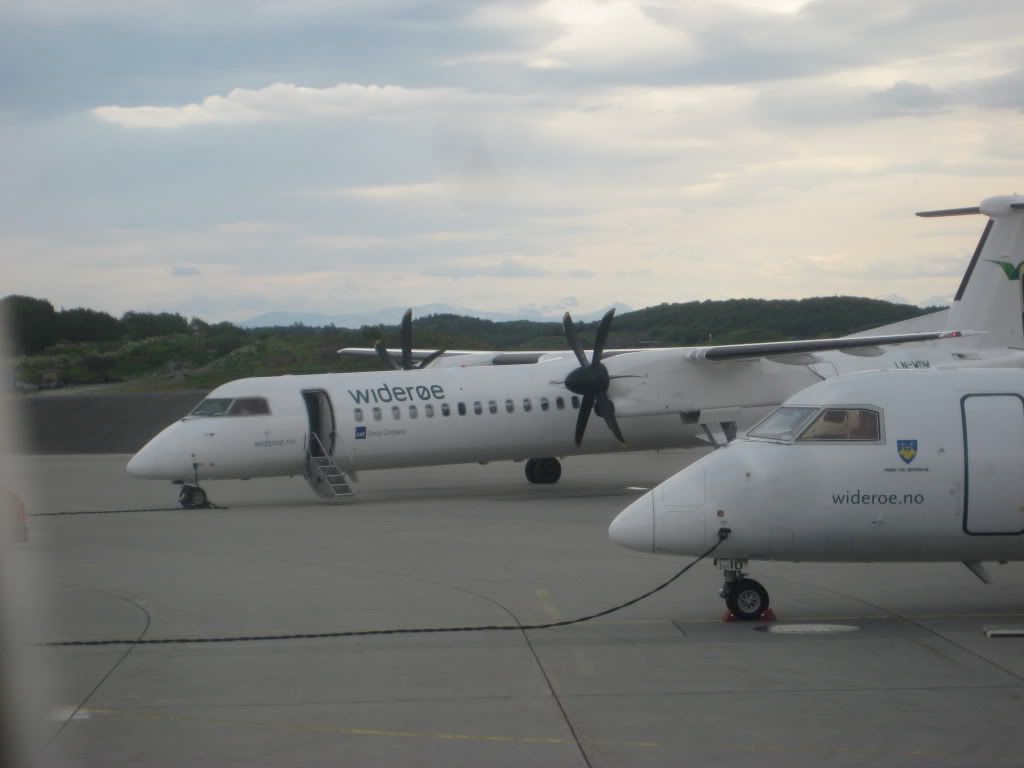 Again the captain comes on during the boarding, but the only thing I make out is a flight time of 35 minutes.
We depart after less than 25 minutes on the ground, taxi past the Norwegian Aviation Museum back to runway 07 and take off. With the light load we don't use much of the runway at all before shooting off into the sky with once again some nice views.
Turning onto 07: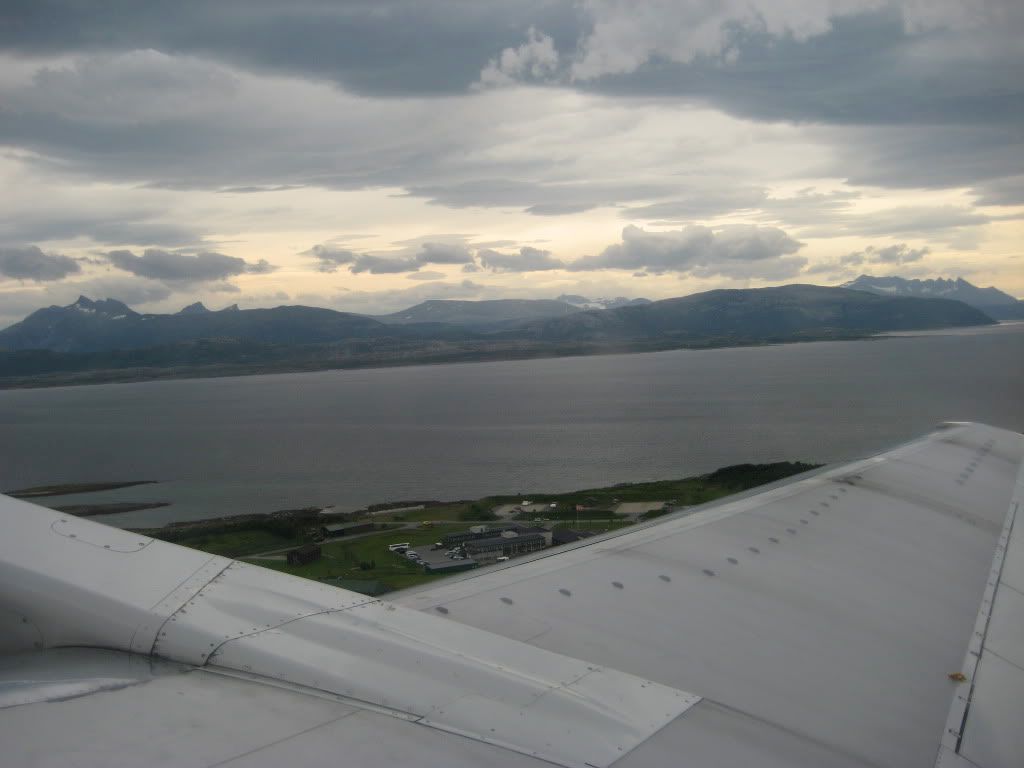 Cabin view: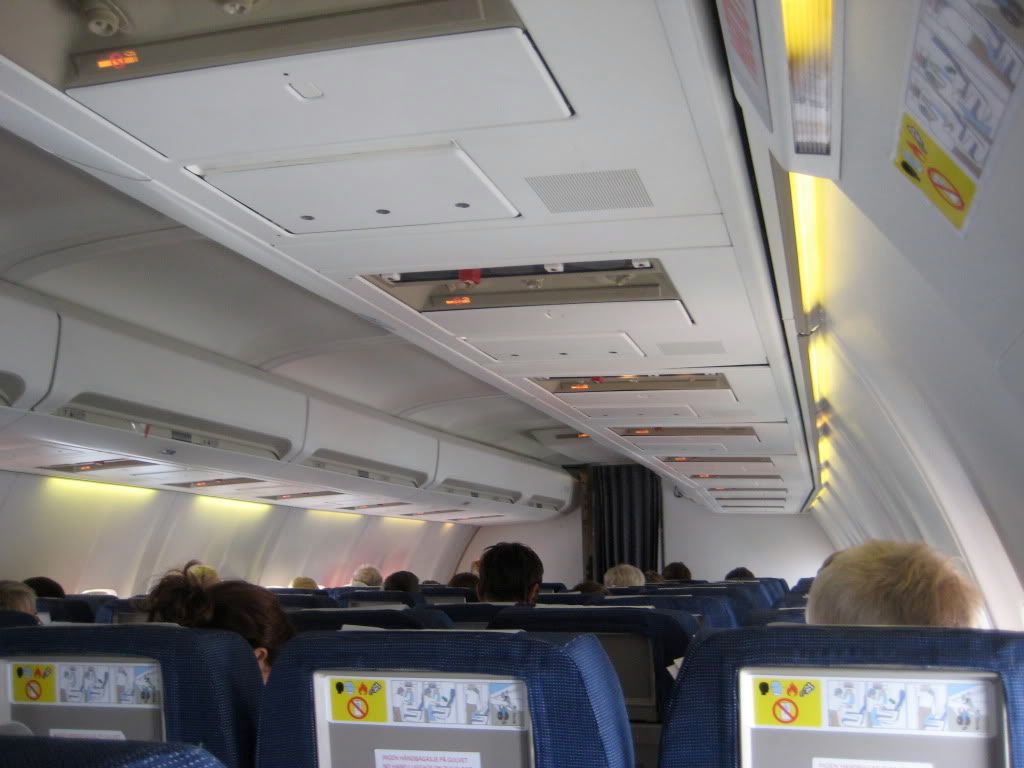 We spend around 10 minutes at cruising altitude before starting our long descent, again with very impressive views.
Bardufoss airport (BDU) at the start of descent: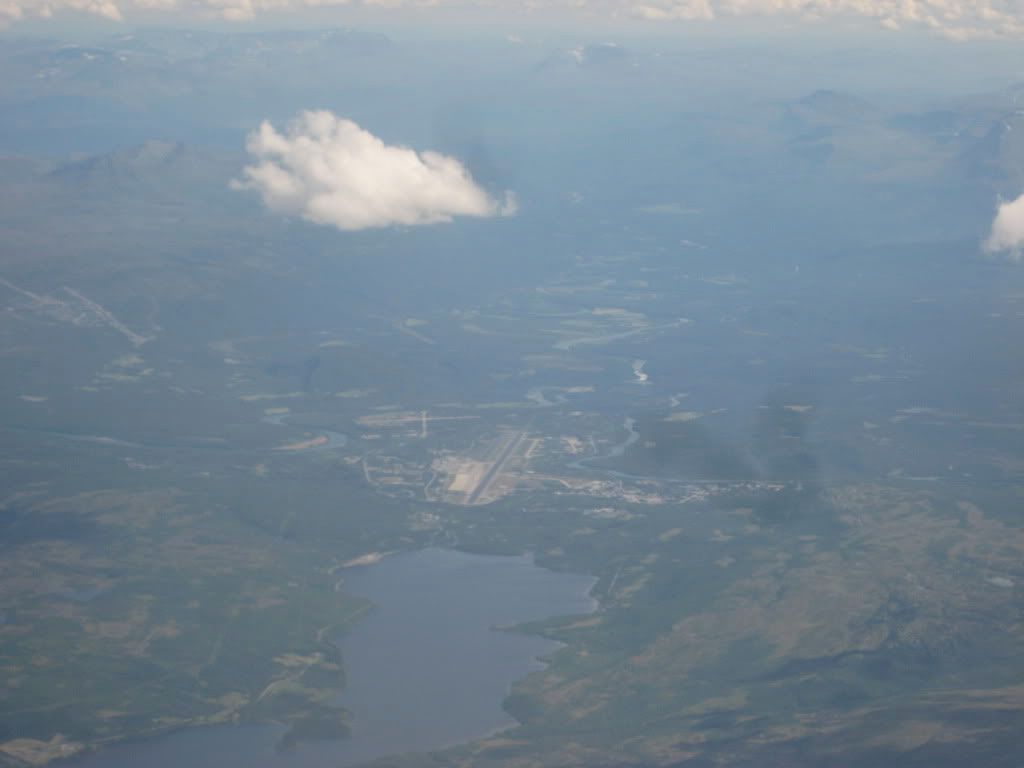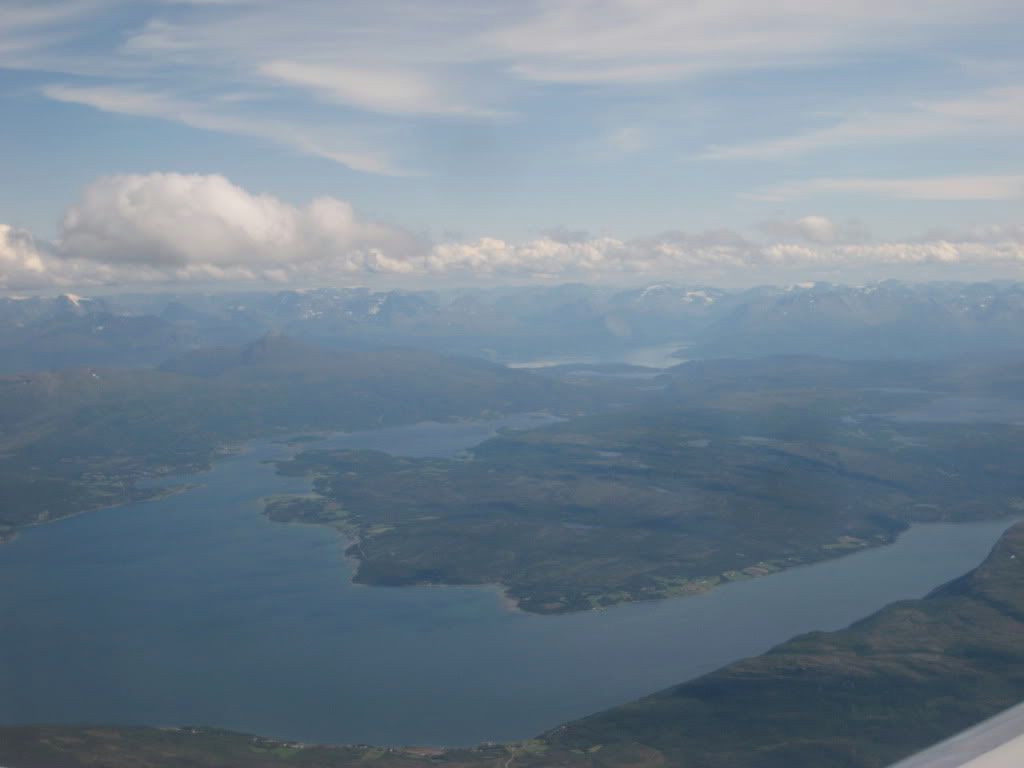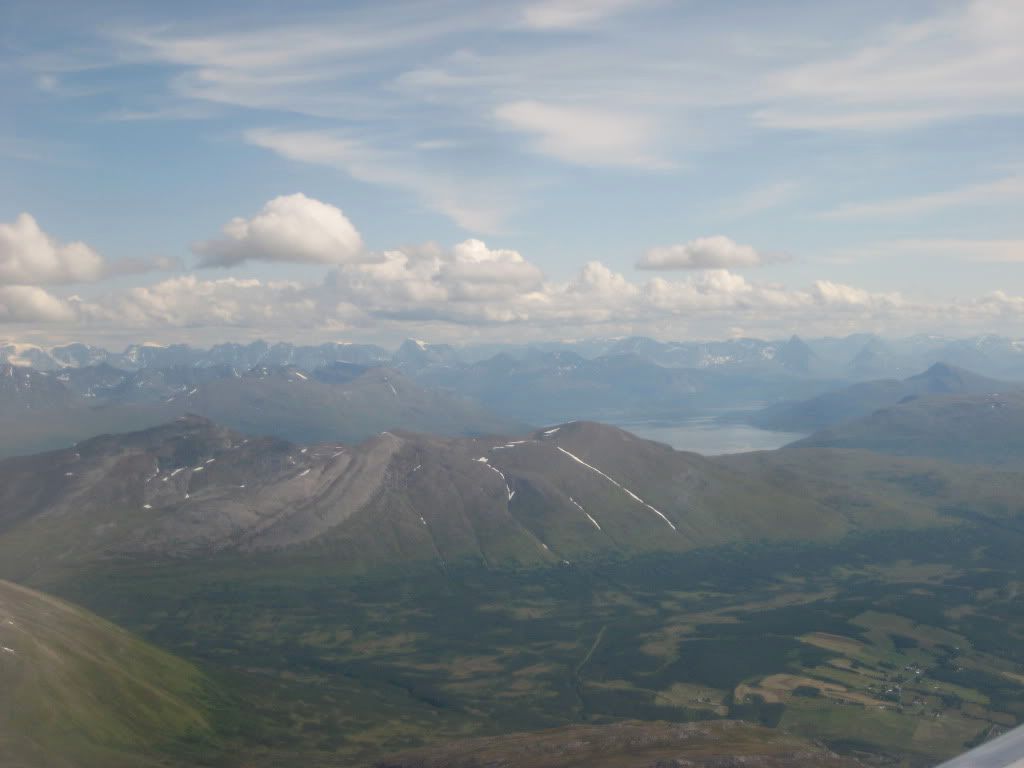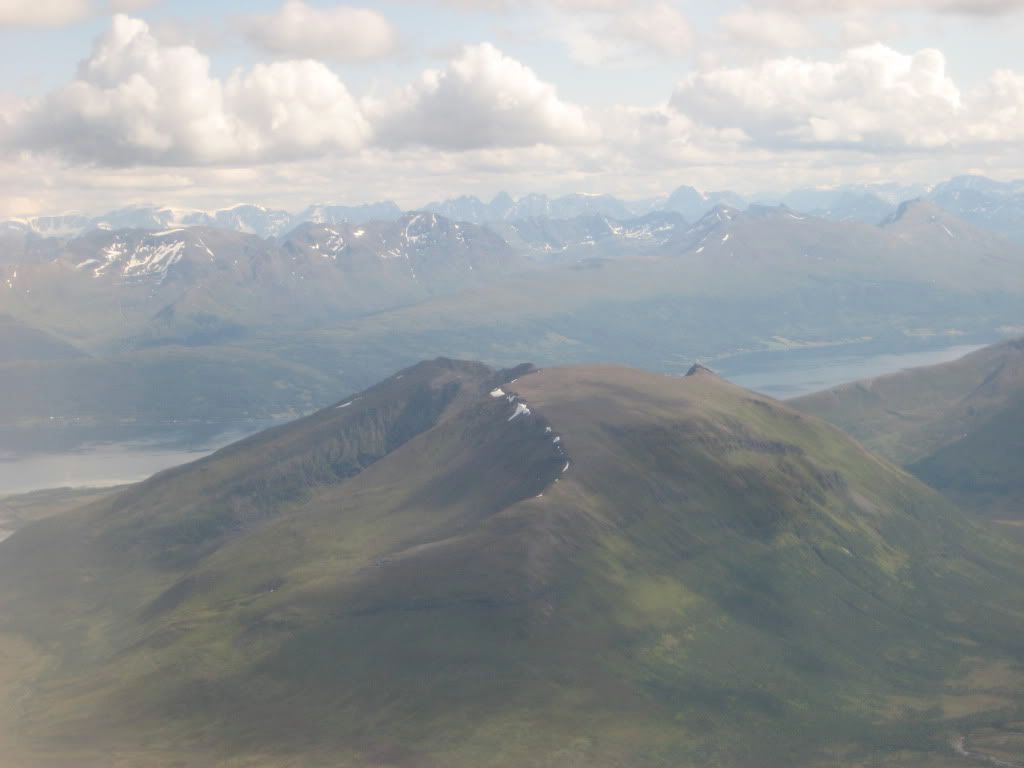 We were very close to this mountain, luckily the visibility was good: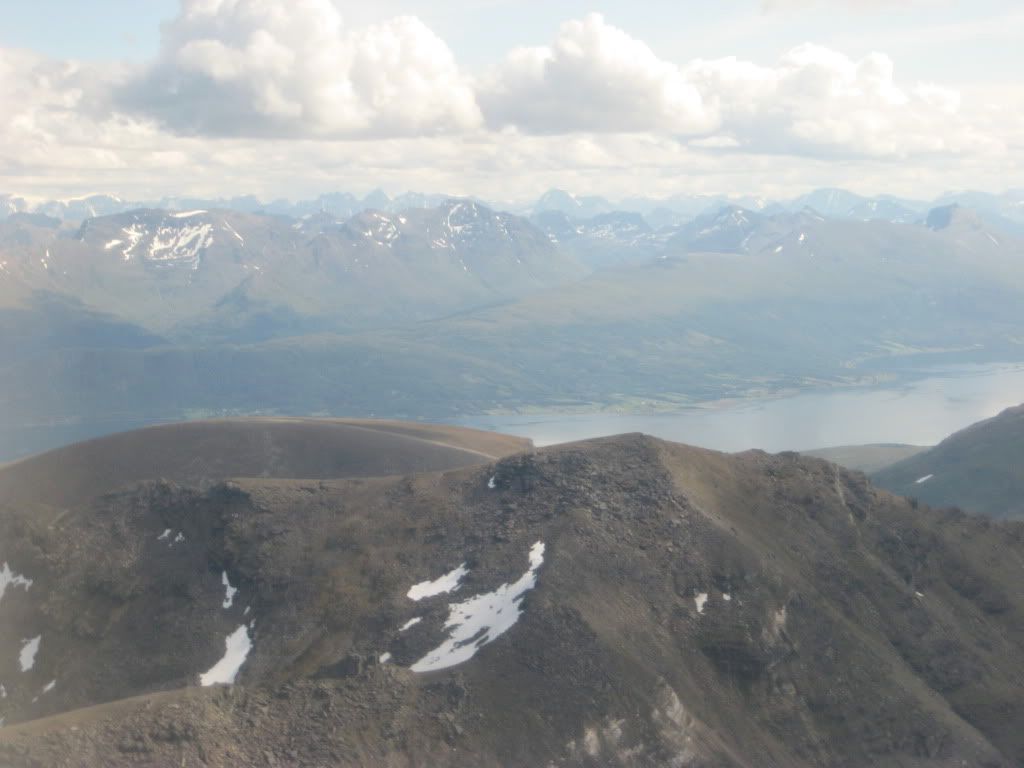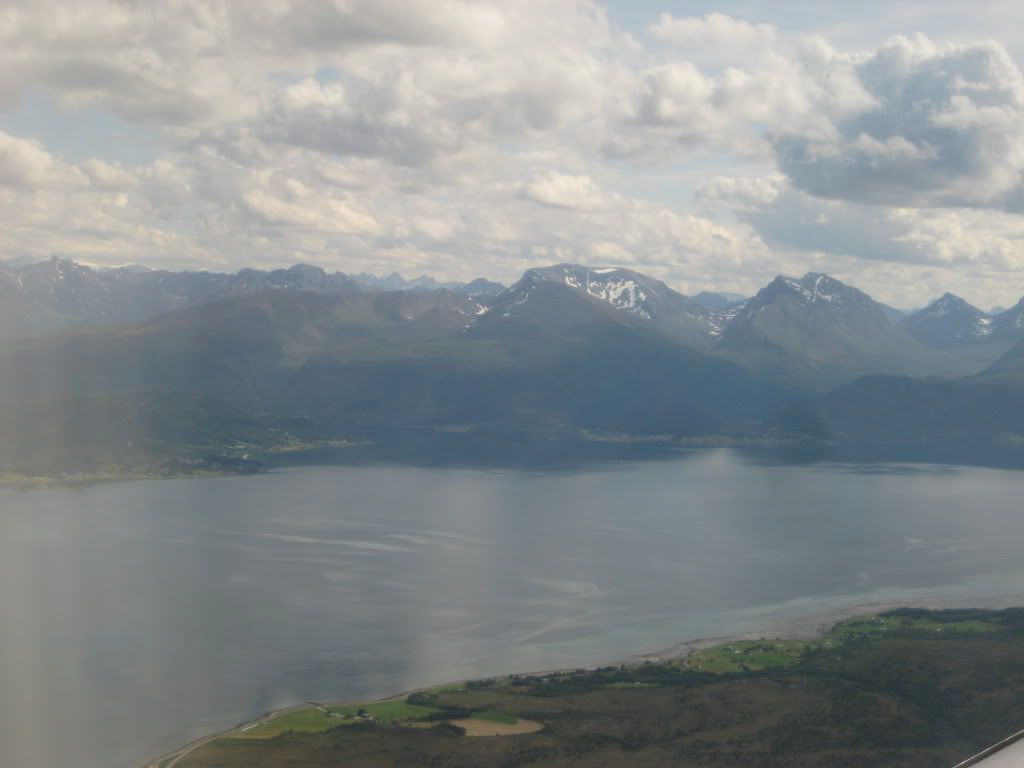 I was hoping for landing on runway 19 at TOS as it would mean flying between Norwegian mainland and the island where the city centre is located before making a low-altitude 180 degree turn to line up - I've done this once before and it was very nice - but today we have a straight in approach to runway 01 instead. Still, this gives me a view over the city centre and the hill on the middle of the island with lots of houses around, so I'm not complaining:
The city of Tromsø spread on both banks of the Tromsesundet:
The impressive Tromsø Bridge (Tromsøbrua) connecting the island to the mainland with the distinctive shape of the white Arctic Church in the background: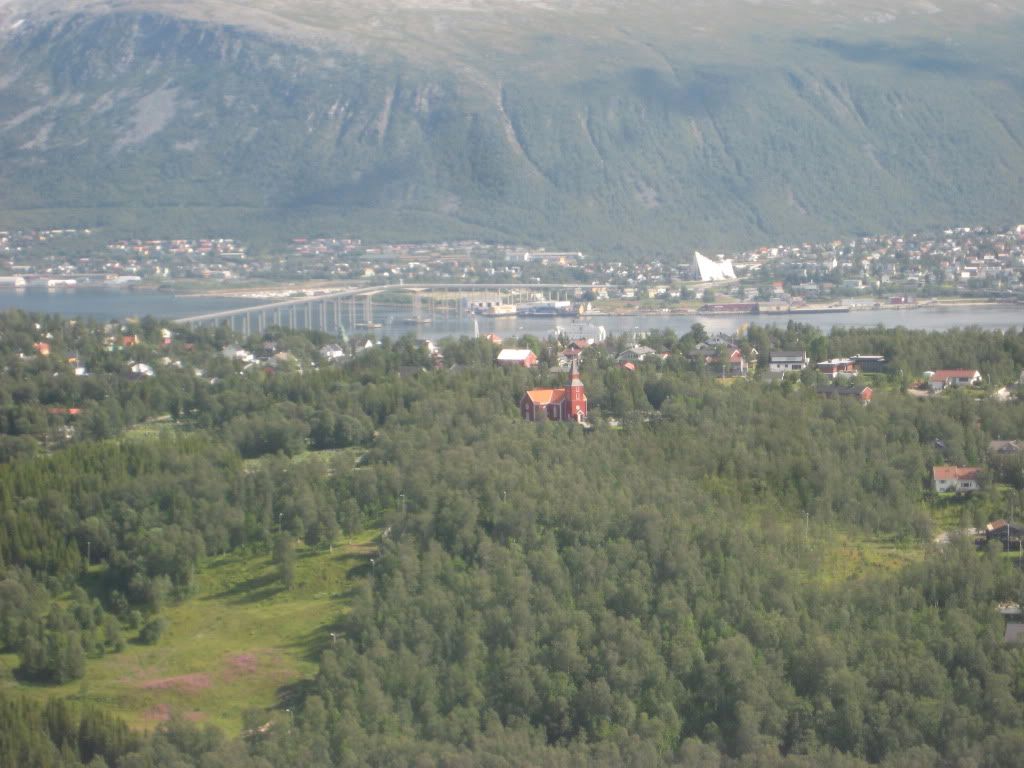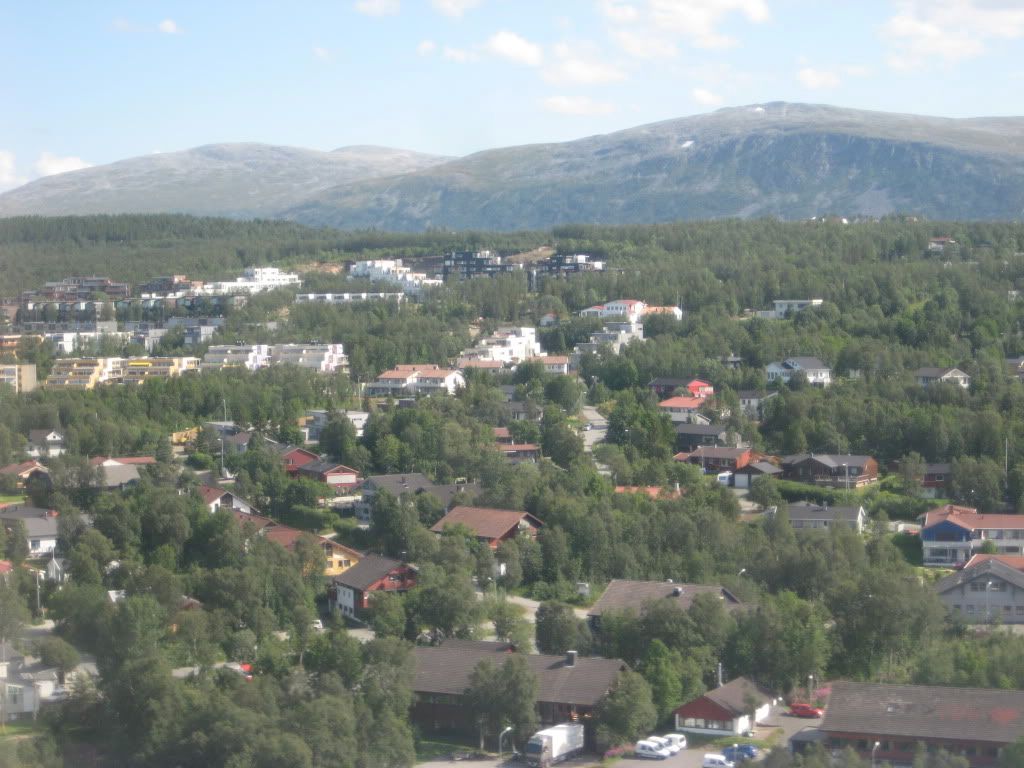 Heavy breaking once we touch down, a short taxi to the terminal and deboarding via a jetway.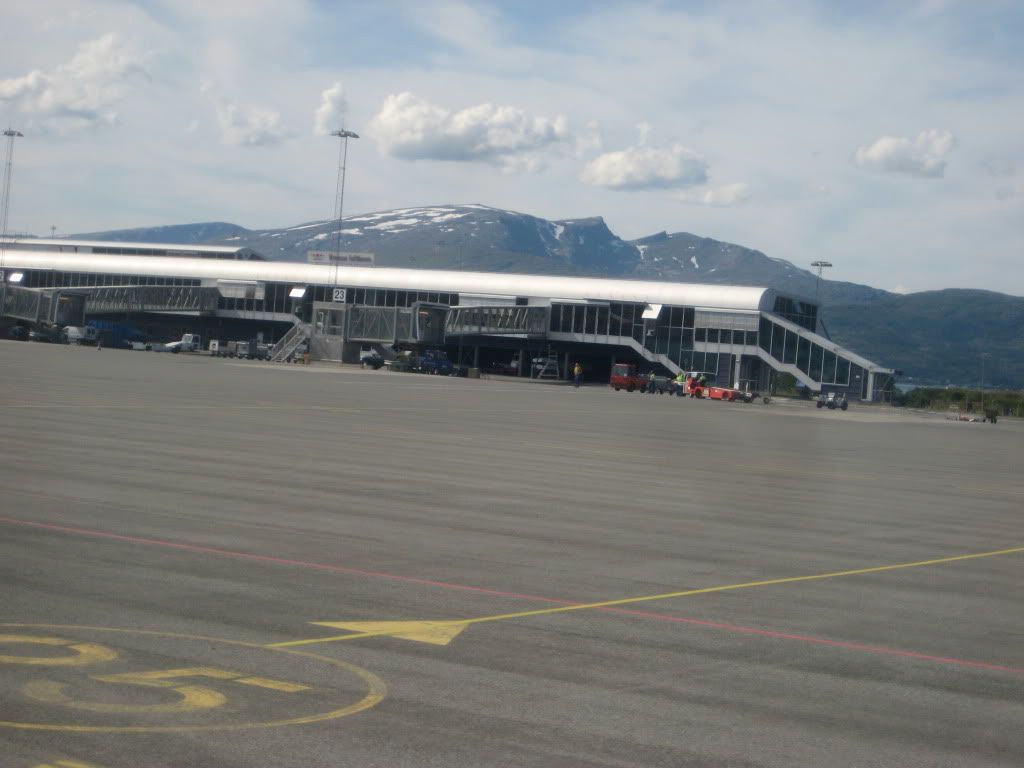 DY arriving from OSL a few minutes after us: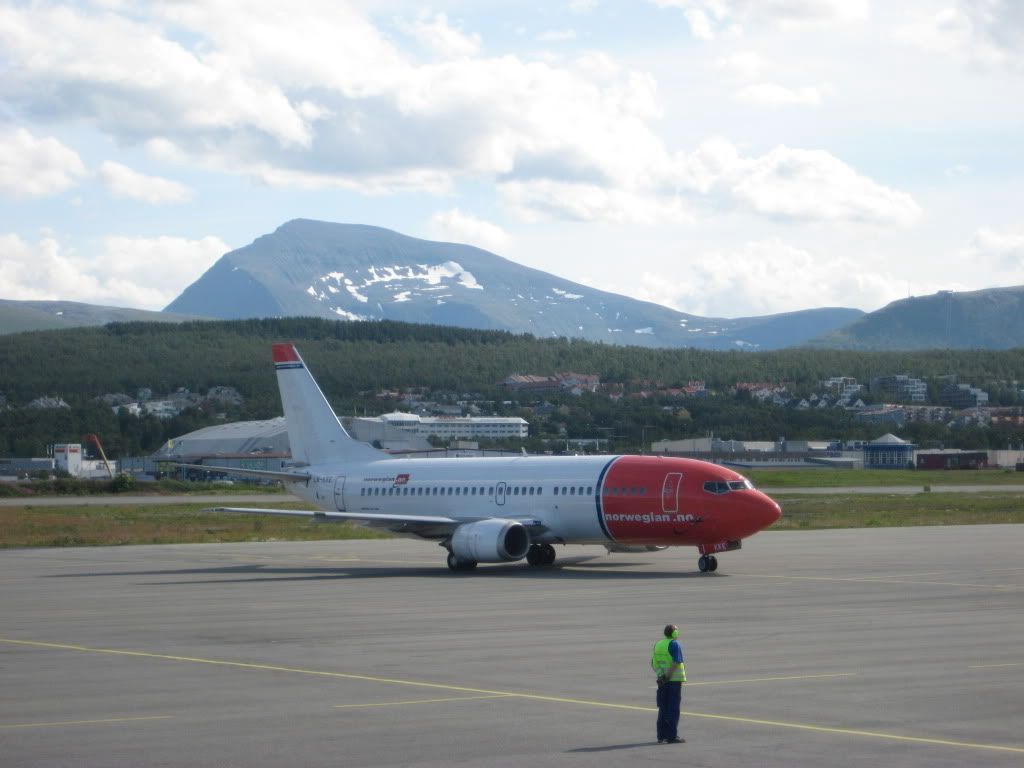 Tromsø airport
As soon as I step into the terminal I have a strong feeling of deja-vu. The terminal layout, even down to the shops and bars at this end of the domestic terminal is exactly the same as in TRD. I guess they reused the same blueprints to save some money. On a further inspection some small differences become apparent, but still it feels a bit weird.
I have an hour here, and with Tromsø boasting the world's northernmost brewery, Mack, I just have to have a pint of the local brew. I just need to make a quick call to my banker to make sure that the second mortgage on my house went through so that I'm able to afford the ridiculous price for the beer that's the reality in Norway. This is confirmed, so I sit down and indulge. There are a lot of foreign tourists around, with a group of loud Germans sitting nearby.
Soon its time to move to the "International terminal" of TOS. Well, it's actually just a fenced off part of the WF commuter gates downstairs - considering that the only scheduled international flights at TOS are BT to RIX, this SK flight to ARN and DY to STN a few times per week this should be enough (is Barents Airlink still operating the TOS-KRN-LLA route?). Of course there's the obligatory, but tiny duty free shop - the Norwegians sure milk their non-membership in the EU to the fullest! Boarding starts as soon as I enter the gate area, but I still need to pick up some whiskey at the duty free so I join the slow queue there instead. As an impulse purchase I decide to go for a six-pack of the Arctic Beer as well. This takes ages but I'm not worried as there are other people behind me as well and we still have time before the scheduled departure.
Consumerism satisfied, it's straight through the gate and outside for a short walk to the plane. Our captain who looks exactly like younger Björn Borg is walking from the plane towards me, so I ask him "Going to shop duty free?" when he passes me - he smiles and confirms this
. Last time I saw this was at MUC when the FO from my SK flight to CPH also indulged in some cheap travel value booze... That's what high alcohol taxation does for you.
Our ride would be LN-RCT. Second flight on this one, the previous one was way back in 2003 when I still loved SAS and ironically enough, was on my way to TOS as well...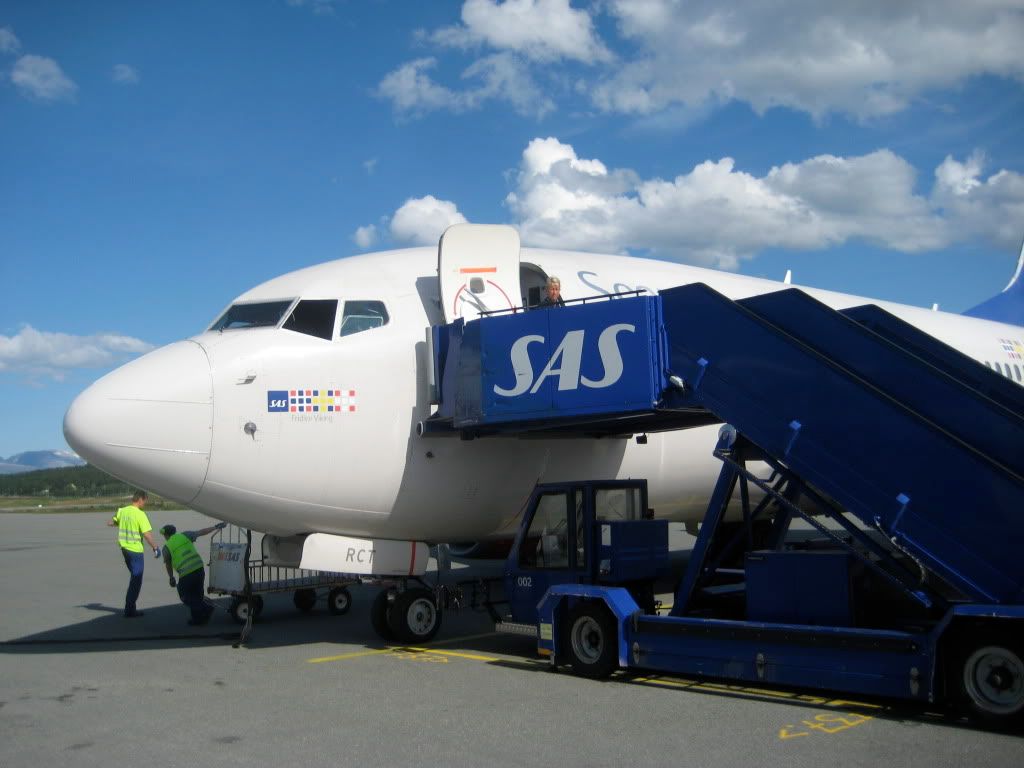 TOS-ARN
SK1492
B737-600 LN-RCT "Fridlev Viking"
Seat 10F
14.09 - 15.54
Climbing up the stairs I see the lead FA standing on the top of the stairs looking at the sun with her eyes closed and a smile in her face. I say "Hello, such a nice sunshine!" which she agrees to with a smile and welcomes me onboard. Most of the people are already sitting on their places so it's a small struggle to get myself to the 10F exit row with two large guys sitting next to me. This seat has exactly the same setup as on the previous flight (despite this being a -600), so the same great legroom and problems with my stuff applies here as well.
It's a completely packed flight once again - I don't think there are any spare seats in either classes. A flight time of 1h40min is announced and we depart a minute before the scheduled departure time.
My ride from TRD and BOO resting in the afternoon sun: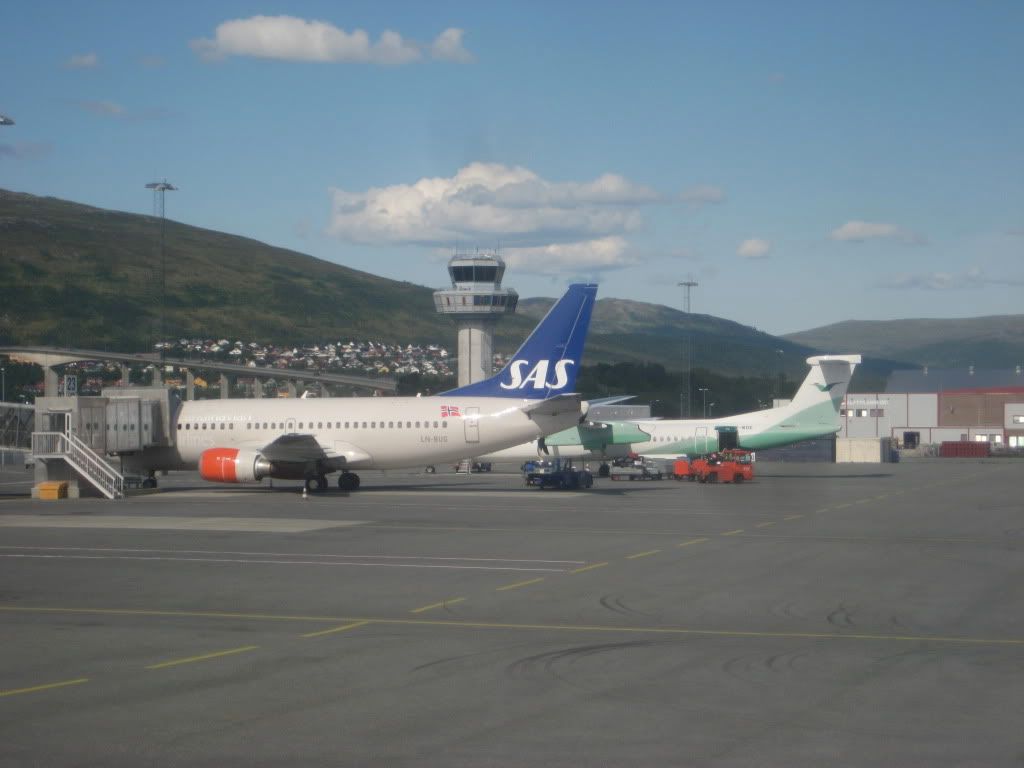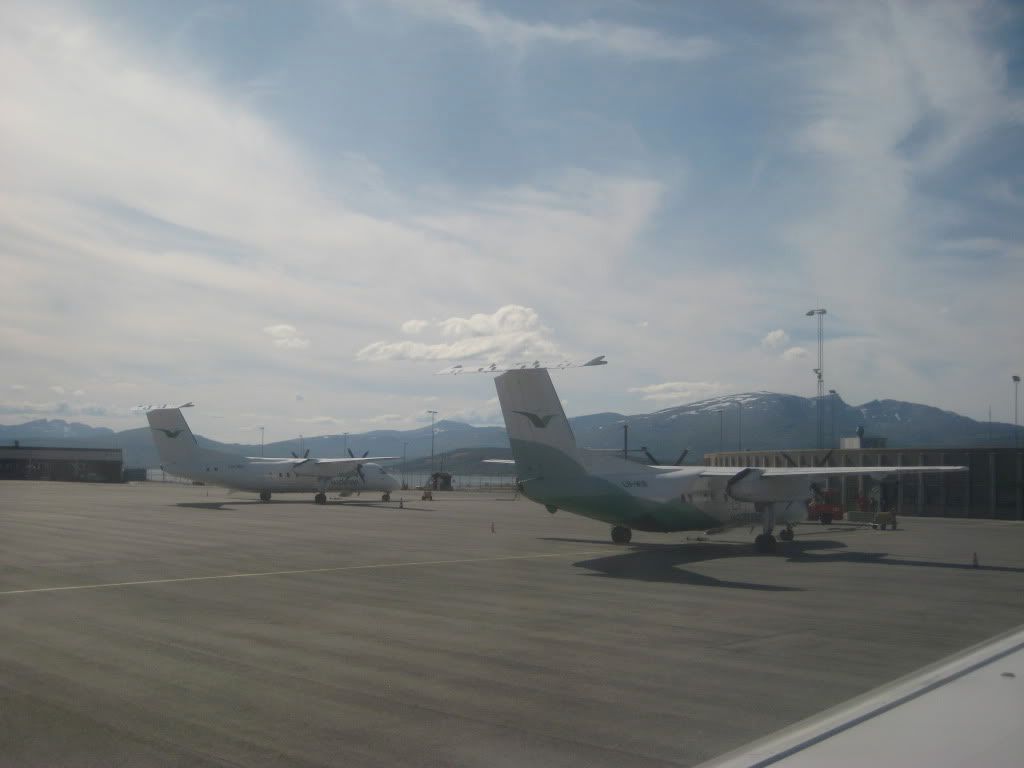 We taxi to runway 01, backtrack to the very end and turn around - the captain apparently wants to make sure we have every bit of TORA at our disposal.
Backtracking: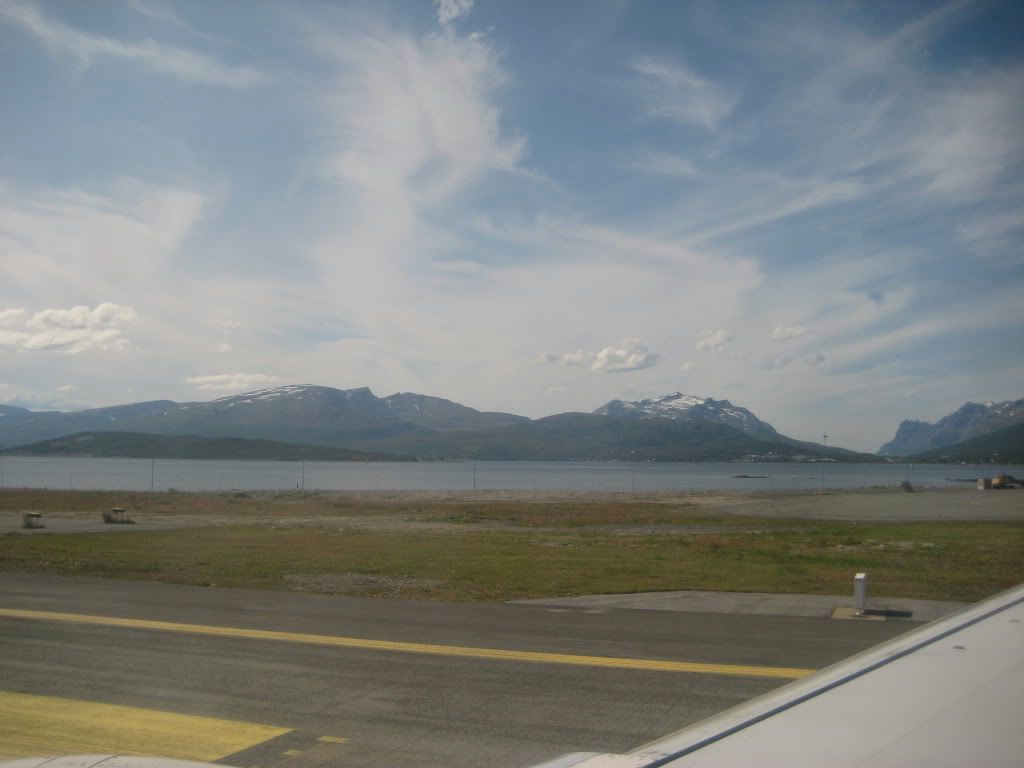 Turning: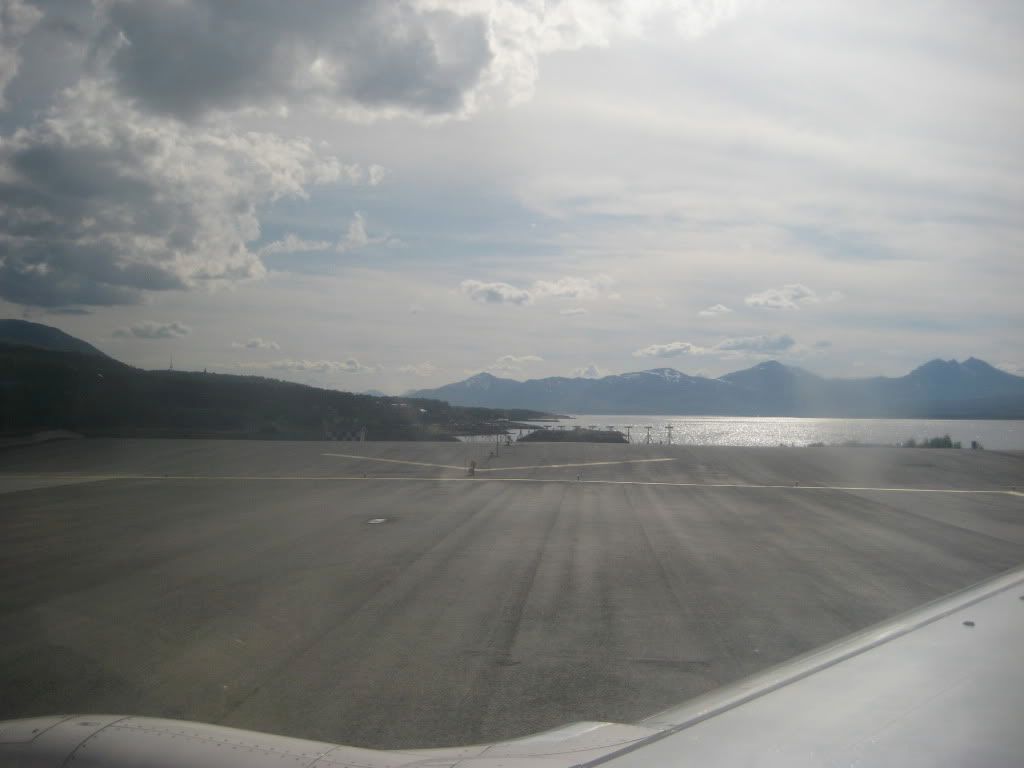 A powerful and a rather lengthy take off run follows after once again shooting up to the Arctic skies. To my disappointment we make a long and slow left turn after take off to point us towards south - I was hoping for a right hand one as it would allow me some views of the city. Anyway the views aren't bad: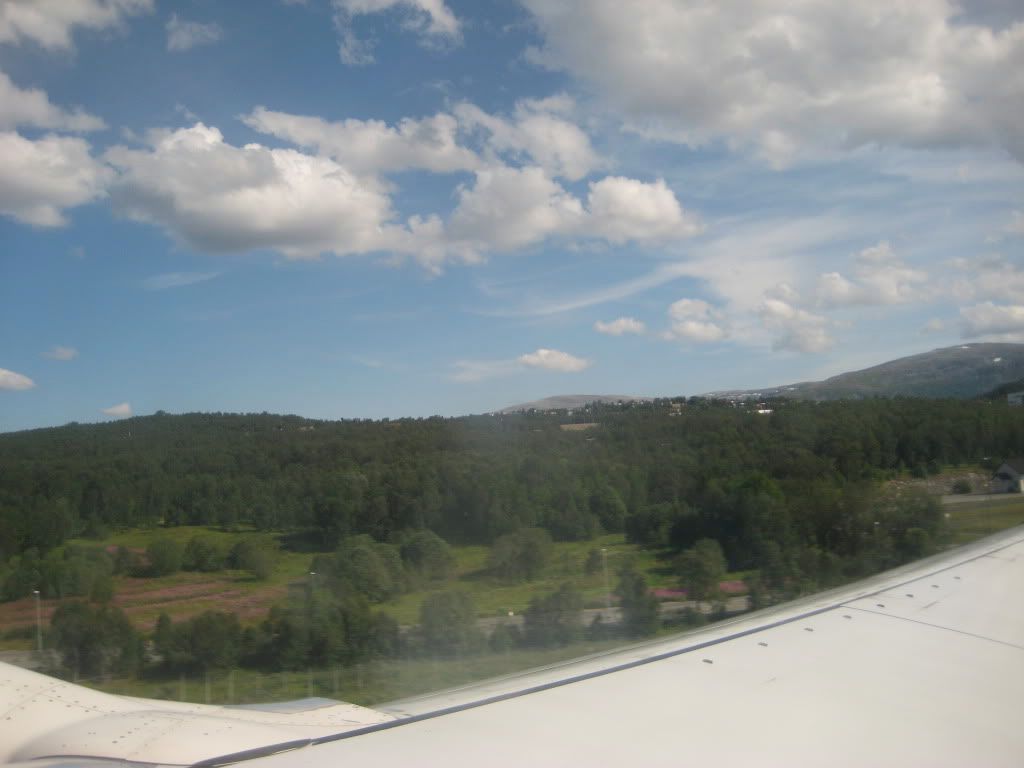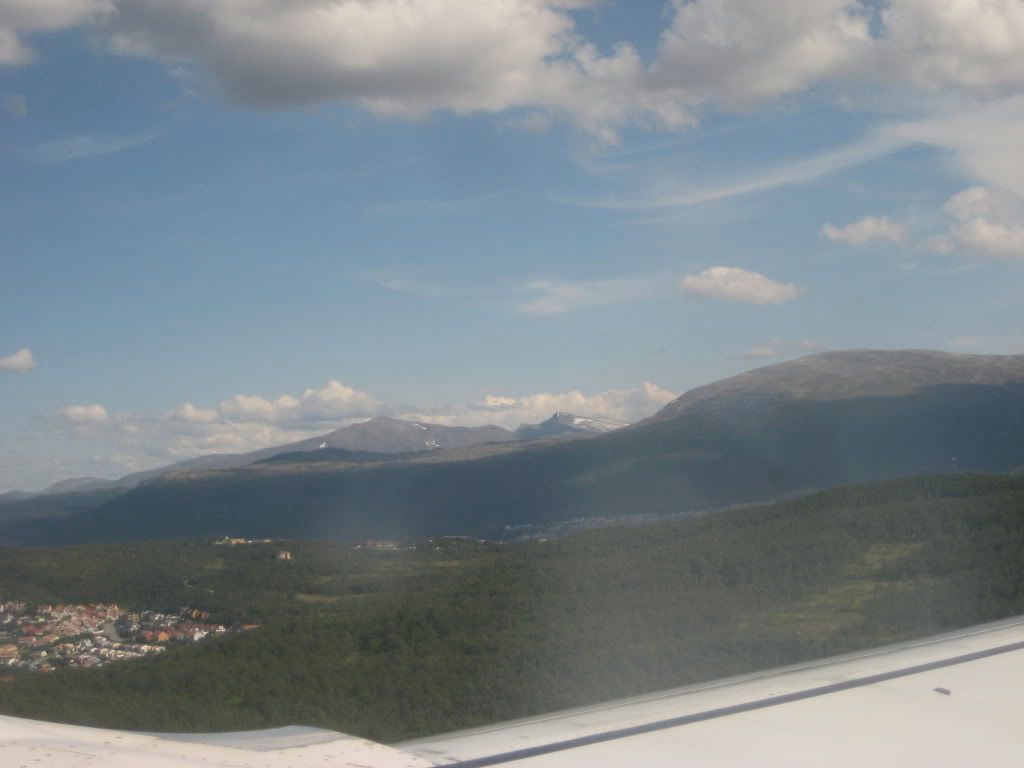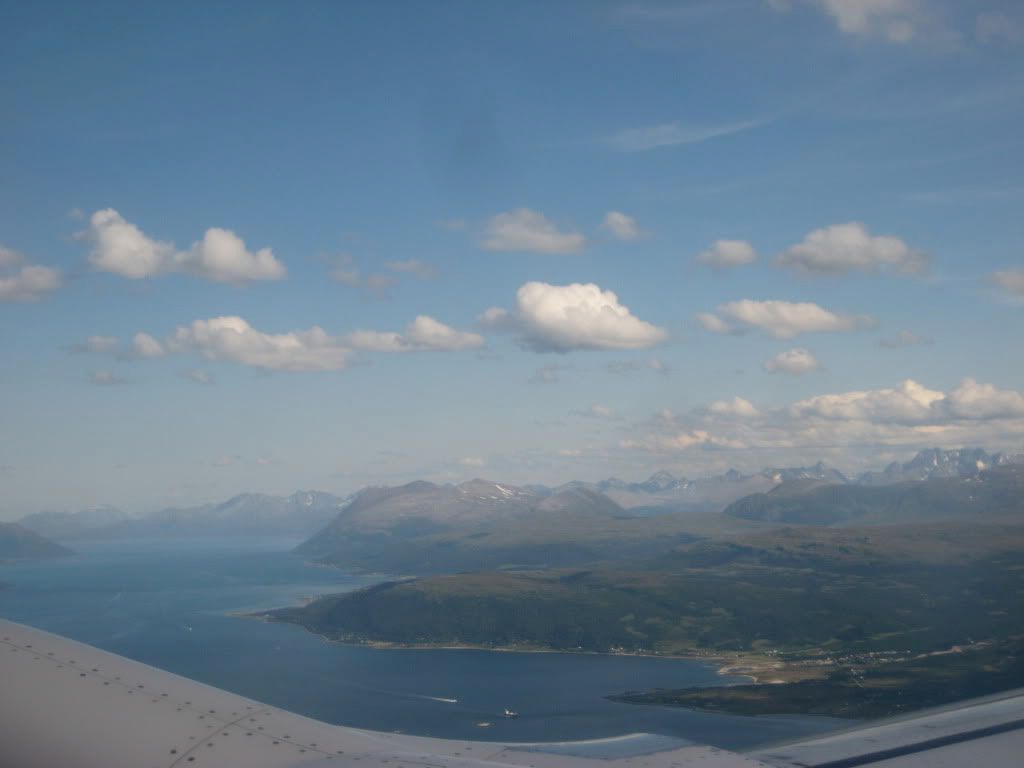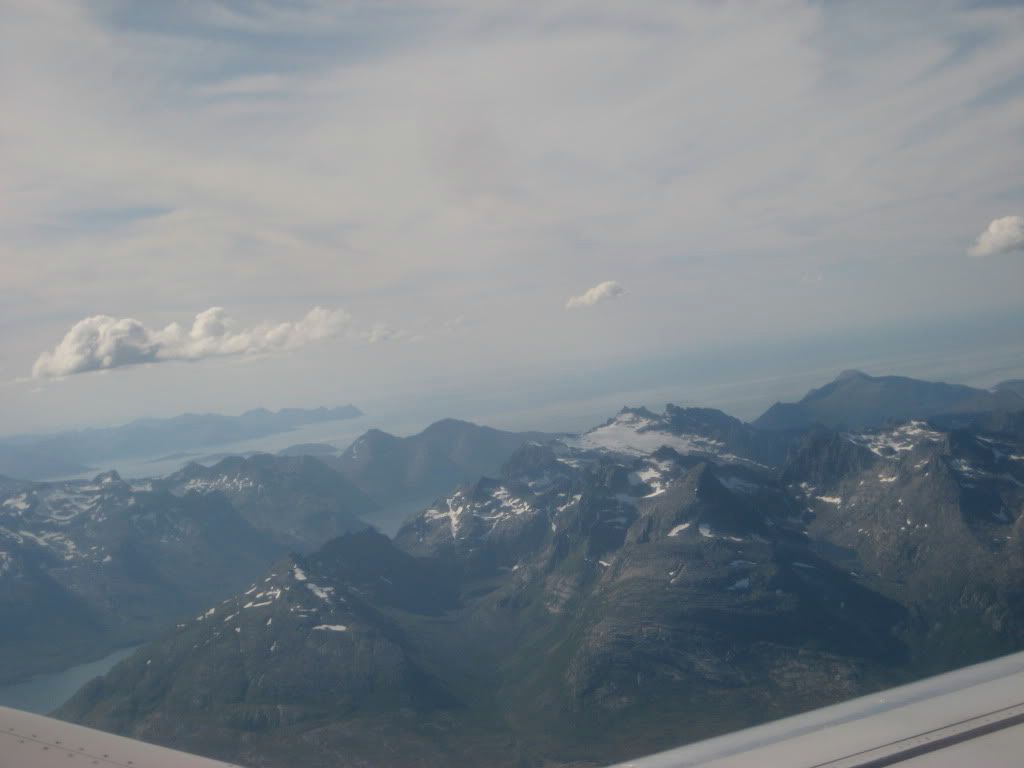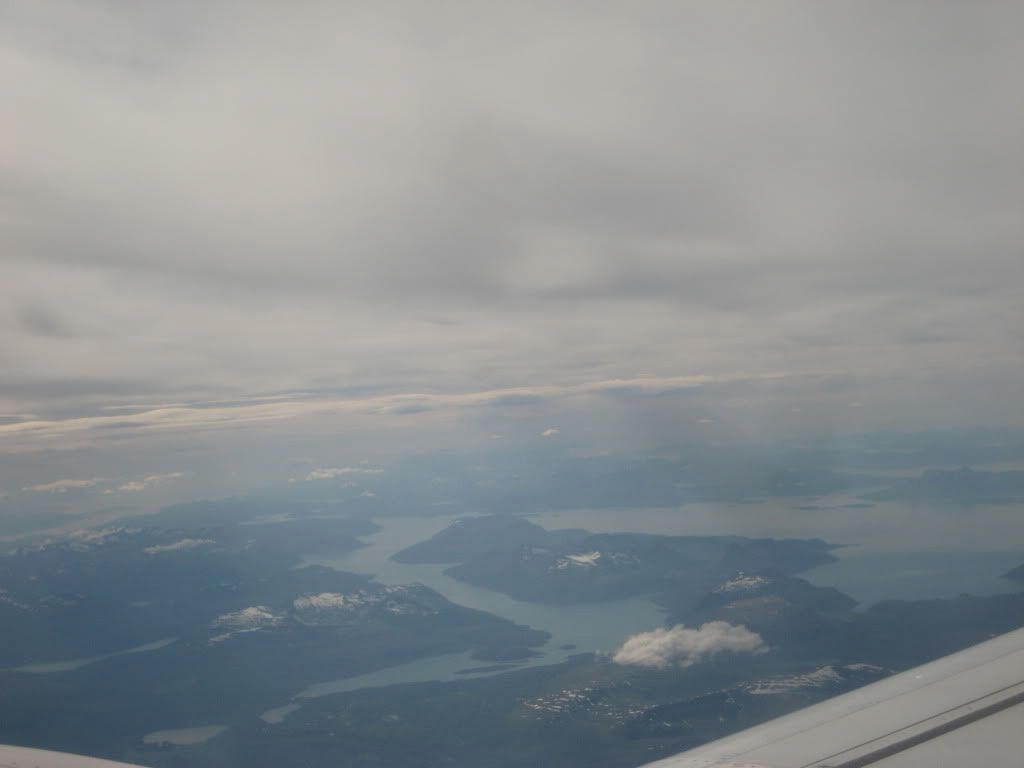 Unfortunately some 10 minutes into flight the sky turns overcast, staying like this for most of the flight.
This is regular economy, so service is BOB. I decide to splurge for a beer, which is lukewarm and not nice at all. Rest of the time is spent reading and watching a movie on my Ipod.
With less than 30 minutes left in flight the cloud cover breaks, and I'm surprised to see that we are actually flying above the Gulf of Bothnia, somewhere around SDL: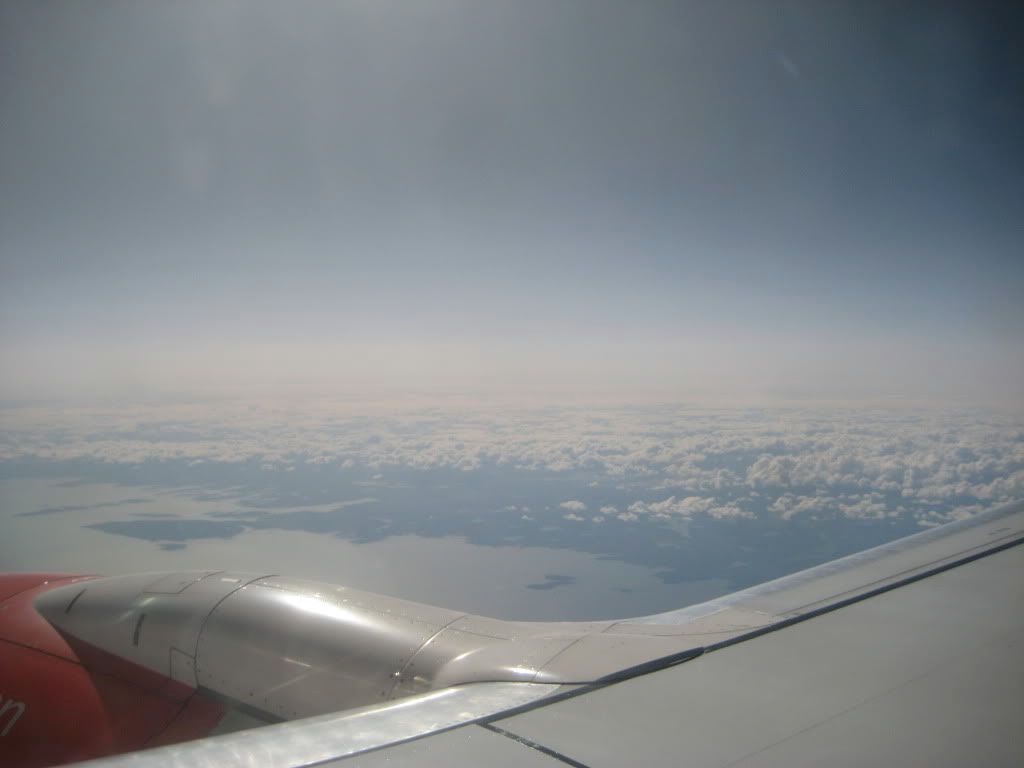 I had somehow thought that the whole flight would be overland, but when looking at the great circle route a little closer this indeed appears to be the straighter route. Soon the captain comes on, announcing 15 minutes to landing.
We pass the Gimo air base (ESKA):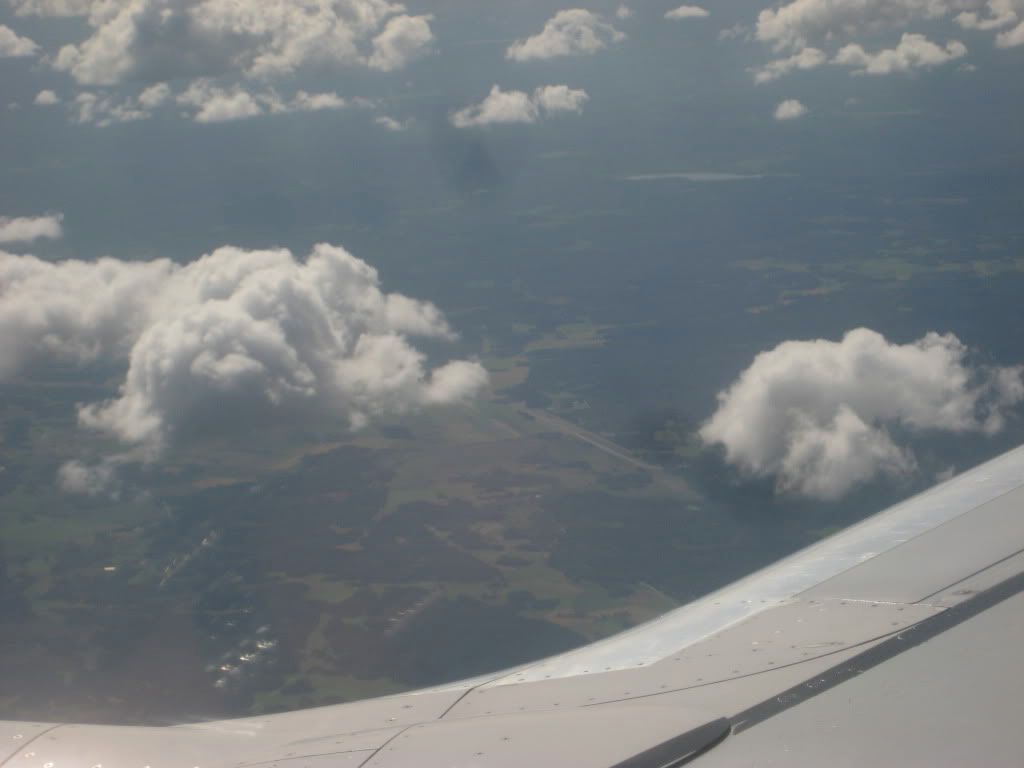 Soon it becomes apparent that we are again landing on runway 26, where we touch down six minutes before schedule and taxi to gate 3 at T5.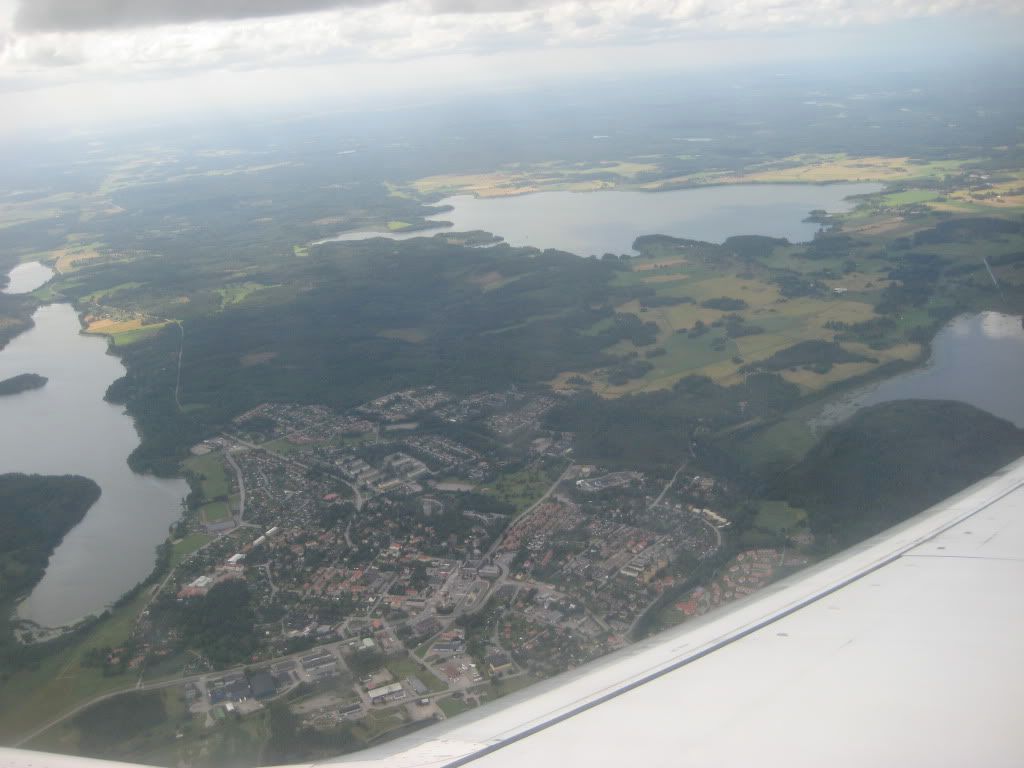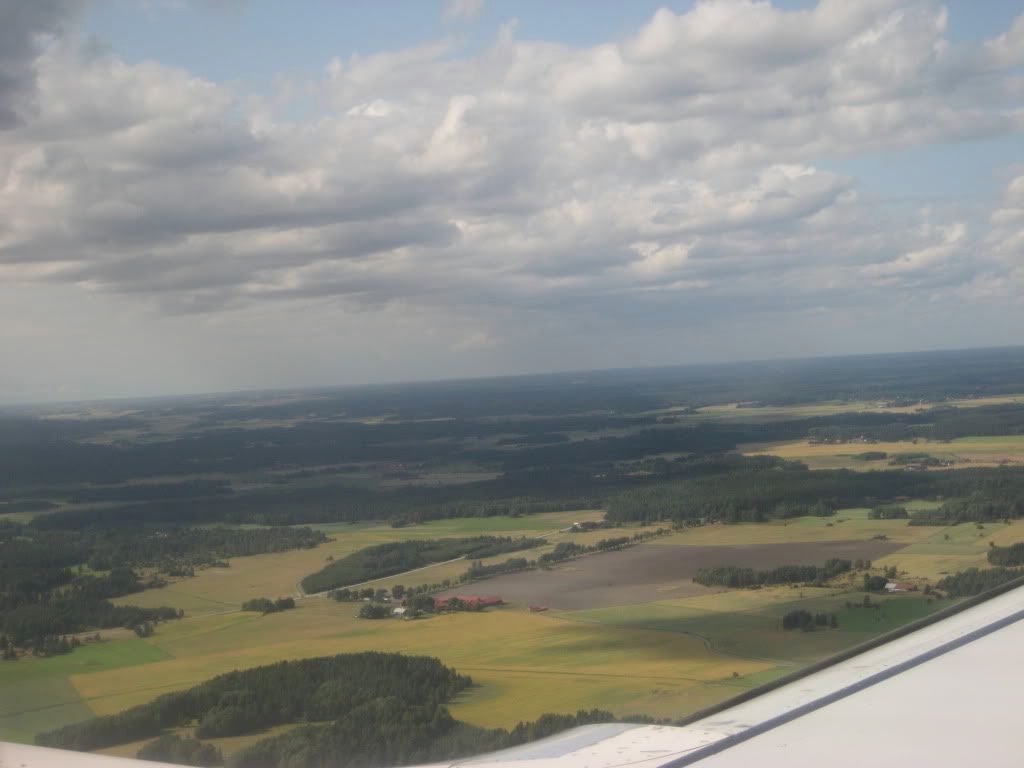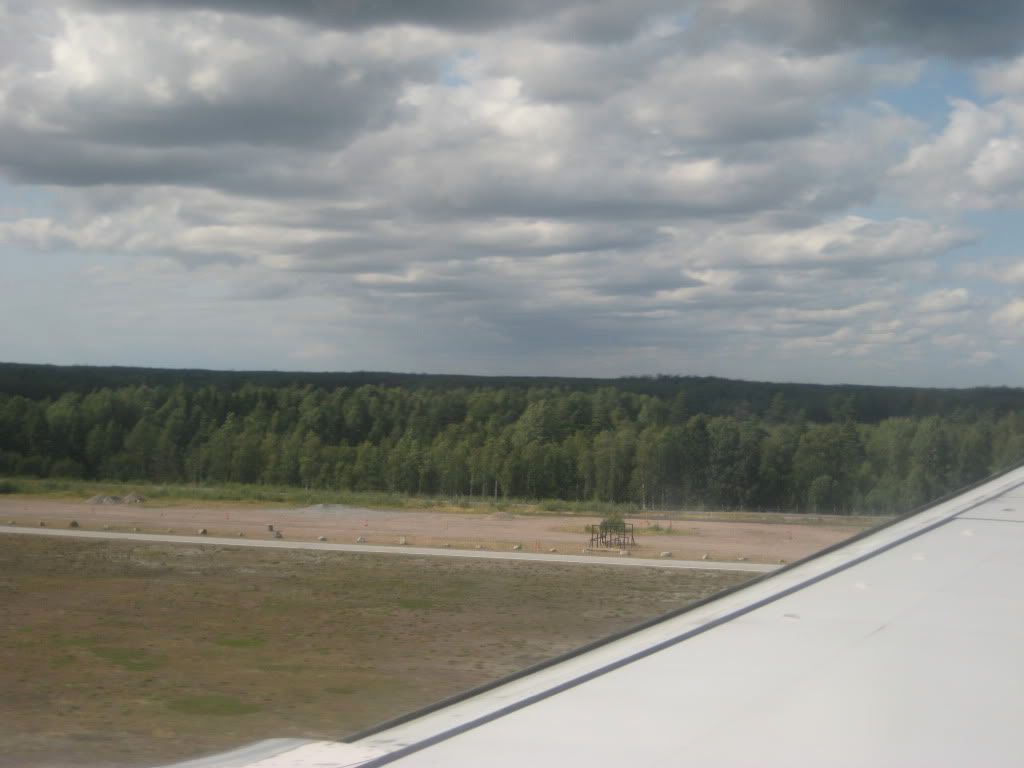 Our neighbor: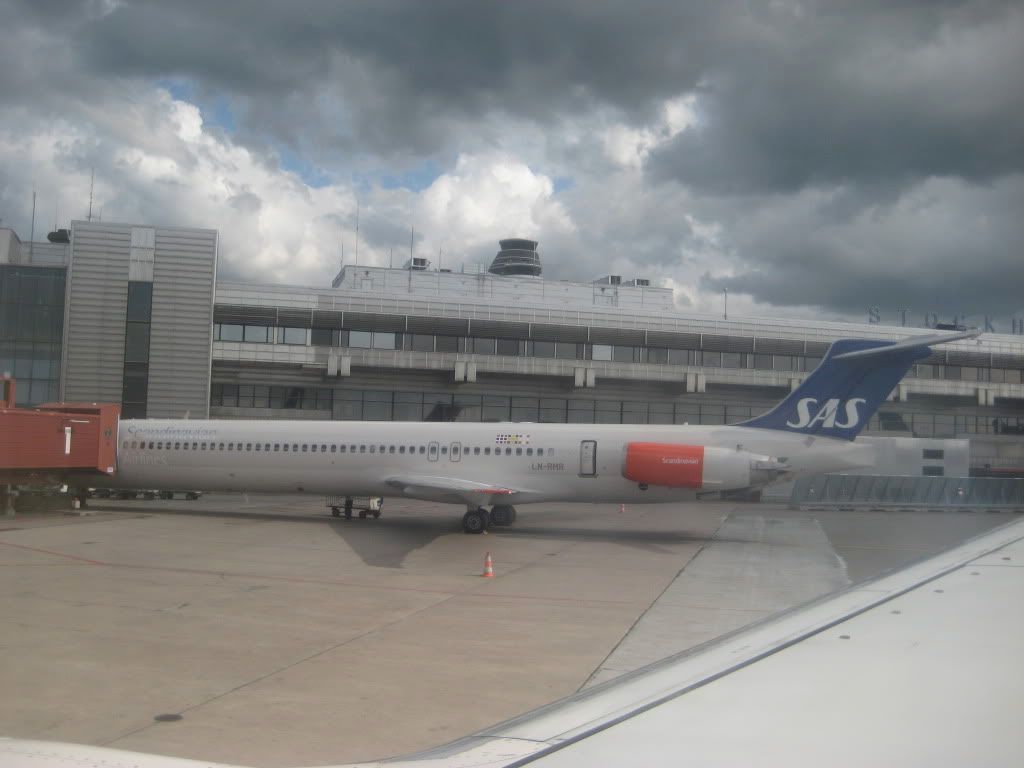 Arlanda airport, take 2
The first task after deboarding is to secure a boarding pass for the last flight of the day. For all the others I did OLCI the day before - conveniently the check-in process asked whether I want to check in for the return flights as well - selecting yes it showed all my flights and even allowed me to select my seat for this last flight. But when I printed out the boarding pass it only had four flights in it. The SK OLCI uses the same principle as their regular boarding passes nowadays - i.e. multiple flights are printed on the same BP with a barcode. It looks like the system cannot handle more than four flights at a single boarding pass - I guess they are not used to having nuts like me with crazy itineraries over a single day!
. Luckily the SK transfer desk is empty and I even get a decent seat for the MD-90 home.
Having had only the hot dog since my multiple breakfasts and two and half hours at my disposal it is time to go and find something substantial to eat. I first think of the number of restaurants at SkyCity, but as that is landside and I can't be bothered with security once again I settle for a burger at the O'Leary sports bar at the southern pier of T5. That's a decent eat, but way overpriced for what you actually get - in true airport style of course.
Ethiopian B767: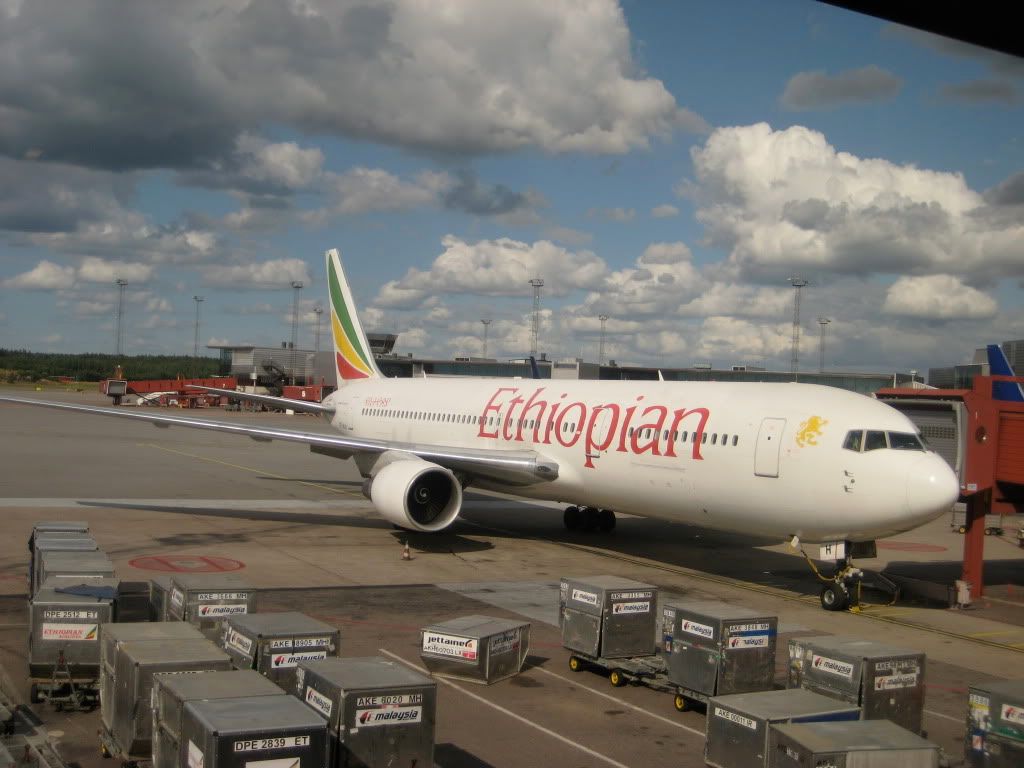 My ride from TOS, going to DUS next: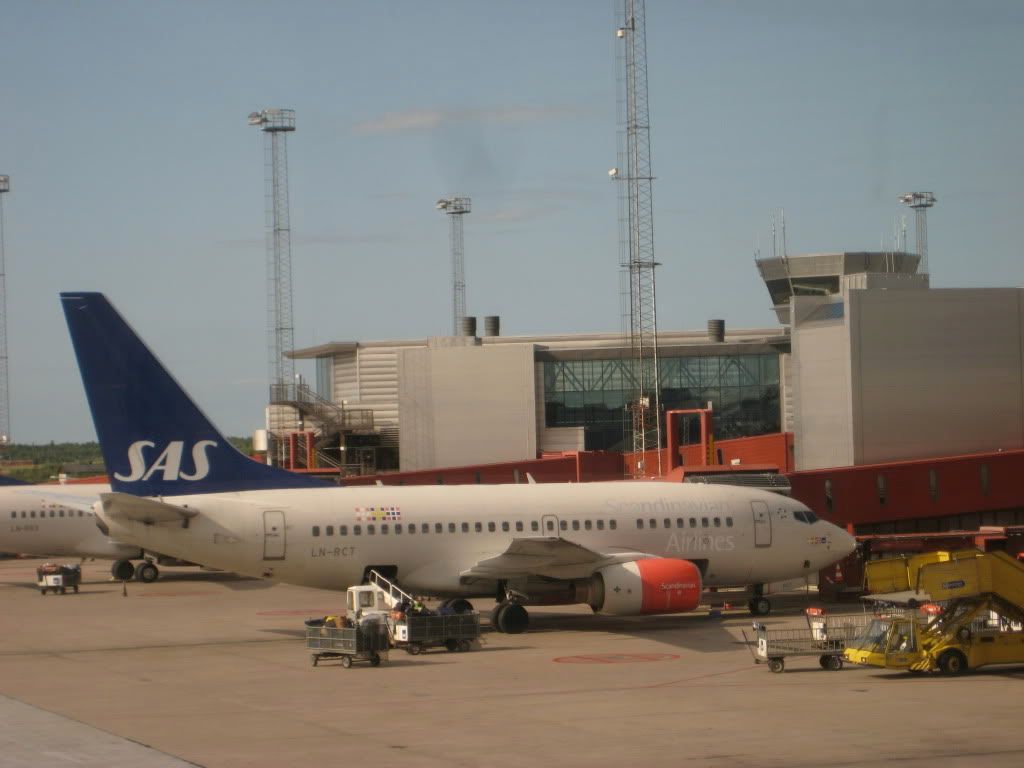 LH A319 pushing back for Munich: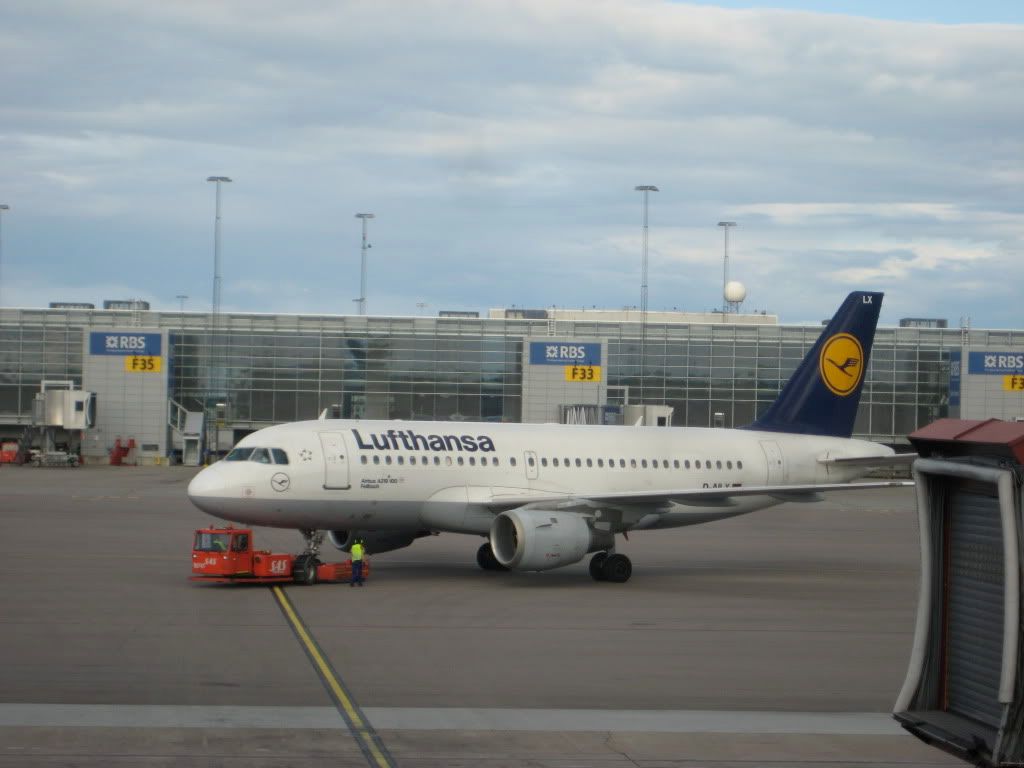 Yes, it's the same flight, now delayed even more: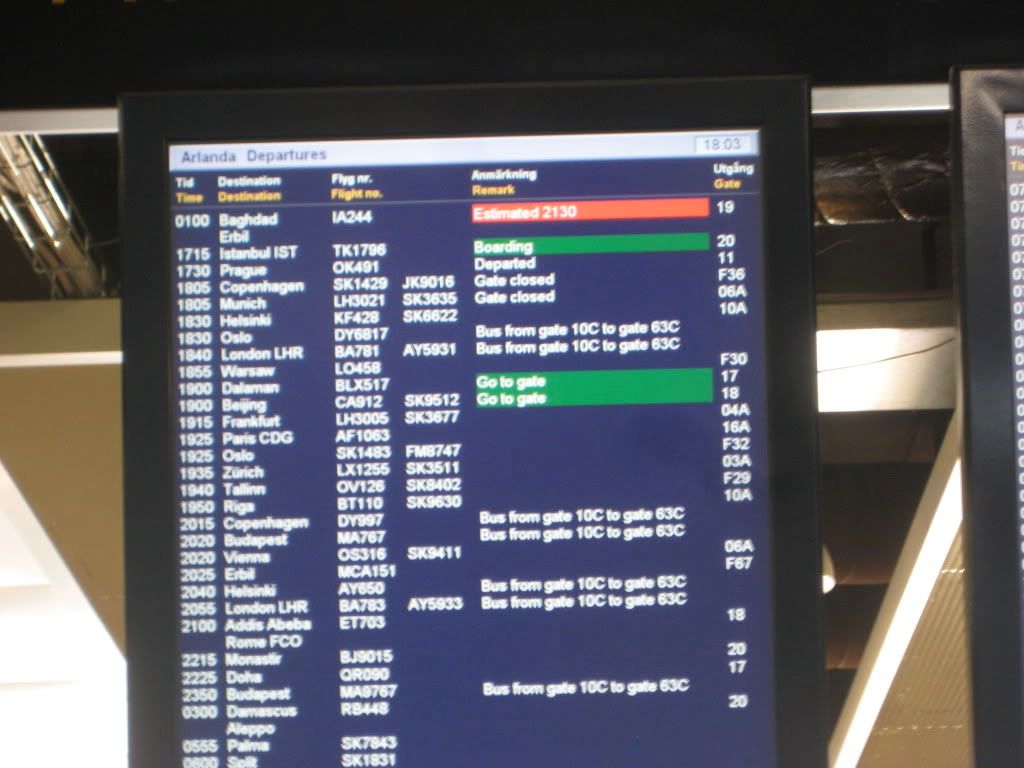 Then it's time to nurse another pint, finish the movie I started onboard, walk around a while and finally go to the gate 25 minutes before the departure time. The first thing I see is the tail of our MD-90 which boasts the Star Alliance logo. Bummer, this means that it will be OH-BLF, not OH-BLE as I was hoping for -that's the only KF MD-90 still missing from my log. This will be my thrird flight on OH-BLF and a fourth flight on this plane - she is actually the first MD-90 I ever flew back in 2003 with SK when she still carried the registration SE-DMH.
NextJet S2000 taxing behind OH-BLF: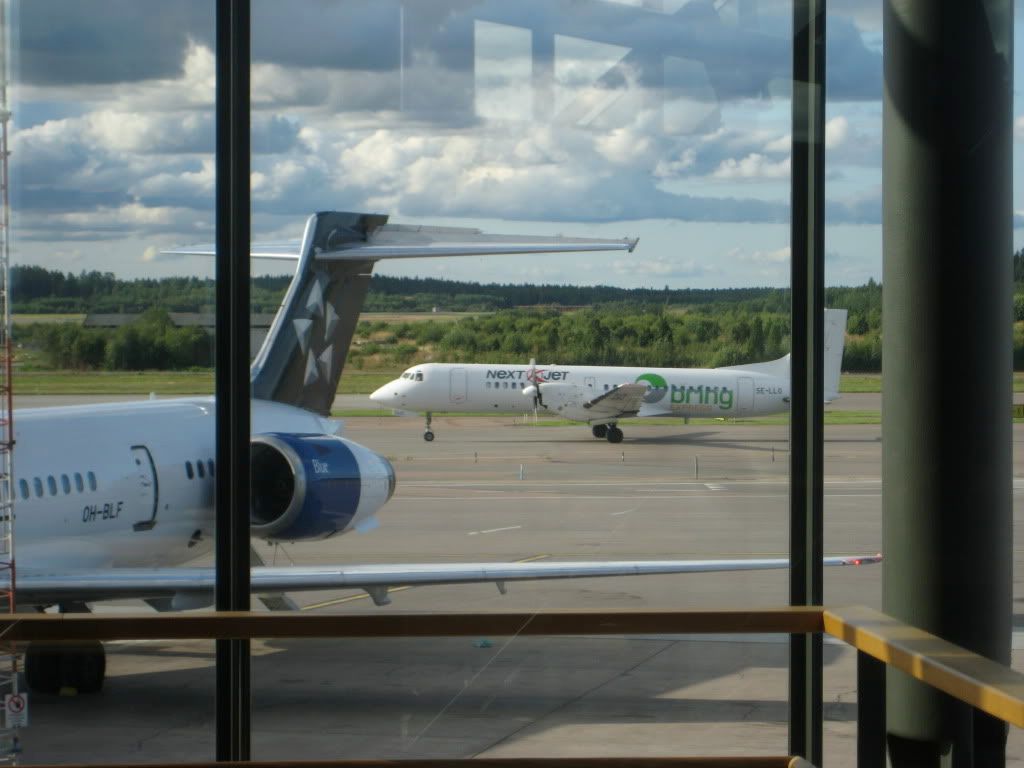 There are lots of people around, so it looks like another full flight. Boarding is finally announced around 10 minutes before departure. There are two gate agents working, the male one starts boarding people already when the female is still making an announcement about boarding by rows. The guy doesn't seem to care too much about the rows at all, so I take my chances with him even though they are still boarding from row 20 and up. Well, boldness is rewarded once again, he doesn't look at my seat at all and just welcomes me onboard.
ARN-HEL
KF428
MD-90 OH-BLF "Ruovesi"
Seat 15F
18.34 - 20.22
Not much to say about this flight really. Almost completely full, with some spare middle seats here and there. Not next to me, though. Flight t