Ia Orana everybody,
Over the last two years, I've had the chance to fly on uncommon airlines. After Uzbekistan Airways and Jeju Air, here's a trip report about Air Tahiti Nui. My father lives in Tahiti, and I've spent 2 years there when I was a kid. French Polynesia is a very, very special place to me. Unfortunately I can't go there very often, as the air fares are shockingly expensive. This time, I spent 6 months in Tahiti for an internship.
First of all, let me warn you that I took those flights in 2007, and the service provided by Air Tahiti Nui has changed a bit since then. The uniforms and tableware have been modified recently, and the network has been drastically reduced. Air Tahiti Nui is renowned for two things: the excellent quality of service provided by its cabin crew and, unfortunately, its abysmal losses. The future of the Air Tahiti Nui looks uncertain, but as long as the French & French Polynesian governments are here to support the airline, the tiare will keep flying...
Air Tahiti Nui operates a fleet of 5 Airbus A340-300s all named after Polynesian islands: Bora Bora, Mangareva, Rangiroa, Moorea and Nuku Hiva. Now, they're only flying from Tahiti to Los Angeles, Paris, Tokyo and Auckland. A few months back they were also flying to Sydney, Osaka and New York. Those routes are now history, but the airline kept its 5 planes.
I'm sorry I can't comment a lot about those flights, as they happened 2 years ago. However I remember the service was friendly and attentive, the food was good, and the IFE ok. There's no AVOD on Air Tahiti Nui, and passengers were offered a choice of 12 movies (if my memory is right) + games, air show and a few audio channels. Good point: the legroom and seat recline were EXCELLENT, and I love the 2-4-2 configuration of the A340. In addition, there was no one seating next to me between CDG and PPT. If passengers get hungry during the flight, they can get some sandwiches and tons of Oreos in the galleys. To be honnest I've spent the whole flight eating Oreos...My flights were delayed in both directions, but there's such a long distance to fly that we managed to catch up with the delay.
CDG-LAX-PPT is a very long flight, close to 22 hours (12 hours to LAX, 2 hours transit and 8 hours to PPT). The transit in LAX is boring as can be, but as all passengers (even transiting passengers) have to go through immigration, in the end the wait is not too long.
Two things that I love about TN's inflight service:
- upon boarding, the flight attendant standing at the gate hands out a fresh Tiare Tahiti flower to every passenger,
- after take-off, female f/as put on traditional purutu dresses. UTA f/as were the first to do that, and Air France f/as kept this tradition on the PPT flight after the UTA takeover.
On the return flight, the check-in agent assigned me seat in the exit row when he saw how tall I was, without me asking.
Enjoy the pictures...and mauru'uru roa for reading my report.
Flight 1
20th June 2007
Route: Paris Charles de Gaulle (CDG) - Los Angeles Intl (LAX)
Flight number: TN22
Aircraft type: A340-300
Registration: F-OSEA "Rangiroa"
This flight took off in the late morning, and we arrived in LAX in the afternoon on the same day.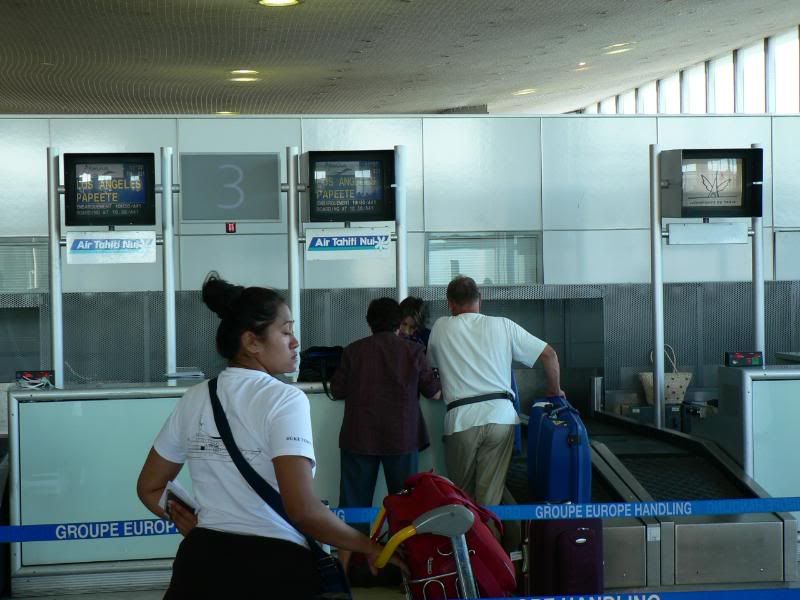 Check-in at CDG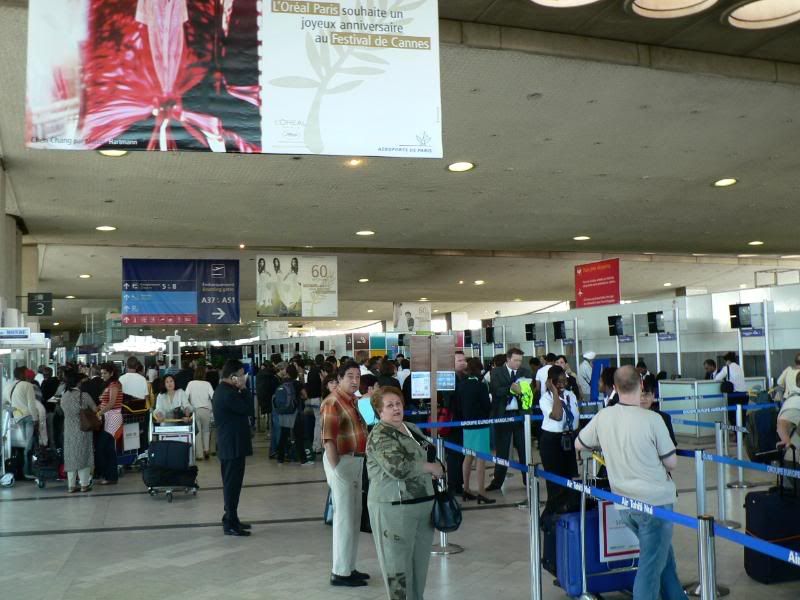 CDG 2A public area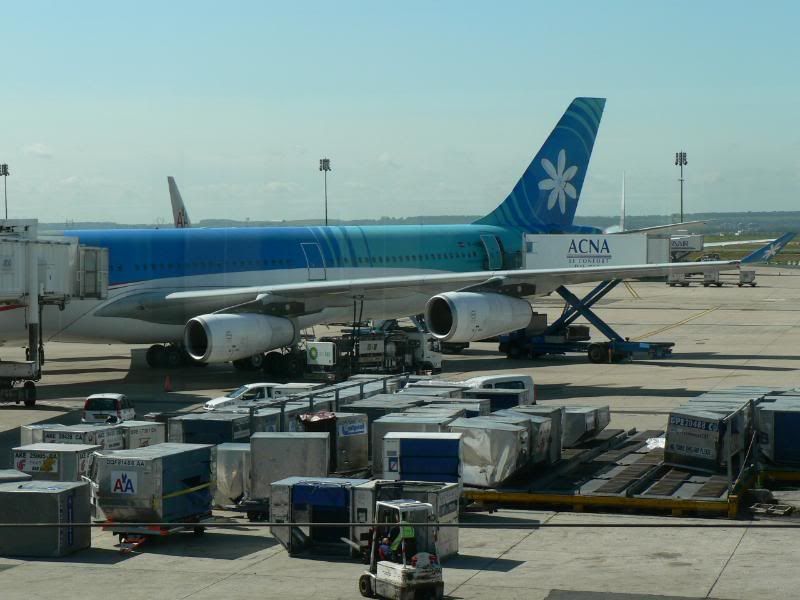 My plane ! What a gorgeous livery.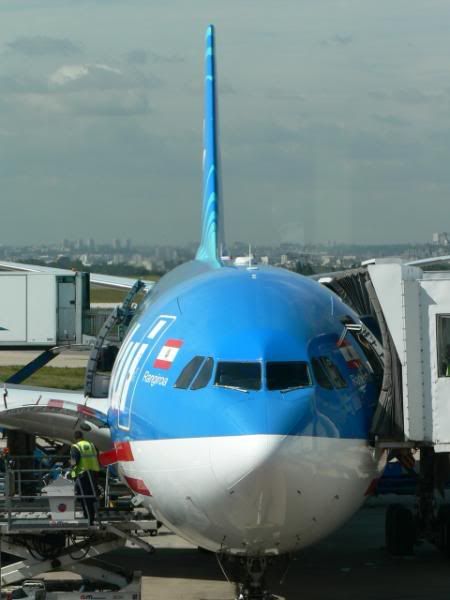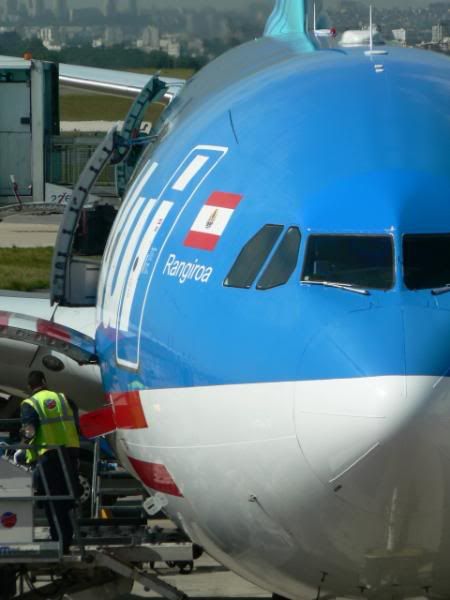 This aircraft is named after Rangiroa, a wondeful atoll in the Tuamotu archipelago.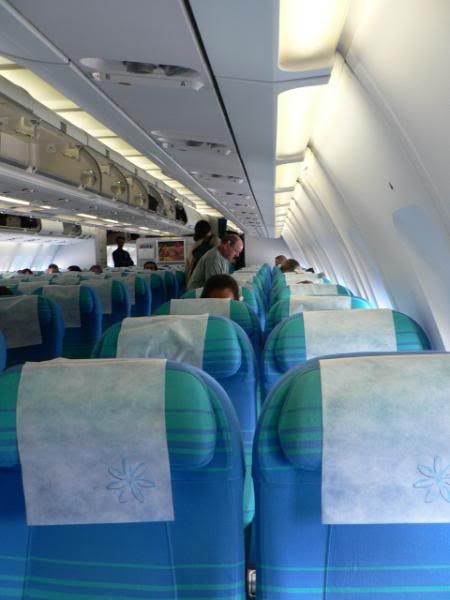 Making my way to my seat.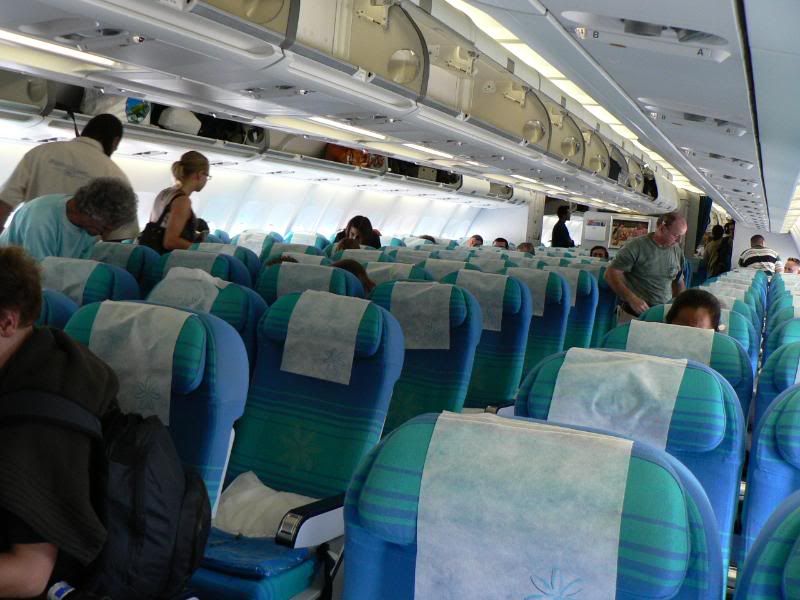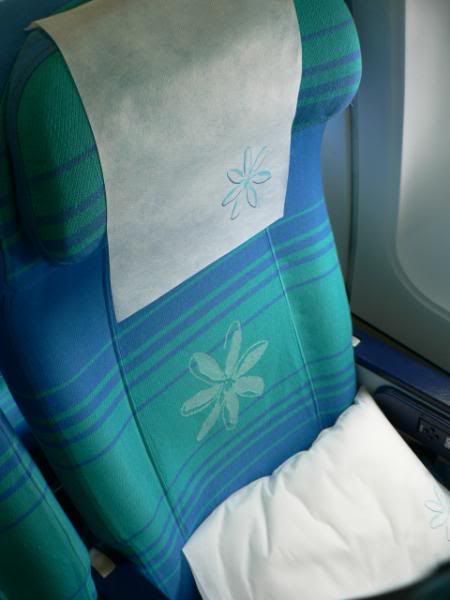 Very comfy seat.
Excellent legroom
In the seatpocket: duty-free catalogue, safety card and the Reva Tahiti inflight magazine.
Welcome message in English and Tahitian. Manureva means airplane (if I'm right, "manu" means "bird" and "reva" means "leaving").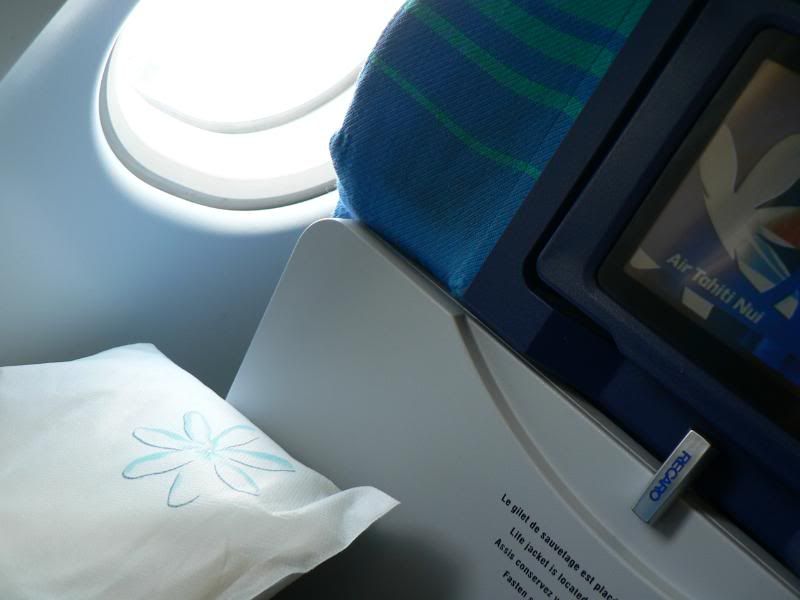 Ammenity kit. Not bad for passengers in Y !
The emblem of Air Tahiti Nui, the Tiare Tahiti flower.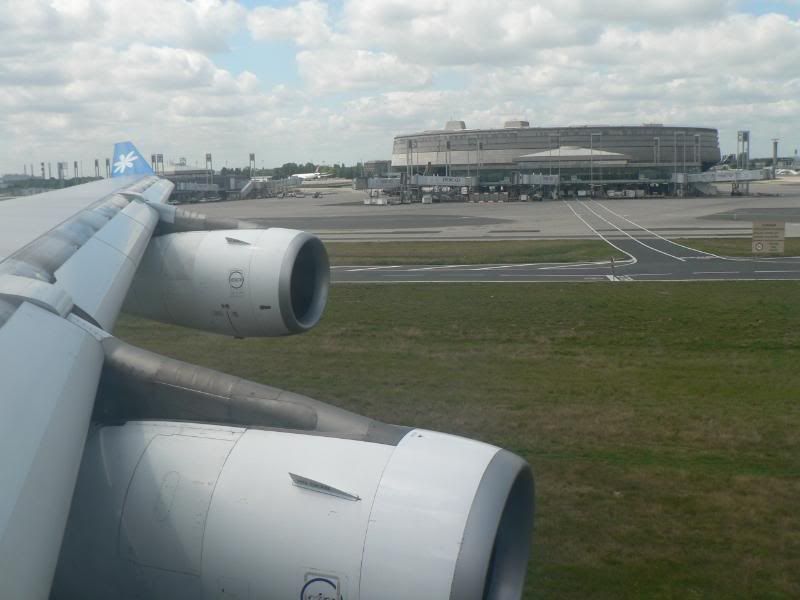 Taxiing past CDG1, aka the "camembert".
Main menu on the IFE. The IFE is available in French, English and Japanese.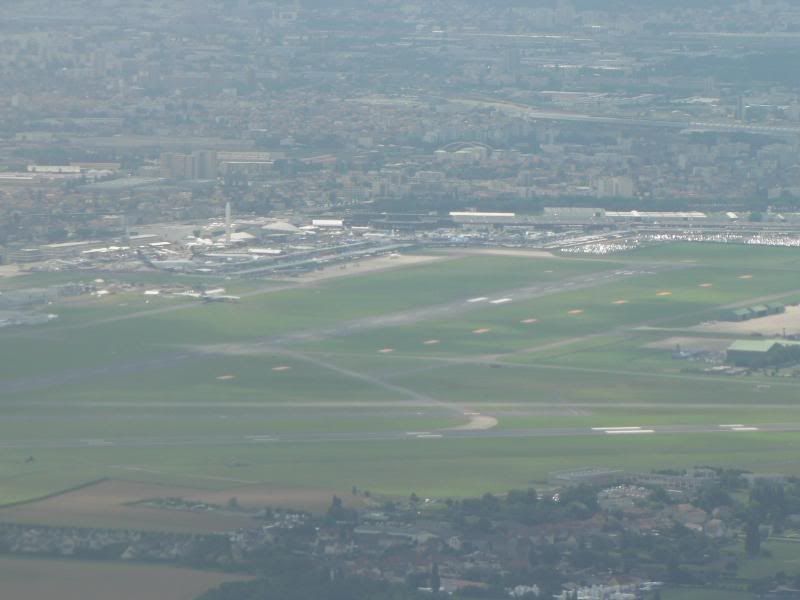 Paris Air Show 2007 !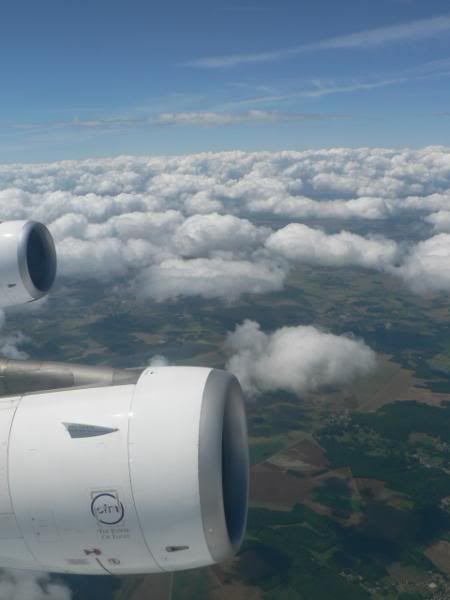 Climbing over the French countryside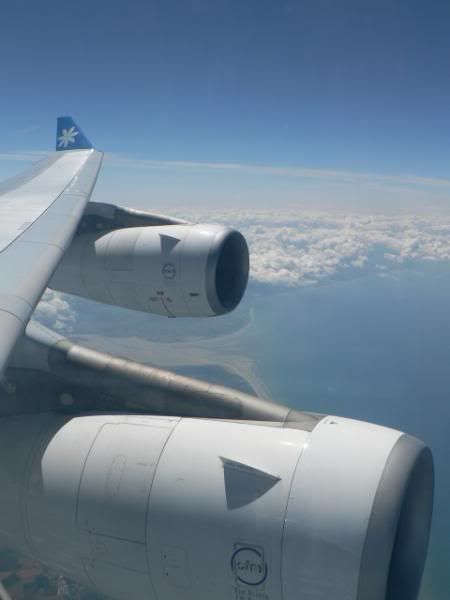 Leaving metropolitan France...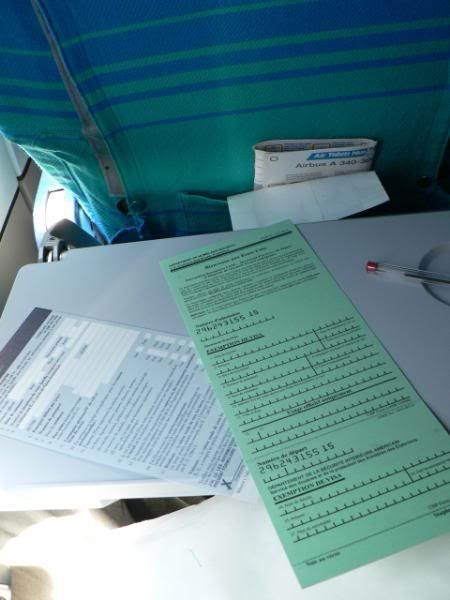 US immigration & customs forms.
Over England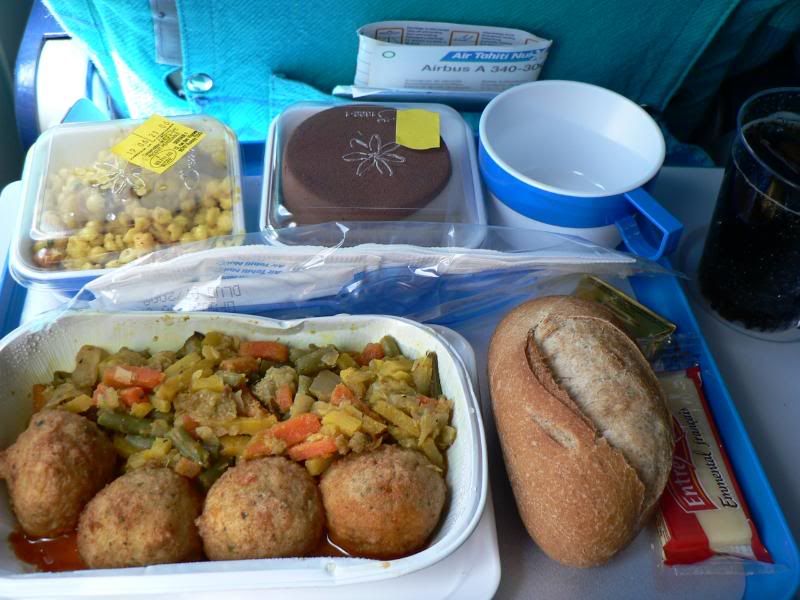 Lunch service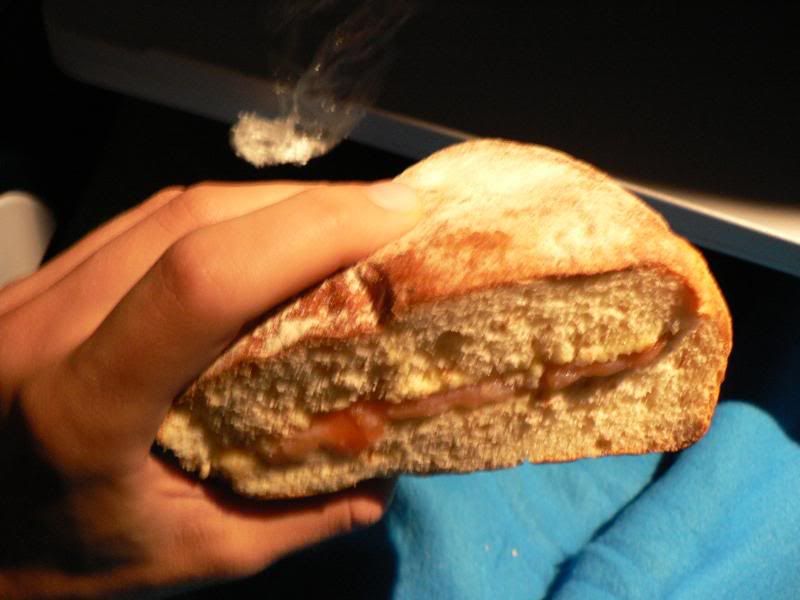 Inflight snack: Smoked trout sandwich.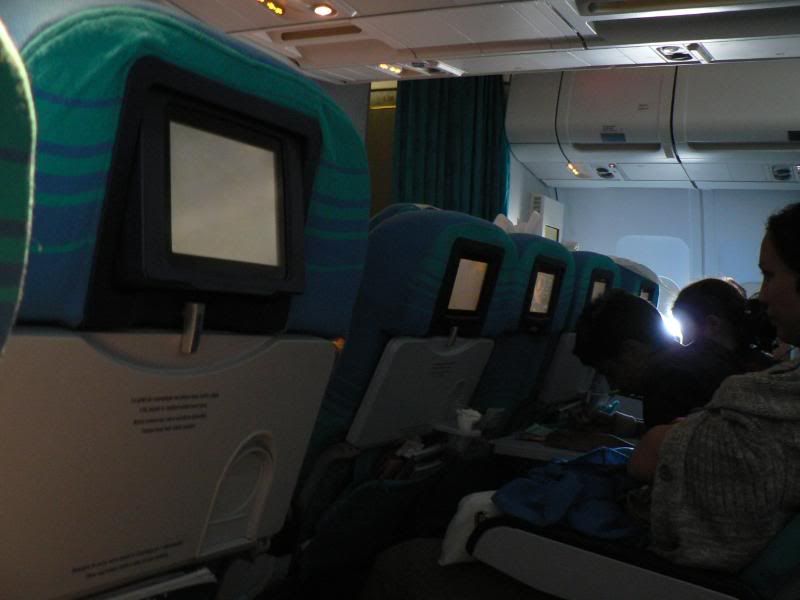 Cabin with window shades down.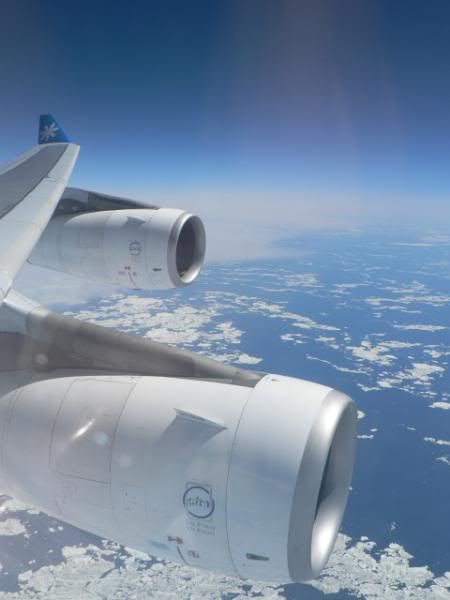 The power of flight !
Shortly before the second meal service, and right after the f/as asked us to rise the window shades, this message was displayed on the PTVs. It means "ladies and gentlemen, we hope you had a good rest. In a few moments we will be serving a meal".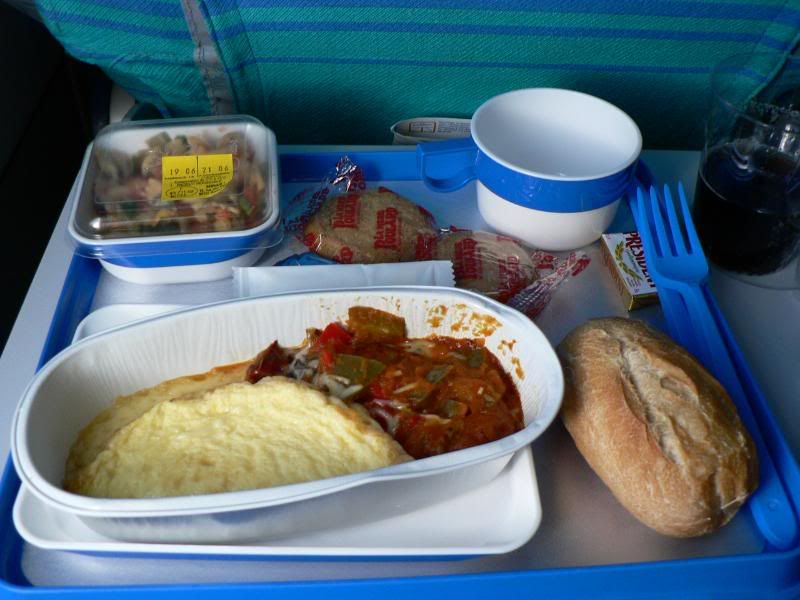 Second meal service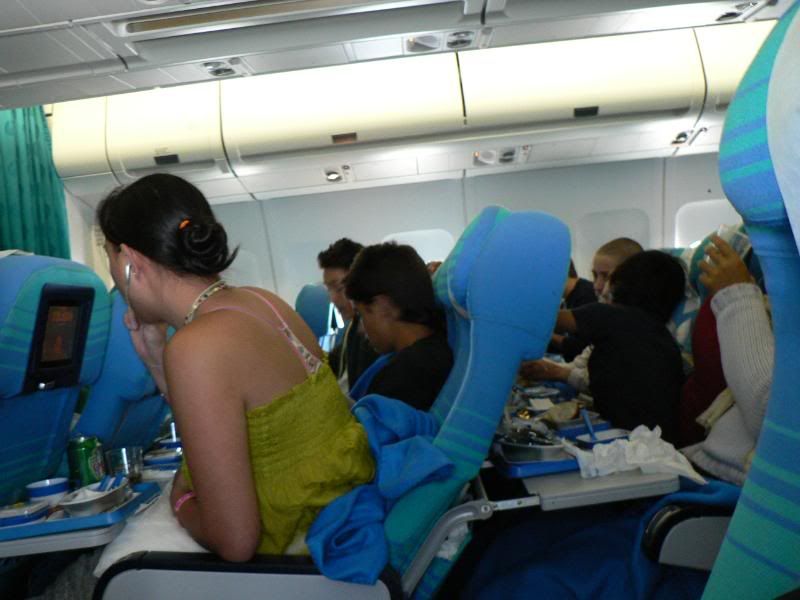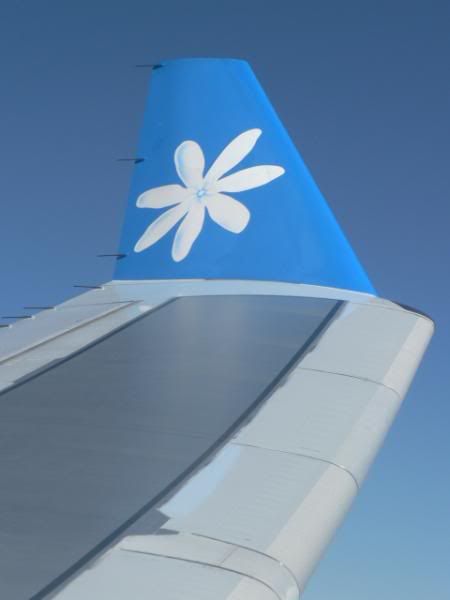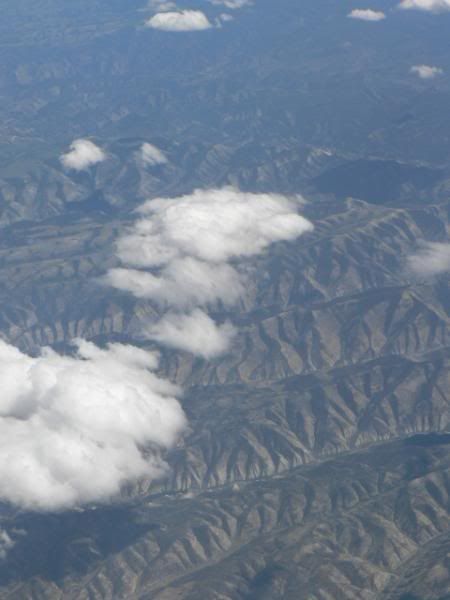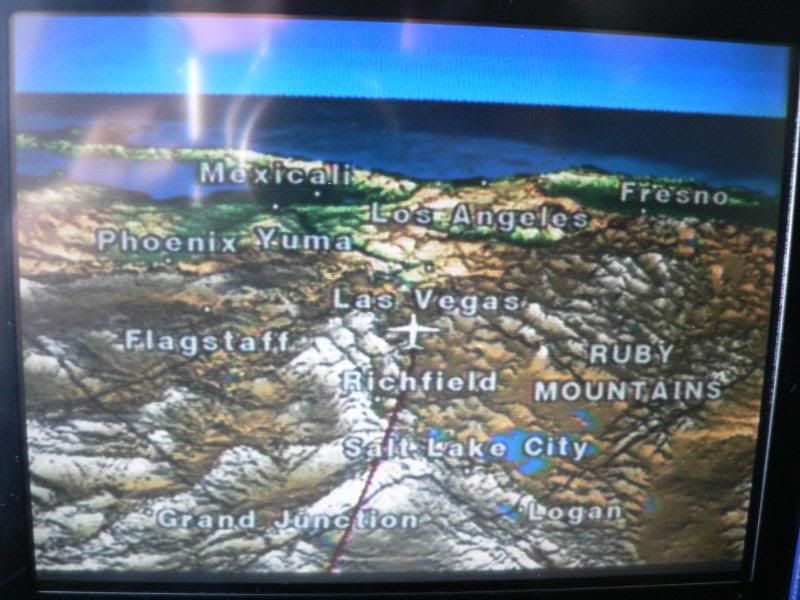 Getting closer...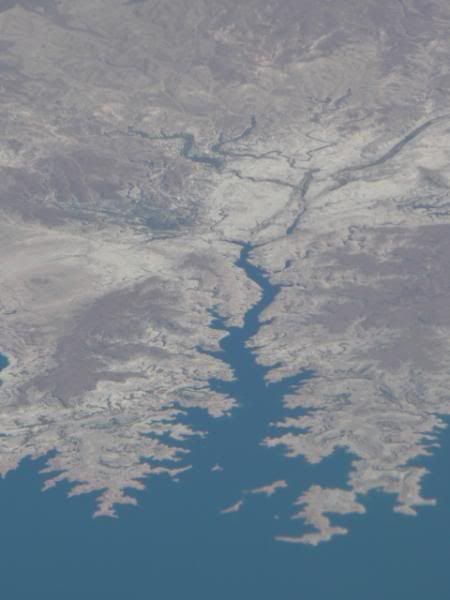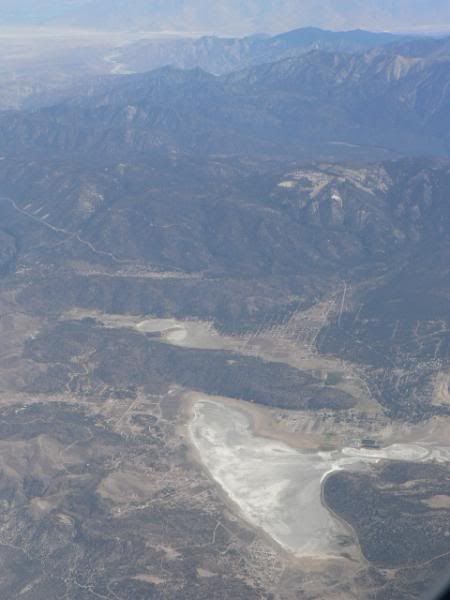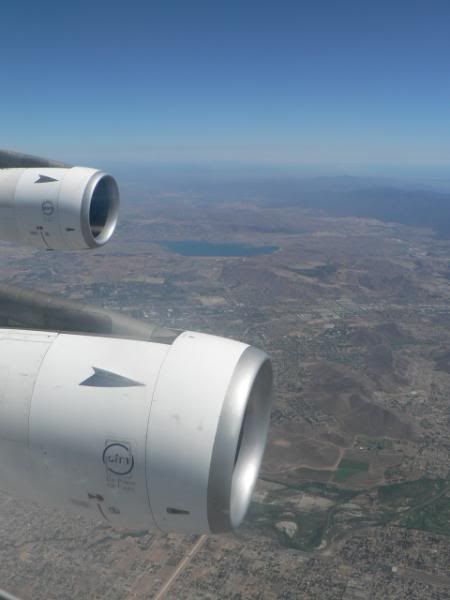 No doubt, we're in the USA.
Transit lounge in LAX TBIT.
Flight 2
20th June 2007
Route: Los Angeles Intl (LAX) - Tahiti Faa'a (PPT)
Flight number: TN22
Aircraft type: A340-300
Registration: F-OSEA "Rangiroa"
After a 2-hours layover, it was time to go back to my plane. Some passengers disembarked in LAX, and some LAX-originating passengers joined us on board.
Rangiroa again. At times there is a plane change at LAX, even though the flight number remains the same.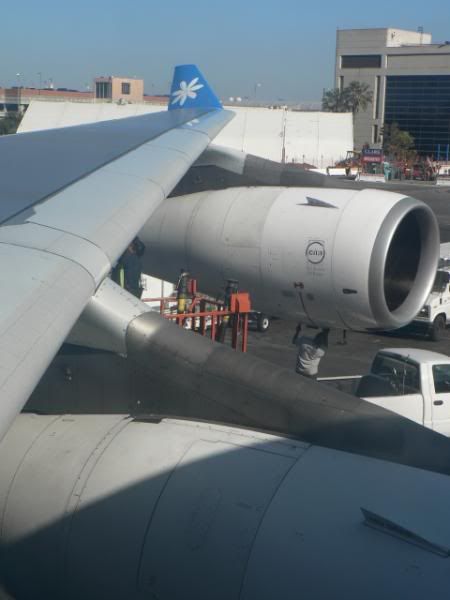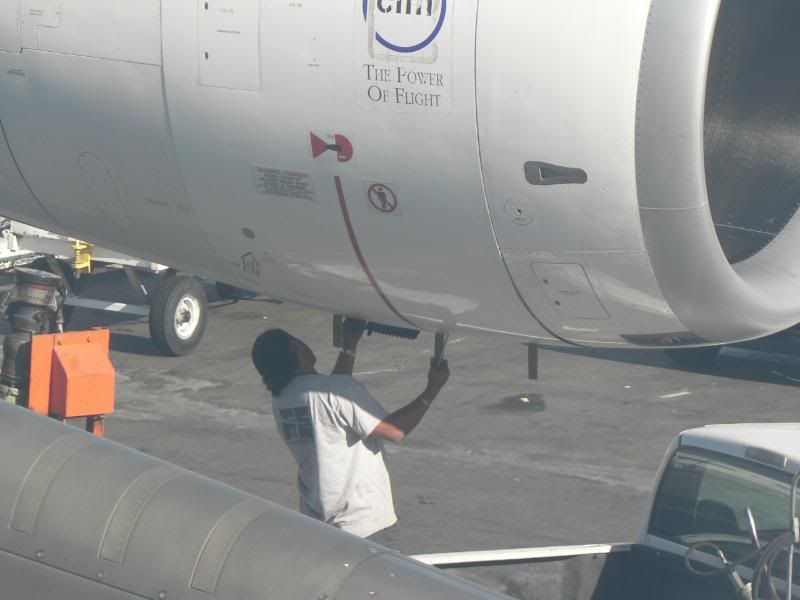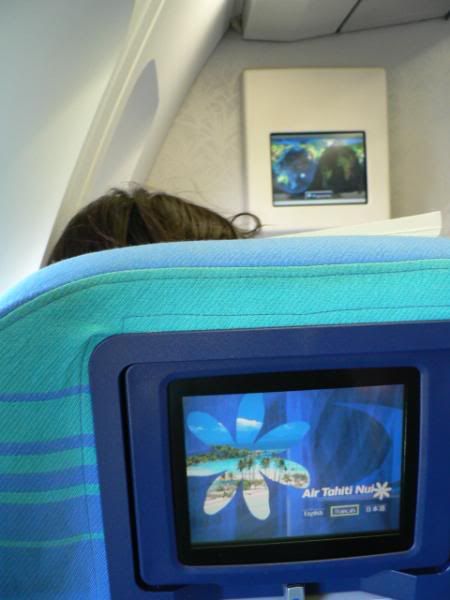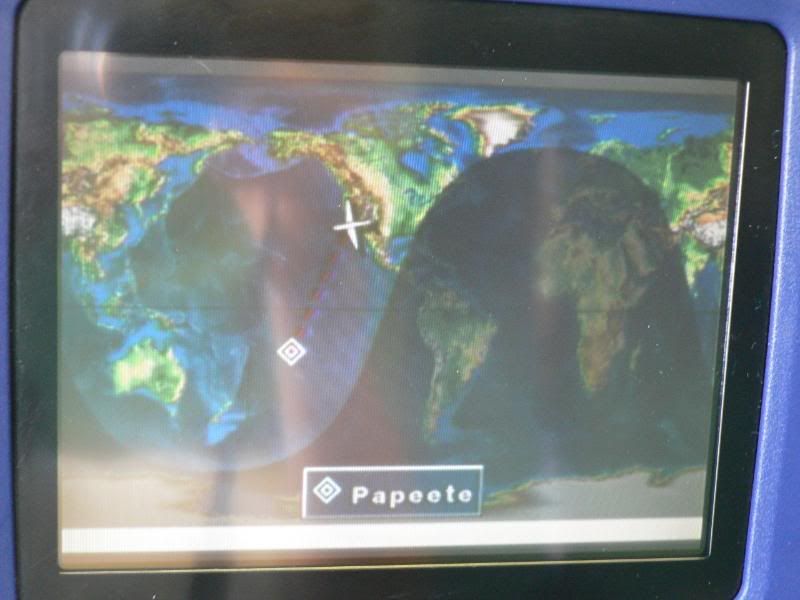 Still a long way to go.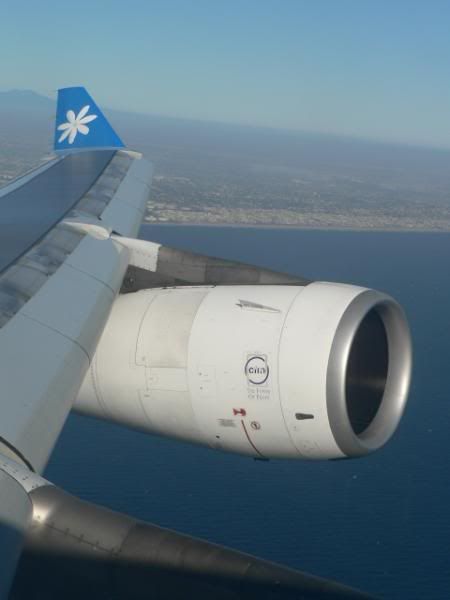 The Pacific Ocean at last.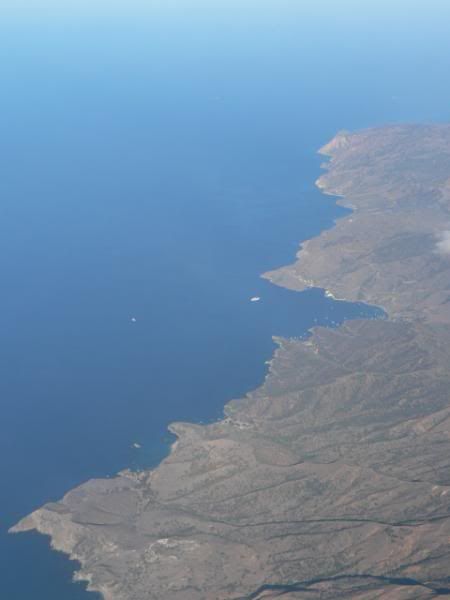 Avalon island ?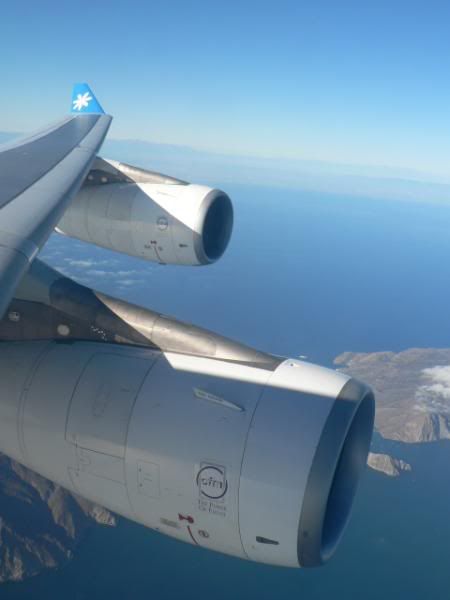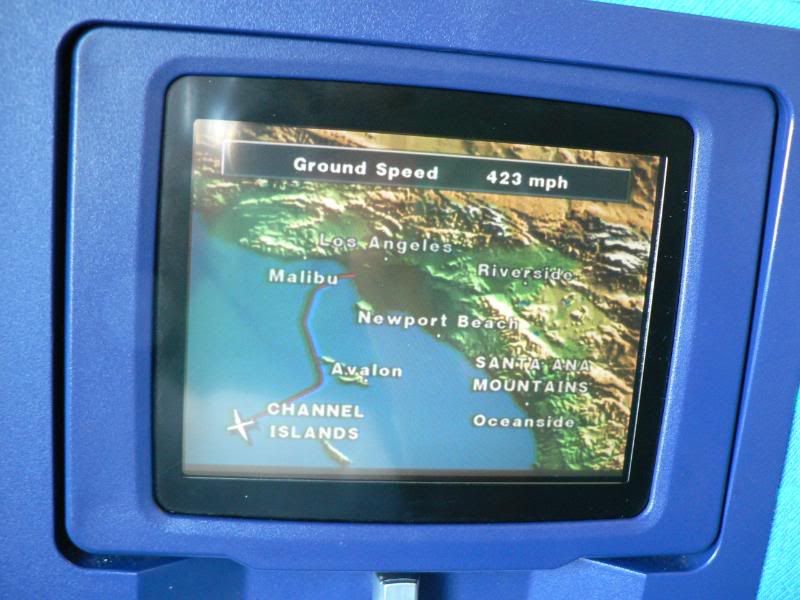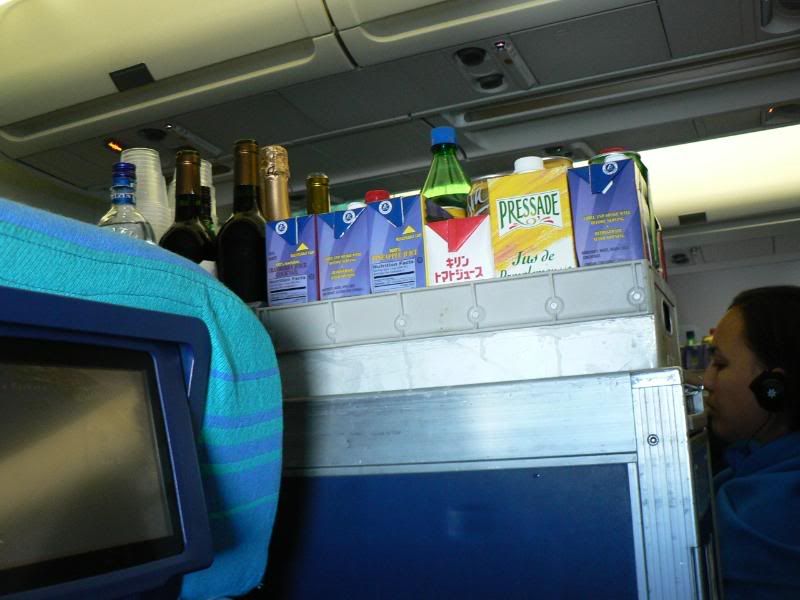 Drink service
First meal service.
I didn't take pictures after dinner, as night quickly came and I was very tired. I was awaken by the smell of hot food filling the cabin.
Second meal service.
Almost there !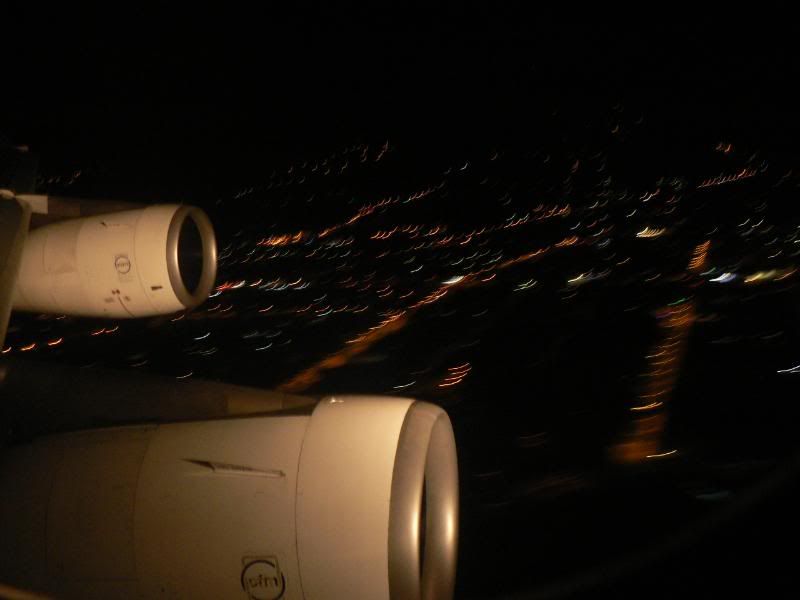 Seconds before landing.
My flight was scheduled to land in PPT around 11:30PM, but we arrived a bit later.
After 6 great months in Tahiti, it was time to go back to France. I left French Polynesia in a full summer mode, and was greeted in Paris by a depressing winter light.
Flight 3
17th December 2007
Route: Tahiti Faa'a (PPT) - Los Angeles Intl (LAX)
Flight number: TN21
Aircraft type: A340-300
Registration: F-OSUN "Moorea"
I had hoped to fly on F-OLOV, TN's latest A340 delivered in 2005 and which features a different interior, but Moorea showed up on the apron. Moorea and Rangiroa were both delivered in 2003. Originally they were ordered by AOM, but never taken up so TN got them. We left with a 2 hours delay as one of TN's aircraft went tech, and the whole flight programme had to be modified.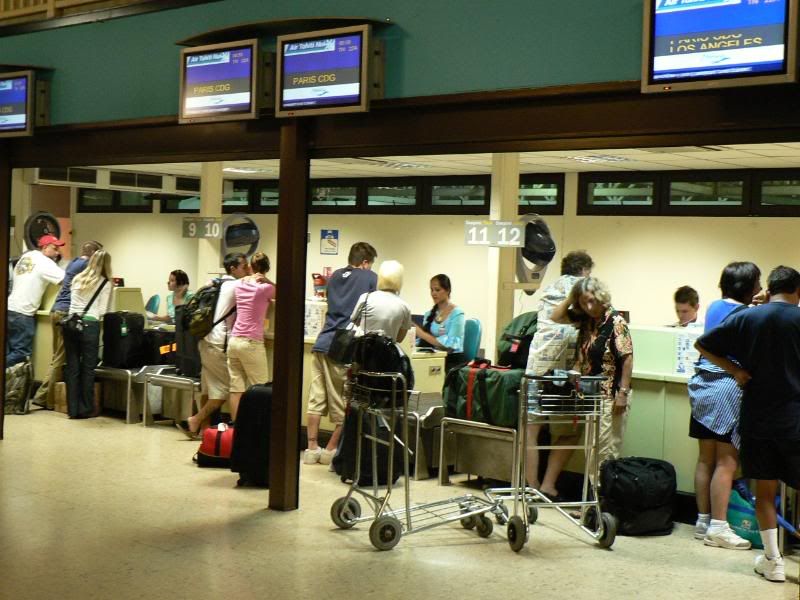 Check-in at PPT.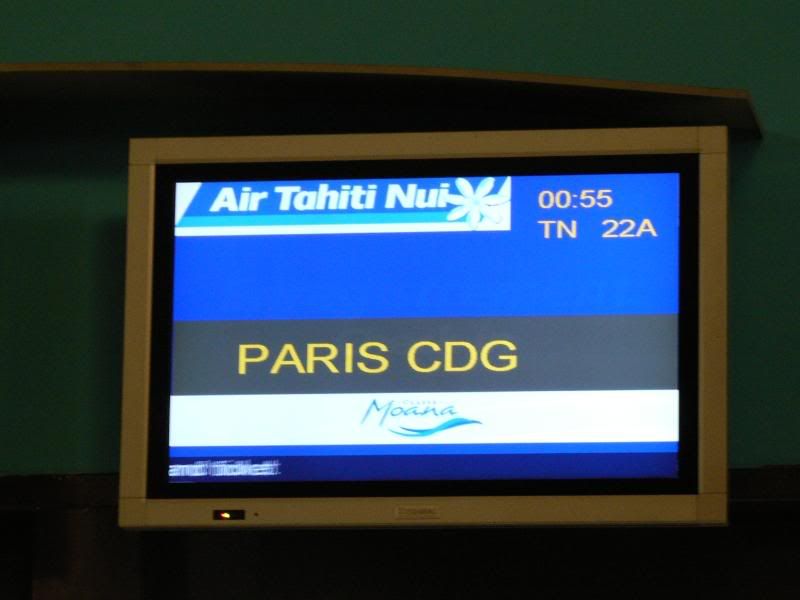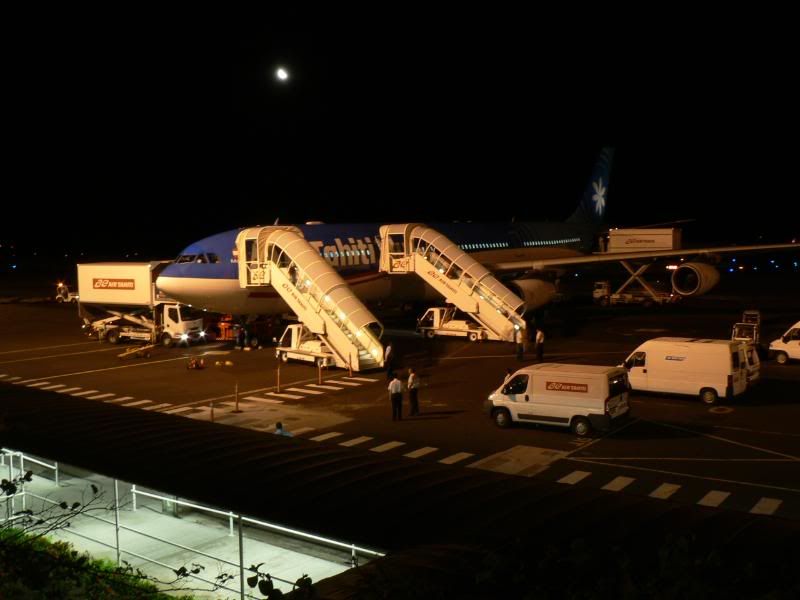 My plane, just arrived from LAX and getting ready to go back there again.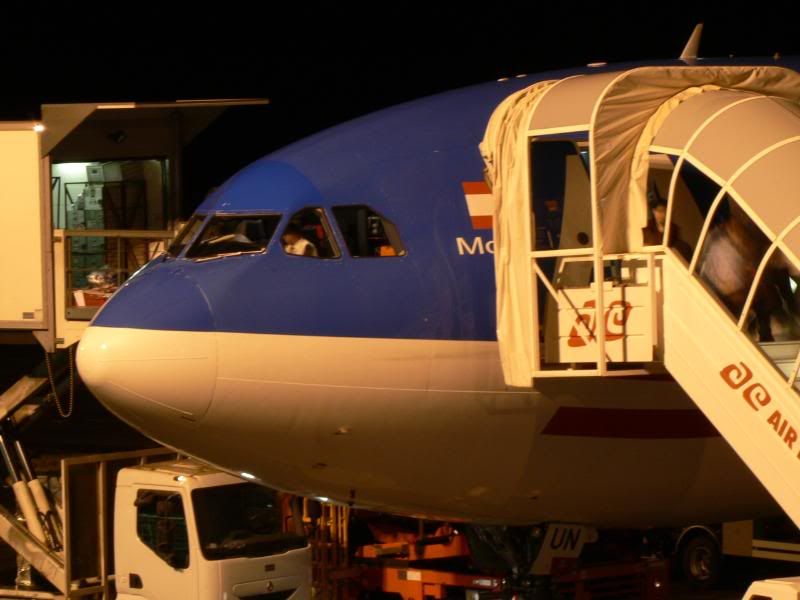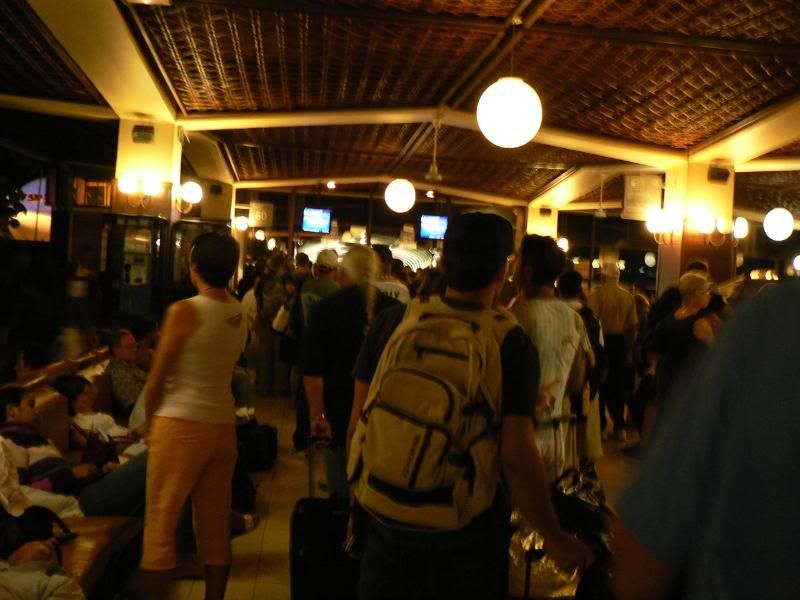 Boarding mess
Exit row seat !
After boarding I was soooo tired that I slept immediately. I guess we had two meal services during the flight, but I forgot to take pictures of them.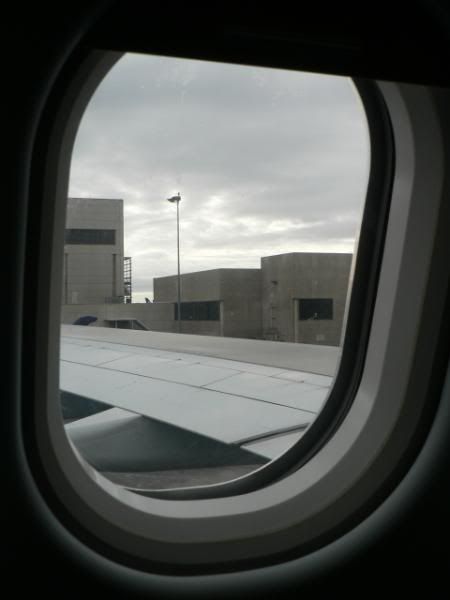 Parked at LAX TBIT.
Flight 4
18th December 2007
Route: Los Angeles Intl (LAX) - Paris Charles de Gaulle (CDG)
Flight number: TN21
Aircraft type: A340-300
Registration: F-OSUN "Moorea"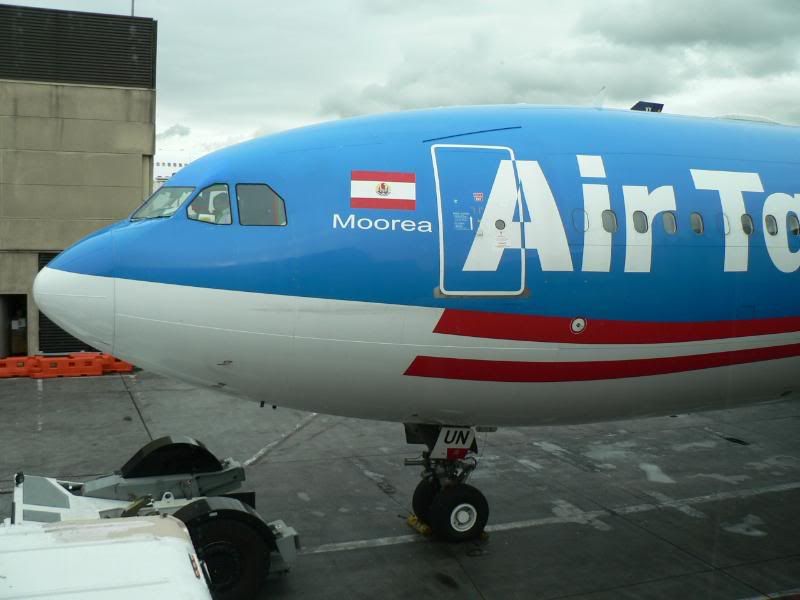 Walking back to the plane after 1 hour in the transit lounge.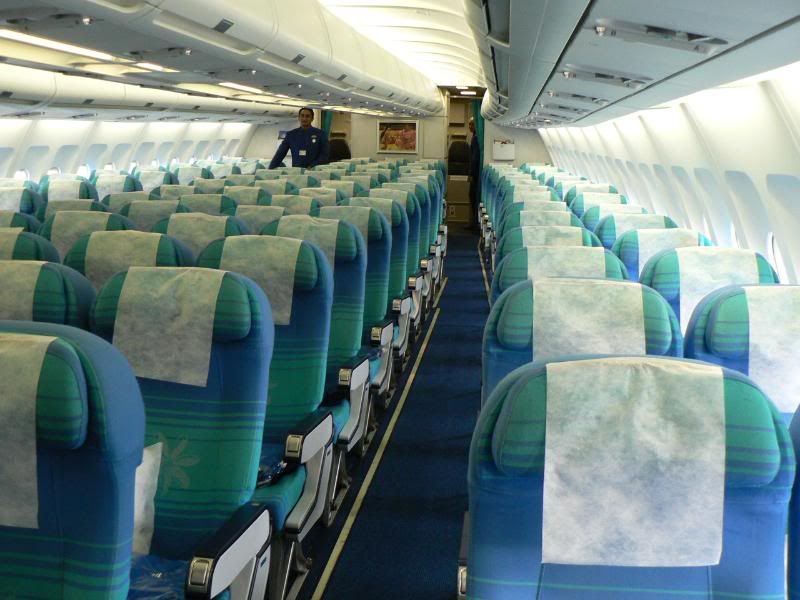 Fresh cabin, relaxing colors.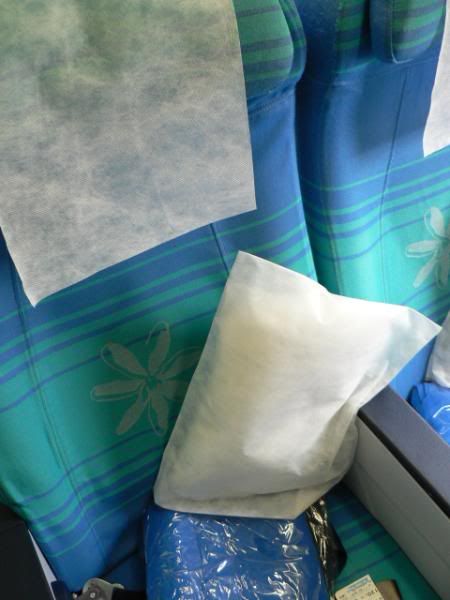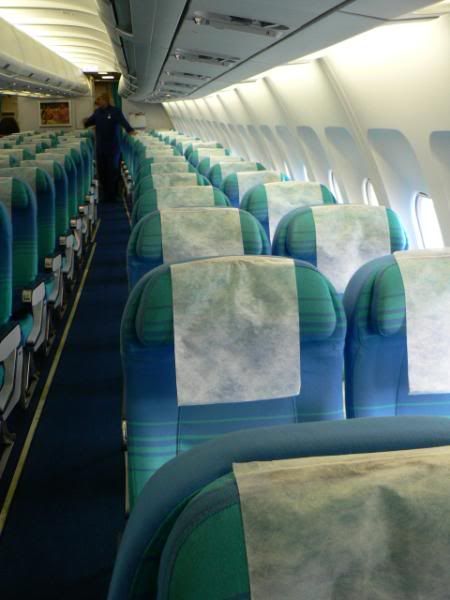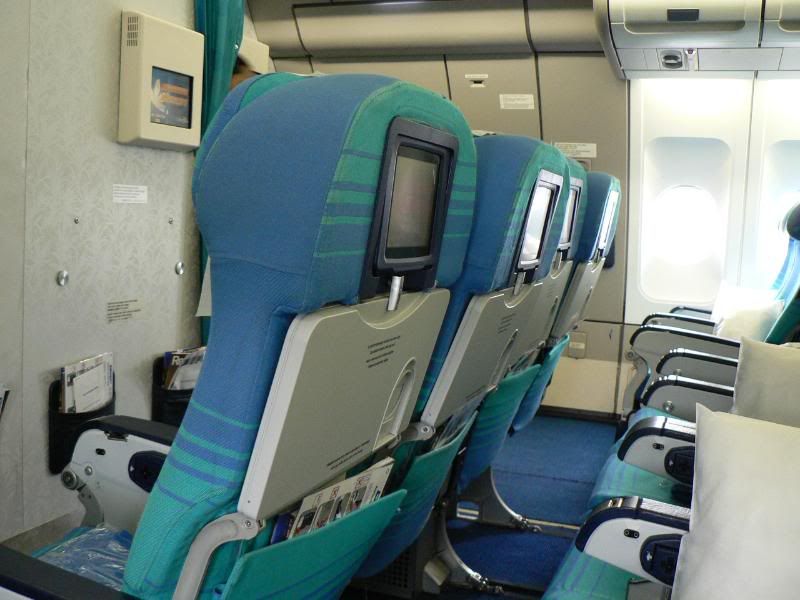 Gorgeous uniforms. Too bad they changed them, I don't like the new one. The turquoise color and the scarf were very distinctive.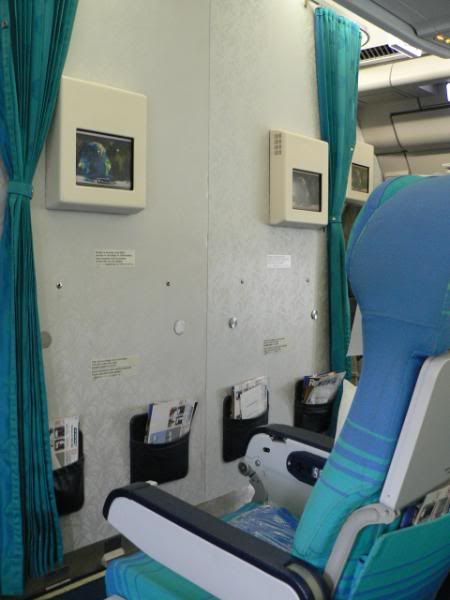 Check the nice pattern on the bulkhead.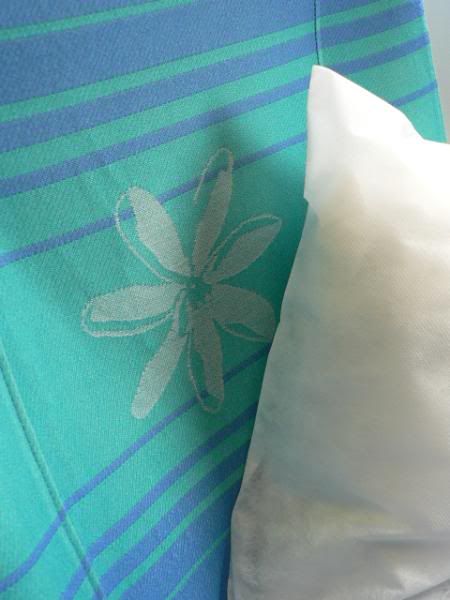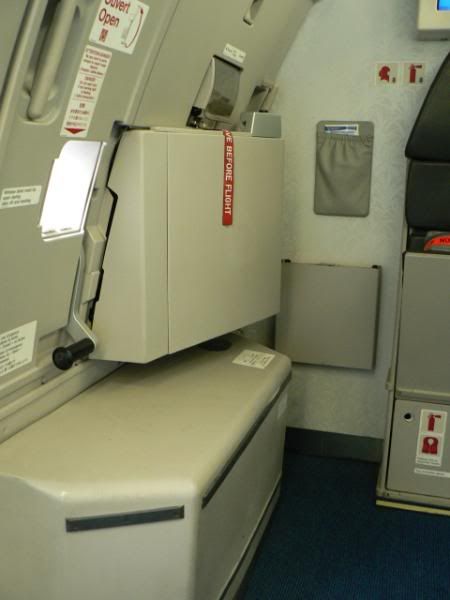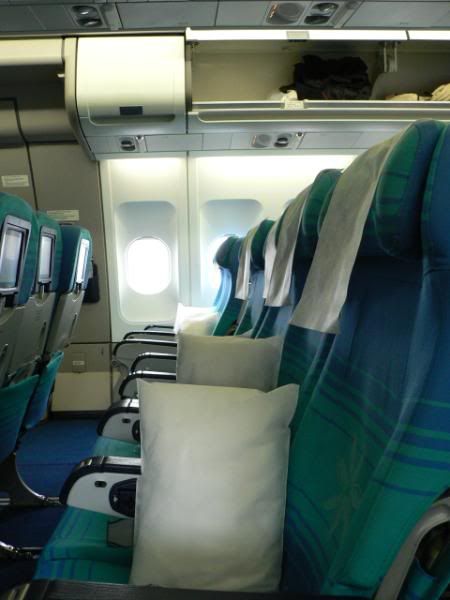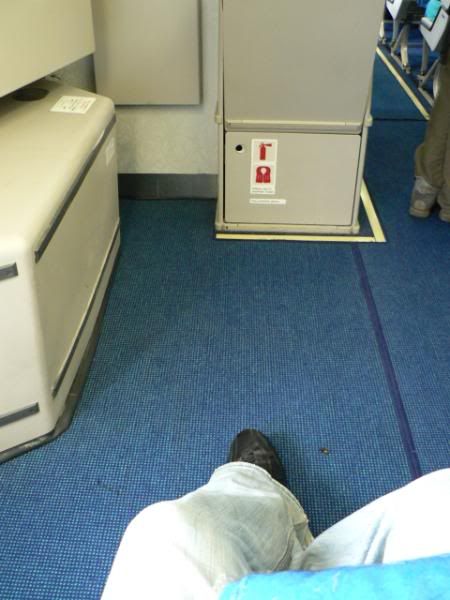 The best legroom one can get on board in Y class !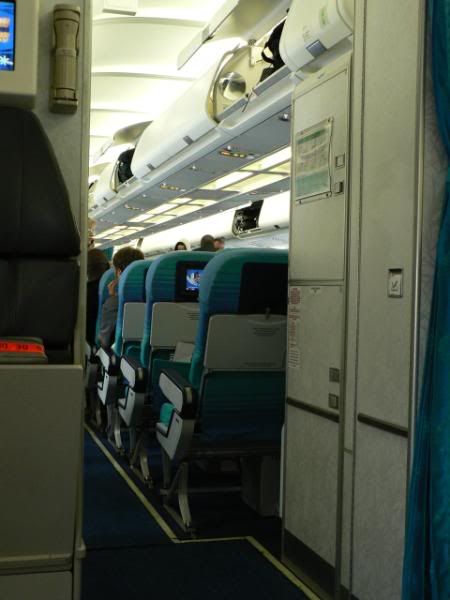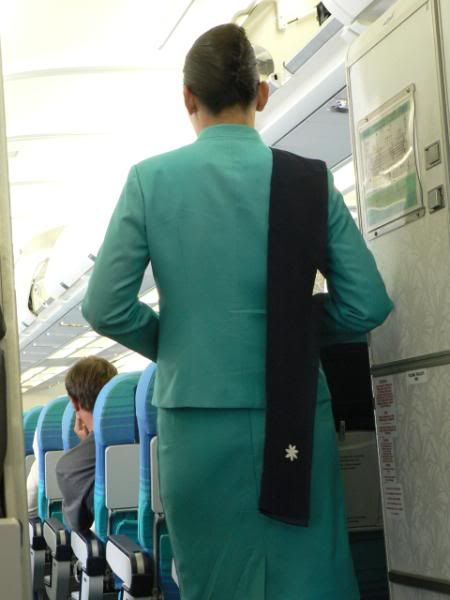 Gauguin painting in the back of the cabin.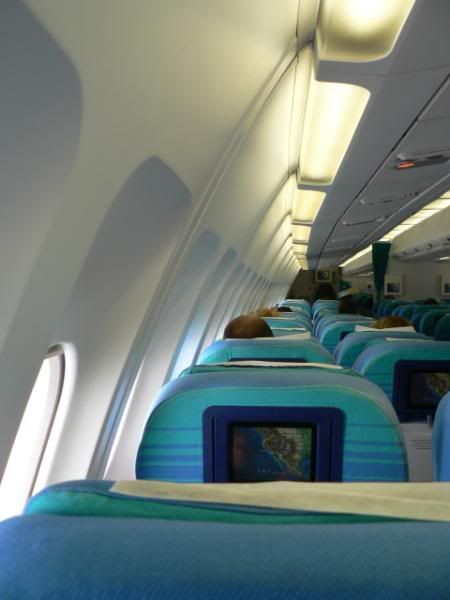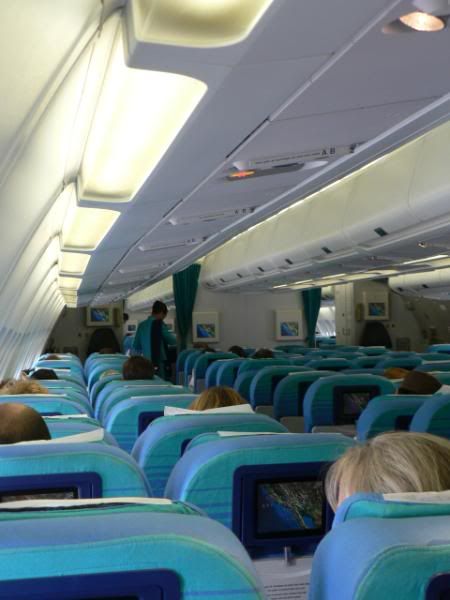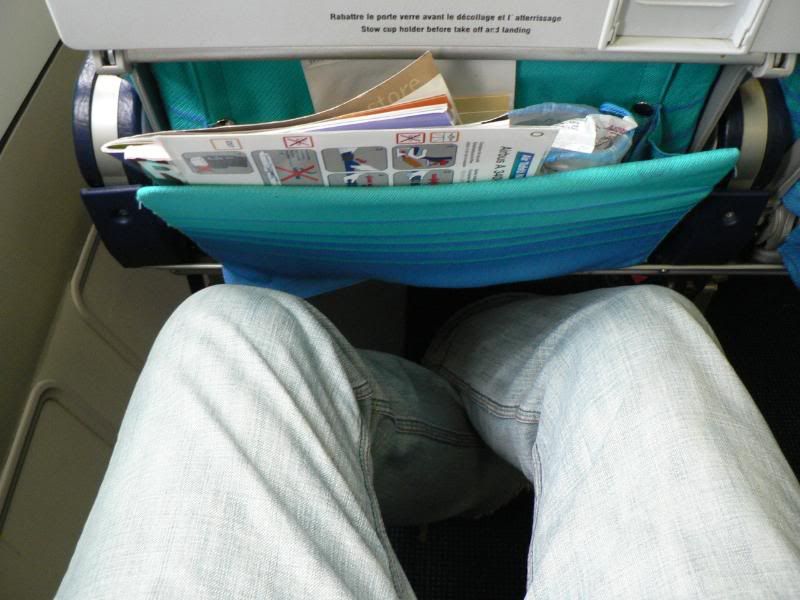 I moved to the back of the cabin to take some pictures and check the legroom of non-bulkhead seats.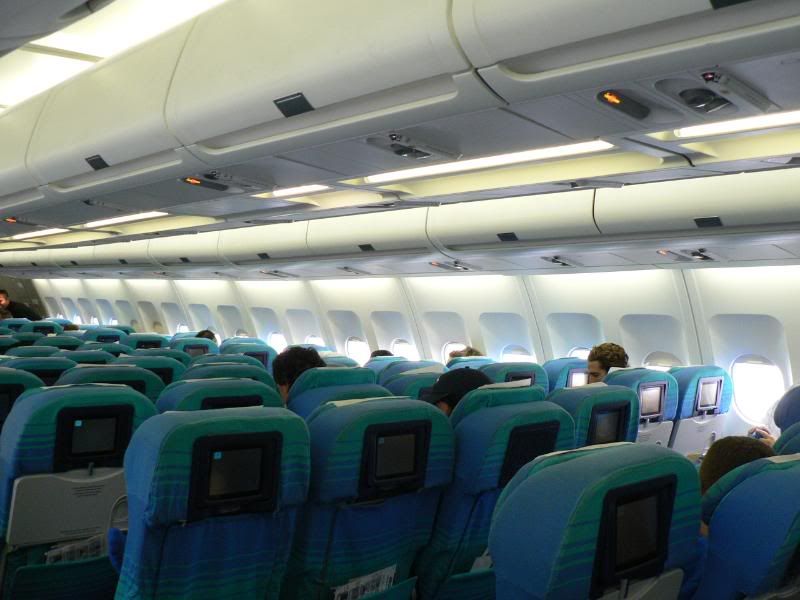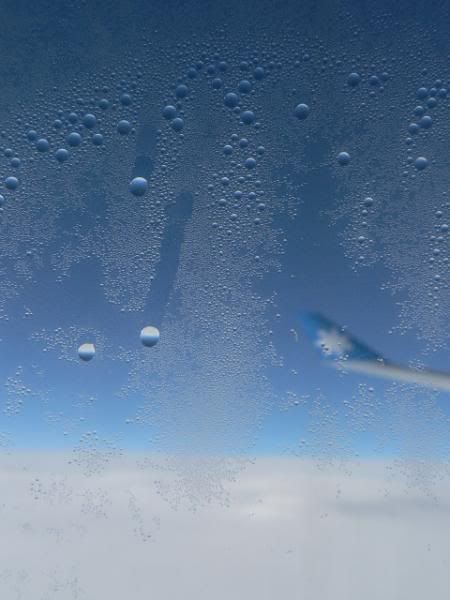 Drink & snack before the first meal service.
f/as on duty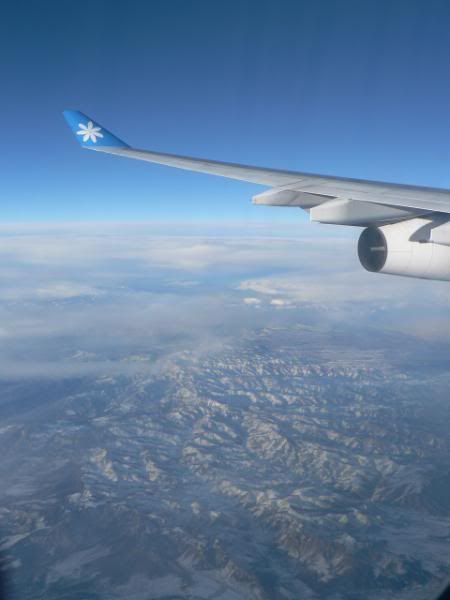 Winter Wonderland...my beloved tropical islands are far behind.
First meal service.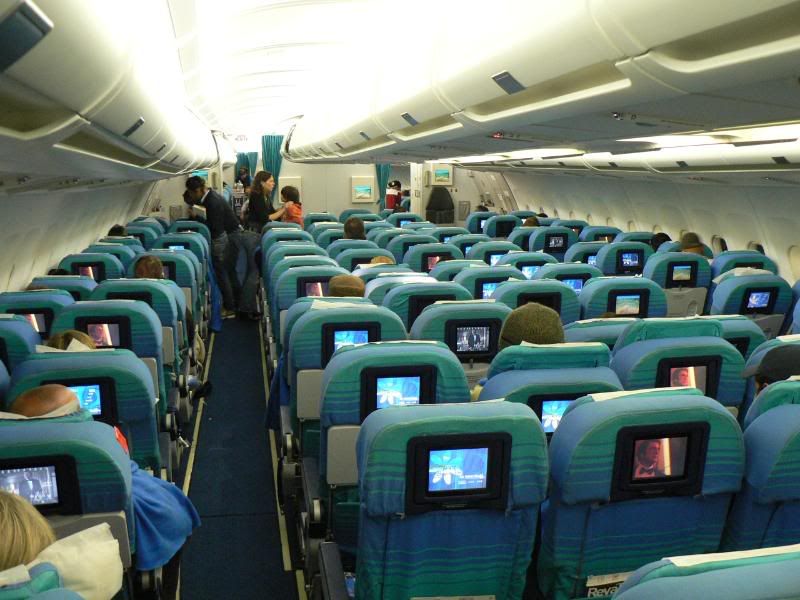 Getting ready for my second night on board. I decided to stay at the back of the plane, as I was closer to the galley which was full of Oreos...
2nd ocean crossing in 2 days.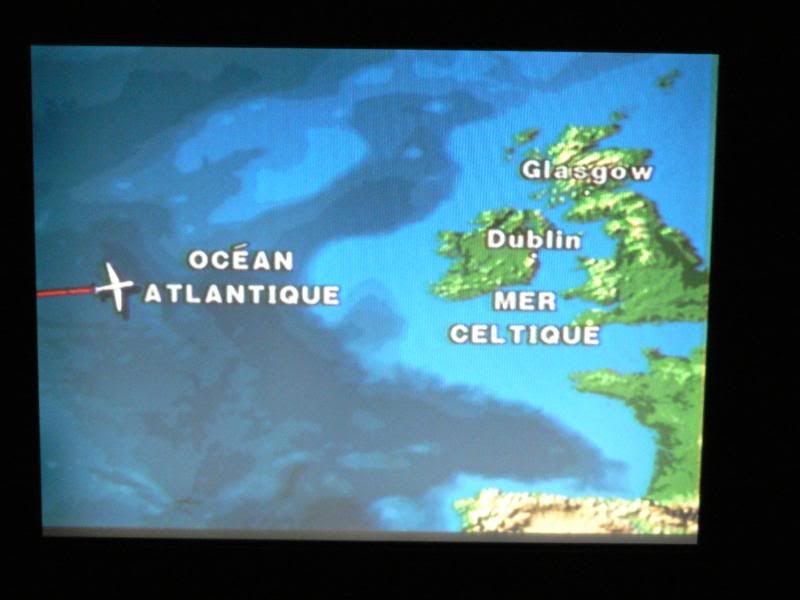 Breakfast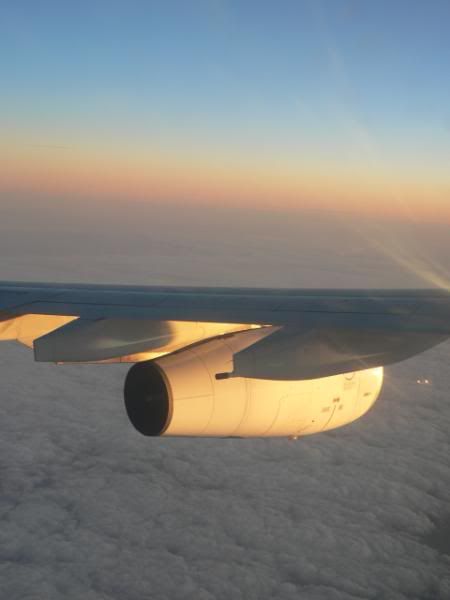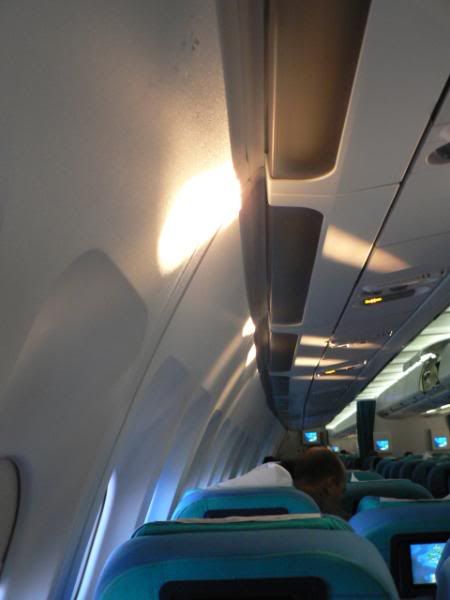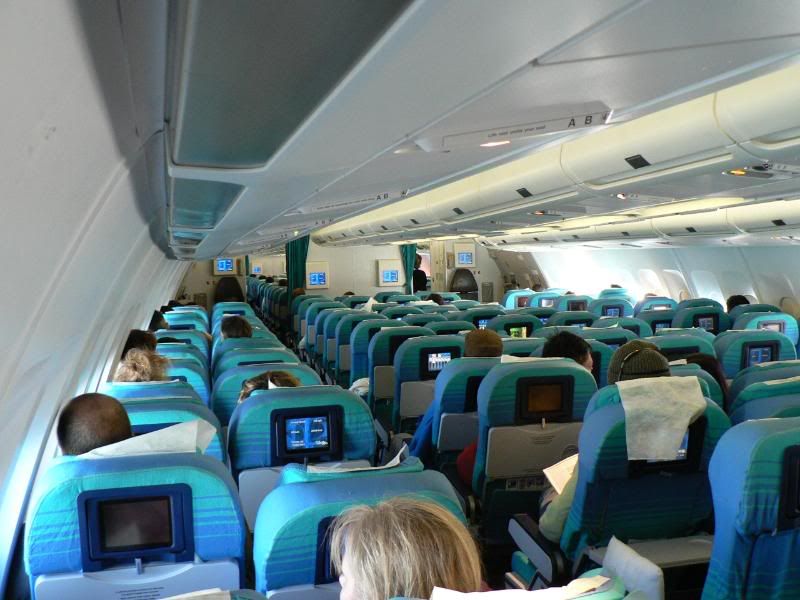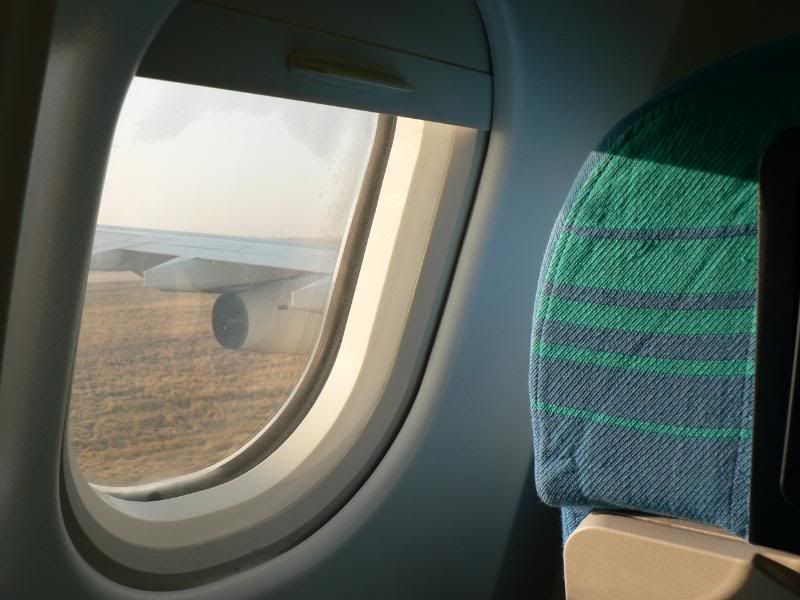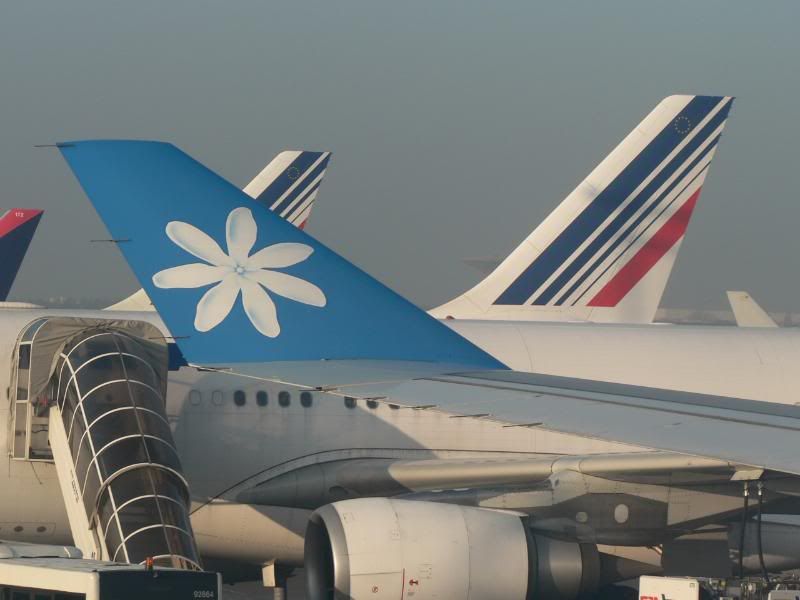 Where the tiare meets the barcode.
That's it !
Nana as they say in Tahiti...
[Edited 2009-08-11 10:24:17]