CO25: Shannon Airport (SNN) – Newark Liberty International Airport (EWR)
CO1183: Newark Liberty International Airport (EWR) – O'Hare International Airport (ORD)
Background
It was time again for a three-week visit to my family and friends in Chicago. Our usual carrier of choice has always been Aer Lingus, especially this year because EI was once again operating the Shannon-Chicago route nonstop, 3 times weekly.
However after several months of surveying prices from various airlines (EI, AF, AA, BA, CO, DL, US, UA), it became clear that, in an unusual move on EI's part, they were quite uncompetitive price-wise this year with the likes of AF, CO, DL & US being substantially cheaper. EI were asking for €3100 for 3 adults, 1 child (all Economy) and US being the cheapest was only asking for €1820. CO and DL came close to this fare but DL's connection at JFK was too long and US's lack of AVOD entertainment and reputation for losing baggage on connecting flights prompted us to book with Continental Airlines via Newark for €1863 for 4 travellers.
It worked out well for me because I got to try out CO for the first time, fly on a 757 for the first time and visit EWR for the first time.
___________________________________________________________________
I awoke at around 5am on Sunday, 19 July for our 9am flight to Newark. It was an overcast morning in west Co. Limerick before embarking on the ~1hr drive to SNN: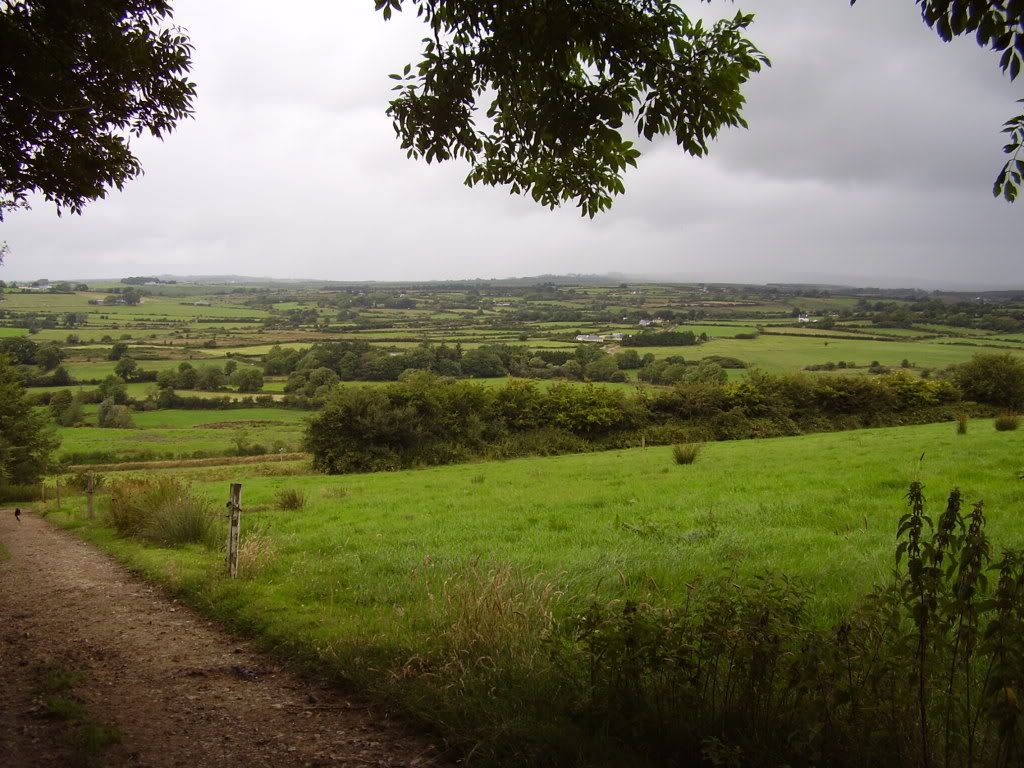 The tranquil surrounds of Co. Limerick
We arrived at SNN at 6.45am having checked in the day before. As we approached the airport I witnessed a Ryanair 738 taxiing to Runway 06 so the wind direction must have changed as we departed on Runway 24. CO states on its website that all passengers originating from Dublin and Shannon cannot check-in online as documentation has to be inspected by CO staff at the airport. I tried to check-in the day before anyway and it worked except it wouldn't allow me to print the boarding passes.
When we arrived there were 4 CO check-in desks open (Continental occupy desks 37-40 at SNN) plus the ticket counter. There were 2 desks for Economy passengers, 1 desk for BusinessFirst passengers and 1 desk for OnePass Elite members. I would clock up nearly 9000 miles on my OnePass card for this return trip.
There was quite a long line and as we entered it a woman approached us with a laptop on wheels and asked us security questions about our bags (did I pack this myself? etc.). She also inspected my passport. Once we reached the desk (about 15 mins later) we learned that flight CO25 was overbooked and they were bumping Elite members into BusinessFirst and other passengers on Skyteam partner Delta Airlines' flight DL123 to New York-JFK. We were not affected by this but our chances of stretching out were nil as the load factor for both classes were 100%.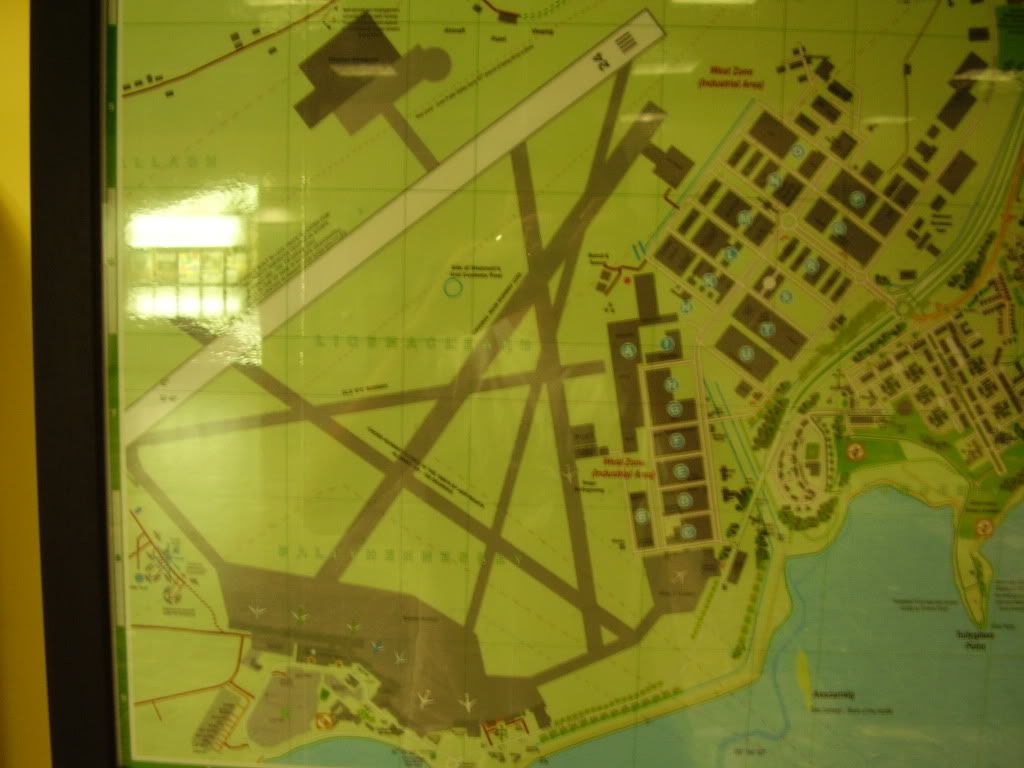 Map of Shannon Airport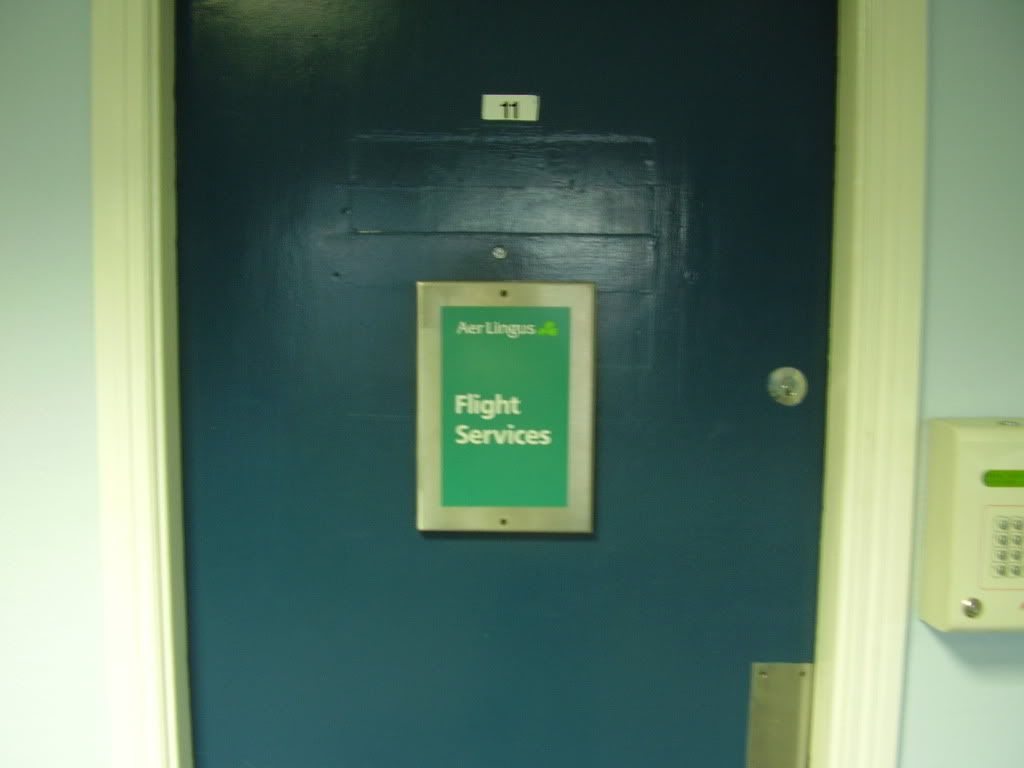 Aer Lingus' Flight Operations room
Old Air Traffic Control tower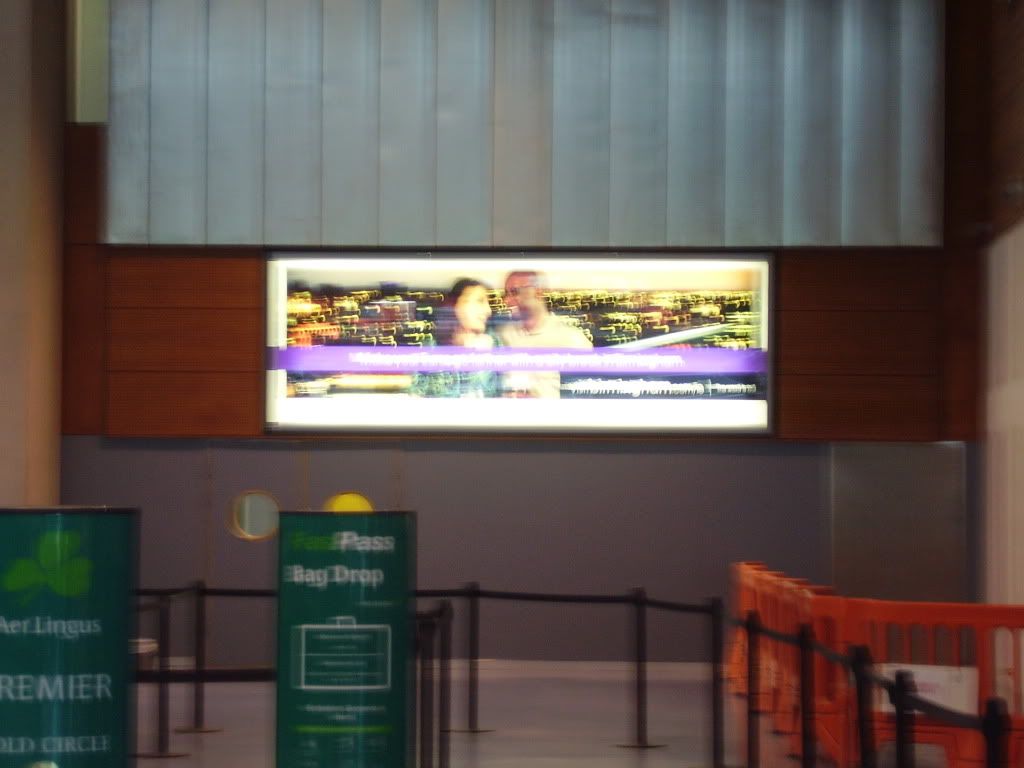 "Visit Birmingham" ad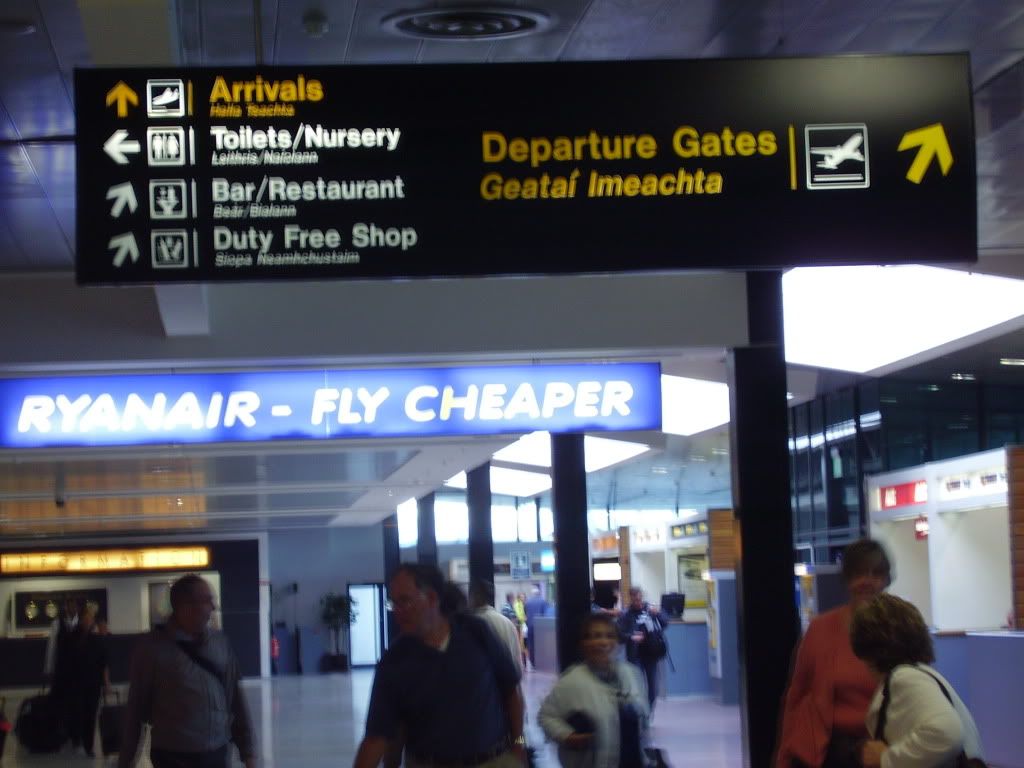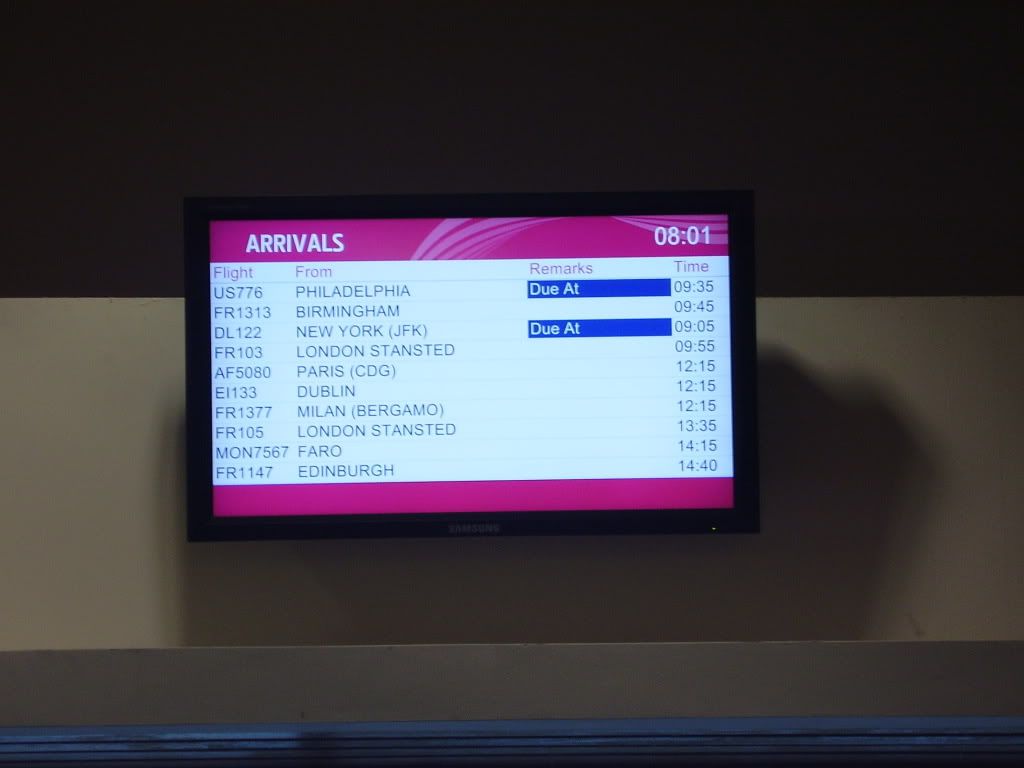 My boarding pass
As soon as we completed check-in, an announcement was made for all passengers travelling on CO25 that the US immigration facility was now inspecting documentation this flight. We went upstairs to the Estuary Café and had a bite to eat before going through security. I also bought a sandwich to eat in-flight because
plane-food
doesn't appeal to me.
There was no queue for security and we were not asked to remove shoes or belts for a change. The Airport Shopping store was full of US military personnel who were on their way to/coming home from the Middle East. I went straight to the departure lounge and browsed around.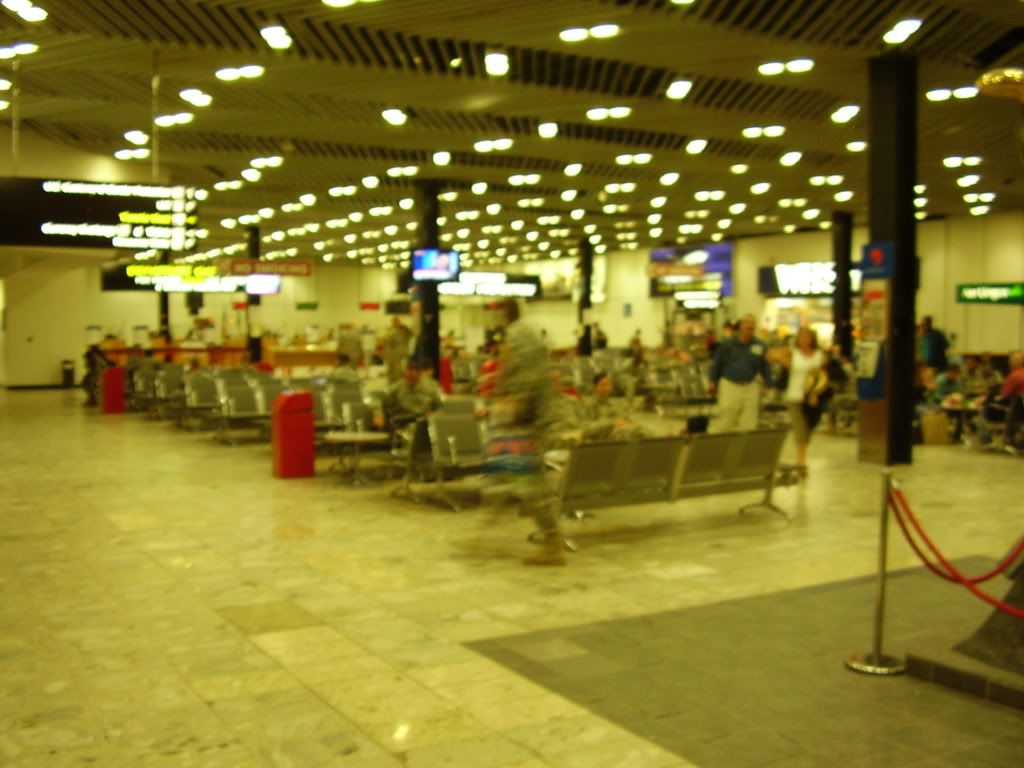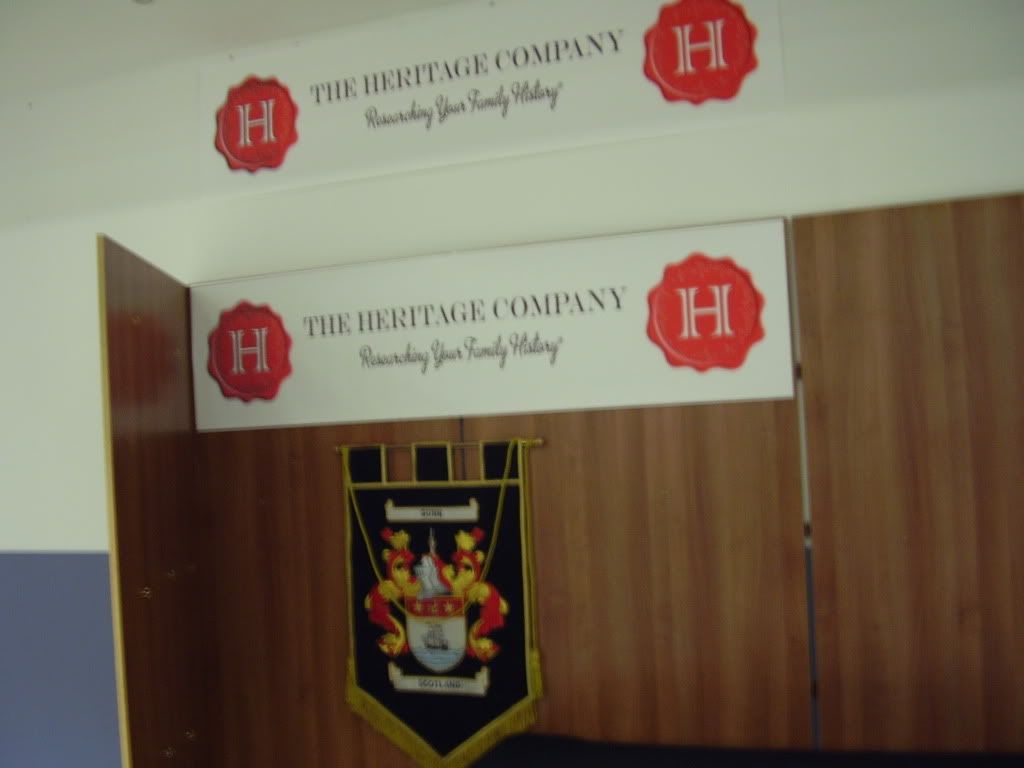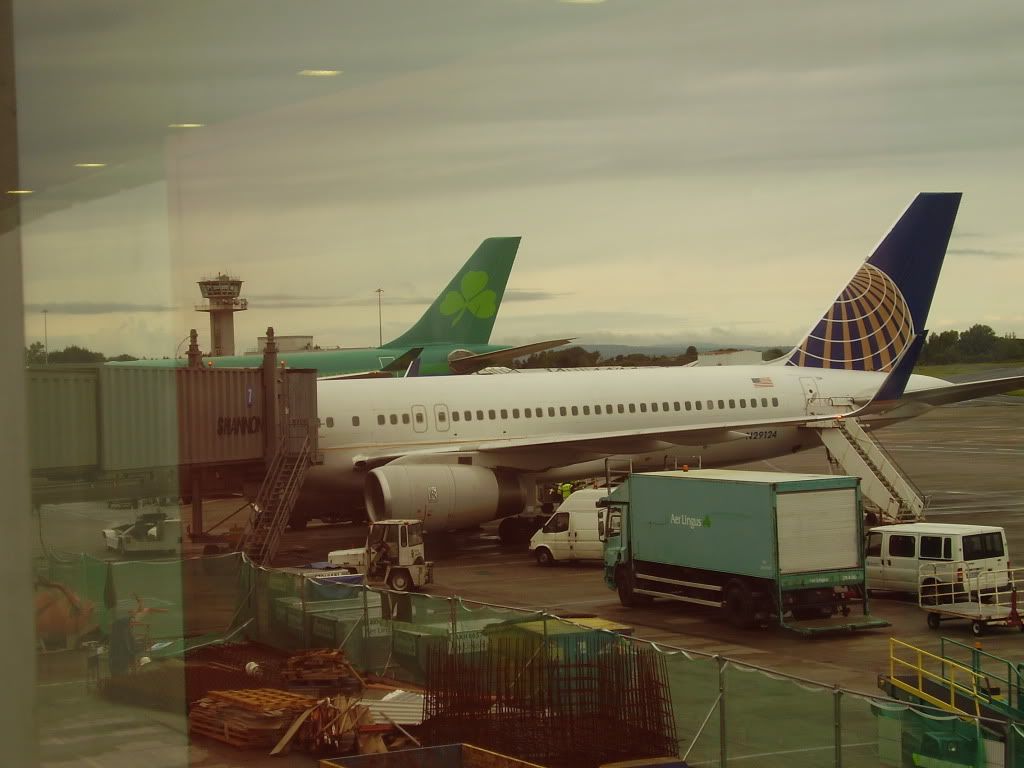 Our bird: a Boeing 757-224 - N29124 at Gate 7 with an EI A333 (EI-ORD/St Maeve) at Gate 8 bound for JFK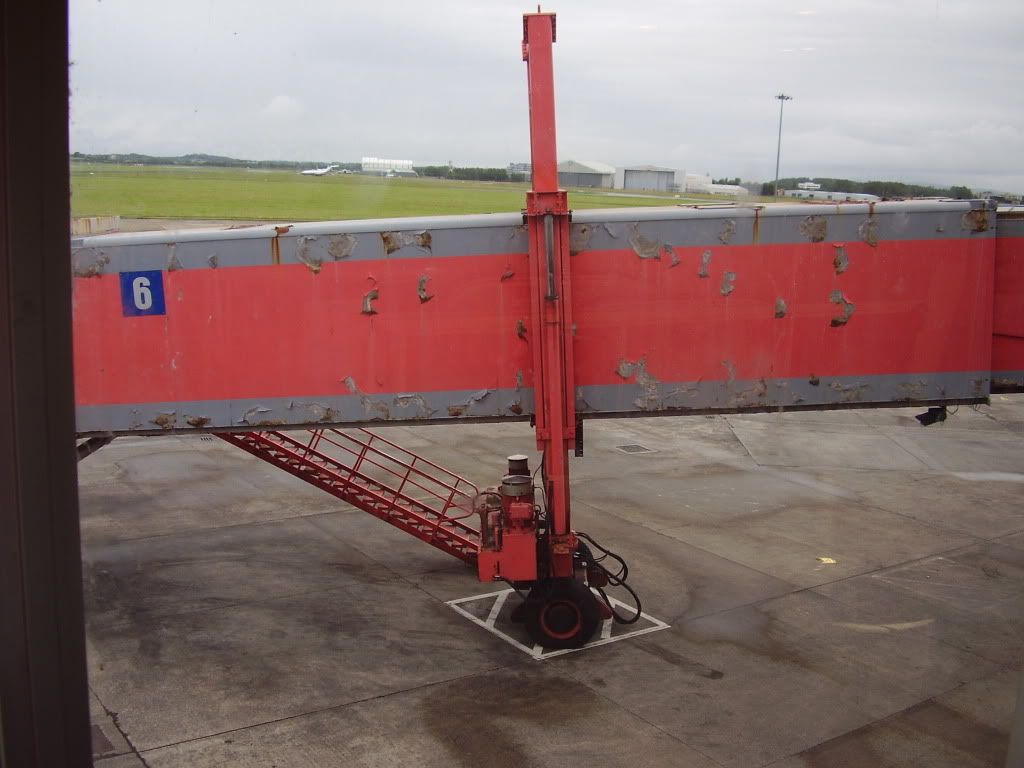 The airbridge of Gate 6 showing its age
I came back into the departure lounge and met the rest of my travelling party and we pre-cleared US Immigration procedures. The new US Customs and Border Protection facility offering full pre-clearance had not yet opened (we were about 2 weeks early), otherwise we would have had everything done before arrival in the US. Continental uses Gate 7 at Shannon and this was no exception this morning. Before we entered the boarding area we had one final security check of hand-luggage. I snapped a few shots before boarding was called: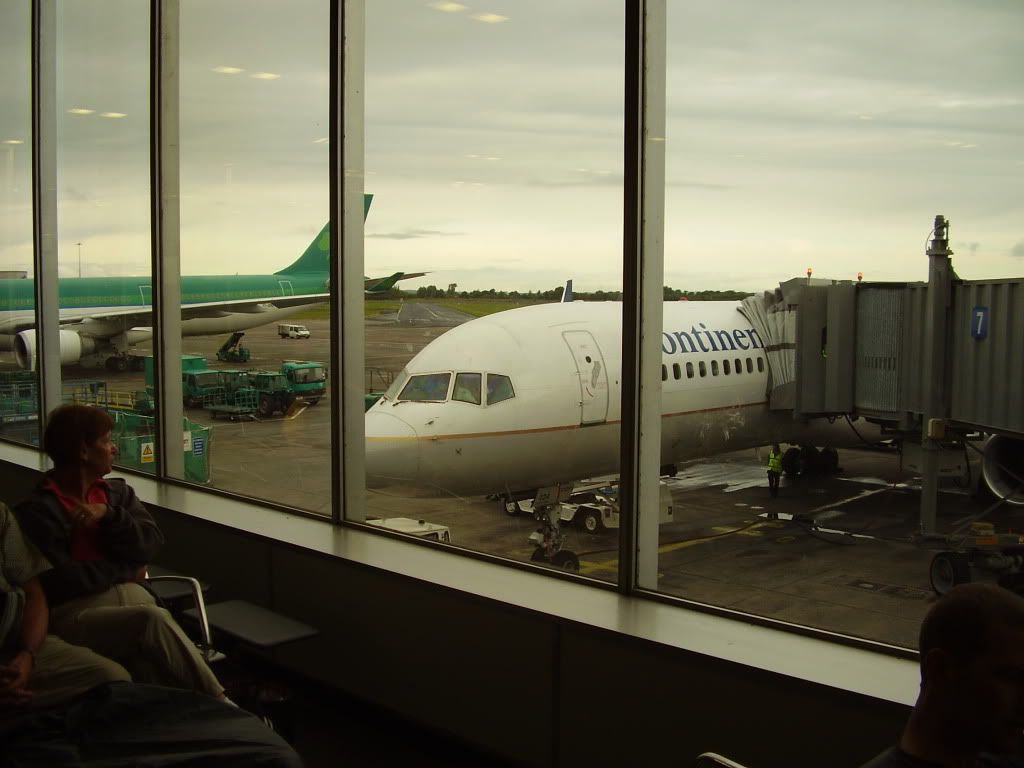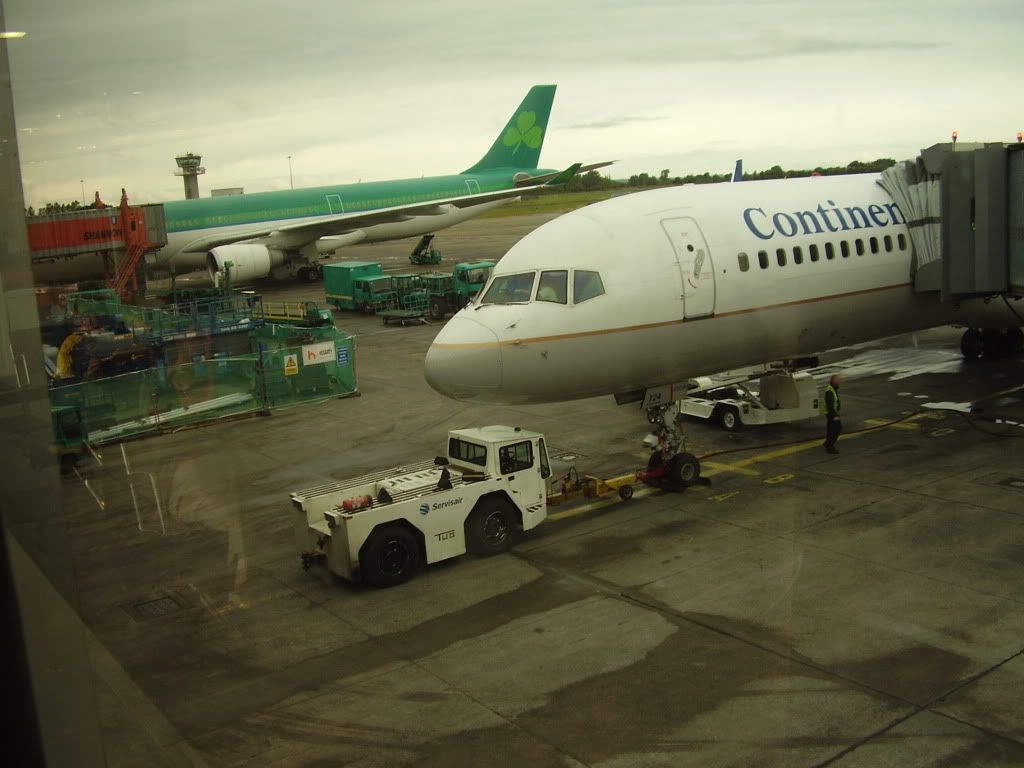 Boarding commenced at 8.20am IST (Irish Standard Time) through door 2L following the usual procedure; BusinessFirst passengers then passengers travelling with small children & OnePass Elite members and finally for people seated at the back of the aircraft forward. As we were boarding there was a call for all US military passengers to Gate 14 with their transit boarding cards.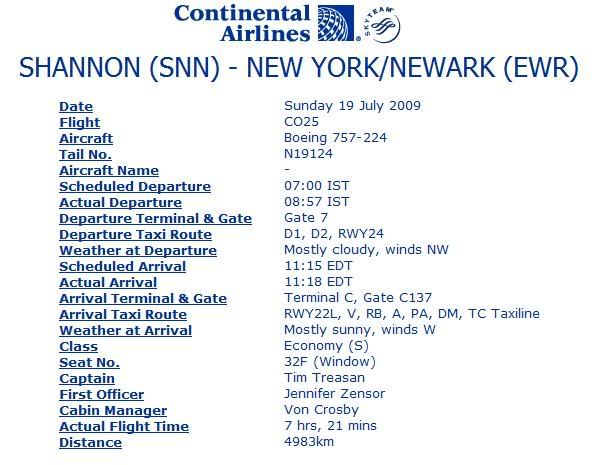 Note: the "Scheduled Departure" should read 09:00 IST instead of 07:00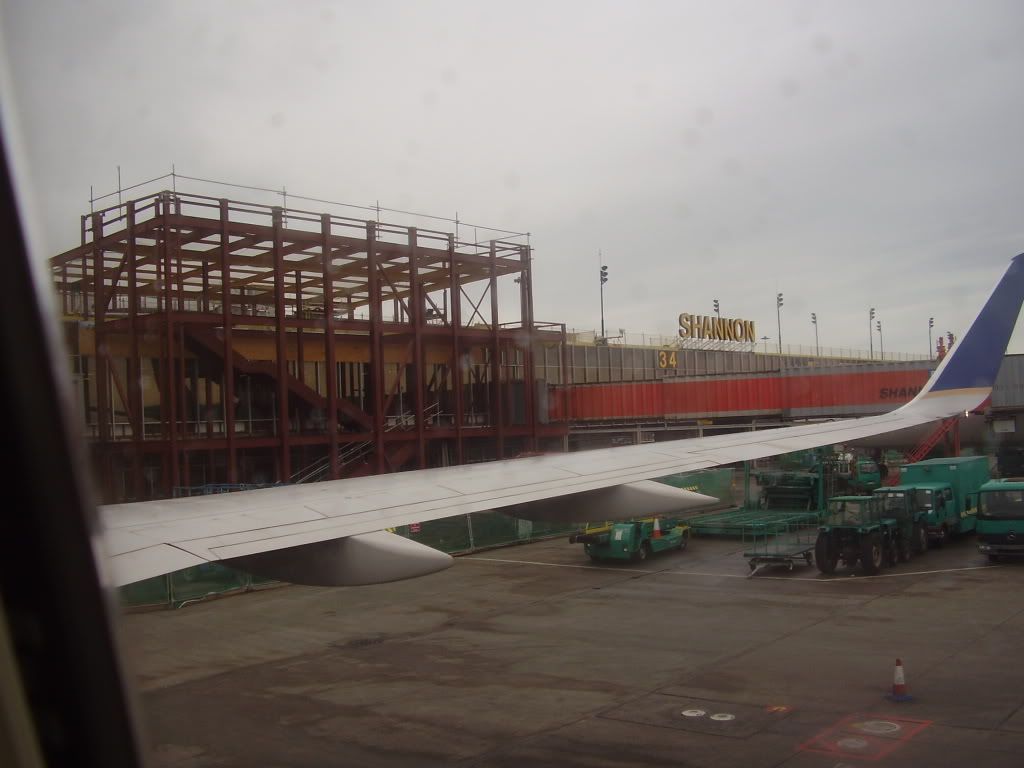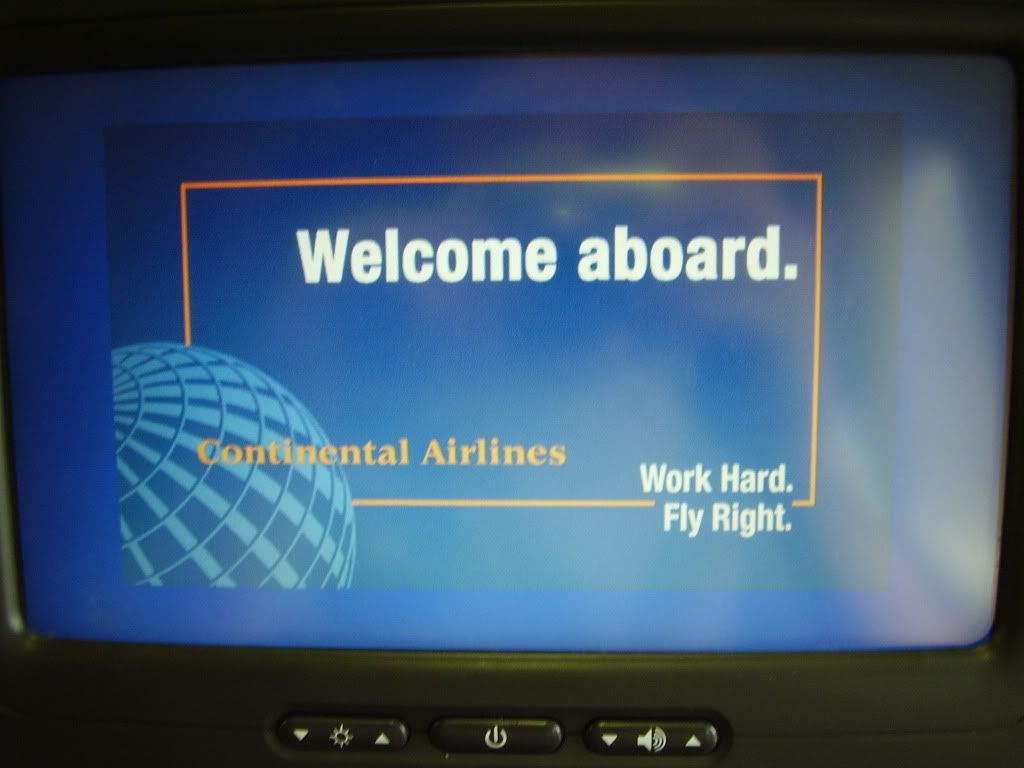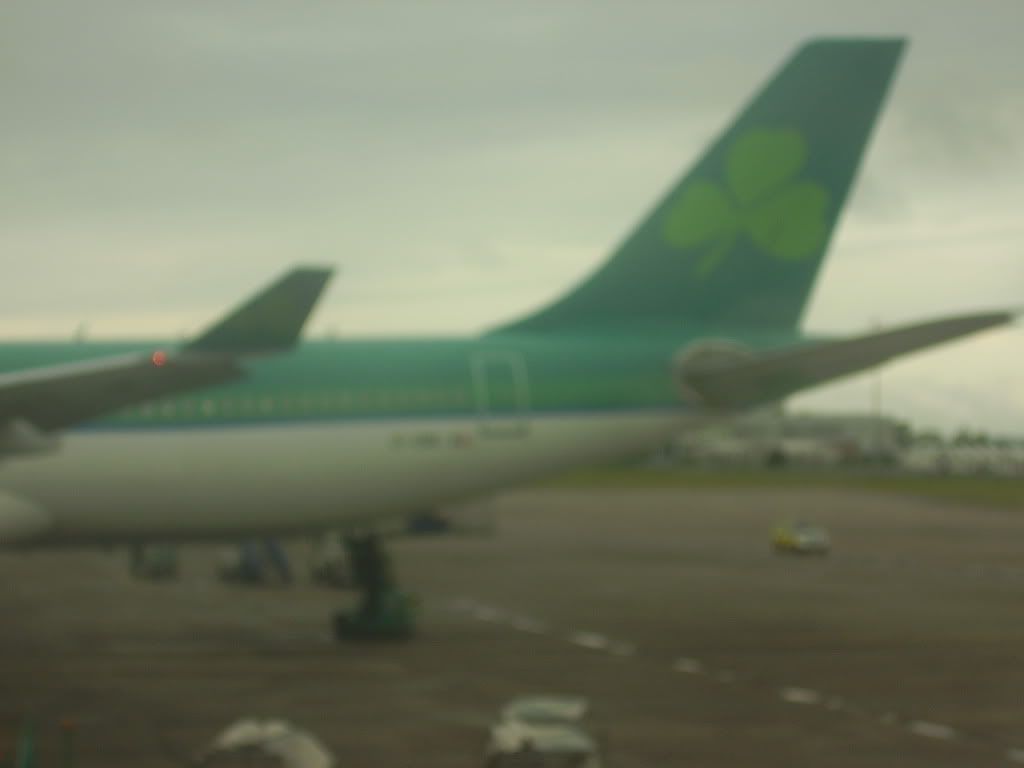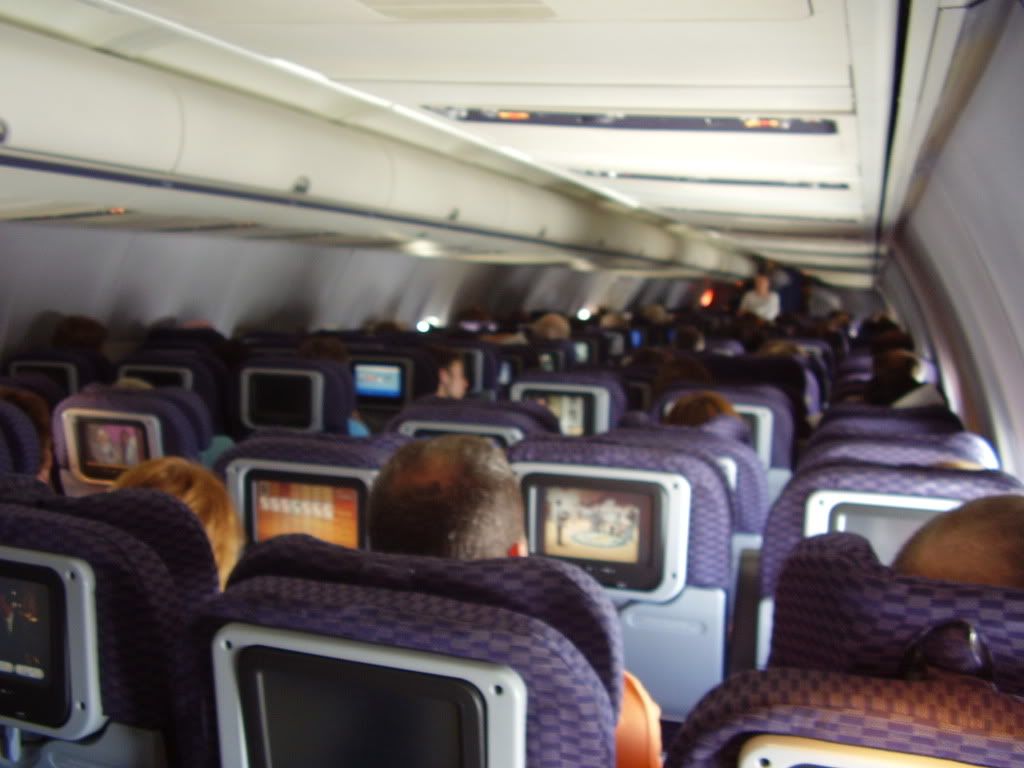 I found the boarding process to be more relaxed than Aer Lingus with more appealing music (Day Dream Believer was one of the songs on while boarding). The cabin manager today Ms. Von Crosby welcomed us after everyone had boarded. She used humour (she advised anyone who was NOT travelling on this flight to come forward so he/she can be directed to the right gate) and informed us that cabin lights would be dimmed for takeoff and landing. Captain Tim Treasan (sp?) introduced himself at 8.46am and projected a flight time to EWR of 7 hours and 5 minutes.
The cabin door was closed at 8.53am and pushback followed at 8.57am. At this time the lights were turned off and the safety video was played. Engine start-up was at 8.59am and we began taxiing at 9.02am IST.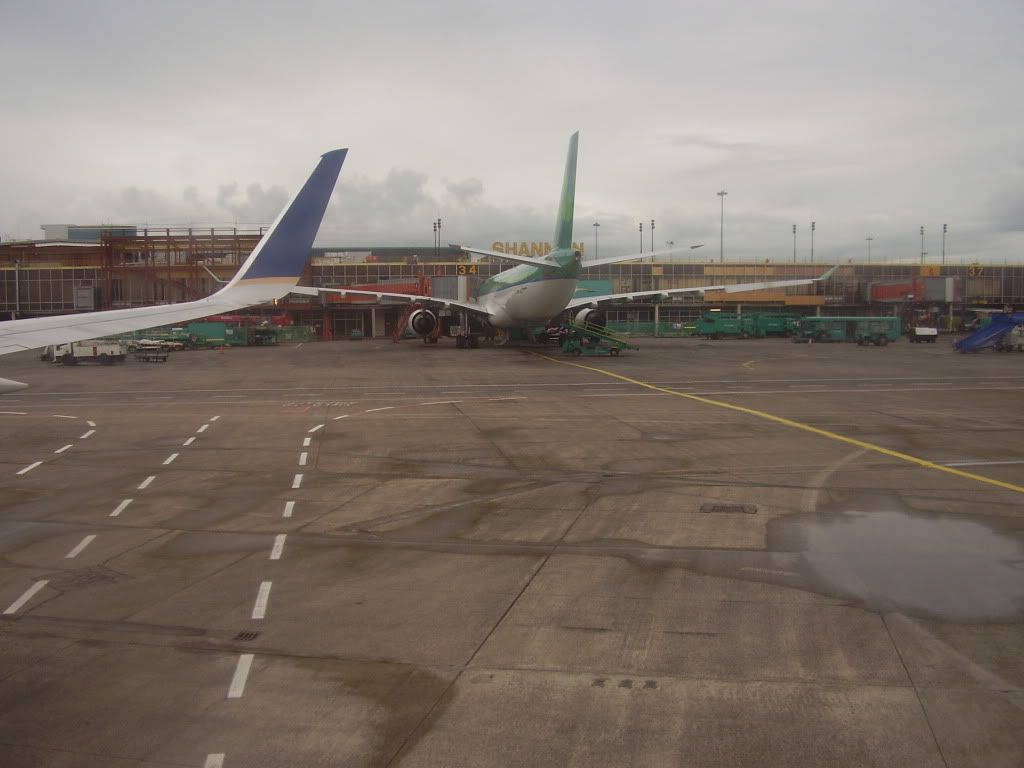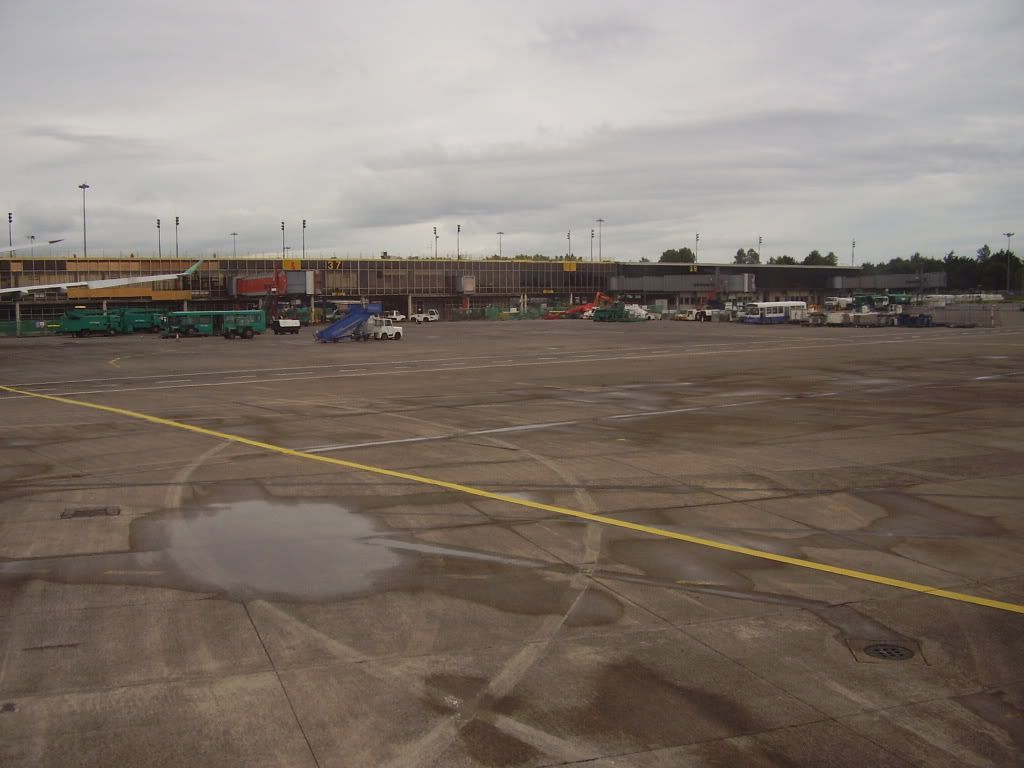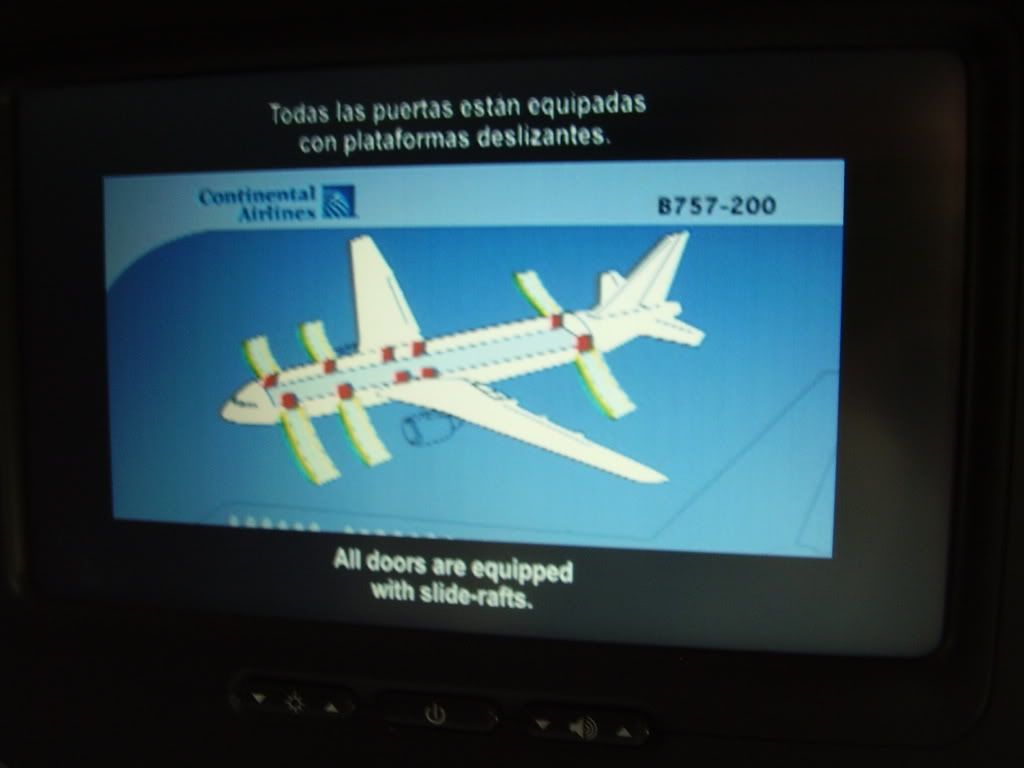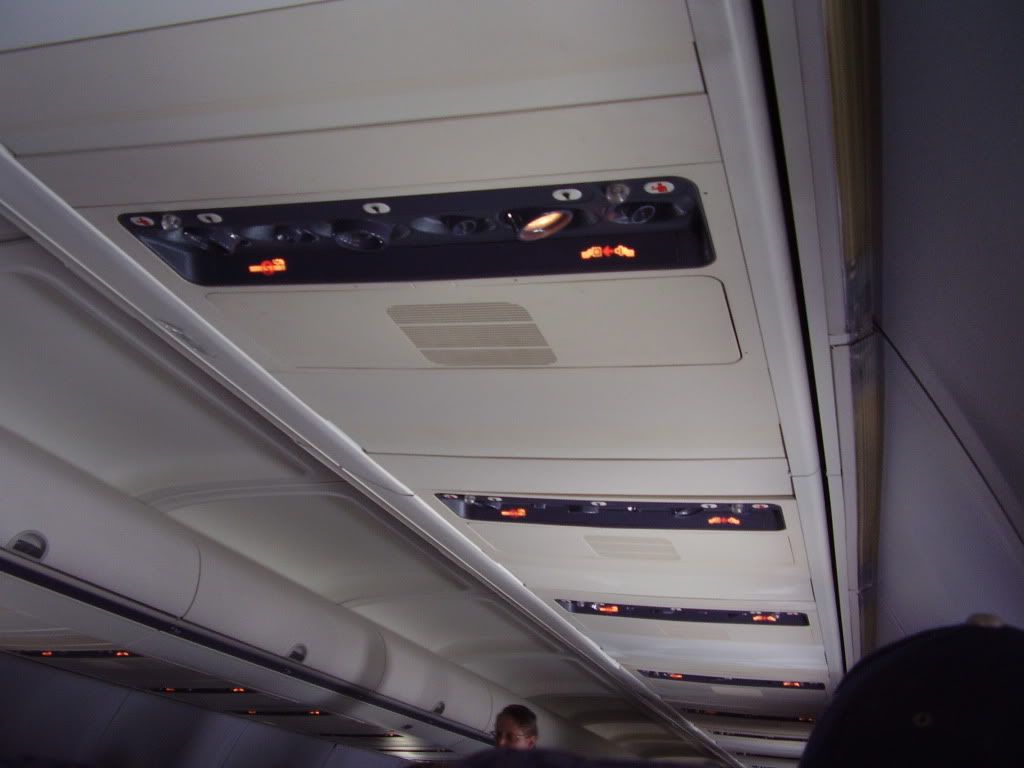 When we got to RWY24 we waited for about 2 mins for an incoming Omni Air International 752 to land before us: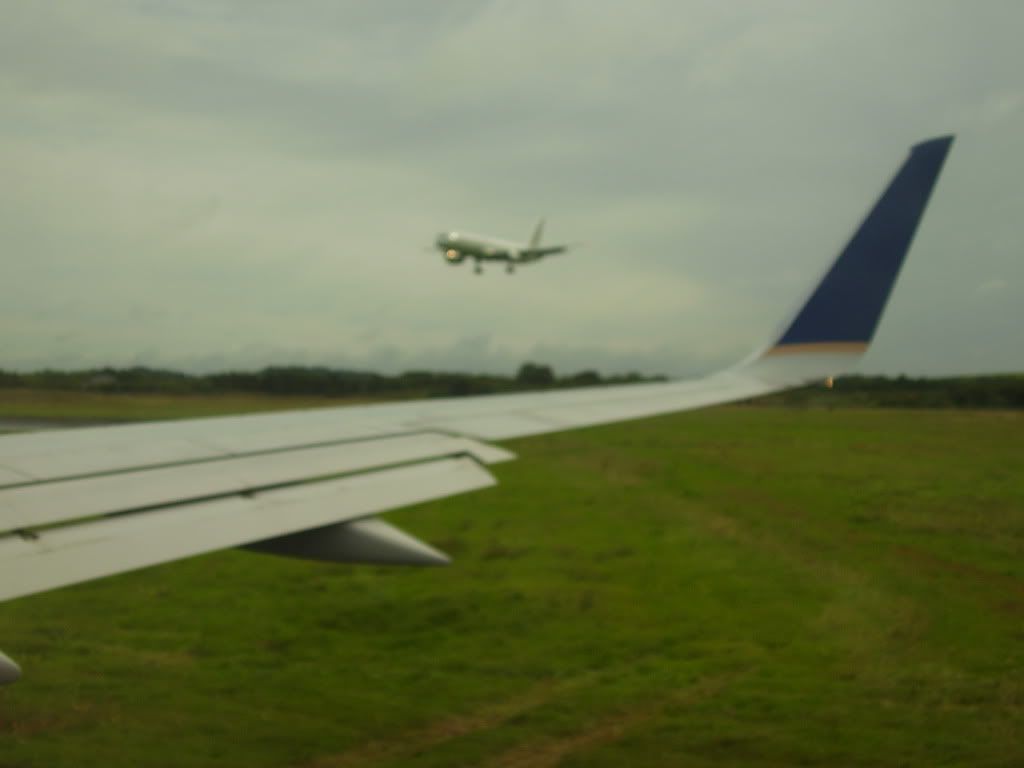 The very powerful takeoff took place and we were airborne at 9.14am. We turned right and we left the Irish coastline just south of the Aran Islands. We reached cruising altitude of 34,000 feet at 9.35am IST at a groundspeed of 520mph.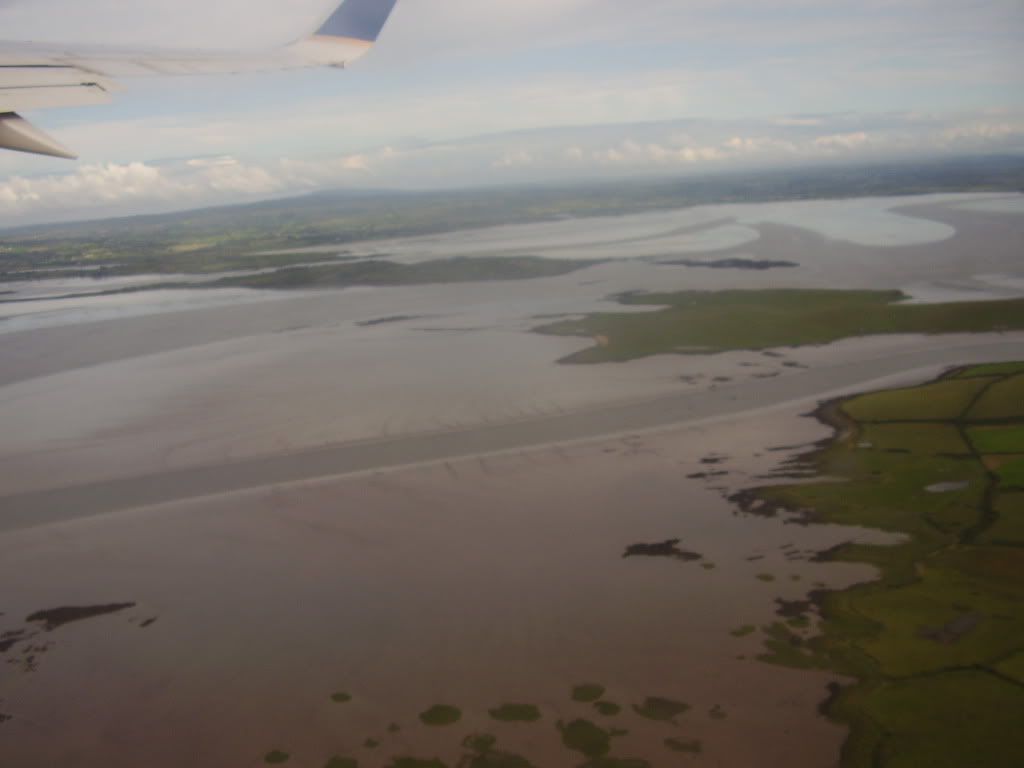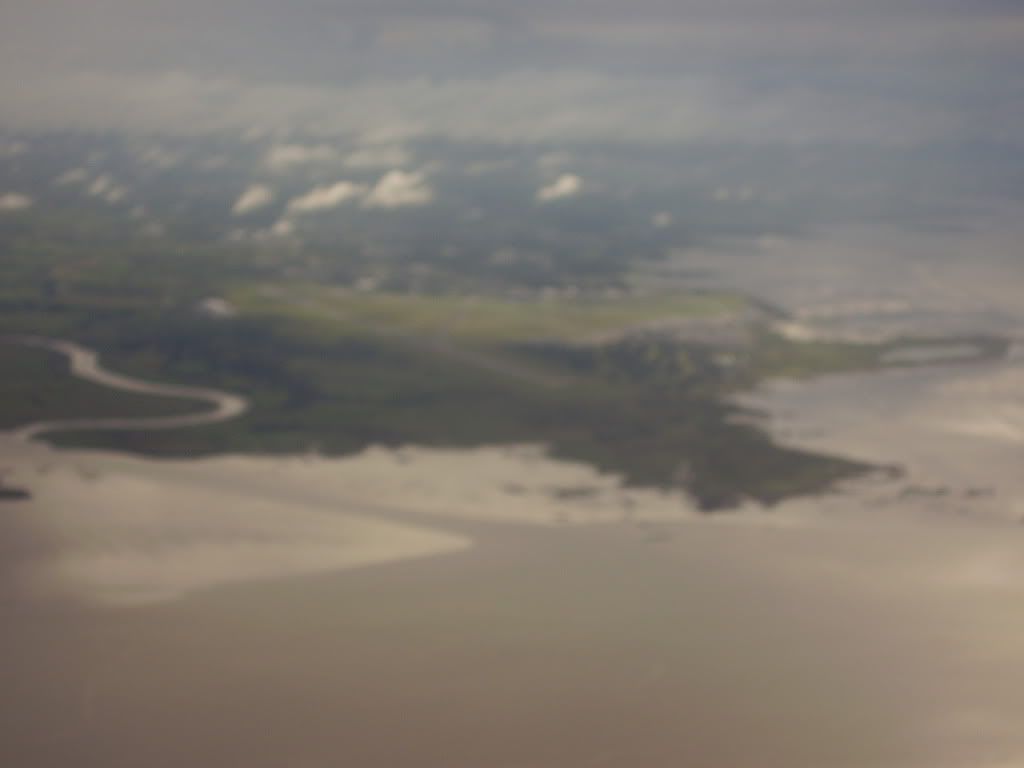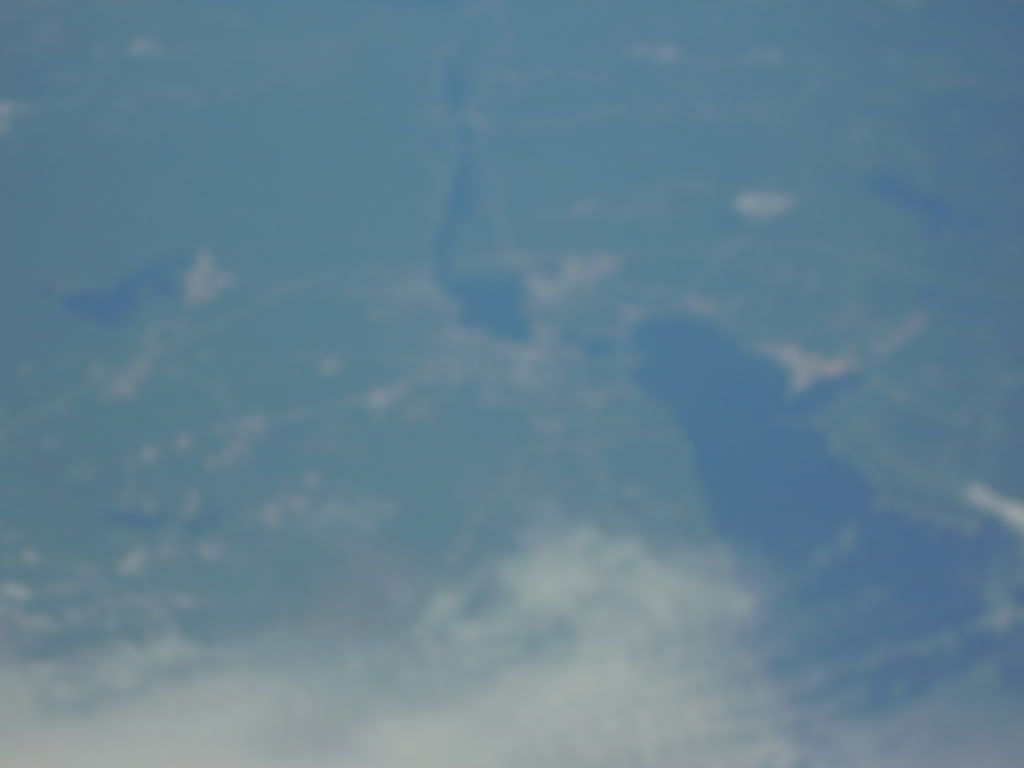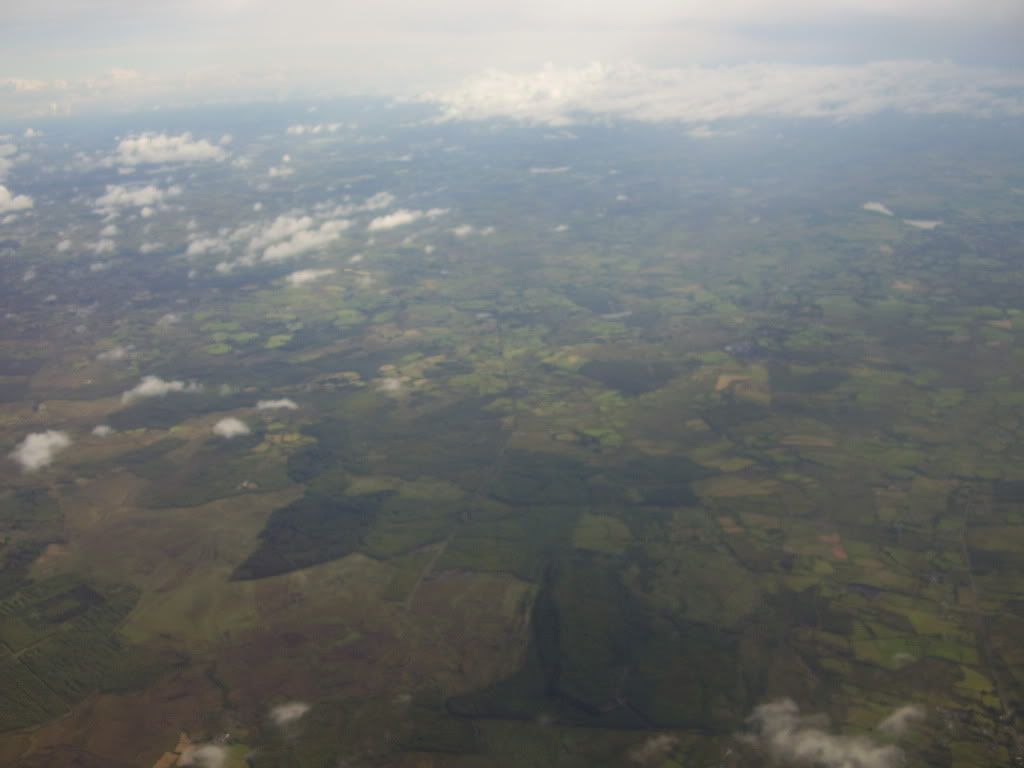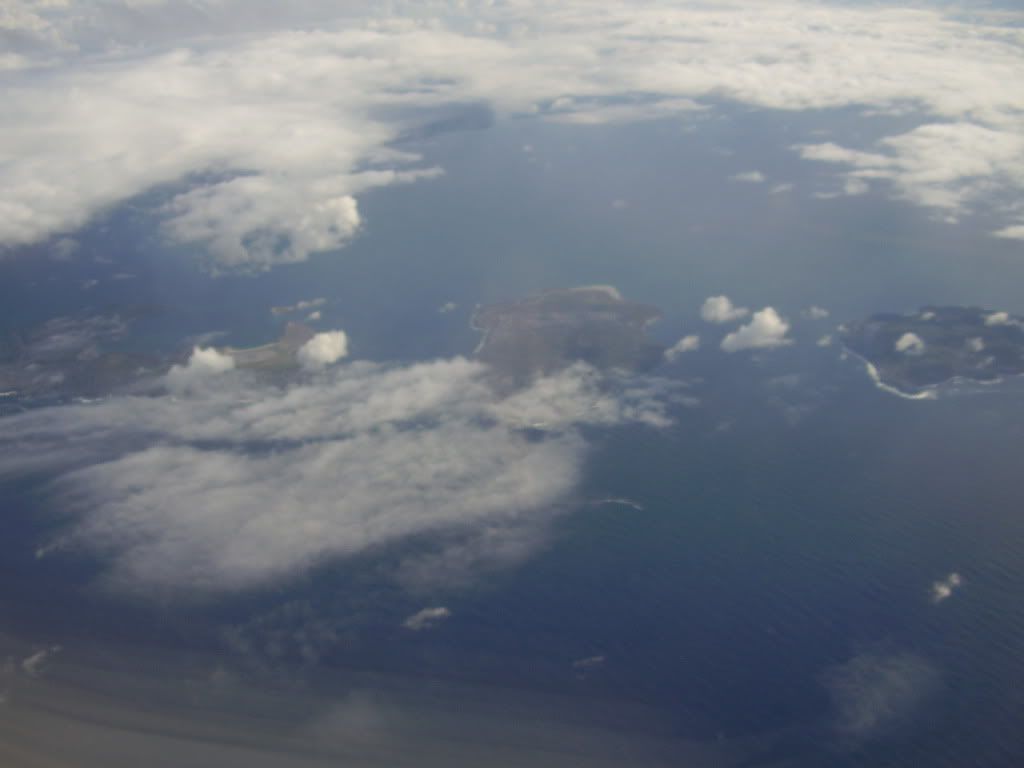 The Aran Islands: Inismór, Inismeáin and Inisoirr (from left)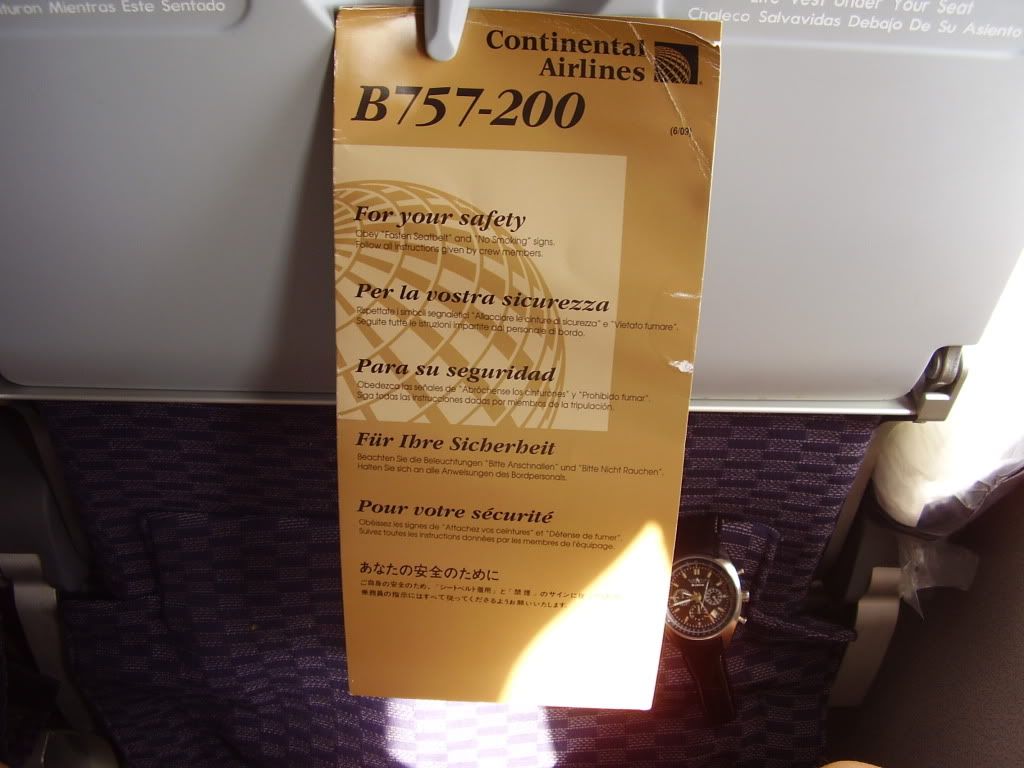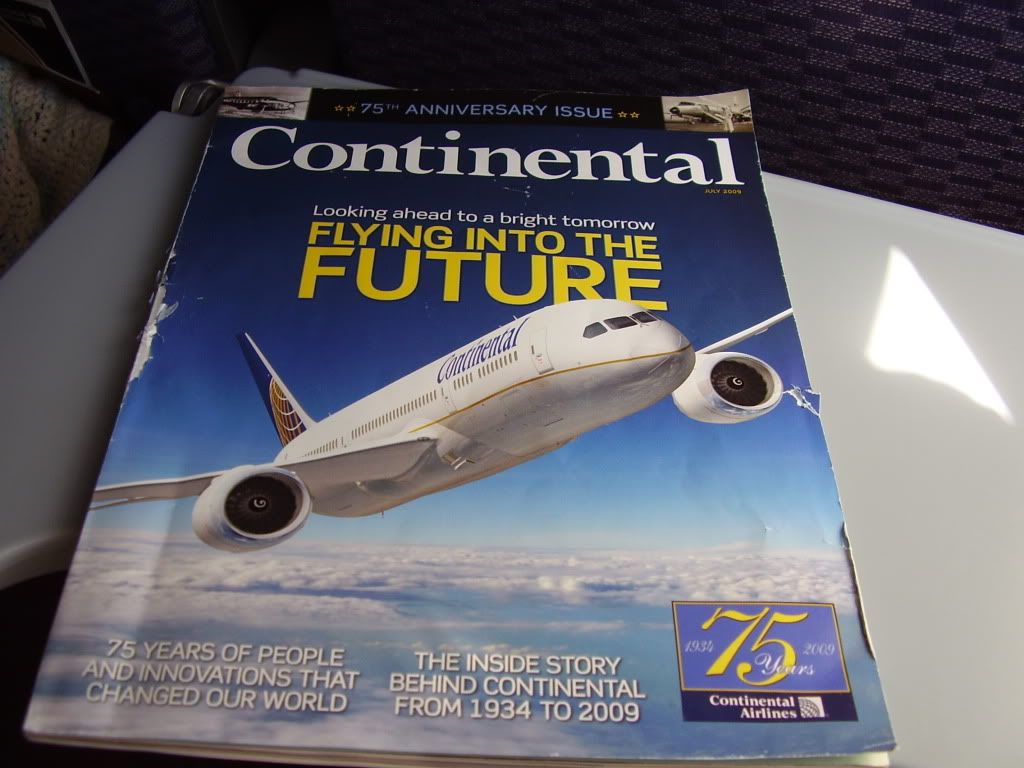 The bar service began at 9.45am IST. Like EI, soft drinks are free but there is a fee for alcoholic drinks. Each drink was accompanied with mini pretzels. Shortly before dinner the in-flight entertainment was re-started because it wasn't working for some people. Apparently this is a common problem and happens a lot on CO's 757s. This process took about 40 minutes. Also one of the two Economy lavatories went out of order so everyone was instructed to use the one at the rear of the aircraft. Needless to say with the single aisle, it did become a bit crowded back here especially during the bar service.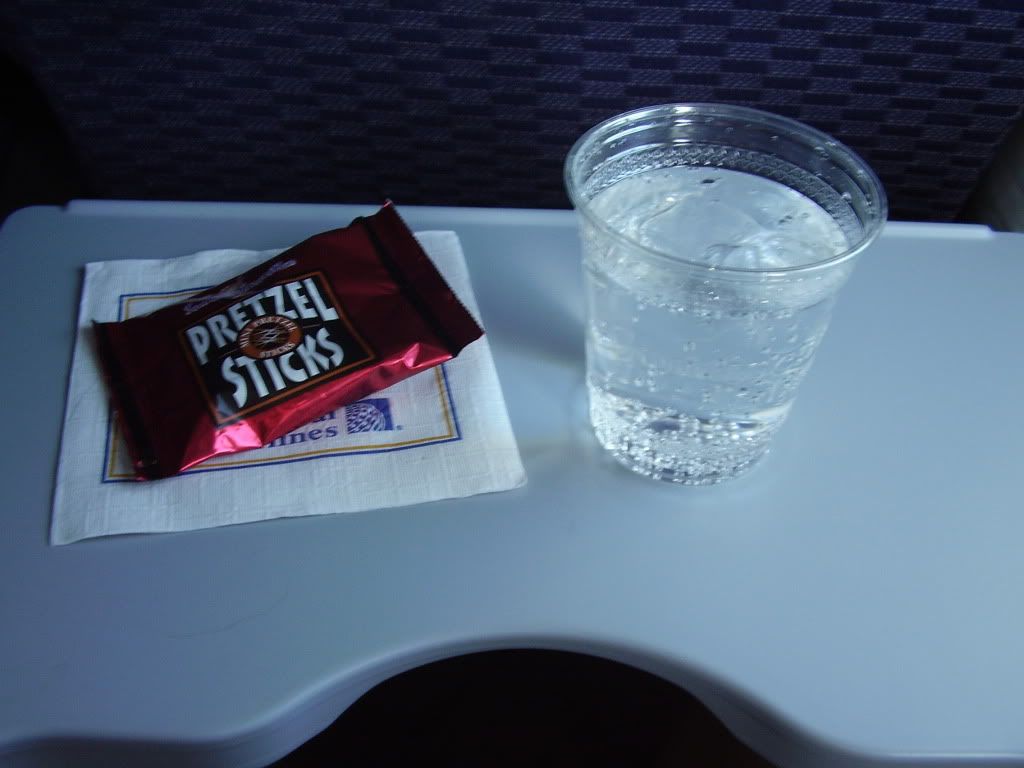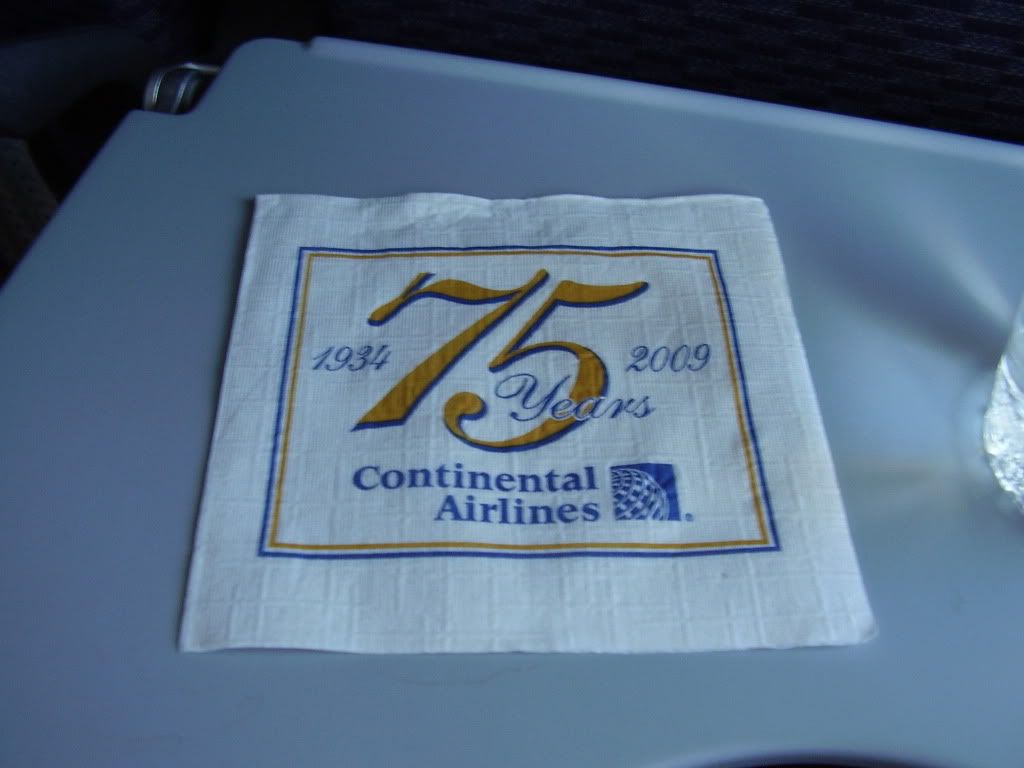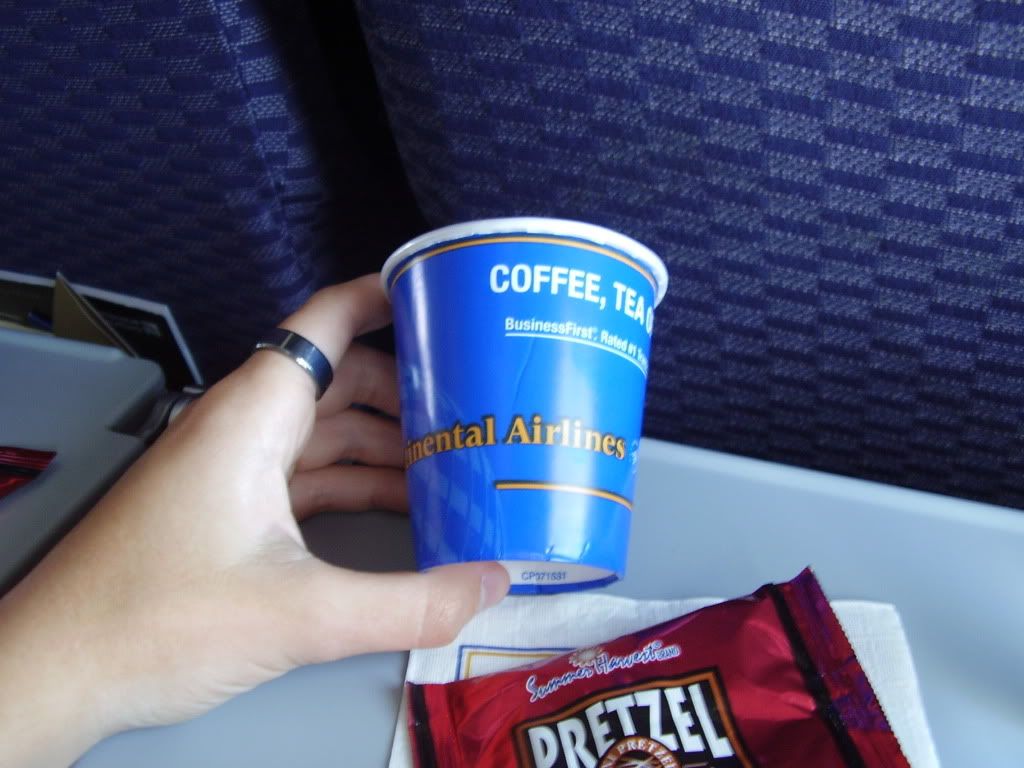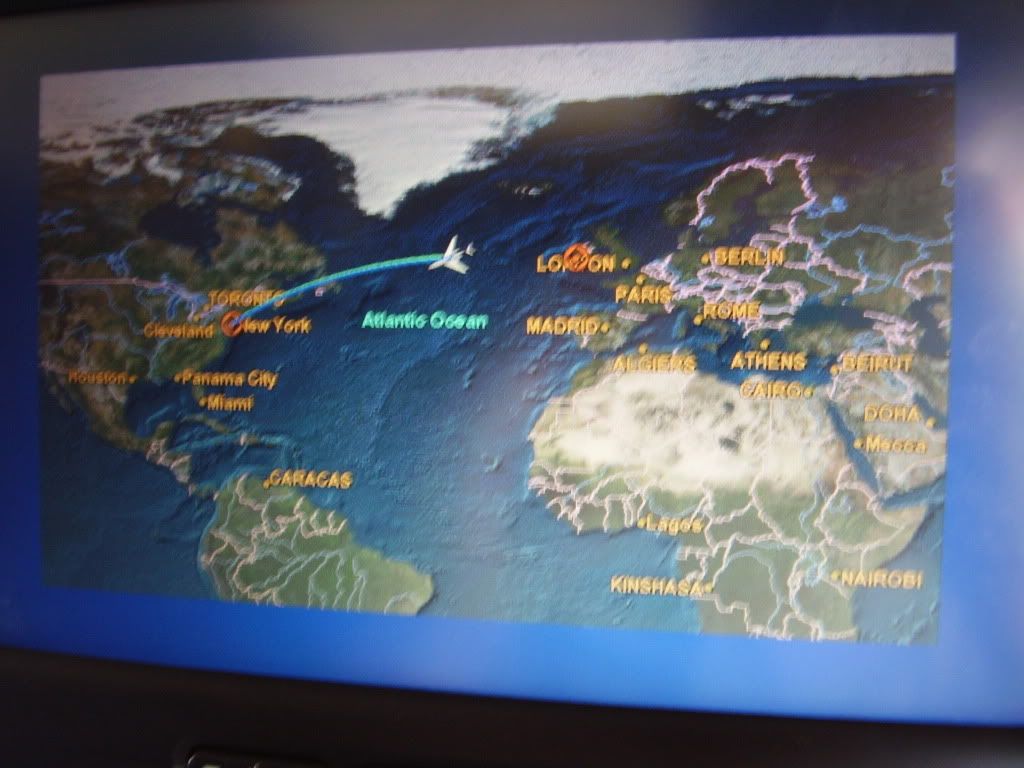 Flightmap showing our progress just after the system was re-started
Dinner was served at 10:45am IST along with another round of drinks. Today's choice was – surprise, surprise – chicken or beef. I ordered the beef but I didn't eat much, turning instead to the sandwich I bought at SNN. The brownie was nice I thought.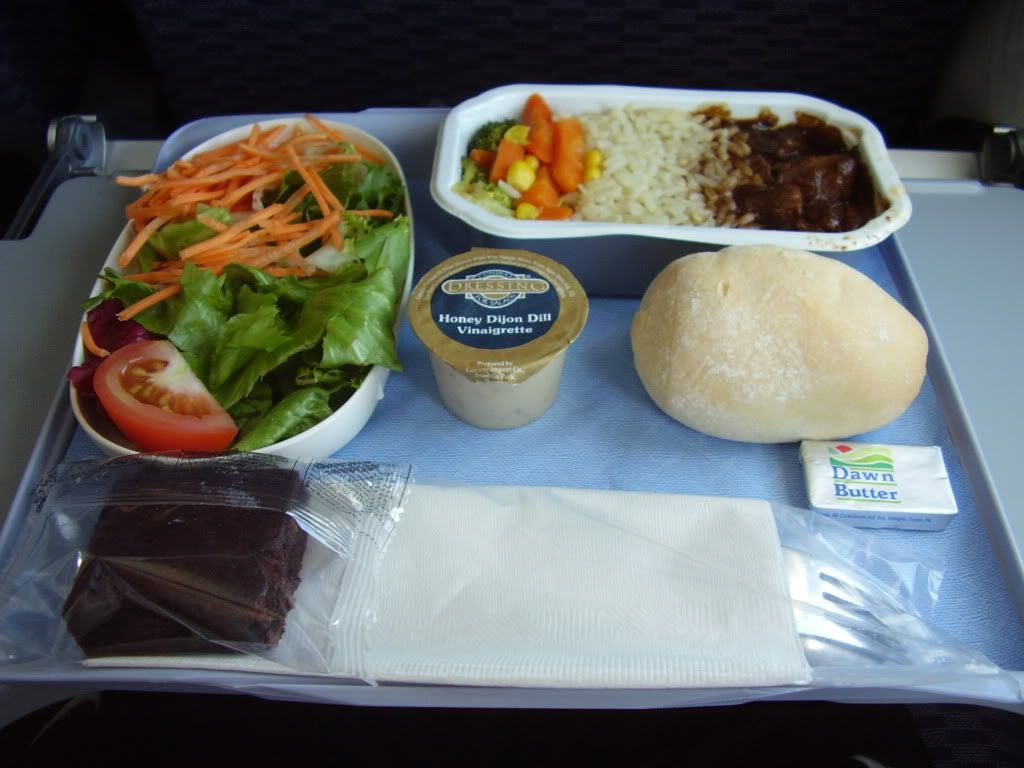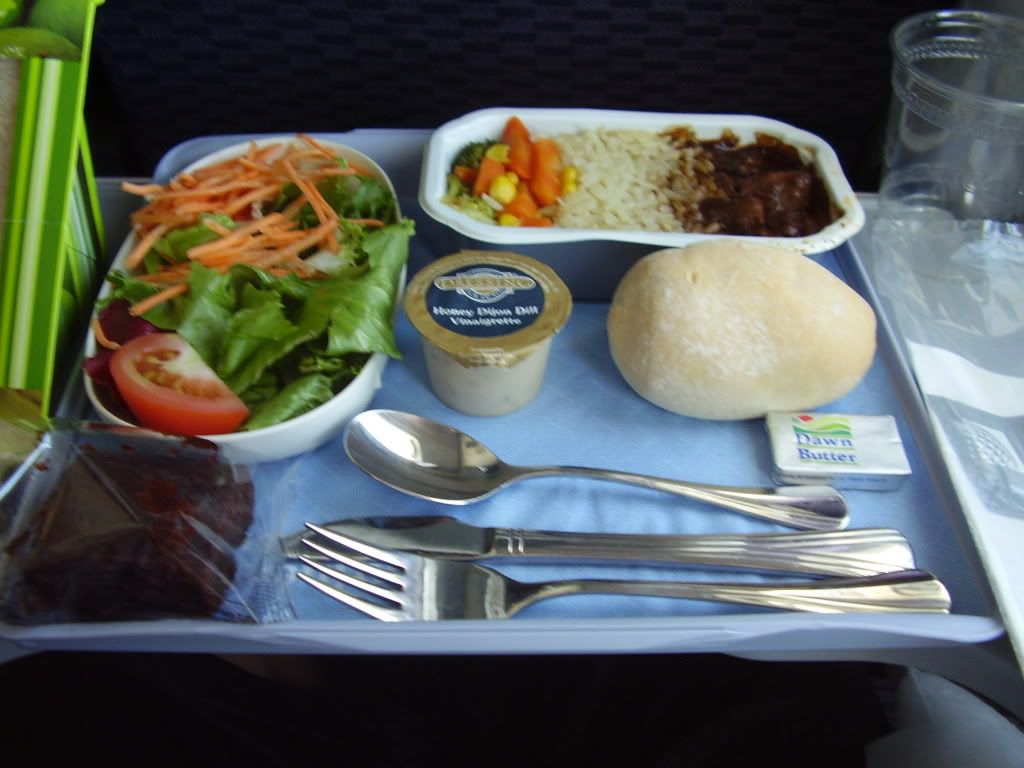 Non-plastic cutlery!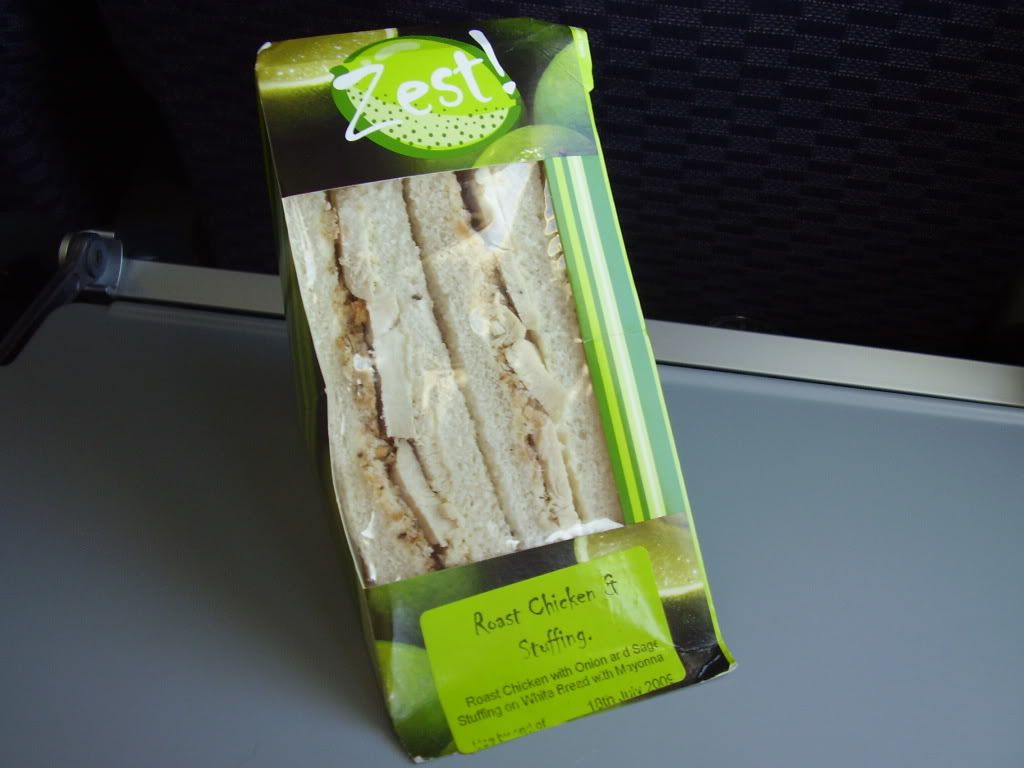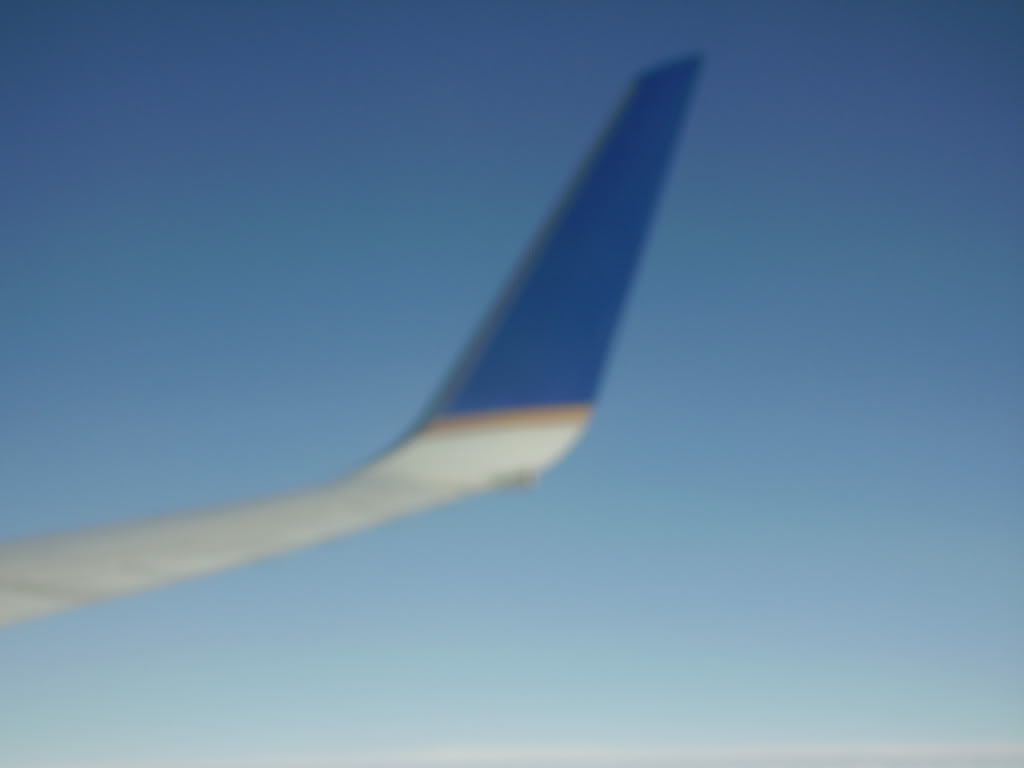 I felt CO were just as generous with legroom as EI and I found that travelling in the 757 was just as comfortable as the A330. At 11:18am IST there was an announcement that (somehow) the crew had managed to fix the lavatory and was now available for use again. At 11:30am IST the Duty Free service began. There was some strong enough turbulence around this time and the fasten-seat-belts sign was switched back on. From then on the flight was more turbulent (this was from about the mid-Atlantic) but it came in periods and didn't last long.
After that I tried to sleep but can never really sleep on a plane. At 9.00am EDT orange juice was offered to us. An hour later, Ms. Crosby briefed us on Customs requirements at Newark Liberty International Airport. Shortly after this the final service was offered. It consisted of a heated turkey and cheese roll with ready salted crisps, German mustard and a dark chocolate cluster. Fair nice now I have to say.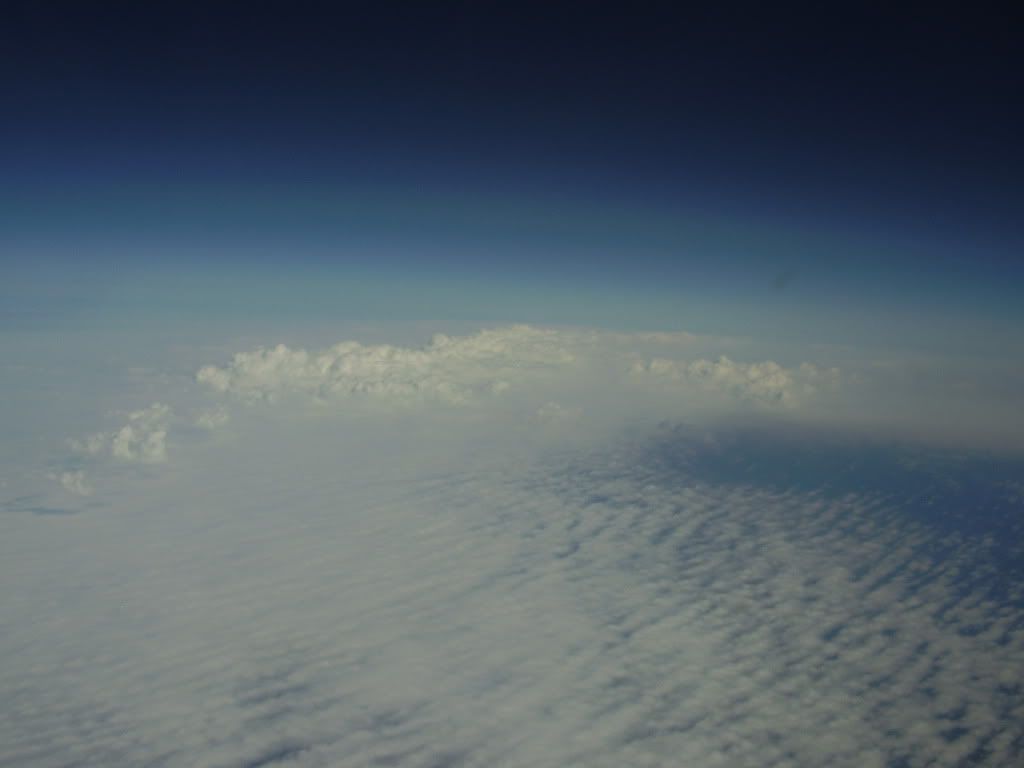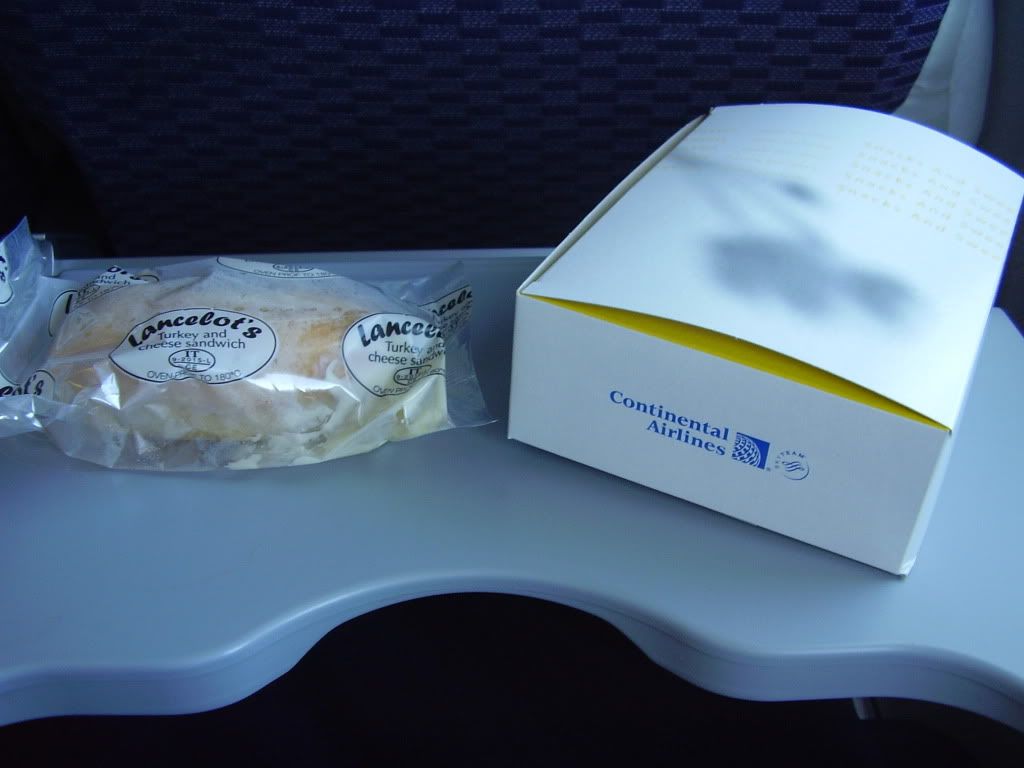 Our cruising altitude changed to 38,000 feet later on in the flight. We flew right over Boston. At 10.35am EDT the captain informed us on our descent into Newark.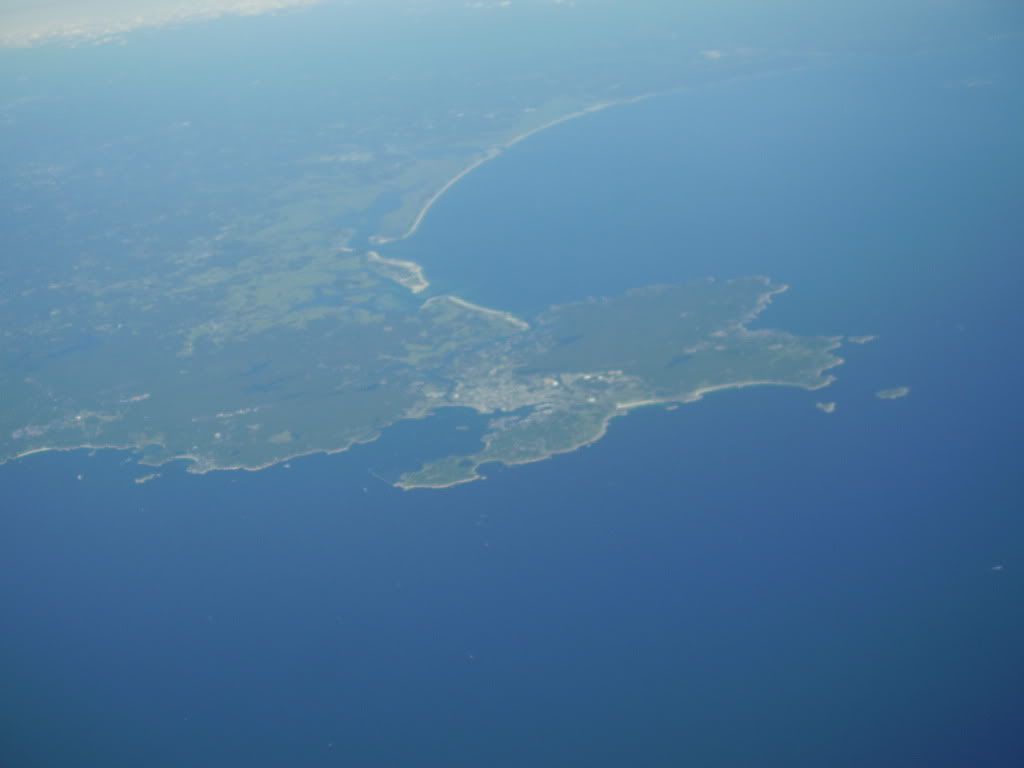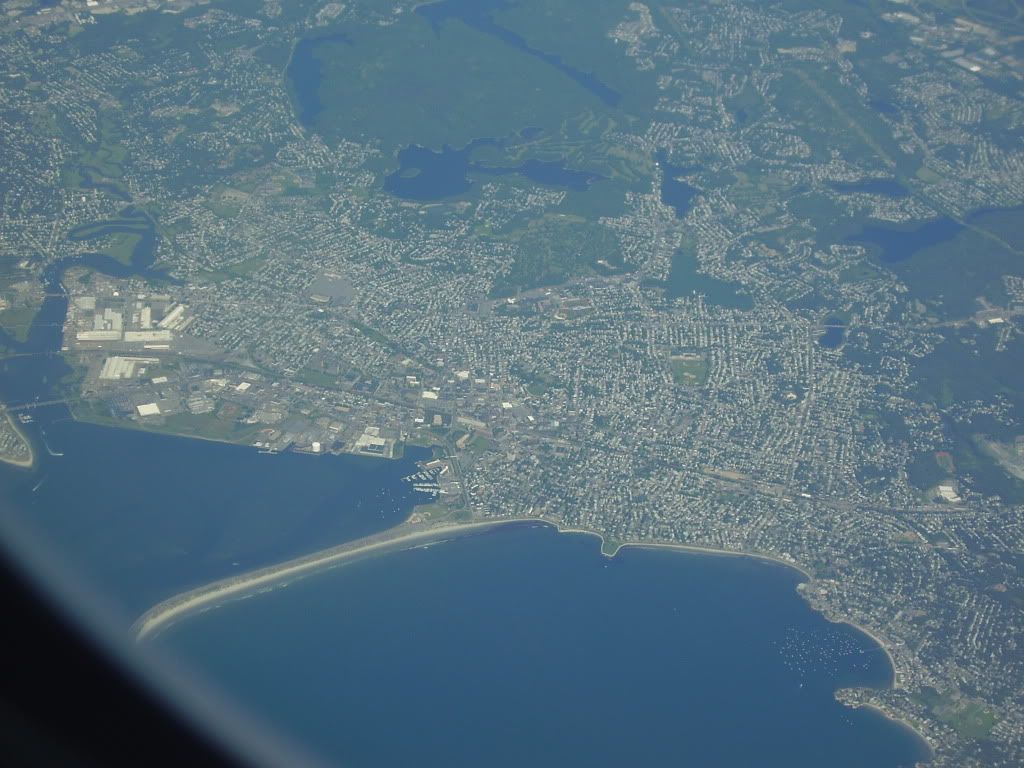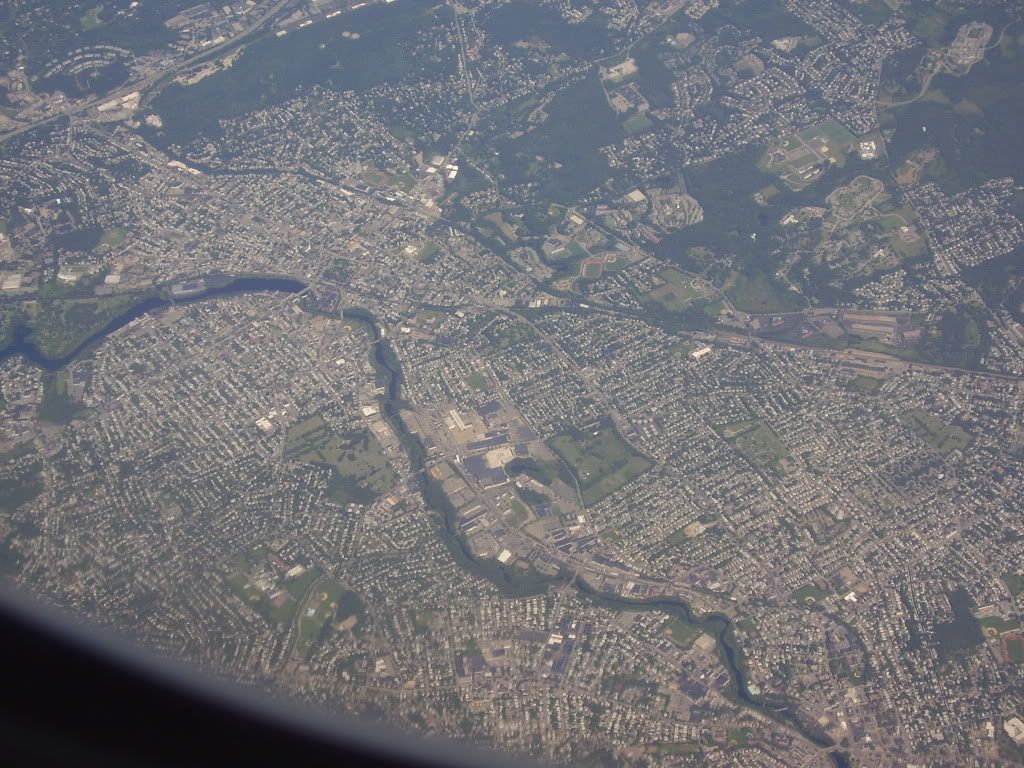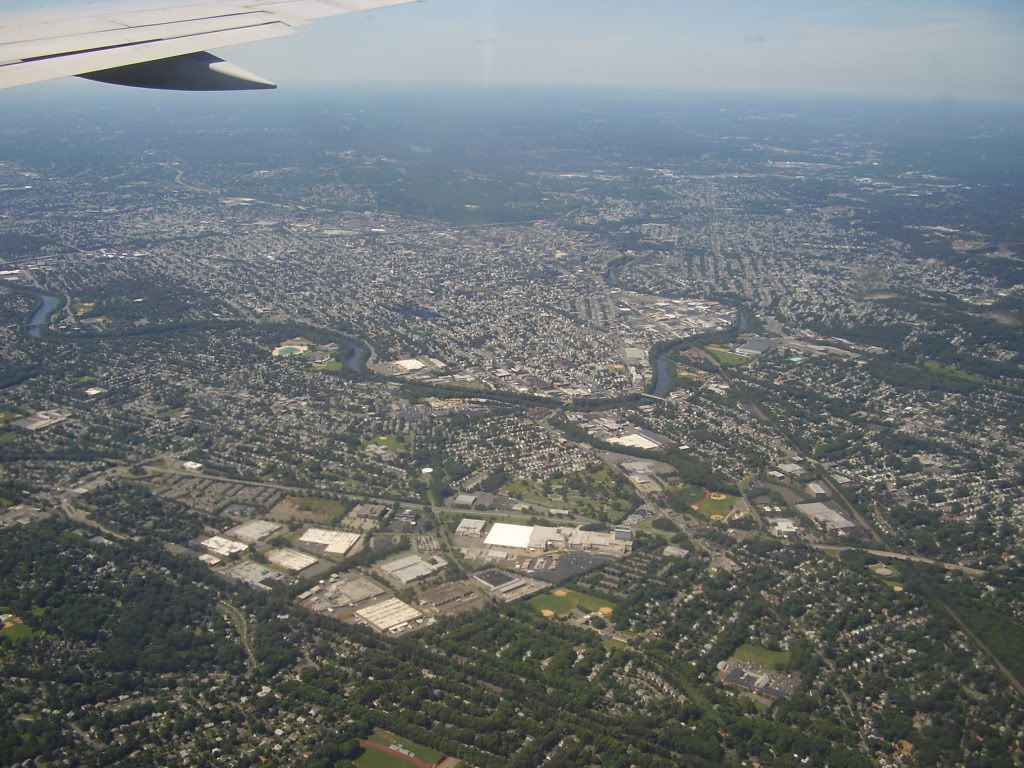 Our final approach was declared at 10.57am EDT.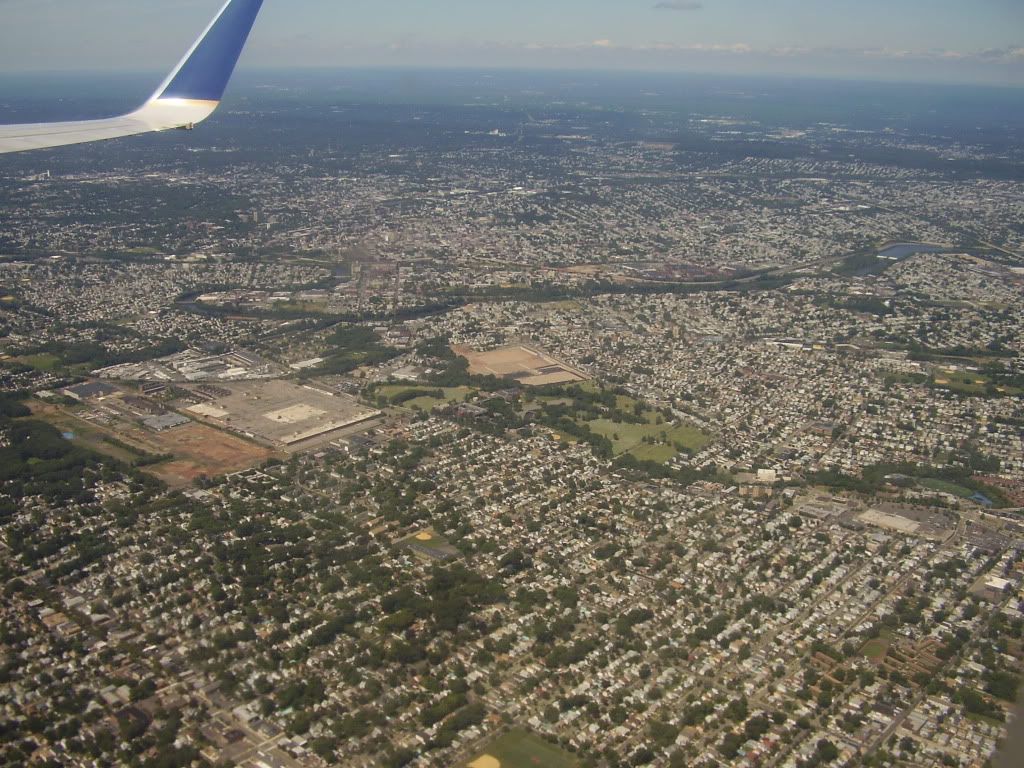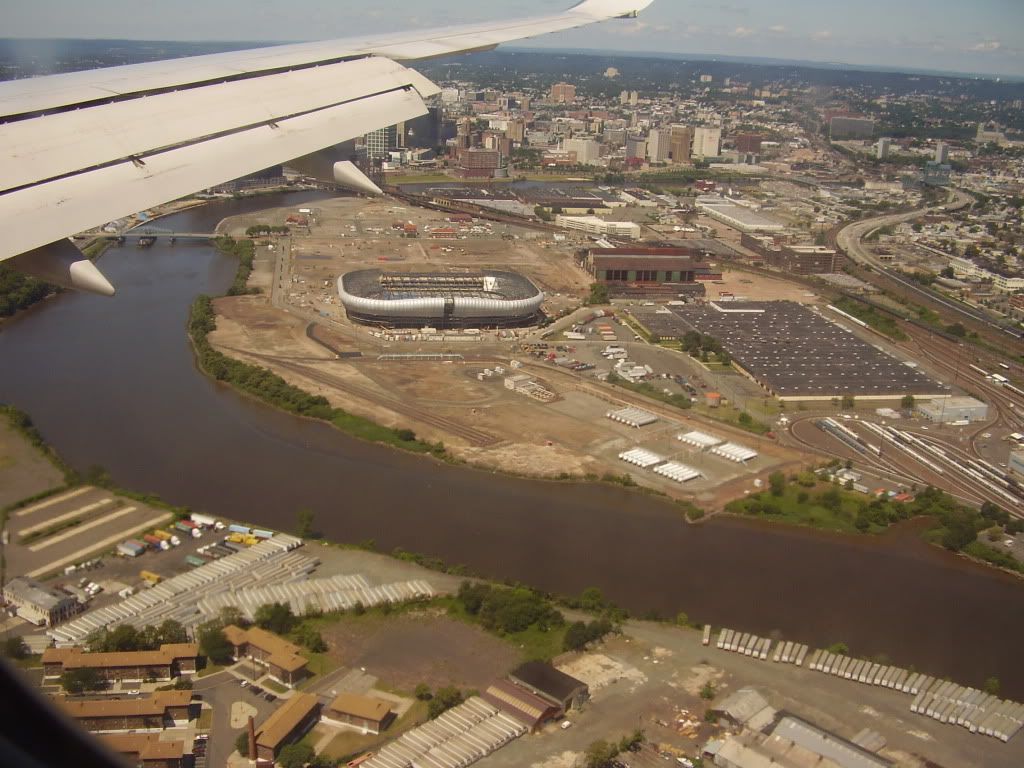 Gear down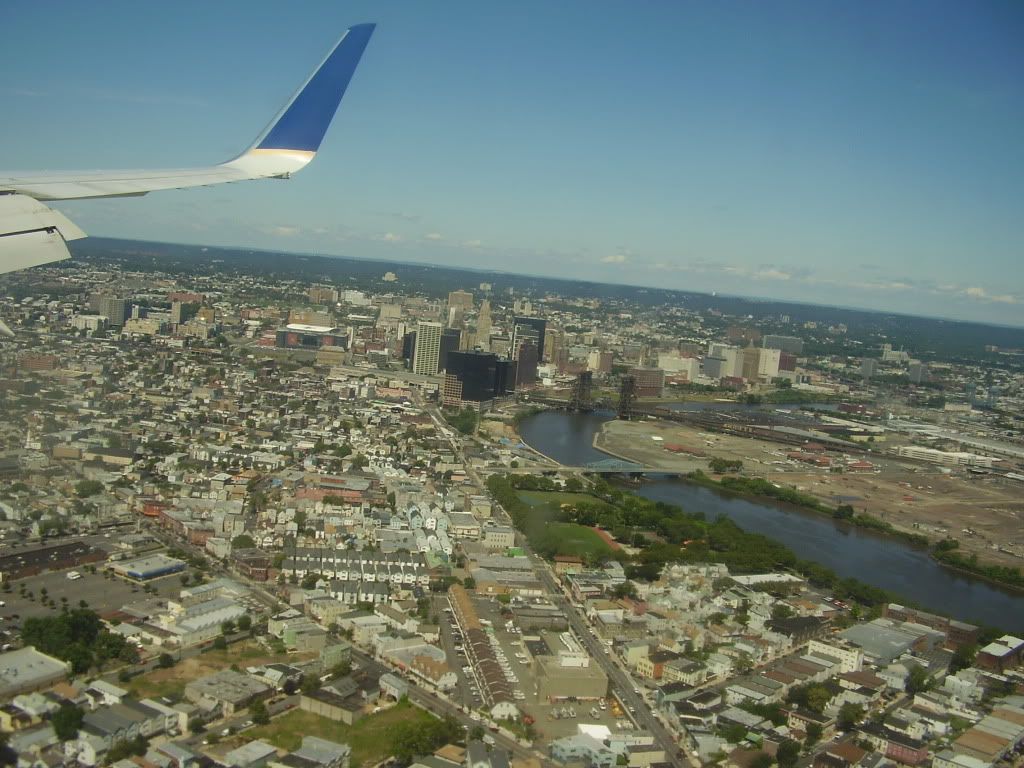 We landed at 11.18am EDT and spent 8 minutes taxiing. We arrived at Gate C137 at 11.26am EDT.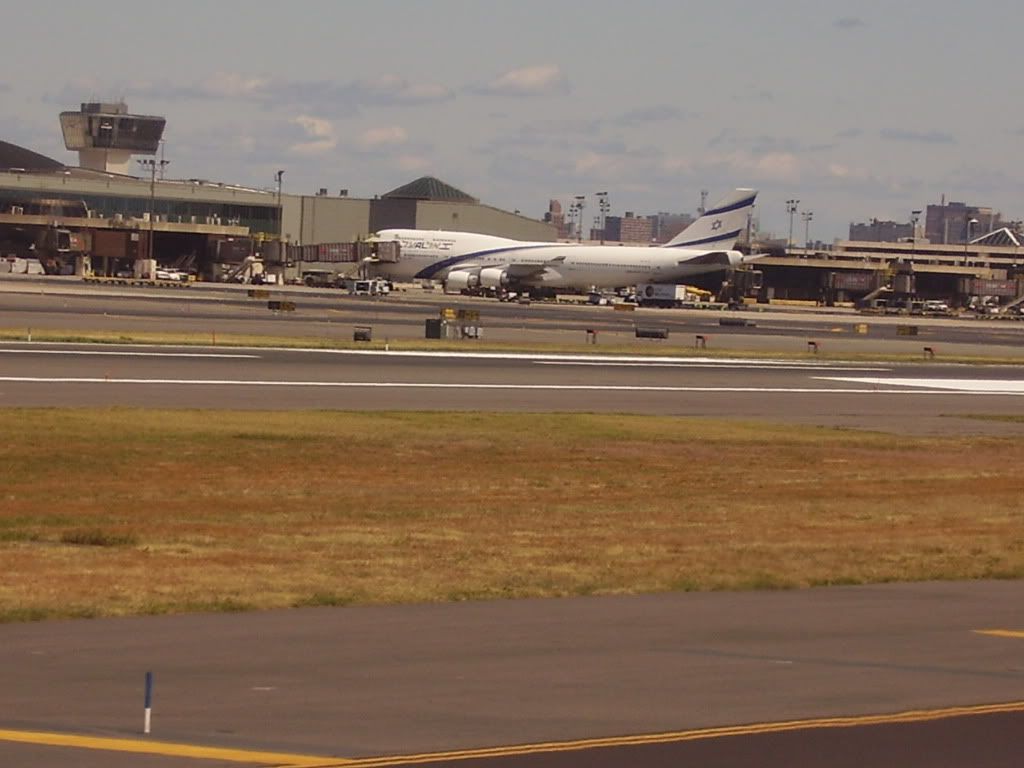 El Al Israel Airlines 747 from Tel Aviv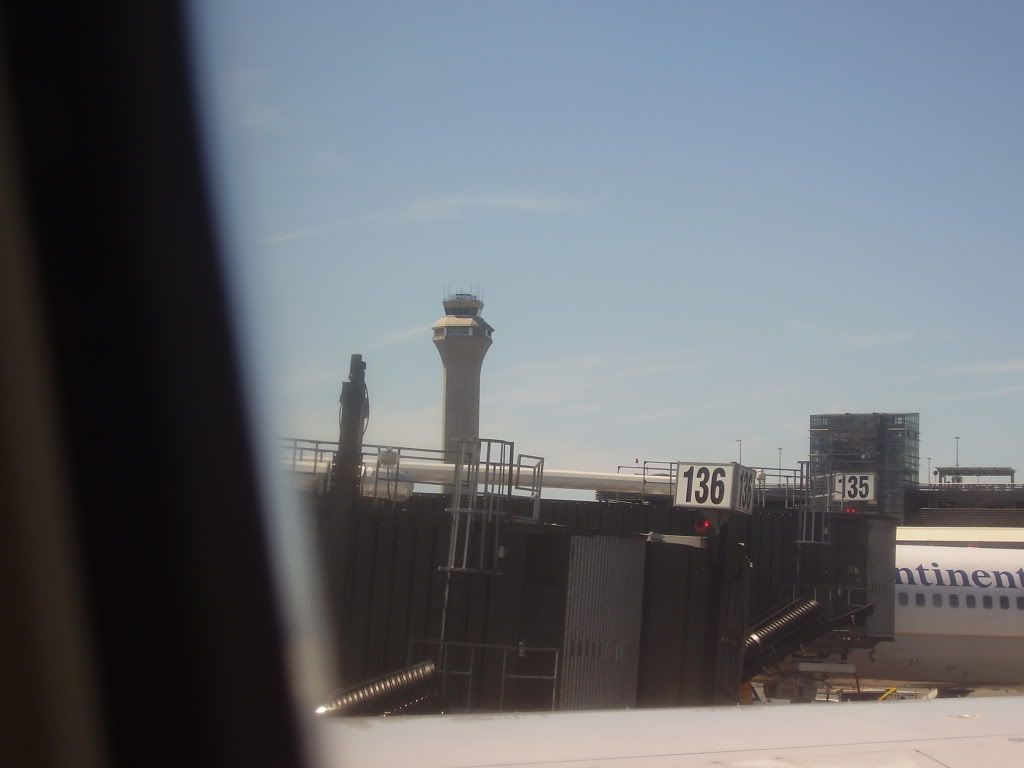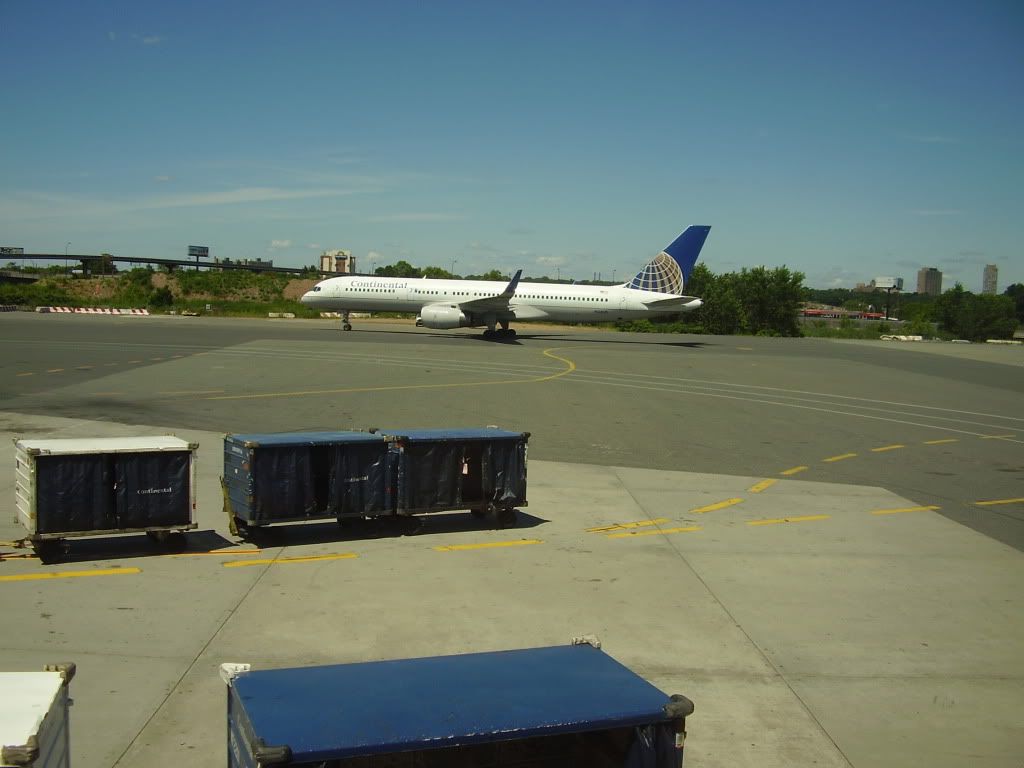 CO23 just arriving from Dublin
We disembarked using door 1L instead of 2L. We were directed to the baggage hall soon after. EWR is a spacious, modern airport; I was pleasantly surprised by it. On my way I saw a sign directing all Dublin and Shannon passengers into a lane bypassing Immigration as we had already cleared it at SNN.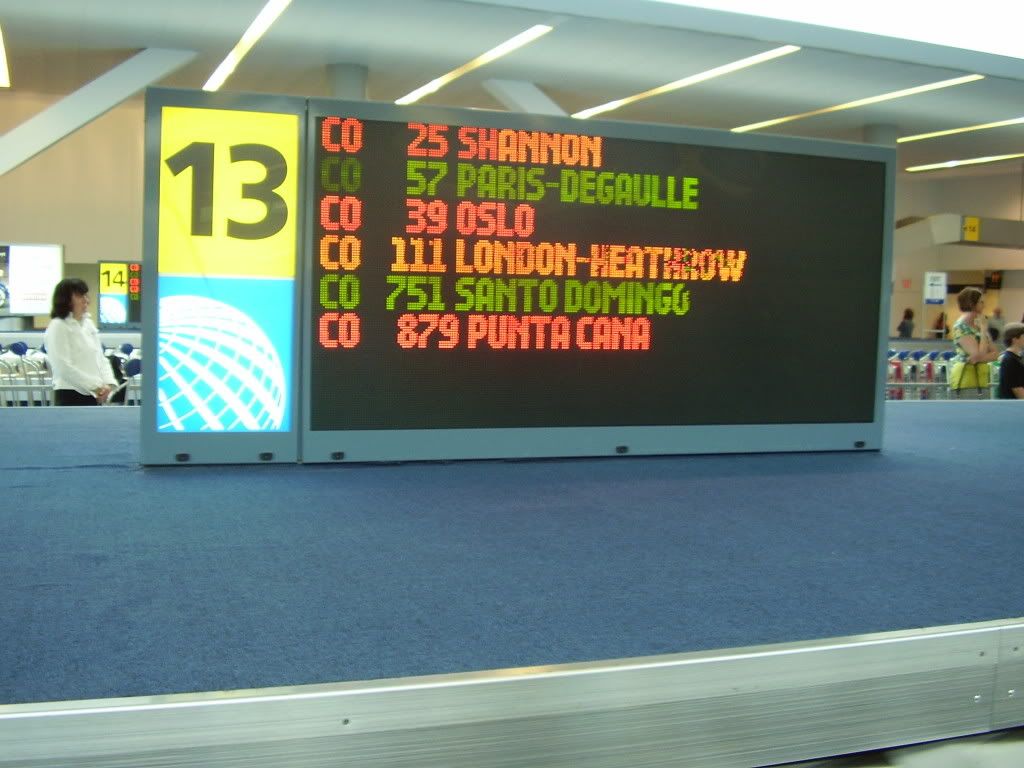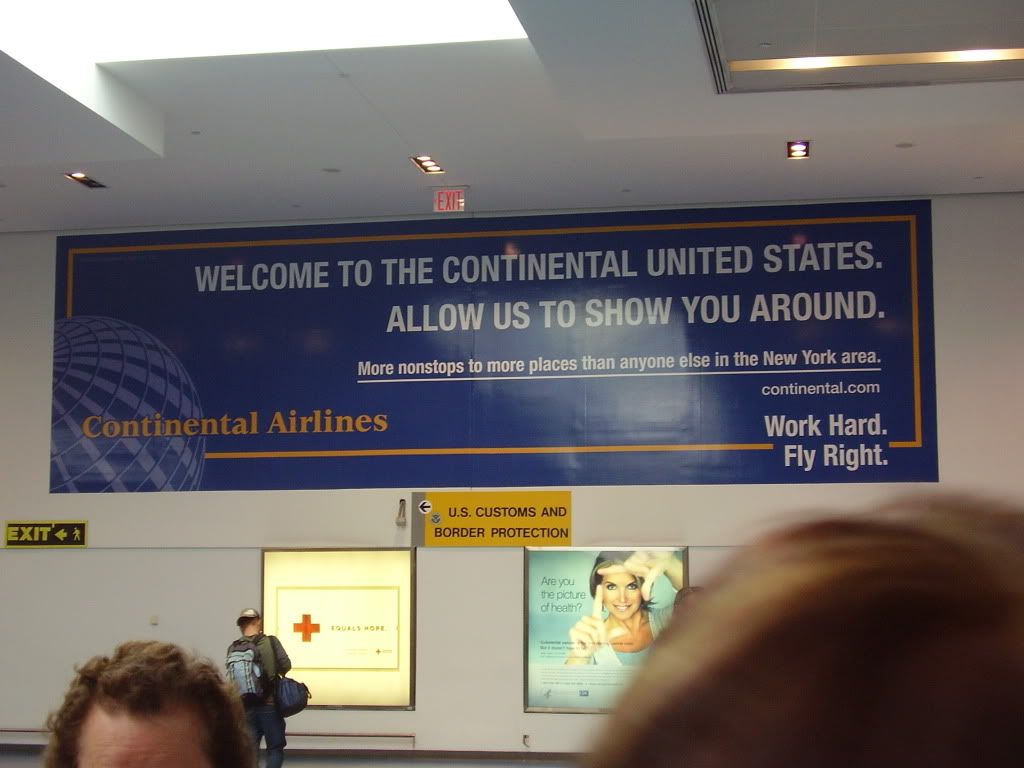 After collecting our baggage and clearing customs we were led down to the arrivals hall where we dropped our bags to be loaded onto flight 1183 to Chicago. Then we had to go back upstairs and re-clear security which took about half an hour in total. I'm glad SNN now has full US CBP because having to drop baggage and go through security again was a bit of a pain. While in line for security, a TSA agent shouted "hey you in the white t-shirt, what's your name?" I looked around and he was talking to me. I shouted "Kevin", he smiled and walked away…not sure what that was about but anyway… After security I walked around and took a few pics. I was very impressed by EWR; there were food courts and shops where you could just sit and watch what was happening on the airfield. It provided some great views: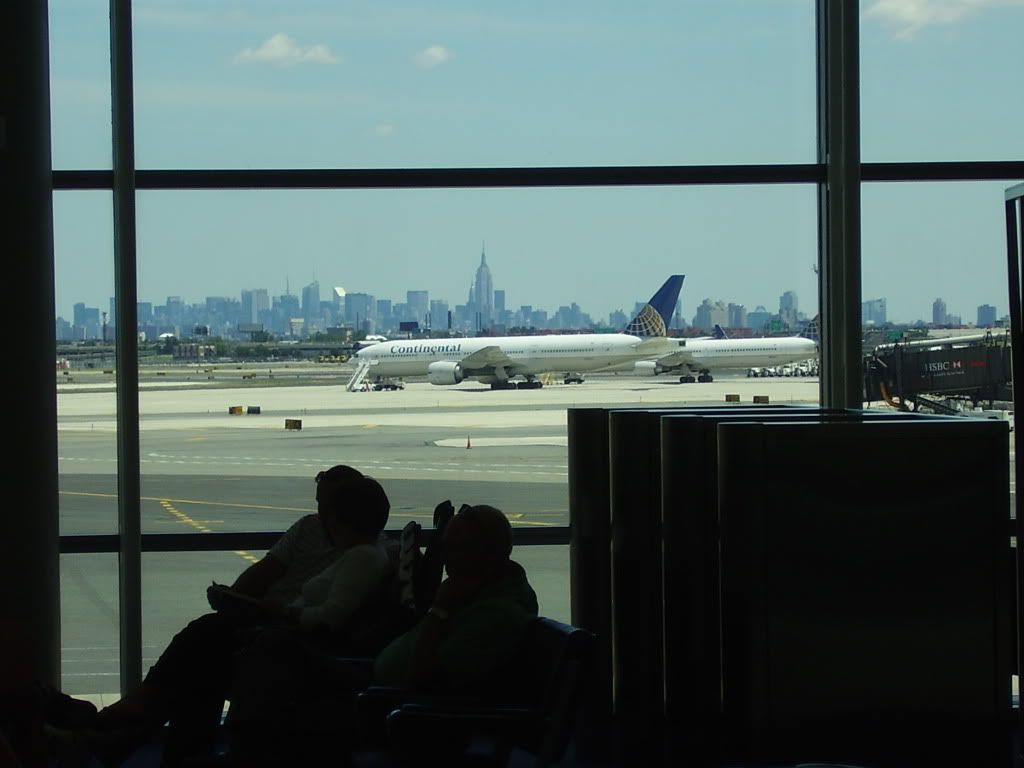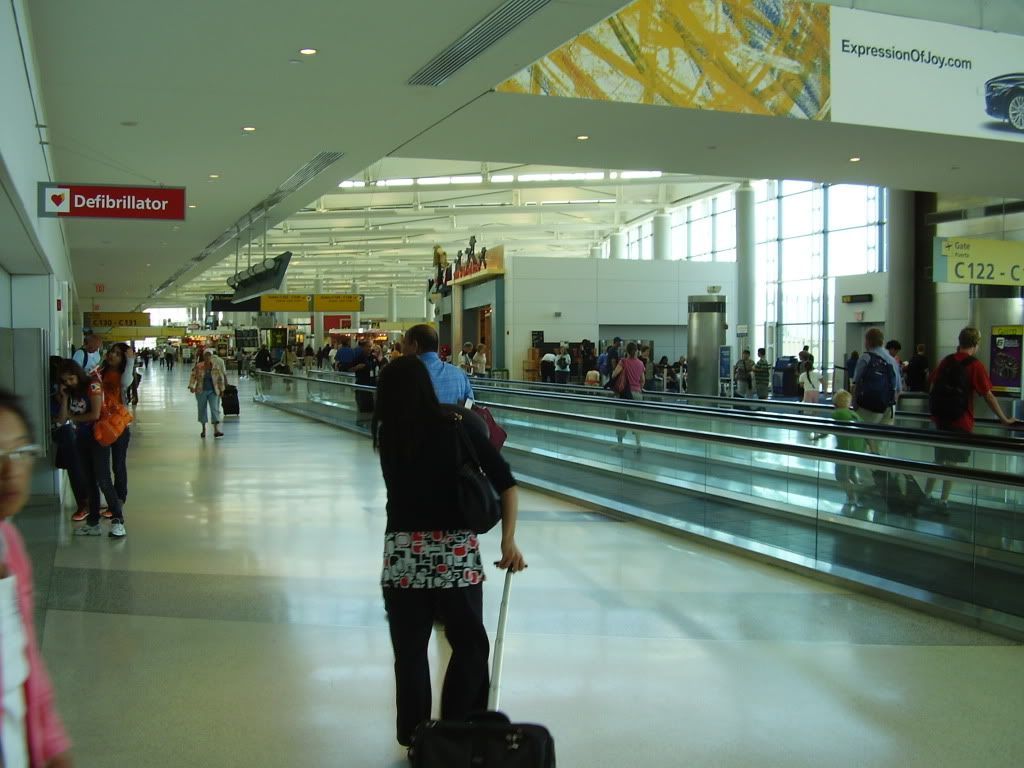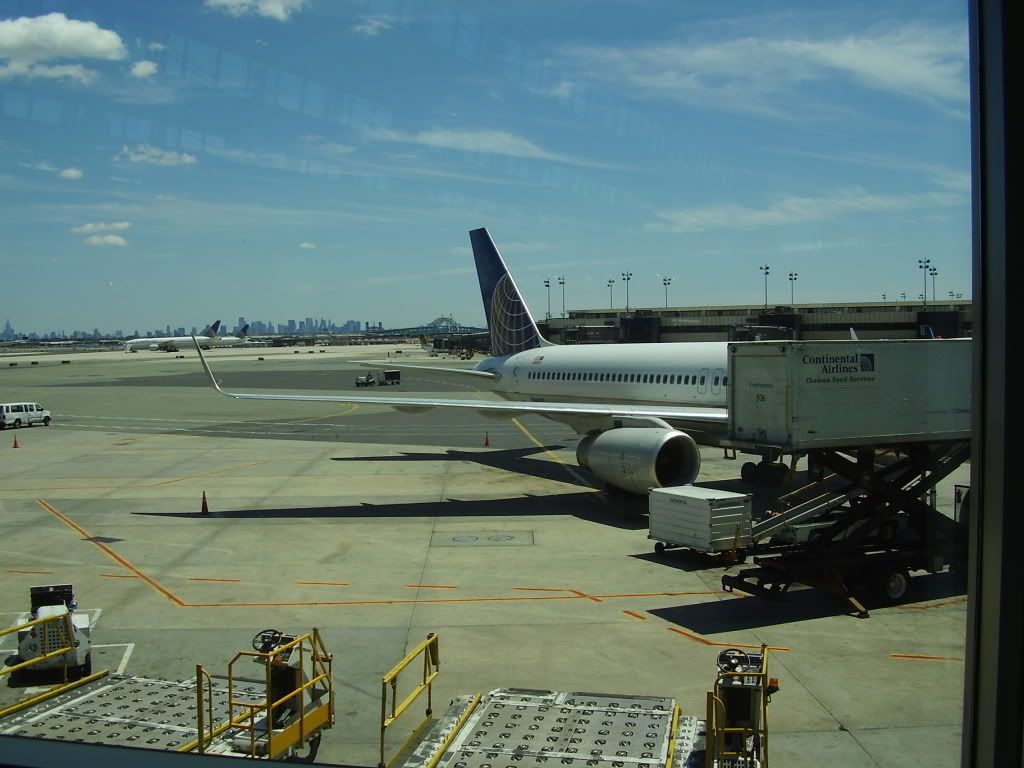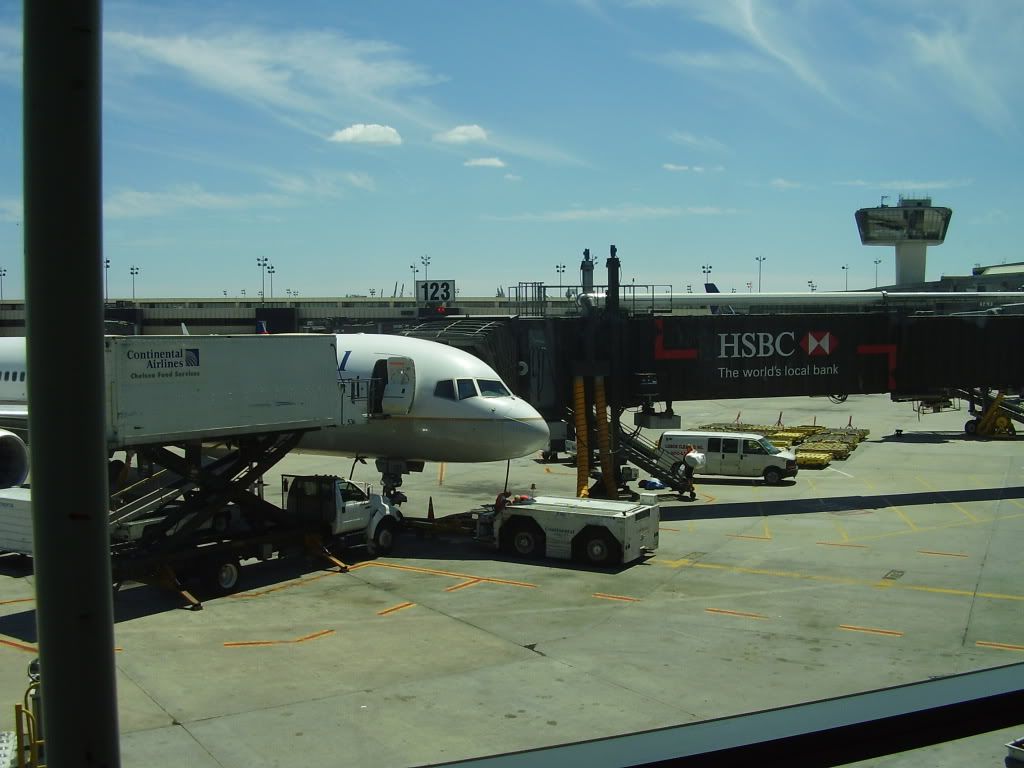 Our boarding gate for CO1183 was in the same terminal (CO's Terminal C) at Gate C90. As soon as I reached it boarding was called following the usual procedure. This was at 12.55pm EDT.
The agent just looked at our boarding passes; she didn't scan them or tear off the stub. When I boarded the 735 (with winglets) all the window blinds at the right side of the cabin were shut. It must have been to keep the heat of the sun out, but it made it very dark. This would be my third flight on a Boeing 737-500.
The door was closed at 1.19pm EDT and that was followed by the captain's announcement. Capt. Mark Ross was in command today and there were 2 cabin crew. About 10 mins later the crew carried out the safety demo with one crew member doing First Class and the other in Economy. There was no IFE on this flight.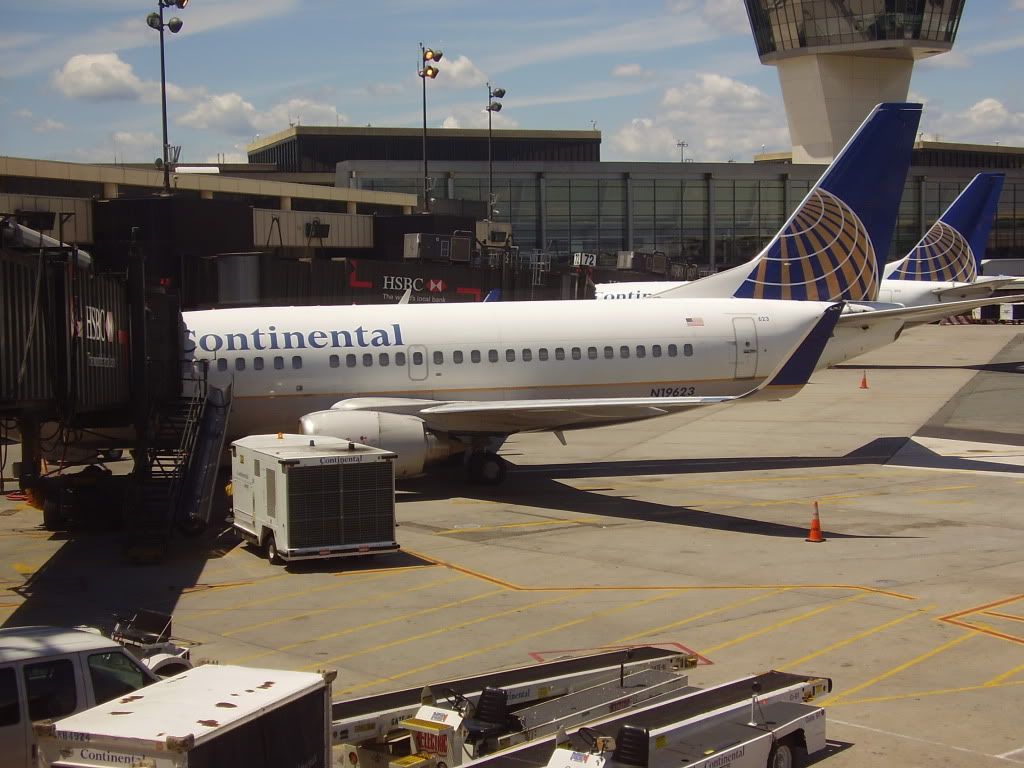 View from 15F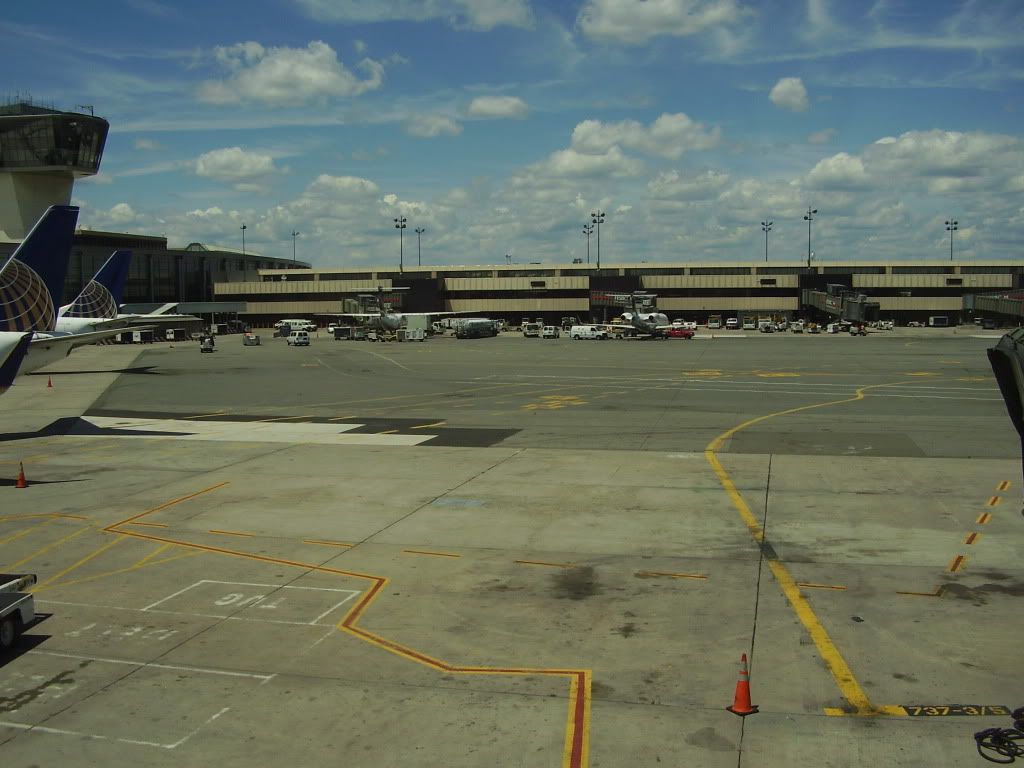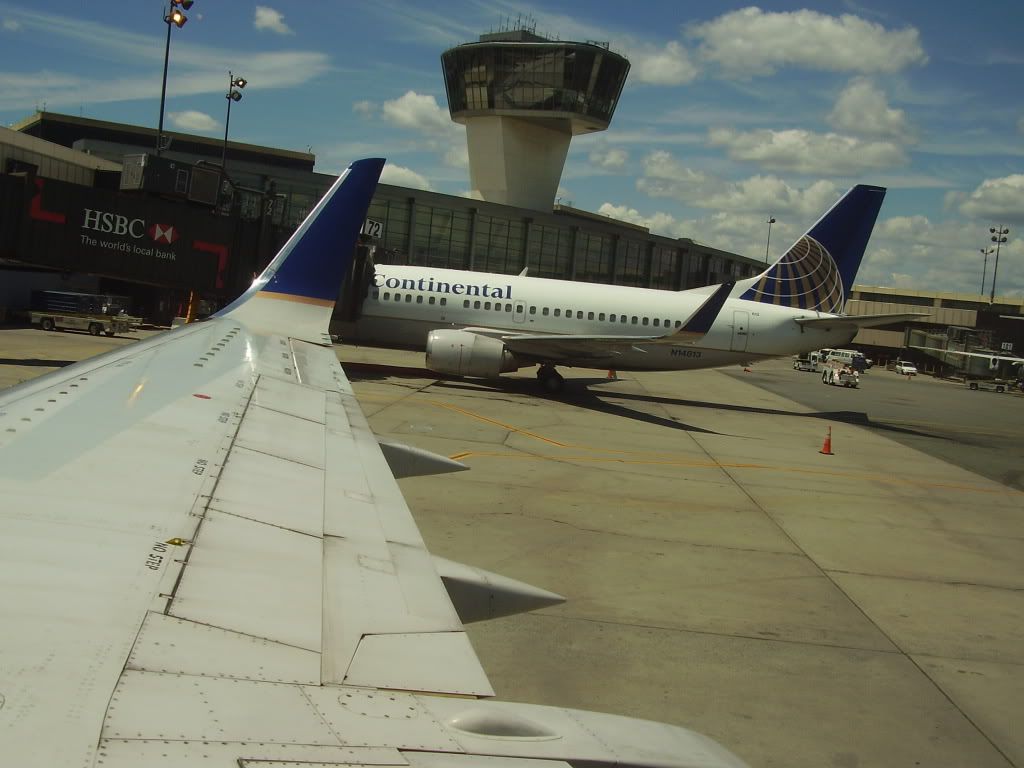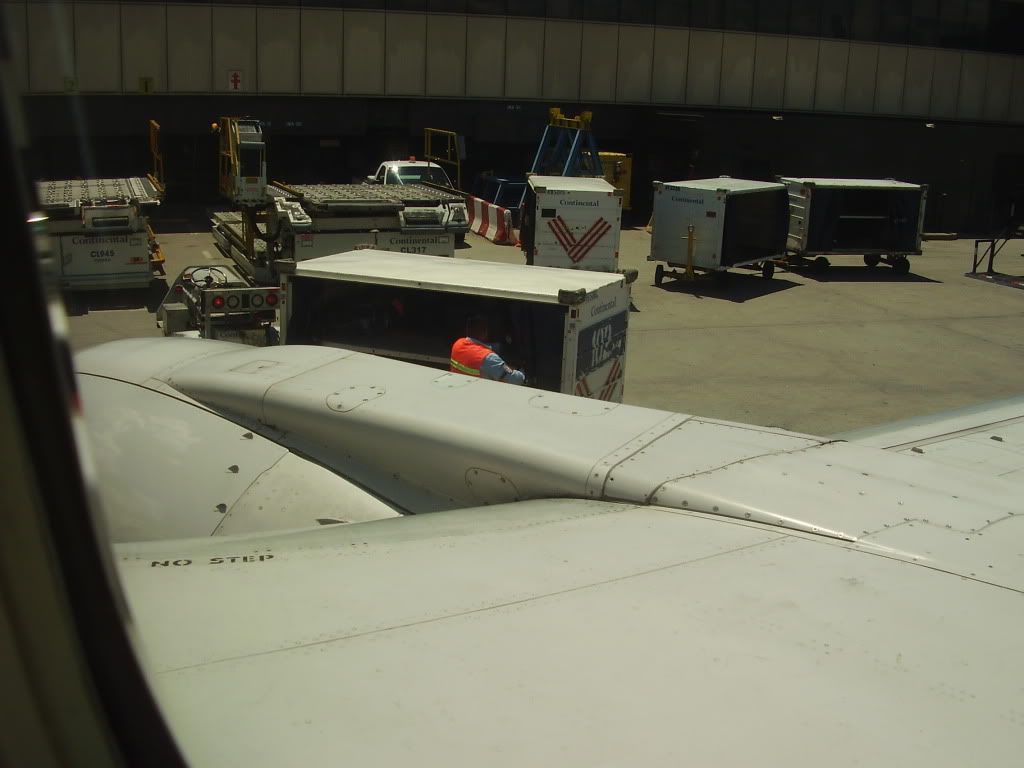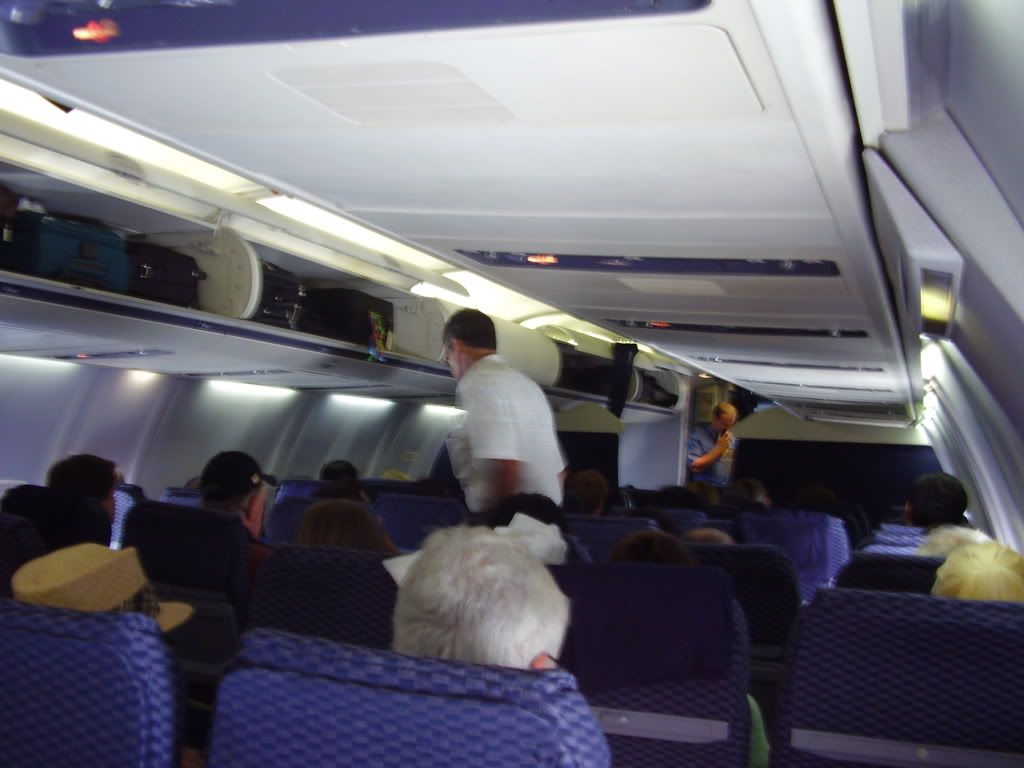 We began taxiing at 1.35pm EDT and were airborne at 1.47pm off Runway 22R.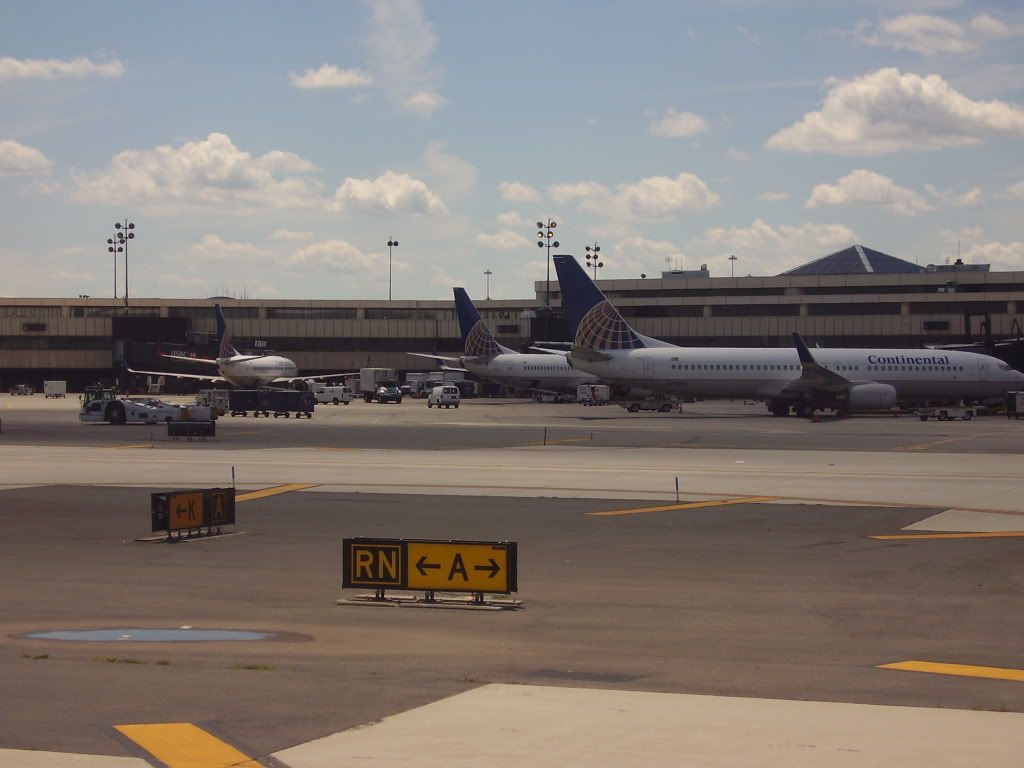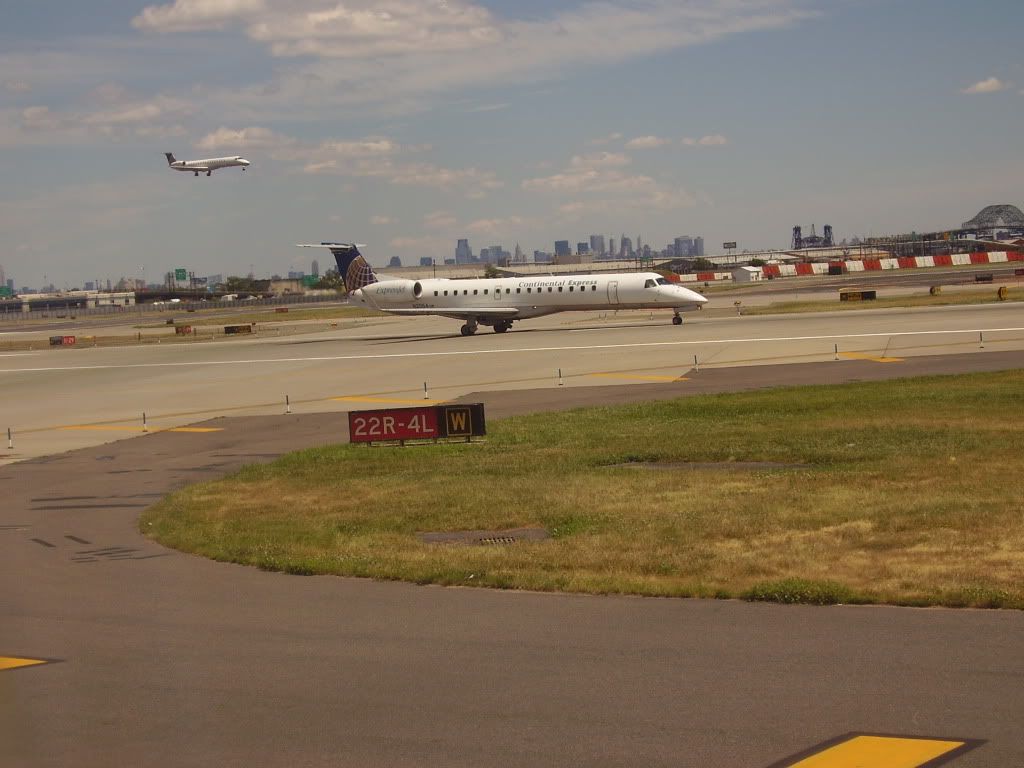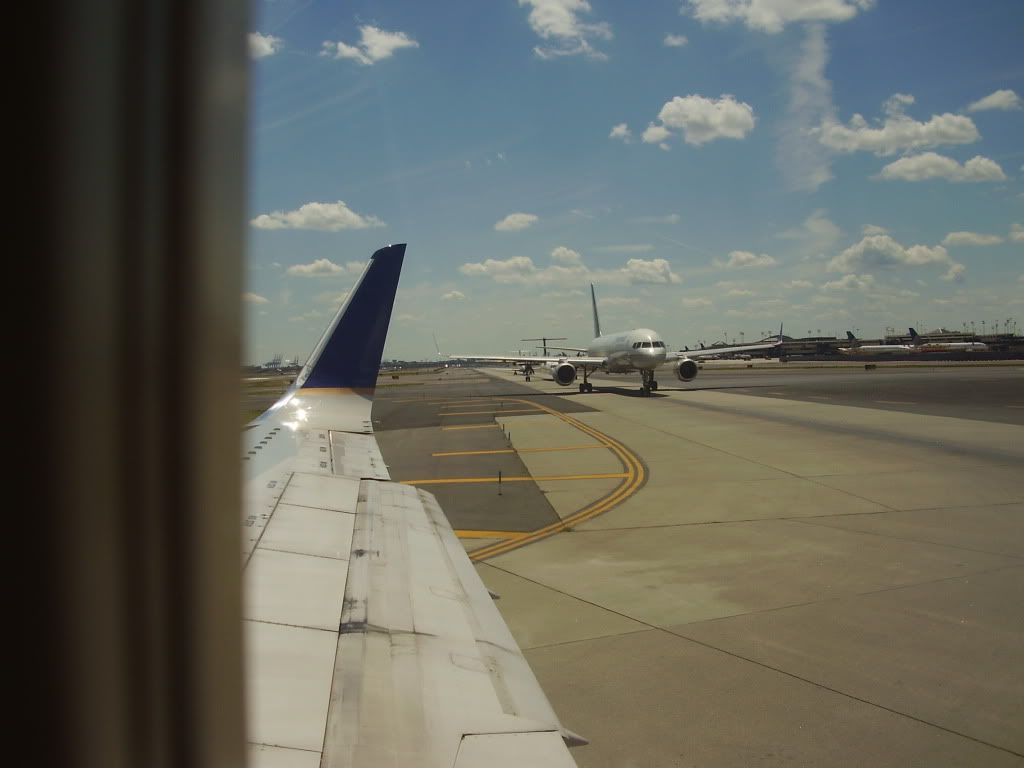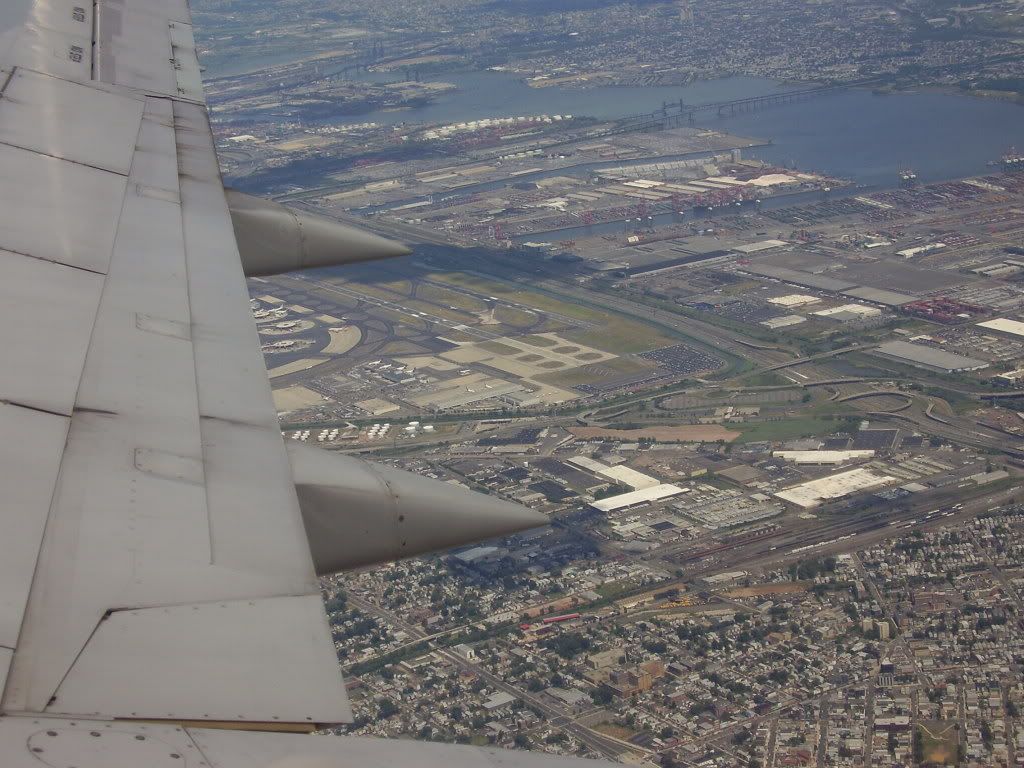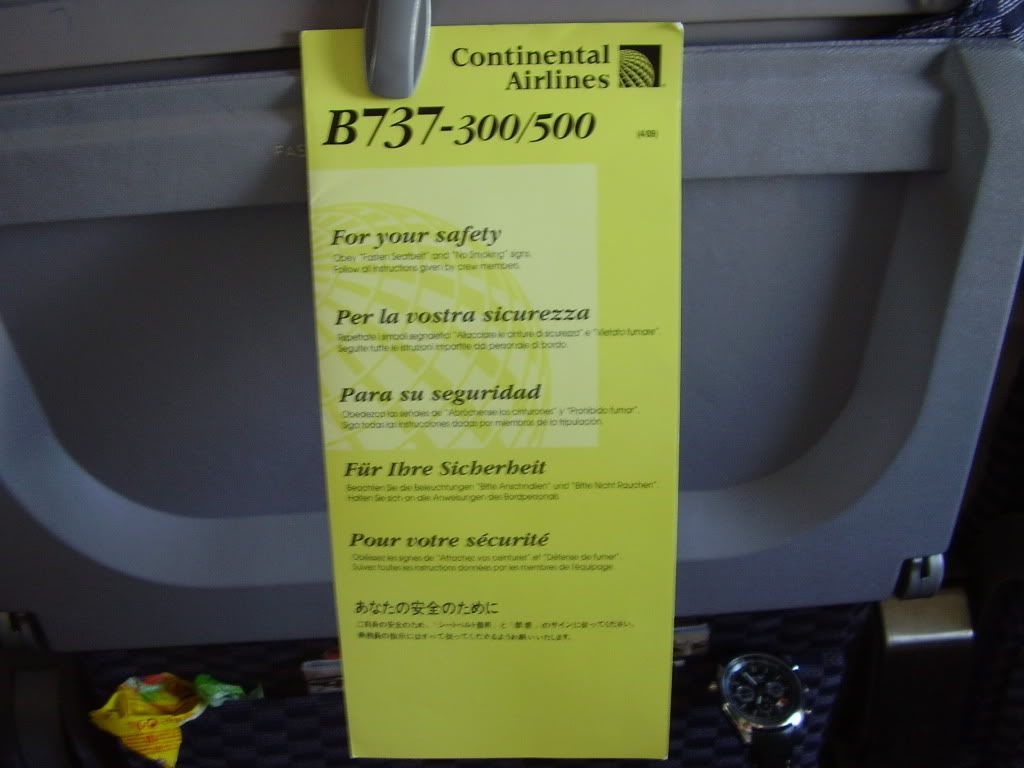 We reached our cruising altitude at 2.25pm EDT after which the bar service began. Once again soft drinks were free and they came with mini pretzels.
The flight wasn't long going and at 2.13pm CDT the captain informed us of our initial descent into Chicago. His ETA was 30 mins and that we would arrive at Gate B4 in United Airlines' Terminal 1, but we would claim baggage at Terminal 2.
We passed over Lake Michigan at 2.17pm CDT and the speed brakes were extended around this time:
Final approach into O'Hare International Airport
Soon after making landfall west of Lake Michigan the gear was extended and we were informed that we were on our final approach. We approached directly from the east for a landing on Runway 27L. The time was 2.39pm CDT.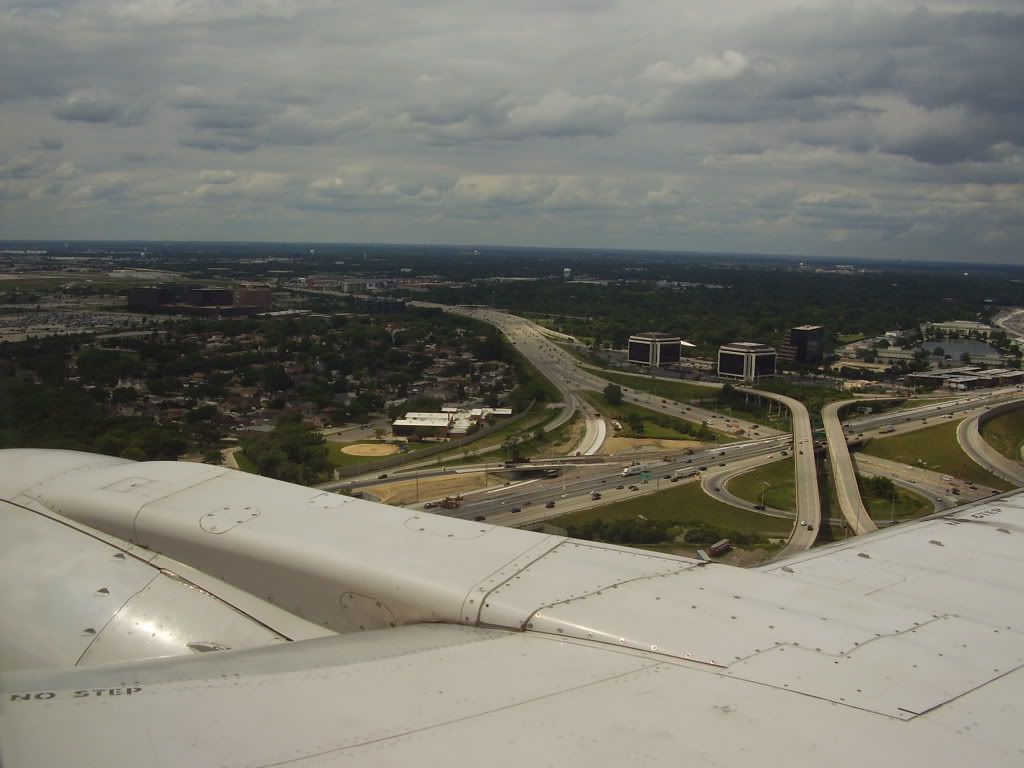 Touchdown was at 2.41pm CDT with heavy braking and we were off the runway in seconds using up only about half of it (and it's a short enough runway). We spent 4 mins taxiing and we arrived on-stand at 2.45pm CDT.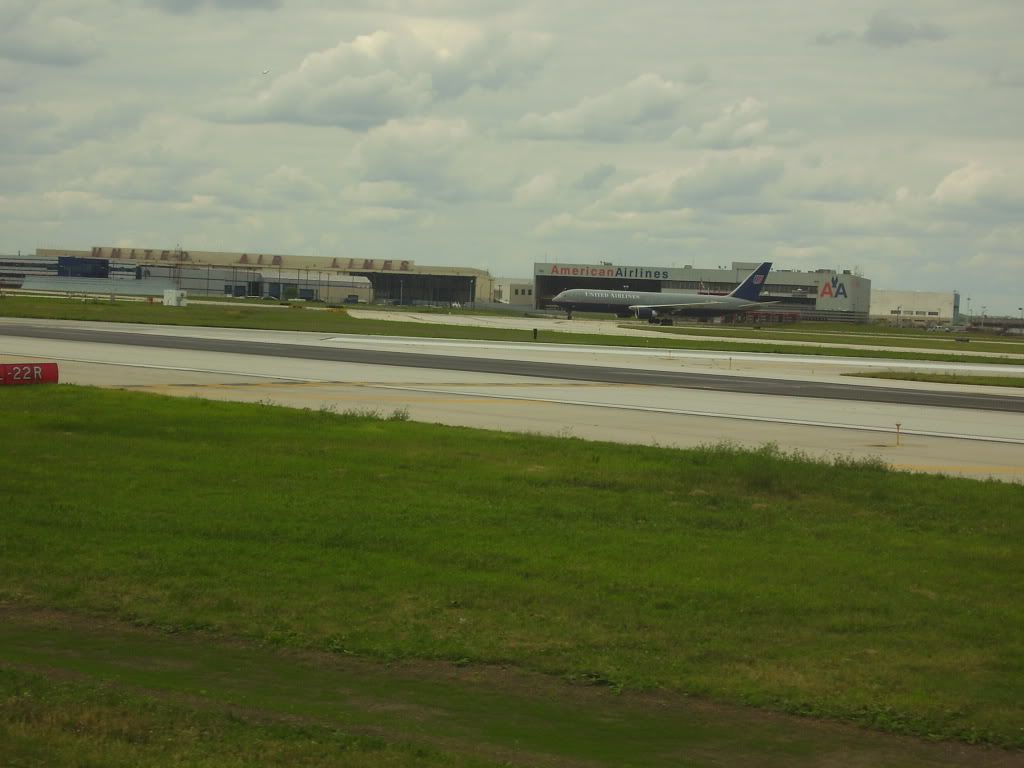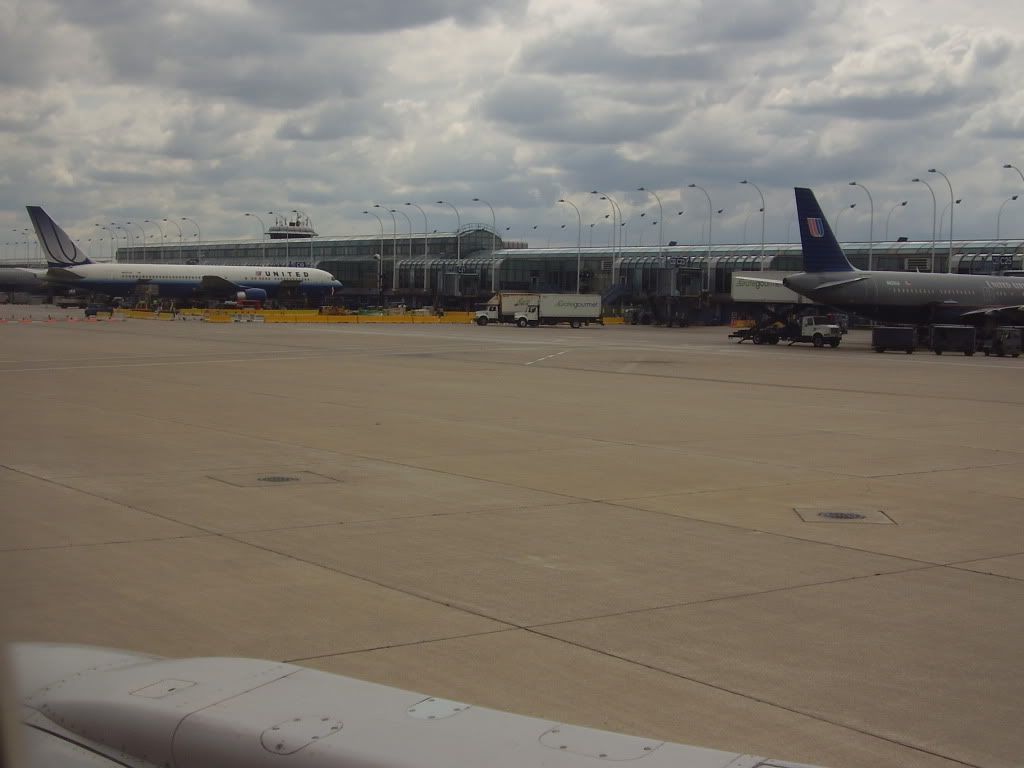 Terminal 1, Concourse C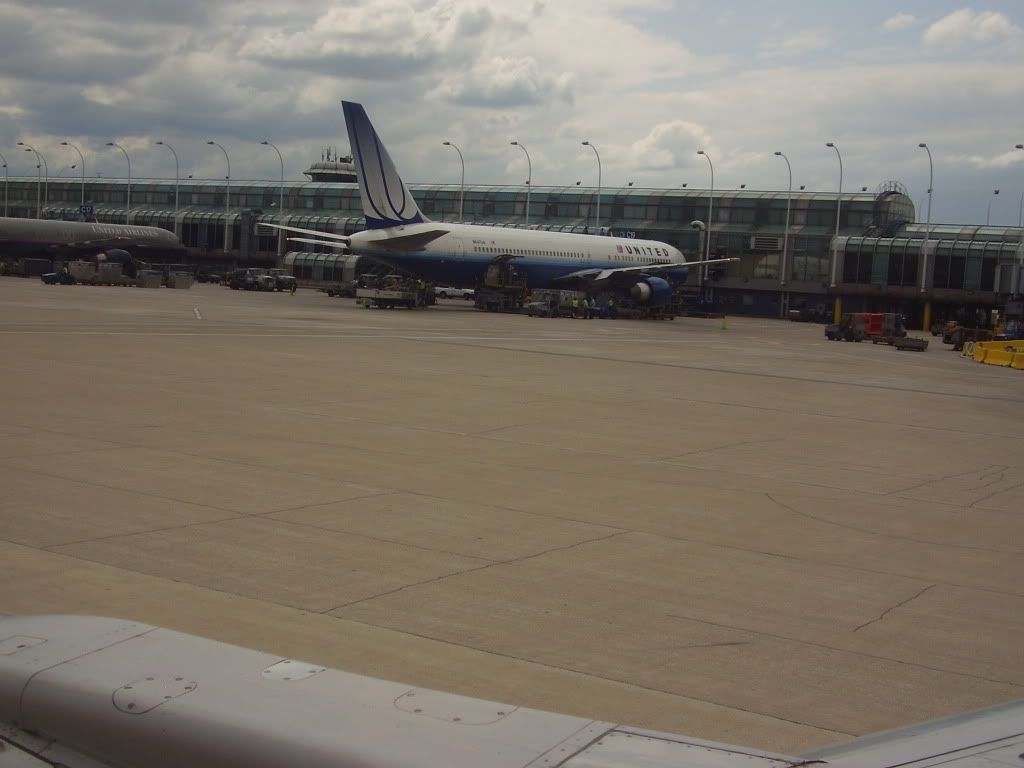 Continental Connection/ExpressJet Airlines ERJ145 next to us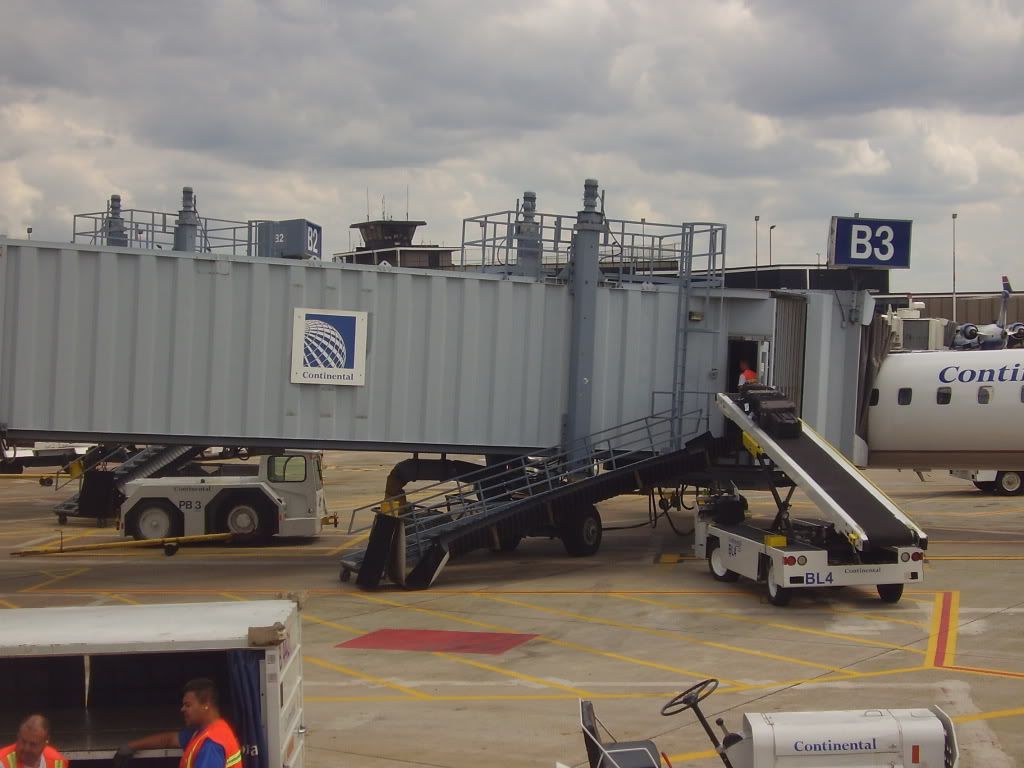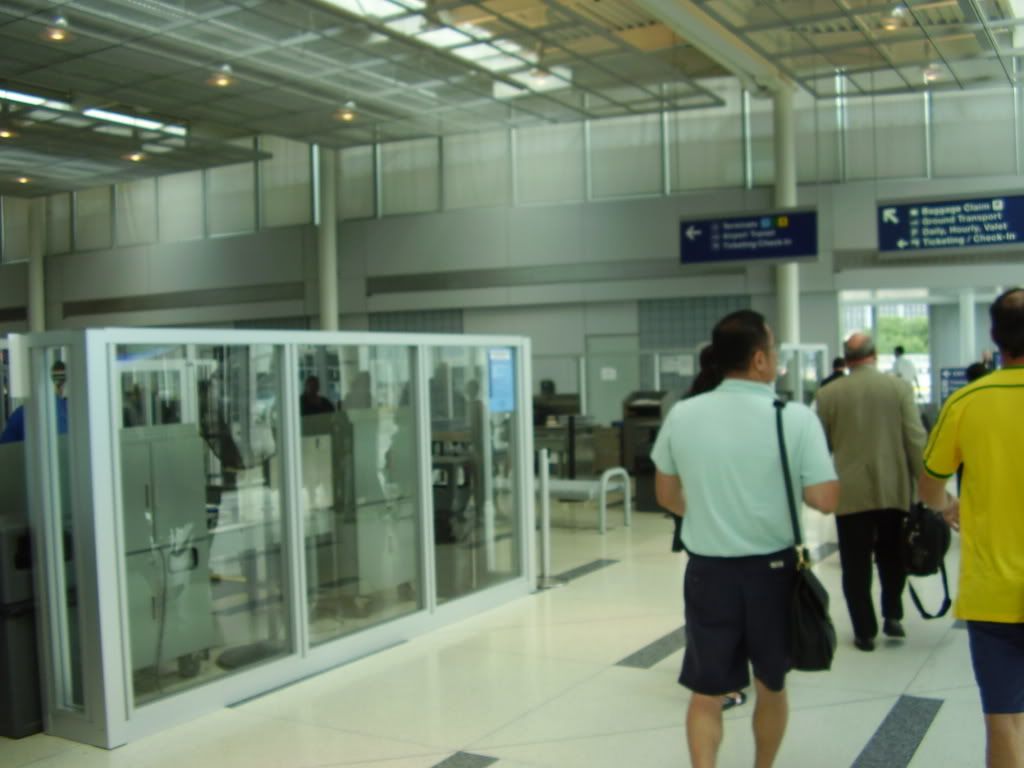 The walk from Gate B4 to the CO carousel in T2 was short. We only had to go through a small glass walkway between the two terminals. We were at baggage claim about 2 mins after disembarking and I'd imagine that some people were none the wiser that we had just changed terminals.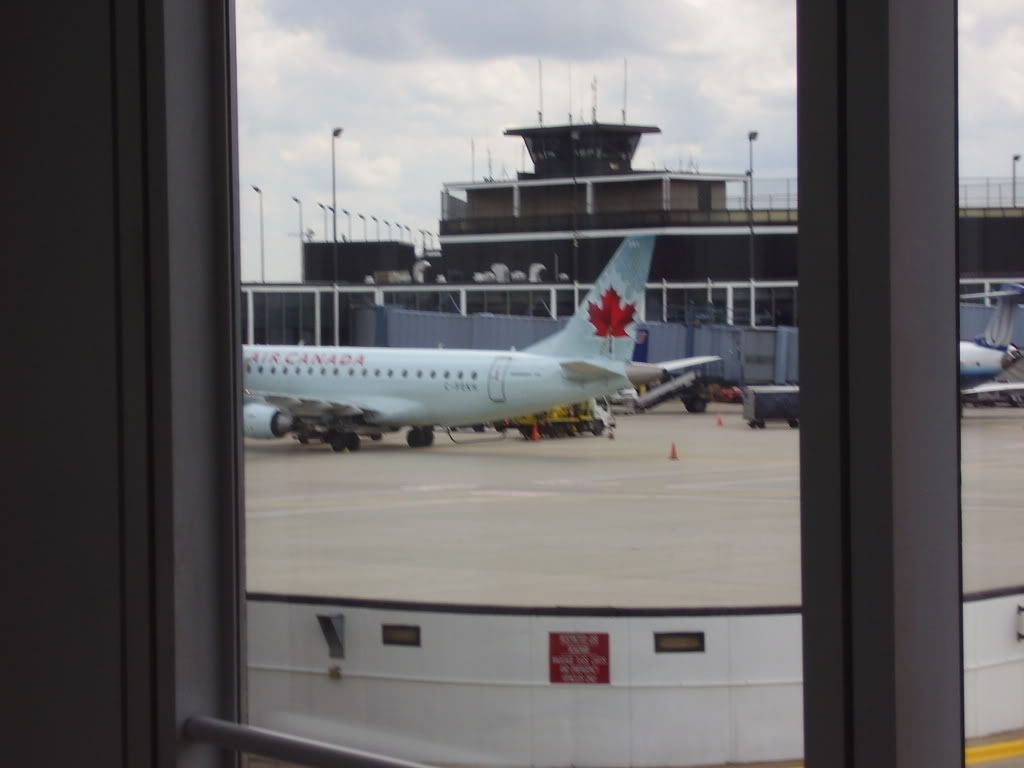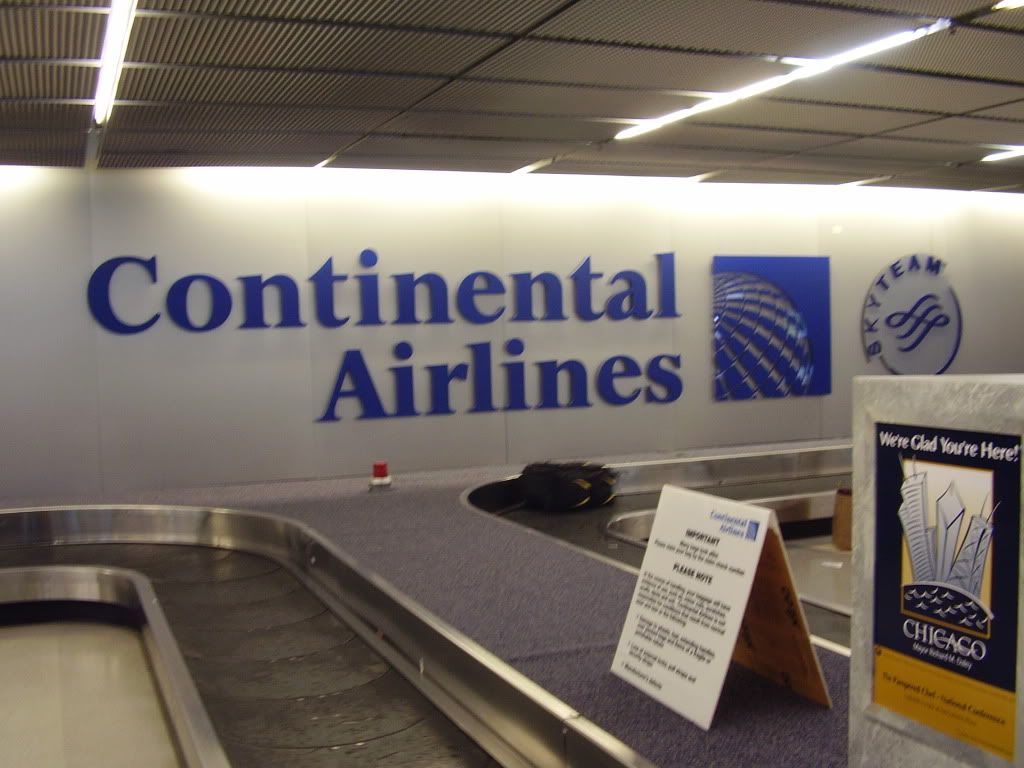 CO baggage claim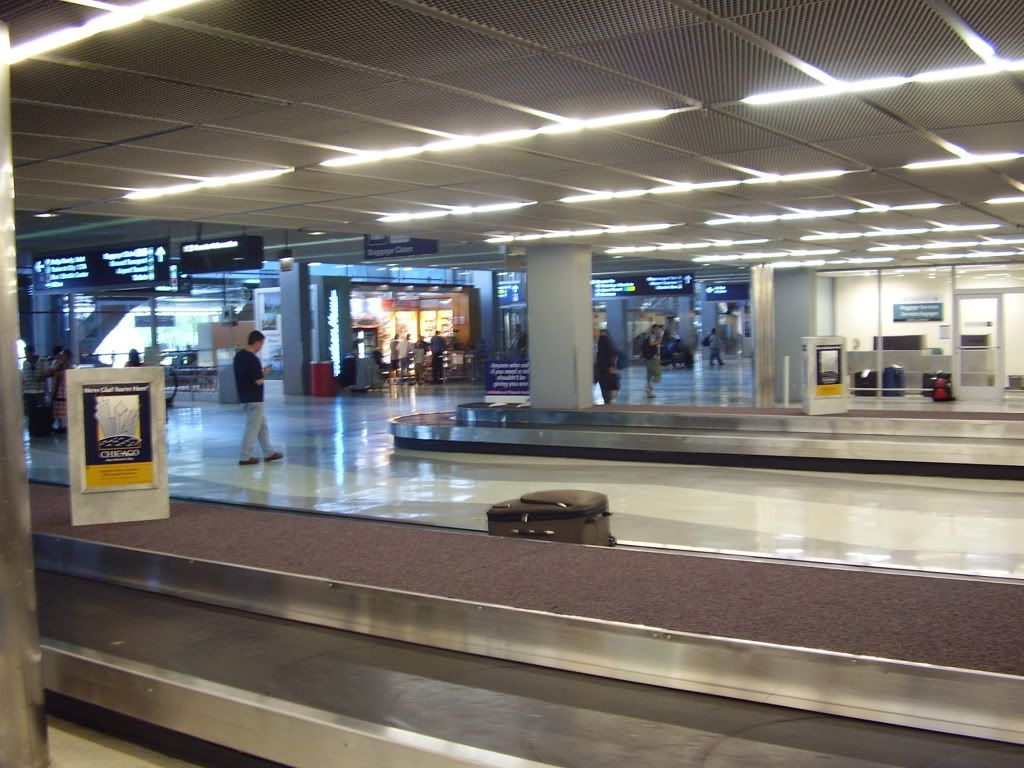 We were out of the terminal within 15 minutes and caught our 10-minute drive to Edison Park on Chicago's Northwest Side:
Summary
Overall the CO experience was excellent. It lived up to (and exceeded) my expectations and I would definitely fly with them again, especially for the rock-bottom price I paid. On the SNN-EWR leg, the crew undoubtedly worked harder than what I've experienced on EI with the crew on their feet performing a service for the most part. Still can't beat the friendliness of the EI crew though…
* PS: I'm too cheap to upgrade to Pro so if you can't see the photos just check back in a few weeks! And apologies for the blurry pics…
[Edited 2009-08-13 17:10:15]