Hey everyone,
I'm a bit bummed about this trip report. It was originally going to be a few parts.
Mokulele airlines OGG-HNL
Continental Businessfirst HNL-IAH-CLE
Continental First CLE-LAX
V Australia airlines Y LAX-SYD
Virgin Blue SYD-MEL
The problem is I did a ton of pic transfers over my trip and I'm missing a ton of pics. I seriously don't know what happened to them so I'm sorry if this TR looks a bit random.
Part 1: Mokulele Airlines.
I just finished doing a 5 month contract on my ship and was enjoying my last night onboard.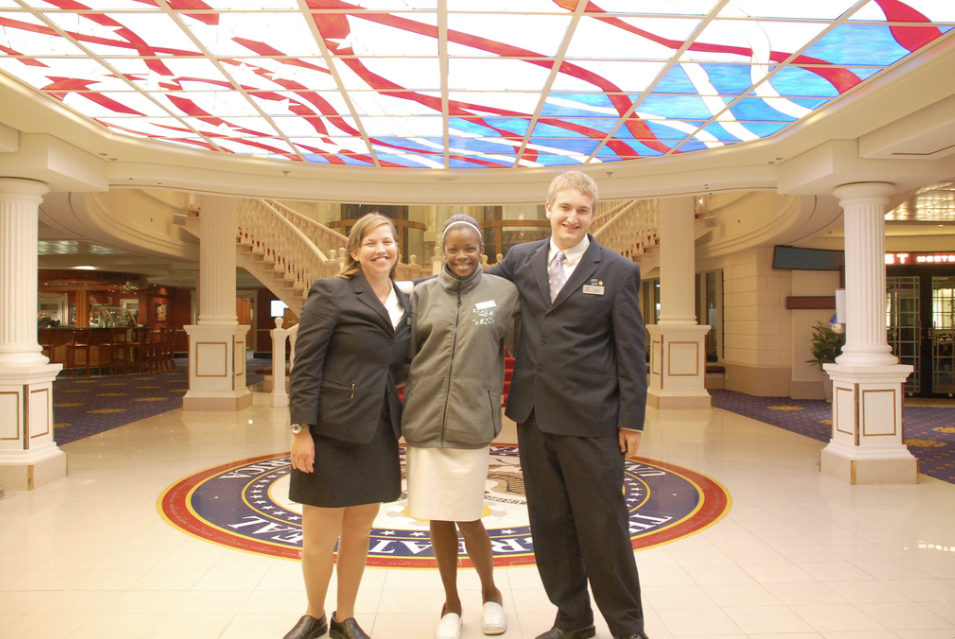 I was really excited because the next morning I was signing off my ship and flying overnight back home to Cleveland before jetting off to Australia the next day.
On July 19th I signed off my ship and headed to Maui's airport. I was excited to give this new airline a try on their new EMB-170. I got my flight for about $40 each way. I really regret trying them...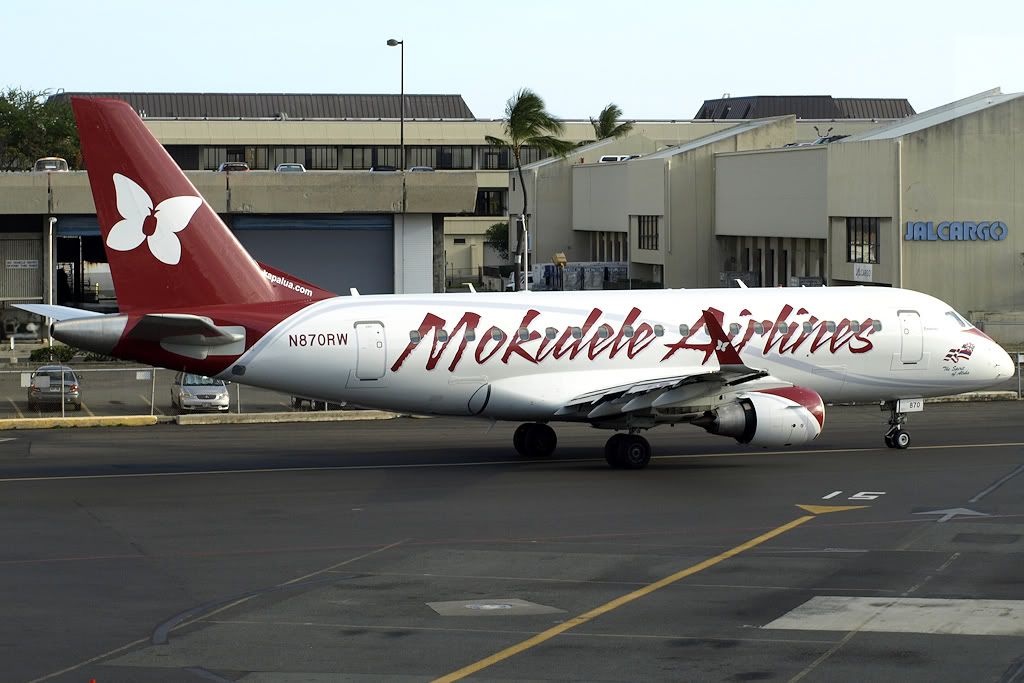 When I went to check in they said that 1 of their 3 planes was down so all flights were delayed but it shouldn't be anymore then 1 hour. That was fine..my flight left at 1pm so even if it was delayed till 2pm I had plenty of time. My connecting flight in Honolulu didn't leave till 6:50 pm. I checked in and walked around the airport and did a bit of plane spotting.
Last view of my ship from the airport!!
Empty terminal
Old Aloha Airlines items
HA 763
Well it was almost 2 pm so I rolled over to my gate and noticed it was packed with people. 2 pm rolled around and it was now 3 pm. What really pissed me off is the airline had ZERO people working at the gate. Not one..we really had no idea what was going on. I talked to someone who went outside of security and spoke to someone at check in and got the reply "you will know its time to go when your plane pulls up." I really couldn't believe the total lack of customer service..literally a total lack. Around 4 pm, 3 hours late the plane finally pulled up. I checked the flight status of my flight from Honolulu to Houston and it was delayed 3 hours so I was fine.
leg room
gotta love the juice cups!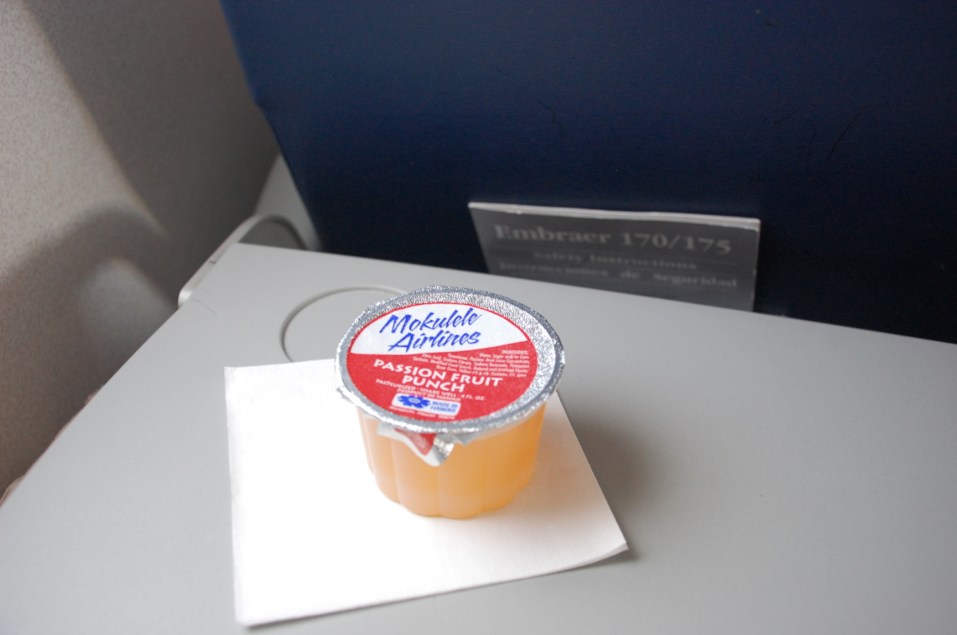 Landed in Honolulu and was glad to be leaving this airline and going over to Continental..
Sadly I have zero pics from this flight. On the 20th of Aug I will be doing this flight again back to Hawaii so I will make sure I do lots of pics. I really love flying BusinessFirst on Continentals 767-400s...I just love that plane!
snacks in the HNL P club.
My flight home
Jump forward...
the next day I flew from CLE-LAX on Continental in first class on the 737-800. The dinner was lobster pasta or a steak sammy, salad, soup, bread and cheesecake for dessert. It was very good and I'm mad I lost the pics.
Landing into a smoggy Los Angeles
V AUSTRALIA FLIGHT #2 LAX-SYD
I was so excited to try this airline. I was soo excited to get to Australia so I'm sure that added to it. From the second you get to check in you can tell this is a fun airline. They had great music playing, lights, friendly staff etc.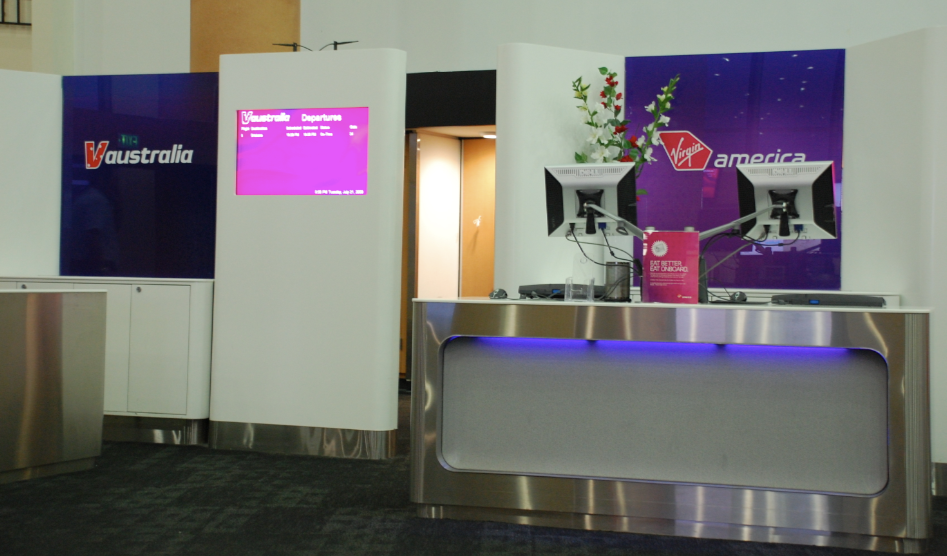 I paid $100 extra to have a exit row and I'm glad I did it was well worth it.
no pics from the meals on this flight but I really liked how they offered three options in coach. Two meats and a veggy and pasta dish. About 2 hours before landing they offered breakfast. The options were eggs and bacon or pancakes with fruit topping. I loved during the flight that they kept coming around with water, tea, coffee plus the snack bar was very nice. When I landed in Sydney I connected over to Virgin Blue to Melbourne.
My official first time catching the A380 in real life!
Once again I'm sorry for the few pics going down, I wish I knew what happened. I have a few more pics returning though.
I had a blast in Australia. In Mel I stayed at the Sofitel Melbourne and the hotel was amazing. I would really suggest it to anyone heading down under.
hotel room
I was on the 46th floor and had great views.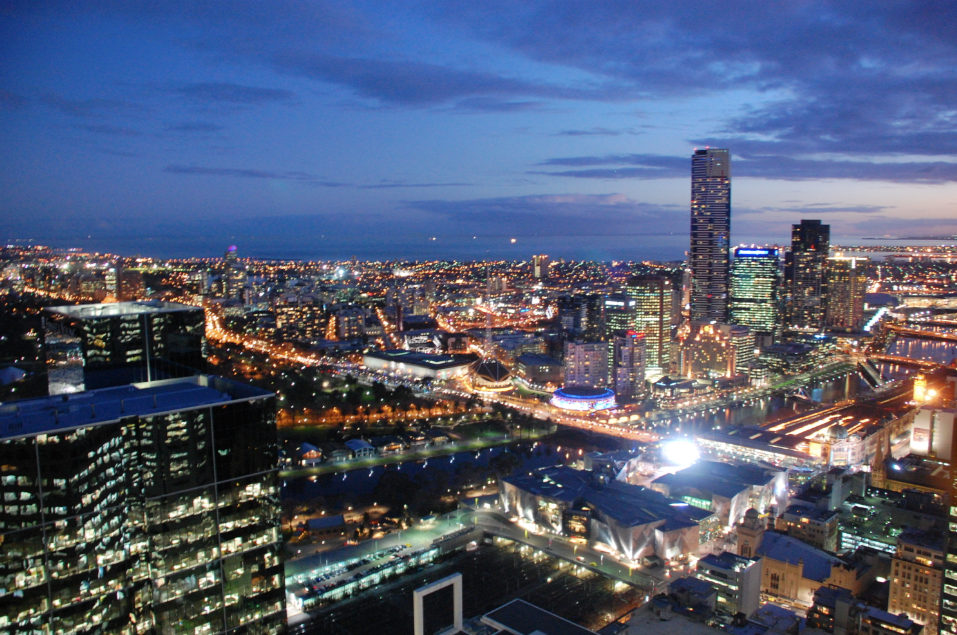 I loved the bathroom because as soon as you walked in these mood lights turned on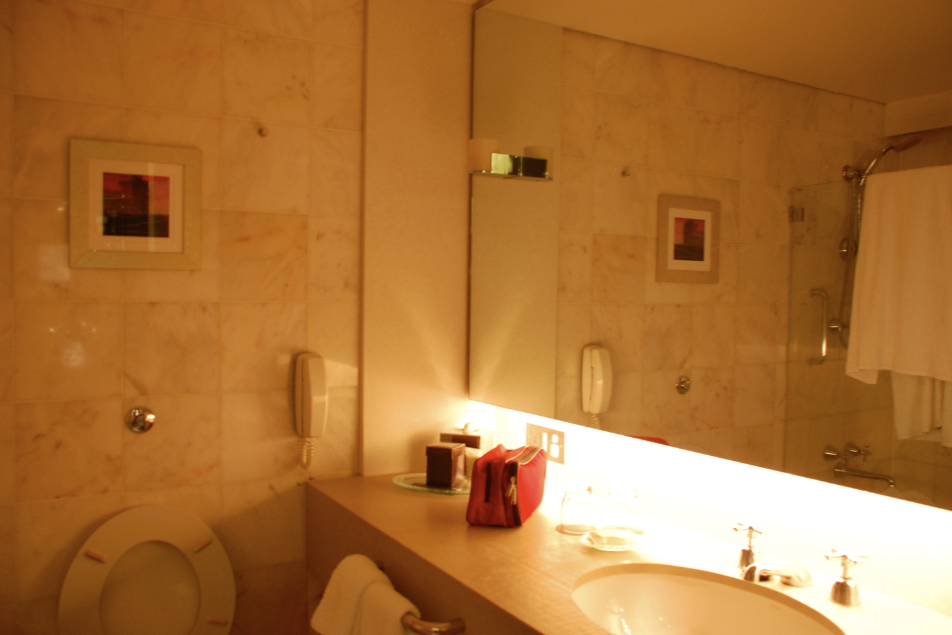 Please excuse this picture..we were a tad drunk when we took it but you get the idea the amazing views from the lobby restroom!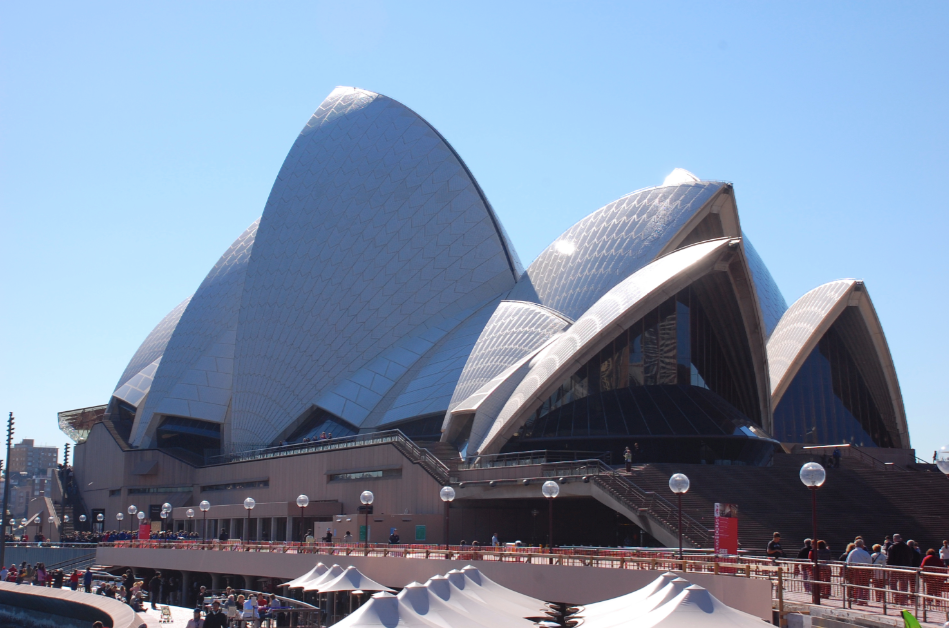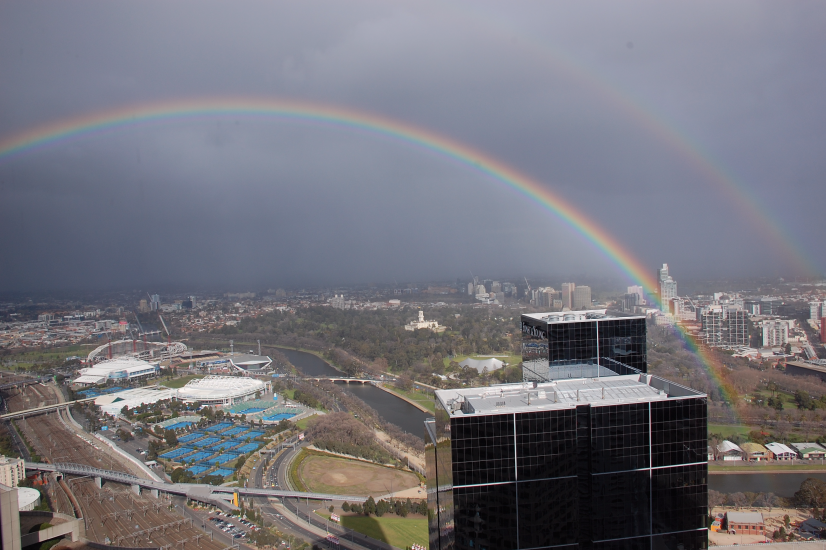 crown casino
Flying back home...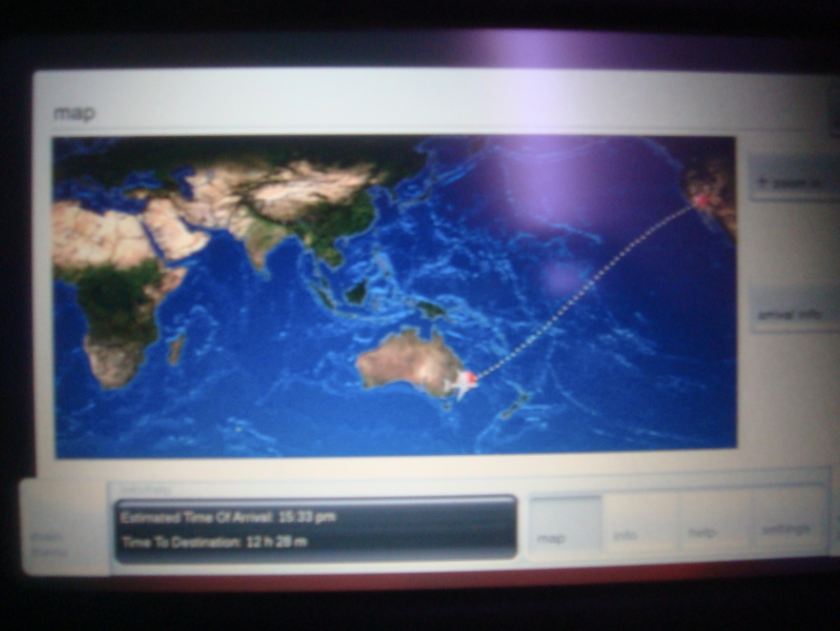 I liked the inflight chat rooms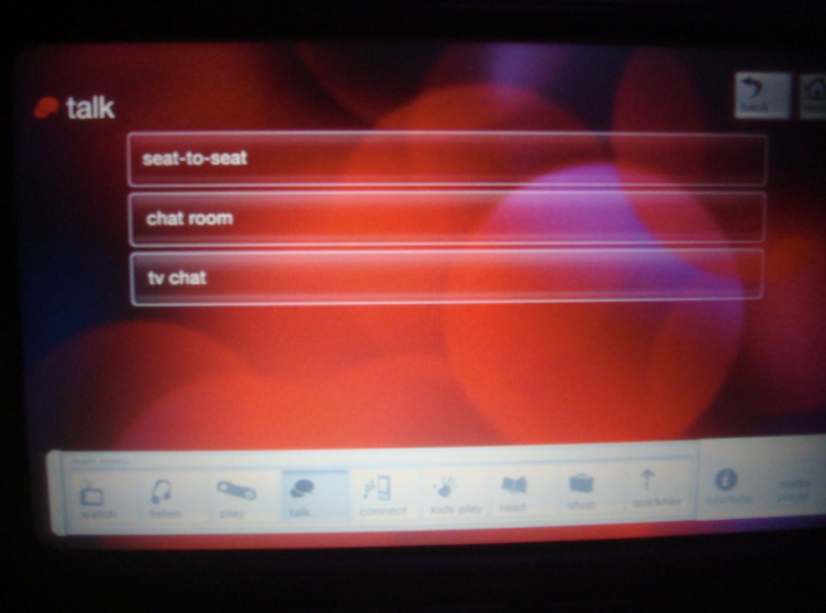 mood lights!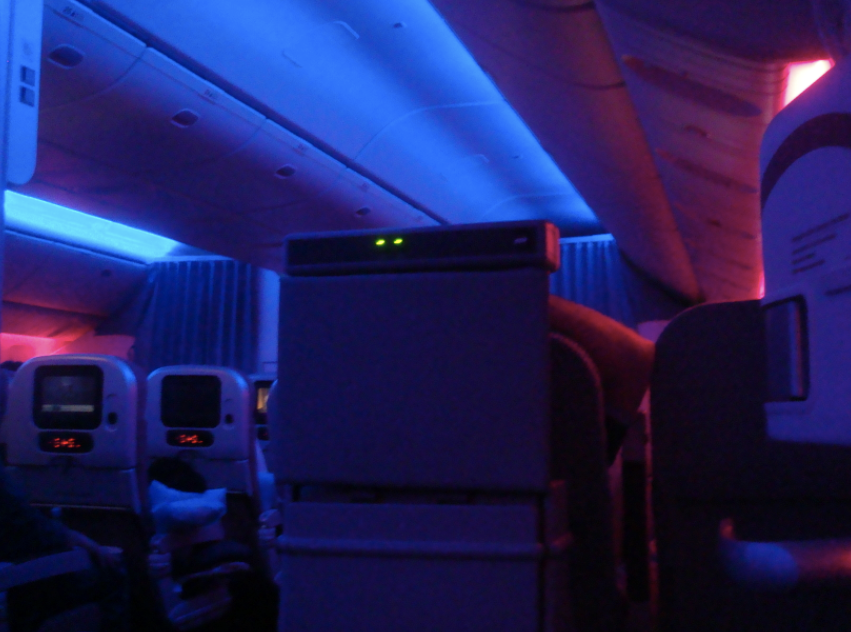 on my way home!
Dinner-really wasnt bad and filled me up. The flight crew of this airline is great. The FA that was sitting right in front of me was only a few years older then me so we joked around a lot. I asked for a screw driver and made it, came back and winked and said "here is your vodka with a drop of orange.." it was so strong.
I don't have any pics of the breakfast but I did the french toast with berries and it was very good. I was glad the flight was over but I hated LAX customs. Next time I will fly down under via SFO!
Flying home from LAX-CLE was the redeye so we only had their cold plate but it was ok considering the time.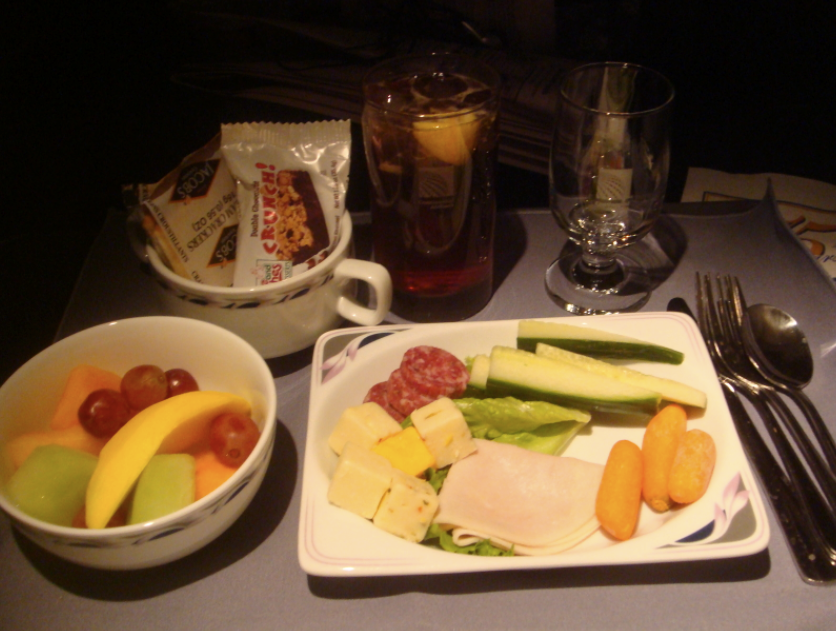 Overall I loved V Australia. I would fly them again without thinking twice. Once again sorry everyone for the bad TR with lack of pics and details. In a few days I'm doing CO BF CLE-IAH-HNL and will make sure I make up for this weak one! Feel free to ask any questions and if you're interested I have more trip pics on my facebook.
www.facebook.com/jetboy787