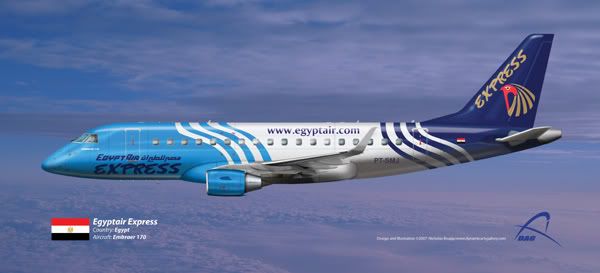 Egypt Air Express is a regional airline based in Cairo, Egypt. It was established in 2006 as a regional jet subsides of Egypt Air and launched operations on 1 June 2007.
Egypt Air Express is a member of Star Alliance through the assimilation of parent company Egypt Air into the global Alliance in July 2008.
Welcome to my second trip report, with high hopes of it being more successful than the first!
Egypt Air in my opinion is very inconsistent in all aspects, I haven't flown with them for six years and I thought I would give them a chance , but I wasn't brave enough to do the DXB-CAI sector which I always give EK the privilege of having me onboard on this route
!
Anyway after deciding with my parents that we will be going to SSH (Sharm El Shiekh)
http://en.wikipedia.org/wiki/Sharm_el-Sheikh
on the same day of our arrival from Dubai, and I was really disappointed to find out that MS express was the only option, personally I hap expected more airlines to be flying this route , but we only have MS.
2nd July...
I booked the overpriced ticket through MS website (www.egyptair.com) , which wasn't as bad as I expected , although I experienced a few glitches , the three tickets were booked and the seats were selected online (which deserves credit) but the negative thing is that you can't modify the seat assignment , is: you select your seat only once.
17th July...
After arriving from a pretty good EK927, we were faced with long lines for the swine flu scan and passport control. We were out of the dingy T2 by 12:35 which made me relived as I was thinking of booking the flight to SSH that departs at 12:45, but thankfully I book the flight departing at 15:30.
In CAI you have two choices to get from Terminal 2 the lovely Terminal 3 (dedicated fro MS and Star Alliance). The two choices are Bus or Direct walkway, we choose the walk way.
Smelly T2
Empty Walkway
Curbside of Terminal 3
Cairo airport shuttle bus on the bottom left.
After entering the terminal, which was pretty empty at that time and as it was still 13:00 we decided to visit the only open Dining outlet prior to check in which was Burger King.
FDS prior to check in
At exactly 15 to 14:00, we passed security to enter the check-in area as it was cornered off from the international check -in. I proceeded through the empty zigzag velvet rope area which led me to 3 empty check-in desks , you actually had the right to choose the agent you want , so I obliviously choose the friendliest looking agent who was Randa , a young Egyptian lady, here is how the conversation went on: btw the conversation was in Arabic.
Randa:Good morning ... oh sorry Good afternoon sir
Me: Good afternoon Randa
Randa: I am sorry but how did you know my name
I pointed to her name tag, and she giggled.
Randa:To where are you flying today
Me: SSH, and here are our passports.
Randa:Would you like a window or aisle seat.
Me: I am sorry , I believe that I have already selected my seats!
Randa:Oh sorry , yes you have booked seats 25A ,25C, 25K and btw sir these are the second row in the Y cabin
Me: That's great
Randa: can u place your bags on the belt please
After doing so I ask Randa.
Me: Can u block seat 25H, as I believe the flight isn't that full
Randa:Here are your boarding passes sir , you'll be departing from GateF31, and about the seat , I will try my best , enjoy your flight on MS Express.
I had just one question, why do baggage tags always come printed with my name although there are other people flying with me , this happened like on every flight I can remember , so I thought maybe because my ticket is the first one ,so I put my ticket in the middle and guess what the baggage tags still had my name!?!?!
Quite a good start , Randa was a bit on the slow side , but her smile and politeness was enough compensation. Anyway , after check-in we took the escalator to the Gates level, and that's when I realized that the airport wasn't as big as I expected . It consisted of a main area which had duty free shops and restaurants and then there were two small concourses which had all the gates, most of the time till boarding I was roaming around , trying to spot through the reflective glass ,while my mom was shopping and my dad was in the smoking room , which looked welcoming. I also had the chance to get a sneak peek of the MS J lounge which wasn't that bad. Let me now leave you with the pictures:
MS flight that had just arrived from JFK
pretty empty
MS to JED
Yellow Boarding Pass
At 14:25 we proceeded to the gate which was F31, and according to the gate agent all domestic flights depart through remote gates , maybe they do think an E170 deserves a jetway for its own? . After a security check , we went down what seemed like two storey's ,where we reached a ground level holding area , which was really nice as it was full of natural light , it had tables and lots of chairs and they even had washrooms there .
By 14:55 two buses and a special services truck (for a wheel chair passenger) which hinted to the inauguration of the boarding procedure, and my feeling was confirmed at 15:05, although everyone was called to board at once every one maintained discipline !
The 57 passengers' were divided on two buses , as I was at the end of line so I got the empty bus, and the bus itself was quite nice , with the new MS logo unlike some of their planes.....
The bus journey wasn't that long but the funny incident happened , as we were in the second bus we followed the first , we passed our aircraft and kept heading towards an MS737-500 which was obliviously not our aircraft , and it didn't even have stairs attached , how illogical can people get, after the first bus driver realized his mistake he turned around , and we did too , but with every one in the bus laughing!
17th July
MS:305
CAI-SSH
Aircraft:E170
STD:15:30 ATD:15:40
STA:16:30 ATA:16:40
Flight time:1:00
s
We reached the aircraft which was gleaming in the hot sun , which was SU-GDI , which is about 7 months old (I think), I was met at the door by what may seen like a pretty FA , but the excessive makeup made her really look like a clown, any way I was pleasantly delighted not because of the not so clean cabin , but by the spaciousness of the cabin , and my pleasant mood got even better when I reached my seat which had a 32 pitch which was great and it was also the first time for me flying on a plane with leather seats which was a nice change.
By 15:30 doors were closed and thank you Randa for the empty aisle seat, after a short taxi and a rolling take off ,we made some nice sharp turns and we were on our way to SSH , the scenery was great throughout the flight !. About 15 minutes after take-off a drink service was made which was more than enough , although J got full meal! , after few minutes we were already approaching SSH and at 16:40 we firmly touched down in Sharm.
Now let me leave you with the pictures:
Note the special services truck at 2L
Love these tiny engines.
View of the wing.
My parents.
Sharm El Shiekh map spread over the two tray tables
Taxing to runway:
Moi
lift off and cruising:
Drink Service , i chose water and OJ , which was served by petite Noha.
Decent and landing:
J class which had exactly same seats like Y but costs $150 more!
SSH
MS Express with Saudi friend.
We landed at 16:40 and after exactly 12 minutes we were out of the airport with our bags , following the Sheraton Sharm representative guide us to our awaiting car.
I really did enjoy Sharm , as it is an excellent example of a touristic destination, and I am pretty satisfied with the crew and MS Xpress , and I absolutely love the E170 , it is so silent ! Finally on a scale from 1 to 10 I would give MS XPRESS 8.
Here are some pics of Sharm:
I don't know why but I just wanted to end the report with my sisters dog Aden:
Comments , Suggestions and Criticism is so welcome , that every one who comments is getting an éclair.
Regards,
Islam