Hey everyone,
Well its that time of the year again and I'm back in Hawaii getting ready to do another contract on my next ship. I decided to fly into Honolulu a few days early so I can relax before I get back to work. I also decided to upgrade my flights to BusinessFirst. Now before I booked this I was close to going with Delta so I could get the chance to fly on the upper deck of the 747 before they pull it from the ATL-HNL market but the dates I needed had nothing avail on top so I picked Continental for the better service.
Wednesday night I did my goodbyes to friends and family and packed and tried to go to bed early because I had to wake up around 3:15 am to head over to the airport. If you know the greater Cleveland area then you will realize how happy I was when I made it from the Shaker Heights area to the airport in 20 minutes. I arrived at the airport and was through security at 5am. I headed over to the Presidents Club and was a bit bummed to see it didn't open till 5:15 am but my flight boarded at 5:25 am so I just did a very quick stop to pick up some OJ. The lounge was totally empty so I headed off to my gate for boarding.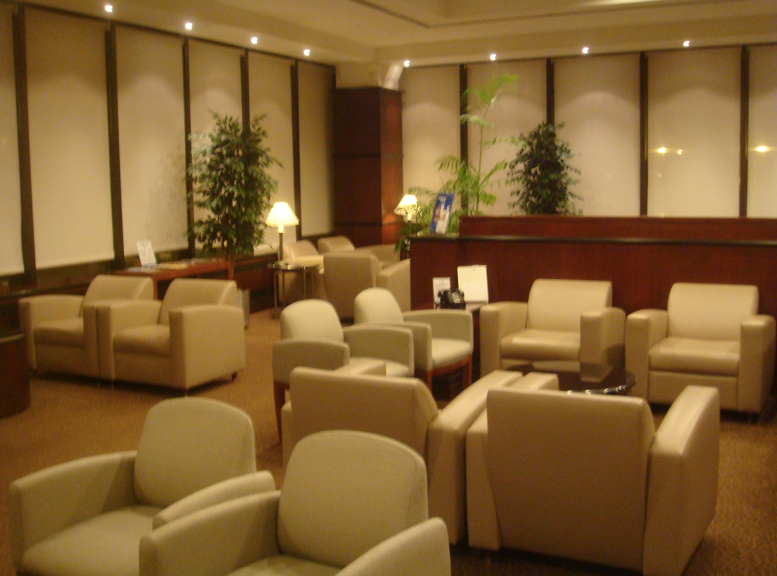 Continental AIrlines Flight 1045
Cleveland-Houston
Boeing 737-900ER ship #414 with Direct TV.
First Class
Right on the dot at 5:15 they announced boarding and soon I was sitting in my sit drinking my pre-flight Ice Tea. This was my first time trying out Direct TV on Continental Airlines and I was pleased with it. With a 6:00 am departure pretty much everything was infomercials but the news so I stuck with good old CNN.
This guy sitting in front of me gives putting your feet on the bulkhead a new definition!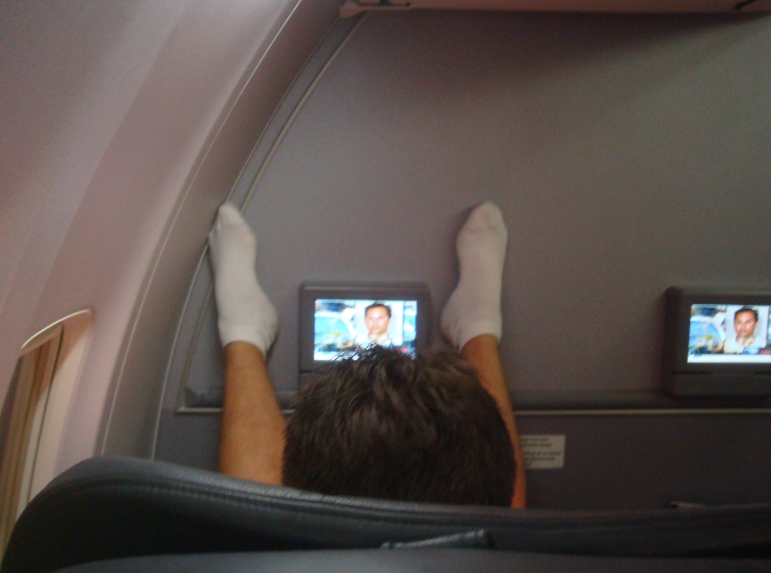 Just a picture after take off of the sun starting to rise
Shortly after take off the flight attendant came around and took everyone's breakfast orders. Todays options were a bowl of cereal with banana, bowl of yogurt or the hot choice. The hot option was a Swiss cheese egg thing, potatoes, ham, sausage, Strawberry yogurt and a fruit bowl. On top of that Continental passes out different bread items and I picked the very hot cinnamon roll. Their breakfast is always filling. (side note: I'm typing this part from my next leg of the flight and you can now smell the fresh cookies baking and it smells soooo good!!)
Diva of the day alert:
The woman next to me on this flight was such a diva. She ordered a glass of skim milk. When it arrived she said it was a tad too warm and wanted it chilled. No problem... Well when they brought it back it was now too cold. Poor Flight Attendant...
After breakfast I decided to watch some more CNN and at some point I fell asleep and woke up as we were getting ready to land in Houston.
The connecting flight was very easy. I headed towards the E terminal Presidents club and decided to go take a shower because I was feeling a bit hot from the flight before. This Presidents club is very nice with great views.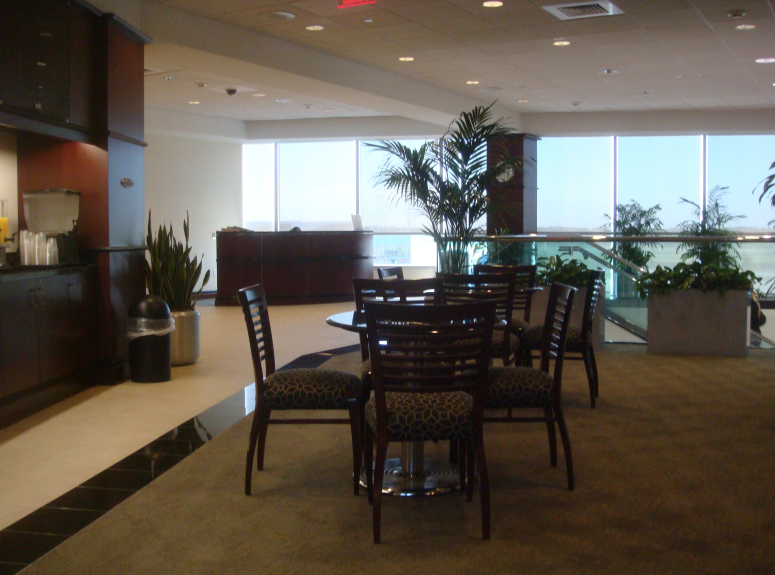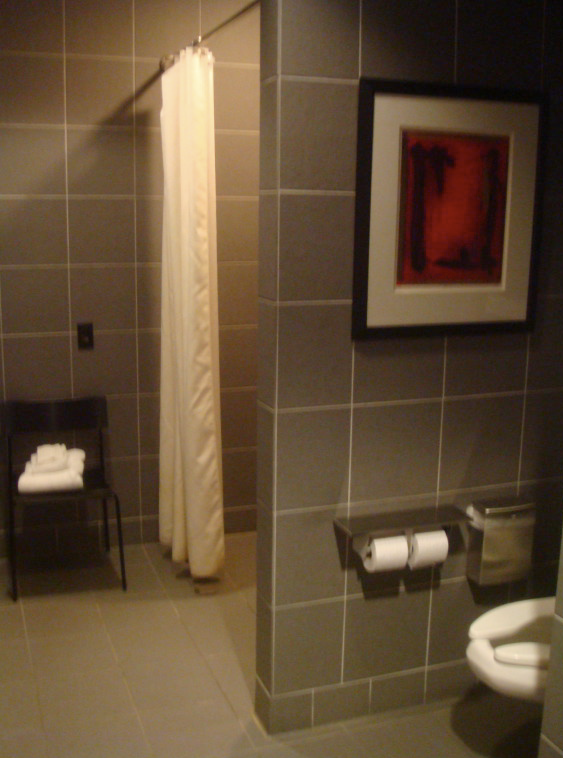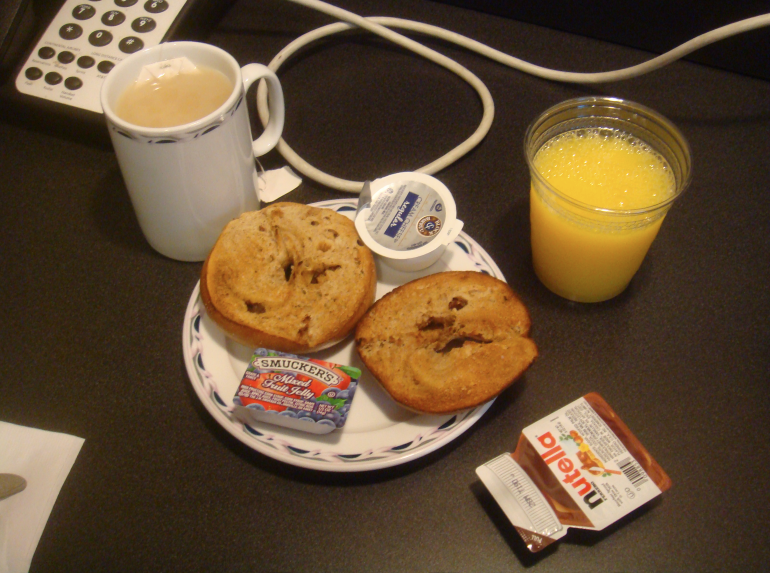 I took a quick snack and checked my facebook etc. By the time I did that boarding was going to start in 10 minutes so I headed over to gate E4.
Continental Airlines Flight 1
Houston-Honolulu
BusinessFirst seat 1D
767-400 ship number 64.
Flight time: 8 hours 20 minutes.
Right at 8:45 am they announced all BusinessFirst customers can now board the plane. I really like being the first one to board on this flight so as soon as I saw the regular group of older people about to pass me, assuming I was lost and stating in the wrong line, I stepped it into high gear and headed down the jetway. The SECOND I turned down the first class lane towards the first door I realized how great the flight would be. In my last trip report here:
CLE-BWI-IAH-HNL CO BF To Work On A Ship (pics)
(by
Cruiseshipcrew
Feb 26 2009 in Trip Reports)
I talked about how great the service was. Well I was so pleased to see the same two ladies standing in the door greeting people. Right from the start we picked up on our industry and gossip about United Airlines. I was pleased to be back on their flight.
I had my traditional pre-flight Mimosa (they didn't card me this time!) and looked over the menu for the flight.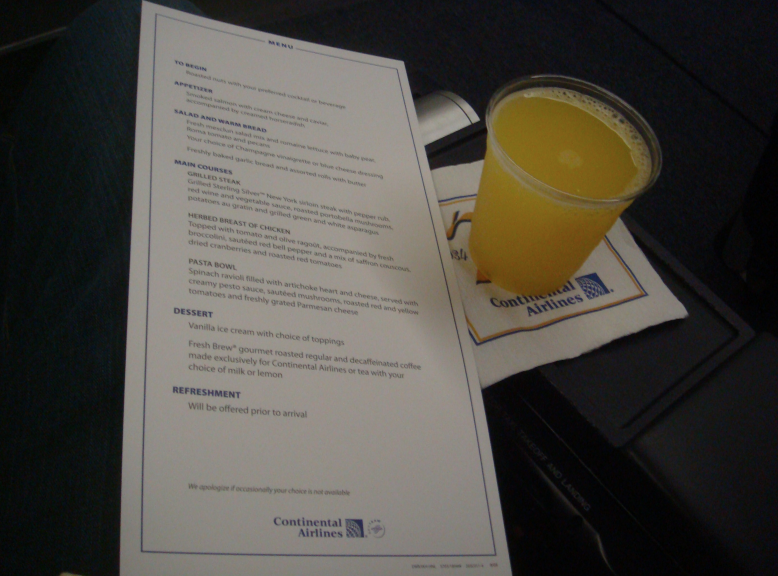 After take off they handed out table cloths for everyone and gave out nuts and another Mimosa. I don't know why they took away the hot nut cups instead of just the bag it sure looked nicer.
The first meal on the flight is:
Appetizer: Smoked salmon with cream cheese and caviar, accompanied by creamed horseradish.
This wasn't bad. Pretty standard for a flight appetizer.
Salad and warm bread: Fresh mesclun salad mix and romaine lettuce with baby pear, Roma tomato and pecans. Your choice of Champagne vinaigrette or blue cheese dressing. ( I picked the Vinaigrette)
Fresh selections of breads (I love Continental's garlic bread)
The salad was good but by the time I got to the bottom it was just a pool of dressing but still tasty. The pear was very refreshing.
Main Courses: Grilled Steak, Herbed Breast of Chicken or a Pasta Bowl. I picked the Steak. "Grilled Sterling Silver New York sirloin steak with pepper rub, red wine and vegetable sauce, roasted portobella mushrooms, potatoes au gratin and grilled green and white asparagus."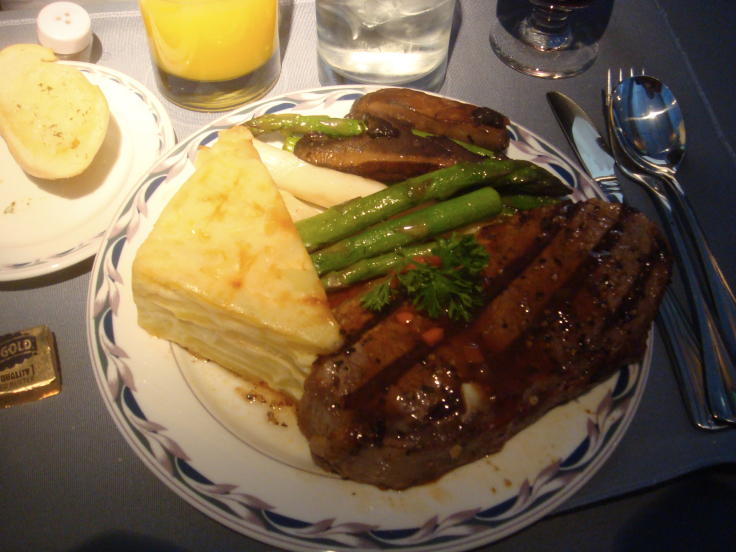 The Steak was really good but I had to cut the fat around the edge. It was cooked well and was very juicy. It was about 1 inch think. The potatoes were ok but kinda tasted cheap compared to the steak. The veggies were good. Overall it was a great meal and I was stuffed. They kept the wine filled and the water also.
For dessert I had the Hot Fudge Sundae with hot fudge, whipped cream and a cherry. Very good!!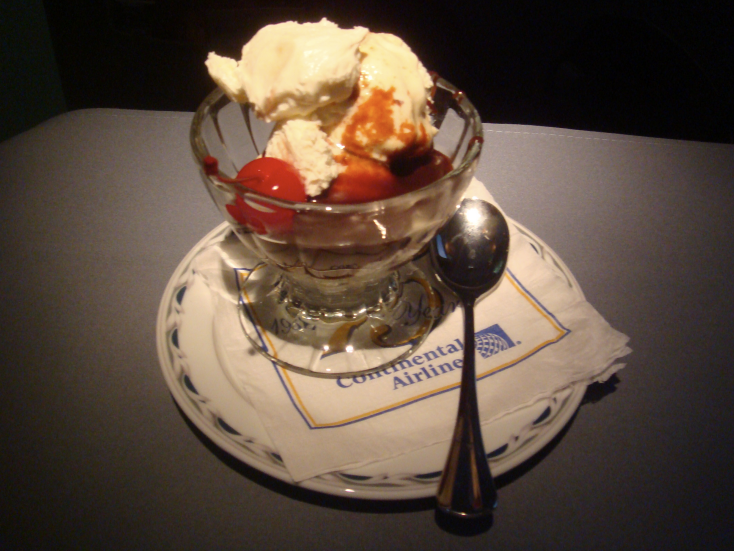 When the first meal service was over we were over Arizona.
At the west coast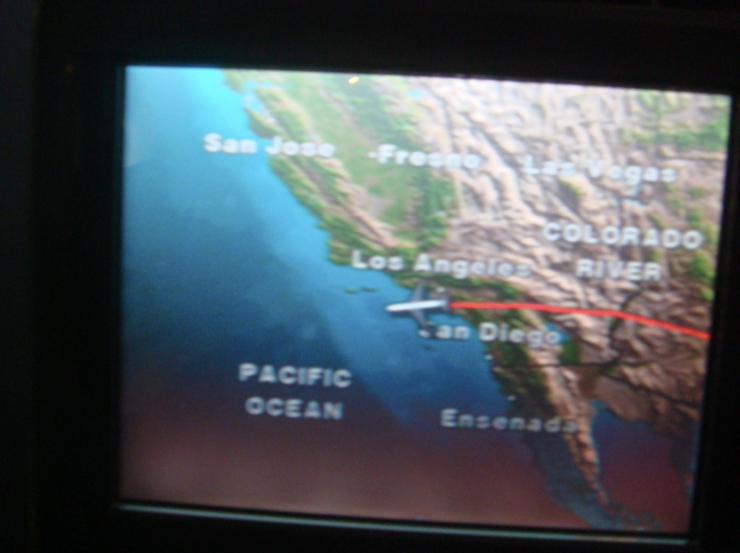 Little laptop entertainment
Halfway into the flight they cooked fresh cookies and offered water or milk with them.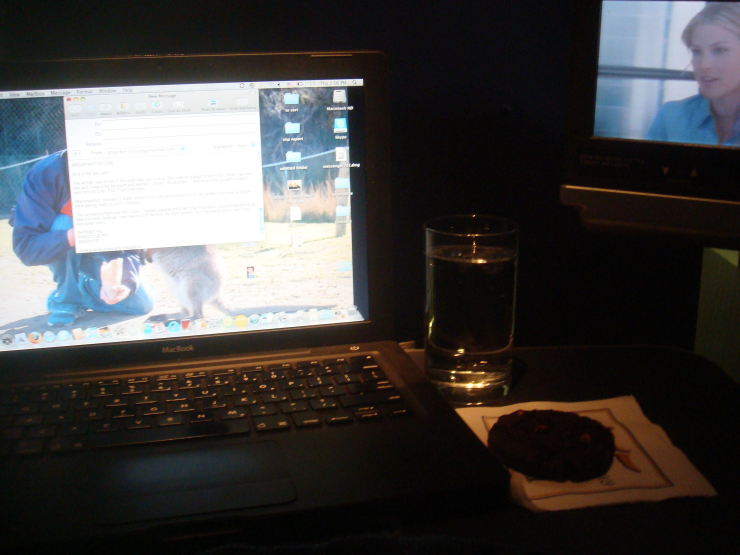 About 1 hour 30 minutes before landing one of the flight attendants came around and said "I have some delish burgers cooking, would anyone like them?" I accepted and it wasn't bad. The topping were a bit weak but it tasted good.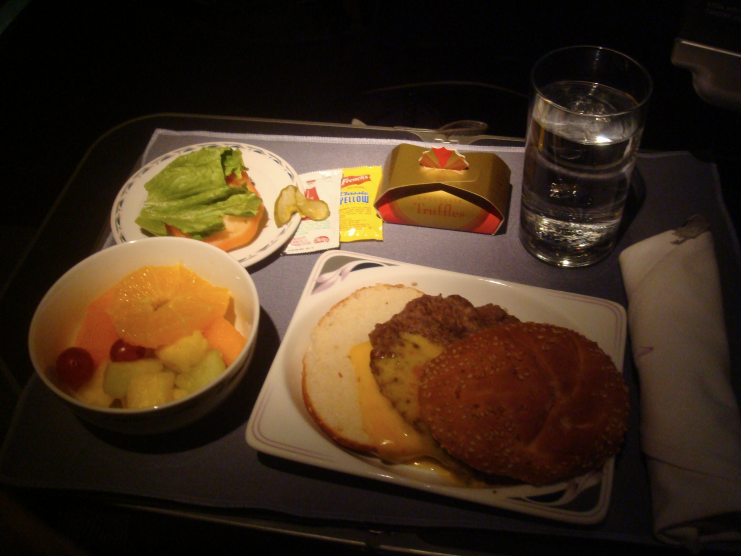 Truffles before landing.
Almost there!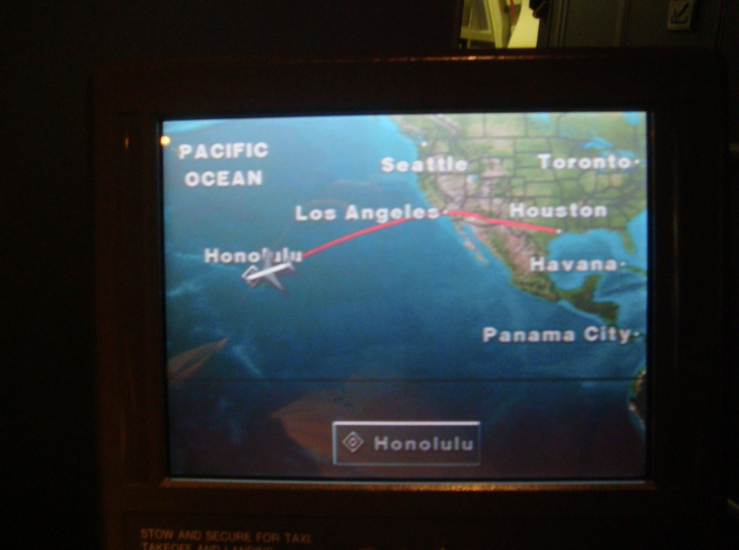 Once landing I collected my bags and headed over to the Aqua Palms hotel. This hotel is one of the best values in Waikiki so I was pleased with the room. Its right next to the Hilton Hawaiian Village and is about $98 a night.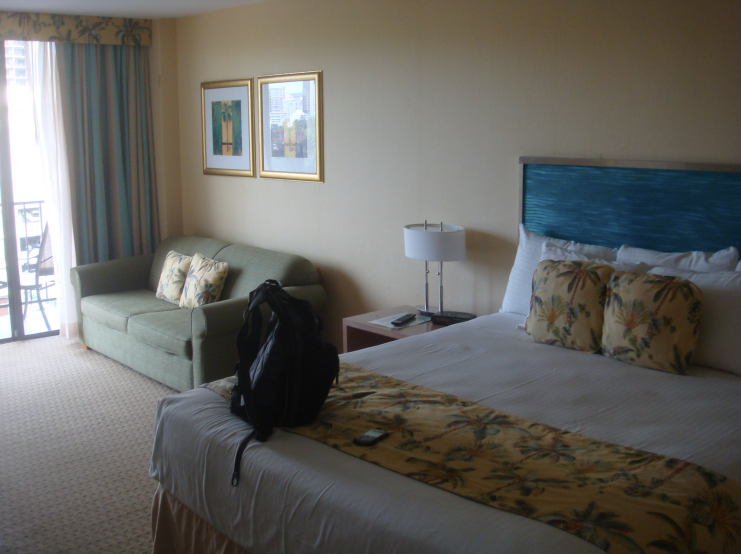 I'm here till Sunday then I fly on Hawaiian Air to Maui and board my ship where I will be working till Jan 10th, 2010. A few pics of my ship..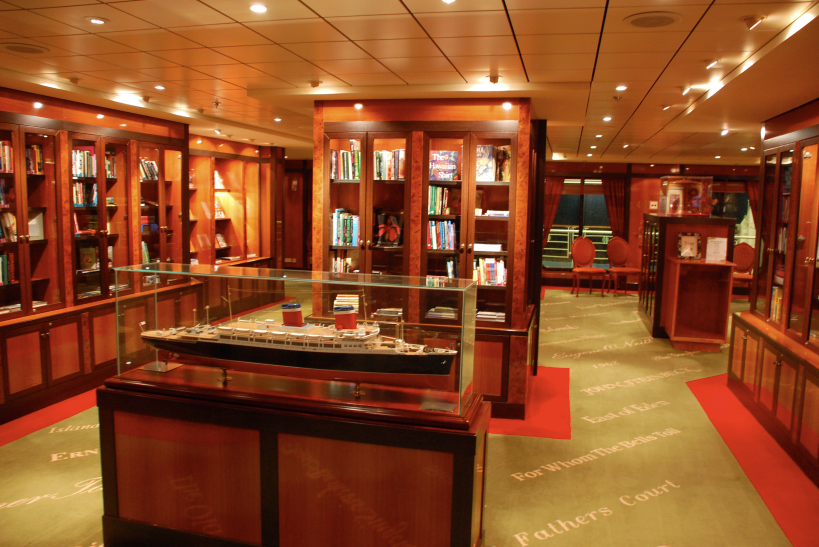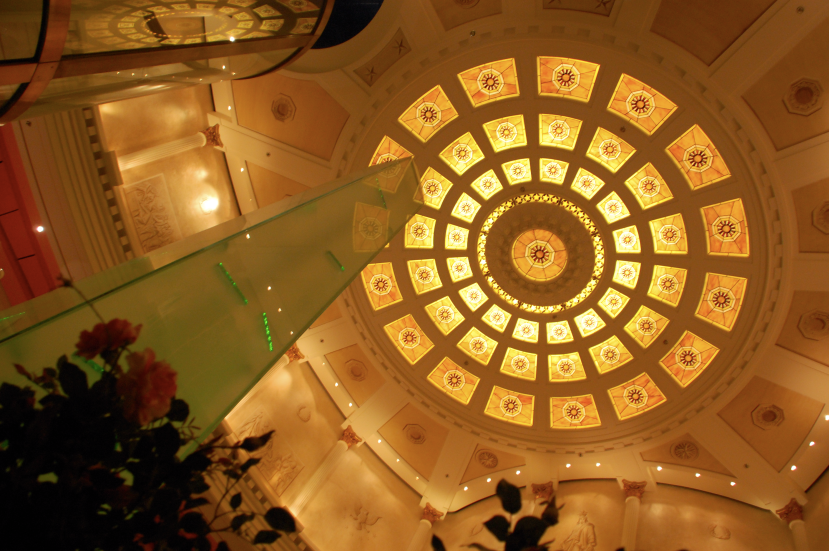 Thanks for reading my trip report. Thanks for all your comments also!
James