Chasing the Eclipse on China Eastern
I found out in late June that I'd have a week off work in late July, after an assignment in Guangzhou, and before my next one in Hong Kong. As always, I turned to the internet for ideas about what to do in my spare week. Initially I though of going down to the tropical island of Hainan to go to the beach. However, from somewhere, I came across the news that the eclipse would be passing over China on the Tuesday of my week off. After scouring the net for more detailed information, I narrowed my viewing points down to two, Wuhan and Shanghai. I've been to Shanghai a lot, and have friends there, so Shanghai would be a good place to chill out for a few days. Wuhan, on the other, is somewhere I'd only been once, and wasn't too enamoured with. Of course for me, it wasn't just the cities themselves, but what flights were available. Flights to both cities were mainly B737 or A320 (not very interesting). There was one, however, that caught my eye, a thrice weekly Embraer 145LR from Guangzhou to Wuhan. It wasn't the cheapest flight, nor the best timed, but as I've never been on an Embraer, I thought that this would be a good opportunity to do so.
The Pearl River in Guangzhou from my hotel room
Guangzhou (CAN) – Wuhan (WUH)
China Eastern MU 2472
Embraer 145LR
B-3058
Scheduled:1050-1225 (1 hour 35 minutes)
Actual: 1107-1227 (1 hour 20 minutes)
For the first time ever, I managed to find out how to check in online. Whilst it's a fairly common activity in many places, in China this is still quite a revolutionary concept. It involved disabling various proxies I'd set up, and it only worked on Internet Explorer. Even though I was the first to check in, the first 8 rows were blocked, so I went for row 9 hoping to be able to move when I got to the airport. I caught the shuttle bus to the airport which no problems, and got my bag tagged and sent off. The check in person was unable to print my boarding pass, so I had that done at the service desk (and moved me to row 4).
Guangzhou Airport is getting better every time I use it. Gone are the days of noting being able to find anything to eat or drink. There is now a Starbucks airside, as well as 7-11s and McDonalds etc. Security didn't take long. As expected, we were assigned a remote gate which I duly headed down to around 45 minutes before departure.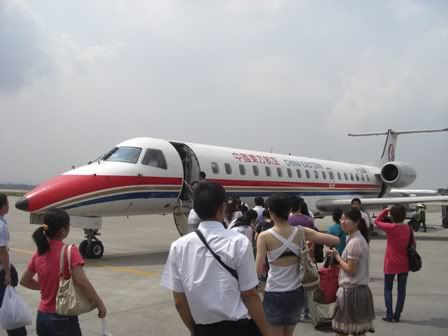 The flight was just about full (I spotted a few empty seats). We were parked next to two Air China B737s and an A319. Boarding was hurried as everyone wanted to get out of the heat and into the aircon. Alas, the Chinese have a fear of checking in bags, and most people (I imagine) were expecting something larger than an ERJ, so had some quite bulky carry-ons (more like drag-ons). These, unsurprisingly, slowed everything down. As far as I could see, only one or two bags ended up getting 'gate' checked.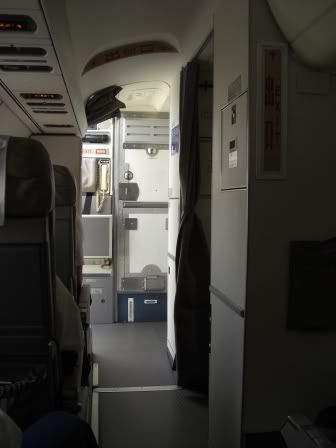 Despite the smallness of the plane, there were two cabin crew, someone else (no idea who they were, but they sat in 1A and I'm pretty sure worked for China Eastern), and there were three people on the flight deck.
I thought the cabin was very comfortable. The seats were soft grey leather, and there was enough leg and elbow room. It was far more comfortable than a CRJ for sure.
We pushed back late, and took off after a long, and not particularly interesting taxi around some fields. One aircraft of note was an Air Madagascar B767 parked remotely. This is a twice weekly extension on the Antananarivo – Reunion – Bangkok service. I'm surprised that this flight exists, as I can't imagine there are many Madagascans in China. If anywhere, Hong Kong probably would have been a better choice.
Once the seat belts were off, the two cabin crew came though the cabin offering a choice of tea, coffee or water, and a snack box containing some sweet corn biscuits, a bread roll, and a sponge cake. Not the best catering, but adequate to the time and flight length.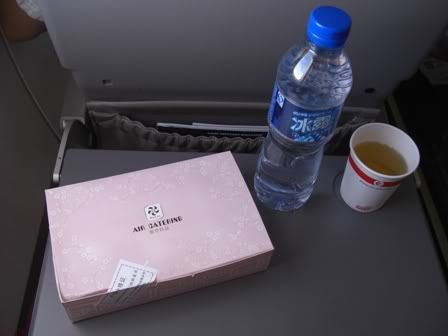 We landed at the very empty, but nice and new Wuhan Airport just two minutes late. There was a Korean Air B738 just leaving for Seoul. According to Wikipedia (I know, they are terrible when it come to Aviation gossip), the Chinese want to make Wuhan the 4th International Chinese hub after Beijing, Shanghai and Guangzhou. Seems like a strange choice, given it's very limited international route (currently just HKG and ICN I think). Xiamen, Hangzhou, Shenzhen, Nanjing, Qingdao, Chengdu and Urumqi all have far more international services.
Wuhan from the air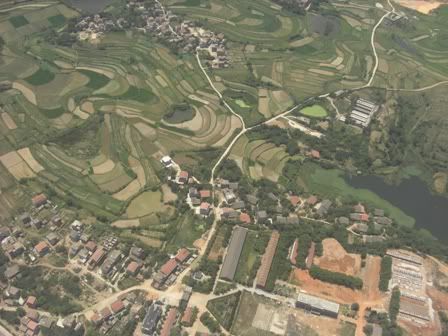 Korean Air From Seoul
China Southern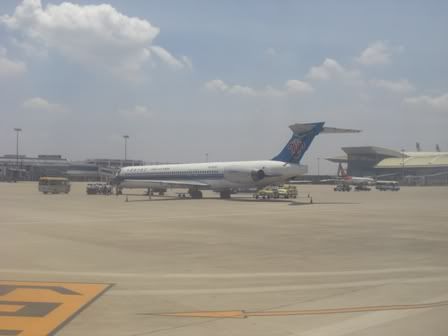 Disembarkation
We were bussed to the terminal, and within five minutes my bag was on the carousel, and I was in the queue for the city bus.
The New but empty terminal
I was staying in the newly renovated Holiday Inn. The staff at check in didn't seem very welcoming, and their English wasn't great. The room, on the other hand, was very nice, although the cleaning staff didn't see the bottle under the desk.
I spent the afternoon in the room, and hanging around by the pool. It was far to hot to be venturing outside. Wuhan is known as one of the three furnaces of China, with summer temperature hovering around 40C, and high humidity. The other two are Nanjing (where I lived for a year) and Chongqing. All three are on the Yangtze River.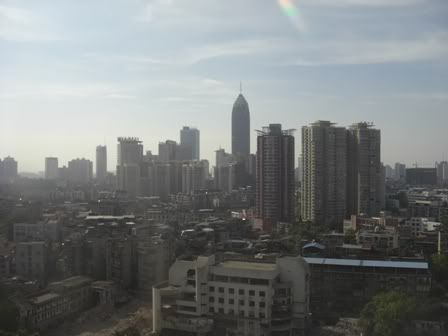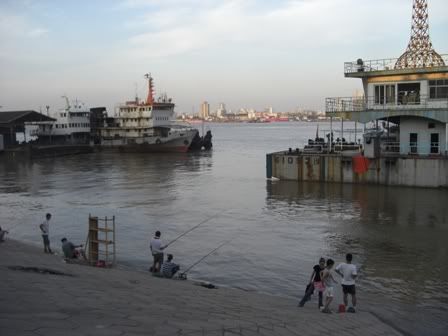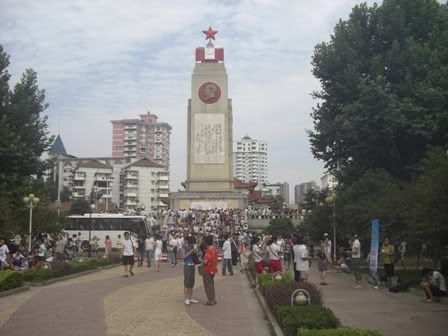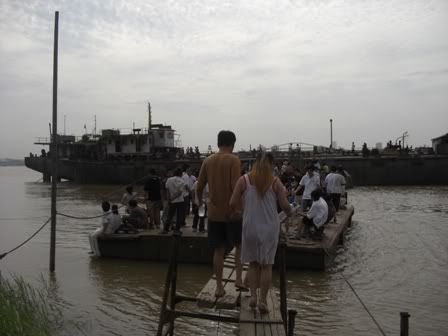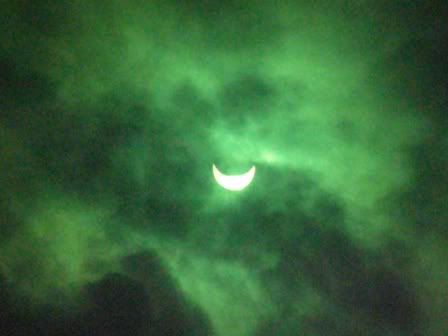 The morning of the eclipse I went down to the mina park on the Yangtze. I wasn't excepting public knowledge of the eclipse to be particularly widespread, but I was wrong! The place was packed, and there was some sort of TV show present, trying to record the eclipse. I made my way though the crowd, trying to get near the river. At last I made it onto a pontoon about twenty minutes before totality. Wuhan, as far as I could work out, had one of the longest periods of totality, just under six minutes. It was a strange experience watching the sun suddenly disappear. It felt a bit like it was dusk, with the sun just having set, except the sun set was all around us, as apposed to being in just one place.
Ironically, that boat is called 'Wuhan Sun'.
[IMG]http://i129.photobucket.com/albums/p207/shefgab/Eclipse/CIMG3530.jpg[/IMG
After the eclipse, everyone dispersed. It was all over quite quickly, but definitely worth the experience, especially as it was the longest eclipse (totality) in 200 years or something like that. Also, did you know, that in a few thousand year time, there will no longer be full eclipses as the moon moves slightly closer to earth?
I spent the rest of the morning in the hotel pool, watching the sun making shadows on the neighbouring skyscrapers. I checked out at 2pm, and walked the short distance in the blistering heat to the airport bus stop. After a bit of confusion about where to buy tickets, I got on the bus, which had it's aircon going full pelt. The drive to the airport took about half an hour, so I arrived with loads of time to spare.
Wuhan (WUH) – Guangzhou (CAN)
China Eastern MU 2475
Boeing 737-300
Scheduled: 1755-1930 (1 hour 35 minutes)
Actual: Late!
Departures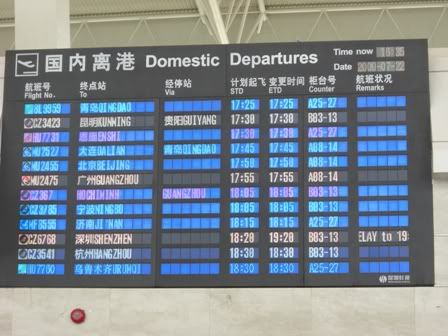 I was checked in, and given an exit window seat. Security was fast, and soon I was in the nice and airy departure lounge. The sun was shining, and so I settled down near a window watching the runway. Despite apparently Wuhan Airport being one of the busiest in China, today seemed to be very quiet. Around 1720, I wondered over to the gate to see if the aircraft had arrived or not. It hadn't. I asked the person at the desk, and they said it was running late due to the bad weather in Shanghai, and didn't know when it would arrive. After pressing them for more information, they said it might be 3 or 4 more hours, and that food boxes should be arriving soon.
Queueing for food
Despite being on holiday, I needed to get a bus from Guangzhou to Shenzhen the same evening, and I was only going to just make the last one as it was. I tried to explained this to the staff, and ask if there were any other earlier Guangzhou flights, or even a Shenzhen flight, but they said I couldn't change.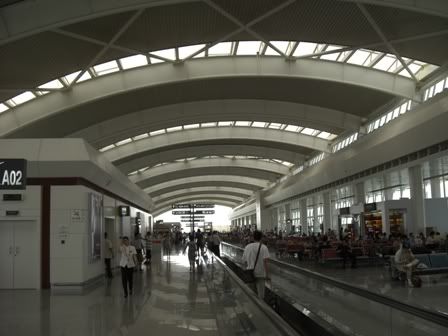 Guangzhou flight gate
Shenzhen Airlines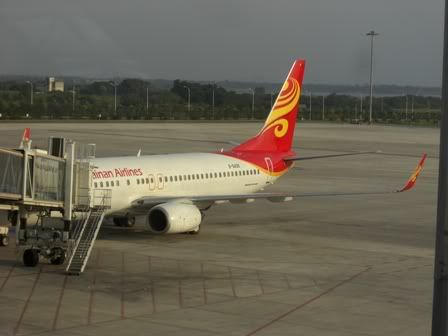 Sunny weather!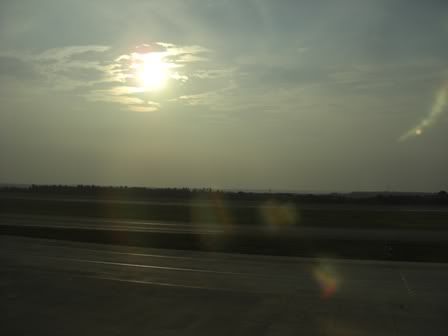 Air China from Chengdu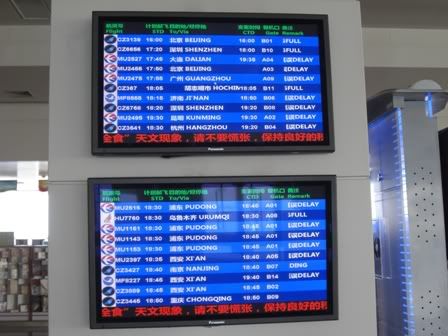 A few minutes later, the food arrived. It was a quite edible selection of curry and rice with vegetables, and a coke. Following the meal, I continued just wandering around the terminal. By the end, I must have been into every shop in the place. I went back to the gate a few times, and there was still no definitive departure time. I went to the First Class lounge after that to see if they'd be able to do anything. To my surprise, the staff in there were very proactive in helping me, and within ten minutes, they'd rebooked me onto a direct flight to Shenzhen (and was booked into Y class, so I got load more miles!), which had also been delayed for an hour due to weather somewhere else.
I was escorted back to the check in desk, where I handed over my baggage slip, and someone went deep into the bowels of the airport to retag my bag. I was also given a new boarding card. By the time I had passed though security again, the flight was getting ready to board (the Guangzhou flight stall hadn't shown up).
Wuhan (WUH) – Shenzhen (SZX)
China Eastern MU 2367
Boeing 737-300
B-2573
Scheduled: 1935-2100 (1 hour 25 minutes)
Actual: 2035-2158 (1 hour 23 minutes)
A9 now for the Shenzhen flight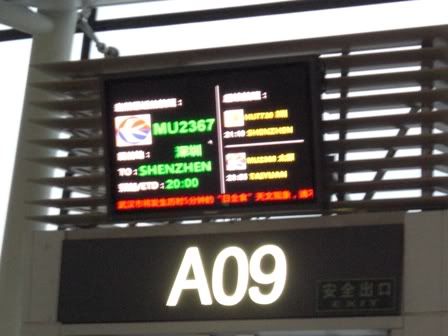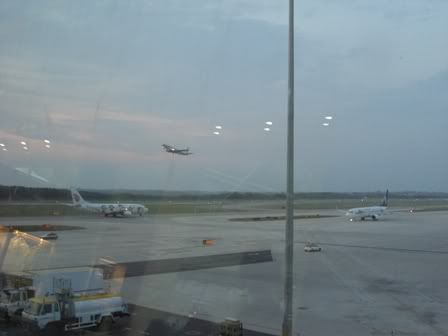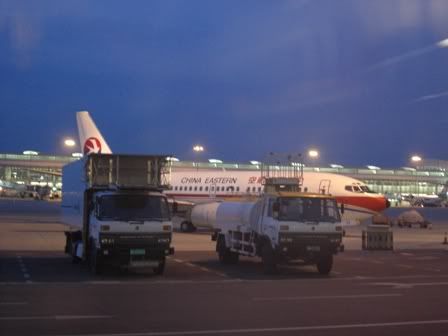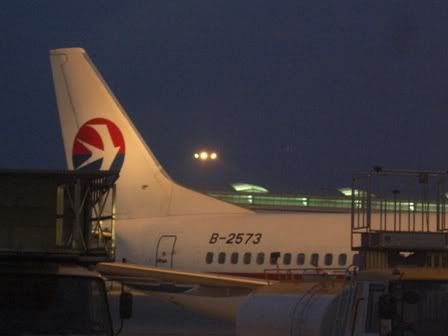 Lucky Air to Kunming next to us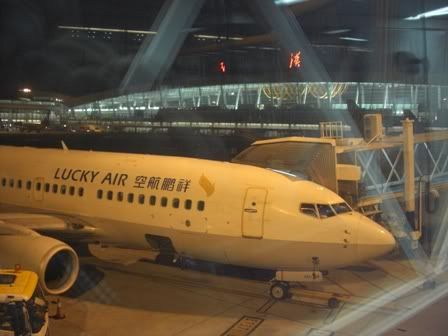 The aircraft appeared pretty full. To my annoyance, my exit seat had turned into a bulkhead seat, which had even less legroom than a normal seat….at least I'd be first off. By now it was dark, and I was tired, so dozed most of the way. A small sandwich was served, along with a 'wet turban'.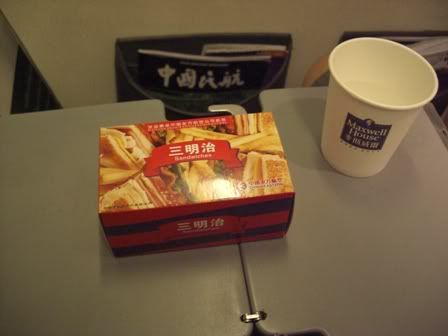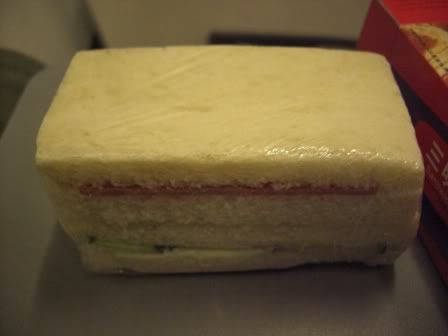 We landed in Shenzhen just over an hour late. Shenzhen is one of the busiest airports in China, and there were lots of other arriving flights. I found the bus into town pretty easily, and was soon on my way.
Shenzhen Airport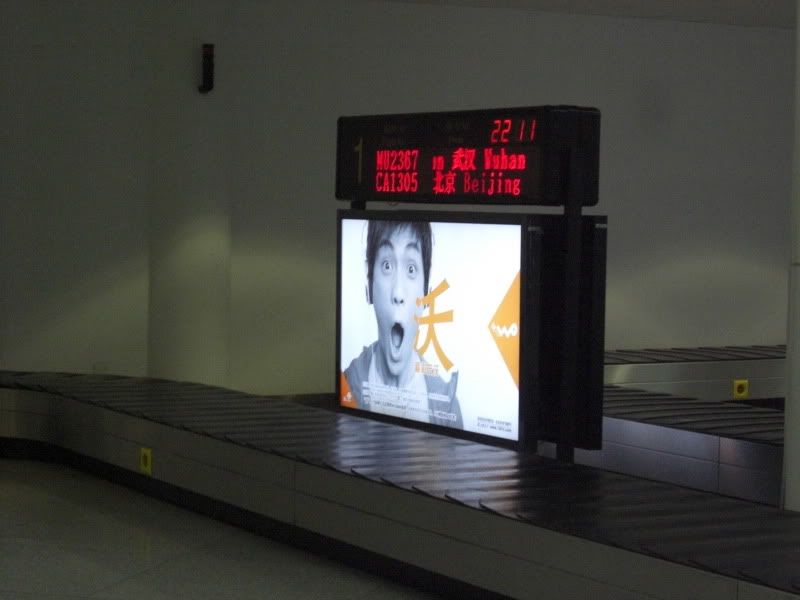 In summary, the eclipse was amazing, and despite it's short duration was a great experience. China Eastern was bog-standard as ever in the air, but I'm very impressed with the staff who rebooked me so quickly. And the ERJ was worth the extra cost!