Back in January, I wrote an evil little report on the state of the Aer Lingus Gold Circle lounge in Dublin. Basically, it was full of mismatched chairs, had a really crappy selection of food (ie: just chocolates and pretzels) and was generally poorly designed and implimented. The report was titled, "The Lounges Make Me Cry" and is found here -
http://www.airliners.net/aviation-fo...ums/trip_reports/read.main/140835/
Well it seems someone listened, because there have been some improvements, and so I thought it only fair that I write another report.
Date: 16 August 2009
Route: DUB-EDI
Flight: EI258
Aircraft: EI-EDS - A320-200 - Saint Malachy
Seat: 6A
Dep: 2115 Arr: 2215
Once again it was time to go to Scotland to visit my significant other, and as usual I checked in online and printed my Boarding Pass out at the FastPass kiosks in the airport. Security was done fairly quickly, and I had arrived in good time to sample the lounge. I had heard there had been improvements, and I was looking forward to seeing them myself.
Happily, it was Friday night and I was on the last EI service departing that evening, so I was the only person in the lounge apart from the lounge attendant at the desk and the guy clearing everything up. The lounge attendant was wonderful - my flight was delayed and she wouldn't let me go downstairs until the inbound was on the ground. She was quite lovely and it was great service - so full marks to her!
First up, they have put up a brand spanking new sign at the entrance, which clearly outlines who is and isn't allowed in.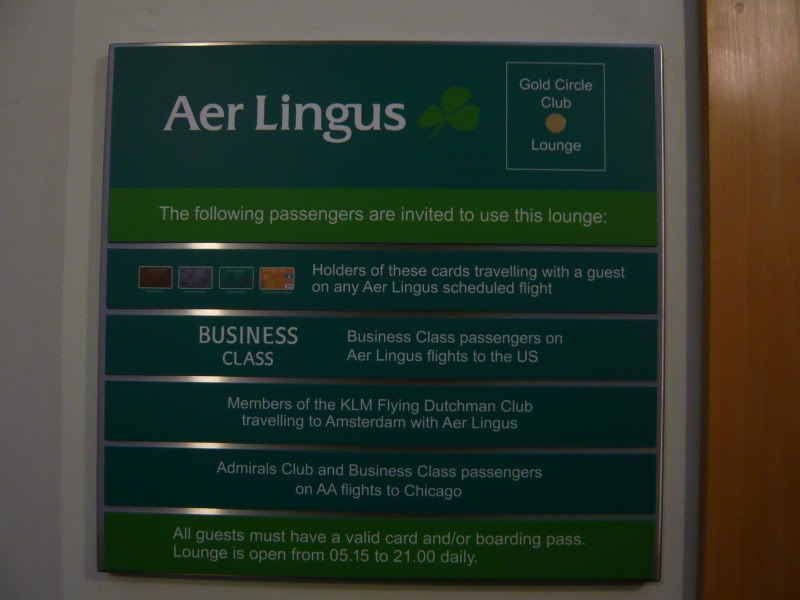 Directly in front of this picture is the entrance door. To the right of that is the desk where the lounge attendant sits.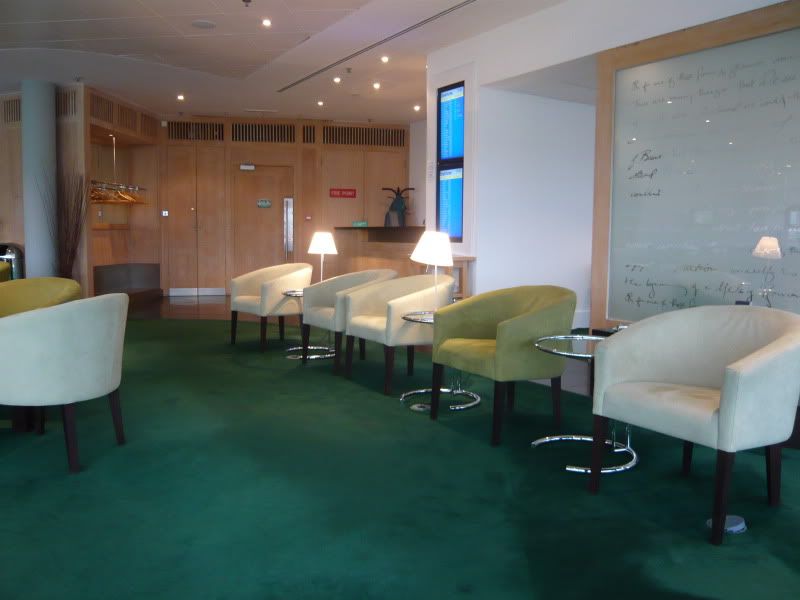 A view of the lounge from the food and drink area.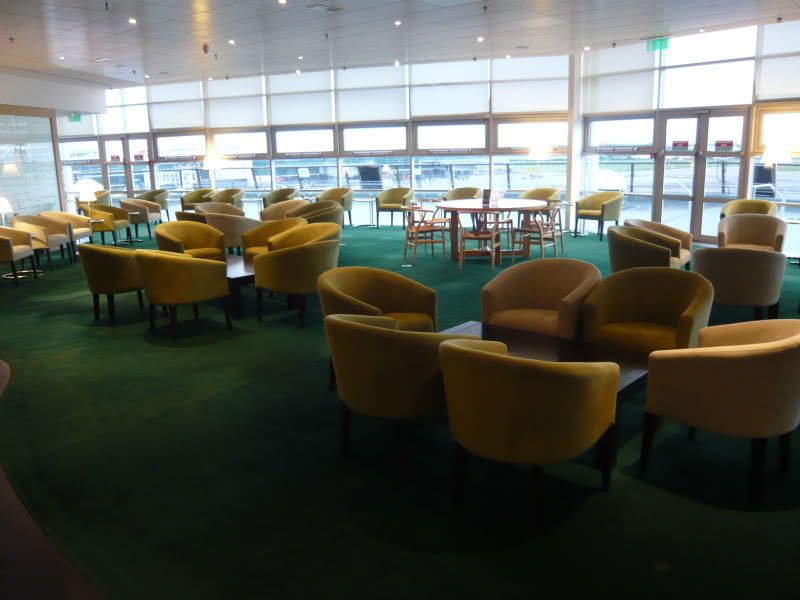 Another view looking a different way...
A small area slightly sectioned off, with the Aer Lingus frosted glass...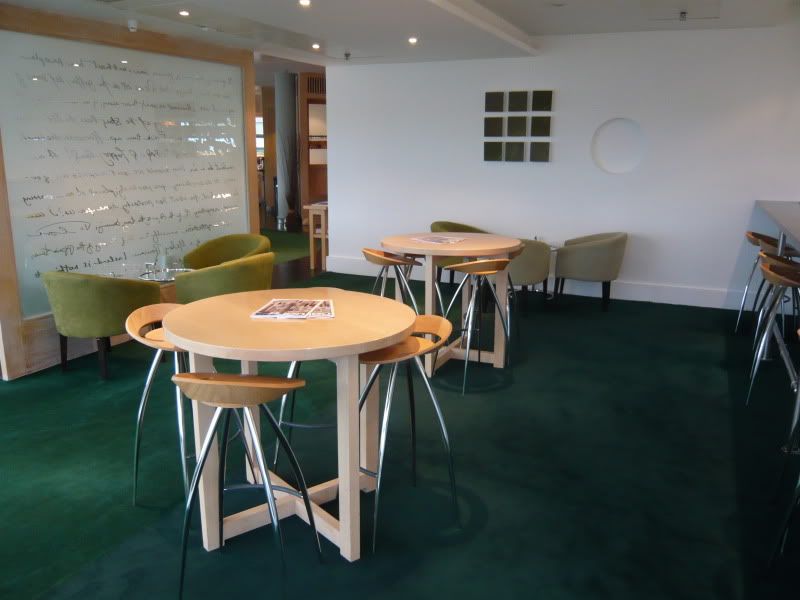 Looking towards the bar...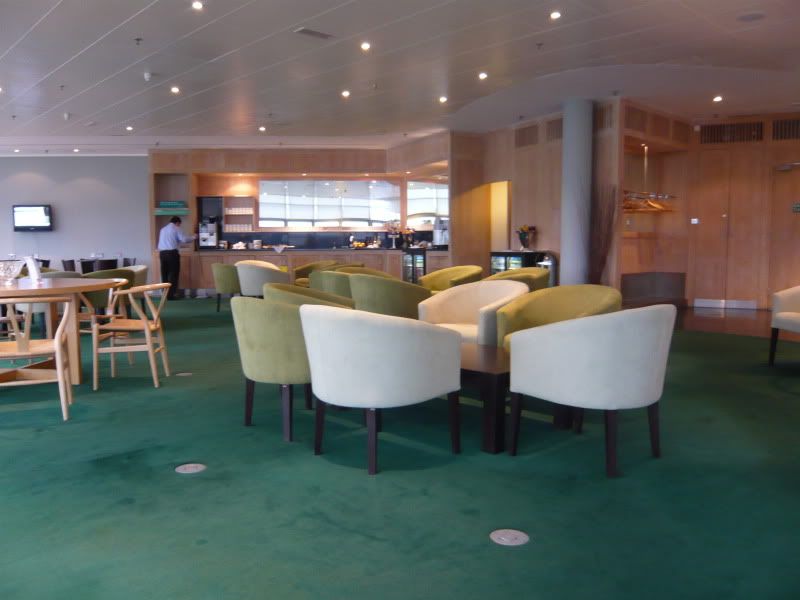 And now for the entirely new addition. The "row of useless little desks" has been removed, and lo and behold there is some nice modern brown furniture, wooden flooring and a flat screen television. Full marks for this improvement!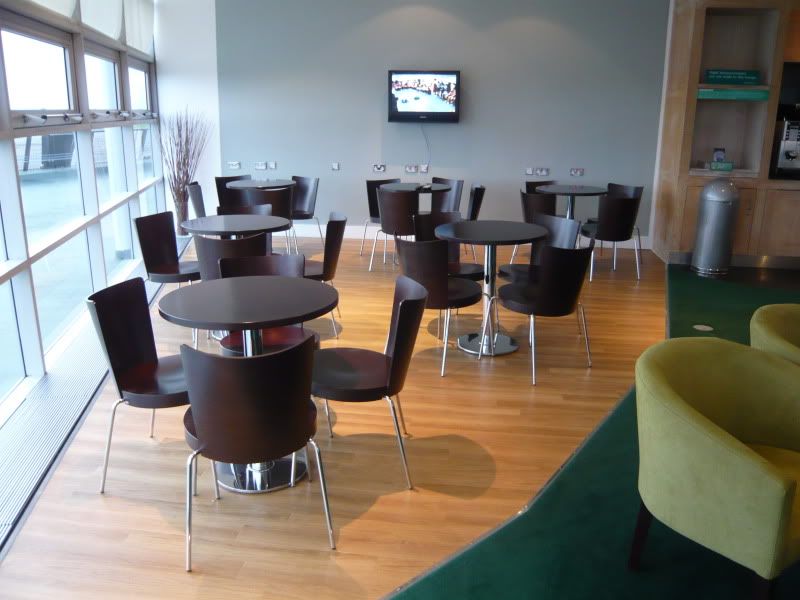 Complimentary "read them in the lounge but don't take them with you" newspapers are on their own little coffee table here.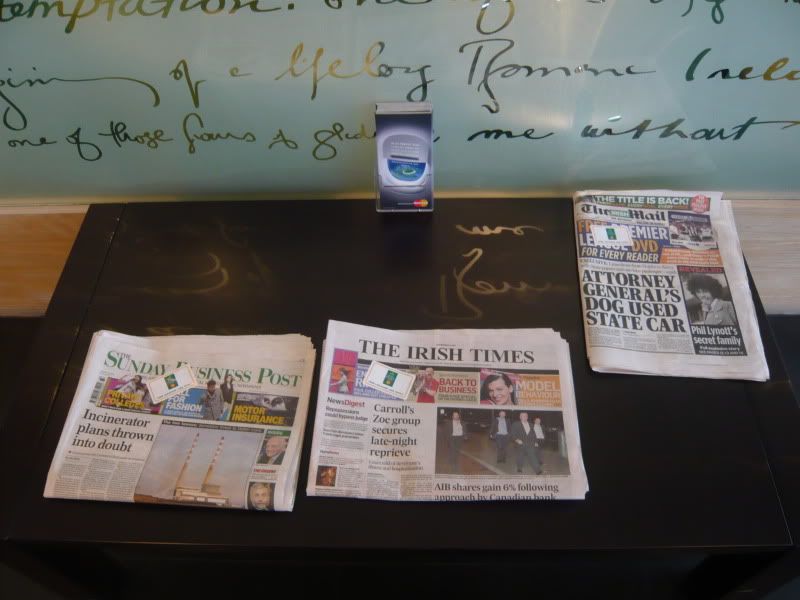 The view from the lounge is over the runways, though it's unfortunate that there is a useless great fence right in the way...
Now to the food and drink.
Previously you had this pile of calories...
This bunch of crap...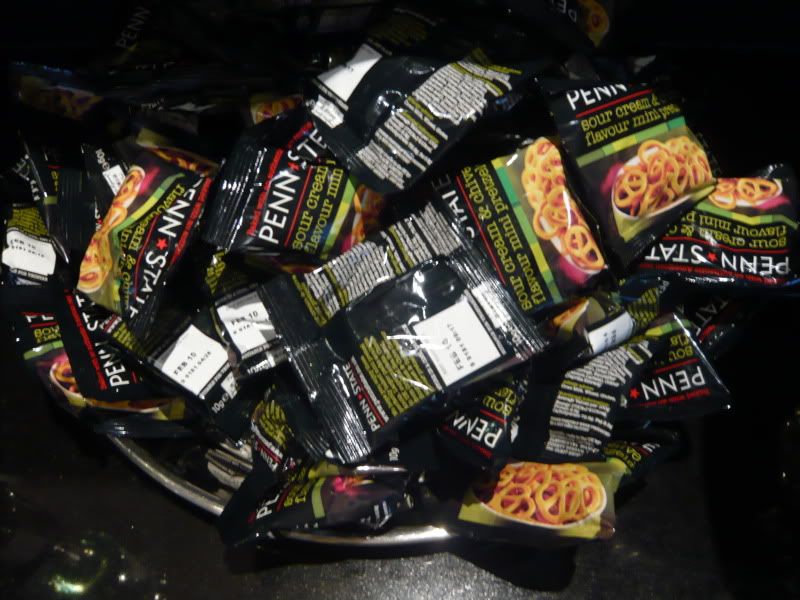 Some tea...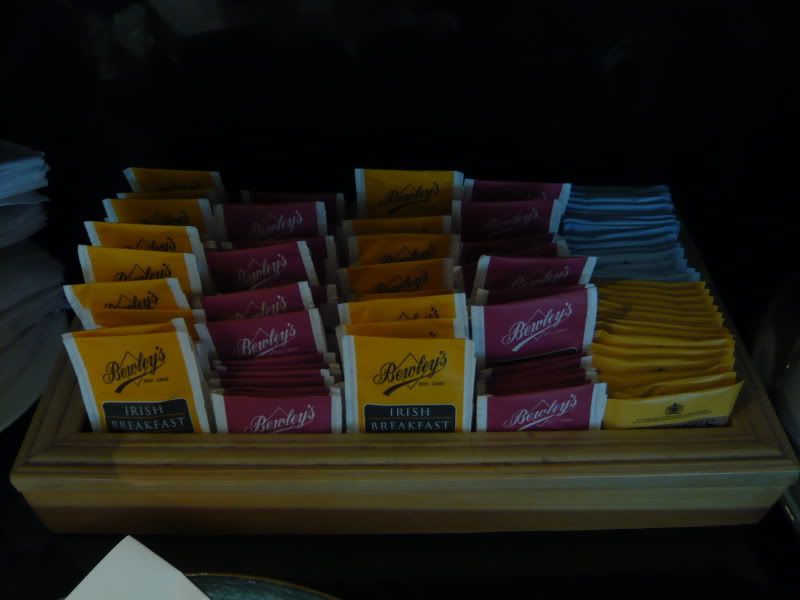 Some mugs...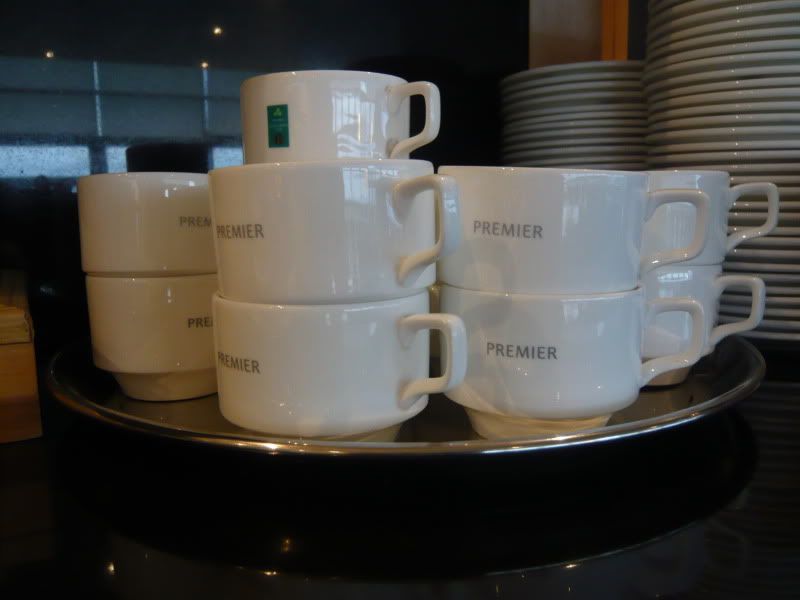 ... and that was pretty much it apart from the alcoholic beverages. Pretty poor when it's the only selection, but not bad when it's part of a greater whole. All of the above is still there, and were taken on the day I took the rest of the pictures. However, look at this...
Look! Fresh fruit! Amazing!
... and could this be - freshly cut sandwiches?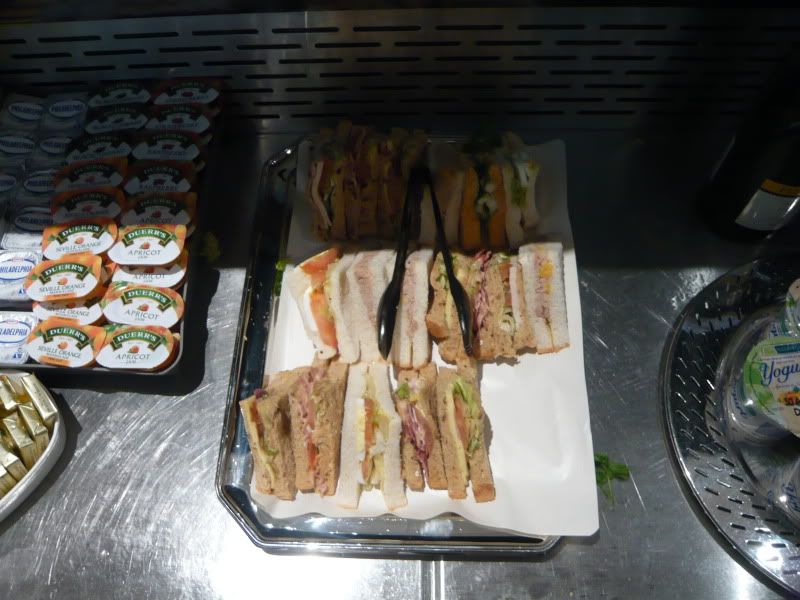 ... and be still my beating heart, not a selection of breads to make your own stuff with?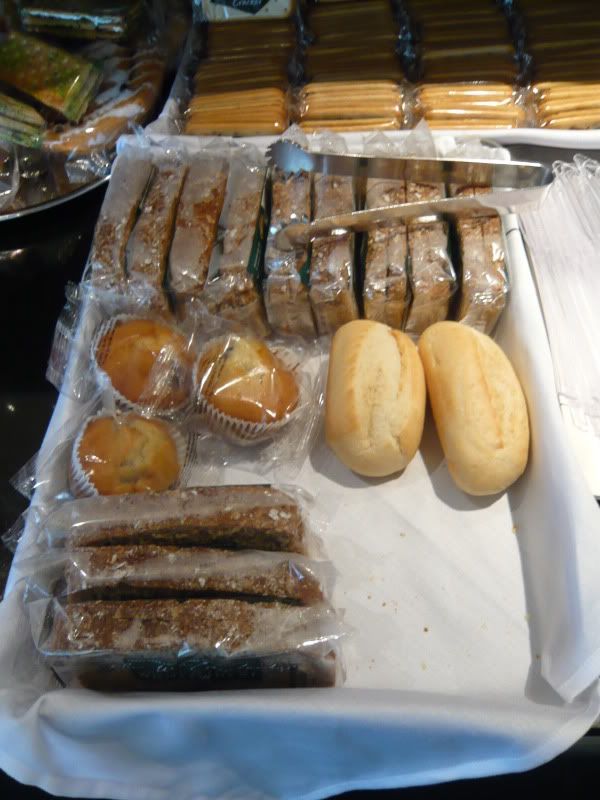 But wait, not danishes and croissants?!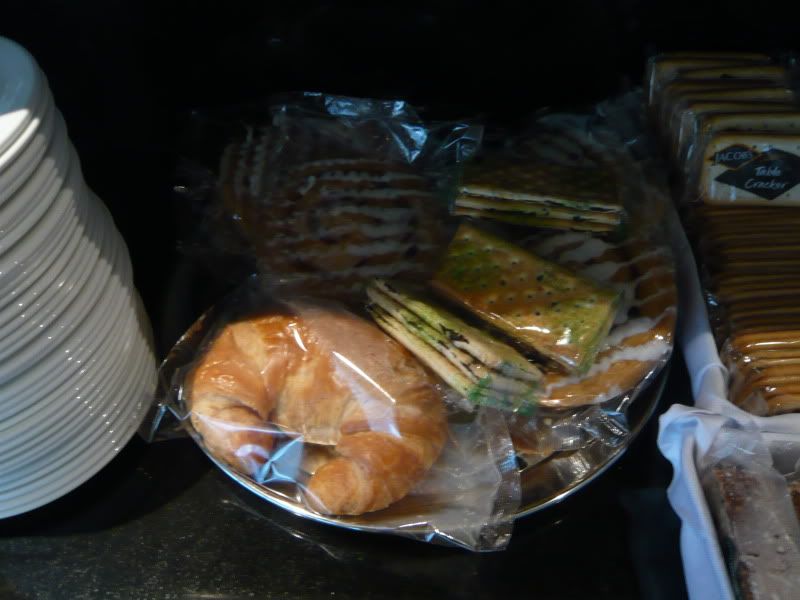 ... and is that yoghurt I see nestling by the white wine? It most certainly is!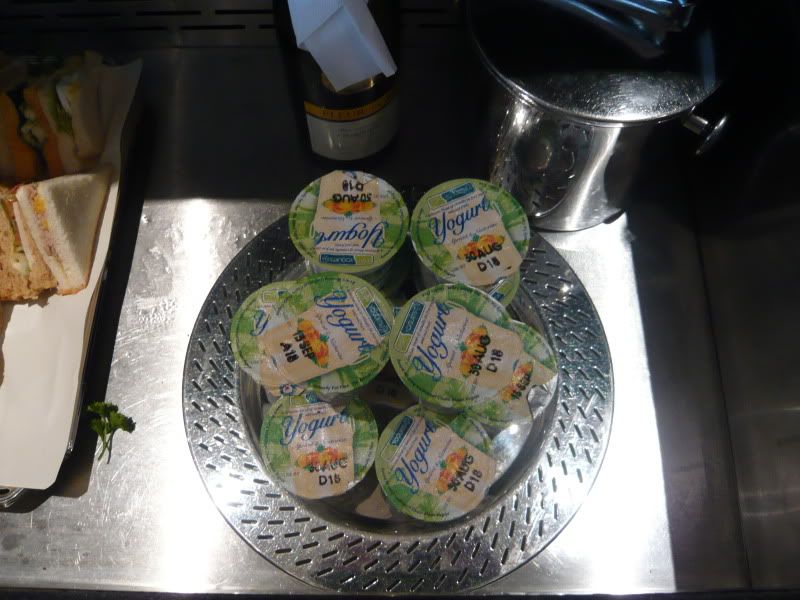 I was so excited that I had to have several vodkas and sit down, not without taking a shot of the entire spread.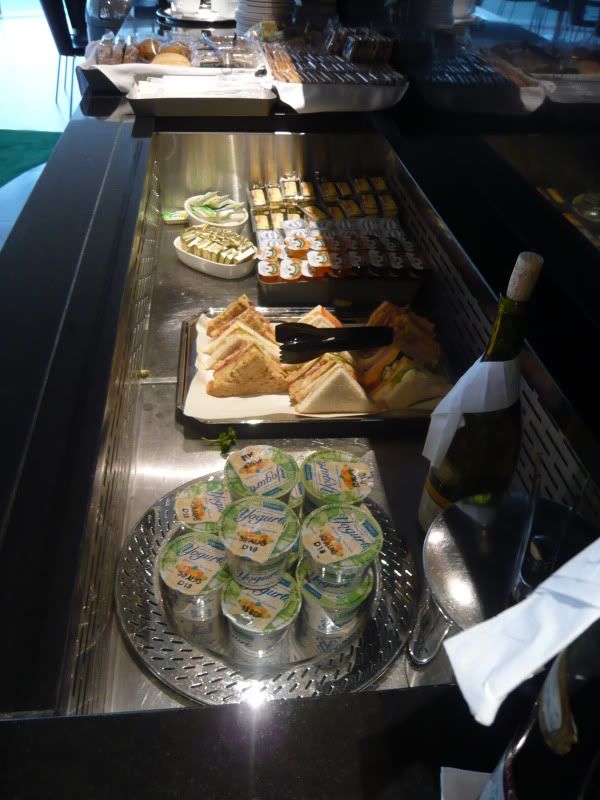 Soon enough it was time to leave, and I hit the toilets (located outside the lounge - and rather DAA circa 1950 esque)...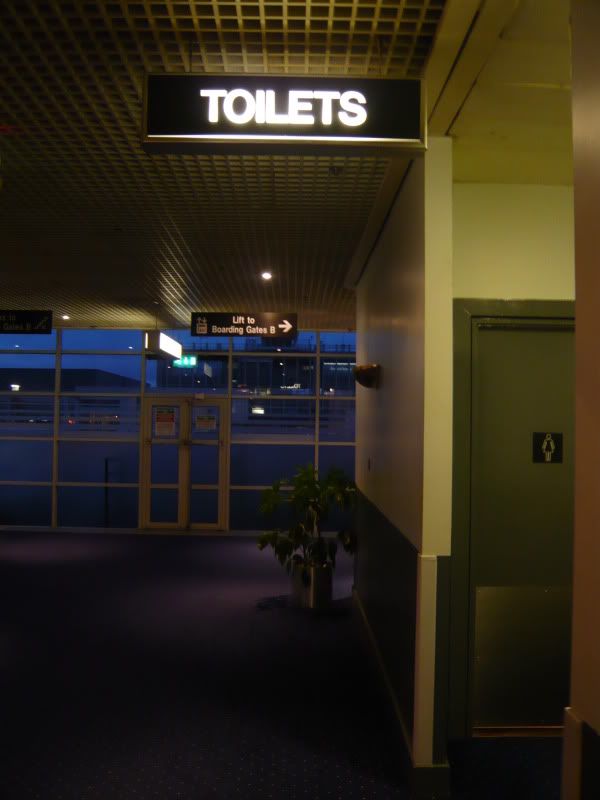 We boarded our aircraft through the A gates, which is not quite as pleasurable as a B gate, but something that craps all over the walk to your destination that is the D gates.
This is one of the aircraft originally intended for Iberia and you can see the difference in the seating.
... and here...
Anyway, we took off, flew and landed in Edinburgh. I didn't avail of the Duty Free or the food, as I had eaten in McDonalds at the airport beforehand.
Date: 19 August 2009
Route: EDI-DUB
Flight: EI253
Aircraft: EI-DEM - A320-200 - Saint Ibar
Seat: 1A
Dep: 0820 Arr: 0920
My time in Scotland was complete and it was back to the airport. I'd checked in online and got something like 14A or 9A or something, but was unable to print my Boarding Pass. I was greeted by a queue at the Aer Lingus check-in desk.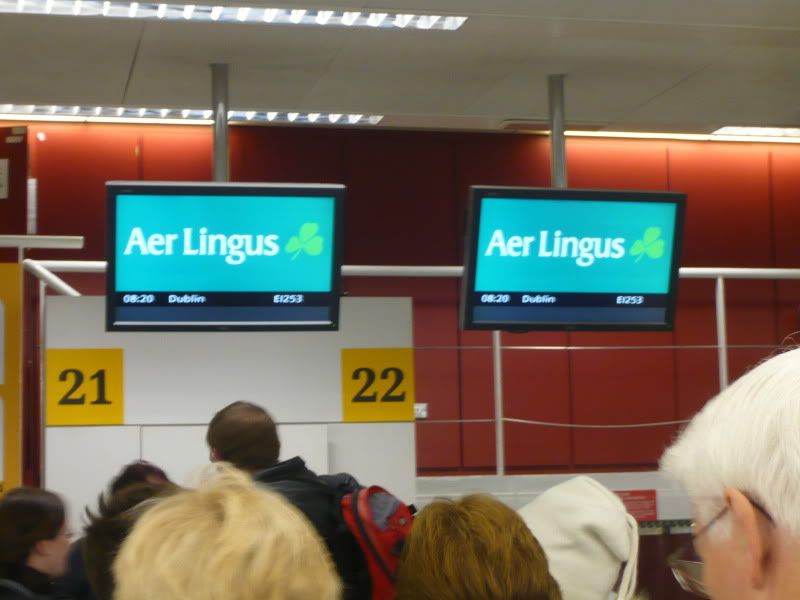 When I arrived at the head of the queue, I asked nicely if I could have a window seat as far forward as possible, and was given 1A. Awesome! I find I can often get this seat if I ask nicely, and it beats paying €10 for it - though I usually do pay.
I hit the Servisair lounge (which Aer Lingus use in EDI) before the flight, but didn't get any pictures as the place was very full and I wouldn't have avoided looking like a nerd or been able to get pictures without loads of people in them.
Soon enough, we boarded and I was first...
This is the standard Aer Lingus interior as opposed to the one I flew in on...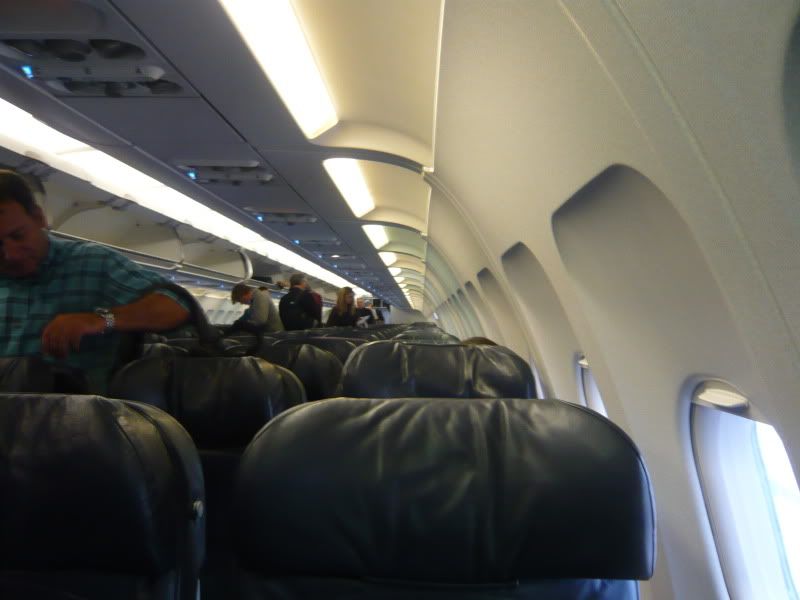 We took off on time and of course, it being morning, I had an Irish Breakfast.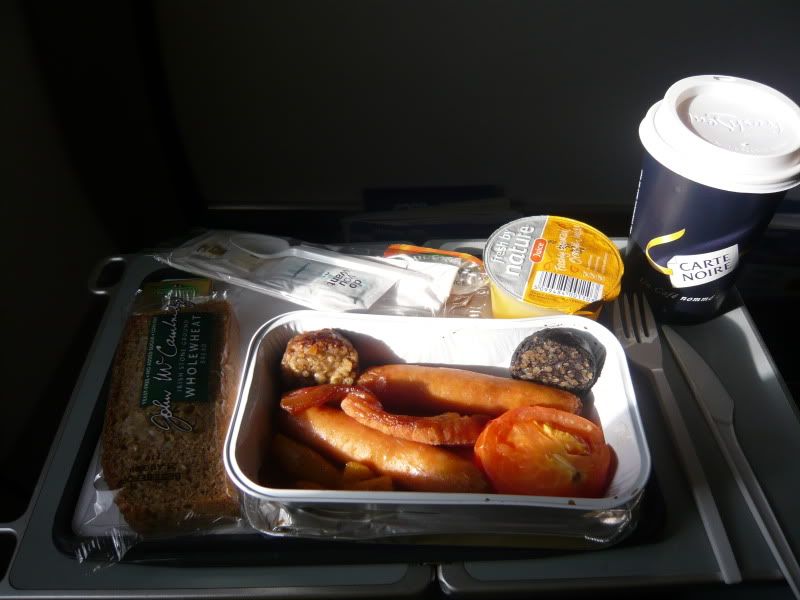 I think now that the Celtic Tiger economy has gone and unemployment is rampant, that Aer Lingus should rethink the cost. It's €9, and I remember in 2005 or 2006 that it was €7, then it was €8 and now €9. I think it should probably pop back to €7 as that would be good value for it and comparable to Full Irish Breakfast prices in Dublin.
We landed on time, and then I got stuck in the Non-EU Passport immigration line at the A and D area for about 35 minutes. What a pain in the arse that was! Happily some people were chancing the EU lines and being sent back painfully to join the long queue, so that was gratifying to some extent
Anyway, Aer Lingus should be commended for doing something nice with what was a woeful lounge experience. I imagine this lounge will stay the same and there for the future, with the new T2 lounge being the main one when T2 opens. Can't wait to see what that has in store... (showers? Internet terminals?) ... exciting times.
Hope you enjoyed the report and feel free to comment or ask questions.