Background
SIN-AB) (FRA / FRF / EDDF), Germany">FRA-GRU-CNF
CNF-GRU-GRA-SIN / WSSS), Singapore">SIN
Yes my friends, besides my A380 trip report in October 2007, I probably haven%u2019t written a trip report since 2004. Anyway, my decision to write this trip report comes from a confluence of factors: A combination of severe jetlag, severe dislike for Lufthansa after my flight with them, and the fact that I will be in First Class on SQ from AB) (FRA / FRF / EDDF), Germany">FRA to SIN / WSSS), Singapore">SIN this Friday. Since I intend to write a trip report for the First Class flight, to ensure greater continuity, I thought I should write a trip report for each sector of this long journey halfway across the world - and back.
About 2 weeks ago, my company asked me to go to Belo Horizonte, Brazil, for work. I had already been there in February this year, and took SIA to Johannesburg and connected to South African Airways to Sao Paulo, then a short internal hop on TAM to Belo Horizonte.
SAA, while they had the new A340-600s, was an unpleasant experience. The food was inedible on both the JNBGRU and GRUJNB legs, the IFE didn't work, the crew were plain rude. Urgh. My colleagues swore never to fly SAA again.
Thus, when we had to make yet another trip to Brazil, we had the choice of SQ/BA or SQ/LH. SQ/LX wasn%u2019t possible for LX didn%u2019t fly GRUZRH on the days we wanted. (They just cut one or two flights per week I think)
As such, my colleagues and I decided that SQ/LH via AB) (FRA / FRF / EDDF), Germany">FRA would be our chosen route this time round. While we knew fully (and I briefed them fully) that LH used old 744s with no PTVs and less than savoury and satisfactory cabin crew, they were willing to do that routing for the Krisflyer miles. While BA has PTVs, which would have made the transatlantic journey more bearable, my colleagues were not interested because they couldn't accrue Krisflyer miles. Such is the power of alliances.
So SQ/LH it was.
I took LH SIN-AB) (FRA / FRF / EDDF), Germany">FRA-St Petersburg (Russia) last year and it was a punishing experience. No PTVs, unfriendly crew, very basic meals (but better than SAA - not a very good benchmark though!) and in general, a torture. However, Krisflyer miles are more important and I decided that as I stared into the glaring main screen TV, I would fantasise about the 13,000 miles I'd get as a reward for taking LH!
21 Aug SQ326 SIN / WSSS), Singapore">SIN-AB) (FRA / FRF / EDDF), Germany">FRA
Depart SIN / WSSS), Singapore">SIN 1355 Arrive AB) (FRA / FRF / EDDF), Germany">FRA 2040
I will not go through the ground experience at SIN / WSSS), Singapore">SIN T3 which has been covered ad-nauseum on a.net. Yes it's a lovely, beautiful, stunning terminal etc yada yada.
Went to the First Class lounge for some lunch, where there was Singapore chicken rice and Steamed dumplings made-to-order (xiao long bau for those of you who know what it is). The chicken rice was top quality, and there was also a selection of pork ribs, sashimi, smoked salmon and a variety of Asian and Western cuisine. Not too bad!. But of course less flash than many of the other flashy F/J lounges in the world today from QF, VS, CX etc.
At the lounge I asked the ground staff if they could give me a seat with a spare seat next to it. I did know the flight was 100% booked, but hoped that a couple of no-shows would put me in luck. Indeed that was the case, and at 1.20pm, the agent at the lounge handed me a new boarding pass allocating me a seat with an empty seat next to me. Great, I thought. Would definitely make the nearly 13-hour flight in economy more bearable!
SQ326
B777-300ER Registration 9V-SWP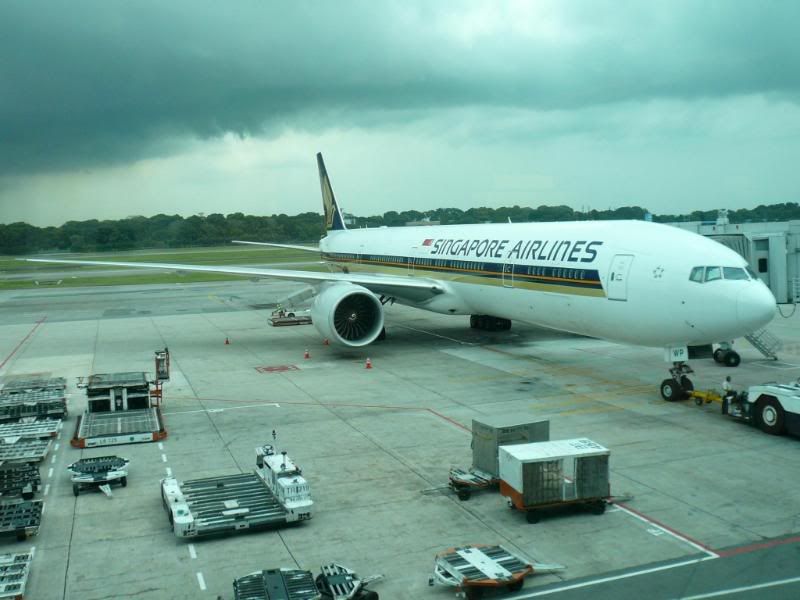 Headed to the boarding gate B8 (which was a long walk of at least 10 minutes) Walked straight to my seat at 48D and found some Chinese (maybe Singaporean) man sitting on my seat. I was one of the last to board, so he must have thought "Hey, a spare seat. Let me take it first before anyone does!" I'm guilty of that sometimes. Well this time instead of others telling me to bugger off, I had the pleasure of informing that very disappointed gentleman that he, unfortunately, had to leave.
Poor man..... he had settled in so comfortably with his shoes off, bag on the adjacent seat, blanket opened and headphones on. Alas, not your day today buddy!
I comfortably eased myself into my seat put my bag on the adjacent seat (took that other gentleman's spectacle case out and handed it to him) pulled the blanket's plastic sheet open. There was a leading stewardess and steward serving my section. They were both all smiles and very cheerful, and soon came round with hot towels. After distributing and collecting them, the Captain (a Singaporean) came on the PA system to inform that the flight time to AB) (FRA / FRF / EDDF), Germany">FRA would be 12h40min.
The cabin crew were great - very friendly, warm, sincere, attentive and had huge attention to detail. In the words of our dear old user Singapore_Air, the leading stewardess would have made a good wife.
We pushed back, taxied to Runway 2 (at the T2 end, not the T3 end where we were at) and lifted off at 2.10pm.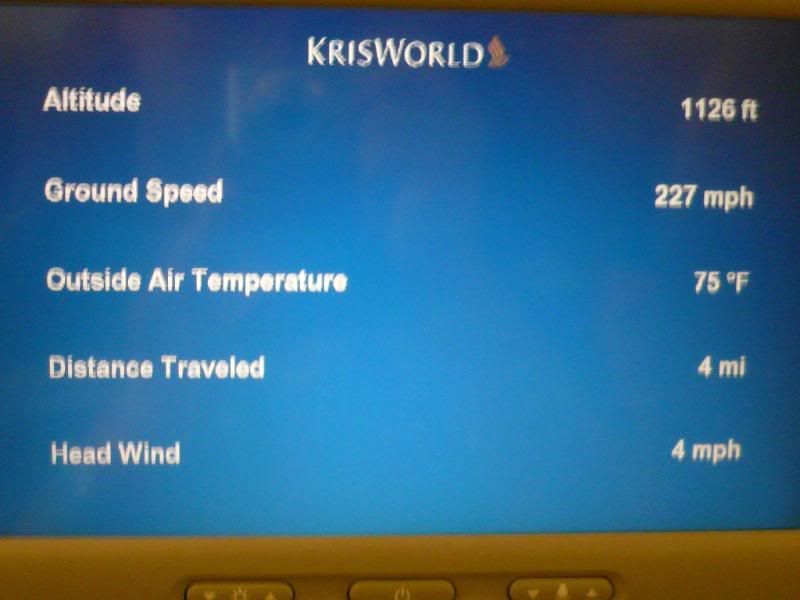 Soon after take off, the cabin crew came round with nuts and started the drinks service. I detest alcohol, so didn't have any of it and settled for water instead.
I also got my laptop out and fitted the power into the power outlet, which is a great plus for long flights like these. The inflight entertainment didn't excite me all that much, because I had been to Sydney the week before and watched what I intended to watch, and the selection of shows was the same.
The first meal for this sector was termed "Light Meal", however it was anything but. The following choices were on the menu: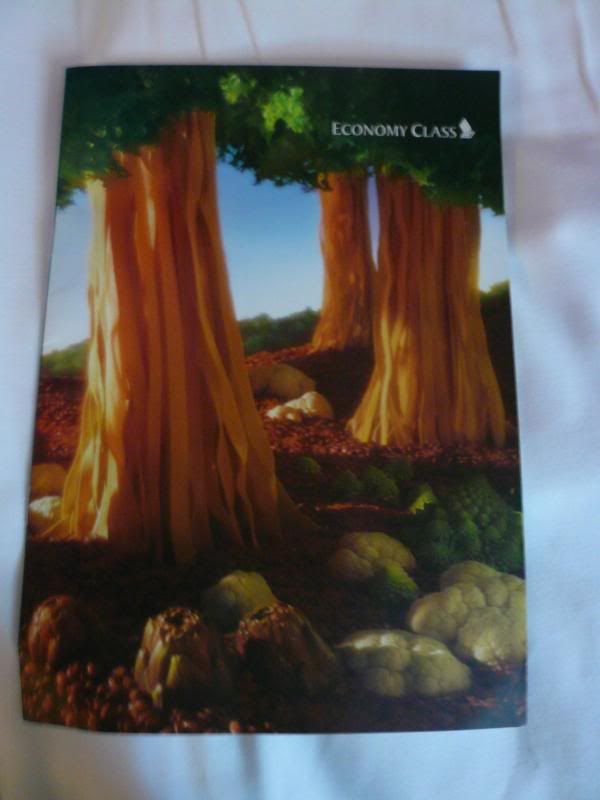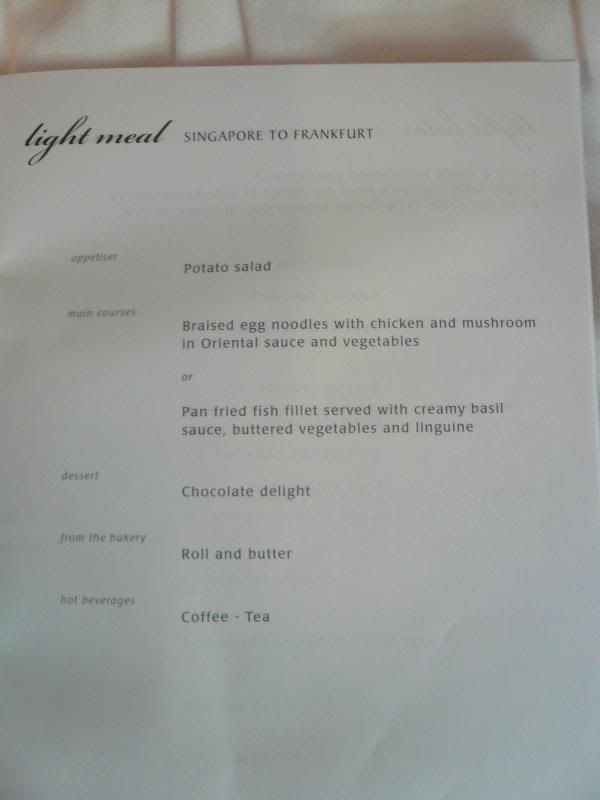 I went with the noodles with chicken. It came in a larger main meal plate. Note the size here and compare it with the main meal plate size for dinner, which was served before landing.
SQ doesn't usually serve noodles for lunch and dinner, and noodles this style is usually only served for breakfast. But because I had something in the lounge, I didn't want to go with the heavier western option for this meal, and went with the lighter noodles instead. But it felt like I was eating breakfast. As I wasn't hungry at all, I didn't finish it and it probably didn't taste as good as it would have had if I were hungry. (It wasn't bad at all really)
After the lunch trays were collected, I continued to dabble on my laptop a bit and attempted to finish some work, in between dreaming and compiling some songs on the IFE song compilation system. They had quite a few good albums, black eyed peas being one of them.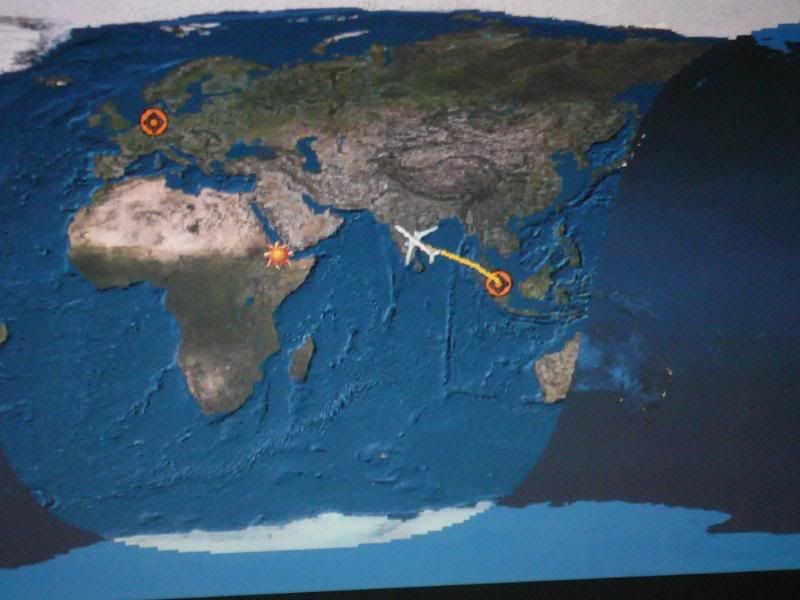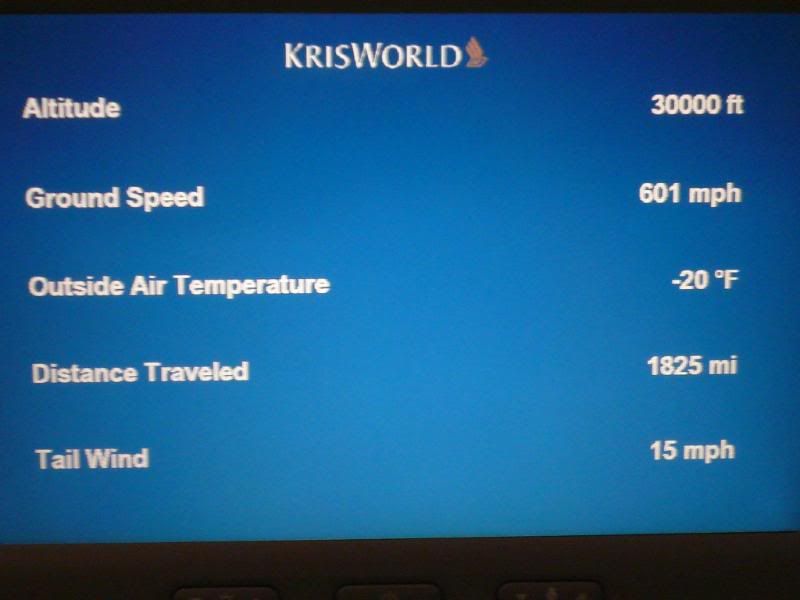 About 6 hours into the flight, I felt a bit peckish. I do recall that when I flew on the SIN / WSSS), Singapore">SIN-LHR SQ flight that departs at 12.35pm and arrives in LHR at around 7pm, they served lunch after take off, and dinner halfway through the flight at about 7pm Singapore time. This was quite unlike most flights were the first meal is served after take off and the second meal about 2-ish hours before landing.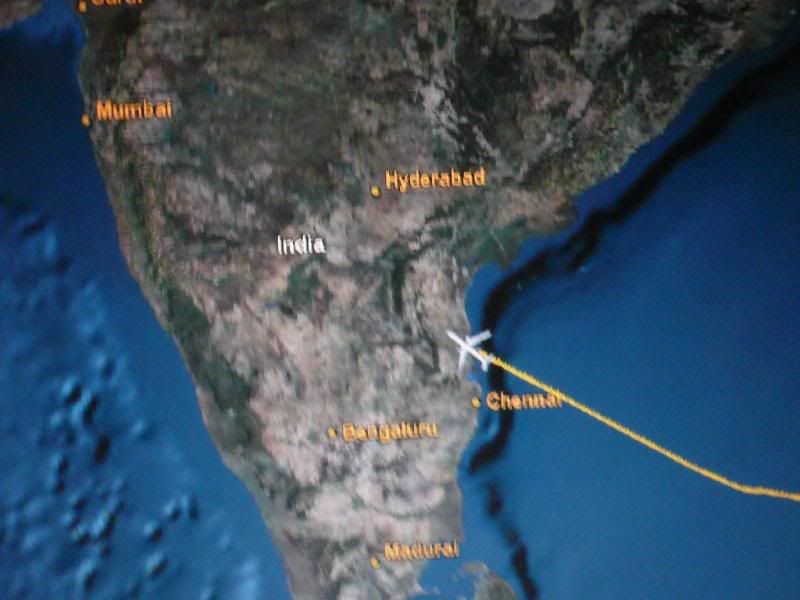 I asked the leading stewardess if they would be serving dinner just before landing or halfway through the flight. She said that they would be doing it about 2.5 hours before landing. When I mentioned my experience on the London flight in 2006 where they served dinner halfway through the flight, she said that it was a trial and many passengers during the trial indicated that they preferred to have the second meal just before arrival into Europe, even on daylight flights like these.
Not to worry........SQ usually has loads of snacks available - chocolate bars, cranberry raisins, ham and cheese buns, chicken buns, instant noodles, Lays potato chips, fresh fruit like bananas and apples...... you'll never go hungry on a longhaul SQ flight even in Y.
I went to the galley and asked for some instant noodles and the steward said he would deliver it to my seat. Now here is where SQ really demonstrates its attention to detail and its ability to anticipate passenger needs. When my instant noodles arrived, the steward had the cup noodles on a small tray, with a glass of water next to it. I didn't need to ask for water. He just anticipated that after eating some msg-infested chemical concoction, I would naturally need some water - which was the case. It also saved him making an additional trip. SQ never serves tea, coffee or instant noodles without a small tray/saucer and napkins as well. They're really good at paying very close attention to the tiniest of details.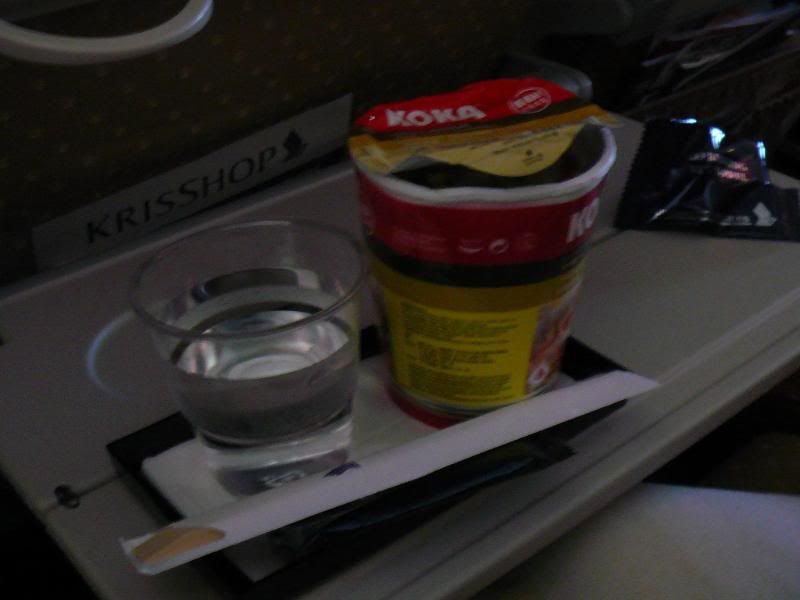 It was then that I decided to watch a movie. It was a Cantonese movie about police corruption in Hong Kong in the 1960s and 1970s. A very interesting show indeed! It started with some Hong Kong man watching television in 1967, and the show he was watching being interrupted by "God Save the Queen" , with HM%u2019s face flashed across the screen, being played.
Basically, corruption was rife in the HK police force then and the British govt and the local HK police decided to arrest this problem in the early 70s and succeeded. It portrayed the Brits in a very positive light in trying to clean up HK. The movie had a poignant ending.....something along the lines of " After 1973, corruption largely disappeared from the Hong Kong Police Force. While we cannot say that corruption has been totally eradicated, the Hong Kong Police Force today is known for its integrity, professionalism and commitment to justice. No unethical regime shall ever corrupt Hong Kong's institutions ever again".. and it ended with a shot of the Hong Kong SAR flag flying alongside the People's Republic of China flag.
How sobering. Alas, I digress.
We continued our journey along India, the middle east, skirted past the Iraqi border into Syria, Turkey, Bulgaria then straight into Frankfurt.
Cabin crew came round at least every 15 mins with water and snacks. They were so attentive and never seemed to slacken one bit. Even after 10 hours in the air of a daylight flight where everyone was awake and asking for this that and other, they didn't seem flustered nor tired. The toilets were kept in immaculate condition as the crew cleaned them every so often.
Snack Menu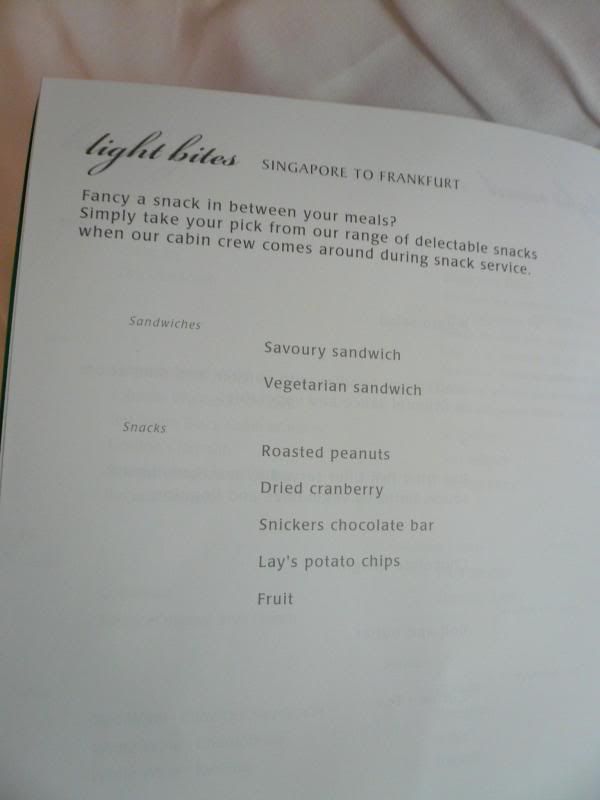 2.5 hours before arrival into Frankfurt, the cabin lights came on and the crew came round with hot towels. Soon, dinner was served, and there were three choices: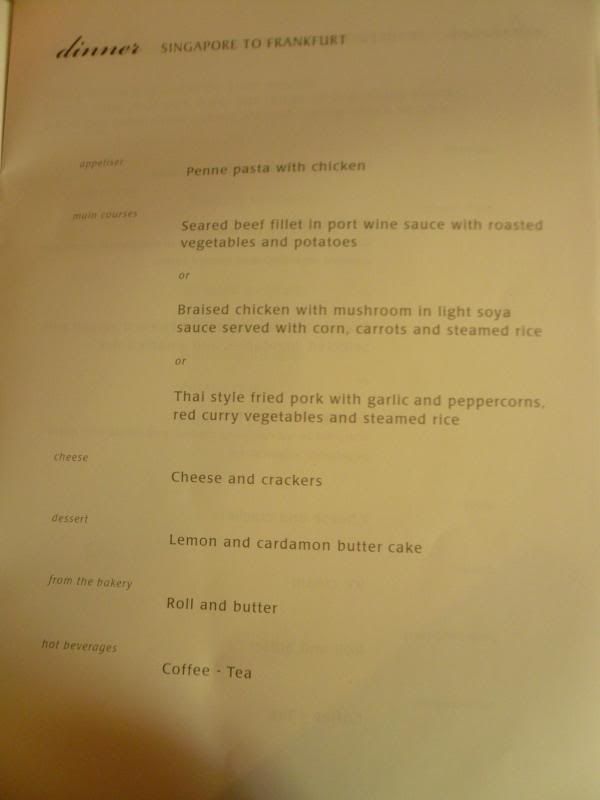 I went with the fillet of beef. I knew I was making a really dicey choice, going for beef fillets on an aircraft in economy class, but it was not a bad choice at all, as it turned out to be really tender and juicy! The best beef I have ever had on board. The dessert was a lemon and cardamom cake - an interesting choice from the usual ice cream or generic desserts you can find at any neighbourhood bakery. It tasted really good too!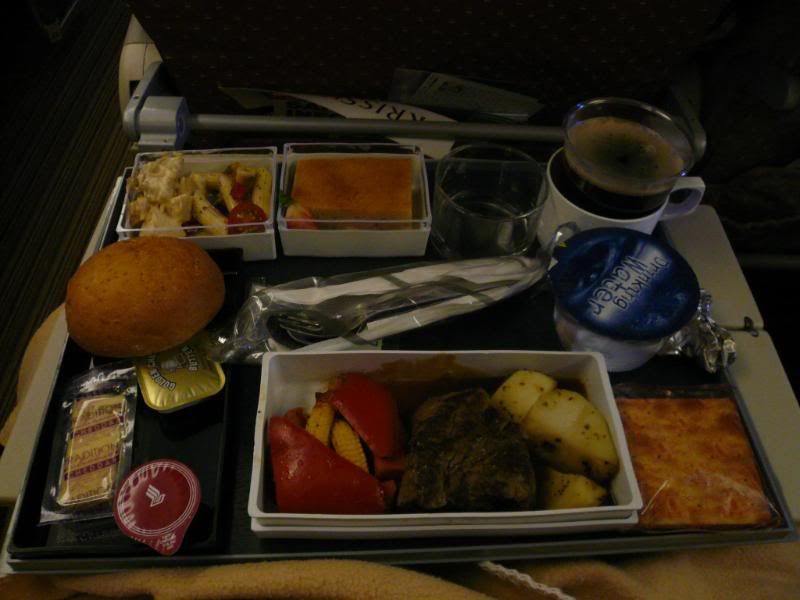 One thing I noticed was that being around midnight in SIN / WSSS), Singapore">SIN, most pax were very tired by this stage and many were sleep-eating. Which is why I think that serving dinner halfway through the flight is a better option.
As we were flying with the sun, and it being Northern Summer, the entire flight was in daylight, which felt quite interesting. I took a few shots over Turkey and Bulgaria:
Somewhere over Turkey I think?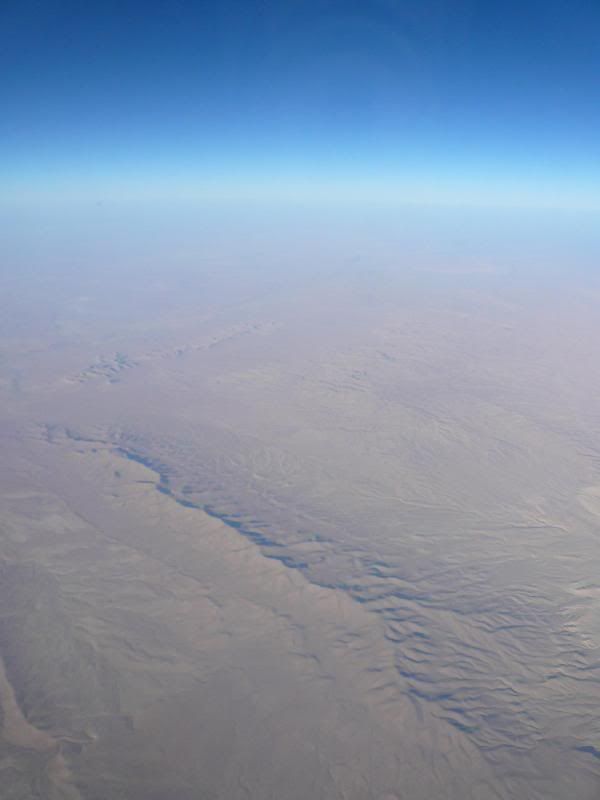 At 7.50pm, we commenced descent into AB) (FRA / FRF / EDDF), Germany">FRA, and at 8.20pm, we landed. 10 minutes later, we were at the gate.
While waiting to deplane, some pax started to make small talk with each other and it seemed that there were many French and German pax who were heading home from their summer holidays in Thailand and Bali. There were few Aussies on board as well. Maybe about 20 Singaporeans at most.
Got into the grey and drab AB) (FRA / FRF / EDDF), Germany">FRA terminal and begun our track to the new Lufthansa Terminal 2 (I wouldn'tvcall it a new terminal, it's just a new wing really). As we walked through the terminal, I couldn't help but notice how drab it was. Upgrading work scaffolding was missing, wires hanging all over the place...... I thought the Germans didn't do things in a slipshod manner, so I was surprised to see that Fraport didn't care about the aesthetics of their terminal at all.
The walk seemed to be endless, and in the entire time, we only passed two duty free shops. The retail offerings at AB) (FRA / FRF / EDDF), Germany">FRA are the worst of any major airport in the world I think. But they're a commercially very successful airport, having won investment stakes in numerous locations around the world, so full marks to their commercial astuteness and ability to penetrate foreign markets, I guess!
Headed into the LH Senator Lounge above Gate C16. While it was new, the offerings in there were horrid. There was some inedible rubbery Asian fish cake and sausages for hot food, and potato salad and some rabbit food at the tiny salad section. Wireless internet was not free (There was some completely sinful charge of EUR8 per hour or something) though desktop internet stations were available without any charge (WOW!), which is where I spent most of my 45mins in the lounge
One plus point about that lounge is the availability of shower facilities, so I took the opportunity to freshen up.
Senator Lounge:
Food bar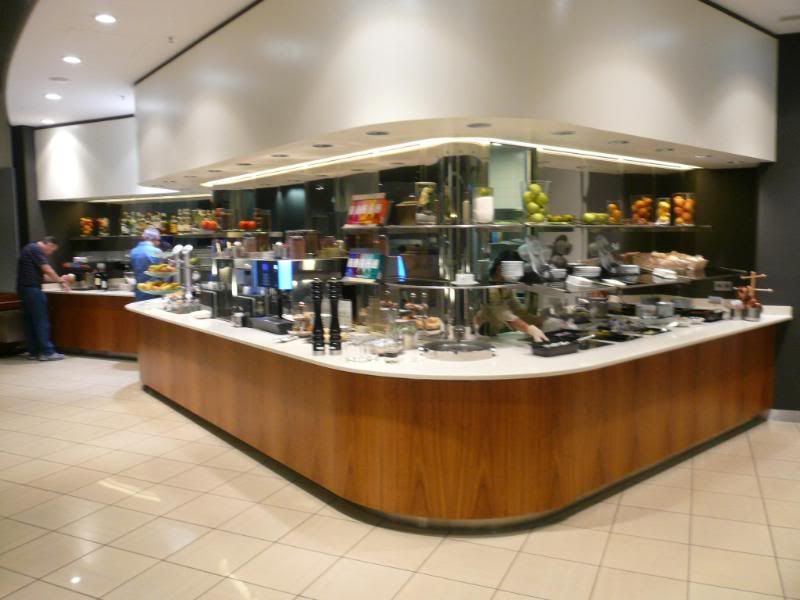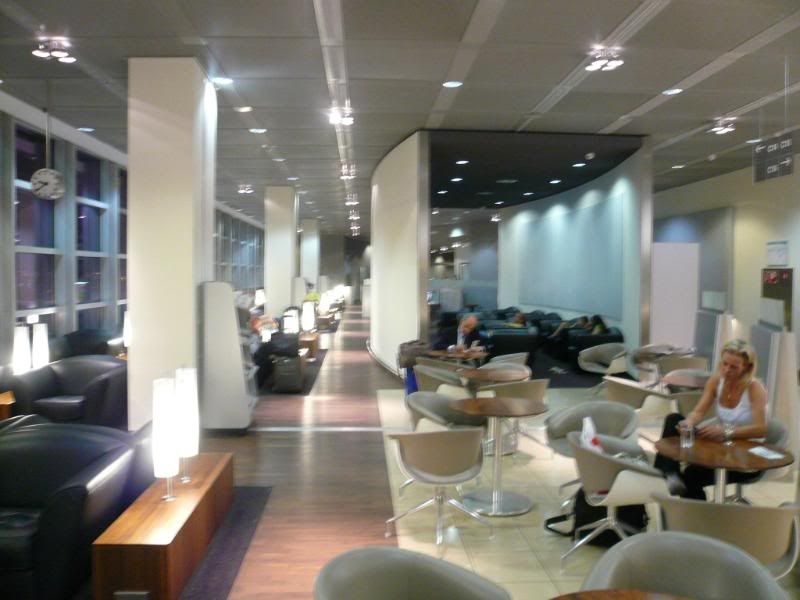 Rubbish selection of hot food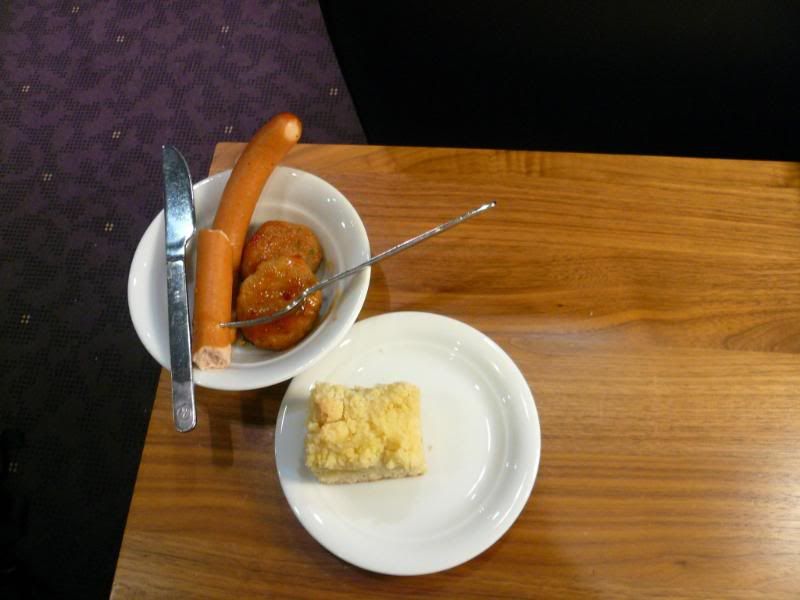 LH 506 Depart AB) (FRA / FRF / EDDF), Germany">FRA 2235 Arrive GRU 0520 Flight time 11h20min
View of aircraft from lounge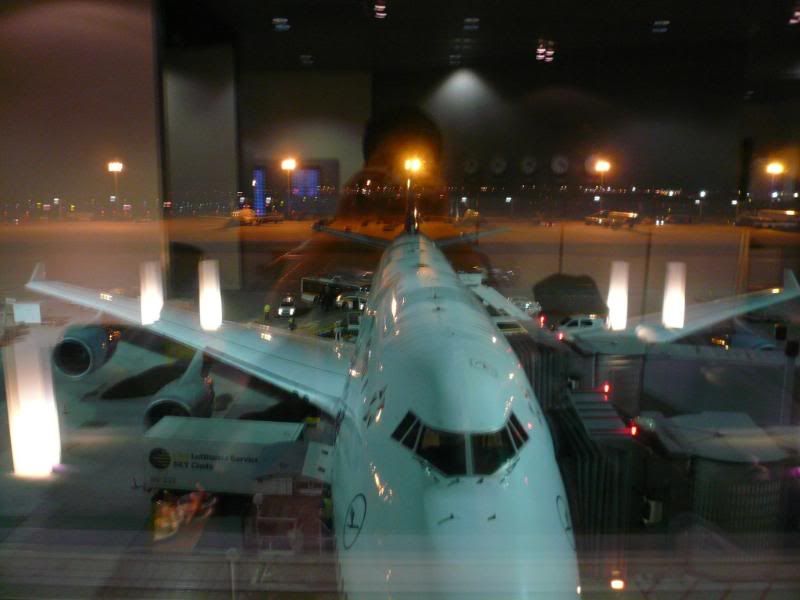 At 10.10pm, boarding for our flight was called, and my colleagues and I headed out of the lounge straight into the boarding gate. The economy class queue was snaking all over the place, but the first aerobridge which had "First Class, Business Class & Star Alliance Gold" stated on the screen above it had no one. Well I was Star Alliance Gold so I just took the chance, thinking that the worst that could happen is the flight attendant at Door 1 will put me in my place and throw me to back of the Y queue.
Thankfully, when I got to Door 1, the flight attendant told me to head down the aisle to my seat 28A.
Walked through the J cabin, and I almost didn't realise I was in the J cabin, because the LH J seats look like Y seats that go flat. Seemed very pedestrian indeed.
How foolish of me to dismiss the LH J seats as pedestrian, because if anything was pedestrian on that flight, it was my economy class seat at 28A %u2013 the first row of Economy in the LH 747. I settled into my seat, and as this was a bulkhead seat, noted that I couldn%u2019t stretch my legs. Horrors - for a 11h20min flight!
A young german lady (in her 20s) sat next to me at 28B, and my colleague at 28C. The inflight entertainment monitor was located just above me to the right. Ah.... a step back into 1991. Nothing has changed in this aircraft since 1991!
It was an almost full flight, and the purser came on and made announcements in German, English and Spanish. There was no Portuguese announcement initially, which I found quite interesting since Brazilians speak Portuguese and not Spanish.
Anyway, about 5 minutes after the English/German/Spanish announcements, some flight attendant would occasionally make a cursory Portuguese announcement. This was the case throughout the flight.
After take-off, I was beginning to feel very fatigued, being about 5am in Singapore. The seat was extremely uncomfortable and detested the fact there were no PTVs. But I knew what torture I was getting myself into for the pleasure of 13,000 Krisflyer miles, so I don'tknow why I was so surprised at the unspeakably horrific predicament that I found myself in at that stage. Another 11 hours in this, I thought to myself.
After the experience on SQ326, this was pure HELL. Yes. HELL.
Well dinner was served about 30min after take-off and there was a choice of chicken with rice and something else with something else. Of course LH doesn't do menus in Y. Here is a shot of the meal:
The meal tasted fine - better than SAA but a hundred times worse than my meals on SQ just a few hours before. The portions were criminally small and you could finish that pathetic cake in one mouthful. The cabin crew did their job but there were no smiles, warmth, attentiveness or attention to detail. We need BMW folks to teach LH a thing or two about attention to detail. Not that I cared for any smiles at that point, as no amount of smiles could have saved me from the potentially death-inducing curl position I was putting myself in.
After dinner, we were barely over Spain and there was nearly 10 hours to go. Every minute passed by so slowly and the experience was excruciatingly painful (Sorry have I said that many times? I don't think I have). Despite taking some sleeping pills, I just couldn't fall asleep for more than 30 minutes at a time.
Top Class LH Entertainment System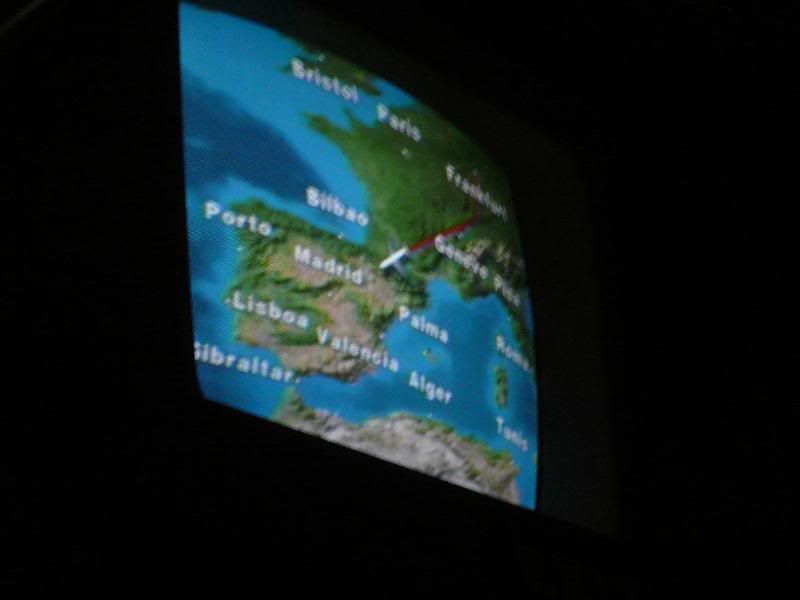 Put on the headsets to listen to the contemporary music channel, and after each song there would be this voice over saying "Lufthansa - There is no better way to fly. The more I heard that tagline the more I wanted to stand up and kill someone. Enough said.
It also didn't help that the main entertainment screen was just over me and practically glaring into my eyes. I pressed the call button and when the flight attendant came, I asked her if there were any eyeshades available. The response was "NO!". Then she walked off. Wow, how pleasant. I was soon reminded that LH doesn%u2019t even give toothbrushes and socks on overnight flights.
Shots of the LH Punishment Class Cabin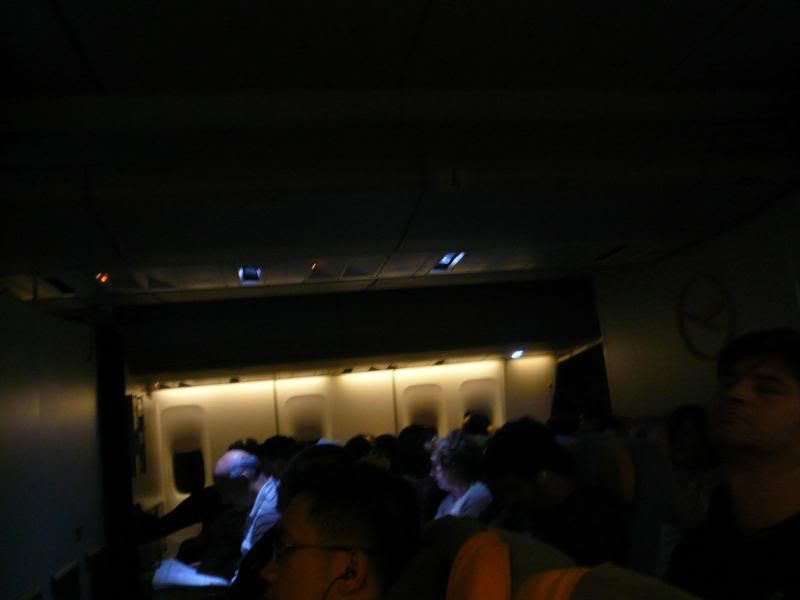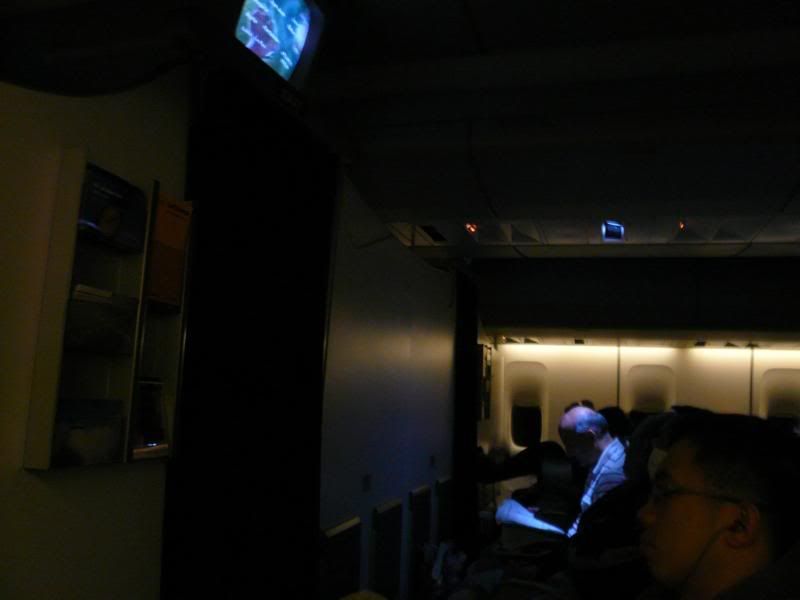 When I was on LH from SIN / WSSS), Singapore">SIN to AB) (FRA / FRF / EDDF), Germany">FRA last year, I remember asking for a toothbrush, and the flight attendant chucked a J class amenity kit in my direction and said "IF YOU ARE LUCKY YOU MIGHT FIND A TOOTHBRUSH IN THERE"
I had a dream that the plane made an emergency landing in Ghana, and was actually quite pleased because that meant I could get out of that tube, but to my horror I woke up and saw that we had just passed Portugal with more than 9 hours of Lufthansa torture to go.
Headed to the galley to see what offerings they had. Just pretzels and soft drinks in a self-serve section. The cabin crew were sitting around reading their magazines and doing sudoko. They did not even look up to acknowledge the presence of any pax that went into the galley. If this was SQ, 3 cabin crew would have been tripping over themselves to offer pax water/juice/coke/HAM AND CHEESE BUNS/INSTANT NOODLES/CHICKEN BUNS/(INSERT ALL THE SNACKS THAT SHOULD BE SERVED BUT LUFTHANSA CHOOSES NOT TO SERVE THEM)
So yes, after standing for 30 seconds to ponder what this would have been like if I were on SQ flight, I sheepishly headed for the self serve counter and poured myself a glass of water, and in a state of self pity dragged myself back to seat 28A.
On and off, I used the toilets which were filthy. Visited a total of four toilets and they were not in good condition at all. Besides soap, there were no other ammenities like toothbrushes, razors or combs in the drawers.
Cabin crew did drinks rounds about 0 times. Yes. 0 times. I barely fell asleep, and the cabin crew didn't come round once to offer drinks.
In a last-ditch attempt to keep myself somewhat entertained for a while, I took my laptop out and watched 3 episodes of Boston Legal, which was as much as my battery would go. Even after that, there was still 3 hours of the flight to go.
Just entering Brazil....
2 hours before arrival into GRU, somewhere just past Salvador in Brazil, lights came on and flight attendants came round with hot pieces of paper. Yes LH attempts to give out hot towels, but they are just hot pieces of paper which feel disgusting, they just shouldn't bother. If you can't do something properly, just don't do it yeah?
Hot Pieces of Paper That Pass of as a Service Initiative on Lufthansa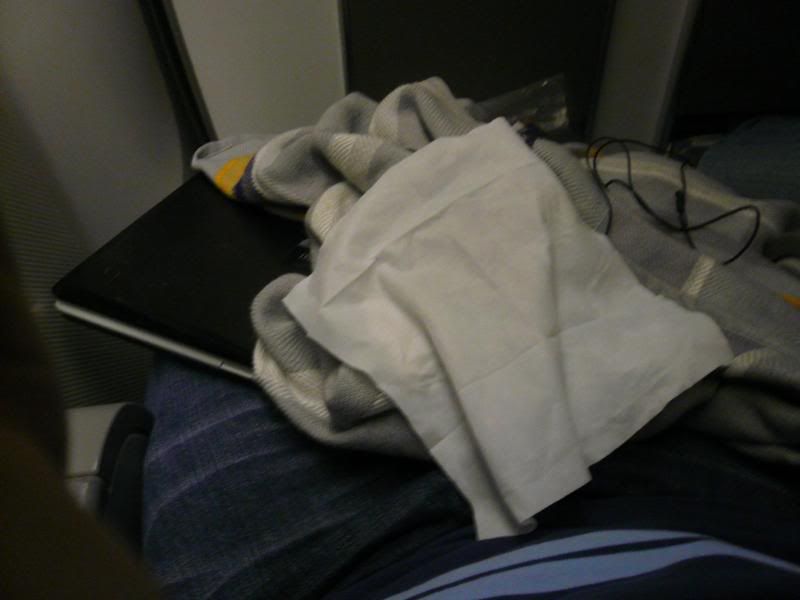 Cabin crew came round with breakfast, and there was no choice. Everyone got the same main course which was egg and potatoes. I noted on the main meal foil it said %u201CNo Pork%u201D. Do AF and LH no serve pork on their flights anymore? Because Muslims make up 14% of Singapore's population, but SQ serves pork dishes quite freely, and doesn't attempt to impose the religious habits of a minority of Singapore's population on the entire flying public taking SQ. As to why LH and AF can%u2019t do the same, having a smaller percentage of Muslims in their home countries than Singapore does, I don't know.
The breakfast was , as expected tiny and not very appetising. Unlike SQ which serves muffins, bread, fruit and yoghurt alongside the main course for breakfast, LH only had a tiny cup of Yoghurt and a hard piece of bread alongside the main course %u2013 which in itself could be finished in about 3 mouthfuls.
Absolutely vile. But not unexpected.
Pathetic Breakfast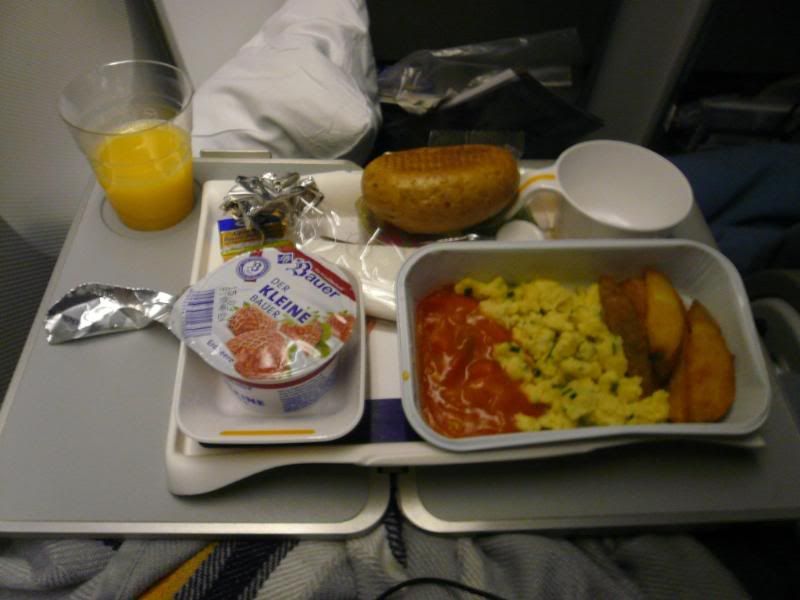 At 4.40am local time, the senior first officer, came on the PA system to inform that we would be landing at 5.10am. That was music to my ears. By that stage, I was quite certain I would get DVT because my legs couldn't move and my hands kept going "dead" every so often.
Now, correct me if I am wrong, but before landing, there were the following safety lapses:
1. The cabin lights were NOT dimmed
2. Passengers in the bulkhead placed their backpacks, laptop bags and other personal belongings in at their feet. This means in the event of an evacuation, the these items would be obstructing pax in their evacuation
3. Pax had headphones on. This is also a safety hazard as pax should not have headphones plugged on during take-off and landing
Why this lacklustre attitude towards safety? It is the duty of cabin crew to check that all passengers have their headphones off and have nothing obstructing their way in the event of an evacuation, as was done dutifully by cabin crew on my SQ and TAM flights this trip, and QF, Eva Air etc trips in the past year.
At 5.20am, we docked at our gate in GRU and it was probably one of the happiest moments of my young life. It was 10 degrees in Sao Paulo and I wasn't prepared for that! For I had my jacket packed in my check-in luggage.
Arriving into Sao Paulo Guarulhos Airport is a fitting end to a Lufthansa flight. Old, inefficient, 1 hour in the immigration queue and a baggage claim hall that resembles a zoo, it rivalled the LH flight in terms of experience.
Alas, after 26 hours of flying, my journey was not over yet. We still had to heat to the TAM check-in desks at the departures area to check-in for our flight to Belo Horizonte. When we got there, queues were snaking everywhere and ground staff were shouting in Portugeuse for pax checking in for flights that were closing. One of the ground staff asked us to use the self service check-in machine. We attempted to use the machine but it was all in Portugeuse, and after 10 mins of fiddling with it and finally getting our details right, the machine decided to break down. Great, we now had to head to the long check-in line to get a human being to check us in! (After 26 hours of flying, you can imagine the kind of state we were in)
Anyway, we got our boarding passes and checked our bags in and decided to get some breakfast. I knew very well to avoid McDonalds because for some peculiar reason, a Big Mac meal at McDonalds in Brazil costs R$13 or S$10 or US$7. That's ridiculously expensive, and more expensive than most developed countries in the world. Could anyone explain why this is the case?
After eating some non descript pastries for breakfast, we headed to the airside area. Our TAM flight today was departing from the international airside area, so we had to go through passport control again, which thankfully was a breeze this time and took less than the 70 mins it took for us when we arrived at GRU a couple of hours before.
Some photos at GRU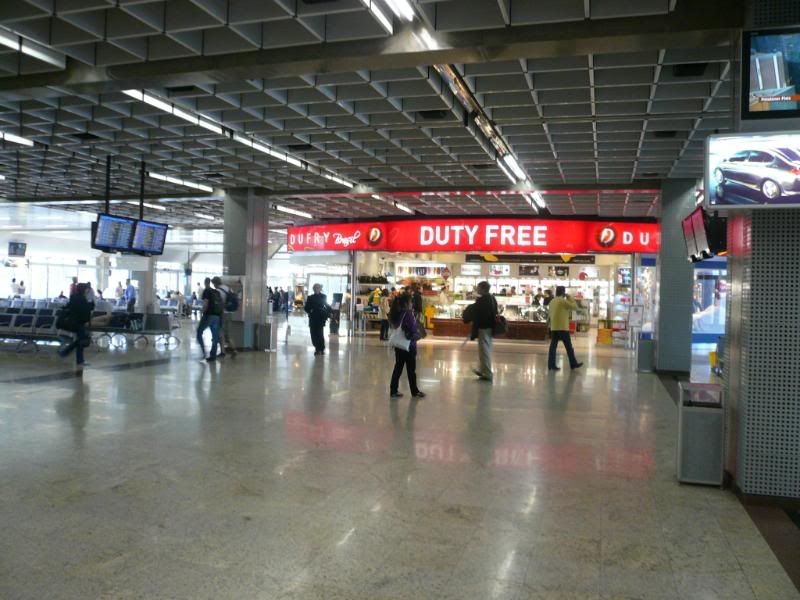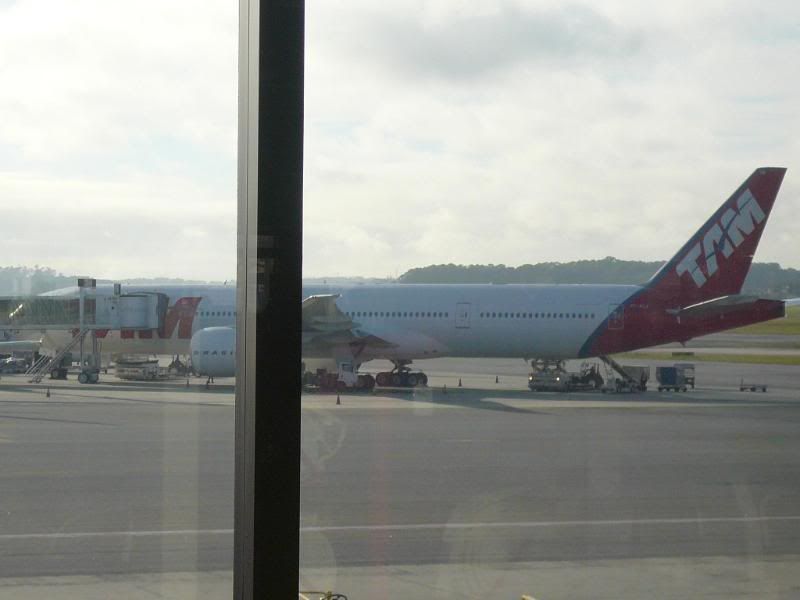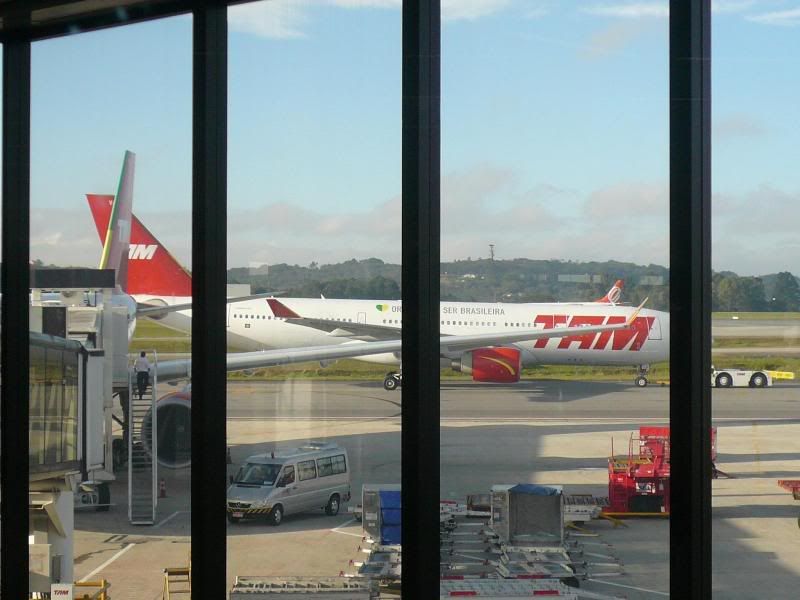 TAM JJ8097 GRU-CNF (Belo Horizonte)
Our A320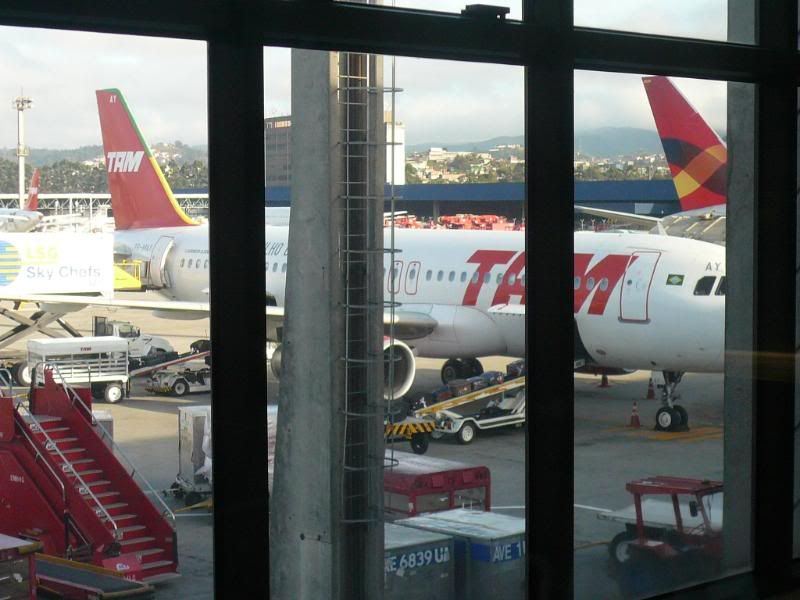 Boarded at 8.10am for our 8.30am flight%u2026. But as is typical at GRU, the flight only push-backed at 9.15am, and there were further queues for take off. The last time we caught a flight from GRU to CNF, the flight, which was meant to depart at 10pm, ended up leaving at midnight.
The all-female cabin crew on TAM were hot and a real pleasure. They were friendly and all full of smiles, despite the fact many of them would have been up at 5am that morning (at least).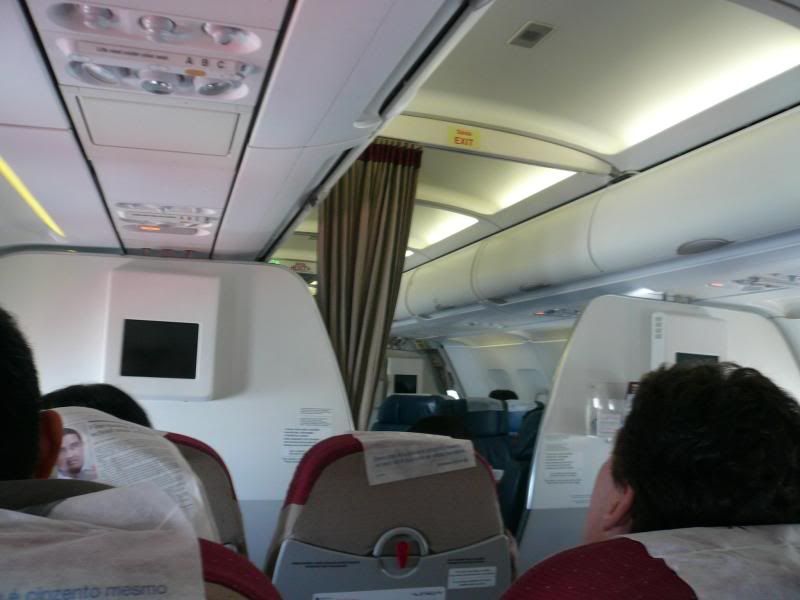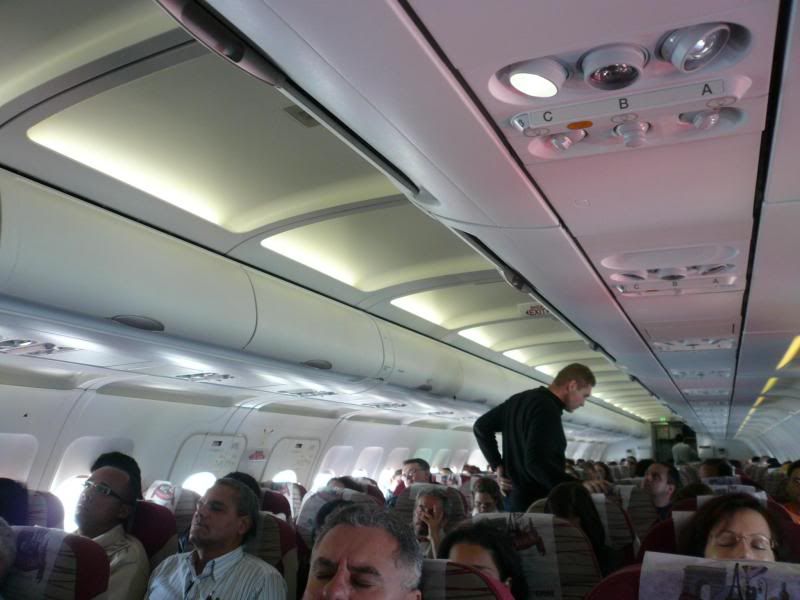 Once in the air, the cheery TAM FAs came round with a snack service, which consisted of a sealed box with fried bread, cheese and a cookie. More than adequate or a 1 hour flight I suppose. There was the usual coffee, tea and soft drink service but no wine.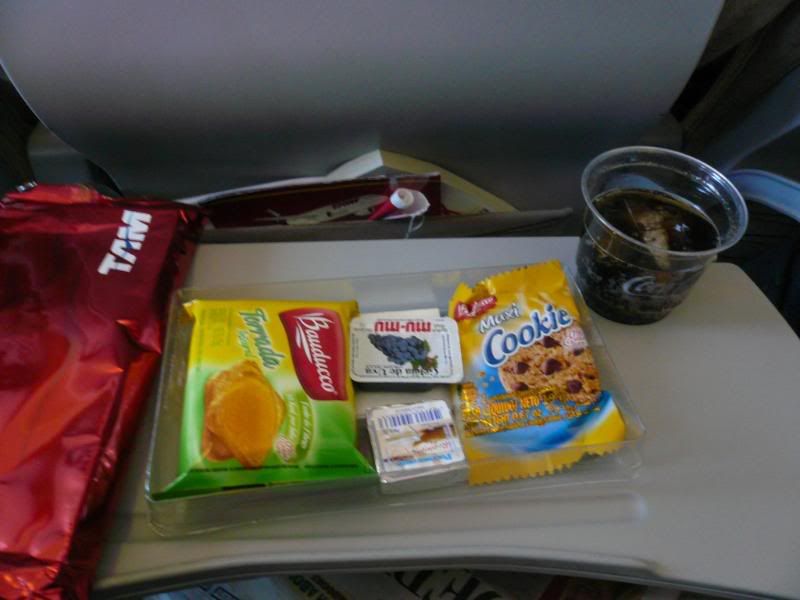 We approached Belo Horizonte CNF Airport at 10.15am, and docked at the gate about 5 minutes after. I can%u2019t quite remember what happened after that because I was so , so, so very tired by then, but the entire arrivals process was pretty painless and we were soon on our transport to our hotel. This concluded our 30-hour journey from Singapore to Belo Horizonte via Frankfurt and Sao Paulo.
To conclude, The SQ Y-class product on the 777-300ERs and A380s is the best Y product in the entire world. Great hardware, great software, great service, great food, great IFE great everything. The cabin crew were outstanding despite pay cuts, fewer flights (and thus allowances) and the threat of being made redundant.
The LH flight I took from AB) (FRA / FRF / EDDF), Germany">FRA to GRU ranks as the worst flight I have ever taken. There is no WORSE way to fly. But I knew exactly what kind of experience I would get, having taken LH longhaul from SIN / WSSS), Singapore">SIN to AB) (FRA / FRF / EDDF), Germany">FRA and back last year.
I will be leaving Belo Horizonte for Singapore via Sao Paulo and Frankfurt on Thu 27 Aug, and have been lucky enough to use my miles to secure a First Class seat on the SQ 25 leg from FRA to SIN. Something I am indeed looking forward to greatly, and I will definitely take lots of photos and document that trip to the last detail!