This year, when planning my annual trip to Lima, I chose to try TACA for the first time (before I have always flown to Lima on LAN)
TACA offered a more convenient schedule (a bit annoying, but it maximized my time in Peru), non-stop service (compared to multi-hour waits in SCL with LAN) and was slightly cheaper.
The ticket purchase was straightforward on taca.com. The recently revamped site (in line with the company's new image) is a pleasure to use.
TACA opens its online check-in service 24 hours before the flight´s departure (compared to 48 hours before that LAN uses). Dutifully, the morning before my flight I went to a cyber café and printed my boarding pass. The process is a bit different than what I am used to with LAN, but easy anyways.
The day of my flight (departing 6:55 am) I arranged to be picked up at the terrible hour of 4:30 am in my apartment in central Montevideo. The trip to the airport was surprisingly quick (due to the lack of traffic at that hour) and at about 4:50 am I found myself at Carrasco Internarional Airport.
The airport at such an early hour was empty. I immediately proceeded to the TACA desks and dispatched my bag to Lima.
The current terminal will be replaced this year by a whole new terminal, currently in the final stages of construction. Even though the replacement is necessary, the current teminal will be missed.
You almost think you are about to board a Vickers Viscount or a B707 whilst walking through some of these halls.
Security and Immigration were also empty and "queue-less", the reward of departing so early in the morning.
Air side, only the Duty Free Shop was open, the cafeteria was not. A shame really, as I was looking forward to having breakfast to it.
In the only air bridge, an old friend was parked. I am talking of PR-MAR, the TAM A320 that took me from ASU to MVD October last year. PR-MAR was departing to GRU that day.
Soon, the TAM taff called their GRU bound passengers to board PR-MAR, and the waiting room emptied even more.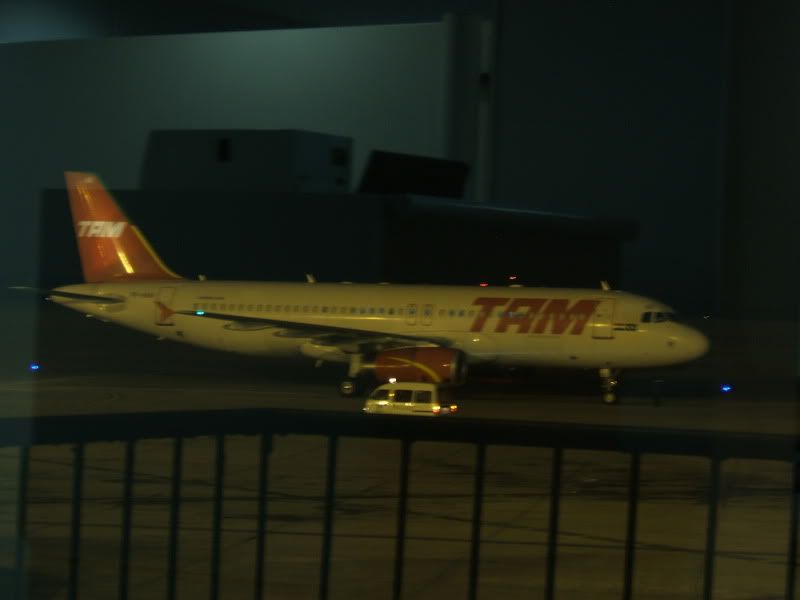 At 6:30 am, 25 minutes before departure, TACA
Staff welcomed all the passengers on board their flight TA40 to LIM and connections. There wasn´t any kind of priority boarding whatsoever.
Boarding was done via bussing. This is usually very interesting, as it gives the opportunity to take some great pictures. Sadly, the picture I took came out blurry due to poor lighting.
The aircraft operating TA040 that morning was N741TA. The interior looked worn out and dirty. Not a very good impression.
(picture taken later, during cruise)
A few seconds after sitting down in my assigned seat, I felt something strange. After a quick look, I realized that the whole seat cushion was soaking wet (I don´t want to know why) What a disgusting surprise
I immediately switched seats (thank god the adjacent seat was empty) and as soon as the first FA passed by I asked her for a blanket (to cover the seat and sit in top of). She angrily refused at first with a stern "Later, after boarding".
Again, all this didn´t add up for a good first impression.
I´ve never experienced something like this in LAN, or in any other airline I´ve flown. Terrible.
However, as soon as she saw the soaked seat cushion, she muttered an apology, ripped the cushion right out from the seat (interesting) and disappeared. One minute later she was back with a new cushion. She apologized profusely for the situation. So problem solved.
Boarding was quickly finished and we were soon on our way. The safety presentation was manual, something I hadn´t seen in a long time.
When the purser speaking in the PA named the name of the FA doing the presentation in our section, she acknowledged with a small wave. A nice touch, certainly.
Takeoff was punctual, maybe even a bit ahead of schedule.
Just as sunrise was occurring outside the aircraft, inside the meal service (breakfast- hot) started. I ordered the kitshe, which was quite good. In the tray a very nice box proclaiming all the advantages of cucumber (I had no idea those things are so good) made me think cucumbers were somehow involved in the meal. I couldn´t find any. Strange.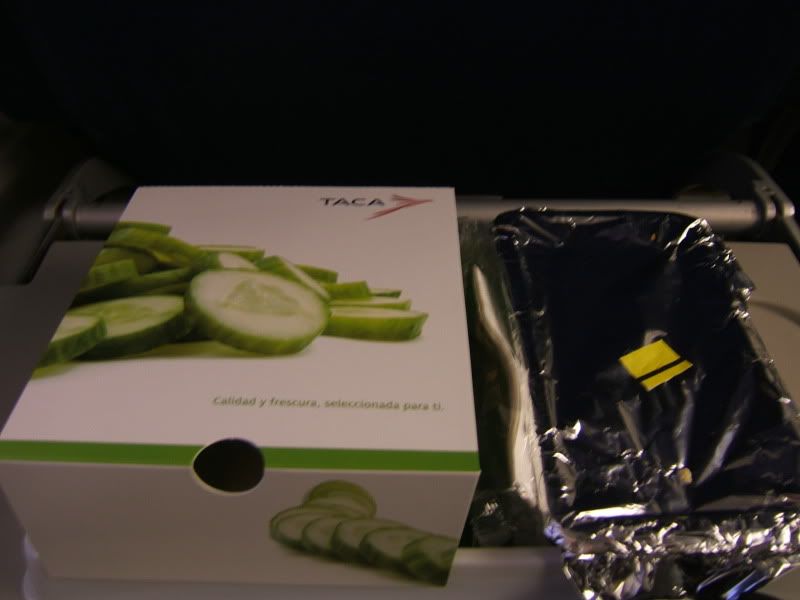 After the meal, Duty Free was conducted. During it, I became the proud owner of a desktop model of a TACA A321 sporting the new livery.
The inflight magazine, "Explore" was good interesting. I prefer LAN´s inLAN much more, but "Explore" was still good.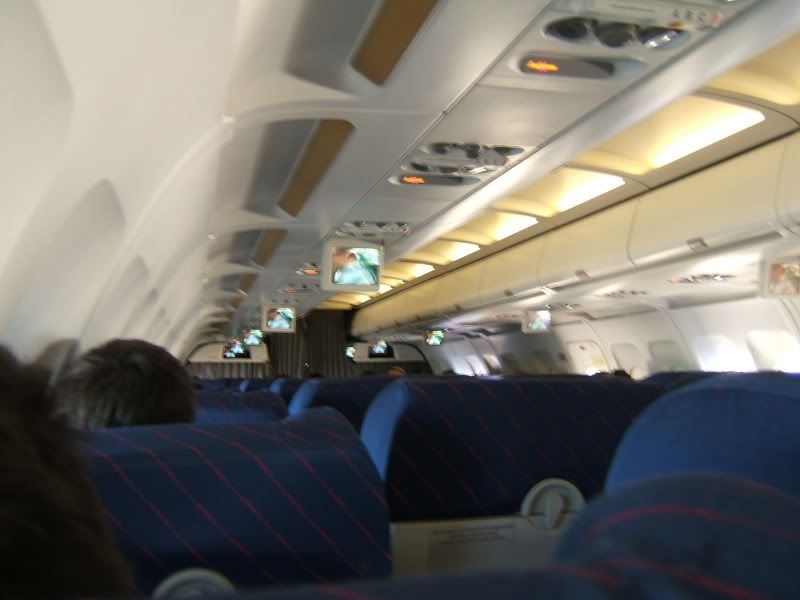 The real in flight entertainment in this flight was however the amazing scenery we traversed. The sight of cloudless northern Chile from above is awesome. Here are some pictures: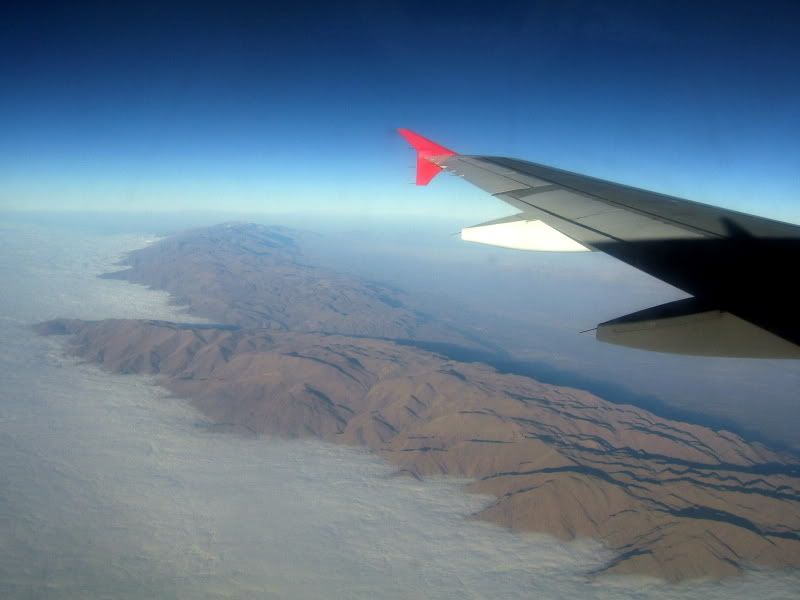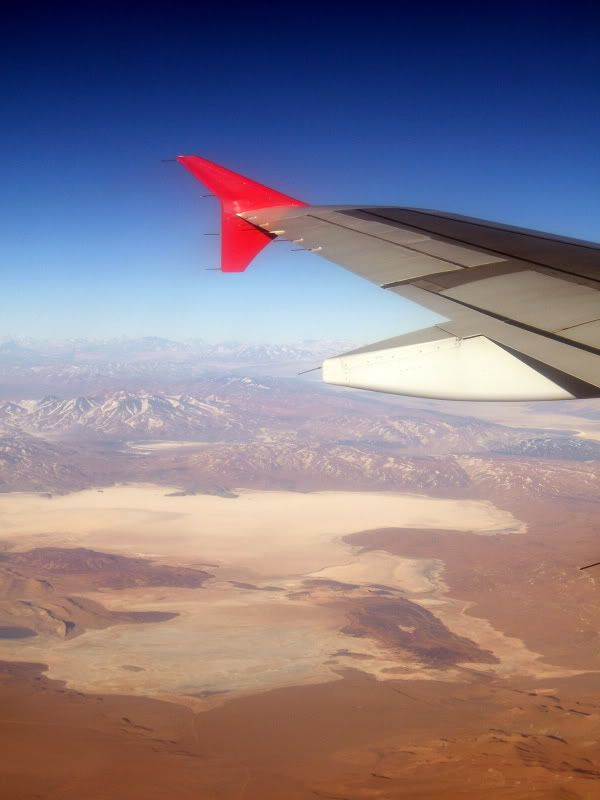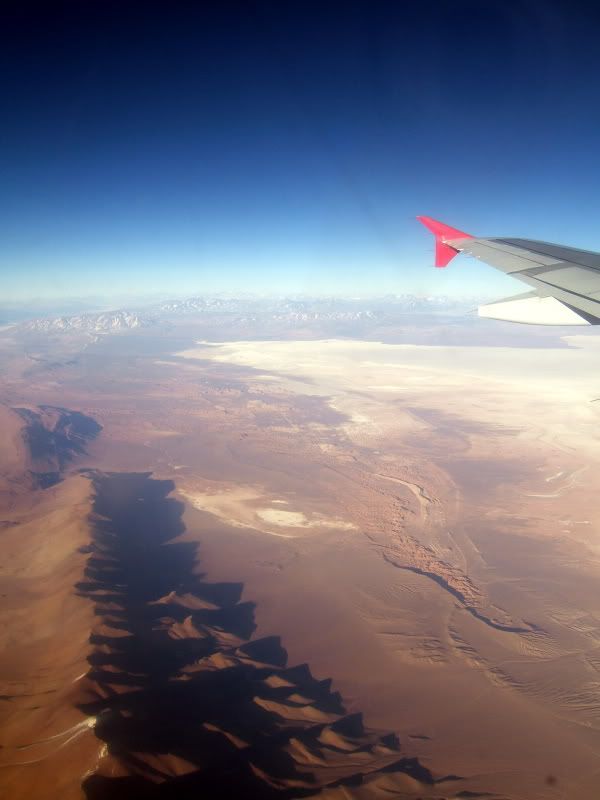 These structures are located in the middle of the dessert.. Mines? I have no idea. Does somebody knows what these things are? They are quite remote.
Eventually, descent into Jorge Chavez Airport in Lima begun. Unsurprisingly, Lima was cloudy.
Right before touchdown, the purser announced over the PA the gates of numerous TACA connections to seemingly everywhere in Latin America. I found interesting that even the flight to EZE was announced. I don't think anyone would fly MVD-EZE via LIM…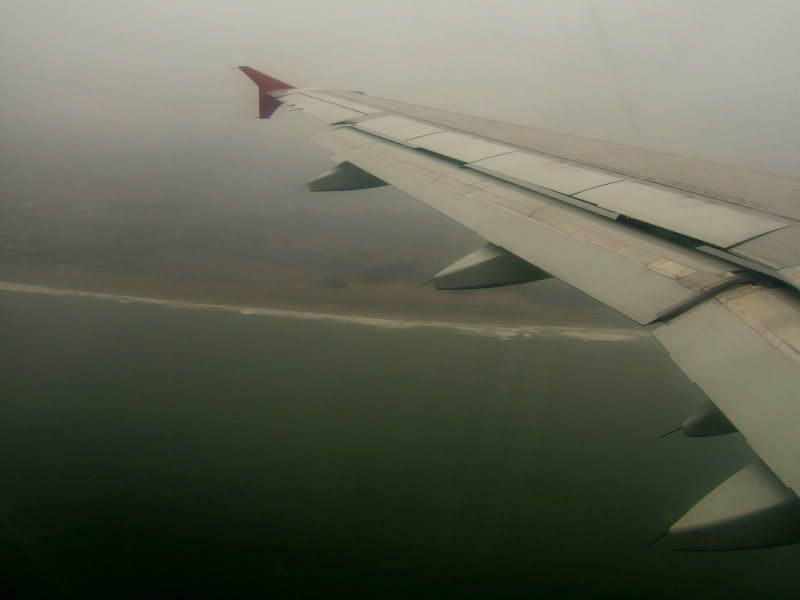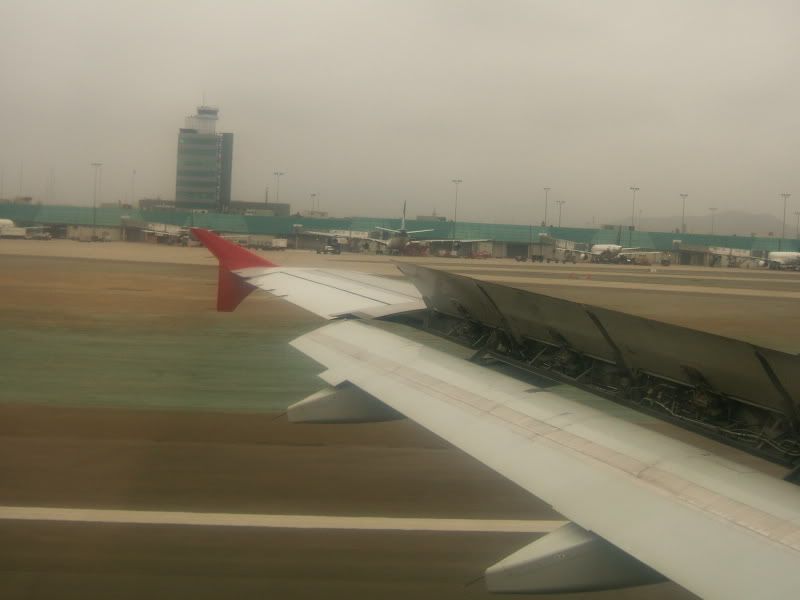 Touchdown was ahead of schedule.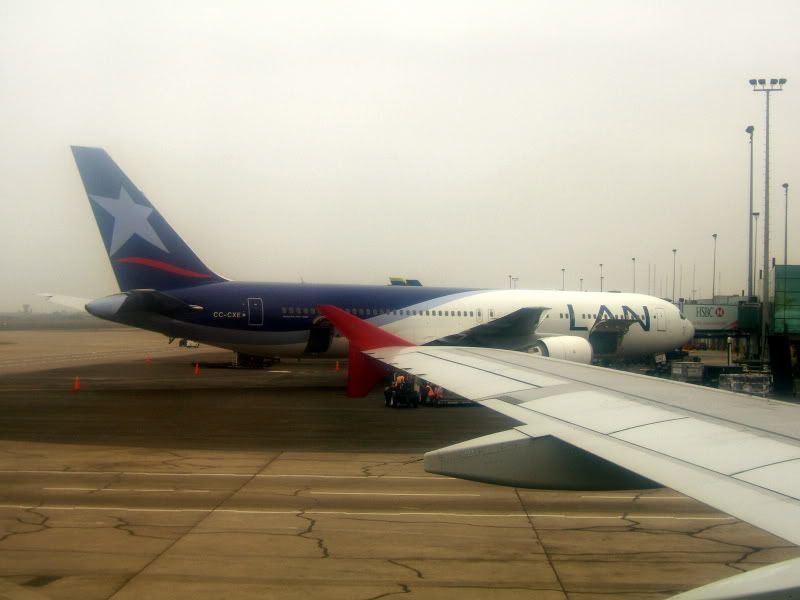 Overall the flight was very good and enjoyable. The crew in PA addresses made a lot of emphasis in the fact that TACA was chosen as the best airline in Latin America by Skytrax, and were all very motivated. They were a great bunch actually.
The airplane needs an urgent refit. Or cleaning, at least. The wet seat cushion is to me just unacceptable.
According to the "Explore" magazine they are upgrading all their interiors with new seats, mood light, PTV´s, etc… So this will eventually get fixed.
Would I fly TACA again? Sure. Their non-stop MVD-LIM service makes the choice easy. They were always punctual and the crew was very good. I´ll look more attently at the seat before sitting down though…
I still prefer LAN, but TACA is quite good as well.
Thanks for reading.