KLM F70 and the Estonian Saab 340 to Saaremaa island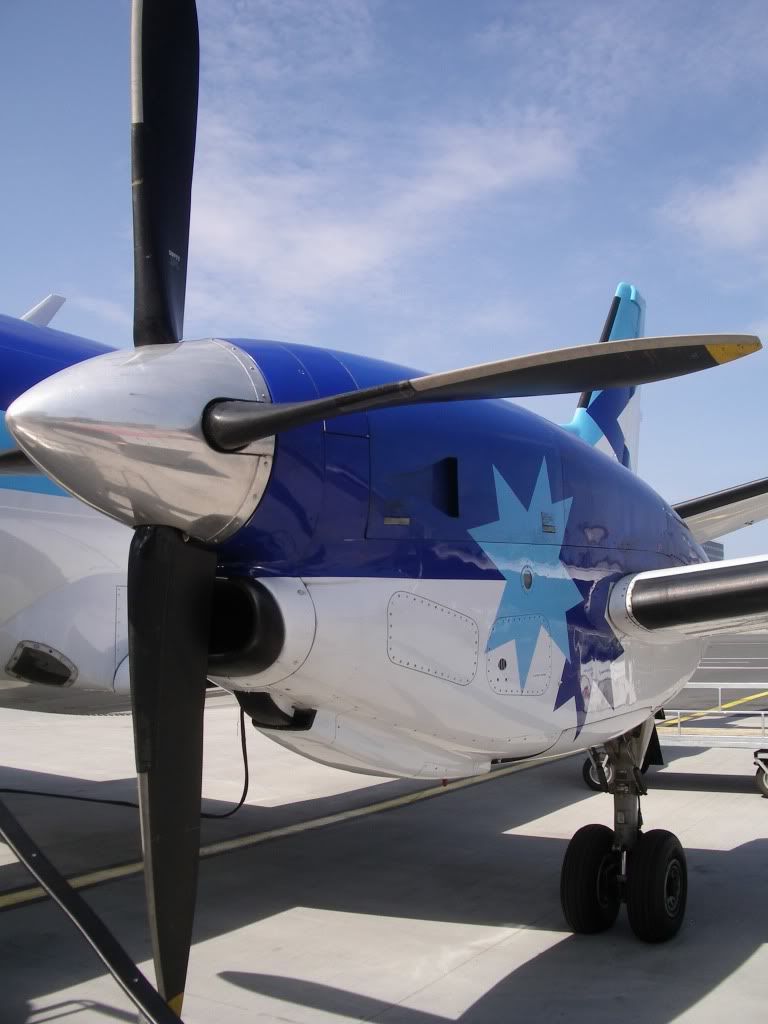 Tere, dear readers,
and welcome to my latest travel experience.
Estonia was the destination.
Estonia means two things for me, a country never visited before and also a airline never flown before, with two legs at these day.
Saaremaa, the biggest island around the country and the city of Kuressaare was my final target.
The island was a no-go area during Soviet times, nowadays well known for it´s rich birdlife, lots of seals and untouched nature.
Some three weeks after ariving home from Sweden:
FlySmaland/AvitransNordic Saab 340 To Växjö
(by
FLIEGER67
Aug 25 2009 in Trip Reports)
it was time to go again.
Sunday, 19.07.2009
FRA (Frankfurt-Rhein-Main) Rain, Temperature 15 degrees
AMS (Amsterdam-Schiphol) Cloudy, Temperature 17 degrees
Duration: 45 minutes announced
50 minutes actual

Service KLM KL 1762 operated by KLM Cityhopper
Scheduled: 07.10 // 08.30
Actual: 07.10 // 08.00
Gate: D33 Seat: 11F / Exit row
Load factor: Around 70%
There is only one flight at Sunday from Tallinn to Kuressaare. Interesting was, that while Estonian Air offers flights from FRA to URE on its website, there are only nightstoppers at TLL and early morning further to URE flights on the schedule.
On the other hand site, several internet ticket dealers had the AMS connection open. Maybe somewhat risky for OV with a tight flight connection at TLL.
Anyway booked with one of these ticket dealers and hoped for good luck to catch the flight to URE.
My usual try for internet check in at KL´s website, no internet check in at Estonian for flights from Germany, wasn´t succesful this time.
The ticket was issued by Estonian, therefore not accepted by KL´s internet check-in.
Well, that means some minutes earlier than expected at the airport this sunday morning.
Started by car at 02.30 am, low traffic only, a quick ride to Tourcare, parked the car and shuttled to the airport.
The same procedure at the self service kiosks and I was send to the manual desk.
Only one male in front, but what a kind of man, a real big one, representing a african family heading for LOS with not more than five filled up baggage carts nearby.
So I had to wait for more than 15 minutes till they discussed, payed the excess baggage fees and finally checked in.
The asian girl there was nevertheless real friendly to me, she told me that while my bag is checked to URE she cant check me in for the two legs on Estonian.
I need to go to the check in counter again at AMS and she also cant secure if OV is handled by the AMS transfer desk.
Well further on to security without any time to wait, Terminal 2 was fairly empty that early morning, a bus gate showed my flight on the screen.
Also a interesting target: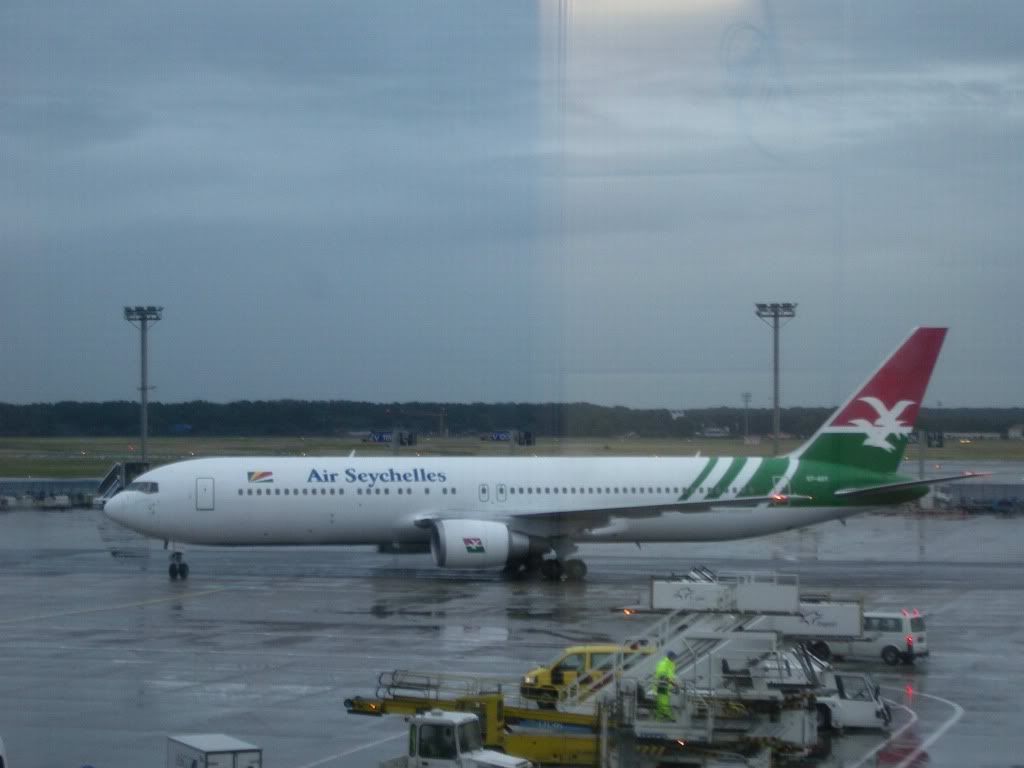 LH Cargo heavy on finals:
Saravia Yak42: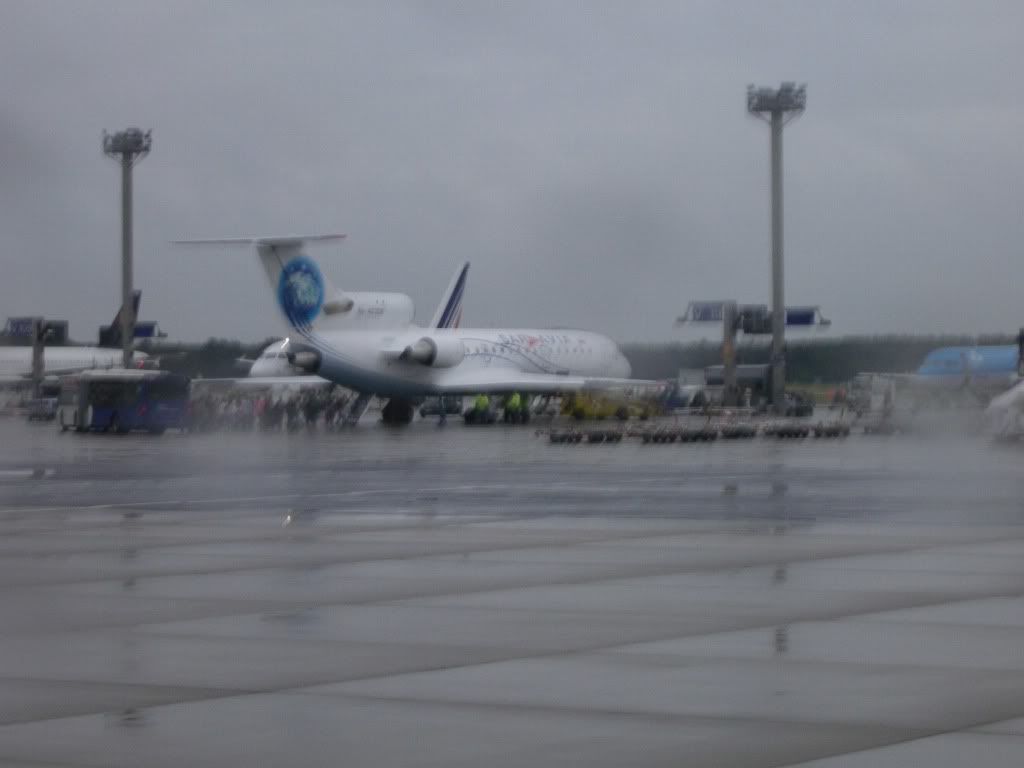 And again:
Perfectly ontime boarding was called and the bus goes the way along T2 to the apron where my machine waited.
I know, according to FRA OPS that the scheduled F70 was there, PH-KZG, delivered at 28.11.1996 to Austrian Airlines and in service with KL Cityhopper since 07.10.1997.
One of 24 examples in the fleet.
Leg no. 5 on type and a new registration for my log.
Thankfully the rain slowed down during boarding.
And my machine: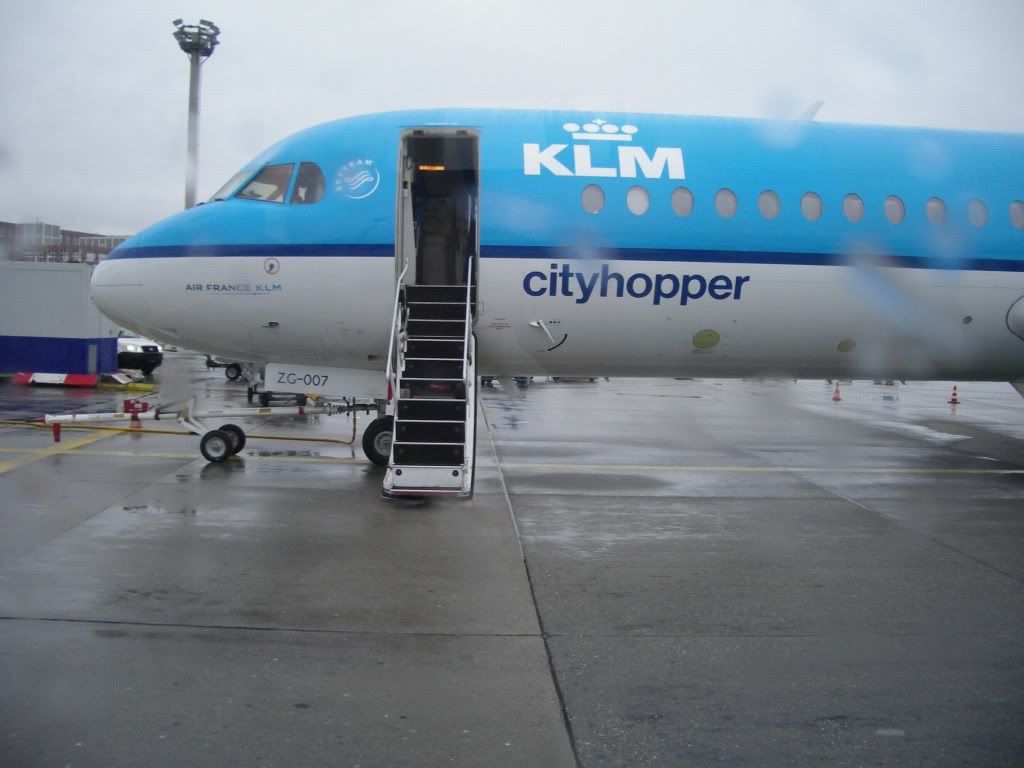 Tail shot:
Reg shot: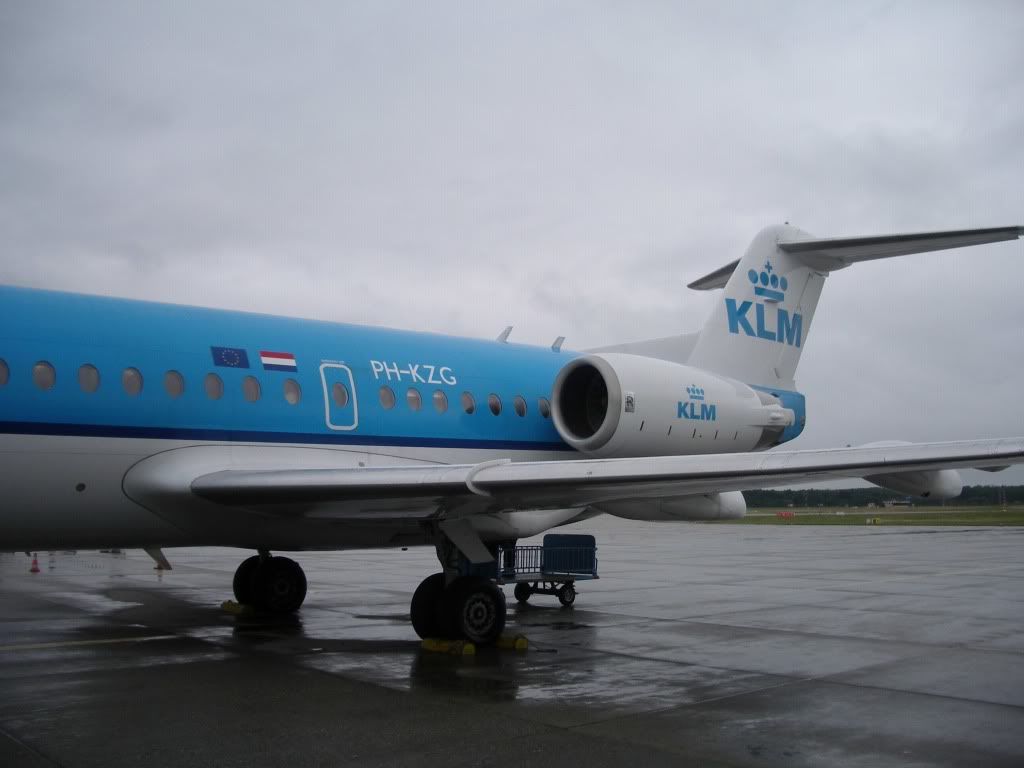 The tail again:
En detail: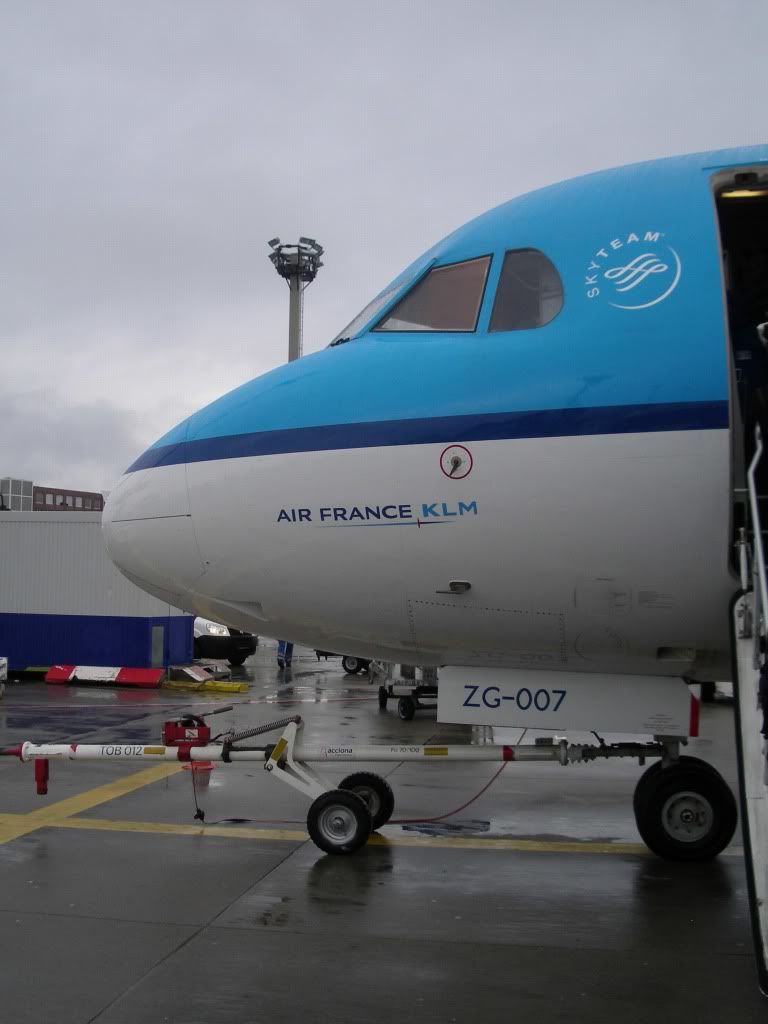 Finally boarding: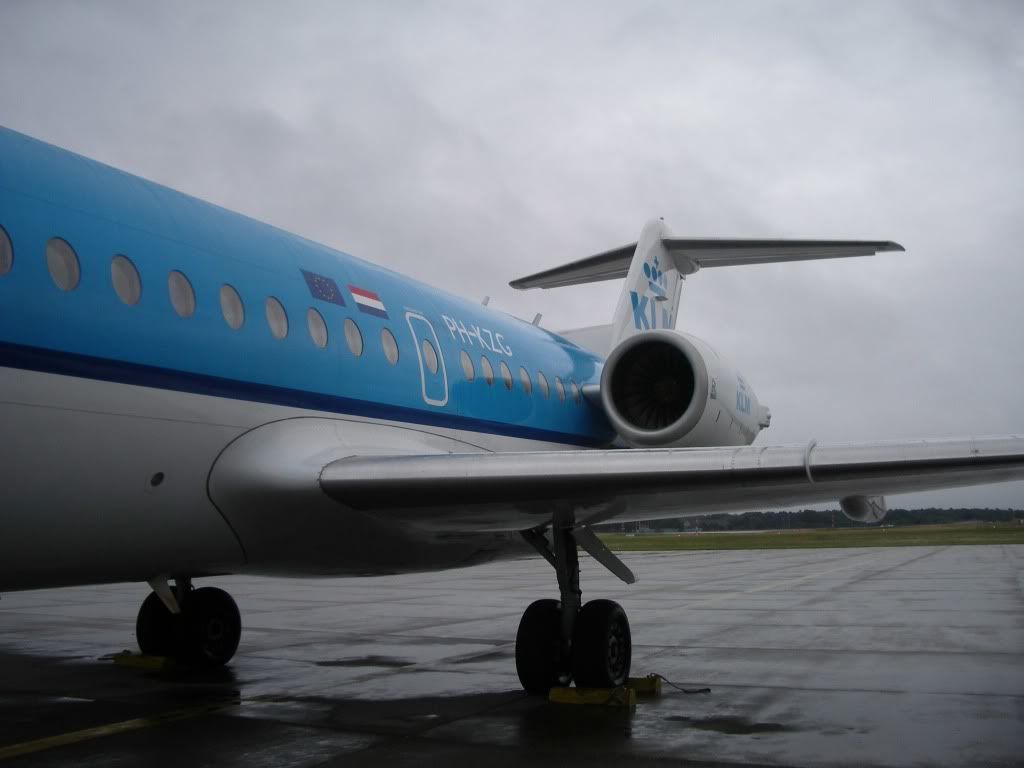 Two friendly female FA´s on this service. The cabin fitted with dark blue oldfashioned fabric seats, wide ok, generous legroom, well used, but clean.
My seat: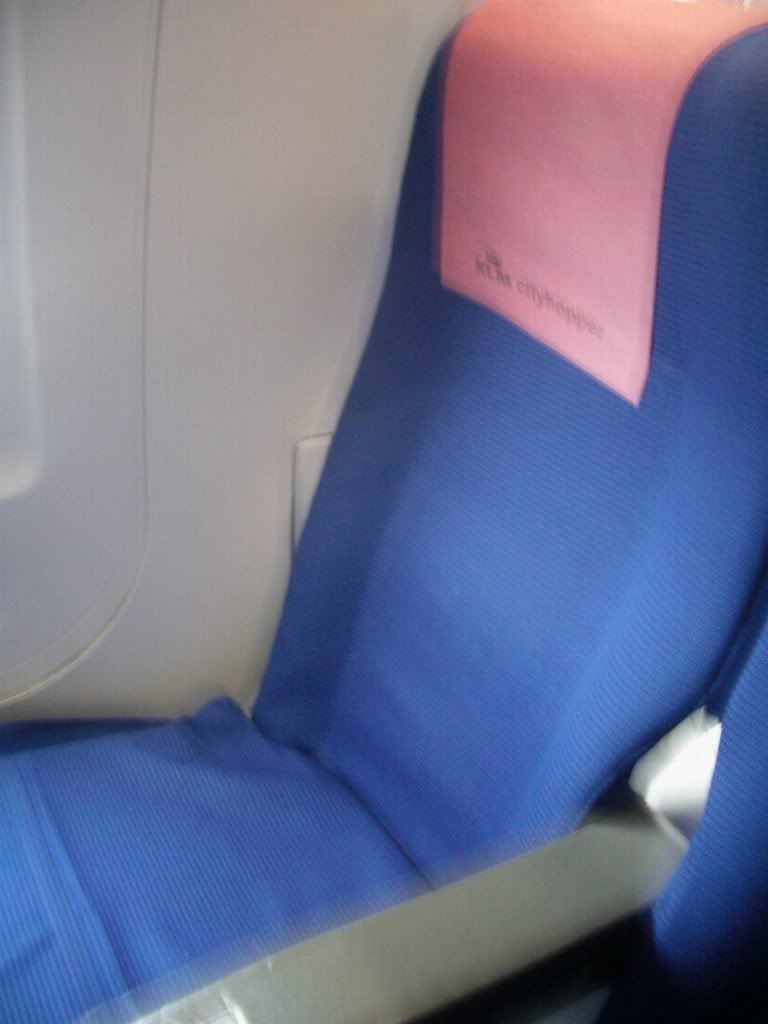 Only a short way to taxi for a departure from the 4000 meters runway 25R in the right direction above DUS to AMS.
Just departed: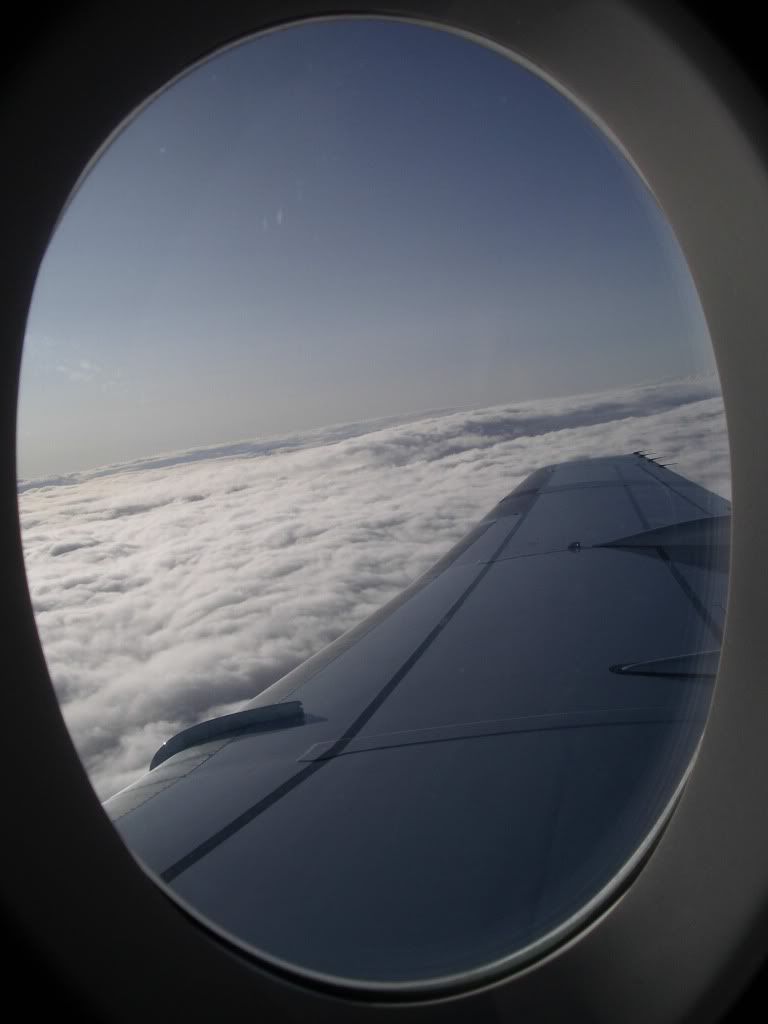 No comment from the flightdeck, no flightlevel info.
Service was real good, also on this short hop they offered a sandwich and free drinks.
Looks good, isn´t it?: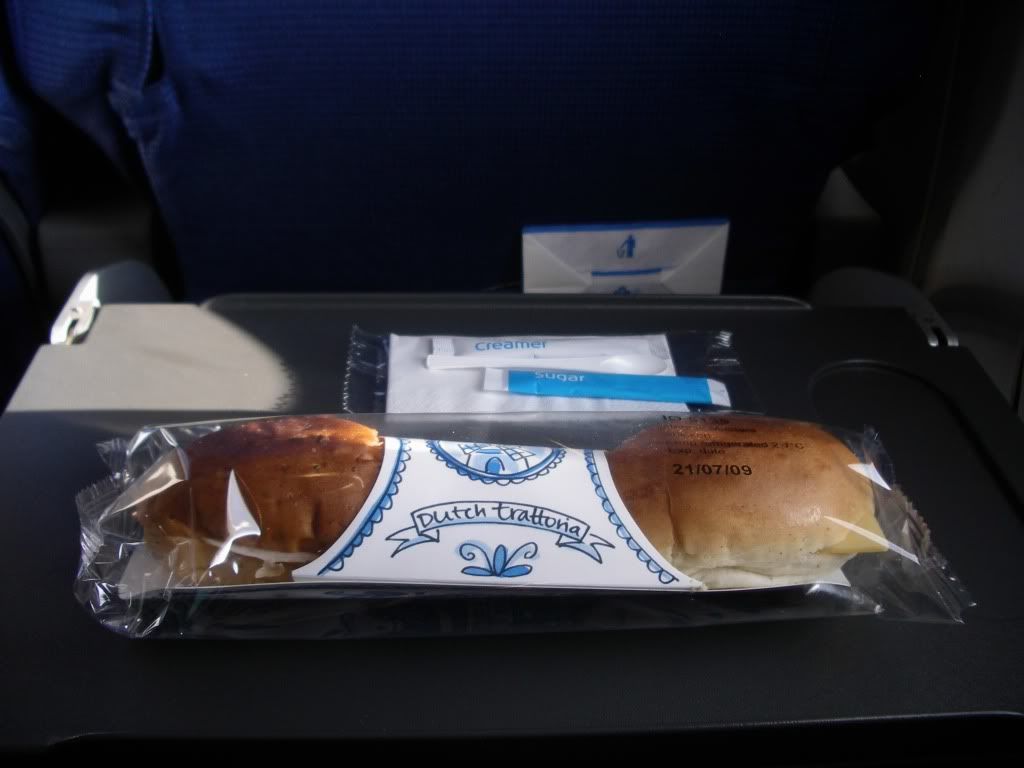 The nice young FA saw me writing down flight details and soon thereafter she approached me with a questionary form. I might be the interested passenger to fill in her form, she told me.
Approaching AMS: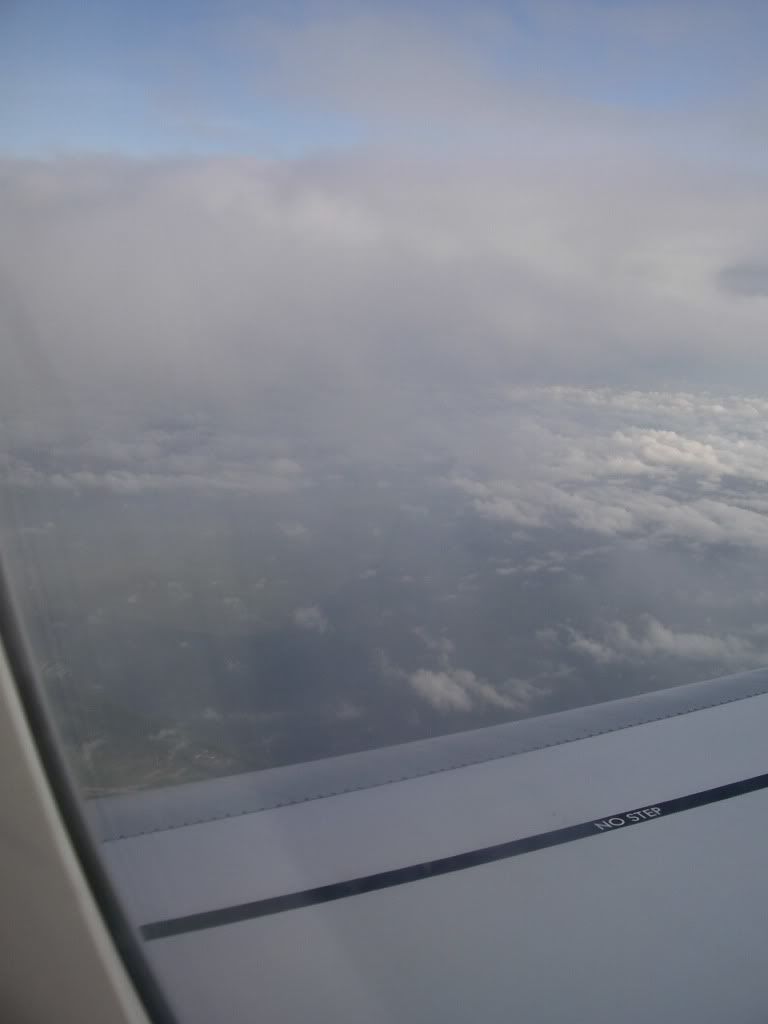 And again:
Approach started and not long thereafter we touched down on the 3300 meters Zwanenburgbaan 18C with an not that long way to taxi for the regional apron, filled up with
nice blue Fokker tails.
Just landed: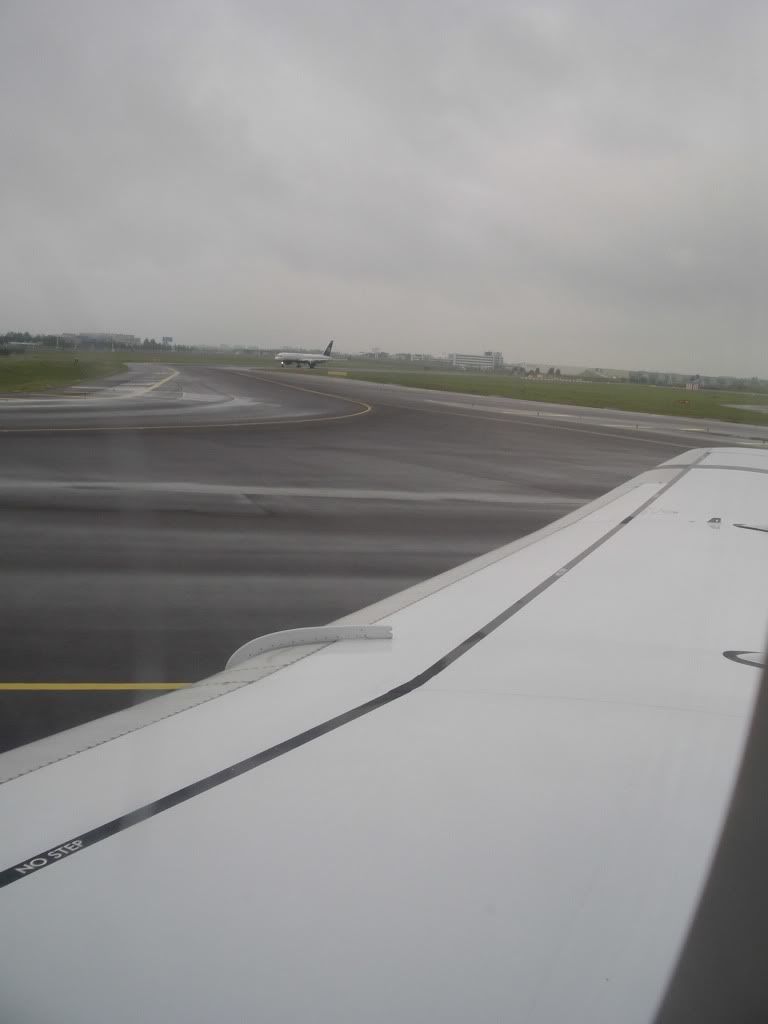 The neighbour: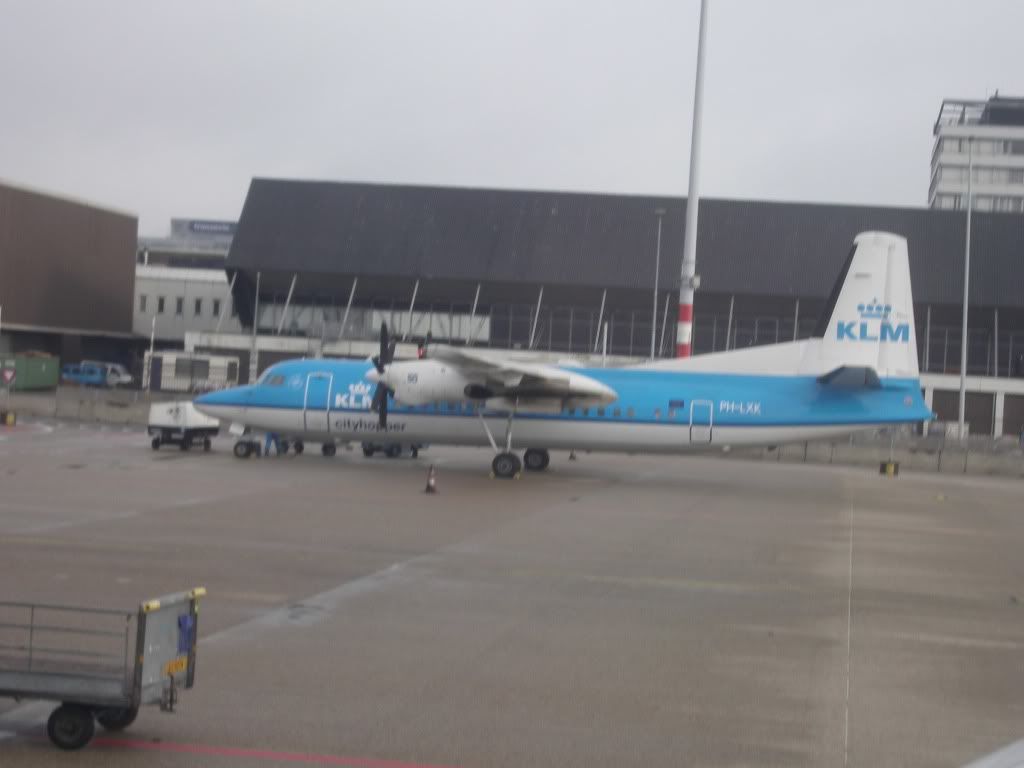 This was a real good experience on the KL F70 . I saw a Estonian tail in the distance, that might be my machine to TLL.
By bus to the terminal, looking for the next check in.
Sunday, 19.07.2009
AMS (Amsterdam-Schiphol) Partly cloudy, Temperature 20 degrees
TLL (Tallinn-Lennart-Meri) Sunny, Temperature 26 degrees
Duration: 2 hours announced
2 hours, 10 minutes actual

Service OV 174 operated by Estonian Air
Scheduled: 09.40 // 13.00 (1 hour time difference)
Actual: 09.40 // 12.50
Gate: C15 Seat: 20A
Load factor: Around 80 %
My arrival was well ontime, so the decision was quickly done. Out in the public, up the stairs and directly to the announced OV counters.
Not a minute to wait till it was my time.
The girl there was a bit surprised that the KL agents at FRA can´t check me in, but finally she worked quickly and secured me exact my seats of choice,
with another surprised smile about my seat map knowledge.
Also no time to wait at security and back in the packed gate area.
The board:
Onur bound for AYT: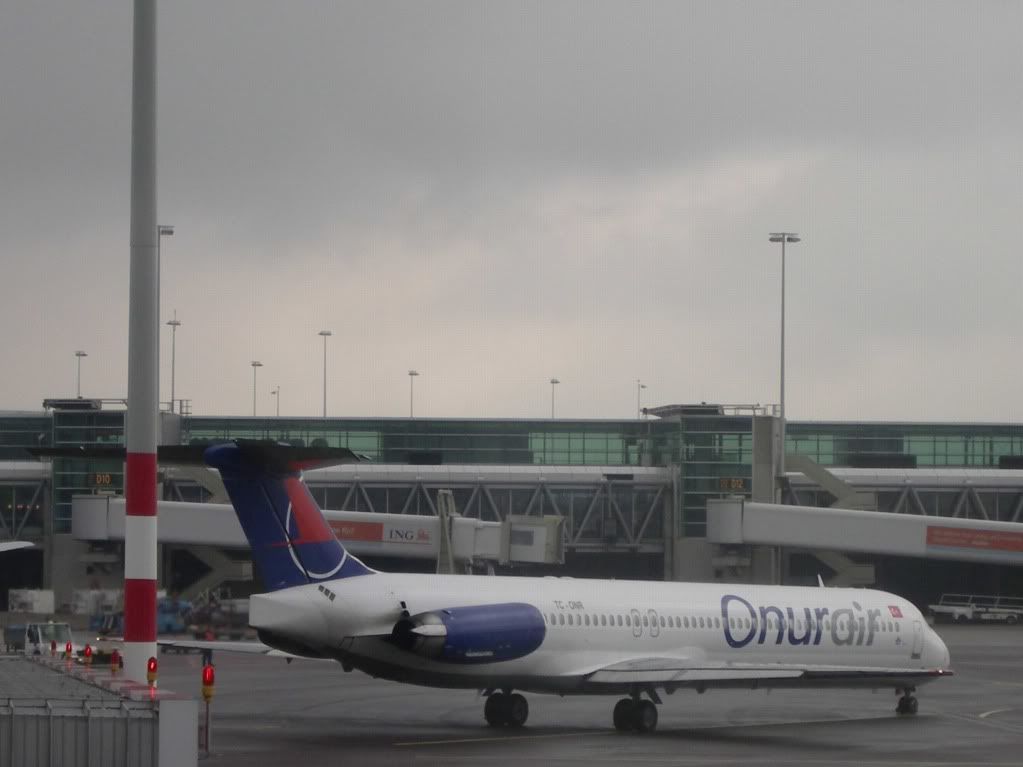 Air France retro: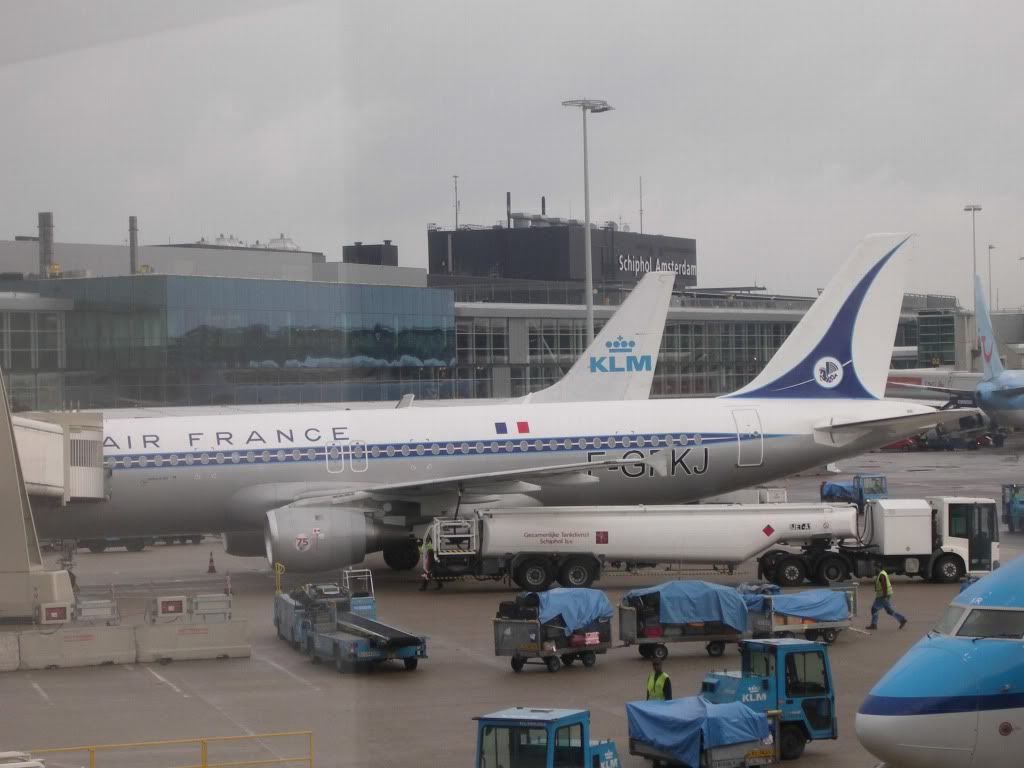 It´s holiday season , also in the Netherlands, lots of people on travel.
OVs parent company SK announced last year that some of the ordered CRJ900´s will go to Estonian as a change for the older 737 machines.
And also for my flight, the scheduled equipment was the CRJ900.
Well, with no notice about the delivery of these aircraft it might be a 737 or something else to fly today.
Friendly a.netter Airbuseric told me by mail my gate and also the equipment that Sunday.
Therefore I was not surprised to see ES-ABH at the finger gate , a 737-500 delivered at 07.12.1998 to Air France and in service with Estonian since 09.01.2004.
One of two in the fleet and named "Sinilind". .
Leg no. 26 for me on type and a new entry to my log.
My machine: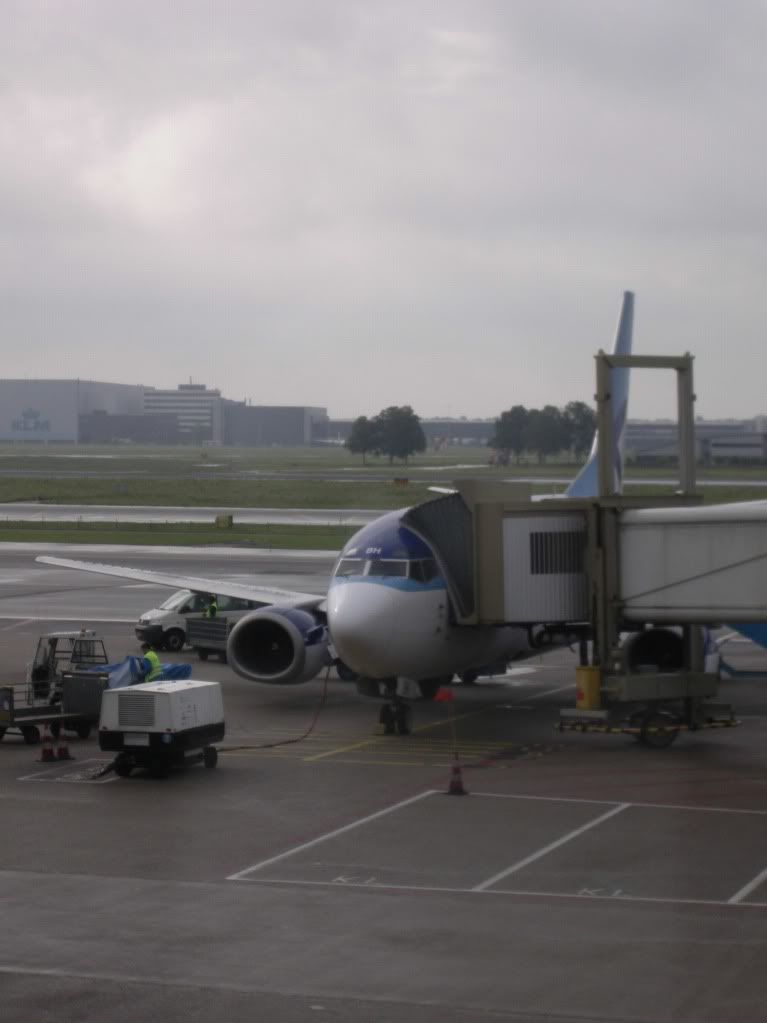 And again: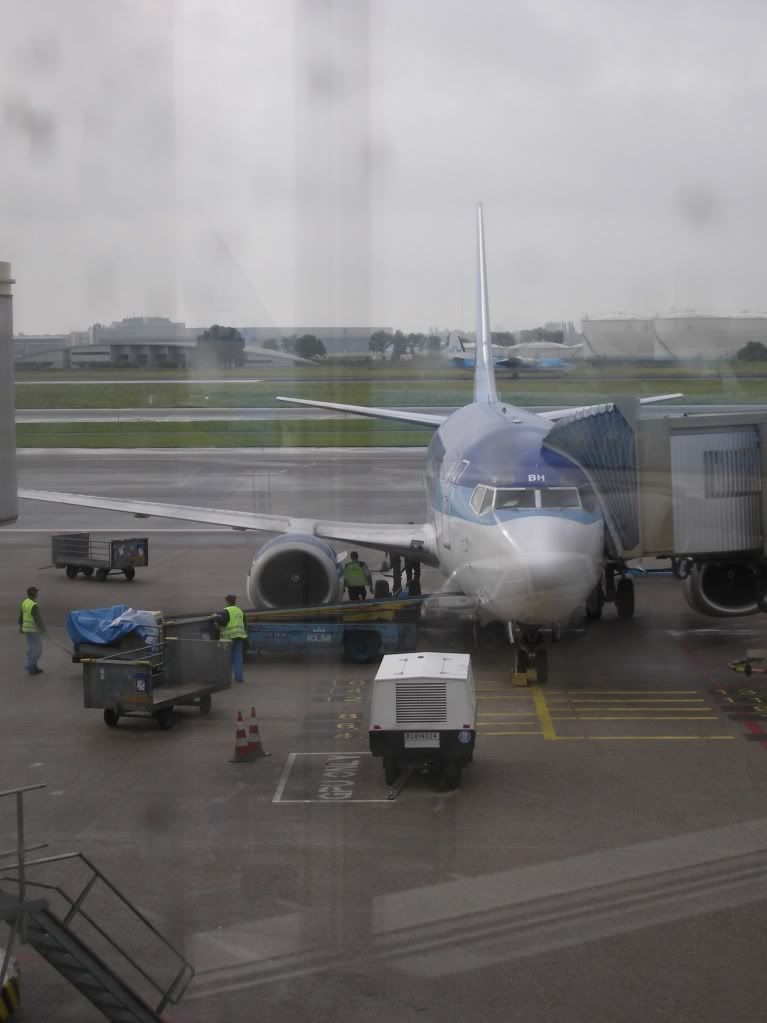 En detail:
Boarding started some minutes earlier than announced, three middle aged, let me say, business friendly females on that service.
The cabin in mixed colours, blue fabric seats, slightly dirty. No recline, not that really comfortable seats from my point of view.
Seats: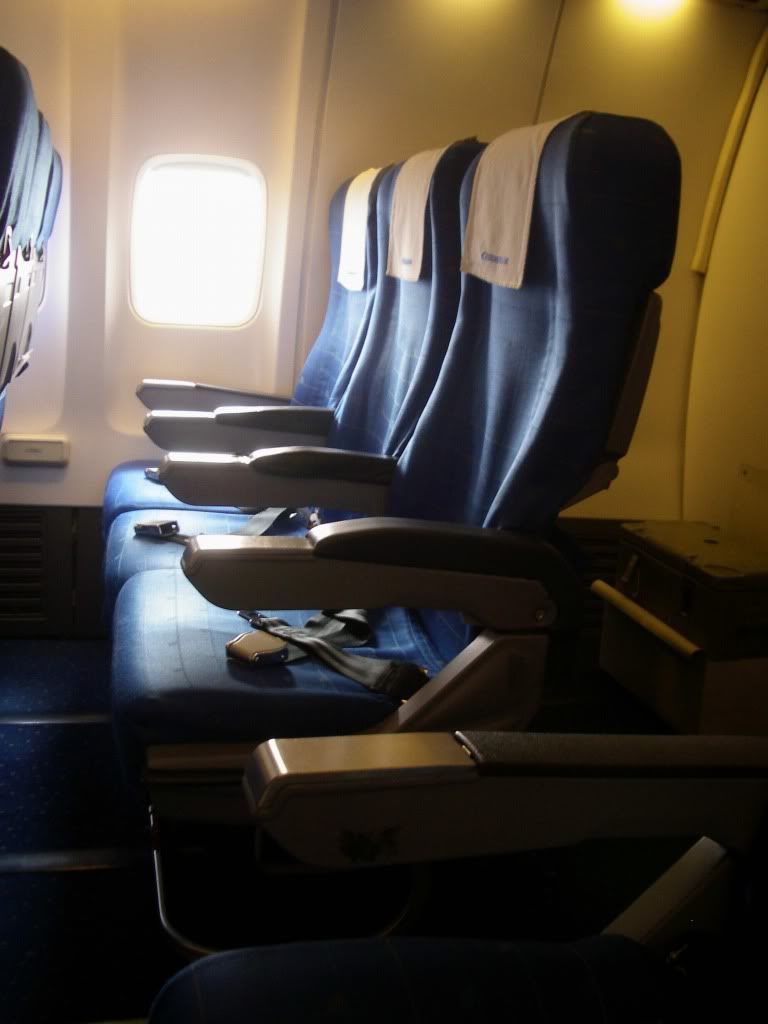 The cockpit crew was from Estonia, the captain with a short welcome during boarding, the FO with further informations inflight and once more during approach.
Departure from the 3500 meters runway 24, the Kaagbaan above CPH and southern Sweden to TLL.
Cargo apron:
Just departed: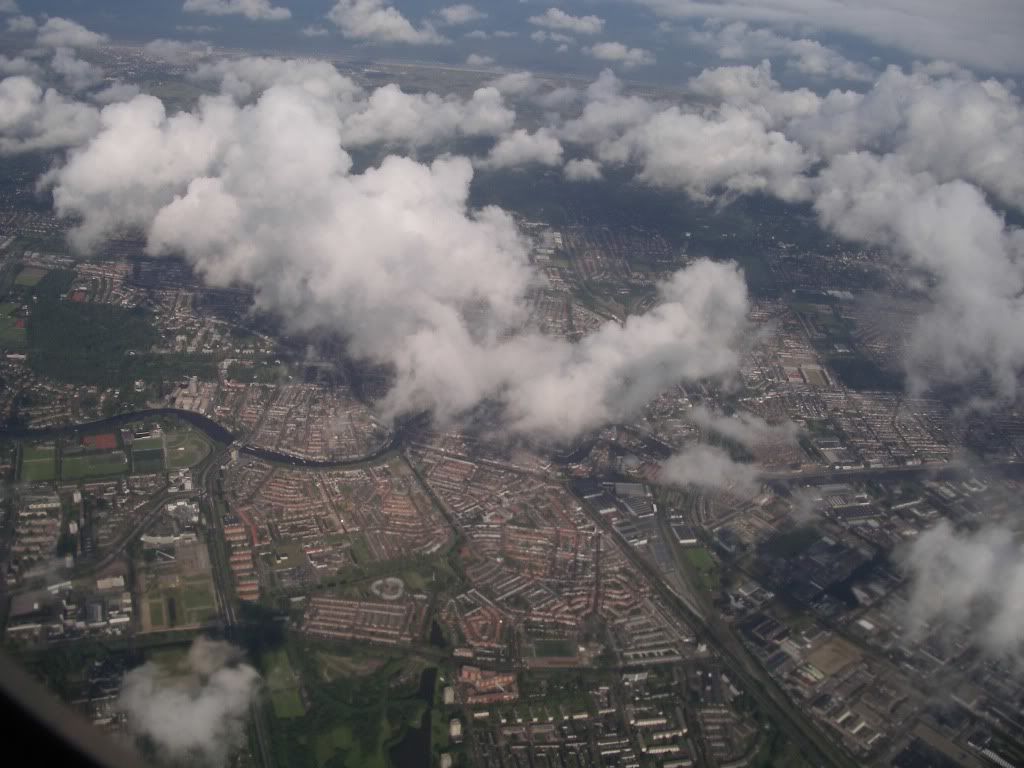 Along the north sea: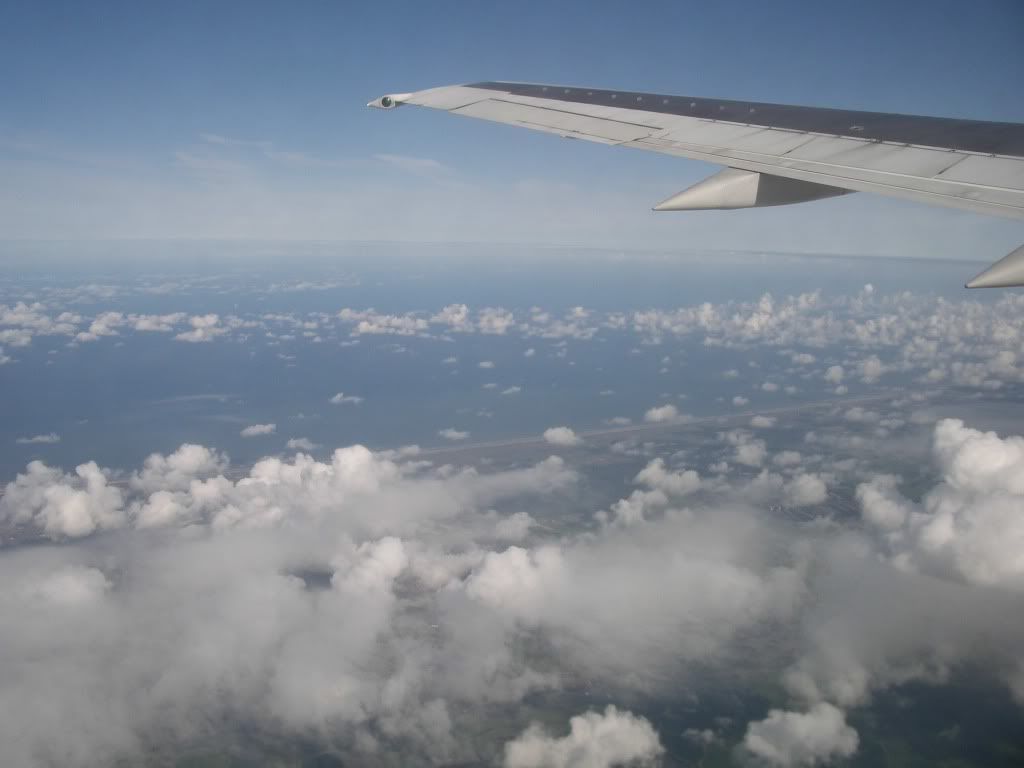 Again: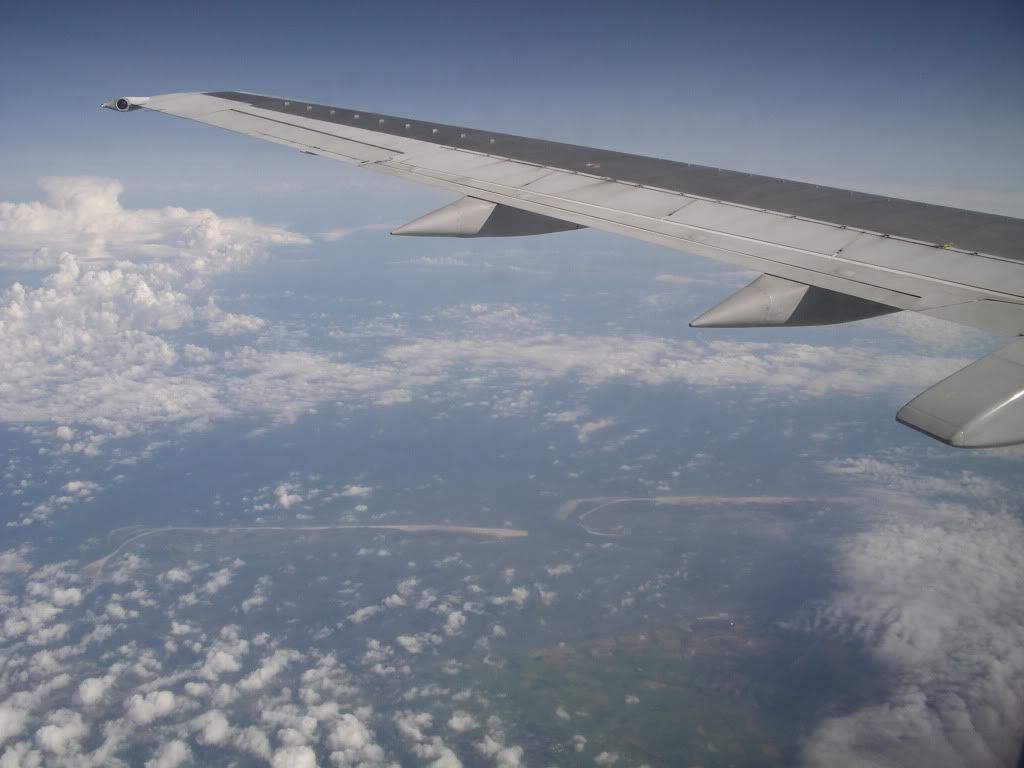 And again: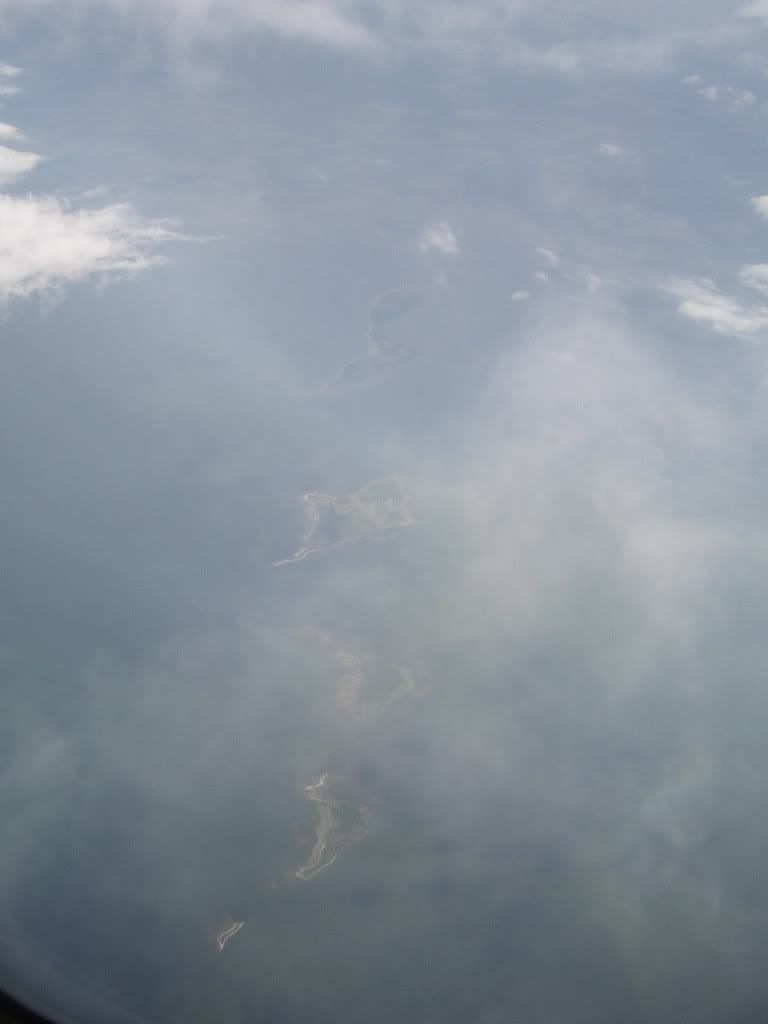 Flightlevel 36000 feet.
Service was SK style = Buy on Board.
Reaching the Baltics: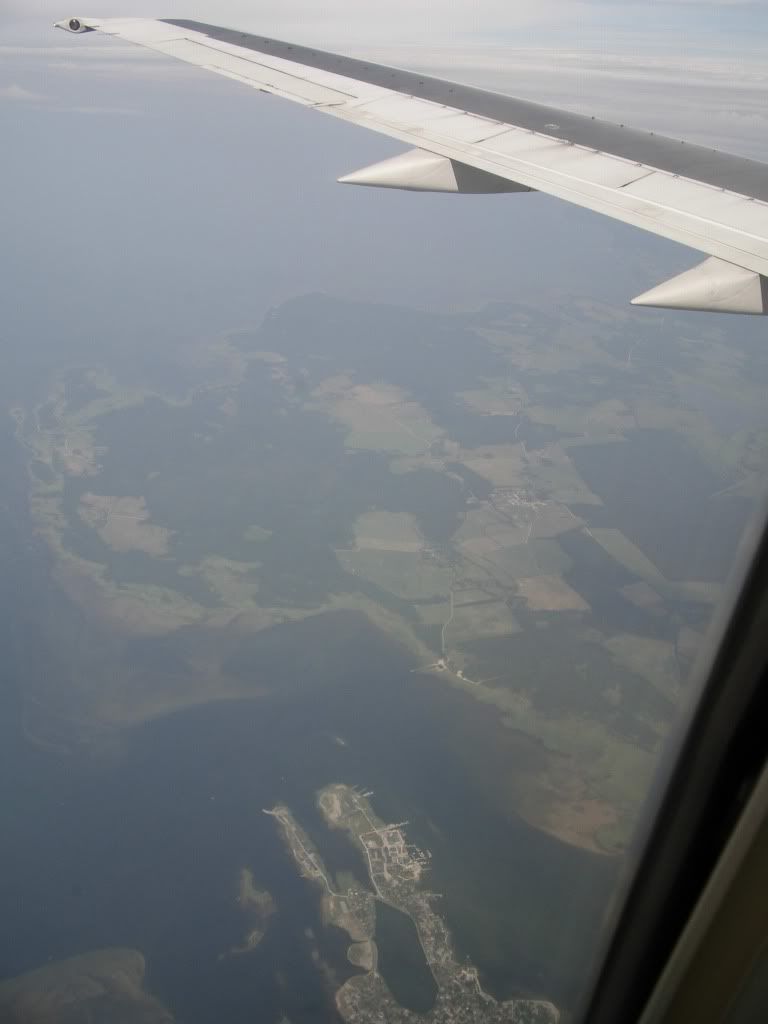 Near TLL: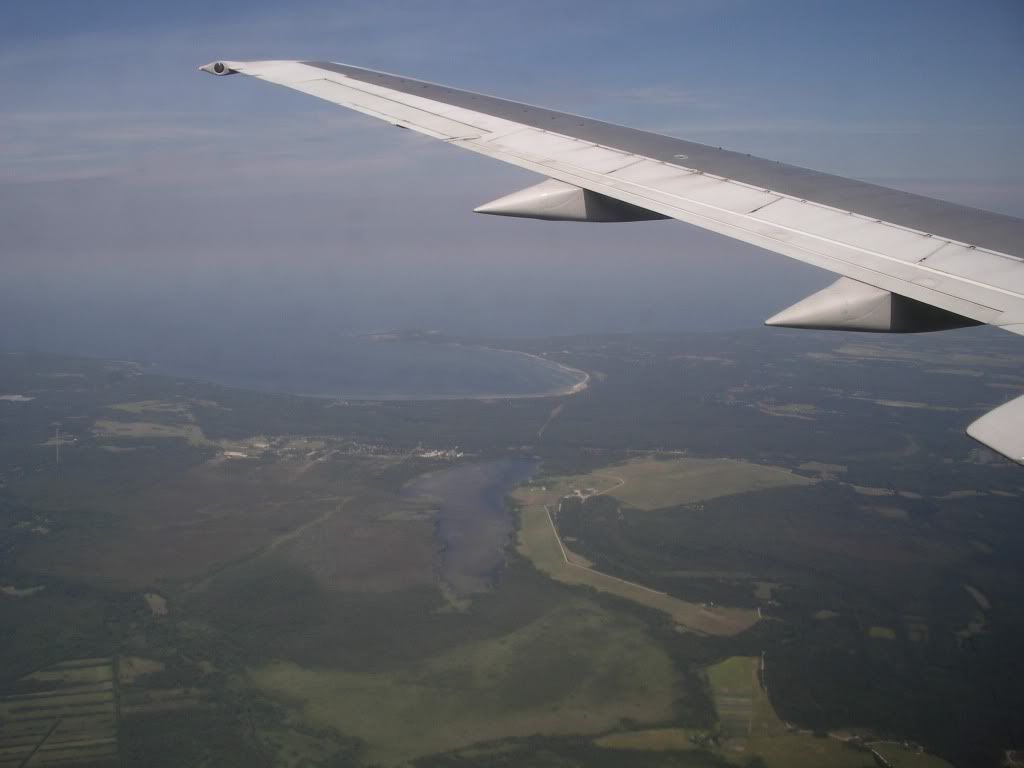 TLL:
And again:
After a calm flight we approached TLL´s 3070 meter runway 08 and landed well ontime.
Parked beside the other company B735 at a finger gate and now, welcome to Estonia.
At the gate:
My machine: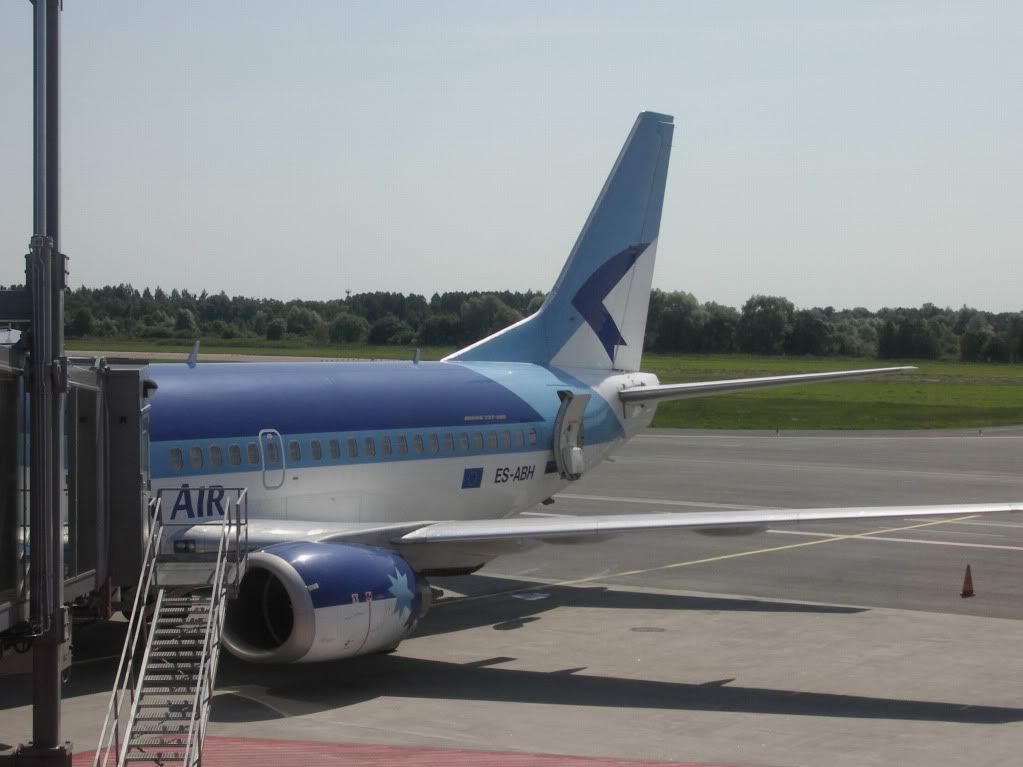 Last view: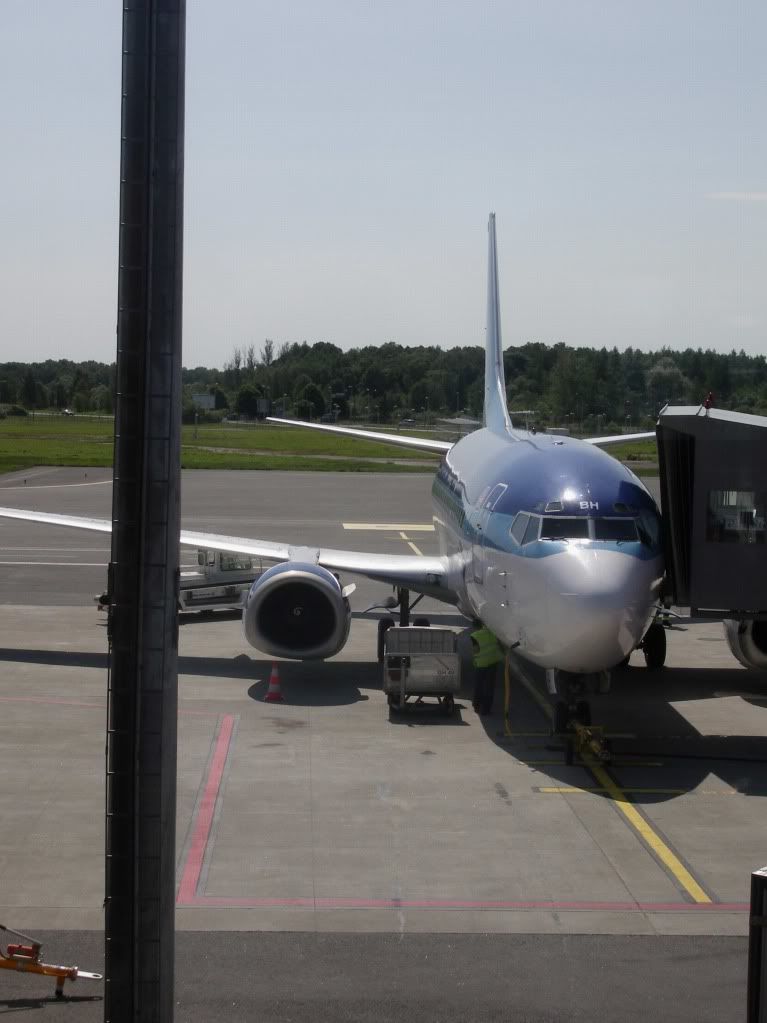 Sunday, 19.07.2009
TLL (Tallin-Lennart-Meri) Sunny, Temperature 26 degrees
URE (Kuressaare-Lennujaam) Thunderstorms, 21 degrees
Duration: 30 minutes announced
35 minutes actual

Service Estonian Air OV 603 operated by Estonian Air Regional
Scheduled: 13.55 // 14.40
Actual: 14.10 // 14.45
Gate: 9 Seat: 10A
Load factor: Around 70 %
Tallin looks really nice from above and also the weather was good, but nevertheless that was not my final destination for today.
No further security, time enough to walk around and see what TLL has on offer.
It´s a modern building, lot´s of wood and glass, nice views to the apron, especially from a seating area beside the duty free shop.
Not bad, here at TLL.
My gate was announced on the screen when I´am arrived and also a plane parked there.
The board:
No change here, the warm welcomed and rare, at least in middle europe, Saab SF340.
It was ES-ASN, a machine with a long history around the globe, delivered at 14.09.1989 to Tempelhof Airways USA, further at 10.08.1992 to Golden Air.
From 01.05.1993 with Gotia Shuttle Express and from 08.03.1994 in service with Nusantara.
Further to Australia from 02.05.1997 with Kendell, back to Europe at 01.01.2001 with Sabena and again around the globe to Air Nelson from 16.05.2001.
And finally at 24.09.2007 to Estonian Air Regional.
Estonian operates two SF340´s, leg no. 4 for me on type and a new registration for my log.
My machine: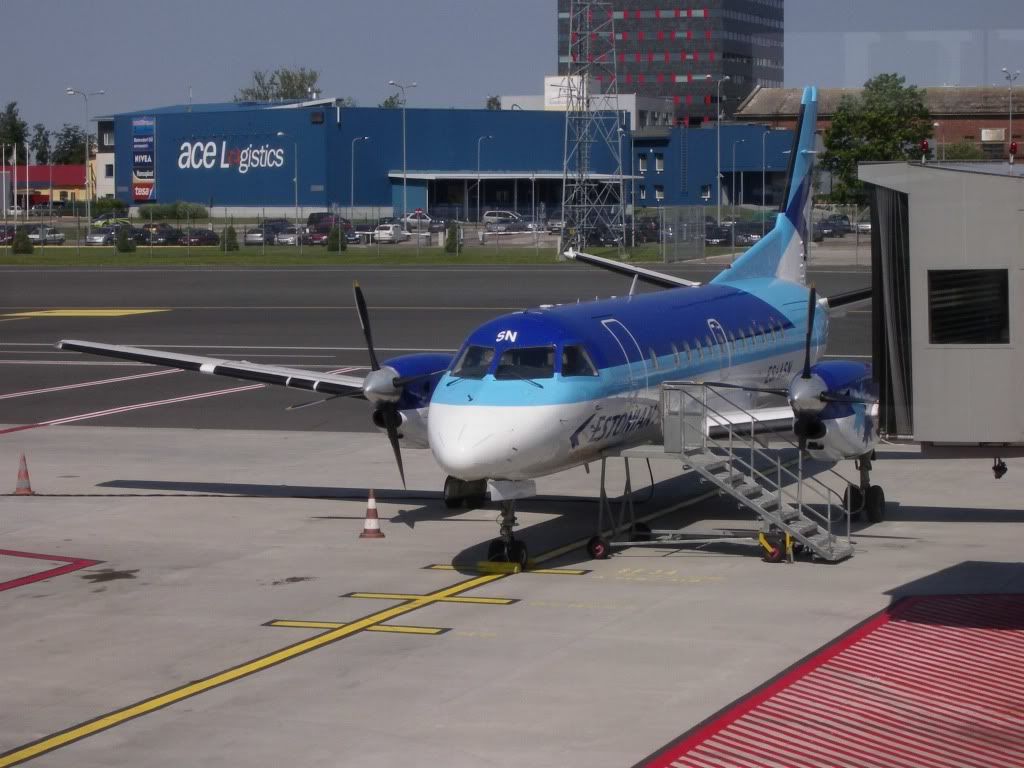 The engine: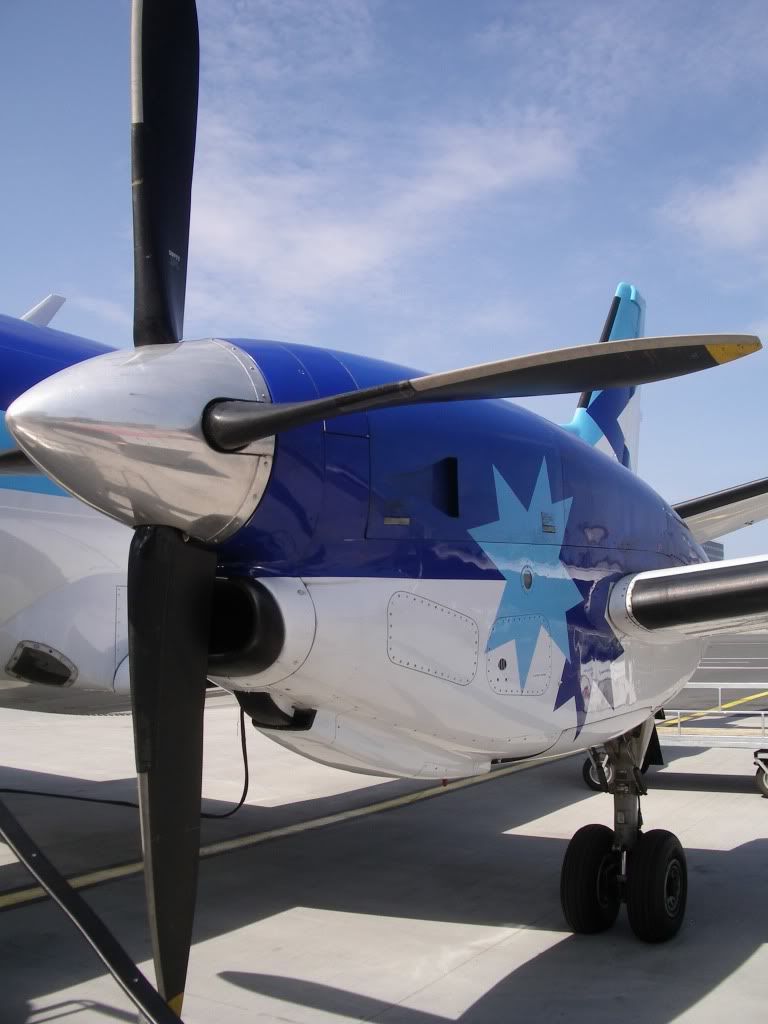 And again: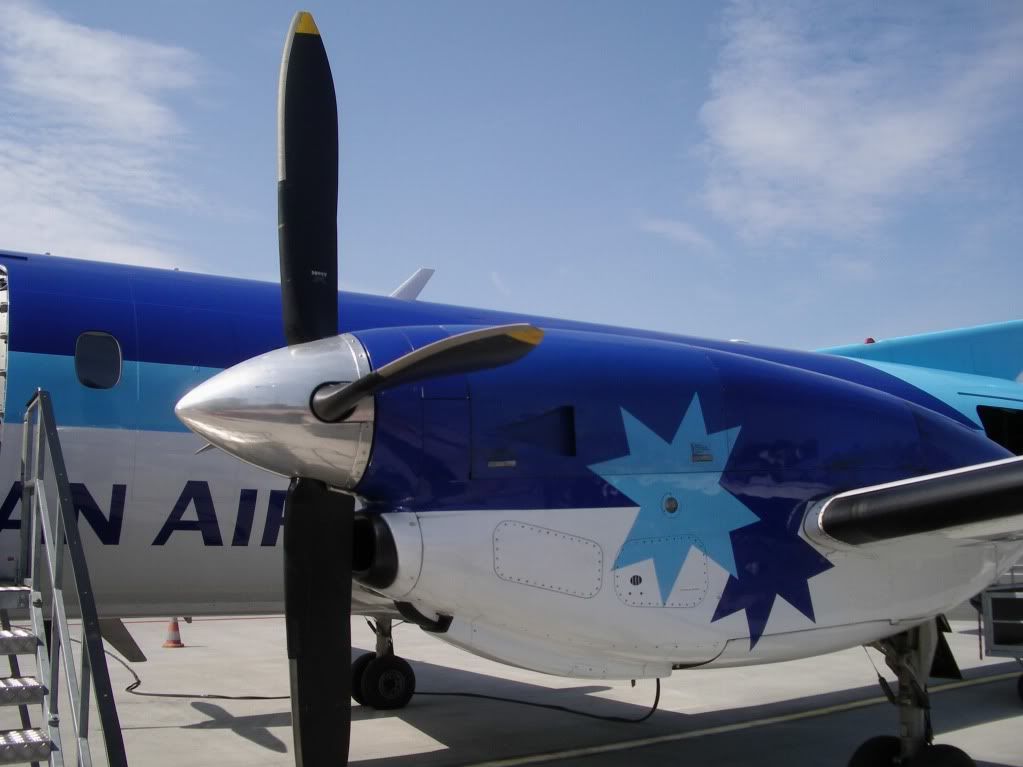 My gate: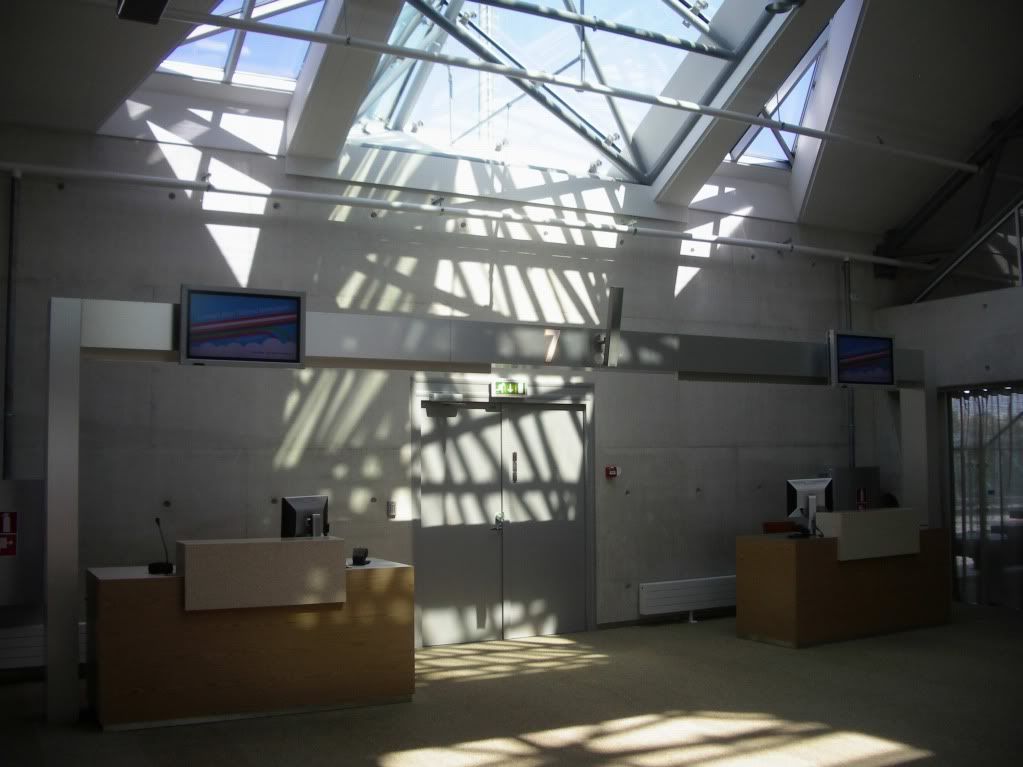 Company meeting: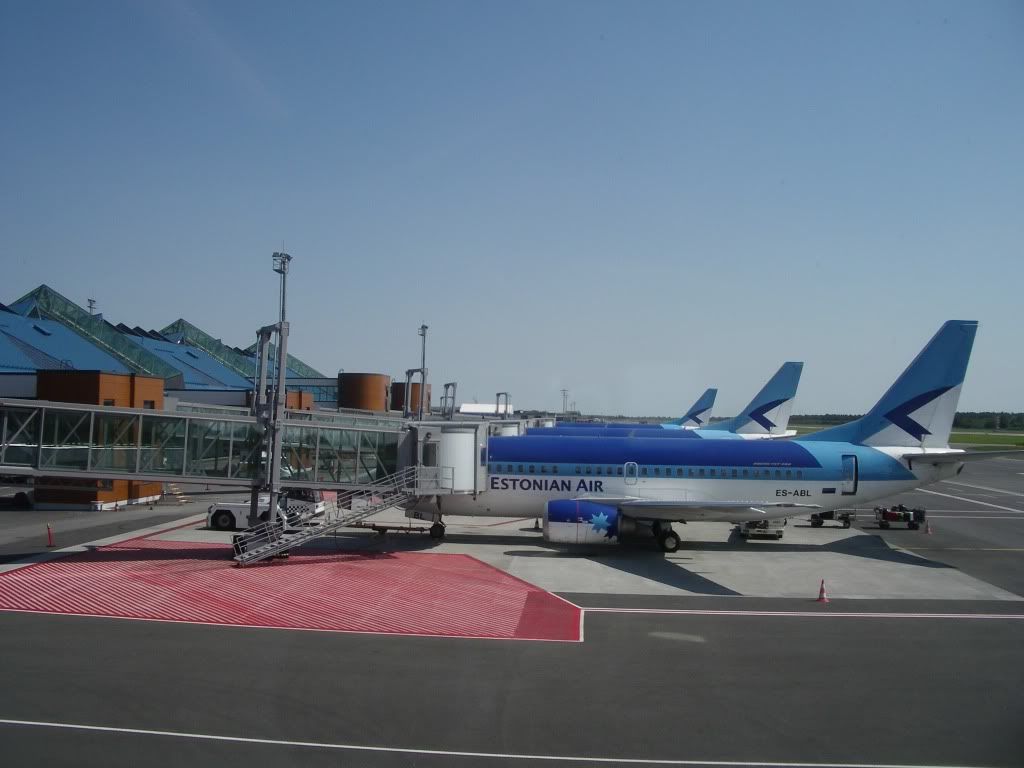 Lithuanian Smartlynx bound for HER: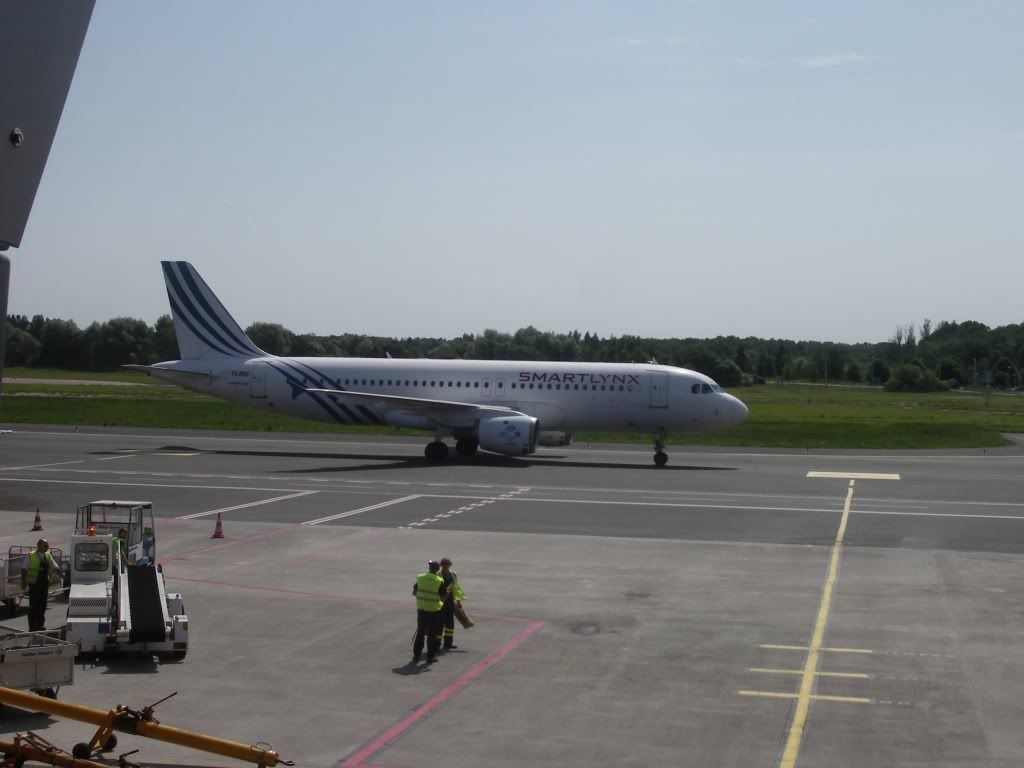 All white:
Avies J32:
Boarding time comes and goes, a girl at the desk, but no crew at the plane, so it seems.
Finally some 15 minutes late the crew arrived and boarding was called only minutes later. Lets go for Kuressaare.
Self service to the plane. One real friendly female on that machine.
The cabin fitted with dark blue comfortable leather seats, good legroom, ok so far.
Ceiling:
Seats: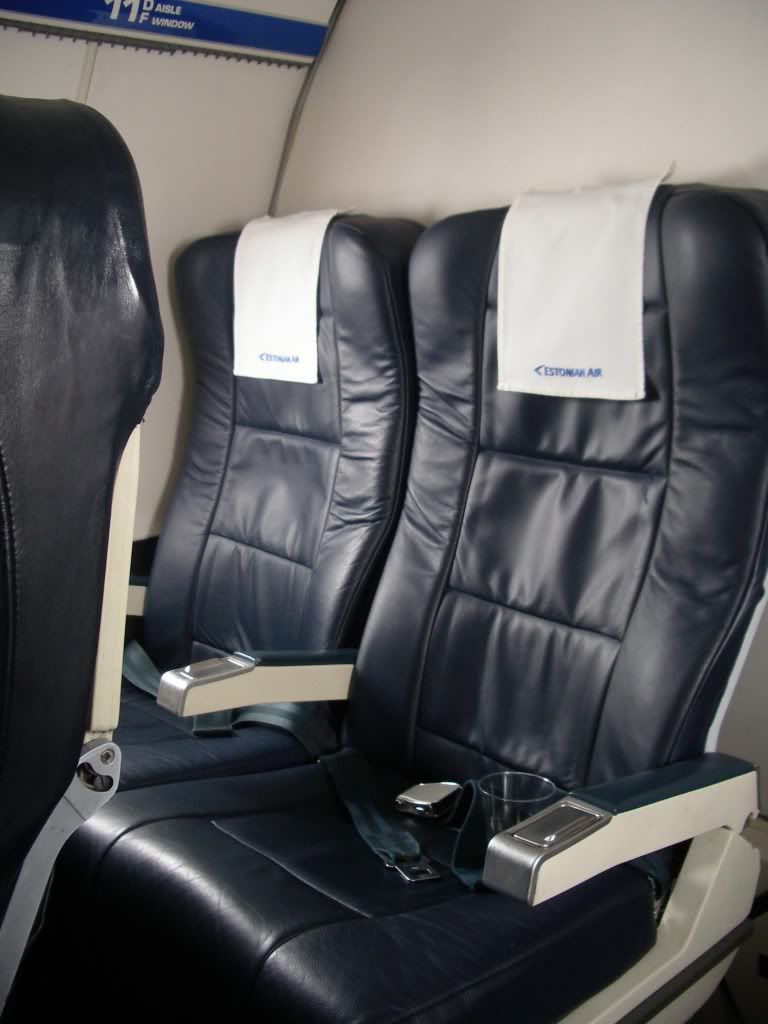 Departure from runway 08. The estonian captain with a friendly welcome during boarding and also once more inflight with weather details around Kuressaare.
Just departed:
Well, the weather. I saw heavy clouds along the way above the baltic sea, the sky cleared up only short ahead to TLL.
And now it was the other direction, that means soon after departure the clouds coming up again and we had a shaking ride around und through them.
Free water and some sweets on offer.
More clouds:
And more: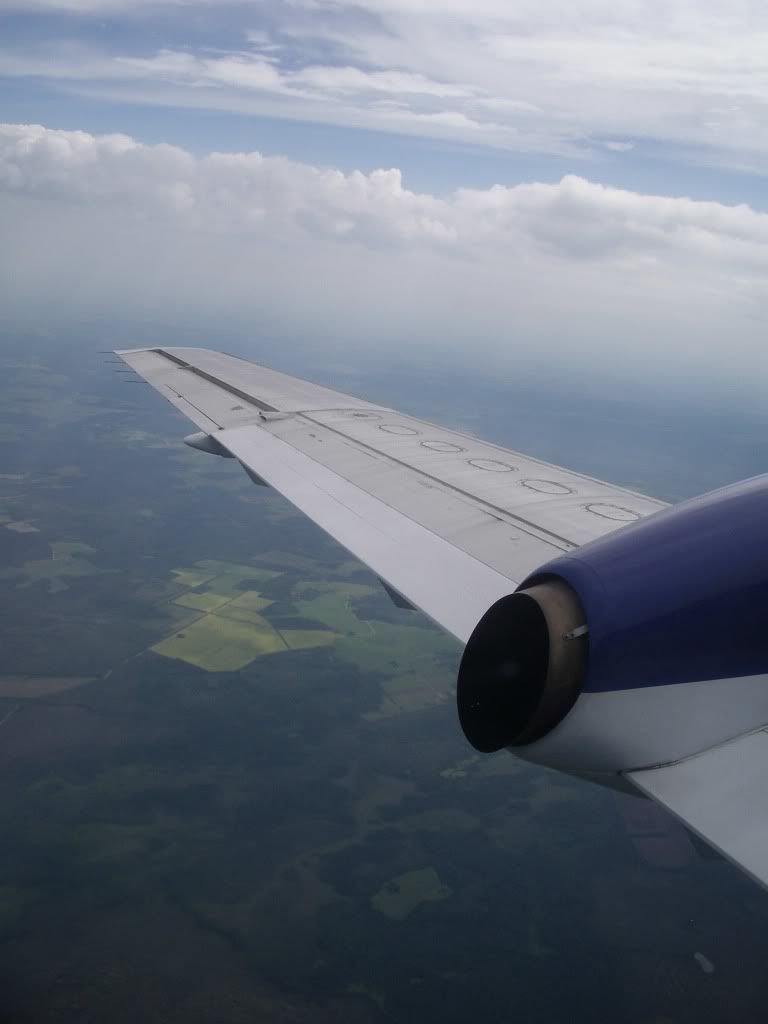 Much more:
Approach into URE: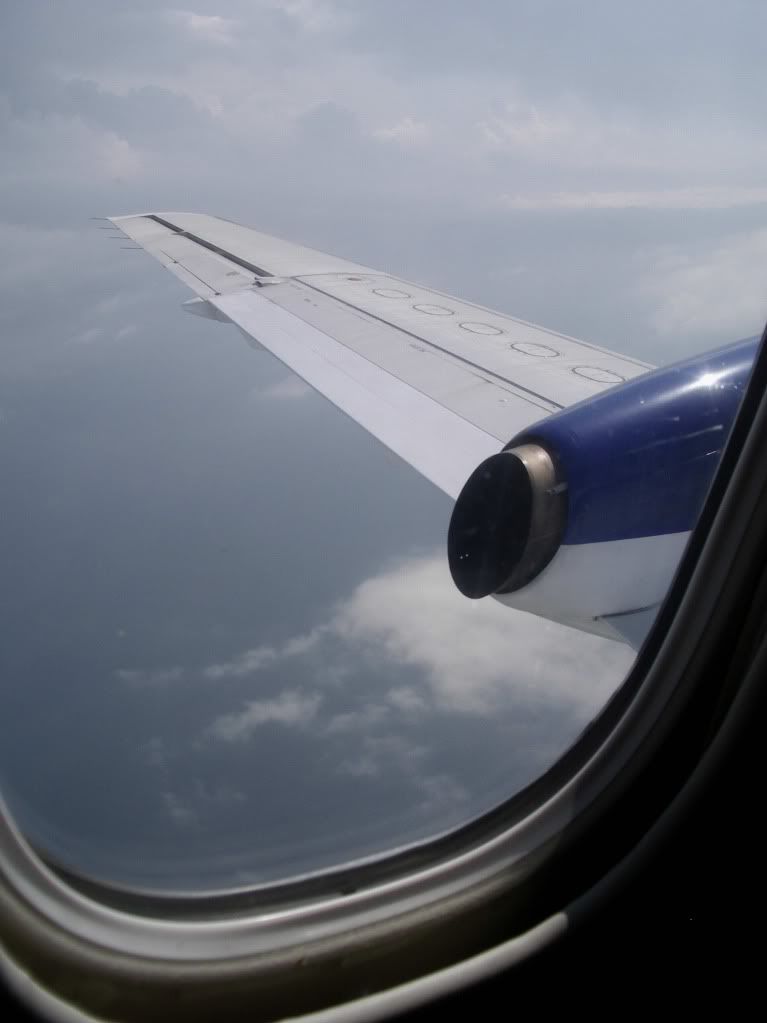 Once more:
Again: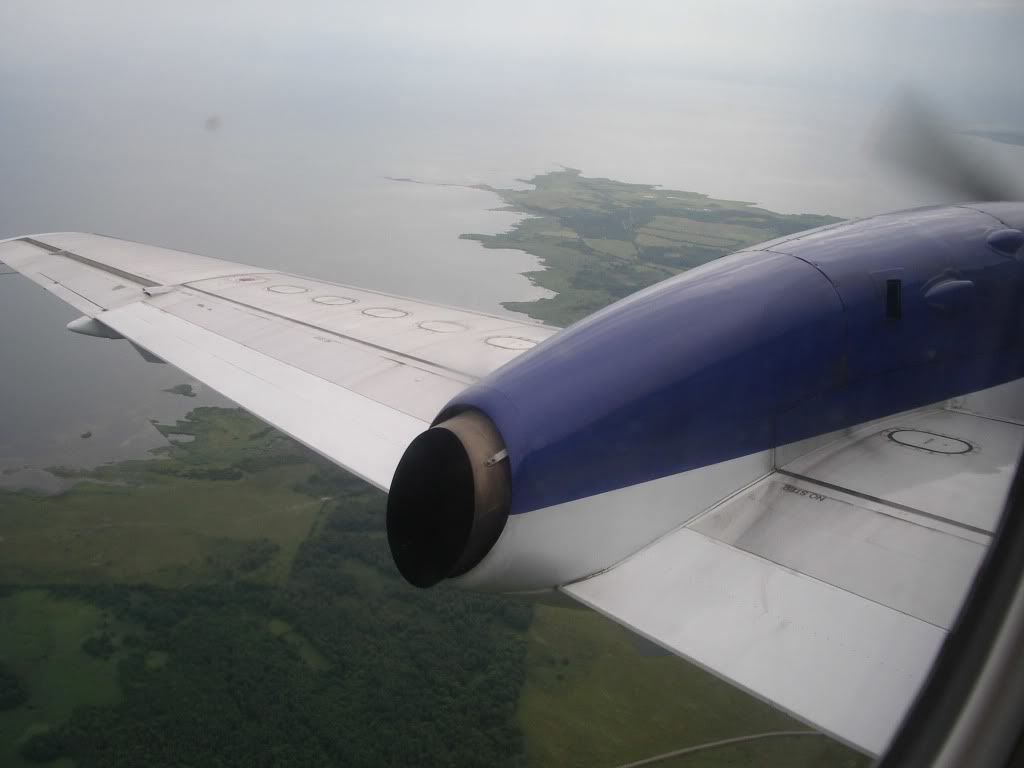 Wheels down: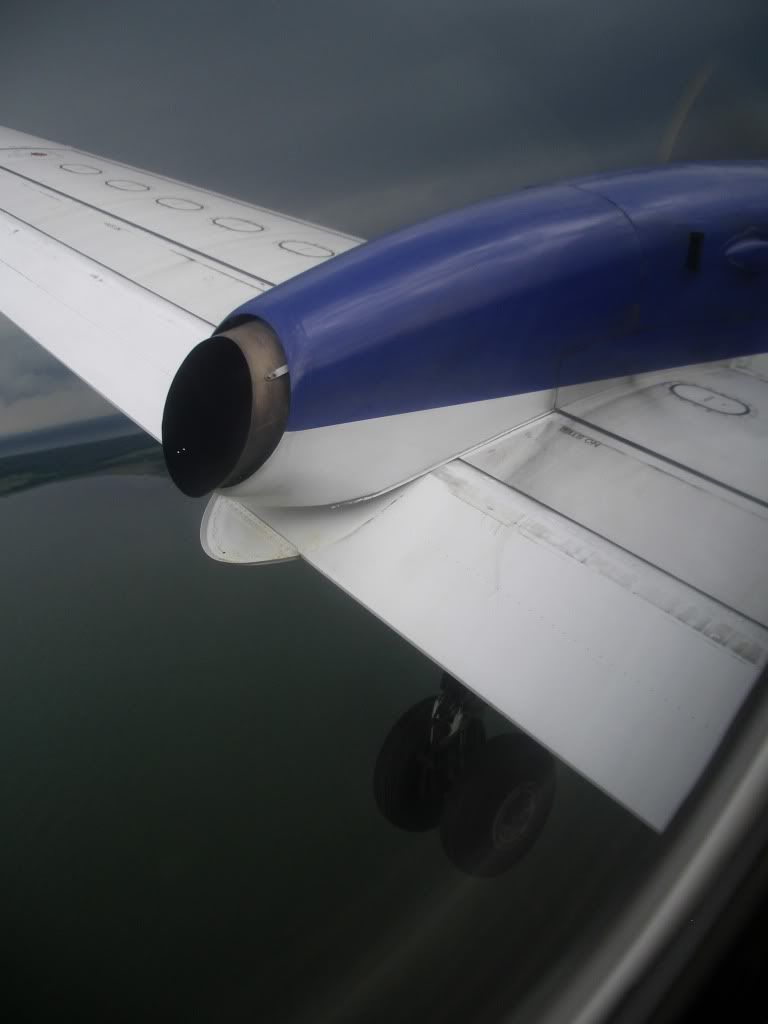 Heavy clouds:
Approach was interesting, heavy low and black thunderstorm clouds west of the airport, not that real flying weather today. Finally the plane touched down on the 1518 meters runway 17
and we taxied to the apron.
Surprisingly no rain, but heavy wind.
Taxi: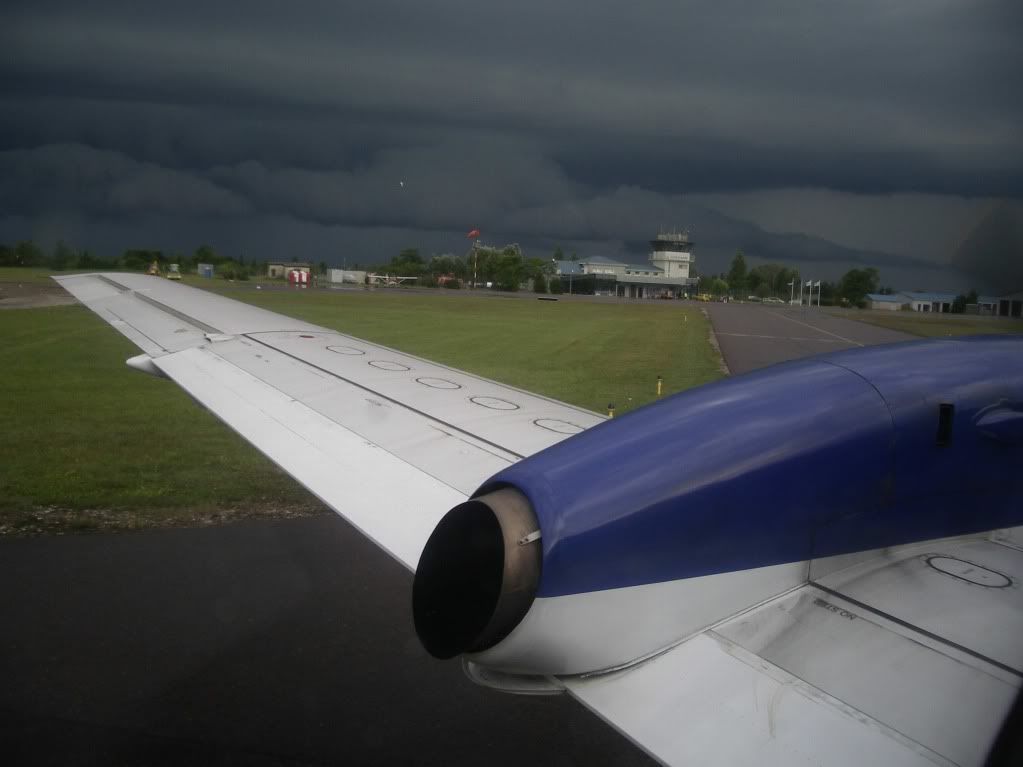 Parked: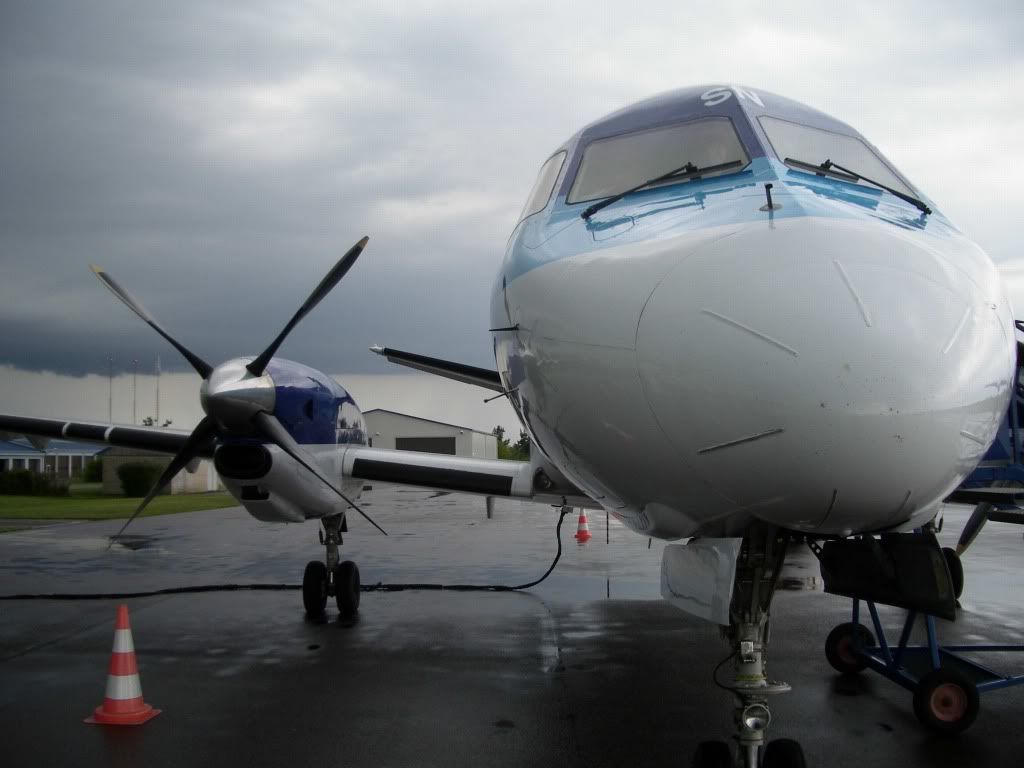 Again:
On the apron:
Again:
Once more: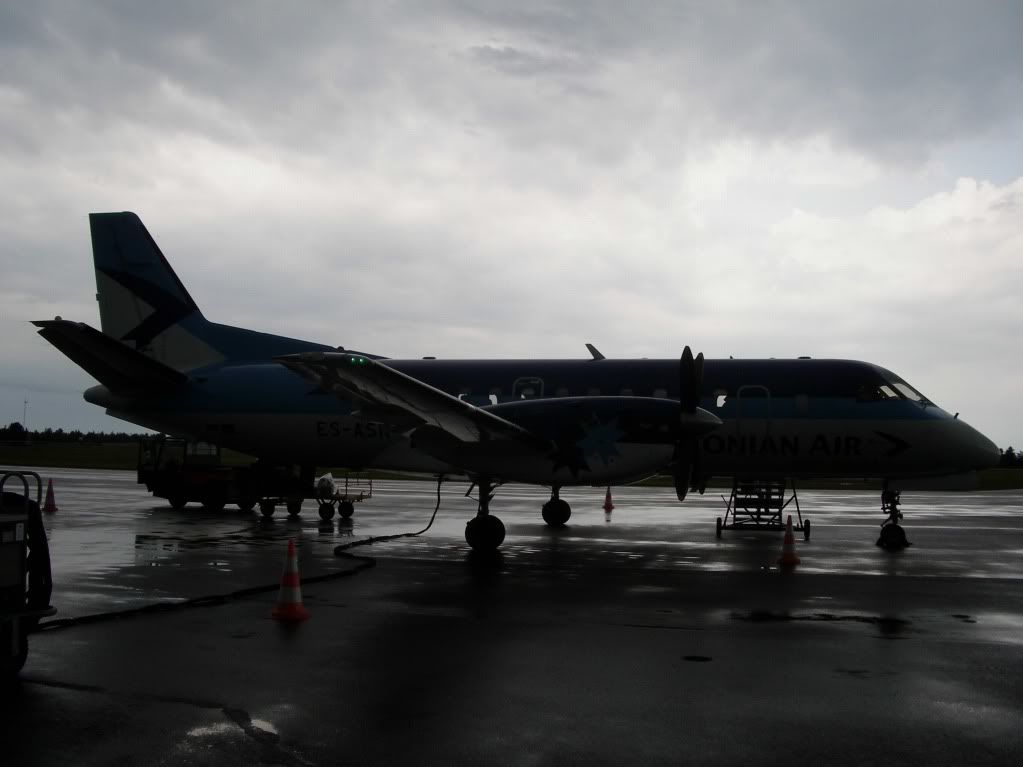 I had a nice conversation the next day with the check in girl and she answered after I´ve told her that I've arrived the day before,
that she don´t want to fly yesterday with that deep scaring clouds and thunderstorms all around.
My bag was quickly on the belt, so out in the public and also quickly looking for a taxi before the next thunderstorm arrived.
But, URE is one of these remote points on the world where you need to call a cab from the airport.
Usually there are drivers all the way who want your money. Not here.
The friendly woman at the information desk called and told me that I had to wait for some ten minutes till a cab was free to pick me up.
My hotel was not that far away, but time enough for the thunderstorm and it was heavy raining when I was there.
Accomodation was the Georg Ots Spa hotel, a real recommendable modern place with several indoor/outdoor pools and saunas.
The hotel: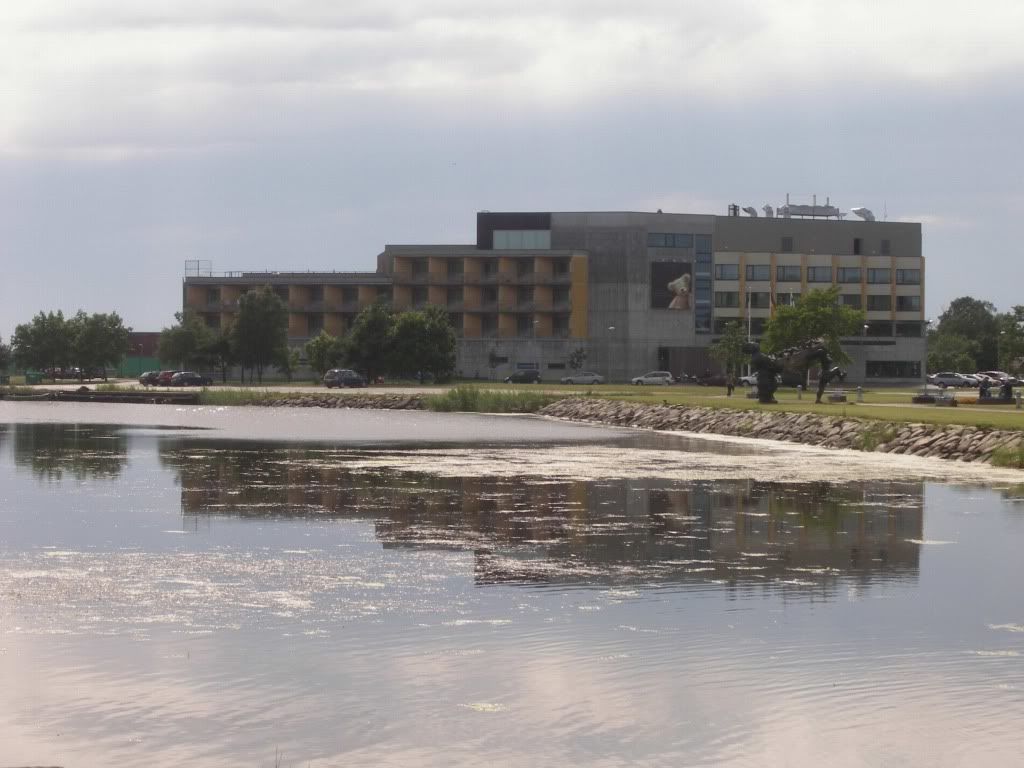 Around two hours later the sun shows up and I was immediatelly on the way for some pix especially around the bishop´s castle,
one, if not the best preserved castle from the "Deutsche Orden" in the baltics.
Friendly people here, beneath some russian everything, but nothing what I really need, dealers around the bishop´s castle.
Hopefully well fixed:
Once more:
Nice architecture:
Once more: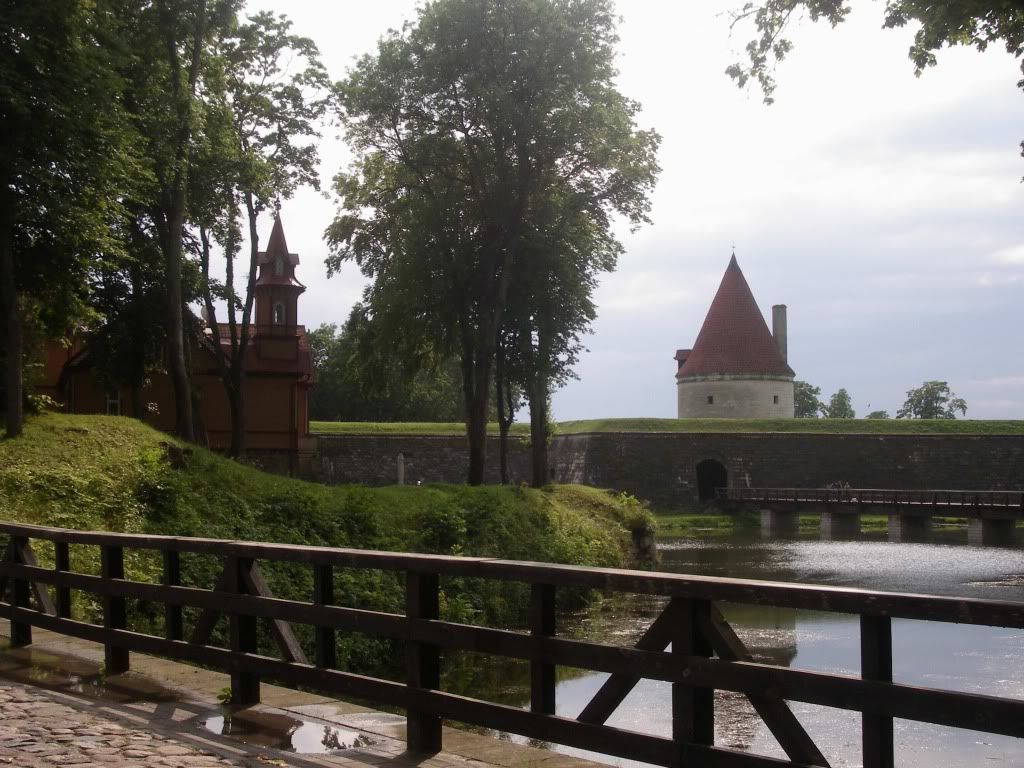 KL offers real good service on that short hop to AMS on a more and more rare aircraft, recommendable.
OV, well, not the best impression on the AMS-TLL leg, not that especially friendly staff, BOB service and no CRJ 900, but
OV Regional with the also rare SF340 and a nice and friendly FA on the short hop to URE, much better than on OV mainline.
But, you know, no problem to fly all that airlines again, especially OV Regional, see you tomorrow!.
Comments welcome,
Markus (FLIEGER67)