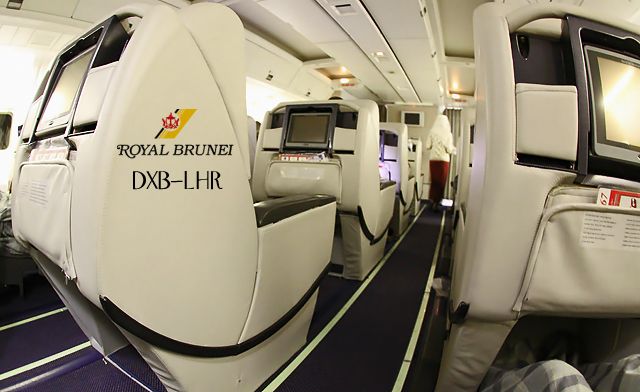 What do we know about Brunei Darussalam? Well, not so much when compared with its overshadowing neighboring sisters. While the likes of Malaysia and Singapore continue to snag that spotlight away, Brunei carries on with its 'business-as-usual' approach. Humble and rich can just about sum it up for this country, and it's no different for its home carrier Royal Brunei Airlines.
A true underdog in the world of aviation, this airline has a rich history that is almost untouched. Dating back to 1974 during Brunei's pre-independence days, the airline's first destination was Singapore and was followed by Hong Kong, Kota Kinabalu, and Kuching. Eventually the airline linked all the other ASEAN countries to Brunei, established a presence in Australia, and expanded all the way to the Middle East, and Europe.
At one point, Royal Brunei's network was filled with exotic routes to Jeddah or Frankfurt via Abu Dhabi, Cairo via Kuala Lumpur and Bahrain, London Gatwick (eventually replaced with Heathrow) via Singapore and Dubai, Zurich via Kuala Lumpur and Bahrain, and Kuwait via Singapore, Calcutta and Dubai. However, this infestation of multi-stop milk runs proved to be inefficient and the airline was a loss-making entity that was losing a 'no-brainer' battle to its neighboring competitors. After some major restructuring, many routes were trimmed, and pointless destinations axed. Abu Dhabi was unfortunately one of those pointless ones, but Dubai remained as the airline's transit stopover point in the Middle East.
Today, Royal Brunei continues to serve London Heathrow via Dubai from its home base in Bandar Seri Begawan with its legacy 767 aircraft, with full 5th Freedom rights out of Dubai, and an open-skies policy between Brunei and the United Kingdom. However, the airline has voiced many cries of concern over its Dubai operation, citing excessive competition on a saturated Dubai-London Heathrow route, without any SPA with an unwilling Emirates Airline. Can Abu Dhabi be back on the cards again?
With all its inefficiencies that it may have had in the past, or the constant overtaking by the likes of Singapore Airlines, and Malaysia Airlines, Royal Brunei seemingly continued to offer comparable in-flight service that was positively received by many. Recently I got a chance to try this underdog, and today I report back to you on my experience with Royal Brunei Airlines. Enjoy!
Welcome To My 17th Trip Report.
This TR will cover my flight to London Heathrow from Dubai on Royal Brunei in Business Class.
This will be the first of two reports on my trip to the USA. London Heathrow was just a transit stop on my way to Chicago and my entire trip involved four airlines, and a fifth that was unplanned for. However, two out of the five will be documented as the others involved short U.S. Domestic and Intra-Europe regional flights.
Thursday July 9th 2009
I left Abu Dhabi at 7:50pm, and headed to Dubai. I stopped for a bite to eat before reaching the long-term parking garage at Dubai International Airport Terminal 1 at 10pm, where I had dropped off my car.
Departures Entrance From The Long-Term Parking Garage At DXB
As usual, I took my time and smoked a cigarette by the curbside as I watched the entire goings on. There was some congestion outside as several flights to the Indian-Subcontinent (the UAE's largest market) seemed to be departing around that time. I proceeded inside the terminal building at 10:30 and stood in line for security.
DXB Terminal 1 Departures Hall At Night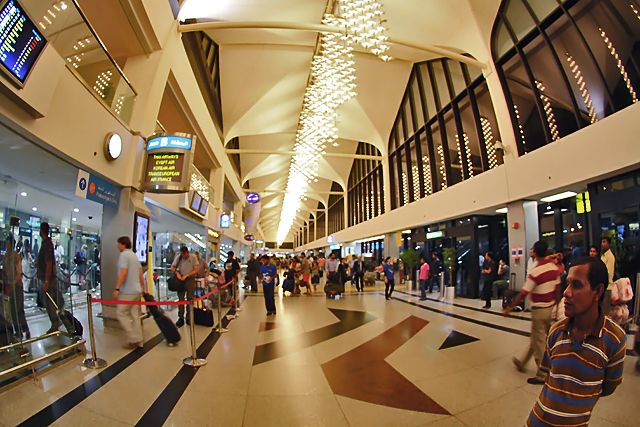 After the long queue for security, I was cleared through with no hassle and then had to stand in another shorter queue right before the Royal Brunei check-in counters. There were only two desks open for Royal Brunei, one for Business Class and one for Economy however, everyone seemed like they had to stand in the same queue regardless.
Royal Brunei Airlines Check-In at DXB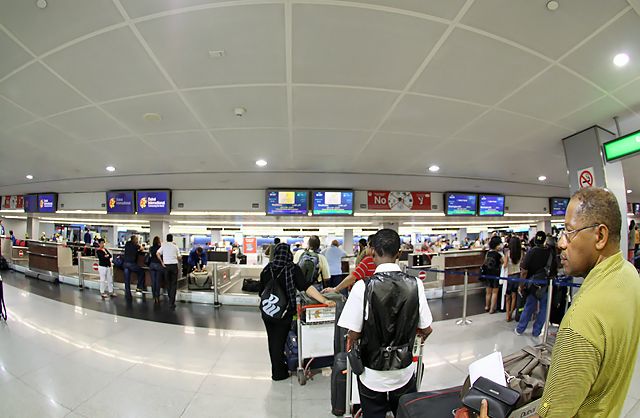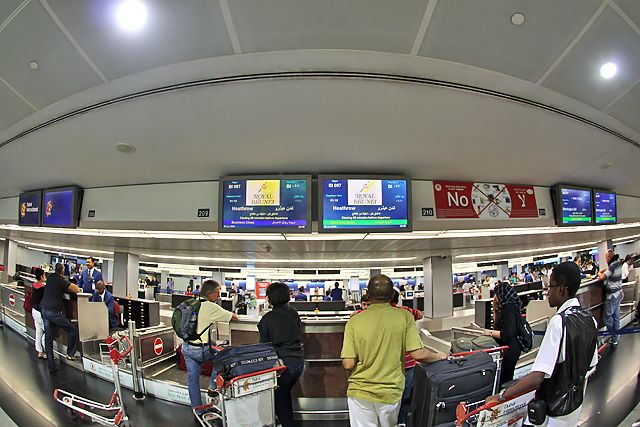 I arrived at the check-in desk and handed my documents to the agent who began to process my way through. Although he was friendly and attentive, he got carried away talking to me about the amazing days he spent living in Jordan some years back. In between all that non-stop chatter, he managed to issue my boarding pass, and check my suitcase to Heathrow in no time and by 10:55pm I was through with check-in.
My Boarding Pass
I headed towards immigration and security, and by 11pm I was airside and eventually arrived at the Duty Free area.
Arriving At The Duty Free Area At DXB
DXB Terminal 1 Duty Free
After some walking around, I decided to go to the lounge for some food and Internet. Royal Brunei uses the DCA lounge at Dubai, which is your standard premium offering at this airport.
DCA Business Class Lounge At DXB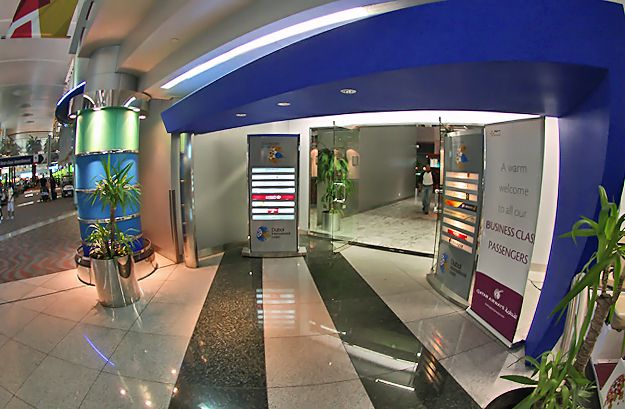 Arriving at the reception of the lounge, I handed my boarding pass to the agent. He questioned whether I was given a lounge invitation card at check-in, in which I denied. Although this seemed to be the policy, I was welcomed inside regardless, as they probably ran out of invitation cards at check-in.
The lounge itself, was as usual, unpleasant and old. Moreover, the food today looked completely unappetizing, so I settled for something sweet, in addition to a drink.
Inside The Lounge
Buffet Spread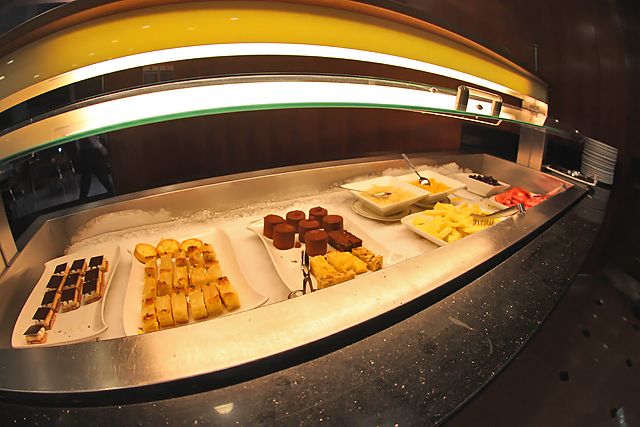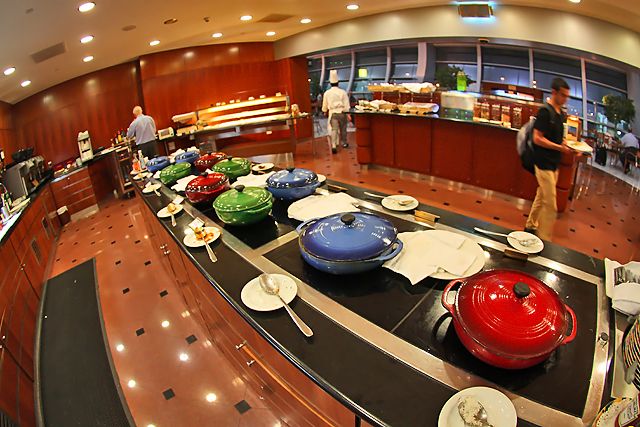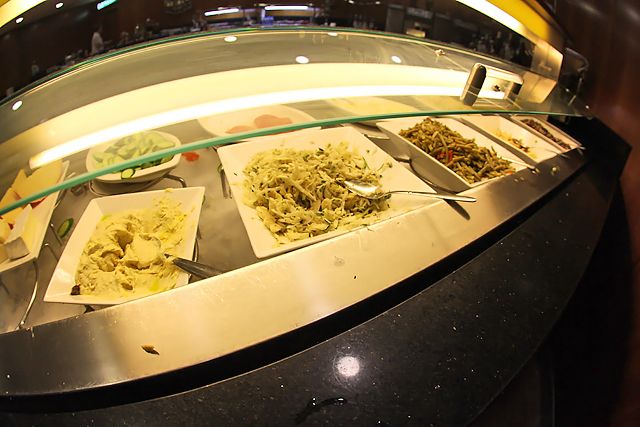 My Food
FIDS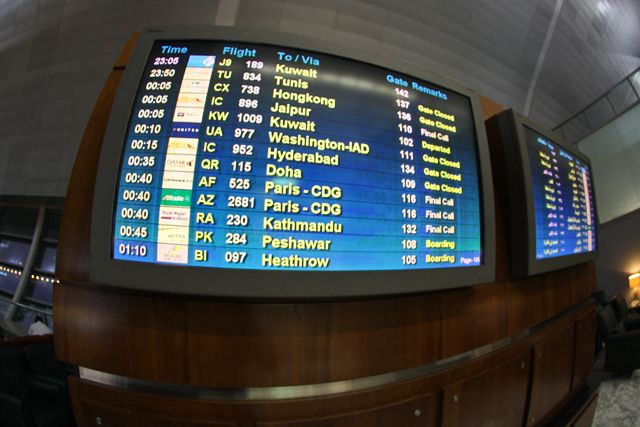 After my quick bite, I went on the internet to pay a few bills that were well overdue, then left the lounge at 12:30am.
Friday July 10th 2009
I arrived at the nearby Gate 108 where I found a small queue of passengers waiting go inside. The aircraft hadn't arrived from Bandar yet, and judging by the number of passengers on tonight's flight joining from Dubai, it was looking to be quite full at least in Economy.
As I arrived at the podium, I handed my boarding pass and passport to the agent, who took a quick glance to match my look to the passport photo, then tore off my boarding pass and handed me back the small stub. At 12:35am I was inside the holding area which was already filling up with passengers, in addition to a fresh new set of crew. It was my first ever sighting of the mysterious Royal Brunei crew.
The Holding Area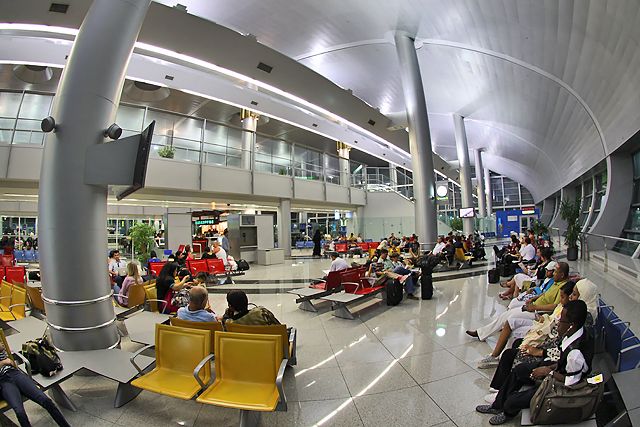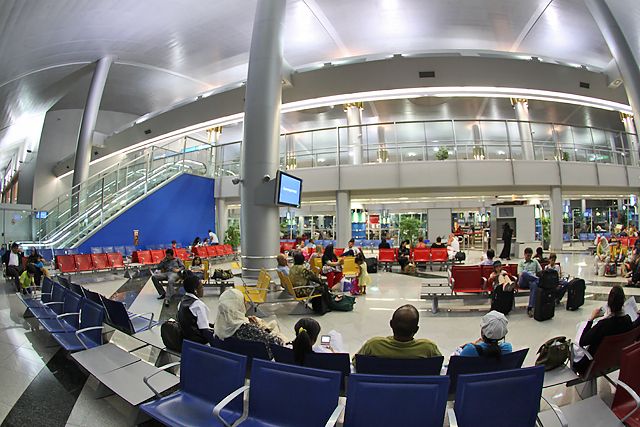 At around 12:40am, the mysterious yellow-bellied white B767 royally roars its way and pulls at the gate, powers out and releases all passengers inbound from Bandar. I noticed that approximately 20% of the passengers that were leaving the aircraft were wearing flu face masks, so they were either sick, or trying not to get sick.
The B767-300ER That Was To Take Me To London
The flight seemed to be running a little behind schedule, and I was worried about my onward connections, as all my tickets were unlinked. After all, my transatlantic flight was the most important flight out of the bunch and the whole itinerary was planned around it. So fingers crossed, I would still make my manual transfer from Terminal 3 to Terminal 5 at Heathrow!
Crew Boarding The Aircraft At 12:50am
At 1:30am, 20 minutes after the scheduled departure time, a pre-boarding announcement was made calling for all passengers with special needs to board the aircraft first, followed by the premiums. I proceeded towards the gate and through the aerobridge.
Boarding Call For BI097 To London Heathrow
Inside The Very Elegant Aerobridge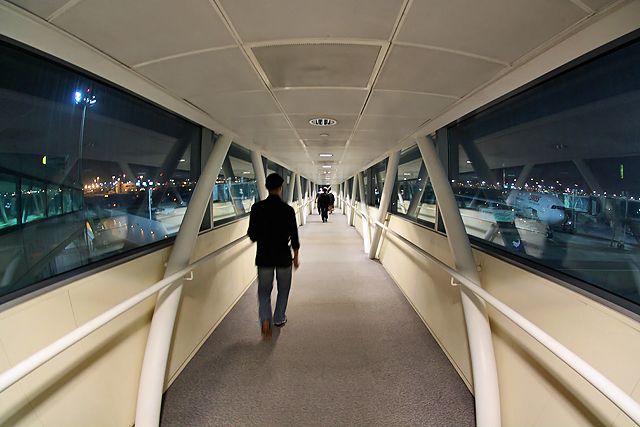 I arrived at Door 2L of the aircraft where a male purser was standing to welcome all new joiners on board. I could barely understand what he was saying as he had an extremely heavy Malay-English type of accent (Perhaps Ryanair!!! can imitate?) but I figured it out from the usual routine greetings that one normally receives at that position.
"Welcome on board, please proceed to the left"
By 1:25am I was on board.
CONTINUED BELOW