A trip back to the old stomping grounds to visit family was on tap. Continental is the carrier of choice for me, so I booked a flight that would hit three hubs and get me on 5 different aircraft types, until I got to Houston, then I changed the plan, but we'll leave that for part 2.
CO 1990
SEA => CLE
737-800
Booked 6A Flew 2F
An enjoyable early morning Metro bus ride got me to the airport. The cast of characters in the middle of the night is quite amazing. Buses are full much like the flights, Thankfully I could leave most of the riff-raff on the bus when I got off at SEATAC.
Baggage Claim is obviously empty at 4:30 am, however the check-in counters are bustling, all of them. Including the new "Delta" ones. the last time I was at SEA the NW check in area was blue with no logos. Now it is all Delta. CO had a pretty full plate this morning. IAH EWR and CLE all on schedule. Passed most everyone in the Elite line, I reprinted my boarding passes. I like the regular boarding pass, rather than the full slice of paper you print at home. Passes in hand I head to security.
Most people are still in the check-in area as I breeze through security. I take my walk around the terminal. I head down to B and notice our aircraft is there at B-11. Excellent! I take in some of the early morning departures and arrivals. I do think US Airways has the first departure and nearly every airport in the country. Soon it was time to Board. One wheel chair boarded and then first class. Since I had my upgrade already I head down the jetway and settle into 2F.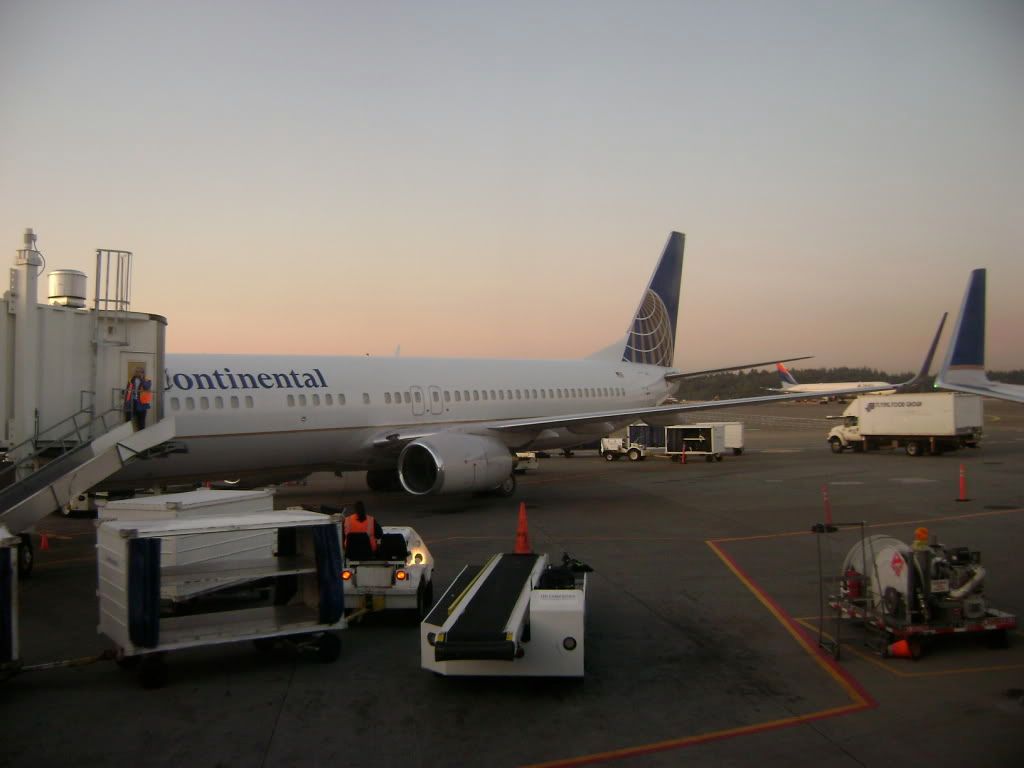 Once seated, while the remainder of passengers are boarding, we get pre-departure drinks. 1 point. A never ending stream of passengers board as I watch out the window and notice our belly is loaded full of the Fresh Alaska Seafood that came off the CO 757-300 that arrived from ANC just an hour before. Soon the door is closed and we push, a quick taxi and depart to the north. Just what I expect from CO. Into a smooth NW sky we climb out over the Cascades.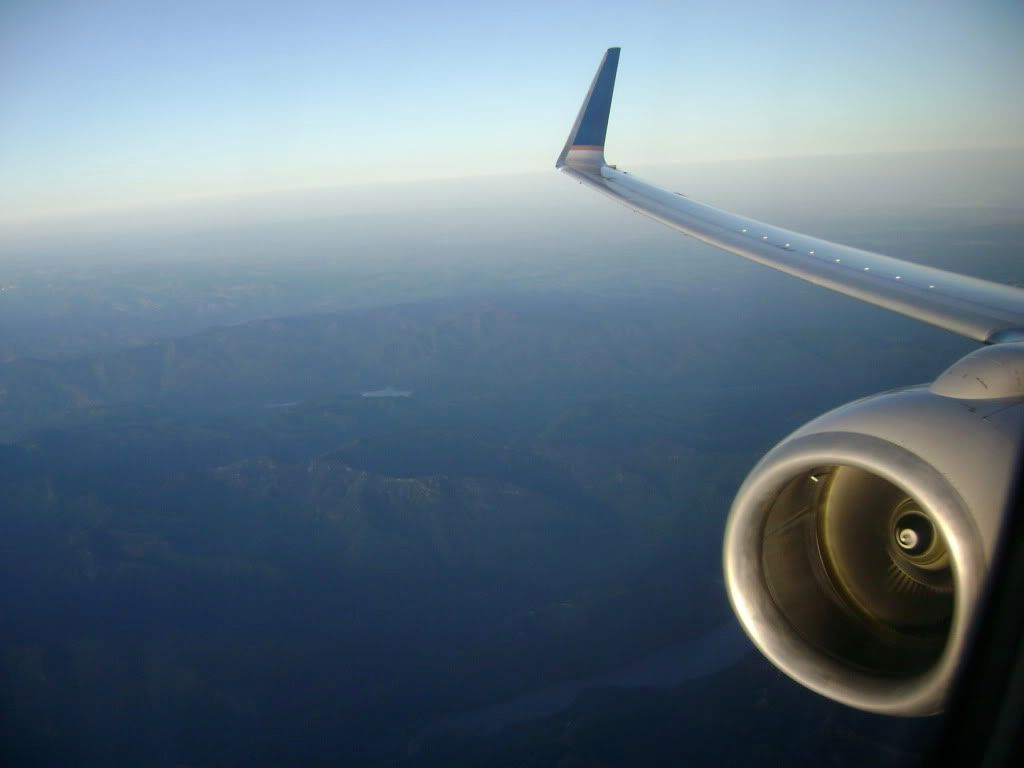 The FA comes by with the menu. 1. Cheese Omelette with ham and Potatoes. or 2. Cold cereal "Total". I chose #1. I'm in first, I would have just had the cereal if I hadn't got the upgrade, so I went for the hot meal. There were many of my fellow First Classer's that chose the cereal probably 50%. The food was excellent! The Potatoes where a garlic mashed potato cake and on top of the ham was sausage. Excellent catering. Not Rudy's by any means but still very good for a meal in the air.
The meal hit the spot. The FA was right there as soon as each person finished and cleared their tray or to fill a drink. 2 points here. I dosed off for an hour during the flight, right after breakfast. Being it was a flight to CLE it was less than 4 hours en route. So after a short nap, and a little video gaming on my PSP. I could smell my the cookies. Fresh baked Chocolate Chip cookies! mmmm.
A very relaxing flight had to come to an end and when I raised the shade we were in the clouds. We broke out on an extended base for CLE. We landed in some lingering rain showers. During our long taxi back to the terminal I notice the terminal nearly vacant. We are the first of the arrival bank.
We pull into the C terminal at CLE just about 2 minutes late. No big deal for me, I have about and hour and 20 before the baby Dash ride to SYR. CLE is undergoing a lot of terminal upgrades right now. Many places are boarded up and are getting remodeled. Both C and D are busy with reworking, I made my way to D for the short wait for SYR. I see at D28A my Dash 8 200 is ready and waiting.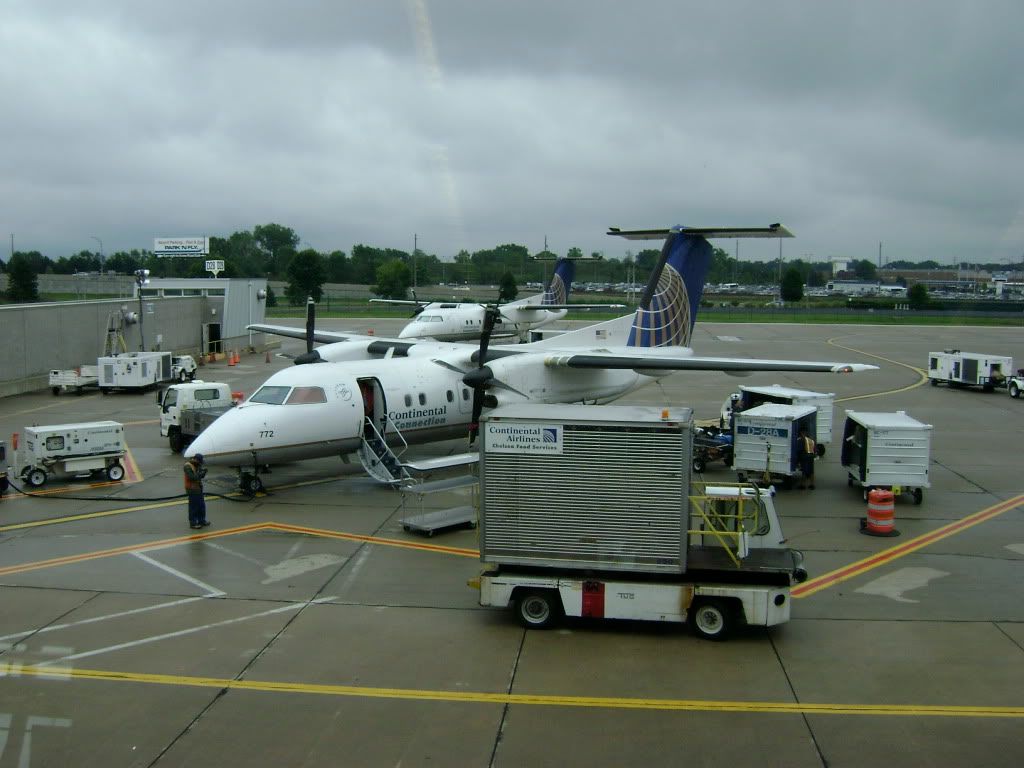 CO8700 operated by CommutAir
CLE => SYR
DHC-8-Q200
Seat 2A
I have a fondness for Dash 8's 100/200's and Q400's. After a short wait its time to hop on. I was the first onboard. and settled in looking right out on the prop. We boarded rather quickly, and were pushing in no time. I like chuckled at the announcement that we had 12 minutes of taxi time, and so did the crew. We didn't need it. Taxi to the runway let a Southwest 737 blast in front of us and we lined up. The beautiful drone of the Dash came to life as we lumbered down the runway. Rotate and into the clouds. We would be in them for most of the flight. Pretzels and drinks are standard service. A very sharp FA on this flight too. I finished my drink while he was still serving and he grabbed my empty on his way back to the galley. (another point)
CLE to SYR is usually a short trip and this time was no different. We broke out south of ROC So I could navigate the rest of the way. Entered a Downwind for 28 and soon the journey was over. A gentle touchdown and roll out and we taxi to "ahem" Terminal B. I notice a Pinnacle CRJ-200 at the Delta Gates. It Appears that NW as made the complete move to "ahem" Terminal B at SYR. Much like most SYR arrivals I've had in 5 minutes, including a bathroom stop. I'm out of the terminal and into the car for the ride to the Parents house.
In Conclusion I think this flight hit the nail on the head why I choose CO over all others in the USA when I go trans-continental. Decent service, and most of the time, things go as scheduled and planned. The Elite Upgrade to First is a nice touch, and I don't expect them every time I fly. However when I do get them, I appreciate them and offer an extra thank you to the crew as I exit.
Work Hard and Fly Right.
I think that sometimes explains it all
501SP