Hello everyone,
This is my first post on airliners.net and for that reason also my first flight review. I hope you will enjoy reading it. All comments are more than welcome...
FLYING AS IT SHOULD BE
The summer of 2009 had been very busy for me. I (an 18 year old student) had worked a lot and made quite a lot of money which I was desperate to spend on something. I wanted to fly a new aircraft type and that's not that difficult for me. Unfortunately I wasn't able to find any good offers from my local airport, Amsterdam. So I tried to find something interesting from Switzerland, where I would spend my family holiday this year. Before long I came across something I liked very much. Geneva-Nice-Geneva with FlyBaboo, operated with the Embraer 190, an a/c I have always wanted to fly on.
Next mission: convince my parents that they should drive me to Geneva and let me go to Nice for the day. My mum wasn't that willing to listen and neither was my dad. I tried really hard and said that they could finally have some time to themselves and go and see the famous fountain in the city centre of Geneva. At last they agreed that I could go to Nice. They asked me if I could return as early as possible so I had to book my return flight with easyJet Switzerland since Baboo only operates a morning and an evening flight. Outbound flight was 52,80 CHF and the return flight €40,15. Making the low cost airline flight more expensive.
After a great holiday in the wallis/vallais area in Switzerland we drove to Geneva where my parents and I would spend the night in a cheap Etap hotel near the airport. The hotel was just five minutes away from the airport.
20 August 2009,
I woke up at 4 o'clock in the morning, an hour before my alarm would go off. Trying to go back to sleep was nearly impossible since I was really excited about the day ahead. As soon as my alarm went off I jumped into the shower, dressed and grabbed my bag. My parents drove me to the airport where I arrived a little before 6 AM.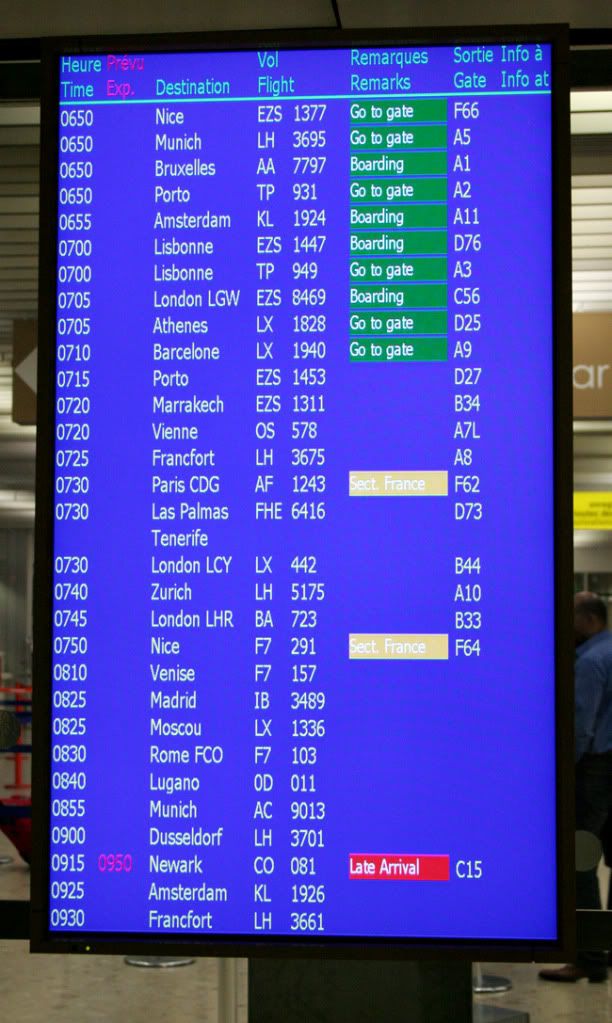 1. My flight would depart from the France part of the airport
Flybaboo doesn't offer online check in and neither can you reserve a seat when you have booked Baboo Saver. The only way to be ensured of a good seat is to come to the airport very early and check in immediately. That is the reason why I got to the airport over 2 hours before my departure time.
Geneva is separated in a large Swiss part and a rather small French part. My flight to Nice would depart from the French side so I followed the signs to the F gates. Just before security I found the check-in desks. Just one desk was open for my flight.
"Bonjour, parlez vous anglais?" I started. "Of course I do" did the lady answer to me with a very nice French tongue. I showed her my booking details and asked if it was possible to have a window seat on the right hand side. No problem she said. In under one minute I received my boarding pass and was ready to go thru security. I looked at my boarding pass, she put me on 6D. Not the best window seat (I would have preferred to be a bit further to the back) but still...
The queue at security wasn't very long at this time of the morning but I still had to wait for five minutes. After security I entered a dull, empty and not very nice looking terminal. It was still dark outside and there were no shops to go and visit because the only shop I found was still closed. I seated myself and soon got very bored. Nowhere to go for the next 2 hours made me feel even more miserable. And then I would fly in the Embraer somewhere up the front. Grrr..
I got up, went back out of airside into landside and went straight to the lady who had checked me in. She remembered me when I said I would like to have a seat a little more towards to back of the aircraft. She even recalled that I specifically asked for a seat on the right hand side. "Would you like to have a seat in the back or middle of the plane?" she asked. I asked for a seat in the back. 25D was on my second boaring pass. At least it was better than 6D.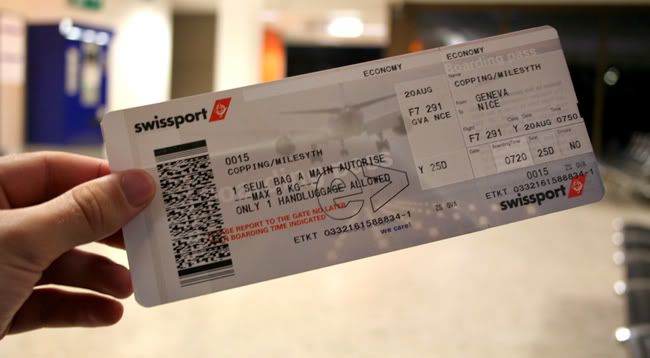 2. My second boarding pass with seat 25D.
I walked around landside for a while before I went thru security for the second time. By now the shop had been opened and I looked in it for a short while. When I discovered there was a second level in the terminal I got really excited. Upstairs was just as boring as downstairs though I was able to see two FlyBaboo aircraft from here. One Dash and one Embraer, will it be mine???
Further I saw a lot of easyJet aircrafts, an Air France A320, KLM 733 and a couple of Swiss jets. Nothing to get excited about in my opinion.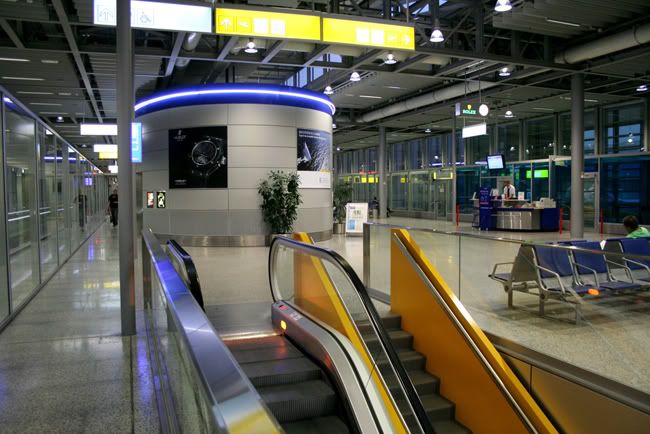 3. The upper floor of the terminal. All gates have airbridges here.
Flight information
Number: F7 0291
Date: 20 August, 2009
Departure time: 07:50
Arrival Time: 08:50
Class: Economy
Aircraft information
Type: Embraer 190LR
Tail number: HB-JQF
Delivered: 2 June, 2008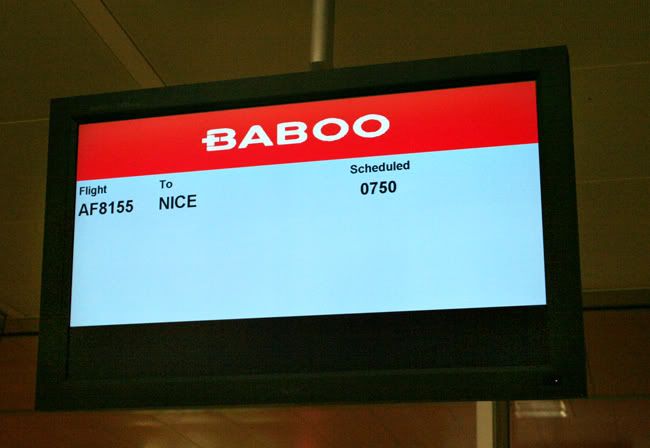 4. FlyBaboo flight 0291 is codeshared with Air France. Since I booked my flight with Baboo I wasn't able to collect any Flying Blue Miles
At 7:10 boarding started at gate F64 . This was announced in both French and English. Not in German, the most spoken language in Switzerland. There were two staff at the terminal door. One checked the passports and the other male scanned the boarding passes. It seemed that there was a problem with my boarding pass. The machine didn't scan it correctly and I was handed yet another boarding pass with my name on in. Then I entered the bus.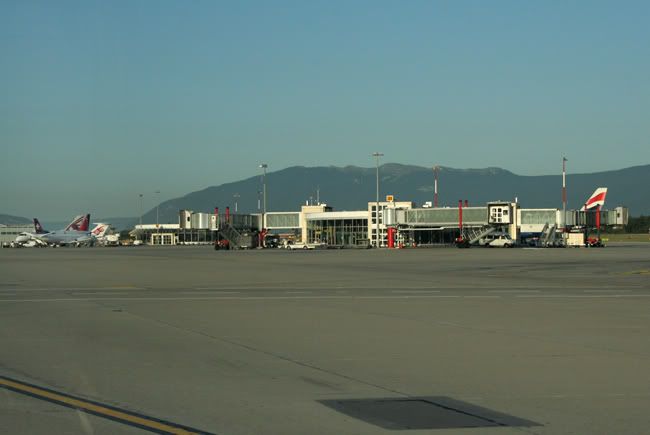 5. On our way to our aircraft.
The short bus drive (didn't take any longer than one minute) took us to HB-JQF, Baboo's second E-90, delivered in June 2008. It was parked between another Embraer and one of Baboo's Dashes. I was impressed by the look of "my plane". Very clean and a great colour scheme in my opinion.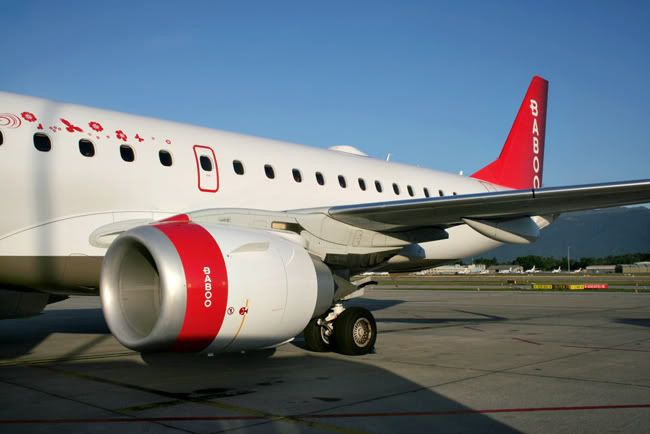 6. HB-JQF in the morning sunshine. What a beautiful aircraft!!
7. Embraers ERJ-190 are powered by 2 General Electric CF34-10E.
8.
9.
10.I love the red symbols on the fuselage
We were only able to board the plane through the front of the plane. When I entered the plane I was warmly welcomed by two smiling female flight attendants. When I walked through the very impressive cabin towards my seat I realized that I had received a new boarding pass and might have got a new seat too. I checked but couldn't find it at first. A stewardess in the back of the plane noticed a couldn't find my seat and helped me out. Seat 9C!!! An aisle seat. I was most disappointed and asked her (in English) if the flight was full today. Fortunately she could confirm what I already thought, the flight was only about 60% full today. She said I could sit wherever I wanted. Soon boarding was completed and the engines were started immediately.
11.One of Baboo's dashes. They have 2 of them.
12.This would be my seat for the next 45 minutes.
The members of the cabin crew introduced themselves and demonstrated the in flight safety manually (again in French and English). In the meanwhile our captain taxied to the runway. After safety demonstration was completed we were lined up at the runway. After an Augsburg E-95 arrived we taxied onto the runway and we began our take off role.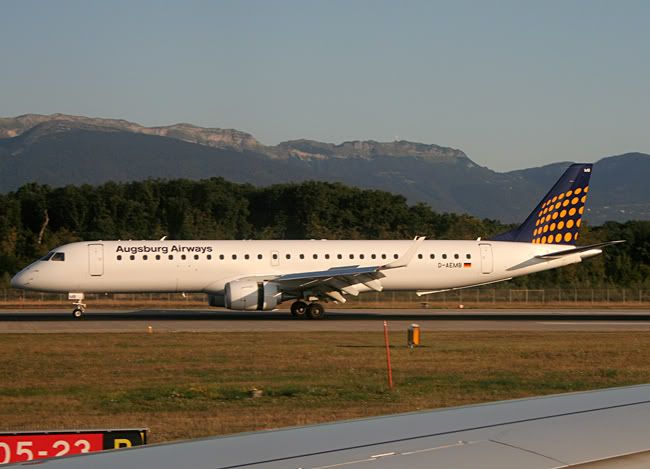 13.What a great surprise to see one of Lufthansa Embraers just before departure.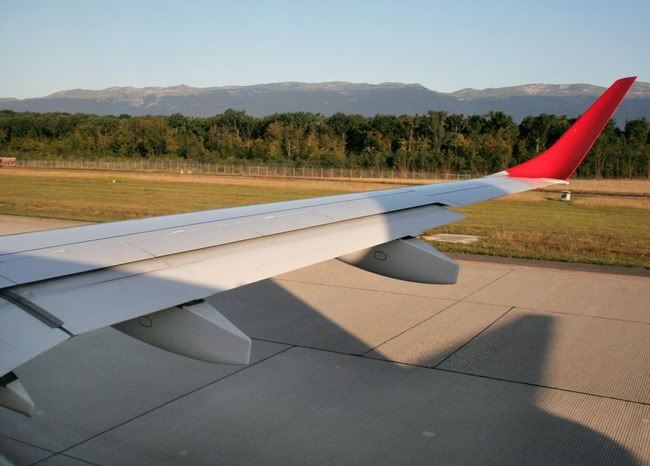 14.
15. Rotate.
16. Flying over the outskirts of Geneva.
Once air born we made a left hand turn towards the south. A announcement was made that the seatbelt signs were soon to be turned off. When this happened I got out of my chair and walked to the back of the plane to take a photo of the cabin. Before I did I asked the crew if it was a problem and they said it was fine.
17. I really liked the cabin!
While I was taking photos of the beautiful cabin (I will get back to the cabin later in my review) the crew started the FREE in flight service for this 45 minutes flight. I was very impressed by the service they offered. First of all, everybody (except me because I was taking photos) was handed a small bottle of orange juice. Then one of the crew members came through the cabin with a large tray with muffins. They all looked so delicious, I didn't know which one to choose. It looked like "Granny Baboo" had baked them freshly just an hour before. They were nicely decorated with a piece of dried fruit and dusted with powder sugar. No surprise of course that they tasted very good.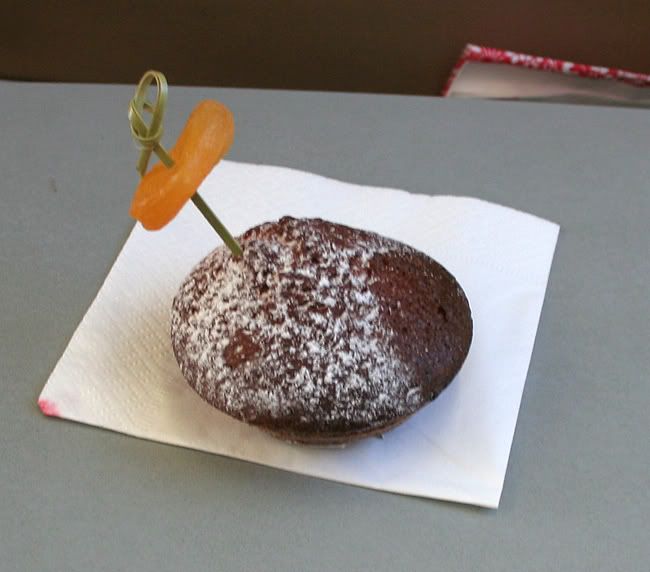 18. Granny Baboo muffin. Sorry for poor quality
I had just taken one bite of the muffin when another stewardess asked me if I would have liked to have some tea with my muffin. I took a cup and she poured tea in the cup. After yet another minute I was offered a cup of coffee. When I finished my tea and muffin I got a refreshing towel.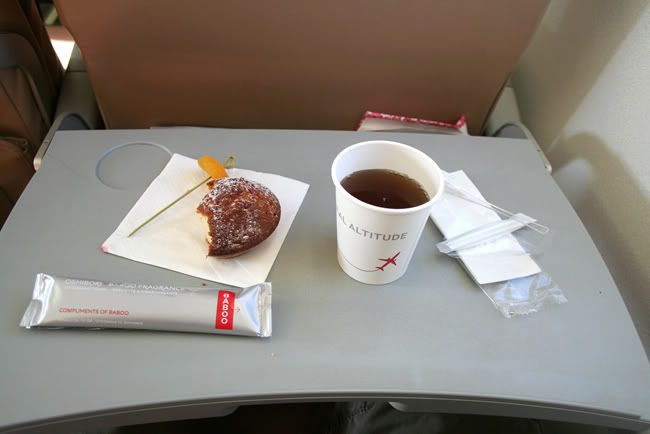 19. A very full tray.
Then when I thought everything was handed out and all service for this short hop was finished a stewardess offered me a small Swiss chocolate! I felt like flying in business class while actually paying less than a flight with a LCC! I was so impressed!
20. Chocolate
Three words about the cabin which come to my mind? Spotless, bright and spacious! Really, it was a great cabin especially for such a short flight. The leather seats were comfy and had tons of legroom (that's my opinion but I'm just 1,70M tall). In the seatback in front of me was a PTV installed. Unfortunately it was out of use on this short flight but I THINK on longer flights you are able to watch live TV on them (fee may apply). The lighting was great; very natural colours in my opinion. What I also like about the airplane, are the wide windows. I had a great view out of them. (Can anybody tell me if they are actually large or if this is just me?)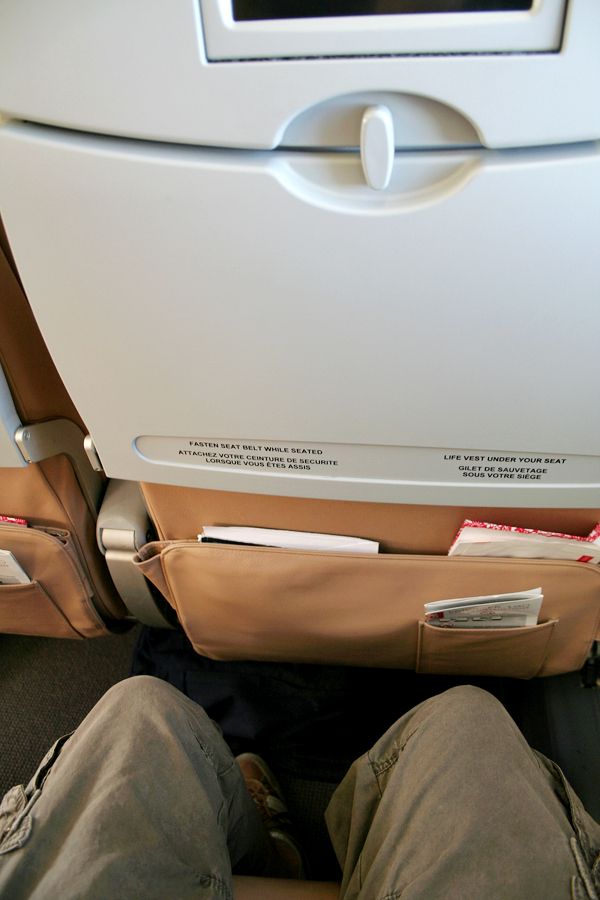 21. Legroom for today's flight was very good for such a short flight.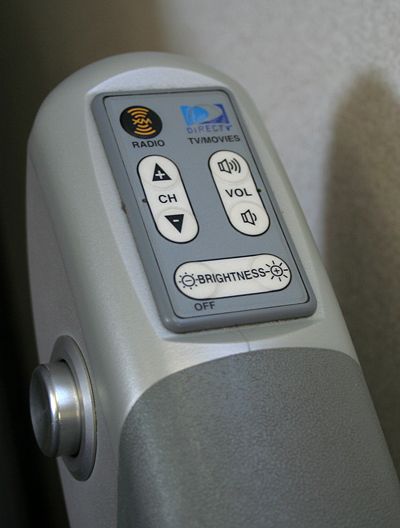 22. The radio/tv controls were installed in the armrest.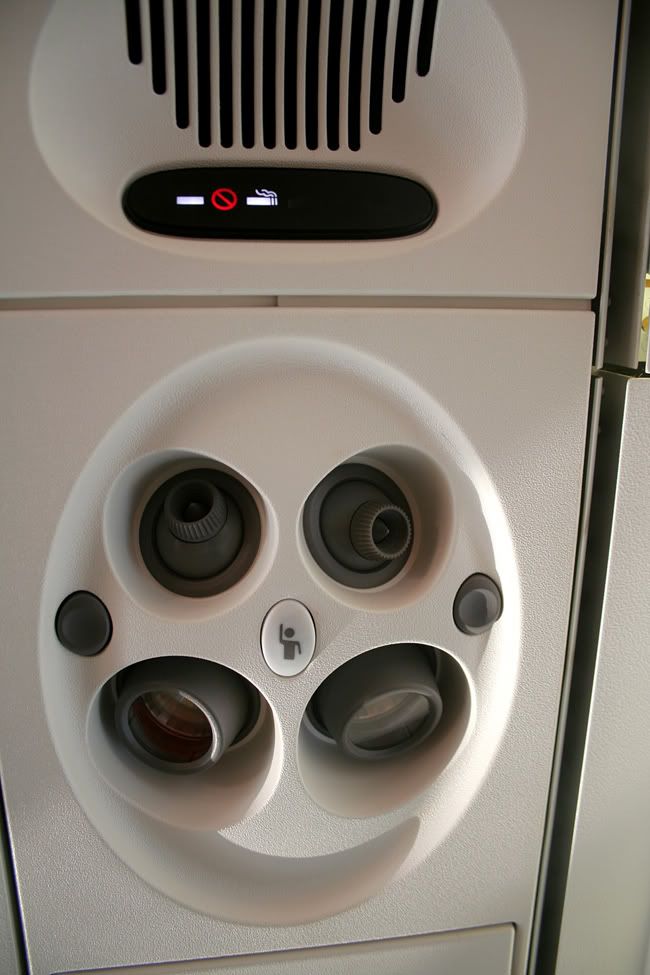 23. Overhead panel.
The cabin crew was friendly and really wanted to make the flight enjoyable for everyone. They smiled, the entire flight and talked English fluently.
Since we flew over the Alps we had some spectacular views of the mountains. Some of them had glaciers on them.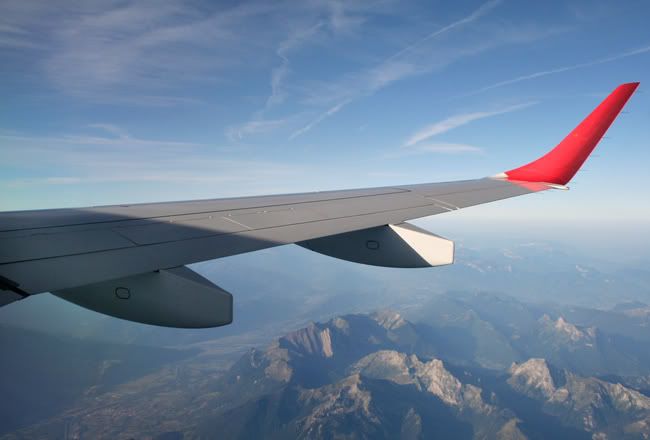 24. Shot out of window shortly after departure from Geneva.
25. An other passenger pointed out the mountains on the left hand side. I would get a better view of them on my way back.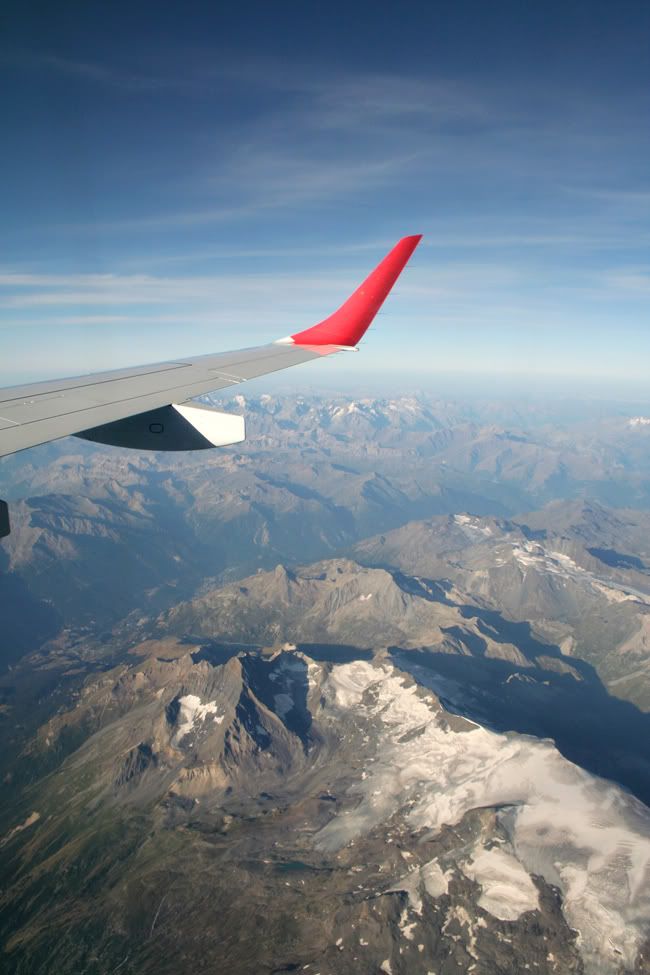 26. This was one of the biggest glacier I saw from the plane.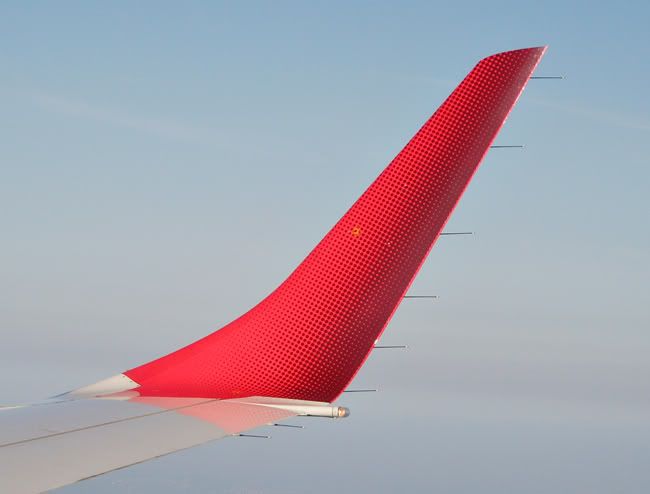 27. The red winglet.
After about 30 minutes of flying we descended towards Nice Cote d'Azur Airport. I could see the airport on the right hand side when we flew in. We made a couple of sharp turns to the right over sea and landed on runway 04L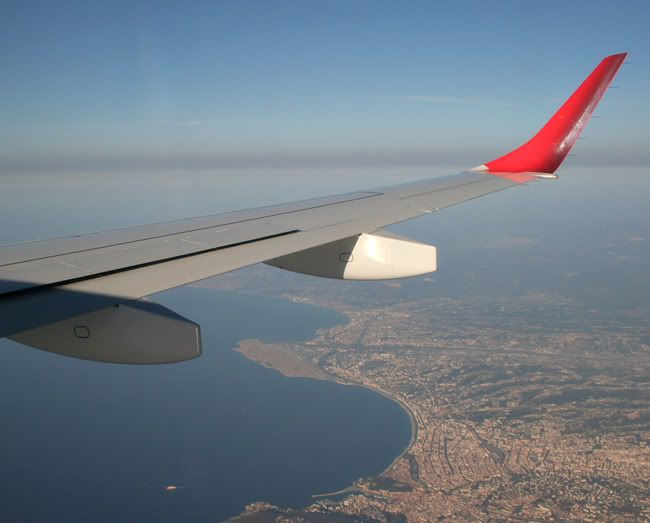 28. Nice airport can be seen just left from the centre of the photo.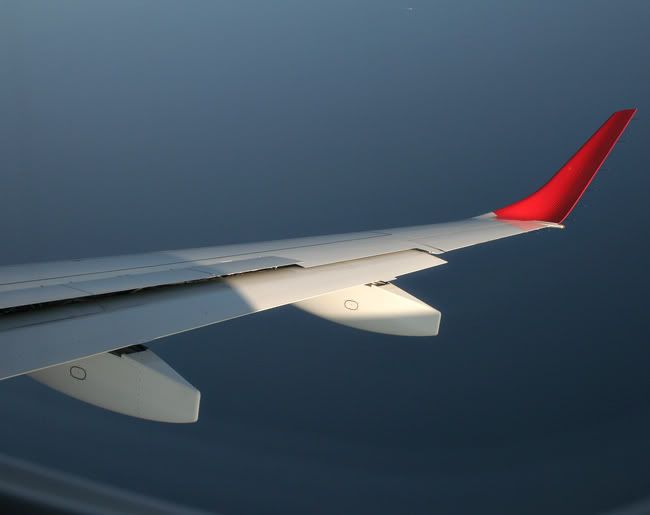 29.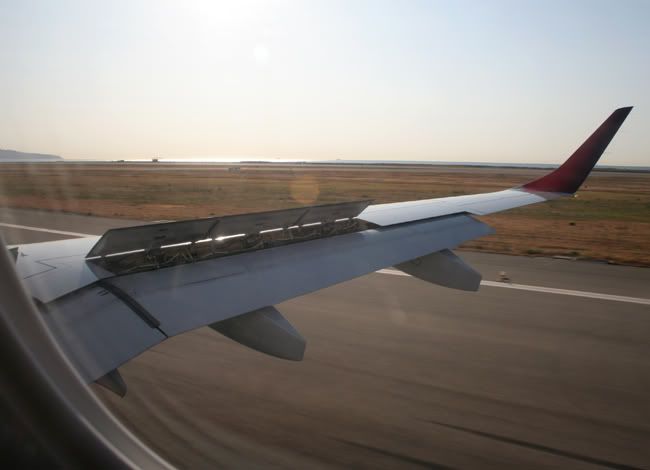 30. After a soft touch down we used nearly the entire runway before we turned onto the taxiway.
Nice was full with executive jets. Lots of Bombardiers but also some larger aircrafts like 767s and even a 727. Our aircraft taxied past some of them. Then we turned onto our parking spot and the engines were turned off. In about three minutes everybody was deplaned. I asked if I could have a look in the cockpit and that was no problem. I couldn't stay very long since all other passengers were waiting for me in the bus. I just had enough time to take a photo.
After a short drive we arrived in terminal one.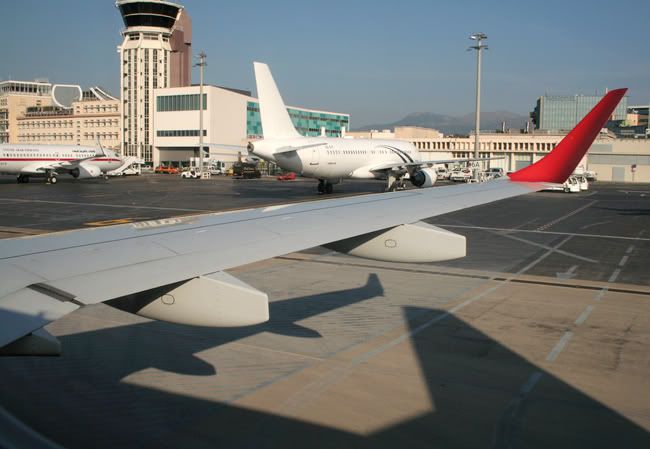 31. Nice is the place to go for executive jets.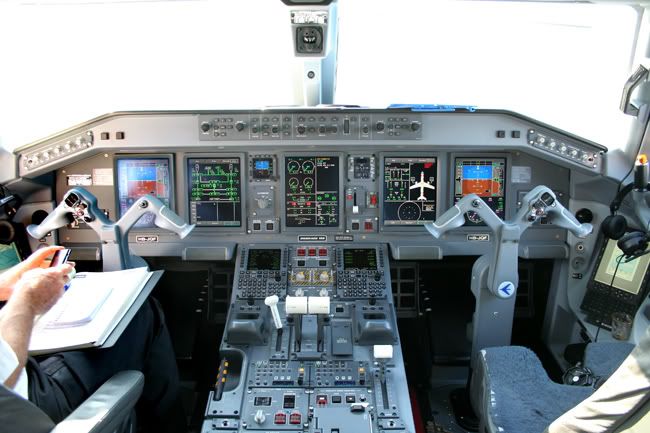 32. The captain was still in the flight deck when I entered it. I told him in my best French that this was my first flight in an Embraer. He replied to that in French which I couldn't understand. Than he (rather clumsily) asked if I liked the flight.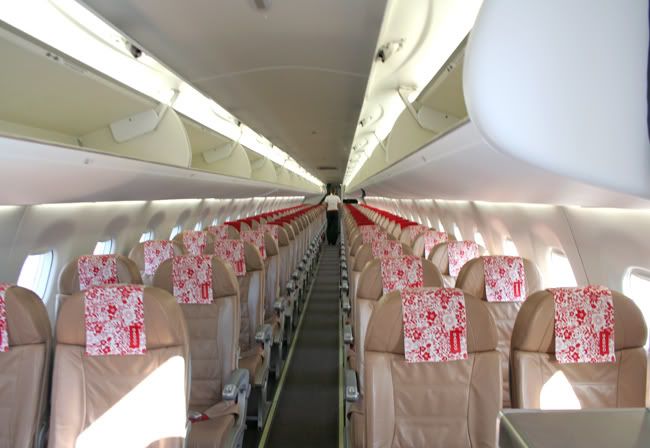 33. The cabin was empty when I came out of the cockpit. Here's a photo of it from the front of the plane.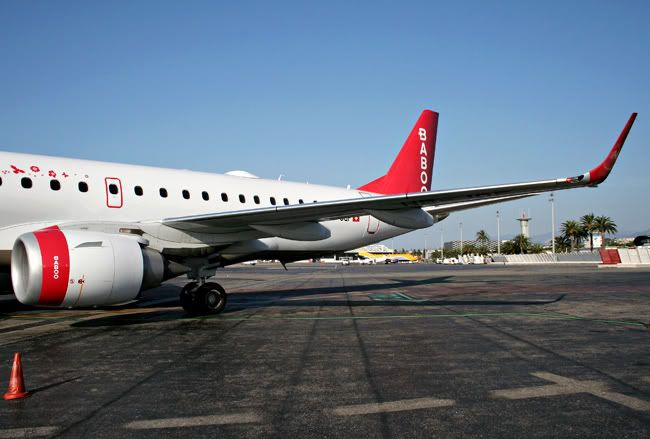 34.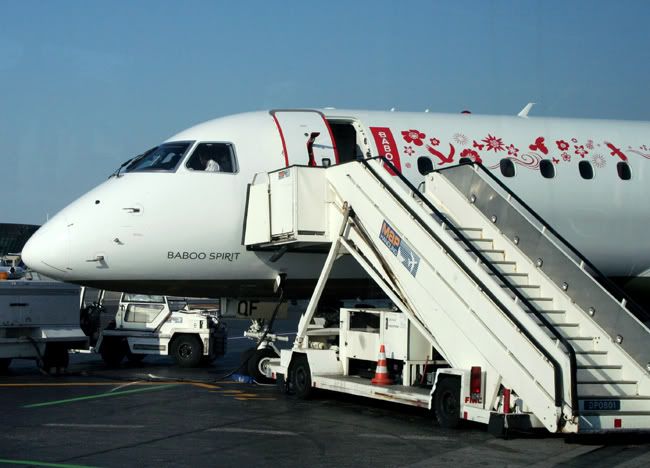 35.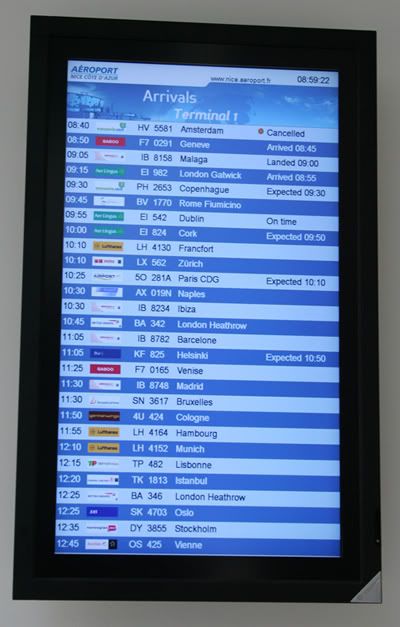 36. As you can see on the screen my flight had arrived five minutes early.
Baboo is definitely a great airline and their fares are more than reasonable. My return flight from Nice to Geneva with easyJet was "horrible" and more expensive than my flight from GVA to NCE with Baboo. Baboo's cabin, their crew, their service are outstanding in my opinion (I have never flown Singapore, Malaysian etc.). If you ever get the chance to fly with Baboo, do so. I don't think you will be disappointed.
Thanks for reading/viewing my first flight review. I hope you like it.