This is the return trip see part one here.
Part 1
After a few days in Upstate NY visiting Family and an excursion into the Adirondacks, it was time to head back home to The Pacific NW. Having checked in the morning before. I took a quick look and saw that the first flight was on schedule and the aircraft arrived the night before. I like this, I've always had the most problems waiting for an inbound aircraft, breakdowns or delays. I had a 40 minute connection in EWR and didn't want to watch that erode to a 2 hour late arrival.
CO 3266 operated by Colgan Air
SYR => EWR
DHC-8-Q400
Seat 4A
A 40 minute ride to SYR got me to *ahem* Terminal B. I laugh, as a kid in the 80's I remember dropping off or picking my dad up from SYR when 727's or DC-9's or 737's or F28's where a plenty. I think I might start a Memories of SYR thread. I wish they had just connected the two secure gate areas post security so I could at least walk to the other side.
I passed through security easily. The lady behind me had a replacement joint and had to get extra screening. after about 20 or so trips through SYR in the past few years, I've only seen 2 extra screening selections by the TSA.
I pass down to the gates and there is is. A Q400 waiting in the morning sun. Further out is the CLE bound Q200.
The B gates at SYR is where Continental, Delta (NW), AA, and United all hangout together. There is only one food option this early in the morning. Sbarro and some breakfast looking pizza. I decline, and figure I'll wait to IAH to eat something substantial. Boarding begins with those needing extra time. There where 8 people on this flight in need of wheel chairs. And only one ramp agent available to escort them. So after about 20 minutes the call goes out for Elites, I was one of two. They gave the go ahead for us to head down the stairs. The final Wheelchair was going up the stairs, so I waited outside the door with the Capt. He greeted everyone as they boarded. I thought that was a nice touch, and something I haven't seen much of lately.
A dead heading crew was headed to EWR for work and he chatted with the Capt of that crew for a little bit before we closed up. I am amazed by the gate checked carry on pile we made. We filled the entire cart and then some. This flight was 71 seats full, and despite the extended boarding we fired up and taxied out just about 5 minutes behind schedule.
We taxied to 15 and roared down to EWR. This route I could pretty much plot on a map. Straight out of SYR, past OIC a left turn at Hancock, or Delancy VOR a right turn at Huguenot VOR and another right turn just about at the Hudson and a long final into EWR. We arrived about 5 minutes early. We roll out and clear the runway and make our way to Gate C107. We pull right in and after a minute the door opens and we are off to start the next run. I exit, and make a quick stop at the bathroom along the way. I head to C98 as I make my way up they are already boarding first class. EWR in the morning is always a joy compared to the late afternoon or the evening.
CO 411
EWR => IAH
737-700
Seat 6A
I waited only a few minutes before my number was up to board. I settled into 6A It was about 10 degrees warmer in EWR than in SYR and on this aircraft you could feel it. since the 700 is a short body we boarded much quicker than I'm used to. I spend most of my time flying in 738-739's. After listening to Larry welcome me on board and tell me how to get out in case of emergency, we pushed.
Thankfully EWR in the morning is usually a short wait in line. I believe there was about 4 in front of us. There was a little boy in 5F looking out the window he couldn't have been more than 7-8 and he was calling out all the aircraft types. As in 737-800 or ERJ 145, my favorite "look at that, 767! WHOA!!! its a 400 did you see that!". Most of us in the front of economy were having a good chuckle.
The takeoff was spirited as the 700 is the current sport model. We were in the air and climbing to 30000 feet, as we twisted turned our way past Philly. Since this was an 11:40 departure. we did have a meal service. A Turkey BBQ Sandwich and a side salad... The Salad was a salad. Nothing to write home about here, the sandwich was interesting. I still think the Cheeseburger is my favorite in the back.
I watched the Movie, and had to hold myself back as a great episode of Everyone Hates Chris followed. I think the "9th Grade Dance" Episode is hilarious. The trip to IAH was uneventful and we made a nice greaser. We came into C20 at Houston, a very short taxi. so far 2 for two. Everything is going according to plan.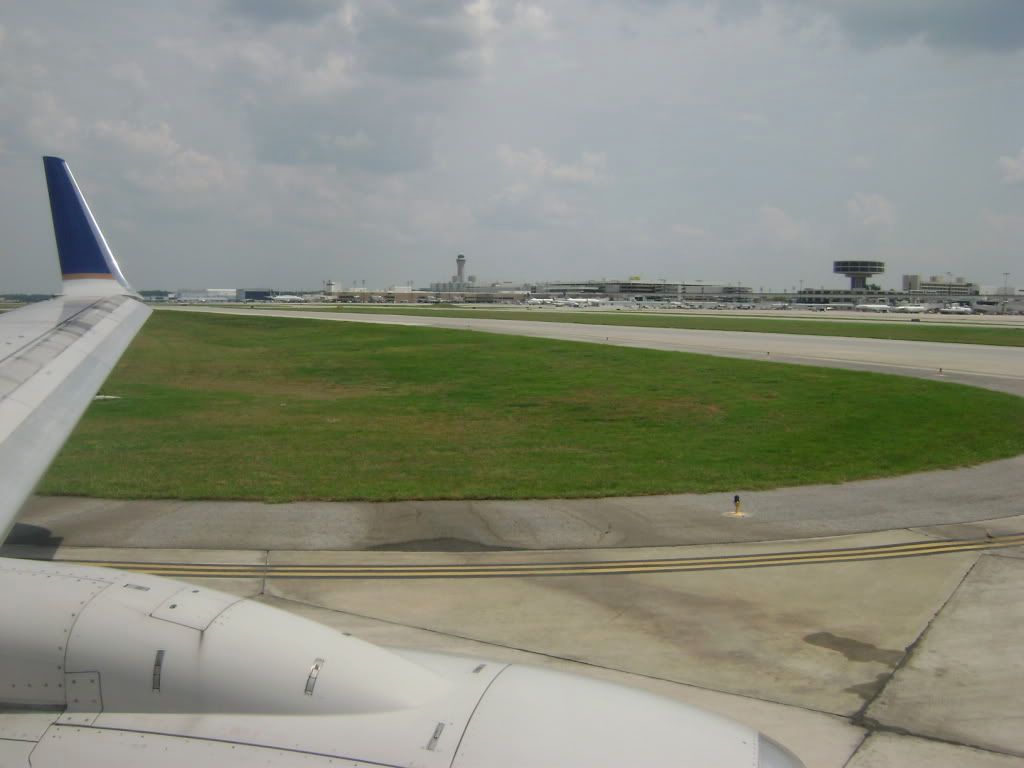 Once in IAH I take a walk around I have about 4 hours and want to get some blood flowing after sitting for a few hours. I pass by the Departure Arrival Board and see my flight 667 is on time, and I see 657 is boarding from the same gate in about an hour and a half.
Hmmmmm
Now every flight I've been on has been full and I wanted 667 just to get on a 757-300 as I was burned on getting on them twice earler this year. But 657 gets in two and half hours earlier. I make a Phone call, and check the loads. There are plenty of seats, So I stop at the Customer Service desk.
I always play dumb when I know the answer, I ask "What are my chances in getting on 657?" A few keystrokes and she says say there is room. They can make the change for $50 or I can wait standby and see if I get a seat.
Knowing there is plenty of room. I play Standby, I get a new boarding card. and off to the gate. On the Way I make another phone call to find out I'm #1 on the Standby list. I check in at the gate, and wait my turn.
CO 657
IAH => SEA
737-800
SBY then 5F
The TSA rolls up to C40 with their secondary screening table. I've heard about this but have never watched. It really is completely at random. Its not like every 3rd or 9th passenger. I think they only screened 5 people that I could see. They called my name I got my seat assignment and I totally expected to get the second screening. Not this time the TSA lead nodded and sent me on down the jetway. I was the first of probably 20 Standbys that got on.
We pushed ahead of schedule. While Larry was welcoming me again, I started to notice the absence of the skyteam logo on the aircraft. I'd say 50/50 with and without. We took off, and rode the bumps to about 15000 feet. Day time heating 92 degrees and humidity. Seems pretty simple to me.
This flight had a moment of excitement.
I headed back to the lav. A lady was looking pretty green in front of me. The FA was talking to her, and getting her some water, I looked out the window after a second or too I saw out of the corner of my eye her on her way to the floor. There was no chance of me attempting to stop her from hitting the deck. I called out to the FA bent down and assisted the FA as instructed. Pillows under the head, and wave down the other FA. Done and Done. She came back to the side of the living in only a second or two. Seemed like a vertigo induced black out to me, it was a little rough going out of IAH. I was sure we were heading to Dallas when she went down.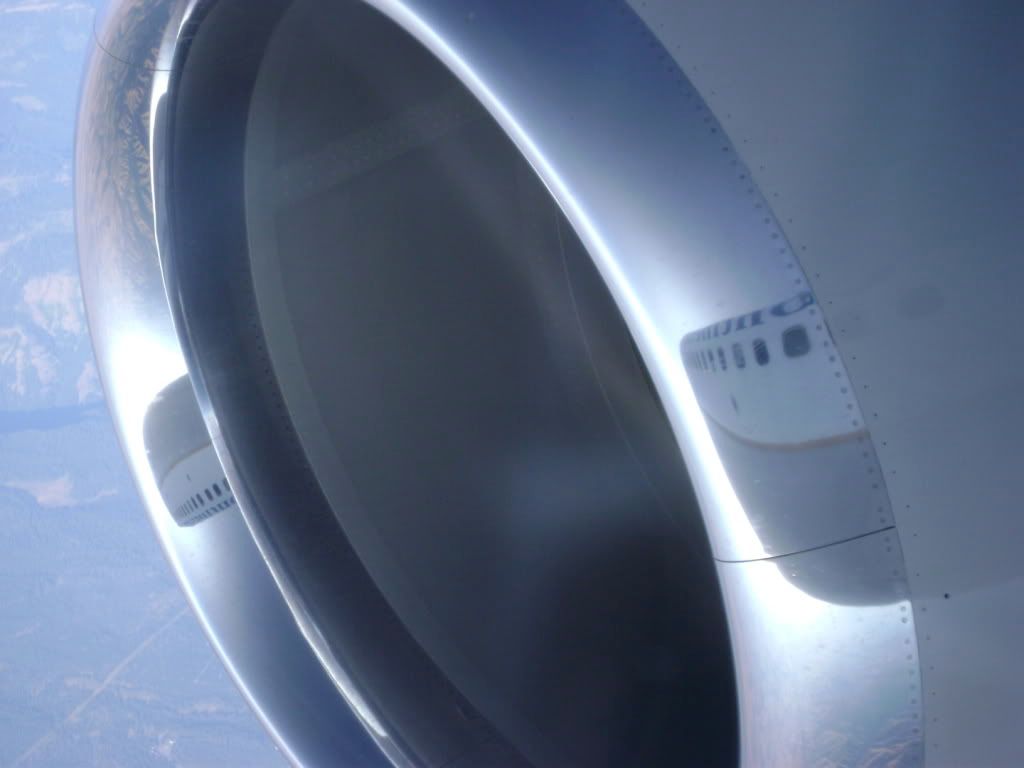 I asked the FA when she passed through if she was ok. She said yes, a little dehydrated but she was doing much better. The rest of the flight was pretty uneventful Turkey dog and salad for the meal. I spent most of the flight Gaming on my PSP. At this point I had been traveling for 12 hours so I was more than ready to get home.
I could start to make out landmarks in Eastern Washington so I knew we were close. SEA is such a nice Arrival. The Mountains were out, the skies clear with some haze. We lined up on 34L and took a good 6000' to slow. We held short of 34C for a couple of QX Q400s and we crossed 34R-16L, still under construction but alot of progress on the overlay. We pulled right into B11 were it all began a few days before. No bags to pick up I head right to the Bus stop. and hope on the Light Rail Connection Bus.
I really can't wait for the line to run directly to the airport. After about 20 minutes I'm in Downtown and Getting on the bus for the short ride to 45th St N. Home, with feet up on the Couch while 667 is still an hour out.
This trip was out of the ordinary for me recently. I'd say the past year I've had several delays, and re-routings, due to weather, maintenance, ATC etc. I Posted this because even with "my" change to my flight everything felt seemless! the way I like it. A lot of people working behind the scenes making everything seem to the untrained eye to almost appear to be magic. I've worked the ramp, I know what it takes. CO you could have fooled me, its too bad every trip could go as smoothly as that.
Hope you all enjoyed.
501SP