Denmark In A Day, With Norwegian – LGW-CPH-LGW
Background
Every year I visit Spain with one of my best friends and his family for a week in their
apartment on the Costa del Sol, however this year, due to the awful exchange rate for
the pound vs. the Euro they decided not to go away this year as it simply would be too
expensive for the month they usually spend out in Spain. So this left me with a
problem, a week off work and nowhere to go. I thought to myself I can't not go
anywhere on my week off… so here comes my solution, a cheap day trip!
I'm a big fan of Scandinavia ever since I had the chance to visit Sweden a few times last year whilst one of my best friends was working out there, I loved everything about there. However I wanted to visit another Scandinavian country, with Norway, particularly Oslo being top of my list, but with me booking flights about 3 weeks or so before I was travelling, it was a little bit expensive.
Second option was Copenhagen. So I checked good old easyJet and their fares were reasonable, but I've flown them lots of times before and fancied something different. Next was Cimber/Sterling. I didn't like their website, couldn't get the fares in GBP so had to work it out via exchange rates , their fares were quite expensive so I checked out Norwegian Air Shuttle, an airline I've always wanted to fly. Their fares were alot cheaper, flight times were good, so I went ahead and booked. I found the Norwegian website easy to navigate and the 'Fare calendar' a useful tool showing the days/months with the cheapest flights.
I had mentioned the idea of my trip to a friend and fellow a.nutter TupolevTu154 (Tom) and he decided to come along with me, he booked the same flights as me a few days later!
The Trip
Anyway, fast forward to Tuesday 1st September… I woke up at 6am, got dressed, washed, had a quick cup of tea and left the house by 6.25am to catch my 9.10 departure to Copenhagen.
I live near to LHR so I had to make my way down to LGW via the M25 motorway, which some people know can be a nightmare at the best of times and as I would be travelling in the morning rush, I was a bit worried about getting held up. Luckily I was fine. 25 minutes later I arrived at LGW, It was very busy, queuing traffic on the approach to the terminal and long stay car park, where I would be leaving my car for the day. Once I had parked up I caught the bus from the car park for the short journey over to the South Terminal.
Once inside I made my way over to the Norwegian check in area. Norwegian do not offer internet check in, which is probably one of my only criticisms of them, however at LGW they do offer self service check in on the BAA owned machines, which also serve Virgin Atlantic, FlyBE and Aurigny. Now came the problem… The machines did not seem to be working for any Norwegian passengers; it kept saying it could not find any record of my booking, so after numerous attempts I joined the queue for the check in desks. I had phoned Tom to tell him about the check in problem and that he would have to join the queue for check in like myself, he was about 15 minutes away from the airport when I phoned him.
There were 2 Norwegian departures this morning, one to Oslo and our flight to Copenhagen, also there was a Viking Airlines flight to Banjul checking in next to our desks and the queue for that flight was right across ours and caused a few problems as to which queue was for which airline and flight.
Two Norwegian desks were open for check in and one for bag drop, obviously as there was a problem with the self service check in there was nobody queuing for the bag drop so the guy on that desk was sat there doing nothing. One person did point out the problem with the machine so he then started calling people forward for check in to try and ease the queue. After about 10 minutes I was called forward for check in and the young girl asked me for my passport, where I was flying to and also where I wanted to sit, which was a nice gesture. I had asked for a window seat near the back and she told me I could have anywhere I wanted, she said there were 26 rows on the aircraft, then asked would I prefer to be a bit further forward than row 26, I was given 23F and I had explained that Tom was on his way too to check in and he would like a window seat too, she immediately asked would I like her to save him a seat, so I said yes to that, and she saved 24F for Tom. She then wished me a good day and a nice flight!
As I left the queue I then saw Tom arrive, so he joined the queue and was checked in shortly after.
When we got to security we didn't have to wait long at all, the girl in front of us was given a bit of a patronising lecture not taking her clear plastic bag with her make up in out of her bag to pass through the x-ray machine. After we headed through security, we had a little walk around the terminal before I then grabbed something to eat before we boarded the flight.
Departure of the flight was scheduled for 9.10 and we decided to head down to our gate 20 minutes before this, When we reached our gate, I noticed that there was no one there, they had already boarded and I was dreading doing the 'walk of shame', fortunately once we had got on to the air bridge most of the passengers were queuing to get onboard.
Sitting at our gate was LN-KKF, a Boeing 737-300, in Norwegians rather attractive red and white livery. This aircraft used to carry one of the 'Real Norwegians' on its tail: Fridtjof Nansen, who was a Norwegian Polar Explorer, Scientist and Diplomat.
Date: 01/09/2009
Route: LGW-CPH
Flight: DY3511
Aircraft: Boeing 737-300 (3rd flight on 737-300 and 1st flight on this aircraft)
Reg: LN-KKF
Seat: 23F
Scheduled Departure Time: 09:10
Actual Departure Time: 09:30
Scheduled Arrival Time: 12:05
Actual Arrival Time: 11:51
LN-KKF was Norwegian's first 737 and was delivered to them 27/08/2002 shortly before the airline started operations on 01/09/2002 (Happy 7th Birthday), it previously served with Transavia/KLM as PH-HVM, being delivered new to them 09/03/1989.
Once on board we were greeted by a friendly female hostie with a big smile, I think she said hi to us in Danish? We then made our way down the back of the aircraft, which was very empty with most people being seated at the front. There were 3 members of cabin crew on today's flight 2 female and 1 male.
The cabin was fitted with dark blue leather seats that were fairly comfortable, also legroom was not an issue for me. I was expecting it to be a big tight
Fellow DY aircraft off to Oslo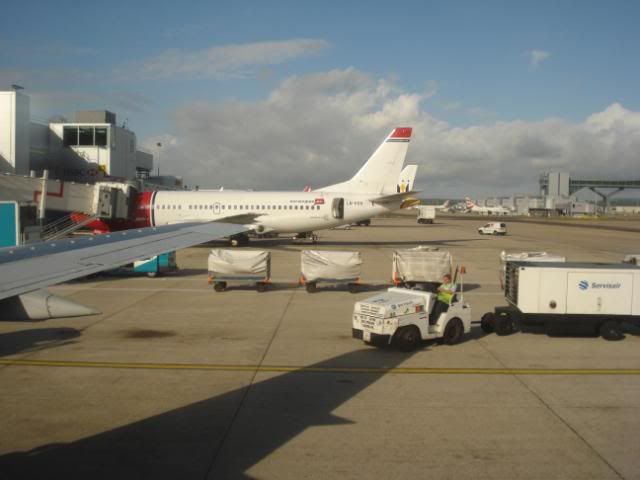 Once settled in our seats we waited for the remaining bags to be loaded on board before the crew closed the doors and performed the safety demo. This was performed both in Danish and English. We had pretty much the last 5 rows of the aircraft to ourselves, so it was pretty quiet up the back!
We had a relatively short taxi over to RYW 26L, with a MON A321 following us.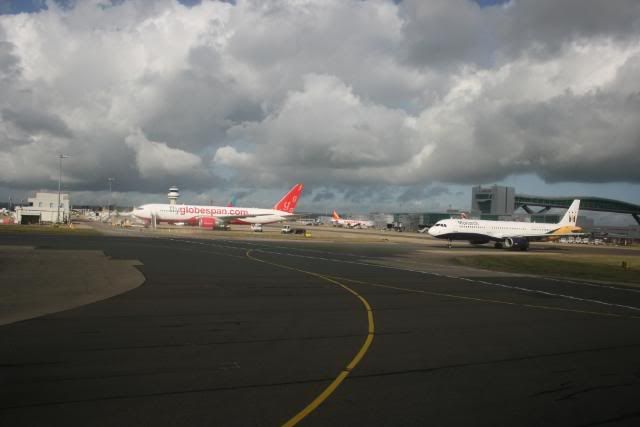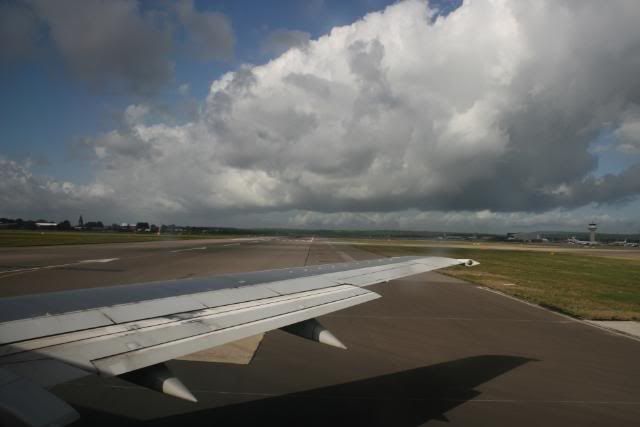 Once we were in air we made a right turn through the clouds, which was quite fun and it was very rough and bumpy.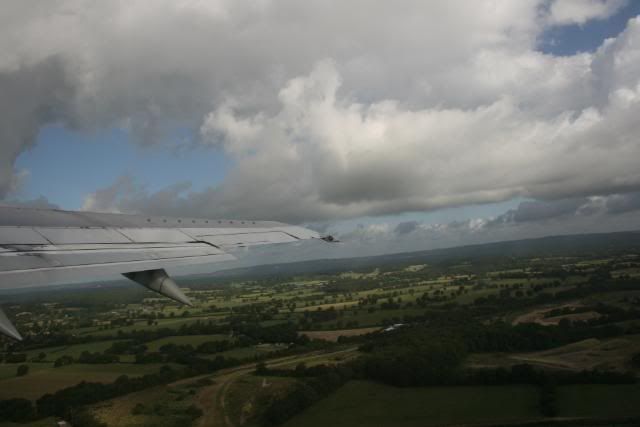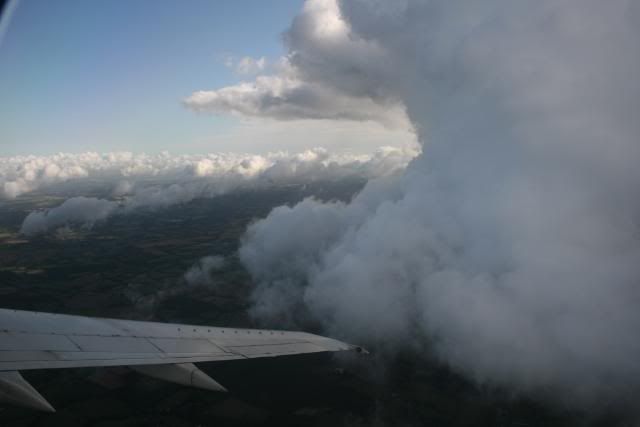 We soon saw LGW below us and we headed out towards Kent, turning over the Medway towns of Chatham, Rochester and Gillingham, over the Thames estuary towards Southend and then out over the North Sea.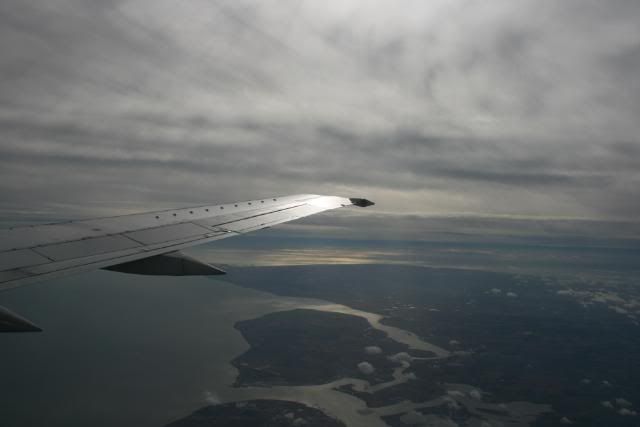 The crew made some announcements about 15 minutes into the flight, I found it quite hard to hear what they were saying. Announcements were done both in English and Danish. Menus were handed out with options of what food/drink was available to purchase. I did not buy anything on board this flight.
Cabin view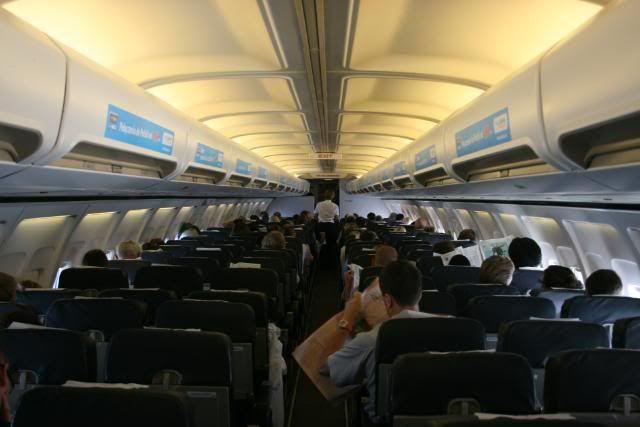 The rest of the flight was pretty quiet, and once the crew had done the food and drink service they retreated to the rear galley for the remainder of the flight.
There was cloud cover most of the flight until we approached the German/Danish border so there wasn't much to see out of the window for most of the flight.
Snapped!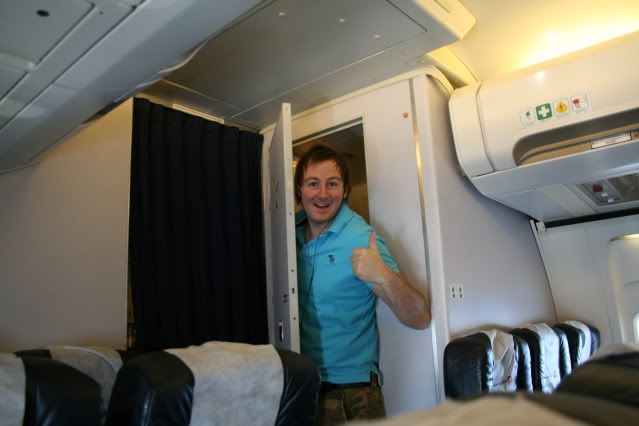 25 minutes before landing off went the iPod, tray table and window blinds up and the crew then started making their final cabin checks for landing. As we approached Copenhagen, we flew over Roskilde airport.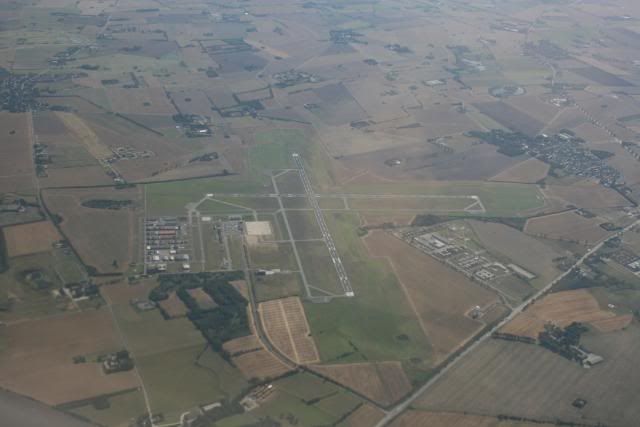 We flew over the North of the city before heading out over the sea and making a final turn ready for landing on RWY 22L.
Copenhagen below us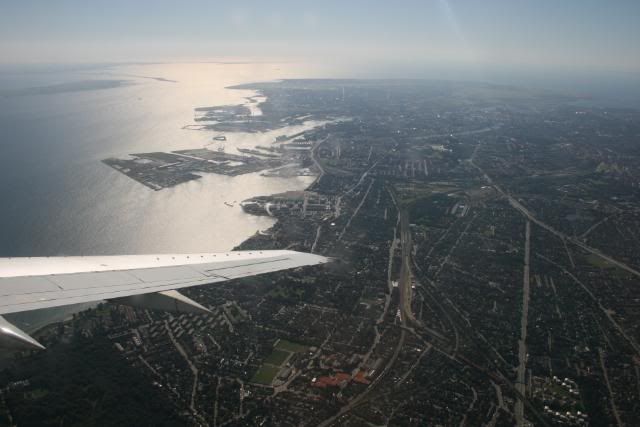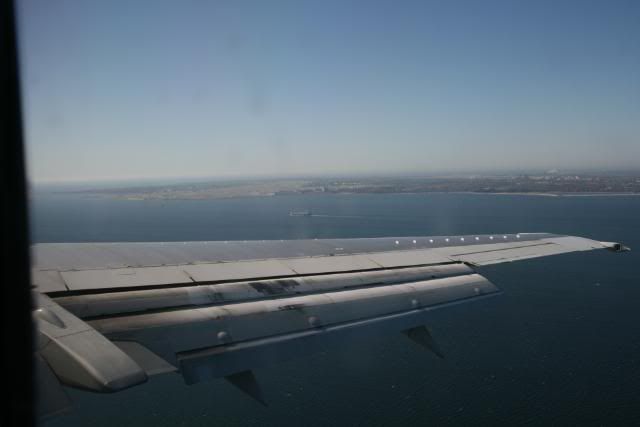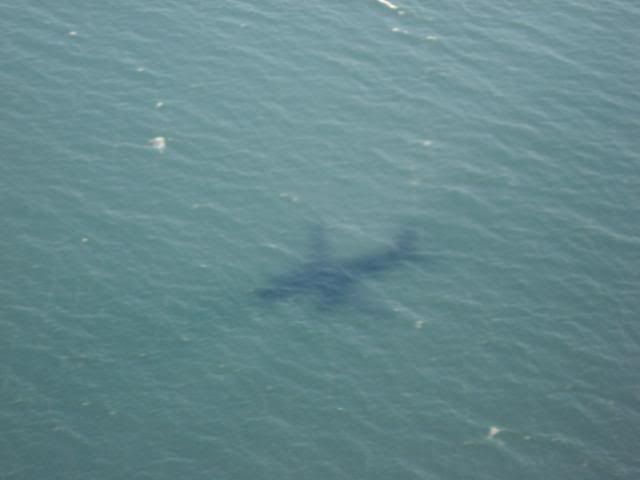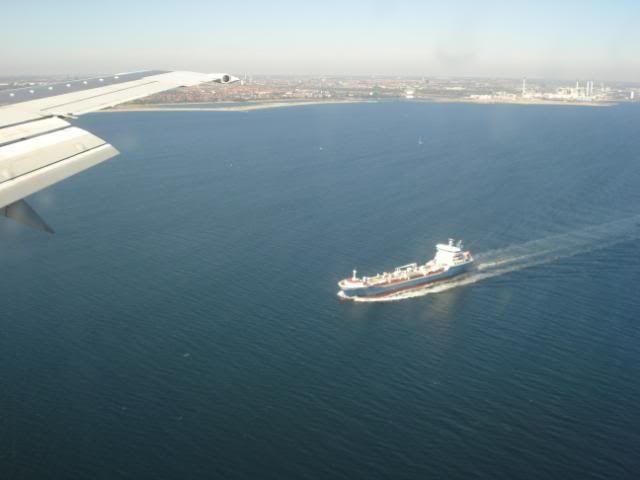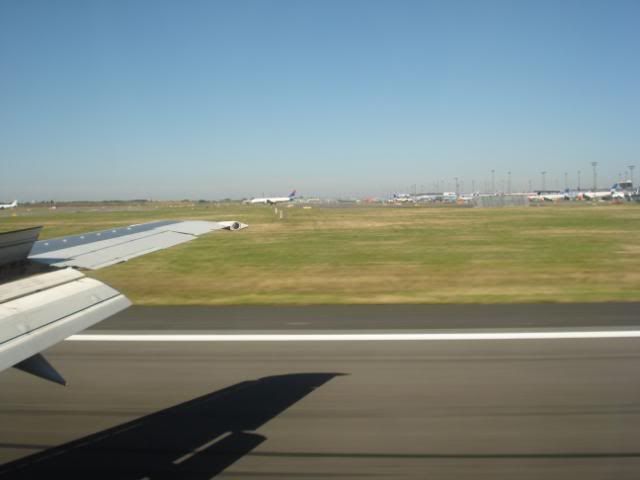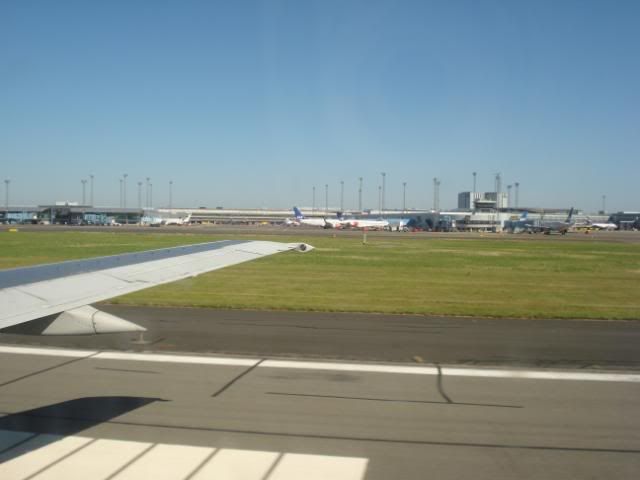 After a fairly bumpy landing we exited the runway and taxied over towards the main terminal area, arriving 14 minutes ahead of schedule. This was my first time in CPH so I was not sure which terminal was which. We taxied right over to the far end of the terminal buildings to Terminal 1 I believe. Once we had parked up, a member of the crew announced that as we had parked at a Domestic gate we would be taking a bus to Passport control.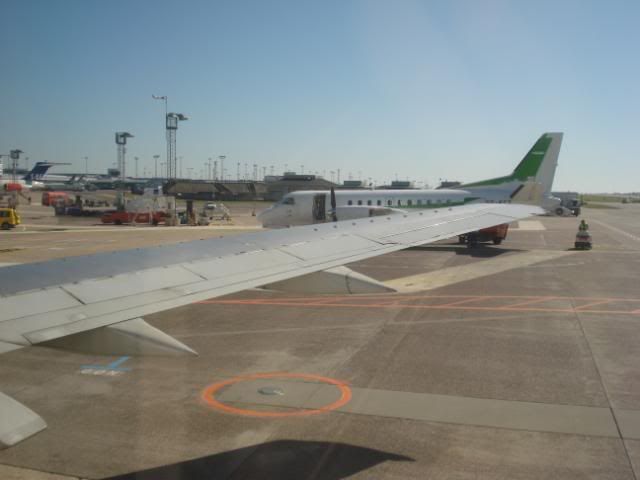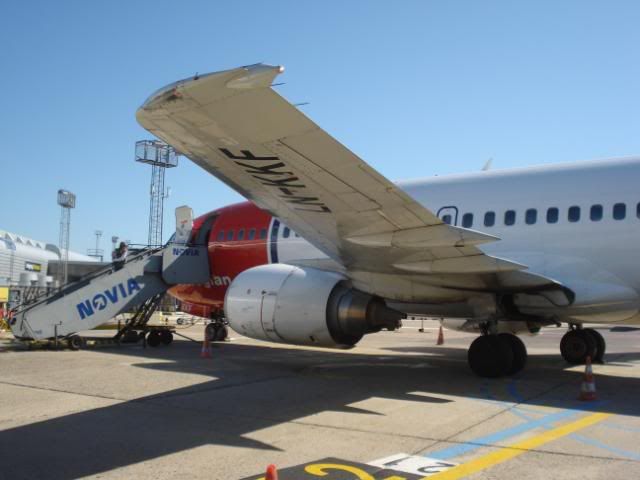 It was a very nice 20 degrees in Copenhagen today with clear skies, much warmer than England. After leaving the aircraft we crammed onto a hot bus, it was very tight! We were then driven all the way to the other end of the airport to Terminal 3 where we were let off the bus and took an escalator up to the main building to Passport control. I asked the lady for a stamp and she was kind enough to give me one.
Next was to find our way out of the airport, eventually we had made it out into the main arrivals/check-in area of Terminal 3, which handles mostly the Star Alliance carriers at the airport. We decided before making our way to the city that we would go to Terminal 2 and check in for our return flight home, to save ourselves time and get ourselves a good seat. We succeeded in this by using the self service kiosk, having the same seats as the way out 23 and 24F, but we would be flying a 737-800 this time.
Airport train station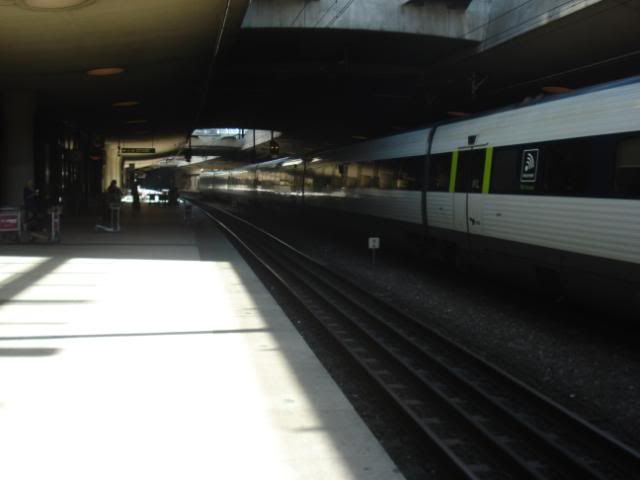 We decided to take the train into the city to Copenhagen C Station, which took about 15 minutes. The station is really easy to find and everything is well signposted. It was so hot on the train, no windows to open, so I can only presume that the air conditioning was not working!
Once we arrived in the City we were quite hungry so we grabbed a baguette from this place in the station and made our way out to explore the city.
I had an excellent day in the City, it's a really lovely place and I would love to go back! The weather was fantastic and the Danes are really friendly people!
Here are some pictures from the City.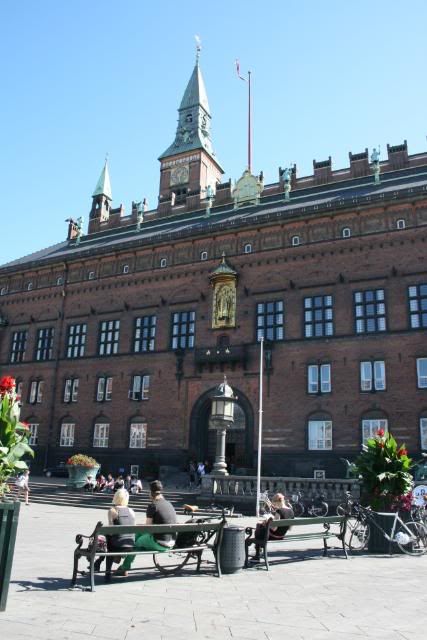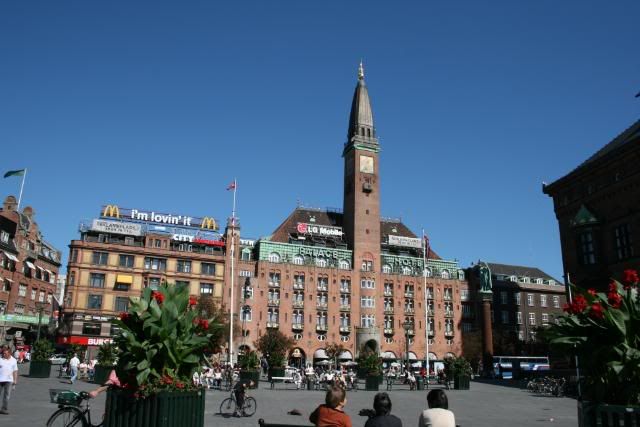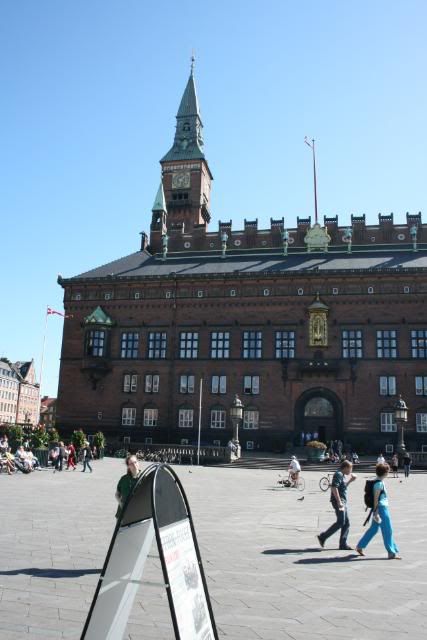 Tom enjoying a Carlsberg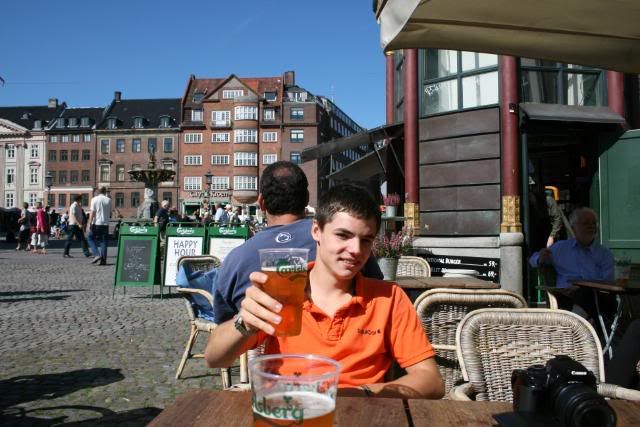 Me enjoying a Carlsberg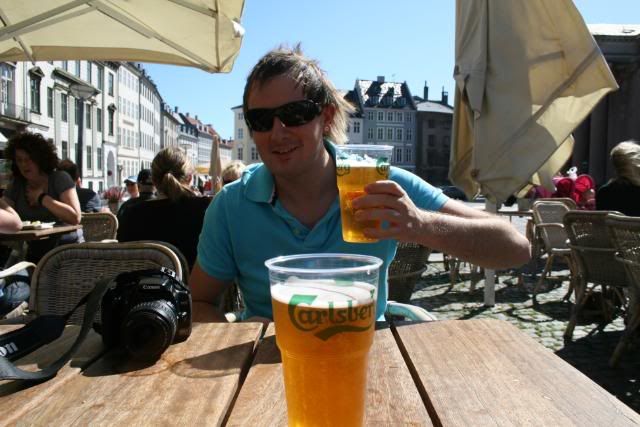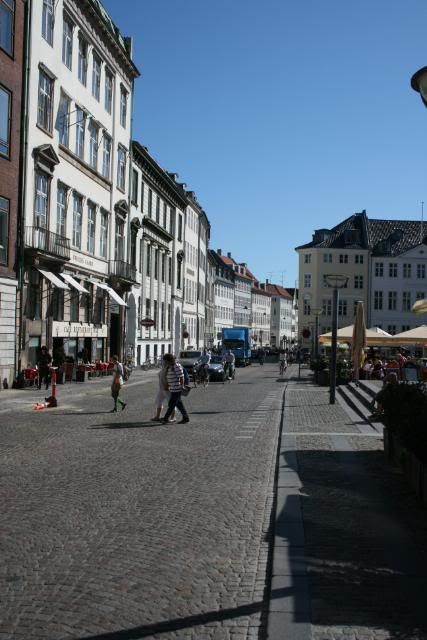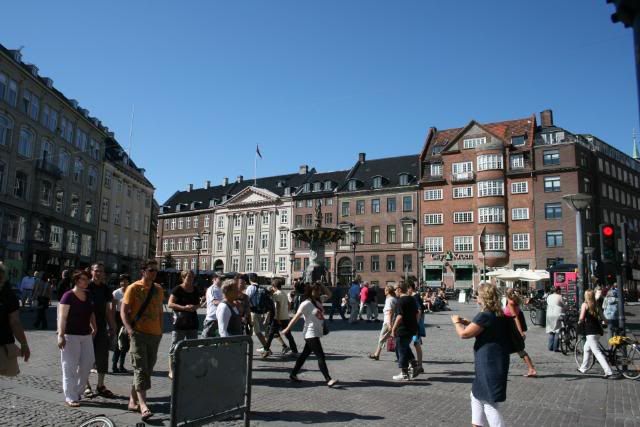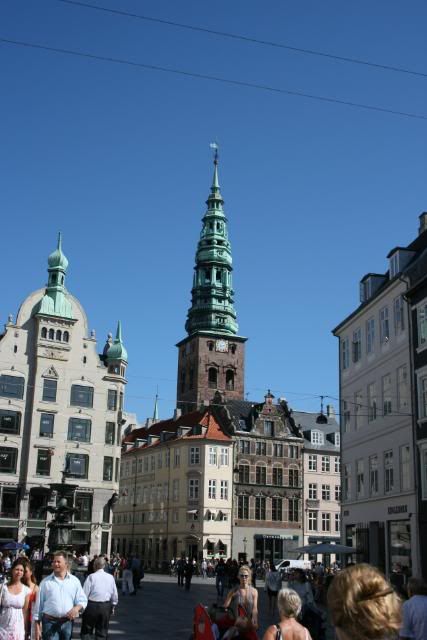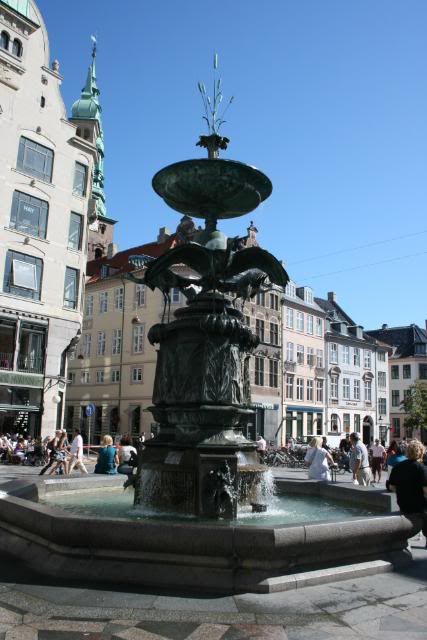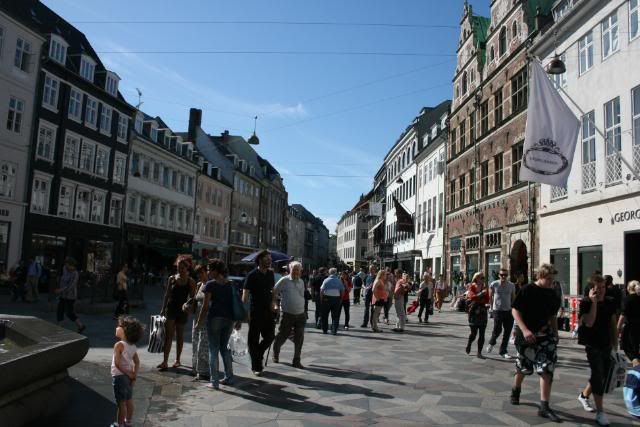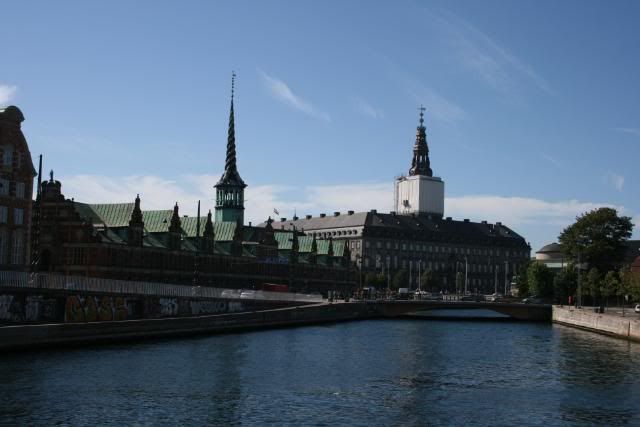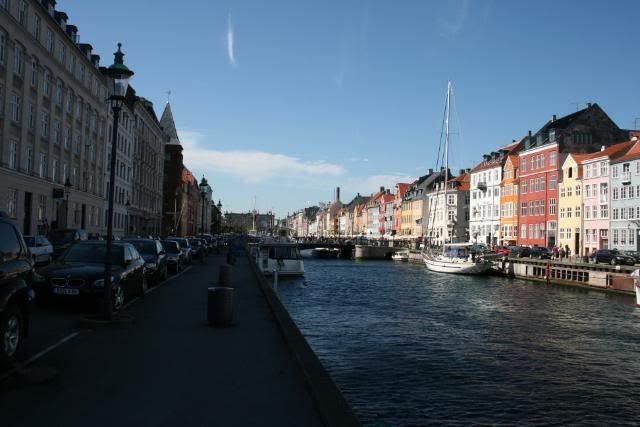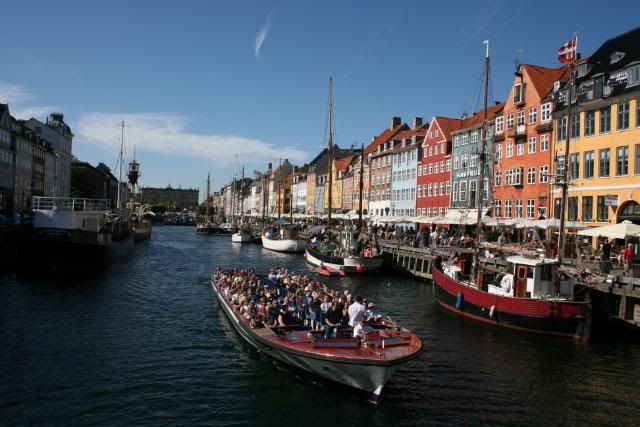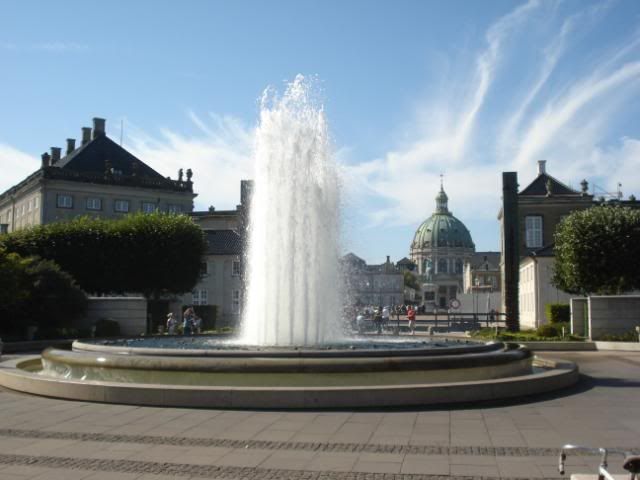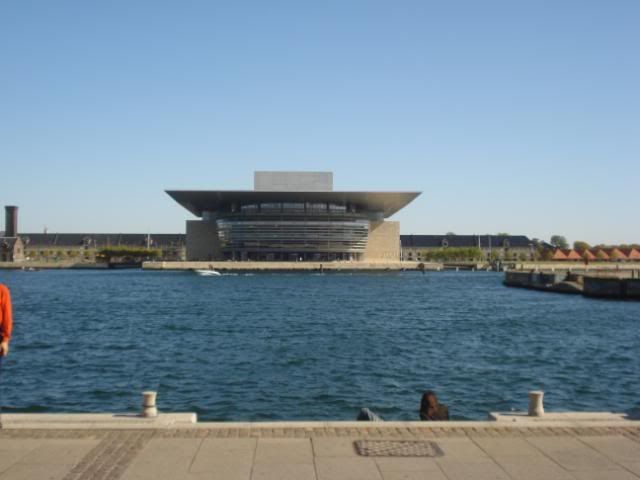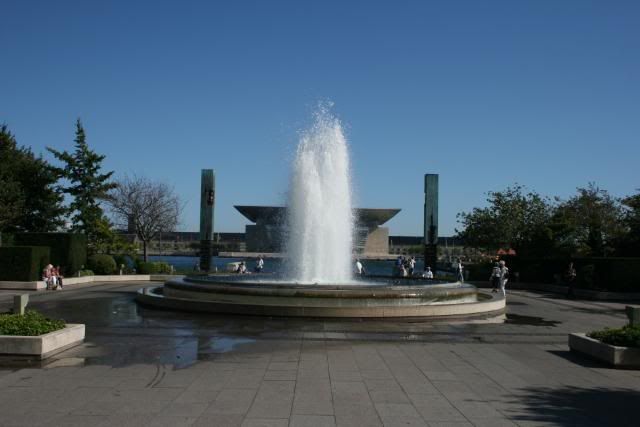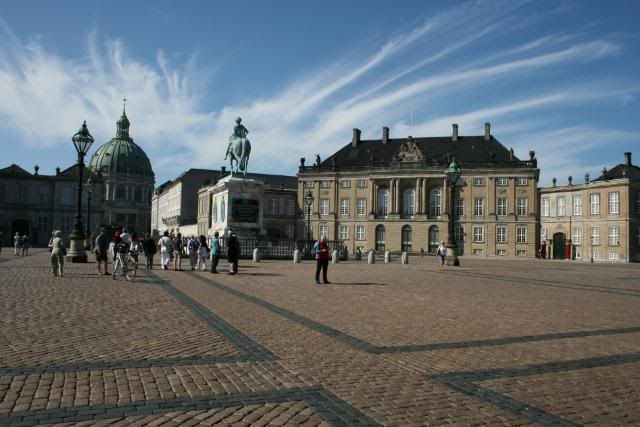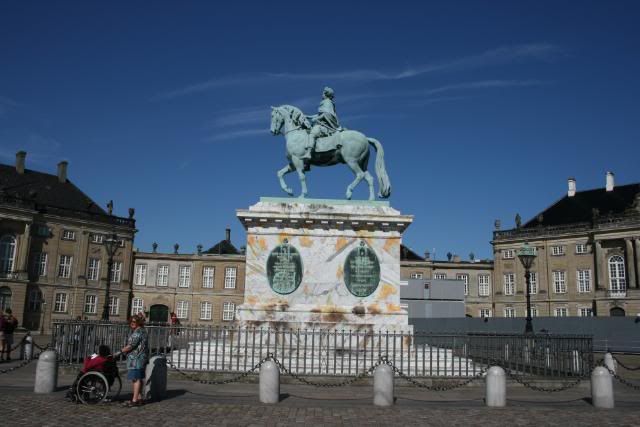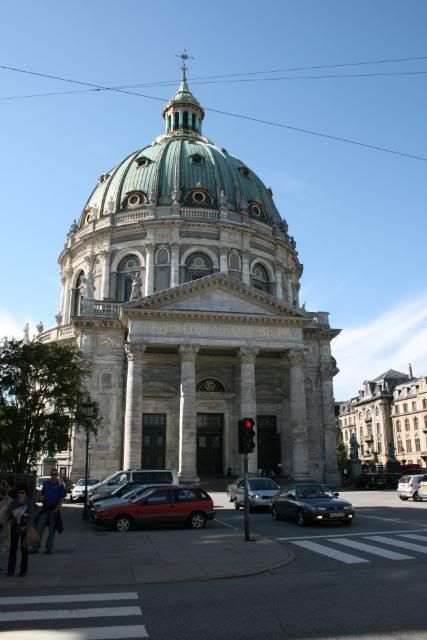 Our return flight was due to depart at 18.00, so at 16.00 we decided we would make our way back to the airport, this time we opted for the Metro, which again was very easy to navigate and took about 15 minutes.
Back at the airport, the Metro station is located at the end of Terminal 3 so we walked through there and headed towards Terminal 2 where we made our way upstairs for security.
Arriving at Terminal 3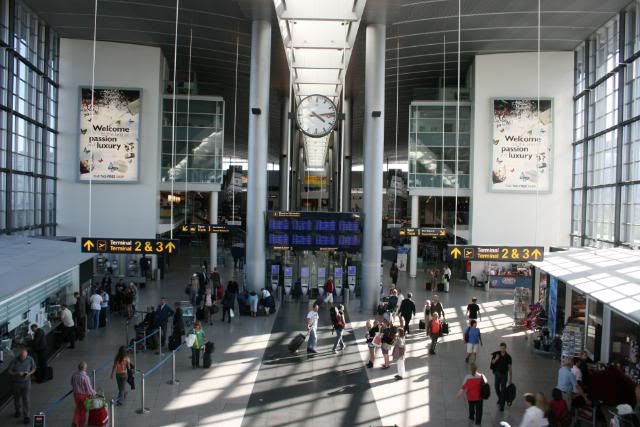 Waiting time was about 15 minutes and the queuing system was a bit disorganised, my bag was held back after going through the X-ray machine, wasn't sure why, but when the lady asked to search my bag, the reason became apparent. I had half a bottle of Coke I forgot I had in my bag. She asked did I want to finish it before it was taken off me.
Inside Terminal 3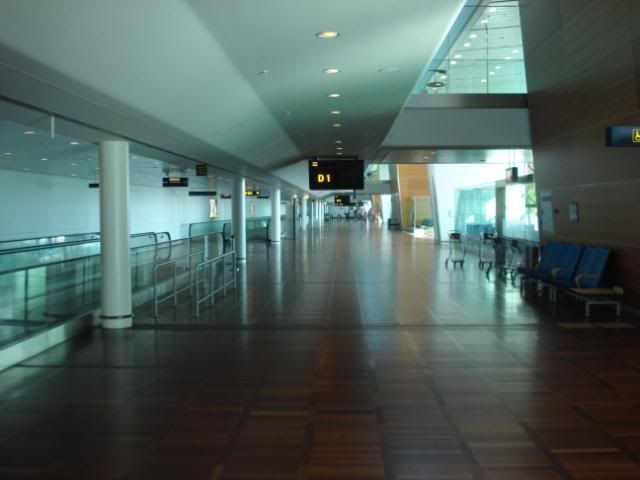 Once that was over with Tom wanted to try and find some Mead in the tax free shopping, but we couldn't find any. With about an hour before departure we went to find something to eat, I decided on a Cheese and Ham flat bread thing, can't remember exactly what it was called though. Mezza something?
Our gate for departure had been on the screens for a while, we were departing from D103, so after we had done with eating, we went to buy a drink to take on board the flight home before heading through the passport control.
When we arrived at the gate I saw LN-NON sitting there, having read a previous trip report from this aircraft I knew the cabin on this aircraft was showing its age and it wasn't one of the 'new' factory delivered 800's DY has in their fleet
Date: 01/09/2009
Route: CPH-LGW
Flight: DY3514
Aircraft: Boeing 737-800 (5th flight on 737-800 and 1st flight on this aircraft)
Reg: LN-NON
Seat: 23F
Scheduled Departure Time: 18:00
Actual Departure Time: 18:18
Scheduled Arrival Time: 18:55
Actual Arrival Time: 19:01
LN-NON was delivered to Norwegian 27/06/2008 as SE-RHB and re-registered LN-NON earlier this year. It previously flew for Turkish carriers Pegasus Airlines as TC-AAB and Sun Express as TC-SUD.
Our aircraft at the gate
Once onboard we were greeted by a friendly young blonde member of the crew, the aircraft was quite full and we were one of the last on board. I only noticed maybe 1 or 2 free seats. Seems DY does well on this evening CPH-LGW run. I also noticed that the interior of this aircraft was not as 'fresh' as the old 733 we flew on our outbound leg, still despite the look of the seats they were actually quite comfortable and had a little bit more legroom that the 733. I did however notice the rear panel of one of the seats was missing, revealing a big gaping hole in the back of the seat. Still I'm sure the interior is on Norwegians agenda at some point. Not a good impression from a passenger's point of view though.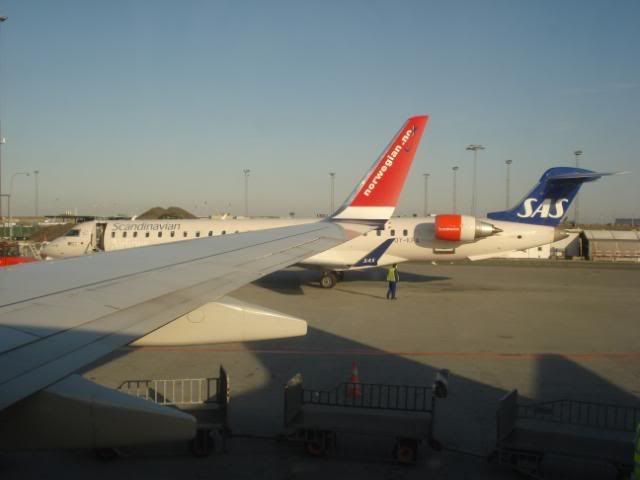 Before push back the safety demo was done, this time as their 738 fleet is IFE equipped this was done via the drop down screens and was only in English this time, not even Danish subtitles.
The crew on this flight consisted of 4 young blonde females, who were very nice, the service was good too. They seemed very friendly and helpful.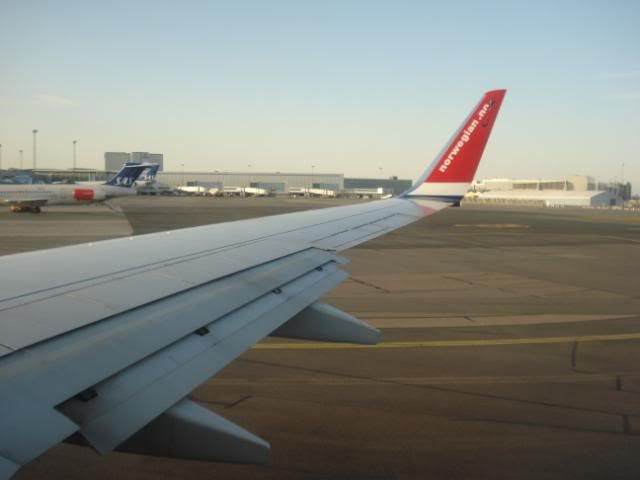 After a quick taxi down to RWY 22R we were rocketing down the runway and were soon in the air.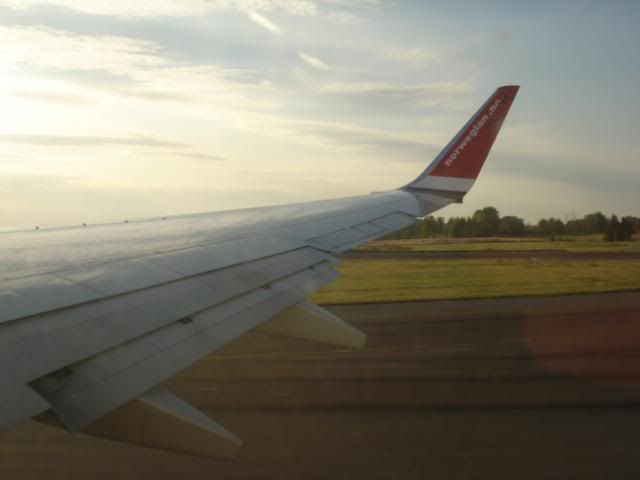 After about 10 minutes seatbelt signs were switched off and not long after the crew handed out the menus for the food/drink service. Seeing as I had quite a few Danish coins left over, I thought I would buy something to get rid of them. Decided to go for a Carlsberg for 30DKK, had I not eaten before I boarded the flight I probably would have gone for one of their sandwiches, as the girl next to me purchased one and it did look quite nice.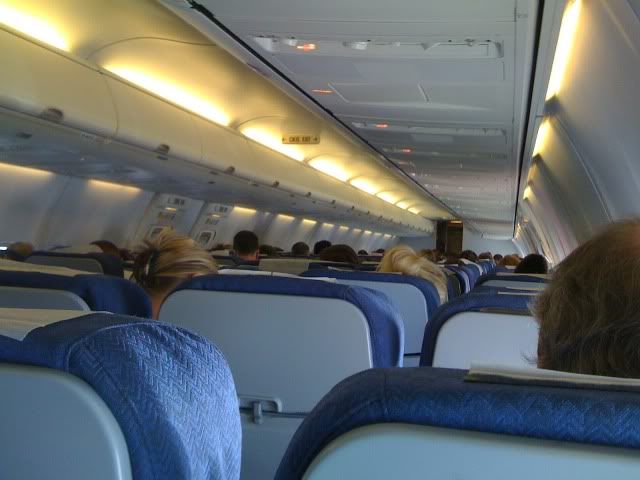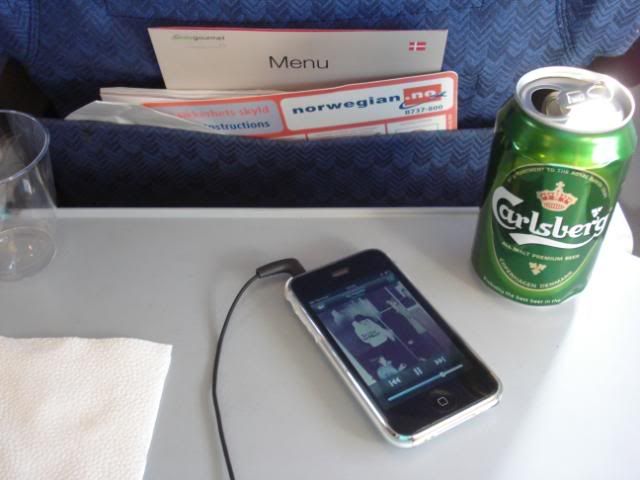 As the sun was shining brightly through the windows I shut the window blind down and listened to my iPod for the remained of the flight. The first officer provided regular updates on our progress both in Danish and English throughout the flight.
As we approached the English coastline we started descending and not long after this the crew then did the usual announcement of turning off all electronic devices, tray tables, seat backs and window blinds up ect... in preparation for landing. Then they did their final check of the cabin.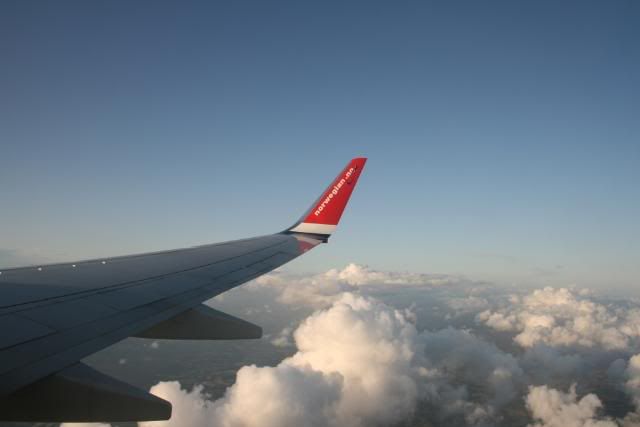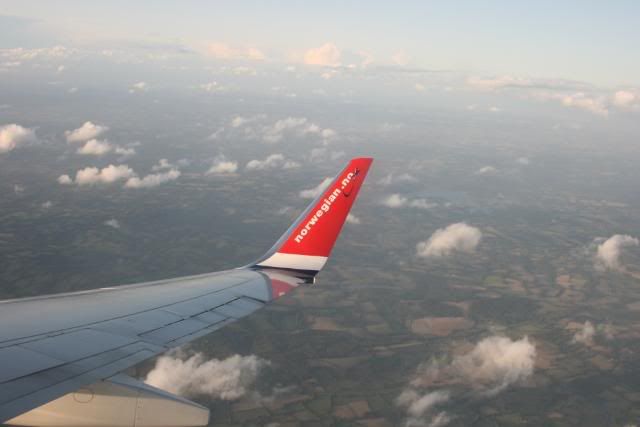 We were placed in the hold for a short while before landing on RWY26L, after leaving the hold we then started making our final approach. This was quite a fun approach, quite a bit of bouncing around which about 20 people near the front let out some screams, that made Tom and myself laugh, also someone a few rows behind us then started making what sounded like coughing noises… more from him in a moment.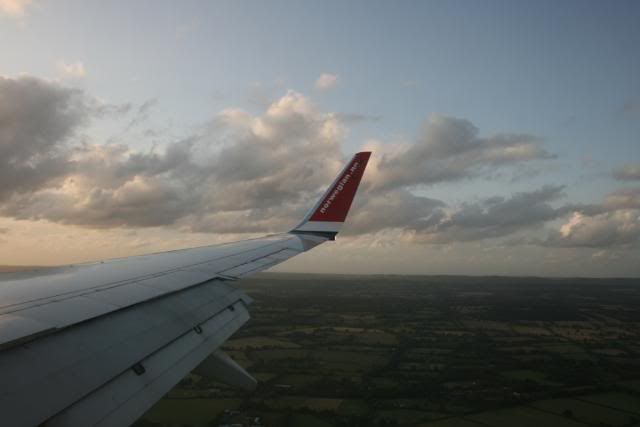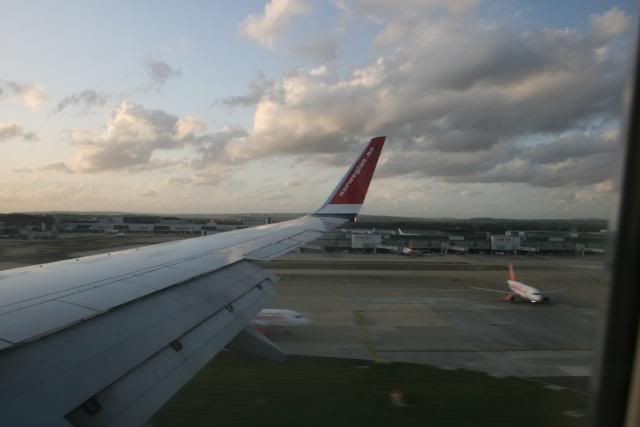 A few minutes later at 19.01 we touched down on the runway and the reversers were applied. Then Tom said to me, "I think someone's chucked up" as he could smell sick. Then I could smell it, and it was getting worse! The guy who was coughing up was obviously feeling a bit sick!
Racing a BA 319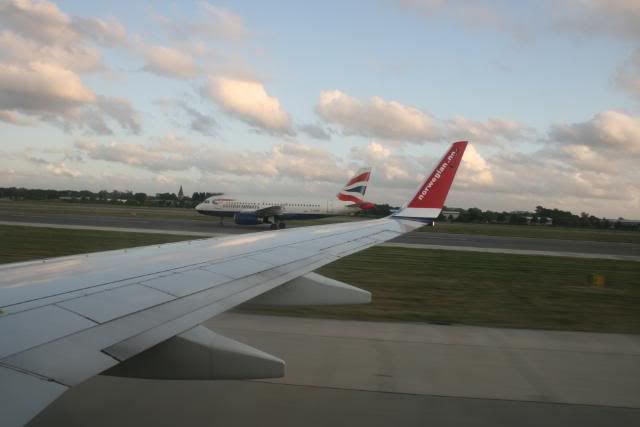 After what seemed like the slowest taxi ever we parked up at gate 13 at the South Terminal. Never have I wanted to leave an aircraft so quickly!
Just arrived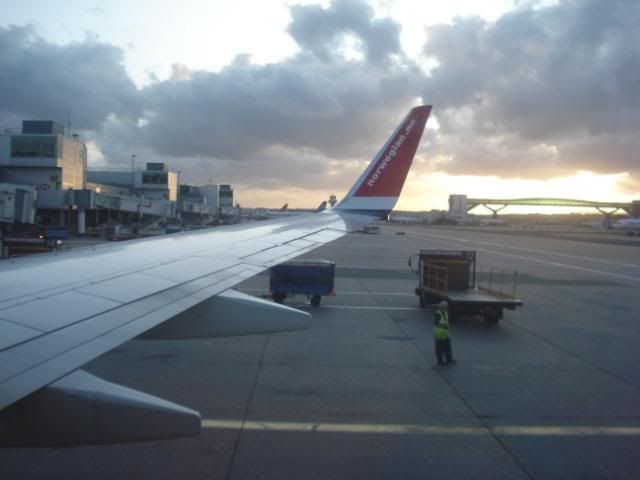 On leaving the aircraft Tom said to the first officer, "Someone didn't your flying", when he asked why, Tom imitated getting sick into a bag. The crew's faces looked quite cheesed off, knowing they would probably have to clean it up!
Parked up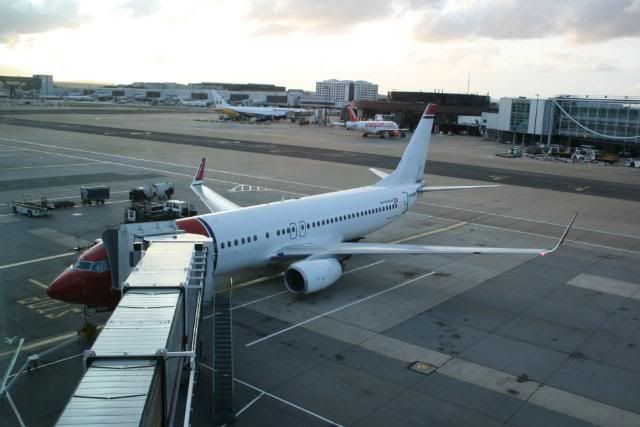 We then made our way to immigration, when we arrived, it was obviously quite a lot of construction work was going on, a new immigration hall for the South Terminal? Whilst in the queue quite a few people from an easyJet flight decided to push in the queue in front of us. We didn't say anything but it's just dam right rudeness! After that was over with we were back in the arrivals area of the South Terminal. After a pretty hectic day we said our goodbyes, Tom headed to the station to get the train home and I made my way to the bus stop to get the bus back to the car park.
I had a fantastic day in Copenhagen and will definatly be returning there!
I was impressed with Norwegian, and I would definatly fly them again, my only criticisms of them would be the lack of internet check in, which is always handy and saves time queuing in the airport and the poor state of the 738 we flew on. Other than that, there was nothing else I could really fault them on. The crews were friendly, polite and efficient.
Thanks for reading!
Matt