Introduction
Trying to fix my travel schedules for the rest of the year I was leisurely surfing around airline websites and came upon another RyanAir offer, this time they were promoting their new Online Checkin policy with some sale fares that were very cheap AND included all the taxes, fees and surcharges. The FR offering from Finland is not very good with only a handful of routes, bad schedules and often not that cheap fares. And getting to Tampere is another major hassle for somebody like me who is living in the Capital Region of Finland. Oh well, of course there are alternatives, and my beloved Riga airport suited just fine. There were a number of good fares with FR available, so I booked a few for the autumn. The first of these was RIX-CRL, which cost the princely sum of 13 EUR including priority boarding and credit card fees (and it also finally prompted me to get a Visa Electron card to cut down on these fees). My first idea was to spend a few hours in Charleroi (having been to Brussels many many times before) and then taking the train up to BRU and catching a flight home from there.
However I couldn't resist checking additional FR flights ex-CRL, and I found myself booking CRL-MAN for the same price of 13 EUR with a schedule that fit quite nicely with the RIX-CRL flight. To get me to RIX I booked a 40 EUR el cheapo ticket on BT - they are getting more desperate for cash and the 40 EUR fares seem to have become much more common than before when the standard low fare for HEL-RIX was around 60-70 EUR. Well I'm not complaining. Getting home from Manchester proved to be a much more challenging as AY wanted ridiculous amounts of money for the direct MAN-HEL flight that I'd preferred and no LCCs really fit my plans either. Finally I settled for SK via CPH for around 160 EUR which wasn't cheap at all. Via ARN would've been a few Euros cheaper (the airport fees for ARN are a bit less than at CPH) but I preferred to fly on another MD-80 series and besides I've already flown MAN-ARN before so another route was preferred.
A few weeks later FR announced that all the MAN routes apart from DUB would be dropped, luckily this would be from the beginning of October onward so it didn't affect me.
6.9.2009
With a departure time of 8.45 waking up wasn't too hard - unlike the 5.25 BT departure I've taken a few times which is just brutal. Normal morning rituals and at 7.30 I hop on to the bus, reaching the airport 15 minutes later. This is the first time I'm flying out of HEL since the terminals were reorganized in the beginning of August - the domestic terminal is now called T1 and houses mainly Star Alliance carriers and some other foreign ones, and the old international terminal is T2 with AY and other Oneworld airlines plus assorted charter carriers etc. Air Baltic is handled by SAS Ground Services in HEL, so it is T1 for me. My first impression is that things are not quite finished yet, despite the split happening already a month ago. There are pieces of scaffolding around and the whole place just has a very unfinished feel to it.
Just for the heck of it I try the self-service machine, which never works with the el cheapo BT bookings - the official reason is that they put a note to the PNR for the check-in agent to charge for any hold baggage if you don't pay for it online and this note messes up the machine. Today is no different, so I have to join the queue which doesn't look too long but in the end turns out to be dog slow. There aren't too many agents on duty and in a brilliant display of situation management there are two separate desks for baggage drop even though these aren't busy at all and the agents are just sitting still for most of the time. There are three desks open for regular economy, but one of them is clogged by a hockey team flying to Ottawa checking in massive bags of hockey equipment - I think there are around 20 huge bags each of which needs a separate overweight tag etc. There seem to be a number of people with perverse ticketing problems requiring phone calls, consultations with a supervisor - the works. There's also a lady trying to travel on an expired passport and this results in a long argument with the agent should she be allowed to travel or not. In the end she is given her boarding pass and her luggage accepted, but the whole thing just takes up a lot of time.
After half an hour in the queue, with half an hour to go until the scheduled departure time I start getting nervous. I'm still three people away from the end of the queue, but luckily some other people are going to Riga as well and ask an agent about it. The answer is a bit worrying, as she says "I think the flight is already closed, I need to make a call to see if they accept you.". Apparently they do, so we get to skip the rest of the line, get quickly checked in (I complain again about the self-service issue as I have done many times before) and run quickly upstairs to the security check. The whole security area seems to have been rebuilt as there are now far more lanes than previously. There are no lines, so it's a quick affair and then straight to gate 13 and to the waiting bus downstairs. The little I see about the "new" T1 airside is not very pretty - more scaffolding, temporary plywood walls and almost a complete lack of any shops or restaurants. Oh well, maybe they'll get it finished by the end of the year.
I'm not even the last to board the bus as a few more people come after me. There are less than 25 people in the bus including a deadheading BT steward in full duty uniform - looks like another flight loosing money for BT. We drive through the depressing early autumn drizzle to the apron on the south side of the terminal. This flight was supposed to be on a 737, but I see none around. I'm very delighted to see that we actually pull in front of TF-JMN, the Air Iceland Fokker 50 leased to BT since this May. I've seen this beauty - she is in full Flugfelag Islands or Air Iceland livery - in RIX a few times and now I'm about to board her!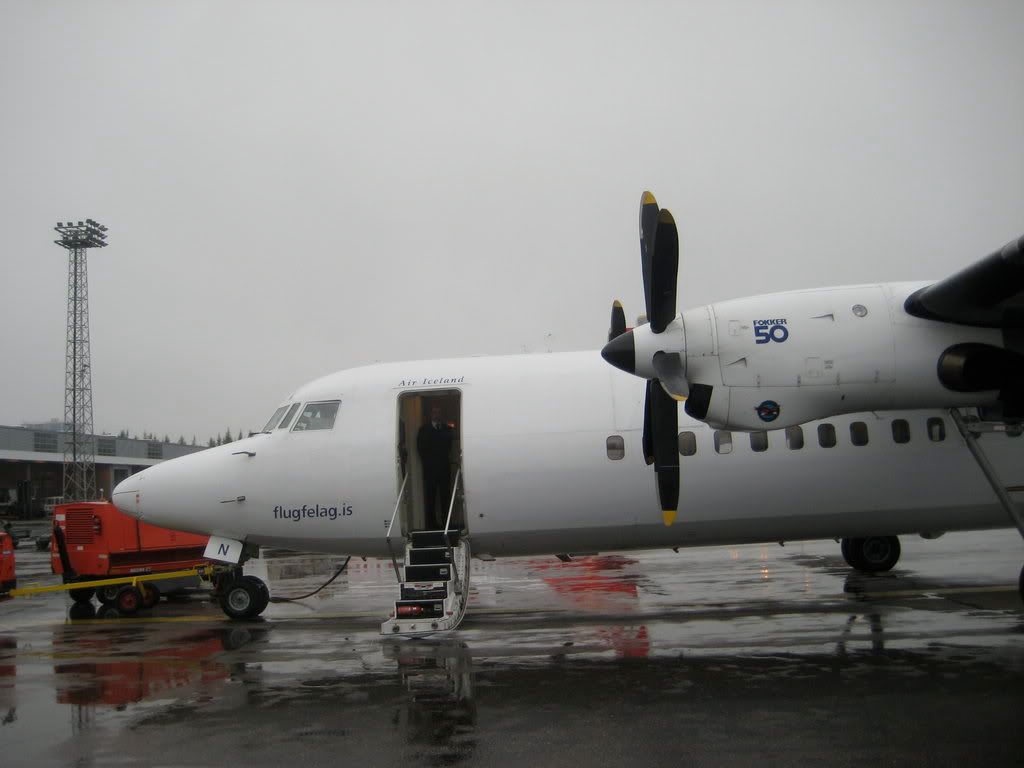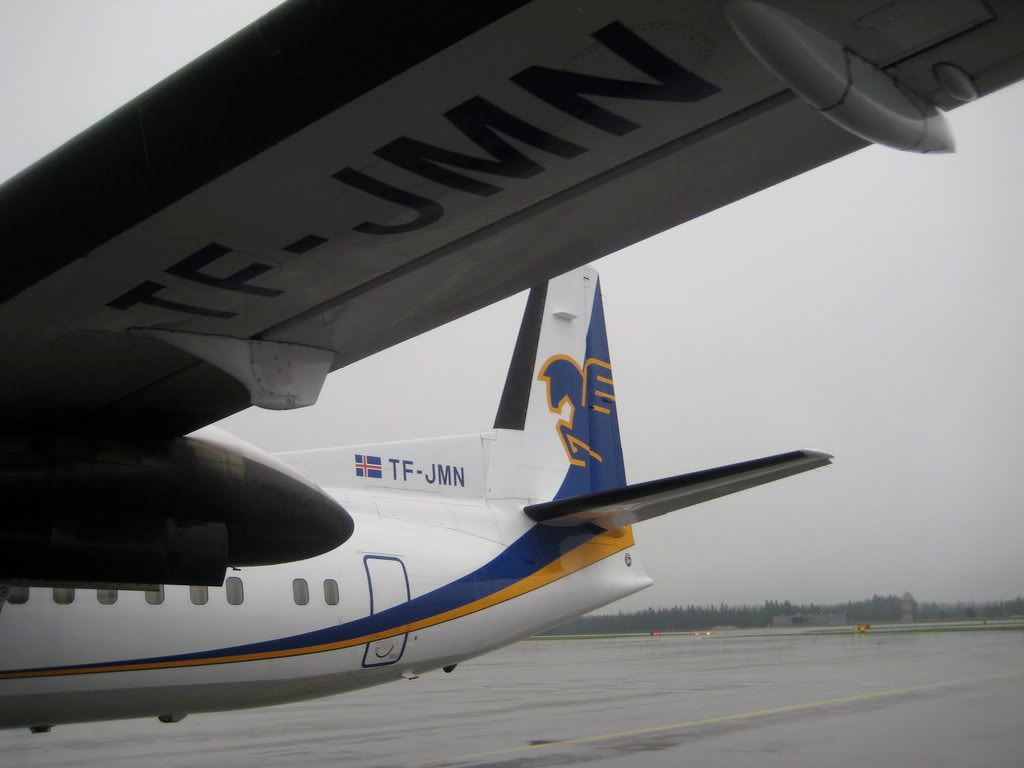 HEL-RIX
BT330
F50 TF-JMN
Seat 7A
8.39 - 9.43
Once again I'm the first to board the plane (I tend to do this a lot) and greet the smiling steward with "I'm very happy to fly on this plane!" which nets me a confused expression as he probably doesn't share my enthusiasm. There's a second female FA standing at the back galley as well. With the low load boarding is a quick affair, even though there are some weird seat assignments - some people actually have seats for row 19, which of course does not exist on the Fokkers. Looks like they got checked in when the flight was still loaded to the system as a 737.
The plane features old style thick blue cloth seats, the shade of the blue is somewhat lighter than the dark blue on the BT Fokkers.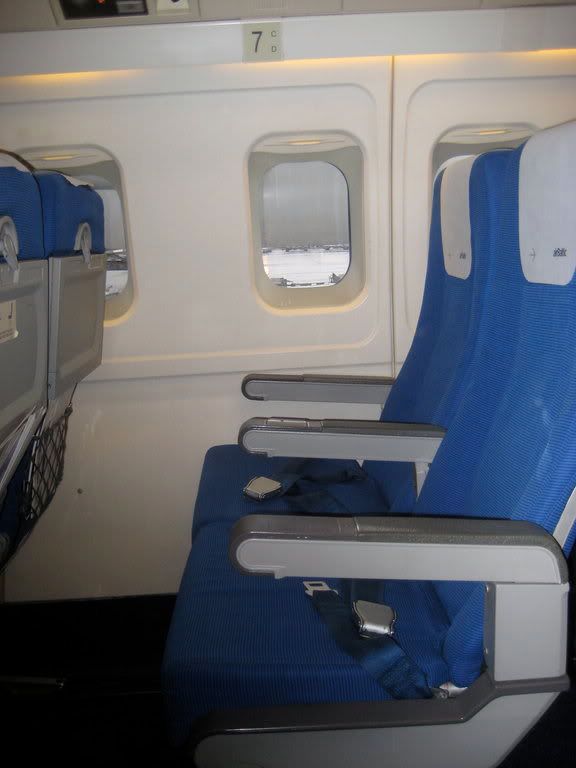 We depart a good 6 minutes before schedule, pushing back on our own engine power. Taxi to runway 04R eats up that advantage, so we start our take off roll exactly on the scheduled departure time. The weather being horrible we disappear into the murk in no time: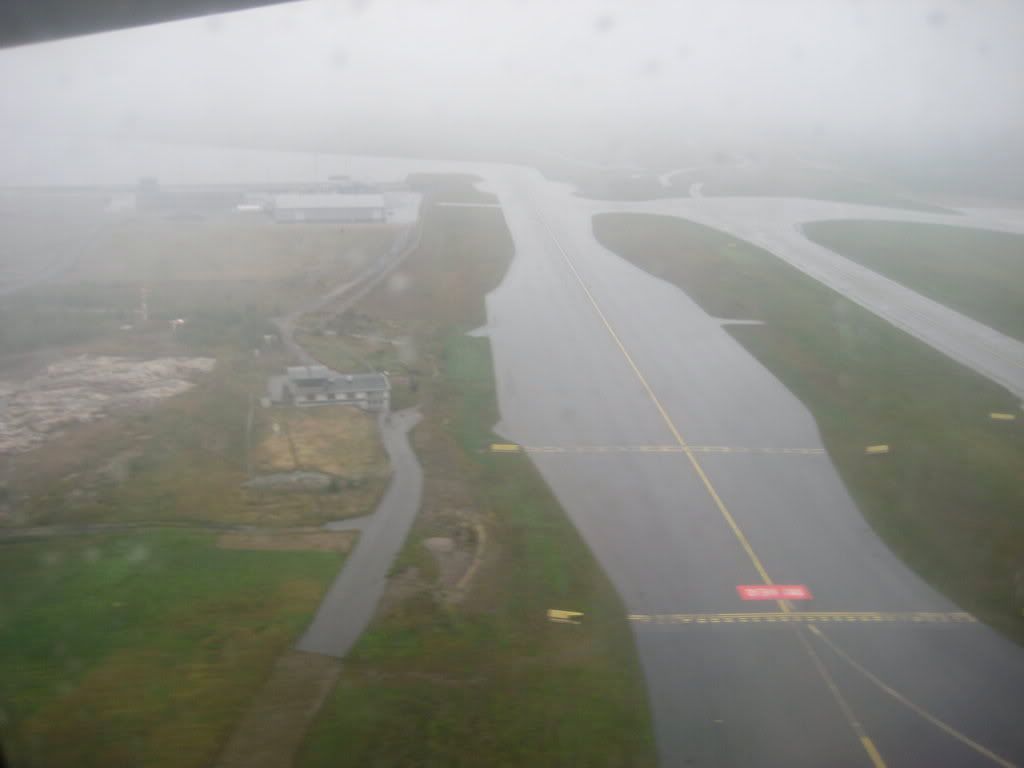 The skies remain overcast for the whole flight, only over the Gulf of Riga there are a few openings but views are limited to water (and some mighty waves), so no photos this time. Here's a cabin shot inflight: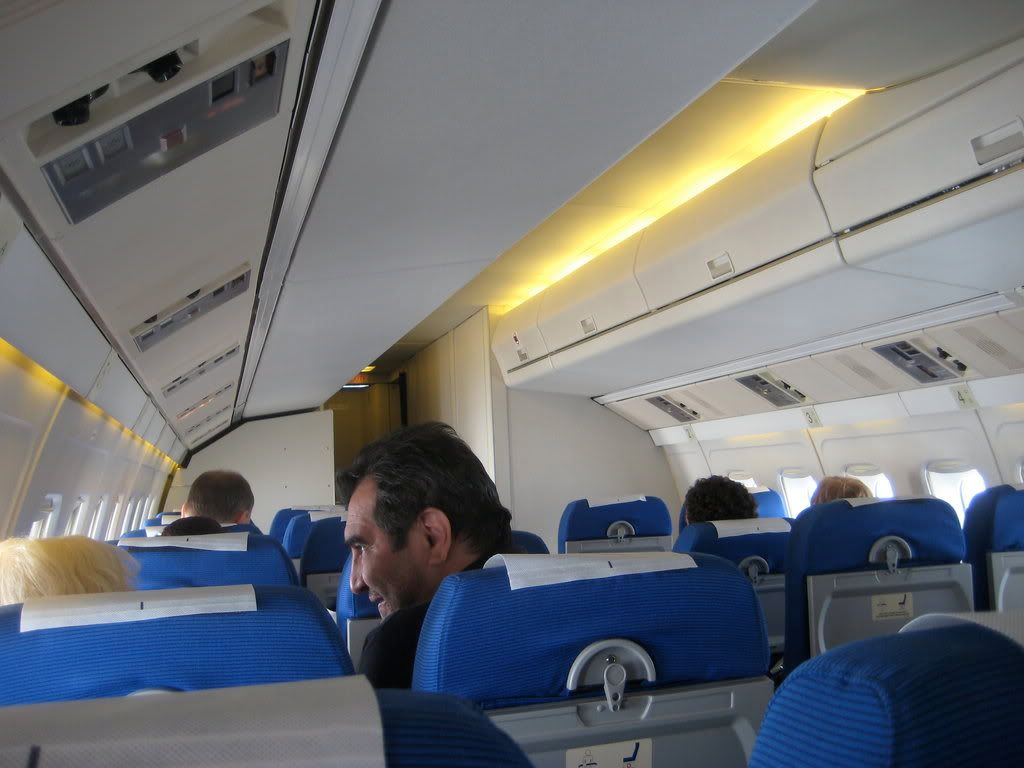 As I had no time to grab any coffee or water from the airport I buy both from the BOB cart. The coffee is actually rather nice and water is ... well, water.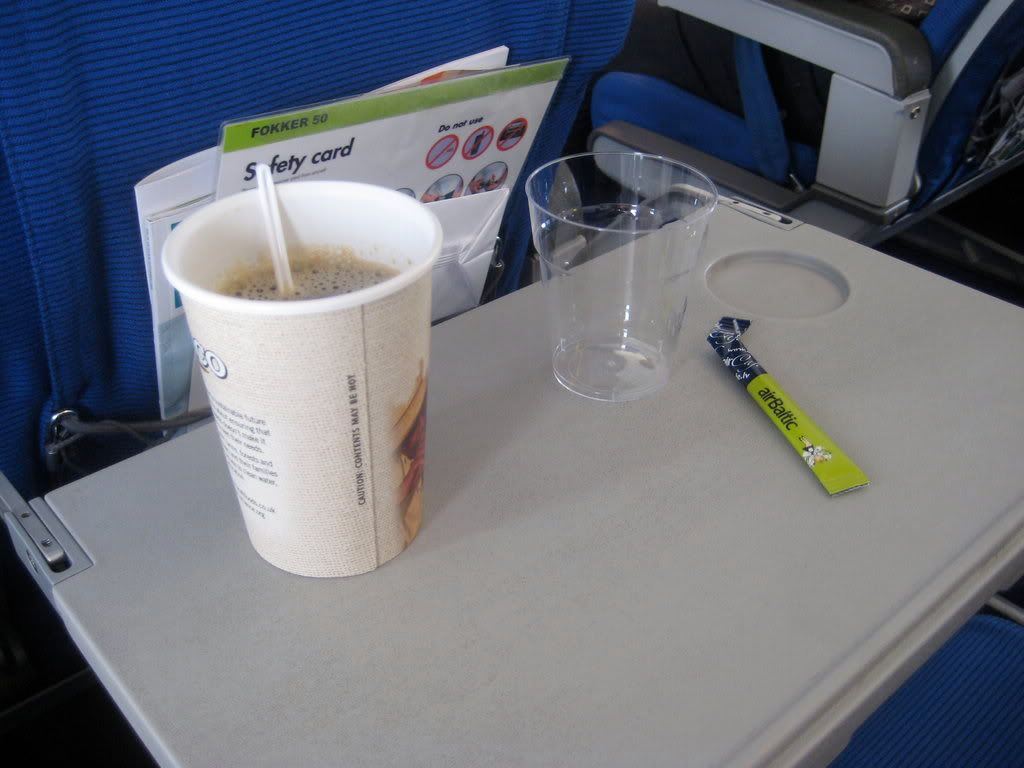 Half an hour into the flight our Estonian captain comes on, announcing (in English and Russian) some weather information in RIX - basically the same crap weather as in HEL with 14 degrees, 3 kilometers visibility and winds from the south which means we should be landing on runway 18. Remaining flight time is another half an hour.
This proves to be correct, almost exactly 30 minutes after the announcement we gently touch town on a wet runway 18 and taxi to the southern apron, where an ancient rattling bus takes us to arrivals.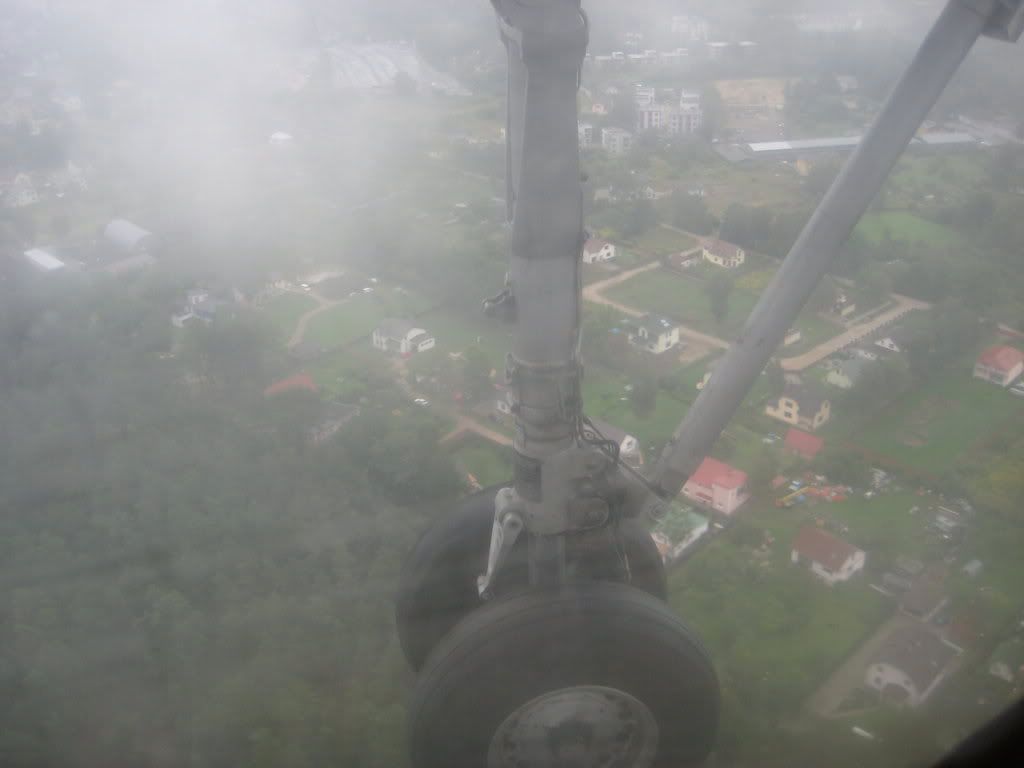 Riga airport
I make a beeline to the transfer stairs that take you to the main level. Once again the airport seems quite busy, although it is not as packed as during the peak June and July holiday season. With a little over an hour to go I do some shopping (more cigs for the mother in law actually) and have a quick snack at the coffee shop, taking a few pictures of this beauty: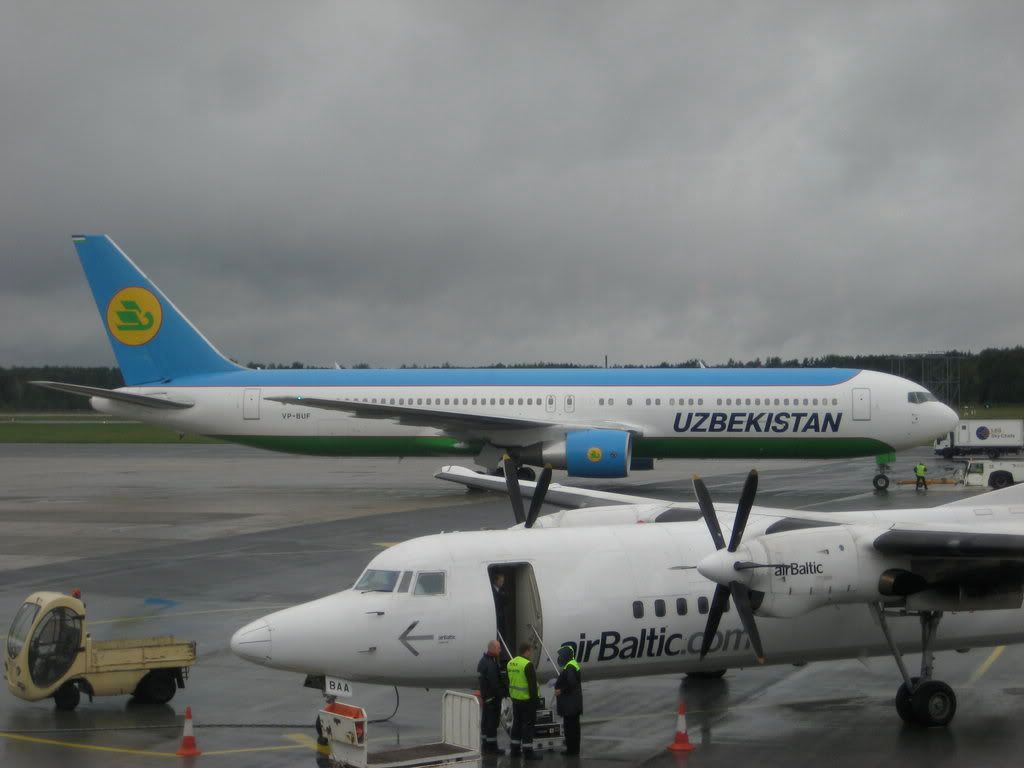 The CRL flight is departing from the bus gates below the B pier where I make my way around 40 minutes before departure. The place is packed as there is a full BT flight to FCO boarding at the next gate and people are already queuing for boarding our flight. And this is just the bus, not the plane for crying out loud! I'm happy about my decision not to fly FR anymore unless I have priority boarding. Very soon they announce priority boarding, so I make my way to the correct queue where there are around 10 people. We board the thankfully more modern bus and soon it becomes apparent that they are actually providing a dedicated bus for priority boarders which is nice (WizzAir, you should learn!). What is not nice that we end up waiting for over 30 minutes in the bus with no explanation given. At least the driver turns off the engine after some people complain about the diesel fumes in the back. Finally at the scheduled departure time of 11.05 the bus starts and drives us the few hundred meters around the building to the waiting 737-800.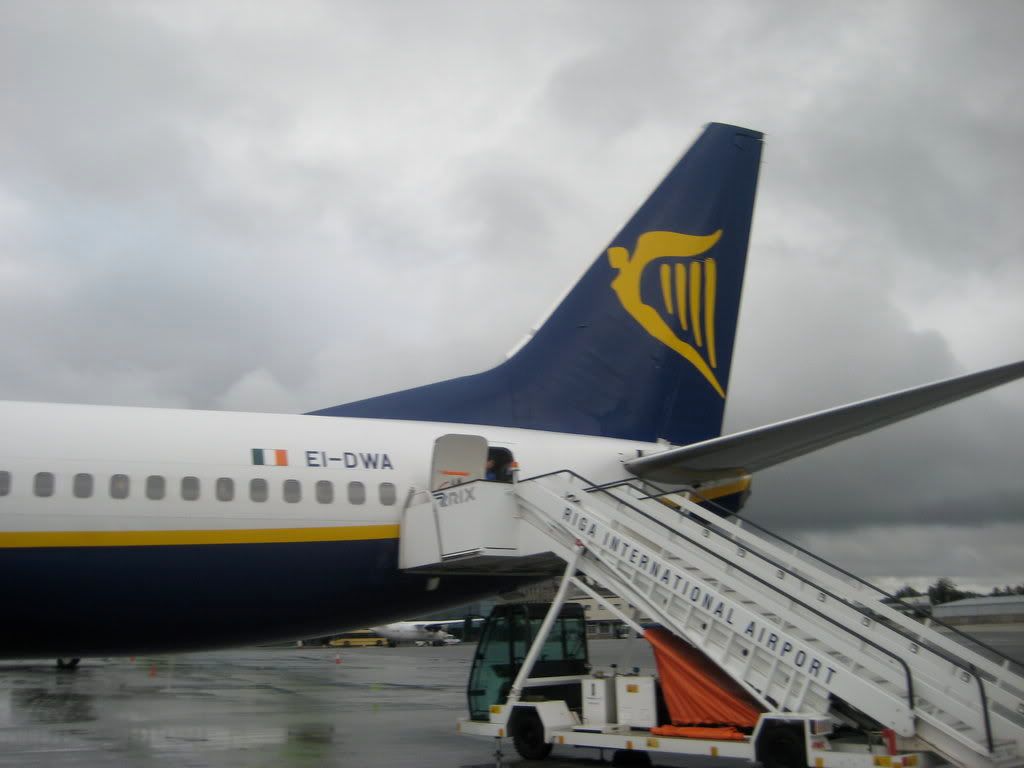 Lots of green tails parked on the south apron:
RIX-CRL
FR8086
B737-800 EI-DWA
Seat 31A
11.38 - 12.43
Everybody on the bus rushes to the front stairs so I do what I always do and board using the back stairs. On board the FA is having trouble finding a working pen to tick off my boarding pass (so low-cost, so ryanairesque!), so she just tears the paper a bit. I sit on one of the last rows wondering about why all the other people are crowding and queuing in front of the plane. Human nature, what a fascinating subject.
The ugly cabin:
The rest of the passengers soon follow on another bus of the non-priority kind: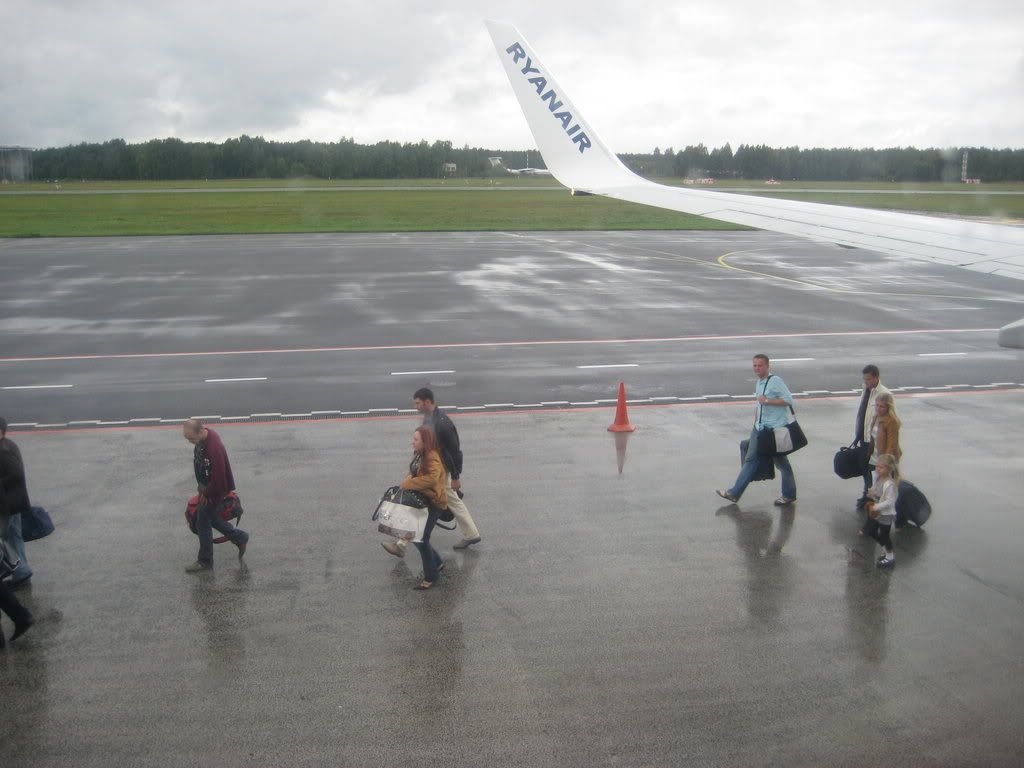 They settle down surprisingly fast, and I find myself surrounded with a noisy bunch of Belgian teenagers who are yelling obscenities at each other (well, for all I know they could be citing Bible verses as my French doesn't really get past the "merci beaucoup" level). The load factor looks surprisingly low for FR and for a while I'm actually hoping that the two seats next to me will remain empty. Those dreams are shattered by the arrival of a second bus which makes the plane nearly full. I get a pair of old Latvian men sitting next to me, which wouldn't so bad if the one next to me didn't reek of fresh mushrooms. He clearly ate quite a bunch of those for his breakfast, and didn't bother to brush his teeth (if he has any). I don't like mushrooms, not the taste and definitely not the smell. I resort to turning all the air vents on top of us to full blast which actually works and makes the smell go away. Inflight entertainment for these guys consists of the menu card which they go through in great detail many times during the flight, with the other one apparently translating things into Latvian for the other one. Not that they buy anything from the menu... Oh well, whatever tickles your fancy.
A mysterious third bus appears with a handful of late pax who have some trouble finding seats. In the end all the seats seem to be occupied - I'm puzzled by how FR always manages to do that. Most of the flights on FR that I've been on have been full or very near capacity at least.
We finally start moving 33 minutes late, with no explanation given about the delay at all, let alone an apology. Quick taxi to the threshold for runway 18 and off we go.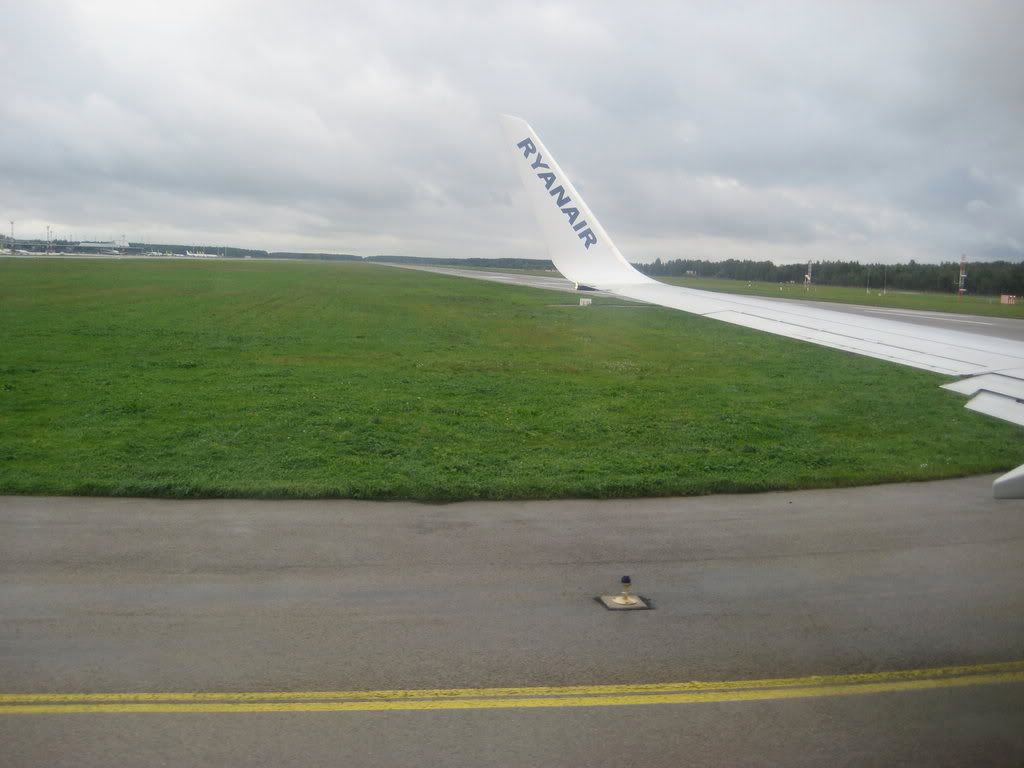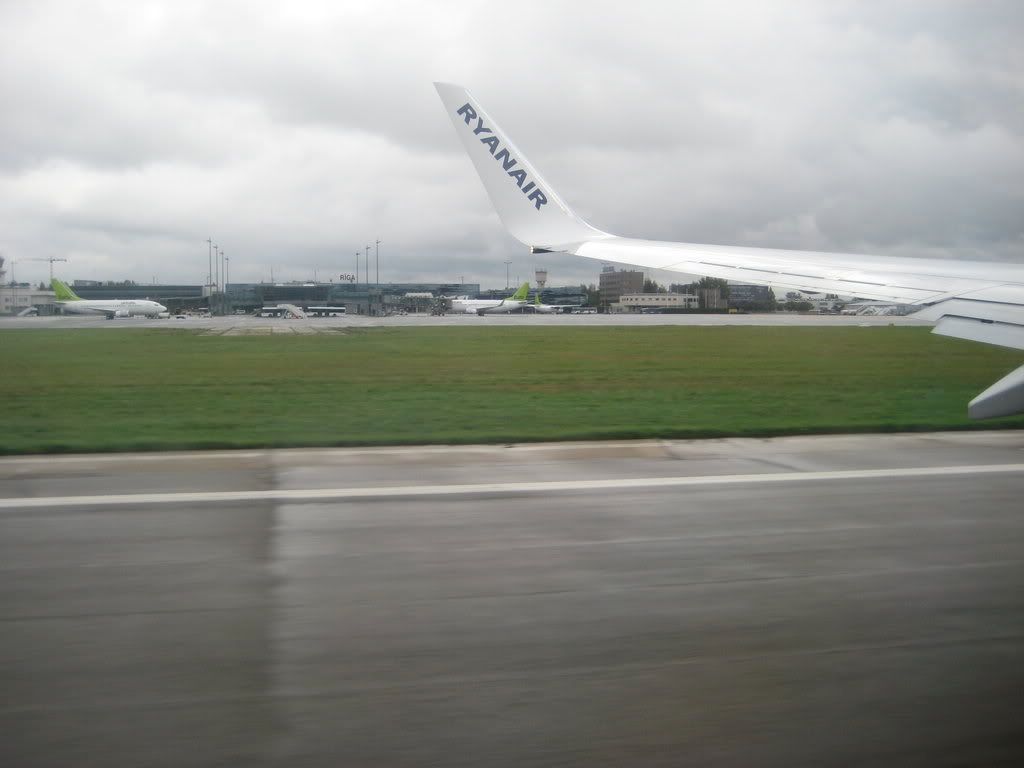 Even though it has stopped raining the weather is still very depressing and in no time at all we disappear into the clouds.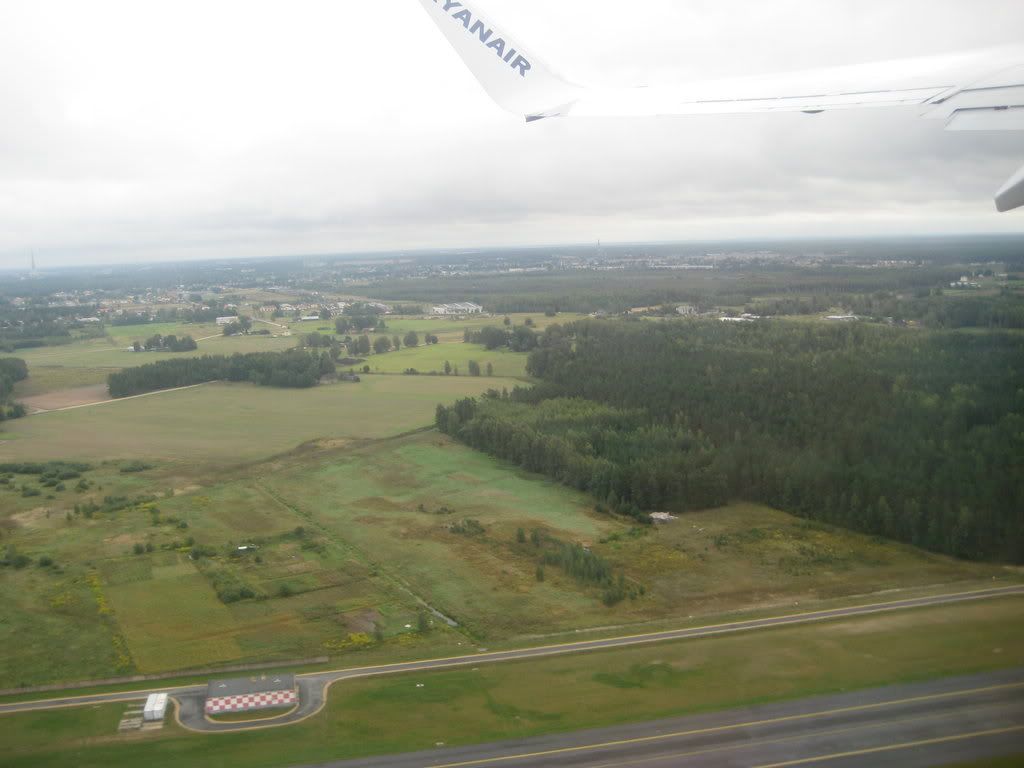 The cloudy skies remain for the whole flight, only a few openings here and there showing the Baltic Sea north of Germany and some random German country side.
I spend the whole flight watching a movie on my IPod Touch which causes some curiosity in my seatmate (even as much as to get him to look away from the wonders of the menu card). It's a standard FR flight, they try to sell many things to you at inflated prices, make multiple announcements about these and offer special deals. I'm not interested at all this time, just being satisfied with my bottle of water. Luckily the headphones block much of the announcements.
Time flies when you're flying (errr...) and soon I feel the engines easing and descent starting, around 1h30mins into the flight. We descent very gently, and 15 minutes later the seat belt sign is switched on and landing in 15 minutes announced. Too bad I didn't get to finish my movie, bummer. The cloud base is low here as well, so it's only during finals that I'm able to see the ground and snap some photos. The guys next to me decide to turn on their mobiles during final approach and apparently a number of other people do as well as the cabin fills with a cacophony of beeps, no doubt welcoming their owners to roaming in Belgium. The cabin crew couldn't care less, even though they must hear the beeps.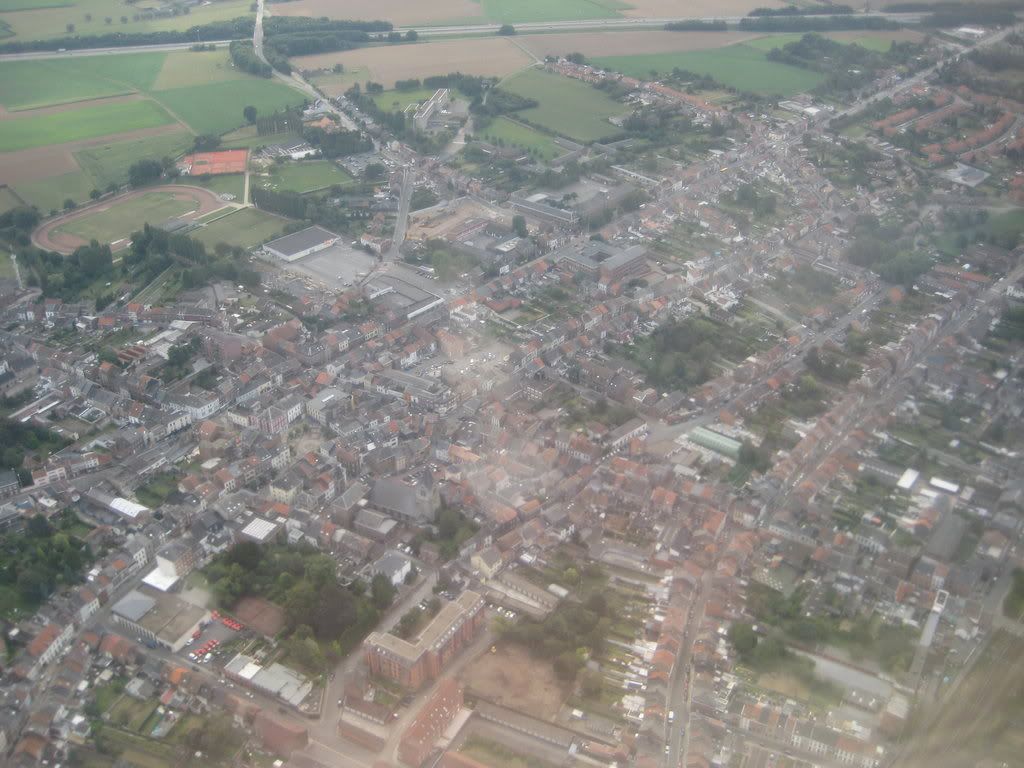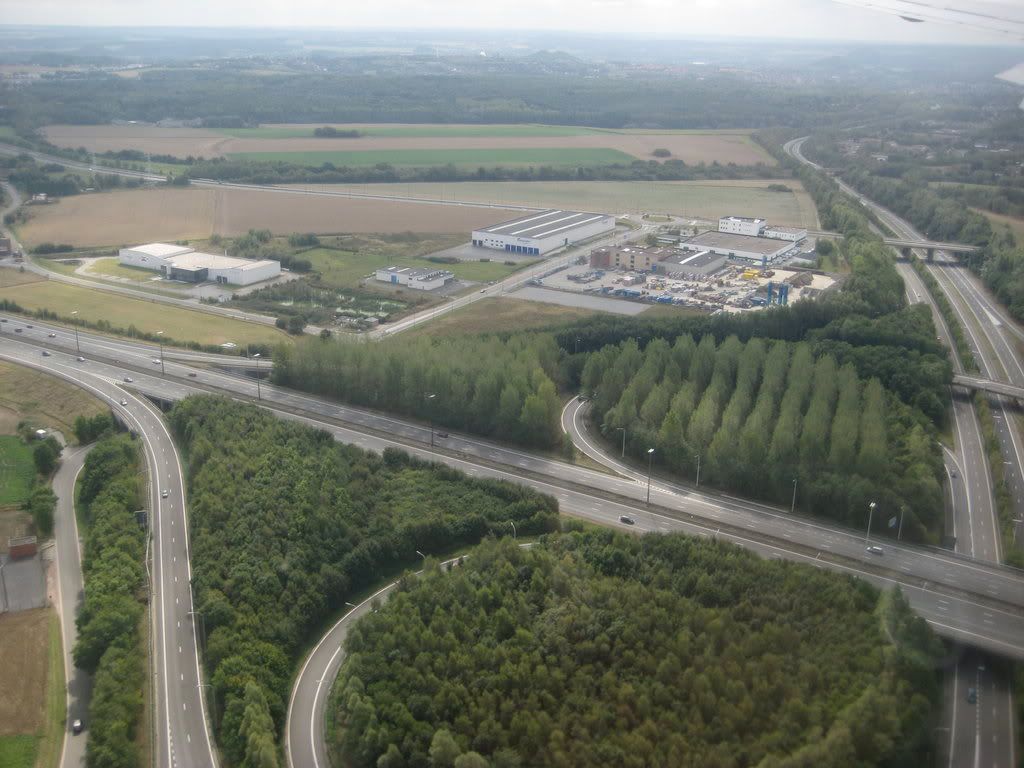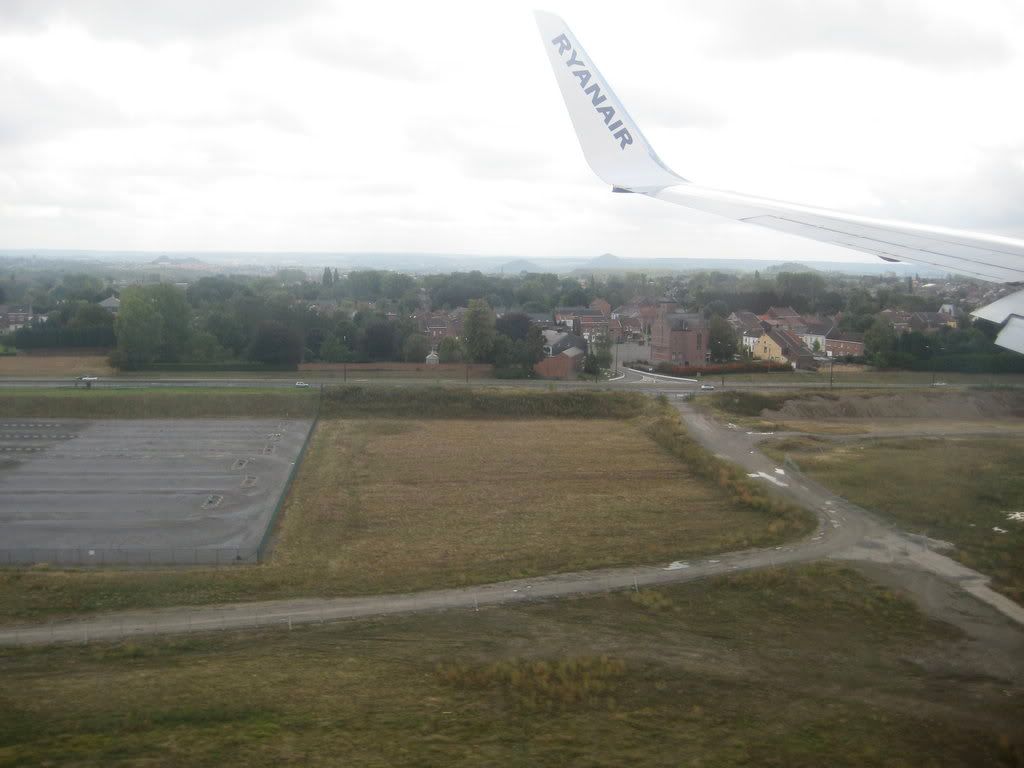 We touch down rather hard on runway 25, followed by heavy breaking and exiting the runway on the far end. No "On time arrival" fanfare this time but thanks to generous padding in the schedules we are only a few minutes late. A WizzAir A320 from BBU lands after us and follows us to the terminal: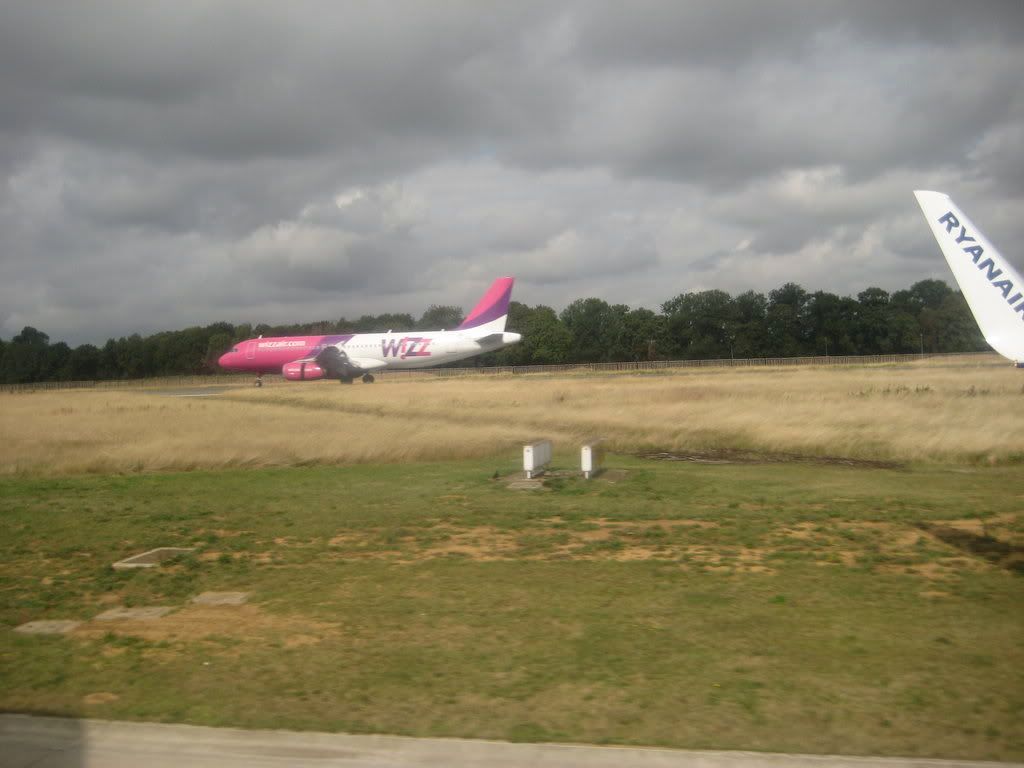 The taxiway setup is interesting as the new terminal building has been built on the other side of the runway from the old, tiny one but the new taxiways are not yet ready. So we taxi on the wrong side of the runway almost the full length before crossing back to the apron side: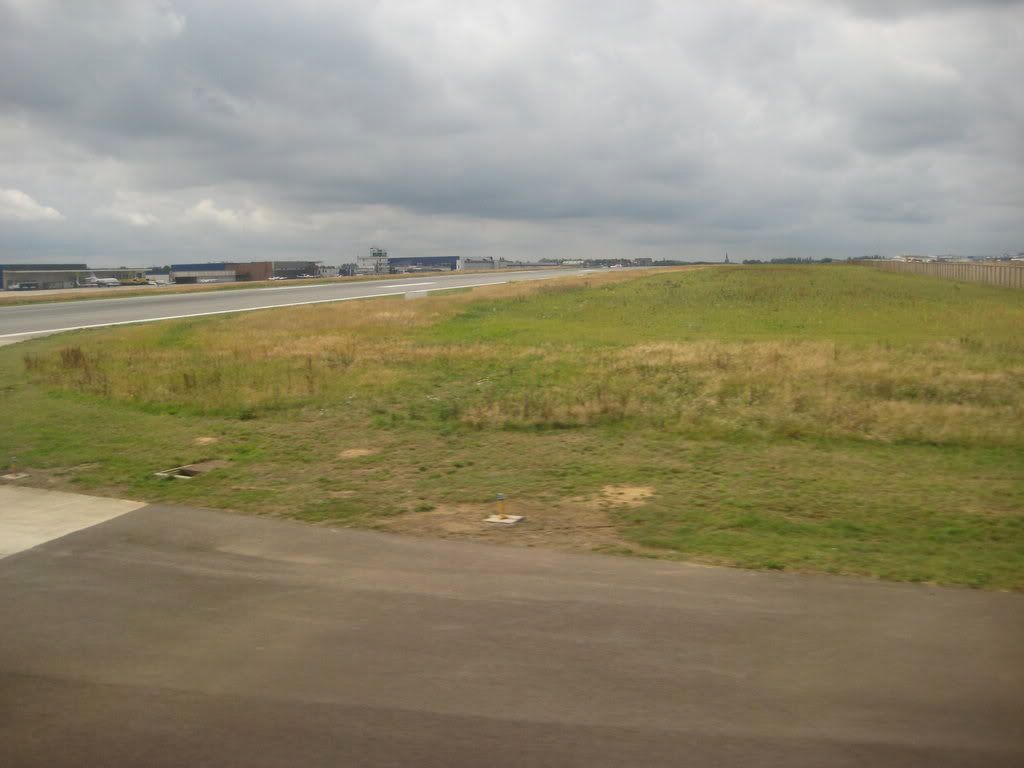 ...and parking in front of the jetwayless terminal: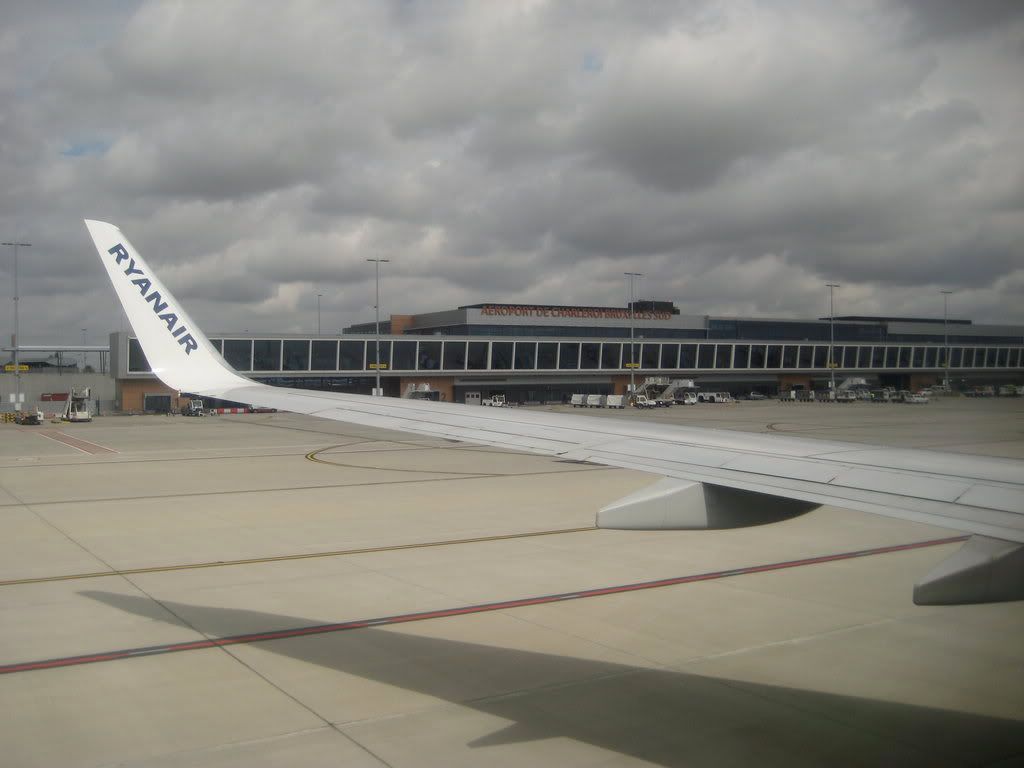 Charleroi Airport
No bus this time, just walking across the apron.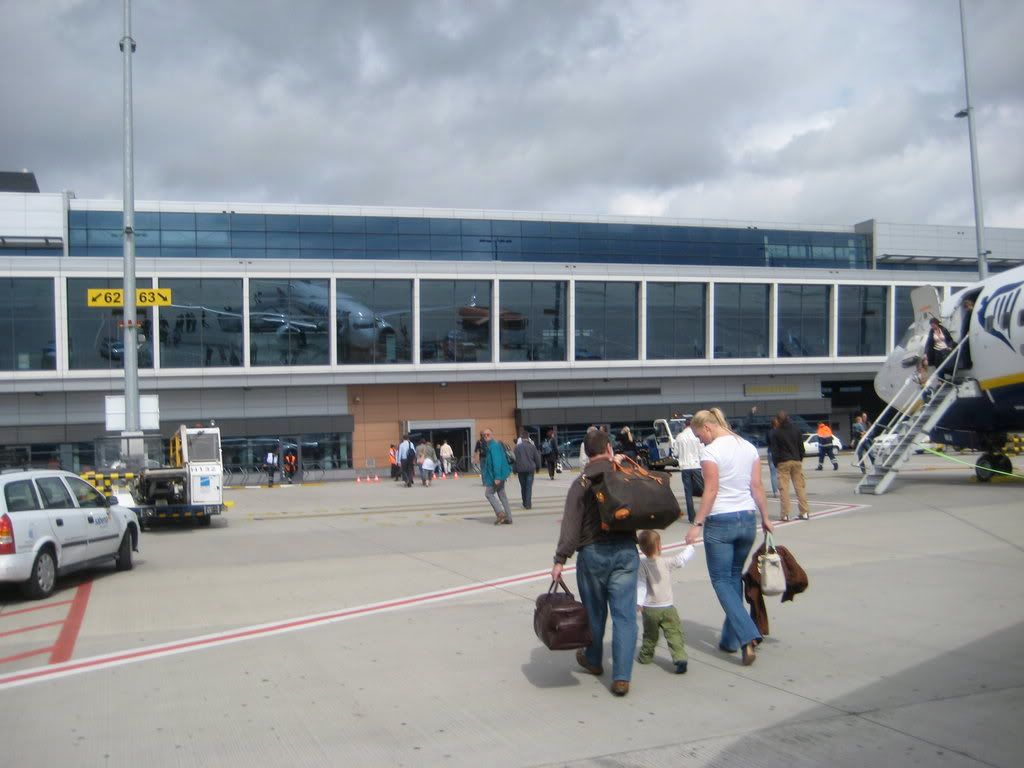 EI-DWA at CRL:
When exiting the baggage claim the customs officers actually require everybody to open their bags and let them peek inside. The aviation magazines, books, water bottle, kilo of amphetamine and the carton of cigs in my bag is apparently no cause for concern so I'm just waved away.
Having around 2 hours to spare I first take a quick walk around to get a feel of the airport. This terminal was opened in January 2008 and still feels new. It does feel cheap as well, as not all the details are very finished and you see raw concrete etc. one some places. Still a decent low cost airport and far nicer than some of FR's el cheapo destinations: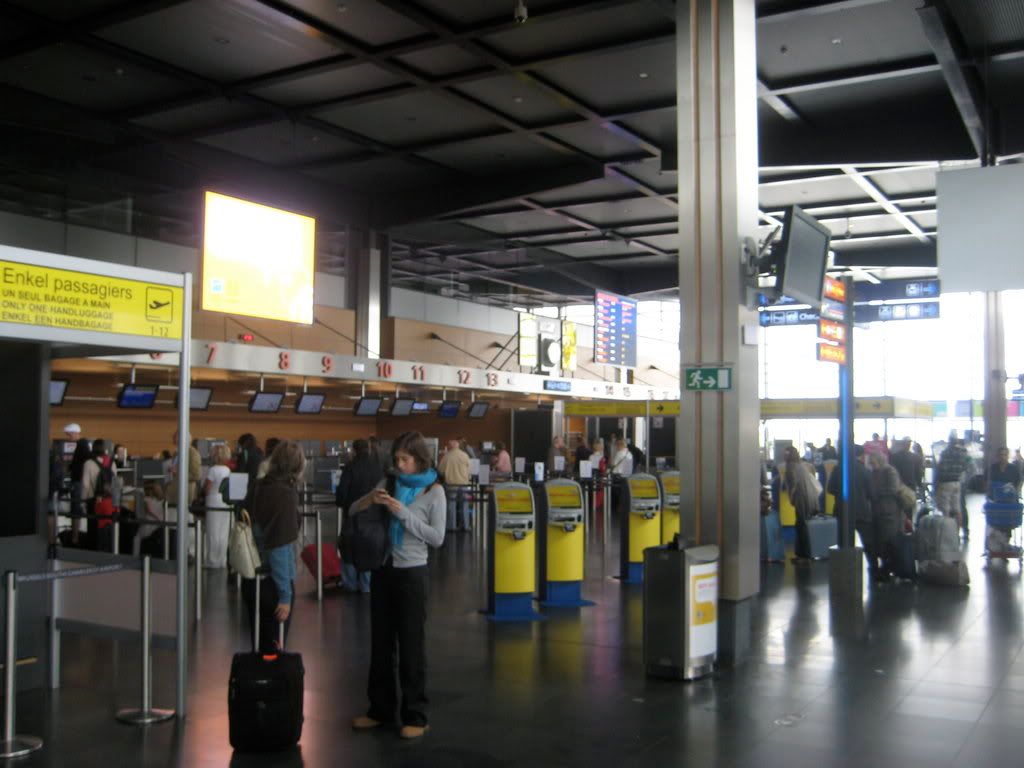 I grab a sandwich for lunch, and since I'm in Belgium I can't really leave without sampling some of the local fine brews, can I? The prices in the weirdly named cafeteria "Paul" are very much inflated, but luckily the Irish pub doesn't charge a premium for beer.
An hour before departure I decide to go airside. Security is quite tight, despite getting rid of everything metallic apart from the zip of my jeans I still beep and the guy (too bad it wasn't a gal!) pats and wands me quite thoroughly. They even have the mystic shoe detector machine that almost chokes on my smelly feet but in the end gives me the green light. Come to think of it they have the same machines at BRU airport as well so maybe it is a Belgian thing.
Airside there is a large store selling everything from duty free to magazines, toys and souvenirs and an equally large cafeteria, some gates and not much else. I grab some chocolate from the store as you can't really pass Belgium without doing that - those chocolates are world class and proceed to the non-Schengen side. At the queue to the passport control there are a number of familiar faces from the RIX flight, so I'm not the only one doing this connection today. The non-Schengen side is even tinier with three gates and a basic snack bar. A large bunch of very hangovery-looking middle aged British guys are downing beer with both hands, tell-tale signs of a bachelor party or "boys weekend out" if you ask me. Oh well, I decide to have one beer for me as well. I barely have time to drink half of it when the agents appear to our gate and a very orderly queue immediately forms in front of it - ahh, the quintessence of British living: queuing in an orderly fashion.
While waiting, a JetairFly B737-800 arrives, later departing for Nador in Morocco: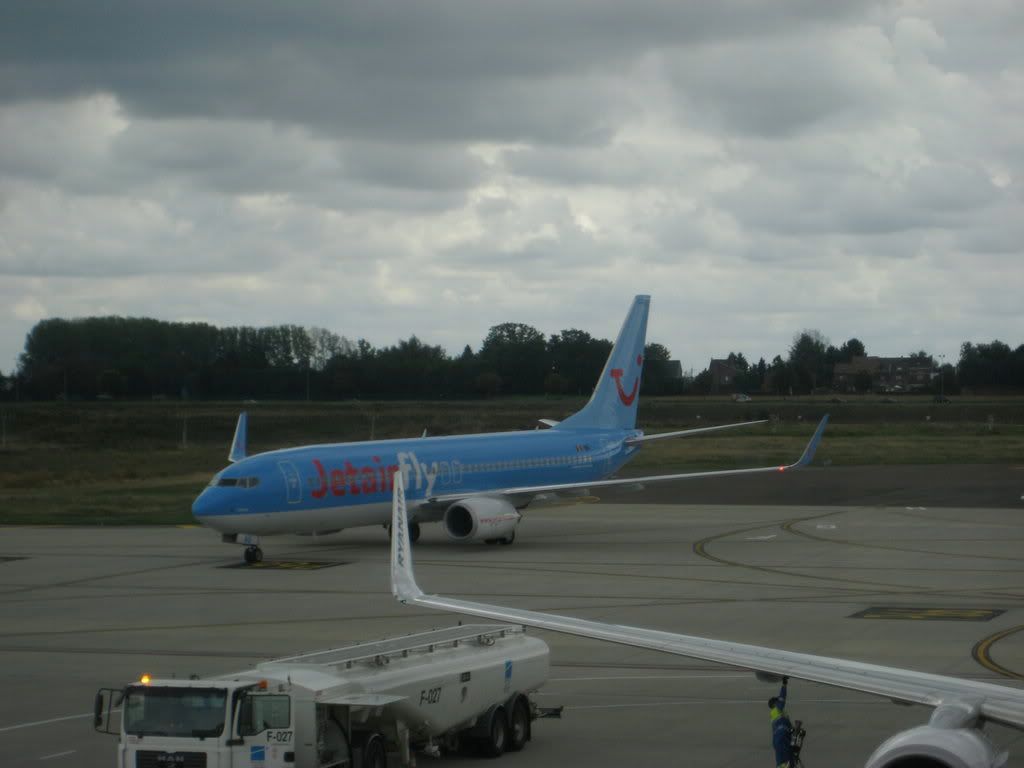 There's a separate priority lane of course, so I make my way there together with a handful of others and am invited to board right away.
CRL-MAN
FR8083
B737-800 EI-DWF
Seat 31F
15.01 - 15.10
Well, not exactly board as we are lead down two flights of stairs into a bare concrete corridor that has the same musky smell as my late grandmother's basement where she used to store potatoes for the winter. The last flight of stairs is cordoned off, so we are blocked into this corridor with more and more people pushing down. At least the door to the apron is wide open so the smell isn't overwhelming. Another 15-20 minutes passes here, until a ramp agent comes and lets us proceed to the apron. Once again I board from the rear stairs - the back galley FA actually has a working pen this time. I settle for the right hand side this time.
A few FR planes have arrived in the mean time: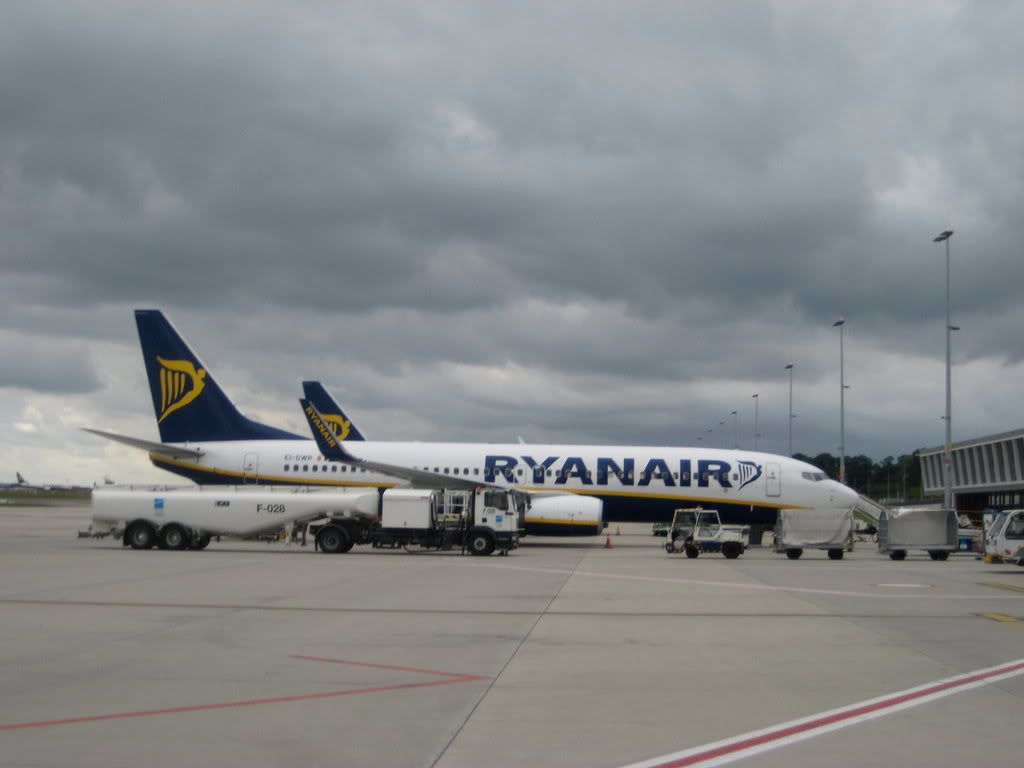 Gradually the plane fills, and it looks like MOL did it again - all the seats are taken. The bachelor party folks spread around me, with the one next to me asking if I'm a nervous flyer. I answer "Nope, I fly far too much to be one". He says that he is, and he turns out to be a nice guy and we have some chit chat about various things. After telling him that I'm on the track to logging around 125 flights this year he asks "Yes, you definitely fly much - are you a pilot?" I answer that I couldn't - they wouldn't let me drink beer while on board if I was... He's also quite puzzled about the fact that I'm flying to MAN just to catch another two planes home to HEL - I don't have the heart to tell him that I actually departed from there the very same morning and took another two flights just to get on this one
.
We depart one minute after the scheduled time, taxiing to runway 25 doesn't take much time and shoot to the overcast sky. The nervous guy looks very nervous indeed, with eyes tightly closed and sweating palms. After we level out he says that the take offs are the worst, the level flight and landings when there are no bumps are okay for him.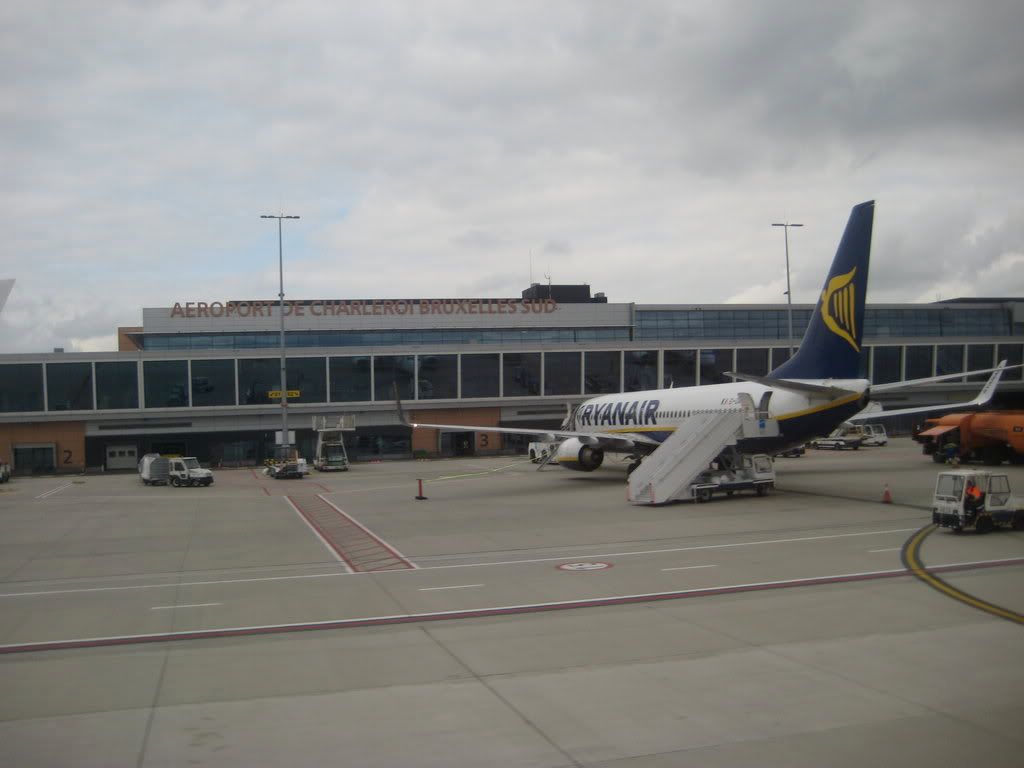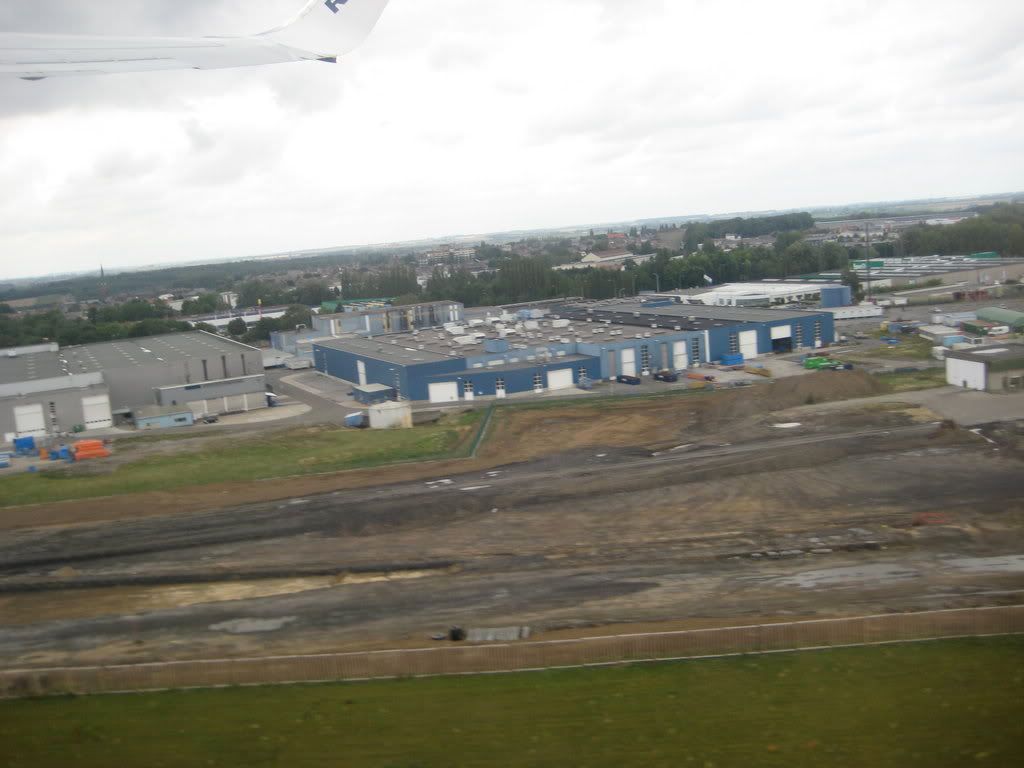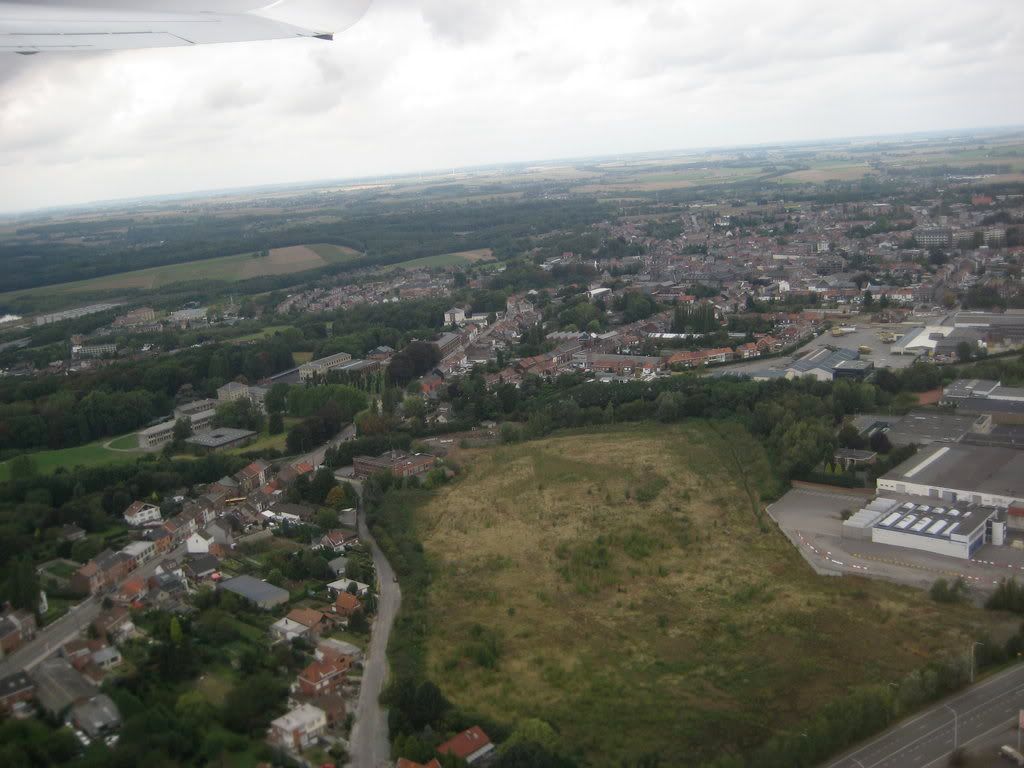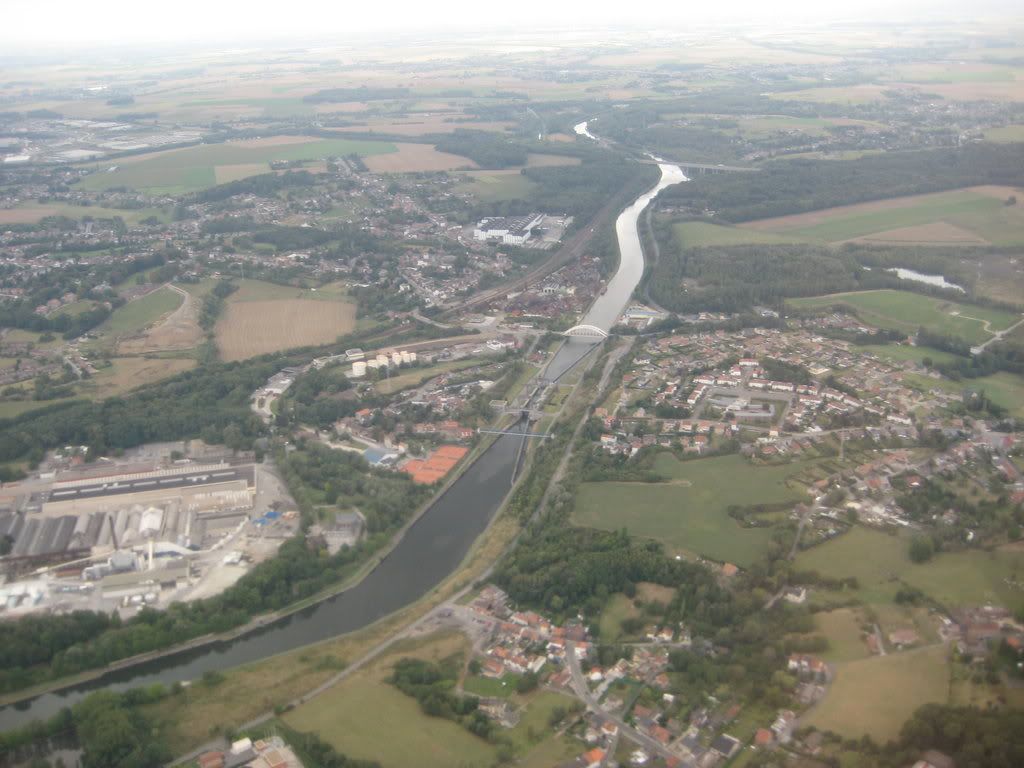 The skies have cleared a bit so there are sights from the ground to be seen. Soon after take off we fly past Ghent:
and reach the North Sea coast over Knokke, with the river Scheldt estuary clearly visible: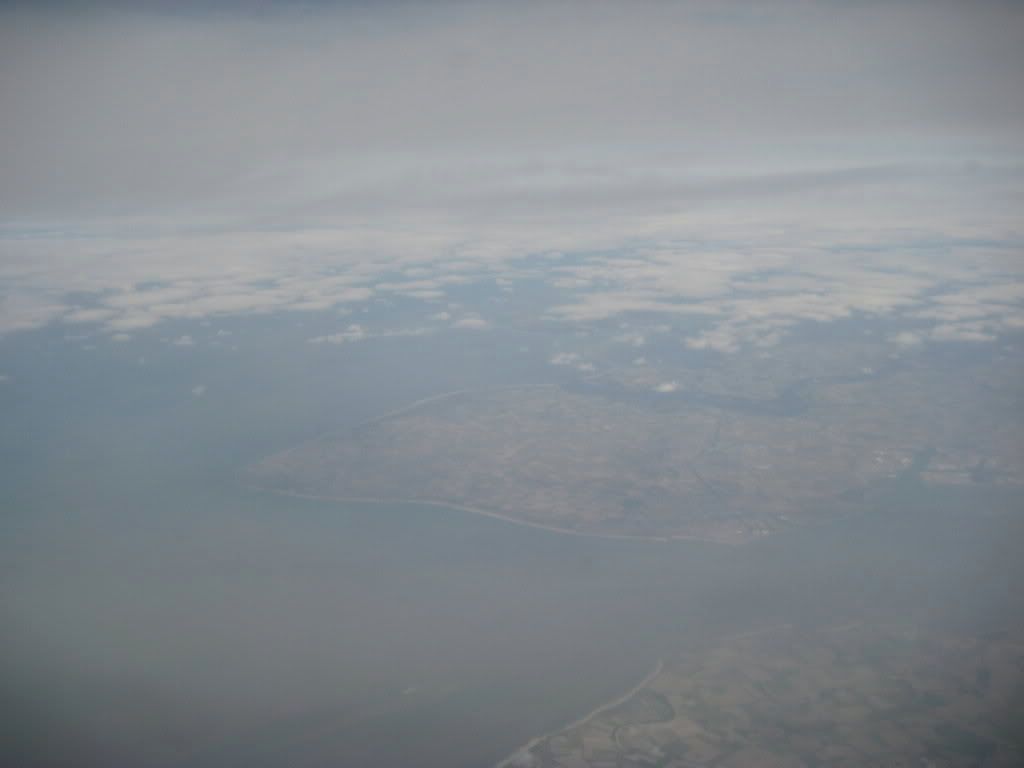 Crossing the short sea stretch doesn't take much time and soon we make landfall just north of the Thames Estuary.
We continue onwards towards Leicester and start descending directly over EMA airport. It looks like the northbound lanes on the M1 motorway are blocked by a huge traffic jam around the airport. Bad shot of Leicester city: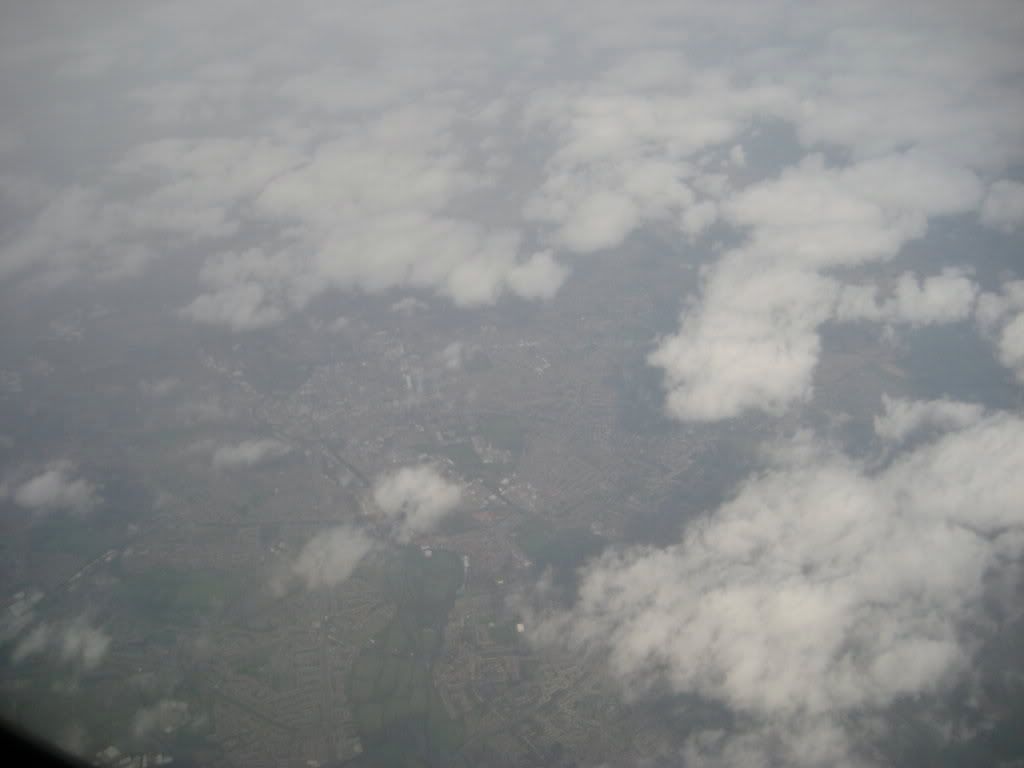 I have just enough time to finish off my movie and listen to a few tunes after the seat belt sign comes on 50 minutes into the flight. The crew doesn't have time to finish the BOB service, so the few last rows including mine are skipped, which is fine by me anyway. We descent over the southern part of the Pennines, which affords some nice views: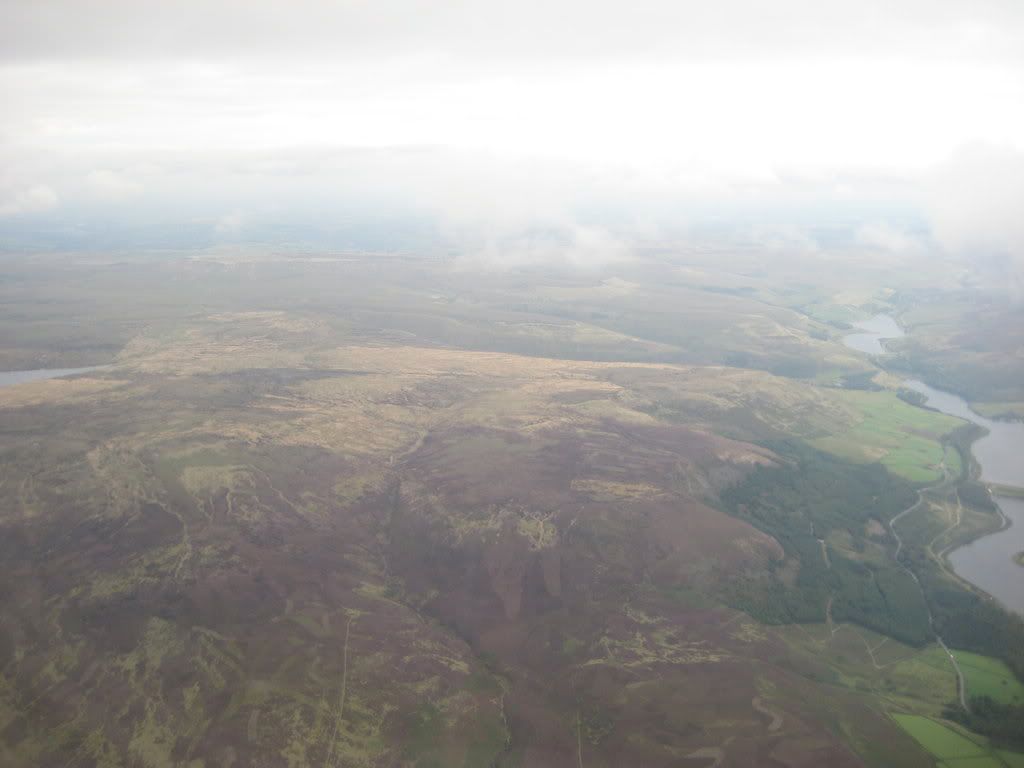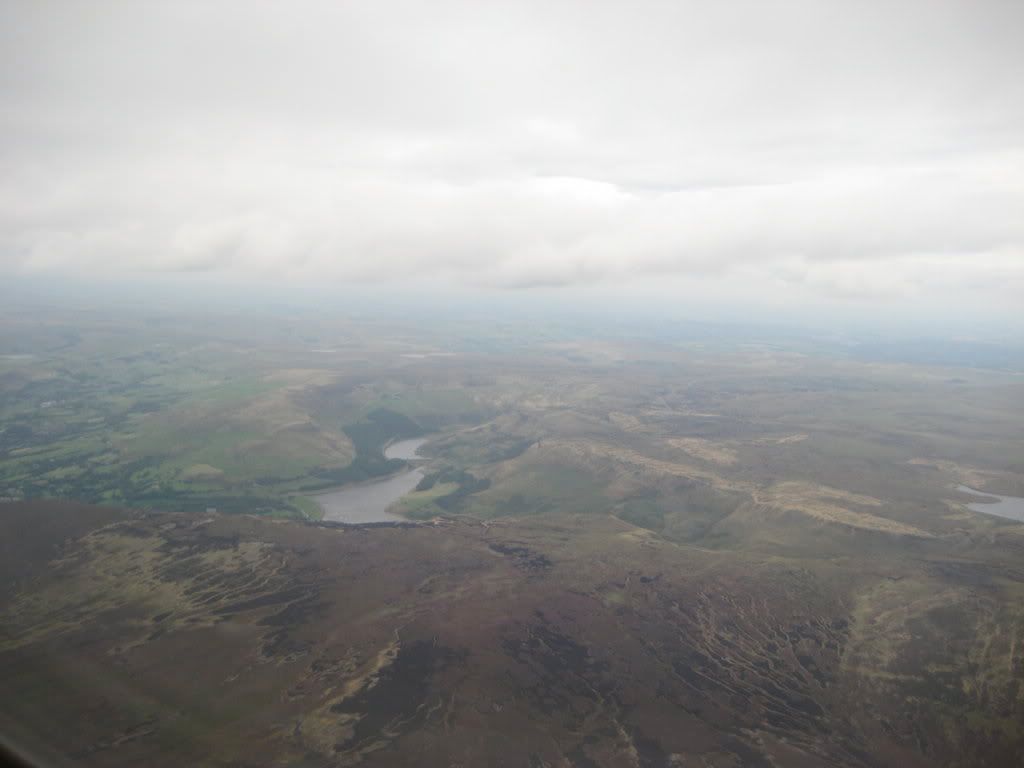 A left turn follows, pointing us towards the southwest and of course runway 23R of MAN. The right hand side where I'm sitting gets some nice views of the Manchester-Salford metro area: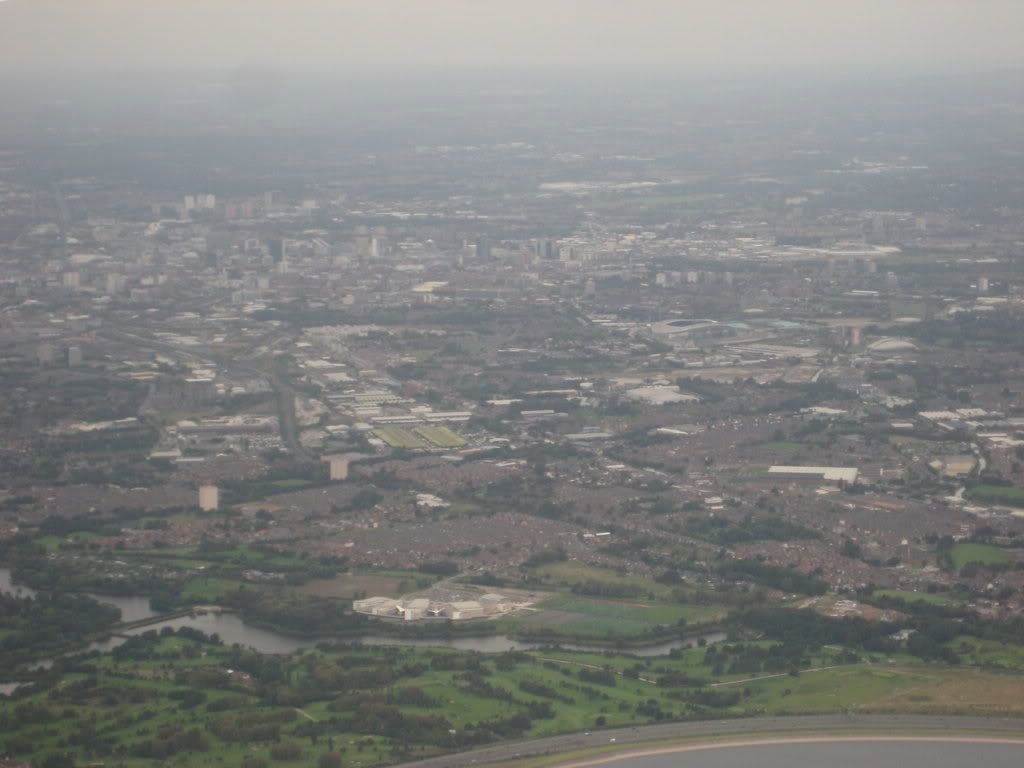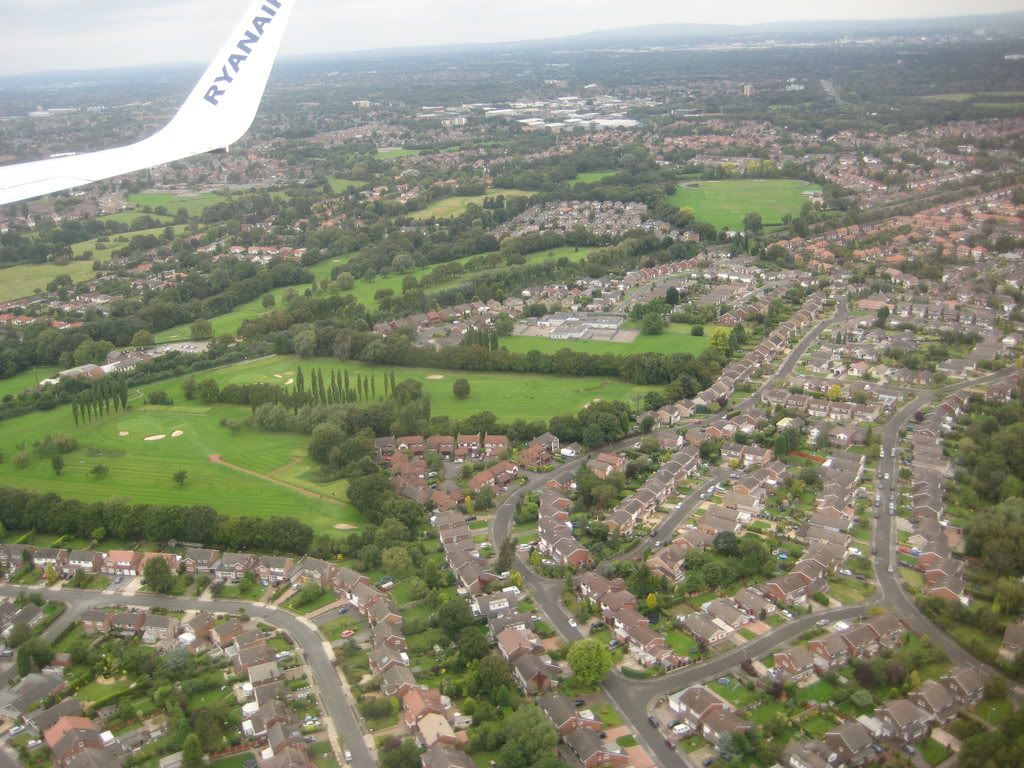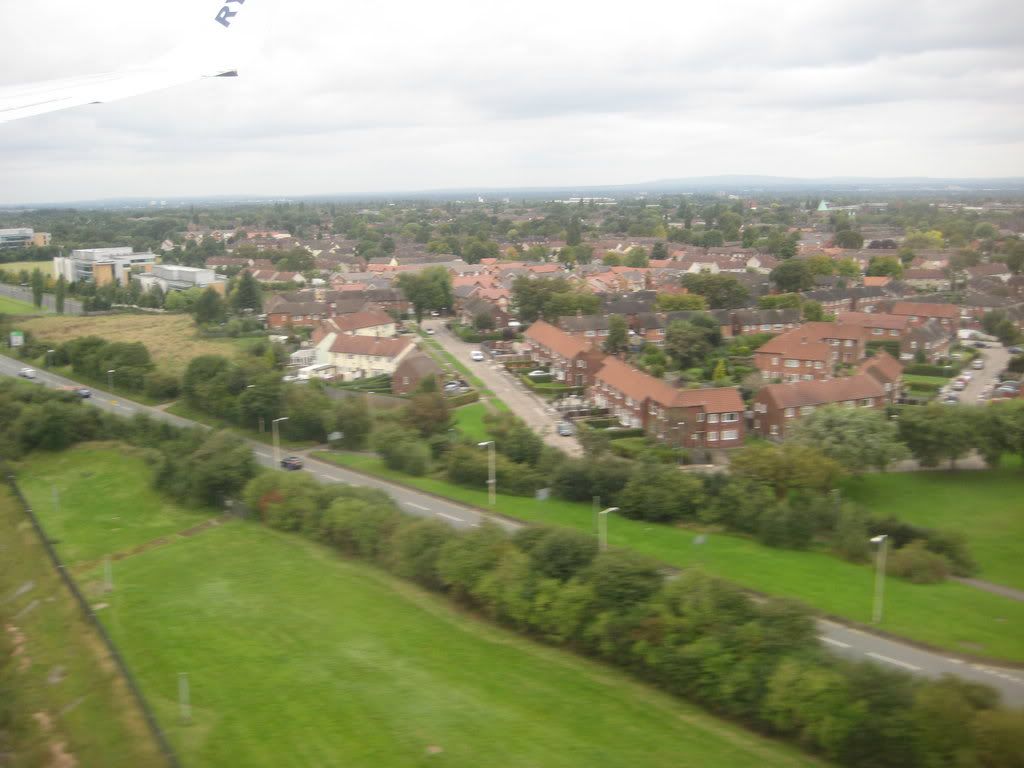 At 15.10 we touch down on 23R, use up the whole runway for slowing down before taxiing past the Avro RJ-X display to our stand in front of T1 next to a couple of EI A320s going to ORK and DUB.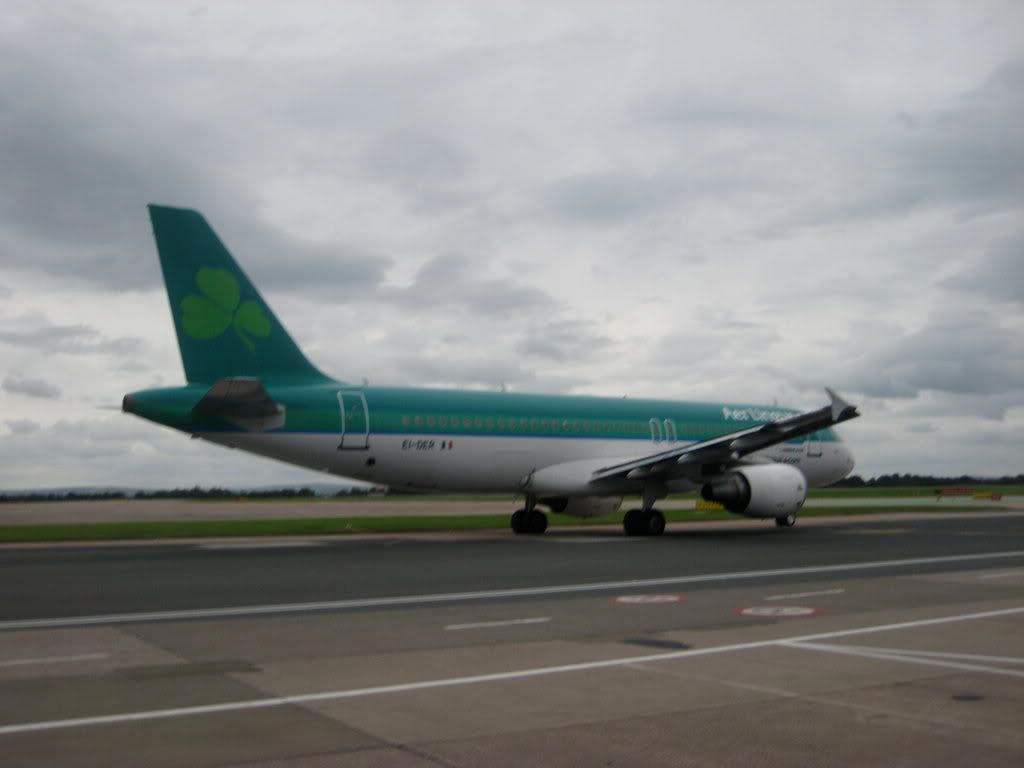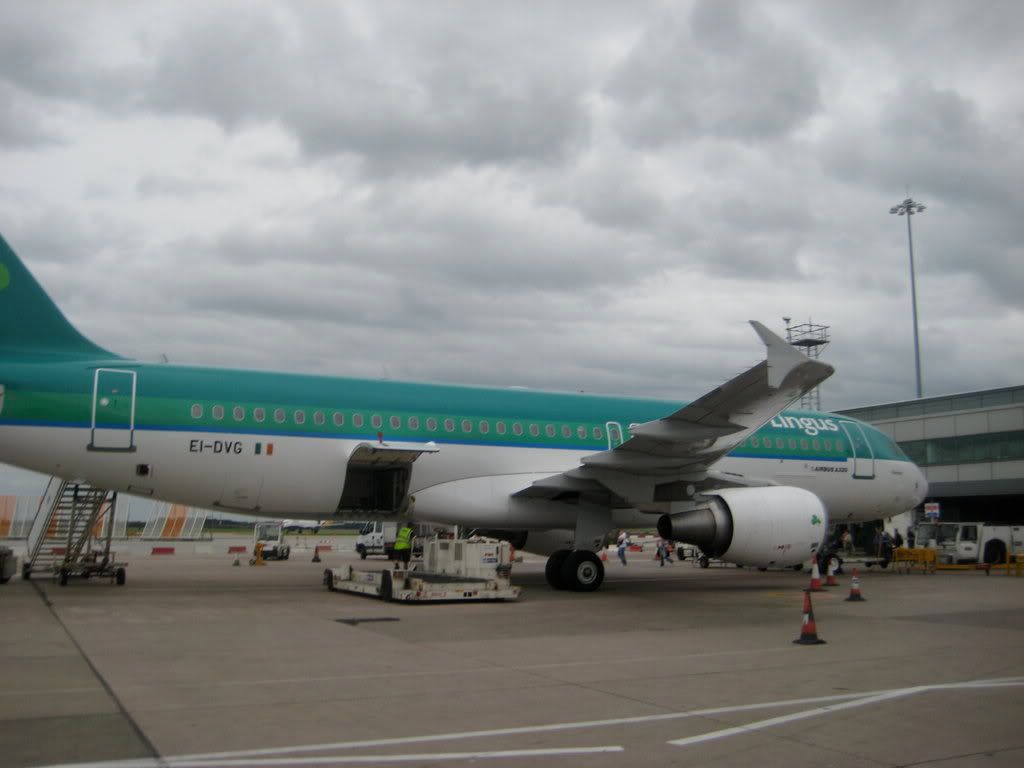 Oh yeah, this time the "Another early RyanAir arrival" fanfare is played in full blast which is followed by loud hand clapping and cheering from some of the Brits around me.
Eurowings CRJ-200 to DUS: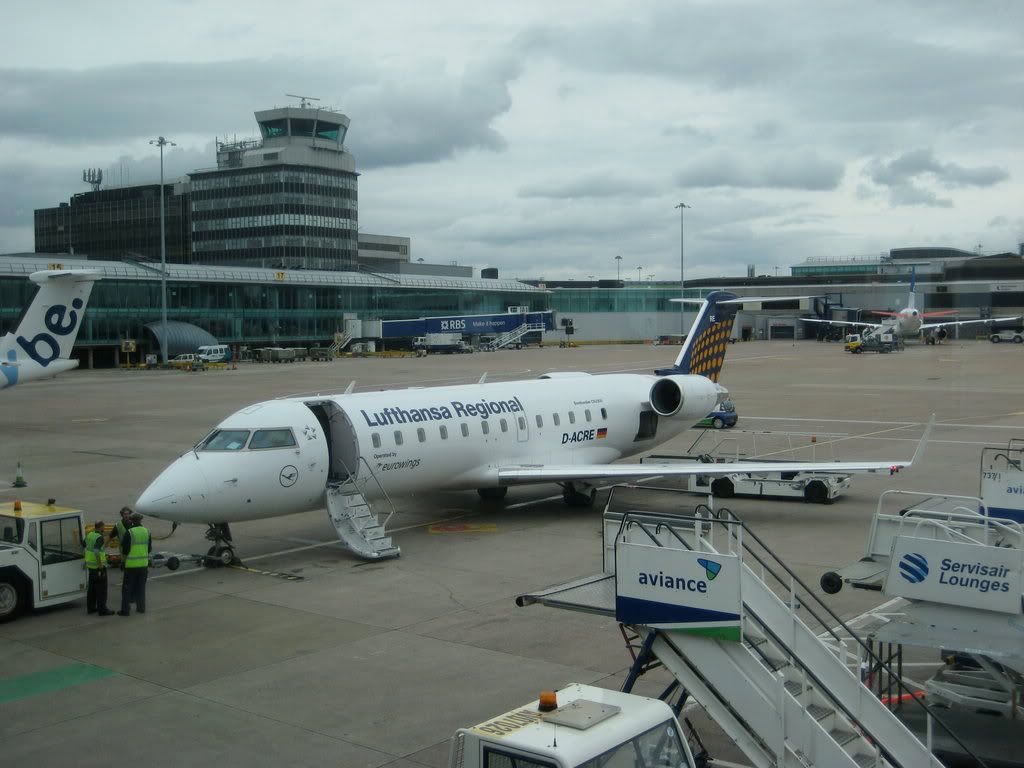 Manchester Airport
Entering the terminal there is a long corridor to take us to immigration and what a sight that is. The immigration queue stretches for over a hundred meters along the other pier of T1: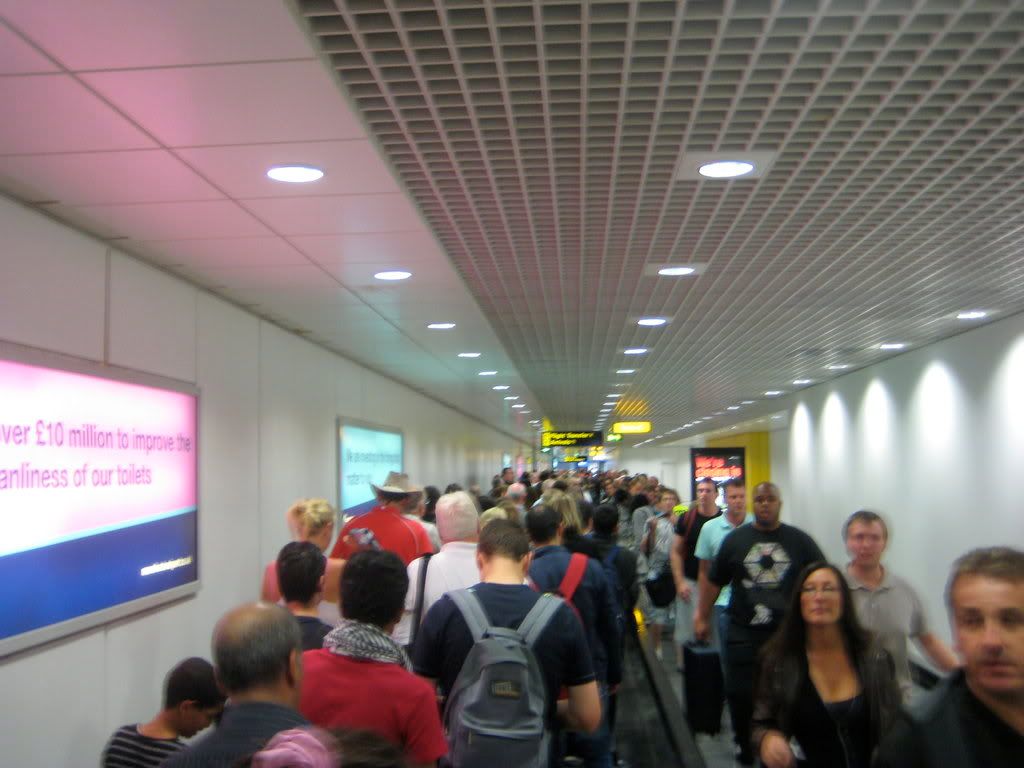 I don't really believe my eyes at first. I could use the transfer lane to get directly back to airside and bypass this madness as I'm connecting, but I really want to get some fresh air outside so I decide to try my luck and join the queue. Surprisingly things are moving fast, but since there are hundreds of people here it still takes time. After ten minutes I'm in the actual immigration hall: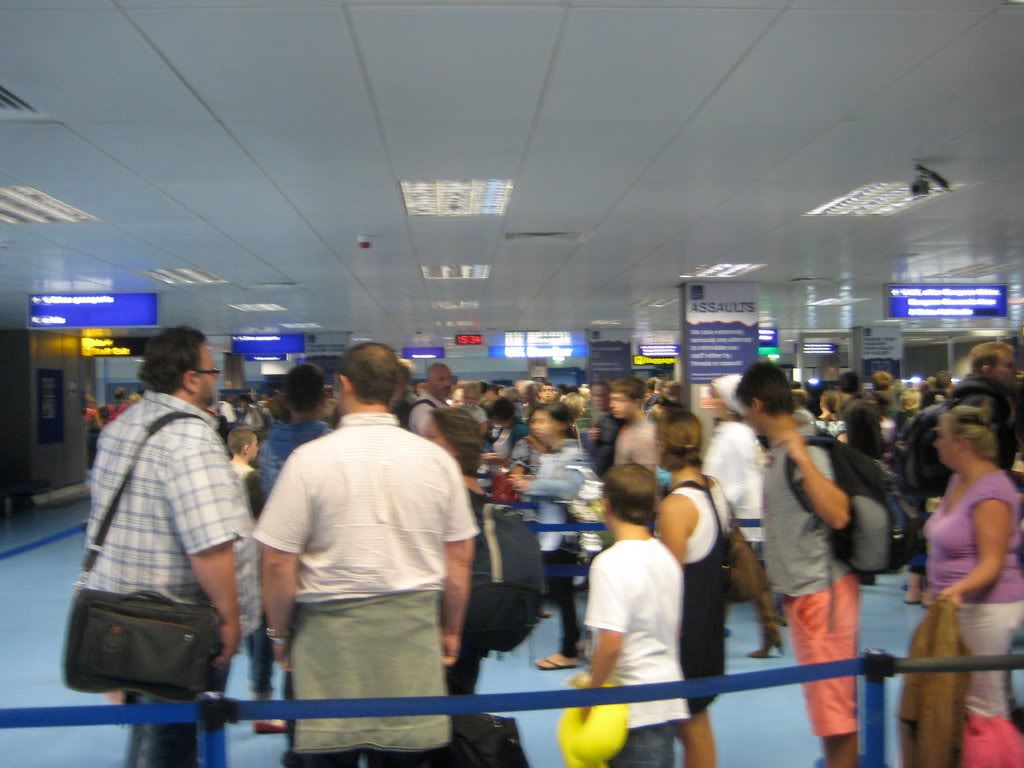 ...and another ten minutes takes me to an unsmiling officer who couldn't really care less about my ID. What an anticlimax.
Then it's off to find a decent, non-fast food place to eat a proper meal. The T1 arrivals offerings look a little poor, so I decide to walk over to T3 - I remember there being a decent-sized food court on the second floor. Unfortunately it is gone now, or at least moved to airside as there is a new security check point in its place. Landside T3 doesn't seem to offer much of anything so I backtrack to T1.
Is it just me or are most British airports confusing as hell and not very passenger friendly? T1 seems to lack any escalators or stairs, so to get to the departure level one has to use the same elevators as for the car parks, which are very slow and packed with people. Oh well, the departure level doesn't have a single restaurant so it is back to the arrivals area, where grudgingly I settle for Joe's Kitchen and Coffee House which turns out to be a quite decent restaurant and the Chili Con Carne surprisingly tasty.
With two hours to go until my next flight I once again fight the elevator scrum and reach the departures floor in one piece. The whole security point has been rebuilt from my last time here in 2006. There are automated barriers where you scan the bar code on your boarding pass to open the doors - fortunately my self-printed web check-in one works just fine. There are tons of security lanes, but only a handful are open, but since there aren't too many people I'm through in no time at all.
Looks like the BAA-influenced trend of turning airports into shopping malls has made it into Manchester T1 as well. After security you are dumped into a shopping atrium, and the only way to reach the gates, restaurants and other amenities is through the giant duty free store. Well, their strategy seems to work since I can't resist a good deal for some champagne, coupled with the favorable (to us Eurofolks) EUR-Sterling exchange rate which makes it downright cheap.
The bar upstairs offers some apron views so I park myself there, nursing a few pints in the progress. Too bad there's not much to see, action here is quite slow and it has started to rain again (what a surprise!). The evening AY flight to HEL is showing "Go to gate" at the same time I see the Embraer 190 landing - is AY trying to do a FR-like turn around here or what? For my flight to CPH the same is displayed around 45 minutes before departure when they announce gate 24. It's not too far from the main atrium, so I decide not to hurry, making my way there 20 minutes later.
As soon as I reach the gate they page me and some other pax to contact the gate staff. For a while I'm hoping for an op-up and hand my BP over to the nice older gate agent who over strikes my original seat 7F and writes 8F there instead, explaining with "They changed the configuration of the plane". I ask if I could have 1A instead, which causes a chuckle at the people around me but he just smiles and answers with "Unfortunately not, sir. Enjoy your flight.".
The online check in was showing an MD-87 for this flight, but the actual equipment is an MD-82 instead. Luckily one that I've haven't been on before - I've covered quite a few SAS MDs so new ones are getting rare.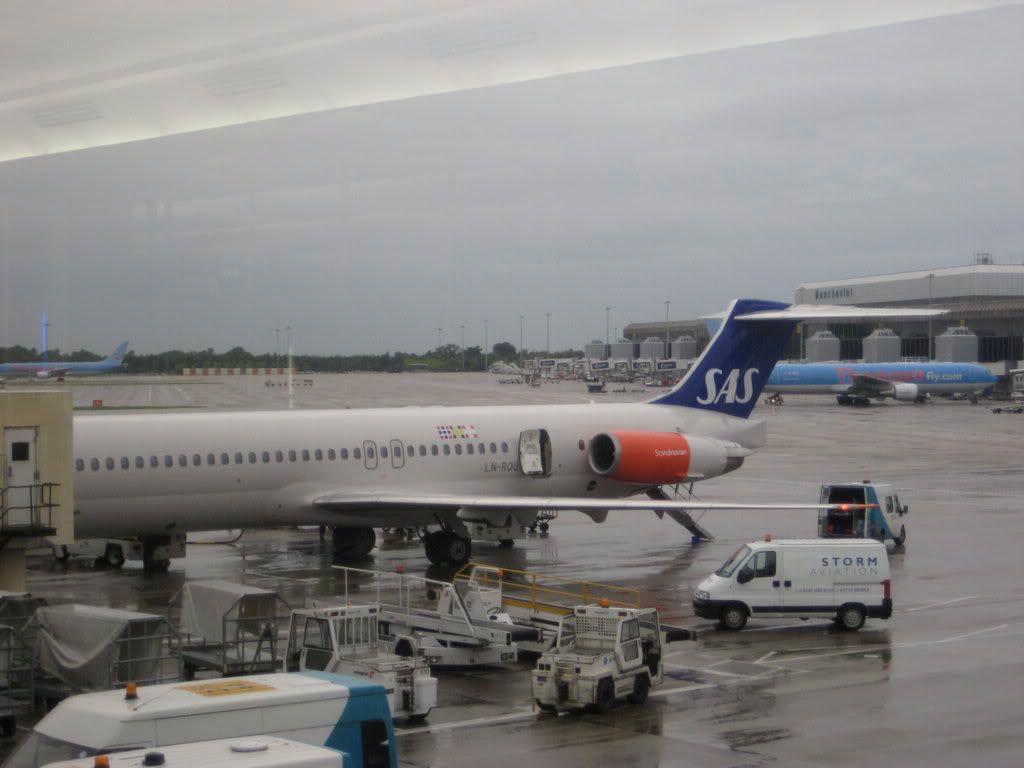 MAN-CPH
SK542
MD-82 LN-ROU "Ring Viking"
Seat 8F
19.04 - 21.41
Right after the seat changes we are invited to board, once again I'm the very first person to board Ring Viking. The SK cloth seats are very comfortable and offer good legroom (especially after FR!). Looking at the cabin you'd be hard pressed to see that LN-ROU is actually over 23 years old, having been delivered to SAS in June 1986!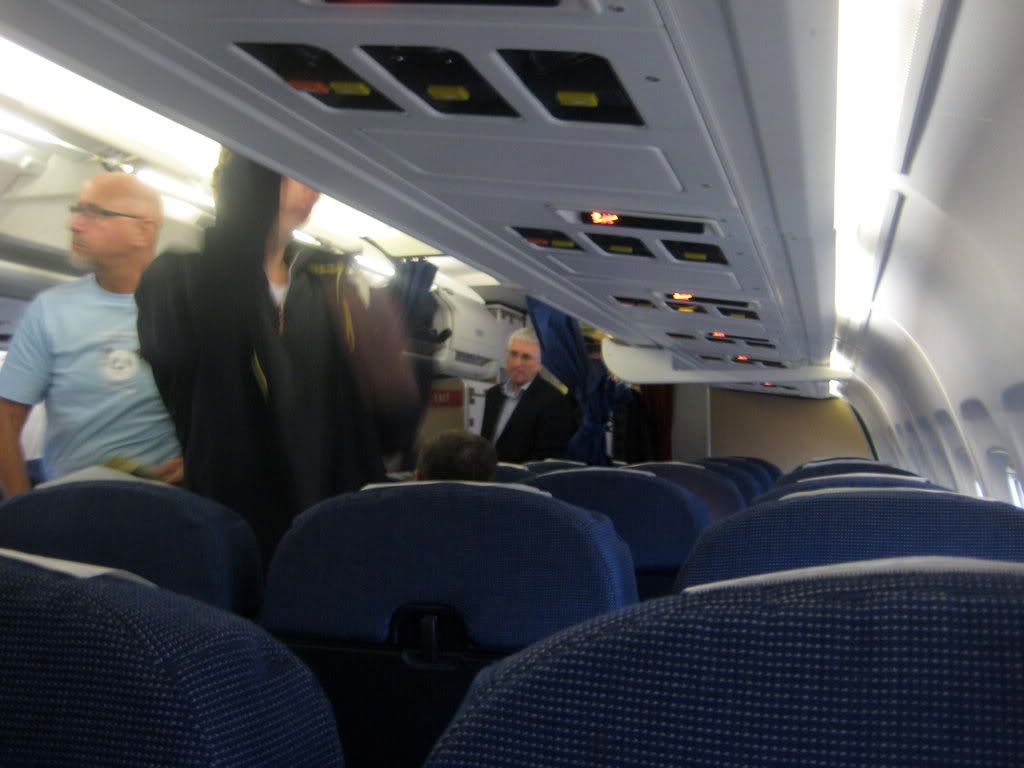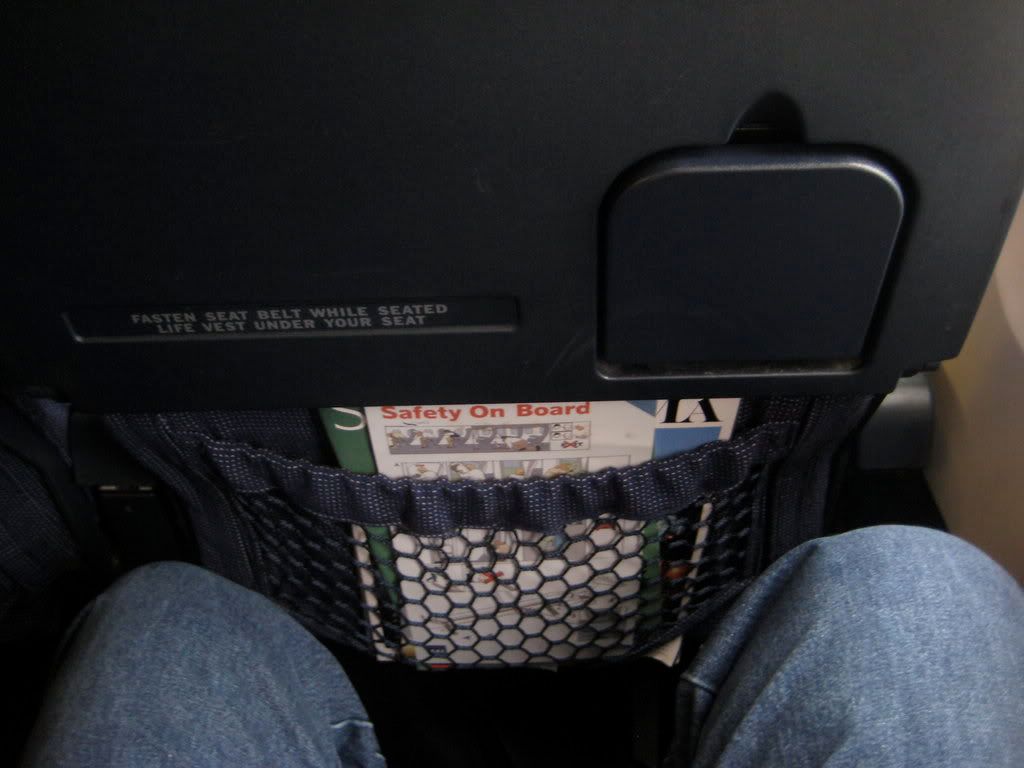 There is one row of business class and rows 2-7 are reserved for economy extra, with only a handful of people there. Economy looks like to be around 70% full, luckily the middle seat next to me being empty.
We push back six minutes before schedule after a company 737-600 to ARN: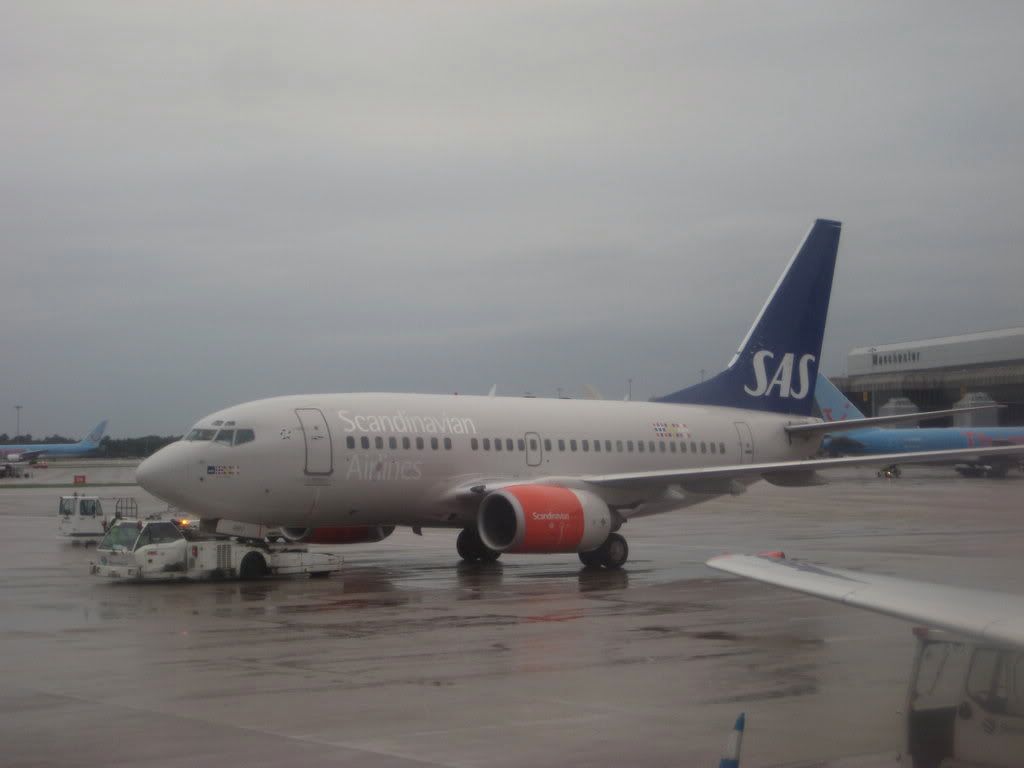 and taxi past Terminal 2: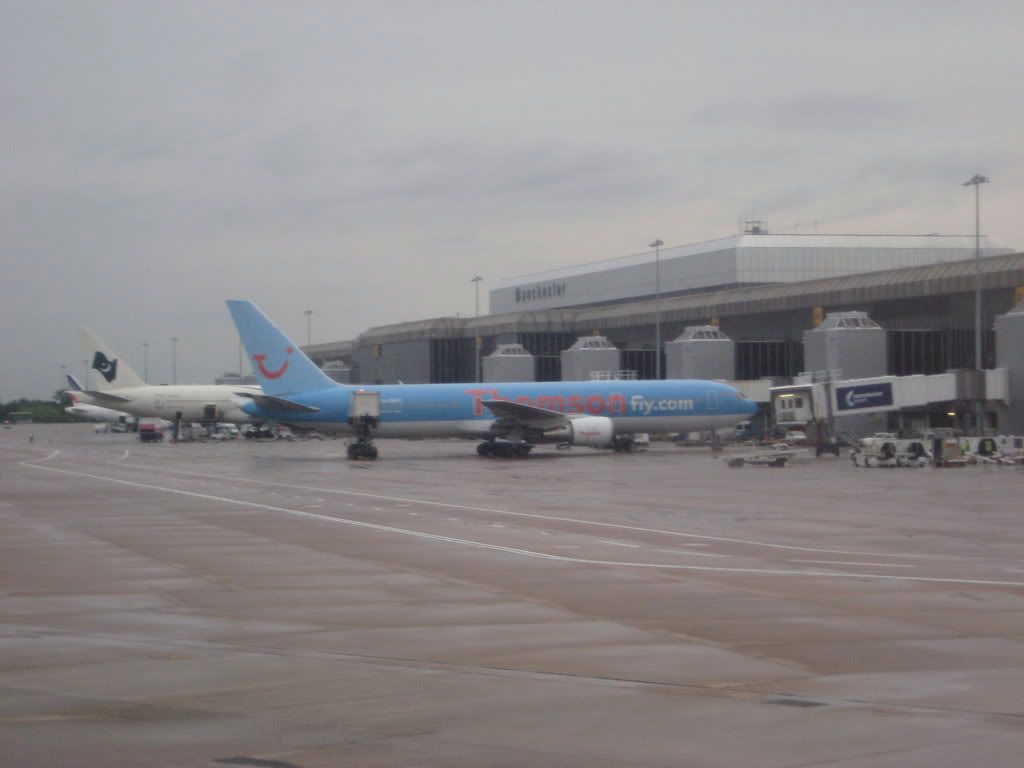 to runway 23L for departure. Emirates 777-300ER holding short for us: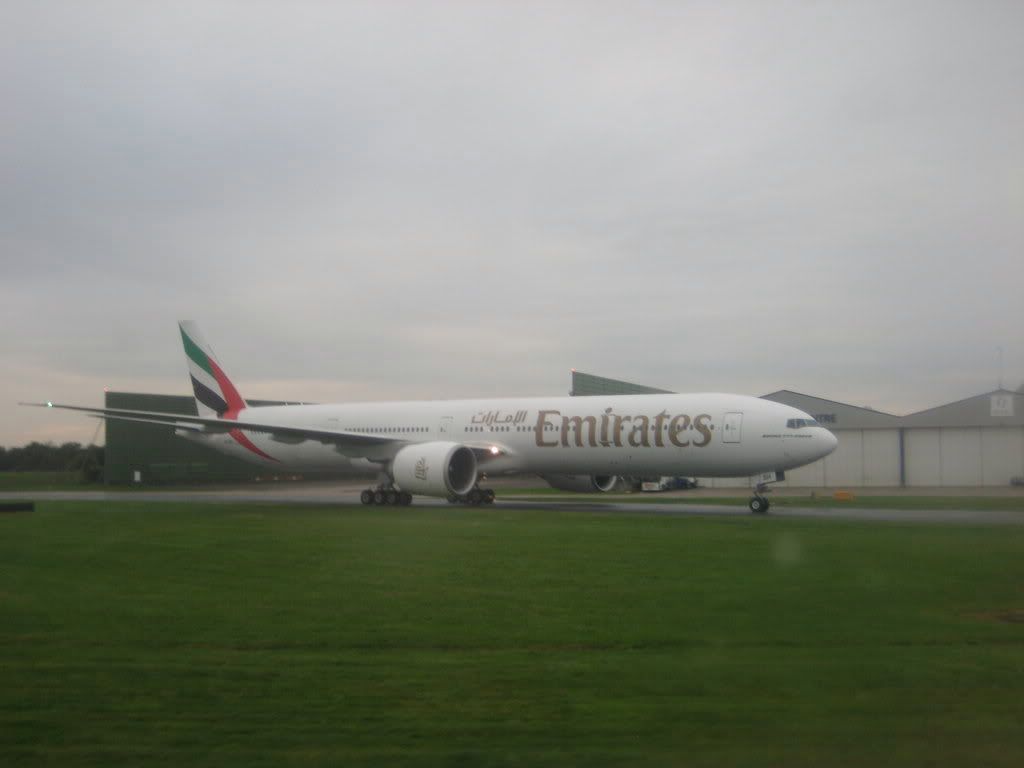 A very powerful but quiet take off, in true MD-80 fashion follows. These birds are very quiet up front, which I prefer. However try sitting next to the engines around row 32 and things are very different indeed
. We make a lazy right turn circling the city to the north and make a beeline towards the North Sea coast.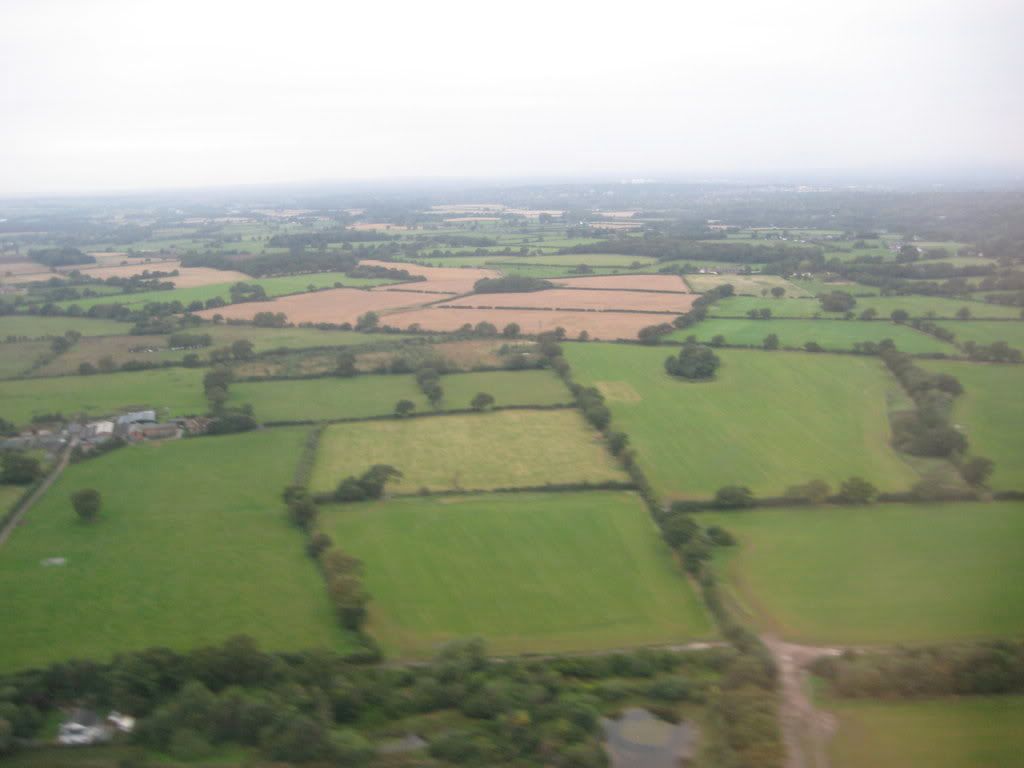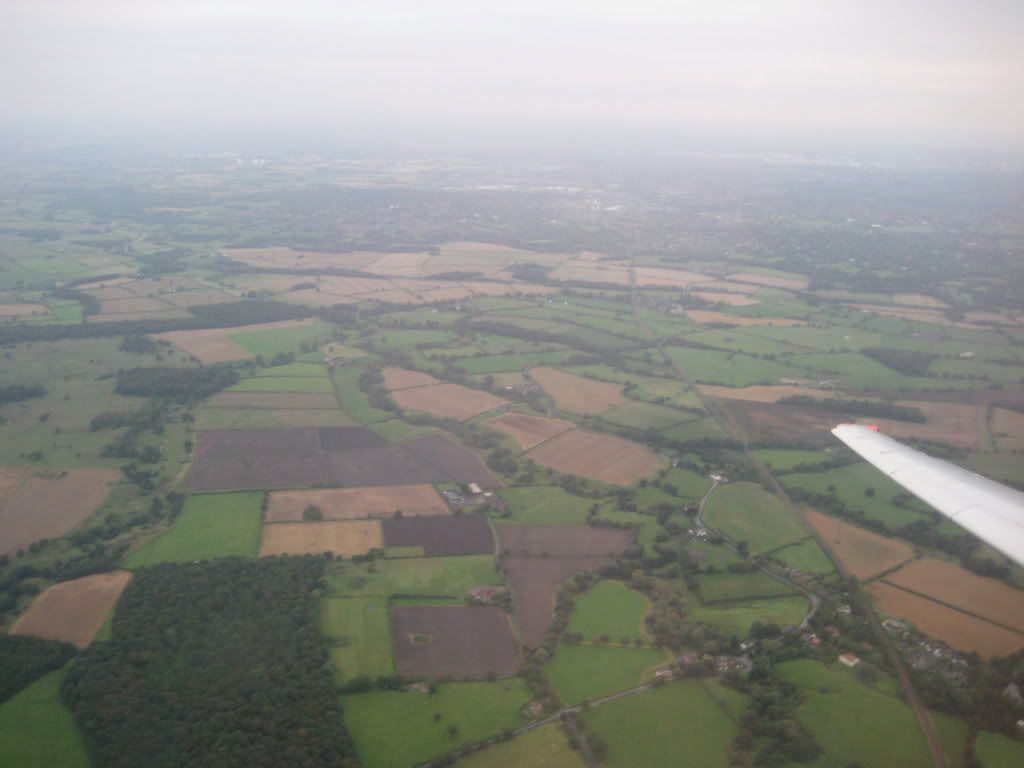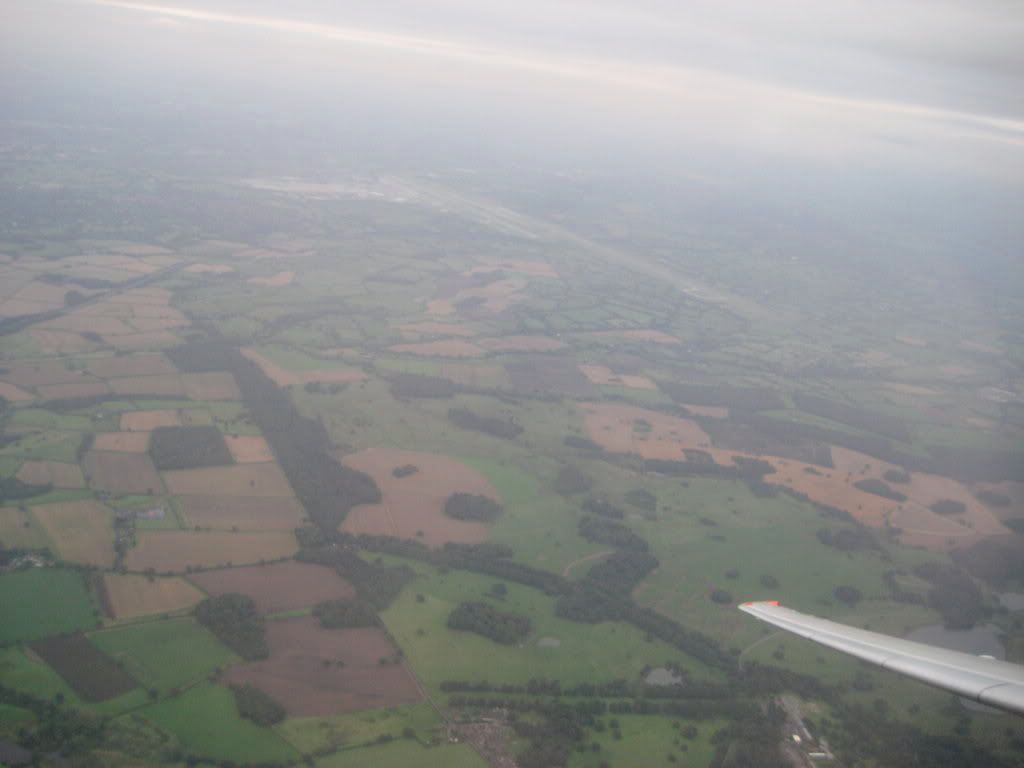 Once again views are pretty much overcast for most of the journey, but I manage to spot a few flames from the oil platform-Almost full moon: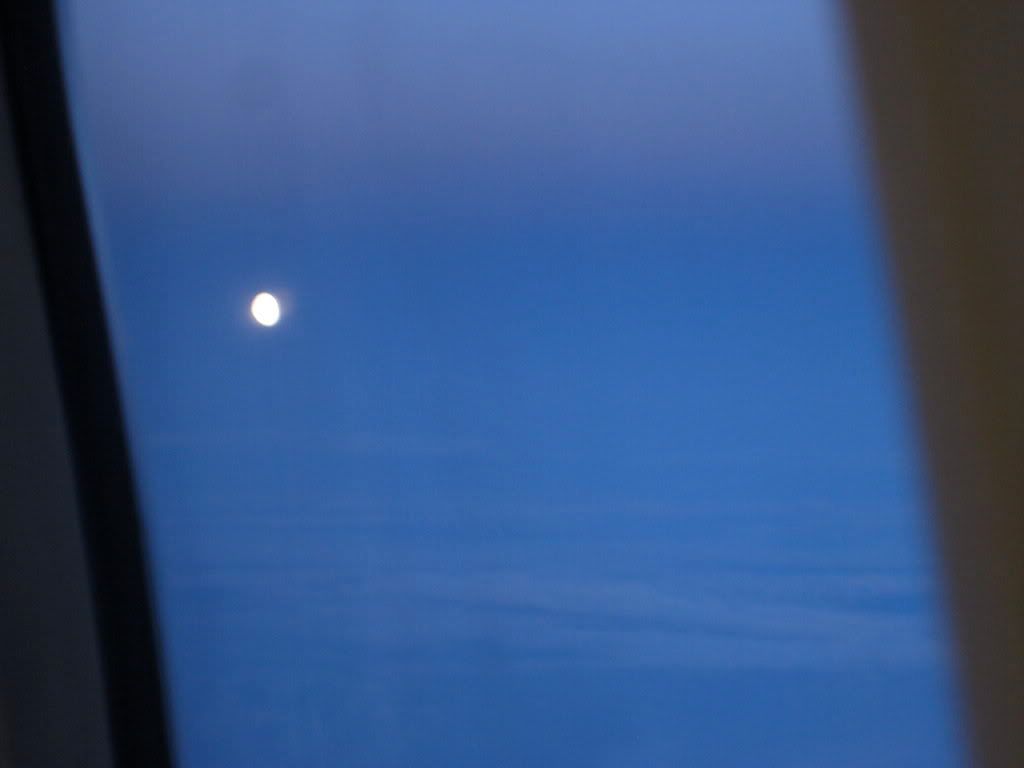 I try to read for a bit but soon start drifting off into sleep. I wake a few times when the first officer gives out a rather long speech which I mostly miss - I just make out that we have a good tailwind and the whole flight will take 1h30mins. I'm finally awakened by the FA asking me to put my IPod away for landing - looking out of the window I see the night has fallen and we are flying quite low, bypassing Copenhangen city on the northwestern side. From here we fly over the Øresund, before making a tight right hand turn to join the traffic flow into 22L. The views over the Copenhagen area are very moody with millions of lights shining in the darkness. Then we glide down to the runway, landing around 20 minutes before schedule, taxi past the the plane for my next flight to the non-Schengen D-pier. A BA A321 arrives right after us on the next gate.
Copenhagen Airport
Deboarding is fast, and the walk to immigration wakes me up from my slumber. Immigration is painless, as it usually is here, despite the large numbers of passengers from the BA flight. There aren't too many flights around any more, just the late night departures to ARN, HEL, OSL and BKK so the airport is rather deserted and quiet - apart from the BKK-bound passengers, many of whom seem to be in a rowdy mood. Feeling a bit peckish again I grab a hotdog from the fortunately still open hot dog place and am horrified by the prices that seem to have gone up once again. Almost 10 EUR for a beer and a hot dog is highway robbery if you ask me.
The departure gate for the final flight of the day is A7, which is very far from the D-pier. However I appreciate the walk since it gives me a chance to stretch my legs. On the way I see OH-SAL at the gate - after 4 new planes today it was about time to get a well-travelled bird, this will become my 8th flight on "Orivesi".
CPH-HEL
KF646
ARJ-85 OH-SAL "Orivesi"
Seat 15A
22.34 - 1.02 (+1)
Boarding is underway as I get to the gate, so I board pretty much straight away. Load is quite high, with only a few empty seats here and there - not next to me, unfortunately. Boarding is finished in no time at all - I guess everybody's just eager to get home and sleep.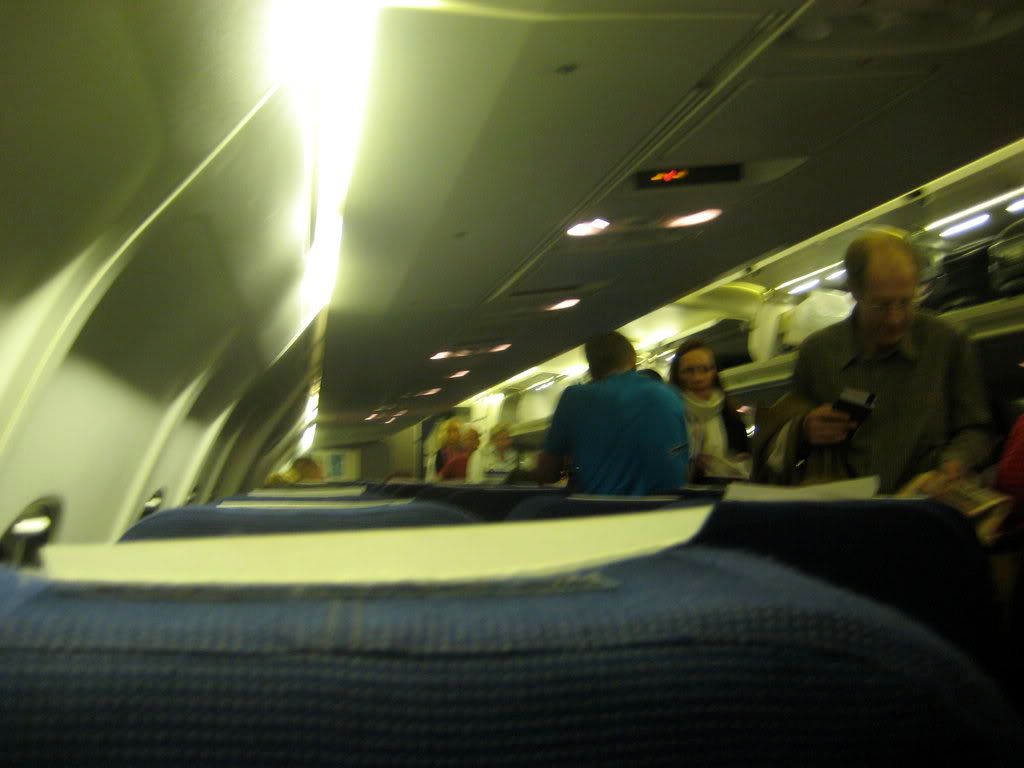 We push back 6 minutes before schedule, with an announced flight time of 1h20mins, and take off from 22R just two minutes later. Departure is the standard one for HEL flights - first straight towards the southwest, then a lazy left hand turn, passing the famous bridge on the eastern side and directly overflying Malmö city.
The Russian couple next to me is confused about the on board offerings and their prices (so am I, so am I) and in the end settle just for the free tea and their own packaged food (no mushrooms!) since the selection at the sales cart is rather limited at this time of night. I know I will regret it but I can't resist buying a white wine to knock me out to sleep and celebrate the successful travel day. It has the intended effect, and I fall asleep listening to some mellow tunes, only being woken by the flight attendant asking me to shut down my IPod for landing for a second time today. I see that we are on finals to runway 15 as expected for a late night arrival, and land a few minutes later, almost 20 minutes before schedule.
We taxi quickly to gate 13 at T1 and deboard. Walking to the baggage claim and exit I get a better look at the T1 facilities or rather the lack of them. The whole place is deserted, which is to be expected since ours is one of the very last arrivals of the day. There's a very makeshift looking bar and not much else, apart from the plywood and construction equipment. The baggage claim hall is unfinished as well. Being far too tired to mess around riding a bus home I splurge on a taxi. The nice and chatty young driver gets me home in 10 minutes, where I am around 1.30 AM, with a full workday ahead of me.
Conclusions
Another day well spent, although the late arrival felt like a killer the next day. The direct AY flight would've been much better as it would've gotten me home already a bit after 23.00. Oh, I'm actually taking that one the next time from MAN, in early November. I was lucky to score 4 new planes and one new airport for my log, that's always refreshing.
Air Baltic was great with that special Air Iceland equipment, although to be honest inside it didn't feel that much different from a regular BT Fokker, even the same musky smell was there. I just hope they'd do something regarding the check in situation in HEL - either fix the bookings so that the machines work or preferably add HEL to the list of OLCI-enabled stations.
RyanAir is RyanAir. You get exactly what you pay for - I have no problem with them when the fares are this low. I know exactly what I will get and that's fine. However the ground handling is what really let them down this time - how hard would it be to make some announcements when there's a delay - instead of just letting people sit in the bus with no information? Or do something regarding the stupid boarding setup in CRL where you have to wait in the smelly corridor, again with no information?
SAS and Blue 1 - I've flown almost 200 flights on them combined so I know what to expect. Nice, friendly crews (most of the time), interesting and comfortable planes (this time, some of the new 737 seats are truly horrible however) - just shame about the BOB in flight service. Both flights were early today, both departure and arrival which is pretty well done.
Happy flights everyone and looking forward to comments!
My next trip and thus TR will be HEL-RIX-TKU-OUL-HEL in a week's time.