URE-FRA: More Estonian Regional and the SAS B737-600
Tere, again, dear readers,
my last story shows the inbound legs to Kuressaare and also some location pix:
KLM F70 And The Estonian SF340 To Saaremaa Island
(by
FLIEGER67
Sep 1 2009 in Trip Reports)
Now it was time to leave Saaremaa with a little bit of more flying around.
Monday, 20.07.2009
URE (Kuressaare-Lennujaam) Wet and windy, Temperature 17 degrees
TLL (Tallin-Lennart-Meri) Cloudy, Temperature 19 degrees
Duration: 35 minutes announced and actual


Service Estonian Air OV 602 operated by Estonian Air Regional
Scheduled: 09.10 // 09.50
Actual: 09.10 // 09.45
Gate: One gate only Seat: 10A
Load factor: 100%
Morning´s view from my room:
An early departure for me today bound for TLL again.
My flight leaves at 09.10 am , that means breakfast as early as possible, checking my bag and return to the airport.
The friendly guy at the hotel desk called me a cab and only minutes later I was on the way to the so called airport.
Arrived at around 08.00 am with no one else around than me, the woman at the information counter and a friendly girl
who immediatelly after she saw me, opened the counter to check me in for my flights today.
No other pax around so we had a nice conversation about Saaremaa, URE and the weather.
My bag was checked to my final destination, but like yesterday, it was not possible to check in for the further flights from TLL.
She send me to the transfer desk at TLL.
The "massive" board, btw. LFH is german company Luftverkehr Friesland Harle operating these POS flights:
The counters:
With some rain here I´ve decided to go to the gate area, another nice guy opened security for me and so I was through in a minute.
URE airport is only a very small building, one part arrivals, one part departures with a small check in area and also a small waiting hall.
The gate: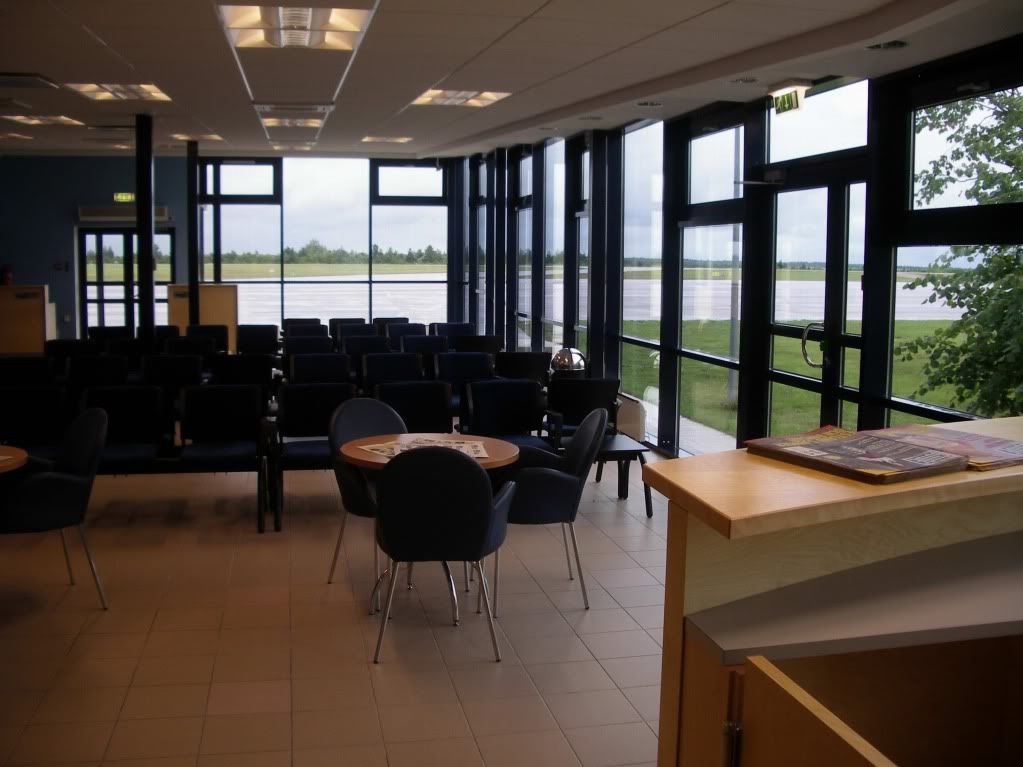 "Impressive" traffic fom Finland:
Arrival OV from TLL: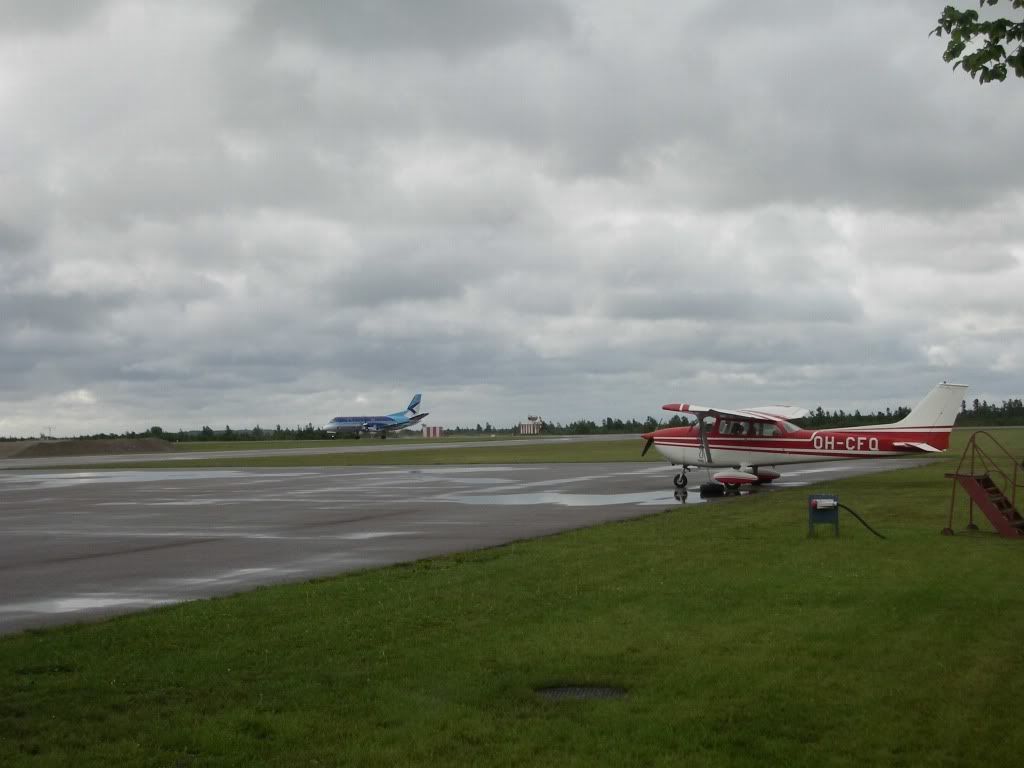 On the runway:
Turning: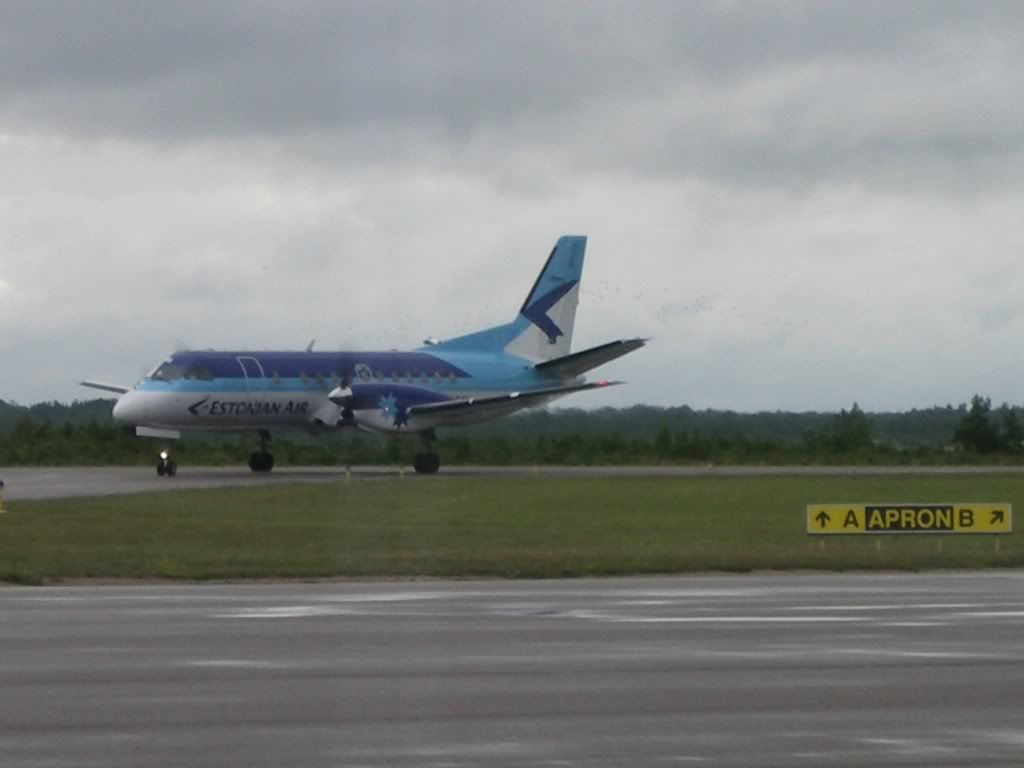 Taxi:
Again:
To the stand: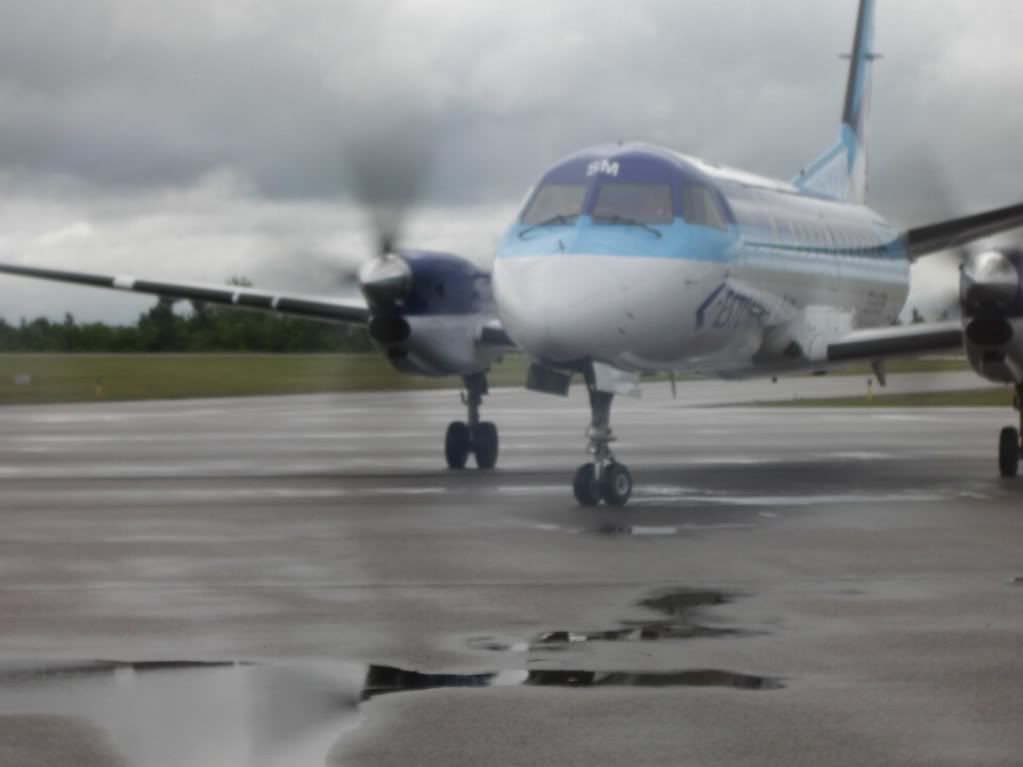 And parked:
Again: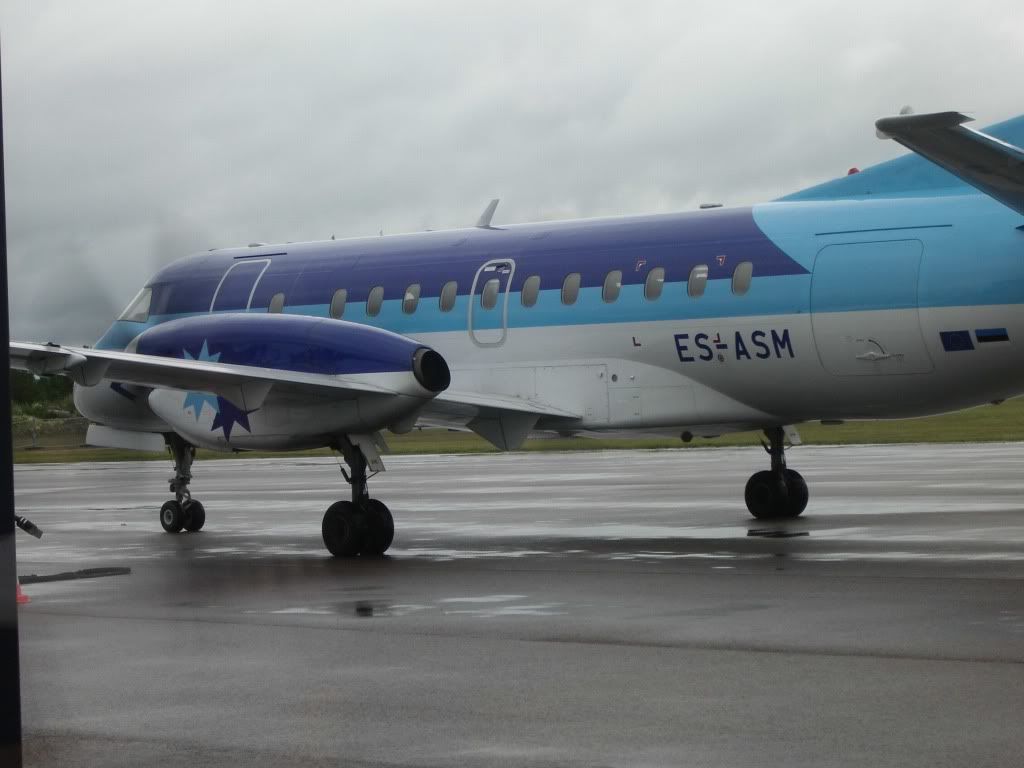 Refueling: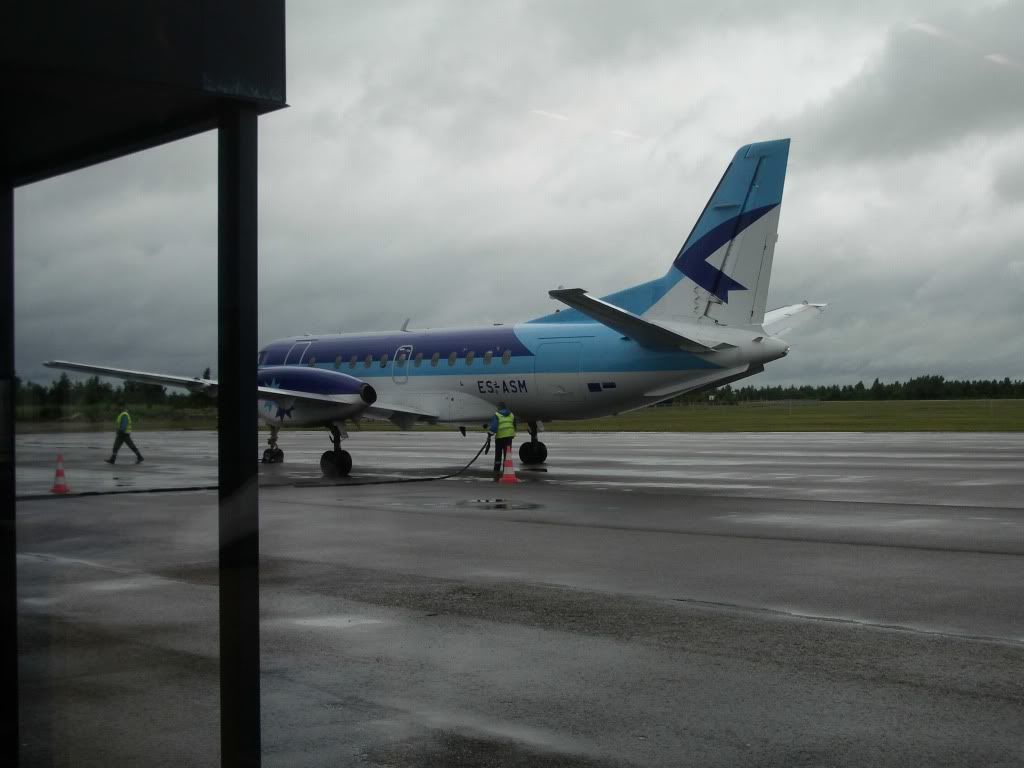 Ground handling:
No sign for a delay on the screen and so it was, my machine arrived well ontime from TLL.
It was the scheduled Saab SF340 and lucky me, the other one than yesterday, ES-ASM, from the two planes in the estonian regional fleet.
A machine with a wide history, delivered at 09.11.1988 to Crossair, flying from 28.06.1992 for Business Air, returned to Crossair at 16.07.1992,
further to Prima Air at 22.02.1996, again in service with Business Air from 05.11.1996 and further to Air Ostrava at 06.04.1997.
In service with Slovak Air from 01.08.1998 and back to Air Ostrava at 11.02.2000, from 25.10.2000 with Maxair and from 01.06.2001 with Trygg Flyg,
joined Air Nelson at 01.02.2002 and finally in service with Estonian from 01.09.2007.
Leg no. 5 for me on type and a new registration for my log.
Boarding was called soon thereafter, the rain stopped, and self service to the plane, which was parked on the apron.
The engine:
Again: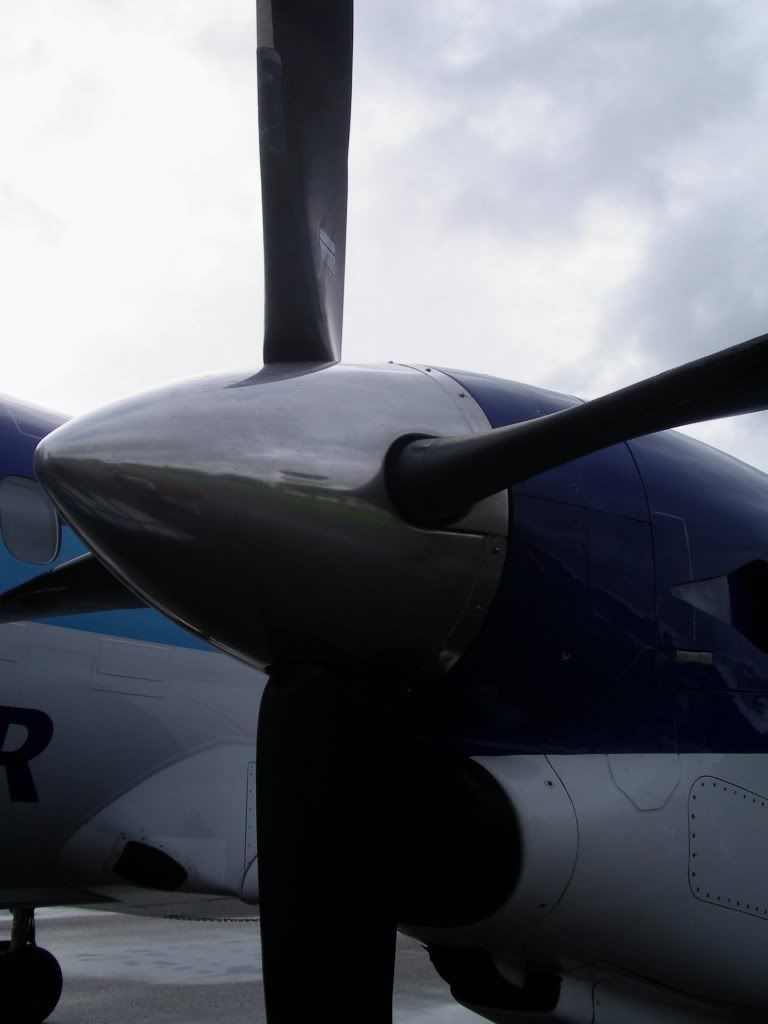 One neutral friendly female this time. The cabin fitted with the dark blue well used leather seats.
Seats: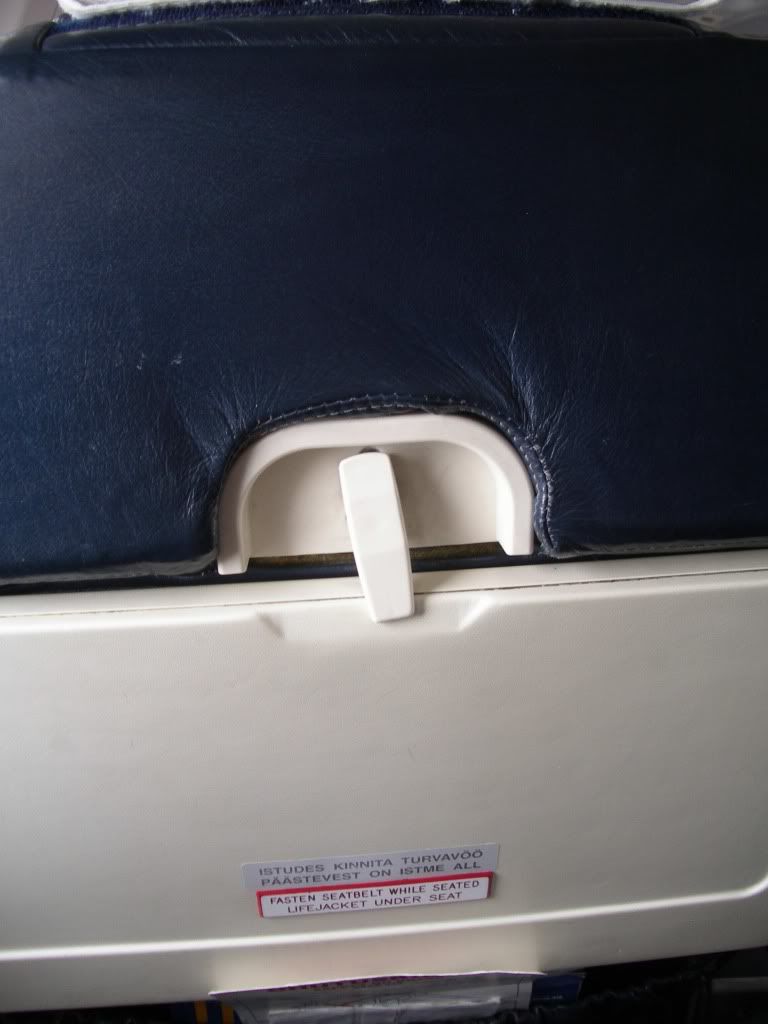 The estonian captain with a friendly welcome during boarding and once more during cruise with weather details.
The FO looks like from the UK, no comment here.
Departure from the 1518 meters runway 17, flightlevel 11000 feet. The sky was cloud covered the whole duration, so no signs to locate the route.
Departure: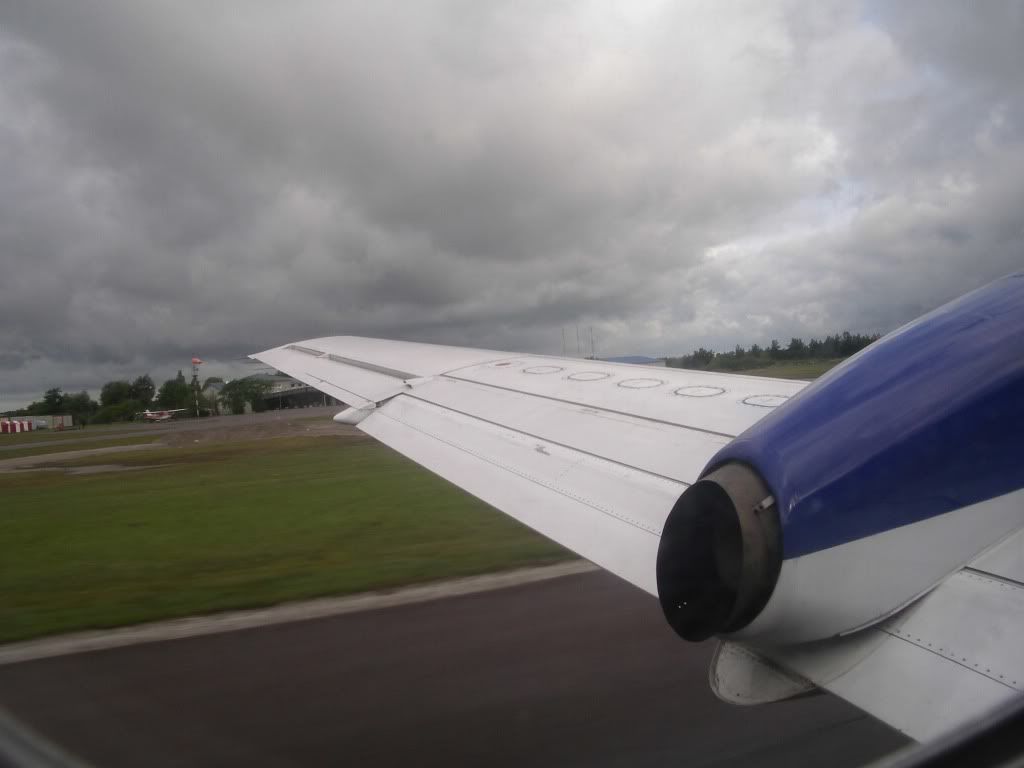 Kuressaare, my hotel in the background: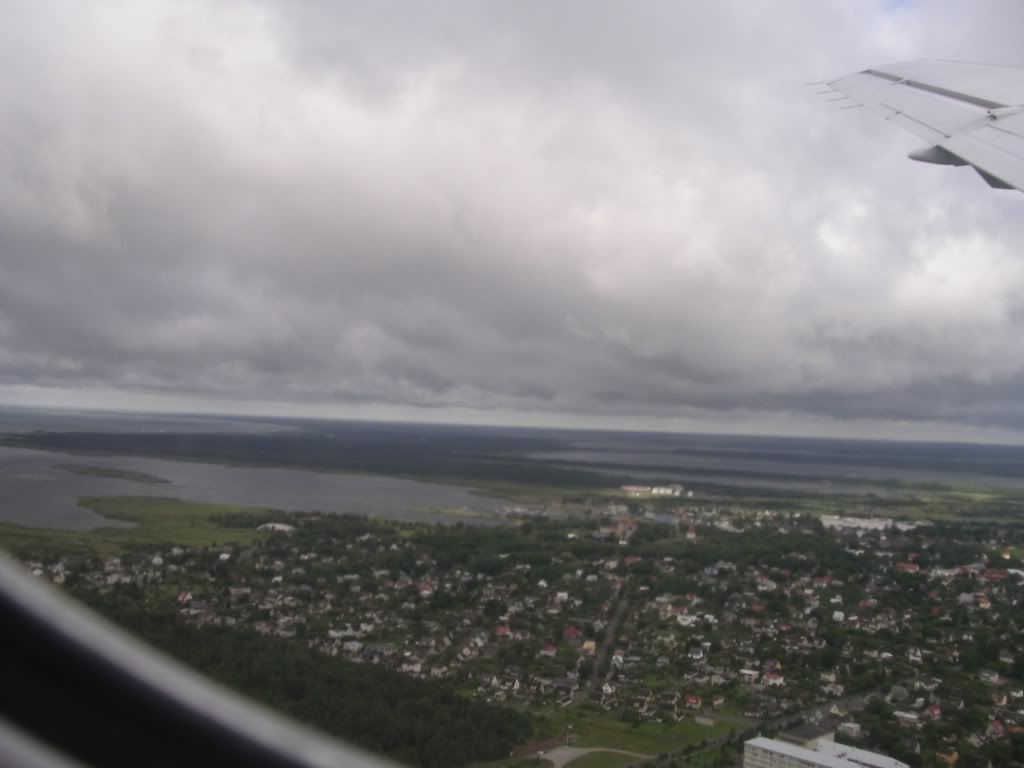 Beneath some sweets no service on this leg.
Approach started, gear down, but for a, so it seems, rather long time, nothing to see than clouds.
Clouds: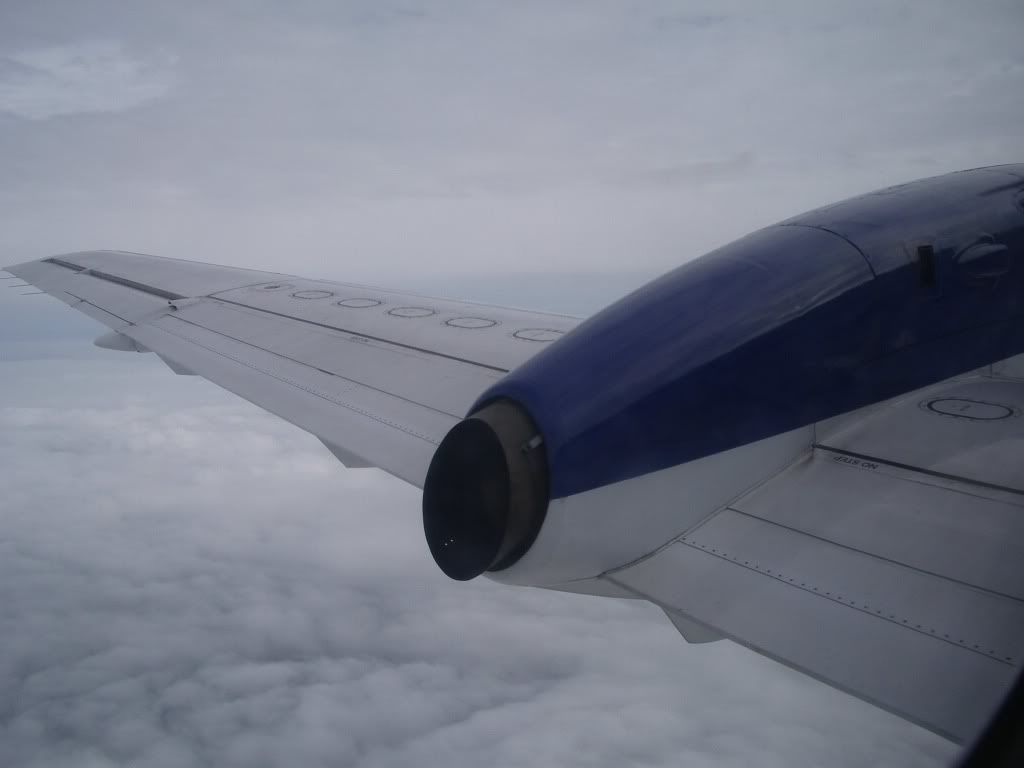 Wheels down: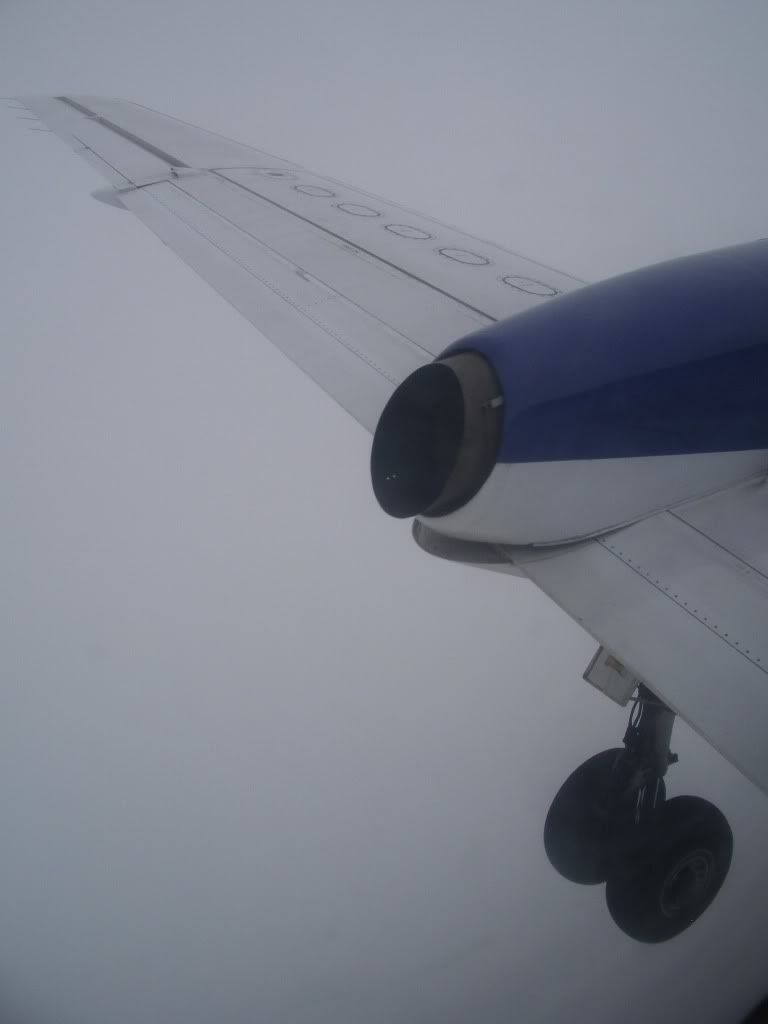 Leaving the clouds: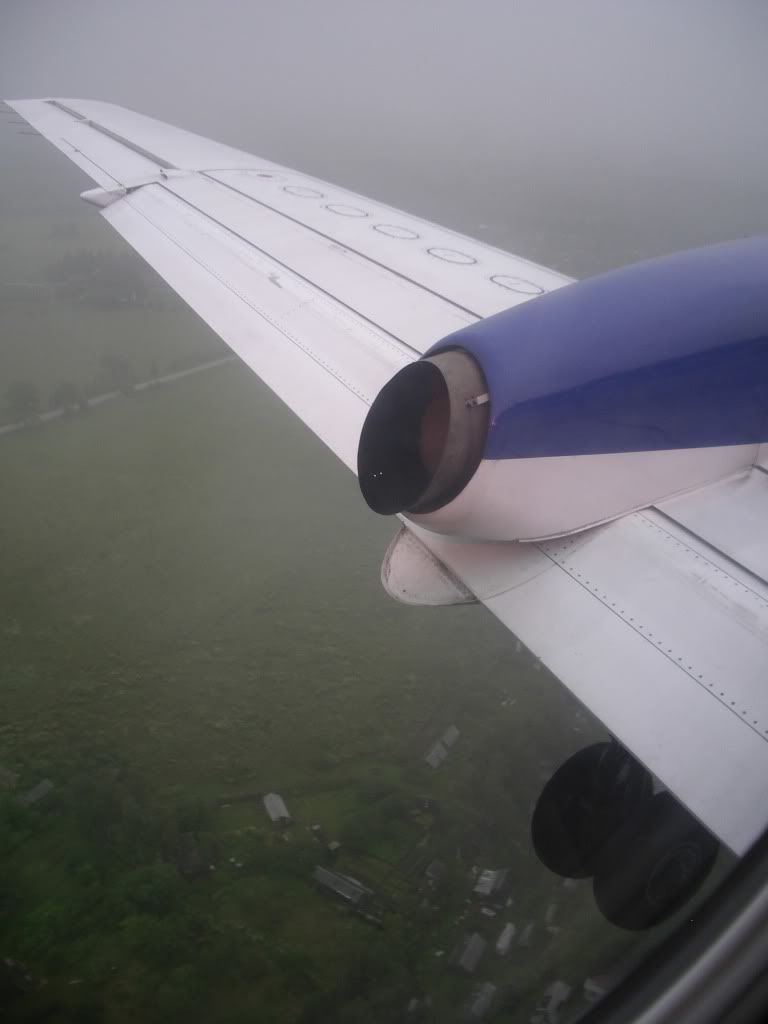 Finally we leave the clouds and landed immediatelly on TLL´s 3070 meter runway 26 in light rain.
Around the terminal, parked on the apron, and quickly to the terminal entrance while it started more and more to rain.
Taxi:
Again: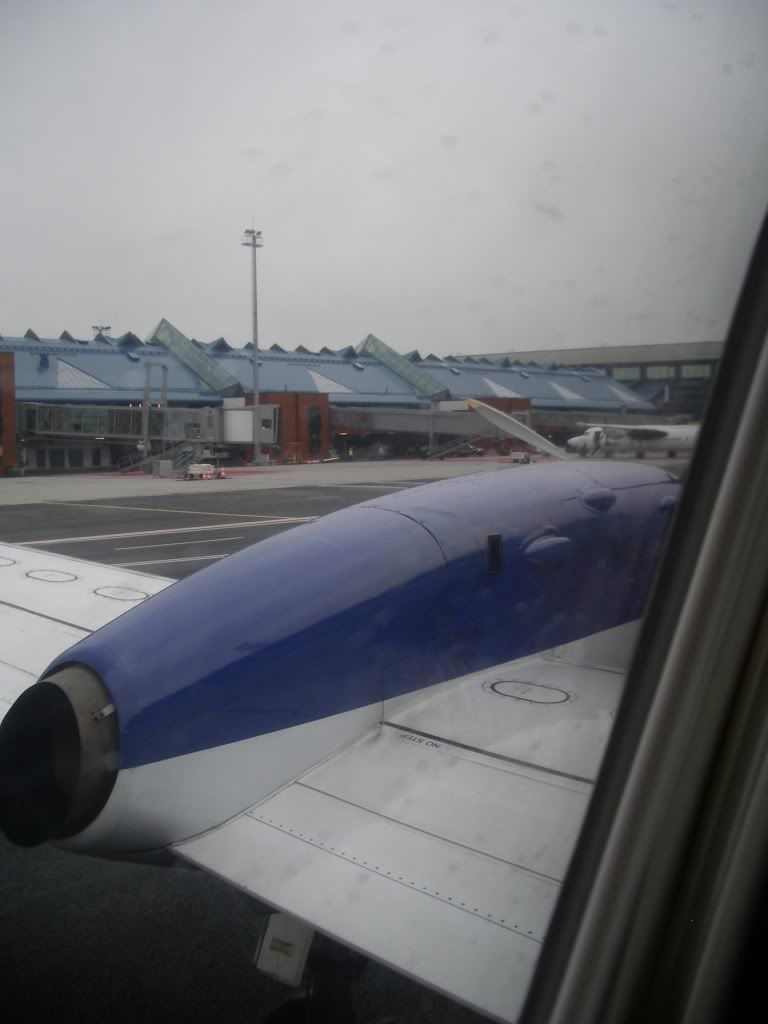 Cargo apron:
I like these Saab planes:
Monday, 20.07.2009
TLL (Tallin-Lennart-Meri) Cloudy, Temperature 19 degrees
ARN (Stockholm-Arlanda) Partly cloudy, Temperature 18 degrees
Duration: 1 hour announced
1 hour, 10 minutes actual


Service Estonian Air OV 683 operated by Estonian Air Regional
Scheduled: 13.00 // 13.15 (One hour time difference)
Actual: 13.00 // 13.10
Gate: 7 Seat: 10A
Load factor: 100%
This service with the long layover at TLL was mainly booked to go for a city visit.
But with these weather conditions it seems not a good idea.
Well, watching the movements and reading my book was the thing to do now.
Rainy arrival: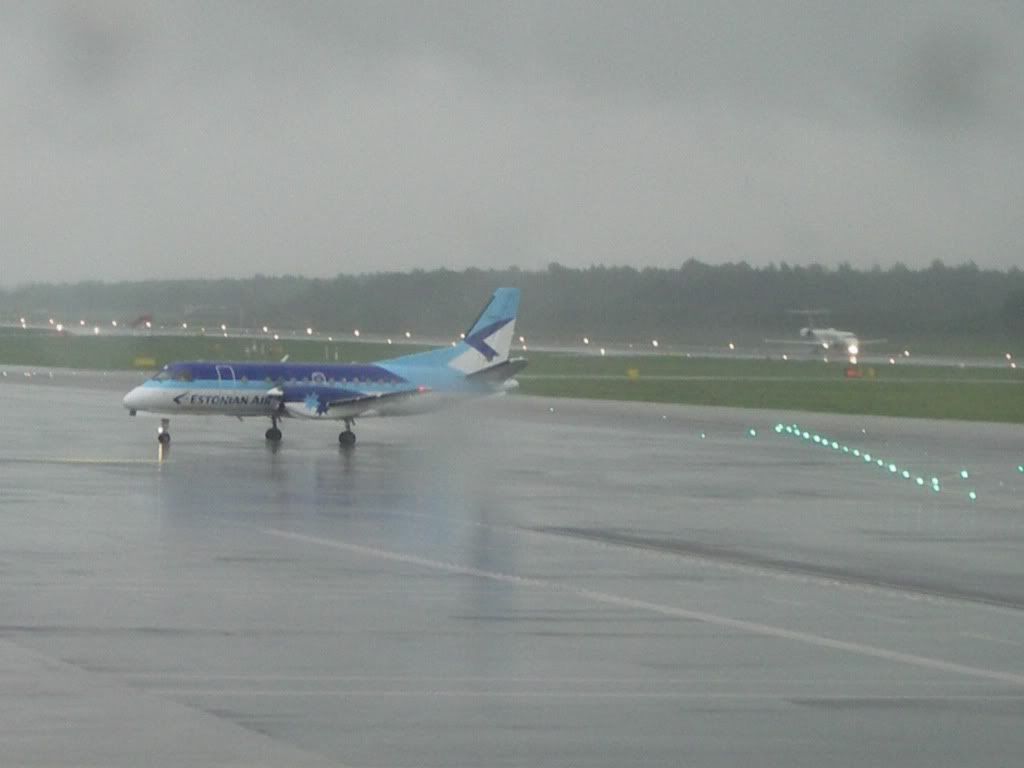 City EMB145 from Gothenburg: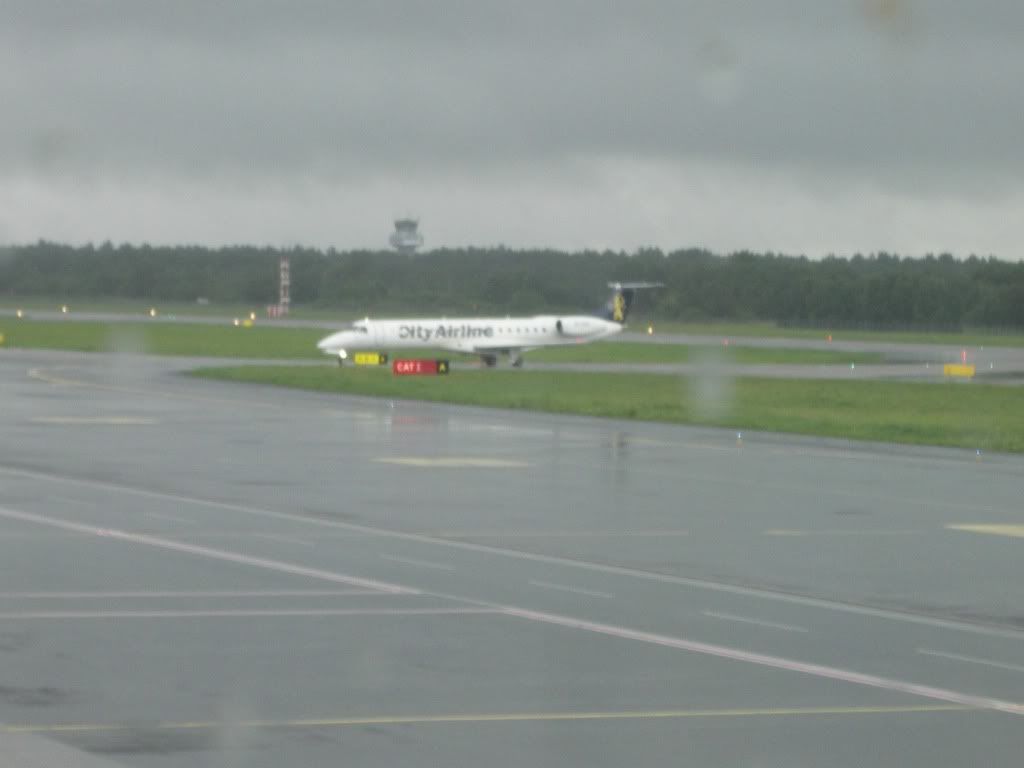 Again:
At the gate: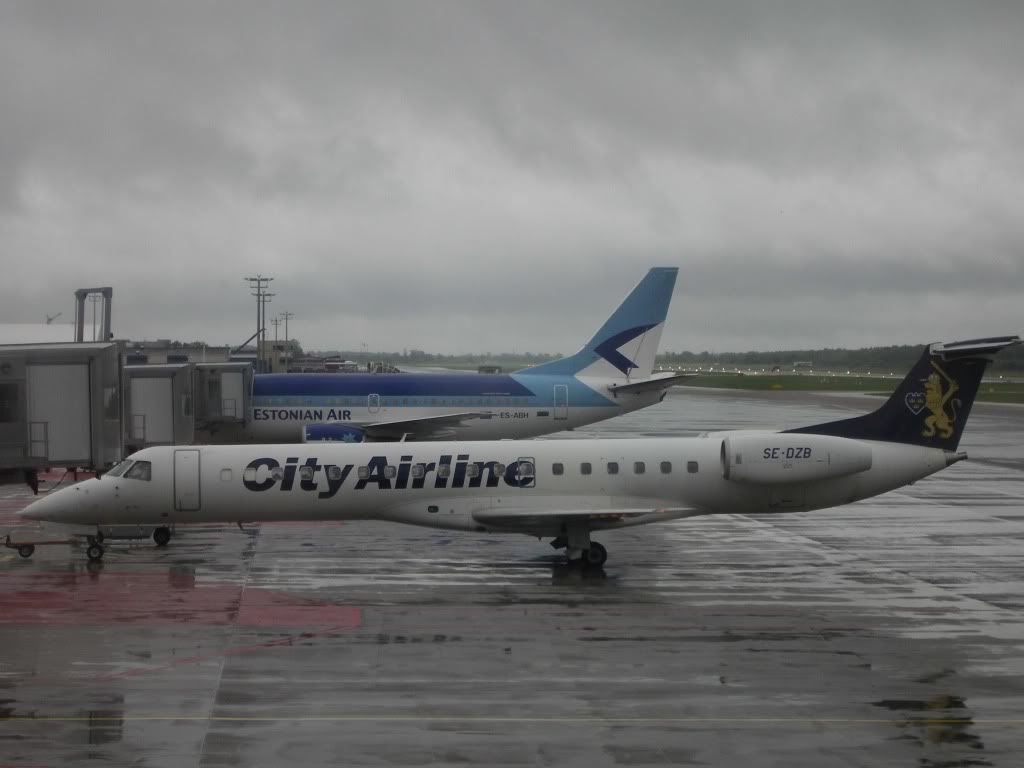 AirBaltic F50 some minutes delayed from Riga: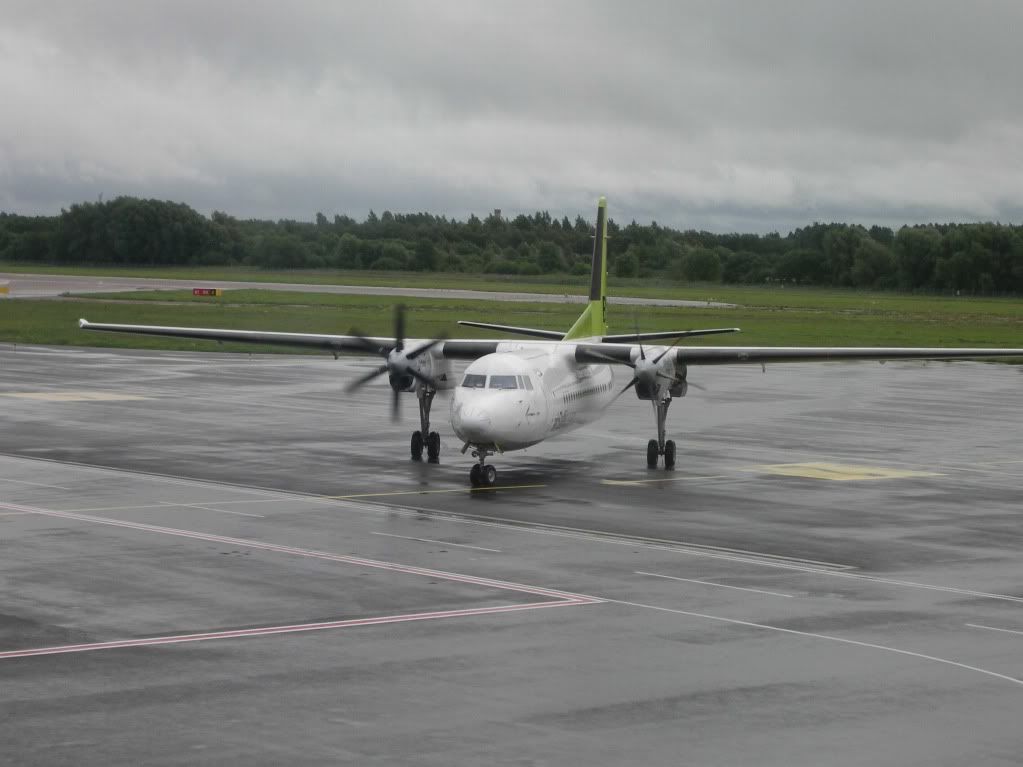 At the gate: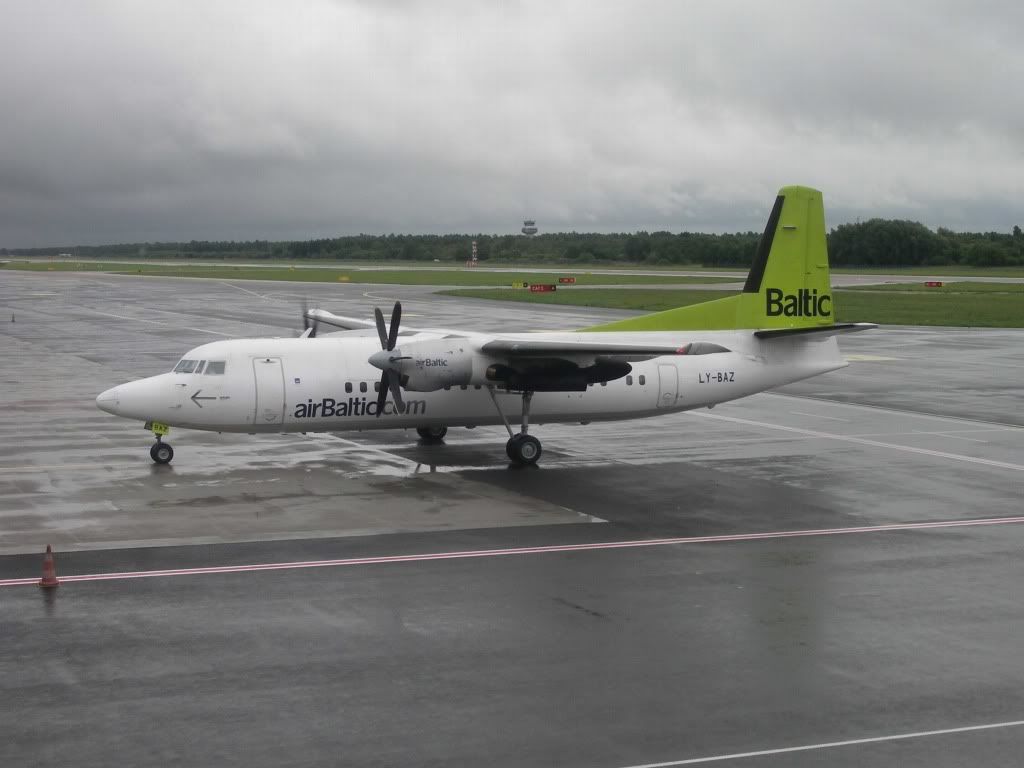 At first I´ve checked the transfer desk where a bored female worked my reservation, I´ve called again for seat 10A on the flight to ARN, but much to my surprise the earlier
printed boarding pass shows 10A. It seems the system know my preferences!.
Not that much action here at TLL, but time goes nevertheless quickly forward.
As soon as my gate was announced I´ve checked the registration of the parked plane.
It was ES-ASN, the machine from yesterday´s flight to URE, not bad, both reg´s on one day.
The board:
My machine?: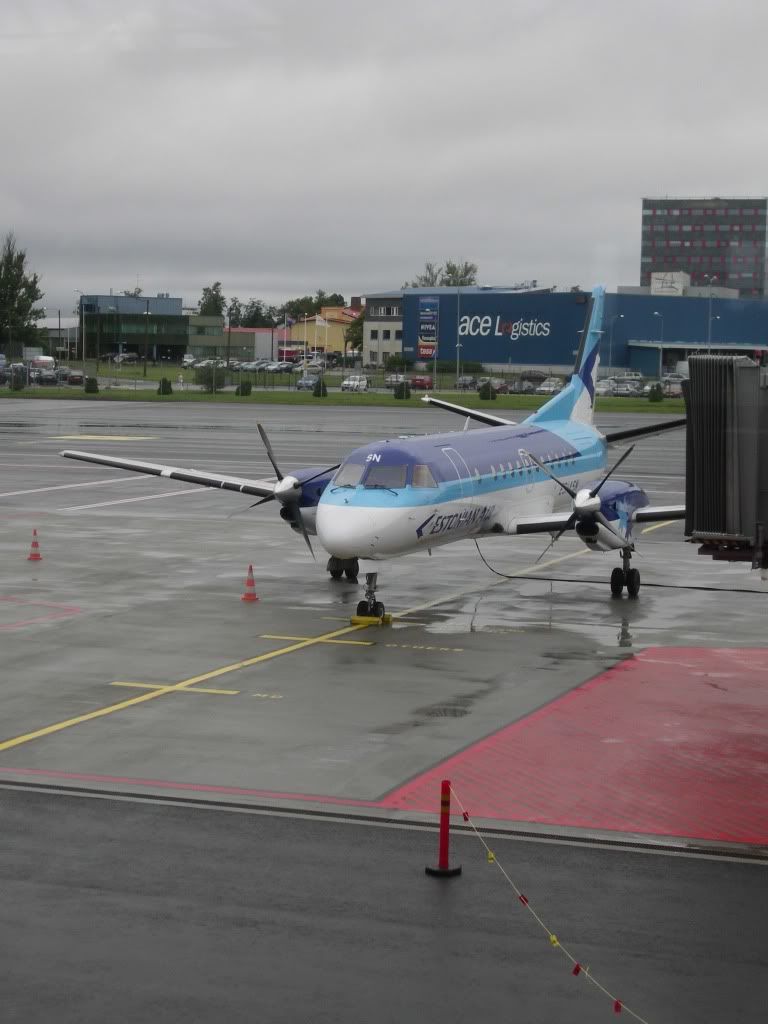 Again: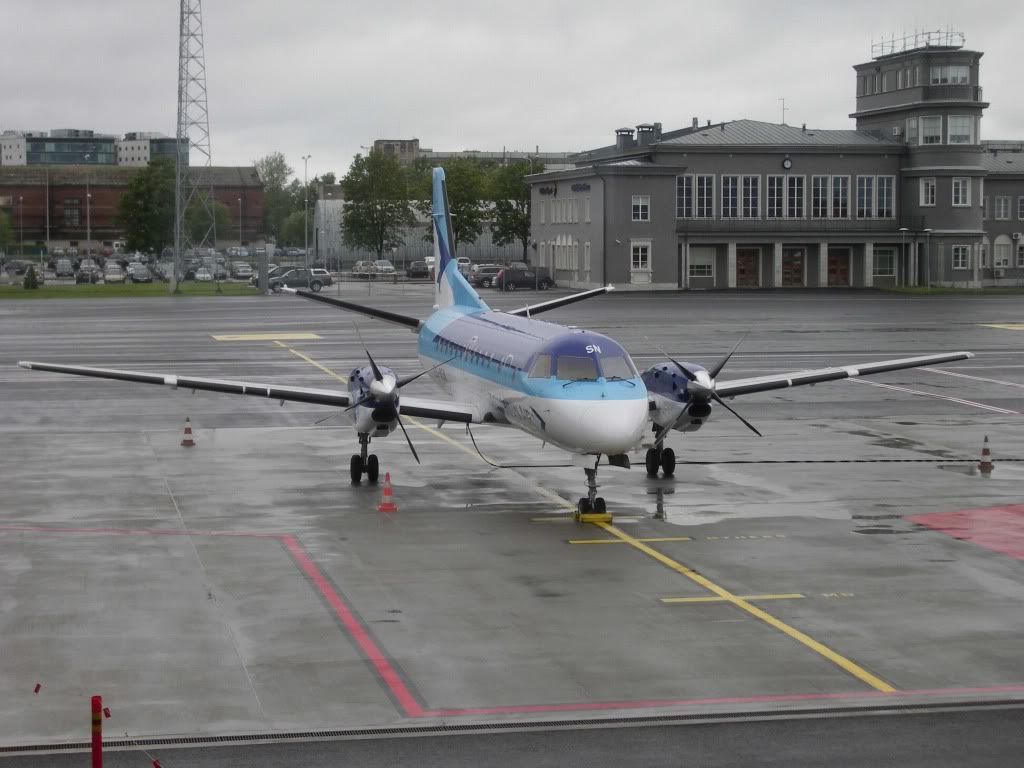 But, when I was back at the gate during boarding time, the girl at the desk walk´s out to the apron and later announced that we had to wait for some minutes due to technical reasons. ES-ASN was towed away and ES-ASM pulled in, the machine from my earlier flight today, but finally a Saab SF340.
Leg no. 6 on type and the second one on this particular plane.
Another one:
Close to boarding: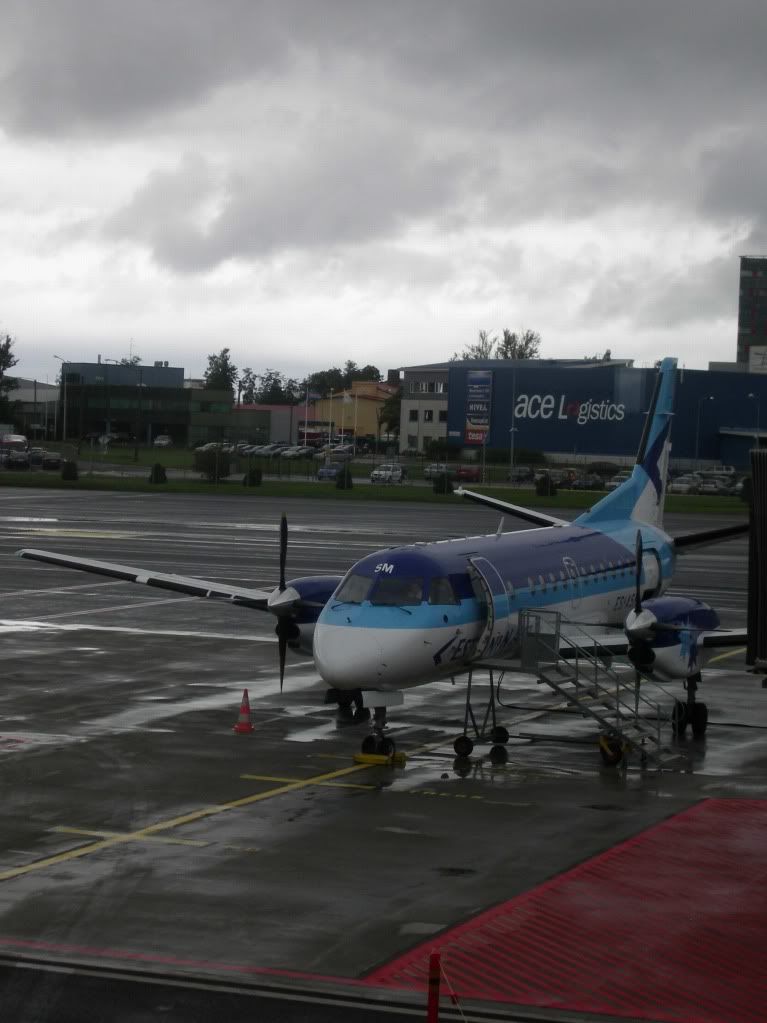 Love that engines: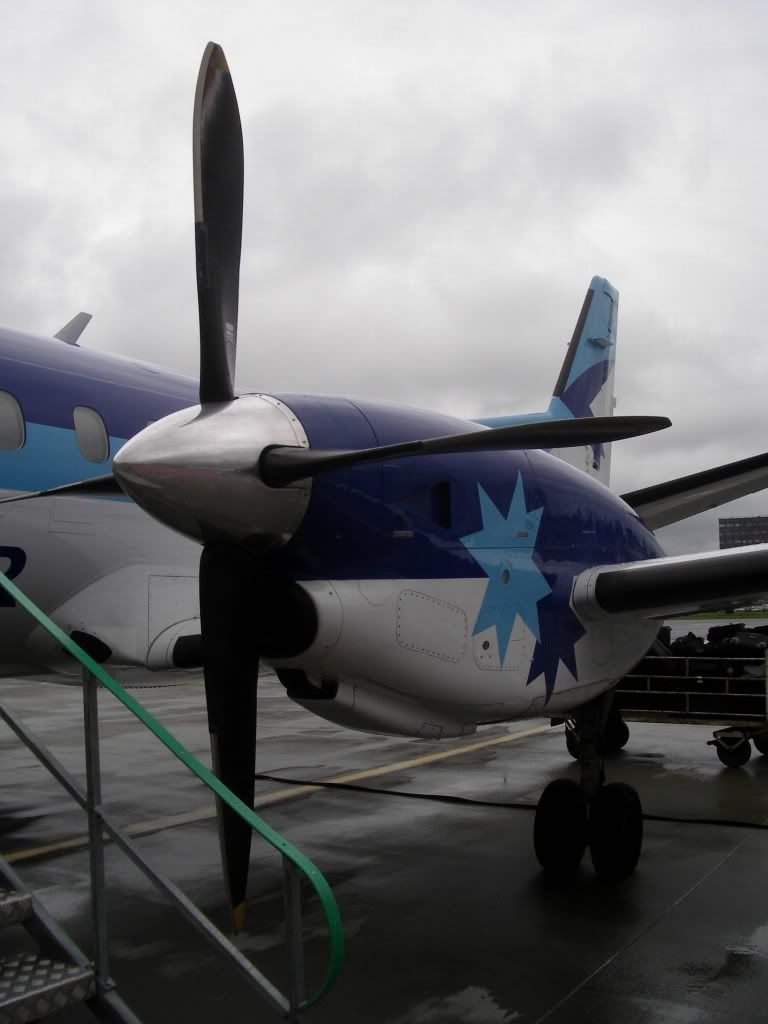 Boarding was called soon thereafter, it stopped to rain, the plane parked on the apron and self service to the machine.
One very friendly male FA on that service.
Let me go on that heli:
Military touchdown:
Departure from runway 26, flightlevel 18000 feet in direction south of Turku, Mariehamn and further on to ARN.
Service was a free bread roll, together with some sweets and free drinks, real good.
Service:
No comment from the captain this time, but he looks like more from the UK than from Estonia,
also like the FO on the earlier flight today.
Inflight: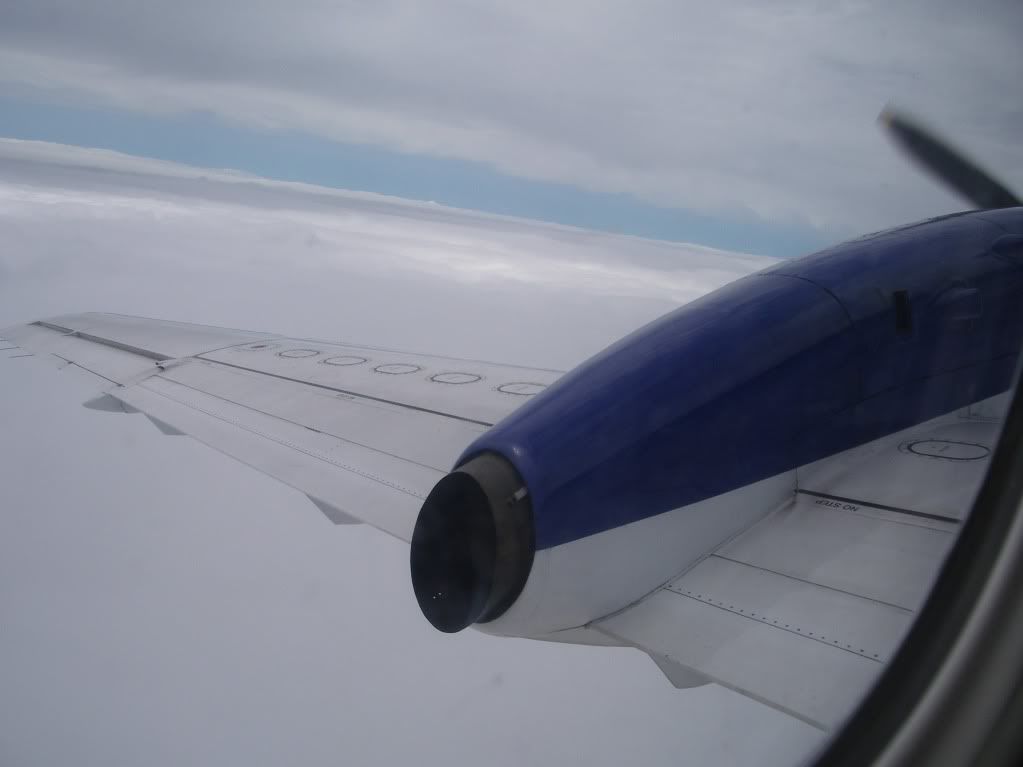 Better weather:
No more clouds:
Close to ARN: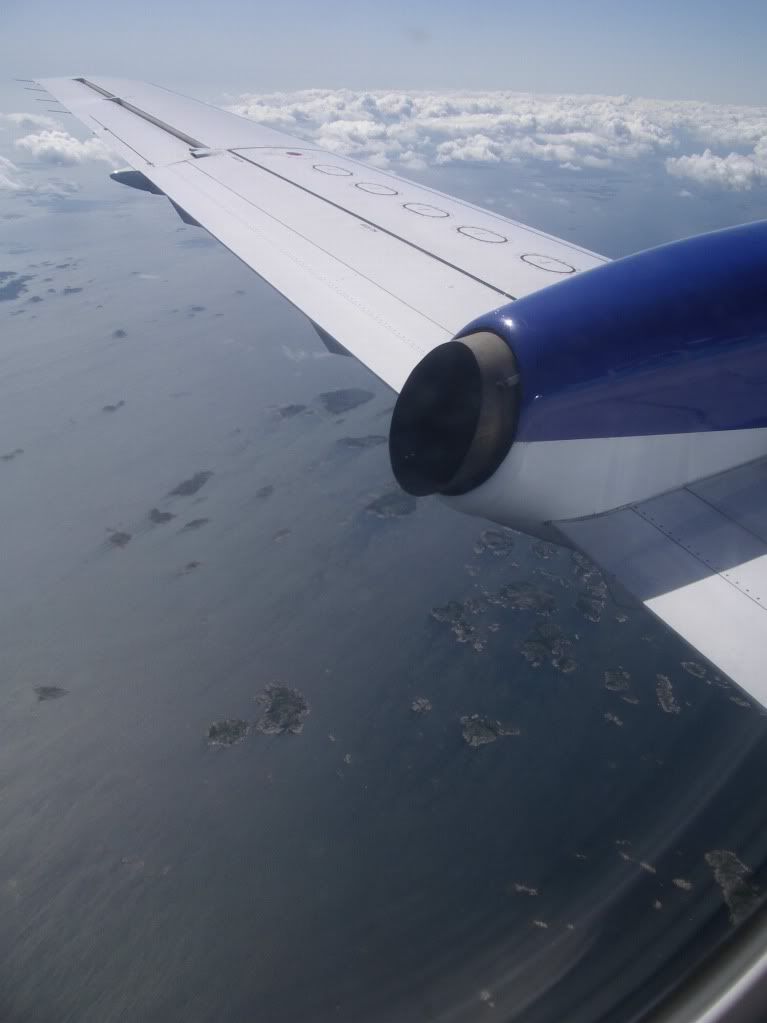 The estonian FO as pilot flying with long and very detailed informations in a friendly way during cruise, also once more during approach with the latest weather details around ARN.
Touchdown on the 2500 meter runway 26 well ontime, we´re going beside the SK technical hangars and parked far from the terminal.
By bus to the entrance.
Just arrived at ARN:
Monday, 20.07.2009
ARN (Stockholm-Arlanda) Partly cloudy, Temperature 22 degrees
FRA (Frankfurt-Rhein-Main) Partly cloudy, Temperature 24 degrees
Duration: Two hours announced and also actual

Service SK 673 operated by SAS Scandinavian Airlines
Scheduled: 16.50 // 19.00
Actual: 16.50 // 18.50
Gate: F29 Seat: 22F
Load factor: 100%
My bag was checked for FRA, my boarding pass show´s also FRA, so no need to go out in the public.
But also here, with a three hours layover I want to see what ARN offers.
Walking down along the whole terminal area till T2 with good apron views was a real nice thing to do.
Interesting planes especially around the domestic Terminal 3 and a real cramped and oldfashioned Terminal 2 with the one world carriers located there.
The flight to FRA was from Terminal 5 , the newest extension, so walking retour, passed security again and settled down at the far end of T5,
calm and quiet with nice views to the runway with the arriving traffic. Also here, time goes by quick.
The board:
Again: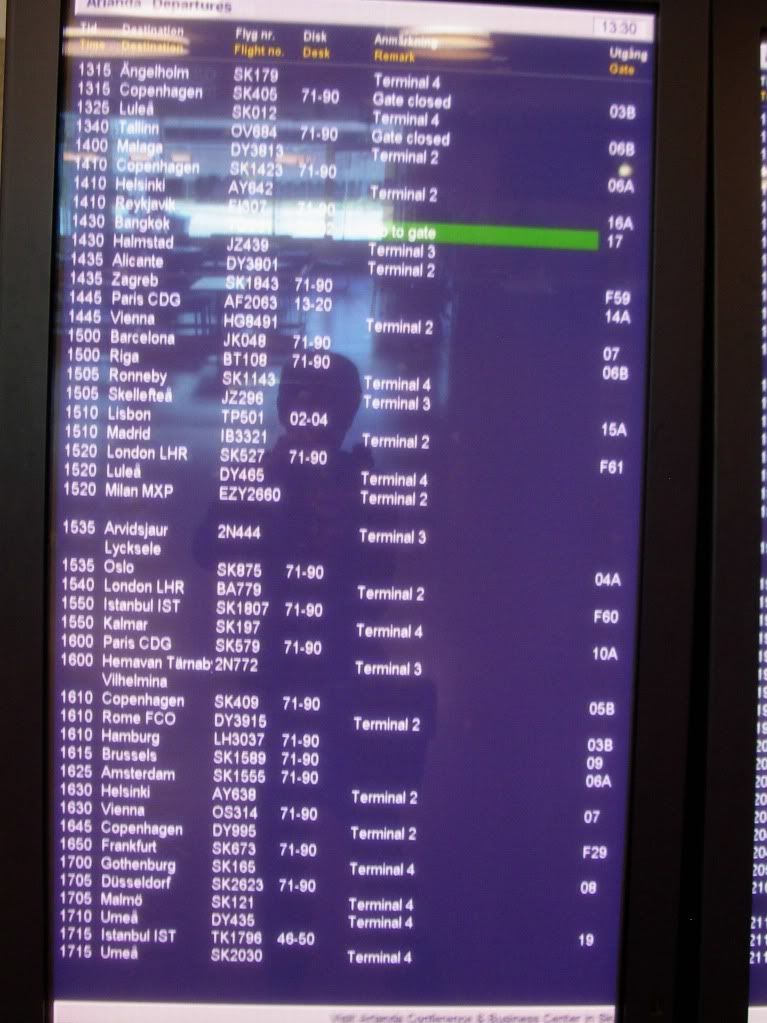 Something big: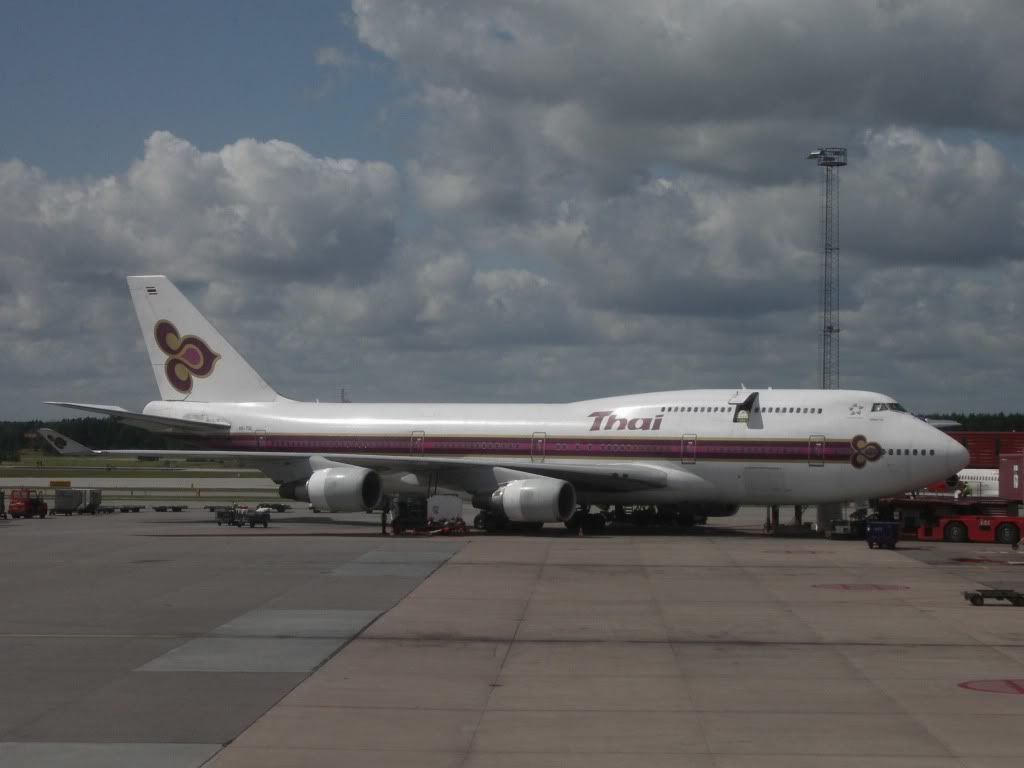 Small, but nevertheless interesting: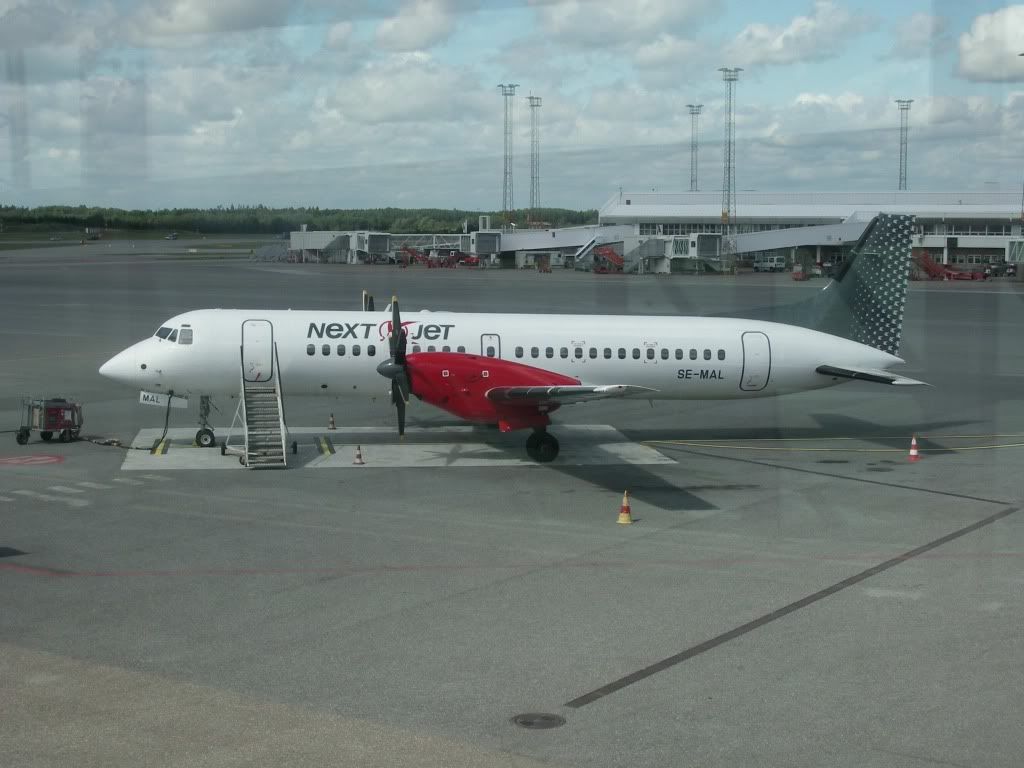 Also here: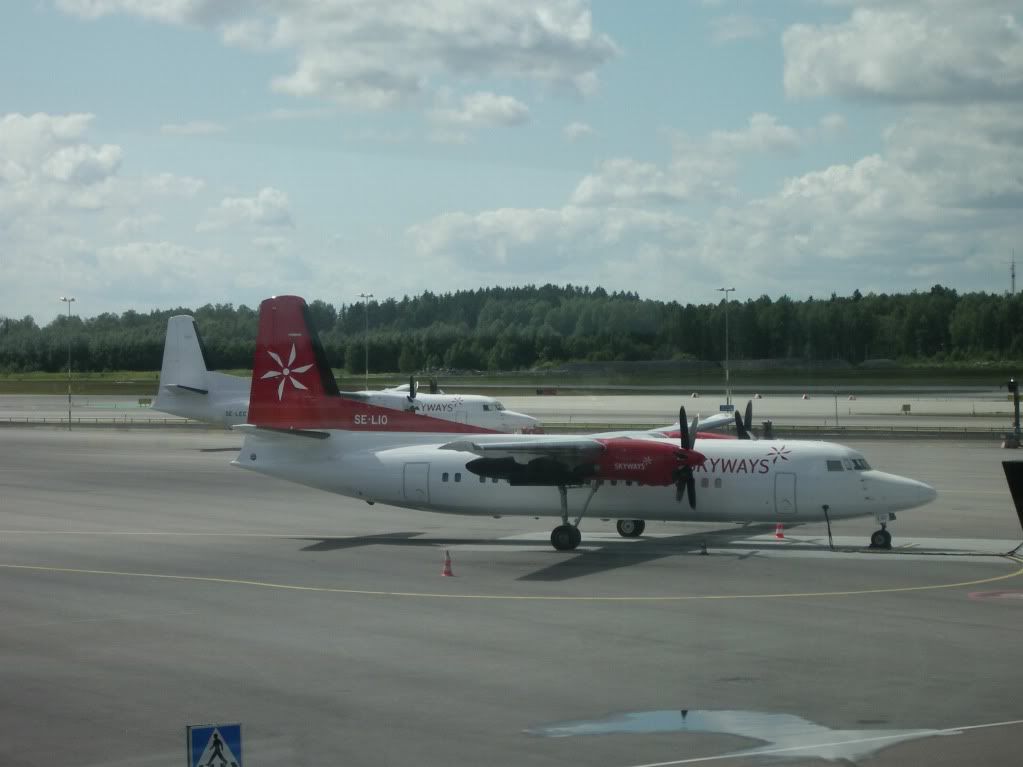 My waiting area: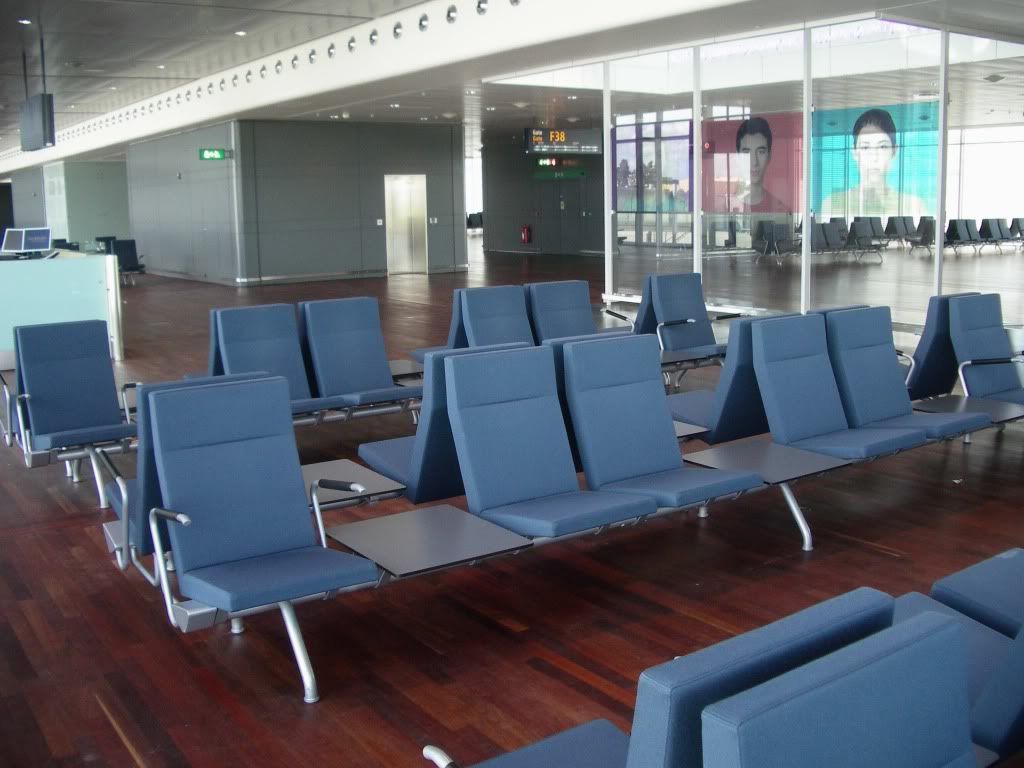 It seems I should switch the base to ARN for a couple of days: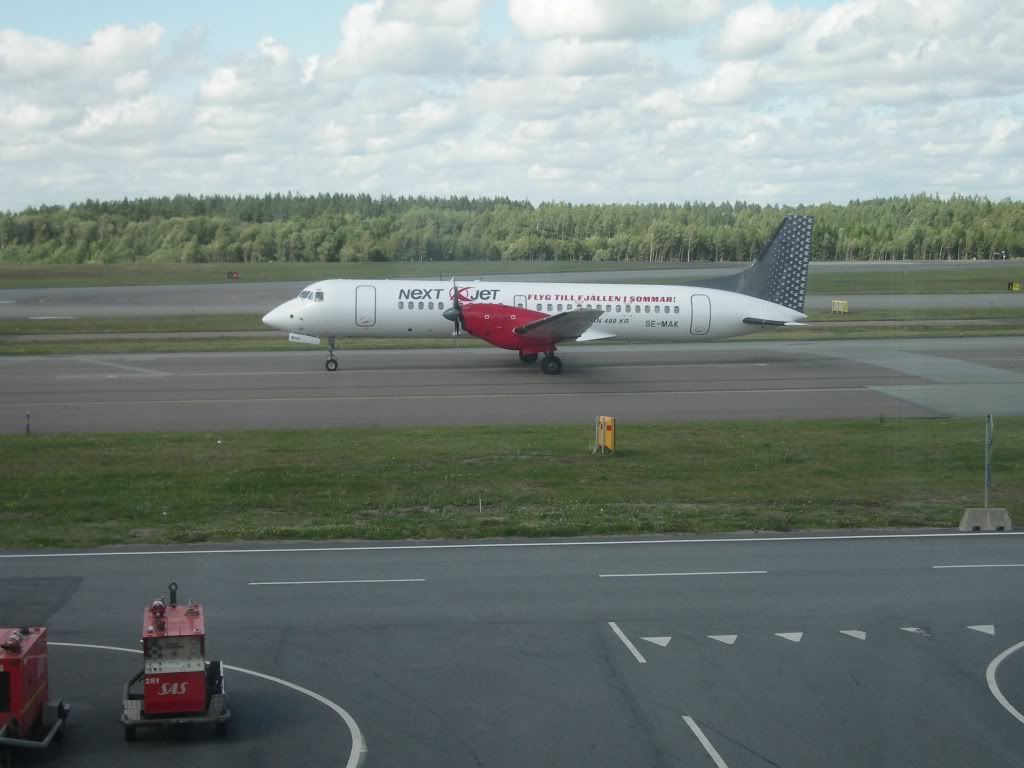 Also interesting:
VO F100:
Back at the gate where a long line of pax waited till boarding starts, always unintelligible for me with fixed seating, but so it was.
Parked was LN-RPW, the scheduled and warm welcomed B736 delivered to SK at 30.09.1998 and named "Alvid Viking".
One of 15 examples in the fleet. Leg no. 2 for me on type and a new registration.
The warm welcomed B736:
Again: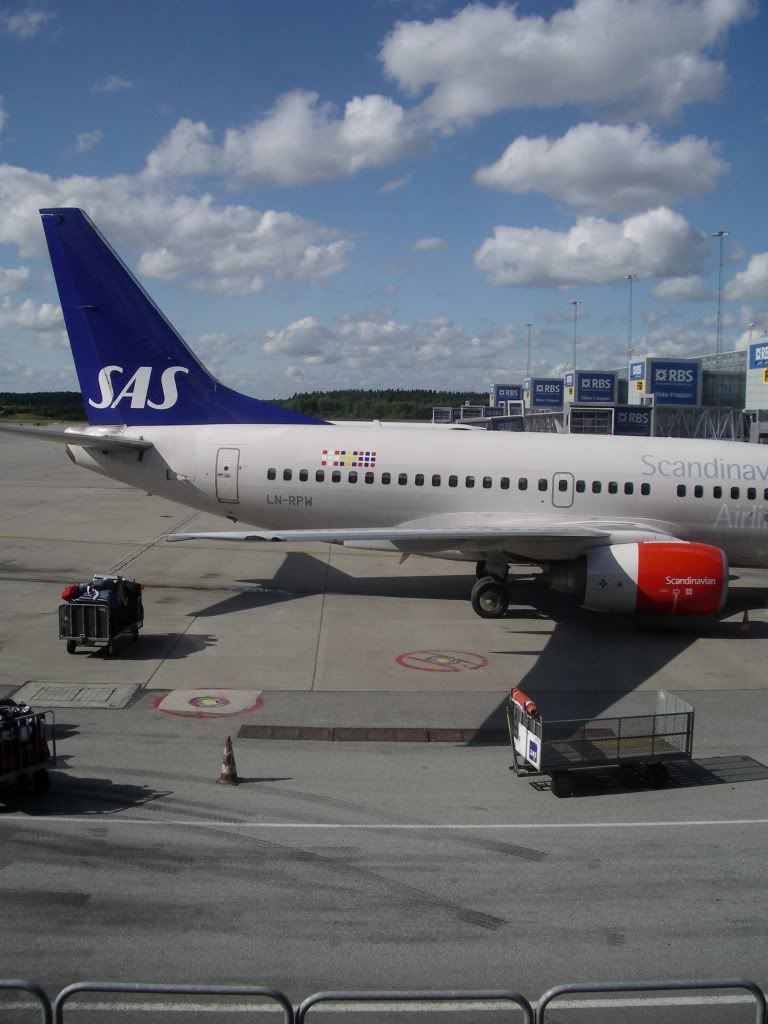 Once more: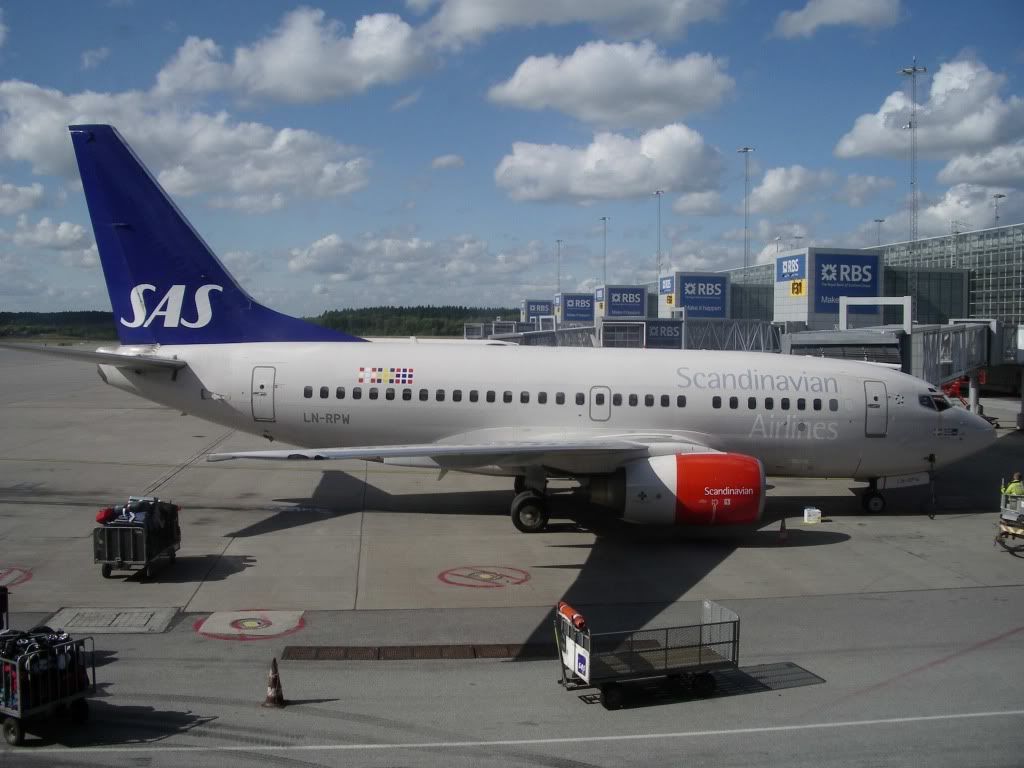 Boarding was called, I was one of the last pax to reach my seat in the very last row, only two dark blue fabric seats here on the SK 736, clean and good legroom.
Three experienced and real friendly female´s on this service.
Departure from the 2500 meters runway 19L, flightlevel 39000 feet, no route information.
Just departed:
Once more: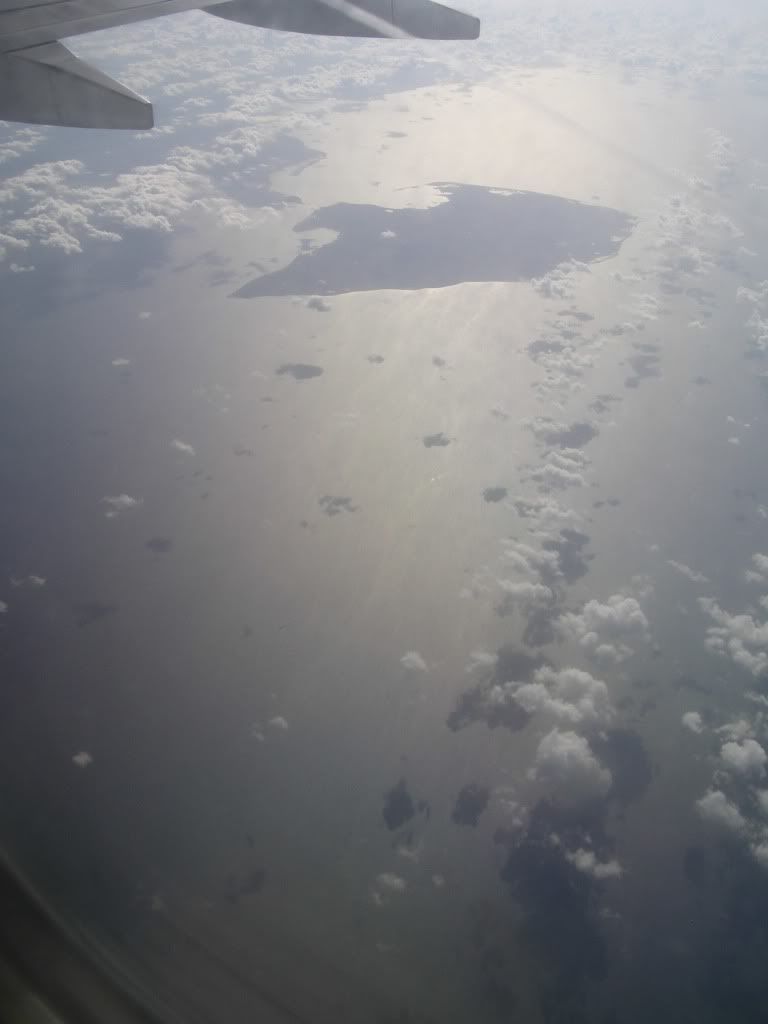 The scandinavian pilot with short and friendly information´s inflight, once more short to approach into FRA.
No comment from the female FO.
Service was usual SK style, buy on board, nothing for free.
Time goes by rather quick. My seat neighbour was a friendly elder woman travelling to TLV and we had a nice chat about my way doing picture´s and flight details
and here earlier Israel experiences.
FRA skyline:
Touchdown on FRA´s 4000 meter runway 25L well ontime. Taxi to a finger gate at Terminal 1.
The captain was at the cockpit door during deboarding, always the chance for a office pic, no problem, nice staff here at SK.
The office: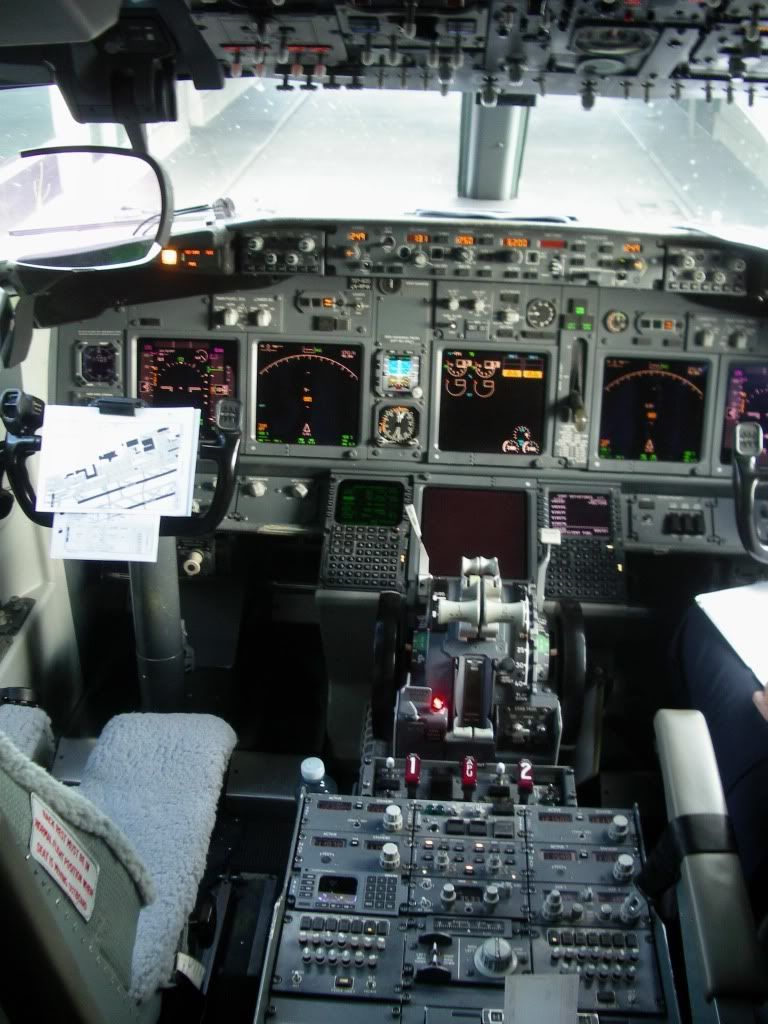 A really long way to walk back to the main terminal building.
My bag was quick, out in the public to call for the Tourcare shuttle and on the way back home.
Estonia is a recommendable country, lots of more to explore there, for example the Avies J31 service to Kärdla.
Estonian Air regional provides ontime service, friendly staff and interesting equipment, recommendable.
SK with nice staff, a special type of plane, also recommendable.
I will go on all airlines covered here again!.
Next time travel will going to the UK, collecting some aircraft stuff not covered in my log till now.
Hopefully no changes!.
Comments welcome,
Markus (FLIEGER67)