AF51: O'Hare International Airport (ORD) – Paris-Charles de Gaulle Airport (CDG)
WX5080: Paris-Charles de Gaulle Airport (CDG) – Shannon Airport (SNN)
Background
This is the return journey for my Continental Airlines flight from Shannon to Chicago which can be found here:
A Continental Experience: Transatlantic & Beyond - Pics
(by
AmricanShamrok
Aug 13 2009 in Trip Reports)
During my three weeks in Chicago I spent a day at the world's second busiest airport (ORD), I visited the Boeing world headquarters downtown as well as United Airlines' HQ plus their Operations Centre in Elk Grove Village (at the far side of ORD). Here are some pics I took:
US Airways check-in at Terminal 2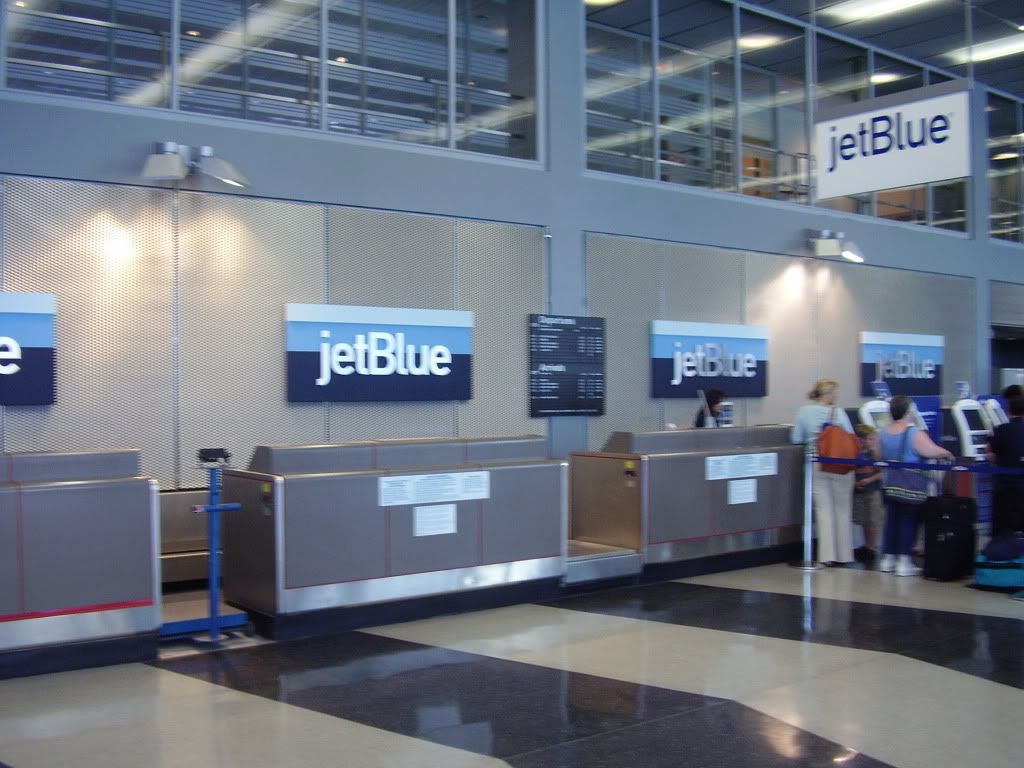 JetBlue Airways check-in at Terminal 2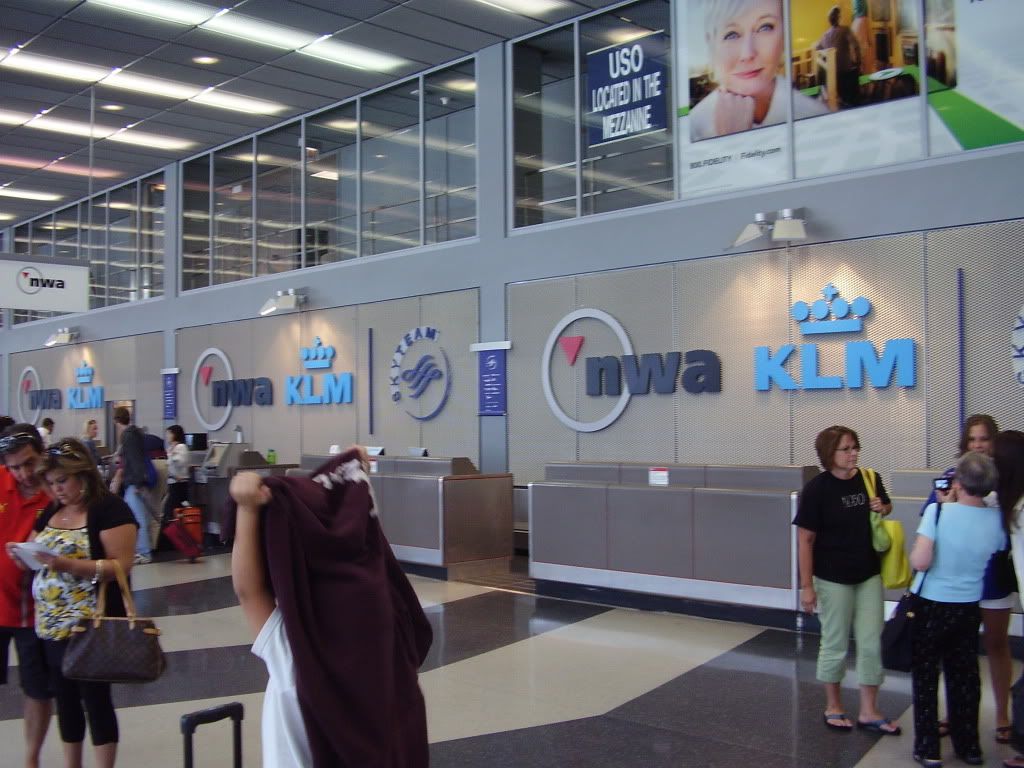 Northwest Airlines check-in at Terminal 2
Air Canada check-in at Terminal 2
Continental Airlines check-in at Terminal 2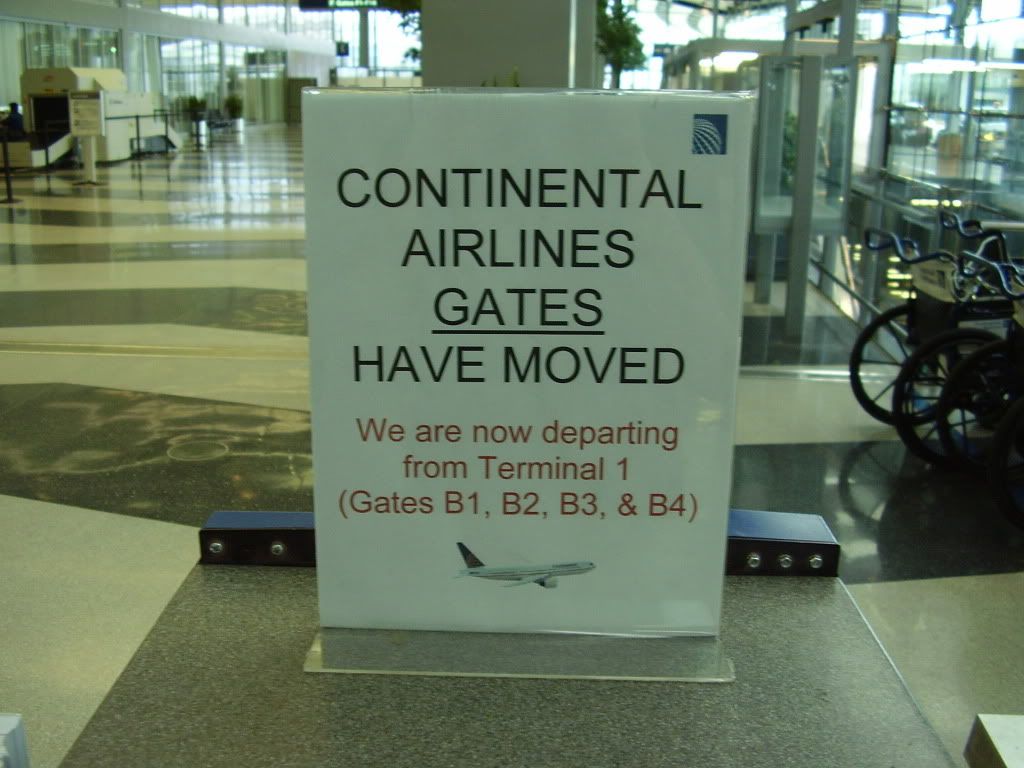 CO gate consolidation notice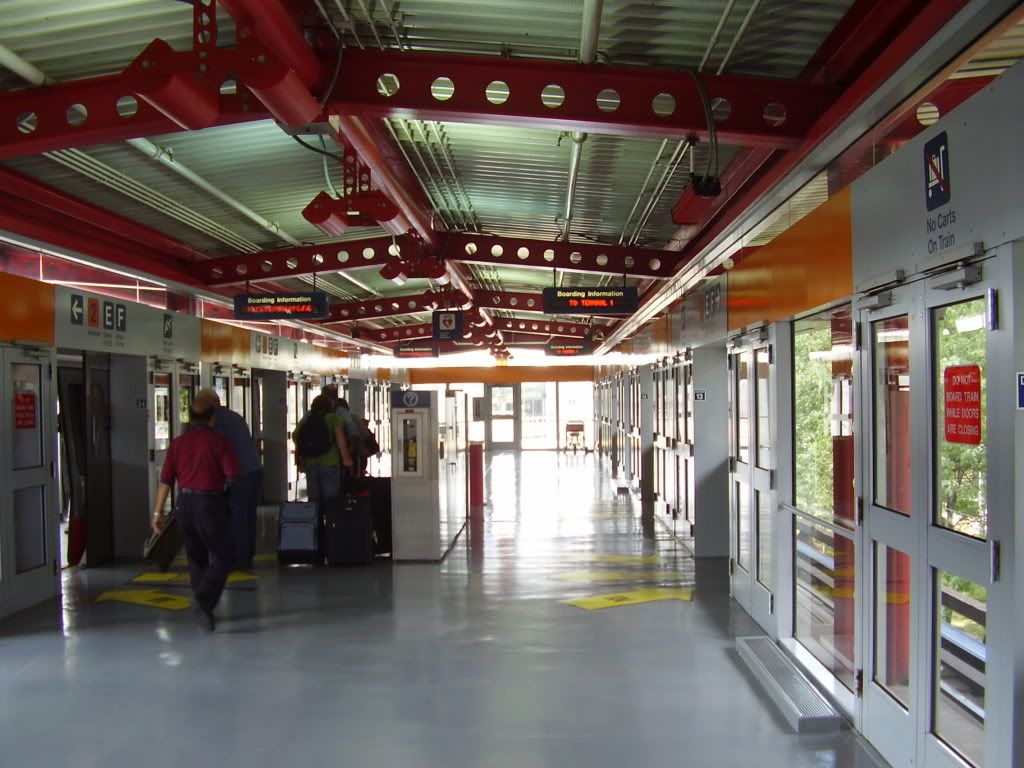 Airport Transit System – Terminal 2 station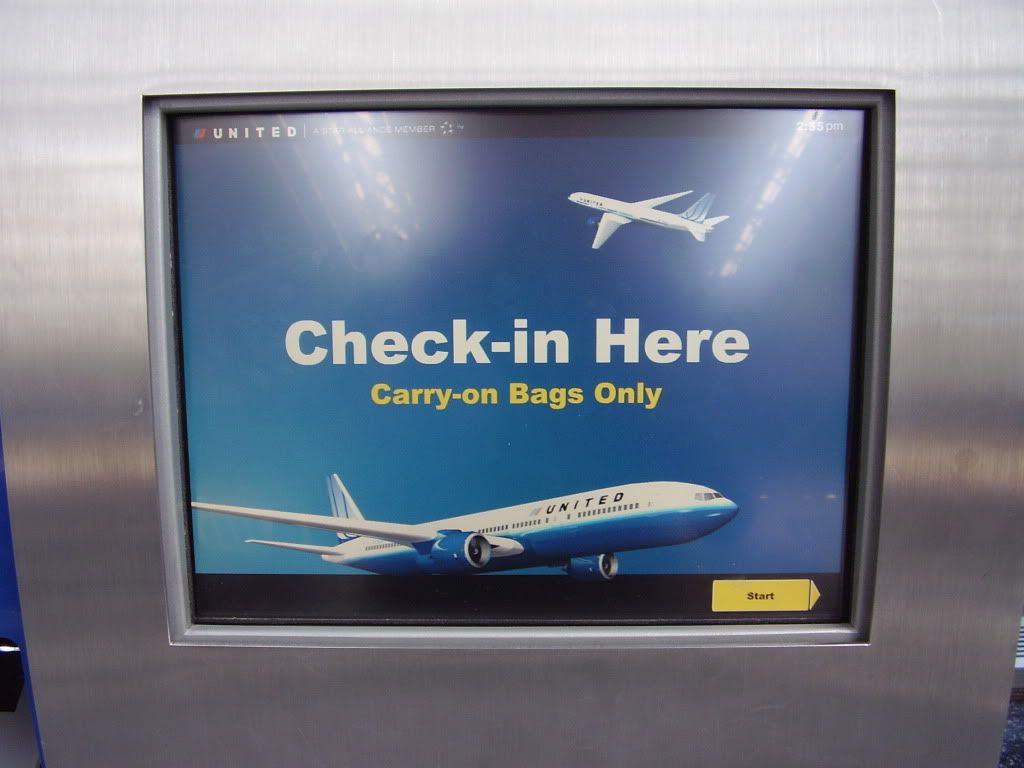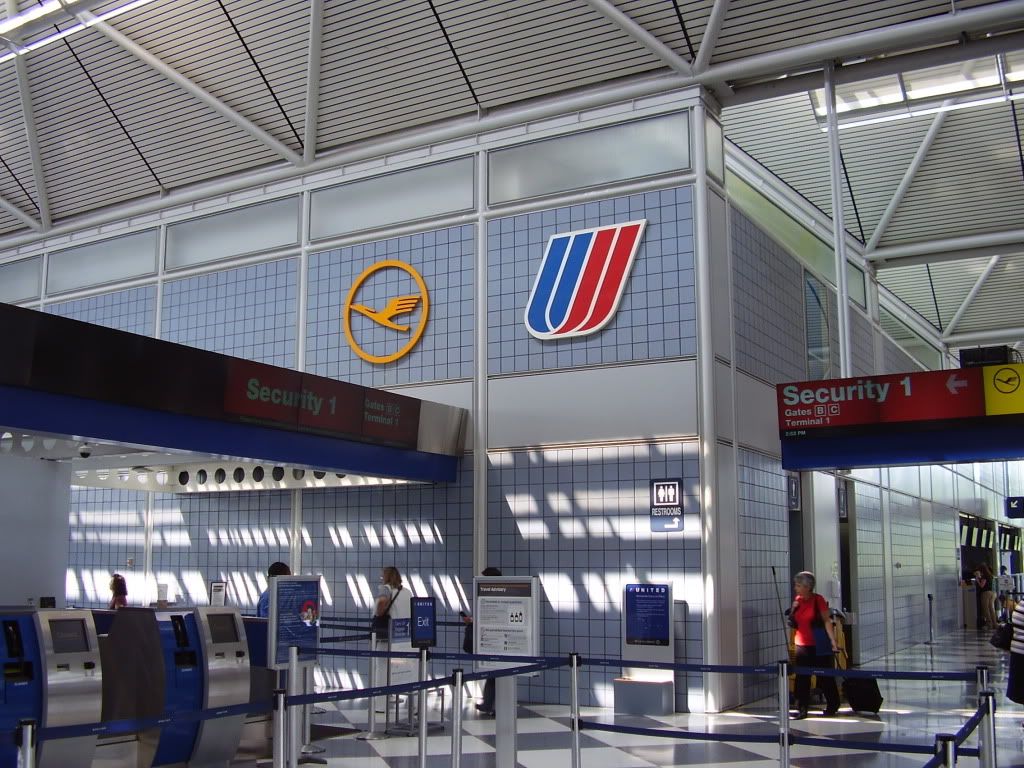 UA's Terminal 1 (which it shares with LH departures)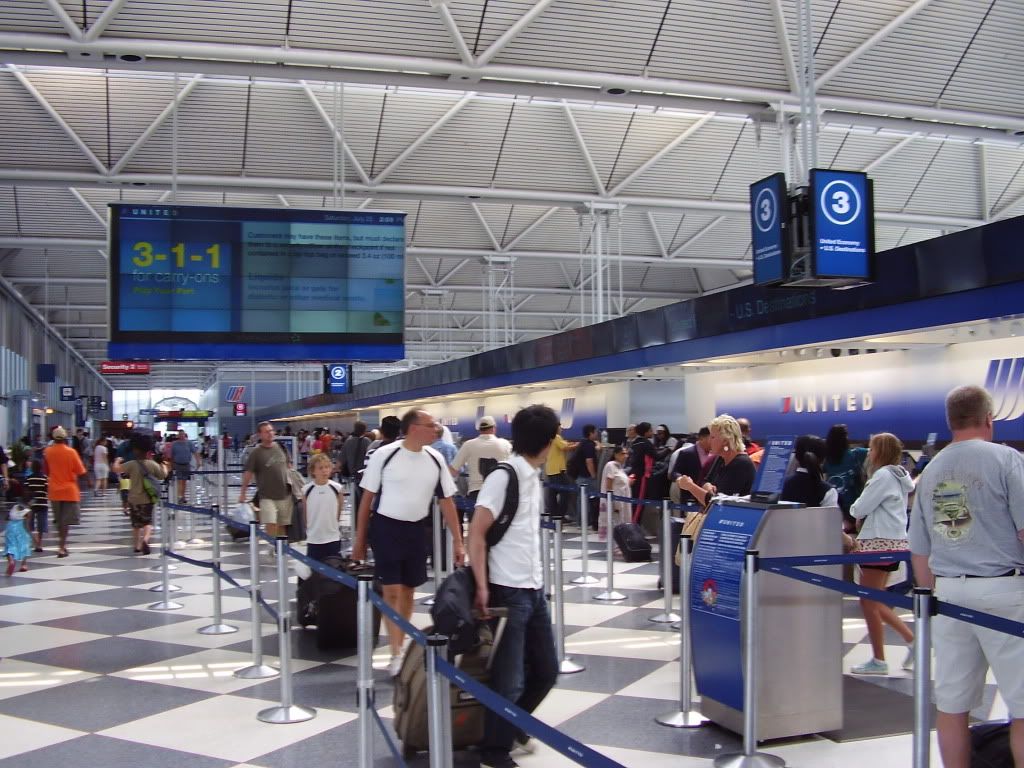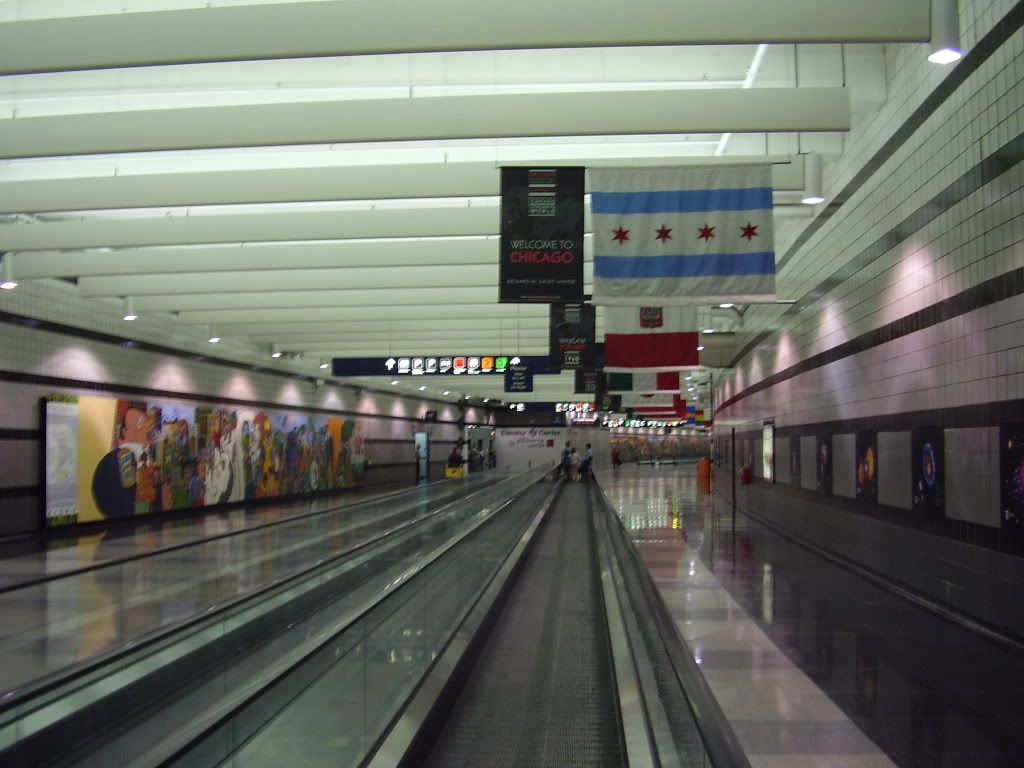 Corridor connecting Terminals 1 & 2
Sister City flags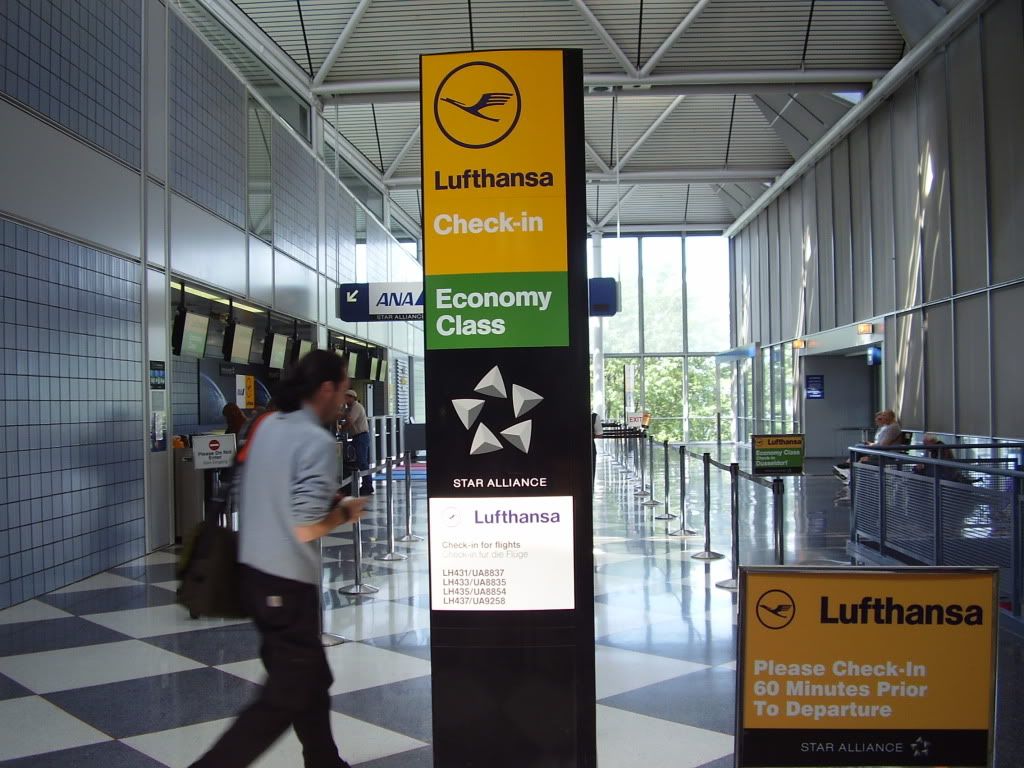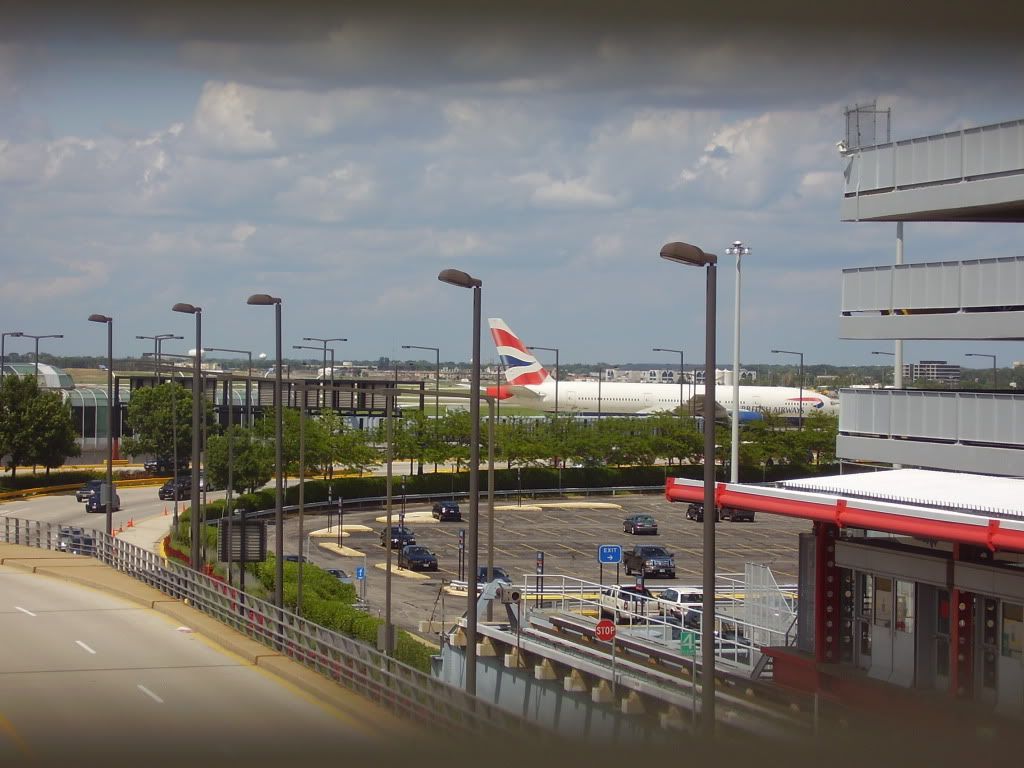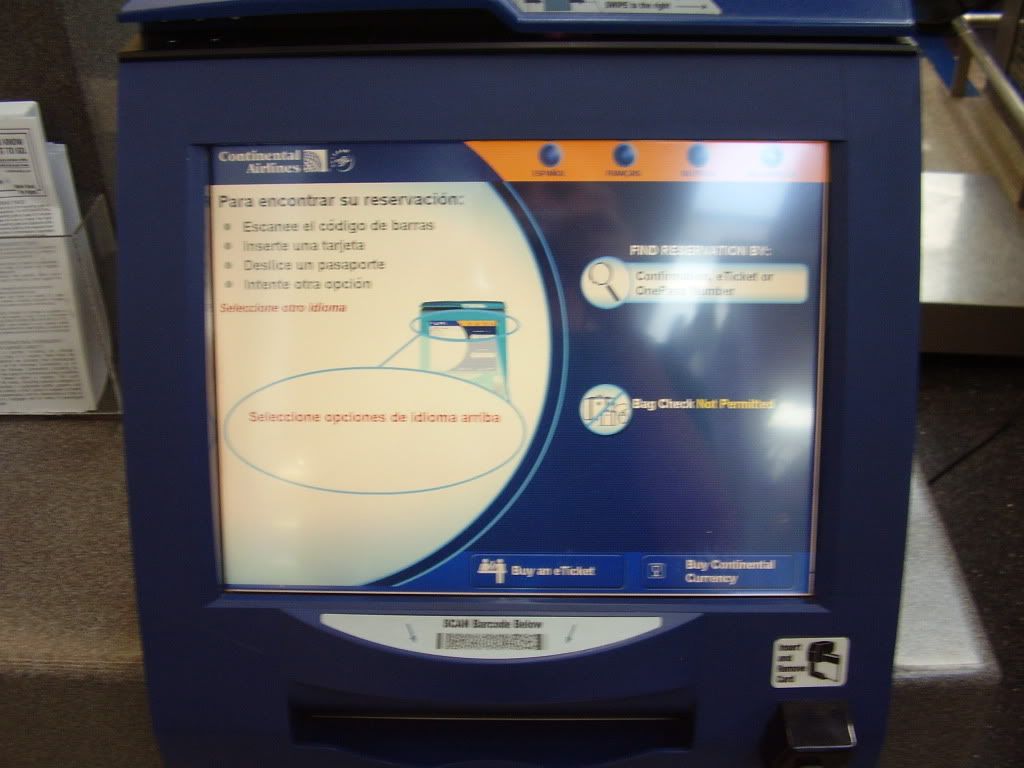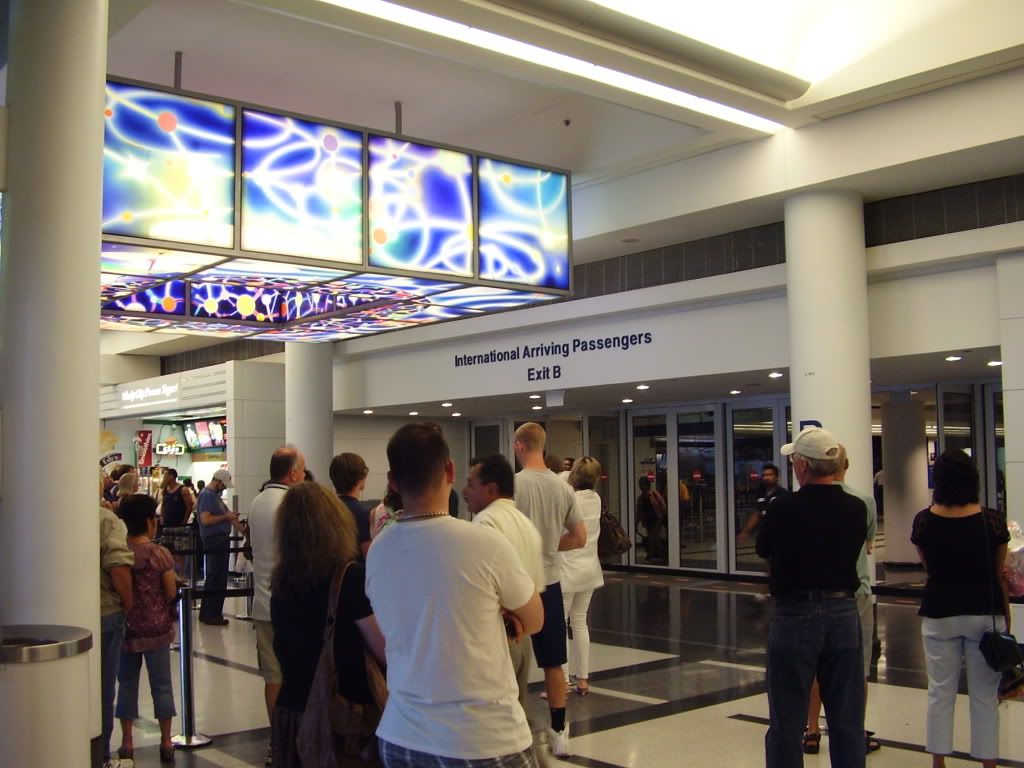 Arrivals area at International Terminal 5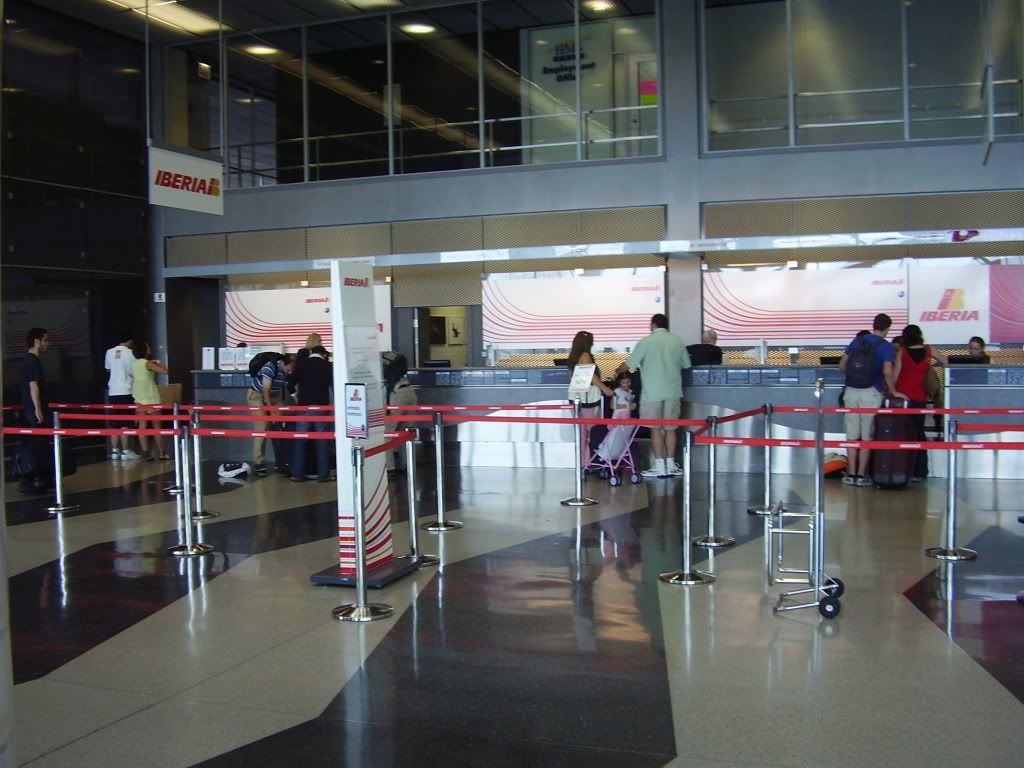 Iberia Airlines check-in at Terminal 3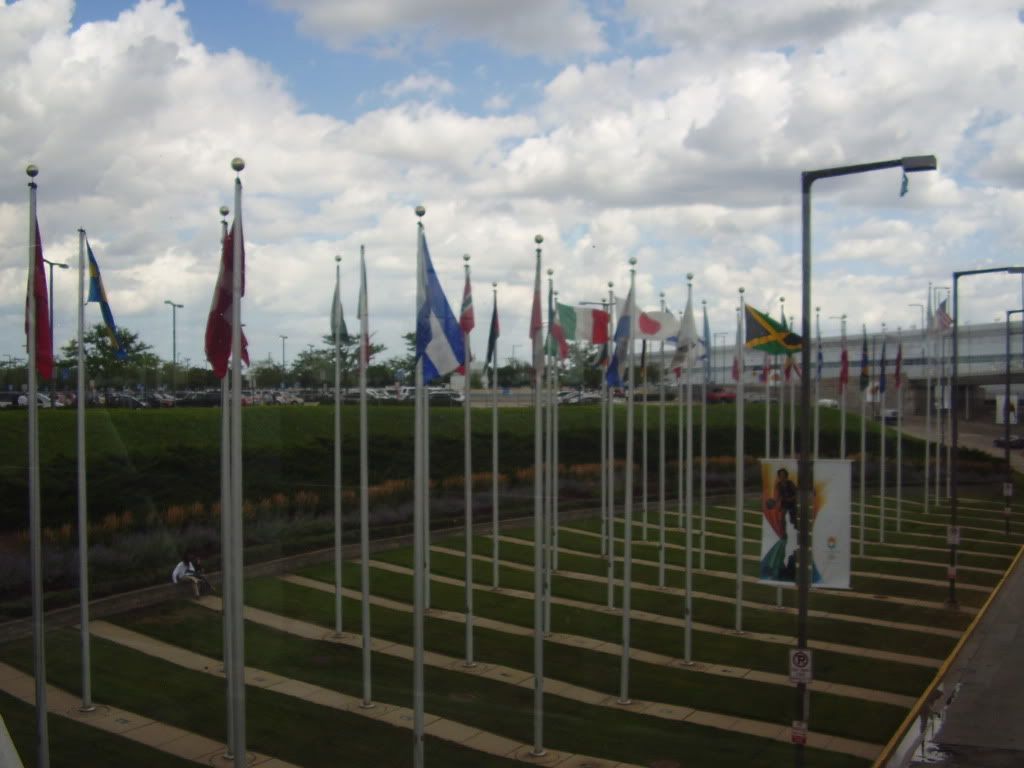 Flags outside International Terminal 5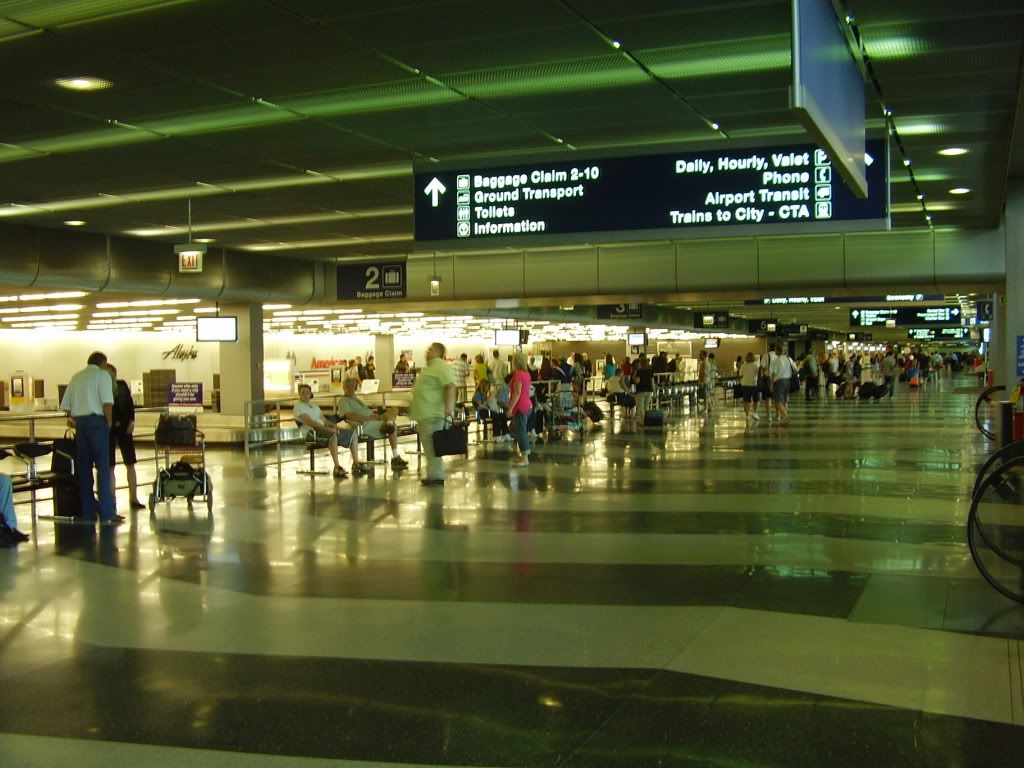 Terminal 3 baggage claim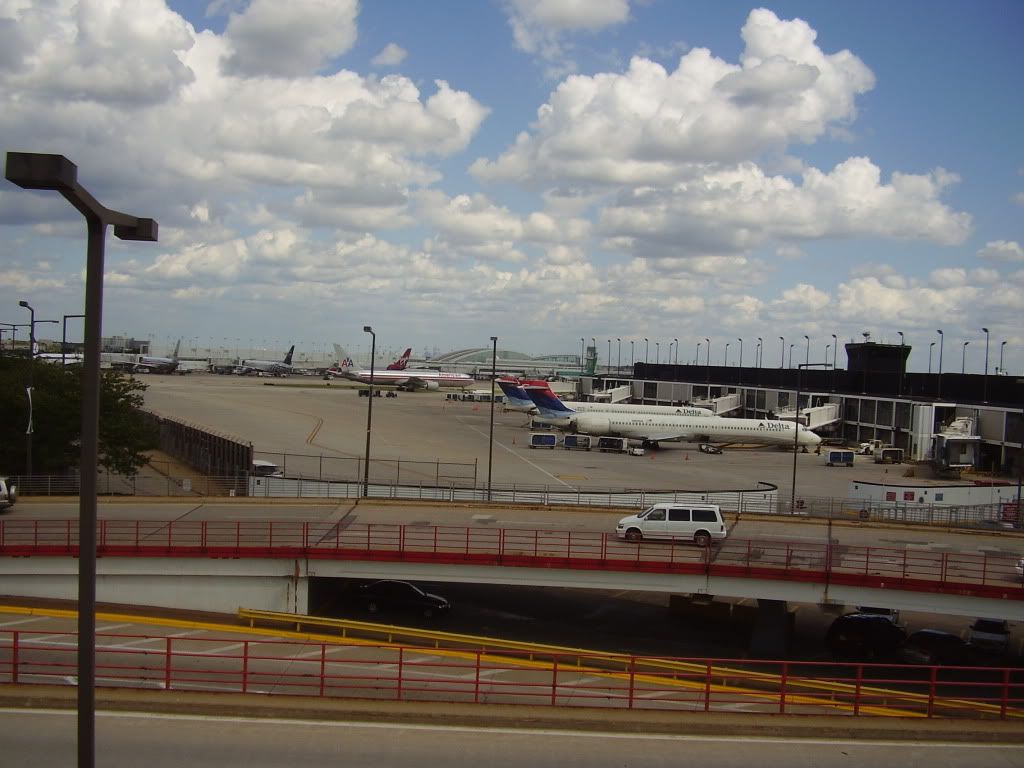 Aer Lingus check-in at International Terminal 5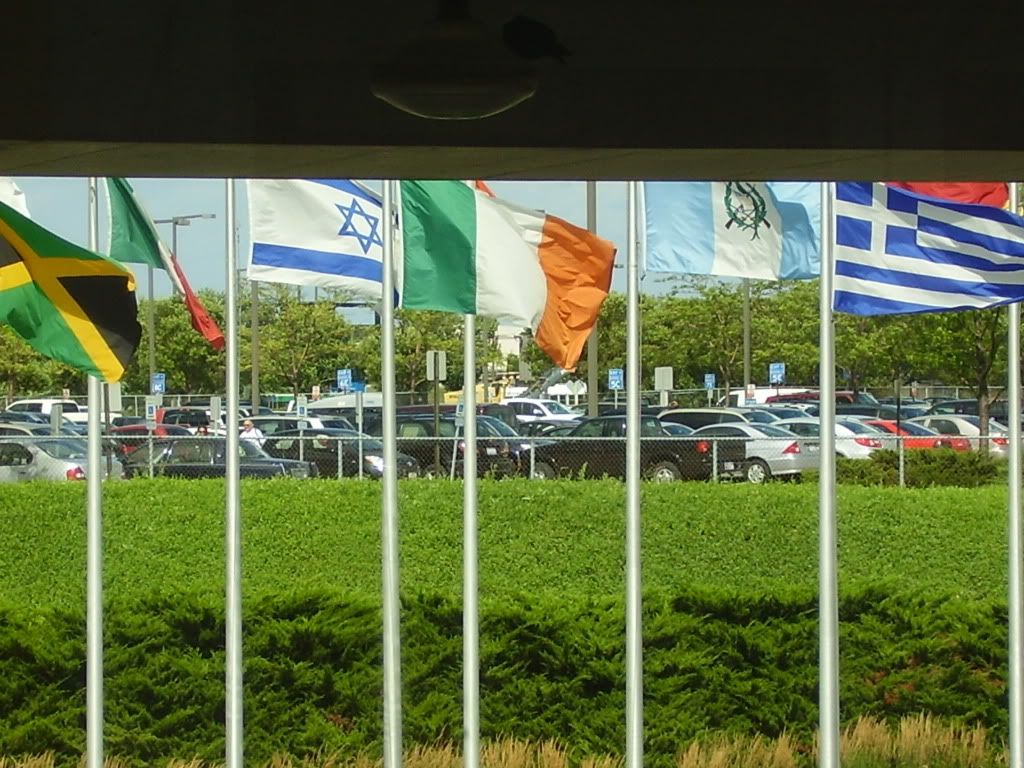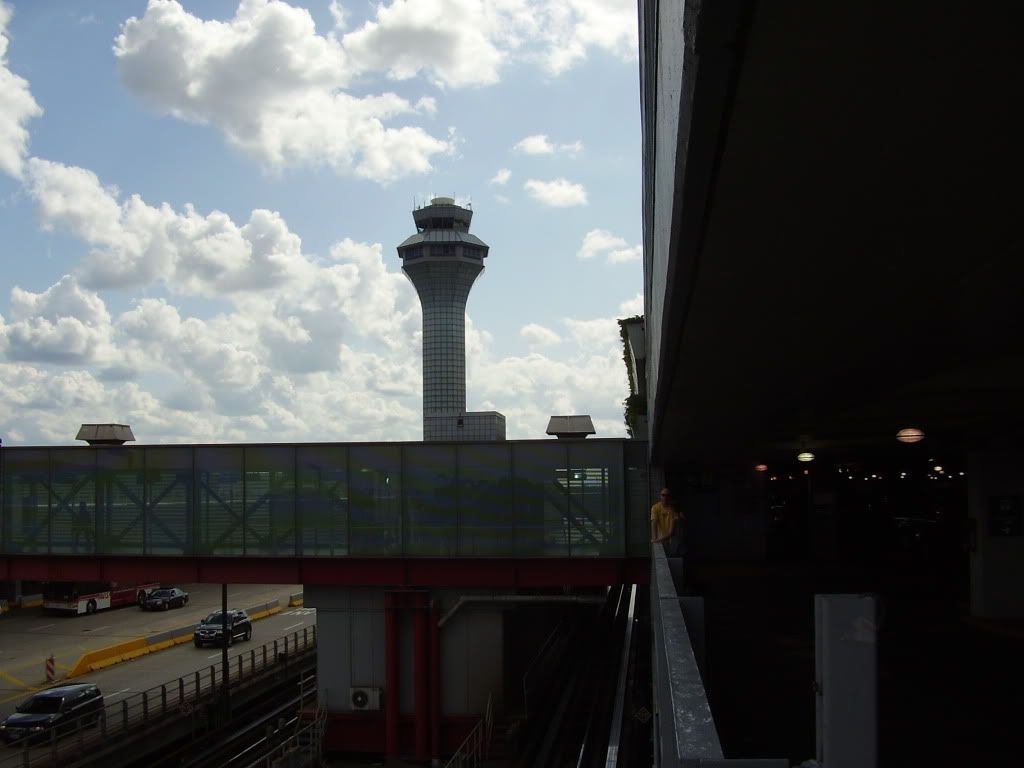 ORD's currently-in-use ATC tower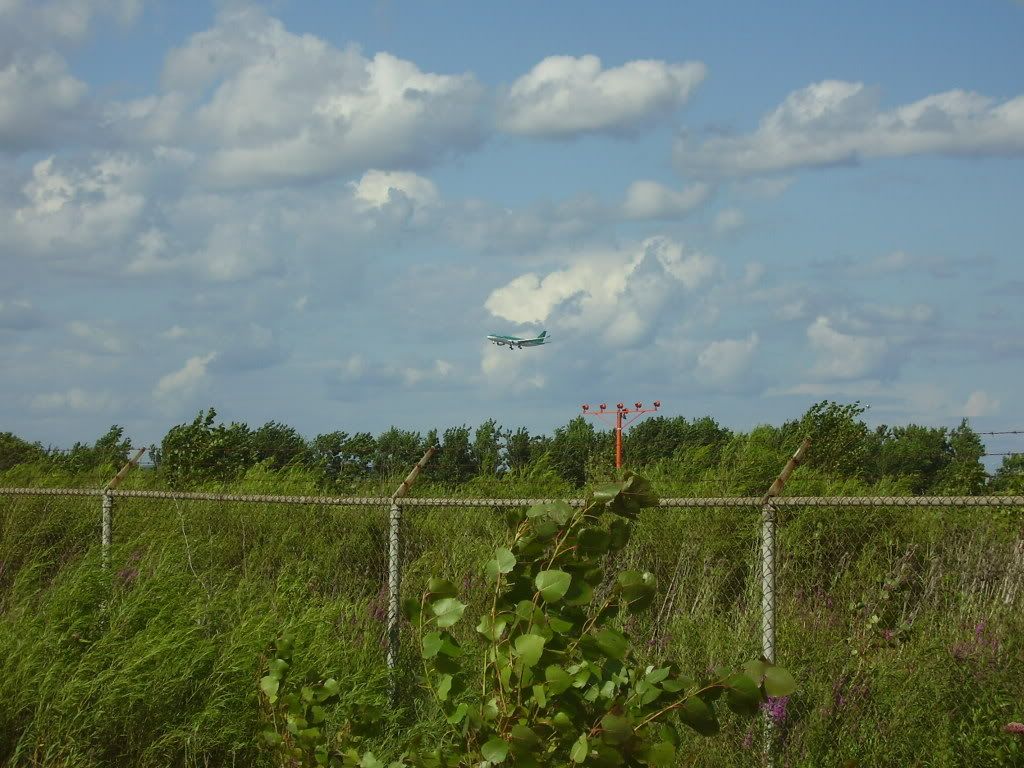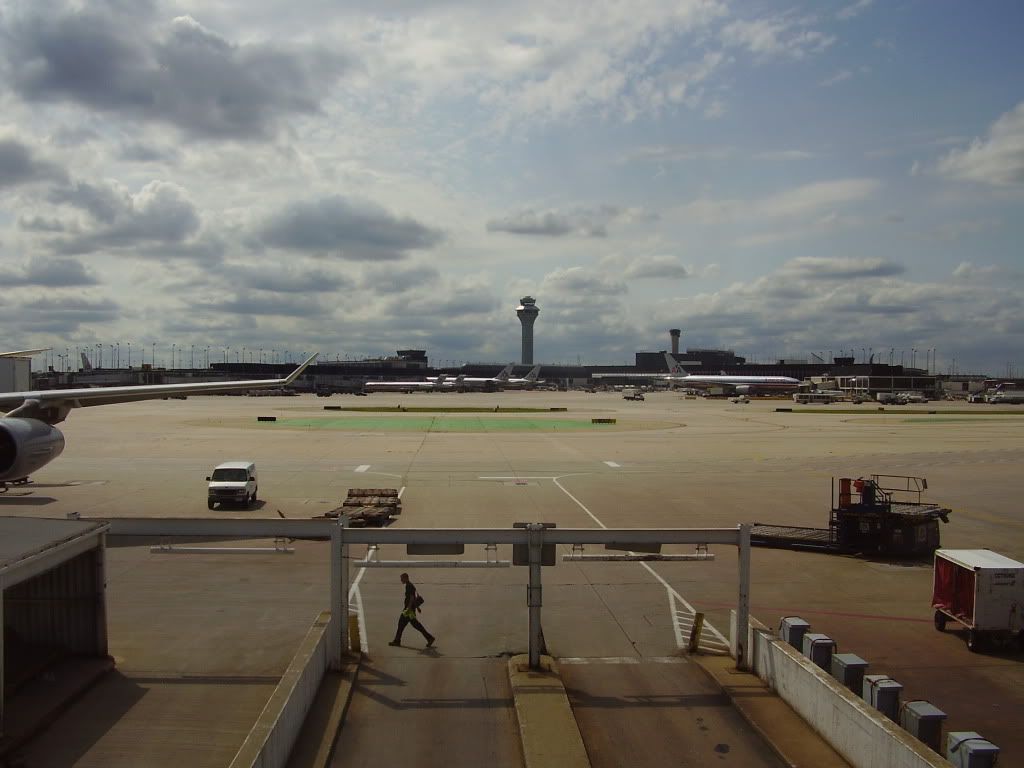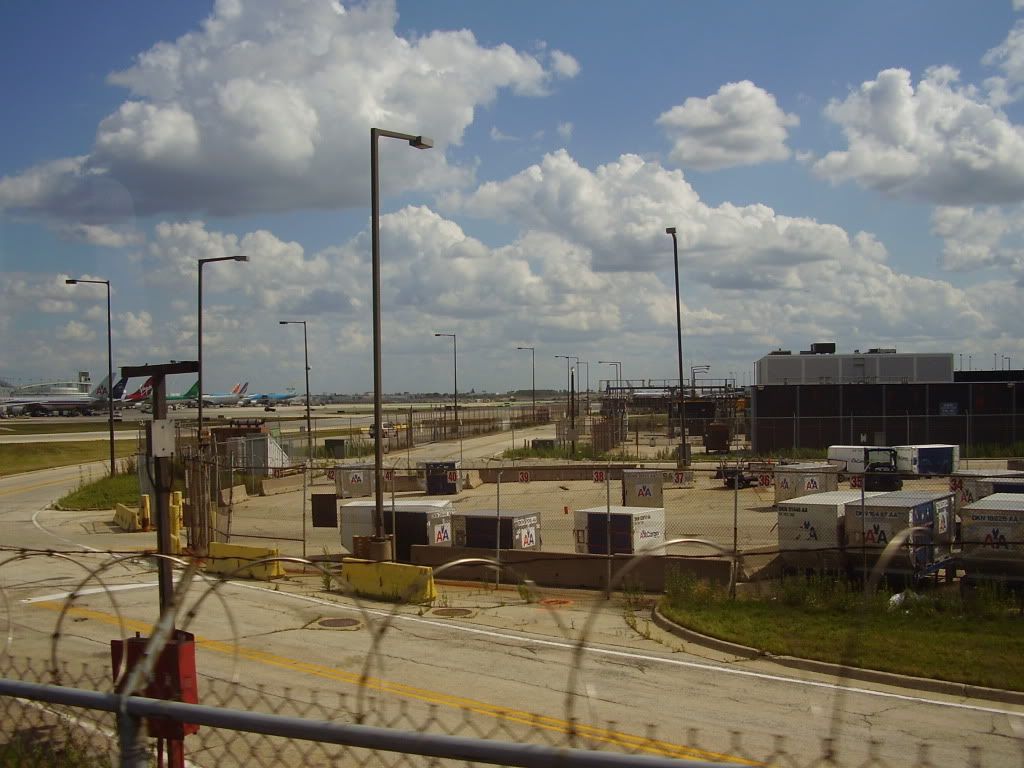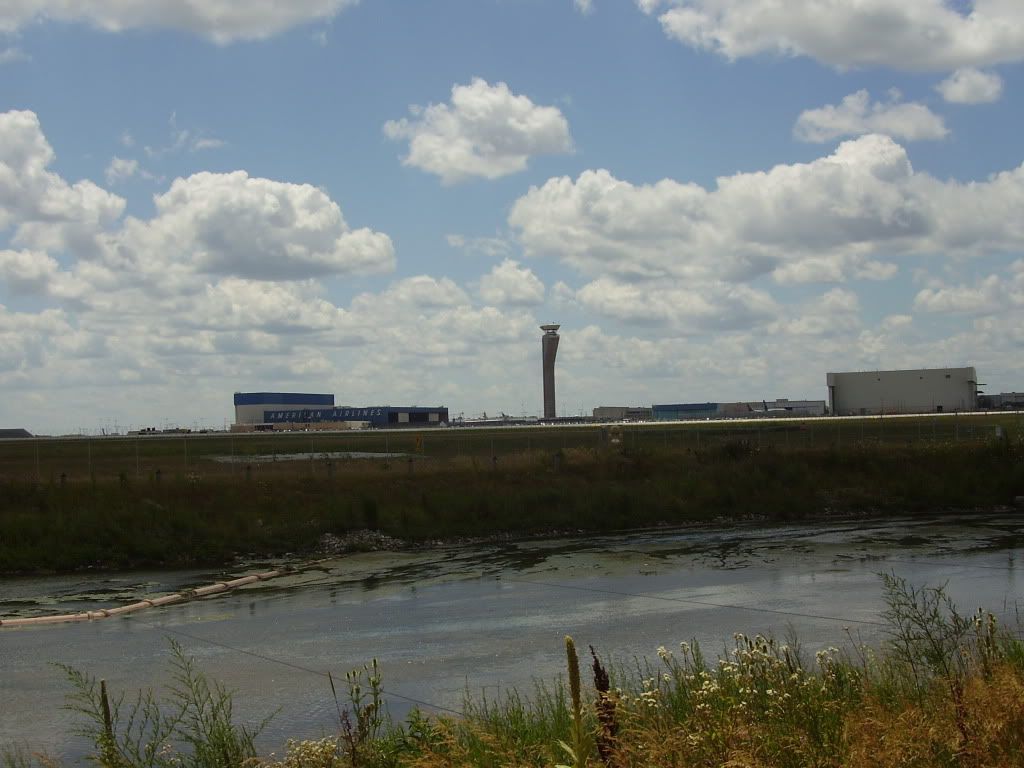 New air traffic control tower (still under construction)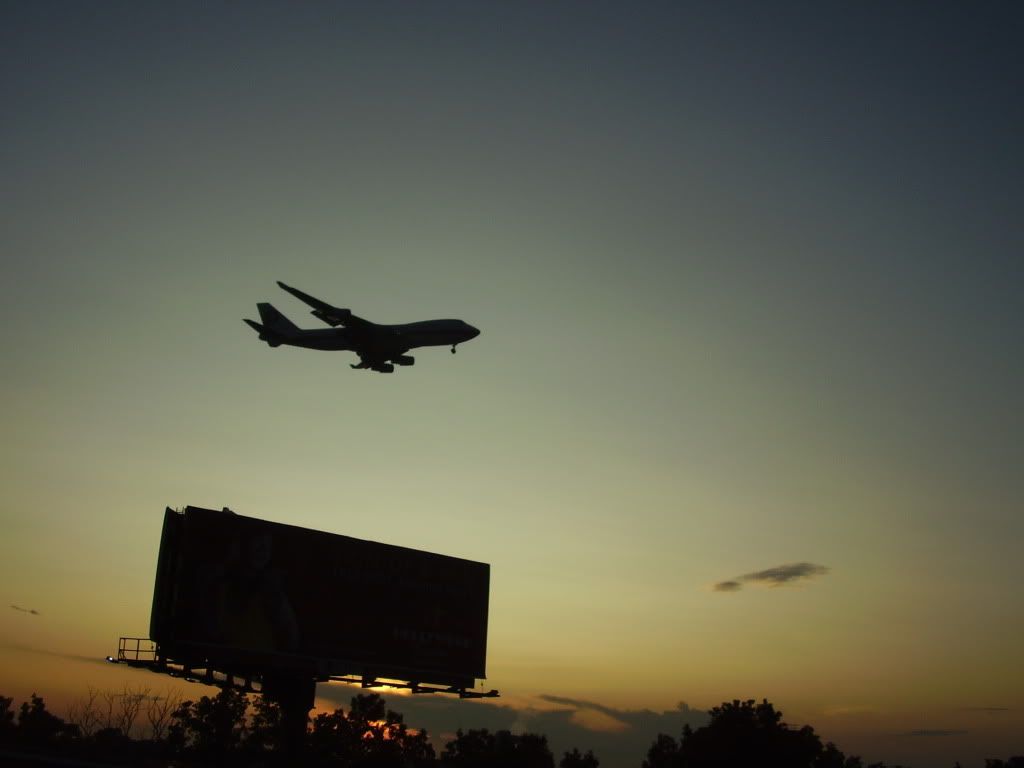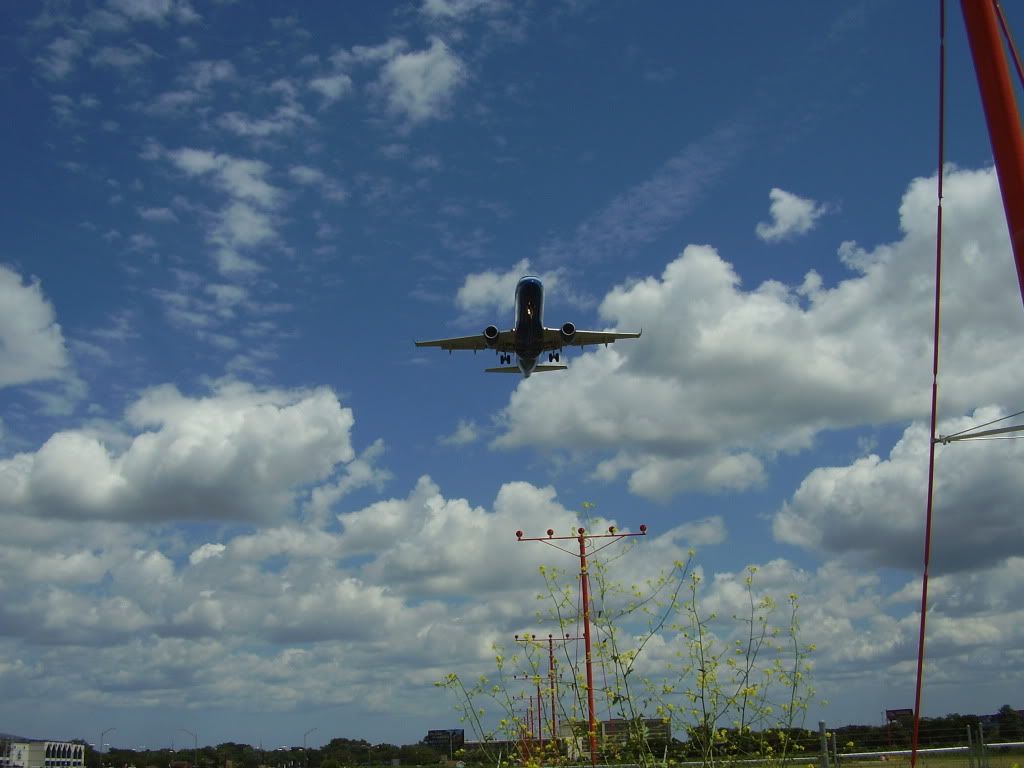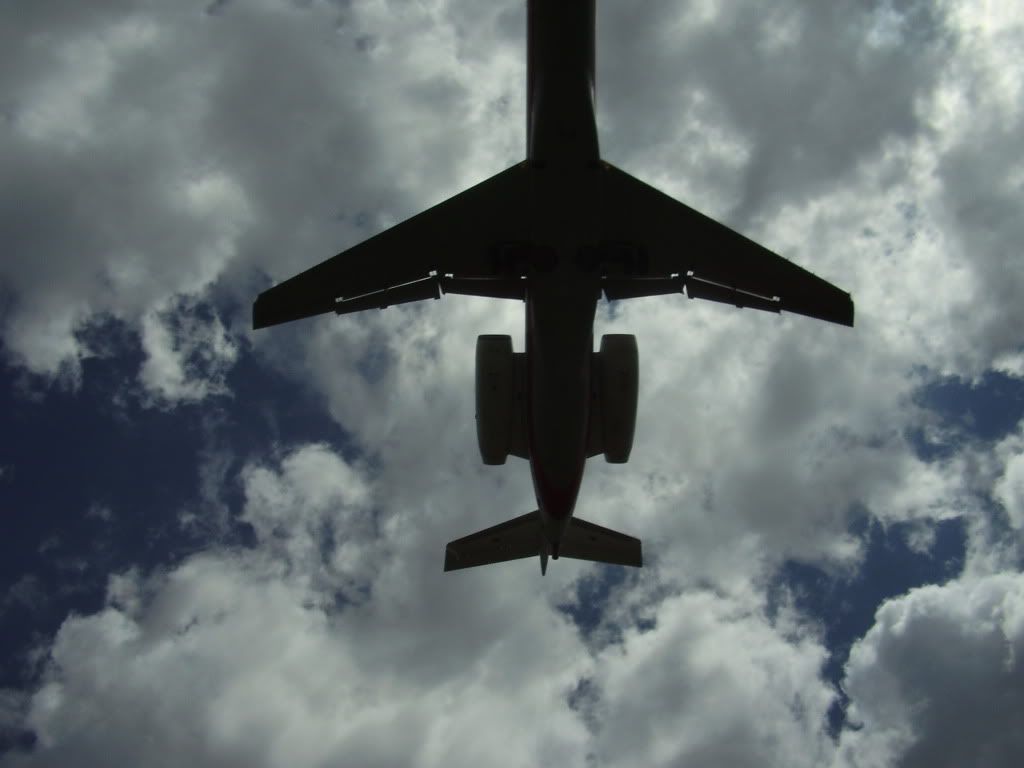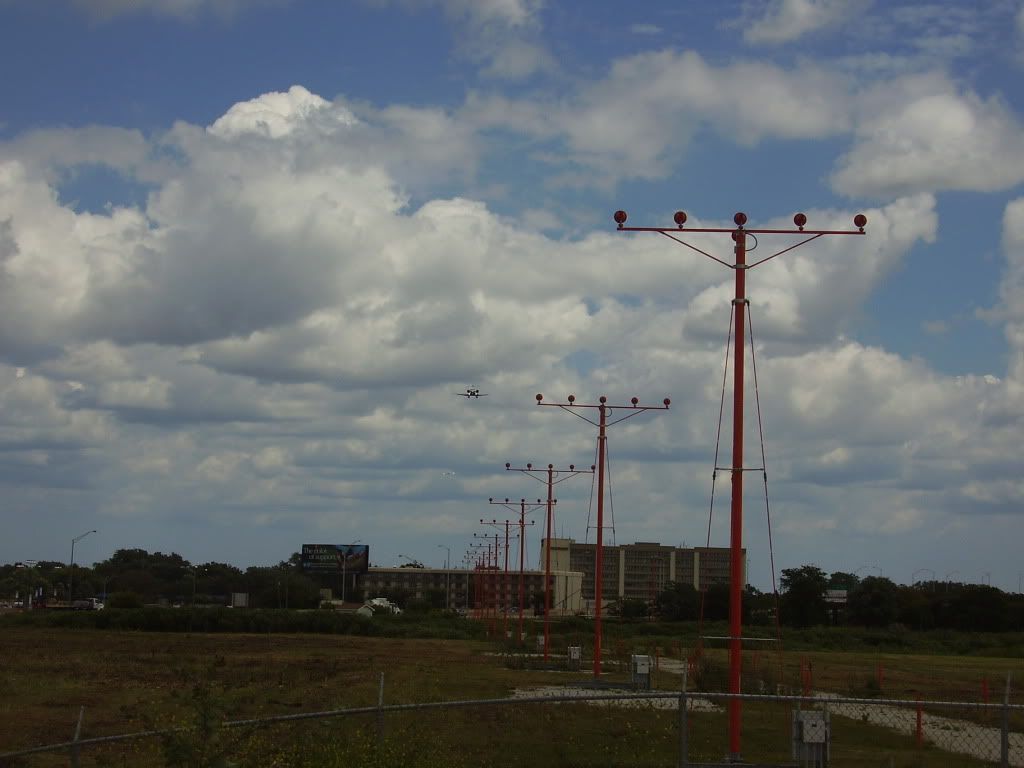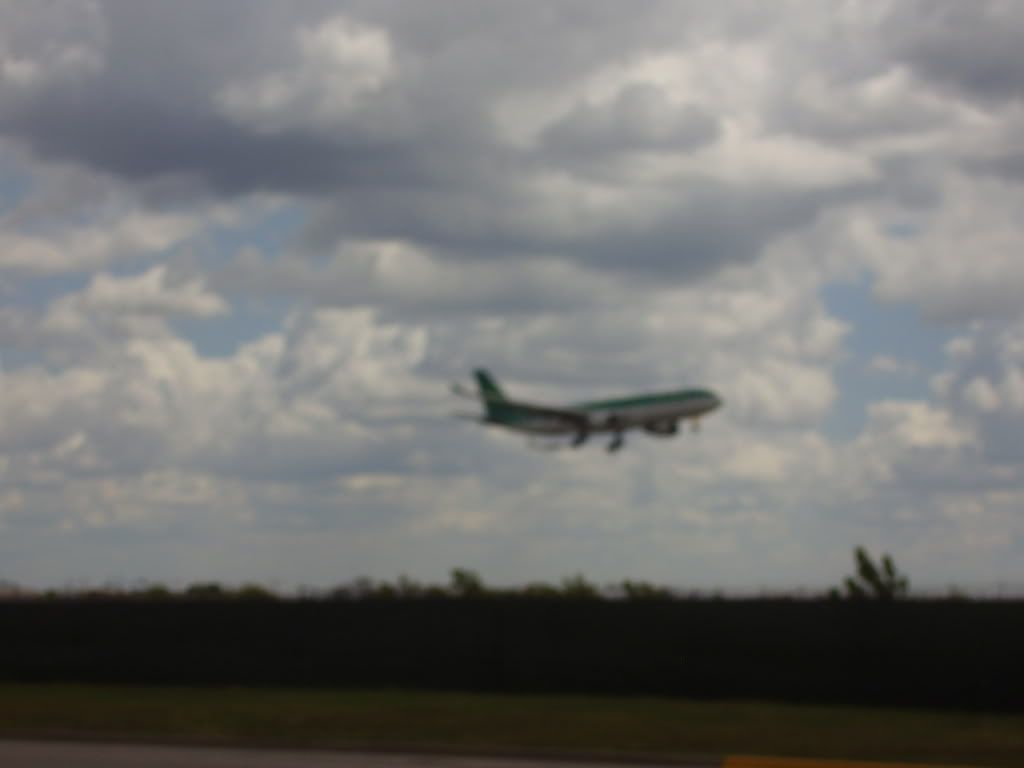 Shamrock 127 arriving from Shannon. This was about 1.50pm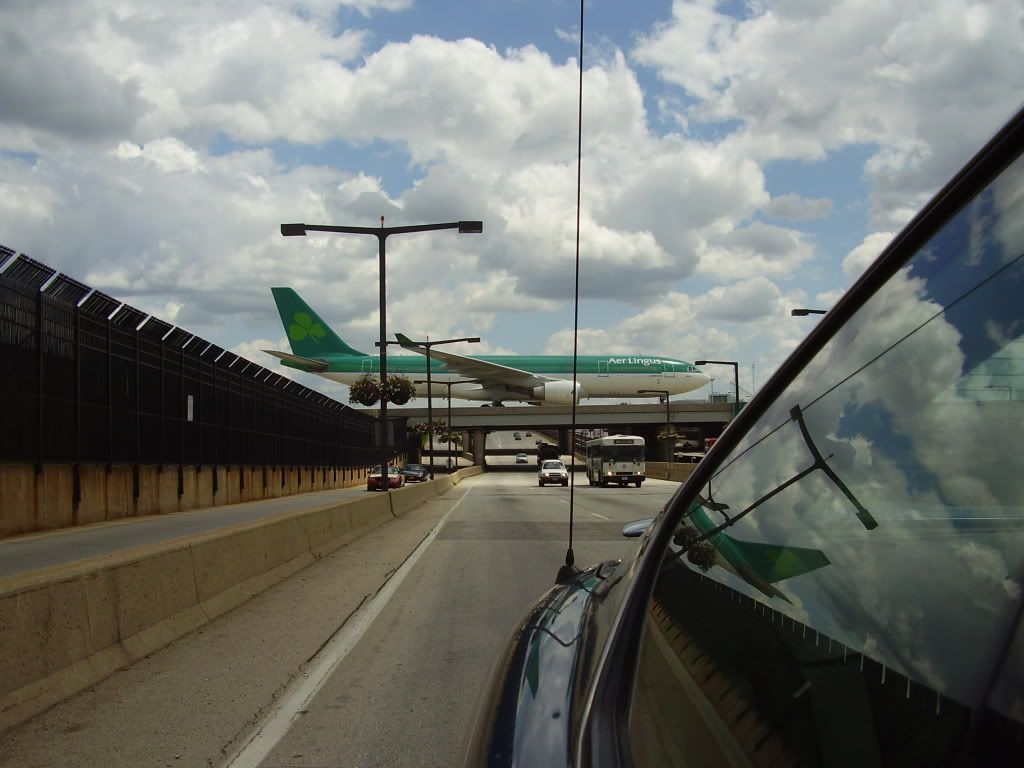 EI127 taxiing over the bridge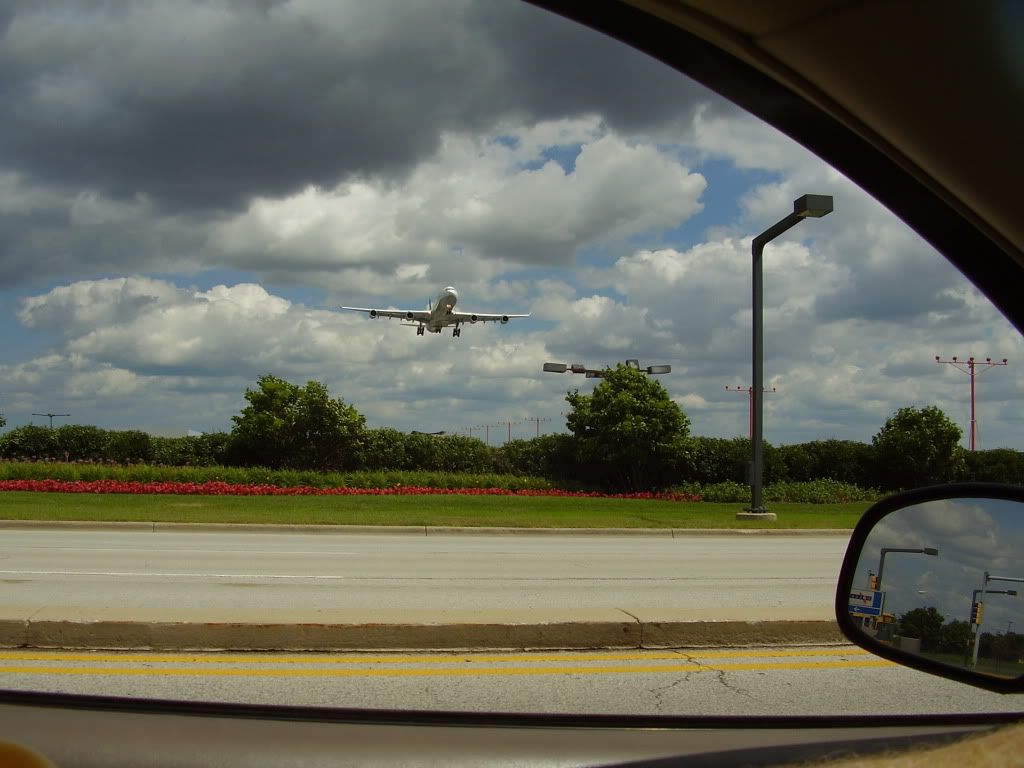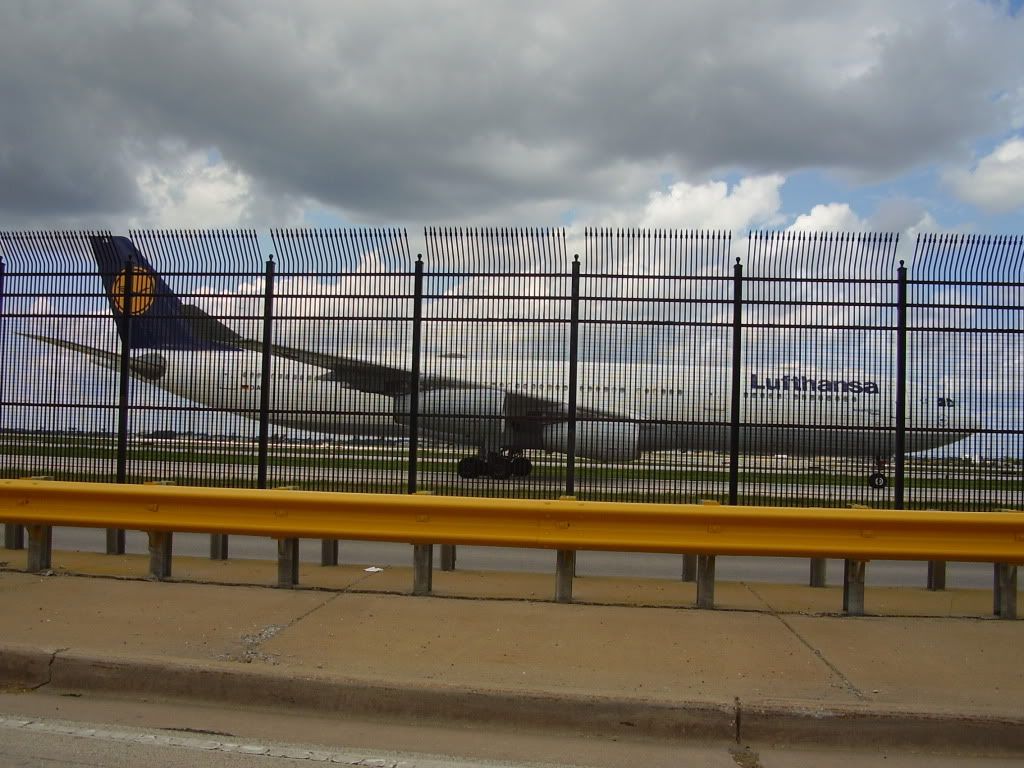 Lufthansa 436 taxiing after arrival from Düsseldorf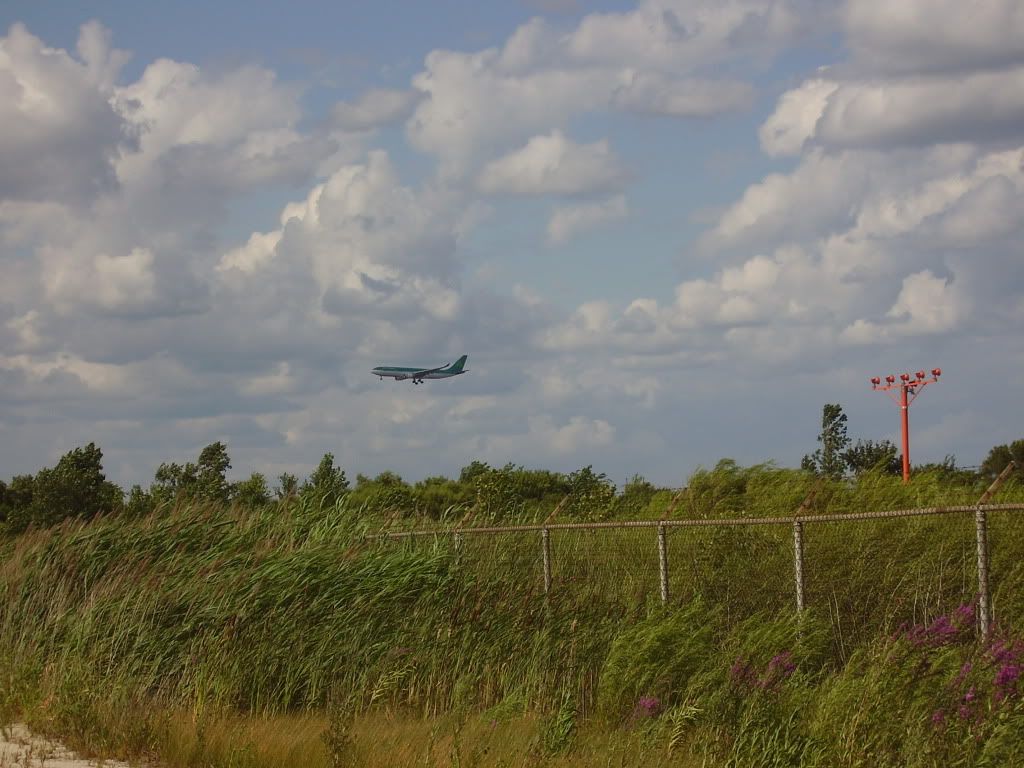 Shamrock 123 on approach from Dublin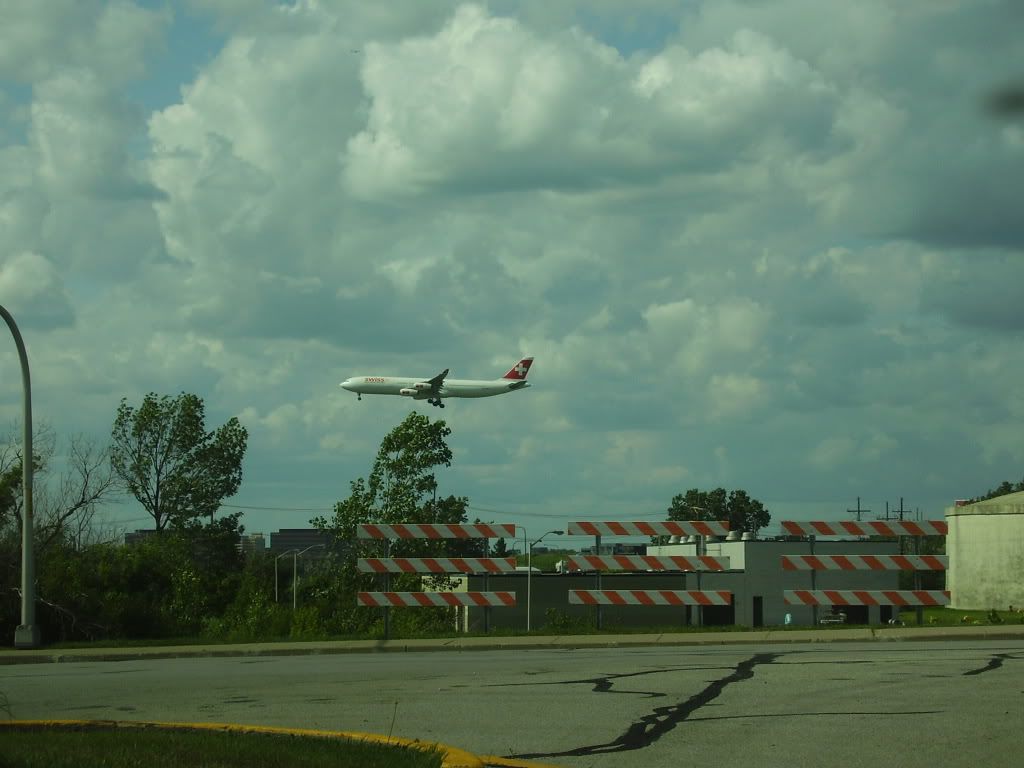 Swiss 8 arriving from Zürich
My grandparents live in one of four prominent Irish-American neighbourhoods in Chicago – Edison Park on the Northwest Side. As it happens their street is located directly under the approach for ORD's new Runway 27R, so I spent a lot of evenings just sitting out watching aircraft line up for arrival. This runway is used mostly by regional jets but I spotted a few heavies too…
While I was in town President Obama paid a visit home: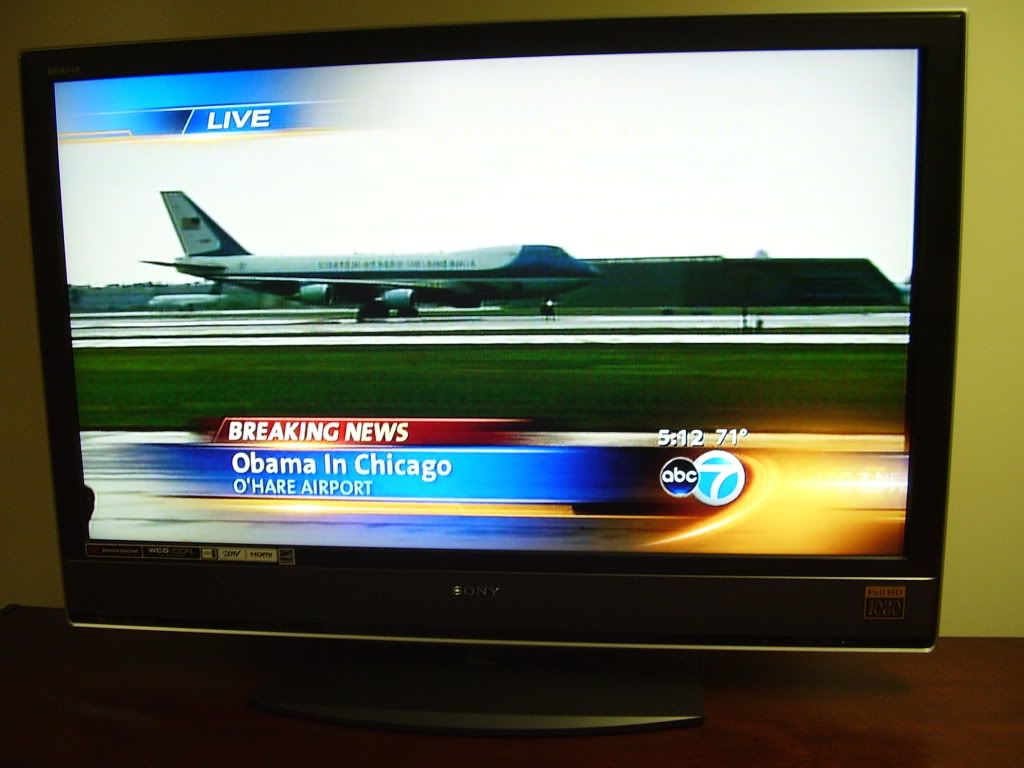 Live coverage of Air Force One's arrival at ORD
The home of United Airlines – 77 W. Wacker Drive, Chicago
I also visited United's Operations Centre in Elk Grove Village (at the far side of ORD). The car parks were named after airport codes like MSY, DEN, MSP, BOS etc. In the reception were 3 huge UA model planes: a 747, 777 and ERJ, but nothing much else of interest.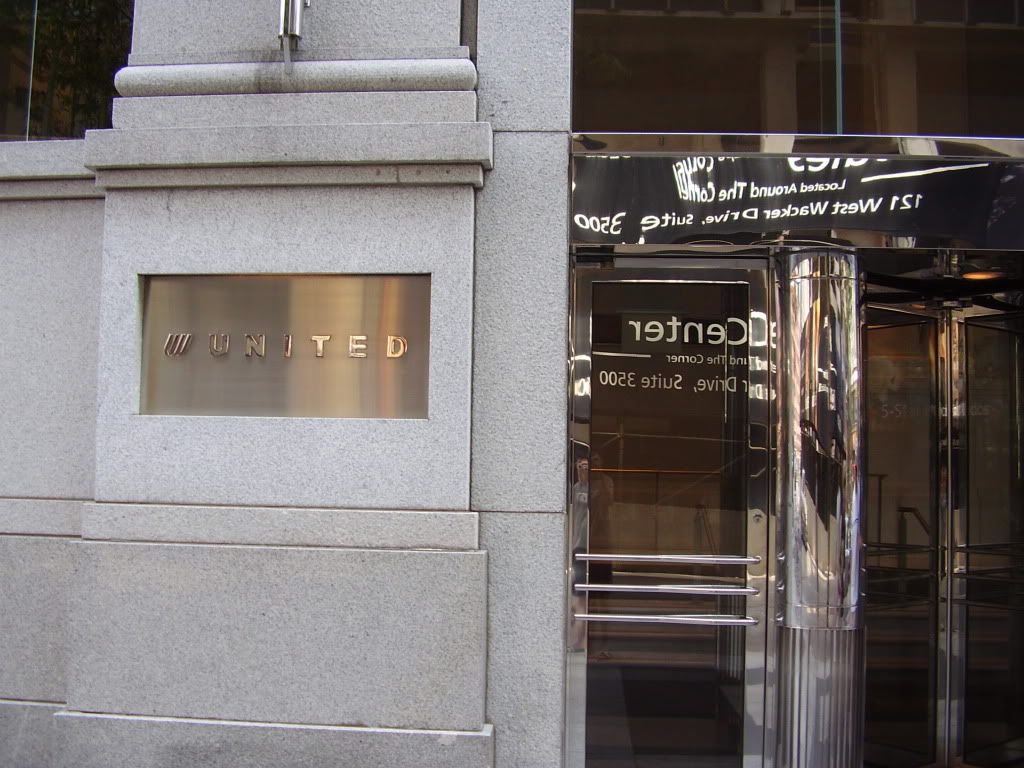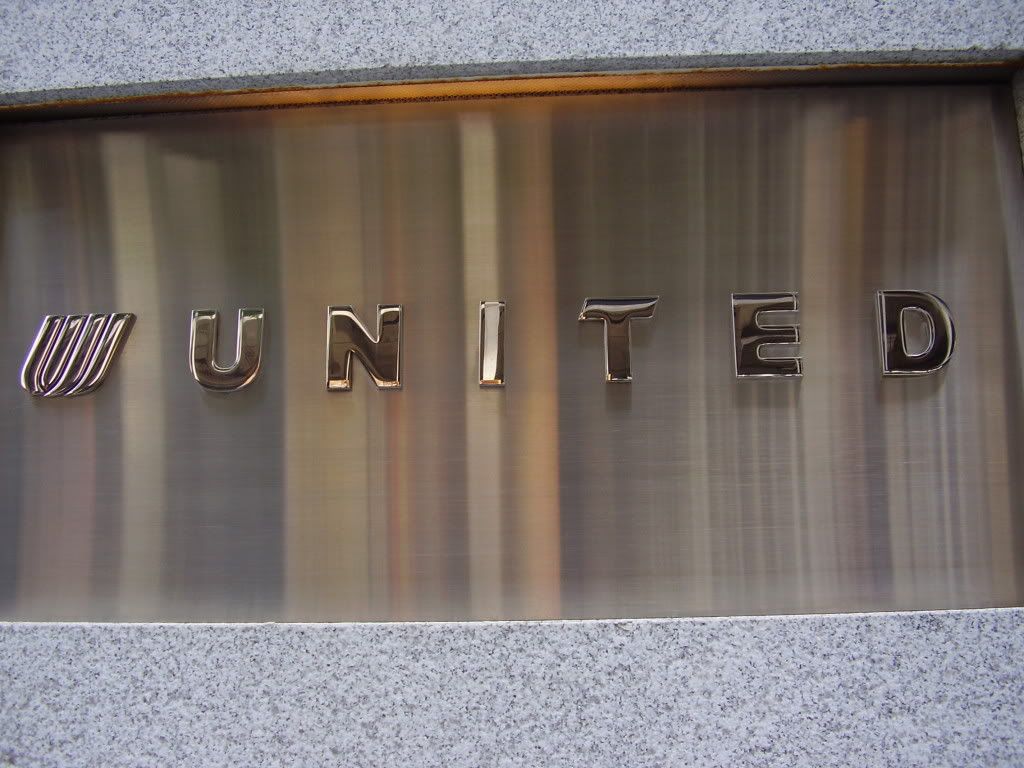 I also visited the Boeing HQ just up the river: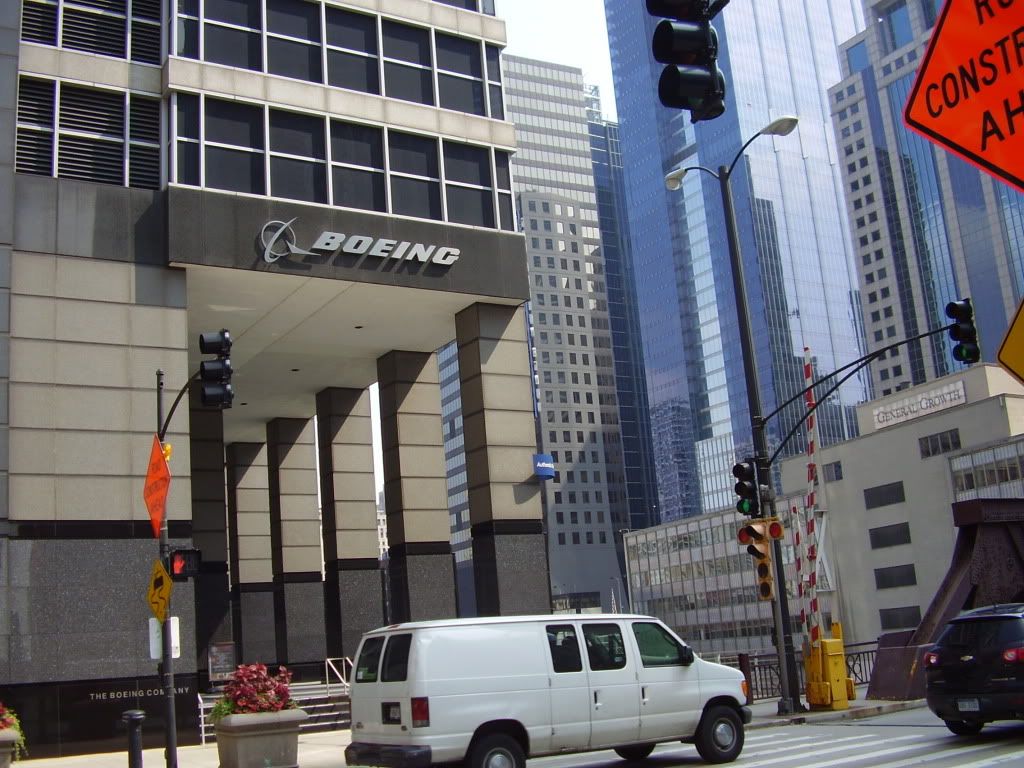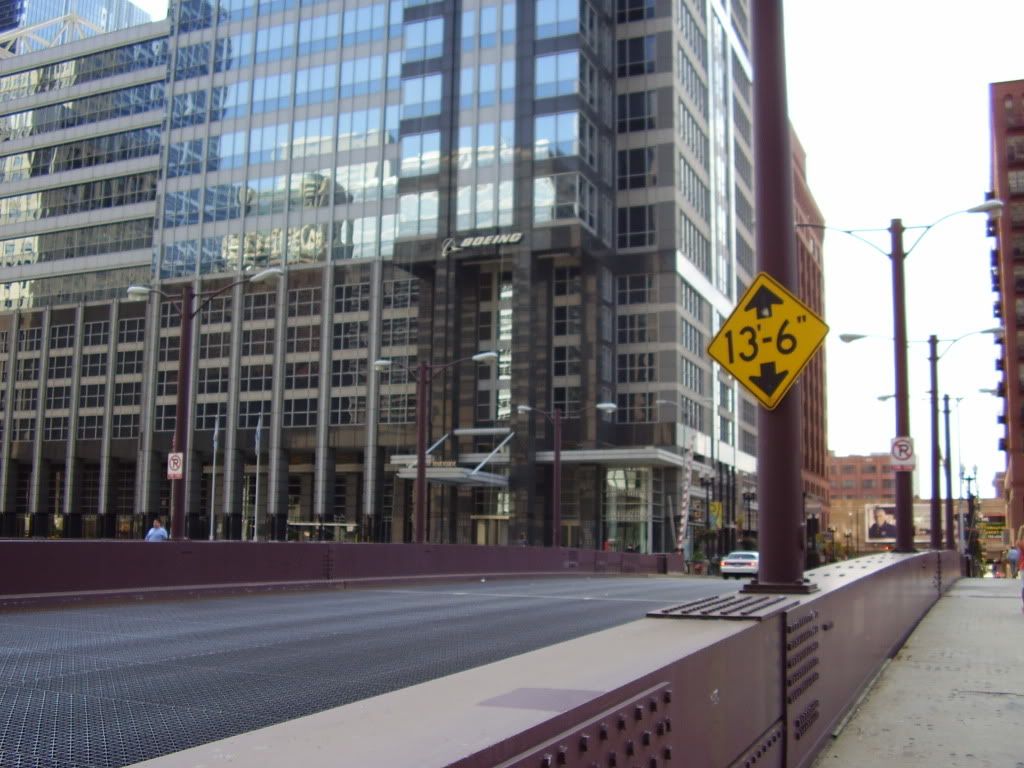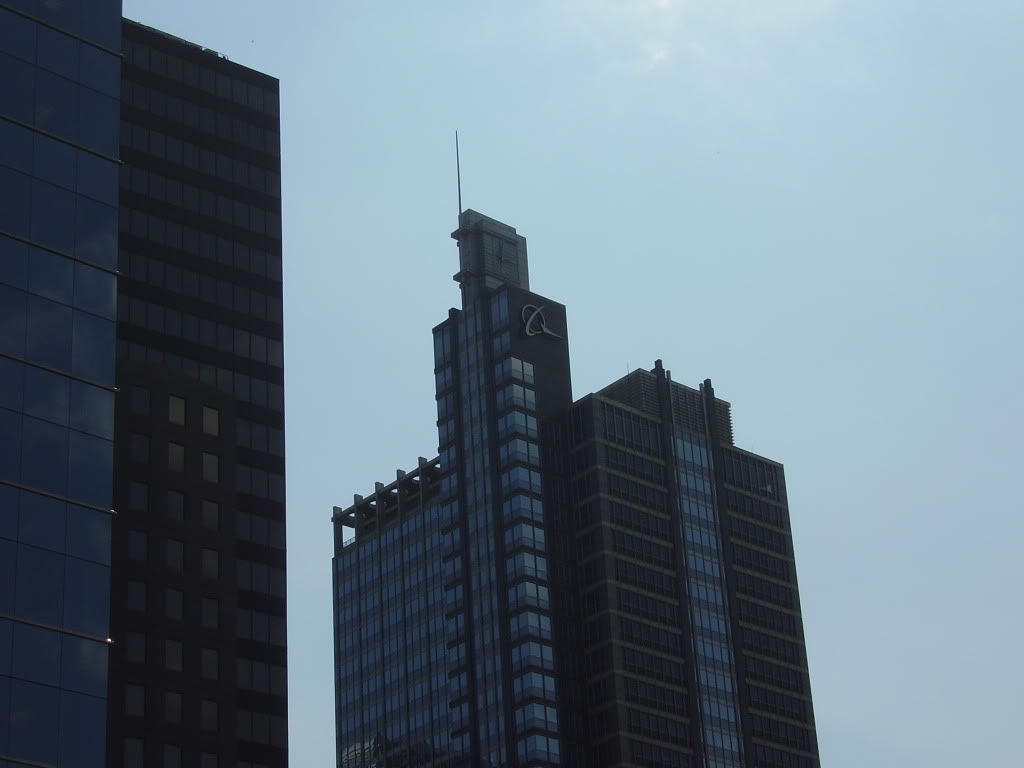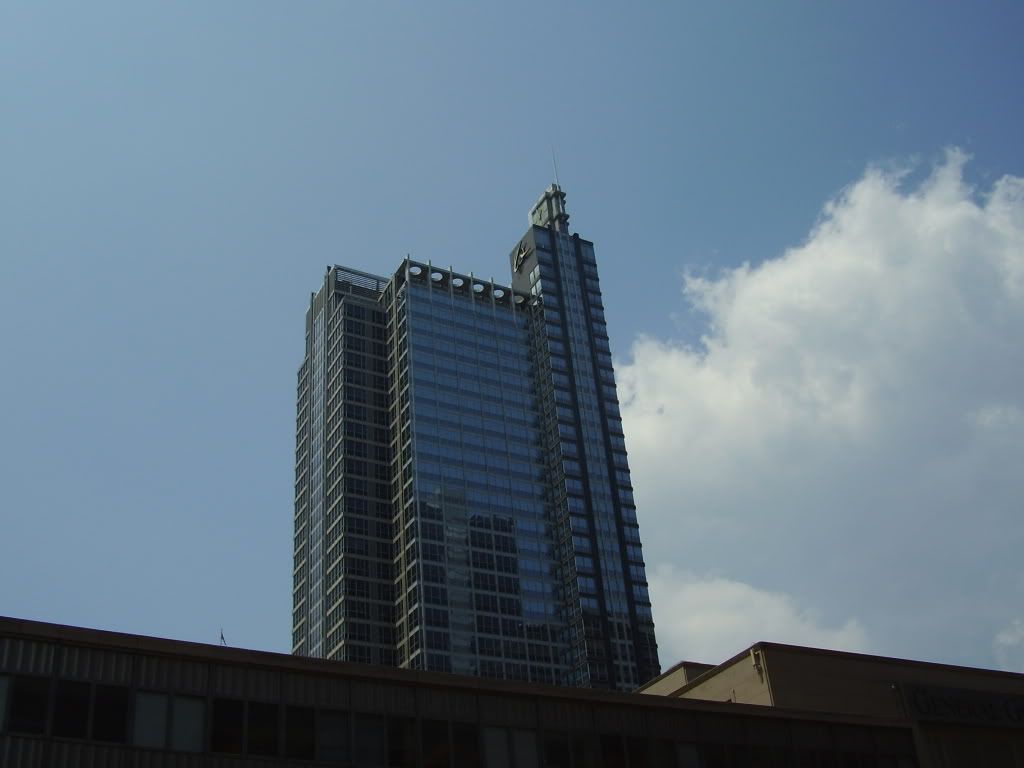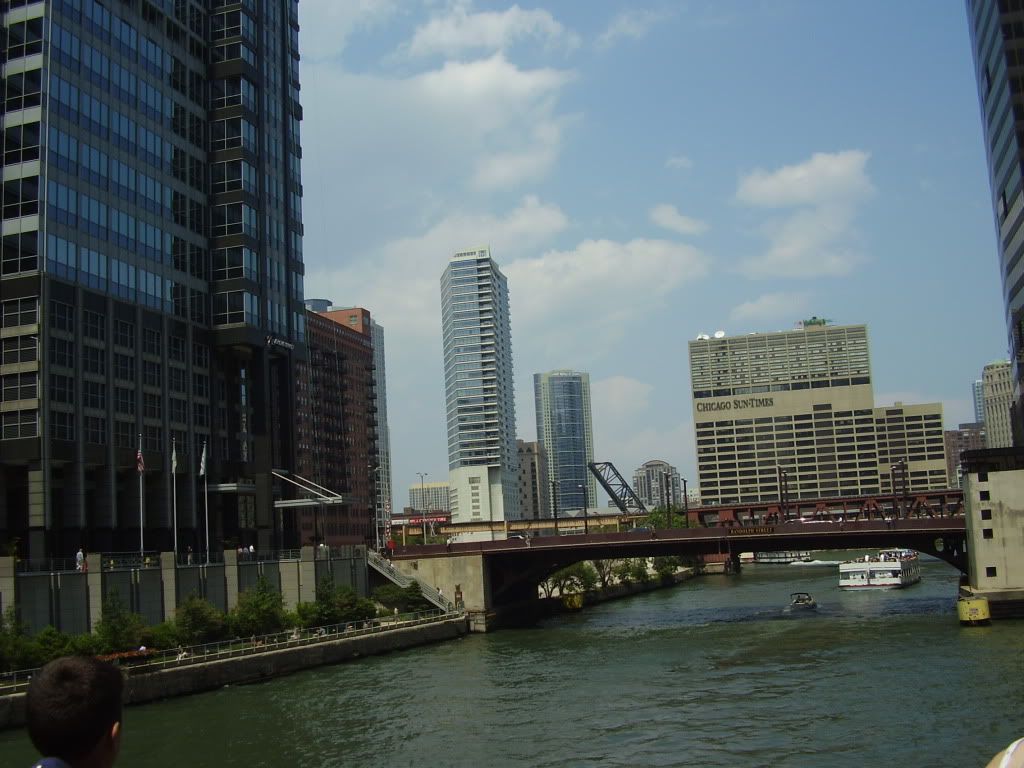 The Boeing Store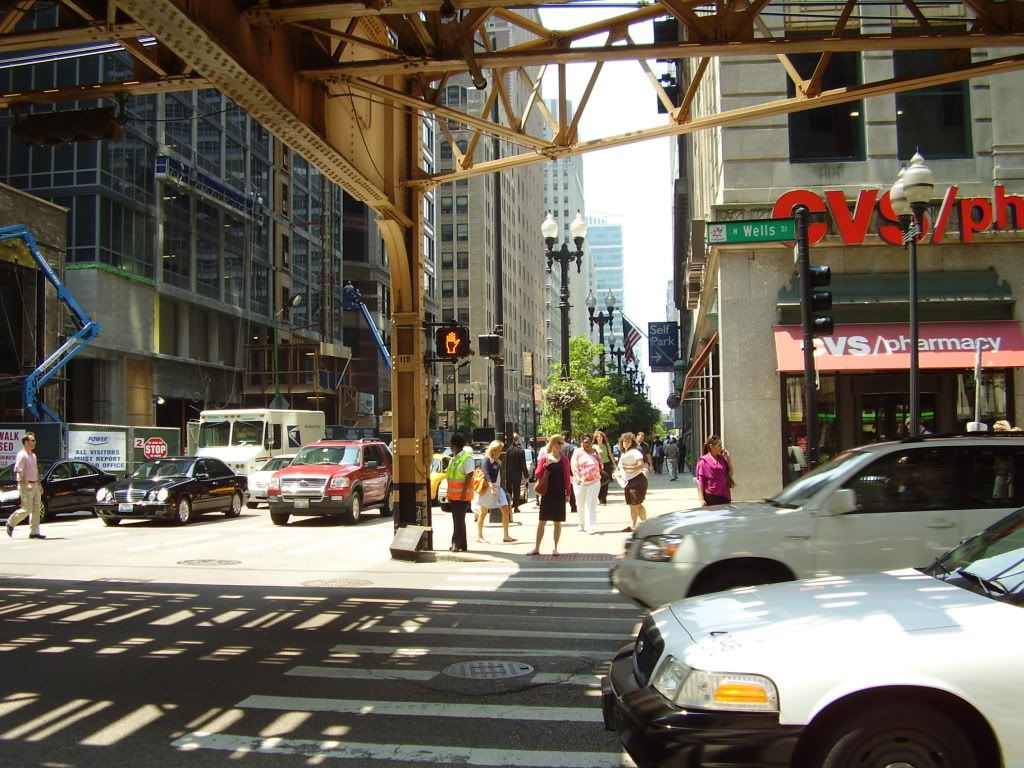 Downtown Chicago
American Airlines ad at the Ogilvie Transportation Centre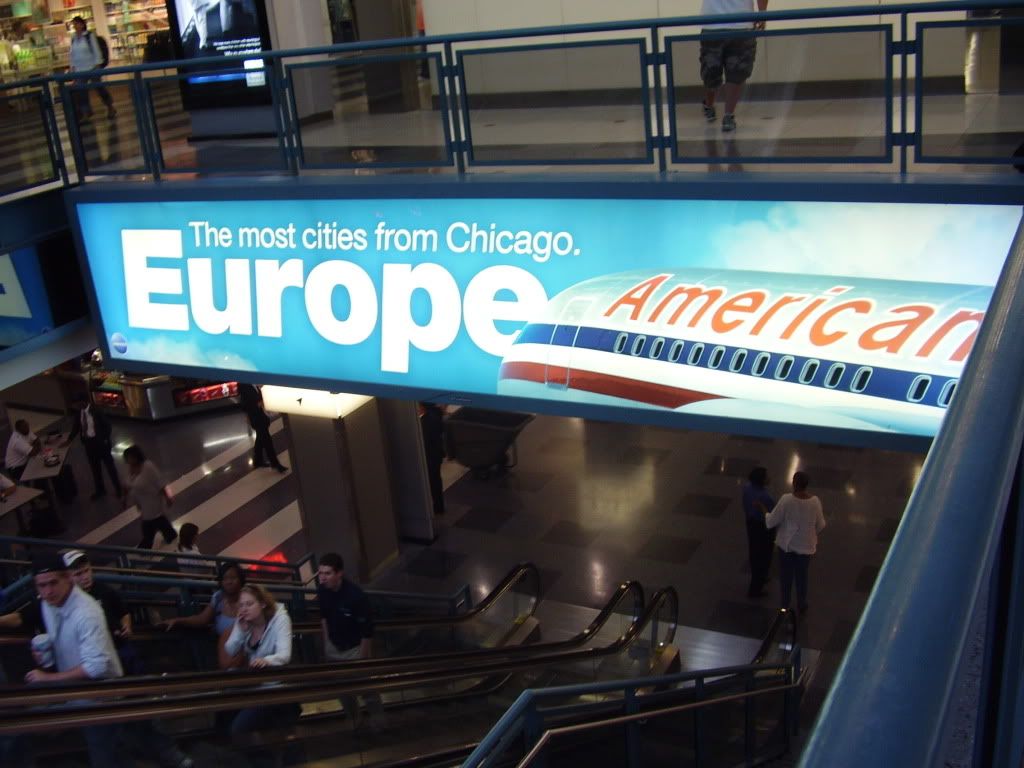 Report
The three weeks weren't long going and the day eventually came to head back home. I checked in online for my CO flight (or so I thought) the night before.
My boarding passes for flight CO1182 to EWR and CO24 to SNN
When we reached the CO desk at T2, we were informed that due to thunderstorms sweeping through the NYC area, our flight to EWR would be an hour late departing and we would not have enough time to making our connecting flight to Shannon. There were two options available to us:
1> We could fly ORD-EWR-CDG-SNN with CO/AF (arriving in SNN at 7.50pm – no thanks)
2> ORD-CDG-SNN with AF (arriving in SNN at 12.15pm)
We took option 2 (I think most people would), we would be only arriving 5 hours later than planned so nothing major. The CO agent printed tickets to give in at the AF desk to obtain our boarding passes. However, AF are located in T5 so the 5 of us began the long trek over with our 300 or so bags to check-in! It was no picnic but we got there eventually. The whole experience turned out good for me because I got to check out Air France, CityJet, the Airbus A340, the Avro RJ85 and CDG for the first time.
We got to the Air France desk and the agent was extremely helpful when we explained the ordeal with CO. He checked our baggage straight through to SNN and gave us our boarding passes for both the ORD-CDG and CDG-SNN flights.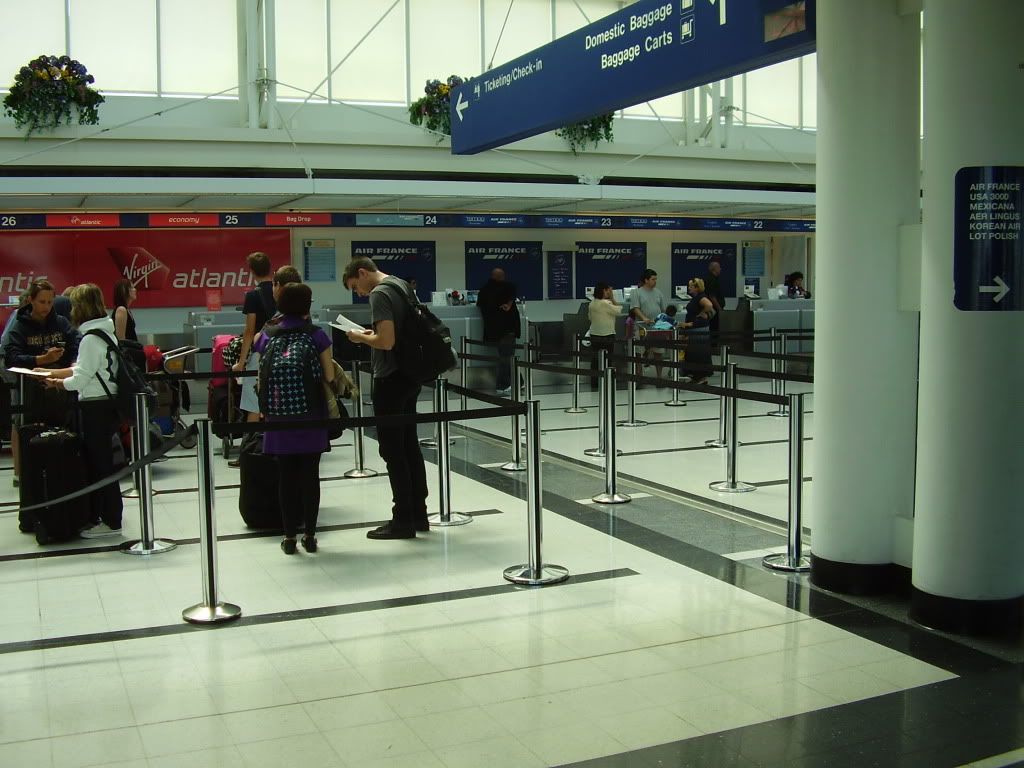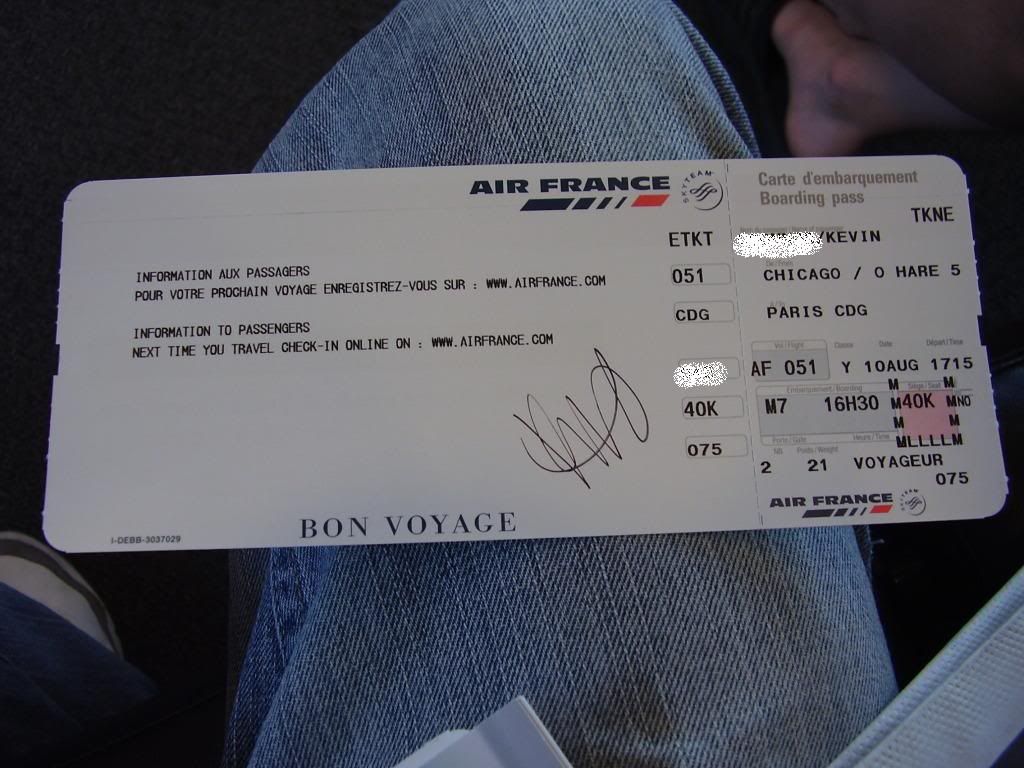 My boarding pass to CDG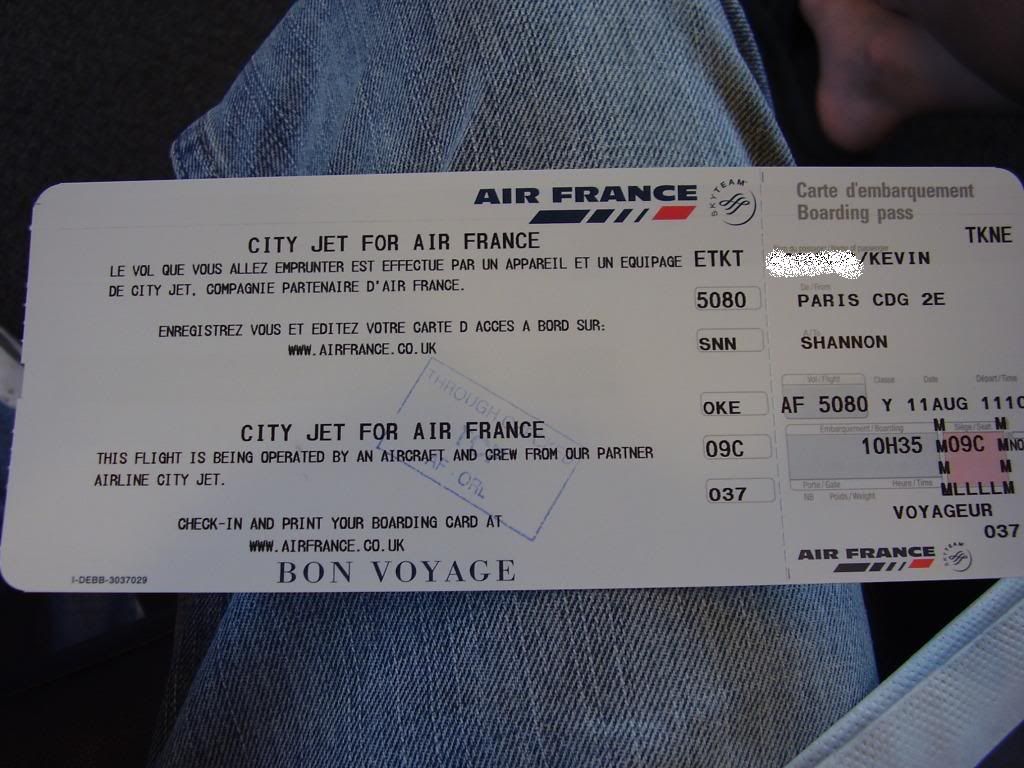 My boarding pass to SNN
We were assigned to Gate M7 but our aircraft was nowhere to be seen. Instead, occupying this gate was a Lufthansa A340. This had dropped off passengers and was now being towed to Terminal 1 for departure.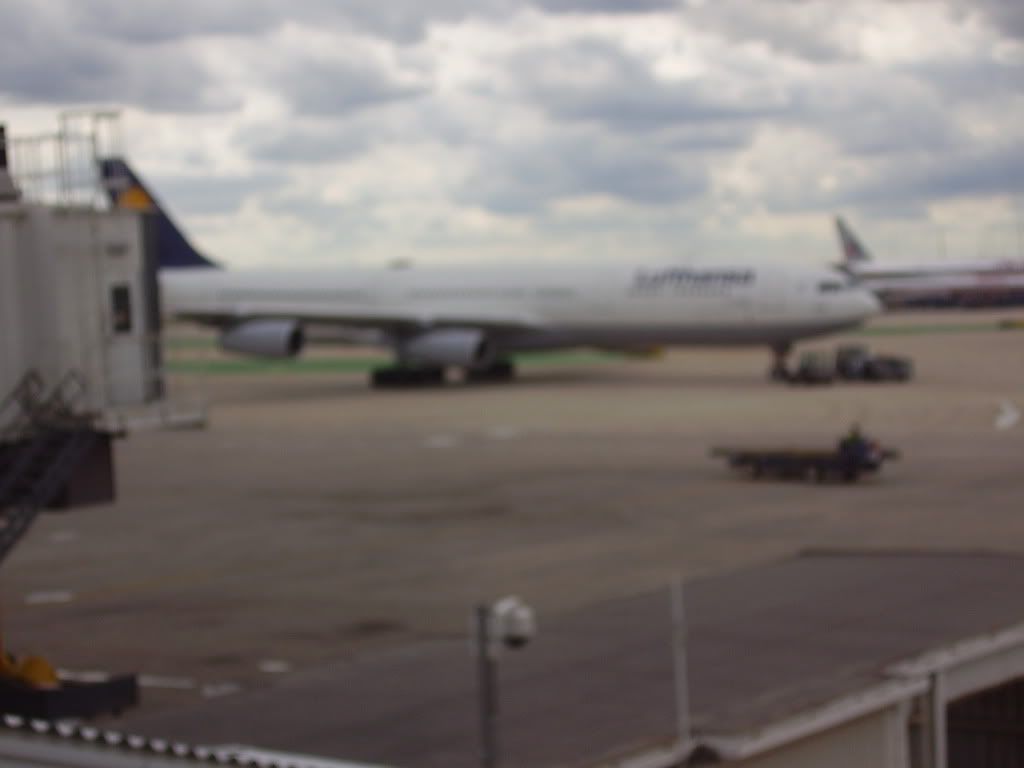 Meanwhile our bird was being towed to M7 from its remote stand (it had been on the ground for 4 hours already and was taken away so it wouldn't be occupying precious gate space). Anyway I decided to take a walk around the gate area: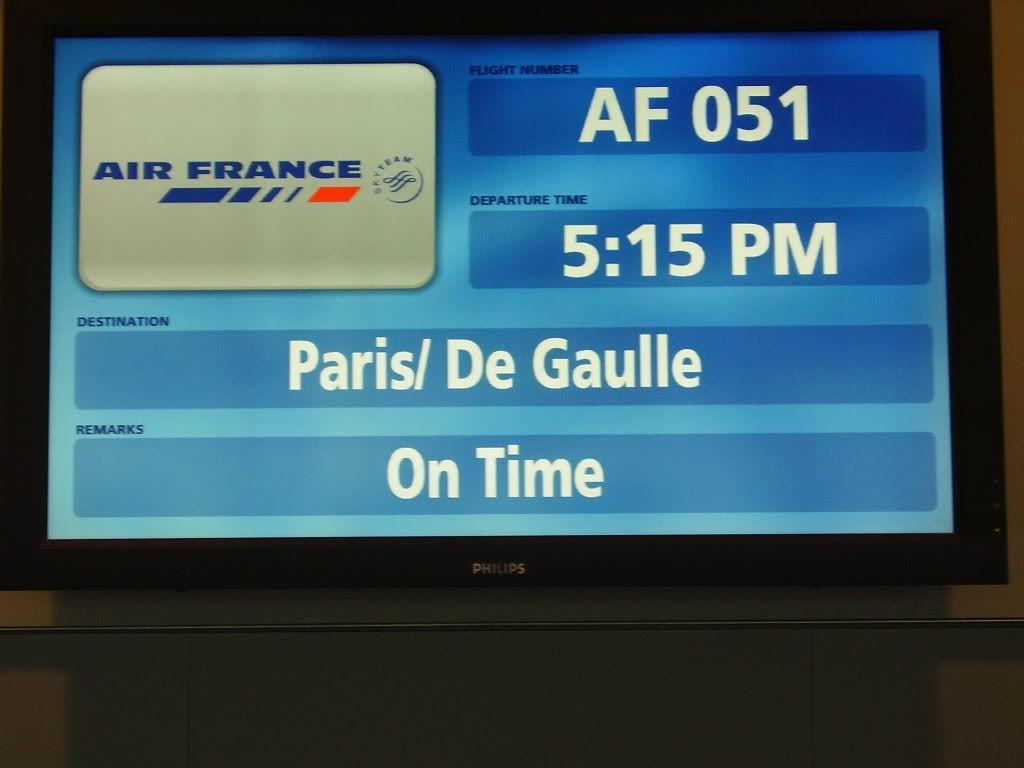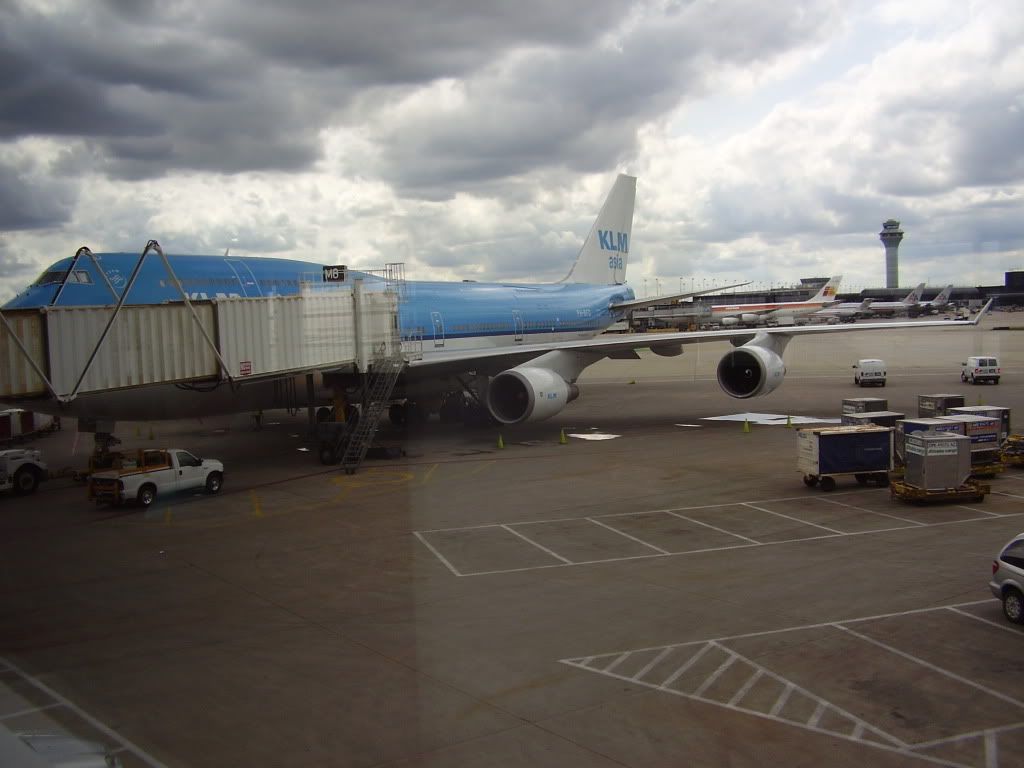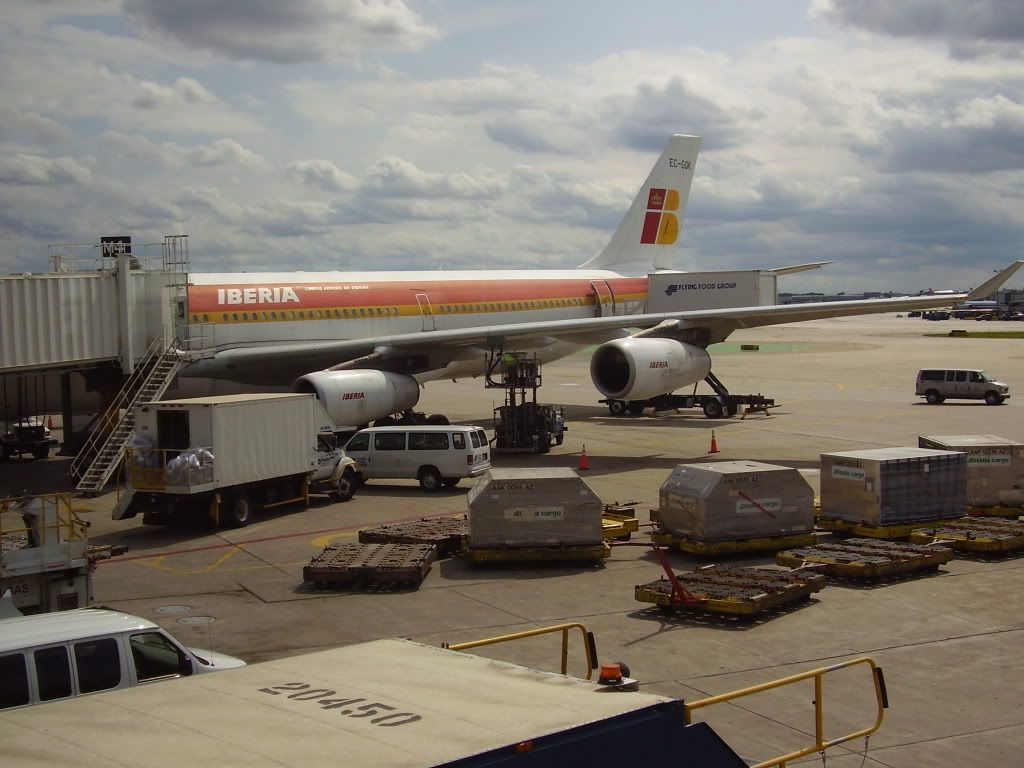 Iberia Airlines at Terminal 5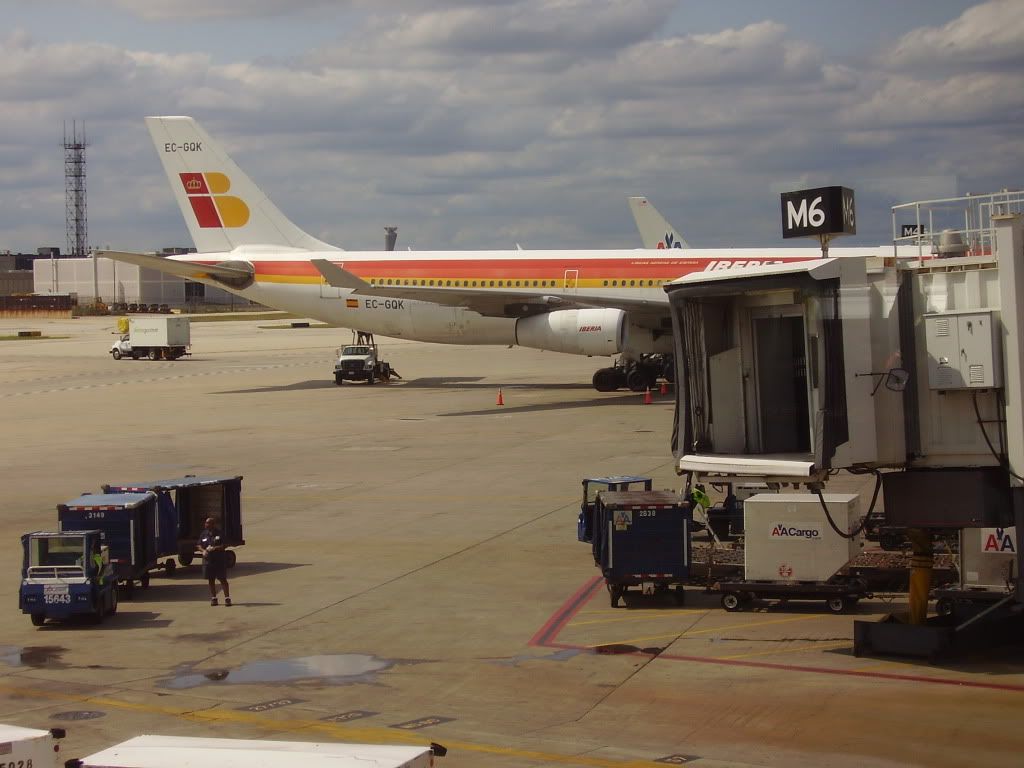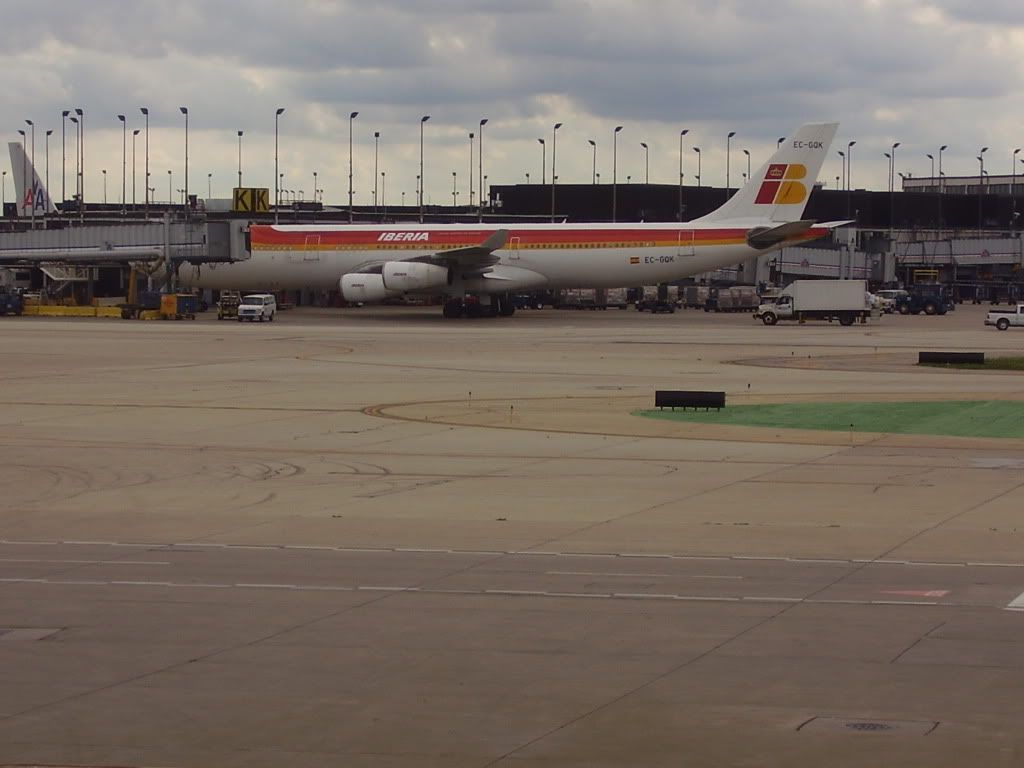 …then after being towed to Terminal 3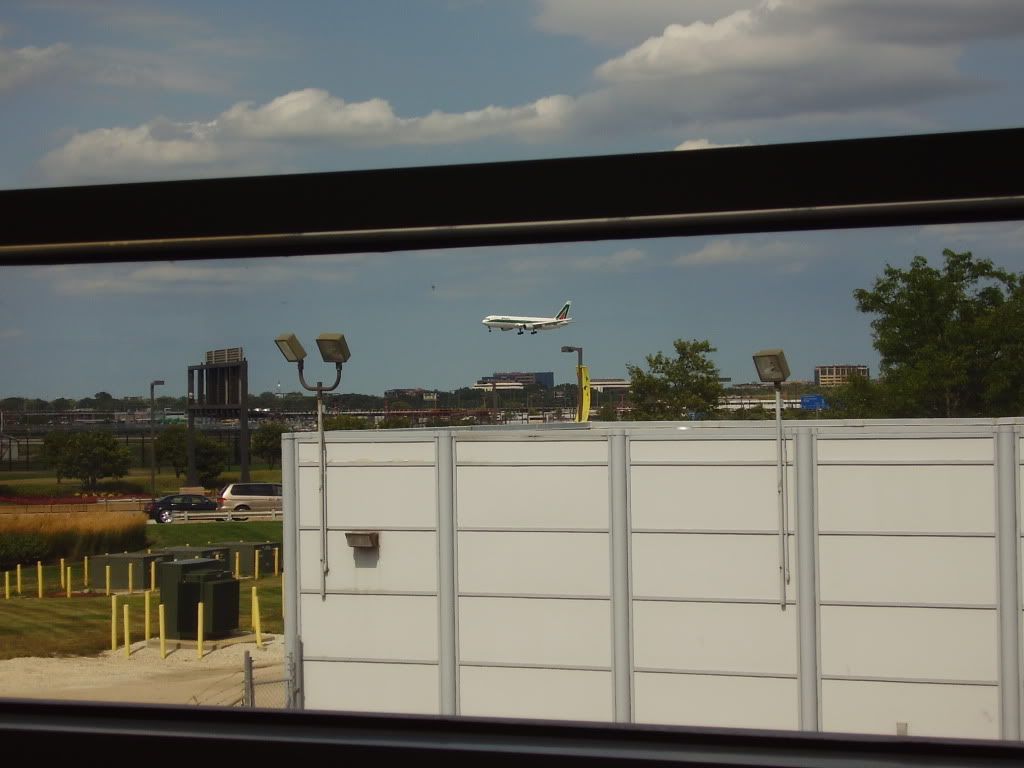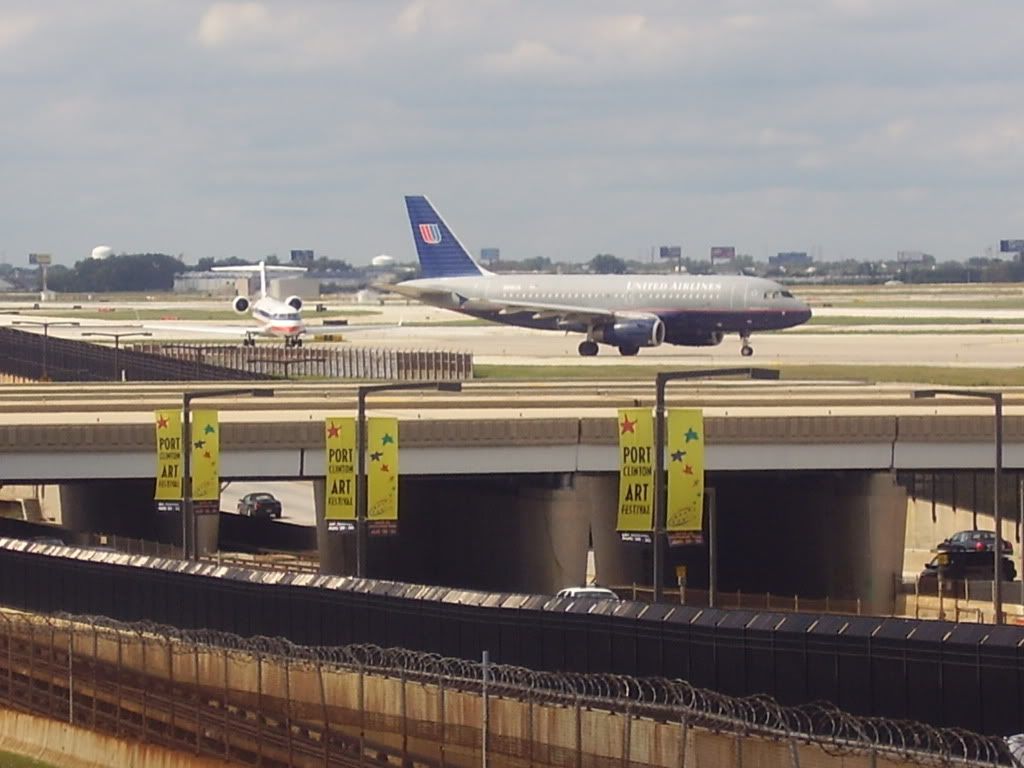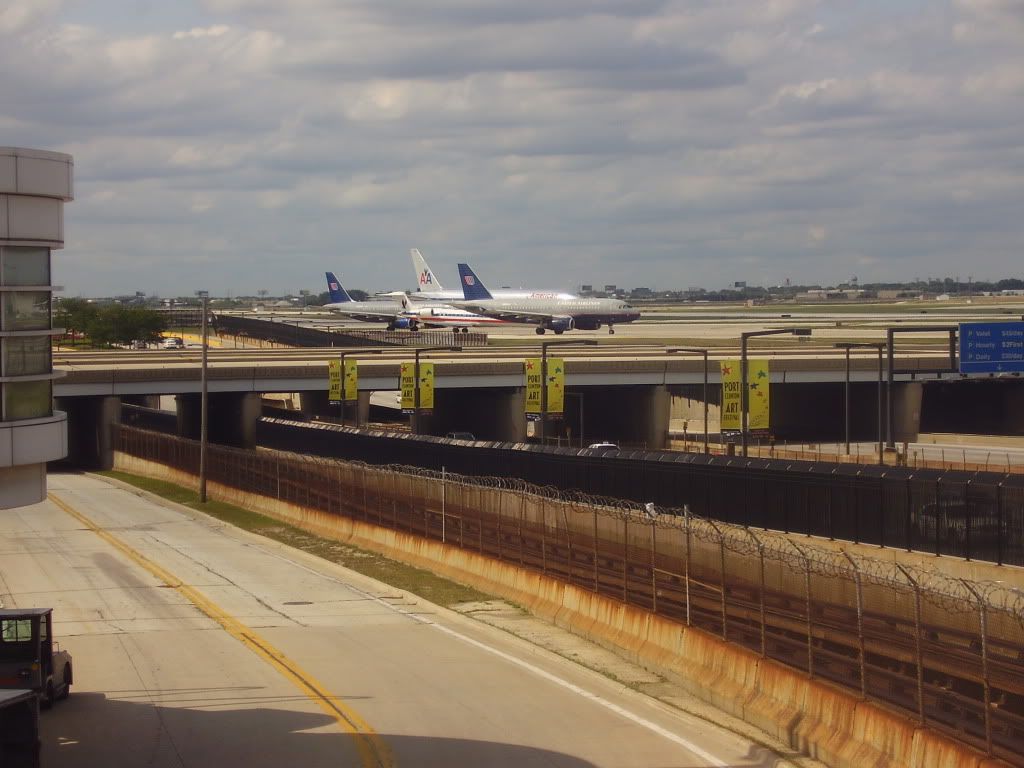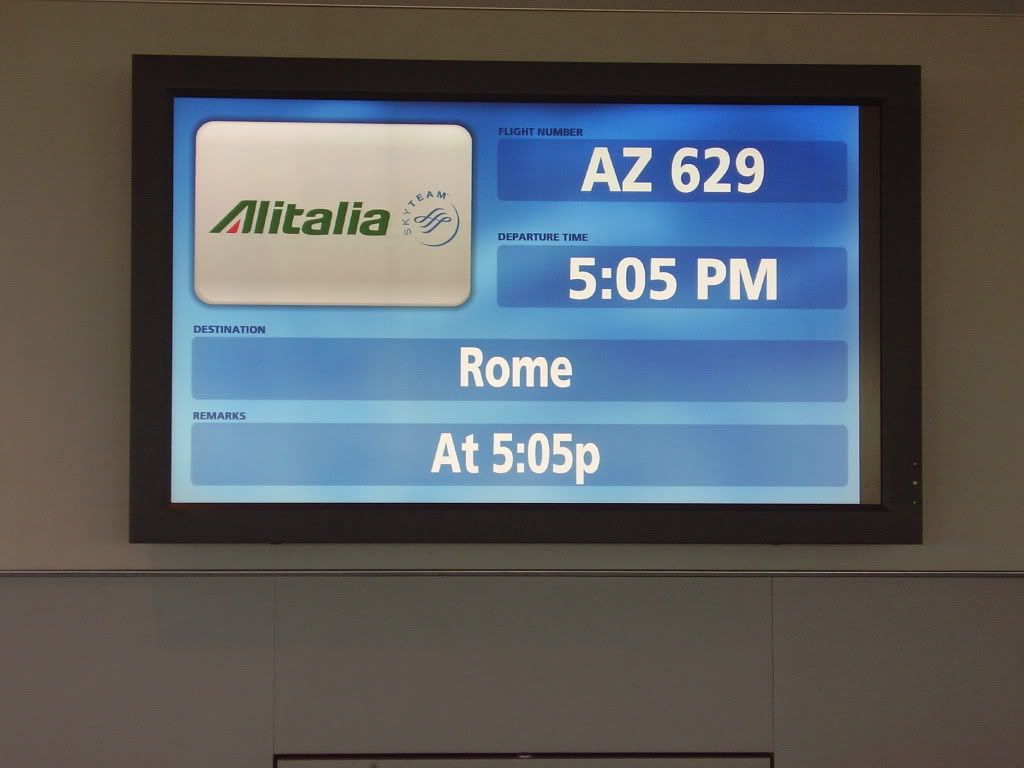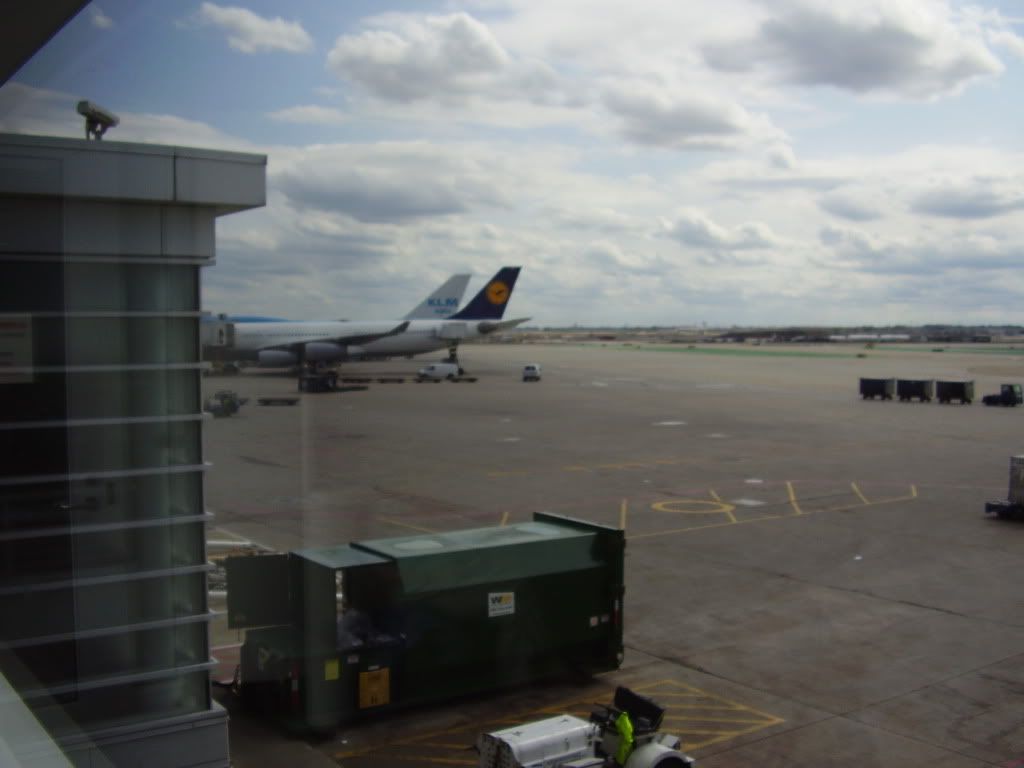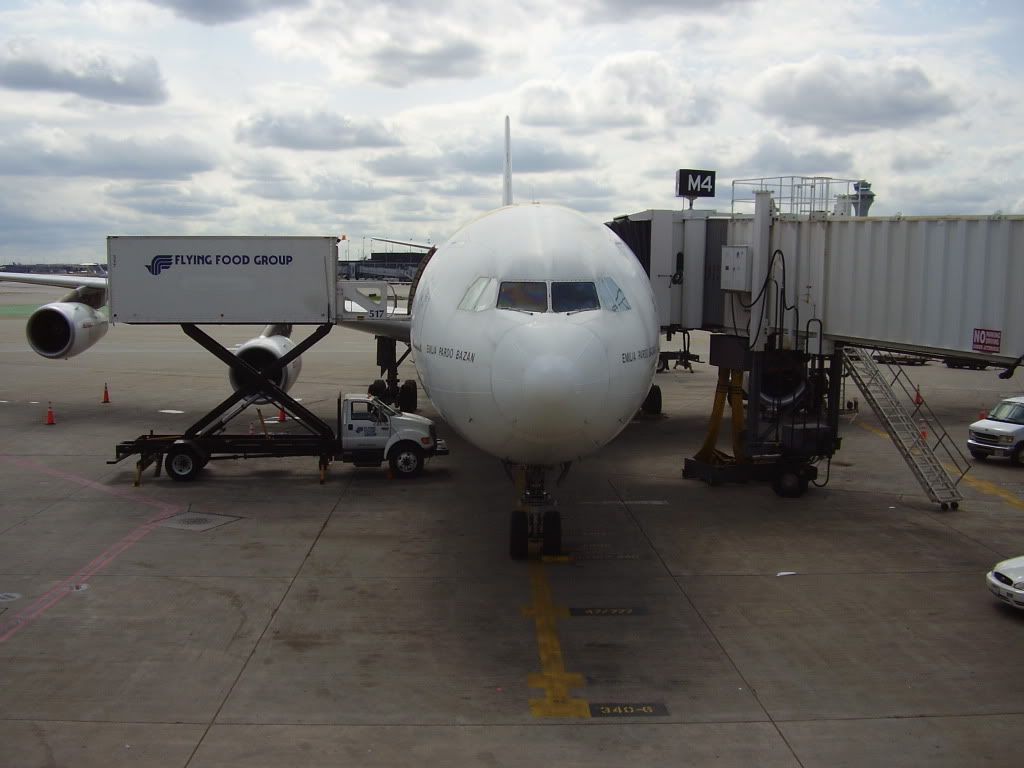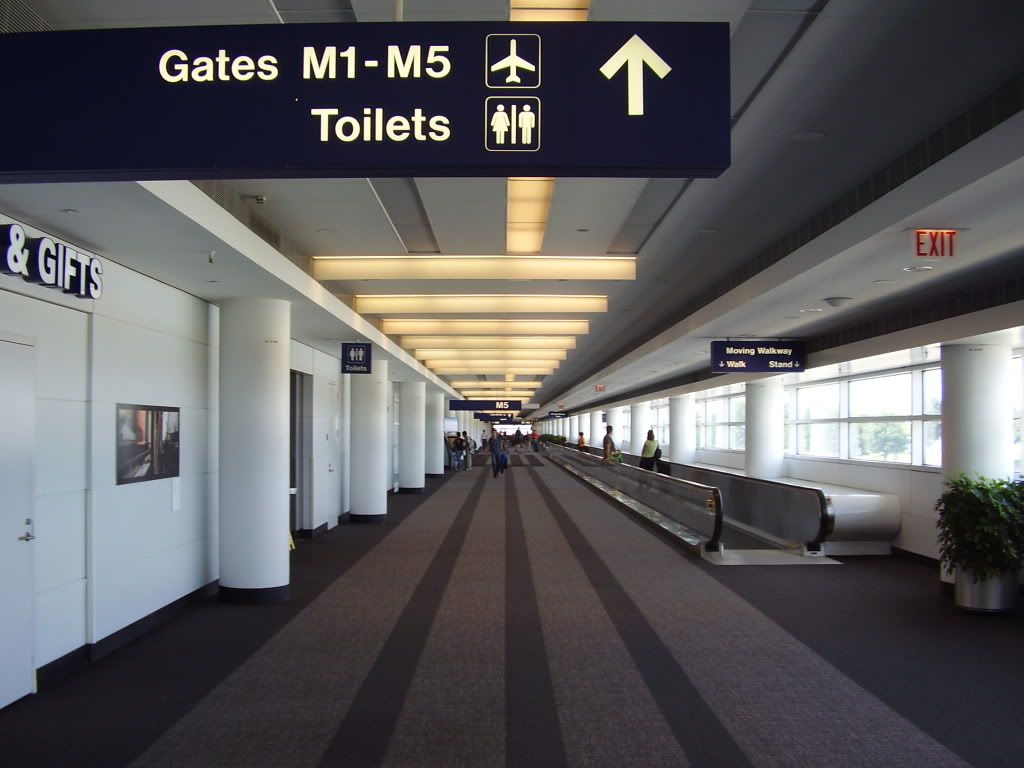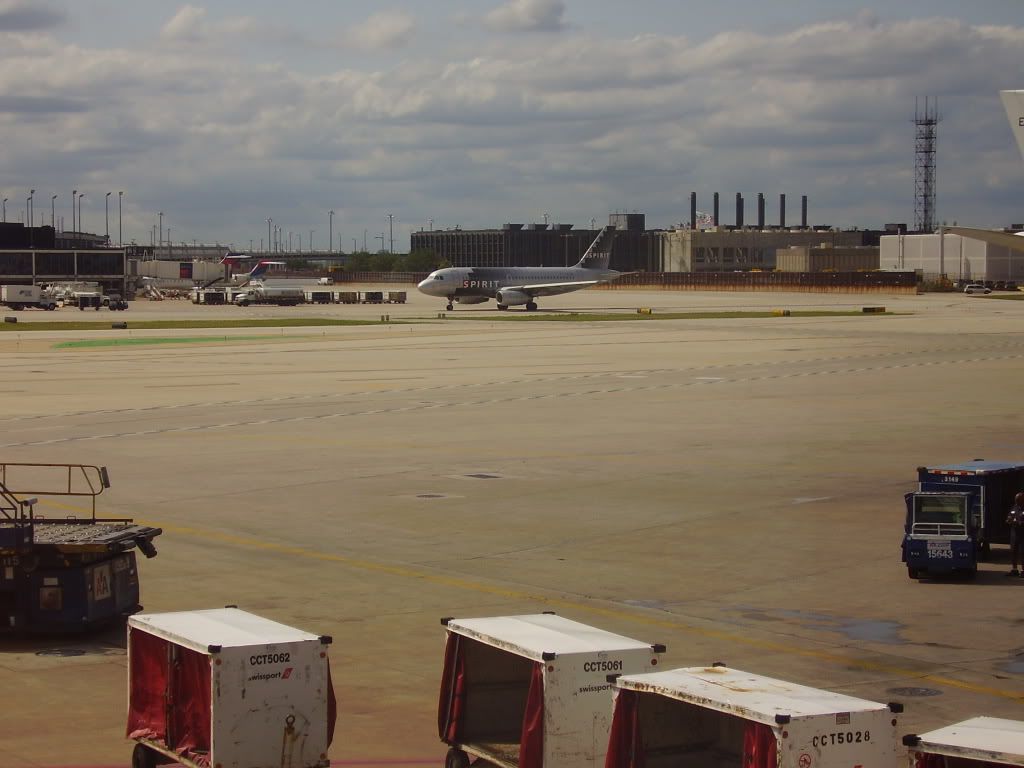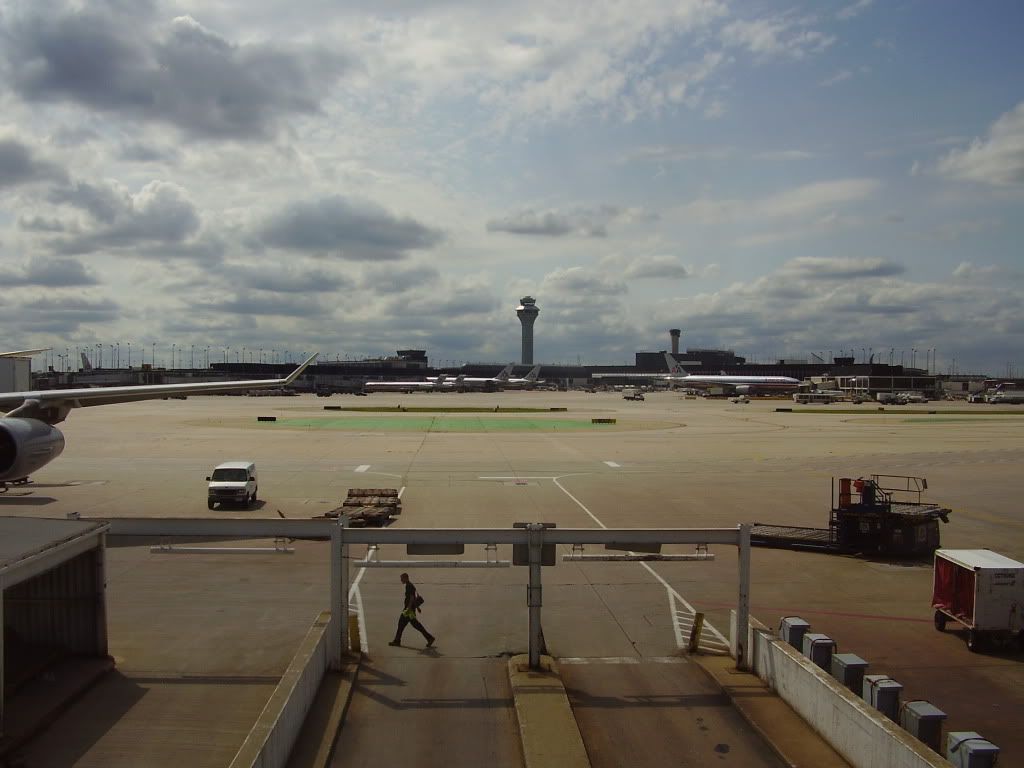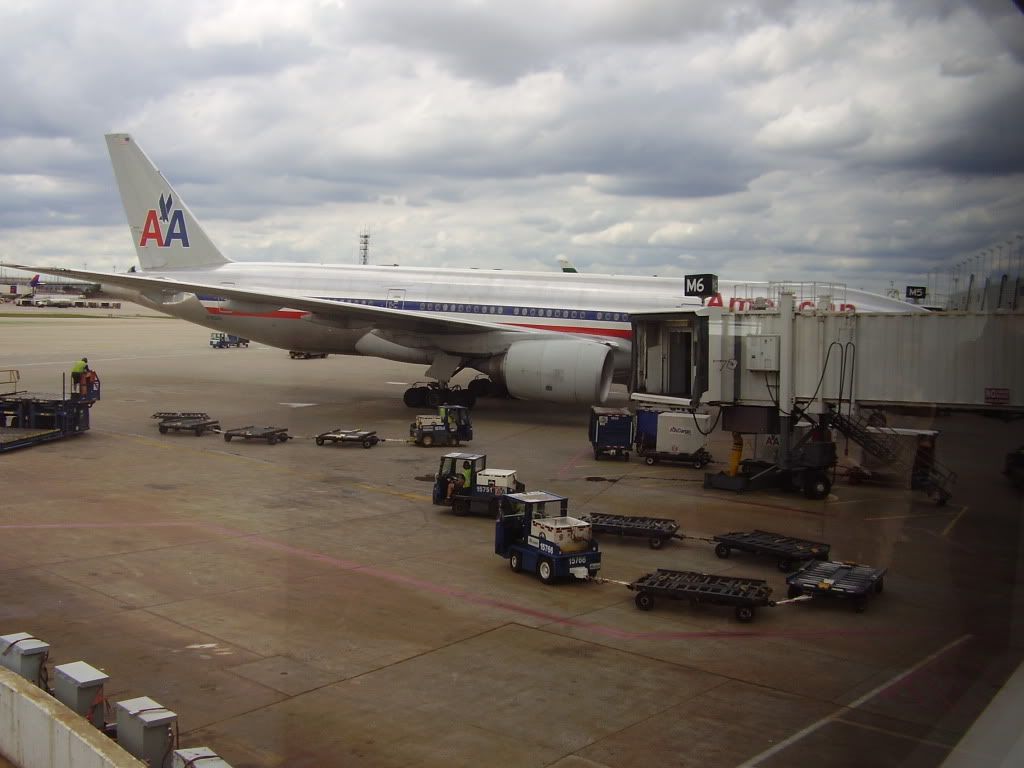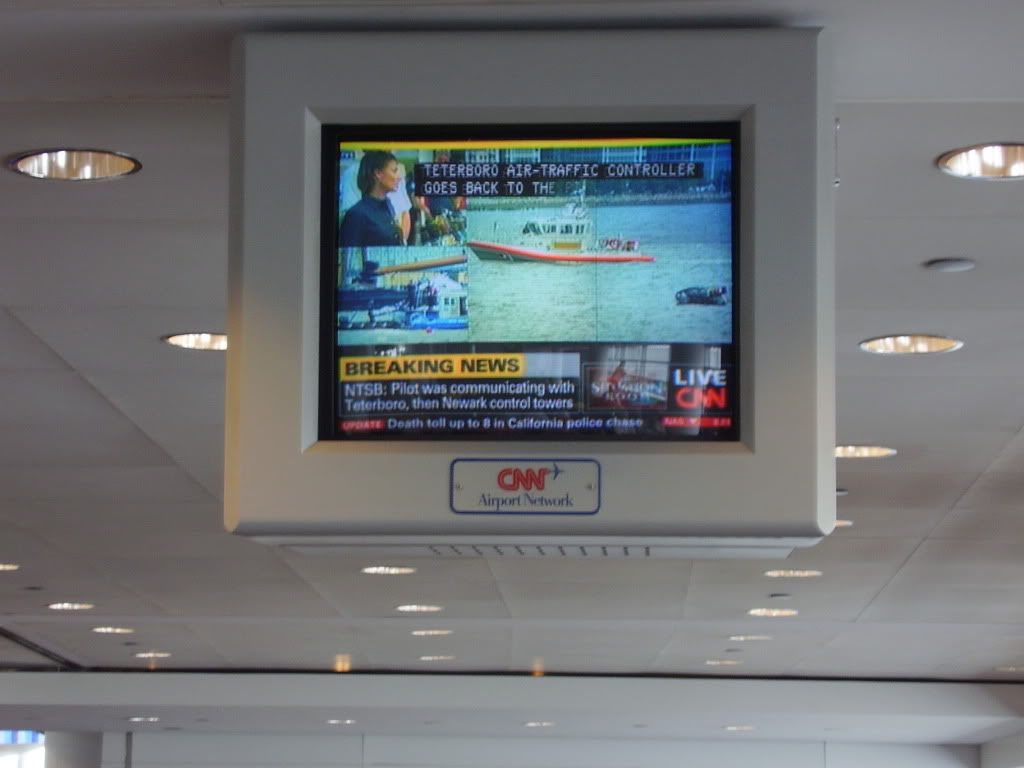 Showing coverage of the light aircraft crash in the Hudson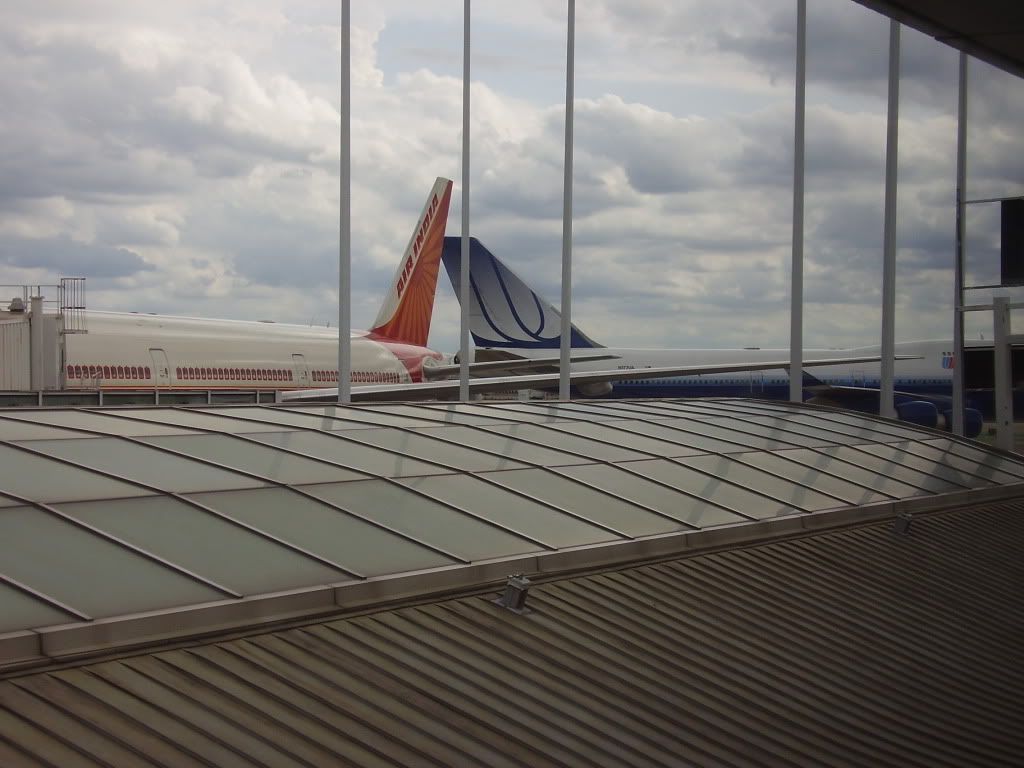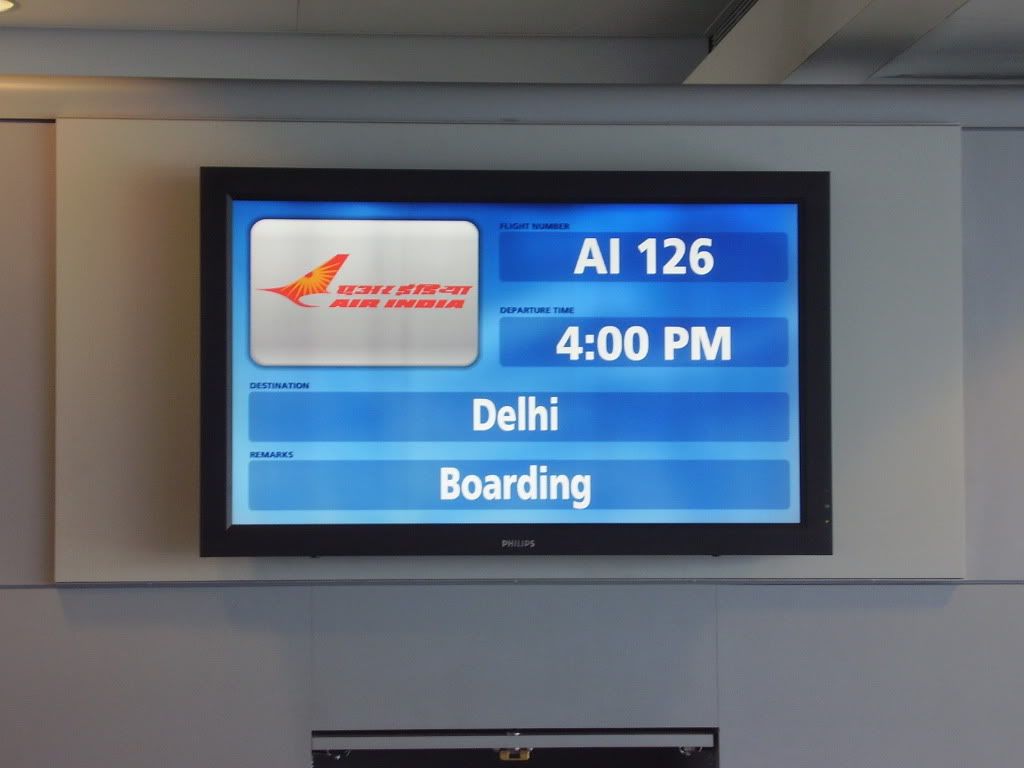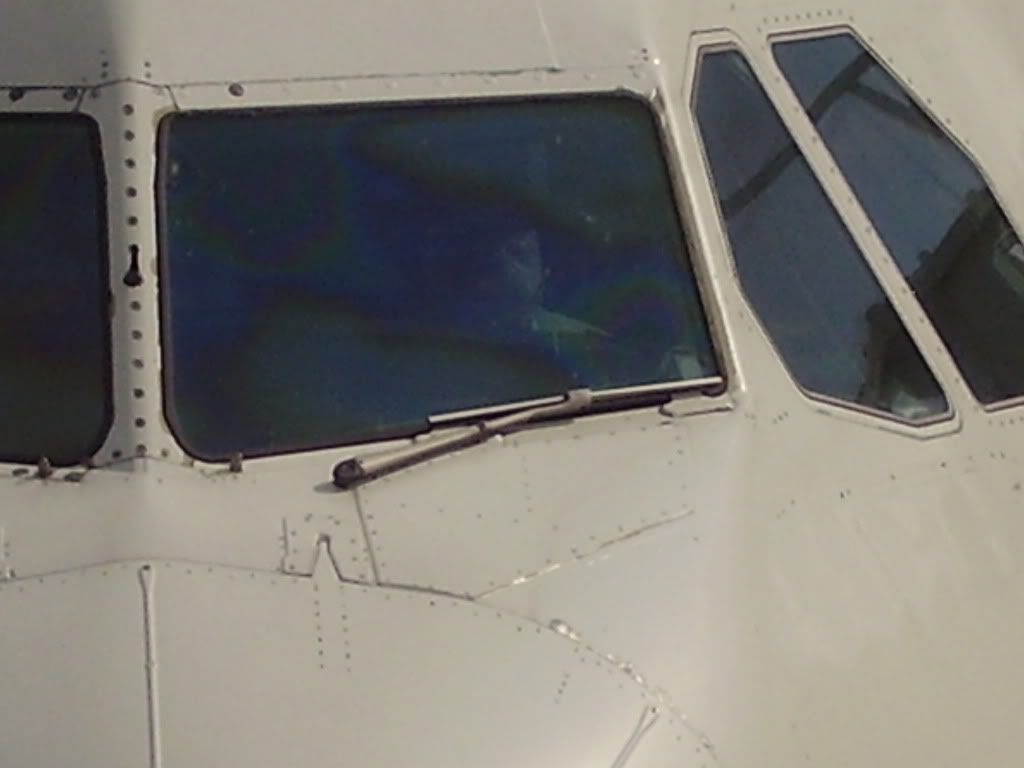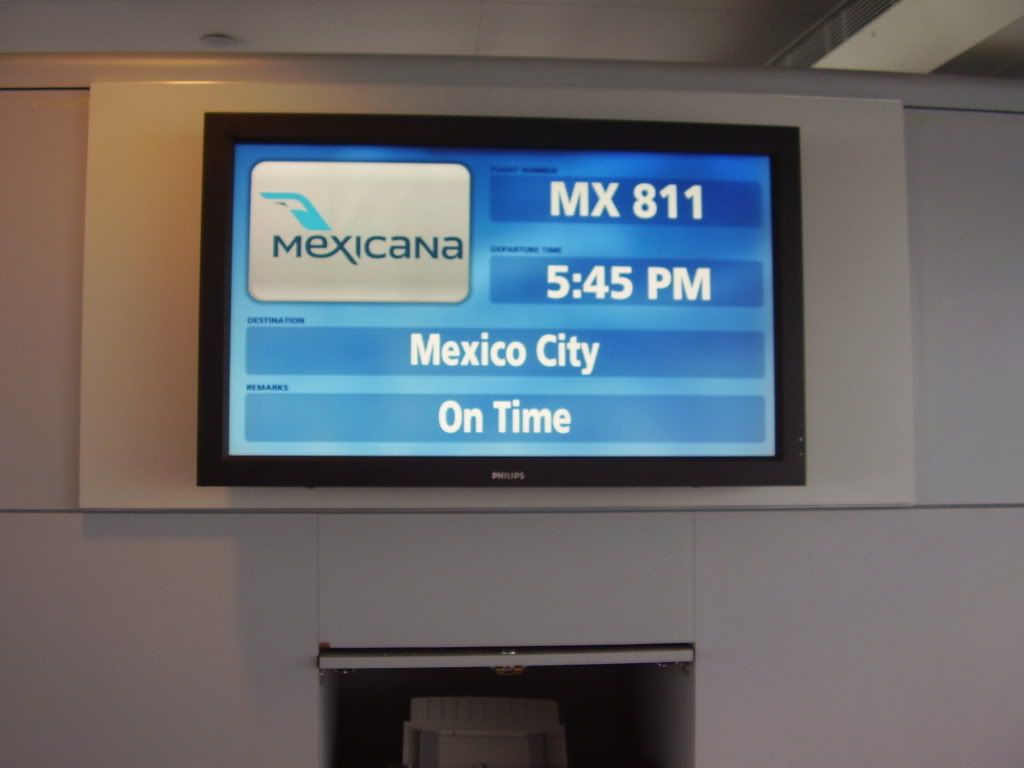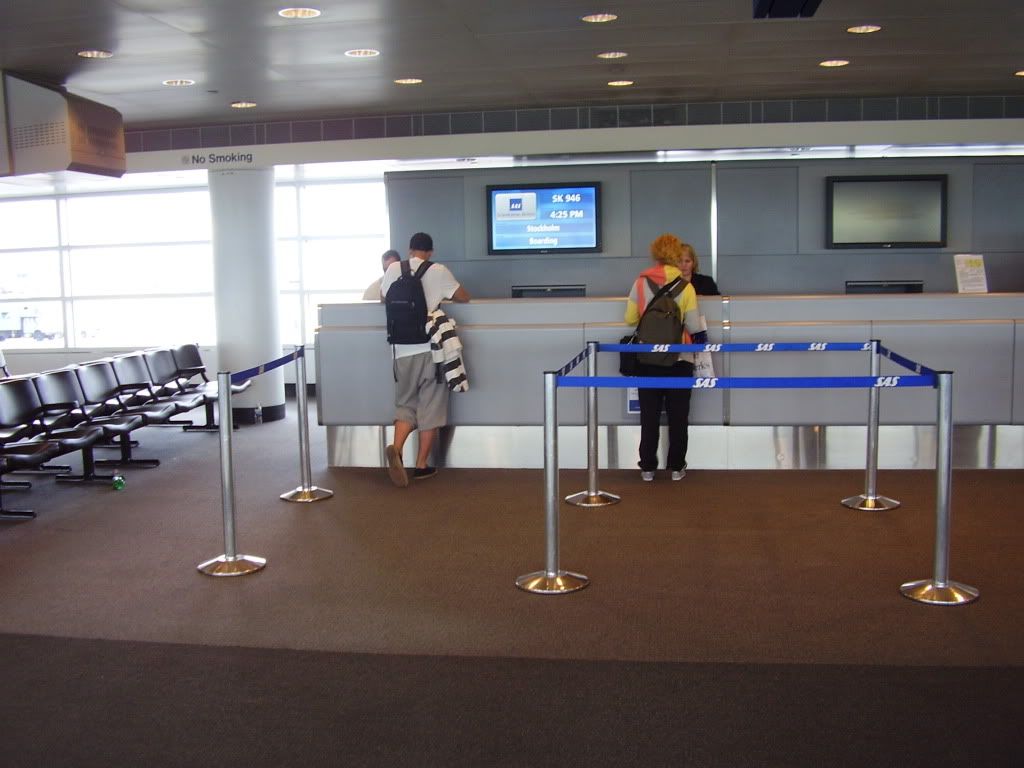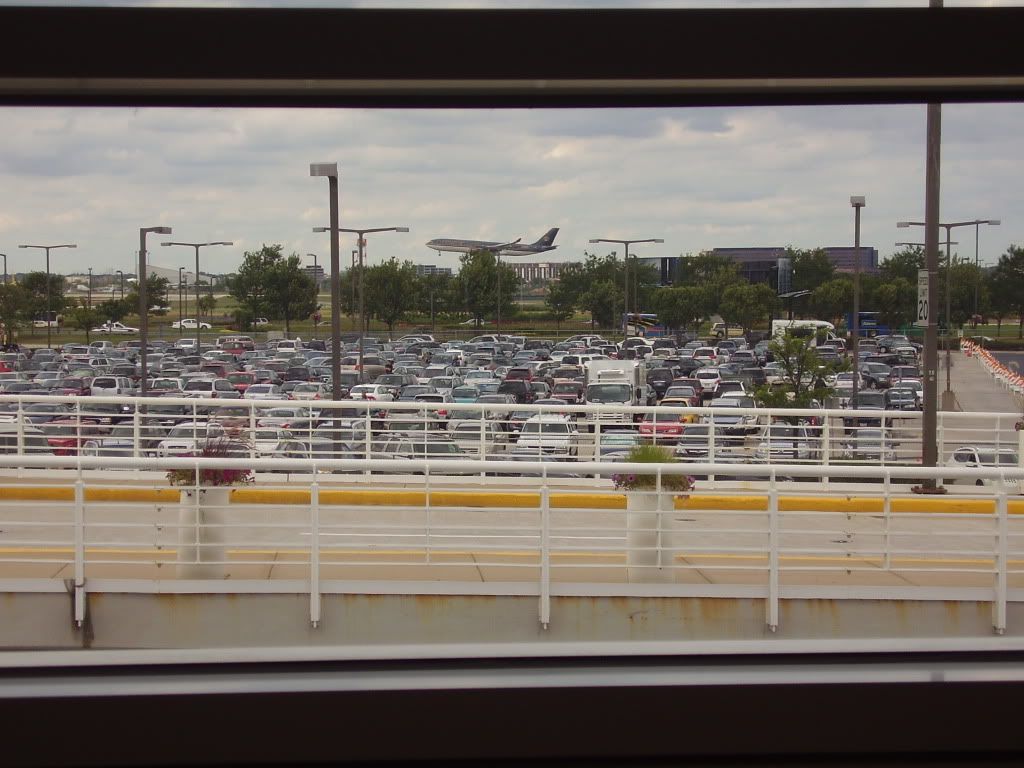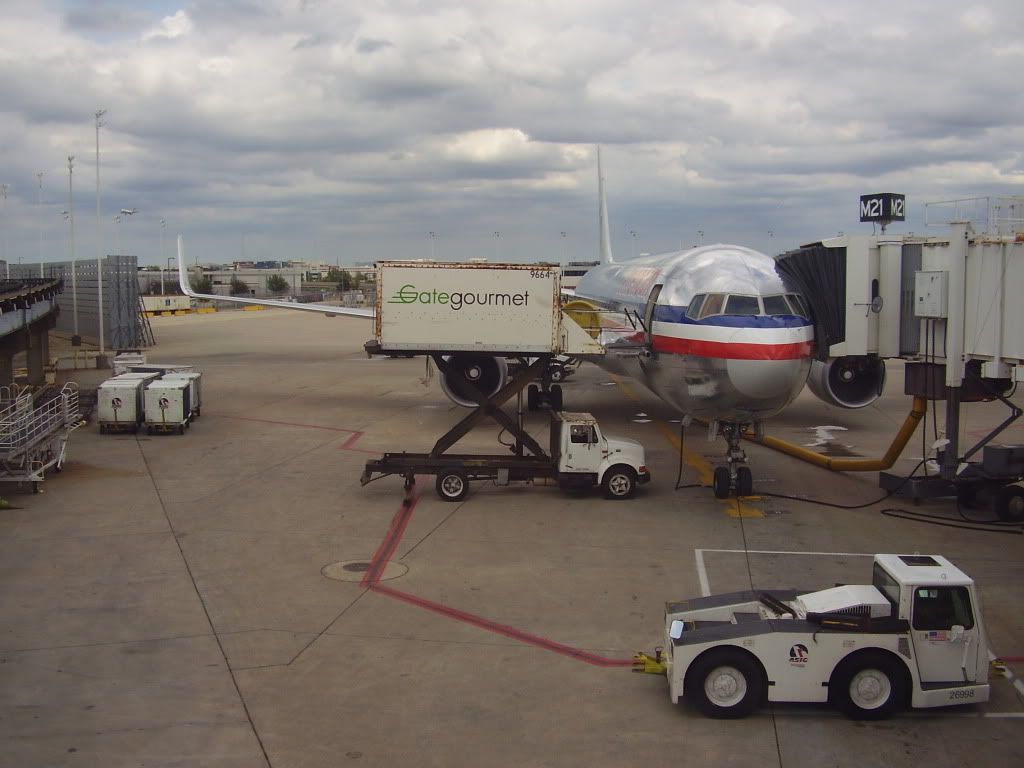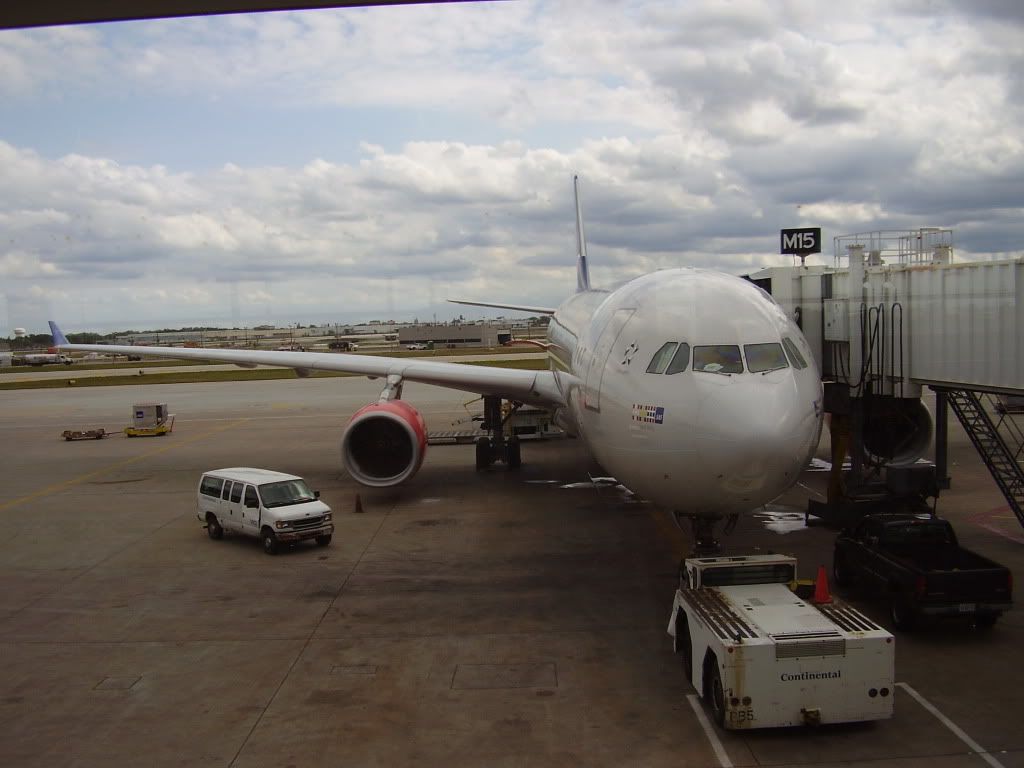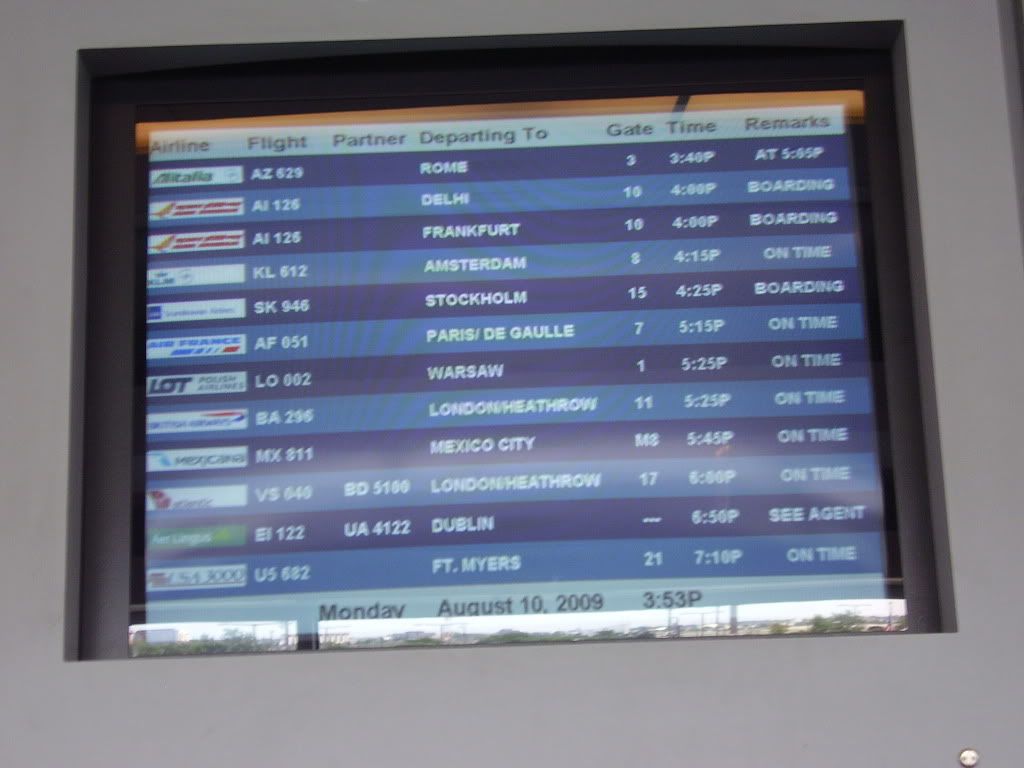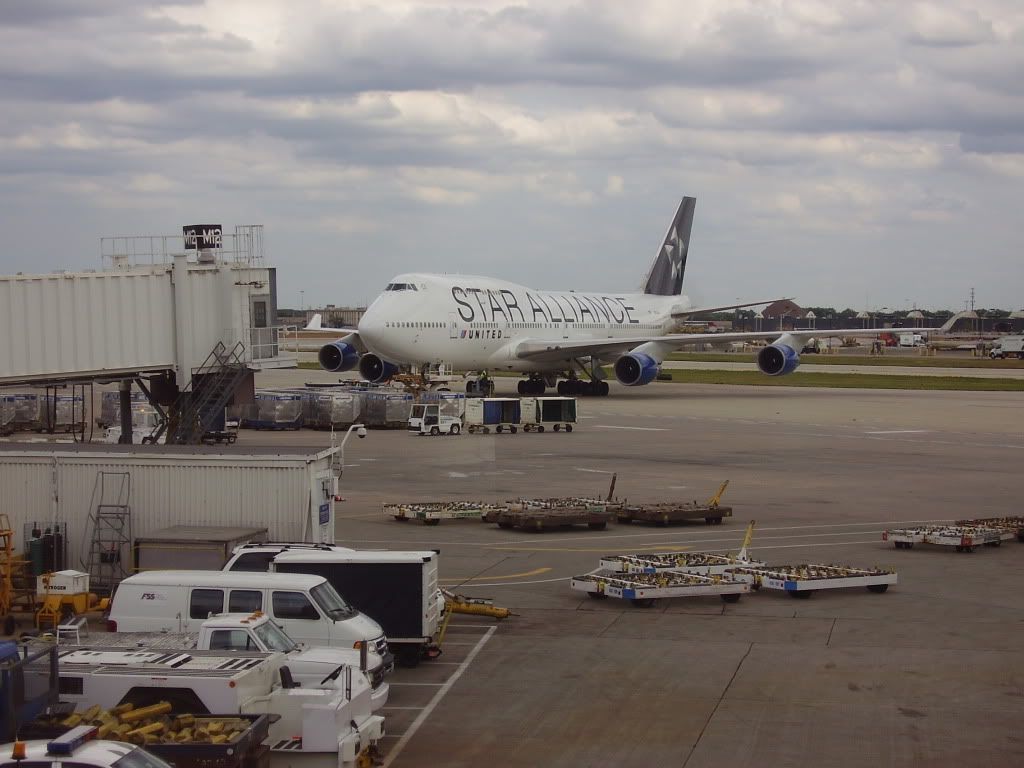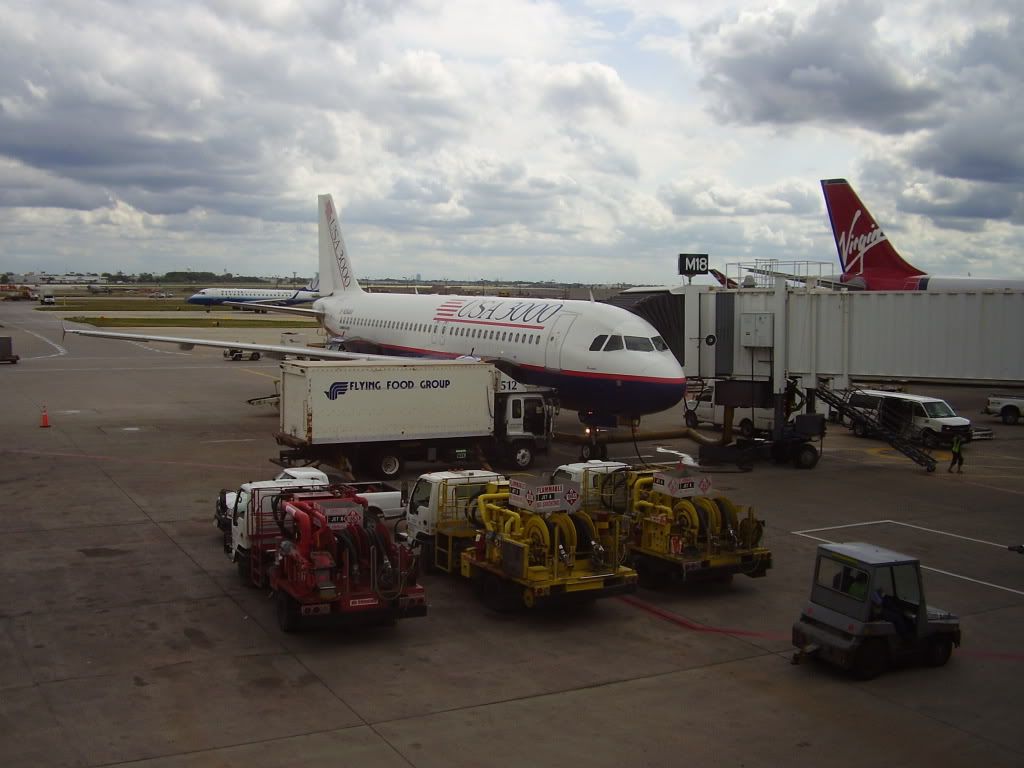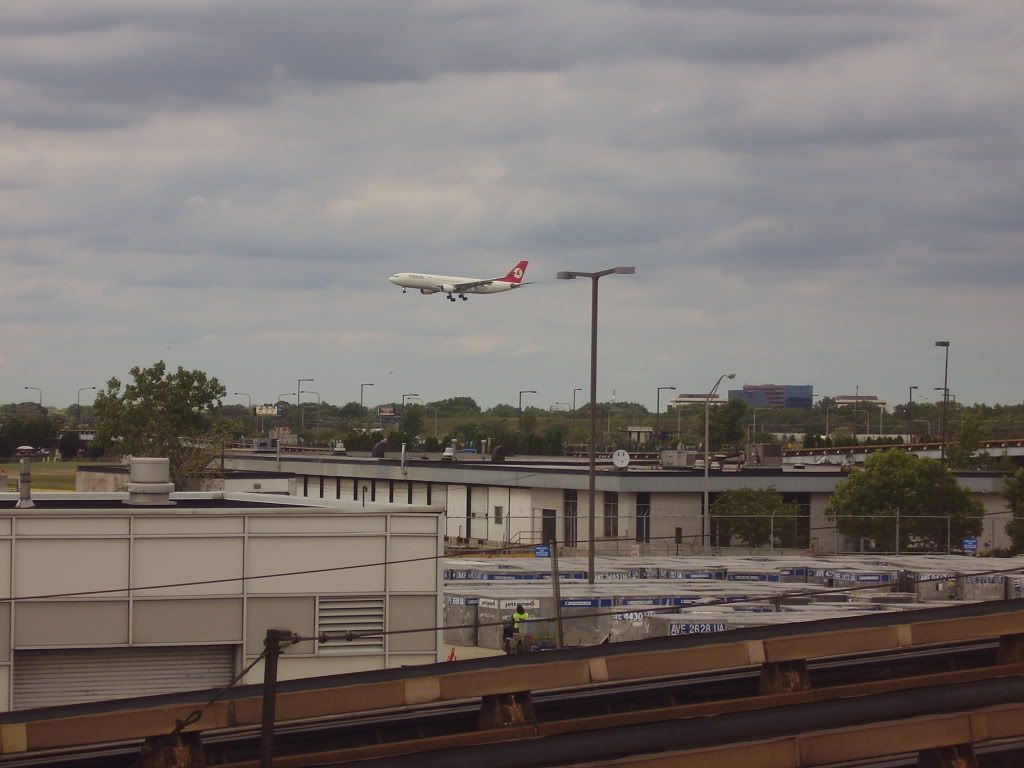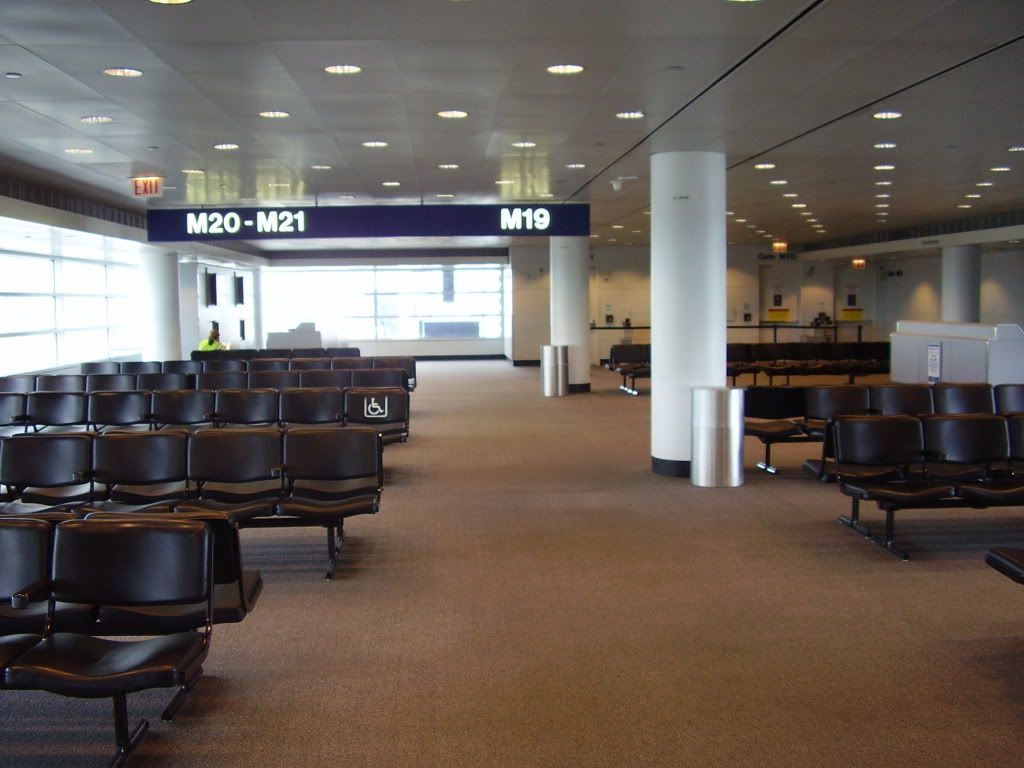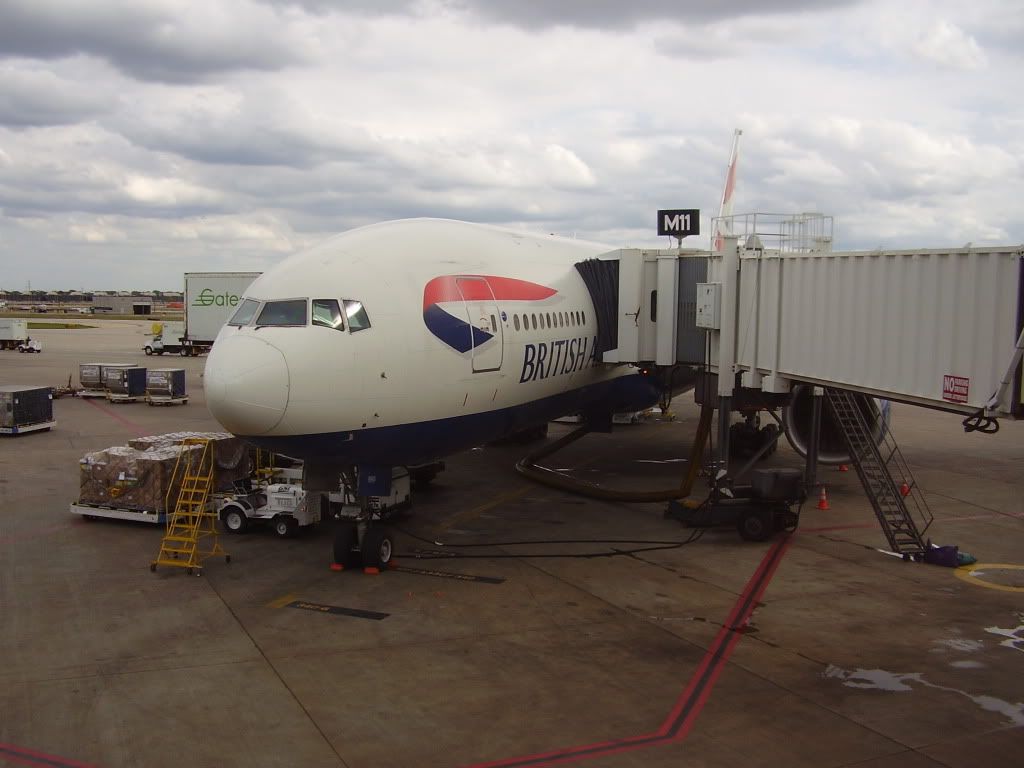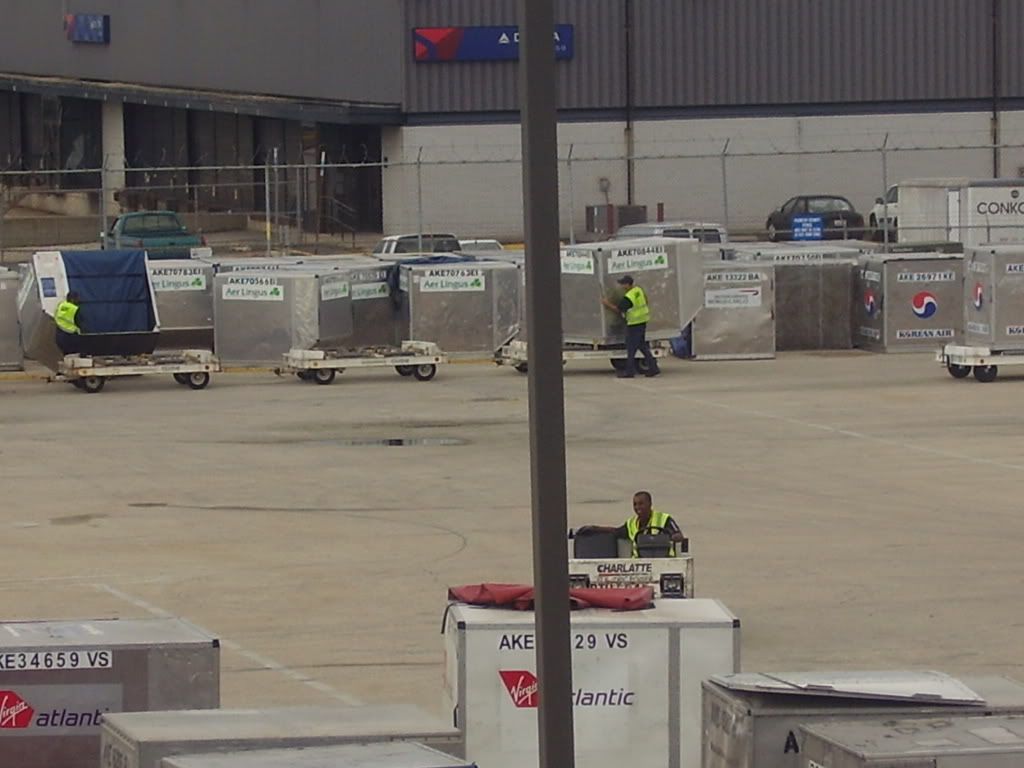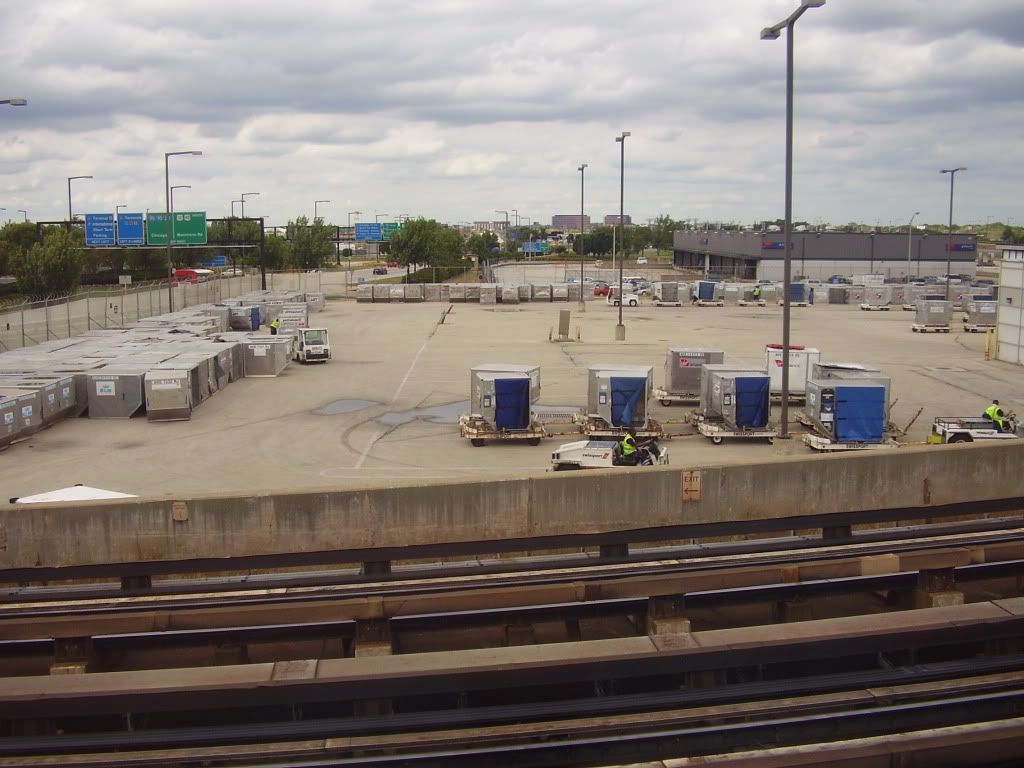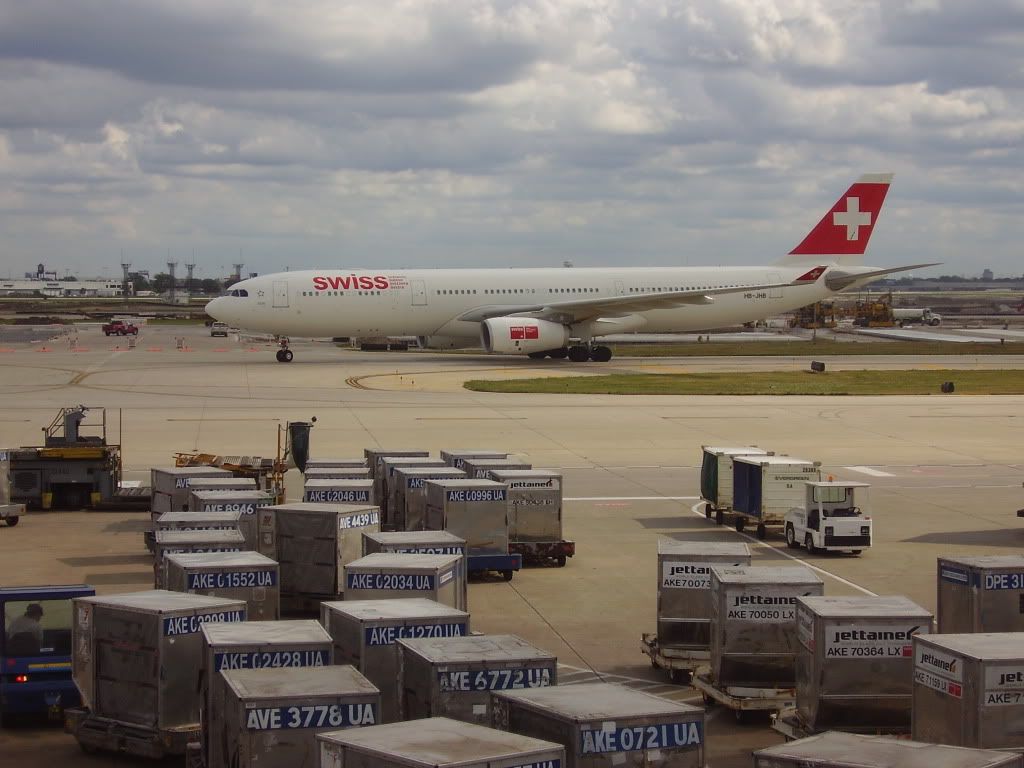 A Swiss International Air Lines A330 making a rare appearance at ORD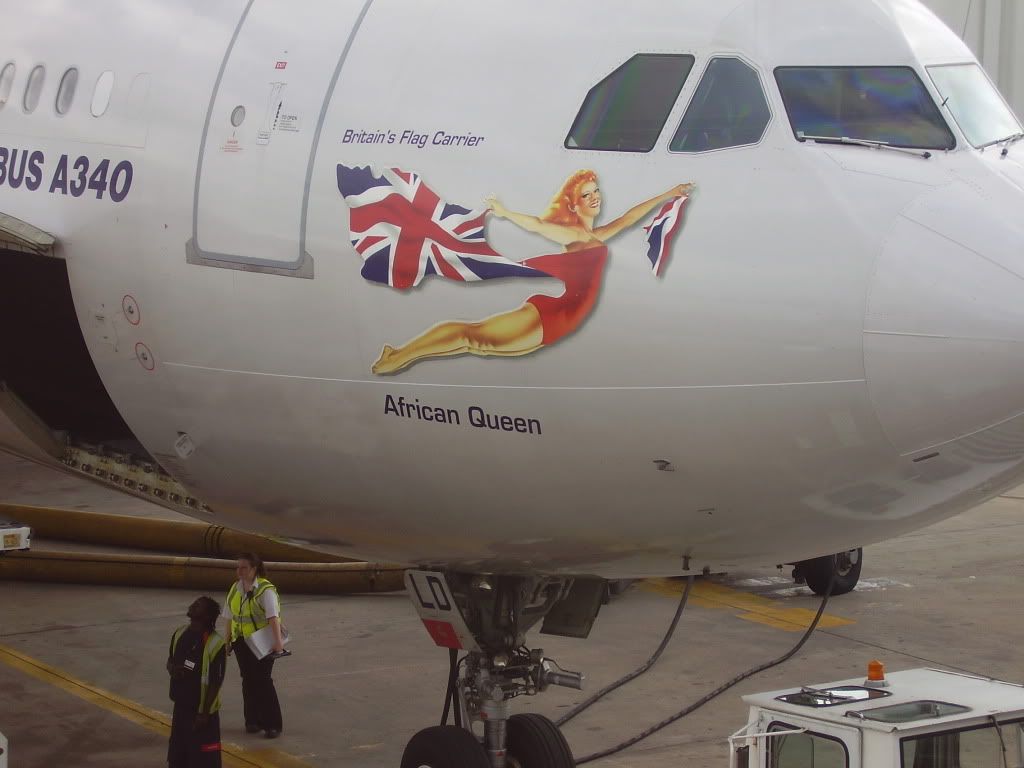 Virgin Atlantic Airways' Airbus A340-300 named "African Queen". This aircraft made an emergency landing at SNN in January on its way from LHR to ORD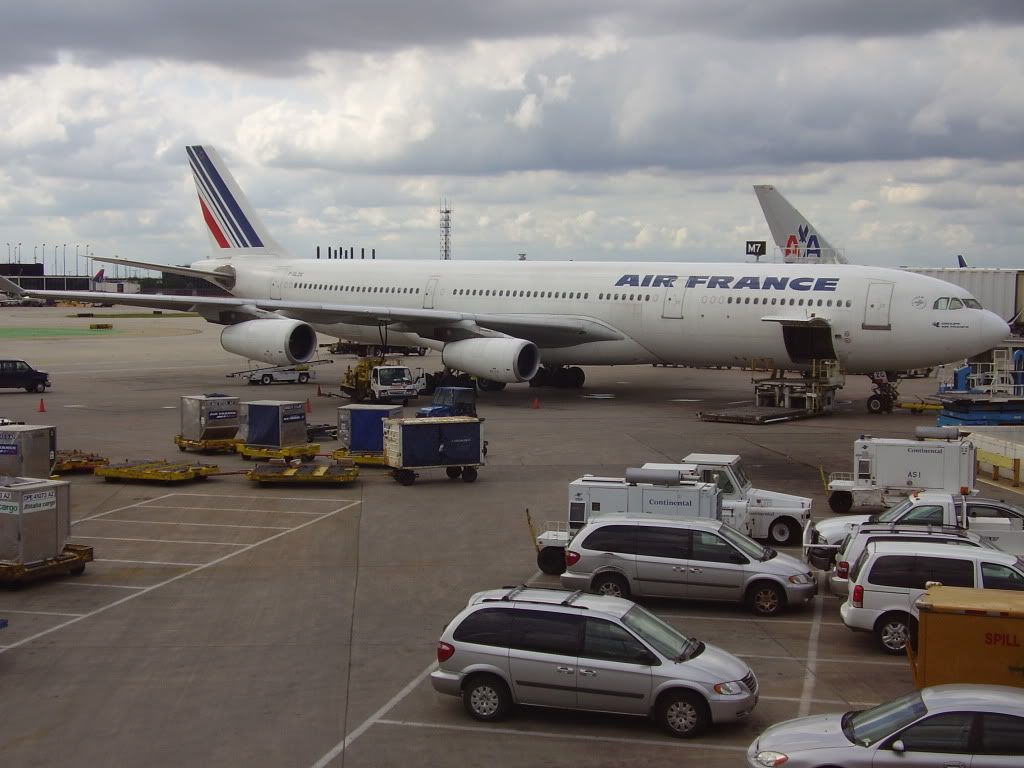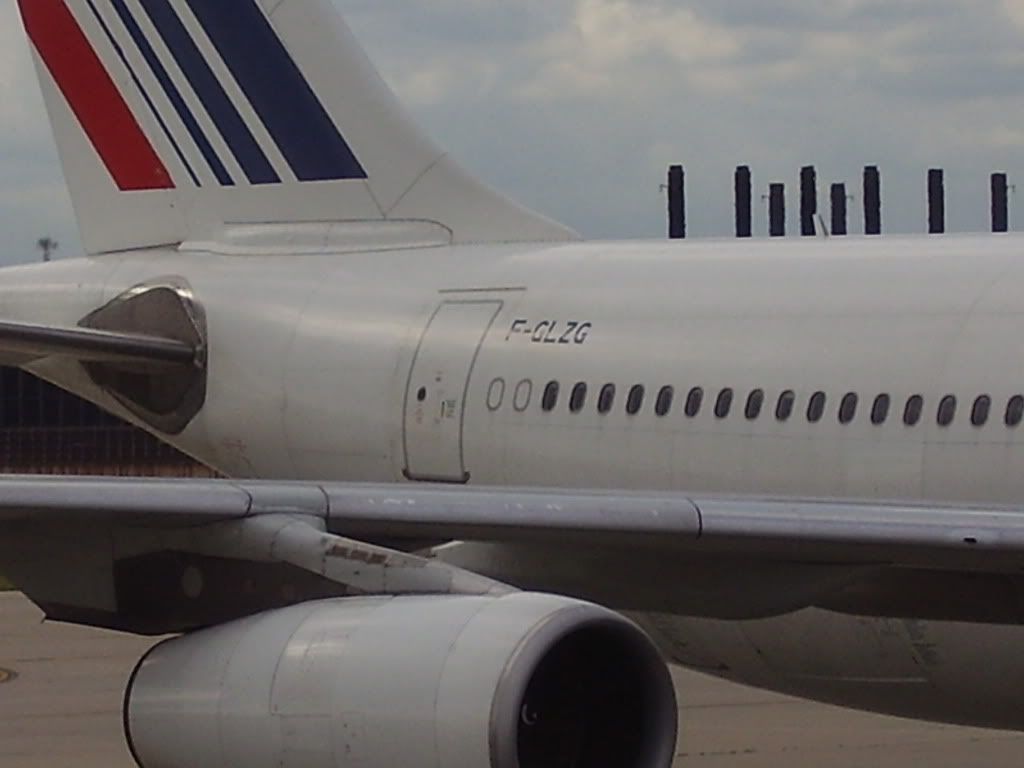 F-GLZC in the former Air France livery ready for boarding. Ironically this exact aircraft was here last August when I was waiting for my Aer Lingus flight to Shannon
As I got back to the gate I was called on the intercom to approach the podium. When I got there two agents informed me that I was being moved up. "Up as in business class?" says I, one of them laughed and said something in French and the woman next to her told me she said "you must be joking". Oh well, worth a try anyway. This lady asked me if I was Irish (my accent and surname gave me away no doubt) and said that she was third-generation Irish herself and that she was an O'Leary.
She told me the captain operating AF51 this evening is always poking fun at her Irish-ness but loves Irish people. So I asked if I could visit the flightdeck to meet the captain because I was very interested in aviation. She told me this was against Air France security policy but she said she'd see what she could do and to enjoy my flight. Very nice woman I must say.
Boarding began at 4.45pm CDT. Unfortunately the Aer Lingus flight from Dublin was late into ORD this evening so I couldn't get any pics. I was told to wait until last to board so they could organise my seat change. The boarding process was very quick and at about 4.55pm I was last to step on board the A340-312, my first time aboard this type of aircraft. I'd estimate the load factor at 80% in
Voyageur
class, not sure about
Affaires
. Each seat was fitted with PTVs (no Audio/Video on Demand however):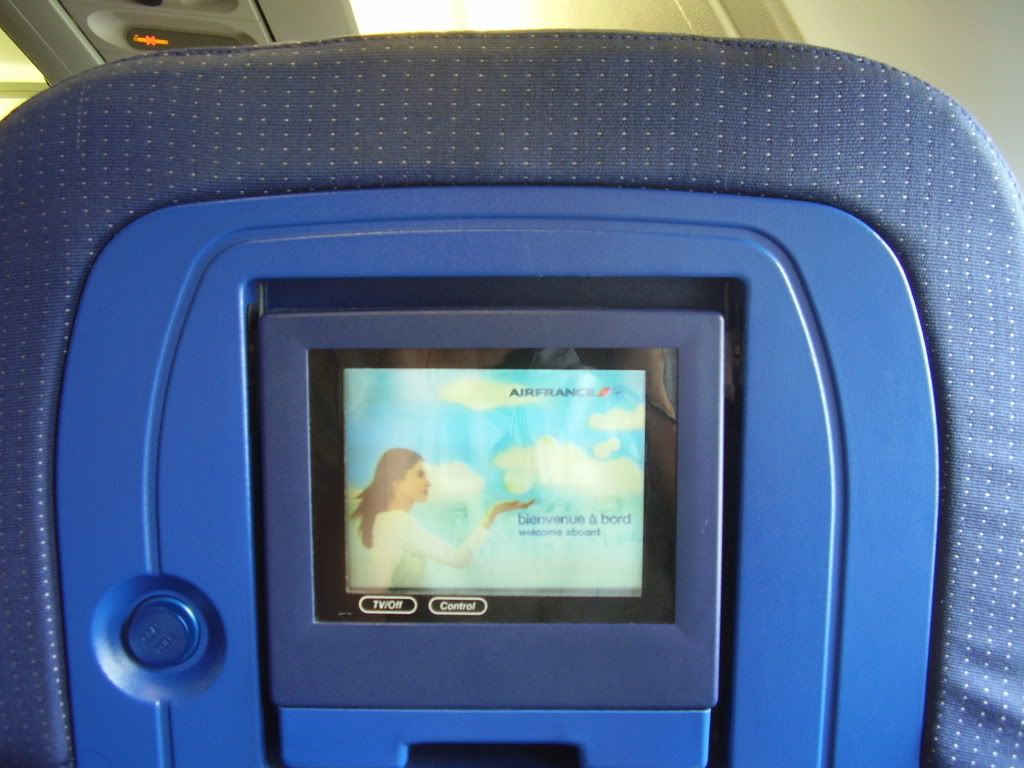 I found AF to be a bit stingy with legroom (which came as a surprise). I'm average height for my age and I found it quite uncomfortable at times during the flight.
Top