To the End of the World on a Fokker 28 – LADE AEP-MDQ-CRD-USH
Behind the trip –
I write trip report for I have never seen one covering one of Argentina's best-hidden secrets, namely LADE – Líneas Aéreas del Estado (State-owned Airlines).
Established in the 1940s, the airline calls itself "the world's first and only promotion airline". Its network links Buenos Aires with some of Patagonia's lost towns. Its aim is not making profits, but rather keep the country united, reaching places no other airline would even dare to fly. LADE (IATA ID: 5U) is owned and operated by the Argentine Air Force, and its fleet consists of a bunch of Fokker aircraft (F-27 and F-28), some Twin Otters and, since this year, some brand new Saab 340, received as a replacement for the F-28s.
Two friends, including fellow a.netter LV-ZXV, and yours truly wished to fly to Ushuaia, the southernmost city in the world, in order to spend some days discovering the mysterious and fascinating island of Tierra del Fuego. Even though most people going there wouldn't even consider an option other than AR, we decided it would be most interesting to try 5U on the way there, even if price was the same and it meant two stops. Besides, you do not get the chance to fly a Fokker 28 very often these days.
Booking and buying –
This trip took place on December 2008, and LADE's website (www.lade.com.ar) was not working at the time. This meant going to the airline's office at Perú Street, in San Telmo district. I bought the ticket there using my debit card, and in no time I was going back to work with my e-ticket receipt and a huge paper stating flights were sometimes cancelled due to the eruption of Chaitén volcano, on the Argentina-Chile Patagonian border. The only thing I could was to pray our flight wouldn't be cancelled!
Check-in –
It was finally December 26th, 2008. I got to AEP around noon, some two hours before departure, and met there my two friends. We checked ourselves in at LADE's counters, located at "B" area, that is, the smaller hall where all airlines but AR and 4M have their counters. I don't really remember our flight information, for I have since then apparently lost my boarding pass, which I kept as a souvenir. The boarding pass itself was a blue piece of paperboard with the words "LADE – Tarjeta de Embarque" written on it, the airline's logotype (a falcon with its wings wide open and the word "LADE" under it) and an empty space where the agent would write the seat number. This flight, however, was a free-seating one, so the empty space remained, excuse the pun, empty.
Boarding –
We went through security and got into a small waiting area from where most 5U and 8R flights board, for both airlines' planes are the only ones at AEP not able to connect themselves with the jetway. After waiting for a while whilst 8R passengers to MDQ boarded, our flight was called, and we were bussed to the aircraft. Our Fokker F-28-1000C, flying under the military registration TC-53, was around 35 years old at the time, but just came from a D-Check at Lockheed Martin Argentina's facilities in Córdoba, where it was refurbished. Overall, even if the aircraft looked aged, you'd never guess it was that old. I settled myself at the rear of the aircraft, right next to the engine. That, I would regret for the next five hours, for the noise was killing me.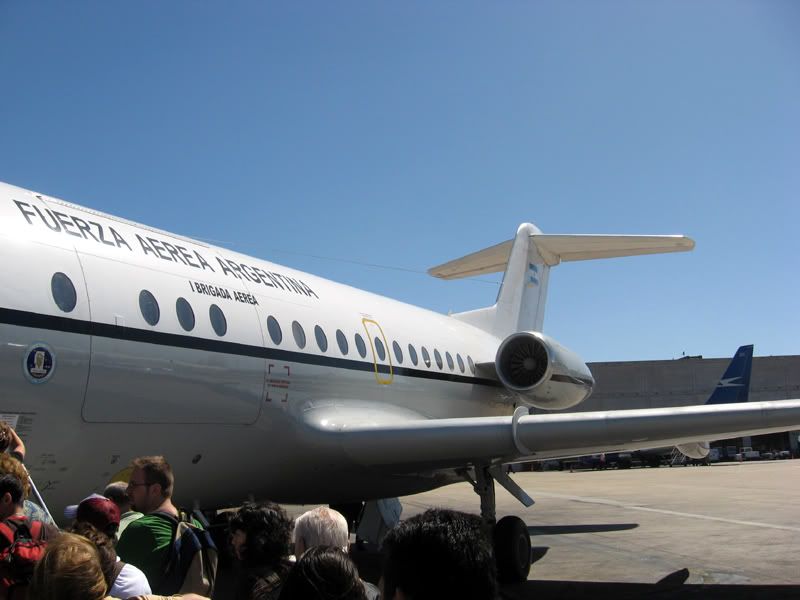 Getting onboard the F-28
First leg
From: Aeroparque Jorge Newbery (AEP), Buenos Aires
To: Aeropuerto Internacional Astor Piazzola (MDQ), Mar del Plata
After boarding, security announcements were done by one of the two flight attendants, a male and a female, in Spanish only. We took off with a minor delay from runway 13 headed south towards our first stop, Mar del Plata. There is no service on this leg. After some 45 minutes, we started our descent and got some very nice views of the beaches, full of people on a hot summer day. The same 8R Saab which took off to MDQ right before us was already parked at the terminal. Passengers continuing their journey to Comodoro Rivadavia and Ushuaia were not allowed to leave the plane. Load on the AEP-MDQ leg was around 60%, and quite a few passengers left at Mar del Plata. However, the plane was packed in the MDQ-CRD sector. Once everyone was onboard, we took off, once again heading south – next stop: Comodoro Rivadavia, where they wanted to discover drinkable water and all they found was petrol.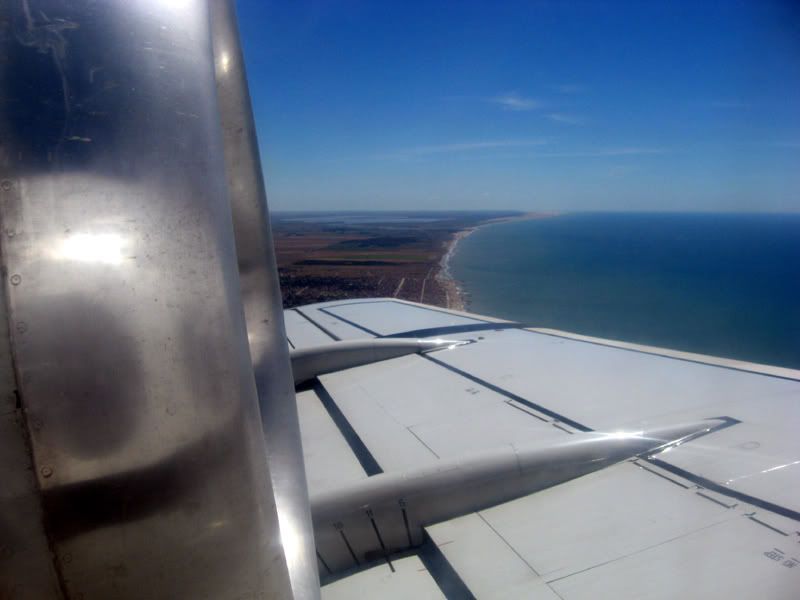 Approach at MDQ
Mar del Plata
Astor Piazzola Airport with a Sol Líneas Aéreas Saab 340 just landed from AEP
Second leg
From: Aeropuerto Internacional Astor Piazzola (MDQ), Mar del Plata
To: Aeropuerto General Enrique Mosconi (CRD), Comodoro Rivadavia
By this time I was starting to feel hungry, and I was relieved when I saw the trolleys getting filled in order to start the service. Even though the amount of food was indeed quite meager, both the cold cuts and the strawberry mousse were tasty. I was extremely surprised by the fact 5U offered alcoholic drinks onboard, including wine and champagne, something neither AR nor 4M do on domestic routes. Thumbs up for the Air Force! My friend LV-ZXV is a very fancy man who grew up in trendy London, which explains why he had some champagne at the expense of Argentine taxpayers. I am more of a Latin American guy, and whilst I find champagne to be alright, I strongly believe nothing beats a good, humble glass of red wine.
Lunch
Cabin view
Flight time between MDQ and CRD is around 2 hours. There were some great views of the Patagonian coastline, including Valdés Peninsula, but alas I was seated on the wrong side of the plane. On the seat pocket, one could find a brochure with a map of 5U's routes and a copy of "Periódico del Sur", a newspaper with information regarding tourism in Patagonia. I found it interesting that, according to the newspaper, "Periódico del Sur can be found for free onboard Líneas Aéreas del Estado and on the Presidential Fleet (Tango Airplanes)". Approach to CRD was very bumpy, reminding us why Comodoro Rivadavia is Argentina's very own "windy city".
Comodoro Rivadavia, Patagonia's largest city
After a half-an-hour stop at CRD, it was once again time to take off, now towards our final destination – the world's southernmost city, Ushuaia.
Third leg
From: Aeropuerto General Enrique Mosconi (CRD), Comodoro Rivadavia
To: Aeropuerto Internacional Malvinas Argentinas (USH), Ushuaia
After a bumpy take off and some views of Comodoro, we flew for another two hours across the dry and dull Patagonian coastline. The flight attendants came by after some time, offering some croissants and drinks. I settled with a coffee and an orange juice this time.
Croissants
It is actually amazing how, once you cross the Strait of Magellan, the dry Patagonian steppe becomes a patch of green land full of peaks covered with snow. Then you know you are in the island of Tierra del Fuego. We started descent right over the Strait and managed to see Lake Fagnano (or Lake Kami, as the local tribes would call it, way before the Argentine and Chilean settlers got there), a huge lake that splits the island in two. Right after that, the city of Ushuaia, the Beagle Channel and the peaks of the Dientes de Navarino mountain range, on Chile's Navarino Island, could be perfectly spotted.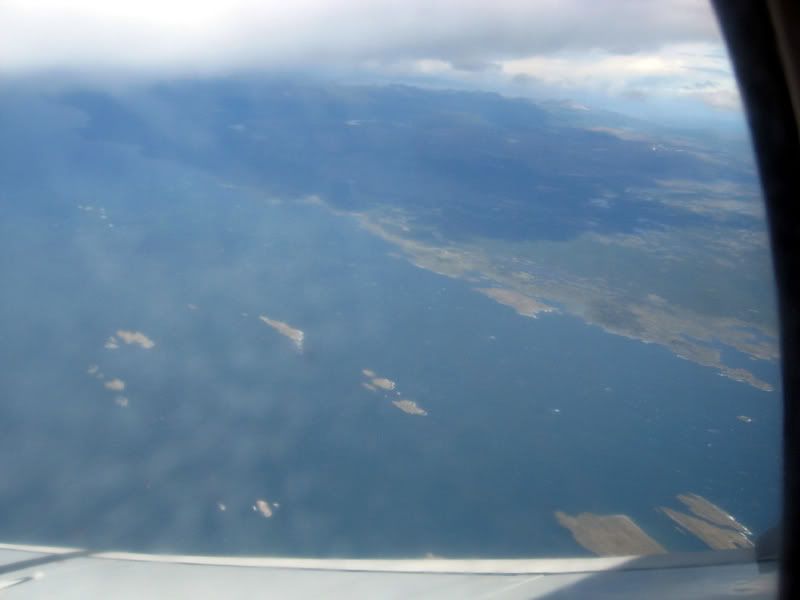 Strait of Magellan and the northern tip of Tierra del Fuego island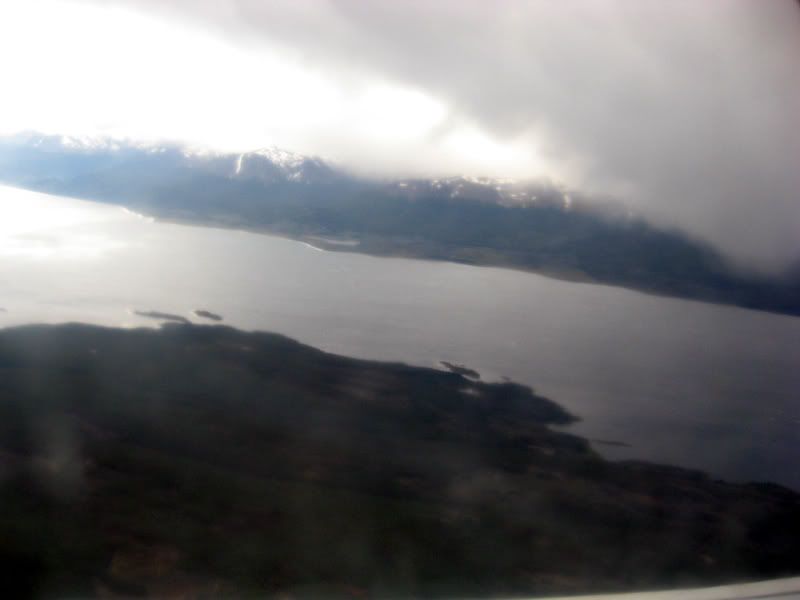 Fagnano Lake (Lake Kami)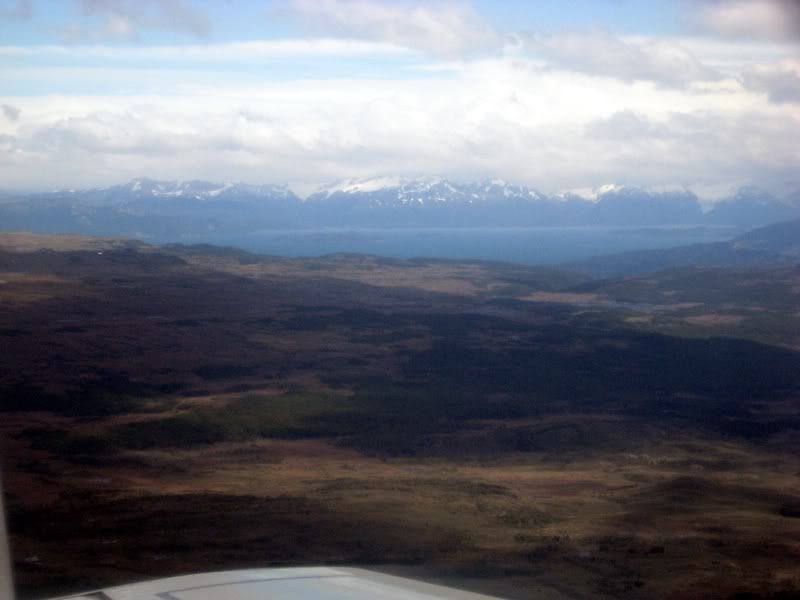 Beagle Channel and the Dientes de Navarino
Landing at USH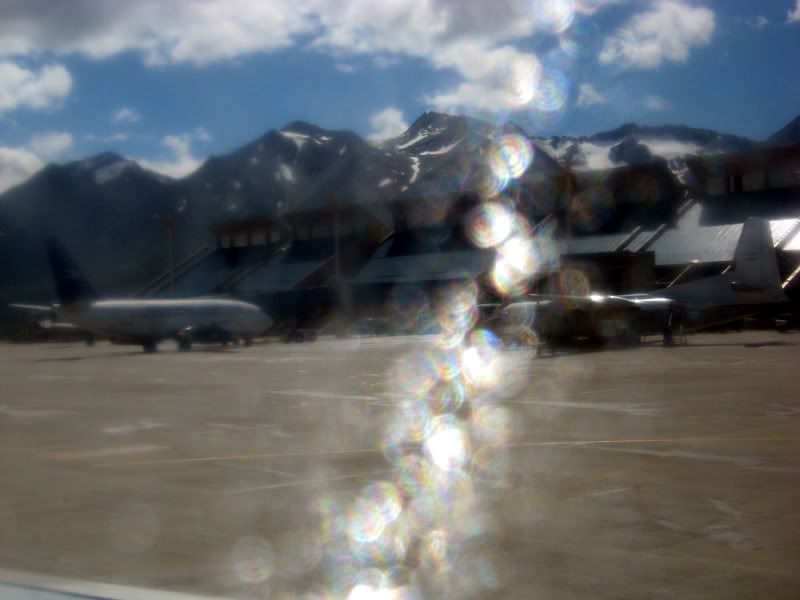 Malvinas Argentinas (Argentine Malvinas) International Airport
We left the plane and had to walk a bit, under freezing conditions, until we reached the terminal, where our luggage was waiting for us.
The Old Lady resting after its 5-hour flight from Buenos Aires
Thank you very much for reading, and, as usual, comments and suggestions are always most welcome
Saludos,
Marambio