So who would have thought Melbourne could be so cold? It was really freezing the entire time I was there… I only had a thin sweater so I nearly froze to death.
What can I tell you… after a few weeks of travelling I was ready to go back home… but I still had a week and a half to go… I wasn't too happy, nor was I too pleasant by this point. Fortunately jetlag was not the problem it was back in January. I had managed to go this far without resorting to sleeping pills or booze; so going west is the way to go apparently.
MEL – HKG: Tuesday, September 1st, CX104. A330
SDT: 14:30
ADT: 14:34
SAT: 22:00
AAT: 21:45
Seat 18A
Duration: 9H11M
We arrived at the airport well before our 14:30 departure… As we were coming from the office, we headed into the washrooms to change into more comfortable clothes. Then we headed to the check-in counters:
Some pictures from the airport:
The check in ladies were really nice. Don't you find sometimes uncomfortable how nice the people in Asia are? I am not complaining or saying it's a bad thing; I am saying that it makes me a little uncomfortable sometimes… This lades were definitely Asian working for Cathay and were really really really nice.
After check in we went straight into the lounge as I was hoping to grab a bite to eat. With those of you familiar with Melbourne airport, you will agree with me that the whole place is stressful with too many stores and duty free shops…
Cathay Pacific's lounge is located in the ground floor, so you take an escalator down. It was really empty when we got there. It's quite claustrophobic too as the windows don't really let you see out them. But there was some food and beer:
After a while I decided to head to the gate. I was hoping to catch the A330 I would be flying on. This would be my first A330 flight… and I was incredibly excited. The fact that it was on one of my favourite airlines just added to it all. Unfortunately, the plane was parked in such a way that photographing it was too difficult. Some pictures, though, of my roaming around the airport:
I believe this was QF9 to London (via Singapore)
My ride:
Well… boarding started on time… but for whatever reason it was very chaotic… everybody boarded at the same time…. Then on the plane there were people standing on the aisles… a flight attendant took me to my seat… he was nice. But the whole thing was chaotic.
I sat down and was offered the pre-take off drink and a hot towel:
Things were happening fast but were too disorganized. Boarding finally ended; some flight attendants were just standing in the galley while others literally had to run to get the drinks, menus, etc. to the passengers. It was somewhat odd. Business class was 100% full.
Some of you might hate the new business seat on Cathay. I can understand you… it does feel cramped… it is weird not to be able to see the window… but I still like it… it feels very private and the entertainment system rules:
Amenity kit (ok):
Menu:
So we were about to commence our take off roll and flight attendants were still running like crazy goats around the plane… it was weird.
Take off. You gotta love the sound of the engines:
http://www.youtube.com/watch?v=q-fRTNpa0BM
Immediately after take off we were offered drinks and peanuts… by now you know me, so I had the usual tomato juice:
A picture from middle of nowhere-Australia: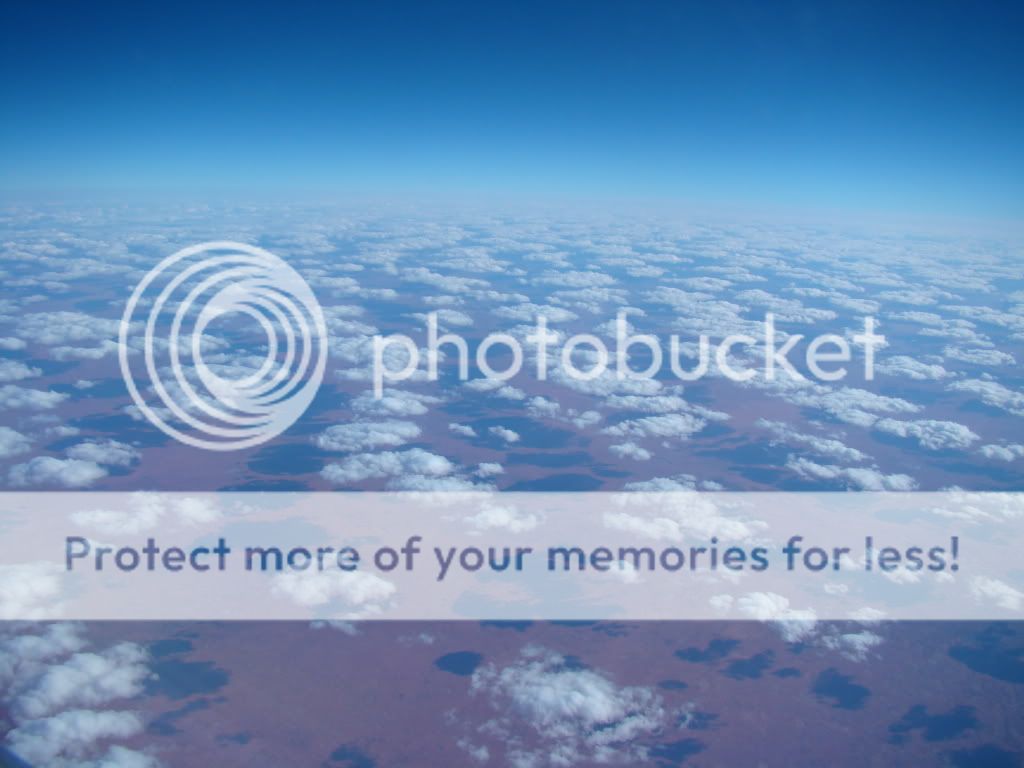 This was the appetizer (I am guessing here):
I chose the beef:
Coke (full can!!):
After lunch I got up and decided to take some pictures of this plane which was new to me:
Business class:
Economy:
Sunset:
About 3 hours before landing in Hong Kong, we hit rough turbulence. Forgive me Airbus fans… I got scared, being an A330 and all… I know there is no reason… but still. I usually enjoy turbulence…
Flight attendants came throughout the flight with water. They were really nice.
Right before landing we got a second meal:
Went for the pasta this time:
Landing was somewhat boring… I was again on the wrong side of the plane:
http://www.youtube.com/watch?v=QD0WEERRDdk
Conclusion… the food was pretty good. Service was great (except for the chaos and confusion at the beginning of the flight), the seat is comfortable and the entertainment system was great. I love Cathay and this flight proved to be another good one for me.
The A330 is a fantastic plane… loved the sound of the engines… and it was a comfortable plane all around… I don't think it's the most beautiful plane out there… but I think it was lovely to fly on it.
For those following the ranking on my trip:
1st place: Cathay Pacific – Long Haul
2nd place: LAN
3rd place: British Airways
4th place: Qantas domestic
5th place: Qantas
6th place: Iberia
Just a small reminder of the other legs of my trip for new readers:
Part 1 (no pictures or video):
Round The World In 3 Weeks
(by
Ogre727
Sep 2 2009 in Trip Reports)
Part 2 (pictures + videos):
Round The World In 3 Weeks - Part 2
(by
Ogre727
Sep 2 2009 in Trip Reports)
Part 3 (pictures + videos + the greatest take off in history from SCL):
RTW In 3 Weeks - Part 3 (one World) Pics + Videos!
(by
Ogre727
Sep 8 2009 in Trip Reports)
Part 4 (pictures + video):
RTW In 3 Weeks Part 4 Pics + Videos! BA Flight
(by
Ogre727
Sep 9 2009 in Trip Reports)
Part 5 (pictures + video + longest flight of my life and almost south pole crossing):
QF18. EZE-SYD. B747 Cool Take Off. RTW 3 Weeks (4)
(by
Ogre727
Sep 10 2009 in Trip Reports)
Part 6 (pictures + video + crying baby during landing):
QF419 SYD-MEL. 767. Windy Landing. RTW 3 Weeks (6)
(by
Ogre727
Sep 11 2009 in Trip Reports)