Hi guys,
Here's a quick TR about a flight I took during the Summer'08. Yes, I know, it's been more than one year since then, but I guess the AF inflight service in Y didn't change that much in the meantime.
There's a BIG difference, though: at that time, seats on the upper deck were available to all Y passengers, as long as they checked in online/made a special request upon checking in at the counter. Now unfortunately regular Y passengers have to pay a fee to book those seats, unless they are frequent flyers (in which case they get access to the upper deck for free).
Legroom is much, much better on the upper deck, and additionnally all of the AF744s feature PTVs on the upper deck, whereas only 3 of them (those delivered in 2002) are fitted with PTVs on the main deck as well.
Flight 1
15th August 2008
Route: Paris Charles de Gaulle (CDG) - Montréal Pierre Elliott Trudeau (YUL)
Flight number: AF346
Aircraft type: B747-400
Registration: F-GITC
My full routing was NCE-CDG-YUL, but I won't go into details about the NCE-CDG leg as domestic flights with AF are nothing to write home about. When checking in at NCE, I asked to be seated on the upper deck and the agent gave me seat 65K. No window, but I was seated at an exit row, so no complain.
After arriving at the domestic/schengen area of CDG 2F, I went through immigration and switched to the non-schengen pier. The whole place was very crowded as August is the busiest holiday season in France. There's a serious lack of seats at CDG 2F, but this terminal offer a very good view on the apron.
My ride for today: F-GITC. This aircraft doesn't feature PTVs in Y on the main deck, but I couldn't care less as I was one of the happy few who'd be seated upstairs.
I'm always very excited to fly on a 747. There's something special about that plane: I love her mighty look, her elegance. It's so much better than flying on a 777 or an A330 in my opinion. I fell in love with this aircraft when I saw a Corsair 747 taking off from PPT up close.
Seat comfort was excellent. I couldn't dream of a better legroom and, most importantly, the crew was very nice, friendly and attentive with genuine smiles even though it was a full flight. Two f/as were working on the upper deck, one male and one female. Most of the passengers were teenage choir singers flying back to their home in Québec. They were nice but a bit agitated as well, and the flight attendants had to remind them a few times not to gather in front of the exit doors. I have to say I've had only good experiences with AF crew members on long-haul flights.
The whole flight was uneventful. Each passenger received a printed menu, an amenity kit with eye shade and earplugs, and earphones. Drinks & snacks were served first, then the f/as handed out the lunch trays. I'm sorry for not having taken pictures of the meal, but it was good, as usual with AF, and I love the fresh bread they serve out of a basket. After lunch, the f/as set up the self-service bar in the galley. I went there a few times for some Diet Coke refills. Finally we got a snack before landing.
The IFE was quite outdated: 12 movies, and no AVOD. However it's not that bad on a 7 hours trip. I enjoyed every single minute of that flight, feeling lucky to be on the upper deck and happy to be taken care of by an outstanding crew. My 2 weeks holidays in Canada were definitely off to a good start.
I took more pictures on the return flight, when there was no one seated next to me.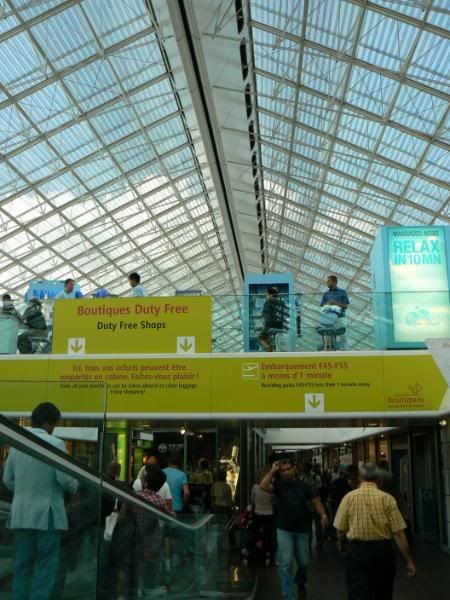 CDG 2F non-schengen area. I love the architecture of this terminal.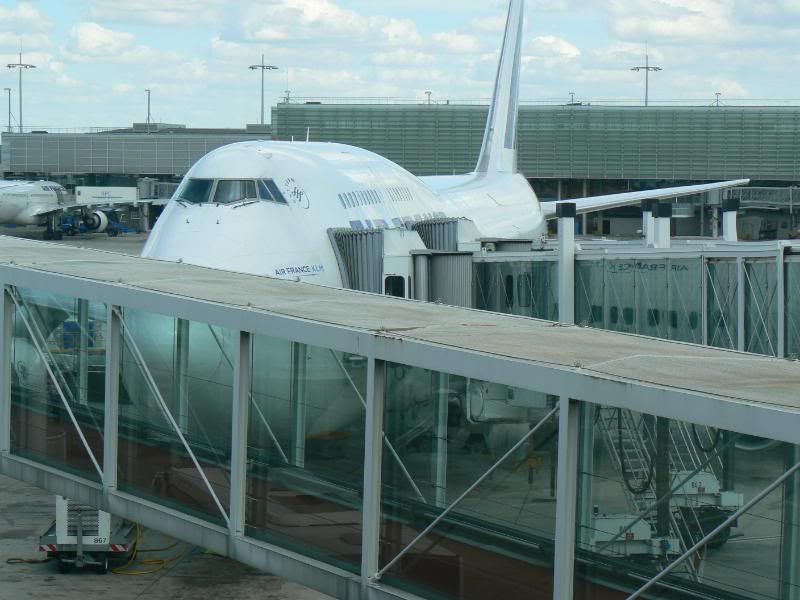 F-GITC standing at the gate. Boarding by bus is still very common at CDG, but not this time for me.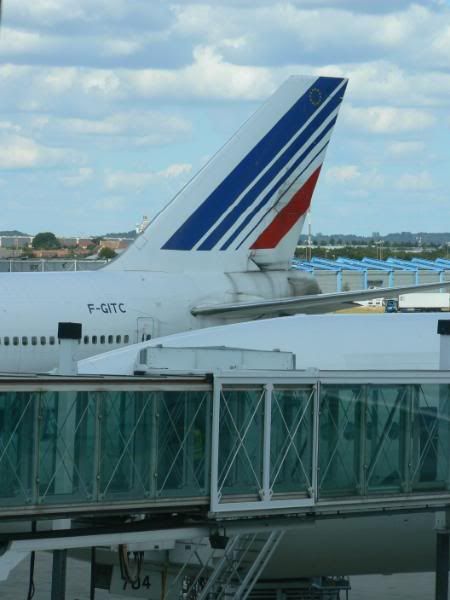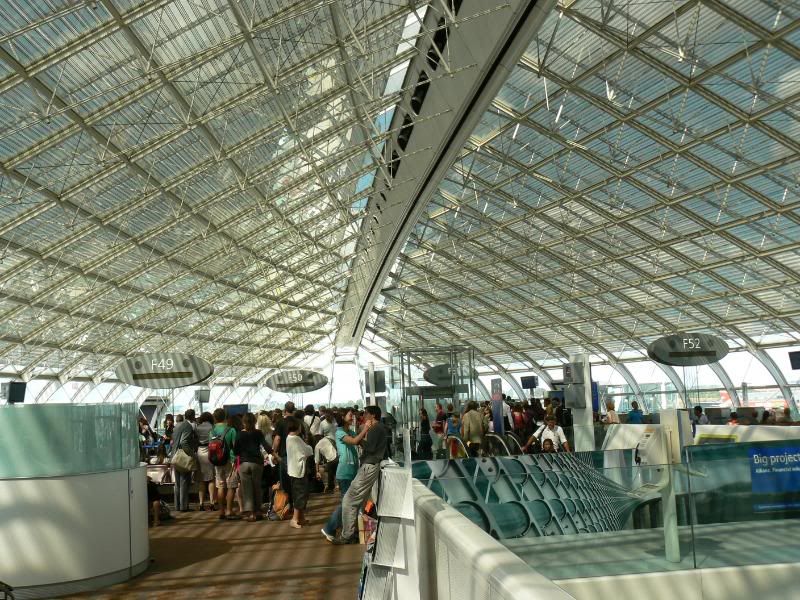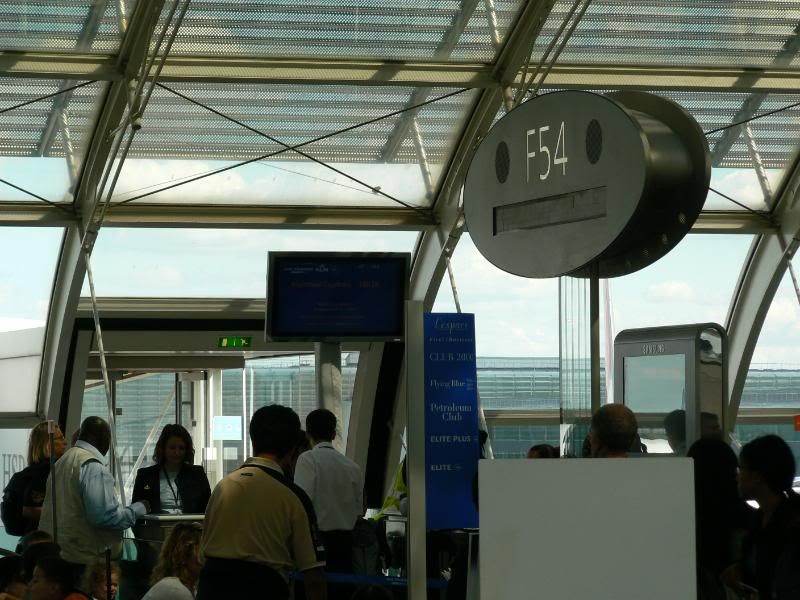 Boarding time.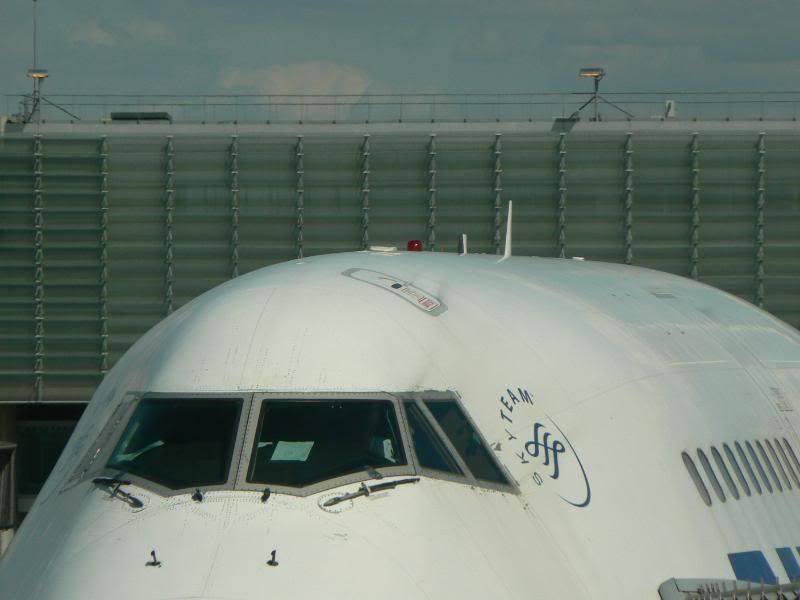 The most beautiful thing on Earth.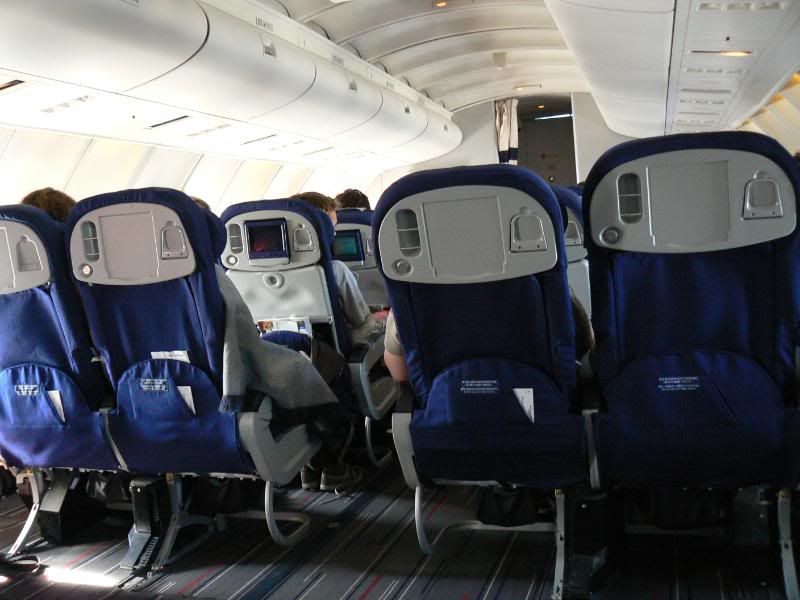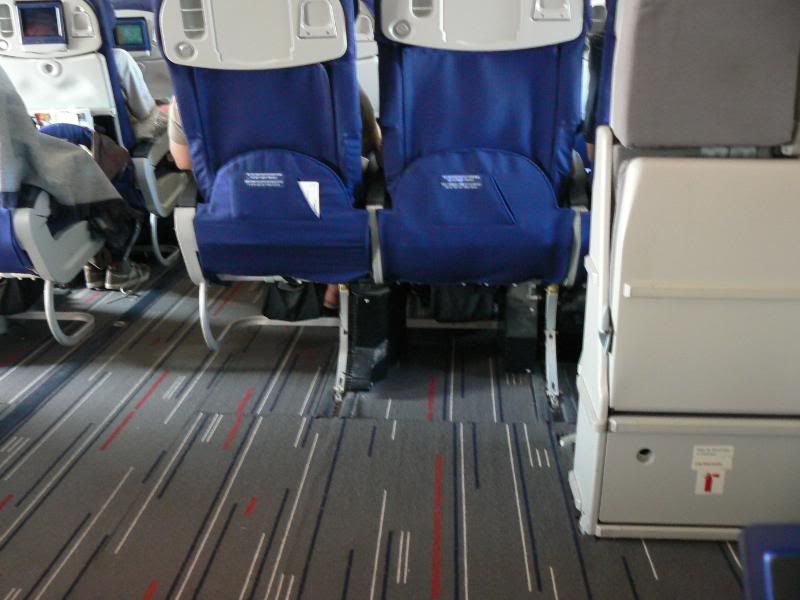 Best legroom ever.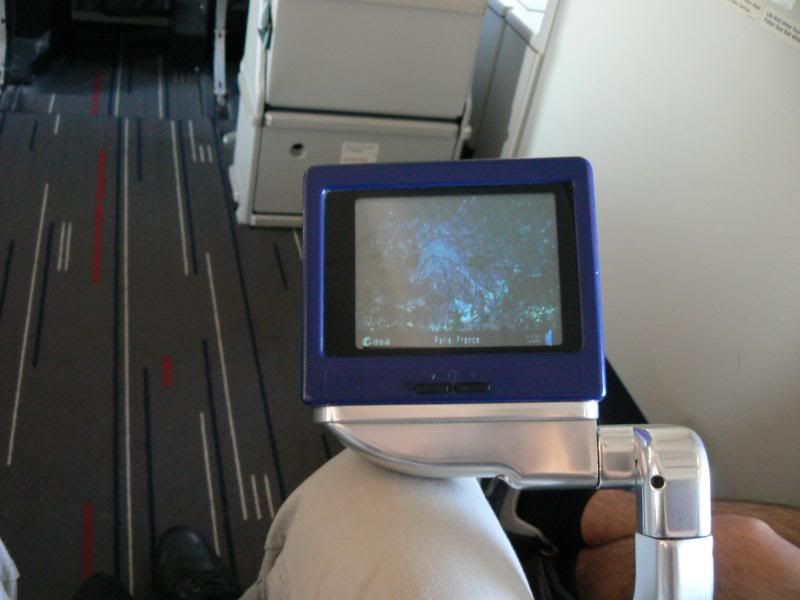 PTV out of the armrest.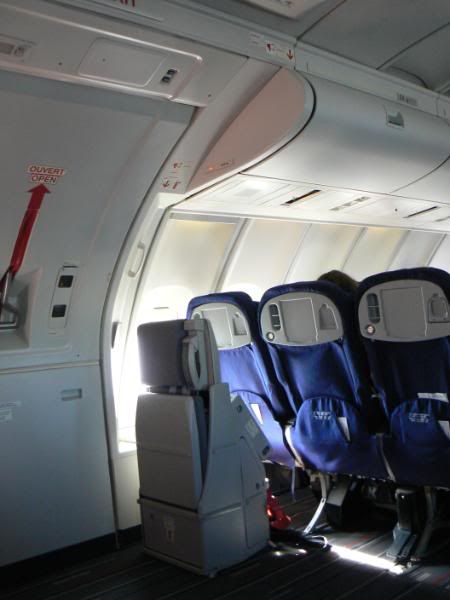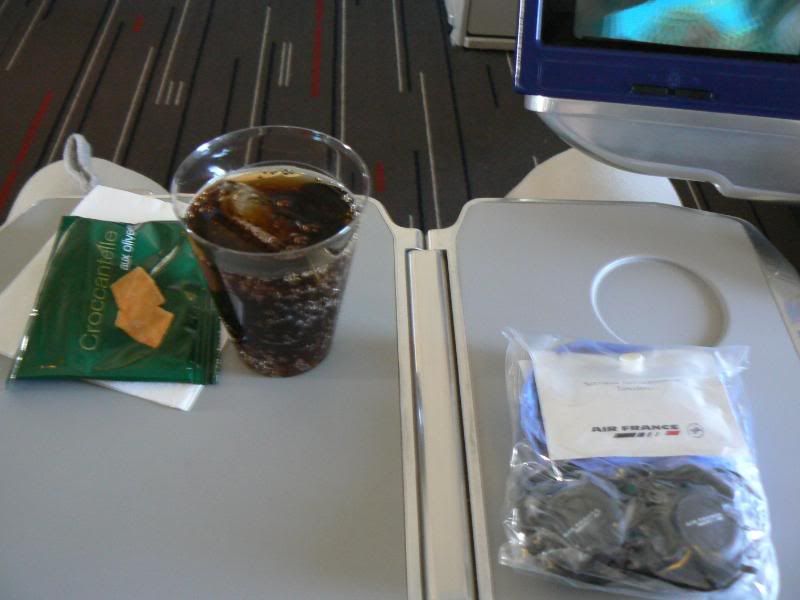 Pre-meal drink & snack service.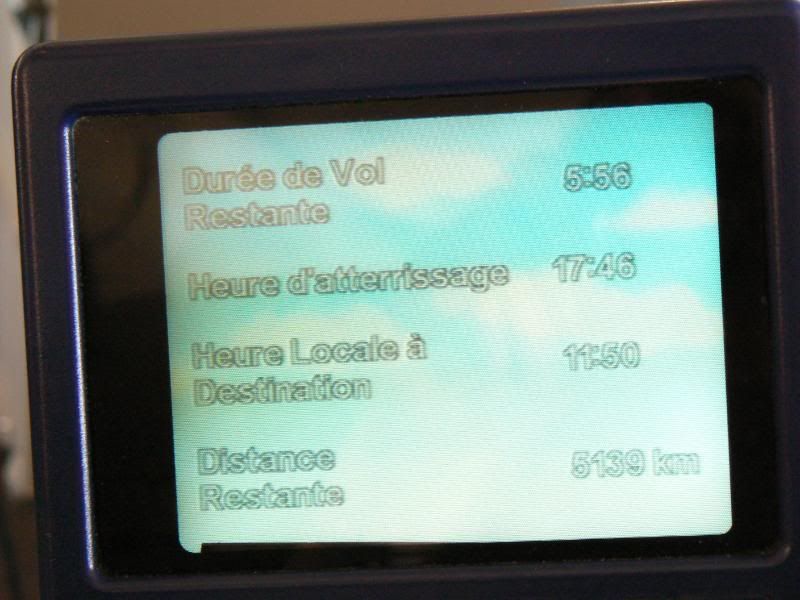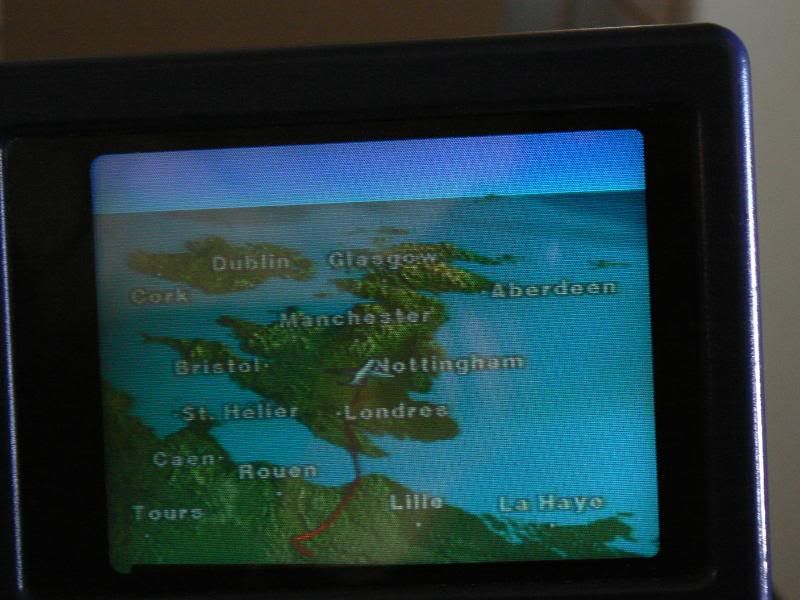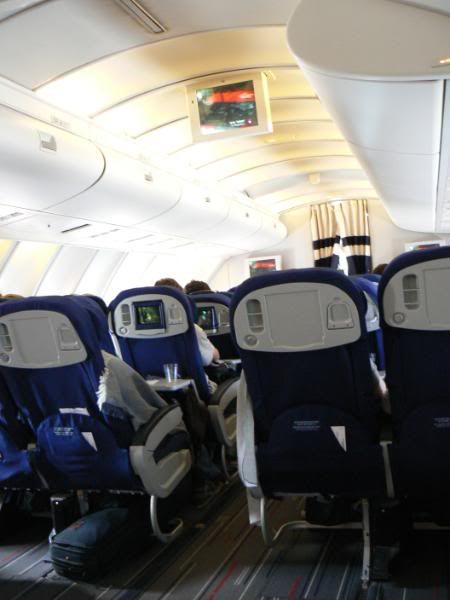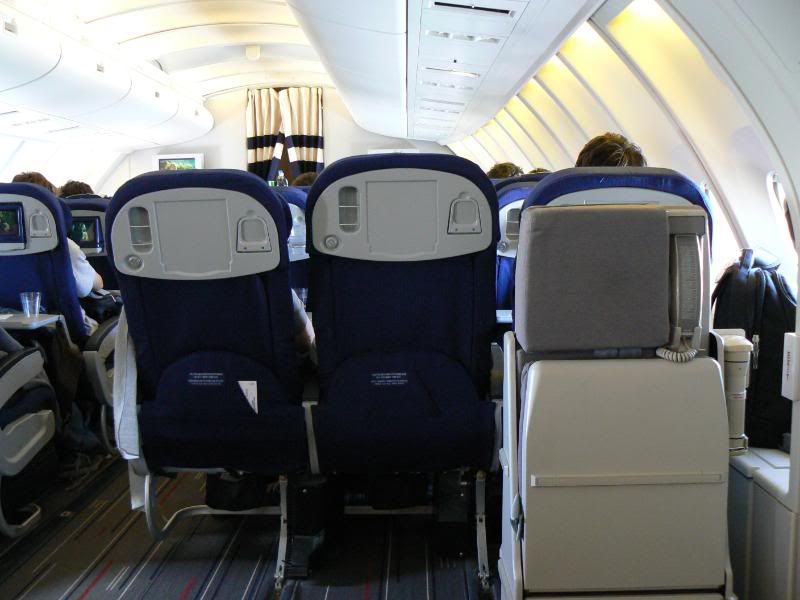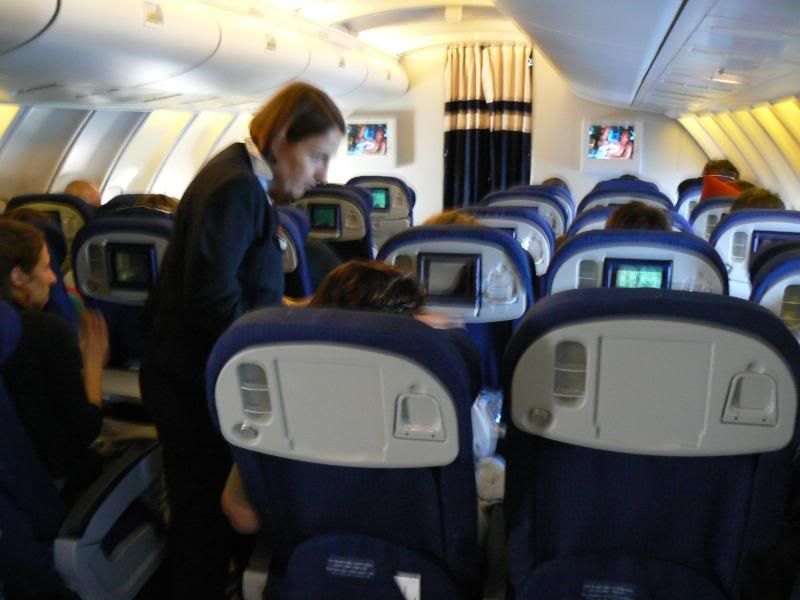 A great AF f/a.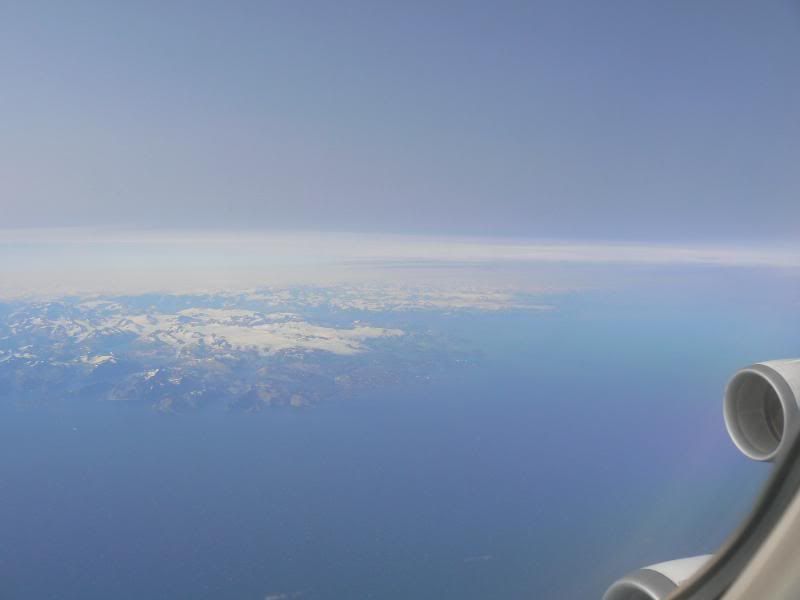 Greenland ?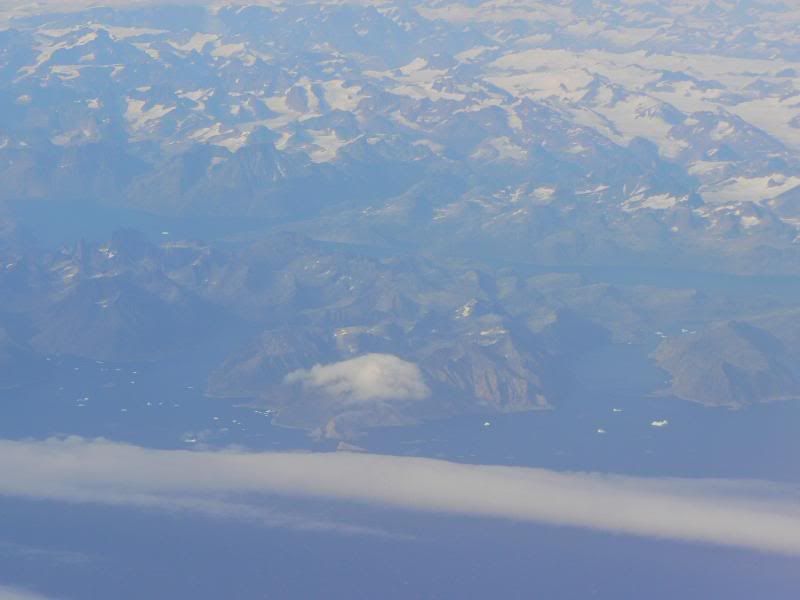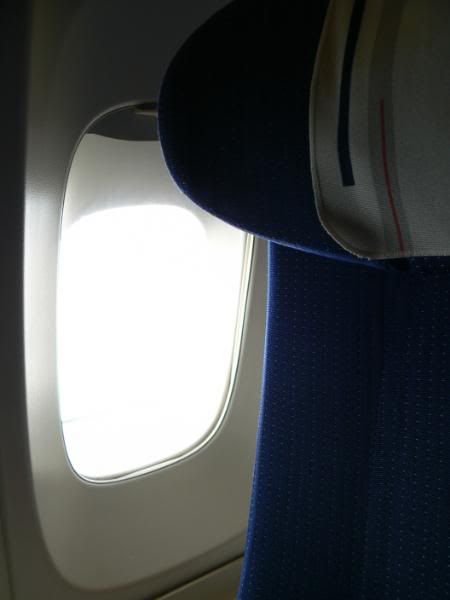 All in all, I had a very good flight. A few days later, F-GITC overran the runway at YUL but no one was hurt and the aircraft flew back to CDG uneventfully.
Flight 2
28th August 2008
Route: Montréal Pierre Elliott Trudeau (YUL) - Paris Charles de Gaulle (CDG)
Flight number: AF345
Aircraft type: B747-400
Registration: F-GEXA
Time to head back to France after a very enjoyable trip in Québec with my father and my brothers...I secured a window seat on the upper deck by checking in online 30 hours before my flight.
Once again, AF delivered an excellent service. The crew was not as friendly as on the inbound flight, but they were very nice nonetheless. This flight was not full and, fortunately, the two seats beside me were free, which means I had 3 seats just for myself. After take off, dinner was served, and we got a light breakfast before landing. Other than the outdated IFE, I had nothing to complain about.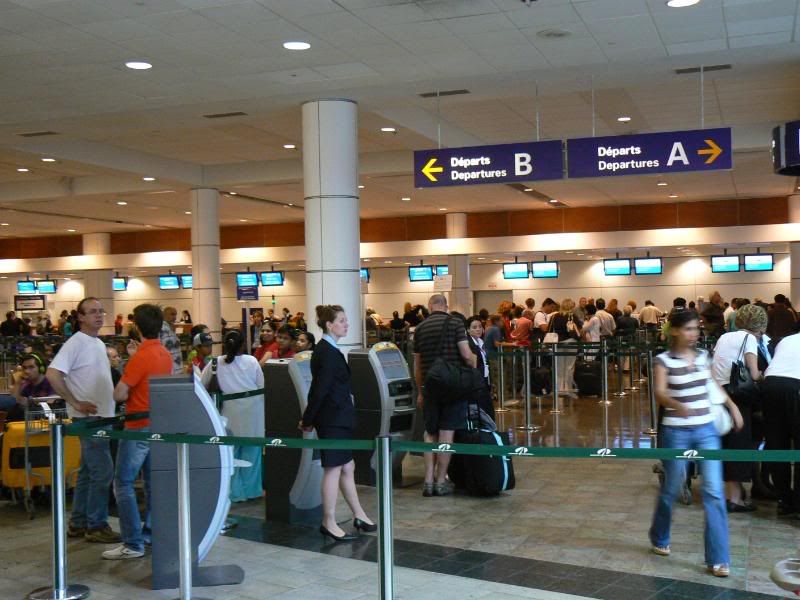 Check-in area at YUL.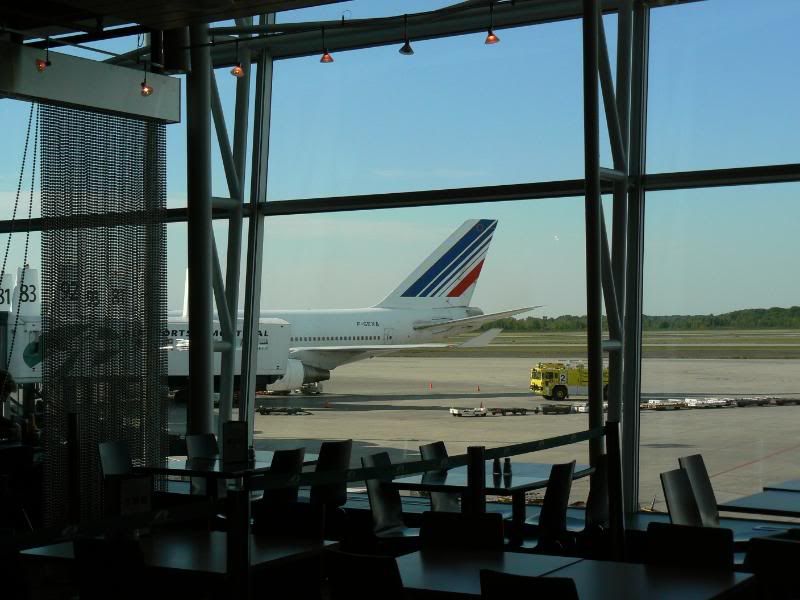 F-GEXA, ex-UTA aircraft.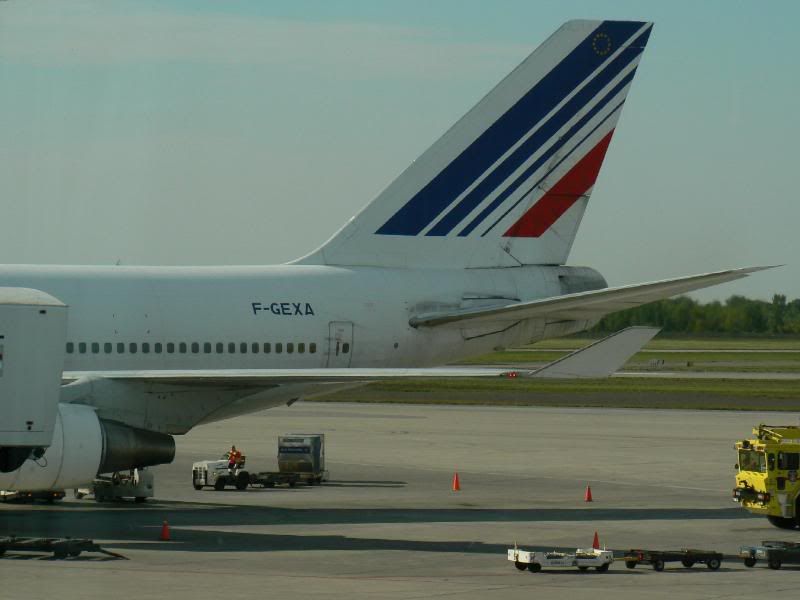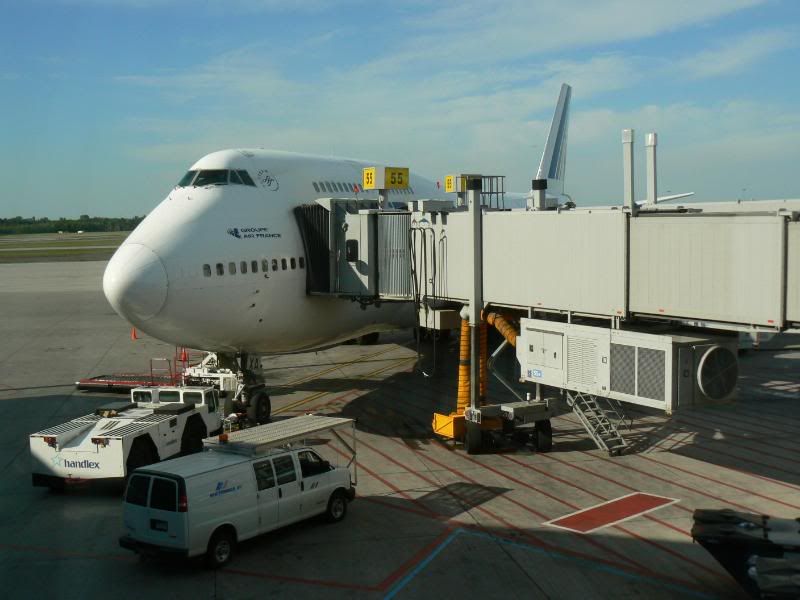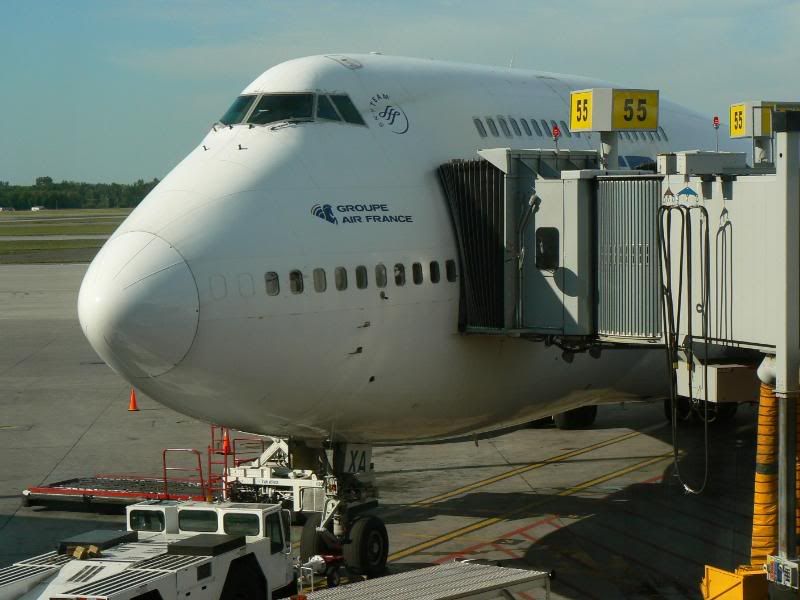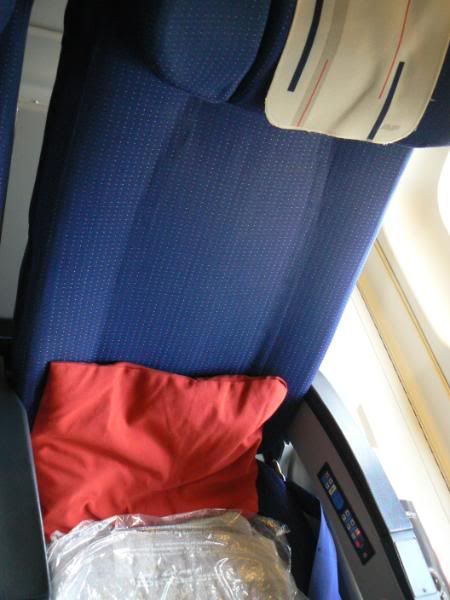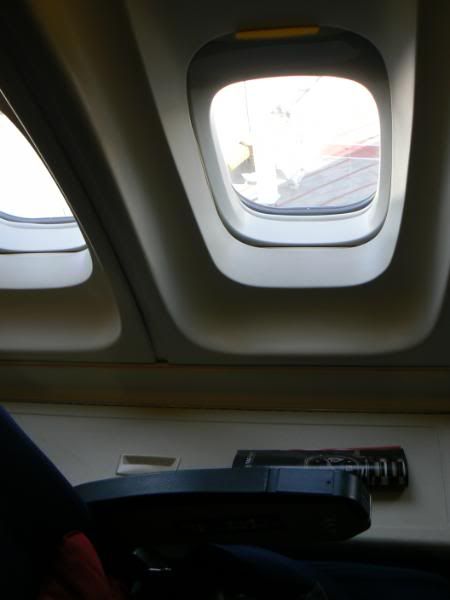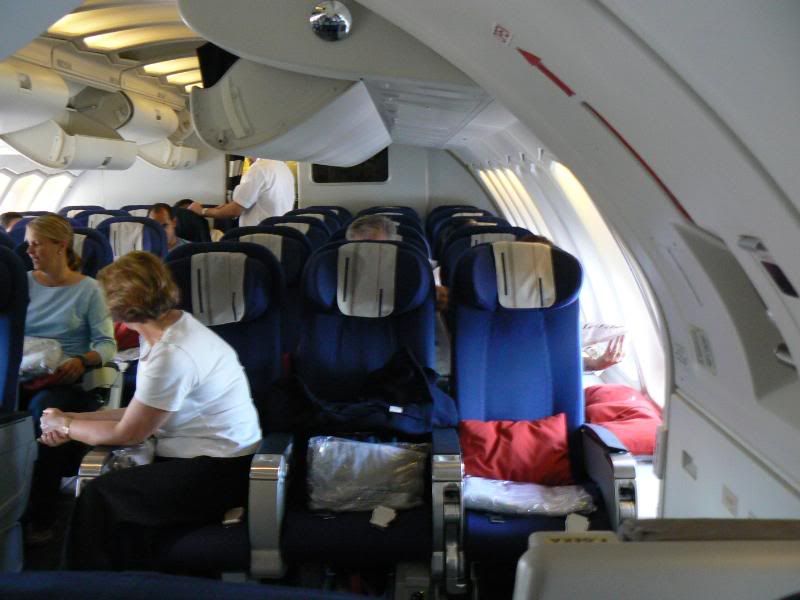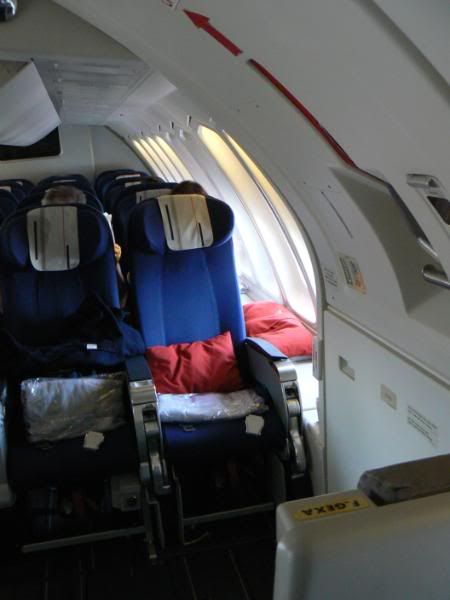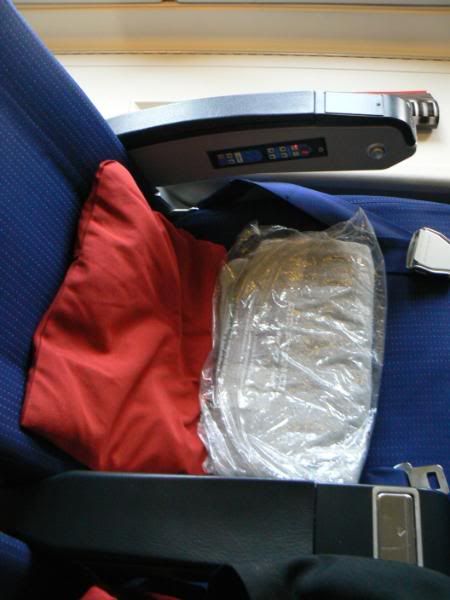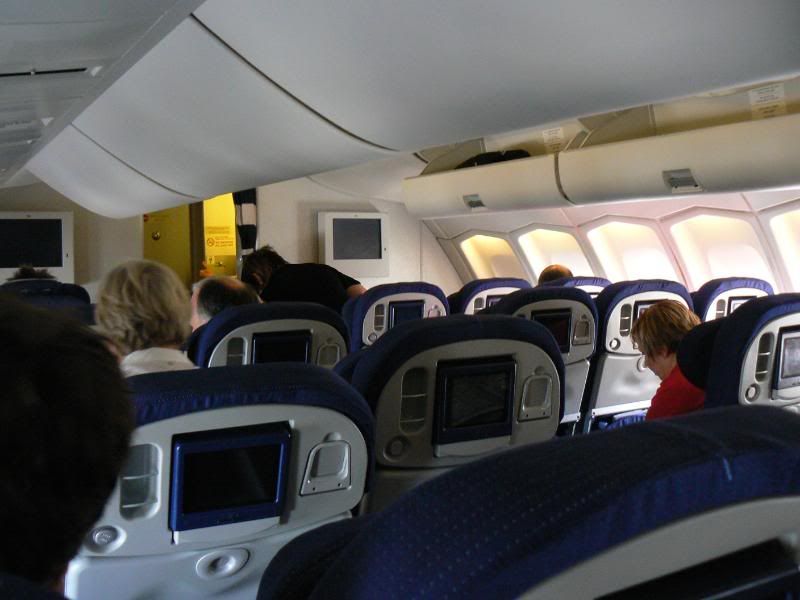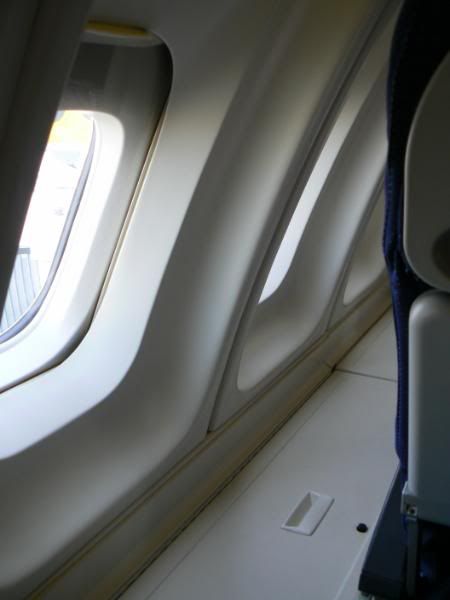 The unique curvature of the 747 cabin wall on the upper deck.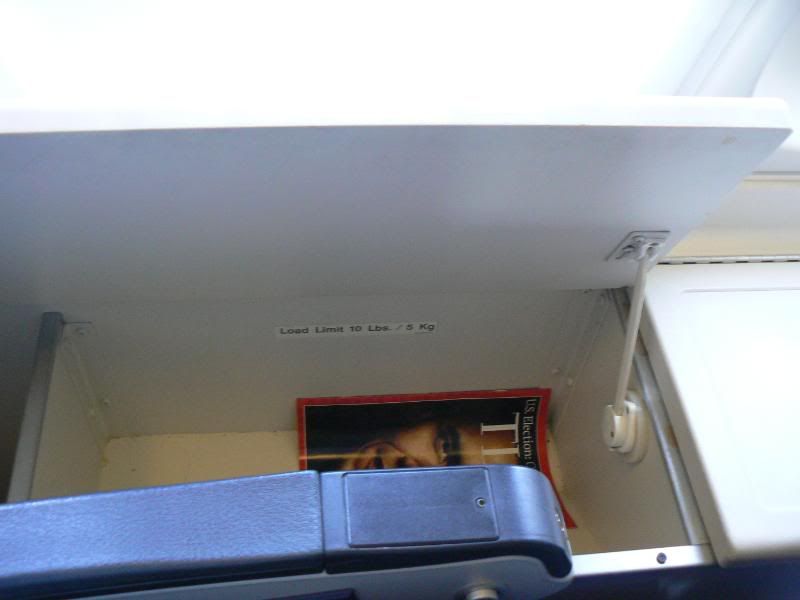 Lots of stowage room !!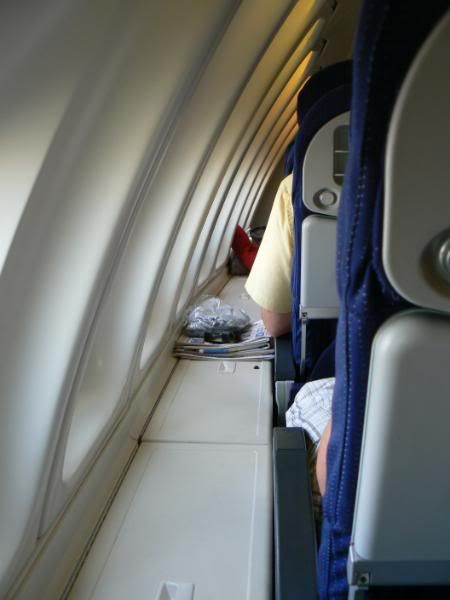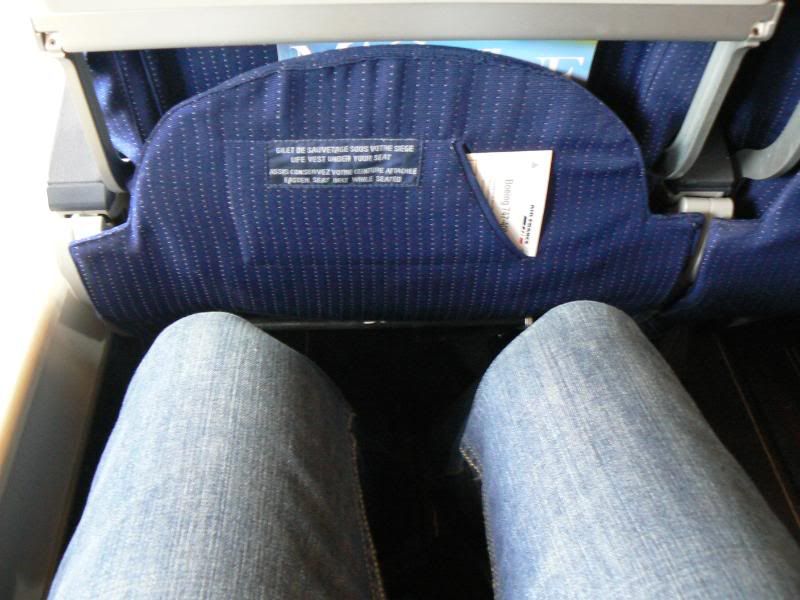 Excellent legroom. I'm 190cm.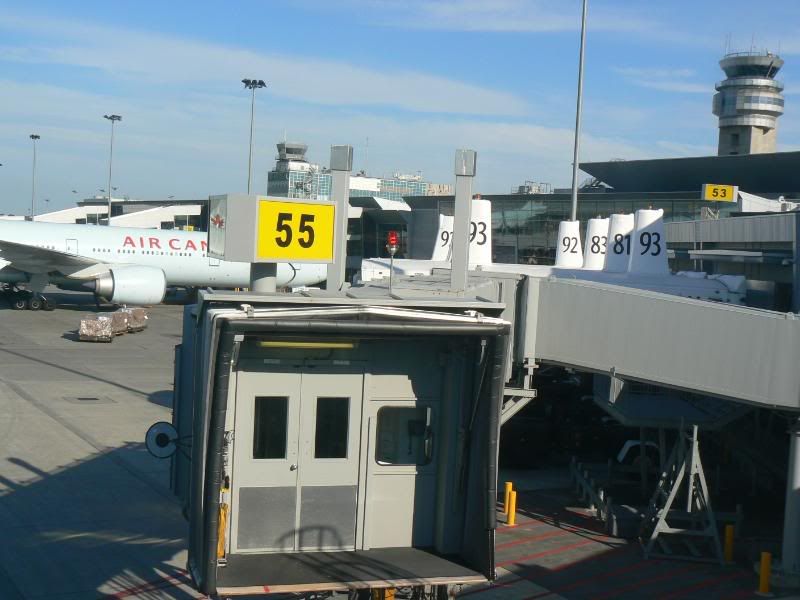 Sitting high on the apron.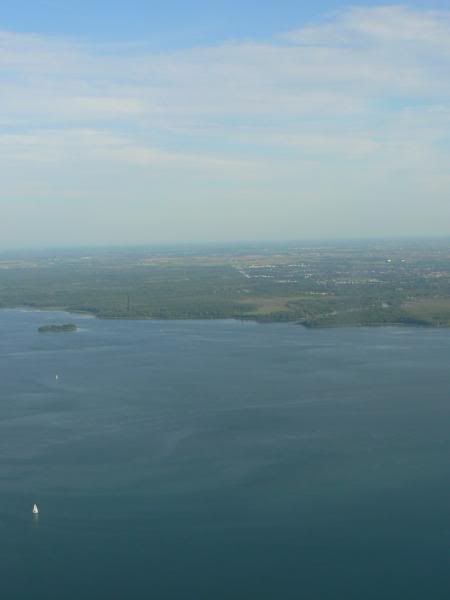 Au revoir Québec, je me souviens...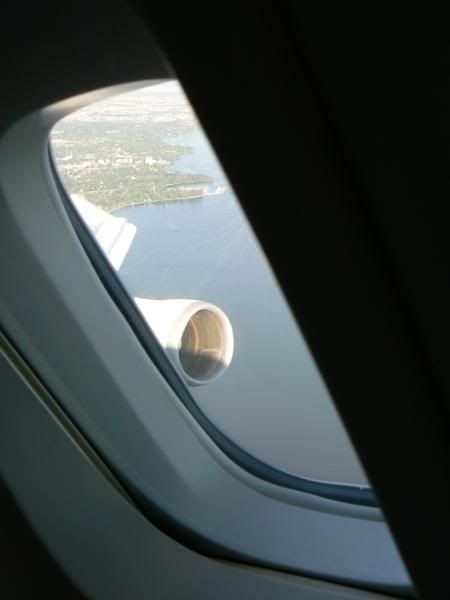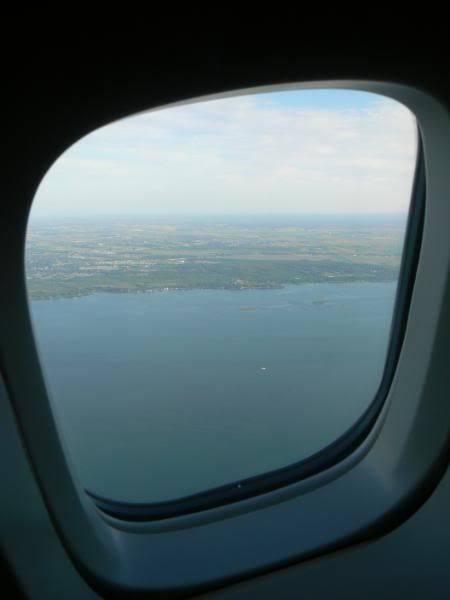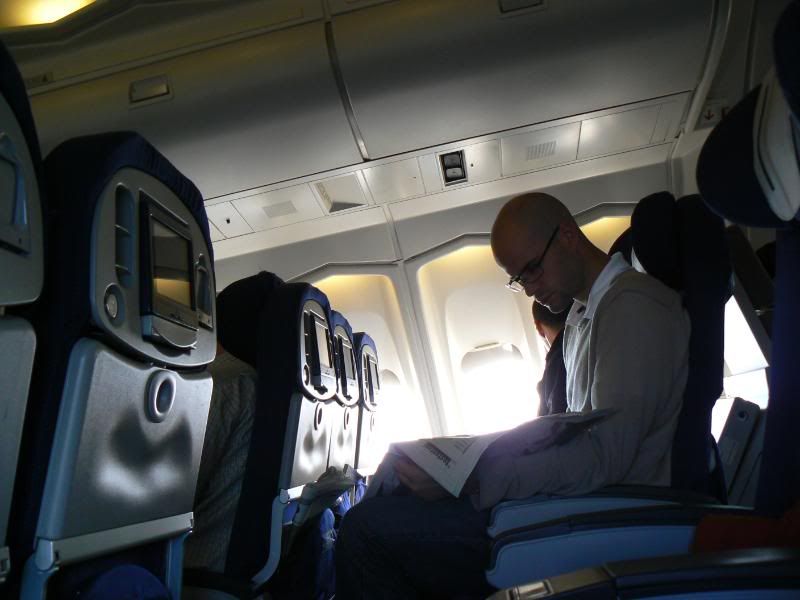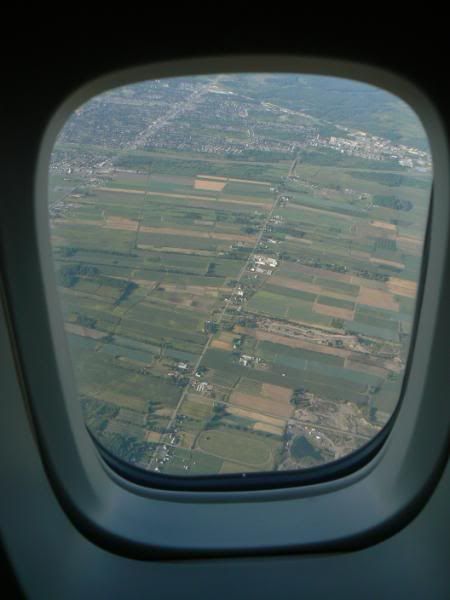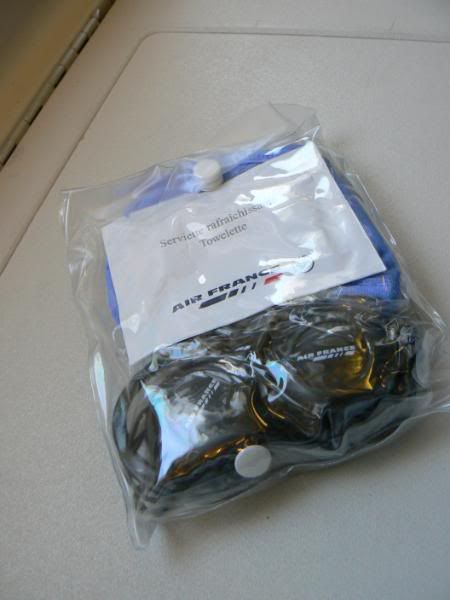 Amenity kit.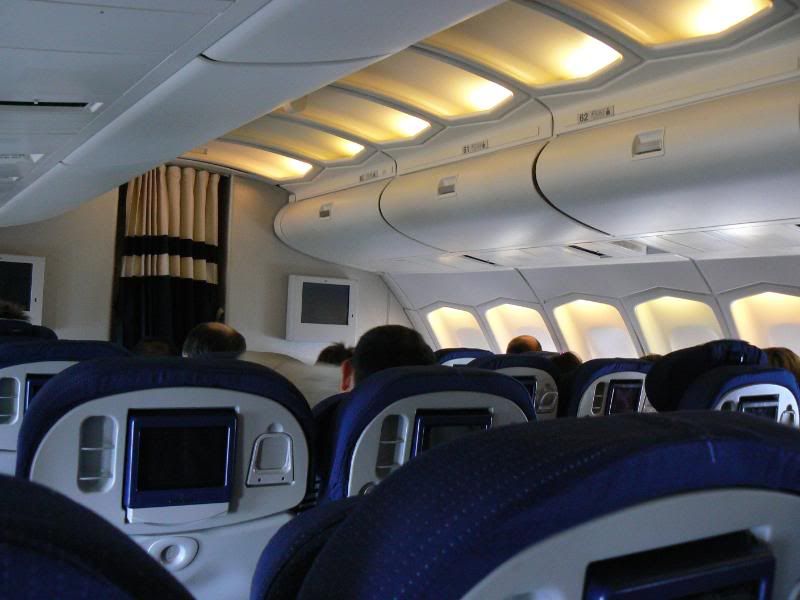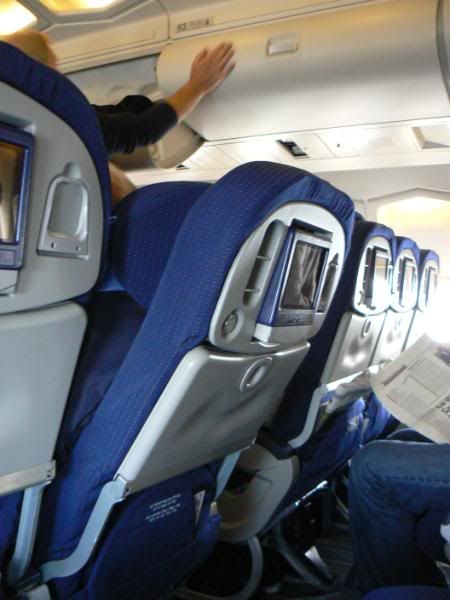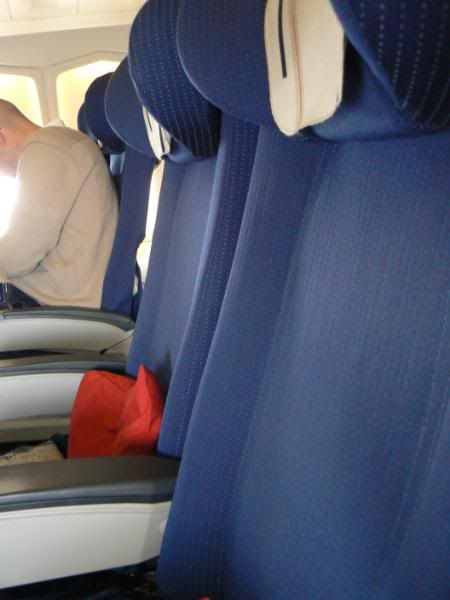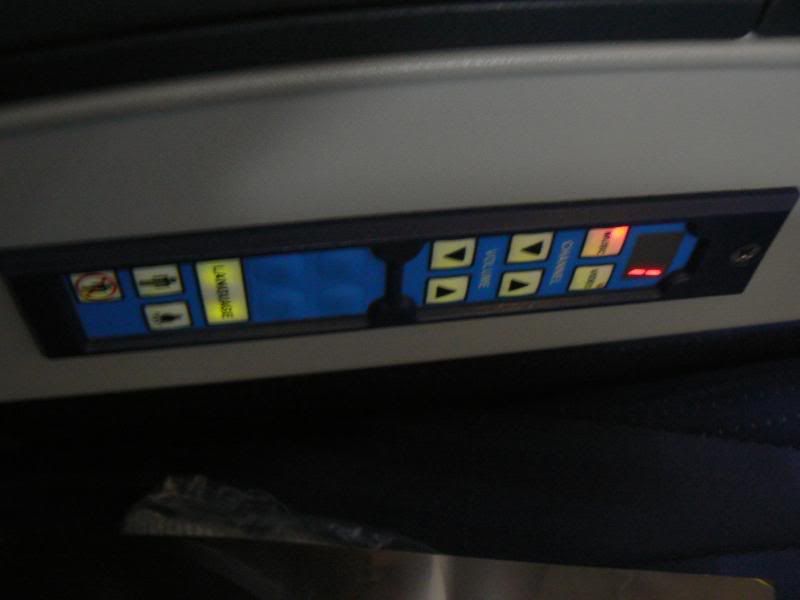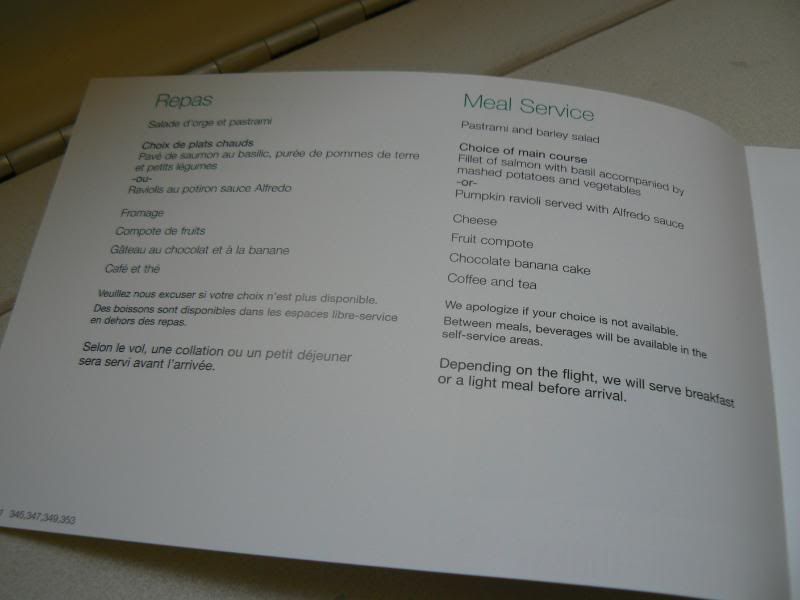 Printed menu: a very nice touch.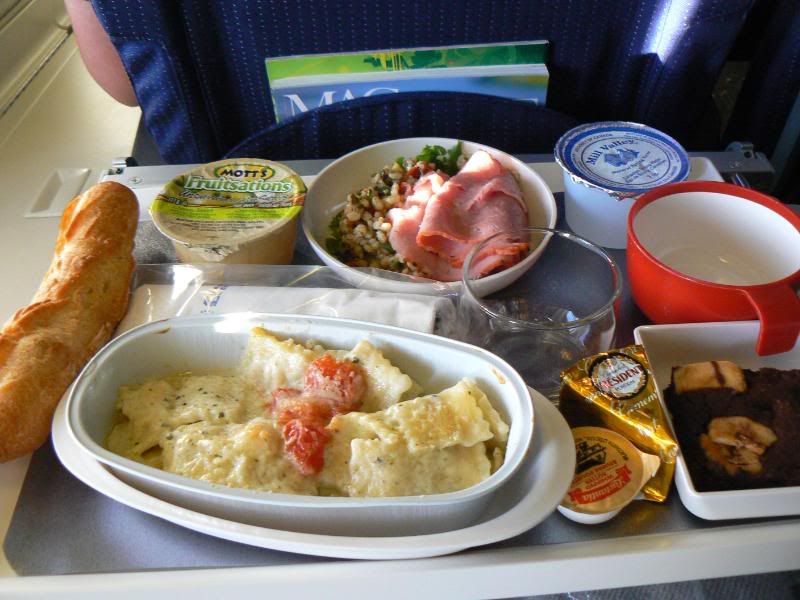 Dinner: I took the pumpkin ravioli. It was excellent.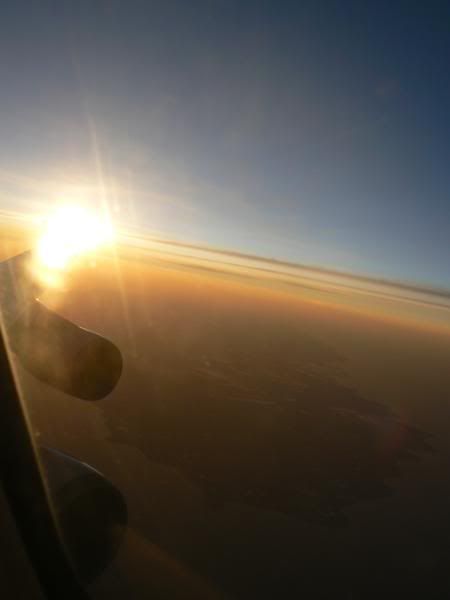 Sunset.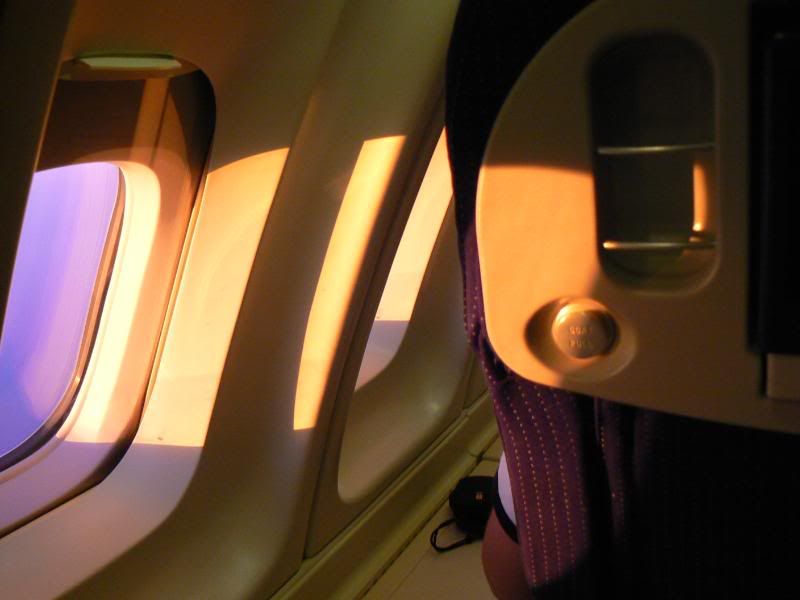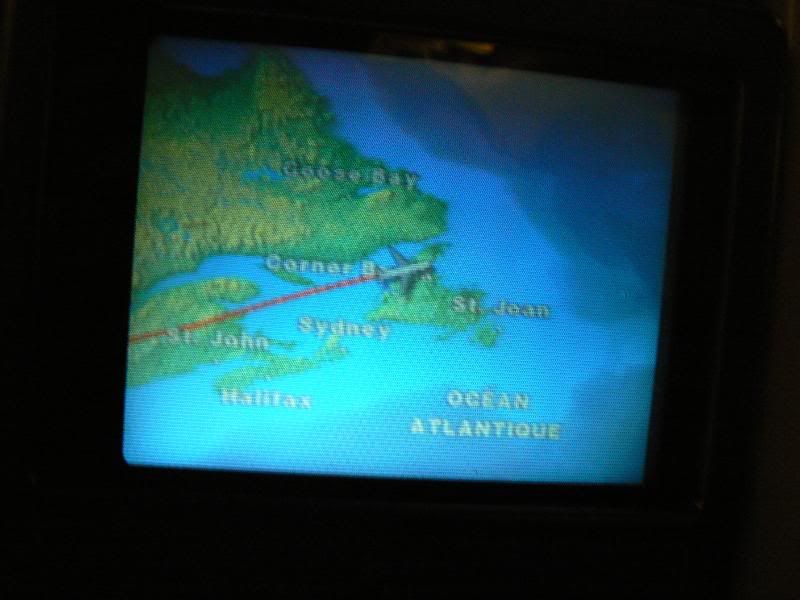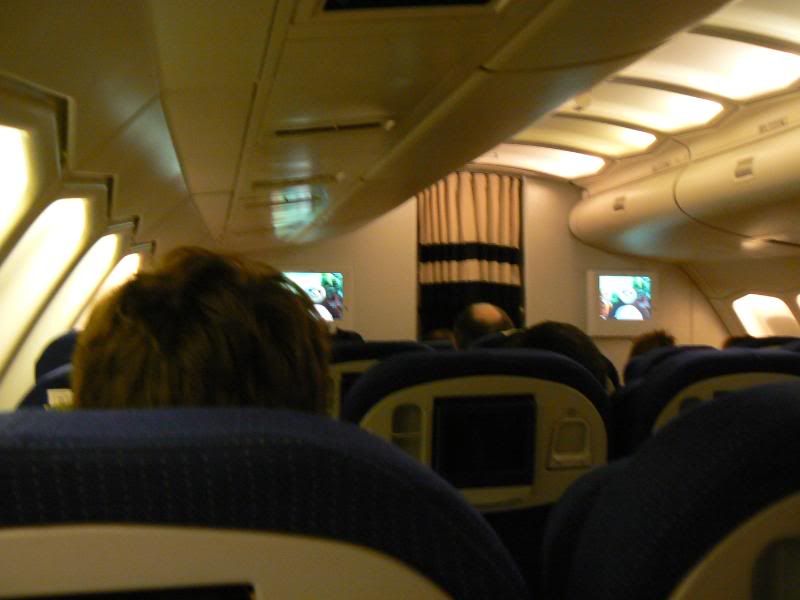 Cabin lights turned on for breakfast.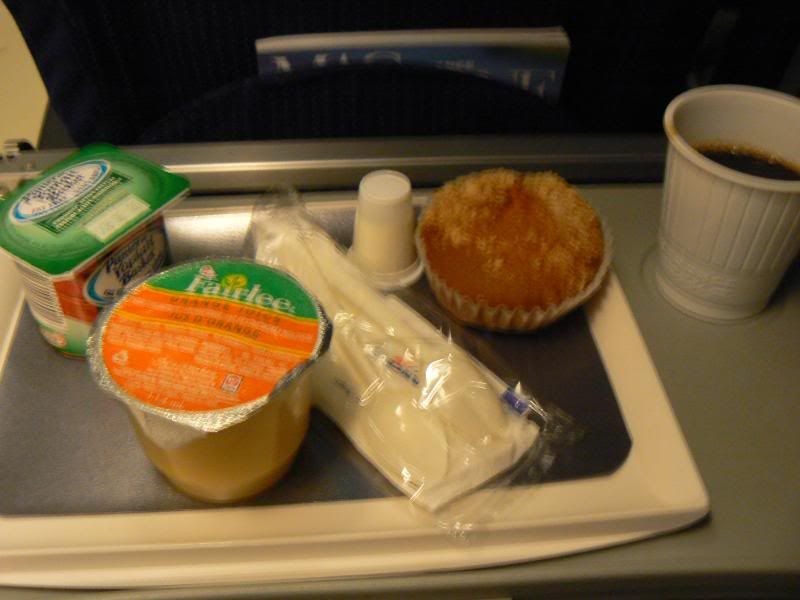 Light breakfast.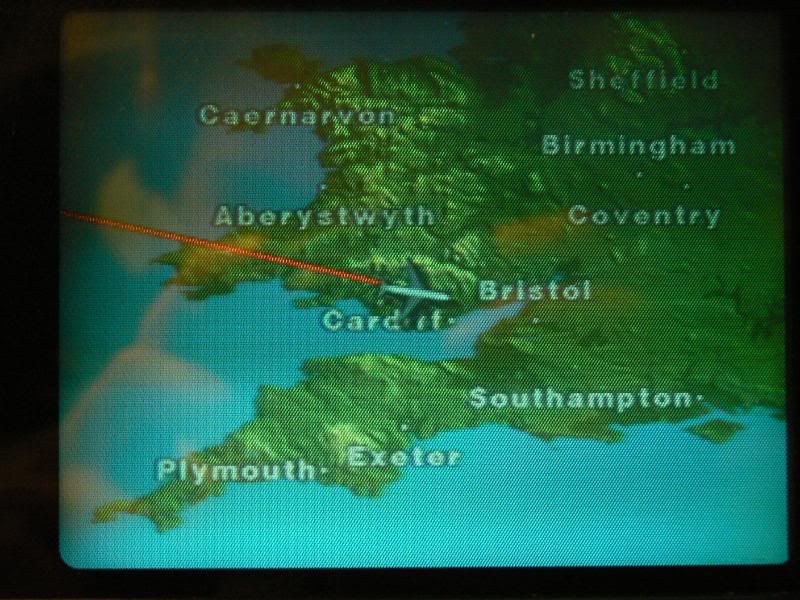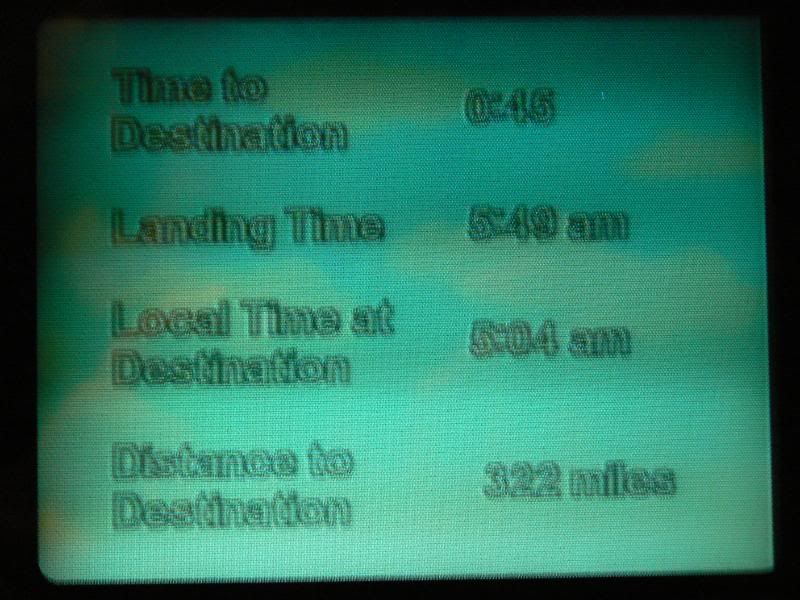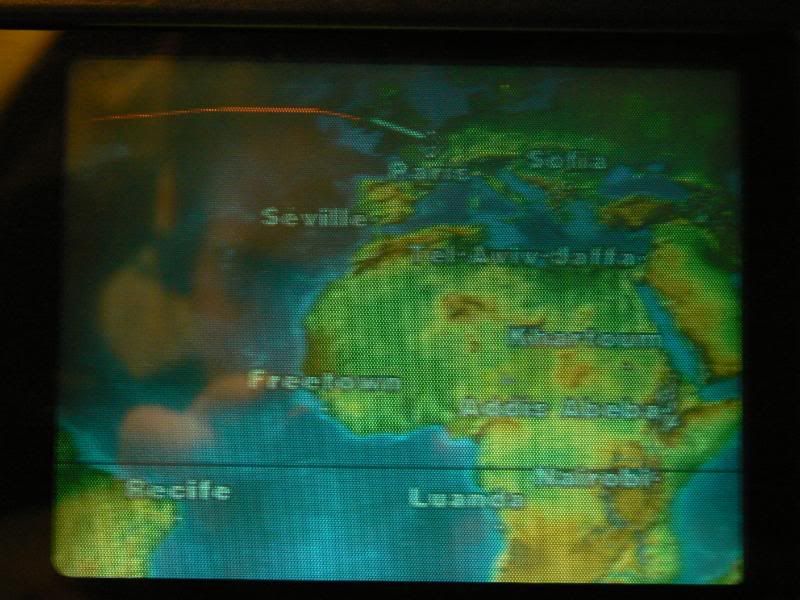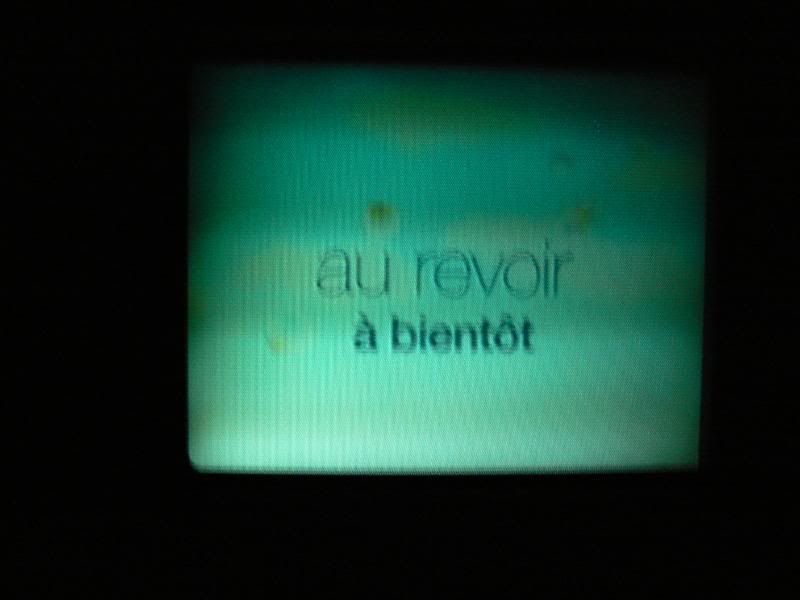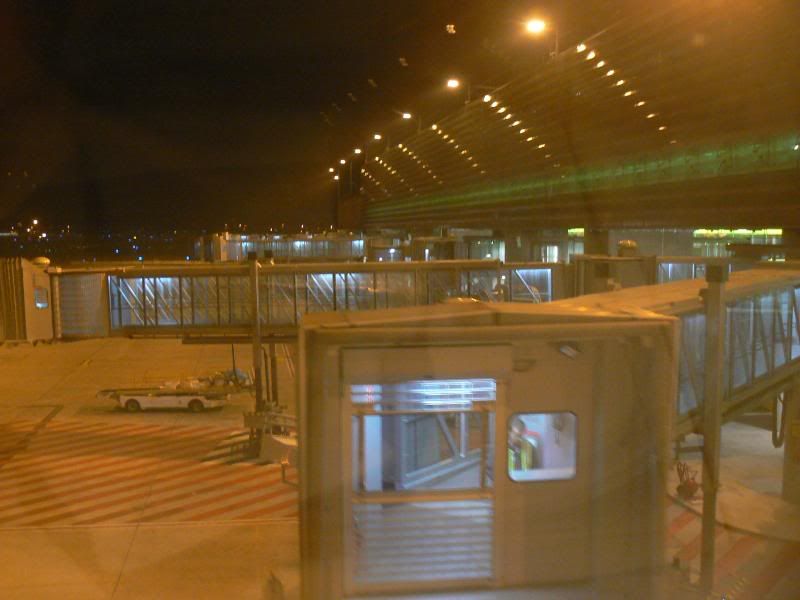 We parked at the new area of CDG 2F, called "galeries parisiennes".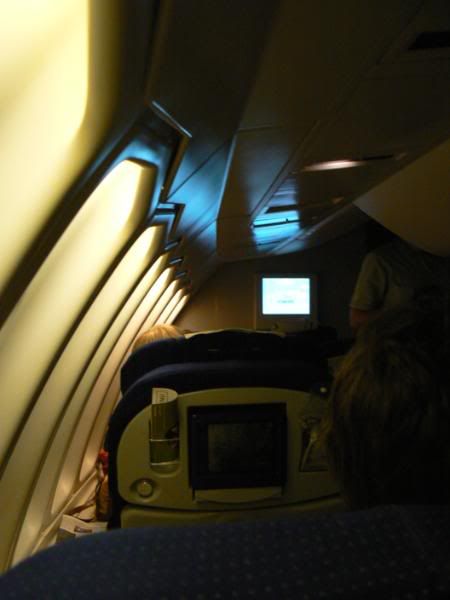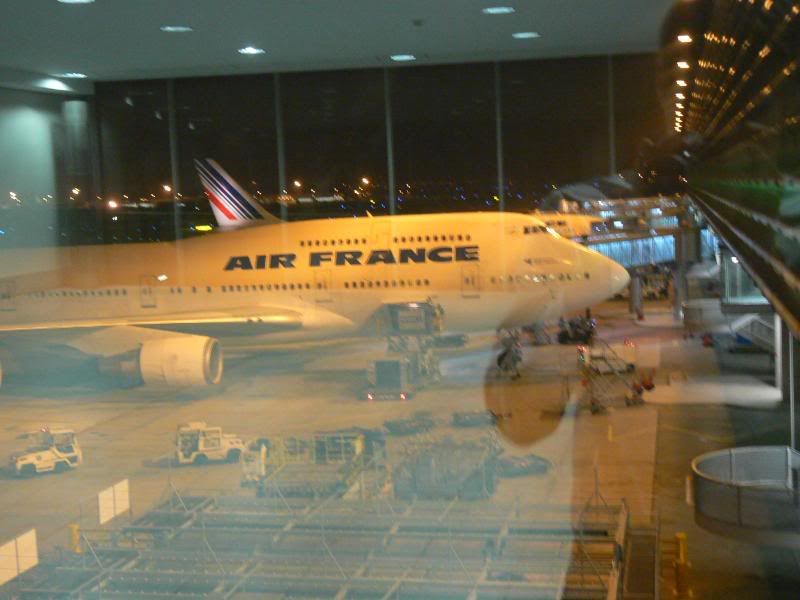 After disembarking very early in the morning, I made my way through immigration to the schengen area of CDG 2F, and waited for my flight to Nice.
I've been very happy with those 2 flights. It's a pity those AF 747s are on the way out, and I regret that the AF service in Y has gone downhill recently with the changed made to the configuration of the 77W (3-4-3 abreast vs 3-3-3 previously) and the new Flying Blue rules.
The most positive point of those two flights, in addition to the seat comfort, was the friendliness and professionalism of the cabin crew. AF is far from perfect, but when they do things well, the service level is top notch.
I hope you enjoyed that report ! Have fun.