Feedback always appreciated.
Trip Report: 081
Flight Category: J-ILR (See Report End)
Date: 20 Jul-09 (See Report End)
SDT/SAT/Dur/Delay: 1945/0720+1/06:35 hrs (Delayed 02:12)
Flight:
Virgin Atlantic VS 12
, 3265 miles
Routing: BOS-LHR
Aircraft: 346
Seat: Business "Upper" Class, 5A
I > Background:
After an amazingly nice weekend trip in Boston, I was supposed to return to Caracas for the start of a new engagement. However, the client did not have the documents signed, and I decided to take advantage of cheaper Virgin fares to take a week off, and visit London.
While there have been a few VS reports, there is still a dearth in coverage of its J product, and I believe that this will be the first review of their BOS-LHR flight in 3 years.
II > Pre-Flight:
a) Before Airport:
Virgin Atlantic is an airlined owned by Richard Branson's Virgin Group and Singapore Airlines. Out of its main bases at LHR and LGW, it flies to 32 destinations in 'almost' 6 continents.
Ticketing was done on Virgin's excellent website (www.virginatlantic.com). Many airlines could learn a lot from VS in this regard … their website was flawless. Quick booking, ability to change flights (and upsell), chose seats, edit itineraries, cancel flights, and change seats were all there. Additionally, I could check in online and save issues at the airport. All in all, a VERY impressive web experience.
b) At Airport:
While I find Boston's Logan airport to be pleasant, facilities in the international terminal E is limited. My check-in agent was a grumpy diva who obviously thought he was doing me a favor. He did not bother asking me for seats, bags, and did not even scrutinize my passport to get the "security" clearance sticker (aka "DOCS OK"). He even struggled to give me the lounge pass.
After a quick security check, I was in the small sterile area that is still stuck in 1970. Checking at the FIDS, I recognized my flight was over 2 hours delayed (resulting in a missed flight connection). Now, why the diva did not tell me this is beyond me. Anyways, I made myself down to the "dungeon" (aka, basement) of Logan airport where the lounges are located. Now, surprisingly, the Virgin club-house is actually decent and compensates for the windowless basement lounge. It is also MILES ahead of the one-room crappy lounge that Lufthansa has (and, which I consider the worst in the world)!
The lounge attendant was extremely apologetic for the delay and for her colleague's incompetance. She even tried to change my onward flight as I spent the time eating some fresh sushi and have a glass of wine.
Boarding was called 45 minutes prior and was relatively fast and while there was some pushing and shoving, it was still a gentle version of "ILBST". I was pulled at security as the diva agent had failed to check my documents at check-in. Entering a pleasant J class, I got a warm greeting from the crew and offer of assistance with my bags. The crew looked genuinely welcoming. J load of 80%; Y load was 75%.
Airport - External:
(Boston's Logan Airport. Terminal E)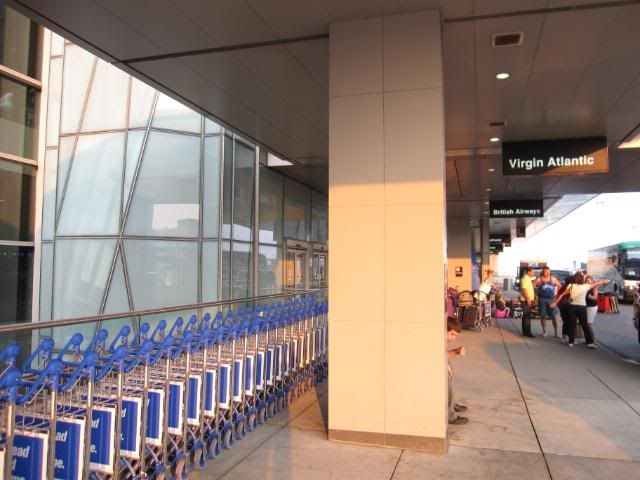 Check-in:
(Check-in)
Airport - Internal:
(Internal)
(FIDS)
NONE
(Post Security @ BOS)
Scenes of the tarmac:
NONE
Lounge
(Lounge Card)
(Clubhouse @ BOS)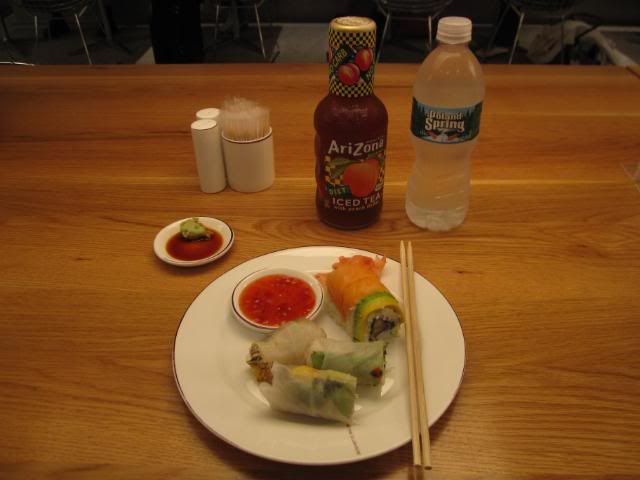 Boarding: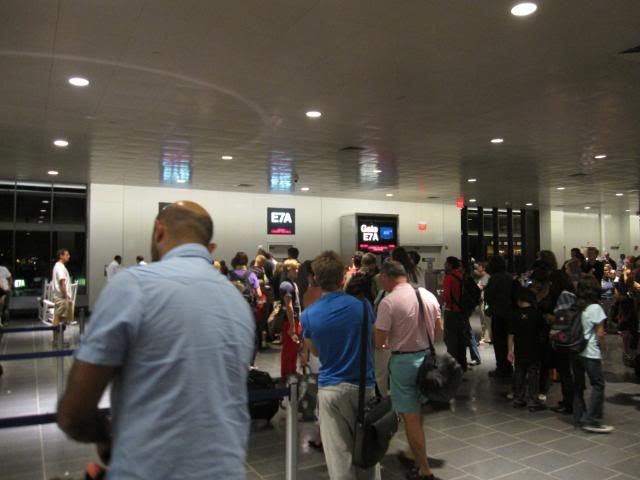 III> In-Flight:
a) Service Schedule + Impressions:
Virgin has almost perfected these relatively short night-flights in terms of service execution. A lot of the stuff airlines waste doing on air was done prior to taxiing out. As soon as I sat down, there were hot towels and welcome drinks. I was asked if I needed a "snooze pack" (their pyjamas) and whether I'd have drinks/dinner or request a turn-down service. Meal orders for dinner and breakfast were then taken. The purser did her round introducing herself and offering lip balm, cream, pens, and gum. Finally, what I thought was a nice touch was crew members going to each passenger and asking if they were familiar with the J seats and controls. Very nice. Dinner (or, express meal) was served soon after takeoff along with drinks. Breakfast service prior to arrival.
Oh one thing I absolutely love ... and increasingly rare on Business class worldwide is that after dinner, the crew comes and does a "turn-down" service and tucks you in. Along with the pyjamas they give you onboard, a very rare thing these days in J. Actually, outside Air India and Jet Airways, I don't remember receiving this on ANY airline over the past 2 years.
b) Aircraft + Seats:
Virgin Atlantic's 346 looked smart. While the interior with mood lighting looked very "W Hotels" as usual, it was not properly cleaned and I found used ear-blocks between my seat and the window along with miscellaneous dirt. The bathrooms were well stocked throughout the flight and was clean at all times. The signature Virgin bar was as usual a nice place to gather around.
The herringbone layout full-flat seat that Virgin has is pretty good. It reclines to being full-flat and has MUCH more space than some of the other Herringbone seats I have flown on. It has an interesting layout where the first half of the aircraft faces the aisle pax on the port side; after a certain row, this is the domain of the starboard side. One thing that I love about Virgin is that the leather fabric makes the seats both extremely comfortable and adds classiness. I wish some of the newer carriers incorporated this leather … that is you AC, DL, CX, 9W, … The "bed" created by the seat is truly flat and incredibly nice. Not only do you get a fully-flat feeling, the folds are minimized and small ensuring there are not too many "bumps" as one dozes off. Accentuating the great sleeper seats is the ability to be comfortable in several positions, and rather decent legroom. My only issue is the lack of storage space around the seats. Overall, the seat was super conducive to dozing off. It does not provide the same level of privacy as Etihad's excellent J seats … but then again, the seats are better maintained and not having minor "technical issues" like many of my recent Etihad's J seats.
Aircraft:
(Airbus 340-600. Economics aside, a beautiful aircraft)
Views from Aircraft:
(Near London)
General Seat Views + Seat Legroom
(Seat)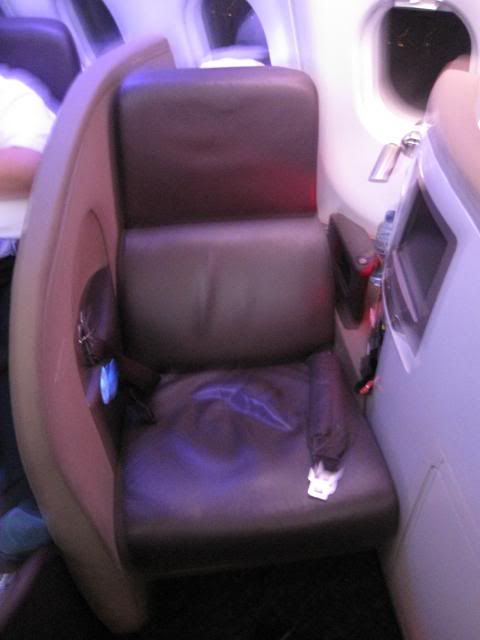 (Controls)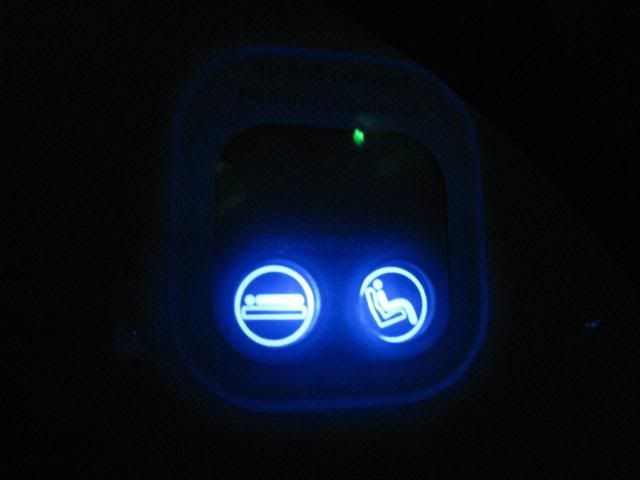 Seat Recline + Angle View:
(Bed Position – with turndown service)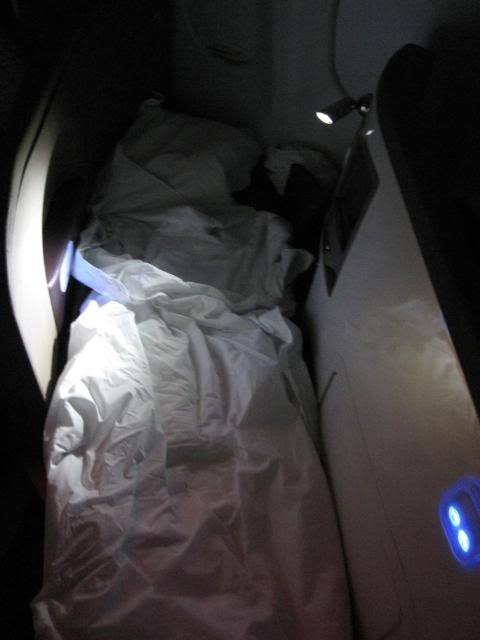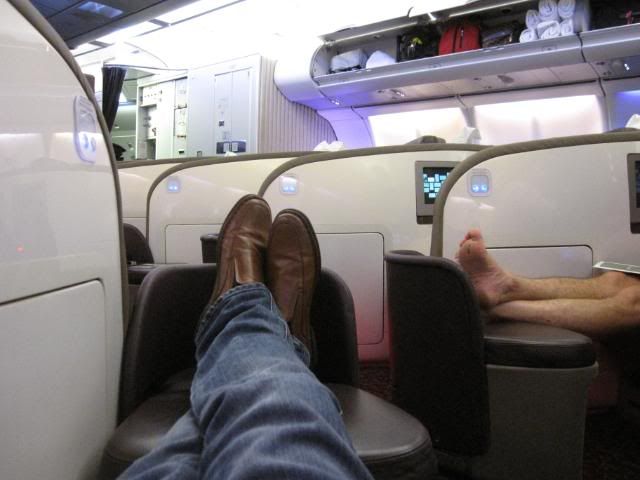 Cabin: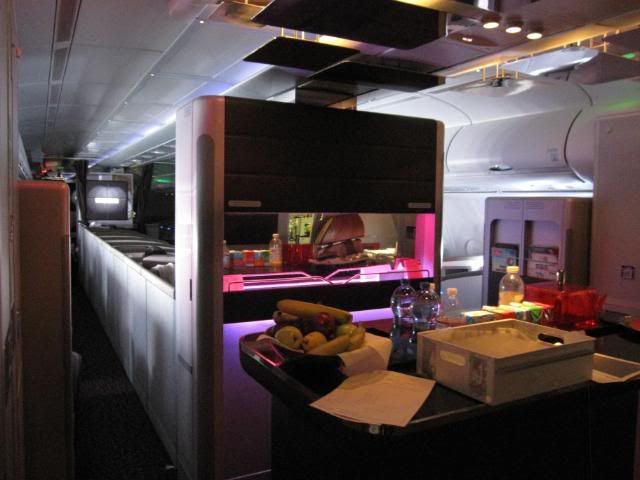 (Bathroom Amenities)
c) Meal + Beverage:
There was only two options for the complete dinner. This was acceptable as it was a night flight and very few J passengers actually eat during these times. However, the Eggplant Rollatini I chose was not well cooked. The salad was fine. I was disappointed with the dessert choice ... and the presentation of port wine in a water glass is extremely poor presentation in my opinion. While I did not have breakfast, the menu was far more impressive than the dinner offerings. Additionally, one could go to the bar to pick up snacks, fruits, and drinks. Oh, and I still do love the bar concept!
(Menu)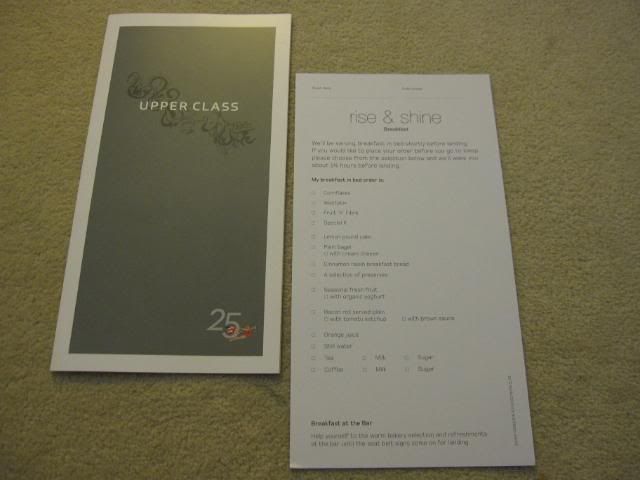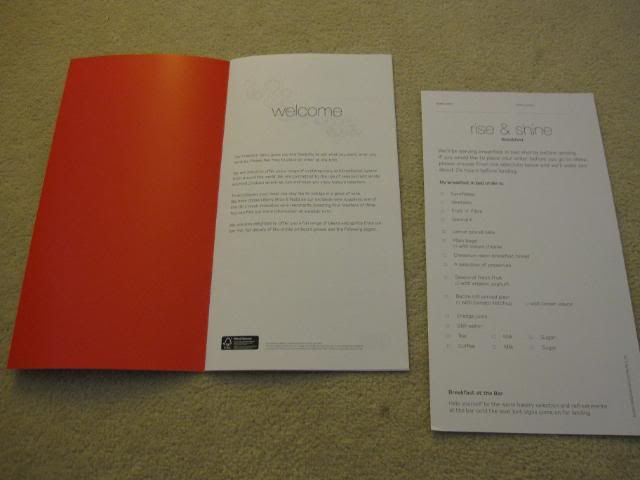 (Dinner)
d) Inflight Entertainment:
Absolutely delightful. While I did not have much time to play with it, their IFE system seemed to have enough choices to keep one entertained. Featuring a nice interface, it offers over 1000 hours of entertainment including a seriously wide choice of movies (over 36 quality English movies), games, great forward and rear cameras, and messaging, etc. There is room for improvement however; the noise-canceling headsets could be better. Finally, why can't VS have an in-flight magazine?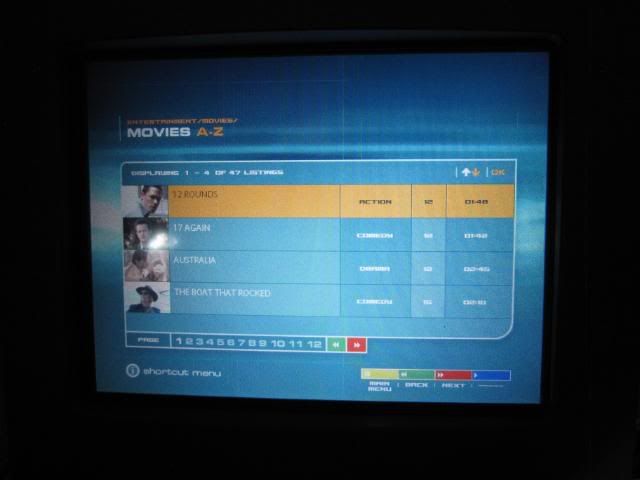 (Headsets and contols)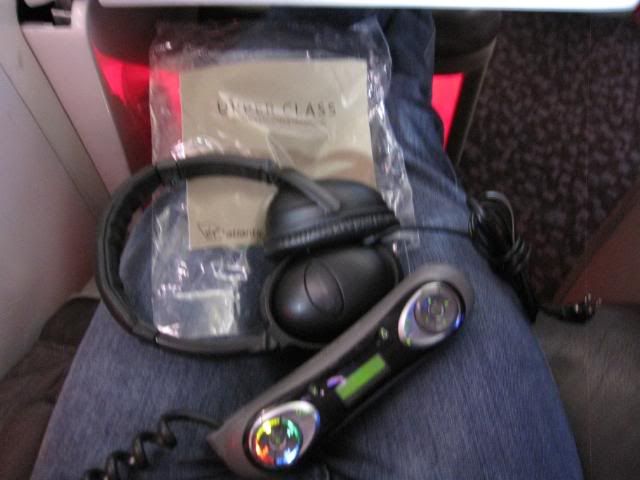 ("In-flight magazines", Boarding Passes, etc.)
(No magazine … poor)
e) Crew:
I have read a lot of reviews of late of Virgin Atlantic crew appearing tired and not being up to the standard. While the crew on this flight would not win any industry benchmark awards, they still were an impressive lot. Though some minor service delivery details were overlooked (port wine in wrong glass, etc.), and they could do with some serious smiling courses, they still were pro-active in helping passengers. Once they relaxed, they also made jokes and banter back and forth with passengers. The South African purser was superb.
IV> Post-Flight:
Landing at LHR was remarkably smooth. However, it took an hour to find an empty stand. Not acceptable in my opinion. Immigration clearance (after following the insane maze of T3) was a breeze.
(LHR Arrivals)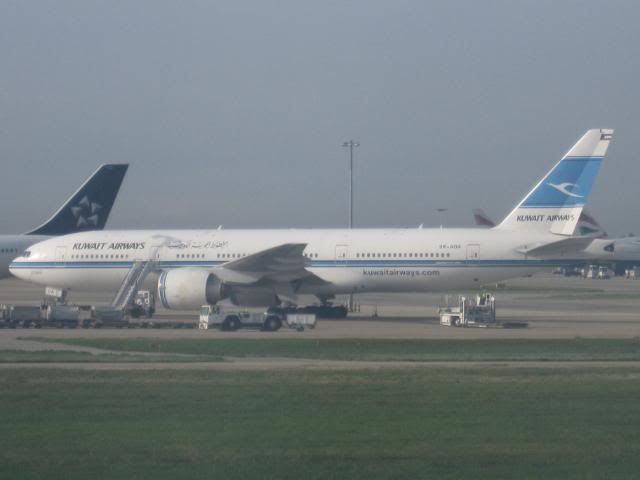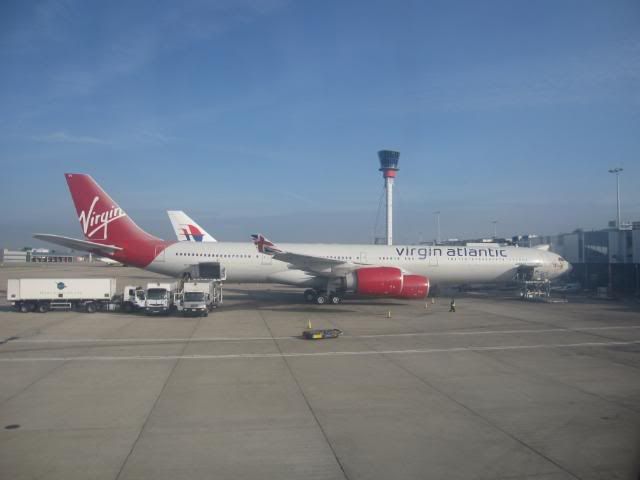 V> Impressions + Scores:
Virgin Atlantic was a trend-setter. Those days of it setting the benchmark are long over. However, the lady-in-red can still pack a punch. It's hard products (including a fantastic seat, a great bar, and wonderful IFE) still defines an experience. It's soft products need a quick freshening up – meal service was adequate; crew was OK; and ground staff in Boston absolutely unacceptable.
Virgin Atlantic is still a wonderful way to fly. However, they need to monitor their product delivery so as to ensure their relatively stellar reputation does not continue to take a beating. Without any doubt, I recommend Virgin for future flights, and would take them myself without much convincing.
VI> Other Trip Reports:
PREMIUM:
8.64:
Turkish Airlines (59): JFK-IST: 11/2008
8.61:
Air Canada (49): YYZ-SCL: 06/2008
8.54:
Turkish Airlines (77): GRU-DKR-IST: 04/2009
8.30:
Jet Airways (74): KWI-BOM: 04/2009
8.23:
United Airlines (72): SFO-SYD: 03/2009
8.11:
Aeroflot (33): MOW-DEL: 09/2007
8.05:
Air India (80): CCU-JFK: 06/2009
8.04:
Korean Air (40): NRT-ICN: 10/2007
8.02:
Delta Airlines (24): JFK-CDG: 08/2007
7.46:
LAN (55): YYZ-JFK: 09/2008
7.82:
Singapore Airlines (06): EWR-SIN: 09/2006
7.23: Virgin Atlantic (81): BOS-LHR: 07/2009
7.14:
Swiss (52): SCL-GRU: 06/2008
7.11:
Austrian (79): VIE-JFK: 06/2009
7.02:
Qatar (68): DOH-JFK: 01/2009
6.96:
Etihad (61): JFK-AUH: 12/2008
6.93:
Delta Airlines (18): SEA-JFK: 11/2006
6.84:
ConViasa (65): CCS-DAM: 01/2009
6.81:
Air Canada (17): ICN-YYZ: 10/2006
6.70:
KLM (32): EBB-AMS: 08/2007
6.36:
Privatair (60): MUC-BOS: 12/2008
6.25:
Korean Air (45): NAN-ICN: 10/2007
6.11:
TAP Portugal (53): GRU-OPO: 06/2008
6.00:
Gulf Air (75): BOM-BAH: 04/2009
5.75:
Singapore Airlines (16): CCU-SIN: 10/2006
5.64:
NorthWest (46): ICN-NRT-SEA: 10/2007
5.39:
LOT (54): WAW-JFK: 06/2008
5.21:
Egypt Air (73): CAI-IST: 02/2009
5.07:
TACA (66): JFK-SAP: 01/2009
4.42:
Air France: CDG-JNB (25): 08/2007
ECONOMY: Long + Medium:
9.26:
Air India (48): JFK-DEL: 02/2008
7.38:
Avianca (01): BOG-LIM: 07/2006
7.07:
Sri Lankan (62): KWI-CMB: 12/2008
6.41:
American Airlines (58): LHR-BOS: 11/2008
6.41:
Avianca (78): JFK-BOG: 05/2009
6.26:
Jet Blue (21): CUN-JFK: 02/2007
6.06:
Air Canada (04): YYZ-YVR: 09/2006
5.89:
USA 3000 (19): PUJ-BDL: 01/2007
5.85:
Spanair (69): MAD-LPA: 02/2009
5.79:
Air New Zealand (42): RAR-NAN: 10/2007
5.46:
TAP Air Portugal (23): OSL-LIS: 05/2007
5.19:
Air Europa (70): LPA-MAD: 02/2009
5.16:
Iberia (71): MAD-BOS: 02/2009
ECONOMY: Short
8.56:
Paramount Airways (38): BLR-MAA: 09/2007
8.56:
Kingfisher (64): HYD-CCU: 12/2008
8.24:
Kingfisher (14): IXA-GAU: 10/2006
7.87:
Indian (34): BOM-MAA: 09/2007
7.72:
Alliance Air (13): CCU-IXA: 10/2006
7.57:
Indian Airlines (10): DEL-CCU: 09/2006
7.23:
West Jet (03): YYC-YVR: 09/2006
7.15:
JetLite (37): BOM-GOI: 09/2007
6.70:
Spice Jet (09): CCU-DEL: 09/2006
6.63:
Air Fiji (44): NAN-SUV: 10/2007
6.63:
Jazeera (67): DAM-KWI: 01/2009
6.58:
Air Tran (02): EWR-MDW: 08/2006
6.48:
Air India Express (63): CMB-MAA: 12/2008
6.44:
CO Micronesia (39): ROR-YAP: 10/2007
6.41:
Pacific Sun (43): NAN-SUV: 10/2007
6.37:
Skybus (47): SWF-CMH: 02/2008
6.33:
Kenya Airways (29): NBO-BJM: 08/2007
6.33:
Sky Europe (56): LTN-BTS: 10/2008
6.31:
Indigo (15): GAU-CCU: 10/2006
6.31:
easyJet (57): BUD-LTN: 11/2008
6.22:
Air Link Swazi (28): MTS-JNB: 08/2007
6.22:
Air India (36): HYD-BOM: 09/2007
6.13:
Adam Air (07): SIN-CGK: 09/2006
6.13:
Air Rarotonga (41): RAR-AIT: 10/2007
6.00:
Transairways (27): INH-MPM: 08/2007
5.95:
Air Canada (05): ALB-YYZ: 09/2006
5.85:
SAS Norge (22): OSL-AES: 05/2007
5.81:
LAM Mozambique (26): JNB-MPM: 08/2007
5.69:
Air Deccan (12): IXZ-CCU: 10/2006
5.67:
Rwanda Air Exp (30): KGL-NBO: 08/2007
5.11:
Aero Republica (76): BOG-CCS: 04/2009
5.07:
Go Air (35): MAA-HYD: 09/2007
5.00:
Sky Airline (51): IQQ-SCL: 06/2008
4.96:
Valuair (08): CGK-SIN: 09/2006
4.78:
Air Comet Chile (50): SCL-IQQ: 06/2008
4.74:
Fly 540 (31): MYD-LAU: 08/2007
4.33:
Viva Aerobus (20): ELP-MTY: 02/2007
4.11:
Air Sahara (11): CCU-BOM: 09/2006
(Note on Codes: Y – Economy, J – Business, F – First :: I/D – International/Domestic :: SR/MR/LR – Short/Medium/Long Haul)
(Note on Date: Dates are modified to be +/- 3 days from actual flight date to not reveal actual flight pattern)
VII> Other Pictures:
(A decent amenity kit)
(Awesome pyjama's)