Merhaba,
This report will cover the last flights I've taken this summer, from Nice to Bodrum via Istanbul and back. The purpose of that family trip was to spend a week on a Gület, sailing around the southern Turkish coast. It's been my third trip to Turkey this year, but my first time flying with Turkish Airlines.
In the Summer, TK flies daily to Nice using a mix of A320s and 738s according to the day of the week. This enabled me to sample both aircraft on this 3h flight.
Flight 1
30th July 2009
Route: Nice Côte d'Azur (NCE) - Istanbul Atatürk (IST)
Flight number: TK1814
Aircraft type: A320
Registration: TC-JPL "Göreme"
Scheduled time of departure: 13:20
Scheduled time of arrival: 17:10
We were a group of 9, and even though we had checked-in online the day before (in order to be seated all together), we had to queue at the chek-in counter in order to drop our luggage. There's no dedicated luggage drop counter, and we had to queue for about 20mn.
After passing immigration, we relaxed in the boarding lounge and waited for the boarding call. Even though boarding was called by row 15mn behind schedules, we had to wait in the boiling hot glass jetway as the cabin cleaning was still being processed.
We eventually made it to the aircraft which featured the new Airbus interior. Flight attendants were busy in the galley and there was no one standing by the door to welcome us on board or check our boarding passes. We were seated in the very back of the aircraft. The colour of TK cabins can look a bit surprising when judging from pictures, but in reality they are very relaxing and pleasing to the eyes. There was a very fresh and clean atmosphere in the cabin. Seat comfort was good, I love leather covers, and the cup holder is very convenient. The cabin was very cold compared to the heat of the jetway, so my mother asked for a blanket and she got it immediately, along with a pillow.
We took off 25mn late, with no explanation or apologies.
Soon after take-off, flight attendants handed out printed menus and earphones. The female f/a who was working in our section of the plane was a bit cold, but very professional and attentive. The male f/a working in the forward section of the Y cabin was a bit nicer. We first got a drink service, then lunch was served. At that point I was highly impressed by the quality of the meal for a 3-hours flight. There were 2 choices for the main dish, and I chose the pasta which was very tasty.
During the meal service, the female f/a heard someone coughing. Thinking it was my brother, she rushed to the galley and came back with a paper thermometer. She asked my brother to put it in his mouth in a very authoritative way and with no explanation. At first my brother (who hadn't coughed) didn't understand what was happening, and my mother asked the f/a what this was all about. She replied that due to the H1N1 epidemic, she had to detect any passenger who might be sick. It turned out that my brother was not sick, end of the incident. It made up for a good laugh afterwards. I don't blame the f/a who just did her job, but she could have managed the "incident" a bit more tactfully.
After lunch, f/as walked down the aisle offering coffee or tea and a pack of Turkish hazelnuts. It was a very nice touch.
This aircraft was fitted with drop-down screens. I didn't pay much attention to the IFE, as the video programming consisted mainly of commercials and uninteresting short programs, the "just for laughs" kind of stuff which makes me want to hang myself in the lavatory.
The flight was smooth, we overflew Italy, the Balkans, Greece, and the Sea of Marmara before arriving in Istanbul.
I was very impressed by my first flight with Turkish Airlines. The hardware was top notch: recent and clean aircraft, relaxing cabin, comfy seat, excellent meal, and the IFE with the 3D moving map was a nice touch. The cabin crew could have been a bit more friendly, but they did their job in a professional and efficient way.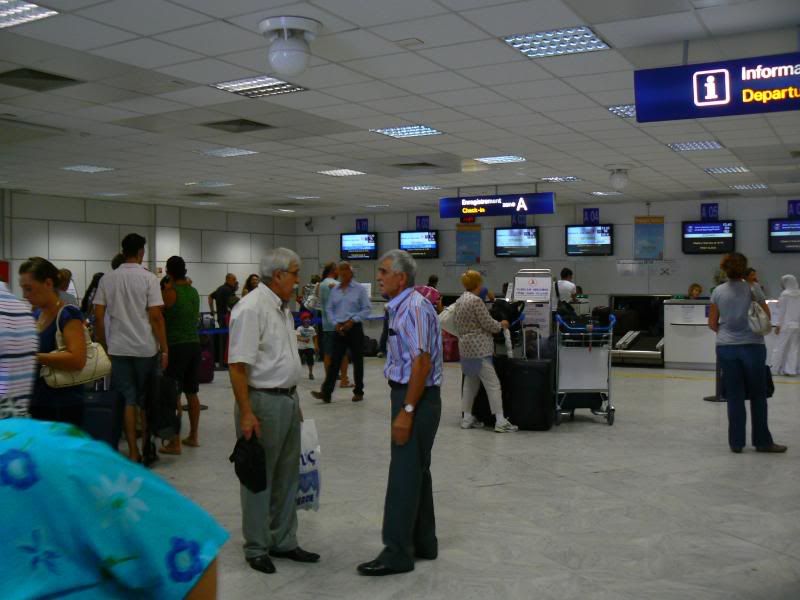 Check-in area, Terminal 1 in Nice.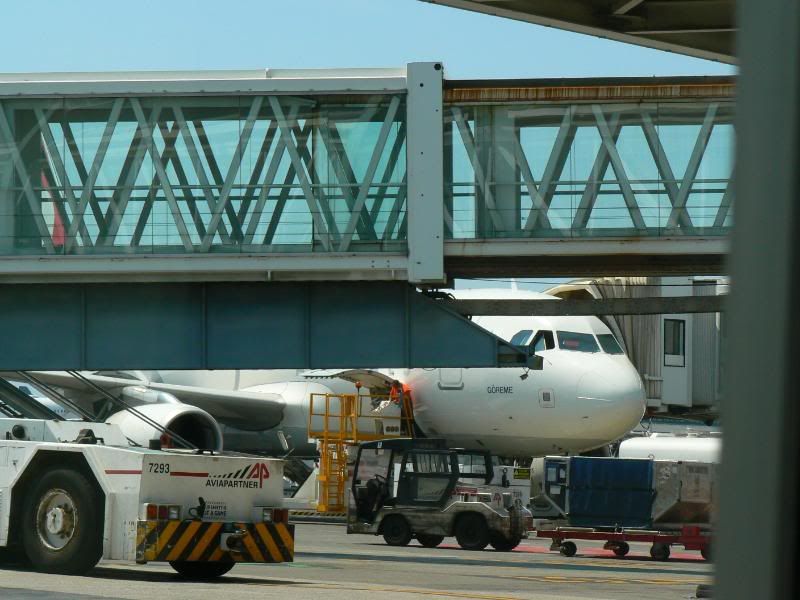 Boarding call.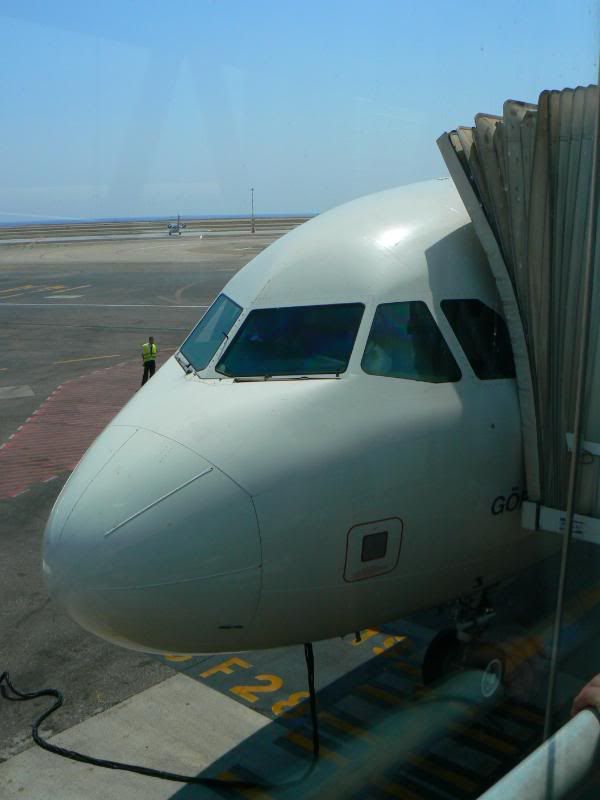 Nice bird, delivered in 11/07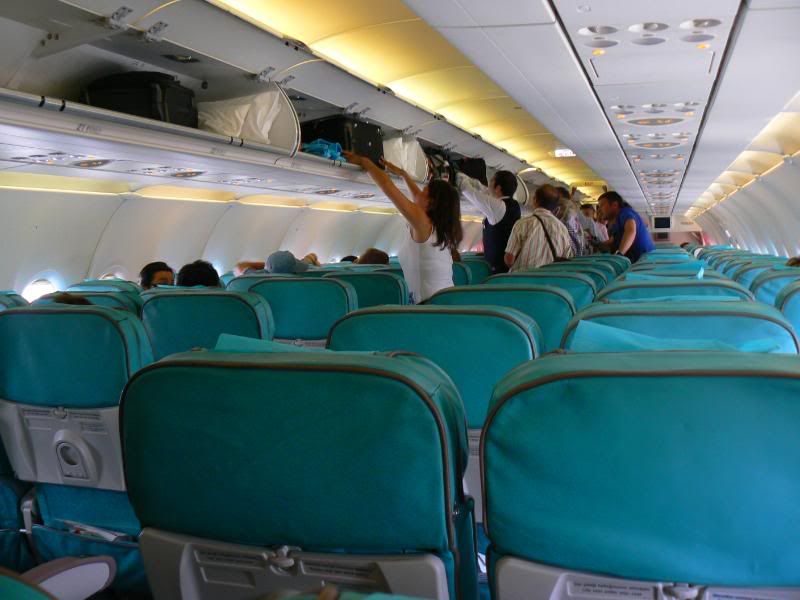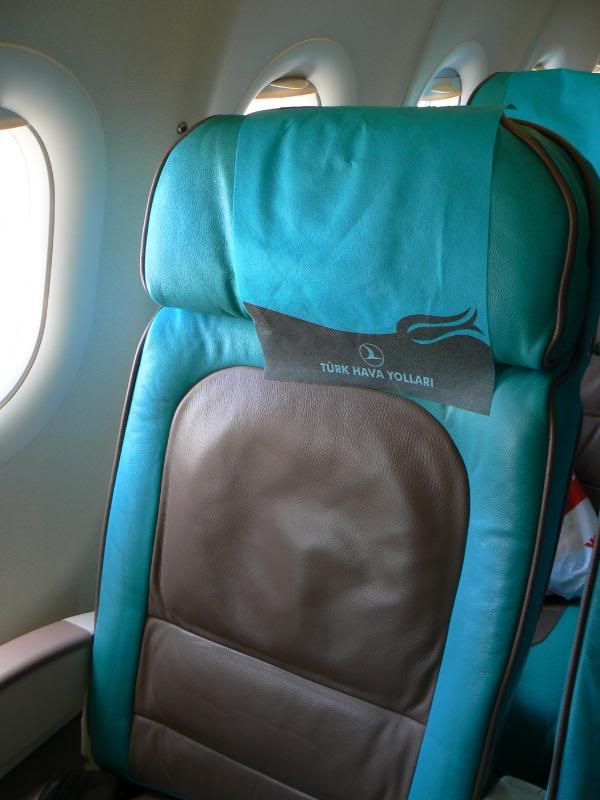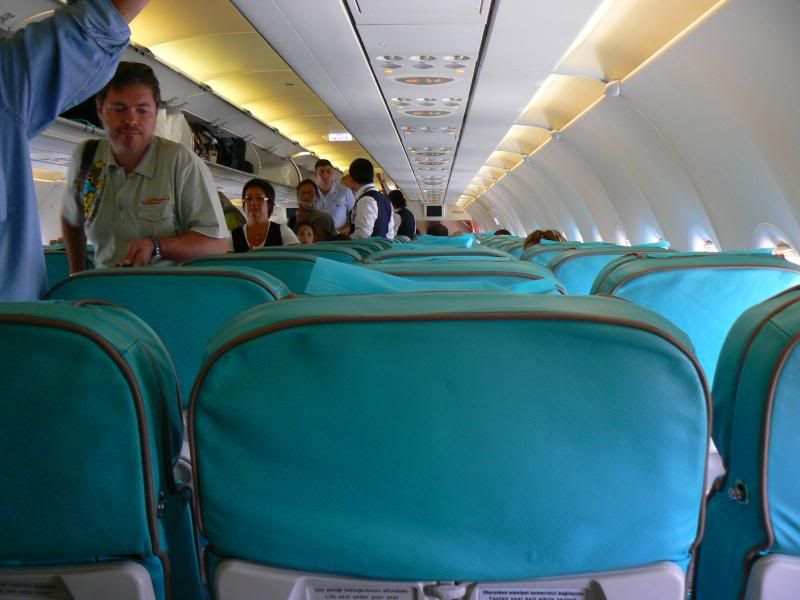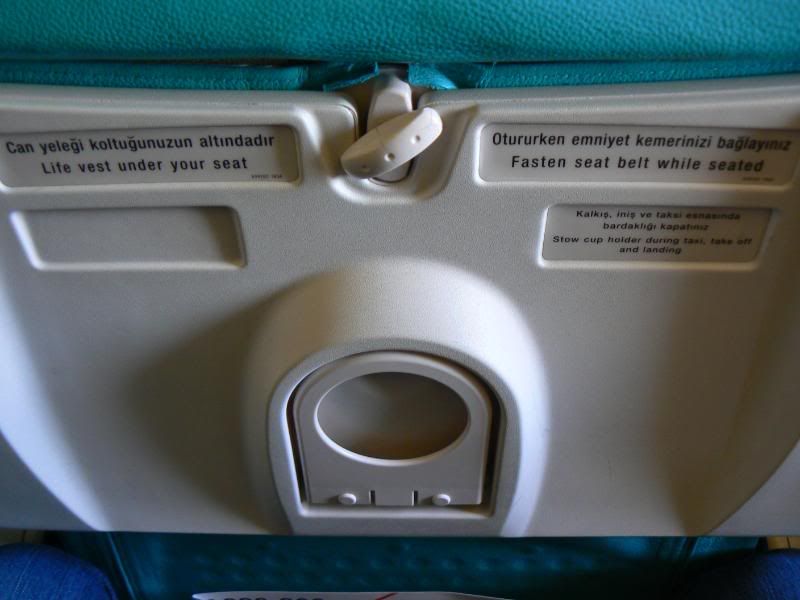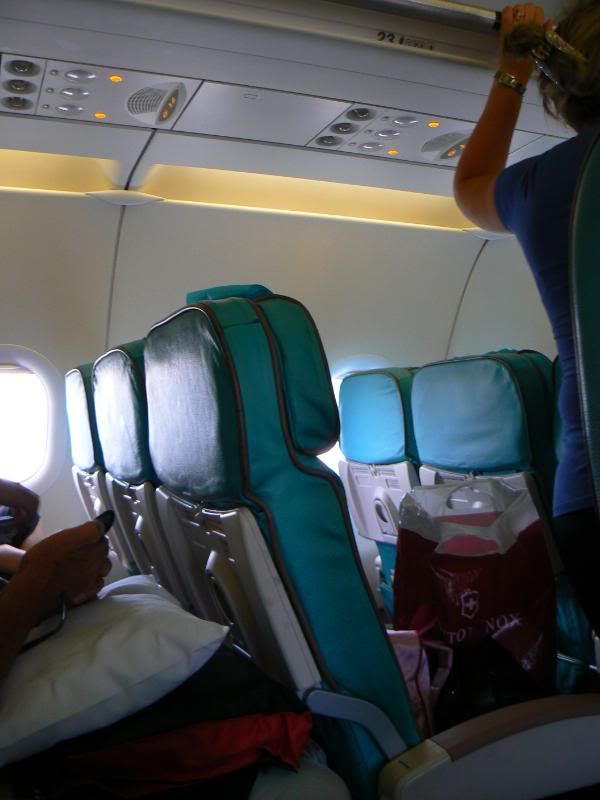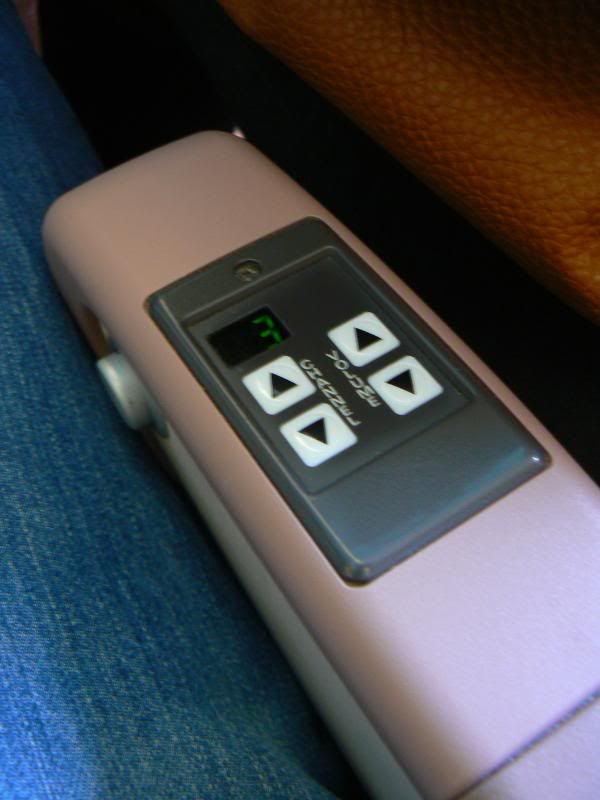 Audio controls.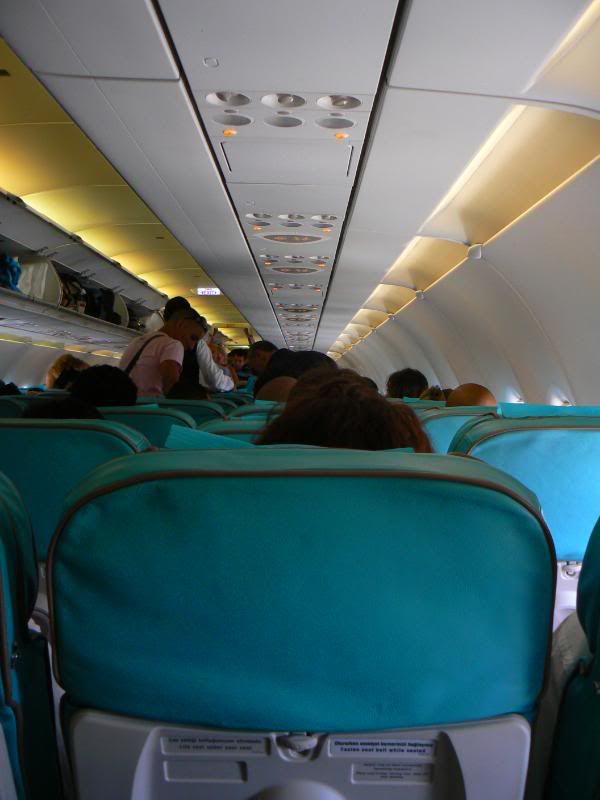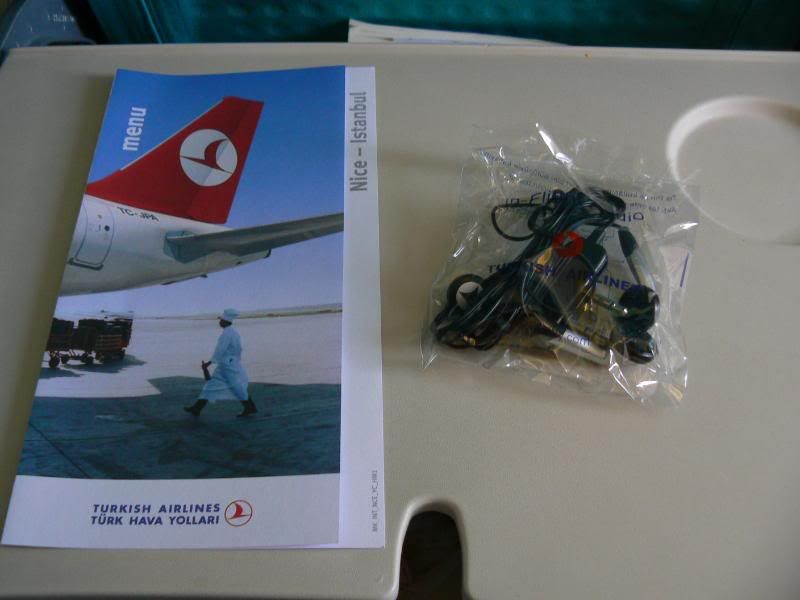 Menu + earphones.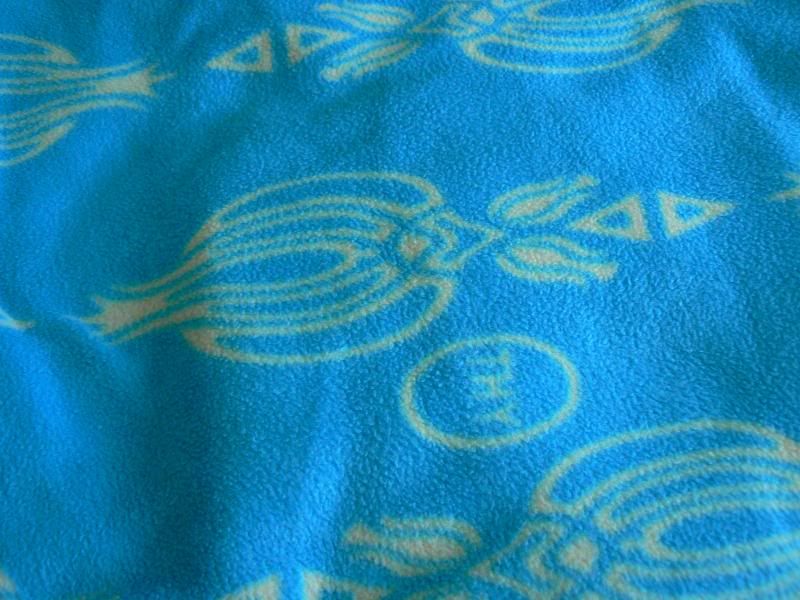 Nice blanket !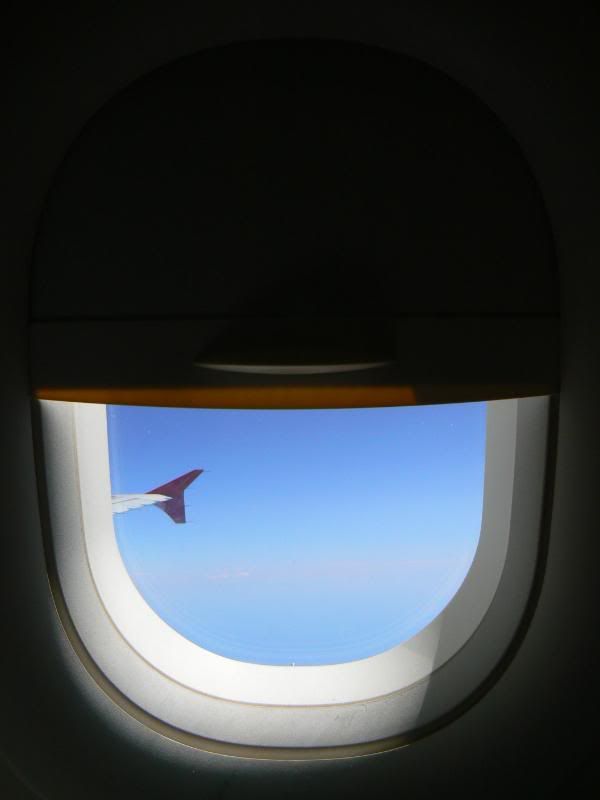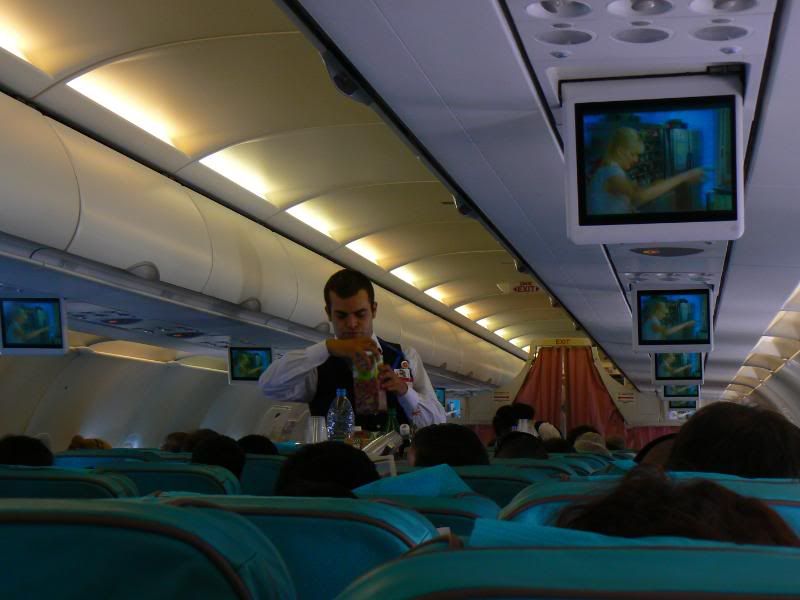 Excellent meal.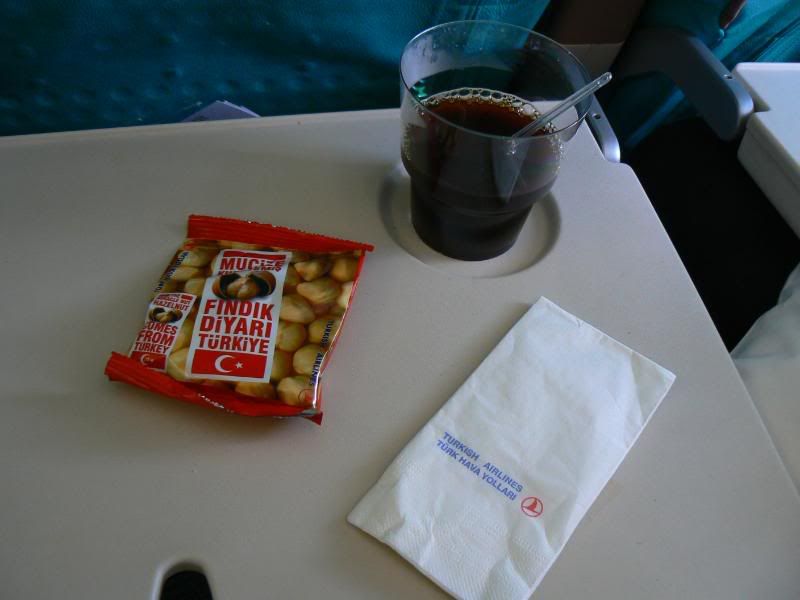 Hazelnuts & coffee.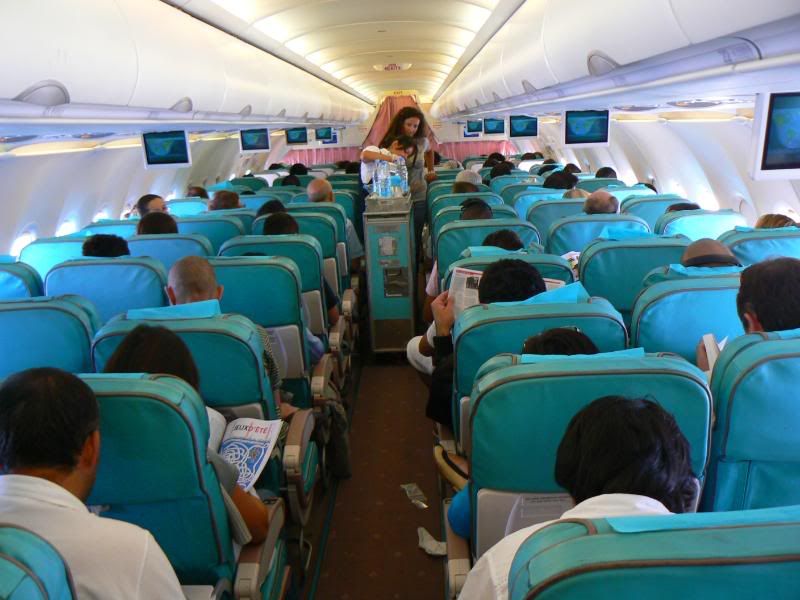 Unusual colors, but fresh cabin look.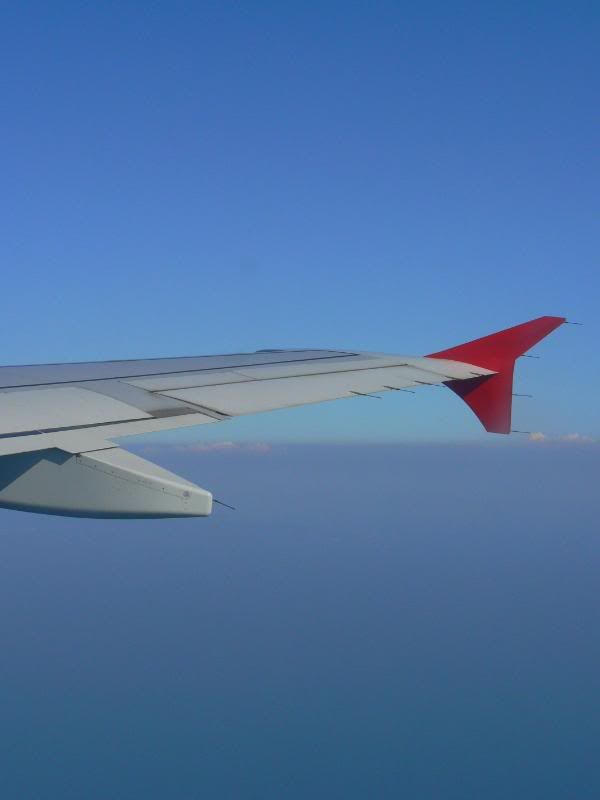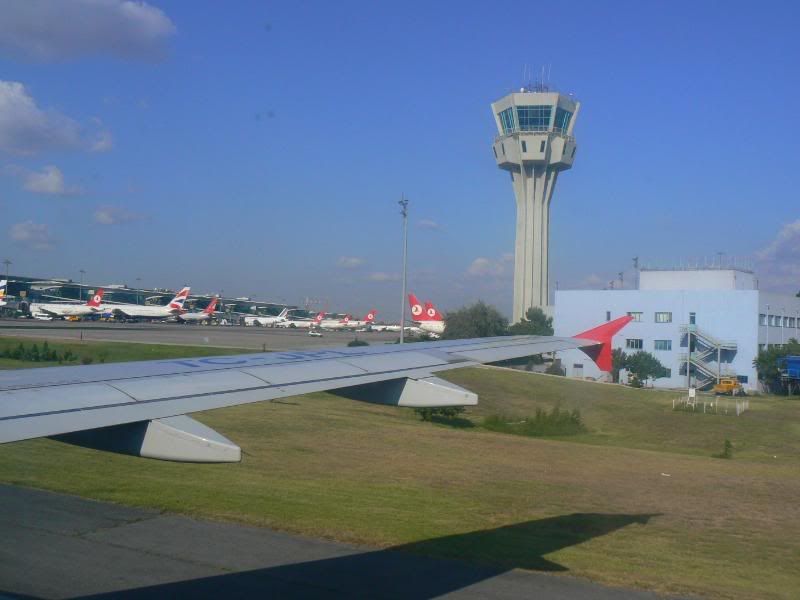 IST, here we are.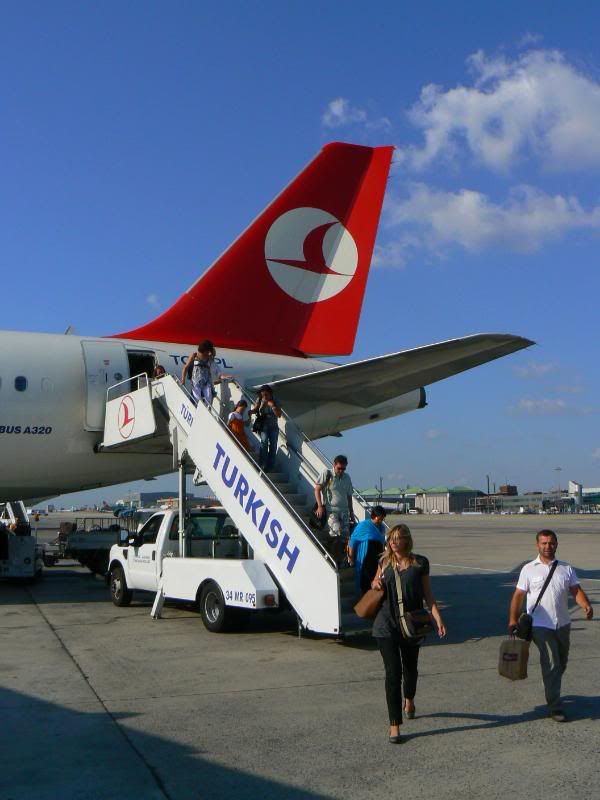 After landing, we parked at a remot stand and deboarded by stairs and bus.
Here comes the big, big weakness of TK: Atatürk airport !
I know that Turkish Airlines is not responsible for the mess at IST, this airport does seem undersized, but passengers who travel with TK will have to cope with this disorganization anyway. The whole place was a zoo, and it took us more than 50mn to go through immigration in order to reach the domestic terminal. Many passengers who had short transfer time had to jump the queue in order to catch their domestic flights, which annoyed and angered some of the other passengers who had been queuing for a long time.
Flight 2
30th July 2009
Route: Istanbul Atatürk (IST) - Bodrum Milas (BJV)
Flight number: TK294
Aircraft type: A321
Registration: TC-JMC "Aksarai"
Scheduled time of departure: 19:35
Scheduled time of arrival: 20:50
When we finally arrived at the old and cramped domestic terminal, all flights were delayed between 30mn and one hour. 5mn before the expected boarding time, our flight got delayed as well by 10mn...and then another 10mn, and so forth. No reason was ever given. Furthermore, we were sharing our boarding gate with another flight, which was delayed as well. It was a complete mess, the small boarding lounge was completely overcrowded.
Eventually our gate number changed all of a sudden, and we boarded 1 hour late by bus.
We got welcomed on board by a bunch of friendly flight attendants. However, no reason or apologies were given for the 1 hour delay.
Even though this A321 was fitted with the old-style TK seats, seat comfort was OK. The very best part of this flight was the snack service: on a short 1h15mn hop, we got a very good sandwich, a salad and a delicious cake ! Turkish passengers are spoilt. I didn't take many pics as it was dark outside. All in all, a very enjoyable short domestic flight with a nice crew.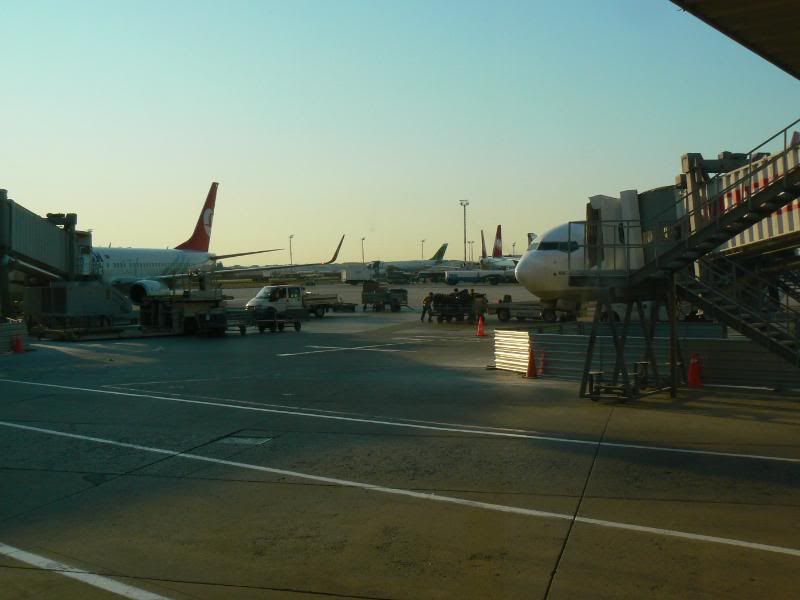 View of the apron from the ground floor of the domestic terminal.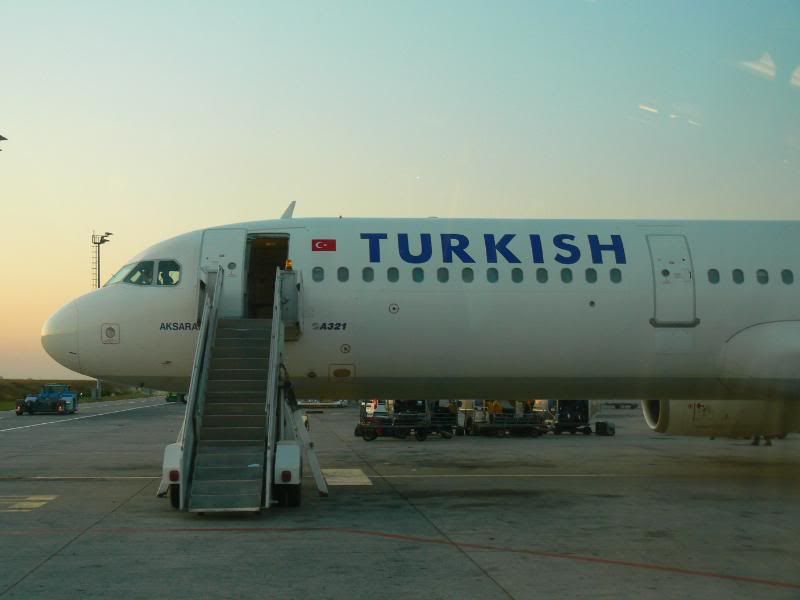 Our ride for tonight.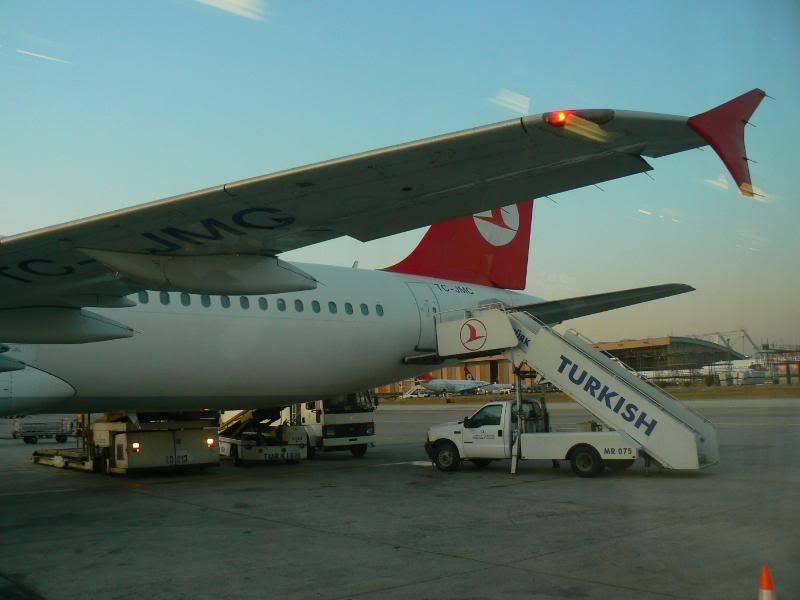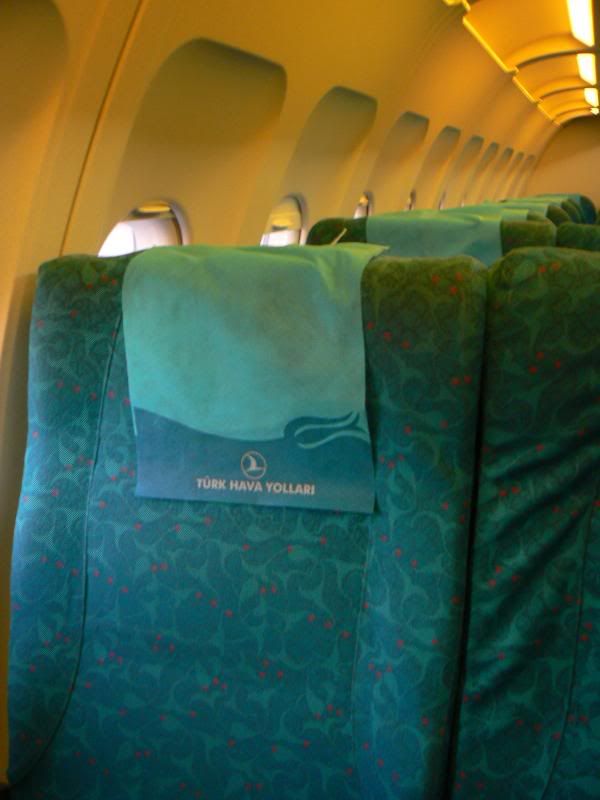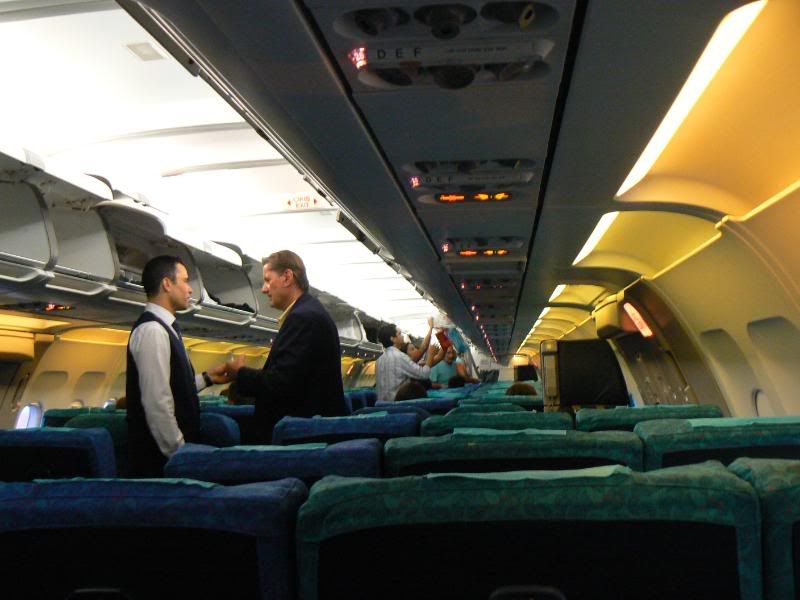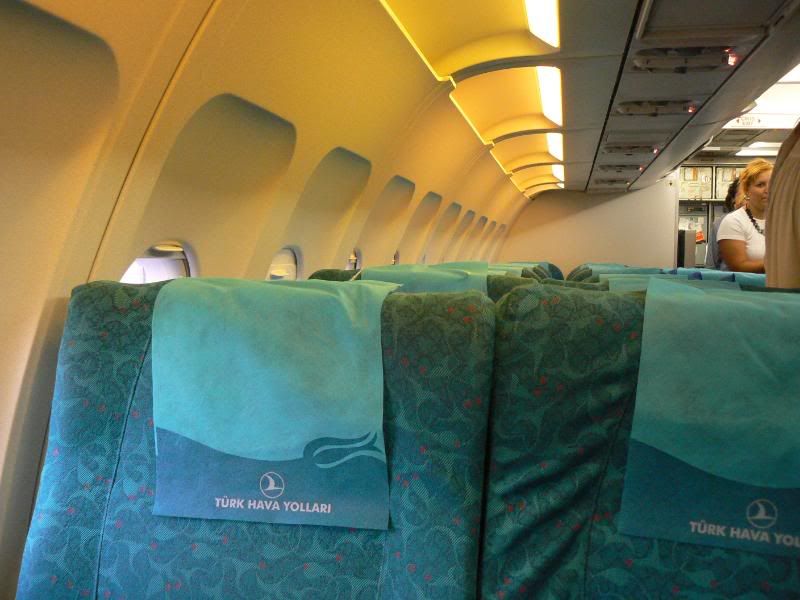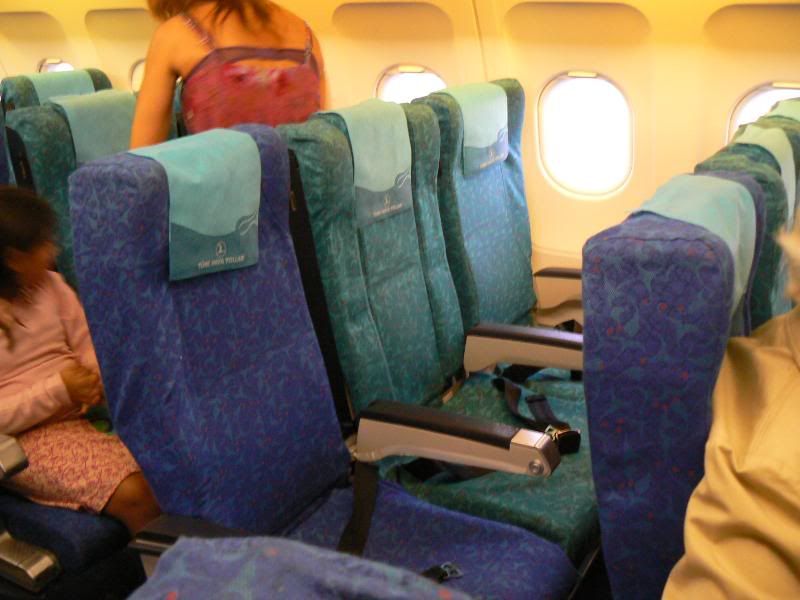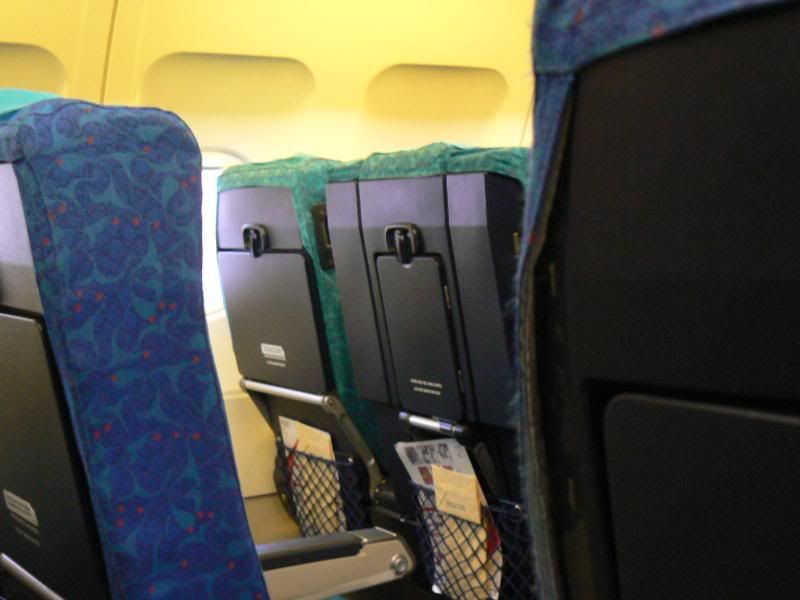 Impressive snack for such a short flight.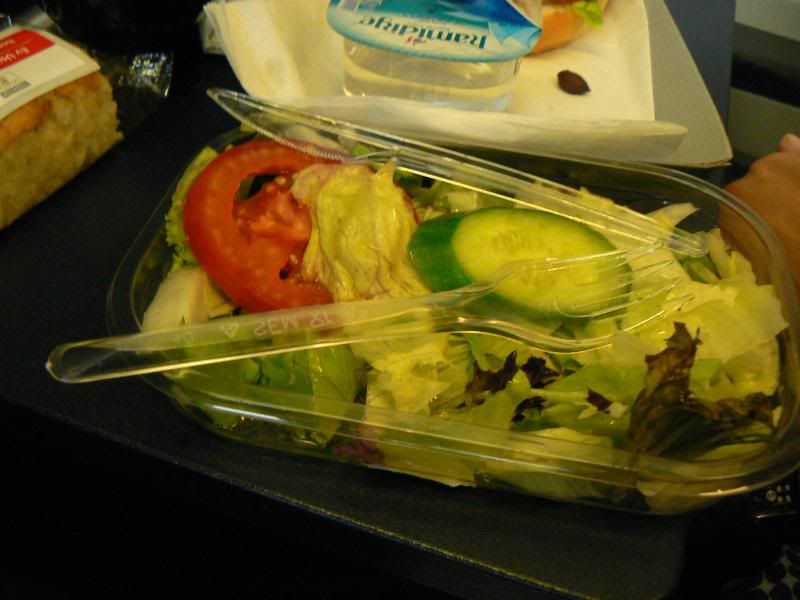 We spent an amazing 8 days in Turkey. The beauty of the Southern coast is amazing. Clear water, amazing weather, friendly people...great food ! We also stayed a day around the wonderful Greek island of Simi. I can't wait to go back !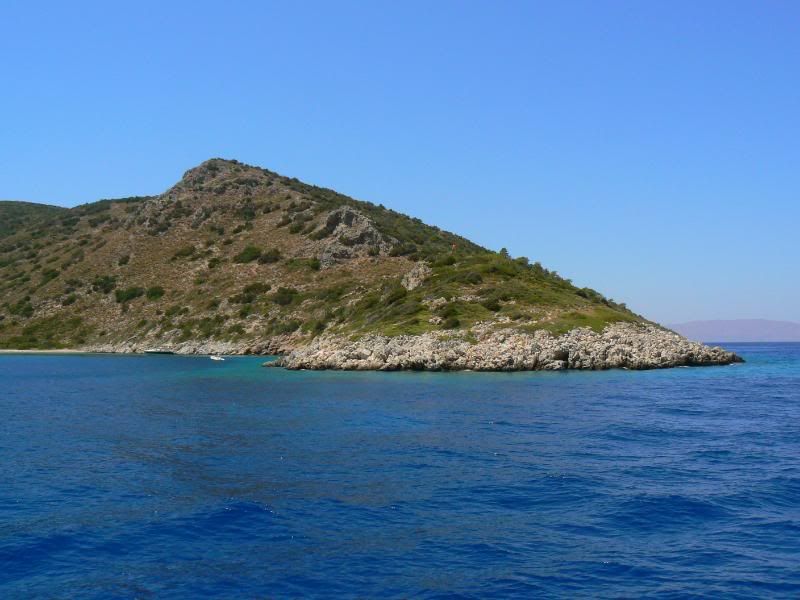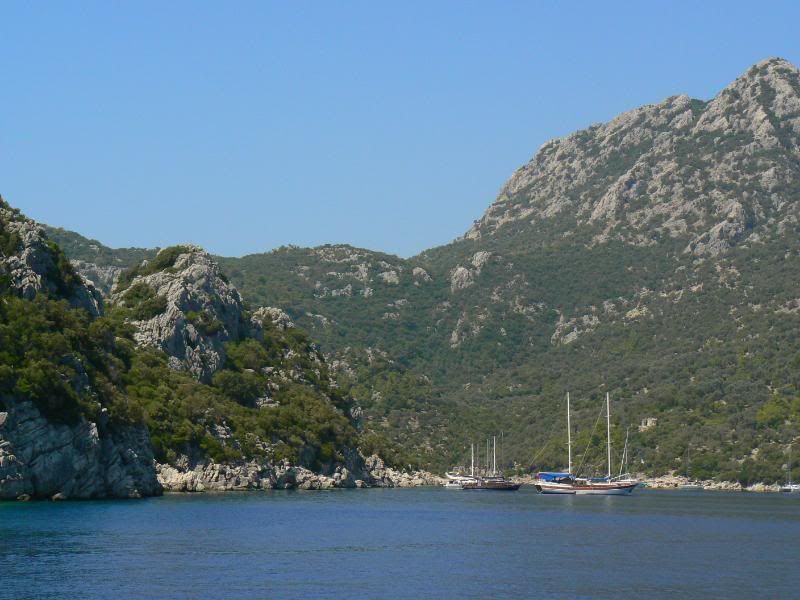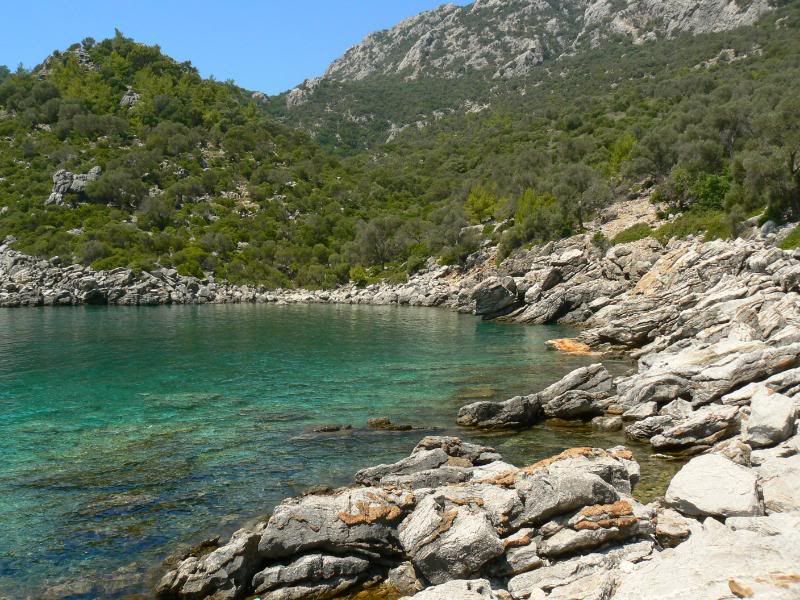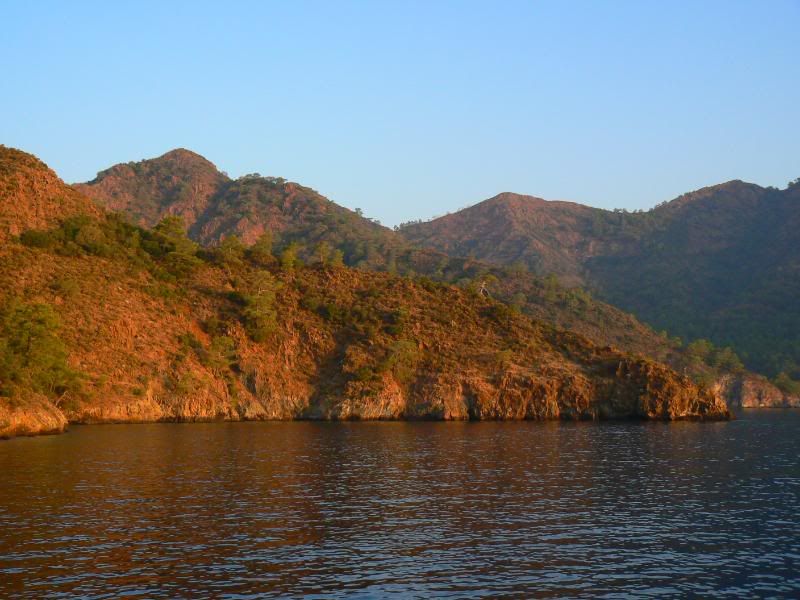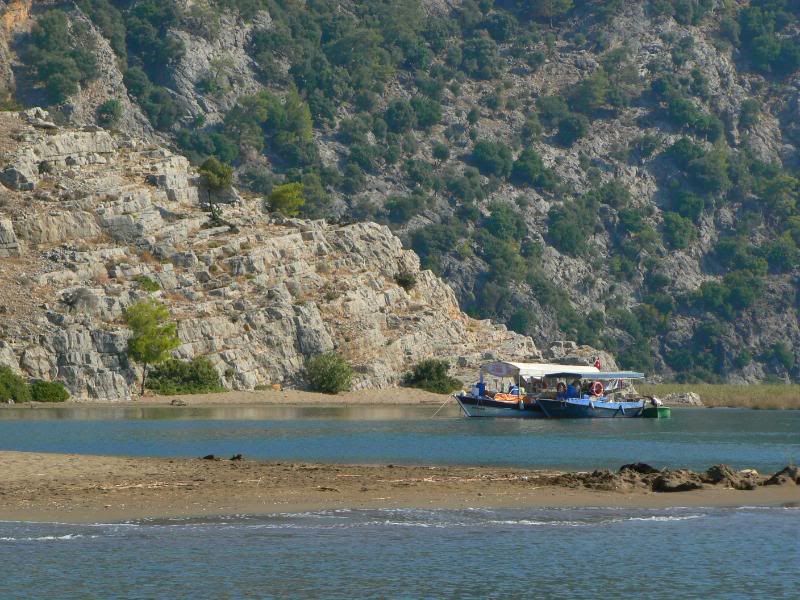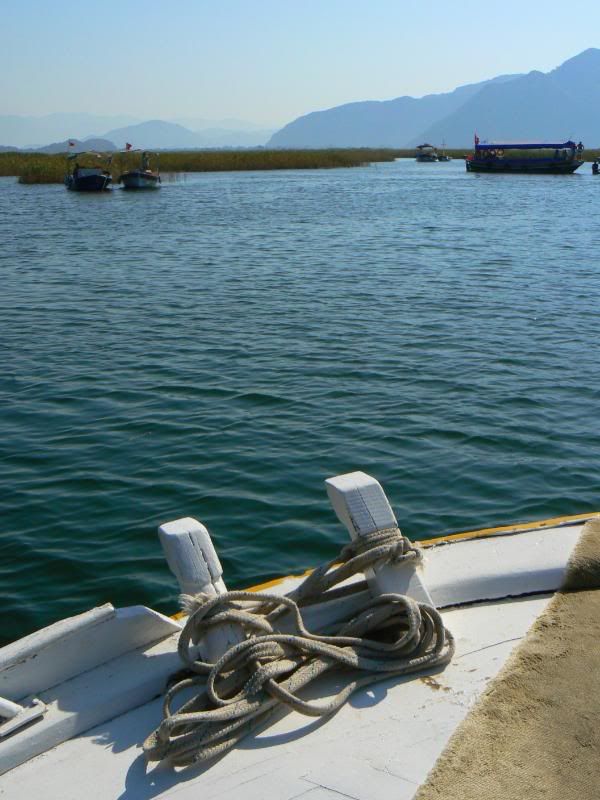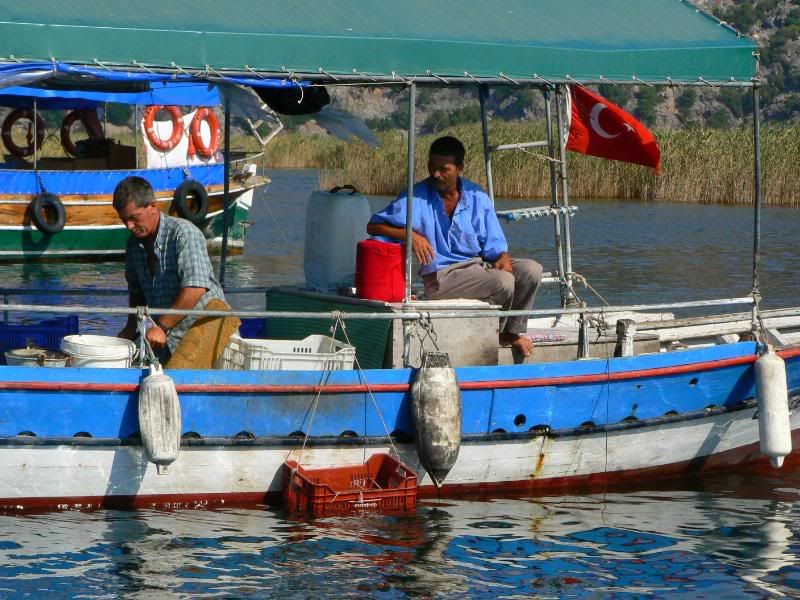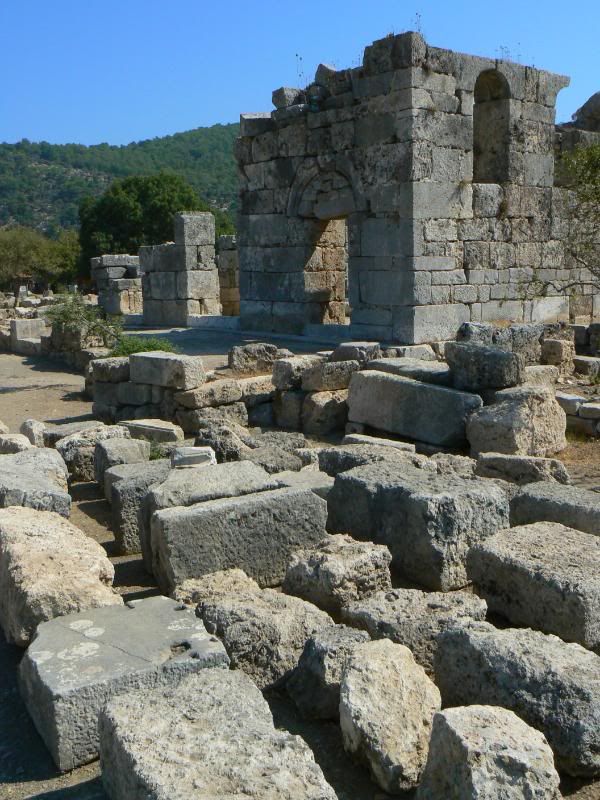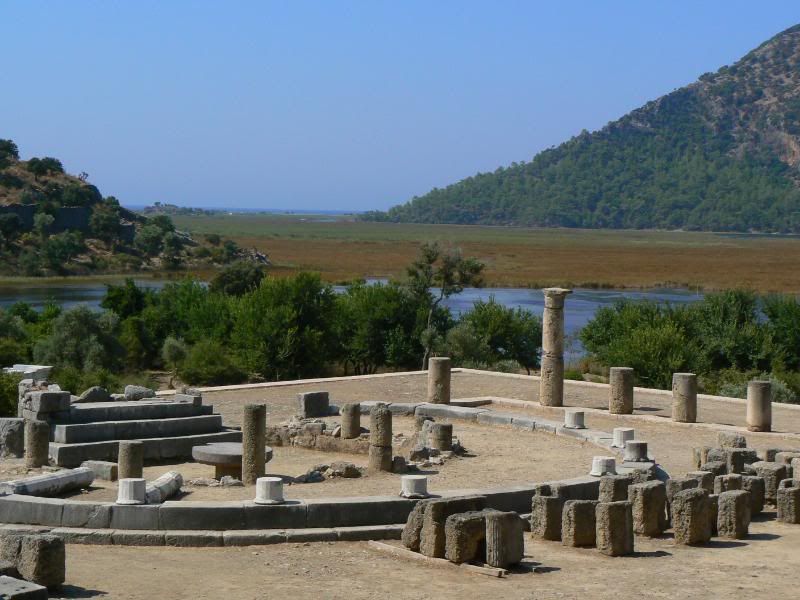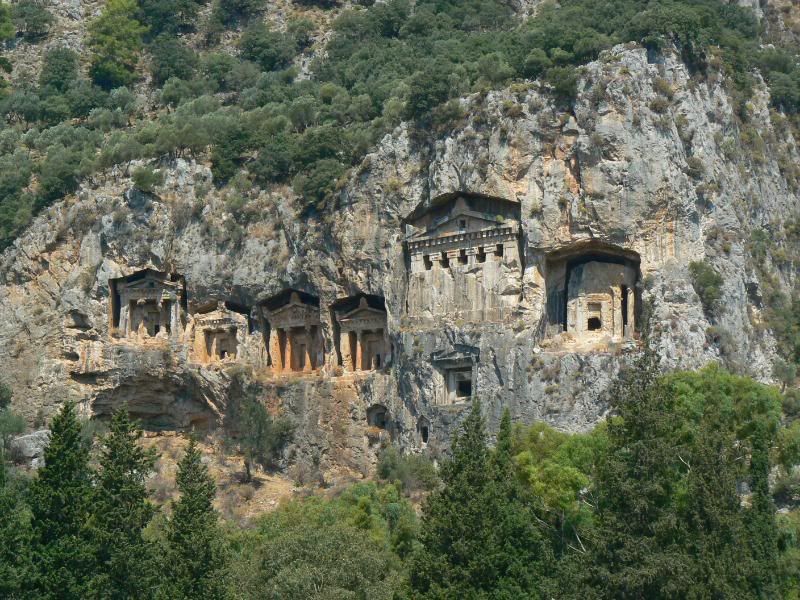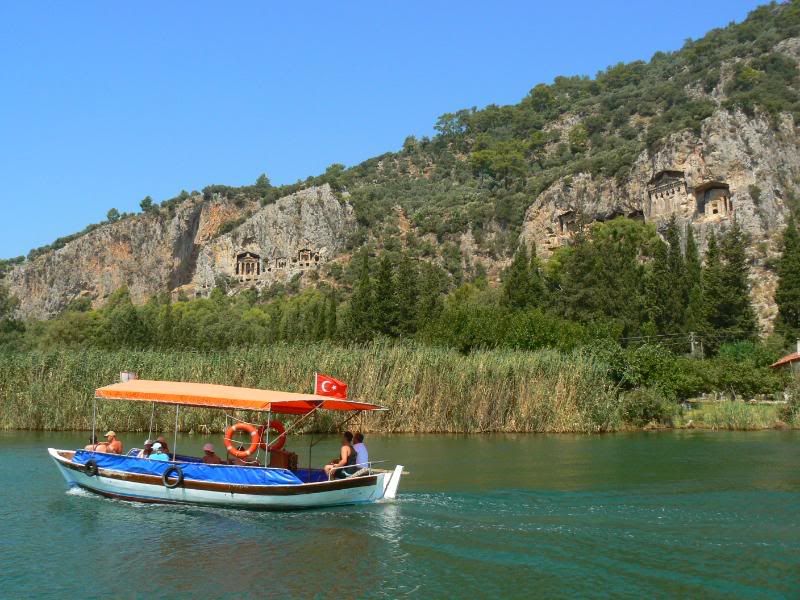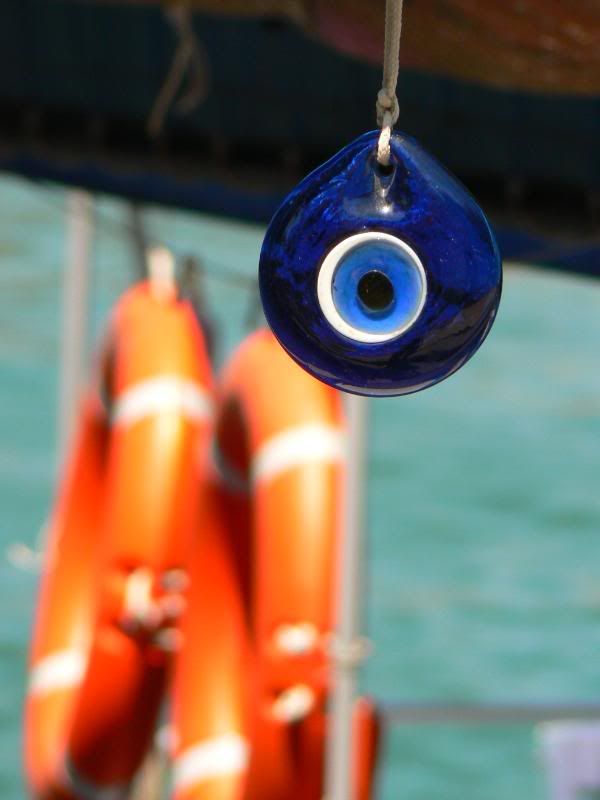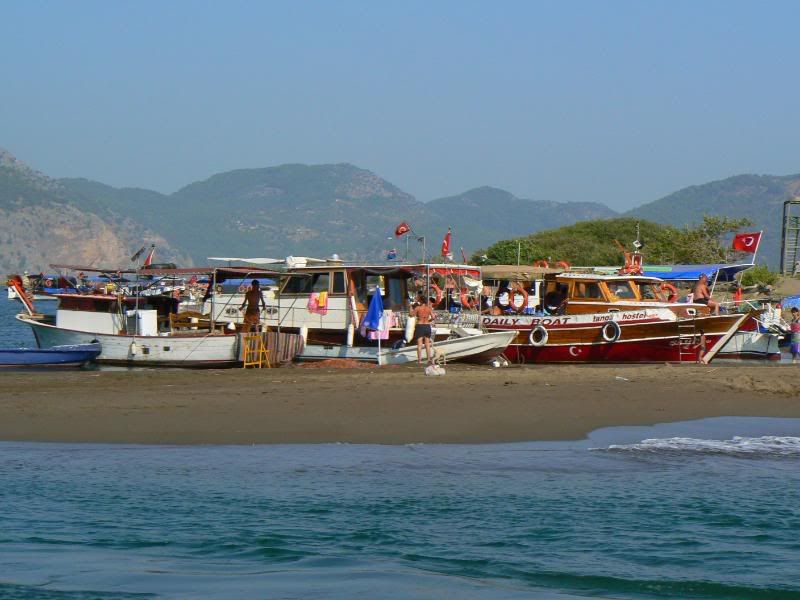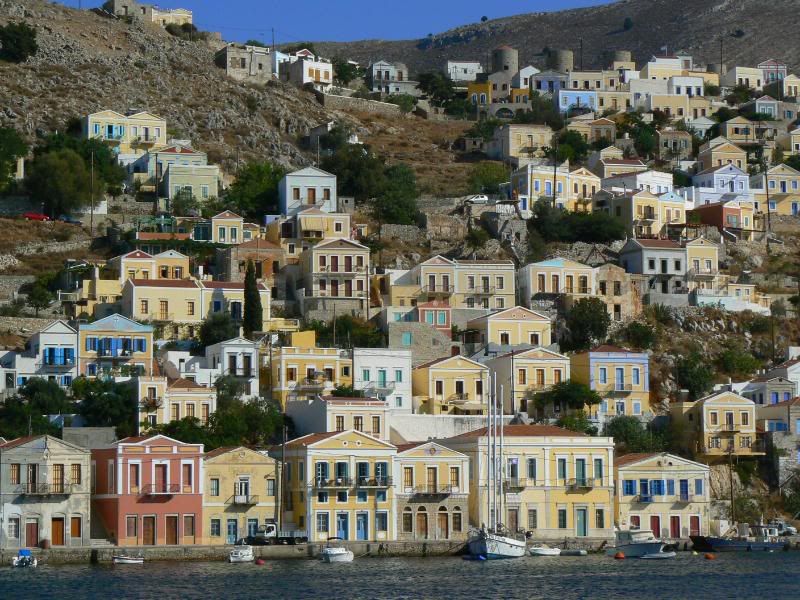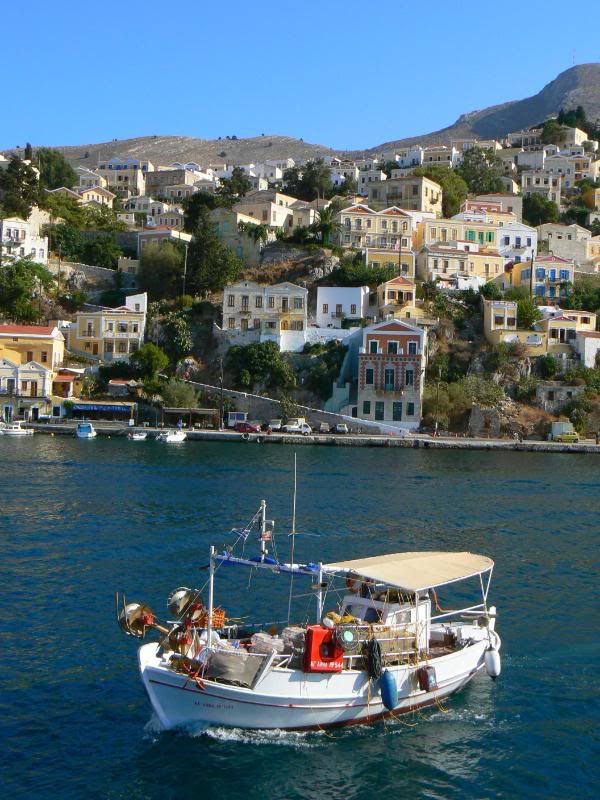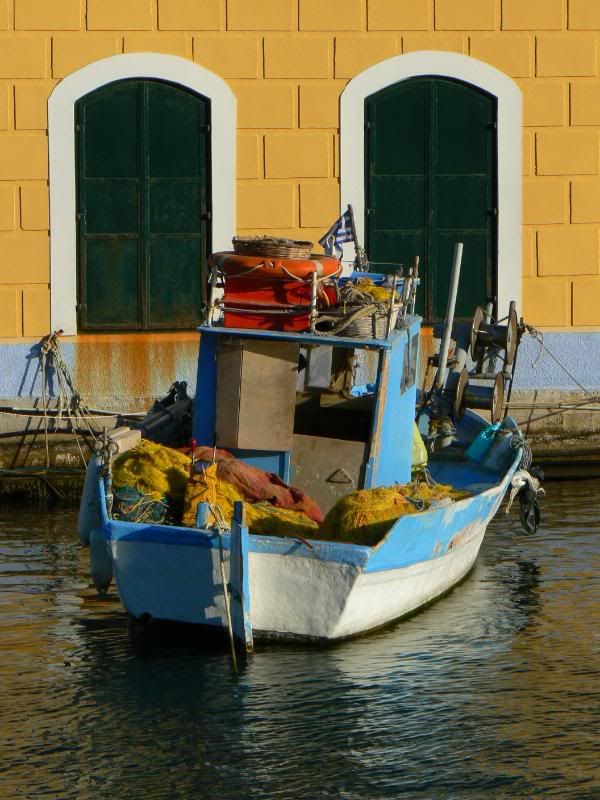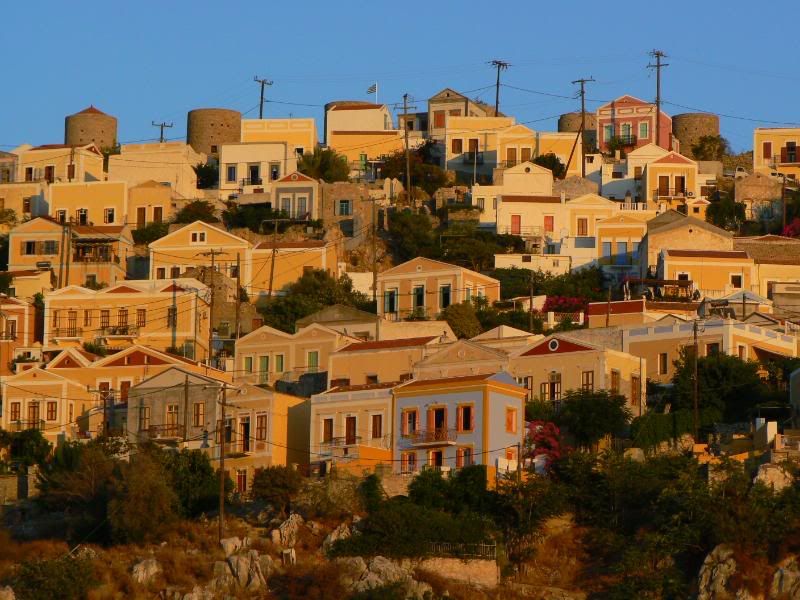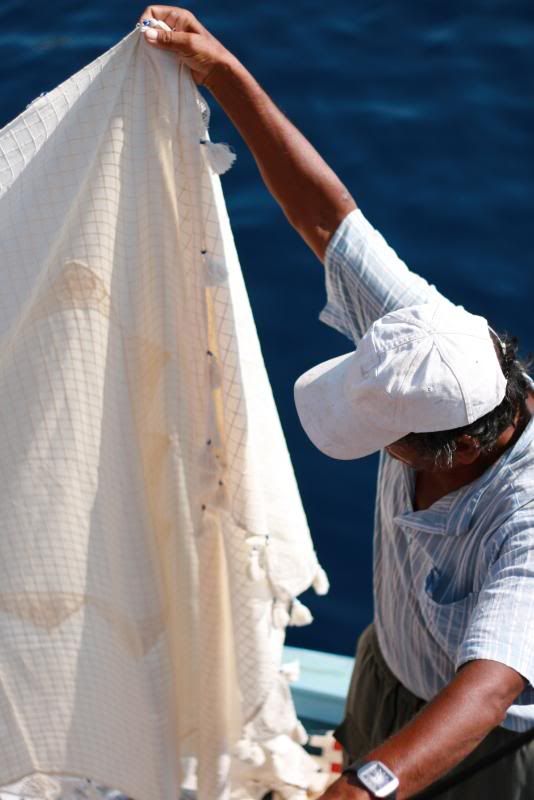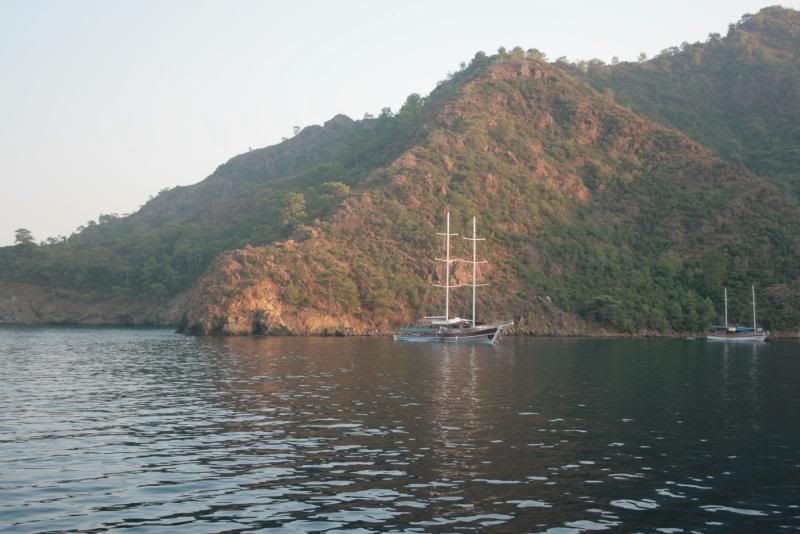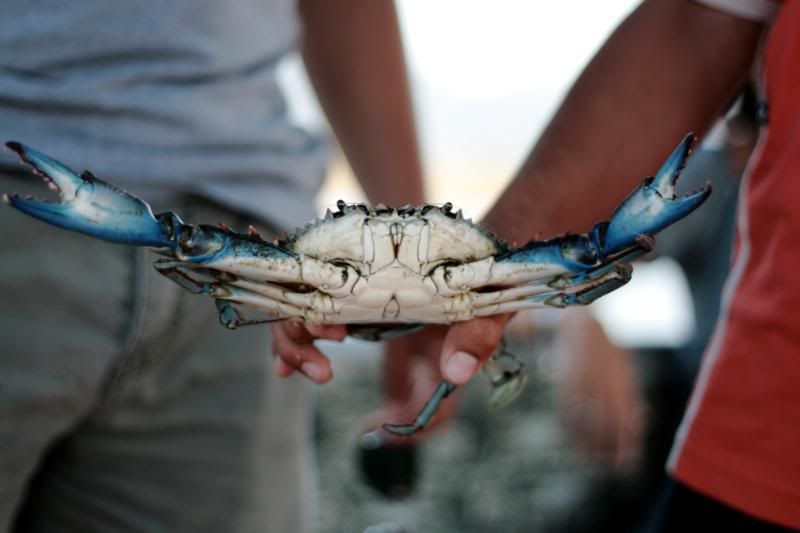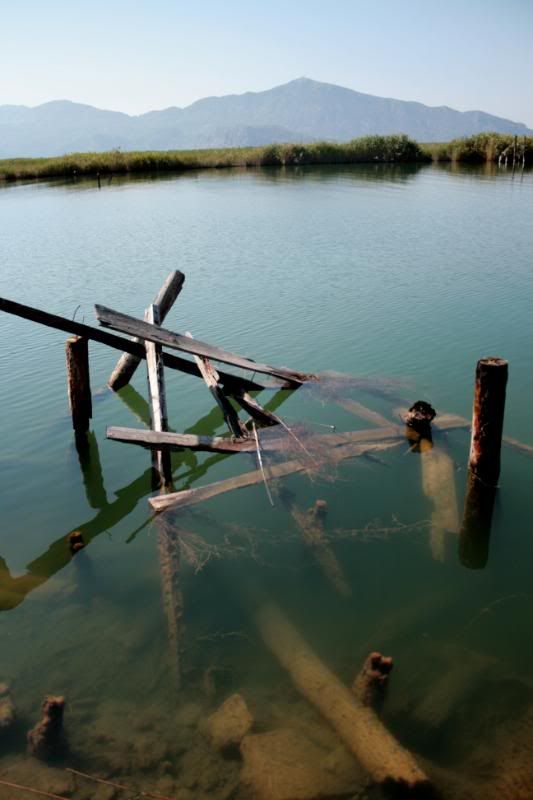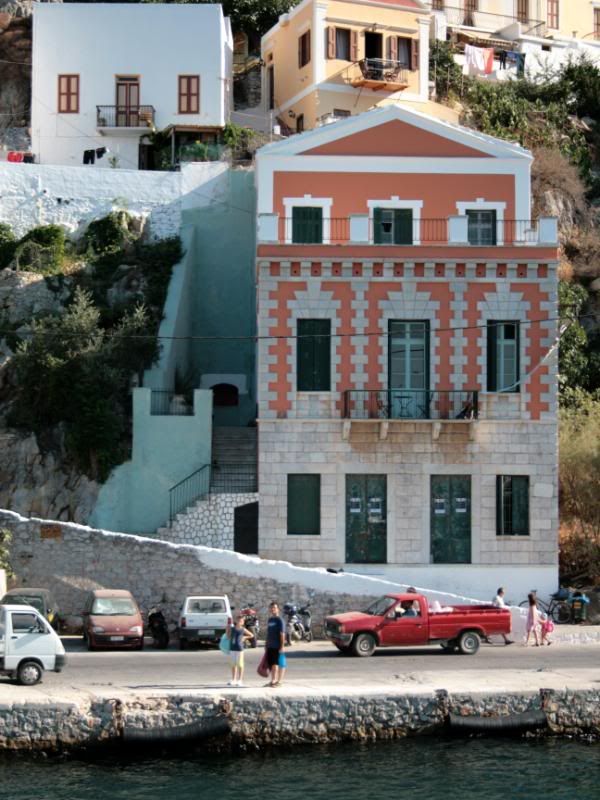 But all good things must come to an end, and eventually it was time to head back to la France.
Flight 3
7th August 2009
Route: Bodrum Milas (BJV) - Istanbul Atatürk (IST)
Flight number: TK287
Aircraft type: B737-800
Registration: TC-JGL "Karaman"
Scheduled time of departure: 10:20
Scheduled time of arrival: 11:30
Our taxi dropped us at the domestic terminal of Milas Bodrum airport. I had managed to check-in online the day before, so we just had to drop our luggage and go through security. Boarding was called on time. There's no jetway at the domestic terminal, so we boarded by bus and stairs which is always a nice experience. We entered the aircraft through the aft door. This 738 featured the new style light blue/pinkish cabin, with drop-down LCD monitors. The seats were a bit different than those on the A320, as indicated by the cup holders which were not in the same position.
The crew was nice. Right after take-off, they showed the moving map on the monitors. Amazingly, the aircraft had already started its descent when the f/as handed out our meals. We were overflying the Sea of Marmara when I started eating my sandwich. Once again, the snack was superb with a tasty sandwich, a salad and a cake. I ate in a hurry and the f/as collected our trays a few minutes before landing. We parked at a remote stand and deboarded by stairs/bus. Thumbs up to TK for such a good service on such a short flight.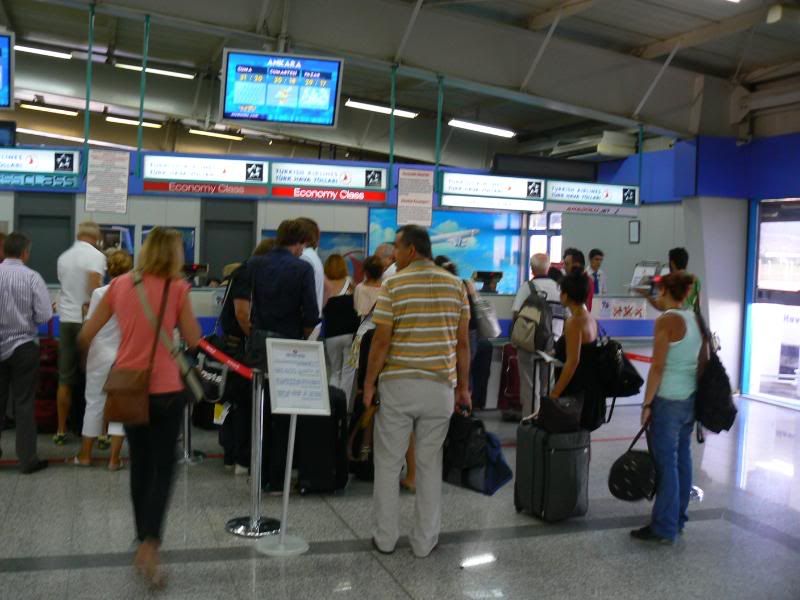 Milas Bodrum domestic terminal.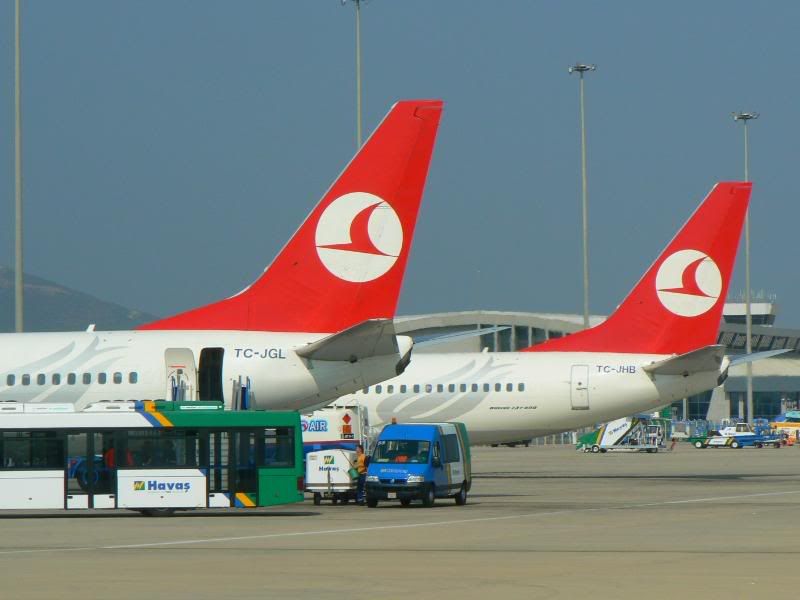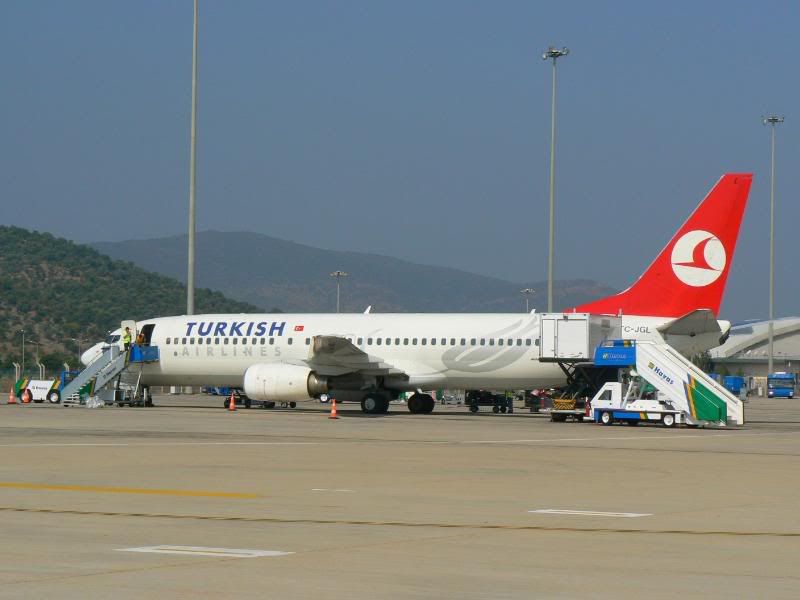 Our plane.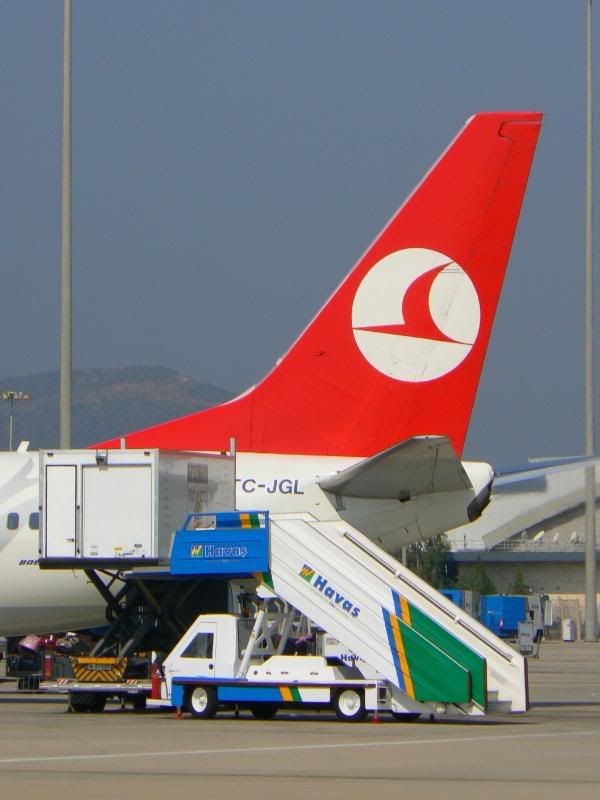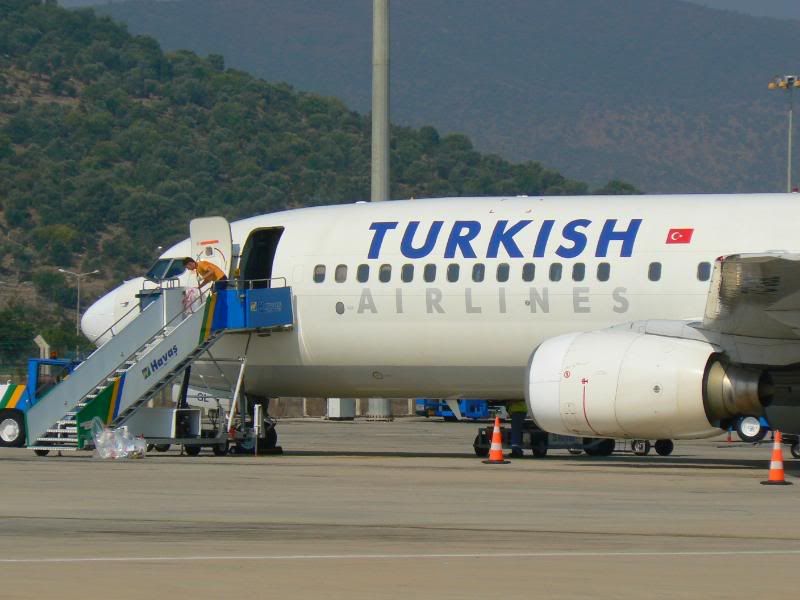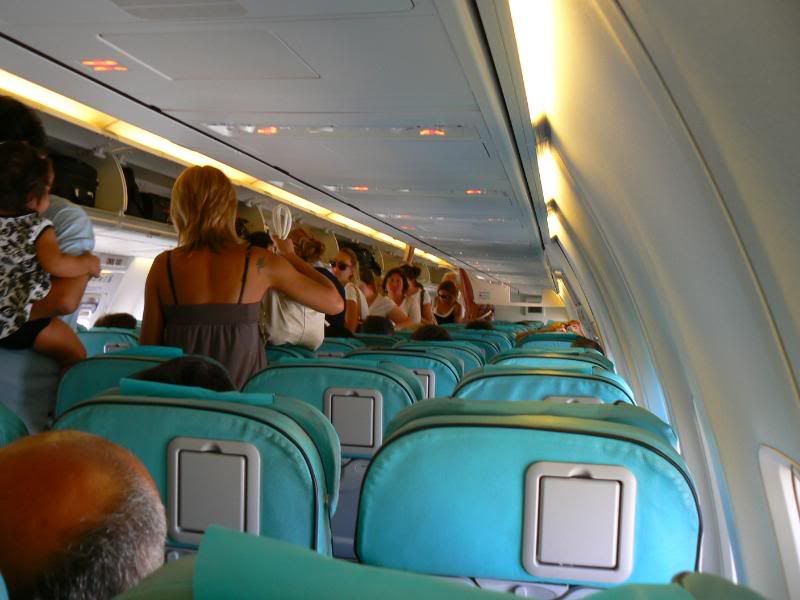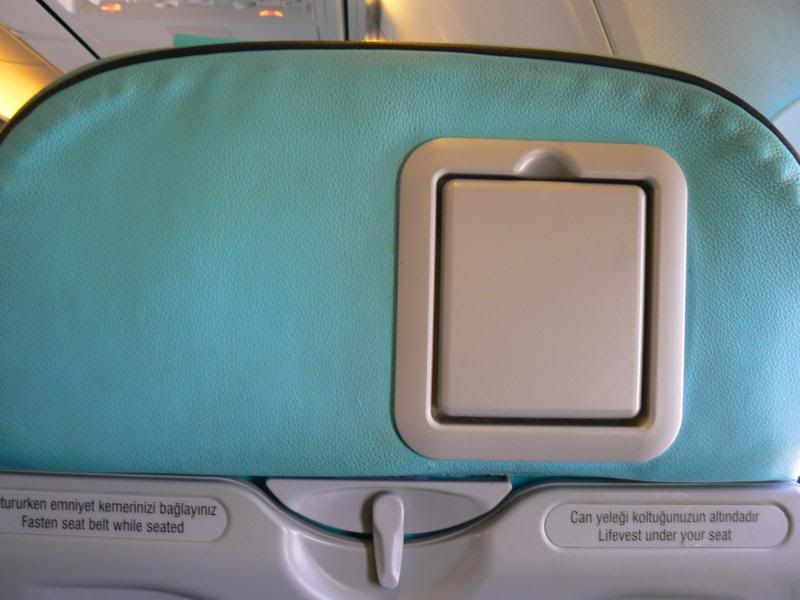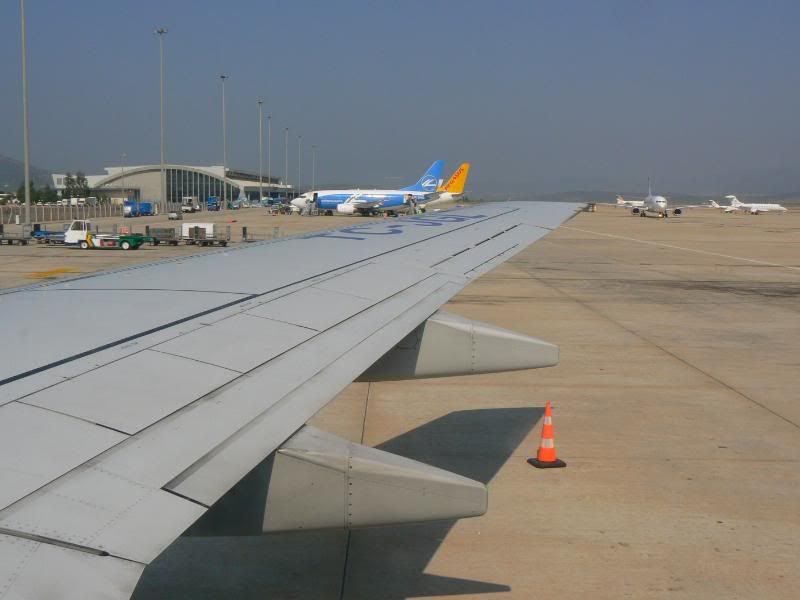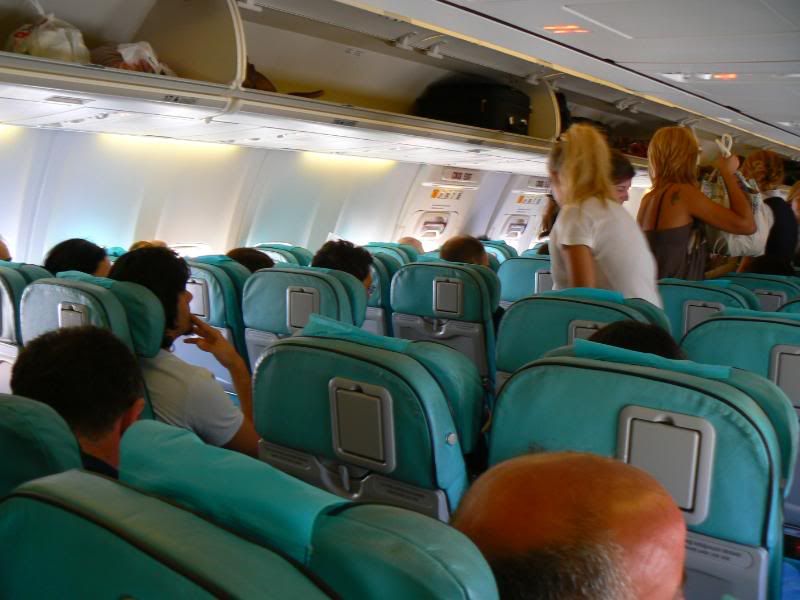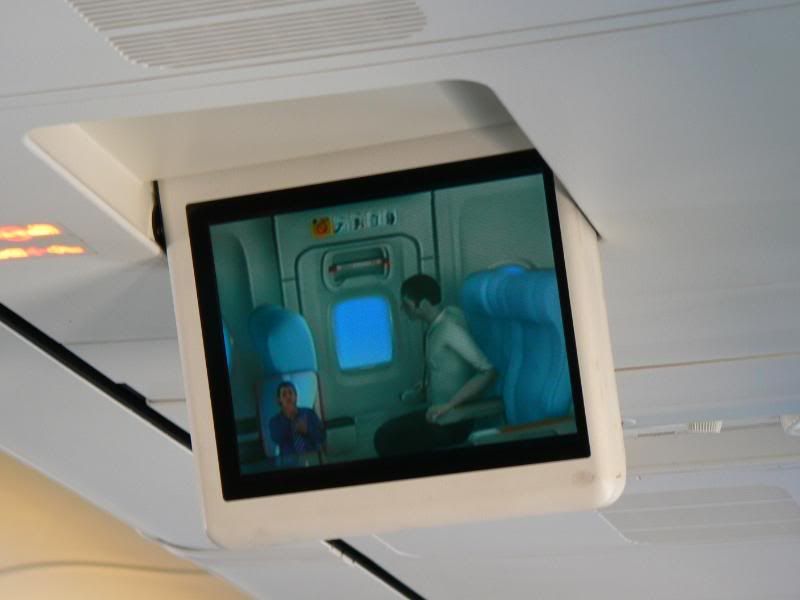 Safety video.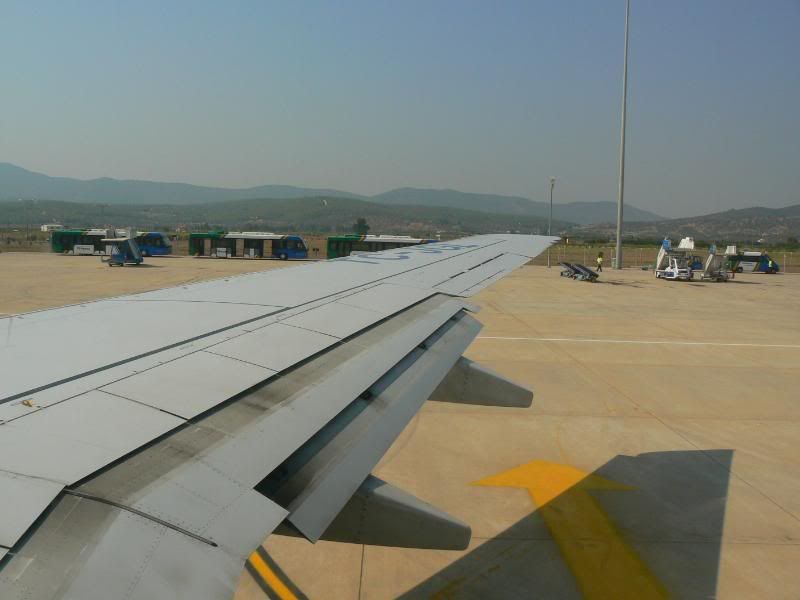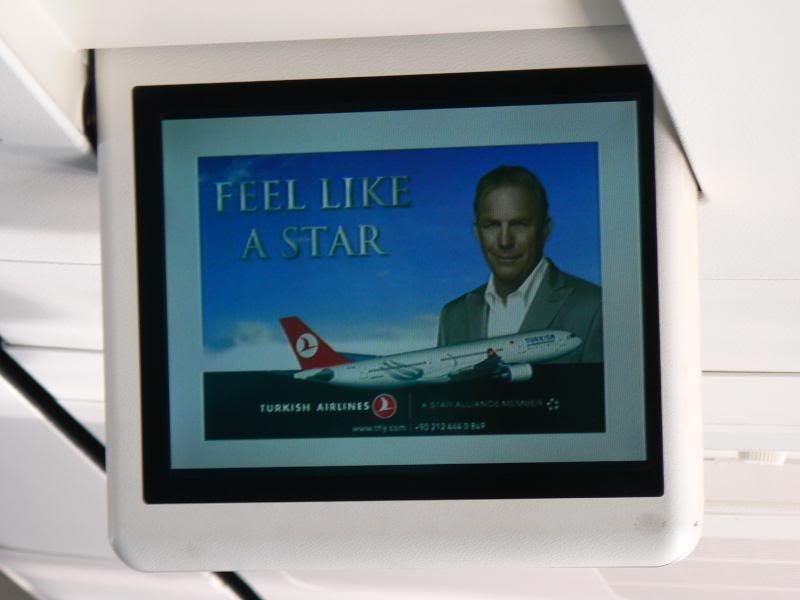 Remember him ? Mr Costner is in need of money it seems.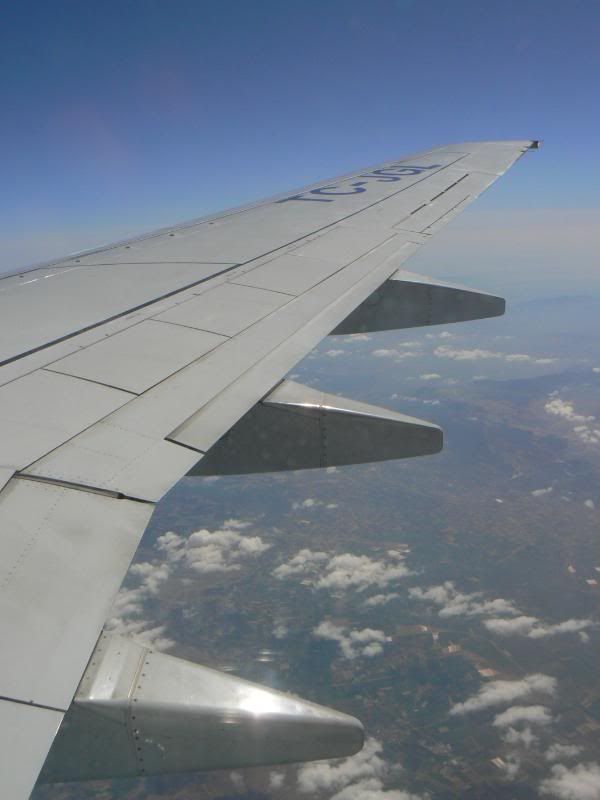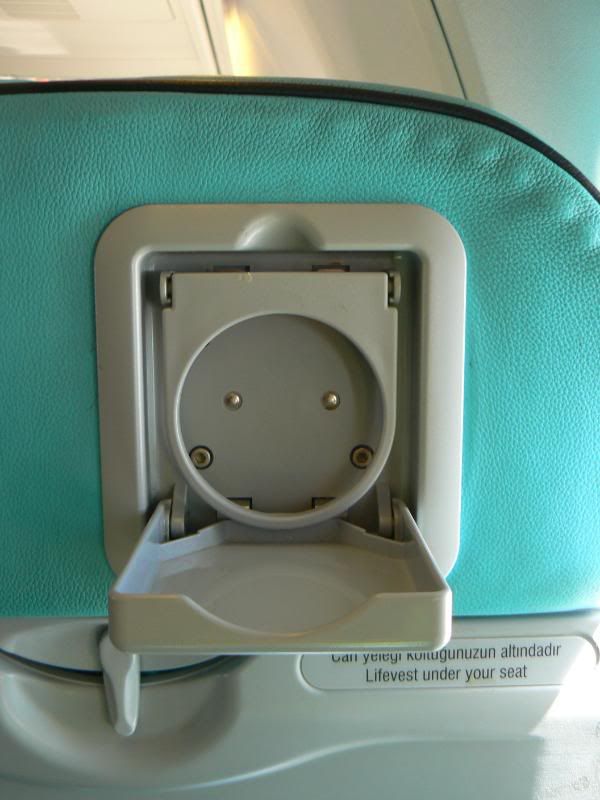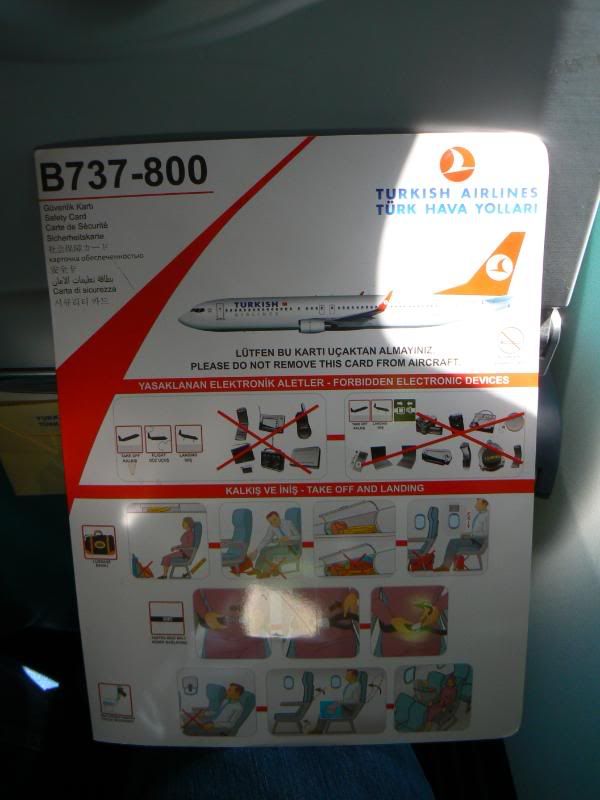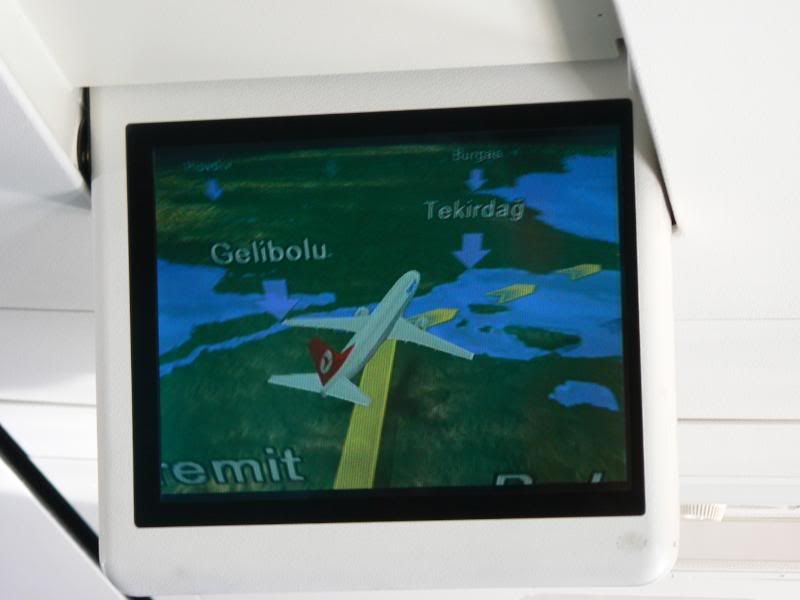 Approaching the sea of Marmara, waiting for my snack tray.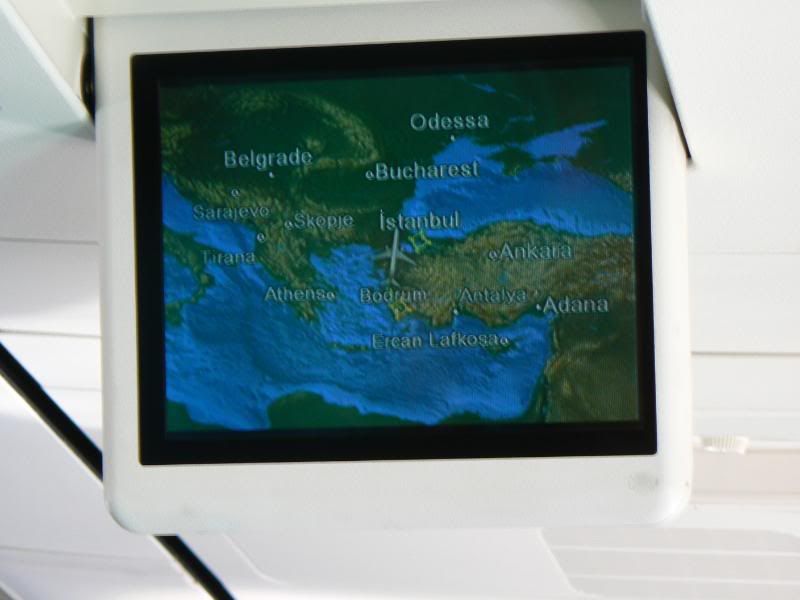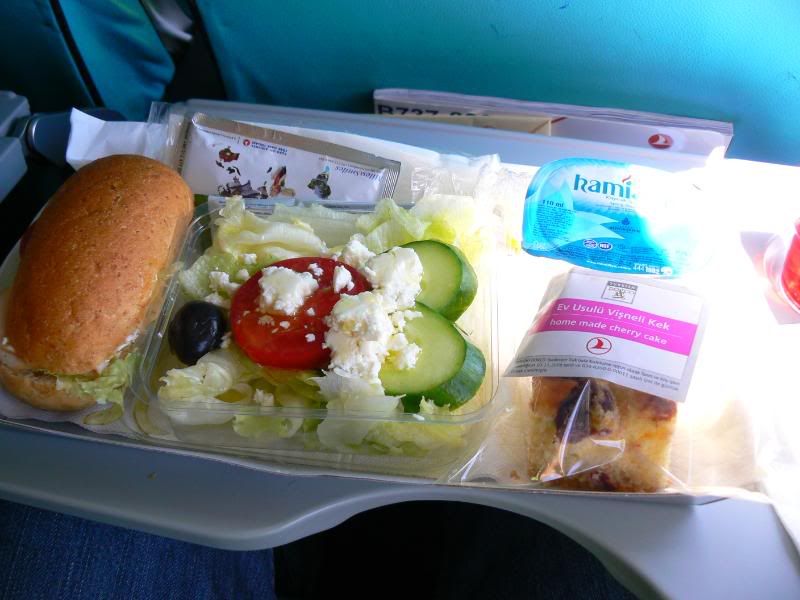 Here it is ! I had to eat all of this in less than 5mn.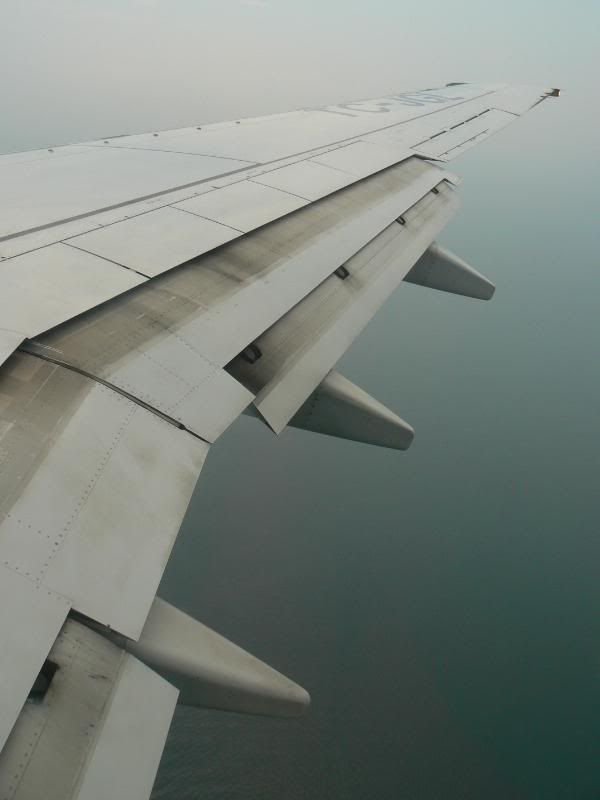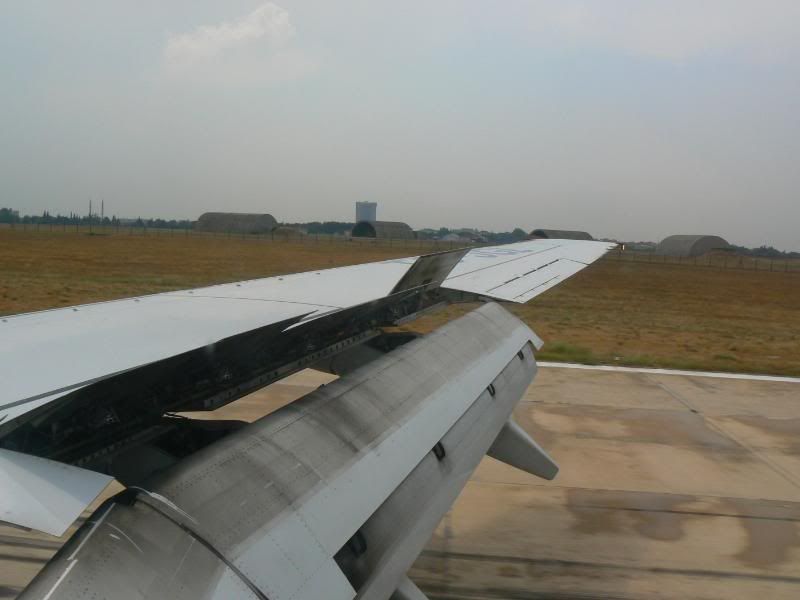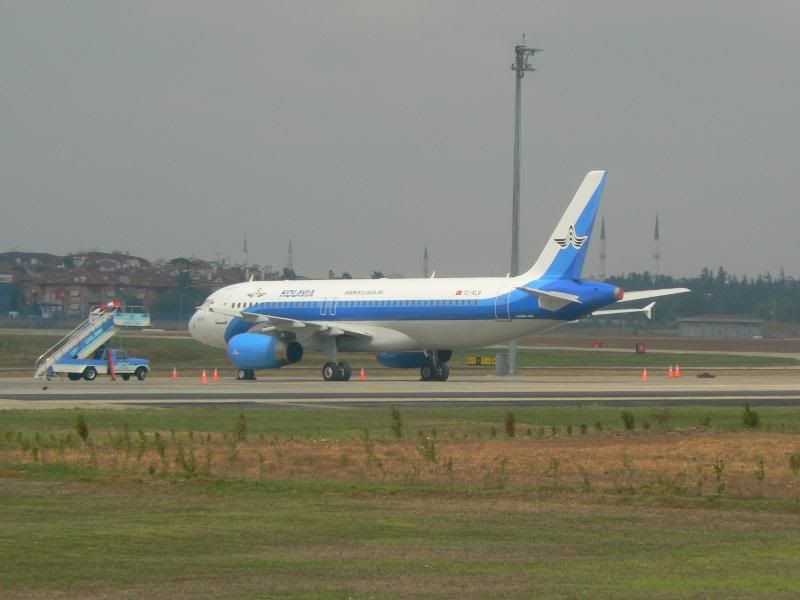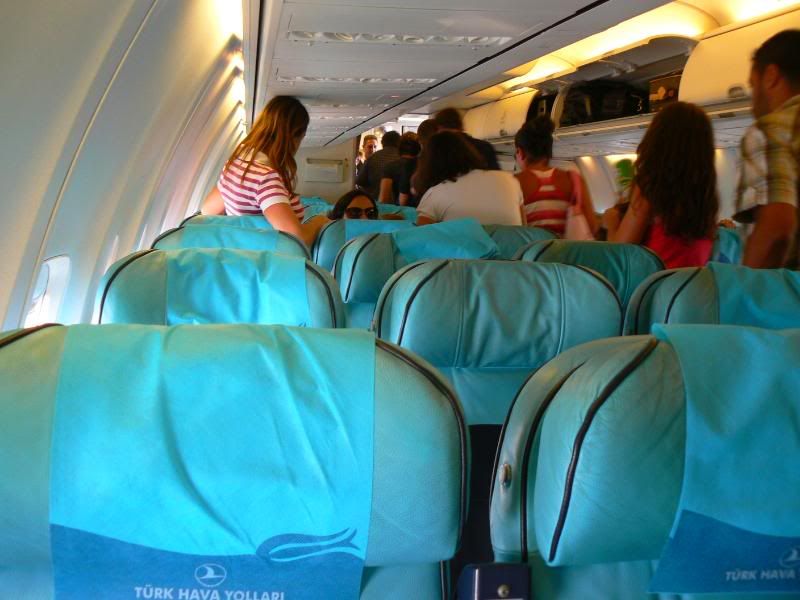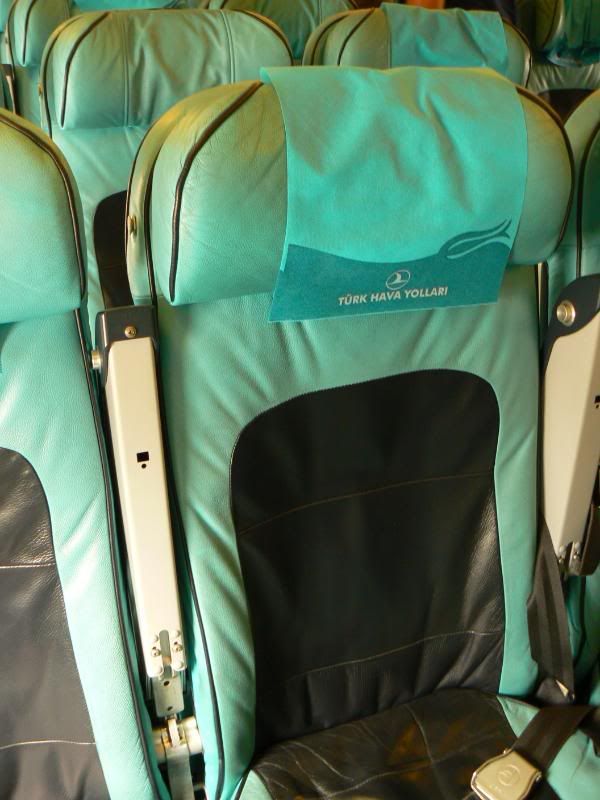 We made our way to the international terminal and queued in for immigration. It took us about 30mn to reach the counters. Something very surprising happened. A few meters in front of me in the queue, there was an Iranian guy with his wife. She was fully scarfed, you could barely see her eyes. When they reached the counter, the immigration officer checked their passports, and he let the girl pass without even checking her face...
Flight 4
7th August 2009
Route: Istanbul Atatürk (IST) - Nice Côte d'Azur
Flight number: TK1815
Aircraft type: B737-800
Registration: TC-JGM "Karaman"
Scheduled time of departure: 14:10
Scheduled time of arrival: 16:15
Anyway, we spent some time in the duty free shops before going to our gate. Once again we boarded by bus, but our flight was on time at least.
Nice crew, amazing food once again, and an uneventful and smooth flight. This aircraft had the new cabin AND winglets !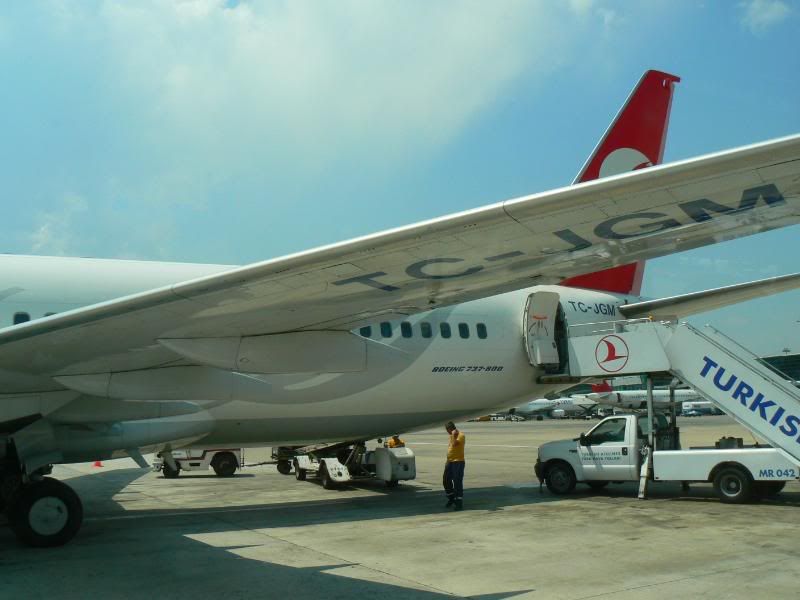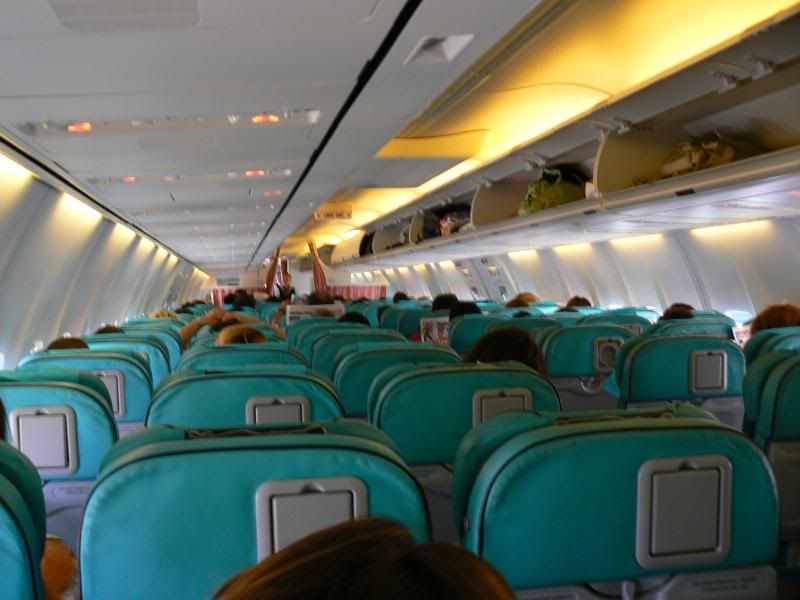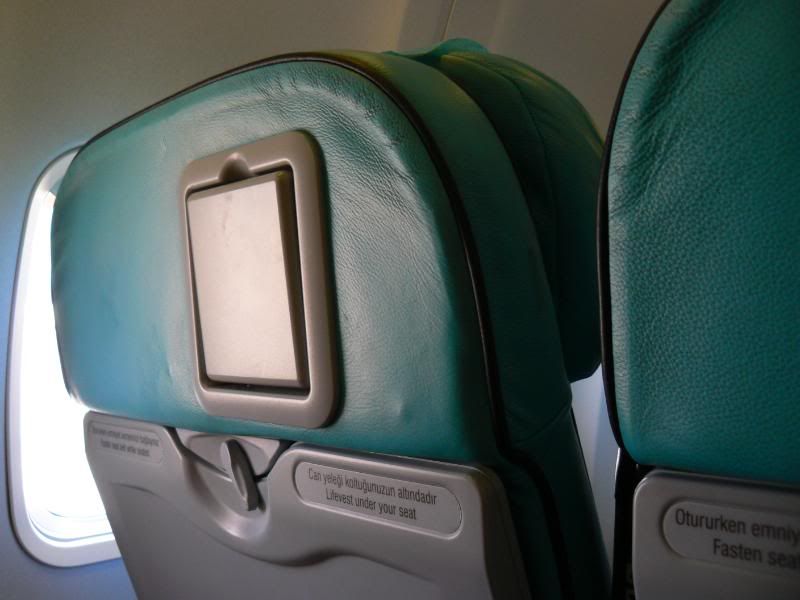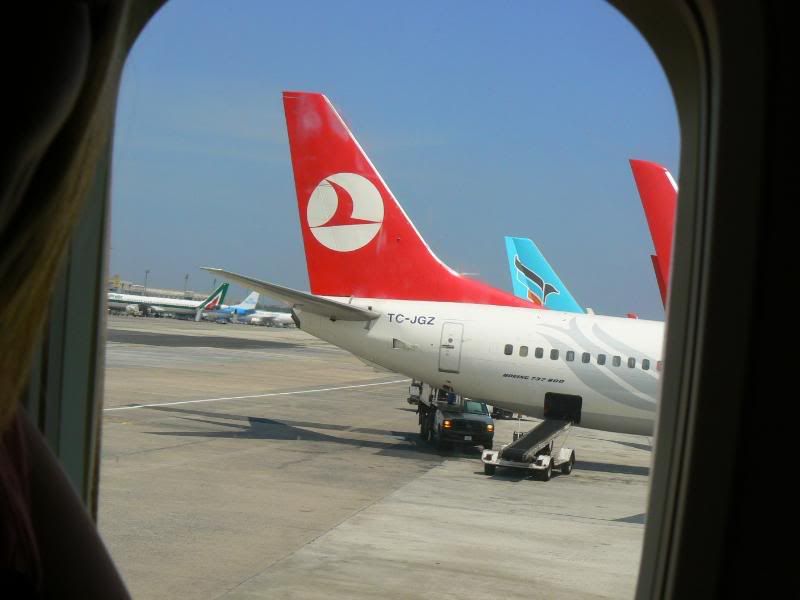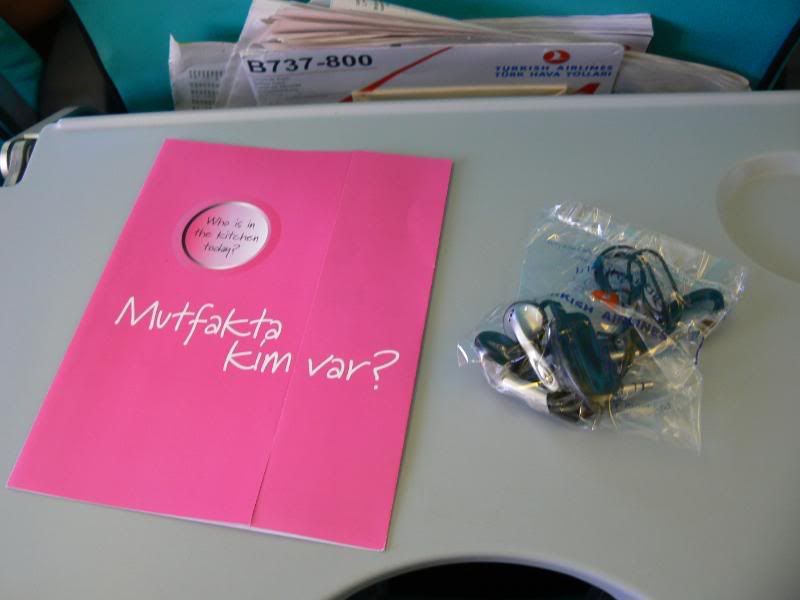 Menu & earphones.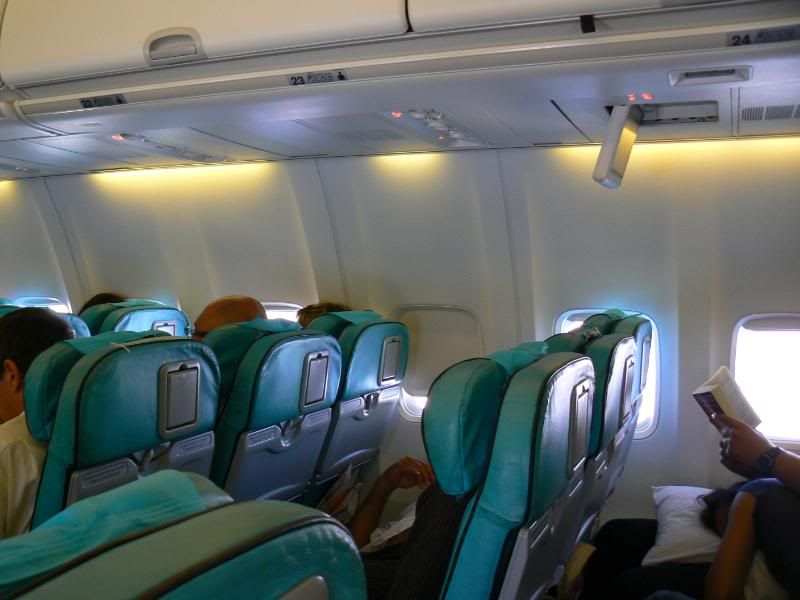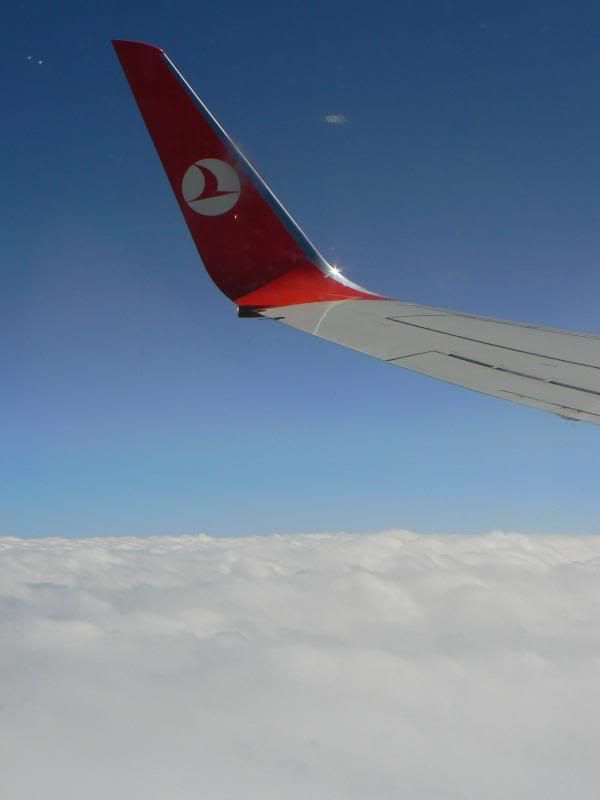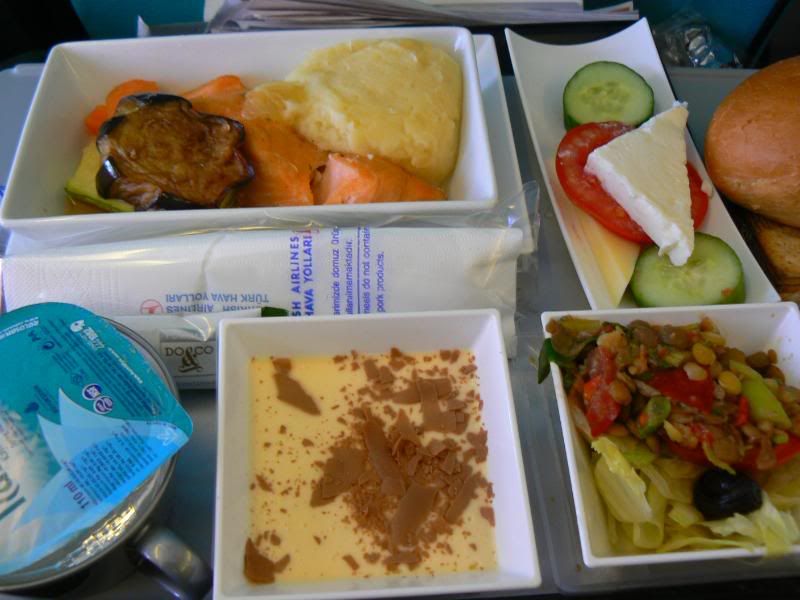 Excellent meal.
We landed in Nice approximately on time...but TK lost 5 of our 4 pieces of luggage ! They were nowhere to be found, and they didn't show up in the system. Fortunately, we got them delivered at home the following day.
Conclusion: TK offers an excellent service on short and medium haul flights. Most flight attendants were nice and professional, but some of them were a bit cold IMO. I was very impressed by the food offering, freshness of the cabin, and I love the 3D moving map on the drop-down LCD. Flying long-haul with TK must be amazing.
The big negative point is Atatürk airport. The international terminal is nice, but they HAVE to do something about the very long queues at immigration. It's unacceptable for passengers who have short connections on domestic flights. They also have to do something about the delays. There was a thread recently about this in the civ-av forum.
I wouldn't hesitate to fly TK again, judging from the service they provide it's easy to guess why they've been so successful lately.
Hope you enjoyed the report !
Clément