I was dearly hoping to fly with SQ. I have been an immense 'loyal' follower of Krisflyer and a fan of SQ. That was until I found out the $$$$$$. An impressive $1400 or so (Aussie Dollars)to Wuhan, Hubei province, China return. With CX, the price came to a tantalising value at just below the 4 figure mark. I tried to hold off the booking as long as I could to see if SQ would do the same. Alas, SQ kept its nose high. Fine with me, I'll redeem an instant 'reward' with CX instead- an obvious no-brainer for me.
21 March 2009
Perth - Hong Kong
CX 170 Cathay Pacific A330
Sched Dep 01:05 Actual Dep 01:30
Sched Arr 07:45 Actual Arr 07:55
The day finally came to embark on a China trip. We set off at 22:25 hours, arriving at the airport at 23:00 hours.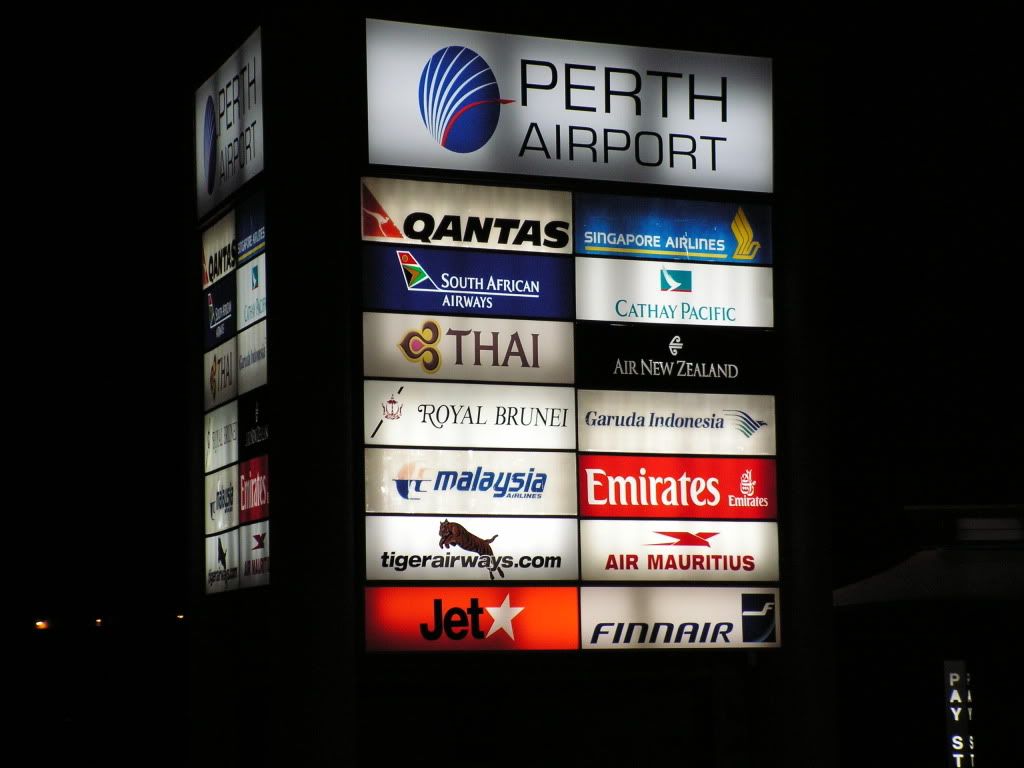 Am I delusional? Since when did Finn Air fly to Perth?
I was quite jubilant today because I was basking in the final hours of my birthday (i.e the 20th March). I had delusions of a cheerful and cute check-in agent brightening up my day (what is left of it) with a surprise congratulatory "21st" birthday; a Cathay Pacific air hostess springing up a surprise Birthday song and chocolate cake and showering me with confetti. Hhmmmmmmm chocolate cake...... just like Homer Simpson.
We were at the airport 2 hours before scheduled departure, surely we'd be one of the first ones to queue up at check-in. How wrong I was. There was already a long snaking queue that translated into a 30 minutes wait. There was one counter dedicated to the privileged few flying First, two counters for an equally privileged few flying Biz, and only two counters to cater the masses of unfortunate souls flying at the back. Wait there's more. CX has been generous in providing another counter for bag drop off for those smart enough to have checked-in online. In hindsight, I should've checked online and used the saved time to stroll around Perth's mediocre airport.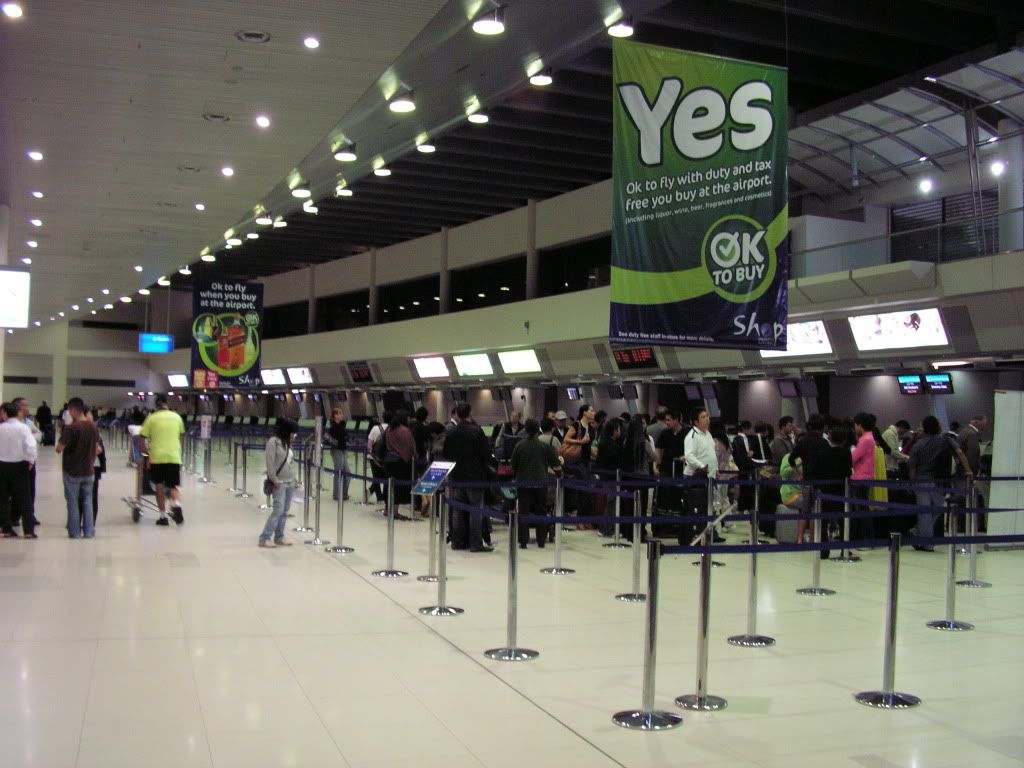 "Can we sit on the 2 seater side please". A moments silence.
"Sorry sir, all the 2 seaters are full. You can ask at the gate just prior to boarding. They may be able to help you".
"D'oh!" . I should've checked in online I thought. I was still anticipating the agent might notice my birthday today. Sadly, this did not come to fruition.
Our bags were tagged, boarding passes handed and off we went upstairs to explore the sights and sounds of Perth Airport. I think Perth is trying hard to beat Heathrow. The floor space dedicated to retail has expanded considerably. I reckon if the landlord has its way, there will be no windows left to spot.
You realise how small Perth is until you bump into one of your ex-boss, an ex-neighbour and parents of an ex-classmate. Luckily, I have been on good terms with them. The courteous 'hello' and an update on the latest goss was compulsory. Subsequent to the 'update', I started scouring the windows for the distinctive Cathay tail. It was dark outside so it was a bit hard to see. But I could see none.
24:30 hours came and there was still no announcement to board the plane. Alarm bells started ringing. I knew that the flight departure will be delayed. The waiting area felt like a market by now. Every seats were taken and people crowded around the gate. By now, my eyes were so heavy. I just wanted to sleep.
Boarding finally started at 24:55 hours. Everyone stood up but there was no clear demarcation between Business Class and Economy Class. I looked around and the people around me had a different coloured boarding pass to what we had.
"This is business class" someone grunted . Don't you love it when someone tells you where you belong.
It was well and truly past my usual bedtime. There were 3 kids crying on the plane, at the front and back of us. Luckily I brought ear plugs to drown out (well most of it anyway) the high pitch vocals capable of shattering Swarovski crystals.
At 01:30 hours we were finally airborne. I was so tired I just wanted to sleep. Soon after, a flurry of activity started with the flight crew dishing out meals as fast as they can. It felt like a busy yum cha restaurant.
I was trying to be a "do gooder", a saint and not cave into the tempation of eating at an ungodly hour. I never understand why there is a meal served for red eye flights. Besides, HK is in the same time zone as Perth. Is it because it is a full service airline and thus we automatically expect to be catered? For my girlfriend, it was a no-brainer: just mention food and she would tuck into it in a blink of an eye!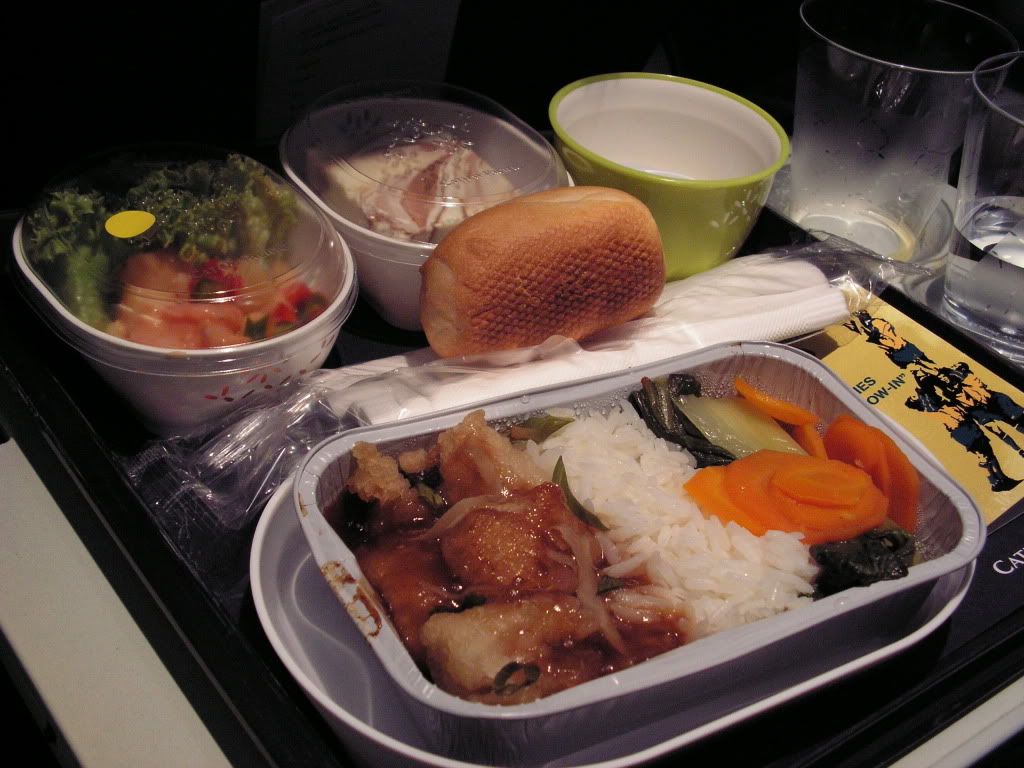 Supper
Prawn, potato and pineapple salad
Deep fried perch with ginger sauce, steamed rice, pak choy and carrots
or
Braised beef with tomato and mushrooms, mashed potato, seasoned beans and carrots
or
Rigatoni with basil cream and bacon sauce, roasted vegetables
Marble mousse cake
Tea and coffee
I slept for a while til we hit turbulence over Kalimantan, the Indonesian side of Borneo. It was quite bad that the seatbelts were switched on. I was trying hard to see through the window from a distance. It was dark outside,with the occasional strobe light lighting up Columbus Nimbus. I was soon dozing off to sleep in La La land.
I was woken up by the flurry of activity again. The trolley cart had truly reached our row. Breakfast time. What annoyed me was the flight attendant did not even bother to wake us up. Luck was on our side because we woke up just in time to get her attention for breakfast. Meals were quickly dished out without the pretense. No 'goodmorning' greetings, the meal was plonked in front of you. You could be forgiven in a Yum Cha restaurant in downtown Chinatown. It was a mere 1.5 hours before arrival in HK. In no time the meal trays were cleared. Job done.
Continental Breakfast
Seasonal fresh fruit
Fruit Yoghurt
Selected pastries with jam and butter
Tea and coffee
We finally arrived at HK at 07:55 hours.
22 March
Hong Kong - Wuhan
Dragon Air KA 850 A320 B-HSI
Sched Dep 08:05
Sched Arr 10:05
Left the hotel at an early 04:35 hours. I asked front reception if it was safe to use the underpass to reach the other side of Nathan Road. She was perplexed by this Q and answered it was safe to do so. I soon realised why. People are still eating out at the many eateries as if it was 6pm. The streets felt safe to walk and there were no out of control bogans (chavs) loitering about. This was no Northbridge, but truly amazing Hong Kong.
Caught one of the last night bus to the airport arriving there at 05:50 hours. The airport was still pleasantly quiet.
Check-in was a breeze. There was no queue.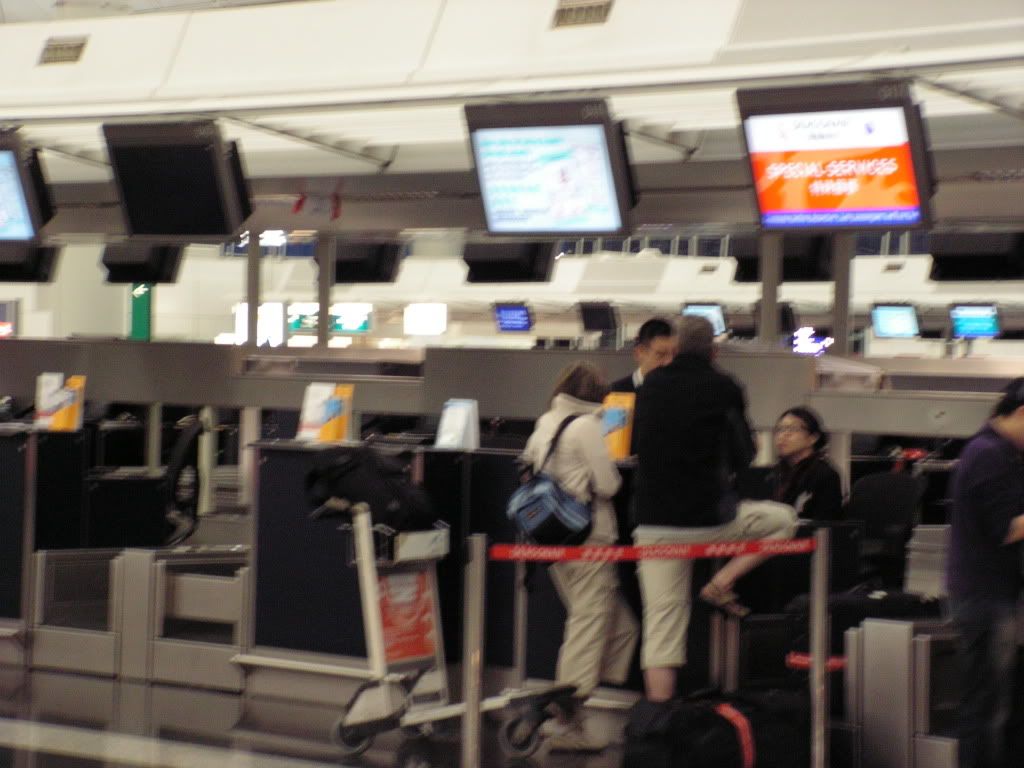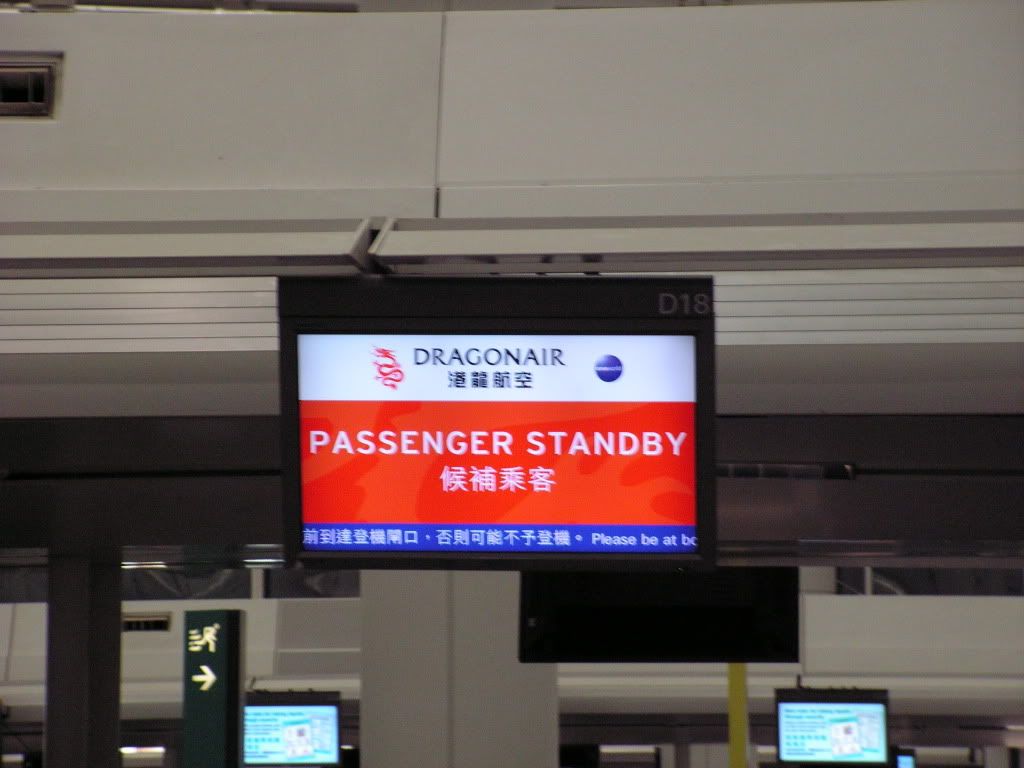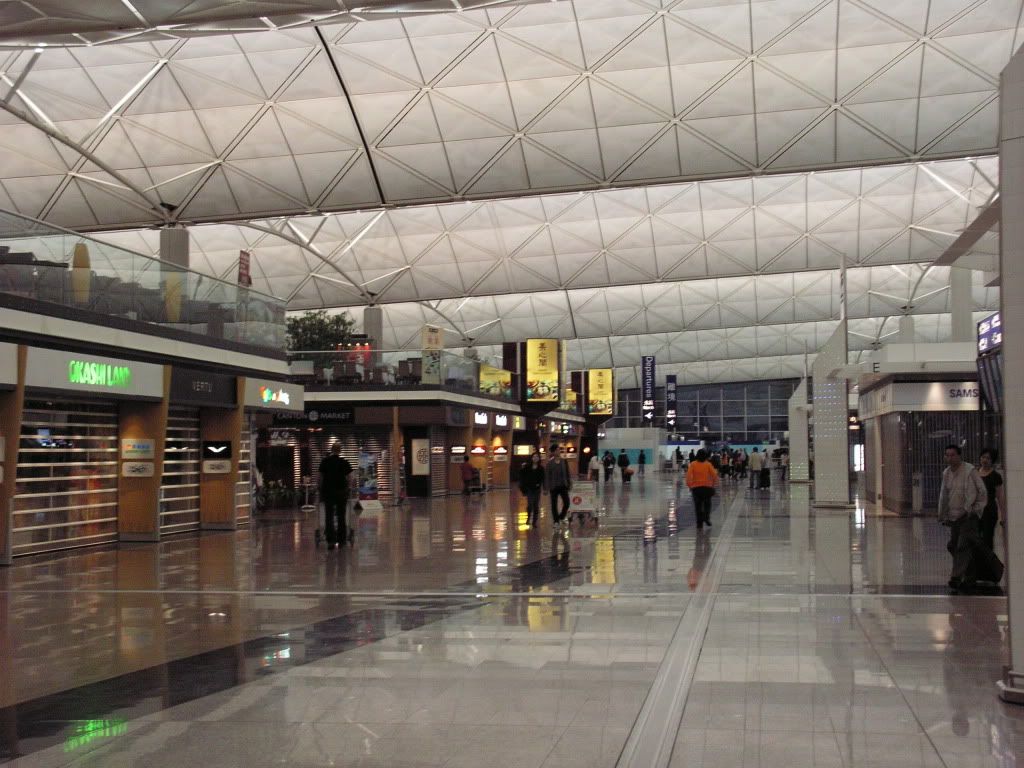 I then spent every precious moment doing some plane spotting. Serious stuff.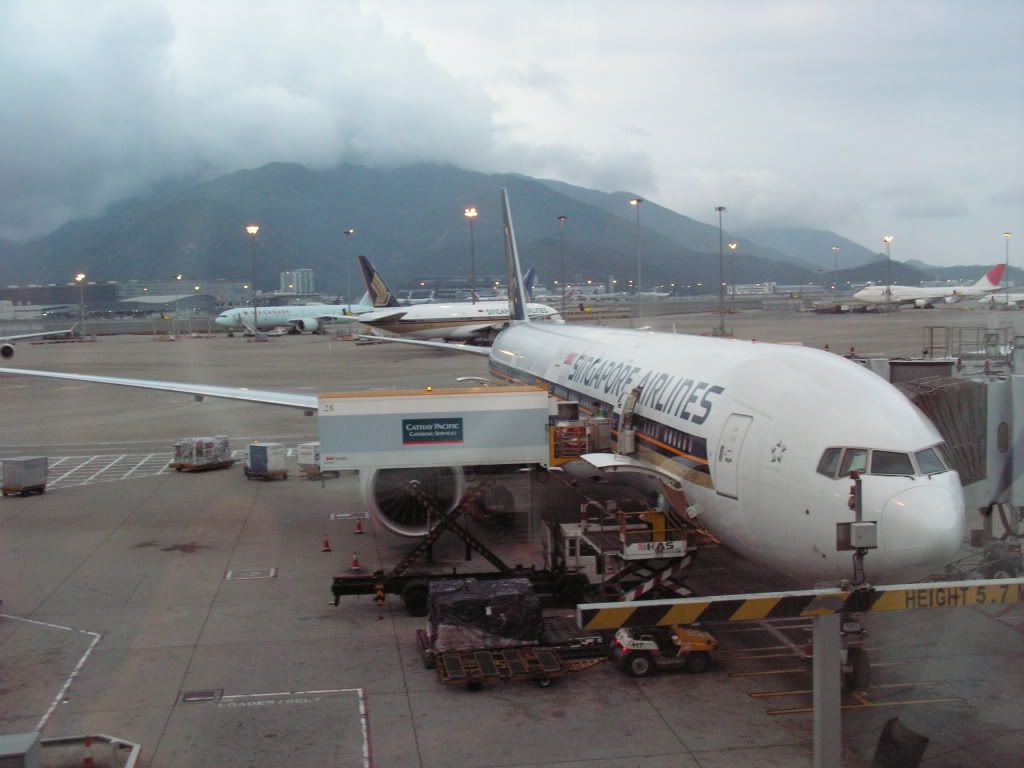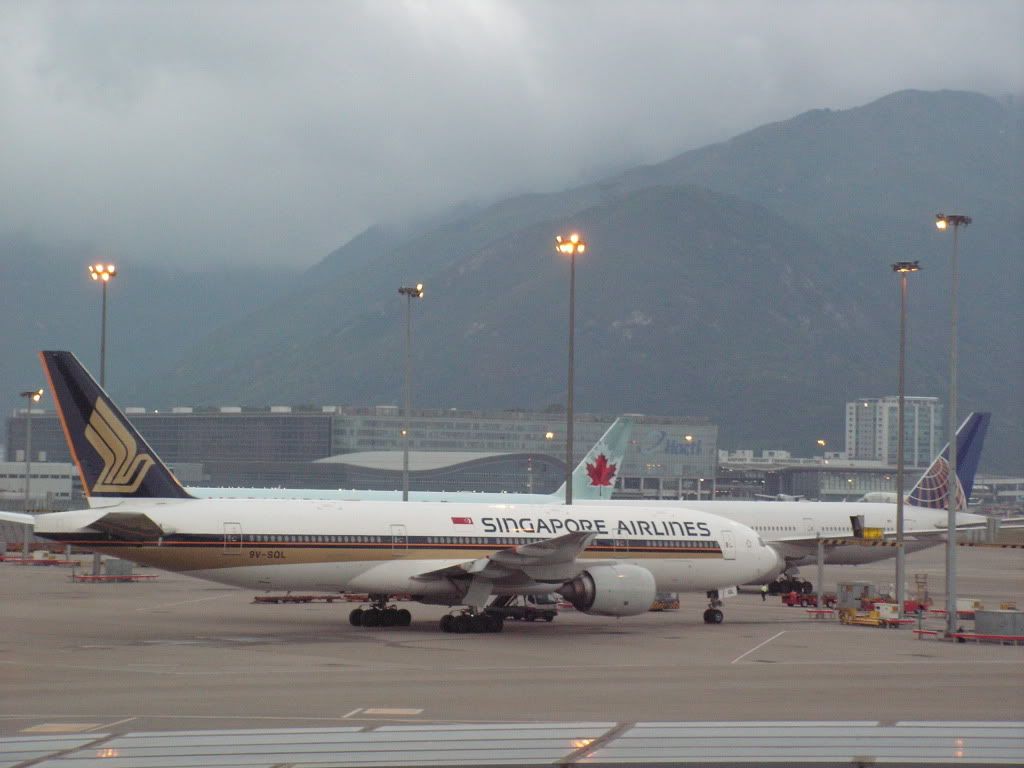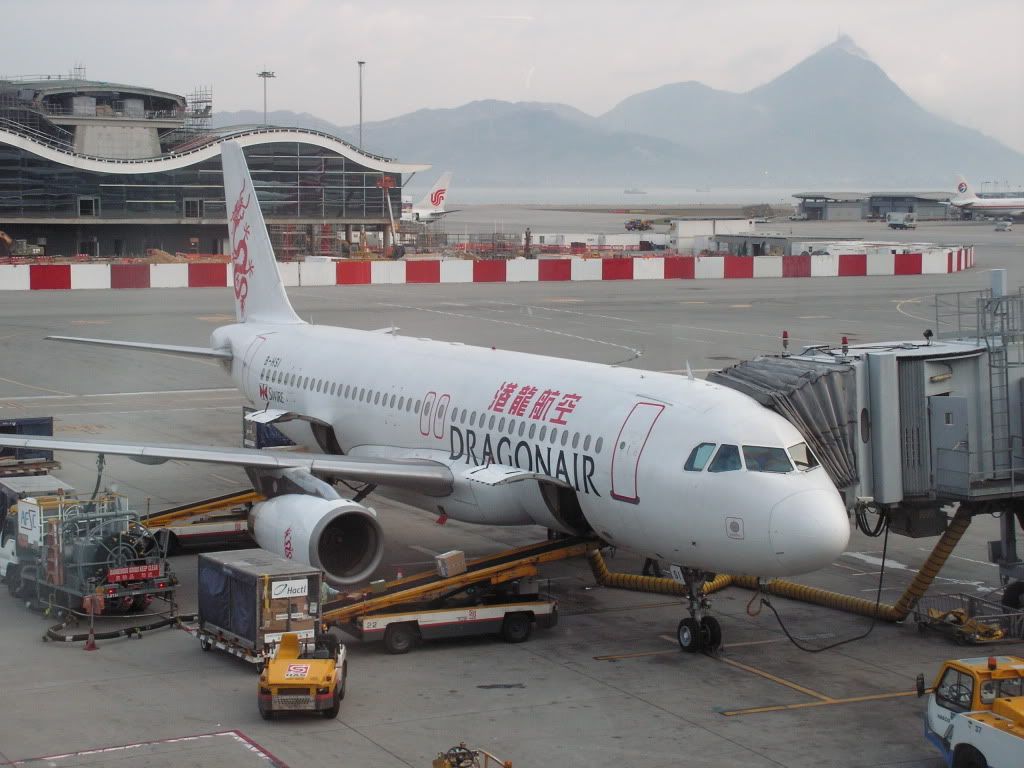 The plane that would take me to Wuhan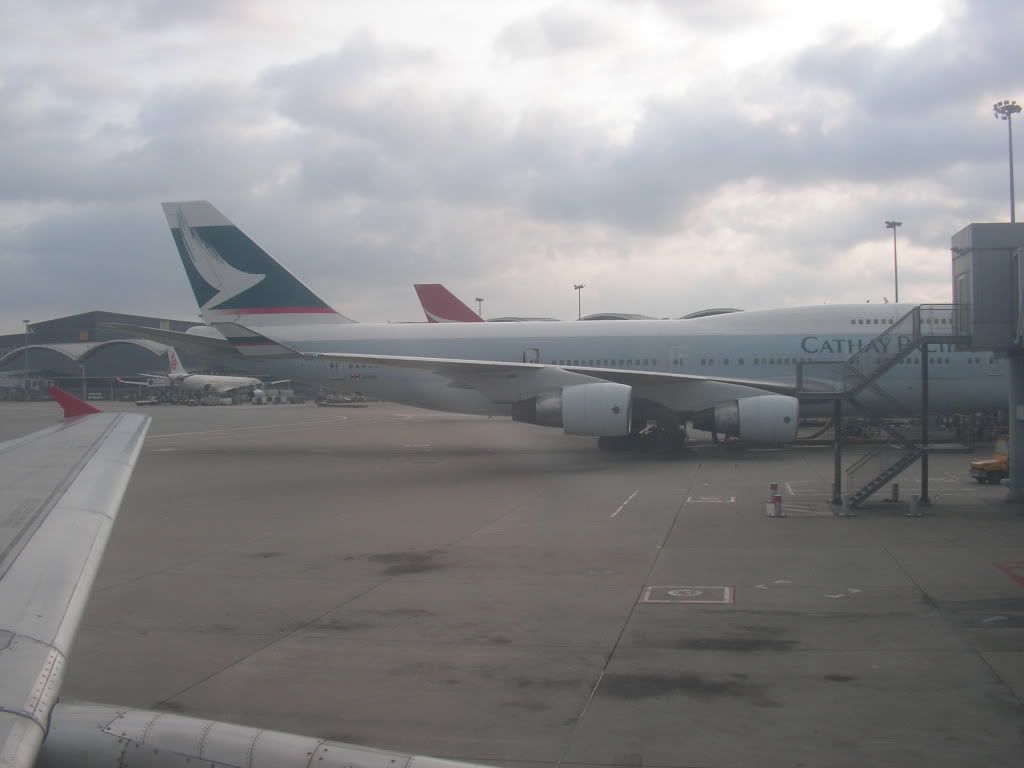 As we entered the plane, we were greeted by a lovely flight crew. As soon as all passengers were on board, the door was shut and the plane departed on time.
Soon after take-off, service started. The flight crew seemed to be in relax mode and more jovial compared to the CX flight I took a day earlier. This is perhaps due to a light load, a mere 50% or thereabouts.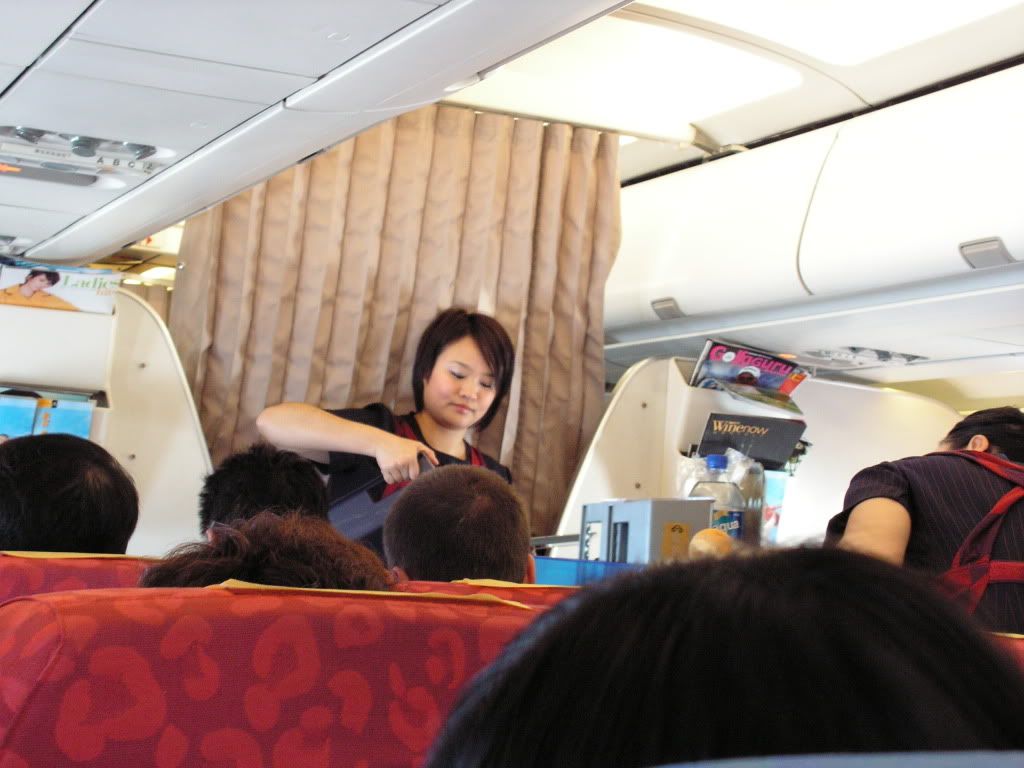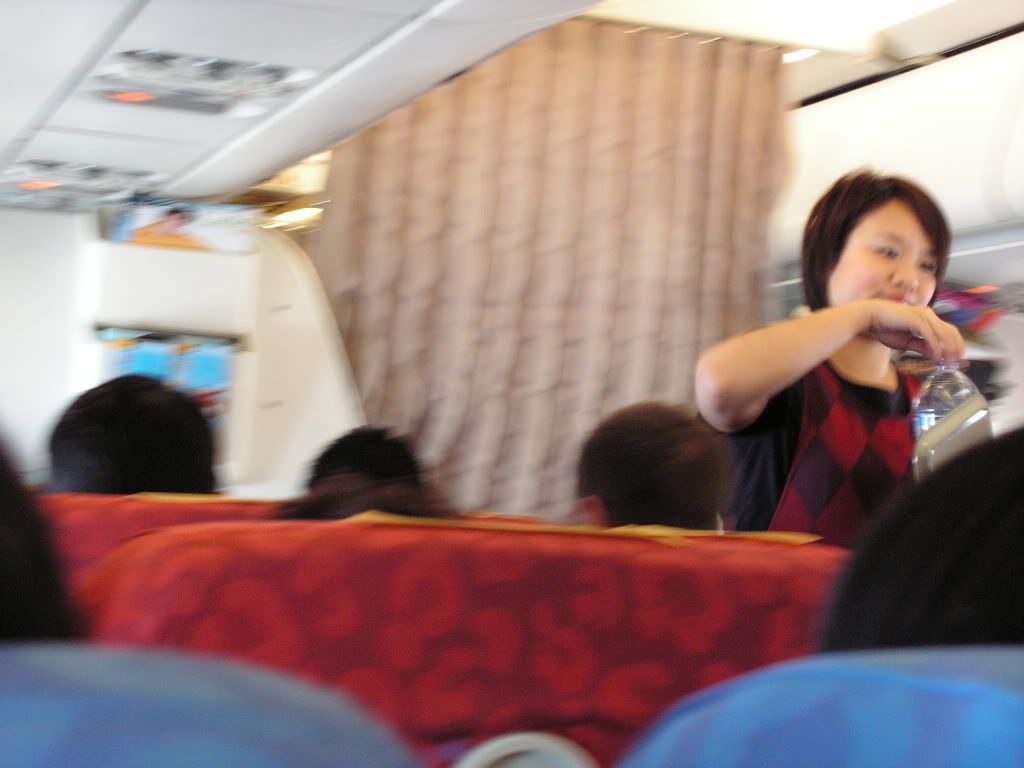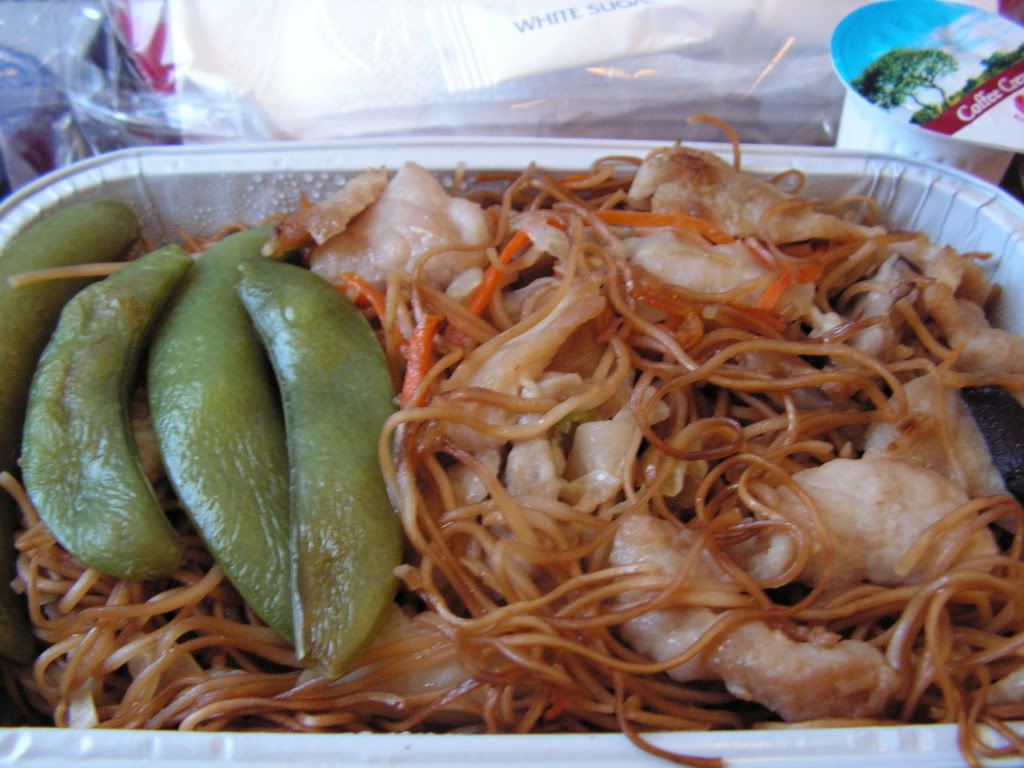 The sevice was quite impressive considering it was only a 2 hours flight. Imagine if this was an European airline, or worse an US airline, the meal would have consisted of a bread roll or simply pretzels. There was only one choice offered but the serving was decent indeed. After the trays were collected, I did some light reading on an article about an ancient land route called the Silk Road, which spanned from China to Turkey and Rome. It is my dream to visit parts of the Silk Road, but alas it would have to be next time and a new TR.
Soon descent started. It was hard to tell whether the land was shrouded in fog mist or pollution haze. This is China after all, the land of the big 'smoke'.
It was quite difficult to see through the window. All I could see was lake ponds plenty in this region. Perhaps they were fish farms or lotus farms destined for local dishes which to many to us are so unaccustomed to. Certainly no Hainan Chicken Rice, Laksa, Kwe Tiau, Fried Bihun, Nasi Goreng, Pad Thai or Gado Gado. Definitely no Sweet and Sour Pork and Lemon Chicken here.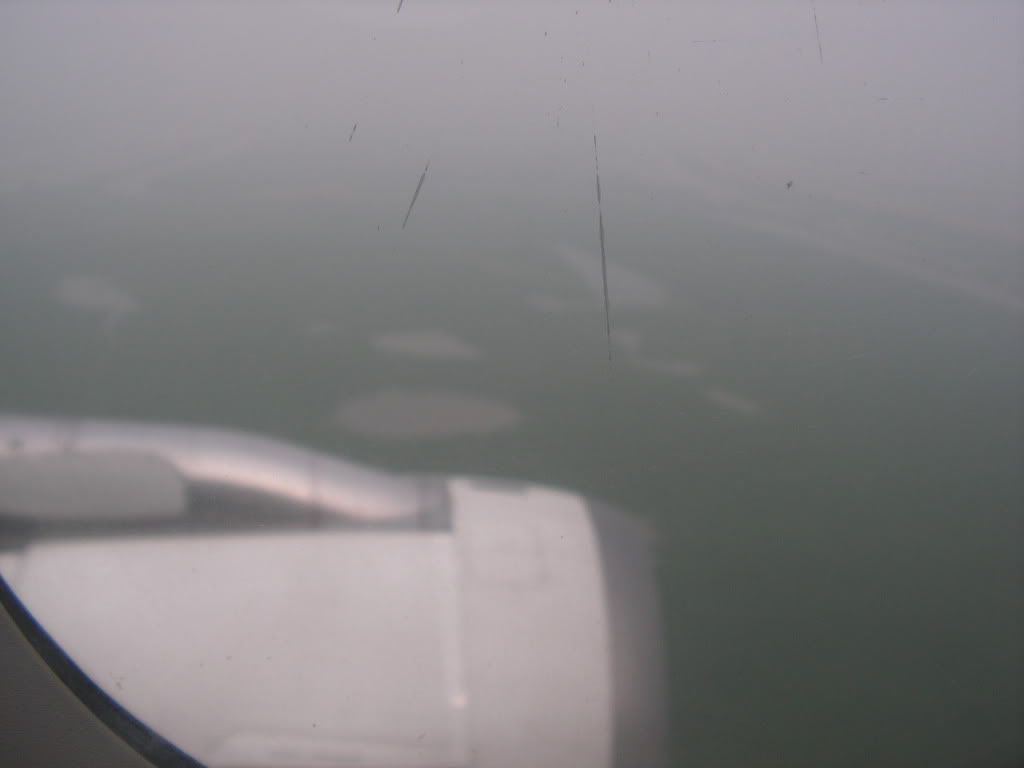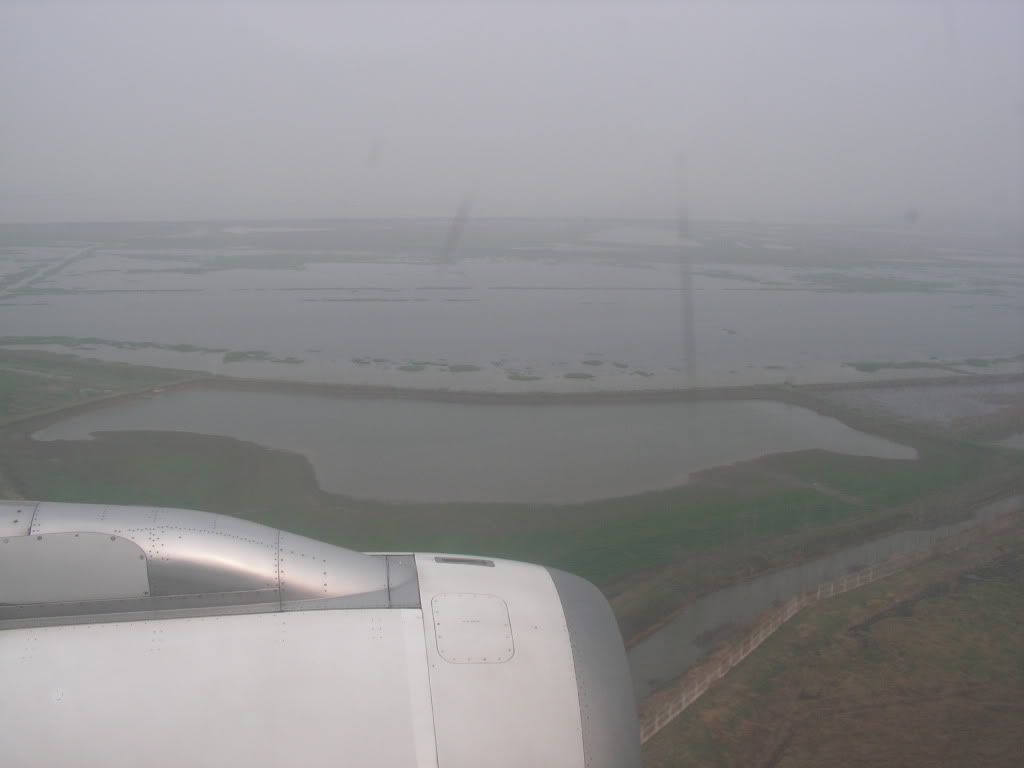 The international airport was an old communist style building, quite separate to the more modern domestic airport. Since we flew from HK, our flight was considered "international flight". Then came immigration. I got pulled over and 'interviewed' for holding a foreign and western passport. "Your face looks Chinese and your name is Chinese (Hokkian dialect)" the immigration manager quizzed. He probably was suspicious that I had 'defected' to a foreign government and came here on a 'Mission Impossible' trip. It became apparent that the officer obviously had not encountered an overseas Chinese, especially those travelling to Wuhan.
"Wo shi NanYang Indonesia ren" did the trick. Seing that we had common ancestors, I was let through. Welcome to Wuhan.