The ancient AirTransat A310-300 to Toronto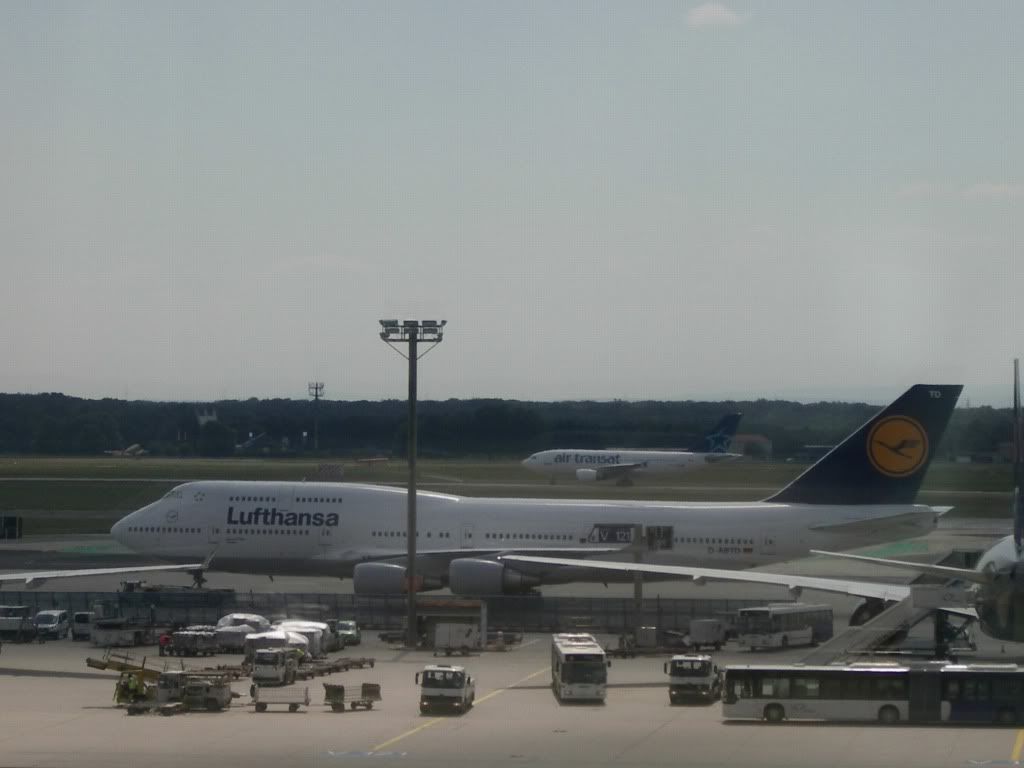 Hi, dear readers,
and welcome to some more transatlantic travel.
Three days only after my arrival back home from the UK
1000 Kids And Me To Pleasure Beach: BLK-DUB-FRA
(by
FLIEGER67
Sep 18 2009 in Trip Reports)
I was ready and prepared to go again.
A trip to Canada was on schedule since a longer time, but no acceptable time/fare/plane compilation found till now.
Finally TS offered a good fare for a short trip without the usual sunday rule and these together with the scheduled A310-300 forced me to book that thing.
Thursday, 06.08.2009
FRA (Frankfurt-Rhein-Main) Sunny, Temperature 29 degrees
YYZ (Toronto-Lester-B.-Pearson-International) Sunny, Temperature 24 degrees
Duration: 8 hours, 15 minutes announced
8 hours, 40 minutes actual

Service TS 181 operated by Air Transat
Scheduled: 14.50 // 17.30 (six hours time difference)
Actual: 14.50 // 17.30
Gate: E 13 Seat: 30A
Load factor: 100%
Well, my first impression about TS was not that really good.
It´s always my interest to collect as much as possible travel around my trips. Also here I´ve secured a run on ViaRail Canada
from Toronto Union station to Kingston, Ontario and back on AirCanada operated by AirGeorgian on the Beech 1900D for Thursday afternoon.
Arrival on TS was scheduled for around noon.
TS changed the departure time from 07.25 am early morning to 2.50 pm in the afternoon. TS run´s also from HAM at that particular day with
a good departure time to reach from STR and also fitting to my later schedule.
The fare was similar to FRA. I´ve tried it three times to change that outbound flight by phone. The answer was always the same, yes, it seems possible, they will check it
and send me a confirmation per mail.
Well, no mail, no change at all!.
Seat pre-selection is pretty expensive at TS and while I want to see open seats the system responds that my booking was not ready for online seat selection.
OK, reasons enough to go pretty early to the airport this time. Parked the car at Tourcare and shuttled to the airport.
I was in FRA Terminal 2 at around 11.00 am and soon thereafter the counter´s opened. I was one of the first pax to check in and secured the window second last row,
important, while the TS A310 has 3-4-3 seating and only the very last rows in 2-3-2 configuration. These seats are sold as extra seats at pre selection.
It was pretty hot outside, no interest for the viewing deck today. Time to go trough security, no problems, and looking for a place to spot the apron and runways from the E gates.
Let me say, not that easy. My gate was the last one at the end of the Terminal 2 building, no views at all, that means walking down the D gates nearly till the end to catch a perfect sunny seat with good views. *bucks, a bread roll and my book helped me to spend the time till boarding.
My place:
Any time machine´s here?: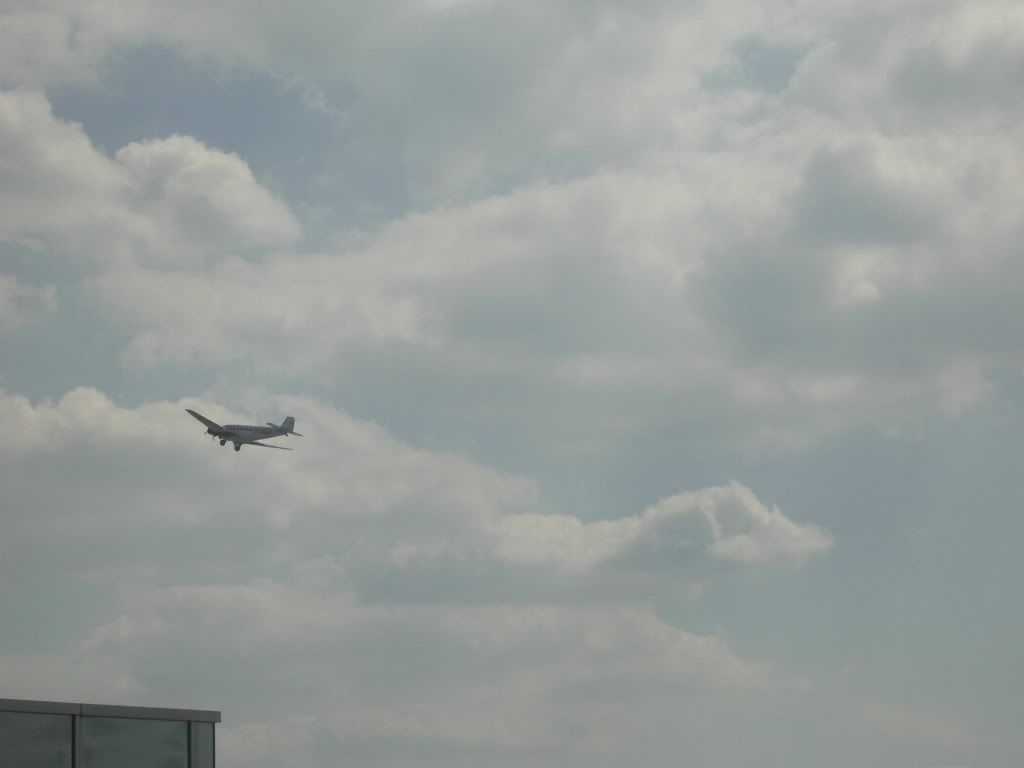 Something familiar:
Also interesting: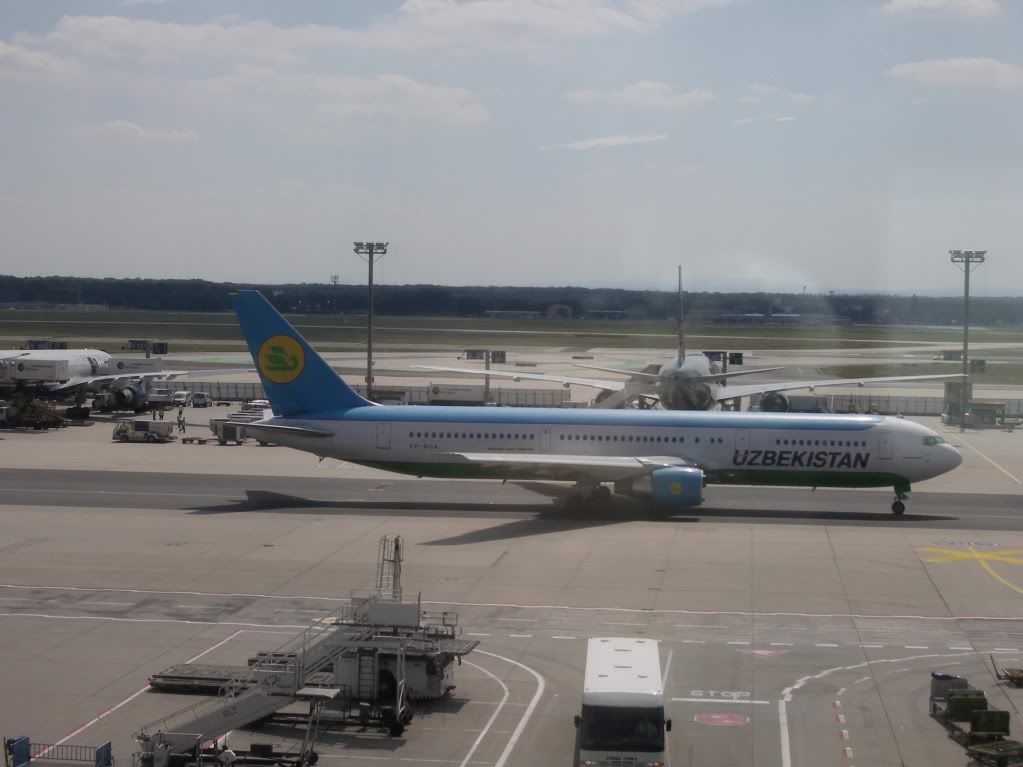 And once more:
UA departure:
CX heavy: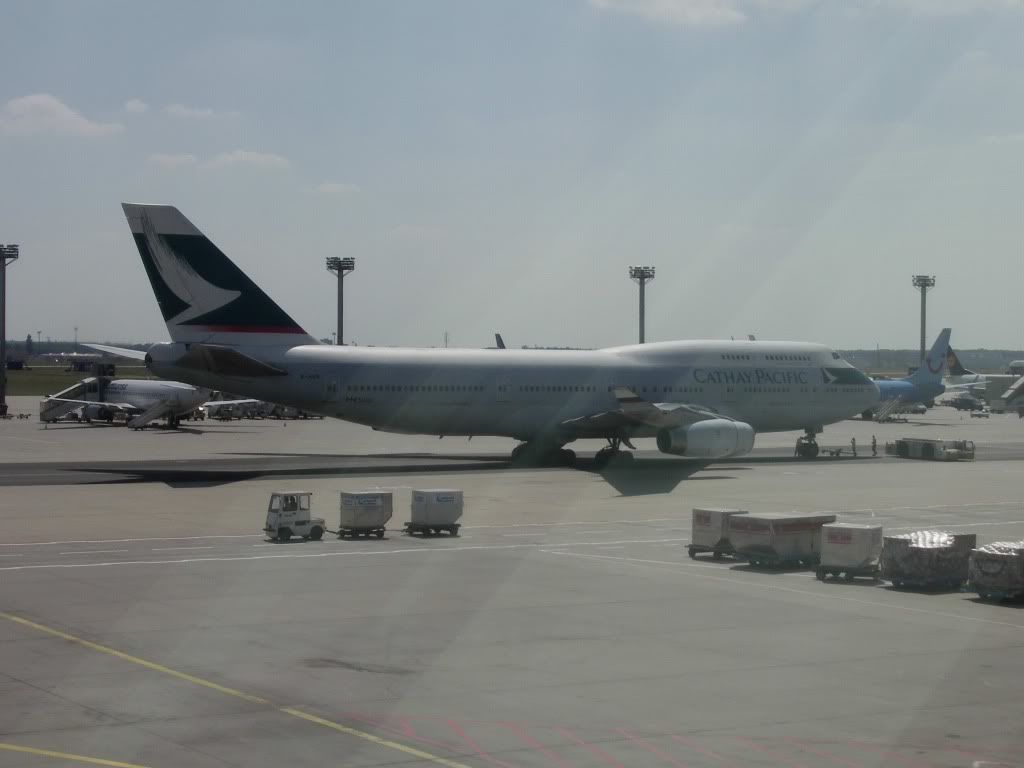 Ops showed me C-GTSX, the scheduled A310-300 which I saw later arriving from YYZ.
Ops: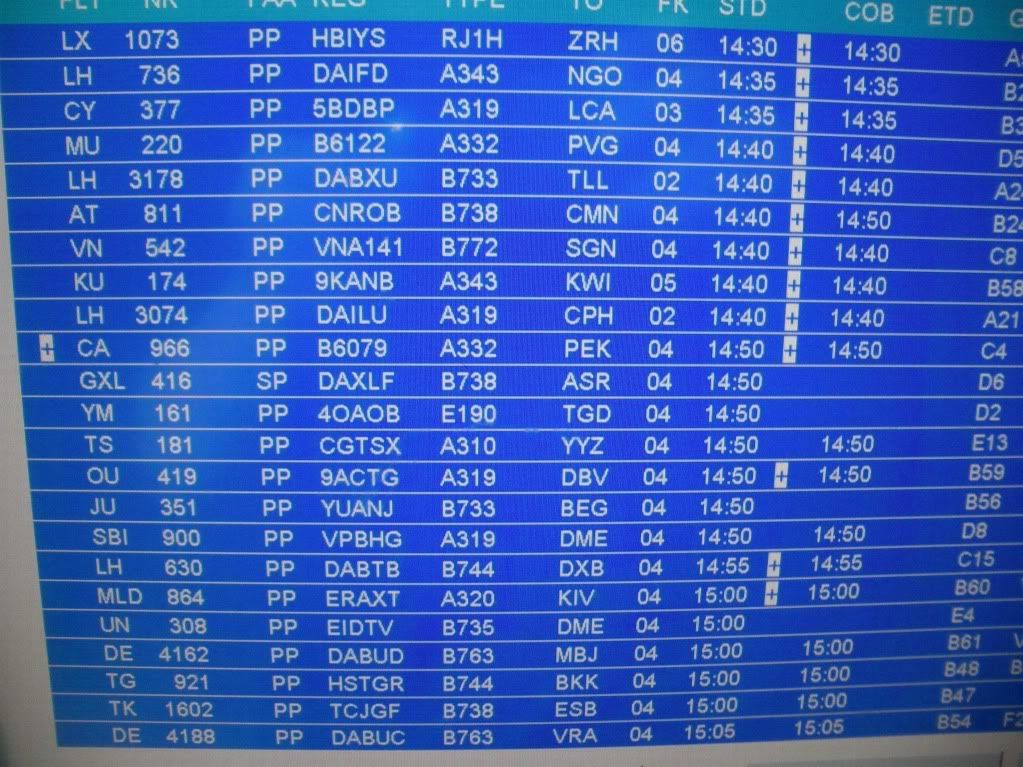 My machine: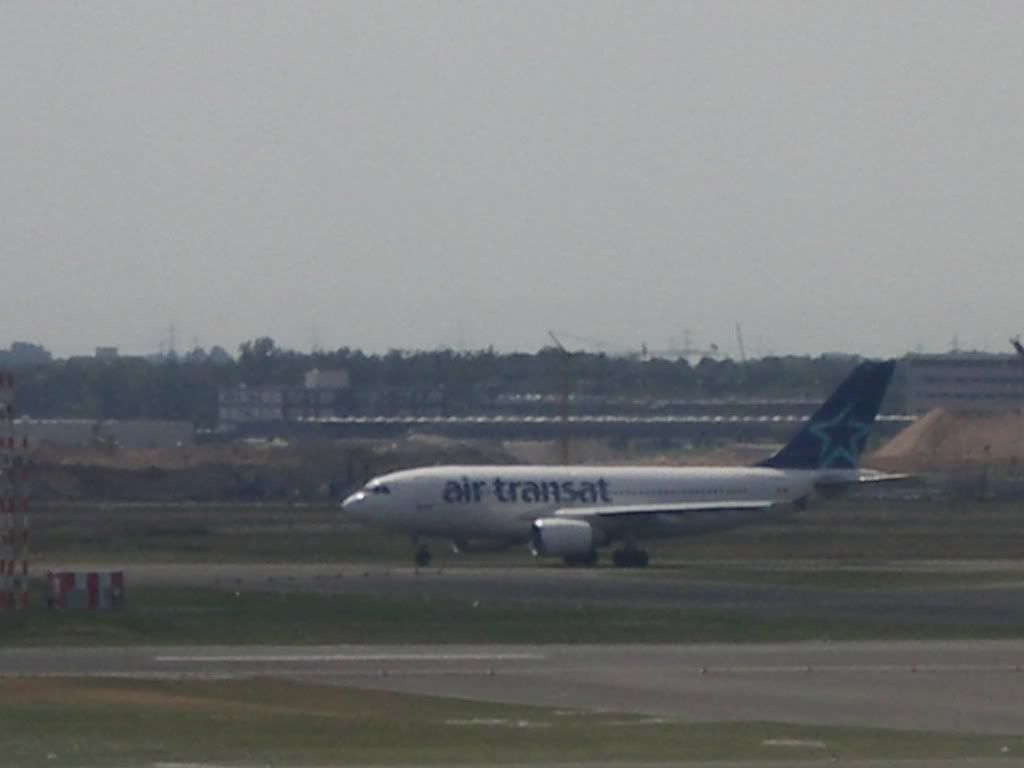 Again: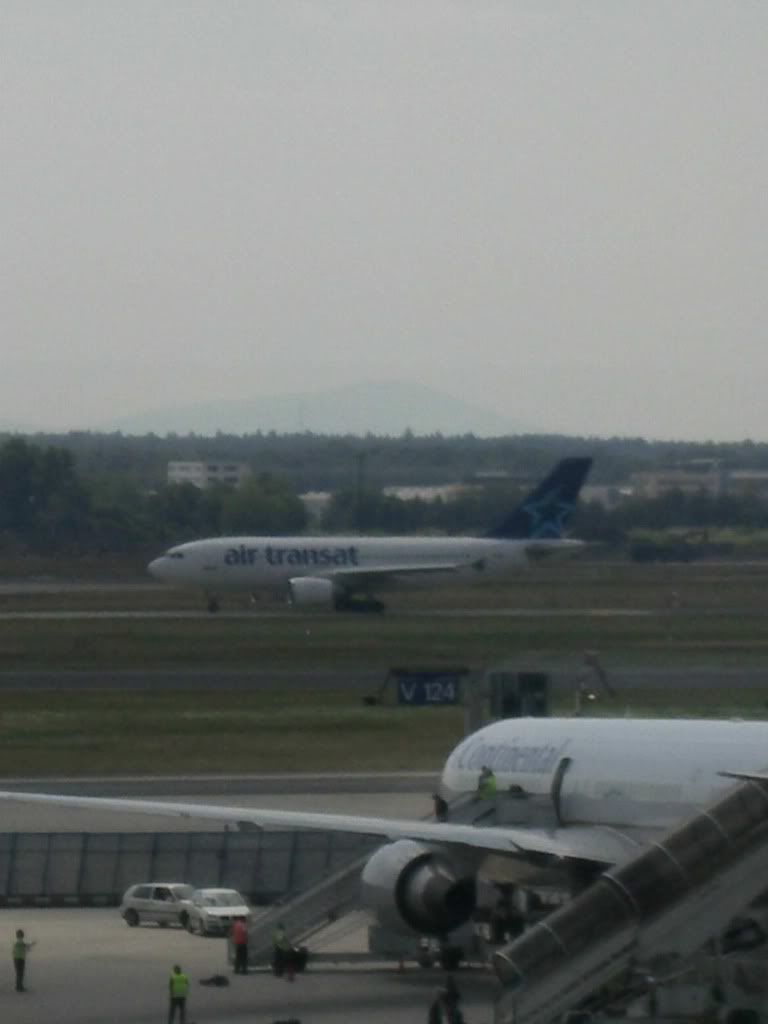 Nice comparison: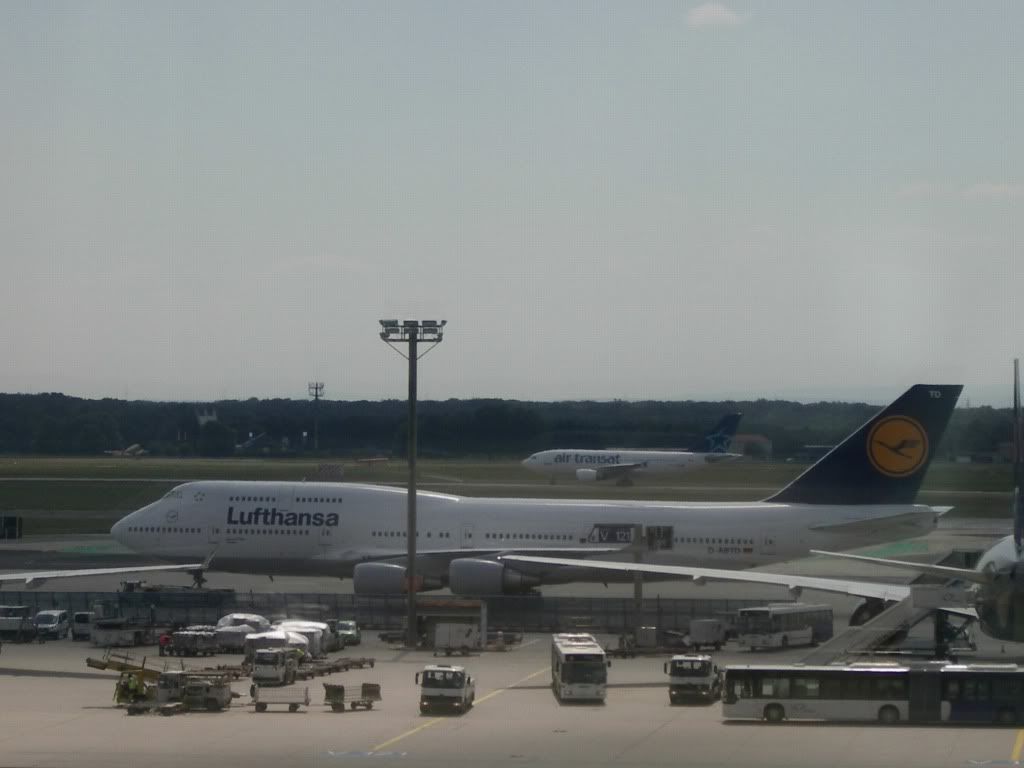 One more taxi pic: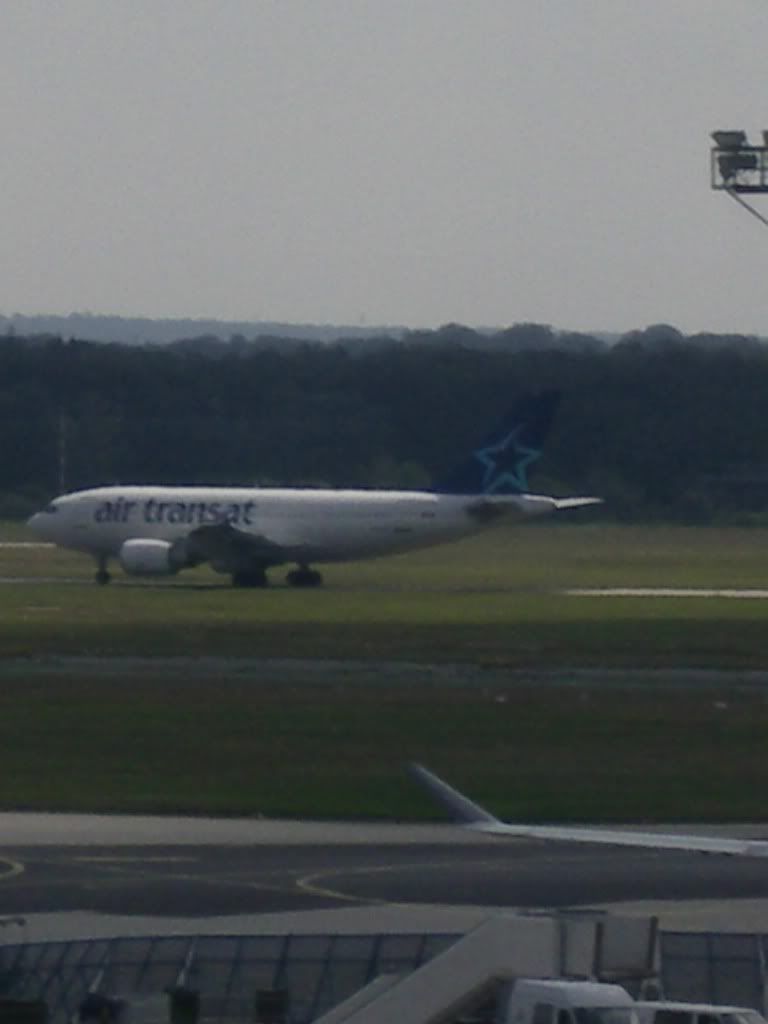 That was really something special for me, with the last leg on an A310-300 done on Delta JFK-AMS back in 1994.
Leg no. 9 for me on type and the first on that machine.
The plane was delivered at 19.01.1990 to LH, leased out to MEA from Lebanon at 25.04.1993, back to LH at 09.07.1993, leased again to AirMadrid at 15.07.2005 and in service with TS since 27.01.2007.
I´am impressed, TS operates a 14 examples strong A310-300 fleet. .
Ready to board:
Once again: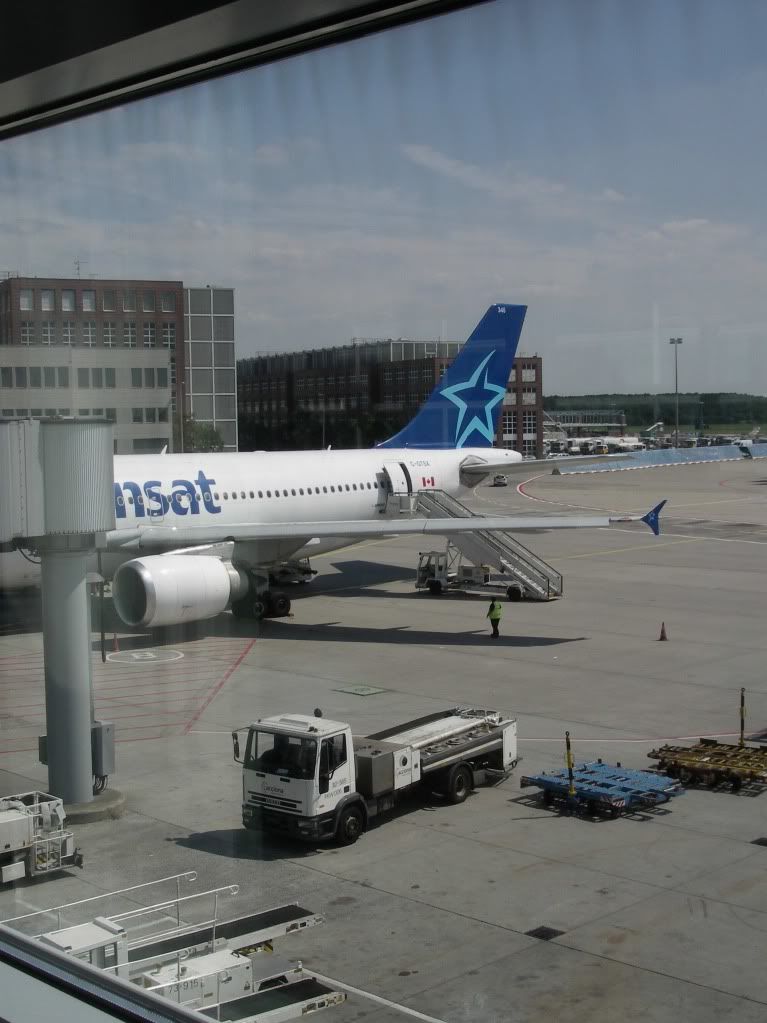 Ground handling: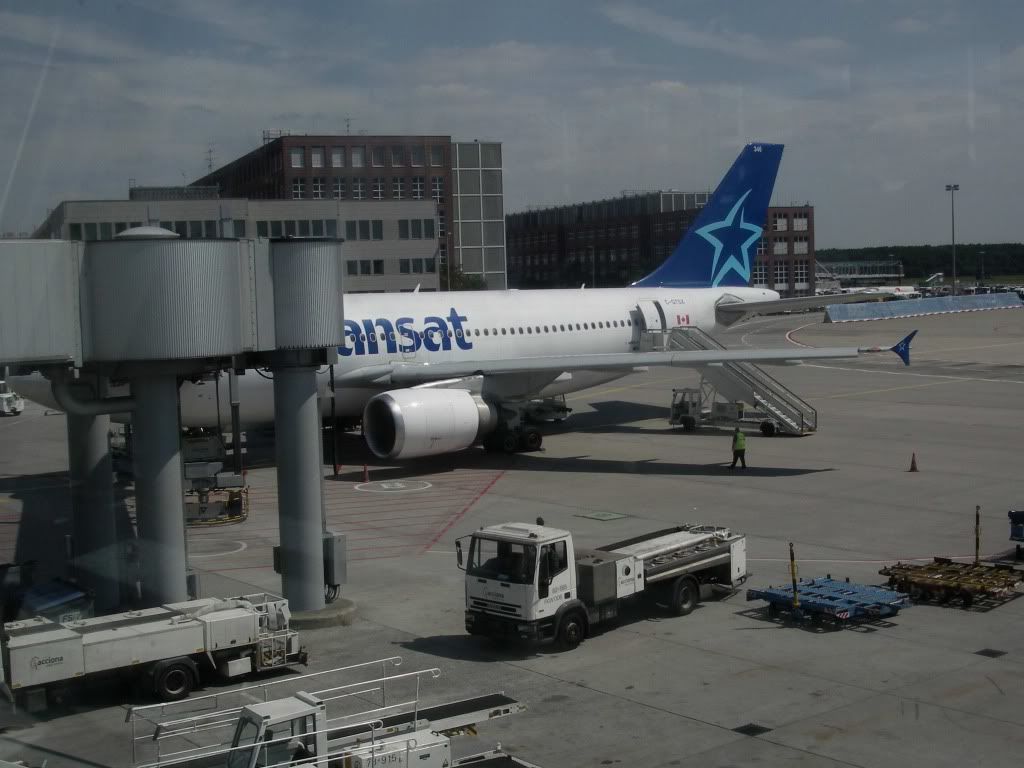 Boarding by a finger gate started pretty early, I´ve counted four female and three male FA´s on that machine, superb friendly staff there at TS, especially a young male serving my area, real nice and always joking around when he passed my seat.
The cabin seems not changed since LH times, fitted with wide and comfortable, oldfashioned dark blue leather seats, good legroom and clean.
Cabin:
My seat: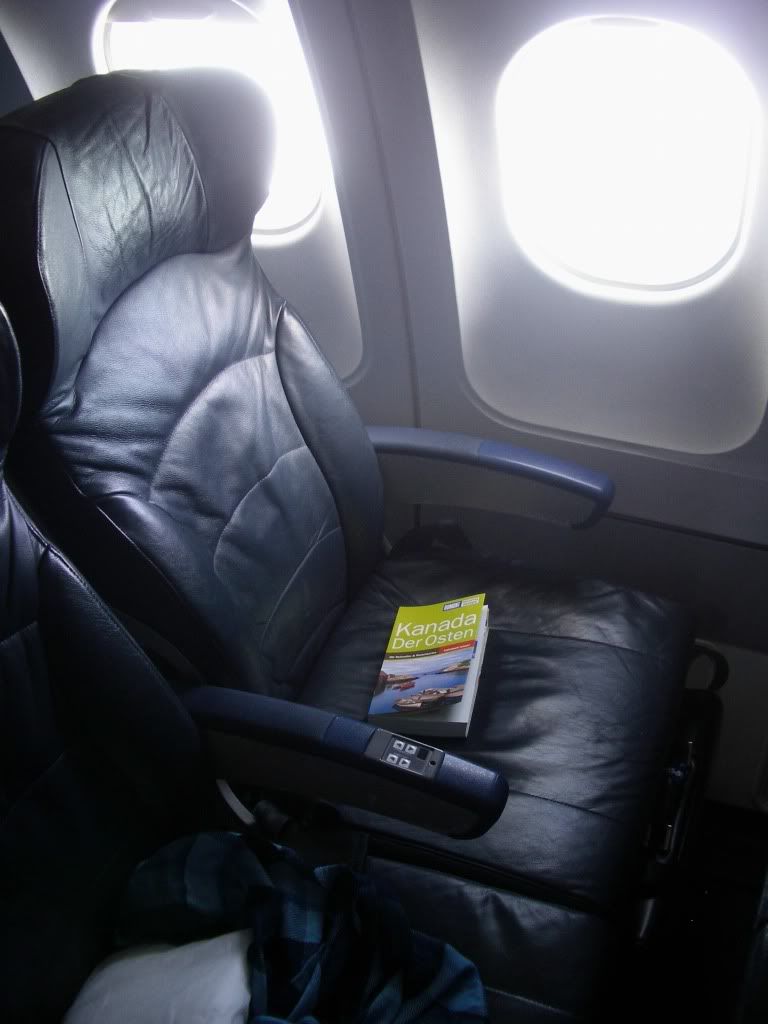 Window picture: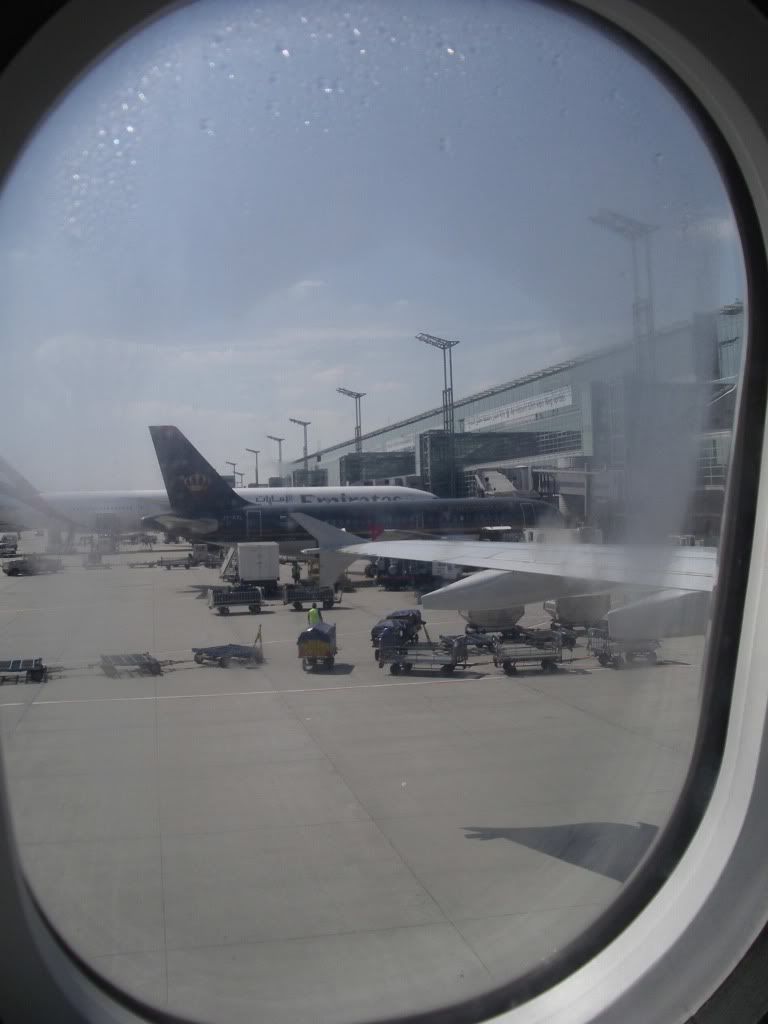 Taxi: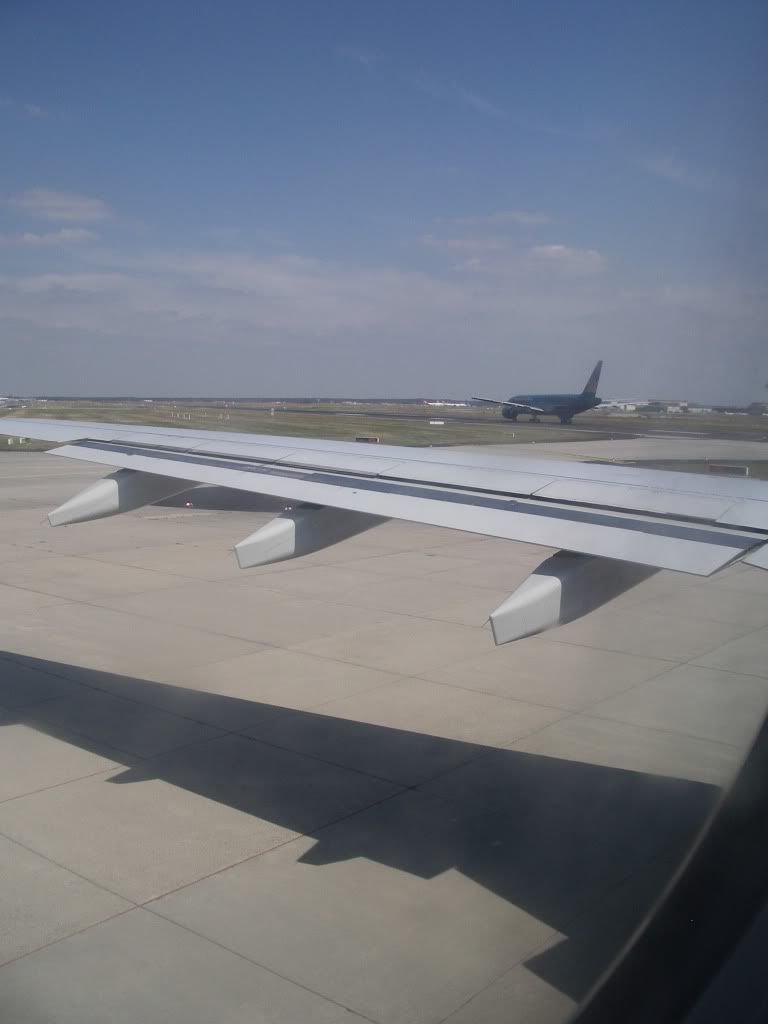 Also oldfashioned center cabin monitors and the lavs with the ancient blue water stuff.
Cockpit crew was from Canada, I saw the guys later at YYZ, a pretty young crew.
The captain with a friendly welcome during boarding. Departure from the 4000 meters runway 07L in direction CGN-DUS-AMS-Scotland-Northern Ireland-the southern tip of Greenland-west of Labrador city.
And departed: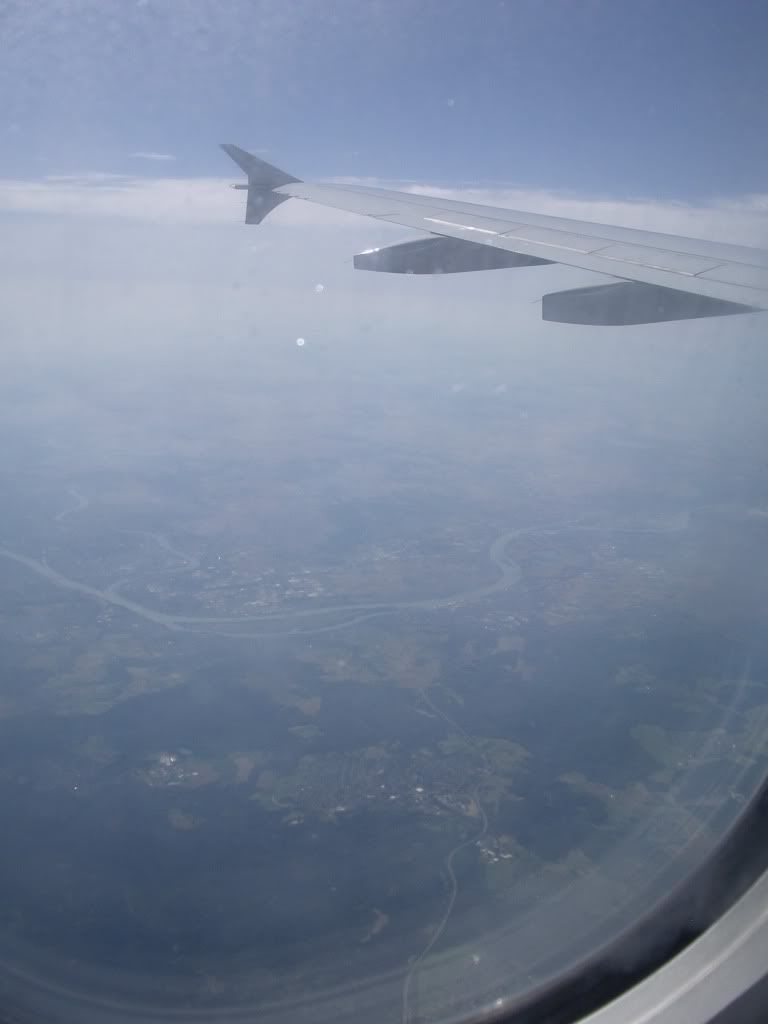 Once again: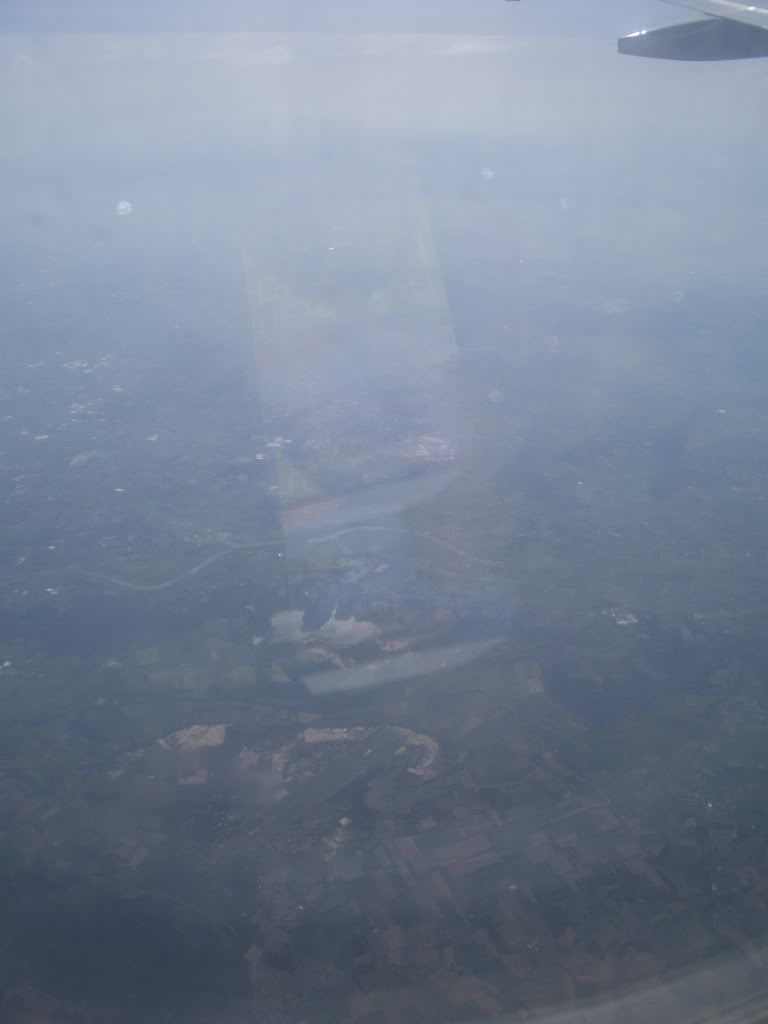 Leaving the Netherlands: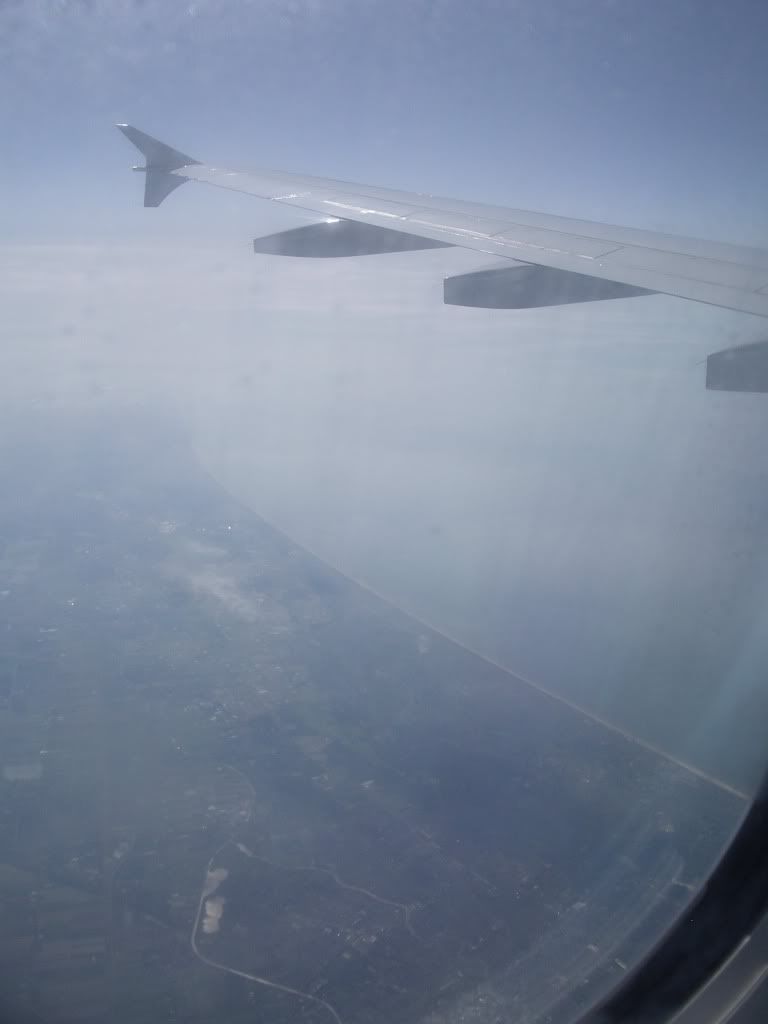 Once again:
Above Scotland:
And again: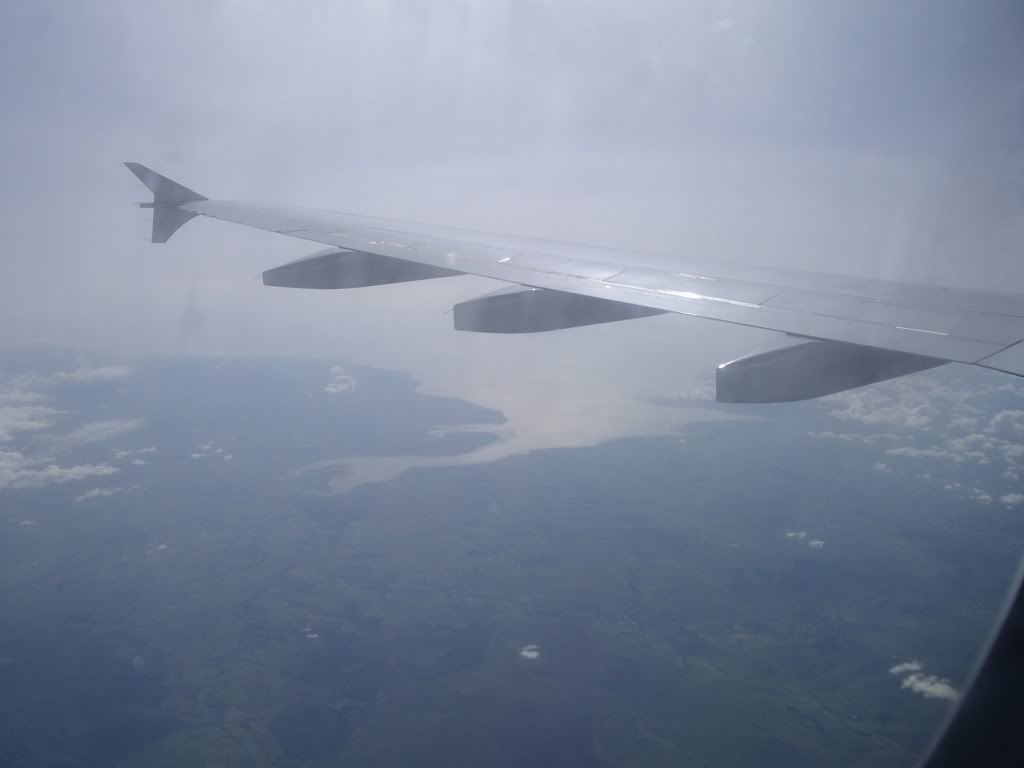 Reaching Greenland: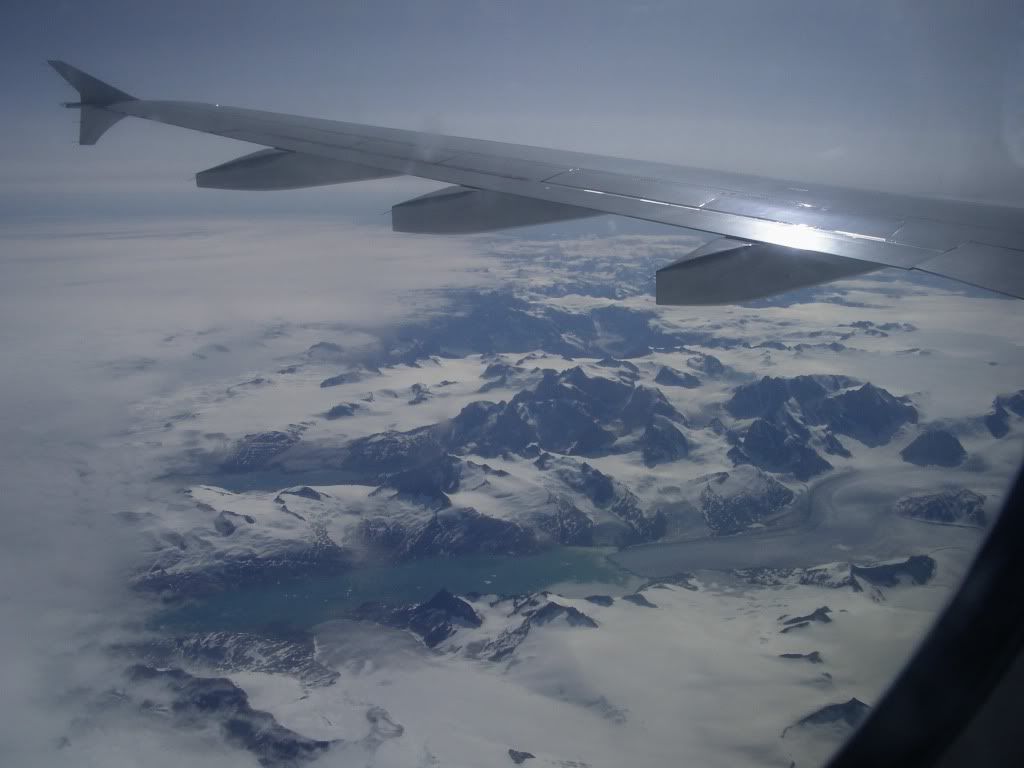 Never been so close here:
Again: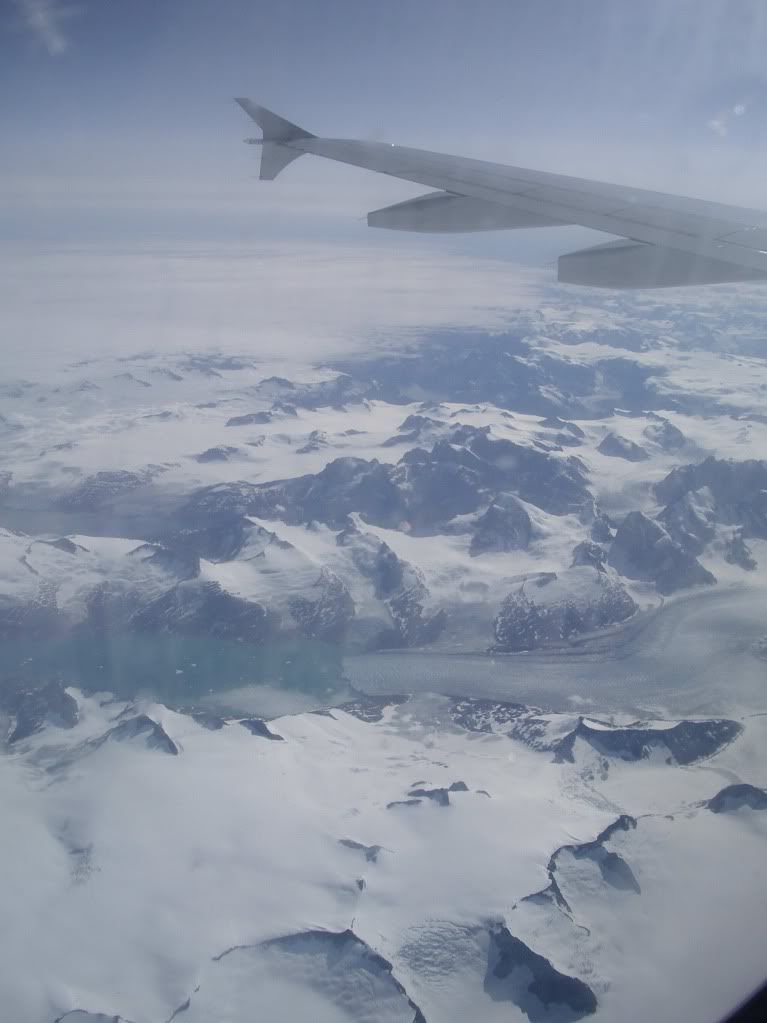 Looks not that cold: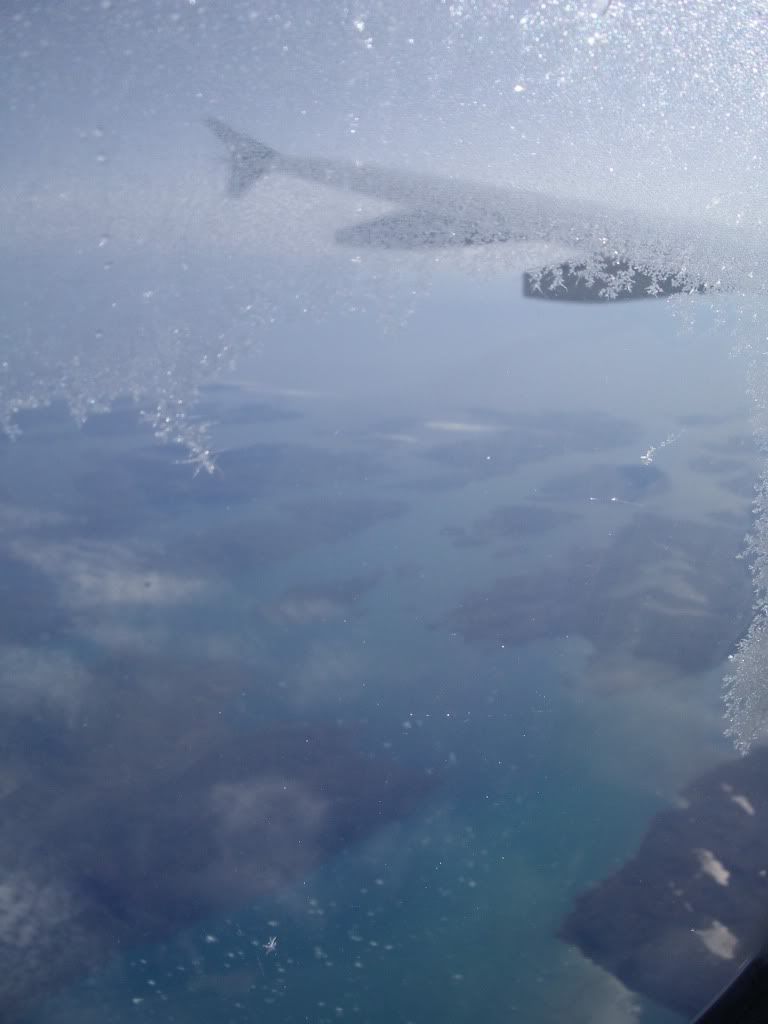 Hey, that´s not allowed: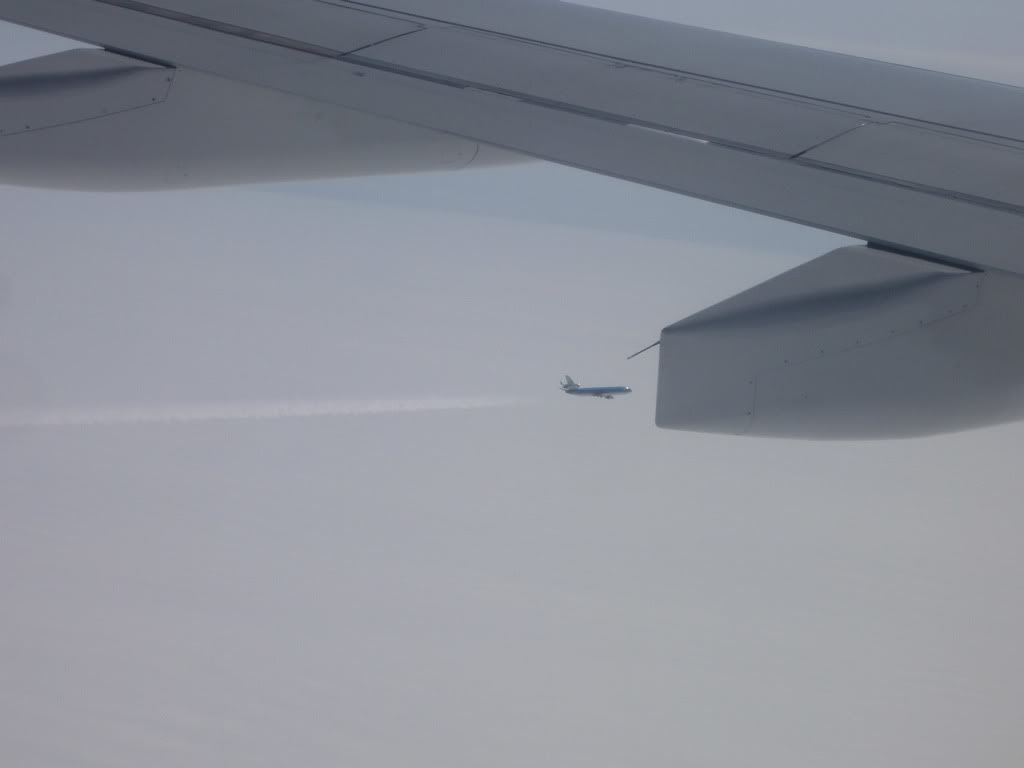 Taking over:
Canada:
Again: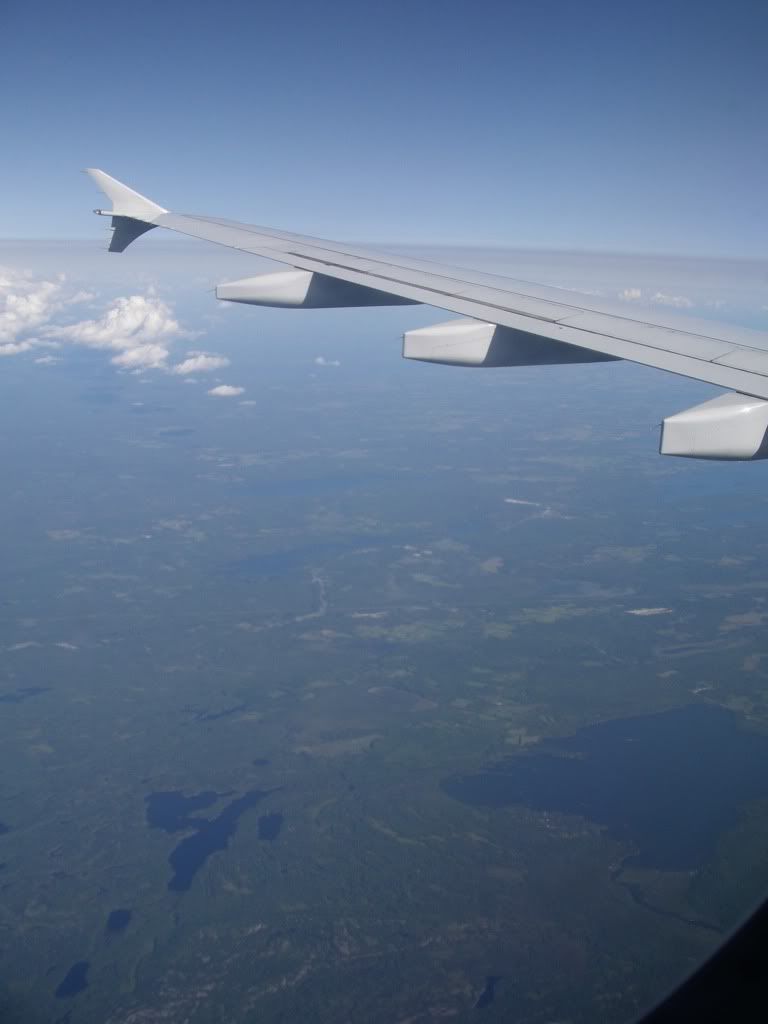 Flightlevel 34000 feet. The map system only on the screens for a short time after departure and for several short times during the flight between movies and advertissements. I prefer it anytime in comparison to that other stuff.
Service was free drinks followed by a hot meal and a pizza snack prior to arrivals.
Water and beverages, coffee, tea, two times more during the flight.
Pretzels, peanuts and more drinks always available in the galley.
Main meal:
Pre-arrival snack: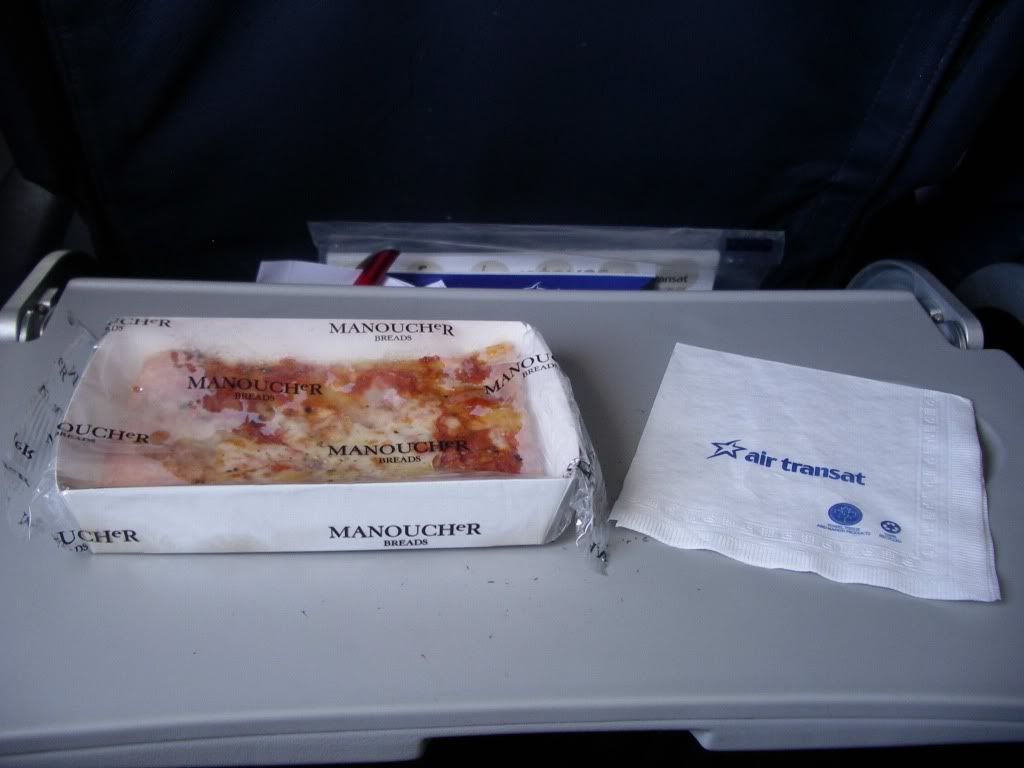 The captain was once more on the speakers prior to approach.
Approach: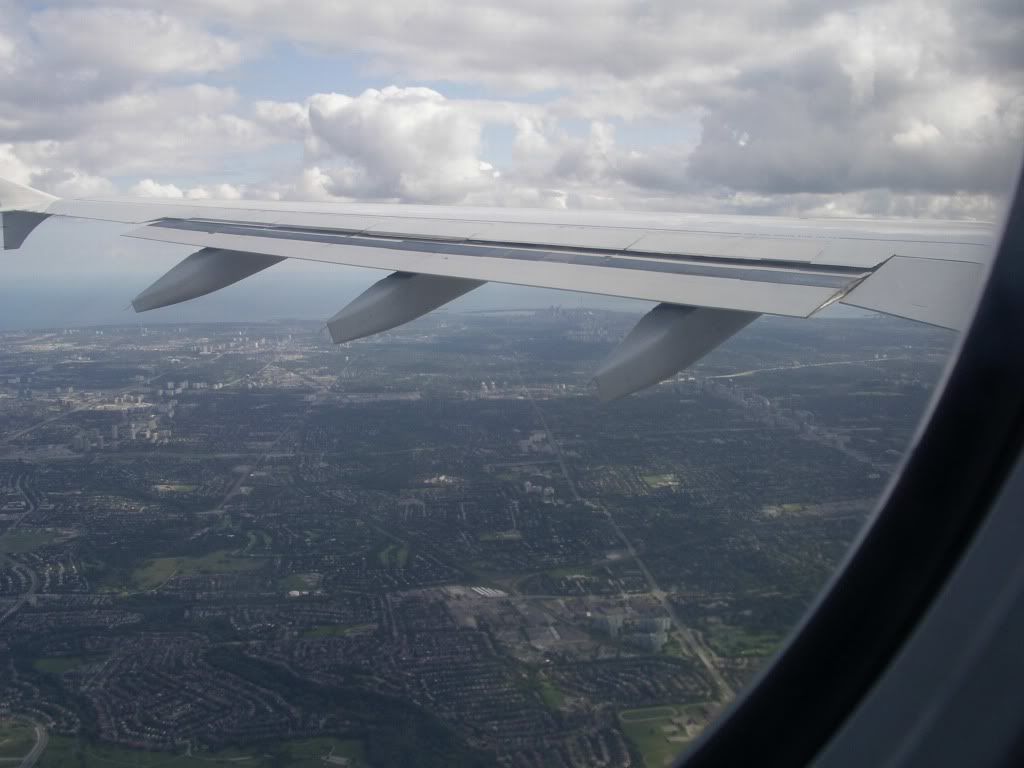 Again: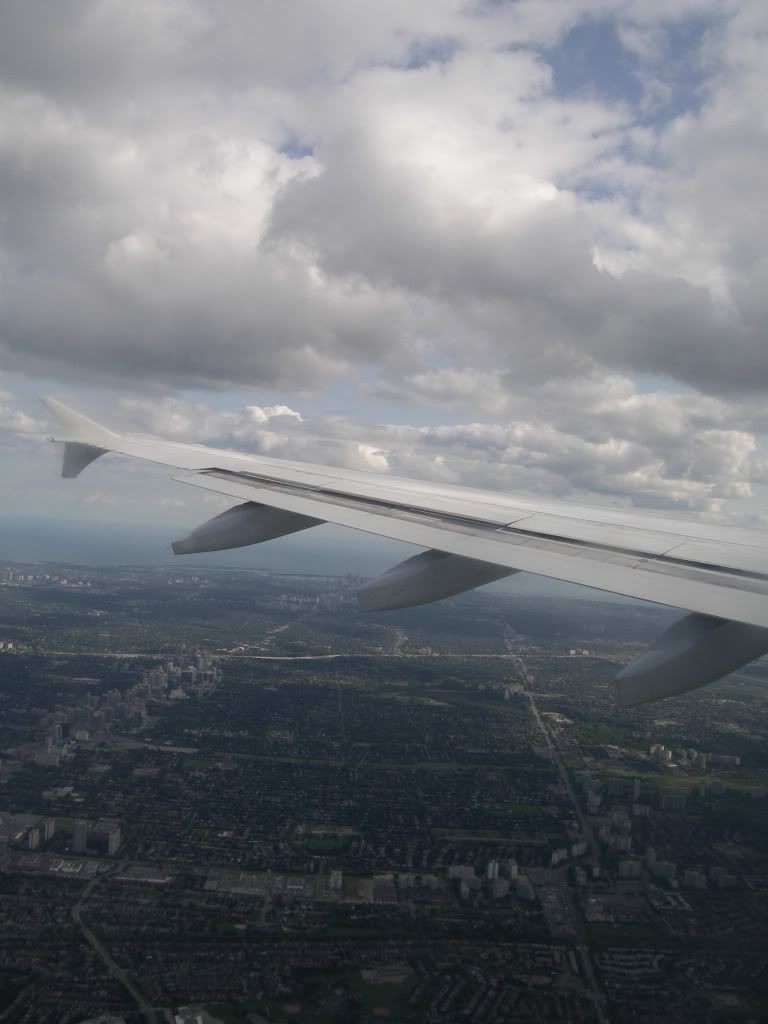 Once more: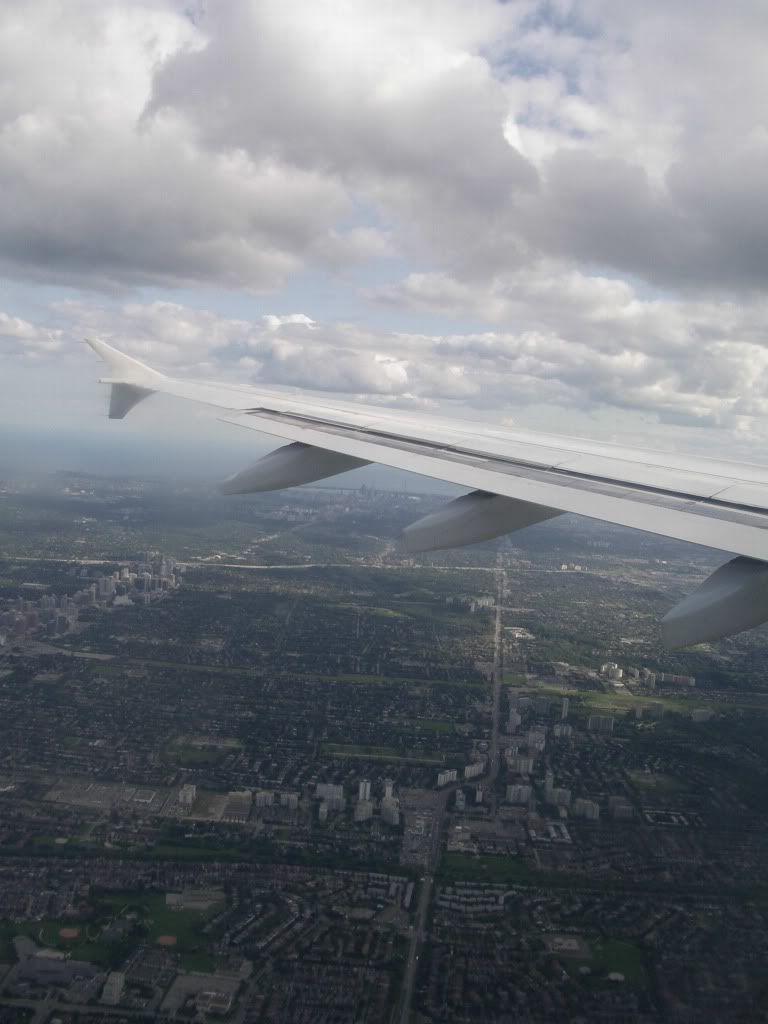 Downtown in the back: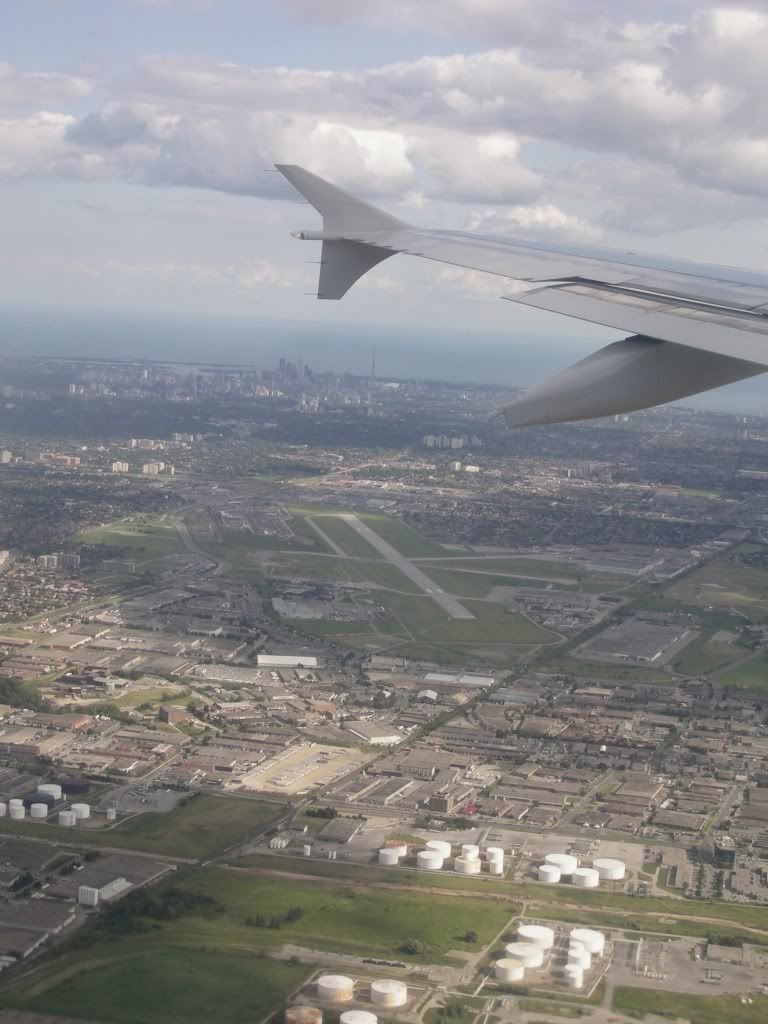 Touchdown on the 3389 meters runway 23 well ontime and taxi to a finger gate at Terminal 3.
Taxi: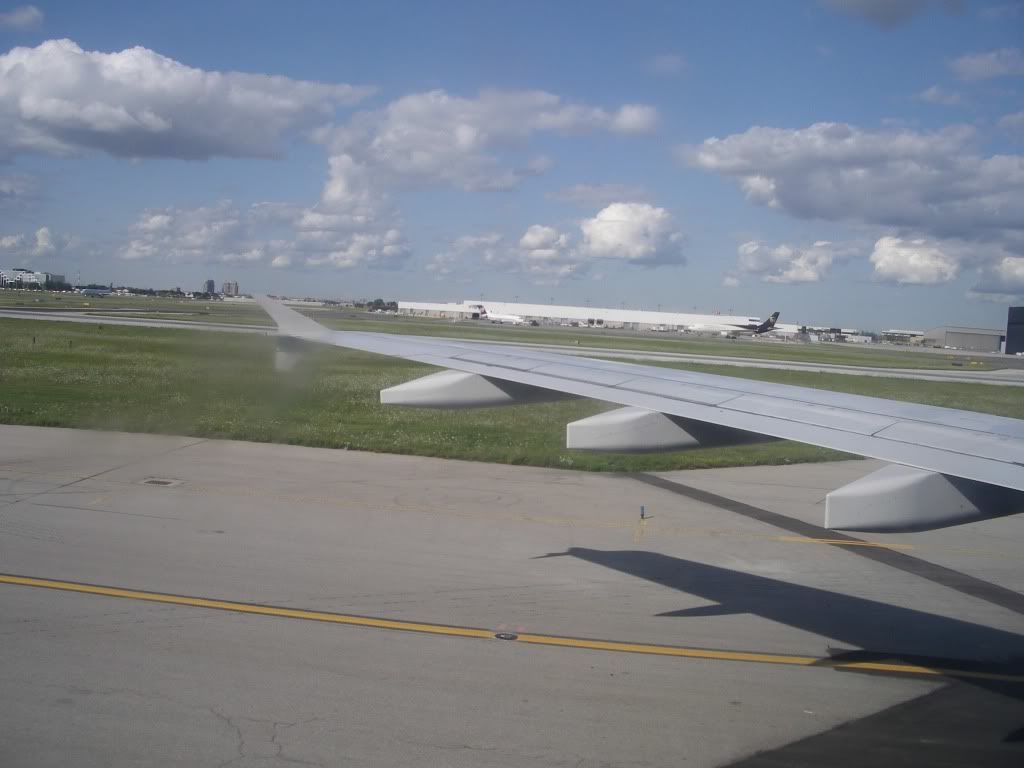 Again:
Company machine: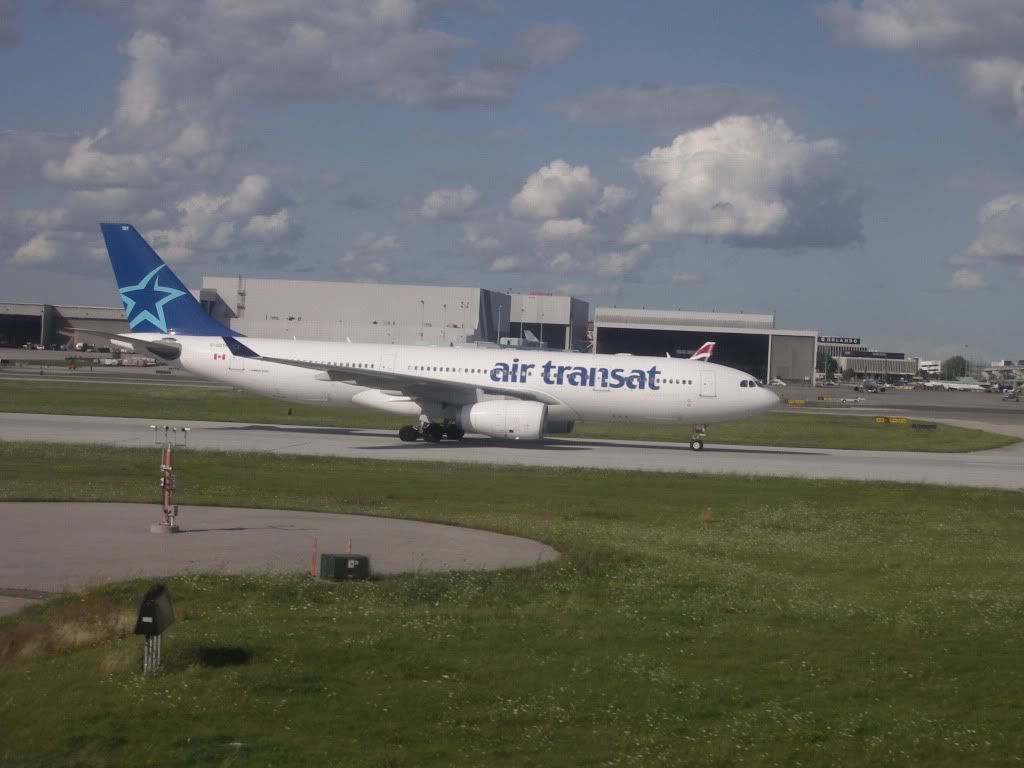 Surprise, AY B757: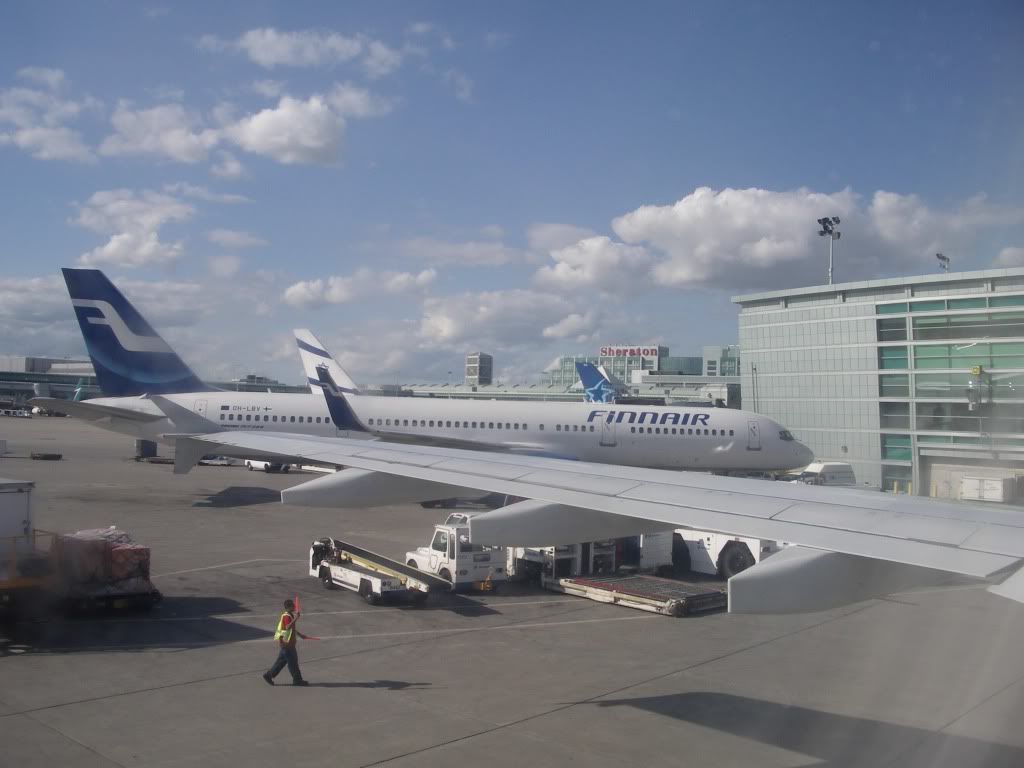 Docked:
Deboarding and down the stairs to immigration, not more than 2 or three minutes to wait till a female officer accepted my form and stamped my passport.
Some minutes more for the bag and out in the public, yeah, welcome to my first time in Canada.
According to the hotels website there is a free shuttle service on offer, so I´ve joined the waiting people and saw shuttles from several hotels coming and going, not mine yet.
After 30 minutes I´ve done a call but as usual in such situations the number has changed and when I´ve secured the new number the shuttle runs around the corner.
The friendly girl at the hotel desk told me later that the shuttle operates not scheduled, I need to call for it.
Ok, arrived at the hotel, the Sandman Signature Toronto Airport, no time to wait during check in. The superb friendly girl offered me immediatelly after my request a room
at the top floor, storey 15, with a perfect nice view to runway 24 approaches. And much to my surprise, she offered me also two free breakfast vouchers.
Guys, sitting on the chair in bright sunshine and following the planes coming in, one after the other, well, that´s my place.
The hotel: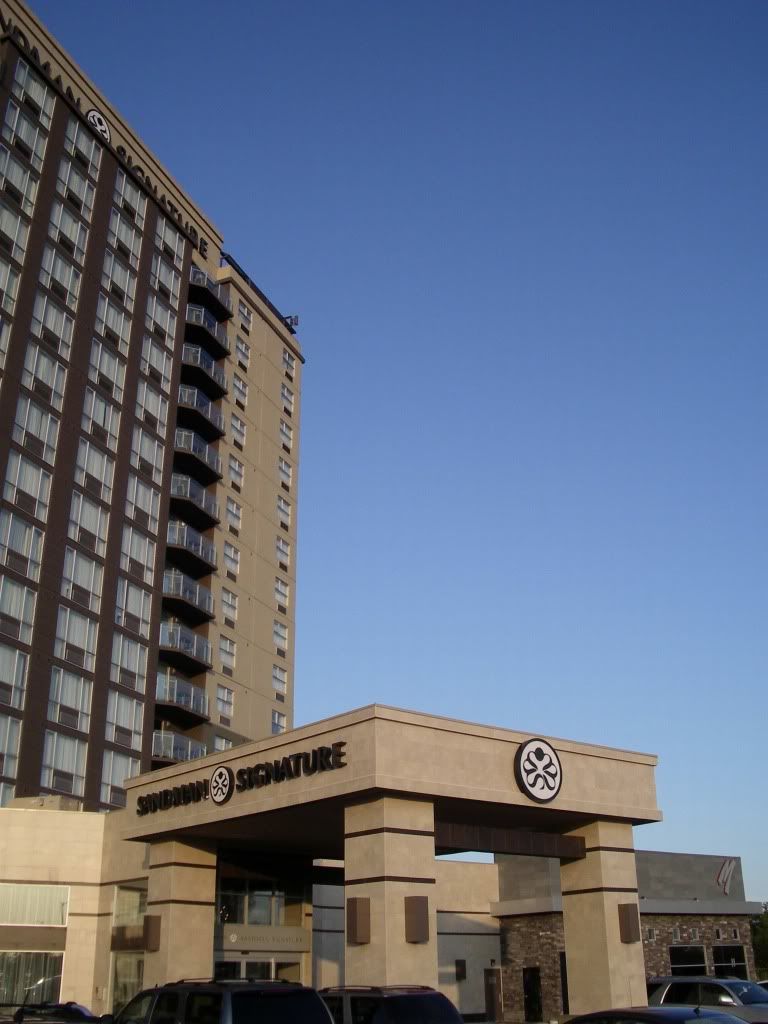 My room: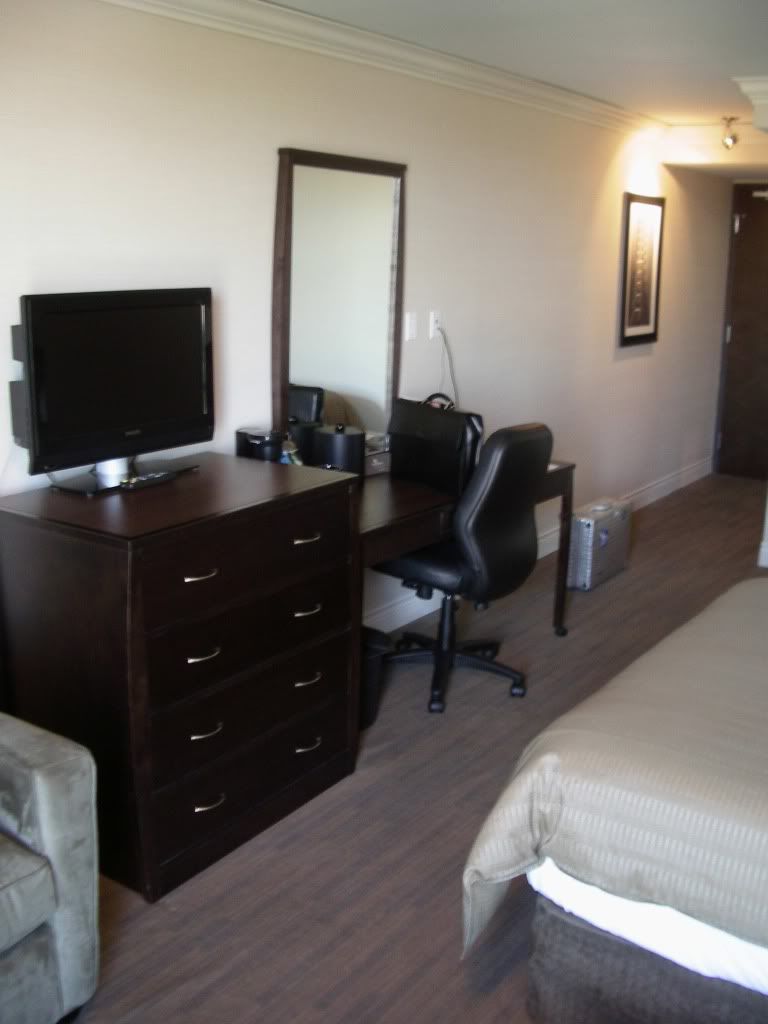 Ok, so far for the first day in Canada, a new airline and a new airport together with a rare plane type.
Absolutely nice.
TS, not expected that much, but a good experience here.
The next day coming up with four more flights on three different airlines and also plane types, online in a couple of days.
Comments welcome,
Markus (FLIEGER67)