WARNING!
This report contains 110 of pictures. If there is a problem, please let me know!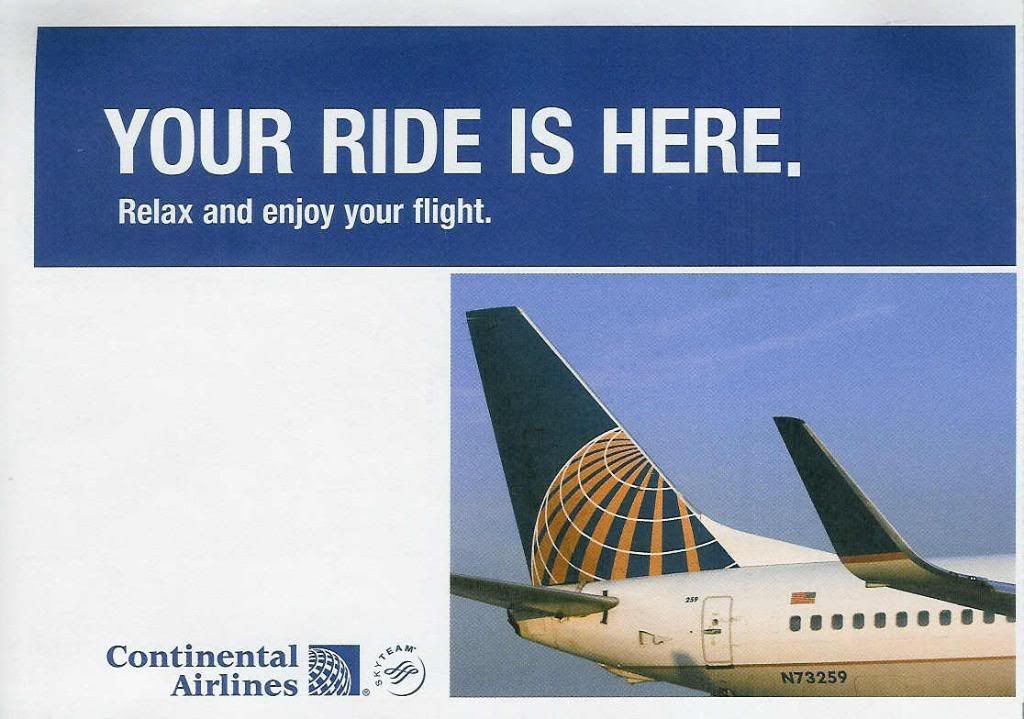 Pre-Preface
Truly sorry for the delay in finishing this trip report. With the backlog of work, Hurricane Ike, snow in Houston, heavy rains, more traveling, finding a new job, and dealing with the horrendous Houston heat, I'm hoping to finish a couple of trip reports by the end of the year.
Enjoy!
Preface
This trip report will be slightly different than previous ones. This particular post will be extremely long because of the 110 pictures included in this trip report.
Comments are definitely welcomed!
I also added a music component to go with this trip report. For this trip report, enjoy the tunes of Bob Sinclar titled
Ultimate Funk
featuring Big Ali on the Sounds of Freedom CD.
Enjoy!
Trip Report
So far, I've posted my reports on the following flights:
We last left off when I had gotten in late into HKG from my late-departing BKK-HKG flight on EK 386. After I had stepped off the plane and completed Hong Kong Customs and Immigration, I could finally breathe Hong Kong air!
Due to the late arrival, I had missed my chance to take the Airport Express to Hong Kong Station. Instead, I ended up taking a taxi to my hotel, the Ramada Inn Hong Kong. Making my way to the taxi stand, it was interesting to see the color coding of taxi cabs going to Kowloon, Hong Kong Island, and other outlying areas.
My action-packed short trip around Bangkok had worn me out that I did not get to truly enjoy my rather short stay Hong Kong. I did manage to enjoy a few sites including my search for Hard Rock Cafe, enjoying Victoria Peak, watching the Symphony of Lights, and getting my pictures taken in front of the Fuwa, the mascots for the recent Beijing 2008 Olympics.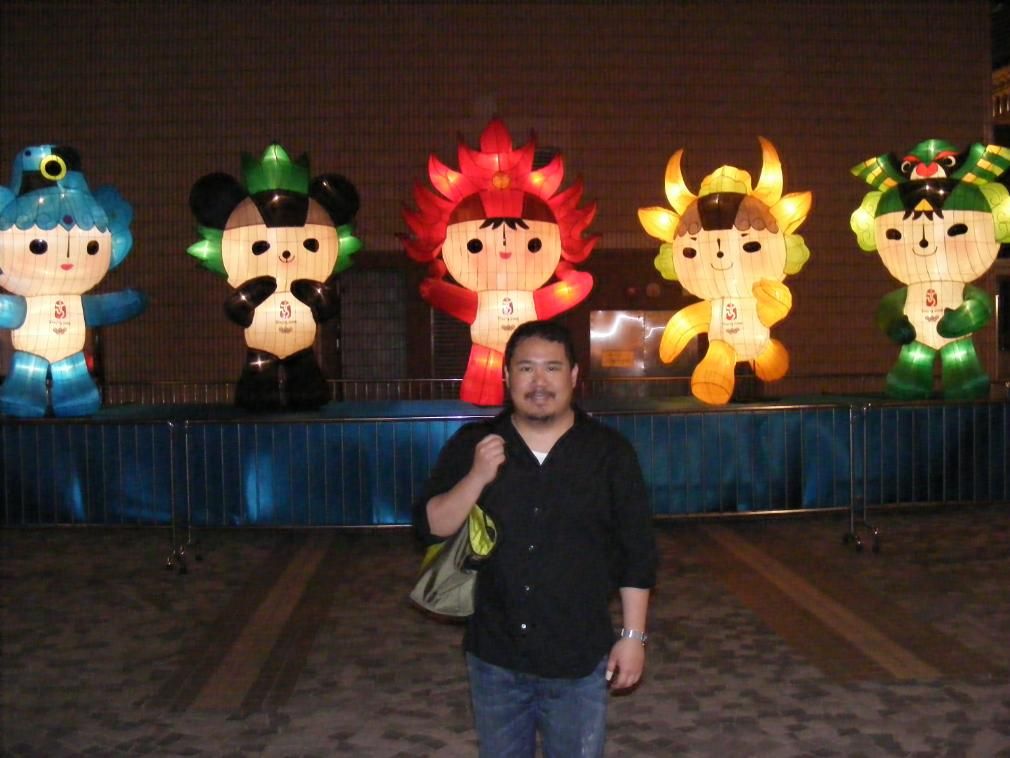 Me in front of the Fuwa at the Hong Kong Cultural Center
Finally the day arrived and I did not want to return to the daily grind of life in Houston. I did not sleep the night before since I wanted to make sure I had packed everything as well as enjoy the sights, sounds, and flavors of Hong Kong on my last night.
Once I had checked out of the hotel by 06:00, I took a taxi to the IFC Mall and the Airport Express Hong Kong Station. Once the taxi had dropped me off, I easily managed to get a cart and then head straight to the check-in desks after a quick tap of my Octopus Card. I chose this option since it would be a lot easier to travel with just hand luggage while on the train. I remember back in the Summer of 1994, BA had city check-in at the Victoria Station for our return LGW-IAH on a DC-10, the last time I ever used city check and flew on BA. Now post September 11, I wish more cities offered such service again! For this trip back home, I had checked in 24hrs before departure to see if I can get any better seats such as bulkhead or at least an aisle seat in the middle section.
A huge FIDS at the Airport Express Hong Kong Station located inside the IFC Mall.
After the quick tap of my Octopus Card, it amazed me how the drop off area felt like an actual airport check-in area. It felt much bigger than the check-in hall at MNL! I noticed my EWR flight posted on the FIDS and which check in desk to utilize.
Which counter handles check in procedures for CO?
I really enjoyed using my Octopus Card during my stay in Hong Kong. I enjoyed tapping my Octopus at various eating places as well as the 7-11, in addition to using it to travel all over Hong Kong. With one last tap of my Octopus Card for now, I entered the check in area at the Airport Express station and headed to the designated ticket counter to check in for my flights home. From the FIDS board, I headed to desk 16 and the HKIA agent checking in flights on CO.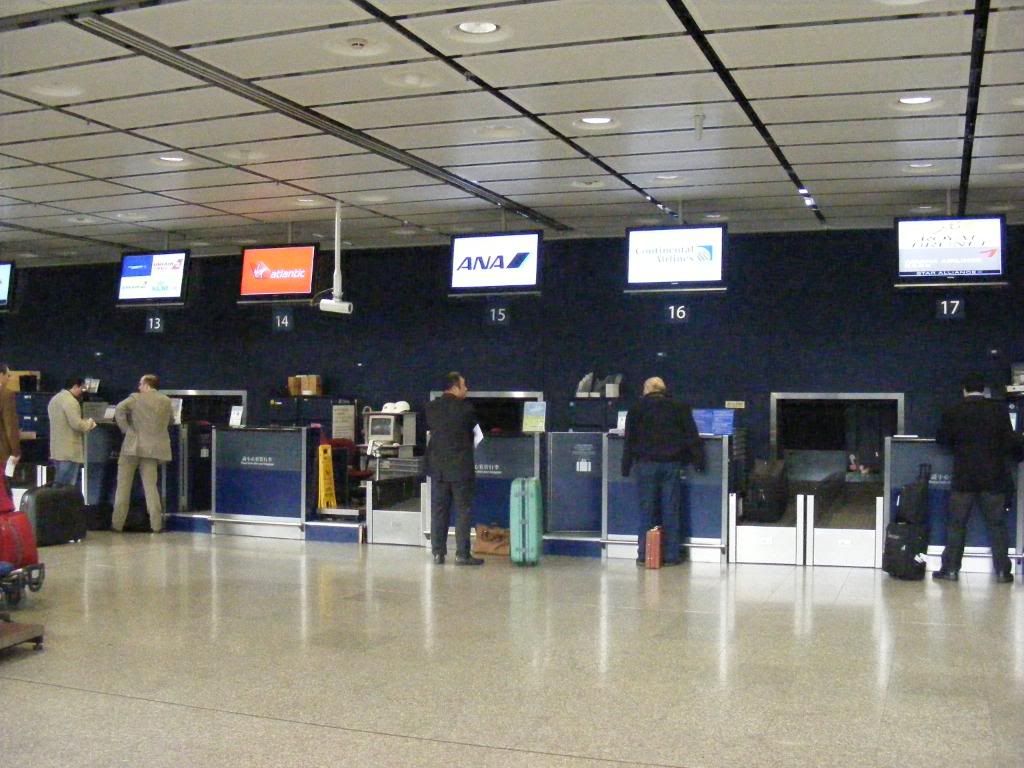 Desk 16 handling CO check in as well as a number of other airline check in desks.
As I approached check-in desk 16, "Paul", the HKIA agent handling CO, continued processing another Y passenger on his way home to EWR. Within 5min, Paul finished with the passenger and greeted me towards him. He asked if I was traveling on CO today and confirmed I would be heading home to IAH via EWR. I handed him my passport which contained my OnePass card, itinerary, and Hong Kong departure card. Striking a conversation, he asked me the reason for my trip and told him for a needed break and the first time visiting BKK and HKG. While typing away and tagging my bags he asked if I enjoyed Hong Kong and told him I needed to stay much longer than 3days, especially finding the more interesting places to eat! Similar to the HKIA ladies that checked me in for my EK flight to BKK, he laid out each of my stuff. First, he personally handed my passport to me and to be careful and keep it in a safe place with me at all time. Next, he placed my OnePass card down in front of me confirming that my OnePass number has been noted on my itinerary. He then handed a CO ticket jacket that had my home-printed itinerary nicely folded inside the jacket, my two boarding passes, and my baggage tag receipt stapled to the inside jacket. he then informed me that I should take the next train leaving so that I would not have any problems during Departure Control. Once he finished, he wished me a pleasant flight and a return to Hong Kong. I replied with "Xie Xie" and that caused him to smile. With check in now complete, I took some time to take a few additional pictures of the station.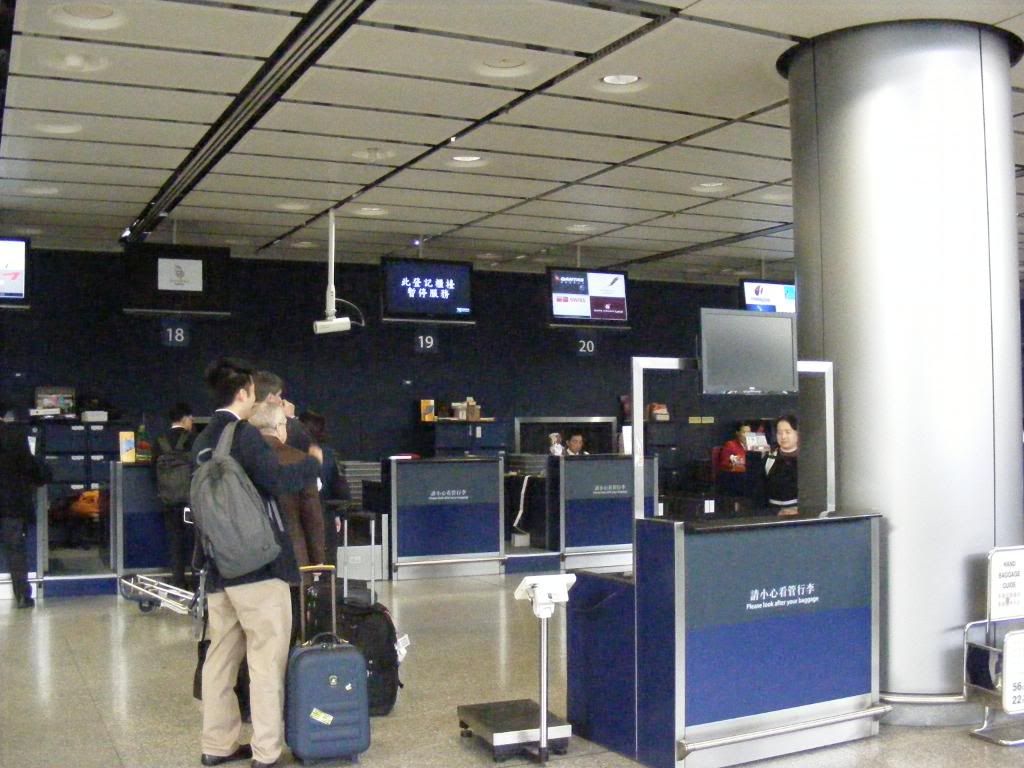 Passengers queueing up at the KA check-in.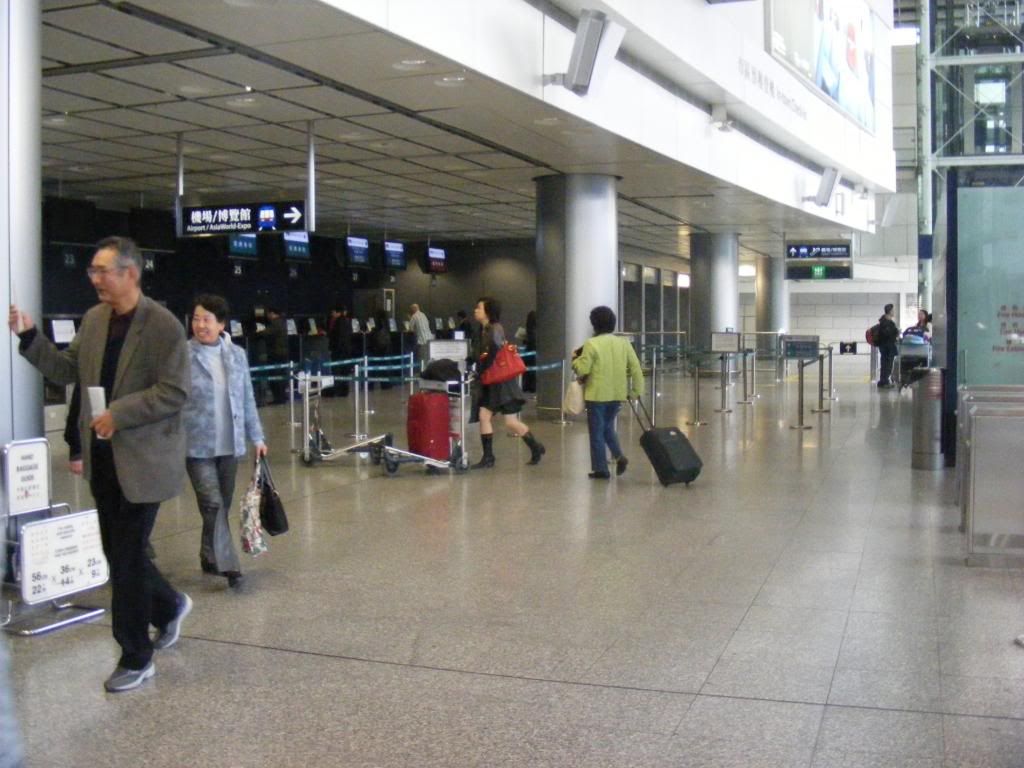 After I finish checking in, I begin my journey down to Airport Express MTR track.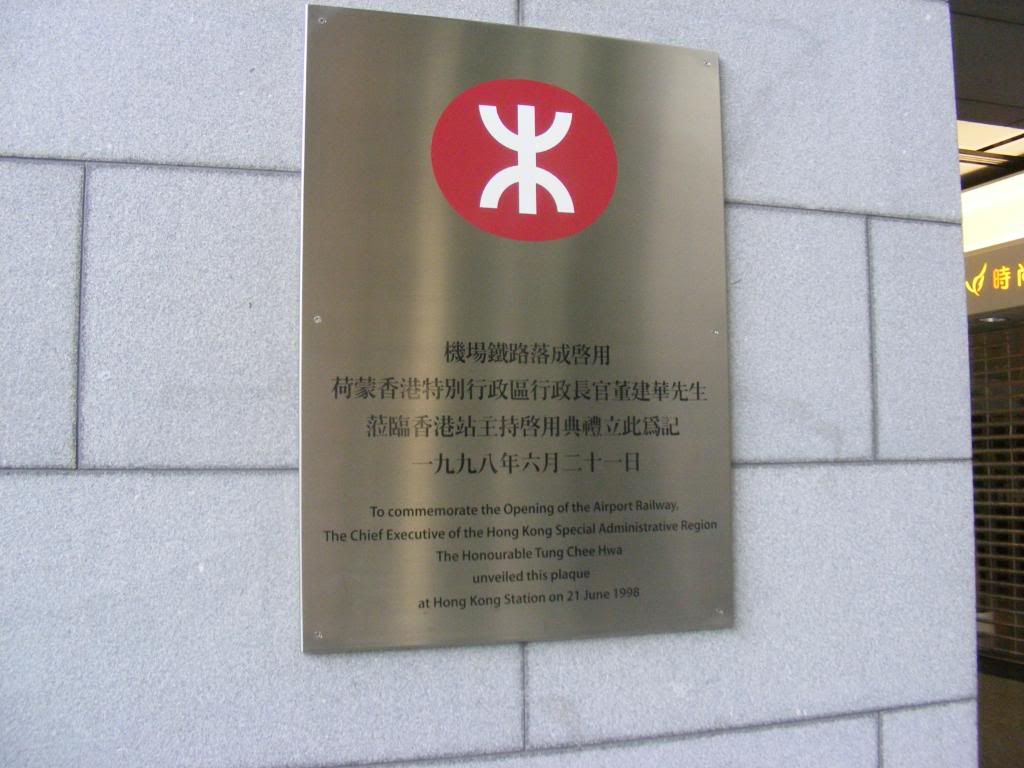 Plaque commemorating the opening of the Hong Kong Station
Heading down to track level for the Airport Express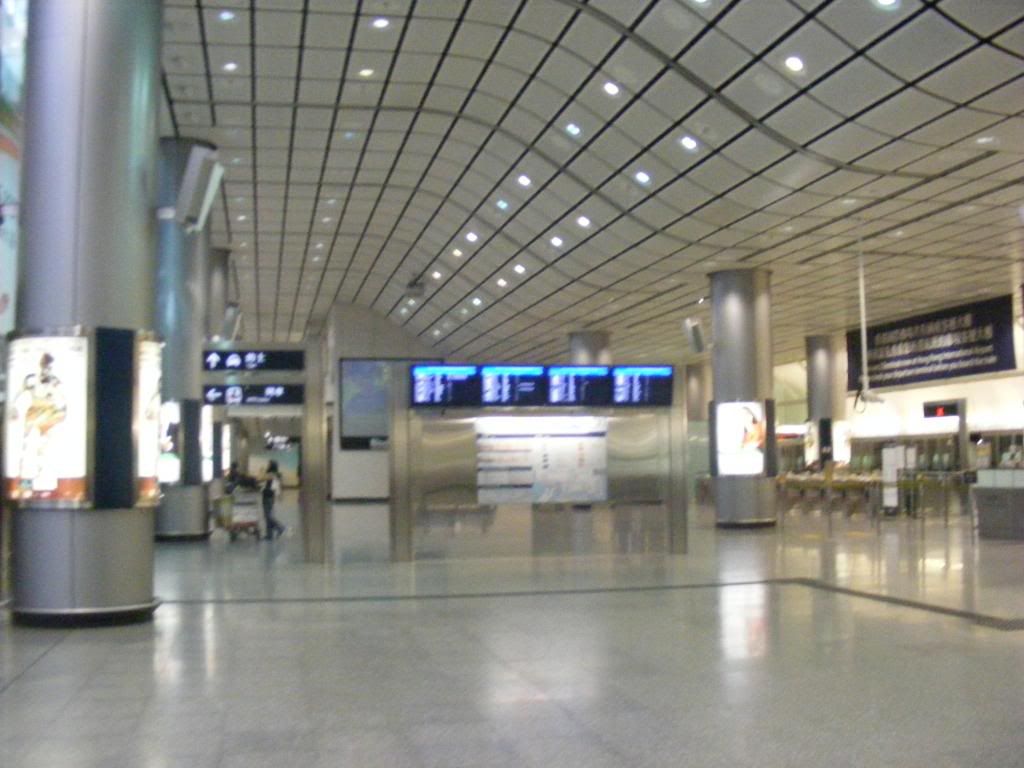 Sorry for the blurriness! After walking around the station, I made one last swipe of my Octopus Card to board the Airport Express train that had been waiting to depart.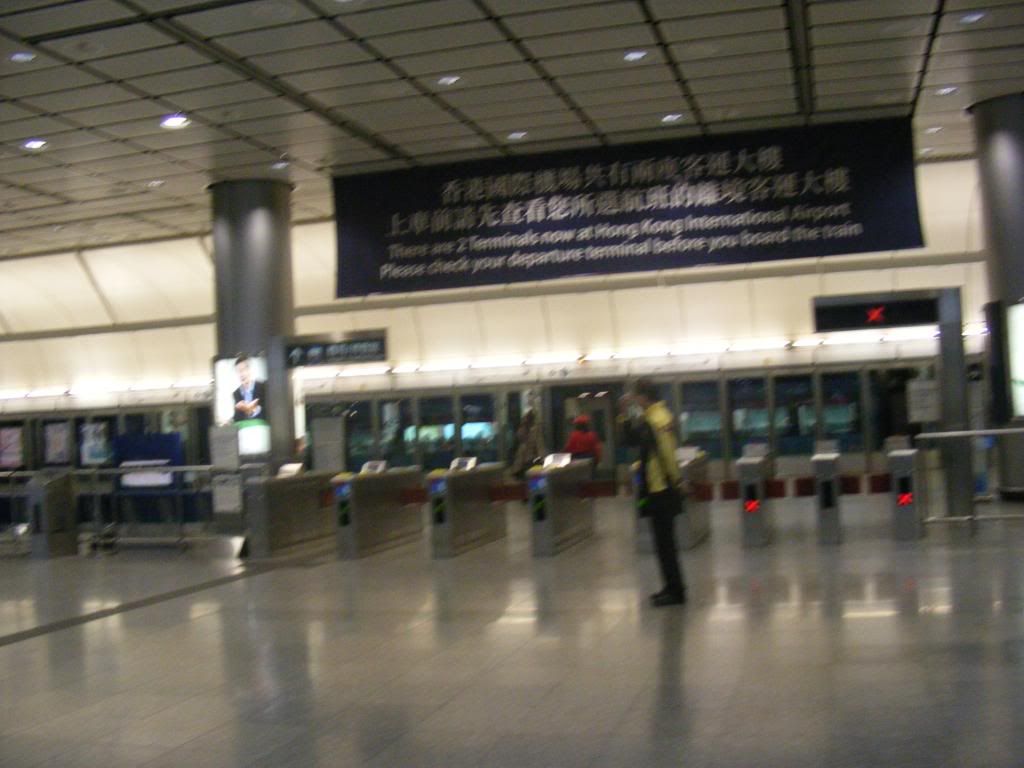 Train arrives awaiting its return to HKG. I really do not want to leave yet.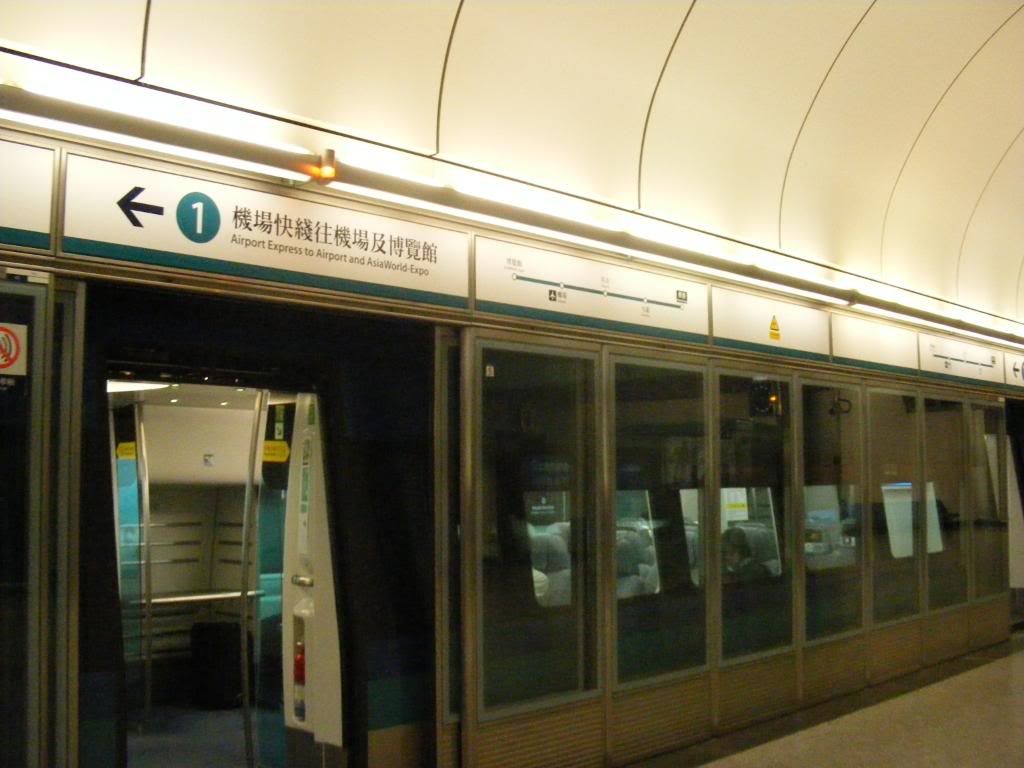 Airport Express now boarding! Mind the gap!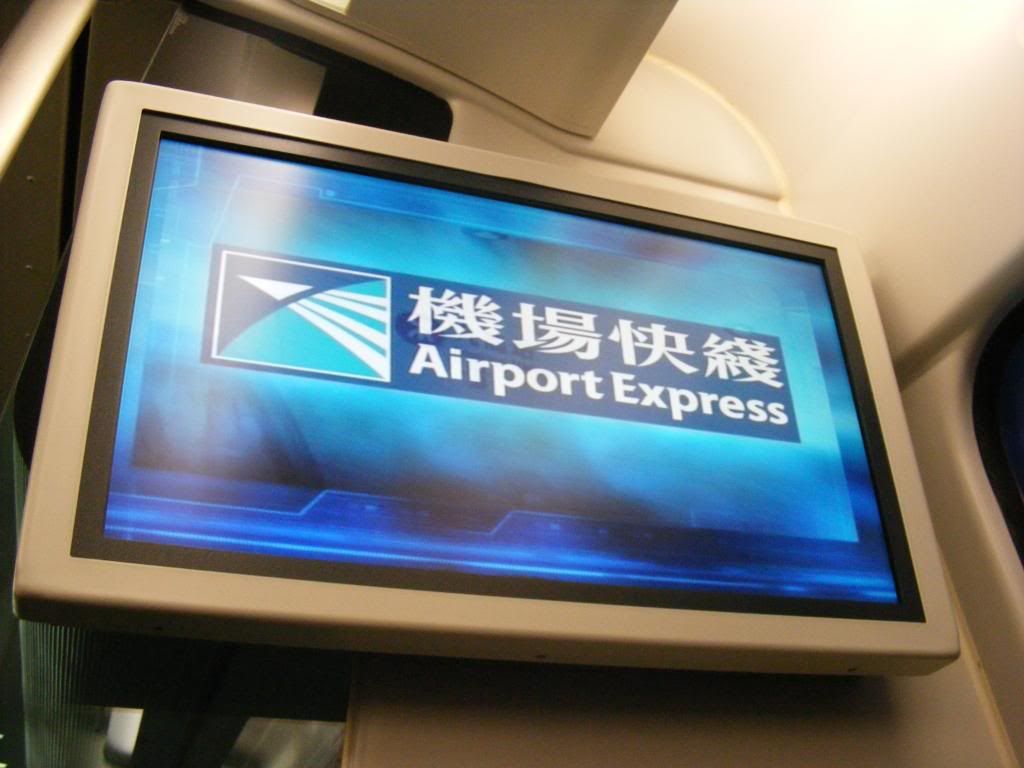 "Welcome aboard Hong Kong's Airport Express!"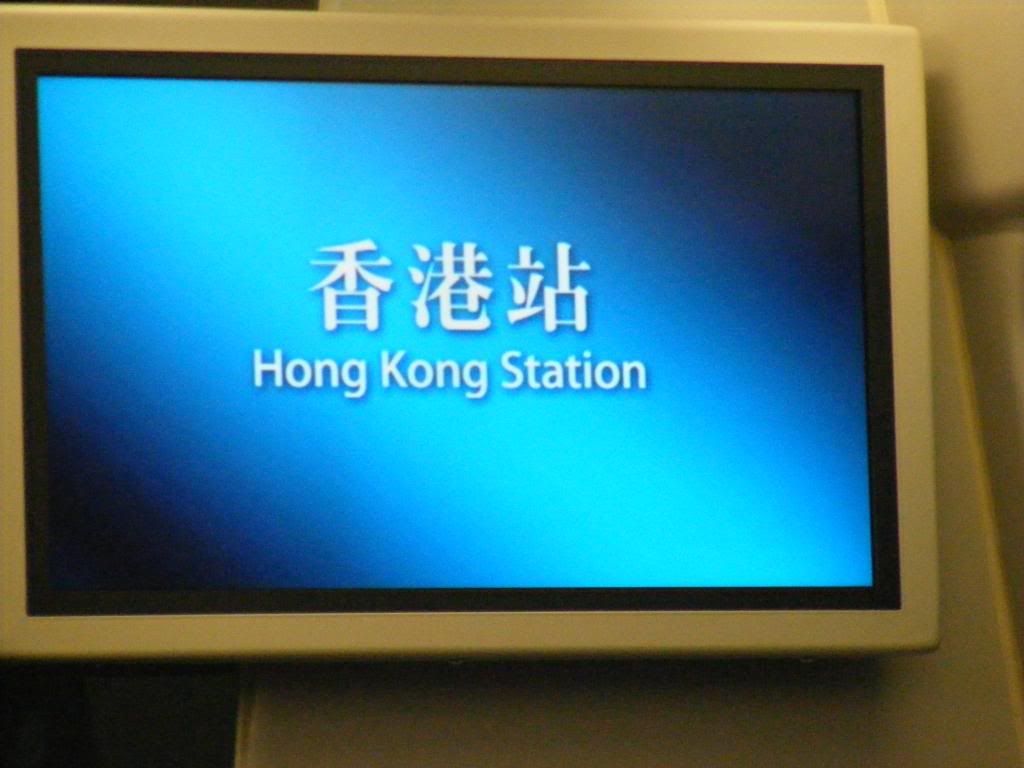 "This is Hong Kong Station; next stop Kowloon Station"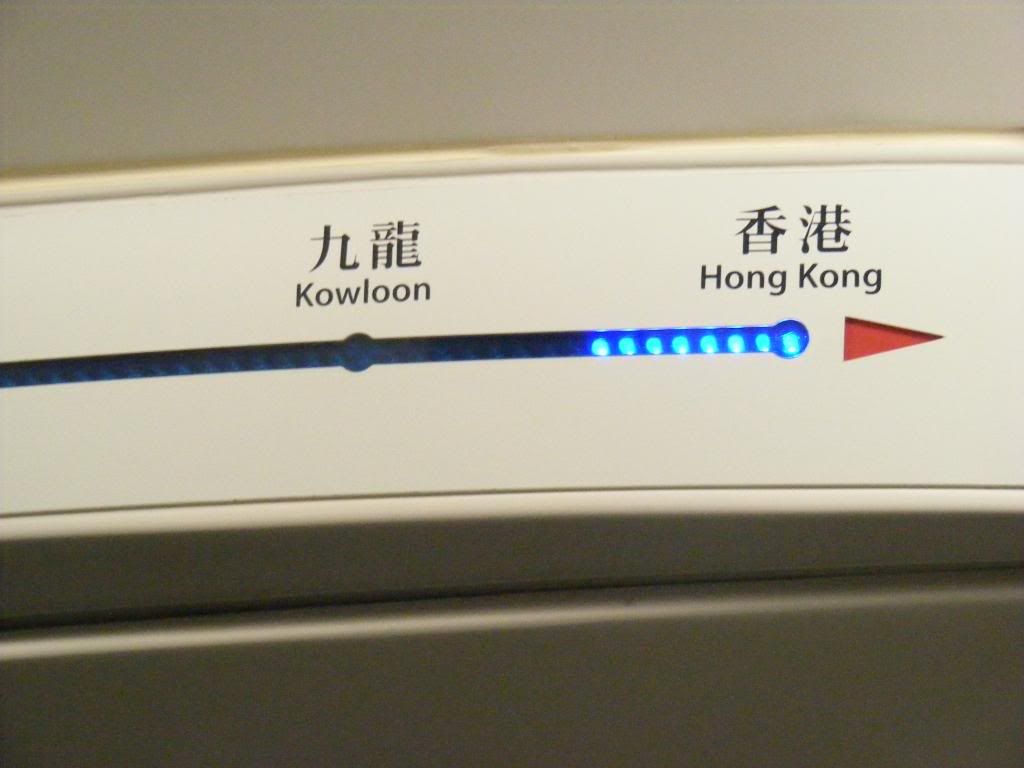 Indicator light display informing passengers which station we are at, the current progress of our journey, and how many more stops till we reach HKG.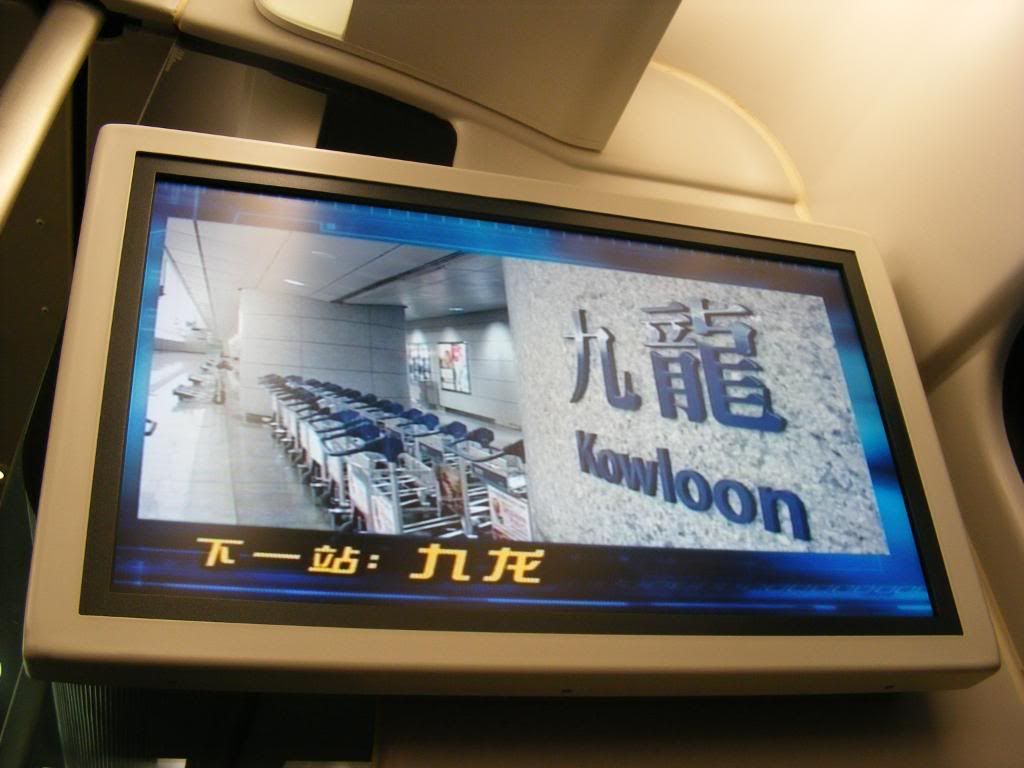 We are now approaching Kowloon station.
Inside the train. Those checking in at Terminal 1 exit to my left and those checking in at Terminal 2 exit to my right.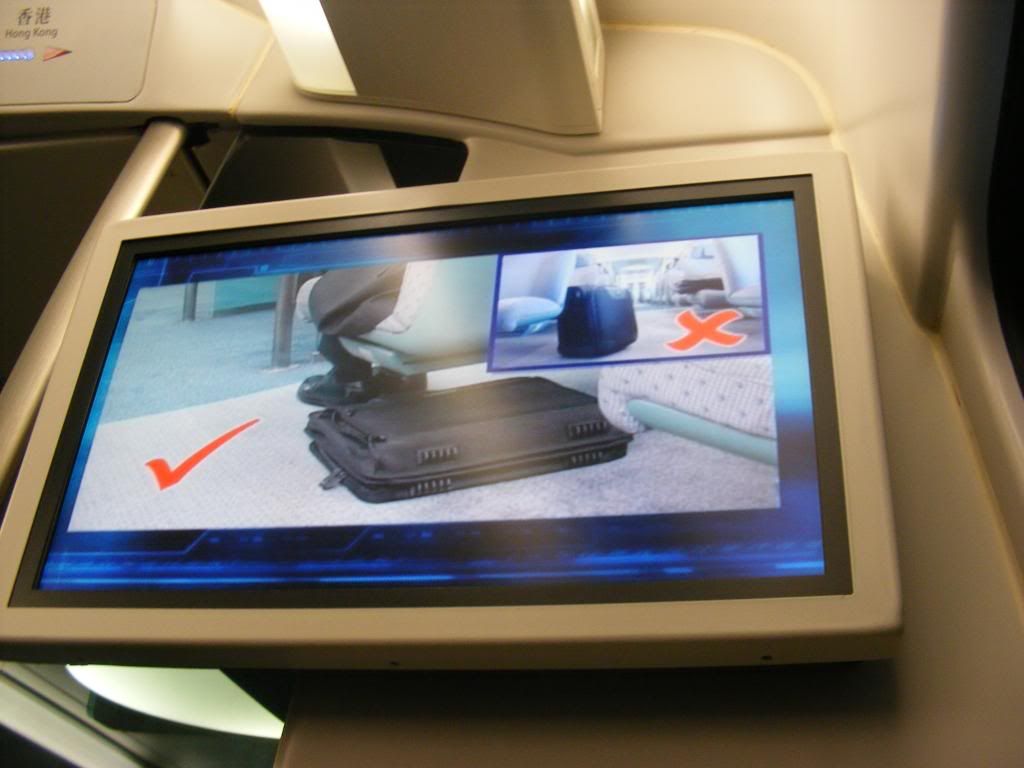 "Your bags should be stowed on the luggage racks or underneath your seat, never in the aisles."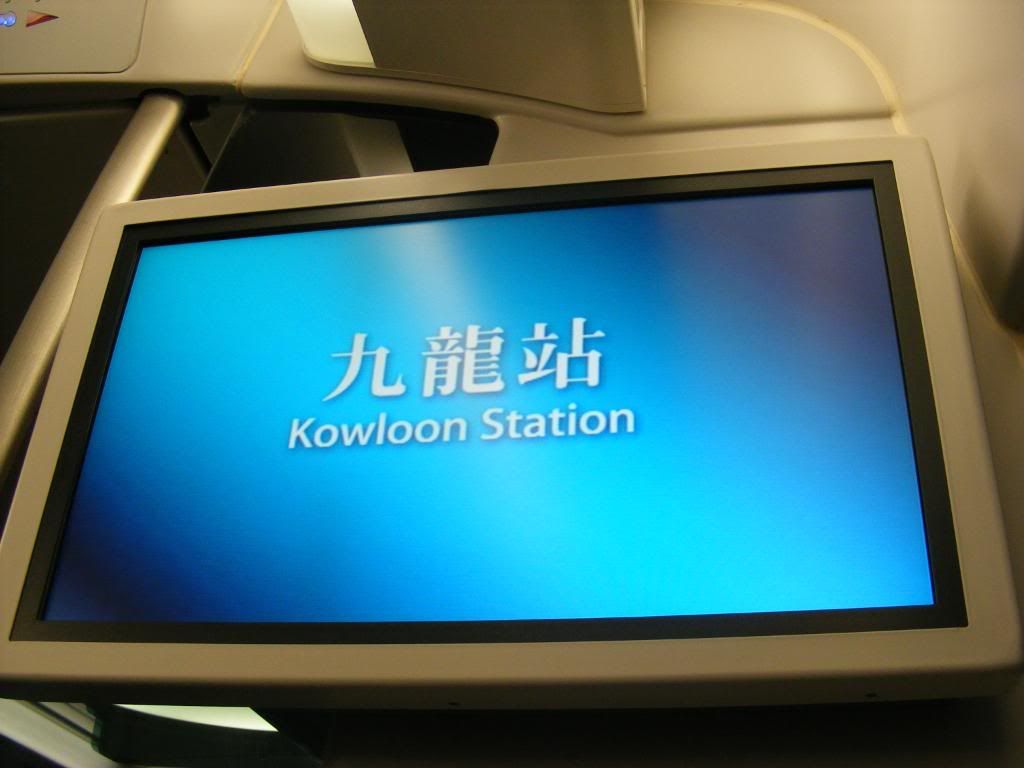 "This is Kowloon Station; next stop Tsing Yi Station."
"This is Tsing Yi Station; next stop Hong Kong International Airport."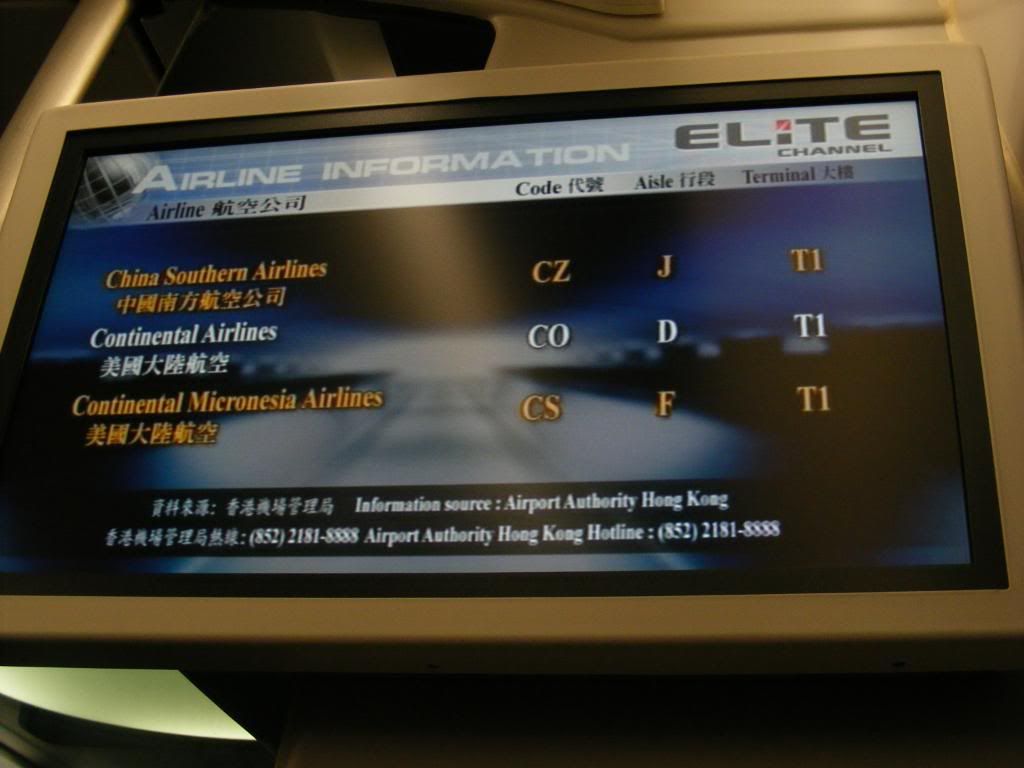 Information screen on where to check in for those who prefer to check in at the airport. Too bad CS no longer flies to HKG.
EK is one of the few that conduct check in at Terminal 2, yet board their flights at Terminal 1.
The trip was rather fast and smooth. You do notice the train slowing down once it passes by the train depot. A few minutes later we arrived at HKG.
Airport Express train depot
After stepping off the train, it was just a short walk from the train to the check in area. This was technically my 5th time at HKG, but my first to go through the South Departure Hall and go through departure control. I definitely felt like a kid in the candy store checking out each of the check-in islands to see which airlines had their counters open to check in flights, and what goodies I could take from the counters, mainly baggage tags.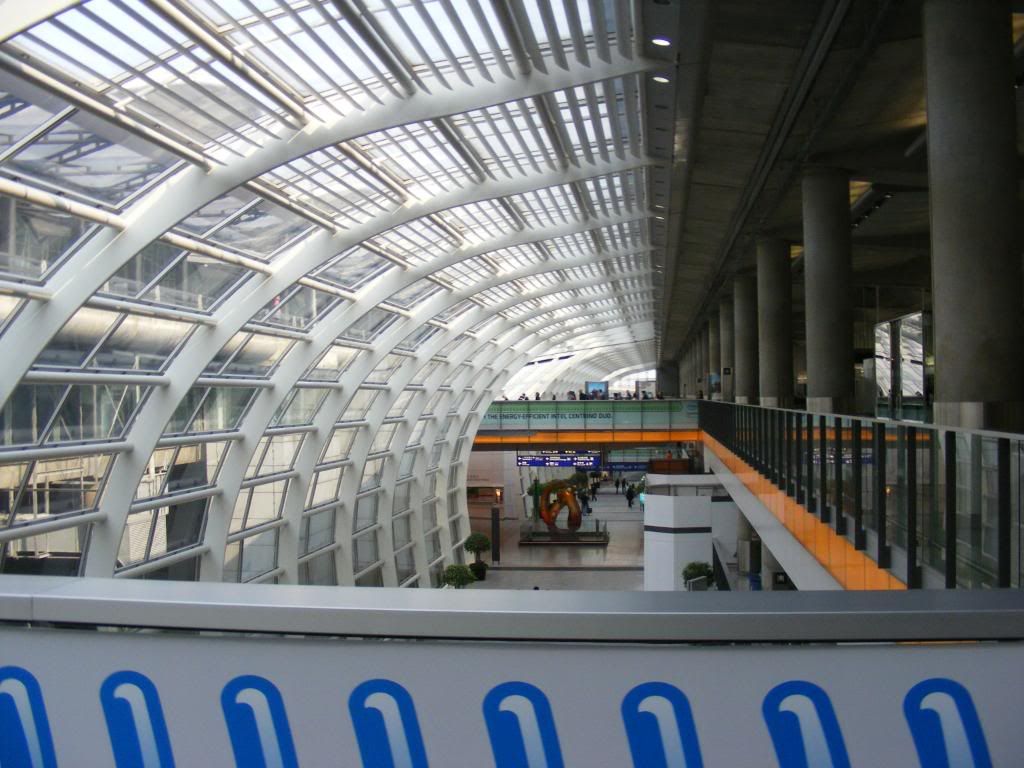 Walking the distance between the train station and the airport.
WOW! Walking up the ramp to the main check in area. Look at the amazing ceiling to my right as well as the tiny banner with the Beijing 2008 mascots as well as the view of the arrivals area below.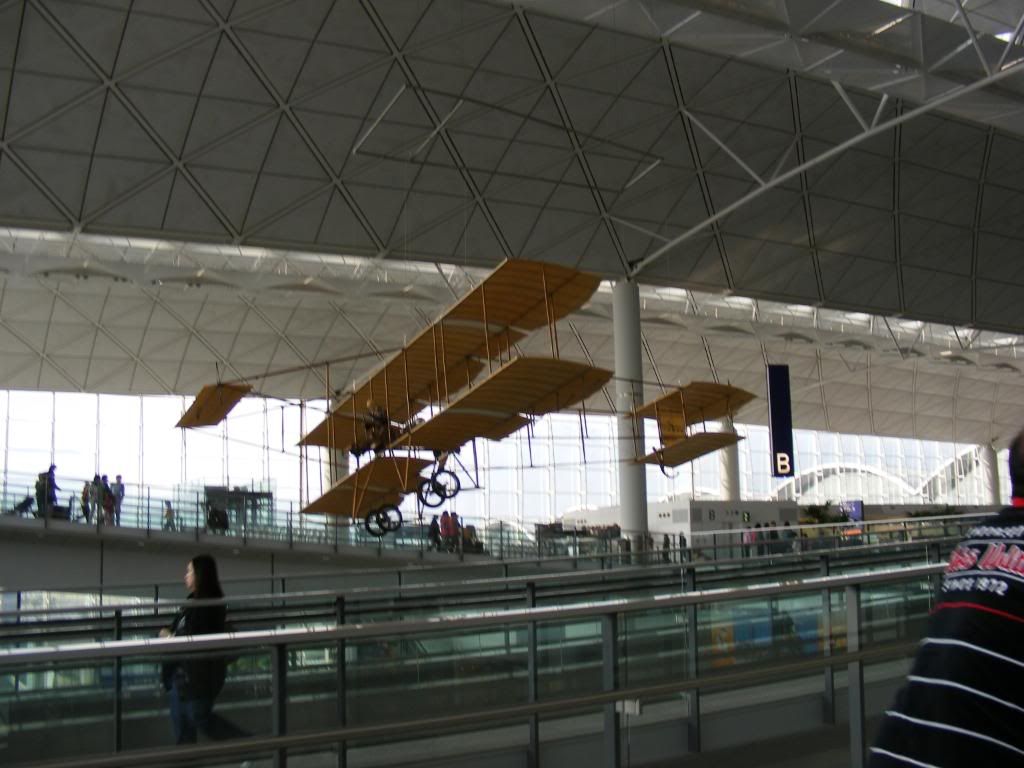 A model of the first airplane to my left as I make my way to the check in area. I had lost my notes regarding the name of this plane. Anyone know?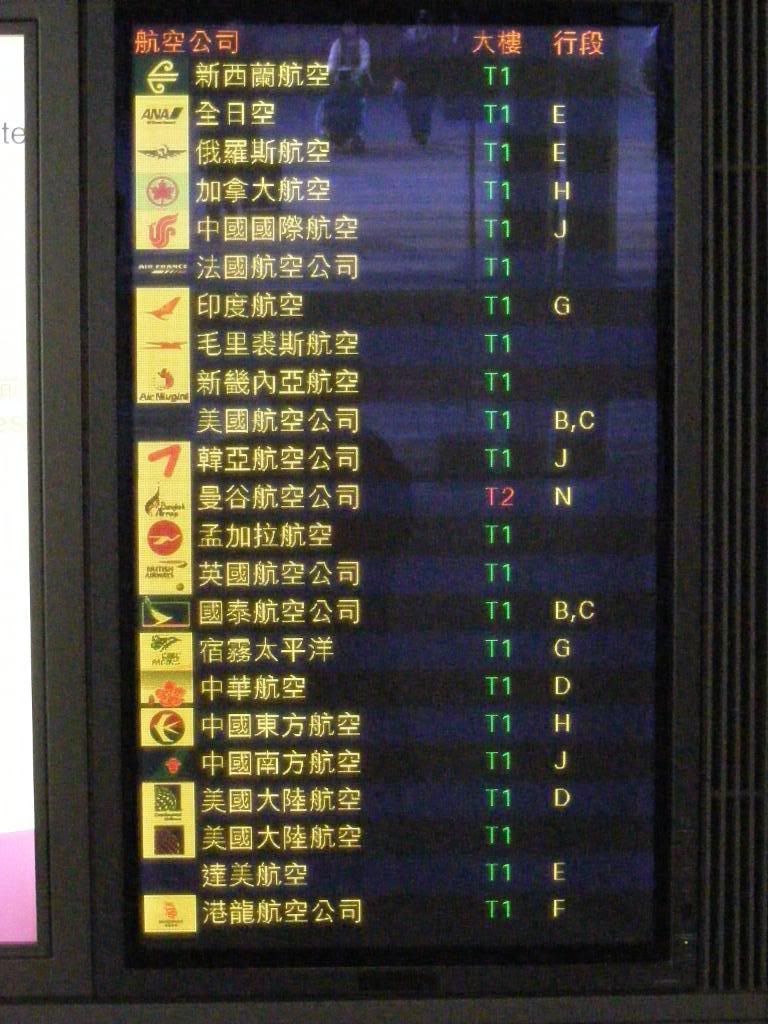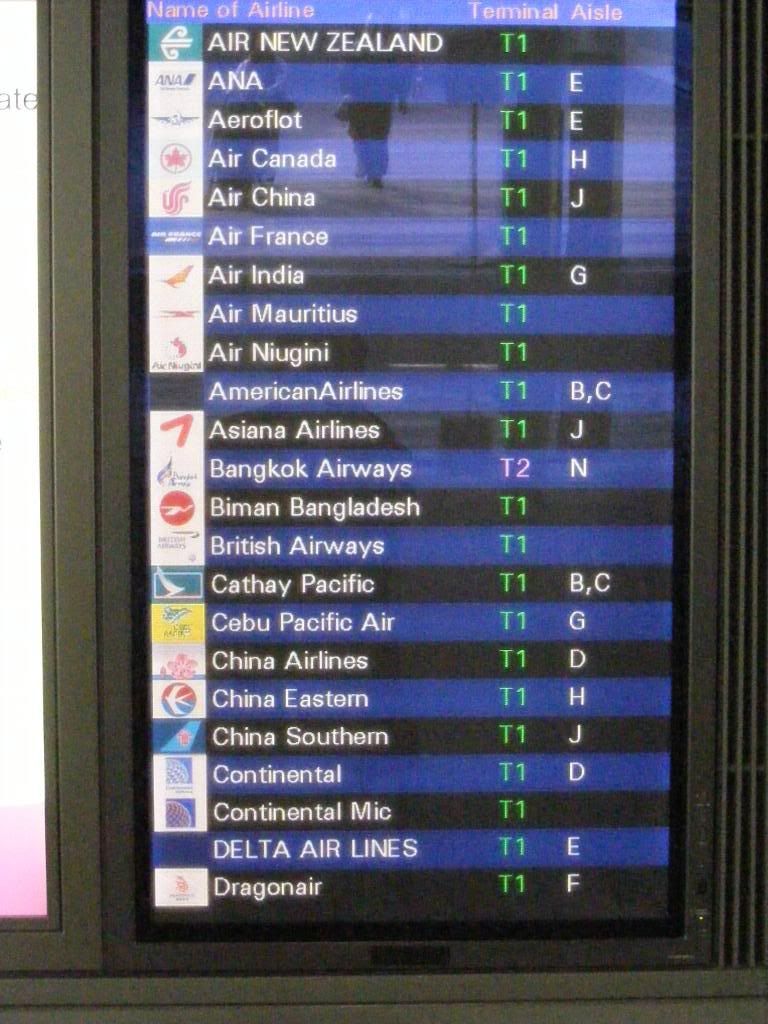 Where are the CO counters?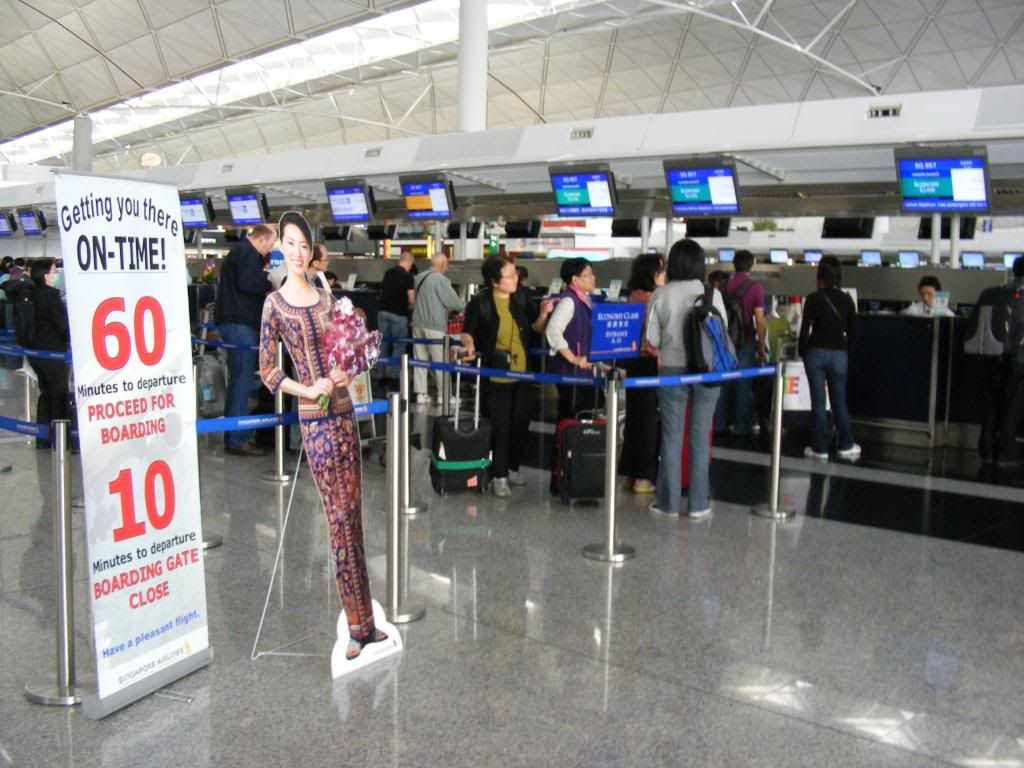 The SQ counters were next to the CO counters. I have a feeling I will see the same SQ Girl at IAH!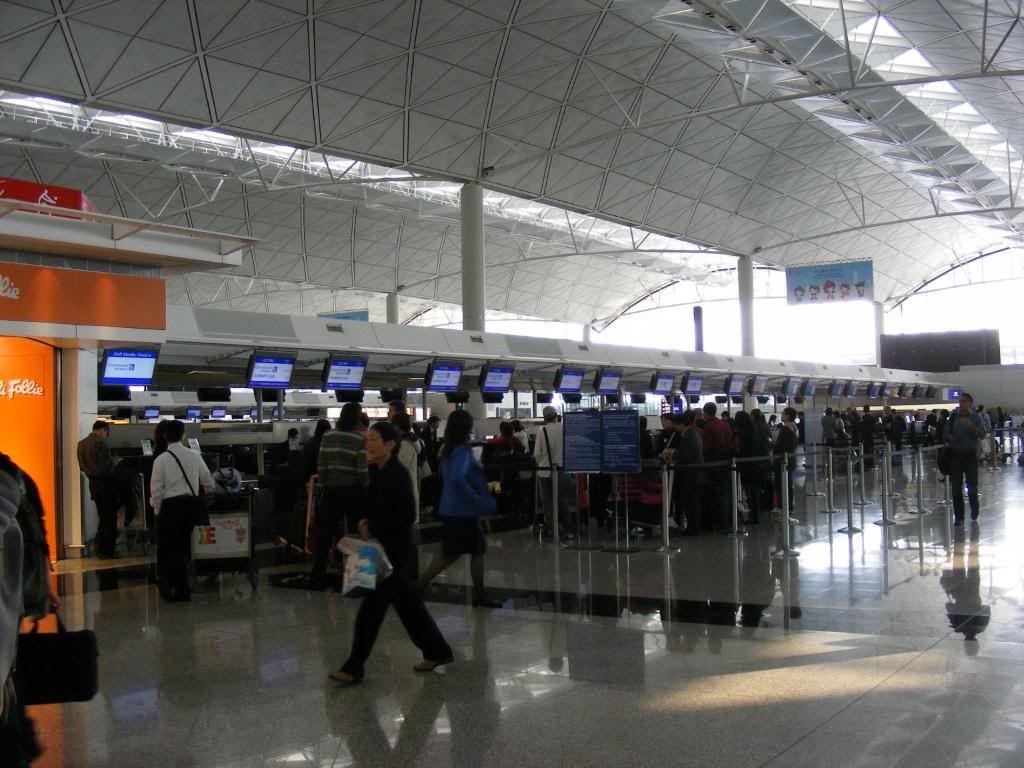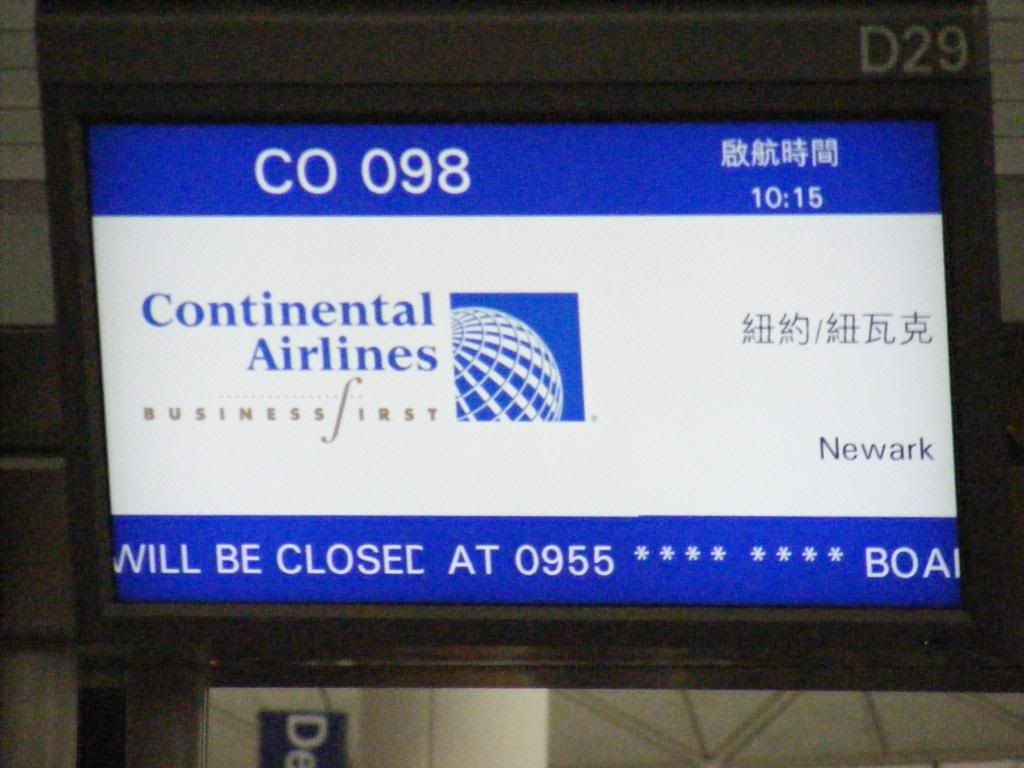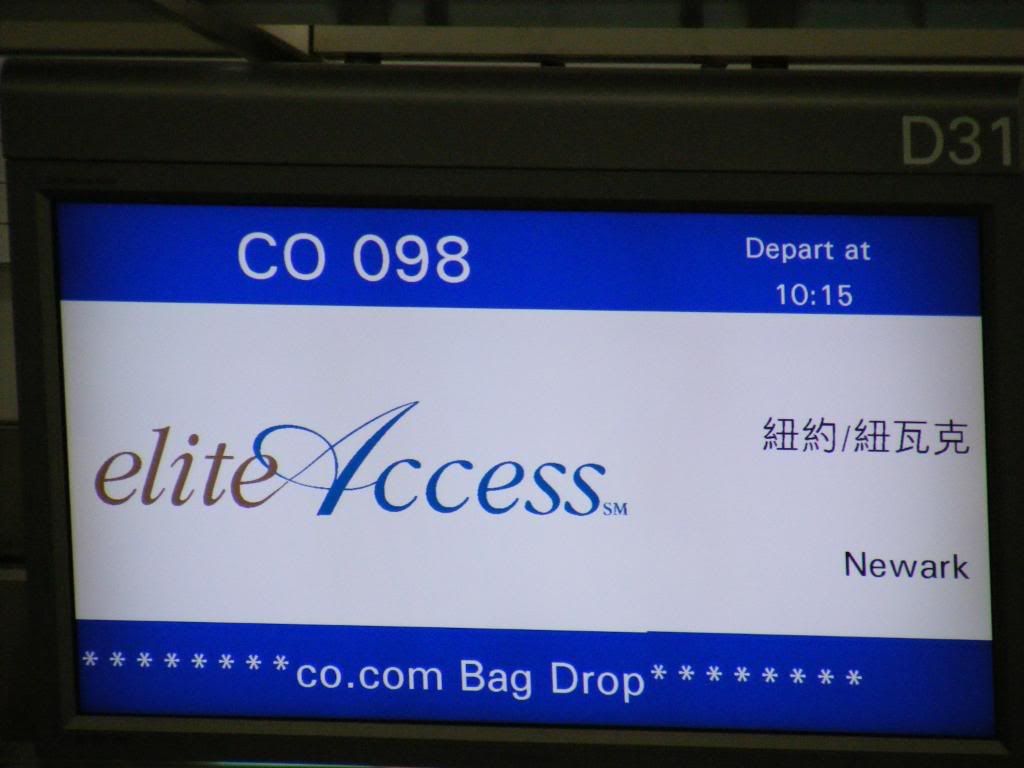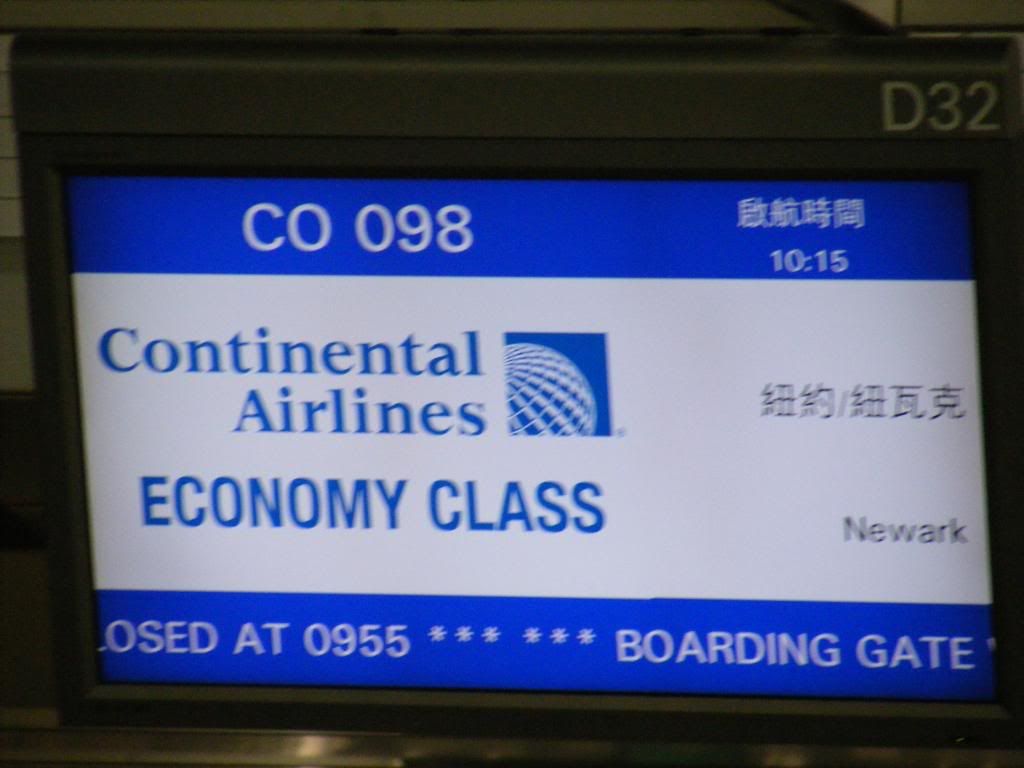 After taking these pictures, I headed to the EliteAcess line to make sure I had everything I needed for my ourney home. A female HKIA agent simled and greeted me with "Good Morning, Sir. Are you traveling with us to EWR today?" I gave her the affirmative as I pulled out my ticket jacket. She saw I had checked in at Hong Kong Station and told me I am confirmed checked in with my bags making it on the flight. She then handed me a CO logo sticker to affix on my top so they can recognize CO passengers when they announce boarding. She then directed me to go ahead with Departure Control at the South Entrance as the lines may be long. She concluded with a smile and wish me a pleasant journey. I then thanked her for her time. Next stop, a quick walk around the Departure Hall before getting a nice Hong Kong departure stamp in my Passport!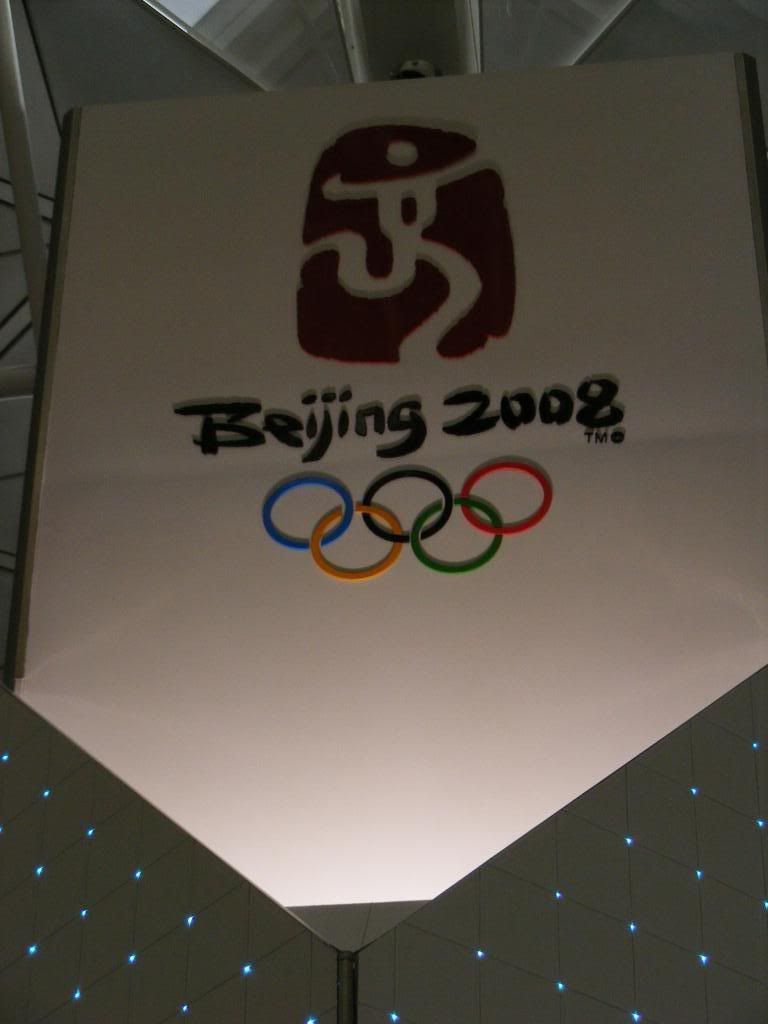 At the end of each row of check in desks is the logo for the Beijing 2008 games.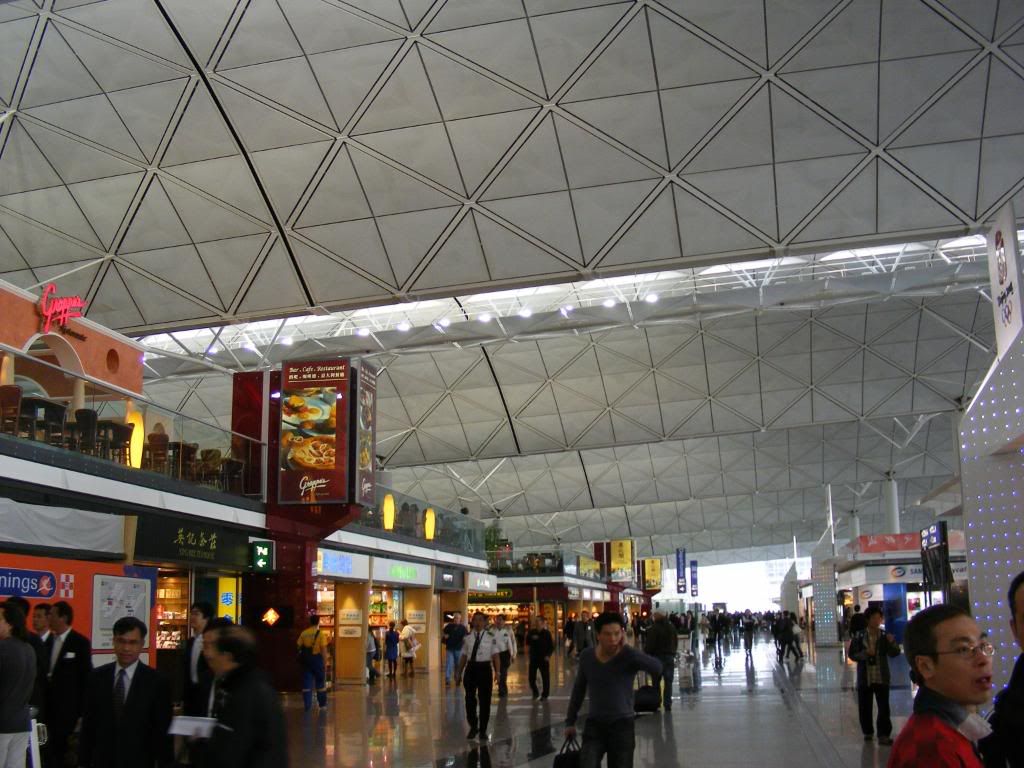 Just after check in are some eateries and shops before going through HK Departure Control.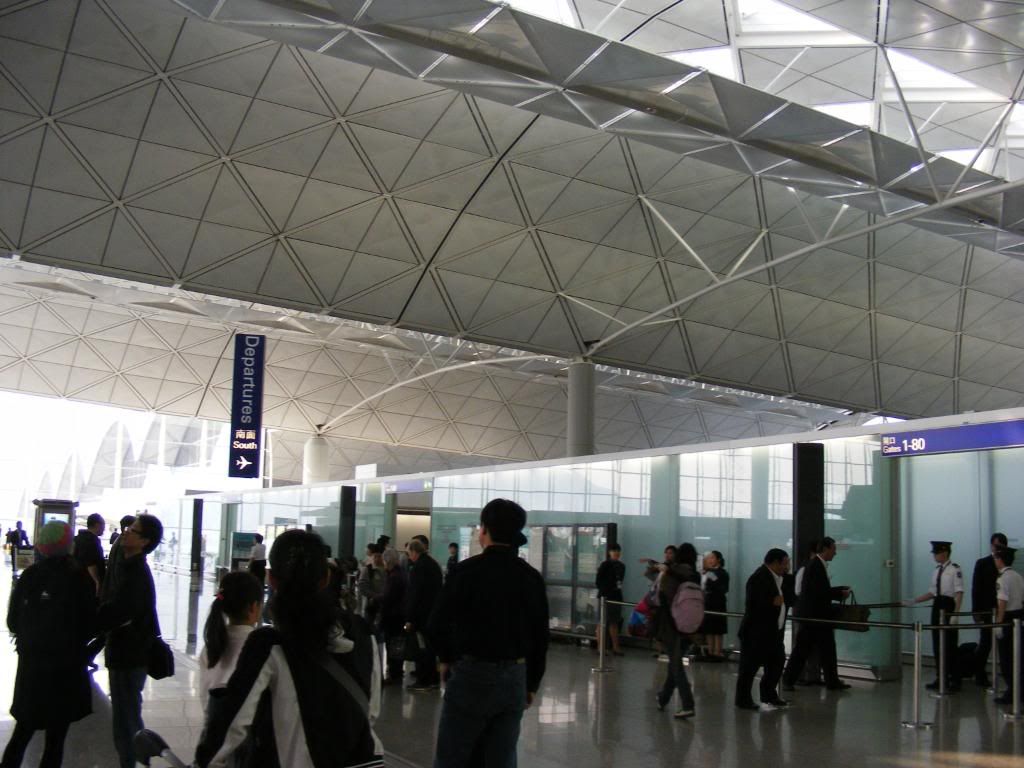 South Entrance to HK Departure Control where Customs officials check boarding passes with passports. One through we queued up for Departure Control.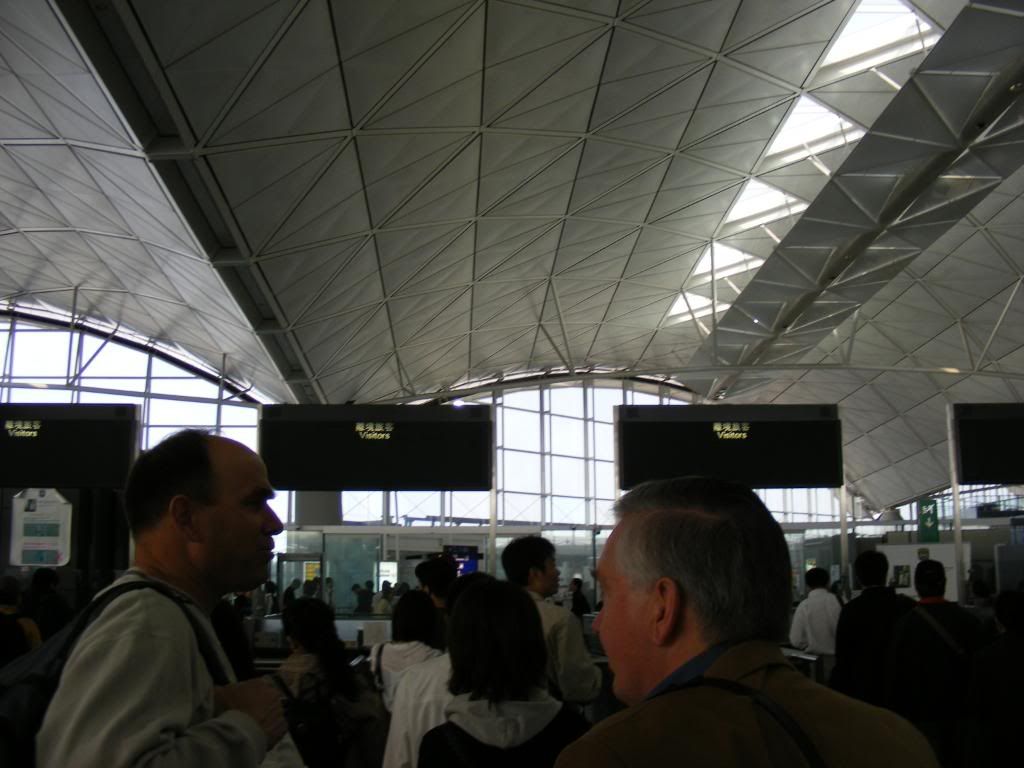 In the "Visitors" line at Departure Control with HK residents processed on the other side of the area. Immediately after Departure Control is security which is done very smoothly.
Once I finished walking around the Departure Hall, I made my way to the South Entrance Passport Control. Security officials made sure only travelers passed through by manually checking boarding passes and passports. Once through, I queued up for Hong Kong Immigration Departure Control for HK Visitors so I could add a Hong Kong departure stamp to my passport. It took 15min to finally approach an officer. I handed my passport, boarding pass, and Hong Kong departure card to the female officer. She had a peruse through my passport, scanned my picture page, stamped the depature card, my passport, and then handed my passport back to me while waving over the next person. Once done with Departure Control, you immediately queue up for security in such a narrow space. This process took about 20min and then I appeared onto the departure side of the airport.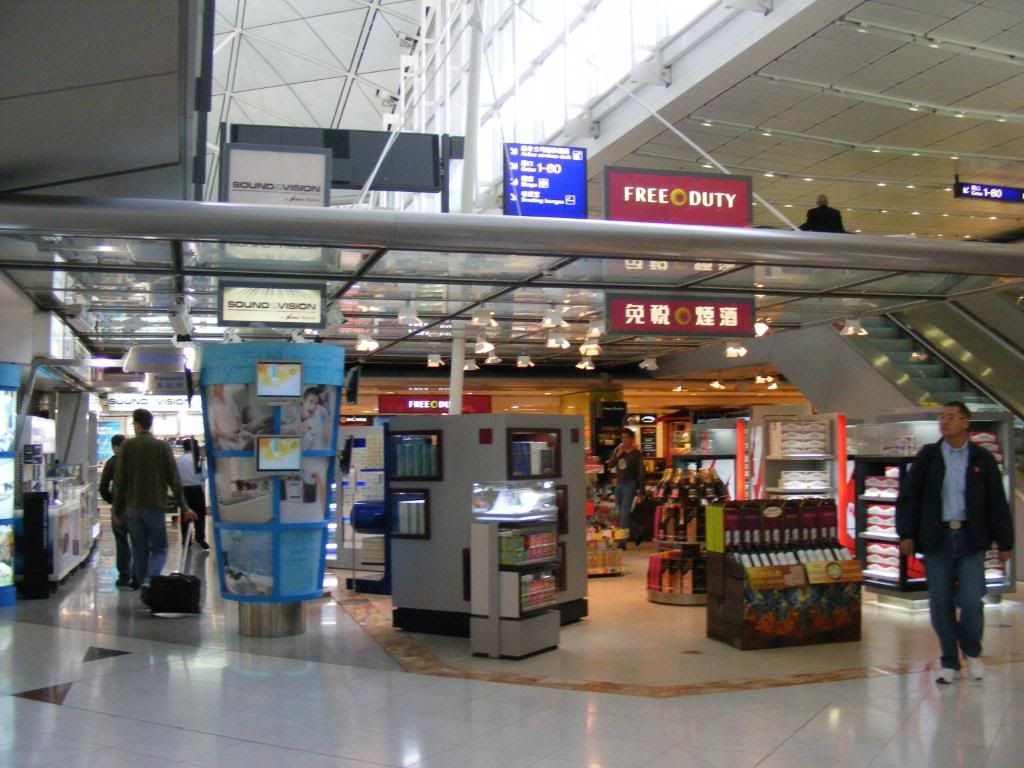 Mid-level between security level and departure level.
Construction is going on throughout the airport. Immediately after coming up from security is the main eating hall.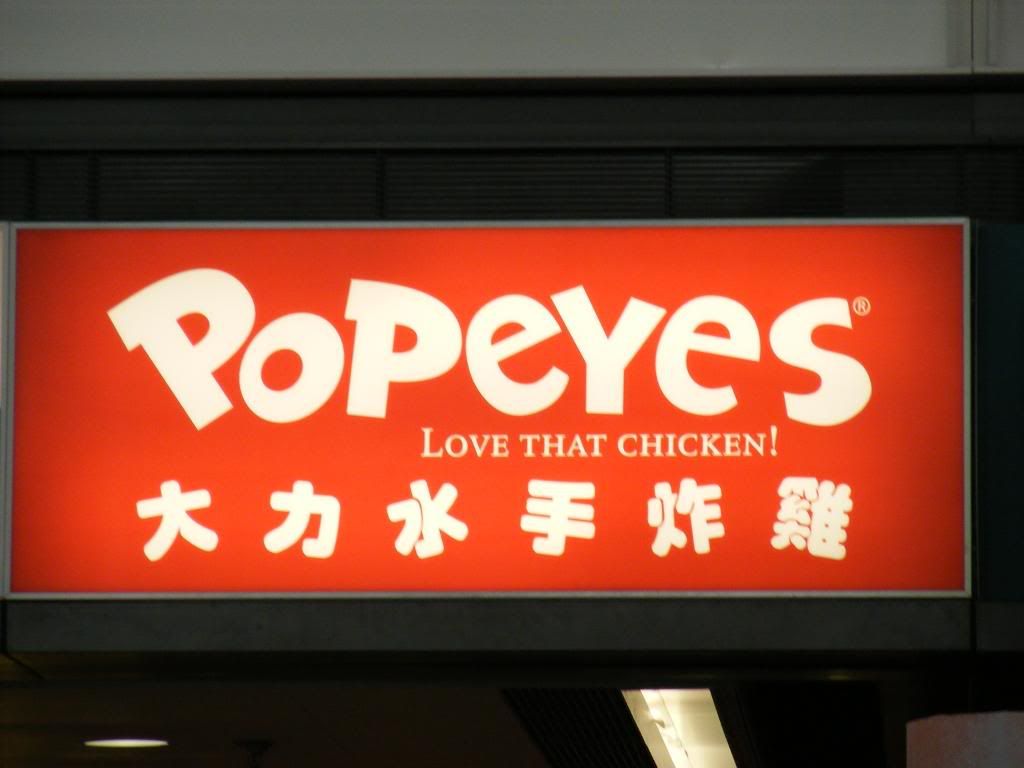 WOW! Popeyes in HKG!!! I wish I had time to get a bite here so that I can say I had Popeyes before I left HKG and then had Popeyes when I landed at IAH!!! Definitely on my next trip!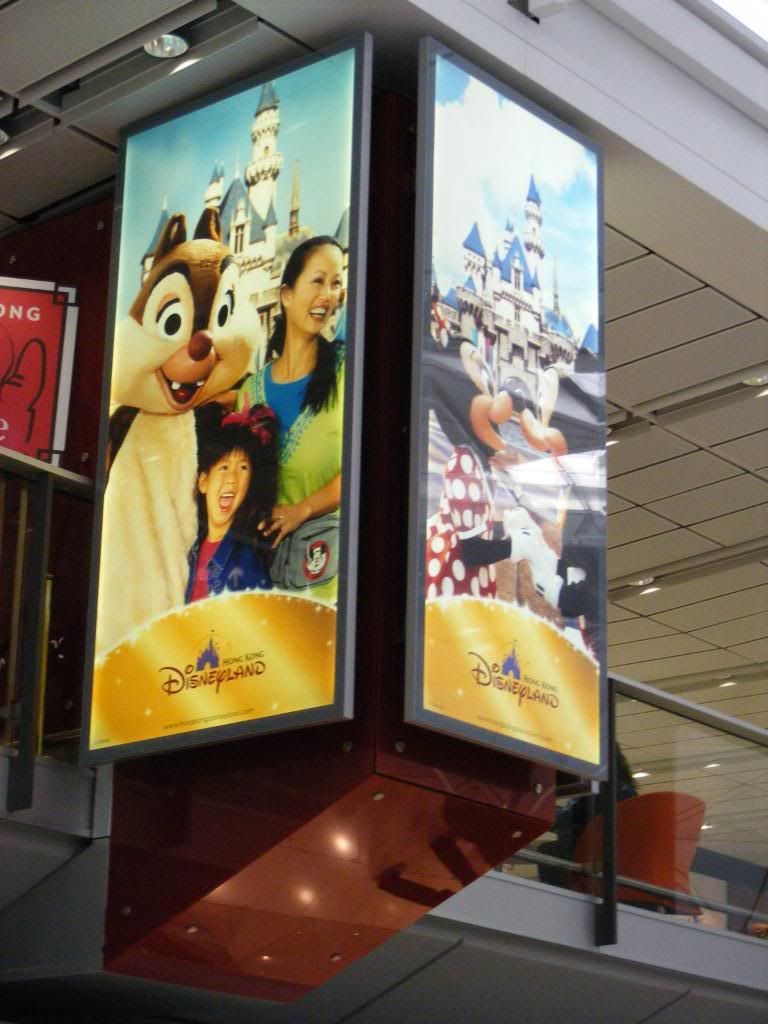 If you did not get to stop by Disneyland Hong Kong, you can stop by the duty free store at HKG to pick up a last minute gift for the kids!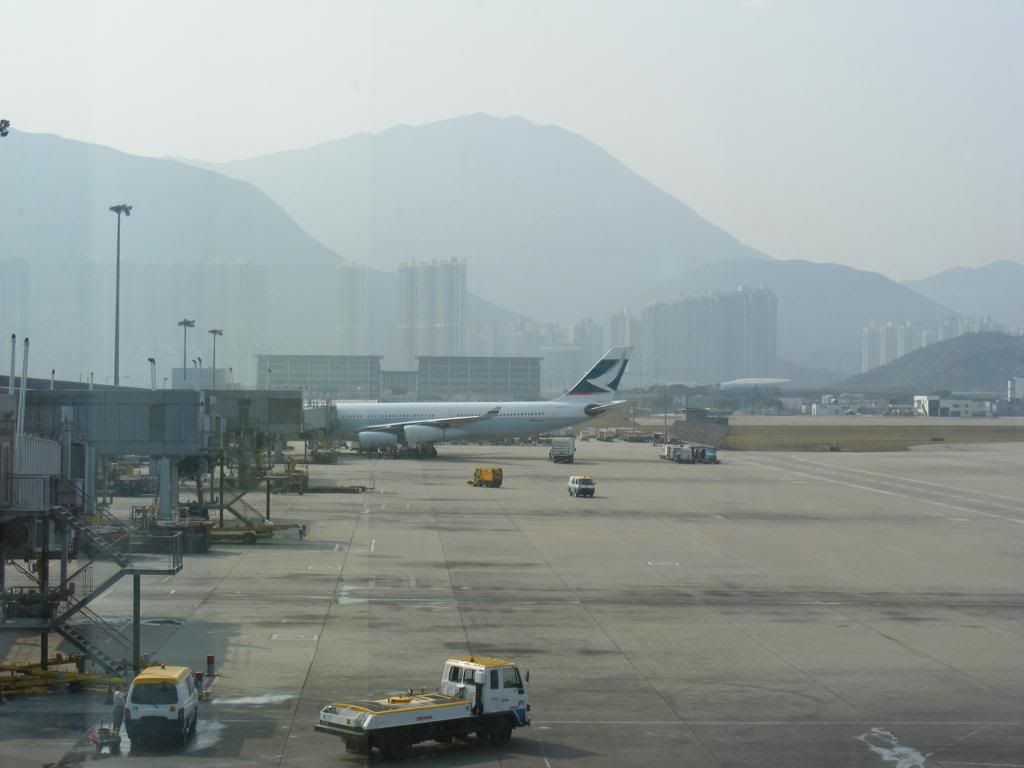 A lone CX plane parked at, I believe, Gate 03 or 04.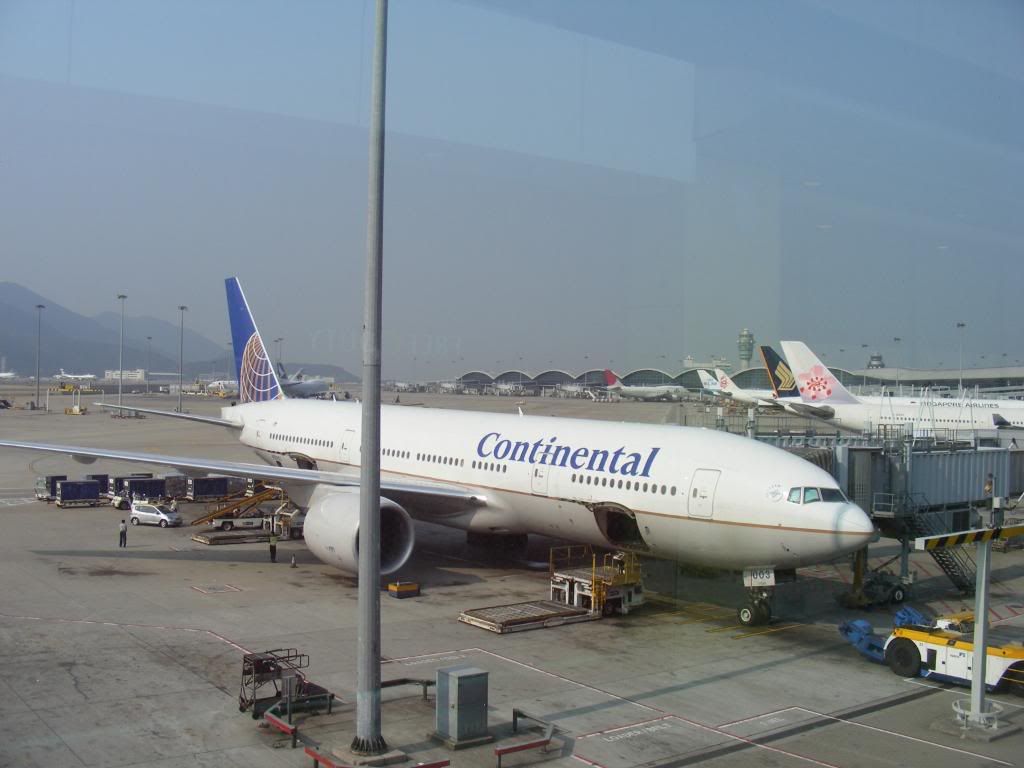 Here's my ride home, Plane #3. Bummed this plane was not fitted with AVOD. Now 0/2 for getting on CO's upgraded 772s on this trip.
At HKG at this time of the day, airlines present included JL, KL, KA, SQ, CI, CO, and of course CX.
A Hong Kong Express 737 with winglets!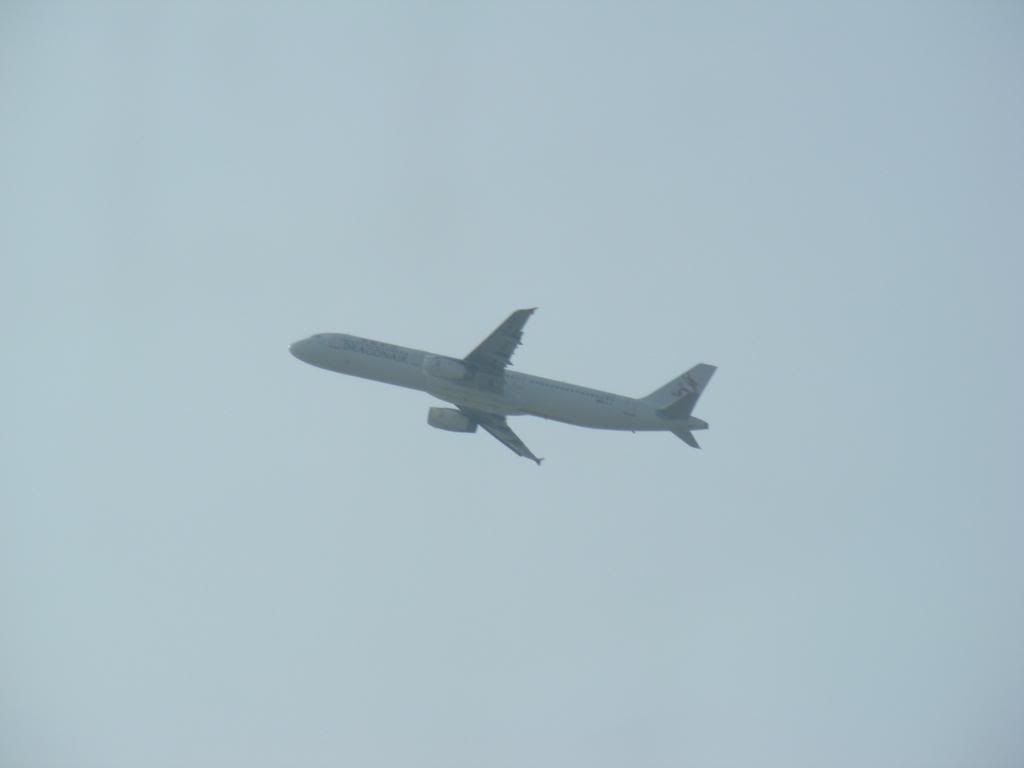 I believe this is a KA A321 after takeoff.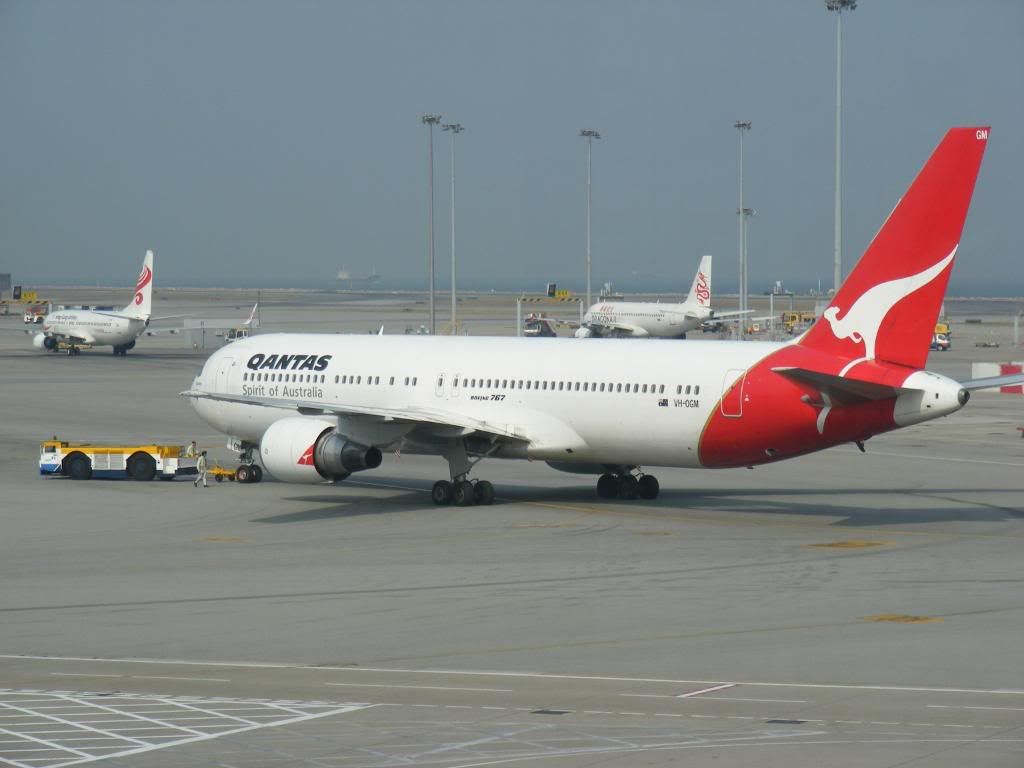 QF 763 being towed from gate for departure to Australia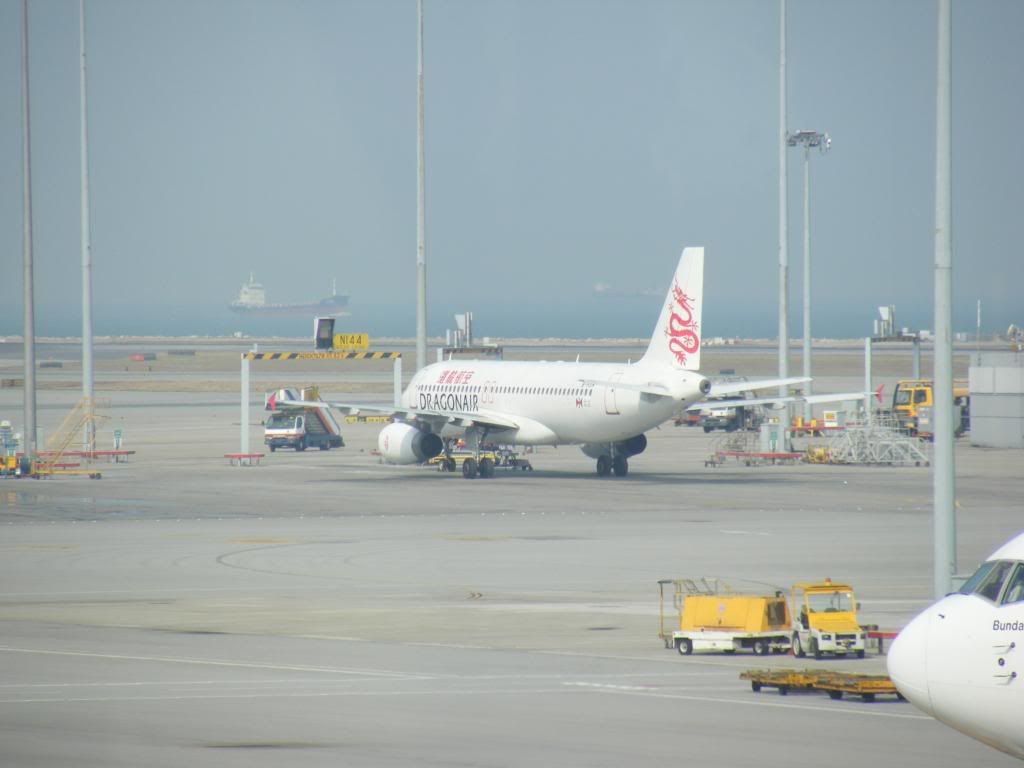 A KA A319 on hard stand waiting to depart later when it will be towed back to a gate.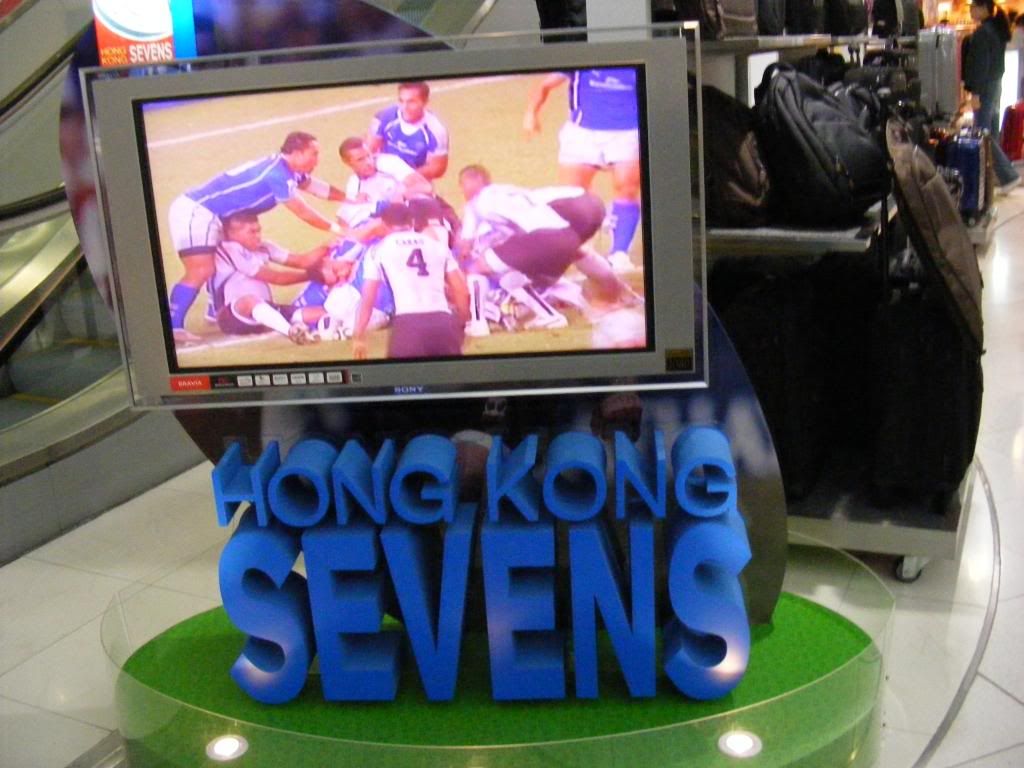 The city was getting ready for the Hong Kong Sevens rugby tournament.
Full view of KA's "Hong Kong" plane waiting to head to TPE at Gate 16, with the QF 763 still in tow and a QF 744 tail at the gate.
After I took a few more pictures of KA's Hong Kong plane, I headed to Gate 21 where my EWR flight would depart. Once I arrived at the gate, I was already shocked at the long line of passengers awaiting to board the same flight.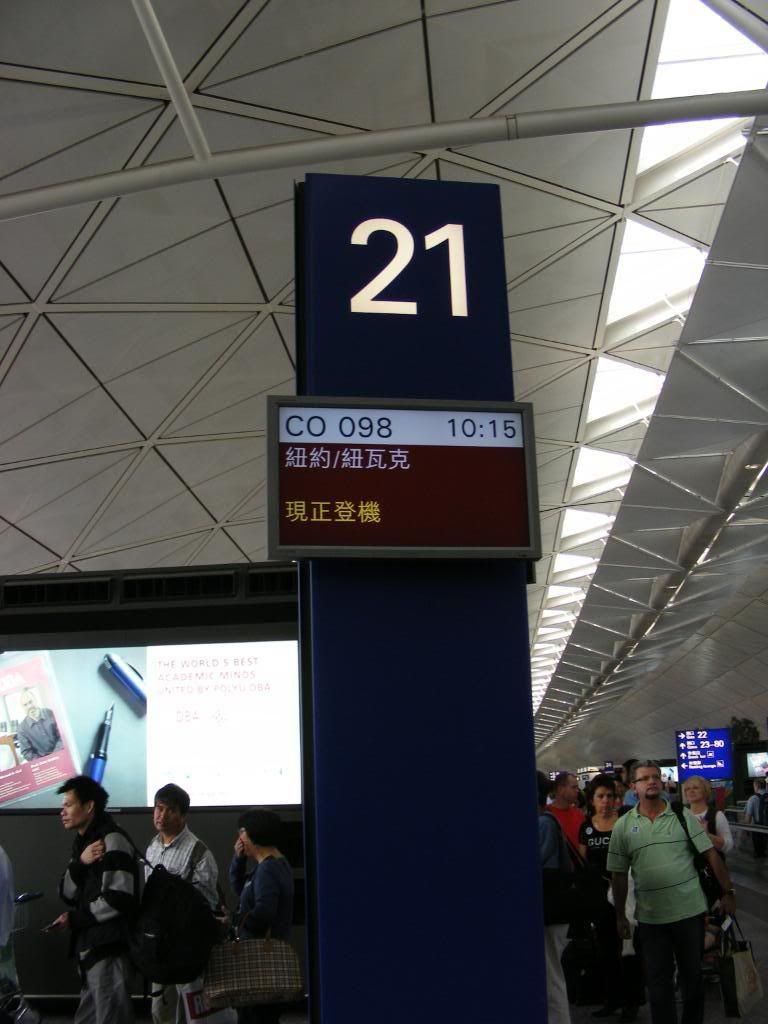 Why are these people queuing up and where are they going?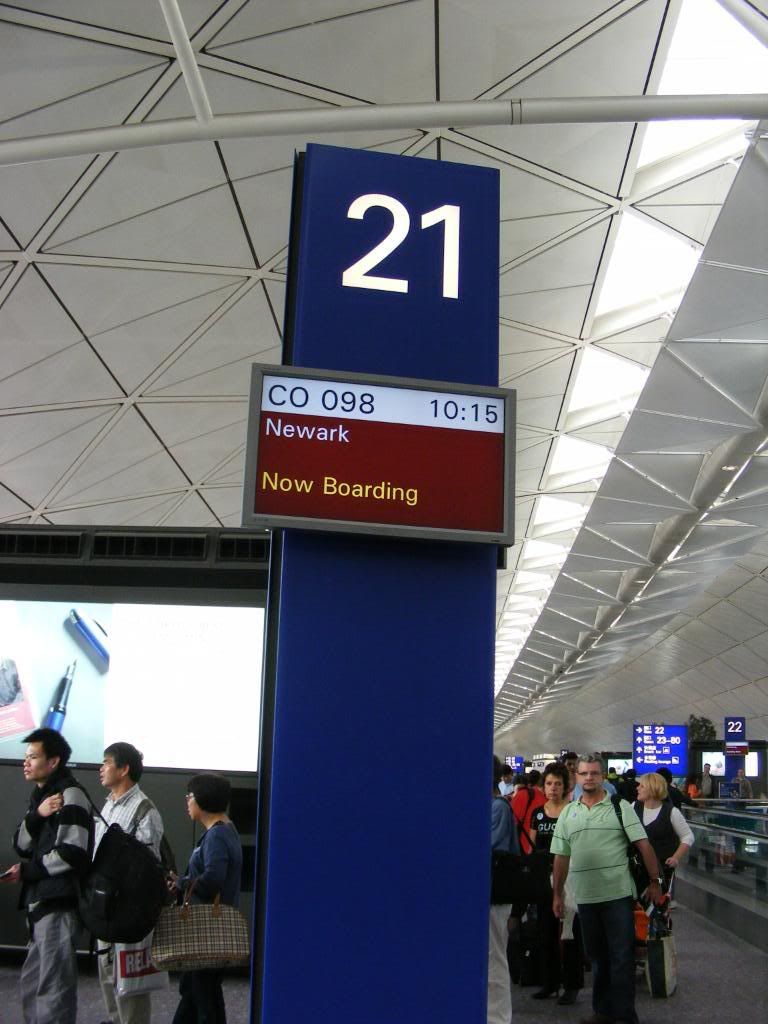 Ahhh yes, EWR. At least it's not at final boarding!
Entrance to our gate. Notice the rather long line for those boarding at Y entrance starting from the rear of the aircraft forward.
Gate counter for our flight, but the sunrays were in the way!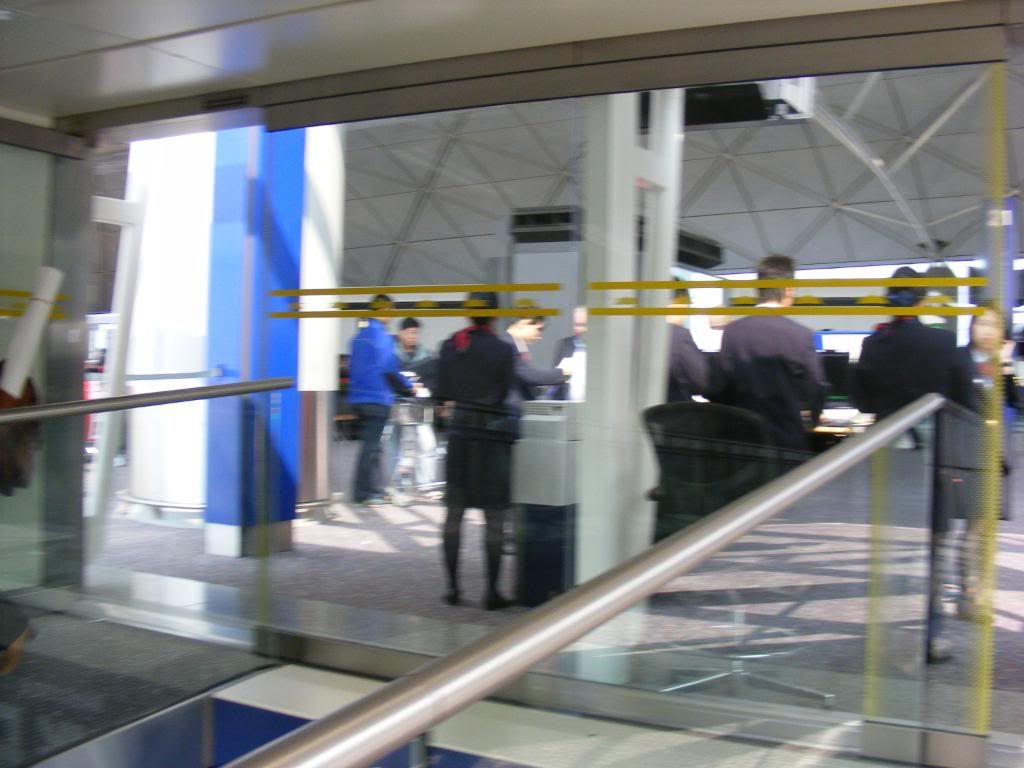 After my boarding pass was ripped and inserted into the machine, I make my way down the extension using the F/J door. At the end of this extension they had an extra security check of cabin luggage. Others complain about this extra check, but I'm used to it. They need to try and depart from MNL! Talk about security check after security check after security check!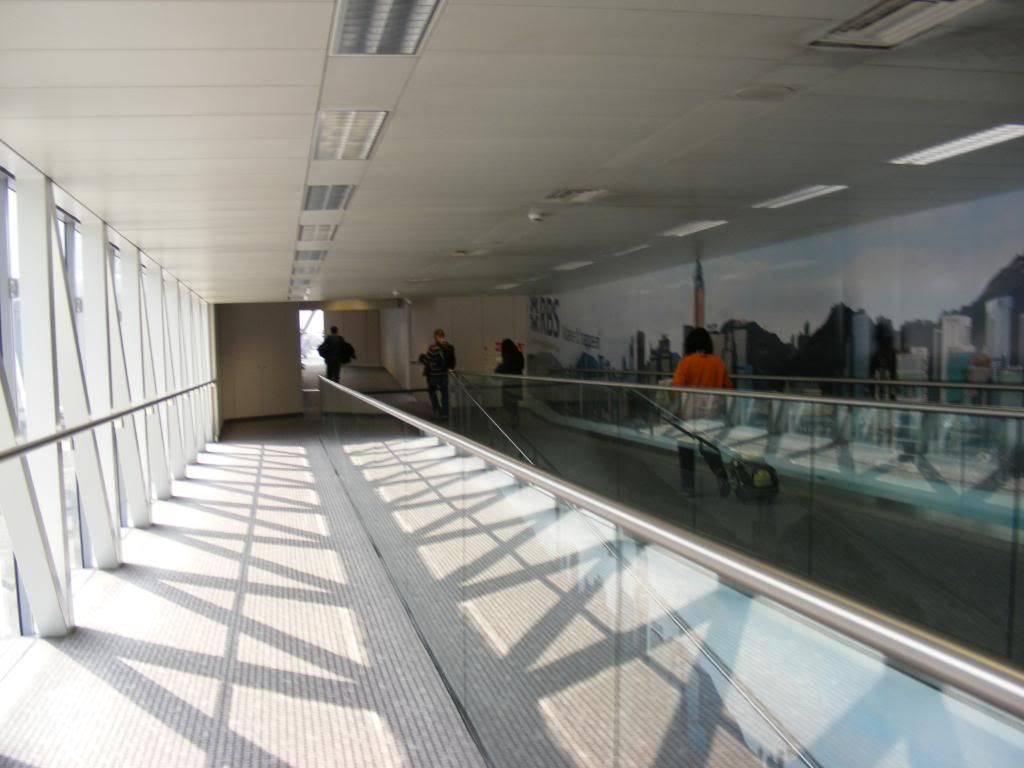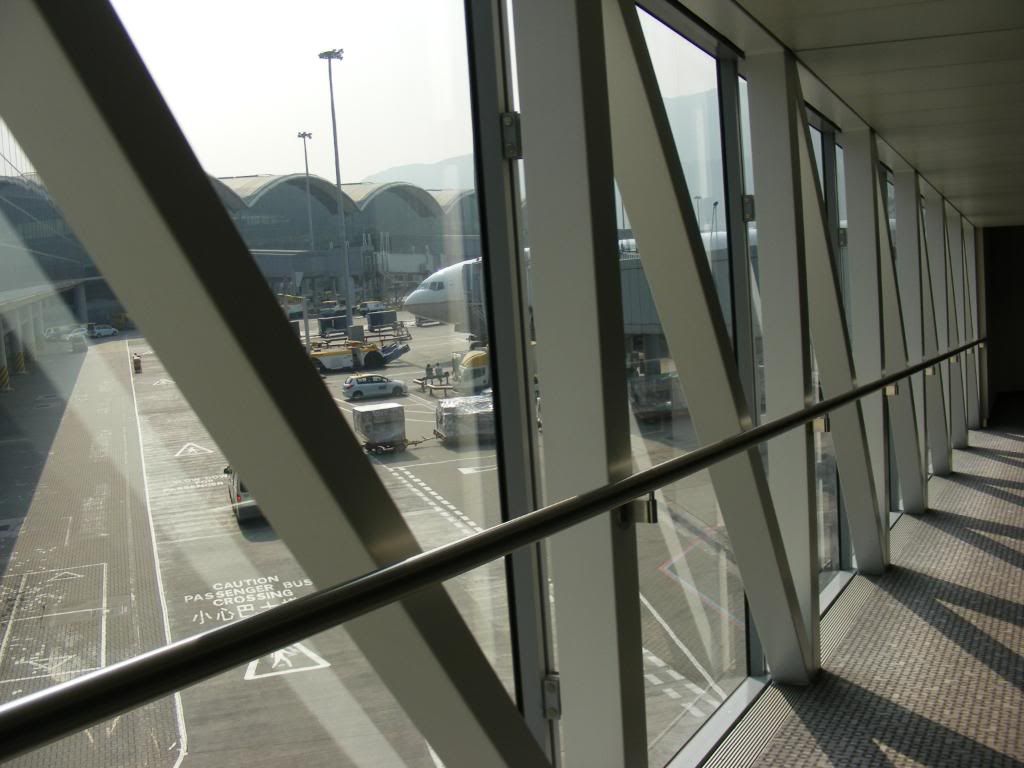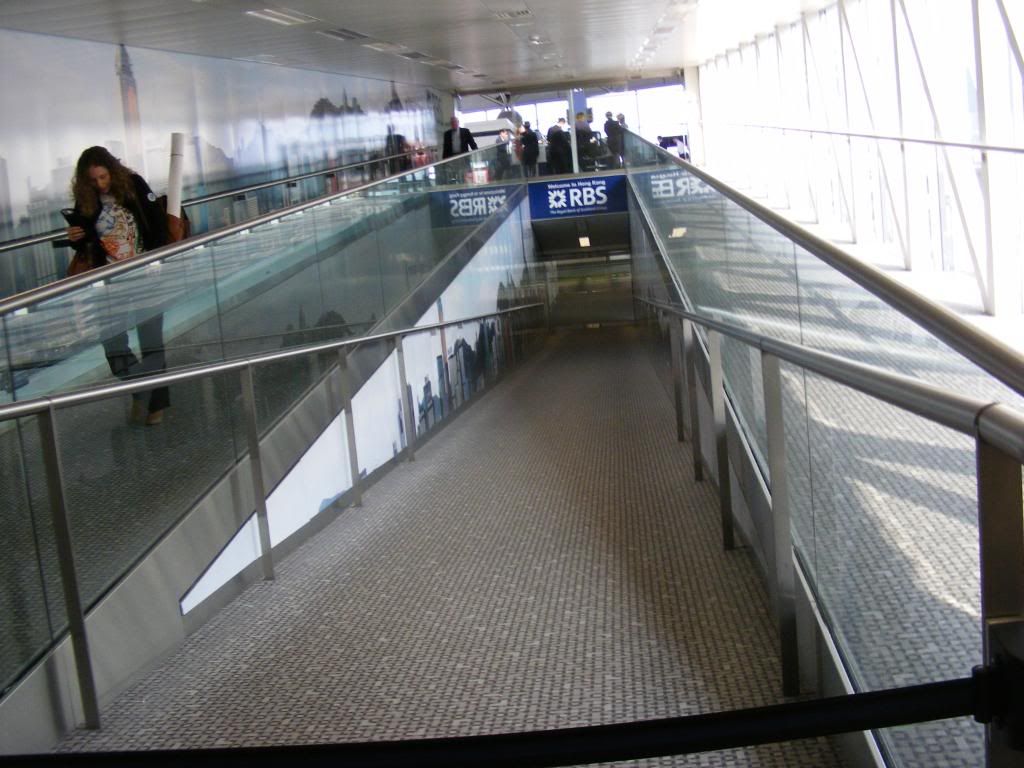 Before reaching the last round of security check, I arrive at the end of the extension and notice the ramp down leads you to the arrivals floor sponsored by the Royal Bank of Scotland. Out of all the airports that have their jetways splashed with HSBC, I'm surprised they do not sponsor HKG!!!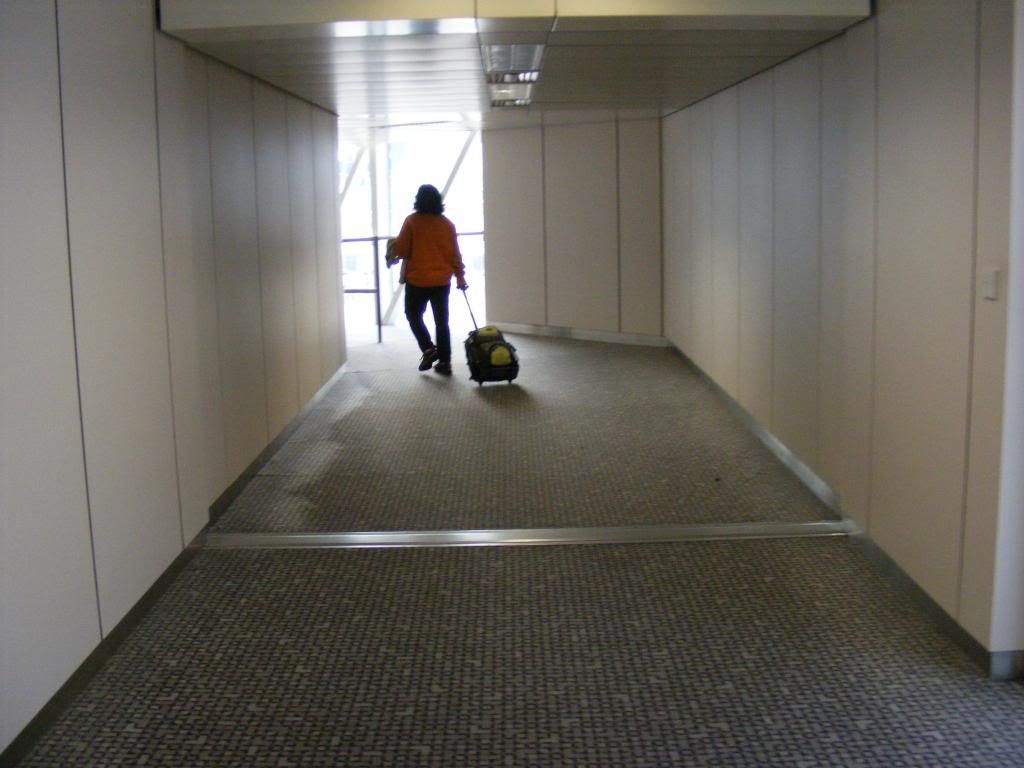 After they had checked my hand luggage, it's now down to the airbridge. An agent was there to direct us to L1 or L2. Though I was travelling in Y, she saw my EliteAccess and said "Sir, you're EliteAccess, you can board through L1 since it's quicker." I replied "Xie, xie" and make my way down to L1 where I get an interesting surprise ... the same crew that brought me down to HKG is now bringing me back to EWR.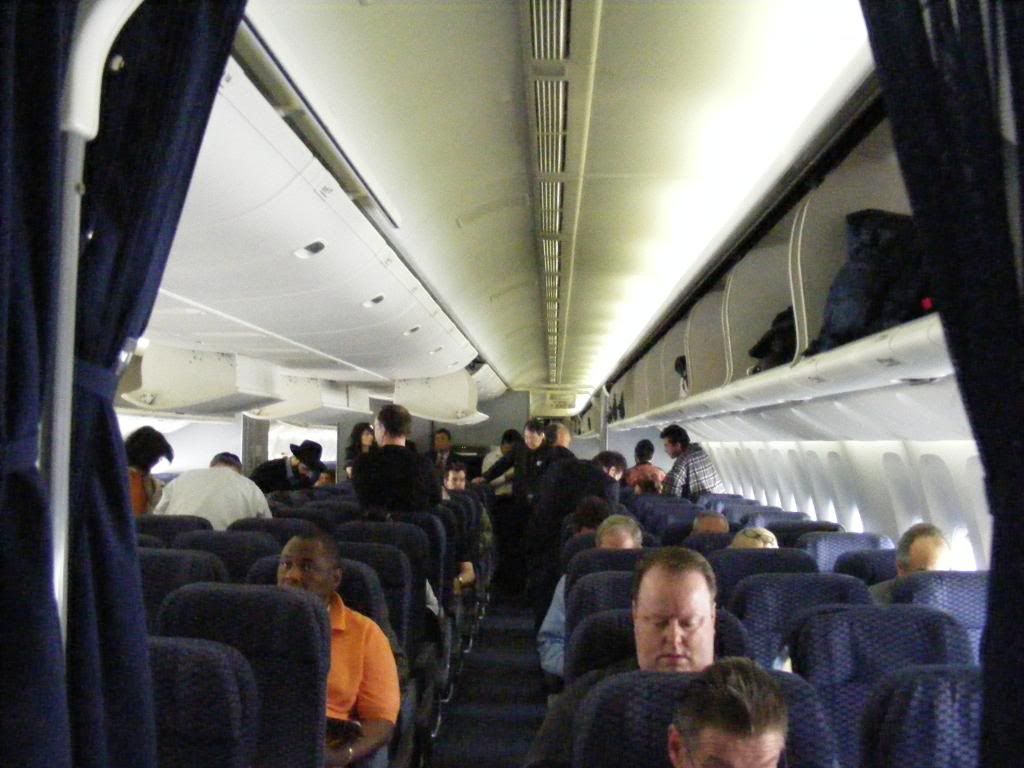 Entering the Y cabin.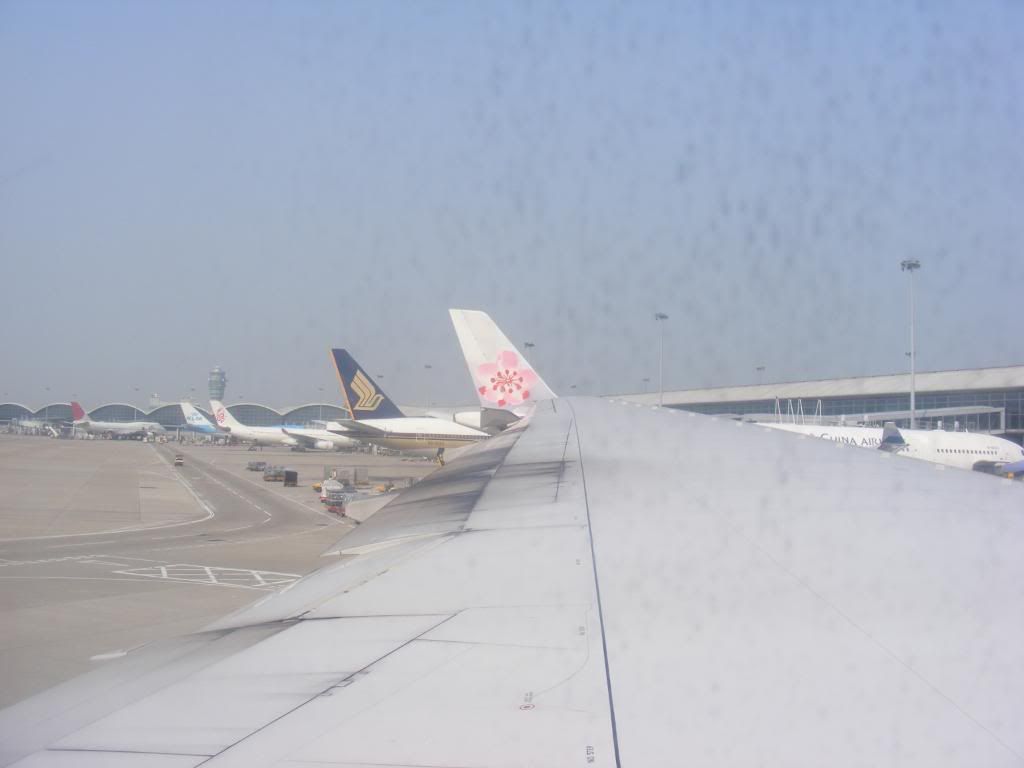 My neighbor at 21A had not arrived, so I took this shot of the planes next to ours.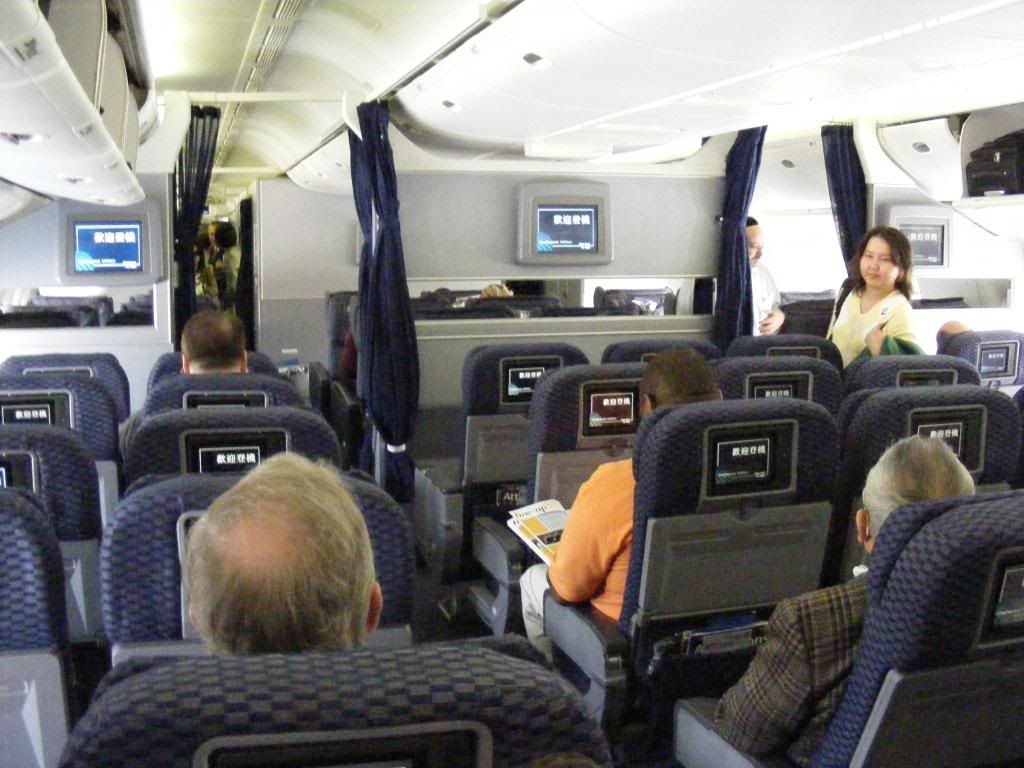 Forward section of the aft Y cabin with a peak into the aft BF section.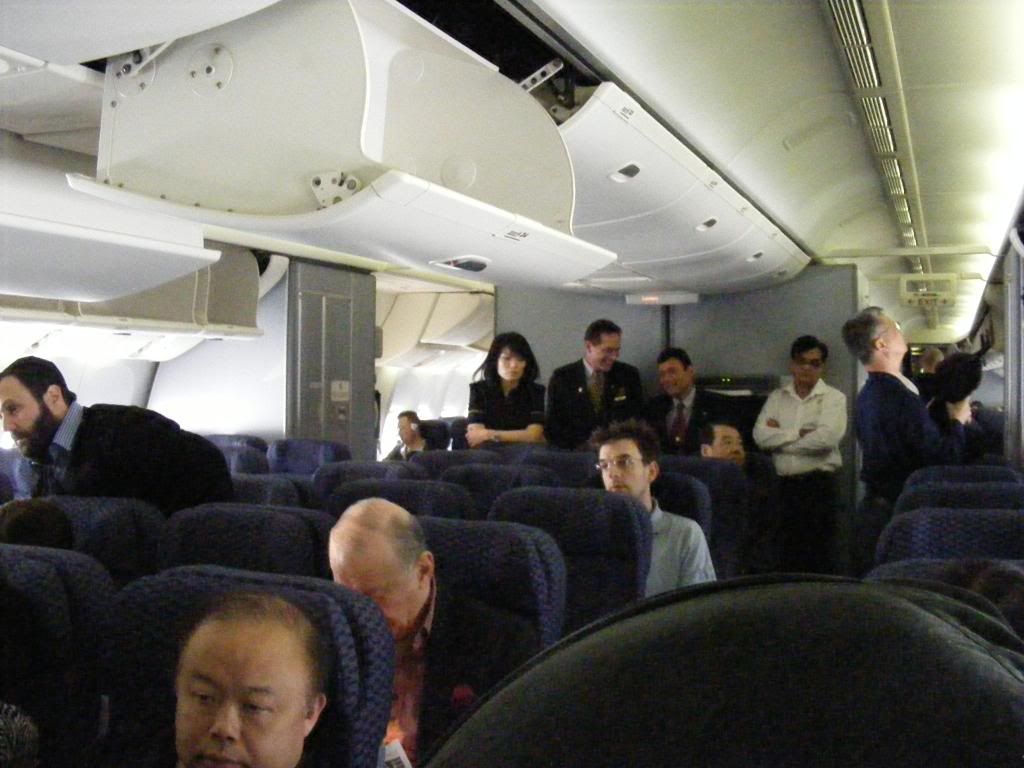 A few of the Y FAs monitoring the boarding process. Two of the three were on my EWR-HKG flight.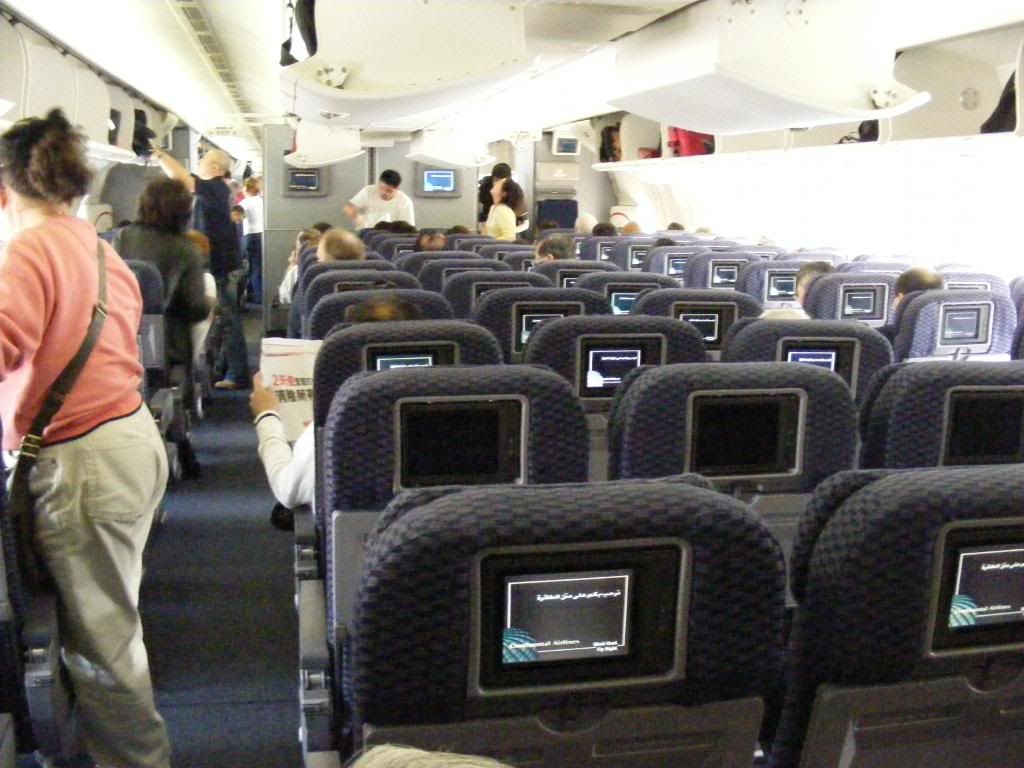 A view from the rear Y cabin with no AVOD.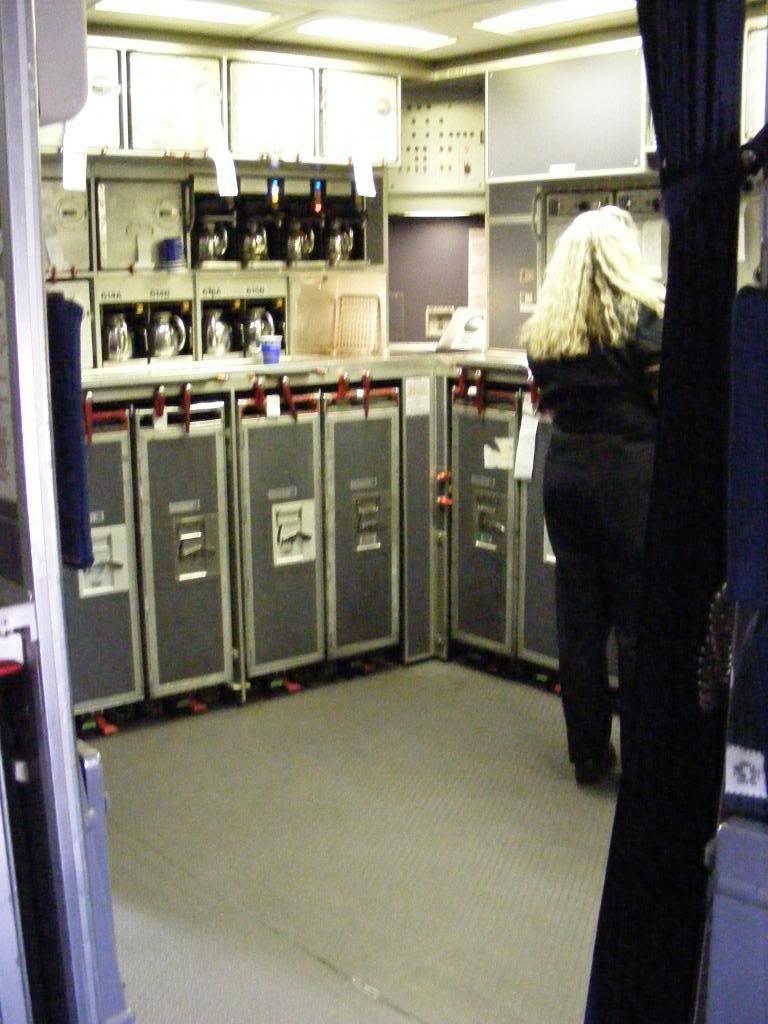 The rear galley prior to pushback, floors clean with cofee and Chinese tea brewing.
Peeking into the BF cabin from my aisle seat with the mesh curtains tied up.
The boarding continues. In the end there were just a handful of middle seats that remained opened for this flight.
ISM Todd making his rounds through the forward BF cabin. He was also the ISM on my EWR-HKG flight and joined with a few other FAs who did that same flight.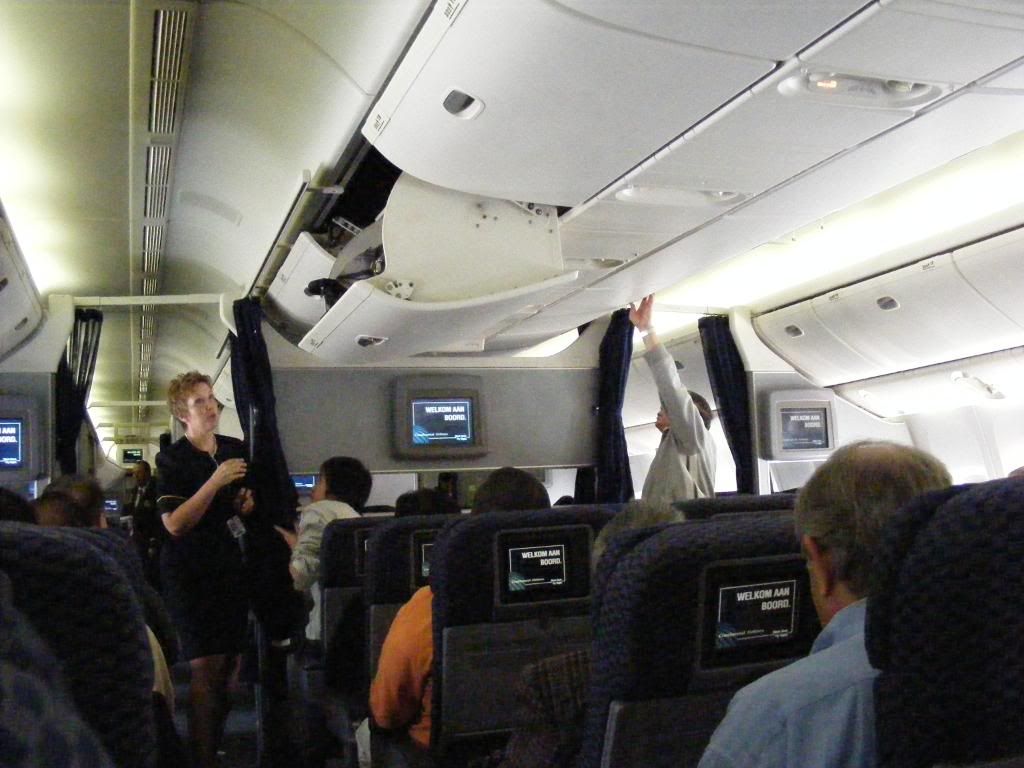 FA Christine helping a Y passenger find overhead space. She also worked on my EWR-HKG flight, however she had shoulder-length hair!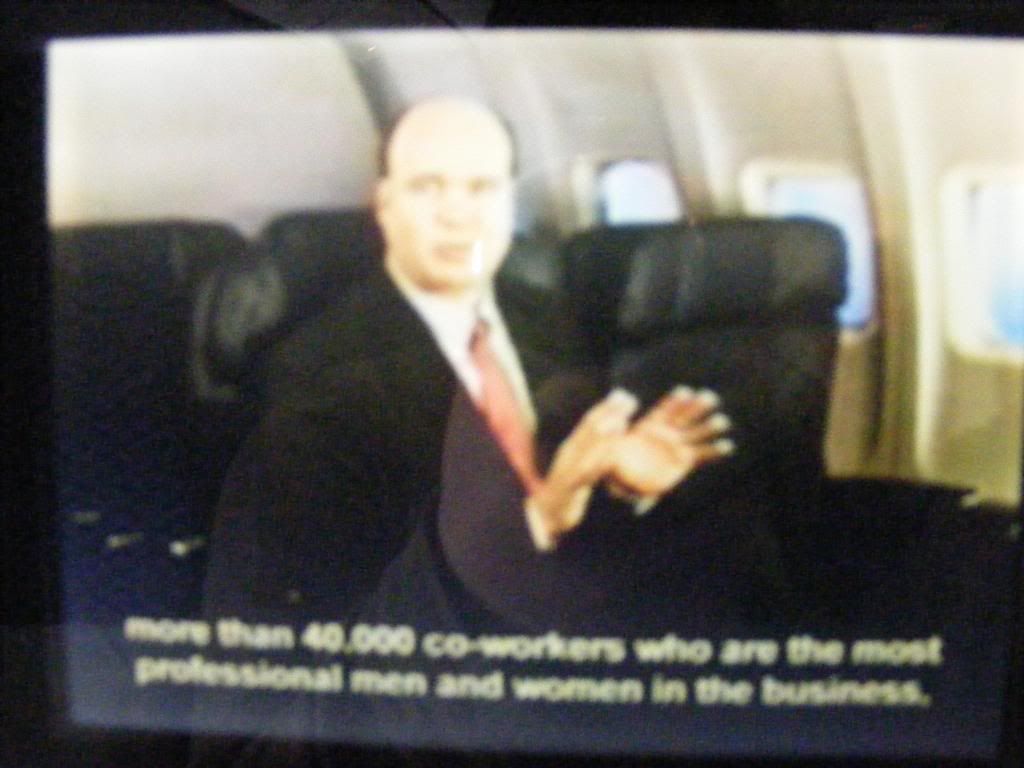 Hello Larry! Doors were closed, mobile phone switched off for the duration of the flight, and FAs standing at position during the flight safety video.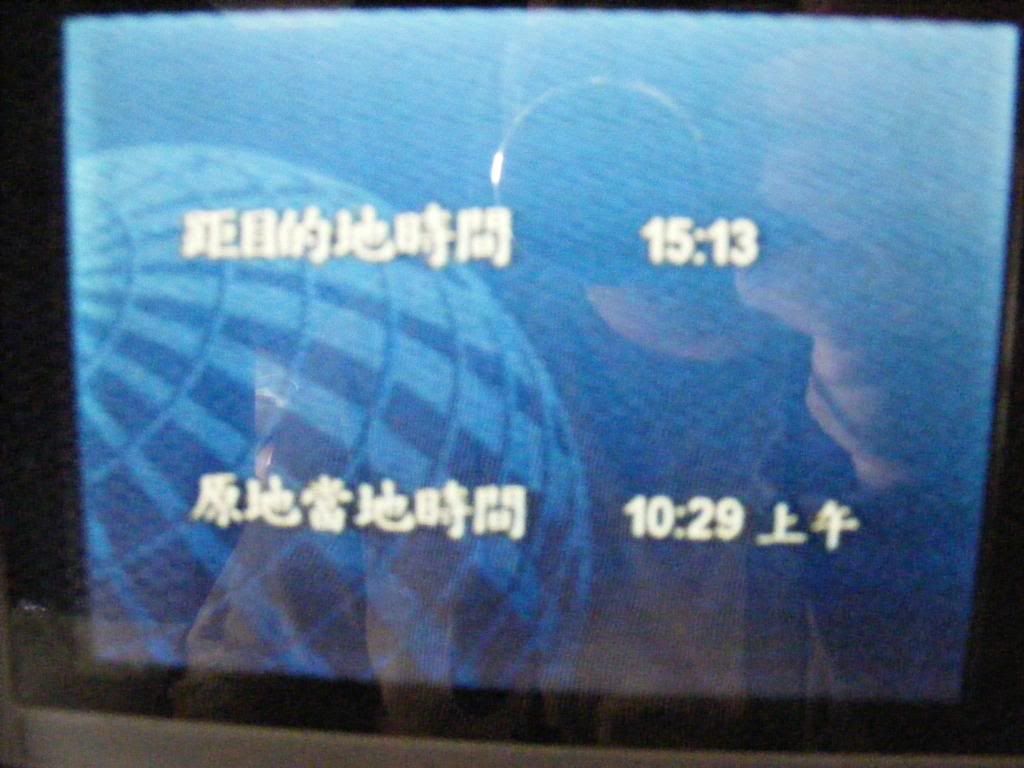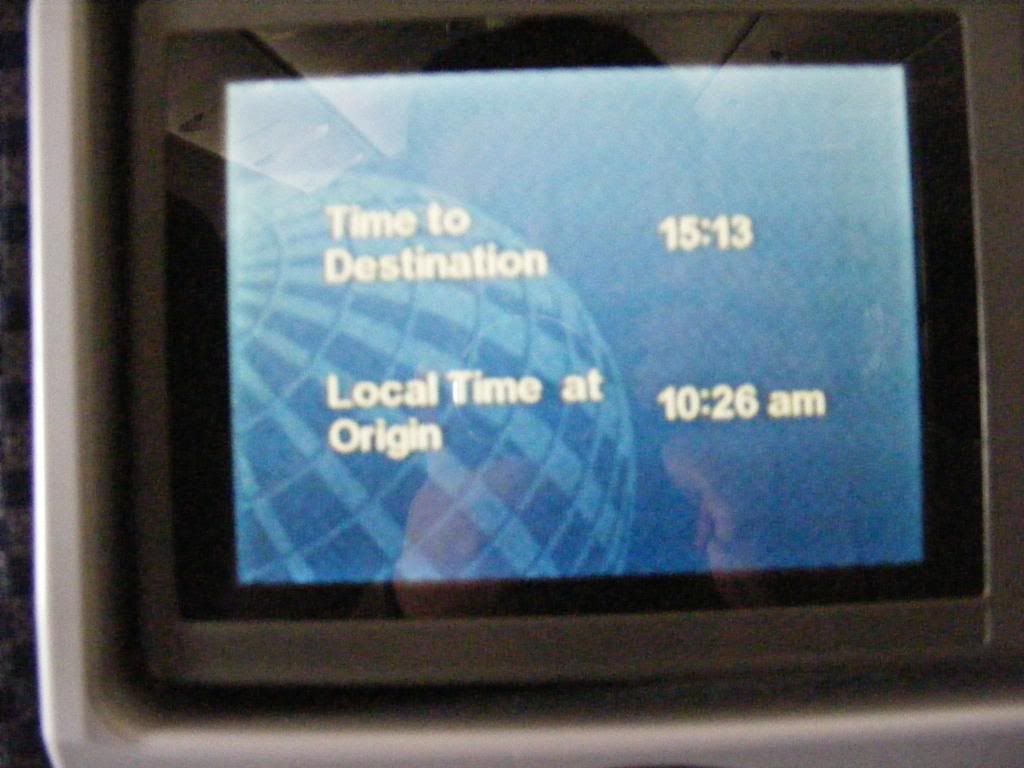 Flight time, 15:13.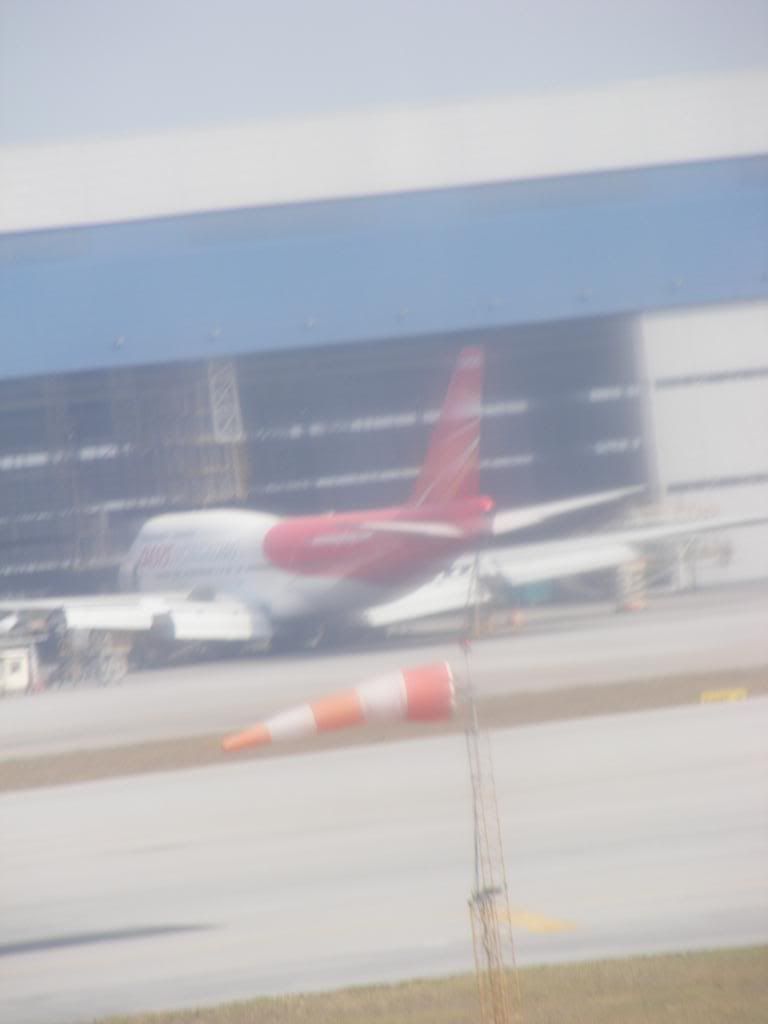 Oasis Hong Kong at the HAECO hanger seen as we were taxing to runway, I believe prior to their shutdown.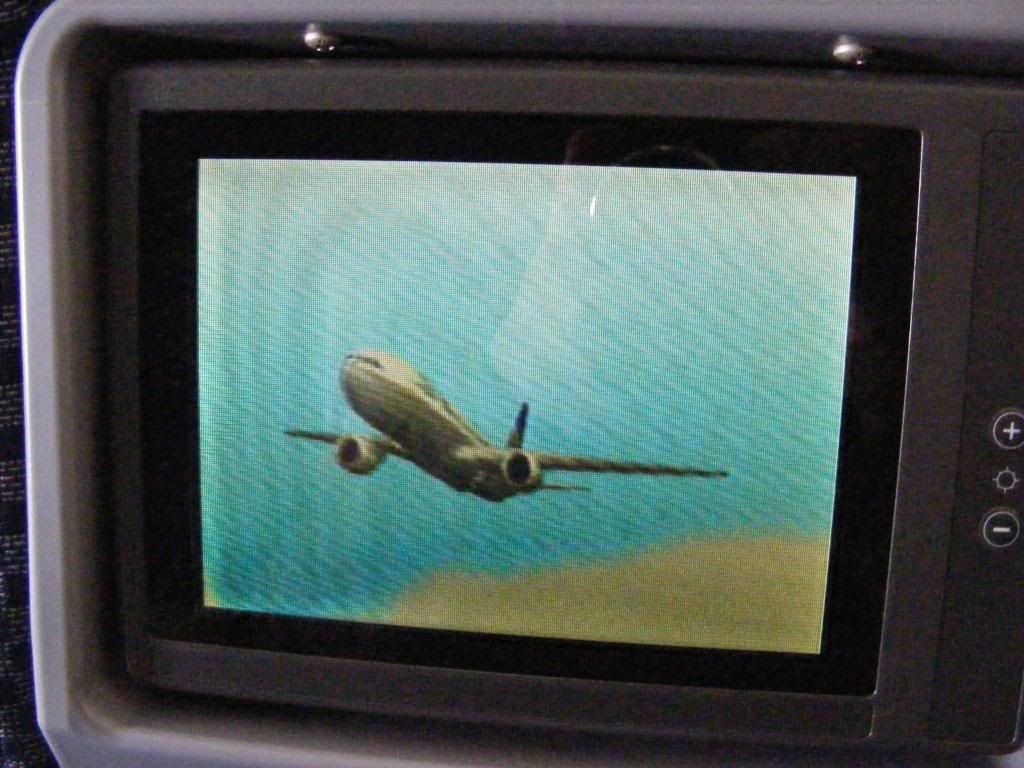 Time for takeoff!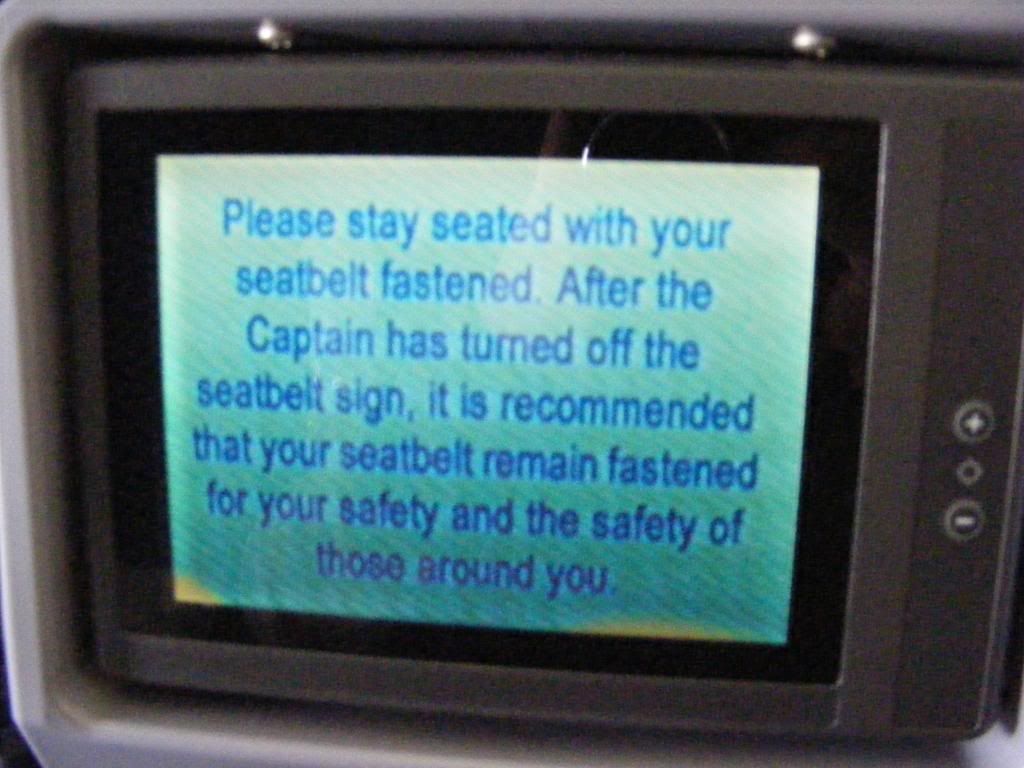 Visual announcement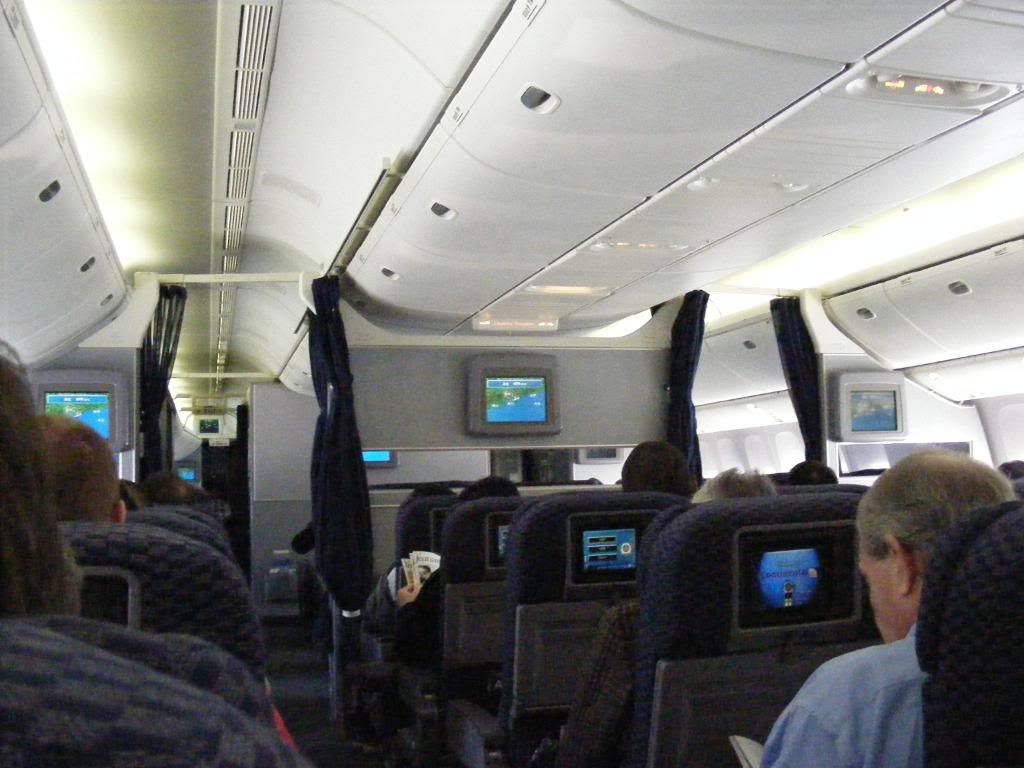 Making our ascent to where approved portable electronic devices may be used.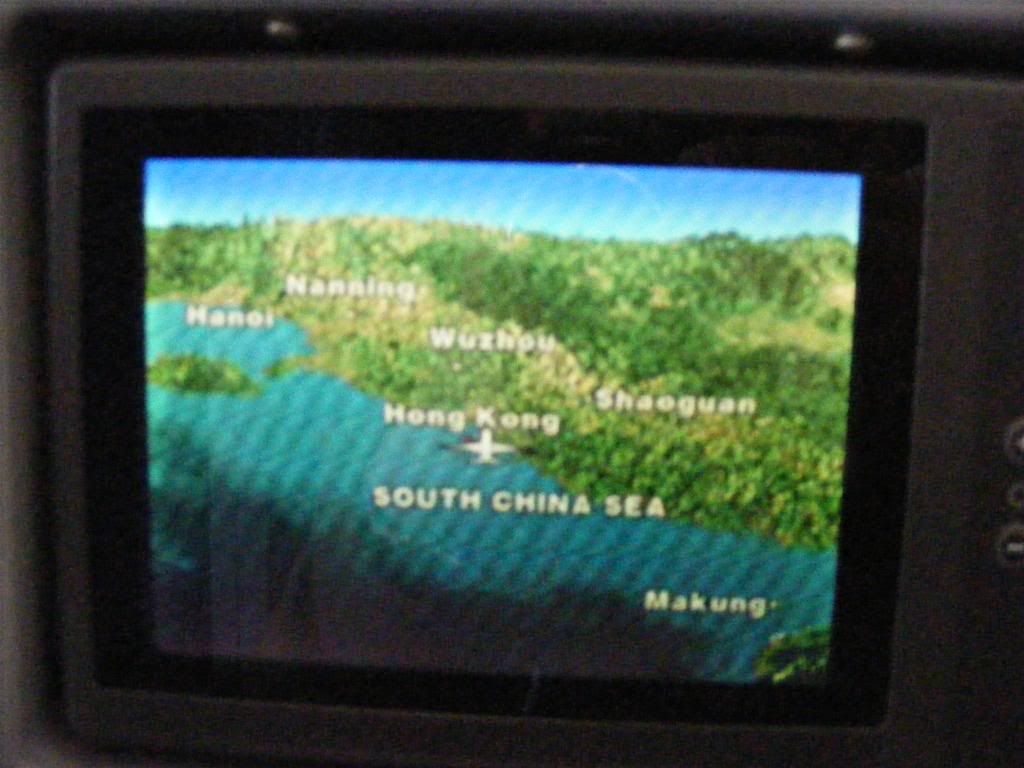 Map aerial view.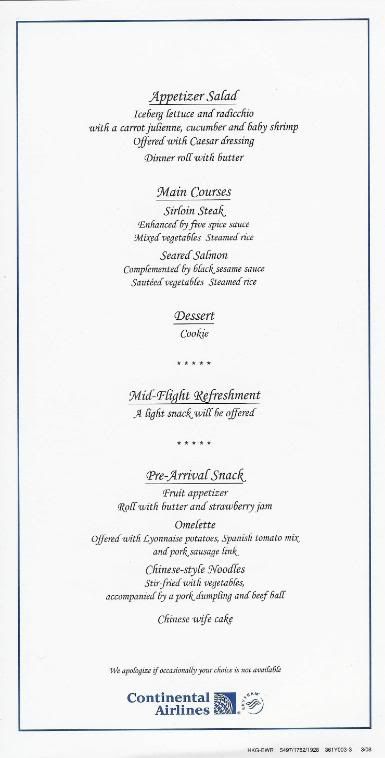 English menu for today's flight. Christine and another FA had passed these out at the end of the safety video.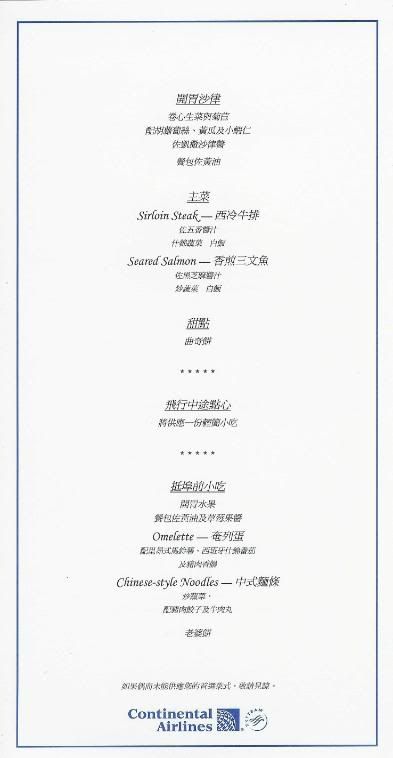 Chinese menu for today's flight.
After the FAs had passed out the menus in Y, the pilot played the automated message for FAs to be seated for departure. Today we enjoyed a short taxi for our departure from 07R. Once in the air and continued our ascent to 32000ft, Todd gave the standard welcome as well as what to expect for service on today's flight. Within an hour, they would do a beverage service followed by the lunch service and another drink service. About halfway through the flight, roughly 7hrs left in flight, the FAs would do a mid-flight snack service. Then with under 2hrs left, they would come through with a breakfast/dim sum service followed by the passing out of necessary forms to enter the United States. With that, he invited everyone to sit back and enjoy the flight. One of the main interpreters for the flight proceeded after Todd's message and not sure if she spoke in Mandarin or Cantonese.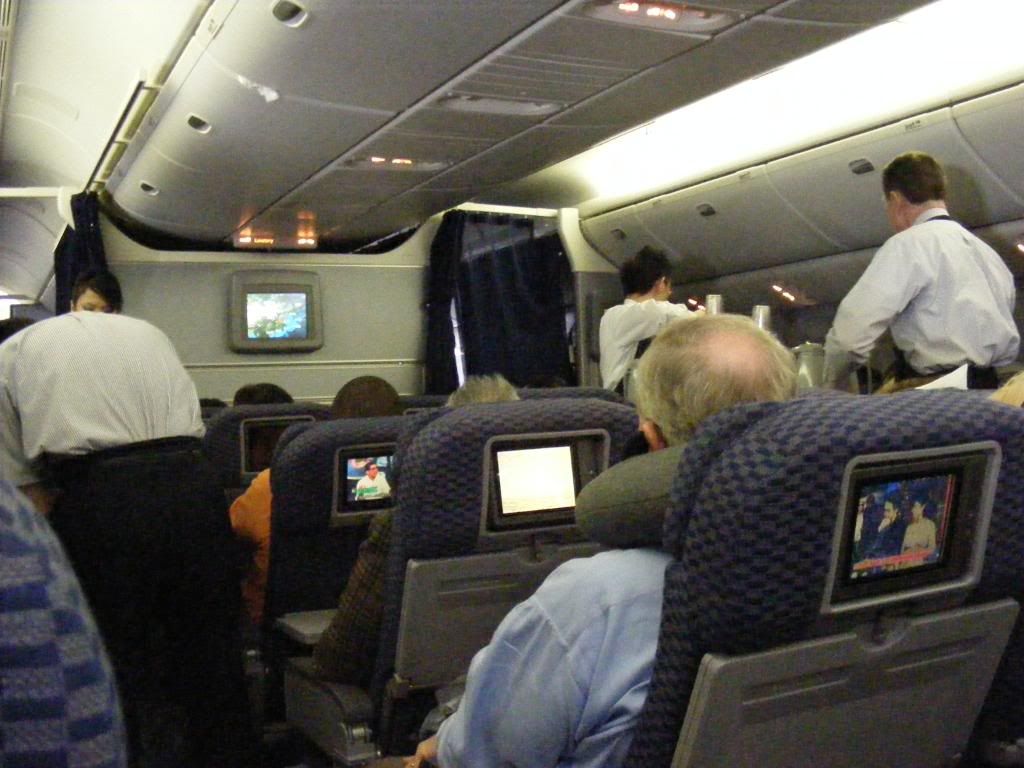 FA's starting tonight's service with the first round of drinks. In this picture, 3 of the 4 were FAs who did my EWR-HKG flight.
My usual orange juice and water with some salted peanuts. Didn't like the orange juice catered on this flight.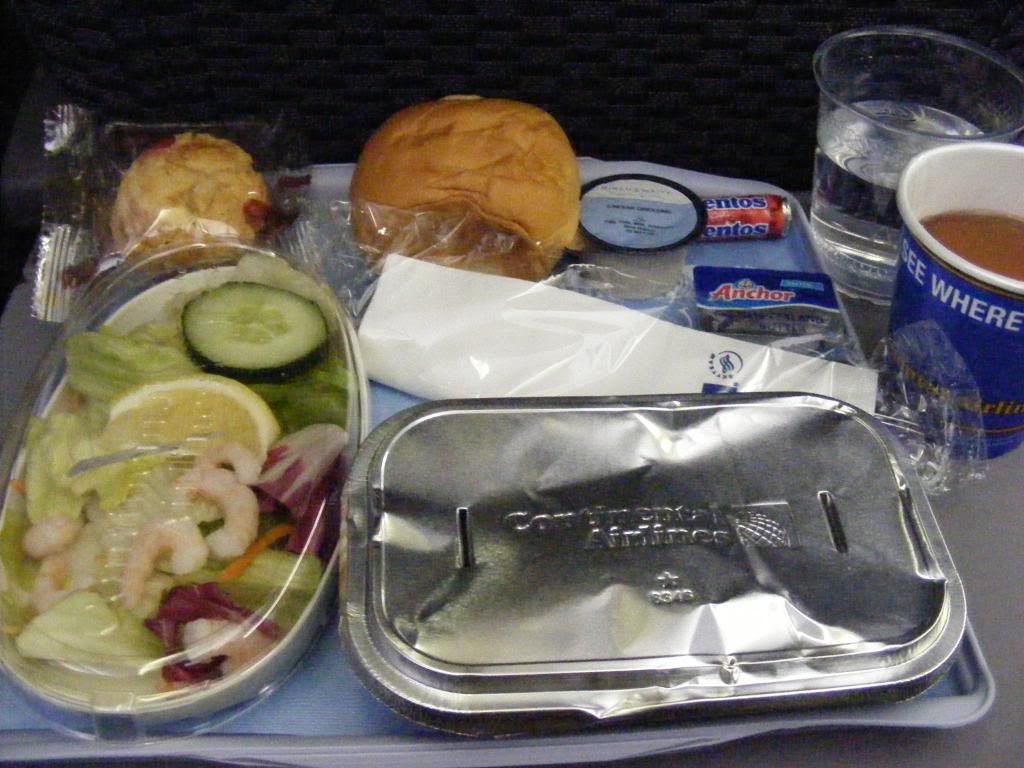 Can you guess what I had for lunch? And it was not Popeyes.
Tada! Notice the mentos! I wonder if the excessive gas would work for the international version of Diet Coke called Coke Light.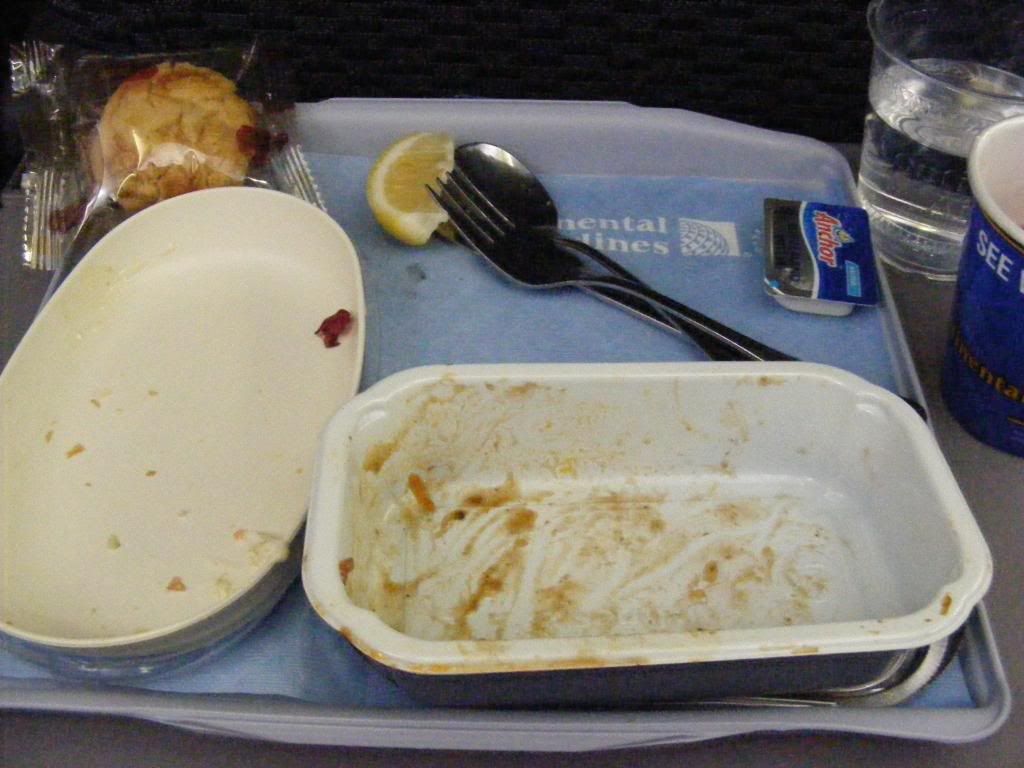 I was a bit hungry, don't you think?