WARNING!
This report contains xxx of pictures. If there is a problem, please let me know!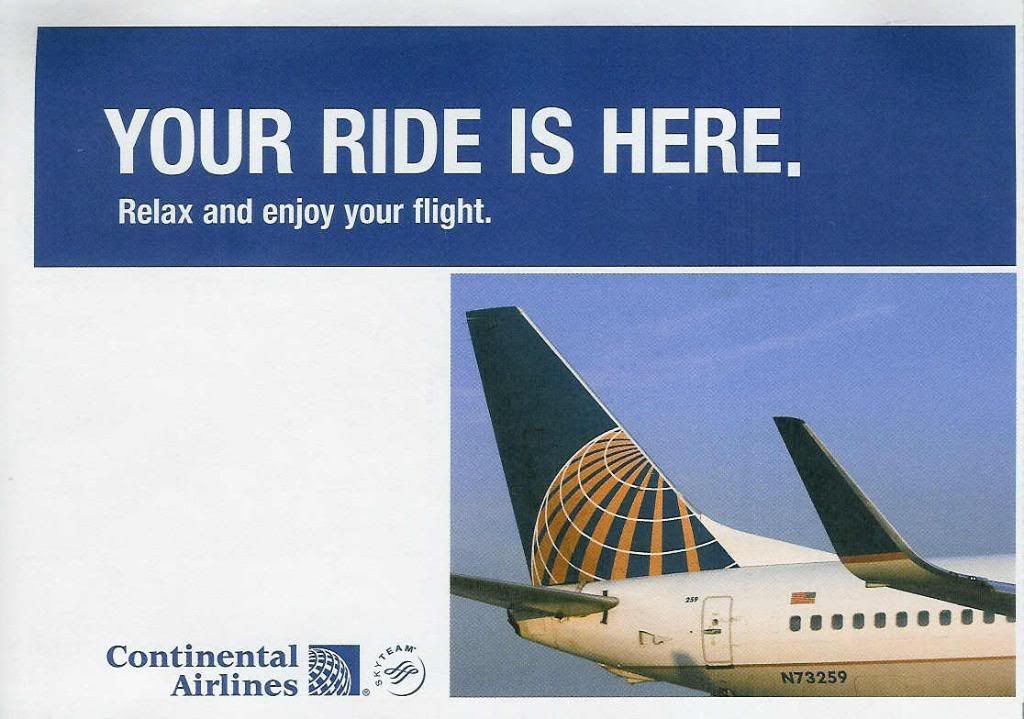 Pre-Preface
Truly sorry for the delay in finishing this trip report. With the backlog of work, Hurricane Ike, snow in Houston, heavy rains, more traveling, finding a new job, and dealing with the horrendous Houston heat, I'm hoping to finish a couple of trip reports by the end of the year.
Enjoy!
Preface
This trip report will be slightly different than previous ones. This particular post will be extremely long because of the XXX pictures included in this trip report.
Comments are definitely welcomed!
I also added a music component to go with this trip report. This one may be a bit harder to find, but it is from the
Love of Siam
soundtrack with the English name
Ticket
.
Enjoy!
Trip Report
So far, I've posted my reports on the following flights:
After completing US Customs & Immigration at Terminal B, I dropped off my bags at the designated baggage recheck point. I took some time to walk around the Terminal B ticketing area to see if I could pick up an ybaggage tags or other airline stuff. Since the airlines had not much to offer, I headed to the AirTrain to go to Terminal C and wait for my flight to IAH.
As usual the AirTrain station had plenty of people waiting to connect to either Terminal C, offsite parking, or the train to Downtown Manhattan. I boarded the packed train and lucked out getting an airport view so I could take the following pictures.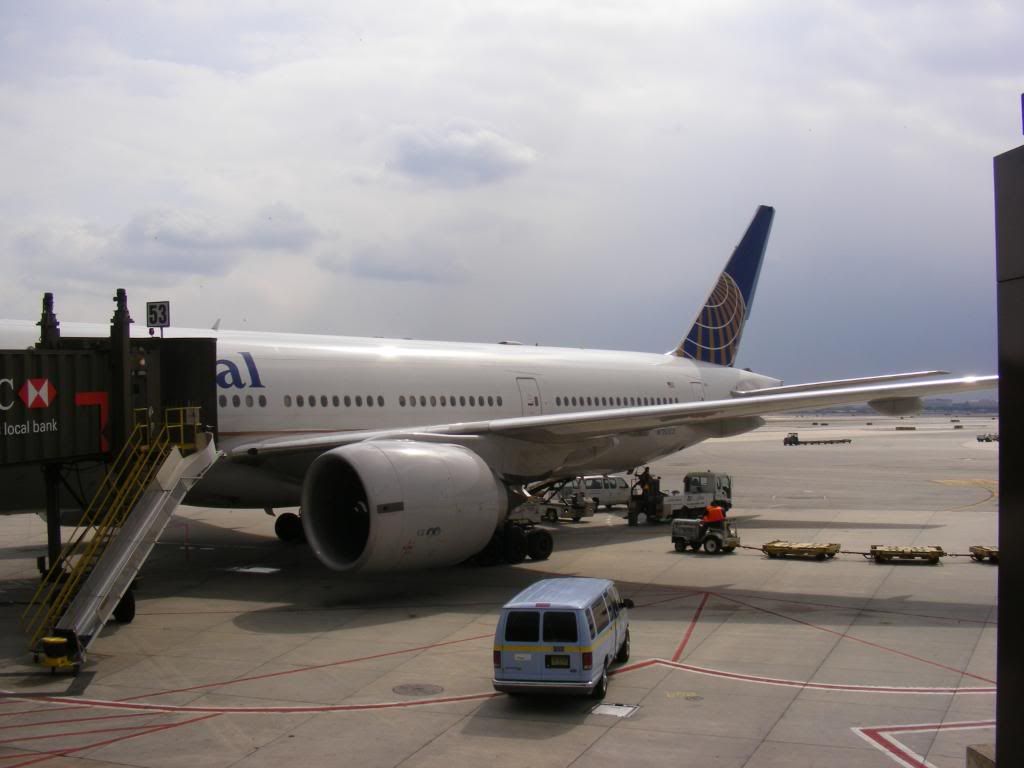 My plane at Terminal B.
Taken from AirTrain between B and C. BA and 2 Privatair plane at B3 Concourse.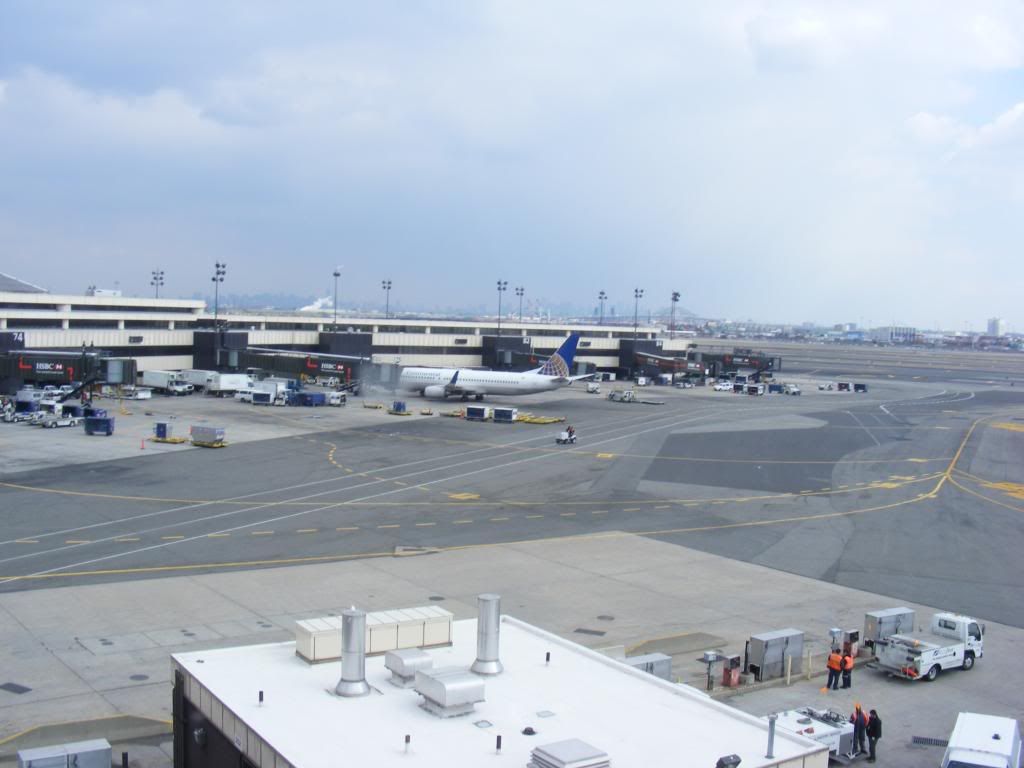 A lone CO 738 at C1.
El Al and the 2 Privtair planes from Germany.
After I stepped off the AirTrain, I made my way to security with an agent directing to the C1 security area since she noticed EliteAccess on my boarding pass. These designated lates at C1 had relatively short lines compared to the others. Once through, I made my way to walk around C1 with my usual stop to Au Bon Pain.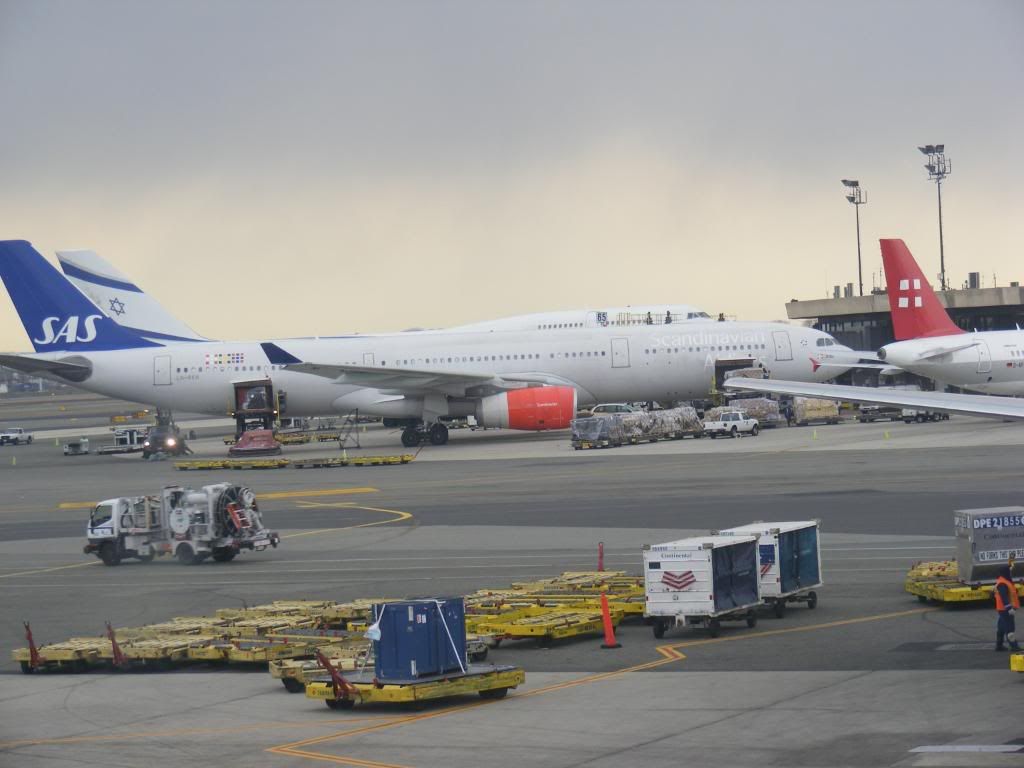 SK flight pulling in between El Al and Privtair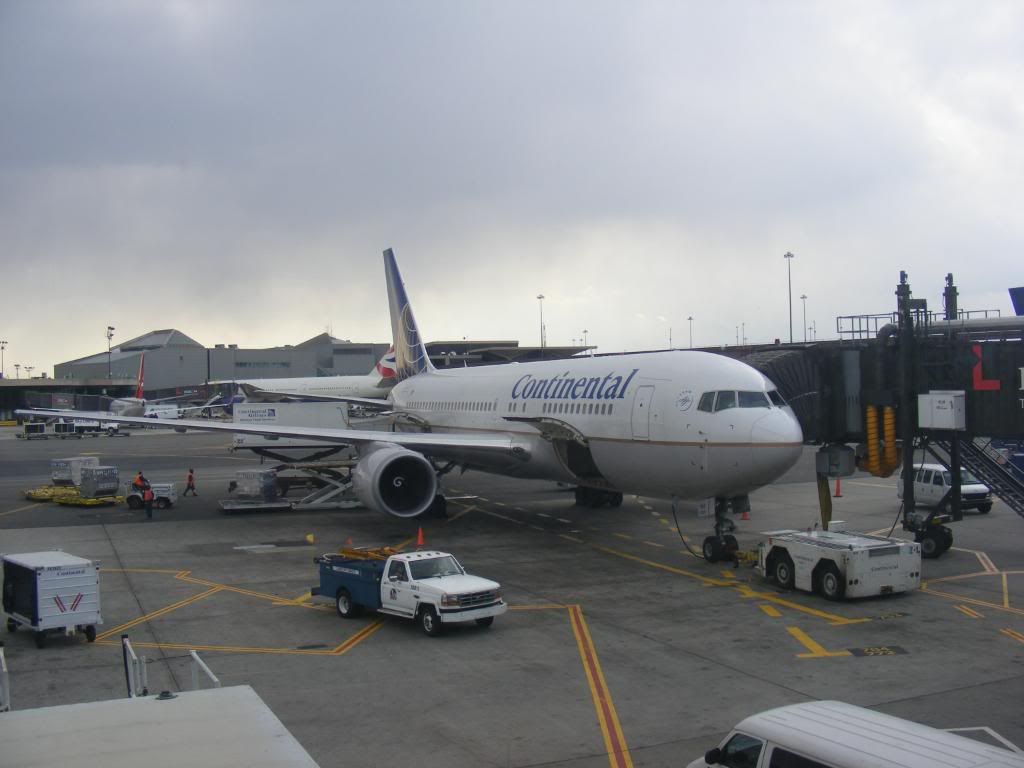 CO 762 pulling into gate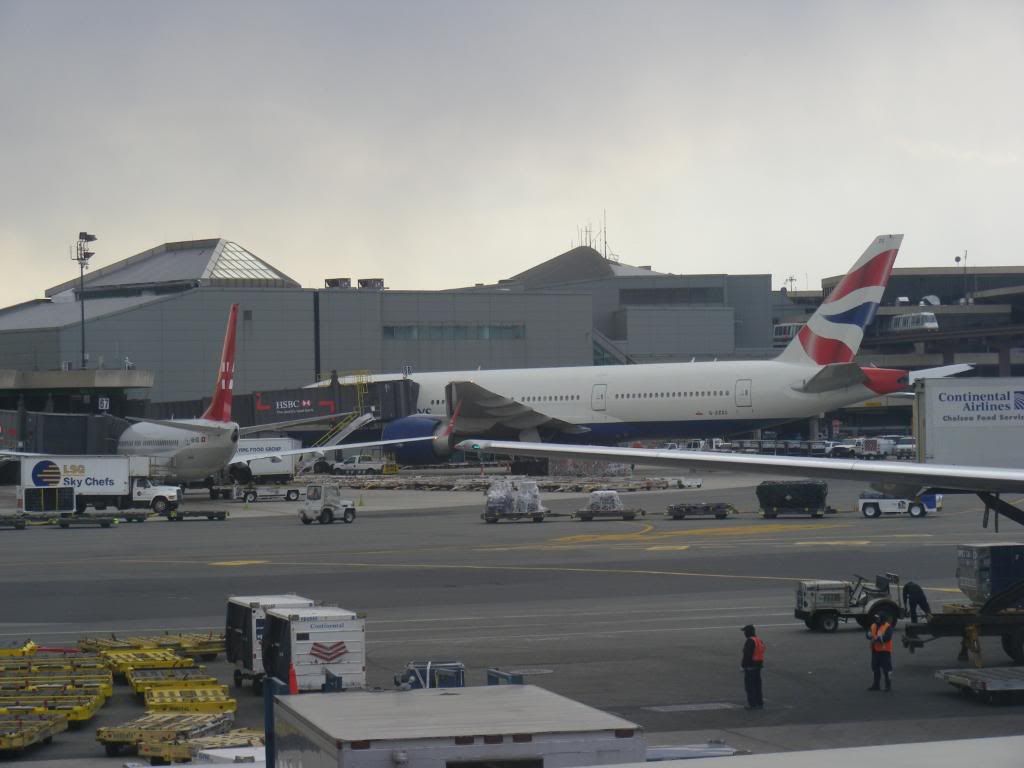 Another view of BA and Privtair from Germany.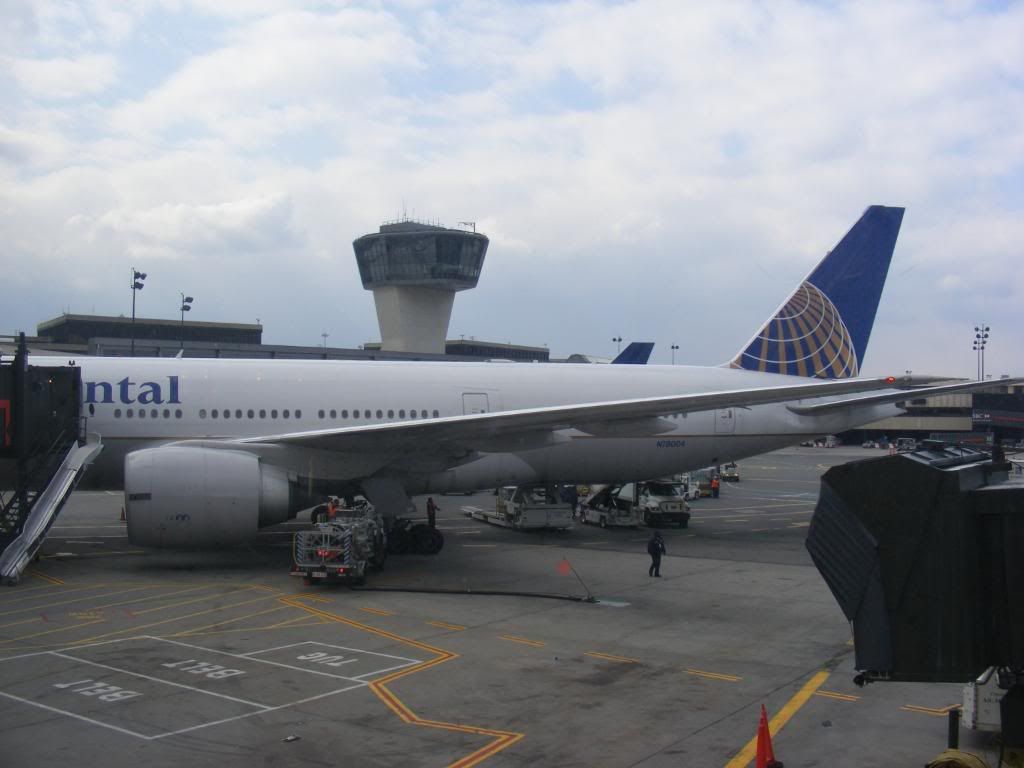 CO 772 getting ready to head to HKG. I WANT TO GO BACK NOW!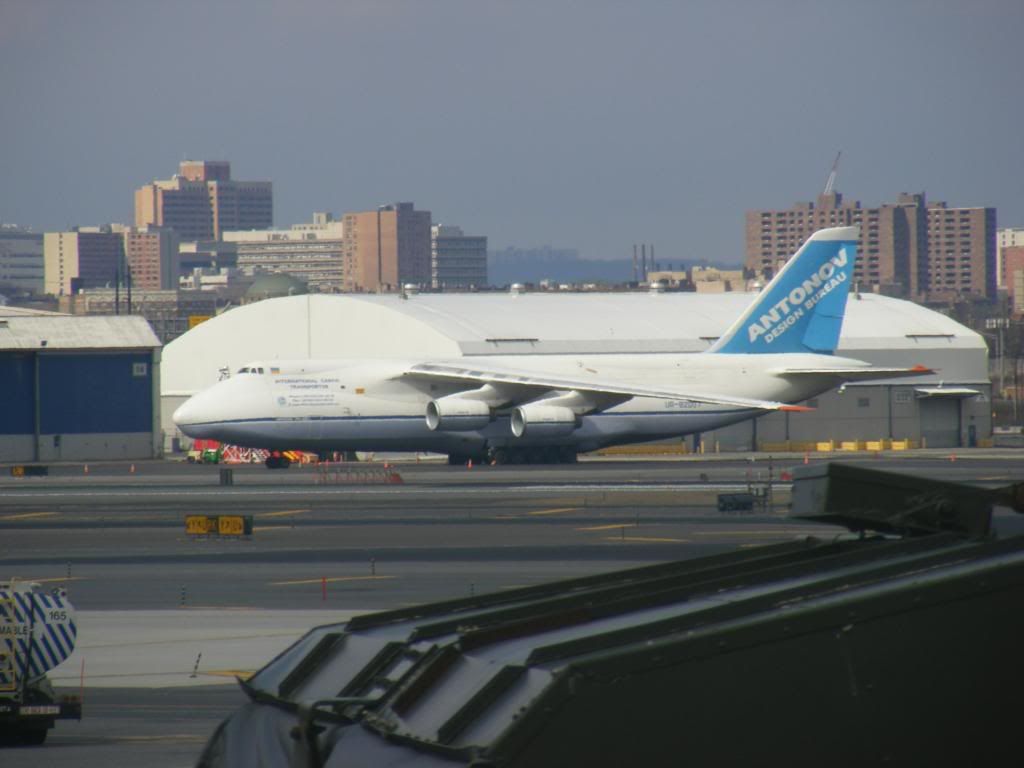 An Antonov visitor to EWR.
Since my flight would depart from the C1 concourse, I walked around all of Terminal C just to stretch the legs a bit after that long flight from HKG after I had purchased and eaten my favorite roast beef sandwich from Au Bon Pain.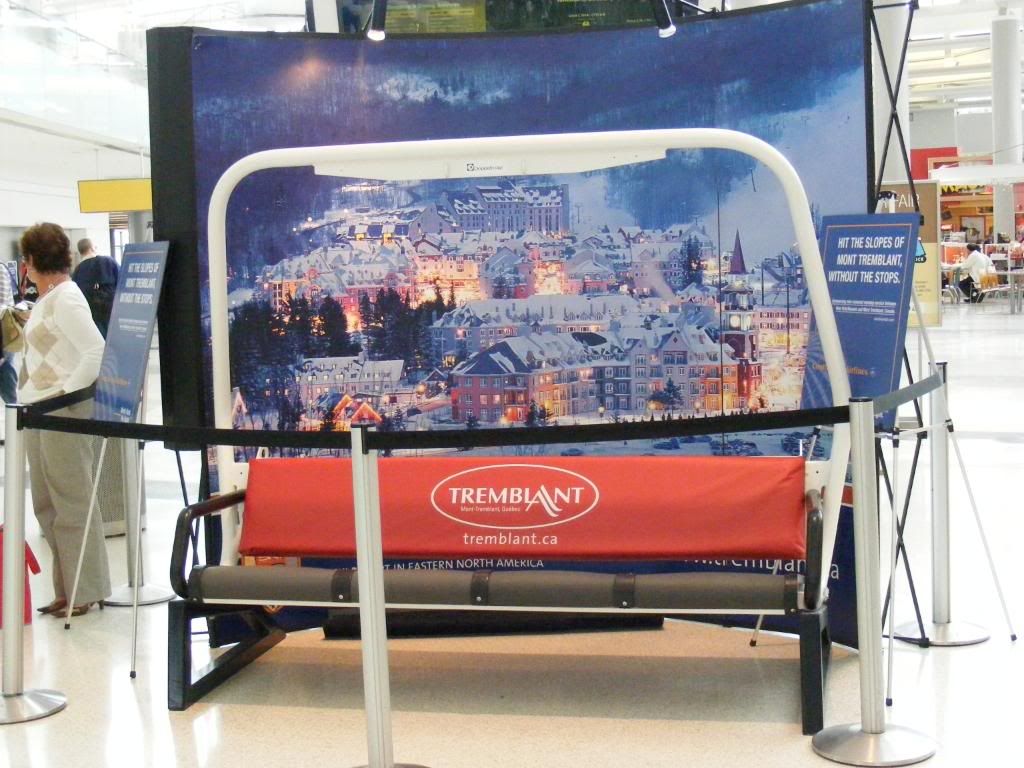 A ski chair lift promoting new seasonal service to YMT at C3 concourse.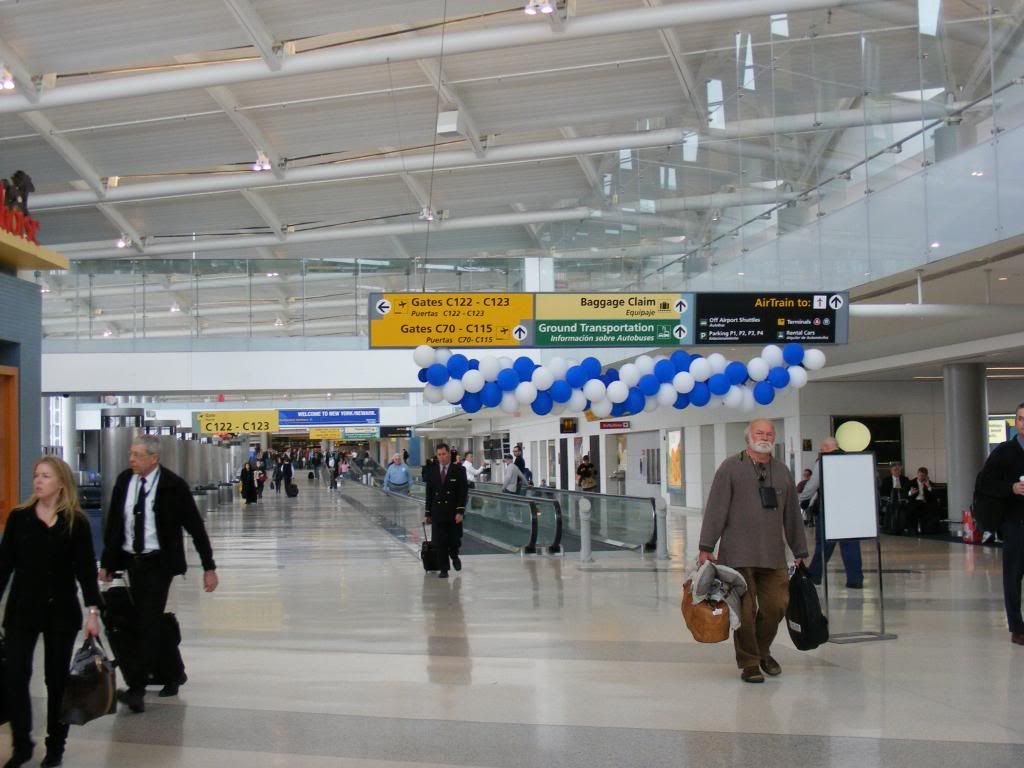 Walking around the nicer C3 terminal.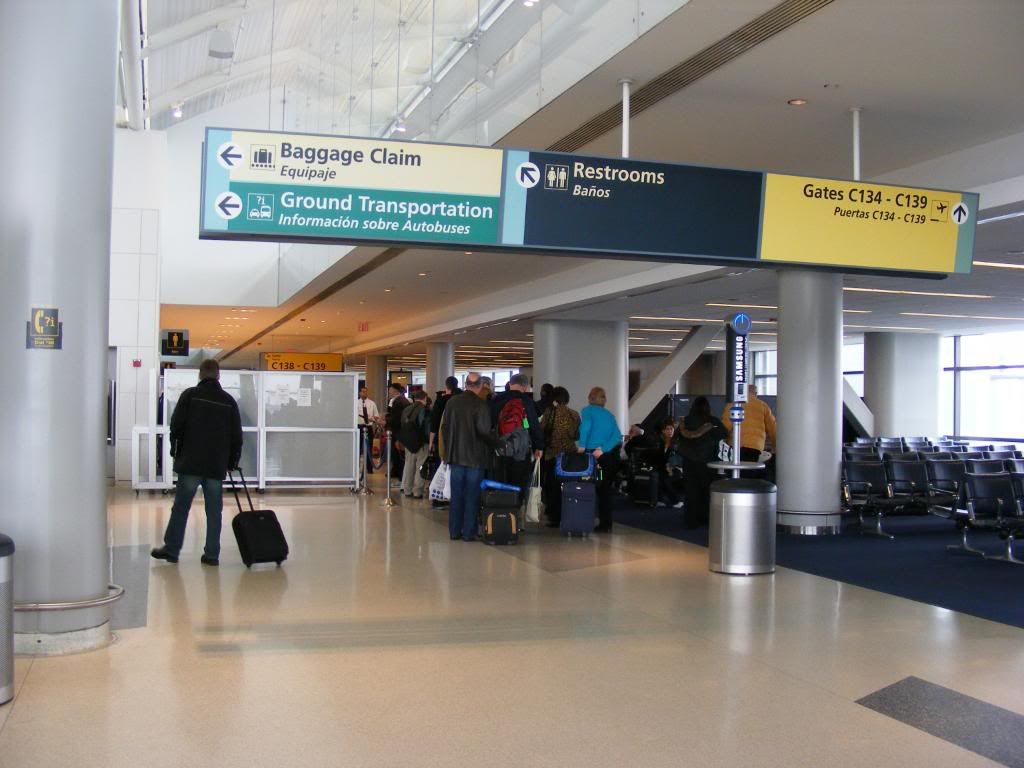 Special security procedures done for pax heading to TLV from C139.
No entry allowed while TLV flight is getting prepared for boarding.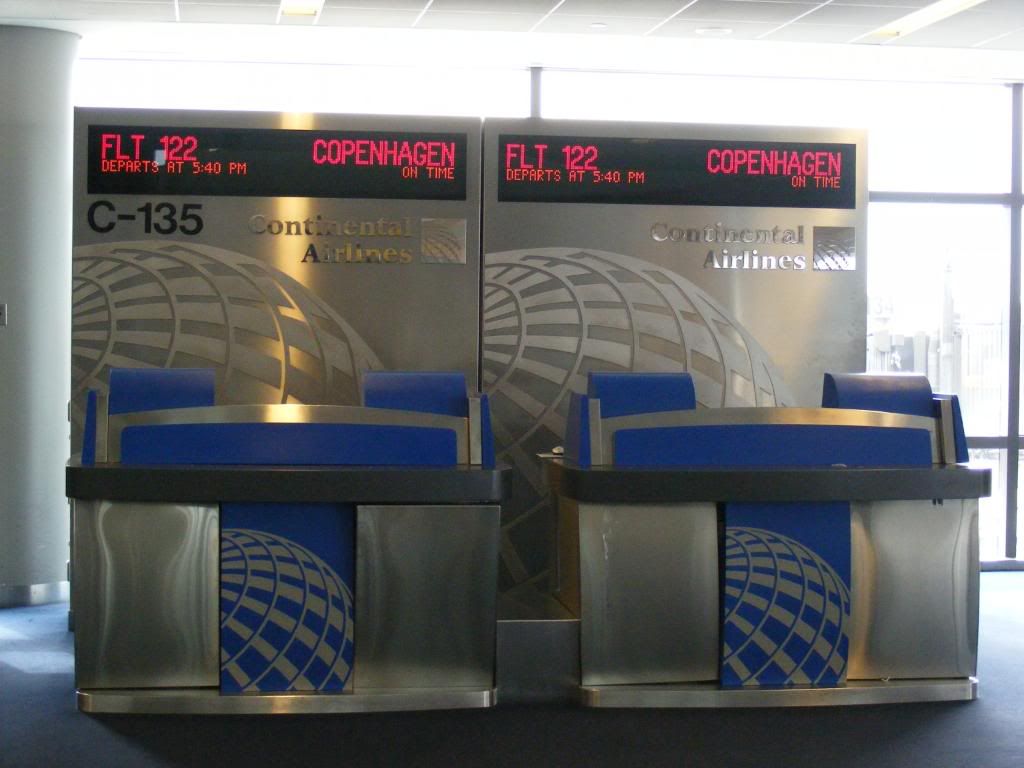 Want to go to CPH?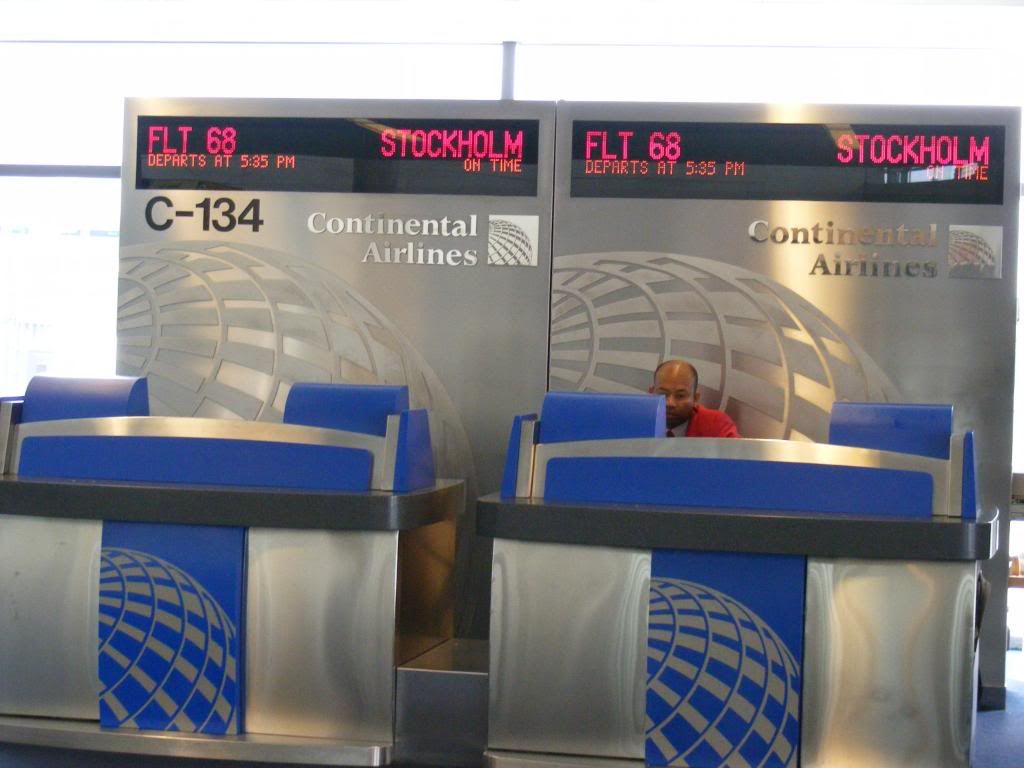 Want to go to ARN?
After doing my circuit around C3, I made my way back to C1 and wait for my the agents to call for my flight to IAH. I noticed flights to TXL and AMS boarding next to my IAH flight.
Want to go to TXL?
CO widebodies awaiting their flights to various evening international destinations.
When I got to my gate, it still had the older check in desks as the airline had started the process to update all the ticketing counters at EWR. As I checked the latest flight information, the podium had a flight to WPB to board around the same time as my IAH flight, yet no plane had docked at the gate. This caused a bit of confusion as the monitors had said CO 51 to IAH would depart from C84 while WPB would just be down the hall. The gate agents had to call dispatch for them to change the information. Once IAH had popped up on the podium, the agents informed those heading to WPB would now depart from C81.
While waiting, I spotted a TP flight having just landed either from LIS or OPO.
As boarding time approached, the plane had not arrived at the gate. Also, this flight would also be packed 100%, mainly with crew deadheading home. Apparently a bunch of pilots waited to get a confirmed seat back after attending a CAL APA union meeting or something. (Again this happened a year ago, so I am not to familiar with the details.) I lucked out when I checked in at HKG to get one of the last upgrades, my favorite seat on the 762, 5D! I plane had arrived and the gate agents hoped for a quick turn around since the incoming flight had been relatively empty. But first, they had to make sure they could connect the jetway to the plane; it took a number of attempts until the agent got it docked to the plane. About 30min later, the gate agents had called for pre-boarding of F passengers.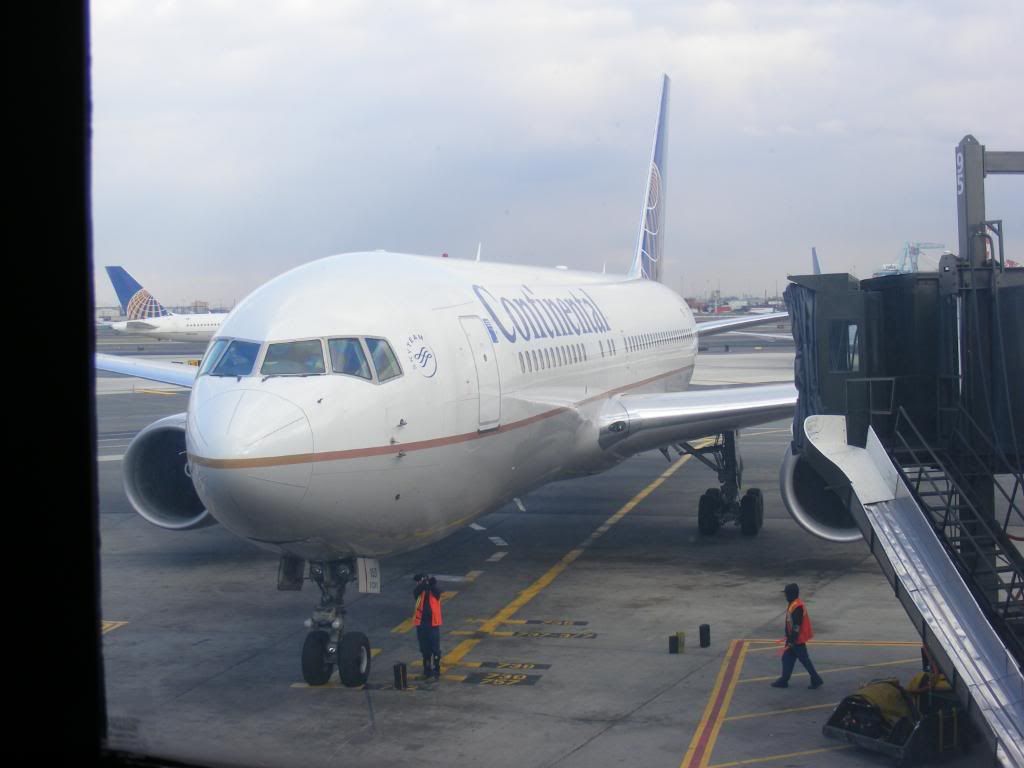 #153 arriving for my flight back to IAH slightly delayed. Problems moving jetbridge to plane.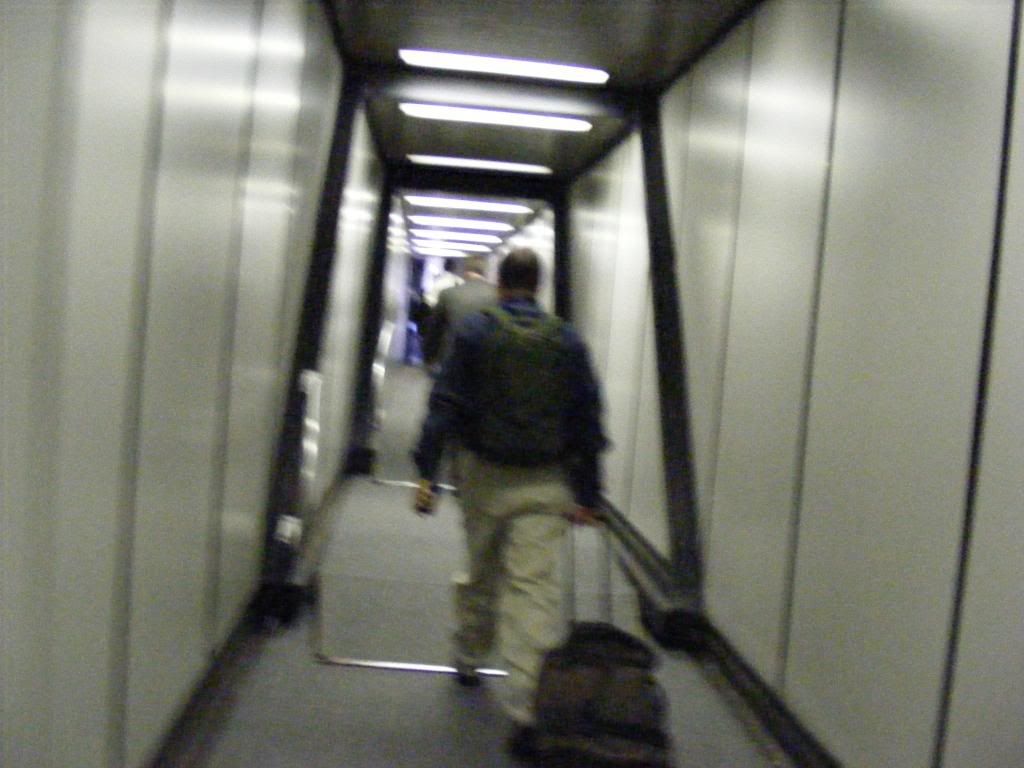 Finally boarding CO 51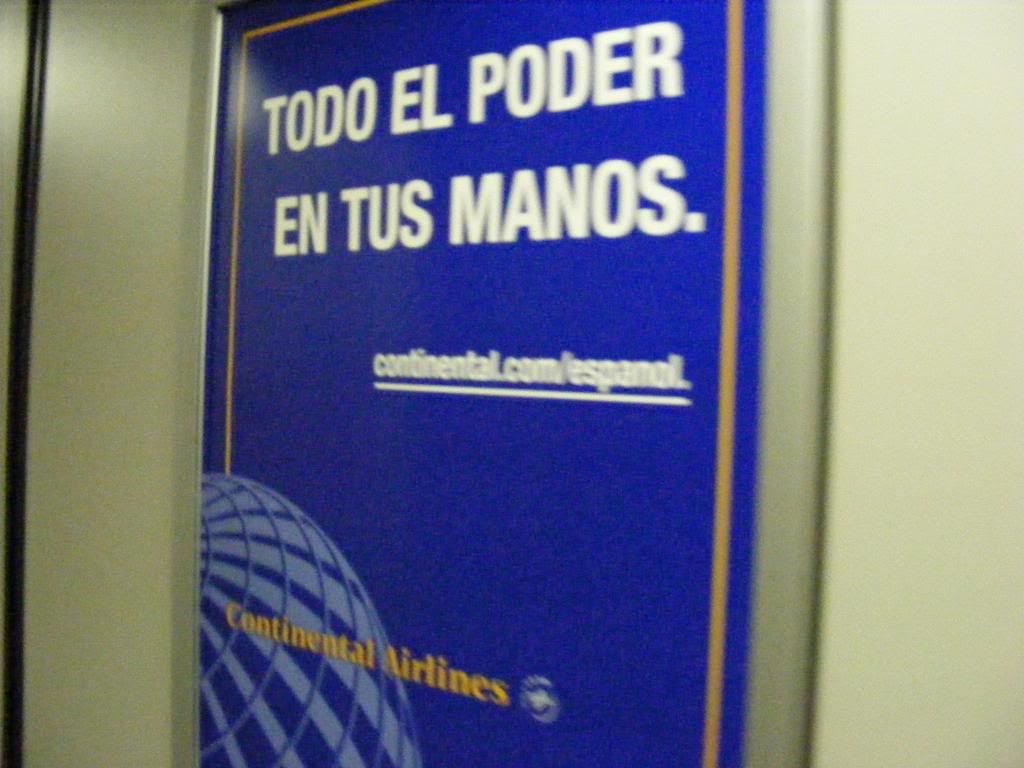 "All right at your fingertips!"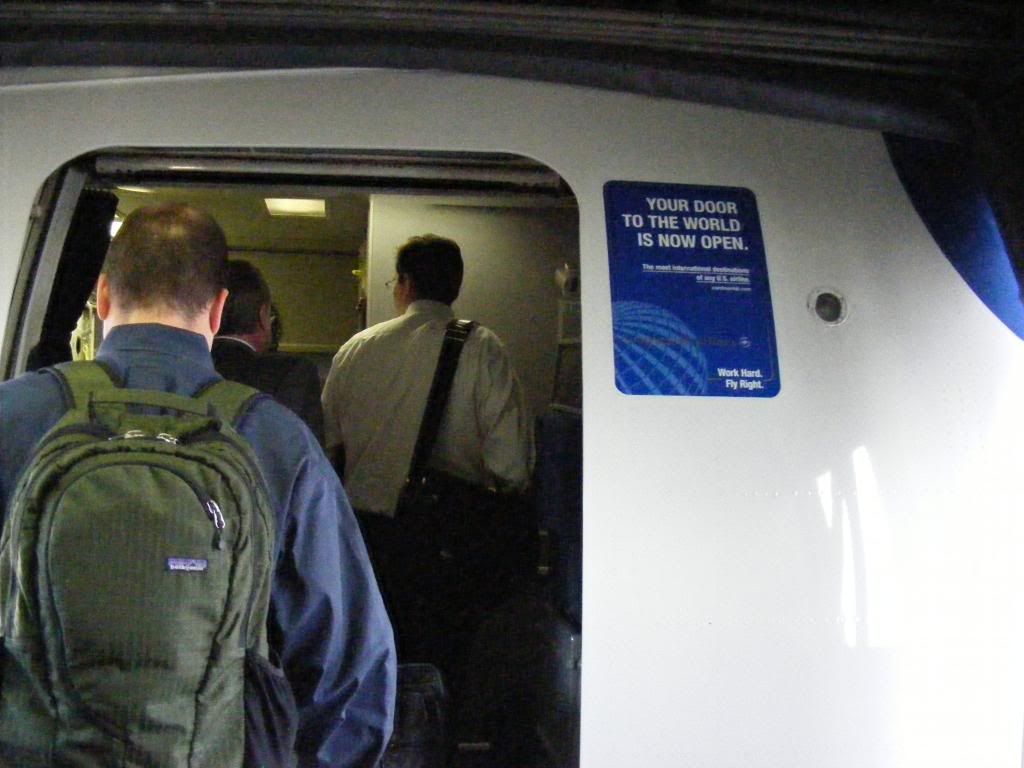 Welcome on board!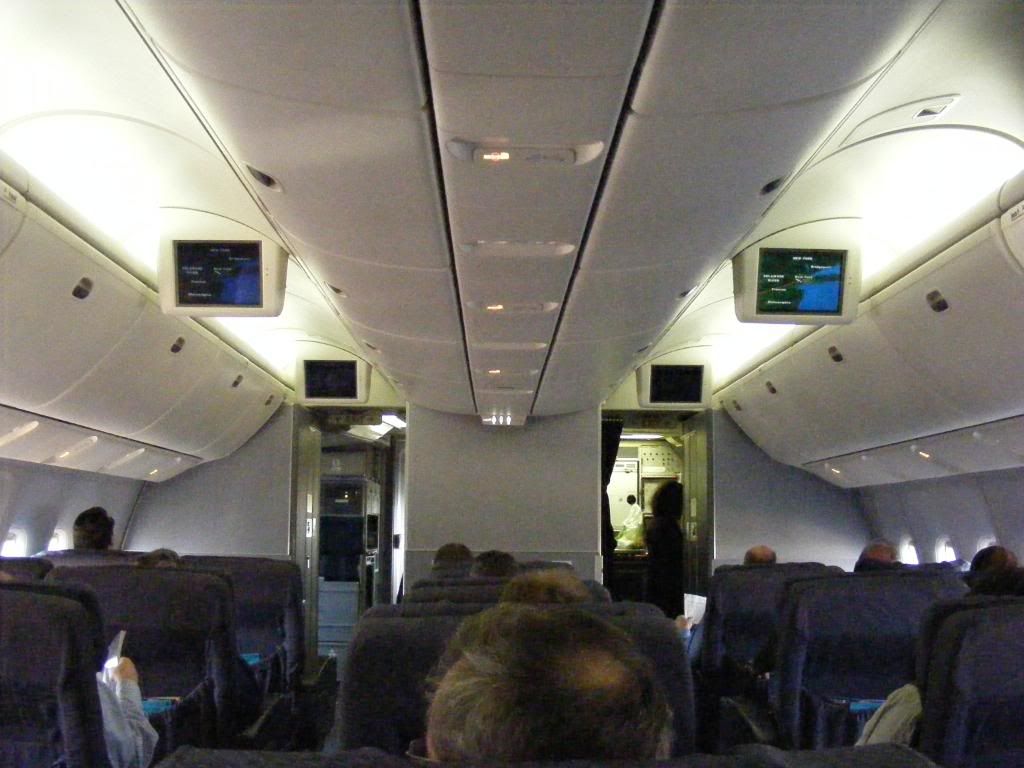 BF checked in full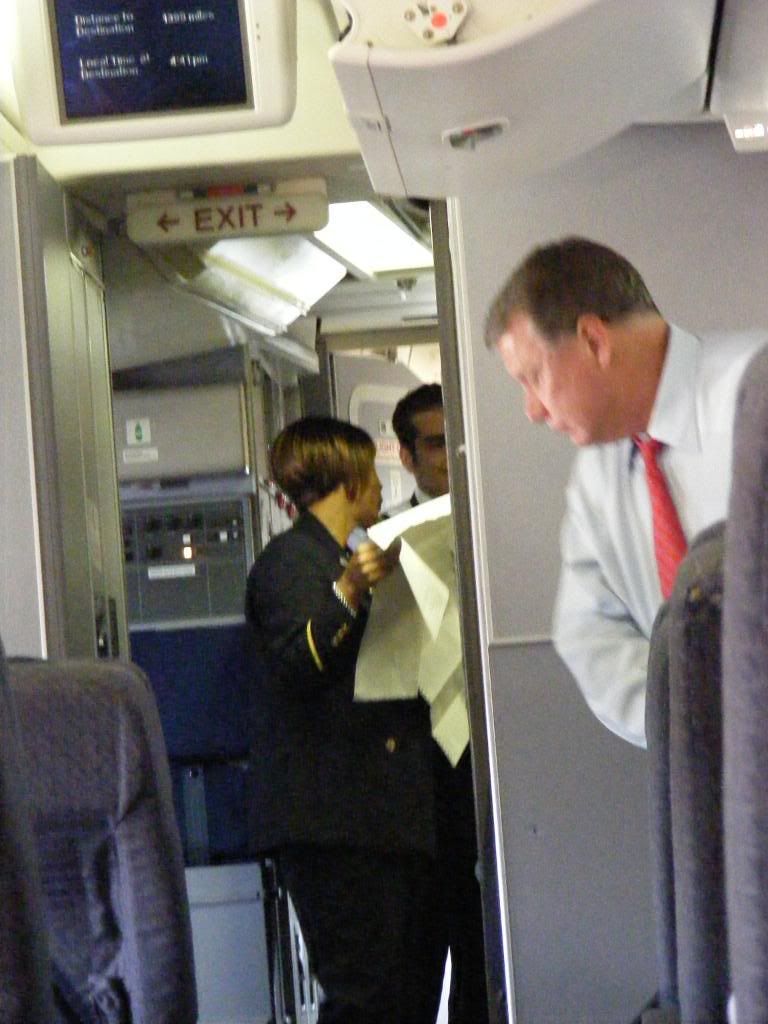 FSC and probably the FO for the flight ... nice!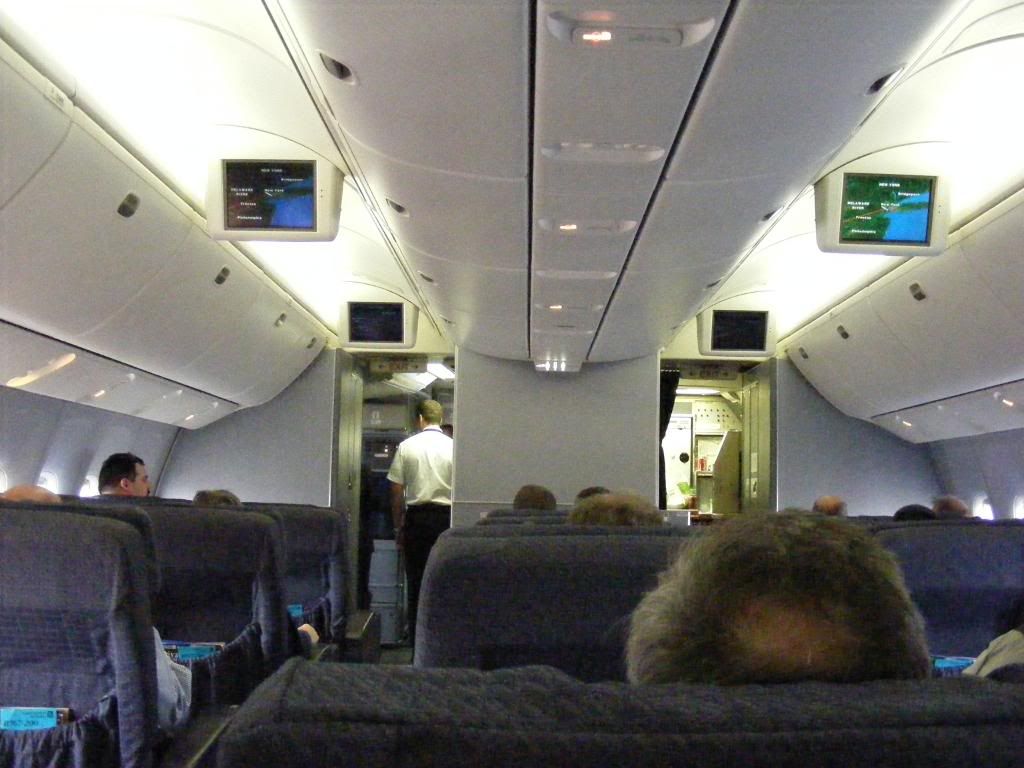 FO with his back towards the cabin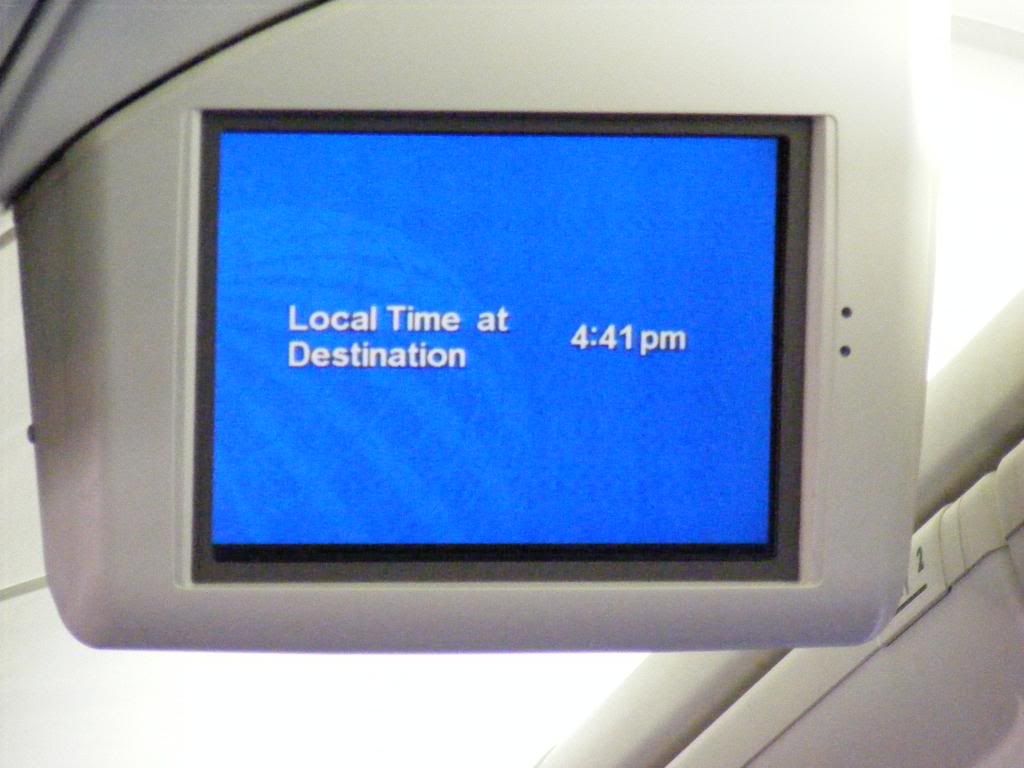 What time?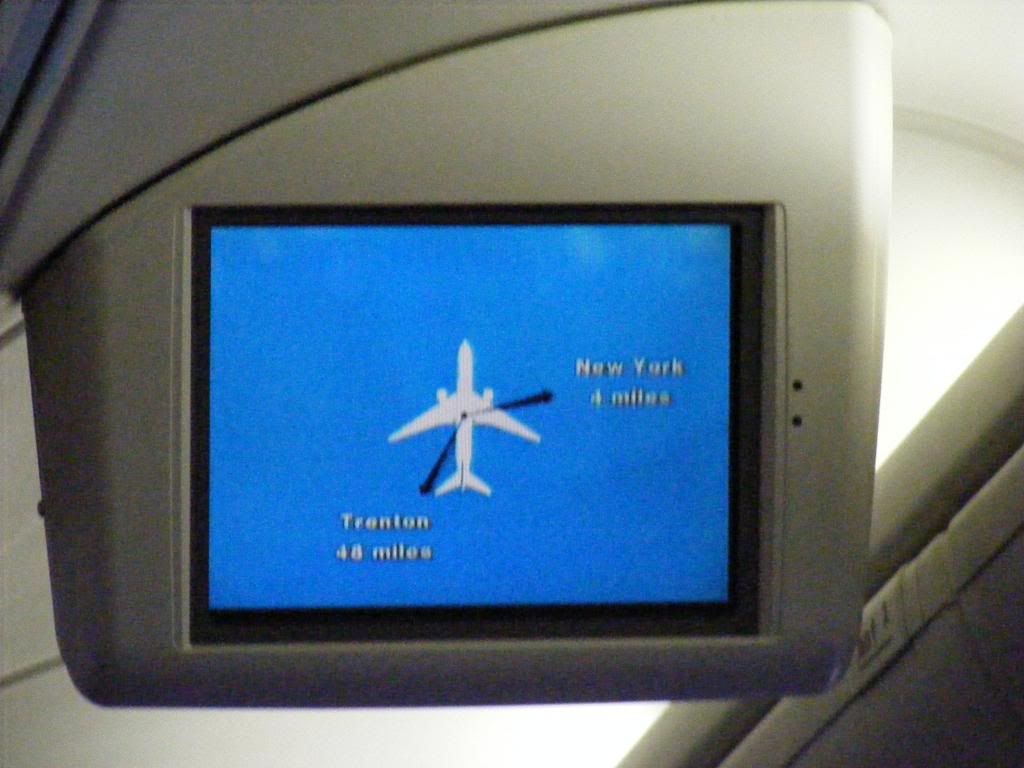 Take off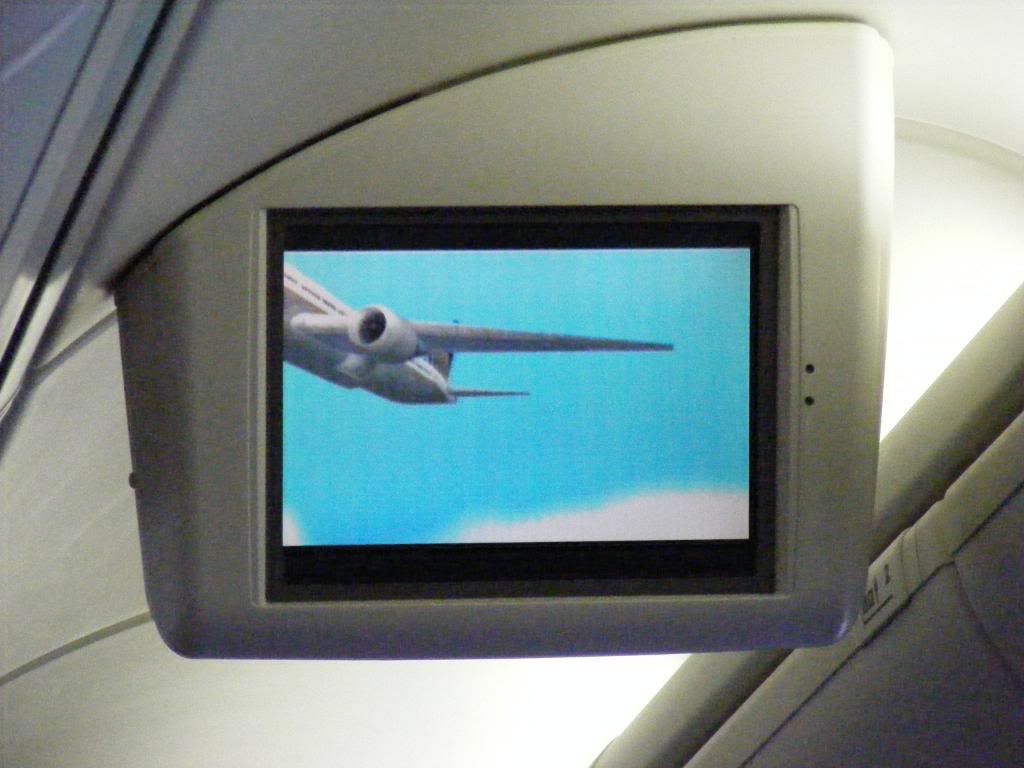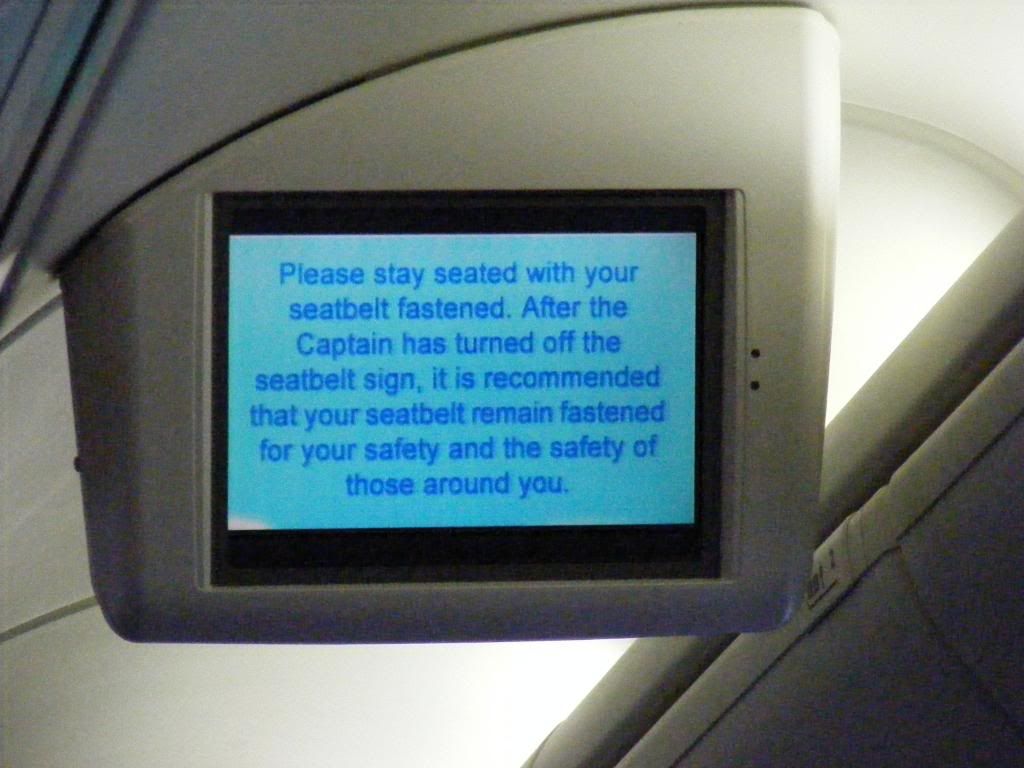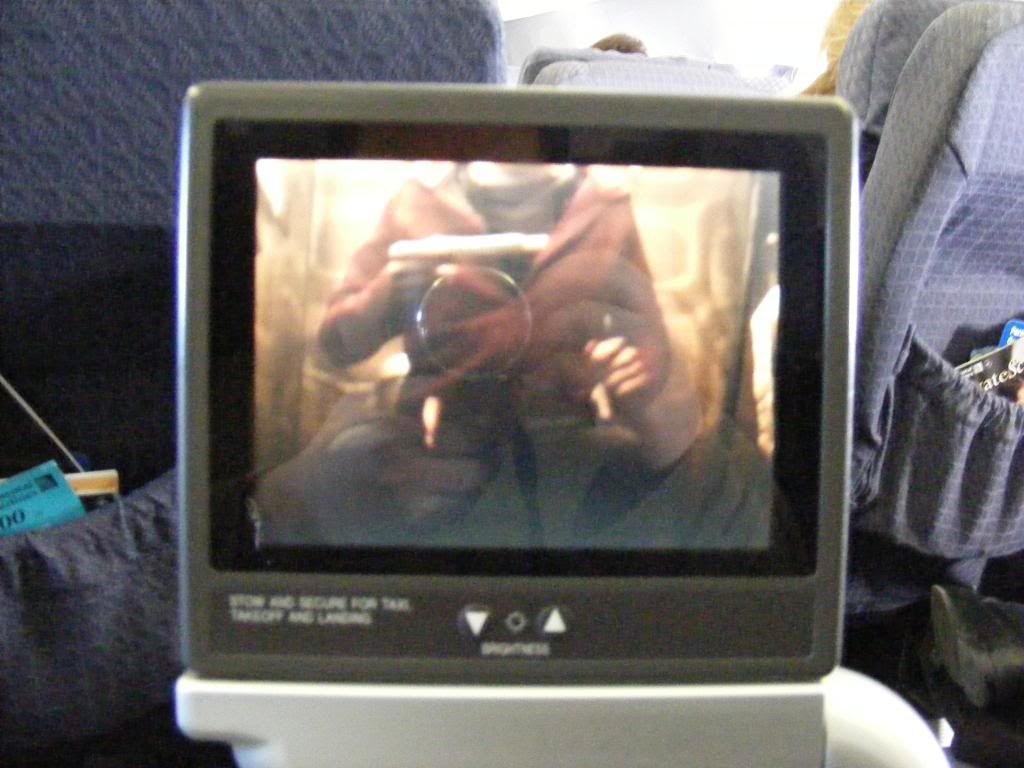 Juno again taking her pregnancy test!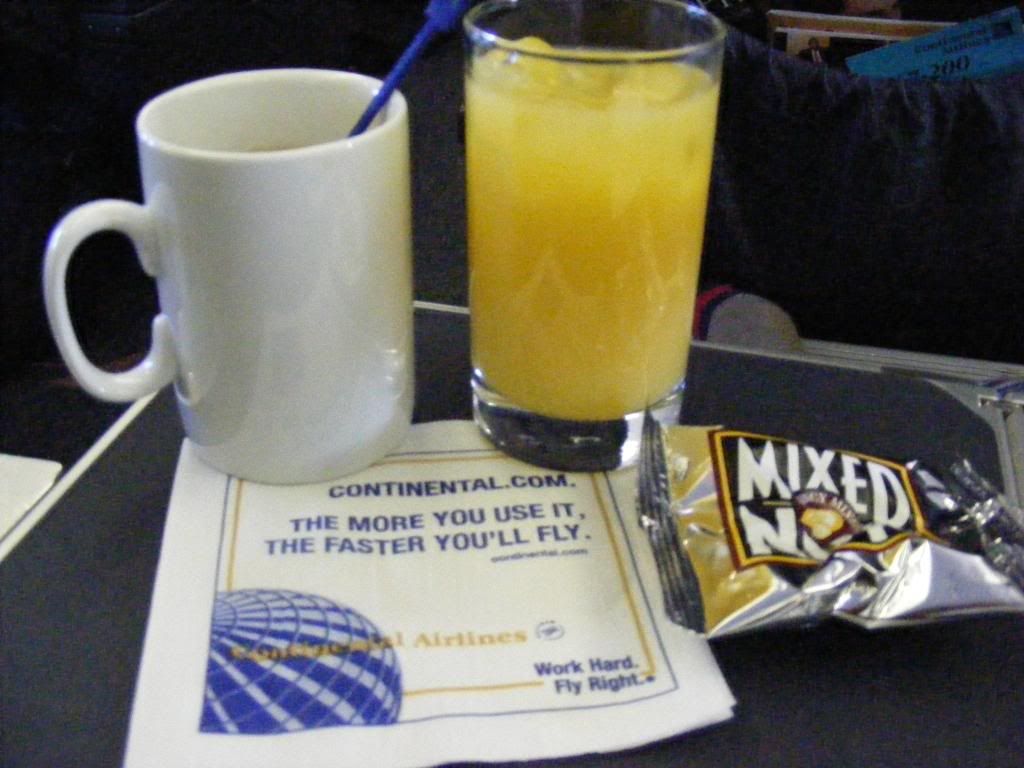 My selection of 1st round of drinks, hot tea and orange juice.
Yum! Tonight's dinner included chicken gumbo with tomato basil soup and salad with ranch dressing.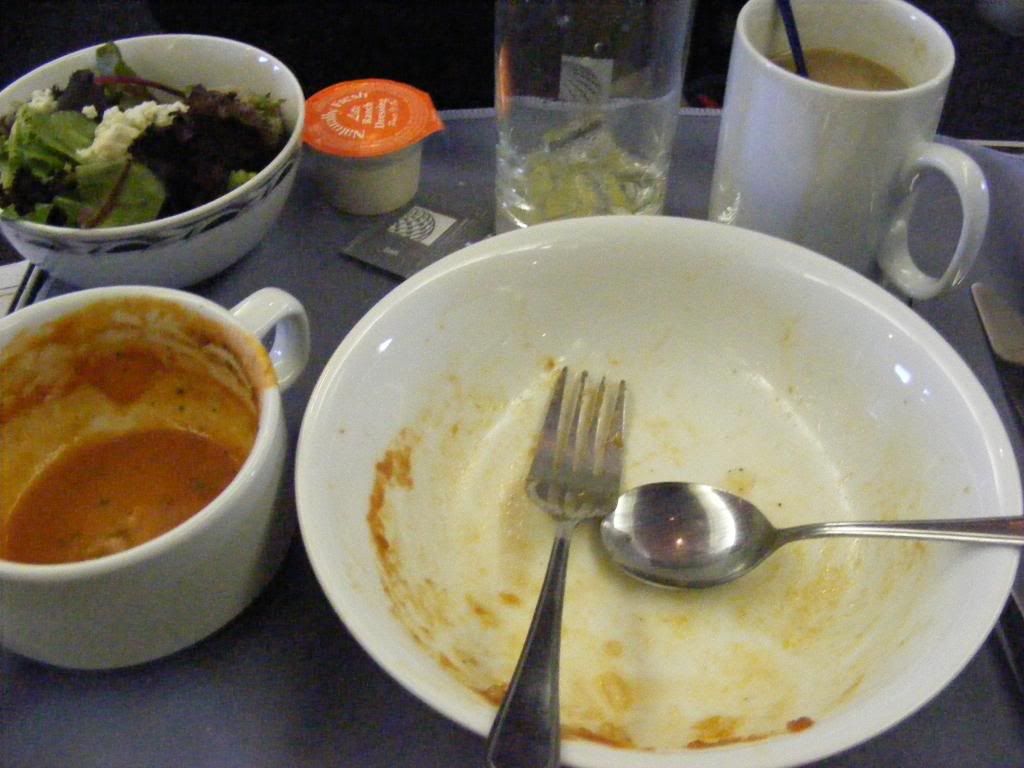 Yum!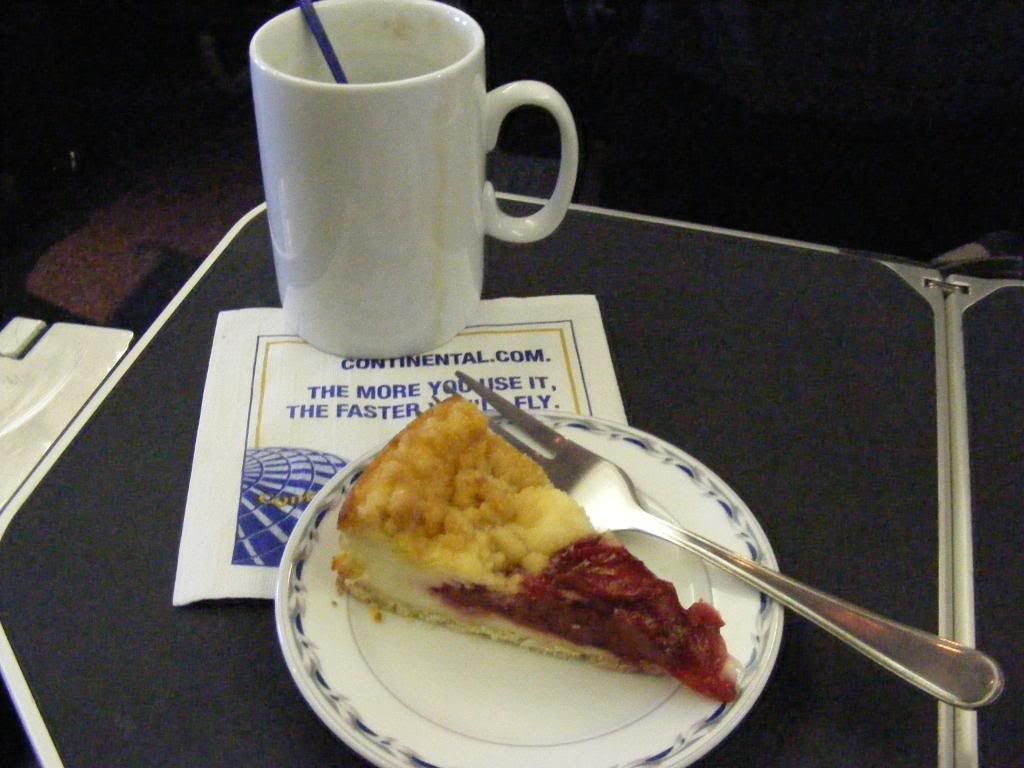 Dessert, NO ICE CREAM!!!
Tonight's dinner turned out to be OK. I had never had the chicken gumbo in F. While it tasted good, I wish it had one of those small Tobasco bottles since I love my gumbo a bit spicy!
The biggest disappointment came during what would normally be the ordering of ice cream sundaes. I had anticipated the warm fudge coating the rock hard vanilla ice cream with a nice topping of strawberries. Nope, tonight's dessert consisted of a mediocre cheesecake along with a hot tea. Once I finished, I decided not to finish Juno and recline my seat fully so I could sleep the rest of the flight home.
Our route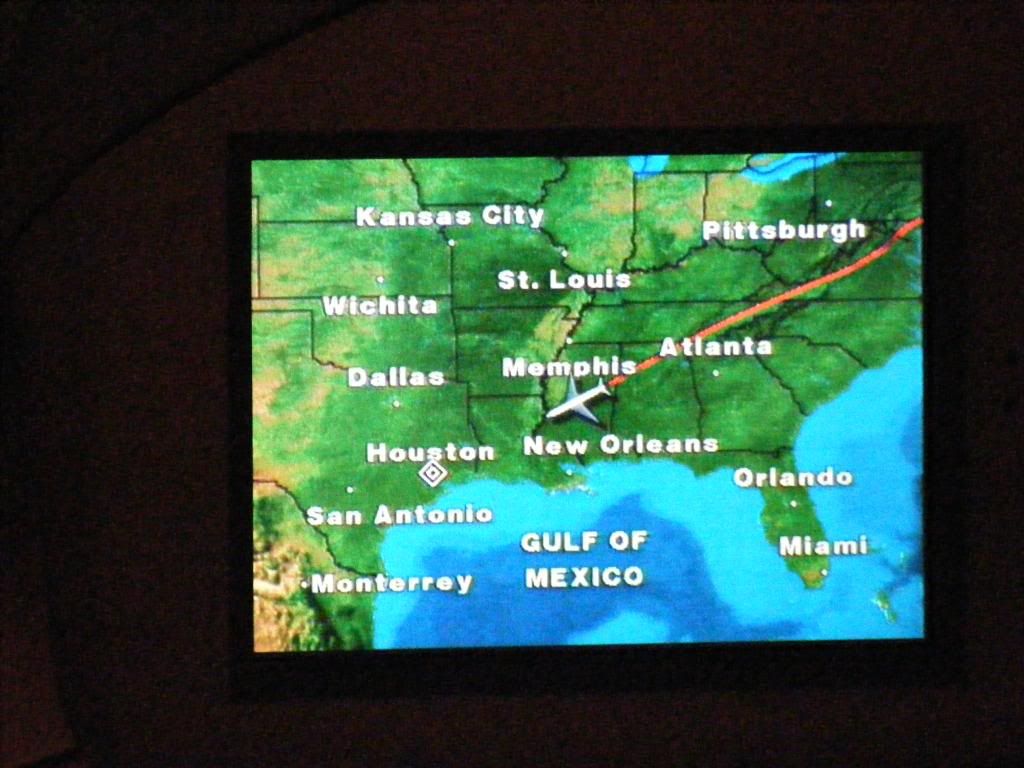 We're almost there!