A tribute to SkyEurope Airlines! AMS-PRG-AMS
As a tribute to this fantastic airline I decided to make this trip report. When GECAS decided to take back almost the whole fleet earlier this year, the end of SkyEurope was near. After struggling for months they finally stopped flying about a month ago. But before all those trouble it was one of the best low-cost airlines in Europe. Attractive schedules, good prices, new aircrafts and very friendly crews!  
A year ago I went to Prague with a good friend of mine to do some plane spotting. As usual SkyEurope had a special offer, a return ticket for only 75 euros including taxes and creditcard fee.
We arrived at the airport around 07.15. Check-in was done online so the only thing to do was waiting until boarding time. This was actually the first Tuesday morning service since two months (the schedule to Amsterdam was reduced during the summer months) and it seemed that nobody was informed. The departure lounge remained closed until 08.00 when the security people arrived in a hurry. Inside lounge 4 all shops were closed. Well, lounge 4 is extremely boring anyway with only two shops available. My advise: go through security as late as possible when you are leaving from the M-pier.  

Date:
Tuesday, 09Sep08
Flight:
SkyEurope Airlines // NE 2611
From:
Amsterdam // AMS
To:
Prague // PRG
Duration:
1h30m
STD:
08.40 //
ATD:
08.32
STA:
10.10 //
ATA:
09.51
Aircraft:
Boeing 737-76N // OM-NGL
Seat:
Economy // 25F
Load factor:
~50%
The aircraft had arrived 25 minutes early and was almost ready for boarding when the first passengers arrived at the departure gate. A light load today so it took not very long before everyone was onboard and the aircraft was ready for pushback. We pushed back 8 minutes early and taxied to runway 24. With no other traffic in front of us we made a rolling take-off: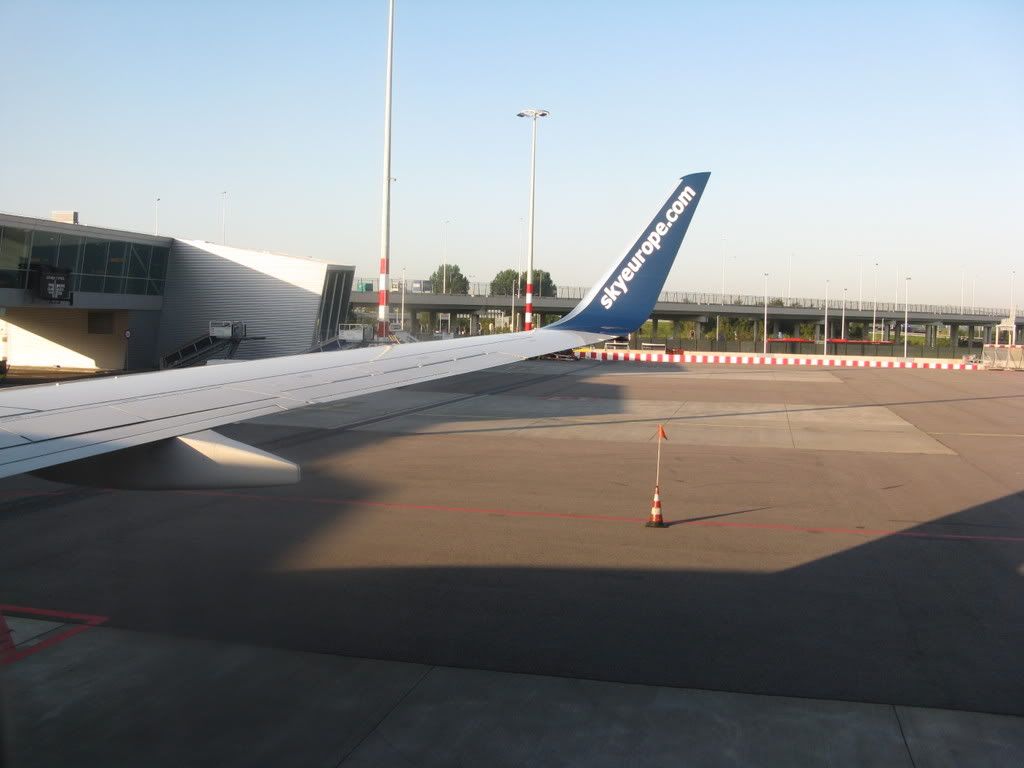 Two jobless 739ER's after Futura went bust.  
Take-off movie:
http://www.youtube.com/watch?v=mwLXSTpJA7Y
After take-off we climbed to 39000 feet and flew via Arnhem, Kassel, Erfurt and Dresden to Prague. I bought myself a very tasty mozzarella-tomato sandwich but I forgot to take a picture of it.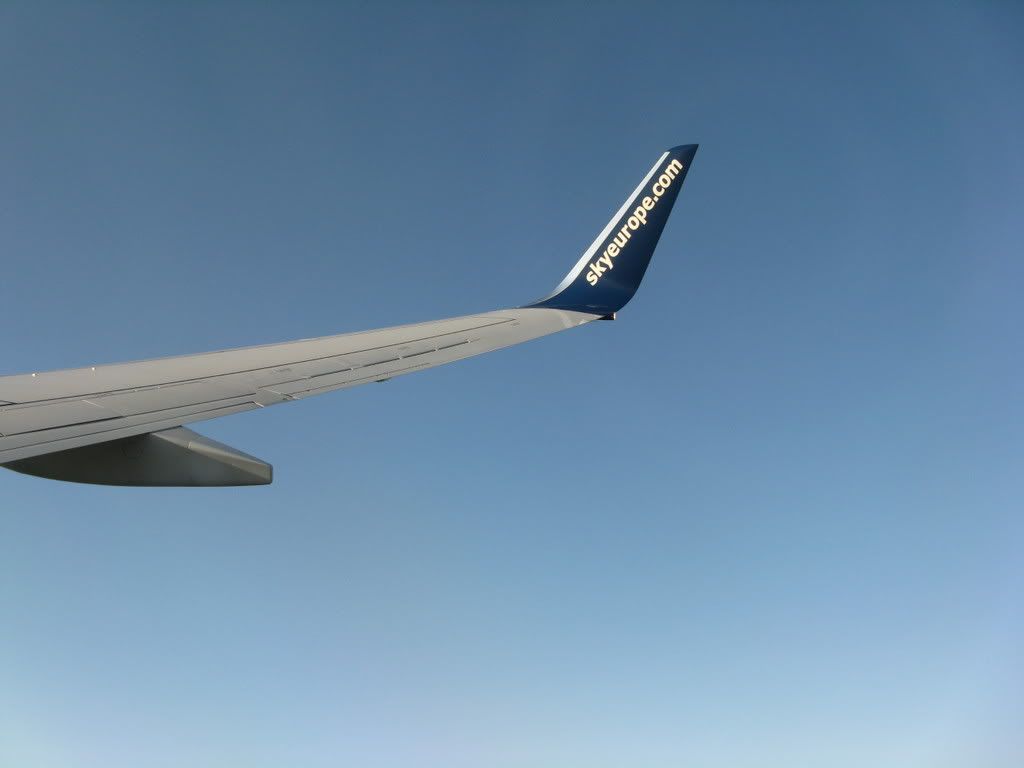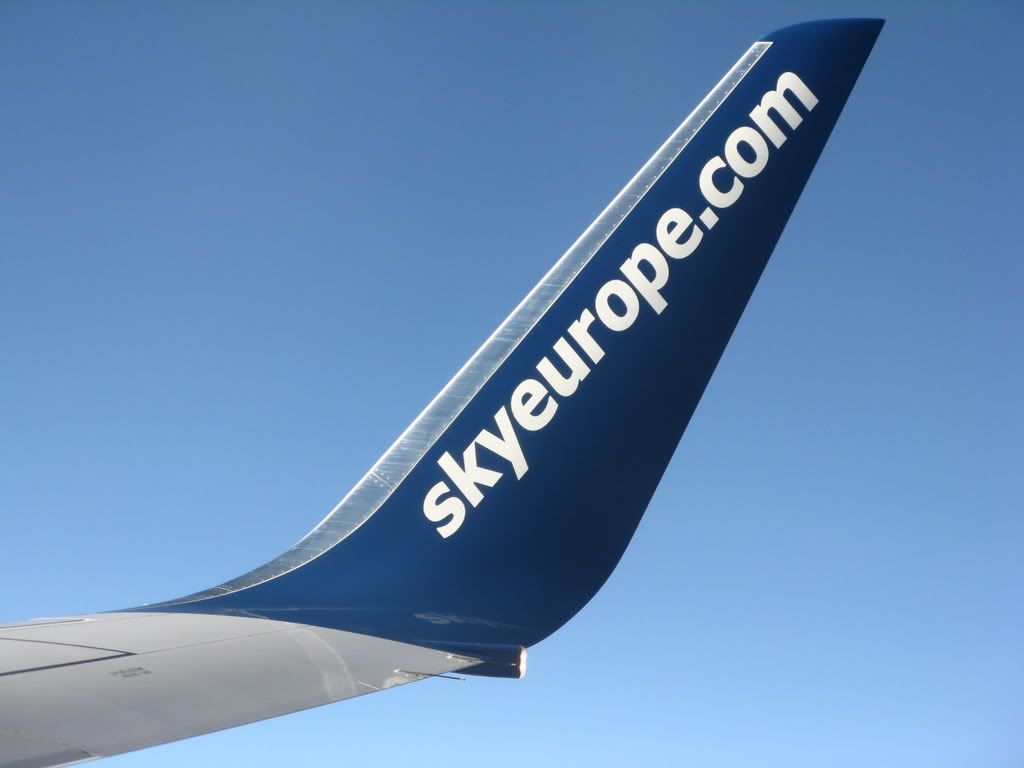 Paderborn
When we reached Dresden descending was started. During the approach for runway 24 we flew over the villages of Decin, Litomerice and Melnik. Touchdown was at 09.45, well ahead of schedule.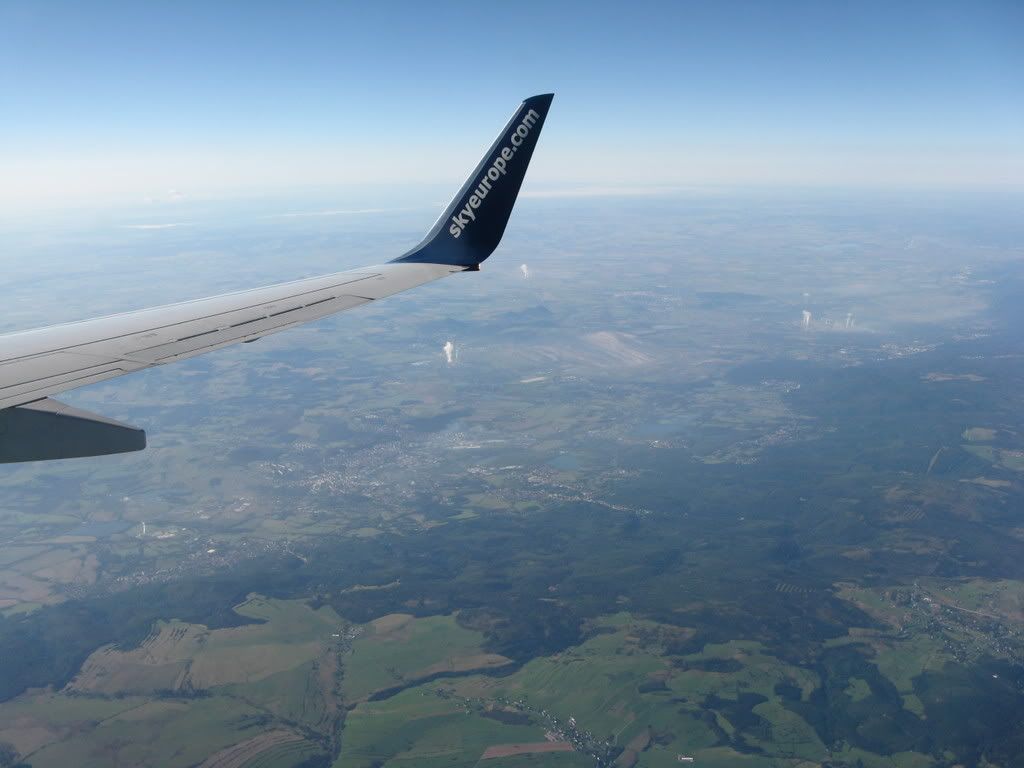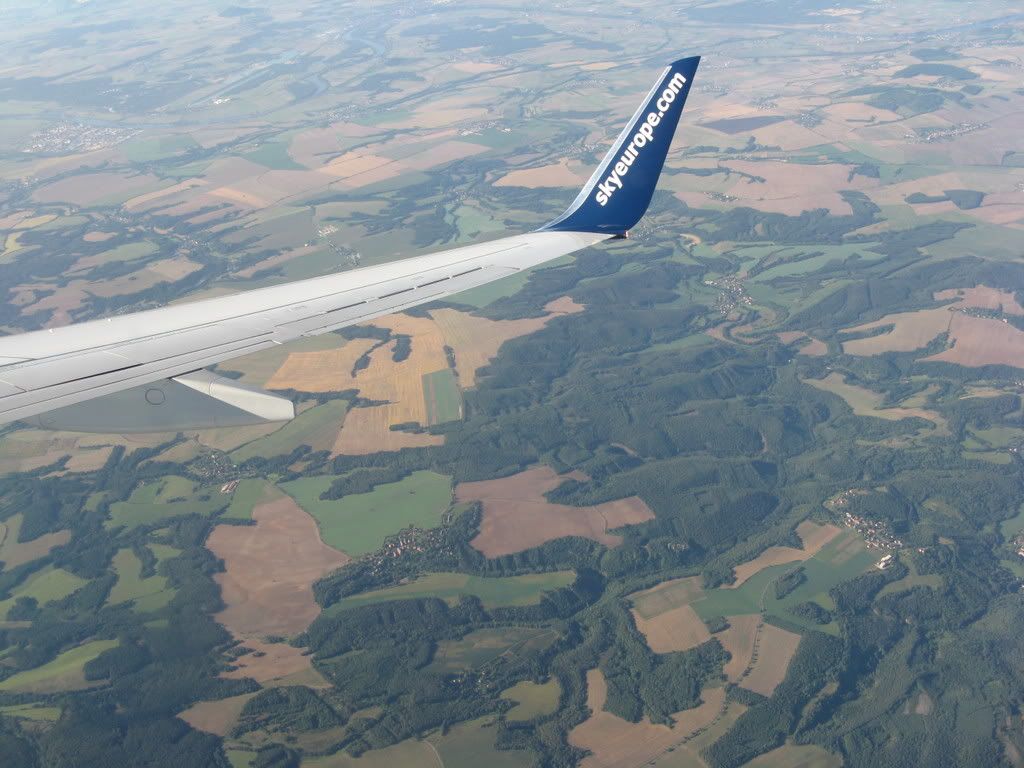 Landing movie:
http://www.youtube.com/watch?v=y6rr2nJwRJU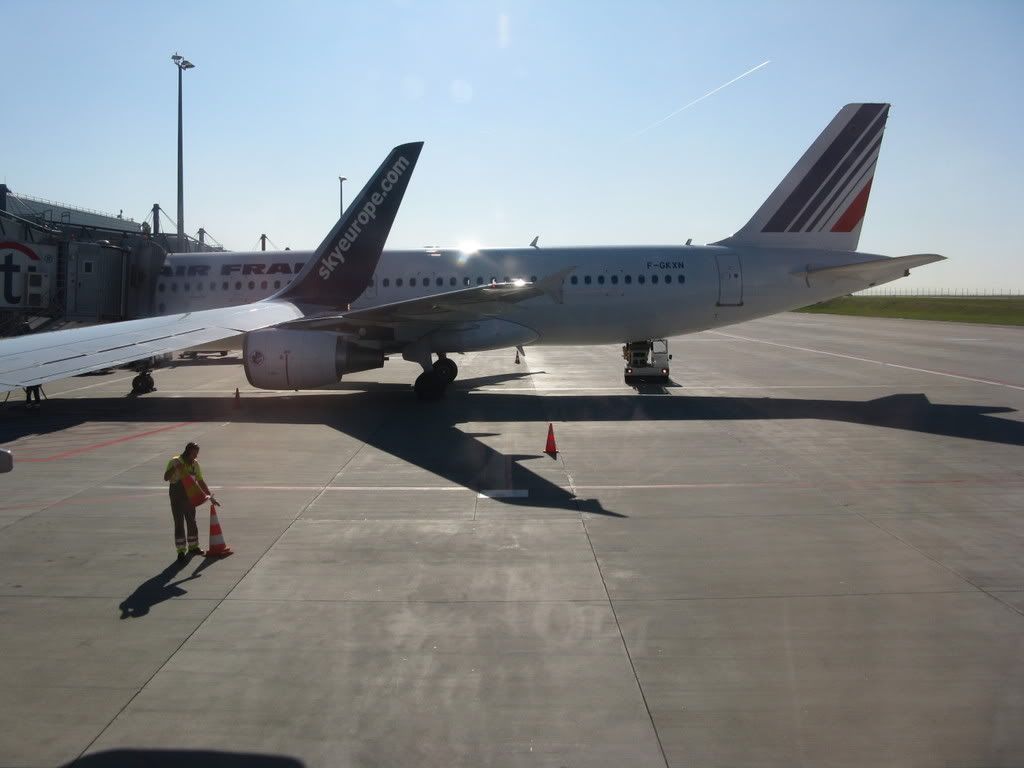 Prague Ruzyne Airport has two terminals, T1 for non-Schengen flights and T2 for Schengen flights. CSA Czech Airlines and Travel Service are based at the airport and most other flights are operated by the main European legacy and low-cost airlines. The interesting stuff is from Eastern Europe and Russia, Aerosvit Airlines and Ural Airlines for example. Below some pictures that I took during the day: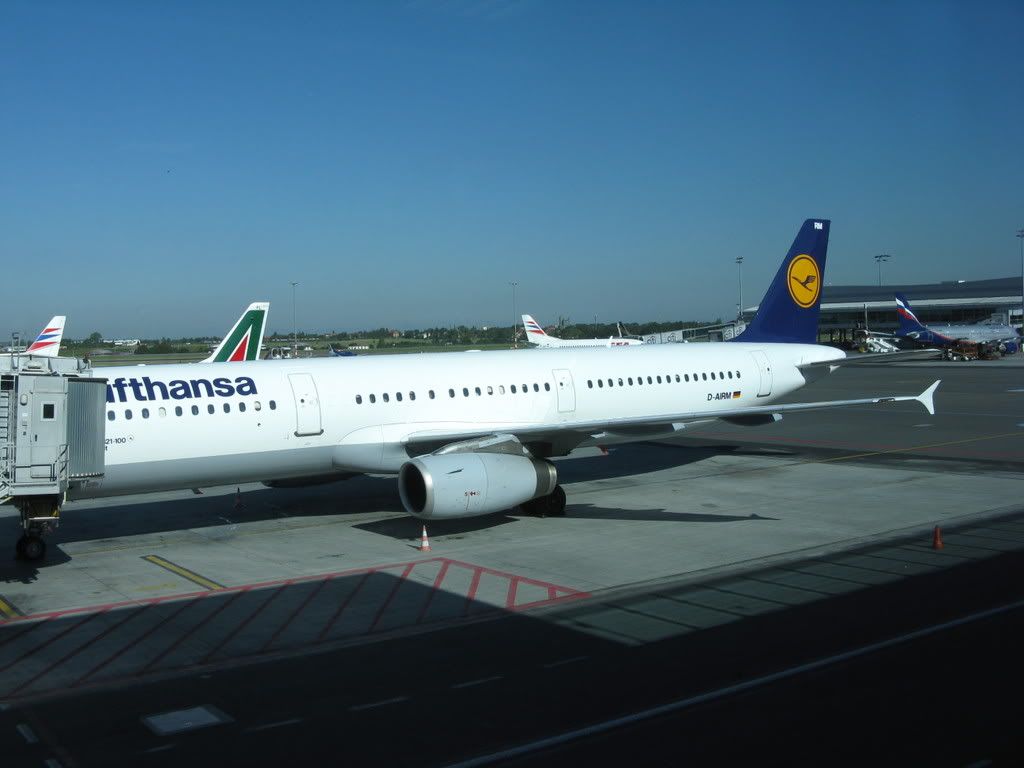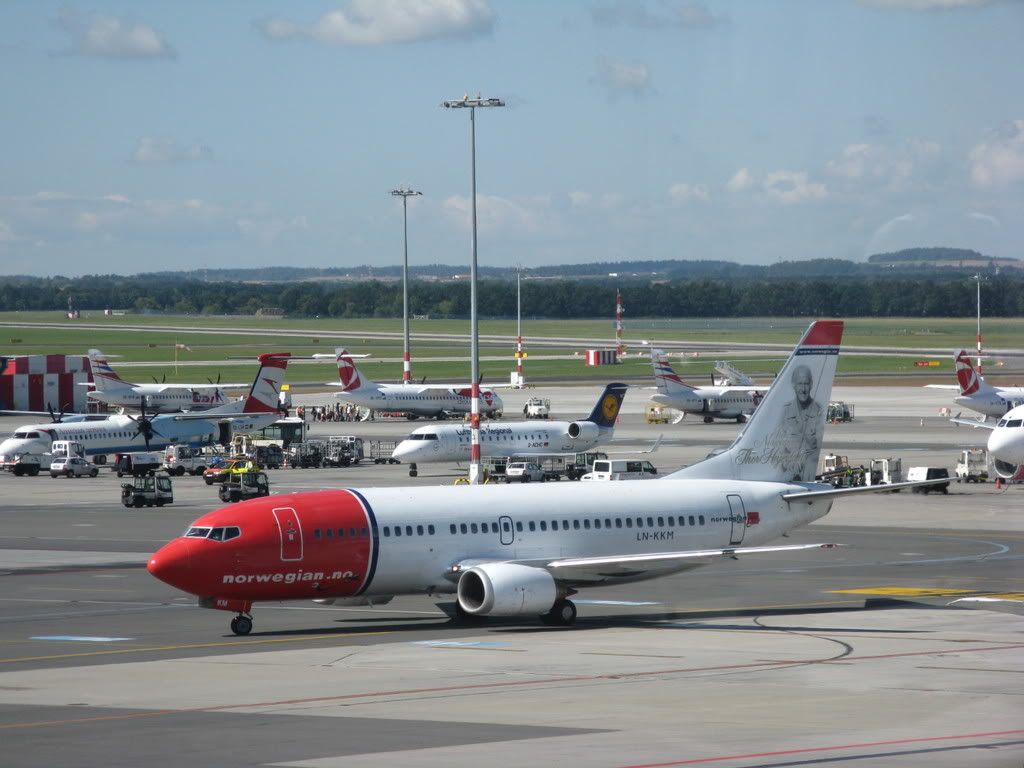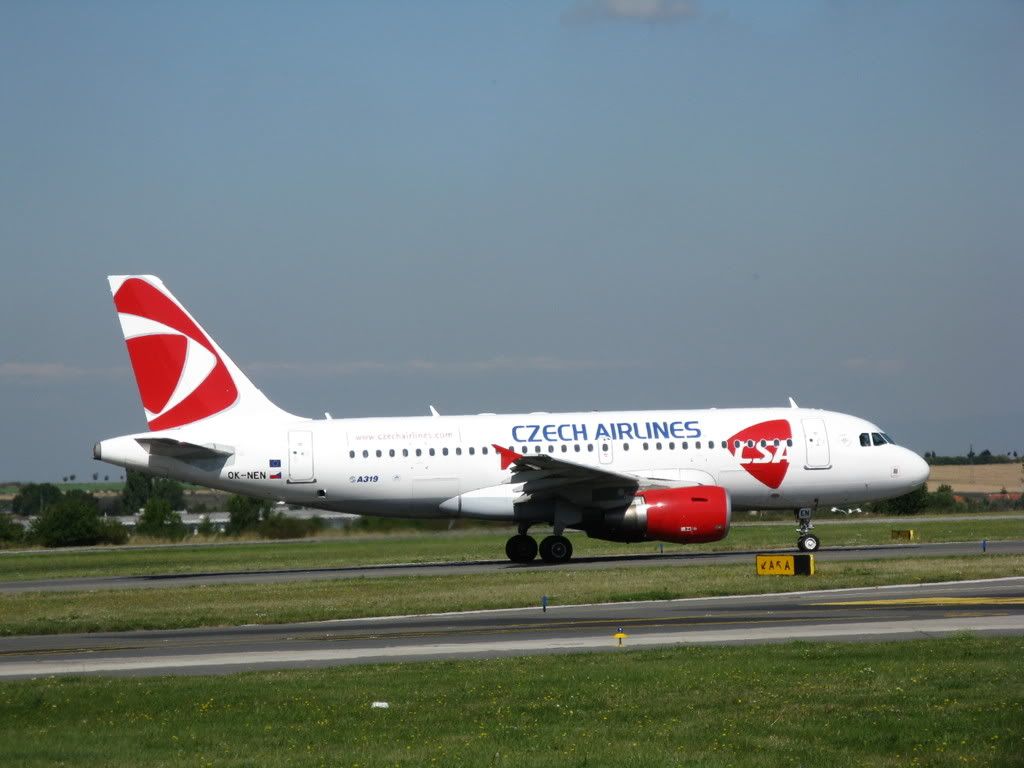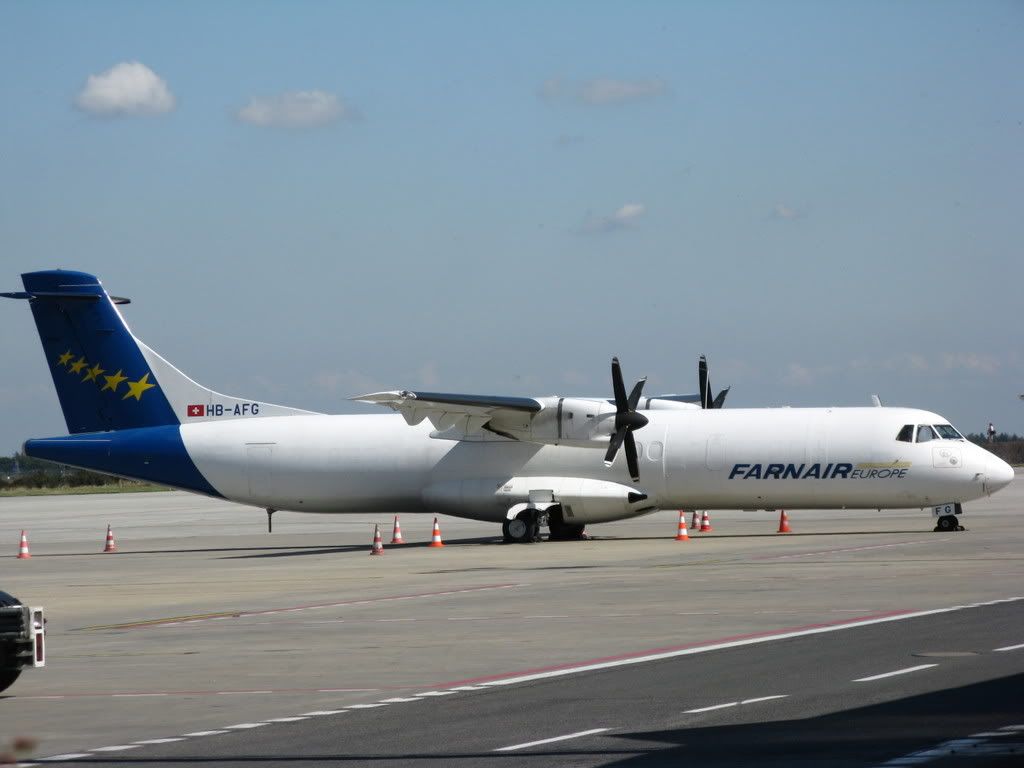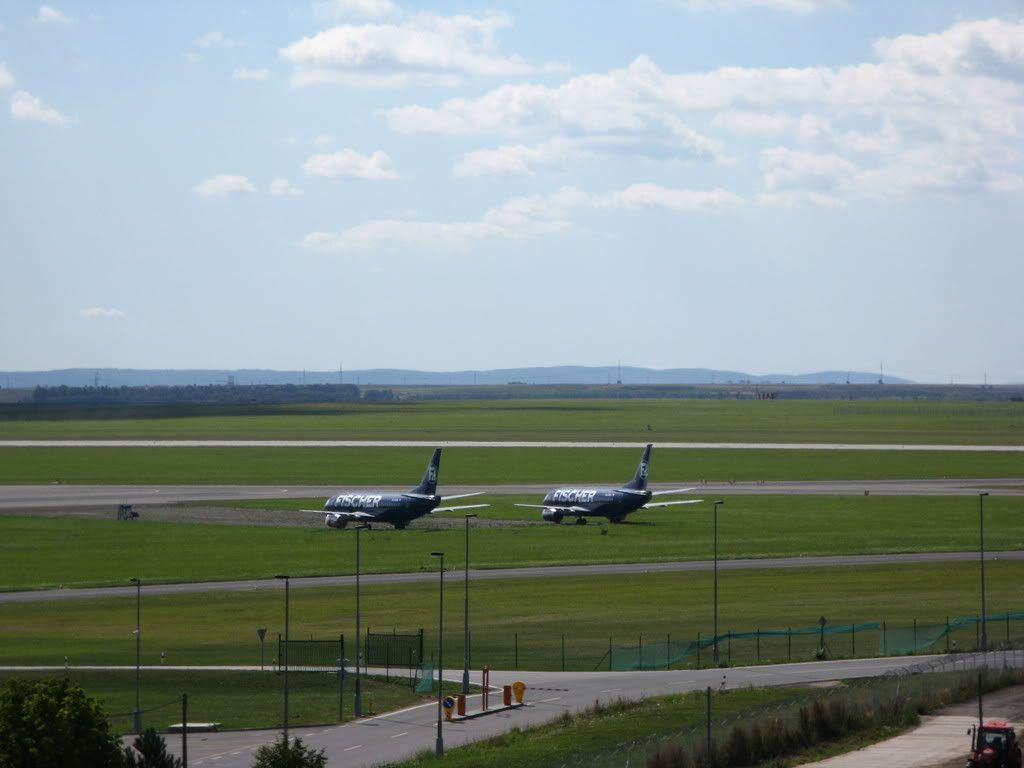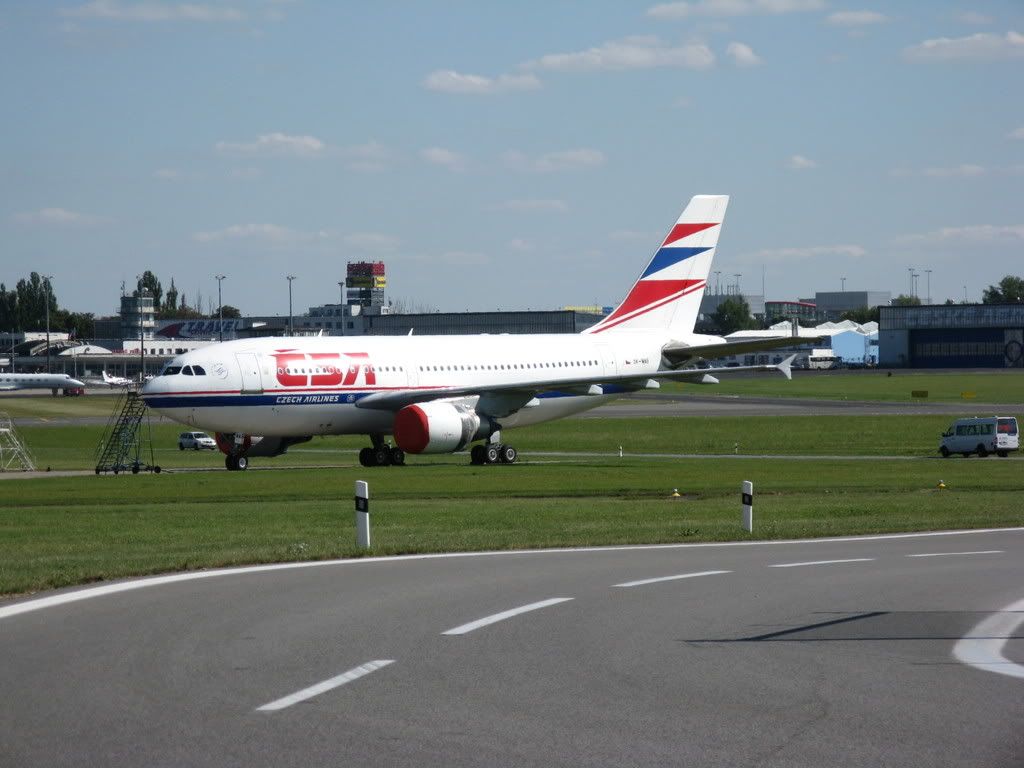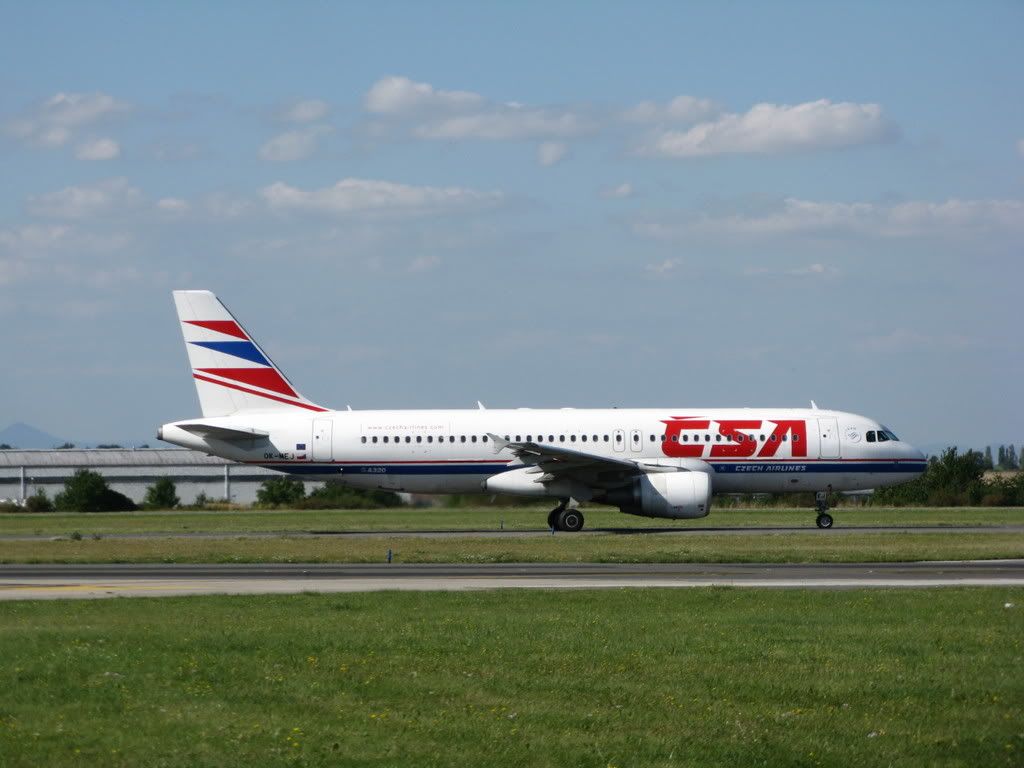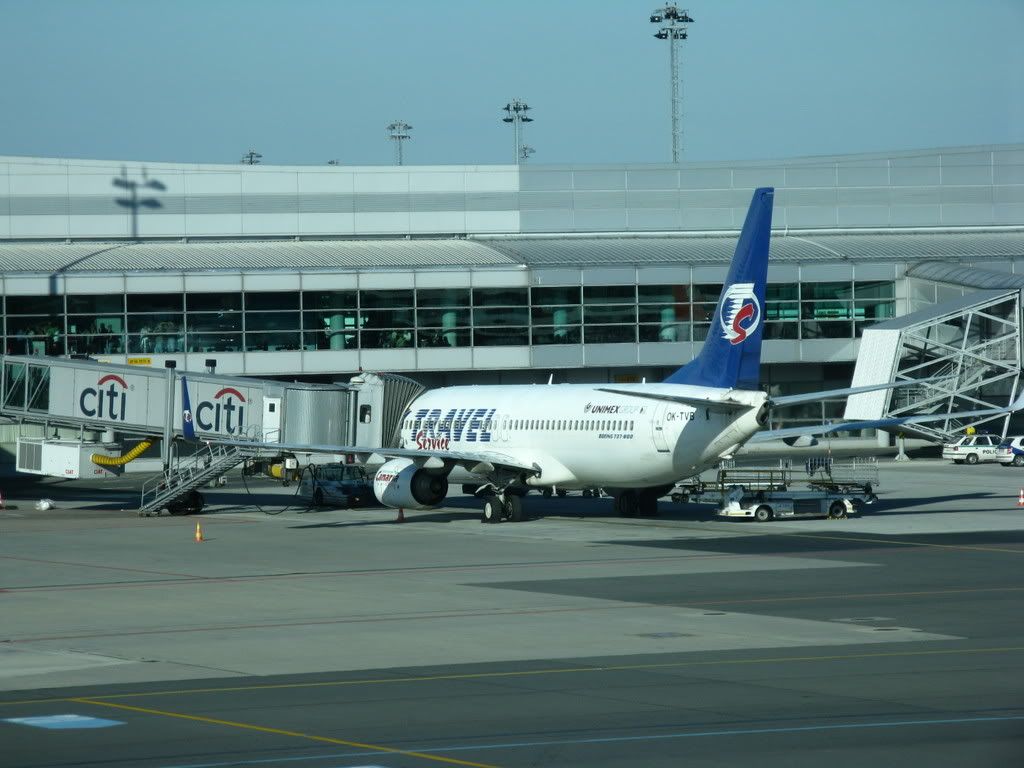 Date:
Tuesday, 09Sep08
Flight:
SkyEurope Airlines // NE 2614
From:
Prague // PRG
To:
Amsterdam // AMS
Duration:
1h40m
STD:
19.10 //
ATD:
19.10
STA:
20.50 //
ATA:
20.34
Aircraft:
Boeing 737-76N // OM-NGJ
Seat:
Economy // 11A
Load factor:
~60%
Boarding for the return flight started 20 minutes prior to departure time. Again a light load so the boarding process was ready 10 minutes later. We pushed back exactly on-time and taxied to runway 24. After another SkyEurope 737 was airborne to Milan Bergamo it was our turn:
Take-off movie:
http://www.youtube.com/watch?v=wsSyev_e2rM
The route to Amsterdam was the same as we flew this morning, via Dresden, Erfurt, Kassel and Dortmund, this time at 40000 feet. At 20.10, somewhere above the border between Germany and The Netherlands, descending was started. We approach runway 18C, also known as the Zwanenburgbaan, named after my village. Touchdown was ahead of schedule at 20.29.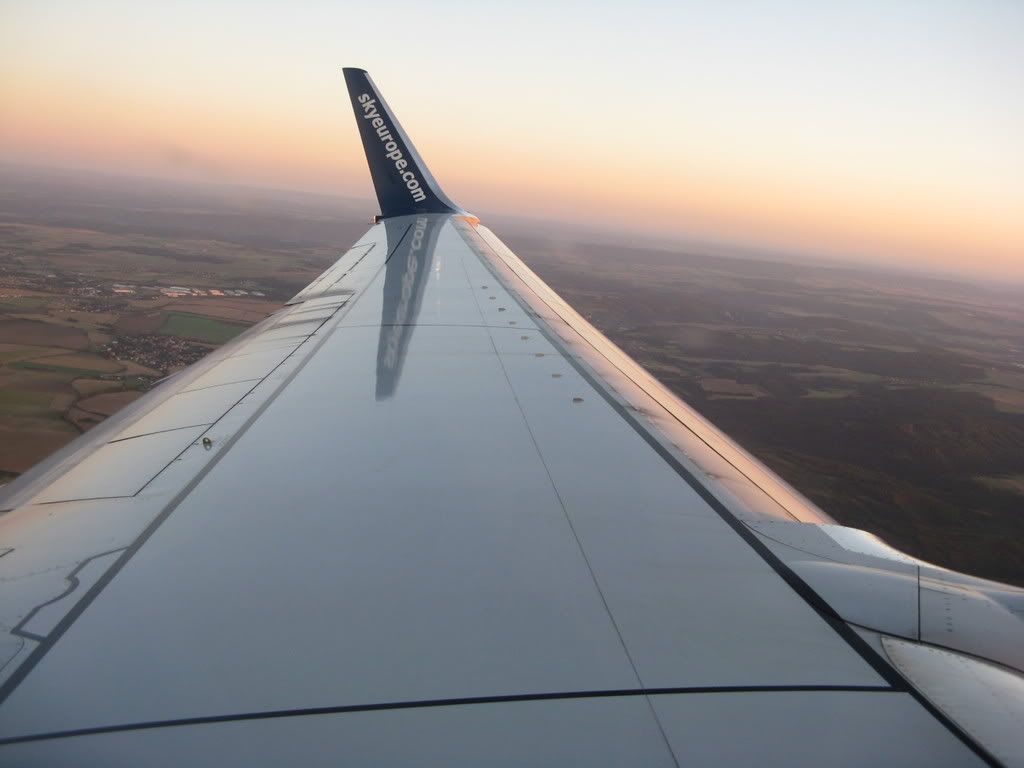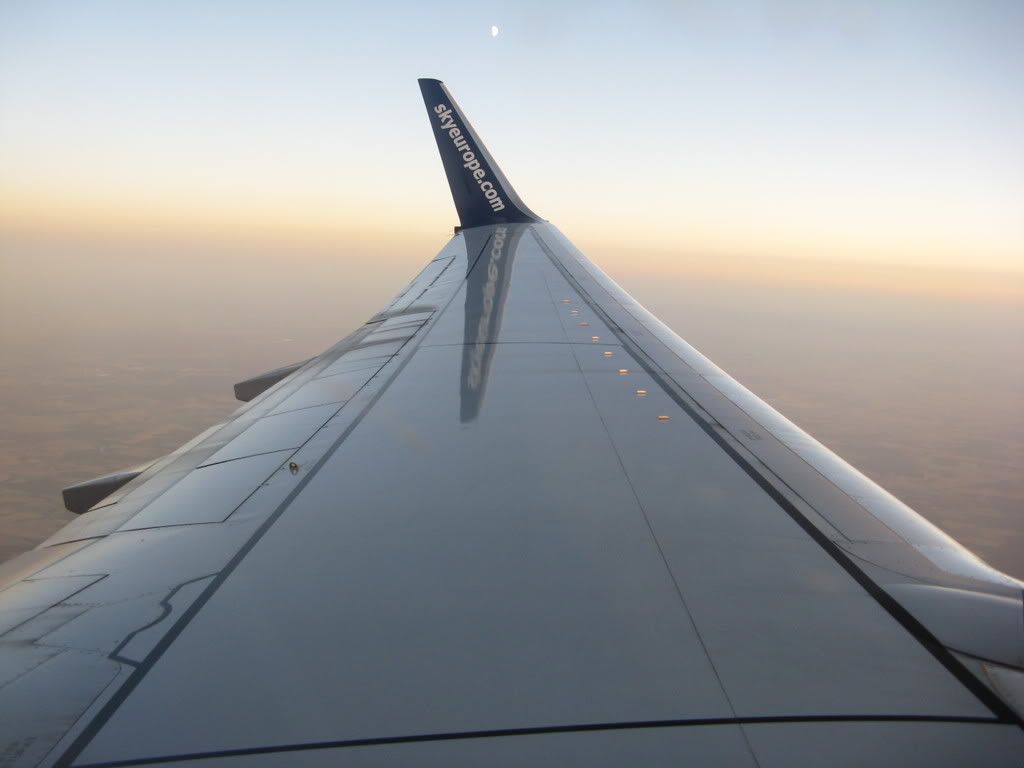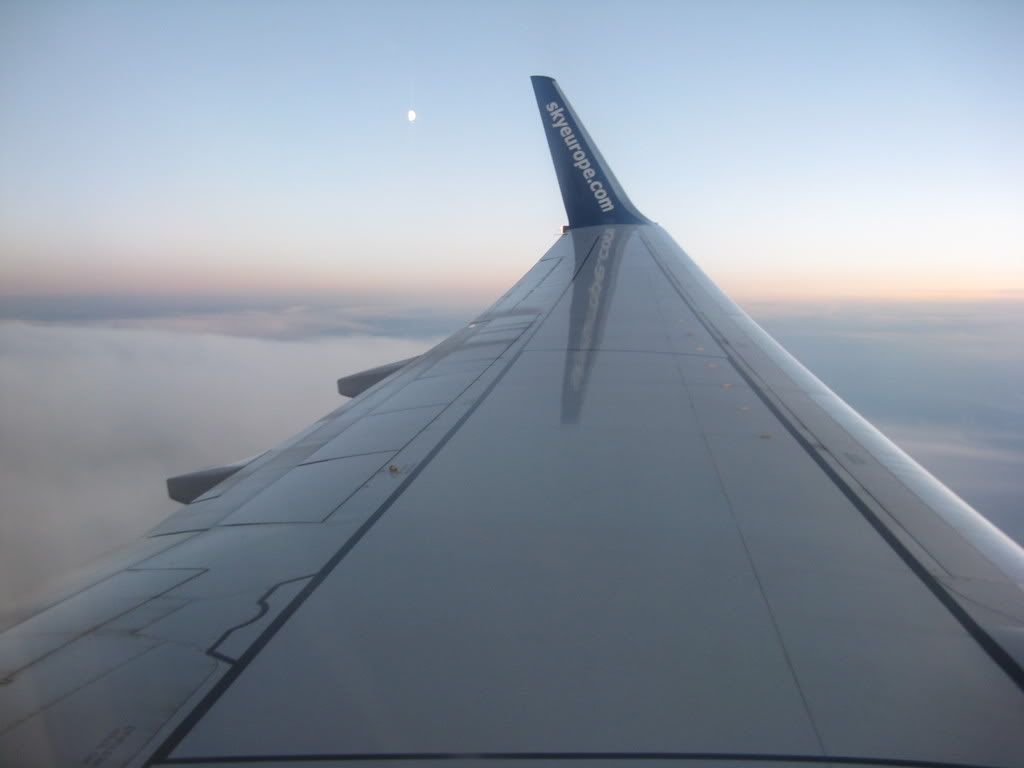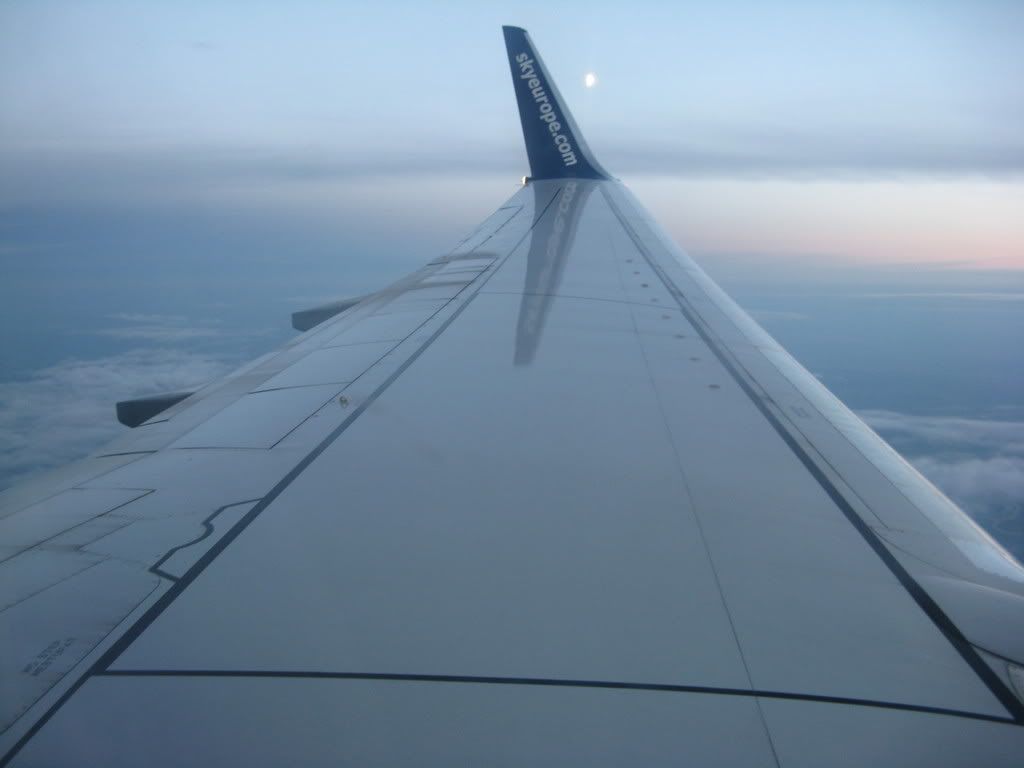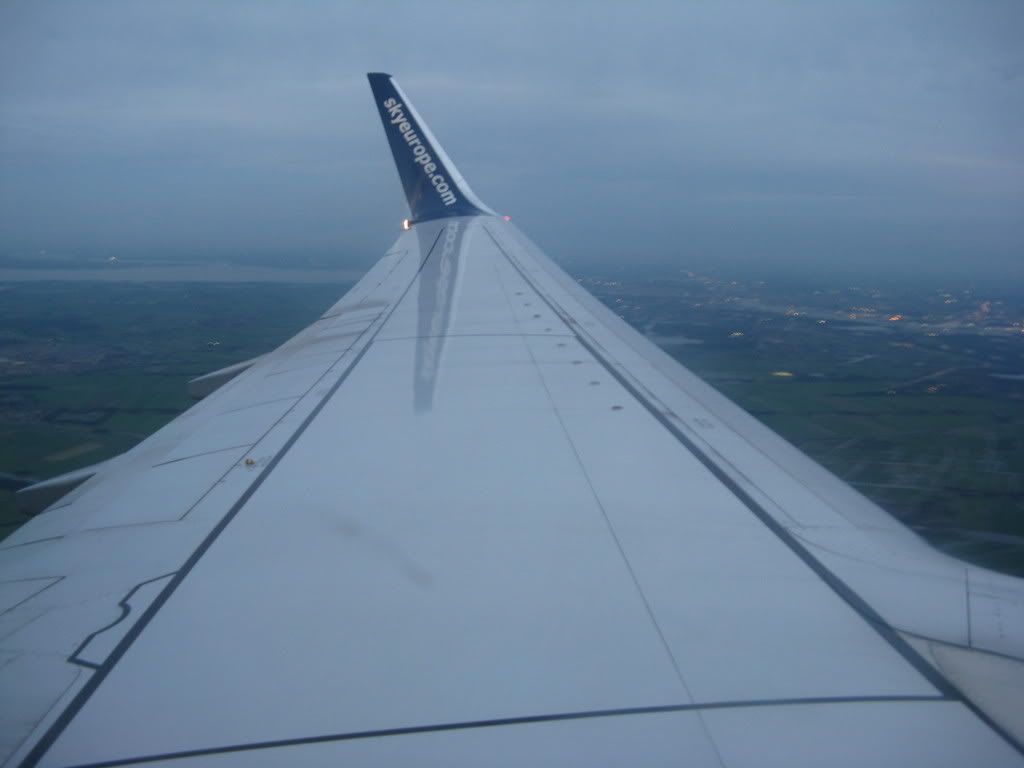 Landing movie:
http://www.youtube.com/watch?v=eR4PnzWO8C0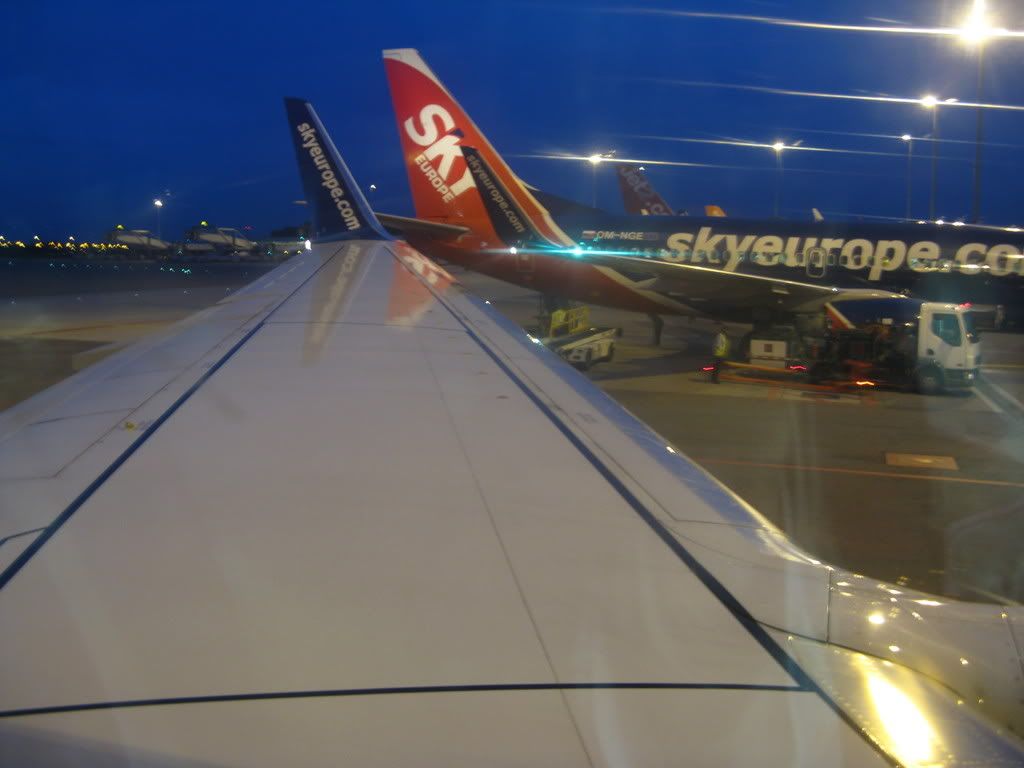 After landing it was only a few more minutes to our parking stand, gate M5. At 20.34 we parked next to another SkyEurope aircraft, which had arrived from Vienna 2 minutes in front of us. The end!
Thank you for reading!
Best regards,
Jeroen
*Please feel free to comment or ask your questions.
Other trip reports:
AMS-LBA-LGW-AMS on LS, BE and BA // 20Jul09
Flying Norwegian, from Denmark!: AMS-STN-CPH-AMS on EZY and DY // 13May09
Flying The T7: AMS-MAN-GVA-AMS on WW, SV and EZS // 20Apr09
AMS-BHX-DUB-AMS on WW, FR and EI // 26Mar09
Destinazione Bergamo! AMS-EMA-BGY-AMS on WW, FR and HV // 21Jan09
[Edited 2009-09-28 16:57:13]