London on the Dash 8/100 and the TS A313 again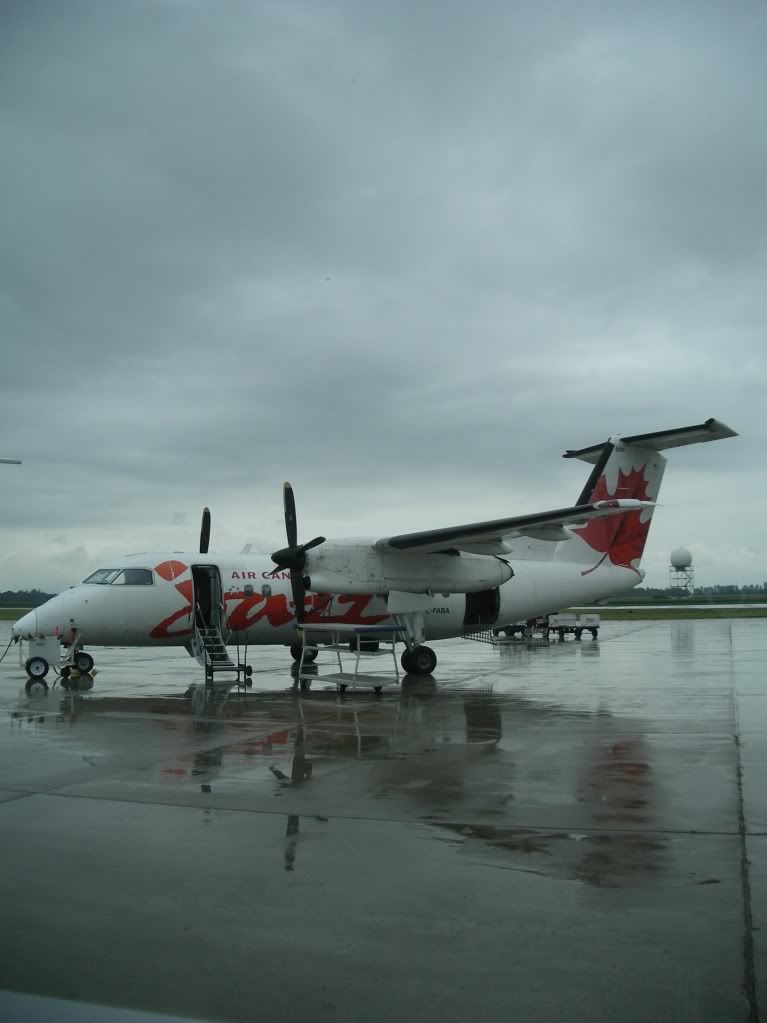 Hey, dear readers,
and welcome to my third day in Canada.
Here are the links to day 1 and 2:
The Ancient AirTransat A310-300 To Toronto
(by
FLIEGER67
Sep 21 2009 in Trip Reports)
Toronto-Pearson To Toronto-City-Center By Plane!
(by
FLIEGER67
Sep 26 2009 in Trip Reports)
My flight back to Germany leaves late in the evening, a good chance for some more flying around!.
Saturday, 08.08.2009
YYZ (Toronto-Lester-B.-Pearson-International) Cloudy, Temperature 21 degrees
YXU (London-International-Airport) Rain, Temperature 15 degrees
Duration: 30 minutes announce
40 minutes actual

Service Air Canada 7709 operated by Air Canada Jazz
Scheduled: 13.50 // 14.30
Actual: 13.50 // 14.30
Gate: 109 Seat: 09F
Load factor: Around 80%
For this day, I decided to start up a little later, sleeped well, had a late breakfast.
It seems, I need to write a complaint letter to the hotel, no chance to read my book for a longer time in my sunny chair with all that planes approaching runway 24
(sarcastic).
AC B763:
Another one:
Georgian Beech 1900: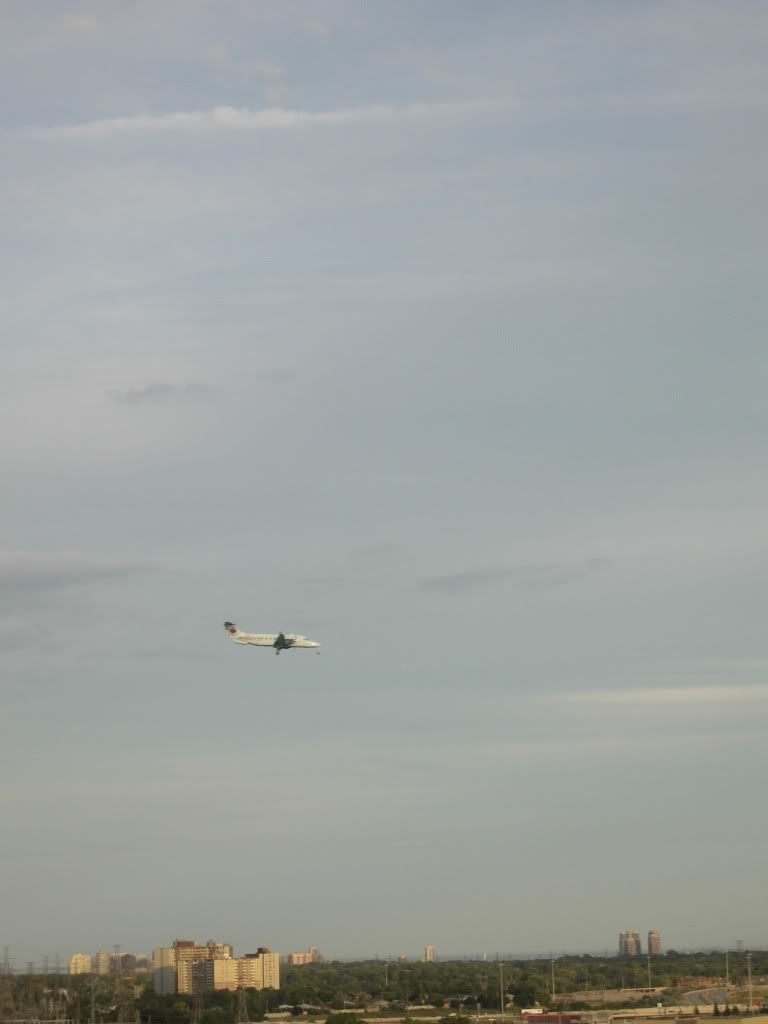 Westjet´s 737:
No comment, see you later!: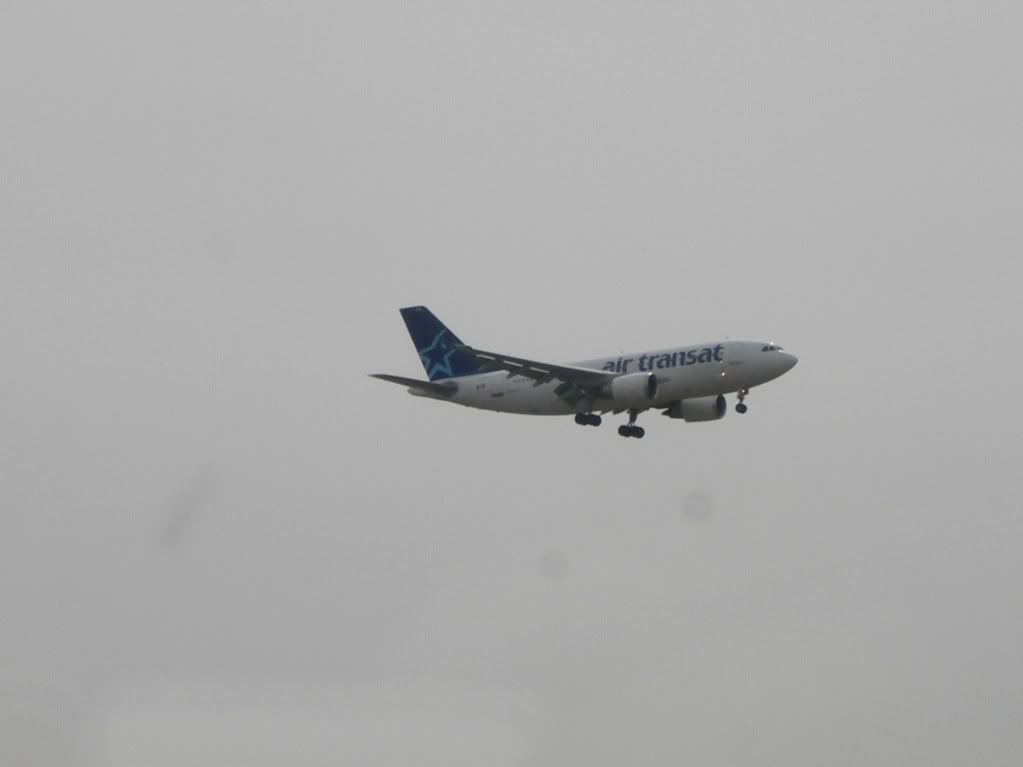 Check out at 11.00 am, shuttled to Terminal 1 and checked in at the kiosk with the window last row seater for my flight.
I had my bag with me, a friendly AC lady serving the customers at the kiosks mentioned that I travelled with bag and dont go to the bag drop off desks.
She: "Sir, you need to check in your bag. It looks to large to carry it on in the cabin".
Me: "Sorry, no way, I need to check in for another flight later in the evening and travel on AC without my bag".
She, somewhat concerned: "Ok, do it your way".
It seems, not that much travellers check in for a evening flight and do another flight combi earlier!.
On the inter terminal train service to T3, TS announced on its website that check in for all afternoon/evening flights will be open from 12.30 am.
Only some two to three pax in front at the desks, no kiosks at TS. The friendly guy told me, that I'am really early for the evening service and he called immediatelly for the office, if its possible to check in now.
It was around 12.00 am and the conclusion after the call was that check in will be open at around 1.30 pm, to late for my boarding time at 1.15 pm.
Well, stored the bag for 4.-- Dollars at the airport service counter, shuttled by the train back to T1, through security and for the regional gates on the ground level.
Inter terminal transfer:
Jazz Dash 8´s, CRJ´s and also the Alliance B1900´s coming and going, impossible to locate my plane.
The board:
Miss that one:
Transaero´s 763: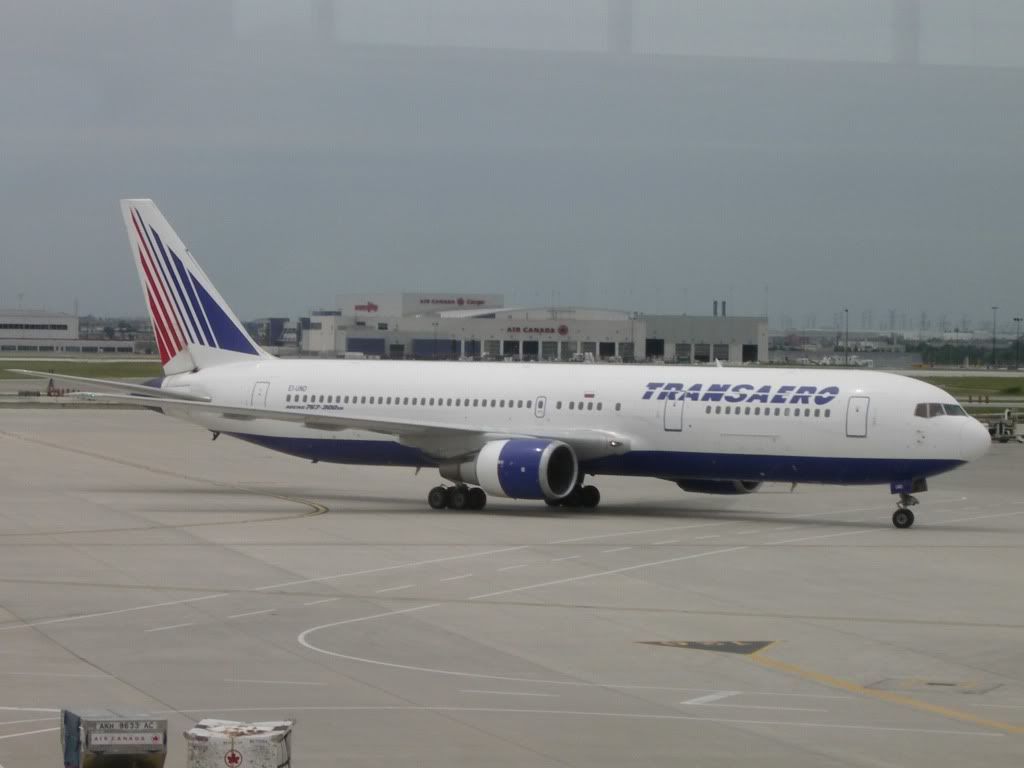 Air France heavy: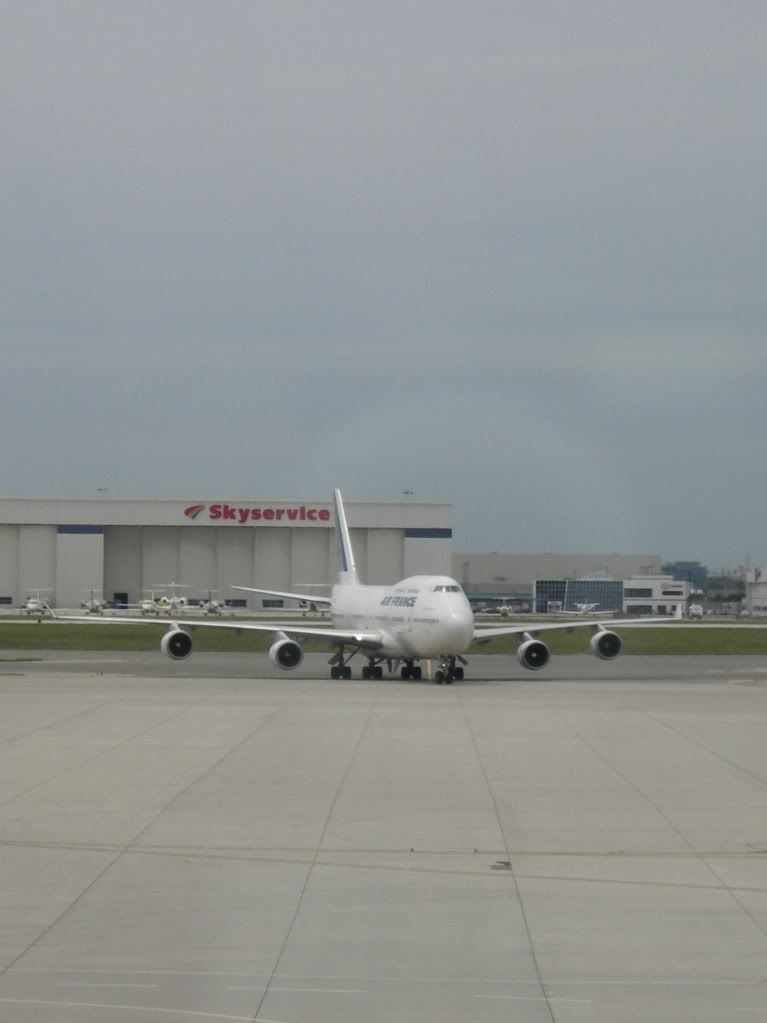 Again: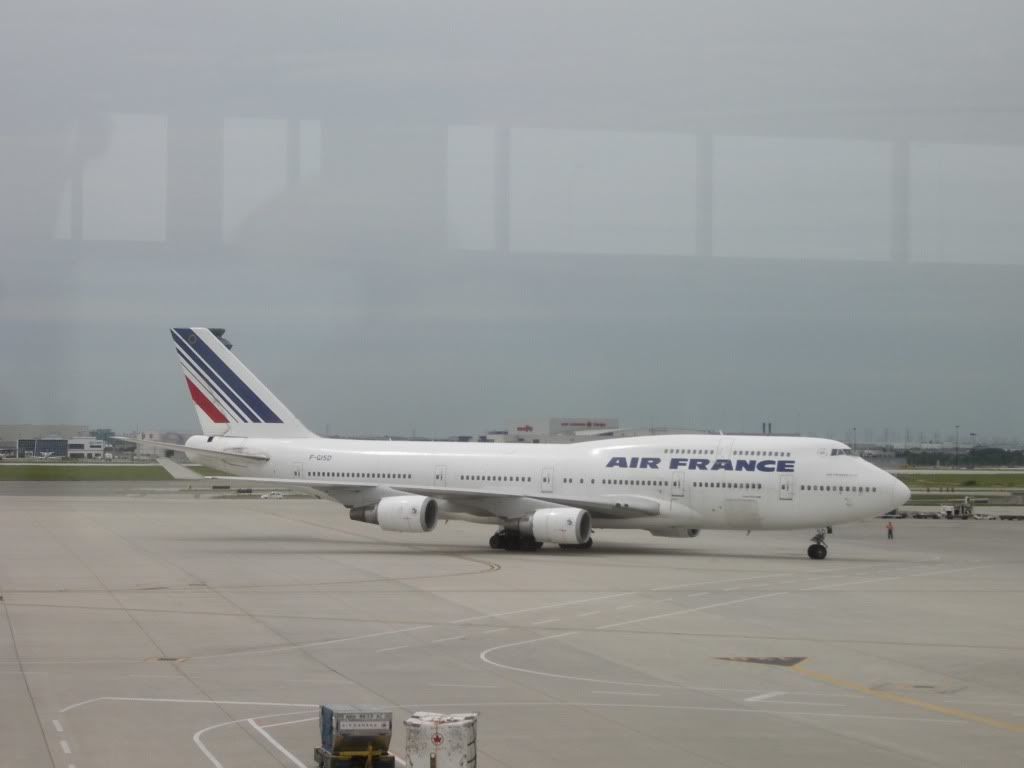 And ACJazz: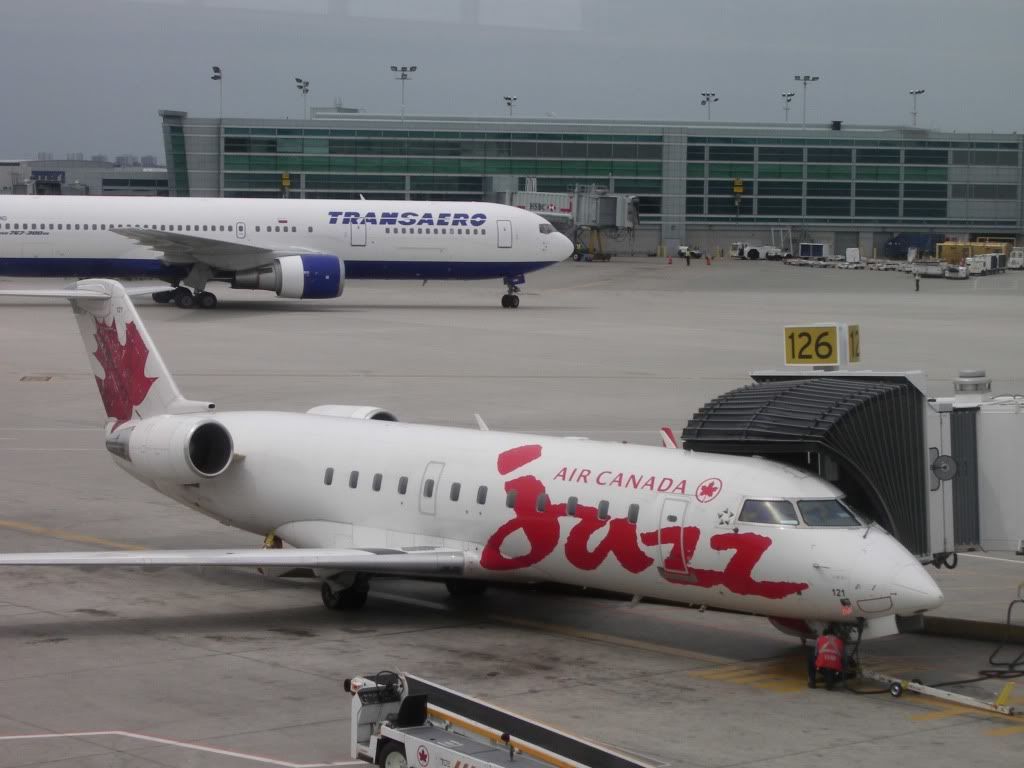 Green Jazz:
Again:
Some more Jazz machine´s:
This one for me?: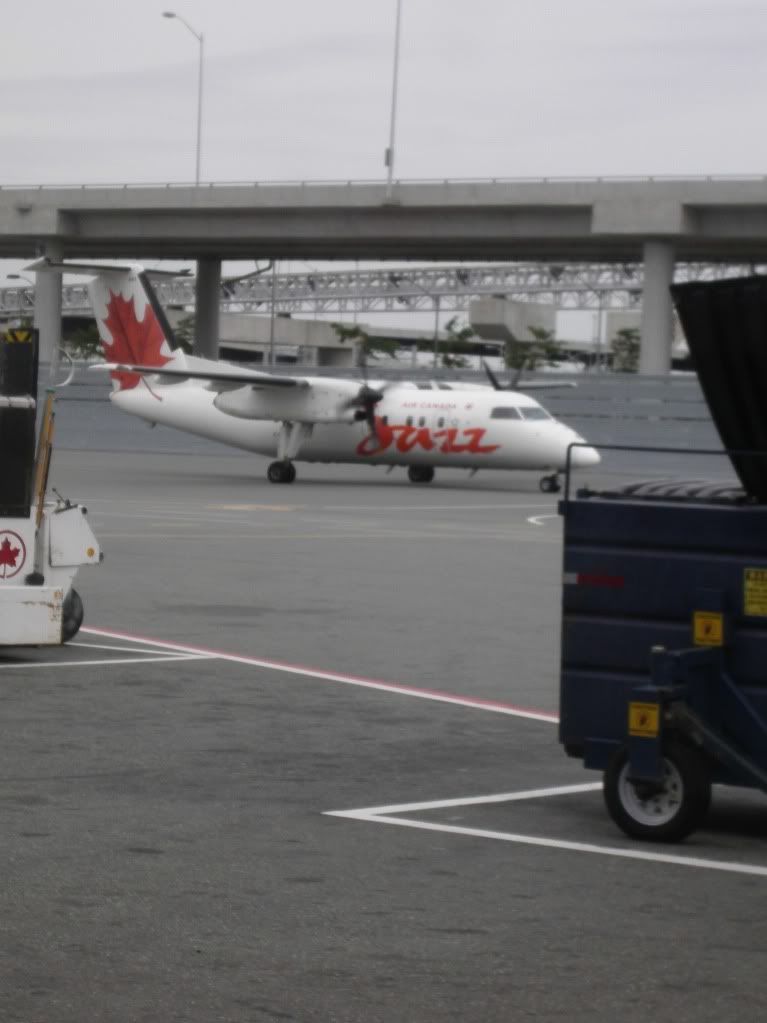 Or this one?: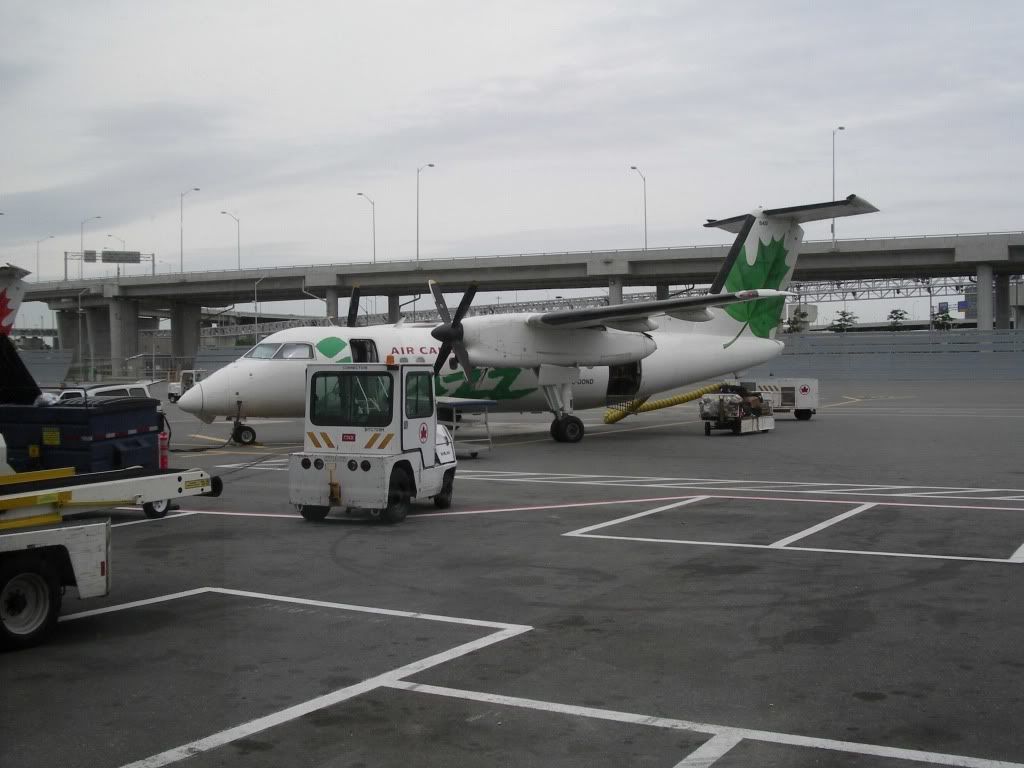 No, this one:
Finally boarding was called perfectly ontime, only a short way to walk above the apron where C-FABA waited, a Dash 8-100 delivered at 11.02.1988 to Air BC, further at 02.11.2001 to AC regional and with ACJazz since 01.04.2002. How many circles has this frame done in more than 20 years of actice service?. For sure a lot!.
Leg no. 13 for me on type and a new registration for my log.
My machine:
Boarding: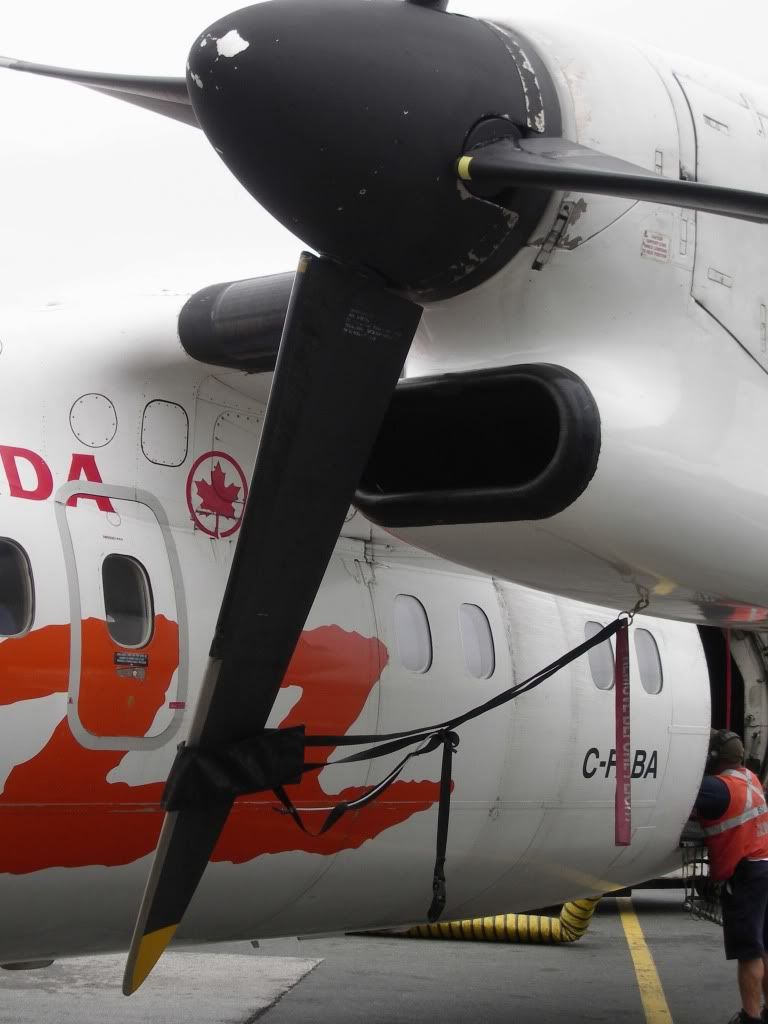 Closer:
Once more: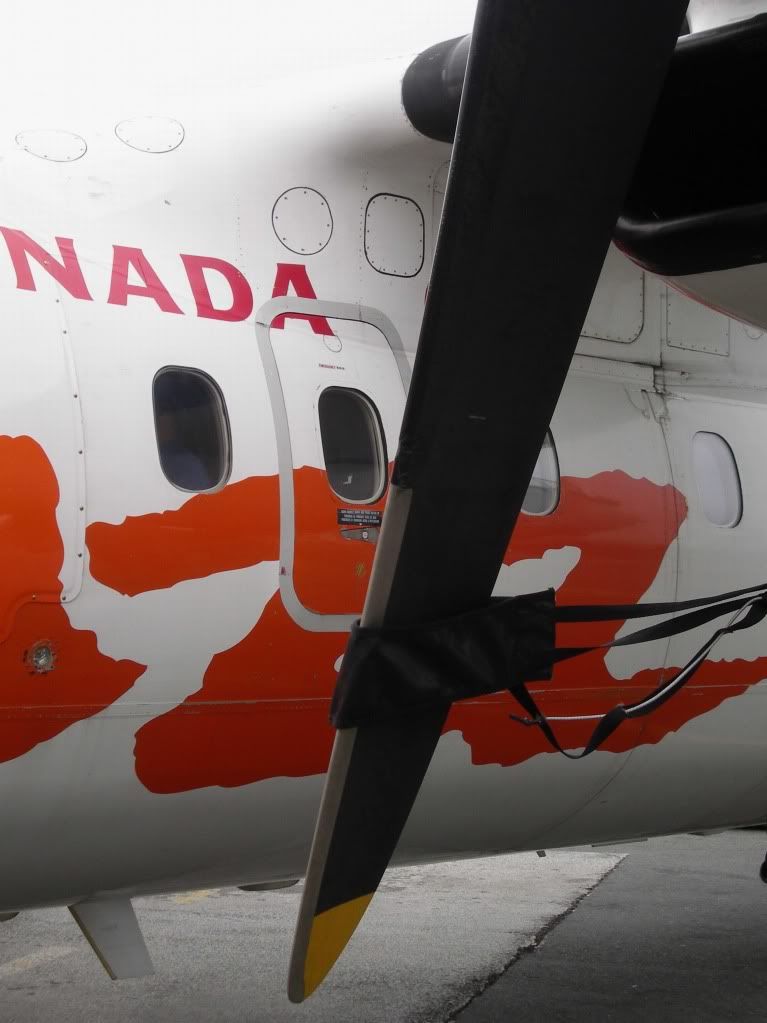 One ok friendly female FA on that plane, no comment from the canadian staffed flightdeck, but according to the FA, flightlevel 8000 feet.
The cabin fitted with dark blue leather seats, well used, somewhat dirty.
Cabin: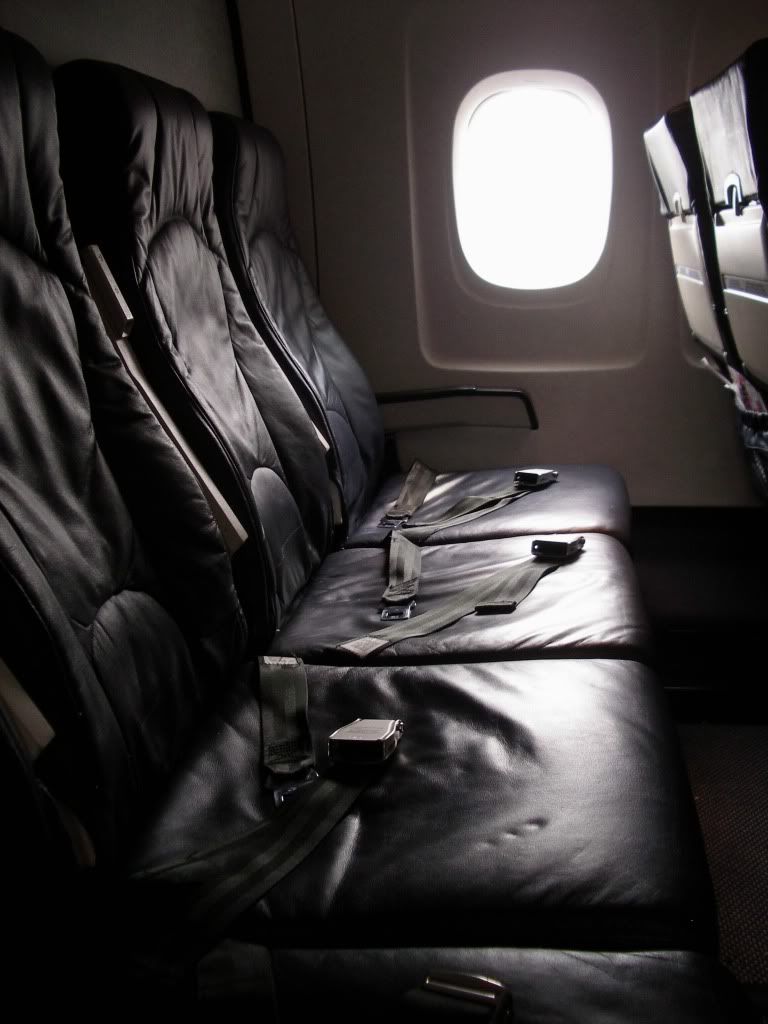 Seatback: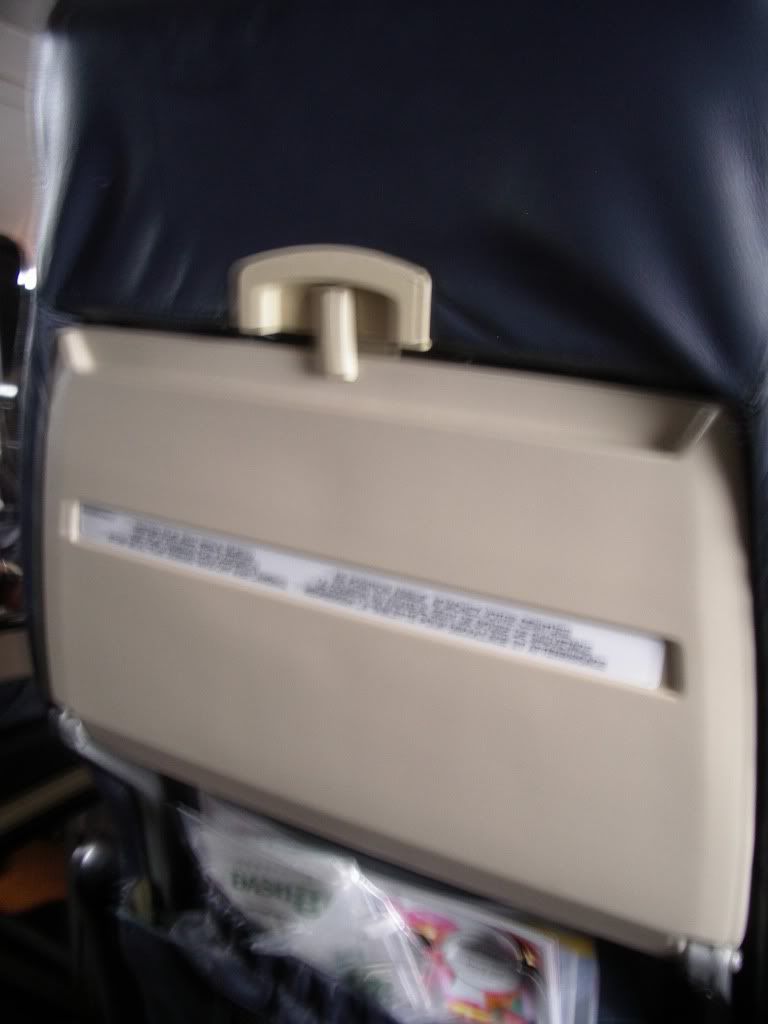 Taxi: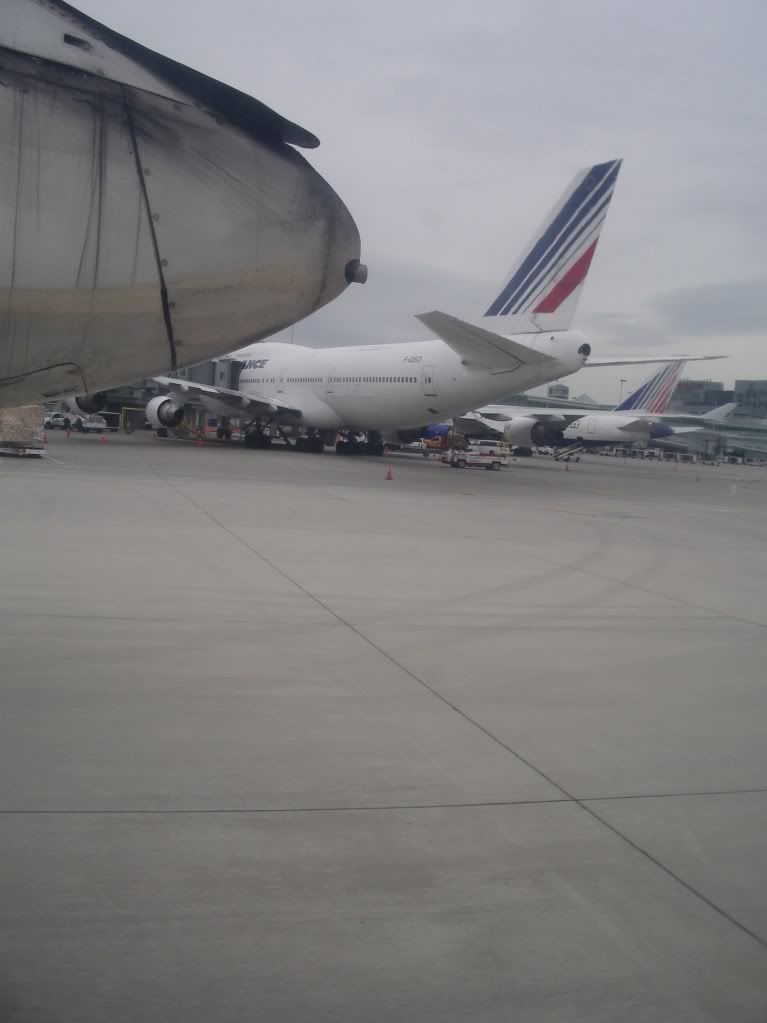 A quick departure from the 3368 meters runway 33R. The weather forecast announced heavy rain later in the day, so it looks, the sky was grey and dull.
Free beverages and snacks in service also on this short route.
Just departed: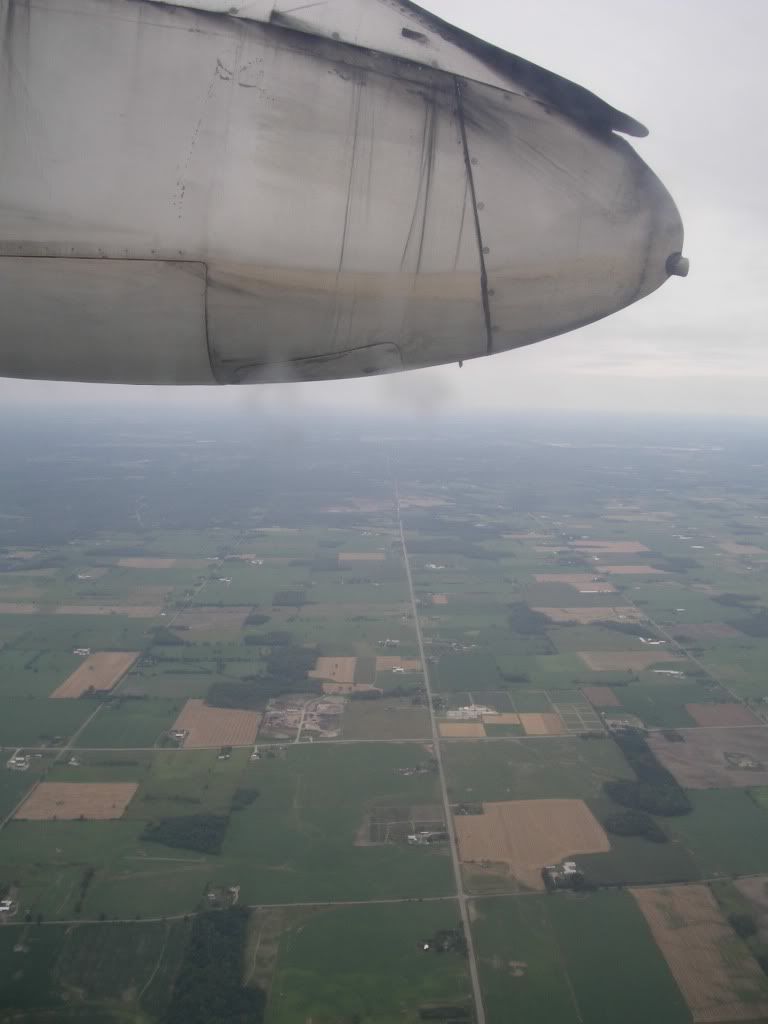 Heading for London:
Dirty engine:
Approach:
Closer: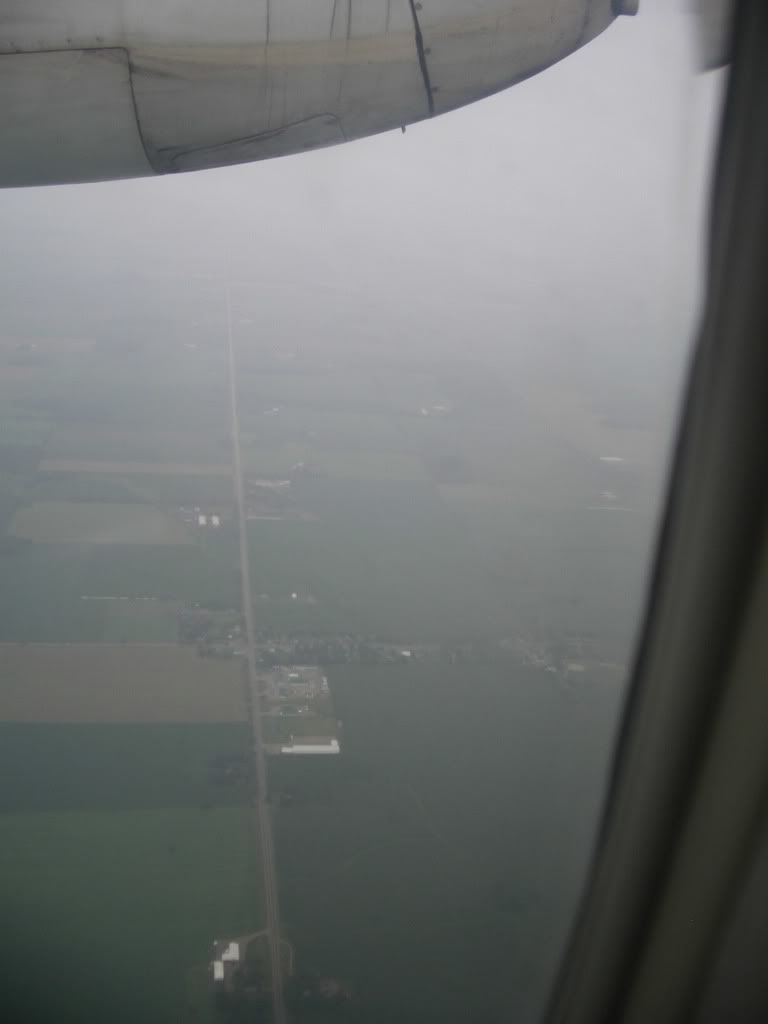 Low clouds: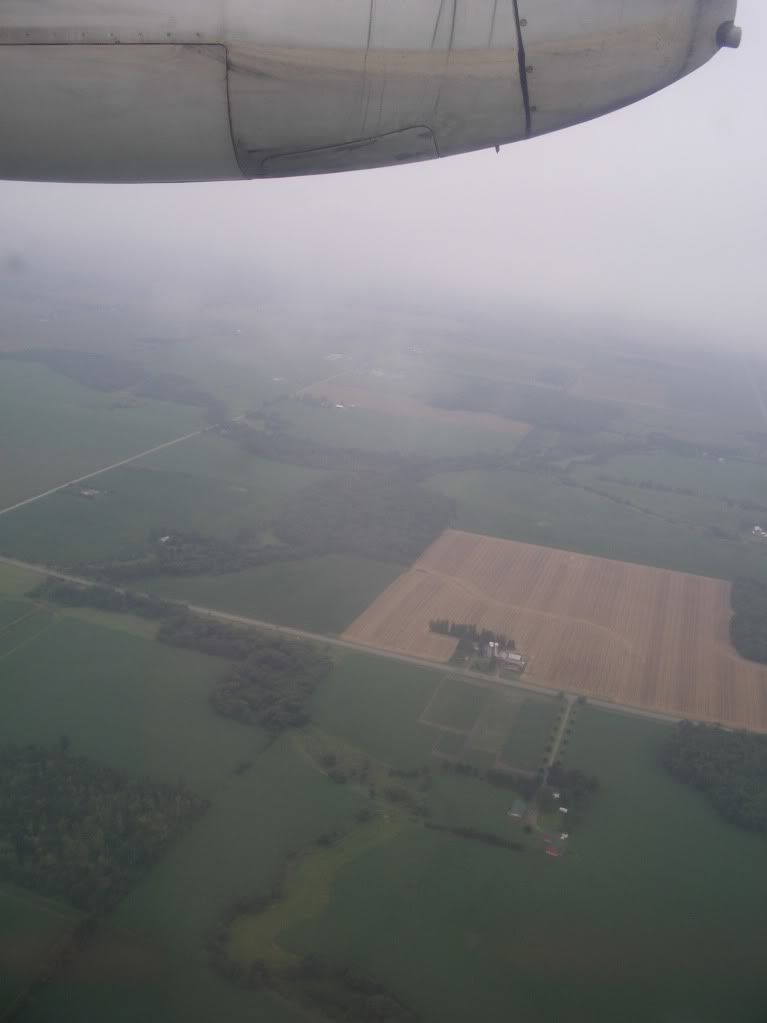 Gear down: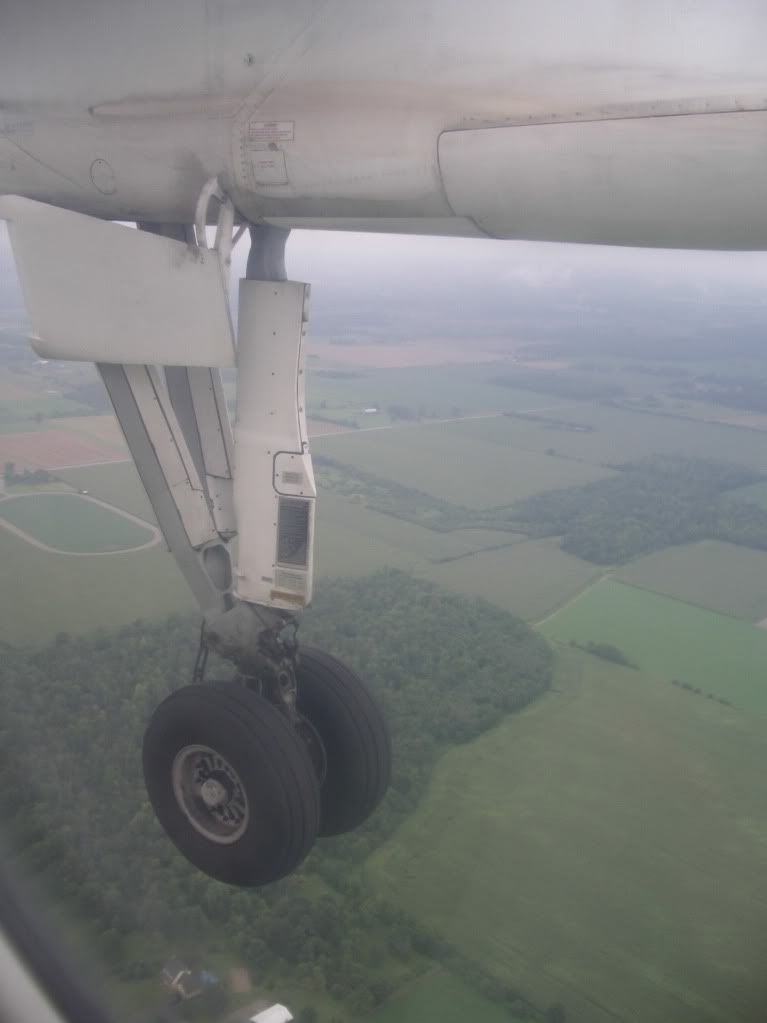 We´re going in the wrong direction, so it seems. More and more low clouds on approach to London where we touched down on the 2682 meters runway 15 in heavy rain.
Therefore not that much pictures from London, another new airport for my log.
Just landed: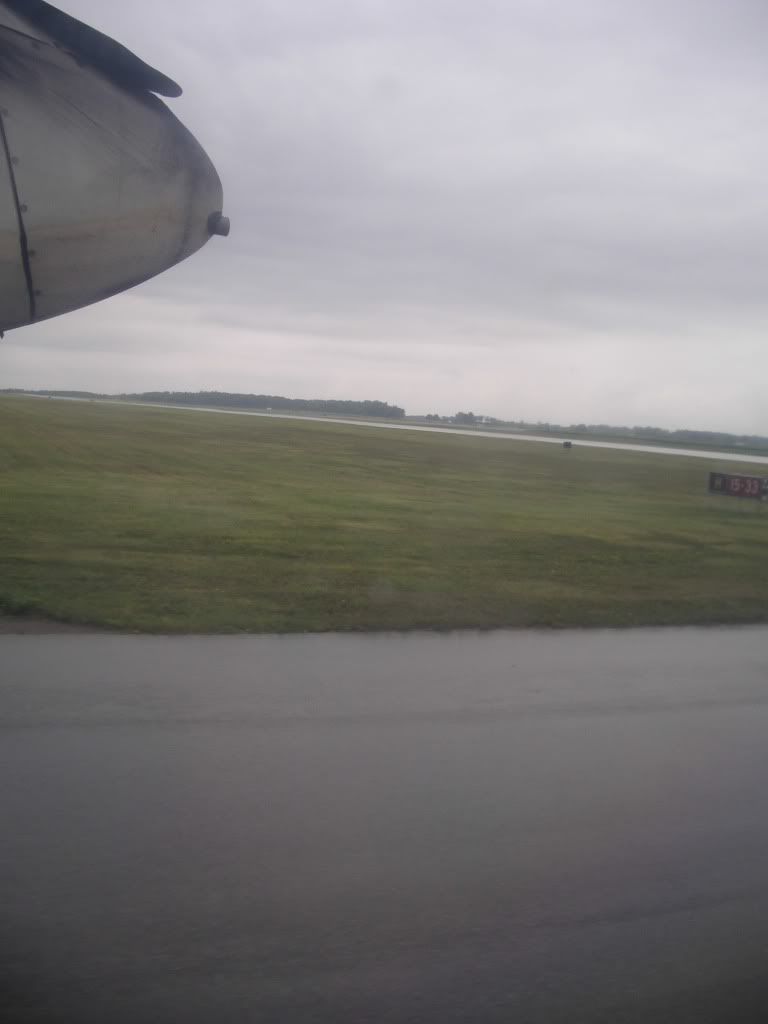 Wet here:
My machine: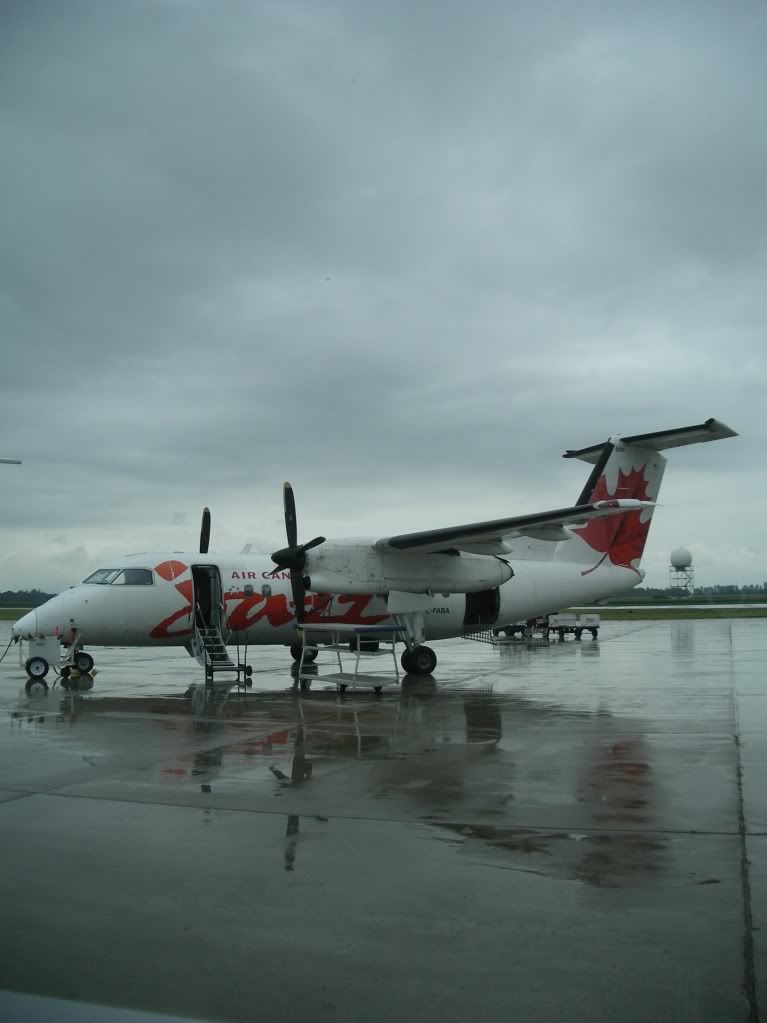 And again: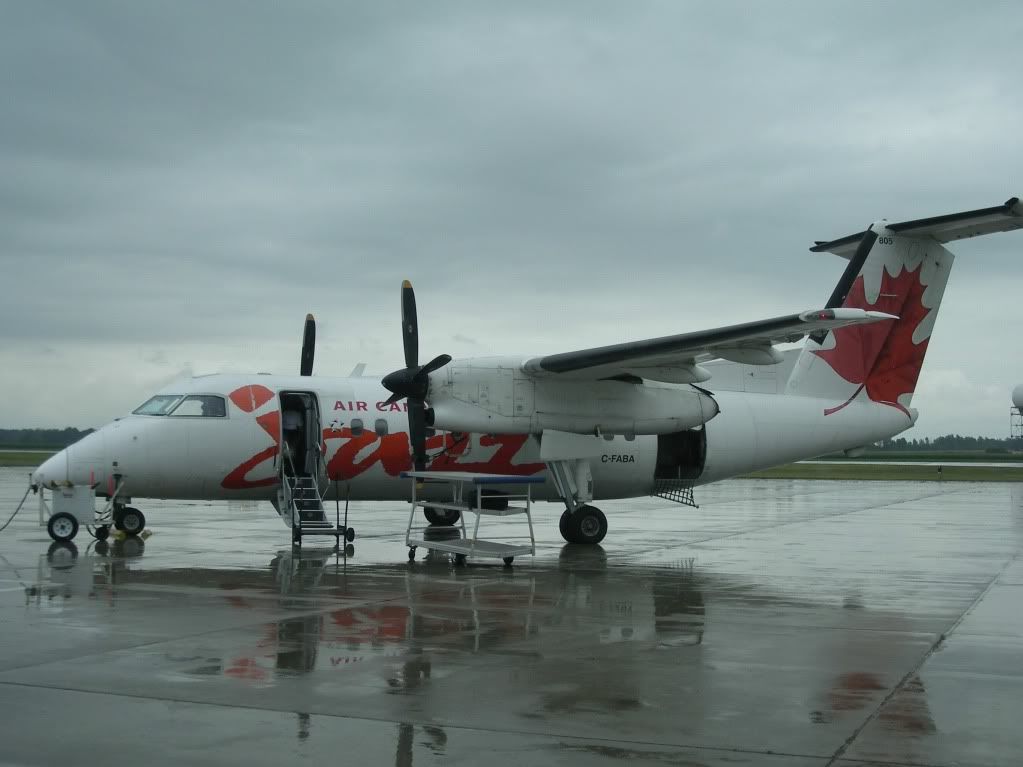 Once more: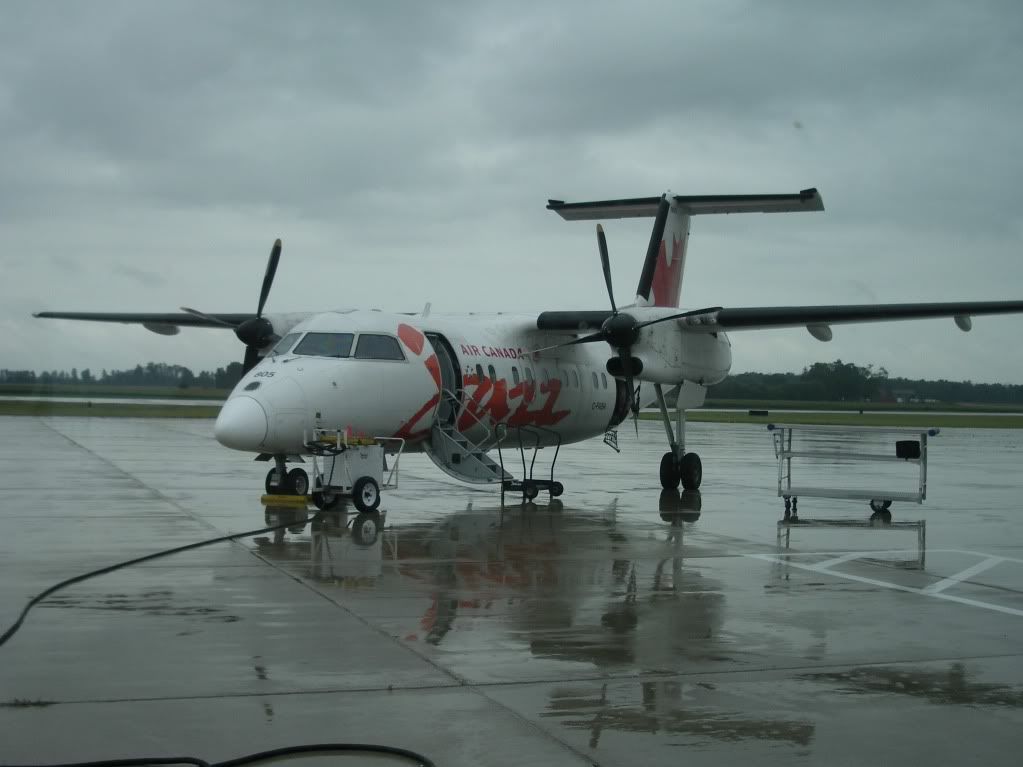 The terminal was larger than expected, but only a very few number of pax around.
YXU is no. 10 nowadays in terms of pax numbers around Canada.
Cabs waited under the roof, heavy rain, so time to go for the Via Rail Canada train station. The driver shuttled me directly to the entrance, arrived at around 3 pm, pretty ok for the 3.47 pm departure. The train was announced as ontime and so it was. The heavy diesel engine with that oldfashioned silver rail cars arrived as expected.
My service: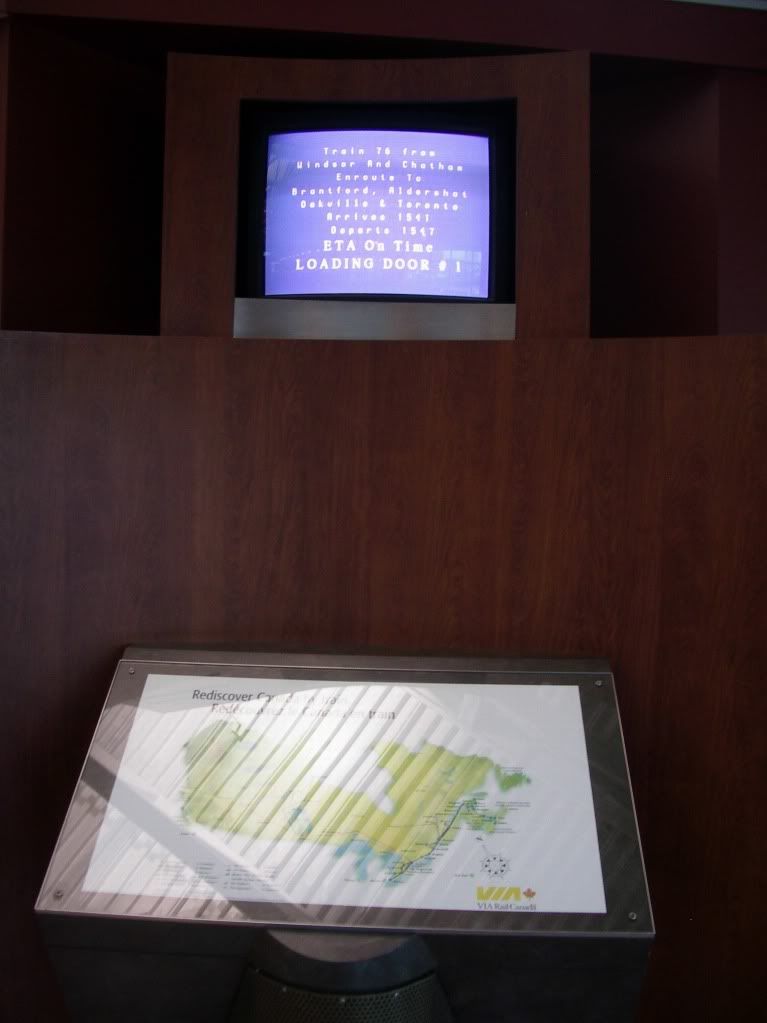 The engine: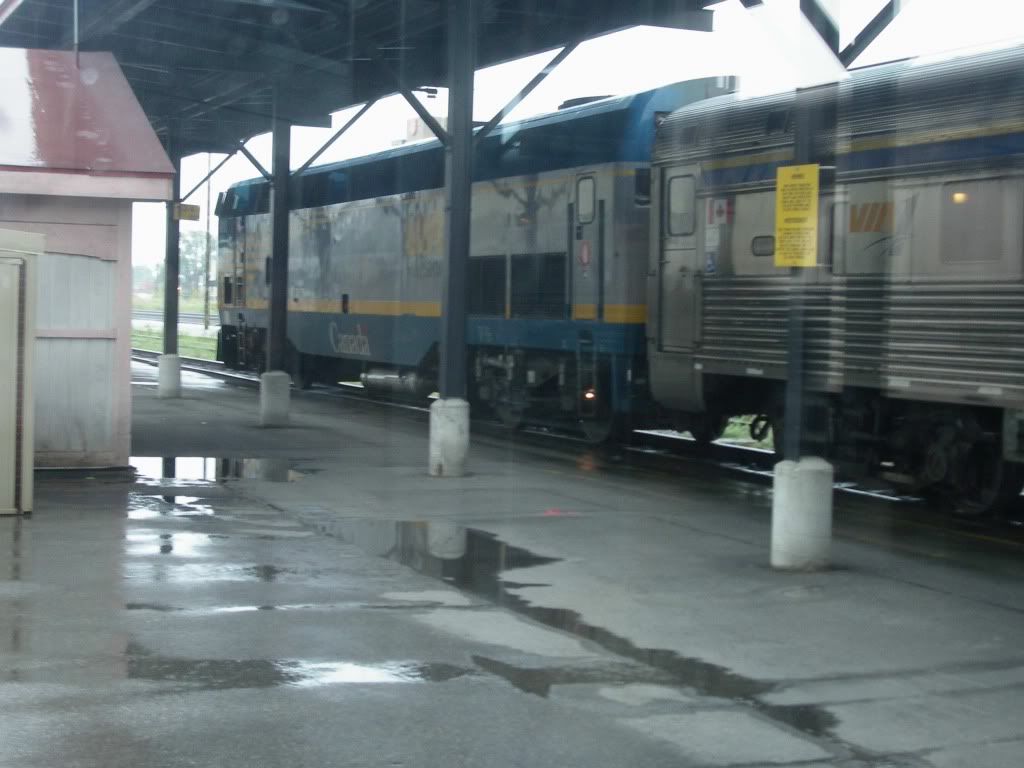 Classic rail cars: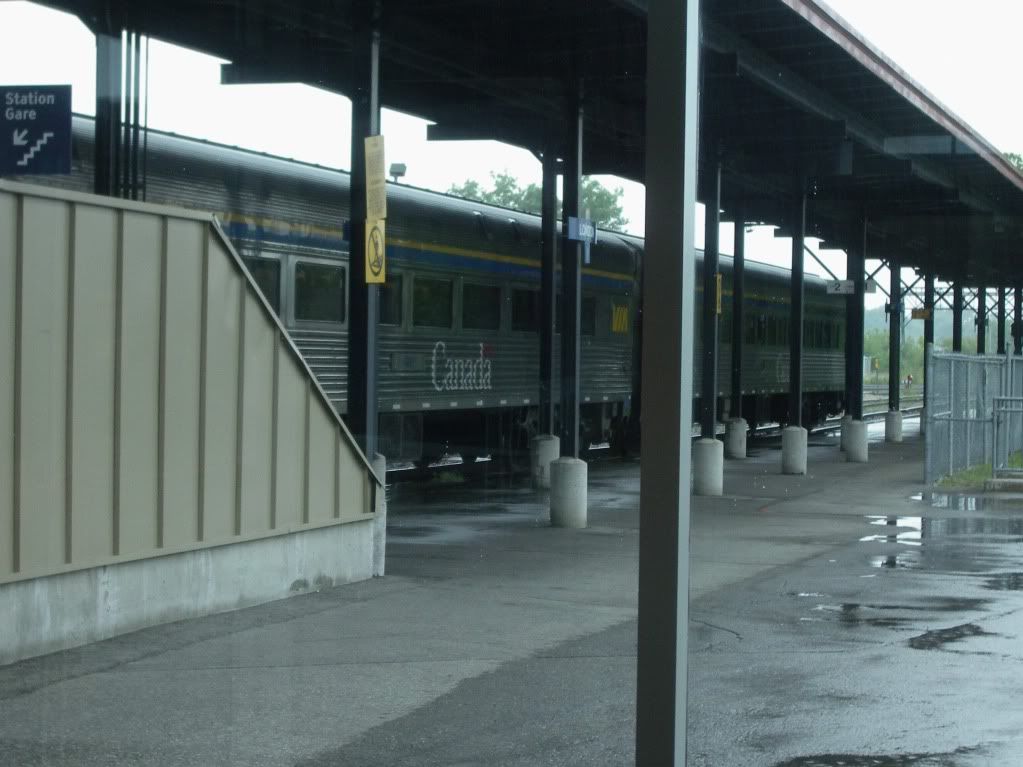 Really good looking, love it. A slow ride in comparison to European highspeed services along the rainy countryside let me also with only some minutes delay arriving at Torontos Union street station. It started to rain in Toronto also, the airport express departed beside the Fairmont hotel, the next one arrives soon thereafter and so I was on the way for the airport again.
City again: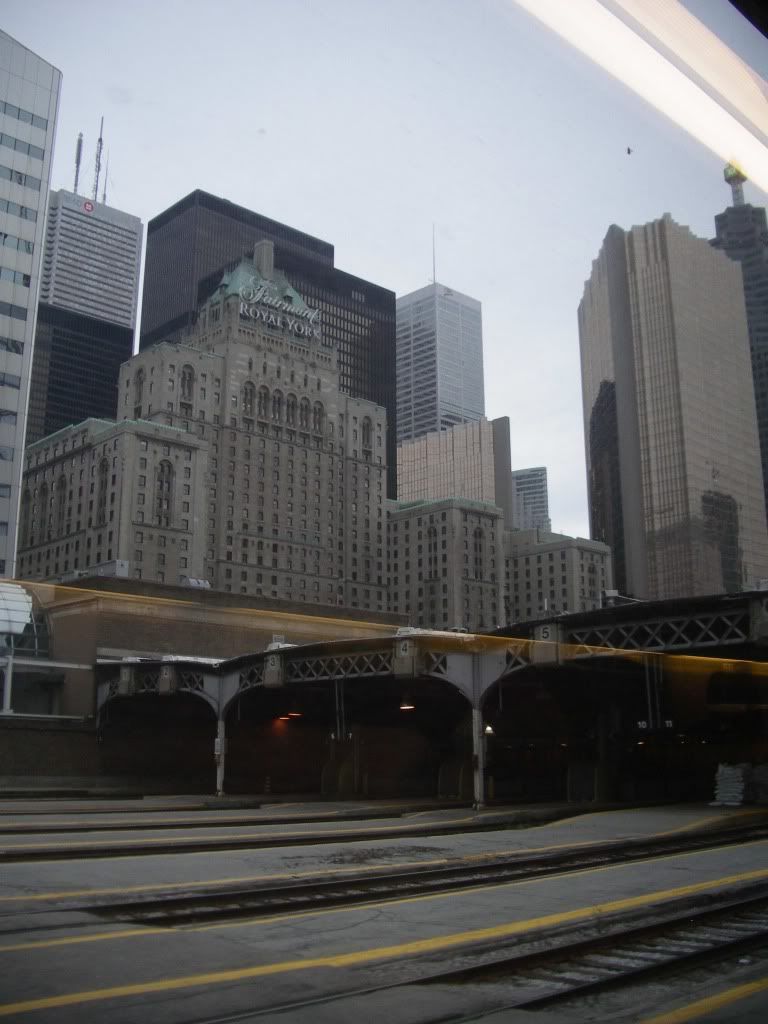 Union station:
Saturday, 08.08.2009
YYZ (Toronto-Lester-B.-Pearson-International) Rain, Temperature 17 degrees
FRA (Frankfurt-Rhein-Main) Cloudy, Temperature 26 degrees
Duration: 7 hours, 20 minutes announced
7 hours, 40 minutes actual

Service TS 190 operated by Air Transat
Scheduled: 23.00 // 12.45 (six hours time difference)
Actual: 23.45 // 13.25
Gate: C37 Seat: 31B
Load factor: 100%
I was not amused after arrival at the airport. Masses of people especially around the SATA counters for Ponta Delgada, Lissabon and Porto and also at the Thomas Cook counters with several flights to the UK.
A quickly bag collection, joining the shorter line´s for TS, but it was nevertheless some 30 minutes till check in and the line improve´s heavily during my wait.
A nice young female agent accepted my bag and checked the seatmap for me, no more free window´s at the two seaters in the rear of the cabin, only at the three seaters more upfront. 31B was a two seater last row aisle, accepted with the nighttime flight.
Not a minute at security and in the gate area with lots of time to spend till my departure.
The board: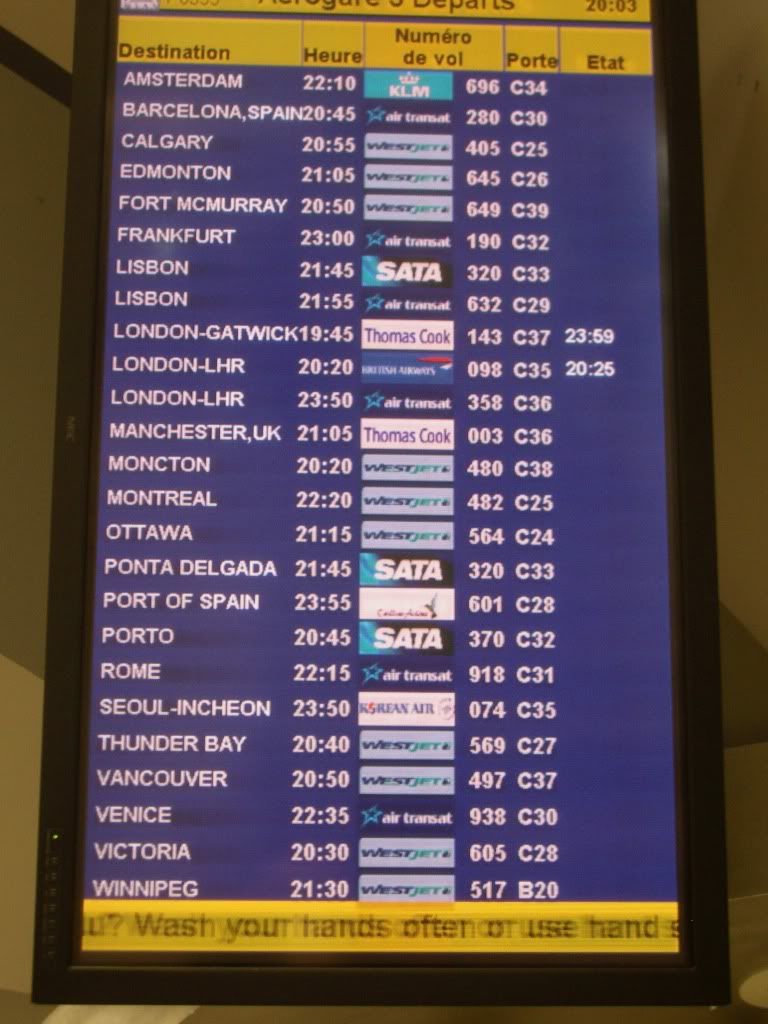 Oldfashioned seaters, lots of pax around, also BA and KL with the 747´s used T3 and several TS heavies to european destinations.
Night falls, so not that good photo chances, for a short time I saw five A313´s machines, two SATA and three TS together, a long gone sign in middle Europe.
SATA just arrived:
Also a nice machine:
My machine arrived a little late from Montego Bay, Jamaika, lots of police and customs officers around.
Nightly arrival: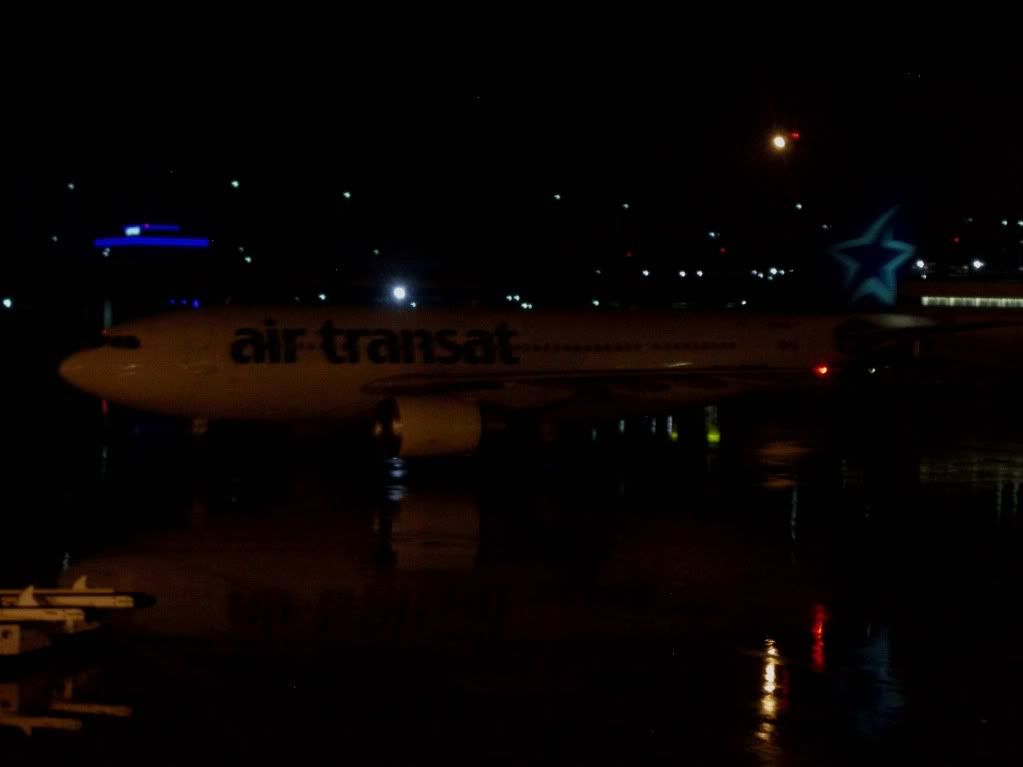 At the gate: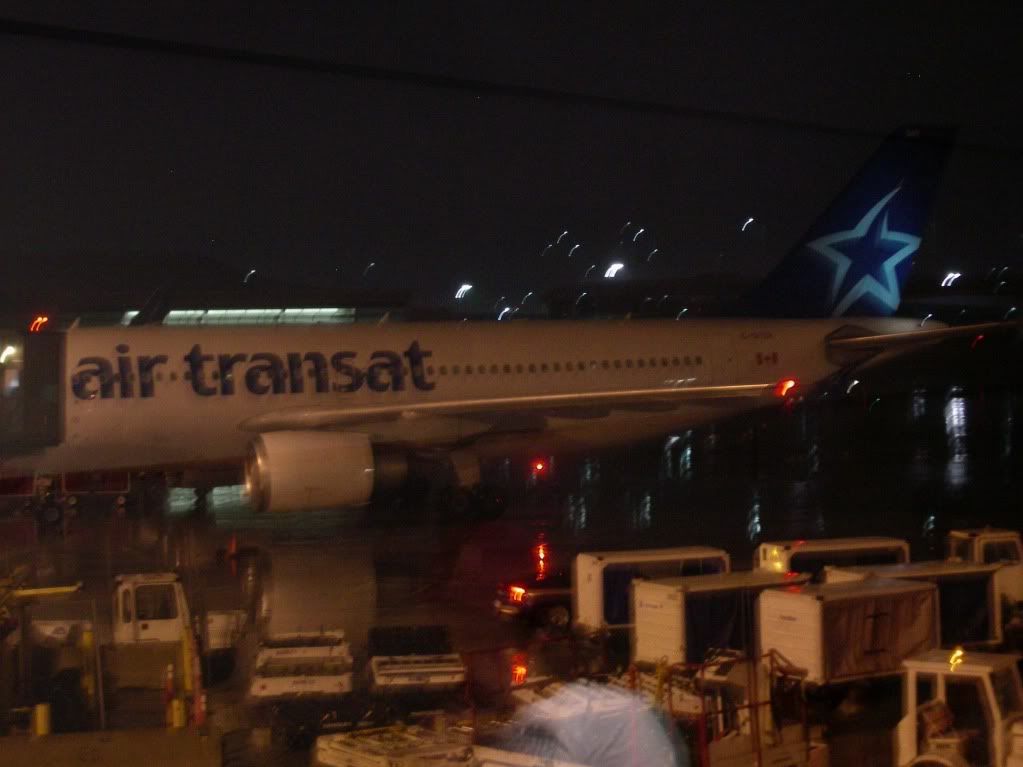 It was the scheduled A310-300, again C-GTSX, but what the heck, its an A310-300 anyway.
Boarding was therefore also late.
Leg no. 10 for me and the second on this machine, the details covered during story no. 1.
Five female and two male FA´s, also here mostly friendly staff.
The cabin fitted with the oldfashioned and well used leather seaters, clean so far, good legroom.
Cabin:
Cockpit crew was from Canada, the captain with very detailed and friendly informations twice during boarding.
We also had to wait for bag offloading with three missing pax.
Departure from the 3389 meter´s runway 23 in direction Ottawa-Montreal-Labrador, more south of Greenland than inbound-Belfast-BHX-RTM-CGN-DUS.
Flightlevel 37000 feet.
Service was a hot meal after departure, too much time till the meal, from my point of view and a muffin prior to arrivals.
Main service: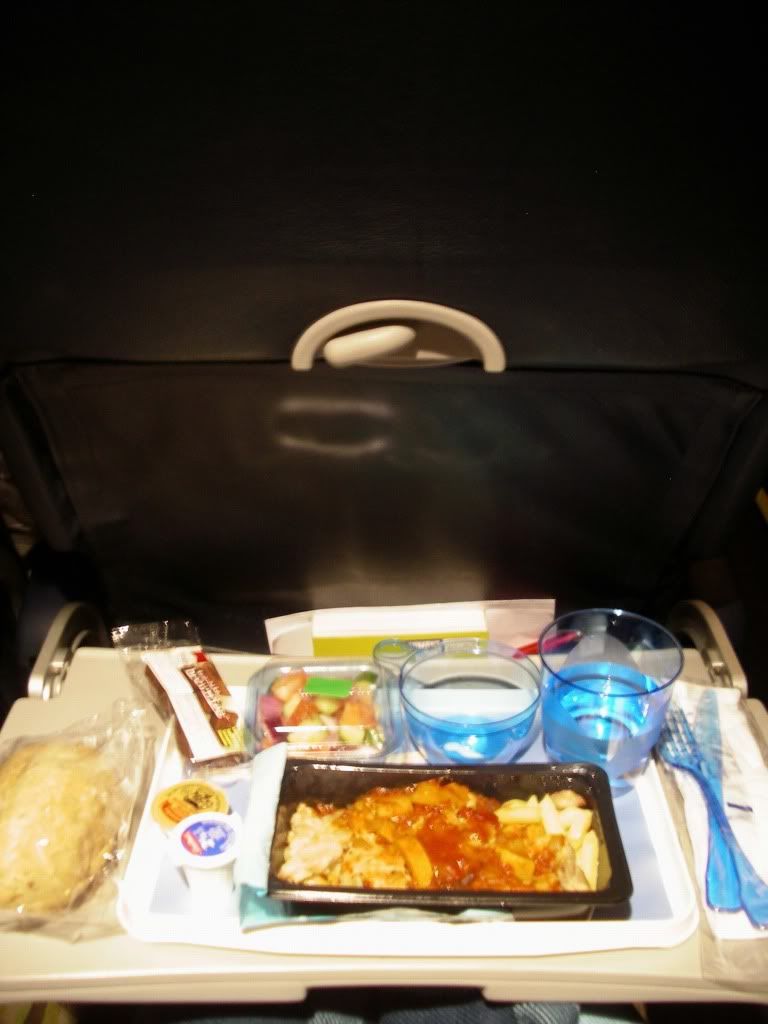 Breakfast: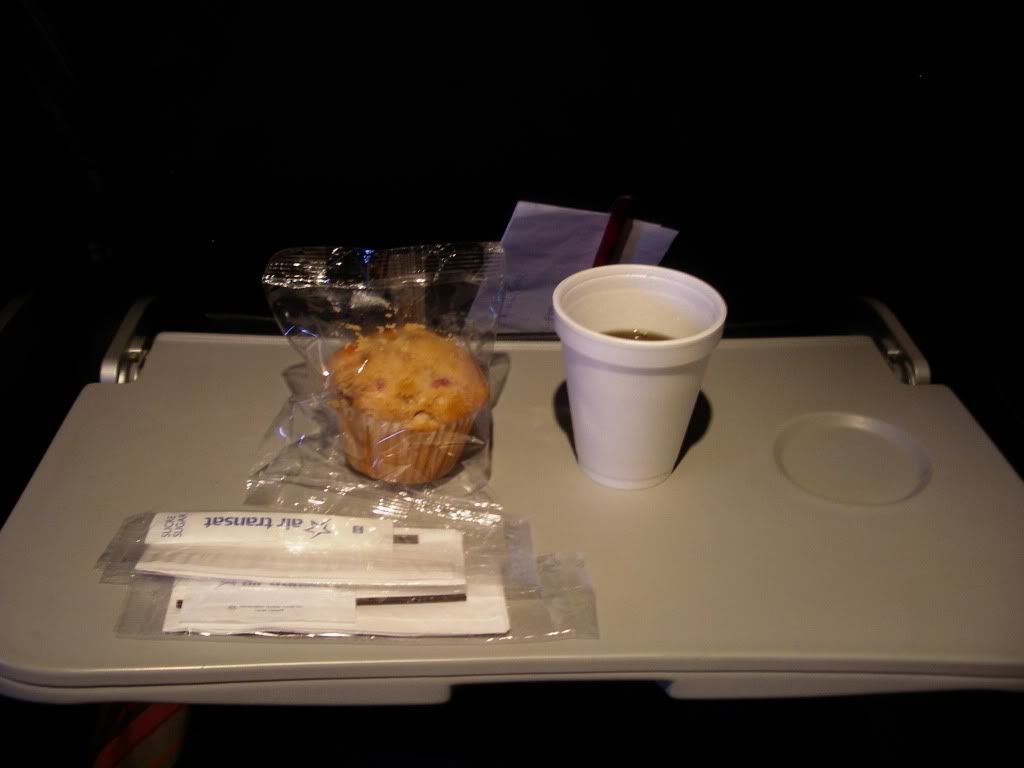 And it was far to cold during the nightflight for my well being.
Touchdown on FRA's 4000 meter runway 25L around one hour late, a long taxi till our gate at Terminal 2 and back in good old Germany again.
Back in FRA: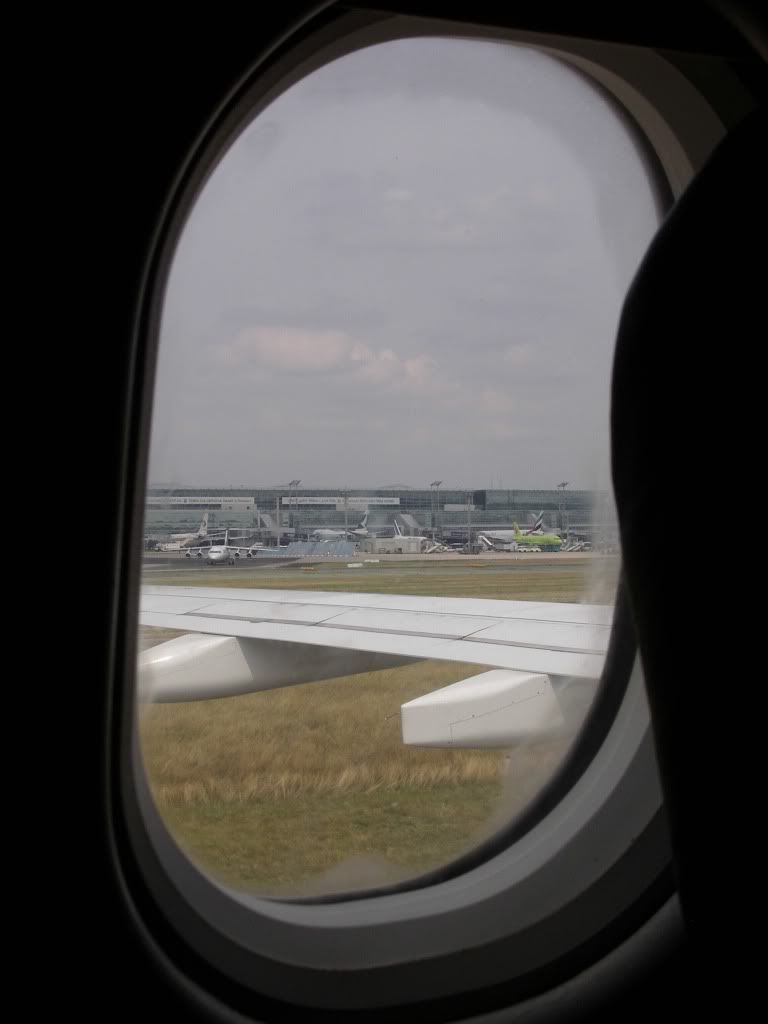 I had a nice chat with a young female FA during wait for deboarding, my point with the cold cabin was accepted, she told me that also she feels cold, but the lead FA
done the decision and she was ok with the temperature.
At the gate:
FRA border controll impressed me once again.Three counters open for non eu citizens with long lines of waiting pax and only one for all EU citizens, with also a long line,
that means some ten minutes to wait and also some ten minutes more for my bag.
Shuttled back to my car and arrived with a good number of new impressions back home.
Well, I love that ultra classic silver Via Rail Canada rail cars!.
AC Jazz was ok in terms of service and ontime, with the interesting Dash 8-100 and TS and the A310-300, ok so far.
Next time I will take my sleeping back with me!.
And now?. Another London, under or above the channel, that will be the question for the next ride!.
Comments welcome,
Markus (FLIEGER67)