On Par with Air France?
DTW-AMS-MUC on KLM A330-200 & 737-300
Intro
The third and last part of my latest trip reports series covers the DTW-AMS and AMS-MUC sectors on KLM's A330-200 and 737-300. After an outstanding CDG-ATL flight on Air France the key question was whether KLM would be on par with its larger family member. All those who have missed parts 1 & 2 simply need to click here:
Champagne & World Of Coke: Air France A340 To ATL
Goodbye, Red Tails! DC-9-40/50 & Chicago Tour
Background
In early January my brother and I decided to go on a short sightseeing trip to the United States. We weren't fixated on a certain city, but my brother suggested to integrate Chicago. Numerous airlines offered attractive fares for mid-February, but the cheapest options on US Airways and British Airways couldn't impress me. Finally I found some interesting options on AF/KL/NW, including the DC-9. Now I sniffed a chance to get what I missed two years ago: the DC-9-50. I continued searching and suddenly an entry on NWA's website caught my attention: an ORD-DTW flight operated by a rare DC-9-40. Honestly, I hadn't ever tried to find those, because I had never seen them separately in the NWA timetable. However, they did now indeed show up in the system. Now I still had to solve an old problem: How to include the DC-9-50, too?

I continued searching, probably for several hours. In the end I hadn't only found the desired DC-9-40 and DC-9-50, but also a (Delta) MD-88 which was also missing in my log. The long-haul sectors would be operated by Air France and KLM, airlines which I had flown several times before. And I had also been on the A330-200 and the A340-300 several times before. However, I hadn't boarded an Air France A340 and a KLM A330 yet. An A318 also showed up on the MUC-CDG sector, but I had already flown that type before. So I finally booked the MUC-CDG-ATL and ORD-DTW-AMS-MUC sectors on AF%u2019s website and added an ATL-MEM-ORD trip on orbitz.com. Final price: 490 Euro.
Tuesday, 17 February 2009
Detroit (DTW) - Amsterdam (AMS)
KLM KL618
21:15-11:05 (21:10-10:47)
Flying time: 07:19 (hrs)

Airbus A330-203
PH-AOD (MSN 738), named "Piazza del Duomo - Milano", delivered in 04/2006
Economy Class, Seat 37A
Aircraft & Cabin Comfort
After our arrival from Chicago on the DC-9-40 we walked straight to our gate. A KLM A330-200 was already being prepared in the darkness for flight KL618 to Amsterdam - it was
PH-AOD
, delivered in April 2006:
Friendly flight attendants in the famous blue KLM uniforms welcomed us on board and we walked down to row 37. The relatively new seats weren't as comfortable as the (old-style) models on the Air France A340 - and not as comfortable as on the KLM 772.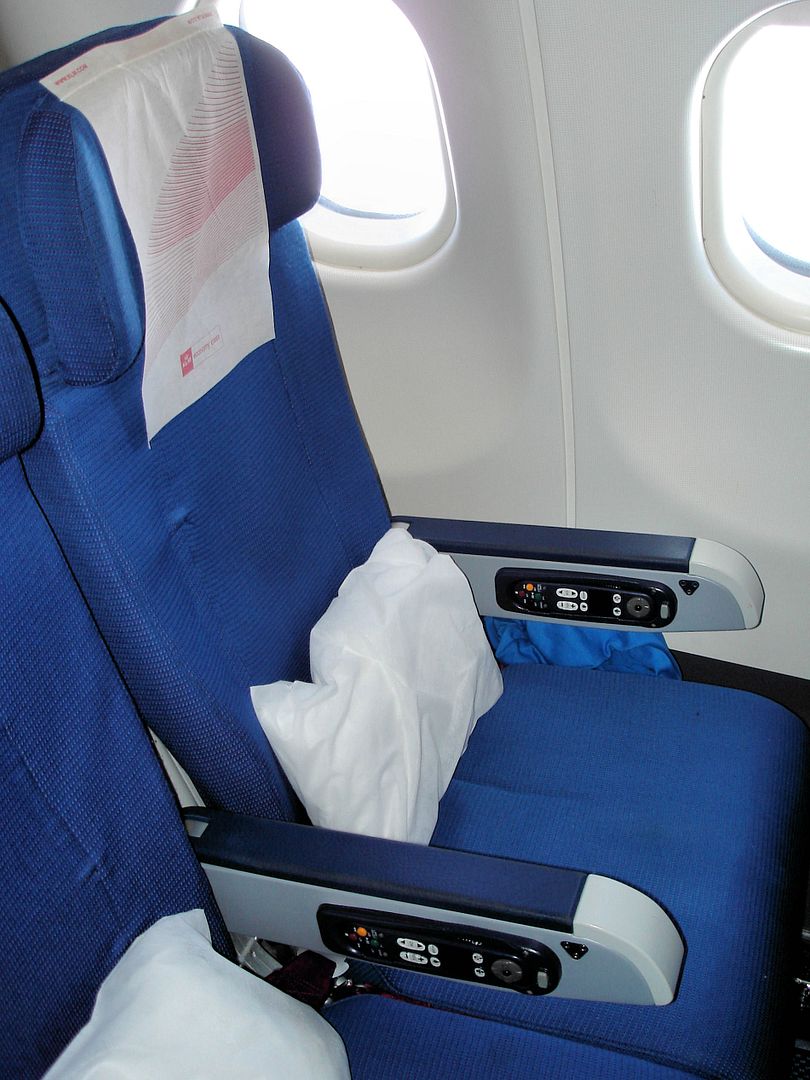 Small PTVs:
Seat pitch was about the same as on the Air France A340 and the KLM 772, but the larger IFE box reduced the legroom significantly. It's interesting to note that the IFE boxes on KLM's 772 are located under the aisle seats and not under the window seats.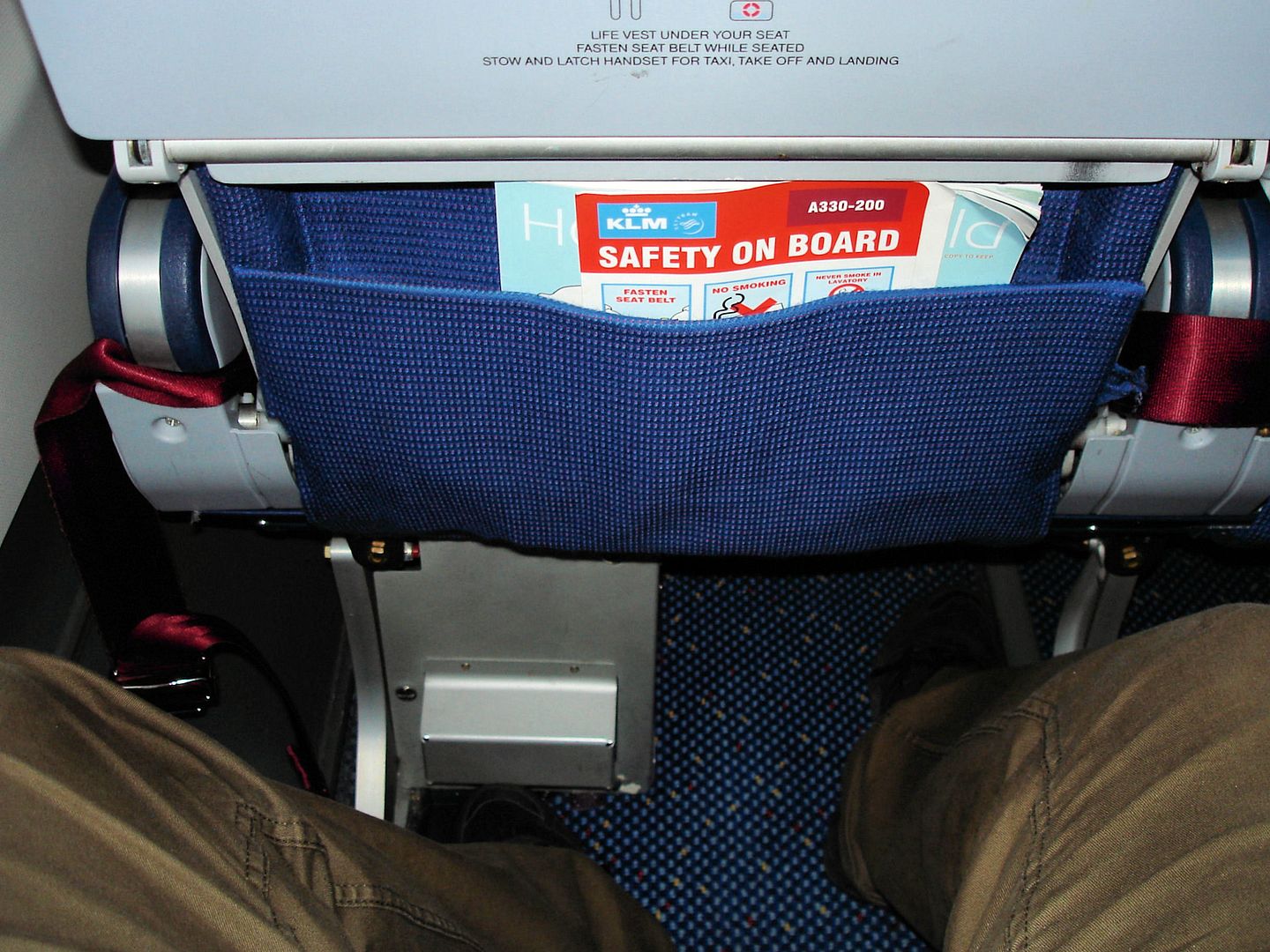 Welcome screens: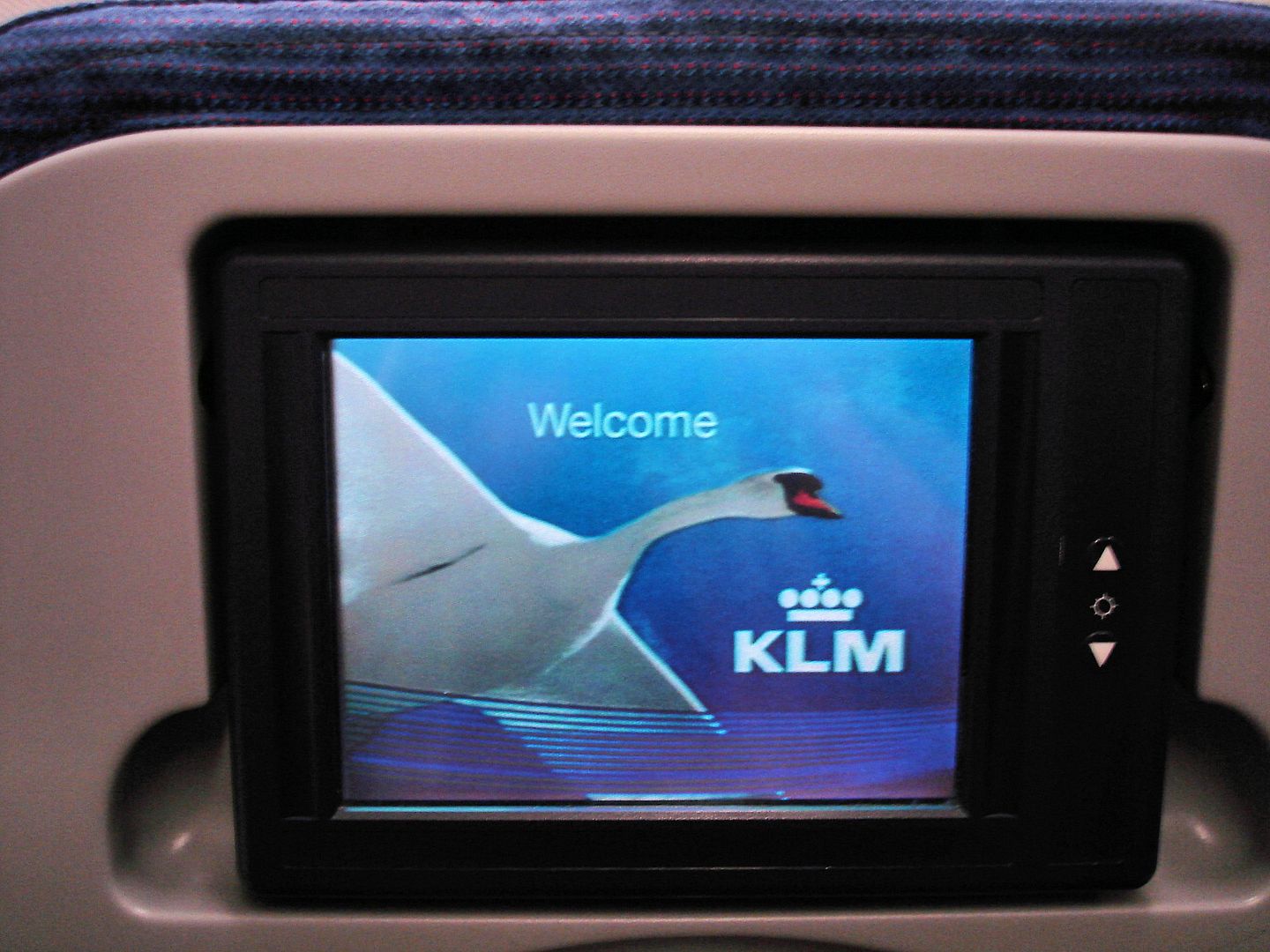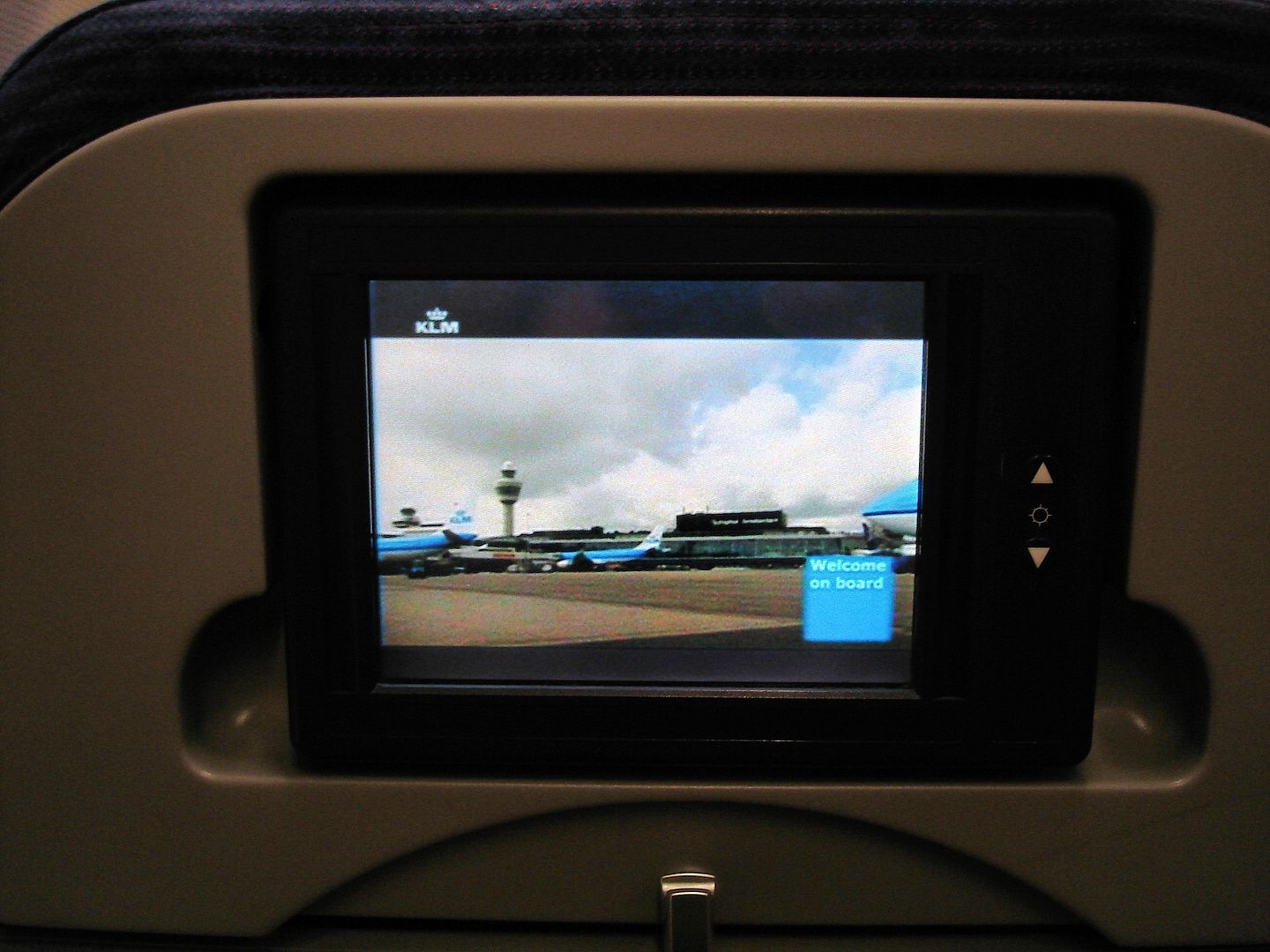 Cabin shot
(taken later in the flight)
:
Seat Change Prohibited
My brother who is considerably taller than I felt really uncomfortable in his seat. It was soon clear we would depart with many empty seats in Economy Class and so he suggested to move to a nearby row with two empty seats. I asked a senior female flight attendant whether boarding had been completed and told her about the seat problem. She was very friendly, but advised us that switching seats would be allowed only after take-off and referred to weight balancing. Shortly afterwards there was even a cabin announcement about that issue. I was a bit confused because I had never noticed such a policy on another carrier.
However, within the following minutes other passengers started to switch seats and the number of empty rows was decreasing. My brother was concerned that he wouldn't find an empty row after take-off, so he simply switched, too. Then an older male flight attendant showed up and immediately asked - even a bit rudely:
"Sir, didn't you hear the announcement?"
He sent my brother back and added that the very row had already been reserved for other passengers. However, he didn't send others back to their original seats. Now I stopped a younger female flight attendant who was passing by and told her about the fact that numerous passengers had switched, too - without consequences. And I asked why others had been able to "reserve" empty seats. Then she immediately offered to reserve a seat for my brother in the row behind us. We agreed and she took out a pen and marked a head rest cover.
IFE
We left the gate early and soon climbed into the night sky. There wasn't much to see outside so I had a look at the AVOD IFE system. It's not as funky as the systems offered by Emirates or Singapore Airlines, but it still offers a large selection of entertainment options.
Main menu:
These are the highlights:


- More than 80 movies, available in different languages

- Dozens of TV features

- Hundreds of music tracks (incl. playlist builder)

- 24 audio channels

- 20 video games

- Classic airshow channel

- Email/SMS service

- Berlitz language courses (23 languages)

The system was easy to operate, but the hand-held-only control was not as user-friendly as the touchscreen and hand-held control on the AF A340.
Snack
Shortly after departure drinks and almonds were served:
Dinner? No thanks!
I hadn't been feeling well all day - probably I had eaten too much and too late on the evening before. In order to take care of my upset stomach I continued to stay away from any food - and for the first time I rejected an airline meal. To be honest, it wasn't easy to tolerate the smell of food in the cabin...
When the situation got worse I went to the galley and asked for some medicine. Both the old and the young female flight attendants who I had talked to earlier promised to help and soon gave me some pills. And luckily, these really helped.
I was glad to find out that my brother had taken a picture of his meal. Here it is: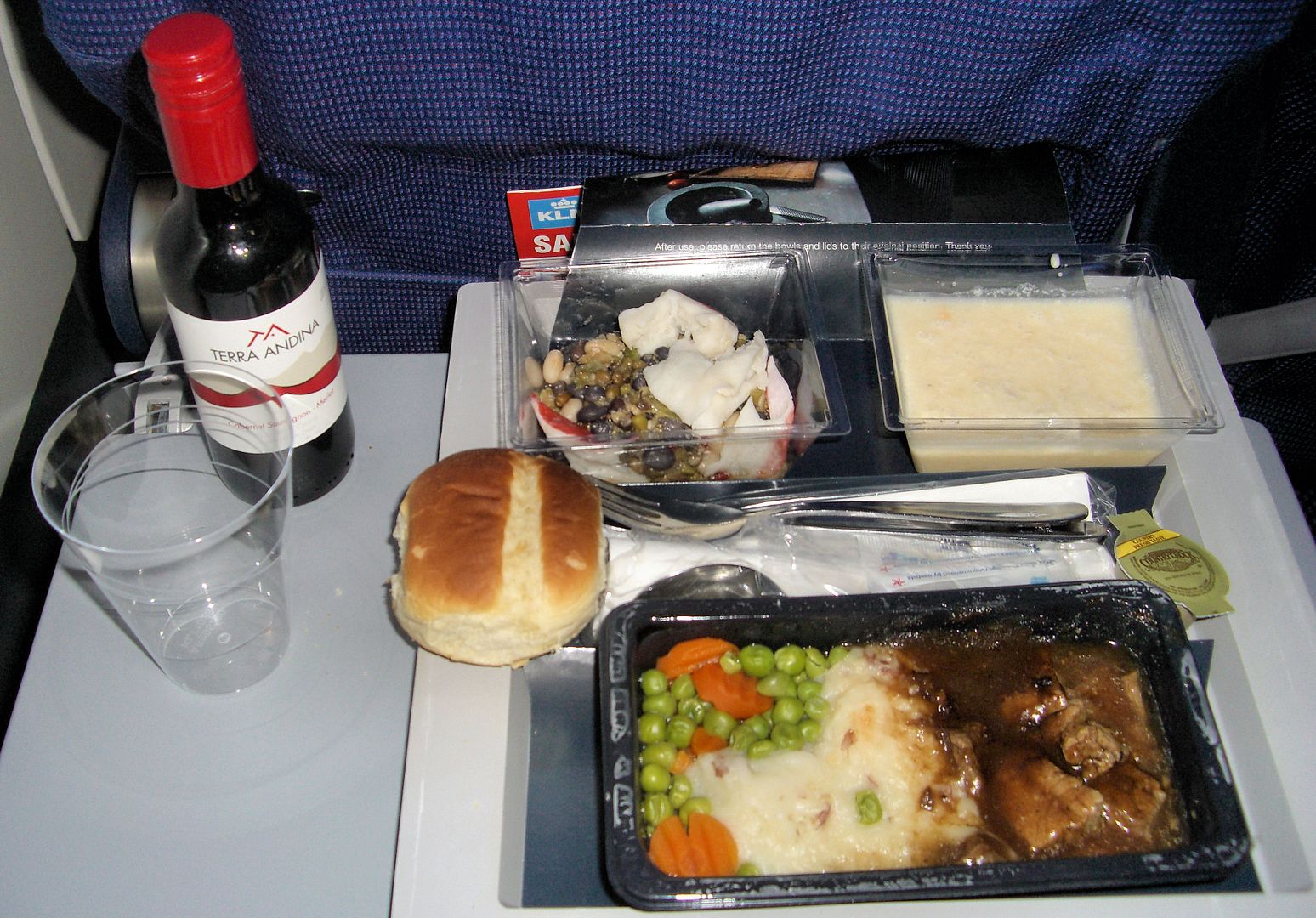 The presentation was poor and the portion was quite small – however, according to my brother, the taste was ok. Unfortunately, I cannot go into detail about the available options and the specific courses.
Breakfast
I found some sleep after the cabin lights had been dimmed. Later I killed the time by exploring the IFE system. Some 90 minutes before landing the flight attendants started serving breakfast. The sky was full of clouds this morning: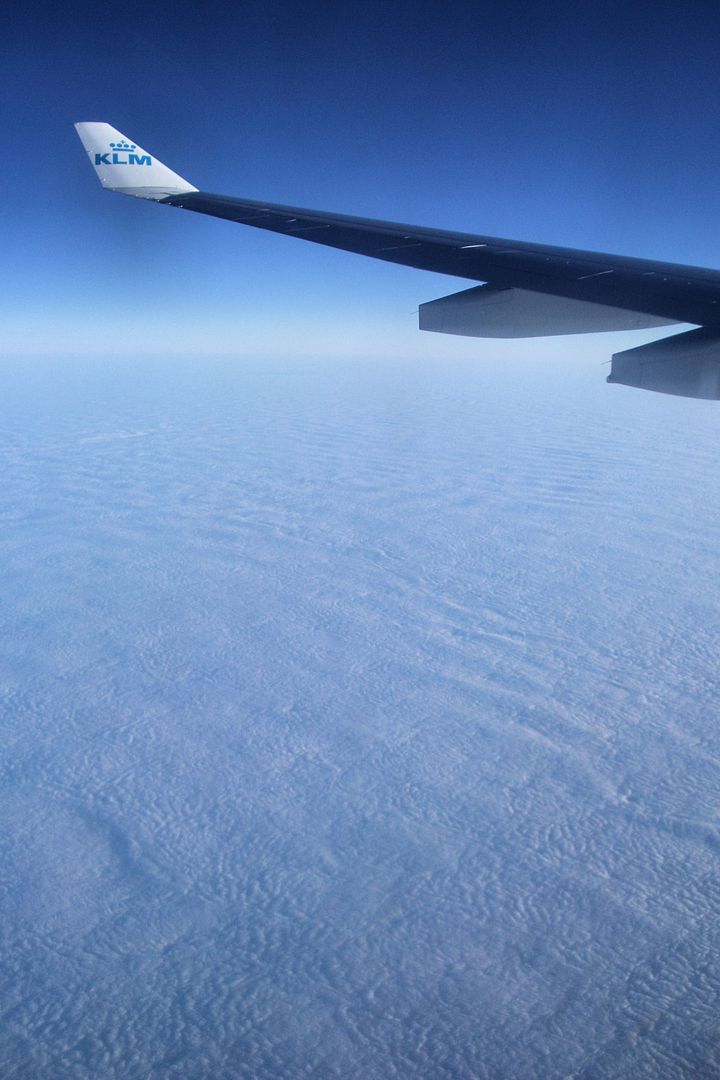 The older female flight attendant asked me how I was feeling and asked whether I wanted to eat anything. It was a light breakfast, so I agreed. Again, the presentation was quite poor: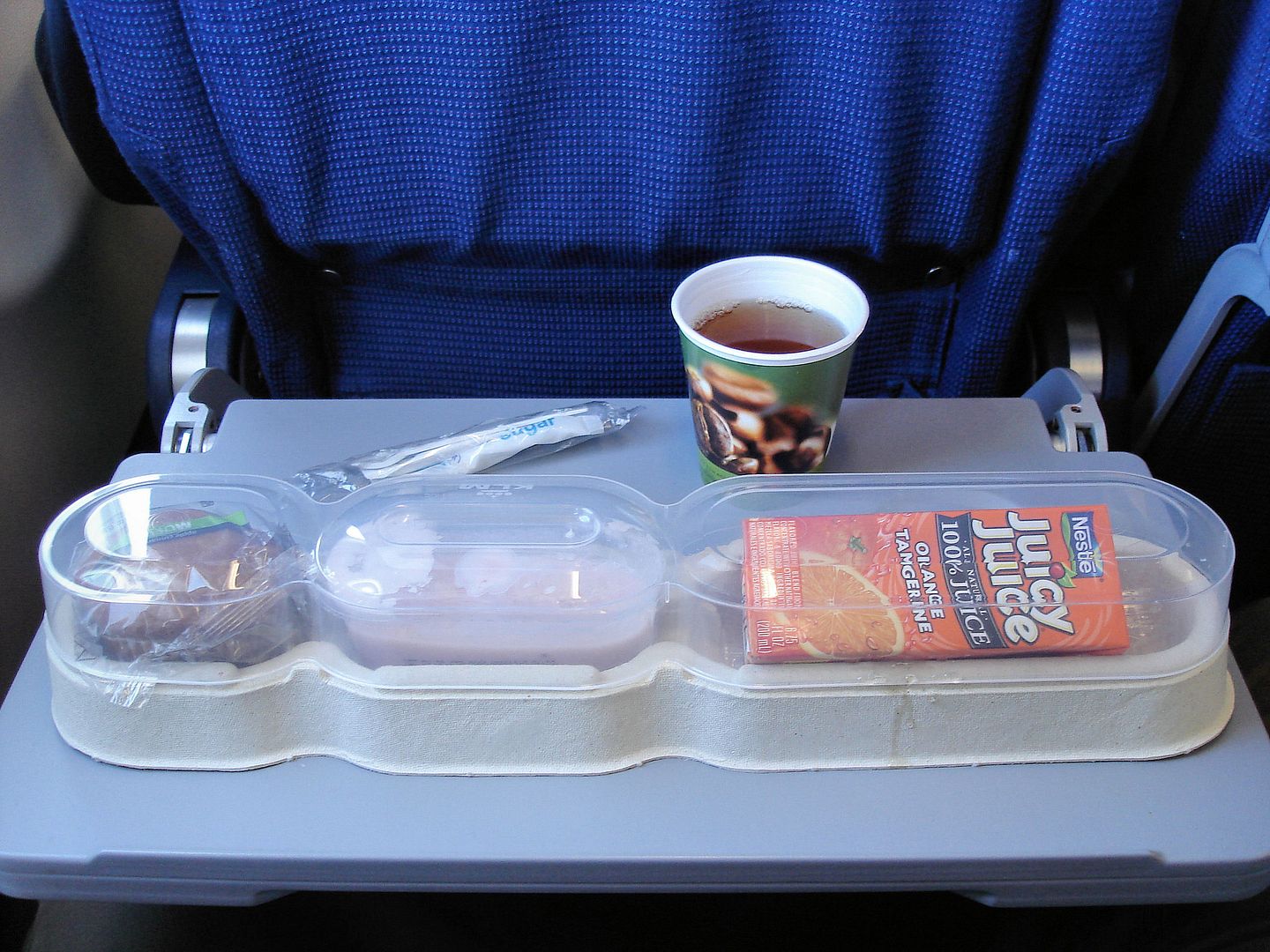 Both the strawberry yogurt and the muffin weren't bad, though. The portion was just right for me in that special situation - but otherwise it wouldn't have been enough.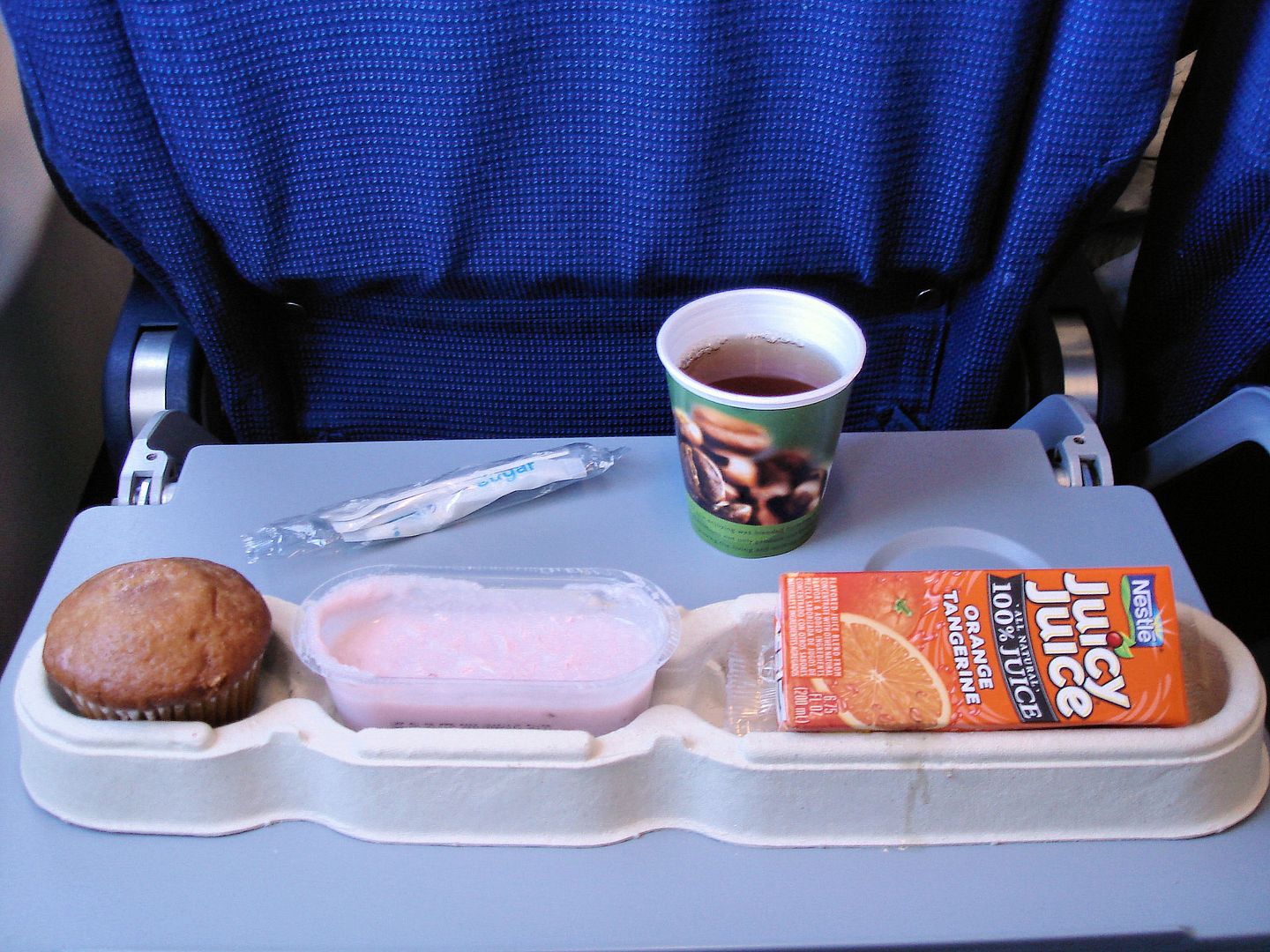 Approach & Arrival
Roughly an hour after breakfast we crossed the Dutch coastline...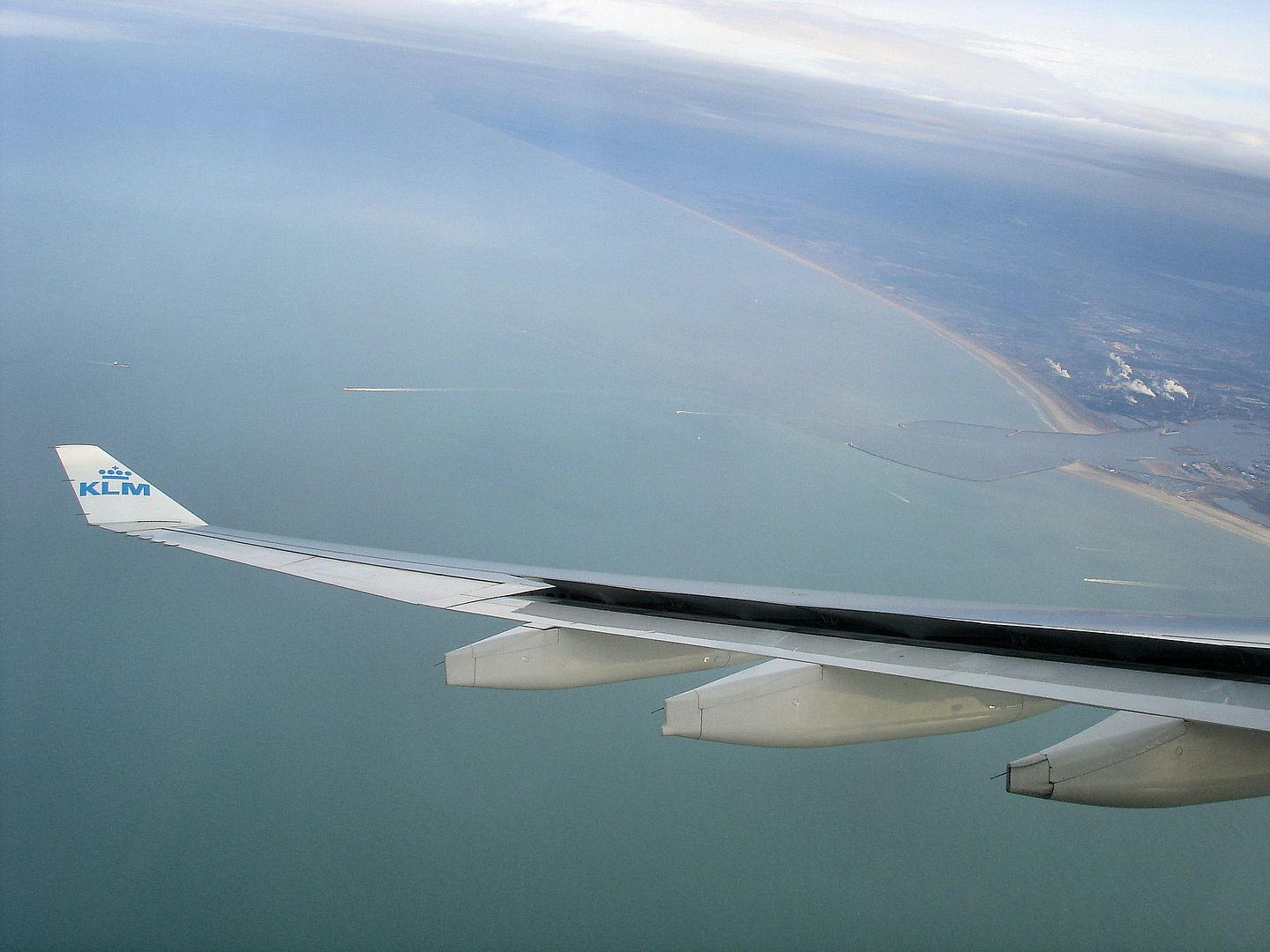 ...and huge port facilities: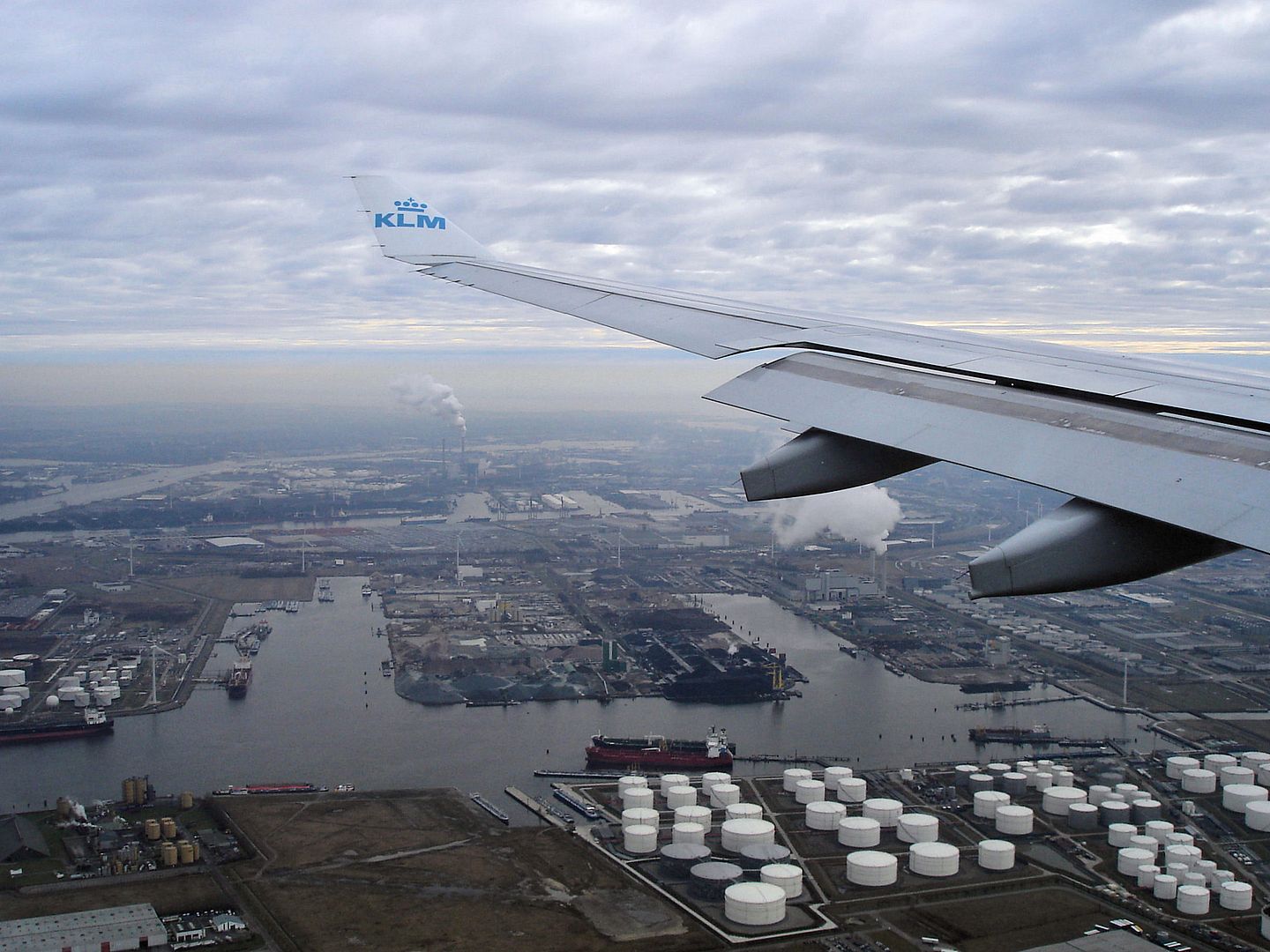 PH-AOD
touched down at Amsterdam Schiphol 7 hours and 19 minutes after take-off: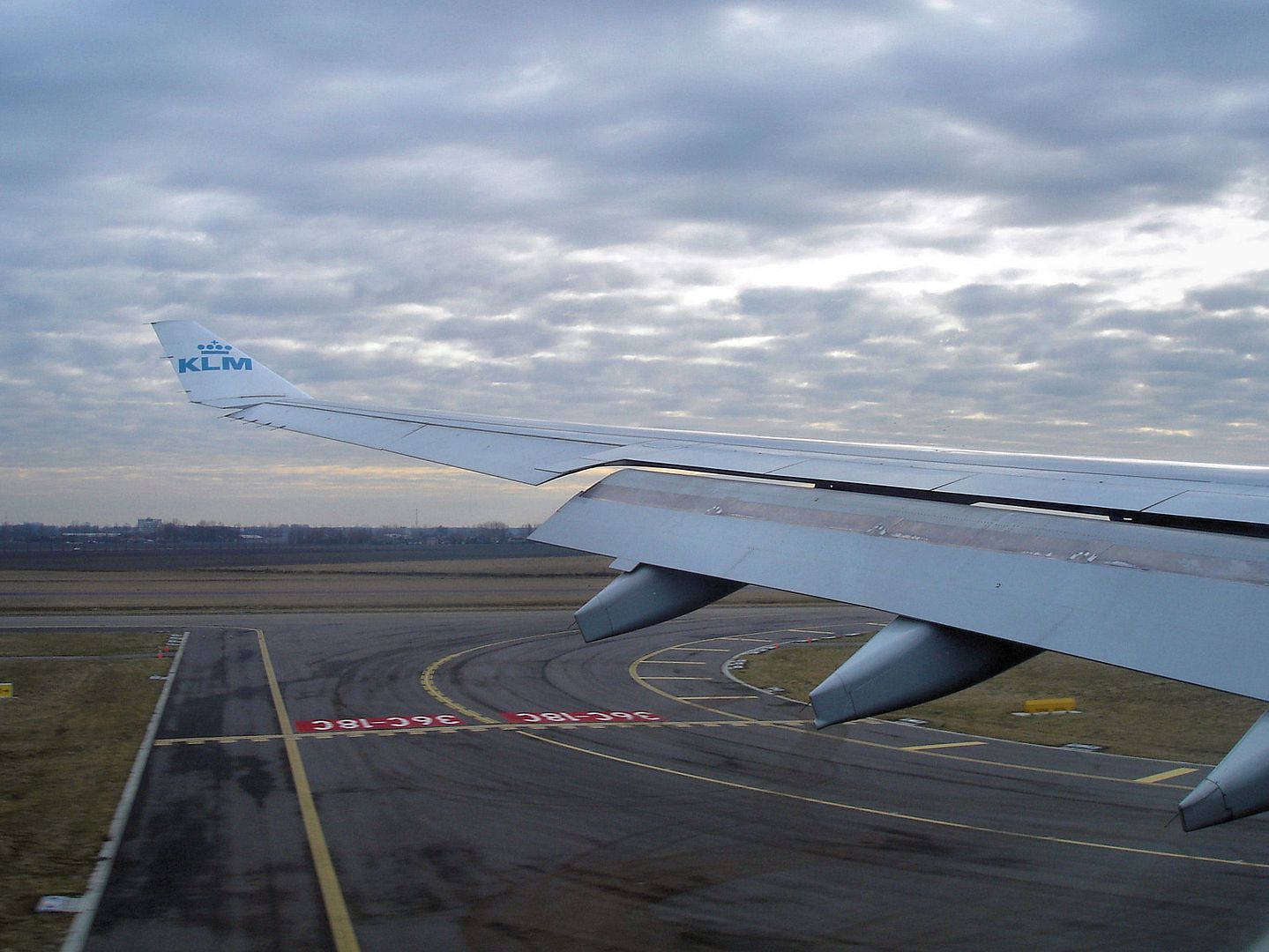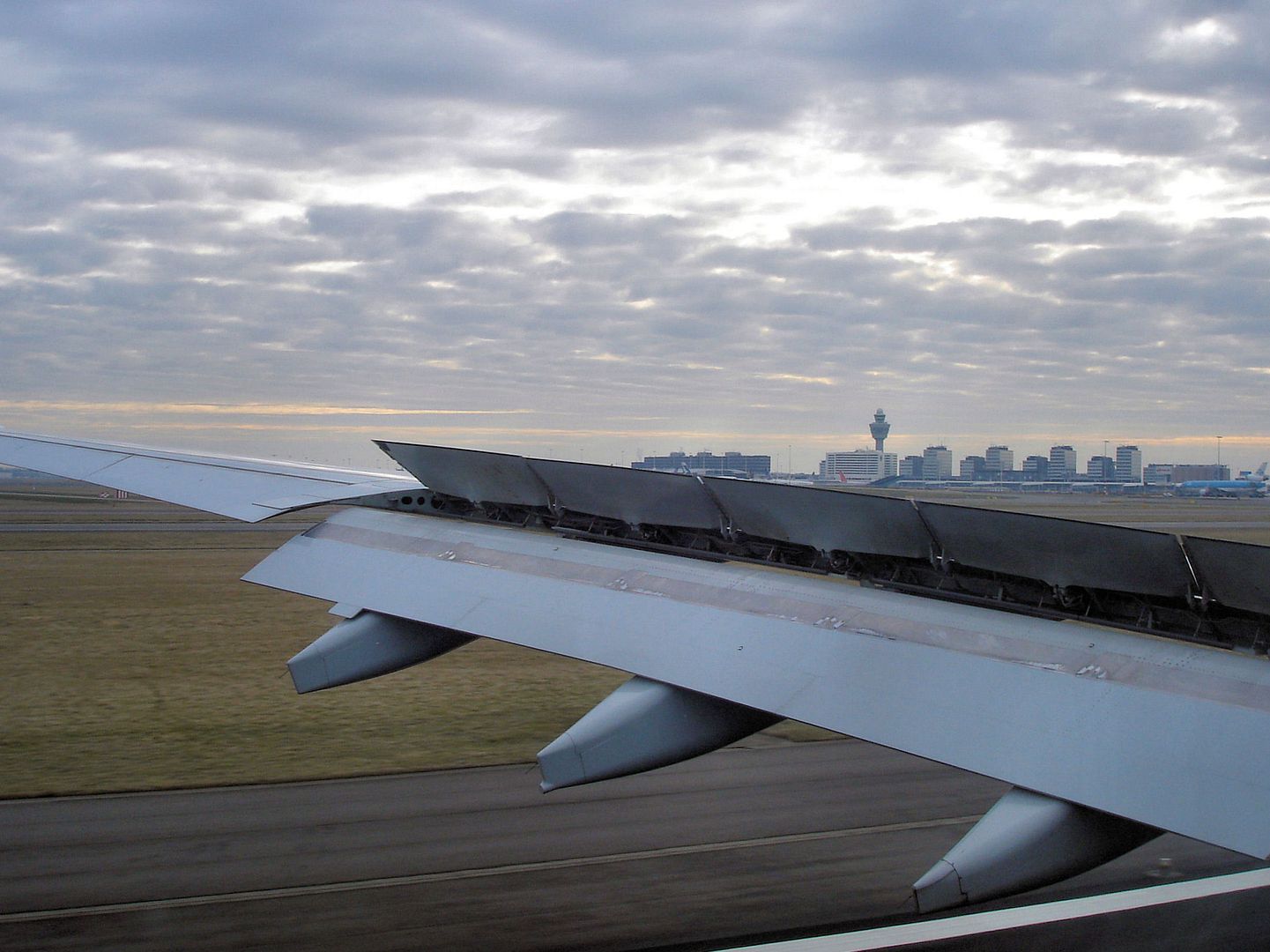 During disembarking the older and the younger female flight attendants asked me whether I was feeling better. Nice gesture!
One more shot of the plane in daylight:
Transfer at Amsterdam Schiphol Airport
It's always a nice experience to change planes at AMS. Everything is easy to find, there are many shops and large seating areas - as well as friendly staff. We had to spend several hours at AMS, but some spotting helped to kill the time. I got a total of 23 new registrations which is not bad. KLM's retrojet, Boeing 737-8K2
PH-BXA
: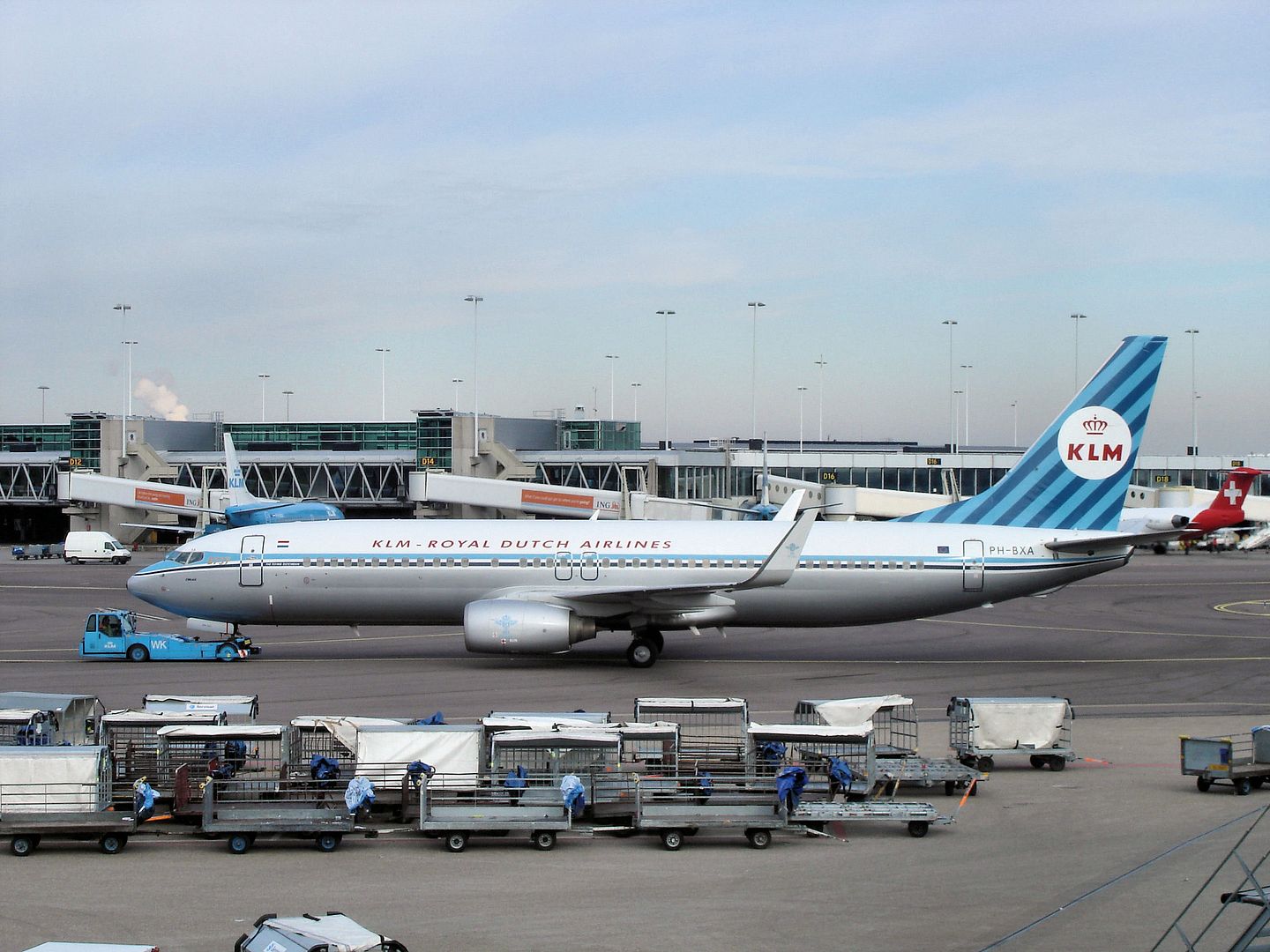 Wednesday, 18 February 2009
Amsterdam (AMS) - Munich (MUC)
KLM KL1797
15:15-16:40 (15:02-16:17)
Flying time: 01:04 (hrs)

Boeing 737-306
PH-BTI (s/n 2957), named "Niels Bohr", delivered in 12/1997
Economy Class, Seat 22D
Aircraft & Cabin Comfort
I had flown on older KLM 737-300s before, so I was glad to see
PH-BTI
at the gate, a relatively young bird newly delivered in December 1997: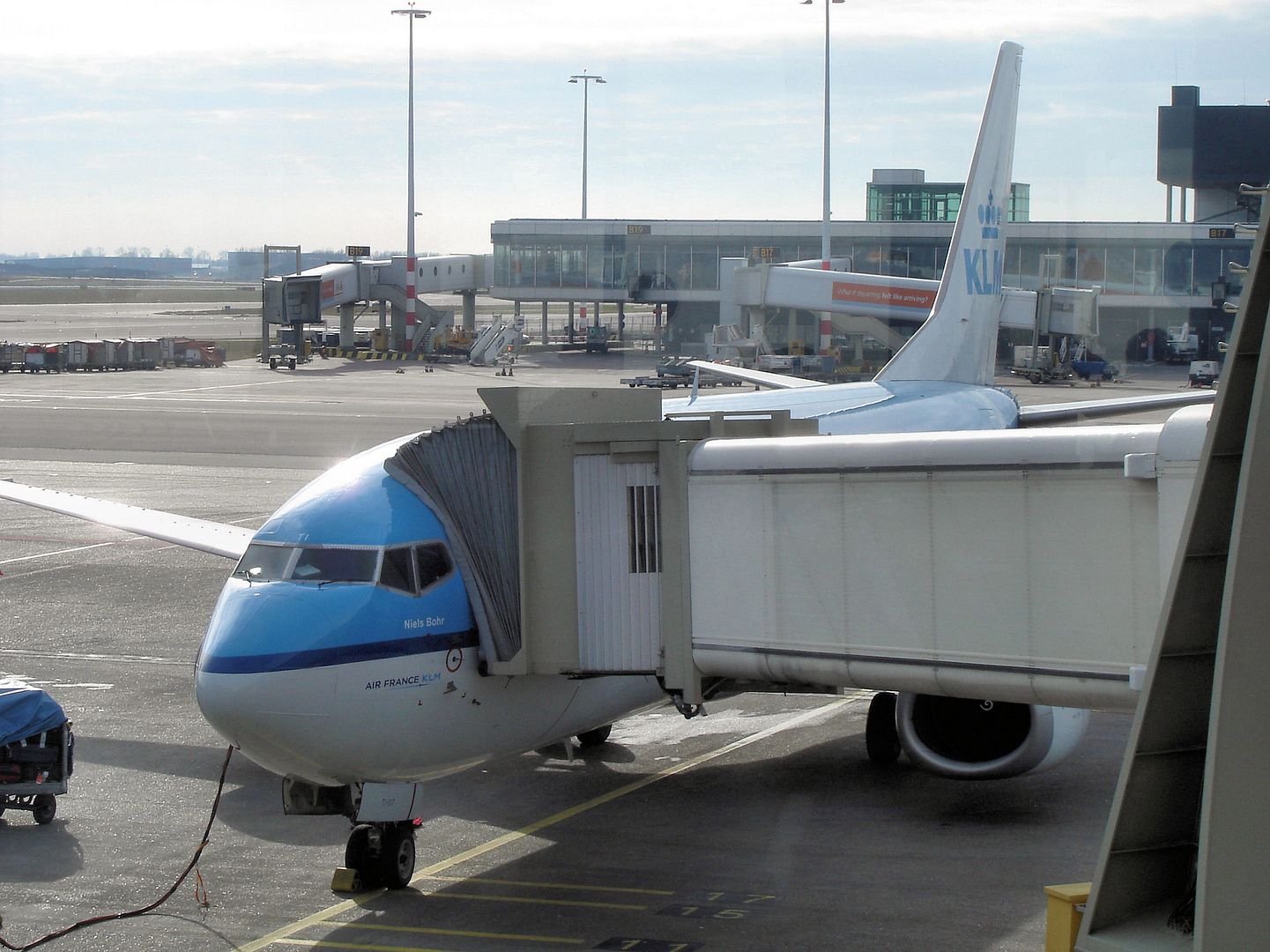 Friendly flight attendants welcomed us on board and we walked down to our row. Comfortable seats...
...and sufficient pitch: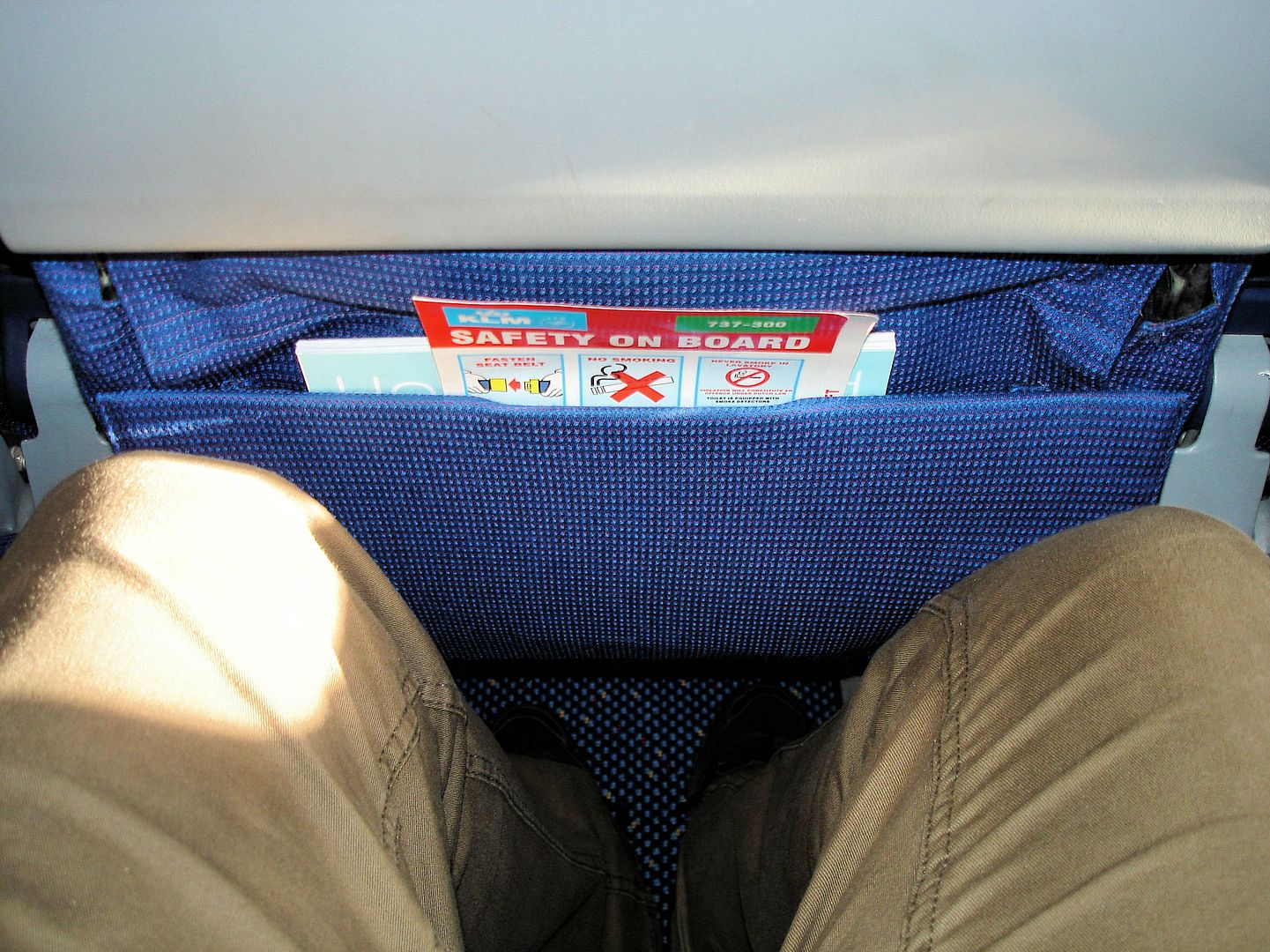 We left the gate early and took off only seven minutes later, passing two KLM 747-400 freighters and numerous Cityhopper Fokkers: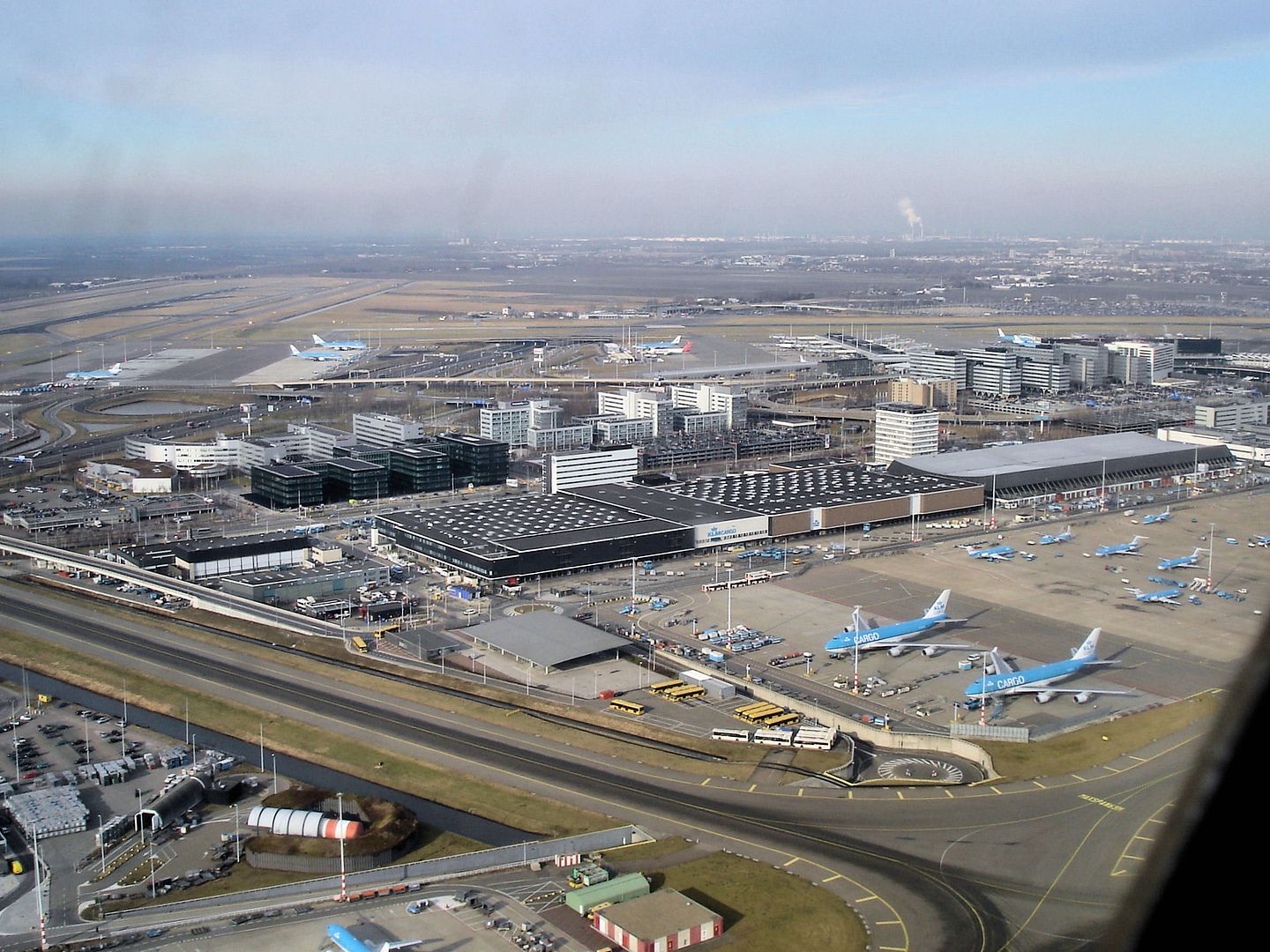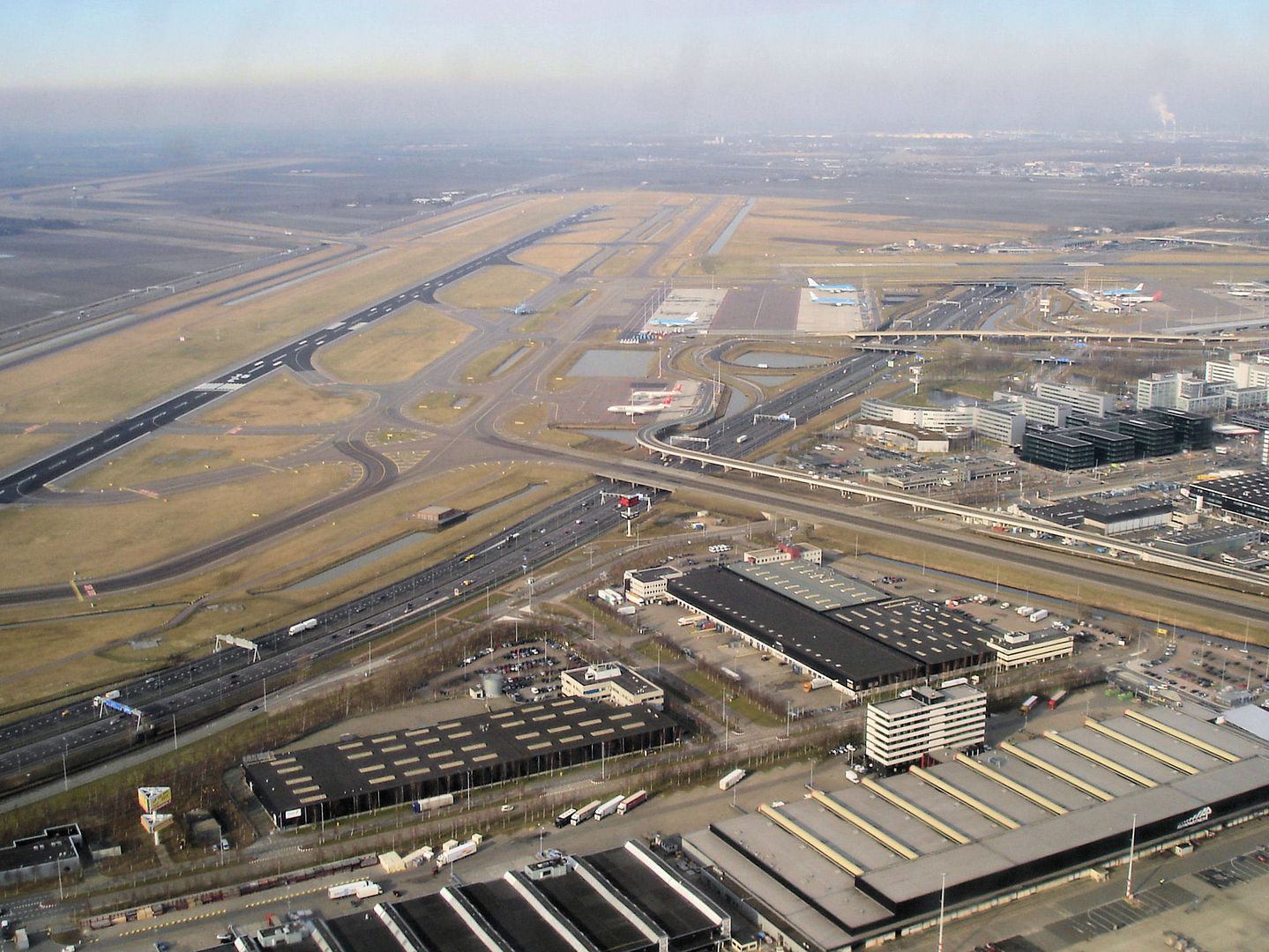 Snack
Two years ago I still had a choice between ham and cheese sandwiches on KL1797, but this time we only got cookies. At least the coffee was good - much better than the instant coffee on Air France.
Approach & Arrival
After only some 45 minutes in the air we left the cruising altitude and soon passed Munich Airport for a final approach from the East:
Several Lufthansa A340s and an SAA A340 parked at Terminal 1 remote positions: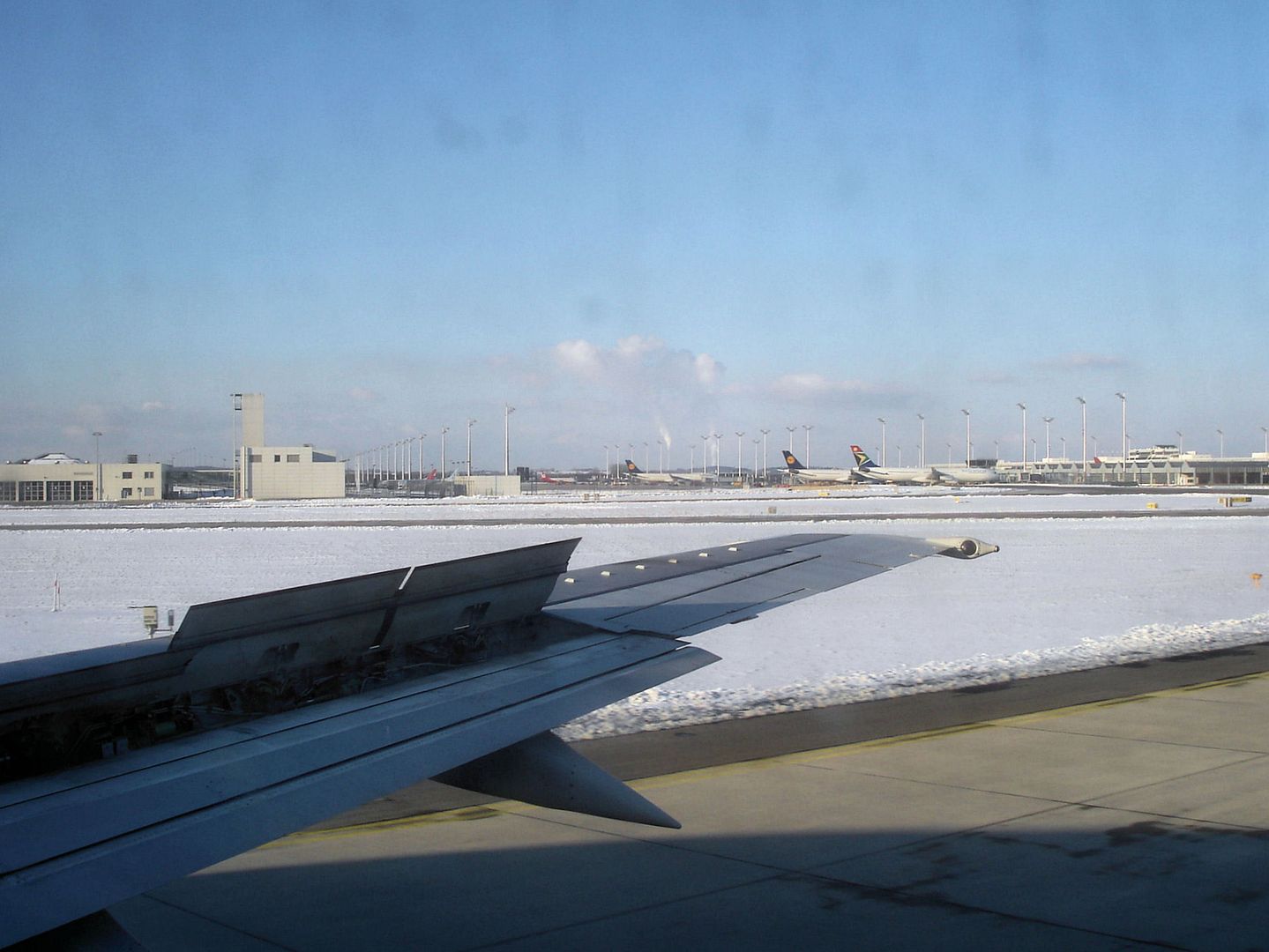 Germanwings'
BerlinBearBus
meets the Air France retrojet: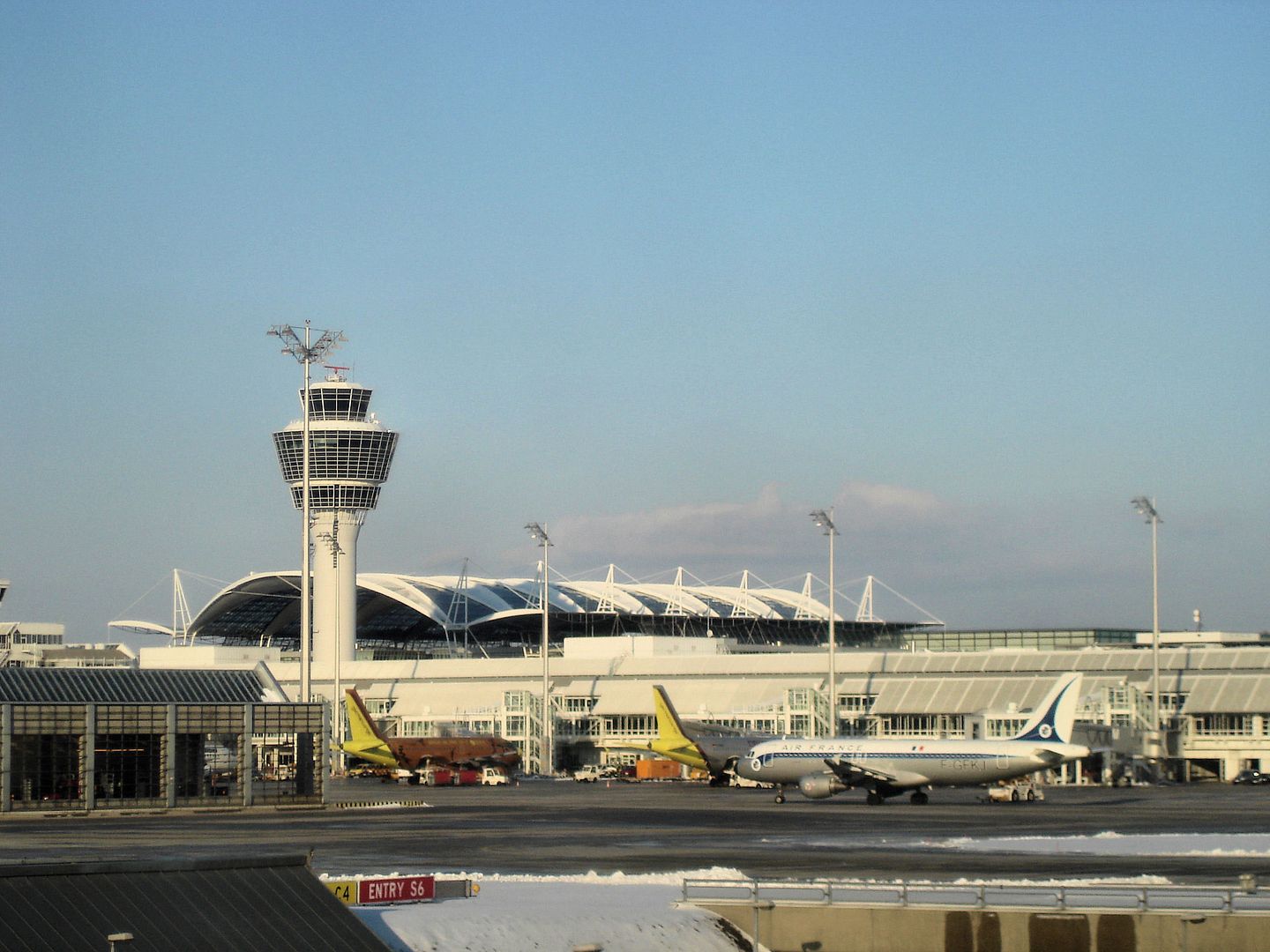 The flight arrived more than 20 minutes early and we soon headed home after an exciting and successful trip.
Conclusion
Flying
KLM
was a nice experience as usual - the flight attendants were very friendly (with one exception) and delivered a very personal service, and changing planes at AMS was a pleasure again. However, the seating comfort on the A330 was limited - not as good as on the company's 772 and the Air France A340. I also liked the touchscreen-IFE-control on Air France much better. KLM's catering was ok, but inferior to Air France's in terms of presentation, quantity and quality. And you don't get amenity kits and menu cards on KLM.
So can KLM match Air France in general? Both carriers have different strengths, but I would rate Air France's product better. However, the difference shrinks significantly if you also take the carriers' hubs into consideration.
Best Regards,
PlaneHunter
P.S.: Just in case you missed them - other recent reports:
Goodbye, Red Tails! DC-9-40/50 & Chicago Tour
Champagne & World Of Coke: Air France A340 To ATL
"Mission A380": Disappointing Legs On BA/BD/EI
Delights Of Doha, 773 & 77W: DOH-DXB-LHR On EK
A380 Really a Step Forward? LHR-DXB-DOH On EK
Quality & Style: HKG-LHR On Air New Zealand 744
Taiwan Trio: TransAsia, UNI Air And The Taipei 101
"The Wings Of Taiwan": EVA Air A332, 744 Combi
SHA-SZX, Shanghai 757: Delayed By The Military
PEK-SHA, China Eastern A330 & Shanghai At Night
Striking Newcomer: Berlin-Beijing On Hainan A330
[Edited 2009-10-03 04:53:52]