Hola nois!
Second part of my summer holidays.
First part can be found here:
Summer 09 (I): BCN-GVA-LCY On LX
After spending two weeks at the core of learning, Cambridge, it was time to hit the road to some fun. First stop over, Amsterdam, where I travelled by train, as I had never crossed the Channel underneath before. Taking a look at this great web:
The Man in Seat Sixty-One...
, I decided to take the Eurostar to Brussels.
The only down turn was timing, three hours from BRU to AMS seemed a long way but it was worth, as the service from St. Pancras to Brussels was really great. A great breakfast and lots of legroom on this service.
Some pictures for you to get an idea.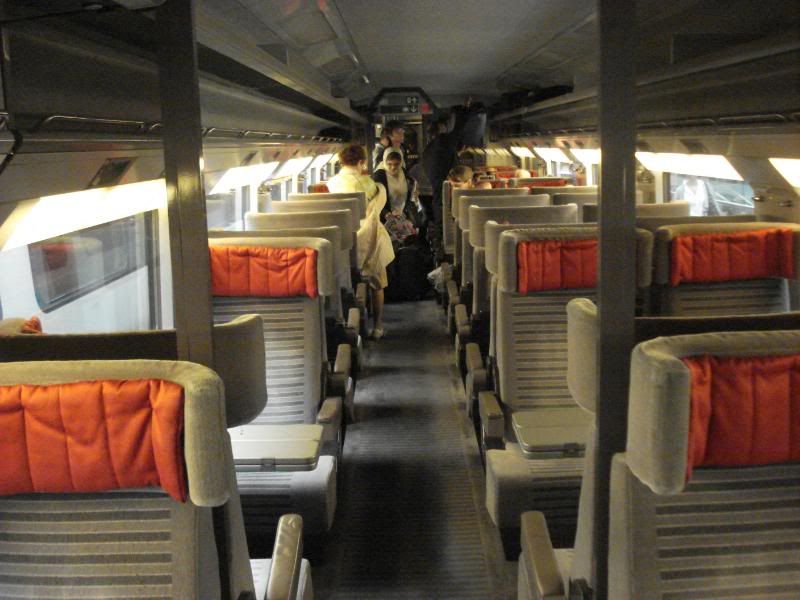 Eurostar 'cabin' shot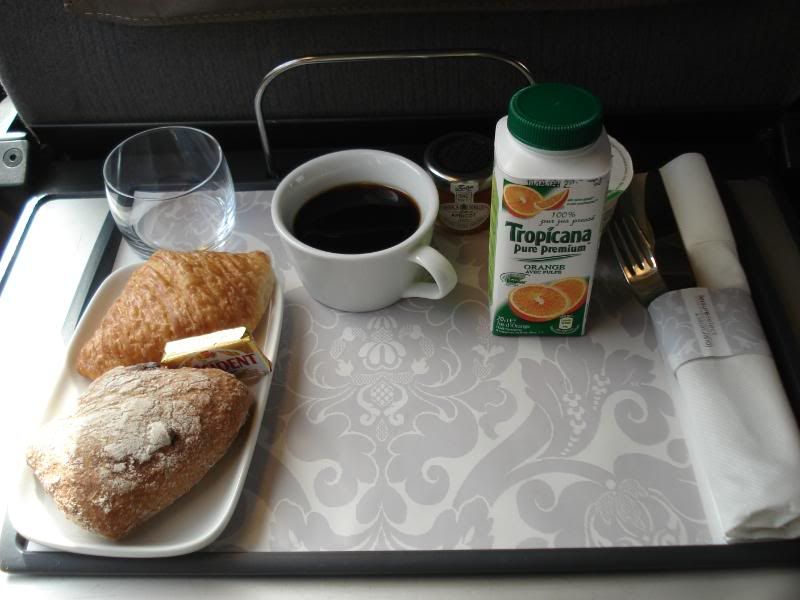 First service
After some days in Amsterdam and lots of fun, time for my second stop over: Hamburg. I travelled by train as well and realized that German trains run late; yes, German trains, 30 min. delay in arriving to Hamburg.
Classical wagon layout for this AMS-Szczecin service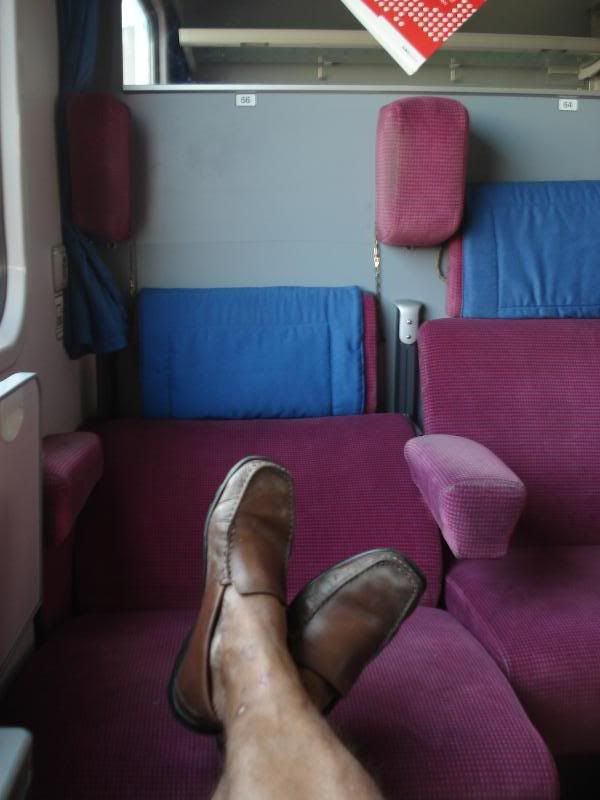 Guys, this is what I call legroom
Cafeteria on my way to HAM, not bad, better than EK A380s
My first visit there and I really enjoyed the city. I have to say weather helped a lot as I had all sunny days, except for the day I went to Lübeck... anyway, great days, vibrant city and a great airport where to spot. I had lunch once there while spotting and while I was having my salad an A380 did a go around in front of my wide open eyes... I wa too slow to take a picture, sorry! Oooowww... what a beautiful sight, and how graciously she performed it, I noticed a very slow climb rate. Try to be ready next time.
My way back home was to be from TXL, as I headed to Berlin to visit a friend.
Luggage at Hamburg Hbf
Only passenger on the coach, a first time
27 August
TXL-LHR
07.15 - 08.15
BA981
A319
G-UPL
Gate 4
Seat 5F
Getting to the airport that early in the morning was solved ctaching a cab to Tegel, where you can realize that Berlin is a huge city. 20 min. later and 20€ less I got docked at the gate A4 for my flight to LHR.
Some people are already there on line to check luggage, I am promptly attended by the agent which does her job with no much enthusiasm but correctly. I wave goodbye to my bag and wander round the airport. I did not visit the lounge this time as I wanted to feel the morning cold and the operations on the tarmac.
Security and passport check in Tegel results always in a long line as there is usually only two X-rays opened for each gate, no problem, about 10 min. on line and there I am ready to board.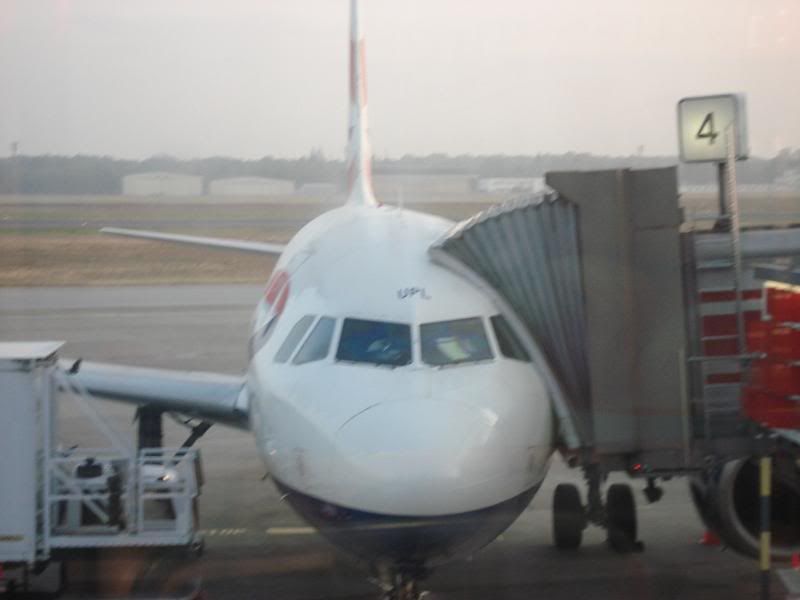 My ride to LHR
Side view
Our machine today is an A319 which will have a 60% load on Y and 30% on C (6/20) seats. After boarding is completed the Captain delivers his speech about route, weather... and introduces the crew members (you always learn something new). This is then repeated in German, a shorter version without so much detailed information and no introuction of the crew.
Two males and two females will take care of our well-being while on board.
The usual video about safety on board comes next as we start moving towards the runaway, it comes with English and German subtitles.
No pre departure service at all, no newspaper, no towel, no water, no nothing. I am not familiar with BA, is it always like this?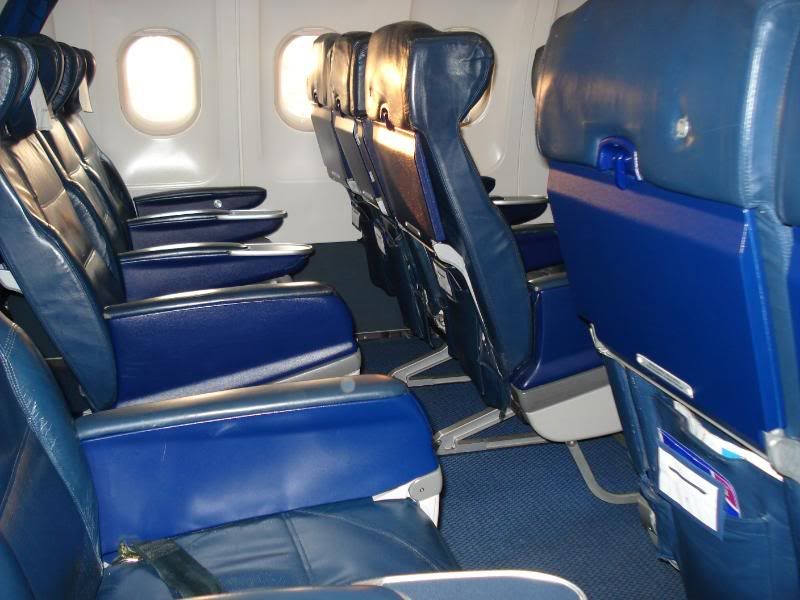 Cabin view; not yet refurnished
Now comes one of the smoothest take offs I have ever experinced, maybe is the low load combined with the fresh summer German temperature. Really nice.
As we climb, Derek, the purser, introduces himself and the rest of the crew by name, plus a bonus on onboard service and information about T5 arrivals & connecting procedures.
Breakfast is served right away, a little rushed, right after the 10,000 feet mark. At 22,000 feet we encounter so mild turbulence that is over when we reach 38,000 over Hannover, by then we all have finished our breakfast and no crew is on sight.
British breakfast on BA, what else?
I pay a visit to the toilet and see the crew having their breakfast, that is why they were rushed over service; btw, they are fed the same as the passengers.
We cross the sea and begin our descent towards LHR.
When we reach the coast we are already at 20,000 feet and the familiar sea of clouds welcomes us to England and as we reduce speed the plane shakes a bit.
Straight to LHR? obviously not in the early morning, we do a couple of circles, and we are not alone. Finally we go down but the clouds are so low that the first thing I see when we get off them are the Kew Gardens... missed London sights, next time.
Hampton Court on sight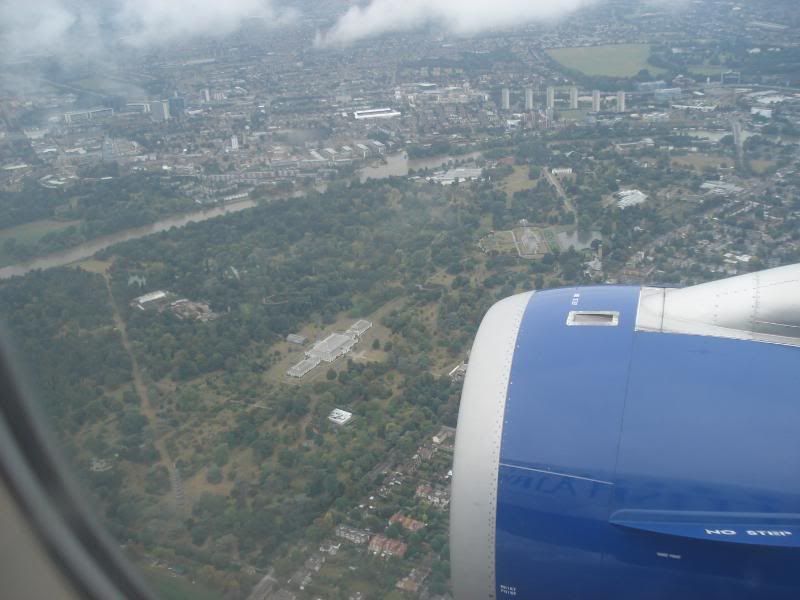 Over Kew Gardens
Getting closer to LHR
Nice landing, not as soft as the take off and as we taxi to T5 I get to see the SQ A380 parked and ready to go. I missed the sight of her majesty taking off.
All lined up and ready for inspection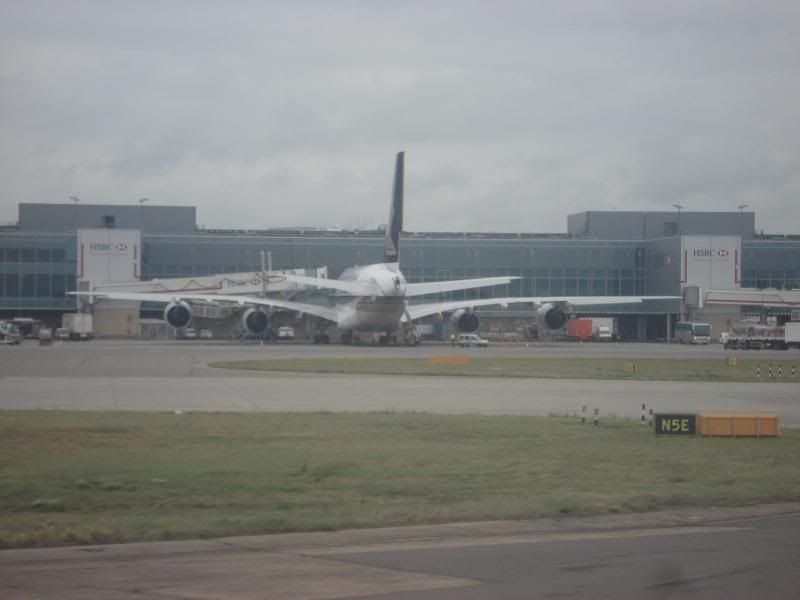 Her Majesty's rear
Passing T3 and their interesting visitors
We are parked on a remote stand and the purser tells us it will be better as we will be delivered directly to the passport control area, yeah! you wish! It is quite chilly and rainy, so more fun is added to disembark.
Asd I enter T5 I encounter huge lines for passport control; luckily my C pass gives me access to the priority lane where there are about two people waiting. I am welcomed to the UK by the officer and as I enter the baggage reclaim area, my bag is already there.... Exactly as fast as in BOM. That is excellent!
Now comes the boring part. Waiting until 13.45 fro my plane to depart means lots of waiting.
I spend the time watching planes at the South end of T5, visiting all the other terminals. God! What a dump is T3... I am impressed at how miserable the terminal looks: low ceilings, narrow corrdiors... BA flights to BCN deprat from this terminal so I may be here sooner or later.
Finally I walk from there to T1 where *A carriers are now located, jump over constructions on the road, look right every time I cross a road and I get there safe and sound.
27 August
LHR-ZRH
13.45 - 16.20
LX333
A320
HB-IJO -- Lisengrat
Gate 27
Seat 5A
LX check in is done at zone G (?) and the agent does not bother to look at me as she keeps talking to her mate. Nice service, oh yes, very unappropriate for LX.
Priority security lanes are only for UA and some other carriers, but not LX... so I join the peasant line and after 10 min, I am through.
T1 is full of people and I head to the *A lounge which is really nice, especially food selection, pity no views of the tarmac. I Have about three different dishes and more or less the same number of wine glasses.
Food supllies at *A lounge at LHR
View of the lounge
Do not worry! I did not put up any weight as I had to walk to Gate 27, in the farthest end of the terminal, to take my plane. It is a chaotic boarding as when it has started they have to stop it beacuse some other LH and BD flights are disembarking and on the adjacent gates and passengers have to cross our boarding path... yeah! really well organized.
On my track to gate 27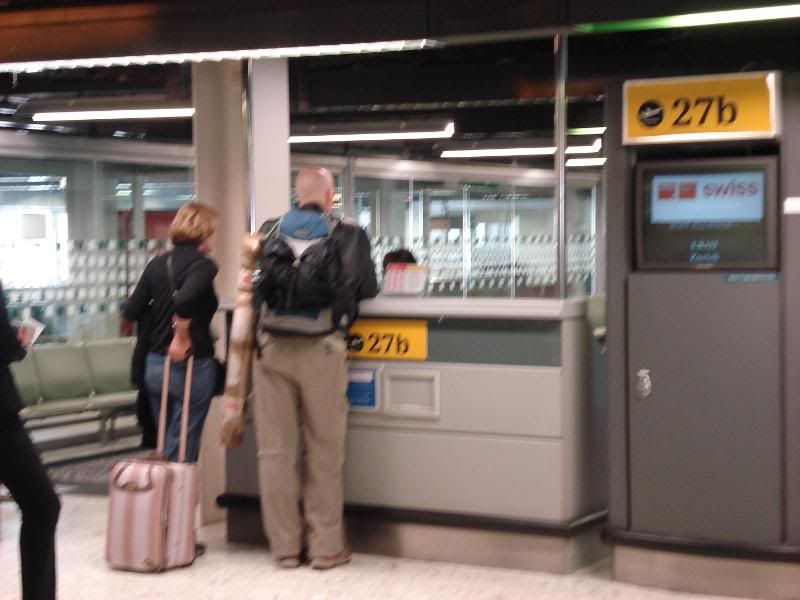 Flying to ZRH? Yes, please, come in
Gate 27 entrance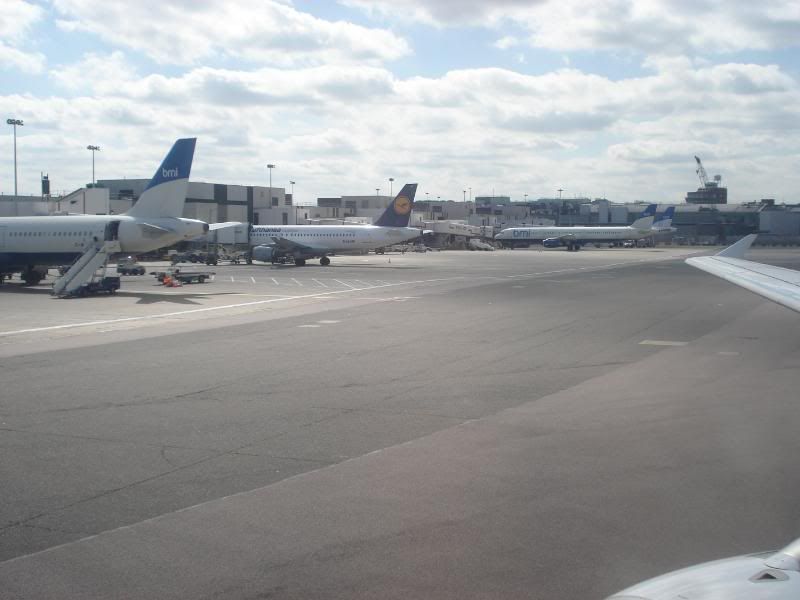 Good bye LHR!
Boarding is finished and the usual newspaper, towel and water is distributed among the passengers.
We line up for take off behind an AA B763 and when our turn comes we climb directly to the skies with a higher rate climb than the one we had that morning. we turn left and as soon as we reach 3,000 feet we encounter the first clouds. We keep climbing until 5,400 feet where our altitude is frozen, so is the sound from the engines, for a while. We keep like this for a while until the engines spool up and we reach the 10,000 border when the crew is released and service is prepared.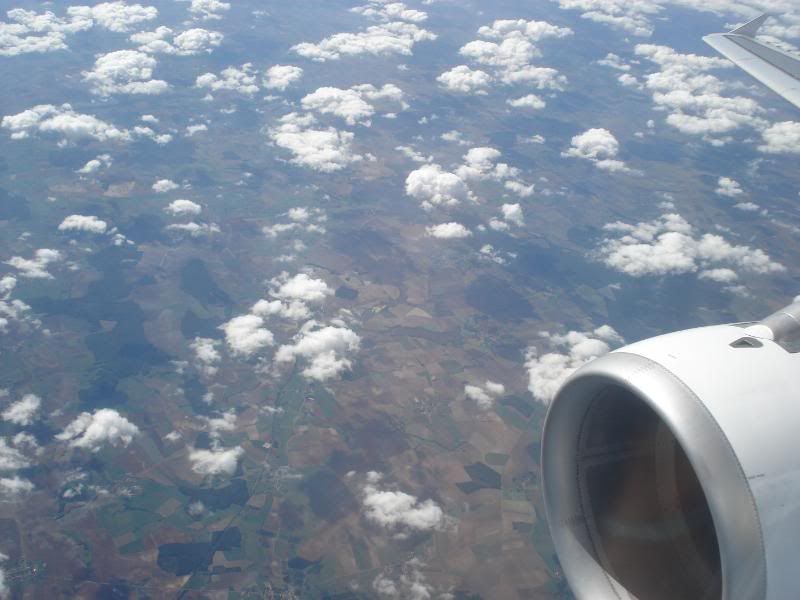 Climbing over English countryside
Plastic silverware out of LHR... not very nice.
The Captain has announced a 38,000 feet flight and the weather conditions before take off. The usual communication from the FO, middle flight is performed as well annoncing an on time landing.
One of the many Swiss lakes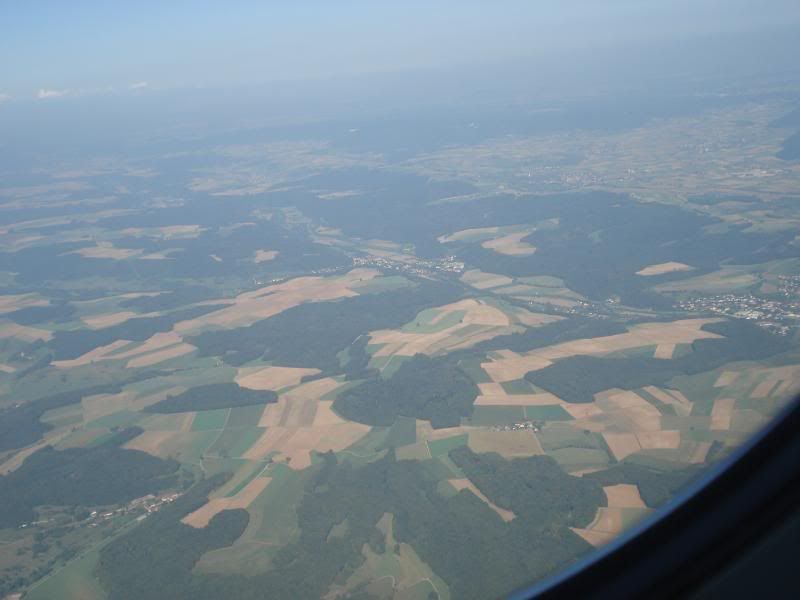 Nice Swiss countryside
Nice sight on the way to ZRH
Safest backpack on board
Service is the usual cold meal, with the nice crew refilling our cups every time they are empty. Very nice.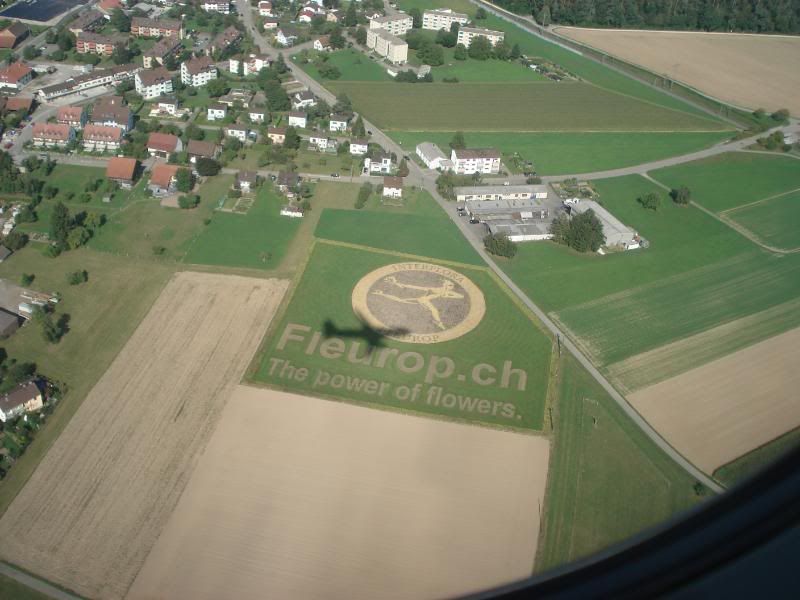 Who said you can only grow crops in your fields?
Purser, that plane is following us
As we land in ZRH we get to see those advert cut fields along the landing path... really neat. Interflora is on sight, no Victorinox this time.
We are parked on a remote stand and now comes the funny part, we disembark, take the bus to the terminal, go through passport control, climb the stairs to reach the main shopping area, go through security to get to A4... that basement where usually Avros, CR7, CR9... are boarded by bus. But today is time for bigger ones: our A321 and some others are there, so huge lines are formed. We take the bus and taken to the plane next to the one I had just flown.
I get the feeling we are at ZRH, don't you?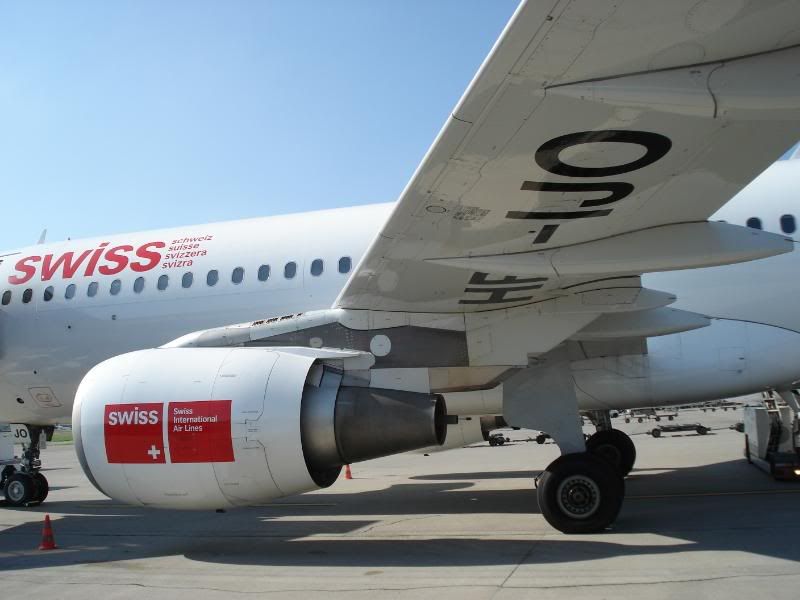 My previous plane as I was boarding my ride to BCN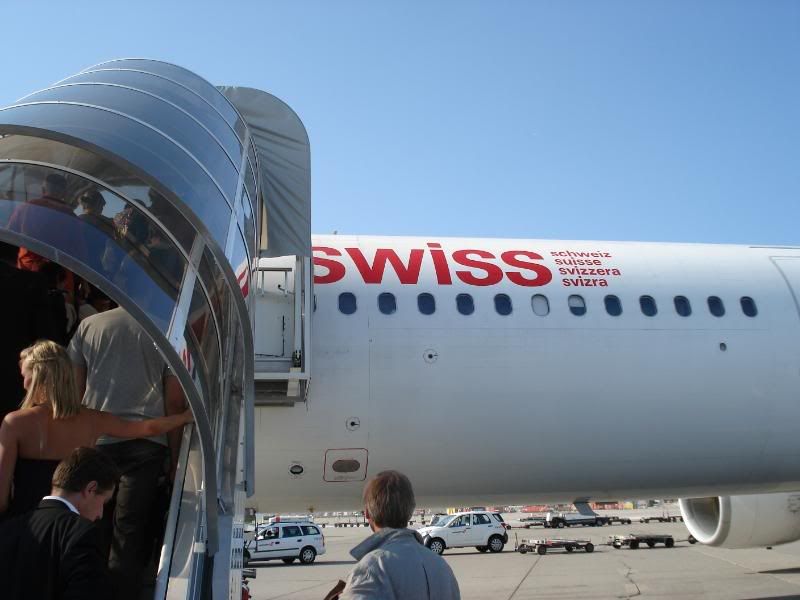 BCN, next stop
27 August
ZRH-BCN
17.45 - 19.05
LX1956
A321-111
HB-IOC -- Eiger
Gate A4
Seat 5F
Doors are secured and locked. Amenities distributed: newspaper, water and refreshing towel. The plane is full. I am sitting next to a Swedish man living in Sitges and we have a great talk during the whole flight about flying and companies, airports.... it is nice to find some one to talk to when you are on planes for long days.
We take off from runaway 16 and we climb until we are able to cross the Alps towards the Meditarranean sea and directly towards BCN.
Service is performed on time, gently... another cold plate with drinks a plenty. Nice crew and very smooth flight.
Information from the cabin came during taxi and middle flight, as typical in all LX flights.
We land on time at BCN and taxi towards BCN T1.
I say goodbye to the crew, thank them for the flight and get to the baggage claim where I ahve to wait about 15 min. for my luggage to come out, obviously not a nice sign. Now the terminal is empty, what will happen after Oct. 25 when all the major carriers will be there?
It is over now. I may write some older TRs if I have the time. I am quite behind.
Thanks for reading and please leave any comments you like.
Salut!
Roger
[Edited 2009-10-03 11:00:31]