Introduction
In order to take advantage of the cheapest fares on most carriers one usually needs to book well in advance. Last spring I booked a couple of HEL-DUS-HEL daytrips on Air Berlin for this October - almost seven months in advance, getting the great fare of 29 EUR each way - 58 EUR total which is not too shabby. I usually try to build some sort of interesting itinerary around these flights - the AB schedules are great as they give one 12 hours in DUS which is plenty of time to make a sidetrip somewhere - last time on such an itinerary I flew to VIE via ZRH to catch a flight on Niki. So I was looking for alternatives and realized that a bunch of my AB TopBonus miles were about to expire. I didn't have enough for a cross-border flight, but I did have more than 7500 which gives one a German domestic one-way flight. So I used those miles to book DRS-DUS oneway after contemplating all the domestic destinations AB serves from DUS. DRS was pretty much the only available destination I hadn't yet been in - and besides Dresden is a city I've always wanted to visit anyway.
To get to Dresden AB had the cheaper fares - but LH Regional partner Eurowings also serves this route with their new CRJ-900s - so I booked a flight on them. I've never flown with EW before and only once on the CRJ-900, so that was a definitive advantage.
Booking flights so far in advance has obvious risks - but that's something I've come to accept. Luckily my work is usually very flexible, so taking a day off in the middle of the week is usually possible. This time things went very smoothly - I had just finished one contract at the end of September and the next one wasn't due for another few days - leaving me with some bench time that suited excellently for traveling.
1.10.2009
The AB morning flight to DUS is one of the earliest departures of the day from HEL leaving at 6.30. So another early, but not brutally early wake up for me to catch the 5.30 bus to the airport, arriving there 20 minutes later. The autumn is definitely turning into winter - it is 0.1 degrees outside! Security queues at the T2 are rather long and it takes a good 15 minutes to get through. Out of the four or five checkpoints only a single one is working and staffed - and this was the beginning of the morning rush hour - way to go Finavia! I read from the news the next day that this was actually some sort if industrial action - the security contract had been transferred to another company in the beginning of October and lots of staff who were transferred to the other company with worse contracts and pay simply didn't show up for work.
Airside the next suprise is our gate, which is 12 today. Now 12 is at the extreme end of T1, about as far away from T2 as you can get in HEL. Finavia boasted how the new terminal split based on the airlines (as opposed to the old domestic - international split) is much more efficient and results in shorter walking distances to passengers - yeah right! The walk takes around ten minutes as I stop for a bottle of water and a takeaway coffee on the way. The T1 security lines look even worse than what I just left behind, again there's a single checkpoint open but a lot of people queuing. Boarding is already in progress when I reach the gate, so I join the queue and ask the young girl sarcastically "Aren't we in the wrong terminal?" as she scans my home-printed boarding pass. She just smirks without answering.
HEL-DUS
AB8925
B737-700 D-ABLC
Seat 3F
6.50 - 8.20
Today's ride is D-ABLC - a new addition to my log. It's still a rather new plane, having been delivered to AB in December 2008. The plane features the latest AB Recaro seats, which are quite okay.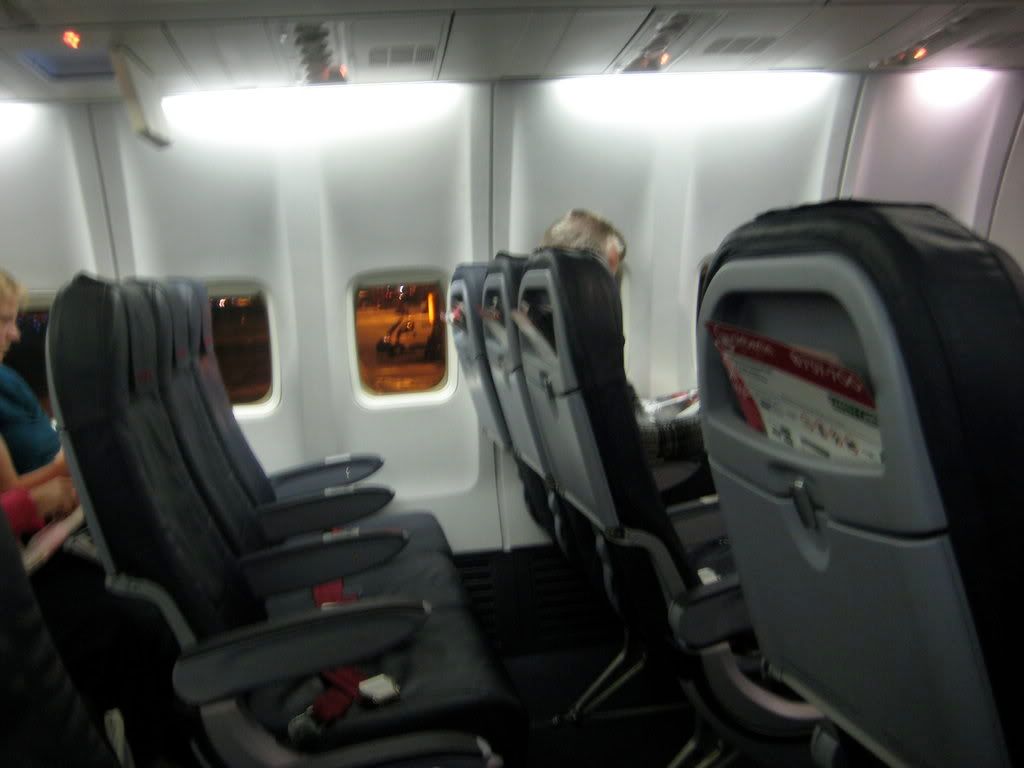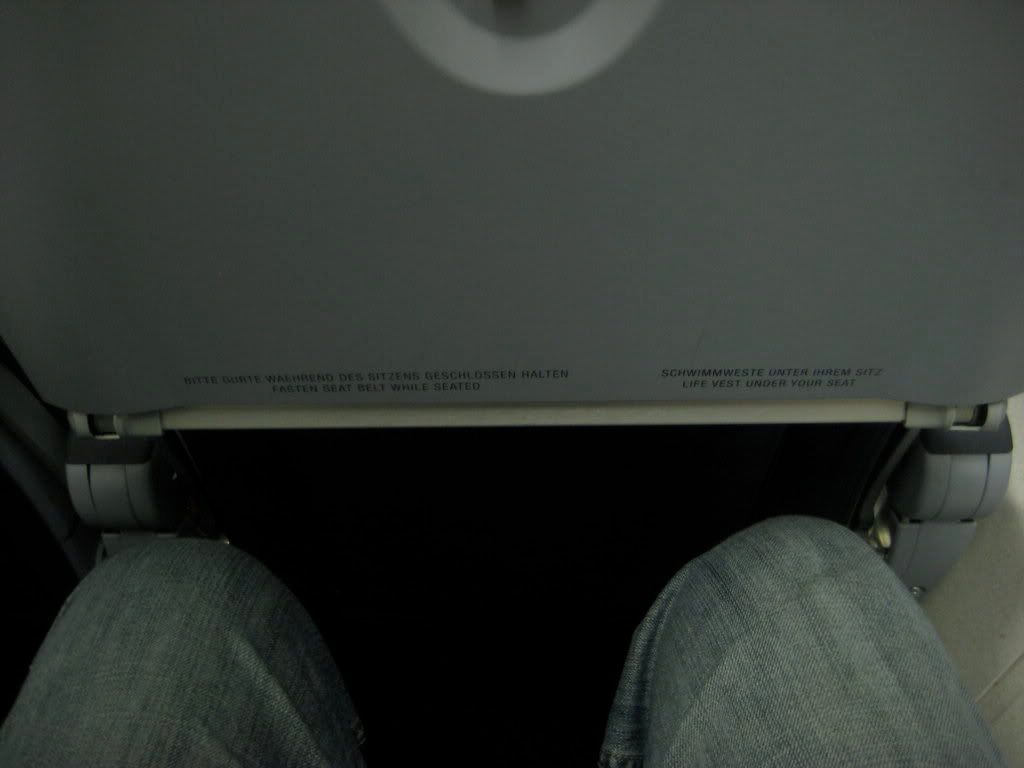 The load factor today looks to be around 75%, unfortunately both seats next to me and the row behind are occupied by a rather noisy group of women and the two in my row are a bit on the heavy side - so I'm not that comfortable. At 6.35, five minutes past the scheduled time the captain comes on, advising that we are still waiting for one passenger "as the walkways were very long this morning.". We wait for fifteen minutes, but nobody boards. Finally at 6.50, 20 minutes late the doors are closed and the captain comes on again with the news that we still need to be deiced and as there's a bit of a queue it might take some time. The FAs announce our flight time as 2h10mins.
Right after the captain's announcement we push back and a follow-me car leads us to the apron south of T1. All departing traffic seems to be taking off from the 22 runways, but here we are going to the opposite direction. We stop in an empty area in the middle of the apron and sure enough a lonely deicing truck is working here. Now something I don't understand is that as part of the third runway project a new, dedicated deicing area was opened right next to the new 04L/22R runway. All deicing was supposed to be centered there - and Finavia made big statements about how it is so good for the environment as they capture all the used deicing fluid and recycle it. Well, ever since its opening I think I've used it once - on all other occasions deicing has been done in our parking position - whether it is a gate or a remote one. But this is something I've never experienced here before - why an earth didn't they use the dedicated position or better, did it on the gate while we were waiting for the no-show passenger?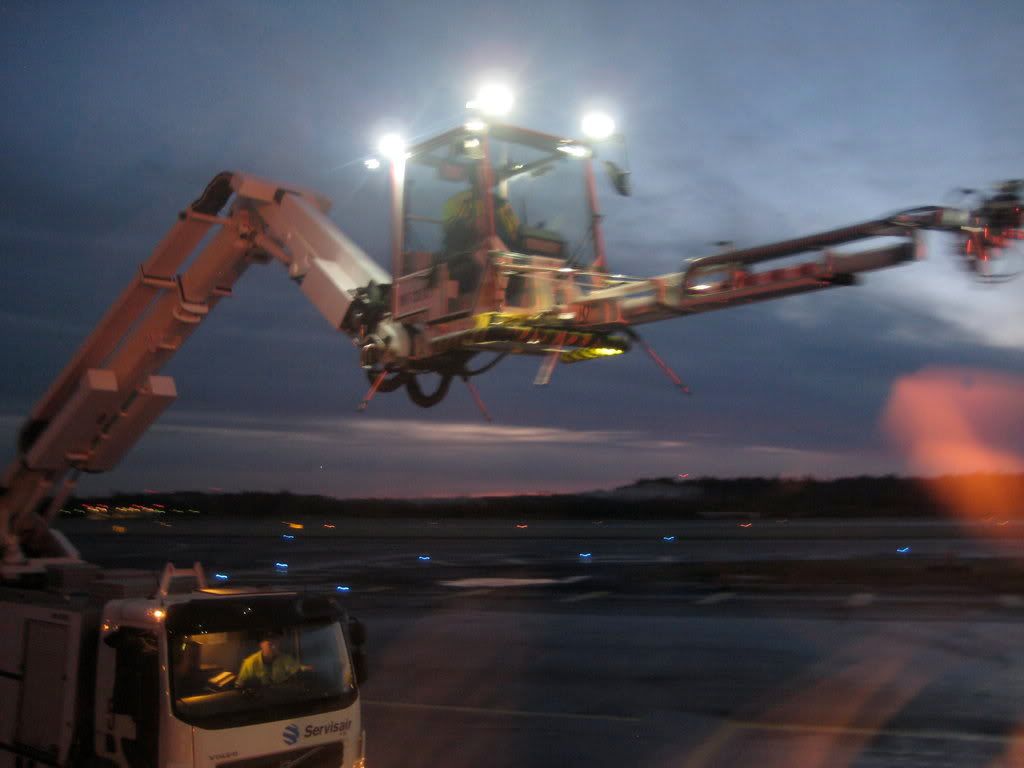 The procedure doesn't take too long and then we make the long taxi to 22R, passing the real deicing area on the way, where there is only a single plane being sprayed - not exactly a rush hour. As a result of all this we take off around 40 minutes after the scheduled departure time.
Endless stream of headlights from commuters on the Tampere-Helsinki motorway: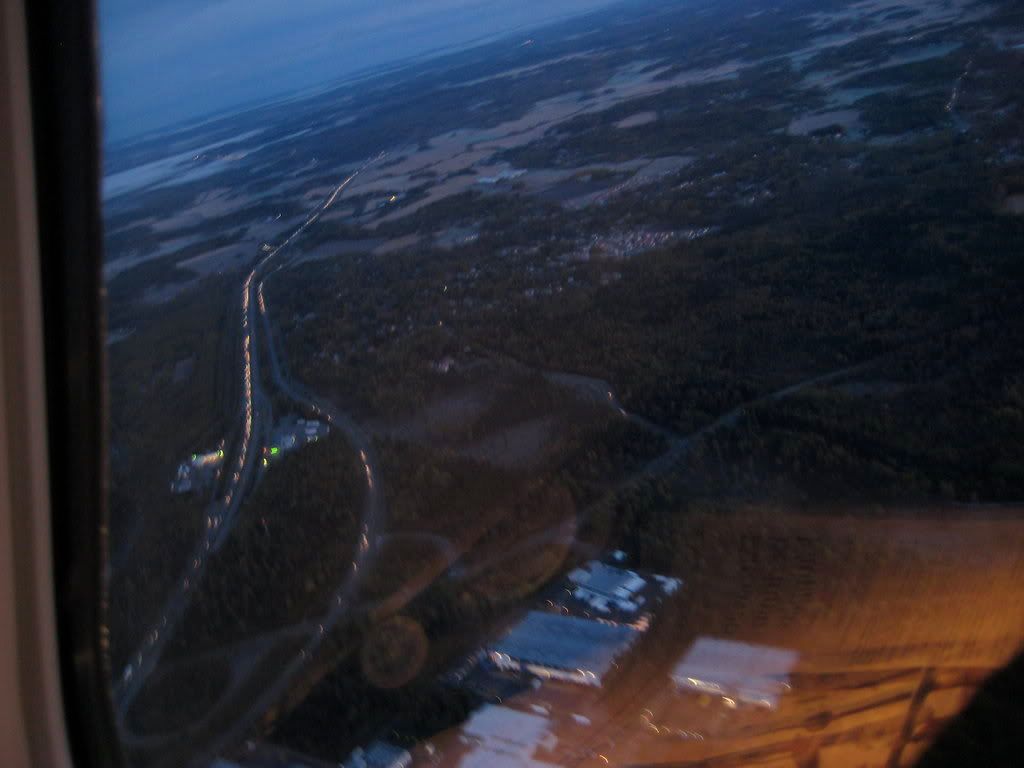 The general aviation airfield in Nummela (EFNU):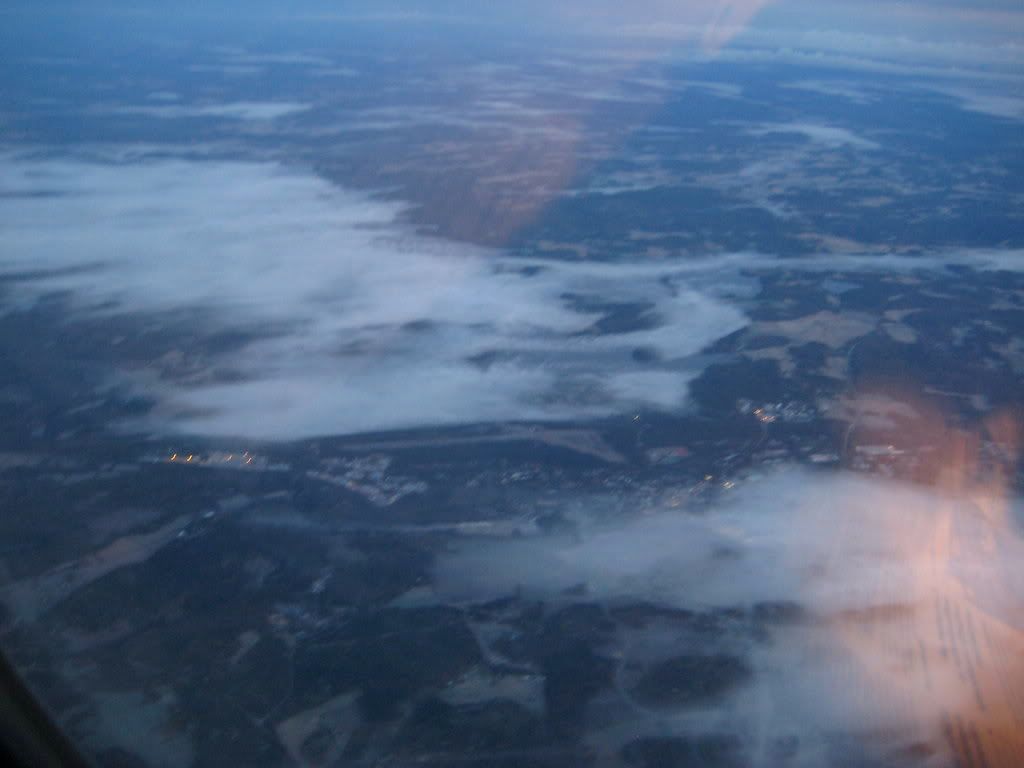 We seem to be on a more northwesternly track today as we fly towards Turku first, leaving the Finnish mainland somewhere south of it and heading towards Stockholm. By the time we reach Stockholm it becomes overcast, and it stays so until DUS, so views are limited.
Service is the standard AB cheese or ham sandwich and coffee/tea, juices or soft drinks. The cheese sandwich is decent, only a bit dry around the edges. AB actually surprises me by doing a second drink run later, usually there is only a single pass on this route.
After finishing my newspaper I try to sleep, but unsuccessfully. Over Germany the traffic starts picking up, so at least there's something to watch from the window: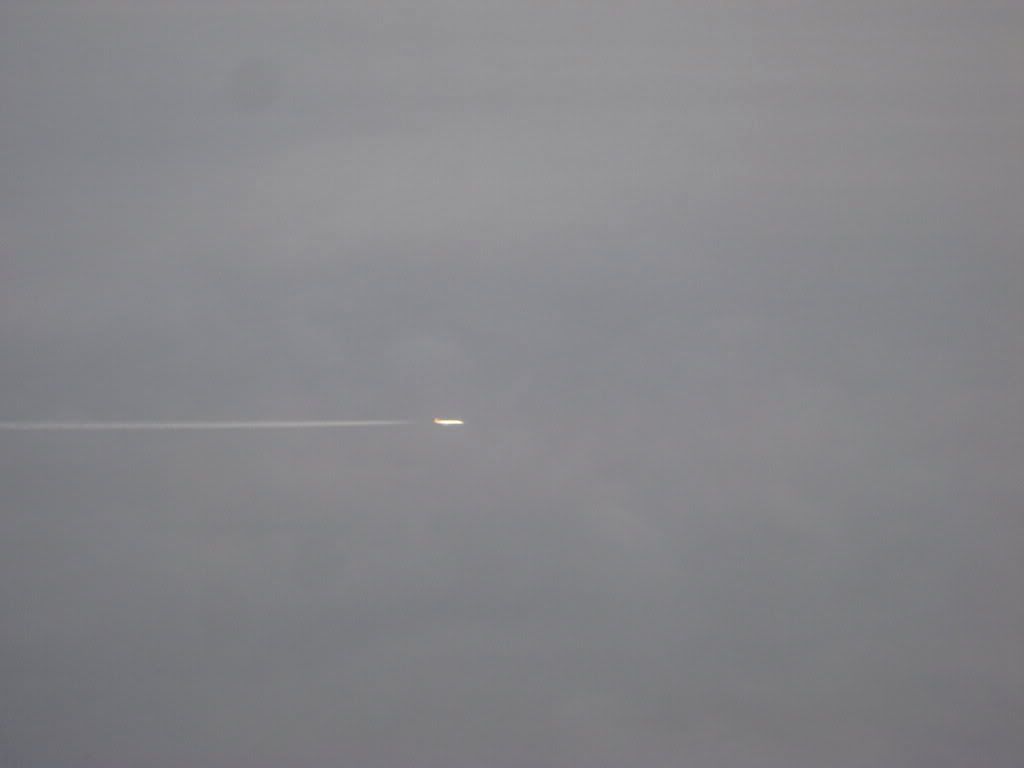 They actually show some really crappy Disney family movie on the overhead screens instead of the normal TV episodes - which has the unfortunate side effect of making the airshow unavailable for most of the flight.
After around 1h40mins of flight time I feel descent starting, and soon the FO comes on with the news that we are landing in 30 minutes and it is 14 degrees with light showers in Düsseldorf. The clouds are hanging very low today, so it is not until being on short finals that we break the cover and I'm actually able to see the ground.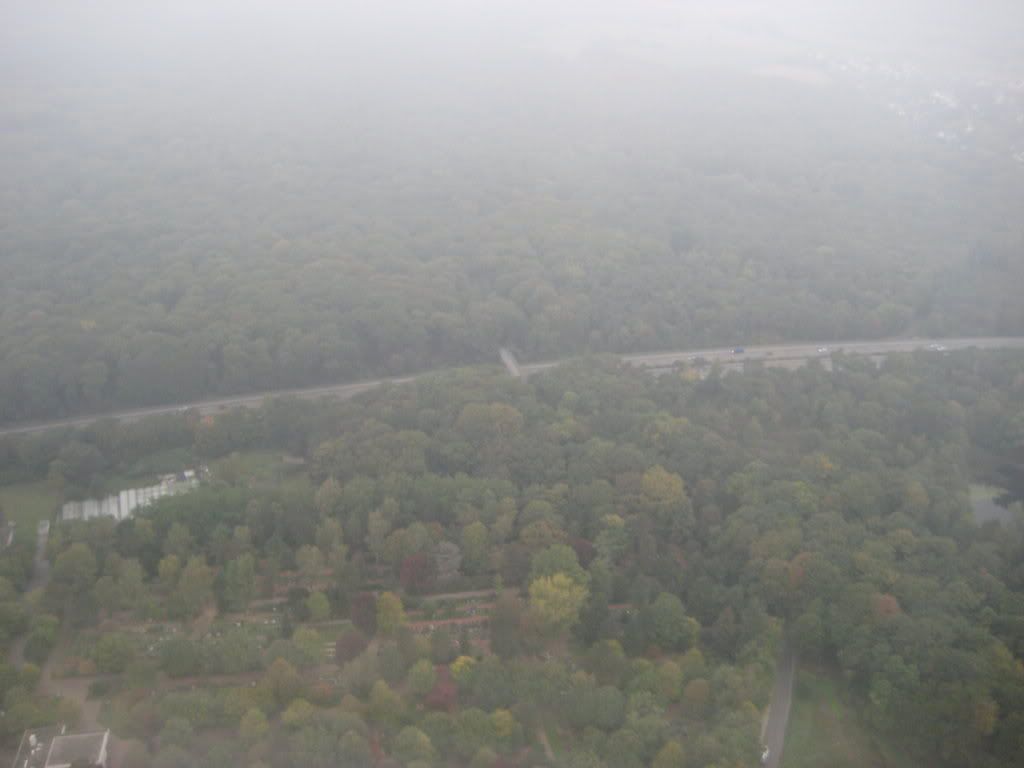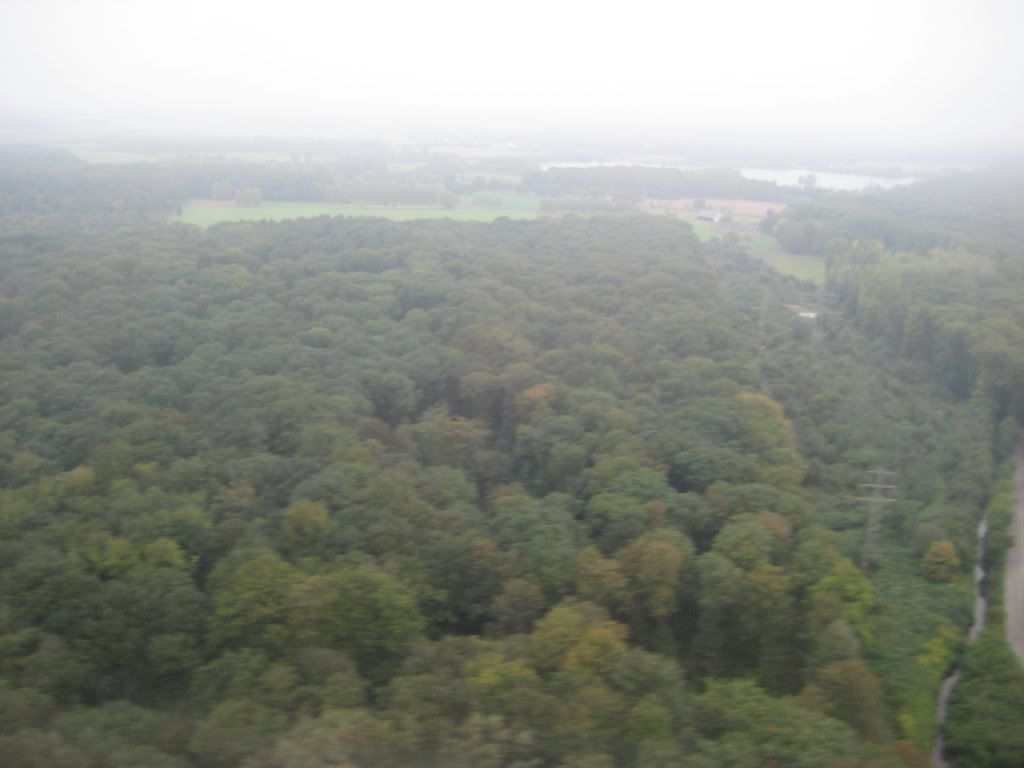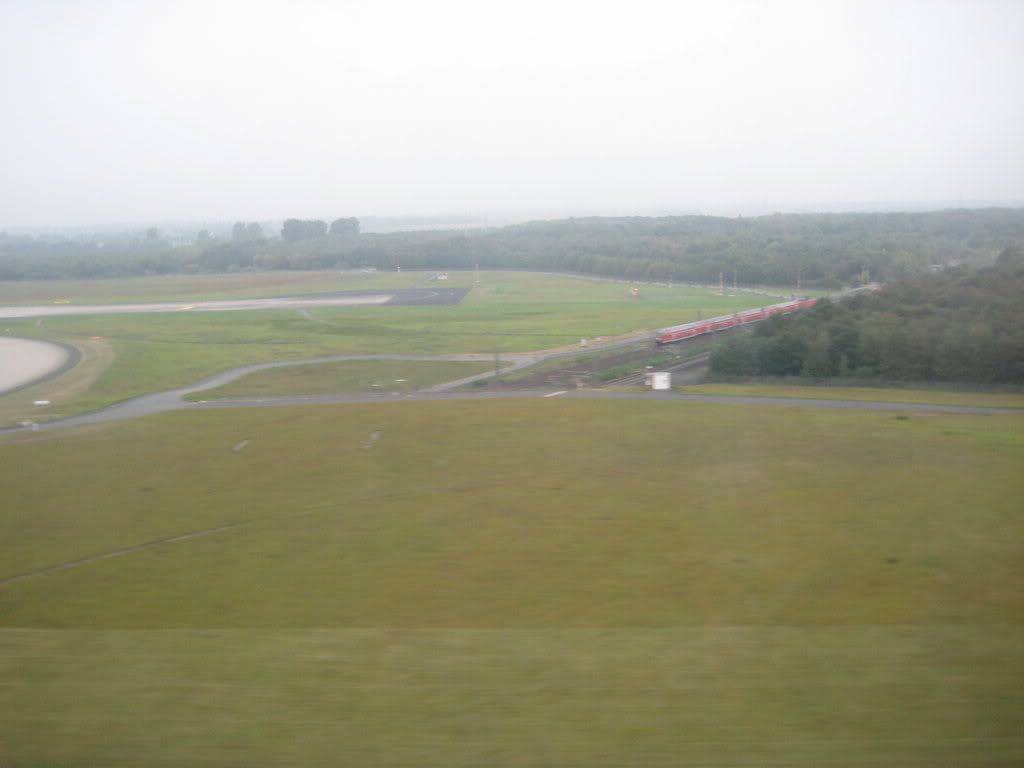 We land on runway 23L around 25 minutes late, and taxi fast to gate B1.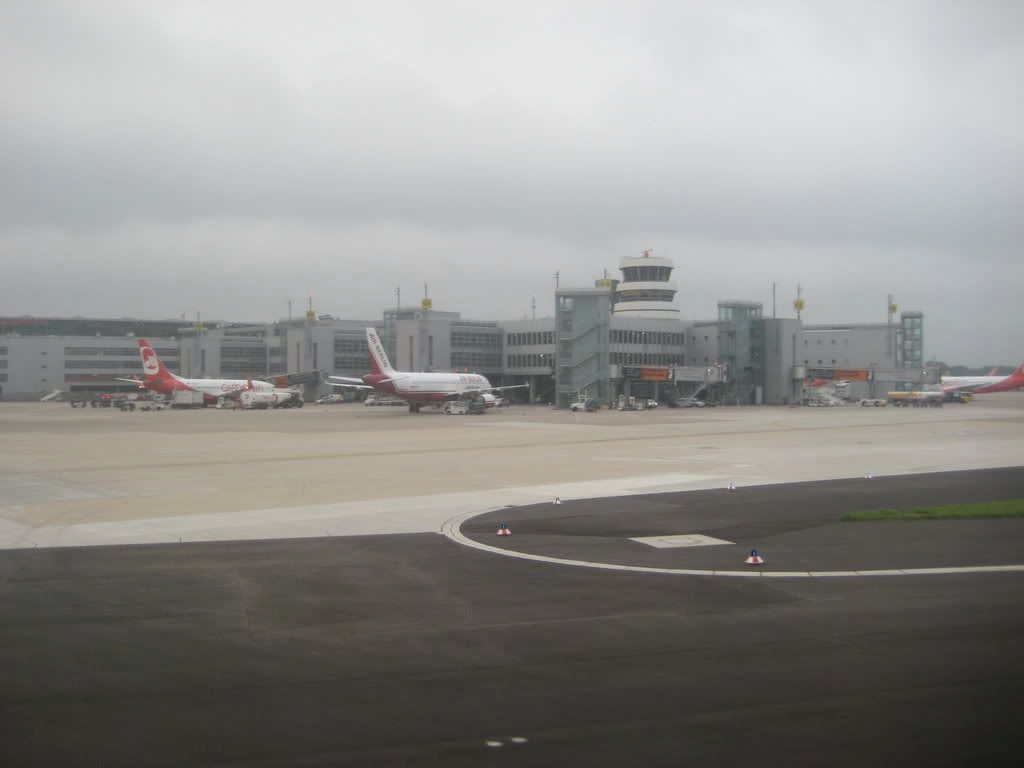 My ride at the gate: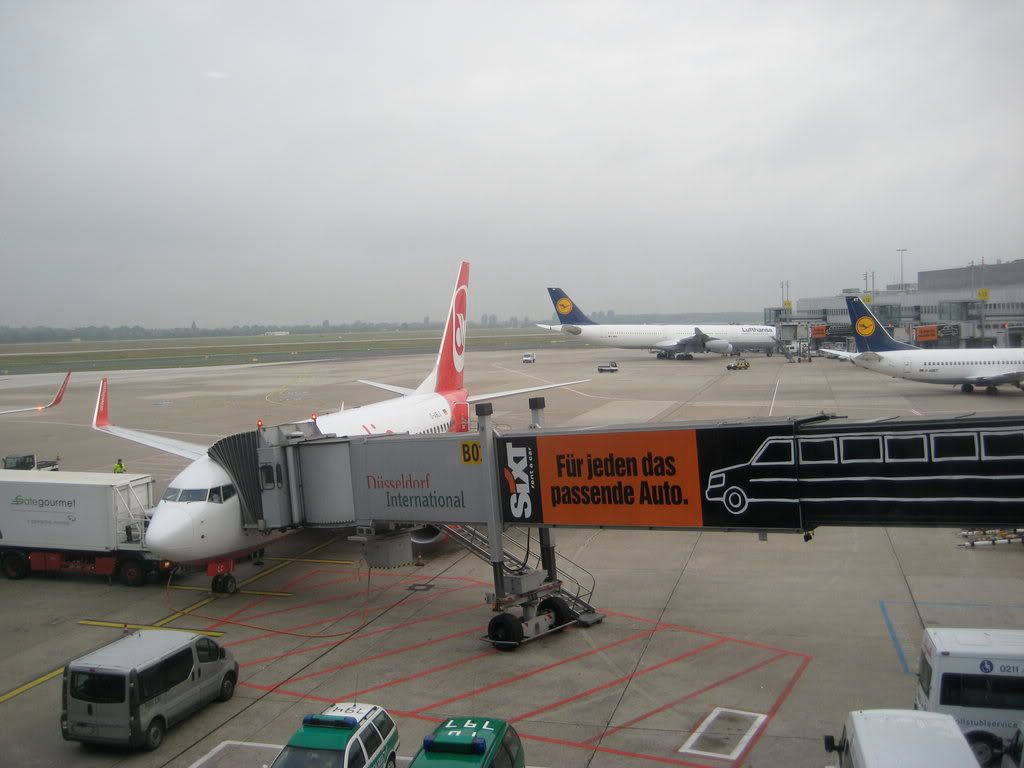 Deboarding is pretty fast and I'm able to use the exit for passengers with hand baggage only, which dumps me right into the shopping arcade of the departures level.
Düsseldorf Airport, take 1
I make my way to the Lufthansa end of the departures hall, trying first my luck with the self-service machines. For whatever reason I was unable to check in online the previous day, so I have my doubts about the machines. Sure enough, they don't find my reservation, so it has to be done manually. There are a few people on the line for the economy counters, but luckily I have a LH FTL card thanks to their recent status match offer in Finland so I can use the business class desks which have many agents and only a single passenger. "Nach Dresden, bitte" gets me a boarding pass with 8F on it and wishes for a good flight from a pleasant enough girl. Security is another quick affair with many lanes open and most of the fellow travelers appear to be businessmen - suits galore here. Traveling on weekdays with the business folks is very efficient as they know the drill by heart and don't cause delays at security or anywhere else.
Airside I make my way to the LH Business lounge - a very large lounge with lots of seating and not too crowded.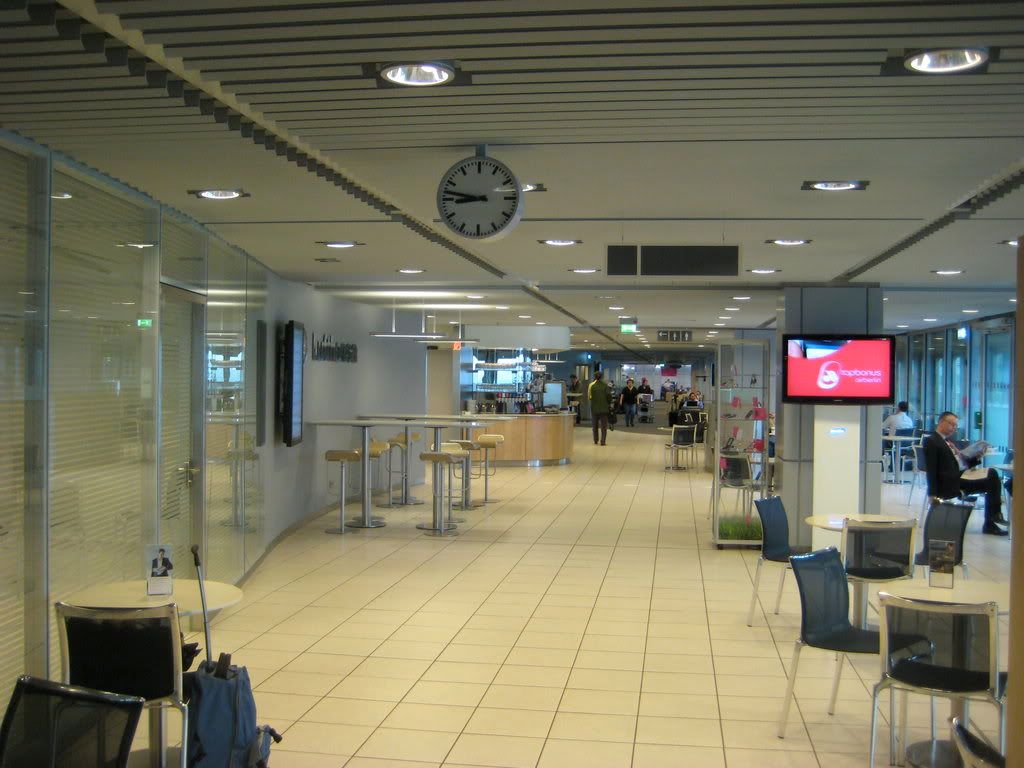 Yes, that's an AB commercial on the television. Ahh, the irony.
I settle down in a corner table with a nice view of the apron and grab some fruit salad a bagel and juice for a late breakfast.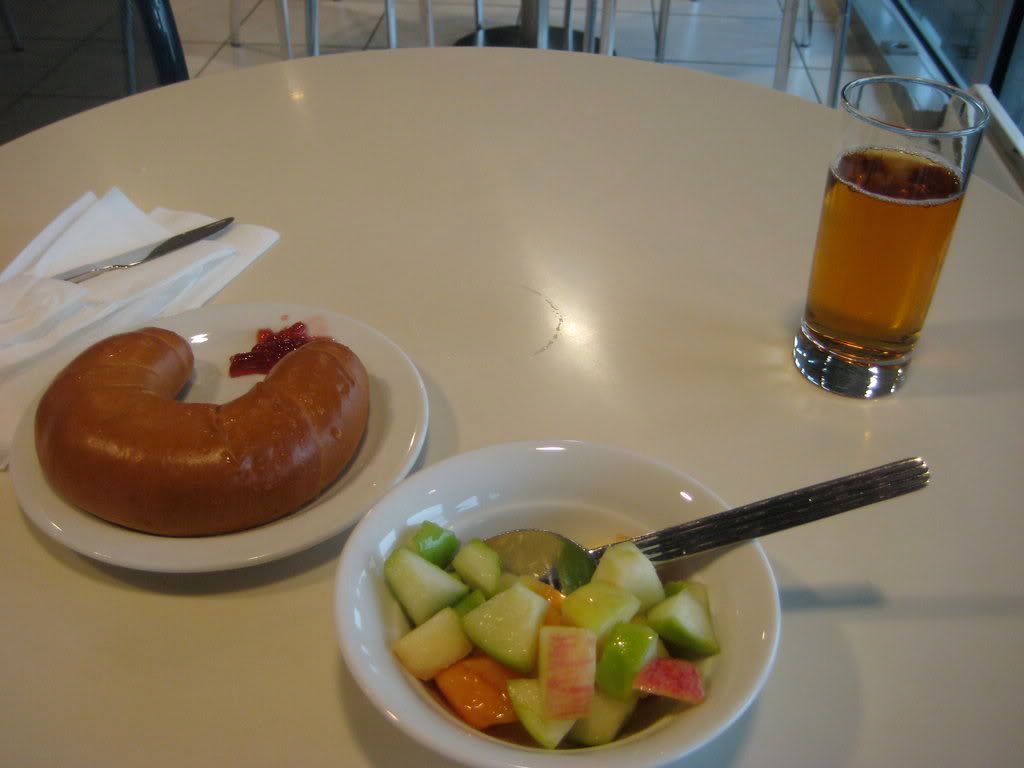 The food offerings are not too great, but the lounge more than makes it up on the drink department with even hard liquor available. Later I help myself for a few glasses of passable Sekt - bubbles is pretty much the only drink that is politically correct to be drank in the morning...
I watch my ride from HEL departing for VIE after a short layover: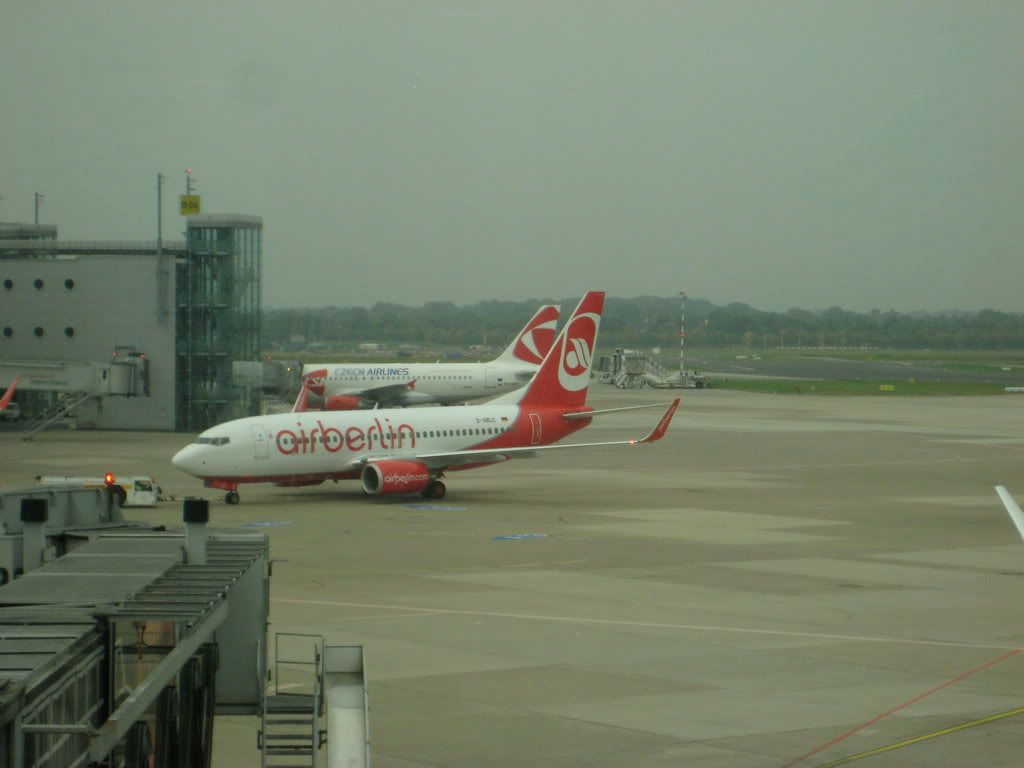 This beauty will depart for the US a few hours later: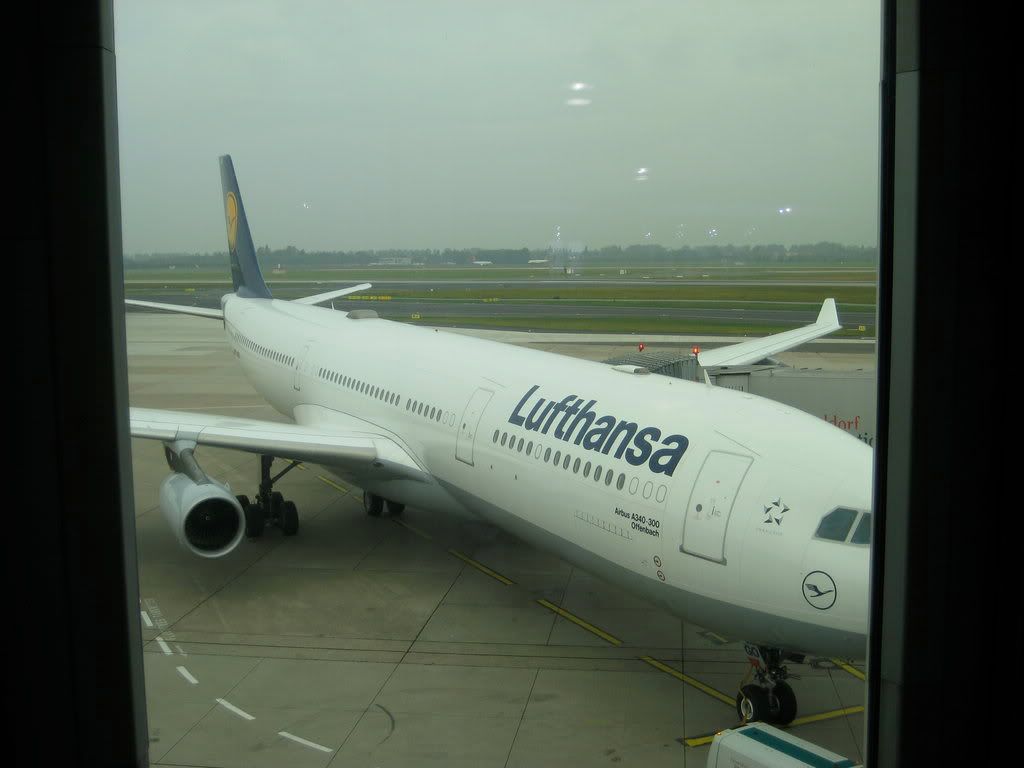 Right at the boarding time printed on my boarding pass the flight status changes to "Boarding" (or actually the blinking green dots appear next to the flight number) on the monitors, so I make my way to the downstairs bus gates. Our gate is packed with men in suits - I reckon a good 80% of the passengers are examples of this species.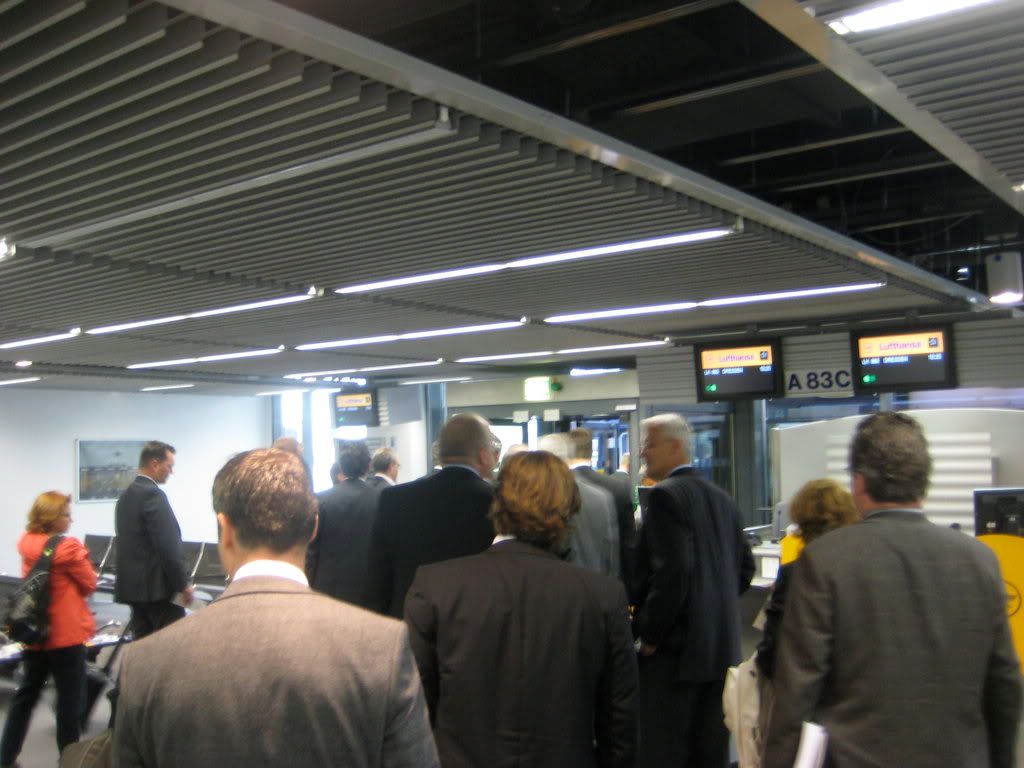 Once again, as a result boarding is very efficient and orderly with no wait for late pax in the bus. We drive to the eastern apron and stop in front of the expected CRJ-900 with the funny registration of D-ACNE - obviously a new reg for me.
DUS-DRS
LH860 Operated by Eurowings
CRJ-900 D-ACNE
Seat 8F
10.30 - 11.30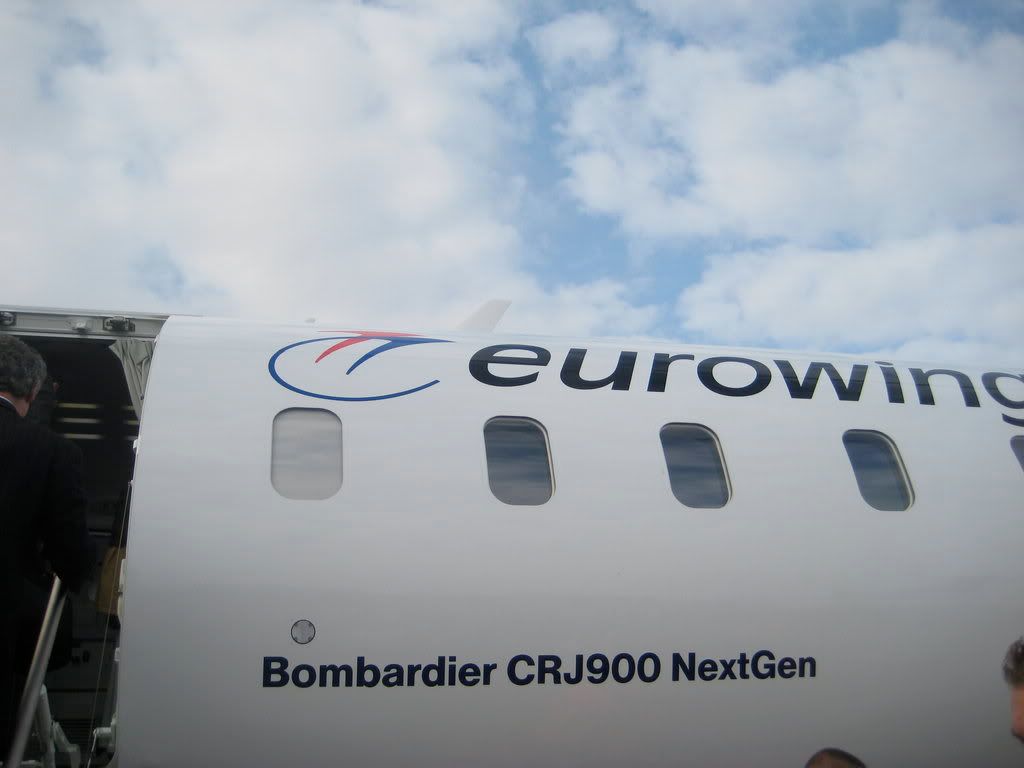 This plane has a definitive new plane smell - having been delivered to EW just one and half months before. A friendly but a bit reserved female FA greets me at the entrance. Inside there are two rows of business class, there seem to be two business class passengers. The seats look a lot like the older ones on the LH shorthaul fleet and are rather comfortable.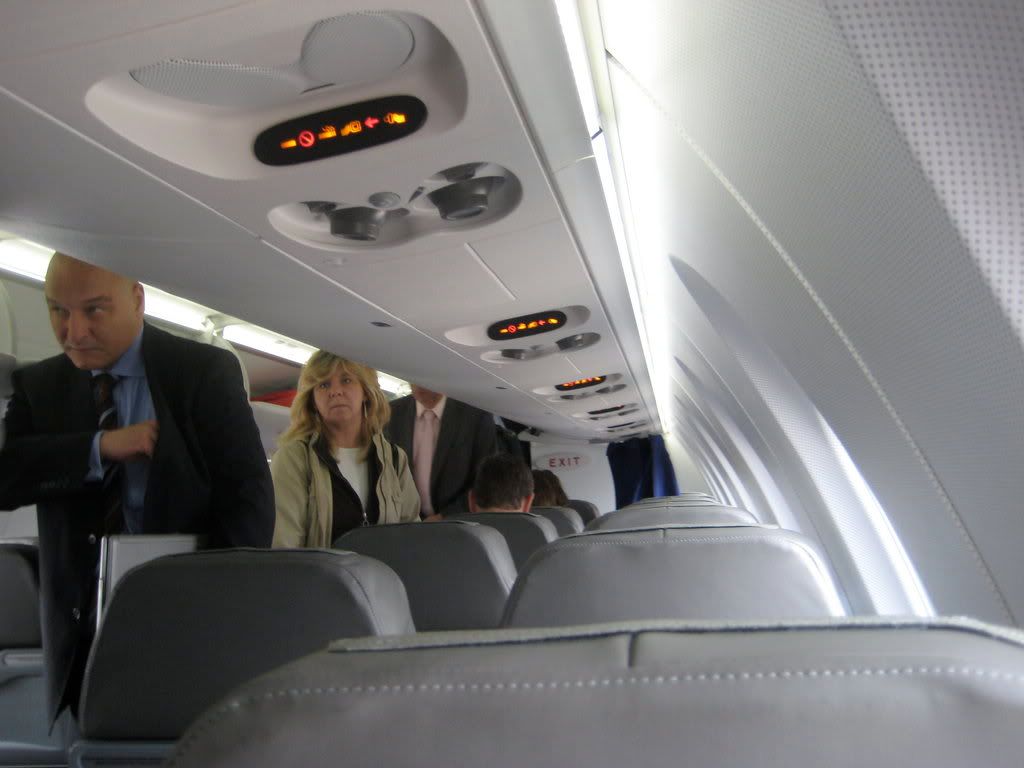 Legroom isn't too bad, either: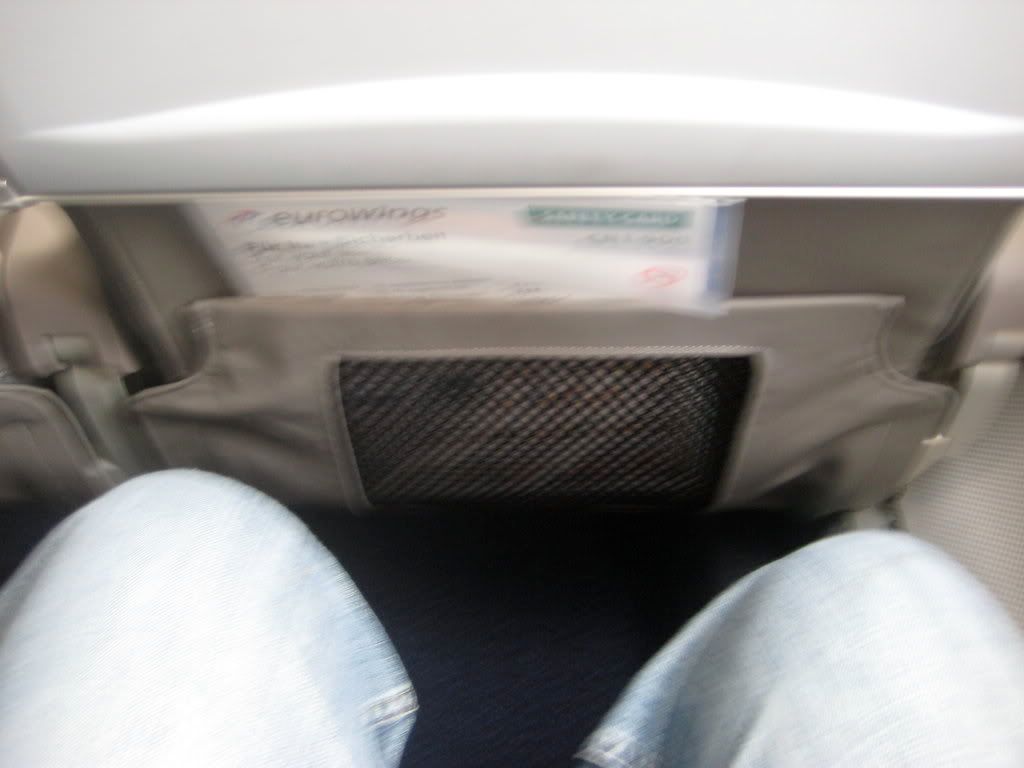 A definitive improvement over the CRJ-1/200s. I get a middle-aged guy in a suit next to me, but soon the flight attendant announces "Boarding completed, total 49" and as there are many empty rows I politely suggest that he should move to one, which he agrees to and I thank him, calling it a "Win-win situation".
Our captain comes on, expecting us to take off "from runway 23L towards southwest", having a fast flight to Dresden and landing again to the southwest. The whole ordeal should take an hour. We push back during his announcement, and the flight attendants announce the flight time as 45 minutes. There are a few planes queuing for take off, so it takes another 15 minutes before we start our take off run after a LO ERJ-145 and KLM CityHopper Fokker 50. After us a SK 736 is waiting to depart for ARN, while two AB A330s land right after each other on 23R.
Nice lineup of planes: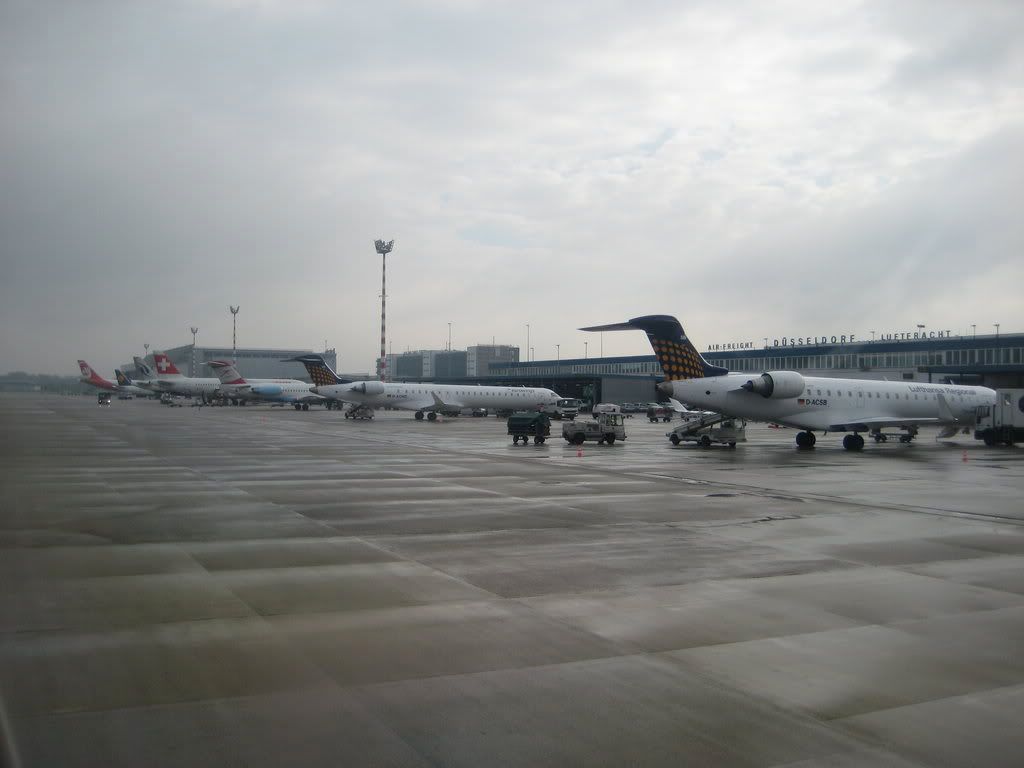 The DUS airport train station with the nice observation terrace: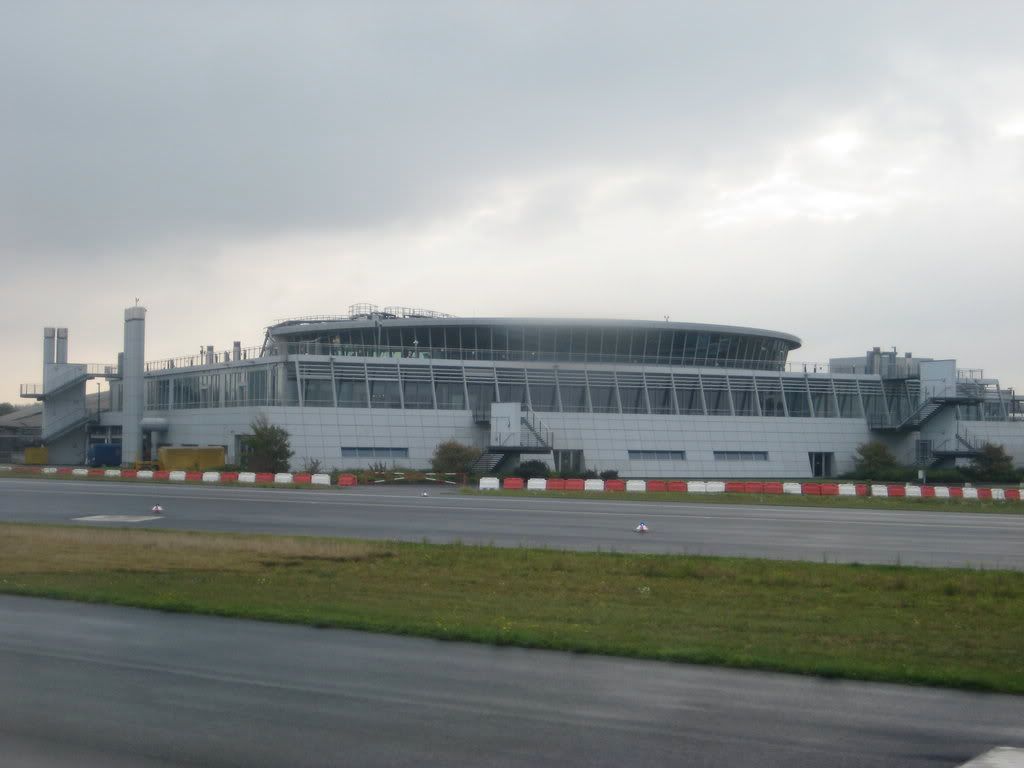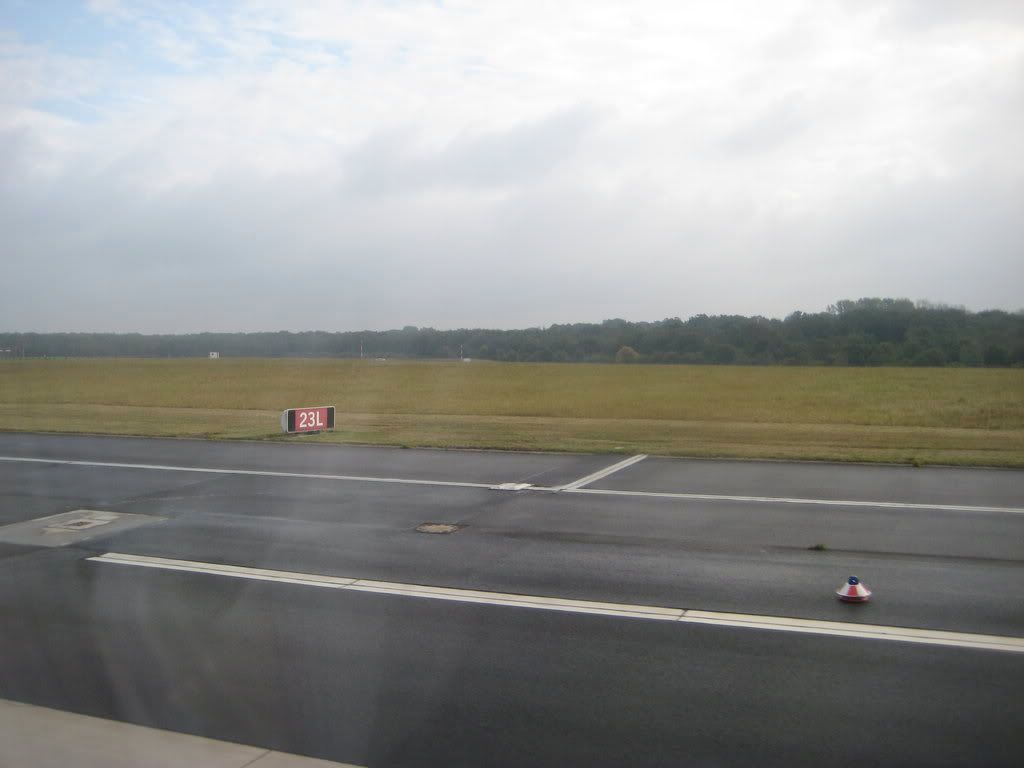 A PrivatAir BBJ and unrecognized Airbus: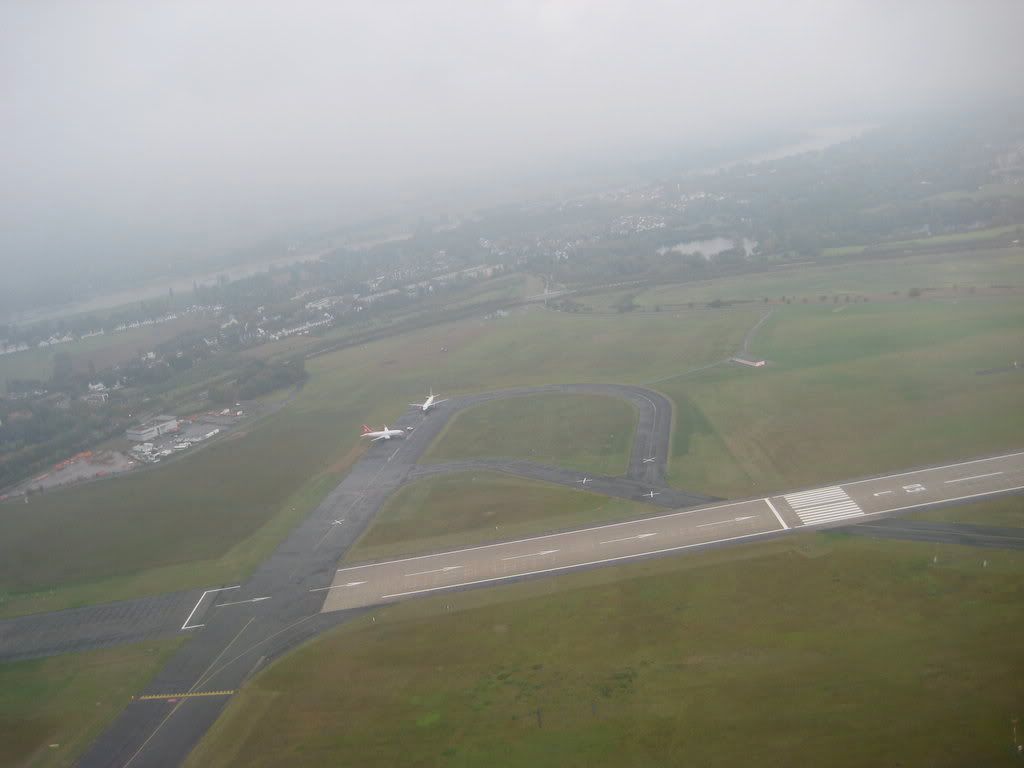 The cloudbase being so low we loose sight of the ground even before overflying the Rhein: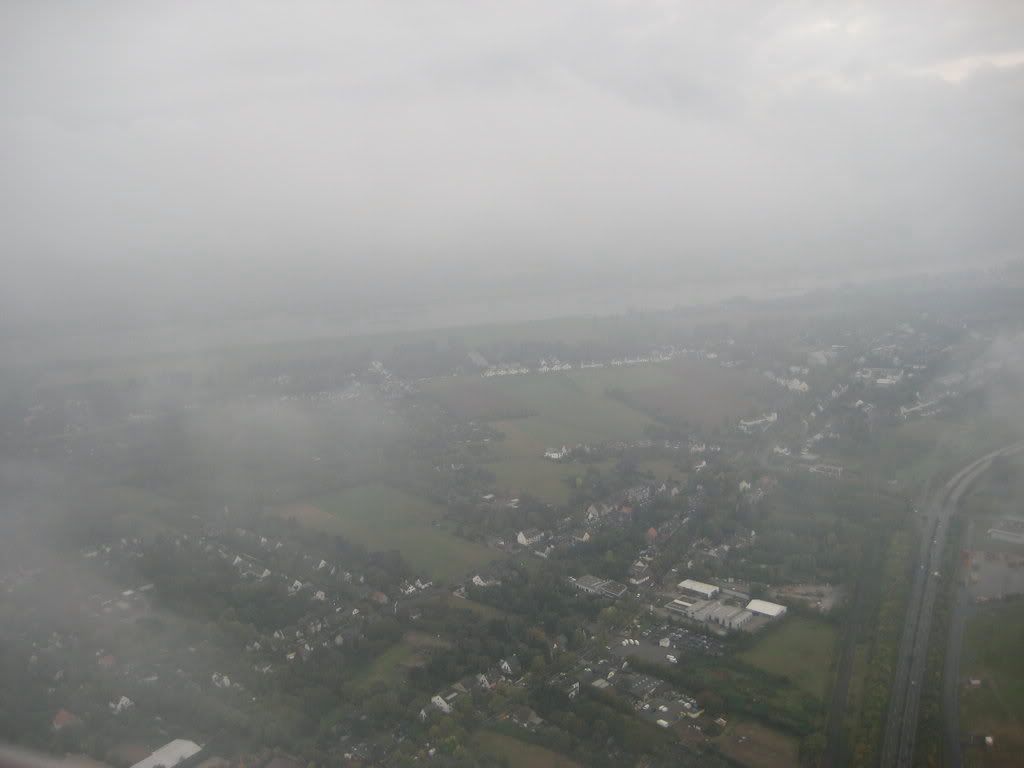 - a shame as a left turn follows which must take us right over DUS downtown. This is the only opening in the clouds during our cruise: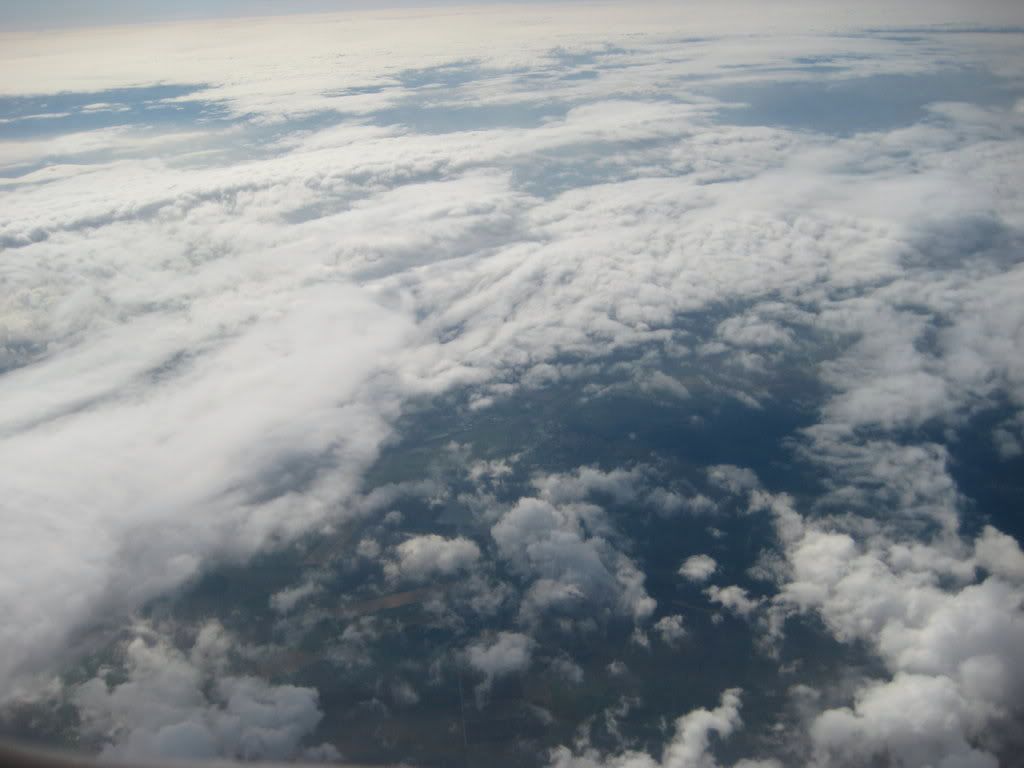 Service is started soon, and is the standard LH domestic beverage run.
Our flight is a quick one, and barely 25 minutes into the flight we start descending, with the seatbelt sign being switched on a while later. We break the clouds and there are some nice views of Elbe: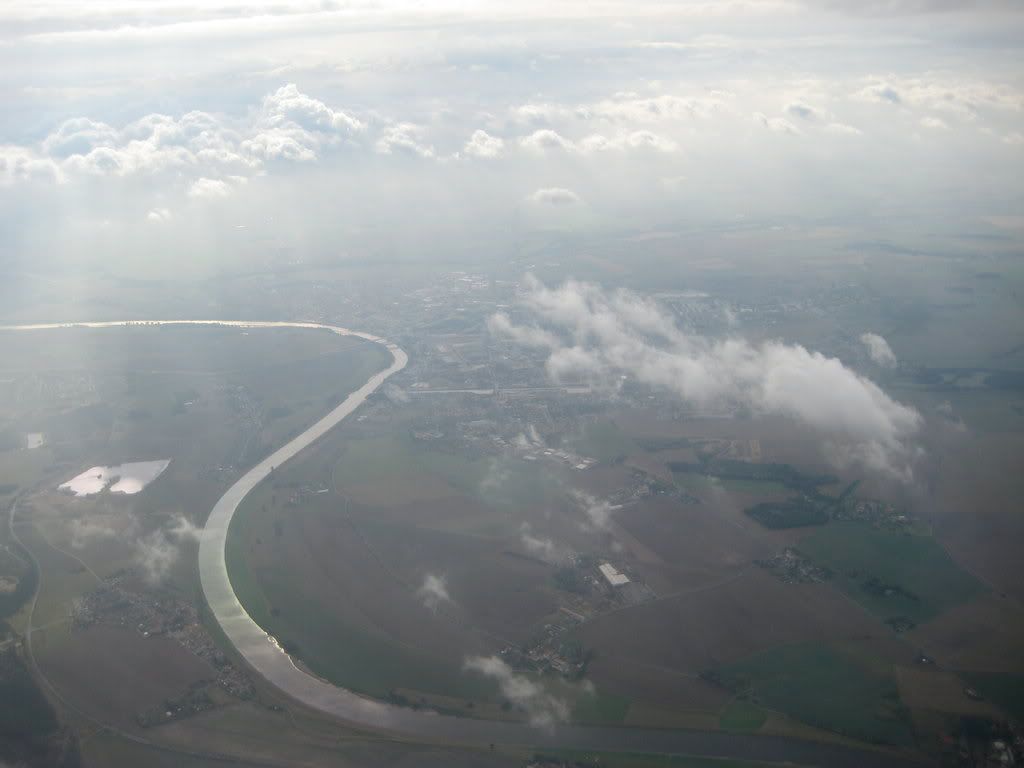 We fly right past the airport towards the northeast:
before making a right hand turn to line up with runway 22.
So many trees - if they added some lakes you could think you were in Finland: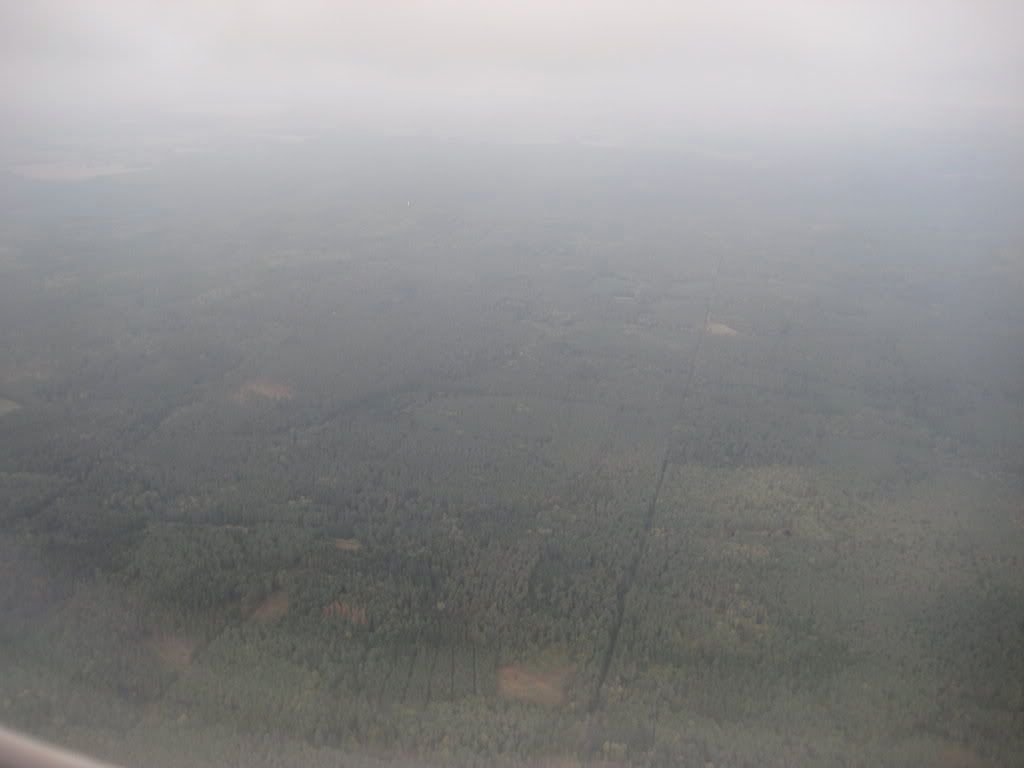 Remains of open-pit mining near Ottendorf-Okrilla: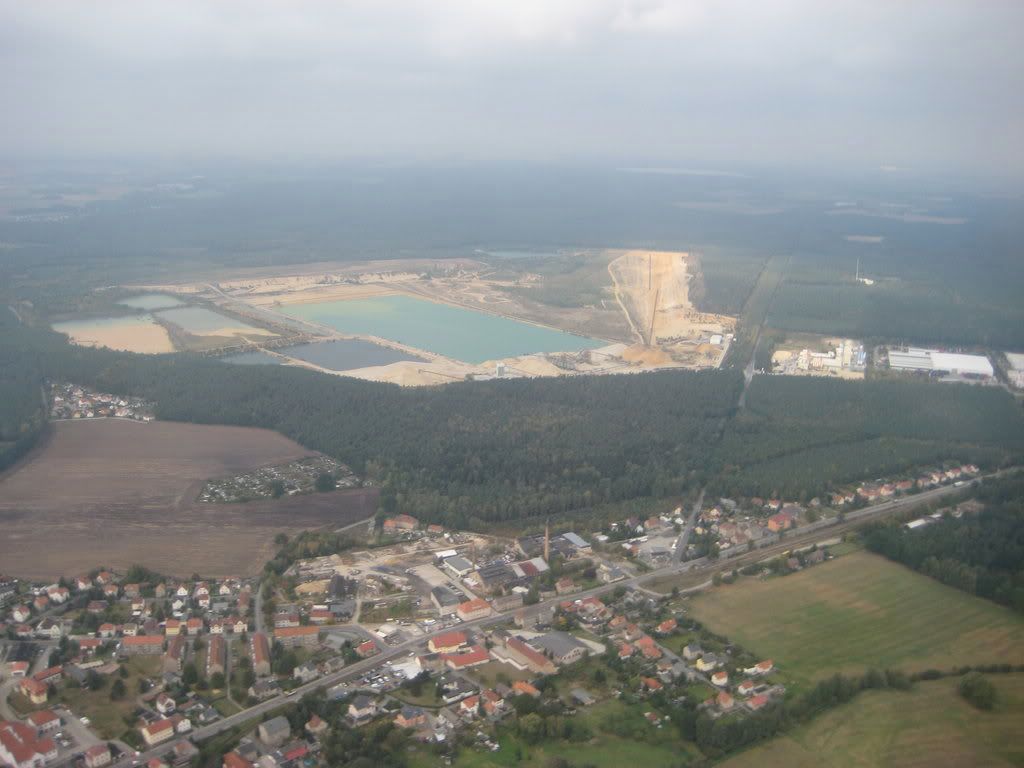 Traffic on the Autobahn A4: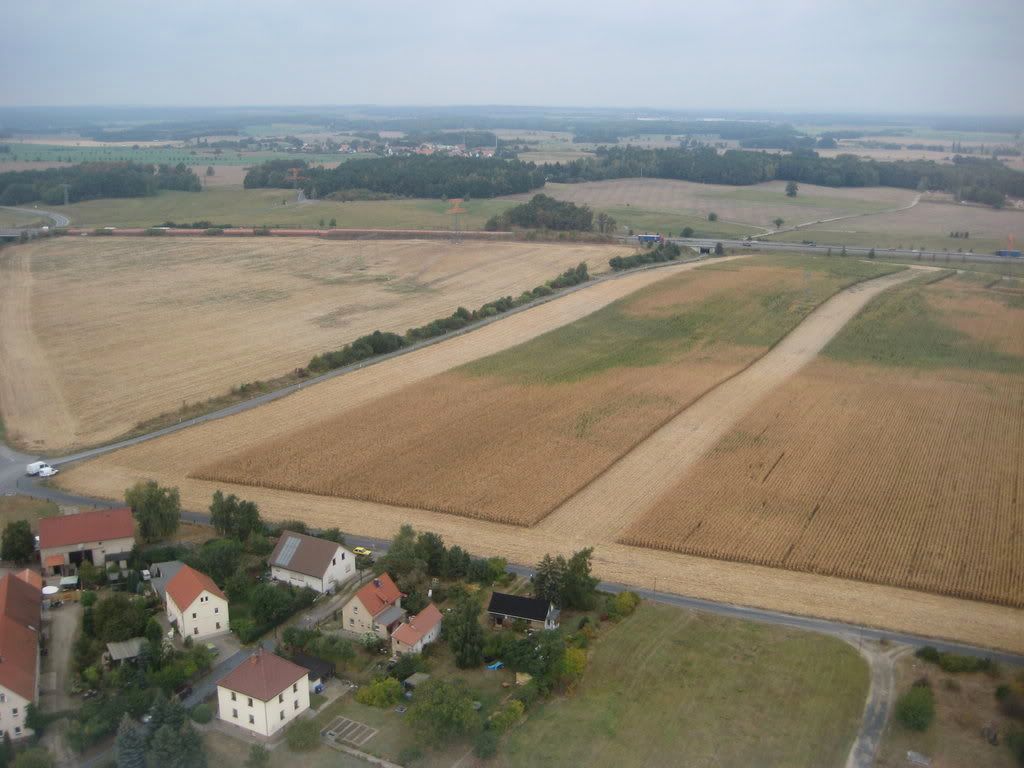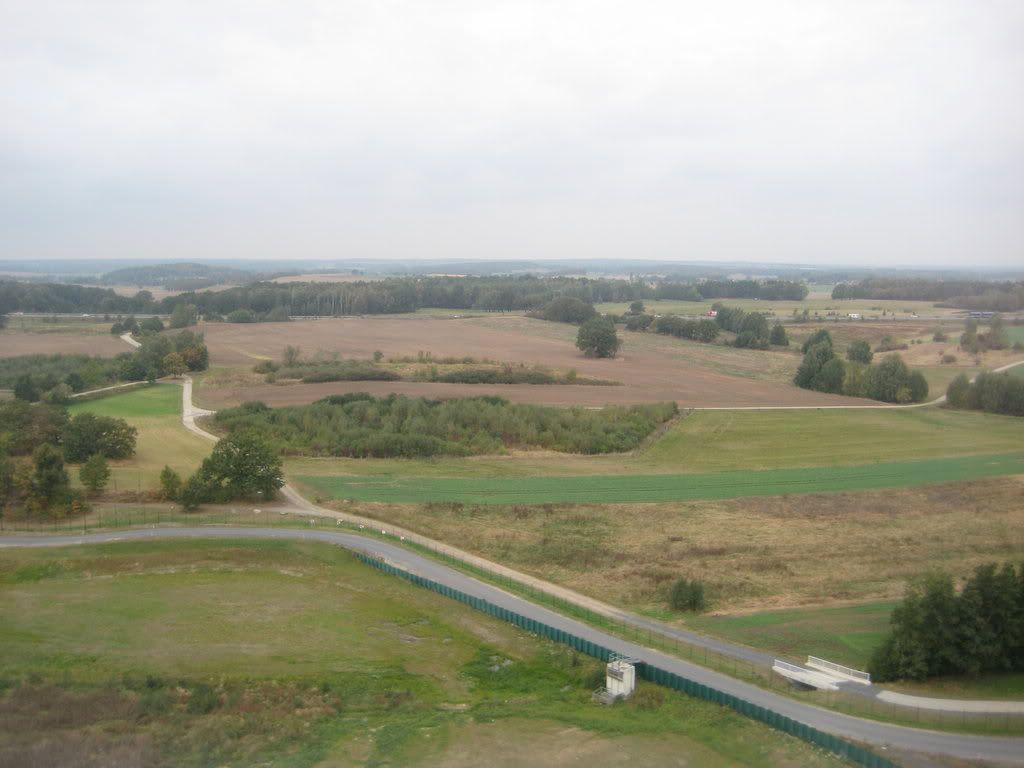 ...and land with a huge thud and heavy breaking, use up all of the runway before exiting at the other end. We taxi past four retired LH A300-600s - what a sad sight: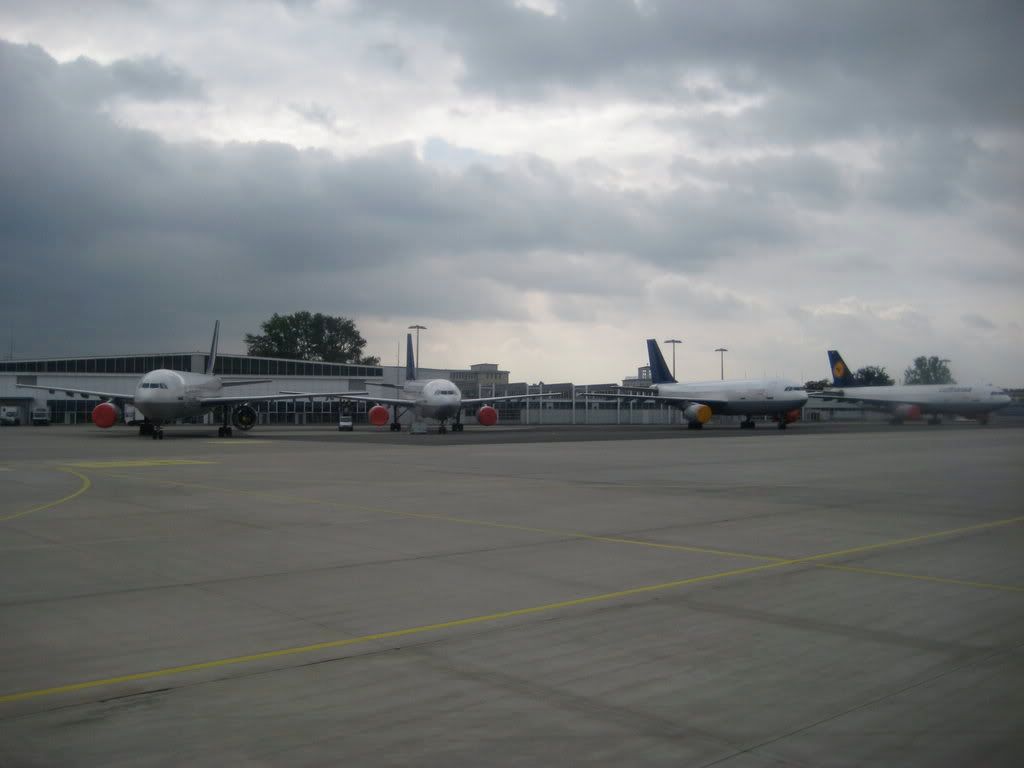 Terminal: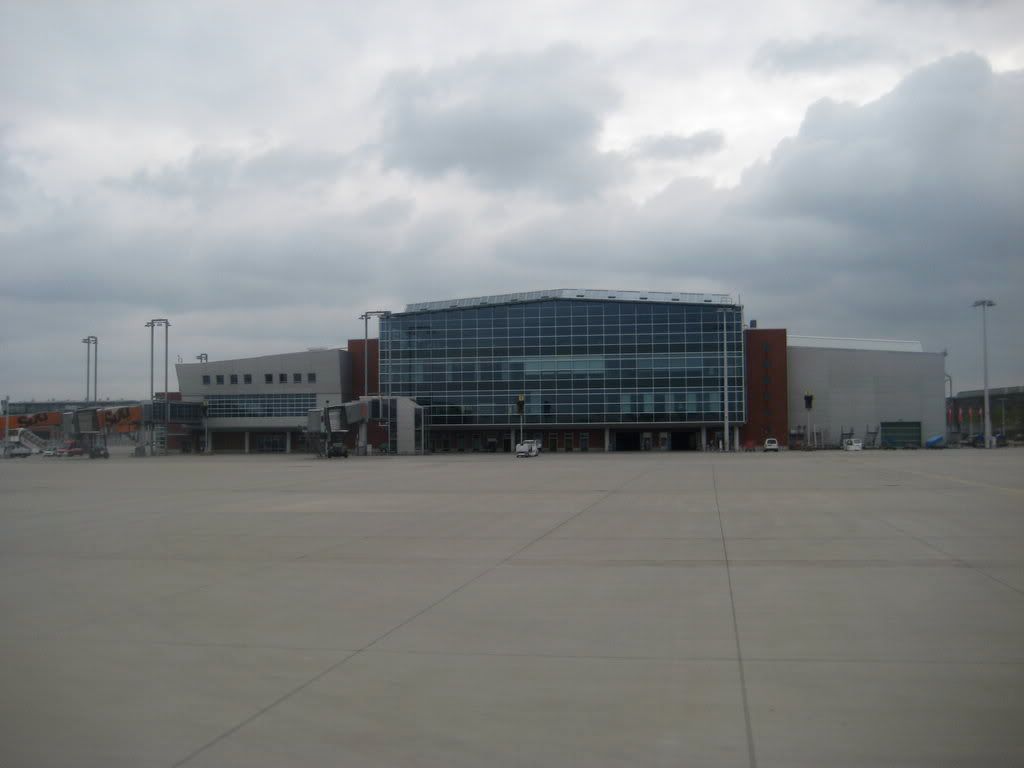 The only other commercial plane here is a Skyairlines (never heard of 'em) 737 to somewhere in Turkey: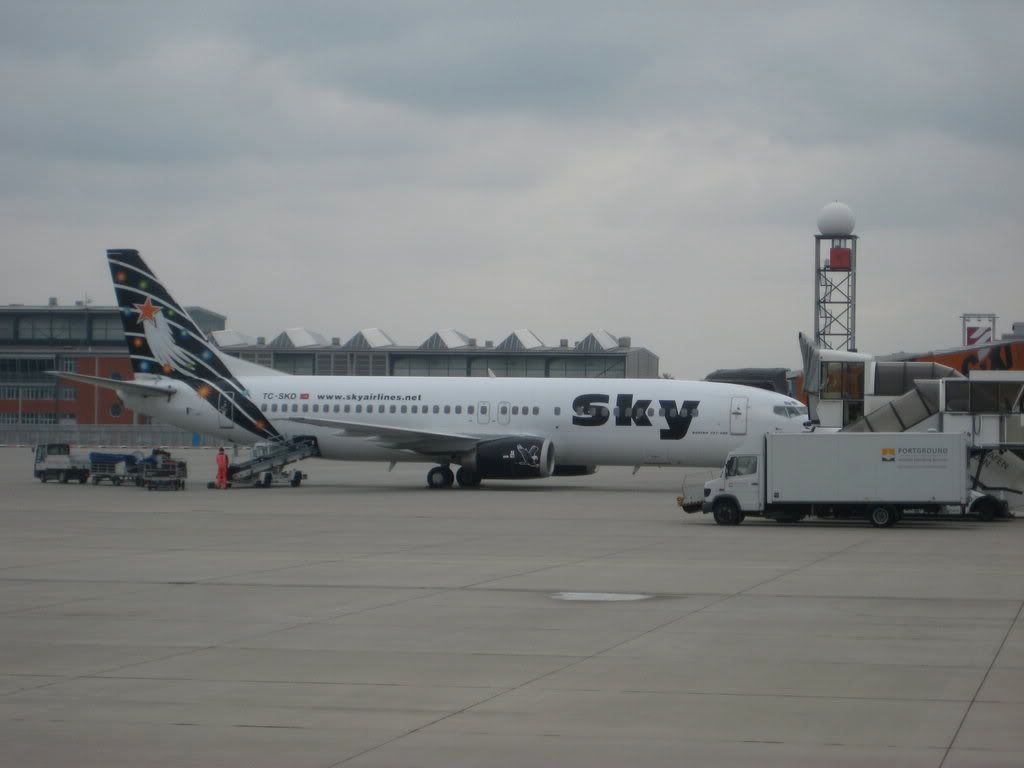 We taxi to a parking position in front of the ATC tower and deboard to a bus.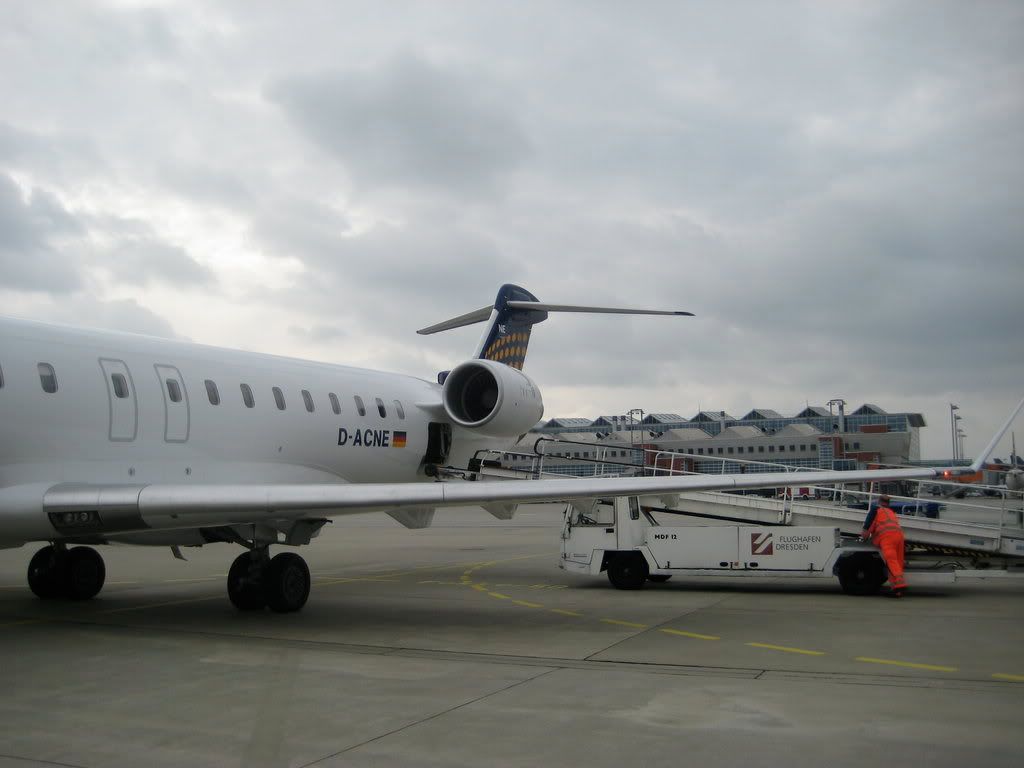 The business folks do this in goord order and in no time at all we are whisked to the terminal entrance. After exiting the baggage claim hall I make the fatal mistake of listening to my stomach (I do this far too much!) and stopping to buy a sandwich from the shop at the arrivals hall, and a day ticket for the public transportation from the info desk. All of this slows me down so that I miss the next - it pulls away just as I reach the underground train platform - and the next one isn't due for another 30 minutes! Oh well, I decide to make best of the situation, so I eat my sandwich and explore the airport a little bit. They have a rather nice watching area with great apron views through a plexiglass - too bad that there isn't much traffic to look at!
Empty jetways: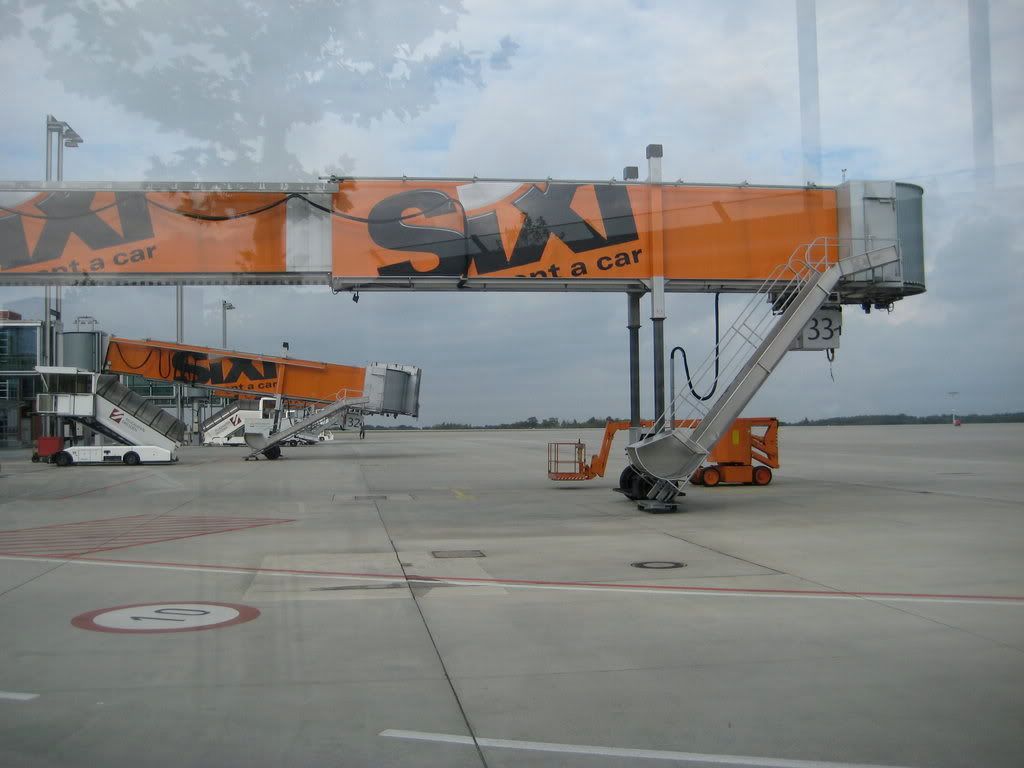 Sky departure to Turkey: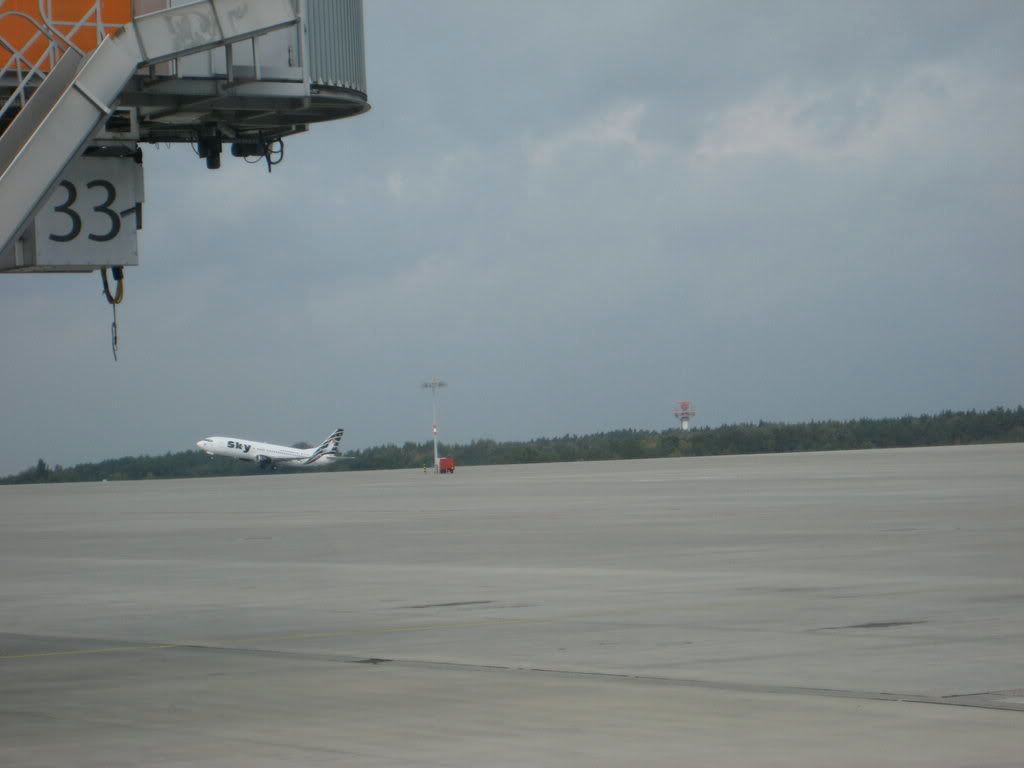 My ride pushing back for the return to DUS:
30 minutes later I catch the next S2 train for the 20 minute ride to the Dresden Mitte stop.
Dresden
Despite visiting Germany around 25 times (and that's only counting the times I actually left the airports) - this is my first real foray into the former East Germany. Well I've been to the former East Berlin, but I guess that doesn't really count. Boy am I blown away by Dresden - what a great city full of history, very interesting and beautiful (although reconstructed as the whole city was pretty much flattened by the infamous air raids in February 1945) historical buildings and so on. There are lots of tourists around, but it doesn't really feel crowded at all. Too bad the weather is a bit wet - I think I should come back at summertime with a few nights to spend here, as the few hours at my disposal are only enough to scratch the surface.
Some pictures:
Yenidze - it used to be a cigarette factory manufacturing "Turkish" cigarettes: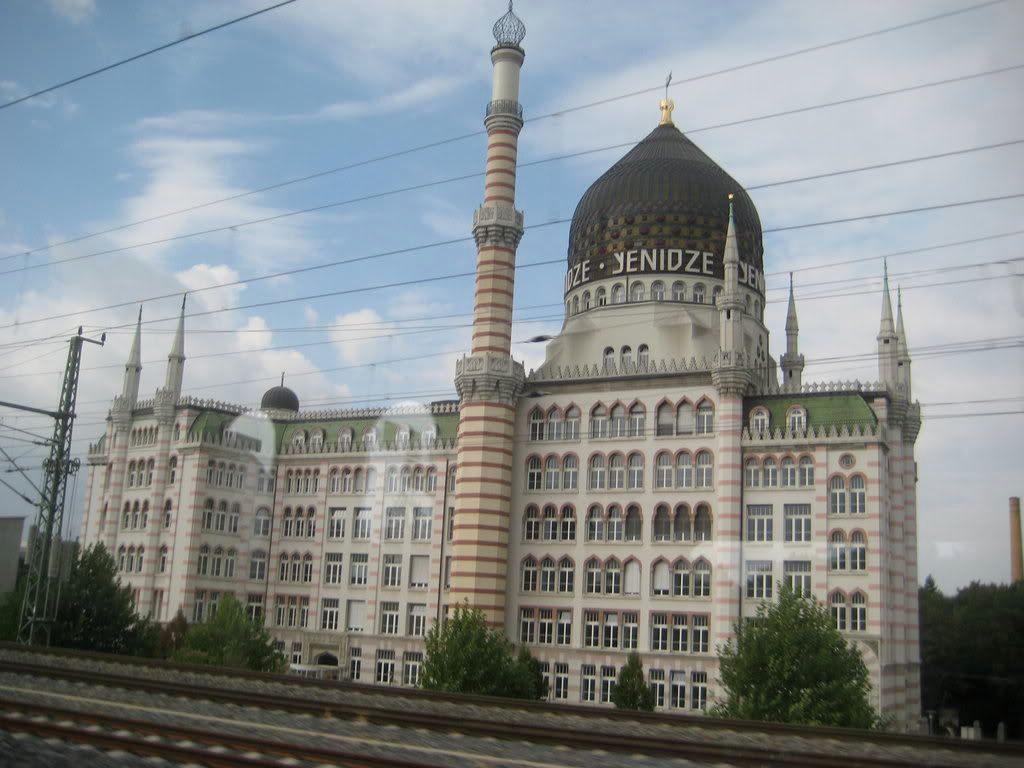 Miracle healing? Yes, those are a pair of leg prosthesis with a matching pair of shoes and something that appears to be a dirty hospital gown: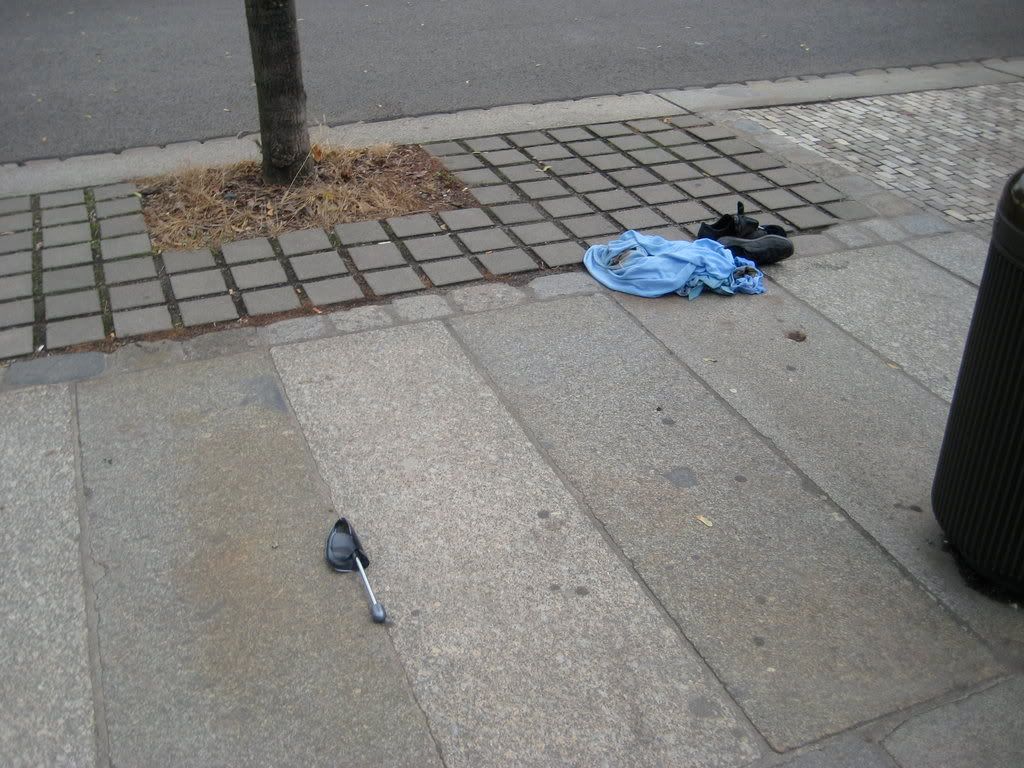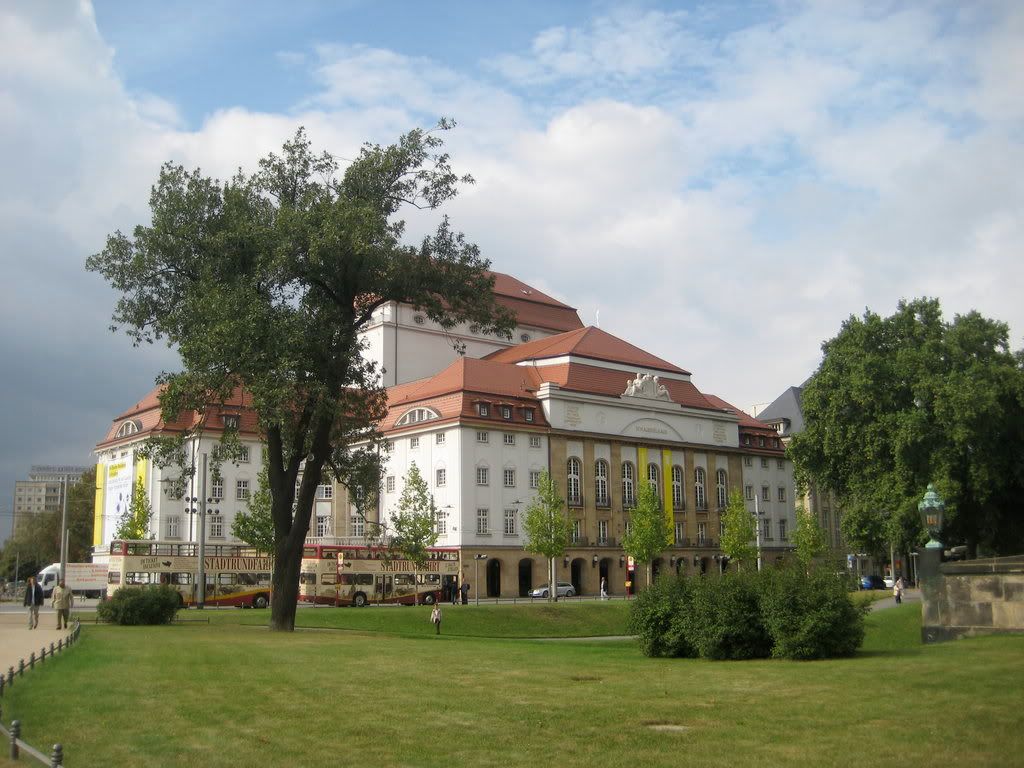 The Zwinger palace complex: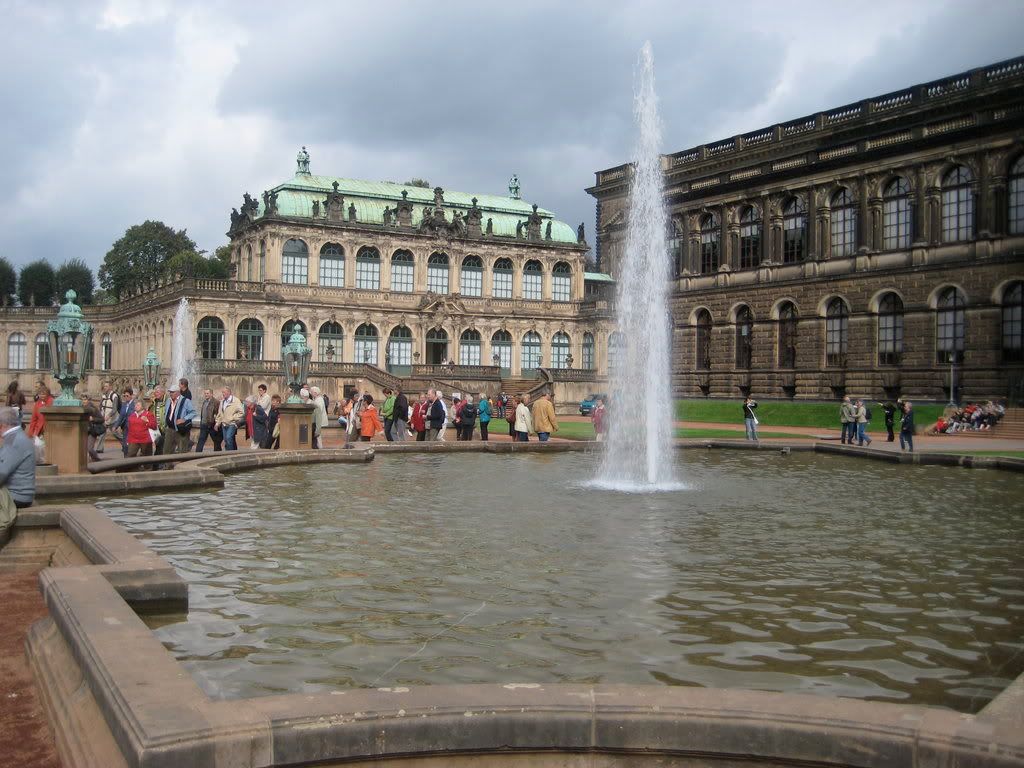 Fountain inside the Zwinger: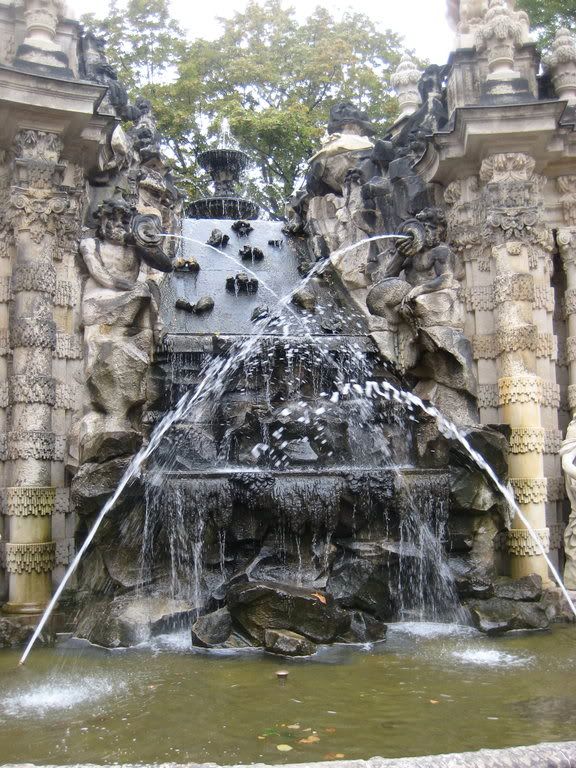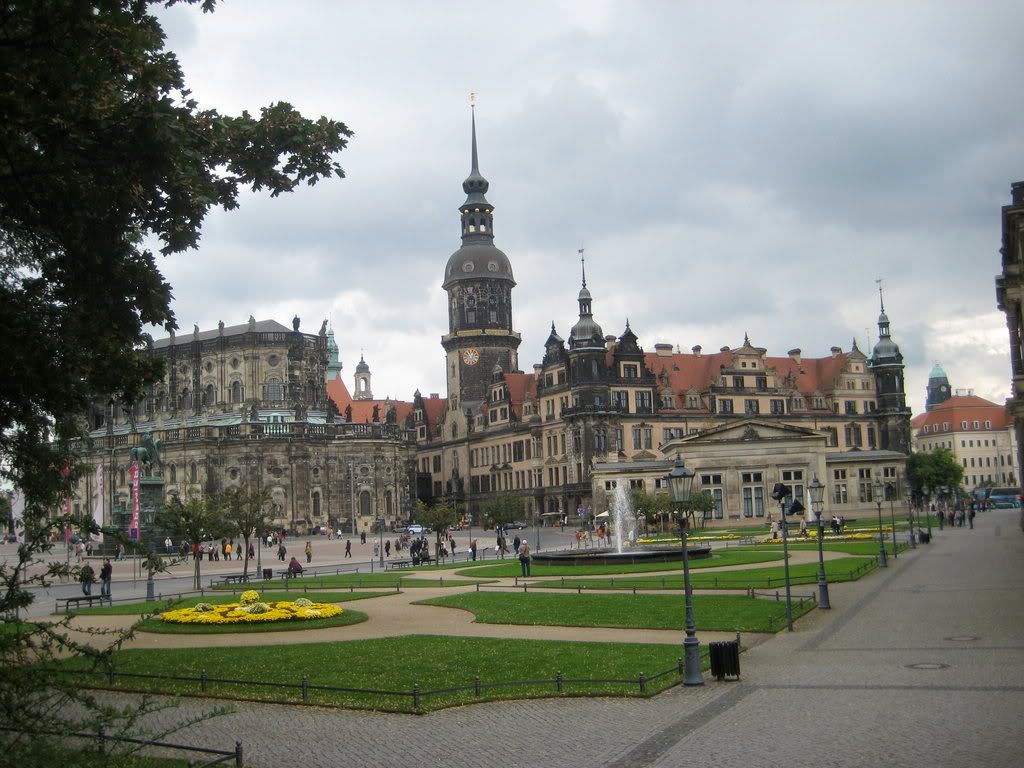 Semperoper: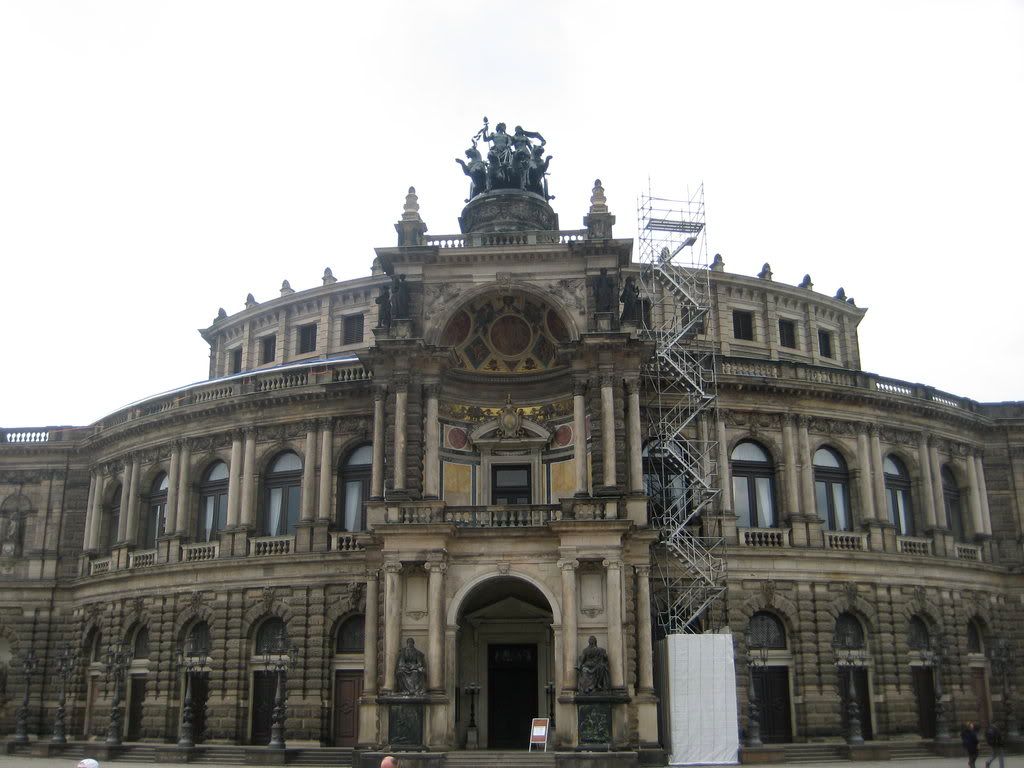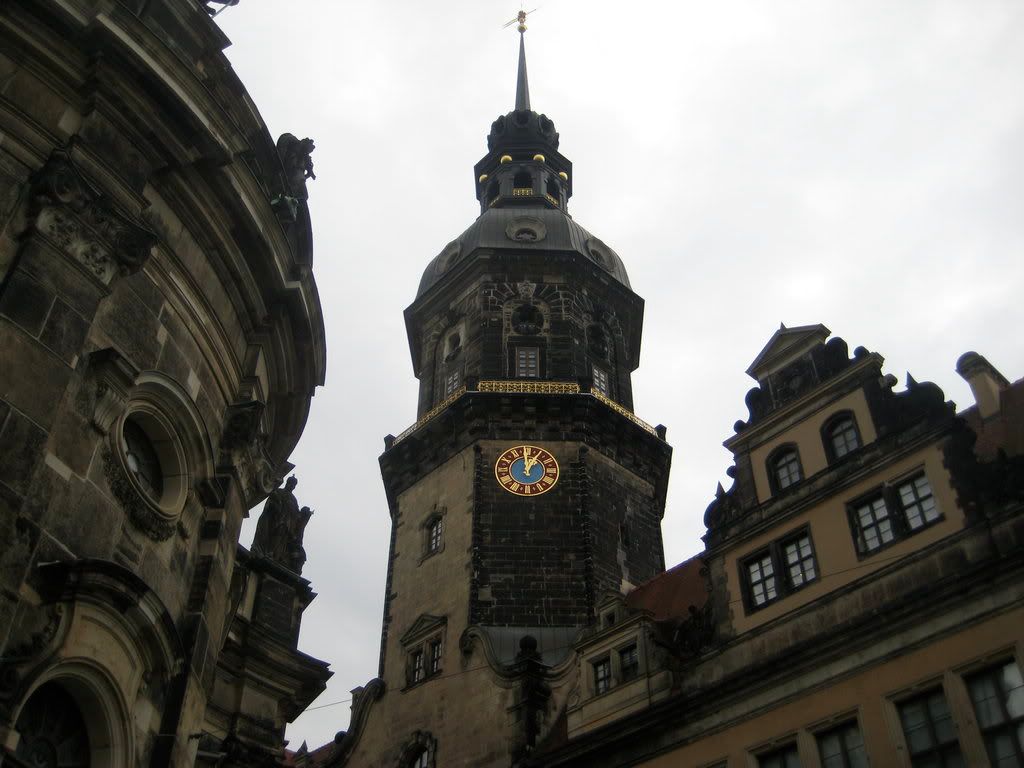 The Elbe: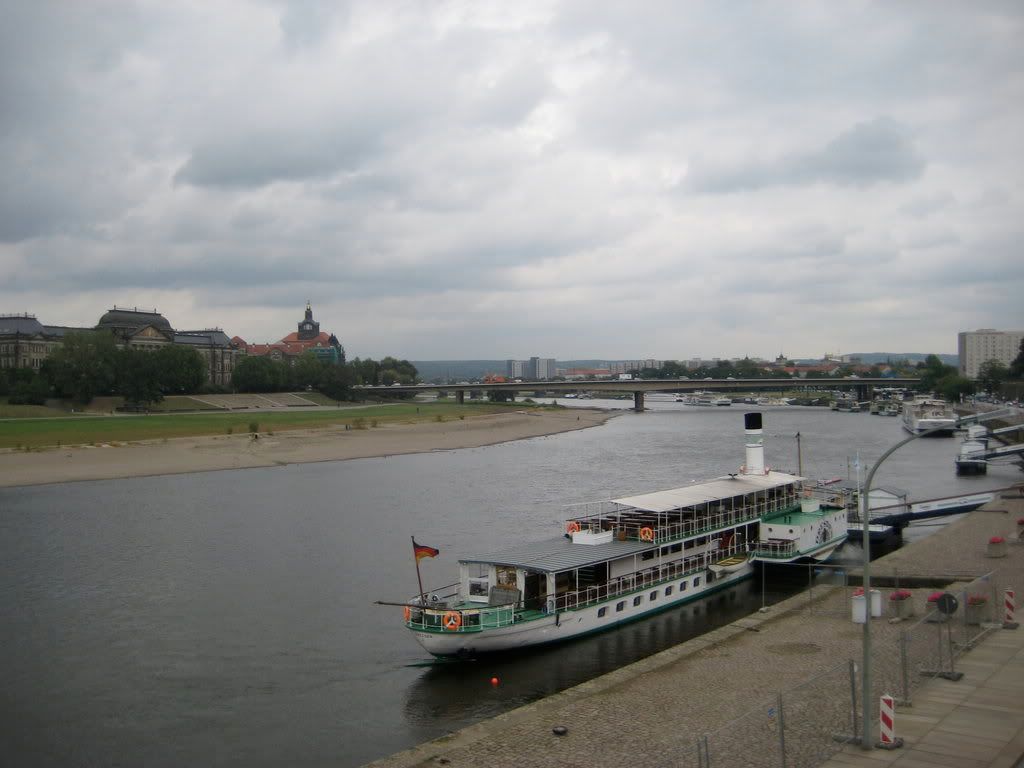 A Trabant limo
:
Impressive mural: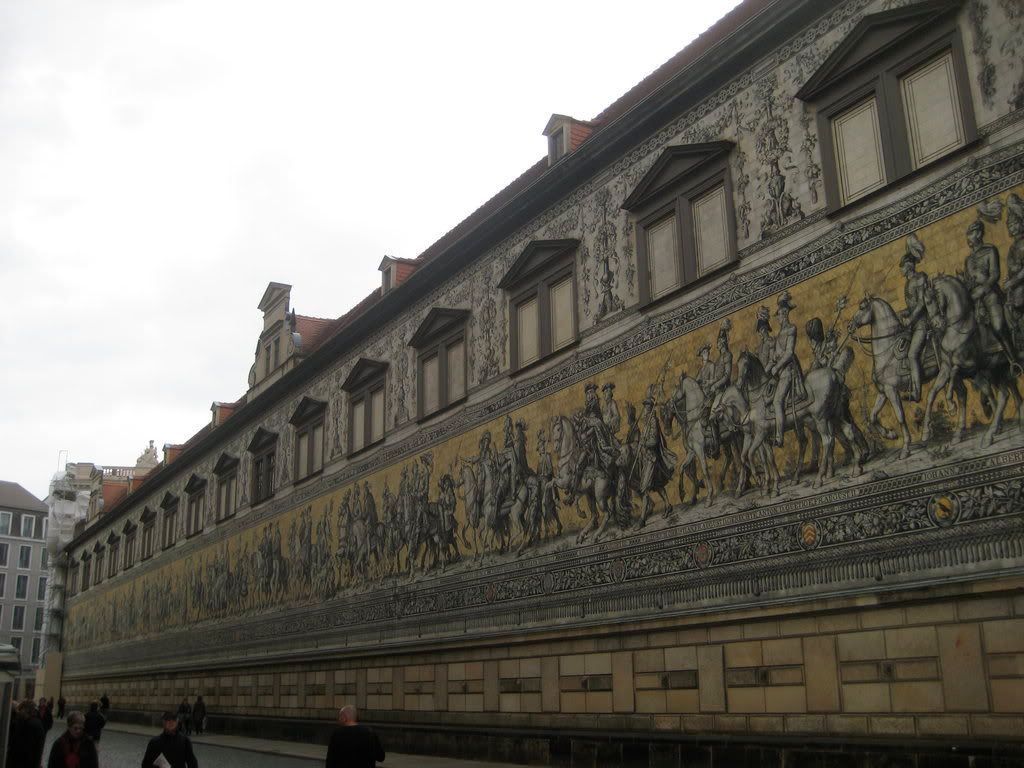 The carefully reconstructed Frauenkirche: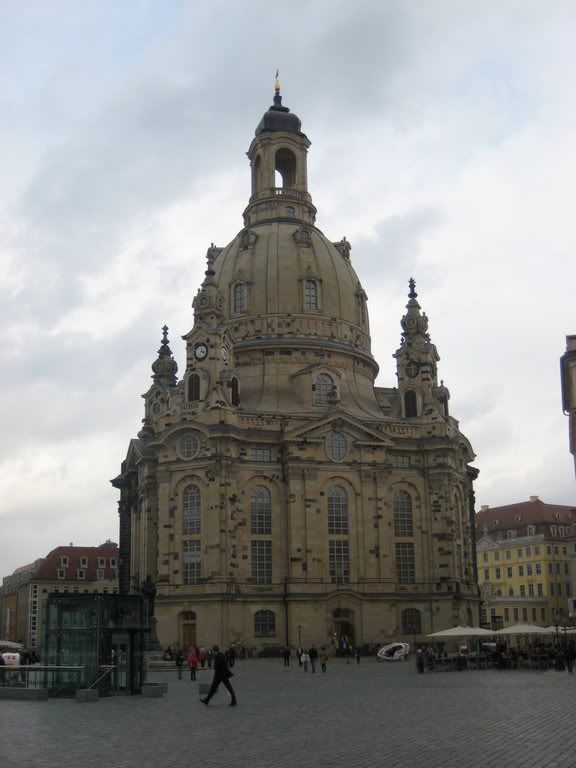 View from the Brühlsche Terrasse towards the Frauenkirche: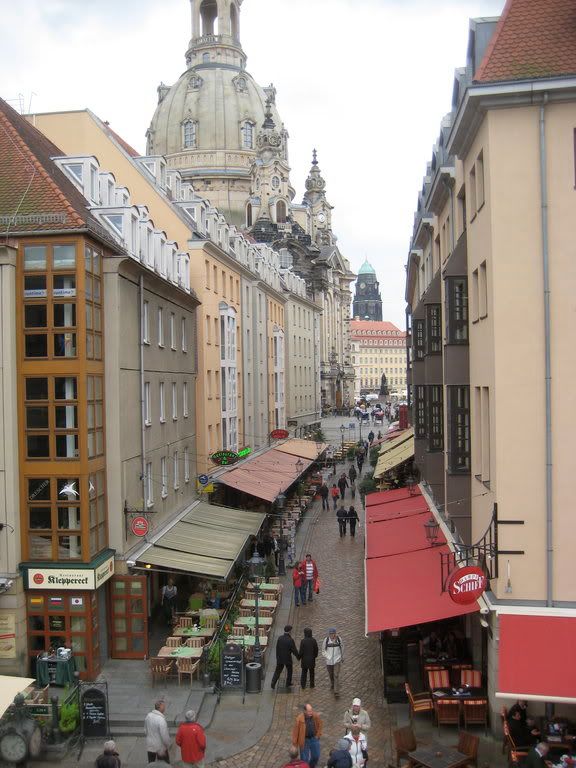 Part of the Terrasse:
Ampellmännchen!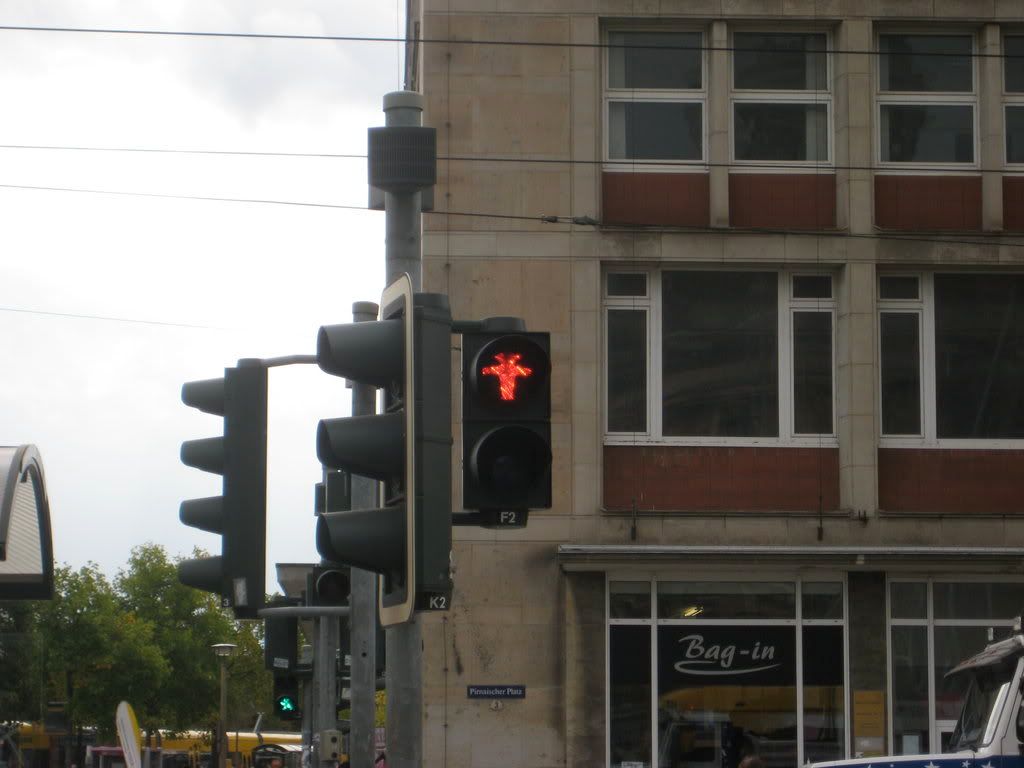 The famous Volkswagen assembly plant with all-glass walls: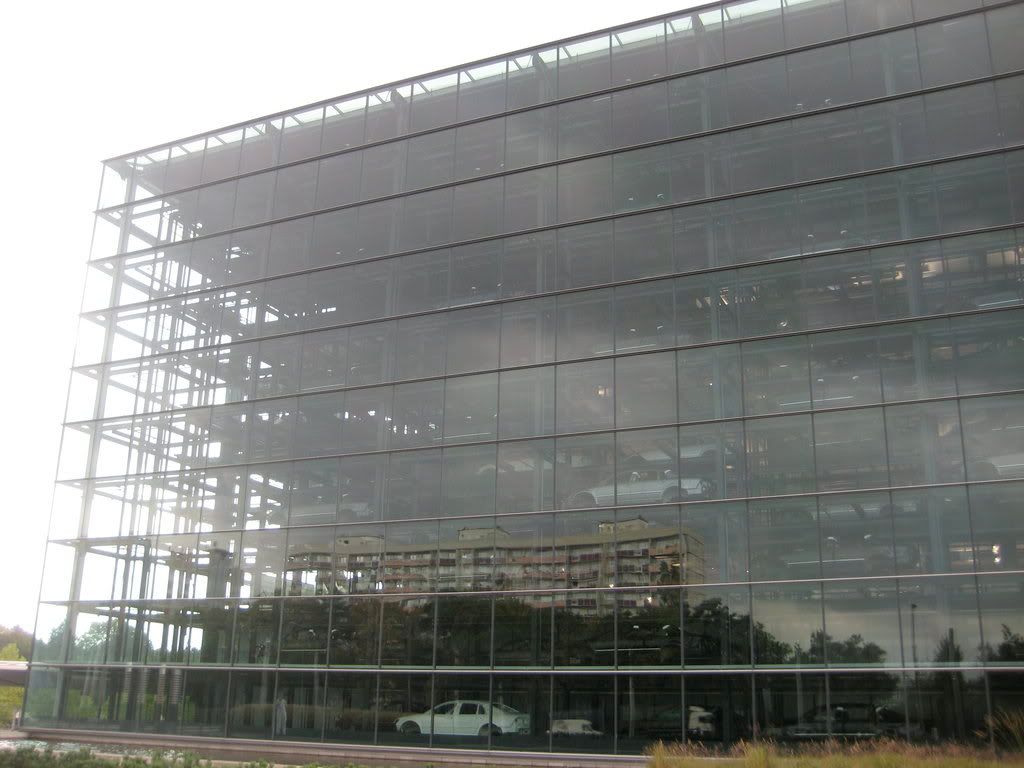 Yes, those are actual cars being assembled inside.
Just after 15.30 it's time to get back to the airport for my 17.00 flight back to DUS, so I board the S2 train at the main train station and reach the airport shortly before 16.00. Having done OLCI the day before I head directly for security - but before that I make the second fatal mistake of the day by spotting a model and hobby shop and actually deciding to go browsing. Of course I can't leave without a few new Herpa plane models for my collection - adding to my credit card debt in the progress.
Before the actual security checkpoint a guy is checking boarding passes and they also have a weird setup where they scan the barcode of your checked-in luggage receipt - well I have none today. Security is a great demonstration of German efficiency and I'm through in no time at all. The airport has great windows with views towards the apron and the runway - but unfortunately there isn't too much traffic. A Cirrus D328 waiting for her flight to ZRH in few hours: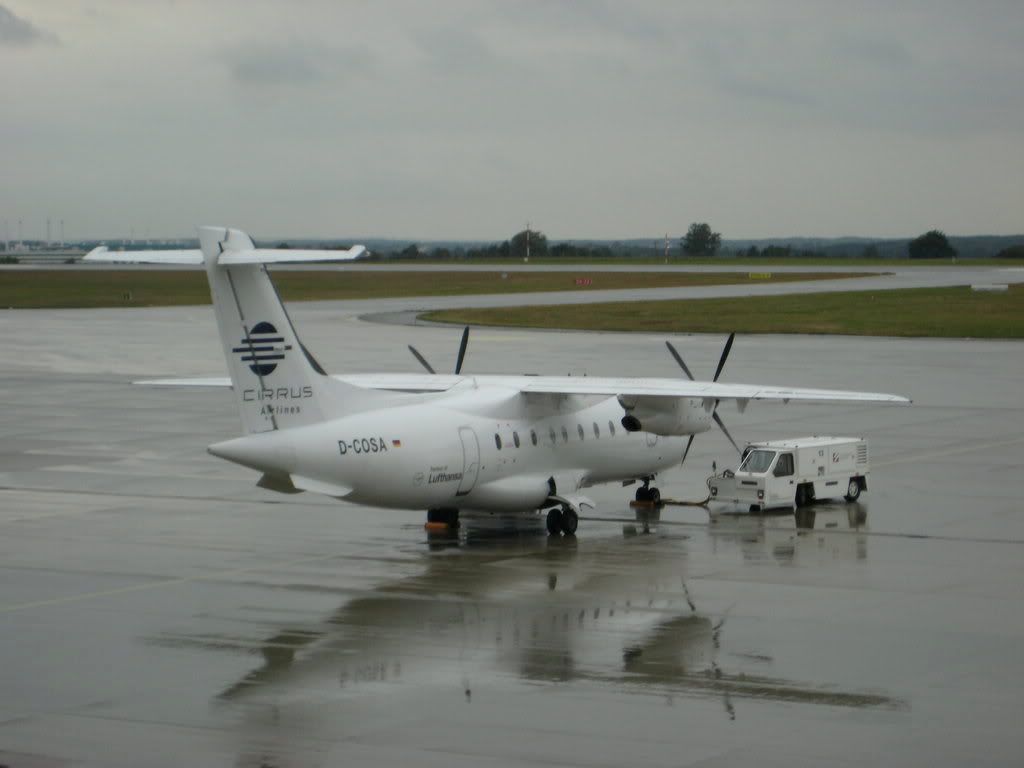 Germanwings A319 departing for CGN, with LH Cityline Avro arriving from MUC: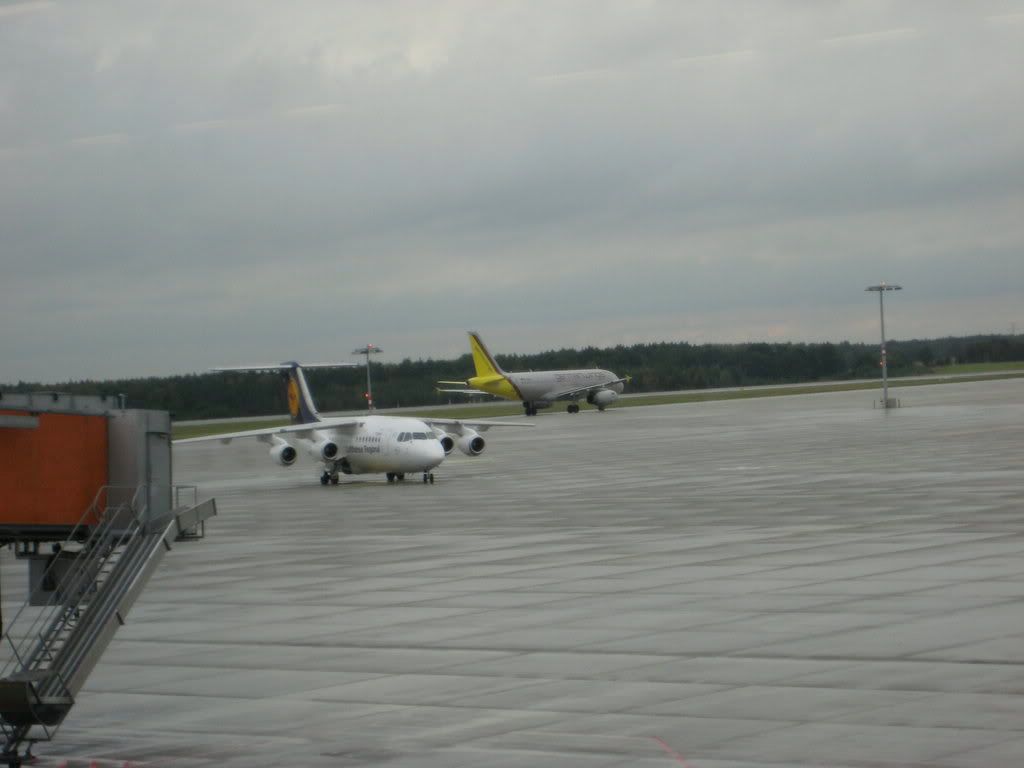 Departures board: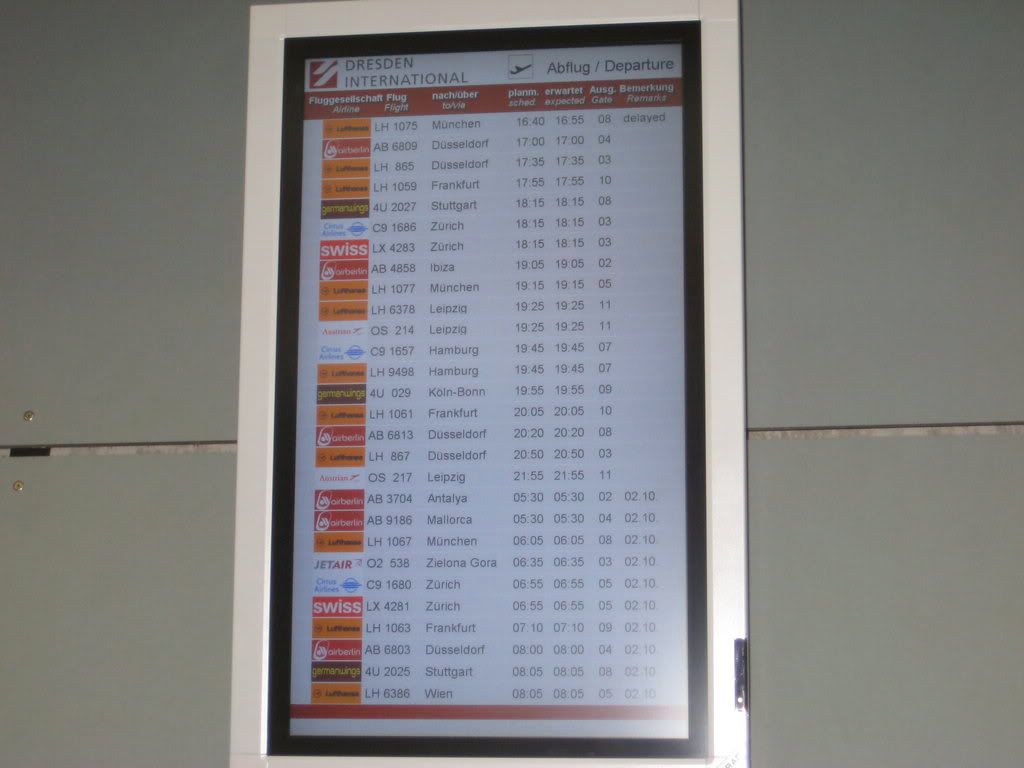 I set down at the bar with a nice cold, well earned beer and as soon as I see an Air Berlin plane landing I head for the gate. Today's ride is D-AGEU, an older 737NG without winglets and another new registration for me.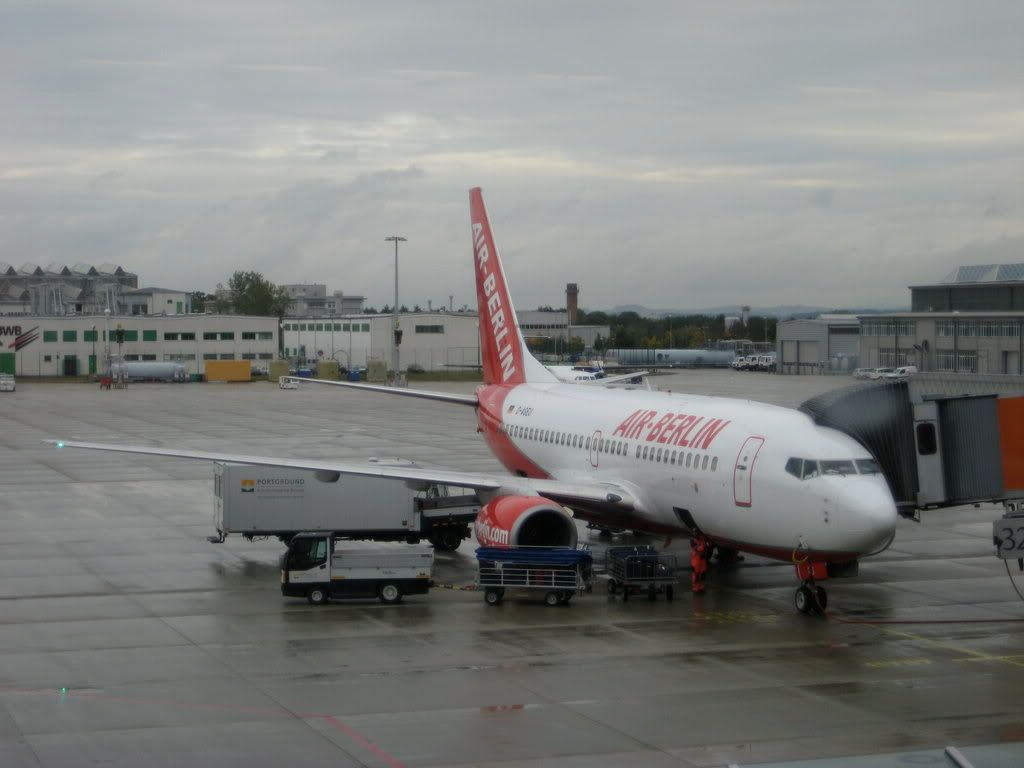 DRS-DUS
AB6809 Operated by Germania
B737-700 D-AGEU
Seat 3A
16.55 - 17.57
Boarding starts around 20 minutes after the plane's arrival. While waiting at the door I notice a Germania logo on the side of the plane - so this is one of the planes still operated under Germania's AOC. I'm pretty happy as I never had a chance to fly with Germania. The interior is different from the standard AB one - with thick, old-fashioned leather seats.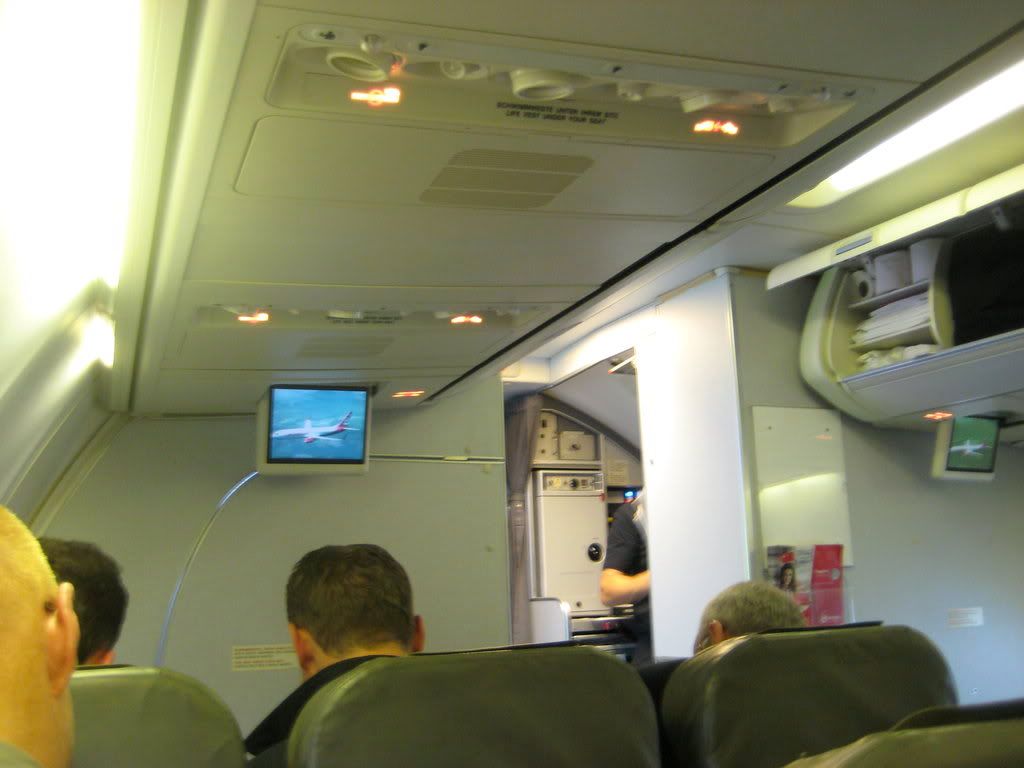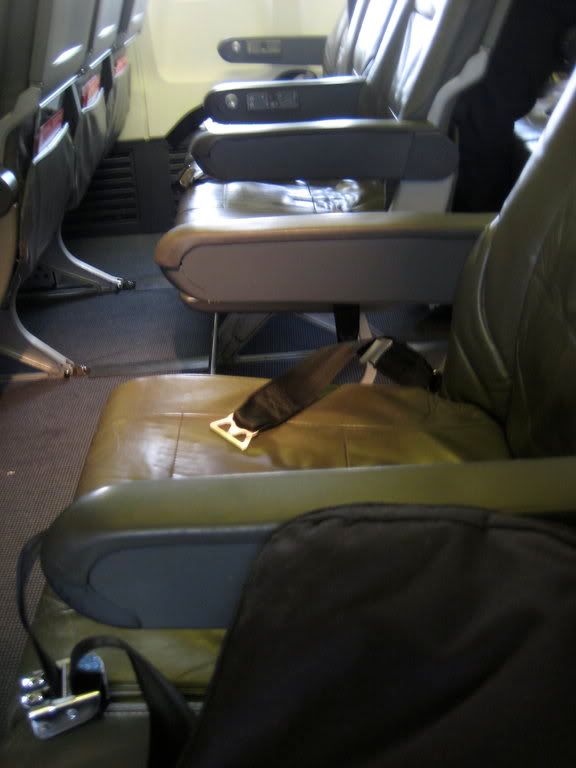 A decent legroom here as well, with an empty seat next to me: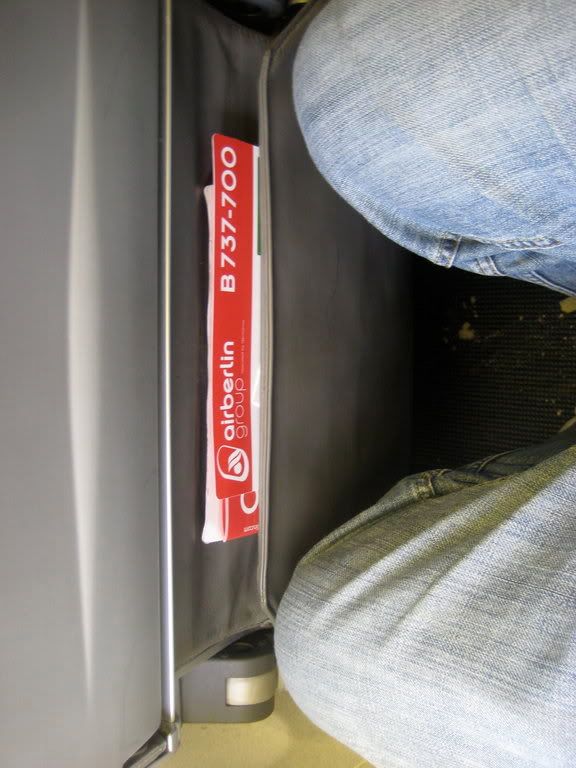 Load factor looks like around 80% - pretty good. This flight has its fair share of business men as well, but the passengers are far more varied than on the Eurowings flight.
A flight time of one hour is announced and we push back five minutes early. Fast taxi to runway 22 follows, where we take off without any delay. There are some great views over the city centre and surroundings: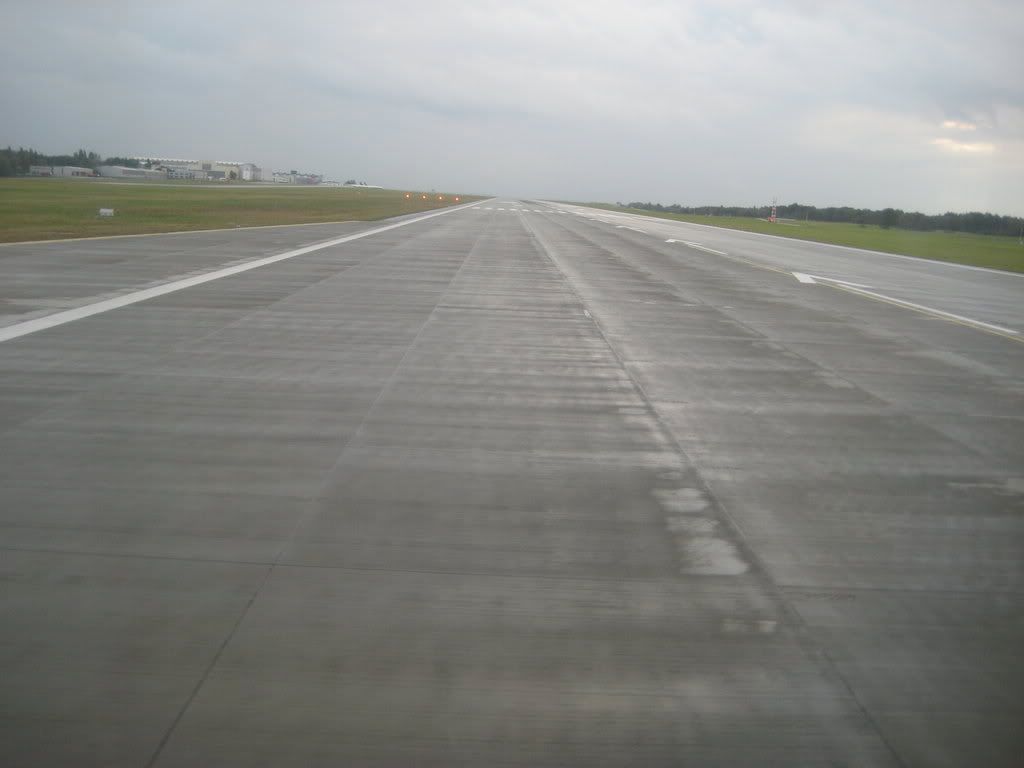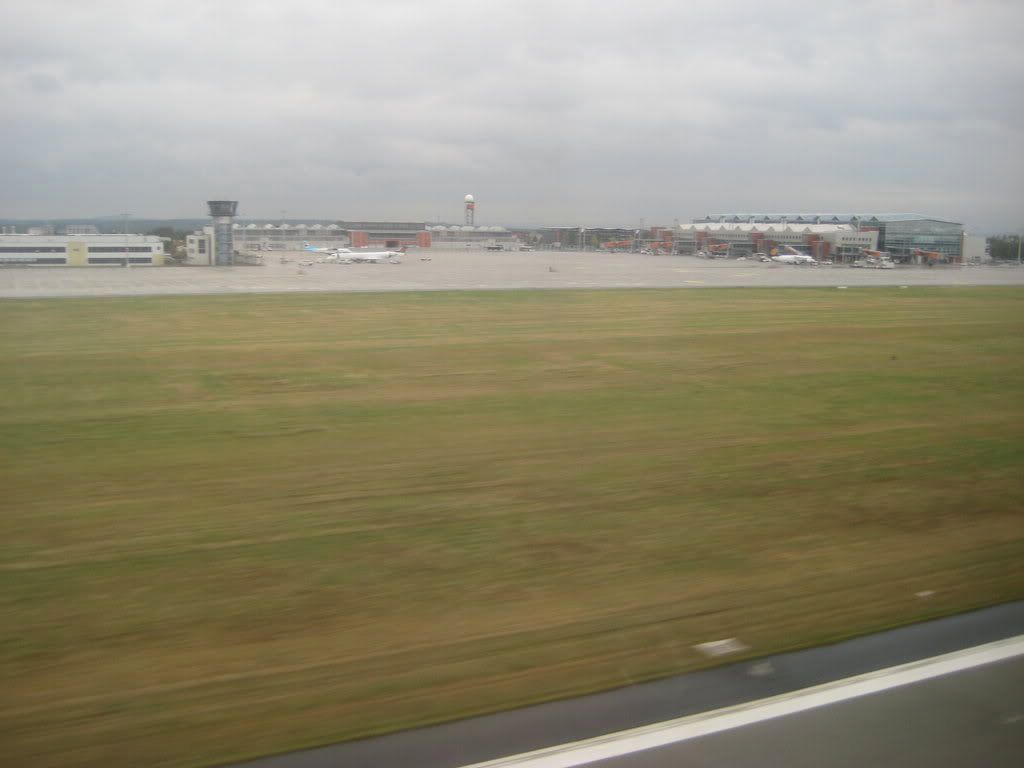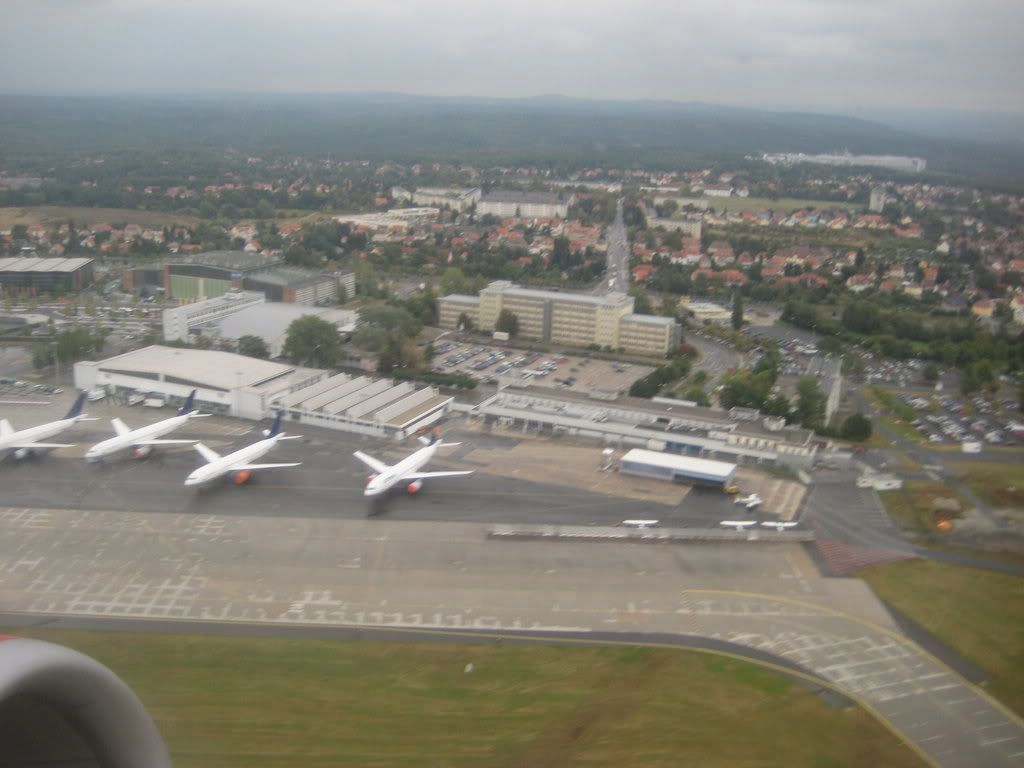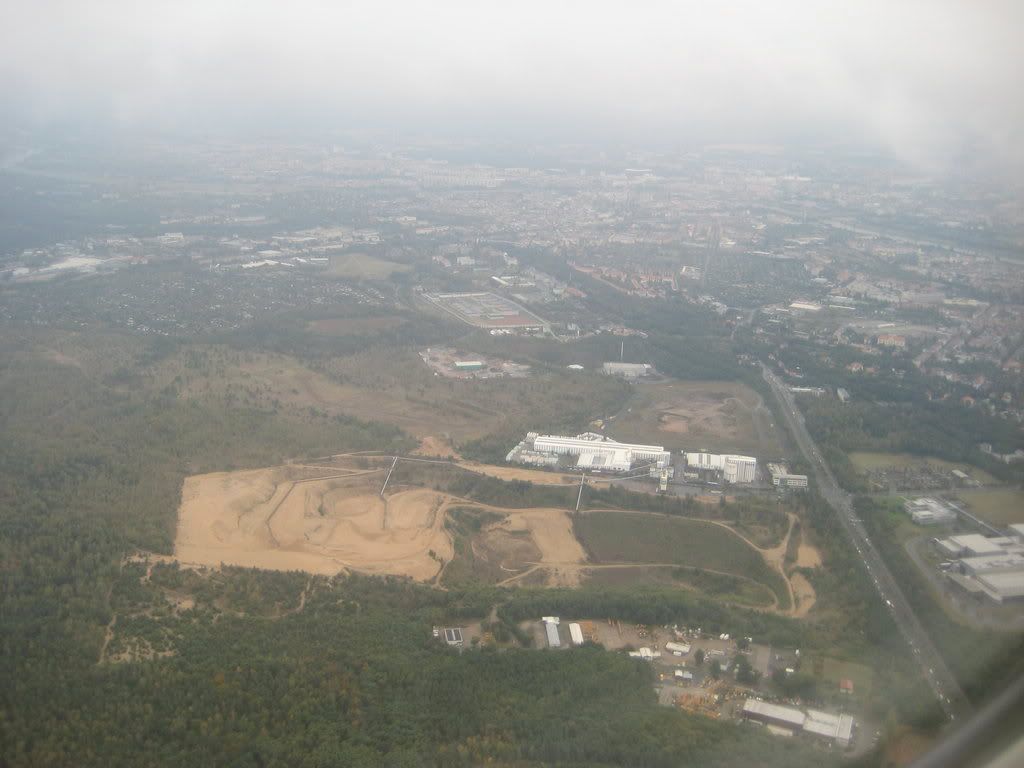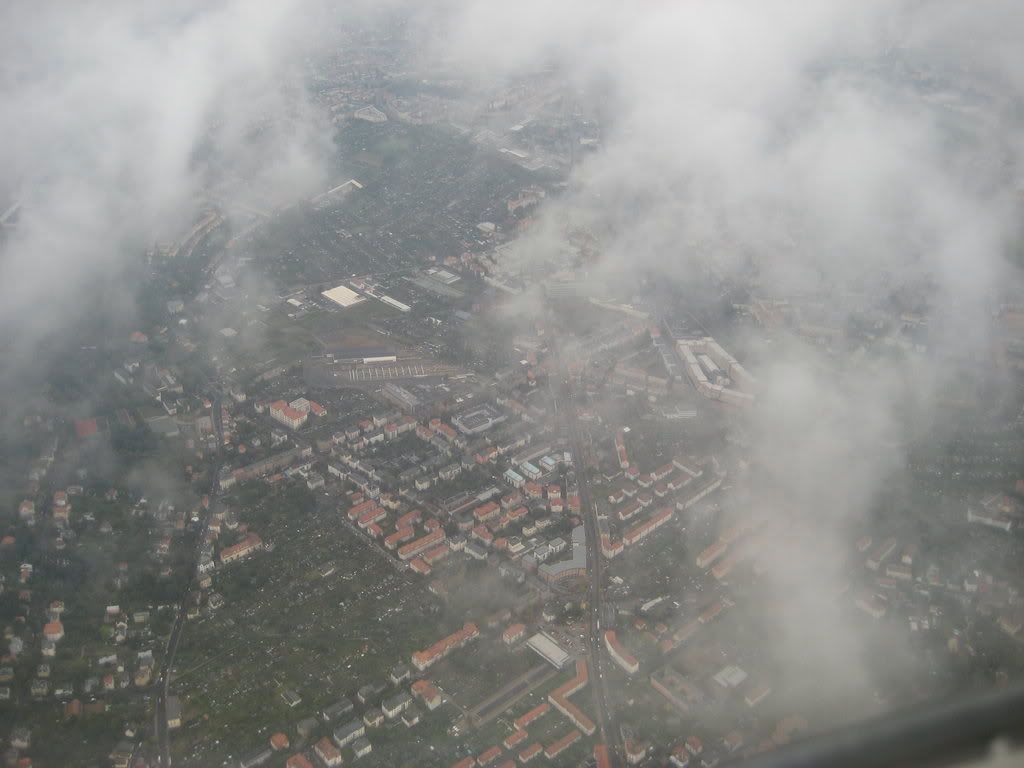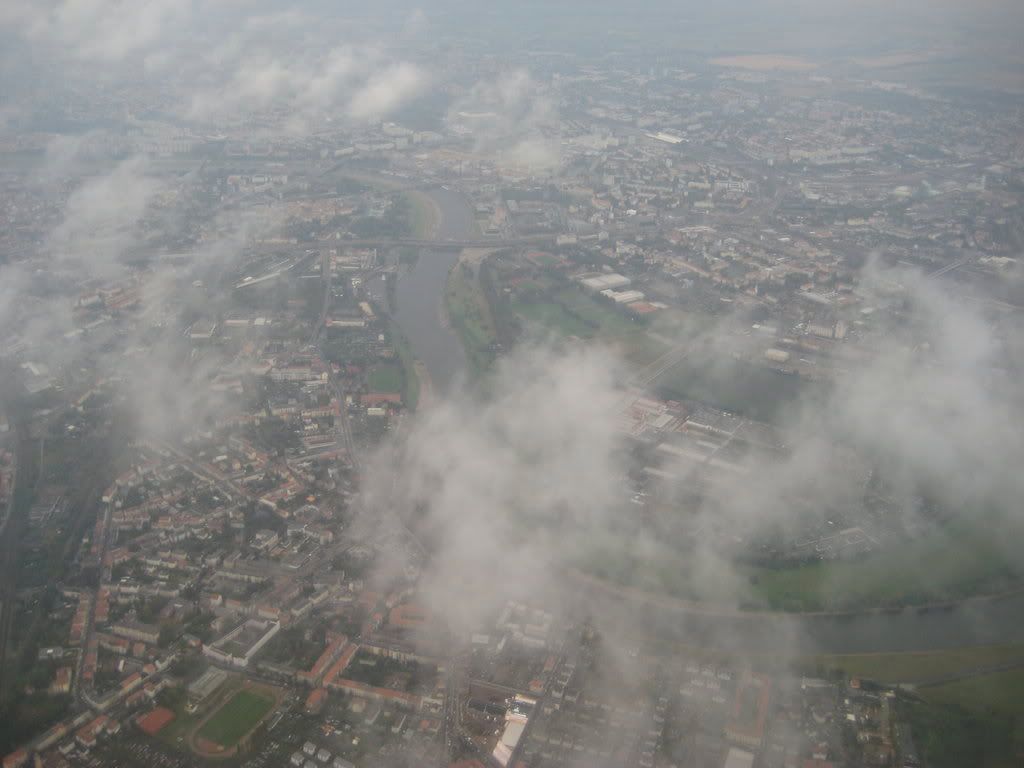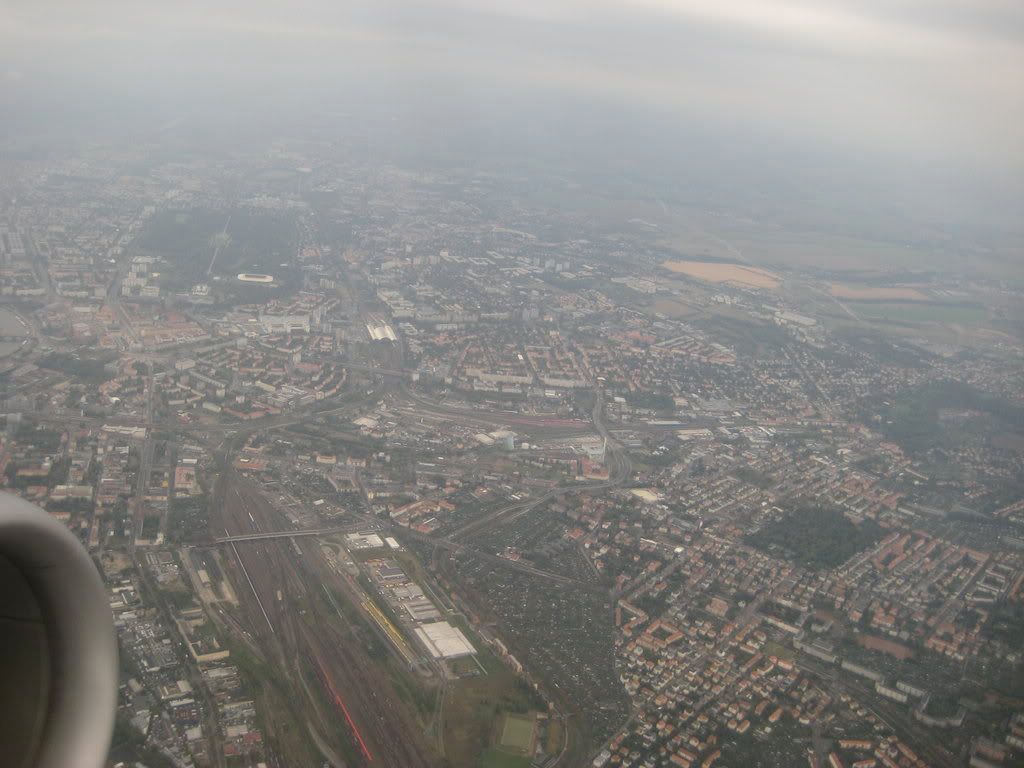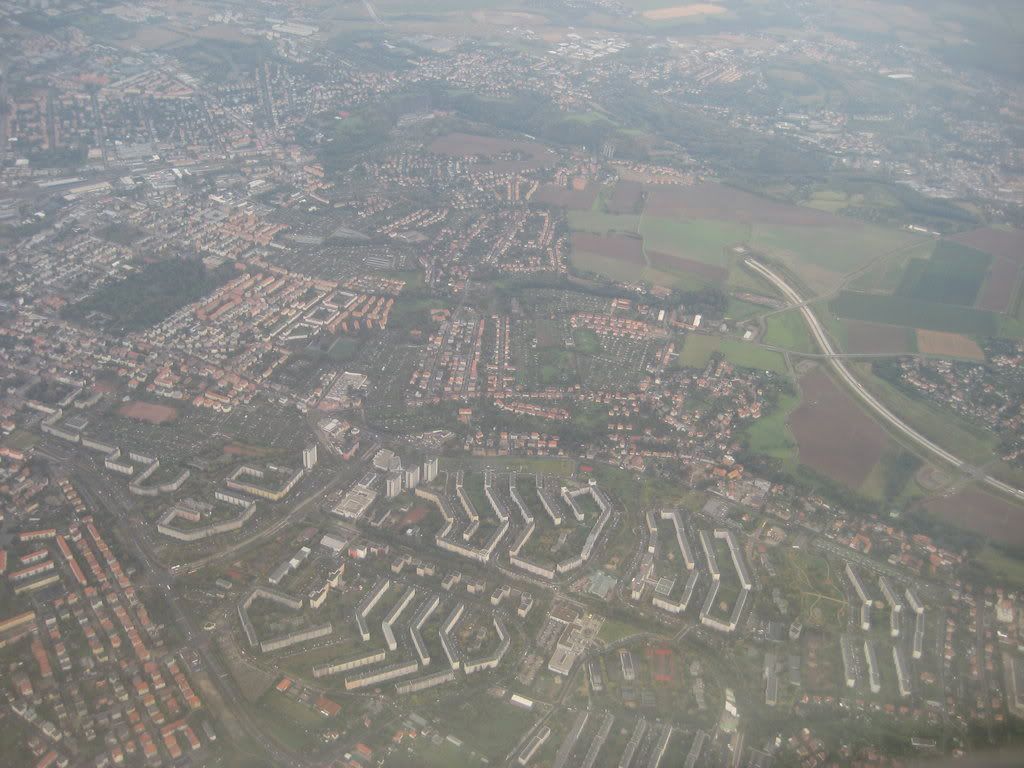 But too soon we disappear into the omnipresent clouds, something which will remain for the remainder of the flight. Our routing is pretty much a straight line across Germany. According to the airshow (which stays on for the whole flight, yay!) our cruising altitude is only 6700 meters, and we are fighting a headwind of around 115 km/h - with an effective groundspeed of only around 600 km/h! That sure explains the speedy flight on the opposite direction.
Service is free beverages with either a salty (a tiny bag of chips) or sweet (a waffle) snack.
45 minutes into the flight we start descending and the seat belt sign comes on, just after passing south of Paderborn.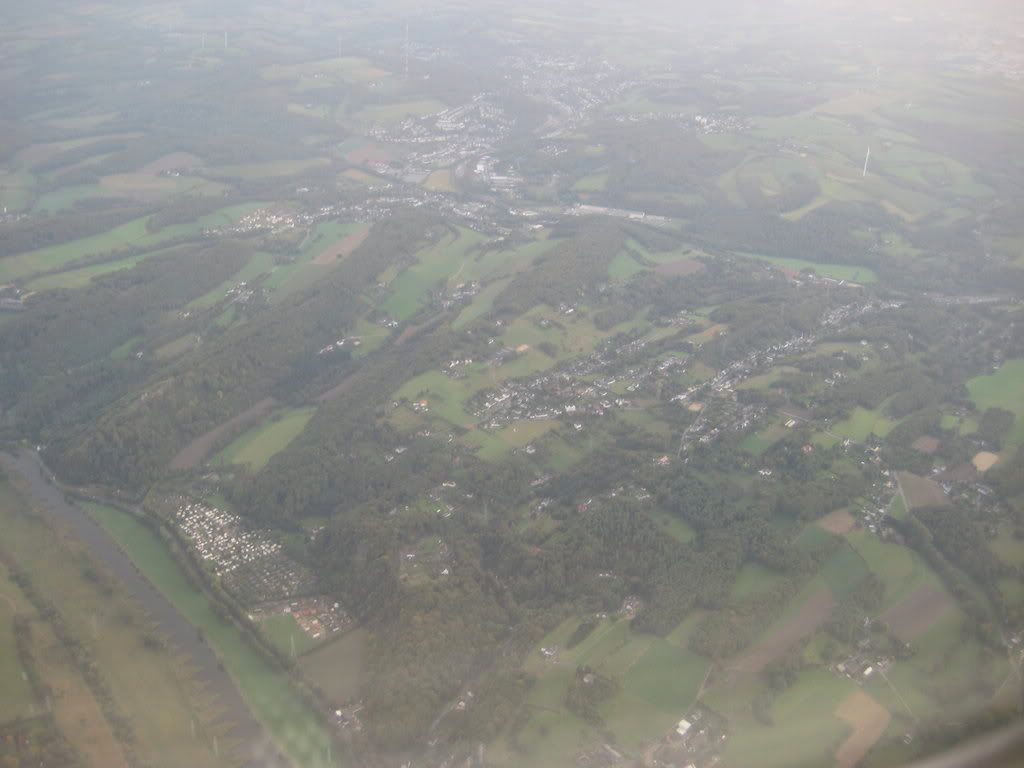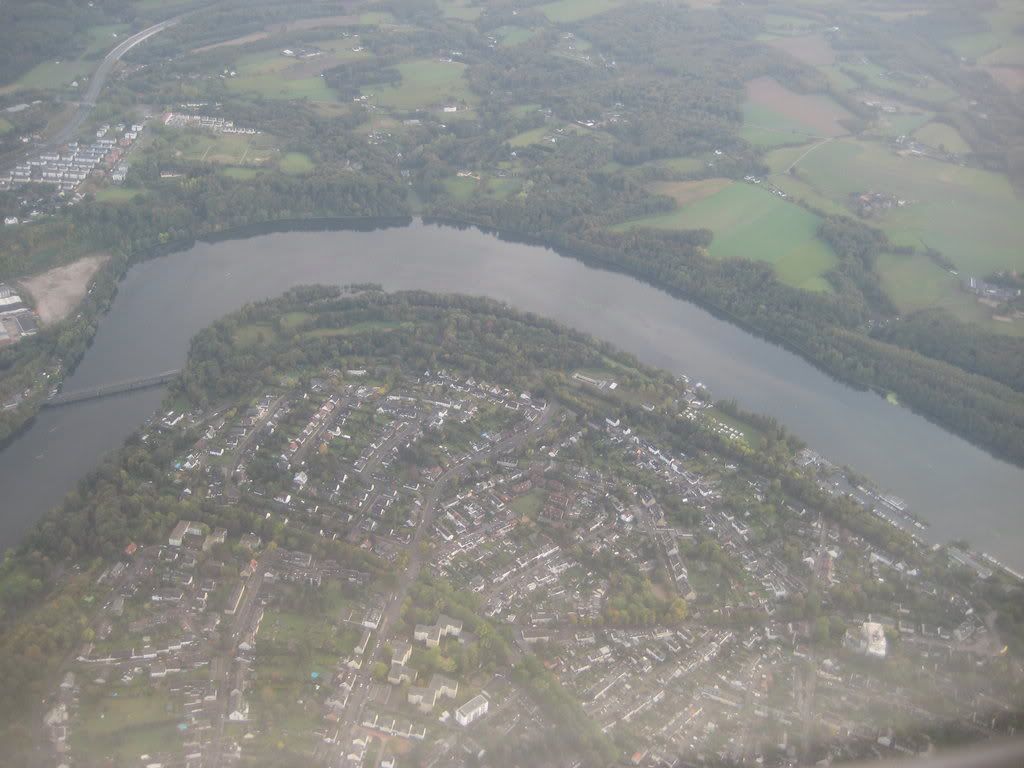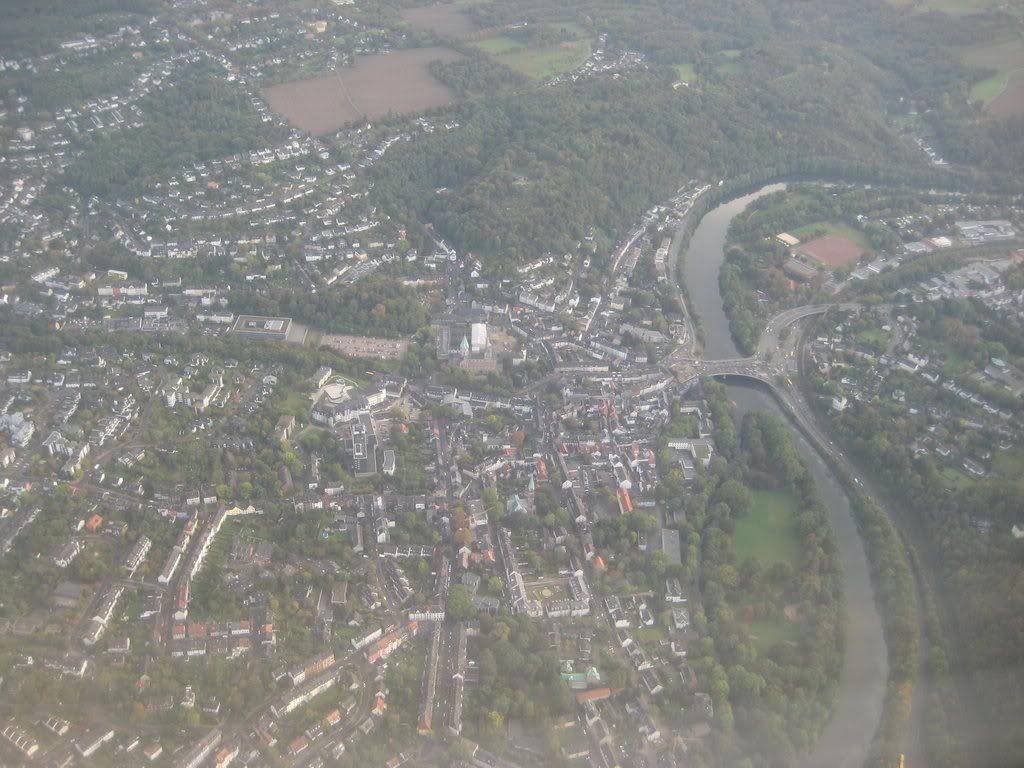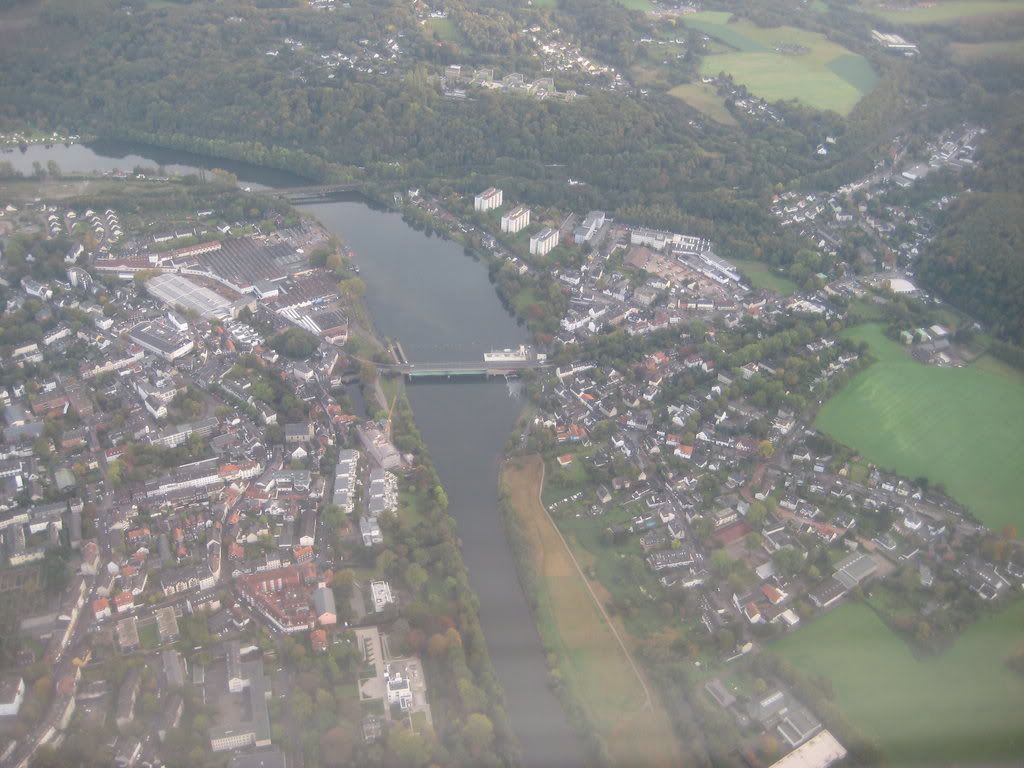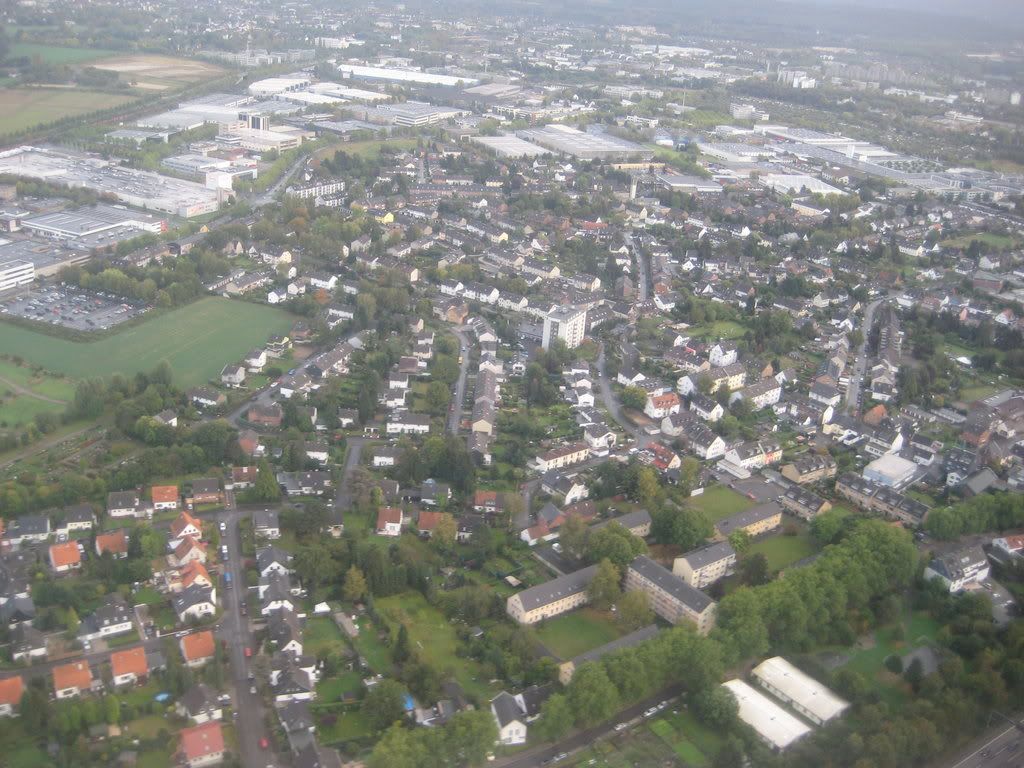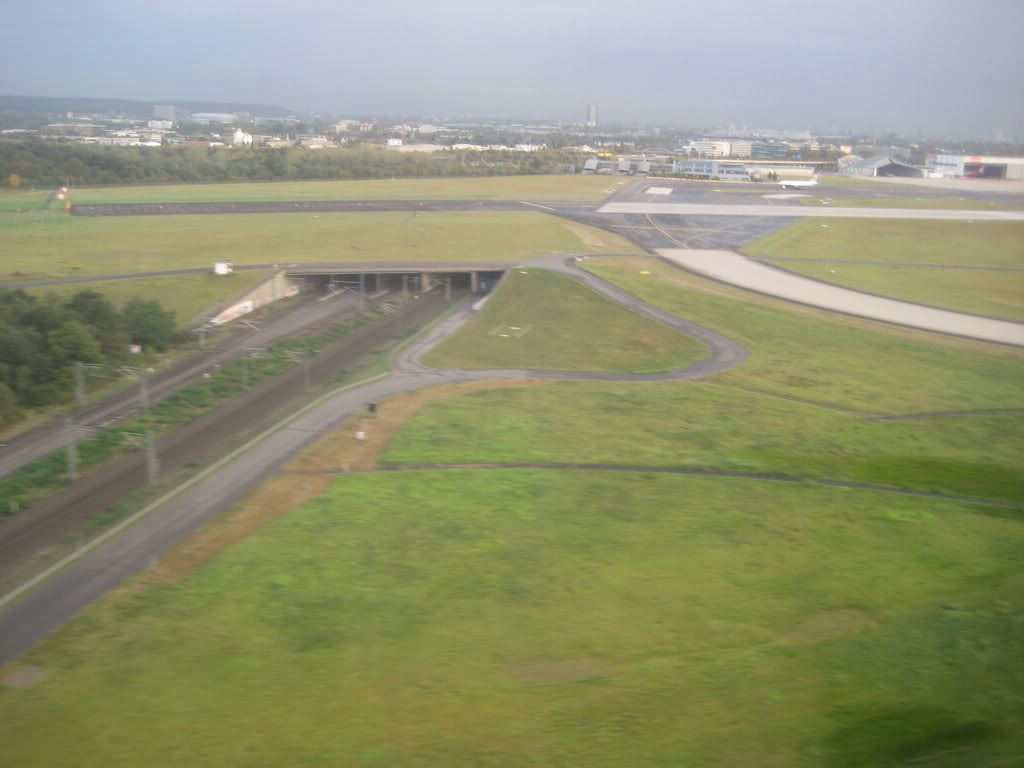 20 minutes later we land runway 23R with heavy use of reverse thrust. This time we get an apron parking position near the C gates next to another company B737:
A bus ride is needed to get back to the B gates airside. Air Berlin 30 years -anniversary chocolate hearts are handed out at the front door when deboarding.
Bye Germania!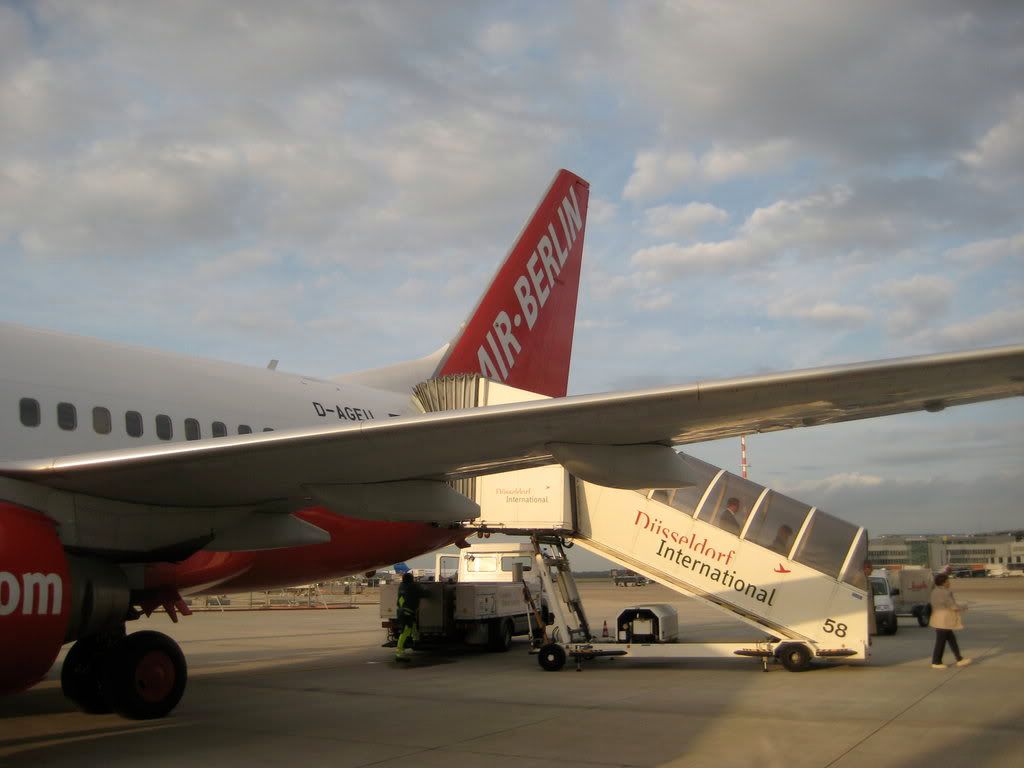 Düsseldorf Airport, take 2
With almost two hours to go I take a quick walk around - but there's not much interesting traffic today. Just lots of AB and LH planes and some others. I settle for a few beers and do some Travel Value shopping as well - our beloved government raised the alcohol tax once again as of today, so as a protest I stock up on some substantially cheaper booze. I get a good chuckle watching some of my fellow Finns hurrying and running for the gate at the boarding time printed on the boarding passes - despite the fact that one can clearly see there isn't yet a plane on our gate and the departure time is still 45 minutes away.
The inbound plane seems to be a bit delayed - but at T-15 the flight finally starts boarding, and there's almost no queue when I reach the gate so the whole process is very smooth. The plane is still in the old color scheme, and is another new frame for my log.
DUS-HEL
AB8920
B737-700 D-ABBV
Seat 1A
20.09 - 23.20
Not only is the exterior in the old colors - also the interior features the old AB cloth seats and there are no drop down screens on this plane. The seats are rather worn as well, but comfortable enough, and the legroom on the bulkhead row is decent. Load factor appears to be around 70%, with an empty seat next to me. Despite the late boarding we still push back one minute early - great achievement, AB! Flight time is announced as 1h55mins.
We take off from 23L, and we get great views over DUS city and further the whole Ruhr area all lit up in the darkness - the clouds have disappeared for the night. Unfortunately I don't get any good pictures due to the darkness.
Service is another cheese or turkey sandwich with beverages - this time the cheese one is not too good as it clearly is a few days old and the bread has dried up. I splurge on a beer (at 2,50 EUR very reasonable actually) to wash the dryness off my mouth.
There's no route information, but around 50 minutes into the flight I see the lights of Copenhagen and Malmö while we pass over the Öresund region. This is also the last sight I remember seeing as I soon fall asleep, only waking up for the landing announcement.
We make landfall along the Hanko peninsula, and fly straight approach over Espoo to land on runway 04L after around two hours of flight. As this runway is far from the terminal, our taxi takes a good amount of time until we finally dock to a jetway on gate 27. This time we actually are in T2! I have to wait almost 20 minutes for the next bus and it's again almost freezing outside. Just shy of midnight I'm finally home, with yet another successful travel day behind me.
Conclusions
One new airport, four new planes (yes!) and one (if you don't count Germania) new airline for me and a splendid city to explore for a few hours - what more could I ask for!
Air Berlin was great as ever - apart from the morning fiasco which I blame on Finavia and definitely not AB. Friendly staff, on time flights, good service and comfort onboard. Not to mention great fares - a winner combination in my books.
Eurowings was a pretty standard LH Regional carrier - not bad, while not outstanding either. The CRJ-900 is a great plane to fly in, and the new plane smell always adds to the experience.
Next trip is another quickie with a weird routing through Riga - HEL-RIX-TLL-TKU in two weeks time.