Under or above the channel?: BA/Eurostar to London-City
Hello, dear readers
and welcome to my latest travel experience.
What about the better way to go for London?. That was the question, comparing the Eurostar outbound and BA from London-City inbound.
Some days after my arrival from Canada
London On The Dash 8/100 And More TS A313
(by
FLIEGER67
Oct 1 2009 in Trip Reports)
it was time to go again.
Deutsche Bahn has a nice offer, "London-Spezial", mainly to call back loco plane travellers on the way to London.
EUR 83,50 for me and my son, sounds not bad isn´t?.
And also marketing wise interesting was, that the special was only bookable for the outbound journey. That means Deutsche Bahn
hopes that the travellers doing also the standard fare return on the train and these together rises the profits for them, but not in our case.
Starting late Thursday morning by car to Frankfurt airport, parked at Tourcare.
The first leg was scheduled for 1.43 p.m., no earlier trains available around this offer.
Second class on the comfortable high speed train ICE from FRA airport´s long distance train station to Brussels
via Cologne, Aachen and Liege.
Starting at FRA: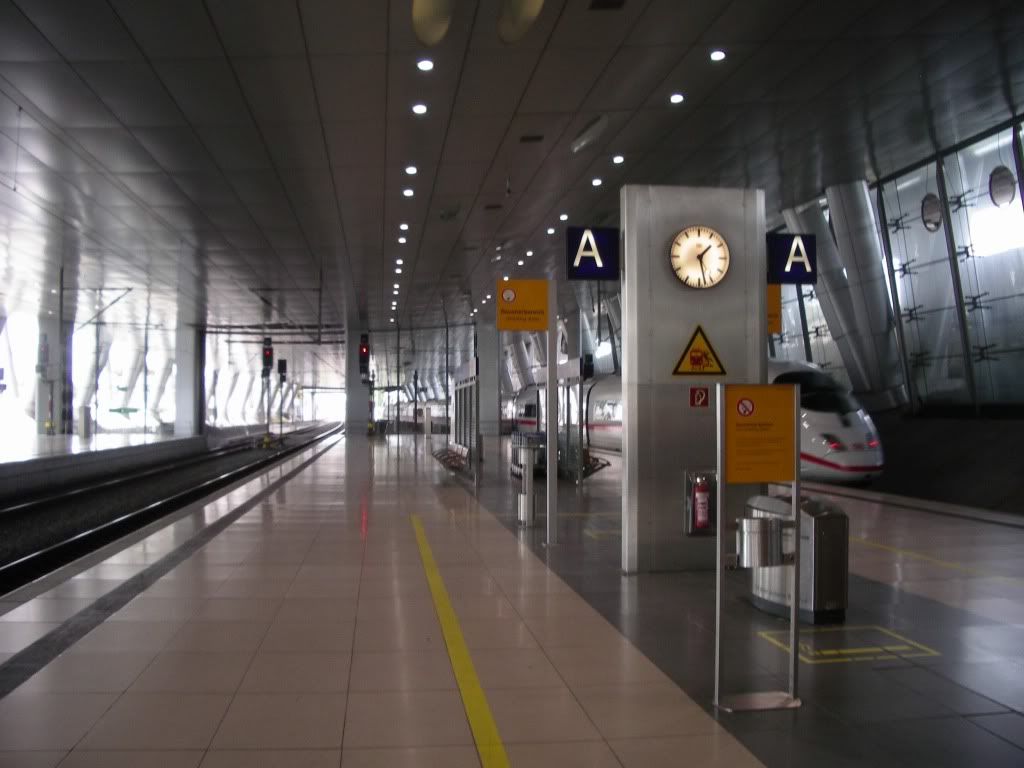 Near Cologne: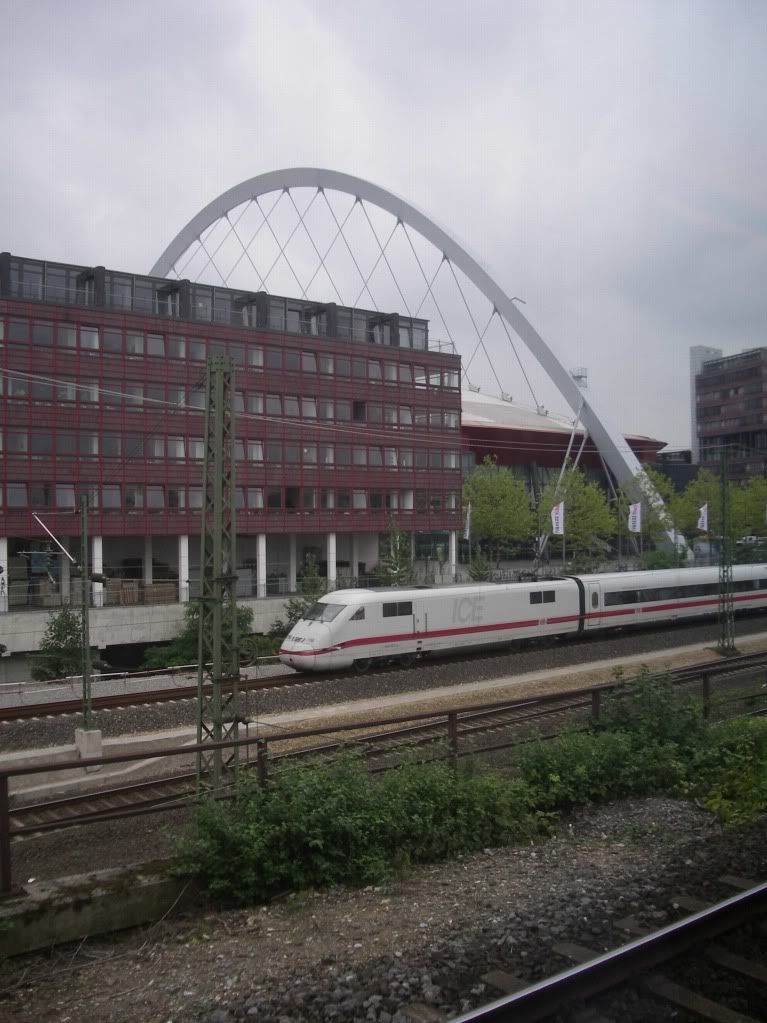 ICE 14:
A waiter with a service trolley was on the way trough the train. Snacks and drinks for sale.
The train good loaded, but with seat reservations comfortable enough for us.
Arrived with a ten minutes delay, 4.45 p.m. at Brussels Midi.
With the Eurostar scheduled to depart at 4.59 p.m. not the comfortable thing here, especially when you think that also lots of elder travellers
who dont want to go by plane, used this service.
A good way to walk, carrying our bag, looking for the Eurostar tracks, check-in for the train closes 10 minutes prior to departure!.
Tickets stamped at the check-in desk, passing security screening, EU-passport controls and also UK immigrations, boarded the train and departed.
No way to do that, if you´re not really fast!.
And now the Eurostar:
The Eurostar calls at Lille and Ashford. Also second class here, less comfortable oldfashioned fabric seats in comparison to the ICE, seats also directly between the windows without views, no snack service at your seat, but a restaurant. We are going really fast and if you dont know that you´re crossing the channel, you nearly dont mentioned it.
Seats: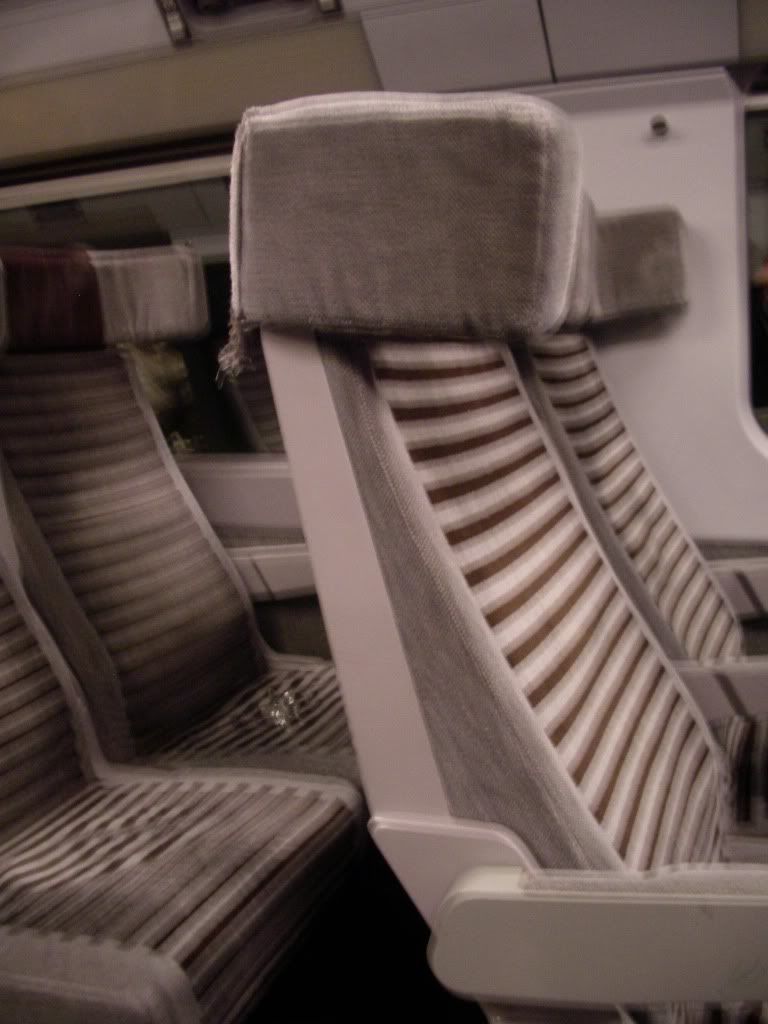 Arrived well ontime at London St. Pancras station.
Just arrived: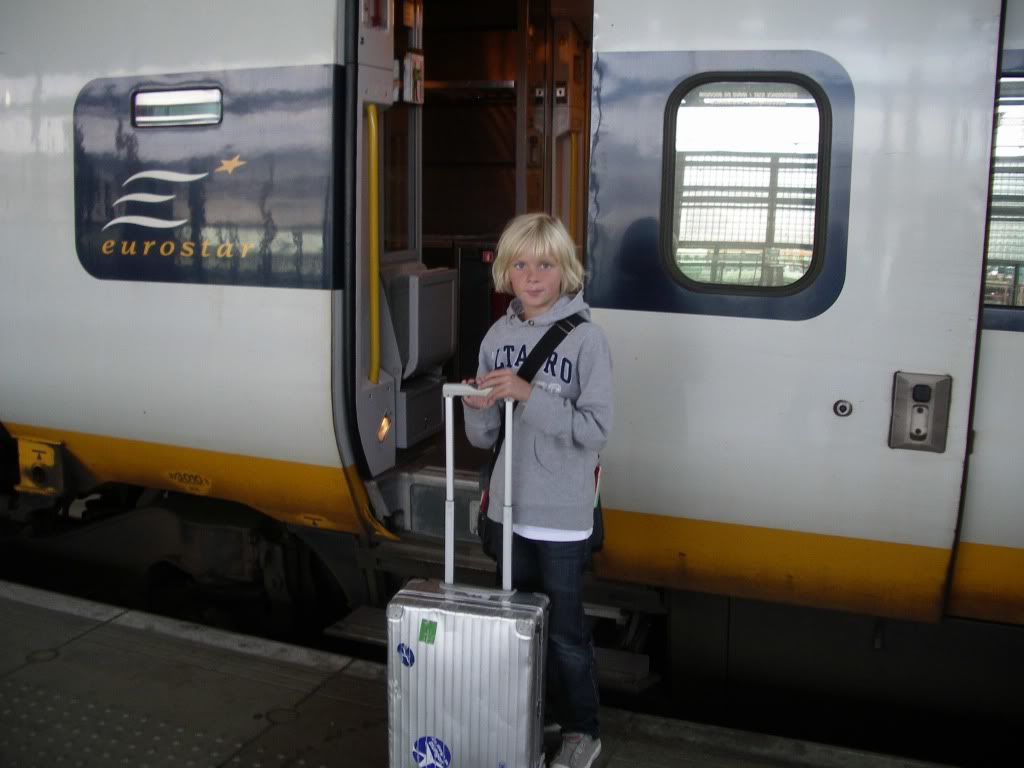 At London St.Pancras: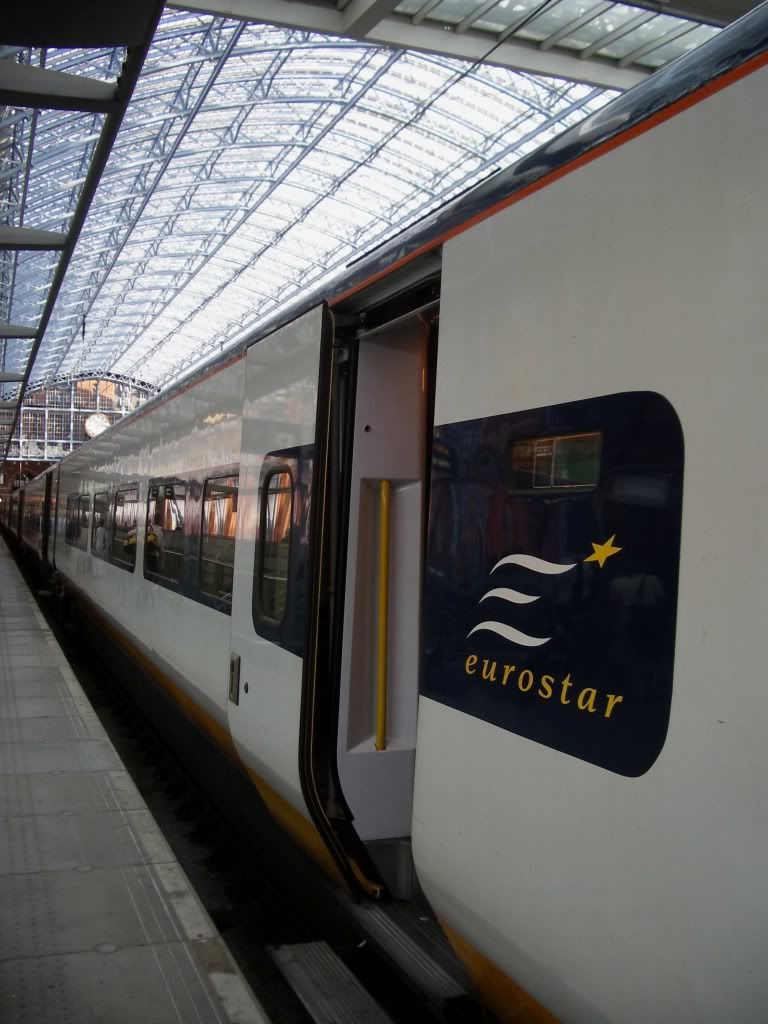 Checked a black cab, for sure only a black one, shuttled to the hotel, the Novotel London City South,
well designed and good located in Southwark near the riverfront and the Tate gallery.
And also in walking distance for our appointment today, a ride with the London Eye!.
Themse traffic: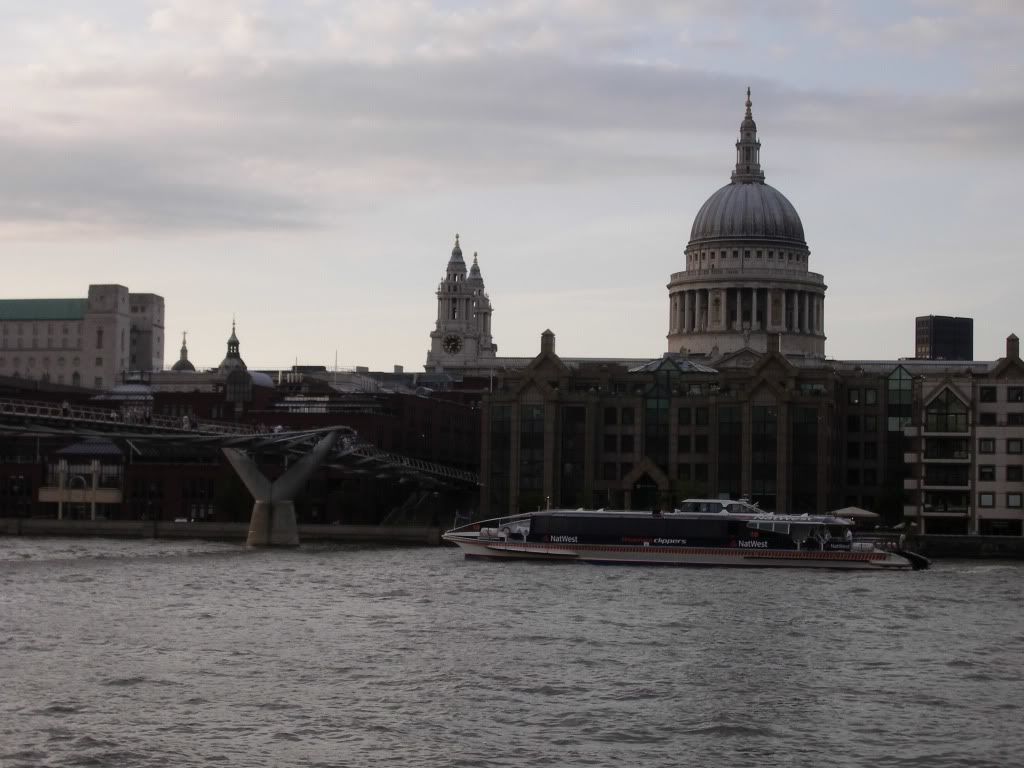 Target reached:
Really high: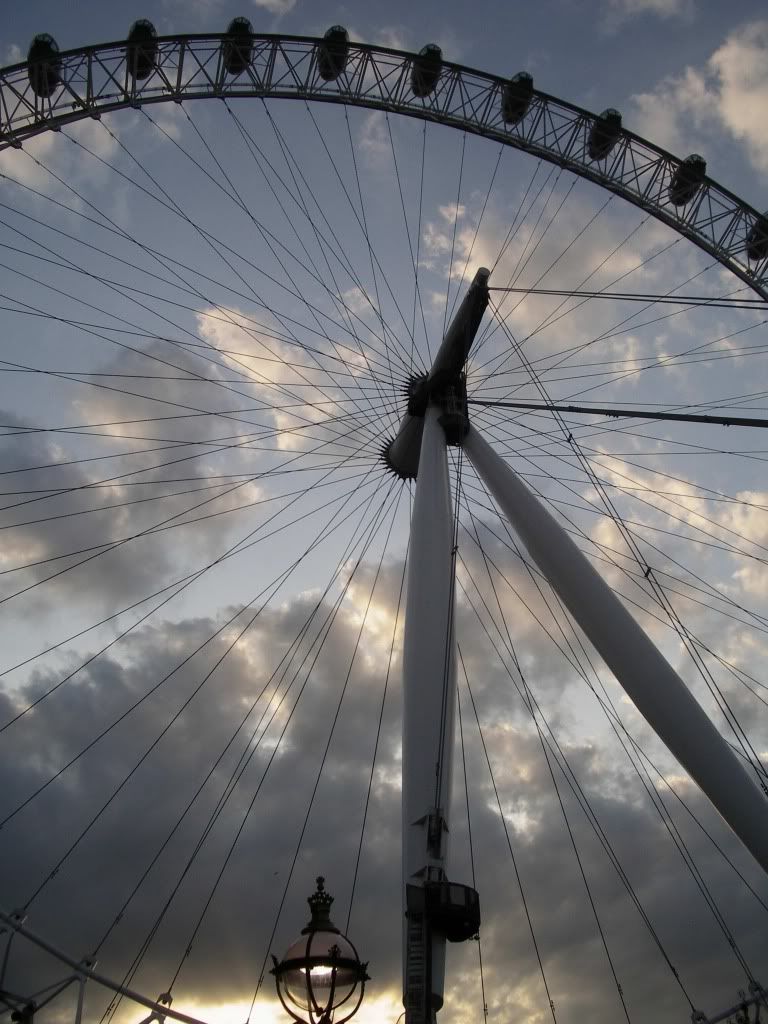 View from above:
Again: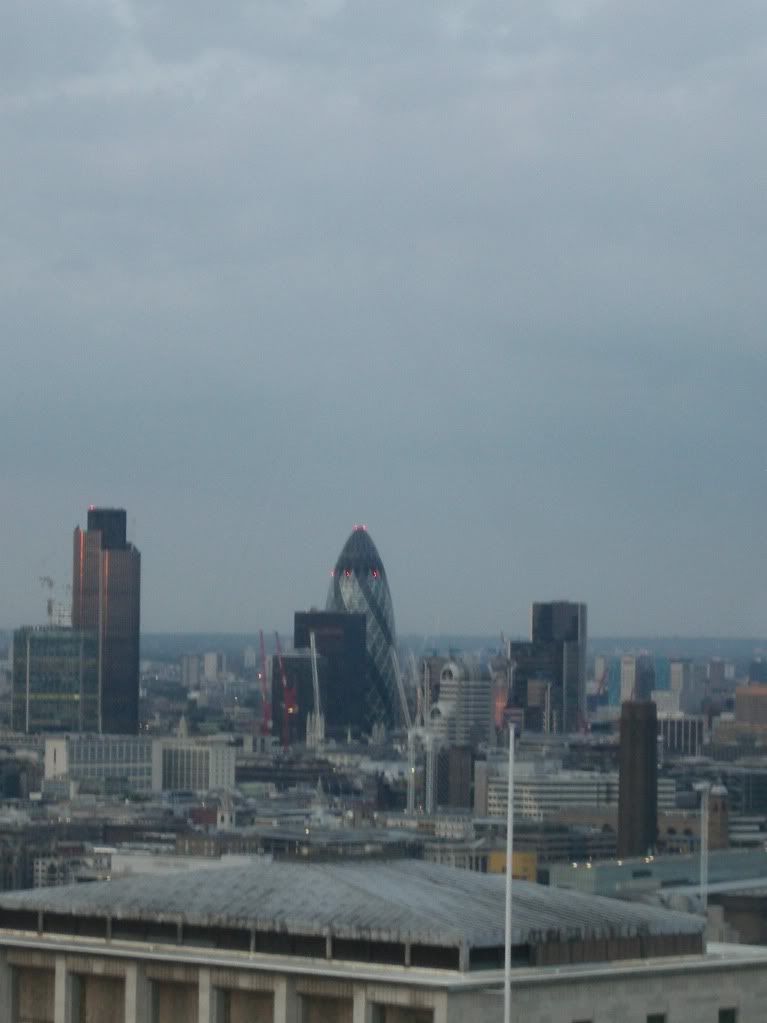 And once more: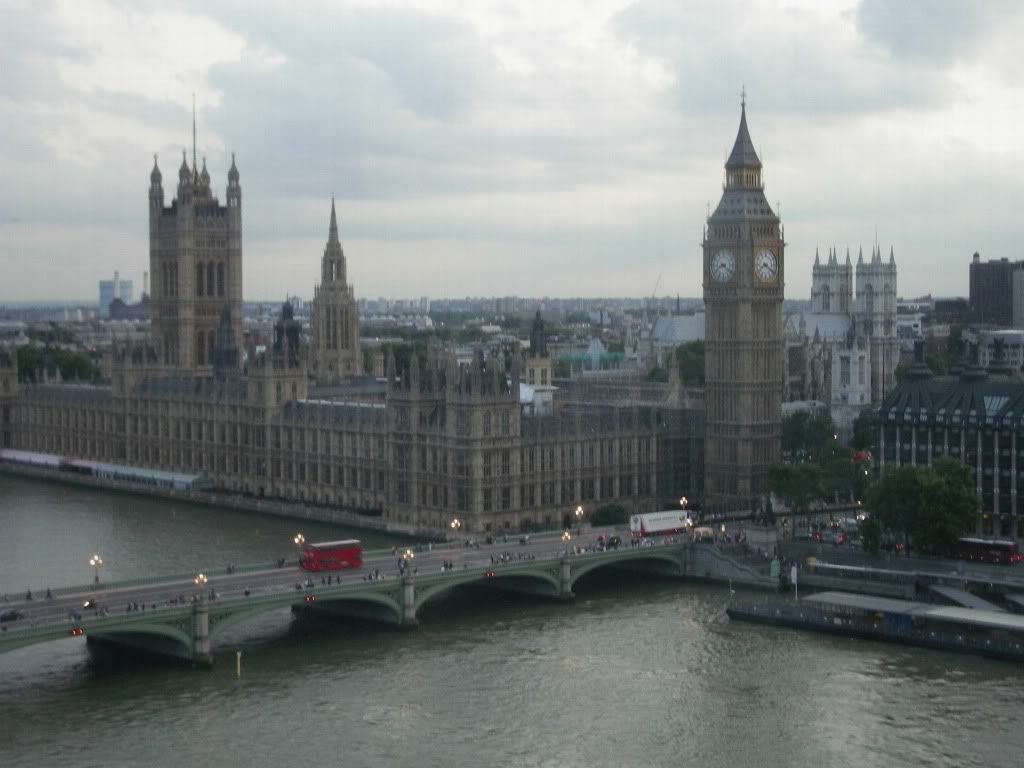 In the afternoon: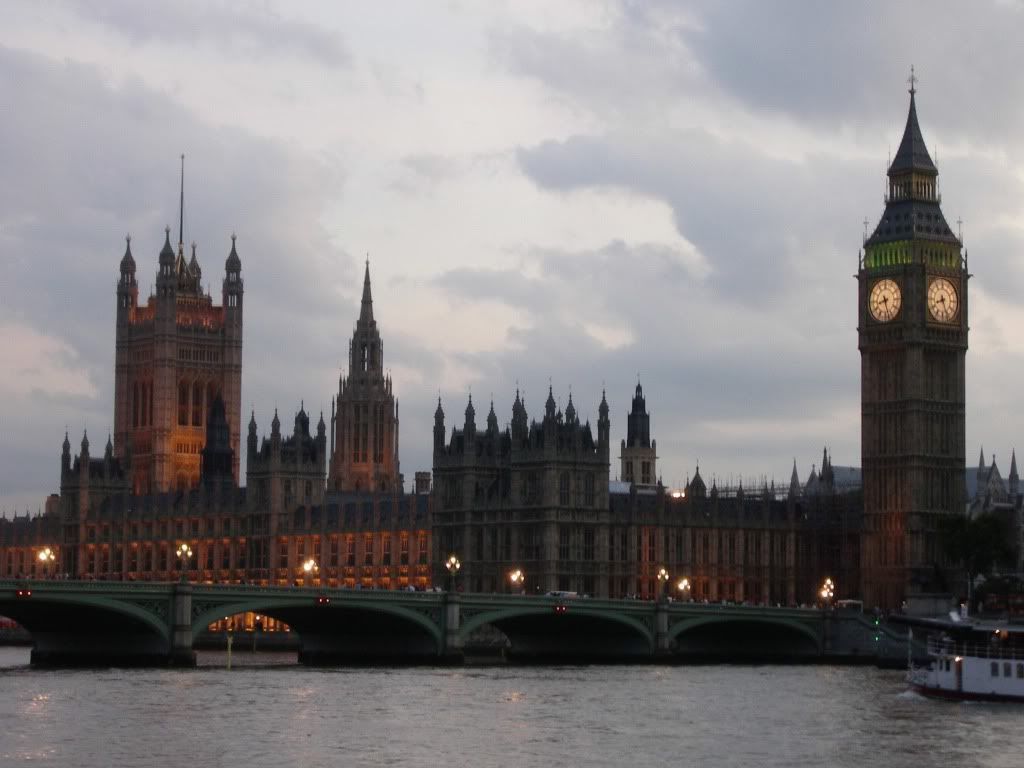 What a nice crown!:
The eye: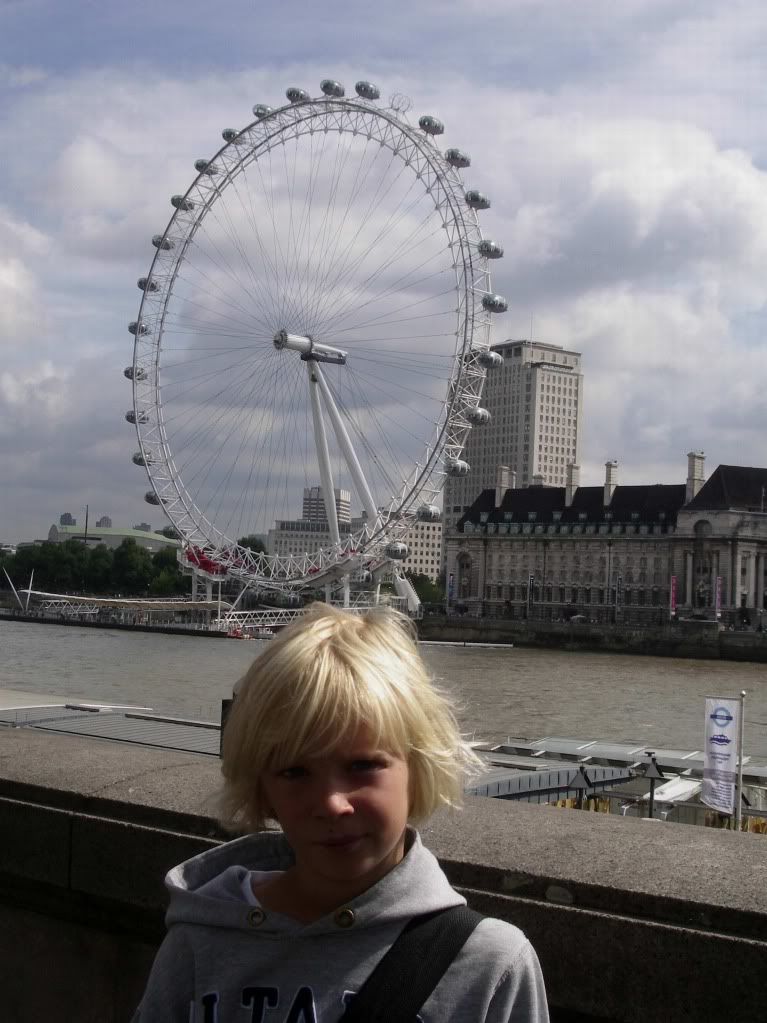 City sights: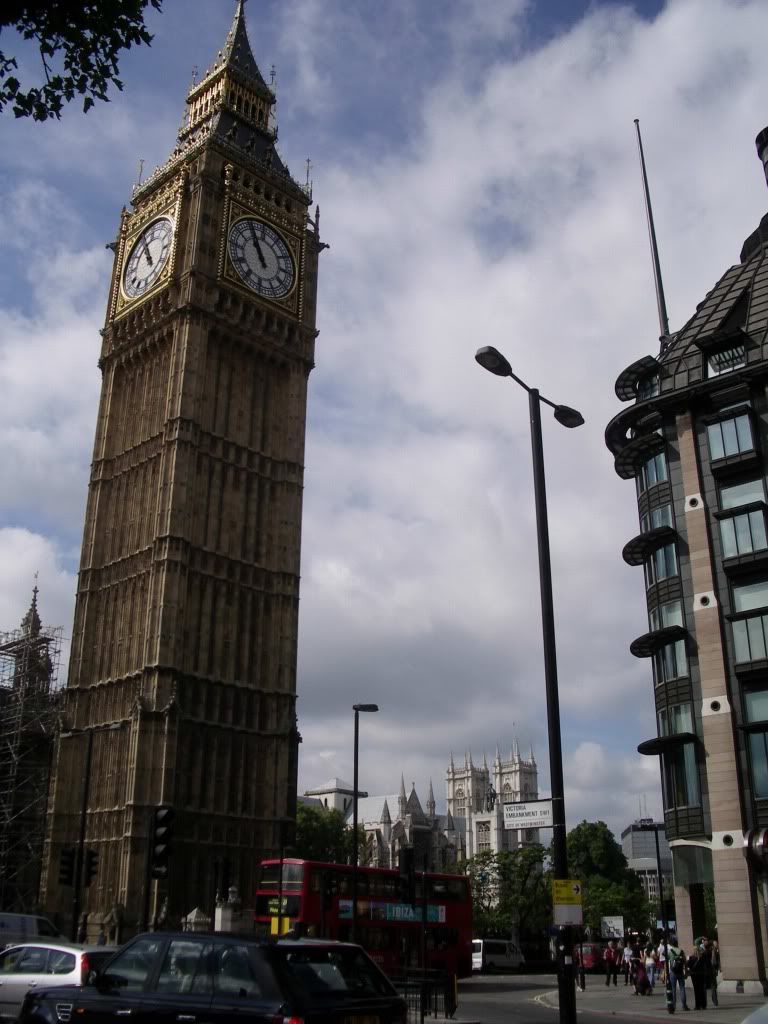 Friday, 14.08.2009
LCY (London-City) Partly cloudy, Temperature 22 degrees
FRA (Frankfurt-Rhein-Main) Partly cloudy, Temperature 23 degrees
Duration: 1 hour, 25 minutes announced
1 hour, 15 minutes actual

Service British Airways BA 8734 operated by BA Cityflyer
Scheduled: 14.35 // 17.15 (1 hour time difference)
Actual: 14.35 // 16.50
Gate: 2C Seat: 19B
Load factor: Near 100%
Secured seats from the free hotel internet counter the evening before on BA´s website.
A good thing, from my point of view, that it is possible to select you´re seats of choice and print the boarding passes later at the airport.
Some tubing around and with a change to the DLR at London City airport where you arrive directly above the terminal, real good.
Printed our boarding passes at the self service kiosks and joined the queue for bag drop off.
Some ten minutes to wait here this Friday afternoon, BA with four departures at nearly the same time, good used today.
Also some minutes at security, in the gare area, some shopping and Avro spotting, beneath a VLM F50 only Avros at the apron.
Avro spotting: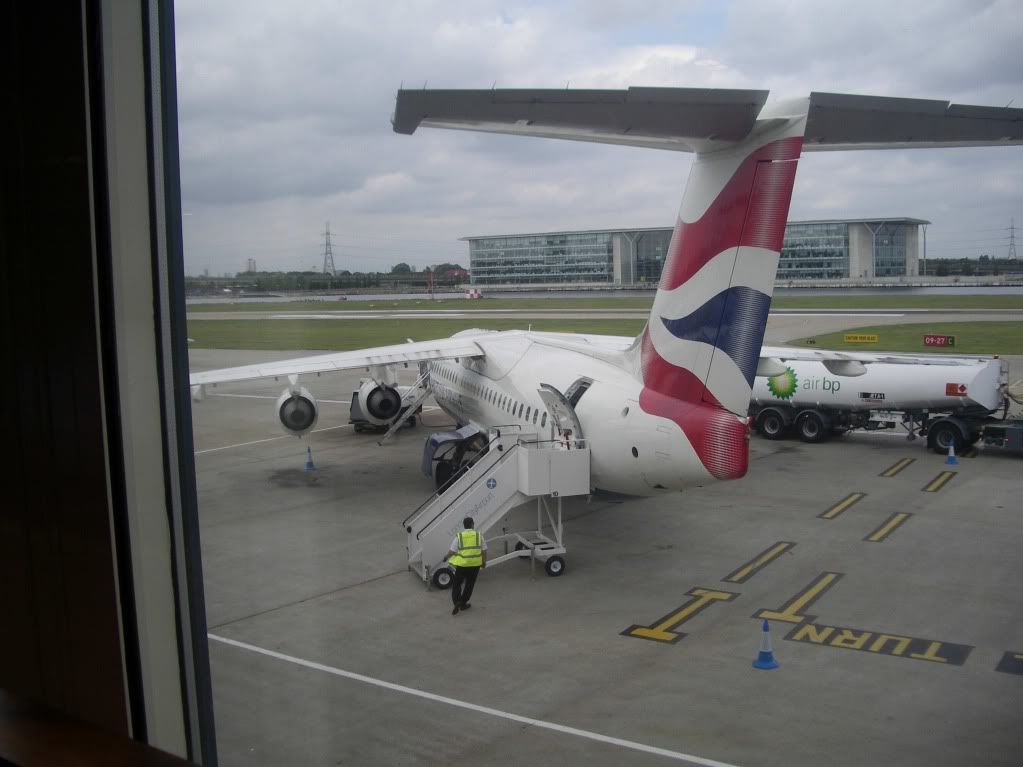 G-CFAA:
Full view: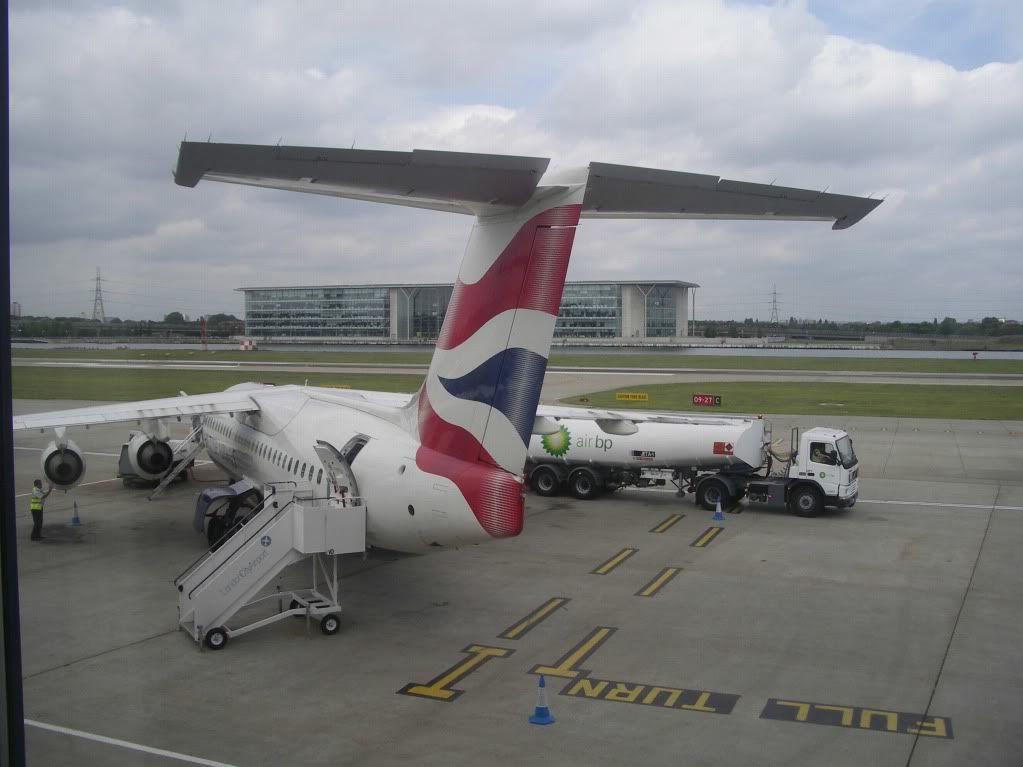 Close to the tail: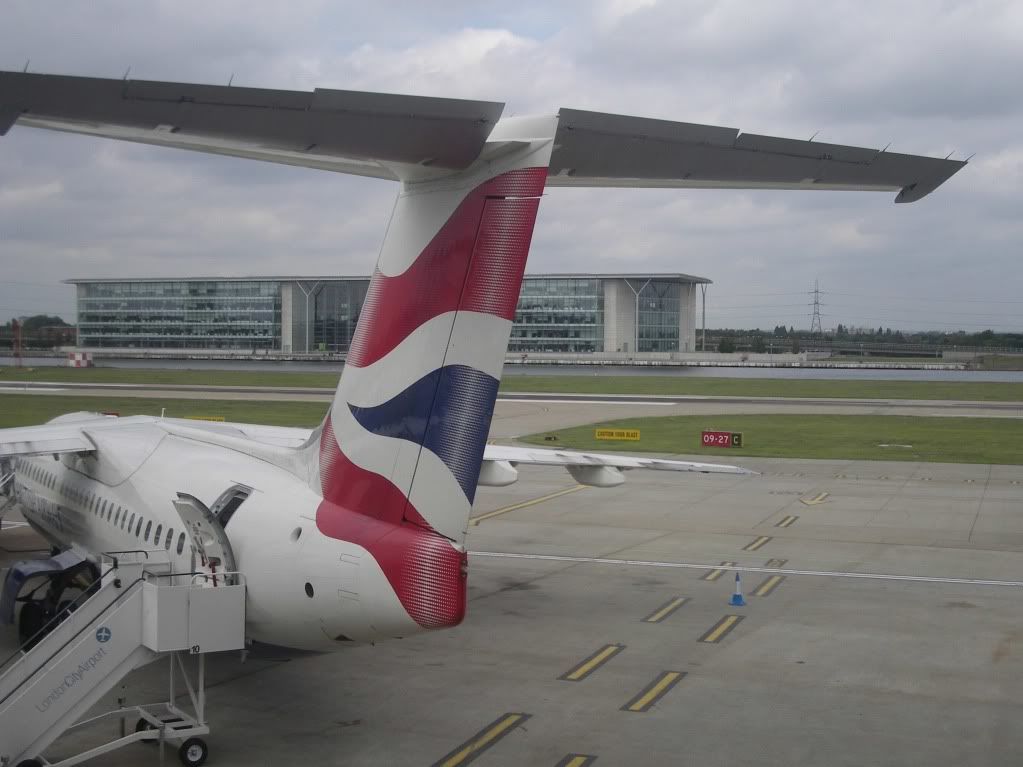 Departures: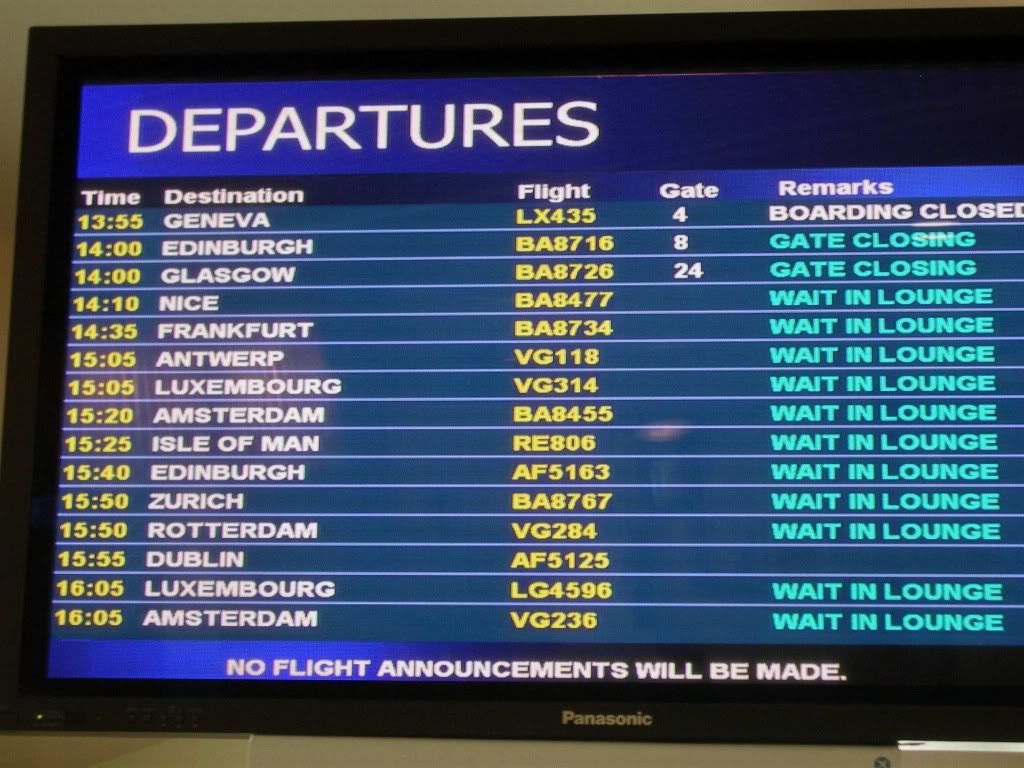 Another BA Avro: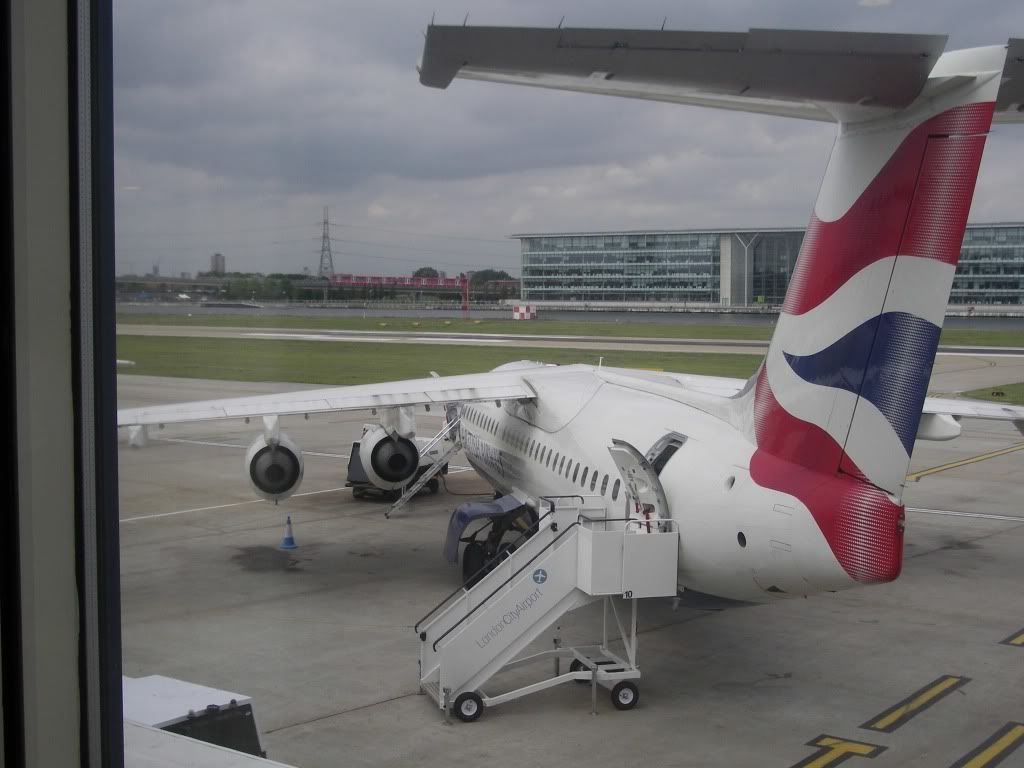 And a Swiss machine: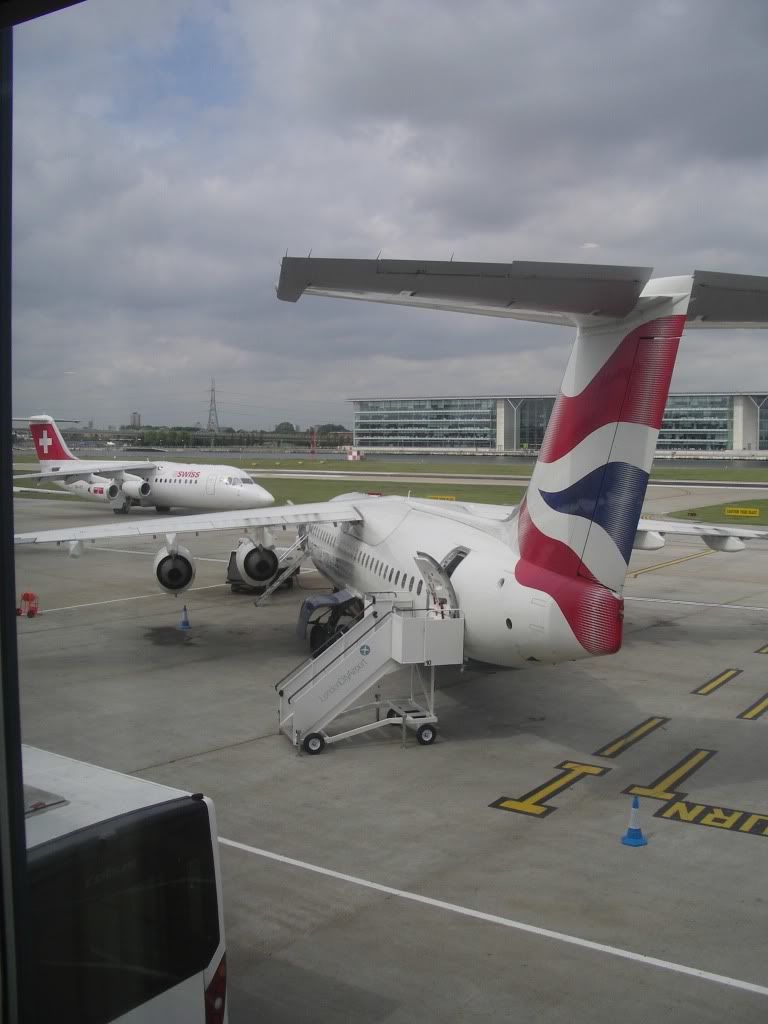 Taxi: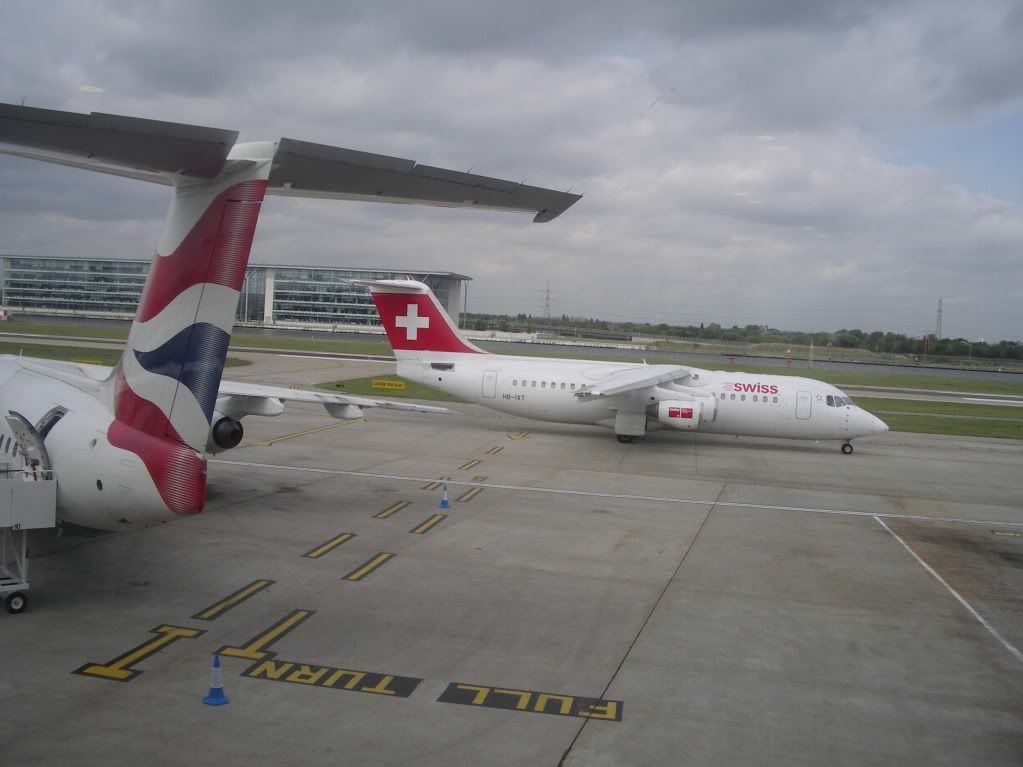 Departure: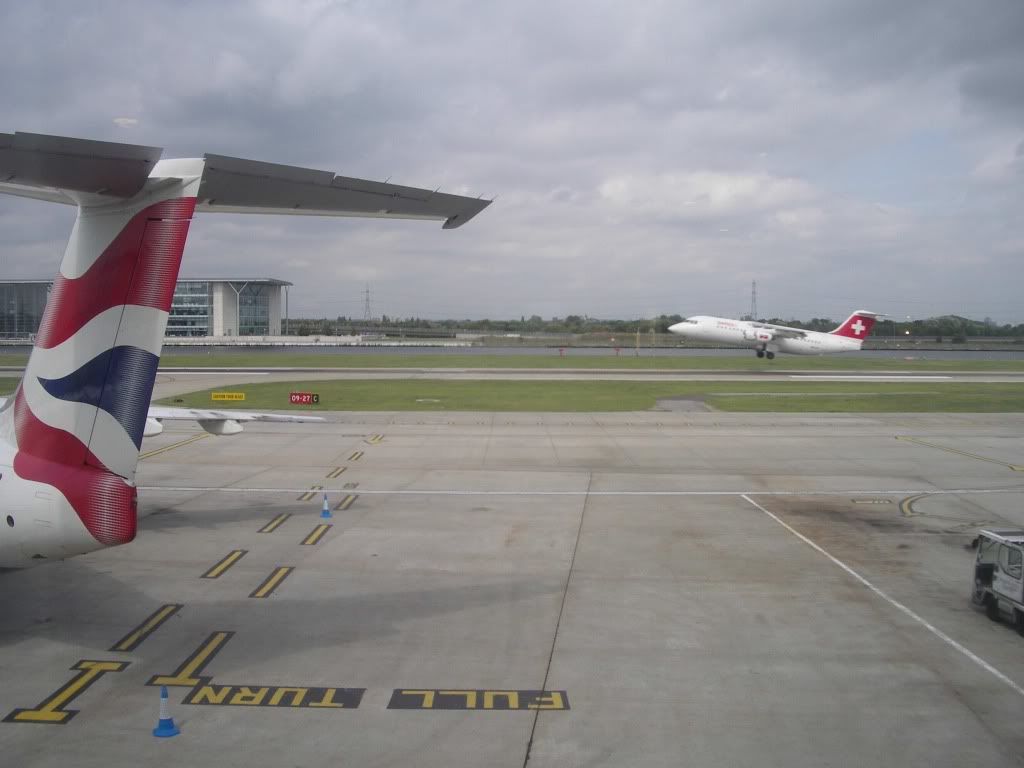 BA on the way to the runway: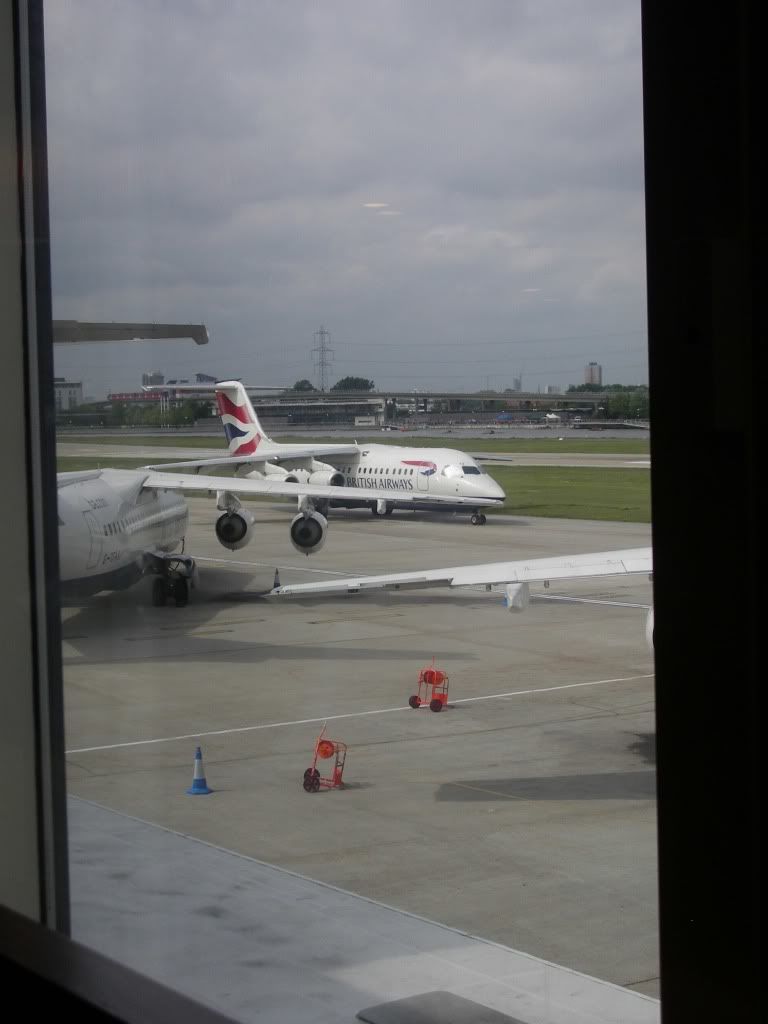 Taxi: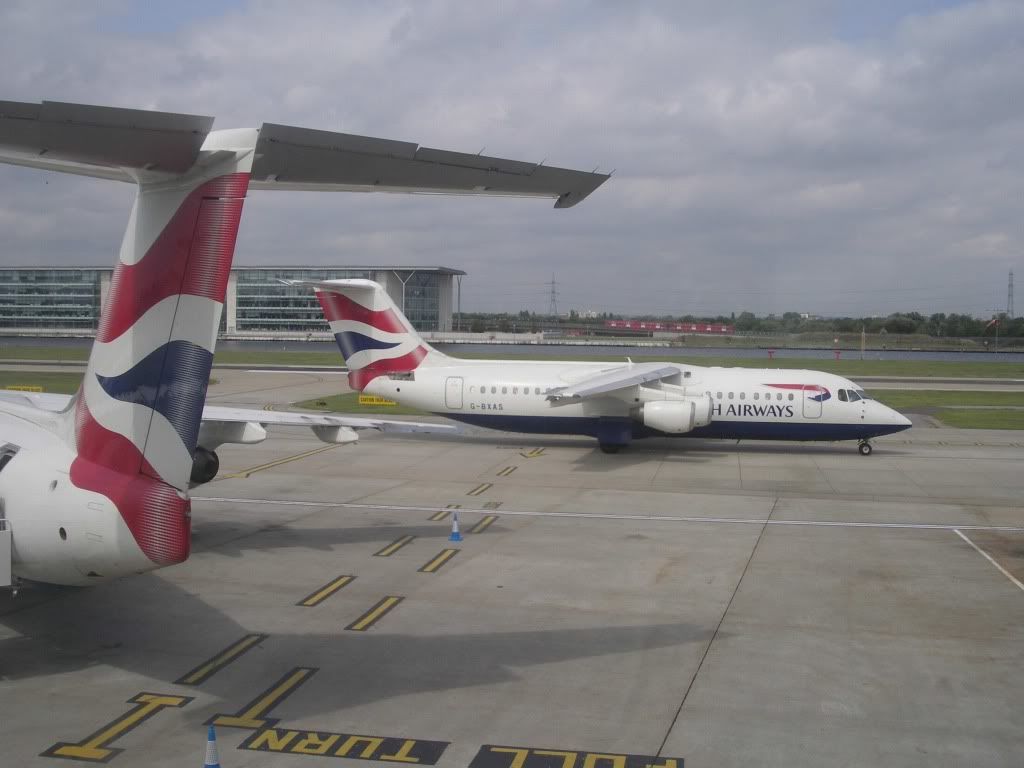 And departure:
LCY operates with the typical UK wait in lounge system, lots of pax coming and going, lots of biz travellers on the way back home now.
With no gate announced, four BA flights and two BA Avro´s visible it was not yet clear which plane we fly.
Our plane?:
No, this one: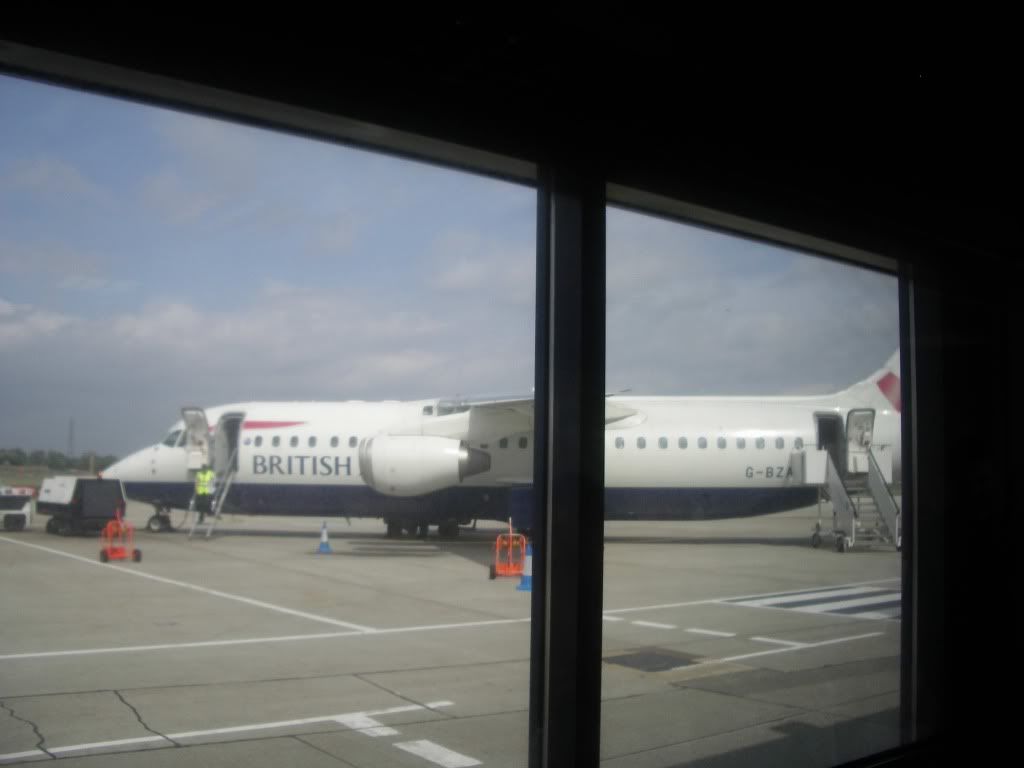 Apron view:
At around 2 pm the screens showed 2C for FRA and boarding was immediatelly called. Down the stairs to the small waiting room, crowded with pax,
looks like a good load.
Boarding close up: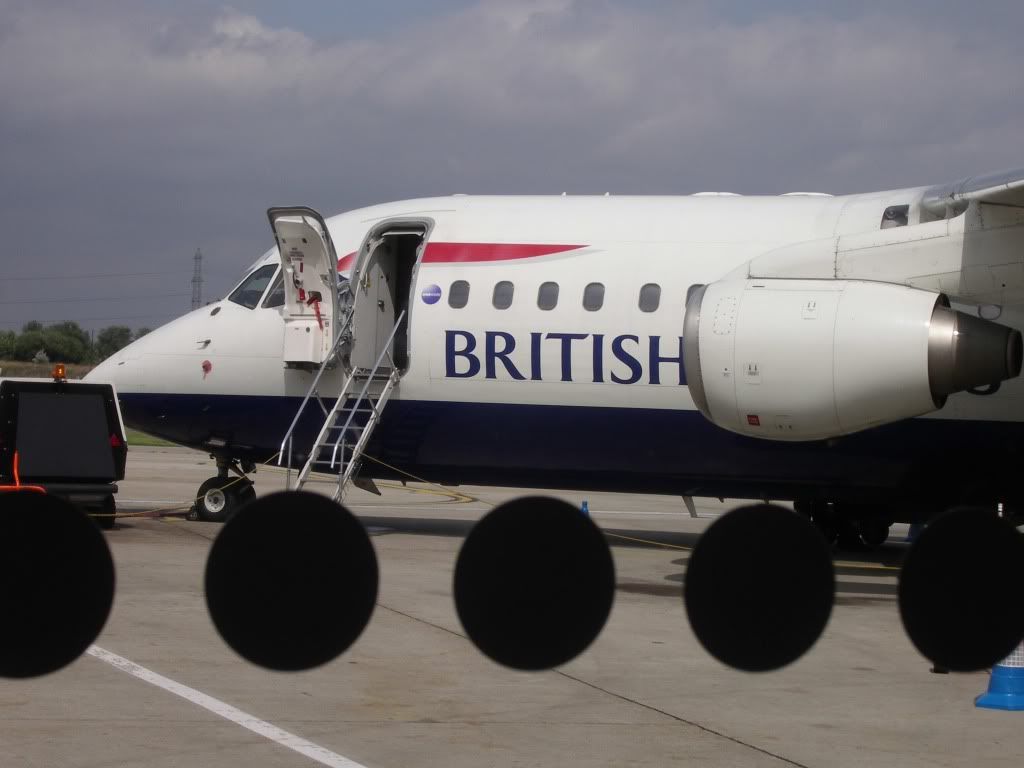 No Avro!: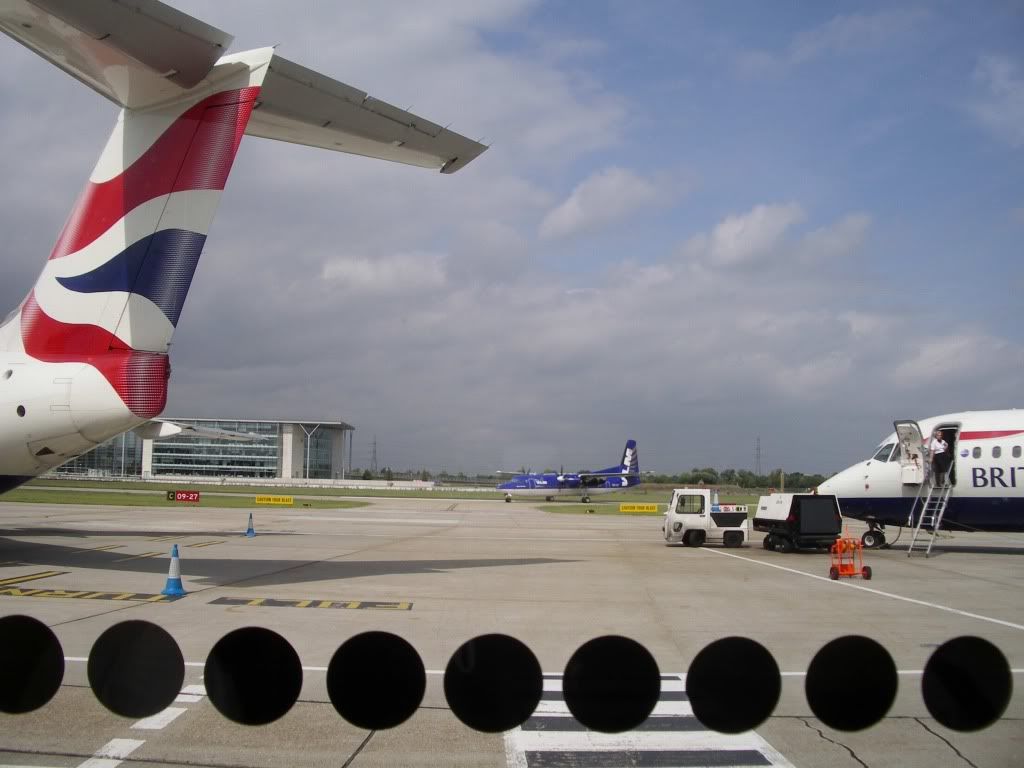 A nice F50: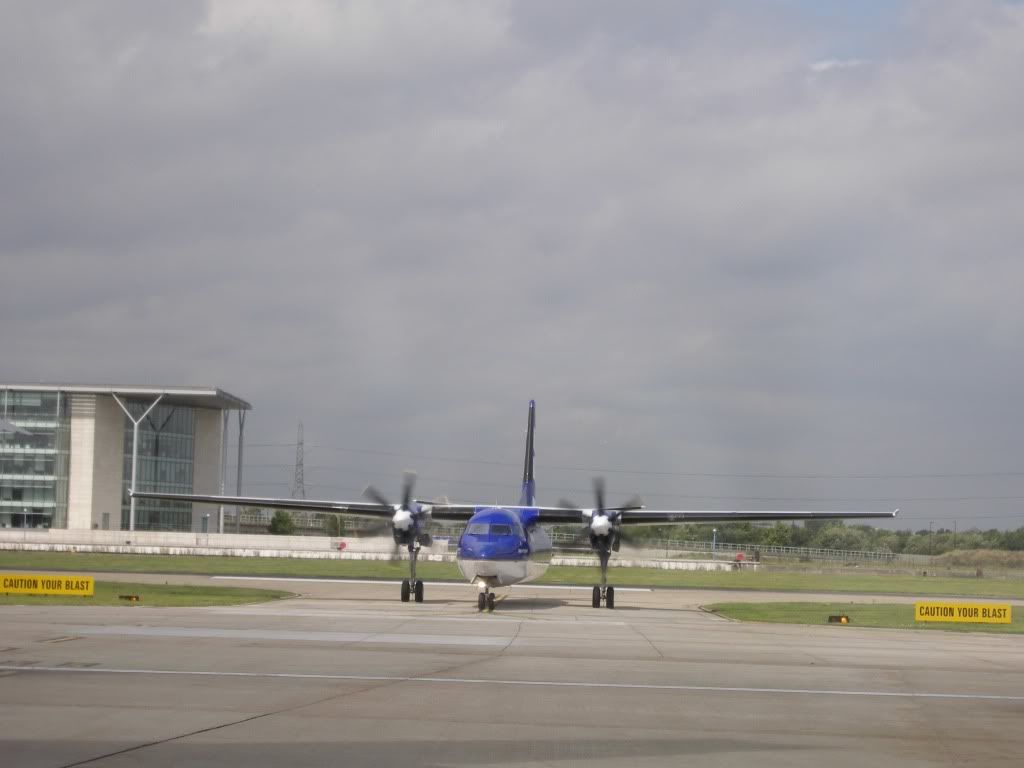 Once more: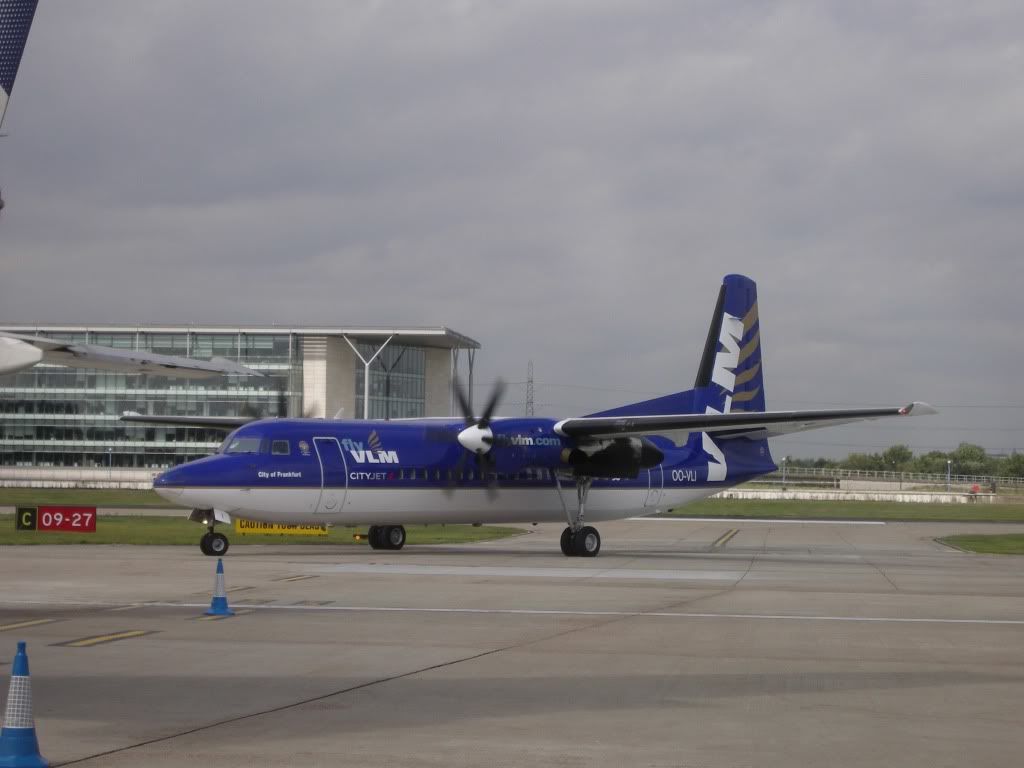 AF by City Jet: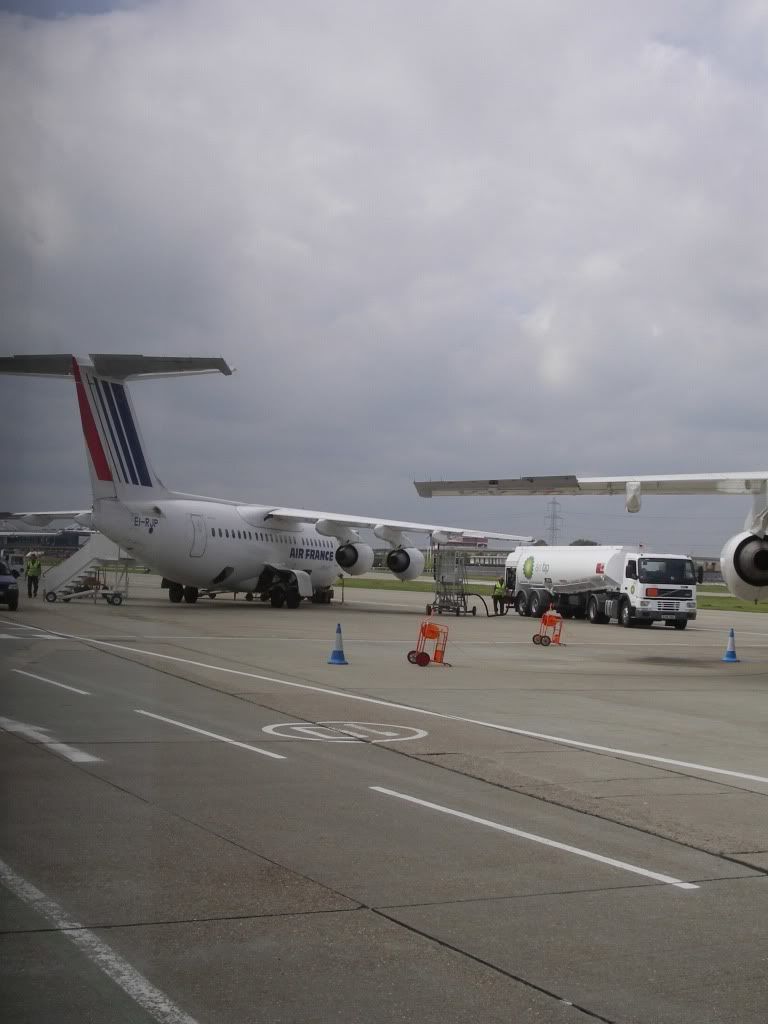 Doors opened and the other pax walked directly to G-BZAV, parked opposite the gate.
Now boarding: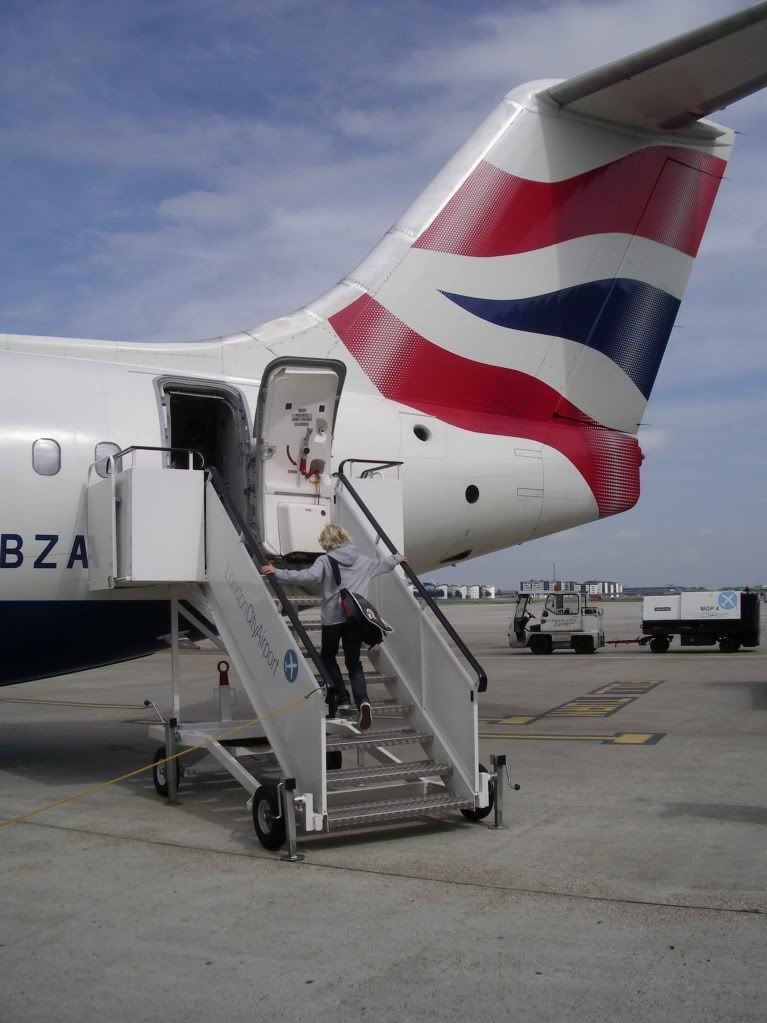 Once more: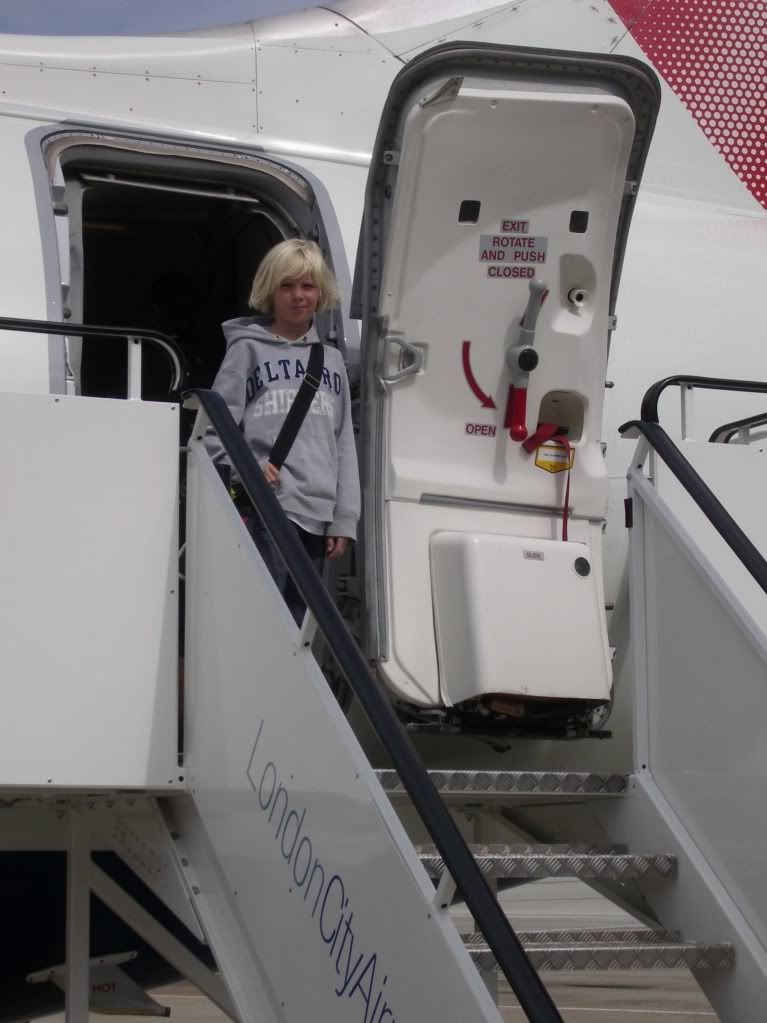 Like that BA tails:
Window view:
The scheduled RJ100, a new one for me and leg no. 7 on type.
This plane is one of 8 in BA Cityflyers fleet, delivered at 25.07.1998 to CityFlyerExpress, changed to BACityExpress at 13.10.2002, renamed BAConnect at 01.02.2006 and uses the actual name sine 25.03.2007.
Three friendly elder female FA´s on that service.
The cabin fitted with dark blue worn out leather seats. Cramped?. Oh, yes that was very cramped, slim seats, low legroom, some of the worst during my latest travels.
Seats: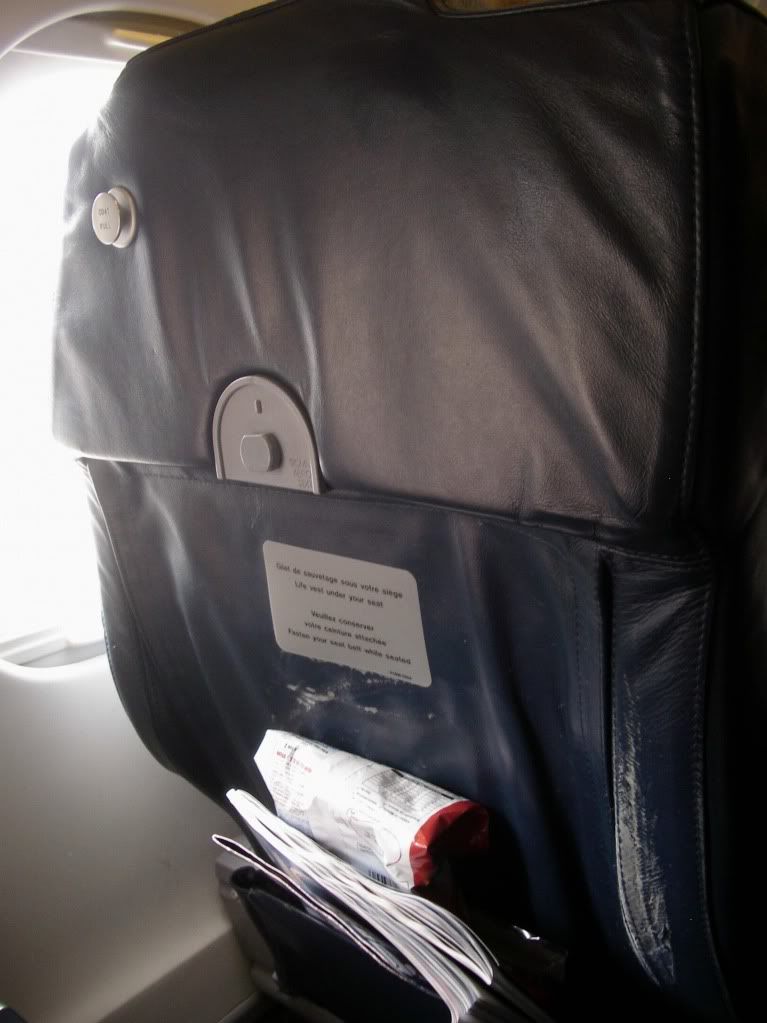 Again: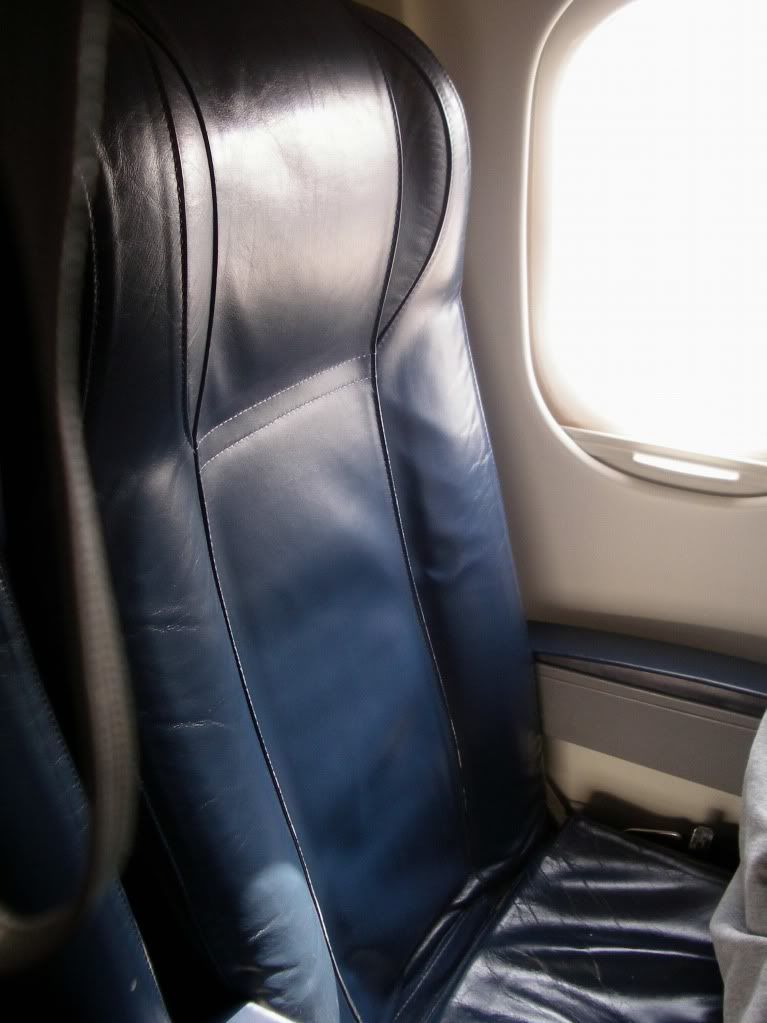 I like that 4-holer Avro machine, but
I prefer always the two seater in the last row, unfortunately taken by the time we checked seats.
Also another pax in the aisle seat in our row. Well its friday, the day with the usually bests loads all around.
Cockpit crew was from the UK, the captain introduced himself and his colleague and also the cabin staff.
Departure: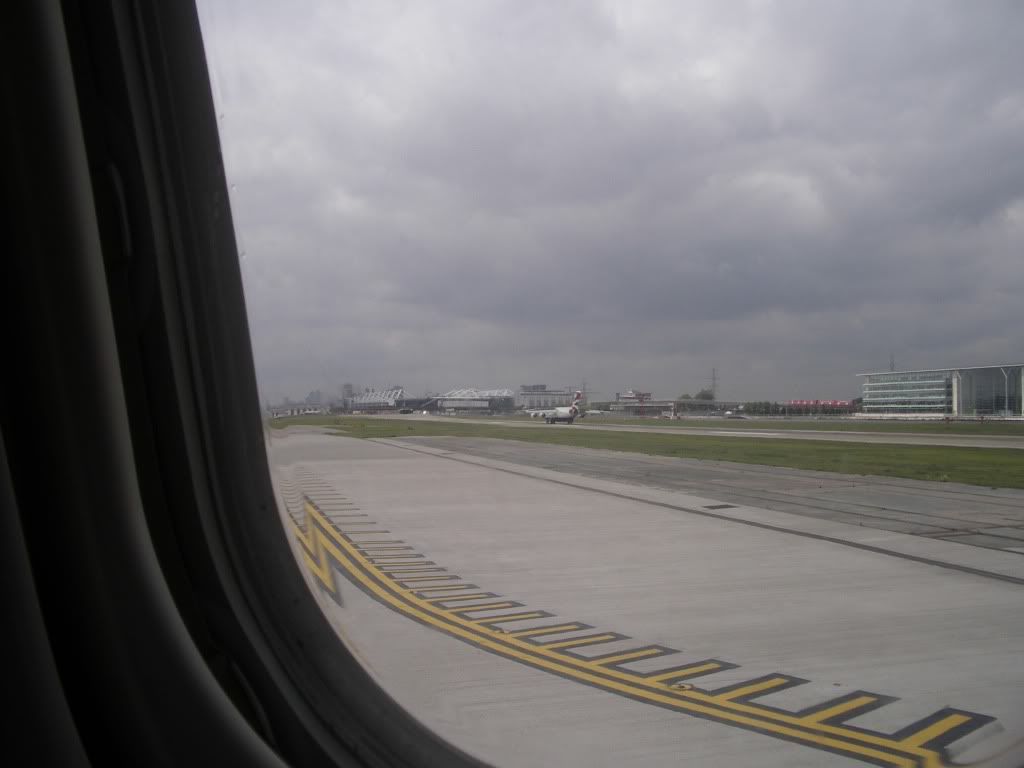 Another BA tail: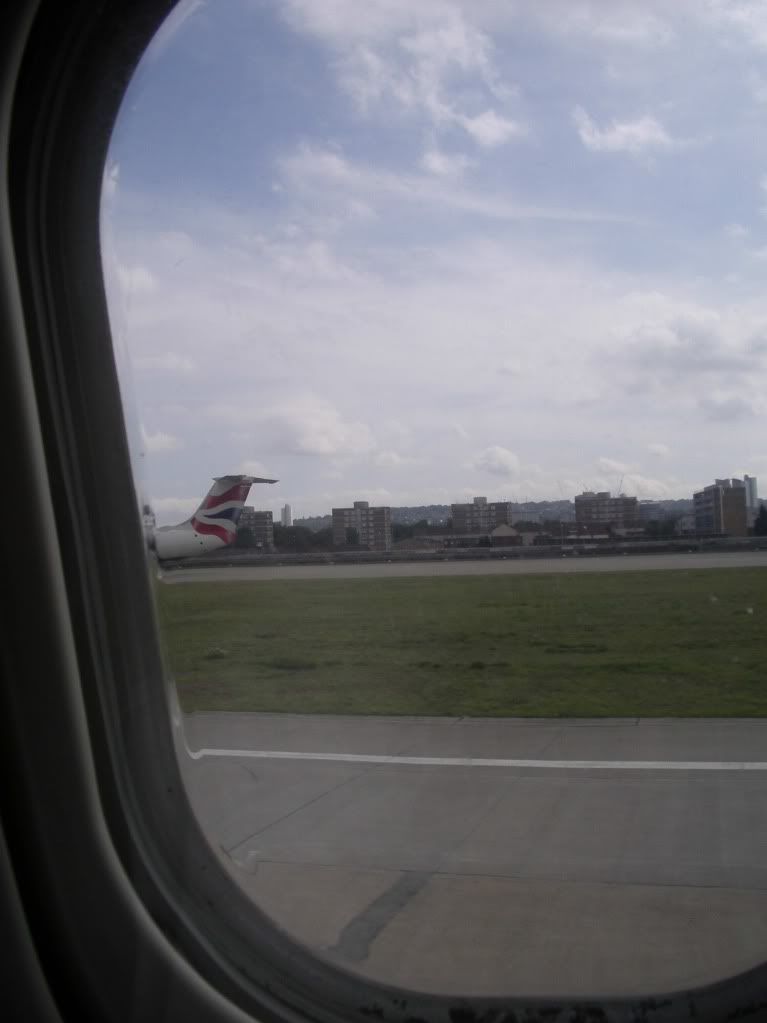 With the closed taxiway we doing the backtrack on the runway for a departure from the 1508 meters runway 27 and turned quickly around, another BA Avro followed us and leave the runway at the end
to give way for our departure. How I love that LCY departures. Brakes set, engines spooled up, the plane jumped around like a racehorse, cant wait to go.
Brakes released and second´s thereafter we ´re in the air.
Now departure: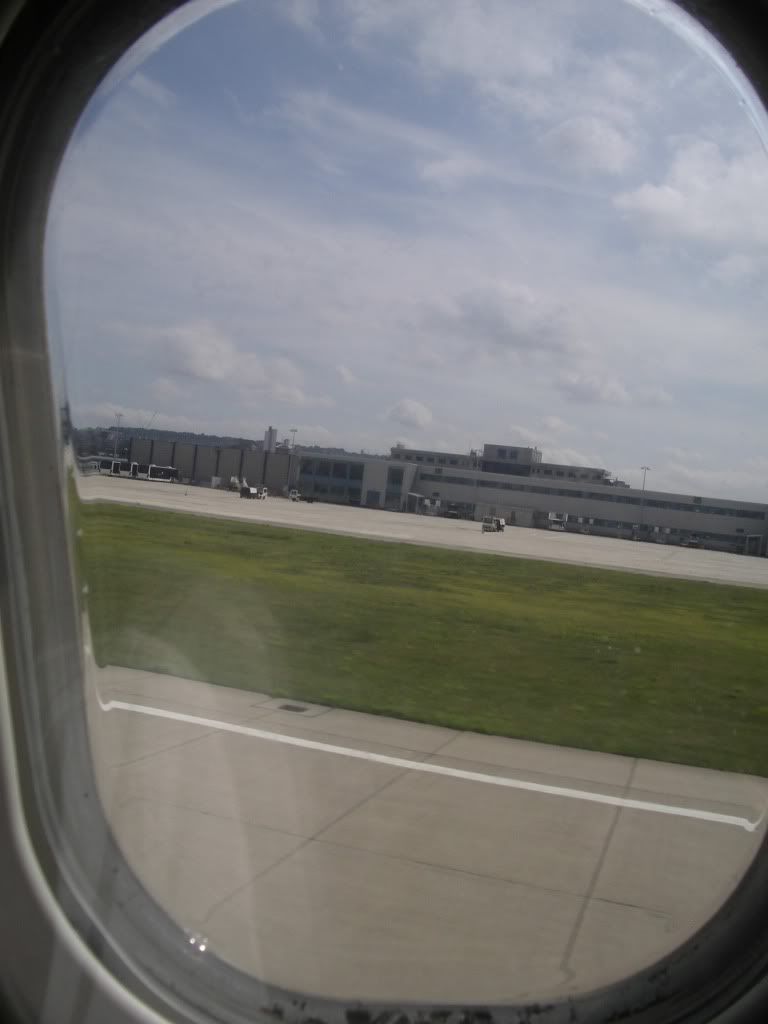 No route or flightlevel informations.
Only light clouds: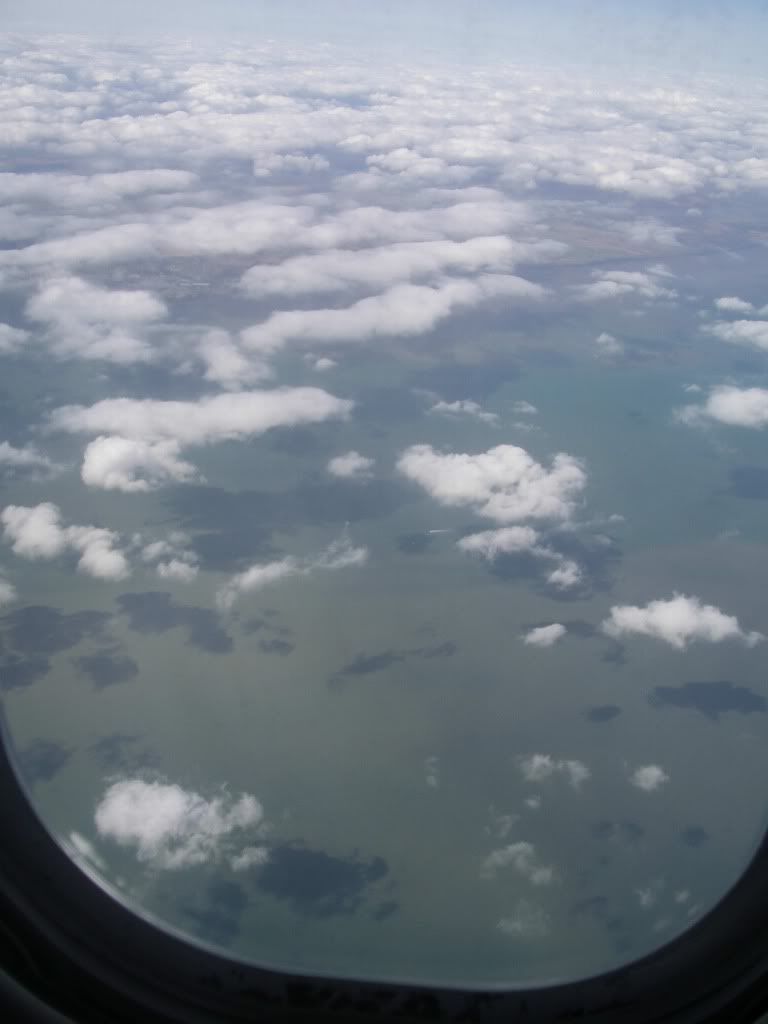 Natural power: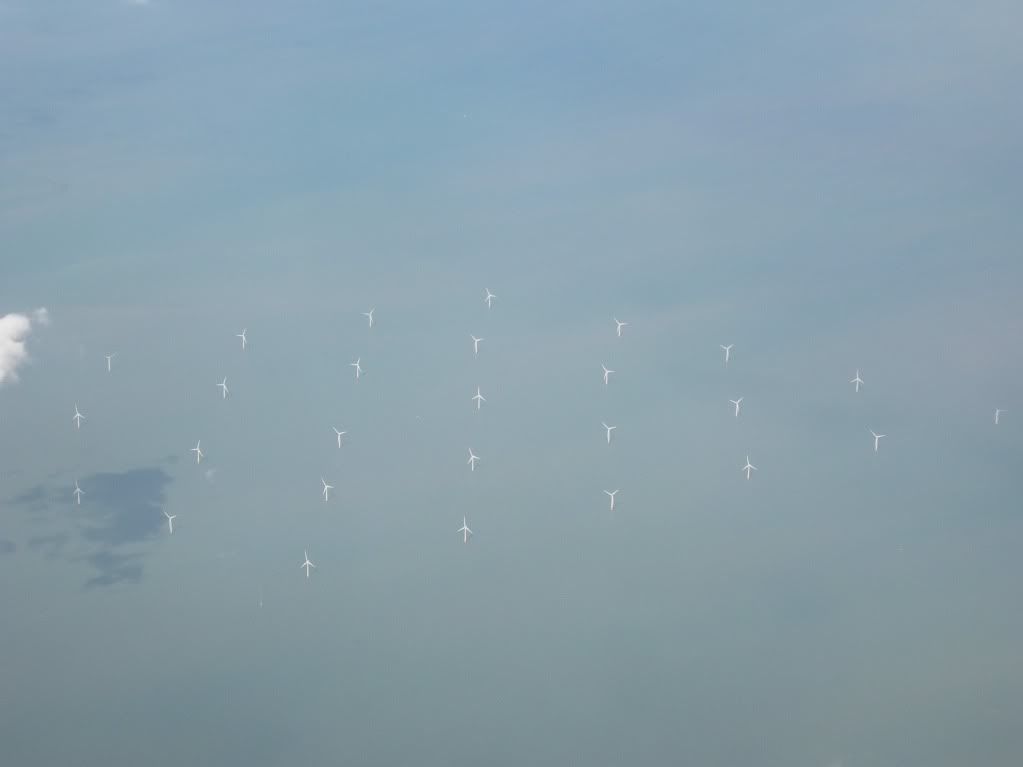 Service was real good, a sandwich followed by free drinks and also snacks.
Service: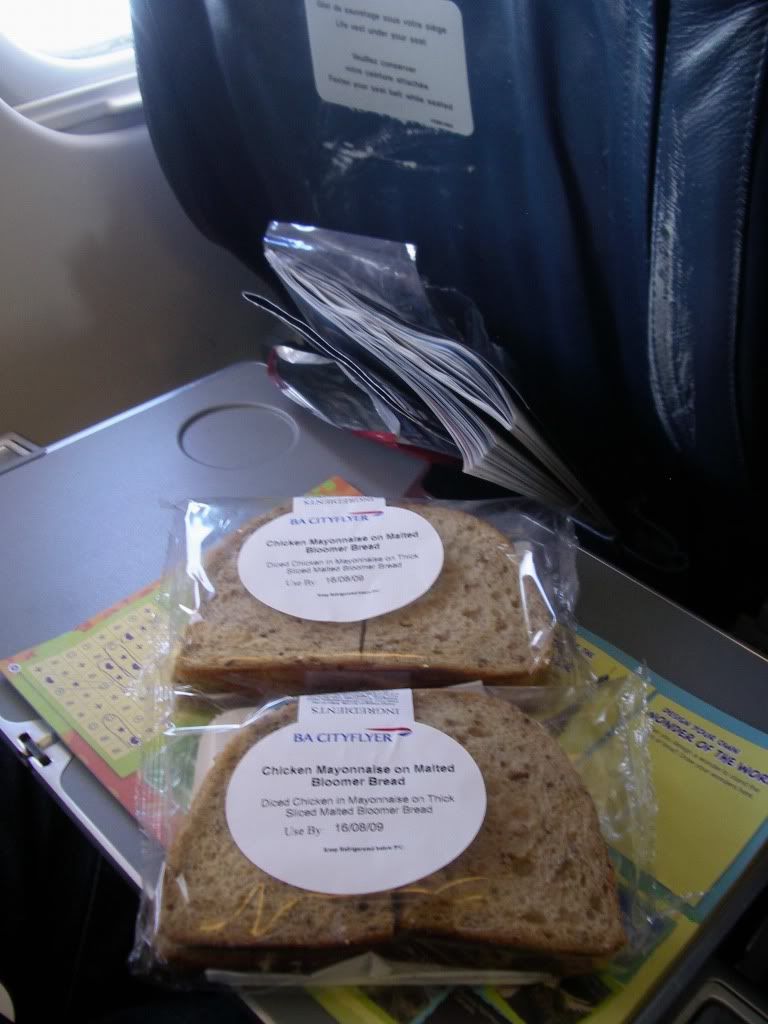 AMS?: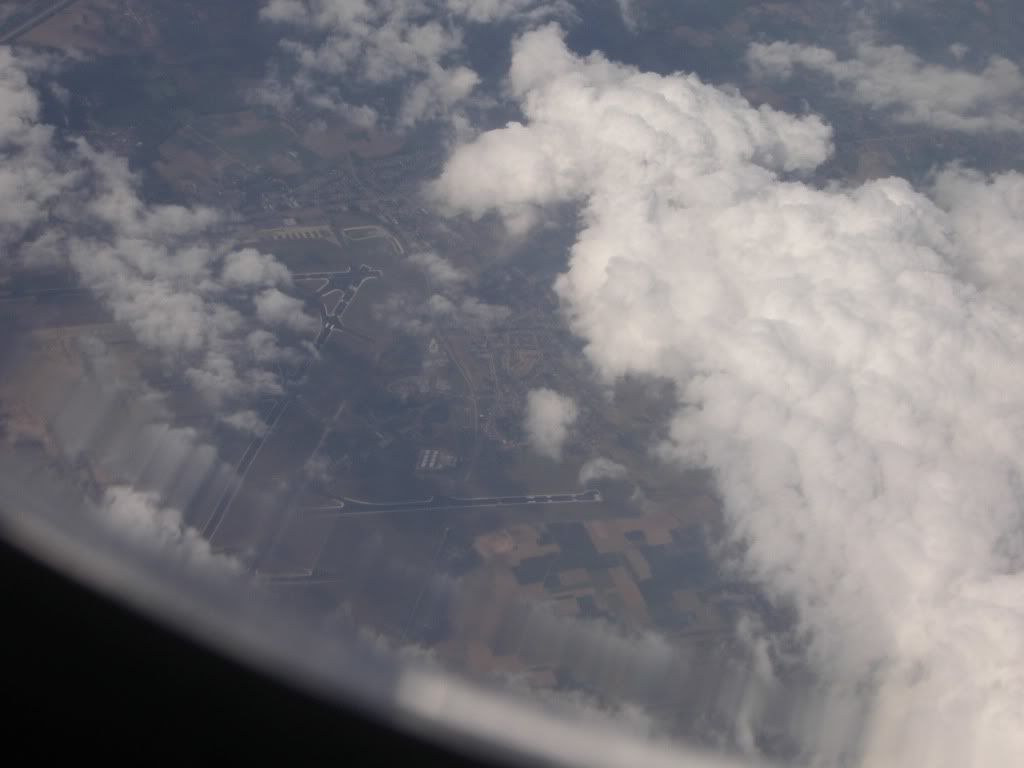 The captain with some more short informations during approach.
Touchdown well ontime on FRAs 4000 meter runway 25L, a long taxi till our stand far behind T2.
Some more Avros here: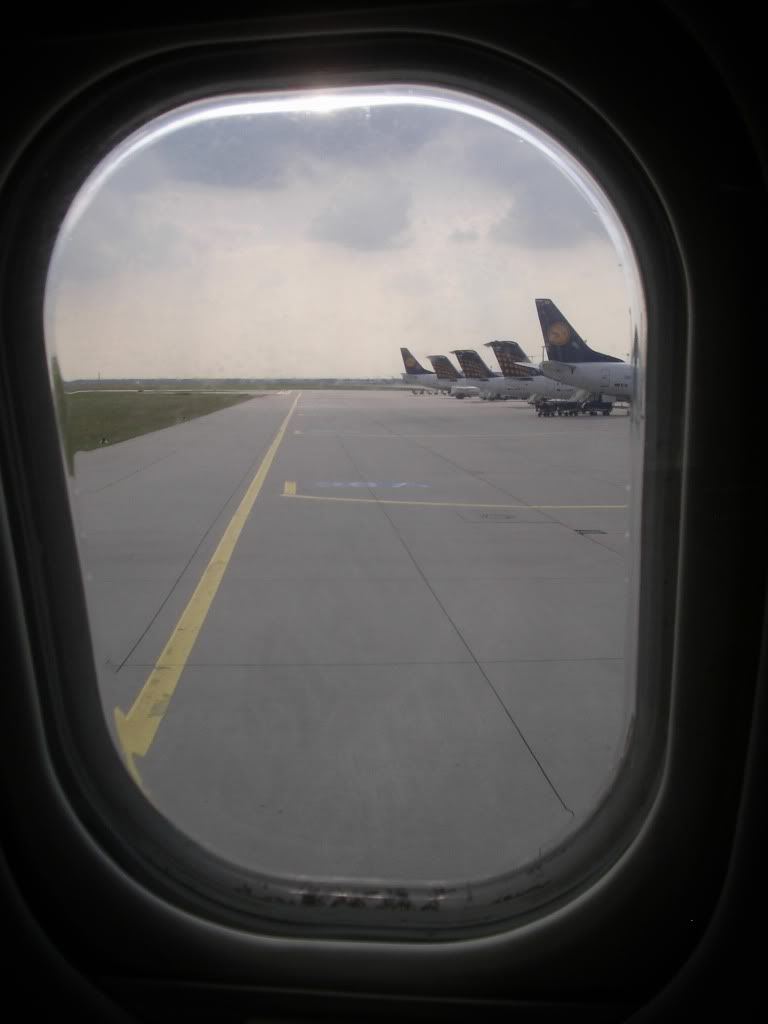 Finally FRA: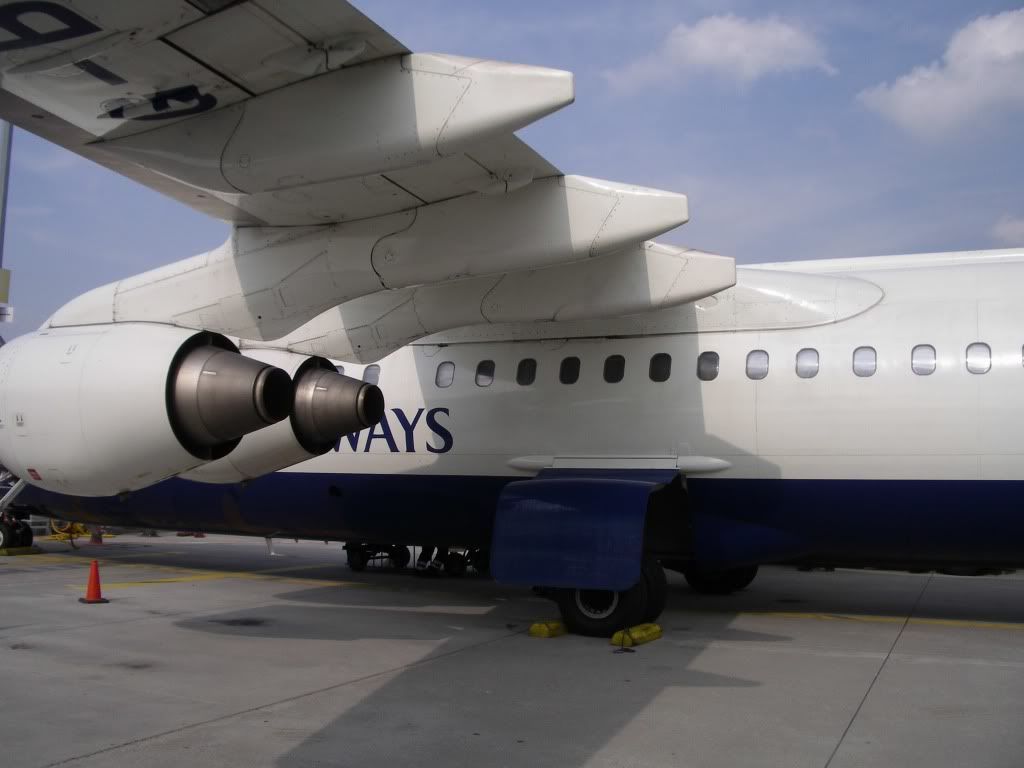 Close up: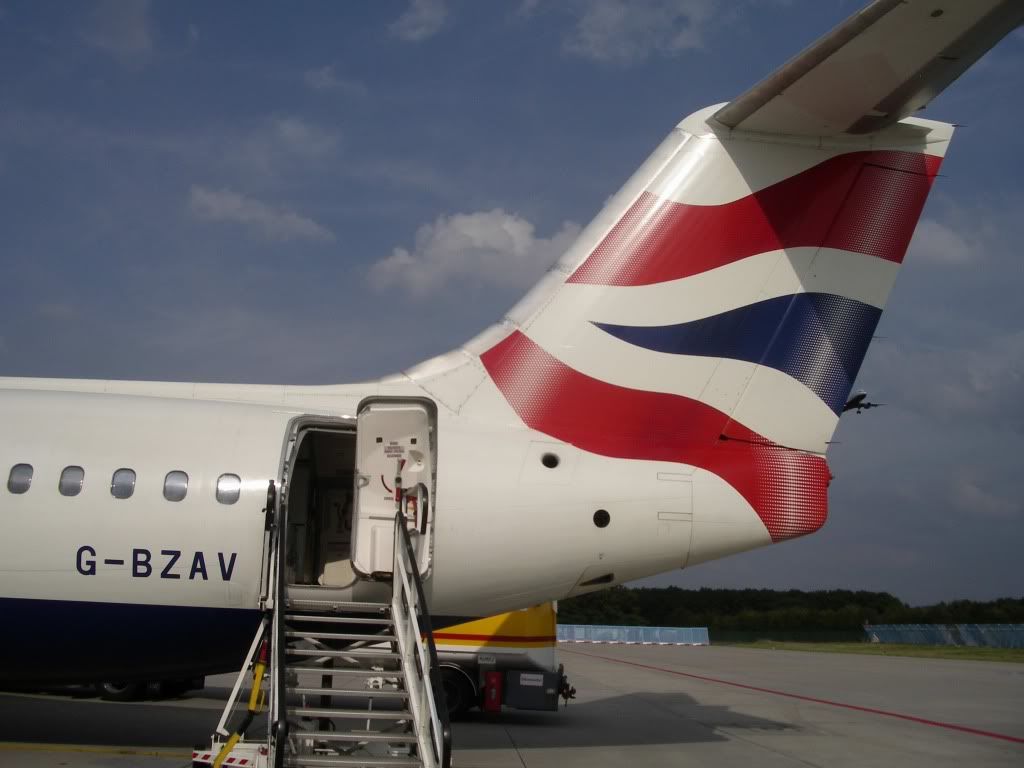 G-BZAV: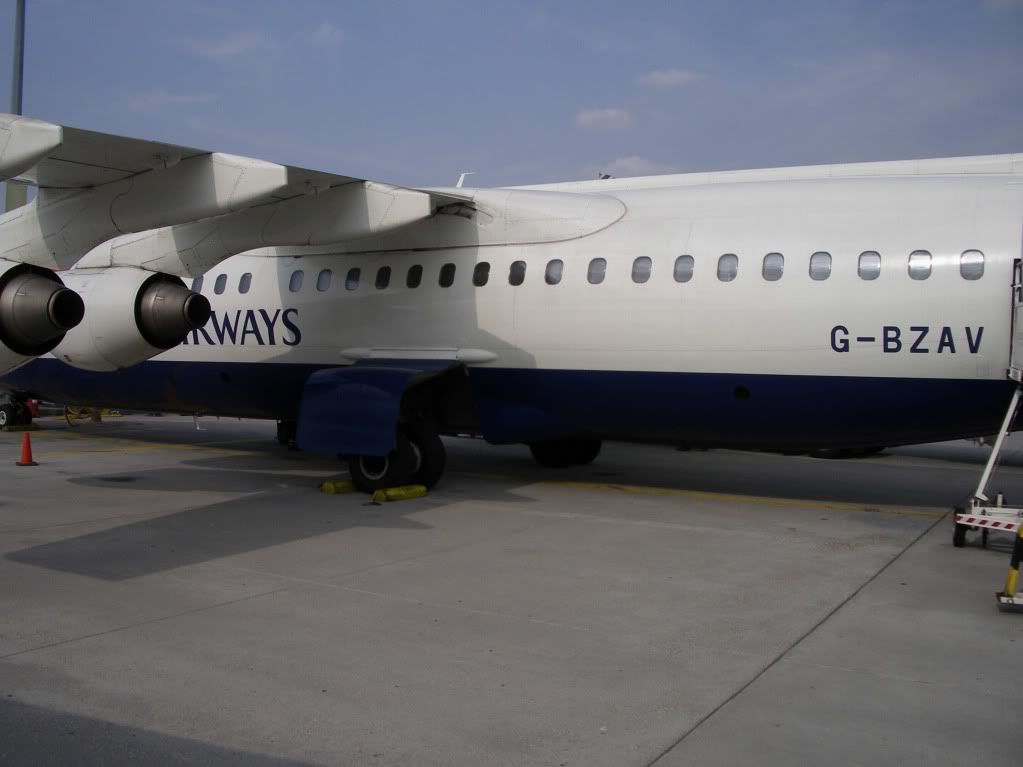 The engines:
Bye-Bye: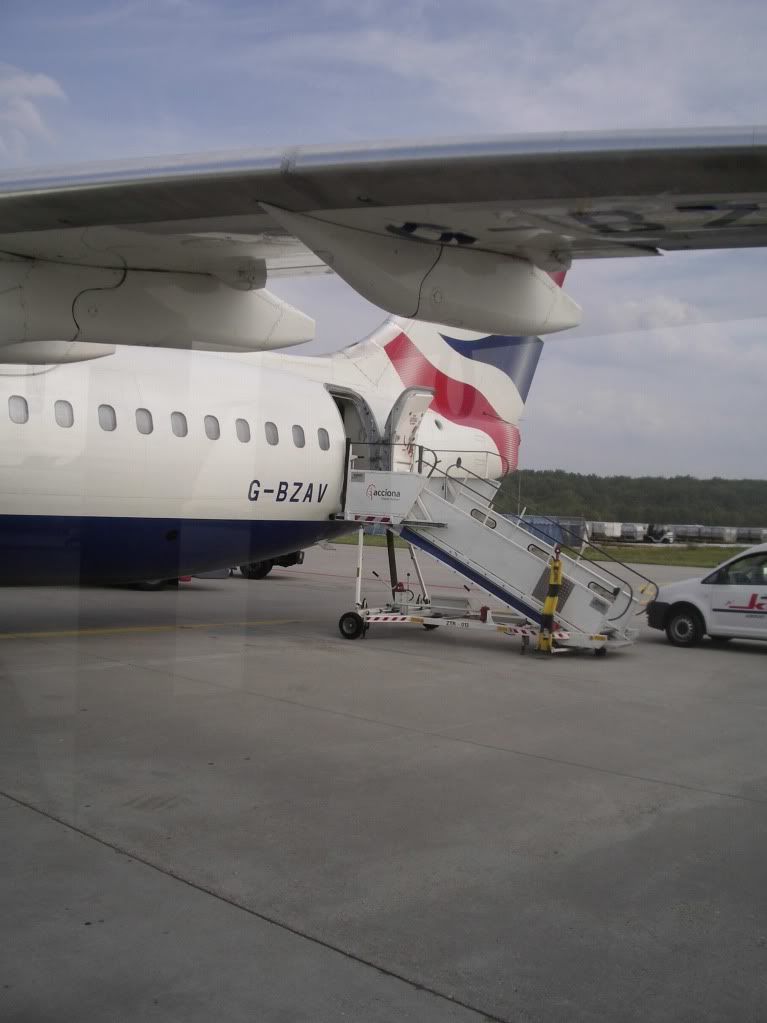 By bus to the terminal, no time to wait this time at passport control, also not a minute for the bag, the Tourcare driver waited for us at the door and soon back home again.
And now, plane or train?.
I prefer the plane in every possible way, only 1 hour, 25 minutes to fly here in comparison to five hours on the train.
Something to eat and drink for free, nothing for free on the train and that all together for only some 20.-- euros more for the both of us than the train fare.
The positive thing when going by train is that you walk free through the train, seat more comfortable and join the restrooms when you want, also no no-liquid-rule.
The train arrives closer to the city center, but with LCY´s good connections not a big positive point here.
Will I do the Eurostar and BA again?. Yes, both ways, but flying is definitely preference no. 1.
So, next country to visit will be Spain. Someone interested around Europe in Africa, Clickair after the merger with Vueling or BCN´s new T1, online in a couple of days!.
Comments welcome,
Markus (FLIEGER67)