Europe or Africa?: Melilla on Denim Air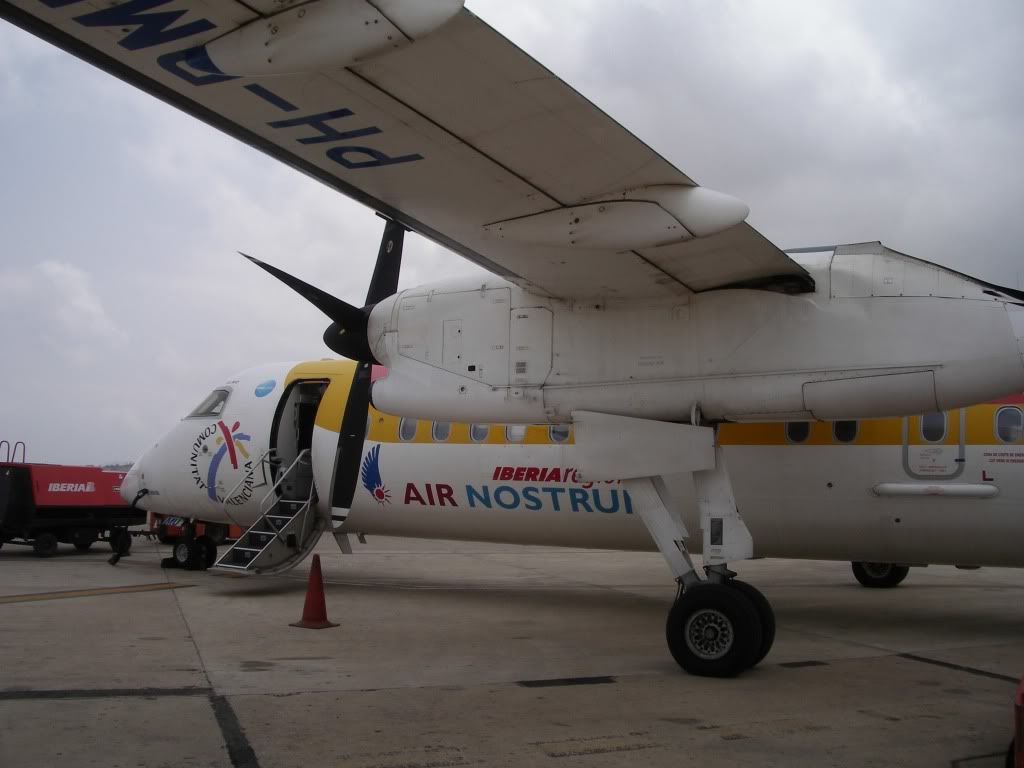 Hola and welcome, dear readers,
summertime, that means also family travel time.
After doing several trips alone or together with my son, for example the last run to London
Under Or Above The Channel?: BA/Eurostar To LCY
(by
FLIEGER67
Oct 5 2009 in Trip Reports)
the whole family want to do something together.
Mid August means heavy travels all around. With a good loaded Miles and More account and my interest to calm down the costs it was the best idea to spend some miles.
15000 per pax for the LH offers sounds acceptable. And Spain with MAD as the entry point sounds also ok, no more time needed and quickly booked.
Connected an earlier found hotel with a cheap rental car and family vacation was booked.
But a week in the sun with nothing else to do than, hmmh, nothing, that was not the best idea for me.
Heavy activity and some more nights at my laptop collected something more flying around!.
[Sunday, 16.08.2009
FRA (Frankfurt-Rhein-Main) Sunny, Temperature 23 degrees
MAD (Madrid-Barajas) Sunny, Temperature 32 degrees
Duration: 2 hours, 10 minutes announced
2 hours, 20 minutes actual

Service LH 4410 operated by Lufthansa
Scheduled: 09.25 // 11.55
Actual: 09.25 // 11.45
Gate: A40 Seat: 28C
Load factor: Around 90%
Check-in for my party of three was done online saturday afternoon. Real good to catch a row with three seats together in the very back of the plane.
By car to Tourcare early sunday morning and arrived at FRA T1 at around 08.00 am.
Collected the boarding passes at the self-service-kiosk and surprisingly no time to wait at the bag drop off counters.
A nice female agent accepted our luggage and here we go to security. Also no time to wait there and in the gate area soon thereafter.
Heavy action here: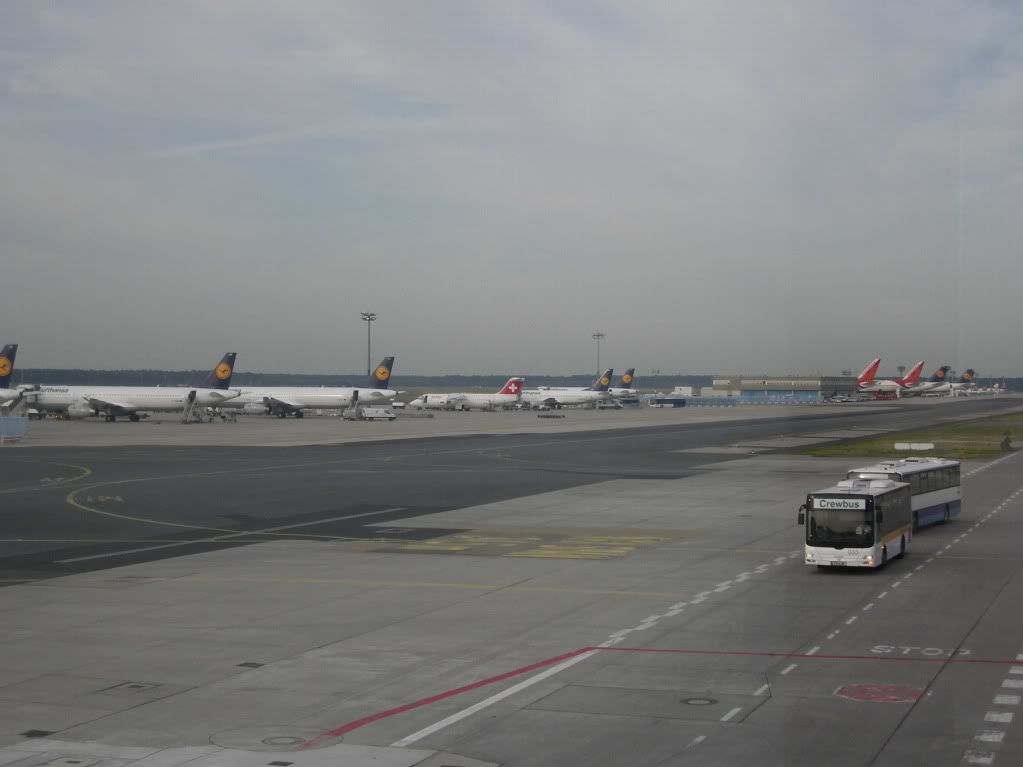 Some more big birds: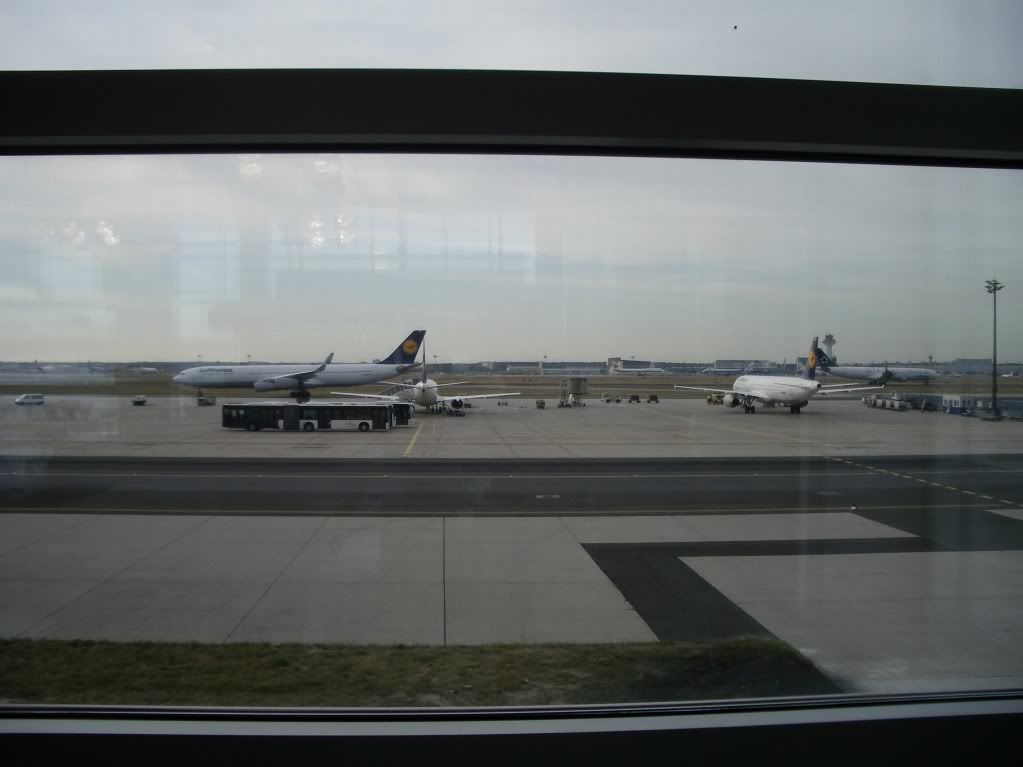 Arrival AC:
LH Star Alliance: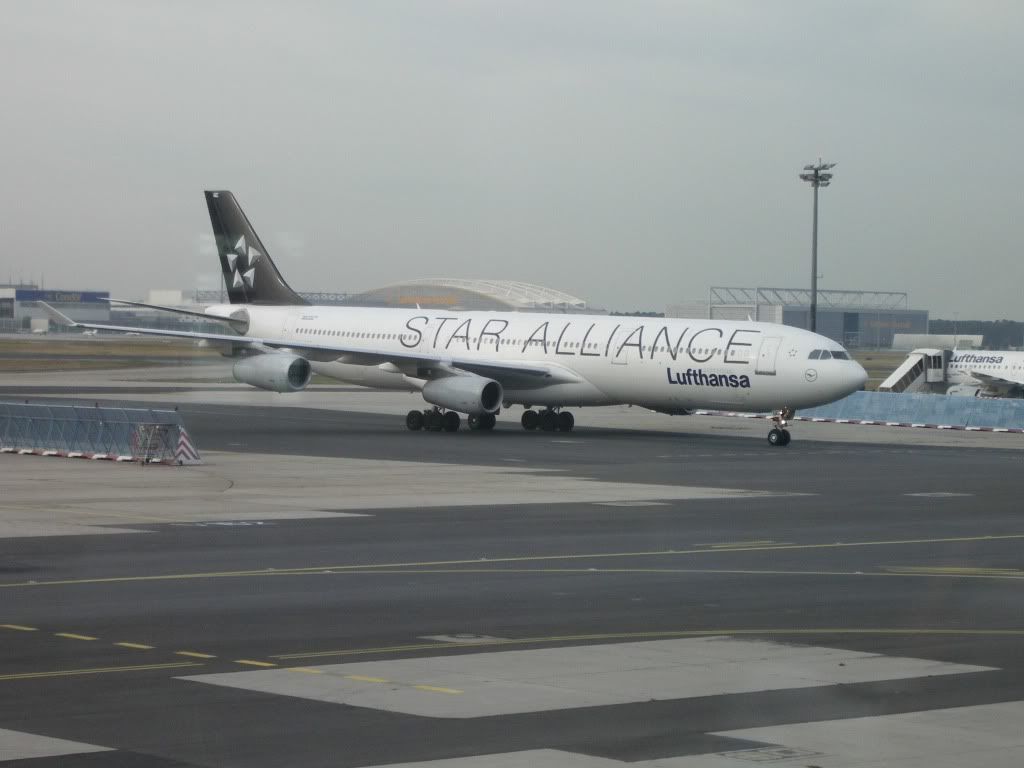 The usual OPS check showed me the announced A320 for the flight to MAD.
D-AIQS will be our ride, delivered at 22.03.1993 to LH, one of the 36 planes on type in the fleet and named "Eisenach".
Leg no. 49 for me on the A320 and the first on this machine.
Gate A40 means a rather long walk down to the very far end of the A pier, where, no surprise, D-AIQS parked at the finger.
Some pics and only a short wait there till boarding was called very well ontime.
"Eisenach" at the gate:
Another angle: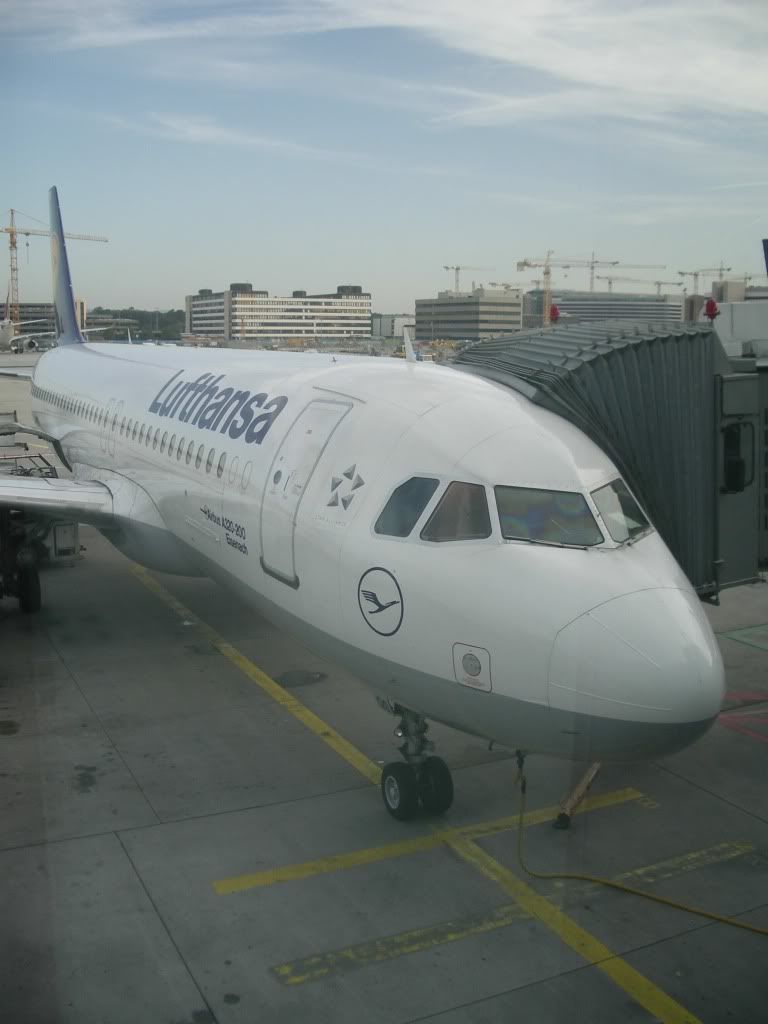 Side view:
QR in the back:
The other side: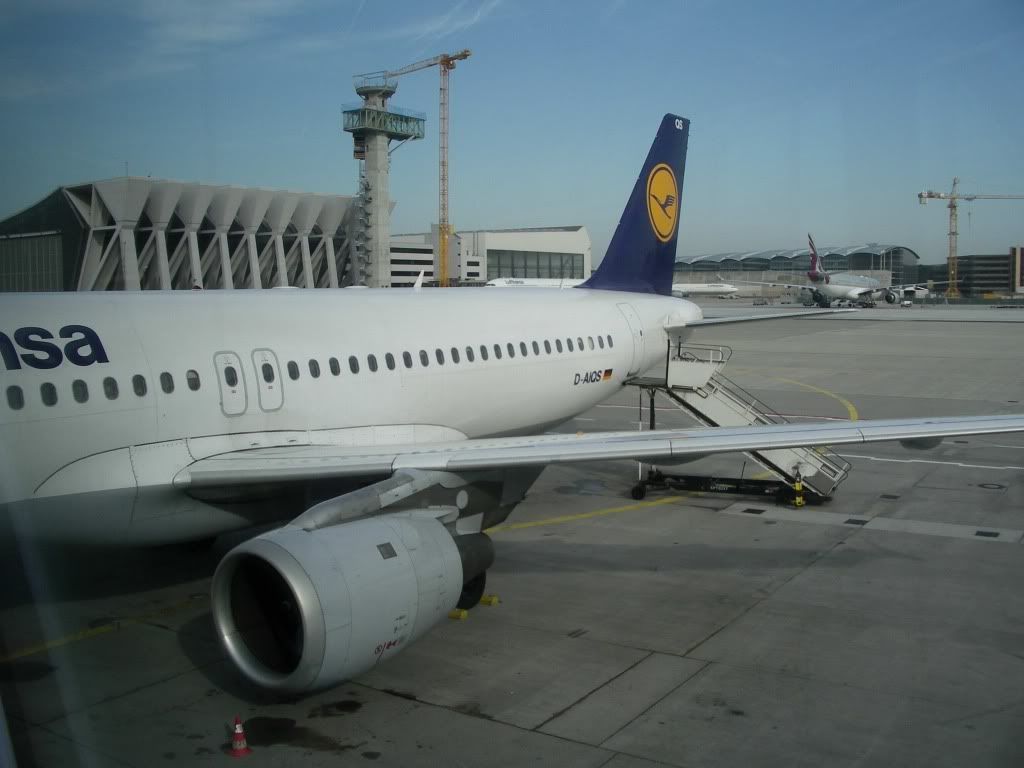 Engine view: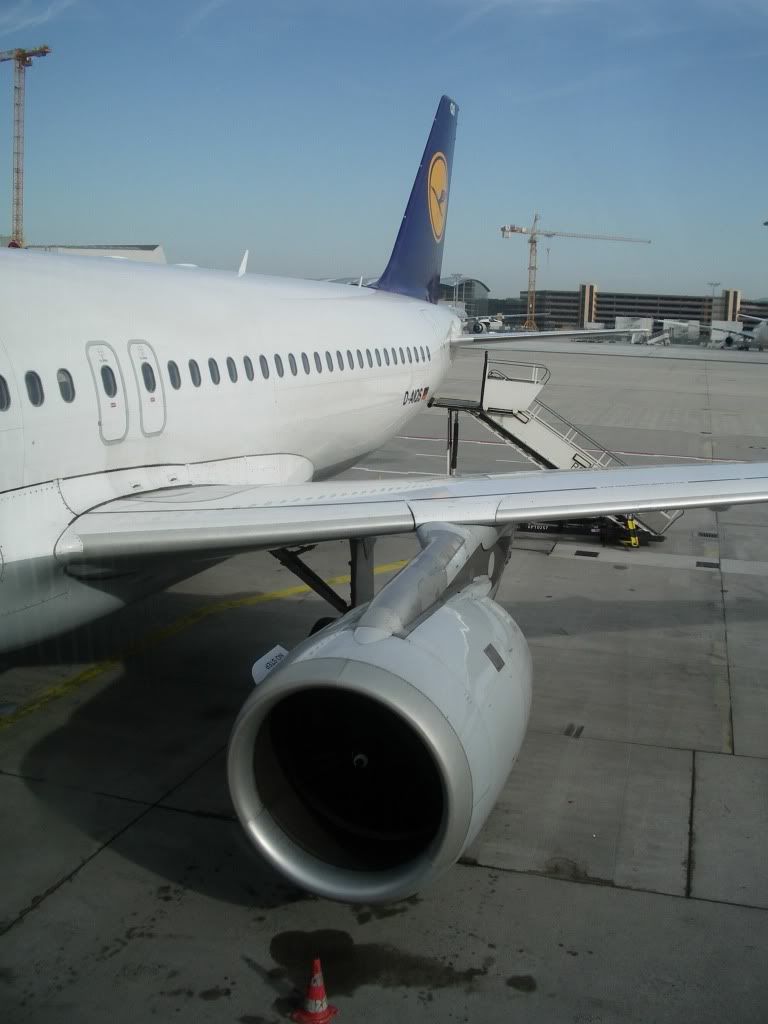 The cabin fitted with dark grey leather seats, clean, legroom and wide ok.
Cabin:
One real friendly male and two much more biz friendly females on that service. Load was around 90%, mostly connecting pax from the early morning longhaul arrivals on the plane.
The german captain was on the interkom during boarding with real detailed and superb friendly informations.
He introduced the cockpit and cabin crew per name and also his plane with plane type and name together with route and departure informations.
We´re going from the 4000 meters runway 18 today in direction PAR-TLS. A calm flight at level 39000 feet.
Reaching spain: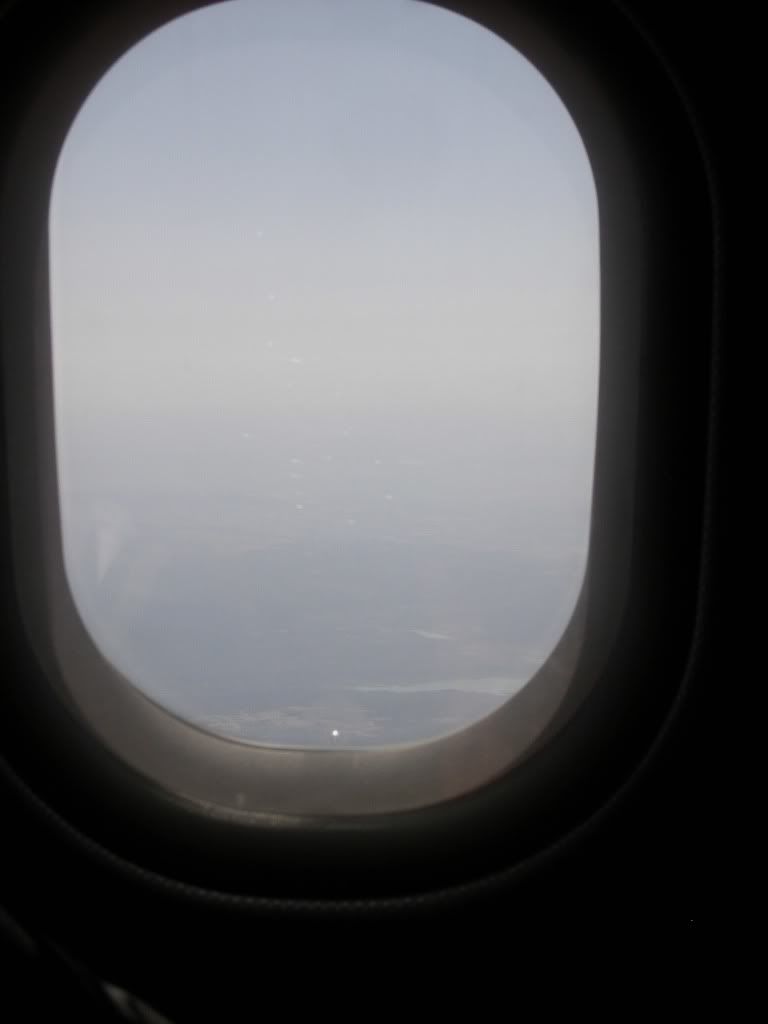 Service was ok. A cold plate with free drinks.
Service:
The captain was once more on the speakers inflight with arrival informations.
Touchdown on MAD´s 4220 meter runway 33L well ontime, only a very short way to taxi and disembarking at a finger gate.
Arrived at MAD: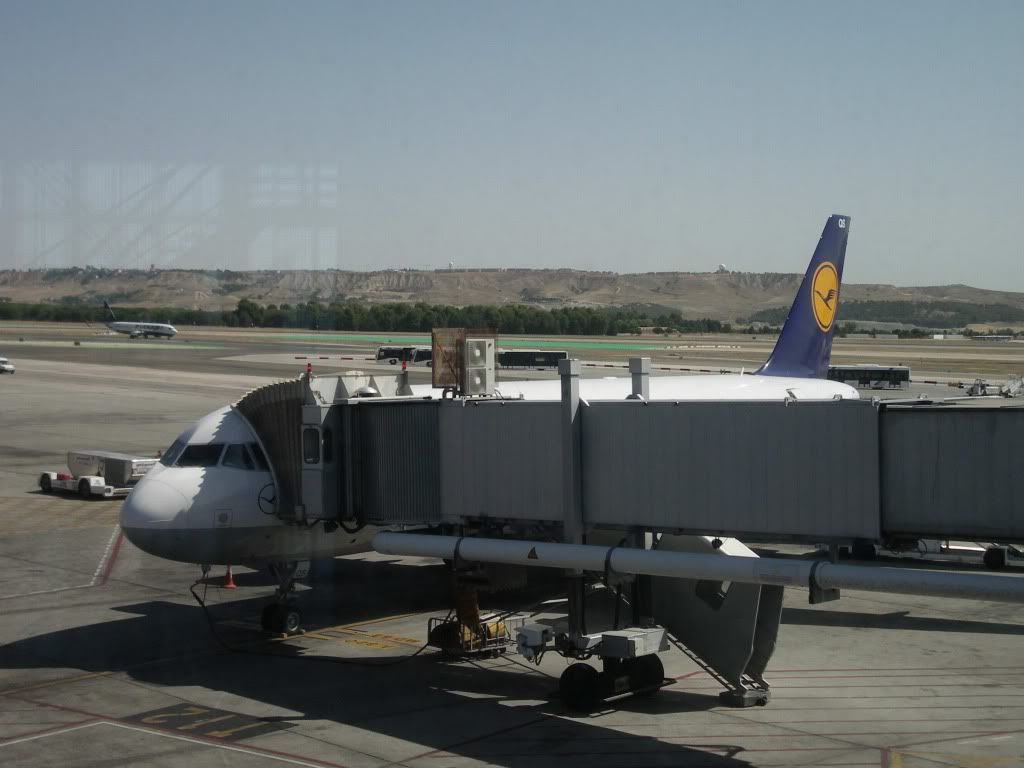 Good job here Lufthansa, the flight ontime, motivated cockpit crew and also partly motivated cabin crew.
I usually prefer the Boeing medium-range product, but that was definitely a comfortable ride on the by now most covered plane type in my log.
Down the stairs and a rather long wait for the bags.
Hertz offered a scratched and bumped Opel, not the way to go for a whole week of driving around and with the hotels location in Granada, some four hours to the south.
I´ve dealed with the guy for something else. Finally a Golf Turbo Diesel key shows up at the desk for some 100.-- Euros more, gladly accepted.
Hotel was the newly opened Abades Nevada Palace, near the motorway to the Sierra Nevada but also not far from the city center and the main sights, real recommendable.
Hotel: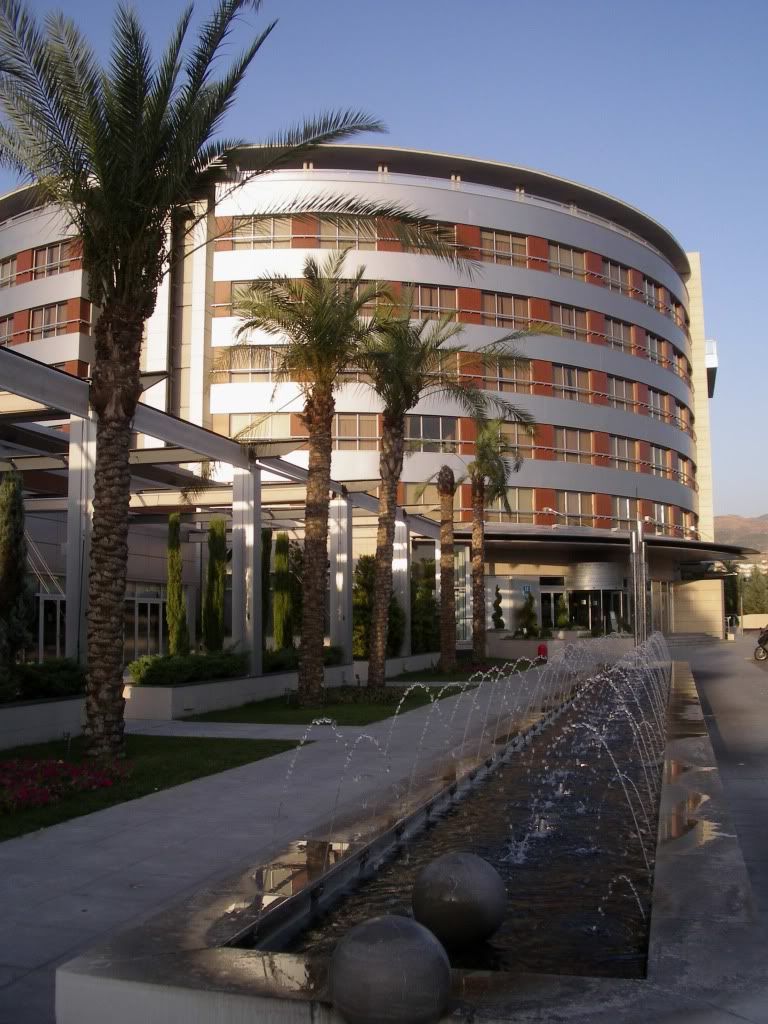 Lobby:
Arrived there in the afernoon, one day ahead to relax and some hiking in the Sierra Nevada.
More flying was scheduled for Tuesday!.
Uphill: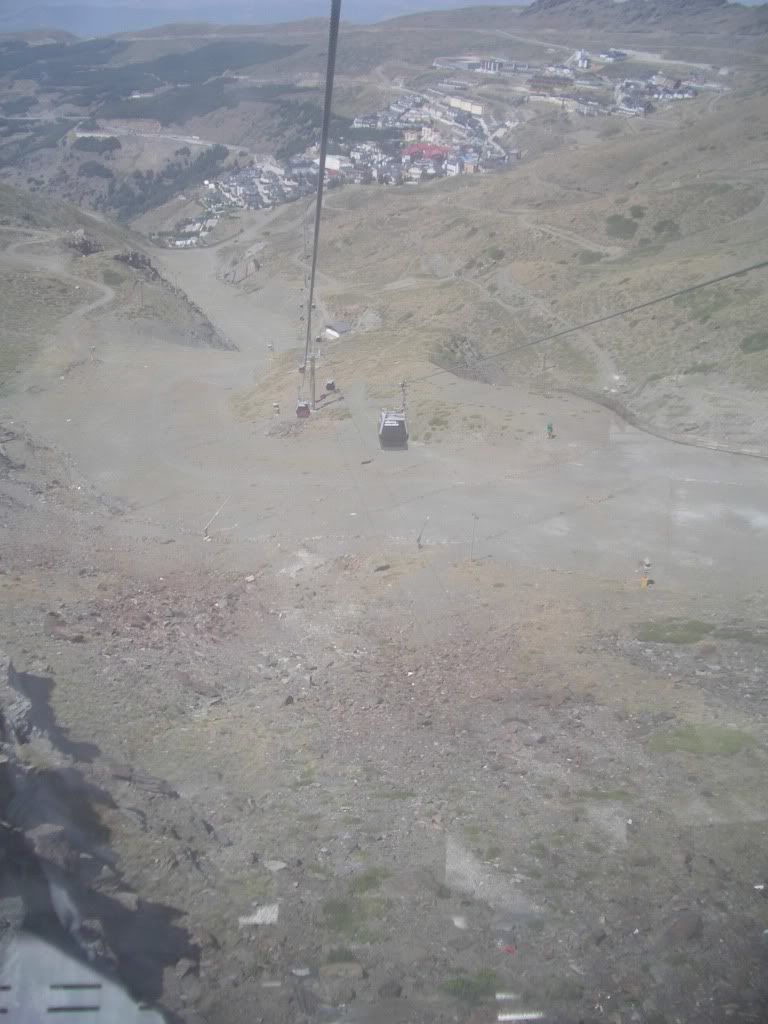 Further up: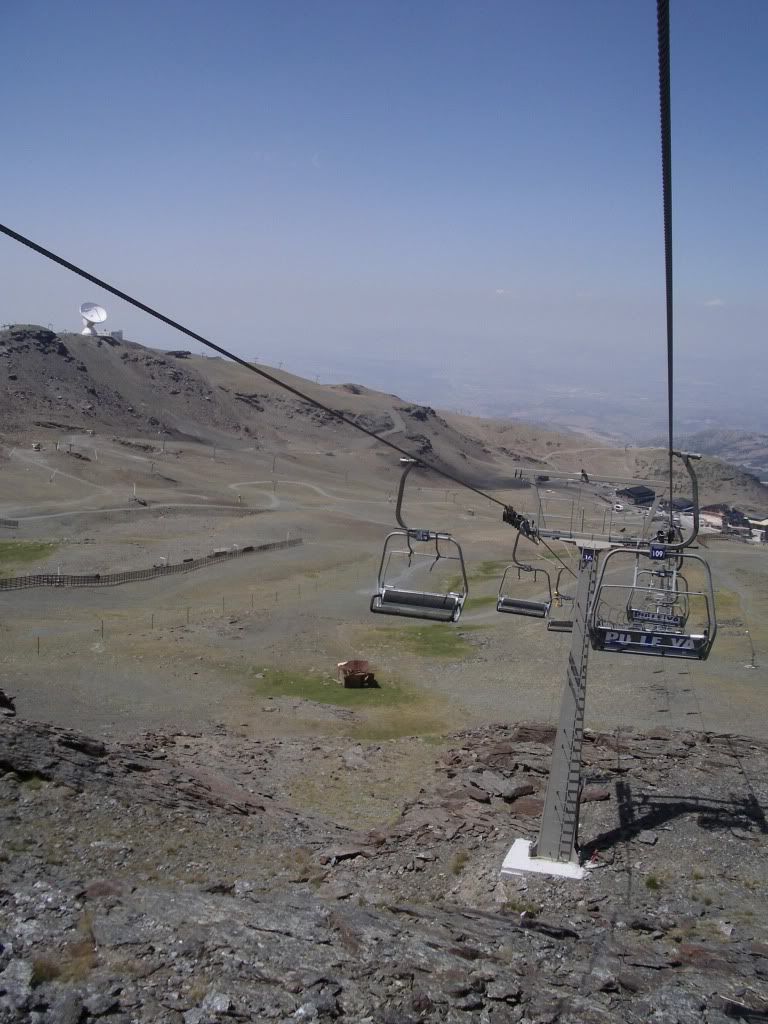 Med view: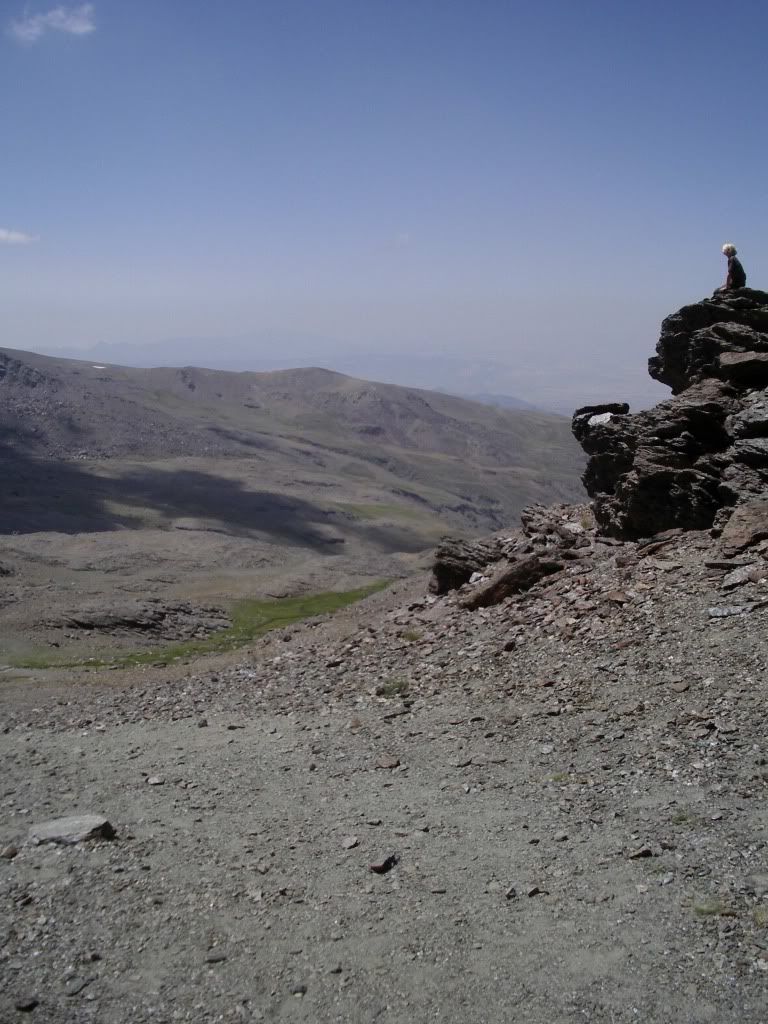 Nice coulours here: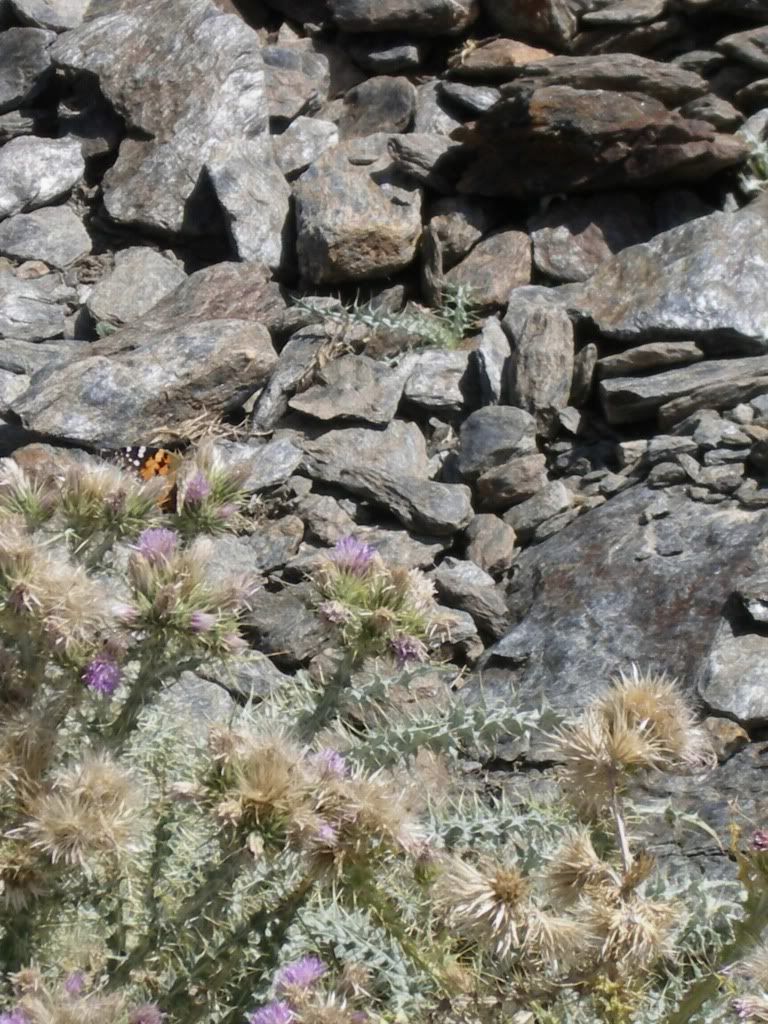 Tuesday, 18.08.2009
AGP (Malaga-Pablo-Ruiz-Picasso) Sunny, Temperature 30 degrees
MLN (Melilla-Airport) Cloudy, Temperature 28 degrees
Duration: 40 minutes announced
45 minutes actual

Service Iberia/Iberia Regional/Air Nostrum IB 8268 operated by Denim Air
Scheduled: 14.05 // 14.50
Actual: 14.15 // 15.00
Gate: B36 Seat: 14F
Load factor: 100%
The clock set for a new and something special airport that Tuesday morning. AGP was around one hour by car from Granada. With several flights during the day the best
point to start my travels to Africa. Seat selection was done online from the hotels free internet terminal.
Parked the car and headed to the oldfashioned terminal. With no bag to check, I´ve decided to print my boarding pass at the airport kiosks.
I was not amused when I saw two "Out-of-order" kiosks and a rather long line for all IB flights at the two eco desks.
Only one couple in front at the biz desk staffed by a middle aged female. She argued with the couple which definitely was not satisfied with the seat possibility at their flight for some minutes. Should I try the biz desk?. Yes, I should and it seems all here bad ideas gone with the couple and she was really nice.
Also the boarding pass for the return flight was no problem, good customer service here, at least for me!.
Some minutes at security with the usual less experienced vacation crowd ahead, but also done and in the gate area well ontime for some plane spotting.
The board: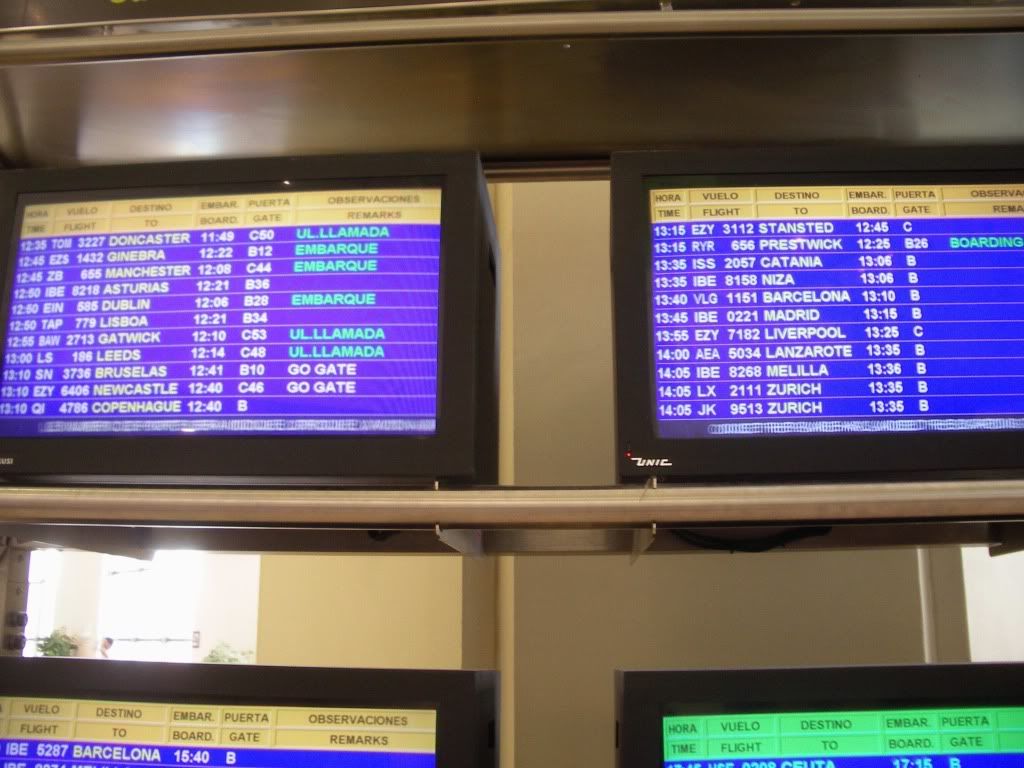 AGP spotting session: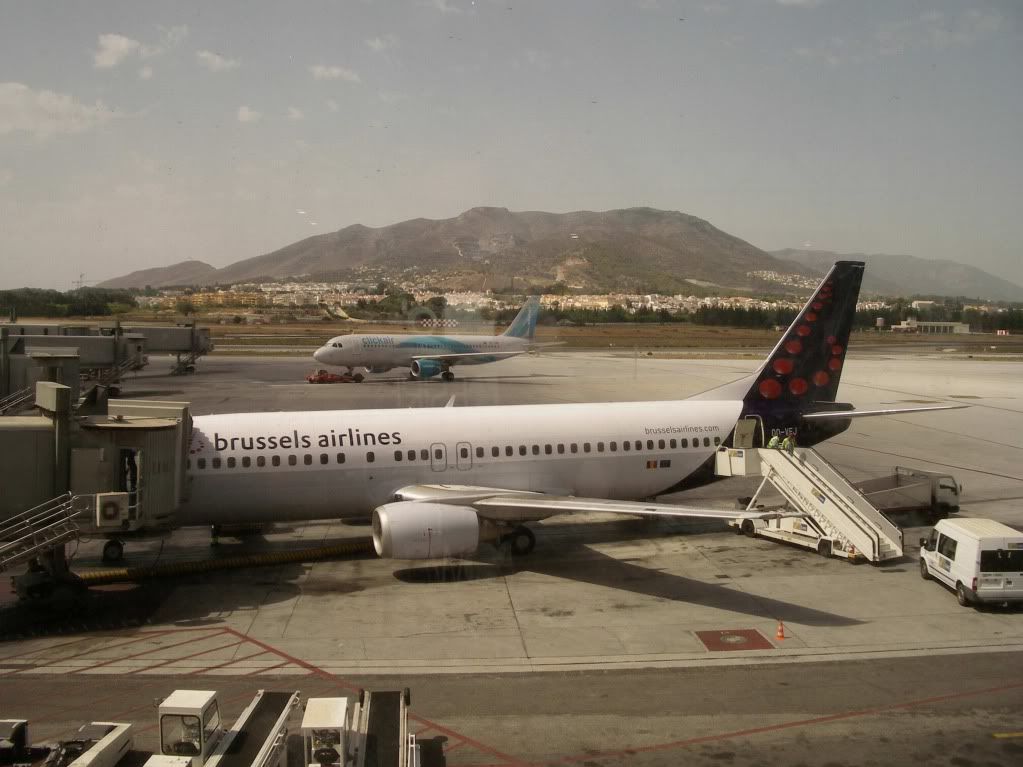 What about this nice colours in the background?: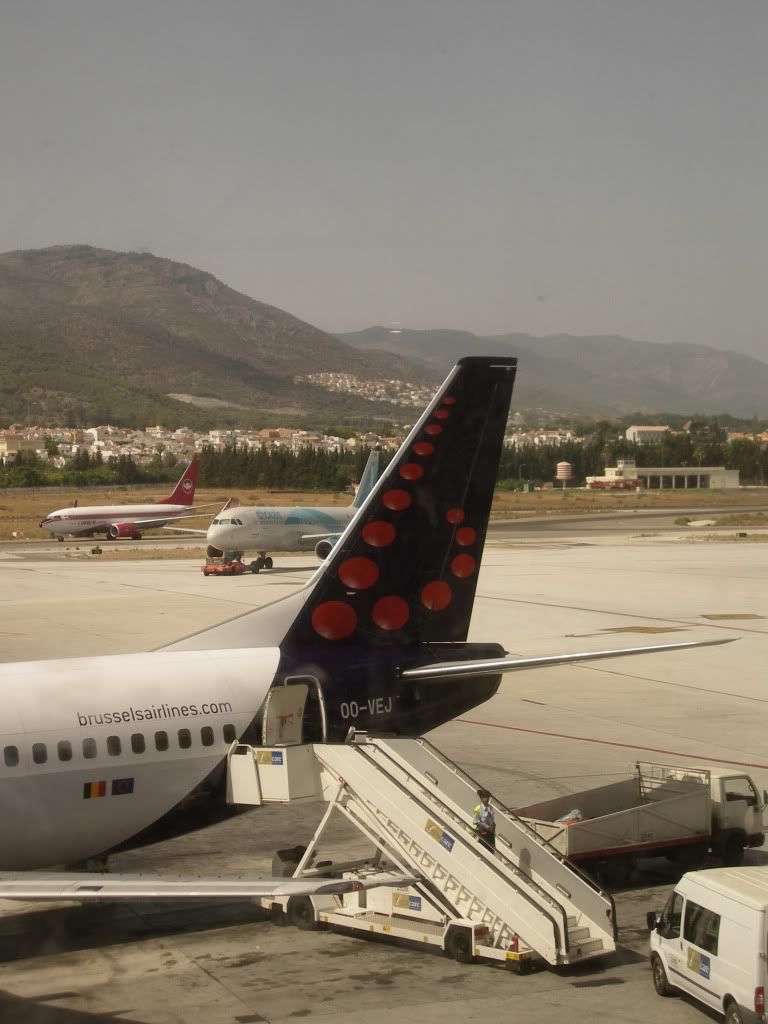 Cimber Sterling, my favourite today: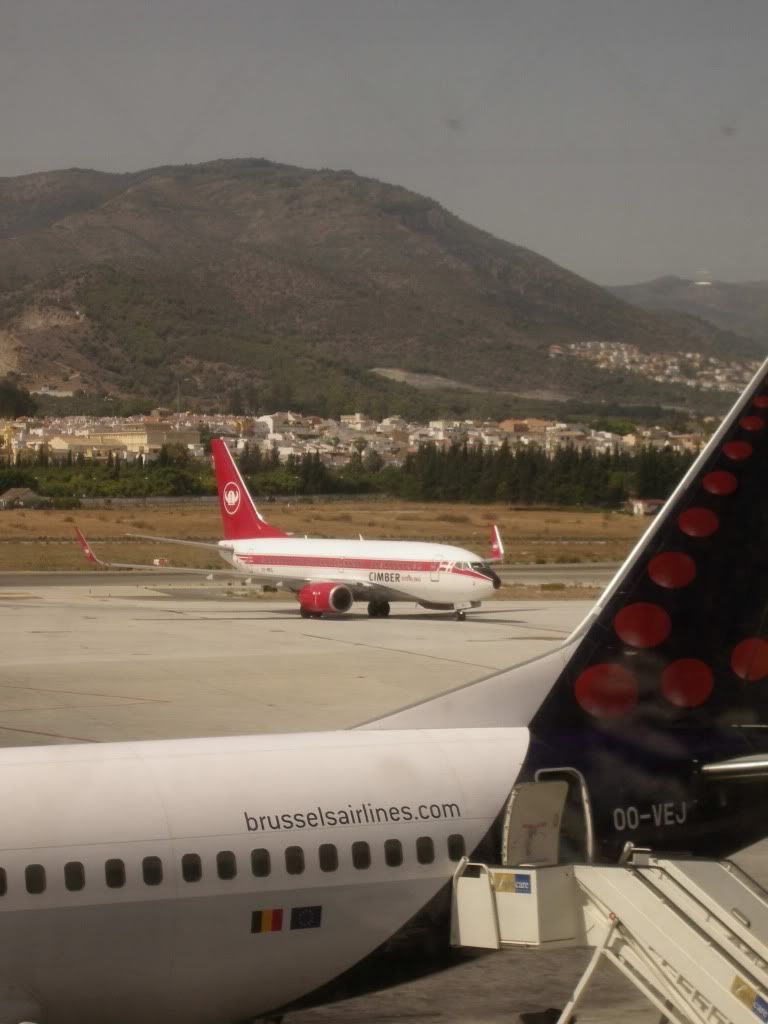 At the gate: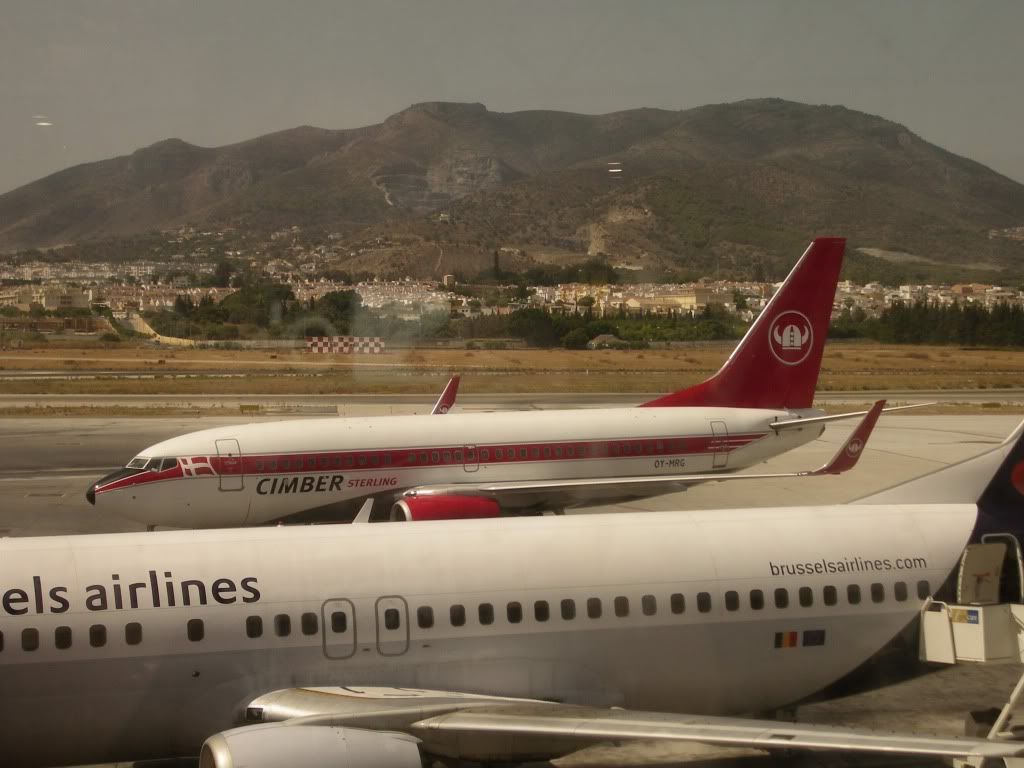 Heavy demand from DUB, EI A330:
Thomson bound for the UK:
Air Nostrum CRJ: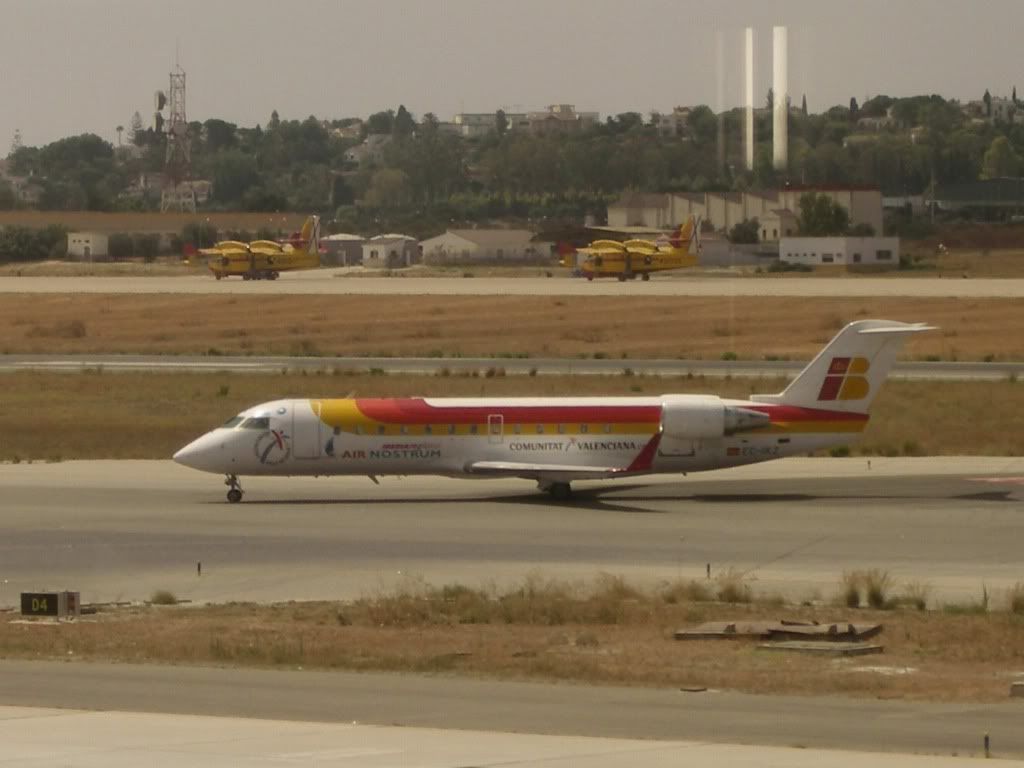 Portugalia Beech to LIS: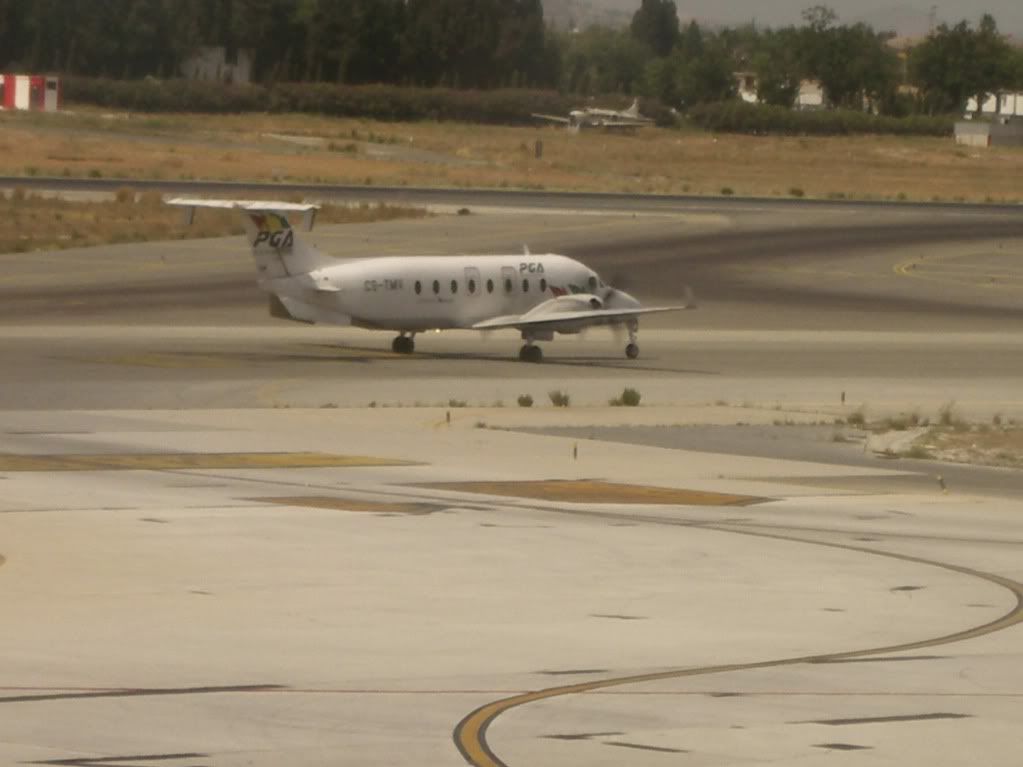 Meridiana MD: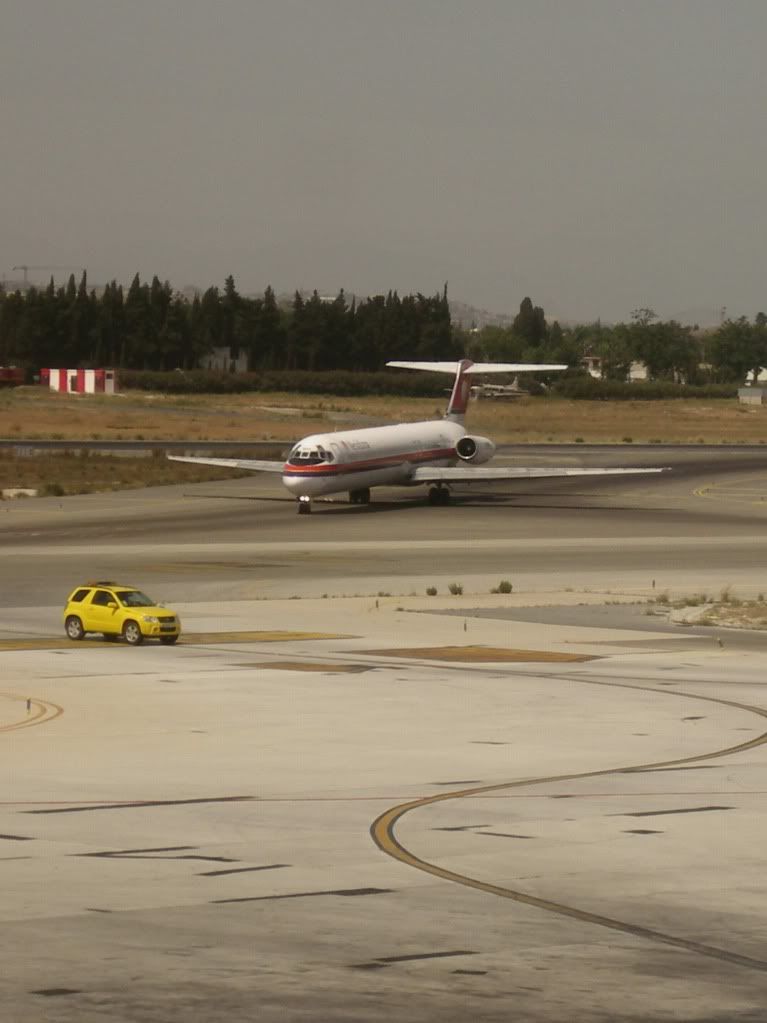 En detail:
And also IB here: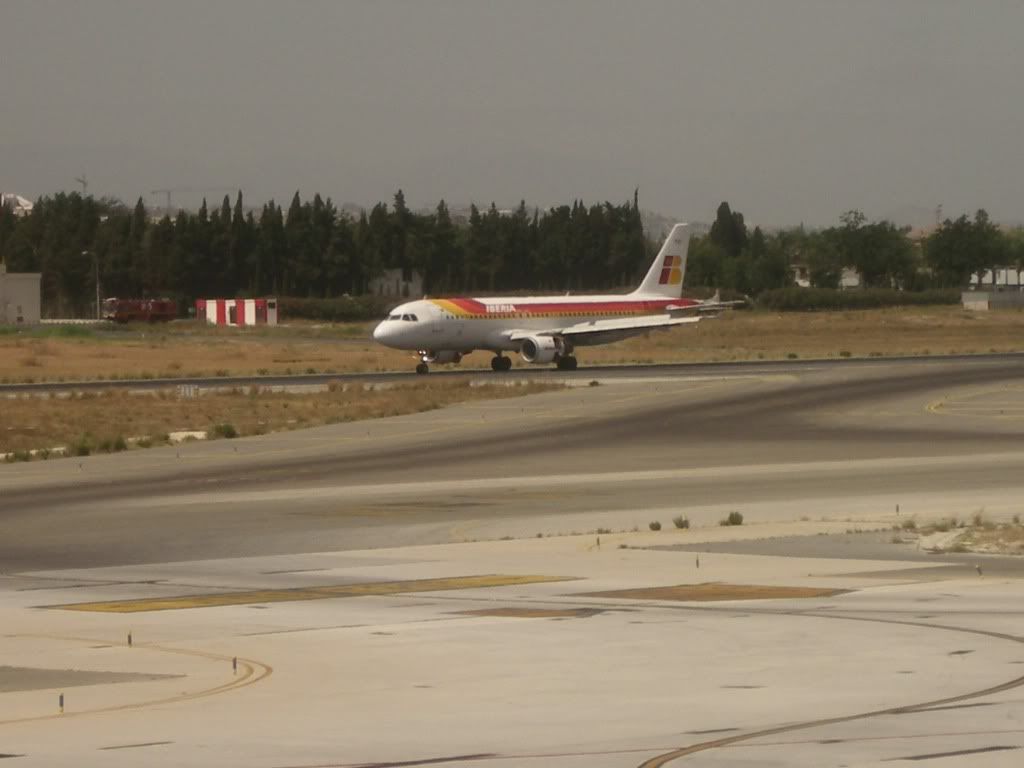 Swiss from ZRH:
Jet2 757: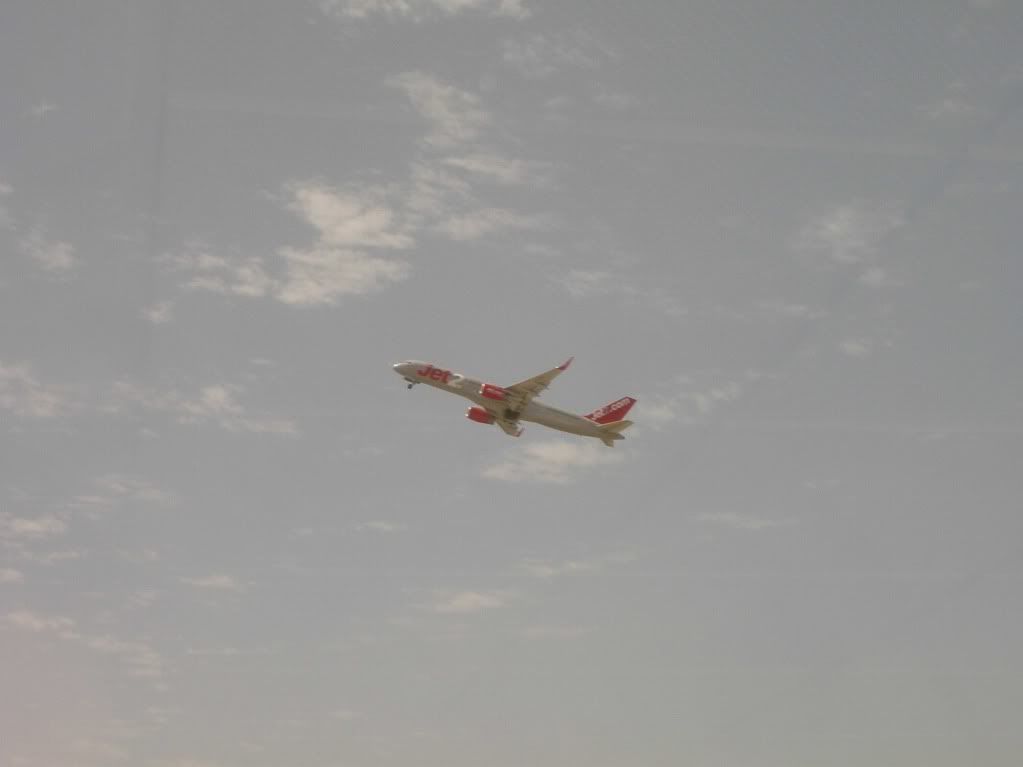 EI reday to go: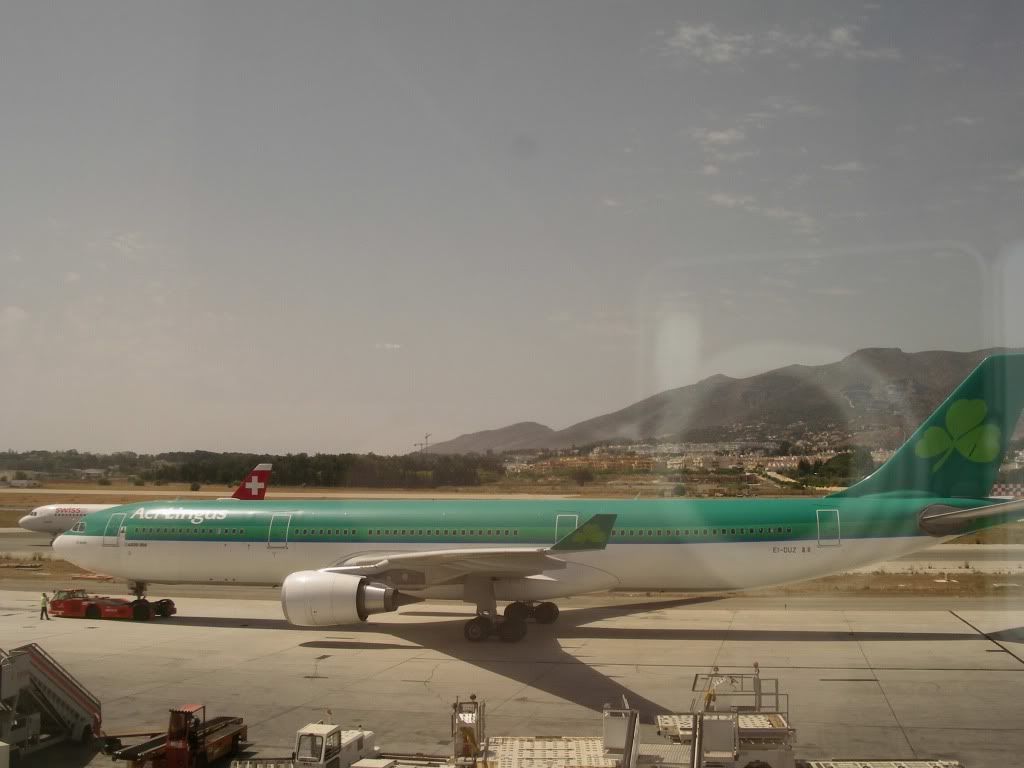 Departure: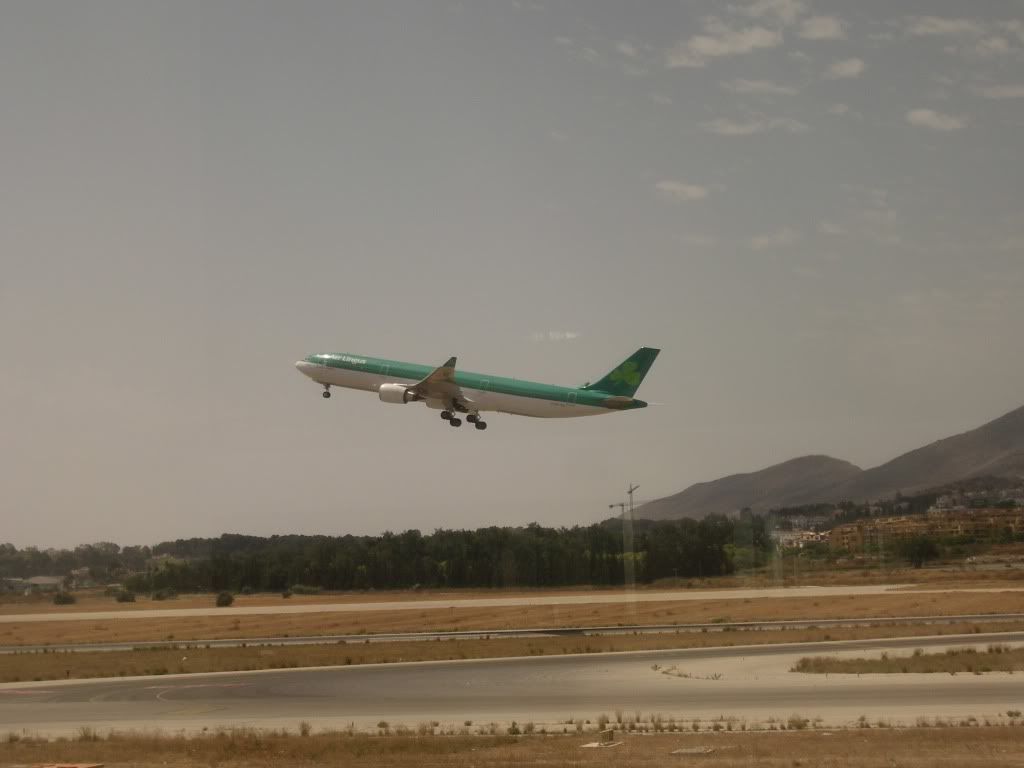 Air Europa: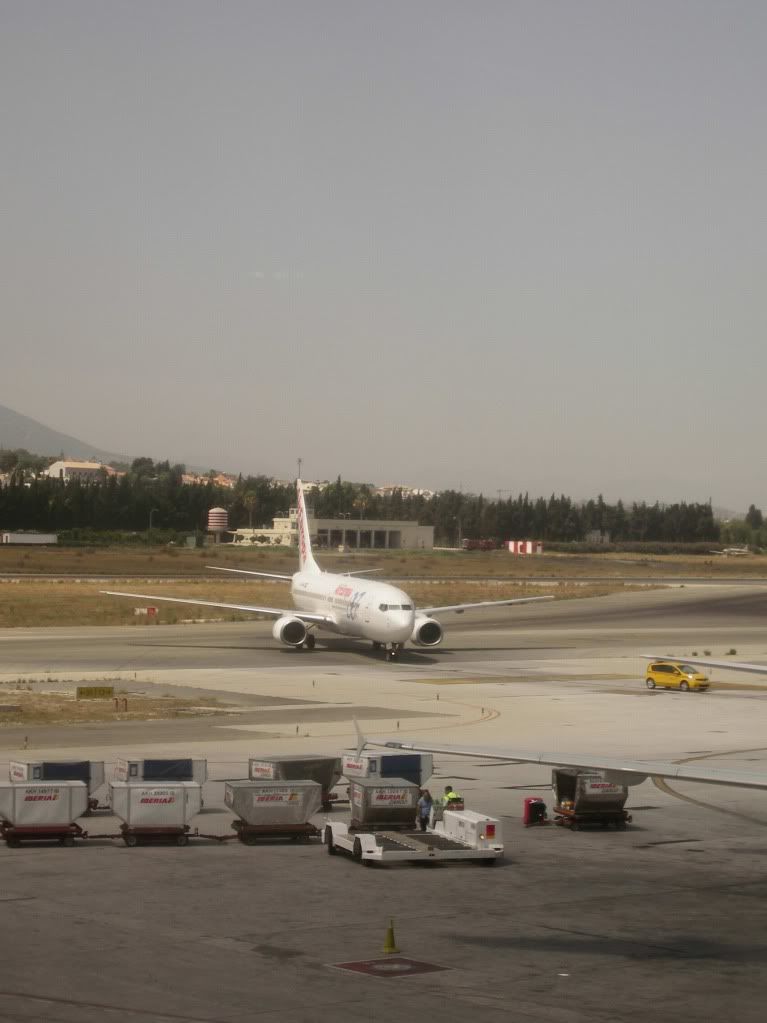 Vueling: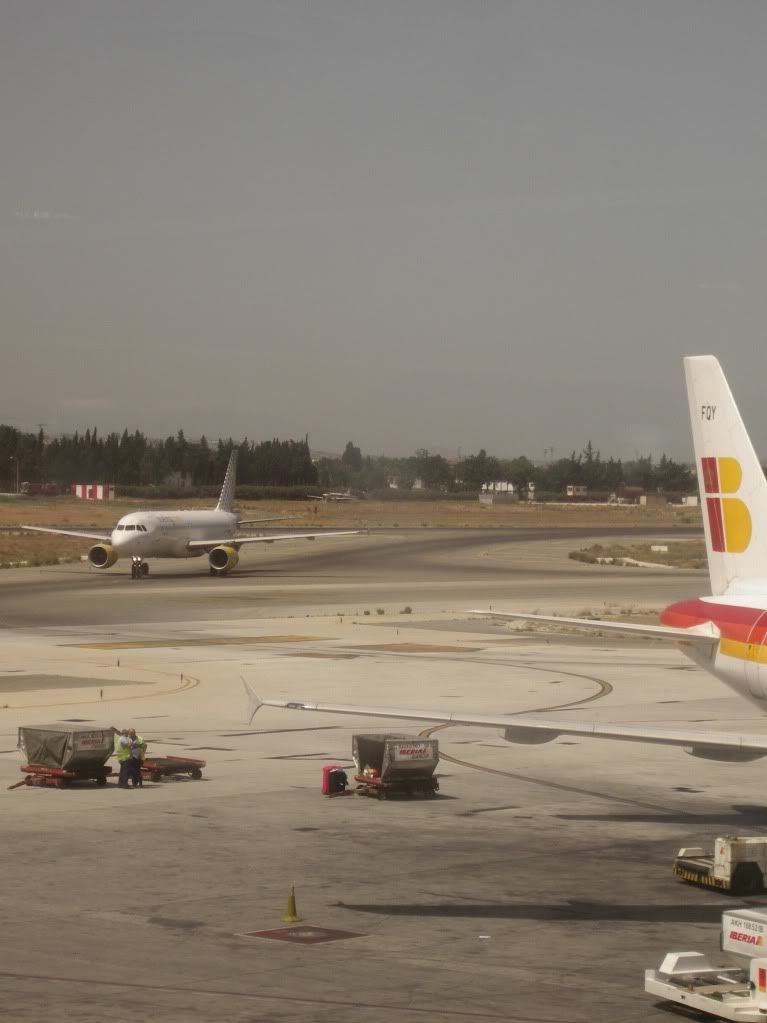 Interesting aircraft here, but till short to my boarding time no sign for my aircraft. Maybe a change?.
Yes it is, my machine: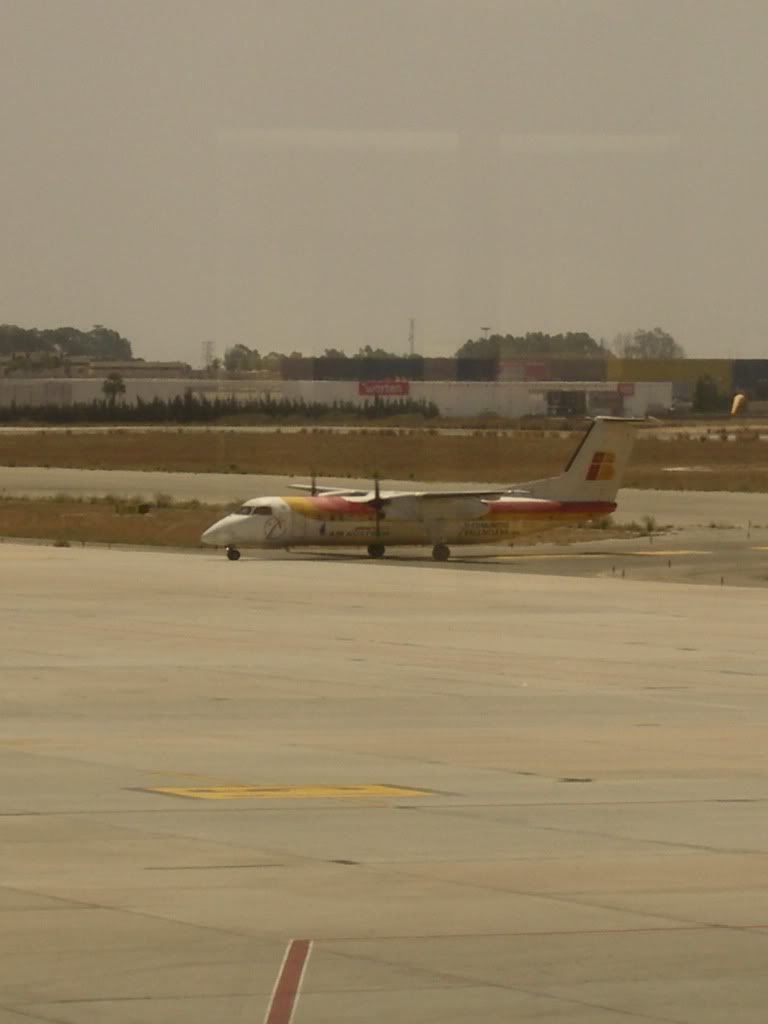 On the apron: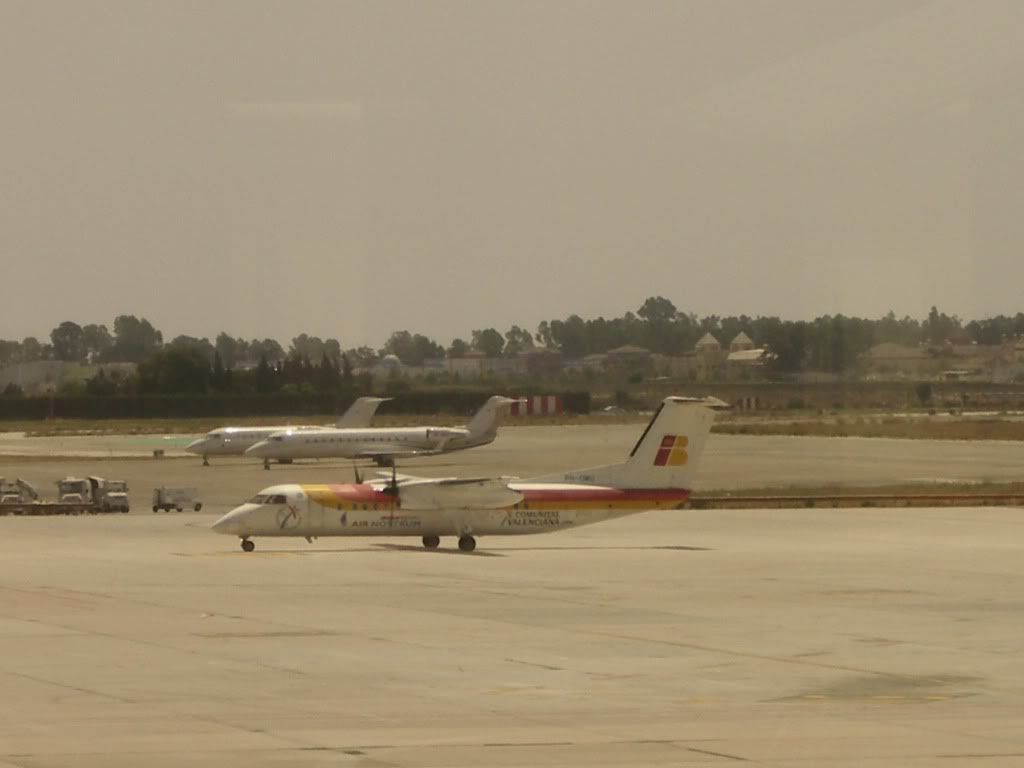 Taxi: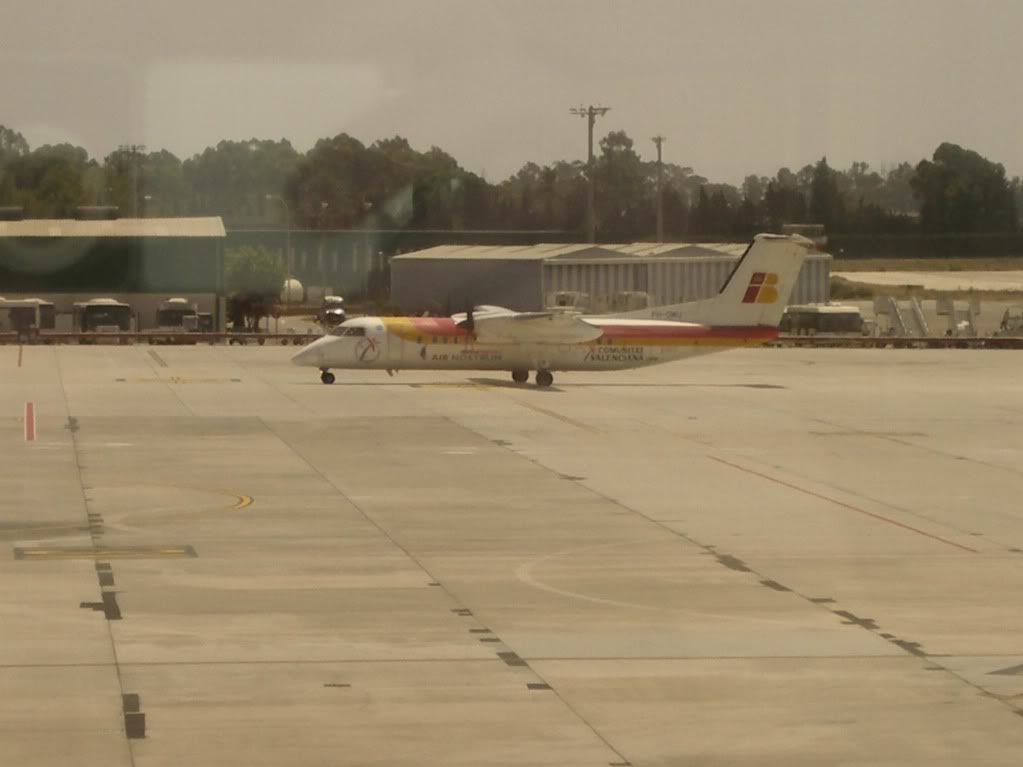 Finally the announced Dash 8-300 taxied in and I´ve changed to the ground floor with the very low ceiling mainly used for the regional services.
Bus boarding this time.
PH-DMU was parked on the apron. A Dash 8-300 delivered at 04.07.2001 to Denim Air from the Netherlands and immediatelly leased out to Air Nostrum for Iberia Regional Services. Denim Air operates 10 8-300´s, seven for Air Nostrum and three for Arik Air from Nigeria nowadays.
It´s named "Olmo".
Leg no. 4 for me on type and a new registration.
Denim operates beside the Dash 8-300 several Fokker 50´s for also several companies and own´s some other stored F50 and F100 planes.
Bus boarding:
Reg. and tail shot:
Boarding: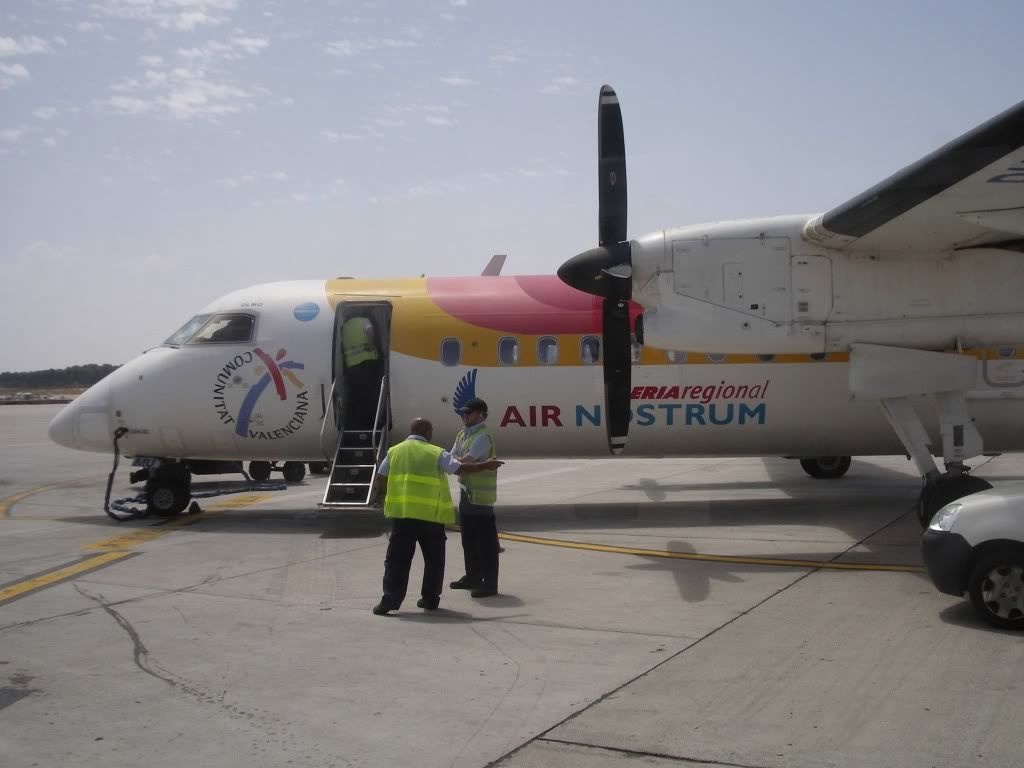 Another one: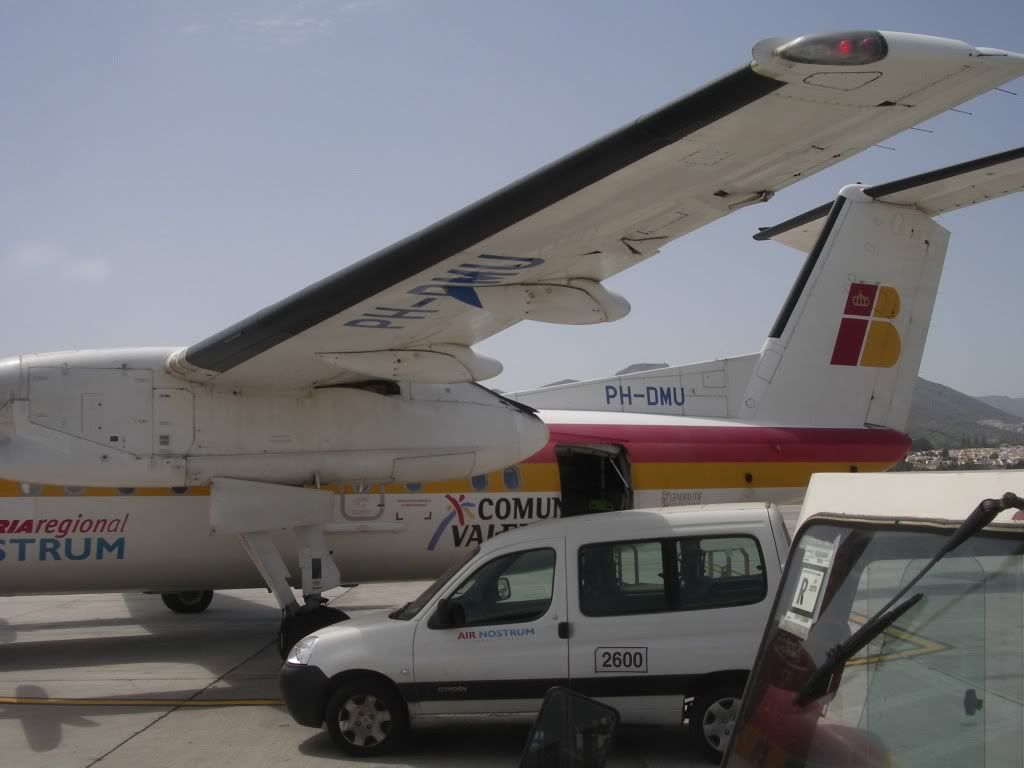 The front section:
The engine: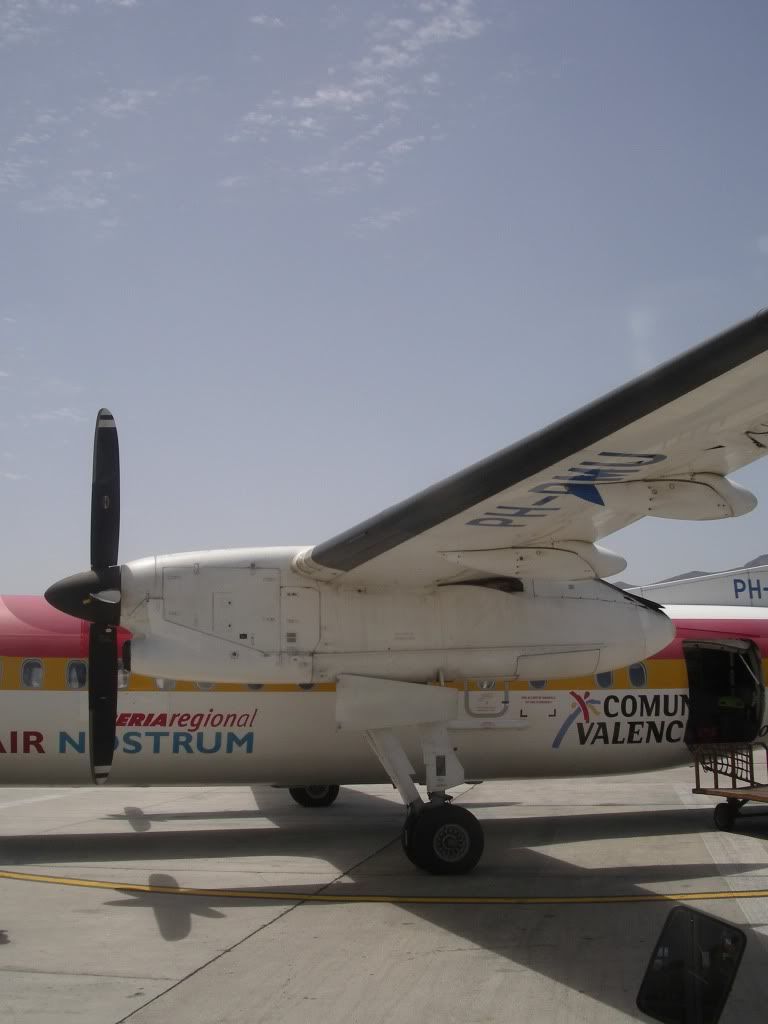 The cabin fitted with dark blue slimline leather seats. Clean and comfortable, good legroom.
Seats:
Again: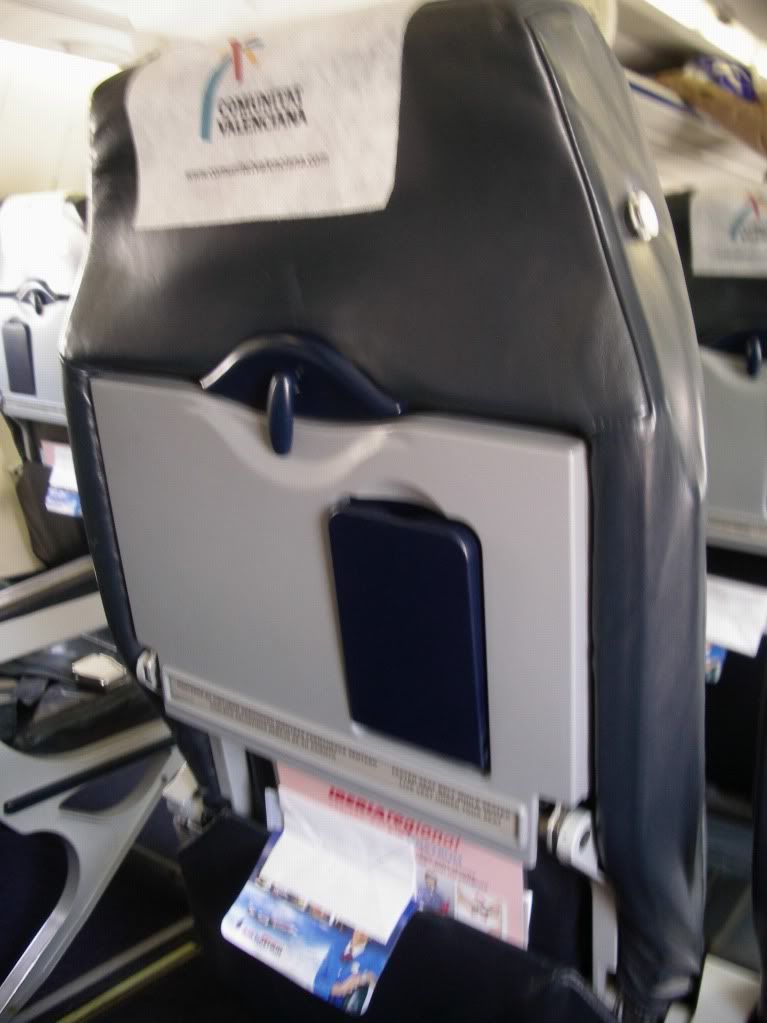 One friendly and good looking spanish female FA on that service.
No comment from the cockpit crew, which was according to the names from the Netherlands.
Depature from the 3200 meters runway 13 in the perfect direction above the med towards Africa. No flightlevel information.
Ready to go: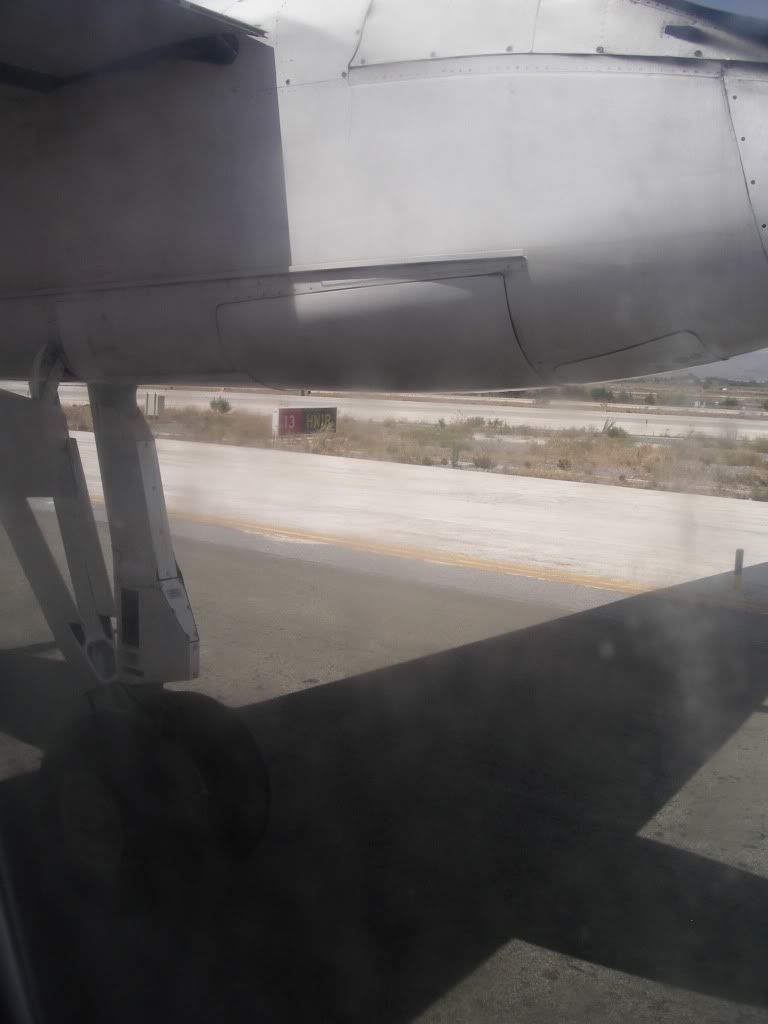 Speed:
Gear up:
Above the shoreline: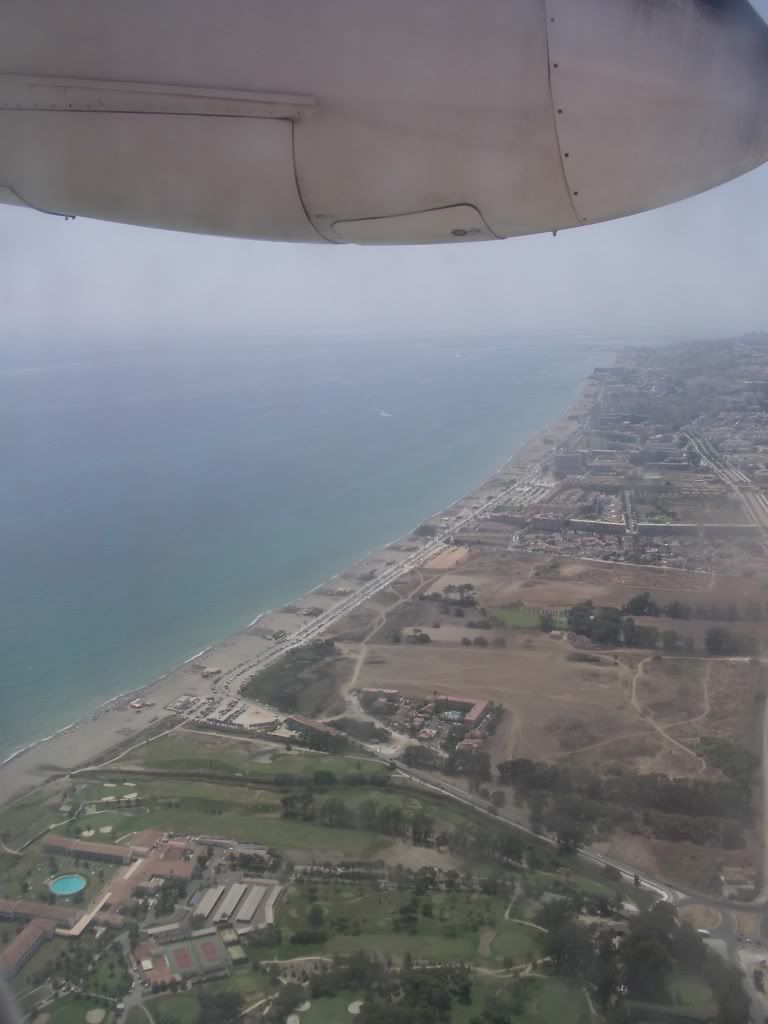 Leaving mainland Europe:
Again:
Engine:
Africa:
Again:
A snack and beverages for free. Africa greeted me with clouds, anything wrong here?.
Gear down: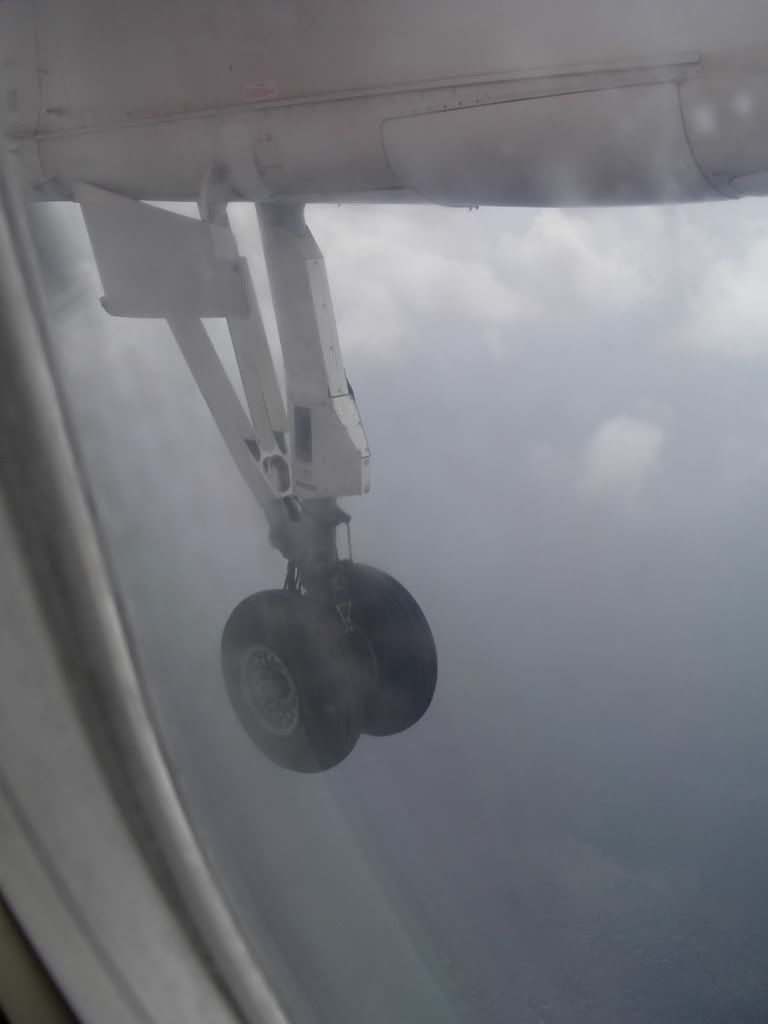 Where is the runway?:
Above the beach: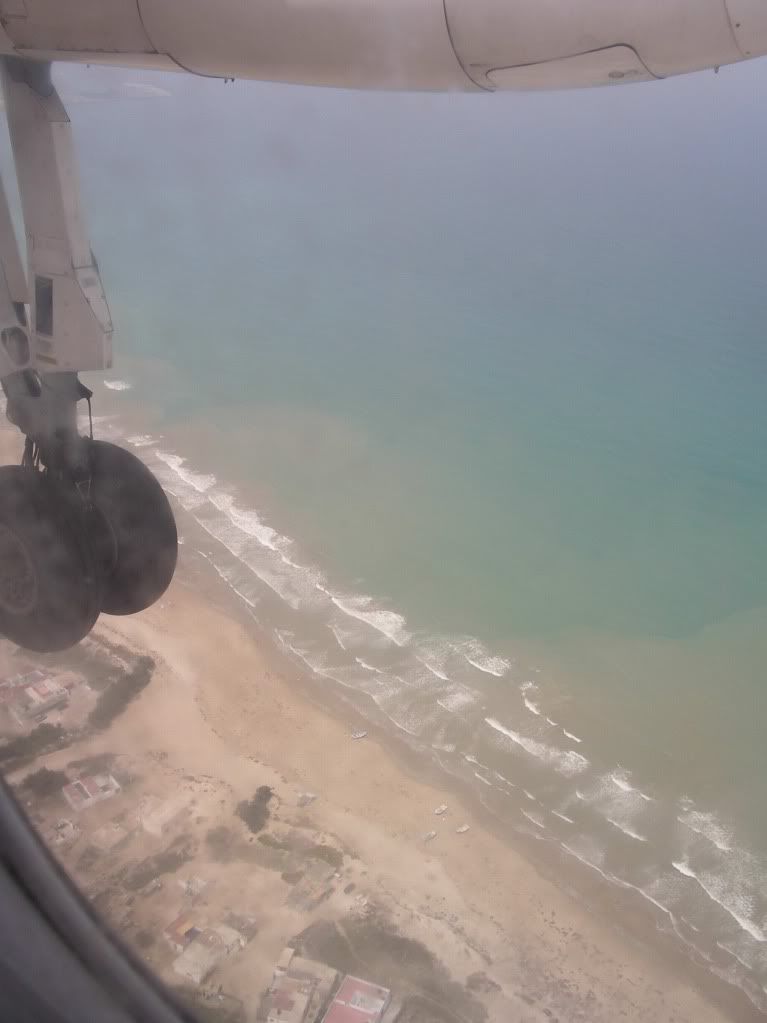 Again: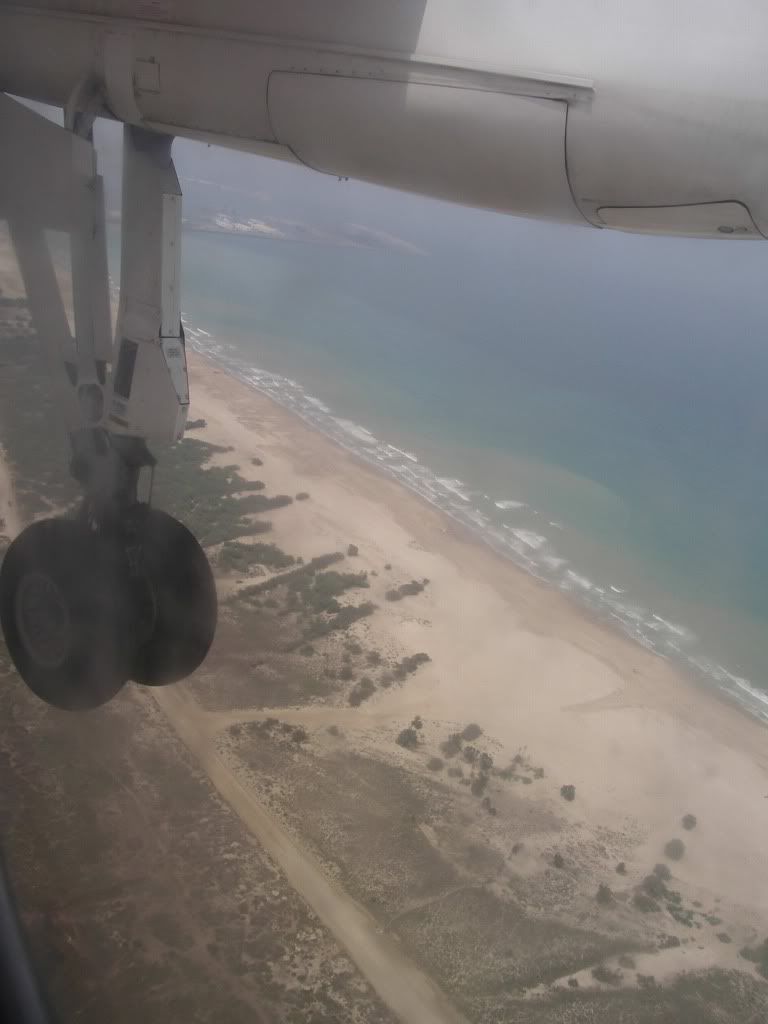 Morocco:
The fence: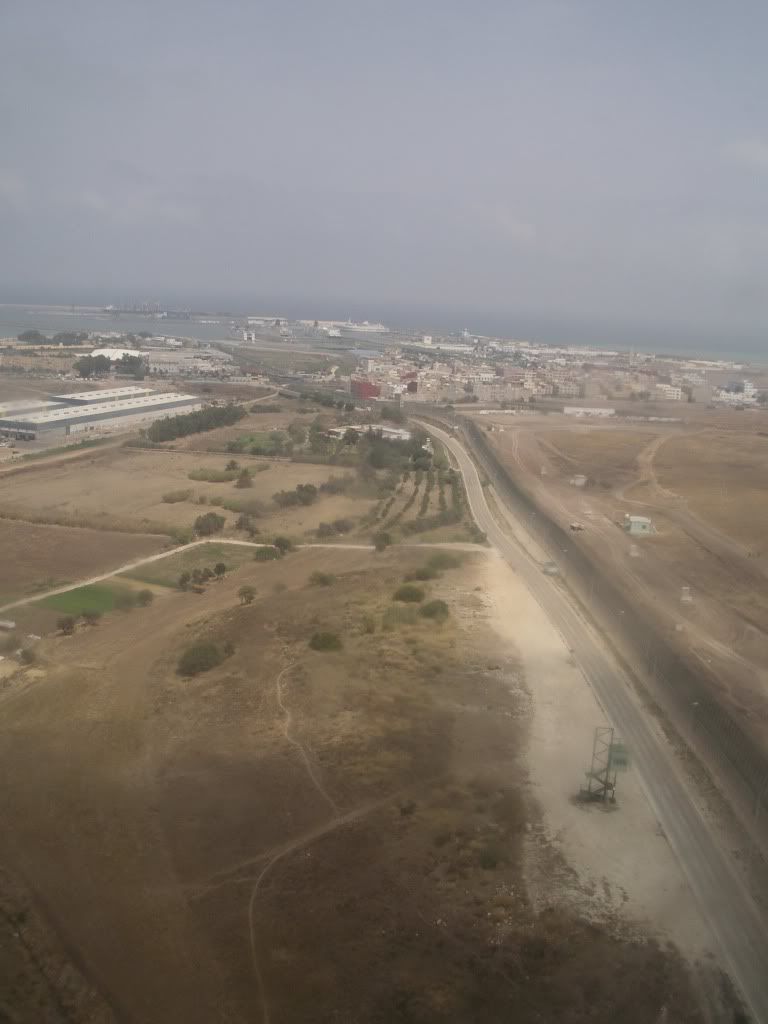 Approach above the sea shore and touched down on the 1426 meters runway 33.
Doing a domestic flight between two continents, for sure not the usual thing for me.
Self service to the terminal entrance.
Just arrived:
Apron: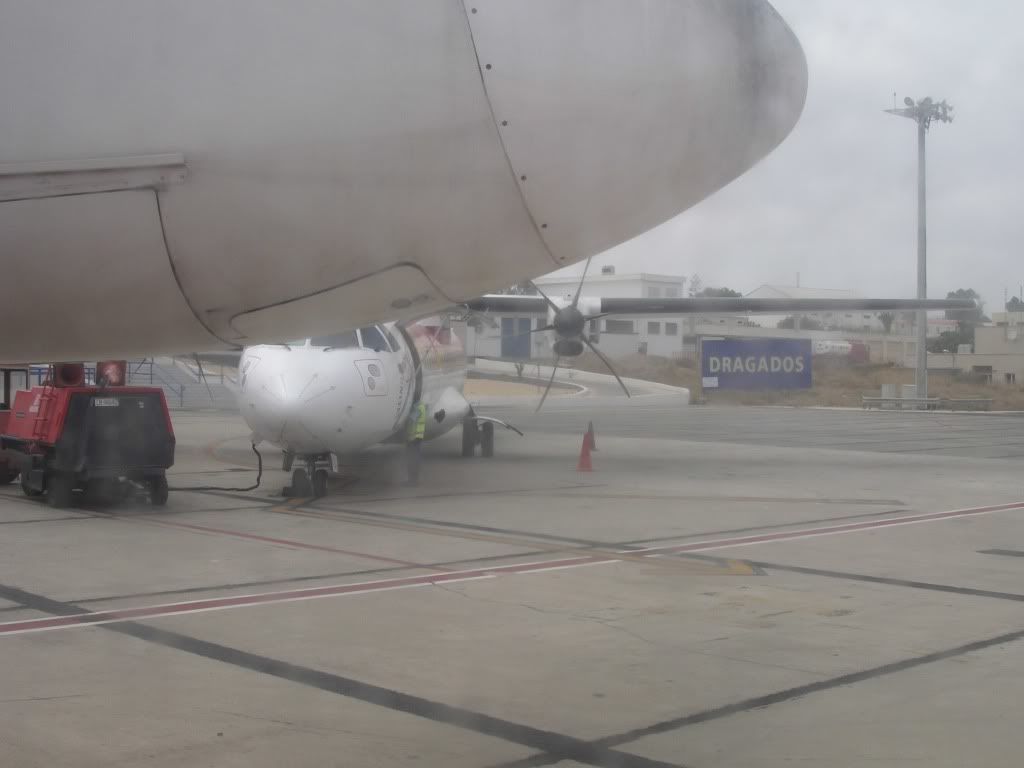 Terminal:
Disembarking: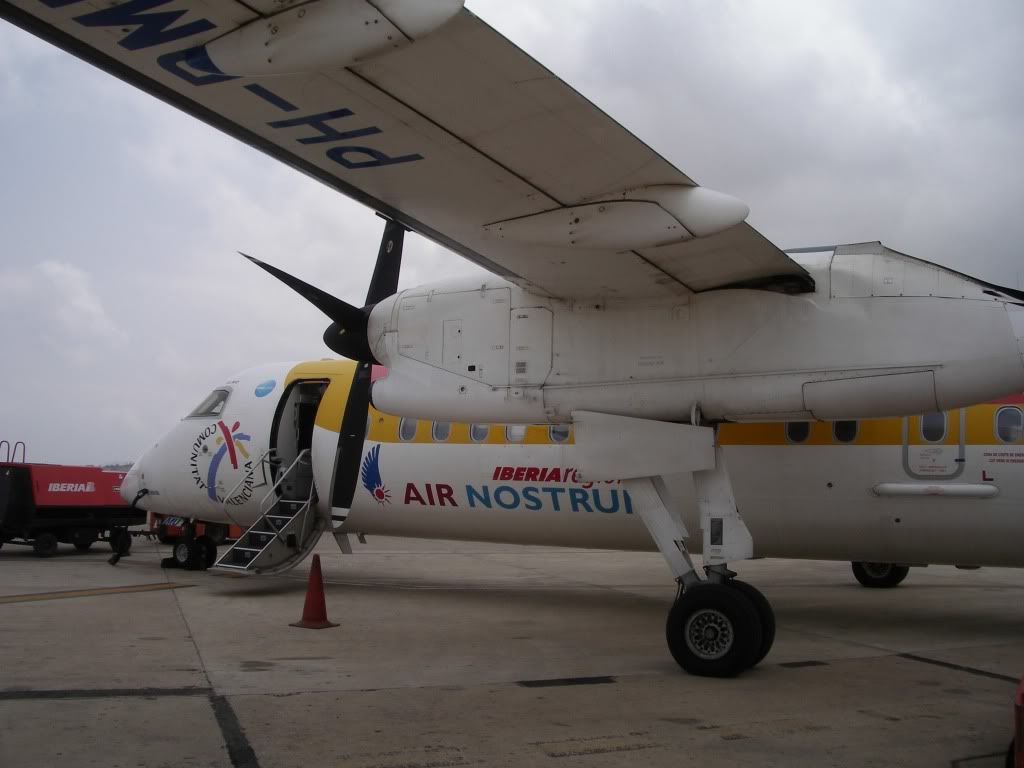 Netherlands in Africa:
Leaving my plane: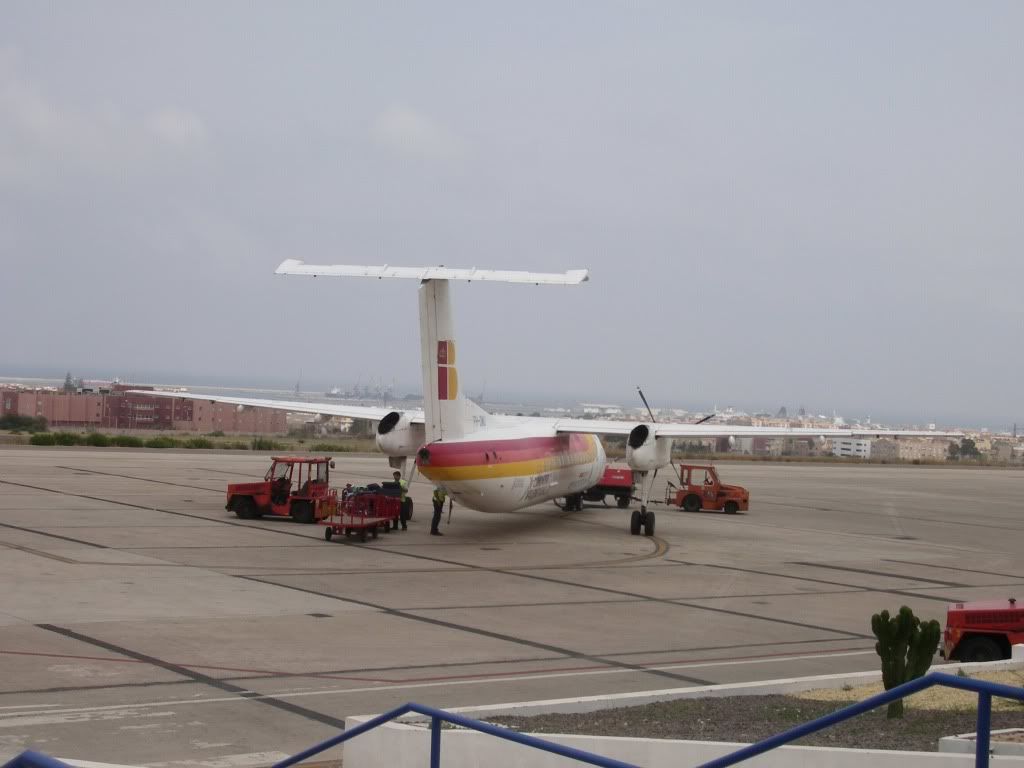 Melilla is for historic reasons spanish territory surrounded by the mediteranean sea and Morocco.
Its well known for its huge community of African people waiting at the fence for a chance to enter the EU.
And this fence is really huge, secured with watch towers and lots of military staff.
Melilla has around 72000 inhabitants.
But people, cars, taxis, everything looks like much more like Africa than Europe here.
The main biz here is fishing and legal, or illegal, cross-border commerce with some 36000 Morrocans passing the border every day for work or trade.
So, spending some time to walk around and along the airport fence, doing some pictures, but no other movements till around my next flight.
It was cloudy, wet and humid, ok its Africa.
IB by Air Nostrum/Denim Air runs ontime, staff was friendly, overall ok so far. The fare, around EUR 60,--, acceptable.
And I like these Dash machines, comfortable regional planes.
Will I go again on that company?. No chance to say now, with the next flight scheduled and the need to be back in the afternoon in Granada!.
And further?. Riding back to Spain, another day to relax and checking out Clickair/Vueling after the merger, on schedule.
Comments welcome,
Markus (FLIEGER67)