Seat Dilemma & Canyon Glamour:
FRA-YYC-LAX on Air Canada Boeing 767-300ER & Embraer 190
Intro
Air Canada's Boeing 767-300ER
and
Embraer 190
are in the focus of my latest trip report. The first part of a new three-part series will give an impression of the carrier's
Frankfurt-Calgary
and
Calgary-Los Angeles
flights. I have also added more than 50 pictures taken on a multi-state tour which included major sights such as the
Grand Canyon
, the
Bryce Canyon
and the
Zion Canyon
.
Background
In spring my girlfriend and I decided to spend a two week holiday in the United States in May. Our plan was to visit some good friends in the Los Angeles area and to go on a tour including major sights in California, Arizona, Utah and Nevada. After finding an attractive tour we had to add suitable flights. Of course I wanted to get one or two new airlines and interesting planes - which wasn't an easy task considering that I have already flown on numerous transatlantic carriers. So I concentrated on searching Air Canada and Continental Airlines flights and picked the former in the end: We booked NUE-FRA-YYC-LAX and SFO-YUL-FRA-NUE flights, operated by Lufthansa 737-300 & A319 as well as Air Canada A319, E190, 767-300ER and 777-300ER. Originally I had planned to get the LH A340-600 (via Toronto) on the outbound trip, but the fare jumped up and I had to pick an alternative including Air Canada's 767-300ER (via Calgary). We had decided to go back from San Francisco so that we could also include a LAS-SFO flight on Virgin America (to be operated by an A319).

One week after I had booked the flights on Air Canada's (excellent) website the fares went down by 40 Euro per person which I found quite annoying. I wrote a letter of complaint to the Air Canada sales manager at Frankfurt and pointed out that I should have booked on orbitz.com which offers a price guarantee. He replied quickly and explained that the Orbitz price guarantee would only be effective if anyone really booked the same flight combination at a lower price. Of course I had been fully aware of that policy - but a low chance is better than no chance. Anyway, as a small compensation, he offered to instruct the check-in agents to assign exit row seats. However, I had already reserved our preferred seats in the back of the planes, so I politely declined. Well, so much for now...
Saturday, 09 May 2009
Frankfurt (FRA) - Calgary (YYC)
Air Canada AC845
14:15-16:05 (14:14-16:02)
Flying time: 09:22 (hrs)

Boeing 767-375ER
C-FPCA (s/n 258), first delivered to Canadian Airlines in 04/1989
Economy Class, Seat 13H
Aircraft & Seat Change
After an uneventful connecting flight from Nuremberg on Lufthansa's 737-330
D-ABEU
we walked to our gate at Terminal 1B. I had spotted the sole Air Canada 767-300ER in Star Alliance colors during taxi, but I found out soon that it would not be going to Calgary, unfortunately. We got
C-FPCA
instead - at least one of the older birds in the fleet, built in 03/1989 and first delivered to Canadian Airlines: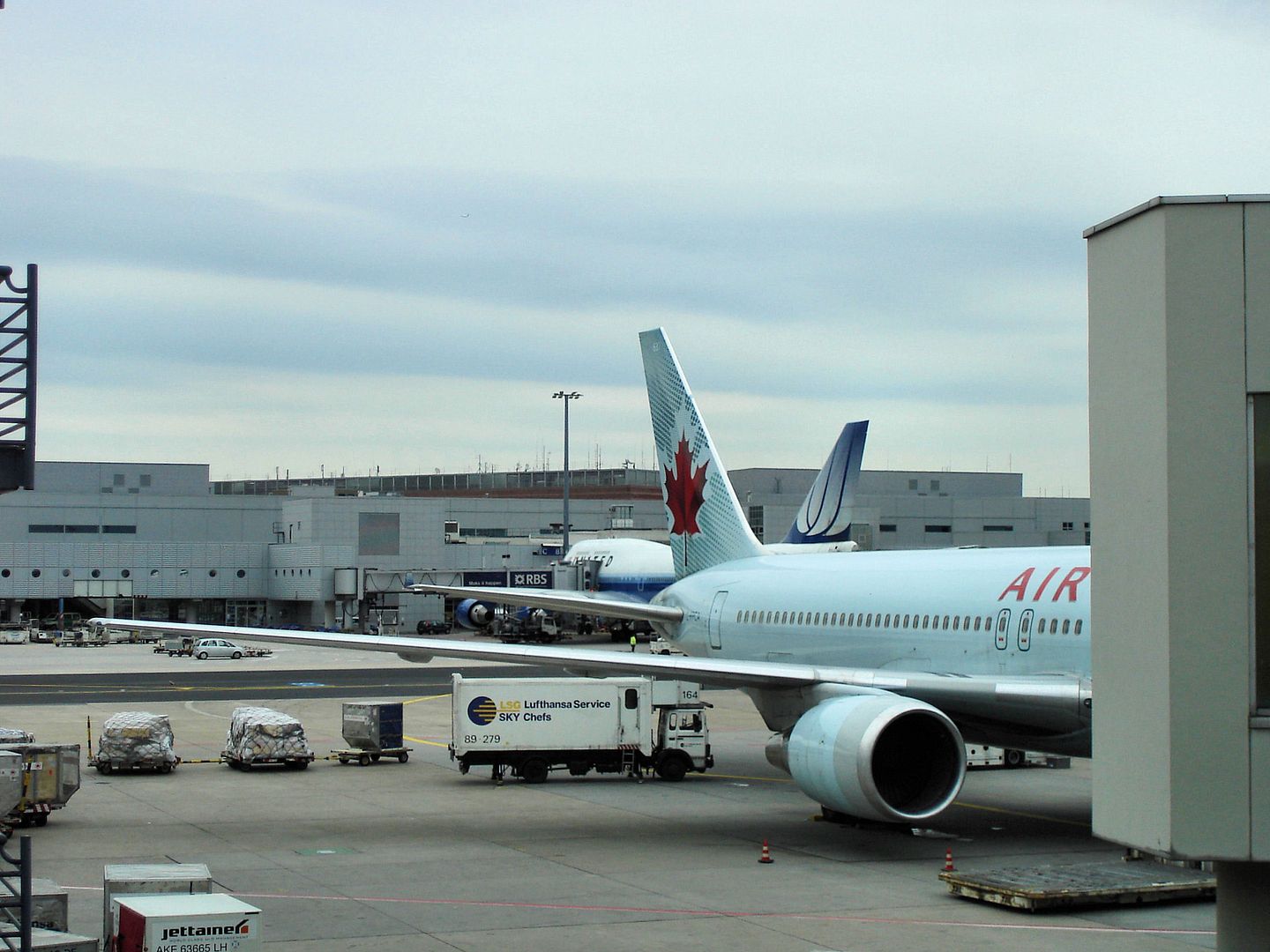 Since the Lufthansa check-in staff at Nuremberg had not been able to print our boarding passes for the Air Canada flights, we had to pick them up now at the gate in Frankfurt. A friendly female agent checked our reservation - and I was shocked when she started talking about seats 19A and 19C.
"It's an exit row"
, she added and referred to an entry in our reservation. So even though I had declined his offer, the sales manager had added the mentioned remark to our reservation.
I couldn't believe it when she said that our pre-reserved seats 35H and 35K had been gone. Then I asked for an alternative row on the right side, but guess what: The flight would be almost full and some 45 minutes prior to departure most passengers were already checked-in - all the lady could offer was the very exit row.
Of course, the sales manager had tried to do us a favor, but we had really wanted to sit in the back on the right side as planned - and not over the wing on the left side. The agent promised to check again, but we weren't very optimistic. 20 minutes later, while we were already waiting in line for boarding, the lady came back to us with a smile on her face, waved with new boarding passes and said:
"I got two seats in row 13 on the right side, you will like them!"
We assumed the seats would be in front of the wing, so we gladly accepted...
Seat Shock - Exit Row, Yes or No?
Friendly flight attendants welcomed us on board and we walked down to the Economy Class cabin. We passed row 12, the first Economy Class row, and we couldn't believe what we saw in our row 13 a few seconds later: a window seat without a window!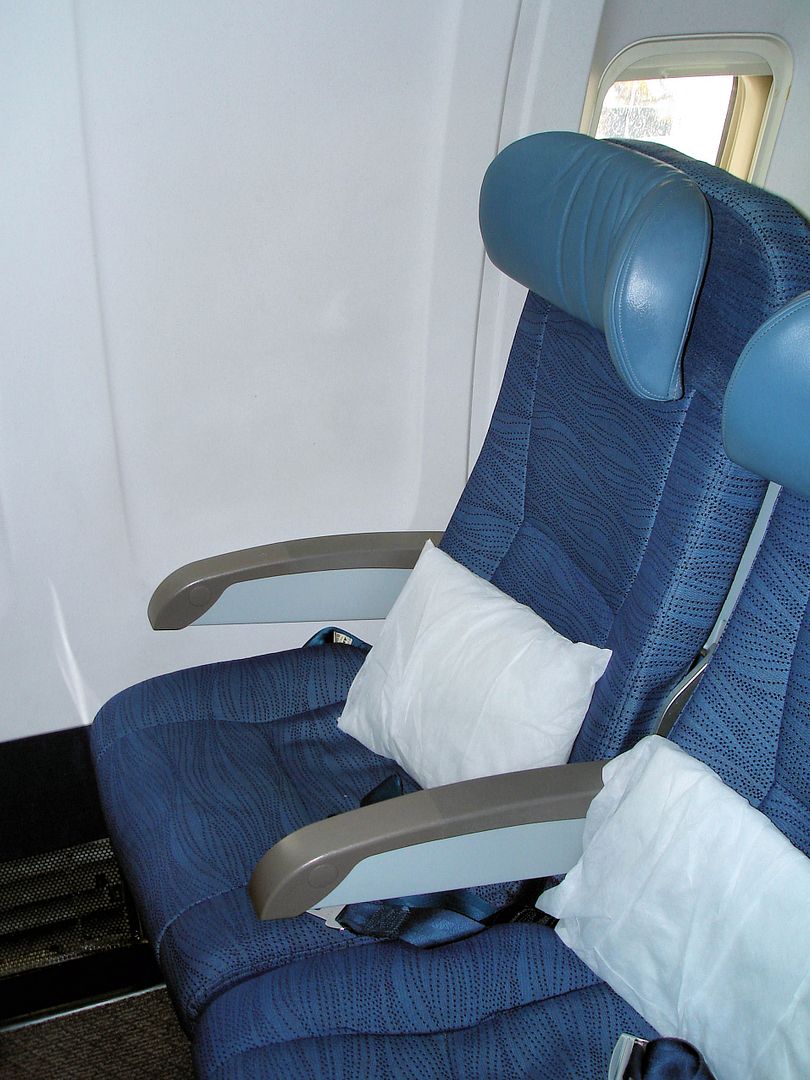 Only a few moments later I walked to the galley in the back, approached the first available flight attendant, told her about our problem and emphasized that we wouldn't accept the seats in row 13. The lady was very friendly and promised to check whether a seat switch would be possible. However, she pointed out that the flight would be nearly full. Shortly after boarding had been completed, she came back to us and said that only the very exit row on the other side would still be available. She mentioned the extra legroom, but an older colleague next to her told us that it could become very cold there later during the flight:
"You need to be a real Canadian if you want to sit there!"
, she added and started smiling. We considered switching for a while, but then we remembered a flight on a Spanair MD-83 where we had started freezing after a while in the exit row. So we decided to stay in row 13 in the end.
Cabin Comfort
The new seats with leather headrests were very comfortable - and they were equipped with 8.9-inch TV screens: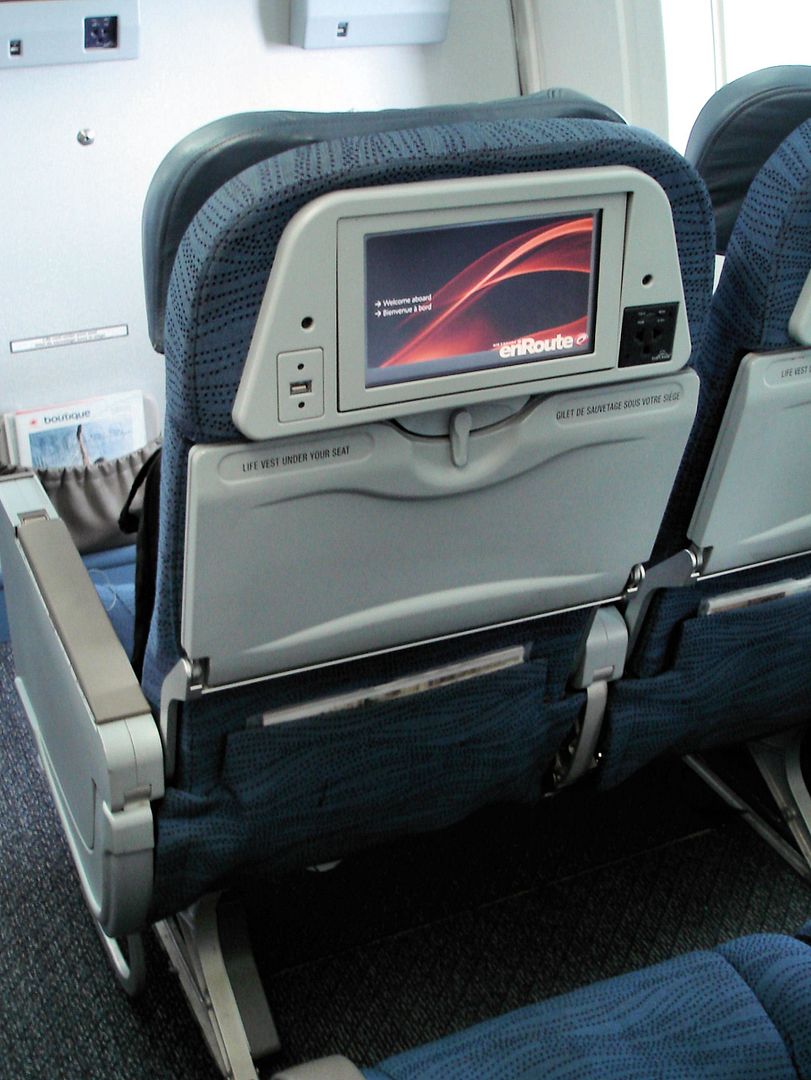 Seat pitch (33 inches) was generous in our row - and the IFE box (attached to the seat frame on the left) was about as tiny as the latest version used by Emirates:
I found out later that the seat pitch varies between 31, 32 and 33 inches, depending on the location of the rows. Here's a link to the seatmaps of the different AC 763 versions:
www.aircanada.com/en/about/fleet/b767-300erxm.html
Departure
After a manual safety demonstration we left the gate on time and taxied in Western direction for a takeoff on runway 07L. It was difficult to take pictures through the nearest window, located exactly next to the seat back in front. 757Fs in DHL colors and a Lufthansa Cargo MD-11F in the background: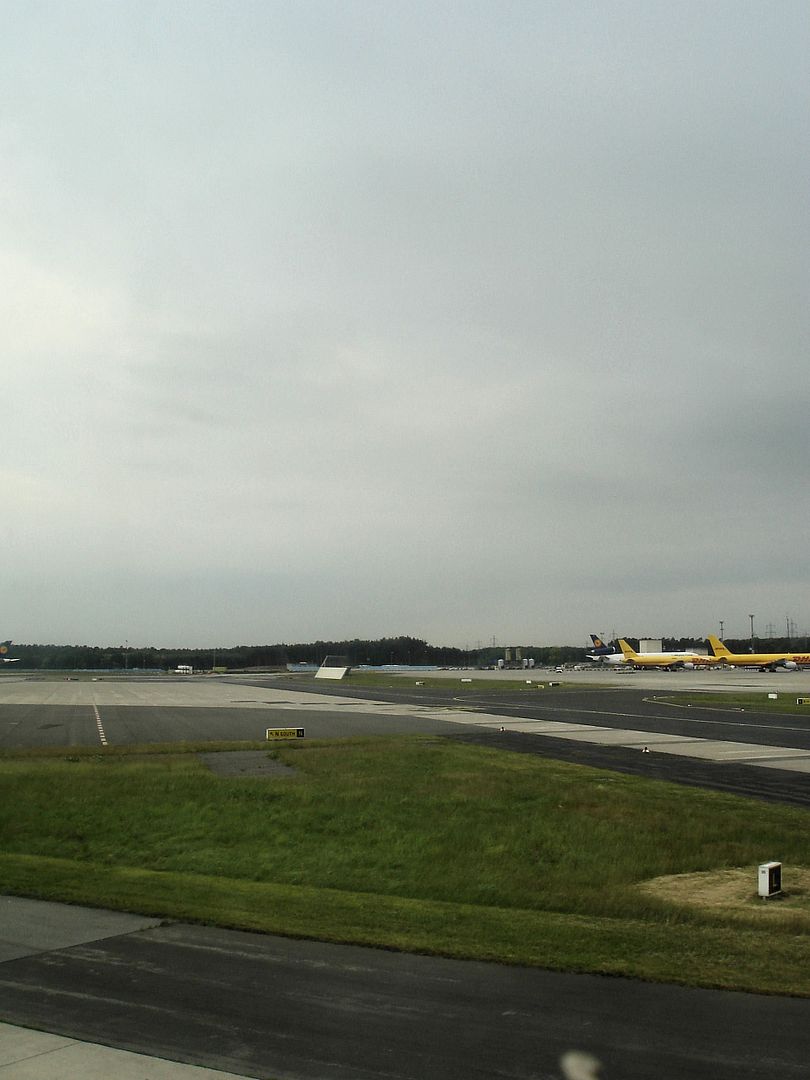 C-FPCA
lifted off unspectacularly after a long take-off roll and climbed out into a cloudy sky. Another improvised shot through the window in front some time later: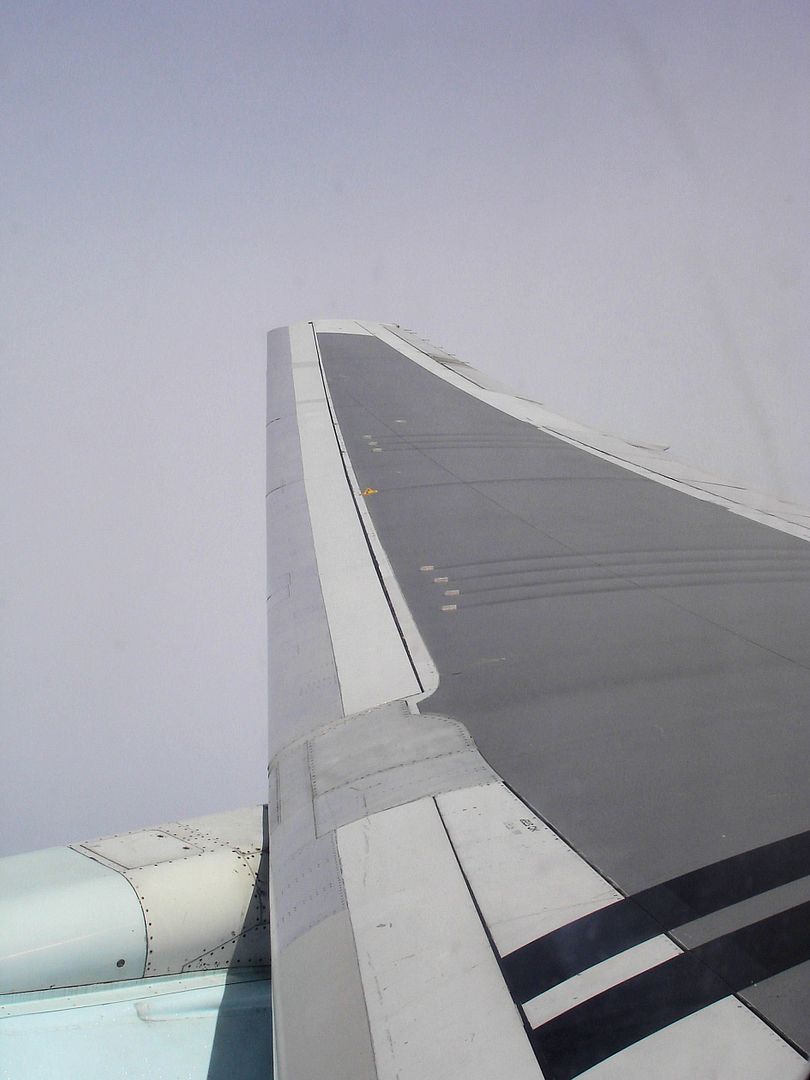 IFE
I had been very curious about Air Canada's new and often criticized IFE system named
enRoute
, so I started exploring immediately after take-off. First of all I noticed the touchscreen-only control which is fine for passengers in regular rows, but apparently a pain for those seated in bulkhead rows due to the large distance between the seat and the screen. Well-structured main menu:
Movies main page: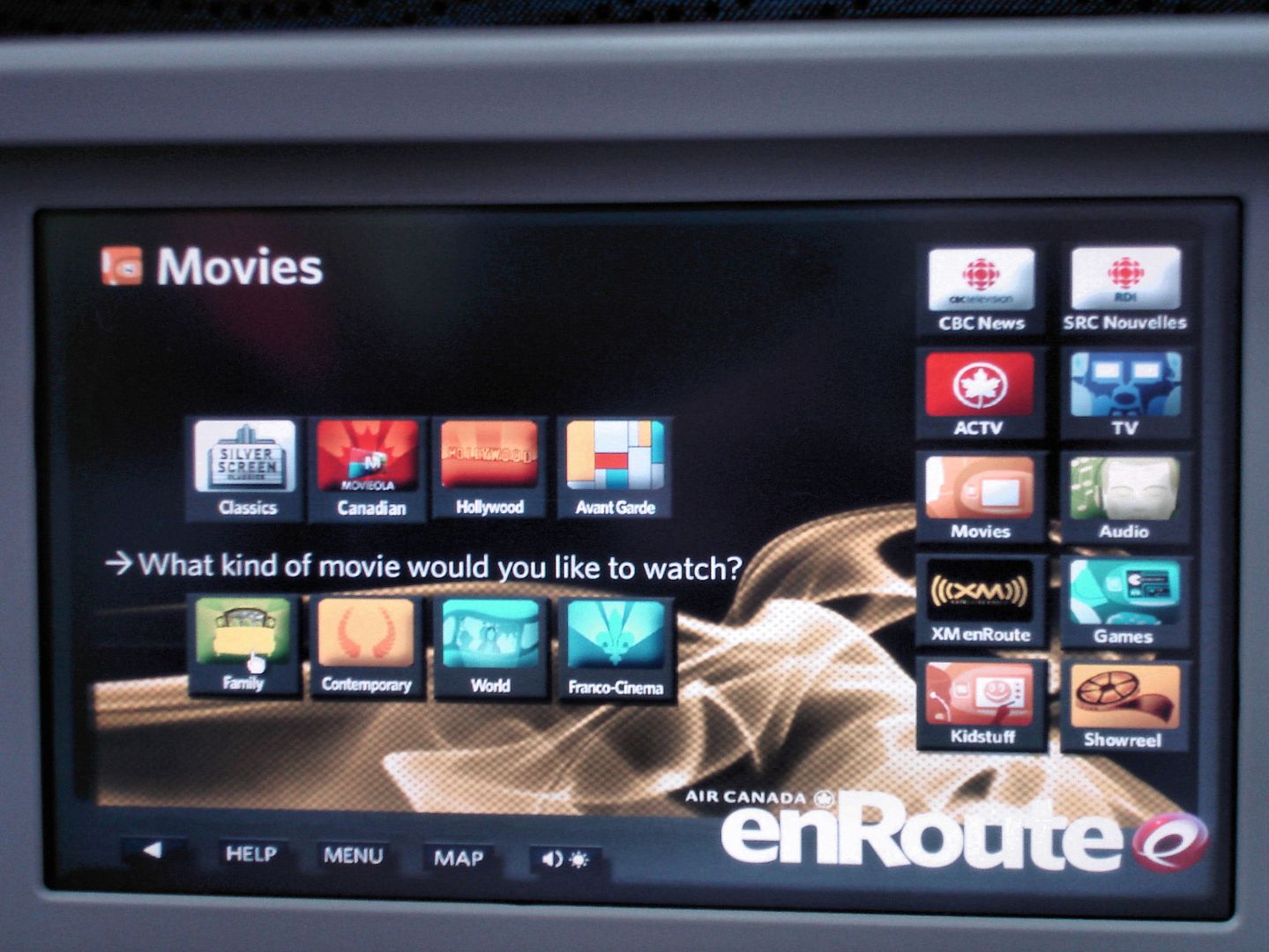 Audio main page: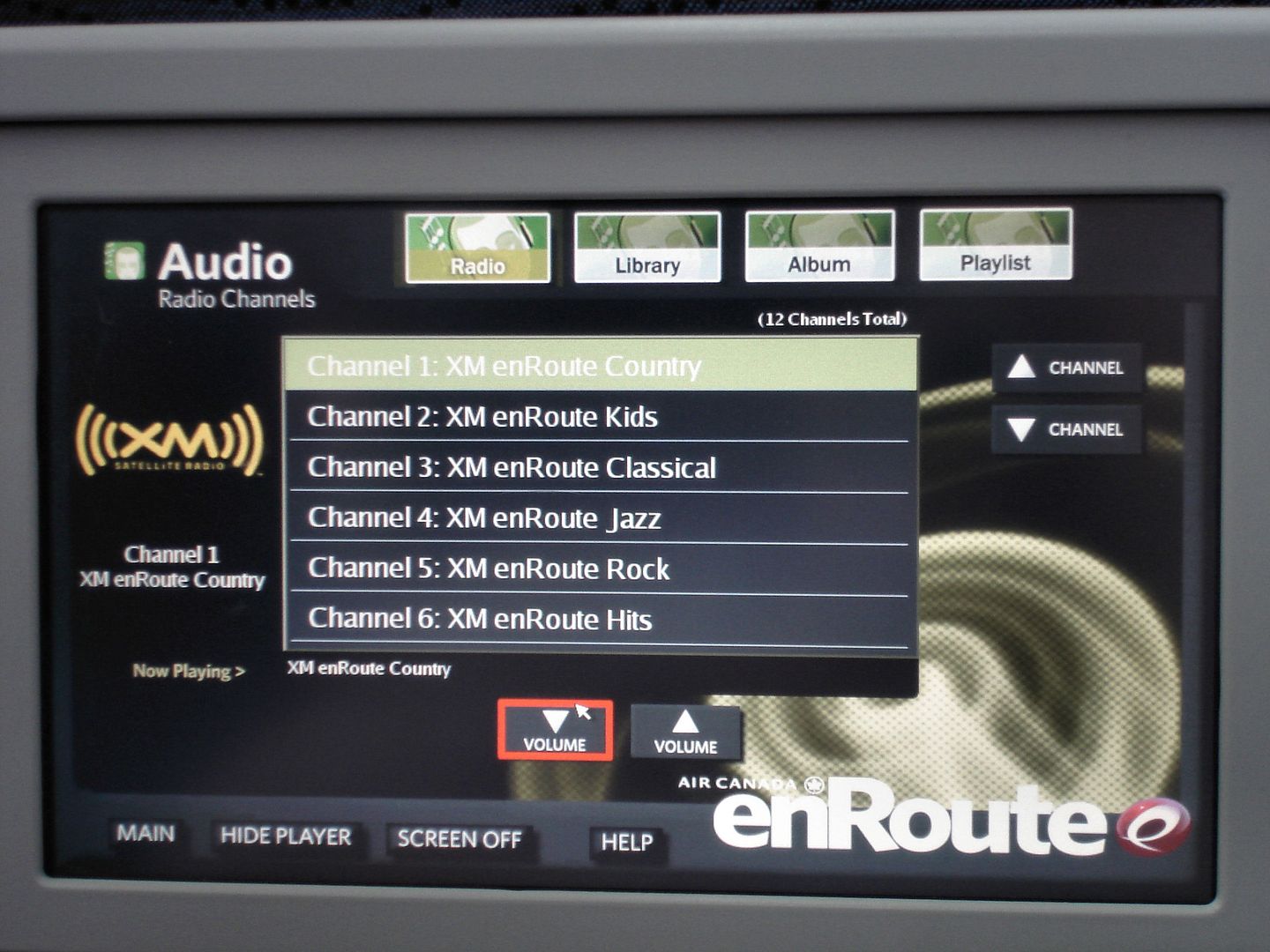 Various problems with Air Canada's AVOD IFE system have often been reported. I was glad the system was working in general on this flight, but numerous options weren't available, e.g. games, news channels and an option called
Showreel
. The remark
"This feature is currently unavailable"
was all you could see after clicking on certain items. However, I was very glad that the airshow channel and the maps were available (details following in the next chapter) - considering that these features don't work on many Air Canada long-haul aircraft.
These are the system's highlights - at least those which were available on AC845:


- 56 movies, available in different languages

- Dozens of TV features

- 100 music albums

- 12 radio channels

Even though the variety seemed to be enormous at first sight, the selection of movies in particular was quite limited (only 14 Hollywood movies, 6 classic movies). Of course, most movies were available in English and French, but the number of movies also available in other languages was quite small. What I also found a bit annoying was an HSBC commercial at the beginning of every single movie.
As for the games - I don't know whether these have ever been available yet on any Air Canada flight, but I guess the touchscreen-only control considerably limits the choice of possible games.
Map Variety
Most of the time I watched the airshow (autoplay) and clicked through different maps which were quite nice. Main page: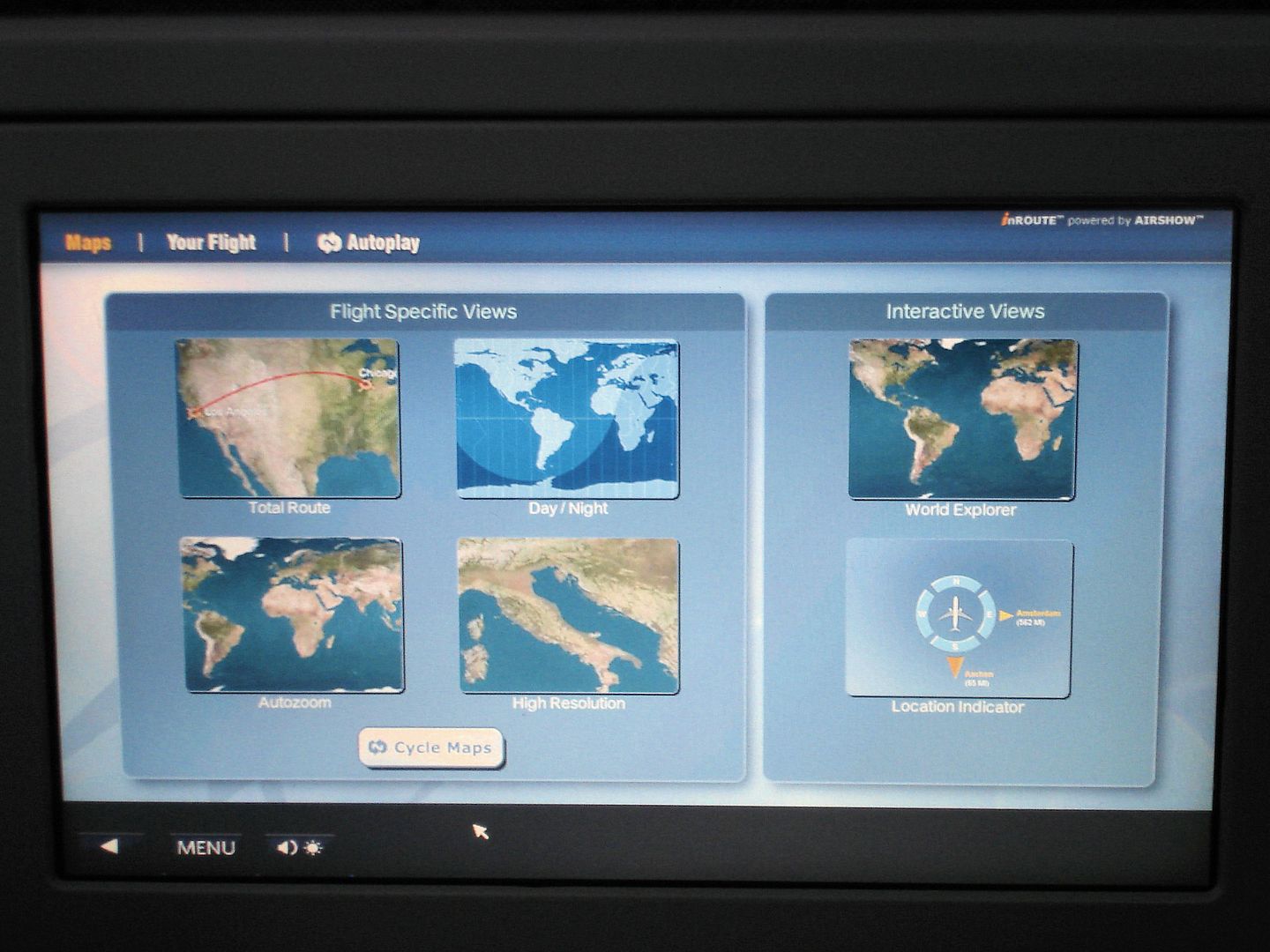 Standard map: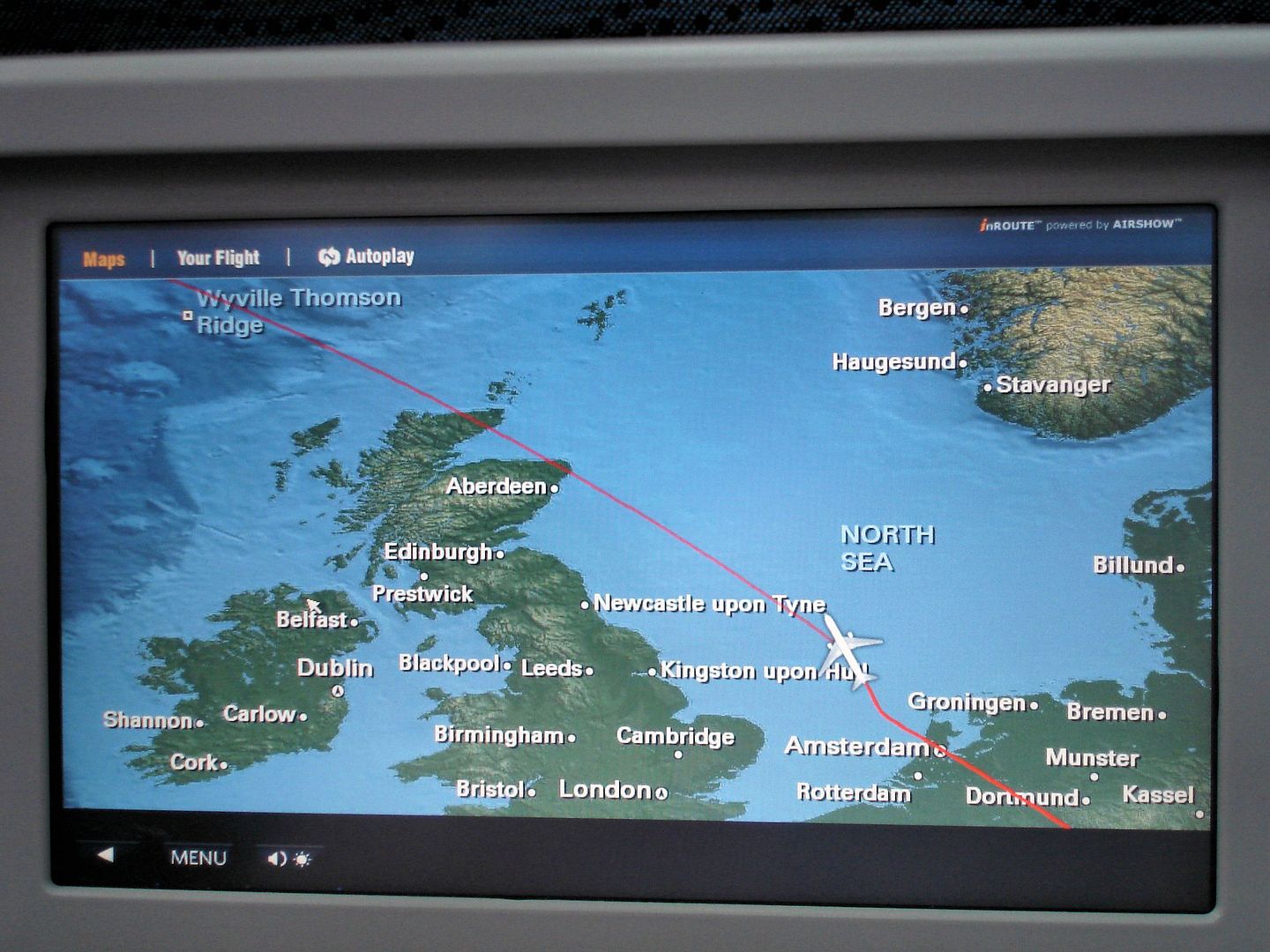 Night view: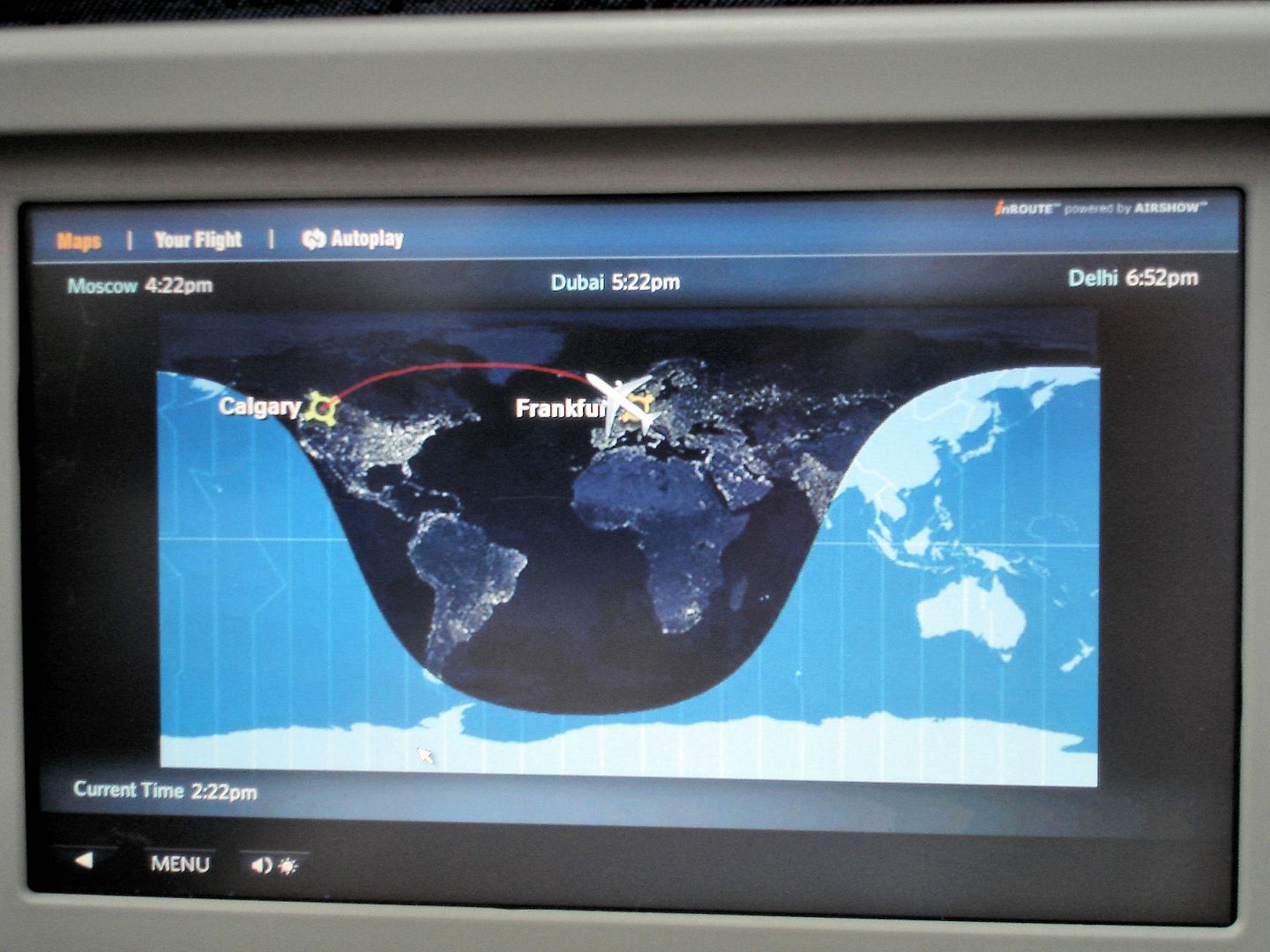 Lunch
About one hour after take-off the flight attendants started serving lunch. One of the very few advantages of sitting in the front section of the Y Class cabin is that you usually can still choose between different meals. Well, not today, as we already had learned by an announcement shortly after boarding:
"We just discovered that the choice is chicken or chicken. Anything else wasn't loaded."
Fortunately, chicken was fine for us, and we ordered a white wine together with the meal:
First of all, the whole portion was quite small and the presentation of the main course was poor. The chicken breast itself was overcooked and tasted burned, but the mash potatoes, the vegetables and the gravy were ok. We know for sure that the strange salad contained raisins and mayonnaise, but we couldn't identify the rest. Who knows what kind of vegetable the dices were made of. At least the cake and the wine tasted good.
Mood Lighting - a kind of...
It was interesting to see that this 20-year-old aircraft had been equipped with mood lighting, but it either wasn't adjusted correctly or it simply didn't work properly. I noticed that the light tones were frequently changing in Business Class, e.g. from orange to red to blue and vice versa. In Economy Class the white standard light...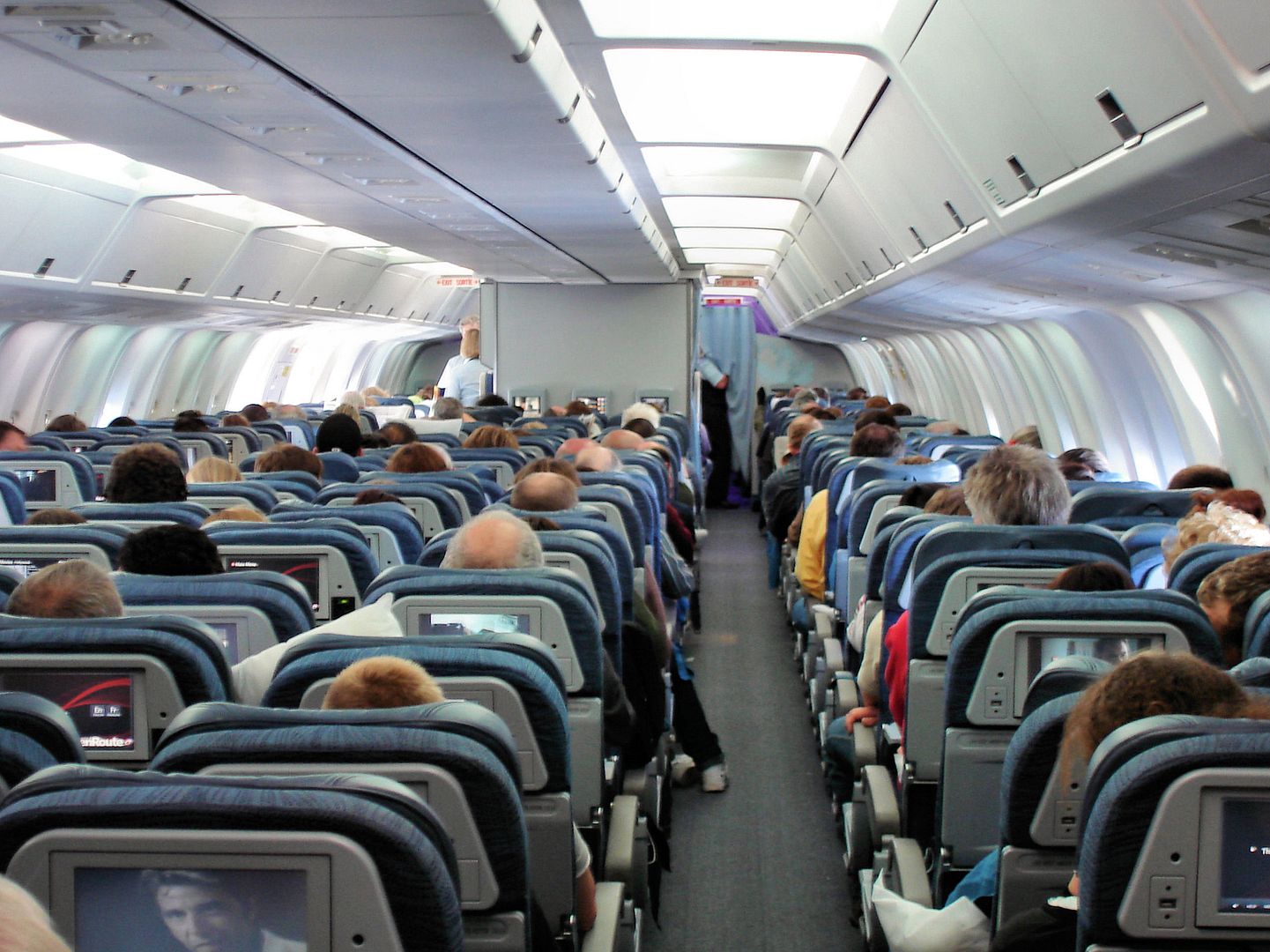 ...was regularly replaced by a red one:
Each time after some 15 minutes we got the white light again for a while. This made no sense at all, mood lighting is really not supposed to change all the time. Btw - the light constantly remained dark blue in Business Class after lunchtime.
I watched a movie after a walk through the cabin and later noticed that we were already cruising over Greenland:
It had been cloudy all the time, so we weren't annoyed any more about the lack of a window. Other than suggested on the screen, we were indeed flying westwards: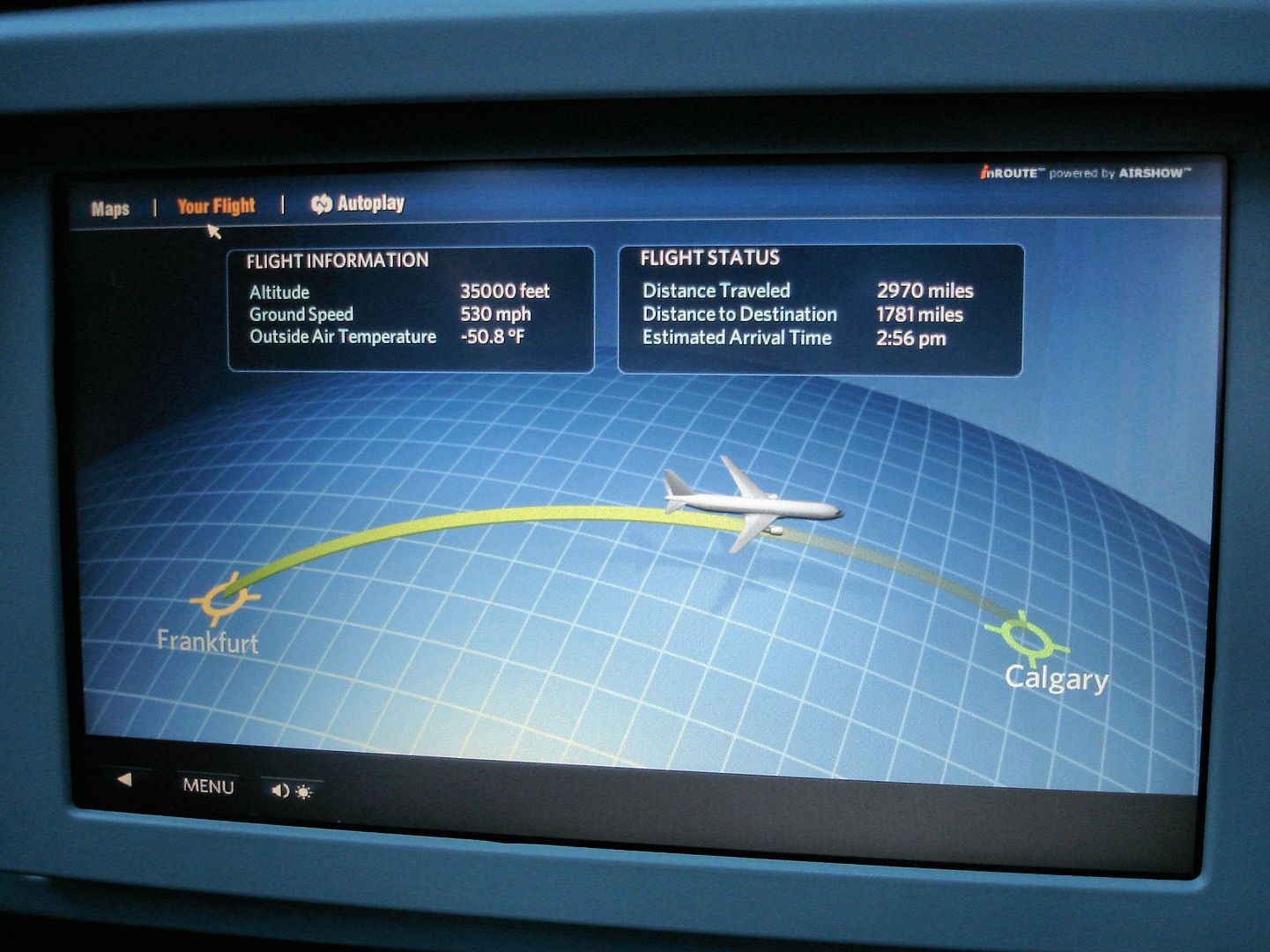 Snack
Four hours after lunch we got tasty crackers and a good caramel-vanilla ice cream. Now it was time for the usual "Ginger Ale Test" - and yes, Air Canada passed it.
However, I would have preferred a large can.
In addition to the main drink runs, flight attendants regularly kept passing through the cabin with cups of water. That didn't happen every 30 minutes as advertised by Air Canada, but still quite frequently.
Pre-Arrival Snack
About 1,5 hours before landing a warm snack was served. Two kinds of pastries were offered and we decided to try the one with lamb filling: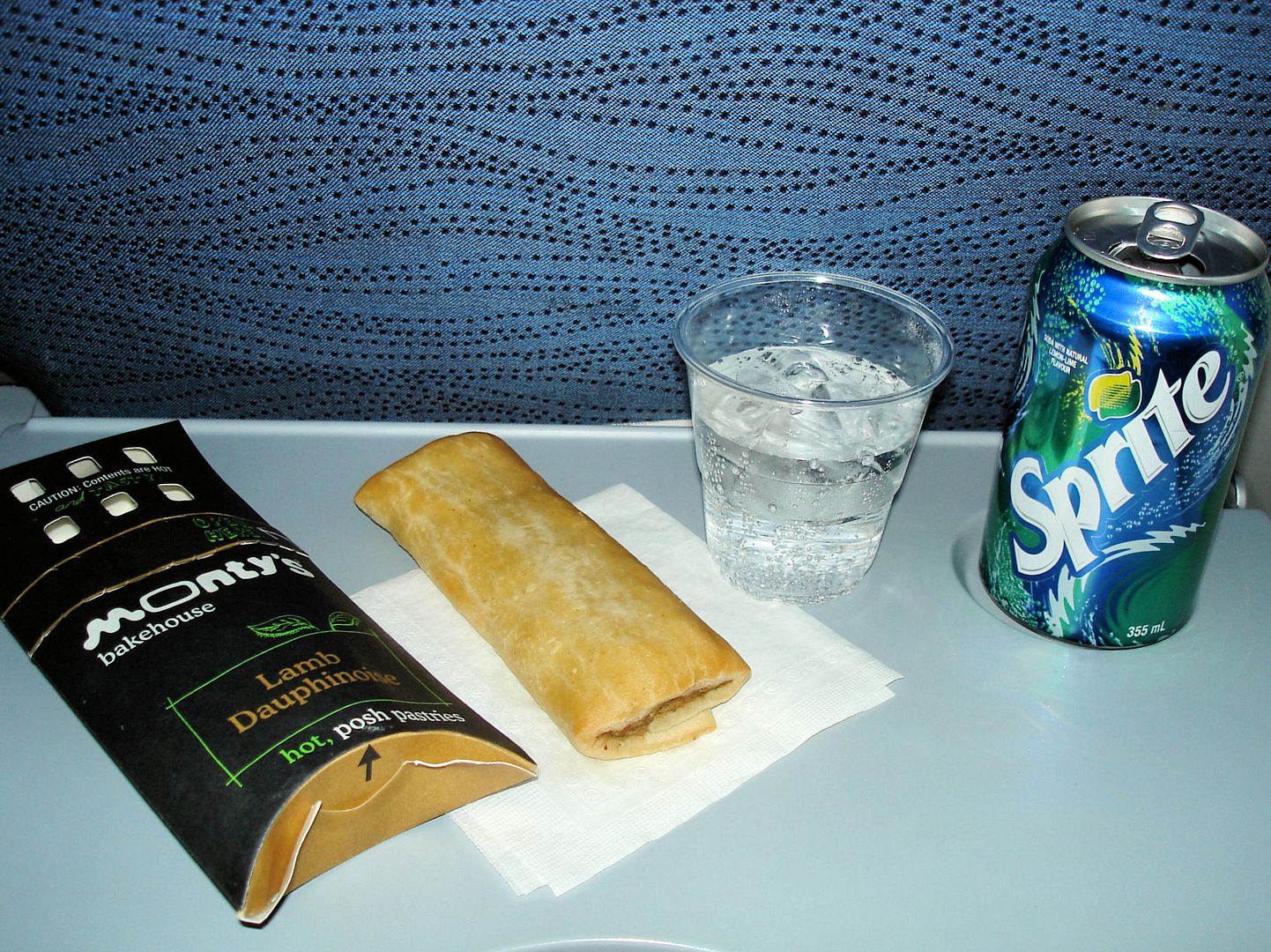 It was very fatty and tasted of garlic and quite artificial - simply awful stuff.
Btw - Sprite and Coca-Cola were served in large cans.
Approach & Arrival
I mostly watched the airshow towards the end of the flight...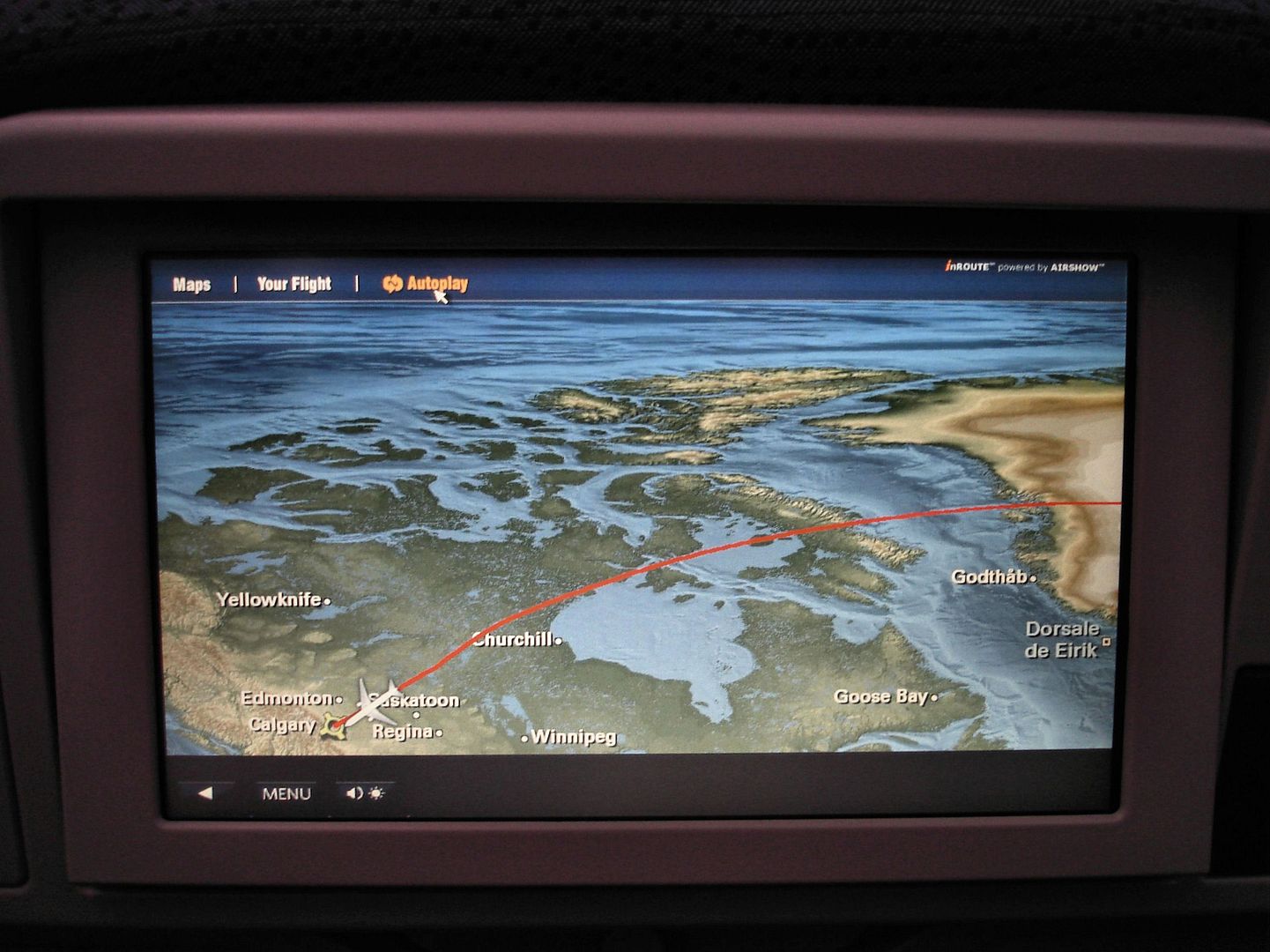 ...and after some nine hours in the air we started the approach to Calgary International Airport. Again it wasn't easy to take pictures: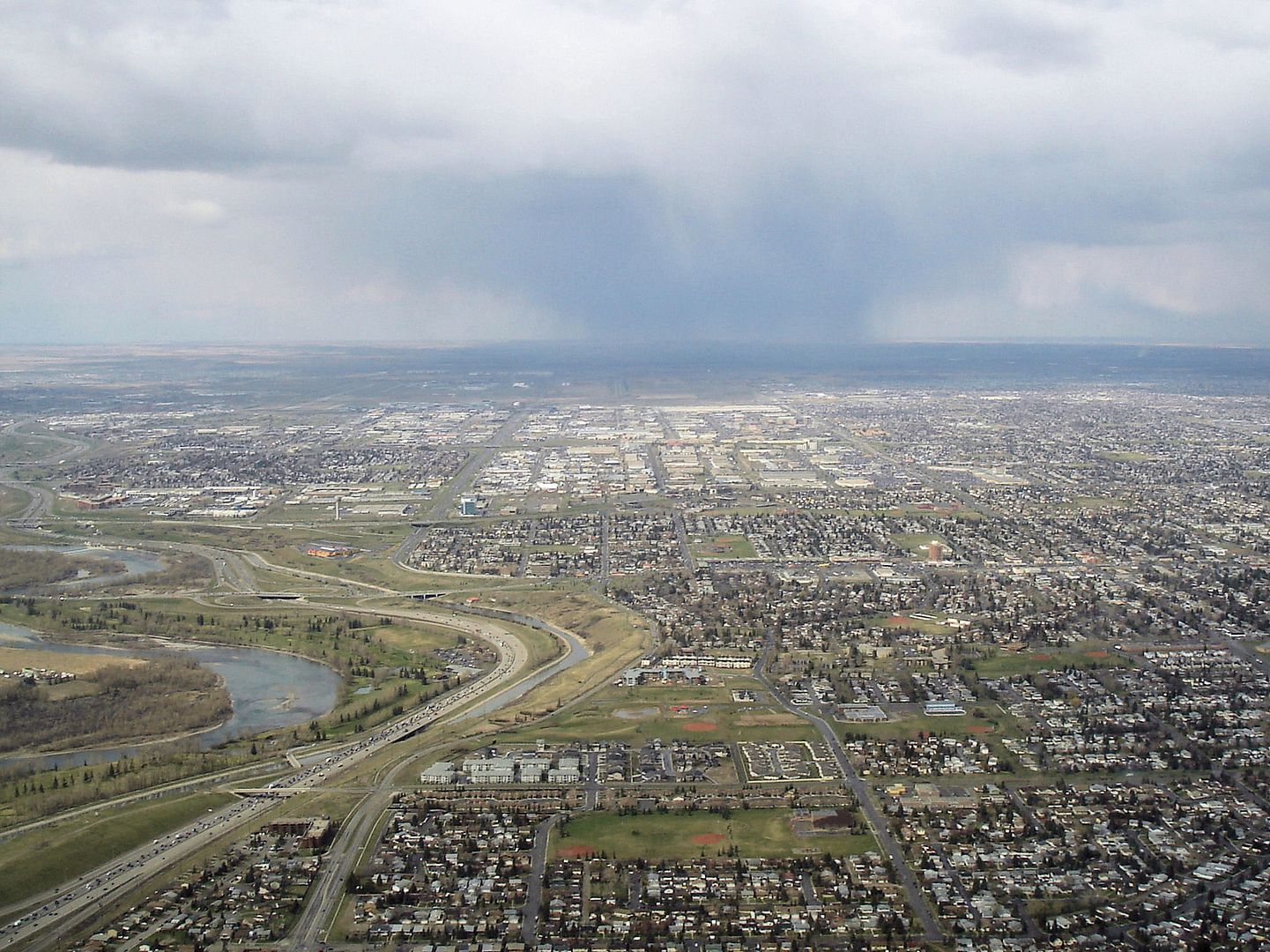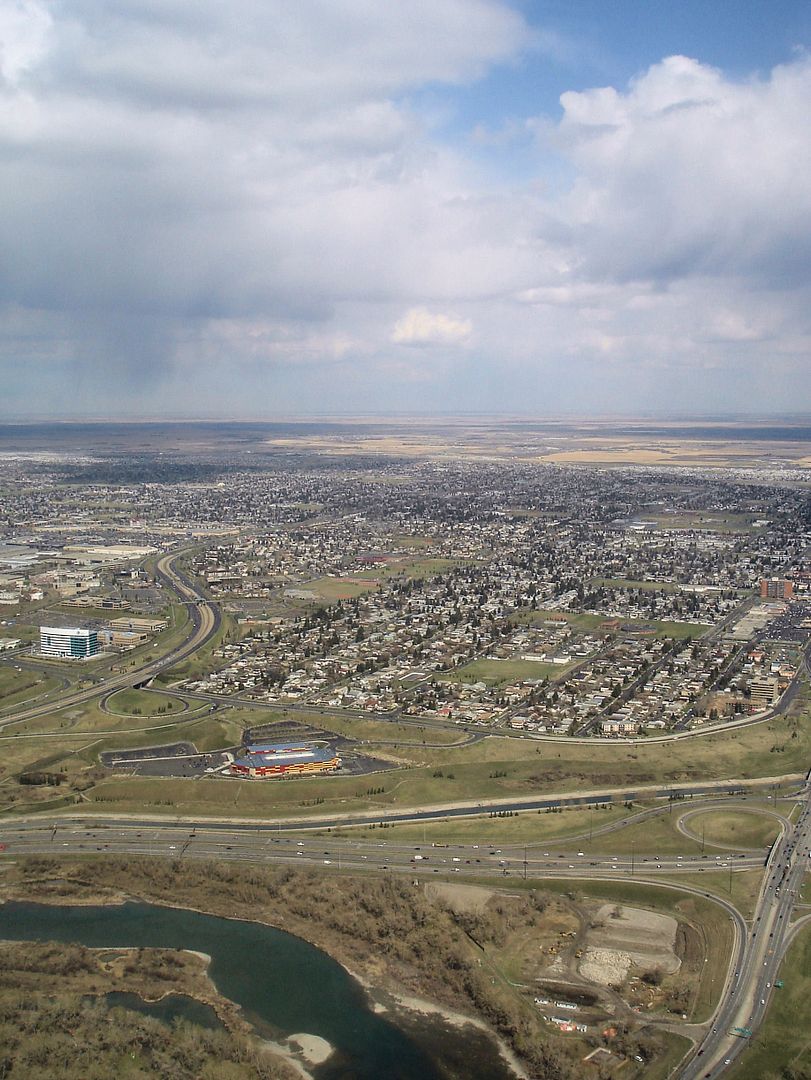 C-FPCA
touched down after 9 hours and 22 minutes in the air and quickly taxied to the gate. We would have three hours in Calgary so there was no need to hurry. I hadn't been 100 percent sure about the registration (there's also a
C-FOCA
), so I decided to ask during disembarking. Interestingly, a male flight attendant who hadn't been smiling at all during the whole flight, turned out to be very friendly and even showed to me one of the plane's manuals.
Transfer at Calgary Airport
Changing planes at Canada's third largest airport was not difficult, but it took a while. We had to pass Canadian immigration, clear customs and walk out to the public area. The airport is one of eight Canadian airports equipped with US Border pre-clearance facilities, so we had to pass US immigration and customs before we could get rid of our luggage again. However, we didn't have to wait in line there and all officers where very friendly which was really nice. After a security check we continued walking to our gate at Concourse C which is used for all US-bound flights. The concourse area wasn't very pretty, but the large windows at the gates were perfect for spotting. The variety of airlines was limited, but I got a total of 27 new registrations at YYC.
C-FPCA
leaving again for another transatlantic service: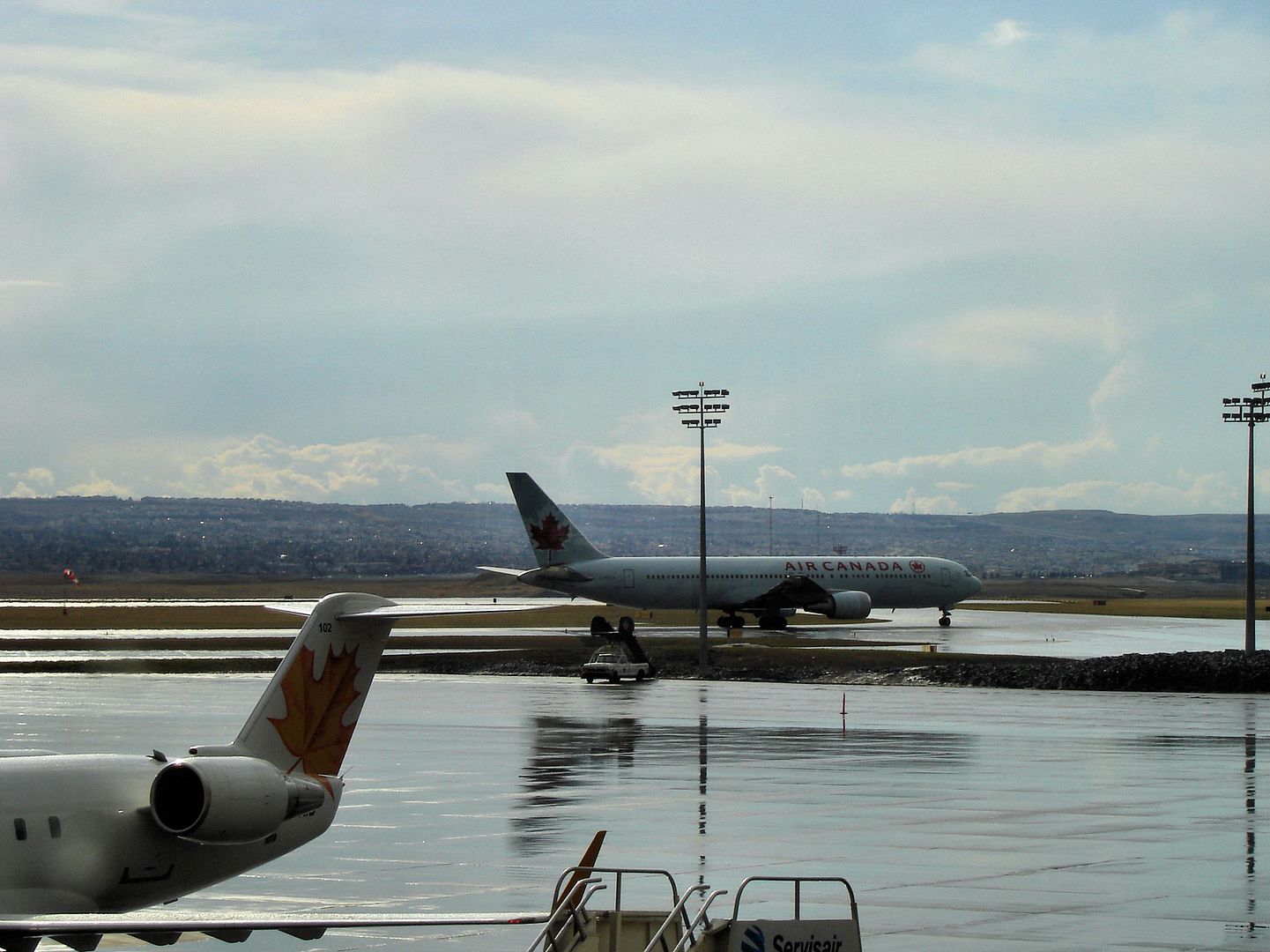 Calgary is Westjet's home base: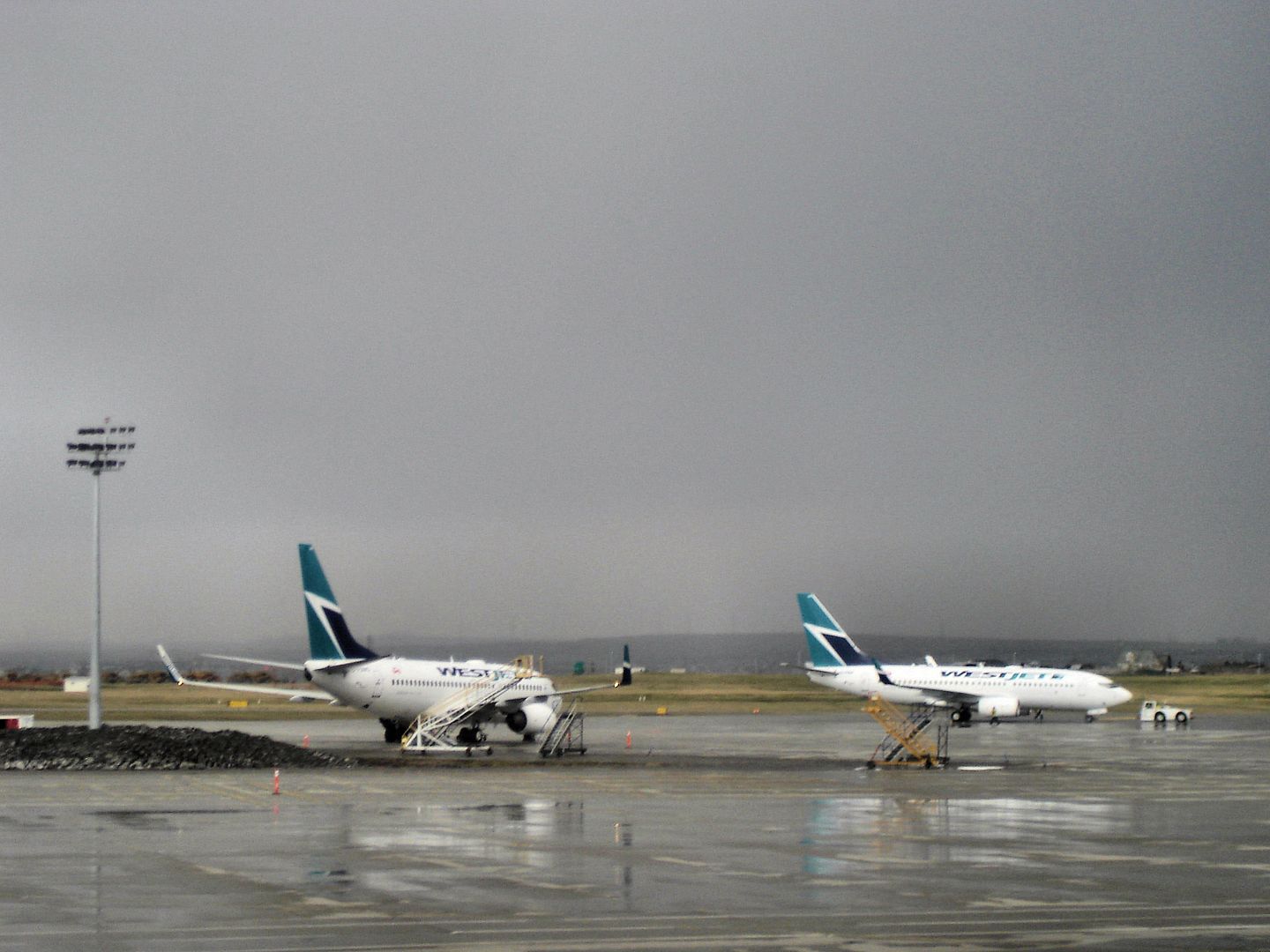 Saturday, 09 May 2009
Calgary (YYC) - Los Angeles (LAX)
Air Canada AC572
19:05-21:15 (18:54-21:15)
Flying time: 02:41 (hrs)

Embraer 190-100IGW
C-FHOS (MSN 19000101), delivered in 08/2007
Economy Class, Seat 29B
Aircraft & Cabin Comfort
C-FHOS
, an Embraer 190-100IGW delivered in 08/2007, was scheduled to operate flight AC572 to Los Angeles. We stepped on board before most other passengers and I seized the opportunity to take a cabin shot: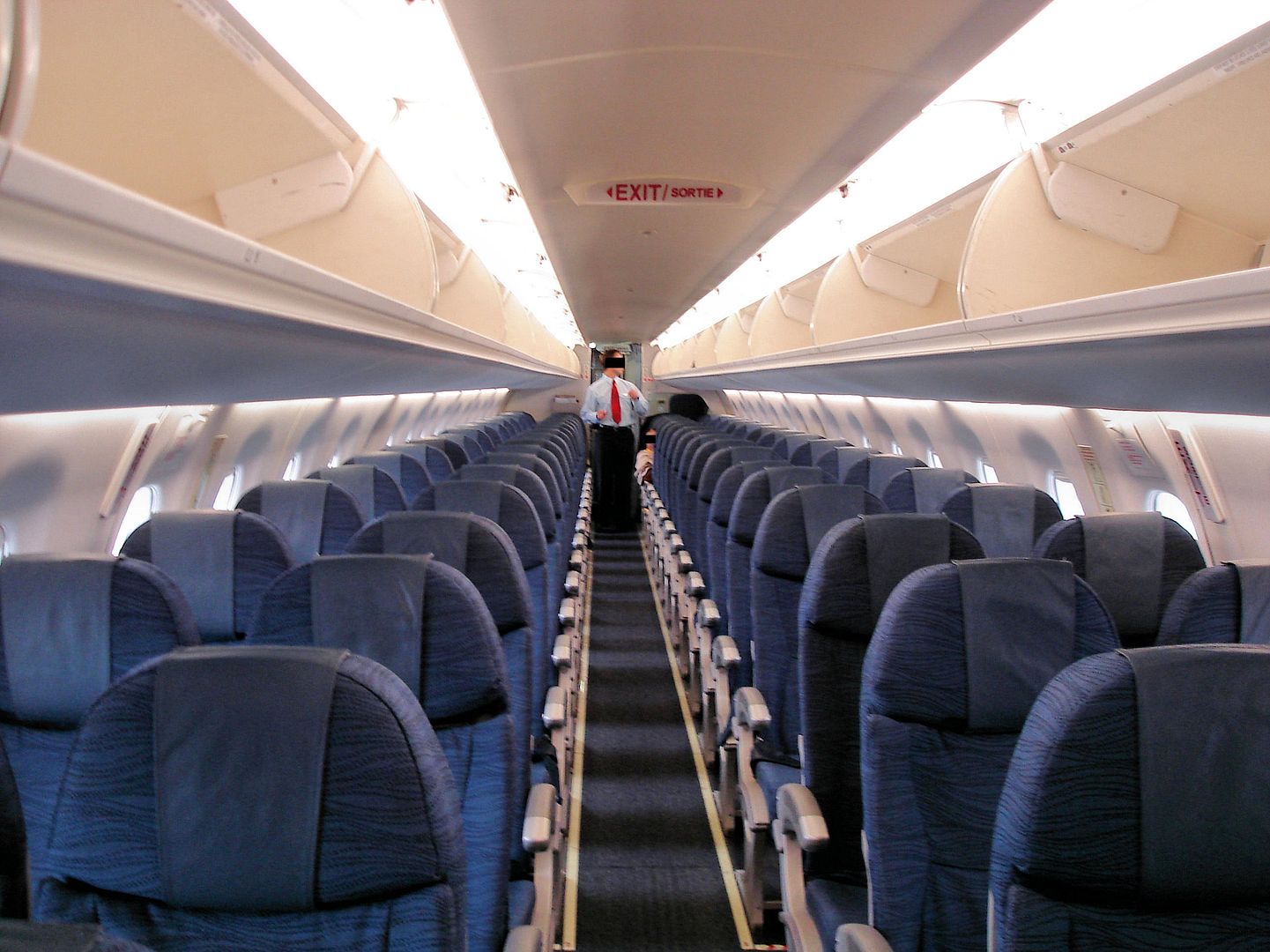 The seats were not as comfortable as on the 767...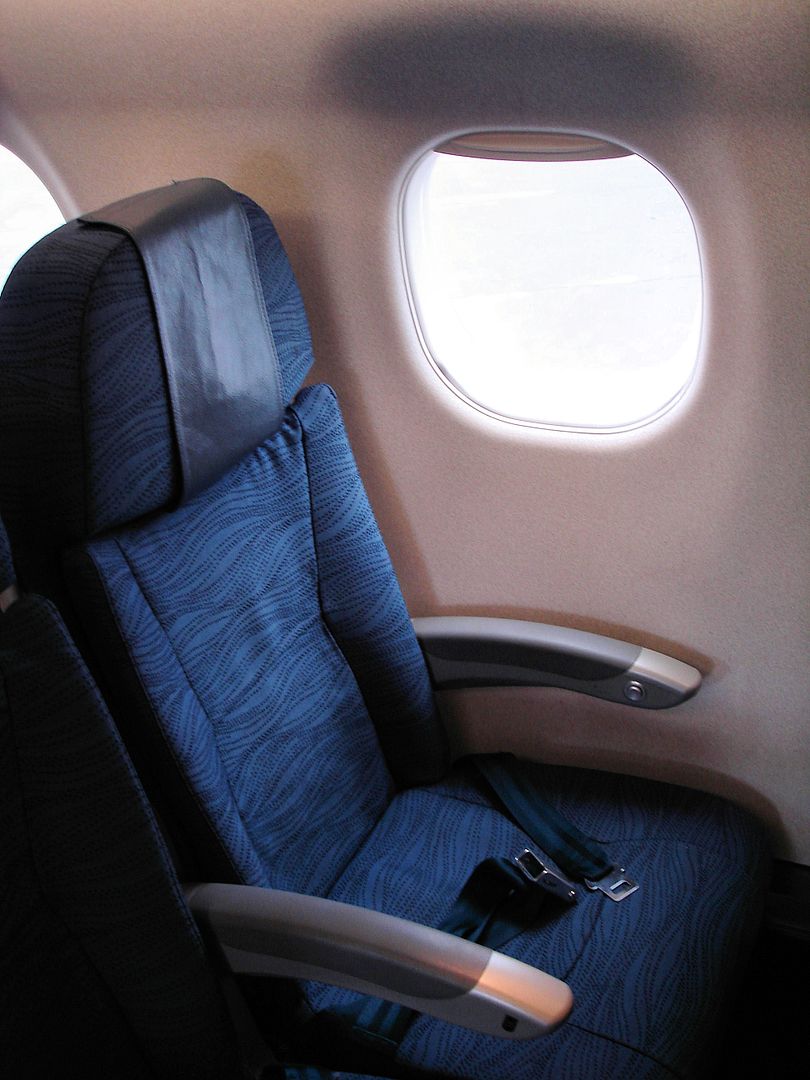 ...but they were equipped with the same 8.9-inch PTVs:
Legroom (32 inches) was generous, too: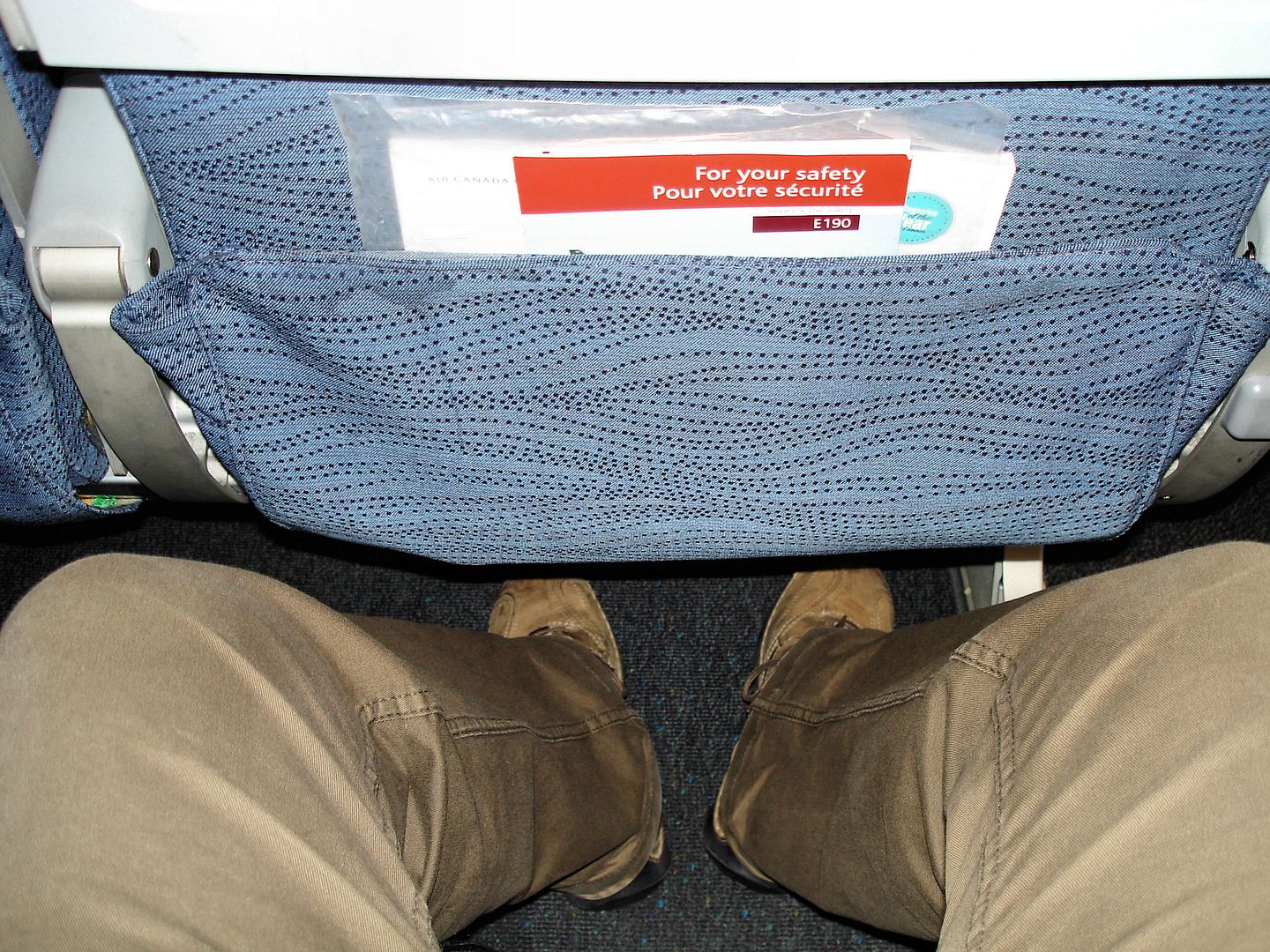 Uneventful Flight
After nearly all seats had been taken we left the gate more than 10 minutes early. However, almost 20 more minutes passed until
C-FHOS
finally lifted off after a powerful take-off roll: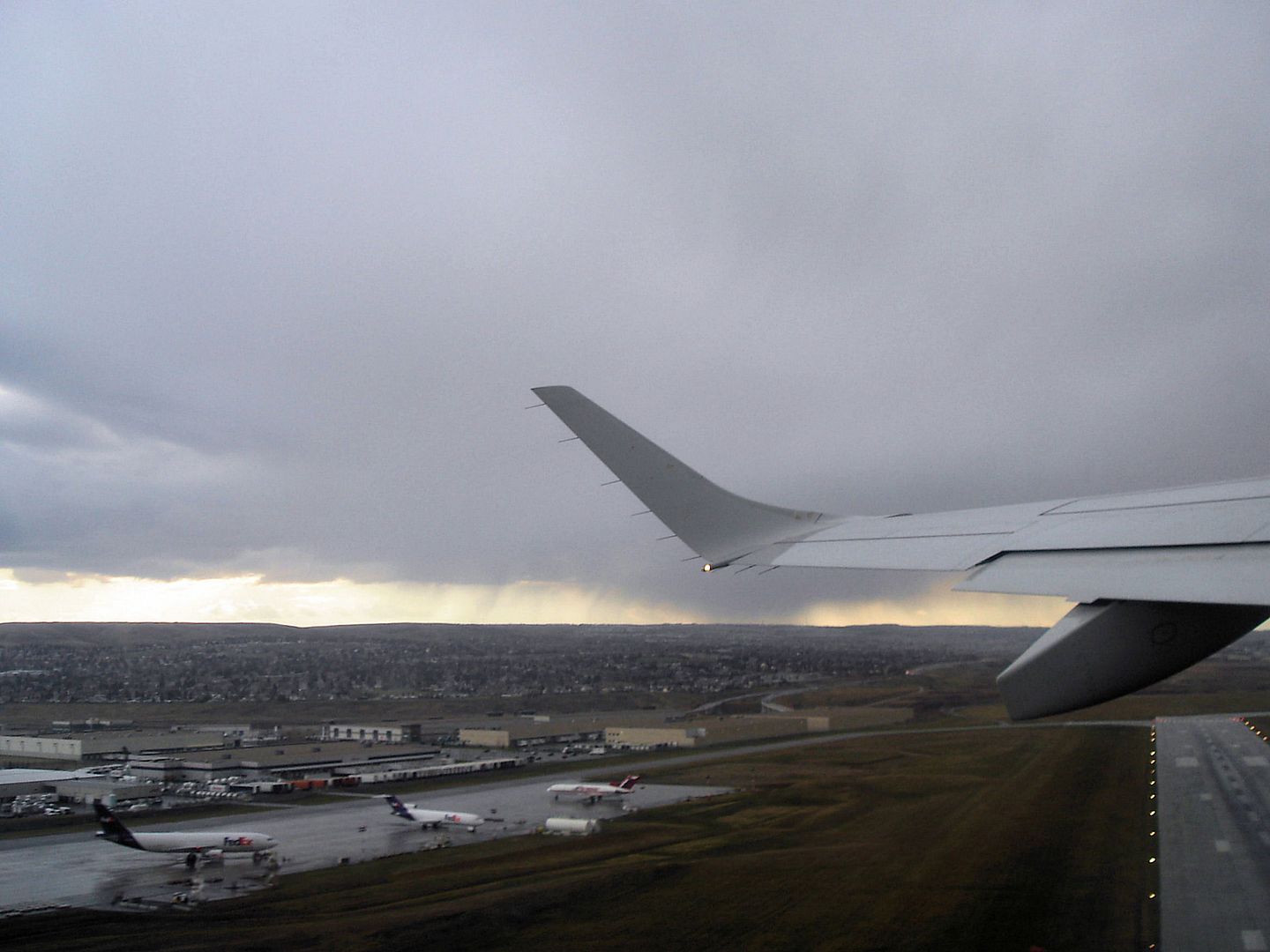 The flight was uneventful and there's not much worth to be reported. Headsets weren't available free of charge, but we still had the ones from AC845. However, we didn't watch anything because the movie selection was the same again. As expected, the maps weren't available (supposedly not available on any AC narrowbody). Flight attendants served complimentary non-alcoholic drinks and offered food for purchase. However, we weren't hungry at all, so we didn't check the
OnBoard Café
. What I found quite disturbing was the permanent queuing in the aisle – due to the fact that there's only one single lavatory in the Economy Class section. That's simply not enough.
Last shot in daylight: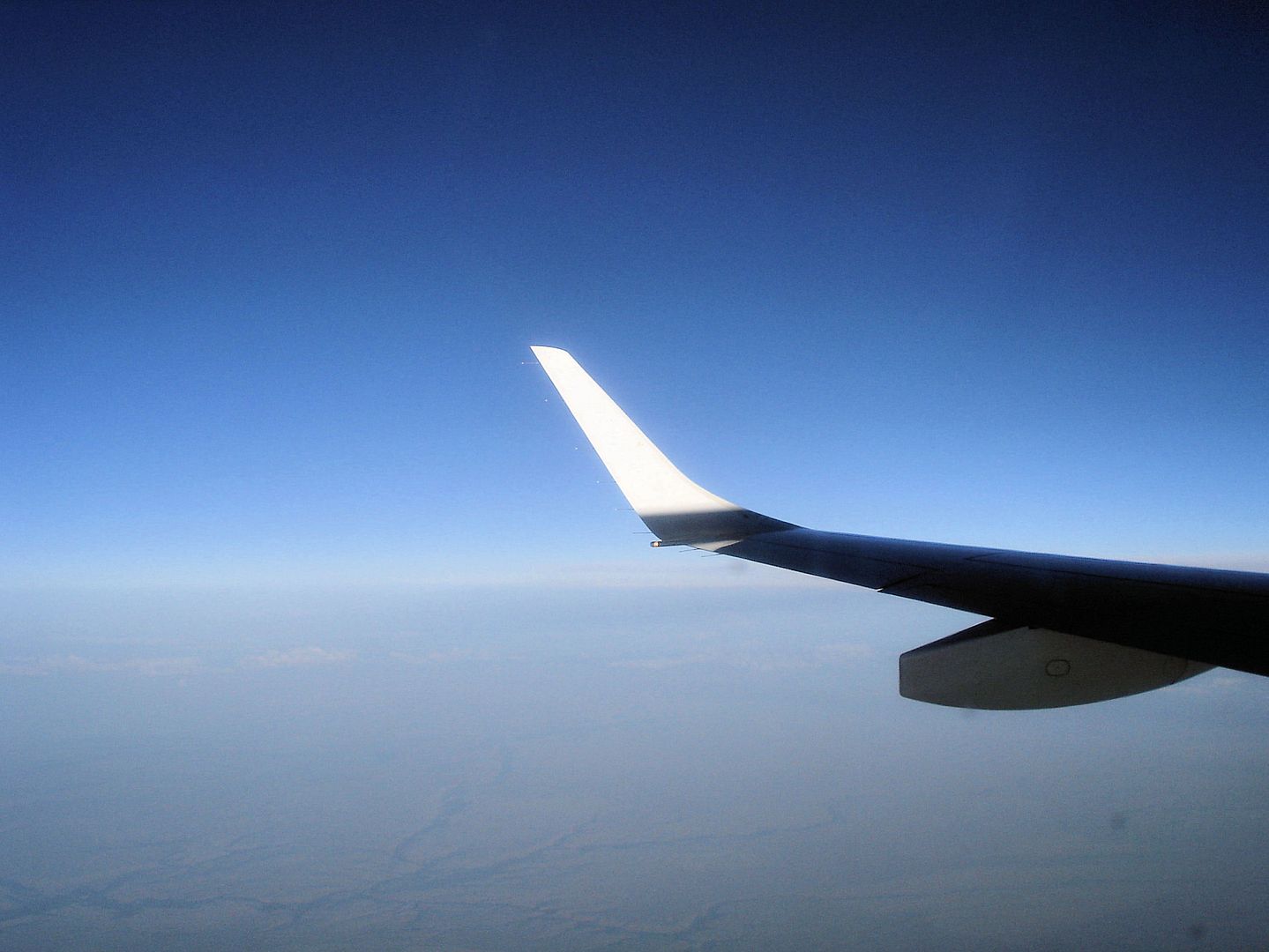 We touched down at LAX 2 hours and 41 minutes after take-off and were expecting an early arrival, but a Frontier Airlines jet had returned to the gate which was supposed to be ours. We had to wait 22 minutes on the apron until we could finally roll to an empty gate. Another 20 minutes later we grabbed our luggage and our friends picked us up. I was really glad about being back at Los Angeles after a several-year break.
LAX, Canyons & More
We spent some great days with our friends in Whittier, Ontario and Fontana - however, one day was exclusively reserved for spotting. I met my friend and a.net-user
The777Man
and we started registration hunting at LAX. At first we went to the famous In-N-Out restaurant on Sepulveda Boulevard. In the background you can see the LAX Theme Building surrounded by scaffolding: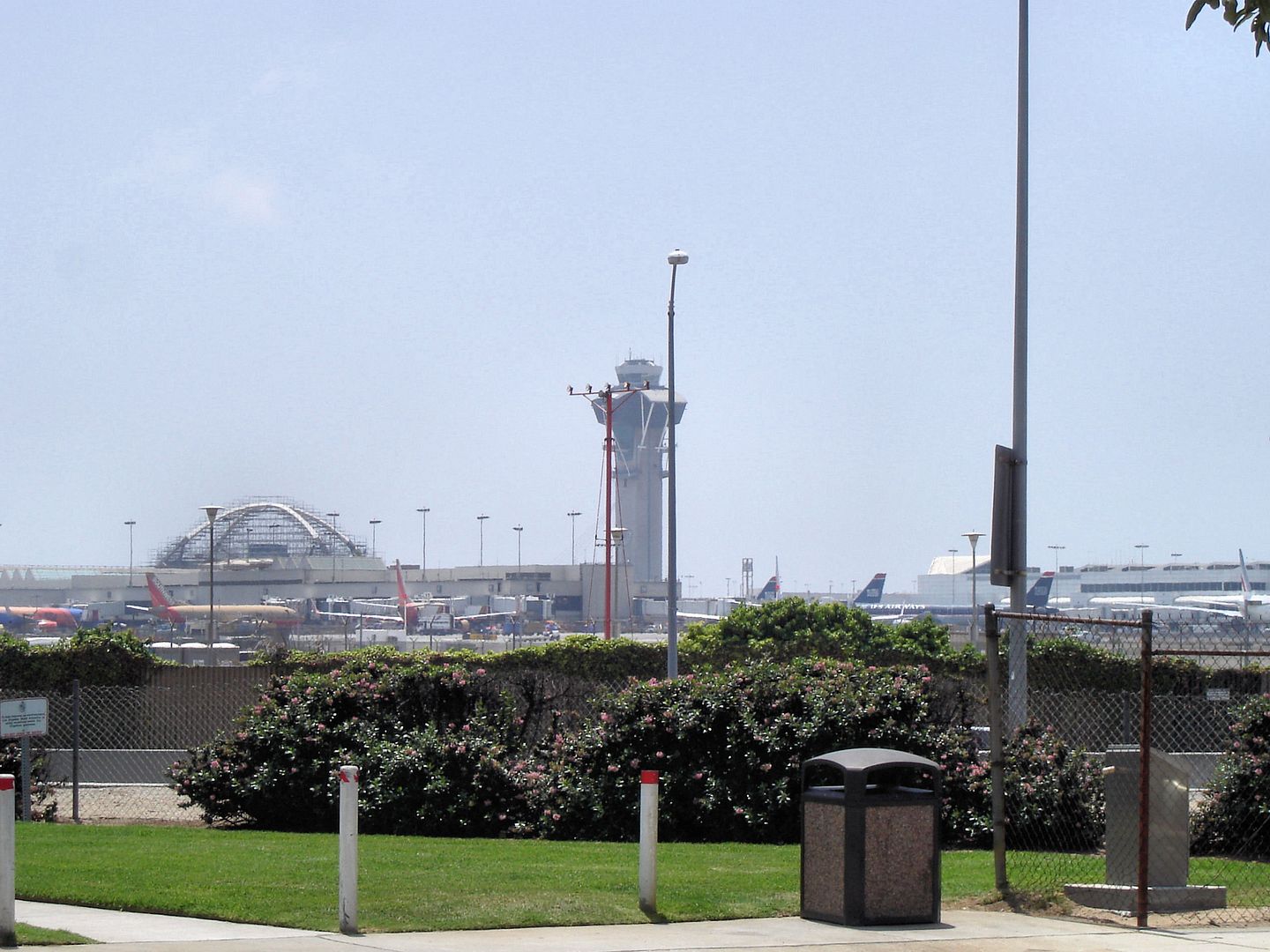 Later we moved on to the famous spot at Imperial Hill. China Eastern A340-600 in special colors taking off: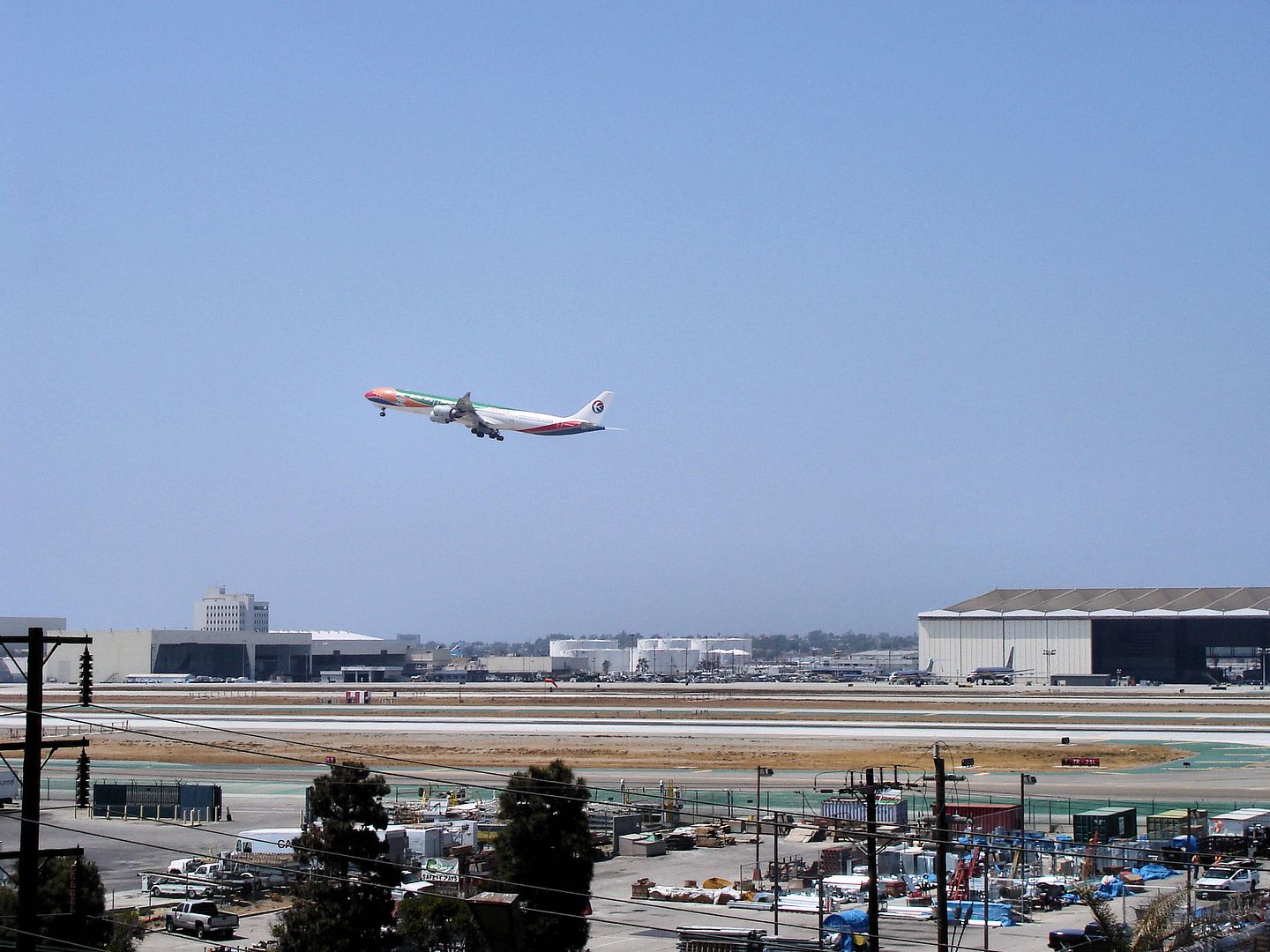 I got a total of 89 new registrations in about six hours which is not bad.
On the next day we had to say goodbye to our friends and we started our tour. First destination:
Universal Studios Hollywood
.
Rebuilding of structures destroyed by a major fire in 2008: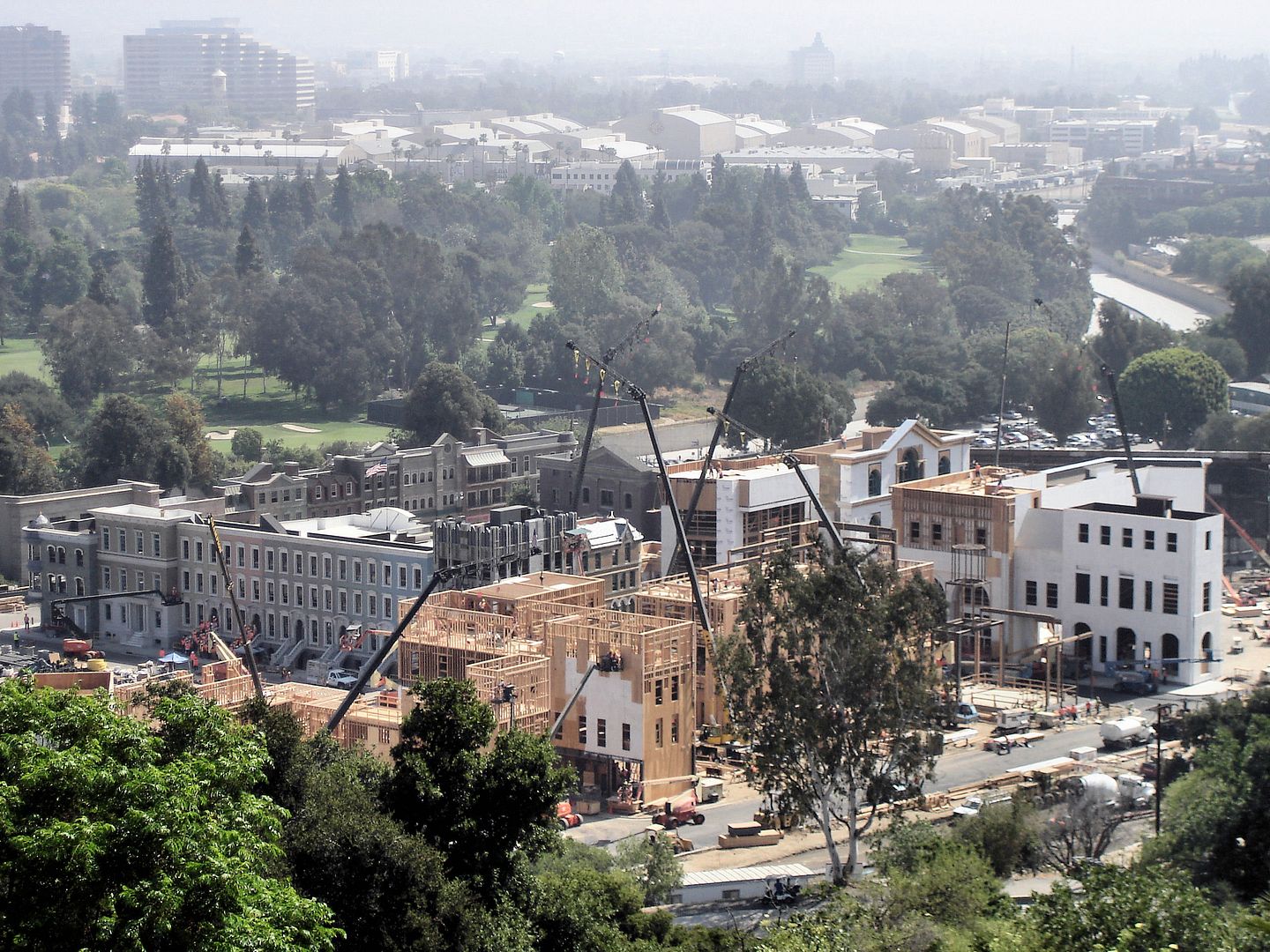 Of course we took part in the Studio Tour and visited sets and props from famous movies such as
The Fast & The Furious
...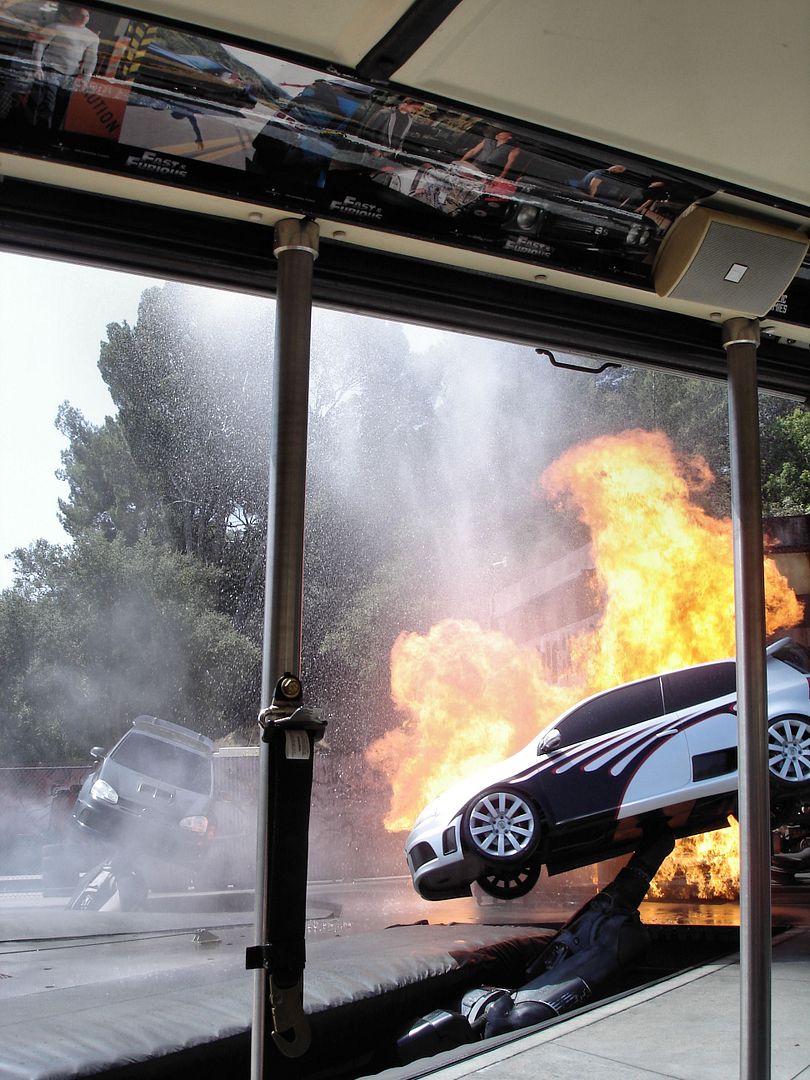 …
Psycho
…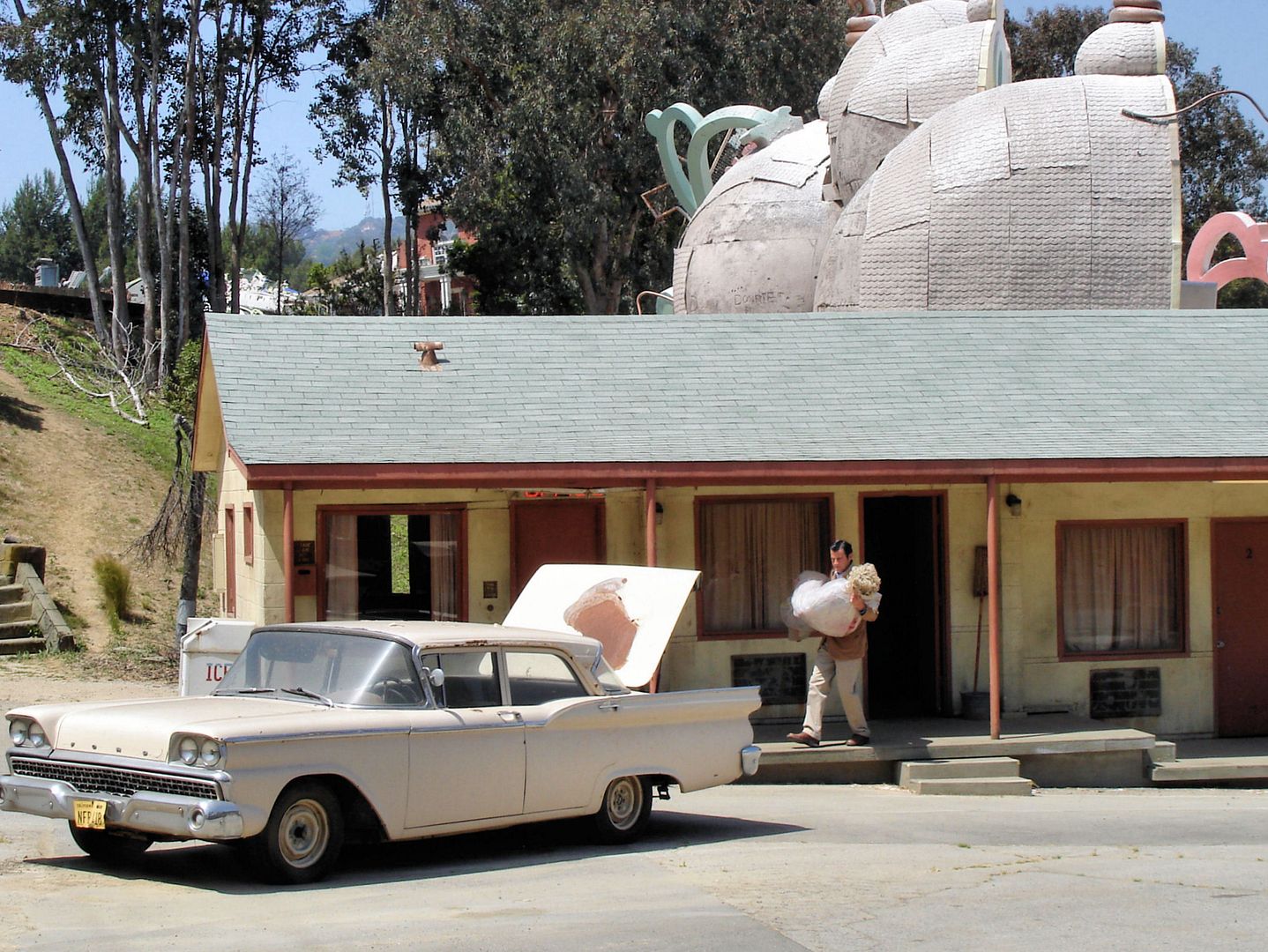 ...and
War of the Worlds
: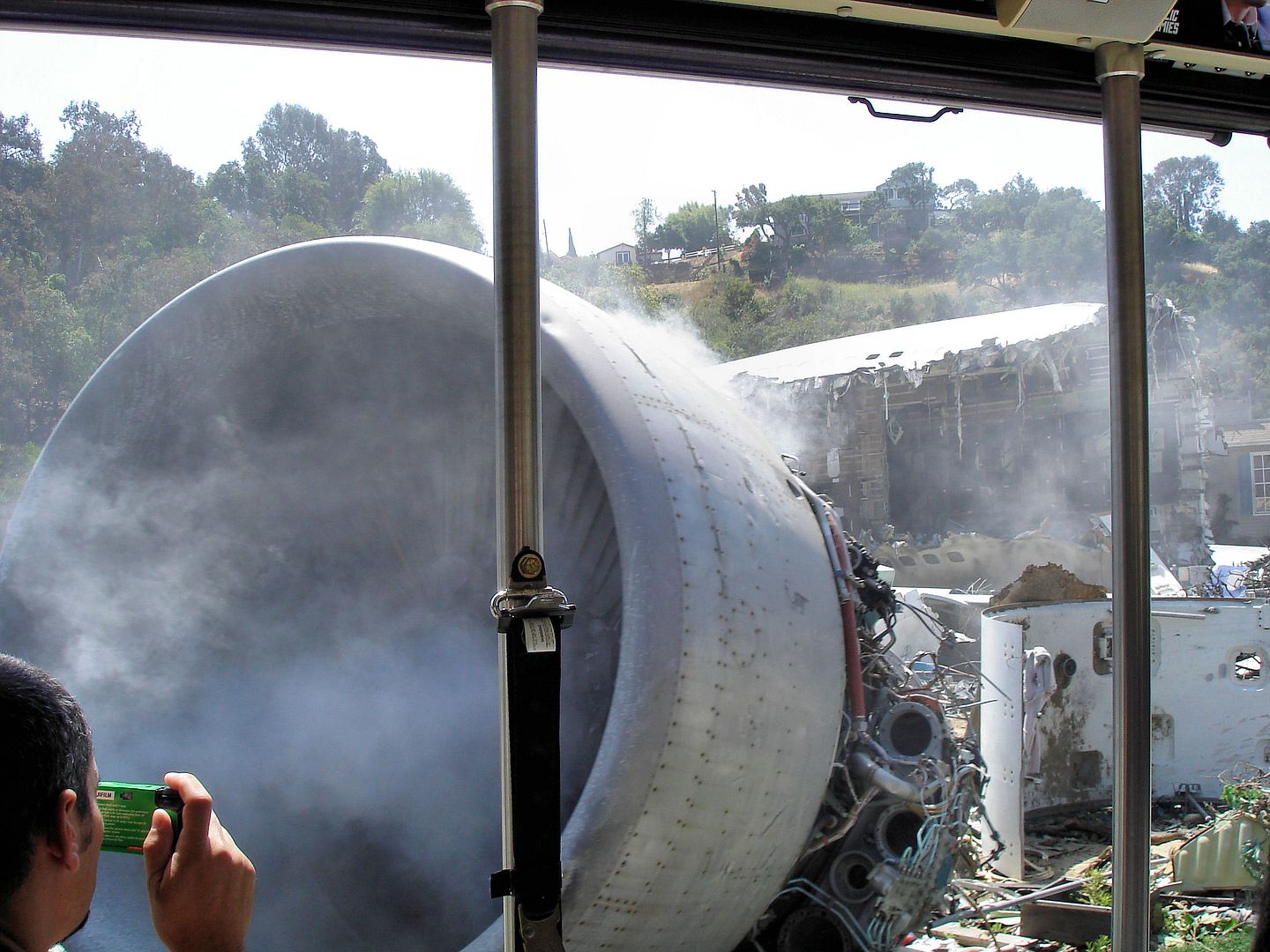 No doubts, this used to be an ANA 747 in former times:
The
Waterworld
stunt show: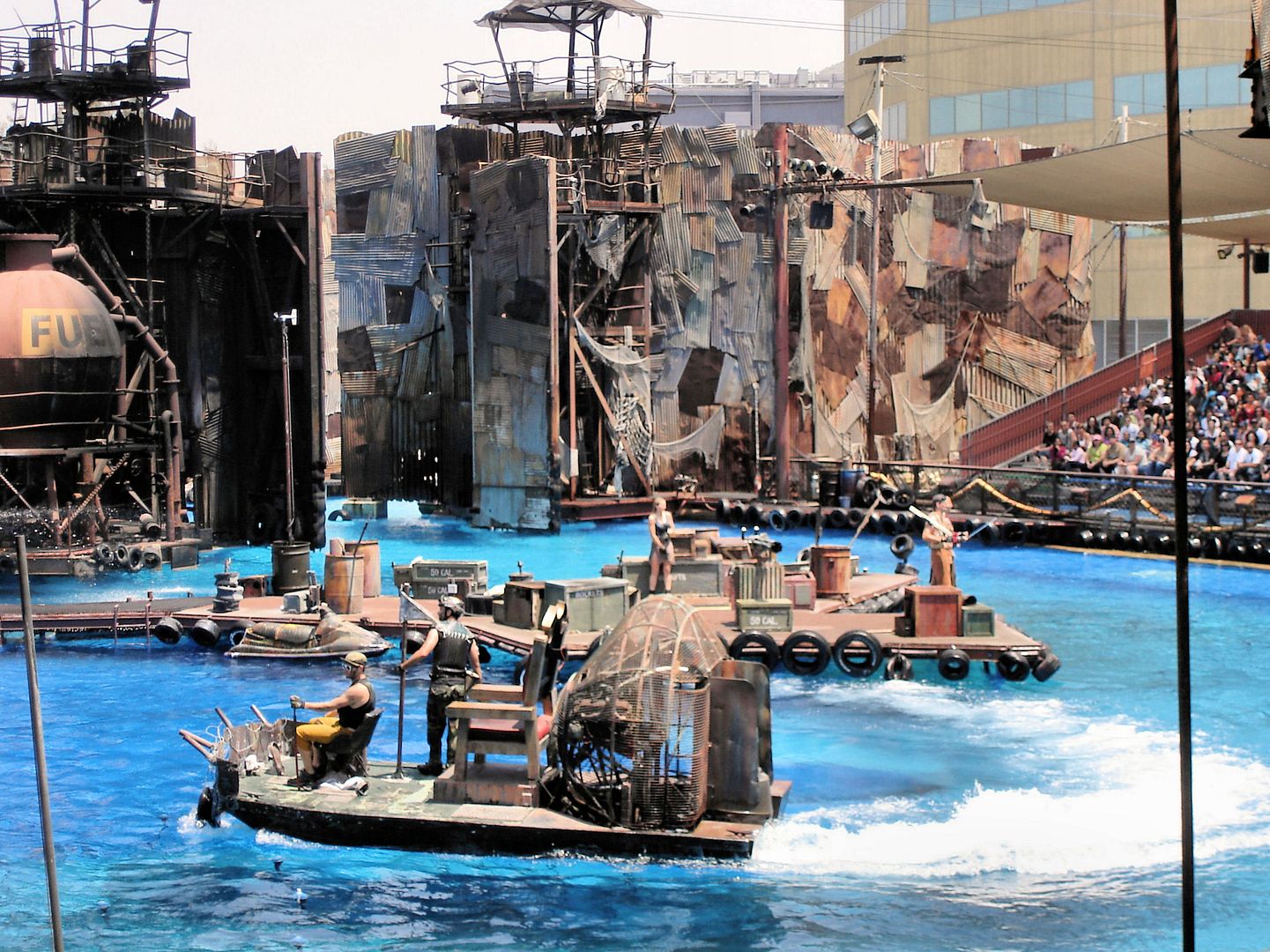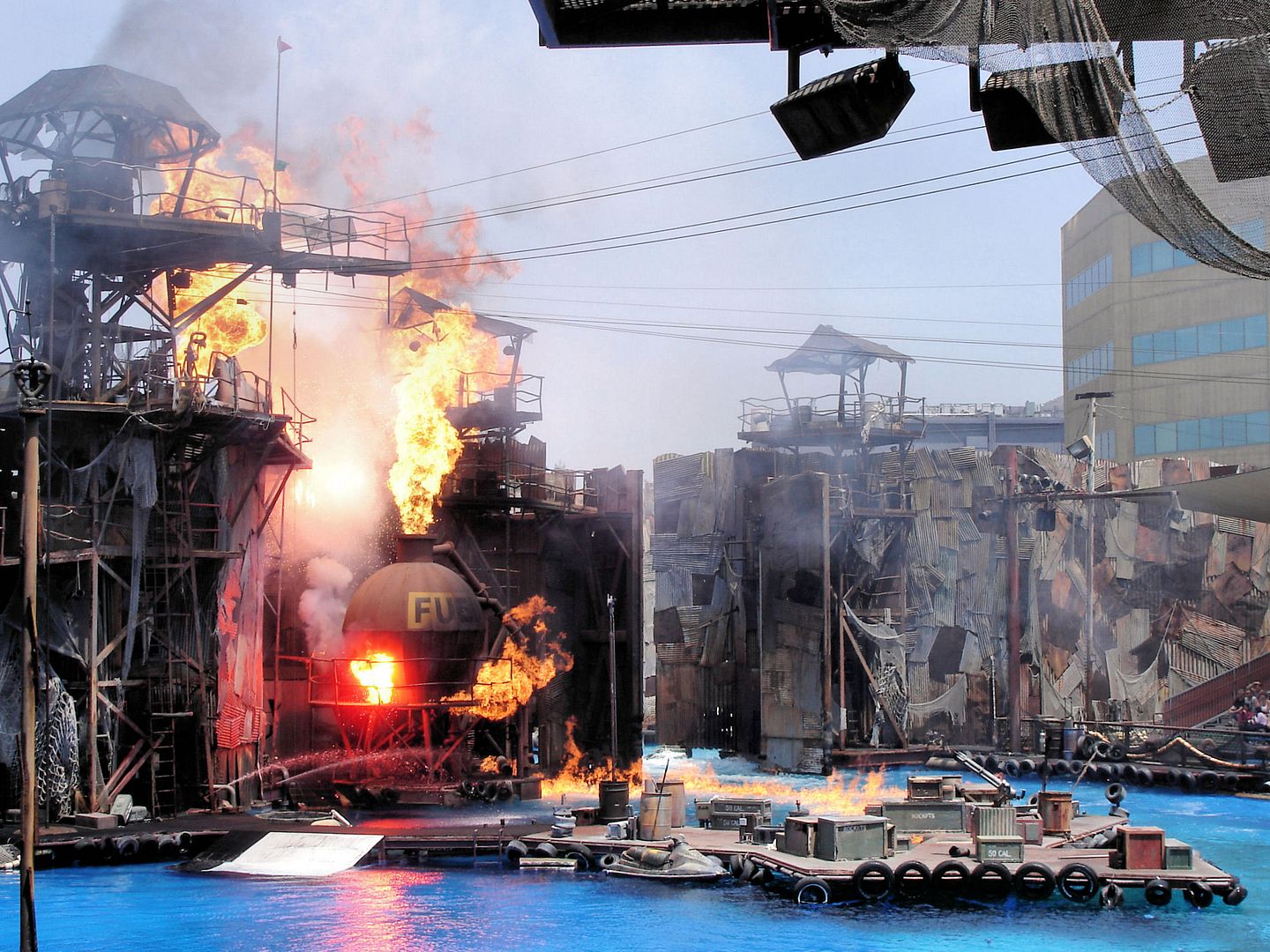 On the next day we went to Downtown Los Angeles...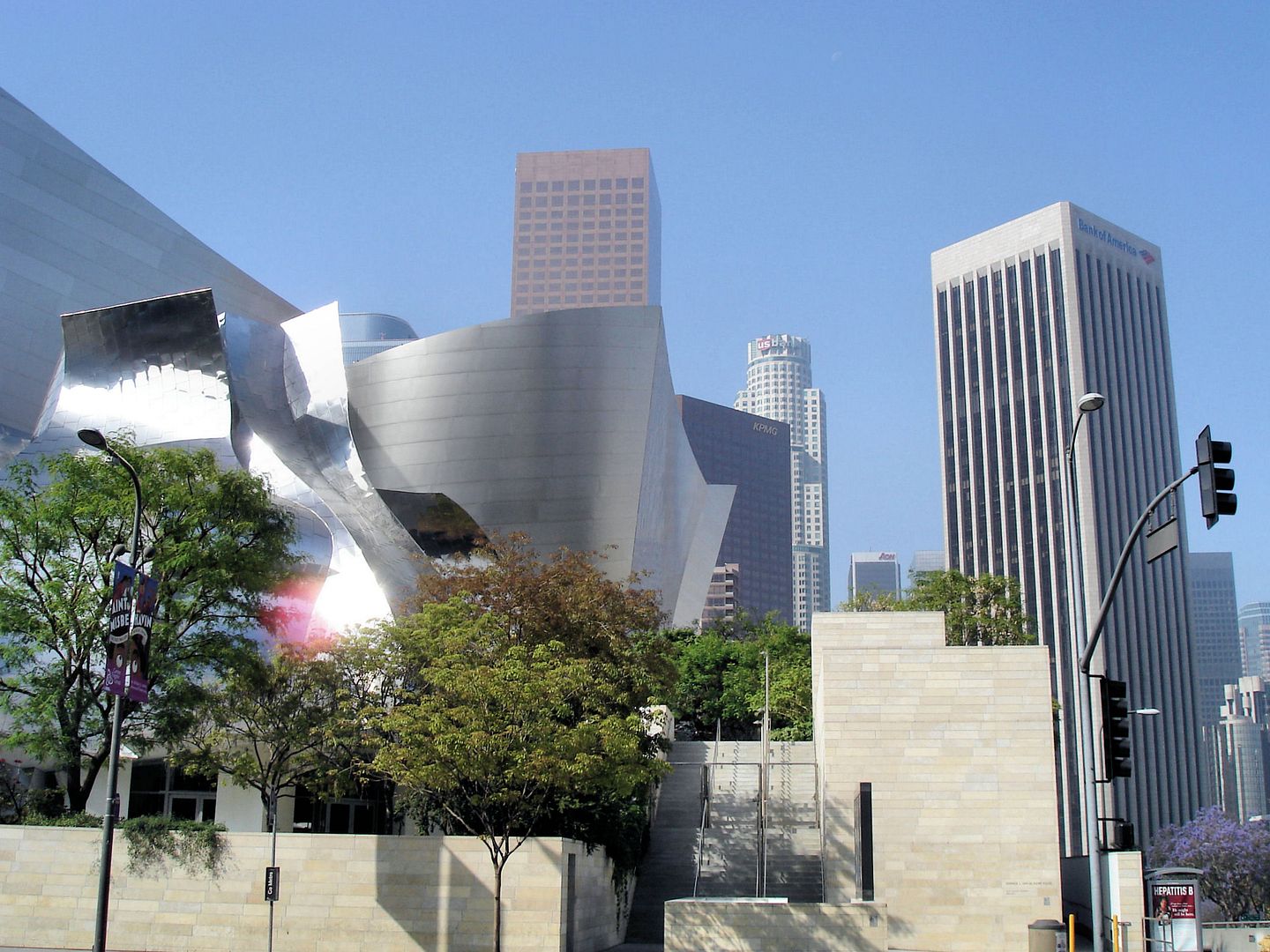 ...passed the
Walt Disney Concert Hall
...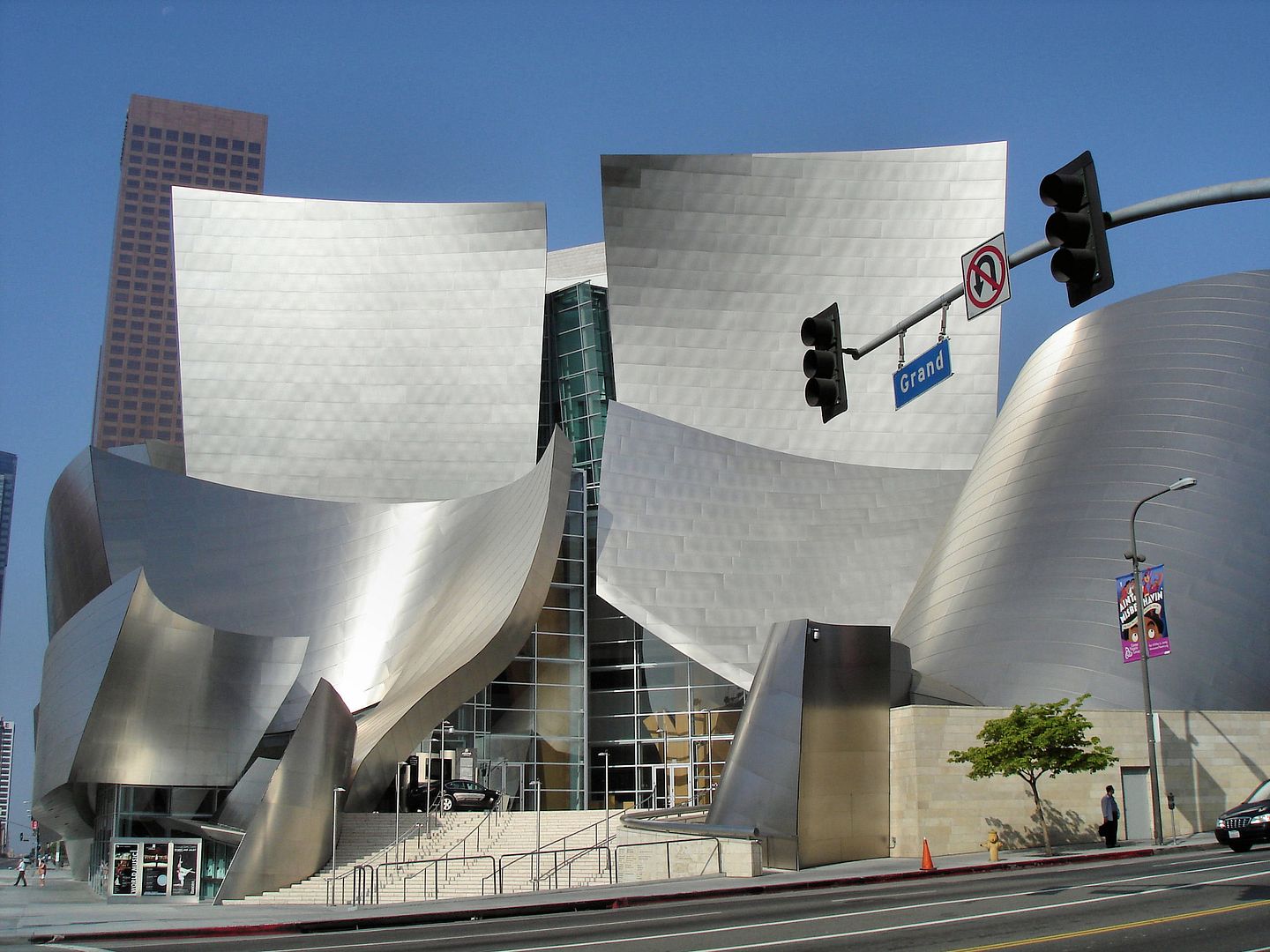 ...and visited the
Hollywood Boulevard
. You can see many movie characters and celebrity lookalikes in front of the
Grauman's Chinese Theatre
: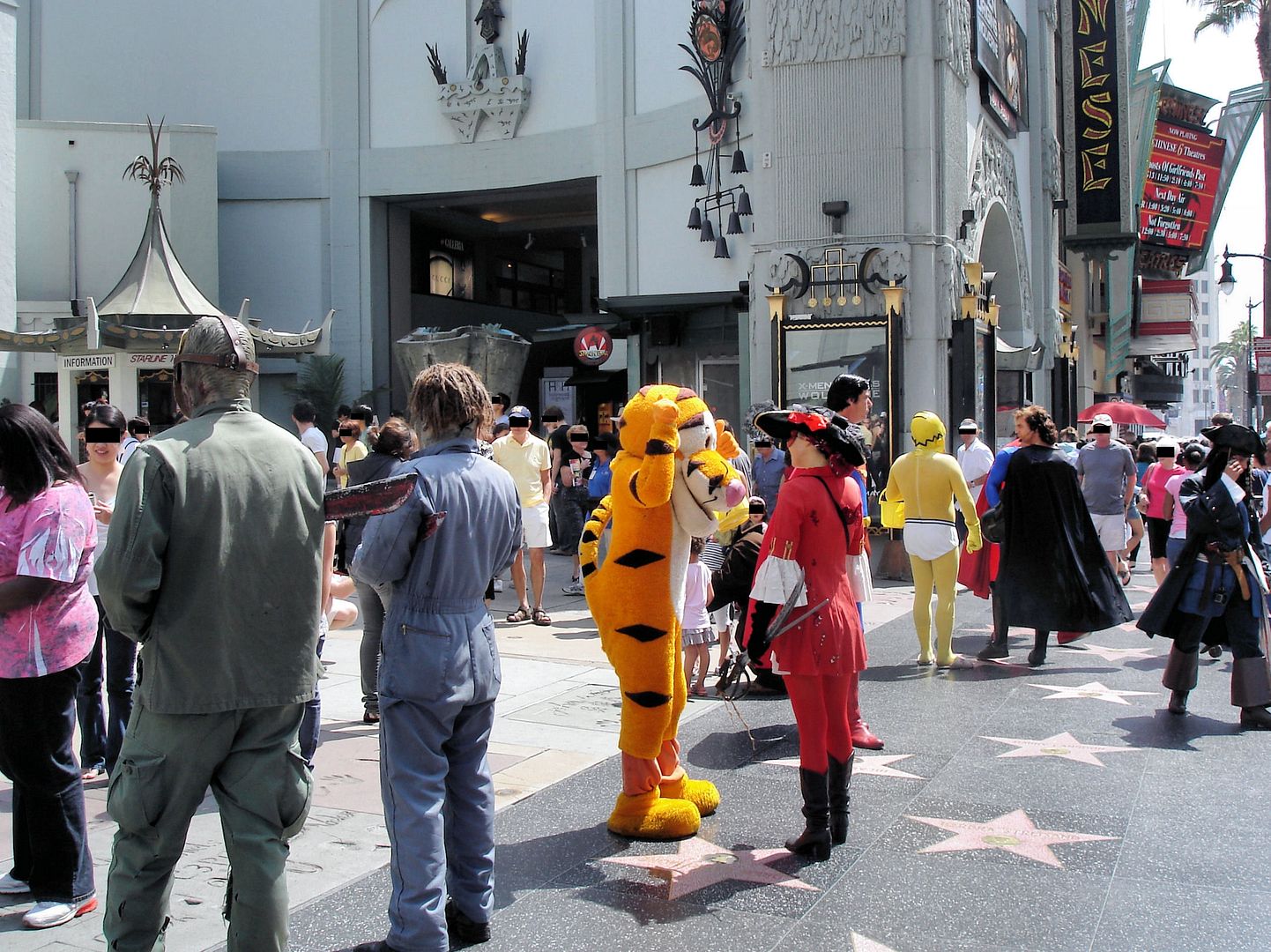 Soon it was time to leave the Los Angeles area and we headed to Palm Springs. Many members of a kind of Corvette club had also chosen our motel: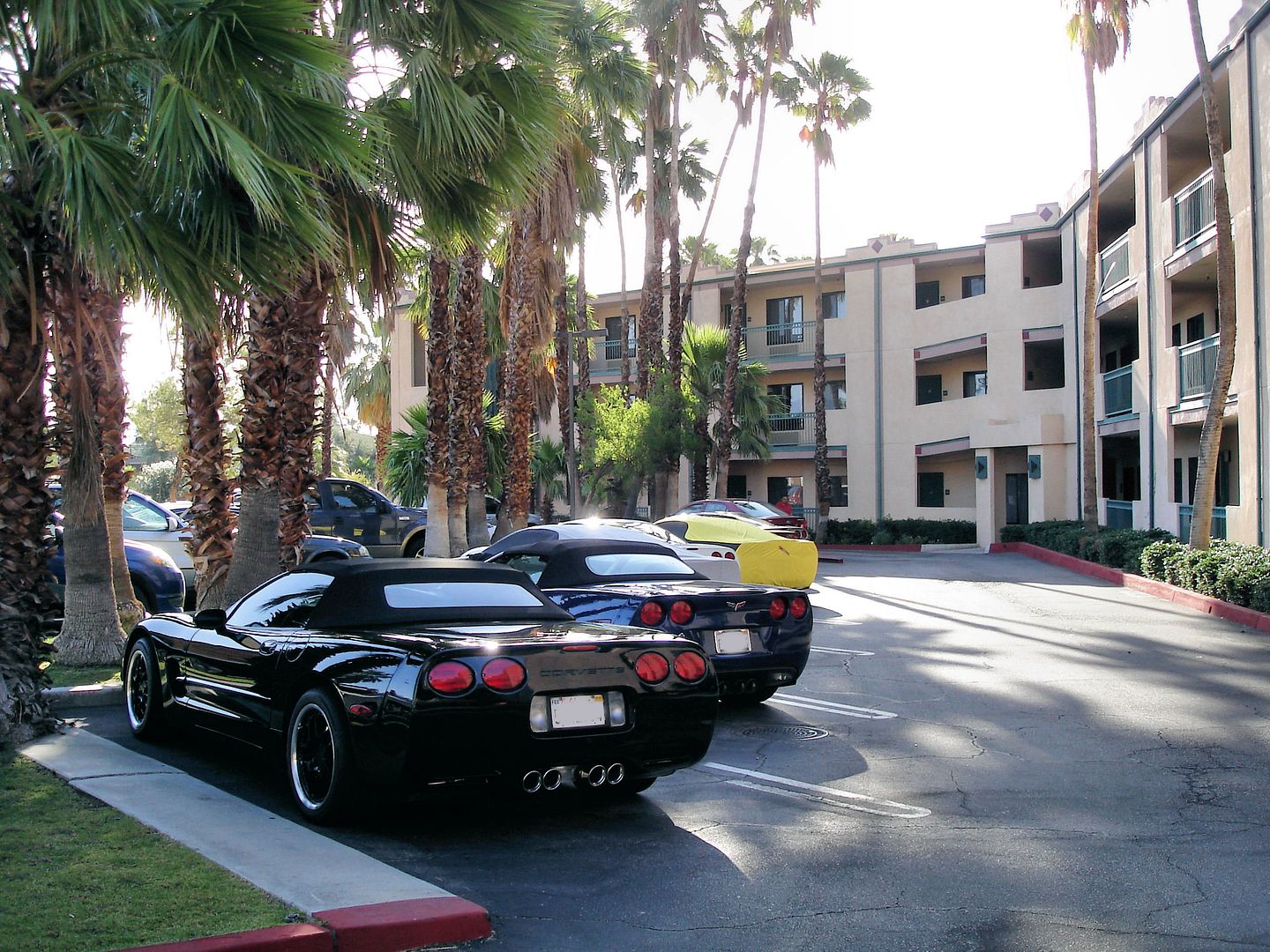 In the evening we made a ride on the
Palm Springs Aerial Tramway
to near the top of
San Jacinto Peak
. View of the valley station: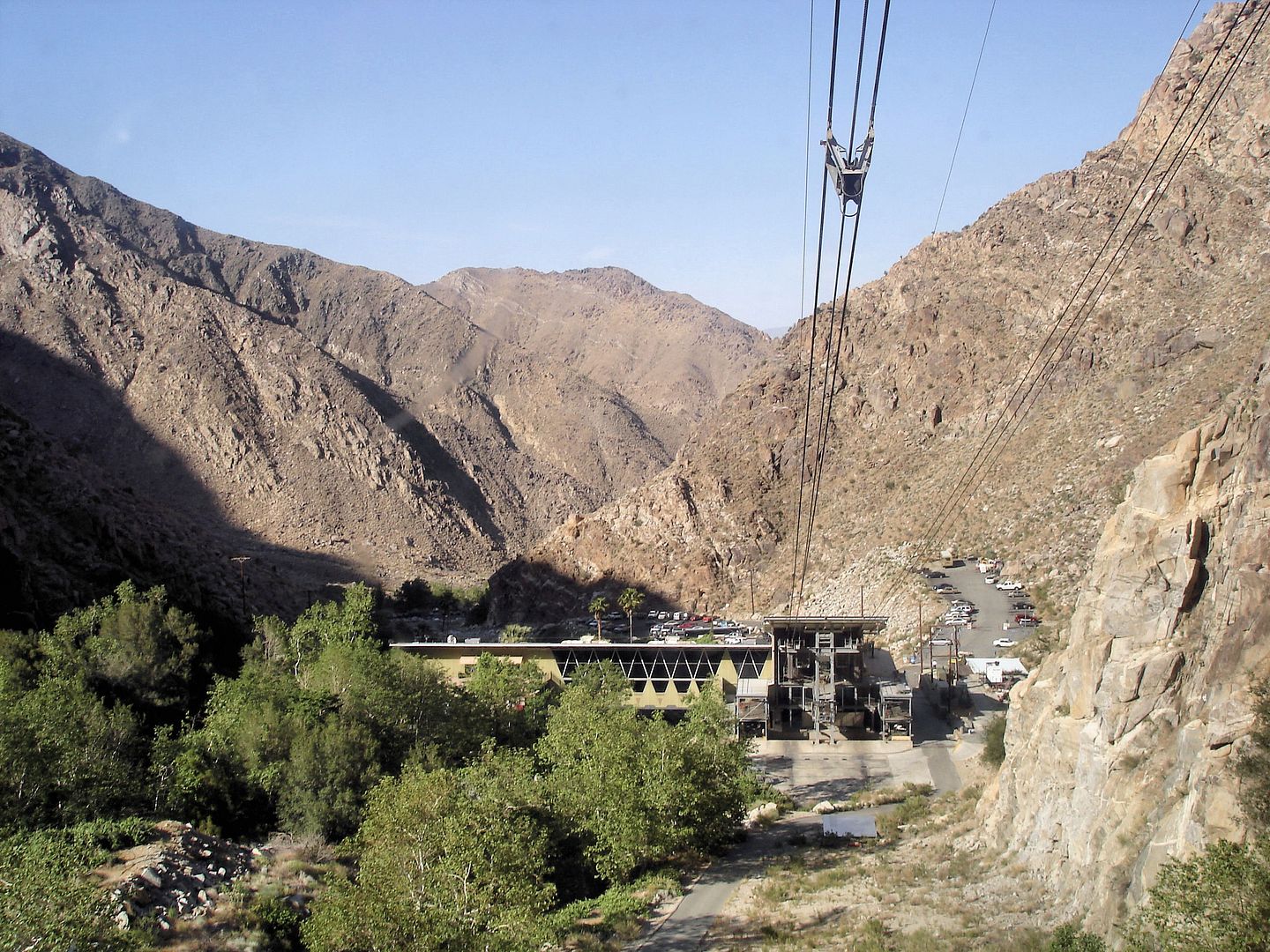 The mountain station is located at some 8,500 feet (2,590 m) above mean sea level. Stunning view of Palm Springs and the area: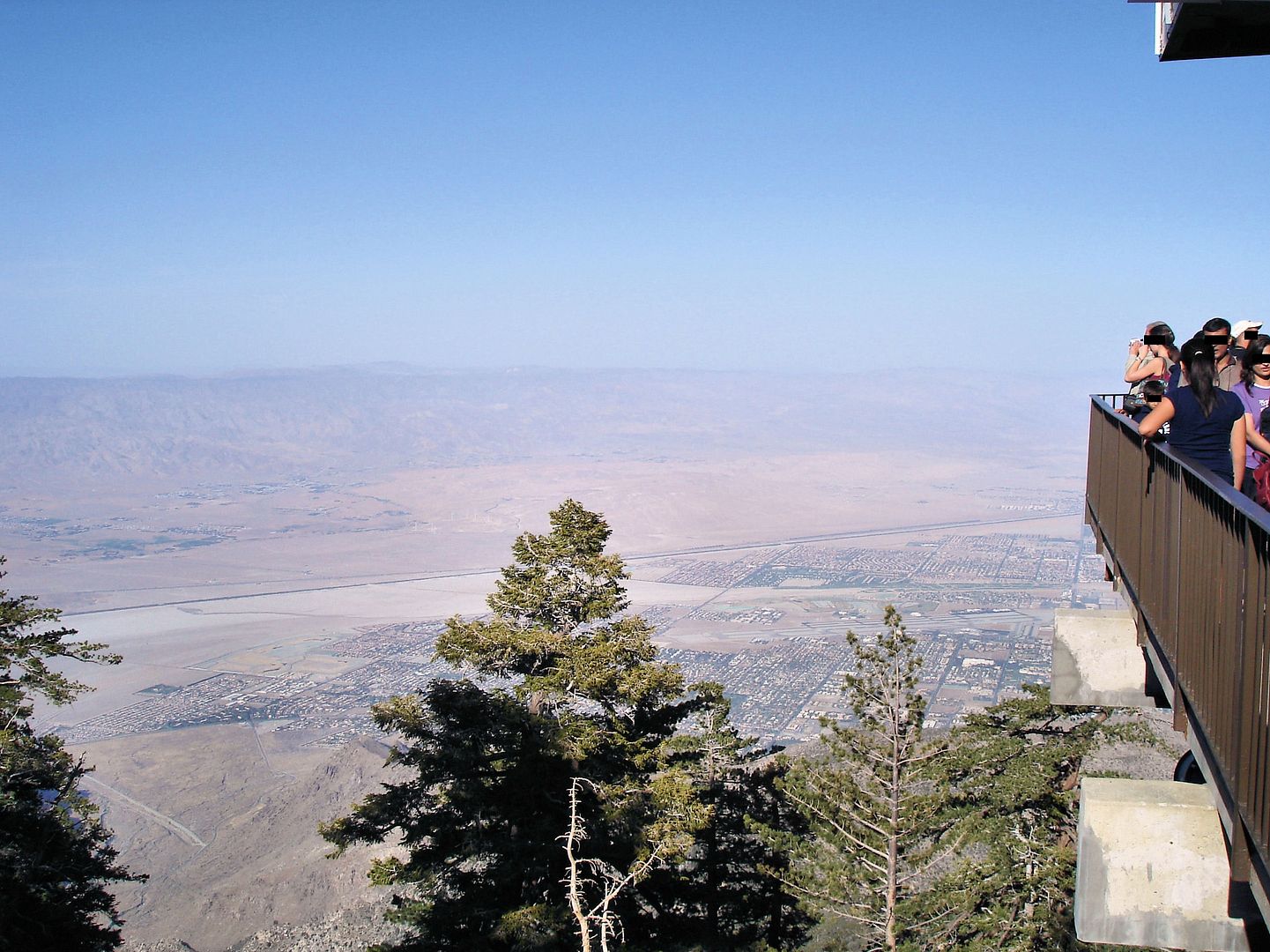 Can you see the masses of wind power stations?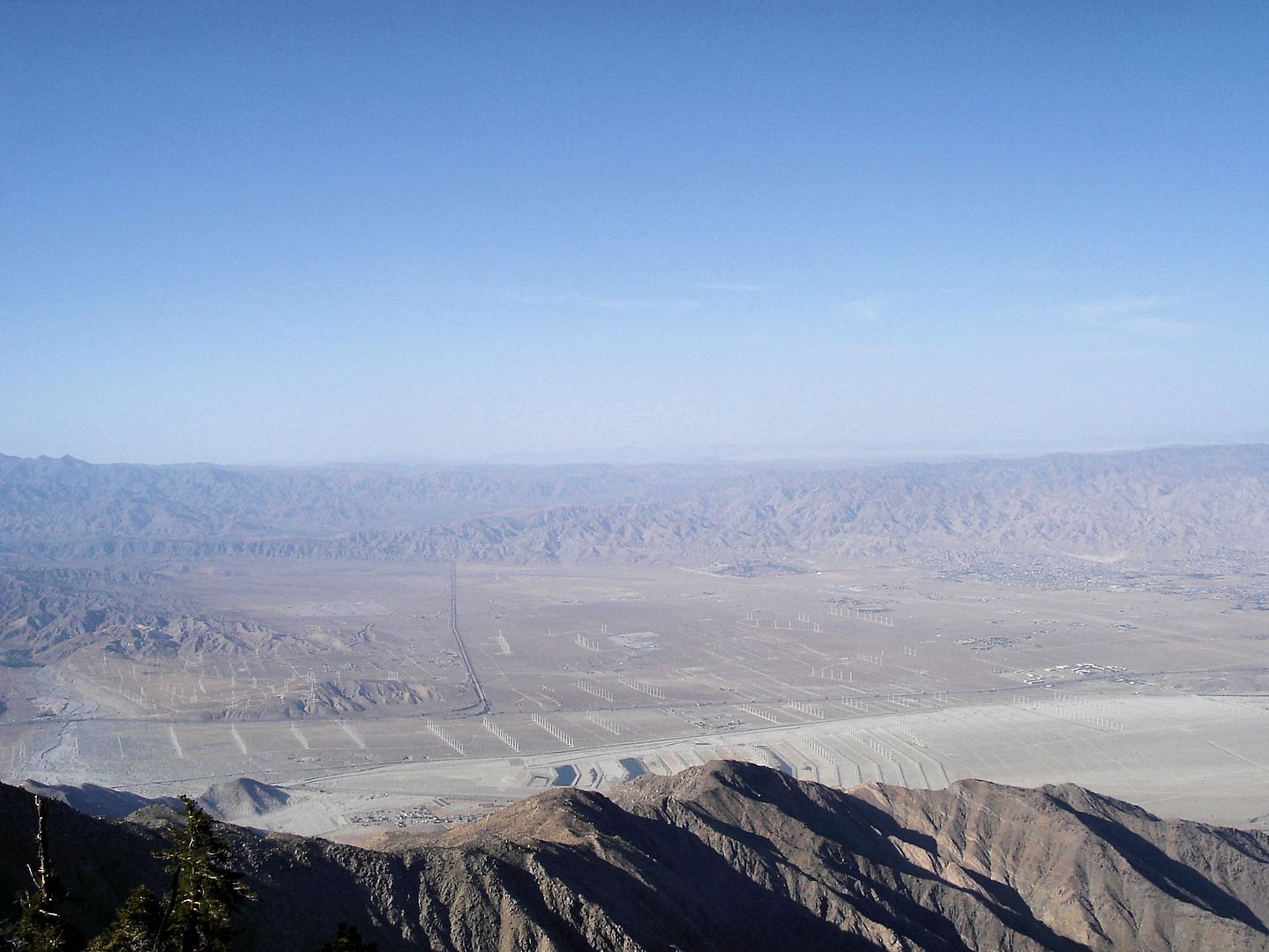 The trams with a capacity of 80 passengers are the largest rotating trams in the world: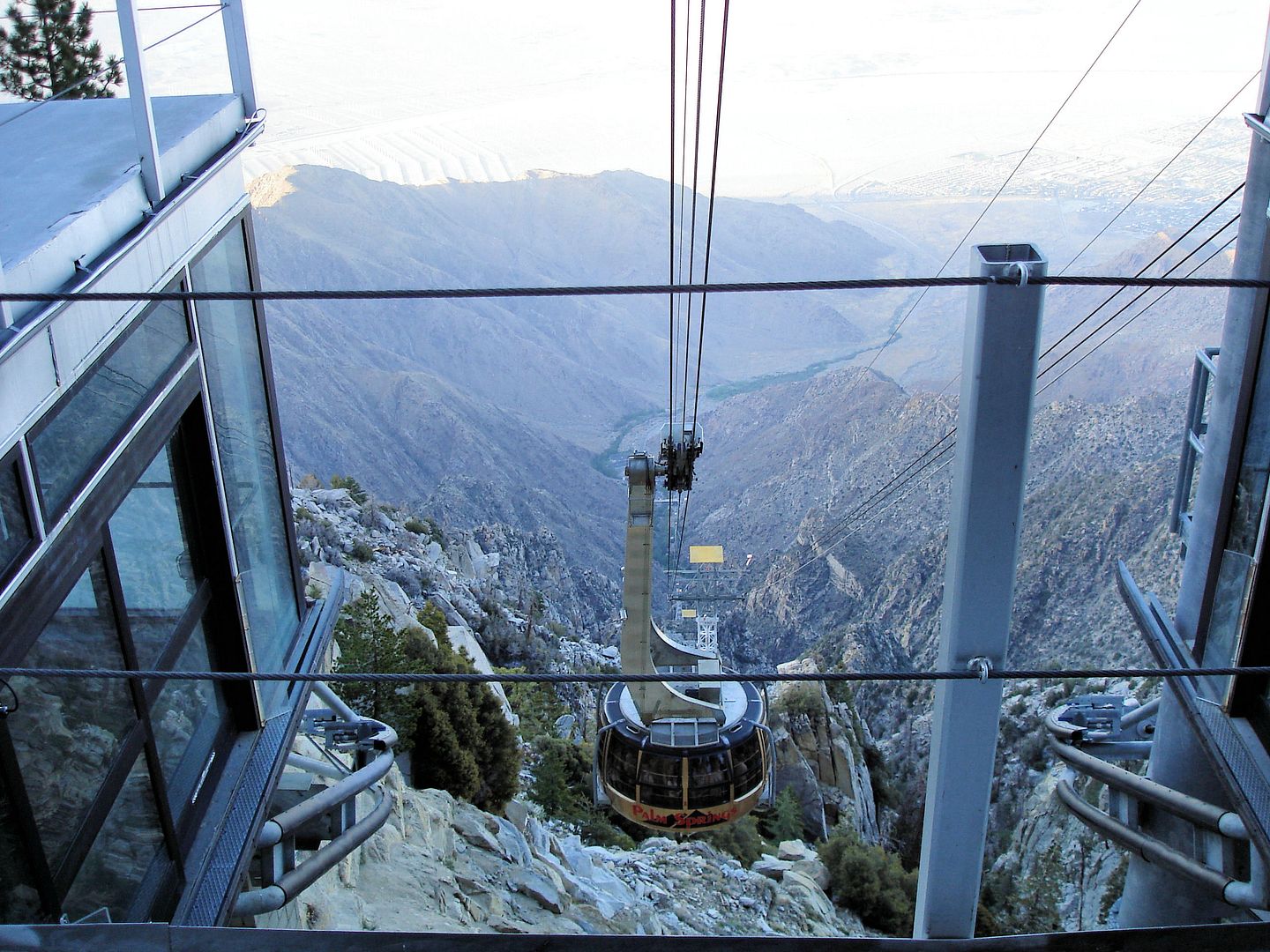 On the next day we passed through the
Joshua Tree National Park
...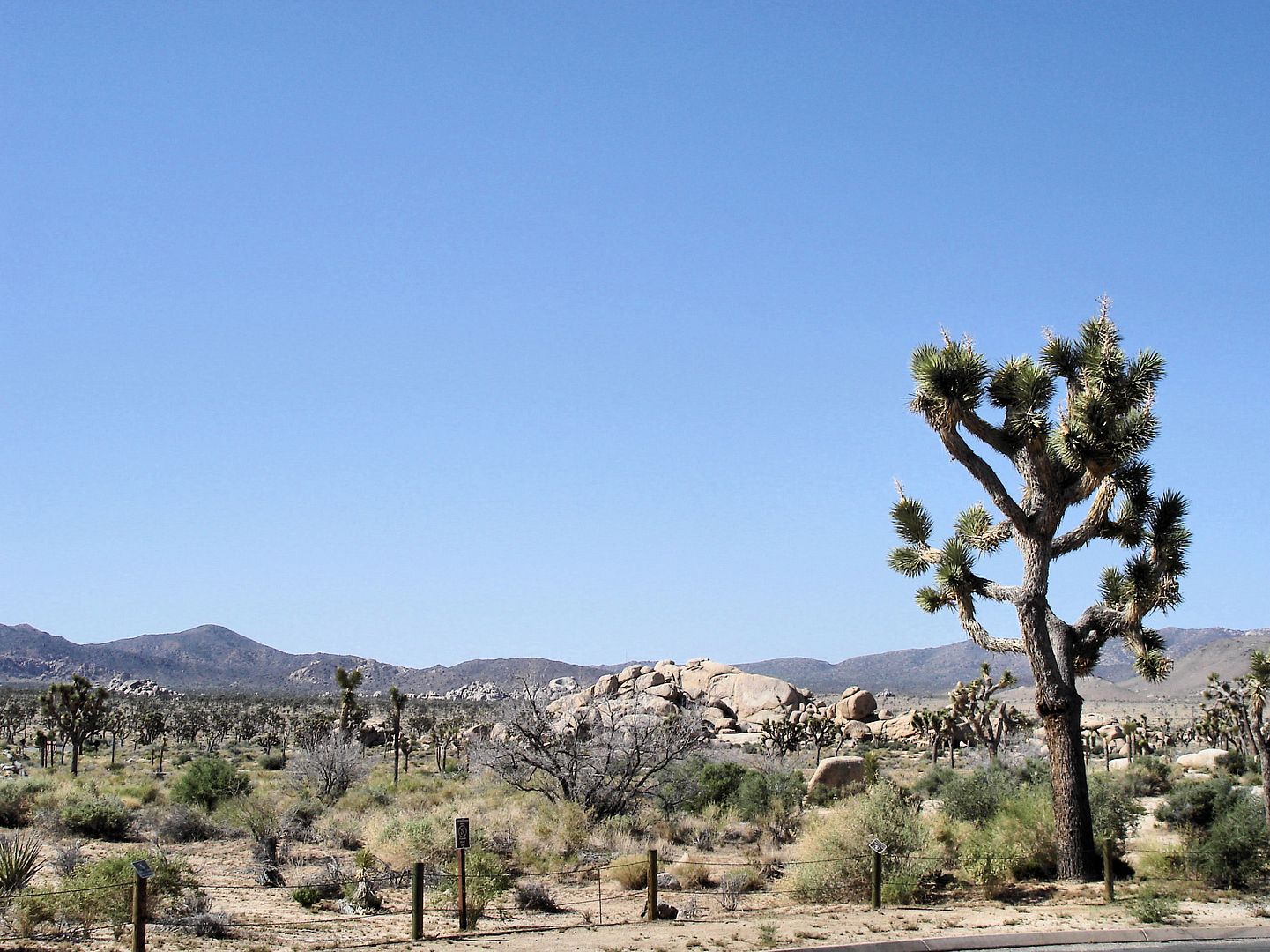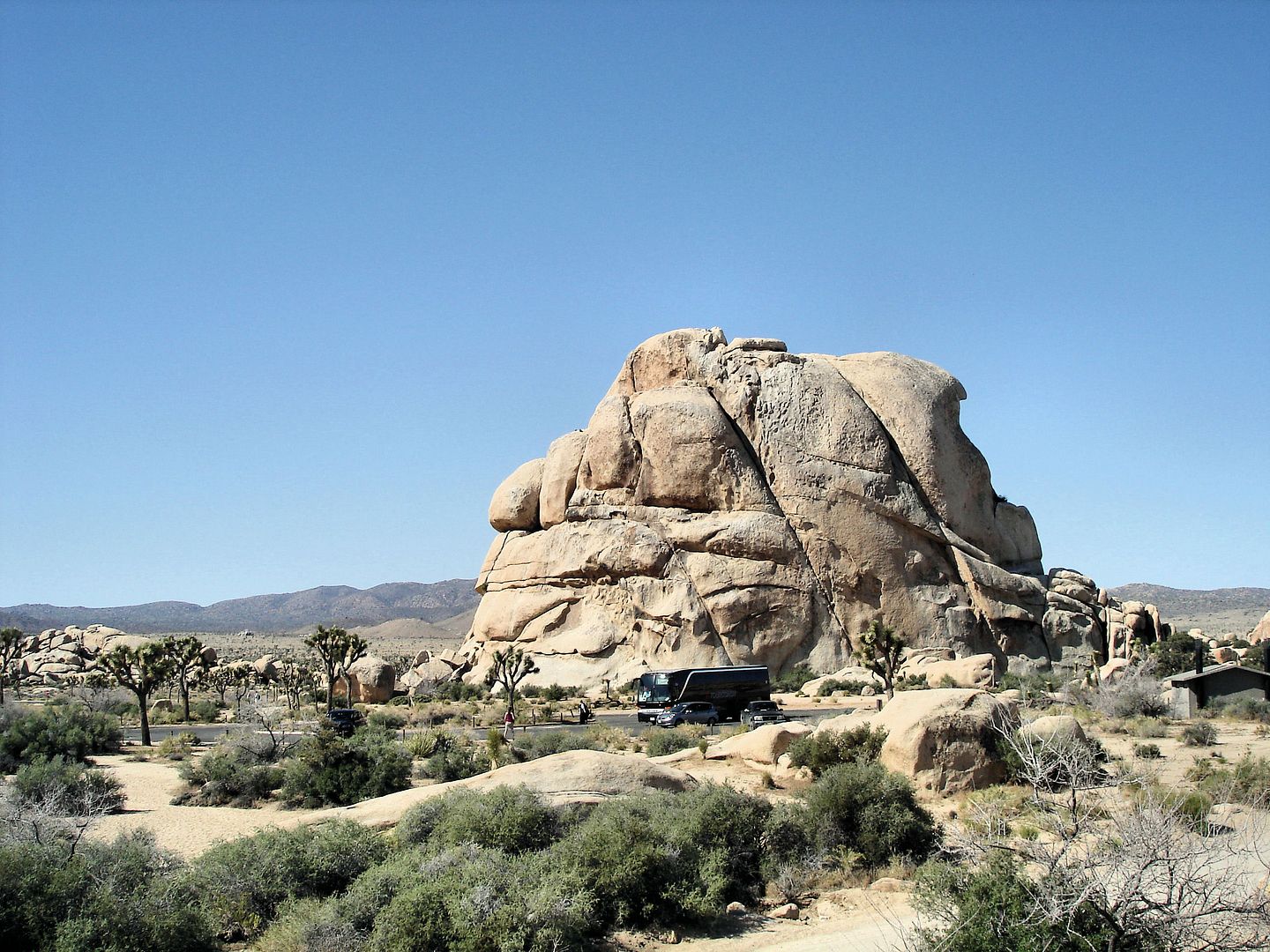 ...and made a stop at Lake Havasu City, Arizona. A popular tourist attraction is the
London Bridge
bought from the City of London in 1968: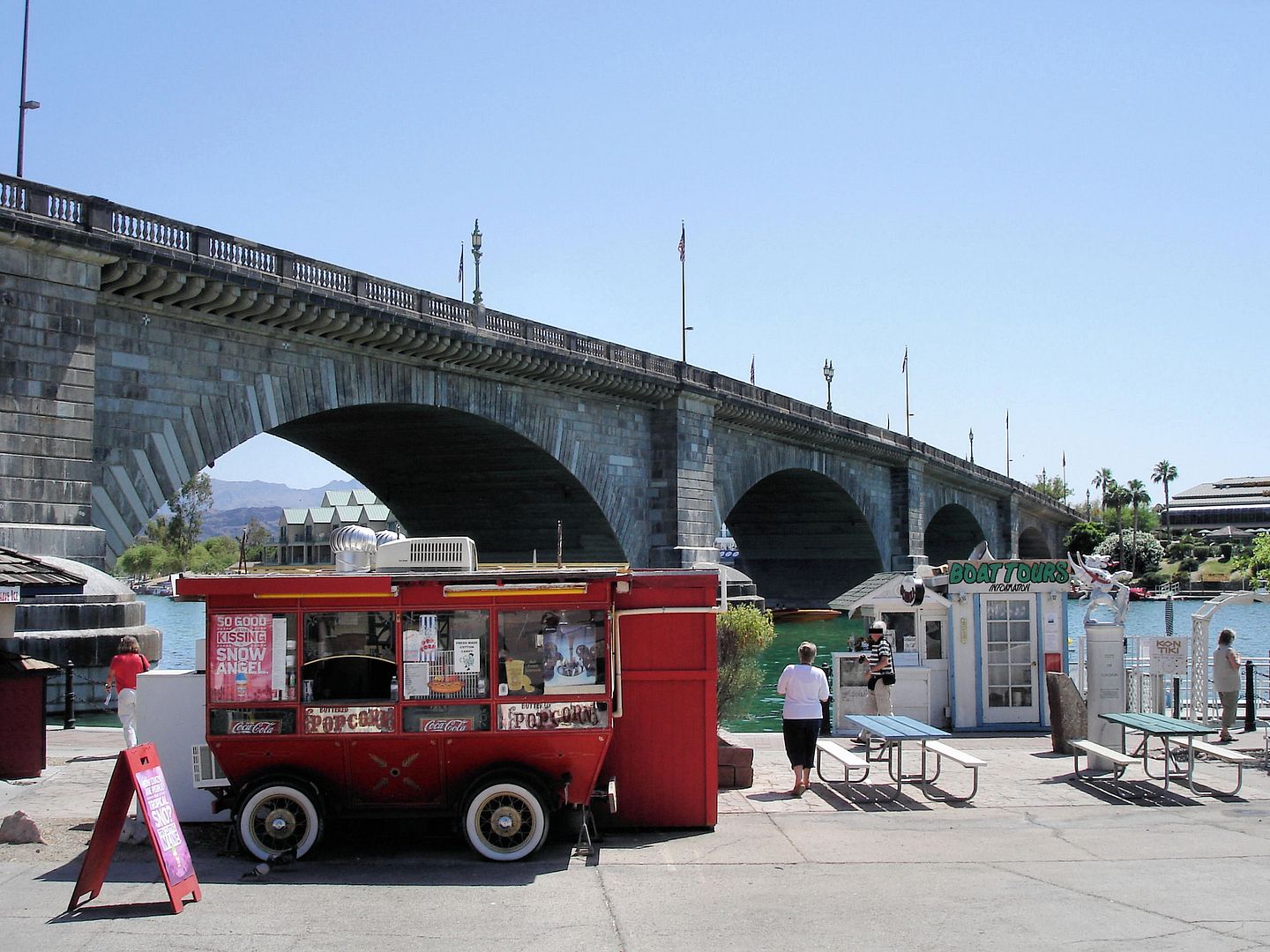 Later in the day we stopped at Seligman, Arizona. The small town is said to be the birthplace of the Route 66's rejuvenation as a historic highway. Route 66 fans can find all kinds of stuff here:
In the evening we arrived at Williams, Arizona, near the South Rim of the
Grand Canyon National Park
. View from our hotel: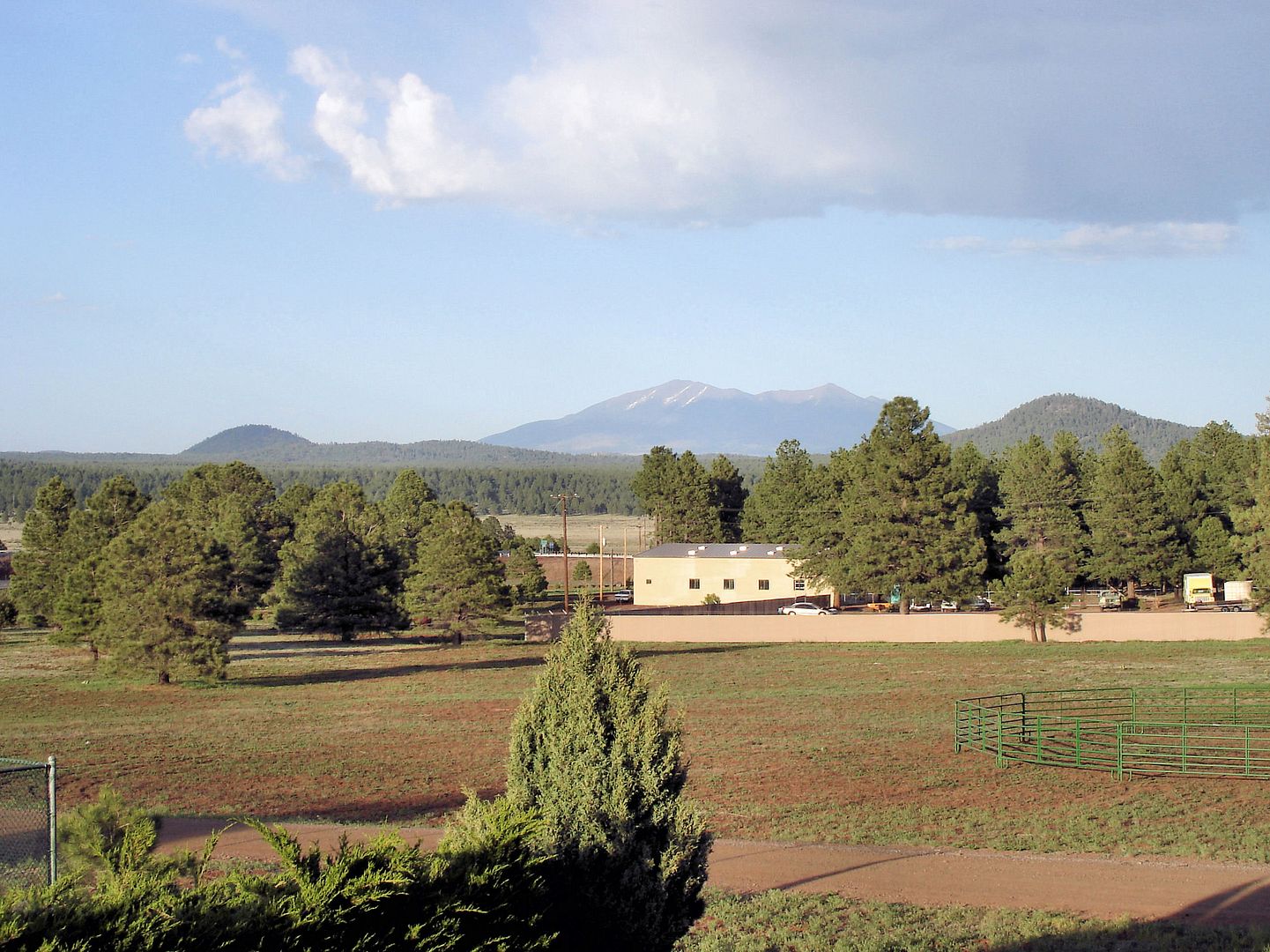 Beautiful sunset: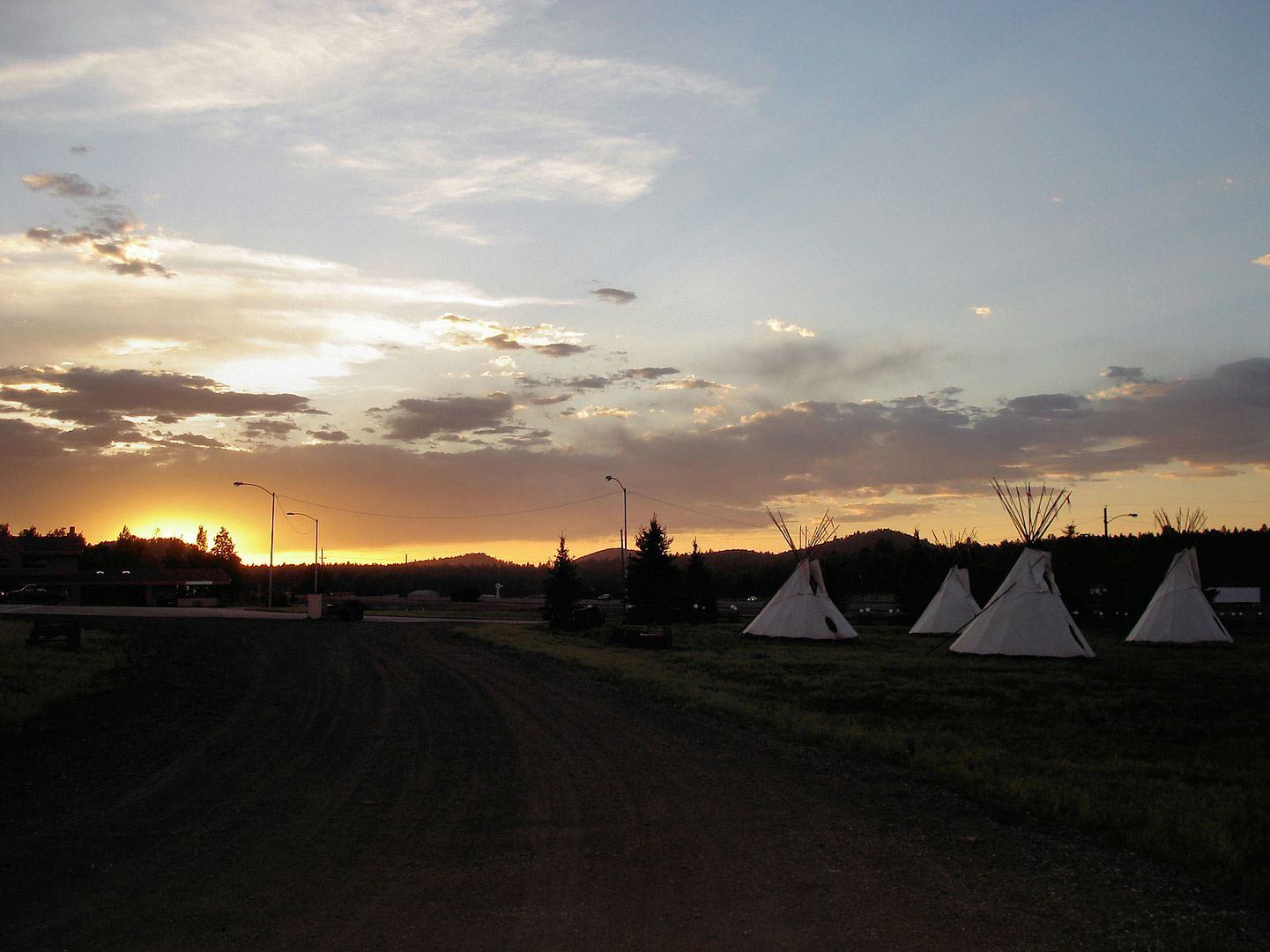 On the next morning it was time to visit the
Grand Canyon
. The views were breathtaking: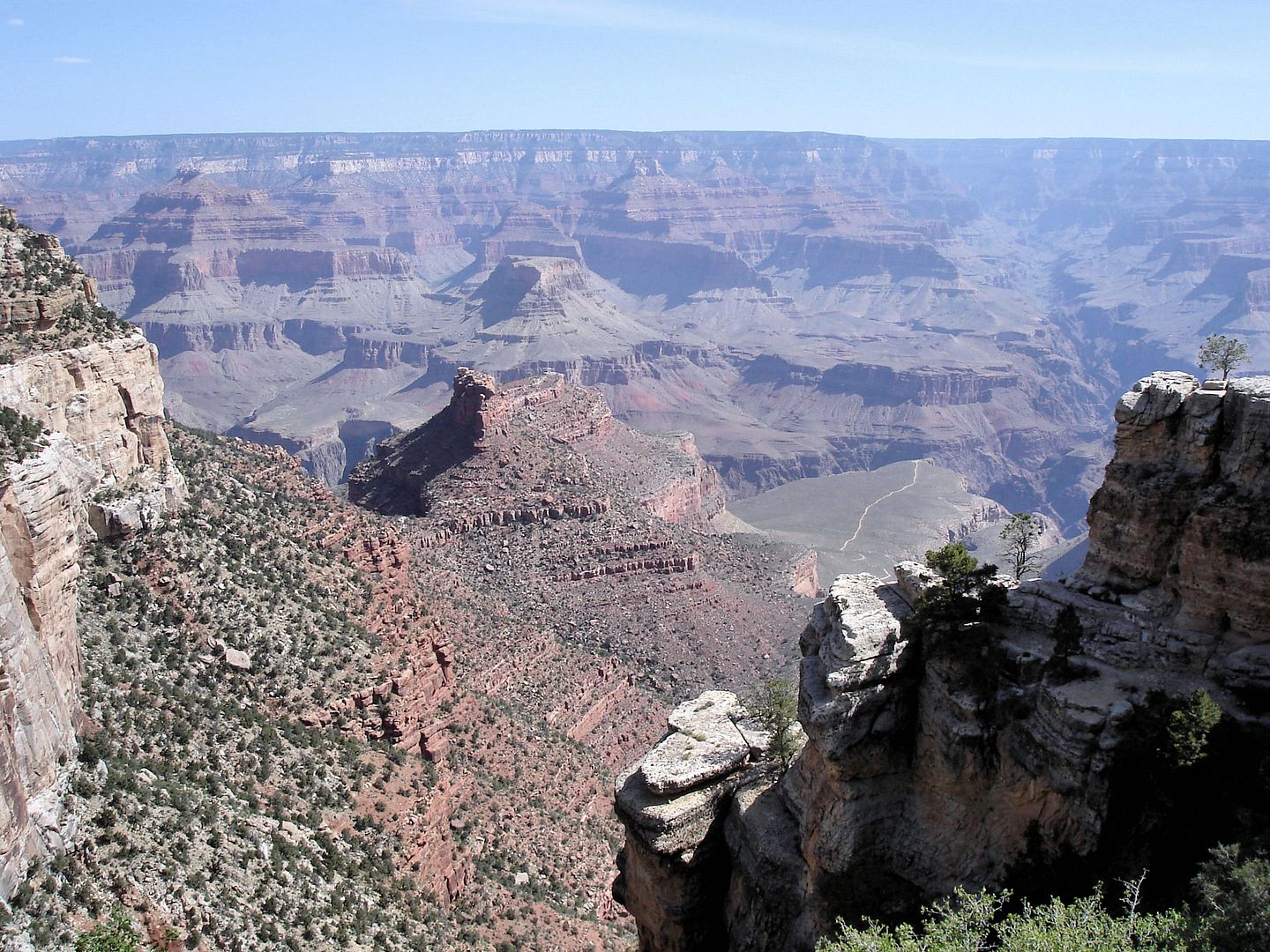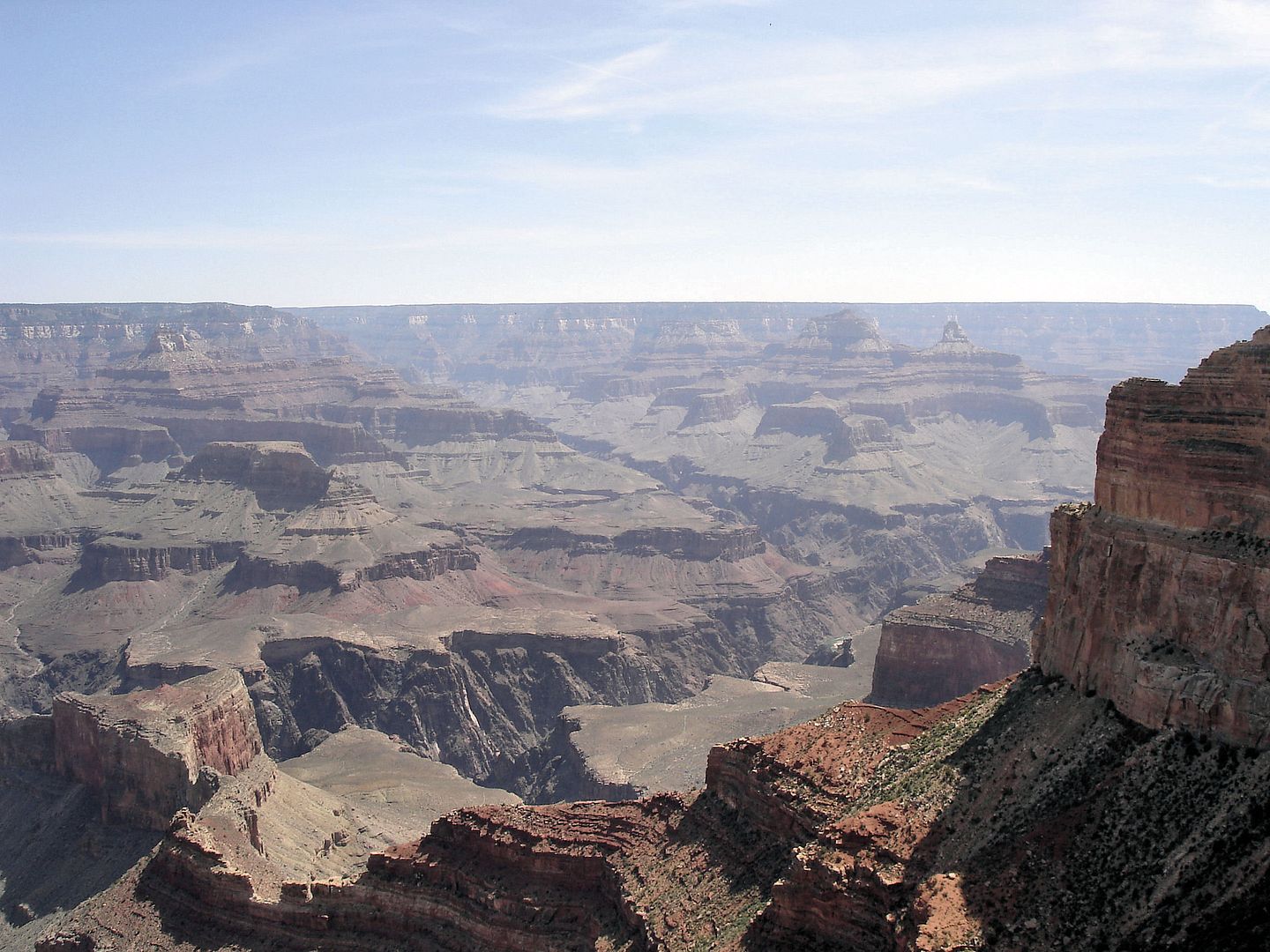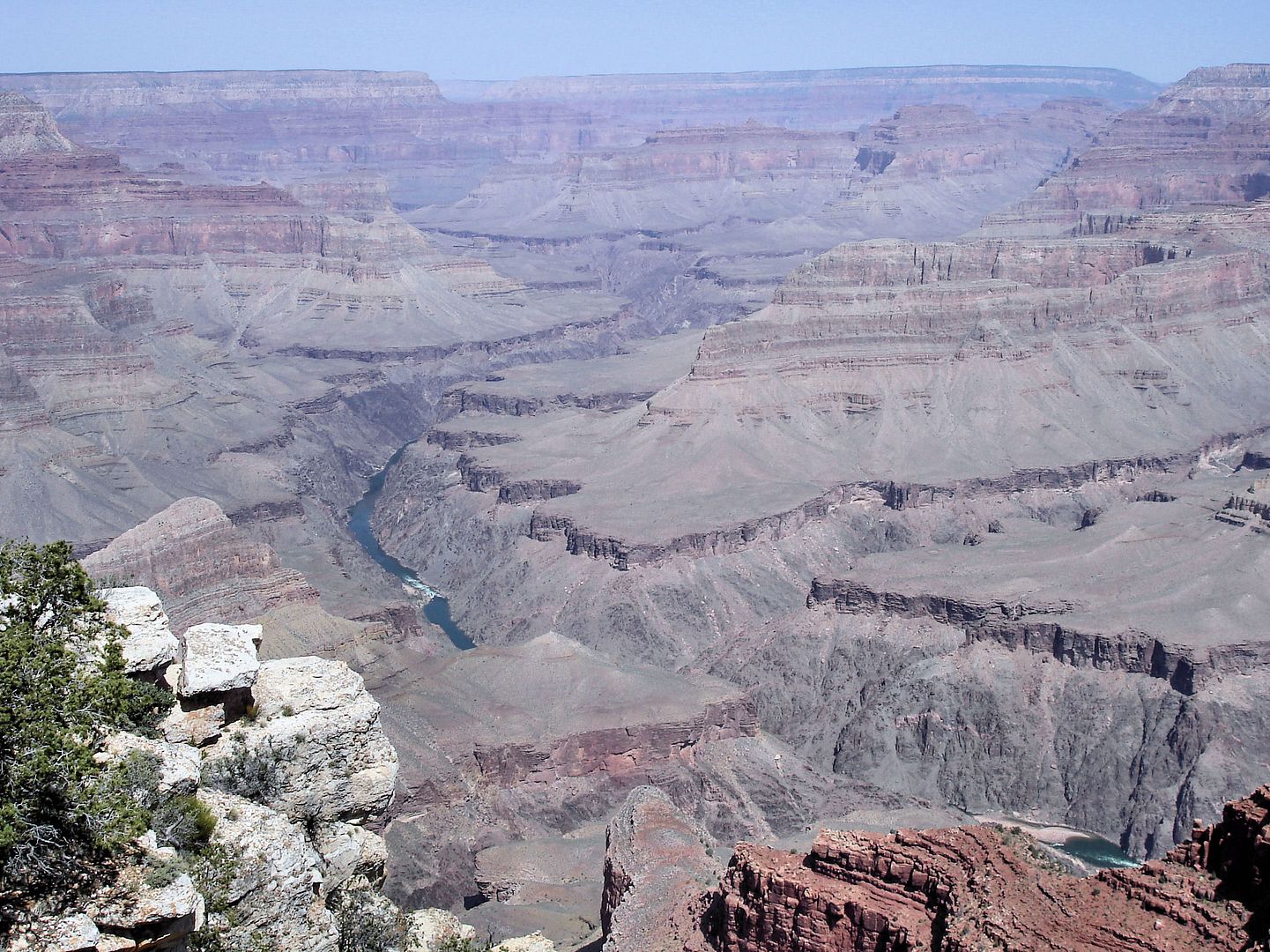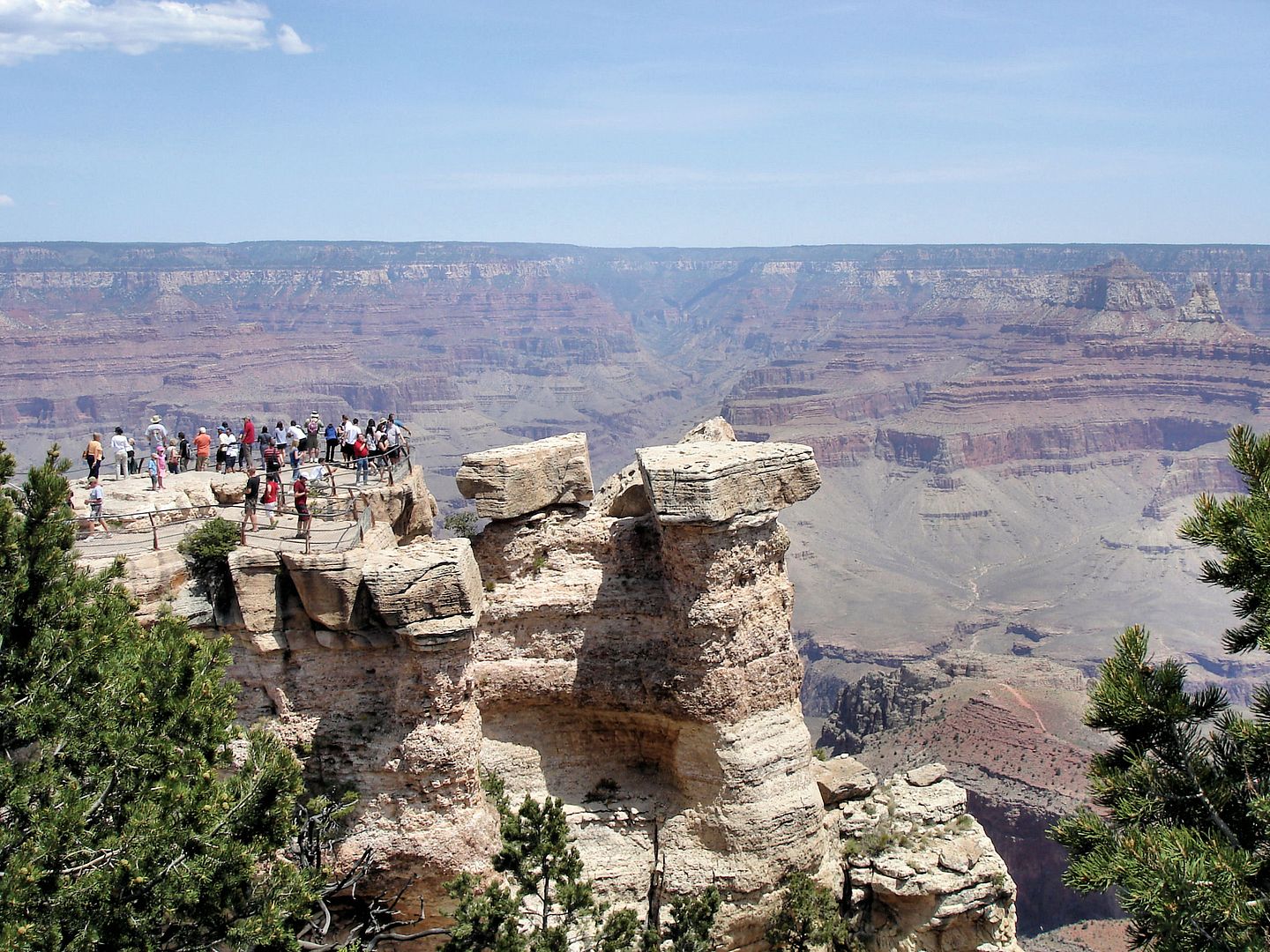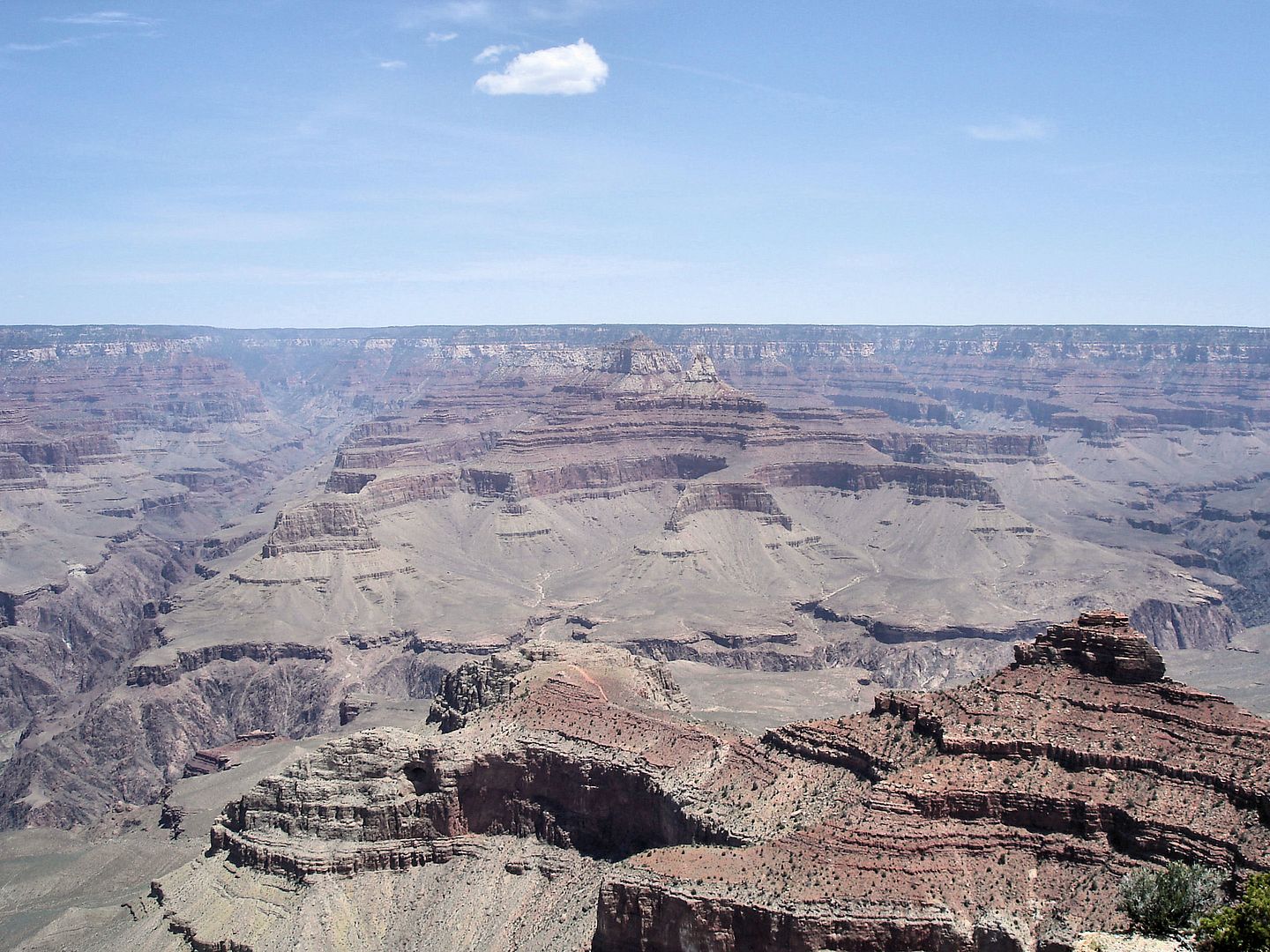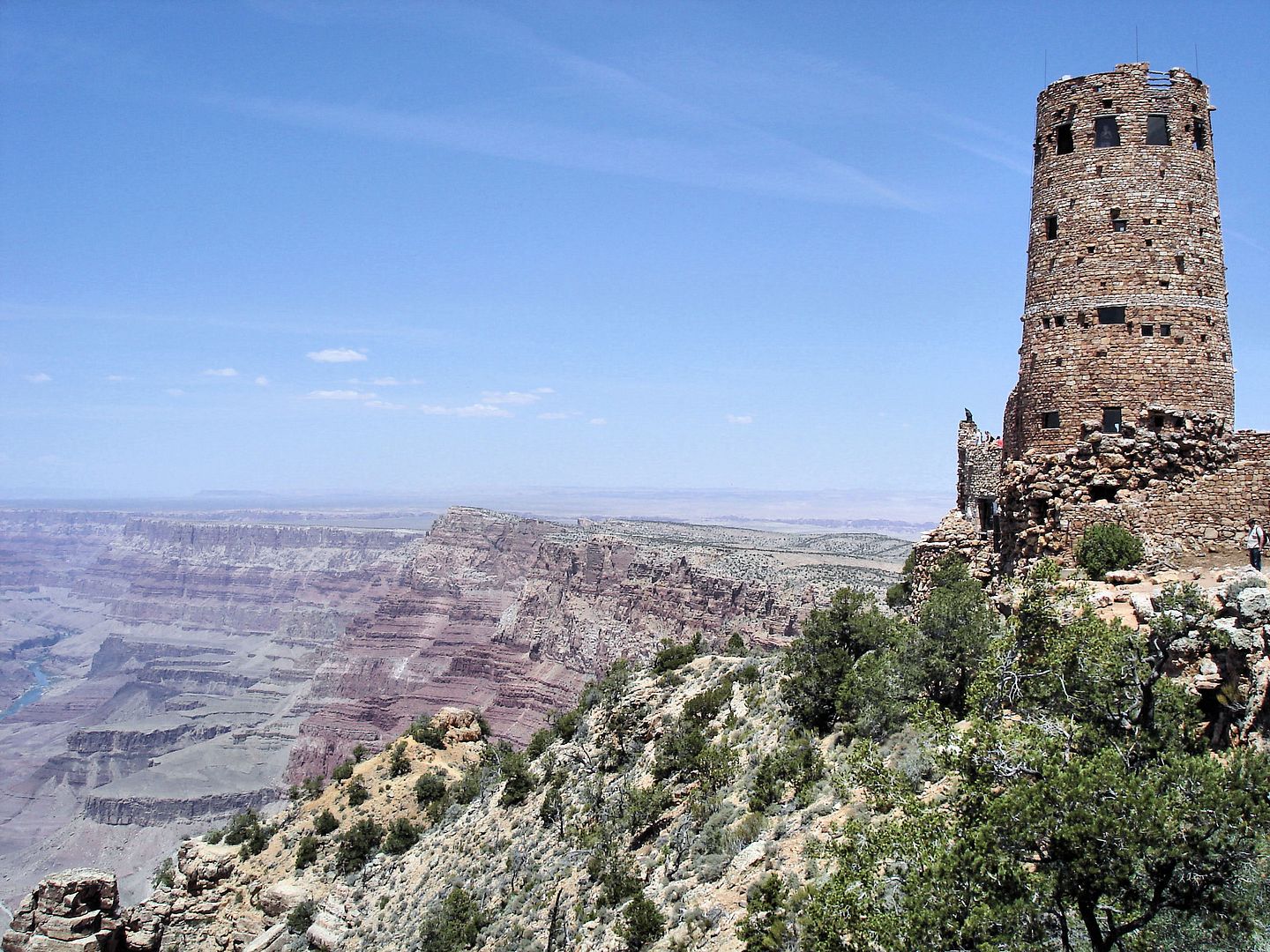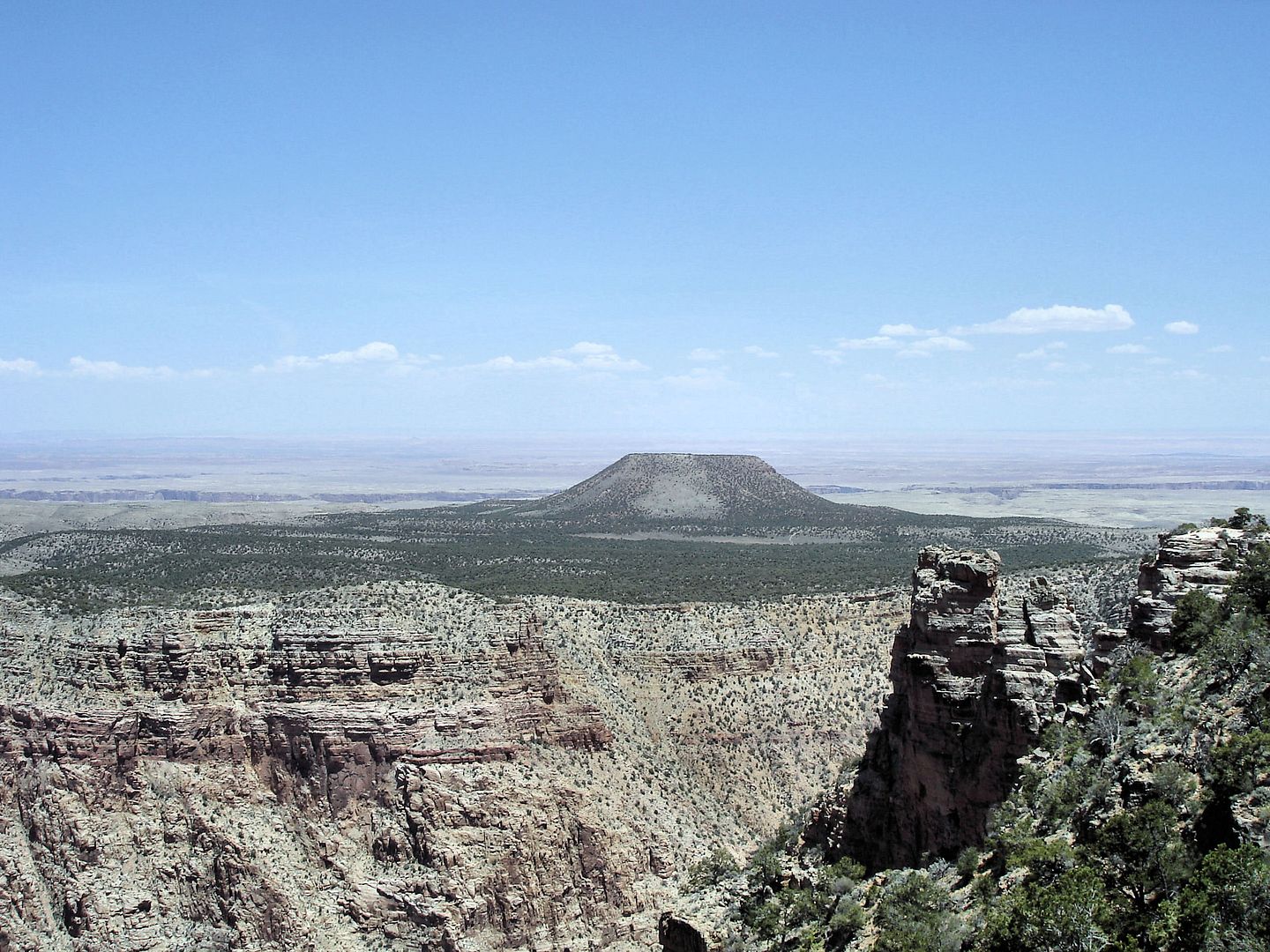 On the way to Lake Powell we crossed the
Painted Desert
, a broad area of badlands located in Northern Arizona.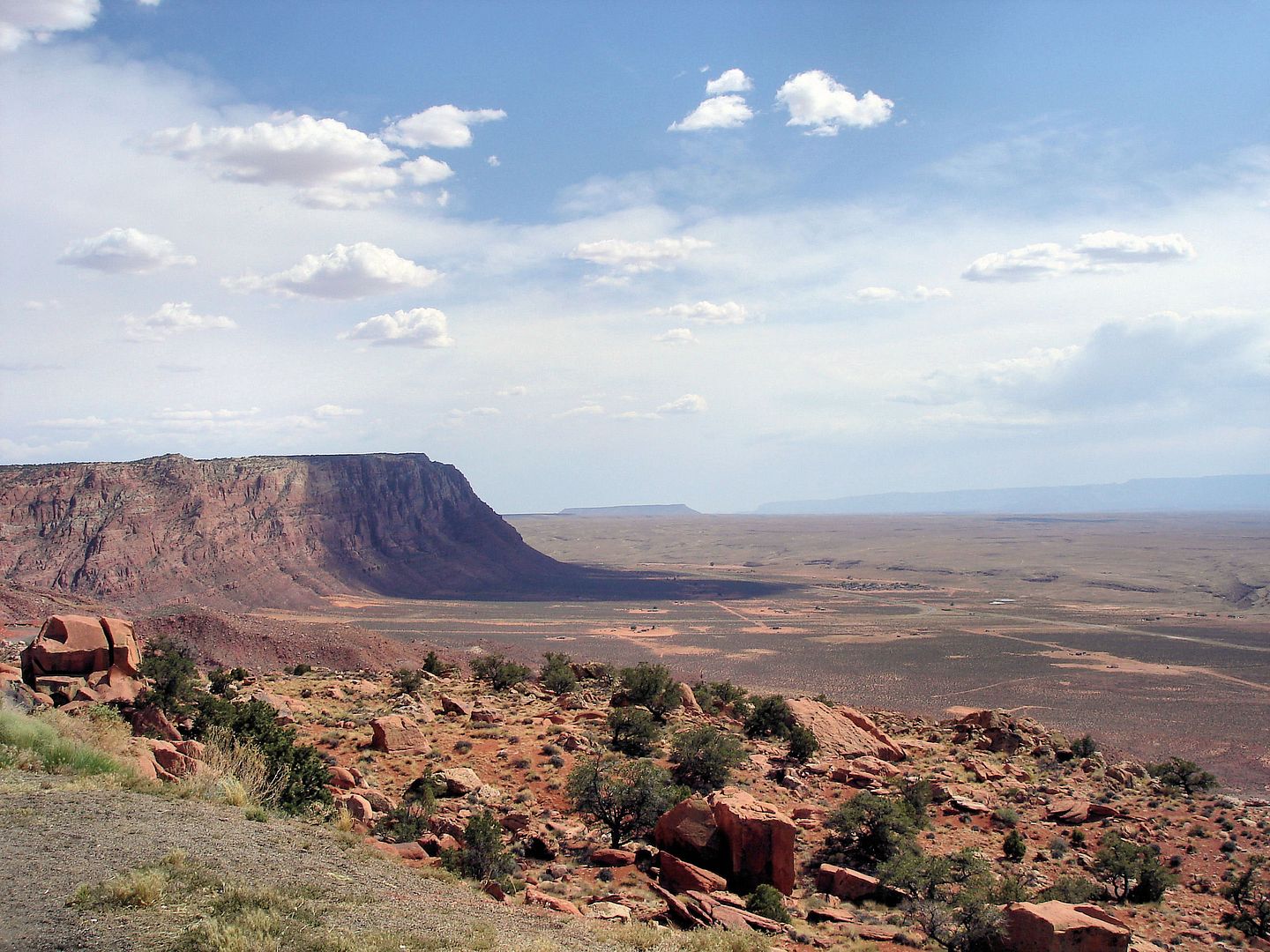 Lake Powell
is a reservoir on the Colorado River, straddling the border between Utah and Arizona. It is the second largest man-made reservoir in the United States and was created by the flooding of
Glen Canyon
by the controversial
Glen Canyon Dam
: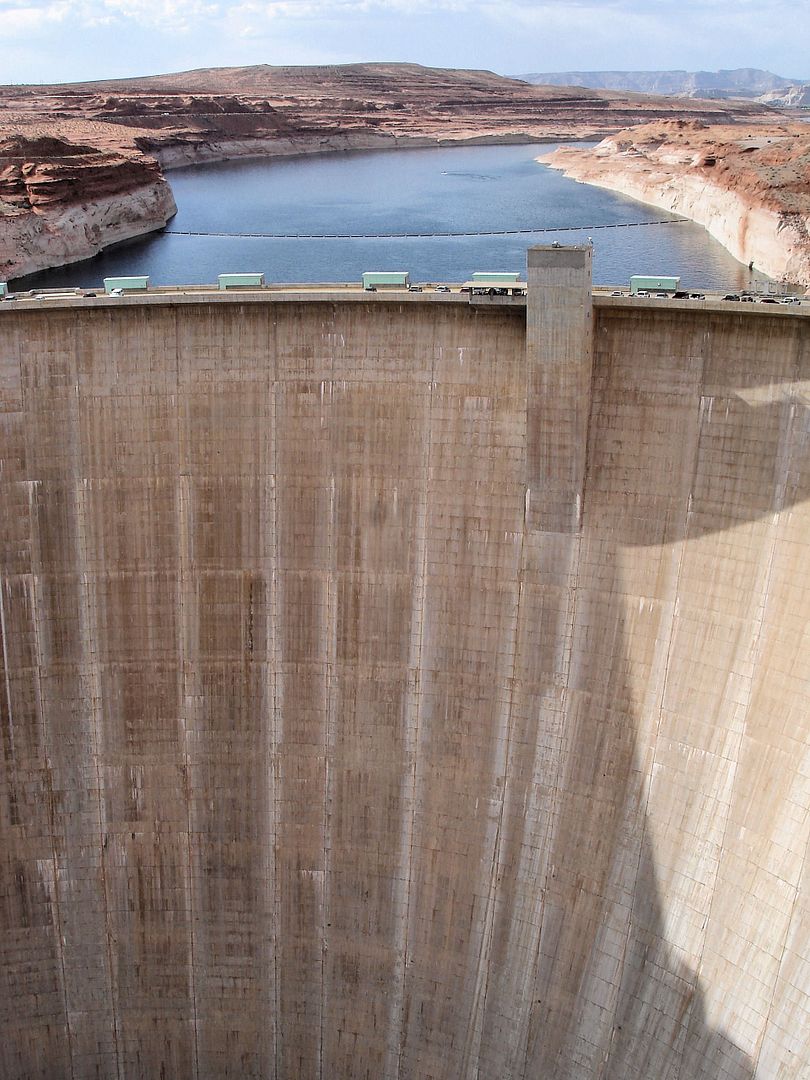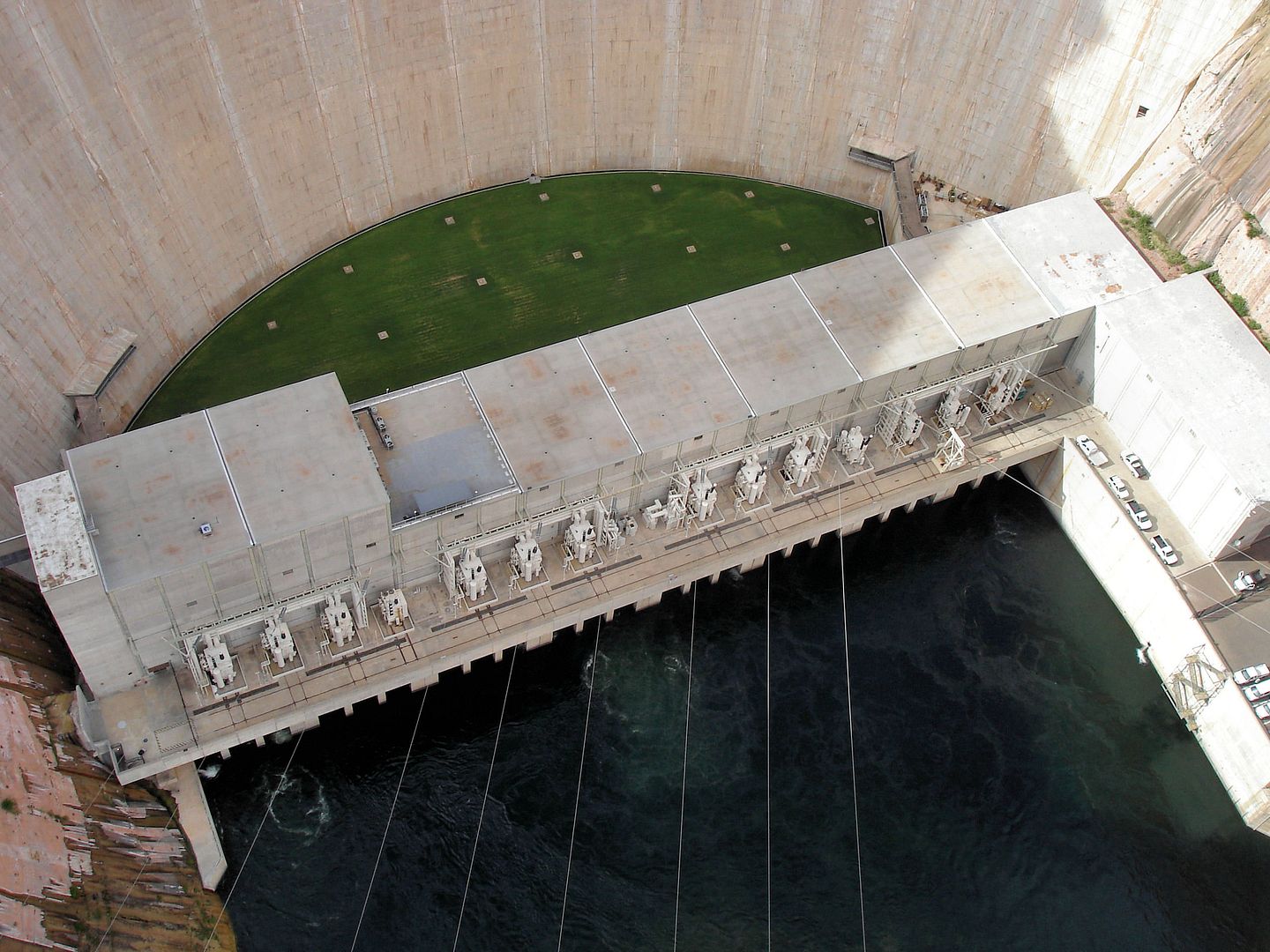 The
Glen Canyon Dam Bridge
is 700 feet (213 m) above the Colorado River, making it the 4th highest bridge in the United States: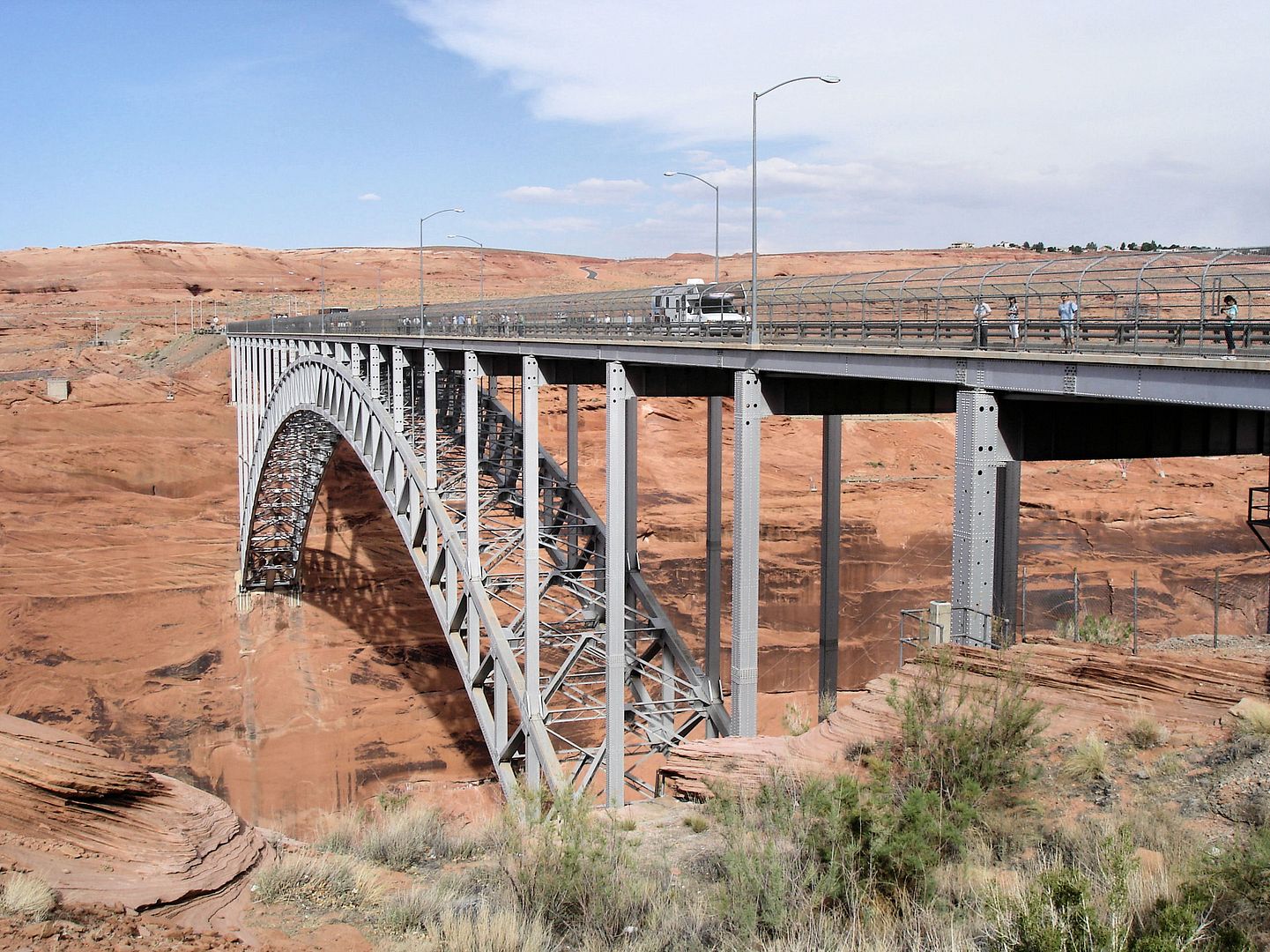 In the evening we arrived at Kanab, Utah. Locals call it "Little Hollywood" due to its history as a filming location for many western movies and TV series.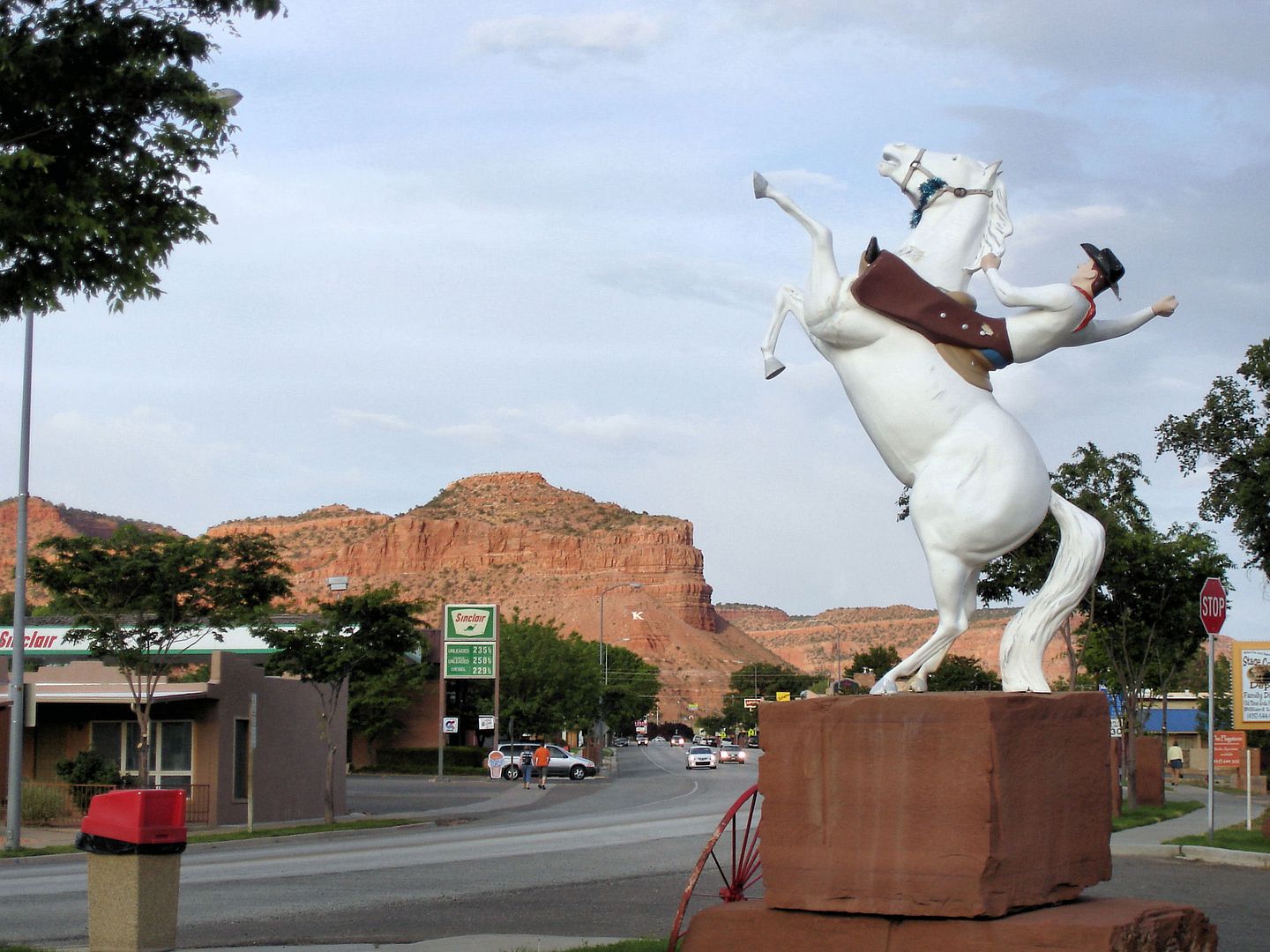 On the way to the
Bryce Canyon
we passed through an area called
Red Canyon
where you can see a formation often referred to as
Salt 'n' Pepper: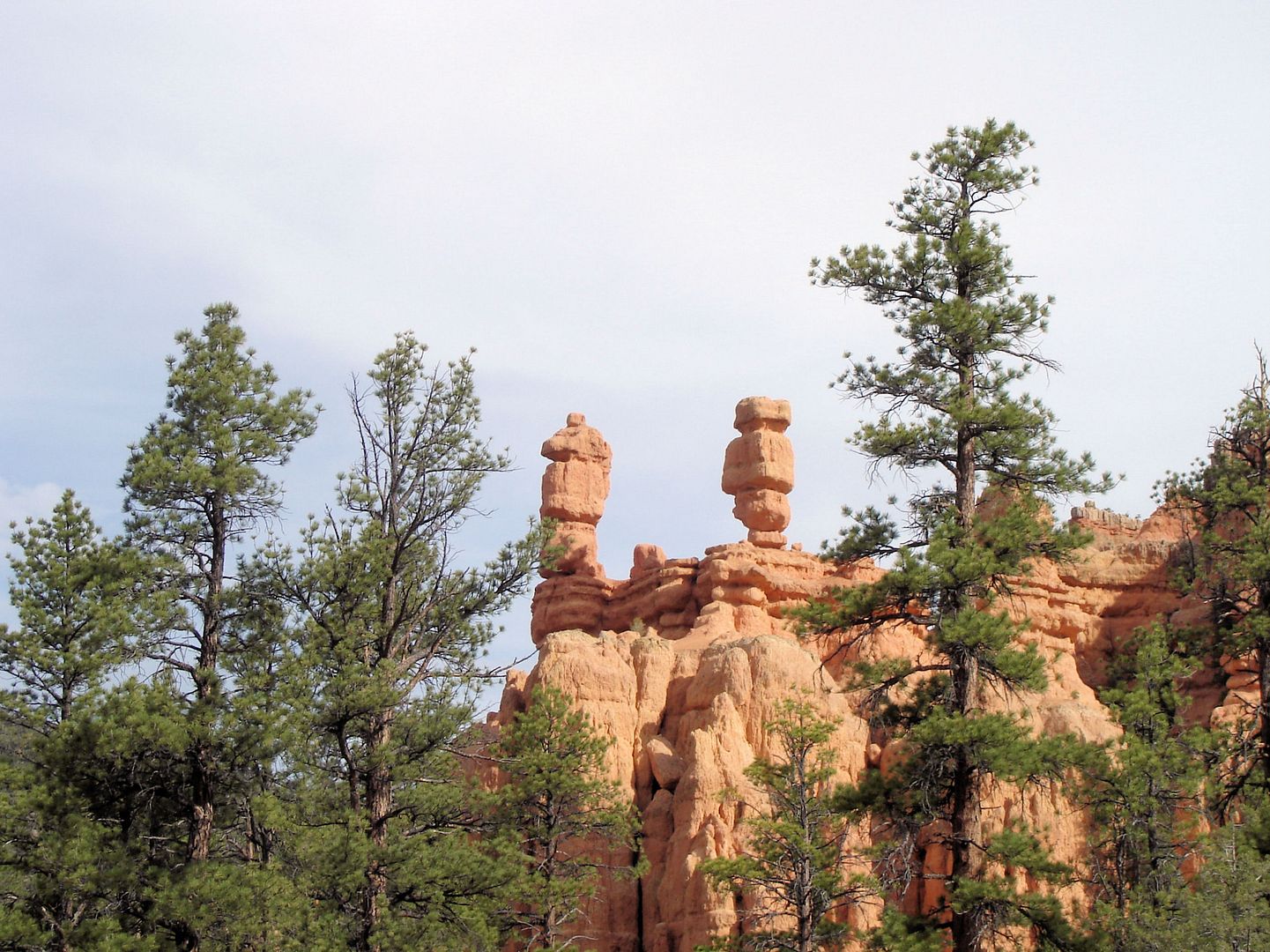 Despite its name, the
Bryce Canyon
is not actually a canyon, but rather a giant natural amphitheater created by erosion: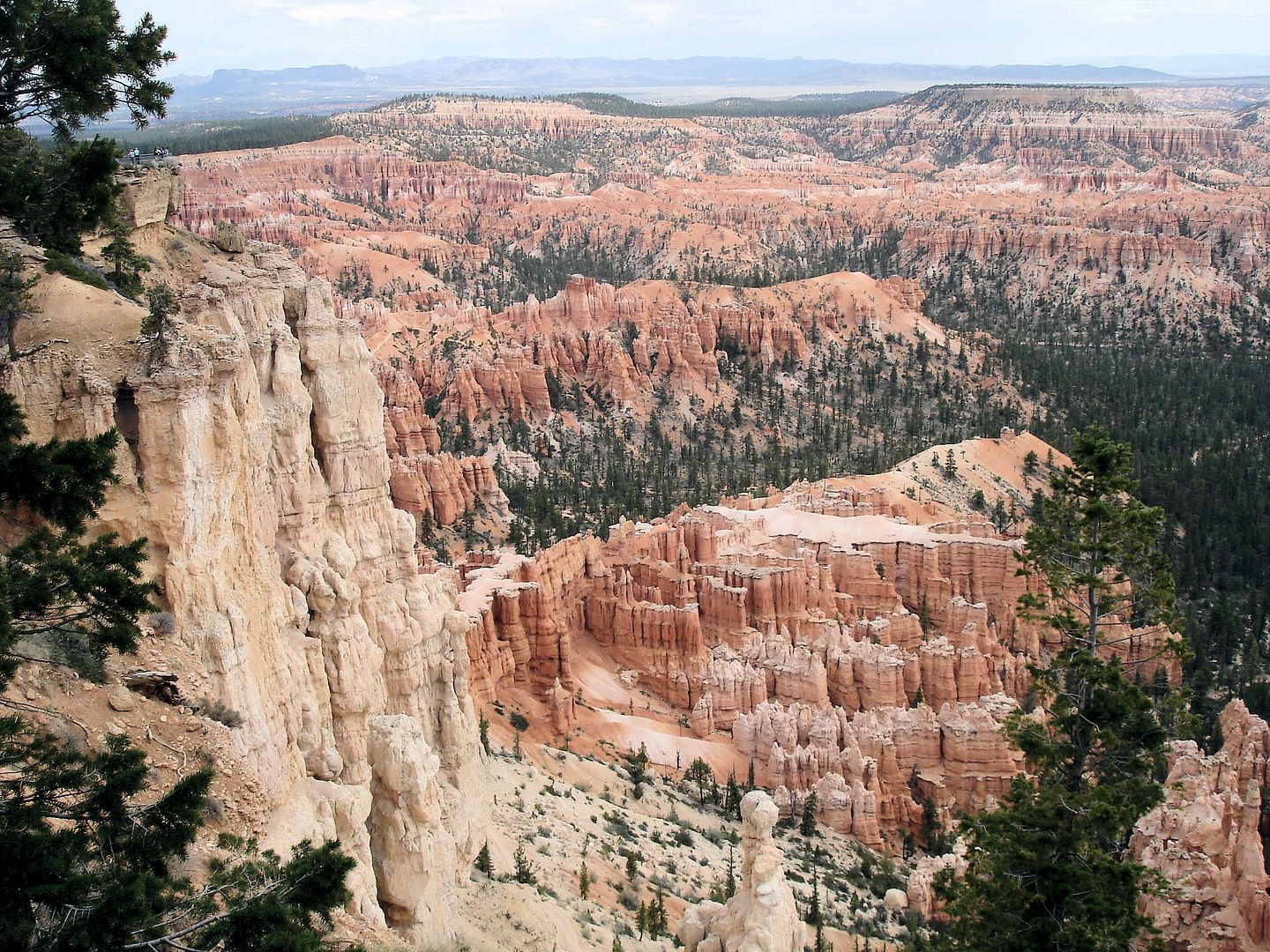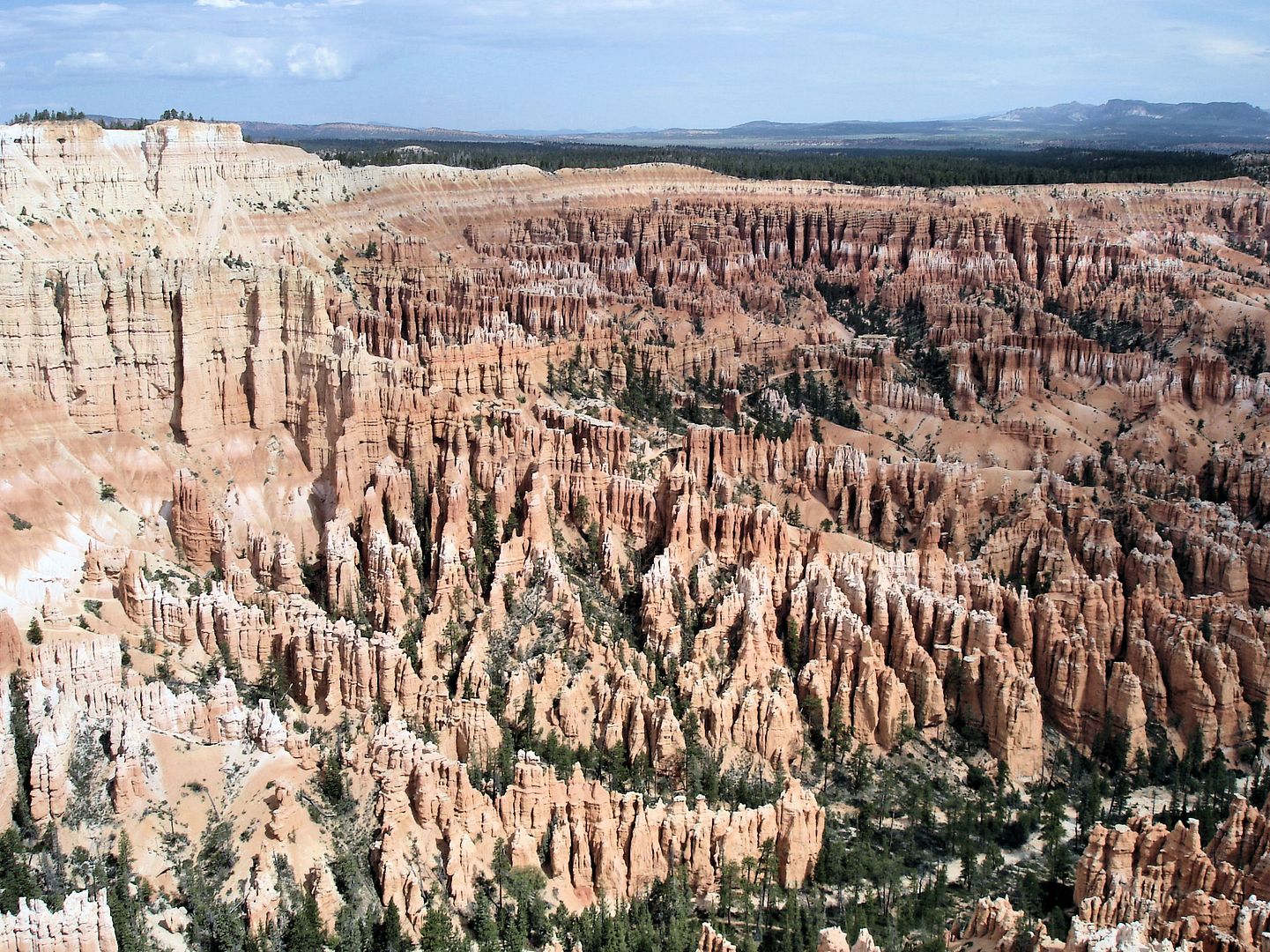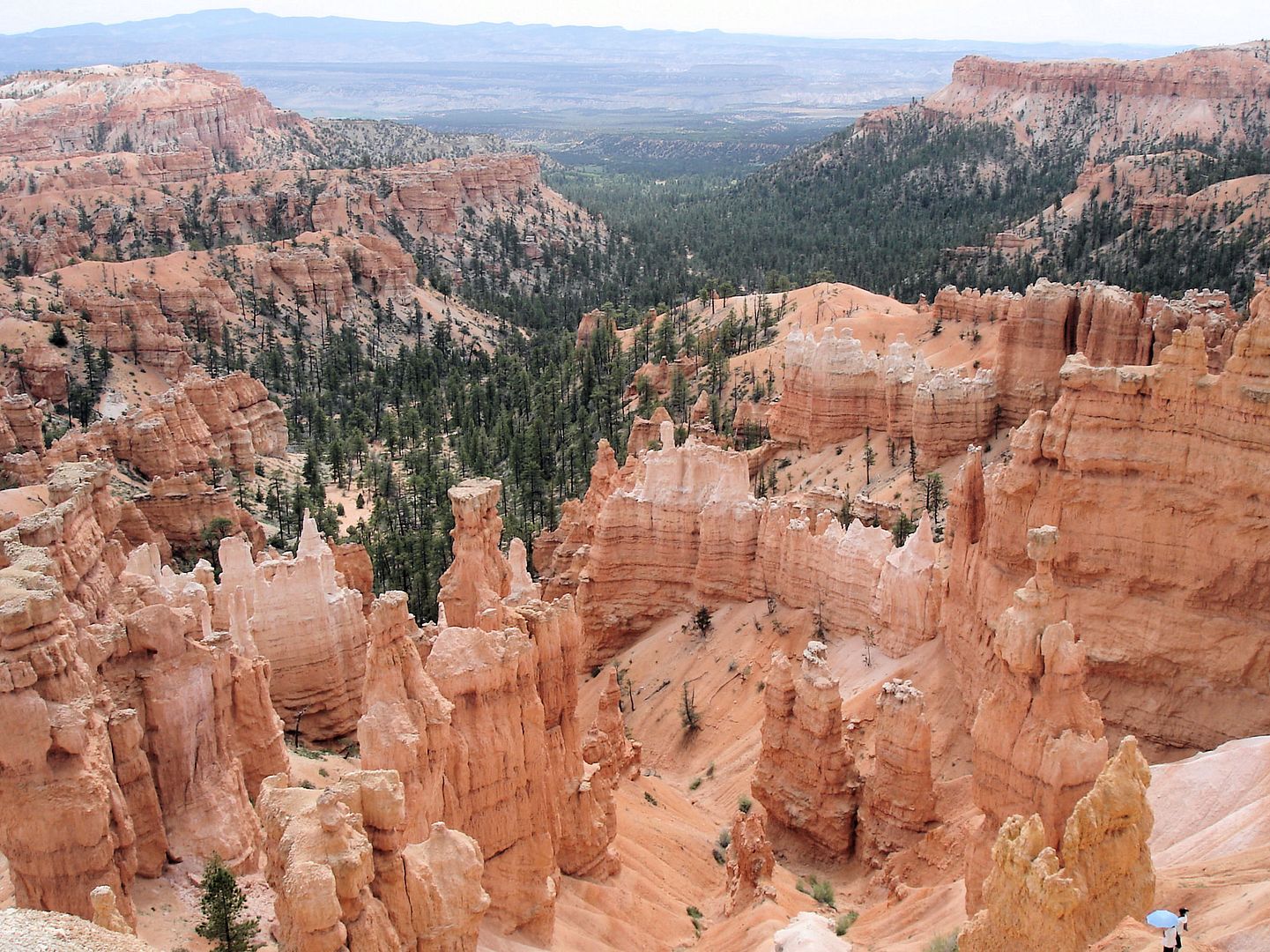 The next destination was the
Zion Canyon National Park
: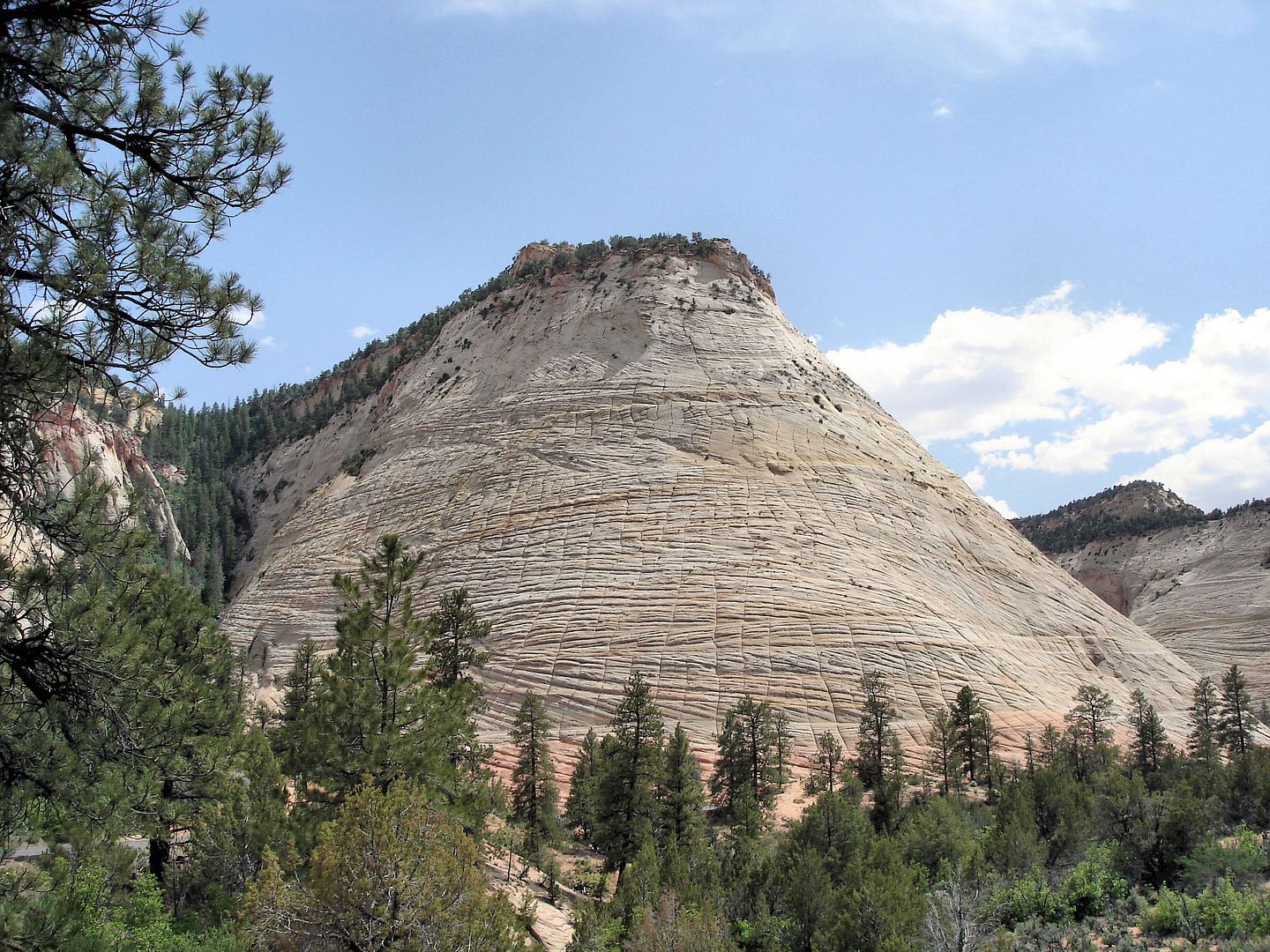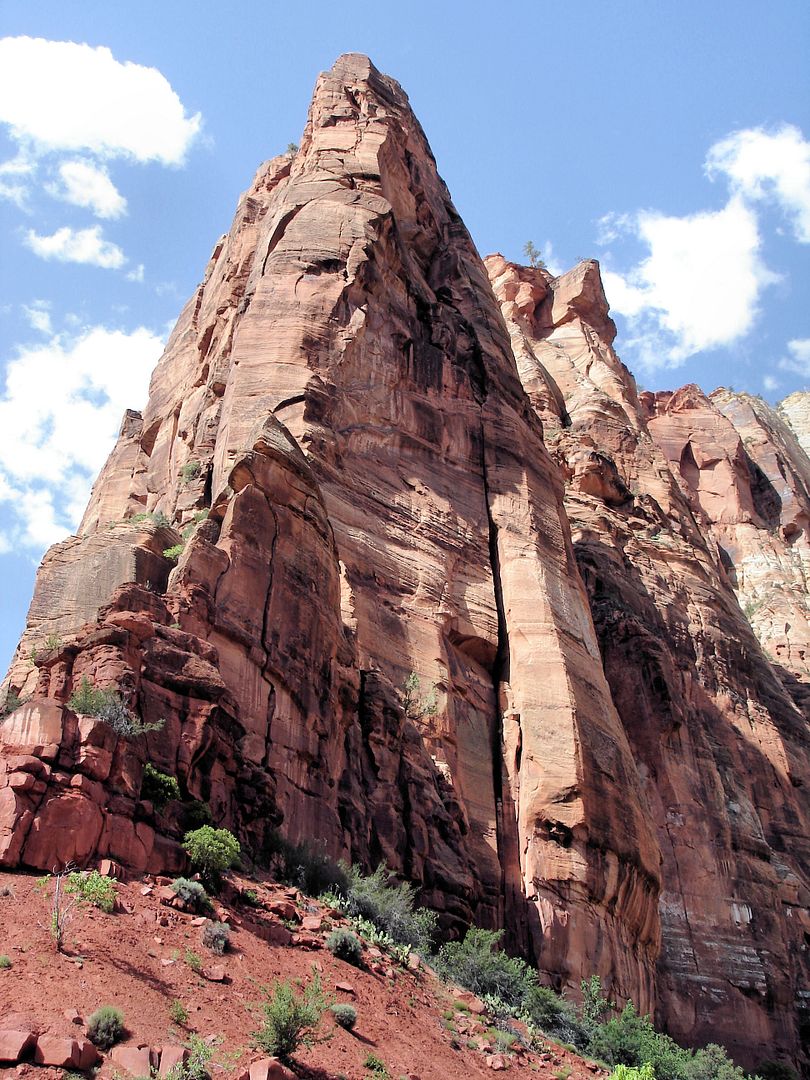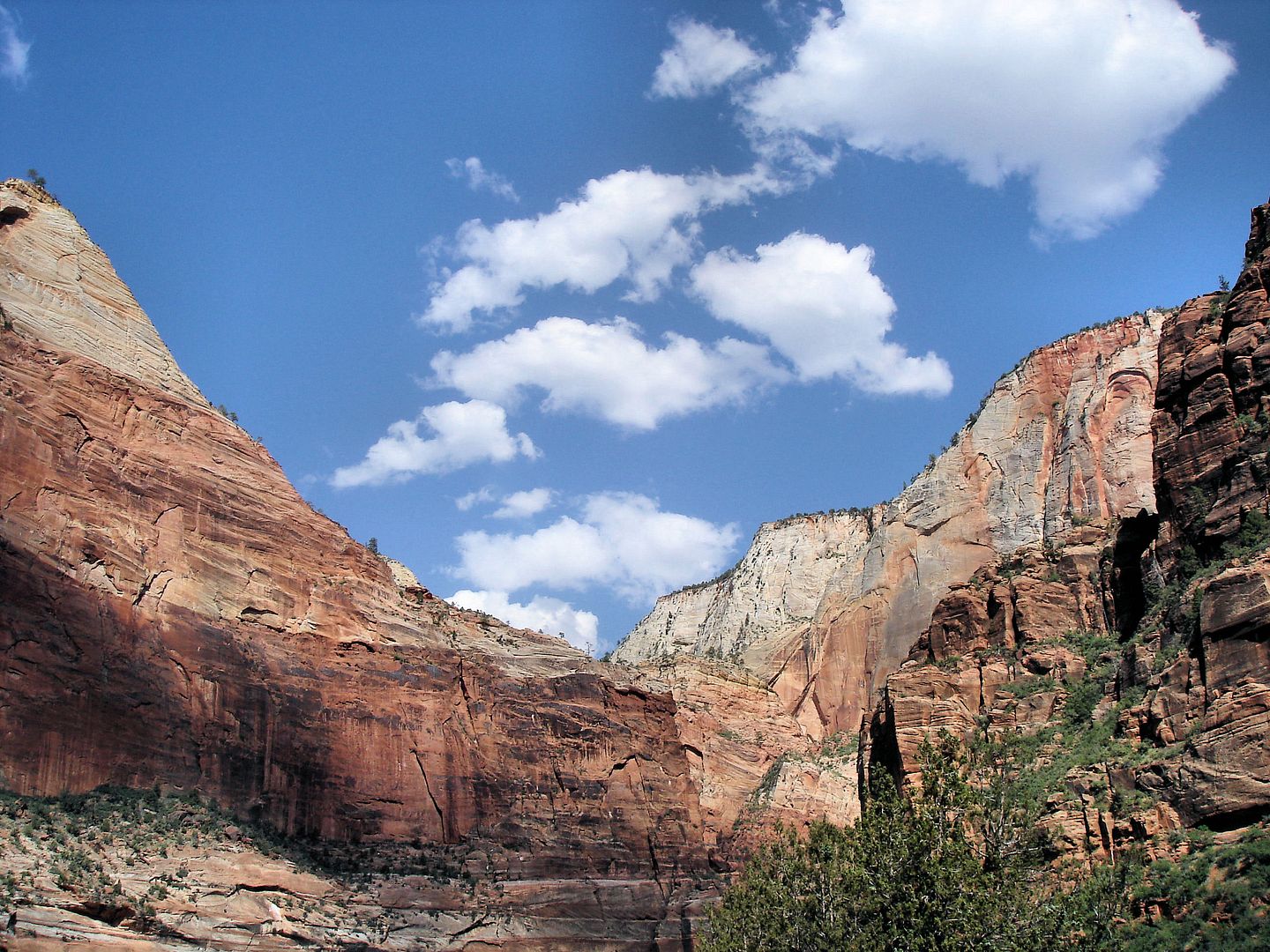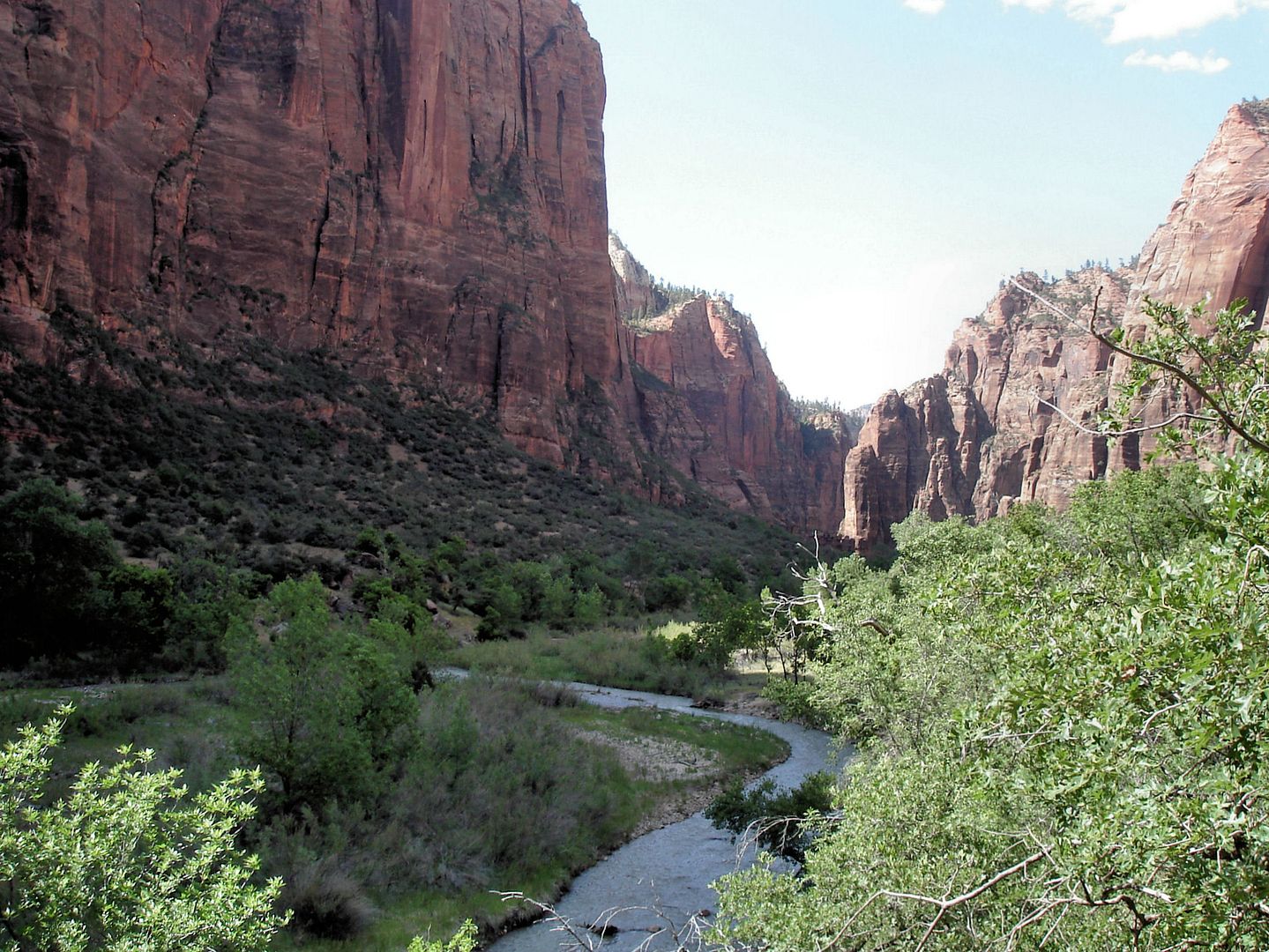 On the way to Las Vegas we passed through the
Valley of Fire
in Nevada.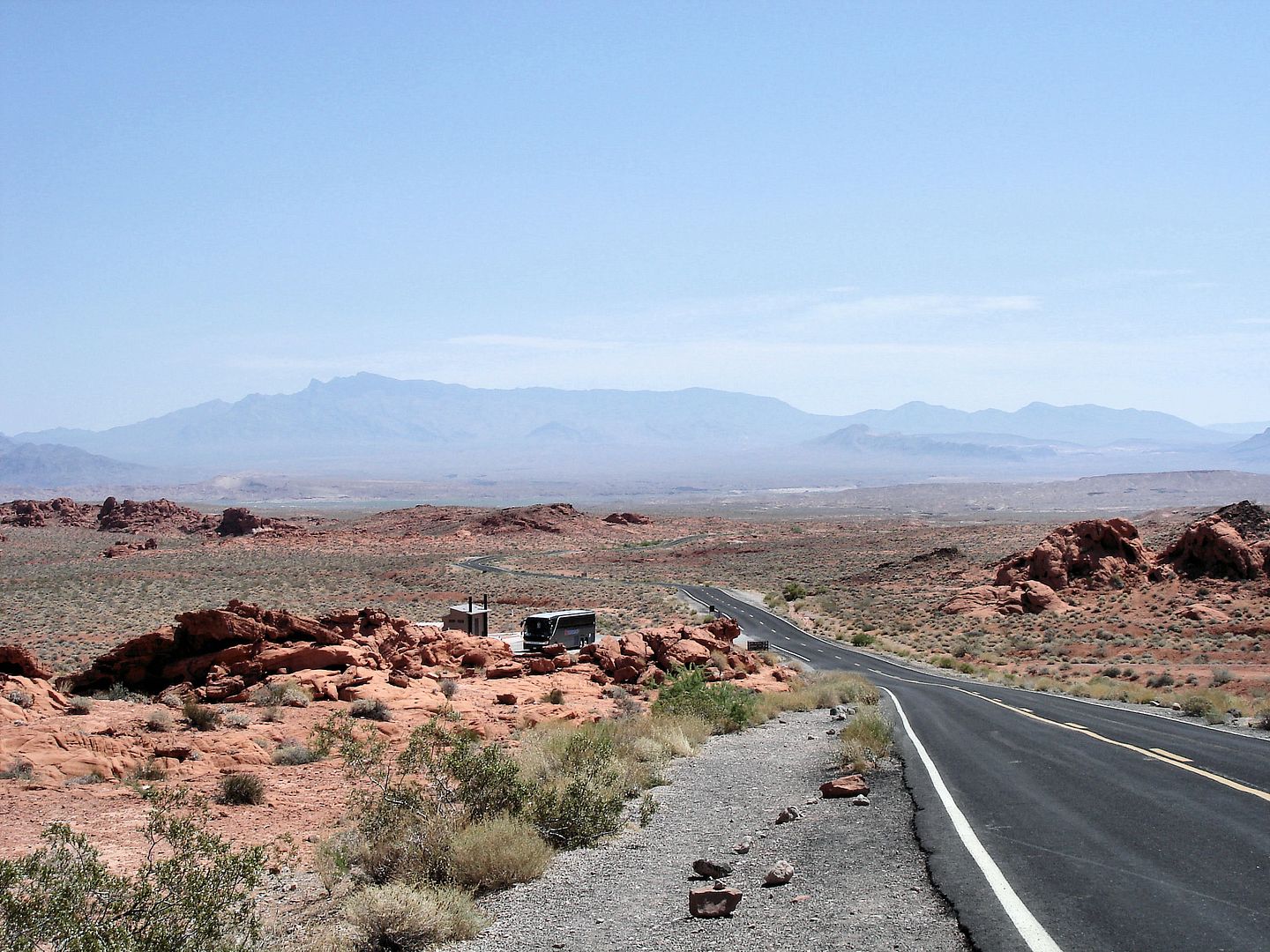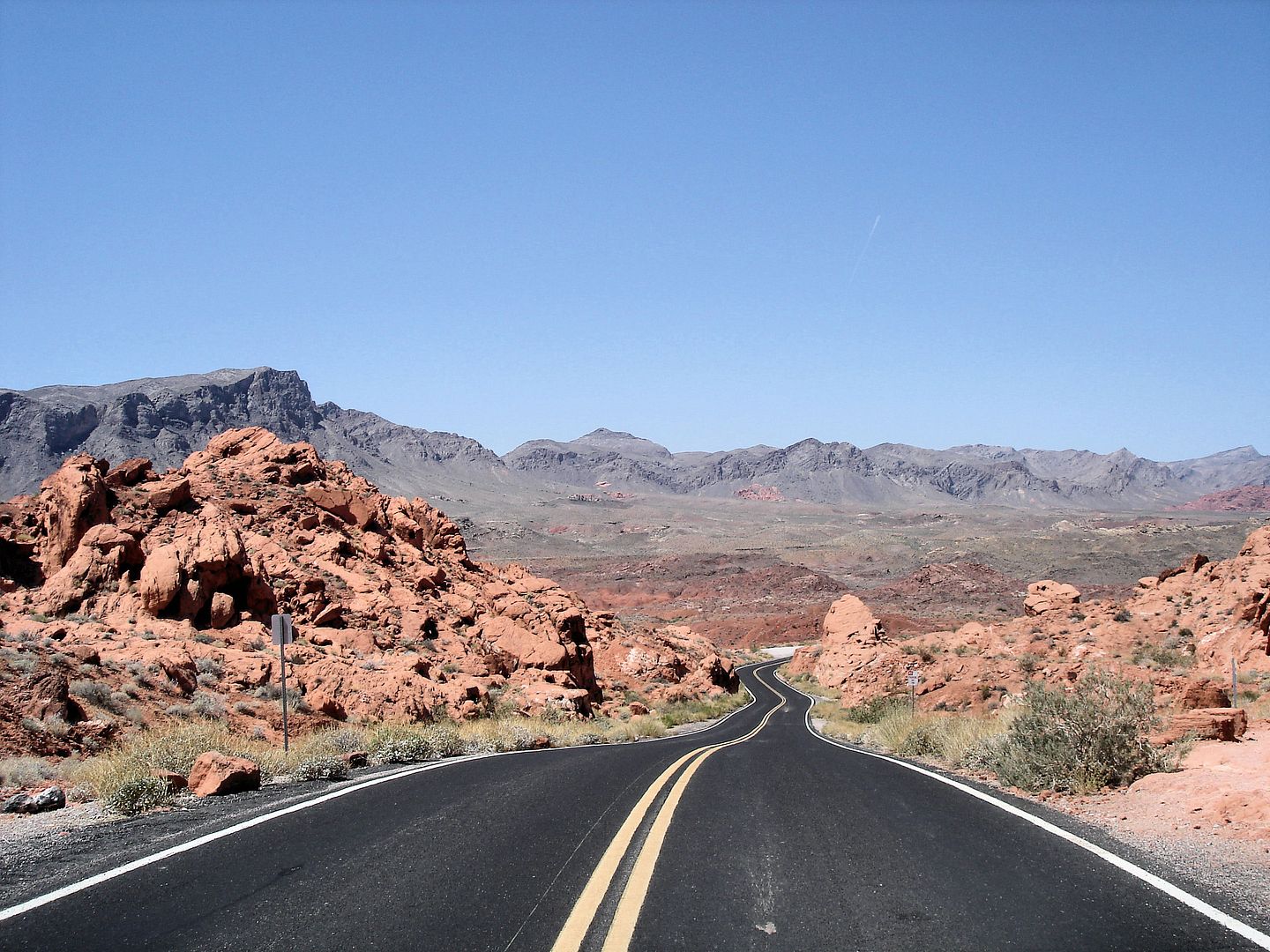 Petroglyphs (ancient rock engravings) are present throughout the entire Valley of Fire State Park: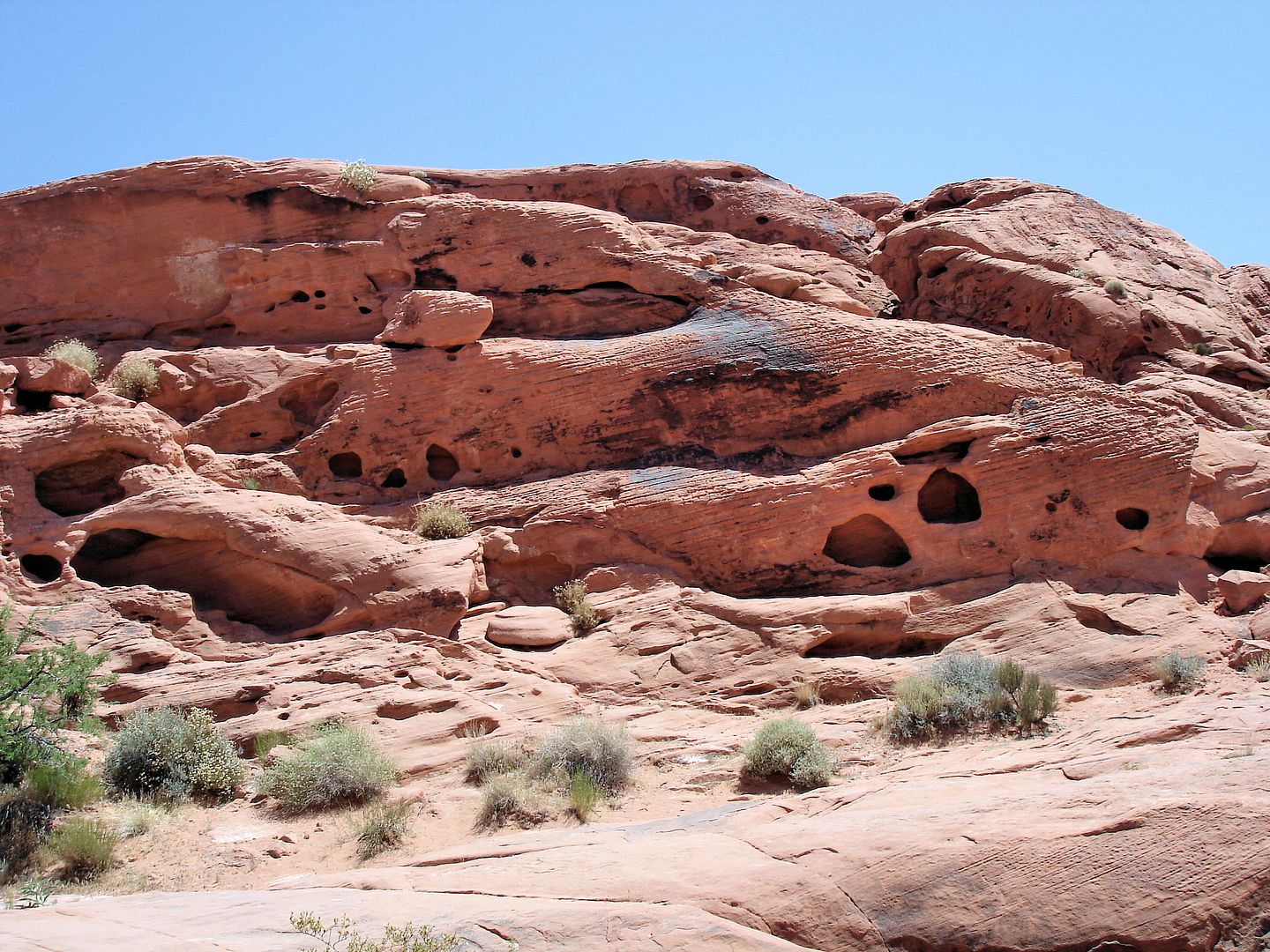 That small rock formation in the middle looks like
Starship Enterprise
, doesn't it? Btw – the movie
Star Trek Generations
was partly filmed in the Valley of Fire.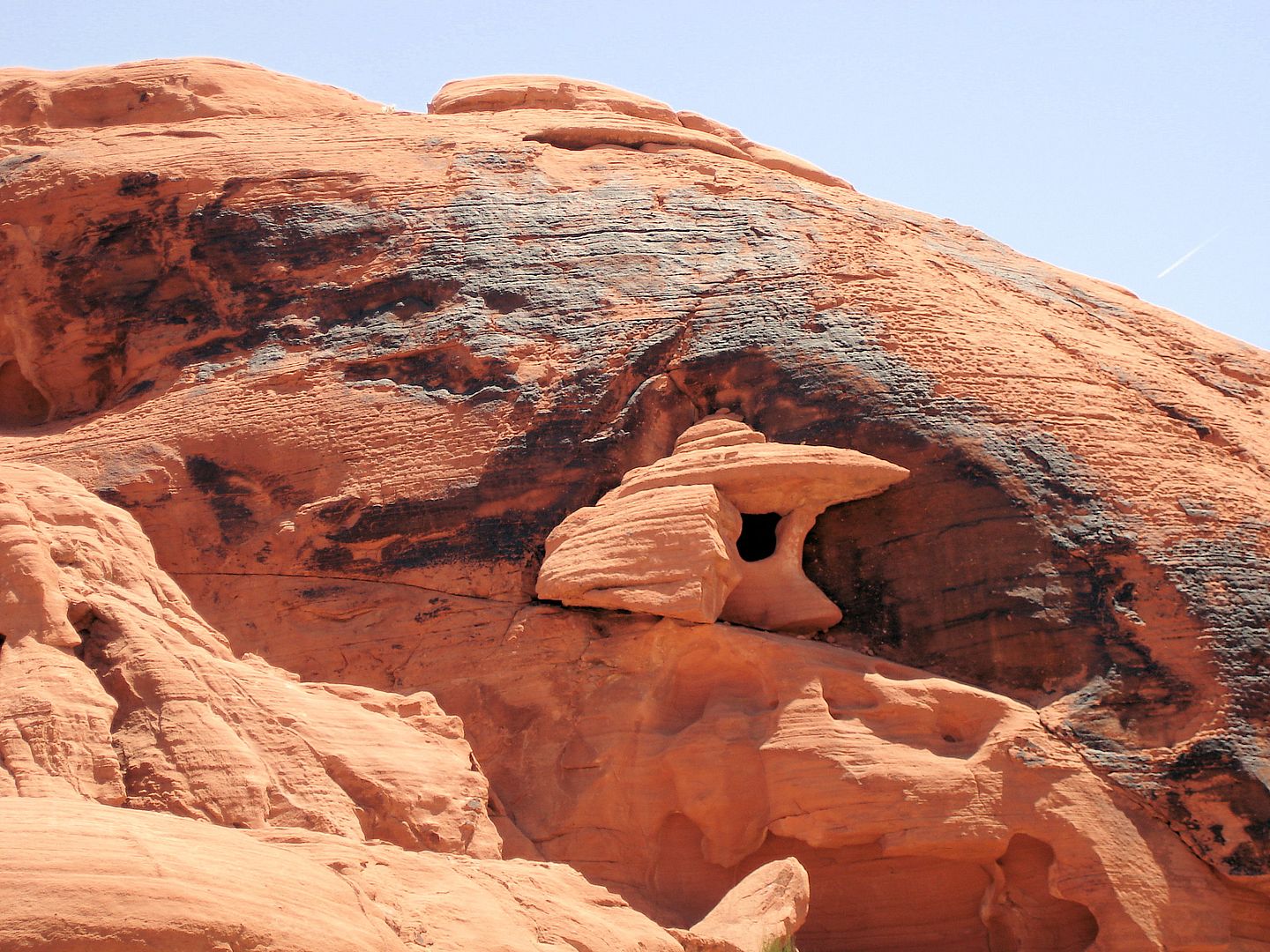 The next stop was Las Vegas - story to be continued.
Conclusion
Flying
Air Canada
was an average experience. I was very satisfied with the seating comfort and the cabin conditions, but the airline has to fix its ongoing IFE Problems soon. The choice of (available) movies should also be expanded. It's also necessary to properly handle the cabin lighting system. While the drink service was good in general, the food offerings were mostly disappointing, both in terms of quantity and quality. However, I cannot complain about the cabin crews and the ground staff - they were all very friendly and helpful. Yes, I would fly Air Canada again, but there are numerous better alternatives in the long-haul market.
Next report: LAS-SFO on Virgin America
Best Regards,
PlaneHunter
P.S.: Just in case you missed them - other recent reports:
On Par With Air France? DTW-AMS-MUC, KLM A330
Goodbye, Red Tails! DC-9-40/50 & Chicago Tour
Champagne & World Of Coke: Air France A340 To ATL
"Mission A380": Disappointing Legs On BA/BD/EI
Delights Of Doha, 773 & 77W: DOH-DXB-LHR On EK
A380 Really a Step Forward? LHR-DXB-DOH On EK
Quality & Style: HKG-LHR On Air New Zealand 744
Taiwan Trio: TransAsia, UNI Air And The Taipei 101
"The Wings Of Taiwan": EVA Air A332, 744 Combi
SHA-SZX, Shanghai 757: Delayed By The Military
PEK-SHA, China Eastern A330 & Shanghai At Night
Striking Newcomer: Berlin-Beijing On Hainan A330
[Edited 2009-10-11 09:34:39]