I N T R O D U C T I O N
On Monday April 30th 2007, an important day in aviation history was marked as a deregulatory agreement was signed between the EU and the USA, opening the bilateral gates of transatlantic flying to European and American carriers. This agreement allows air carriers from these two countries to freely fly any route between any city in Europe and any city in America and completely does away with the circa-90's bilateral treaties that dominated our yesteryears.
A lot can be debated over the effectiveness of this liberation in a manner similar to what reality has proven to us post-1978 Deregulation. London Heathrow is no longer the cash-cow palace of the monopolistic BA/VS/AA/UA royalty, and the same can be said for every other European airline's respective hub. Simply put, it's all you-can-eat for just about anyone.
However, some industry players still view this as the opportunity to capitalize on, in an attempt to produce a sustainable product that captures a healthy market share despite all the surrounding competition. Many have failed however, and the rest have yet to succeed; but some continue moving forward, albeit indefinitely.
To this very effect, a new airline was formed. Previously known as Project Lauren, this airline was created around the effectiveness of this new agreement, and was to take full advantage of it. The inaugural flight was to take place in June of the same year, and was planned for either Brussels or Paris from New York using Boeing 757 aircraft.
On Wednesday January 9th 2008, the "moniker for the new agreement" was born. As they say, "This is not a plane, this is
OpenSkies
from British Airways"
WELCOME TO MY 18th TRIP REPORT
This TR will cover my flights from Amsterdam to New York and back on OpenSkies in Biz Bed.
B A C K G R O U N D
This is the second and last of two reports on my trip to the USA. Going back to my previous Royal Brunei trip report, I had arrived at London Heathrow from Dubai. As mentioned in that TR, LHR was just a quick transit stop, and I had to quickly transfer from Terminal 3 to 5 to catch my BA flight to Amsterdam. As it was a regional flight, I decided not to document it and instead, use it for 'resting' time.
Please be advised that all pictures in the trip report were taken using a fisheye lens. Whilst I have recently received several suggestions to reduce the quantity of 'fisheye-effects', I had already taken all pictures in this TR prior. However, these suggestions have been, and will continue to be taken into consideration in all reports following this. My apologies.
O U T B O U N D
I had arrived Amsterdam on British Airways flight BA430 (A319 with reg. G-EUPW) at 10:40am, ten minutes ahead of schedule. I proceeded through immigration and to the baggage claim area to collect my suitcase, as I had to manually re-check it to New York. Upon collection, I proceeded through customs and arrived at the landside arrivals area. I had a little time to kill so I went outside to smoke a cigarette and make a few phone calls.
Part of the beauty of Amsterdam Schiphol lies within its integrated arrivals hall. Once you exit to the landside area, the arrivals hall is connected to a train/bus station with a small shopping complex built all around it, featuring all types of retail concepts ranging from designer clothing, luggage, books, model airplanes, f&b, groceries, and medicine. Furthermore, a small walkway tunnel connects this station and subsequently the airport to the Sheraton Amsterdam Airport Hotel. This airport is truly my favorite European airport, and one where I had traveled through during most of my university days.
Shops at The Arrivals Hall at Schiphol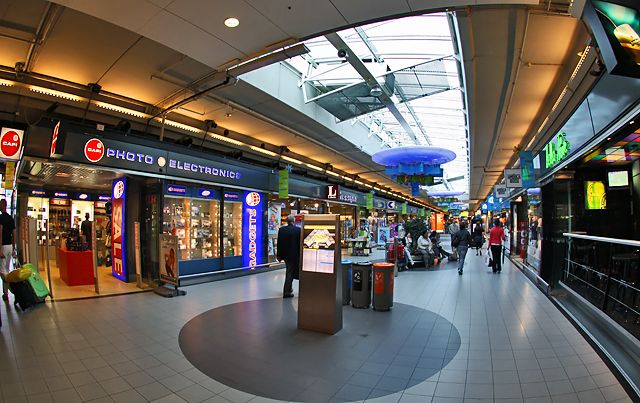 At 11:30am I headed towards Departures Area 3, which is located one level above the arrivals hall. Nothing much has changed in the building itself however, compared with at least five or six years ago, it felt much more congested. There were passengers everywhere, and what made it worse was the mechanism used for placing the barricades dedicated for each airline's check-in counters. They were literally everywhere and were set up in a maze-like manner that reached all the way out to the side of the counters. Furthermore, this 'system' had a dynamic element to it whereby the barricades were extended (or reduced) to wherever possible according to the passenger numbers joining the queues. Nevertheless, I shouldn't complain any more, at least authorities were trying to rectify the congestion issue.
Vertrek 2: On My Way to 3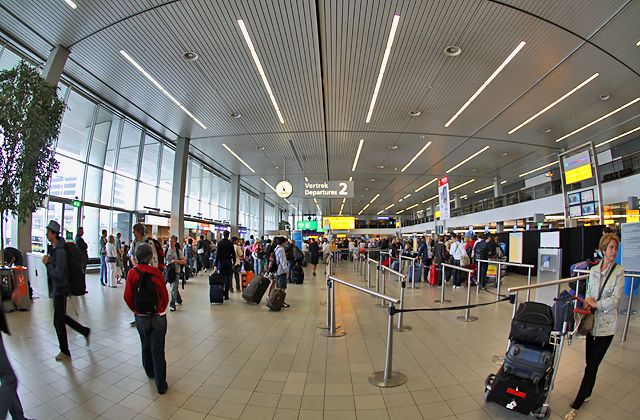 Vertrek 3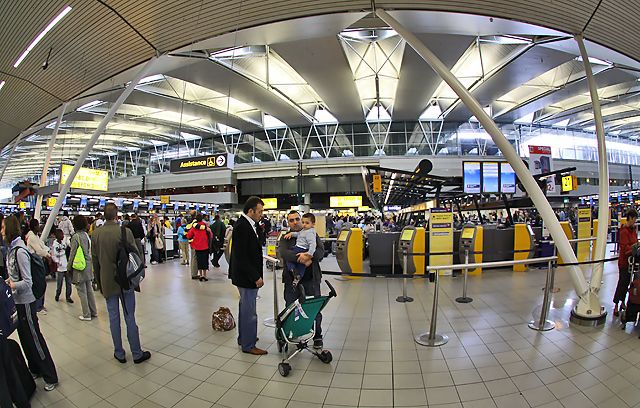 Arriving at Departures 3, I checked the FIDS to find that the OpenSkies counters were located at Desks 22, and were obviously handled by British Airways (Menzies). There were two counters dedicated for this flight, one for Biz Bed and the other for Biz Seat, and there was a small queue of passengers waiting for their turns to check-in.
Check-In Congestion
OpenSkies Check-In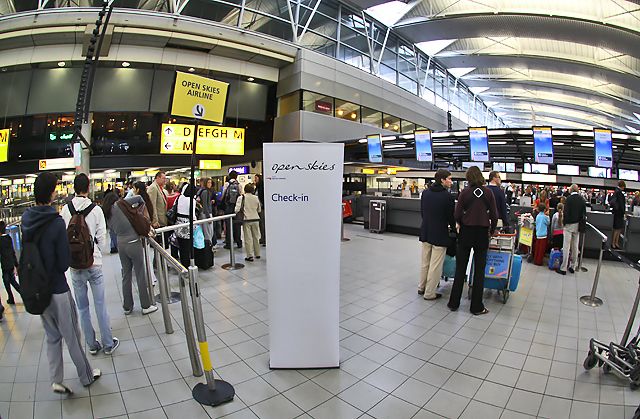 The queue was moving very slowly, and the group of passengers checking-in in front of me seemed to be a little frustrated. Also, the staff at the counters seemed preoccupied and frazzled trying to resolve what seemed to be like a problem. At 11:50am it was finally my turn at the counters, but just my luck, the agent disappeared from her desk and hopped over to her colleague's computer for several long moments.
Still In Queue for Check-In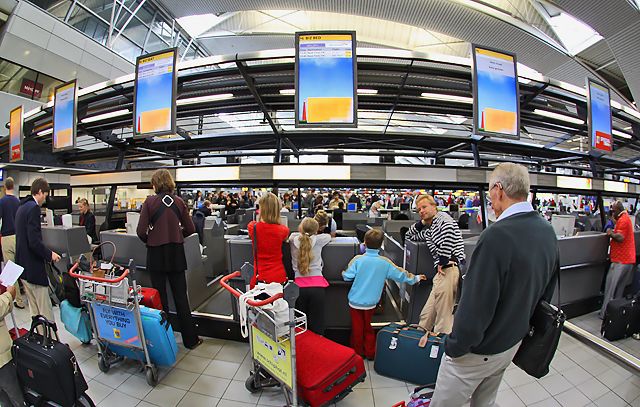 Empty Check-In Desk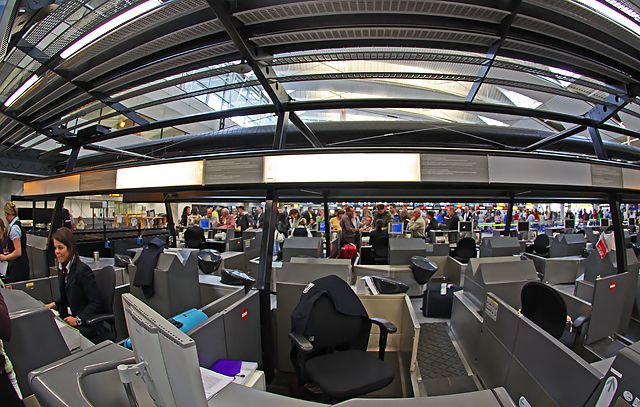 When the agent returned to her seat, she was very apologetic for the slow service as there was a problem with her system. She had to print the boarding passes and luggage tags from her colleagues printer. Nevertheless, she finally managed to issue my boarding pass, hand me the lounge card, and tag my suitcase to New York. By 12 noon I was checked in and ready to go.
Boarding Pass
Lounge Card – Front Side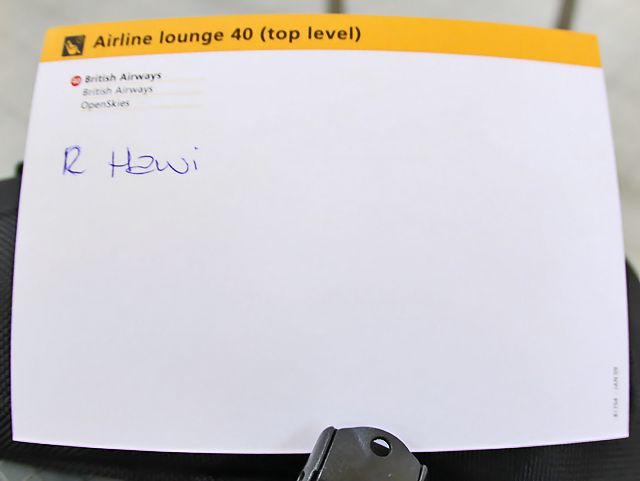 Lounge Card – Back Side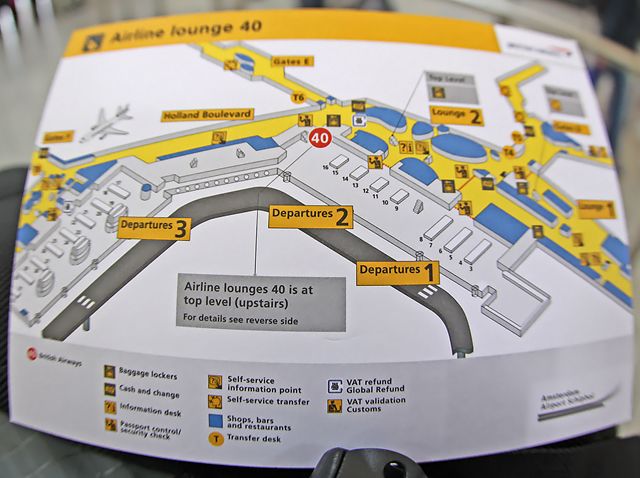 Curbside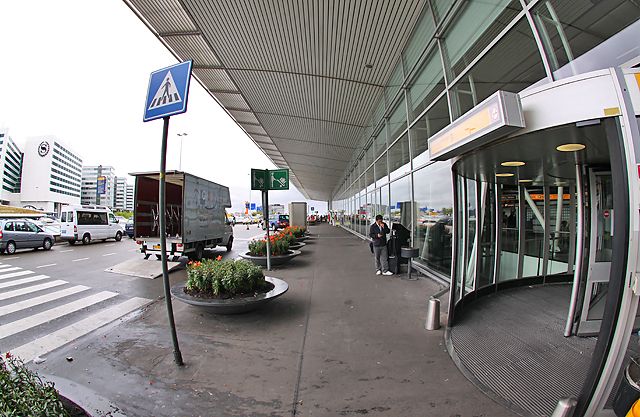 After my customary final landside cigarette outside, I headed towards immigration. The staff was exceptionally friendly, and my passport was stamped with no hassle, and with a smile as an added bonus. By 12:15pm I was airside.
Again, nothing much has changed in the airside area at Schiphol either. Over the past years I have come to know every odd and end at this terminal building. From the sushi/seafood bars, Mercure Hotel, the casino, and the reasonable retail offering, I've done it all, time and time again. However one thing was missing for sure and that was the insane presence of Northwest planes on the tarmac alongside the KLM beauties. Delta now takes over, and unfortunately Amsterdam will no longer be the same!
Airside at AMS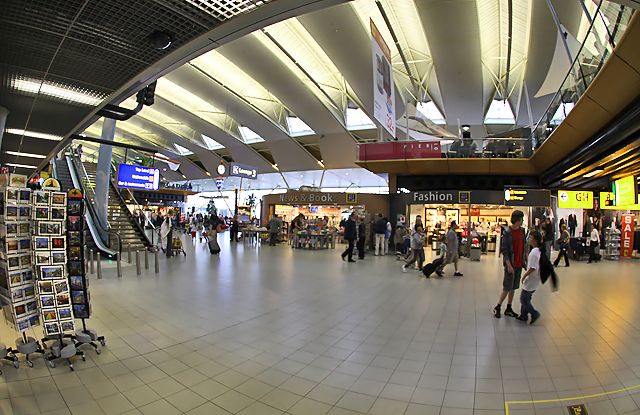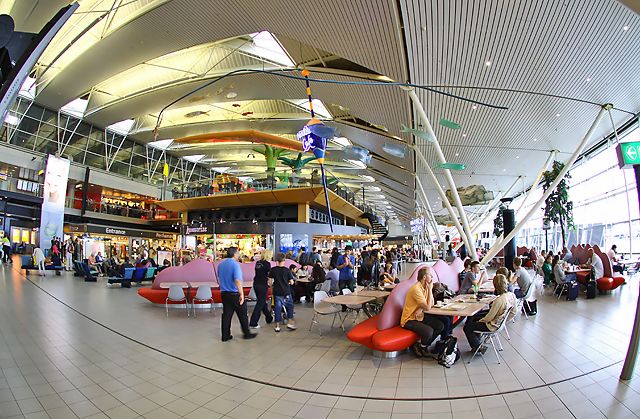 At 12:20pm I began my trek towards the British Airways lounge, which is located one level above, past the Mercure Hotel and the KLM lounge.
On My Way To The Lounge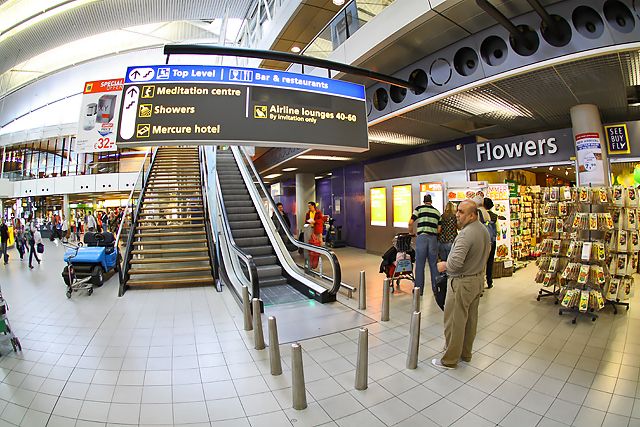 KLM Crown Lounge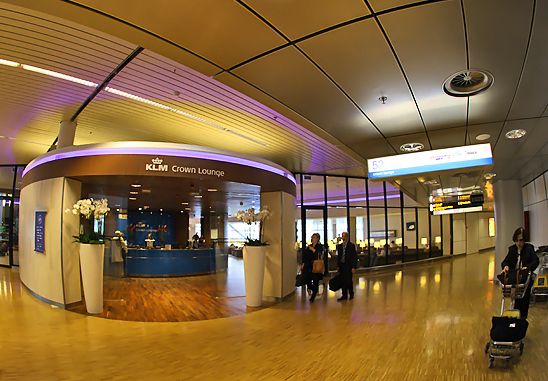 Arriving At The British Airways Lounge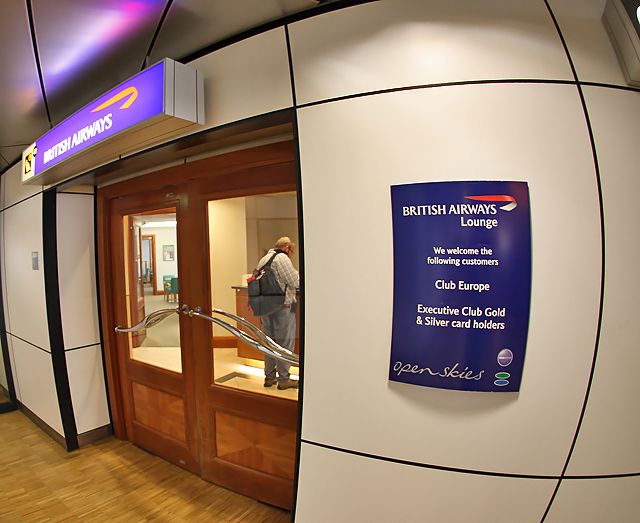 Before I entered the lounge, the attendant caught me taking a picture of the entrance with one quick glimpse and she stormed outside and gave me a scolding that made me feel like I was in boarding school.
"Do
NOT
take pictures of
ANYTHING
British Airways ok?"
I was not committing a crime and so I did not appreciate her tone of voice, or her attitude. I responded back with the exact same tone and attitude as hers, but with a little white lie that denied her suspicions. She instantly calmed down and became super nice like a schizophrenic. I proceeded inside the lounge and continued to take pictures.
Inside The British Airways Lounge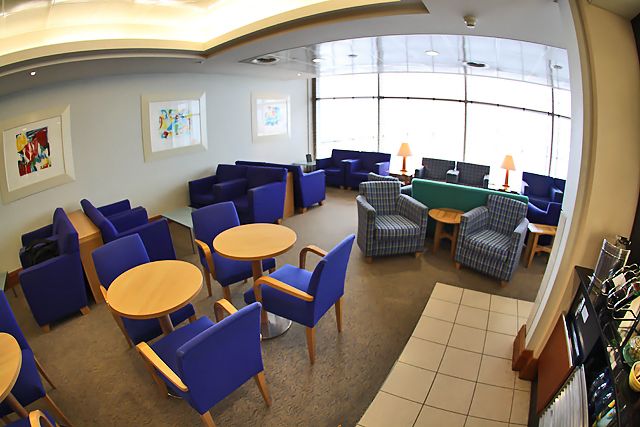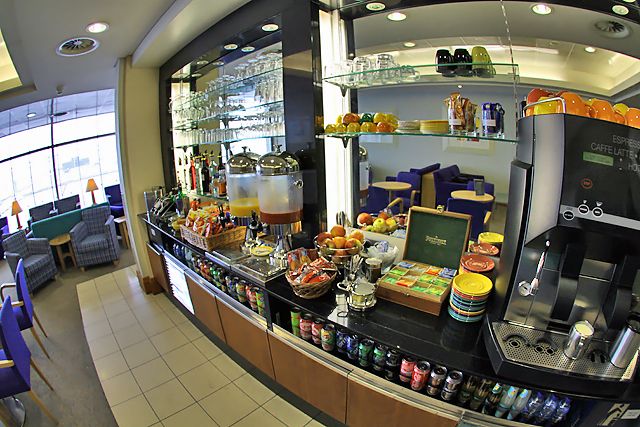 The lounge was quite ordinary for medium/long-haul flights, however since it is a British Airways lounge and not solely for the OpenSkies operation, it served the purpose for intra-European flights. The lounge was absolutely deserted and offered nothing of interest to me in terms of food or beverage, so I left after a few minutes, and headed towards Gate D10.
FIDS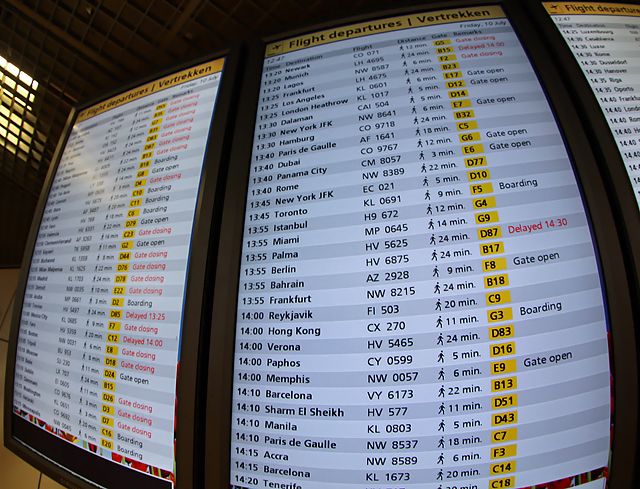 On My Way to the Gate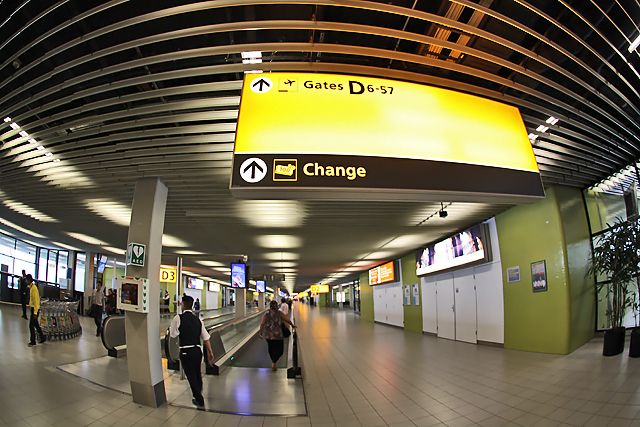 Arriving at the gate, I found two security officers screening passengers before entering the holding area. The typical questions were asked that involved my origins, destination, purpose of travel, and several questions revolving around the what, where, when, why, and how I packed my suitcase. After passing my screening, I was allowed to proceed through the security check, and by 1:05pm I was inside the holding area.
Lauren Preparing For New York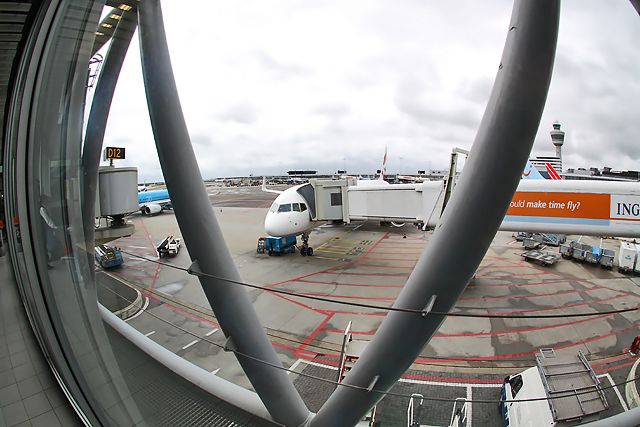 Inside the Holding Area
The OpenSkies boarding process is quite laid-back. Boarding commences about 45 minutes before the scheduled departure time, allowing passengers to board the aircraft at their own leisure, and never in a rush. You may stick around the airport a little longer, or you may hop on board for a drink or two; it's your call. This mechanism for a total of a mere 80 passengers is quite unique. In my case, boarding was called slightly later at 1:10pm. With nothing more to do at the airport, I gathered my things and proceeded towards the aerobridge. My boarding card was scanned by the ground staff, and I was wished a pleasant flight to New York.
Through the Aerobridge
Arriving at Door 1L, I was greeted by Shauna from England, who was the purser on today's flight.
"Hi there, welcome on board sir"
By 1:15pm I was on board OpenSkies.
CONTINUED BELOW